Whether you are looking for a great location in midtown, need easy access to the NYC trains, or are in town for a quick business trip, there are plenty of hotels near Penn Station to choose from.
Penn Station (or Pennsylvania Station) is located in the heart of Midtown Manhattan, and is within walking distance to many of the city's top highlights. By staying around the area, you will be near some of the best things to do in NYC and will be able to hop right on a train to Long Island, New Jersey, or along the vast Amtrak service line.
This overview is here to give you the best of the best when it comes to choosing accommodation in the area. Read on to learn more about the top hotels out there.
* Affiliate Disclosure: This post may contain affiliate links, which means I may receive a commission if you make a purchase through the links provided, at no additional cost to you. Thanks for supporting the work I put into TripTins!
1) Hotels Near Penn Station
Penn Station & the nearby Moynihan Train Hall are located between West 31st Street and West 34th Street, with 7th Avenue to the east and 9th Avenue to the west. It is one of the main transportation hubs in the city along with Grand Central Station.
Staying in the area will have you seeing the city and beyond with little to no issue – whether you want to walk to the Empire State Building or take the Amtrak all the way to DC.
This list goes over the 12 best hotels near Penn Station (and Moynihan Train Hall) across a few different categories.
All of these hotels are within a ~10 minute walk from the station, so you should be able to get to/from Penn in no time.
Feel free to choose one that works best for you!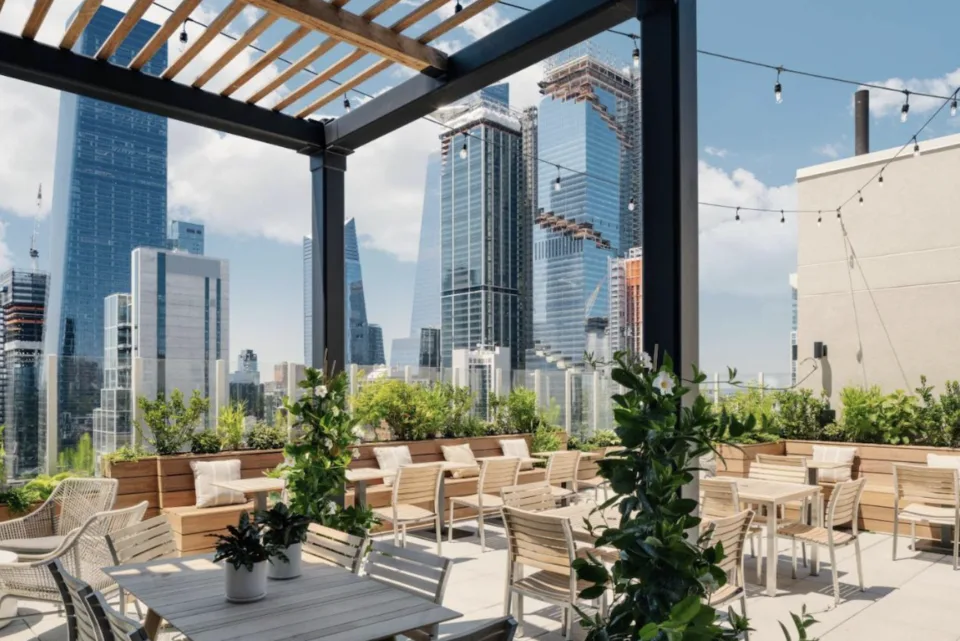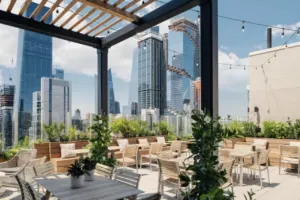 Arlo Midtown
When it comes to one of the most highly rated & reviewed hotels around Penn Station, the Arlo Nomad is a great all around choice.
All Around Hotels
1) Arlo Midtown (Top All Around Choice)
2) Park Terrace Hotel
3) Innside by Melia Nomad
4) Moxy Chelsea
5) Renaissance New York Midtown Hotel
Boutique Hotels
6) Made Hotel (Top Boutique Choice)
7) Refinery Hotel
5 Star / Luxury Hotels
8) Pendry Manhattan West (Top Luxury Choice)
9) The Langham
Cheap Hotels
10) Fairfield Inn & Suites (Top Budget Choice)
11) New Yorker Wyndham Hotel
12) Homewood Suites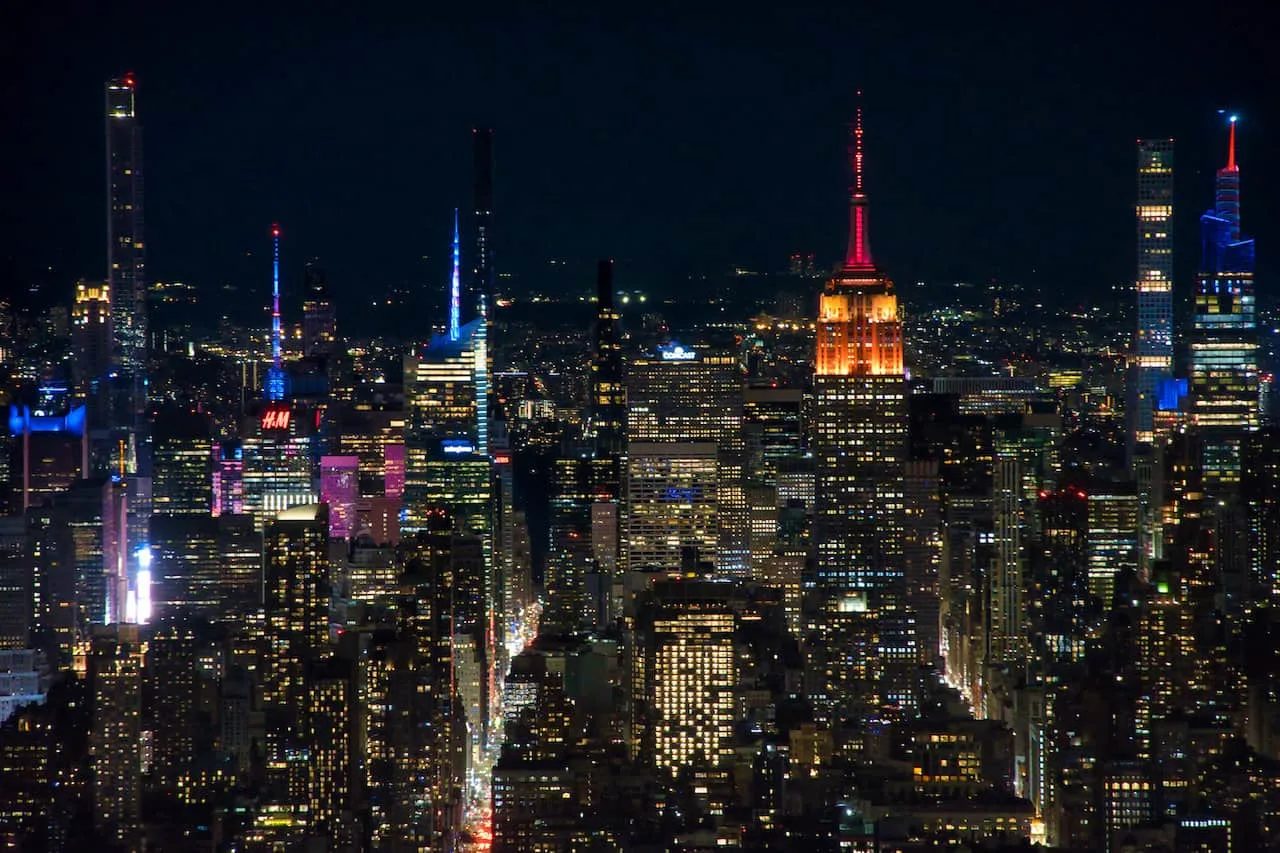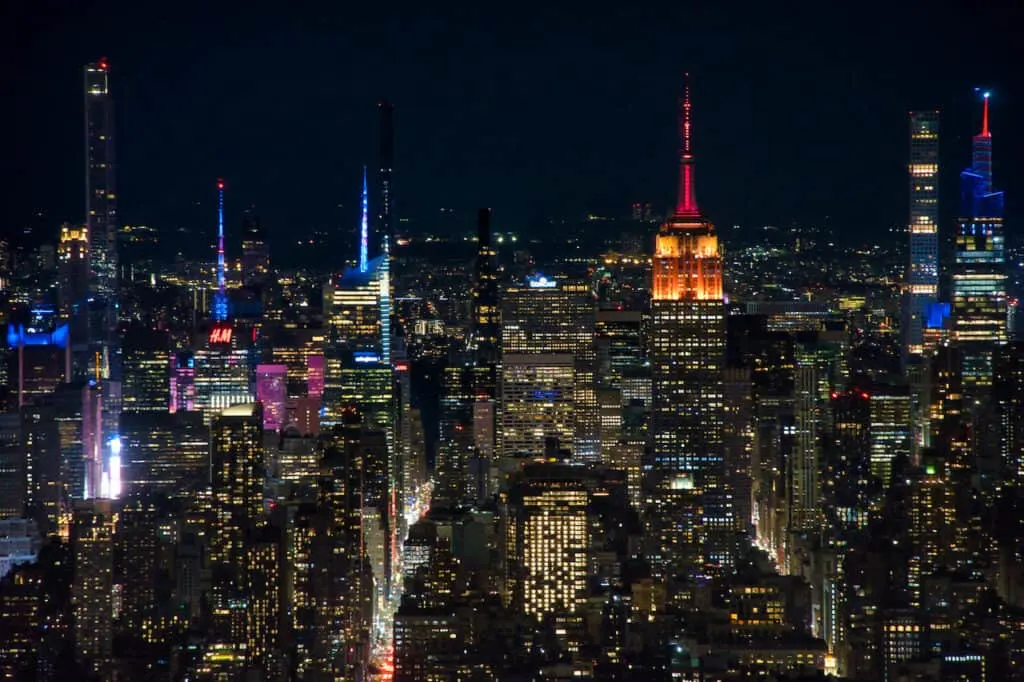 2) All Around Options
To start, here are five of the best all around hotels near Penn Station. In general, these are well priced, comfortable, desirable, and highly rated options in the area.
Arlo Midtown
The Arlo Midtown is one of those hospitable hotels near Penn Station that leaves you connected to the city but is able to appreciate its beauty from afar.
Especially for those experiencing New York for the first time, there's nothing quite like seeing the famed skyline from above. The Arlo Rooftop sends you 26 stories up into the sky. It provides dazzling views of Manhattan's West Side and down towards the Hudson Yards. This, of course, is best done with a zesty cocktail or by first perusing their list of fine wines and craft beers.
At the hotel's atmospheric Bodega, you can load up on hearty snacks, go further with a delicious light lunch or simply get your caffeine fix. From there, you're a short walk away from the bright lights of Broadway, Times Square and the infinite accessibility of Midtown.
The King Suite comes with open-floor rooms providing ample space, with separate living areas. In addition, the Arlo Suite, is a furnished private terrace with exceptional Manhattan views.
Double and queen hotel rooms go between offering private balconies and prioritizing interior space. All the while showcasing a lavish array of vibrant wooden accents.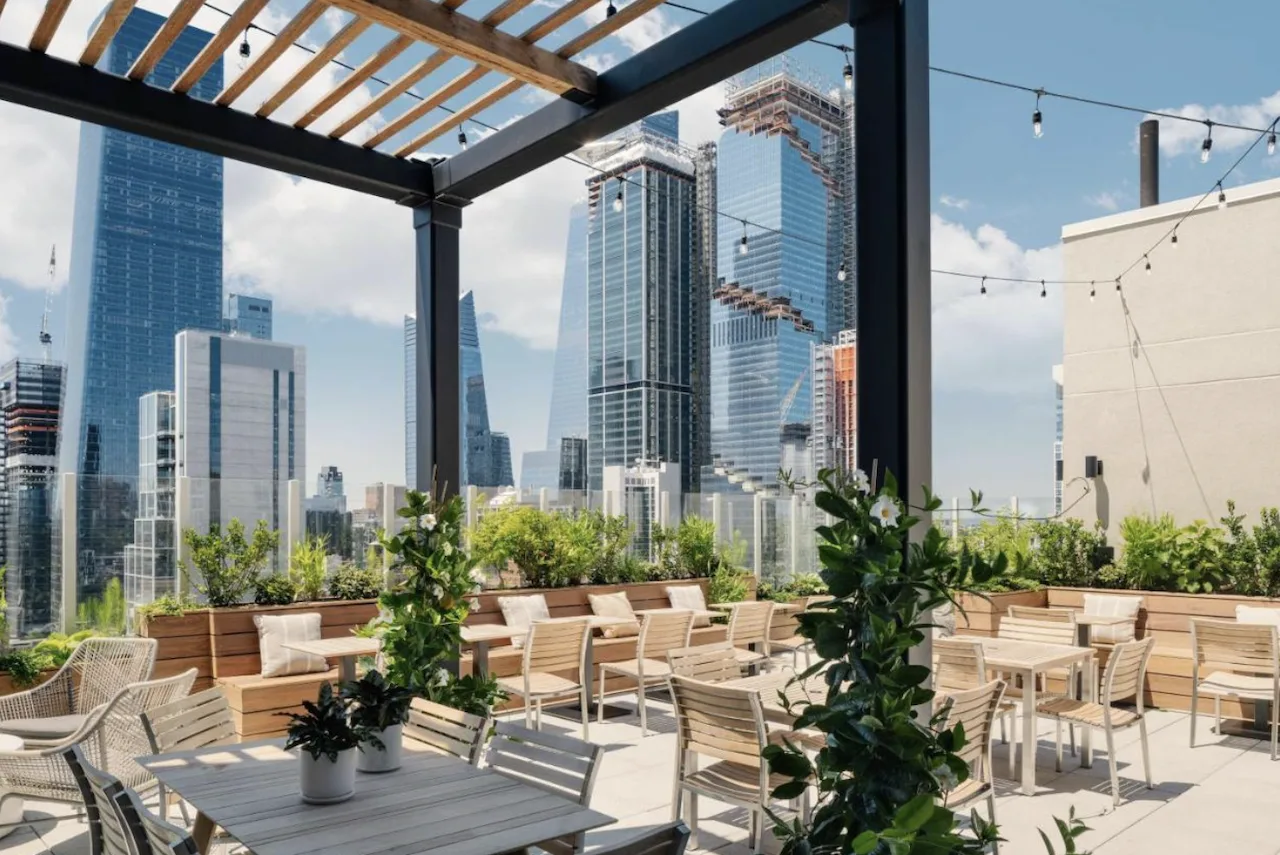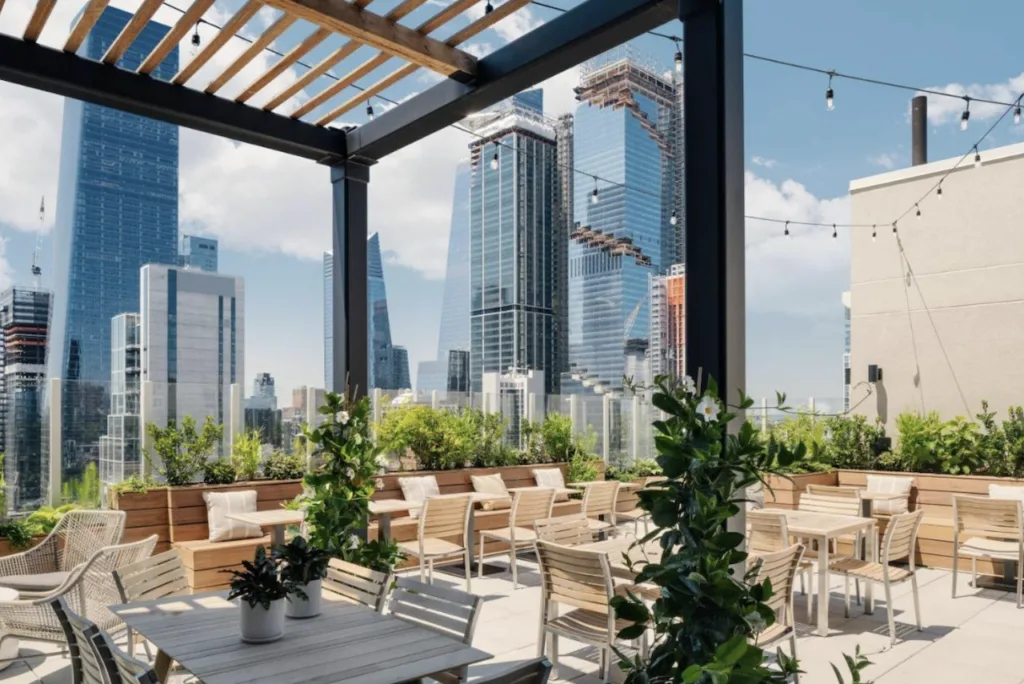 Park Terrace Hotel
Boasting modern luxury, high-style accommodations, an elevated lounge and terrace, Park Terrace Hotel is an opulent refuge. Overlooking Bryant Park, the stunning epicenter of Midtown, this hotel takes inspiration from its surroundings. It's a notable mix of modern culture, impeccable design and New York's patented energy.
Reflecting its position in the heart of New York as one of the top Penn Station Hotels, the rooms at Park Terrace feature a natural aesthetic combined with an urban aura. Many hotel rooms look out to Bryant Park and the surrounding architecture, with spacious living areas from which to bask in the views.
With a drink in hand at the terrace and lounge, you can enjoy the sight of the New York Public Library and Bryant Park. Take in the mood of the city below and the conversations held around the open space and you'll see it's a 21st century oasis. In addition, the early opening time and cushy chairs make for the perfect morning coffee spot.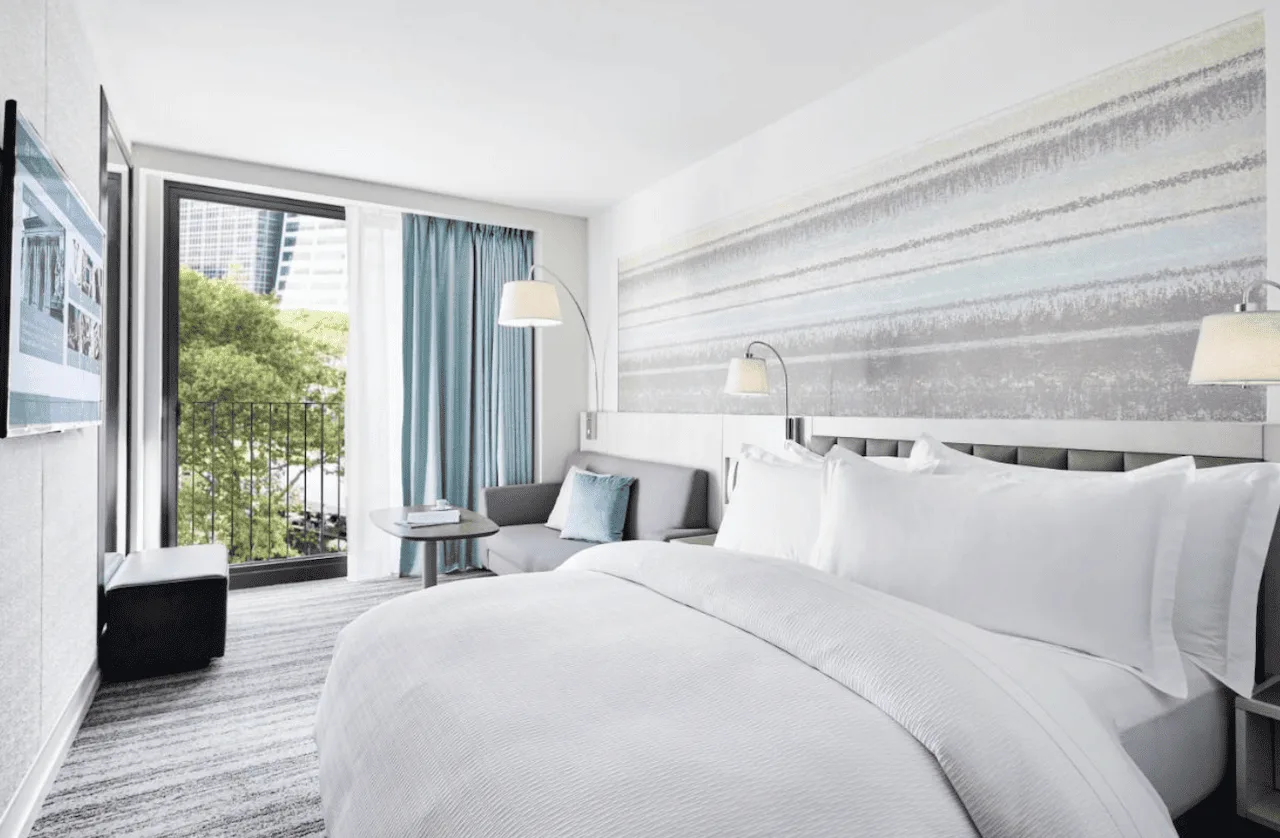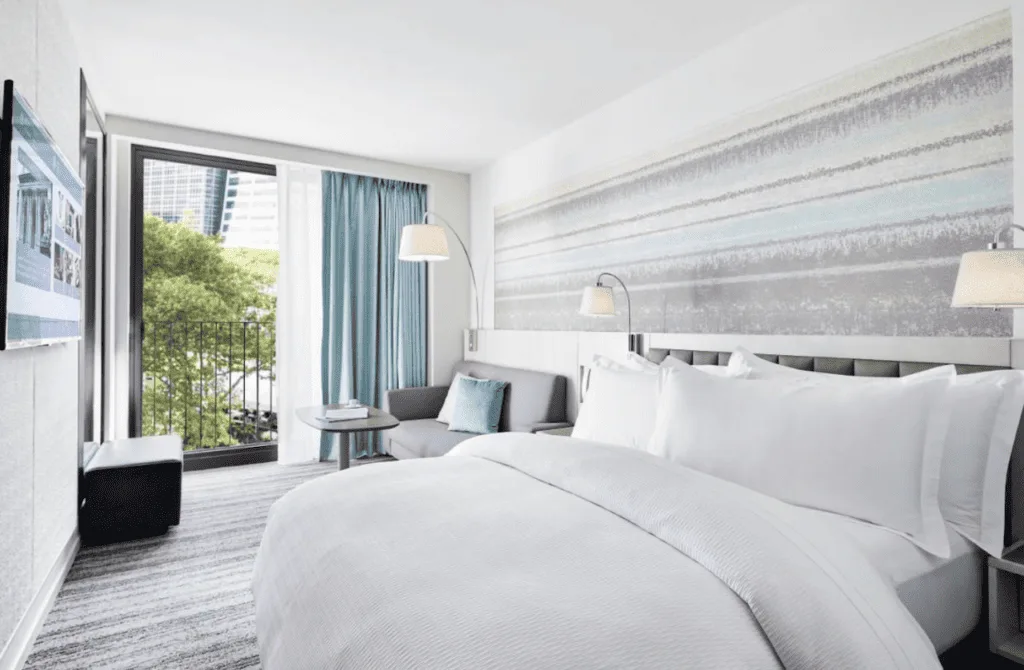 Innside By Melia Nomad
Surrounded by classic Midtown architecture, straight from the early 20th century, Innside by Melia Nomad offers a different look. It promises to invite you into the "true" New York lifestyle. It's utterly chic, scooping up the heart of the Chelsea neighborhood and spinning into one colorful combination.
The hotel rooms offer an essence of the New York experience on a silver platter. Queen beds look out to the city and in some cases the Empire State Building, whose lights glimmer on clear nights. The rest of the interior layout is straight out of a modern NY apartment, sans kitchen. It gives you your own unique New York experience.
After a big day exploring, work up a big appetite at the hotel's 24-hour gym with eFitness programs set alongside city views. To fix the hunger, the on-site restaurant will keep you close by. Here, you'll find craft cocktails served alongside mouthwatering seafood.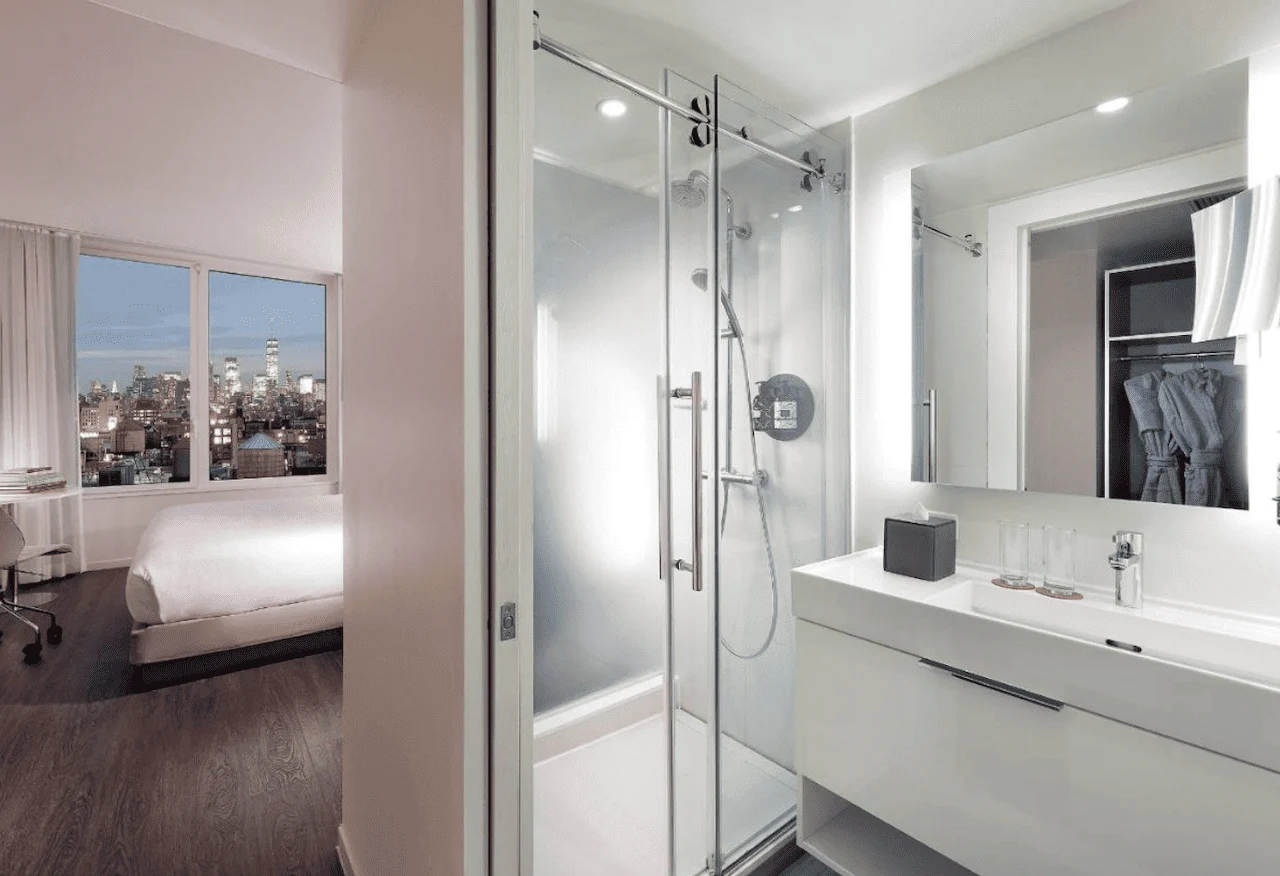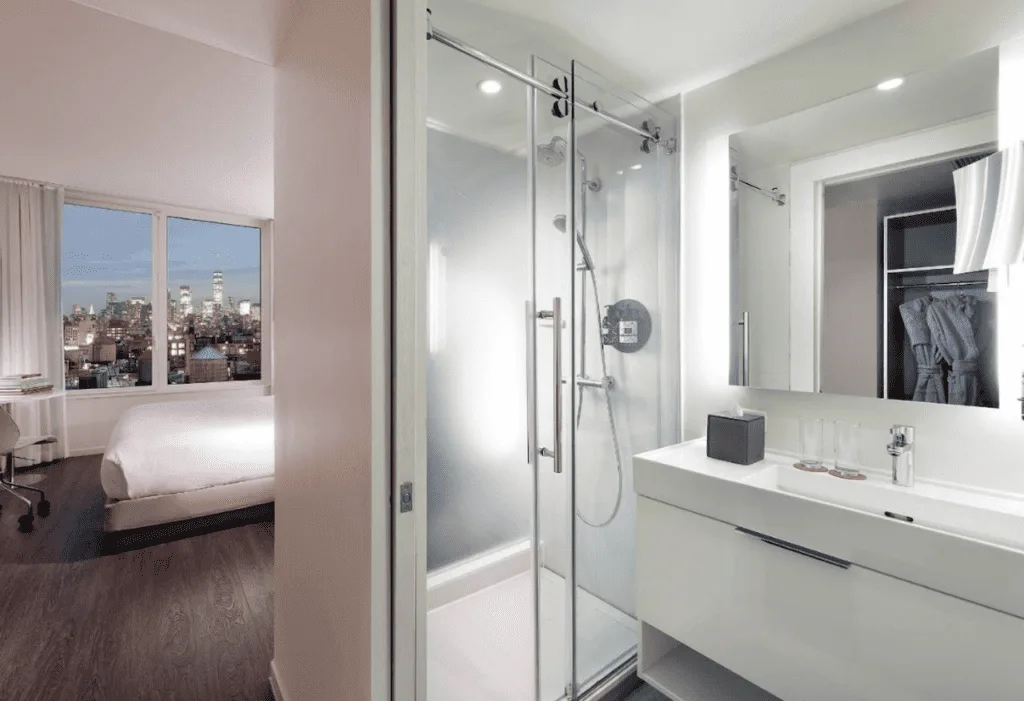 Moxy Chelsea
Set within New York's Flower District, Moxy Chelsea is a secret garden unto itself. Ultra-modern and somewhat futuristic, it remains youthful and thus a playful place to stay.
Like the surrounding district, you'll find a plethora of color here with its botanically inspired design effortlessly blending in with the wave of Italian romanticism. Soaring up 35 stories, your room will come with wall-to-wall and floor-to-ceiling windows that flood your space with natural light. Something that's worth its weight in gold here in Midtown.
The Fleur Room, which continues Moxy's flora theme, sits atop the hotel. The 360-degree views welcome you, and you'll surely feel inspired to combine the experience with your drink of choice. This lounge is complemented by the elaborate lobby bar, home to tasty Italian bites.
Moxy Chelsea is one of those hotels near Penn Station that combines all aspects of what you will want in New York City. It has a boutique aura, with a splash of luxury and promises not to break the bank.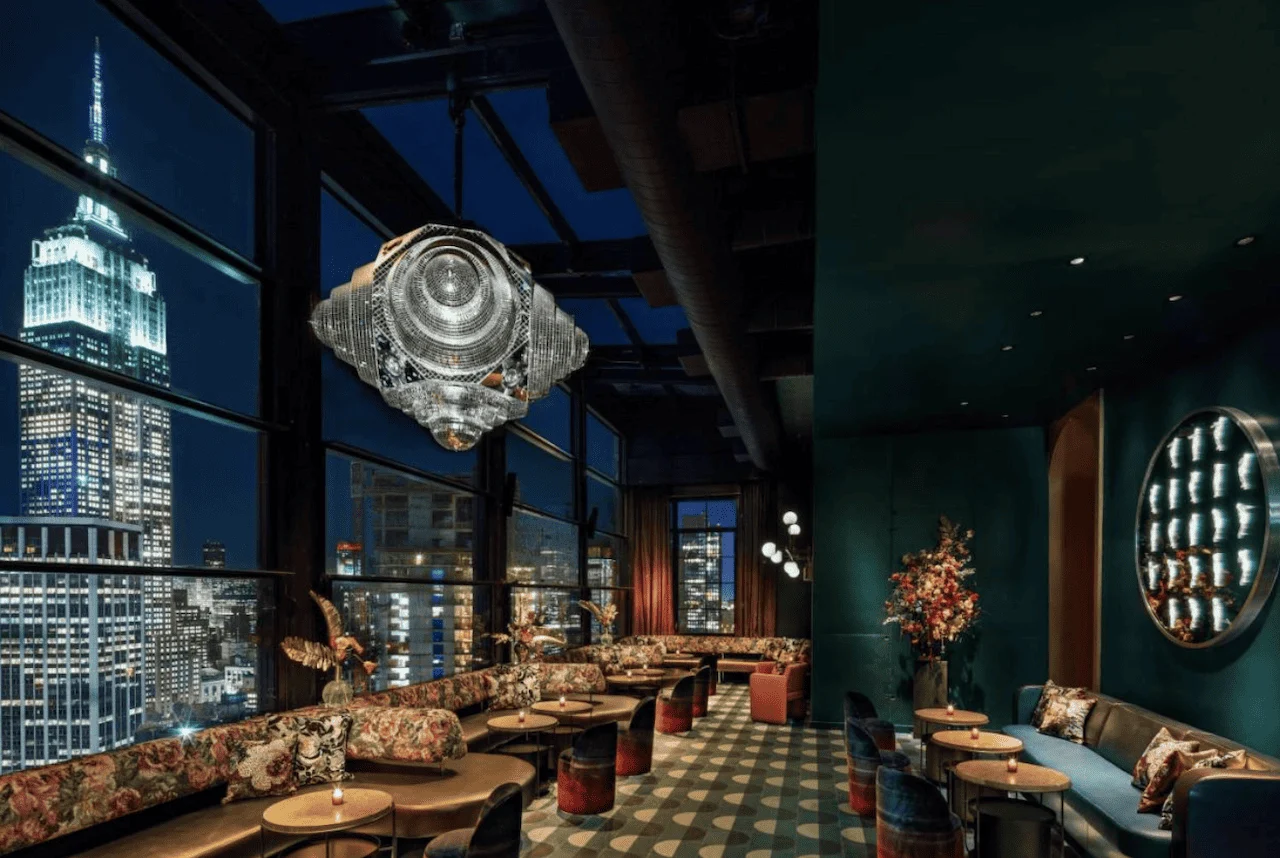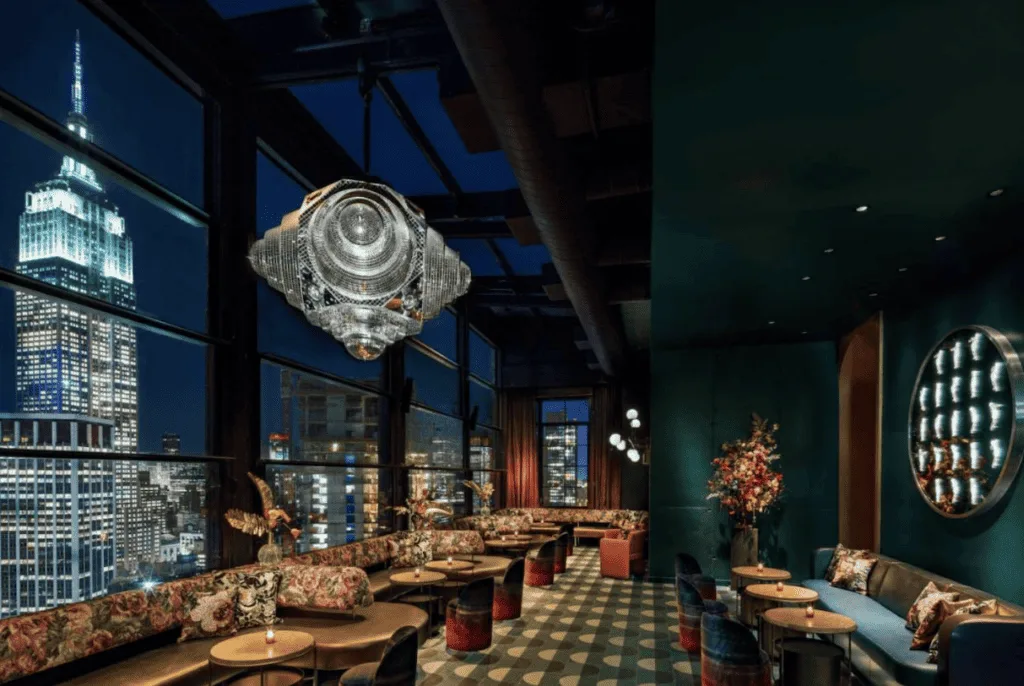 Renaissance New York Midtown Hotel
Seeking convenient hotels near Moynihan Train Hall and Penn Station? Well, it doesn't get much closer, and more inviting than the Renaissance New York Midtown Hotel.
The best hotels in New York manage to find inspiration and touch from the surrounding blocks. The Renaissance is no different. As it looks out into the Garment District, it simultaneously looks inward to evolve and create a "living building" that matches the constant evolution of fashion.
The lobby's layout takes heart from the forward thinking neighborhood. While the rooftop comes with some of the city's best views and a retractable roof, offering flexibility all year long. The on-site restaurant comes with its own scenic terrace.
Here you'll find just shy of 350 luxury rooms where no detail is missed. Floor-to-ceiling windows allow the sun to flood the room and warm the luxurious linens and the wooden accents. While terrace rooms create your own personal escape from the bustle of the city below.
If you are looking for Marriott property in Midtown Manhattan, then the Renaissance is going to be a top choice.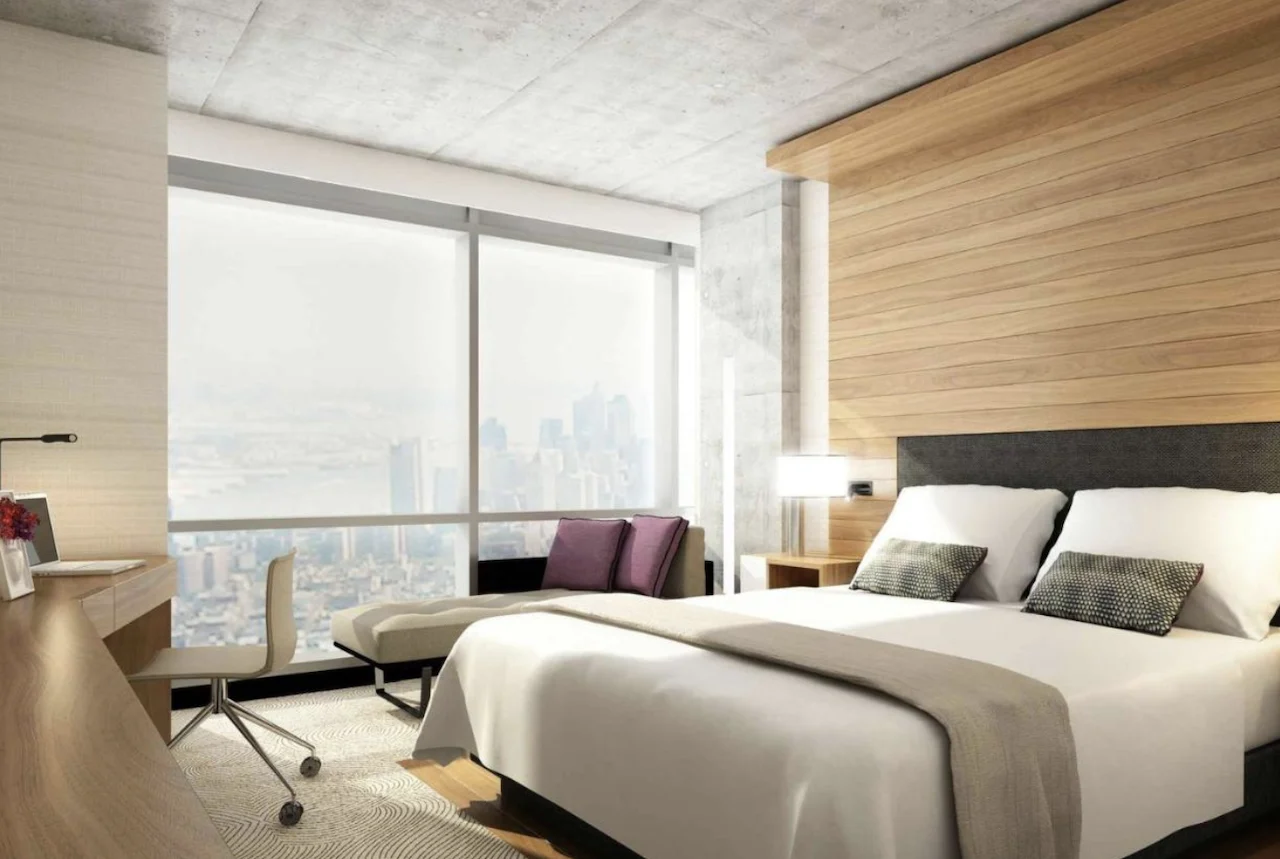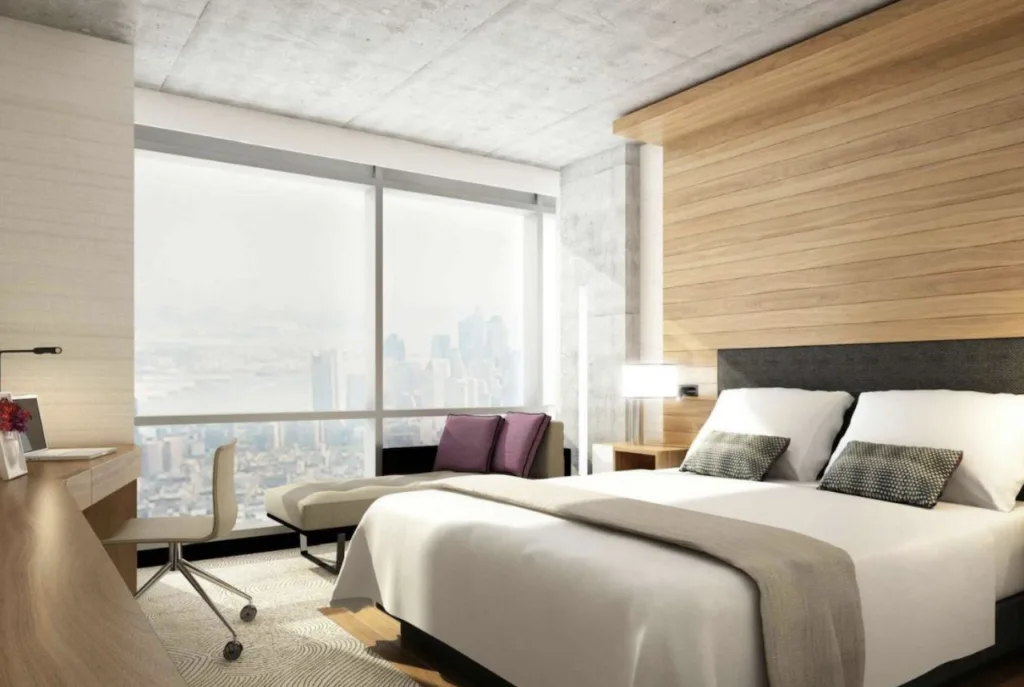 3) Boutique Hotel Options
If you are looking for a more boutique accommodation option around the area, there are several great choices out there. I have picked out two of the highest rated & ranked hotels to make your selection easier.
Made Hotel
This cozy and beautiful boutique hotel draws you in from the moment you enter the lobby thanks to its use of flora and art exhibits that collaborate with New York creators. The Made Hotel strives to understand what modern travelers want. With tasteful guest rooms that boast an understated elegance, it's easy to see that they do.
The hotel combines its worldly knowledge with a keen local expression to create rooms that allow you to rest and recharge without needing to bring all your comfort items from home. High end linens coat the mattresses and warm wood accents combine with the views and sparkling tiles to create a cozy, intimate and private escape.
The on-site restaurant features a zesty, seasonal menu and speaks to who it's catering for. The elevated, home-style cuisine is complemented by the panoramic rooftop lounge shrouded in colorful plants.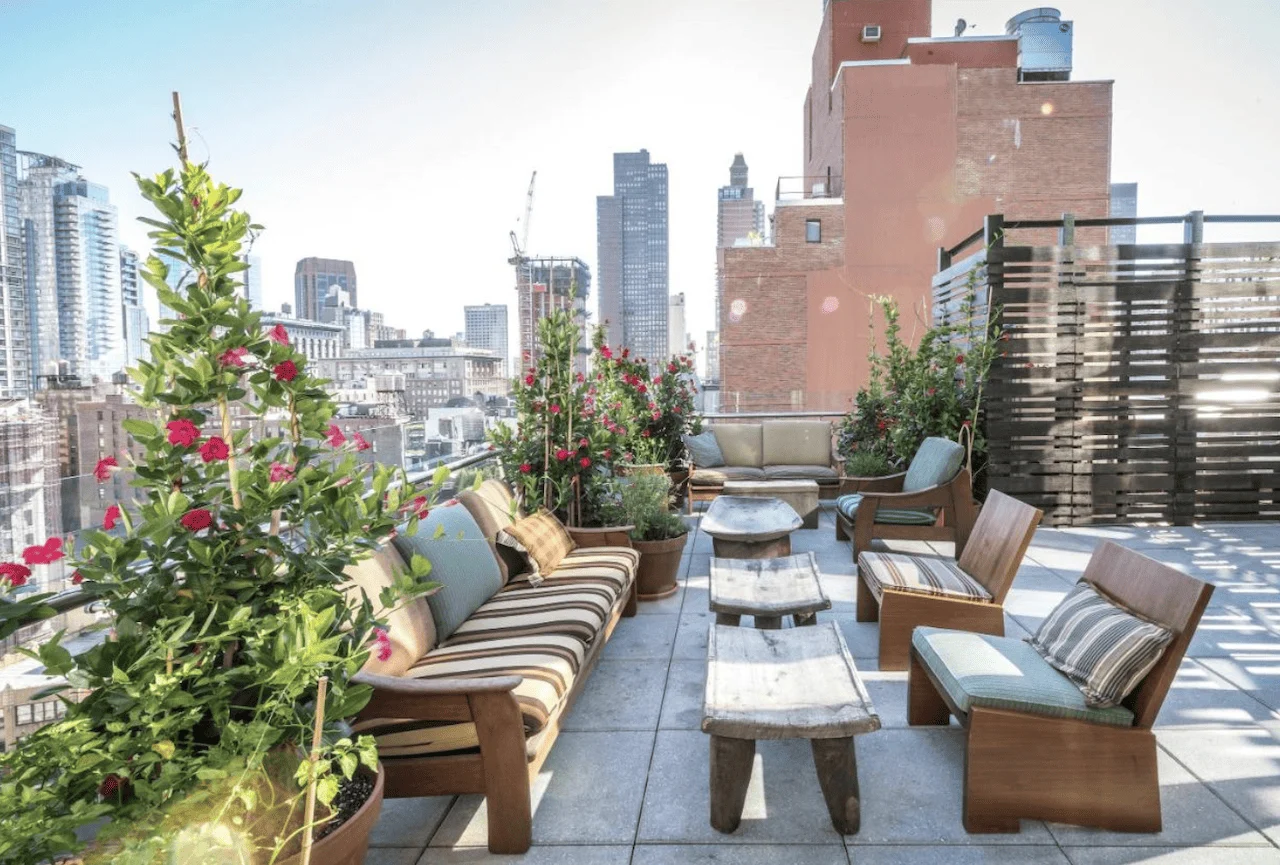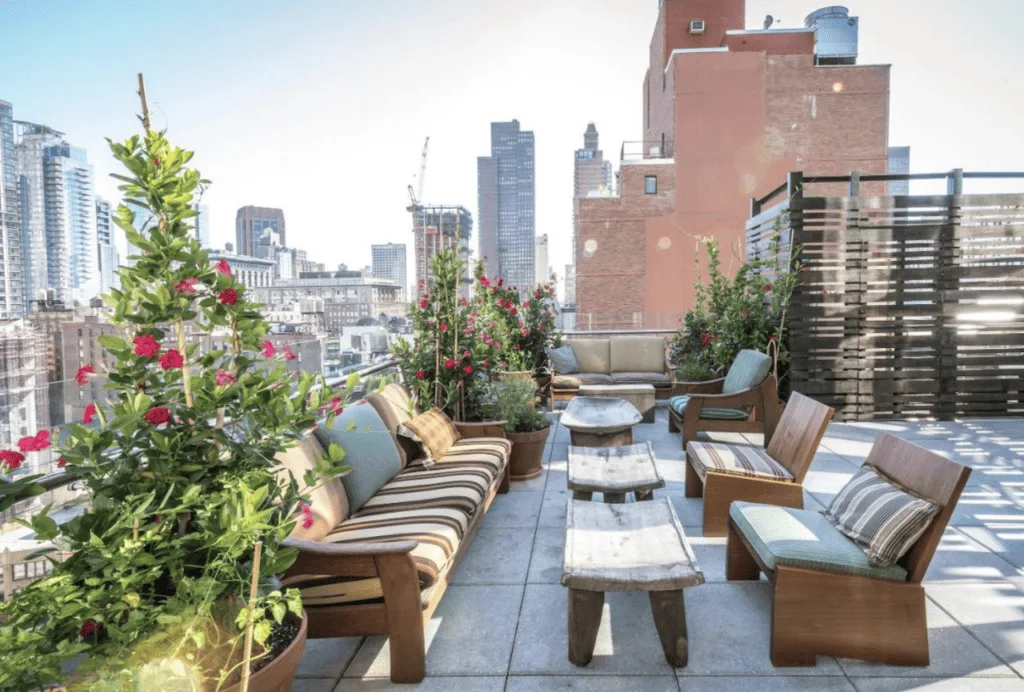 Refinery Hotel
Modern comforts, history and colonial architecture collide at the Refinery Hotel. Once a hat factory, this upscale accommodation has lost none of its industrial spirit, keeping its past alive alongside its very own Prohibition-era tea room.
The days of stitching may be behind this building, but its perennial lofted rooms now make for the perfect escape from Midtown New York City. Add on 12-foot ceilings that soar towards the skies, textured hardwood floors and you get the best of both worlds.
Each room comes with a minibar complete with gourmet food and local whiskeys. Oversized windows peer out into the great expanse of Manhattan and marble bathrooms welcome you after a long day of adventure.
The on-site restaurant continues to be a popular meeting place, as it has for over 100 years. In addition, the rooftop bar combines innovative cocktails with views of the Empire State.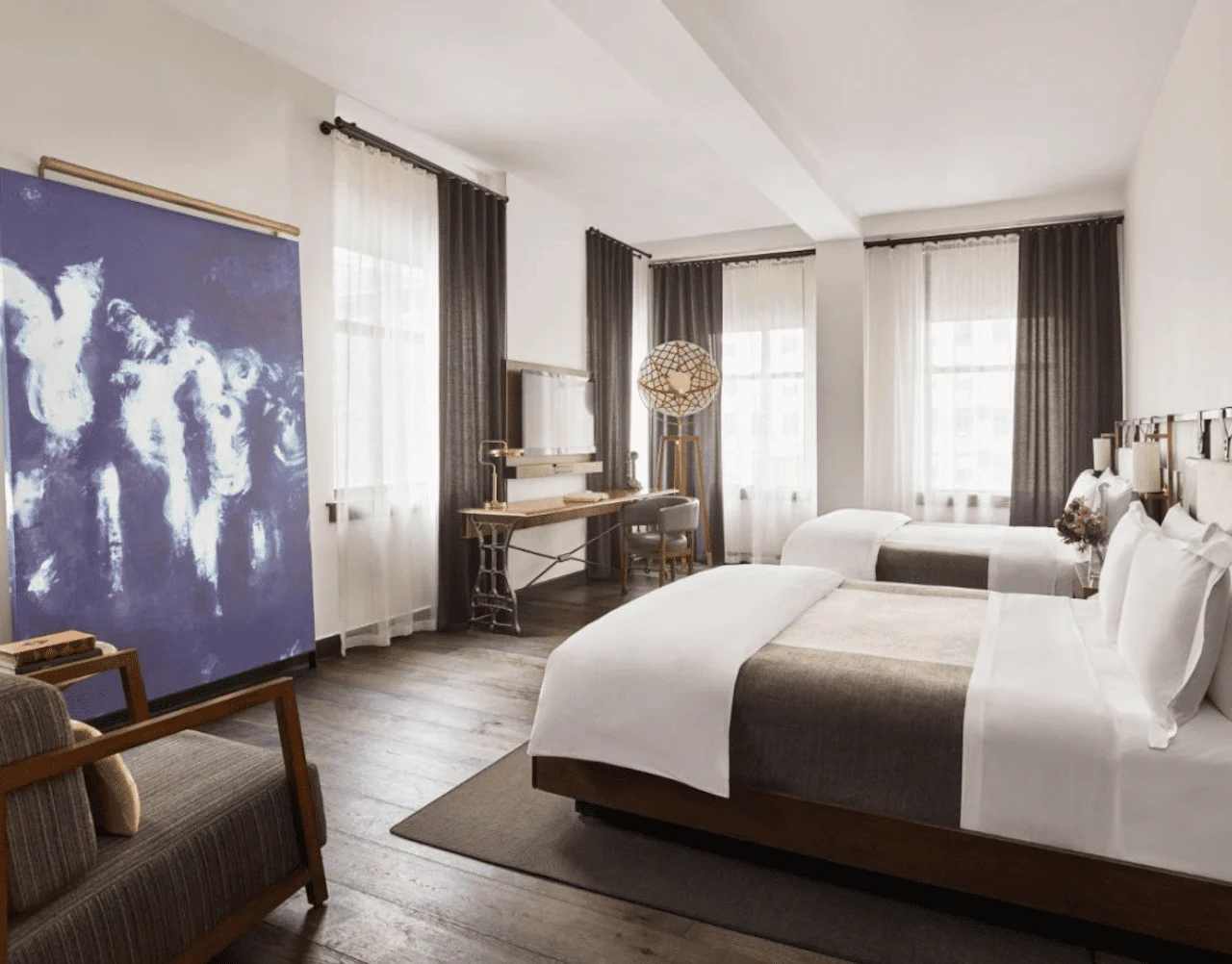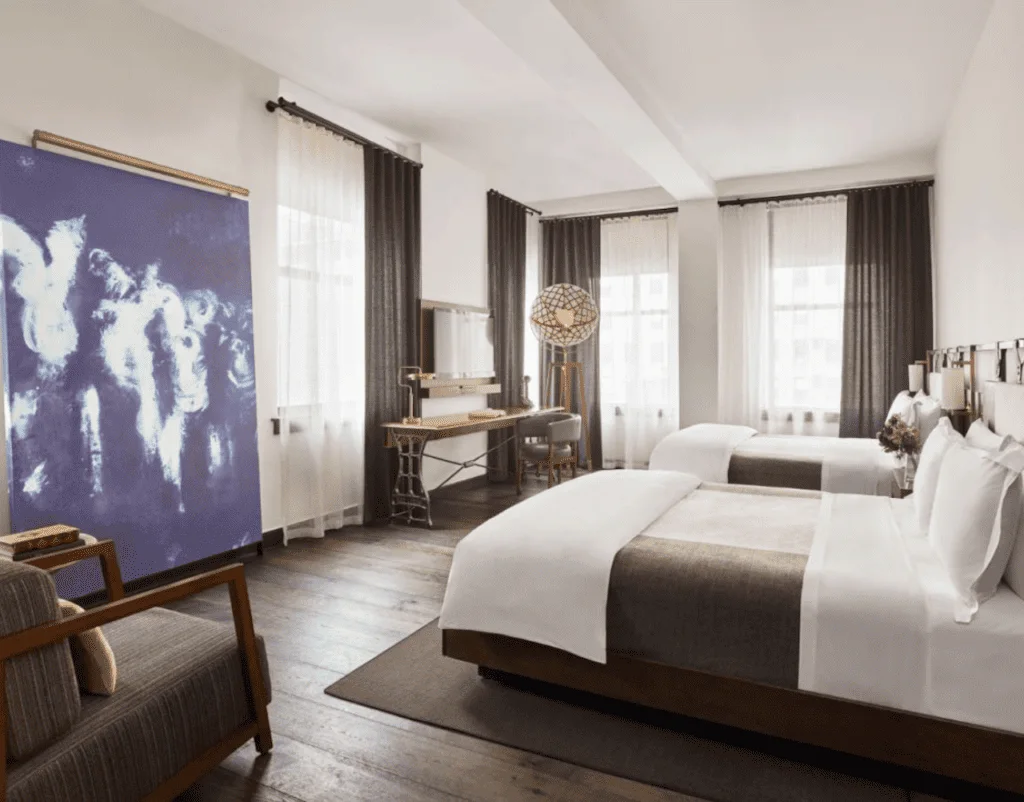 4) 5 Star / Luxury Hotels
For those looking for a more luxury experience within walking distance to Penn Station, here are a couple of great picks that you can't go wrong with.
Pendry Manhattan West
Upon walking into the Pendry Manhattan West, you can't help but be drawn into the understated but utterly beautiful interior design. The lobby will always put a smile on your face as you go behind the famed facade of this building to the luxury beyond.
New York can be a hectic place. While the Pendry is luxury personified, you'll be hit with a sense of calm thanks to the refined, yet relaxing rooms on offer. Each guest room is as sophisticated as the last, with contemporary interiors boasting warm wooden accents and floor-to-ceiling windows.
Don't pass up a stay within the Skyline King which offers a spacious sitting area that allows you to watch the streets around Penn Station transform from day to night.
Five-star dining is at your fingertips at the Pendry Manhattan West. An intimate restaurant will welcome you while the nearby bar remains dimly lit evoking the aura of Old New York.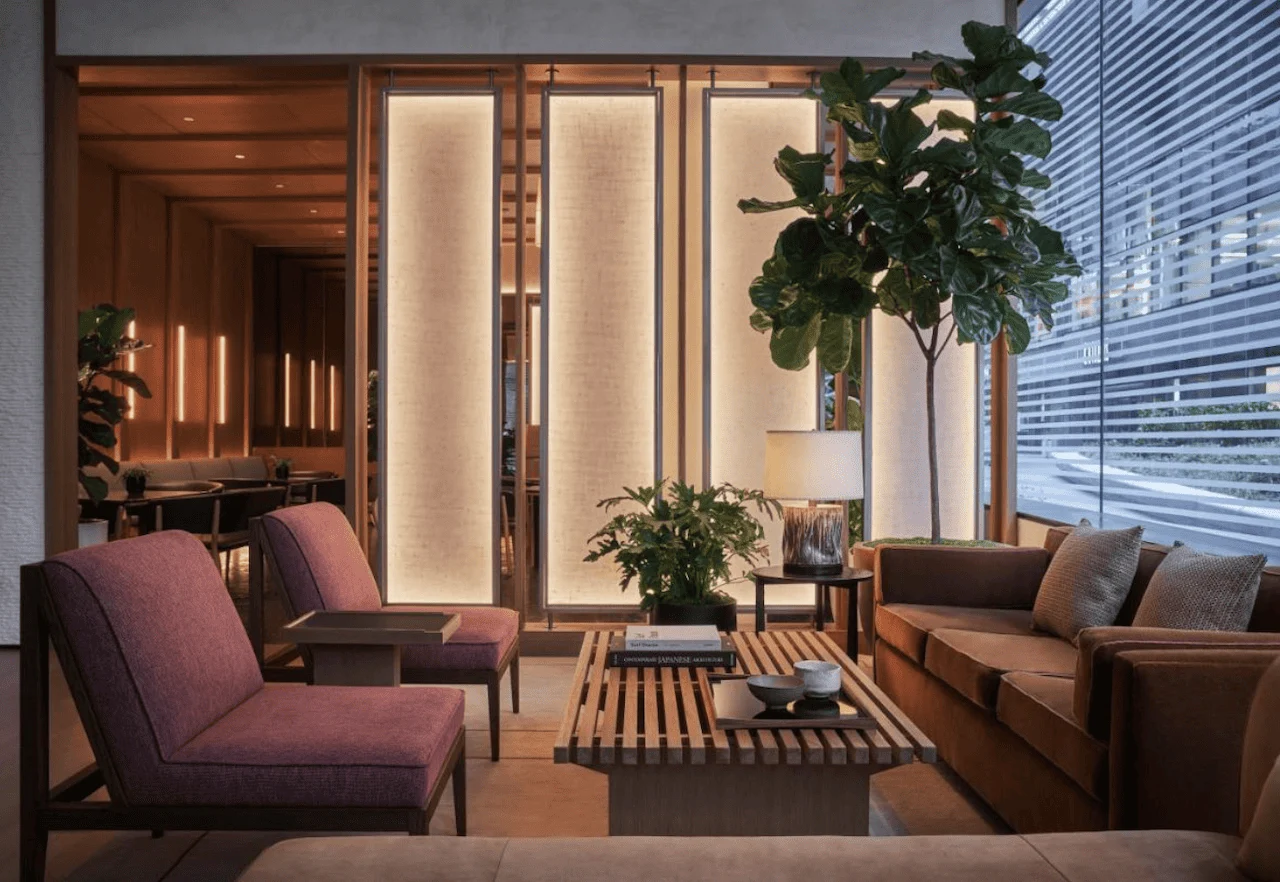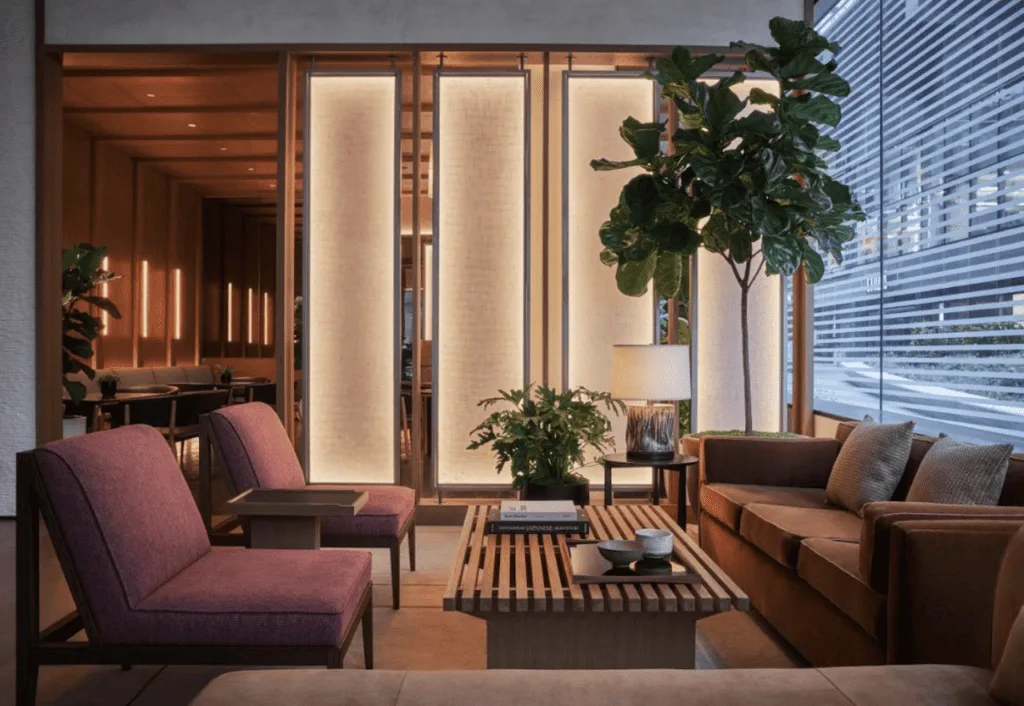 The Langham
Set on the famous 5th Avenue, this is a top pick when it comes to 5-star/luxury hotels near Penn Station. Surrounded by some of the best attractions in the city, the Langham will always tempt you to stick around inside for a little longer.
Stylish suites and elevated luxury come standard here, with the Superior Room being its most modest offering. It's a place to combine business and pleasure or maybe just the latter. At the Langham you can admire the views, enjoy the marble bathroom and relax under the rainfall shower.
As you go up in scale, extra space becomes key. A spacious work desk is complemented by a soaking tub and a full kitchen boasting upscale appliances. Add on a terrace and you may never want to leave.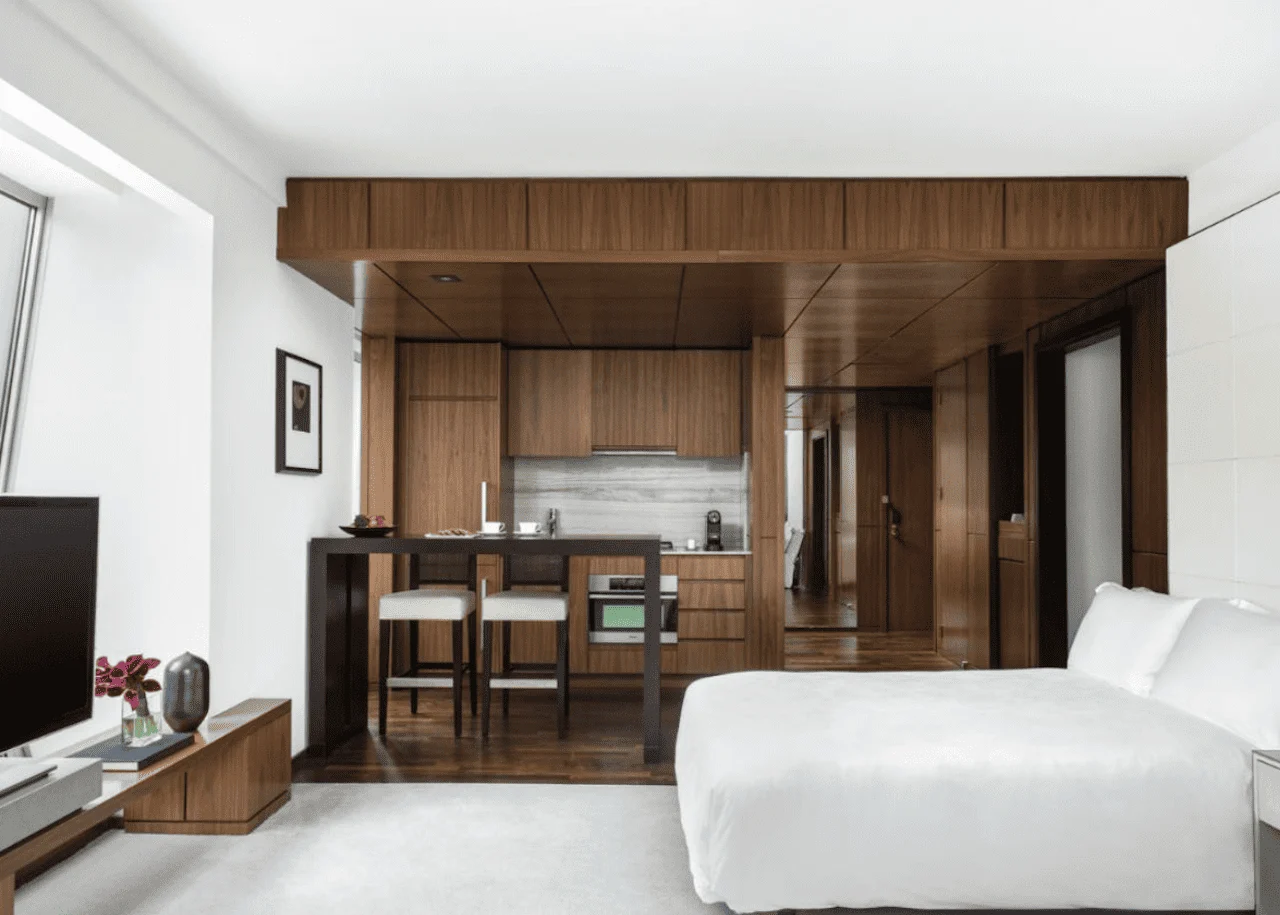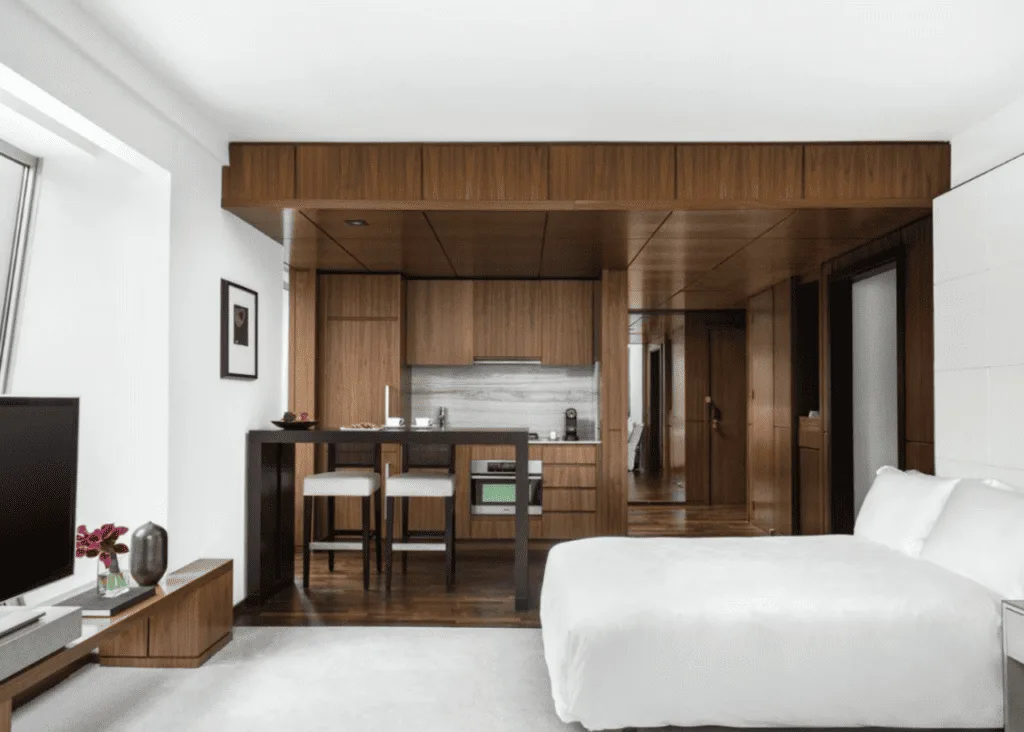 5) Cheap & Budget Hotels
Last up on the list are some of the cheaper hotels in the area. Now, while these may be cheaper, that doesn't mean they aren't highly rated choices. Be on the lookout for some free included breakfast option as well.
Fairfield Inn & Suites New York Midtown
The Fairfield Inn & Suites is one of the few hotels near Penn Station with free breakfast that won't simply remind you of previous travels. There remains a distinct New York vibe here where the sounds and lights of nearby streets float through the lobby, inspiring you to explore.
A day of adventure is rewarded the moment you wander back into your room and are met with equally vibrant decor and soft, cozy bedding. Because of this, relaxing goes off without a hitch with city views to remind you of what's to come tomorrow.
Guests can later spend time keeping active in the fitness center or relaxing in the indoor pool. The perfect escape for kids when the snow is falling heavy, or those concrete NY streets start to feel like the sun.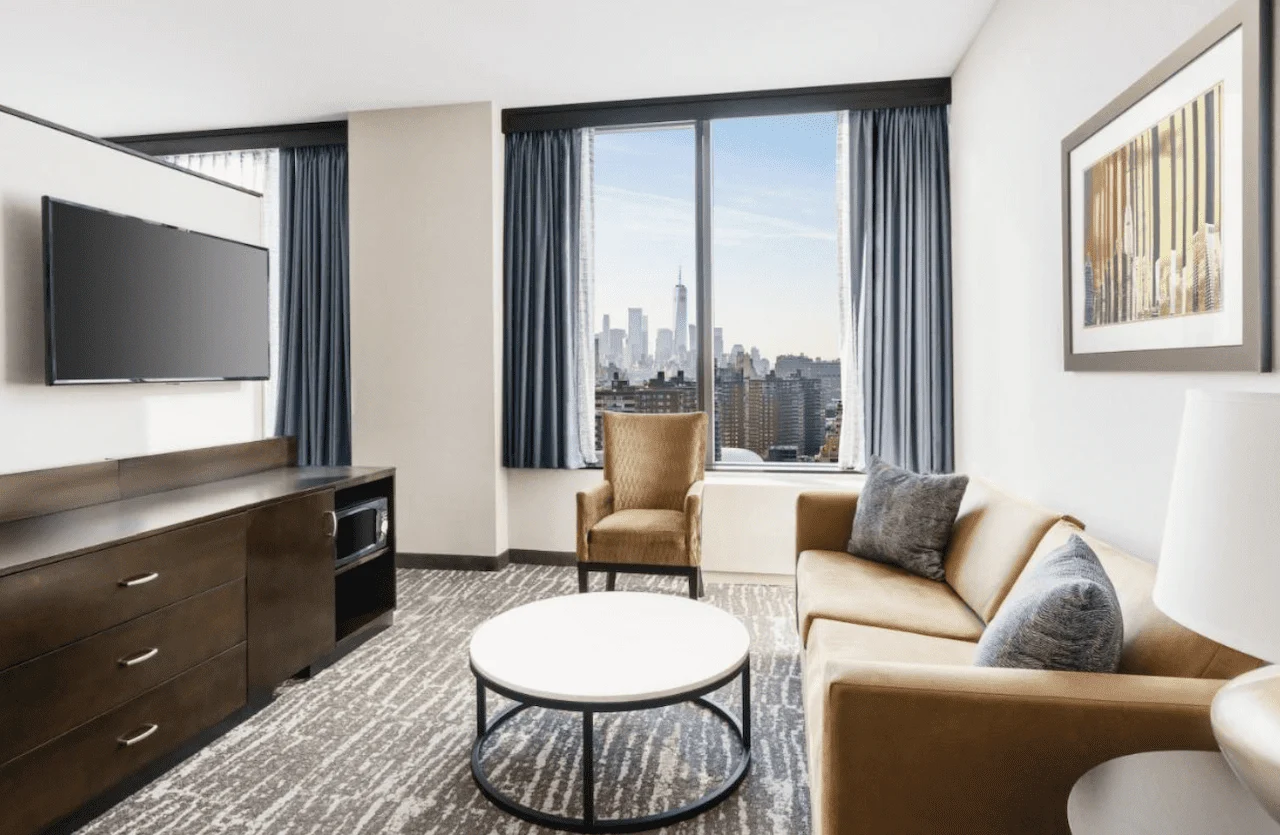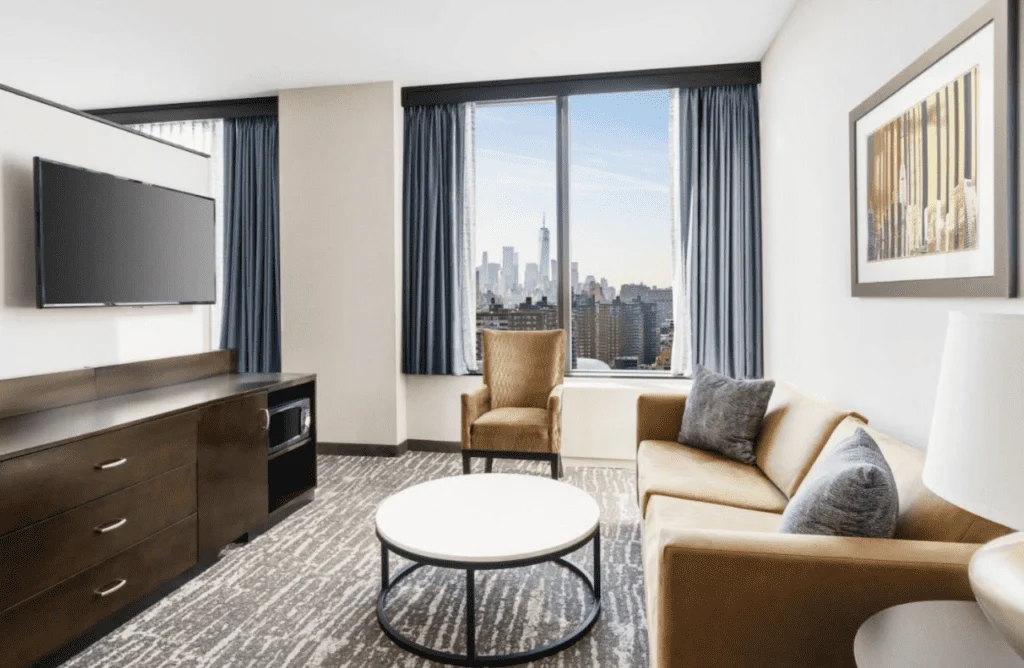 The New Yorker – Wyndham Hotel
As you go from looking at luxury accommodations to cheap hotels near Penn Station, you'll find that New York has a baseline. Cheap is relative and you can still expect a wonderful level of comfort, amenities and access even as you make your way down the price list. The New Yorker – Wyndham Hotel is the perfect example.
Home to the beloved red New Yorker sign on top of its classic facade, the hotel is a sanctuary of Art Deco inspiration. Its standard rooms take you back to the Roaring Twenties where gold and rich browns mix against the bright white of the bed linens.
The pet-friendly hotel provides guests with a fitness center and a memorable culinary experience at the Tick Tock Diner, the largest in the city. In addition, the Butcher and Banker comes with bespoke cocktails for an elevated touch.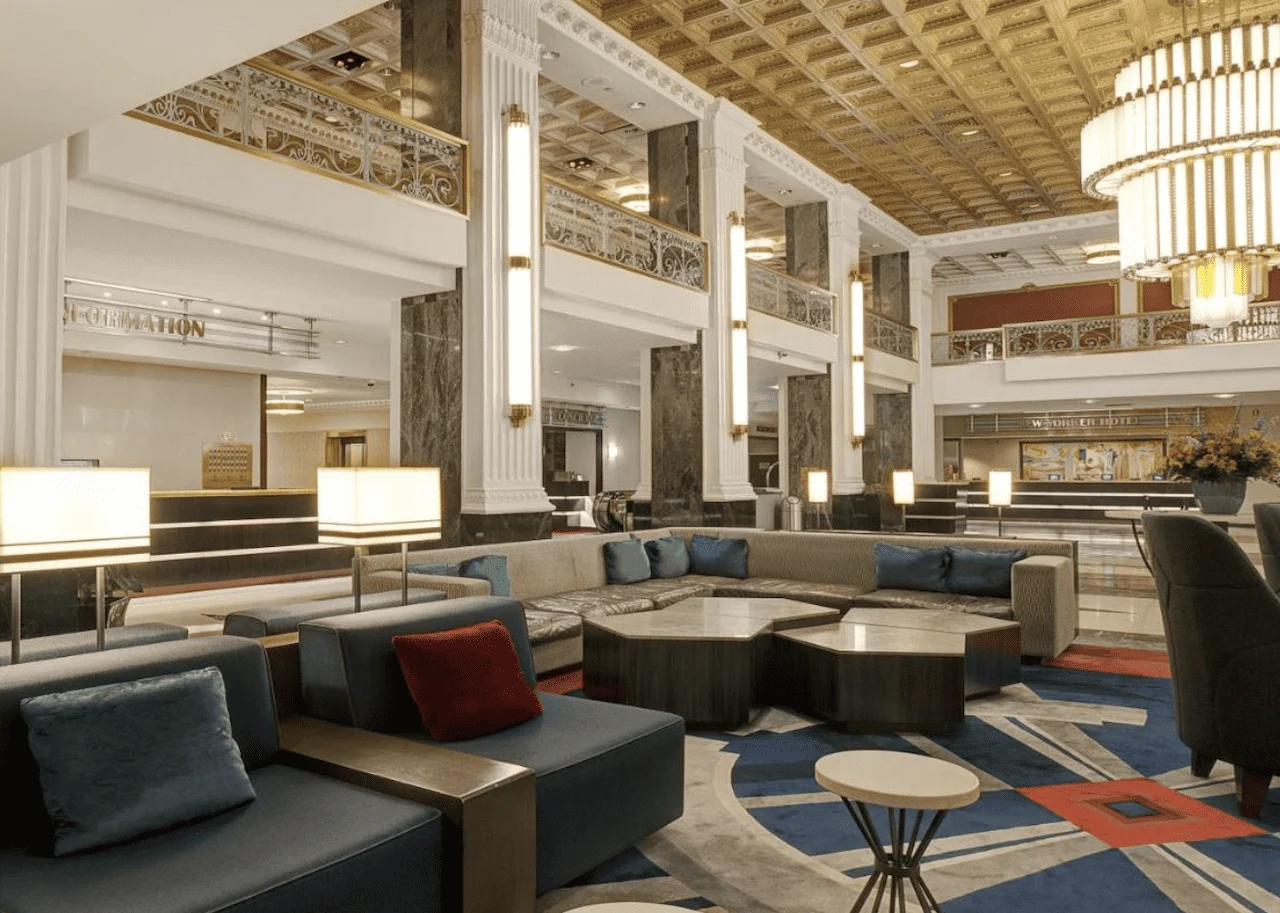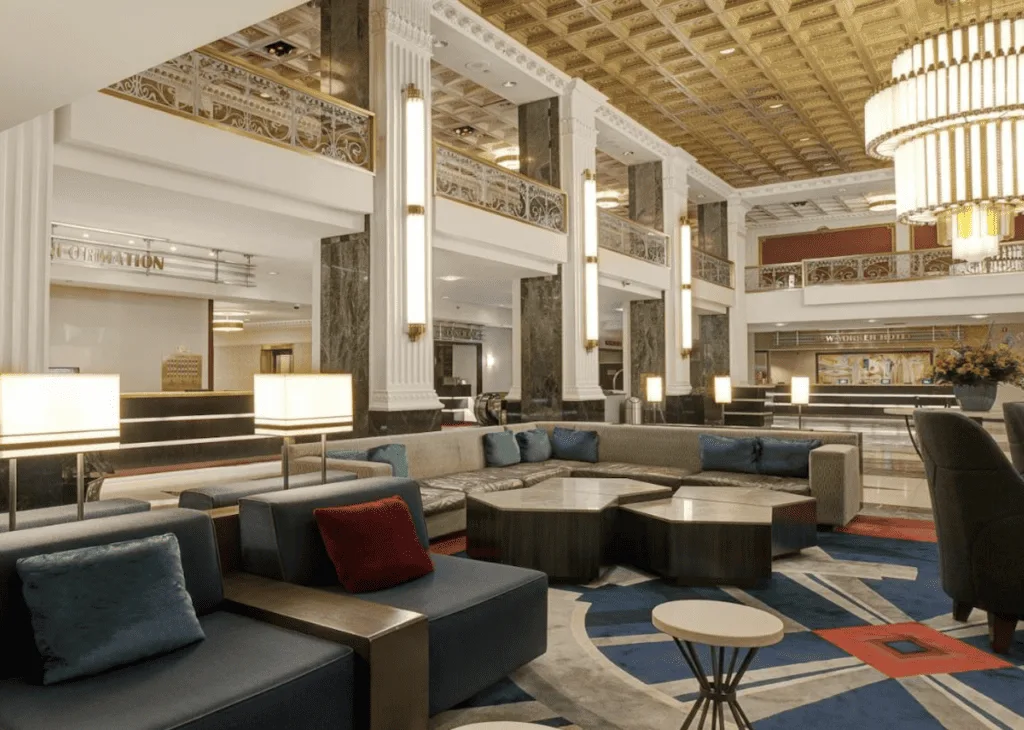 Homewood Suites Midtown Manhattan
This extended-stay hotel is perfect for those wanting to stick around this part of the world for more than a few days. With that said, its price point and access to Broadway and Madison Square Garden will have you tempted to sneak in for a weekend getaway.
At the Homewood Suites, you can expect complimentary breakfast to kick start your day in the Big Apple. The pet-friendly rooms come with city views while the suites offer guests a separate living space. All rooms offer a kitchenette that can help save you some money on eating out.
The on-site concierge can peel back the layers and help you see New York like a local while the fitness center will be patiently waiting for you whenever you want to break a sweat.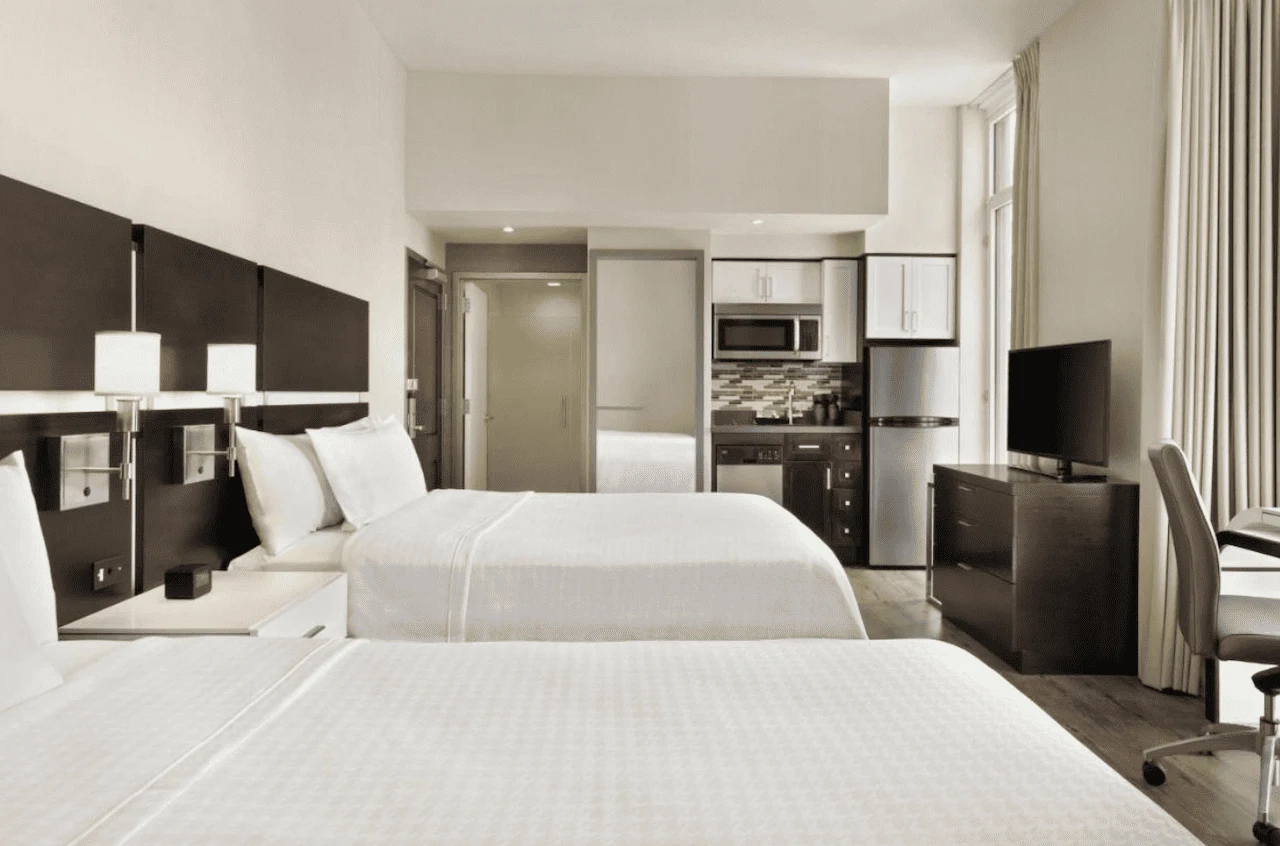 6) Where to Visit Near Penn Station
If you are staying by Penn Station, you will be in walking distance from some top highlights of the city. Below are just a handful of places that you can add onto your NYC itinerary.
Empire State Building: the ESB is located just a couple avenues away from Penn Station. It is one of the best observation decks in the city, and you can even enjoy a sunrise experience if you are up for it!
Herald Square: an avenue from the station is Herald Square, one of the main intersections in the city. Herald Square is most famously known for the world's largest Macy's.
Bryant Park: located just behind the New York Public Library is the scenic Bryant Park. It is the perfect spot to take a stroll, and some hotels are right outside of it.
Hudson River: head west for a few avenues and you will arrive at the Hudson River. All along the river is a great park to walk along full of piers, lookouts, and more.
High Line Park: one of the more underrated highlights in the city is the High Line Park. This elevated walkway connects downtown with 34th Street. It is a great place to explore just by the station as it now has the Moynihan Connector attached to it.
Times Square: head uptown and you should be right in the heart of Times Square in no time. Spend some time enjoying the bright lights and billboards, and maybe even take in a nearby Broadway show.
Rockefeller Center: while a bit further of a walk away, you can also head to Rockefeller Center along Fifth Avenue. Maybe even go up to the Top of the Rock for the view!
Central Park: still within walking distance (or a quick subway) is the one and only Central Park. You can spend days exploring its 843 acres and all that it has to offer.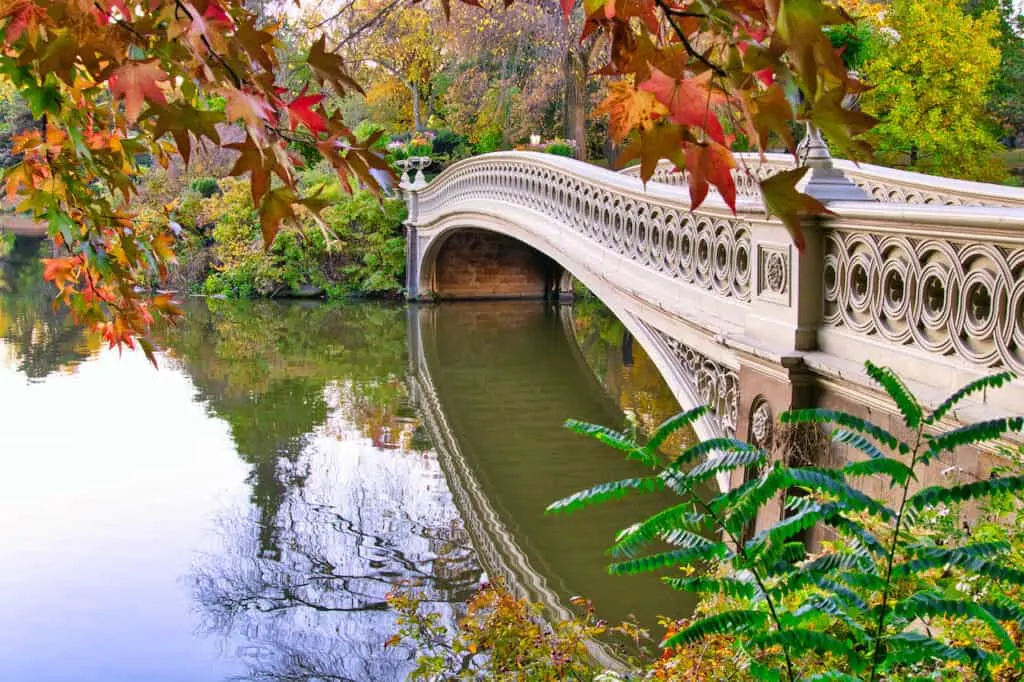 That about does it for the top hotels near Penn Station. If you are looking for some other top New York City hotels, be sure to check out the overview to where to stay in NYC.
Feel free to also read some other New York itineraries and guides up on the site.
Have fun out there and safe travels!