If you are looking for the best New York City hotels with balconies, you have come to the right place.
Throughout the city, there are thousands of hotels, but only a subset of them offer balconies, terraces, and outdoor spaces for guests to relax and take in the view.
The purpose of this overview is to list out the top hotels that offer balconies in NYC and give you some helpful insight along the way.
Read on to learn more about these hotels for your next trip to New York!
* Affiliate Disclosure: This post may contain affiliate links, which means I may receive a commission if you make a purchase through the links provided, at no additional cost to you. Thanks for supporting the work I put into TripTins!
New York City Hotels with Balconies Overview
Although NYC does have a fair share of hotels with balconies, finding a reasonably priced room with outdoor space can be tough.
There are many articles out there that list out the top hotels with balconies, only to caveat it by saying just the "penthouse suite" offers private outdoor space.
Now, while there is a chance you want to splurge for the penthouse suite, the majority of tourists are looking for a more standard everyday option.
That is what this list of NYC hotels with balconies is here for. Instead of just having a list of hotels with a very small number of guest rooms with outdoor spaces, I have included several hotels that have plenty of rooms with balconies & terraces.
Not only that, but you will find many hotels on this list that are affordable and well-priced for what they offer.
So, to start, below are the hotels that I will be going over throughout the remainder of this overview.
Booking Note: I have included booking links throughout the article that will help you make your reservation. Pay close attention to what room you are booking to ensure you are choosing a room with a balcony.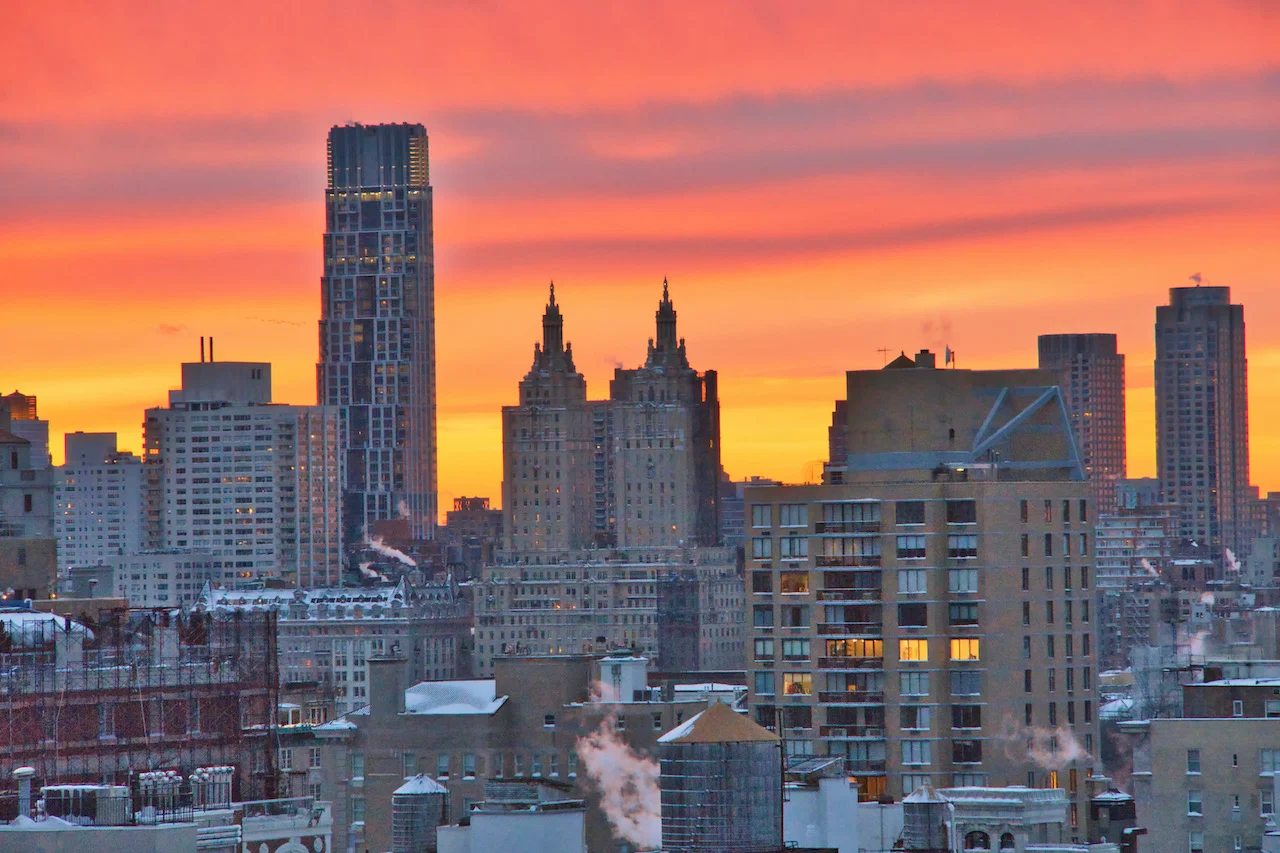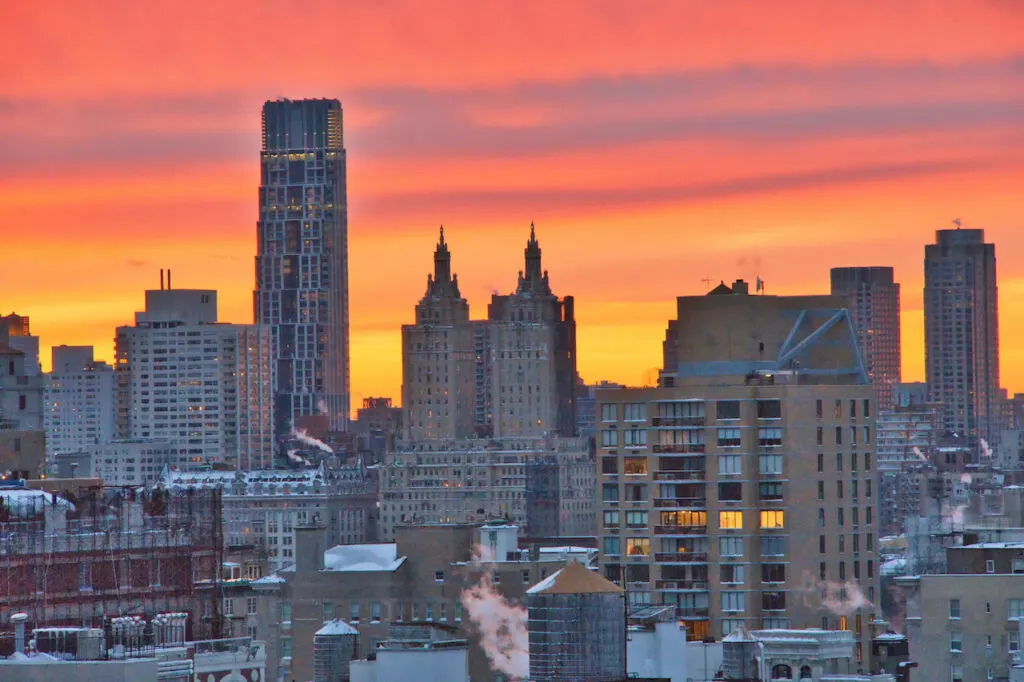 1) The Ludlow Hotel
The Ludlow Hotel is one of the best hotels in Manhattan that offers balcony options and one of the district's hippest hotels.
The formerly-abandoned redbrick was purchased by three veteran NYC hoteliers in 2012. It underwent a luxury refurbishment before opening its doors in 2014.
If you're looking for balcony/terrace areas, there are a few options on the table.
Studio Queen rooms sport spacious outdoor terraces that are perfect for enjoying a cup of coffee. Loft Kings with Terraces, meanwhile, also have outdoor areas that are great hangout spots.
For the ultimate in outdoor areas, however, you should plump for the Penthouse. Its gargantuan outdoor terrace is so big, it's two-thirds the size of the (already-large) interior area.
Balcony Room Summary
Queen Studio with Terrace
Loft King with Terrace
Penthouse Suite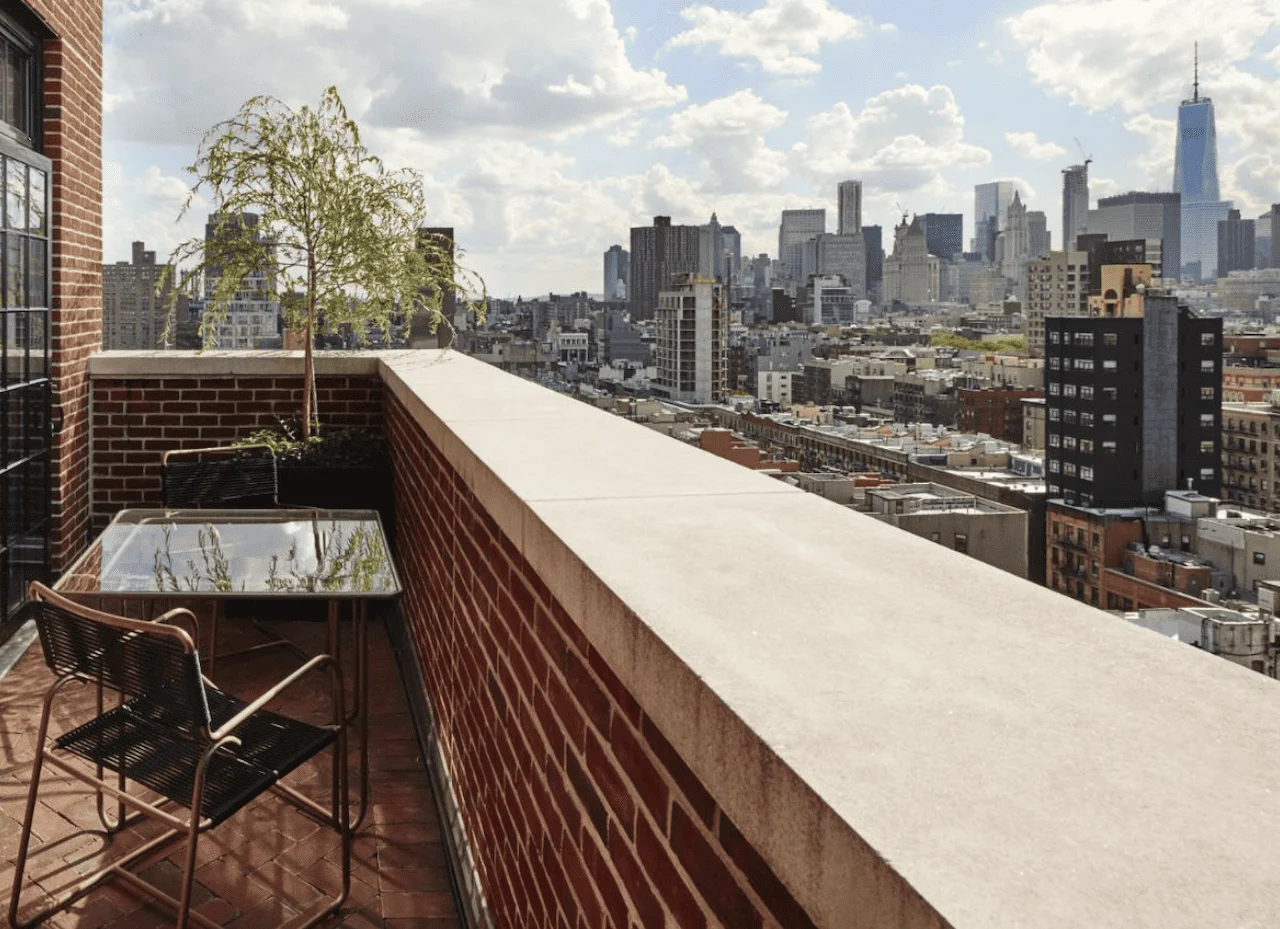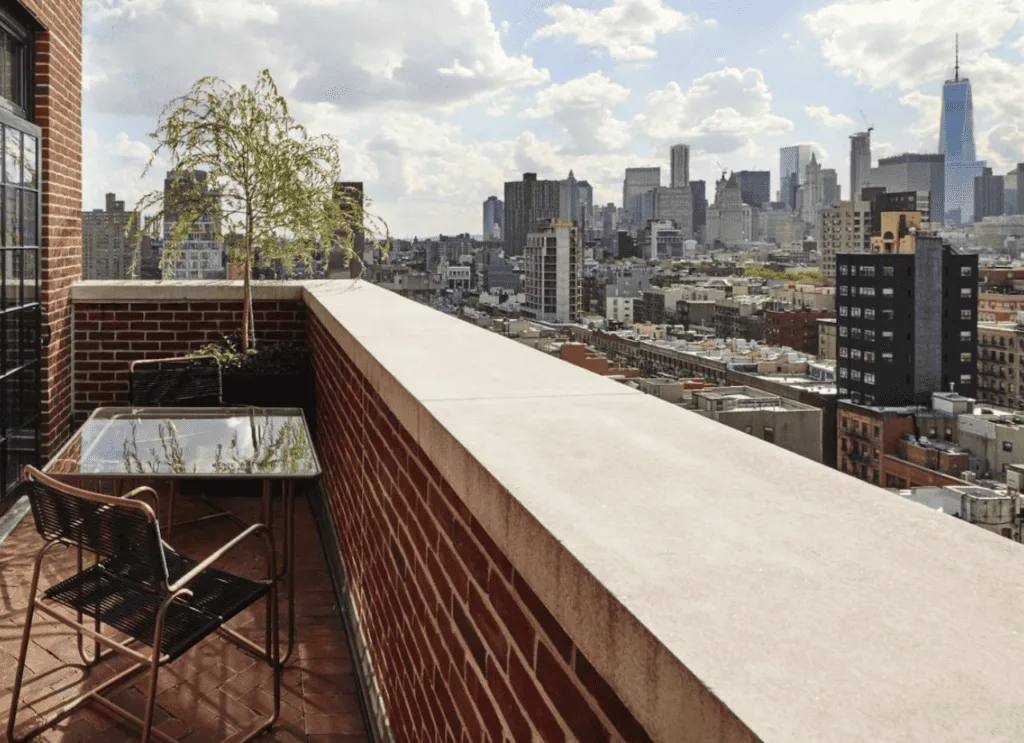 2) NobleDen Hotel
NobleDen Hotel is located in a cosmopolitan area that makes for a great staging point for exploration. It's found at the intersection between Little Italy, Chinatown, Nolita, SoHo, and the Lower East Side. This means that no matter which way you go, there's always something new to explore (including easy access to the Brooklyn Bridge).
There are several types of rooms that feature outdoor areas.
The first is the Double Full Balcony, which combines a large interior space and expansive beds with a generous balcony area. The King Juliette, meanwhile, sports a small interior space and has a Juliet balcony, rather than a walkout one.
Finally, the King Penthouse combines a modest interior with a cozy and intimate deck that's great for watching the city go by.
Balcony Room Summary
Double Full with Balcony
King Room Juliette
King Penthouse with Balcony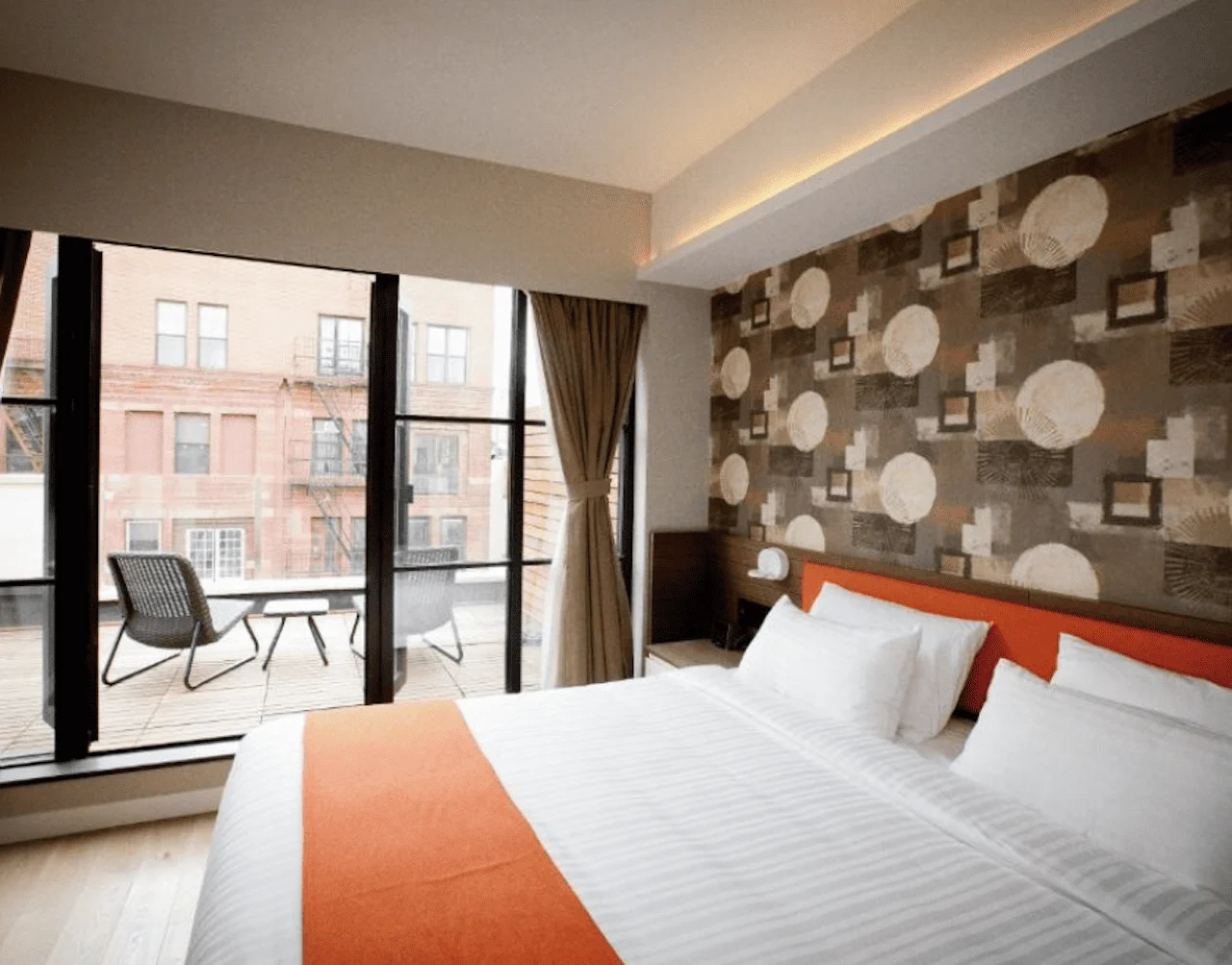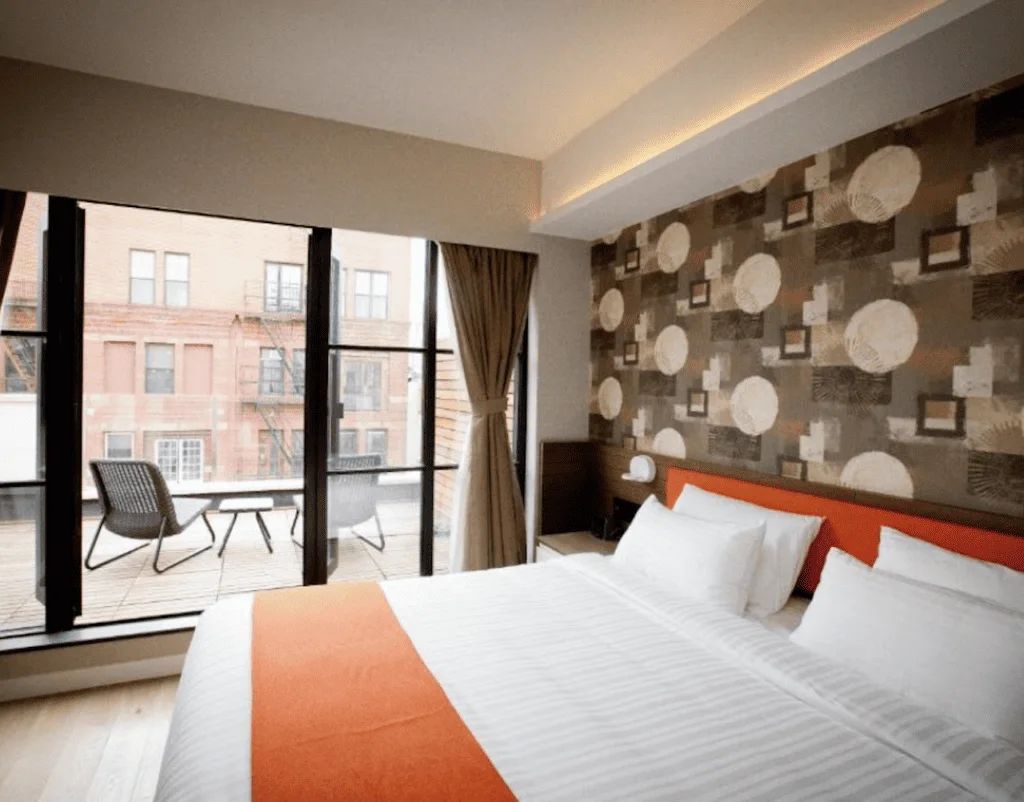 3) Gansevoort Meatpacking
Gansevoort Meatpacking is found right in the heart of the trendy NYC district. It dubs itself as "your downtown New York oasis", and has been a landmark within the Meatpacking District since 2004. One of its most famous features is the heated rooftop pool, which makes for a great swim year-round.
The Gansevoort offers a few kinds of rooms with outdoor options. In keeping with the hotel's theme, these are at once quirky and hip. They also put the Gansevoort in the running for one of the coolest NYC hotels with balconies.
The first kind is the Terrace Queen room. The private terrace is surrounded by a high fence that maintains your privacy. It's furnished with potted plants, a small sofa, and a wrought-iron garden table for you to relax at.
The second is the Terrace King room. The interior is not dissimilar to the Queen room, but the terrace is set up a little differently, with a longer sofa and a little more space in which to relax.
In addition, you will find some of the Deluxe Double Rooms, and a few of the larger bedroom suites offer balconies as well.
Balcony Room Summary
Deluxe Double Room
Terrace Queen Room
Terrace King Room
Gansevoort One-Bedroom King Suite
Manhattan One-Bedroom King Suite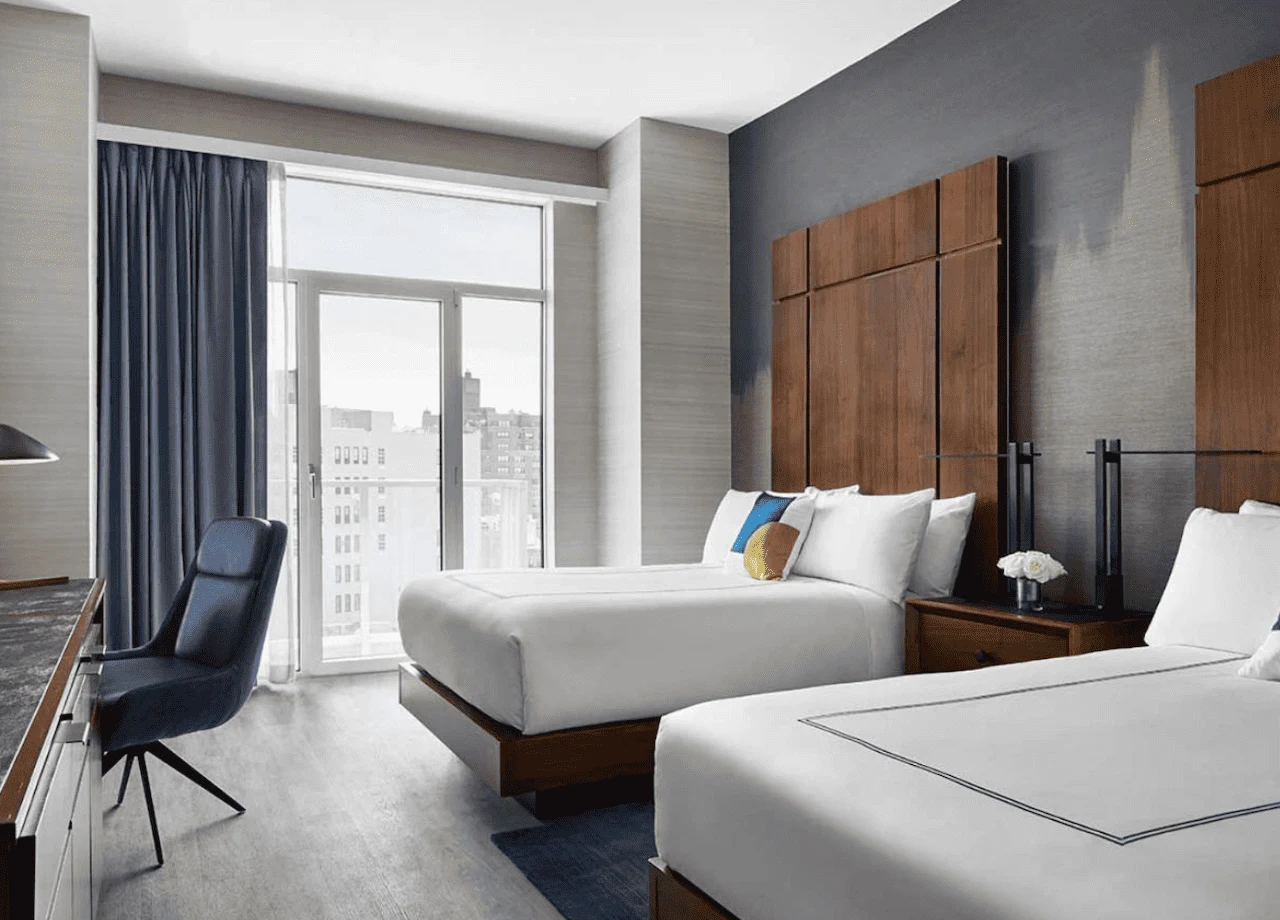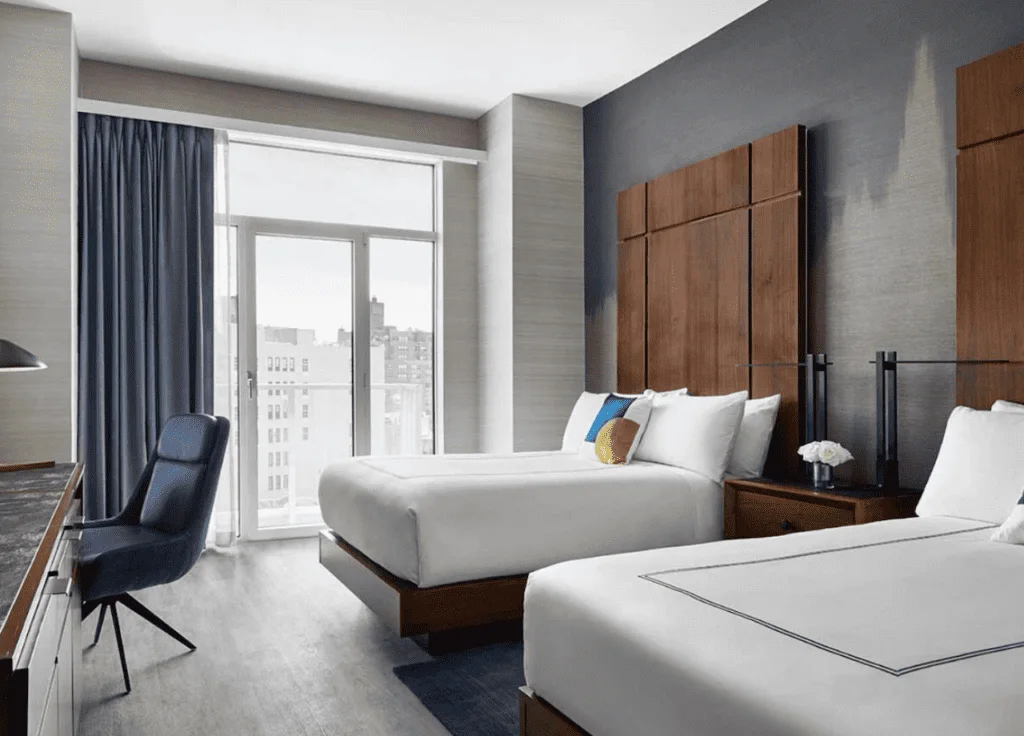 4) Hotel Giraffe
This slick NYC hotel is heavily influenced by the Roaring Twenties and features Art Deco flairs throughout. It's also one of the best New York City hotels with balconies. The hotel is found in the trendy NoMad district, and stores & restaurants abound in the vicinity.
Balcony rooms start with the Balcony Guestroom with 1 King Bed. Each of these has a Juliet Balcony as standard, which is the perfect vantage point to see the city. If you'd like a slightly more spacious balcony, opt for the Balcony Guestrooms with Two Queen Beds.
The largest room with a balcony is the Balcony King Suite. Note, however, that the balcony itself is the same size as the Juliets in the smaller rooms – it's simply the room that's larger.
The final balcony option is the Two Bedroom Suite. This combines a double-queen guestroom with a king one, each of which has its own balcony.
Balcony Room Summary
King Room with Balcony
Queen Room with Balcony
King Suite with Balcony
Quadruple Room with Balcony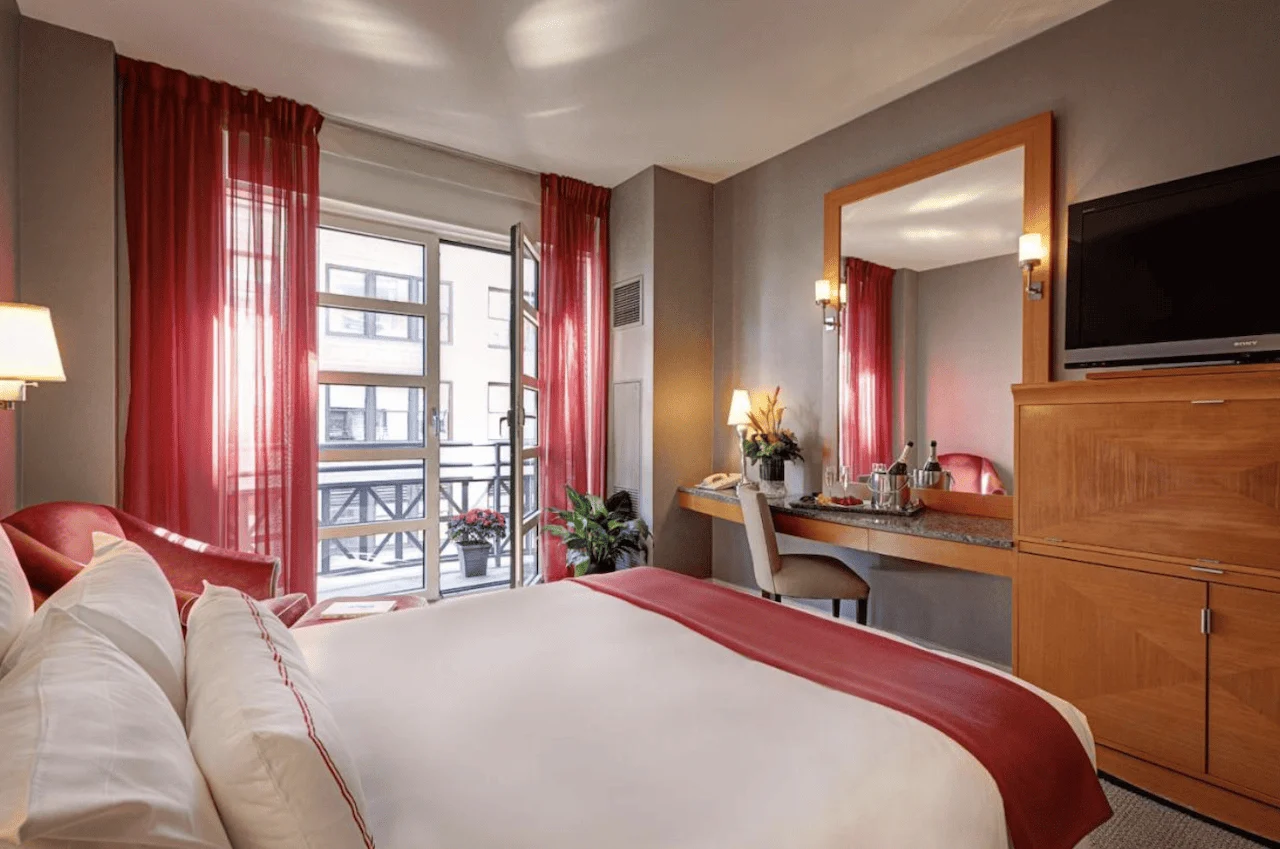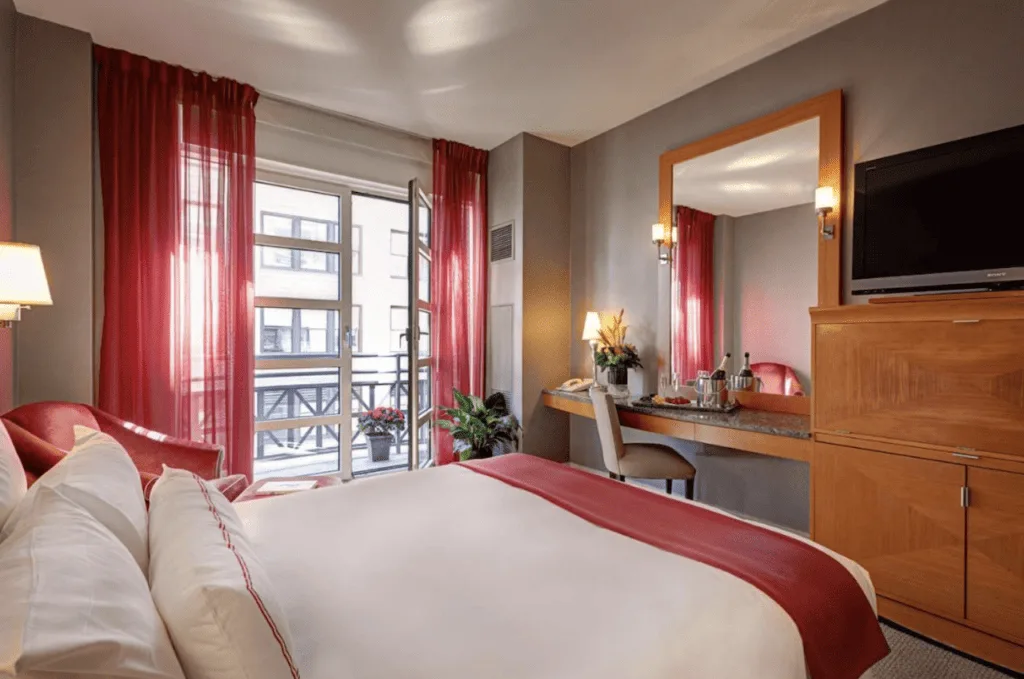 5) Artezen Hotel
The Artezen is a Financial District hotel that's just steps away from Wall Street, One World Trade Center, and Battery Park. It's a great pick both for tourists and working travelers, with easy access to the rest of the city. There's also a fitness center onsite – something that's hardly guaranteed in NYC hotels, where space is at a premium.
Rooms with outdoor areas start with the Deluxe Queen Bedded Terrace room. The terrace is generously sized, with room enough to seat two comfortably. Deluxe King Bedded Terrace rooms offer the same size balcony but with a slightly larger interior area.
Despite the freneticism of the Artezen's location in the busy Financial District, all of the rooms are perfectly quiet. This makes it a great place to relax and unwind at the end of a day's exploring (or work). This, of course, goes double if you've opted for a room with a terrace.
Balcony Room Summary
Deluxe Queen Room with Terrace
Deluxe King Room with Terrace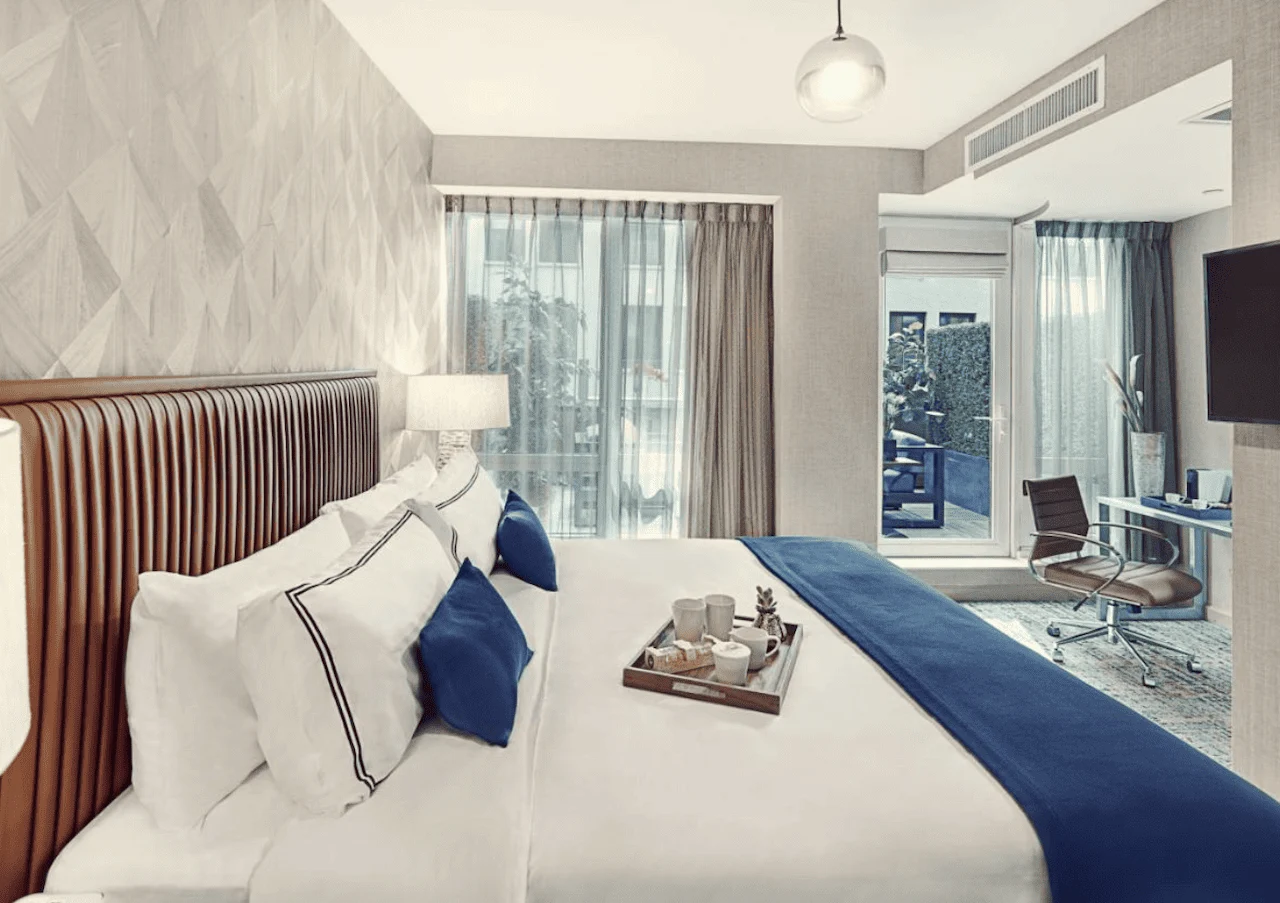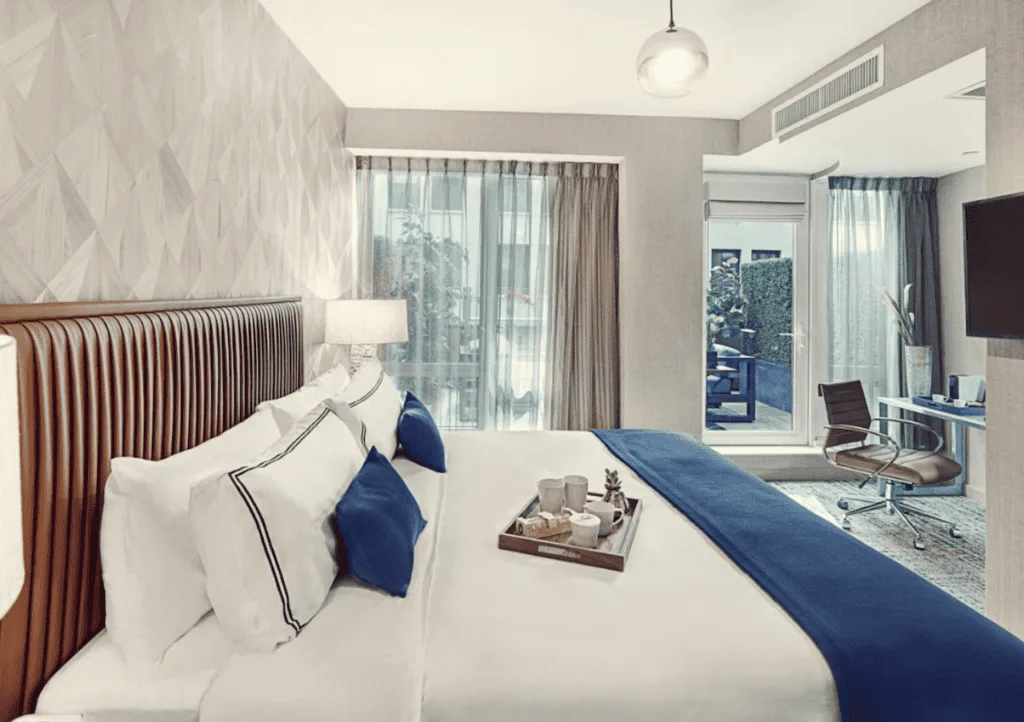 6) Andaz 5th Avenue
The Andaz is a boutique luxury hotel which is located, as the name suggests, on 5th Avenue. It's opposite the New York Public Library, putting it in a prime location for checking out the city.
The hotel maintains a collection of local art, and some evenings, they offer a wine hour. This represents a great chance to mingle with local artists and find out more about their work.
Private balcony and terrace options are numerous. They begin with the One-Bedroom Balcony Suite, which features a Juliet balcony overlooking 41st Street. If you'd like a larger outdoor space, the One Bedroom Terrace Space provides that, with great city views.
The finest outdoor areas can be found in the 5th Avenue and Empire Terrace Suites. The former features views of the New York Public Library and Fifth Avenue. The latter, meanwhile, boasts astonishing views of the Empire State Building from its wraparound terrace.
Balcony Room Summary
Suite with Balcony
Suite with Terrace
5th Avenue & Empire Terrace Suites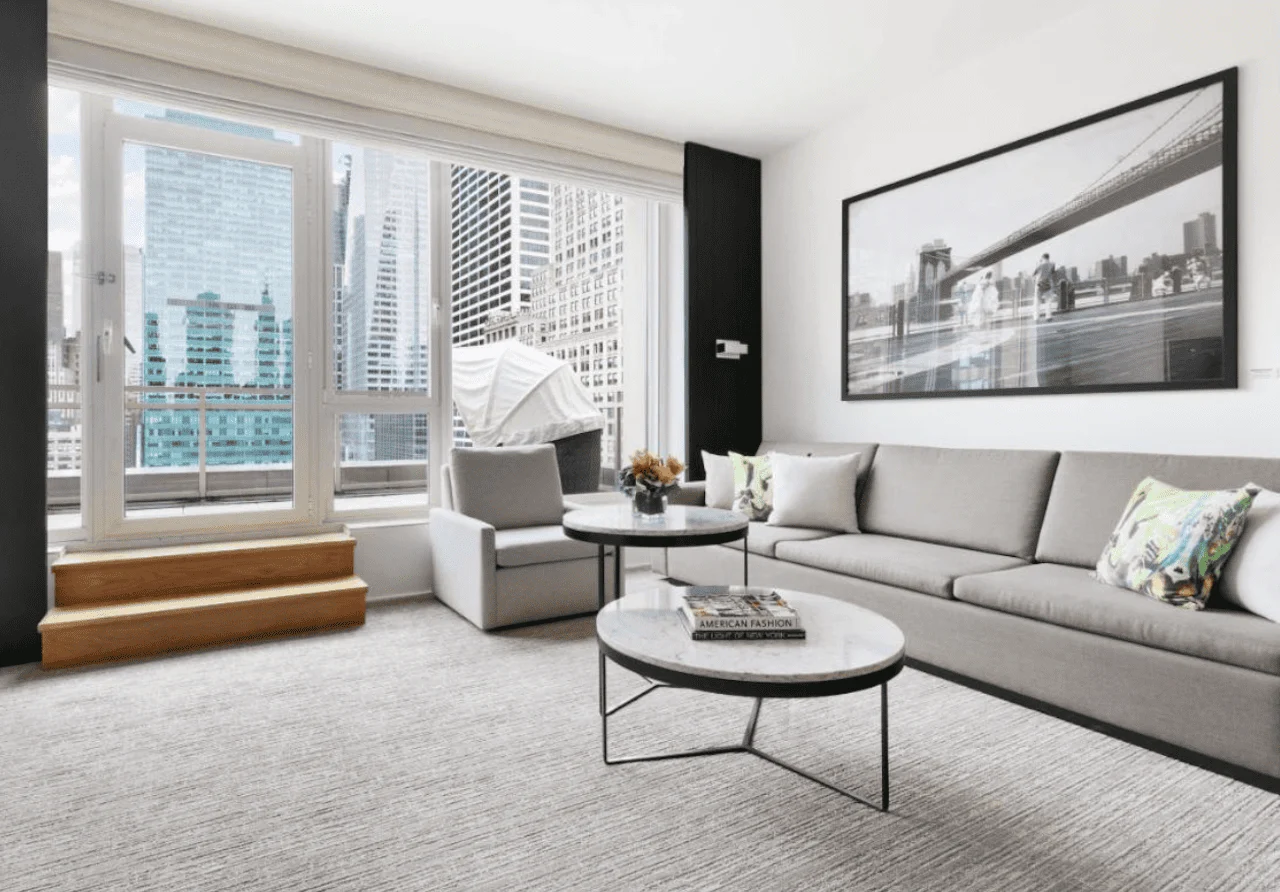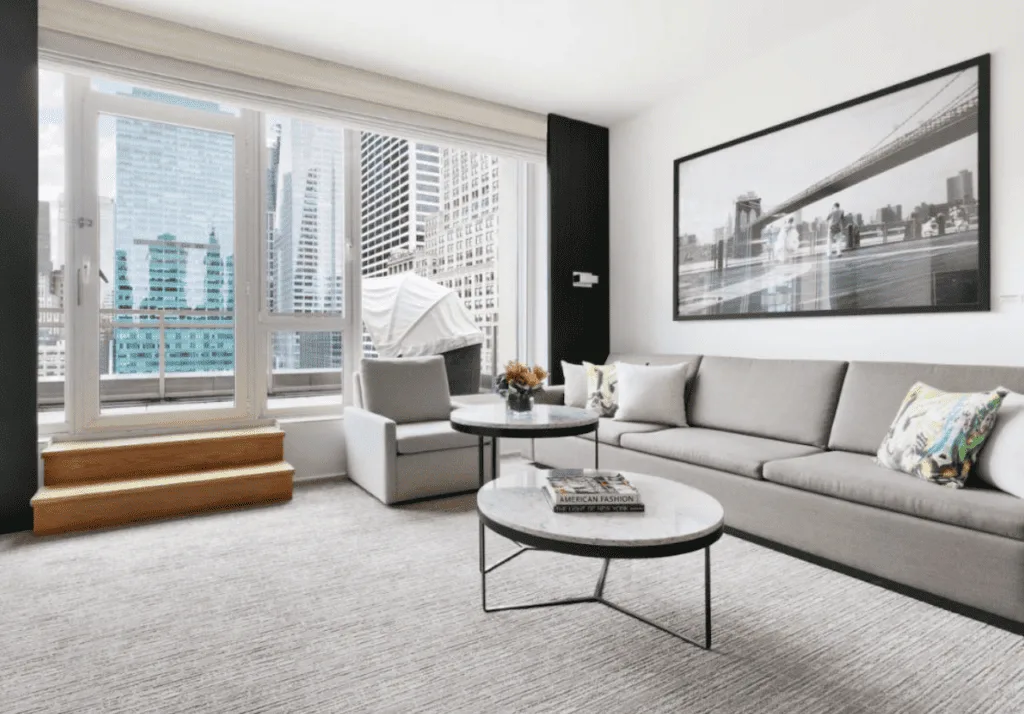 7) Renaissance Times Square
The Renaissance puts you right in the thick of it, at New York's world-famous Times Square. Despite its legendarily hectic location, however, the hotel is soundproofed throughout. This means you can relax no matter how busy it is outside.
The Renaissance's great location right on Times Square makes it great for exploring the city. The iconic square itself is right on your doorstep, and the Theater District isn't much further away. Rockefeller Center, Bryant Park, and the world-famous Central Park are also not very far.
The Renaissance has only a single kind of room that offers terraces. Given that you're right on Times Square, however, that means that those terraces are breathtaking. Impeccably decked out in artificial grass, each one is like a small garden high above Times Square. The views, meanwhile, are simply unforgettable.
Balcony Room Summary
Times Square Terrace Room with King Bed & Balcony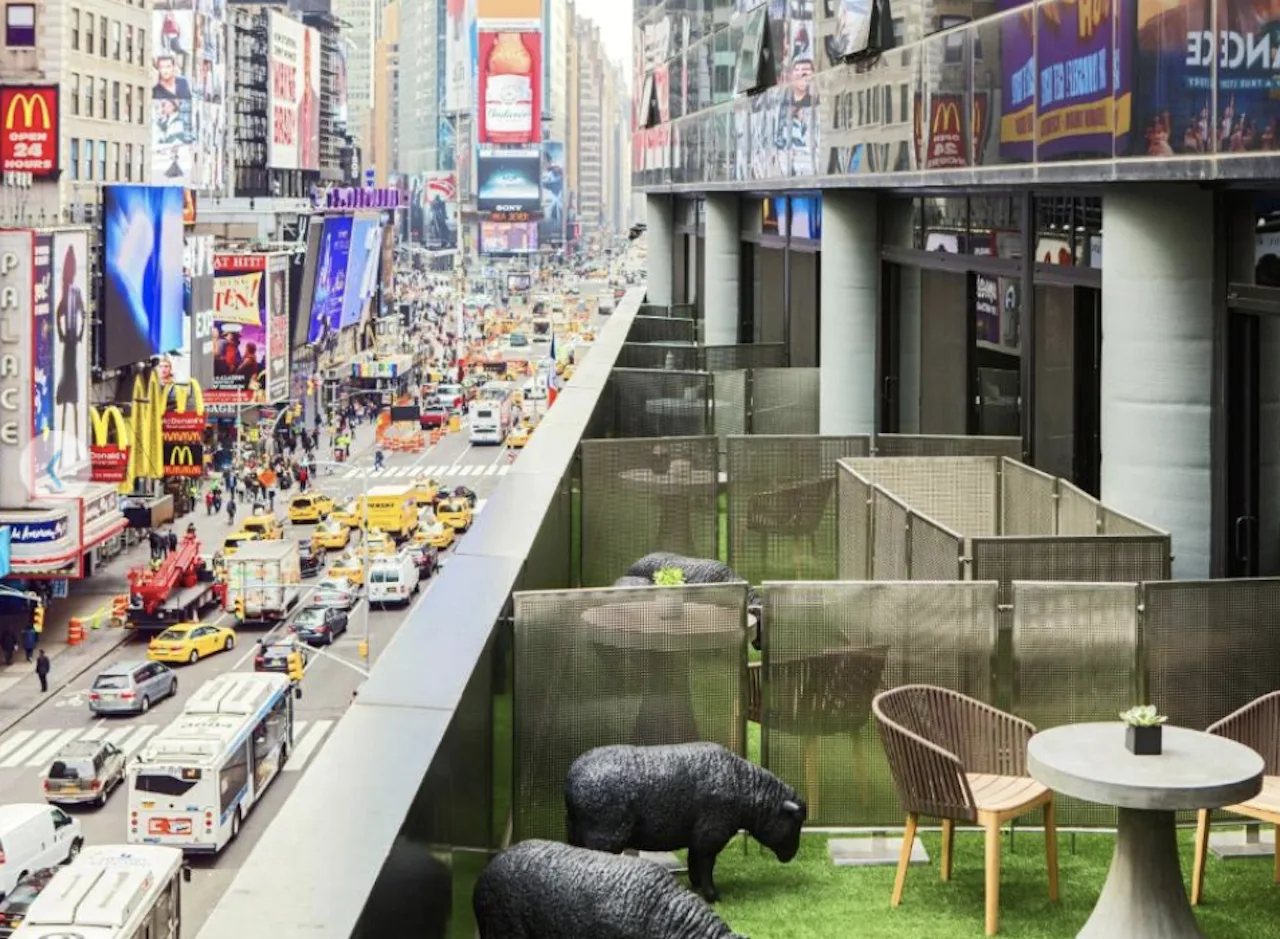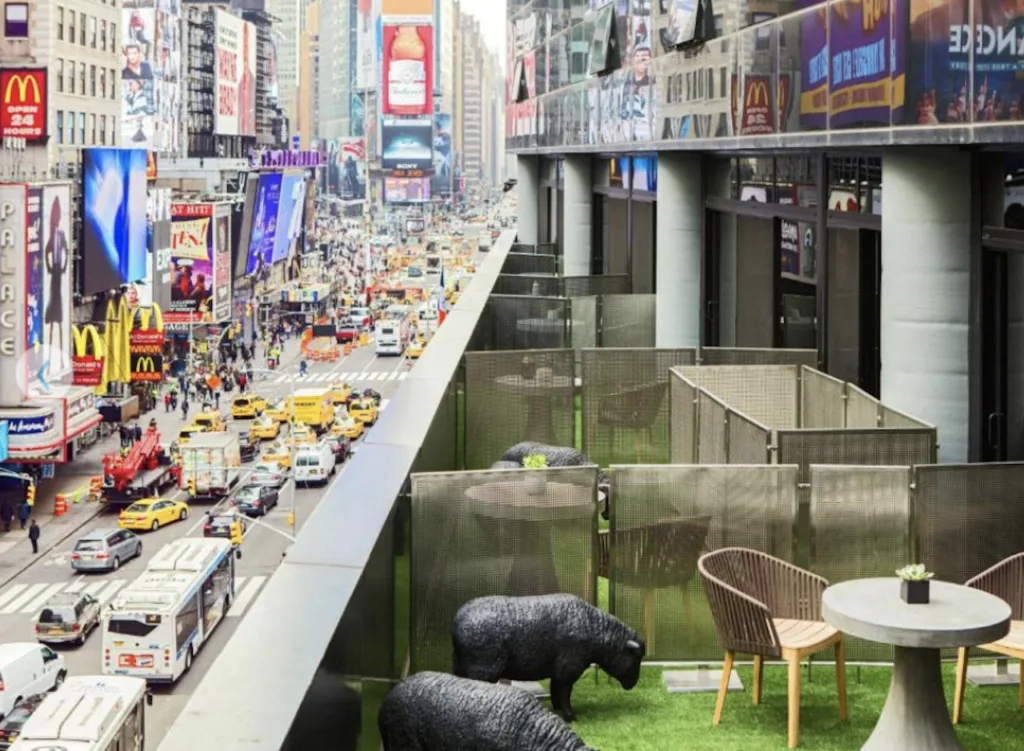 8) Hotel Chelsea
The Hotel Chelsea confidently claims itself to be the "best hotel in New York". Given the caliber of previous guests – many of whom were long-term residents – it's hard to dispute the claim.
Arthur C. Clarke, Dylan Thomas, Sid Vicious, Nancy Spungen, and Arthur Miller are all counted among former guests. On top of that, it's centrally located and within walking distance of places like Madison Square Garden and Madison Square Park.
The hotel offers a generous number of rooms with exterior areas. These start with the Superb Balcony, which has a king bed and a northern-facing balcony. Though the balcony is narrow, it's larger than a Juliet, meaning it's possible to step fully out of the room.
If you'd like to go bigger, it's worth splashing out on a Junior Balcony Suite. The balconies in these hotel rooms are similar to those in the Superb Balcony rooms, but the interiors are much larger.
The ultimate option for rooms with balconies, meanwhile, is the Deluxe King Suite with balcony. Note that some Deluxe King Suites do not feature balconies, so it's important to book one when reserving.
Balcony Room Summary
The Superb Balcony
Junior Balcony Suite
Deluxe King Suite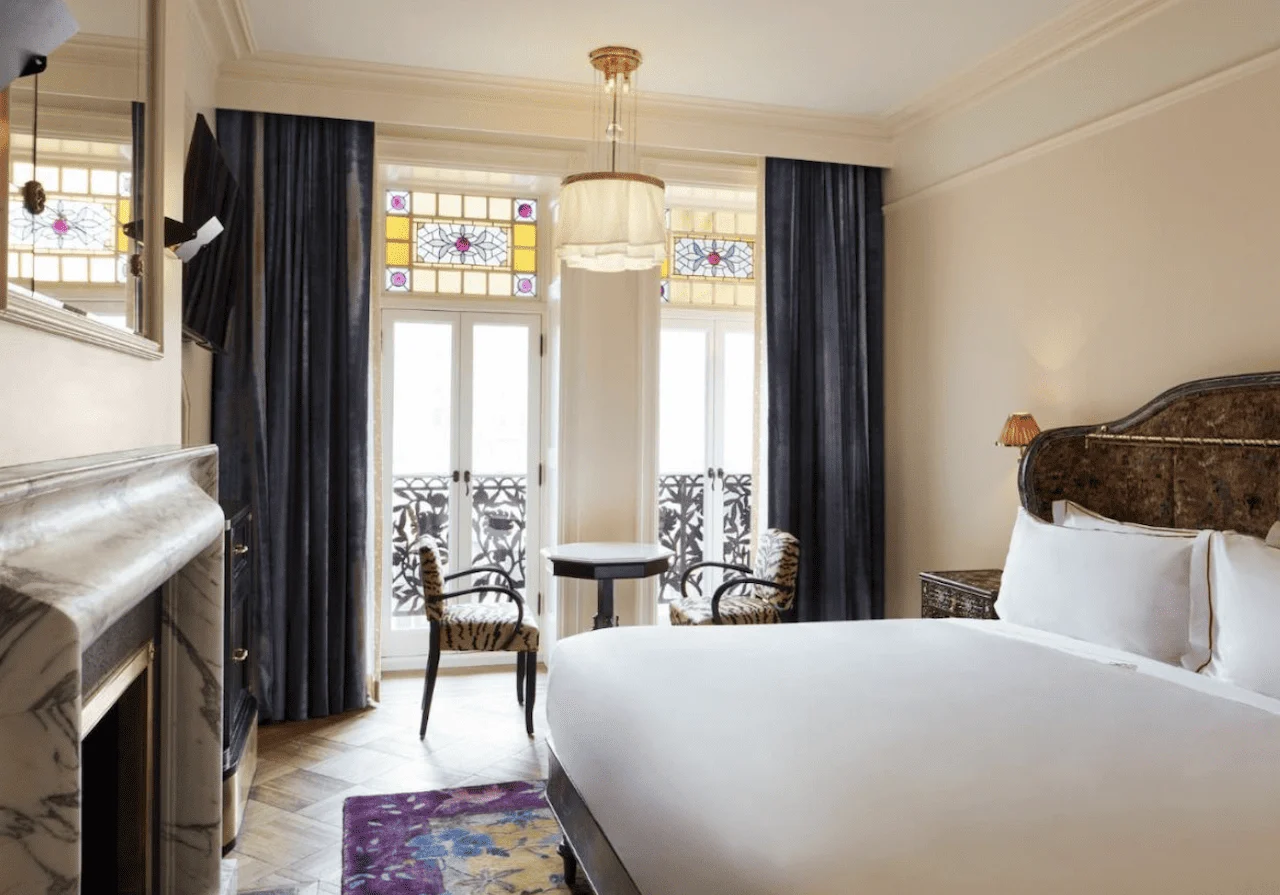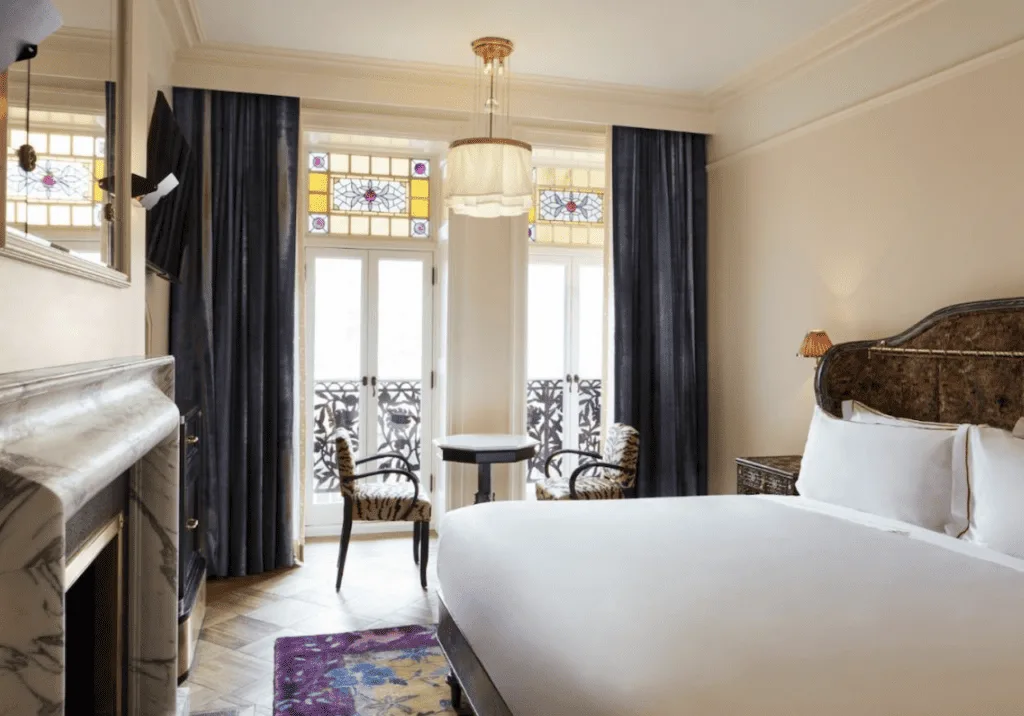 9) The Smyth Tribeca
The Smyth Tribeca is easily one of the best hotels in Tribeca with a balcony option. It's tucked away amid the cobbled streets of this ultra-fashionable district. All around the Smyth are fantastic eateries and fascinating sights, making it a great base for strolling around Tribeca.
There is no small number of balcony and terrace options at the Smyth. The Deluxe Queen Terrace has, as the name suggests, a private terrace with great Tribeca views. Smyth Terrace Suites are also available, with exterior areas that are much more spacious than the Queen Terraces.
The final option is the Penthouse Terrace Suite. The beautiful 800-ft-sq. terrace is bedecked with flowers and greenery, and is a great place to relax. Additionally, the panoramic views from the floor-to-ceiling windows of Tribeca and the wider city are simply unparalleled.
Balcony Room Summary
Deluxe Queen with Terrace
Premier Suite with Terrace
Penthouse Suite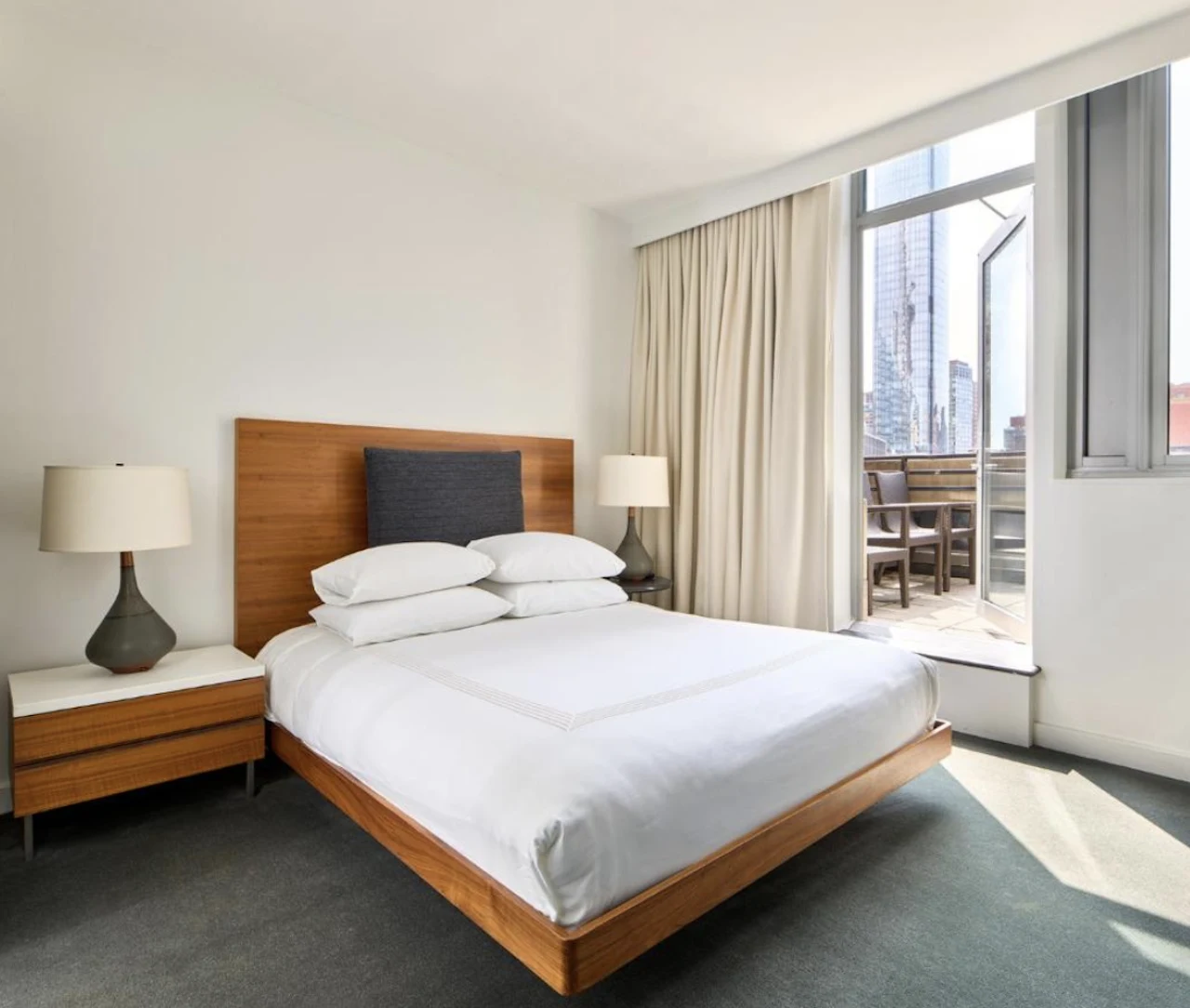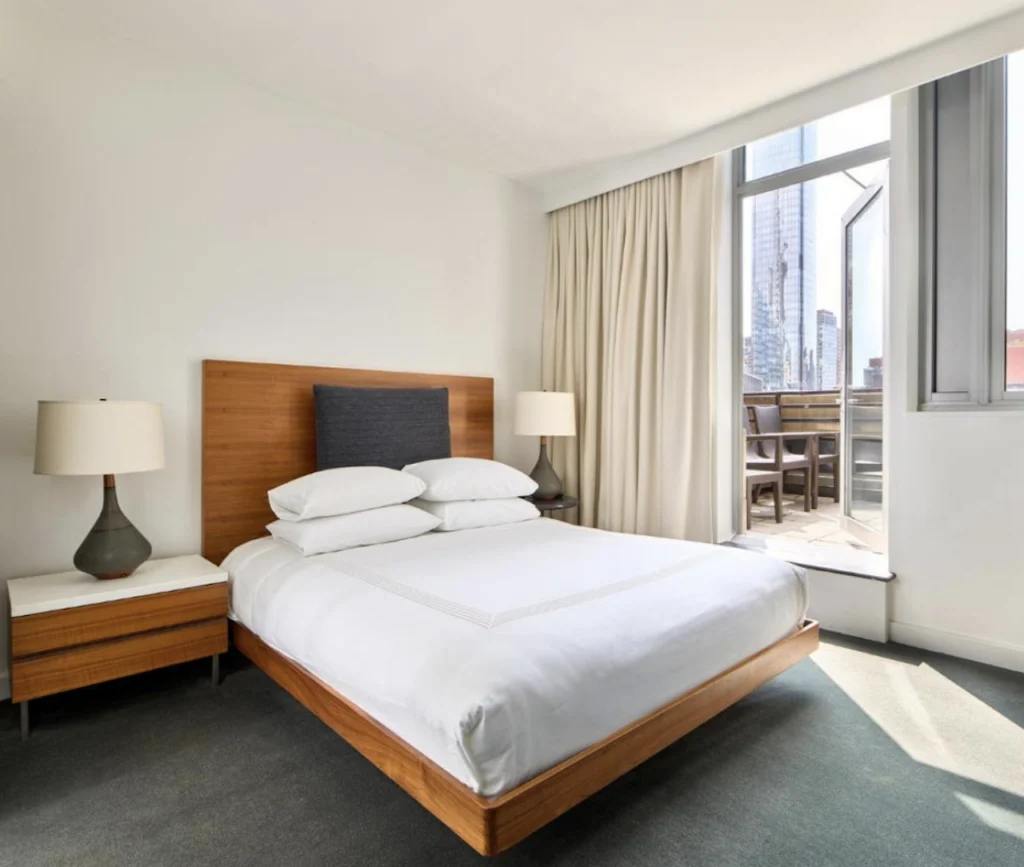 10) Royalton Park Avenue
Royalton Park Avenue is the perfect blend of hip and luxuriousness. Sitting in the heart of NoMad, it's a great base from which to explore Manhattan. While many rooms offer outdoor spaces, there is also a rooftop terrace and pool to enjoy during those warmer months.
Many, but not all of the Royalton's deluxe king rooms have small balconies, so when booking, be sure to confirm. Some of the higher-end options include:
Park Avenue Suites & Manhattan Suites are a great pick and feature a wraparound balcony perfect for looking out over Manhattan. Royalton Suites have Juliet balconies but lack full-size balconies that you can step out onto, so do be aware of this. For a walk-out area, you can also opt for a Royalton Suite with a terrace.
If you're interested in only the rooms with the finest outdoor areas, you'll likely want to consider the Grand Deluxe King Terrace. These guest rooms feature large private terraces that are perfect for those who want some quality balcony space.
Balcony Room Summary
Grand Deluxe King Terrace
Park Avenue Suites
Manhattan Suites
Royalton Suites
11) The Kimberly Hotel
The Kimberly Hotel, located in Midtown Manhattan, is one of the finest hotels in NYC with balconies.
It manages to avoid the cookie-cutter feel of larger chain hotels, with a lobby that's at once intimate and welcoming. Despite its tranquility, it's not far from many of NYC's biggest tourist draws. Radio City Music Hall, Grand Central Station, the Chrysler Building, and Central Park are all within walking distance.
The Kimberly also has the distinction of not dozens, but hundreds of suites that come with balconies. A staggering 144 of the suites at the Kimberly feature private outdoor spaces.
These are full-sized, meaning you can walk out onto them and enjoy the city views. As a handful of suites do not have private balconies, however, it's important to be sure you are booking one when making your reservation.
For a perfect combination of luxury, location, and those all-important private balconies, it's hard to beat the Kimberly.
Balcony Room Summary
All but 10 of the 154 hotel rooms offer balconies. You should not have many issues when picking out your room.
12) Arlo SoHo
This boutique SoHo hotel sells itself as a "classic NYC experience". It's hard to argue with that assessment, with views of the Hudson and a great rooftop bar. There's also a quiet courtyard area in the hotel's interior – a great place to escape the bustle of the city outside. And as if that wasn't enough, it counts itself among one of the best NYC hotels with a balcony.
There are a good number of balcony and terrace options available. Queen Terrace, King Terrace, and Terrace Two Twin rooms both have capacious outdoor areas that offer great panoramas. The hotel also has an accessible Terrace City Queen, which is perfect for guests with special mobility requirements.
Outside of the rooms, the Arlo works hard to cultivate a friendly, almost hostel-like atmosphere. Social events like rooftop workouts and games nights are frequently scheduled.
Balcony Room Summary
Queen Room with Terrace
King Room with Terrace
Twin Room (Two Beds) with Terrace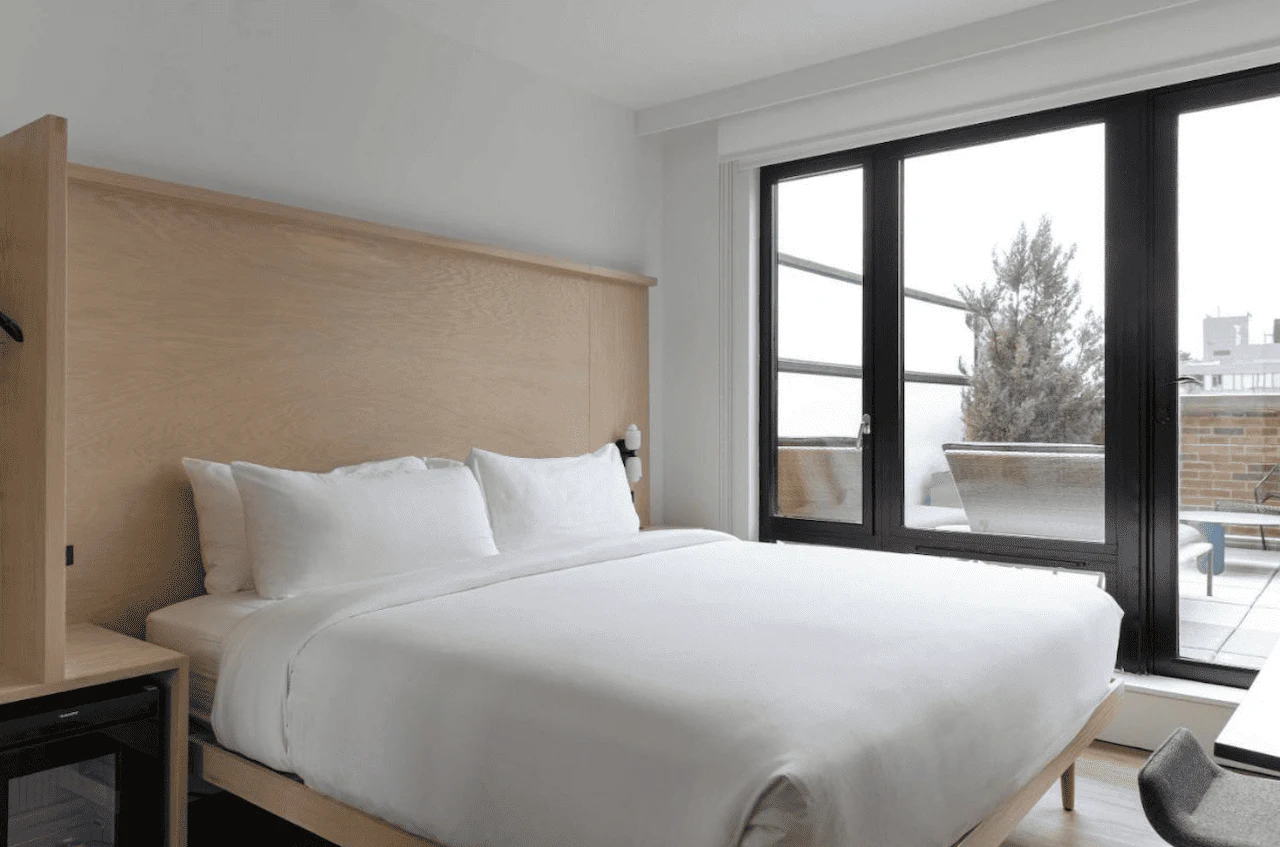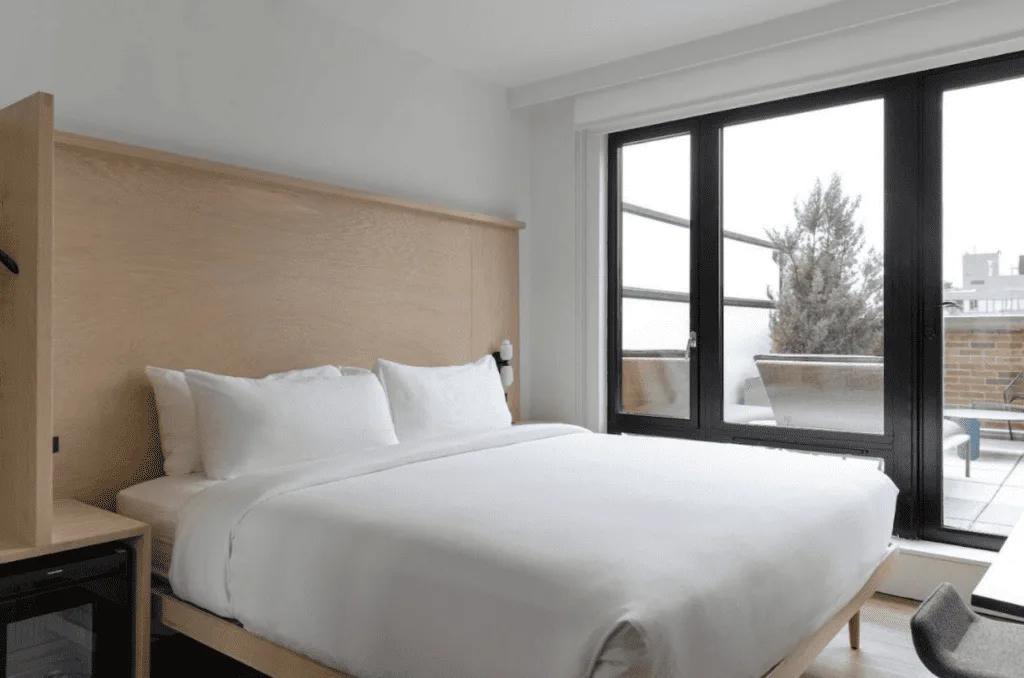 As you can see, there are several great options to choose from when it comes to New York City hotels with balconies & terraces. If you are looking for some more hotel options, check out some additional resources below:
Looking for the top hotels & neighborhoods in NYC? Check out some helpful accommodation resources when it comes to picking the best spot for you!

Neighborhood Overview: Best Places to Stay in NYC
Best Skyline Views: NYC Hotels with a View
Times Square: Top Times Square Hotels with a View
Theater District: Hotels in Broadway Theater District
Central Park: Best Hotels with Central Park Views
Tribeca: Best Tribeca Hotels
SoHo: Where to Stay in SoHo
Greenwich Village: Top Greenwich Village Hotels
Brooklyn Bridge: Hotels with Brooklyn Bridge Views
Best Panoramas: Hotels in NYC with Floor to Ceiling Windows
Be sure to also read through the rest of the New York itineraries and guides on the site for helpful travel planning.
Have fun out there and safe travels!