The Huayhuash Circuit trek is one of that is full of mountain, lake, glacier, valley, and river views all throughout. To truly appreciate and enjoy those views though, you will want to take part during the best time of year for a Huayhuash trek.
Not all months are equal when it comes to Huayhuash weather. Some months will be full of rain and clouds, while others will have higher chances of clear, sunny days.
The purpose of this guide is to talk through the best time to trek the Cordillera Huayhuash and give a complete overview of the Huayhuash weather situation. Hopefully by the end of reading this you will have a much better understanding of when to take part for yourself.
* Affiliate Disclosure: This post may contain affiliate links, which means I may receive a commission if you make a purchase through the links provided, at no additional cost to you. Thanks for supporting the work I put into TripTins!
1) Huayhuash Weather Overview
When it comes to Huayhuash weather, there are really two main seasons to consider – the dry season and the wet season. The dry season begins in May and ends in September, while the wet season runs from October to April (with a little bit of overlap on either end).
During the dry season you can expect less rain and clouds that could ruin those views and the experience (note I bolded "less" – I will talk more on that soon) and a better chance of clear weather. Due to this, most people taking part of a Huayhuash trek will opt to hike in the dry season.
For myself, I always think about weather considerations when traveling (especially hiking trips), and is why I chose a mid-July trip for my trek.
Learn More: Be sure to check out the Huayhuash Circuit resource page that includes many helpful travel guides to get you prepared for the trek.
On the other hand, in the wet season you should be prepared for more rainfall. Whether that be rain throughout the daytime hiking or once you are in your tent in the evening.
Inherently, the closer you are to that mid-point of the dry season, the better chances you will have to have that clear, sunny weather.
With that said though, this is no "normal" type of weather seasons when it comes to the mountains. Dealing with such a mountainous landscape can really create its own weather at any time of the year.
So, don't just think if you are choosing a trip during dry season that the weather will be perfect for your entire trek (although it is possible!). Instead, be prepared for the elements – whether that be rain, wind, snow, or even some hail.
Read on to learn more about average weather metrics by month so you can gain a better understanding of what to expect.
→ For a complete and comprehensive overview of the trek, check out the Huayhuash Circuit guide up on the site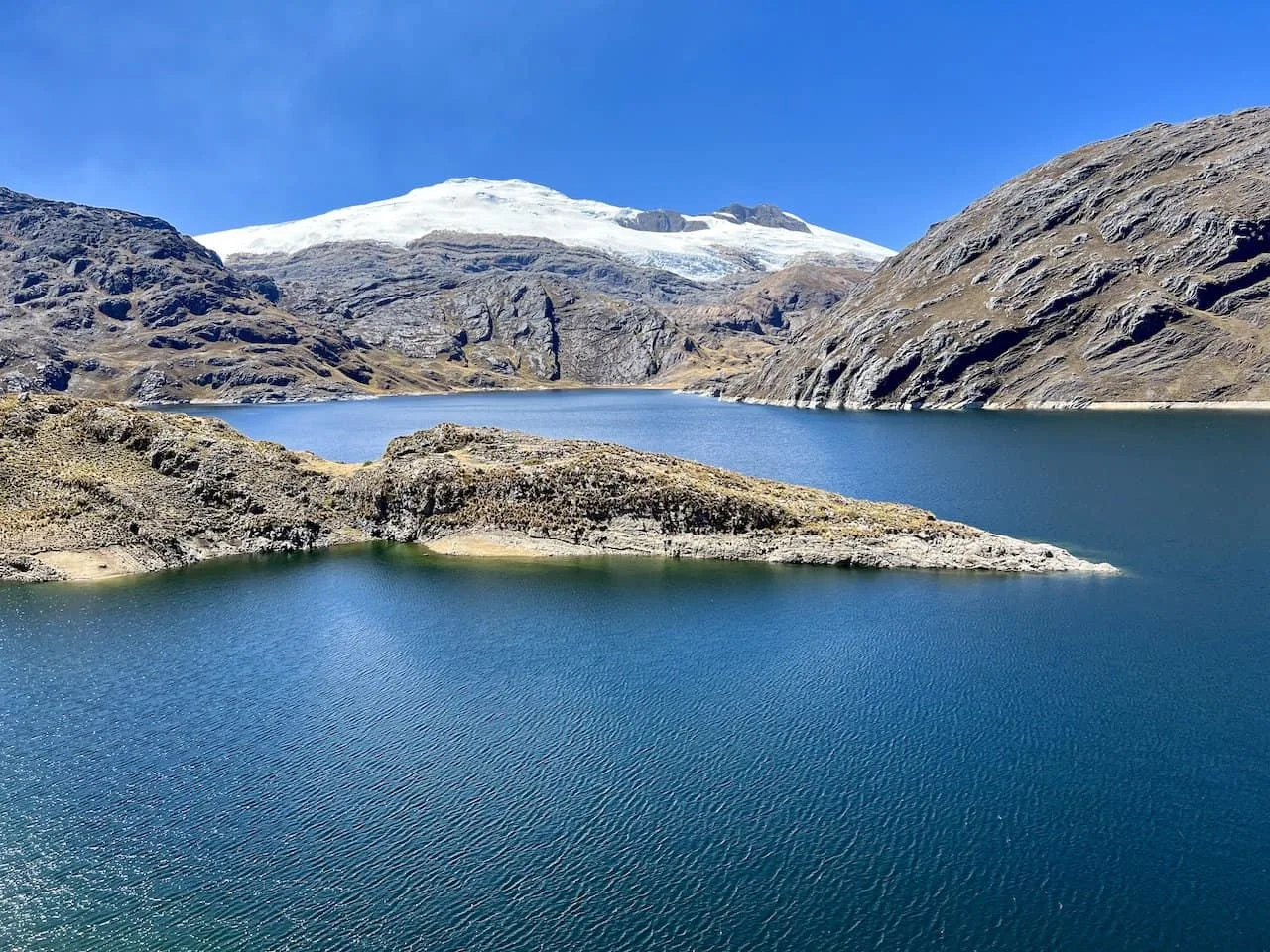 Considering travel insurance for the Huayhuash Circuit?

World Nomads offers coverage for more than 150 adventure activities as well as emergency medical, lost luggage, trip cancellation and more.

For years, World Nomads has been protecting, connecting & inspiring independent travelers, offering travel insurance & safety advice to help you travel confidently. Their mission is to support and encourage travelers to explore their boundaries.

World Nomads has simple and flexible travel insurance that has been designed by travelers for travelers. Even if you leave home without travel insurance or your policy runs out, you can buy or extend out on the road.

Get a quote for a World Nomads travel insurance policy today!
2) Cordillera Huayhuash Weather by Month
To better visualize the wet vs. dry season, I have included three screenshots below from Meteoblue – one of my go to weather forecasting apps when it comes to mountain weather.
This first chart shows the average temperatures throughout the year as well as precipitation. There are really two takeaways from the chart. The first, more obvious one is that the dry season runs from May to September.
But another takeaway here is that as the rainfall drops, so does the temperature. During peak dry season, you can expect temperatures at night to be well below the freezing point. As you get further away from dry season, the temperatures begin to rise.
During my time on the circuit, each night for the most part included frost cover on my tent. This resulted in some cold mornings trying to get it all off so I could pack it up without issue.
While the nighttime temperatures were quite cold, once the sun came out, it was very comfortable hiking weather. And these daytime temperatures don't change drastically throughout the year.
So, while the nights and early mornings can be very cold during dry season, I do think that is a fair trade off for the lower rainfall.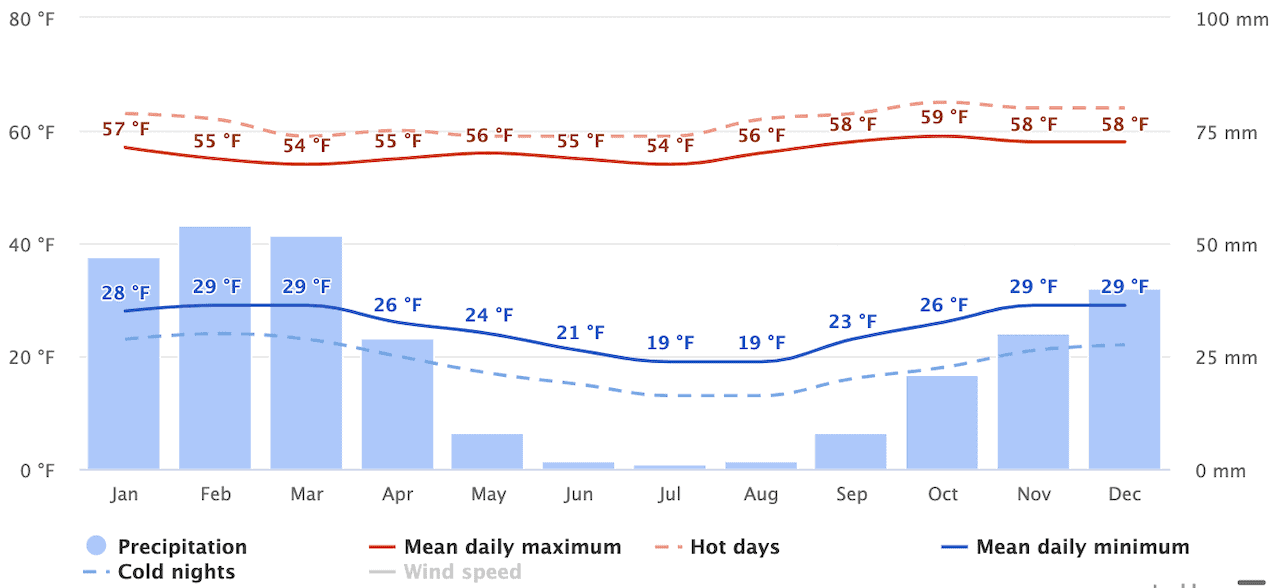 This next chart breaks down the rainfall in a bit more detail. In that May to September range, you can really see how many dry days have been seen historically.
I will caveat this and say that any individual year can be quite different. I have studied the weather this past season quite well (and experienced it on my own), and can say the dry season was more wet that this chart indicates.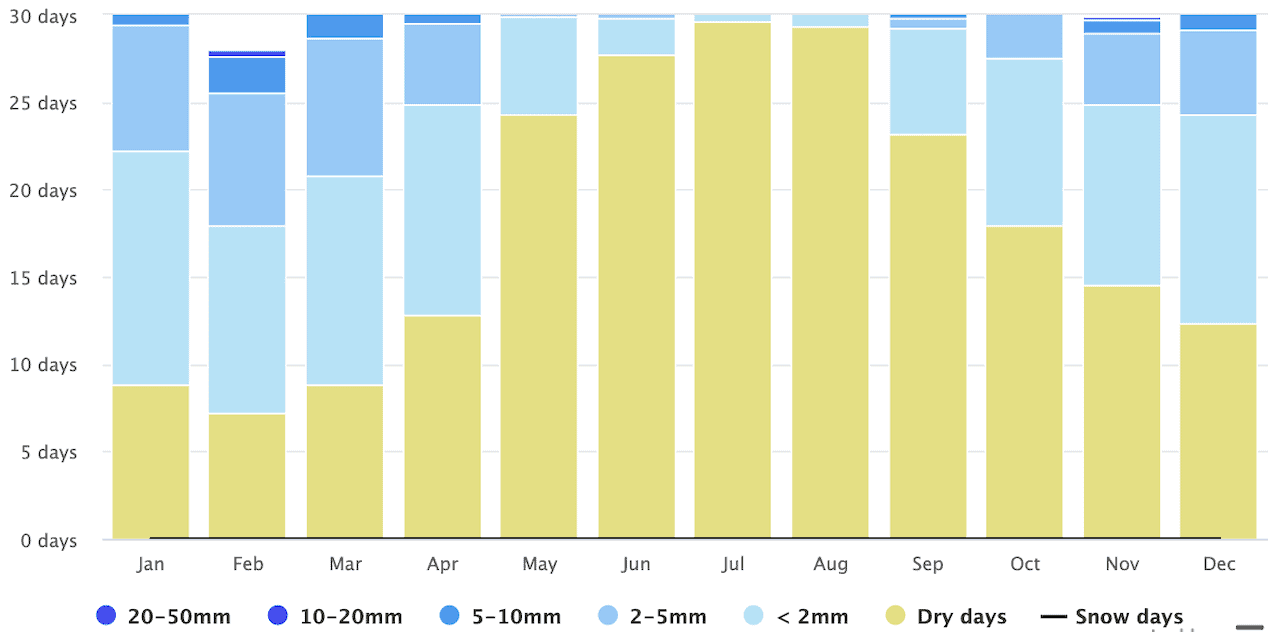 Lastly, we have cloud cover vs sunny days. One of my favorite metrics on Meteoblue is the "hours of sun" that it shows.
So, while on other weather apps you may see rainy weather pop up, that doesn't always necessarily matter. If the rainy weather is only for an hour, and the other 10 hours of the day are sunny, I would say that is a great day to go hiking.
Once again, you can clearly see though the dry season brings out the sun more and more.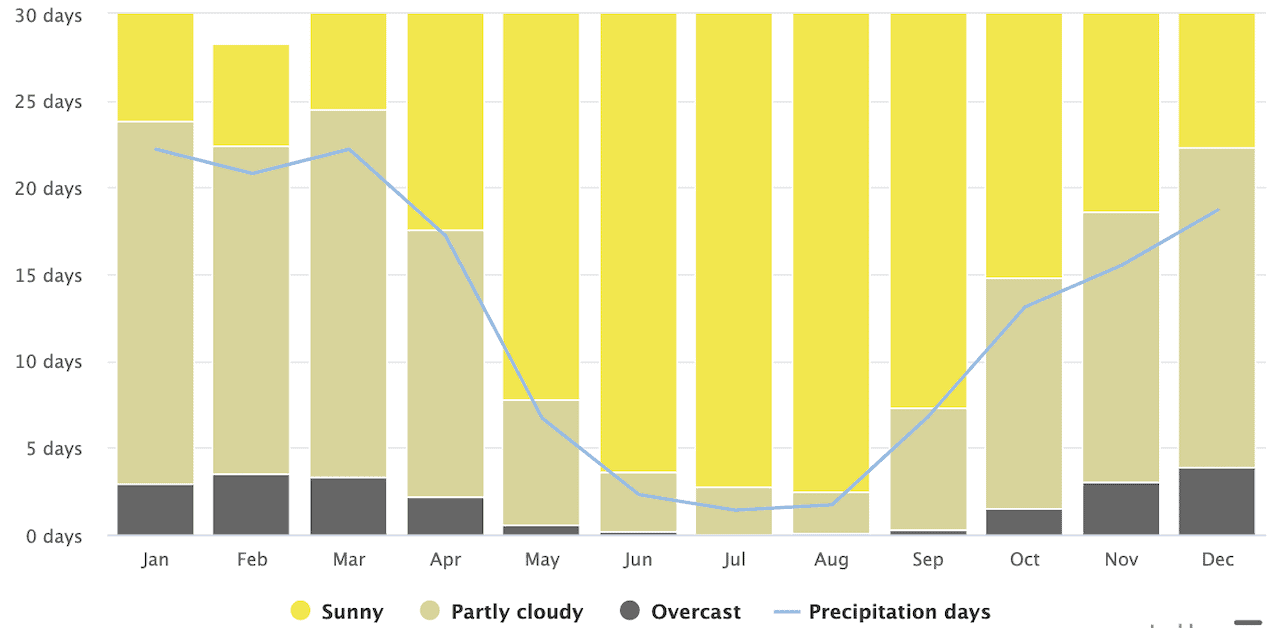 3) Weather Forecasting Sites & Apps
When it comes to forecasting mountain weather, there are a handful of sites & apps that more accurately forecast that type of weather.
Two of the main sites that I would recommend for the Huayhuash Circuit are Meteoblue and Mountain-Forecast.
As mentioned, mountain weather can be very hit or miss with constant forecast changes throughout a day. So, I would not recommend reading a forecast and taking it as a perfect truth. Instead, I would recommend taking it as directional and go from there.
The highlight of using these sites is that you can put in the mountain range (or particular mountains) instead of putting in weather for just the closest town.
It is very important to note that the weather in the mountains is different than the weather on the outskirts down in the valley at campsites.
For example, just because the mountain forecast may show snow in the forecast, does not mean it will also snow on the hiking route. It is pretty common to have clearer weather at campsites and along the route, while the mountains themselves may bring in more clouds and less ideal weather.
I usually look at the mountain weather itself to get a better understanding if the views will be covered in clouds and rain or not.
Here are a couple of links to the respective sites – Meteoblue and Mountain-Forecast.
For Meteoblue it is linked to "Cordillera Huayhuash" weather, while Mountain-Forecast is linked to "Yerupaja" – the highest mountain in the range.
In Meteoblue you can also look at some campsite weather by zooming into the map and clicking on particular coordinates. This may give you a better sense if the weather at the campsites will be better than the mountains out in front of you (which is the case a lot of the time).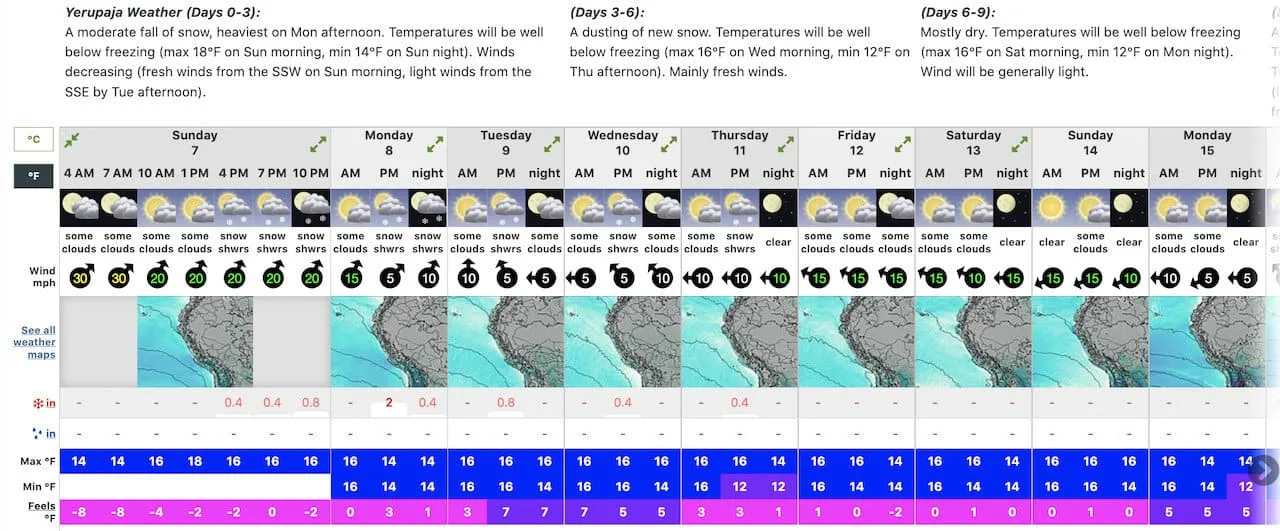 4) My Personal Huayhuash Weather Experience
Spending 10+ days taking part of the full Huayhuash Circuit, I knew that the weather was not always going to be perfect. No matter how much I planned, odds were that I would come across some poorer weather days while hiking.
For me, it is all about the views and I wanted to put myself in the best position to see those views. So, as mentioned before, I opted for a mid July trek. Leading up to the hike, I was looking at the weather forecasts to better understand what to expect for my time out on the trail.
It seemed to me that the Cordillera Huayhuash would go through these somewhat consistent weather systems.
For 5-7 days the weather would be clear with some clouds here or there and no rain. Then a weather system would roll in and start covering the mountain range with clouds for a couple days, and potentially bring some rain. From there, the cycle would start back up again.
I saw this happen from mid June and throughout July and August in a somewhat consistent manner.
As an example, below is a screenshot from Meteoblue showing the weekly forecast. The first couple days are showing that less ideal weather with little sun and some snow in the mountains. However, then the weather begins to clear up with fewer clouds, no rainfall, and some nice sunny days.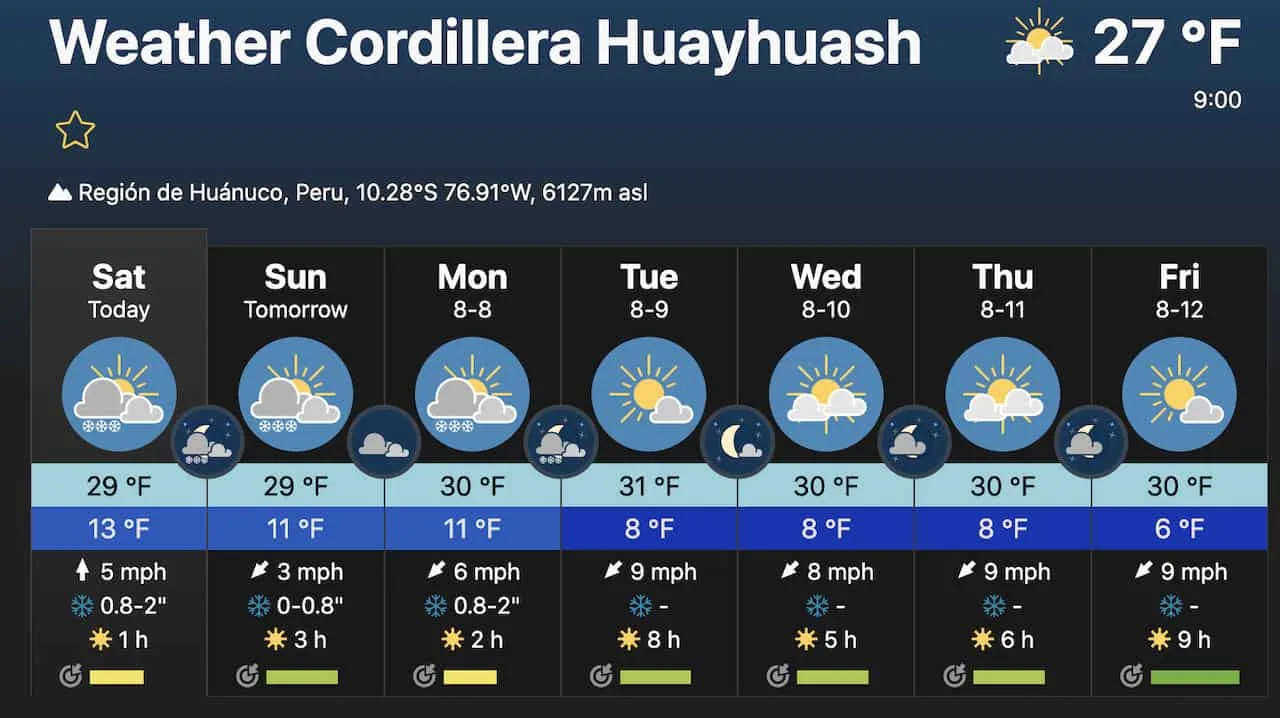 I spent 11 days out on the Huayhuash Circuit with 10 of those days spent hiking. My weather breakdown went something like this:
Day 1 – Partly Cloudy
Day 2 – Consistent Rainfall & Low Cloud Cover
Day 3 – Partly Cloudy
Day 4 – Sunny
Day 5 – Sunny
Day 6 – Sunny
Day 7 – Sunny
Day 8 – Partly Cloudy
Day 9 – Sunny
Day 10 – Overcast
Day 11 – Partly Cloudy
Before I took off for the hike, I did see that the second day had the potential to bring poor weather. In my mind, I was ready to stay two nights at the first campsite and that is exactly what I did.
Throughout the first night there was consistent rain and wind and I woke up to more rain and very low visibility. I made the choice to not hike and just wait for the weather to improve.
I am happy I ended up doing that since the next day the clouds slowly started to part away and my midday, the sun was out. The remainder of the hike went pretty well besides a pretty overcast day at the end of the hike.
With that said, even though the majority of the hike had great weather, there were certainly times in the late afternoon and evening times when wind, rain, and even some hail showed up. These events happened on and off for short periods of time and usually went away by the next morning.
You can even see in the photo below what happened one night when a snowstorm rolled in. There was probably an inch of snow on the route that showed up overnight, making it a true alpine experience the following day.
If you are hiking on your own or with a private guide, you should have more say in whether or not you want to hike on a poor weather day. On the other hand, if joining a group tour, this probably won't be an option.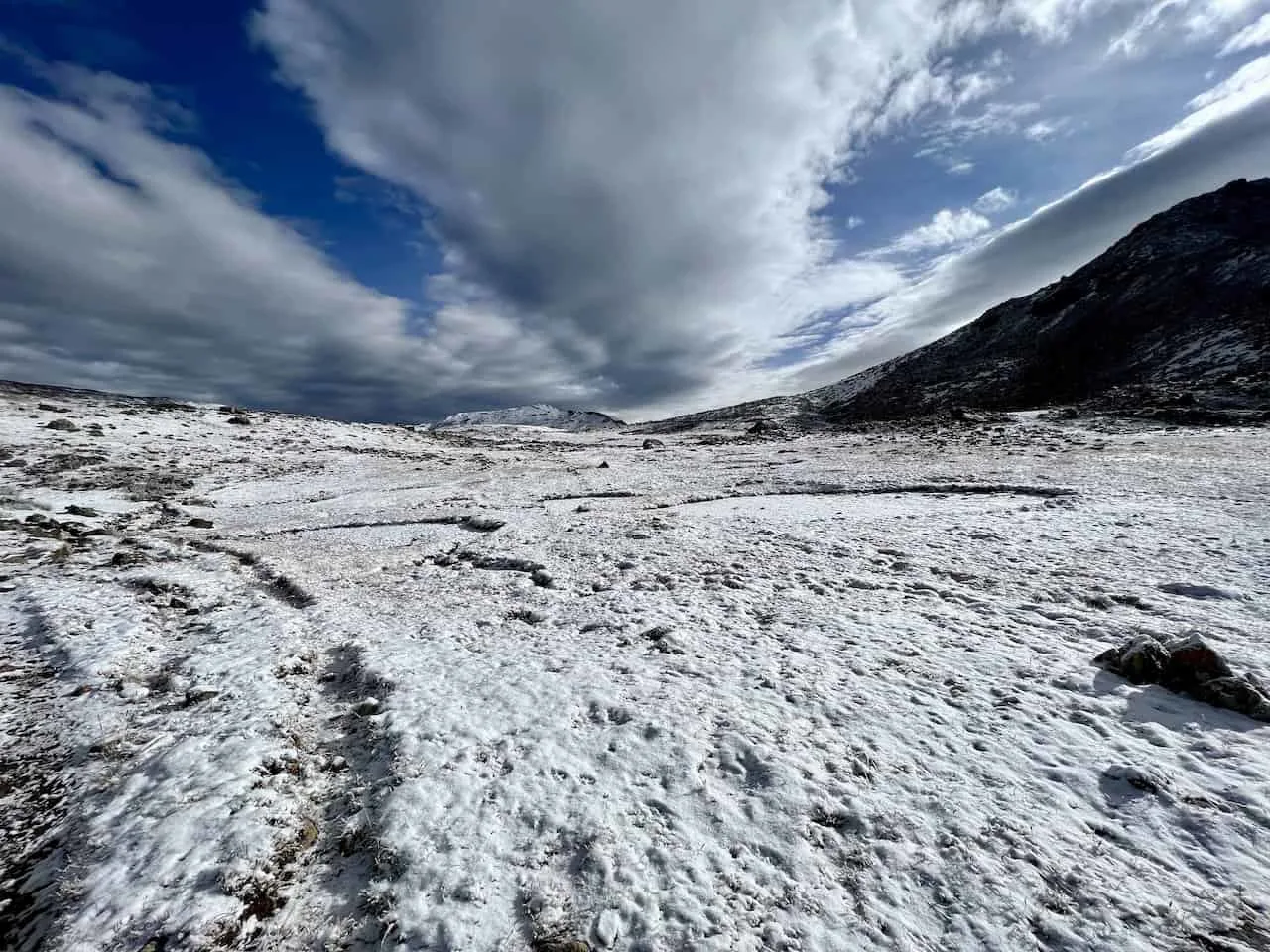 5) Getting Weather Updates
As a solo independent hiker, it was important for my family to know I was safe during a 10+ day trip in the mountains. I ended up purchasing a Garmin inReach Mini 2 to communicate and keep people updated.
Since there is no Internet service on the trek, this is essentially the only way to stay connected (through a satellite type of device). It gave me the chance to track my progress so other people could see my route and for me to send some preset (and short custom) messages out each night.
The Garmin communication also gave me the ability to receive weather updates from my family.
Since I really could only understand the first few days of weather forecast before I left, it was nice to get a heads up each night of what the next few days weather will be like.
So, instead of waking up and being surprised by what the weather would entail, I was all caught up with the weather forecast and could just focus on hiking and enjoying those views.
→ Purchase your Garmin inReach Mini to get yourself ready for the Huayhuash Circuit and add it to the rest of your Huayhuash Packing List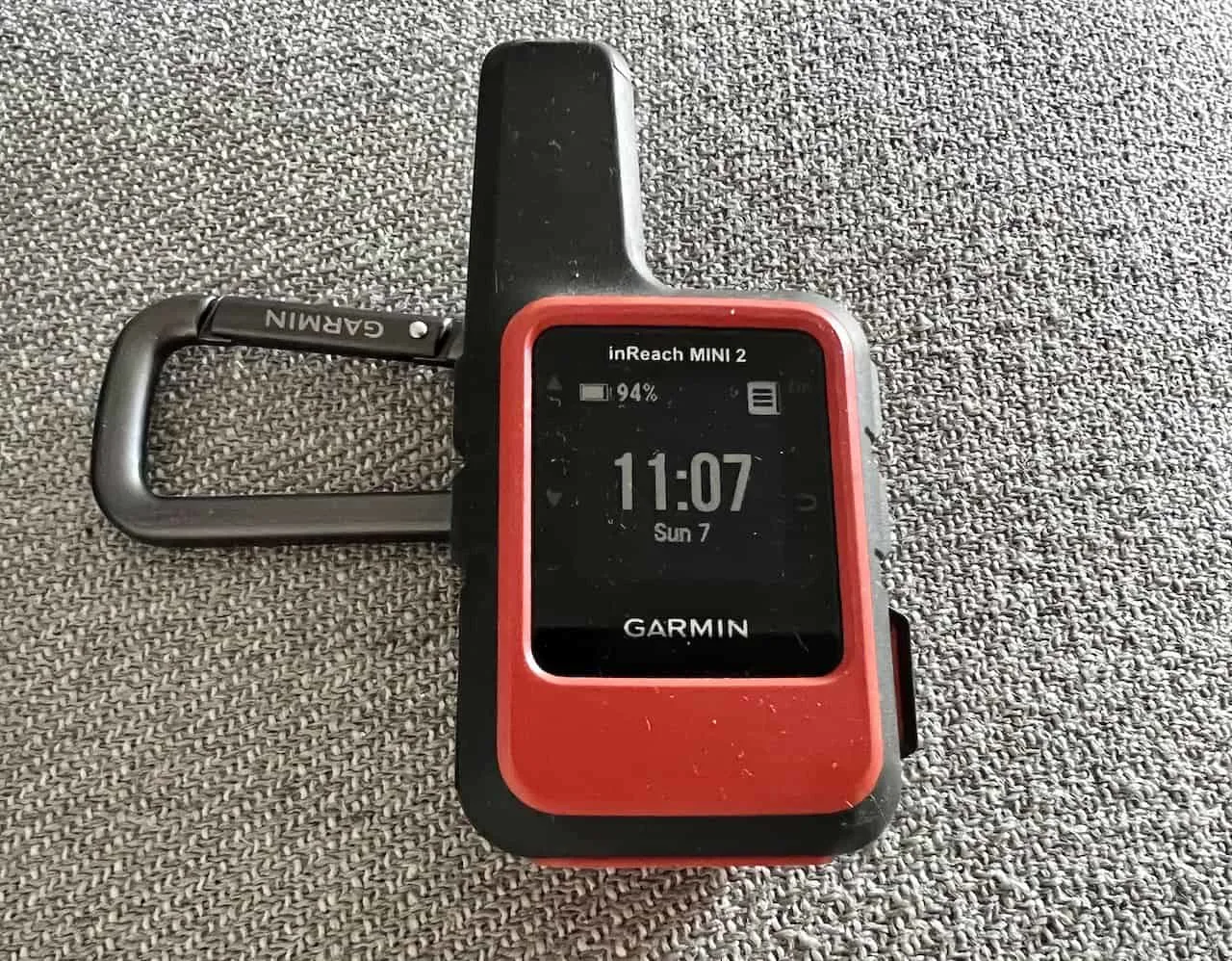 6) Peak Season Consideration
Beyond weather, there are some other considerations you may want to think about for when the best time for a Huayhuash Trek would be.
Crowds
Since the better weather does come in the dry season, you can expect the most amount of crowds on the Huayhuash Circuit during that time. The "peak" season will be the months of July & August as they coincide with many people's summers.
While this may be the peak season (and when I went myself), I still did not feel the circuit was crowded. Most nights there were only a couple other small parties at the campsites, and on some nights, I was the only person there.
I will say the two campsites of Carhuacocha (night 2) and Jahuacocha (last night) were pretty crowded with many group tours.
The reason behind this is that not all Huayhuash routes go through the entire circuit. Instead, most of the shorter routes just focus on specific areas of the Cordillera Huayhuash with those two campsites being the most popular ones.
Specifically, on day 3 of the hike (leaving Carhuacocha and heading to the famous Mirador Tres Lagunas viewpoint), I would recommend getting an early start (around sunrise), to beat the crowds.
If you want to have the chance for better weather + fewer crowds, then the shoulder months of June & September would be your best bet.
Booking Guides
This concern is only going to be for those that want to take part of group or private tours. But if you are looking to book a guided service for the Huayhuash trek during the peak months, I would recommend not waiting until the last minute to do so.
There are only so many guides available in the region, and many of the more highly rated companies will book up earlier on. In order to lock in your dates and your reservation, be sure to start connecting with various companies several months before your trip.
I would certainly not come in with the mindset that you can just join a tour or book a guide at the last minute. Of course, there may always be the possibility everything works out. However, you will be in a much better position to plan ahead of time.
As you get farther away from those peak months though, you will have a better chance of putting together a last minute guided trip.
Huaraz
Going off of that point, you will also want to start booking your accommodation before/after your trek in Huaraz. While there are many options to choose from in the city, the more highly rated options will sell out throughout the peak months.
Once you know your dates, be sure to lock down your hotel choice. You should plan to stay a few days prior to the trek and another day after the trek. This will give you time to take part of acclimatization hikes and relax for a day once you are back.
Below are just a few of the hotel options I would recommend looking into for the trip:
→ Hotel & Bungalows Villa Valencia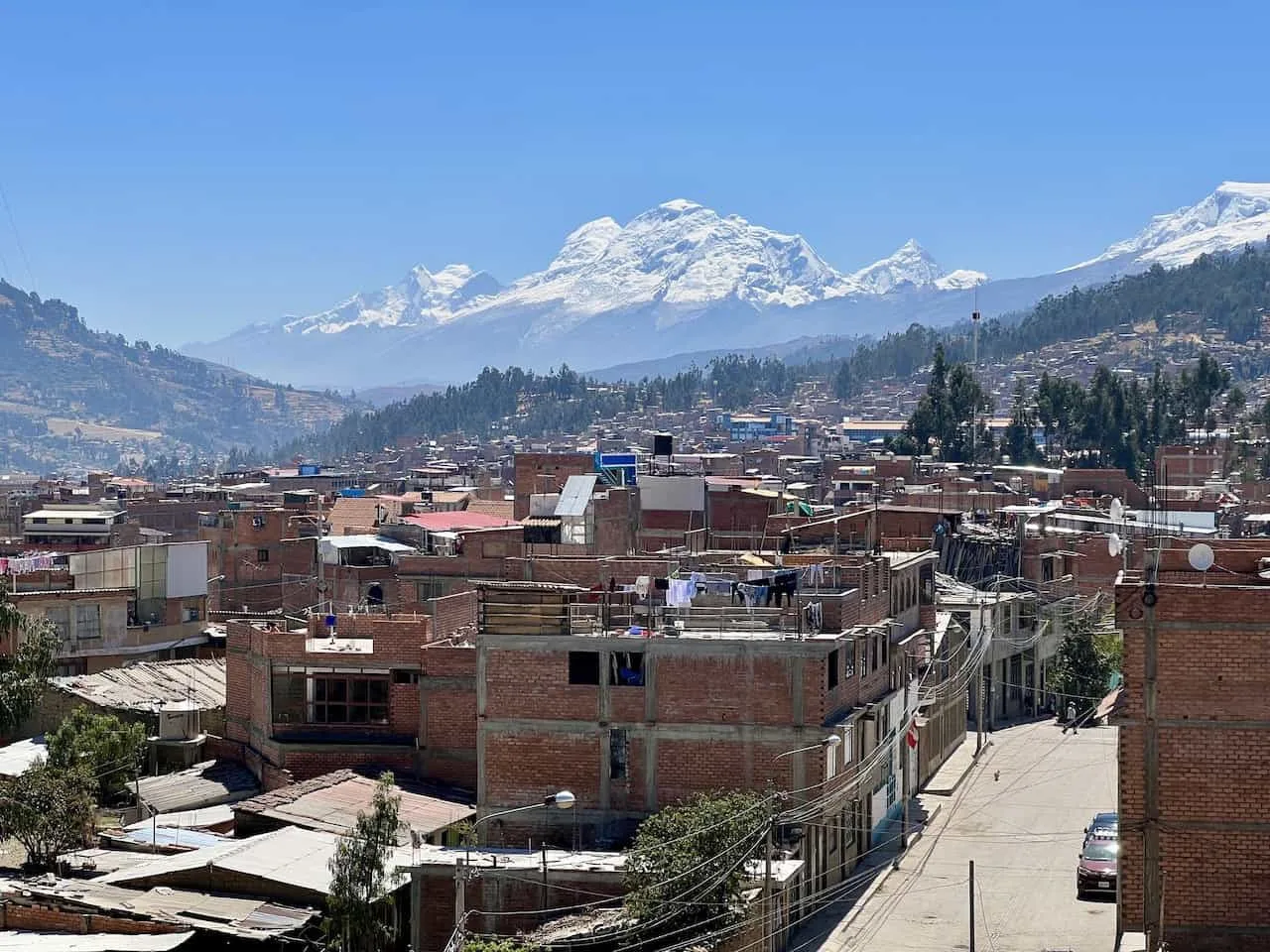 7) When Can You Hike Huayhuash
So, to recap, you can hike Huayhuash at any time of the year. However, for the best chance of clear, sunny days and for taking in those views, a dry season hike will be your best bet.
Although it will be peak season with the greatest number of people of the circuit, the ability to truly enjoy the experience with the views and without (hopefully!) the rain, will make the trek that much better.
At the end of the day, I would recommend a trek from the months of June – August, just so you stay within those peak dry months. A hike in May or September can also be pleasant with fewer crowds, and there is still the chance to have great weather out in front of you.
Of course, like I mentioned earlier, you can never predict weather. You can only plan according to what has happened in the past. So, just because you end up hiking in the peak dry months, will not always mean your weather will be perfect.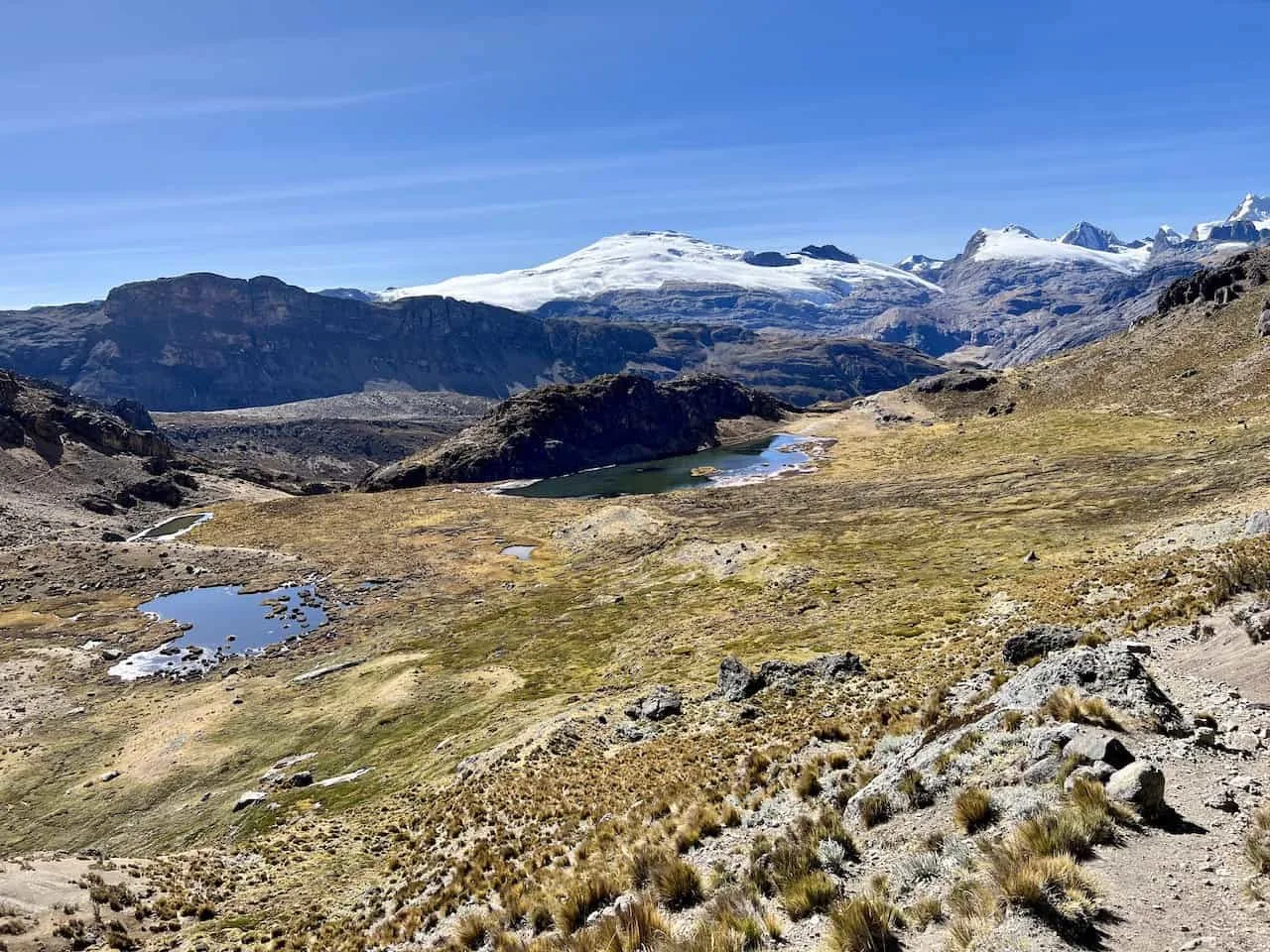 By now you should be all caught up on what Huayhuash weather is all about and when is the best time for a Huayhuash Trek.
Feel free to leave any questions or comments below, and don't forget to check out the other Huayhuash itineraries and guides up on the site.
Have fun out there and safe travels!