The fourth day of the Huayhuash Circuit takes you from Huayhuash to the campsite of Viconga. Along the way you will get to enjoy some beautiful views, and make your way up the Portachuelo Pass, before descending down to camp.
Read on to learn more about the route between Huayhuash to Viconga and what to expect out on the trail.
* Affiliate Disclosure: This post may contain affiliate links, which means I may receive a commission if you make a purchase through the links provided, at no additional cost to you. Thanks for supporting the work I put into TripTins!
1) Hiking Overview: Huayhuash Day 4
Day 4 of the Huayhuash Circuit will take you from Huayhuash to Viconga. Below are some helpful stats about the day and what the trail is all about.
Starting Point: Huayhuash
Huayhuash Elevation: 4,330 meters / 14,200 feet
Ending Point: Viconga
Huayhuash Elevation: 4,410 meters / 14,470 feet
Mountain Pass: Portachuelo Pass
Portachuelo Pass Elevation: 4,770 meters / 15,650 feet
Distance: 7.4 miles / 11.9 km
Elevation Gain: 1,440 feet / 440 meters
Duration: 4-5 hours
Day 4 Highlights
• Trapecio mountain views
• Views from Portachuelo Pass
• Lake Viconga
• Hot Springs at Viconga!
While this article will simply talk through day 4 of the trek, you can learn much more of the overall experience in the Huayhuash Circuit overview up on the site.
Route Note: this daily trekking guide (as well as the other daily guides on the site) go over a standard 10 day Huayhuash Route. Trekking routes can be greater or fewer days depending on your preferences (learn more about these in the previously mentioned overview above!).
Learn More: Be sure to check out the Huayhuash Circuit resource page that includes many helpful travel guides to get you prepared for the trek.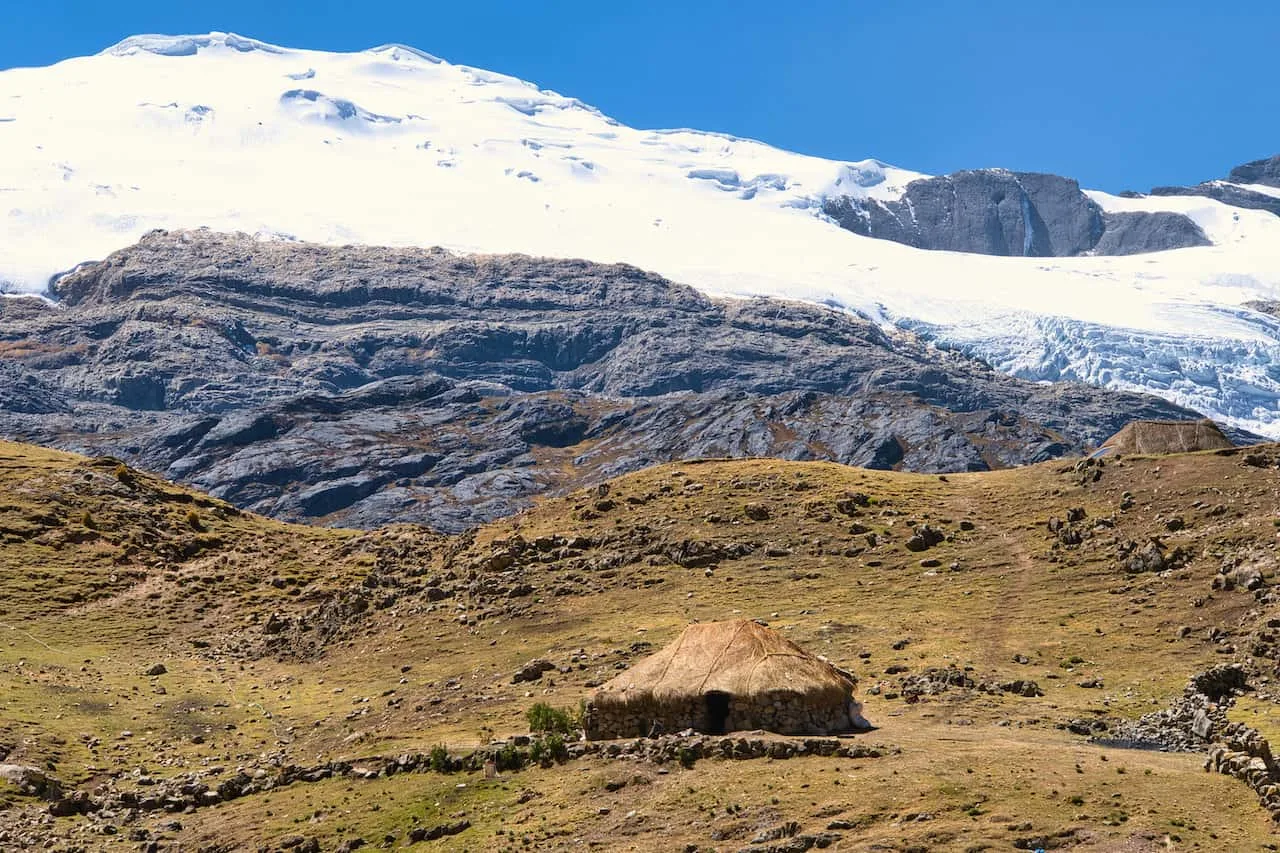 2) Huayhuash Circuit Day 4: Huayhuash to Viconga Map
To better visualize the hiking route on day 4, below you can find a trail map for the fourth day of the circuit.
If you would like to see the full route, be sure to check out the guides I put together for the complete Huayhuash Circuit Map and Huayhuash GPX file (for navigation purposes).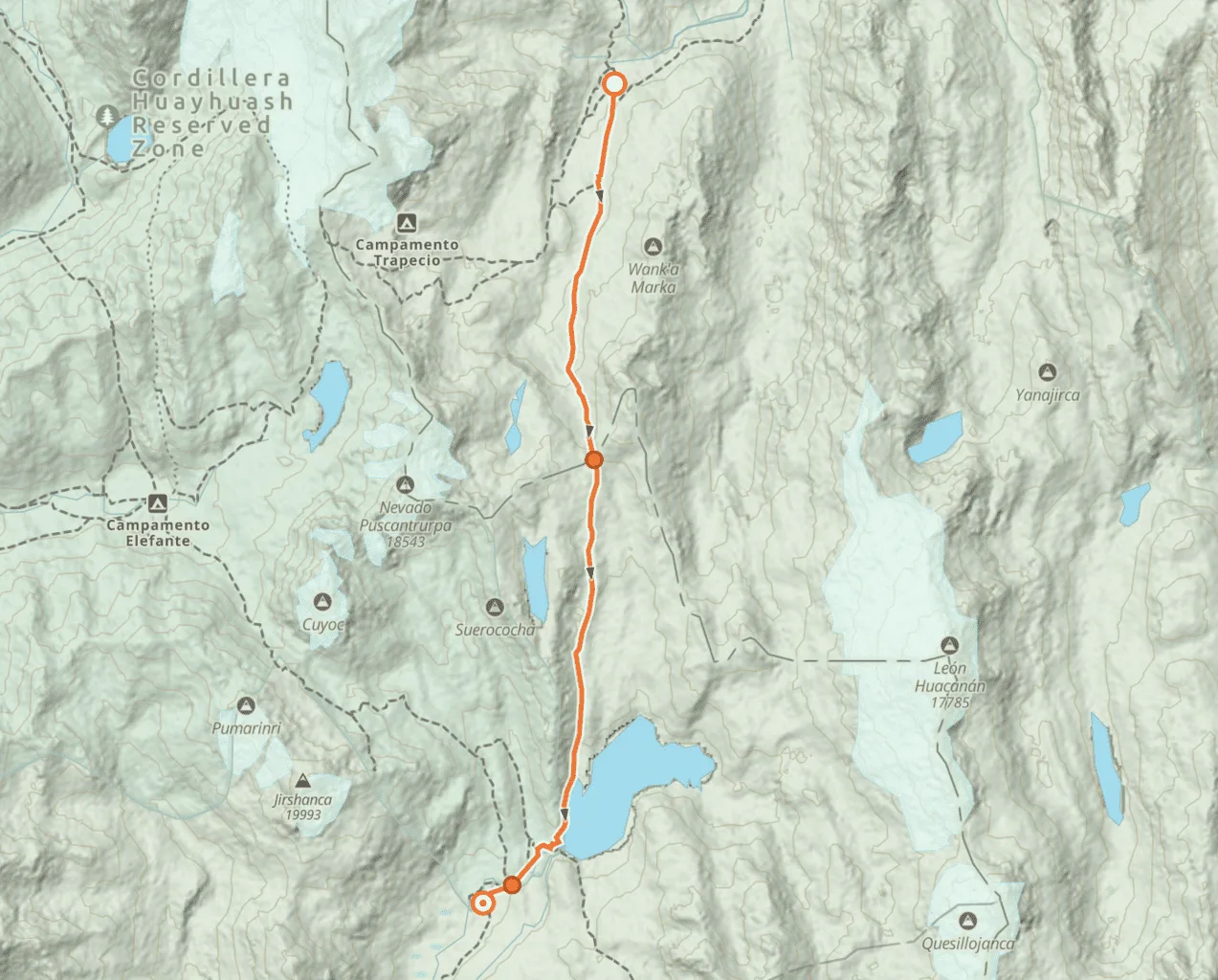 3) Elevation Gain Profile
Below you can find the elevation gain profile for day 4 of the Huayhuash Circuit. The trail heads from Huayhuash to Viconga as it peaks at the Portachuelo Pass, which sits at 4,770 meters / 15,650 feet in elevation.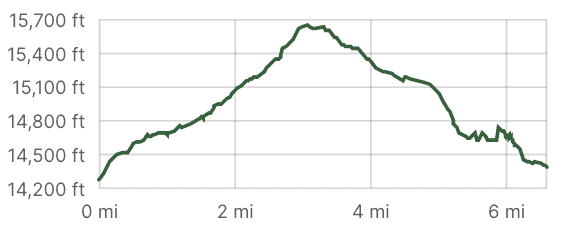 4) Huayhuash Circuit Packing List
A complete Huayhuash Circuit packing list will be essential for your time out on the trail (especially if hiking without a guided tour). Be sure to check out the comprehensive Huayhuash packing list I put together for more detail.
Below you can find just some of the most important camping items to consider for your trek:
• Hiking Backpack | Hyperlite Southwest 3400
• 3-Season Tent | Big Agnes Copper Spur HV UL
• 0 F Degree Sleeping Bag | Thermarest Questar 0
• Sleeping Bag Liner | Sea to Summit Liner
• Sleeping Pad | Thermarest NeoAir Xlite
• Camping Pillow | Thermarest Camping Pillow
• Trekking Poles | Black Diamond Distance Carbon FLZ Trekking Poles
• Water Bottle | Katadyn BeFree 1 Liter
• Headlamp | Petzl Actik Core
• Emergency Satellite Locater | Garmin inReach 2 Mini
• Solar Charger | GoalZero Nomad 10
• Portable Charger | Anker Portable Charger
• Cooking Stove | Jetboil Micromo
• Hiking Shoes | Keen (Targhee Series)
• Hiking Socks | Darn Tough Socks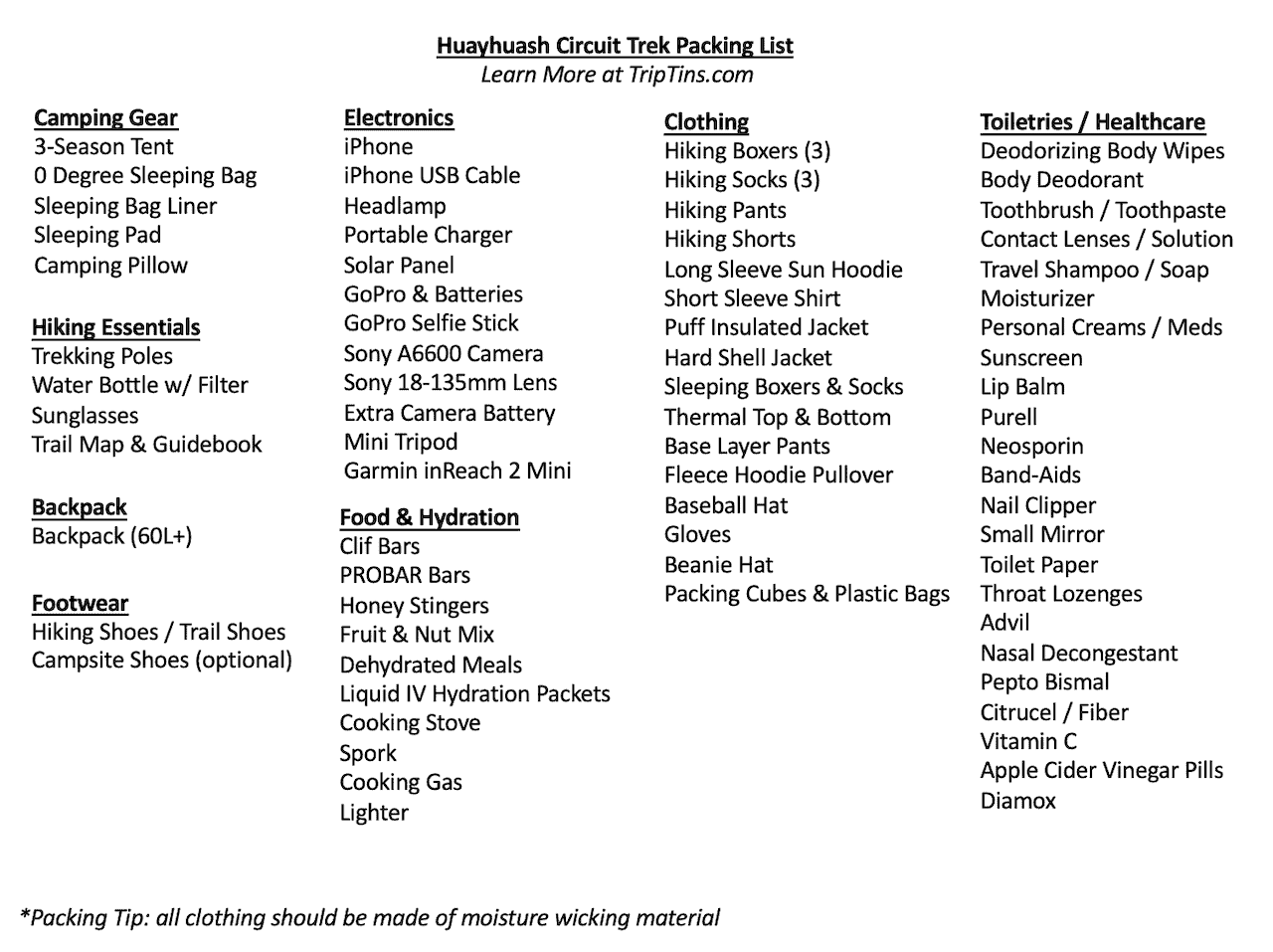 Considering travel insurance for the Huayhuash Circuit?

World Nomads offers coverage for more than 150 adventure activities as well as emergency medical, lost luggage, trip cancellation and more.

For years, World Nomads has been protecting, connecting & inspiring independent travelers, offering travel insurance & safety advice to help you travel confidently. Their mission is to support and encourage travelers to explore their boundaries.

World Nomads has simple and flexible travel insurance that has been designed by travelers for travelers. Even if you leave home without travel insurance or your policy runs out, you can buy or extend out on the road.

Get a quote for a World Nomads travel insurance policy today!
5) Huayhuash Circuit: Huayhuash to Viconga Hike
After a long day three between Carhuacocha and Huayhuash, and visiting the famous Mirador Tres Lagunas, it is time for a more relaxing hiking day. While the trail will be much less strenuous, I would still recommend getting an earlier start to the day.
That is because at the Viconga campsite, you will also find thermal baths to relax in. Having the chance to enjoy a natural hot tub in the middle of the Huayhuash is sure going to be a highlight of the entire circuit.
Once you are all packed up in the morning, begin to follow the trail out of camp and towards Viconga. The first portion of trail will entail some elevation gain, although it is pretty moderate in nature.
Off to the right hand side you will have constant views of the triangular shaped Trapecio mountain for the first half of the hike. In addition to the mountain, you will come across several smaller lakes that bring together the landscape.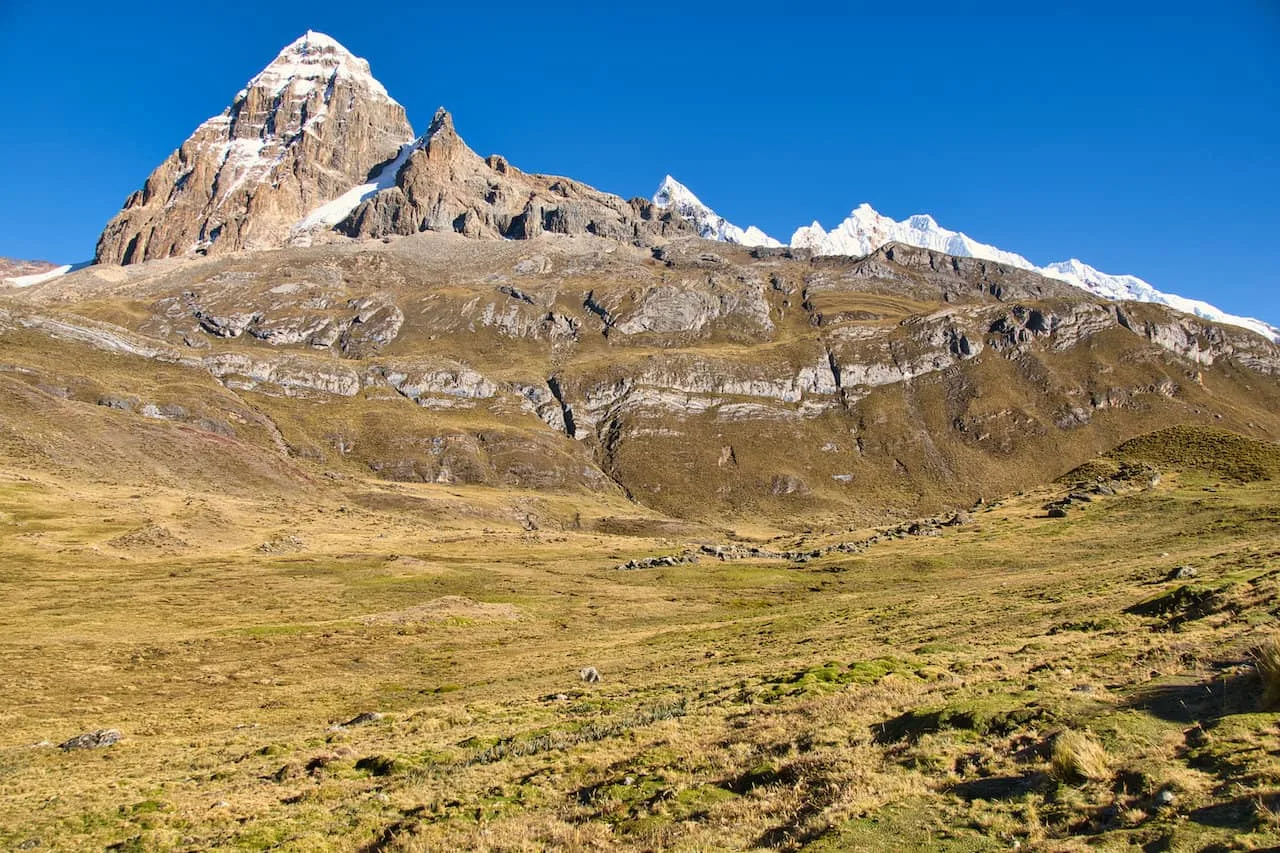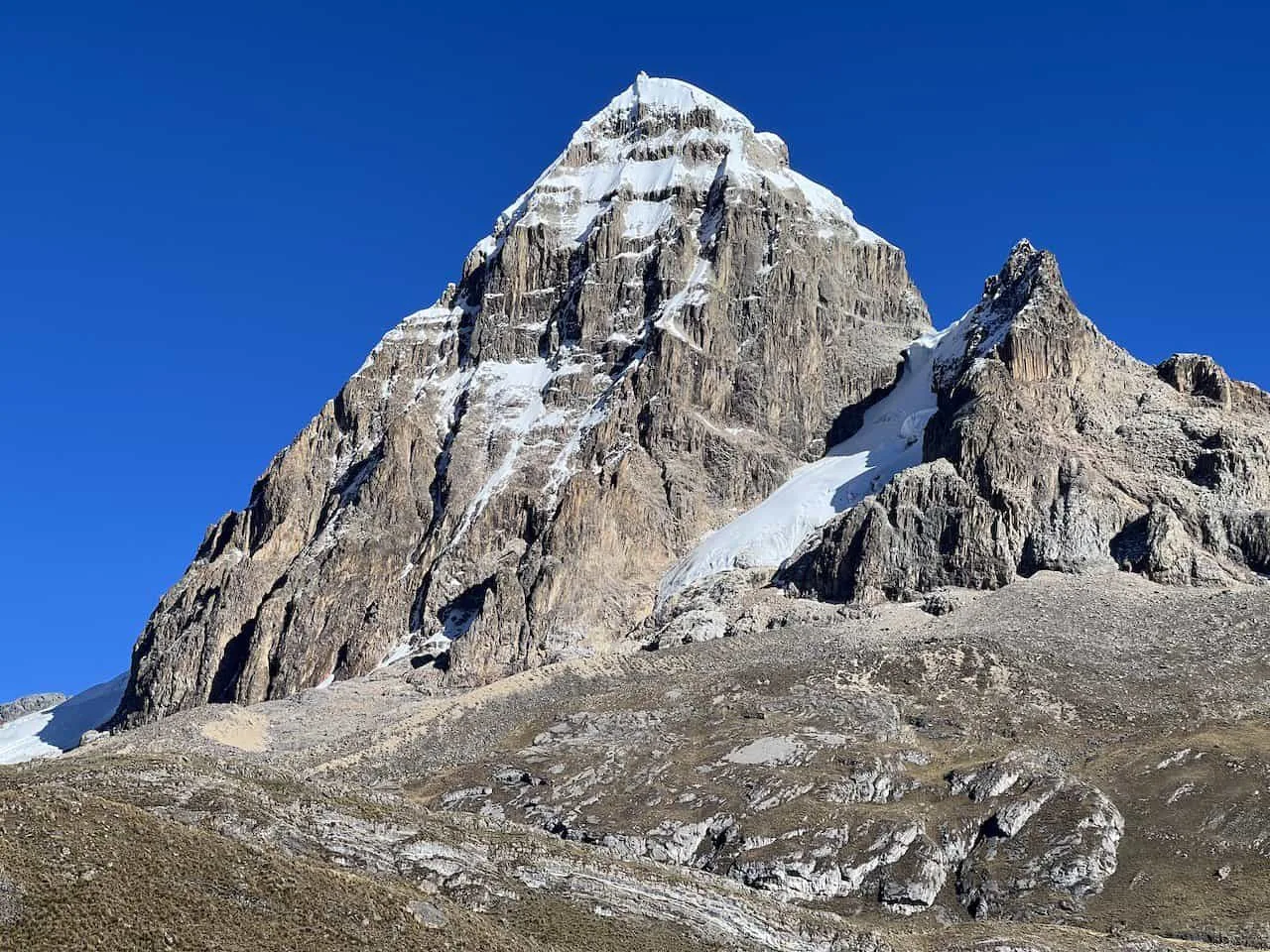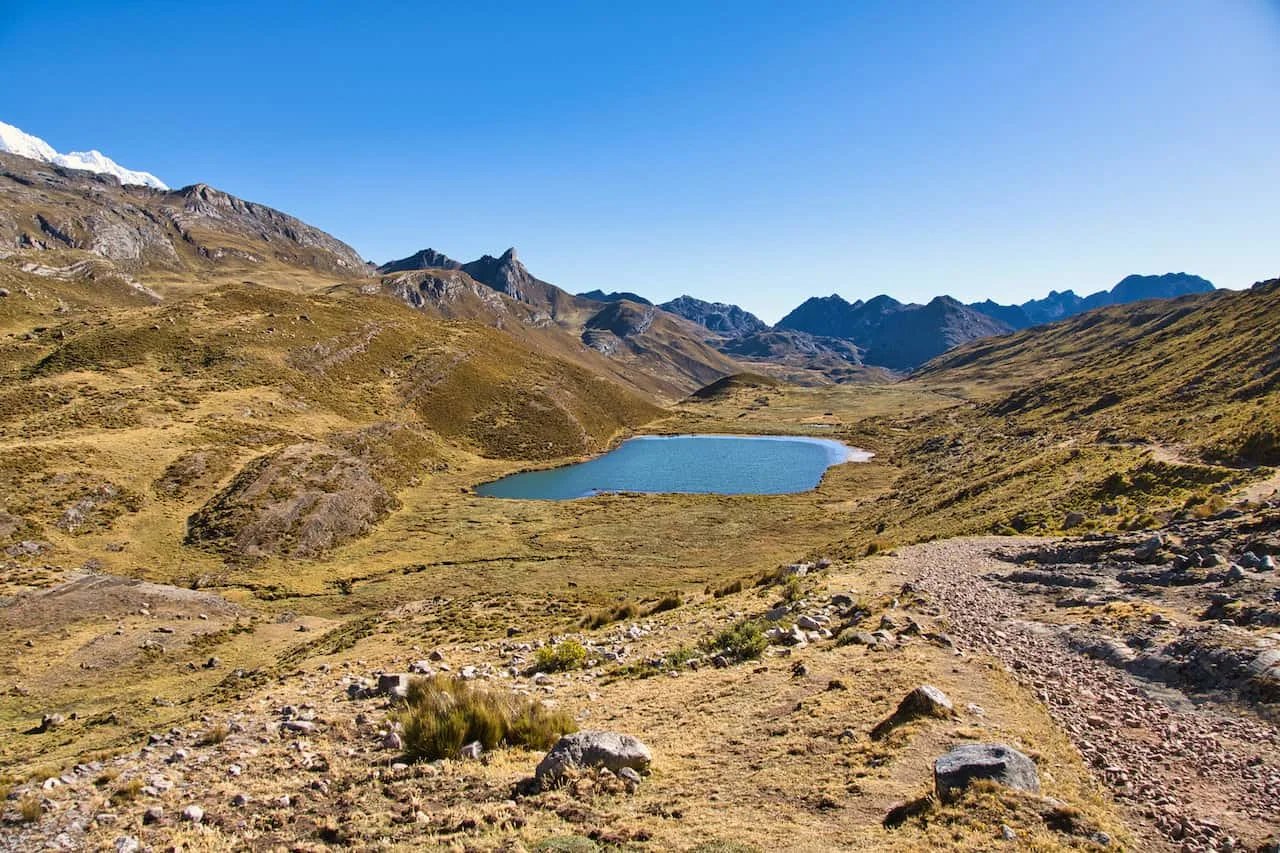 You will soon come across another larger lake, before the trail gets a bit steeper heading up to the Portachuelo Pass. Continue to turn around and enjoy the views as you have the beautiful valley and Trapecio all in view.
The top of the pass is marked with rock cairns, and you can spend you time here relaxing and just taking in the surrounding landscape.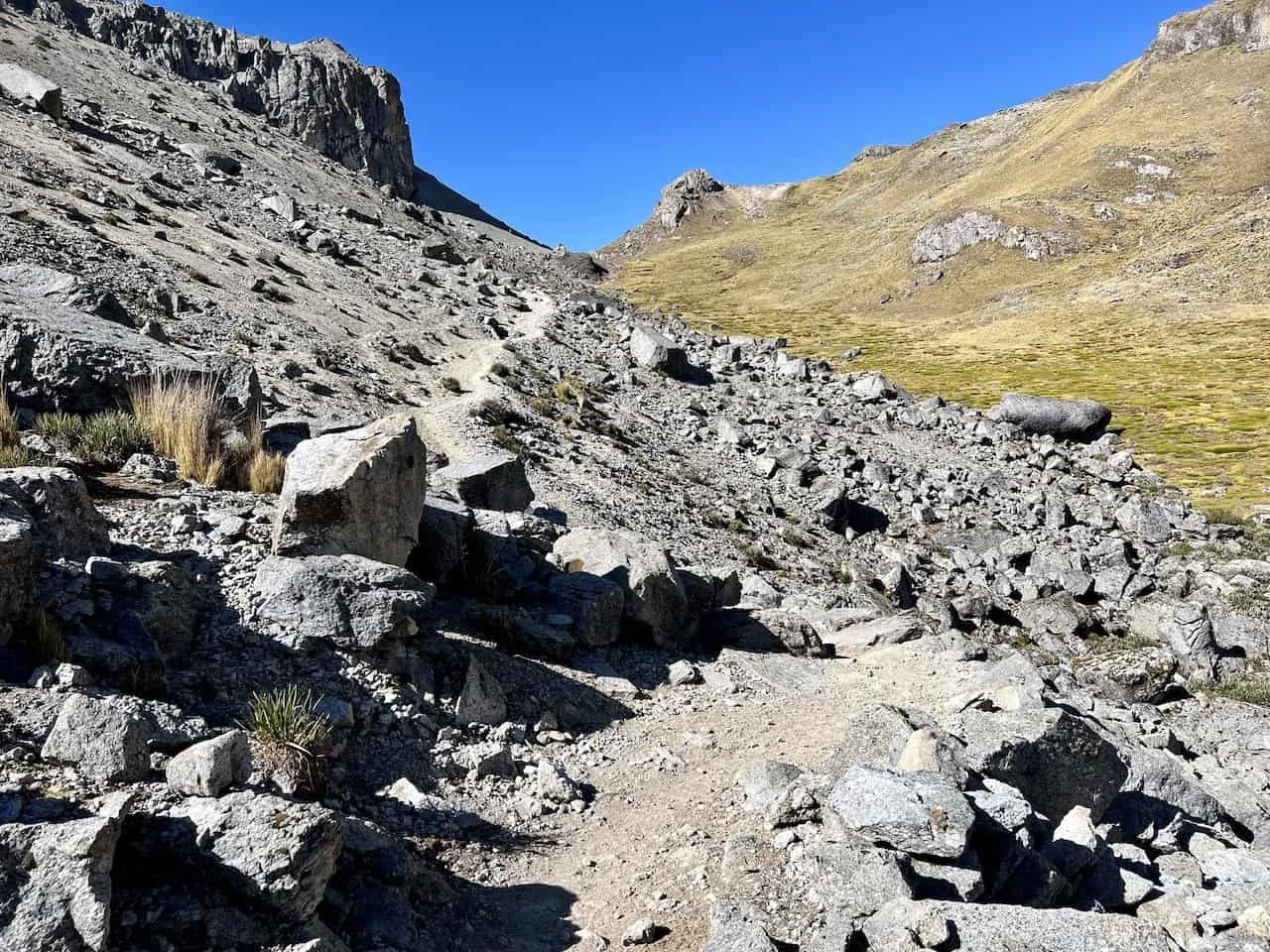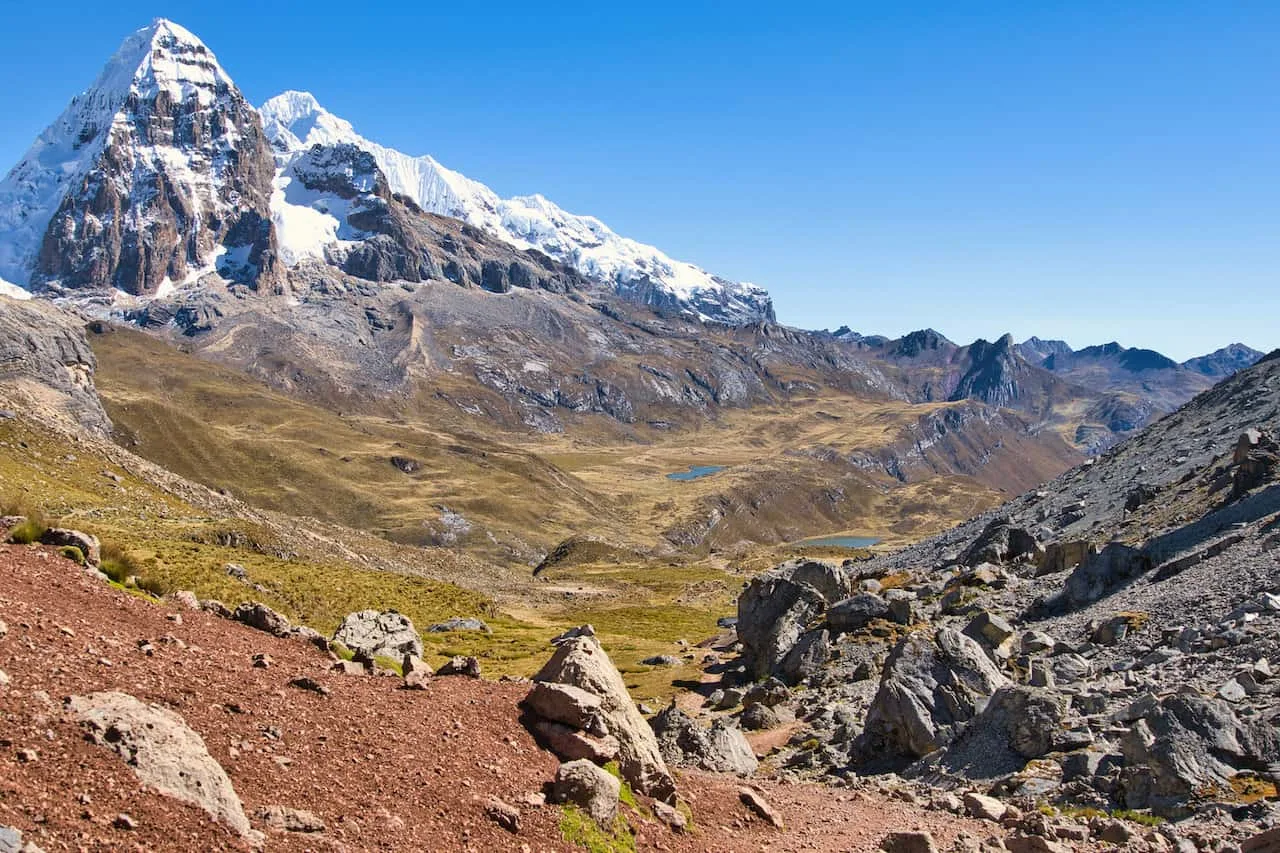 Once on the other side of the pass, you will begin to see new views & mountains out in front of you. It is going to be a relatively easy hike towards Lake Viconga from here, as you slowly descend down the trail.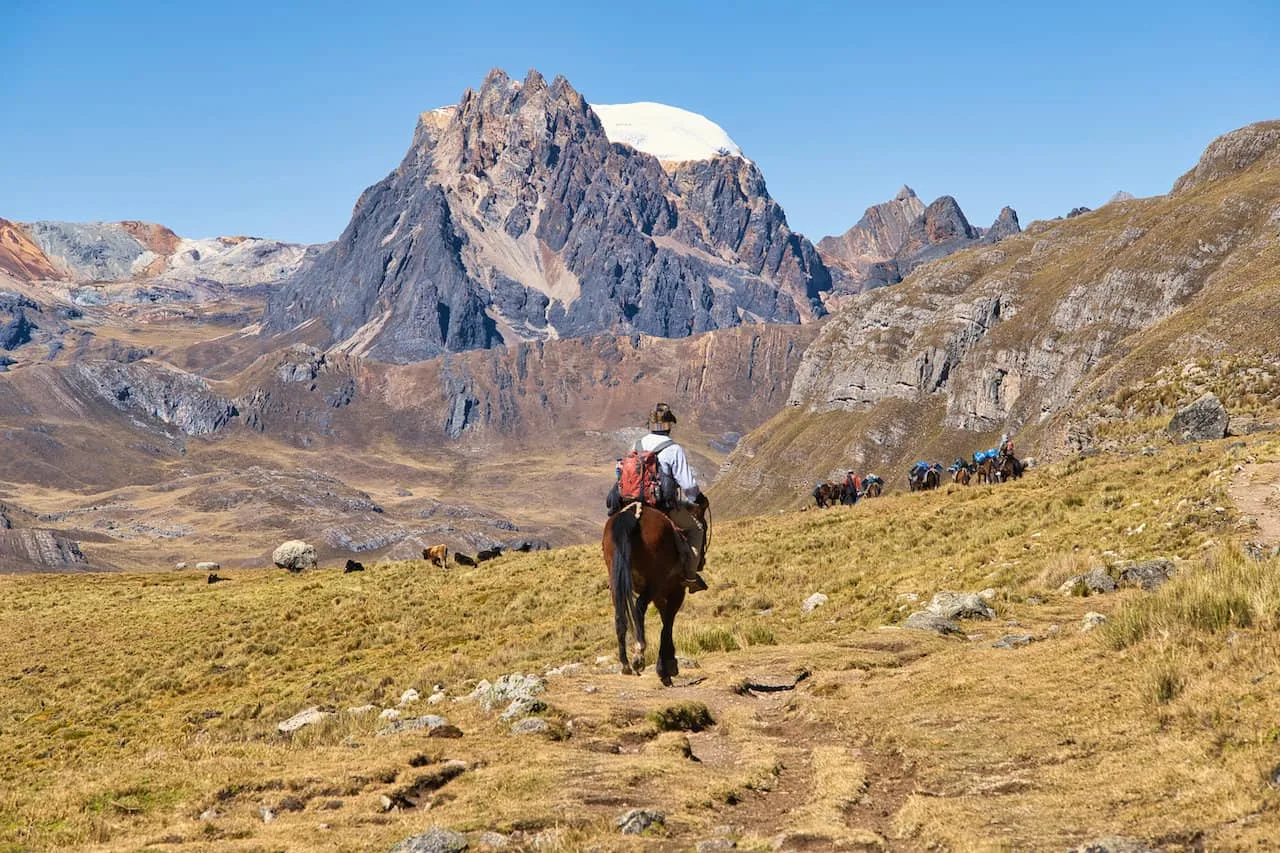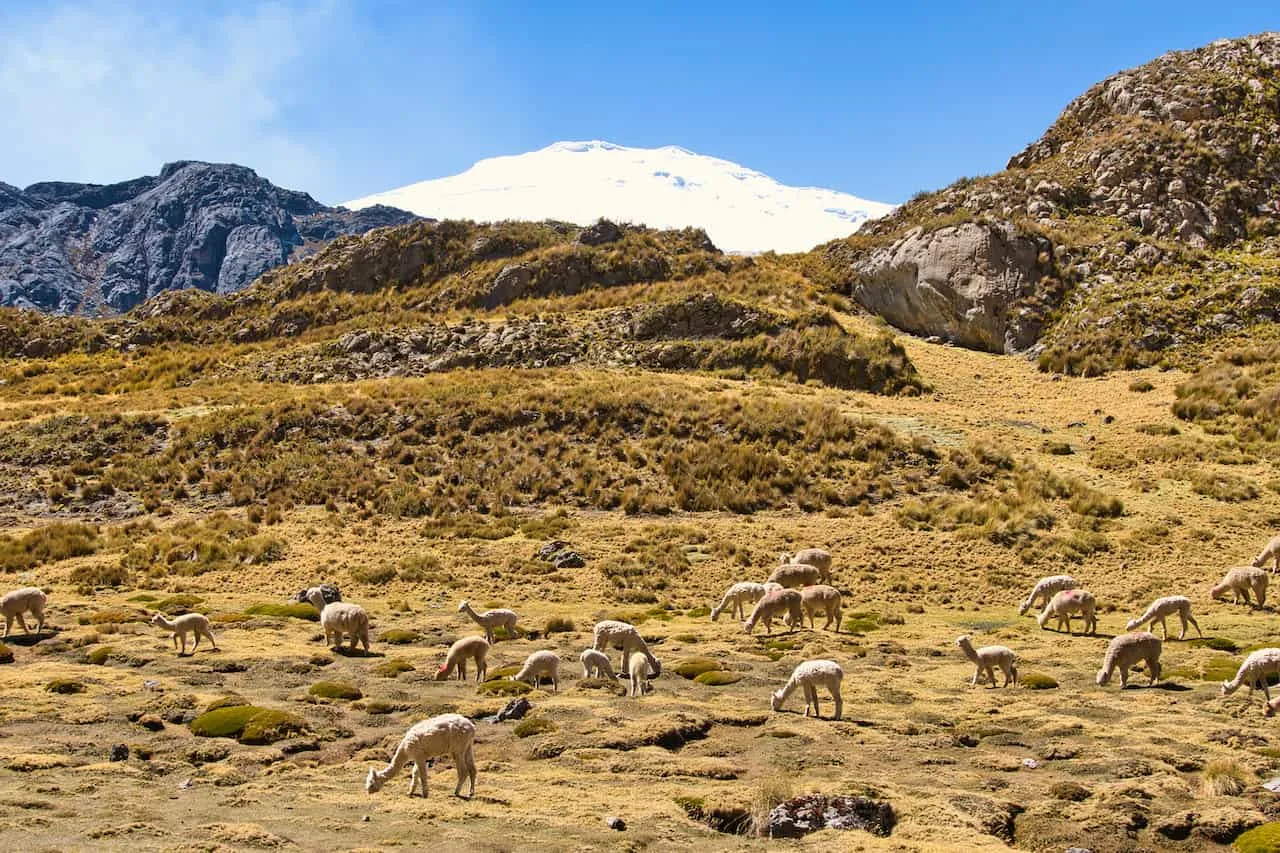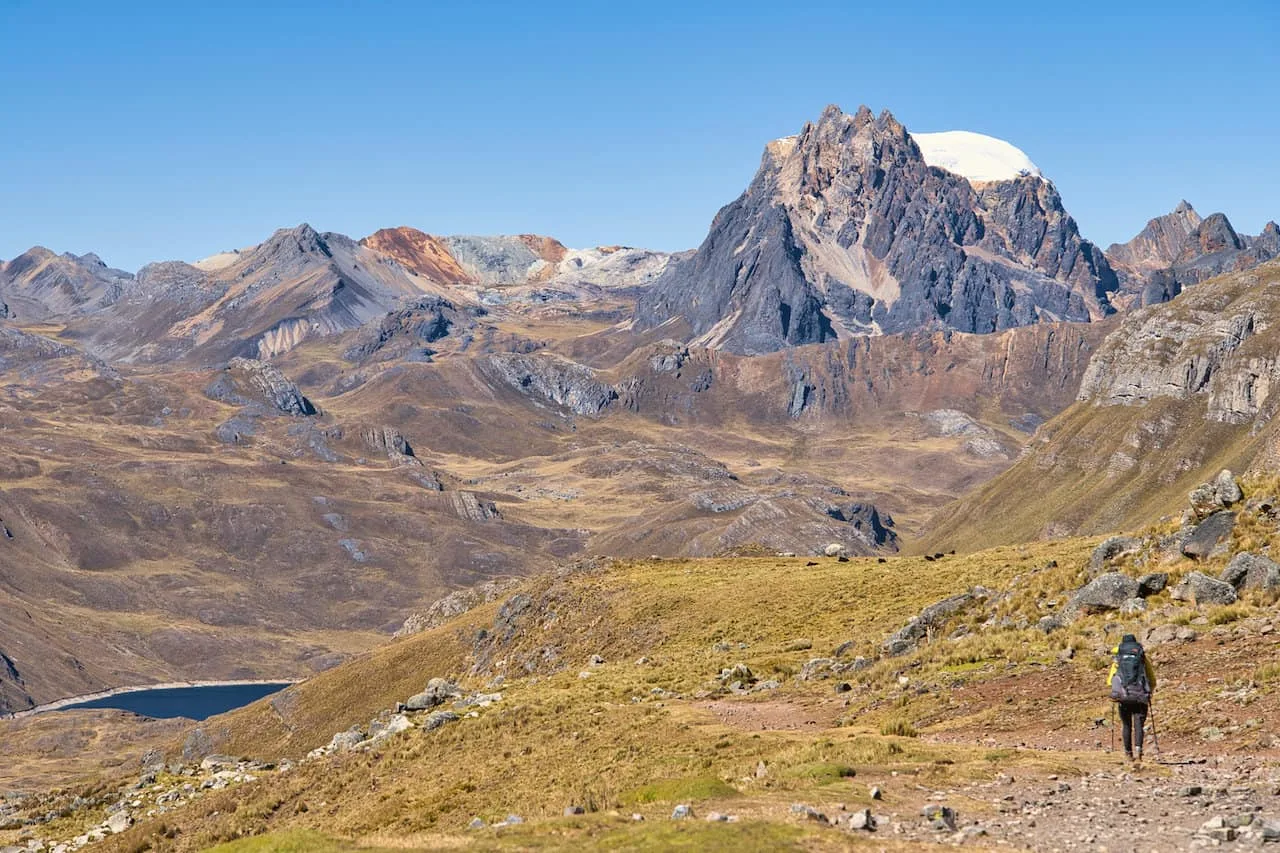 Soon enough though, you will see Lake Viconga slowly coming into view in the distance. The path heads directly down to the lakeside, where you can take one of two routes.
You can either walk right alongside the lake, or head on a bit of a more elevated pathway (which I opted for). See below for that trail junction.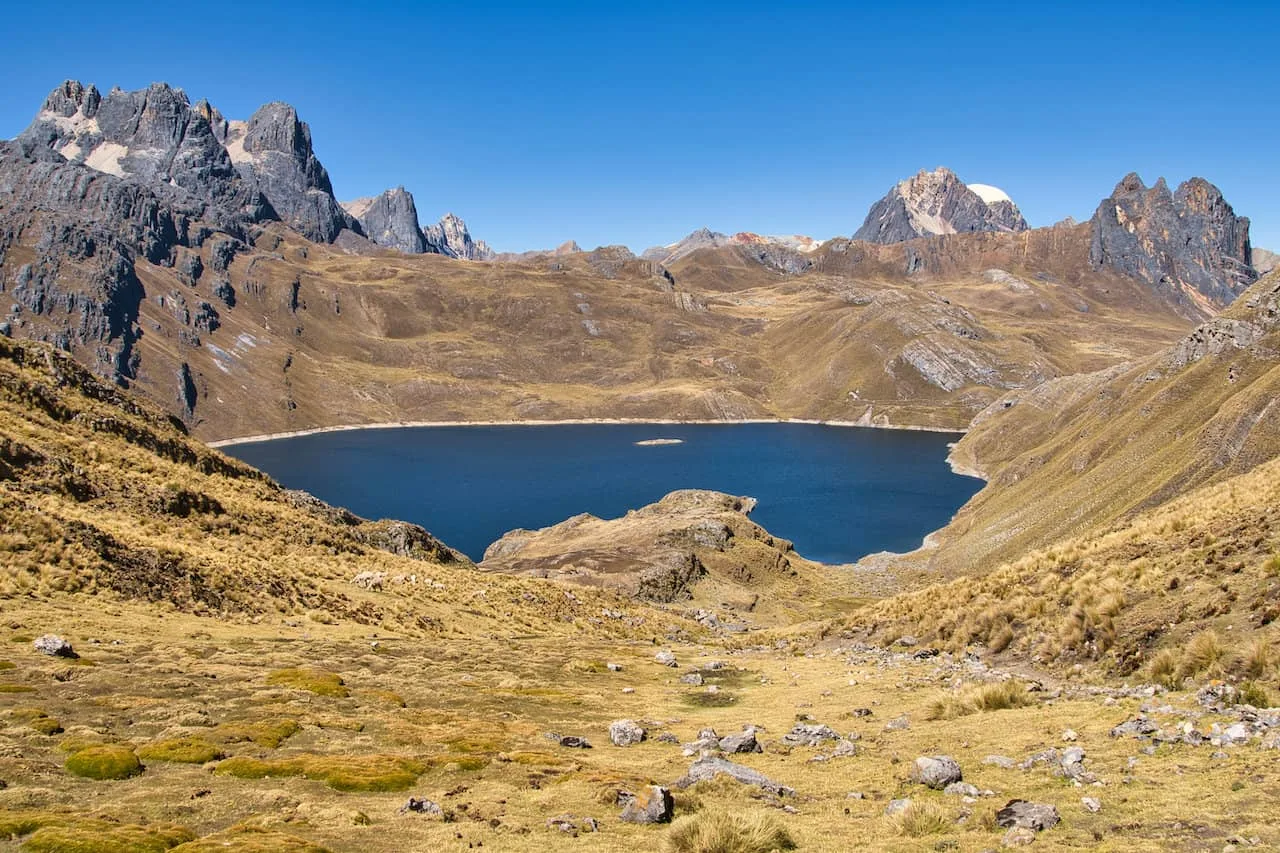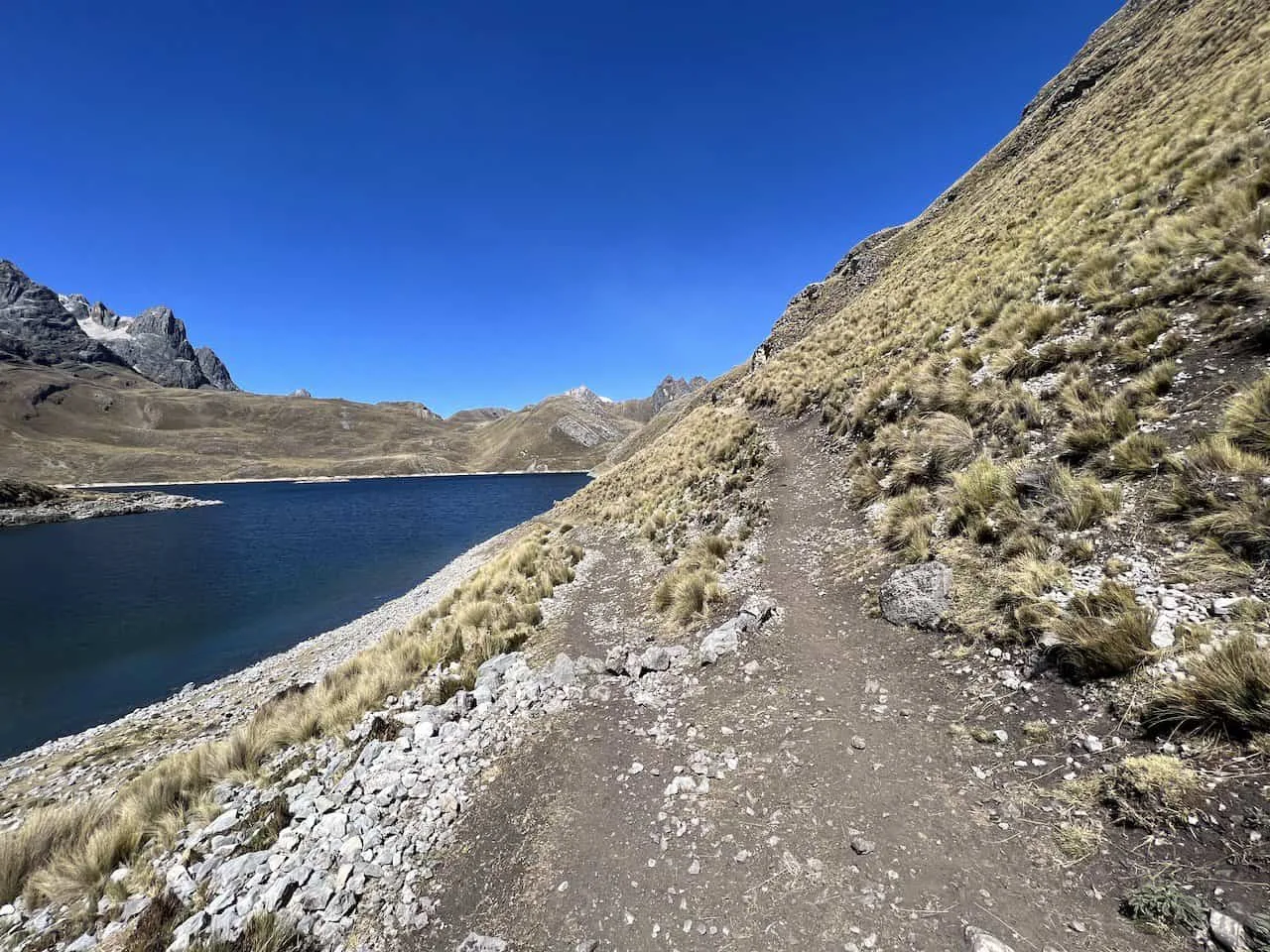 As you gain a bit of elevation along the hillside, you will be able to enjoy some of the best views of the day with the lake & surrounding mountains in front of you.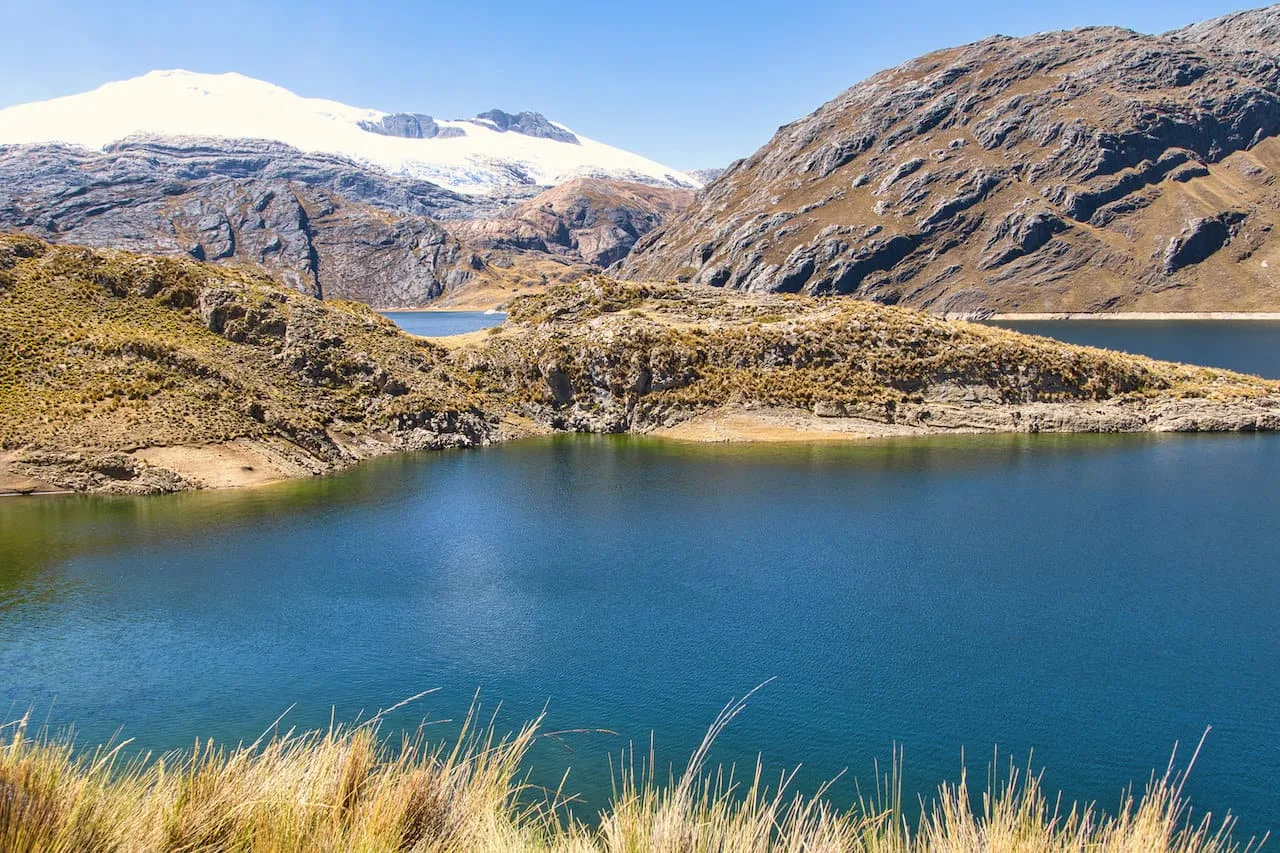 After making it along the lake, the trail quickly ascends and reaches the entrance to the Uramasa sector. Here is where you will pay the small fee to utilize the campsite and hot springs.
From there, the trail now descends down the valley, past some waterfalls and rivers, and towards the campsite.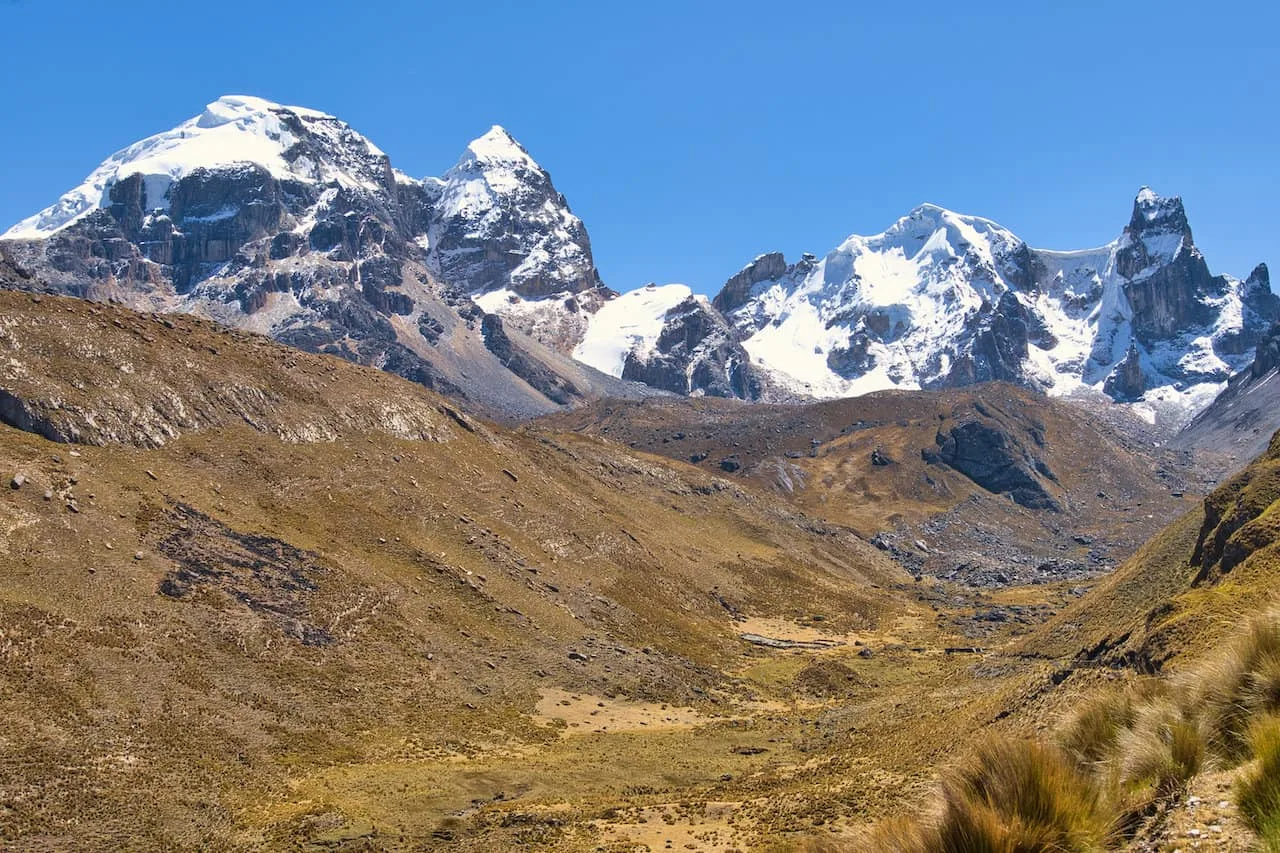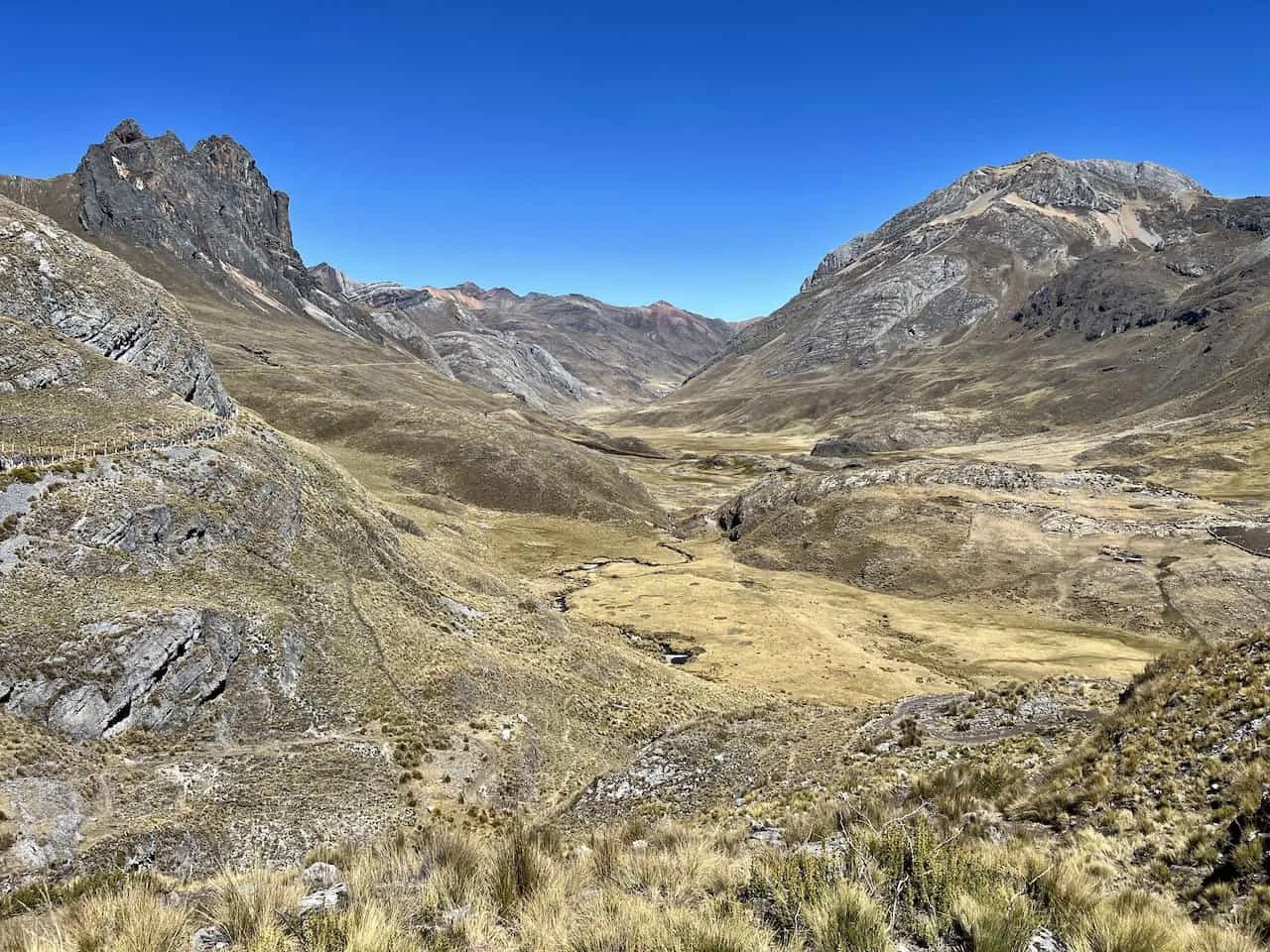 6) Viconga Hot Springs
If you zoom into the photo below, you can see the Viconga campsite located on the right hand side and the hot spring pools located on the left hand side. It is just a couple minute walk between the two.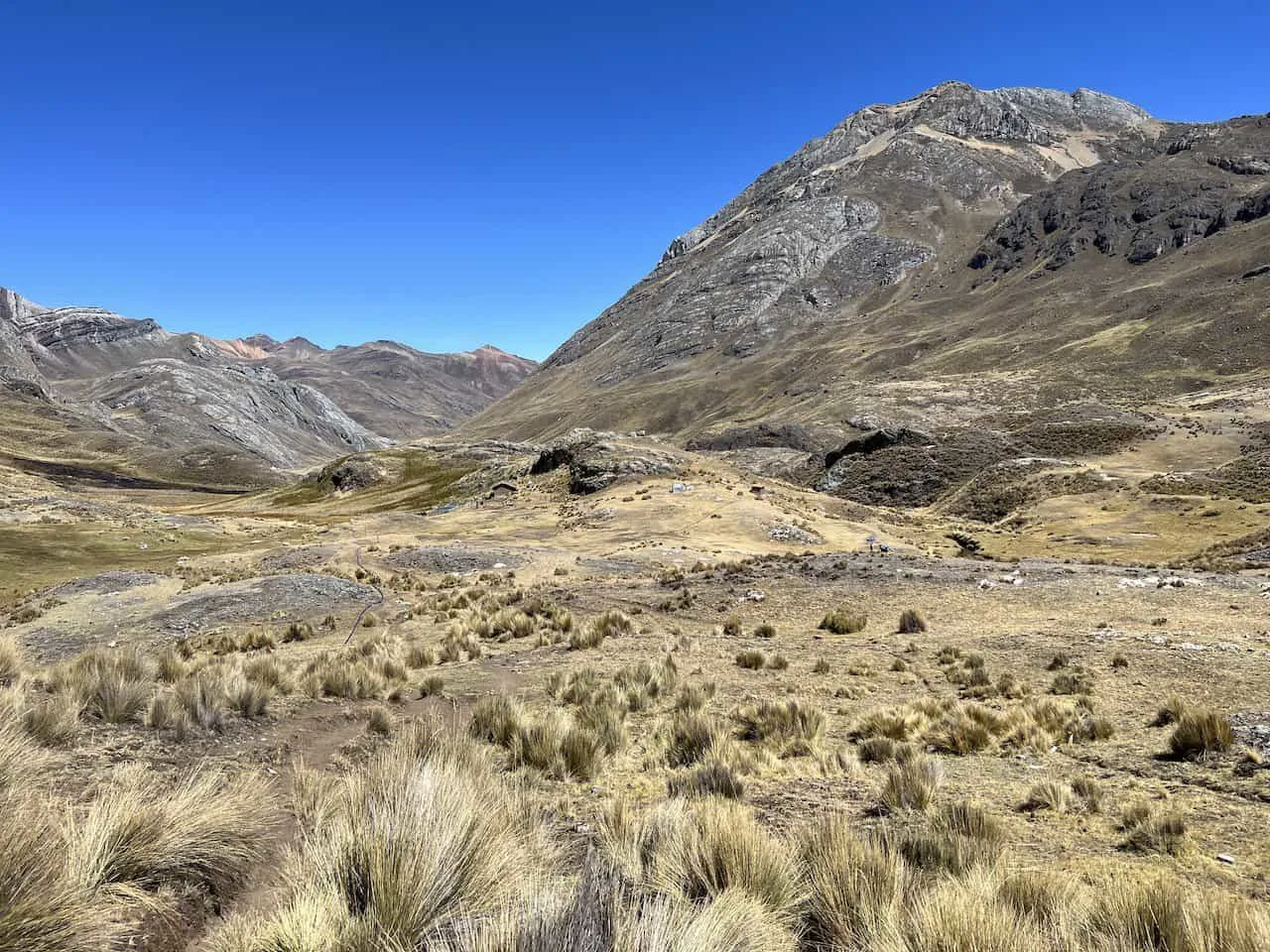 I would recommend setting up camp, unpacking your things, and then making the quick walk to the hot spring pools. If needed, there is a changing area here, and you can find three thermal pools out in front of you.
The farthest pool, which is also the smallest, is not meant for swimming, rather just for cleansing. If you have soap/shampoo, that can be utilized in this smaller pool.
The other two larger pools on the other hand can be used as your natural hot tub experience. Although the air temperature can be quite cold, the water temperature is quite hot. If you couple that with a sunny sky with the sun shining, it can feel like a summer's day out there.
I would highly recommend to not spend too much time in the water itself, as you can get dehydrated quickly. Instead, feel free to hop in and out as you see fit, or just hang out with your feet in the water for a longer period of time.
Once all done with the hot springs, you can then dry up, have some dinner, and get yourself ready for day 5 of the Huayhuash Circuit.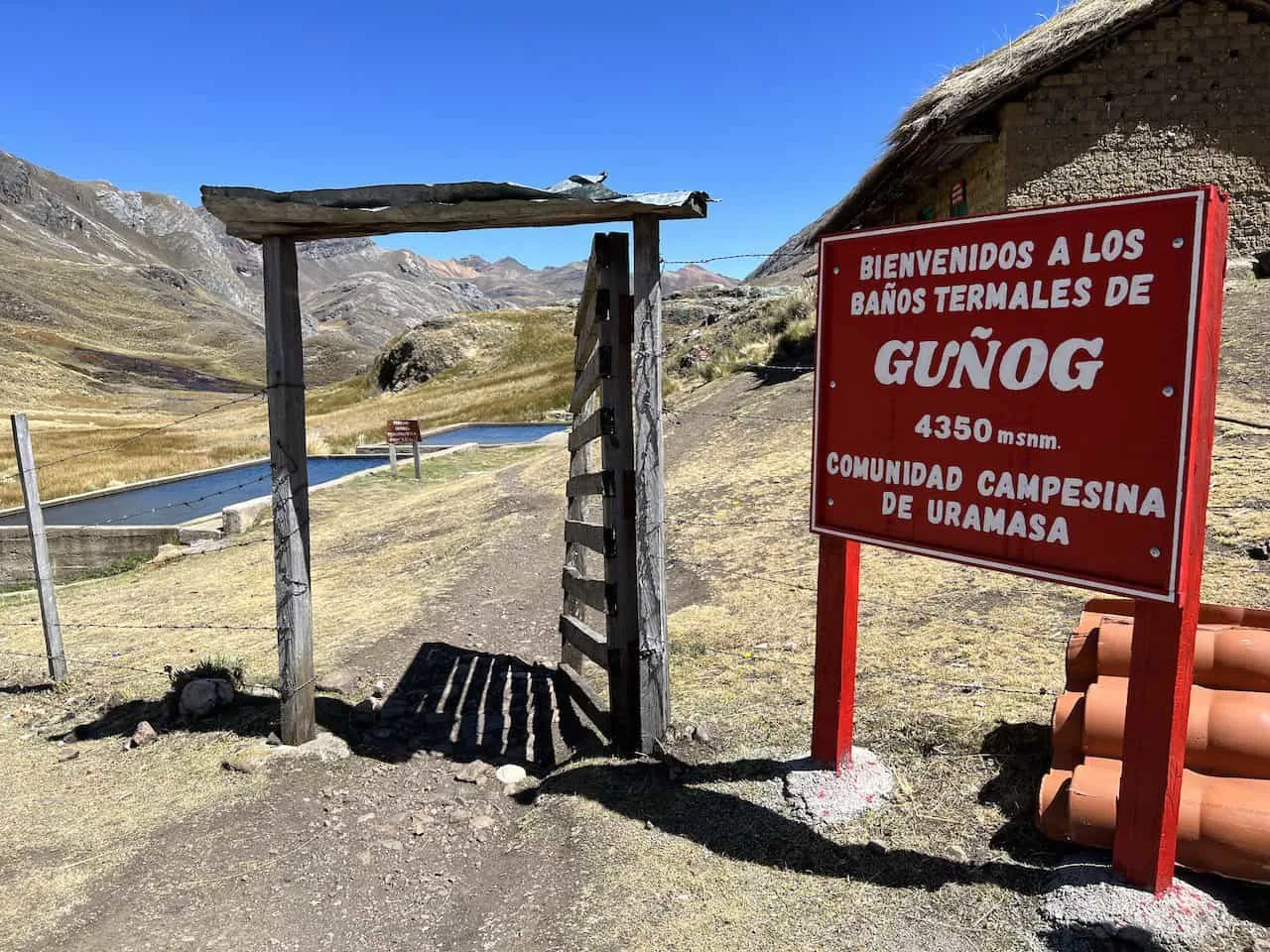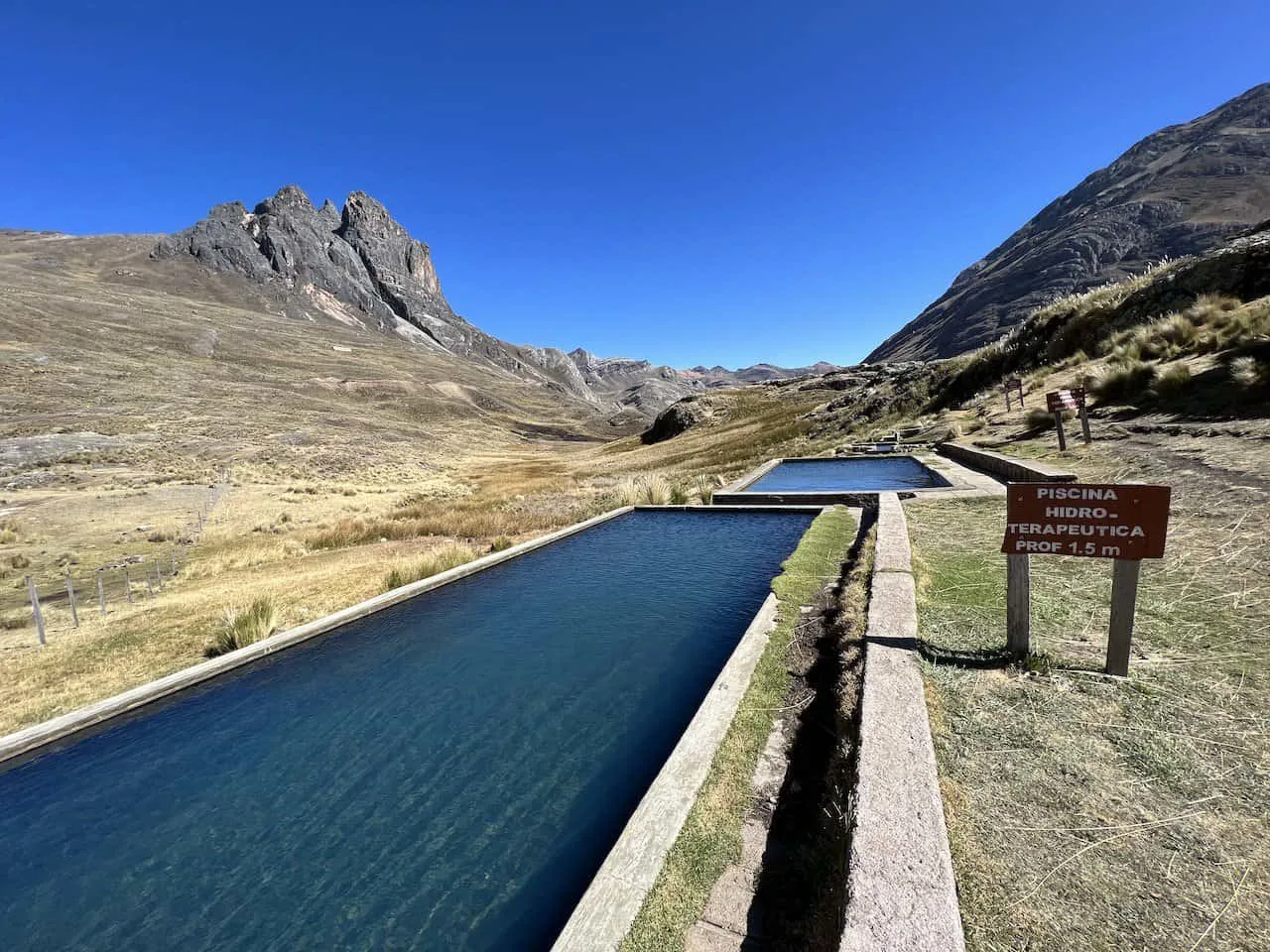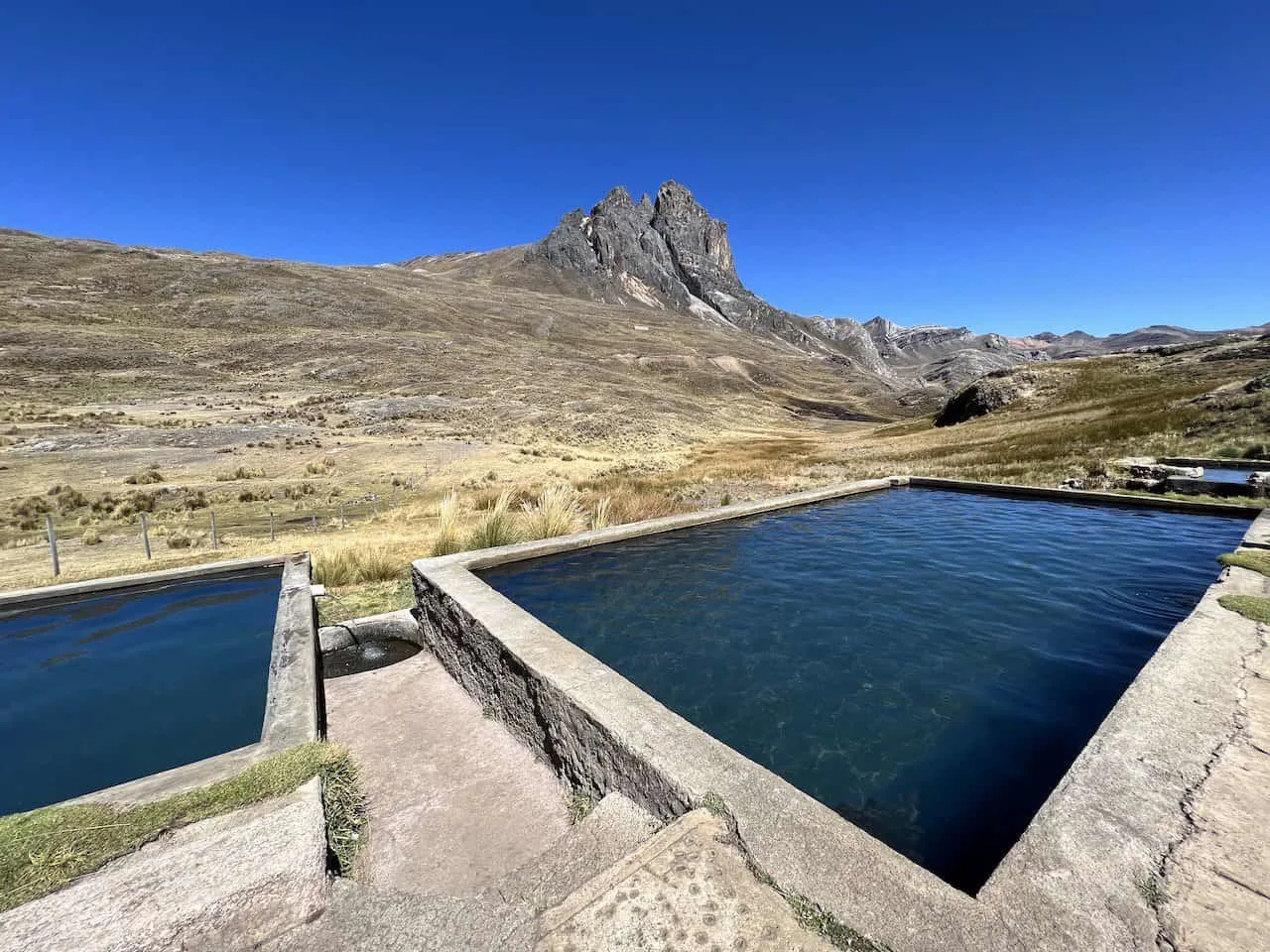 If you have any questions or comments about the day, feel free to add them in below. Have fun out there and safe travels!