If you are taking part of the famous Huayhuash Circuit, one of the most important aspects to understand is the Huayhuash trek map.
The Cordillera Huayhuash can be a complicated area with various campsites, routes, mountain passes, and more all throughout the area.
The purpose of this guide is to give you a detailed breakdown of the Huayhuash Circuit trekking map so you can better understand the layout of the area. By the end of reading through, you should be one step closer to taking on the circuit for yourself.
* Affiliate Disclosure: This post may contain affiliate links, which means I may receive a commission if you make a purchase through the links provided, at no additional cost to you. Thanks for supporting the work I put into TripTins!
1) Huayhuash Trek Map
Let's just start off with a visual view of the Huayhuash trek map. While there are many maps out there, the one below essentially shows everything you will need to know for a hike.
Throughout the remainder of this guide (and your time researching the trail), feel free to refer back to this map to better understand the ins and outs of the area.
In the following sections I will be talking about the various aspects of the Huayhuash map and how to better understand certain parts of it.
→ If you want to download the route onto your phone, be sure to check out the Huayhuash GPX overview
Also be sure to check out the Cordillera Huayhuash Circuit guide up on the site for a complete overview of what the trek entails.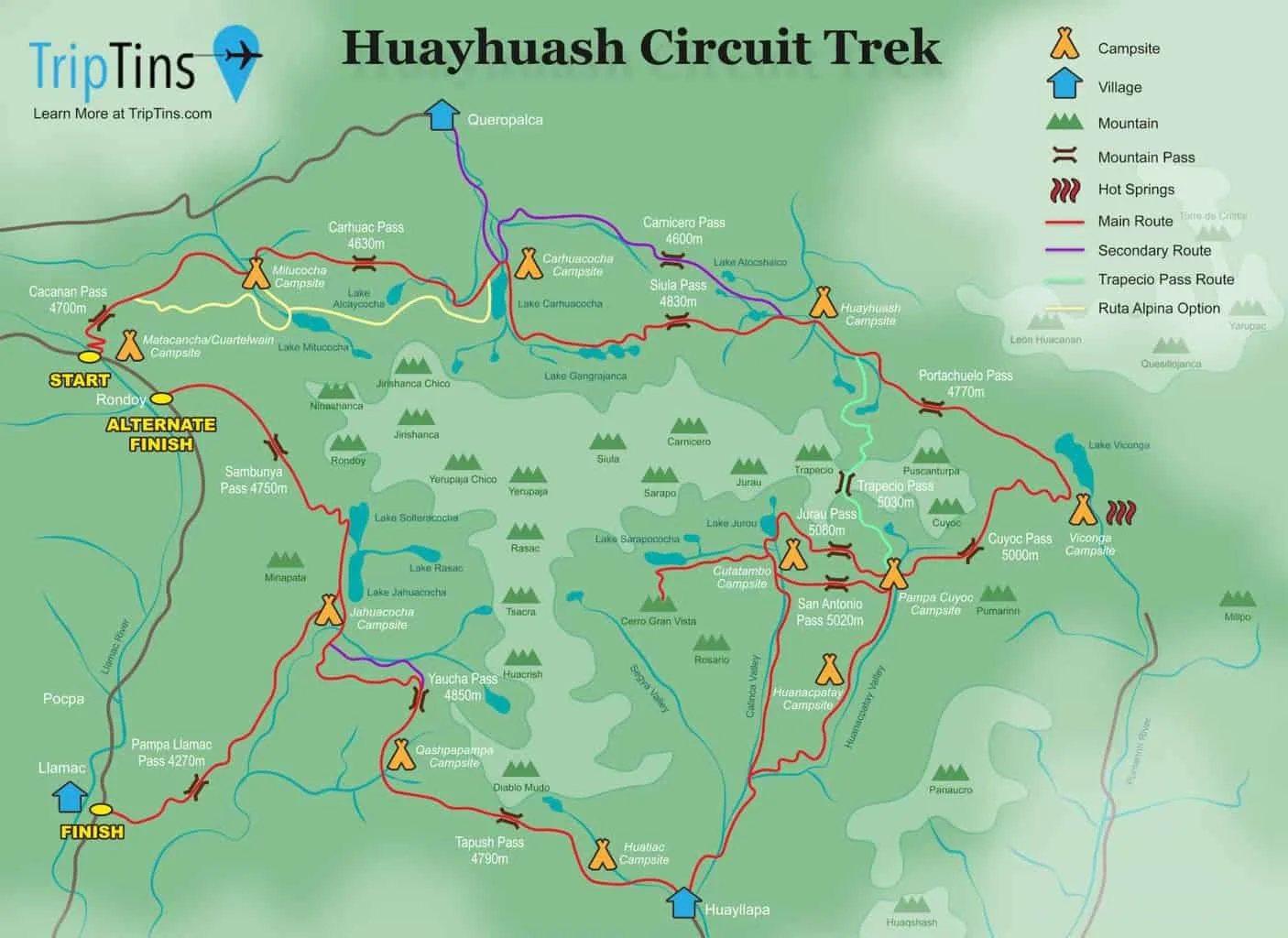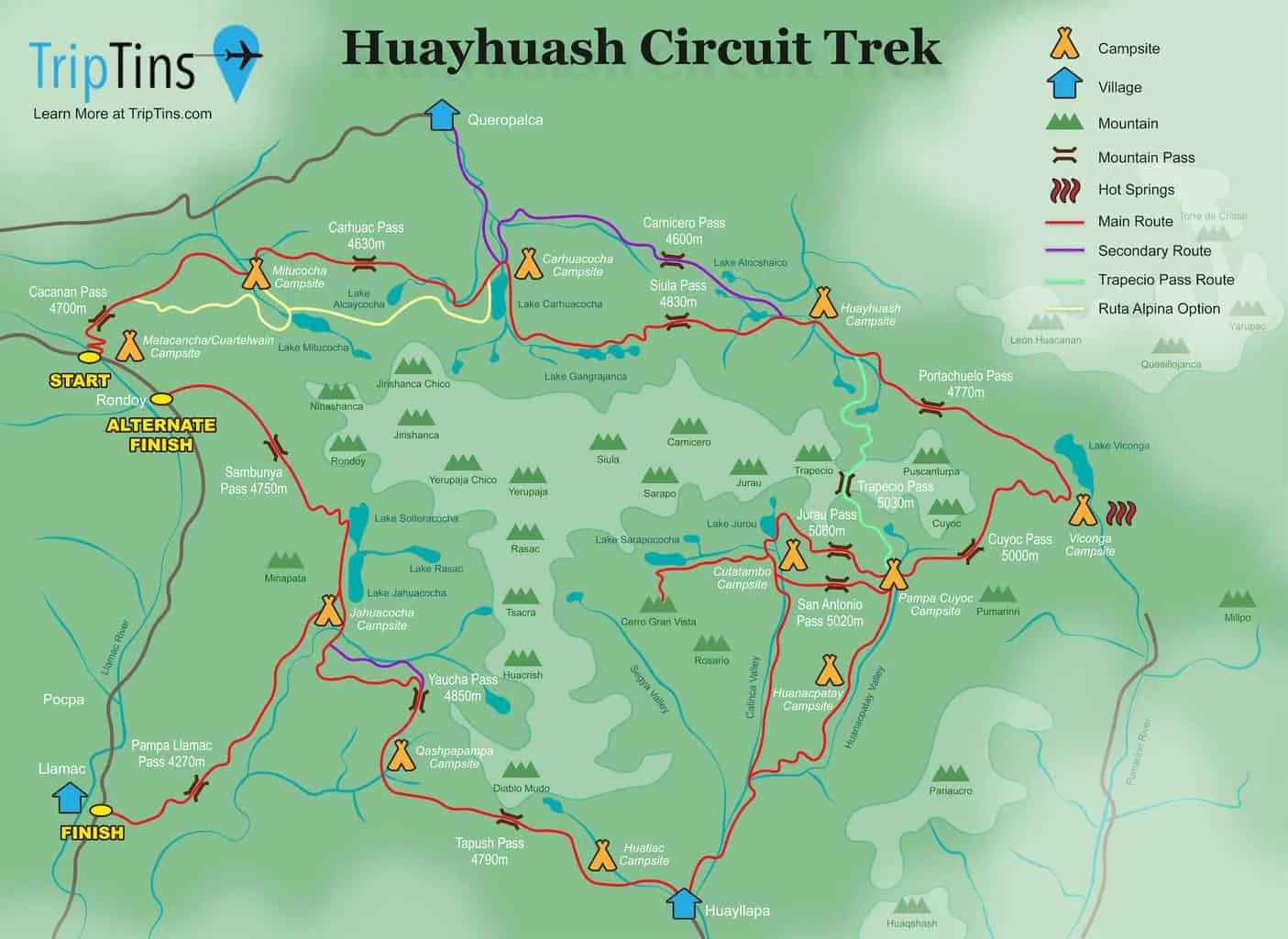 Considering travel insurance for the Huayhuash Circuit?

World Nomads offers coverage for more than 150 adventure activities as well as emergency medical, lost luggage, trip cancellation and more.

For years, World Nomads has been protecting, connecting & inspiring independent travelers, offering travel insurance & safety advice to help you travel confidently. Their mission is to support and encourage travelers to explore their boundaries.

World Nomads has simple and flexible travel insurance that has been designed by travelers for travelers. Even if you leave home without travel insurance or your policy runs out, you can buy or extend out on the road.

Get a quote for a World Nomads travel insurance policy today!
2) Main Huayhuash Route
I should note that there are many different iterations of the route in general. Some people may opt for the entire circuit while others may just take part of a section of the route.
In between the short and long routes, there are other options to consider too (skipping certain campsites, combining days, etc).
→ Feel free to take a look at the Huayhuash routes overview to learn more about these
In summary though, the red line on the map represents the main Huayhuash route that encircles the entirety of the Cordillera Huayhuash. A classic 10 day route will look something like this:
Day 1: Matacancha to Mitucocha
Day 2: Mitucocha to Carhuacocha
Day 3: Carhuacocha to Huayhuash
Day 4: Huayhuash to Viconga
Day 5: Viconga to Cuyoc
Day 6: Cuyoc to Cutatambo
Day 7: Cutatambo to Huayllapa
Day 8: Huayllapa to Qashpapampa
Day 9: Qashpapampa to Jahuacocha
Day 10: Jahuacocha to Llamac
Learn More: Be sure to check out the Huayhuash Circuit resource page that includes many helpful travel guides to get you prepared for the trek.
Here are a few things to note about the main red route:
→ From the Cuyoc campsite, you have the option to head over the San Antonio Pass or the Jurau Pass to the Cutatambo campsite. The San Antonio Pass offers some slightly better views but the descent down is known to be more dangerous. You can decide for yourself which one works best for you.
→ Some people spend less time on the trail and skip over the passes down to Cutatambo. Instead they head straight from Cuyoc to Huayllapa. You can see that alternate route on the map as well (passing by the alternative Huanacpatay Campsite) .
→ On some itineraries, there is an extra day spent at the Cutatambo campsite. This gives people the opportunity to explore the Quebrada Sarapococha, head to some lakes and even the Cerro Gran Vista viewpoint. This would make the route mentioned above 11 days instead of 10.
→ At the end of the route, there are two main exit options – the easy route down to Llamac or the more scenic route down to Rondoy. Most people head straight down to Llamac as that is where public transport leaves from. However, if you want to go out with some better views than Rondoy would be your better bet.
→ If finishing in Rondoy, you will either want private transport waiting for you or you will need to walk the dirt road (4+ hours) back to Llamac. If walking back, this means you will need to stay a night in Llamac at the end of the hike (last bus leaves Llamac around 11:30AM).
» Don't forget to also check out a complete Huayhuash packing list for your trip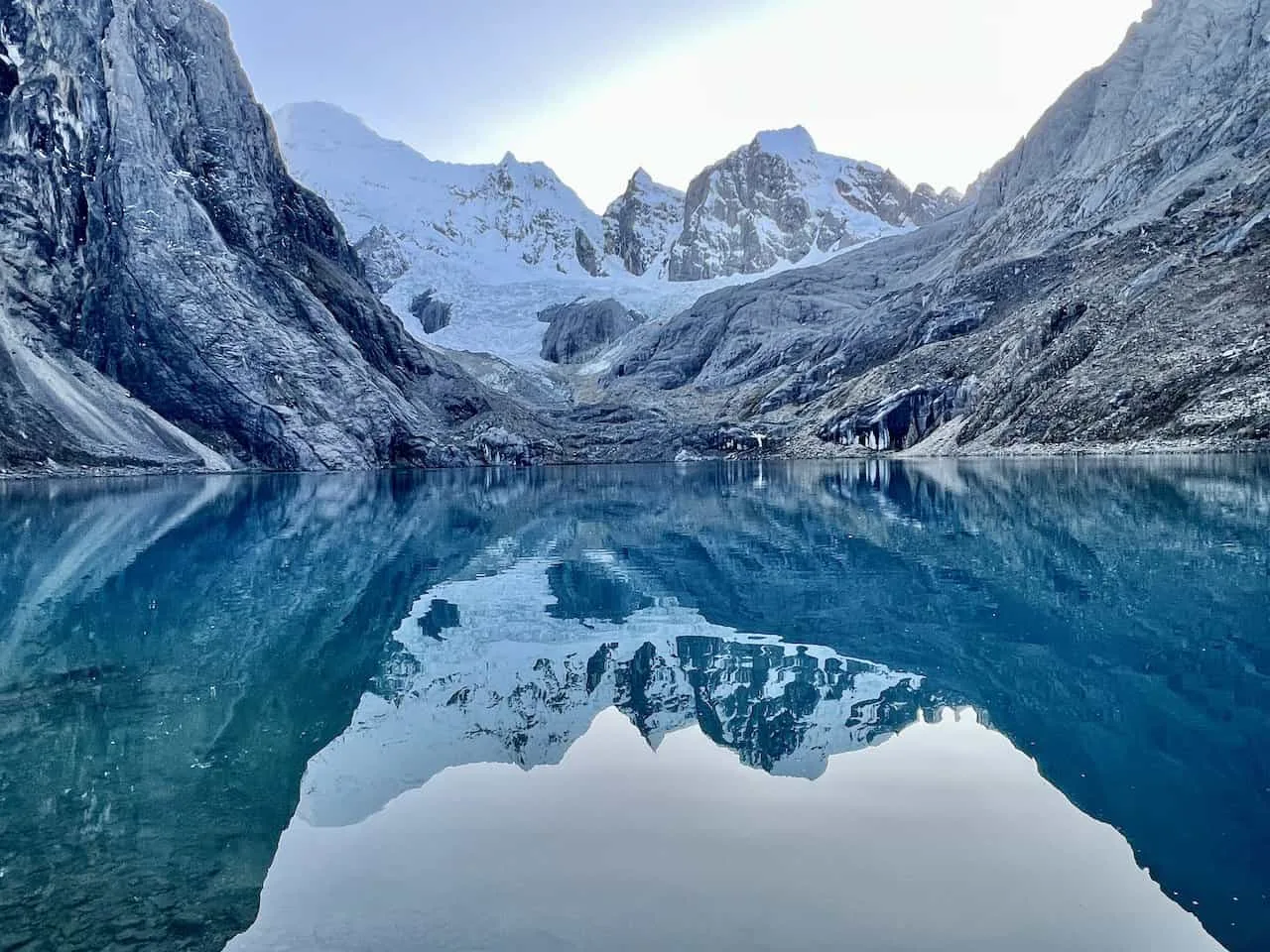 3) Alternate Routes
On the map you will see three different colored lines other than the red route. These all represent different ways to go about your hike.
Secondary Route (purple): in purple you will see a secondary route. These mostly represent "easier" options to avoid some more strenuous hiking. I would not recommend these as they do take away some of the best views of the hike. Definitely stick to the scenic route as much as possible.
One of these purple lines goes from Queropalca to Carhuacocha. This route is only used for mini Huayhuash trekking options.
Trapecio Pass Route (green): there is an option to save a day on the trail by heading over the Trapecio Pass from Huayhuash to Cuyoc. This would essentially remove the Viconga Campsite from the hike. The pass does offer some unbelievable views but it will have you missing out on the hot springs at Viconga.
Ruta Alpina Route (yellow): the ruta alpina is the alpine route that makes its way through the interior of the Cordillera Huayhuash. I have not included that entire route here as it is a much more difficult option and one that is rarely used. However, I did include two sections of the ruta alpina that can be added on for trekkers.
This includes the second part of the first day between Matacancha and Mitucocha, and the full second day between Mitucocha and Carhuacocha.
There is much less of a trail here and navigation skills are required. However, you will get much better views than the normal route. Below is a photo from the second day, high above Lake Mitucocha.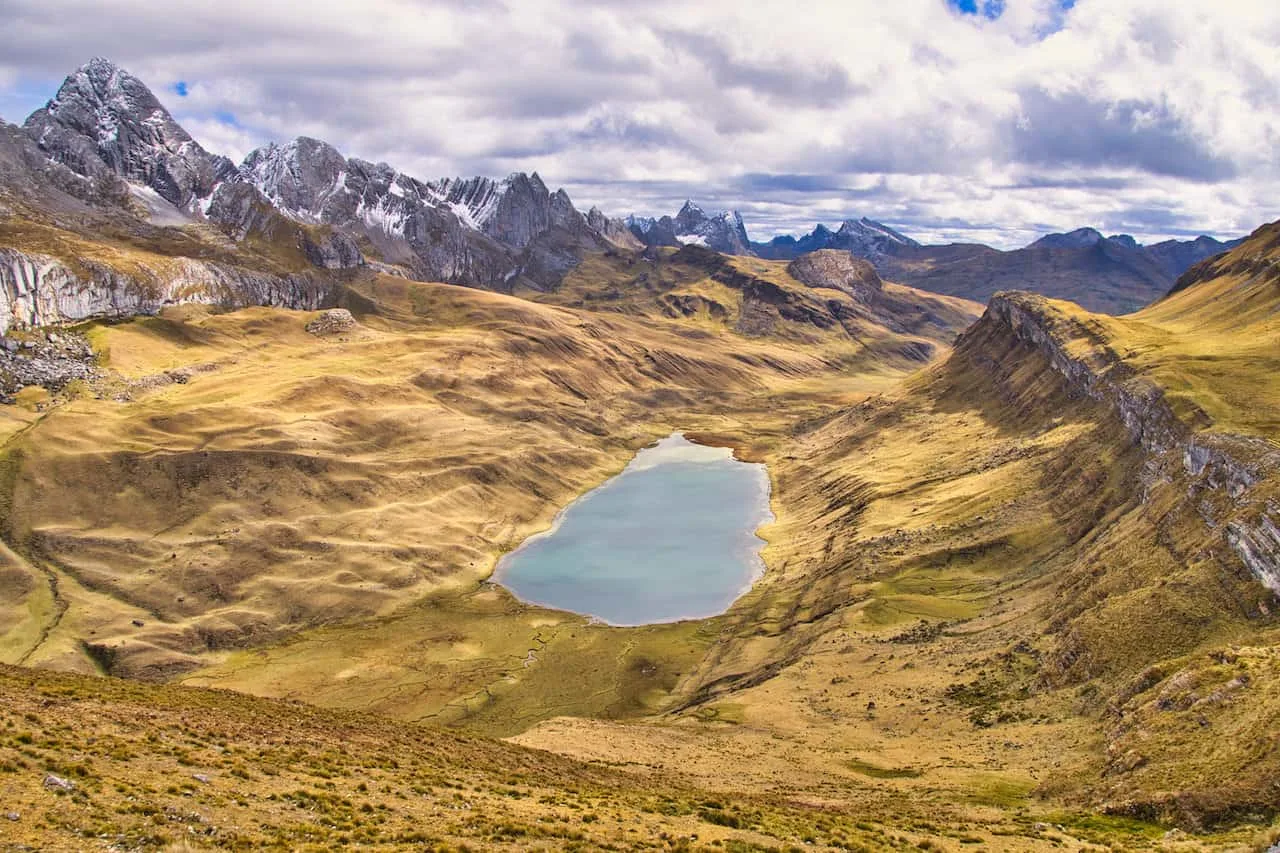 4) Campsites
The next topic I wanted to cover are the Huayhuash Circuit campsites. All throughout the circuit you will find basic campsites to set up a tent for the night. Don't expect too much out of these campsites though.
For the most part, these campsites just include a toilet block (some of which are just holes in the ground while others have flushable toilets), and maybe some sort of water faucet.
The one exception is Viconga where you will find three hot spring thermal pools to enjoy.
All of the campsites are located either along a river or next to a lake. This makes it easy to refill water and even wash your body.
No matter what type of trek you end up taking part of, you will not be staying in each of the campsites listed out on the map. Some routes use more/less campsites than others, so it will just depend on your overall itinerary to understand which ones you stay will at. Below is a list of all the potential campsites:
→ Llamac (village with campsite & end of trail)
→ Matacancha / Cuartelwain (campsite & start of trail)
→ Mitucocha (campsite)
→ Carhuacocha (campsite)
→ Huayhuash (campsite)
→ Viconga (campsite & hot springs)
→ Pampa Cuyoc / Elefante (campsite)
→ Cutatambo (campsite)
→ Huanacpatay (campsite)
→ Huayllapa (village with campsite)
→ Huatiac (campsite)
→ Qashpapampa / Gashpapampa (campsite)
→ Jahuacocha / Incahuain (campsite)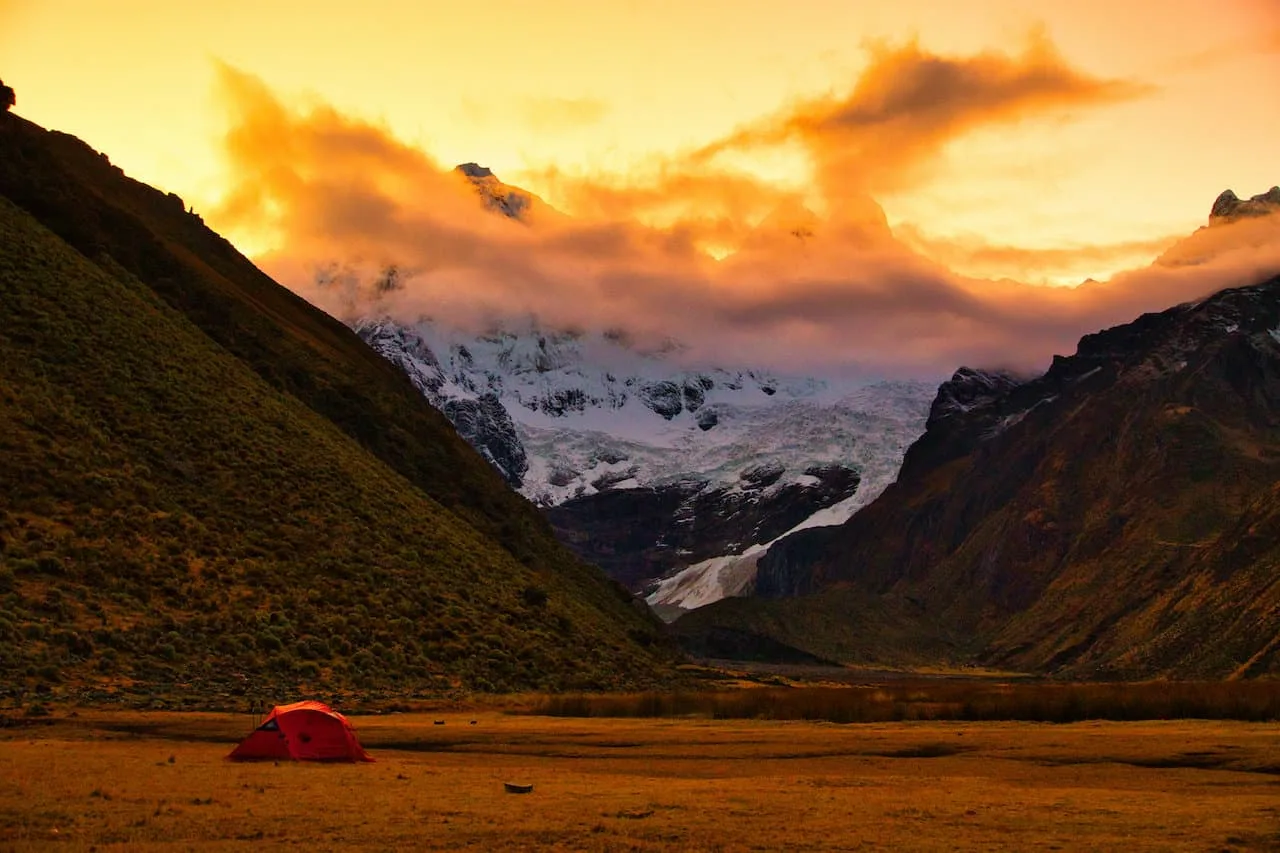 Some notes regarding the lesser used campsites:
Matacancha / Cuartelwain: this campsite marks the starting point of the circuit. You will only stay overnight here if you are starting the hike in Llamac (for those that use public transport), or if you are driven to Matacancha / Cuartelwain the afternoon prior to starting the trail.
Huanacpatay: for those skipping over the San Antonio / Jurau Passes & Cutatambo campsite, you have the option to stay in Huanacpatay instead of Cuyoc.
Huatiac: by staying in Huatiac, you will most likely be saving one day out on the trail. This in turn will have you skipping a night in the village of Huayllapa (more on that next), and having you go straight to Huatiac. See below for how logistics would end up working out:
With Huayllapa
• Cutatambo to Huayllapa (7.3 miles / +100 feet elevation gain)
• Huayllapa to Qashpapampa (8.5 miles / +4,100 feet elevation gain)
• Qashpapampa to Jahuacocha (6.0 miles / +1,970 feet elevation gain)
With Huatiac
• Cutatambo to Huatiac (10.7 miles / +2,700 feet elevation gain)
• Huatiac to Jahuacocha (10.7 miles / +3,000 feet elevation gain)
At the end of the day, you should always be able to add /remove Huayllapa from the route as you see fit.
5) Villages
Also on the Huayhuash map you will see I highlighted three villages on the route. These include:
Llamac: if heading to Huayhuash with public transport, you will end up in Llamac. This is a small village with limited amenities. From there, you will begin the hike along the dirt road to the true starting point at Matacancha / Cuartelwain.
At the end of the hike, the trail heads down from Jahuacocha to Llamac, where you will either be picked up by private transport or hop back on public transport to Huaraz (last bus leaves around 11:30AM).
Huayllapa: the main village of the trail itself is Huayllapa. If you stay in the village, you will have the option to spend a night at a guesthouse and have a home cooked meal. In addition, you can stock up on additional food and snacks for the remainder of the hike.
Queropalca: this village is only used as a starting and/or ending point for mini Huayhuash trekking options. From Queropalca you can head on the easy trail to the Carhuacocha campsite and begin a few days of back & forth trekking.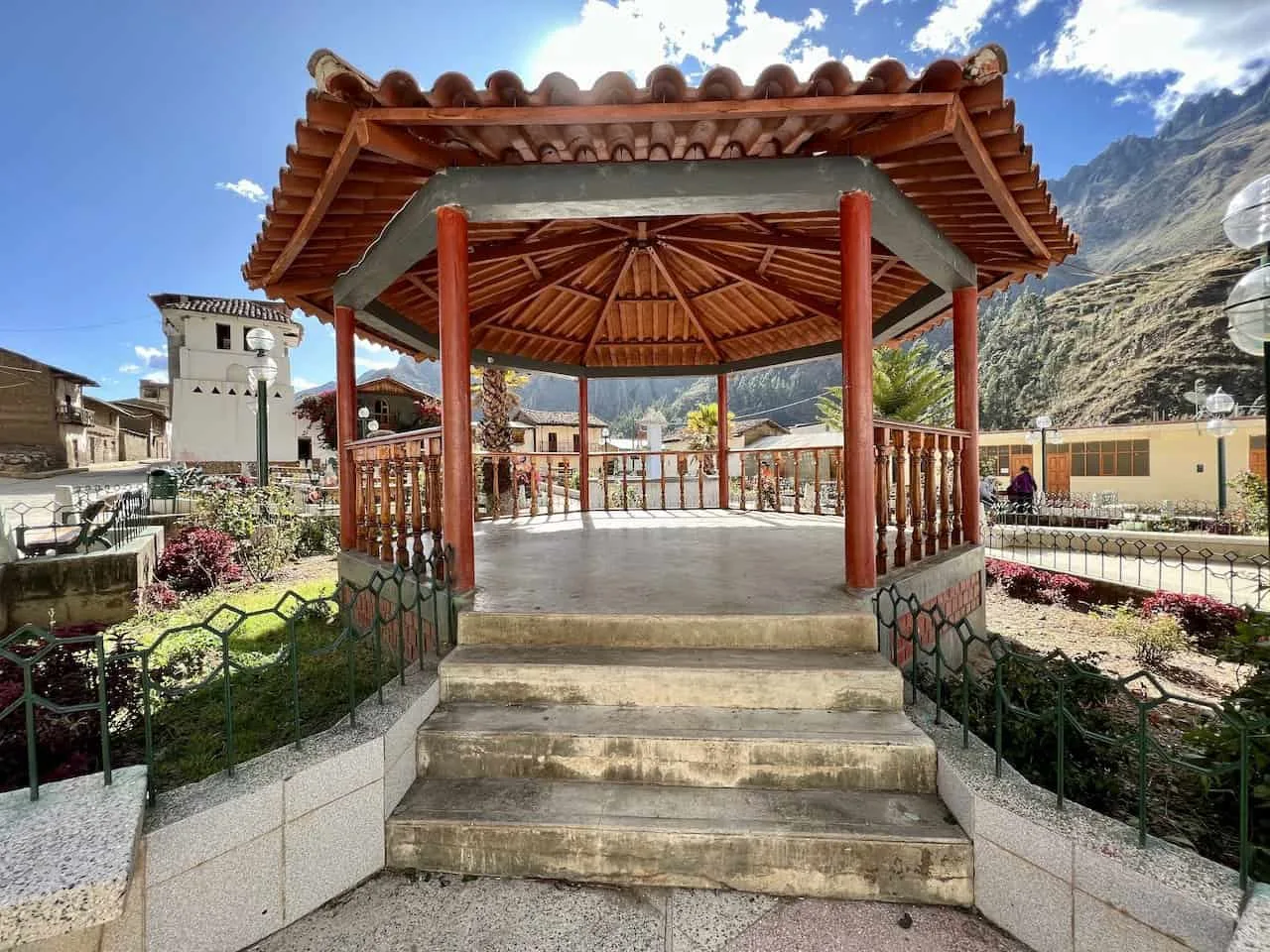 6) Starting / Ending Points
As mentioned already, the starting point of the Huayhuash Circuit will be at Matacancha / Cuartelwain. If you are using a guided tour, these will all take you right to the trailhead.
However, if you are taking public transport from Huaraz, you will be dropped off in Llamac.
Connecting Llamac and Matacancha / Cuartelwain is a dirt road. So, day 1 of hiking will be more so just hiking along this road instead of hiking the main trail.
The main finish point of the Huayhuash trek will be in Llamac though.
From the Jahuacocha campsite, it is an easy hike down to Llamac to end your time on the circuit. Once you arrive in Llamac, you will either head back in your prearranged transport or hop on the bus if opting for public transport.
Note that there is an alternate finish to the trail in Rondoy. Instead of taking the easy route down to Llamac, you can opt for the more scenic route out to Rondoy heading over the Sambunya Pass.
If going with a guided tour or if you prearranged private transport, this shouldn't be an issue as they can pick you up here (or just down the road at Matacancha / Cuartelwain).
However, if you don't have transport set up, the only other option here is to walk the 4+ hours on the dirt road to Llamac. If you end up doing this, you will need to spend the night in Llamac since the last bus leaves around 11:30AM. You may get lucky and be able to hitchhike a ride back to Llamac too.
→ Learn more about how to get to the Cordillera Huayhuash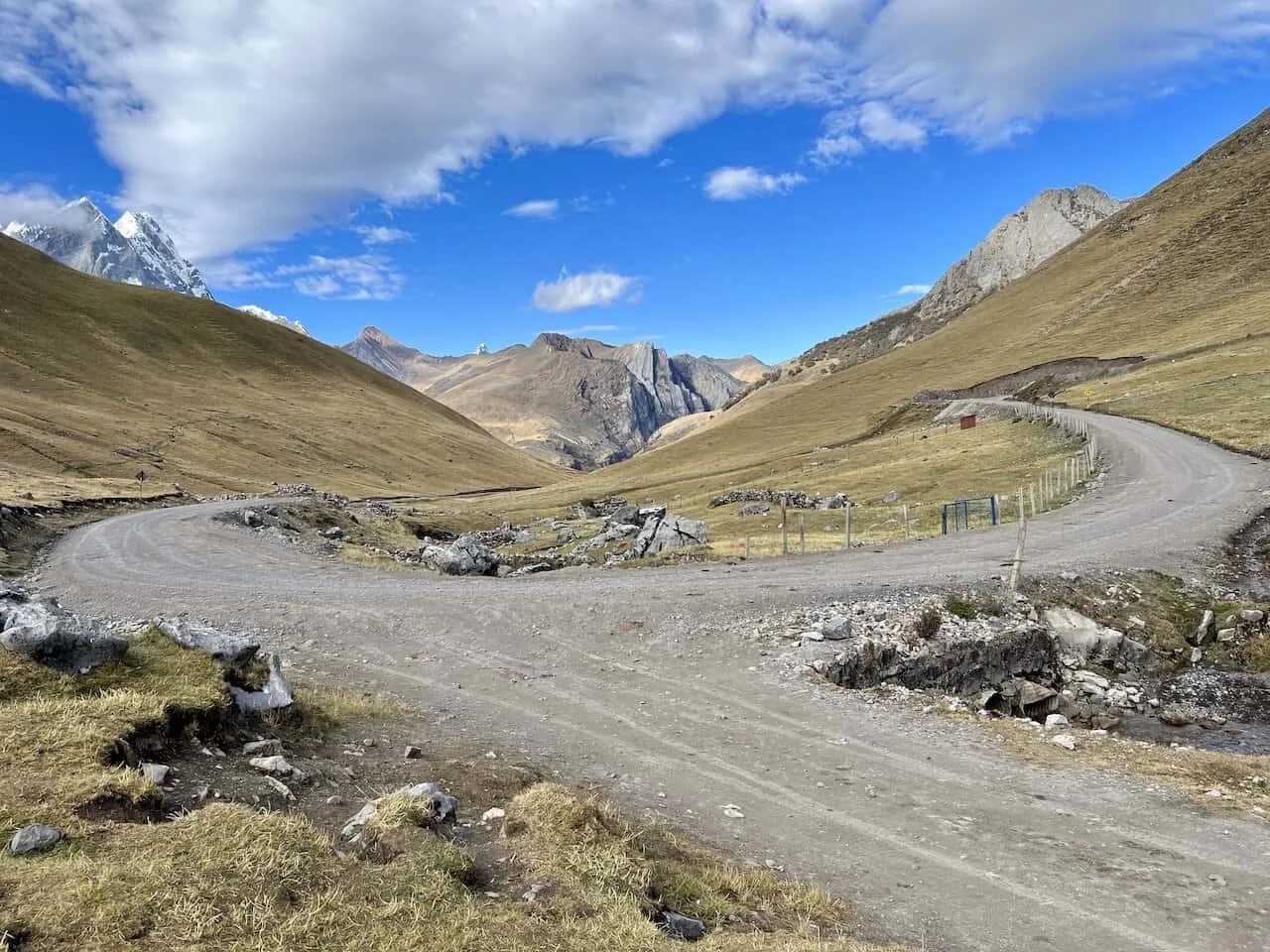 7) Mountain Passes
The last main highlight I wanted to point out on the Huayhuash trek map are the mountain passes. Each day (besides the route from Cutatambo to Huayllapa), you will be heading up and over a mountain pass.
This means that you will gain at least a couple thousand feet of elevation to start the day and then have a downhill hike to end the day. Some of these passes are more/less difficult than others, but they all do offer some fantastic views.
When taking part of the circuit, I always made it a priority to spend some time just relaxing and taking in the views from the top of these passes. After the long, hard mornings of hiking up, it was always nice to spend time just taking it all in from up top.
Here is a list of passes that you may come across during your time on the circuit:
Cacanan Pass (4,700 meters / 15,420 feet)
Carhuac Pass (4,630 meters / 15,190 feet)
Siula Pass (4,830 meters / 15,845 feet)
Carnicero Pass (4,600 meters / 15,090 feet) – alternate route
Portachuelo Pass (4,770 meters / 15,650 feet)
Trapecio Pass (5,030 meters / 16,500 feet) – optional route
Cuyoc Pass (5,000 meters / 16,400 feet)
San Antonio Pass (5,020 meters / 16,470 feet)
Jurau Pass (5,060 meters / 16,600 feet) – alternate to San Antonio
Tapush Pass (4,790 meters / 15,715 feet)
Yaucha Pass (4,850 meters / 15,910 feet)
Pampa Llamac Pass (4,270 meters / 14,010 feet)
Sambunya Pass (4,750 meters / 15,585 feet) – alternate finish route
Below are pictures from just some of the passes – Siula Pass, Cuyoc Pass, San Antonio Pass, and Sambunya Pass.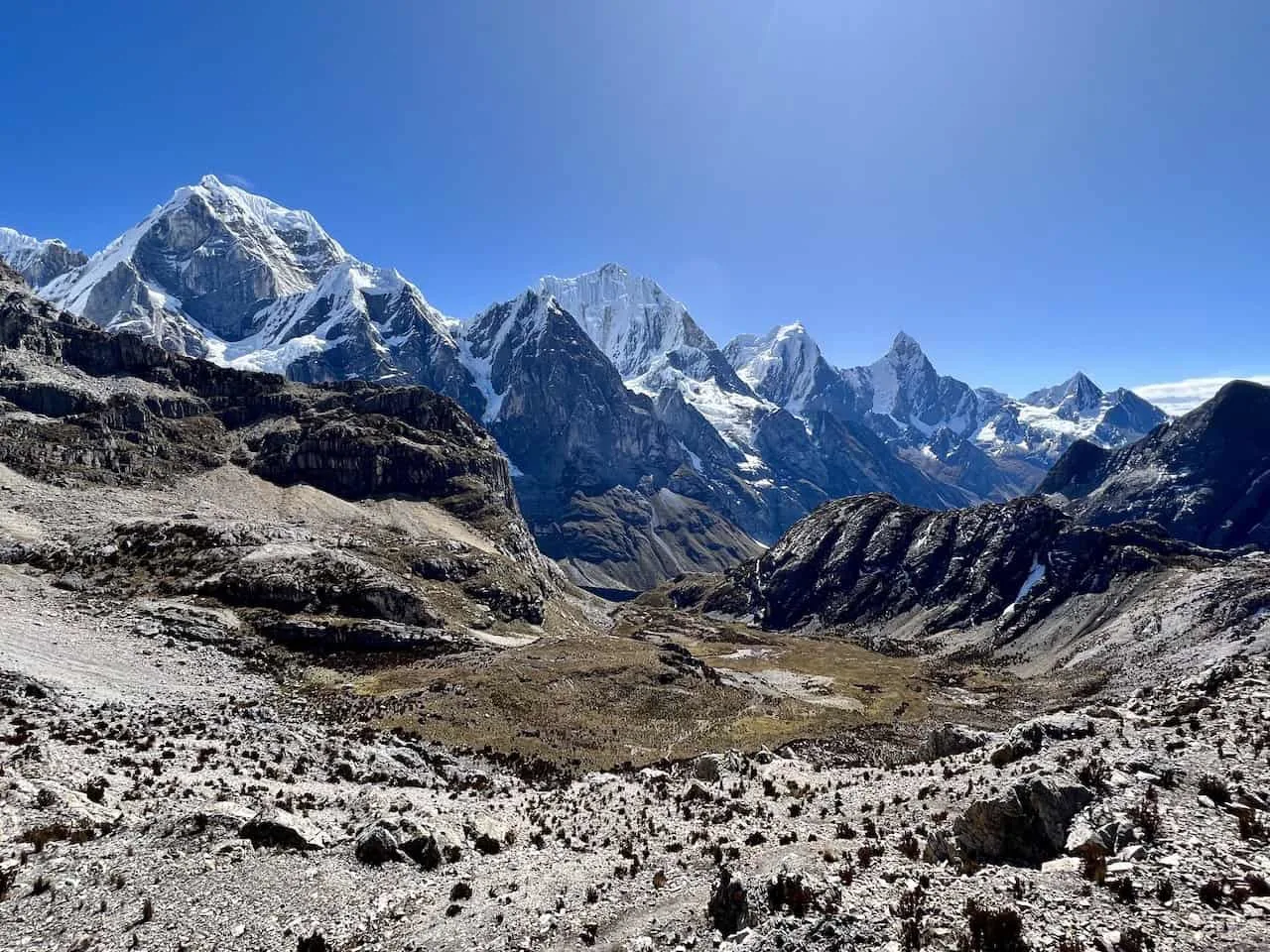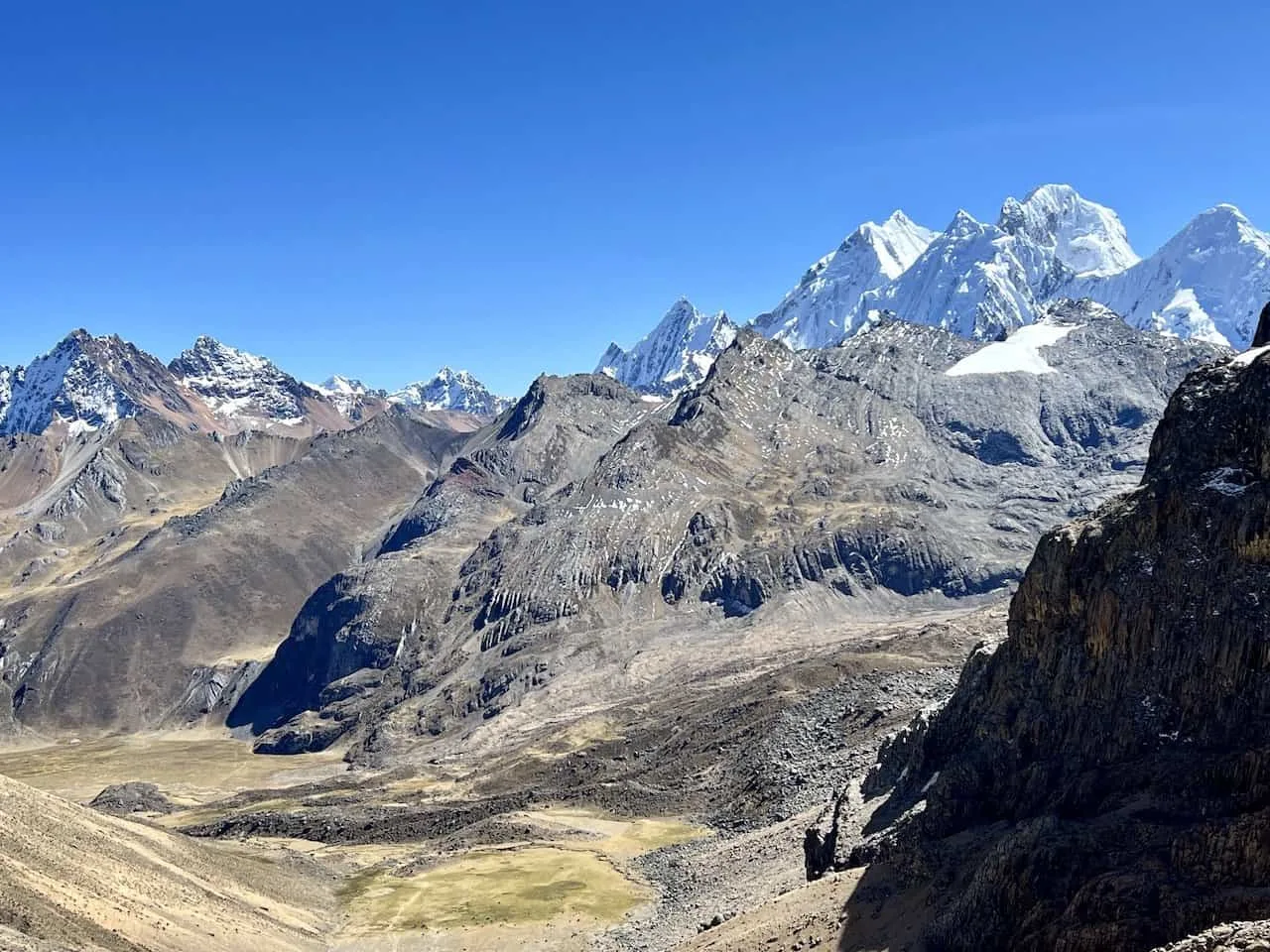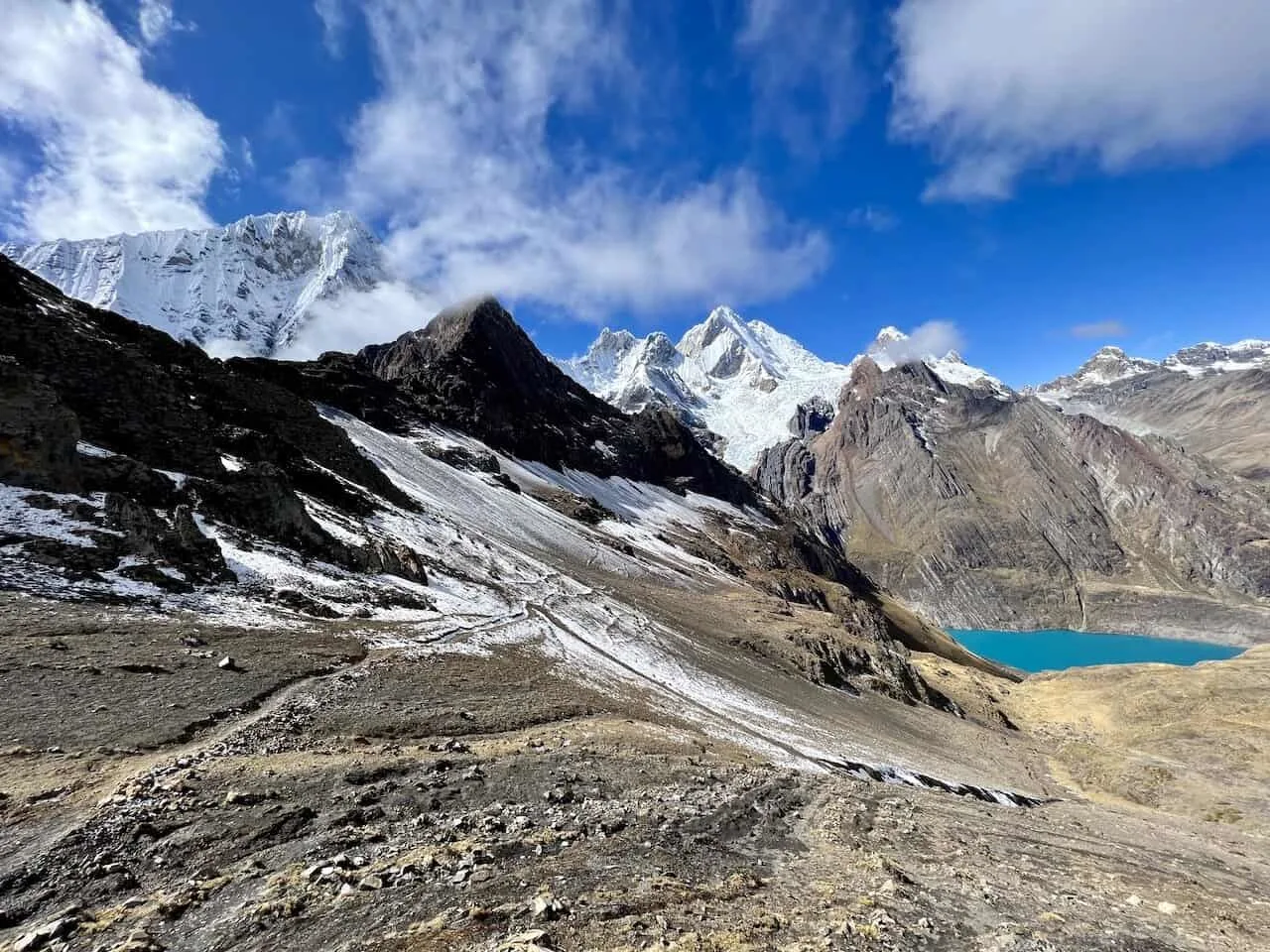 I hope by now you have a better understanding of the overall Huayhuash Circuit layout. As you can tell, there is certainly some complexity (and choices to make) when it comes to the circuit.
If you have any questions or comments about the Huayhuash trek map, feel free to add them in below. Also, don't forget to check out the remaining Huayhuash hiking guides up on the site.
Have fun out there and safe travels!