The purpose of this guide is to provide Huayhuash Trek GPX & KML files that you can leverage for your trip to the region. Having an accurate file to download onto your phone will better help you navigate the trail and prepare you for the hike.
Not only will I give you access to the file to download, but I will also walk you through some helpful tips and how to get the route onto your GPS app. By the end of reading through, you should be well on your way to having any navigation concerns taken care of.
* Affiliate Disclosure: This post may contain affiliate links, which means I may receive a commission if you make a purchase through the links provided, at no additional cost to you. Thanks for supporting the work I put into TripTins!
1) What are GPX and KML Files
There are two main GPS formats out there – GPX (GPS Exchange) and KML (Keyhole Markup Language).
When recording a hiking route through a GPS app or device, the final outputs will either come out as a GPX or KML file. Within these files you will find the route and waypoints of the completed track.
Many navigation apps let you overlay GPX/KML files into the app itself so you can see someone else's completed route on your phone. This in turn will better help you navigate as you take on that same trail for yourself.
So, all you need to do is find a GPX/KML file of the hike you want to complete (through sites like Wikiloc, AllTrails, etc.), and download these files onto your navigation app to see what a completed route looks like.
Learn More: Be sure to check out the Huayhuash Circuit resource page that includes many helpful travel guides to get you prepared for the trek.
At the end of the day, by having a GPX/KML file downloaded into your navigation app, you will better be able to navigate the trail on your own.
Note: if uploading a route onto your phone, some apps only accept KML files. So, if you have a GPX file, you will just need to use a quick online conversion tool to get it into a KML format.
→ For a complete and comprehensive overview of the trek, check out the Cordillera Huayhuash Circuit guide up on the site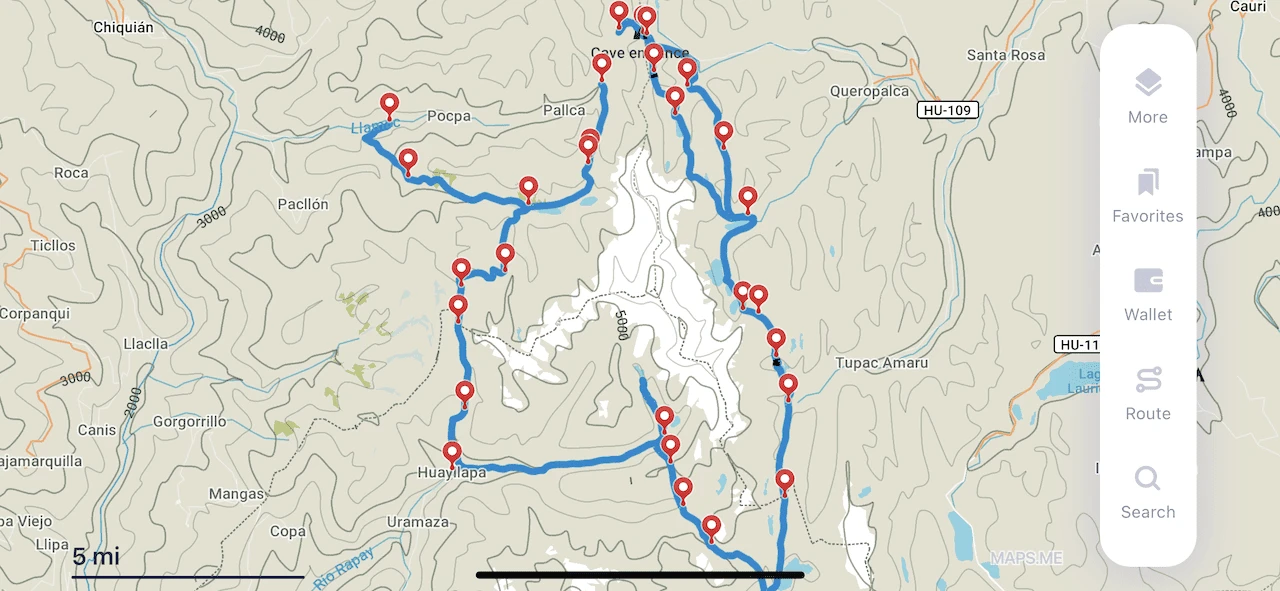 2) Navigation & GPS Apps
When it comes to navigation & GPS apps, there are many different ones out there to choose from. Some apps are for navigation, others are for tracking, and some do both. Below are a few of the main ones to consider when taking on hikes in general:
Maps.me (navigation only) – Maps.me has been my go to navigation app for quite some time now. Although you cannot record hikes on the app, I find the layout and overall theme to suit me best.
Prior to going on a hike, I would find a GPX/KML file of the route (Maps.me just accepts KML files), and upload it into Maps.me. I would then download the region of the world that I am planning on visiting and would have offline maps available with no concerns.
Strava (tracking only) – since Maps.me does not track routes, I usually have Strava running in the background when I want to actually record my hikes. Each day on the Huayhuash Circuit I would start the day by turning on Strava and tracking my route. Once I arrived at the campsite, I would then save the file.
Note: even if you do not have service, the app will still have pending uploads until you get back to civilization.
Gaia GPS (navigation & tracking) – I tried out Gaia for the first time during the Huayhuash Circuit and paid a reduced yearly fee. While there are certainly more features than a free app like Maps.me, I did not personally feel that I needed to use them.
What I really did like about Gaia though is that you can have several different layer formats (satellite, topo, etc). So sometimes, I would just open the app to get a better sense of the topography of where I am going.
AllTrails (navigation & tracking) – I recently have also started to use the paid version of AllTrails, which is another great alternative to Gaia. I find AllTrails to be very useful in general as you can see people's recent hiking reports. This gives me a better understanding of terrain conditions and what to expect on the trail.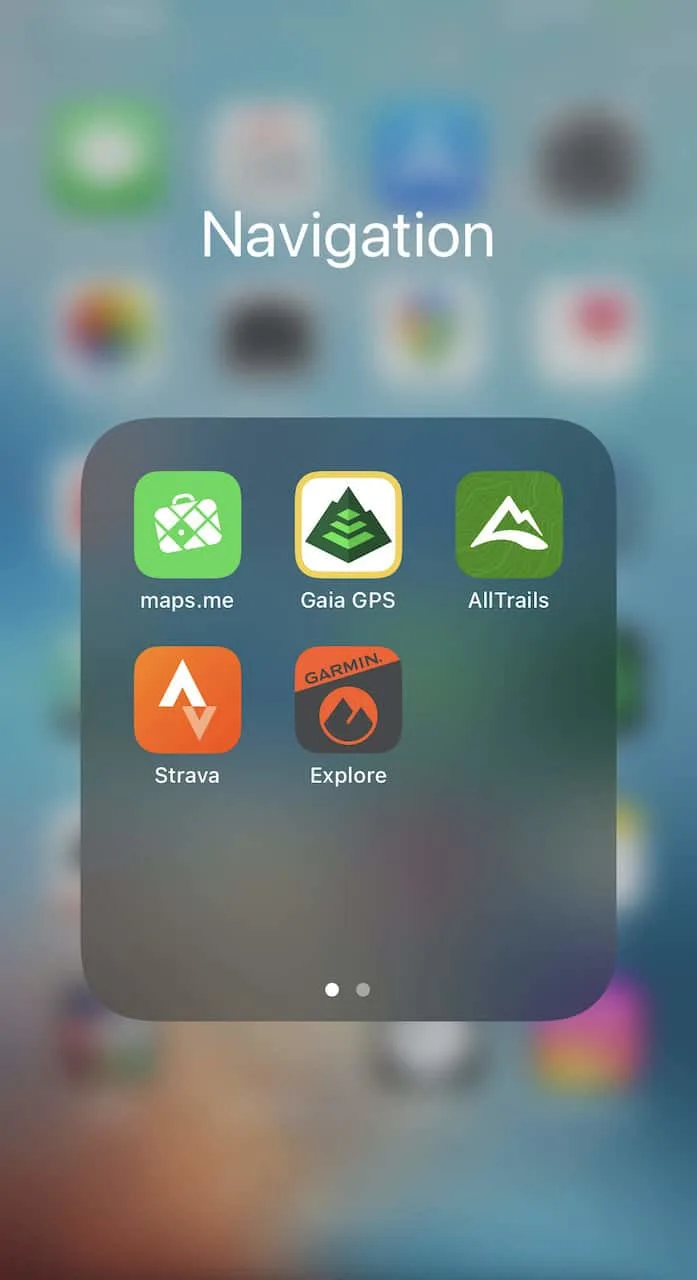 3) Huayhuash Navigation Tips
Before jumping into the file itself, I did want to give a few overall tips regarding navigation on the Huayhuash circuit.
→ You can keep WiFi, Bluetooth and Cellular Service OFF while tracking and navigating the trail. These apps use the internal GPS of phones, so you should not have much issue even without service.
→ I did find at some points when I tried to start in the morning, the GPS was having trouble finding my location. Turning my phone off and back on usually did the trick.
→ Be sure to keep your phone in your sleeping bag at night to conserve battery. Also, keeping your phone close to your body will provide more warmth (instead of in a backpack pocket for example).
→ The trail in general is not well marked. There are essentially no hiking signs throughout the entirety of the route. For the most part you will see the trail out in front of you though.
→ With that said, there are plenty of instances where one path can split into multiple paths. Most of the time these are just animal paths that all meet up with one another just a short way's away. However, other times you may find yourself veering off of the main trail.
→ I would highly advise to continuously check your navigation app throughout each day. I was probably looking at it every 10 minutes or so just to be certain. You can actually see on the map provided that I did insert a couple "route fixes" for the couple times I took an incorrect route.
→ If you are tracking your route, be sure to stop tracking once you get to the campsite. It can be easy to forget and all of a sudden you may be tracking through the night.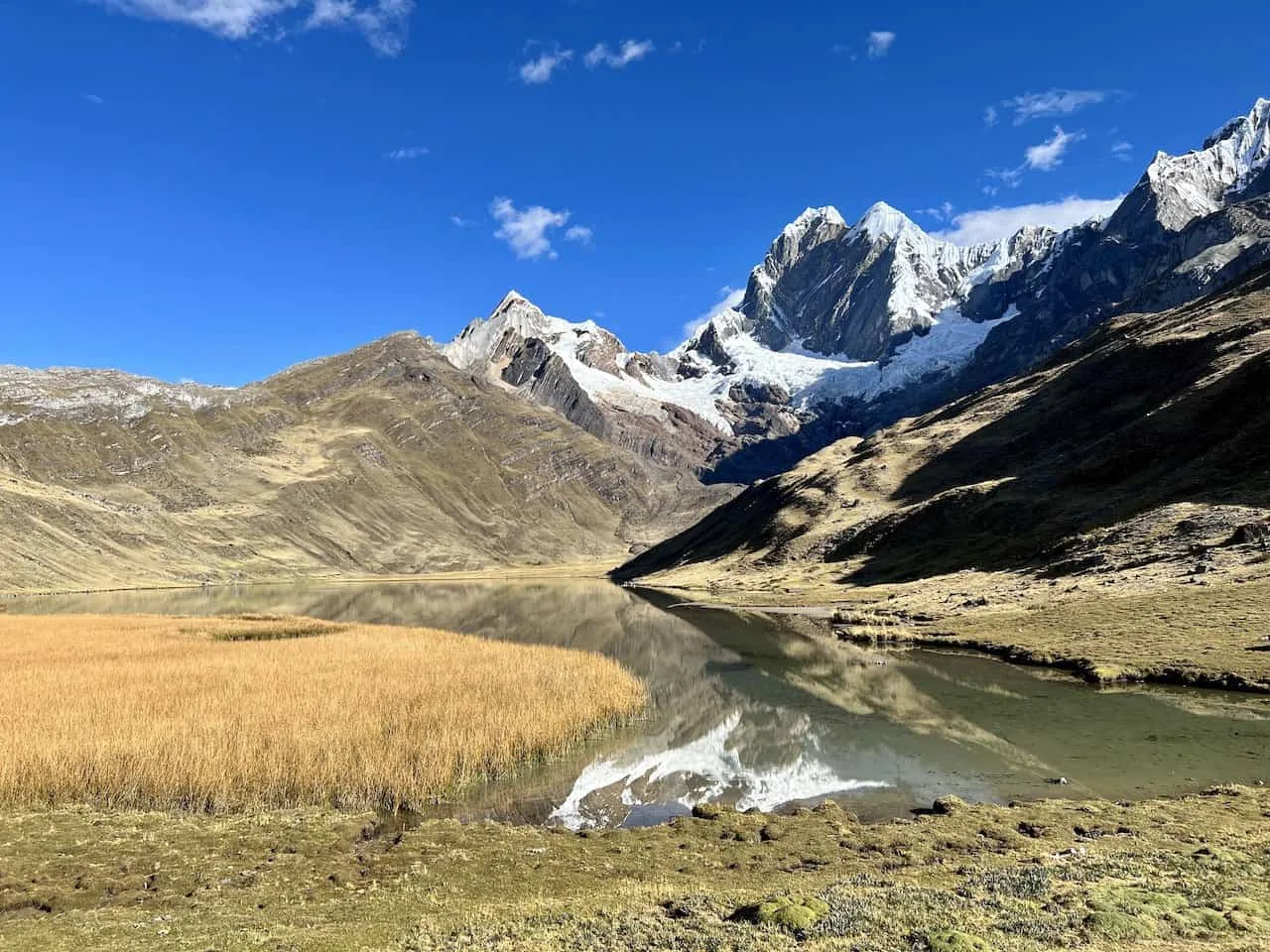 Considering travel insurance for the Huayhuash Circuit?

World Nomads offers coverage for more than 150 adventure activities as well as emergency medical, lost luggage, trip cancellation and more.

For years, World Nomads has been protecting, connecting & inspiring independent travelers, offering travel insurance & safety advice to help you travel confidently. Their mission is to support and encourage travelers to explore their boundaries.

World Nomads has simple and flexible travel insurance that has been designed by travelers for travelers. Even if you leave home without travel insurance or your policy runs out, you can buy or extend out on the road.

Get a quote for a World Nomads travel insurance policy today!
4) Huayhuash Trek GPX & KML Files
Below you can find a Google Maps view of the Huayhuash Circuit. Included on the map is the route, campsites, mountain passes, and a few additional highlights.
» To learn more about the route in general, check out the guide I put together that goes over the various Huayhuash Trek Routes.
» Feel free to also check out the Huayhuash Trek map for a deep dive into what everything on the map entails.
» It is very important to note that when I tracked this route, the GPS was not always perfect. So, you may see some twists and turns in certain sections. As long as you follow the route in general (in addition to the route that may already be laid out in your navigation app), you should be good to go.
5) How to Download the Huayhuash Trek Map
To download the file of the map, you can follow these instructions:
1) Click the top right icon that represents the "View Larger Map". This will then open a new tab with a larger map.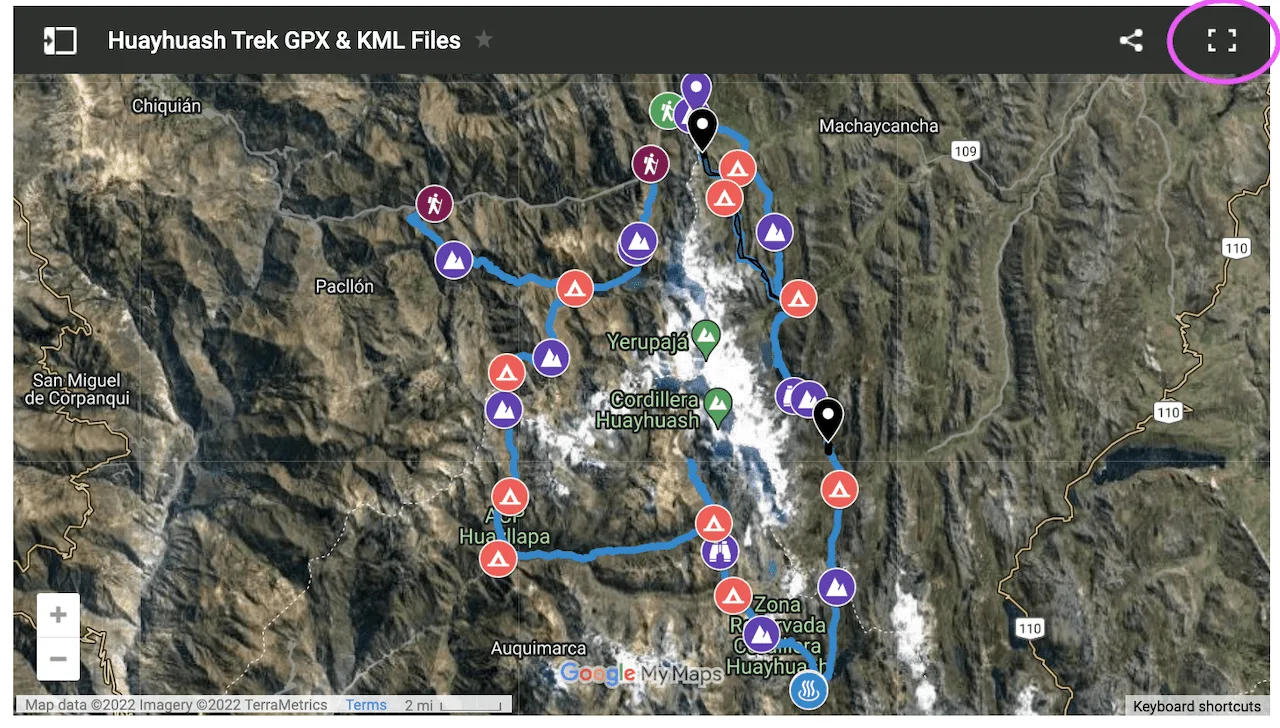 2) Once on the larger map, click the three vertical dots icon and then click "Download KML"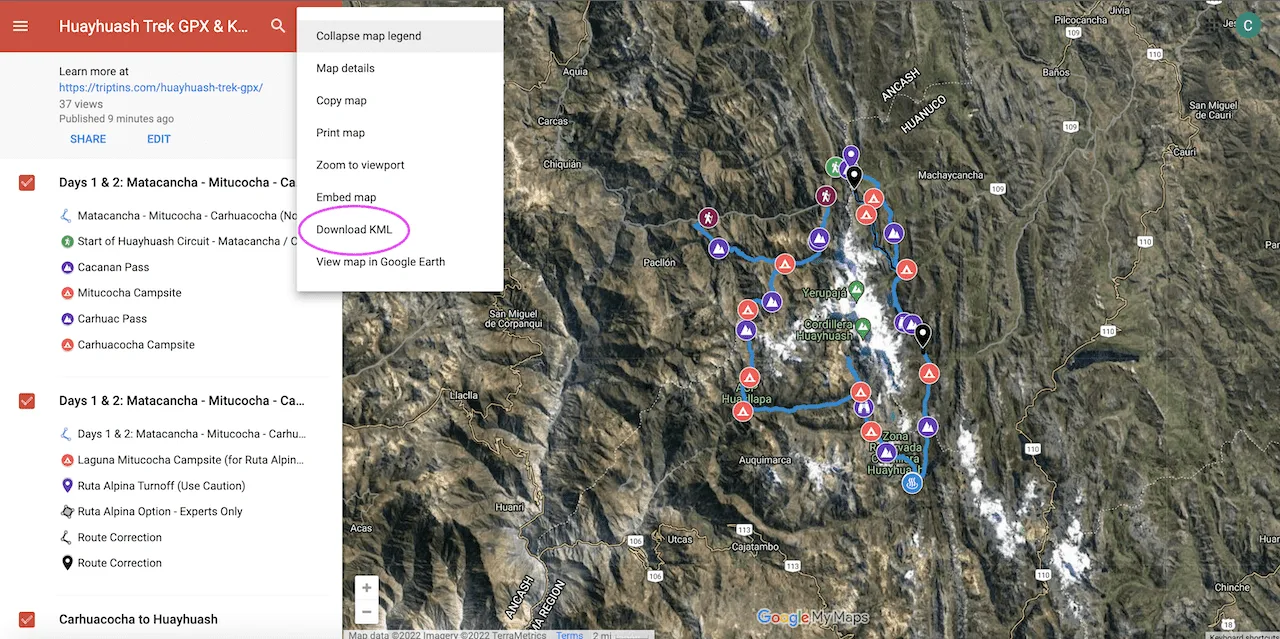 3) A pop up will show and you can then keep the second box checked to export as a KML. Press OK and the file will download onto your computer.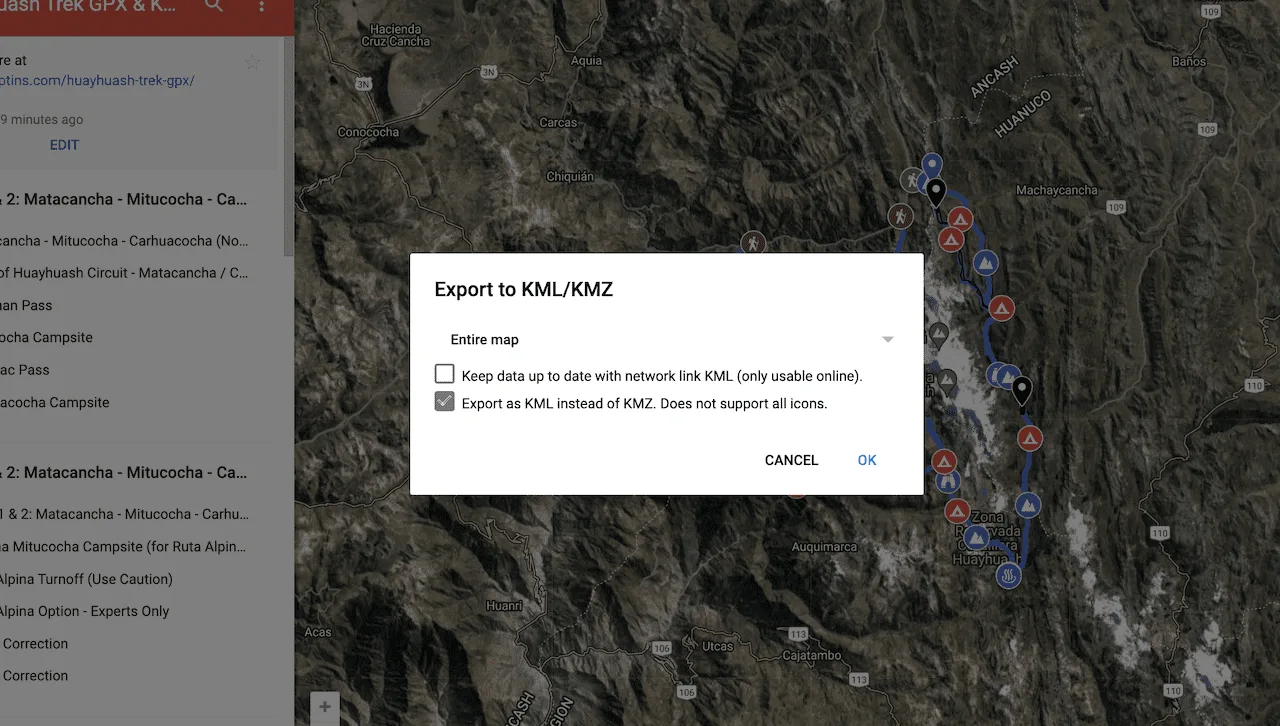 → Most navigation apps allow for KML uploads. If that is not the case, and you need a GPX file, then simply use an online converter tool to convert the KML file to a GPX file.
6) If I am on my computer I would email the KML file to myself and then open the email up on my phone. I then open the file, and click the icon to export it. You can do the same if looking at this article on your phone – just head to your downloads to open up the file after downloading it.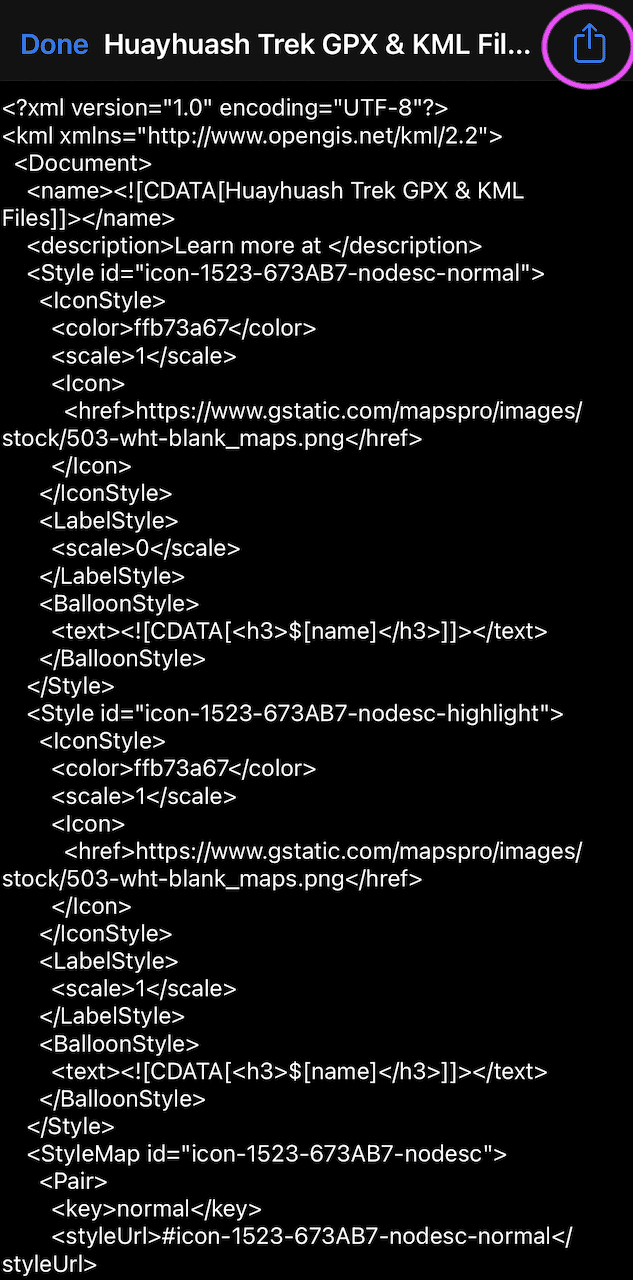 7) Some apps will pop up, and you can choose Maps.me, Gaia, etc. to export the file to.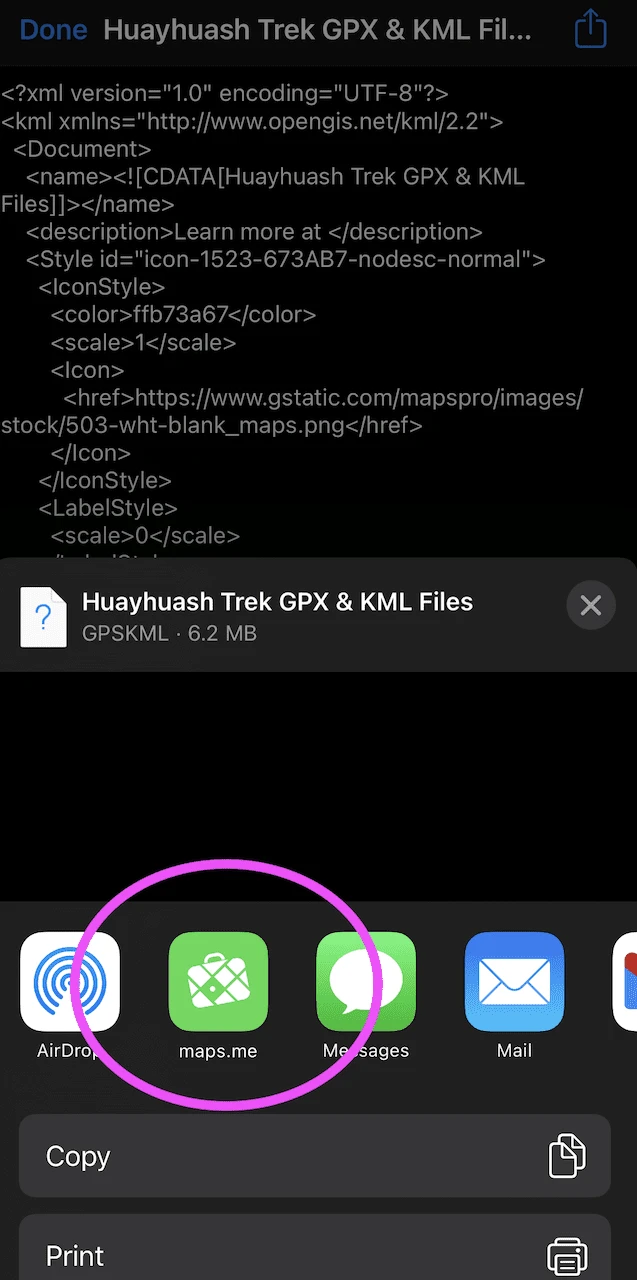 8) Just like that and the route will be right on your app of choice. Below is a screenshot of the route from Gaia. The first image in this article is a screenshot from Maps.me.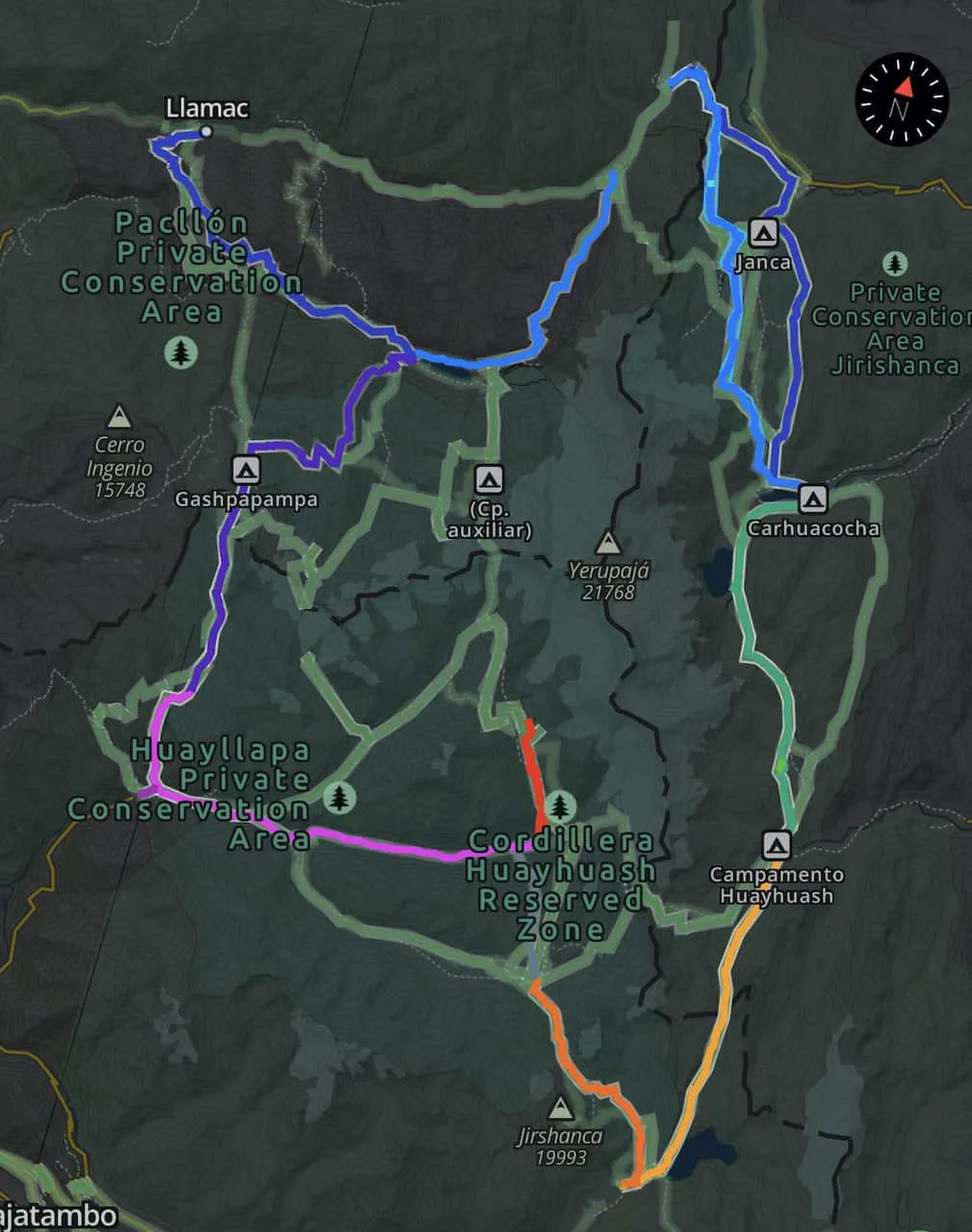 I hope you find this Huayhuash Trek KML / GPX file helpful to use for your hike. If you have any questions about it, feel free to add them in below.
Also, don't forget to check out the other Huayhuash trekking guides up on the site. Have fun out there and safe travels!