The tenth and final day of the Huayhuash Circuit takes you from Jahuacocha to the village of Llamac. Along the way you will get to enjoy some beautiful views, and make your way up the Pampa Llamac or Sambunya Pass, before descending down to the finishing point.
Read on to learn more about the route between Jahuacocha to Llamac and what to expect out on the trail.
* Affiliate Disclosure: This post may contain affiliate links, which means I may receive a commission if you make a purchase through the links provided, at no additional cost to you. Thanks for supporting the work I put into TripTins!
1) Hiking Overview: Huayhuash Day 10
Day 10 of the Huayhuash Circuit will take you from Jahuacocha to Llamac, with two main ways to go about finishing up the circuit.
You can either take the standard route directly back to Llamac via the Pampa Llamac Pass OR you can take the more scenic route via the Sambunya Pass.
While the standard route goes right back to Llamac, the scenic route ends in Rondoy (9 miles away from Llamac / ~4 hour hike).
Most people head on the standard route because public transport leaves back to Huaraz (via Chiquian) around 11:00/11:30AM. If you take the Sambunya Pass route, there is no way you can make it back to Llamac in time to catch the bus, due to the extra hiking time between Rondoy and Llamac. That means, you will need to stay overnight in Llamac and catch the bus the following morning.
Below is a helpful overview of making your final day route decision:
→ If you need to make it back to Huaraz on your final day of trekking & you don't have private transport waiting, then opt for the route directly down to Llamac over the Pampa Llamac Pass.
→ If you don't need to be back to Huaraz on your final day of trekking OR you have private transport waiting, I would recommend trekking over the Sambunya Pass to Rondoy.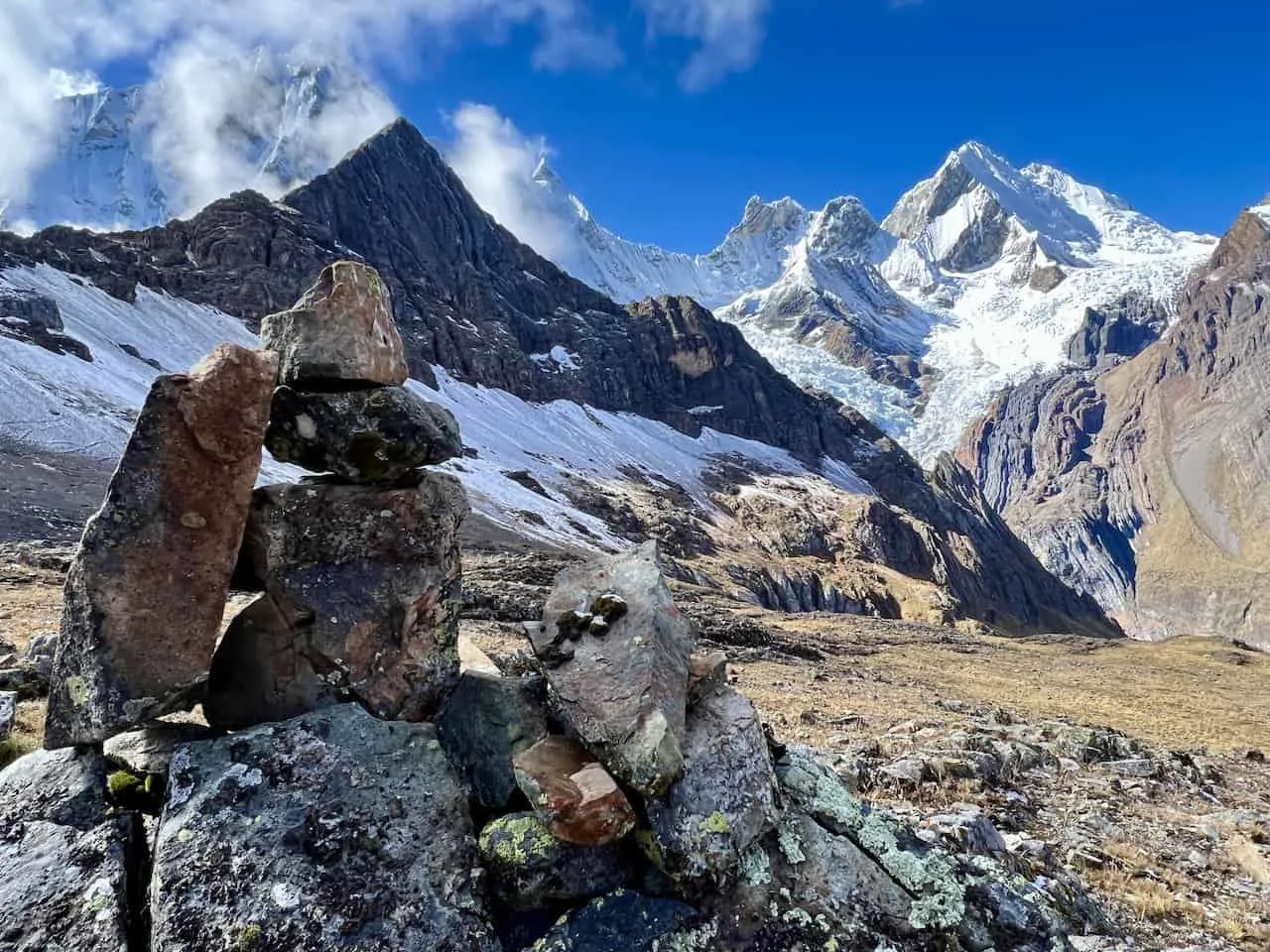 Here are some helpful stats about the two routes and what the trail is all about:
Standard Route: via Pampa Llamac Pass
Starting Point: Jahuacocha
Jahuacocha Elevation: 4,070 meters / 13,350 feet
Ending Point: Llamac
Llamac Elevation: 3,250 meters / 10,660 feet
Mountain Pass: Pampa Llamac Pass
Pampa Llamac Pass Elevation: 4,270 meters / 14,010 feet
Distance: 9.4 miles / 15.5 km
Elevation Gain: 885 feet / 270 meters
Duration: 4-5 Hours
Scenic Route: via Sambunya Pass
Starting Point: Jahuacocha
Jahuacocha Elevation: 4,070 meters / 13,350 feet
Ending Point: Rondoy
Rondoy Elevation: 4,020 meters / 13,180 feet
Mountain Pass: Sambunya Pass
Sambunya Pass Elevation: 4,750 meters / 15,585 feet
Distance: 6.3 miles / 10.3 km
Elevation Gain: 2,550 feet / 777 meters
Duration: 5 Hours
Remember, if taking the route to Rondoy and you don't have transport waiting, you will need to hike an additional 9 miles downhill to Llamac.
Note: it is possible to avoid the extra hiking between Rondoy and Llamac if you can hitch a ride (the route between the two is on a dirt road, not an actual trail).
Day 10 Highlights
• Finishing the circuit!
• Option to head over Sambunya Pass
• Saying goodbye to the Cordillera Huayhuash
While this article will simply talk through day 10 of the trek, you can learn much more of the overall experience in the Huayhuash Circuit overview up on the site.
Route Note: this daily trekking guide (as well as the other daily guides on the site) go over a standard 10 day Huayhuash Route. Trekking routes can be greater or fewer days depending on your preferences (learn more about these in the previously mentioned overview above!).
Learn More: Be sure to check out the Huayhuash Circuit resource page that includes many helpful travel guides to get you prepared for the trek.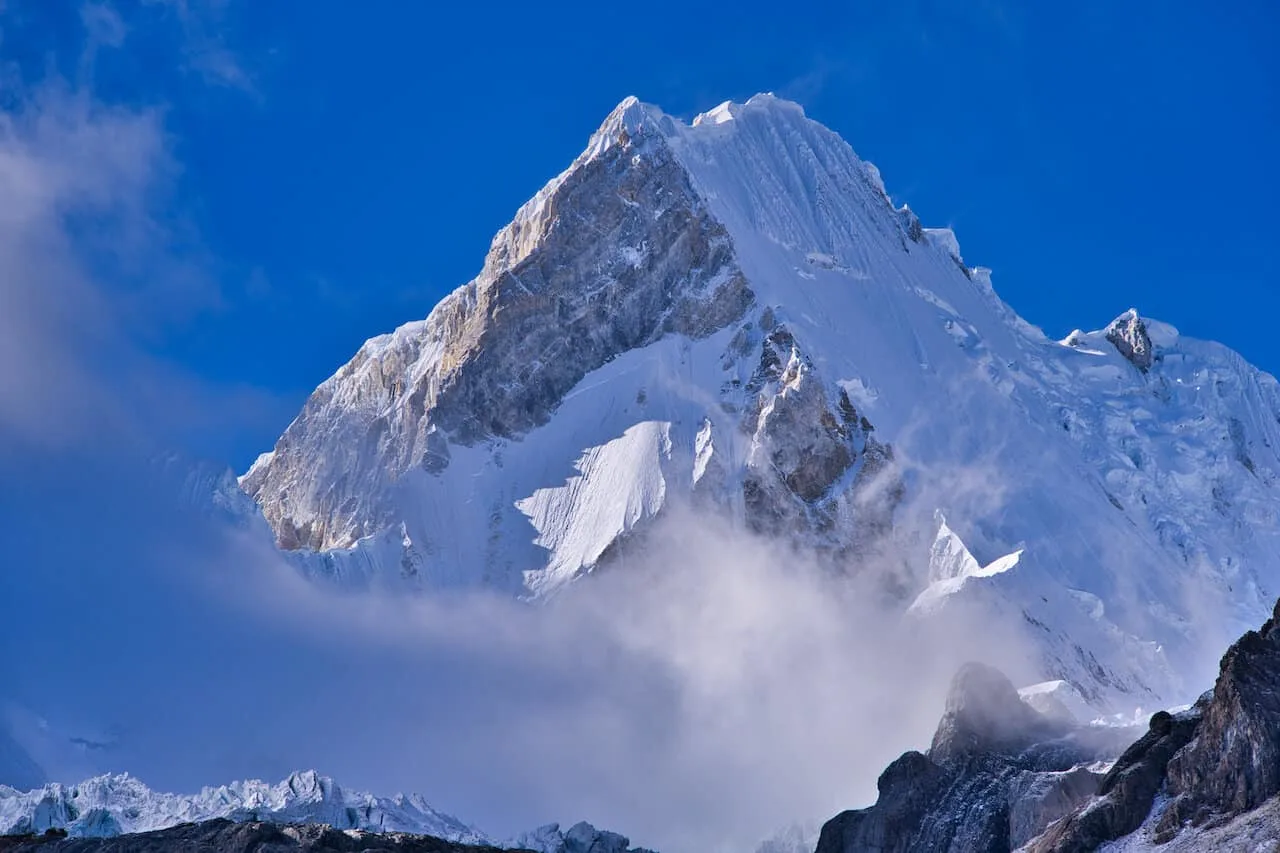 2) Huayhuash Circuit Day 10: Jahuacocha to Llamac Map
To better visualize the hiking route on day 10, below you can find a trail map for the tenth day of the circuit. This shows the standard route in orange and the scenic route in purple.
If you would like to see the full route, be sure to check out the guides I put together for the complete Huayhuash Circuit Map and Huayhuash GPX file (for navigation purposes).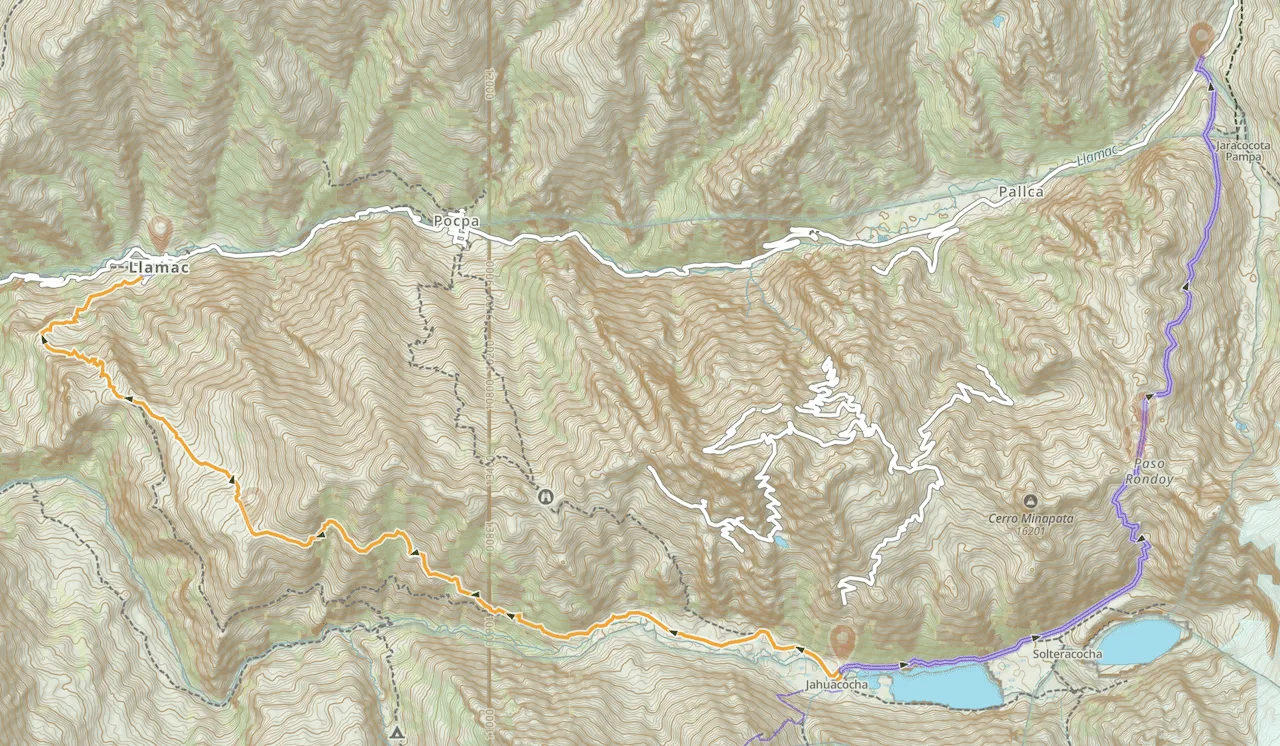 3) Elevation Gain Profile
Below you can find the two elevation gain profiles for day 10 of the Huayhuash Circuit. The first one shows the routes via the Pampa Llamac Pass (to Llamac) and the second screenshot via the Sambunya Pass (to Rondoy).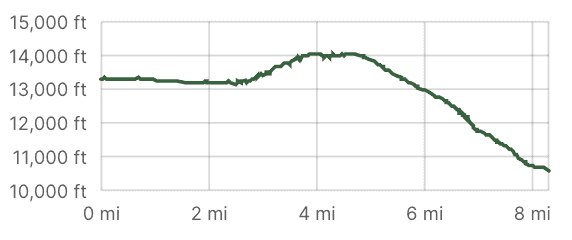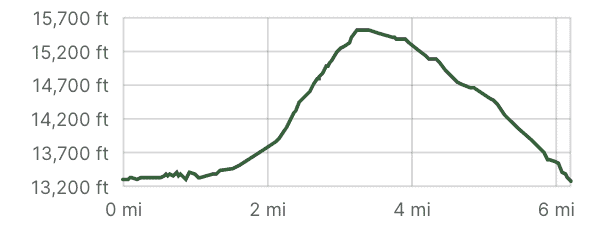 4) Huayhuash Circuit Packing List
A complete Huayhuash Circuit packing list will be essential for your time out on the trail (especially if hiking without a guided tour). Be sure to check out the comprehensive Huayhuash packing list I put together for more detail.
Below you can find just some of the most important camping items to consider for your trek:
• Hiking Backpack | Hyperlite Southwest 3400
• 3-Season Tent | Big Agnes Copper Spur HV UL
• 0 F Degree Sleeping Bag | Thermarest Questar 0
• Sleeping Bag Liner | Sea to Summit Liner
• Sleeping Pad | Thermarest NeoAir Xlite
• Camping Pillow | Thermarest Camping Pillow
• Trekking Poles | Black Diamond Distance Carbon FLZ Trekking Poles
• Water Bottle | Katadyn BeFree 1 Liter
• Headlamp | Petzl Actik Core
• Emergency Satellite Locater | Garmin inReach 2 Mini
• Solar Charger | GoalZero Nomad 10
• Portable Charger | Anker Portable Charger
• Cooking Stove | Jetboil Micromo
• Hiking Shoes | Keen (Targhee Series)
• Hiking Socks | Darn Tough Socks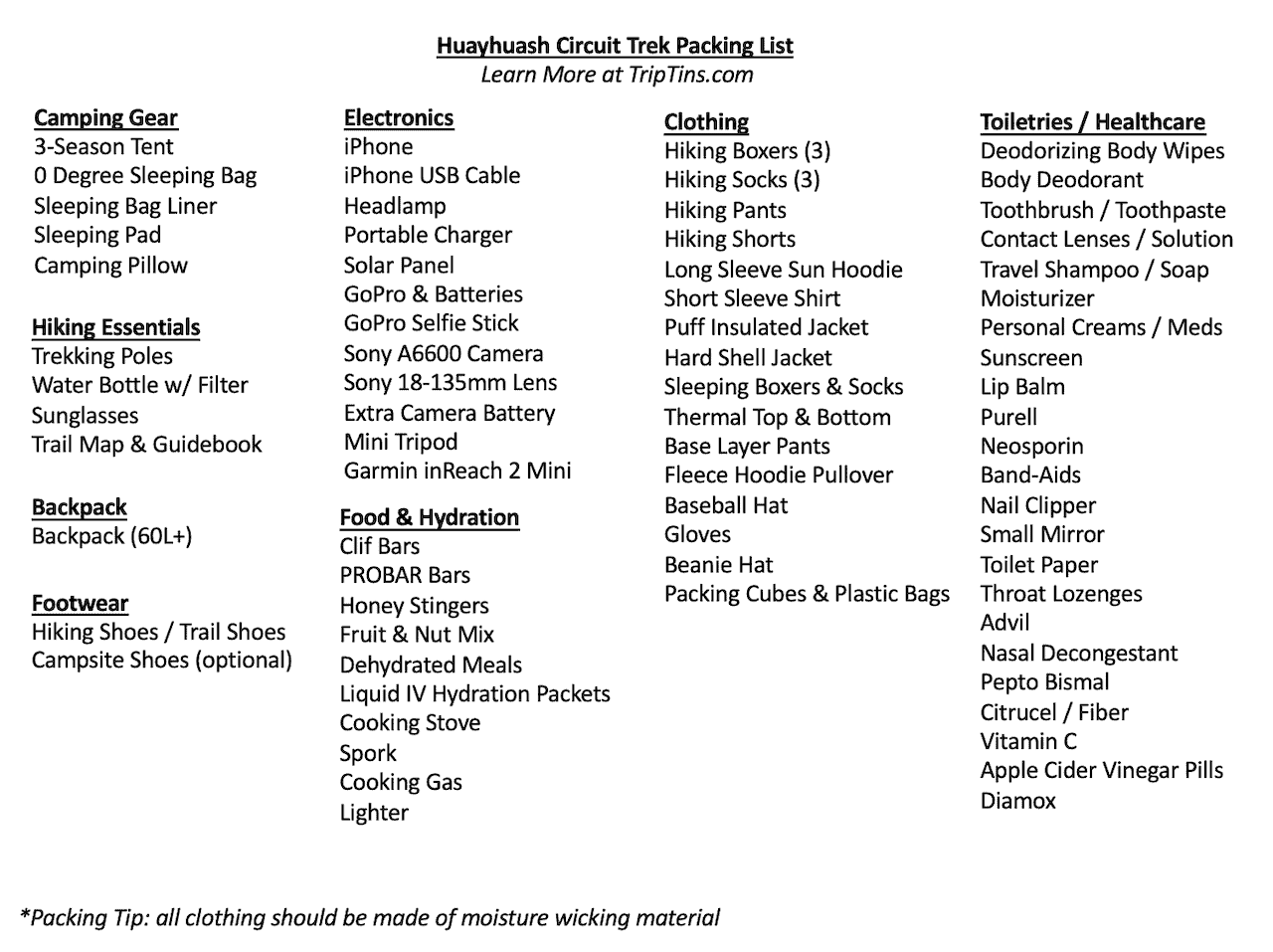 Considering travel insurance for the Huayhuash Circuit?

World Nomads offers coverage for more than 150 adventure activities as well as emergency medical, lost luggage, trip cancellation and more.

For years, World Nomads has been protecting, connecting & inspiring independent travelers, offering travel insurance & safety advice to help you travel confidently. Their mission is to support and encourage travelers to explore their boundaries.

World Nomads has simple and flexible travel insurance that has been designed by travelers for travelers. Even if you leave home without travel insurance or your policy runs out, you can buy or extend out on the road.

Get a quote for a World Nomads travel insurance policy today!
5) Huayhuash Circuit: Jahuacocha to Llamac Hike
During my time on the circuit, I opted for the scenic route to Llamac via Rondoy. The below overview will talk through what to expect on that route in particular.
If you opt for the standard route directly down to Llamac, the trail will be a relatively simple hike down the valley. You will head out of camp, follow the trail etched in the valley, reach the high point at Pampa Llamac, and then begin the descent all the way down to Llamac.
If you have transport waiting, you can hop in and be on your way. If not, then head to the main square, where you should find a public bus that heads back up to Chiquian. From there, switch onto another bus back to Huaraz.
→ You can learn more about Huayhuash logistics and how to get yourself to and from the Huayhuash.
Now, if you opt for the scenic route up the Sambunya Pass, the route will be more impressive altogether.
You can catch the trail that makes its way along the lake (left hand side if you are looking at the lake itself), as you leave your final campsite behind. It is a peaceful easy hike to begin with, as you hike just beside the lake with the mountains out in the distance.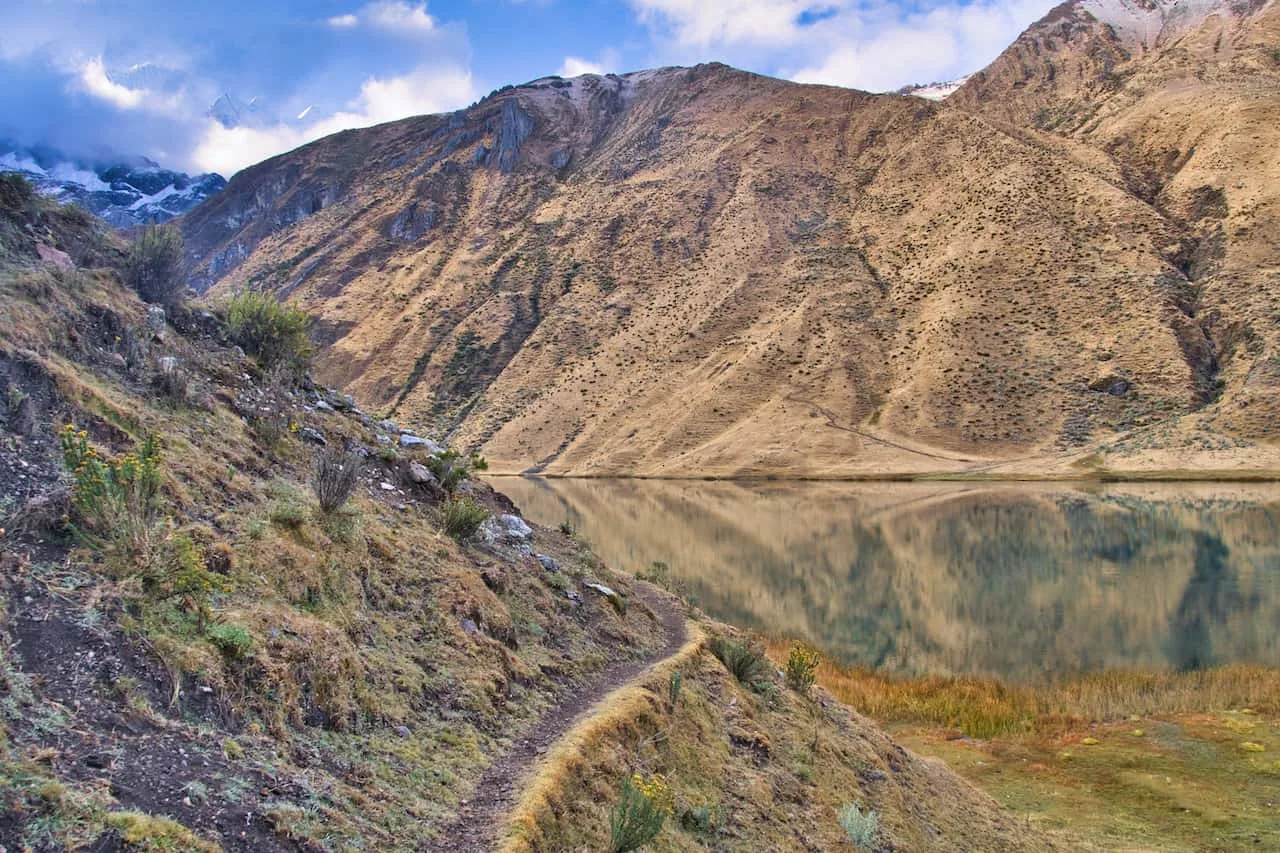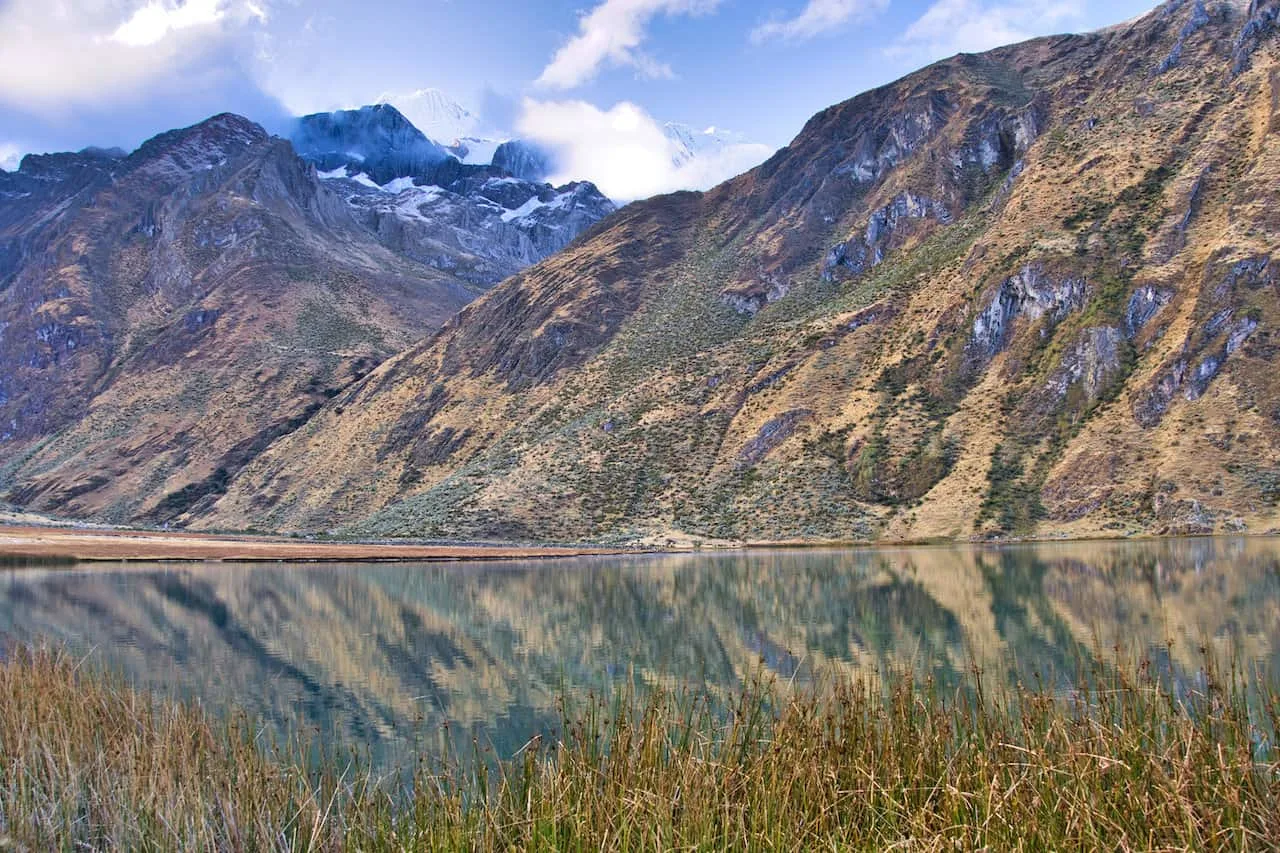 You will soon pass by the lake and begin approaching the back of the valley, where Laguna Solteracocha is located. From there, the trail begins to gain elevation over the valley. Slowly but surely you will get those views of Laguna Solteracocha and its blue waters from above.
Views of Jirishanca, Yerupaja, and other mountains will be out in the distance, and the higher you go, the better the views will be.
The trail continues to gain elevation all the way through, so be sure to take breaks as needed and just enjoy that view out behind you.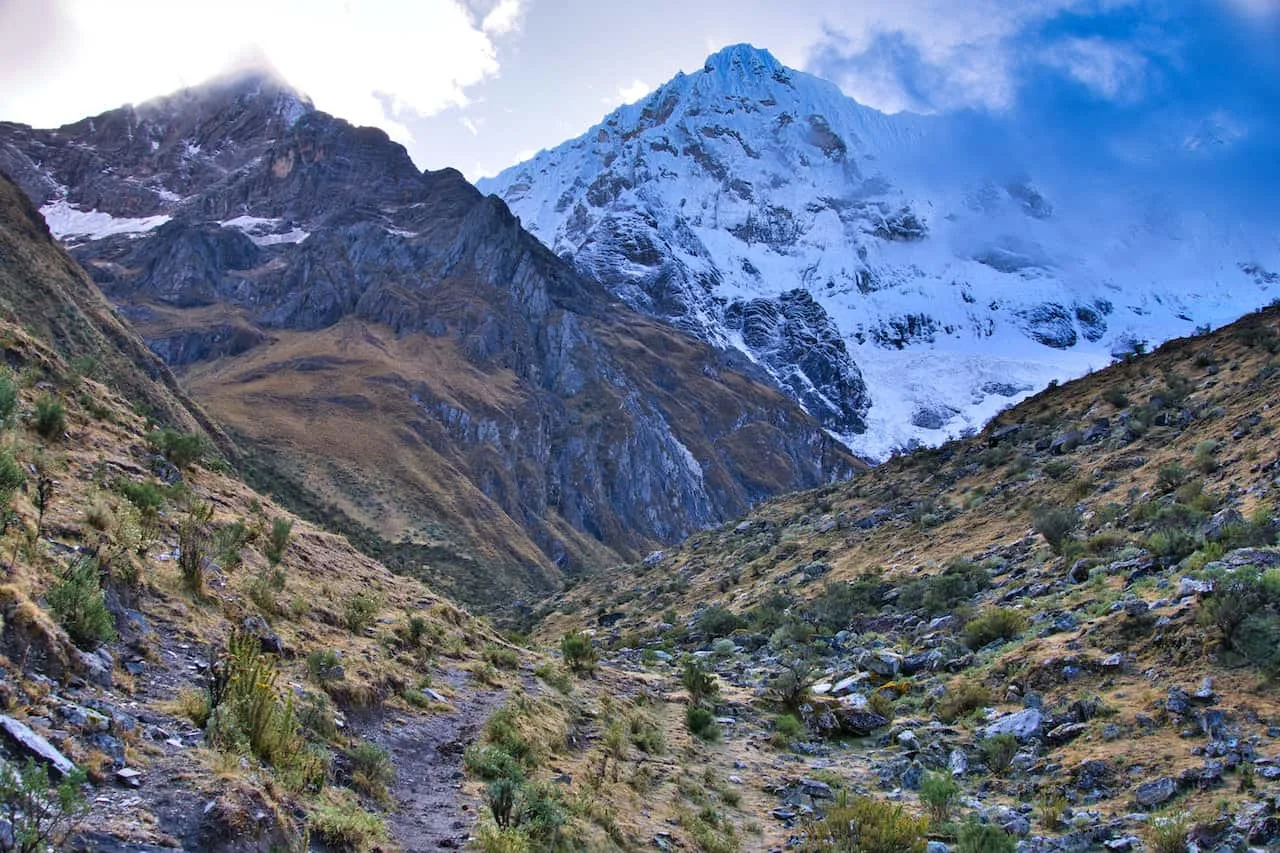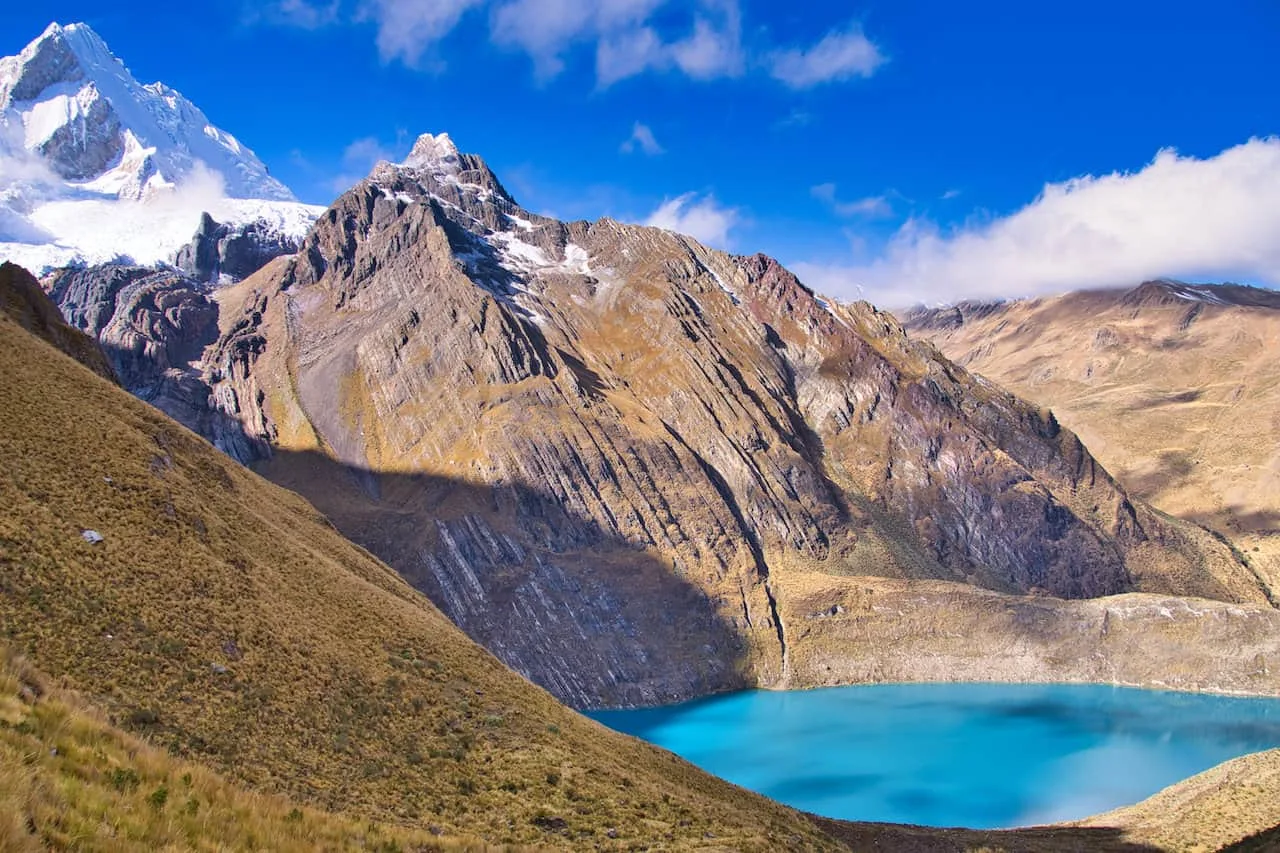 Slowly but surely you will make your way up to the Sambunya Pass. Beautiful views of the surrounding Cordillera Huayhuash will be all around, and you will also be able to see the other side of the valley.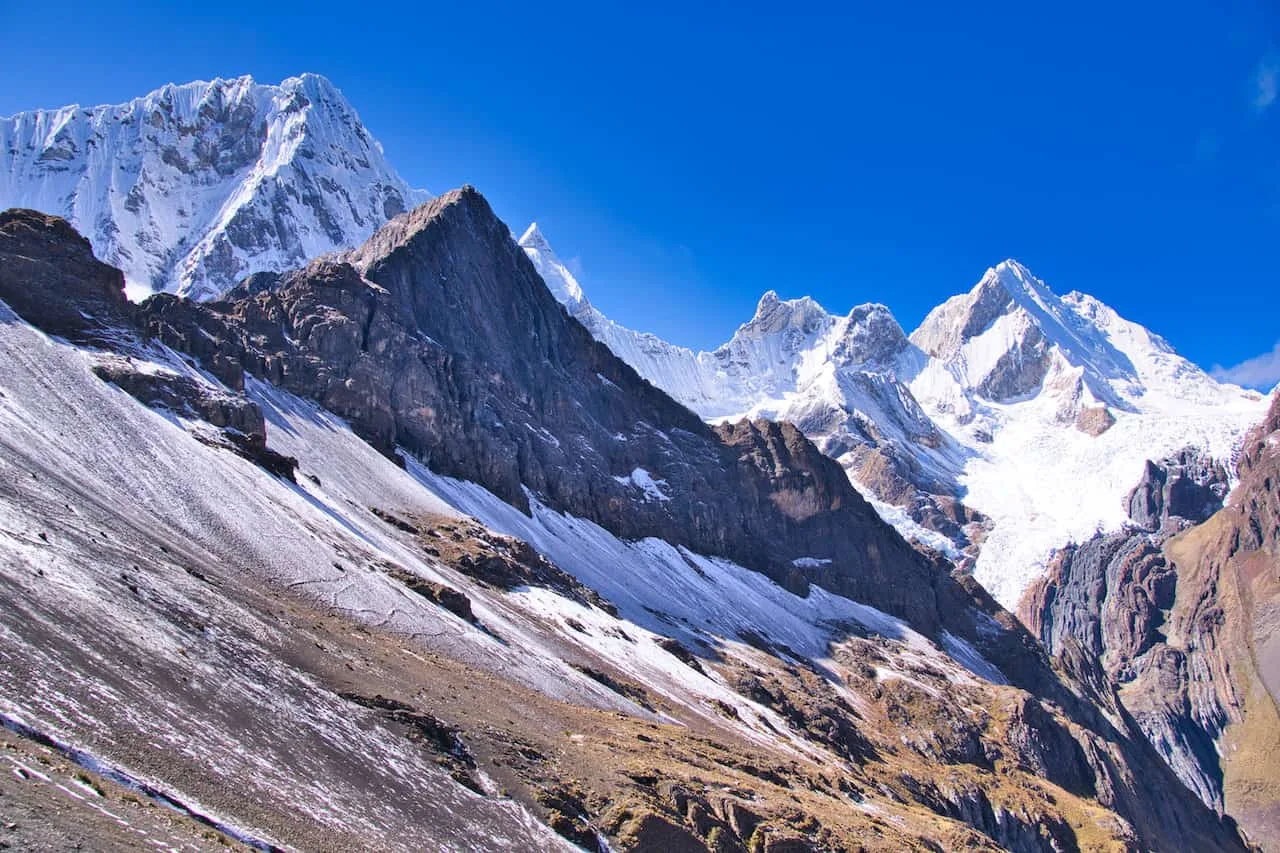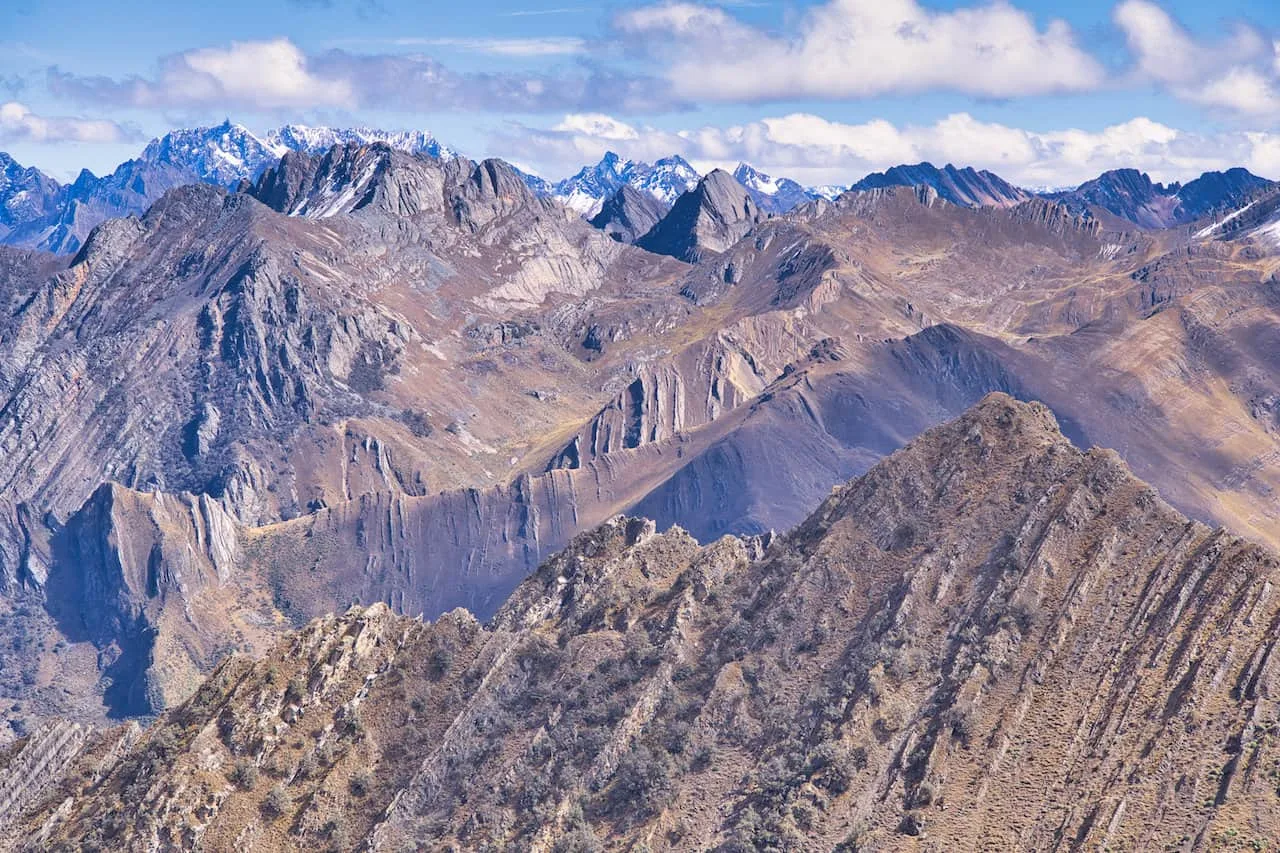 Once you are all set, it is time to head to the nearby Rondoy Pass, just a few more minutes away.
More views then await you as the trail now begins to descend through the valley. It is a pretty easy trail all the way through to Rondoy as you get some additional mountain landscapes to enjoy on the hike.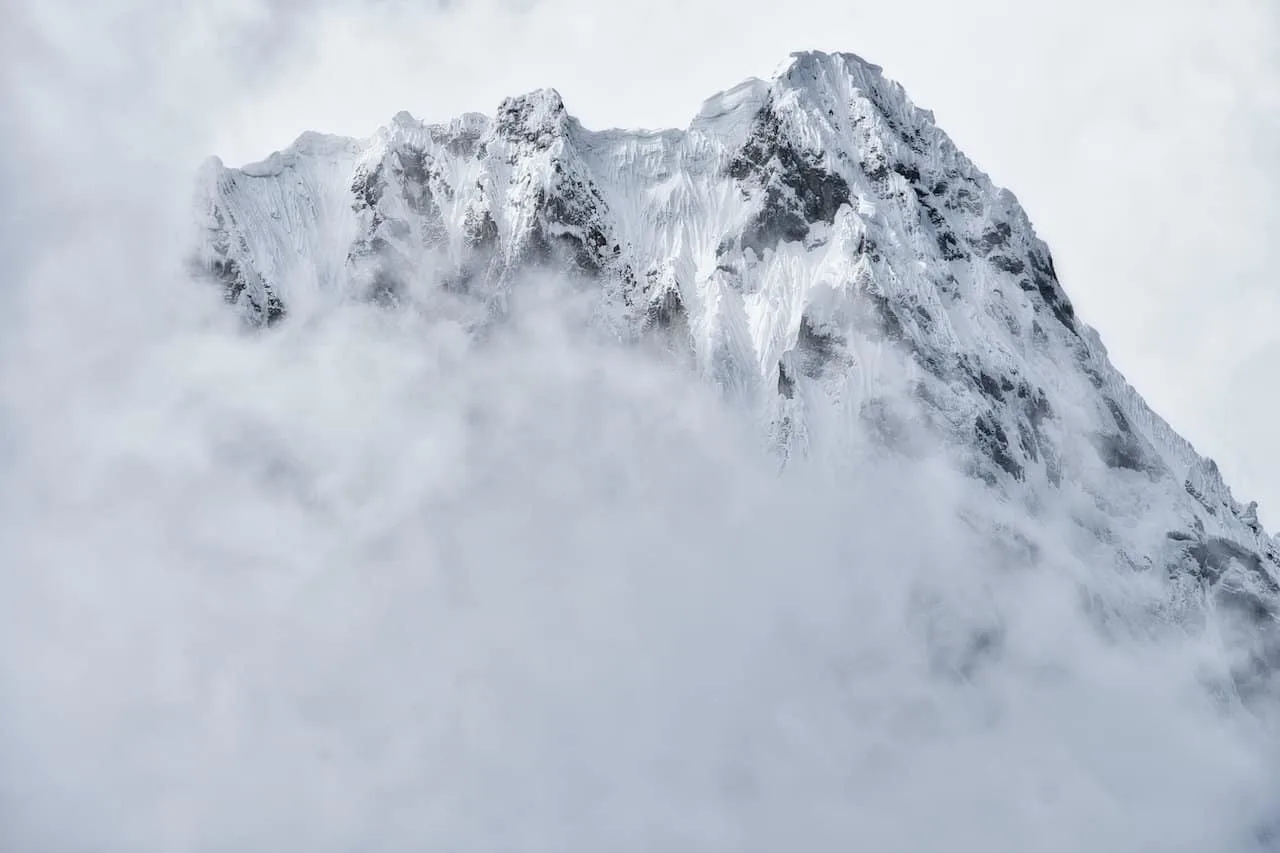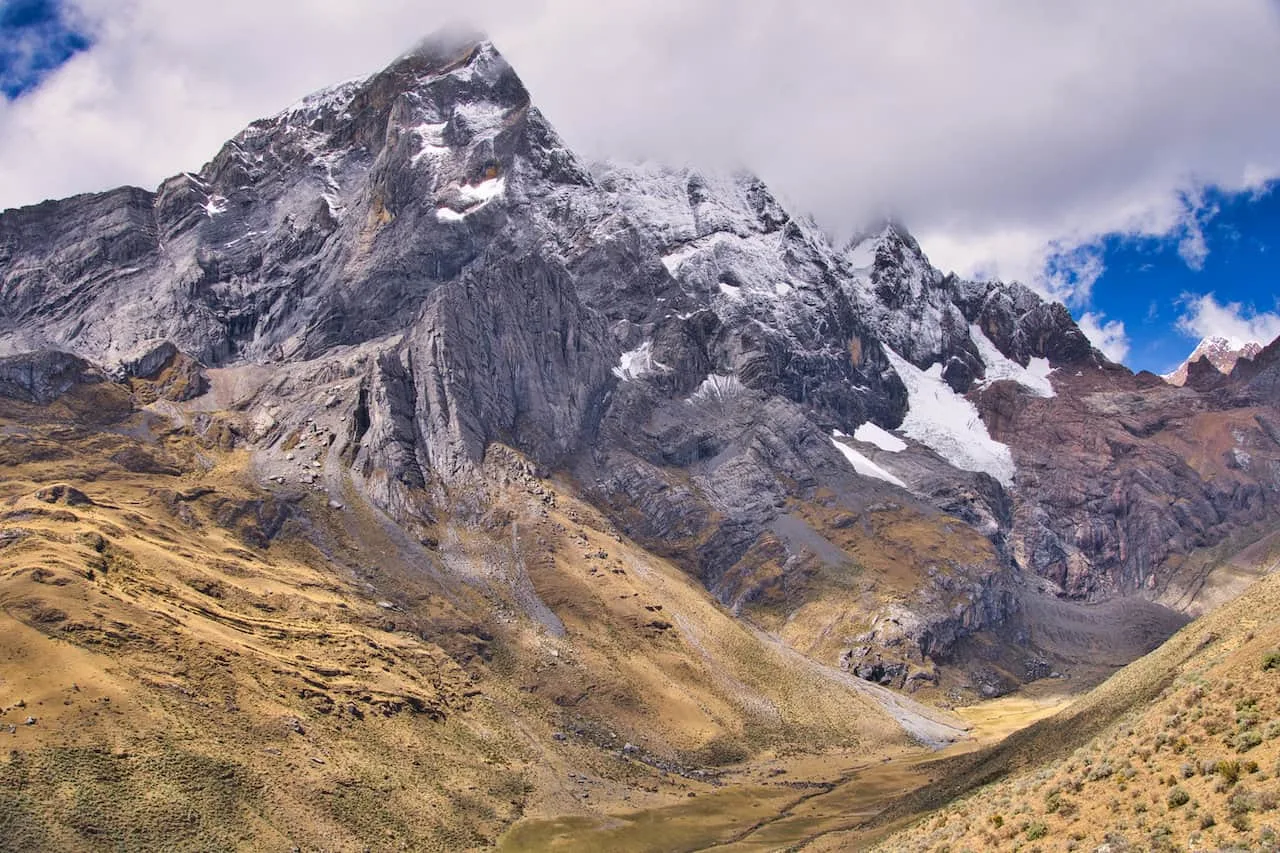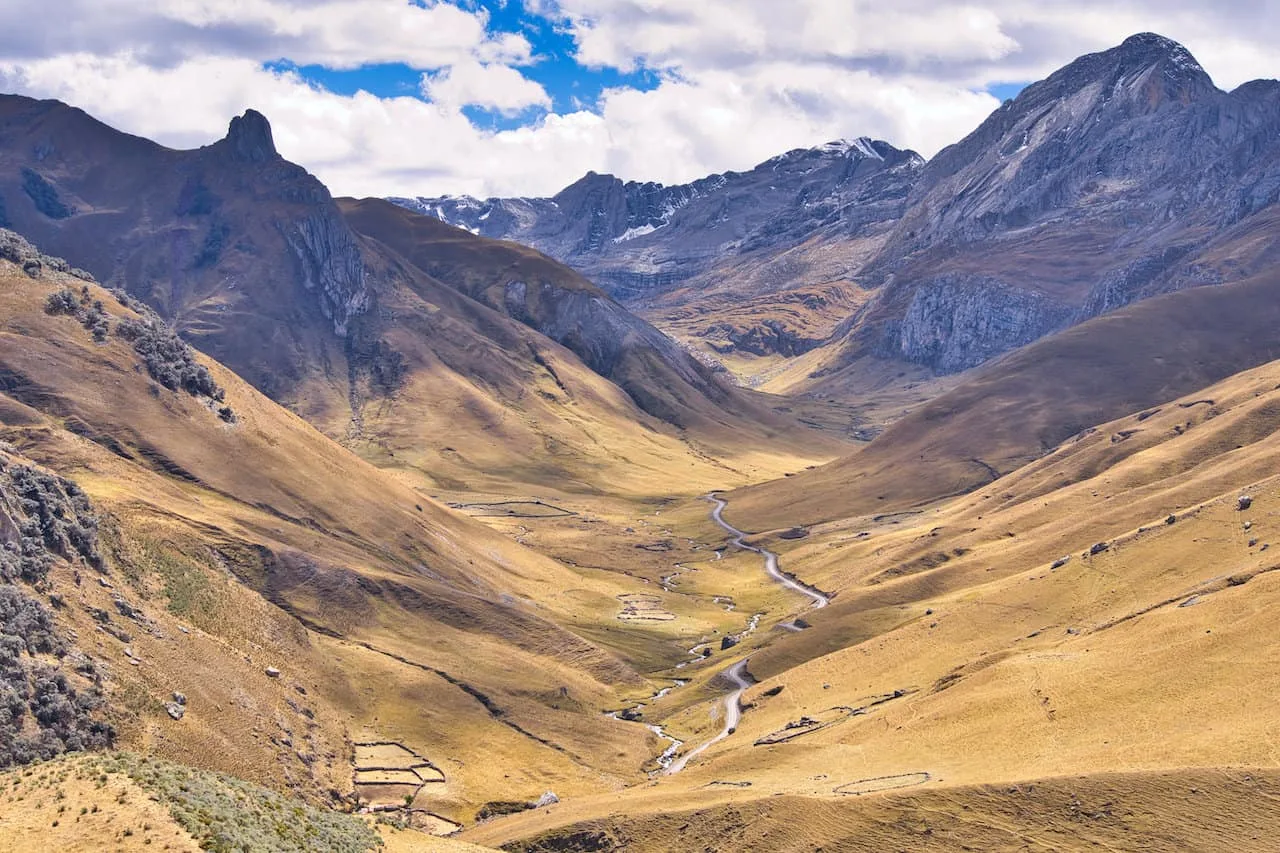 At the end of the hike, you will need to make your way under a fence, which should have a tarp on it to show you where to go. Once under that, you will be welcomed to the road at Rondoy.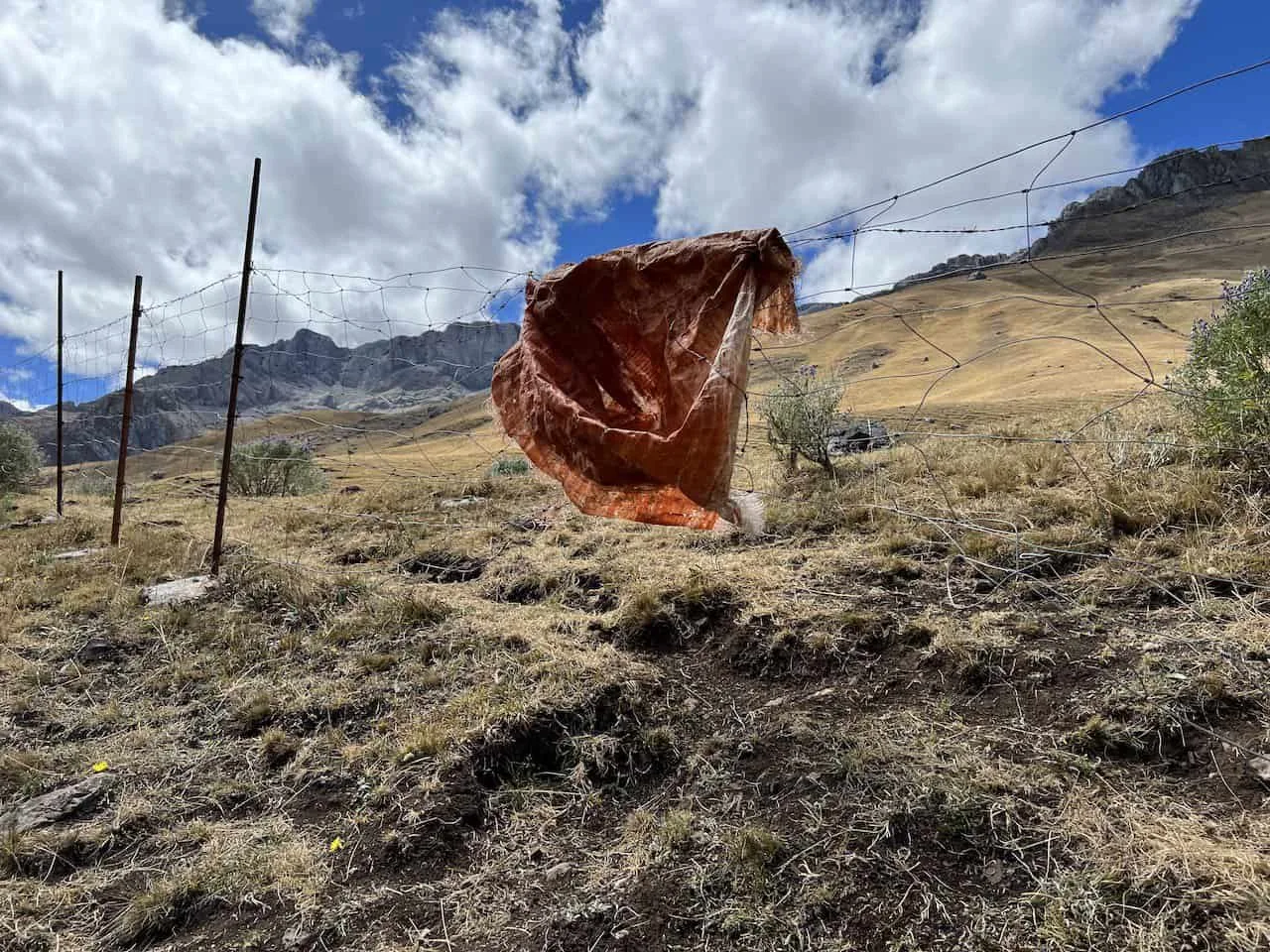 Ideally you have transport waiting for you here (or two miles to the right at Cuartelwain – the trek's starting point). If not, you will need to make a left and begin the 9 mile hike back to Llamac. It is a downhill hike along a dusty road and should take around 4 hours to complete.
You may get lucky and hitch a ride with a passing car/truck as there are some vehicles that go along this road. Once in Llamac, head to the Santa Rosa guesthouse for the night. The next morning you can then make your way back up by bus to Huaraz.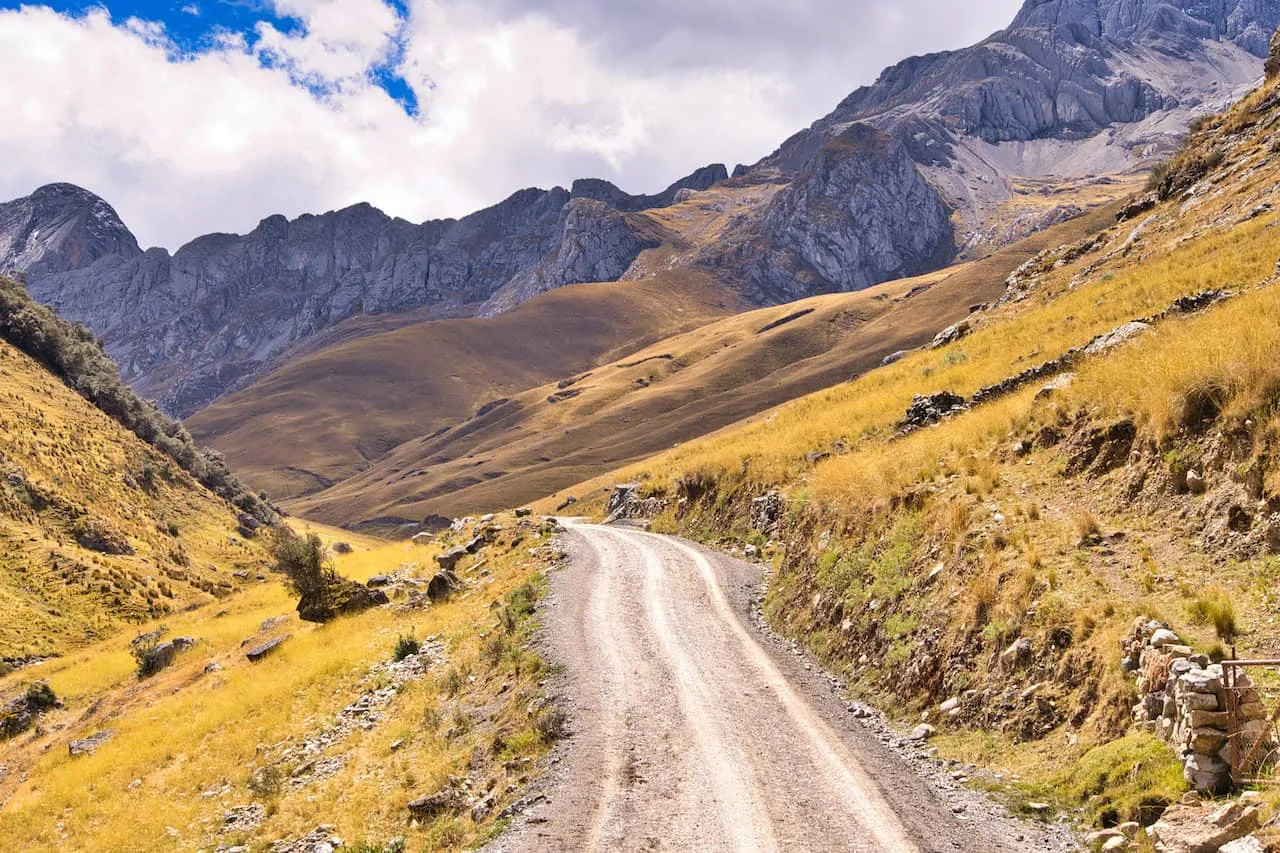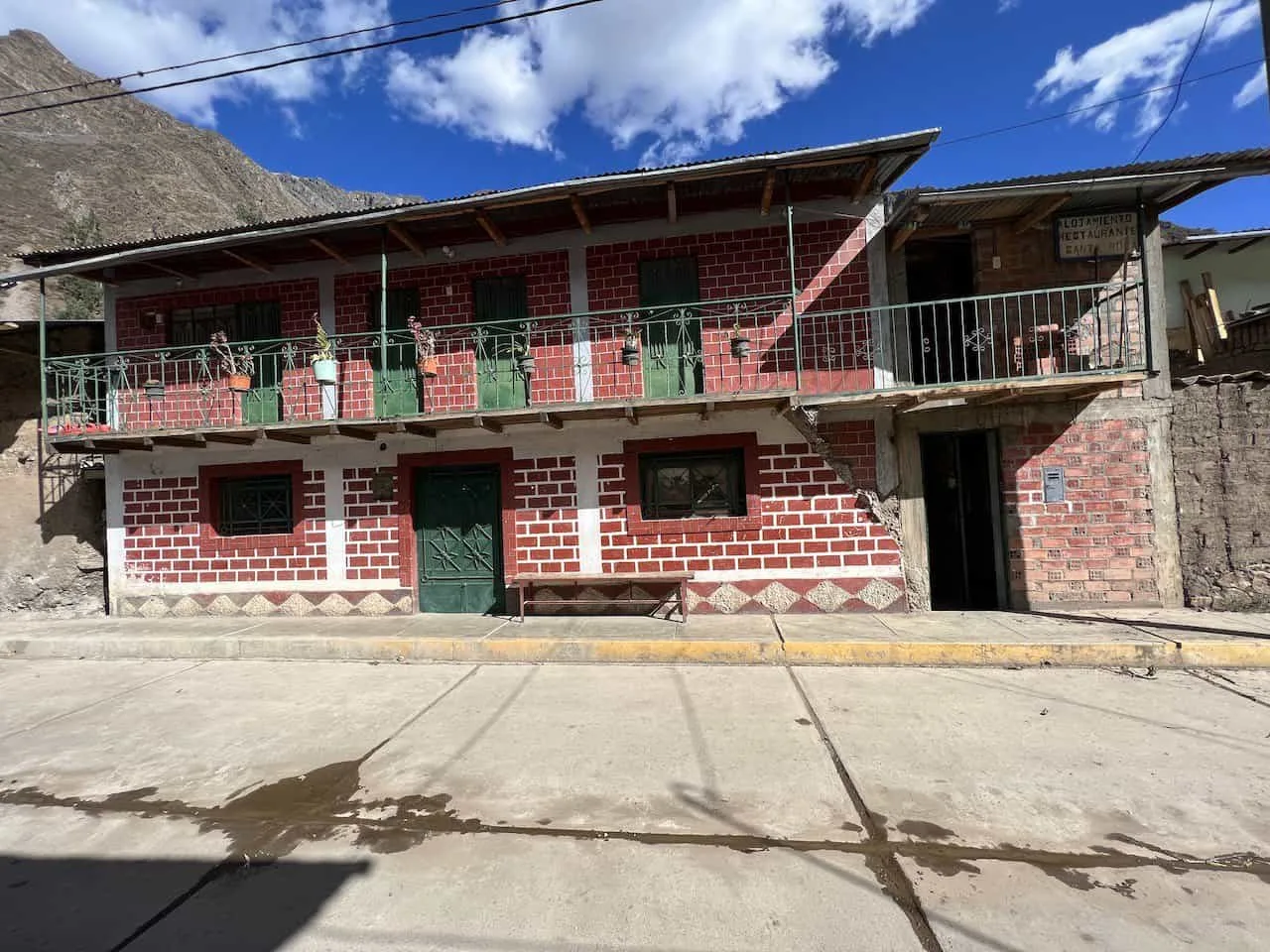 If you have any questions about day 10 of the Huayhuash Circuit or the trek in general, be sure to add them in below.
Have fun out there and safe travels!