Taking part of the Cordillera Huayhuash Circuit trek is a once in a lifetime type of experience. Over the course of the trek, you are bound to see some of the best mountain, glacier, lake, river and valley views you have ever seen.
But in order to take part of the hike, you first must understand how to get to the Huayhuash trek starting point. It is going to be quite a journey getting from Lima to Huaraz and then onwards to Llamac & Cuartelwain (more on all that soon).
However, once you have made it to the starting point, you will be ready to take on the circuit for yourself.
* Affiliate Disclosure: This post may contain affiliate links, which means I may receive a commission if you make a purchase through the links provided, at no additional cost to you. Thanks for supporting the work I put into TripTins!
1) Huayhuash Circuit Logistics
To start, let's go over the few main places that will be used to get you to the starting point of your hike in the Cordillera Huayhuash. Throughout the remainder of the guide, I will dive into each one of these a little more.
Note that this is going to be geared towards those people doing the hike independently, without a group/private tour. If you are doing the Huayhuash Circuit as part of a tour, you will not need to worry about logistics as they will take you directly to the starting point and back from the finish.
→ For a complete and comprehensive overview of the trek, check out the Cordillera Huayhuash Circuit guide up on the site
Learn More: Be sure to check out the Huayhuash Circuit resource page that includes many helpful travel guides to get you prepared for the trek.
There are a few main places to familiarize yourself with when it comes to Huayhuash logistics:
Lima: the main international airport hub, which you most likely will be flying into when arriving to Peru
Huaraz: the closest main city to the beginning of the Huayhuash Circuit (where you will be basing yourself before and after the hike)
Llamac: the closest village to the start of the Huayhuash Circuit (used as a preliminary starting point of the trek for many)
Chiquian: a small town located between Huaraz and Llamac (normally used to switch busses)
Cuartelwain / Quartelhuain / Matacancha: the official starting point of the Huayhuash Circuit Trek
Before diving into the rest of this guide, I do want to mention that logistics can change over time and are not set in stone. New bus services, changes in schedules, etc. can happen. Each person I spoke to about how they got to and from the starting point all had different logistics.
So, just be aware that not everything may go exactly according to plan (but I do have confidence you should be able to get yourself to the start one way or another).
→ Check out a complete Huayhuash Circuit packing list to prepare you for your time out on the trail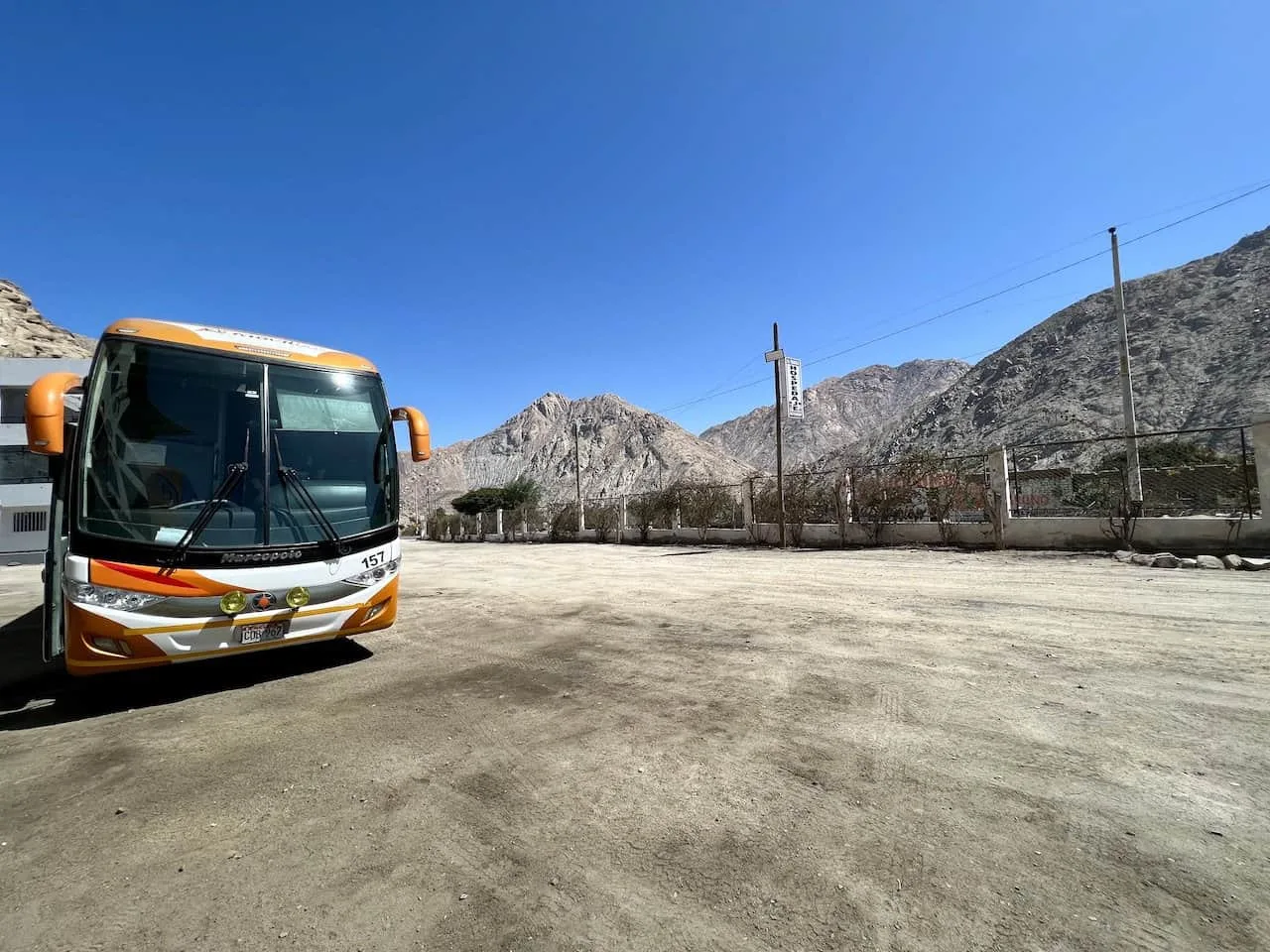 2) How Do I Get to the Huayhuash Trek
Now let's break down the steps to get you from Lima all the way to the trailhead at Cuartelwain. I will break these out into more details throughout the guide.
Step #1 – Lima to Huaraz
The first part of the journey will be an 8-10 hour bus ride from Lima to the closest major city of the Huayhuash trek – Huaraz.
Step #2 – Huaraz to Llamac (via Chiquian)
The second step of the journey will take you by bus for 5 hours from Huaraz to the small village of Llamac, with a change of busses in Chiquian.
Step #3 – Llamac to Cuartelwain
While Llamac is the closest village to the starting point of the circuit, the "official" starting point is in Cuartelwain. To get to Cuartelwain from Llamac, you must walk 4-5 hours along a dirt road.
This will be the first day of hiking for many that arrive by public transport. However, the route from Llamac to Cuartelwain is technically not part of the circuit itself.
Be on the lookout: You may get lucky and be able to hitch a ride with someone between Llamac and Cuartelwain to save you the hiking time.
Note: as an independent hiker, you also have an option to go straight from Huaraz to Cuartelwain by private transport. This can be arranged in Huaraz for around $125 USD one way.
Considering travel insurance for the Huayhuash Circuit?

World Nomads offers coverage for more than 150 adventure activities as well as emergency medical, lost luggage, trip cancellation and more.

For years, World Nomads has been protecting, connecting & inspiring independent travelers, offering travel insurance & safety advice to help you travel confidently. Their mission is to support and encourage travelers to explore their boundaries.

World Nomads has simple and flexible travel insurance that has been designed by travelers for travelers. Even if you leave home without travel insurance or your policy runs out, you can buy or extend out on the road.

Get a quote for a World Nomads travel insurance policy today!
3) Where is Huayhuash
To better understand the route above, I have included a map that shows the journey between Huaraz and Cuartelwain. You can zoom in to gain a better understanding of the route in general.
→ To learn more about the circuit itself, you can check out the Huayhuash Trek map
4) Step #1: Lima to Huaraz
Whether you are coming straight from the airport or you are planning to spend some time in Lima prior to the hike, the first step will be getting from Lima to Huaraz.
These days the only main option to consider (unless taking private transport), is to take a bus between the two cities.
In the past, flying was an option, however that no longer seems to be the case. I would recommend checking if they brought the flight back before booking the long bus ride just in case.
How Long is the Bus Ride from Lima to Huaraz: The bus ride can take anywhere from 8-10 hours depending on traffic and potential stops along the way.
What is the Distance Between Lima and Huaraz: The route makes up 400 km / 250 miles, and heads from sea level in Lima all the way up to 3,000 meters / 10,000 feet in elevation in Huaraz. Due to this, you will find some sections of the route (closer to Huaraz) gaining a lot elevation over some windy roads.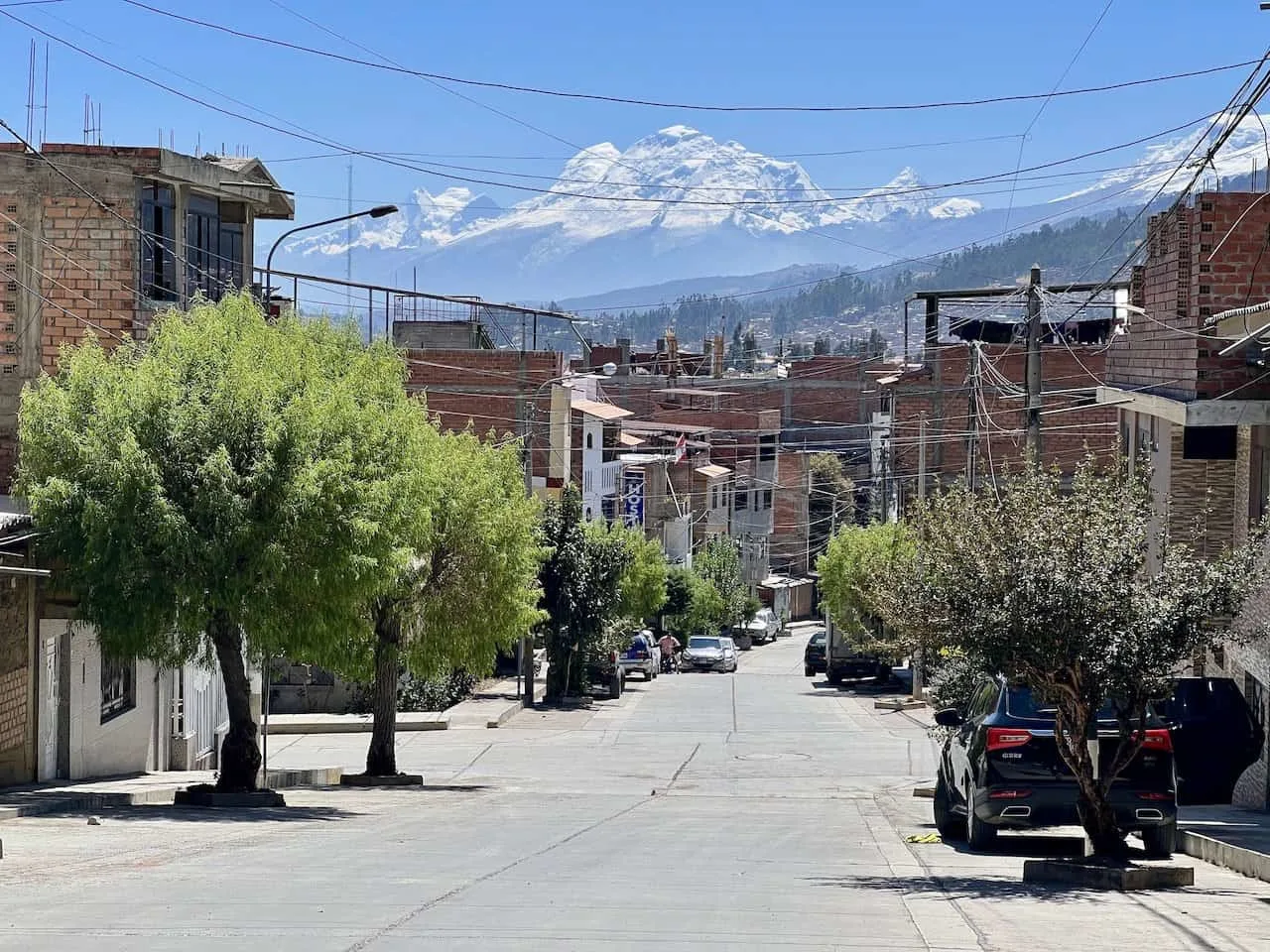 Lima to Huaraz Busses
There are many bus companies that run this route all throughout the day as well as overnight busses. Depending on your preference and schedule, you can better decide what is best for you when it comes to timing.
While you will find many companies offering the route, I would highly recommend Cruz del Sur for your first option. While a bit more expensive, the busses are very spacious (only 3 seats to a row), comfortable (big leather seats), and they even have individual TV's on each seat.
Movil is one of your next best options (I took Movil one way), and you can find even more by browsing through redBus. Note that Cruz del Sur and Movil are not on redBus – you must purchase tickets directly from the companies.
I would highly recommend purchasing your tickets ahead of time to guarantee the departures that fit best with your schedule. Tickets run between $10-$30 USD depending on company and bus choice.
In Lima, nearly all busses leave from Plaza Norte (about a 20 minute taxi from the airport; ~$7-$10 USD cost).
Some busses will offer multiple pickup locations in the city if you are staying further away from the airport. And some busses have their own terminals other than Plaza Norte (i.e. Movil bus terminal in Plaza Norte is separate from the main Plaza Norte terminal).
Once you arrive at the terminal, you can check your bags in, and then head onto the bus to complete the journey to Huaraz.
In Huaraz there is not one main bus terminal – each bus company has their own drop off points within a 5-minute taxi ride of the city center (should cost around $2 USD).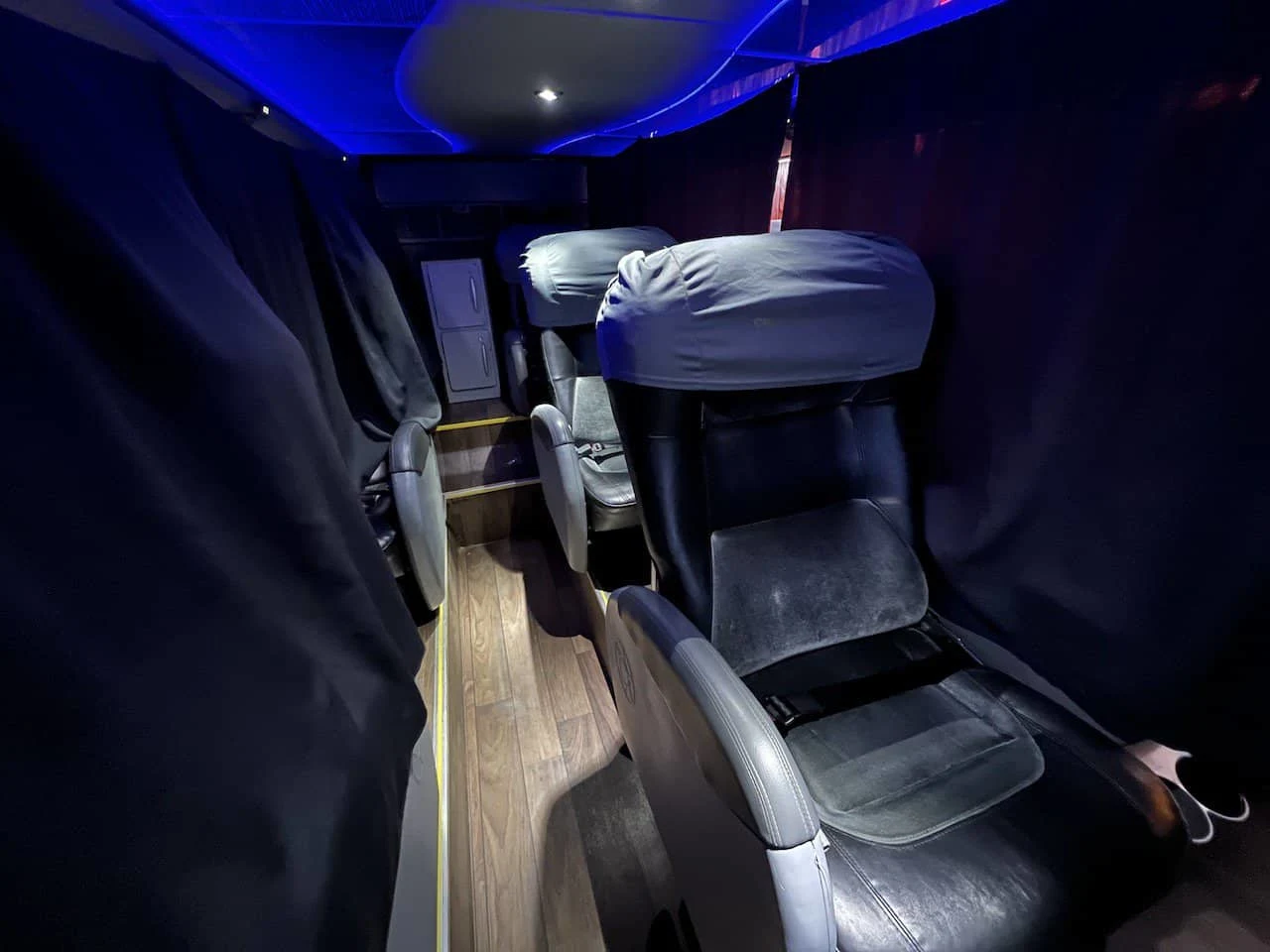 5) Step #2: Huaraz to Llamac
After spending a couple of days acclimatizing in Huaraz and taking part of some day hikes, it is time to begin the journey to the Cordillera Huayhuash.
As mentioned earlier, the easiest option would to just hire a private driver to take you directly to Cuartelwain. While it will cost around $125 USD, it will remove the logistical concern of getting to the trailhead (and not needing to spend day 1 hiking from Llamac to Cuartelwain along the dirt road).
However, for many, spending that extra money may just not be worth it. So, instead of taking the private transport, you can take a bus from Huaraz to Chiquian, and then a second bus from Chiquian to Llamac.
Here is how the logistics should work out:
Step #1
Starting Point: Huaraz
Ending Point: Chiquian
Transport Method: El Rapido Bus
Departures: 5:00AM and 2:00PM
Bus Station: Jirón 28 de Julio, Huaraz 02001, Peru
Ticket Cost: ~$4 USD (15 Soles)
Bus Duration: 2.5 Hours
Step #2
Starting Point: Chiquian
Ending Point: Llamac
Transport Method: Mini Bus / Collectivo
Departures: Timing matches up with Huaraz-Chiquian El Rapido bus (hopefully)
Bus Station: Plaza Principal de Chiquián
Ticket Cost: ~$5 USD (20-30 soles)
Bus Duration: 2 Hours
I have received various accounts of this leg of the journey. Sometimes there is a mini bus waiting to take groups down from Chiquian to Llamac, while other times people just hop into a collectivo (shared taxi van). One way or another though, hopefully there is some form of transport waiting once the El Rapido bus arrives.
Collectivo Note: there could be situations where the collectivo will only make the journey if a certain dollar threshold is met (somewhere around $25 USD). If there aren't enough people, you may need to pay more per person for the collectivo to make the drive.
Note: this second leg between Chiquian and Llamac is all on unpaved, bumpy, windy roads. It is not a comfortable ride so just be aware beforehand.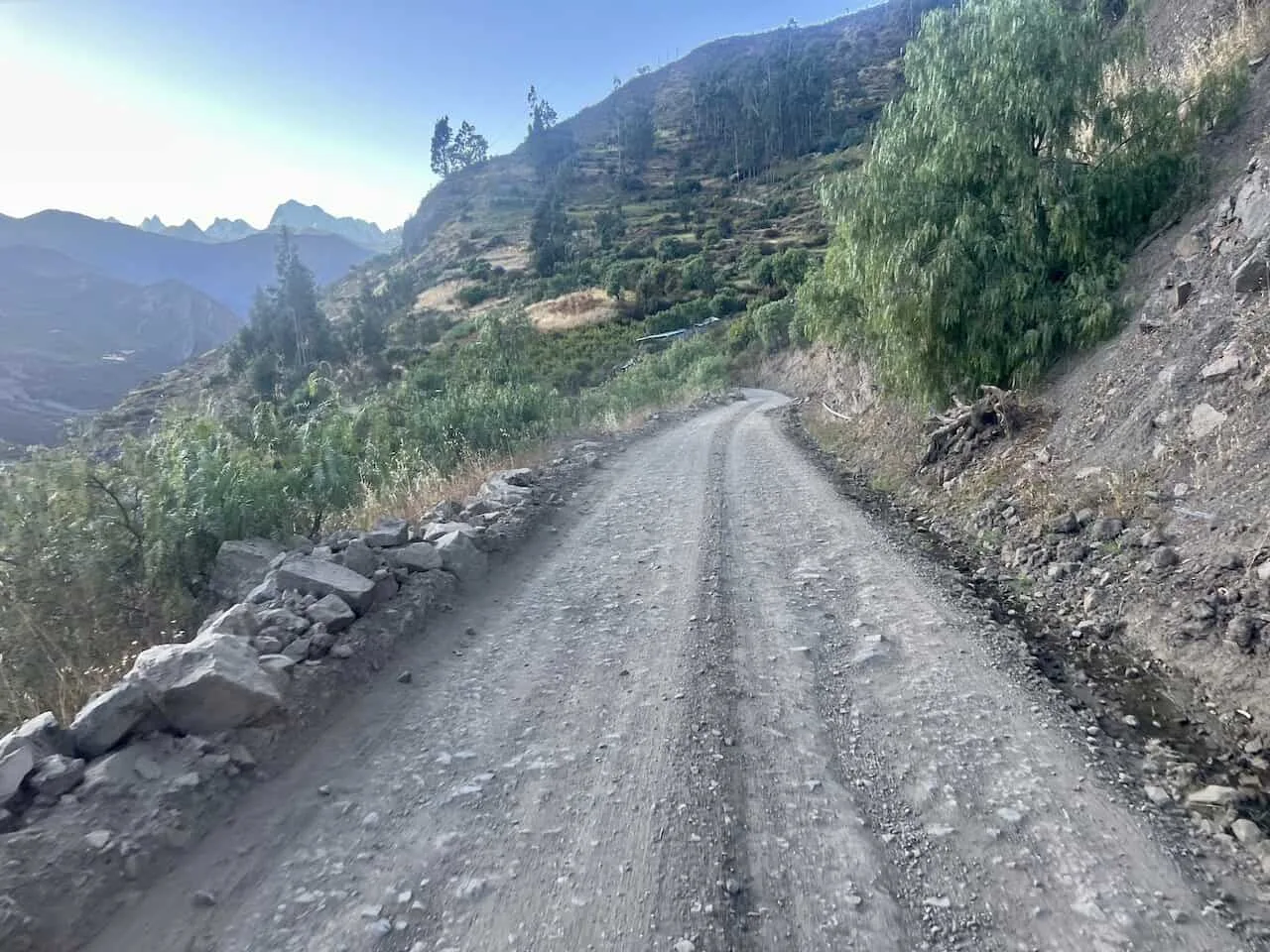 6) Step #3: Llamac to Cuartelwain
The last part of the journey to the Huayhuash trek starting point is getting from Llamac to Cuartelwain (also known as Quartelhuain or Matacancha).
Between Llamac and Cuartelwain you will find a dirt road that is used mostly by miners. The walk between the two along the road will take approximately 4-5 hours to complete.
While the hike will all be done along a dirt road, you will have some nice views pop up from time to time. But for the most part it is just a simple walk along the roadside.
If any sort of vehicle happens to pass you by, you could try and hitch a ride to avoid the walk.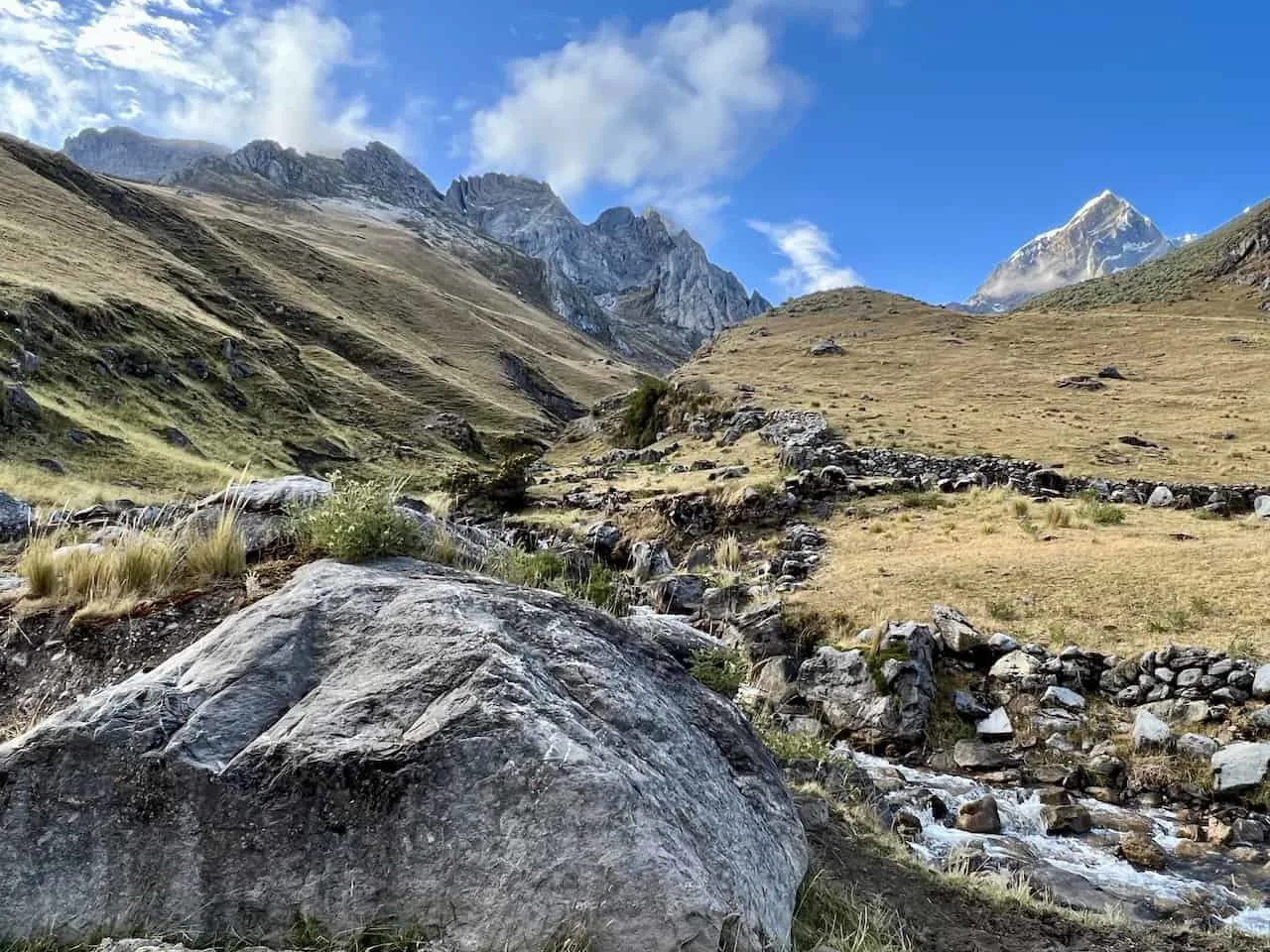 7) Getting Back to Huaraz
At the end of the hike, you will be hiking back into Llamac from the last campsite of Jahuacocha.
The last mini bus / collectivo goes from Llamac to Chiquian at around 11:00AM, so be sure you get there in time. Once back up in Chiquian, there should be an El Rapido bus that heads back to Huaraz at 2:00PM.
Busses should be leaving from the main squares (pictured below for Llamac and Chiquian).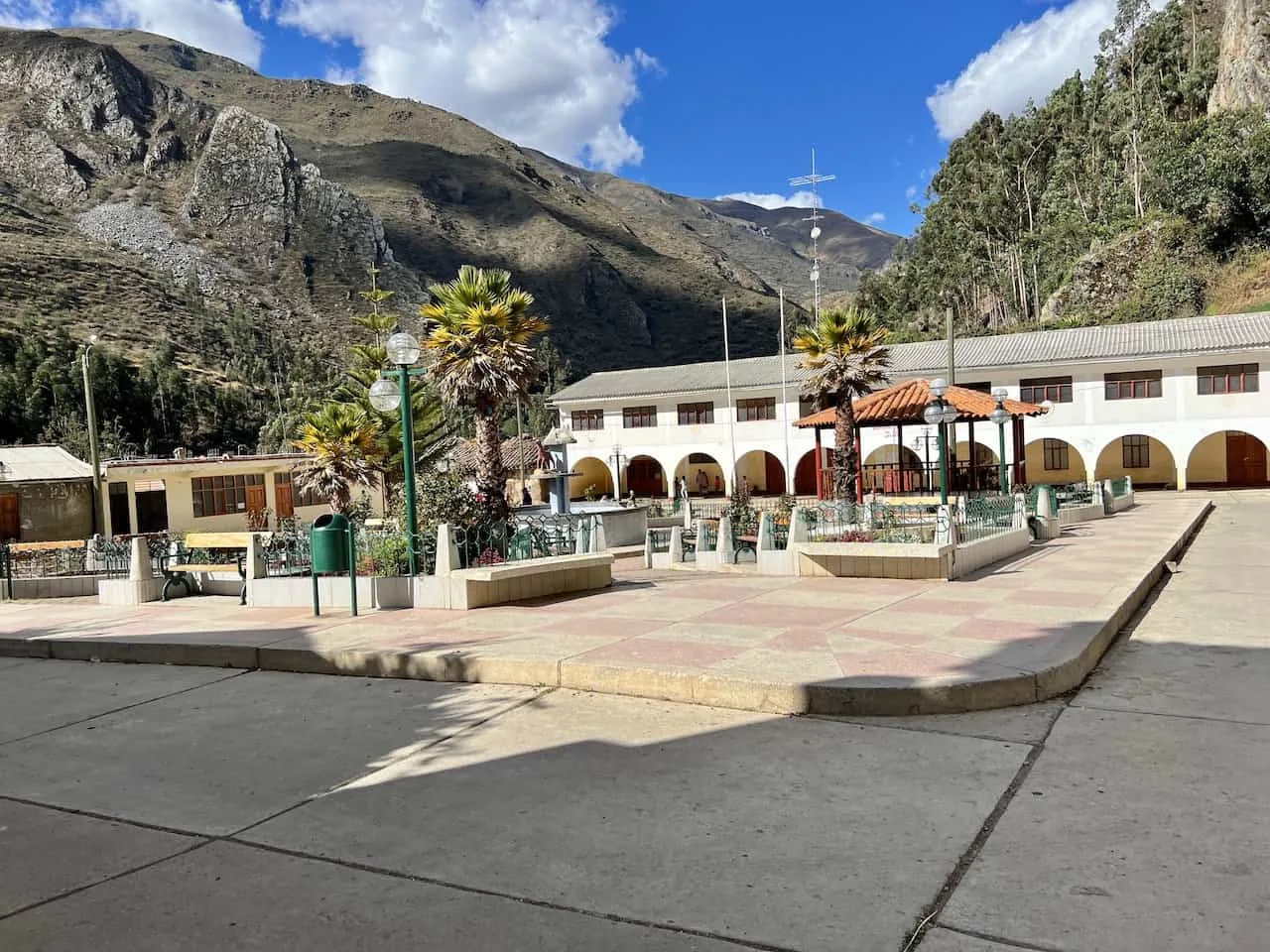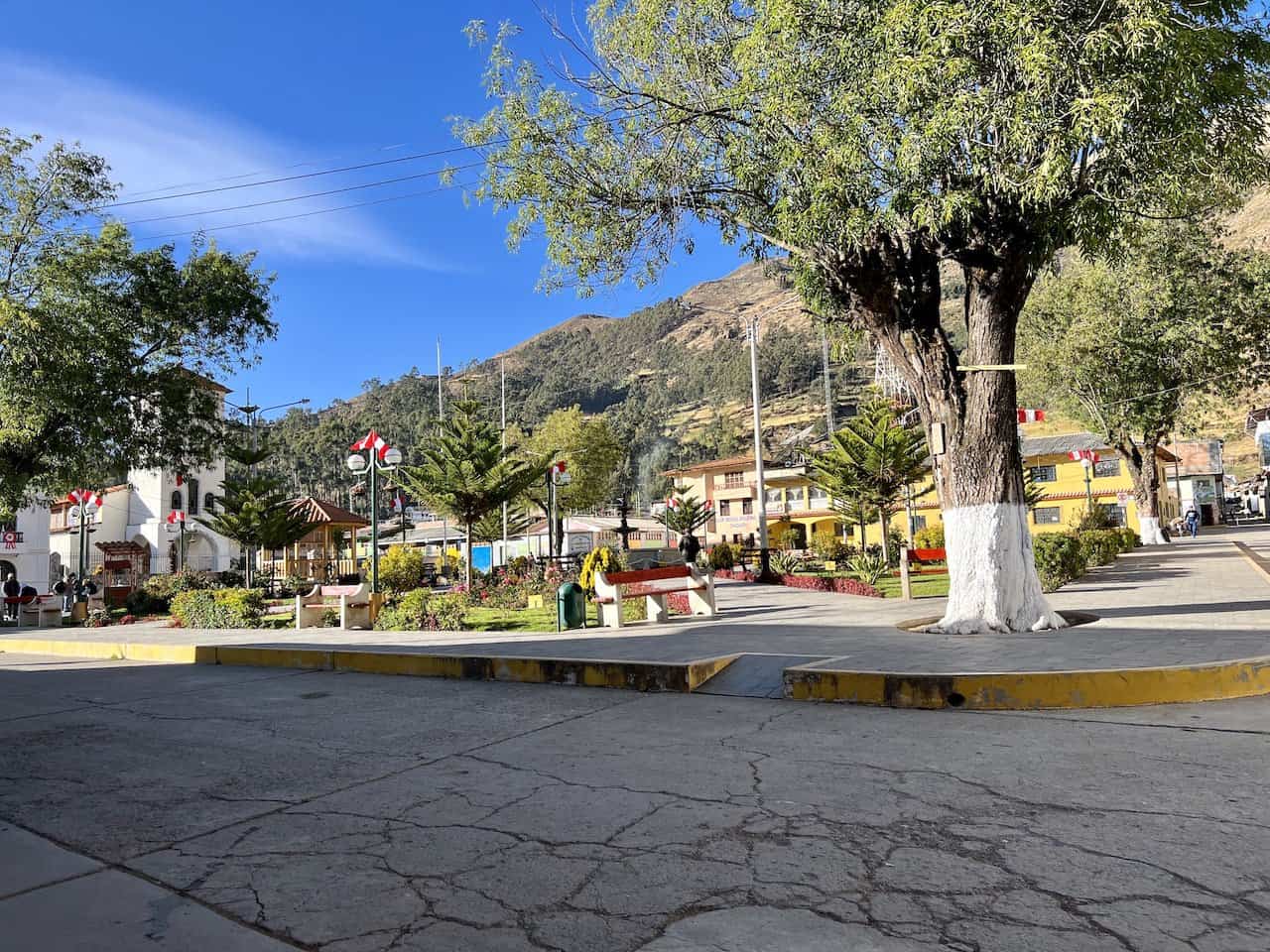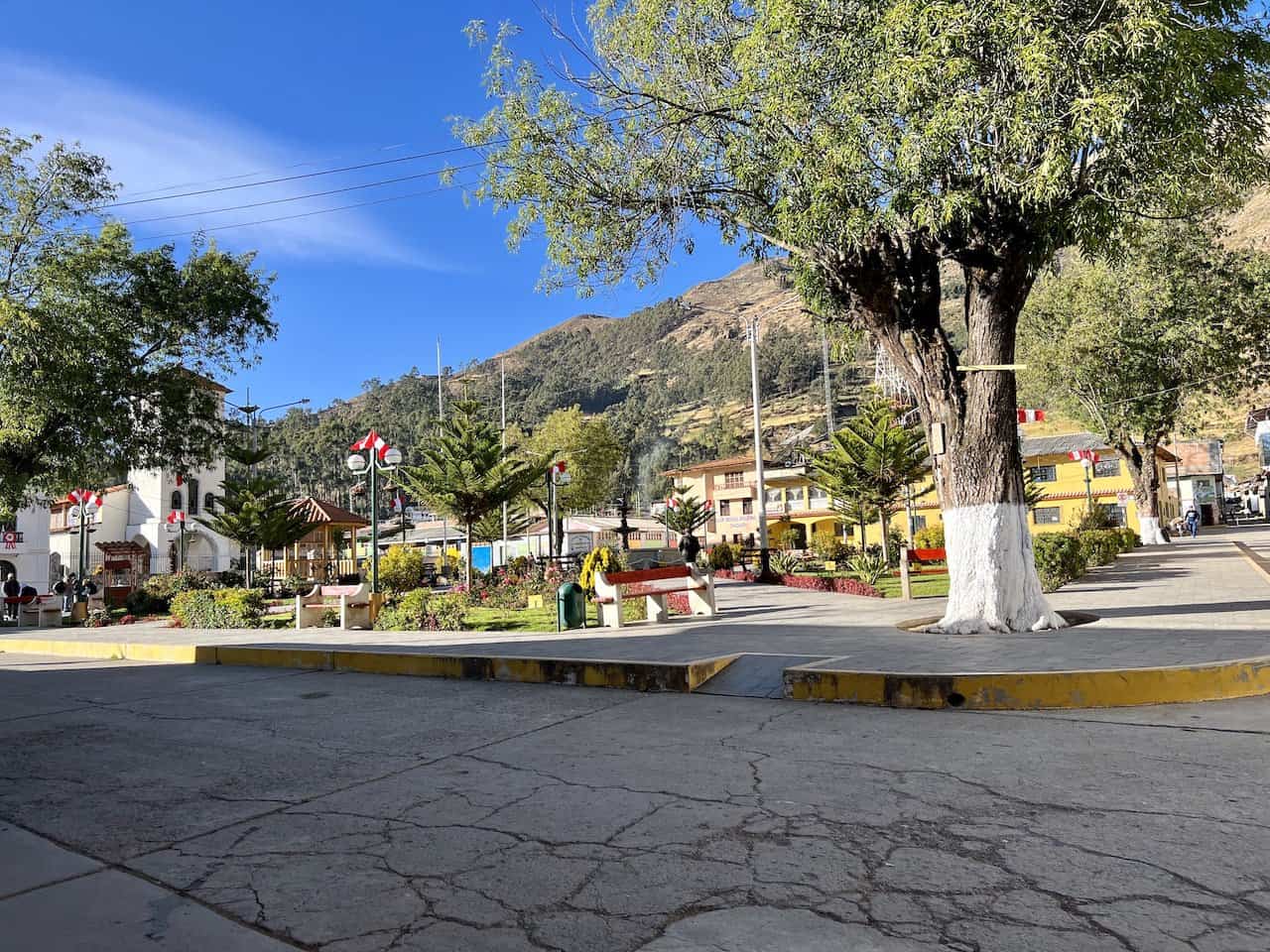 Alternative Finish
Instead of hiking from Jahuacocha to Llamac on the final day, you can instead hike from Jahuacocha to Rondoy over a more scenic Huayhuash route.
The issue however, is that Rondoy is about a 4 hour walk along the main dirt road back to Llamac (Rondoy is pretty close to the starting point at Cuartelwain).
If you opt to go to Rondoy, there is little chance you catch the 11:00AM bus back to Chiquián from Llamac. So this means, you will need to stay the night in Llamac (check out the Santa Rosa Guesthouse for simple accommodation).
The next morning, you can take the 11:00AM bus back or wake up very early for a 5:00AM collectivo to Chiquián (this is what I opted for). However, there is no bus from Chiquián to Huaraz until later in the afternoon (at least when I was there). Luckily, there was a collectivo taking a group of people to Huaraz when I arrived around 7:30AM.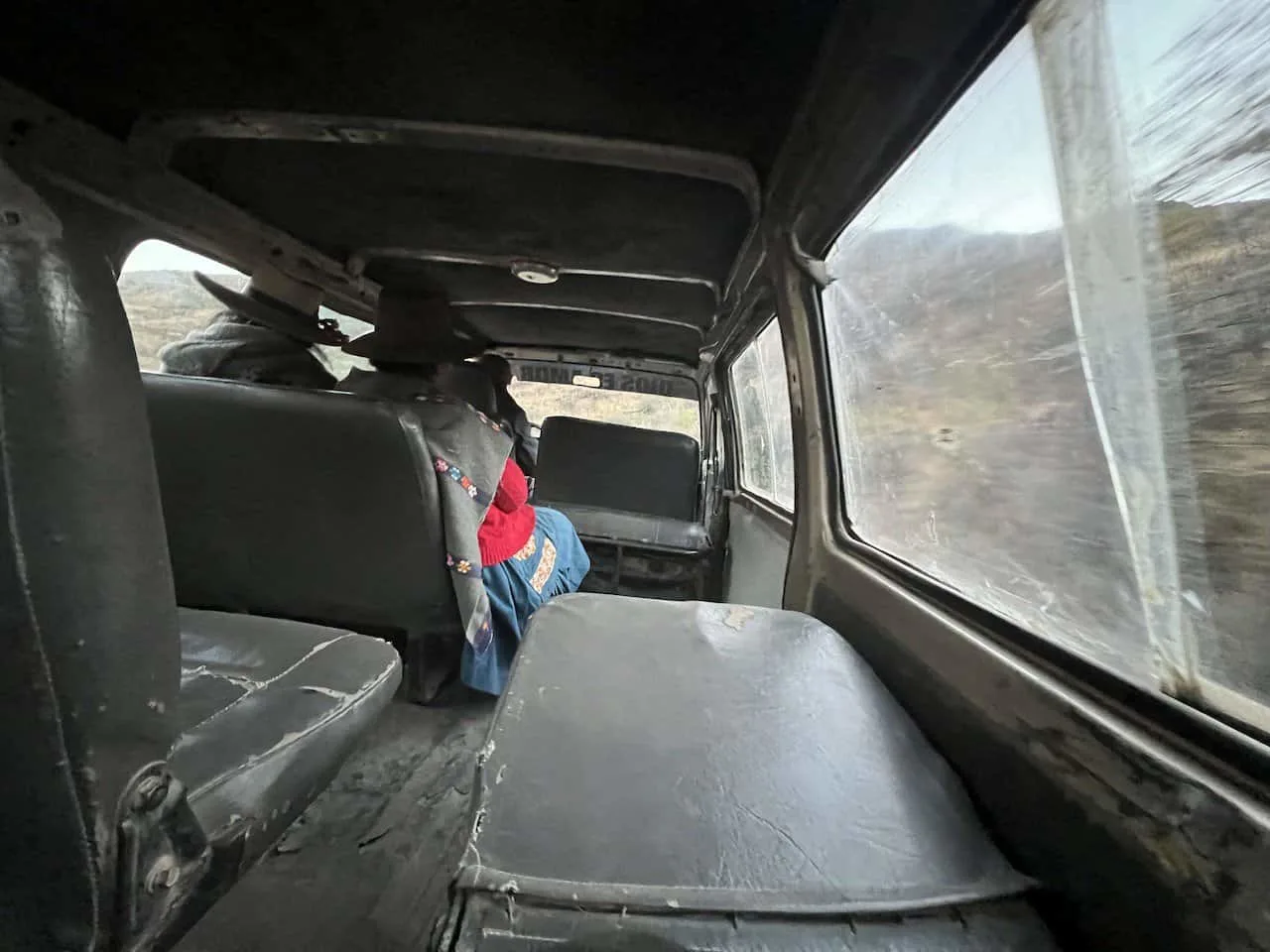 What I learned throughout my experience and speaking with others, is that you just will figure it out as you go along. You just have to go with the flow a little.
I hope you are all set now on getting yourself to the starting point of the Huayhuash Circuit. If you have any questions about the logistics, feel free to add them in below.
Also, don't forget to check out the other Huayhuash trekking guides up on the site.
Have fun out there and safe travels!