If you are looking to visit the hiking capital of Peru during your trip the country, then heading up to Huaraz is a must.
While you will not find Huaraz on a standard Peru itinerary, there is no better place to base yourself when it comes to day hikes & trekking experiences.
This guide will give you a thorough overview of Huaraz, how to get to there, what to visit, and many of the top hiking opportunities.
* Affiliate Disclosure: This post may contain affiliate links, which means I may receive a commission if you make a purchase through the links provided, at no additional cost to you. Thanks for supporting the work I put into TripTins!
1) Huaraz Background
While I have been to Peru a couple of times now, my latest trip involved two weeks in the area around Huaraz. Here is where you will find two of Peru's most beautiful mountain ranges in the Andes – the Cordillera Blanca and the Cordillera Huayhuash.
Those who head to Huaraz are most likely doing so to visit one or both of these mountainous ranges. This can either be in the form of day hikes or longer multi day trails (more on all of that later).
Huaraz is located approximately 250 miles / 400 km north of Lima, and is the capital of the Ancash Region. The city has a population of just around 130,000 people, making it a top 25 city in Peru.
How High is Huaraz -> It sits at an elevation of 10,003 feet / 3,050 meters, and is one of highest altitude cities in the country (but still lower than Cusco & Lake Titicaca).
The city itself has bustling streets filled with plazas, shops, markets, restaurants, hotels & more. You will find yourself staring down some of the highest snowcapped mountains in Peru right from the town center.
The rest of this Huaraz overview will go into some more details about the city and what it entails.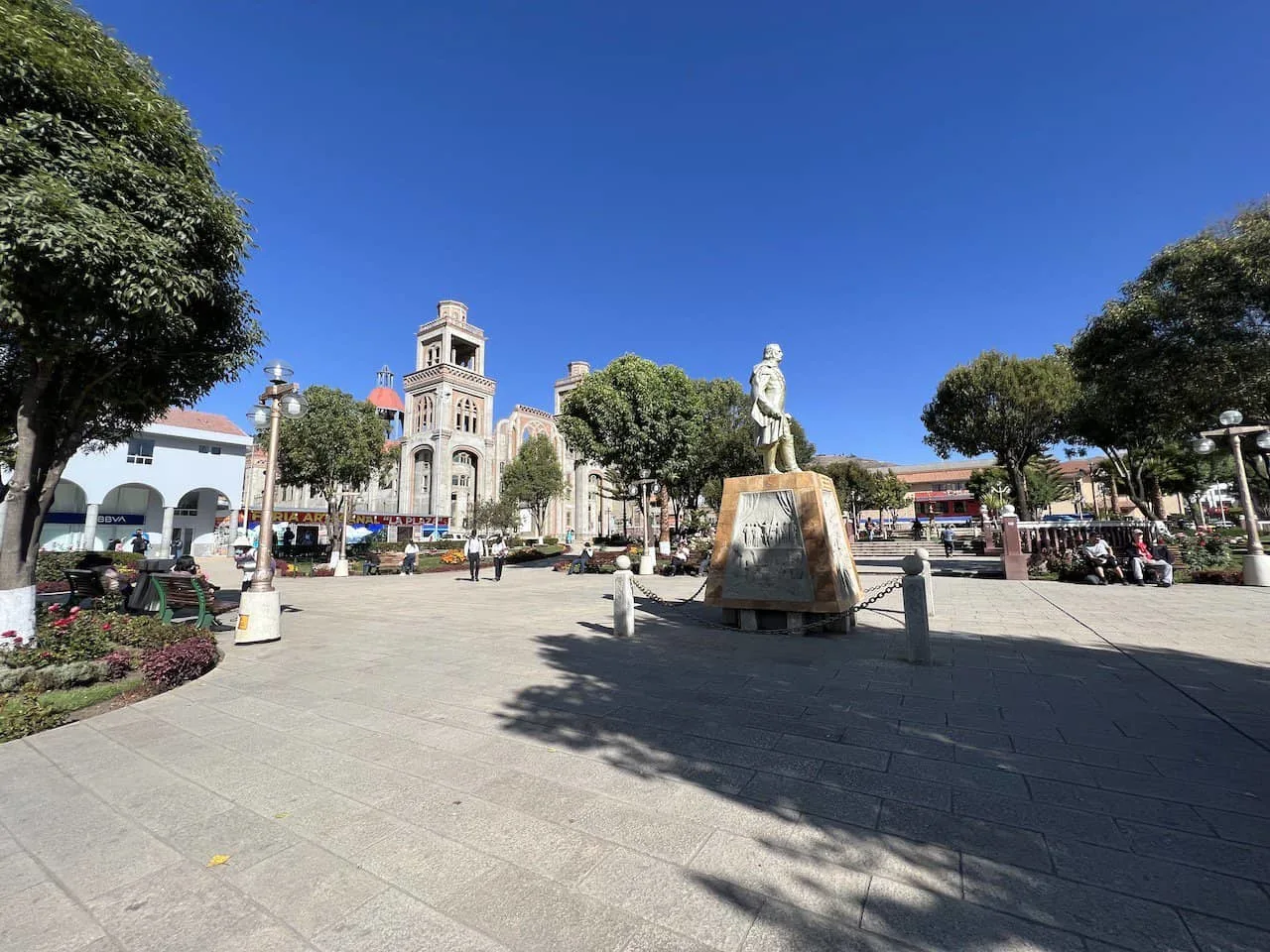 2) How to Get to Huaraz
For an everyday tourist, the main way to get yourself to Huaraz is by bus. Most likely it will be a Lima to Huaraz bus.
Everyday there are many busses that make the route in both directions. These busses are run by several different companies.
When searching for bus options, you can check out a site like Busbud or redBus that aggregates bus schedules. However, some of the top bus options are not on those aggregator sites.
In my experience (and through research), two of the top companies to choose from include Movil Bus and Cruz del Sur. I took both of these bus companies to/from Huaraz during my time there. You can check out those websites to see their own bus schedules.
Booking Tip: Cruz del Sur offered some more luxurious and comfortable options. I would recommend going with them if the schedules line up for you.
Learn More | How to Get to Huaraz
Be sure to check out the Huayhuash Circuit resource page that includes many helpful travel guides to get you prepared for the trek
How Long is the Bus Ride from Lima to Huaraz
The bus ride between Lima and Huaraz will be on average 8 hours long. This depends on traffic around Lima, as well as if your bus will make a stop along the way. In some instances, don't be surprised if the total route takes closer to 10 hours.
You will find the first busses leaving Lima around 7:00AM and then heading up throughout the day all the way until the evening. Overnight busses are quite common to avoid losing out on a full day.
How Much is a Bus from Lima to Huaraz
It costs around $10-$20 USD for a one way bus from Lima to Huaraz. There is a range of costs depending on company and type of bus.
During my time traveling I paid around $10 USD to Huaraz and around $18 coming back to Lima.
Can You Fly to Huaraz / Huaraz Airport
In the past, flying into Huaraz was an option. These days that is not the case.
There is an airport located just outside of Huaraz called Comandante FAP Germán Arias Graziani Airport (ATA). LC Peru was the airline serving flights but they no longer do so.
Now, if you are thinking about going to Huaraz, I would highly recommend checking if the airport is back serving commercial flights. It could save you a good amount of travel time if that's the case.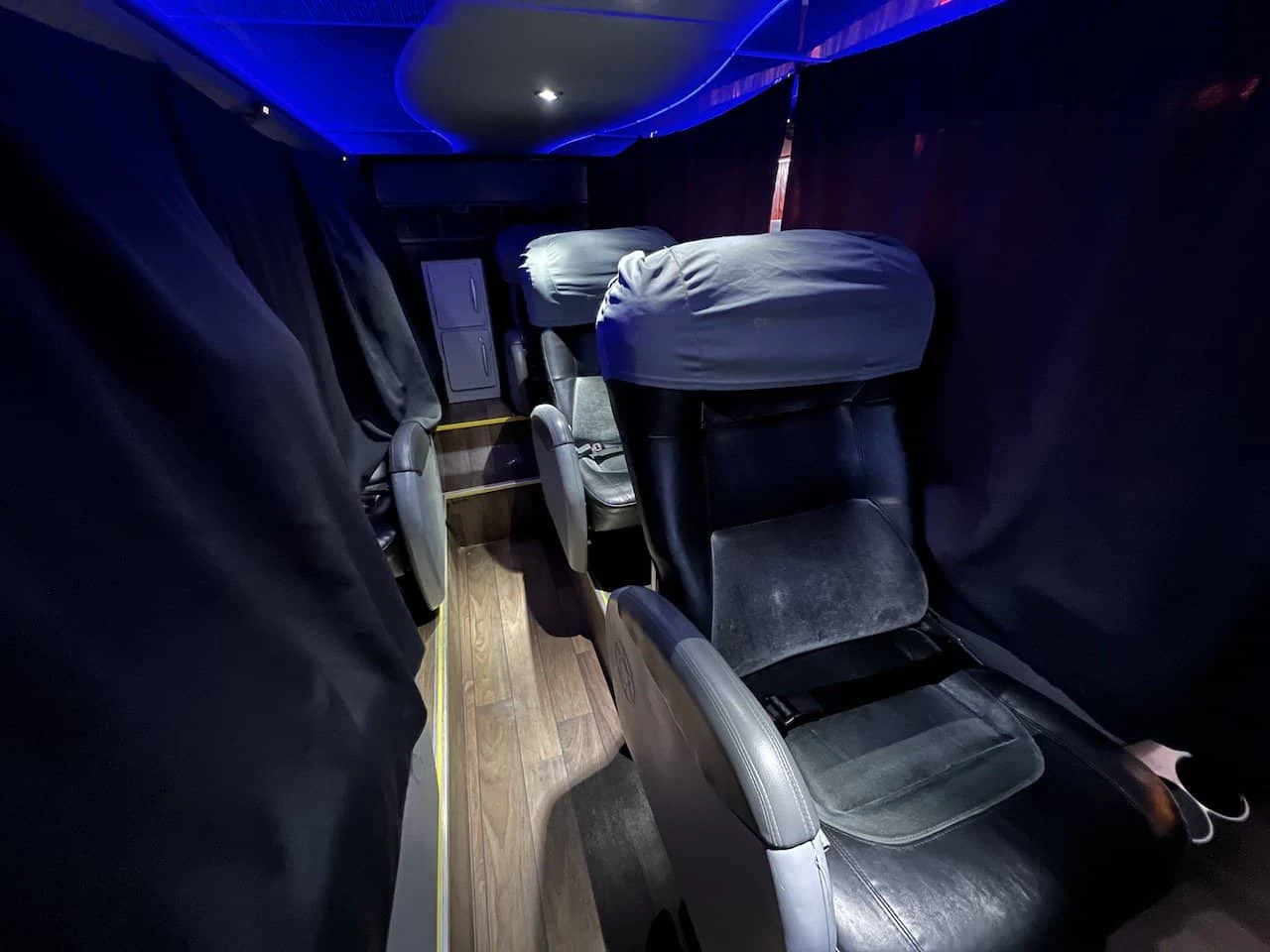 3) Best Time to Visit Huaraz
The best time to visit Huaraz and take advantage of the surrounding hiking opportunities is during the May to September time period. During this portion of the year, you will find the dry season of the region.
That means fewer clouds, less rain, and better overall hiking conditions. While you can visit during other parts of the year, sticking to dry season will be your best bet.
During my visit in July, I took part of a couple day hikes and the longer Huayhuash Circuit. Overall, the weather was great but I did have two days during the circuit where hiking was less than ideal (one of those days I decided not to hike at all).
It just goes to show you though, that even if you visit during dry season, that does not mean the weather will be perfect. Since you are dealing with the mountains, clouds and alpine weather can come into play at any time.
Read More | Best Time for a Huayhuash Trek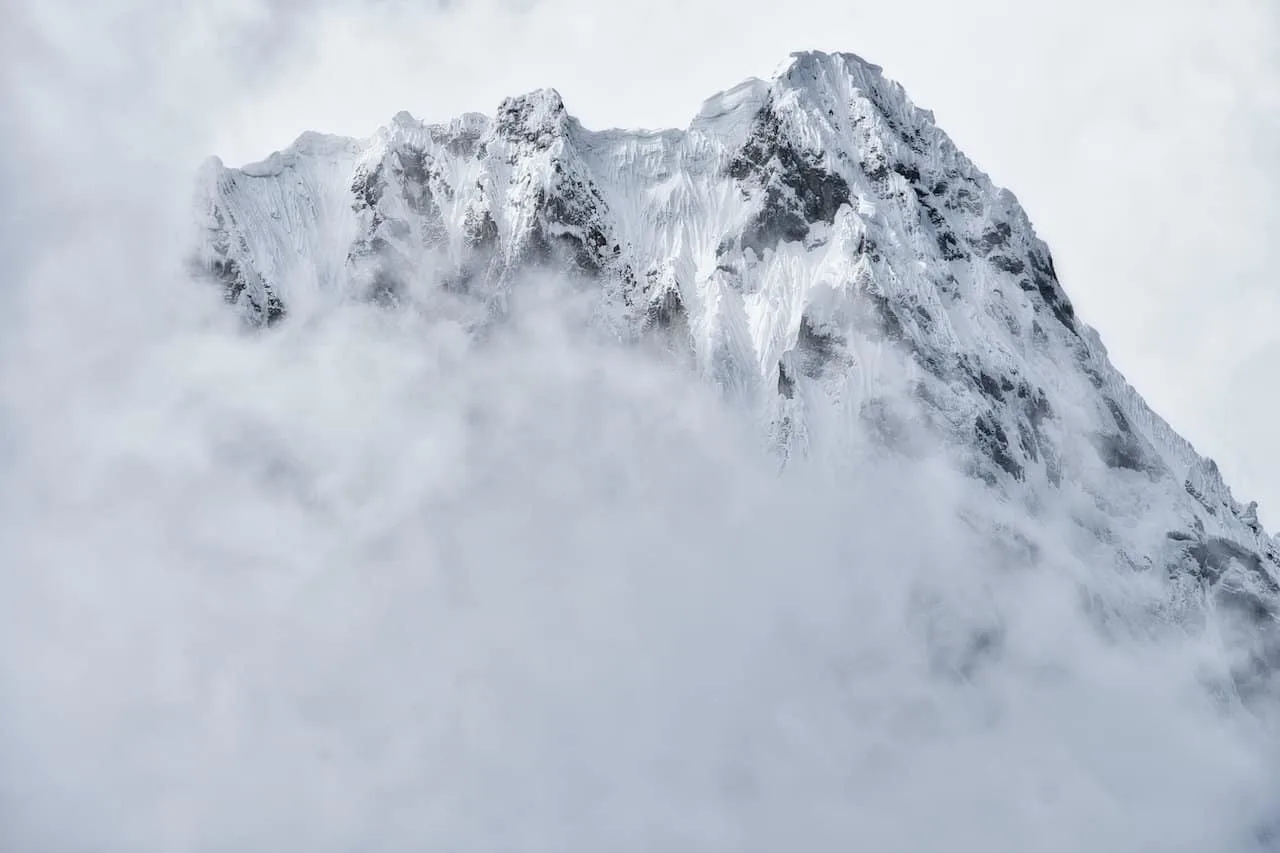 4) What To Do in Huaraz
As mentioned, the top highlight of a trip to Huaraz is to take part of day hikes and longer multi day treks around the Cordillera Blanca and Huayhuash.
Beyond hikes, there are a few things to do around and near town, which I will also get into. Here is a high level overview of what I will be talking through in the following sections:
Day Hikes
• Laguna 69
• Laguna Churup
• Laguna Paron
• Laguna Wilcacocha
• Laguna Rajucolta
• Lagunas Llanganucos
• Glacier Pastoruri
Multi Day Hikes
• Huayhuash Circuit
• Santa Cruz Trek
Things to do in Huaraz
• Wander the Markets
• Main Huaraz Square
• Soledad Church
• Regional Museum of Ancash
• Walk Around Town
• Pumacayán
How Do You Acclimate in Huaraz?
Before jumping into the hikes, I just wanted to point out a very important aspect of visiting the region – acclimatization.
Huaraz on its own is above 10,000 feet, meaning right when you get there you may be feeling signs of altitude sickness – headaches and nausea being two main symptoms.
To avoid getting altitude sickness, be sure to hydrate consistently, get enough sleep, and don't overexert yourself right when you get there. Instead of immediately going on a hike the first day, you should spend some time around town, getting your body used to that higher elevation.
If taking part of the Huayhuash Circuit for example, you will want to spend multiple days in the city prior to departing for the hike. That means a day in the city itself and then a couple days of acclimatization hikes (day hikes mentioned below).
Once your body gets acclimatized, you should be in better shape to take on more hikes and longer multi day circuits.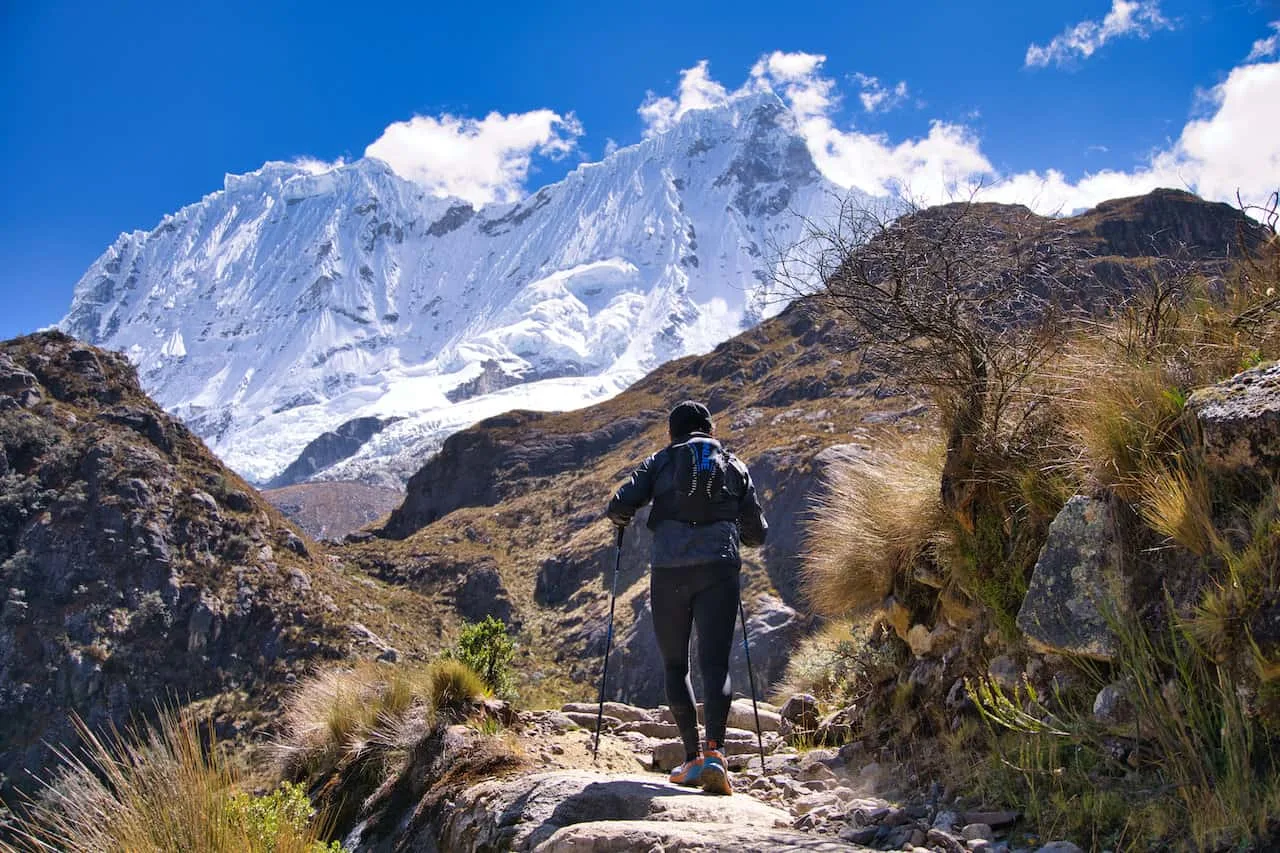 5) Huaraz Day Hikes
Even if you are not taking part of multi day hikes during a trip to Huaraz, there are many day hike opportunities to enjoy. Some hikes may just be a quick 30 minute drive from town, while others could be closer to 3 hours away.
Laguna 69
By far the most popular day hike near Huaraz is Laguna 69. Located in the heart of the Cordillera Blanca and Huascaran National Park, you will find this turquoise lake surrounded by snowcapped peaks in all directions.
The most popular way to go about a hike to Laguna 69 is by group tour. This is more or less just a transport type of tour, where a small bus or van will take you to/from the trailhead. Usually there is a guide with you, but they are essentially there to make sure no one falls behind.
Feel free to book a Laguna 69 tour beforehand or you can take care of that when you are arrive.
The hike is not an easy one, especially due to its elevation. The lake is located at over 15,000 feet / 4,600 meters above sea level. This in turn can make it a much more difficult hike than you may expect.
Below are some quick facts about the hike:
Length: 9 miles / 14.5 km
Elevation Gain: +2,500 feet / +760 meters
Duration: 5 Hours
Huaraz to Trailhead: 3 Hours
The trail starts off nice and easy, as you follow a river through the valley. Soon enough though, the trail begins to gain elevation as it heads above the valley the walls. Once you reach the top of the valley, the trail passes by a small lake, before an easier route through some new landscape.
After that, the trail then begins to pick up steam as it makes one final ~45 minute push up another tough incline section before arriving at the lake itself.
You can take your time to enjoy the lakeside, get some views from some elevated spots, and have a nice break. Once all finished up, it is back down the same way you came.
Learn More | Laguna 69 Hiking Overview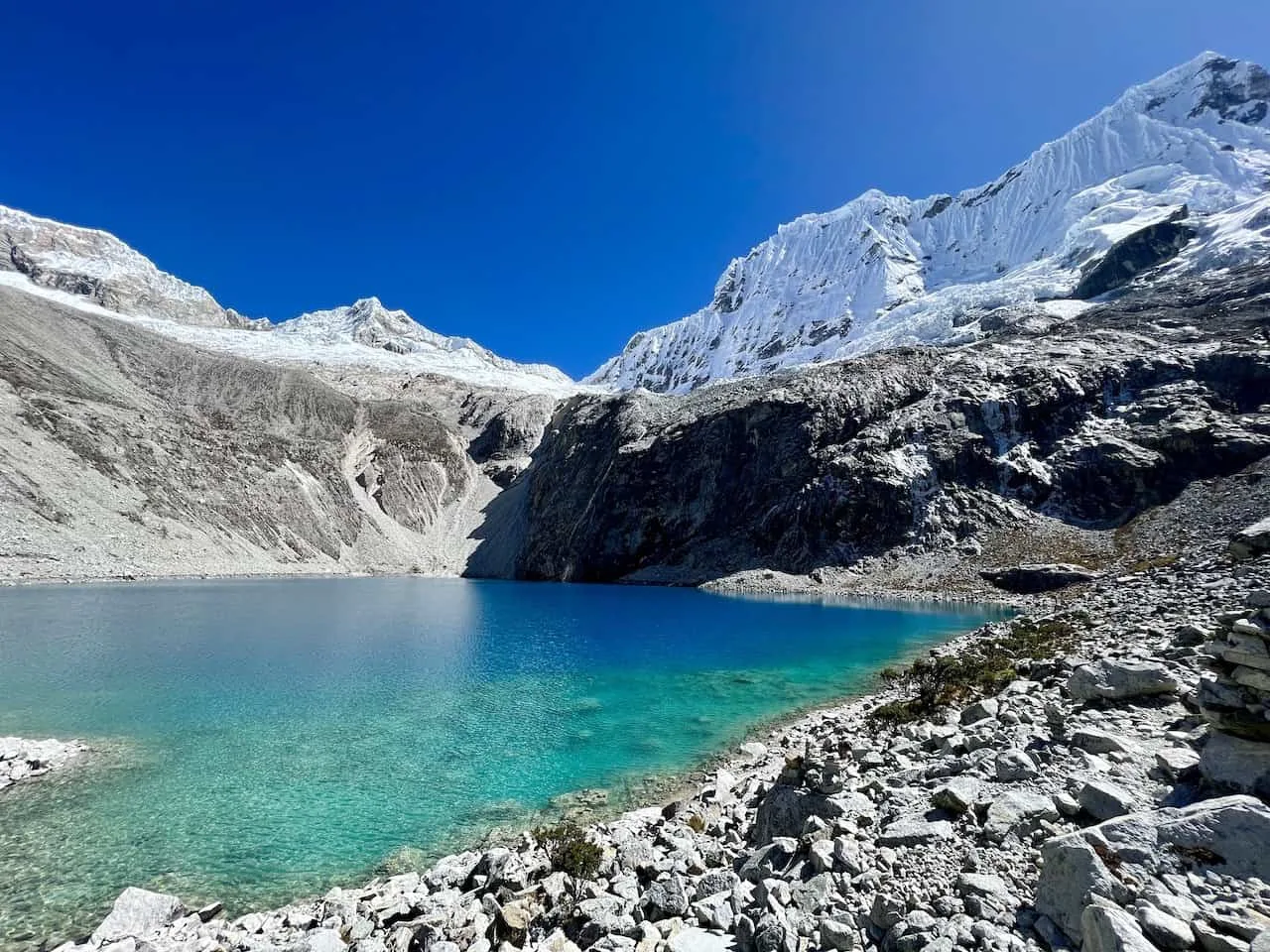 Laguna Churup
If you are looking for a hike that also offers much beauty but is closer to Huaraz, then check out Laguna Churup. This was the hike I opted for prior to Laguna 69 and thought it was a great way to begin my acclimatization.
The trailhead is located just 45 minutes from town, and you can get there either by private transport or by a local collectivo. Taking a local tour is also an option if you would like to have everything a bit more set for you.
Length: 3.6 miles / 5.8 km
Elevation Gain: +2,140 feet / +650 meters
Duration: 3.5 Hours
Huaraz to Trailhead: 45 minutes
Right after leaving the trailhead, the route begins to gain elevation. While the incline is moderate, it is still tough due to the overall elevation. You will pass by the Huascaran National Park entrance ticket booth, pay the fee, and continue gaining altitude along the way.
Soon, you will see that the path splits into two. One route heads straight/to the right, while another heads left. During my time, I opted to head straight on the way up and then wrapped around on the second trail on the way down.
The straight route does get a bit technical for a short portion of the trail. You will find hand holds to help lift yourself up some tougher parts. But once up, it is just a little bit more until you reach the lakeside.
Feel free to explore the lake and its shores, and find a spot to sit down and relax. If you are up for it, you can even make your way around the left hand side of the lake. Here you should catch a trail up to Laguna Churupita (another 30-45 minutes of hiking to get there).
Once all done with one or both of the lakes, you can then head onto the alternative trail back down to the trailhead.
Learn More | Laguna Churup Hiking Overview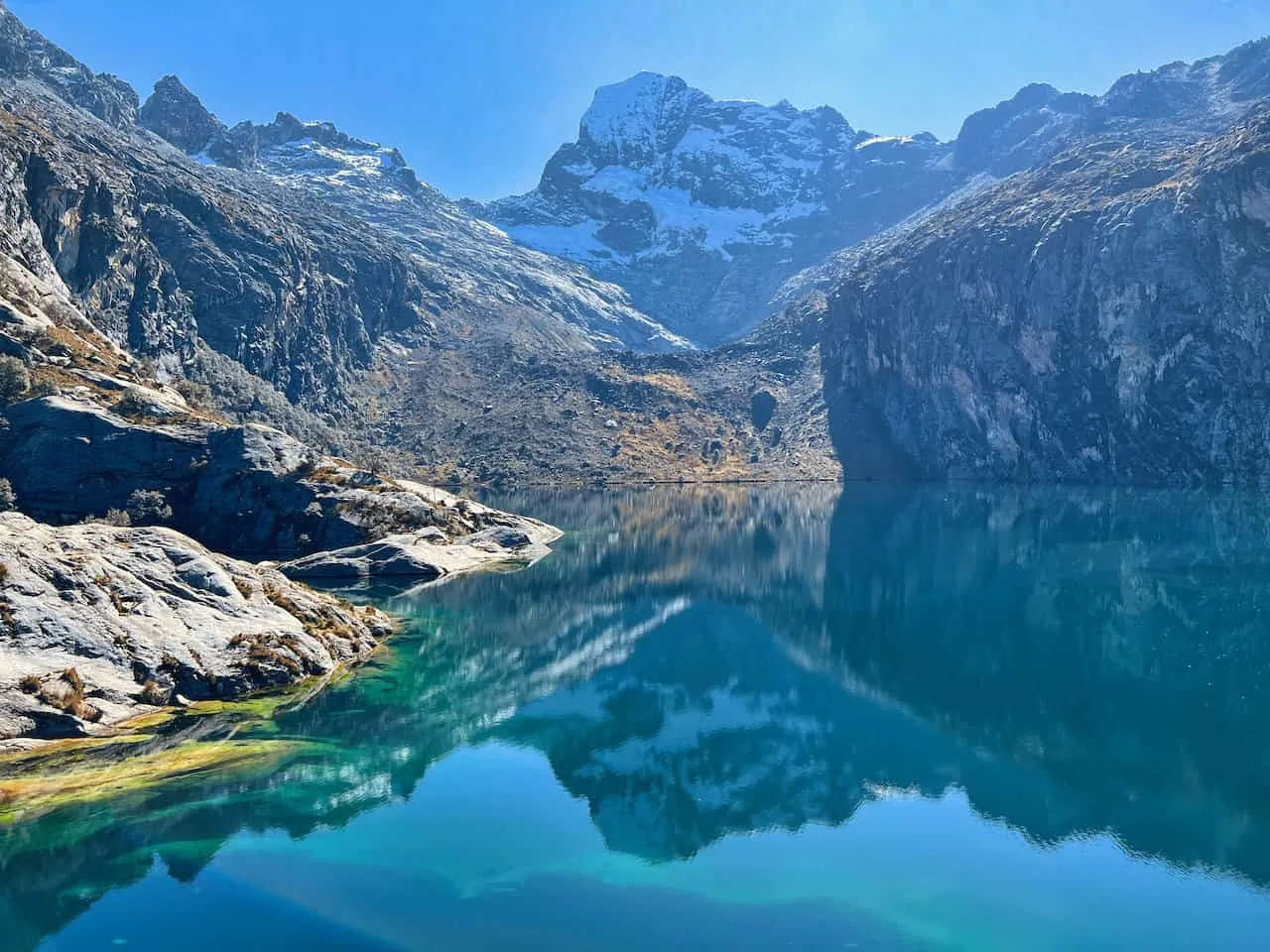 Laguna Paron
Laguna Paron is located in the same general area as Laguna 69. However, the hike is not nearly as difficult. Instead of a multi hour hike to get to the lake, you simply will be dropped off right at the lake itself.
For some, this would not even need to be a hike. You can just enjoy the lakeside and the views all around.
However, since you are here, you may as well head up to the viewpoint overlooking the lake from above. The round trip should take just 60 minutes and will be well worth the effort.
Length: 1 mile / 0.6 km
Elevation Gain: 500 feet / 150 meters
Duration: 1 Hour
Huaraz to Trailhead: 3 Hours
Some other hikes to consider around Huaraz include:
• Laguna Wilcacocha
• Laguna Rajucolta
• Laguna Llanganucos
• Glacier Pastoruri
Among plenty others!
6) Huaraz Multi Day Hikes
When it comes to multi-day hikes around Huaraz, there are two main ones to consider. The first is the 4 day Santa Cruz Trek, and the second is the 8-11 day Huayhuash Circuit.
Huayhuash Circuit
The main reason for my visit to Huaraz was to take part of the Huayhuash Circuit. I completed the circuit over the course of 11 days as I got to experience the best of the best that the trek had to offer.
The entire trek comprises of 67 miles / 109 km of hiking with over 5,350 meters / 17,545 feet elevation gain throughout the circuit. Each day you will find yourself ascending up a mountain pass, taking in some beautiful views, and sleeping at predesignated campsites along the way.
You can go about the trek independently, bringing along all of your own gear and food, or you can join a guided tour. It just depends on your experience level, comfort level, and how you would like to take on the trek for yourself.
There really is so much to talk about when it comes to the Huayhuash. That is why I put together this very comprehensive Huayhuash Circuit guide that will help prepare you for it all.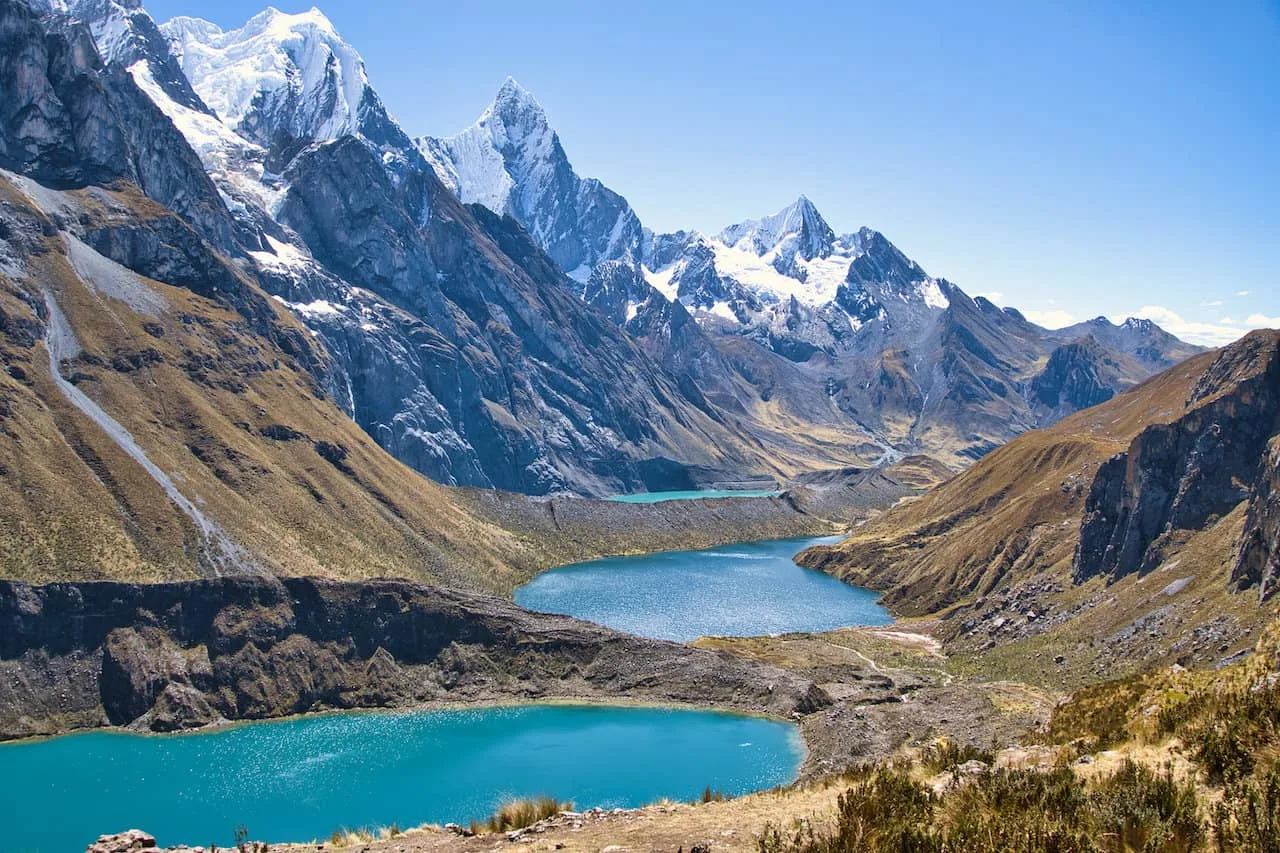 Santa Cruz Trek
If you don't have that long to spare or are just interested in a shorter trek, then the Santa Cruz trek is perfect for you. Over the course of 4 days you will get to experience the best of the Cordillera Blanca.
Iconic Pervian peaks such as Huascaran and Alpamayo will be in view as you reach altitudes up 4,750 meters / 15,600 feet.
Each day you should expect to hike for around 5 hours, as you cover a total of 50 km / 30 miles over the course of the 4 days.
7) Things To Do in City Center
While hiking is clearly the top reason for visiting Huaraz, you can also spend some time within the city itself before/after your hikes. Here are just a few things to do within Huaraz that can be explored by foot from the city center:
Markets: throughout the city center you will several markets to walk through. If you are looking for food, gear, local novelties, or more, you will find it here.
Main Huaraz Square (Plaza de Armas): the main square is a lovely place to walk through with greenery all around and fountain in the center. You will find some vendors, art, and more in this open area.
Soledad Church: this is one of the main churches of Huaraz and has an adjoining plaza right outside.
Regional Museum of Ancash: just outside the main Huaraz Square is the Ancash museum. Filled with historical artifacts, you can learn all about the region and how it came to be.
Walk Around: by just walking around the city center, I got to experience most on this list, not even knowing it. The immediate city center is not that big, so you should have no trouble getting yourself around by foot. I always think it's unique when you can get a cityscape and mountainscape in one view.
Pumacayán: as I was walking around Huaraz, I stumbled across Pumacayán. I found out that this was an archaeological site that has been excavated over the years. It takes just a few minutes to walk along the pathway and learn along the way. The highlight for me though was the beautiful view you get above the city, with the mountains out back.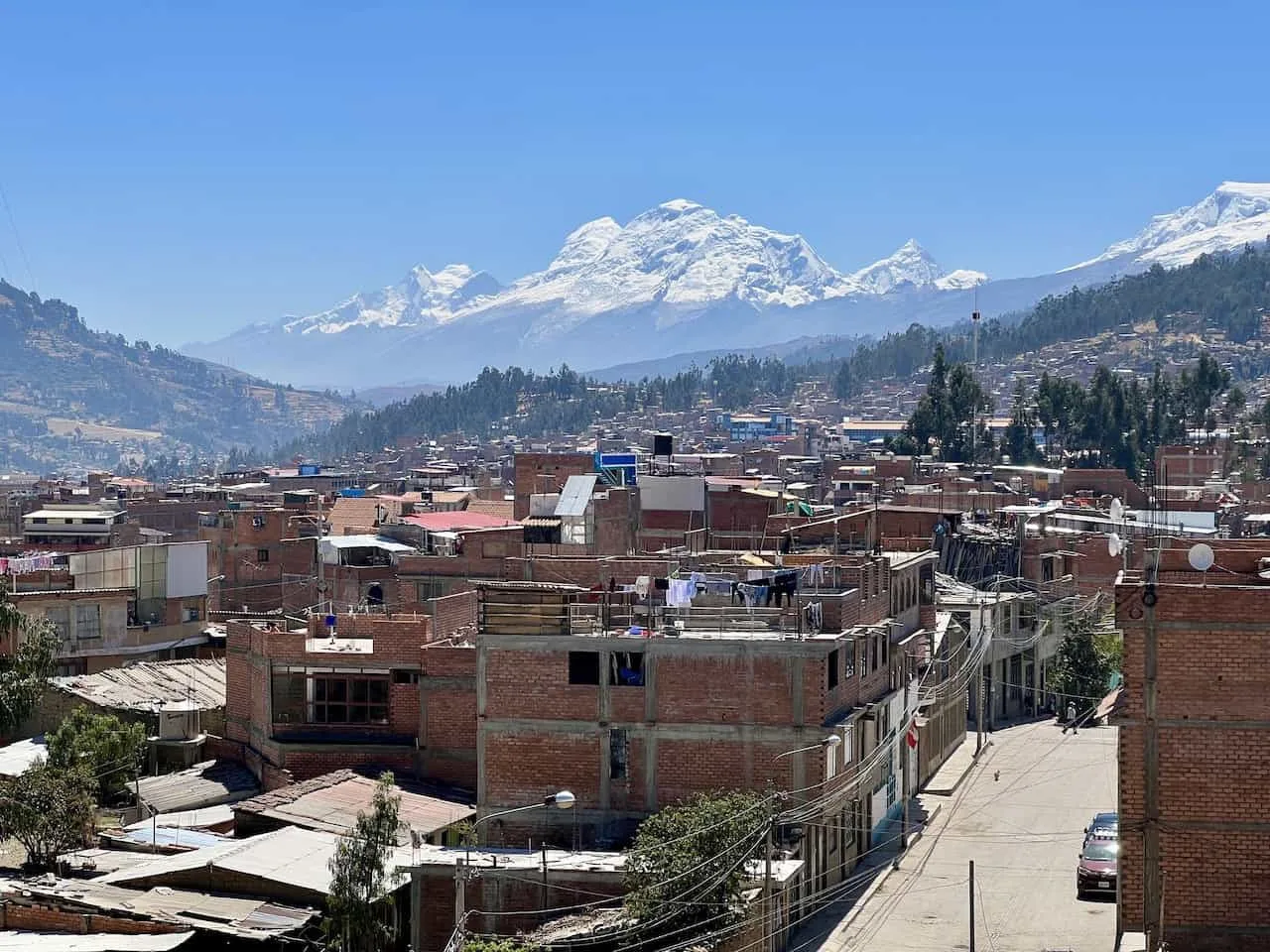 8) Huaraz Hotels
When it comes to accommodation in Huaraz, you will find many options all around the city. These range from hostels up to higher end hotels.
Ideally you are within the main city center or just a quick 10-15 minute walk away.
Here are some of the top hotels to choose from during a visit:
Located just outside the city center is Hotel Churup. You will find comfortable rooms, free breakfast, and plenty of common areas throughout. For those solo travelers on a budget, dorm rooms are also available at the hotel.
Within walking distance of downtown you will find La Aurora. Whether you are looking for free breakfast, reliable WiFi, or an onsite restaurant, the hotel has it all. Some of the larger rooms in the hotel also include sofas and kitchenettes if need be.
→ Hotel & Bungalows Villa Valencia
About a 15 minute walk, or a very quick taxi away from the city center is Villa Valencia. You will find this to be a quieter and more relaxing place to stay, compared to directly in the city center. With friendly staff, a greenery filled courtyard, and on site restaurant, it is a great option for your trip.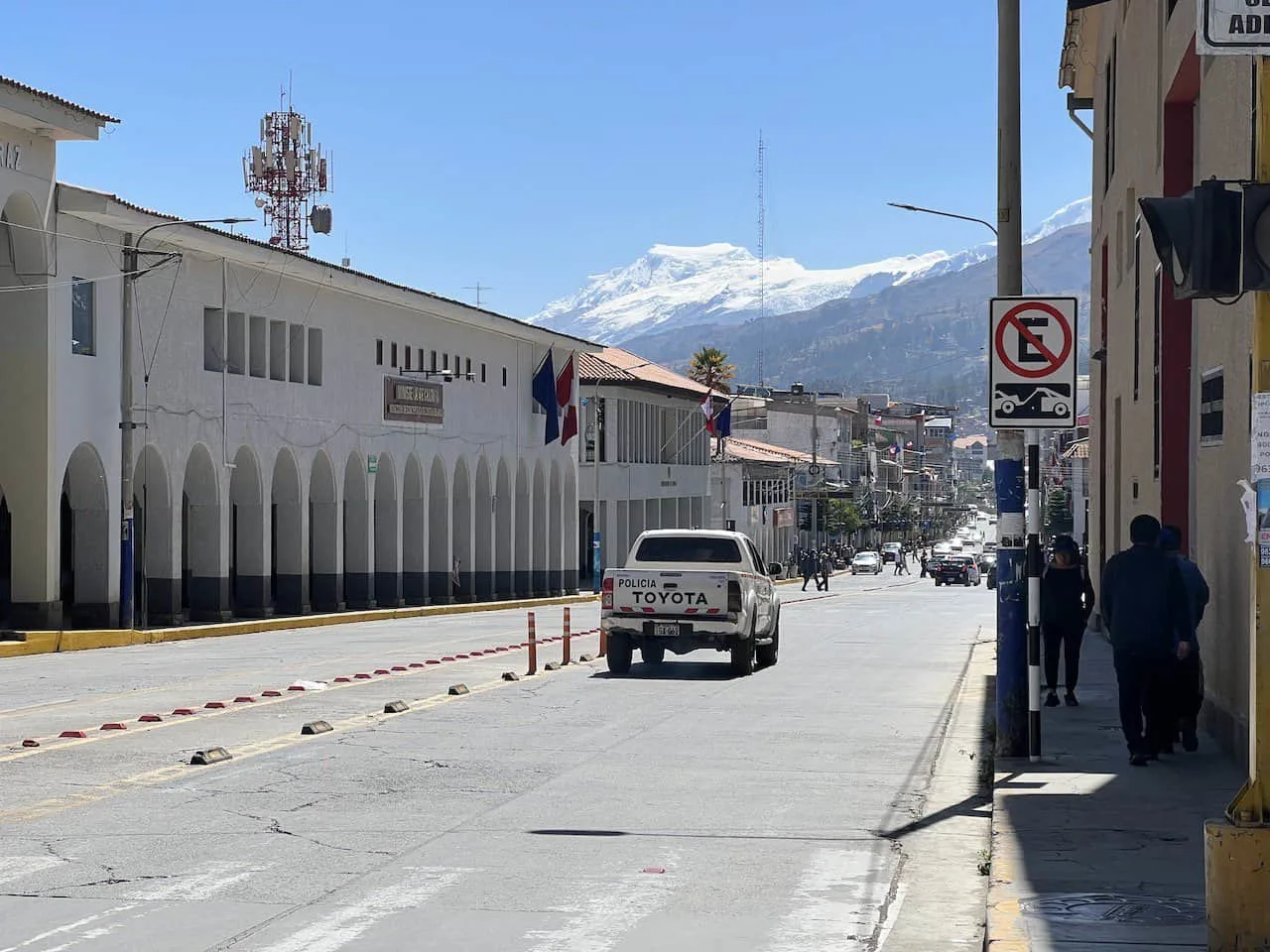 9) Huaraz Restaurants
The city is full of great restaurant options as well. During your time in Huaraz, you should be able to pick and choose various cuisines for your meals. Here are some of my favorites (as well as a few that I didn't try but come highly recommended):
Brunch
Café Andino – I came here multiple times for breakfast/lunch. They have an extensive menu that is really great for any time of day. The café itself is also a perfect spot to get some work done.
California Café – this café is just outside the town center and offers a great breakfast menu along with one of my favorite sandwiches in Huaraz.
Trivio – this can be a fit for a meal at any time of day, but I did come here for brunch. It is located in a small square and makes for a perfect spot to eat and people watch.
Dinner
Mi Comedia Pizzeria – this was by far the best pizza I had in Huaraz. It was one of my favorite meals of the trip and it is perfect after a long day out on the trails.
El Rinconcito Minero – one of the most extensive menus I have come across while traveling was at El Rinconcito Minero. They have a little bit of everything here including some fantastic fish dishes.
El Fogon – if you are looking for some delicious steak, this is the place to be.
Chilli Heaven – here you will find a mixture of Thai, Indian, and Mexican cuisine.
Wayta – if you would like to get some true Peruvian food, then Wayta is a great option.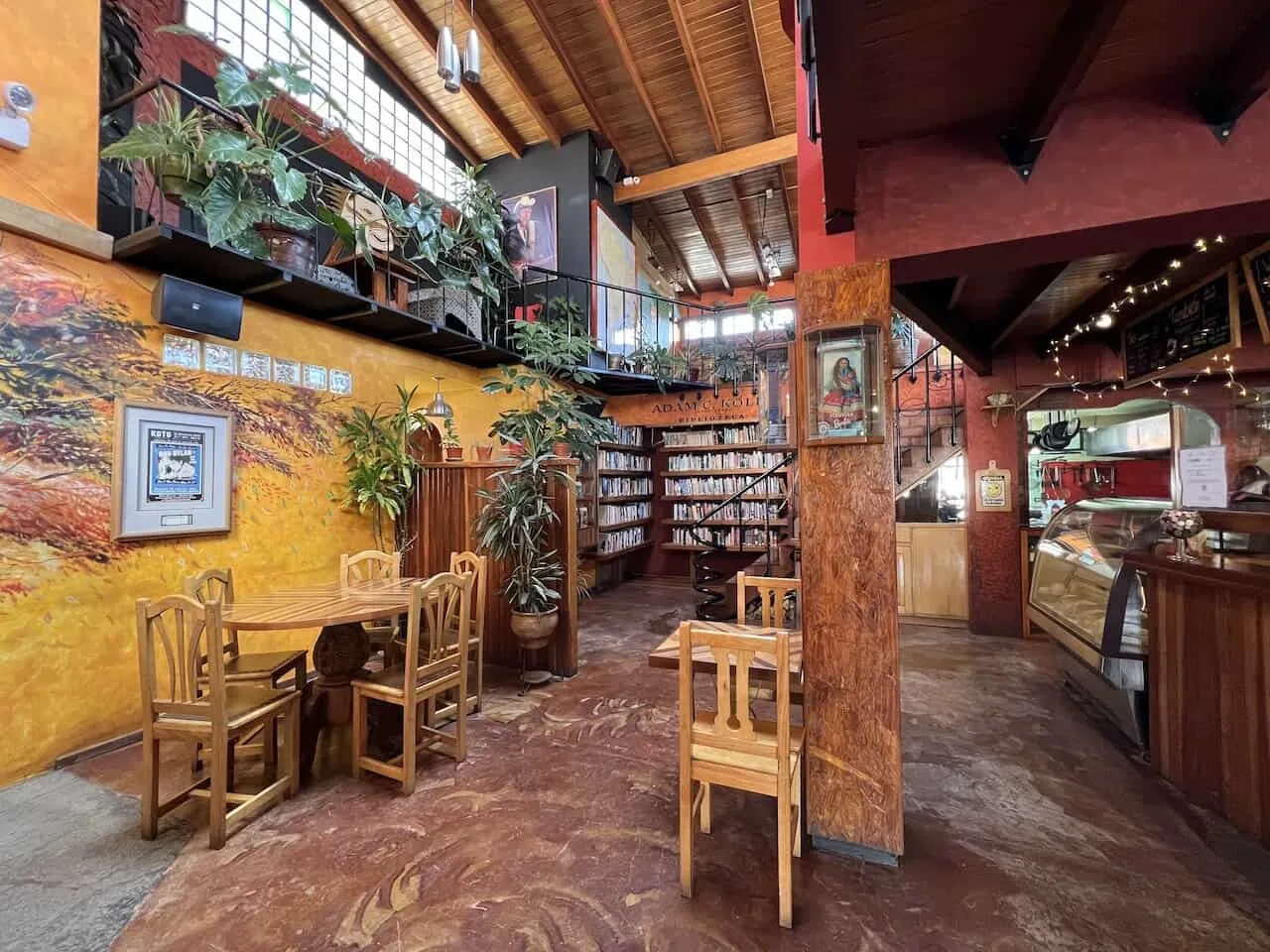 10) Huaraz FAQs & More
To wrap up, I just wanted to include some answers to the most frequently asked questions as well as include some helpful tips for your time there:
Bring Cash – be sure to take out money in Lima or once you arrive in Huaraz. Most restaurants and shops will only accept cash so head to an ATM to do so. You will find ATMs all around the city. I found Banco de la Nación on Avenida Luzuriaga to have some of the best rates (this may change over time).
Download Google Translate – this holds true for those that don't speak Spanish. Before you arrive in Peru, download Spanish onto Google Translate so you can use it offline. I found it to be very helpful throughout my time there.
Download Offline Maps – if you are not getting a local SIM or using an International plan, you should download offline maps of Huaraz. This will give you the ability to make your way around the city without cell service.
WiFi – hotels and many restaurants do offer WiFi. Just be sure to ask when your arrive.
Massages – after 10+ days of hiking the Huayhuash Circuit, getting a massage was a perfect way to relax. Check out Centro De Masajes Huaraz for the spot I went to.
How Many Days Do You Need in Huaraz
If you are taking on a longer trek like the Huayhuash or Santa Cruz hike, I would recommend spending three days in the city prior to heading on the hike.
Your day of arrival can be spent just within the city center itself. You can walk around, visit some sites, grab some food, and buy any last minute gear.
I would then recommend two day hikes, to get your body ready for the hiking that is yet to come. These hikes will take you up to 15,000+ feet, and will help the acclimatization process.
You should then plan to spend one day after your hike in Huaraz, to give you time to relax, before heading out the following day.
If you are just visiting Huaraz for day hikes, then I would recommend 3-4 days altogether. This essentially will give you the chance to take part of 2-3 hikes with an additional initial day just staying within the city center.
Is Huaraz Worth a Visit
Whether or not you are taking part of a longer trek, Huaraz is certainly worth the visit for its day hike accessibility. Some of the best hikes in Peru are located within driving distance from town. Lakes, mountains, rivers, and plenty of mountains will be just outside your doorstep.
Honestly, if it was not an 8+ hour bus ride, I would probably recommend Huaraz for any Peru itinerary. However, due to its more remote location, I am not surprised that fewer people make the way up there.
If hiking is a priority for you though, then Huaraz should be on the top of your list!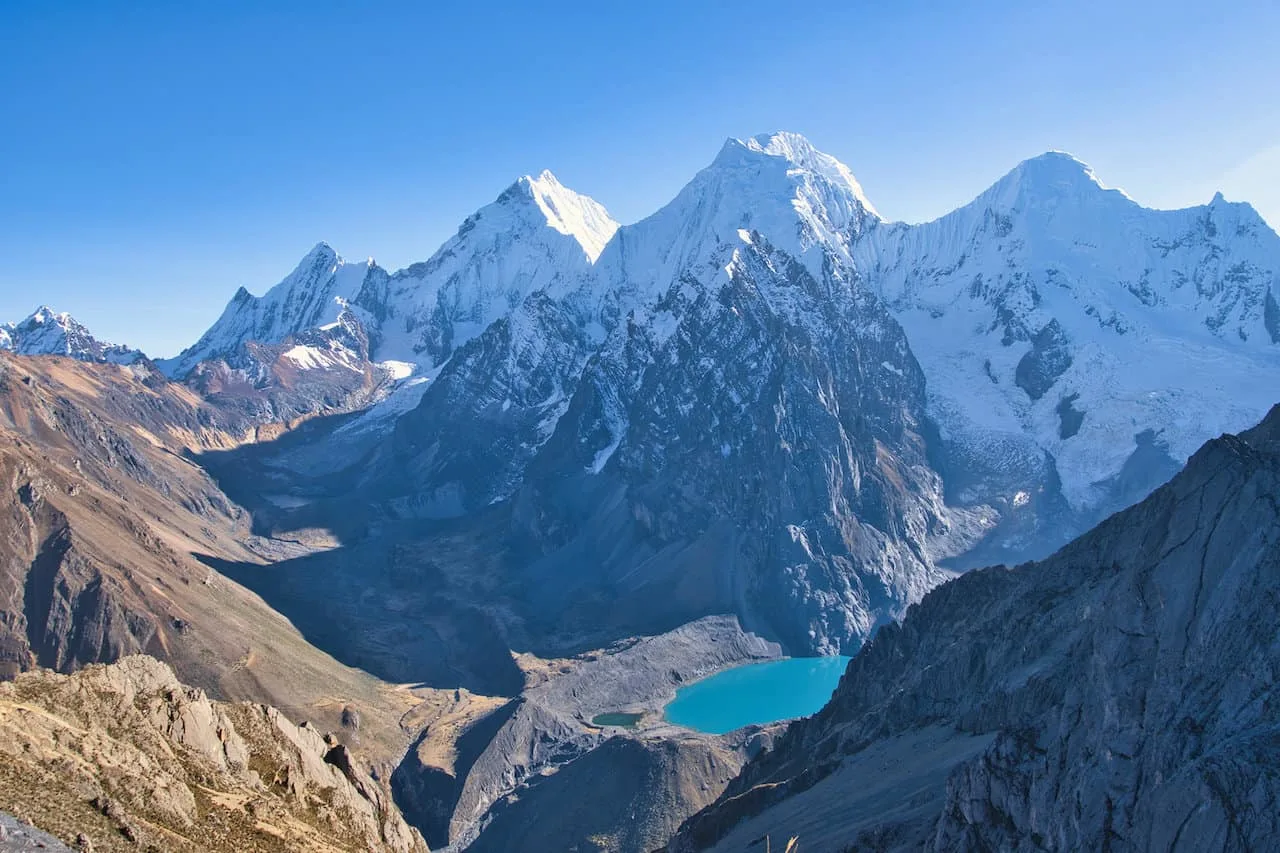 That wraps up a guide to Huaraz, Peru! If you have questions or comments about the city, feel free to add them in below.
Also, don't forget to check out the other Peru itineraries and guides up on the site.
Have fun out there and safe travels!