When it comes to hikes around Huaraz in the Cordillera Blanca mountains, Laguna Churup should be towards the top of the list.
The trailhead is located just 45 minutes away from Huaraz, with the trail taking you towards one of the most beautiful lakes in the region.
Laguna Churup makes for the perfect day hike or acclimatization hike for your time in Peru, and you are sure to enjoy what this trail has to offer.
Read on to learn all about the Laguna Churup hike and how to complete it on your own.
* Affiliate Disclosure: This post may contain affiliate links, which means I may receive a commission if you make a purchase through the links provided, at no additional cost to you. Thanks for supporting the work I put into TripTins!
1) Laguna Churup Hiking Details
First things first, let's talk through some hiking details regarding Laguna Churup. Note that the stats below reflect the round-trip route.
Hike Name: Laguna Churup
Trailhead: Pitec (GPS Coordinates: 9°30'20.6″S 77°26'32.5″W)
Trail Length: 3.8 miles / 6.1 km
Elevation Gain: 1,985 feet / 605 meters
Lake Churup Altitude: 14,600 feet / 4,450 meters
Trail Type: Out & Back Lollipop Trail
Duration: 4-5 Hours
Overview
The trail to Laguna Churup begins in Pitec, as it continuously gains elevation towards the lake itself.
Just over a mile into the hike, the trail splits into two, creating a "lollipop" shaped route.
To the right, is a more technical ascent with metal chains helping hikers onto the next portion of trail. To the left is an easier route that will wrap around to the lake.
The popular way to go about it is to stay to the right at this intersection, head to the lake, and then wrap around on the secondary trail back to the intersection.
On the map in the following section, you can better understand what the shape of the route entails.
Laguna Churupita
While Laguna Churup is the main attraction, it is also possible to head even further up to the smaller Laguna Churupita.
If you would like to add this second lake (which I would highly recommend), expect an additional 1.5 miles / 2.4 km, 550 feet / 170 meters, and one hour duration to your overall hiking stats.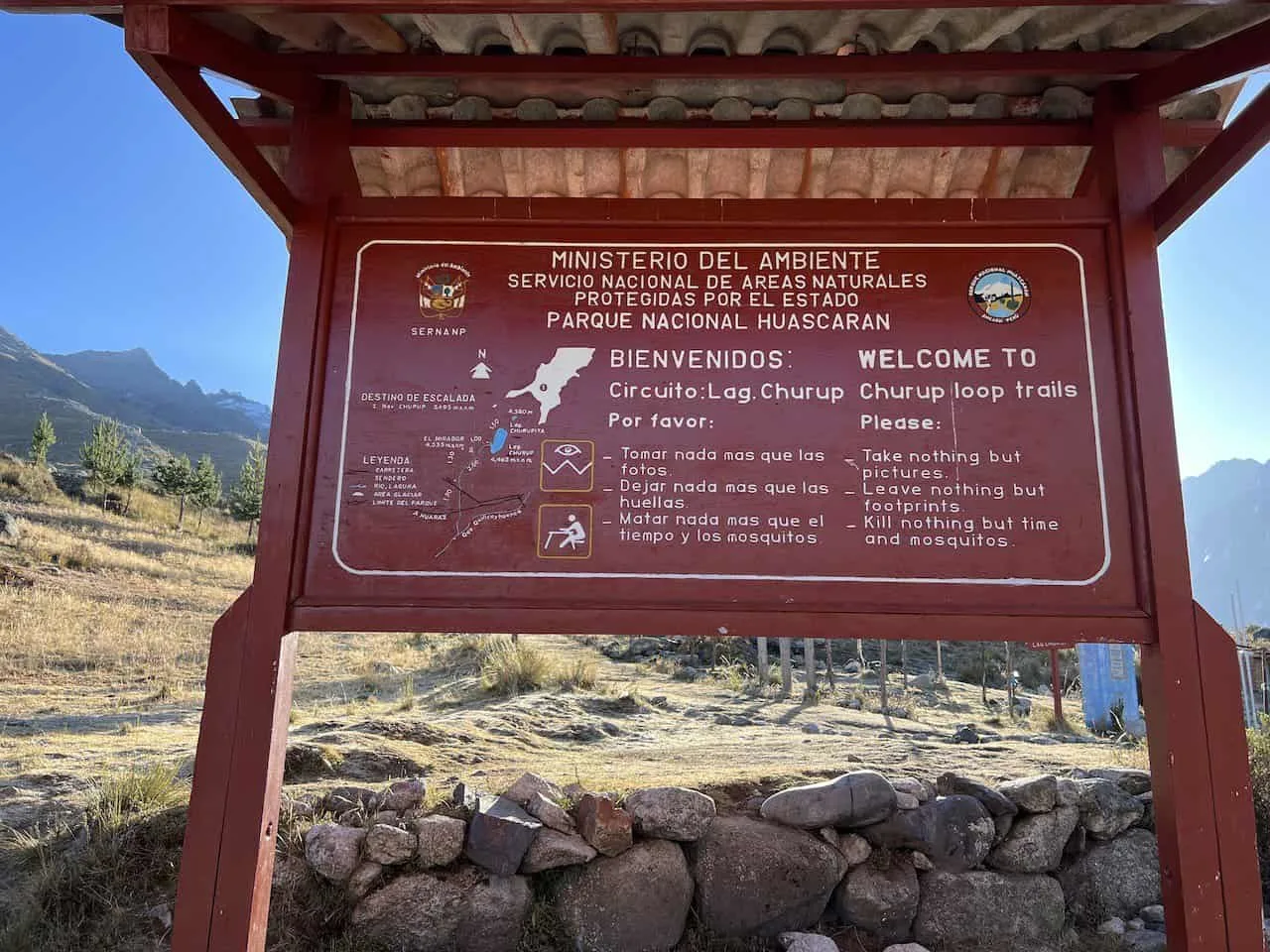 2) Laguna Churup Map & Location
Below you can find the hiking map for Laguna Churup. The map includes the main lollipop route to the lake, in addition to the optional add on of Laguna Churupita.
For navigation purposes, I would recommend downloading the route onto an app like AllTrails or Maps.me.
3) How to Get to Laguna Churup from Huaraz
The drive from Huaraz to the trailhead takes just 45 minutes, as you head up into the mountains on the outskirts of town.
In general, there are three main ways to get to Laguna Churup from Huaraz.
You can take a colectivo (shared van), hire a private taxi, or join a guided tour. There are pros and cons to each, which I will lay out below.
Laguna Churup Colectivo
One of the most popular ways to go about your day is to take a colectivo to and from the trailhead in Pitec.
A colectivo is essentially a shared taxi van, where everyone pays a small fee for the ride. The round trip colectivo from Huaraz to Pitec costs 20 Sol round trip / 10 Sol each way.
When it comes to most affordable options, this will be it. Spending just $6 USD to make the round trip drive to the trailhead is the most price conscious of options.
These colectivos leave around 7:00AM from the intersection of Avenue Agustin Gamarra and Avenue Antonio Raymondi.
Once there are enough hikers (usually 7-10 people), the colectivo will make its way to Pitec.
While these type of things can change day to day, I have heard that the colectivo sometimes leaves right at 7AM, while in other instances it can be closer to 8AM.
For the way back, the colectivo driver will let everyone know what time the return trip will depart at. Usually this is around 1:00PM, but always be sure to ask so you don't miss the ride.
All said and done, you should hopefully have around 5 hours to complete the hike. This will be just the right amount of time for the hike + hanging by the lake.
If you are also trying to head up to Laguna Churupita, that may not be possible depending on your overall fitness level / speed of hiking.
Private Taxi
Another way to go about the drive from Huaraz to Pitec is by private taxi. You can either find a taxi in town or have one of the local tour agencies (or your hotel), set one up for you.
These taxis can take you to Pitec, wait for you to complete your hike, and then take you back to Huaraz once back at the trailhead.
By doing so, you can leave on your own time schedule, and not worry about time constraints that the colectivo has.
You can expect a full day taxi to cost around $40 – $50 USD.
Of course, this is more on the expensive side, but if you are 4 people for example, that can be a marginal price increase compared to the colectivo (and you can arrive early to beat the crowds).
Laguna Churup Tour
The last option to consider is a Laguna Churup tour. To be honest, I do not think a tour is necessary unless you are not an experienced hiker.
Following the trail is relatively straightforward, as long as you are paying attention and have your navigation app handy (just in case).
While there are some trickier sections on the trail (which I will get to in the overview), I still do not feel like a guide is needed for most hikers out there.
Of course, if you want to have a more stress free day with transport taken care of & a guide by your side, then joining a tour could be right for you.
Again, this is something your hotel can set up or you can simply sign up with a local agency in town.
Be sure to check out the Huayhuash Circuit resource page that includes many helpful travel guides to get you prepared for the trek.
4) Acclimatization & Difficulty
When it comes to hiking around Huaraz, you will be dealing with some pretty significant elevations.
Huaraz itself is at 10,000 feet, with many nearby hikes taking you all the way to 14,000 – 15,000 feet (including this one).
Due to the elevation, the hiking itself will be much more difficult than a standard day on the trail. With every step you take, you will feel that difficulty with the thinner oxygen at altitude.
In general, when hiking at altitude, you will want to consider the concept of acclimatization. This is the idea that your body has to slowly get used to the higher elevation and lower amount of oxygen.
As you spend more time at altitude, your body will be able to perform at higher levels as it acclimates to its surroundings.
So, before you just get right into hiking when you arrive in Huaraz, it is advised to first just spend a day in the city itself walking around. This will give you some time to acclimatize before hitting the trails.
You should also hydrate properly, get some good sleep, and take medication if needed.
Once you are feeling good to go, you can then take on the hike to Laguna Churup.
On the trail itself, be sure to take things slowly as well. You do not want to try and rush through it and overexert you body.
Take breaks as needed, continue to hydrate, and slowly make your way up to the lake itself.
Note: Laguna Churup is a fantastic acclimatization hike for the longer Huayhuash Circuit. Feel free to check out that guide to learn more about this once in a lifetime experience.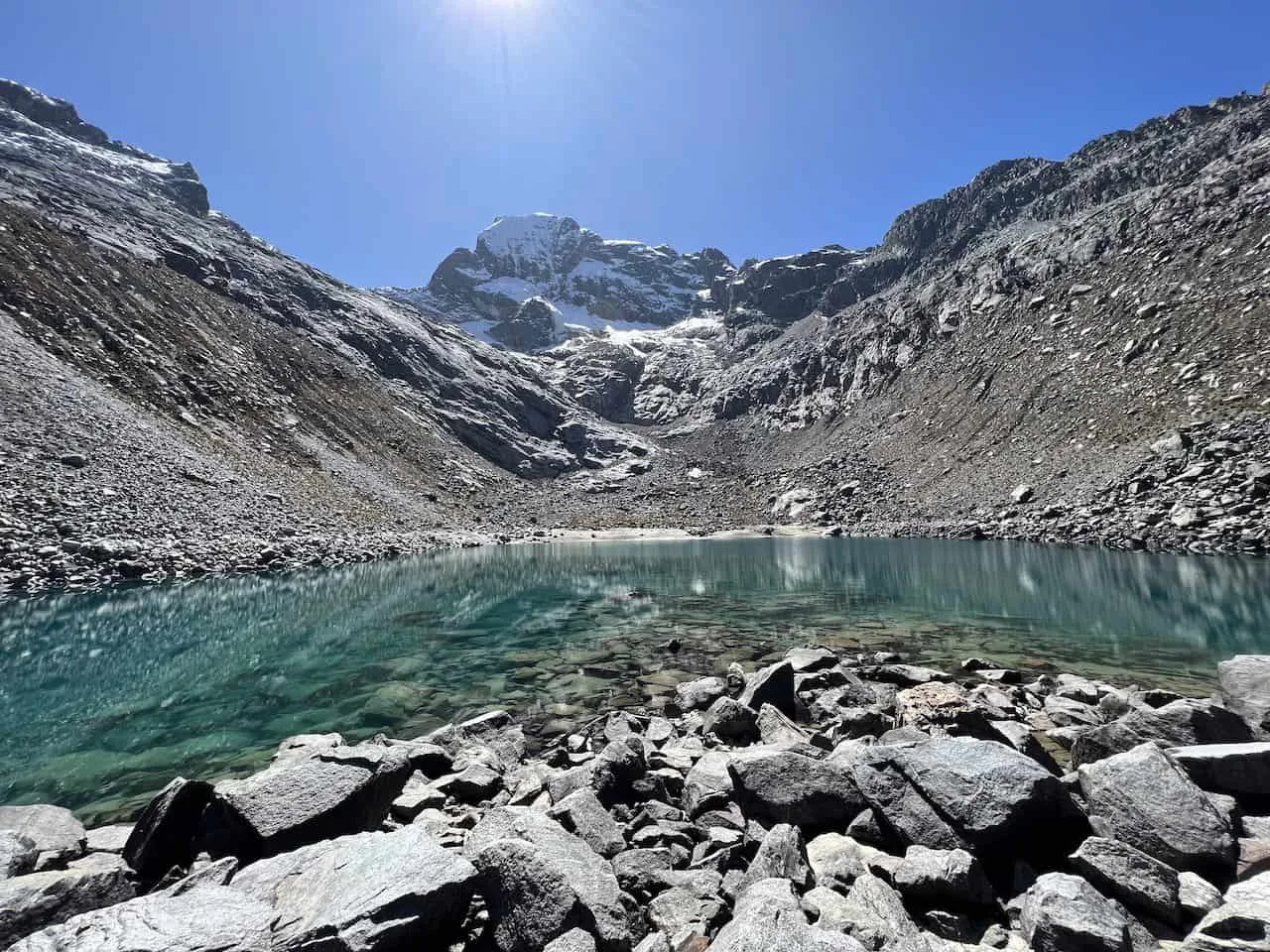 5) Huaraz Weather
When it comes to the weather around Huaraz (including Laguna Churup), there are two main seasons to consider.
The dry season of the region runs from May until September, and the wet season from October to April (with a bit of overlap on either side).
During the dry season, you will have a higher chance of clear & calm weather, while in the wet season you are more likely to come across rainy & cloudy skies.
With that said, the wet season can have some nice days, while the dry season can bring rain as well.
At the end of the day, by planning a trip during the dry season, you are giving yourself a better chance of having clearer skies & more enjoyable hiking days.
For weather forecasts, you can check out the Meteoblue forecast for Laguna Churup. Try and choose a day to hike with a higher amount of hours of sun and little rain.
6) Laguna Churup Entrance Fee
Laguna Churup is located within the larger Huascaran National Park. In order to enjoy the hikes & lakes that are part of Huascaran, you must pay an entrance fee.
The costs are pretty reasonable with a one day ticket at S/ 30 ($8) or a 2-3 day ticket at S/ 60 ($16). There is also the option to purchase a monthly ticket for S /150. If you are taking part of additional hikes like Laguna 69, then you can buy that multi day ticket.
Around 45 minutes / 1 hour into the hike you will come across a small structure, where tickets are sold. Simply pay the park rangers for the ticket, and be on your way along the remainder of the trail.
Don't forget – keep that ticket safe if you plan on using it again.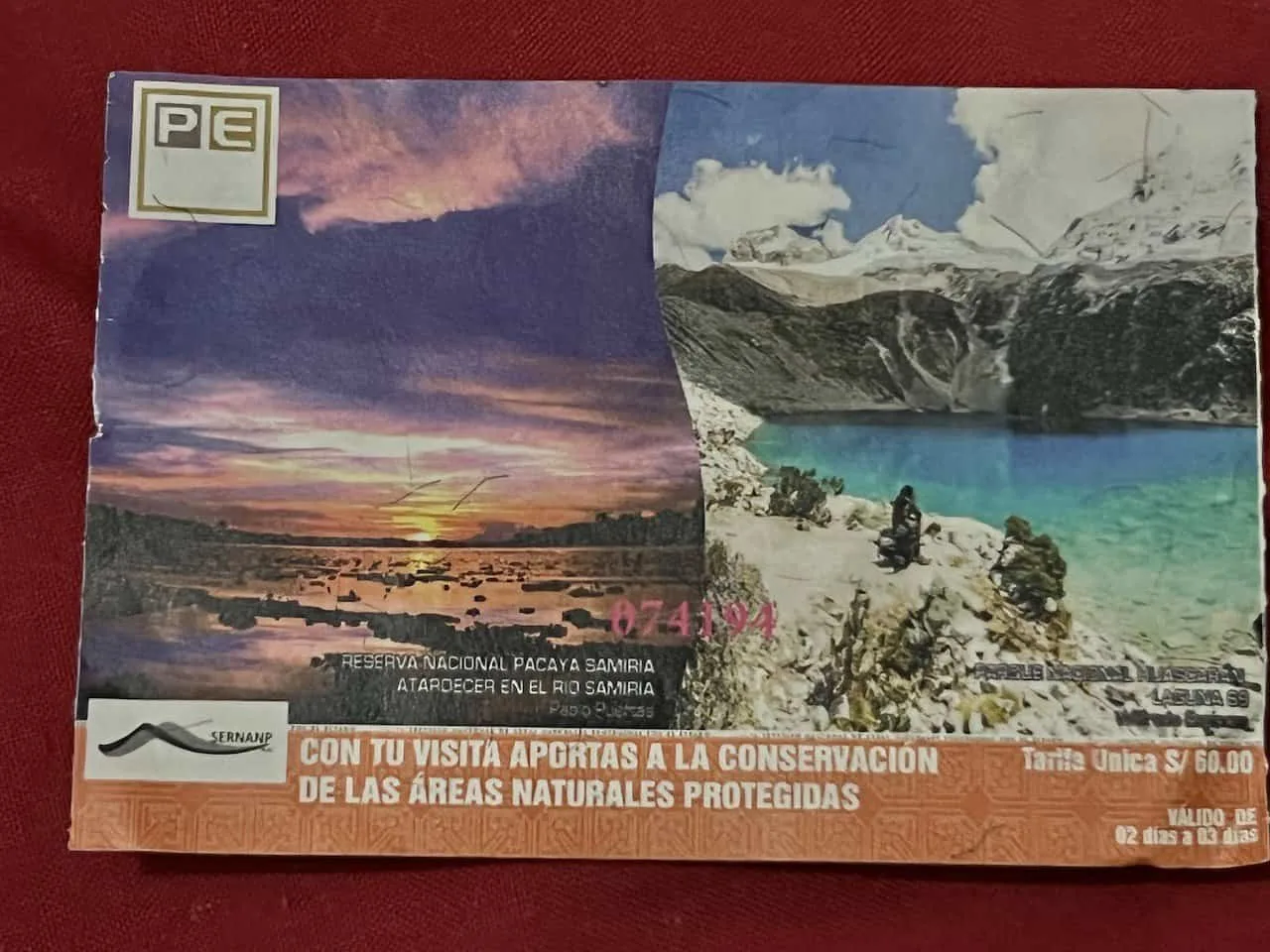 7) What to Pack
When hiking in Peru, you will want to prepare for all sorts of weather. That could be sun, wind, rain, or even some snow. As you put together a packing list, there are several items to consider.
Below are my recommendations on what a day hike packing list should look like:
In general, I found layering to be the upmost important part of a hike. For the Laguna Churup hike, I would recommend the following layers:
→ Hiking Shorts
→ Hiking Pants
→ Short Sleeve Shirt
→ Long Sleeve Shirt / Sun Hoodie
→ Mid Layer Fleece
→ Puff Jacket (not always needed)
→ Packable Rain Jacket (Columbia Watertight II)
→ Hiking Shoes (Recommendation: Keen Targhee)
→ Hiking Socks (Darn Tough)
Additional day hike recommendations include:
→ Hiking Backpack (Osprey Talon 22) & Rain cover (Joy Walker Cover)
→ Water Bottle (Katadyn BeFree) & Nutrition
→ Portable Charger (Anker PowerCore 5000mAh)
→ Hat & Sunglasses
→ Sunscreen & Bug Spray
→ Action Camera – GoPro Hero
» Be sure to check out the Hiking Packing List guide I put together that will go through all of it and more
8) Peru Travel Insurance
Considering travel insurance for Peru?

World Nomads offers coverage for more than 150 adventure activities as well as emergency medical, lost luggage, trip cancellation and more.

For years, World Nomads has been protecting, connecting & inspiring independent travelers, offering travel insurance & safety advice to help you travel confidently. Their mission is to support and encourage travelers to explore their boundaries.

World Nomads has simple and flexible travel insurance that has been designed by travelers for travelers. Even if you leave home without travel insurance or your policy runs out, you can buy or extend out on the road.

Get a quote for a World Nomads travel insurance policy today!
9) Where to Stay in Huaraz
When it comes to accommodation in Huaraz, you will find many options all around the city. These range from hostels up to higher end hotels.
Ideally you are within the main city center or just a quick 10-15 minute walk away.
Here are some of the top hotels to choose from during a visit:
Located just outside the city center is Hotel Churup. You will find comfortable rooms, free breakfast, and plenty of common areas throughout. For those solo travelers on a budget, dorm rooms are also available at the hotel.
Within walking distance of downtown you will find La Aurora. Whether you are looking for free breakfast, reliable WiFi, or an onsite restaurant, the hotel has it all. Some of the larger rooms in the hotel also include sofas and kitchenettes if need be.
→ Hotel & Bungalows Villa Valencia
About a 15 minute walk, or a very quick taxi away from the city center is Villa Valencia. You will find this to be a quieter and more relaxing place to stay, compared to directly in the city center. With friendly staff, a greenery filled courtyard, and on site restaurant, it is a great option for your trip.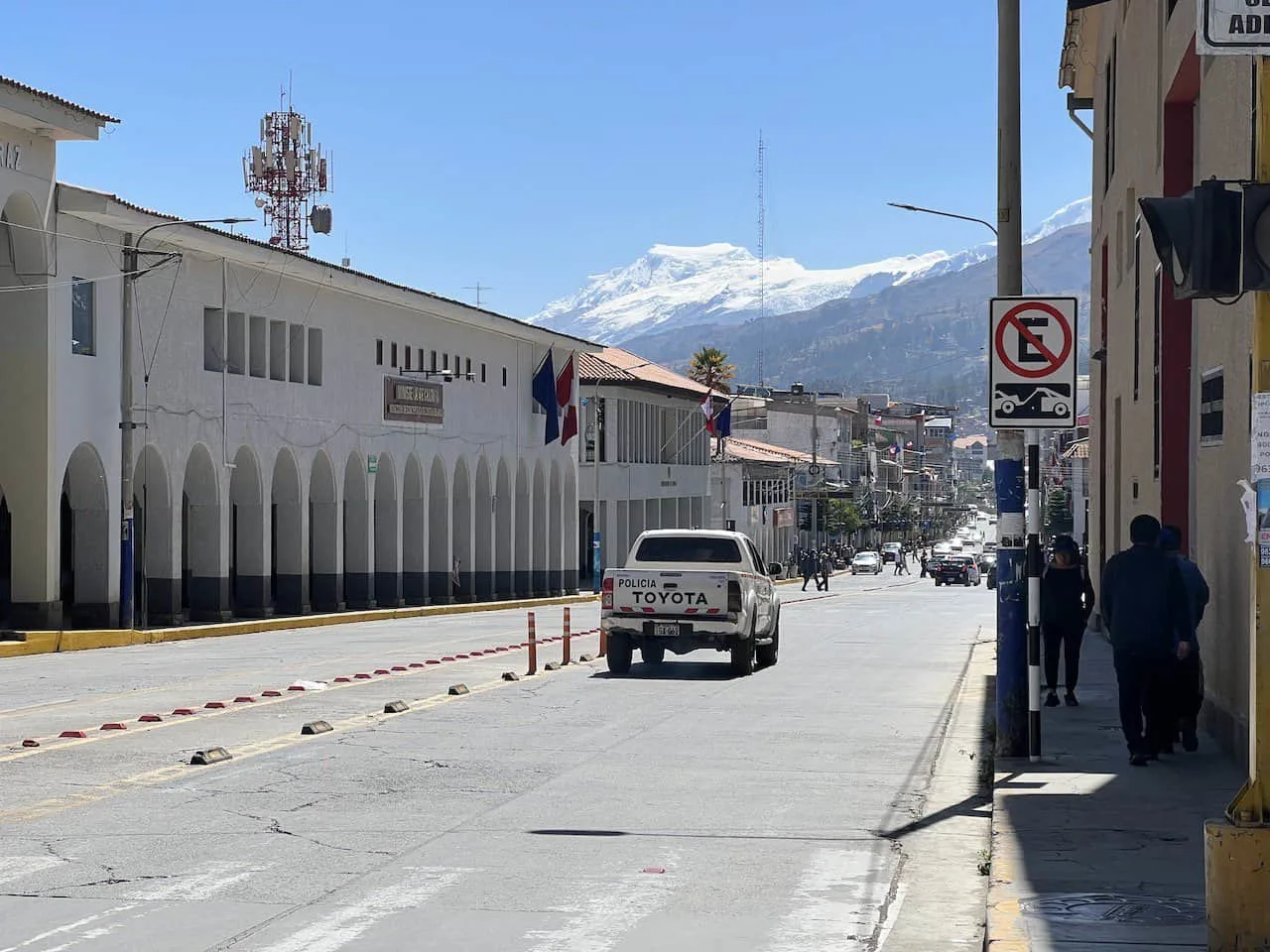 10) Laguna Churup Hike
By now, you should have all the information you need to know to get yourself to the starting point of the hike.
Let's now dive into the hike itself and what to expect out on the trail.
I will break up the hike in a few different sections, so you can get a better idea of what the trail will look like.
Trailhead to Junction Intersection (1.3 miles / 2.1 km)
The first section of the Laguna Churup trail will take you from the trailhead to the intersection, where you can head in one of two ways.
Once you get dropped off in the Pitec parking lot, simply make your way to the opposite side of the street, where you will come across the main trail sign.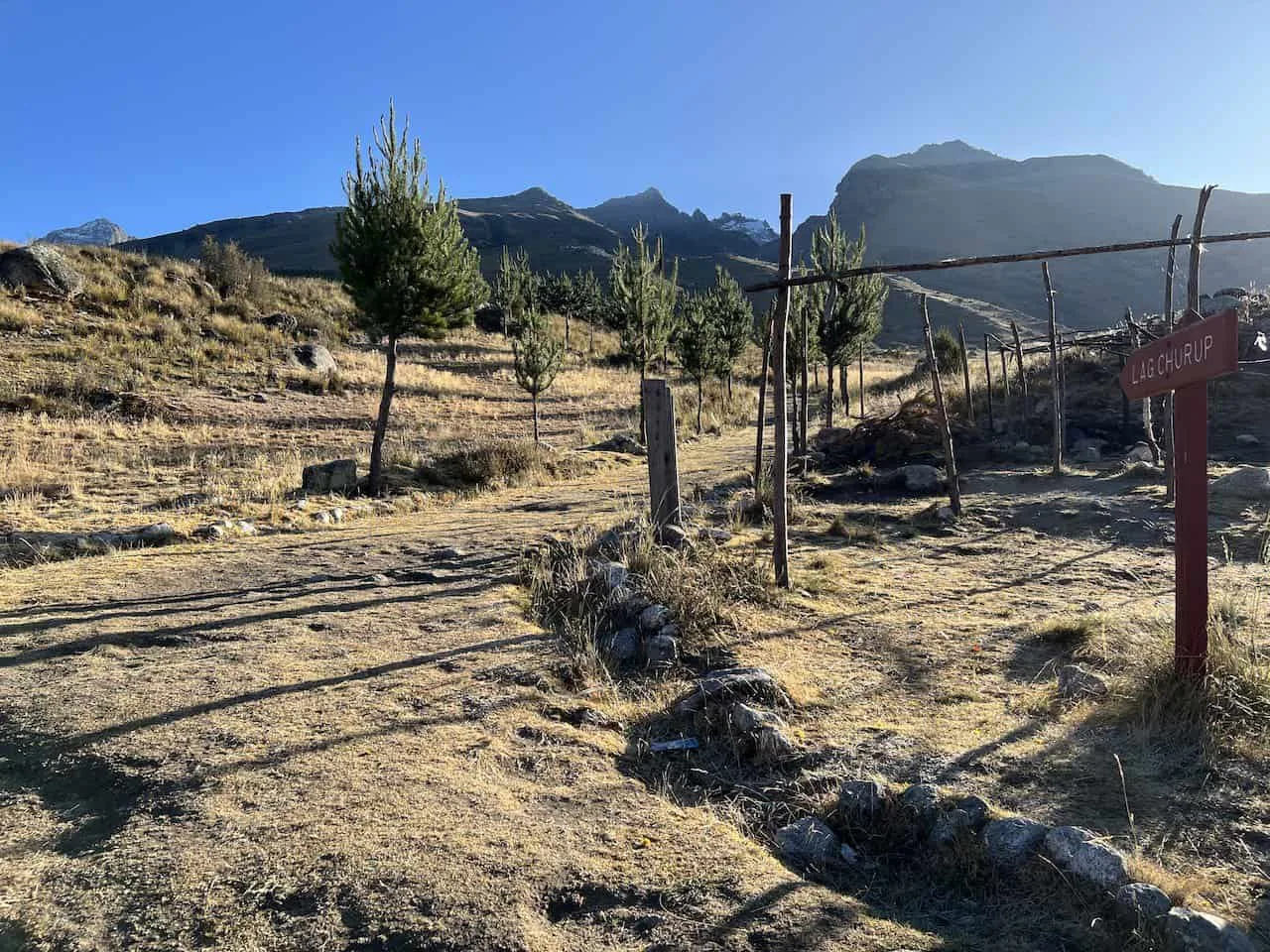 The route itself is obvious and easy to follow as you begin the hike up to the lake. You will have some trail signs here or there, but you shouldn't have much trouble figuring it out.
Pretty much immediately, the trail will begin to gain elevation up along the hillside.
The terrain will be a mixture of dirt trail and rocky steps to better help you with your footing.
As you gain that elevation, the views out behind you and off to the side will begin to get better and better.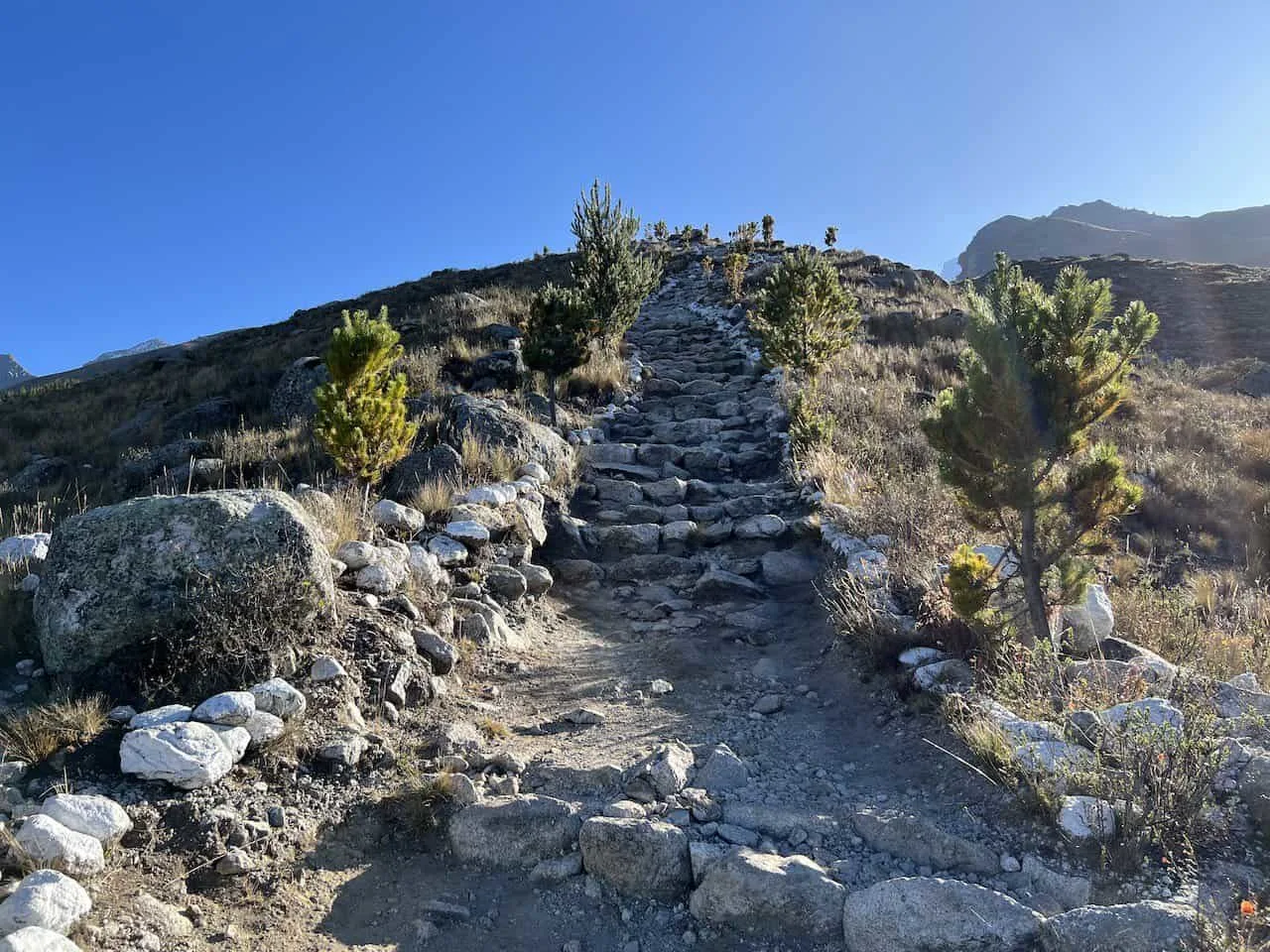 Along the way up, you will pass by two open air structures. These are the perfect spots to take a break, hydrate, get out of the sun/rain, and just enjoy the view.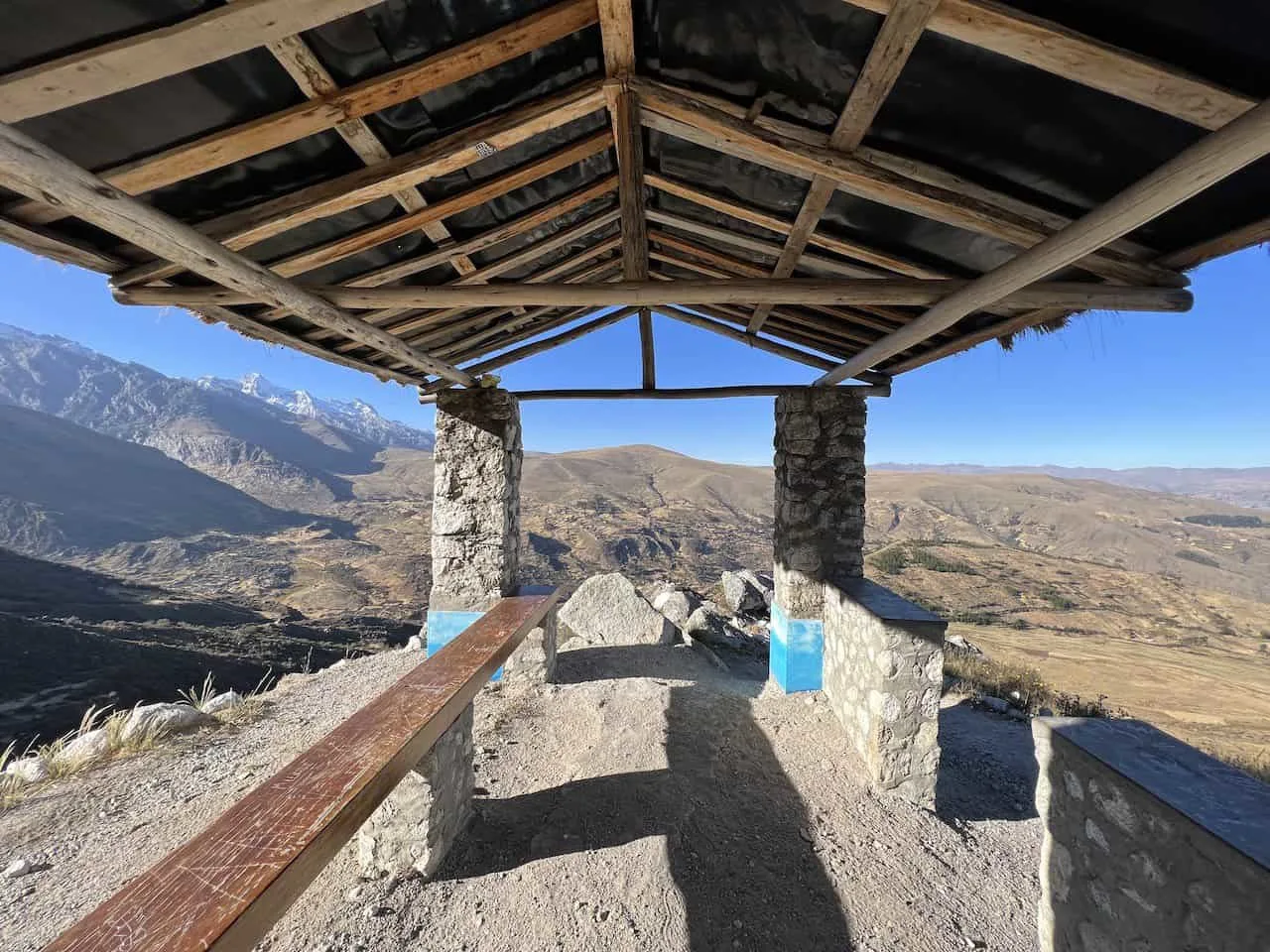 About 10 minutes after the second rest spot, you will come across the Huascaran "Caseta De Vigilancia y Control Churup". You will buy your entrance ticket, before continuing along.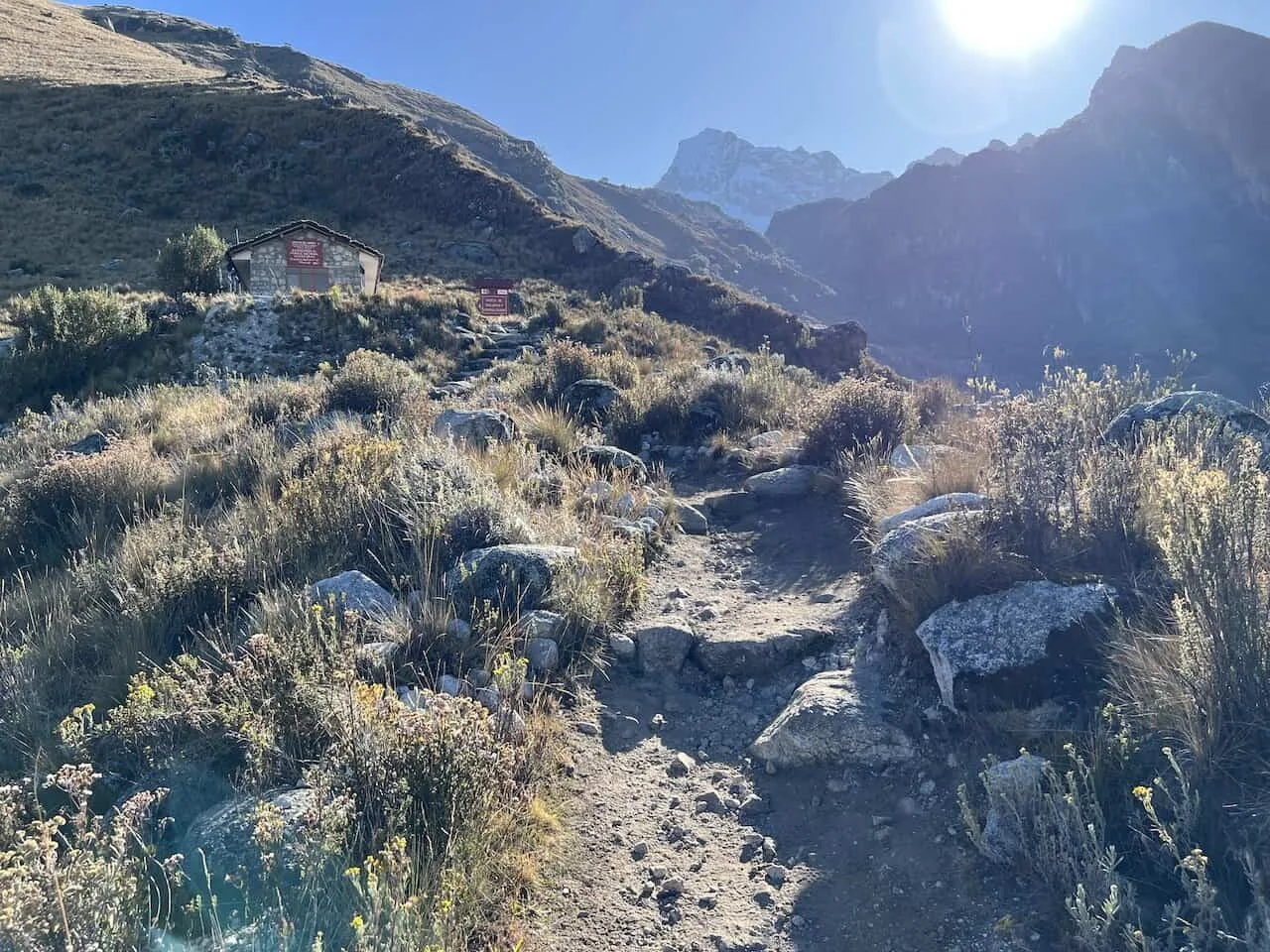 After this point, you will find that the trail does get a bit rockier and less obvious at points. Don't be surprised if you find two nearby paths that are parallel to one another, that meet right back up.
You will also come across a section here with a metal chain to help you up some larger rocks. This is the first of two chain sections (but is much easier than the one later on).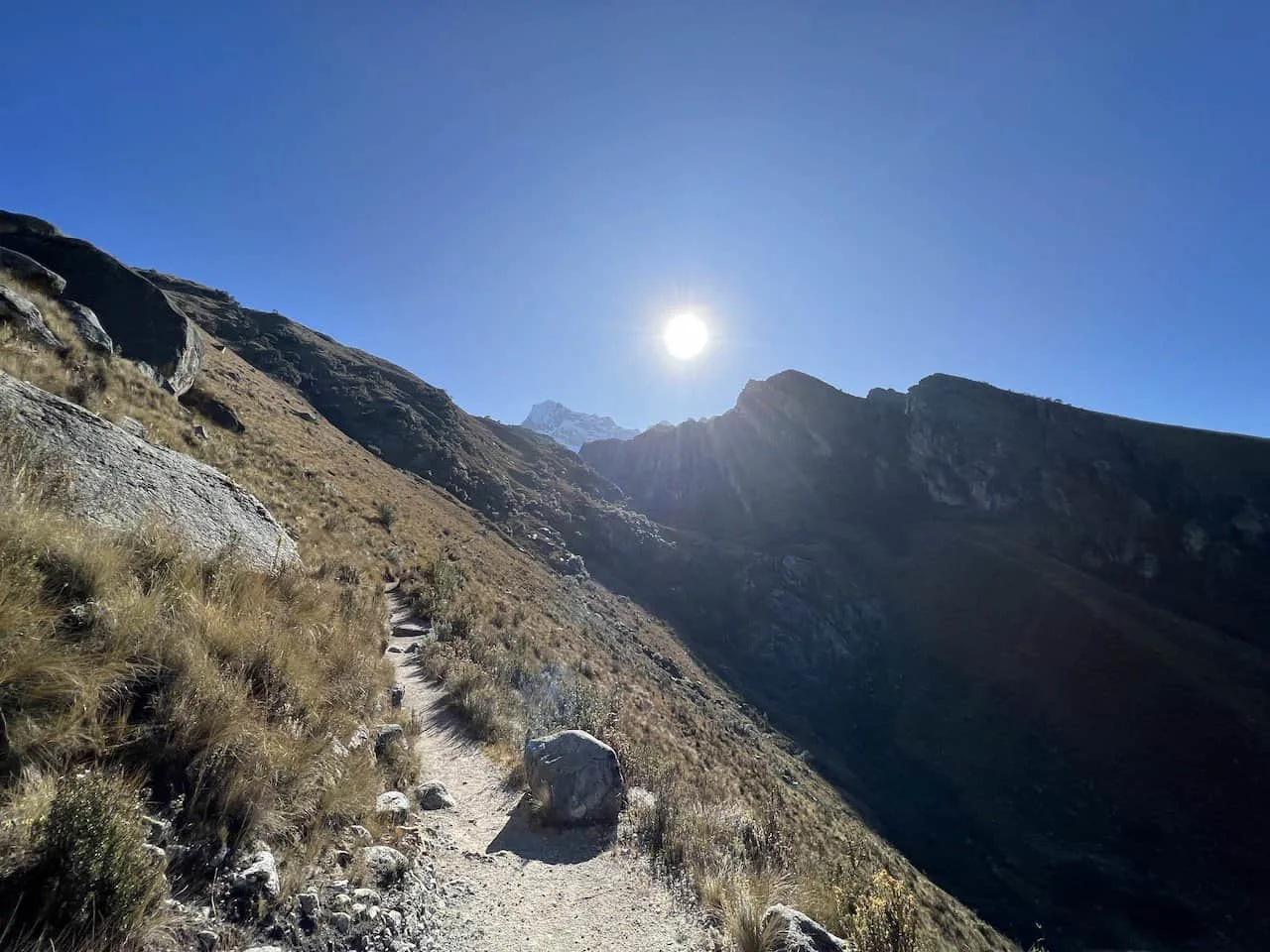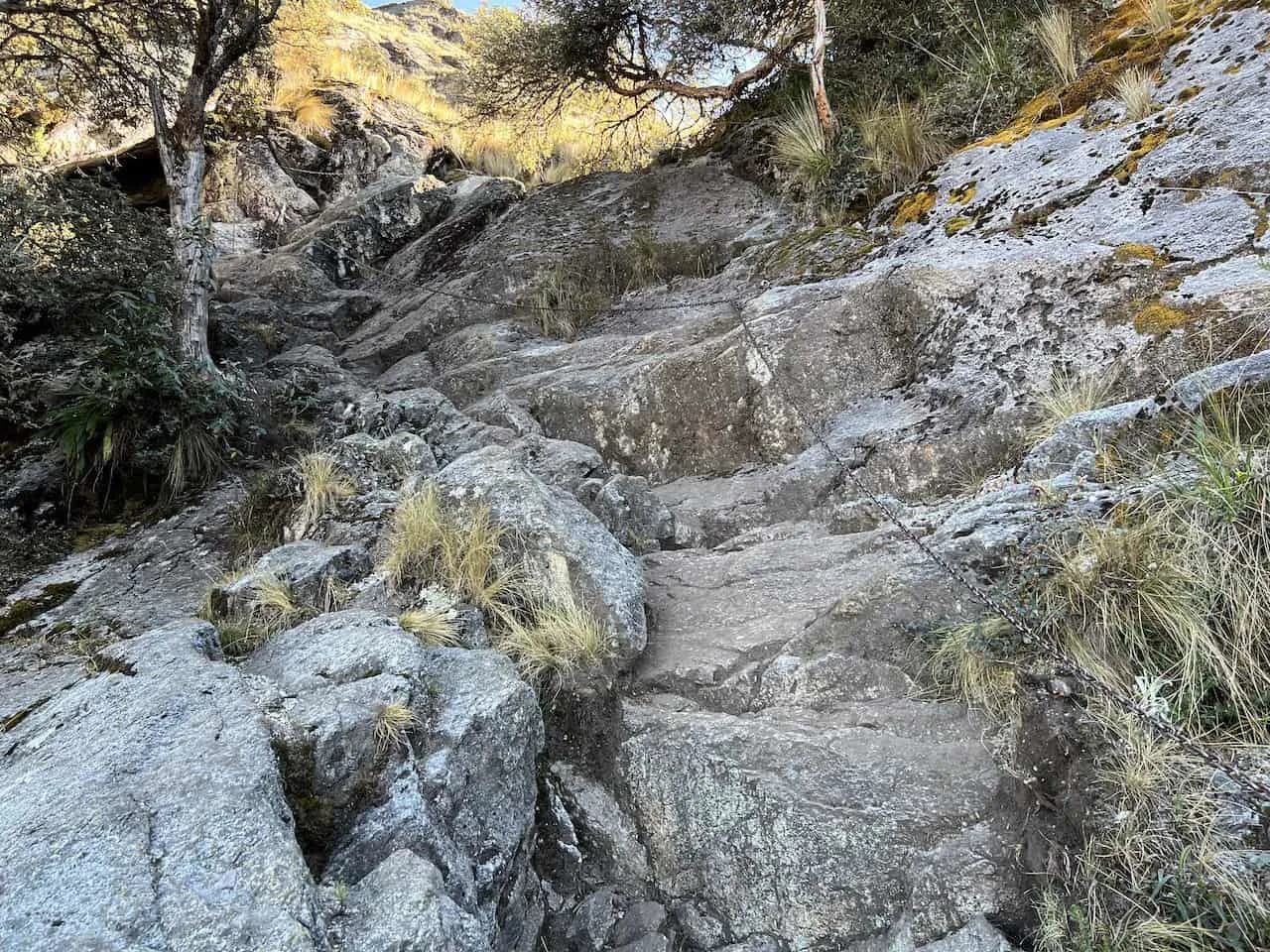 Once over the chain section, continue up the rocky terrain, and you will soon reach the intersection. While there isn't a trail sign signaling an intersection, you will want to follow the signs pointing you to "Area De Campamento".
Below are some photos that show the area nearby the intersection (but double checking your navigation app will always be helpful).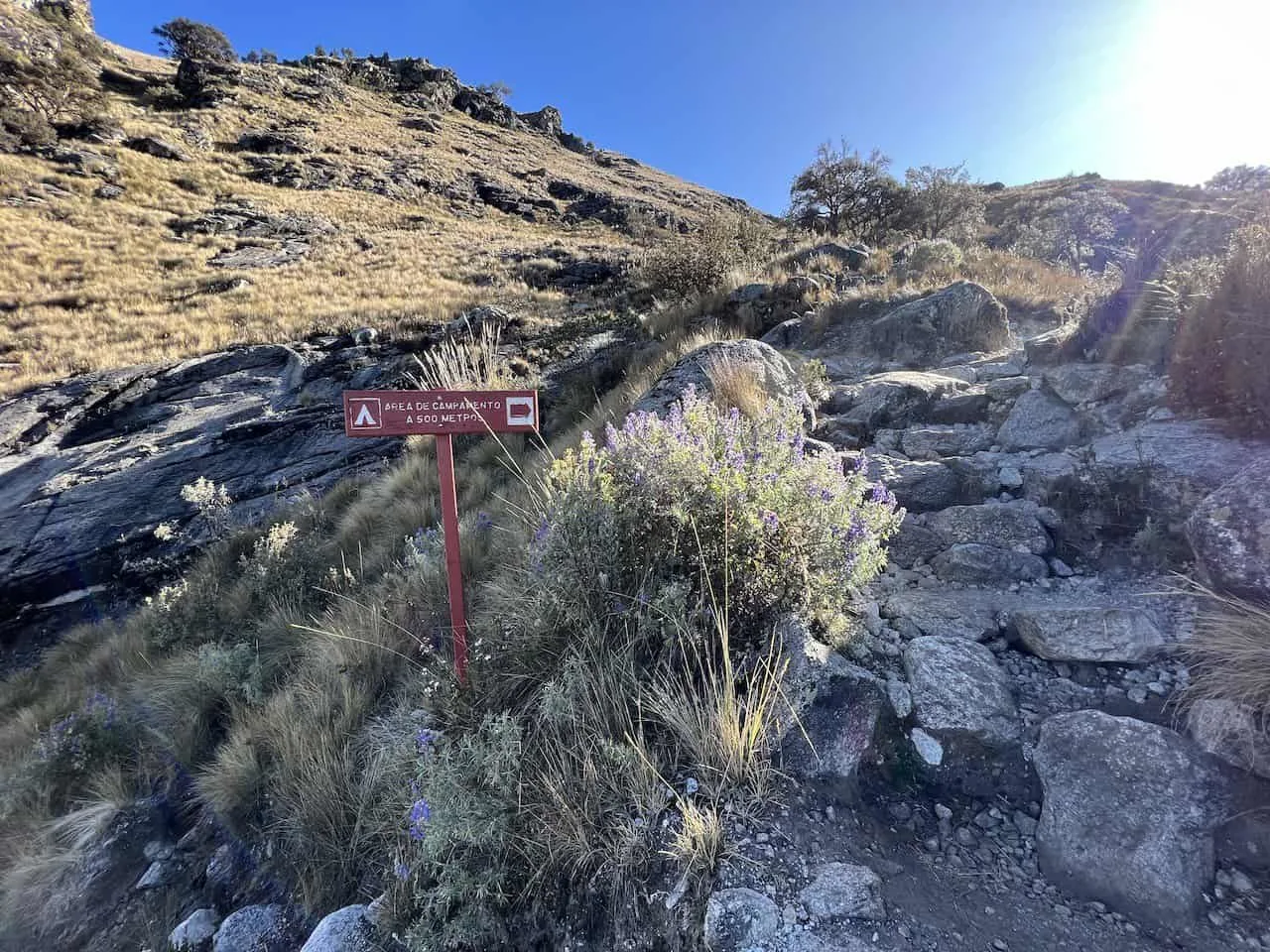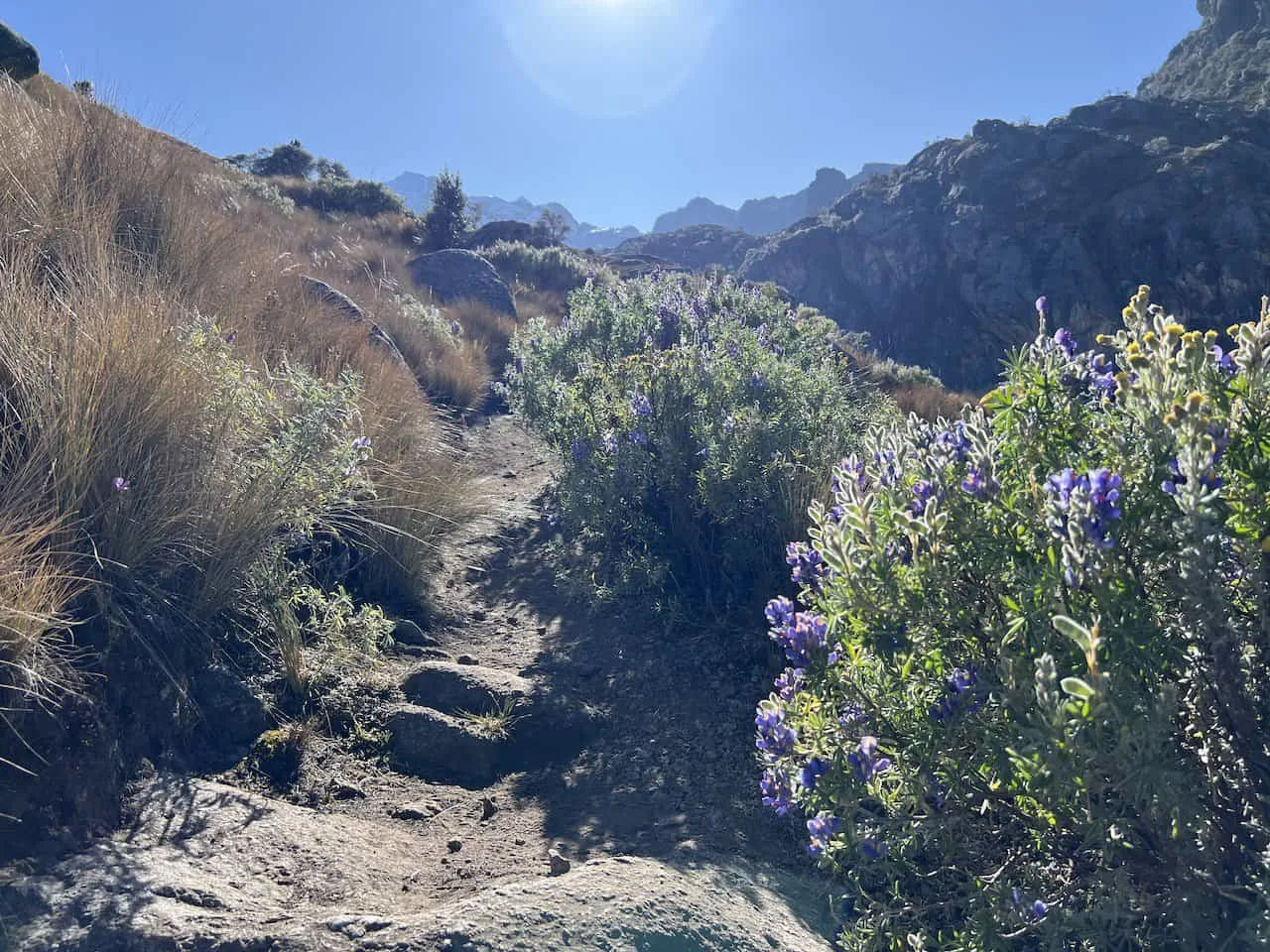 If you are not comfortable with the technical metal rope section, then do not follow this route. Instead, you will want to head towards the left, which will lead you on a secondary trail towards the lake.
This secondary trail is what I would recommend taking back on the way down. This is both to change things up a bit, and to avoid going down the chain section (which in my opinion would be much more dangerous).
Junction Intersection to Laguna Churup (0.6 miles / 1 km)
From the intersection, you can follow the path heading straight towards the waterfall, which you should see further out in the distance.
At the base of the waterfall, you will find a campsite area, which can be used for those campers out there.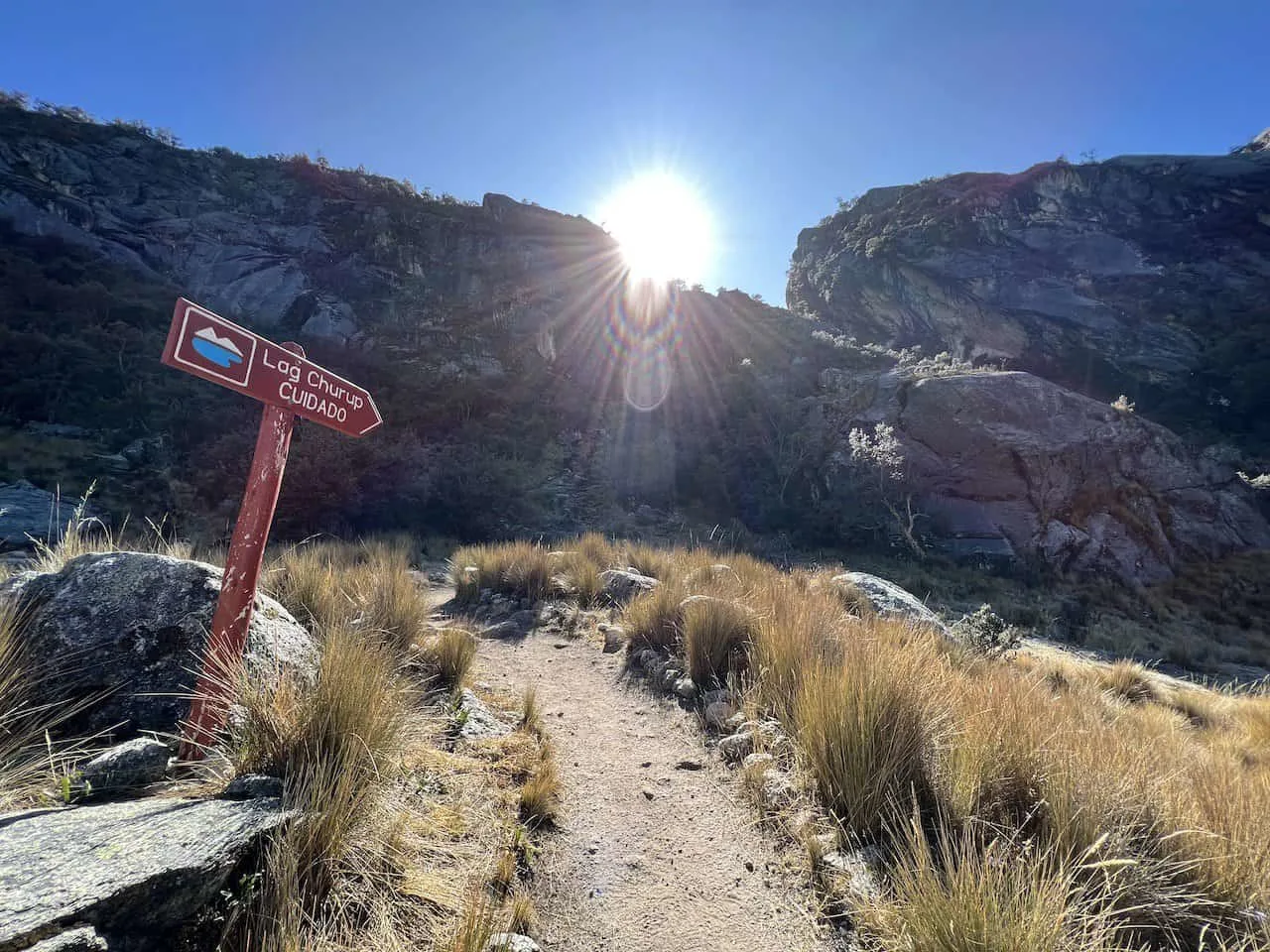 Just past the campsite area, you will begin the most technical part of the hike. The trail begins a steep rocky ascent up and over to the final portion of trail.
Since the trail here is pretty steep, there are a few different metal chain sections to help you out.
Simply use the ropes to balance yourself as you bring yourself higher up on the route.
As long as you take it slowly and watch your step, you should not have much issue getting yourself up.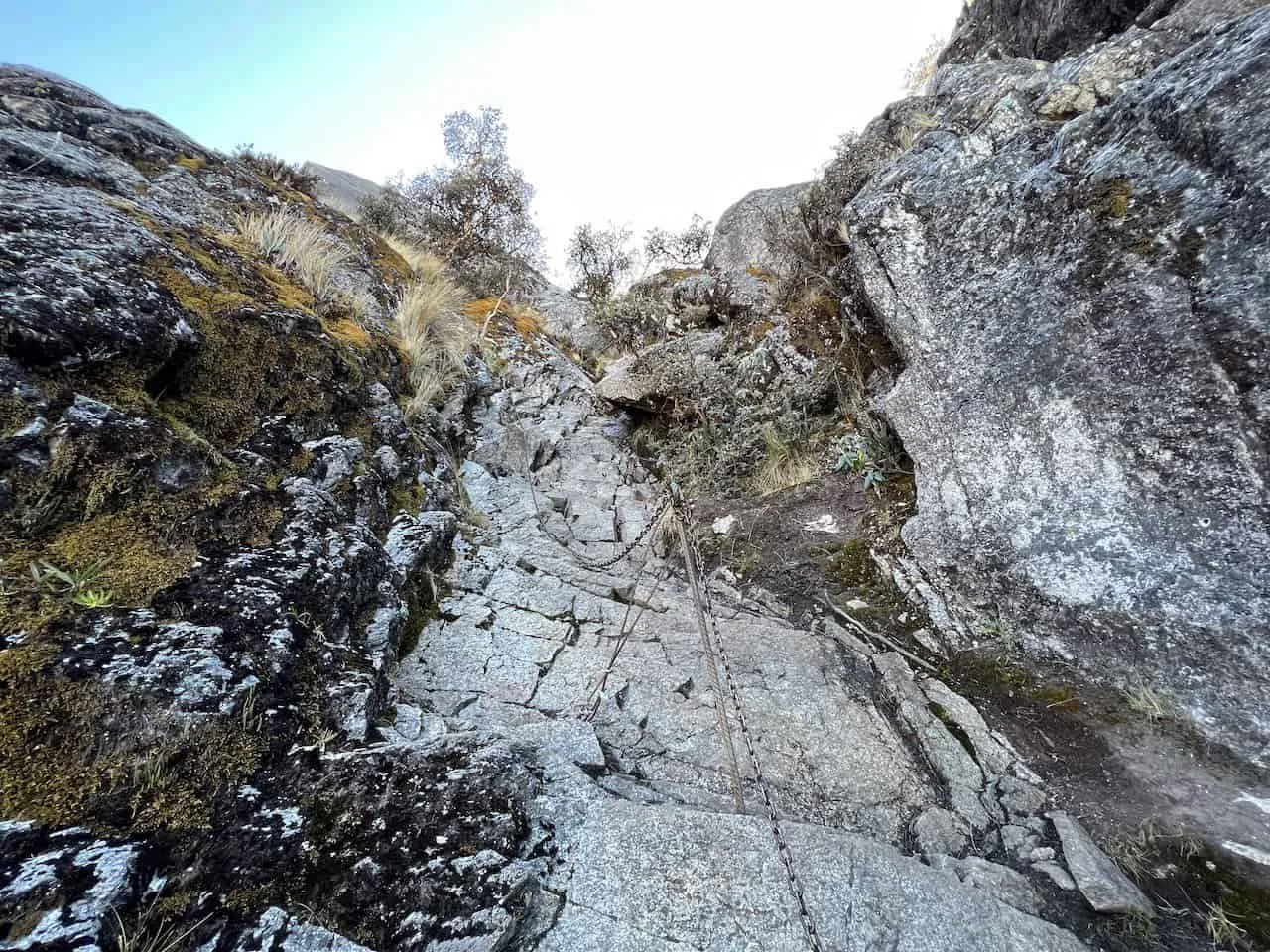 Once complete with this section, you will come across a smaller waterfall and a short wooden bridge. After crossing the bridge, you will just be a few more minutes from the lake itself.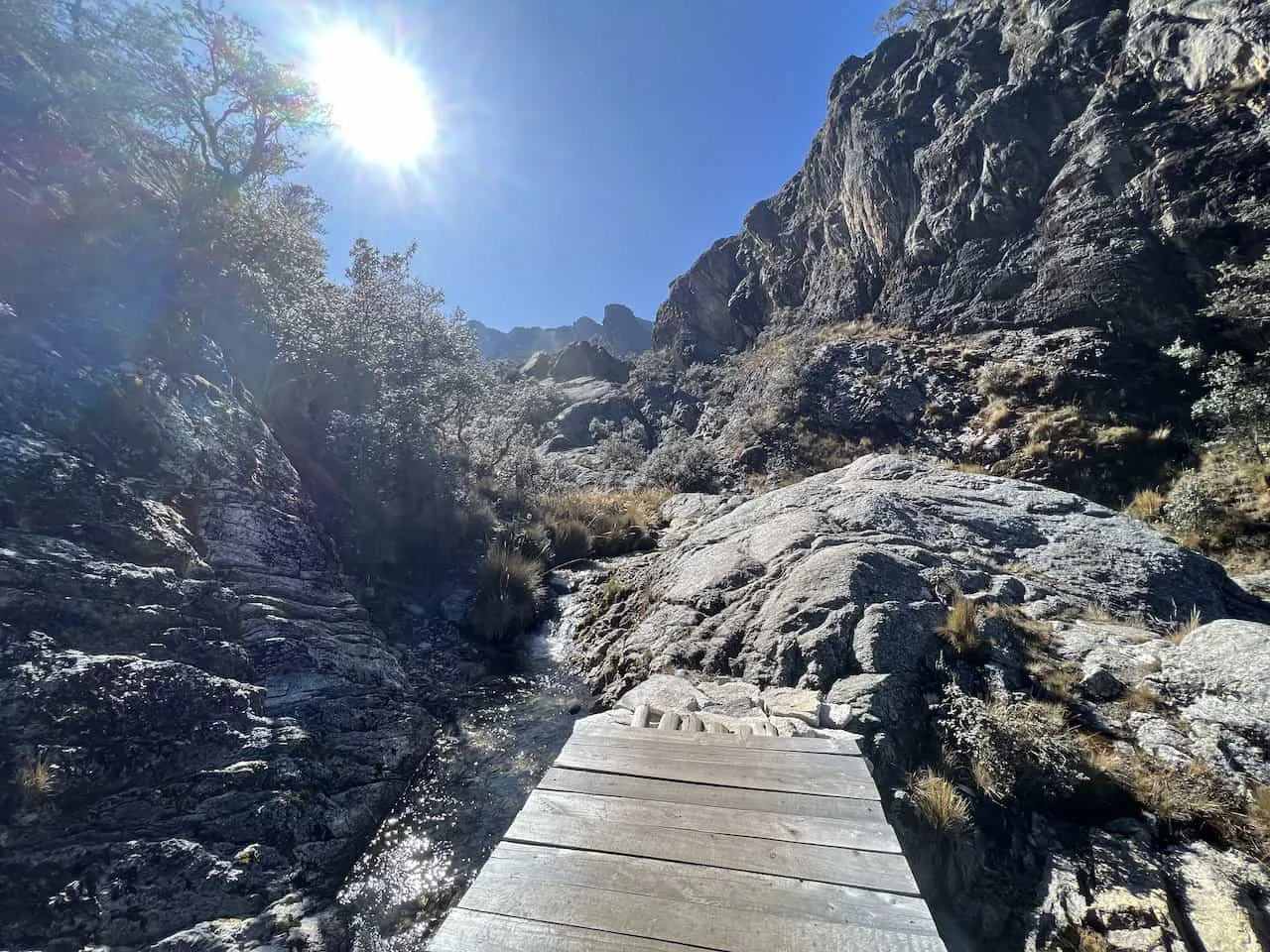 Laguna Churup Views
At the lake, you will find large rocks all along the lakeside, where you can sit down and enjoy the view.
There will be no shortage of spots to relax at, as you take it all in.
If you are up for it, you can also climb up the hillside on the right hand side of the lake. Here you will get an elevated view of the lake & mountains from above.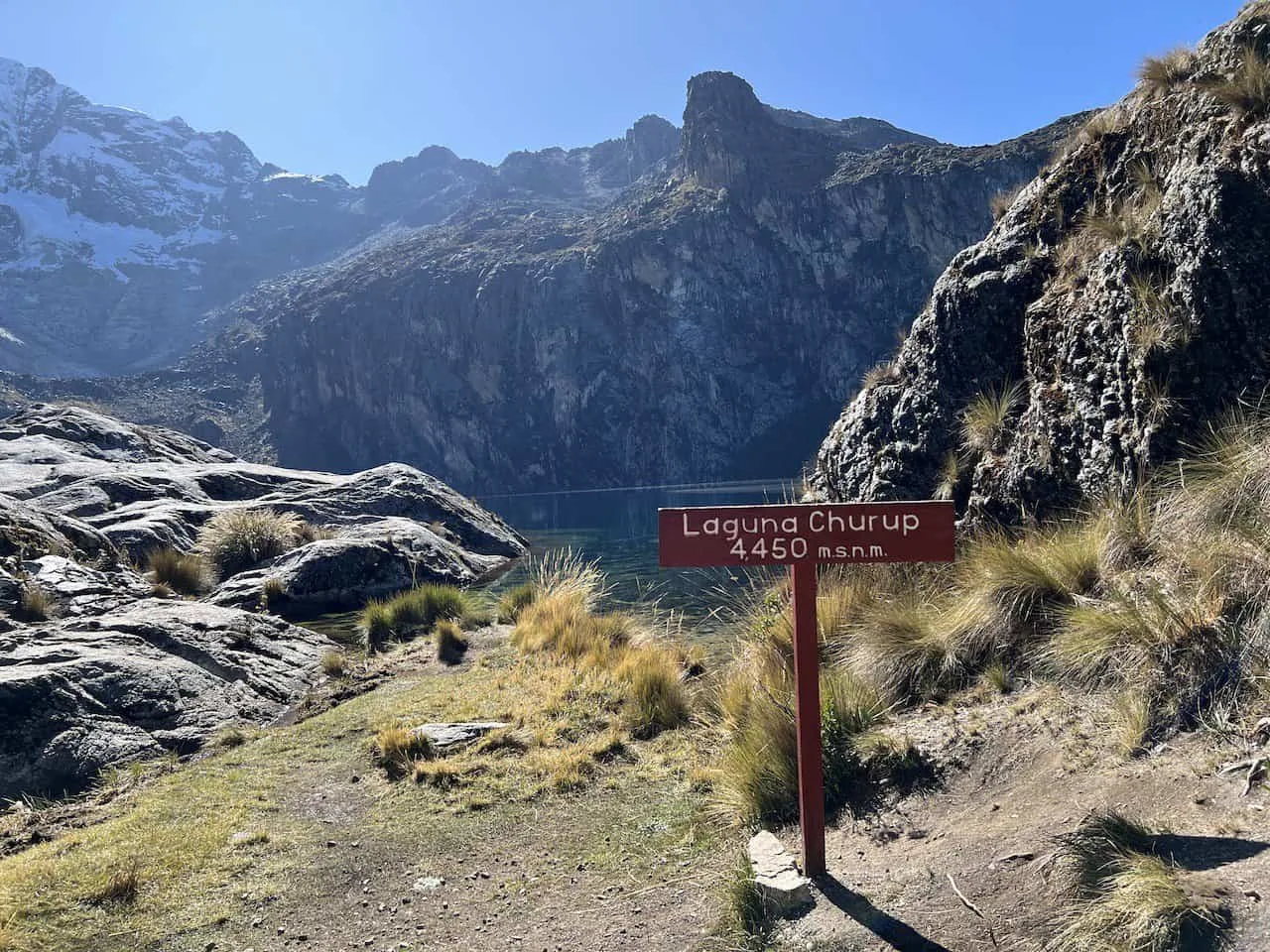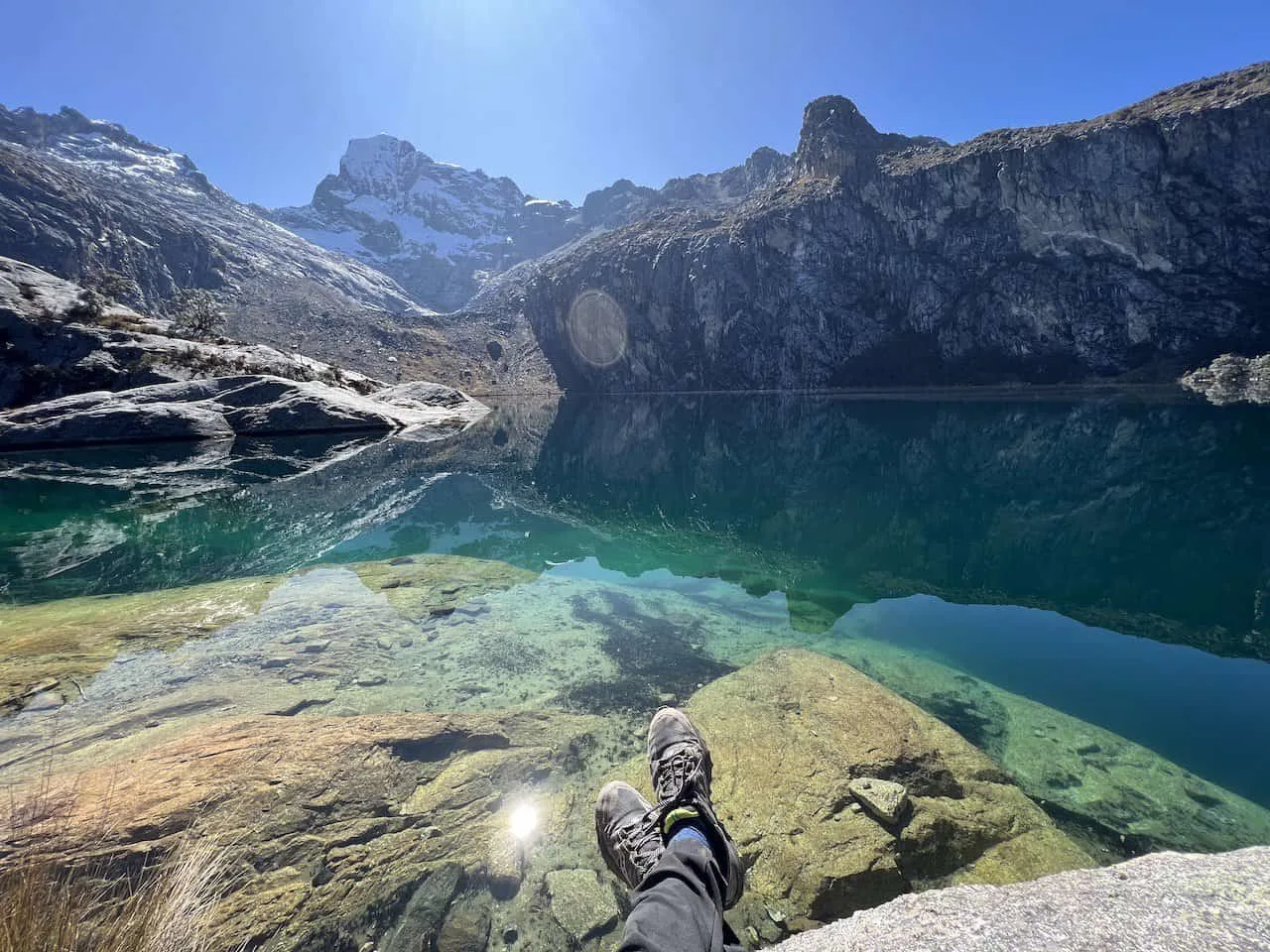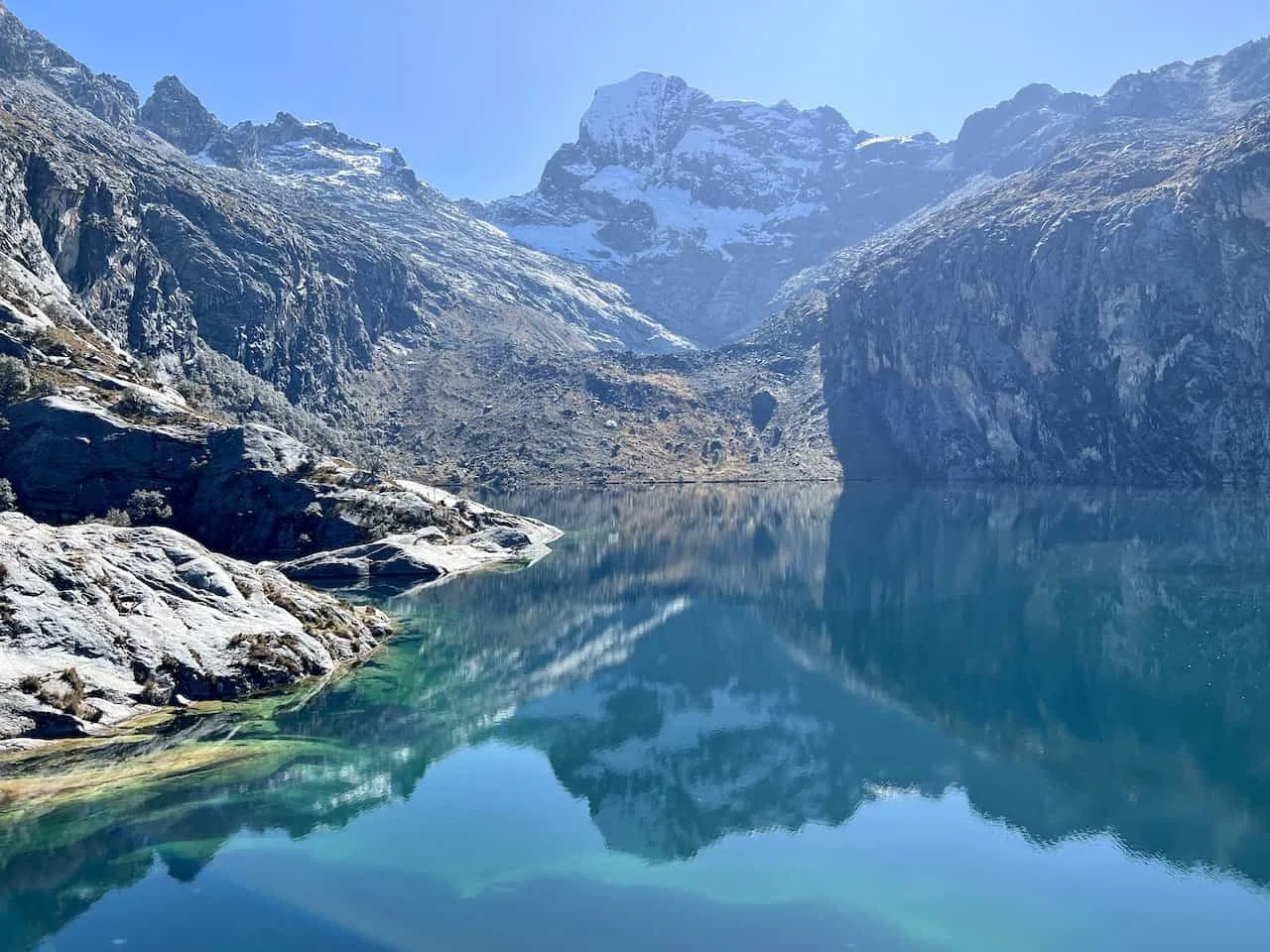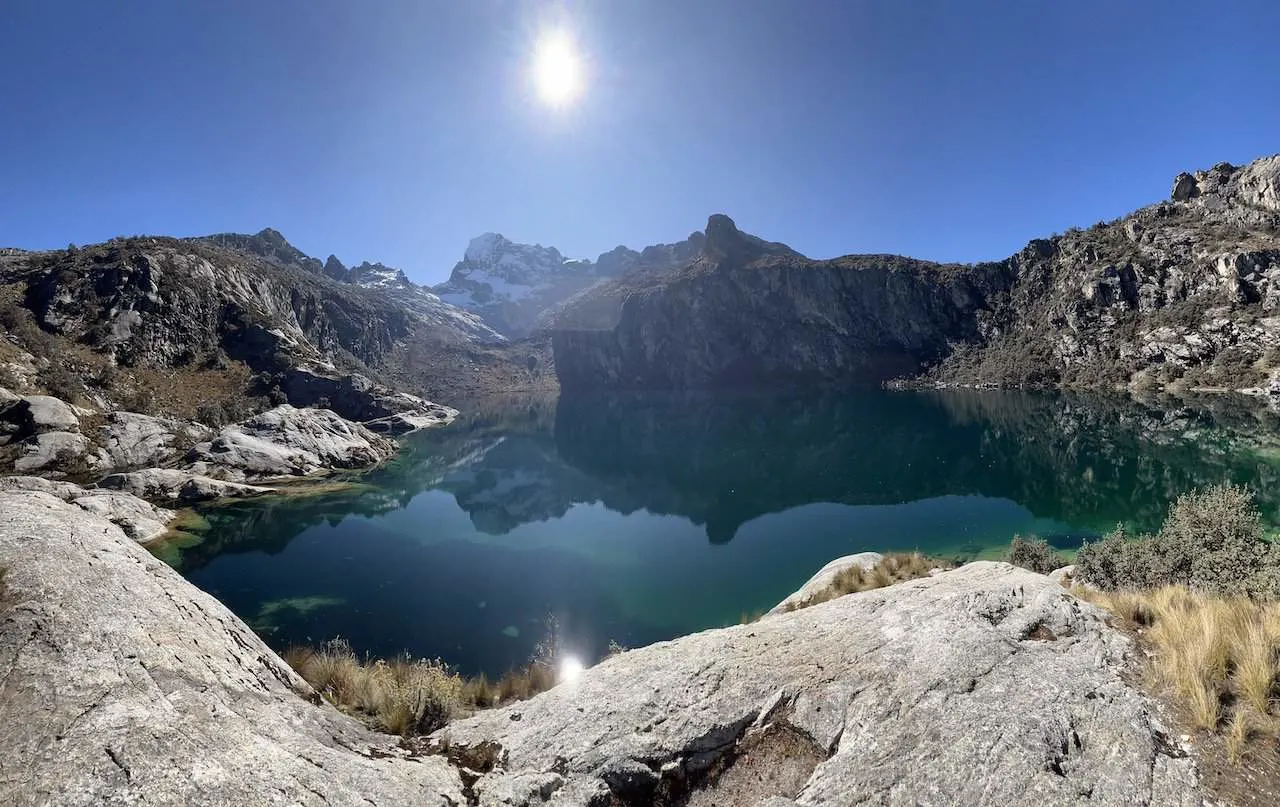 Laguna Churupita (1.5 miles / 2.4 km)
Now, while Laguna Churup is going to be one beautiful lake to visit, you can also head to a second smaller lake higher up in elevation – Laguna Churupita.
To get there, you will want to follow the pathway around the lake. You will then come across a couple trail signs – "Al Mirador" and "Lag Churupita".
The mirador trail is the secondary route you will want to follow back to the trailhead. However, to the right, you can follow the trail to Churupita.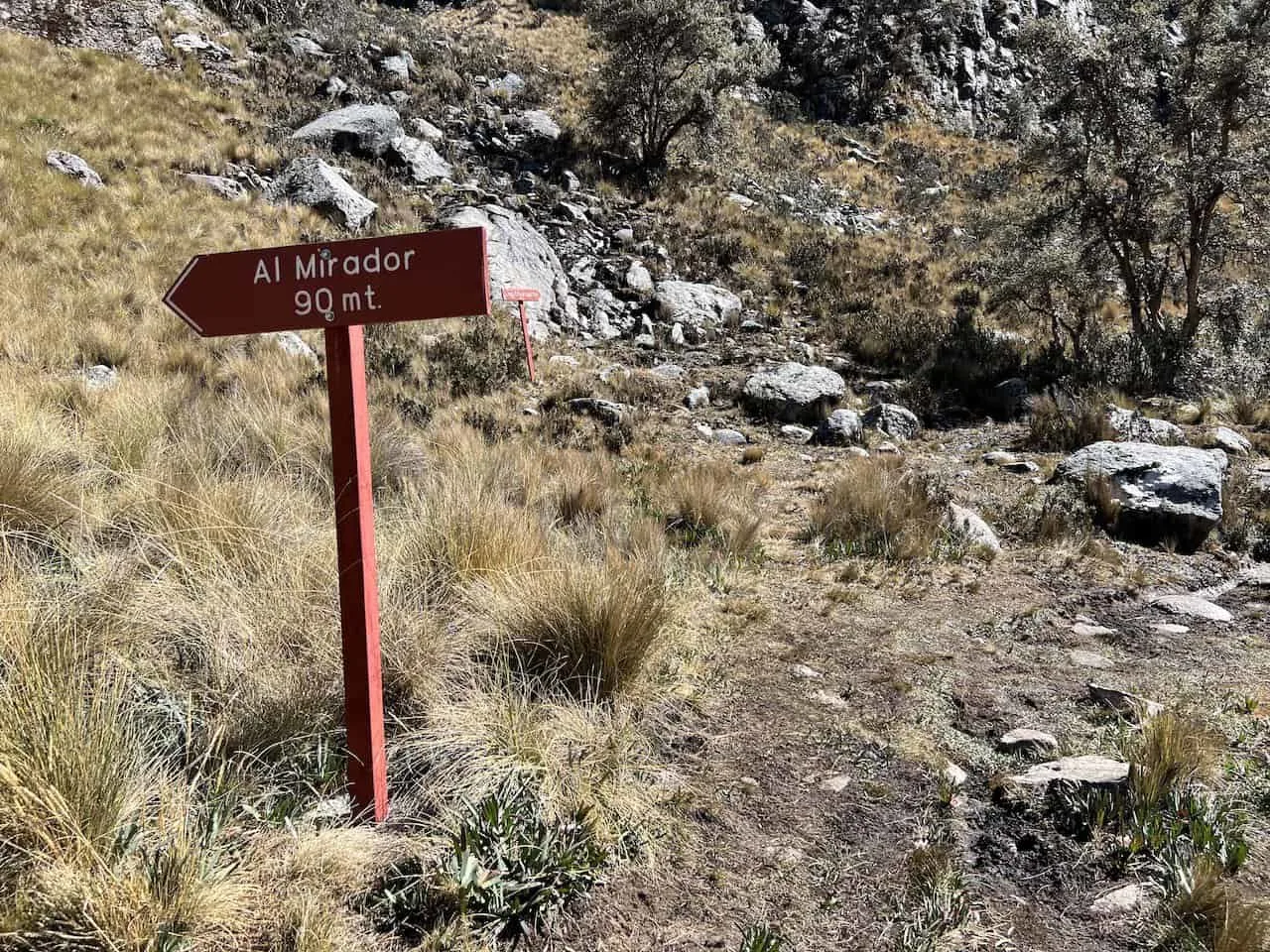 This second lake is about 0.75 miles / 1.2 km away from the main lake. By adding on Churupita, you will want to set aside about an additional hour to your overall day.
The trail will take you all along Churup Lake as you wrap around into a more forested area. Here you will come across some pink markers on the trees to help you with following the correct route.
Once past the trees, you will begin to see the final push up the rocky hillside towards the lake. This will be the toughest part of the trail, as you zigzag up this technical terrain before finally reaching the lake.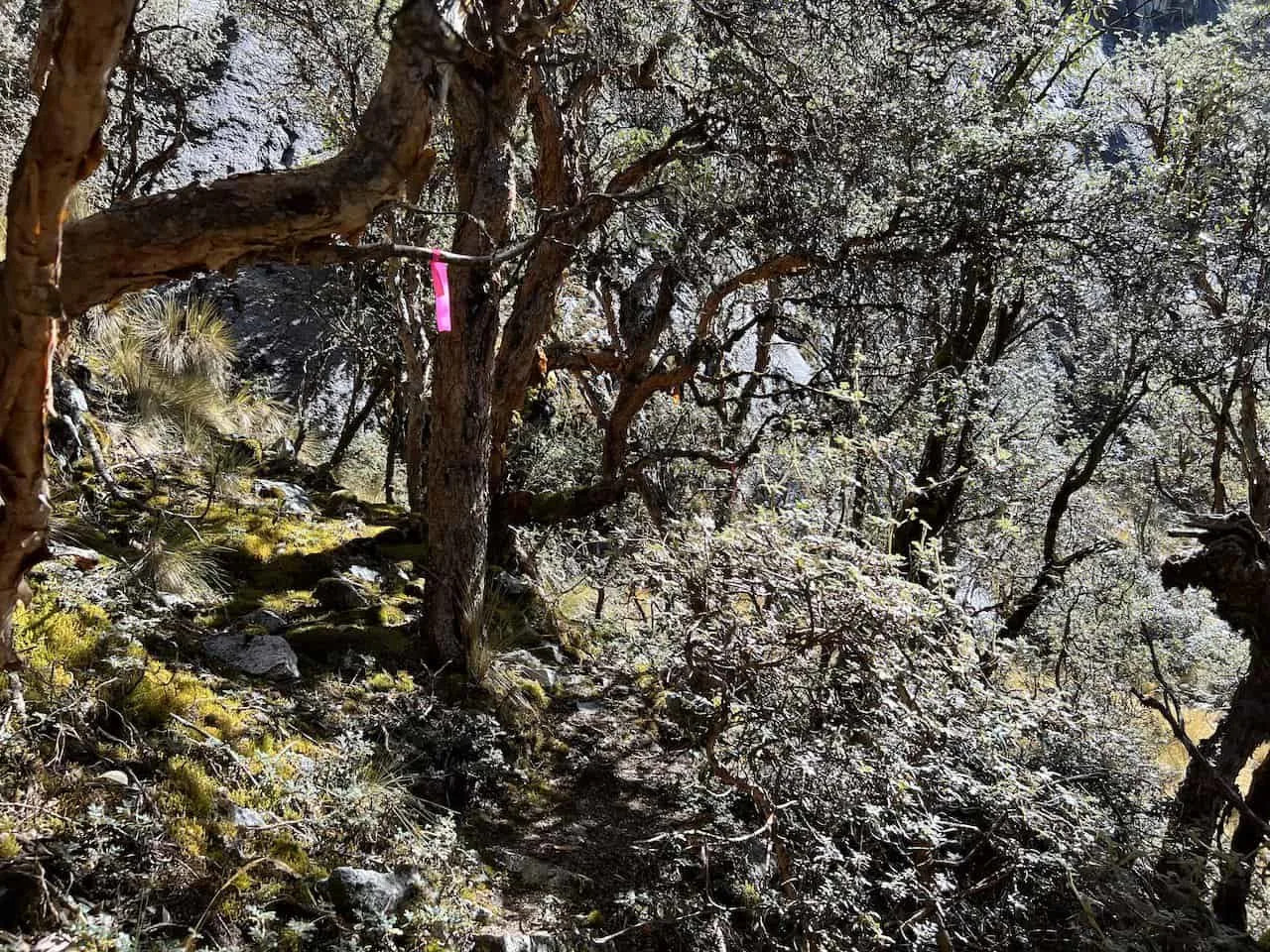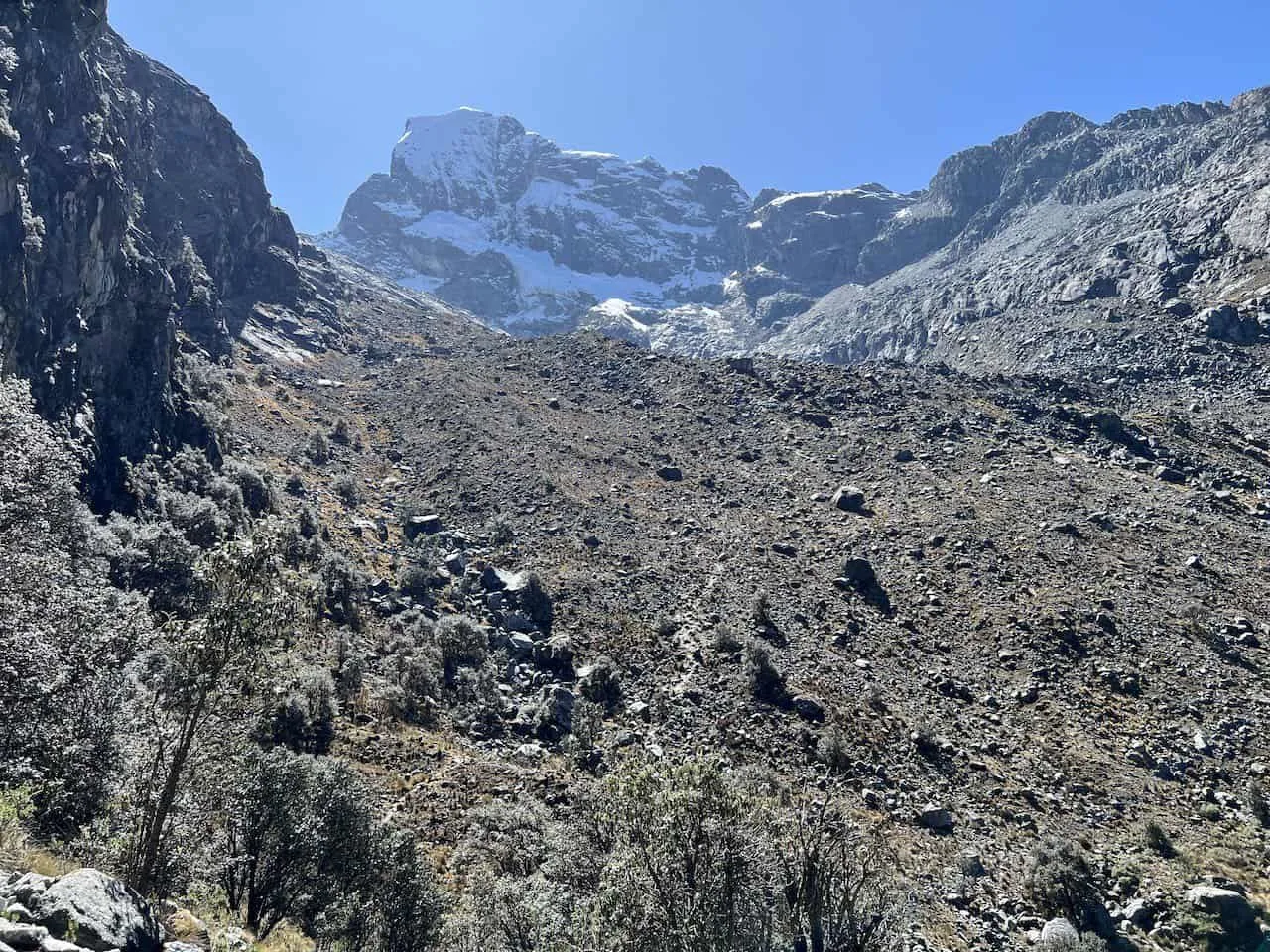 Churupita is the smaller of the two lakes, but you will still get some unbelievable views of the Nevado Churup mountain hovering up above.
You can spend some time here as well, enjoying the view, before retracing your steps back down to the Churup lakeside.
The hike down is going to beautiful as you get some great views of Churup, before losing elevation back towards the main lake.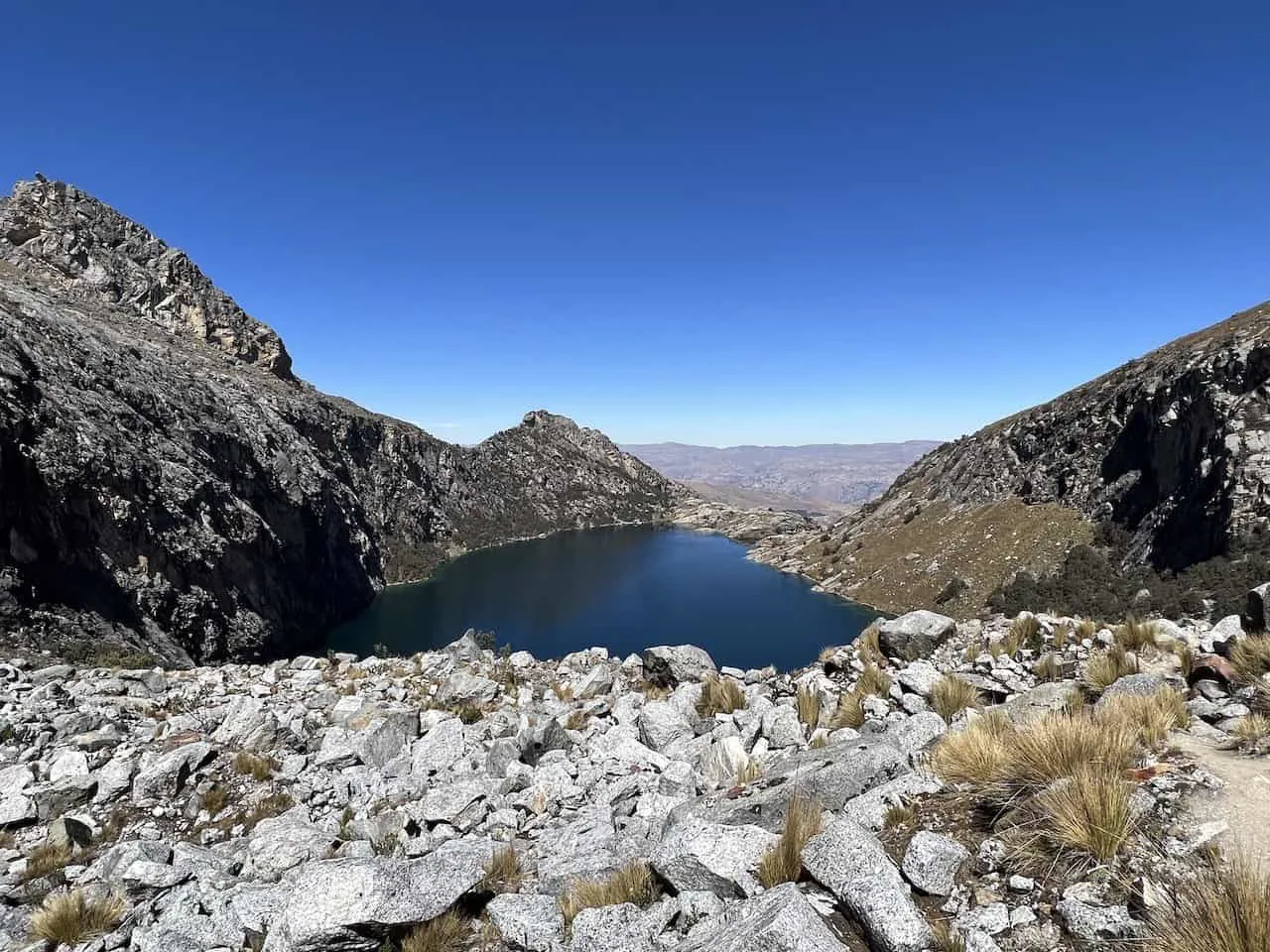 Laguna Churup to Trailhead (1.9 miles / 3.1 km)
Once you reach Churup, you can follow that secondary route back to the trailhead.
Head up the hillside, where the "Al Mirador" sign will be pointing towards. Just a few minutes later you will reach this viewpoint area, where you can get yet another great view from above.
After leaving behind the viewpoint, you can head down the secondary trail as you continuously lose elevation.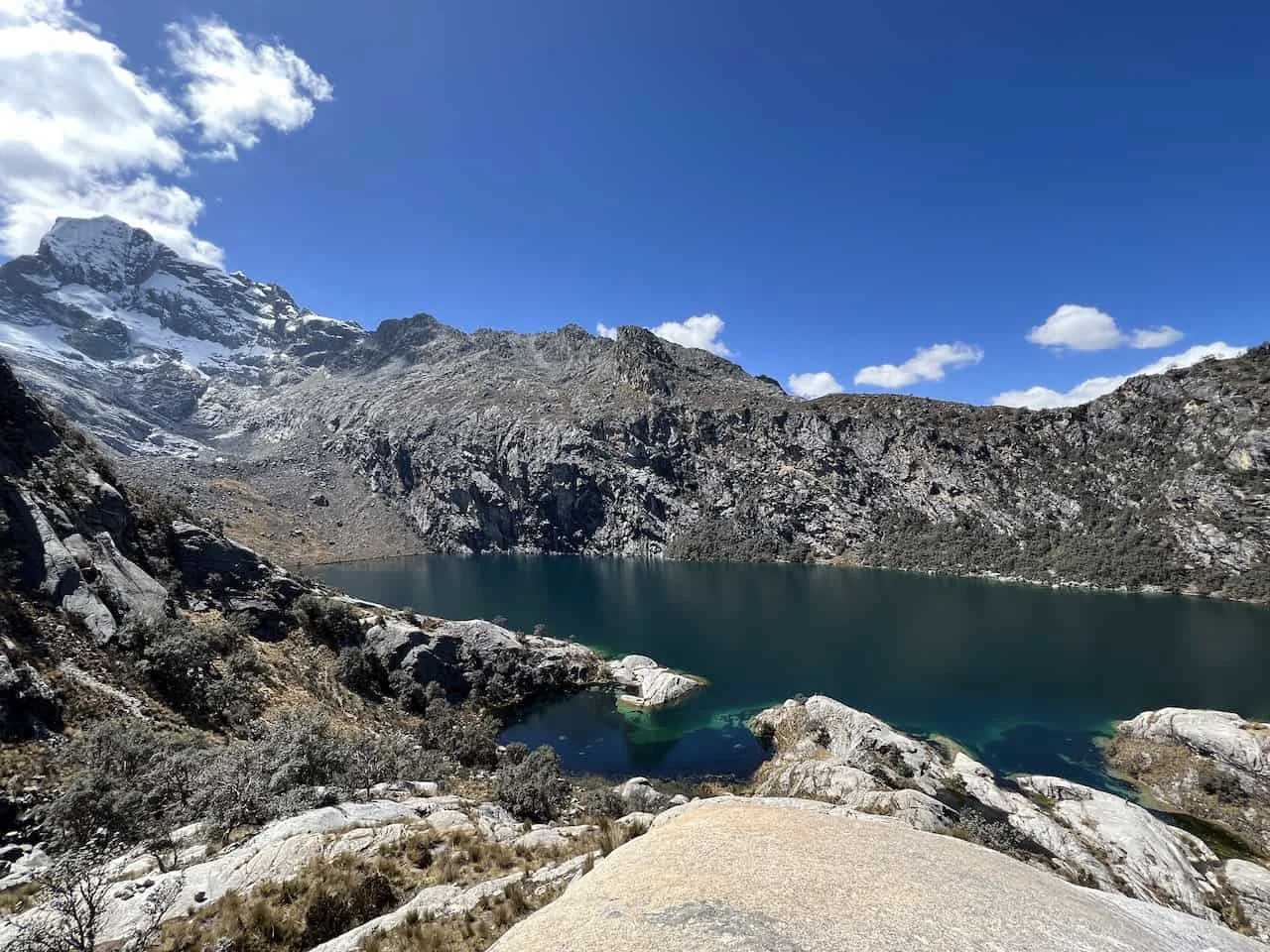 This portion of trail will certainly be easier than the way up, but just be sure to watch your step all the way through.
Soon enough you will reach that initial intersection from before. From there, it is straight down back past the ticket office, the rest stops, and along the staircases to the trailhead.
After 4-6 hours of hiking, you will complete one of the best day hikes in Peru. Head back to Huaraz, where you can then have a nice meal and rest up.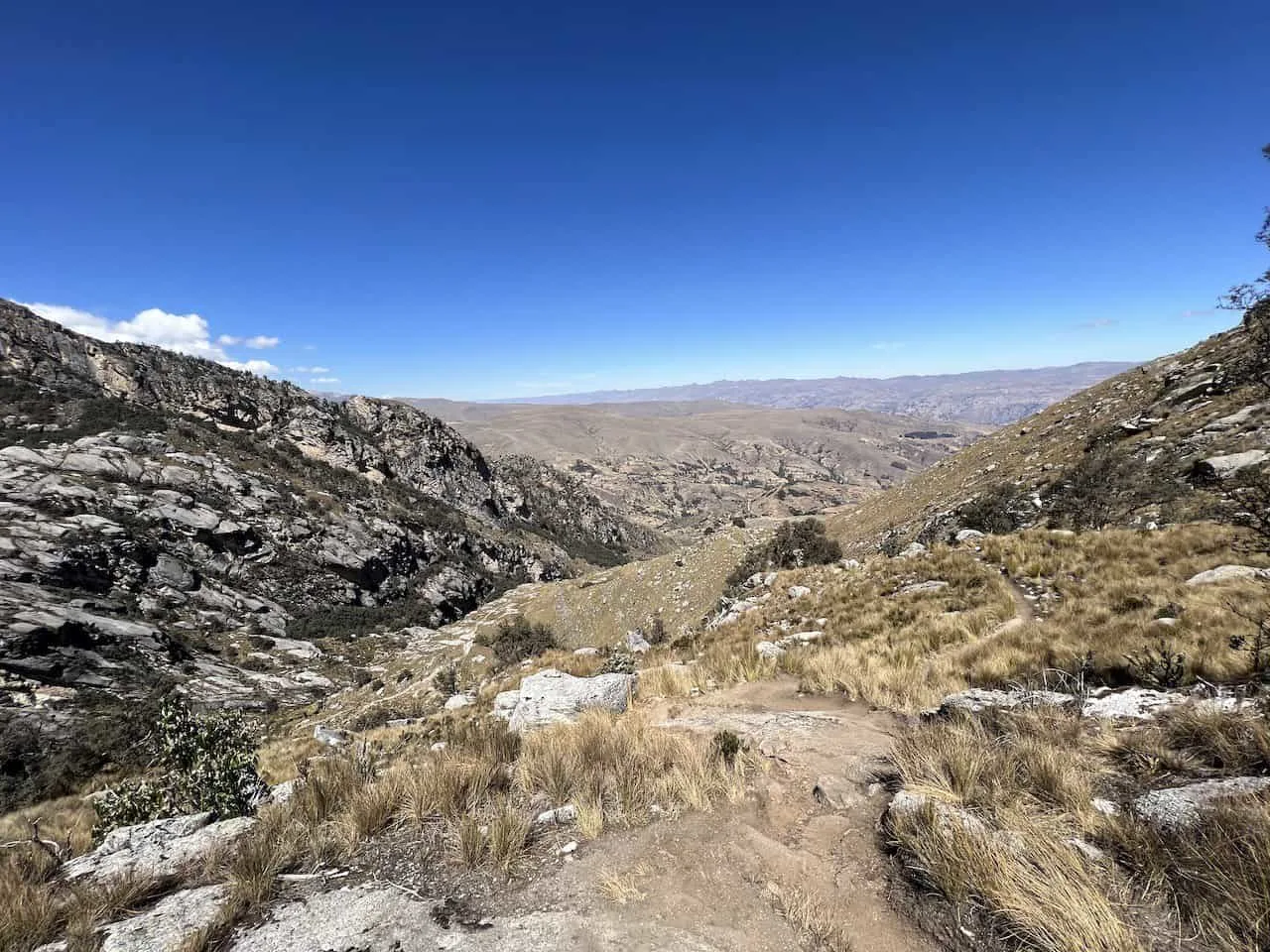 If you have any questions or comments about Laguna Churup, feel free to add them in below.
Also, be sure to check out some other Peru itineraries and guides up on the site.
Have fun out there and safe travels!