When it comes to day hikes in Peru (and South America), it does not get much better than Laguna 69. Located just outside of the hiking capital of Huaraz, Laguna 69 offers everything you could ask for in a hike.
As part of the Cordillera Blanca mountain range of Huascaran National Park, the Laguna 69 trail is full of rivers, waterfalls, valleys, snowcapped mountains, and of course the beautiful turquoise lake itself.
This hiking guide will go over everything you will need to know to take on the Laguna 69 hike for yourself. By the end of reading through, you will be well on your way to enjoying this one of a kind trail.
* Affiliate Disclosure: This post may contain affiliate links, which means I may receive a commission if you make a purchase through the links provided, at no additional cost to you. Thanks for supporting the work I put into TripTins!
1) Laguna 69 Overview
To start, let's talk through some of the most important hiking details and things to know about Laguna 69. In the following sections, I will then talk through some more logistics and the hike itself.
Why Is It Called Laguna 69
You may be wondering where the name Laguna 69 comes from. Well, the answer is quite simple. Back in the 1970's as the Huascaran National Park was being proposed to be a protected landscape, there had to be an understanding of every lake in the region.
Since there were just so many lakes around Huascaran National Park, instead of giving names to them, several were just given numbers. While there are named lakes as well around the area, many of the 400+ lakes are simply numbered.
When it comes to these numbered lakes though, none are more famous than Laguna 69.
Where is Laguna 69 Located
Laguna 69 is located within the Cordillera Blanca mountain range of Huascaran National Park.
Most people who visit Laguna 69 do so from the city of Huaraz (although you could base yourself in another nearby town such as Caraz or Carhuaz). The drive from Huaraz to the trailhead takes approximately 3 hours, some of which is on a windy, bumpy, unpaved road.
The first section of road takes you from Huaraz along highway 3N on a paved road. However, once you reach the town of Yungay, you will turn onto Route 106.
Route 106 is full of twists and turns as you slowly gain elevation towards the trailhead. Much of the road is also unpaved making this a bumpy ride along the way.
Just prior to reaching the trailhead you will come across two lakes – Laguna de Llanganuco and Laguna Orconcocha. Most tours will stop at one or both of these on the way there/back.
The trailhead is located just past these lakes, right off the side of the road. Below you can find a map with the driving route and hiking route.
Coordinates for the trailhead: 9°02'54.4″S 77°36'36.9″W
Coordinates for the lake: 9°00'41.9″S 77°36'38.7″W
How Long is Laguna 69 Hike
The Laguna 69 hikes comes in at 9 miles / 14.5 km in length round trip. The hike is an out & back hike on the same path, so you are looking at 4.5 miles / 7.2 km to the lake and then the same duration back to the starting point.
Expect the hike to take approximately 5 hours altogether (3 hours up / 2 hours down). In addition, you will want to account for the amount of time you spend at the lake itself.
Laguna 69 Elevation Gain
Altogether, the Laguna 69 hike gains +2,500 feet / +760 meters throughout the duration of the trail. Essentially all of this elevation gain will be experienced during the first half of the hike towards the lake.
So, in essence, expect to gain all of the +2,500 feet / +760 meters during the first 4.5 miles / 7.2 km to Laguna 69.
The second half of the hike will be mostly all downhill to the trailhead.
Laguna 69 Altitude
Laguna 69 comes in at 15,092 feet / 4,600 meters in altitude, making it one of the highest lakes in the region.
Due to the high elevation of the lake and even the trailhead (12,800 feet / 3,900 meters), you will need to prepare for the altitude.
Altitude sickness is a real possibility when hiking the trails around Huaraz. Due to this, you will want to give your body some time to acclimatize prior to taking on hikes such as Laguna 69.
I would recommend spending your first day or so, just relaxing in Huaraz, which already sits at 10,000 feet / 3,050 meters in elevation. This will give your body some time to get used to the thinner air.
While in Huaraz and on the trail, be sure to hydrate consistently as dehydration is one of the leading factors towards altitude sickness. Also, be sure to just take the hike slowly, going at a pace that you are comfortable with.
If need be, consult your doctor about taking altitude sickness medication that can better help your body fight off symptoms.

How Hard is Laguna 69 Hike
The Laguna 69 hike is moderately difficult. While on paper the hike does not seem too difficult, you need to consider the altitude as well.
Hiking at 15,000+ feet is a whole different type of experience. While you may fly through this hike at sea level, it will be much more difficult at such a high elevation.
To best prepare for a hike like this, be sure to have the necessary fitness levels as well as the appropriate acclimatization schedule.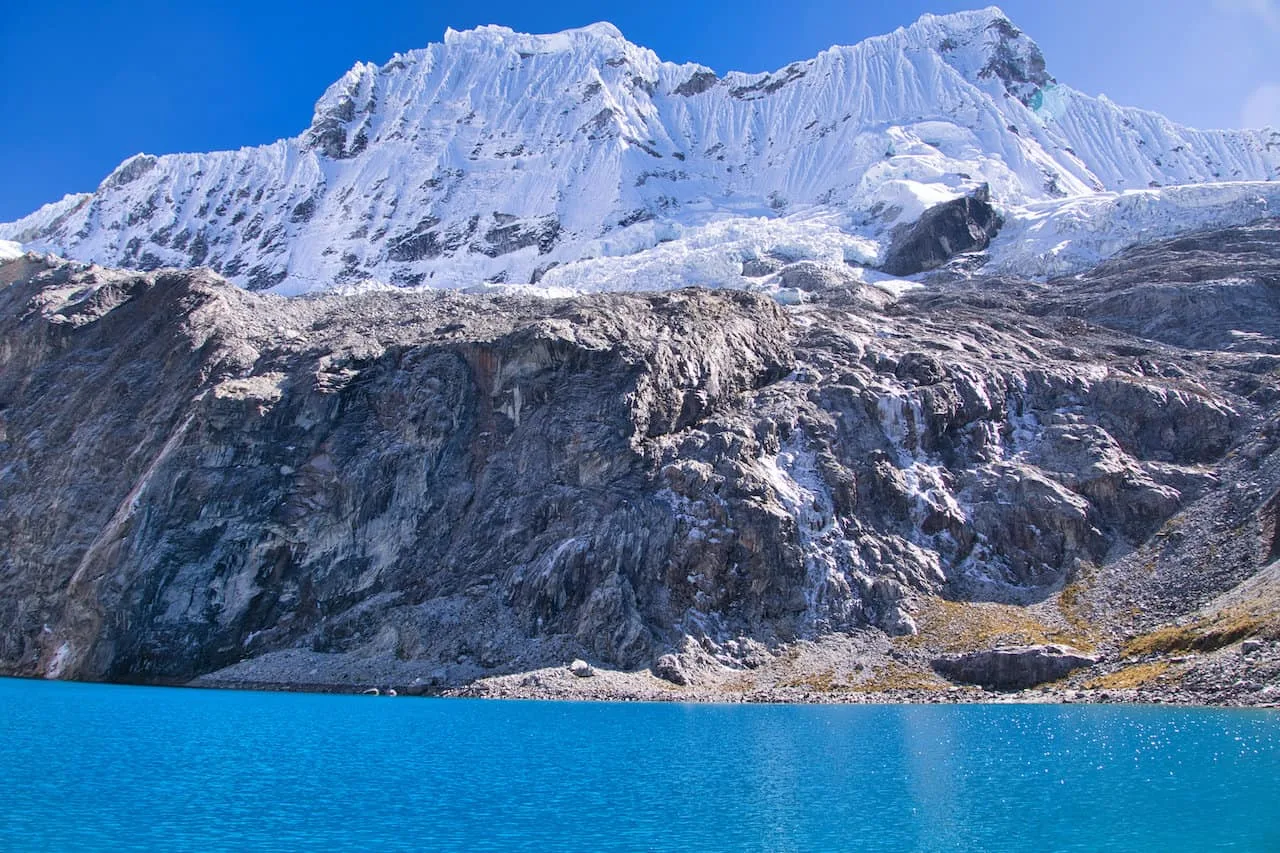 2) How Do You Get to Laguna 69
As mentioned earlier, most people who take on the Laguna 69 hike do so from the city of Huaraz. Due to its central location, Huaraz is used as a base for day hikes and longer multi day treks in the region (such as the Huayhuash Circuit).
There are 4 main ways to take part of a Laguna 69 day hike – an unguided group tour, a guided tour, taxi, or public bus. I will list out these below, along with some pros and cons of each.
Unguided Group Tour
The most popular option when it comes to Laguna 69, is to take an unguided group tour. Essentially what this entails is just comfortable transport to and from the trailhead.
Note that many of these tours may have a non/little English speaking guide who just makes sure everyone is accounted for during the hike. They are not actually leading a group. Instead, they are ensuring that everyone is making it up in a decent pace and not falling too far behind.
These tours will pick you up early in the morning (~5:30AM) and make the drive to the trailhead with a breakfast stop along the way. You will then take on the hike on your own, before returning back to the trailhead, where your transport awaits.
Pros: the main reasons why these tours are so popular is that they are cheap (~$15 USD) and convenient. You will find plenty of companies running these tours and you can simply ask your hotel (or a tour shop in town) to set up pickup as soon as the next day.
Cons: while the tours are cheap and convenient, there are some cons to them as well. The main reason why I did not opt for the tour is due to the fact that most of these tours arrive right around the same time to one another (around 9:00AM). This can result in a crowded trail and certainly a crowded lake area.
In addition, even if you finish the hike in 5 hours, you may need to wait for an unknown period of time until the slower hikers finish the hike. Due to this, most tours don't get back to Huaraz until later in the evening around 7:00PM.
Guided Tour
If you want to have more comfort and have an English-speaking guide with you during the hike, that is also a possibility.
While the previous option is essentially unguided, this option will have you trekking behind someone who knows the lay of the land. The trail itself is easy to follow, but it is always nice to have an expert with you to ask questions, keep a safe pace, and be a guiding hand.
Since the vast majority of tours go with the unguided hike, you will need to ask around town for a guided trek. These may have some group options, but don't be surprised if you need to book a private option either.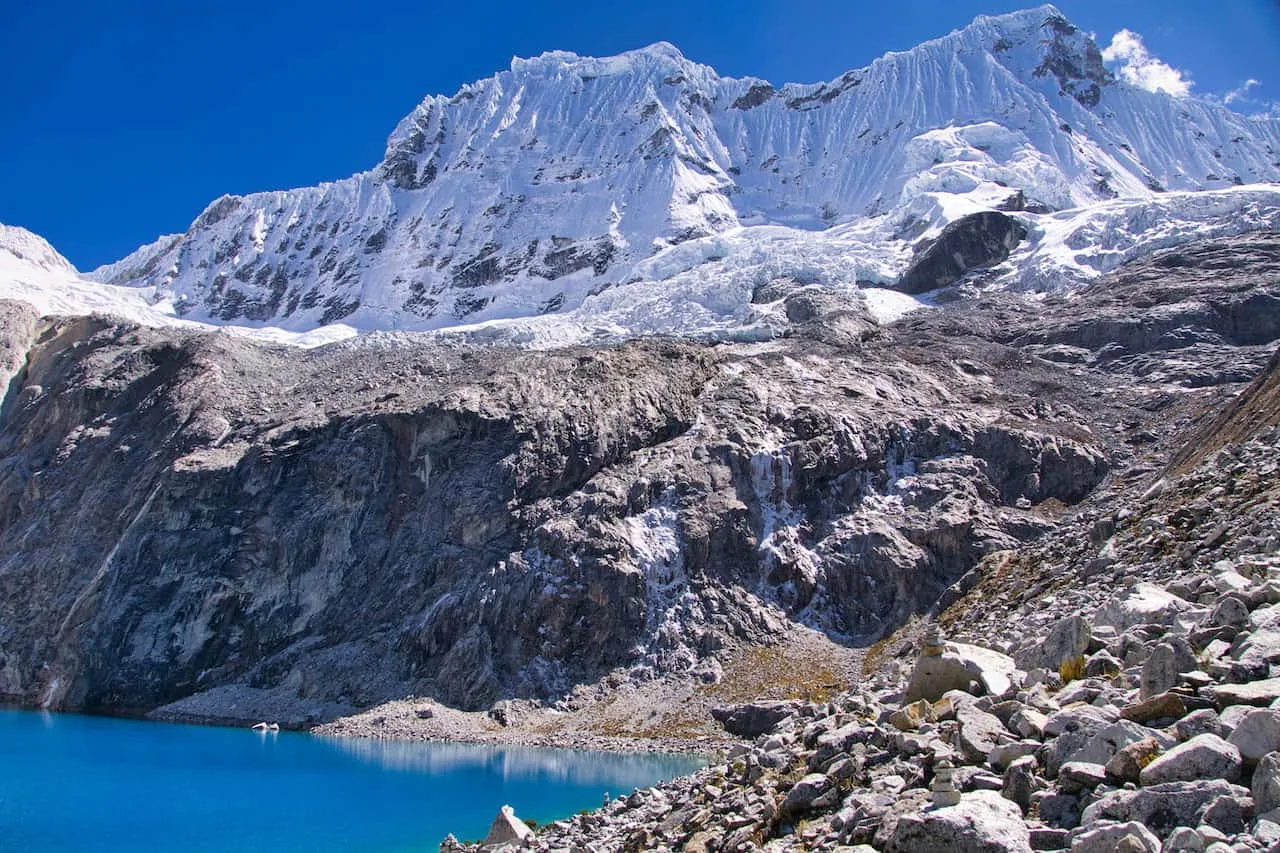 Private Taxi
If you are not one for tours, then you also have the option to take private transport to the trailhead.
Taking a taxi will give you the chance to be on your own schedule, arrive before the crowds, and come back to Huaraz at a reasonable hour.
During my time in Huaraz, this is what I opted for due to all the reasons mentioned above. I left Huaraz around 5:00AM, got to the trailhead at 8:00AM, at the lake by 10:30AM, back to the trailhead at 1:30PM, and in Huaraz by 4:30PM.
When I arrived at the lake, I had Laguna 69 all to myself for an hour before anyone else showed up. On the way back down, I passed by around 50-75 people who were making their way up.
While the private taxi is on the expensive side – I paid around $75 USD, I felt it was well worth it to be on my own schedule all the way through.
Note: have your hotel or a local tour shop schedule the taxi for you the day before. I would not recommend trying to get a taxi at 5:00AM.
Public Transport
There is also an option to take public transport from Huaraz to Laguna 69. While this may be the cheapest option, I find it to be the least convenient and not worth the hassle. This is even more so the case when you can simply take the unguided group tour for such a cheap cost.
However, if you do want to go for it, you will go along the following route:
Step 1: Collectivo from Huaraz to Yungay (~5:30AM)
Step 2: Collectivo or Taxi from Yungay to Trailhead
On the way back there are supposedly collectivos that pas by the trailhead around 3PM-4PM. However, if the timing does not work, you may need to hitch a ride to Yungay or ask one of the tour busses if they have empty seats to take you back to Huaraz.
Note that one positive here is that you technically should arrive before the group tours by about 30 minutes. This is not guaranteed but it does give you a way to beat the crowds.
At the end of the day though, I don't think this is worth the hassle. If you want a cheap way to get to the lake, just opt for a tour.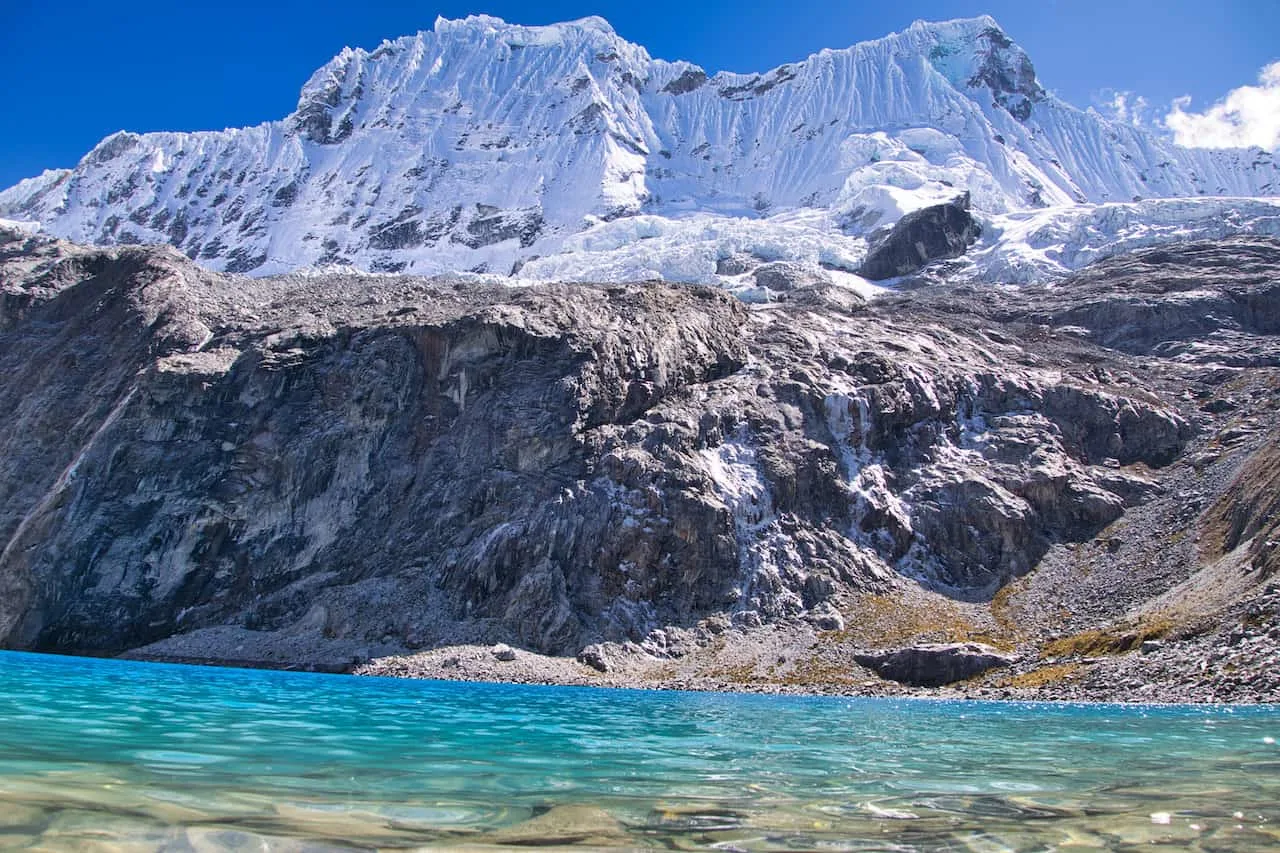 Do You Need a Guide for Laguna 69
No, you do not NEED a guide for Laguna 69. The trail itself is pretty obvious all the way through and includes trail signs when need be.
While it is a difficult hike in terms of elevation gain at altitude, I do not think it is necessary to go with a guide.
With that said, having a guide may just be beneficial for those with less hiking experience out there. Having someone to set the pace, give advice, and answer questions along the way will always be helpful.
Be sure to check out the Huayhuash Circuit resource page that includes many helpful travel guides to get you prepared for the trek.
3) Entrance Fee
Just after starting the hike, you will come across the Huascaran National Park ticket office. Here you will need to pay the entrance fee for the park.
The costs are pretty reasonable with a one day ticket at S/ 30 ($8) or a 2-3 day ticket at S/ 60 ($16). There is also the option to purchase a month ticket for S /150.
Since I also took part of the Laguna Churup hike the day before, I purchased the multi day ticket, which I then brought along with me for the following day to Laguna 69.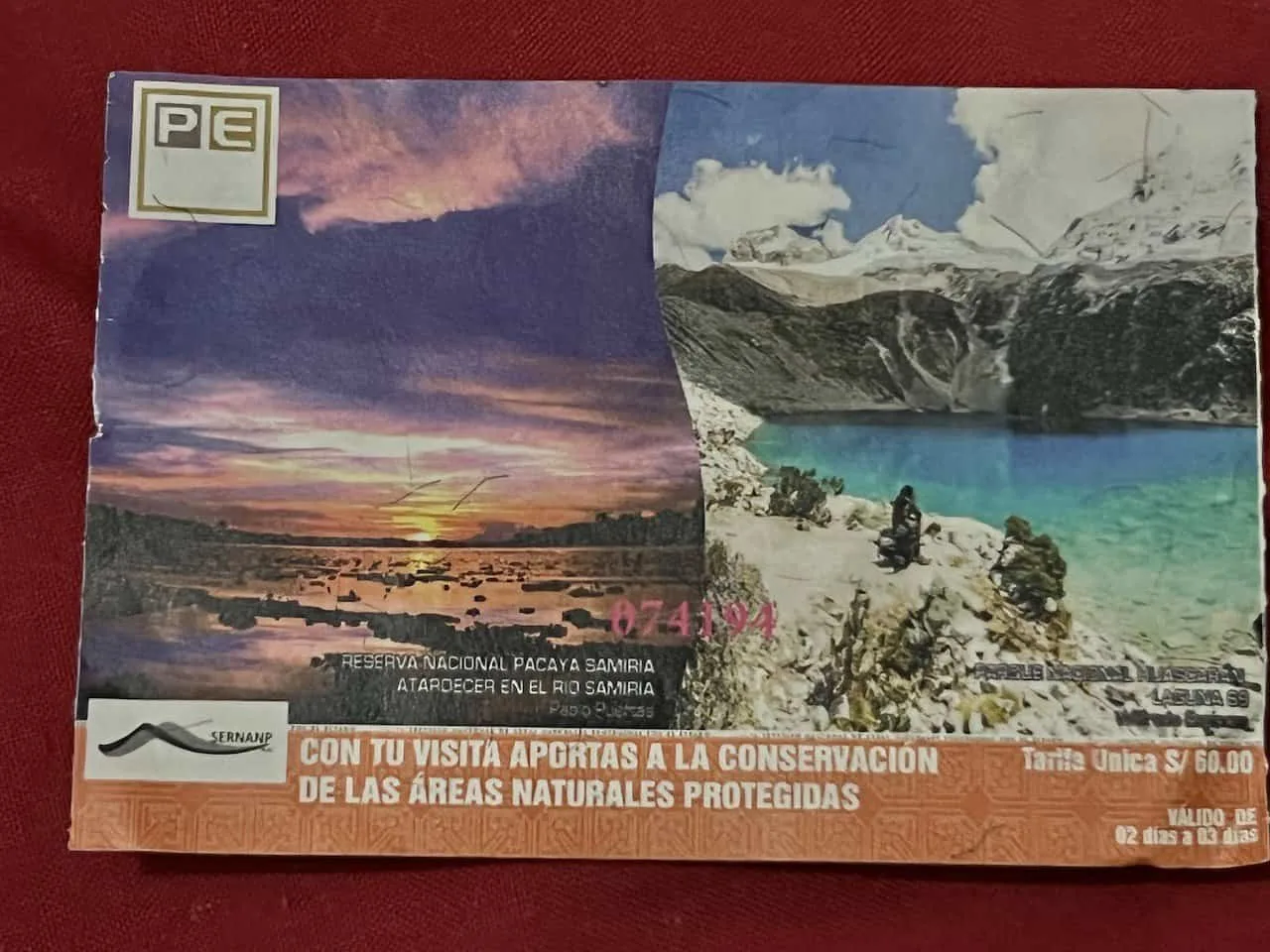 4) Weather Considerations
When going about the Laguna 69 hike, you will want to consider more broadly what time of year and more specifically what day to do the hike.
In general, the region around the Cordillera Blanca has two seasons – a wet season and a dry season. The wet season runs from October to April while the dry season runs from May to September (with some overlap on either end).
During the dry season you are more likely to experience clearer days without the clouds and rainfall. While in the wet season, you may come by more cloudy overcast days that can ruin some views.
Due to this, I would recommend a visit to Laguna 69 during the region's dry season.
When you actually arrive in Huaraz, you may have some flexibility choosing which day to take part of the Laguna 69 hike. As you may imagine, choosing a day with a clearer weather forecast would be my recommendation.
You can check out sites like Meteoblue or Mountain-Forecast for more accurate weather forecasting.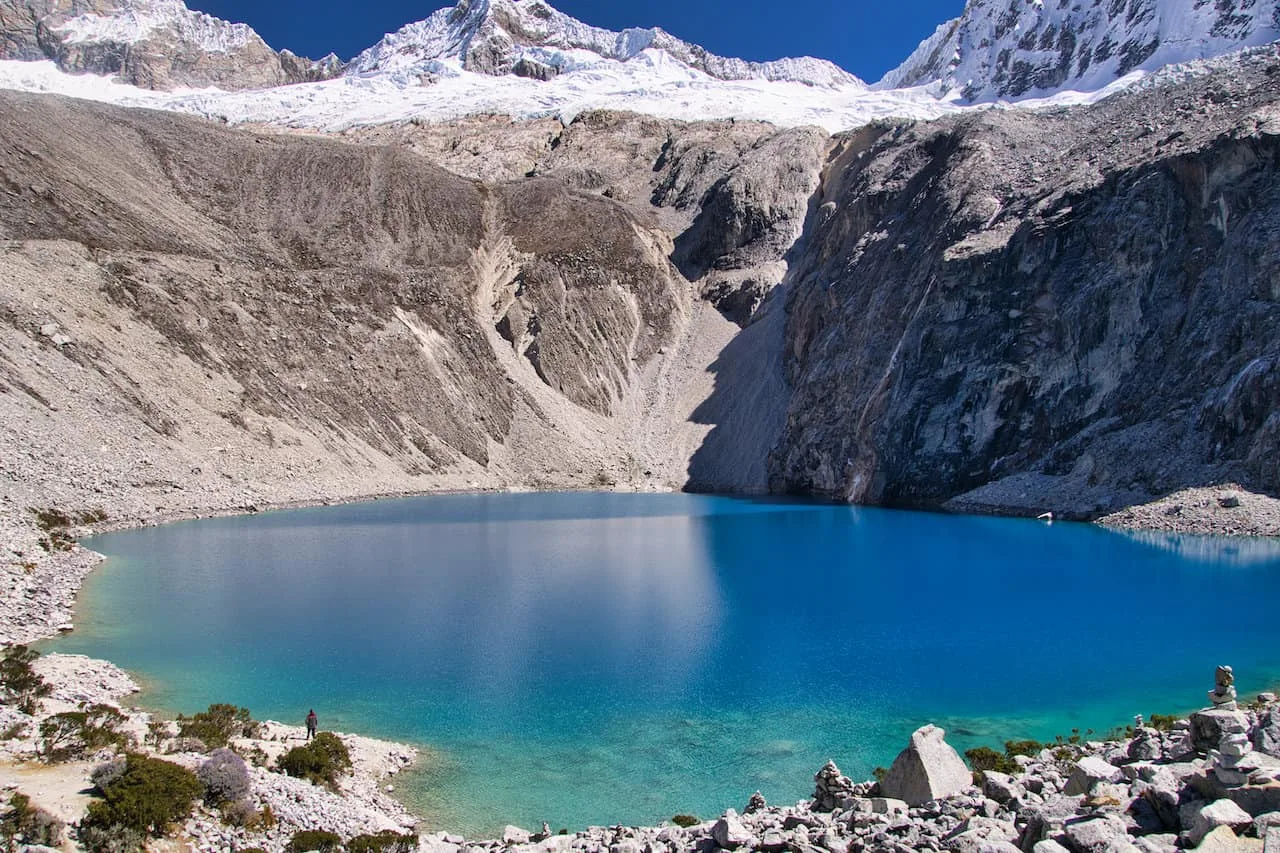 5) Peru Hiking Packing List
Hiking in Peru is all about layers and proper footwear. Since the weather can turn very quickly, you will want to be prepared for all types of conditions.
In general, I found layering to be the upmost important part of a trip. On all day hikes in Peru, I brought along the following layers:
→ Hiking Shorts
→ Hiking Pants
→ Short Sleeve Shirt
→ Long Sleeve Shirt / Sun Hoodie
→ Mid Layer Fleece
→ Puff Jacket
→ Packable Rain Jacket
While layers are important so will be your footwear. You want to be sure to bring appropriate waterproof hiking shoes along with solid hiking socks as well.
Additional day hike recommendations include:
→ Hiking Backpack & Rain cover
→ Water Bottle & Nutrition
→ Portable Charger
→ Hat & Sunglasses
→ Sunscreen & Bug Spray
» Be sure to check out the Hiking Packing List guide I put together that will go through all of it and more.
Water: note that water is abundant throughout the hike as there are multiple instances when passing by rivers. However, you will want to filter your water using a filtered water bottle.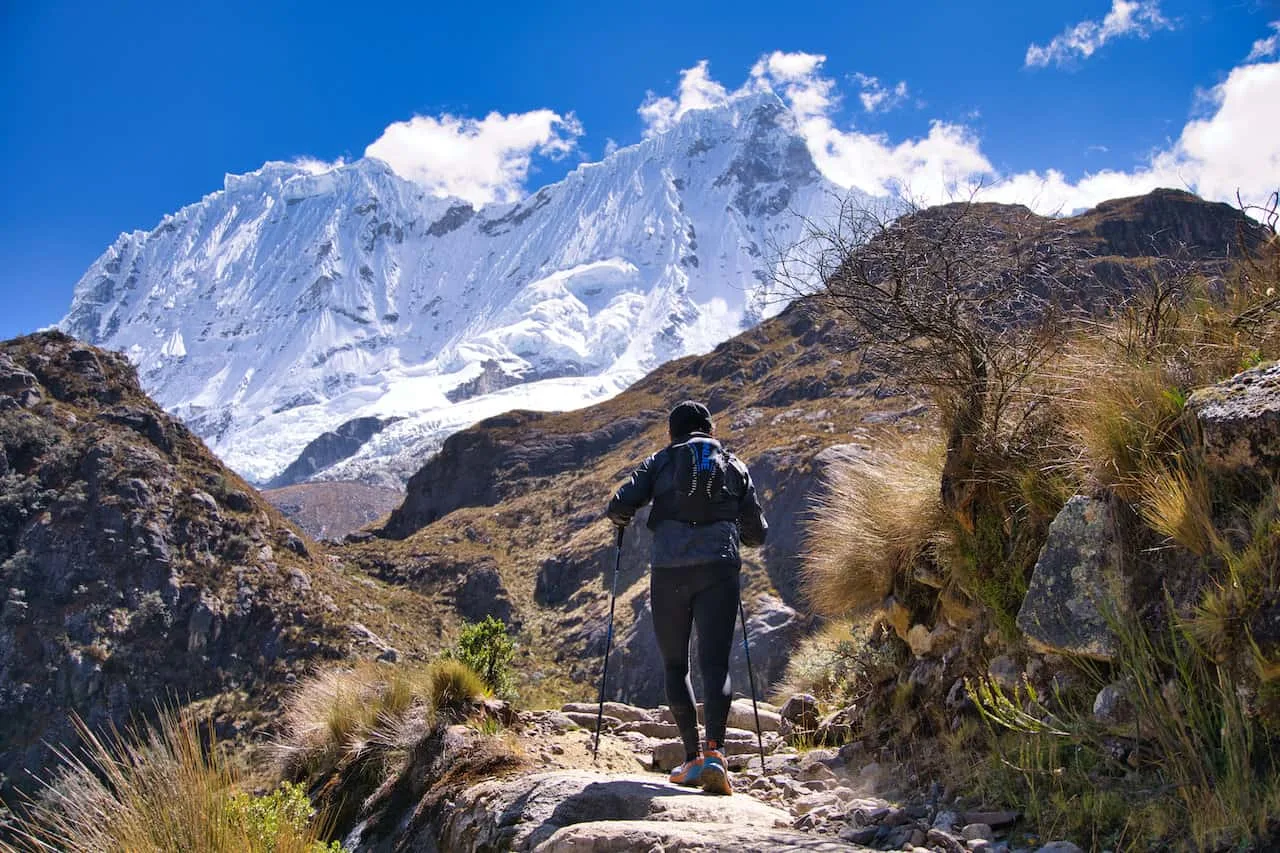 6) Peru Travel Insurance
Considering travel insurance for Peru?

World Nomads offers coverage for more than 150 adventure activities as well as emergency medical, lost luggage, trip cancellation and more.

For years, World Nomads has been protecting, connecting & inspiring independent travelers, offering travel insurance & safety advice to help you travel confidently. Their mission is to support and encourage travelers to explore their boundaries.

World Nomads has simple and flexible travel insurance that has been designed by travelers for travelers. Even if you leave home without travel insurance or your policy runs out, you can buy or extend out on the road.

Get a quote for a World Nomads travel insurance policy today!
7) Laguna 69 Map
Below I have included a screenshot of the map in case you wanted a clearer view of the hiking route.
In the earlier map I included above, you can find an interactive Google Maps view of the trail. You can easily download the route onto your phone's navigation app (Maps.me / AllTrails) to guide you on the hike.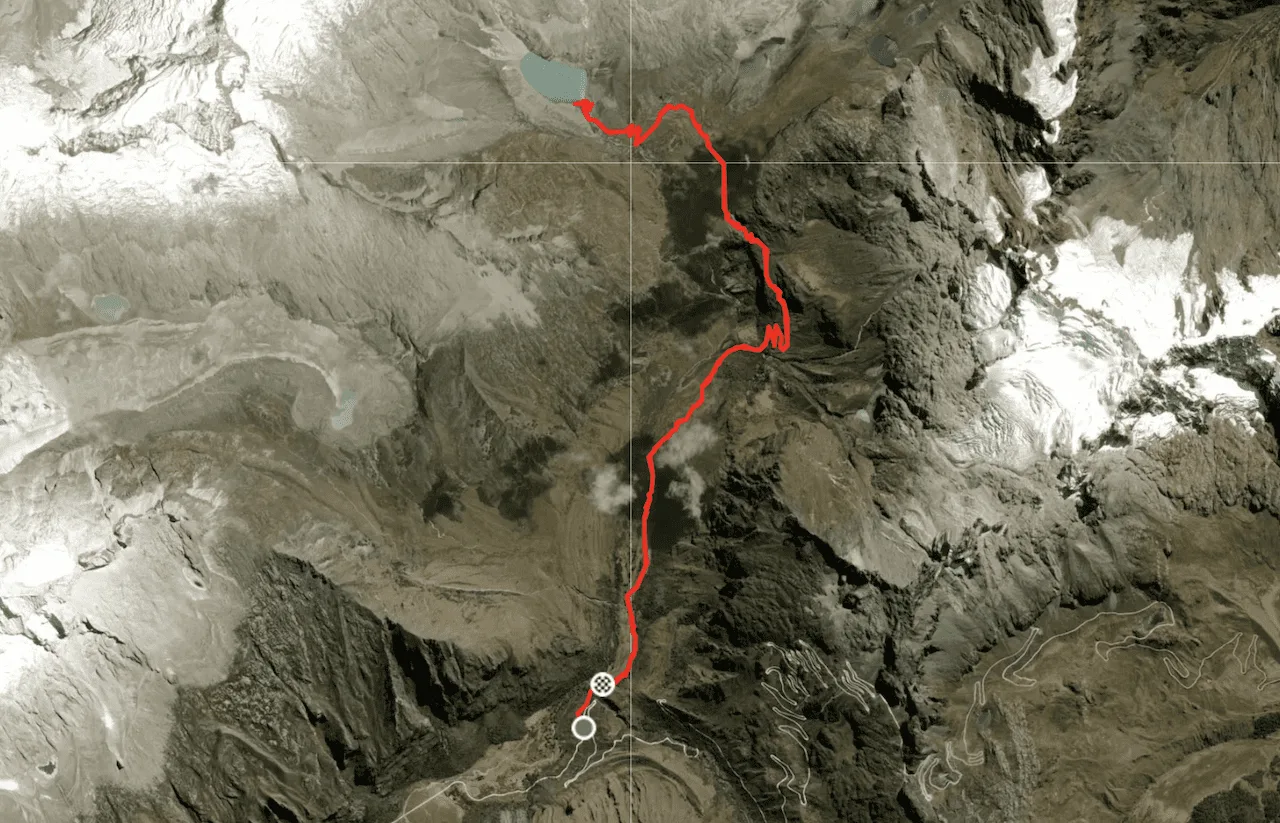 8) The Laguna 69 Hike
Now that you have all the background and logistics information that you need, let's dive into what to expect on the trail. I will break this up into a few main sections that better reflect the hike in general.
Trailhead Through the Valley
The trailhead of the Laguna 69 hike is located just off of the main road, where you will see a sign pointing you down the trail.
From there the trail heads down, across a bridge and onto the main Huascaran National Park entrance. Here you will buy/show your entrance ticket, and can also use the restrooms or buy some snacks/drinks.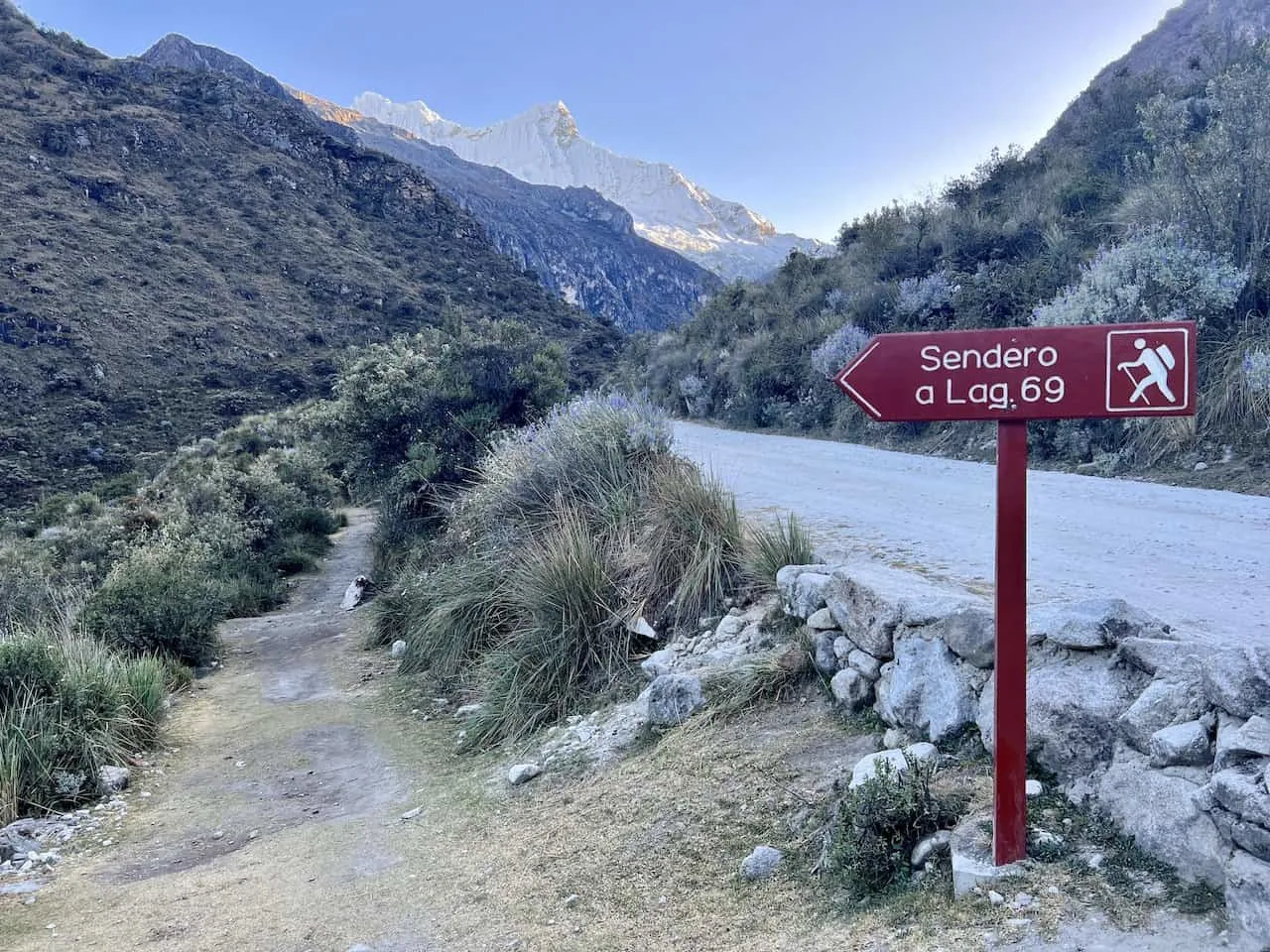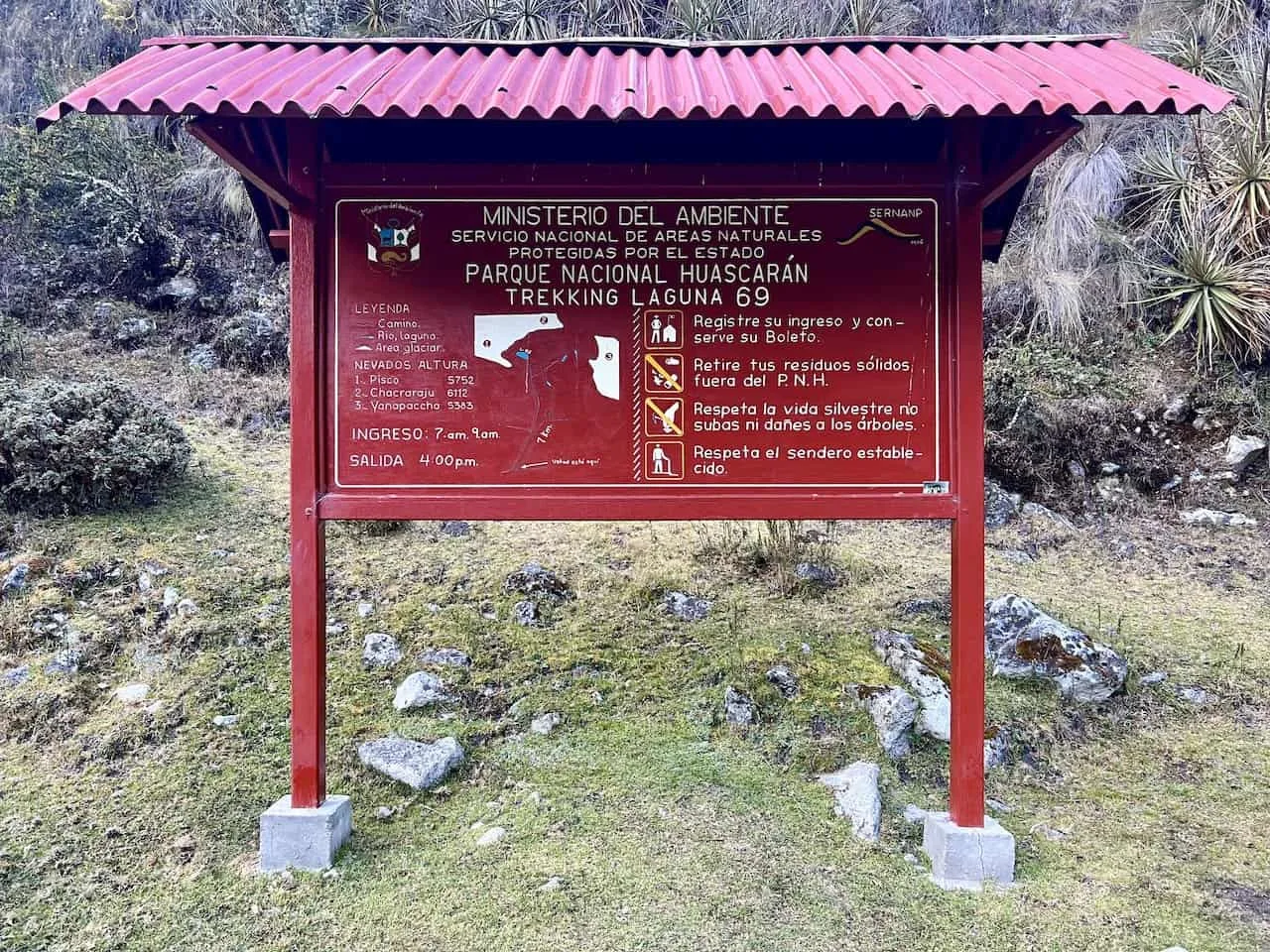 The first section of the trail is relatively easy with a flat/easy incline. You will make your way through the valley floor with various flora on either side of you.
Be on the lookout in both directions for views of the snowcapped mountains hovering out in the distance.
The trail will make its way along and over the valley's river with obvious red/white hiking signs pointing you in the right direction.
This first portion of the Laguna 69 hike is the perfect way to get your body warmed up for the next section of the hike. While this first part will be relatively flat, next up comes the elevation gain.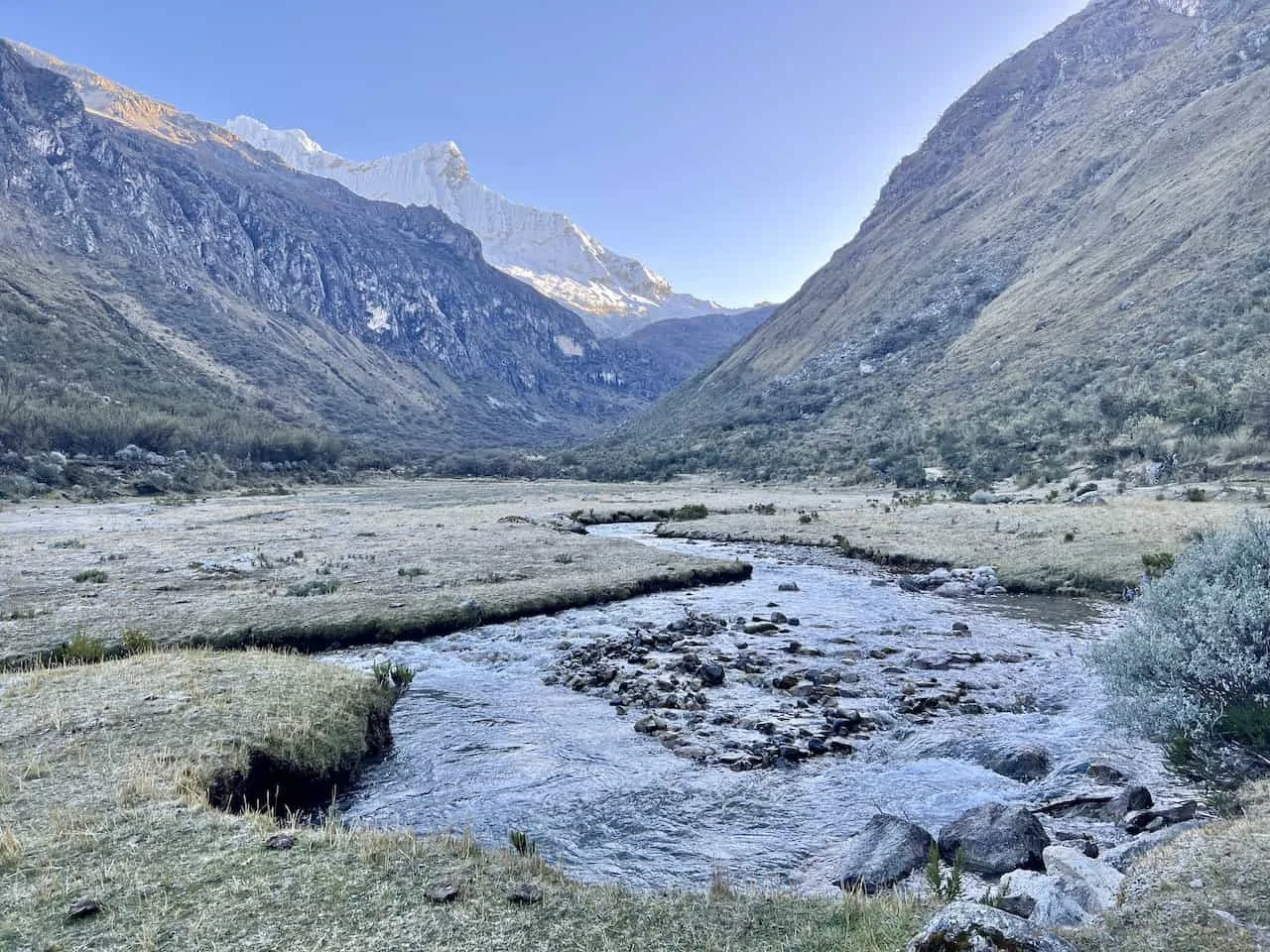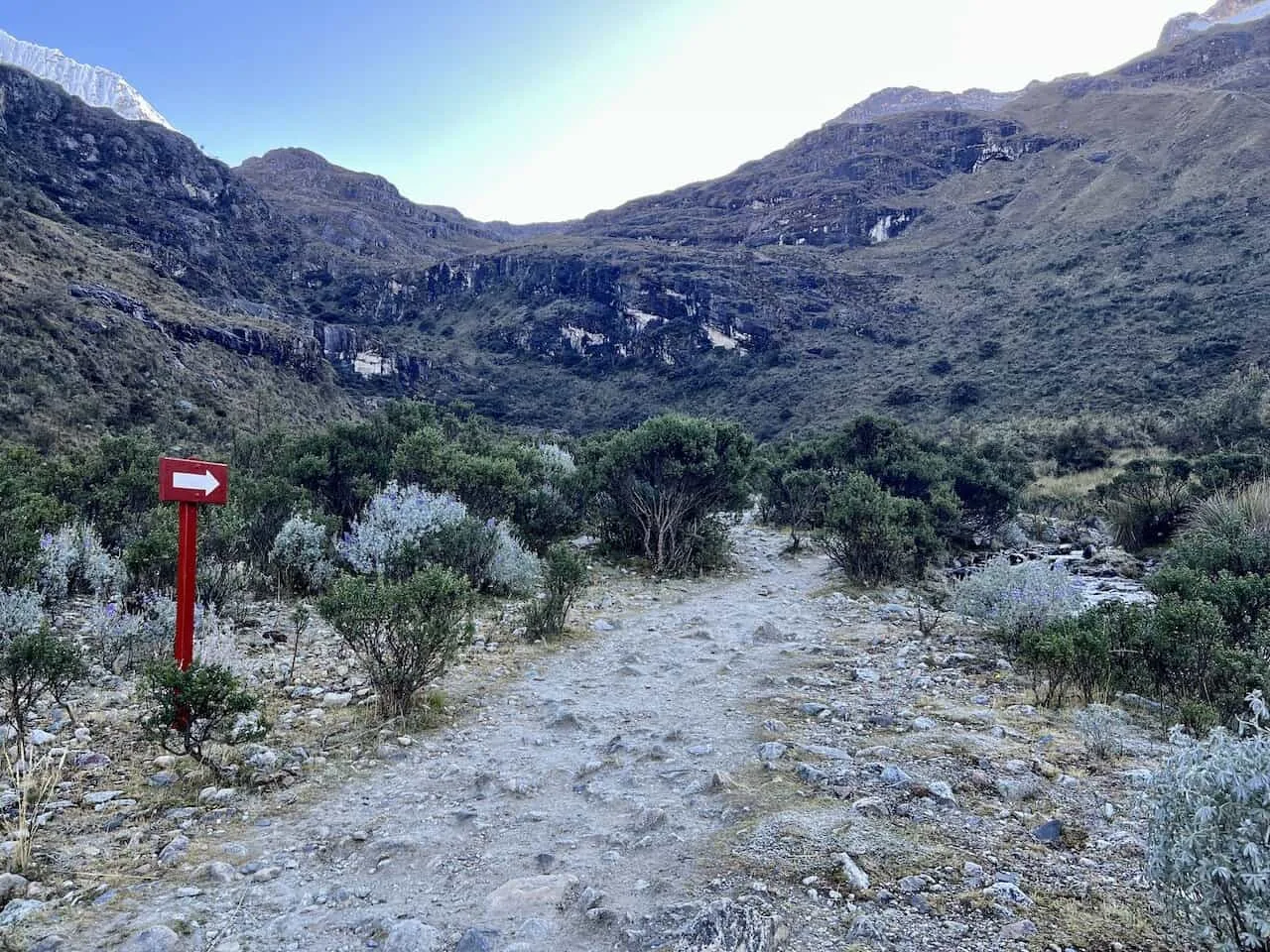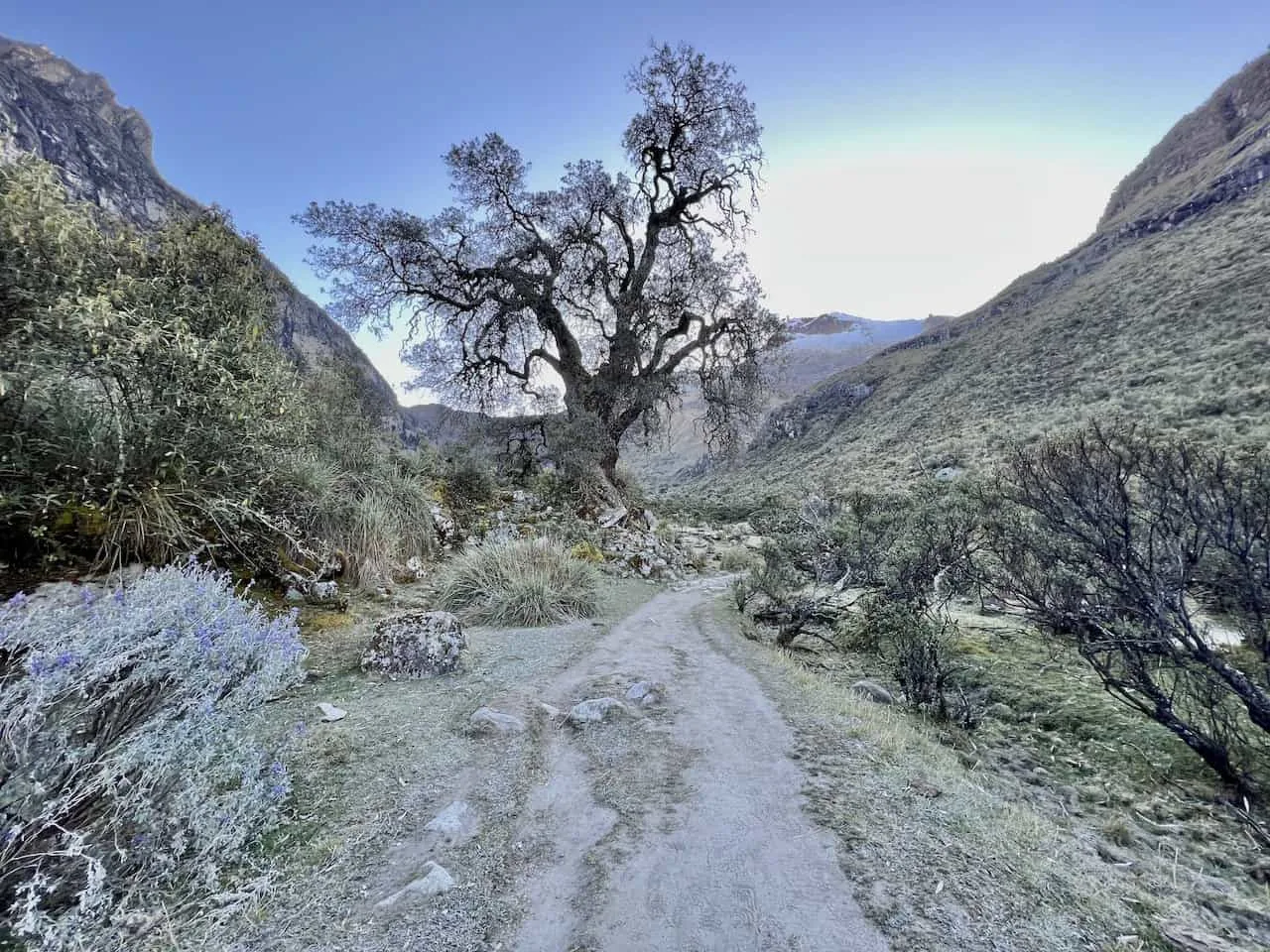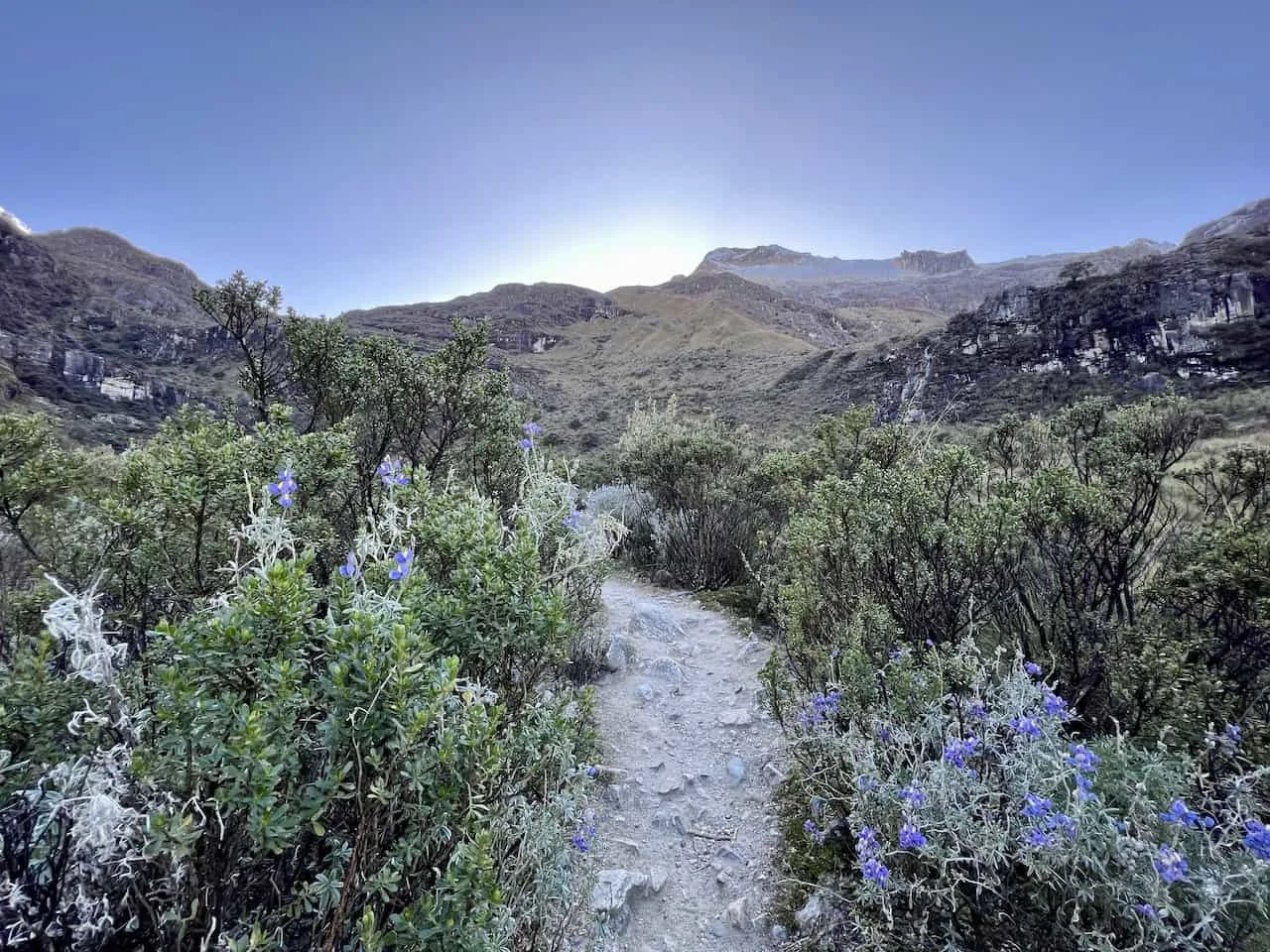 Elevation Gain to Consuelo Lake
Over the next mile or so you will begin to feel those legs burning as you continuously gain elevation over the valley floor.
The trail will make it way over the right hand side of the valley as you get higher and higher up. Be on the lookout for some more beautiful features such as the multi tiered waterfall and plenty of mountains all around.
Soon the trail will turn into a few different switchback sections as you zig zag your way up further onto the next section of trail.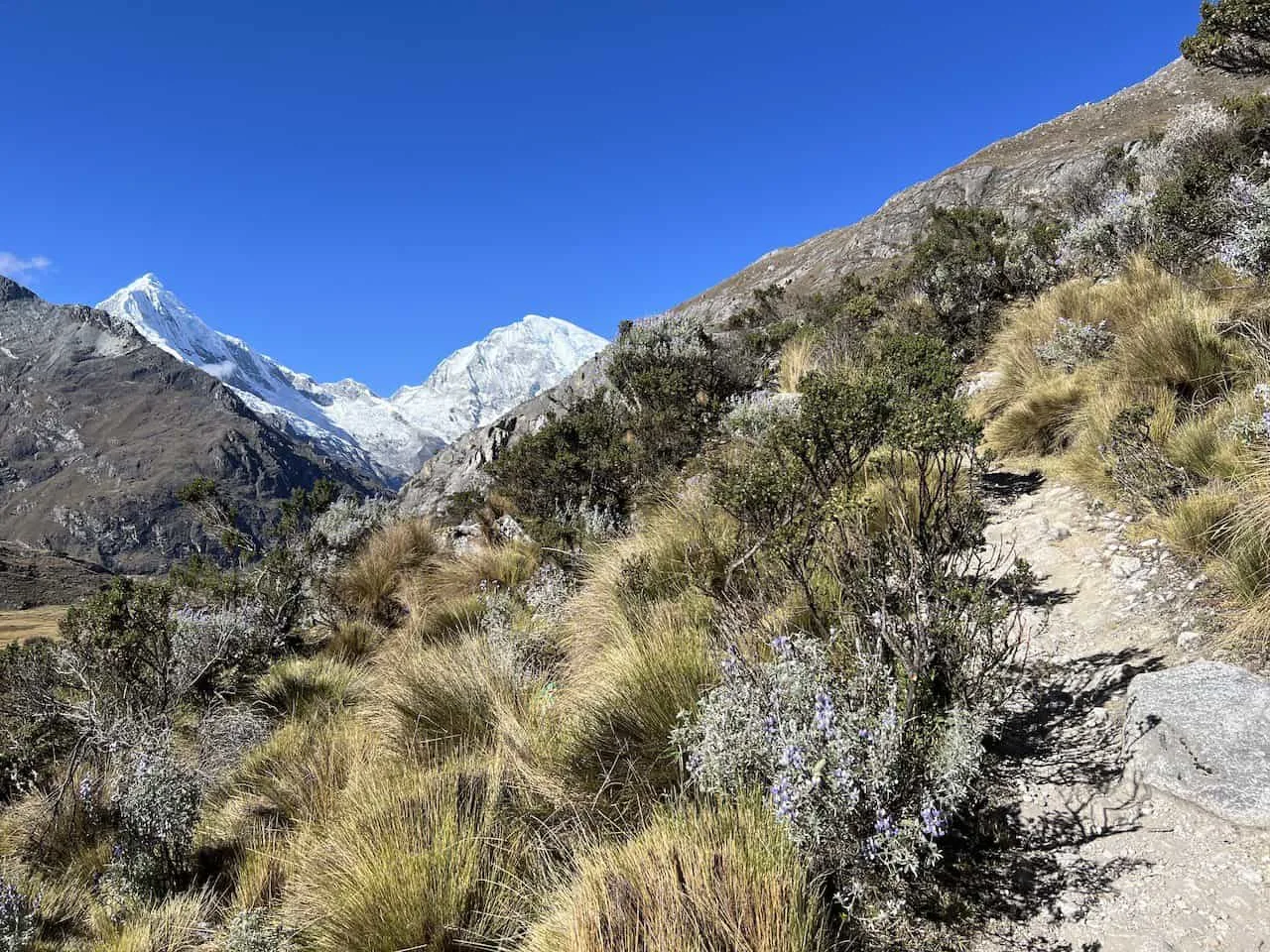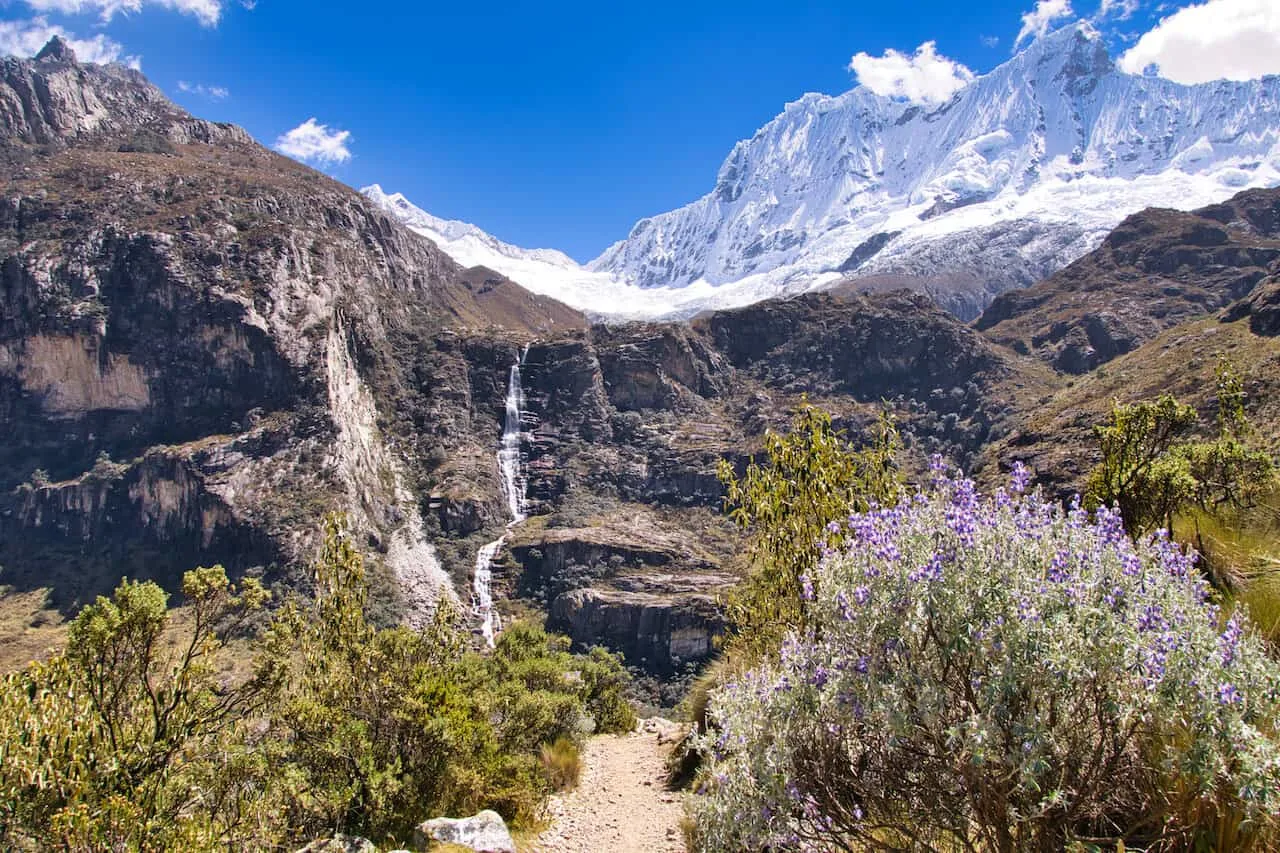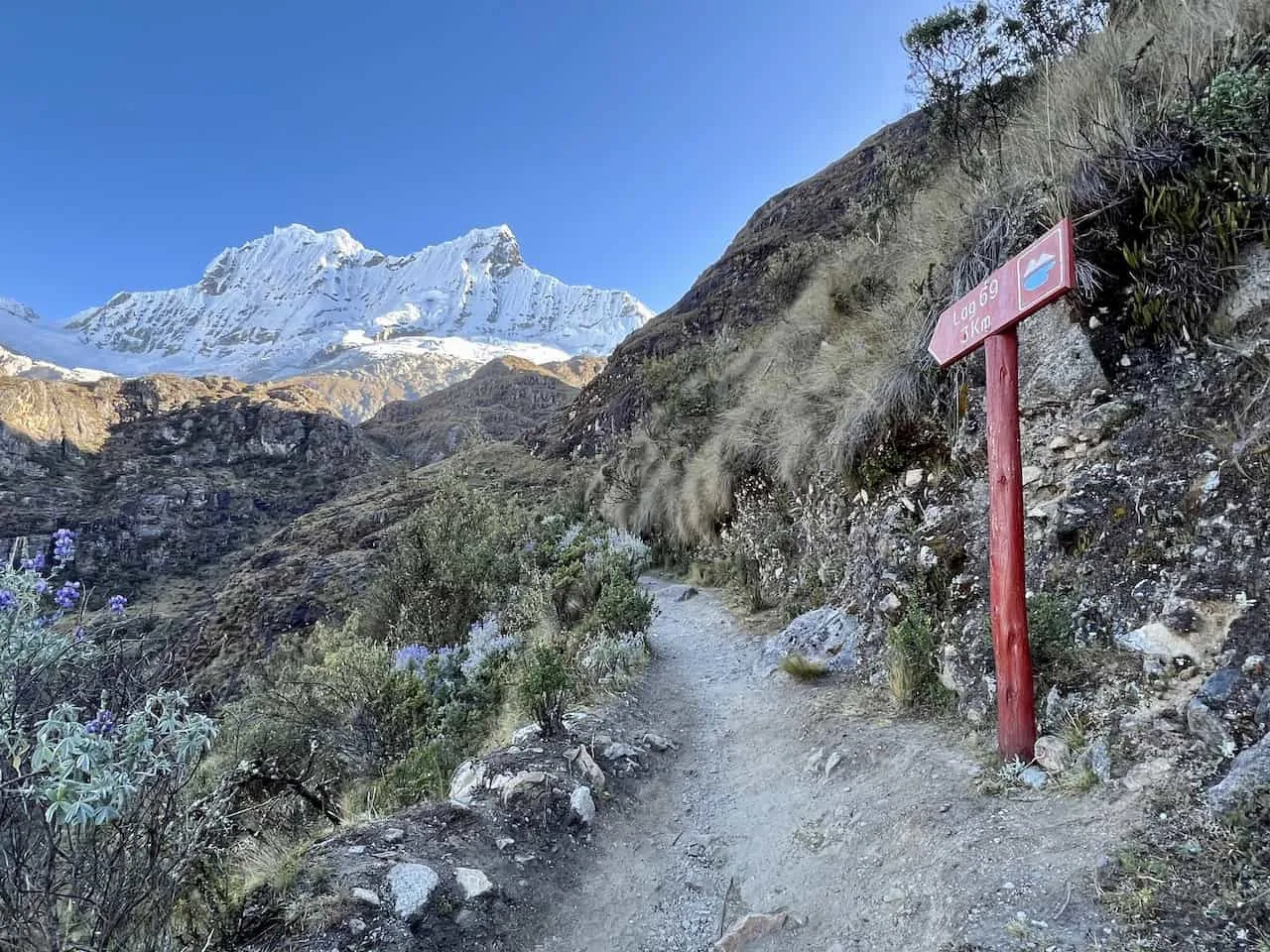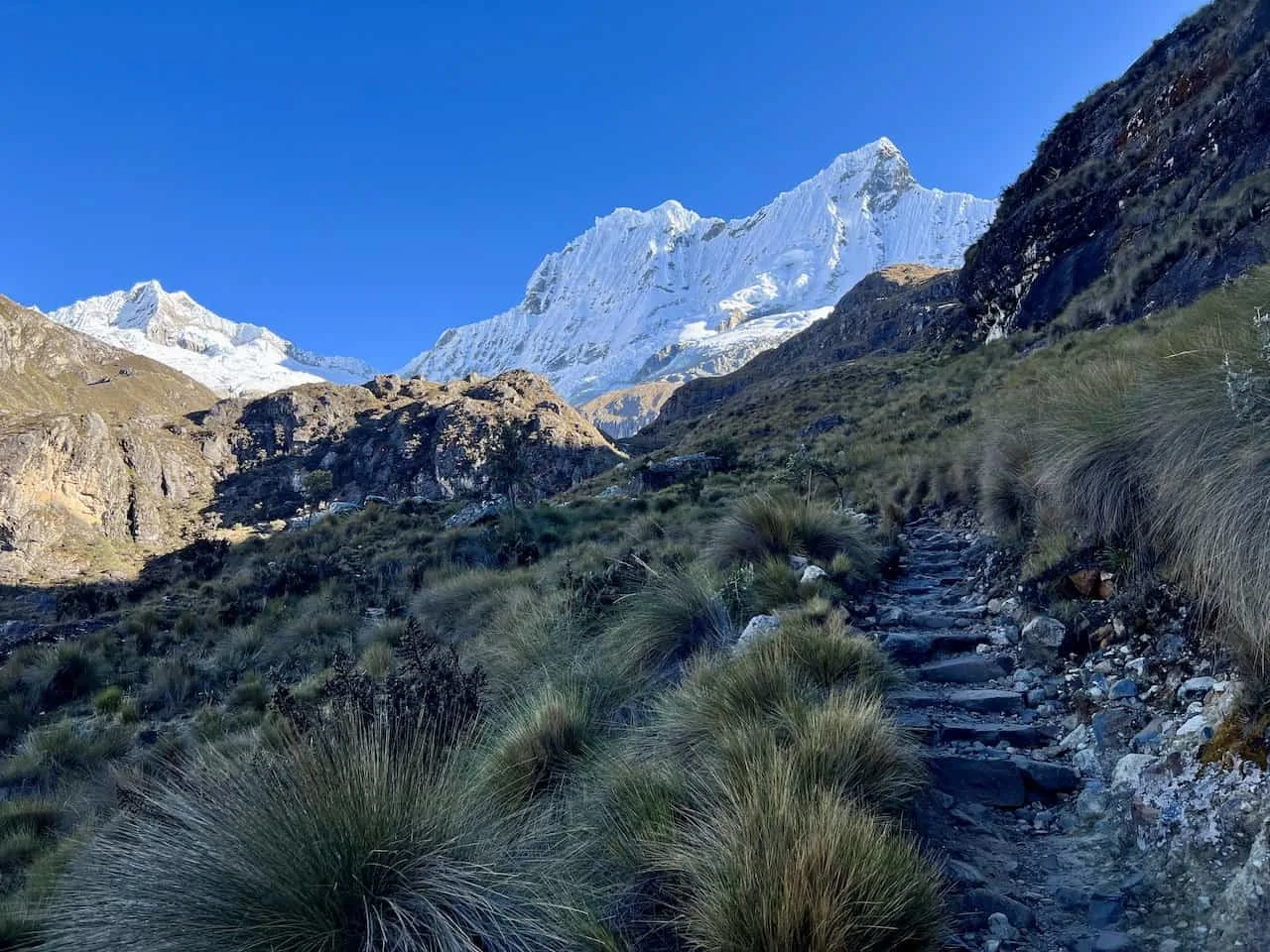 While this section of trail is certainly tough, be sure to take breaks as needed during the climb. You will come across a few top viewpoint spots, where you will get some more unobstructed views surrounding you. Take your time and enjoy the Cordillera Blanca as you continue along.
At the end of the switchbacks you will find Consuelo Lake. This beautiful body of water has the peaks of the Andes hovering above out in the distance. Once you reach the lake, the first major ascent will be completed. So be sure to take a rest here before continuing on with the day.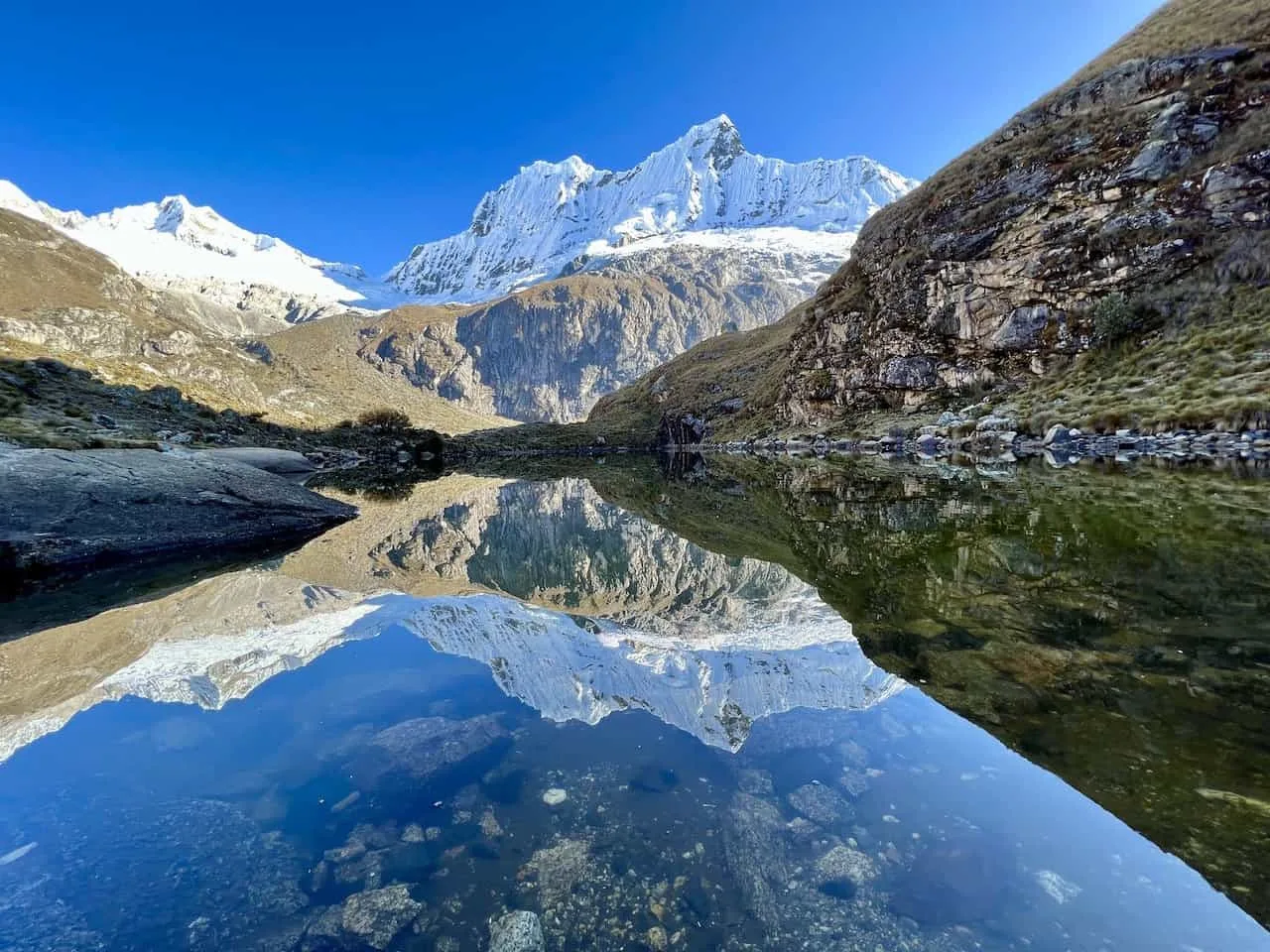 Short Flat Section
After the hike up to Consuelo Lake, you will be welcomed to a nice easy stroll for the next 0.8 miles / 1.3 km to the base of the mountain range out in front of you.
Follow the path along the river, where you will get amazing views both out in front and behind you. It is then to the back of the valley wall, where you begin the final push to Laguna 69.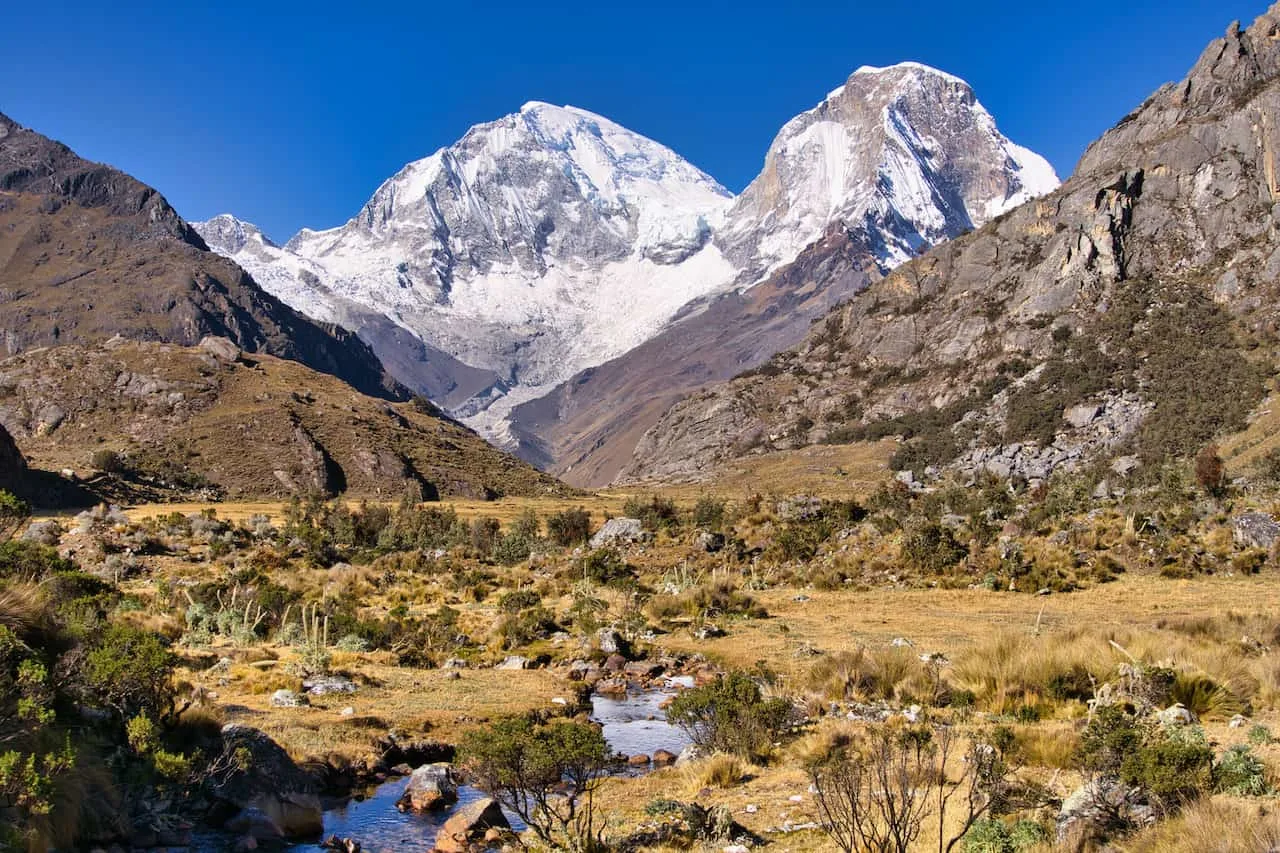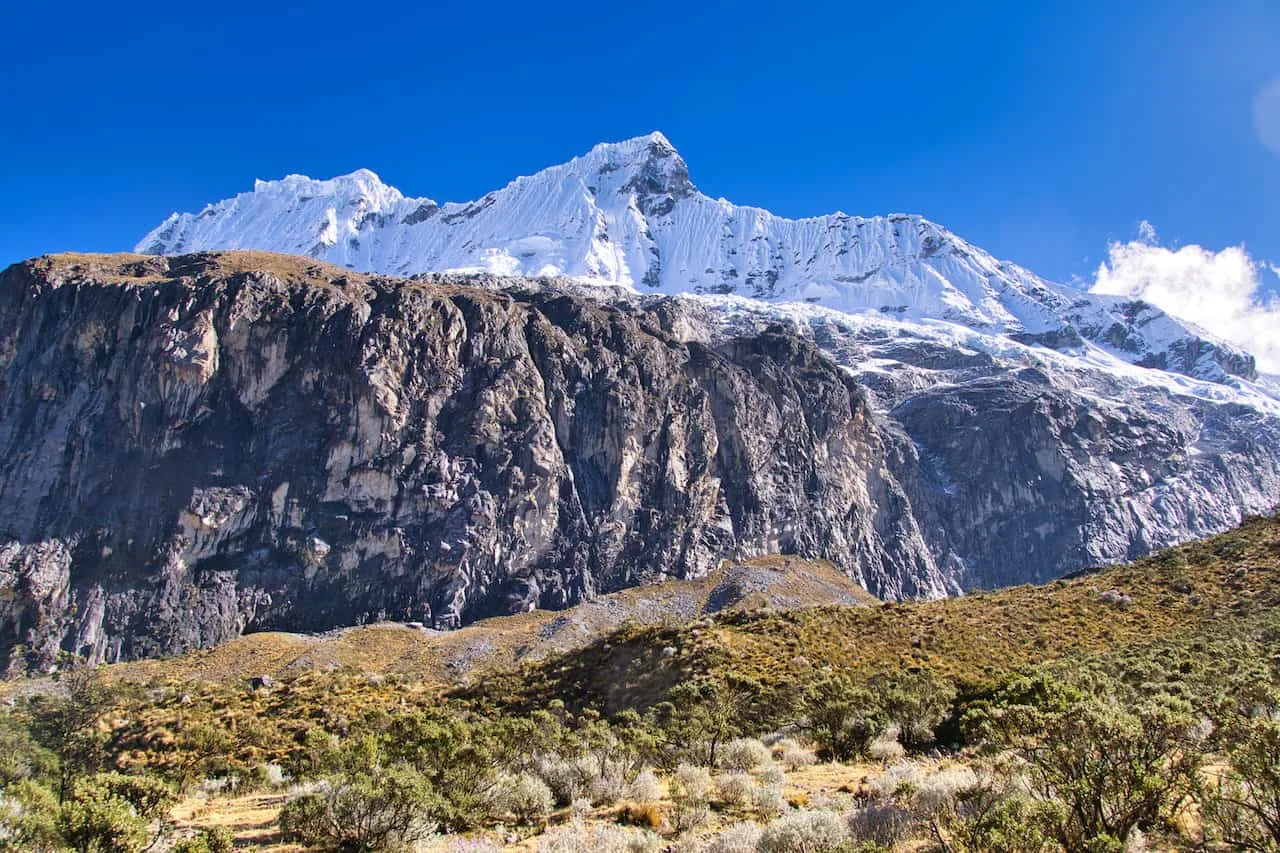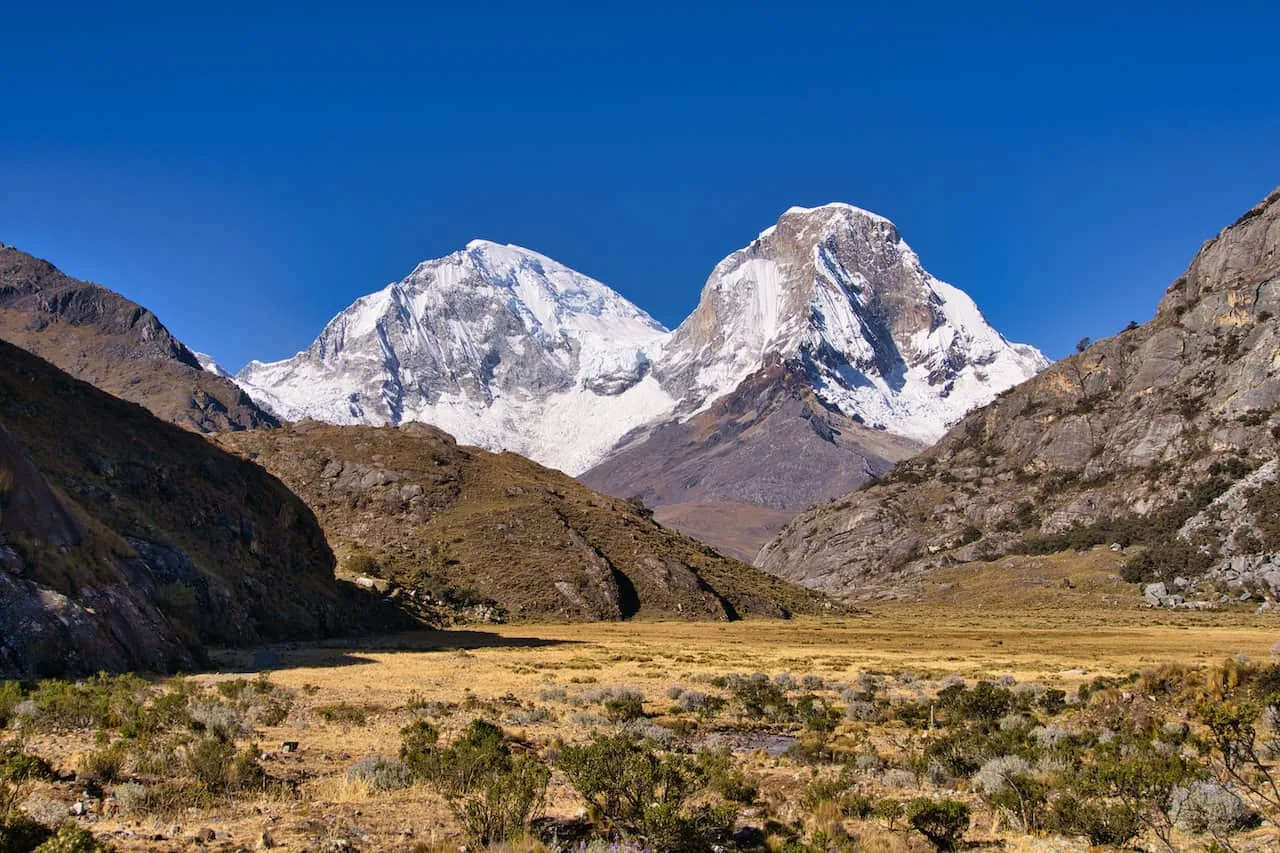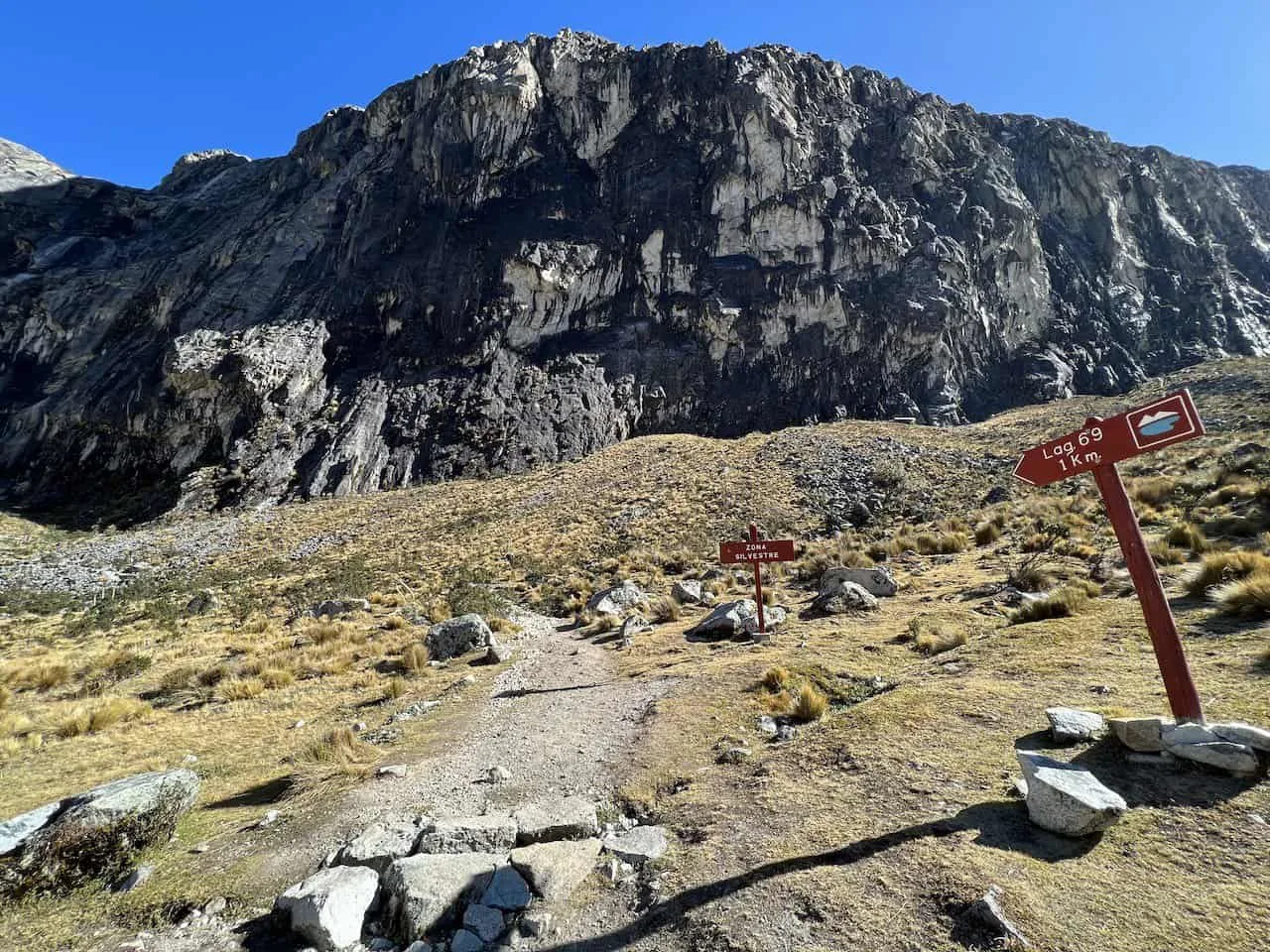 Last Push to Laguna 69
This is certainly the toughest part of the hike. While only 0.7 miles in length, you will be gaining nearly 600 feet of elevation along the way.
The trail heads up the mountainside on some rockier terrain, as you soon begin to gain more and more elevation. Off to the side you will have some beautiful views of the surrounding valley and mountains, so be sure to take some time to enjoy it.
Soon enough, you will begin to see the Yanapaccha and Pisco mountains getting closer and closer. Before you know it, the first glimpse of Laguna 69 will come into view.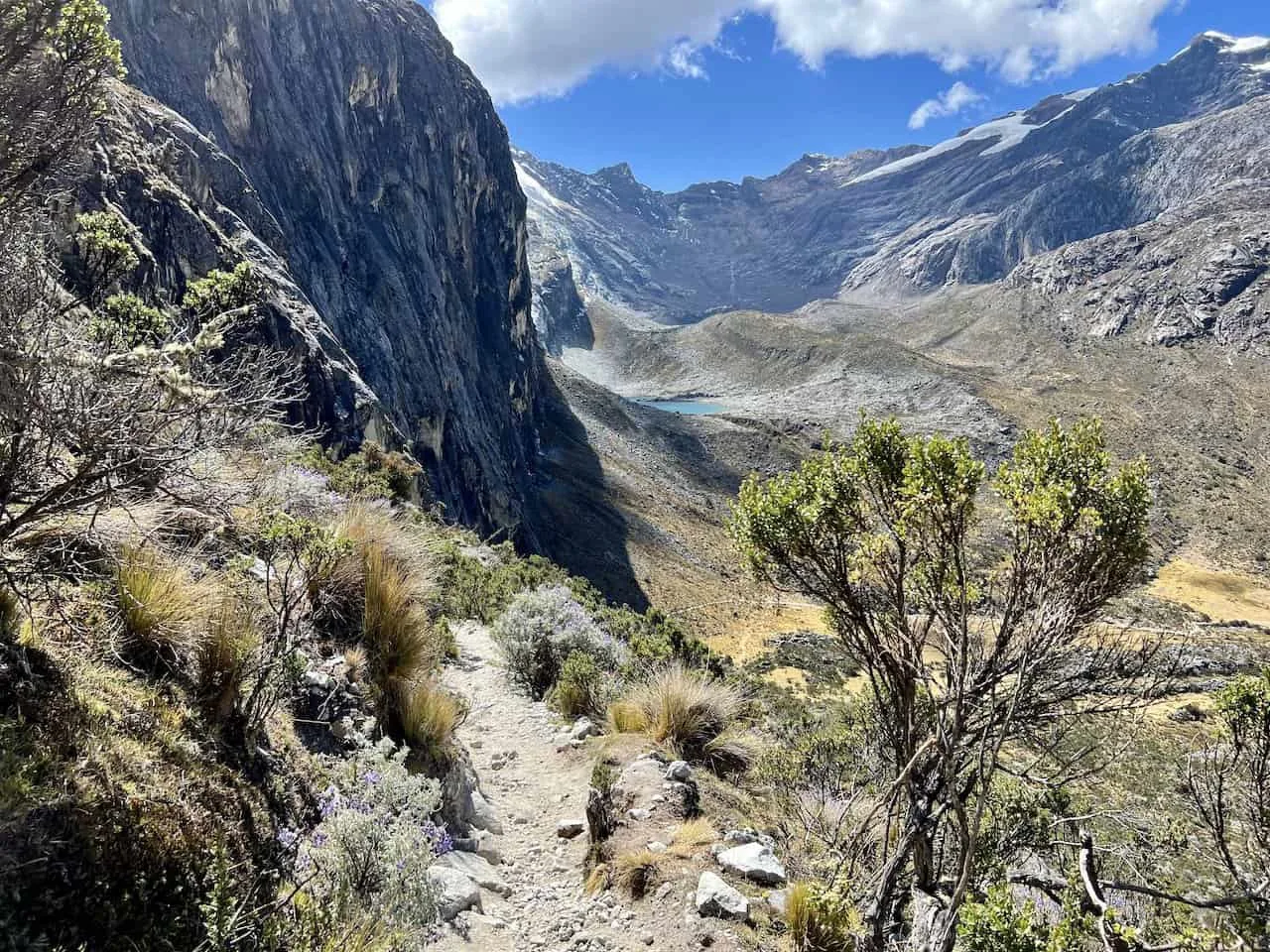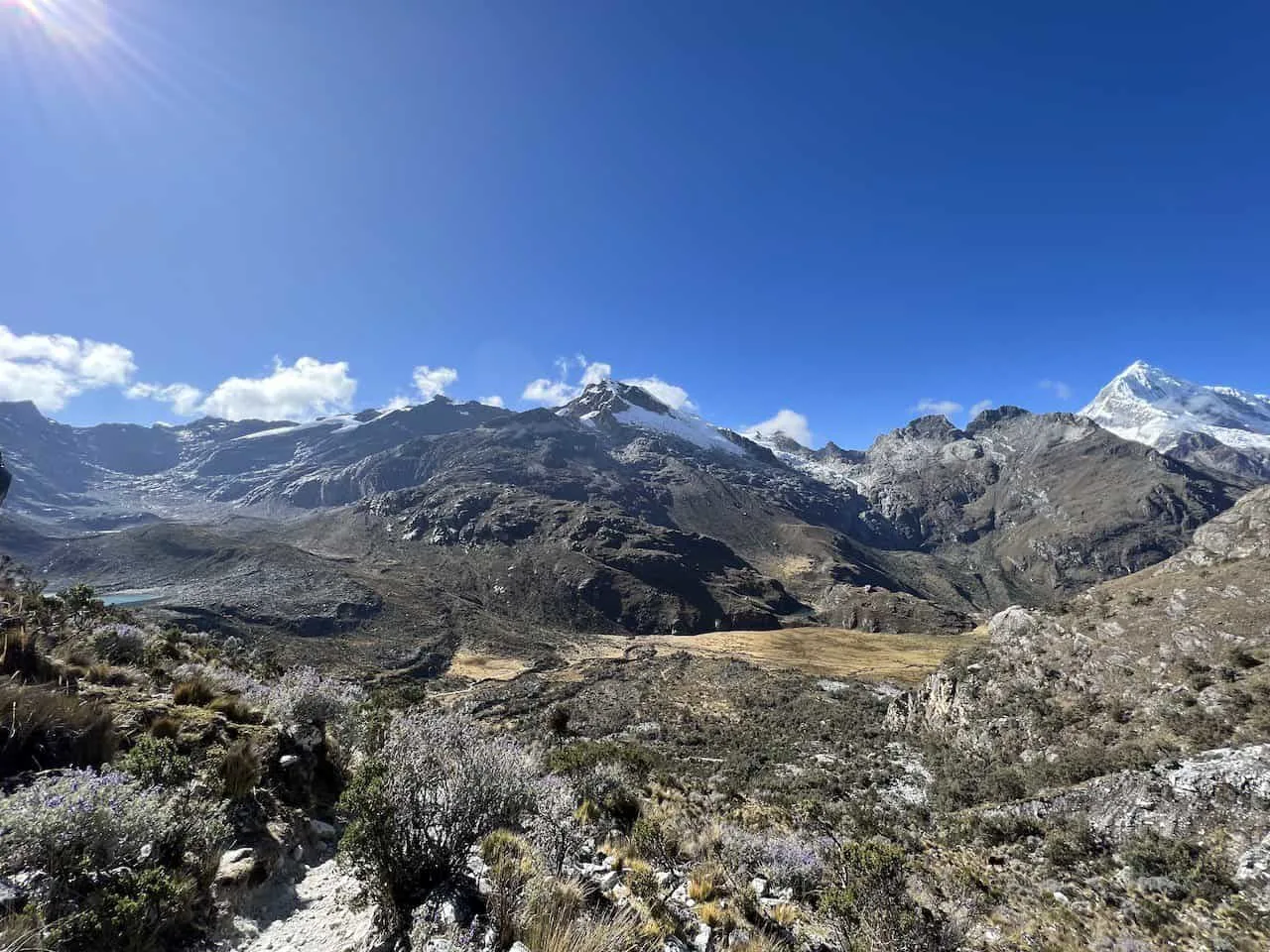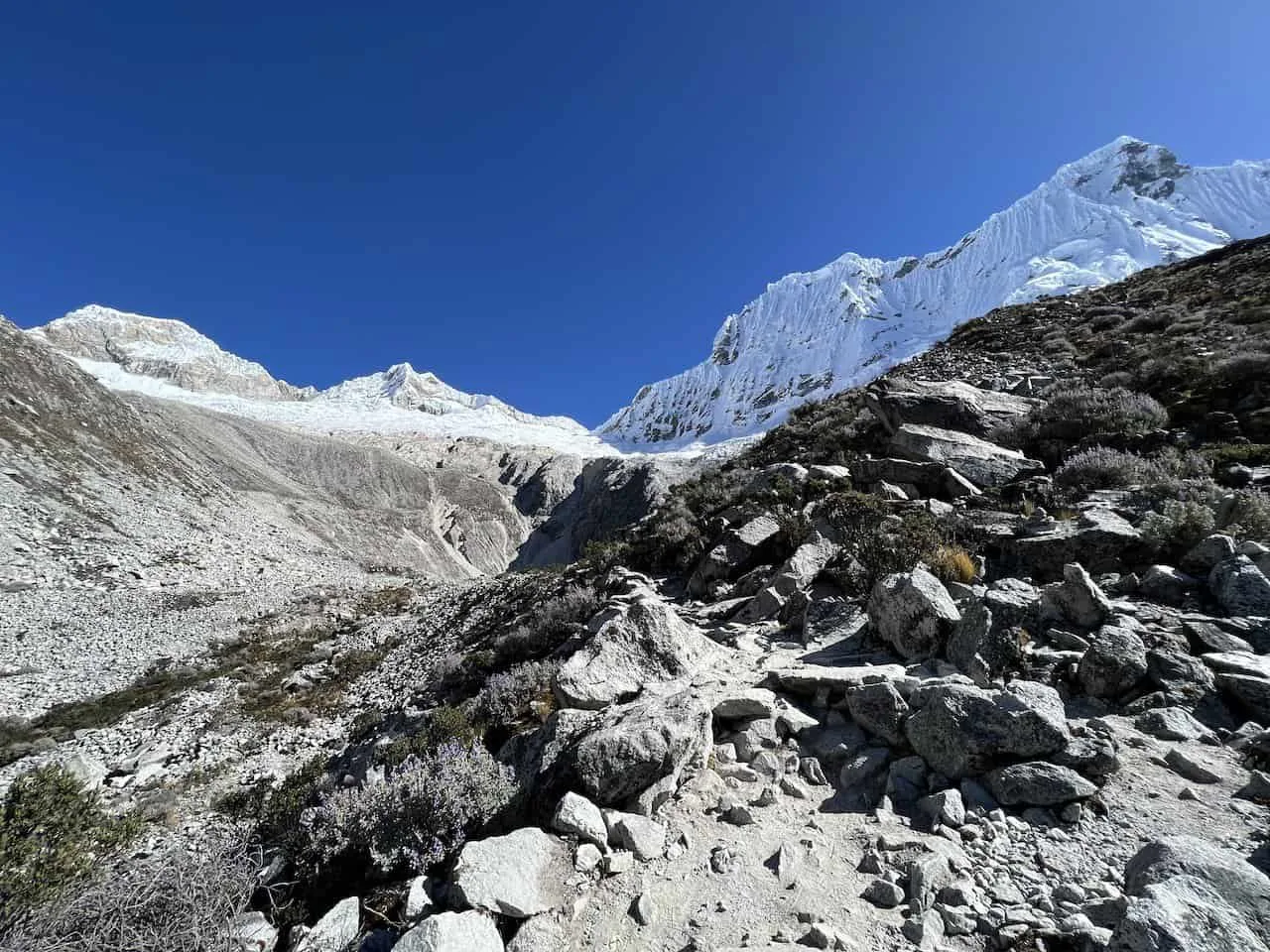 Laguna 69 Views
You can enjoy the view from the trail, before making your way down to the lakeside. All throughout the area, you will find plenty of spots to take a seat to relax.
The beautiful blue turquoise waters will be surrounded by rock and ice in all directions. Have some lunch, relax, and maybe even go for a cold dip!
While it certainly would have taken a lot to get to this point, it will all feel worth it once you reach the shores of Laguna 69.
While the lakeside is full of spot to enjoy, I would also recommend heading on up to the right-hand side of the lake. Here you should find many rock cairns (piles of rocks), that offer an elevated perspective of the lake and mountains.
You can take some time to wander around this area, before returning down to the main lakeside area.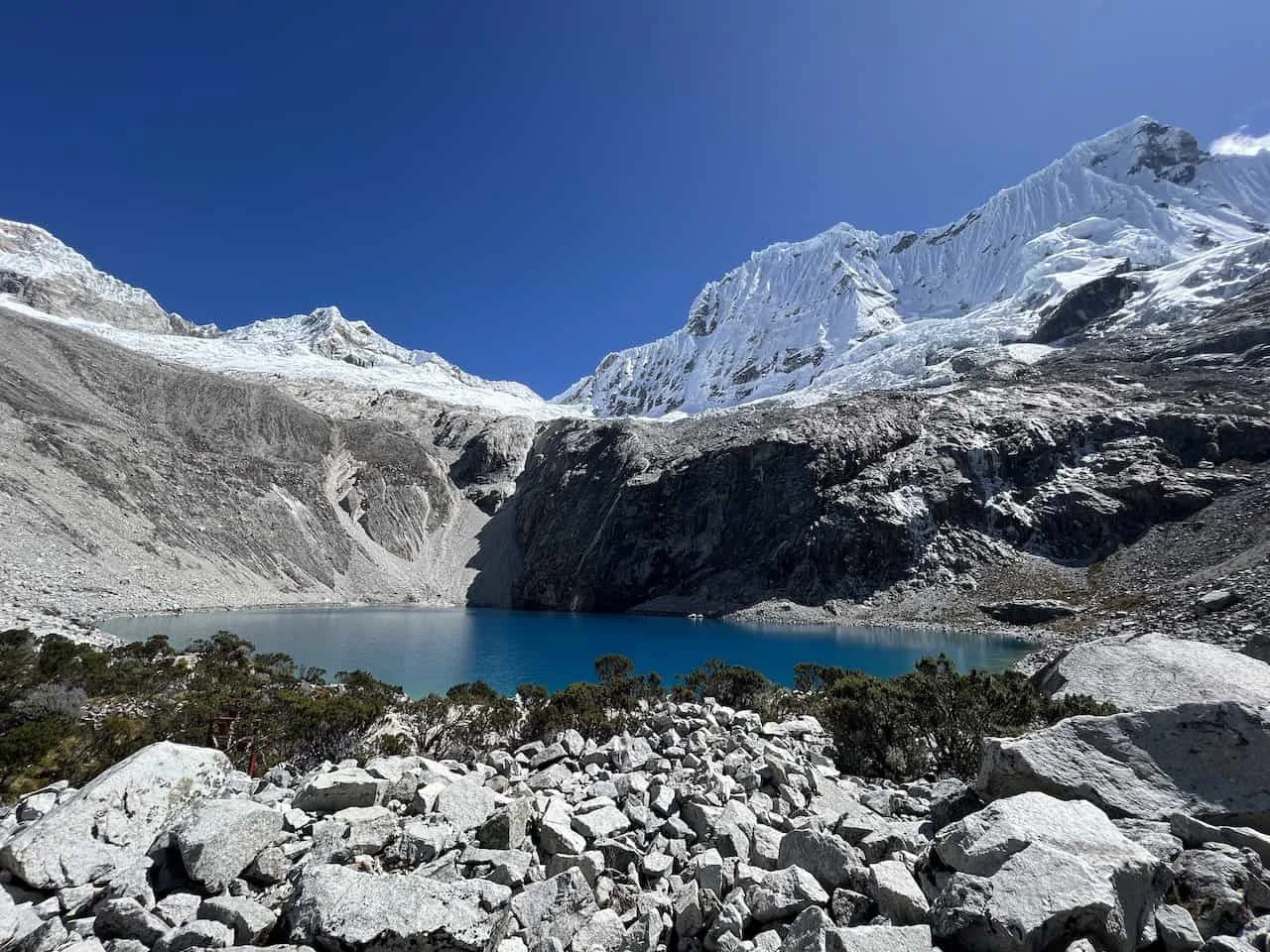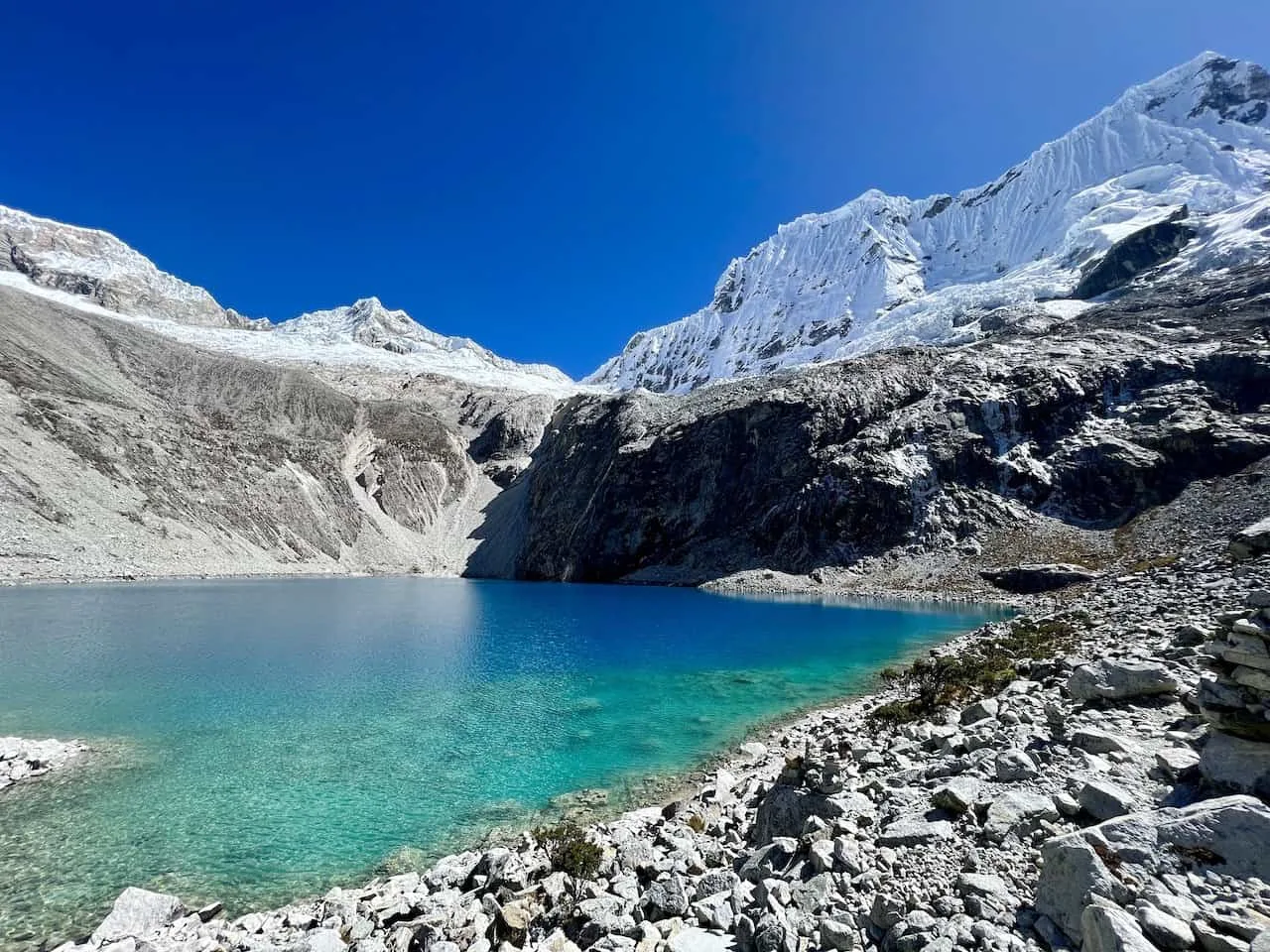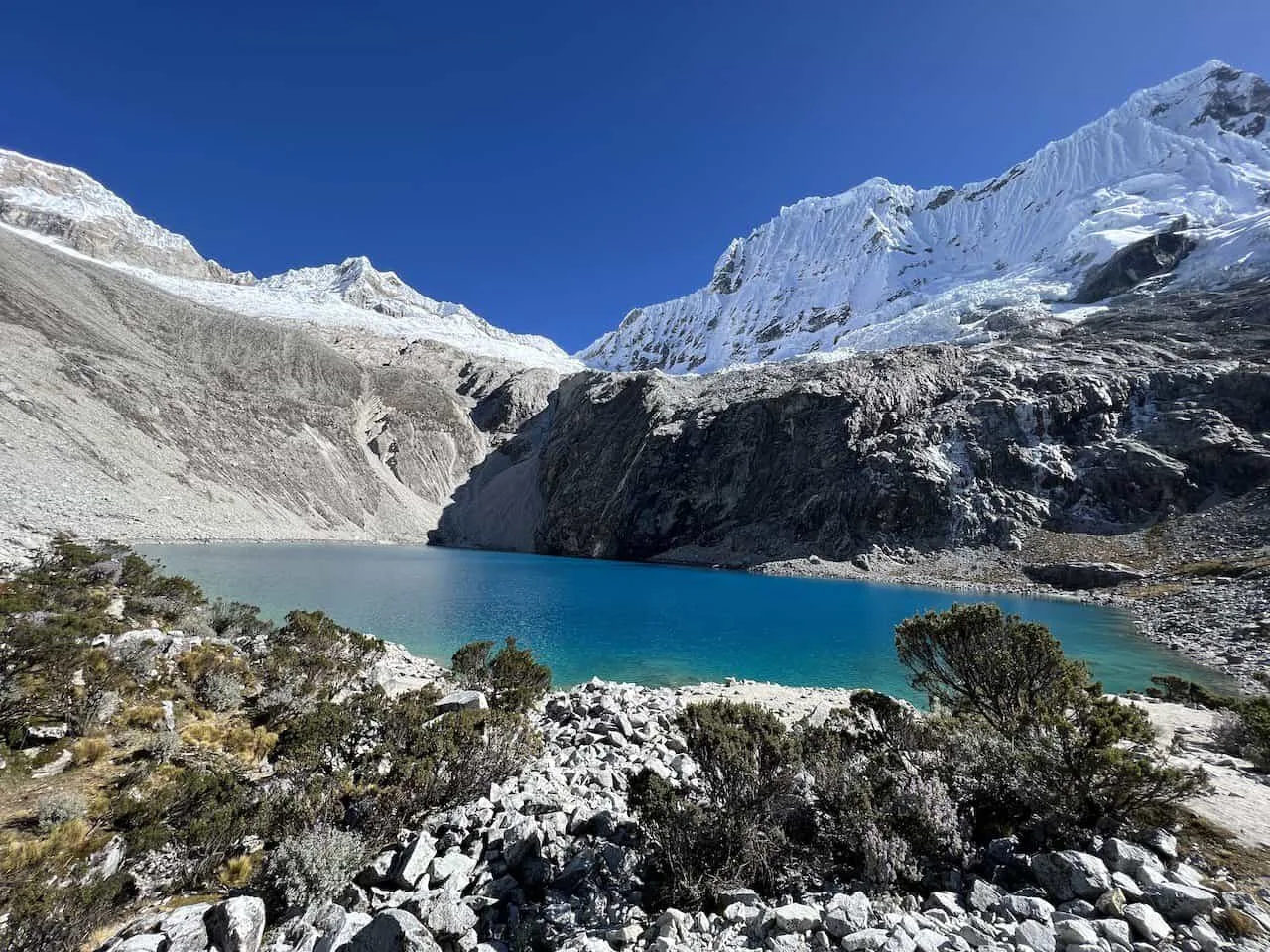 Once all done by the lake, it is then retracing your steps back down to the trailhead. The hike down will certainly be much easier and should take around 2 hours to complete.
Be on the lookout for more views though as you may have missed some heading up. You are sure to come across plenty of them as you finish up the hike.
After getting yourself back to the trailhead, make your way back to your transport and onto Huaraz.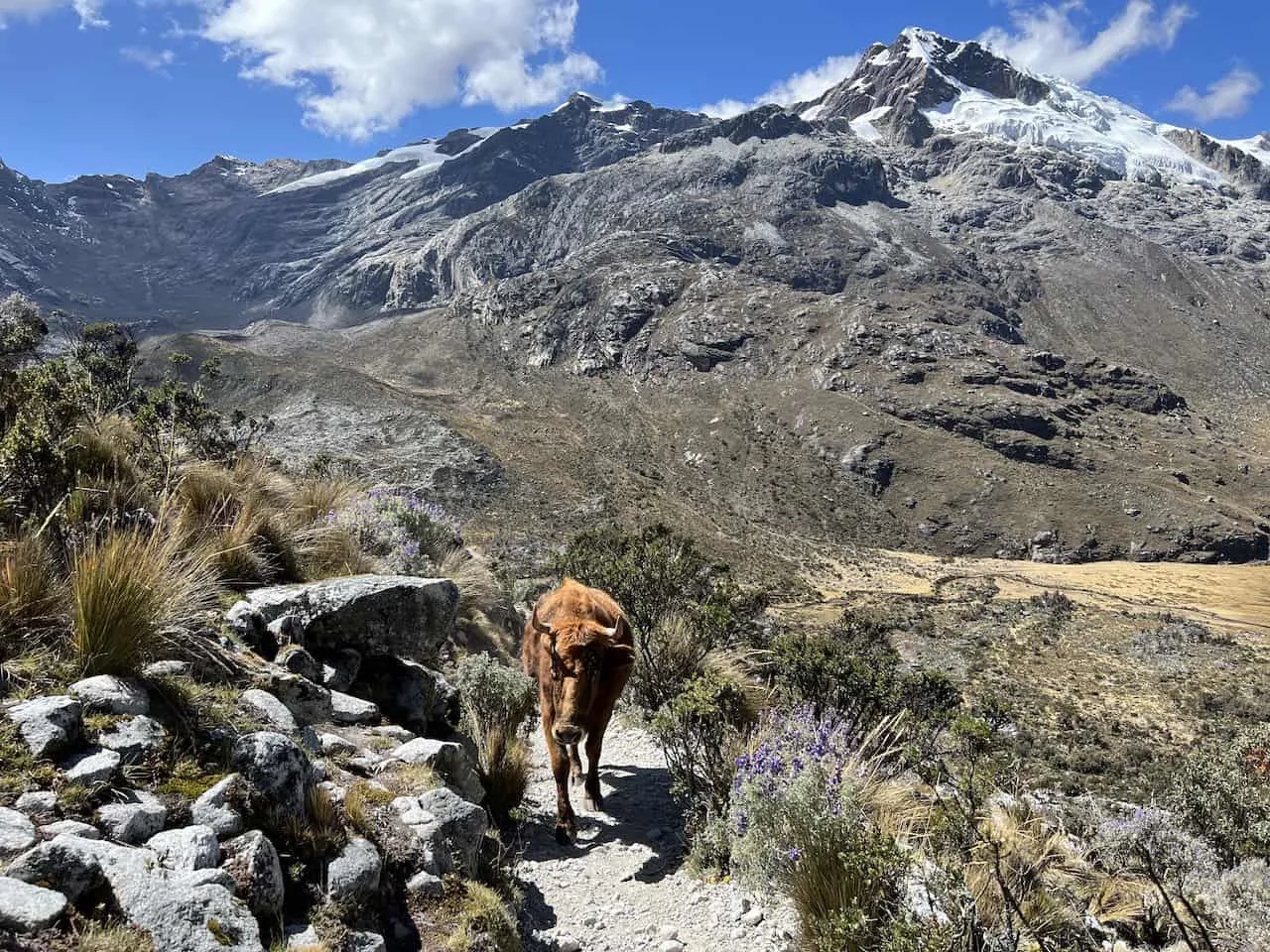 Can You Swim in Laguna 69
Yes, you can swim in Laguna 69. However, do note how cold the water actually is. While the water looks inviting, it is sourced from the ice and snow from above. This makes the water very cold!
Even on the hottest of days in the region, I doubt you will feel comfortable jumping into the water. But if you are up for it, you can definitely enjoy a swim in Laguna 69.
9) Where to Stay in Huaraz
While there are many options to choose from in the city, the more highly rated options will sell out throughout the peak months. Once you know your dates, be sure to lock down your hotel choice.
Below are just a few of the hotel options I would recommend looking into for the trip:
→ Hotel & Bungalows Villa Valencia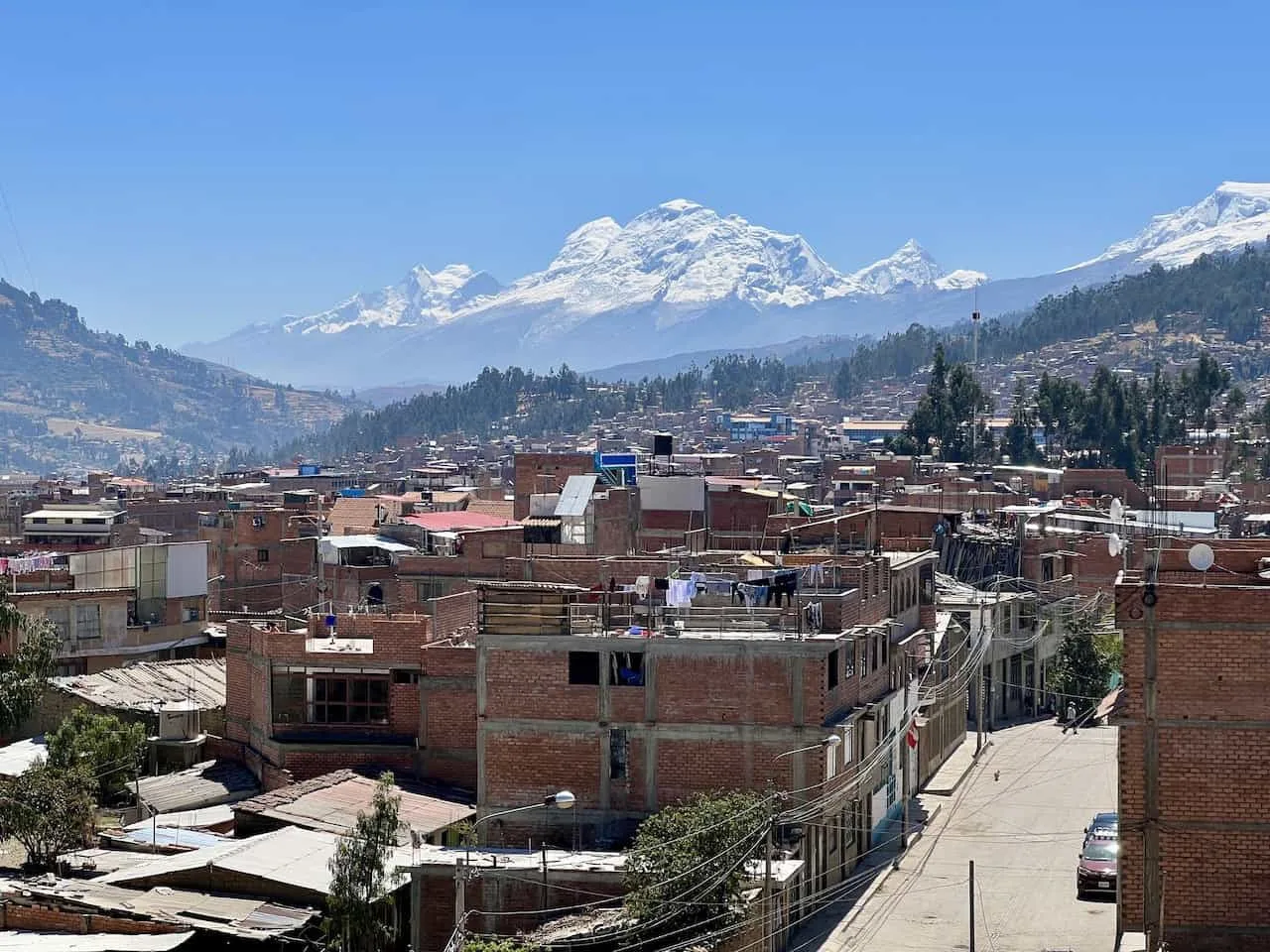 That wraps up a guide to the Laguna 69 hike of Huaraz, Peru. If you have any questions or comments about the trek, feel free to add them in below.
Also, don't forget to check out some of the other Peru itineraries and guides up on the site like this 10 Day Peru Itinerary.
Have fun out there and safe travels!