The sixth day of the Huayhuash Circuit takes you from Cuyoc to the campsite of Cutatambo. Along the way you will get to enjoy some beautiful views, and make your way up the San Antonio Pass, before descending down to camp.
Read on to learn more about the route between Cuyoc to Cutatambo and what to expect out on the trail.
* Affiliate Disclosure: This post may contain affiliate links, which means I may receive a commission if you make a purchase through the links provided, at no additional cost to you. Thanks for supporting the work I put into TripTins!
1) Hiking Overview: Huayhuash Day 6
Day 6 of the Huayhuash Circuit will take you from Cuyoc to Cutatambo. Below are some helpful stats about the day and what the trail is all about.
Starting Point: Cuyoc
Cuyoc Elevation: 4,500 meters / 14,765 feet
Ending Point: Cutatambo
Cutatambo Elevation: 4,265 meters / 13,990 feet
Mountain Pass: San Antonio Pass
San Antonio Pass Elevation: 5,020 meters / 16,470 feet
Distance: 3.0 miles / 4.8 km
Elevation Gain: 1,700 feet / 520 meters
Duration: 3-4 hours
Day 6 Notes
What may seem like an easier day on paper, is actually one of the more difficult days out on the trail. This is mostly due to the descent from the top of the San Antonio Pass down to the campsite of Cutatambo. Due to this dangerous descent, many opt to head to Cutatambo via the neighboring Jurau Pass (Santa Rosa Pass).
While the views are said to be a bit better from the San Antonio Pass, it may not be worth the descent for some trekkers. That will be up to you to decide.
One option to get the best of both worlds, is to head up the San Antonio Pass on day 5 once you arrive in Cuyoc. You can enjoy the views from up top before descending back down to the Cuyoc campsite.
On day 6, you can then head over the Jurau Pass and descend down to Cutatambo from there. While I did not opt for this route, I have come across this type of recommendation from other trekkers.
The map below shows both hiking route options to give you a better sense of the area,
Day 6 Highlights
• Surreal views from San Antonio (or Jurau) Pass
• Demanding descent down to Cutatambo
While this article will simply talk through day 6 of the trek, you can learn much more of the overall experience in the Huayhuash Circuit overview up on the site.
Route Note: this daily trekking guide (as well as the other daily guides on the site) go over a standard 10 day Huayhuash Route. Trekking routes can be greater or fewer days depending on your preferences (learn more about these in the previously mentioned overview above!).
Learn More: Be sure to check out the Huayhuash Circuit resource page that includes many helpful travel guides to get you prepared for the trek.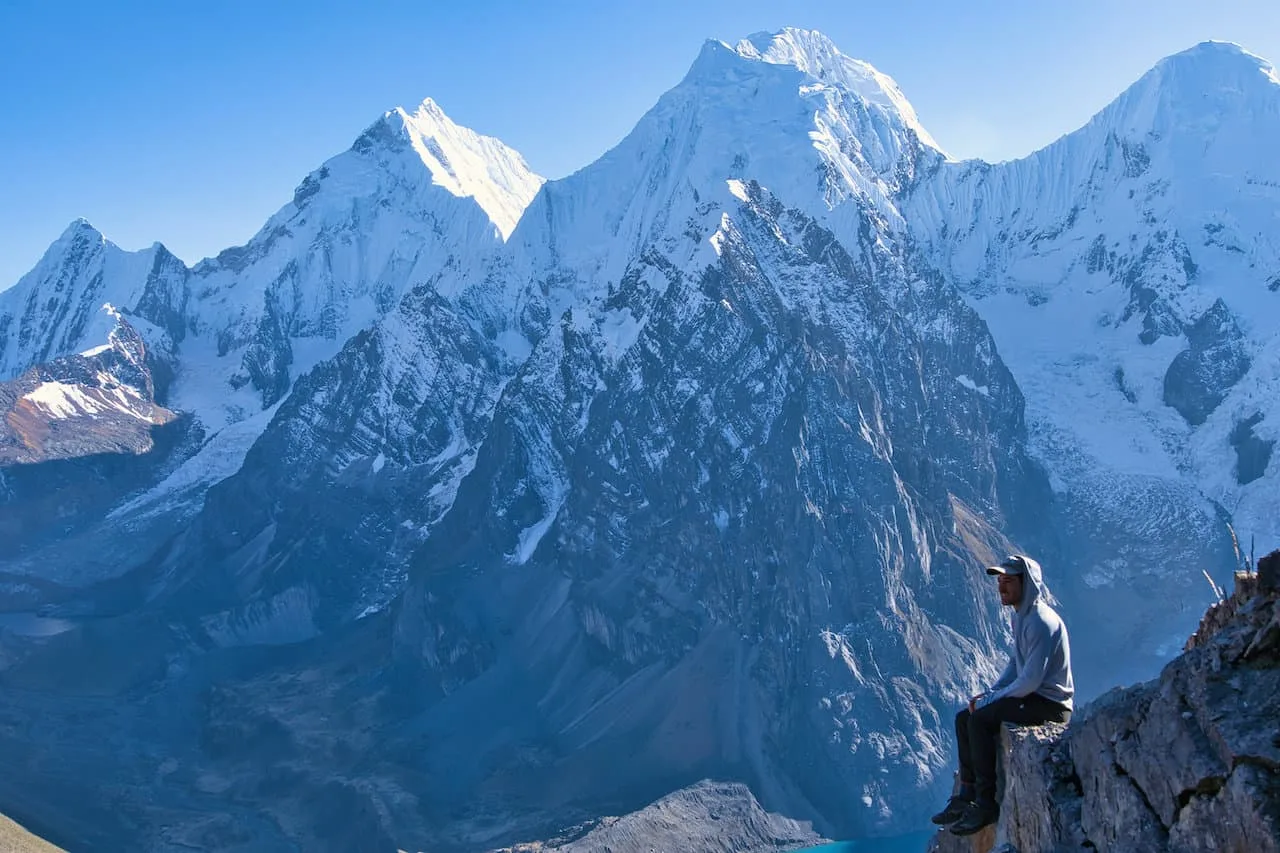 2) Huayhuash Circuit Day 6: Cuyoc to Cutatambo Map
To better visualize the hiking route on day 6, below you can find a trail map for the sixth day of the circuit.
If you would like to see the full route, be sure to check out the guides I put together for the complete Huayhuash Circuit Map and Huayhuash GPX file (for navigation purposes).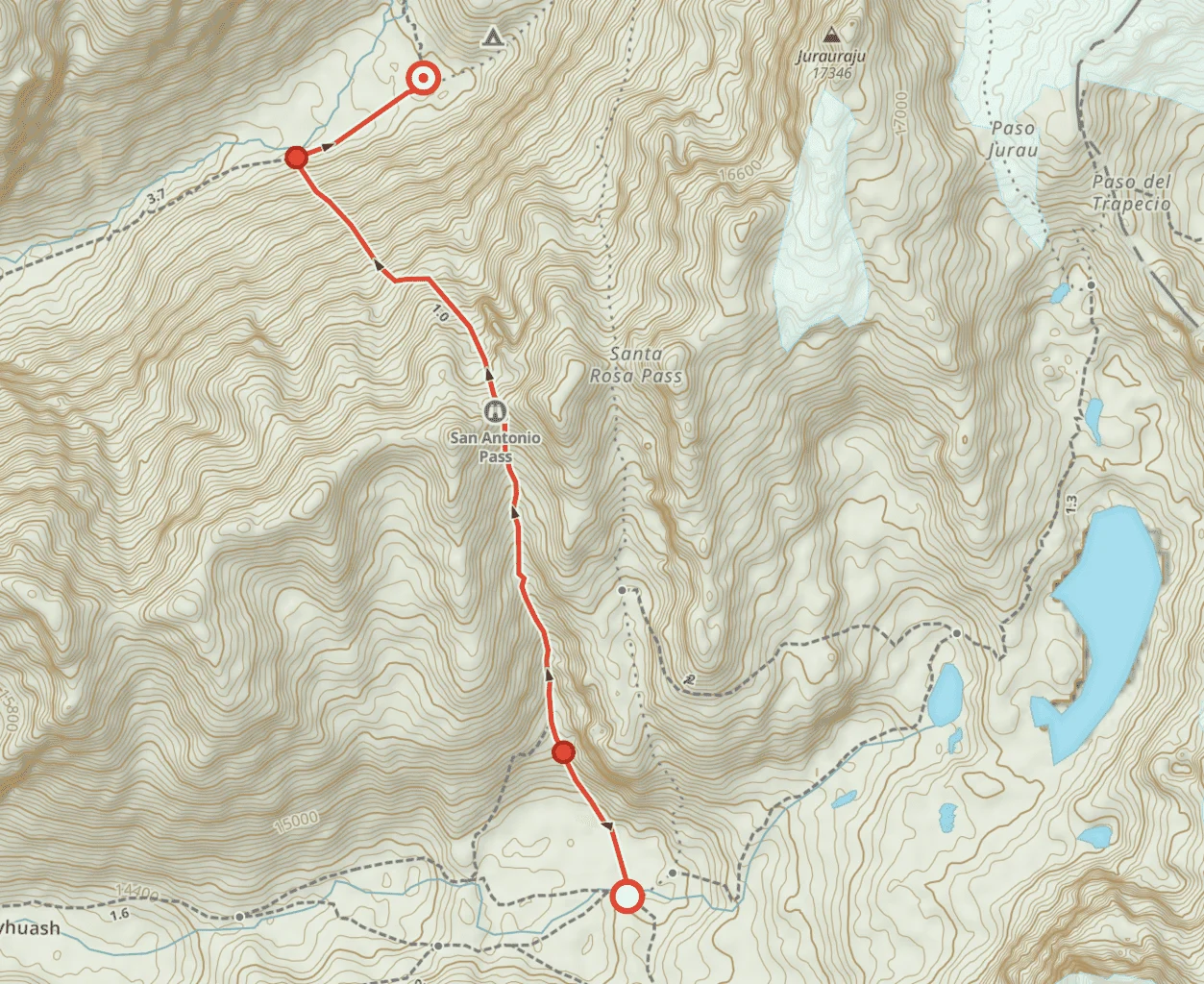 3) Elevation Gain Profile
Below you can find the elevation gain profile for day 6 of the Huayhuash Circuit. The trail heads from Cuyoc to Cutamtambo as it peaks at the San Antonio Pass, which sits at 5,020 meters / 16,470 feet feet in elevation.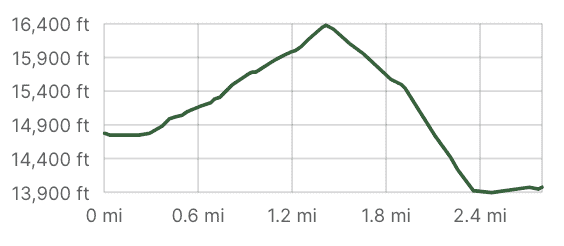 4) Huayhuash Circuit Packing List
A complete Huayhuash Circuit packing list will be essential for your time out on the trail (especially if hiking without a guided tour). Be sure to check out the comprehensive Huayhuash packing list I put together for more detail.
Below you can find just some of the most important camping items to consider for your trek:
• Hiking Backpack | Hyperlite Southwest 3400
• 3-Season Tent | Big Agnes Copper Spur HV UL
• 0 F Degree Sleeping Bag | Thermarest Questar 0
• Sleeping Bag Liner | Sea to Summit Liner
• Sleeping Pad | Thermarest NeoAir Xlite
• Camping Pillow | Thermarest Camping Pillow
• Trekking Poles | Black Diamond Distance Carbon FLZ Trekking Poles
• Water Bottle | Katadyn BeFree 1 Liter
• Headlamp | Petzl Actik Core
• Emergency Satellite Locater | Garmin inReach 2 Mini
• Solar Charger | GoalZero Nomad 10
• Portable Charger | Anker Portable Charger
• Cooking Stove | Jetboil Micromo
• Hiking Shoes | Keen (Targhee Series)
• Hiking Socks | Darn Tough Socks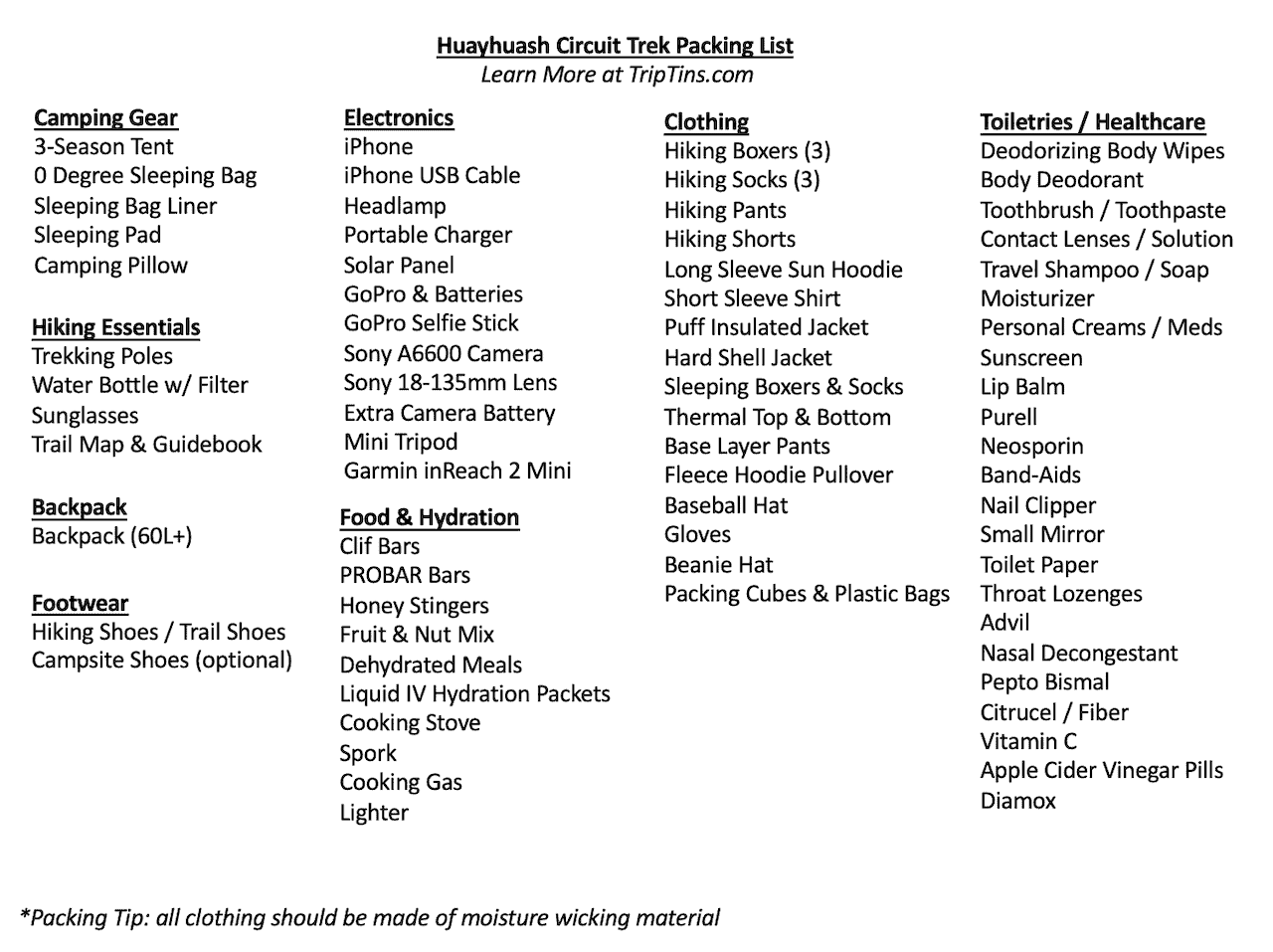 Considering travel insurance for the Huayhuash Circuit?

World Nomads offers coverage for more than 150 adventure activities as well as emergency medical, lost luggage, trip cancellation and more.

For years, World Nomads has been protecting, connecting & inspiring independent travelers, offering travel insurance & safety advice to help you travel confidently. Their mission is to support and encourage travelers to explore their boundaries.

World Nomads has simple and flexible travel insurance that has been designed by travelers for travelers. Even if you leave home without travel insurance or your policy runs out, you can buy or extend out on the road.

Get a quote for a World Nomads travel insurance policy today!
5) Huayhuash Circuit: Cuyoc to Cutatambo Hike
When it comes to views out on the Huayhuash Circuit, it won't get much better than those from atop the San Antonio Pass (or nearby Jurau Pass). Since I headed up the San Antonio Pass, I will be speaking more so towards that particular route.
San Antonio Pass Ascent
After packing up camp at Cuyoc, you can follow the trail over the river towards the other side of the valley. Once the trail meets up with the hillside, it is time to begin the elevation gain.
The first portion of trail will entail some less than ideal terrain as you zig zag up the hillside.
The trail will then level up for a short period before the elevation gain begins once again. All the way through to the San Antonio Pass, the trail will be pretty easy to follow. You will find the route etched into the ground, with some portions a bit more technical than others.
Be sure to take some time to turn around once in a while to enjoy those views back down to the Cuyoc side of the valley.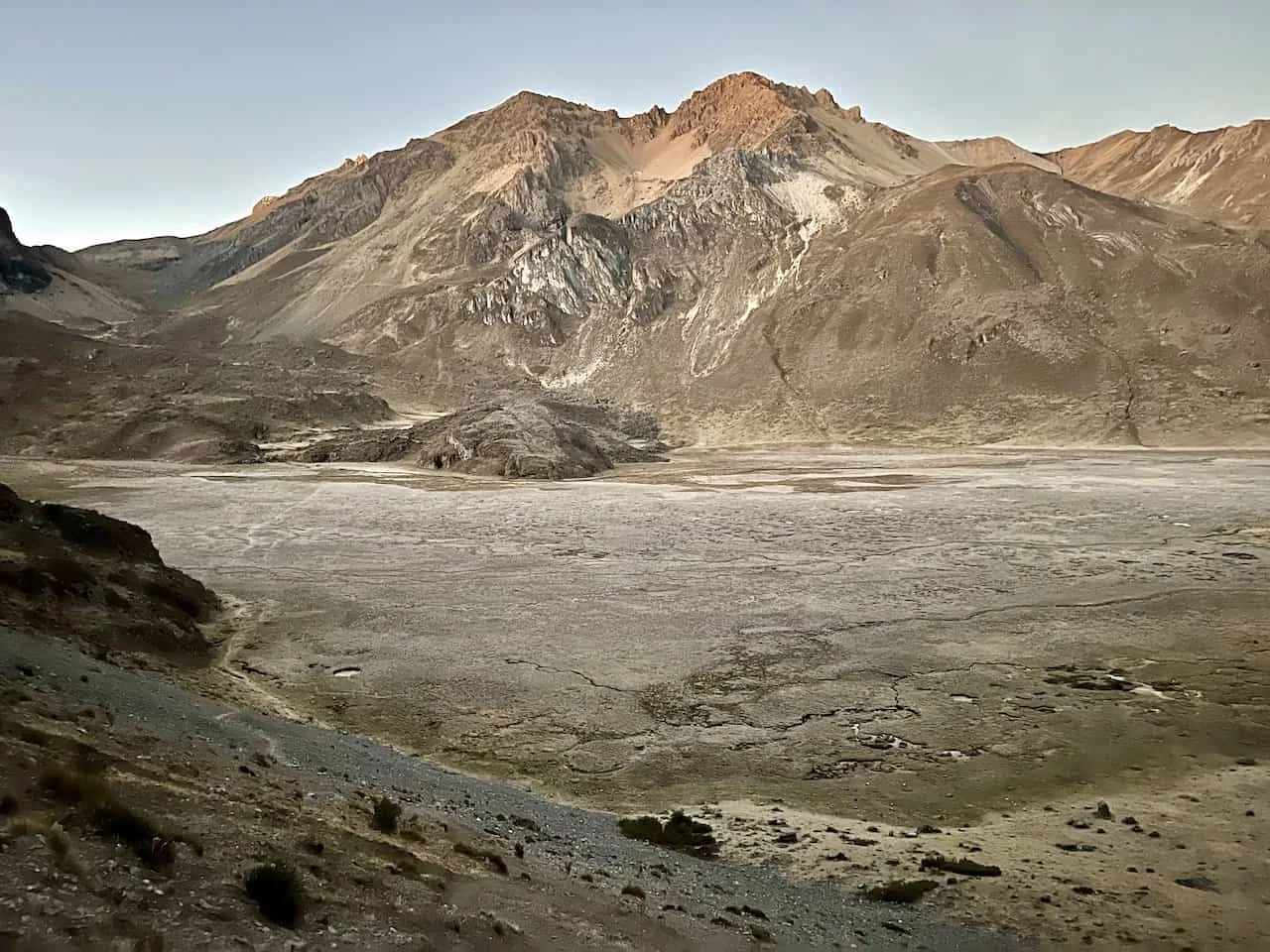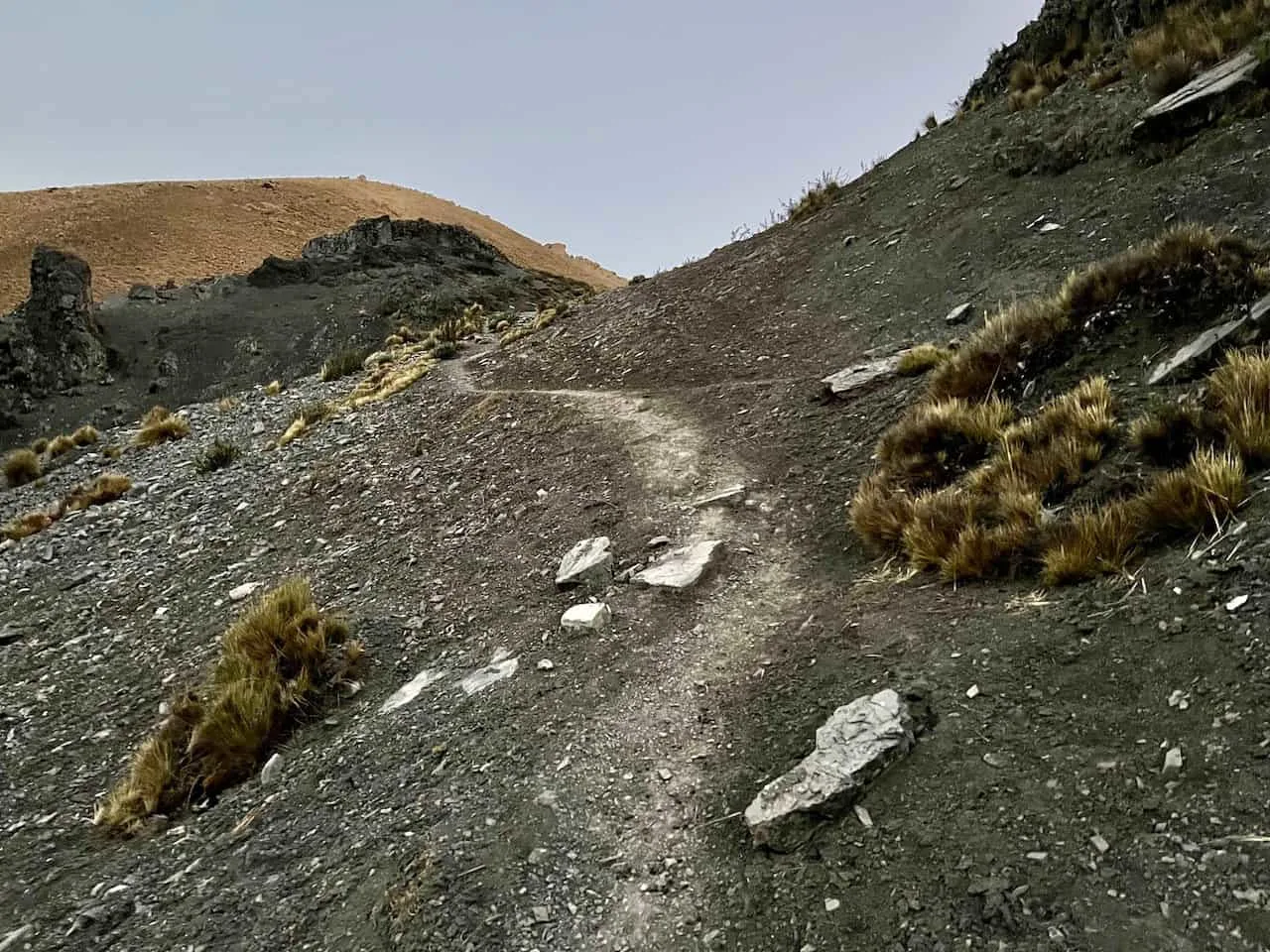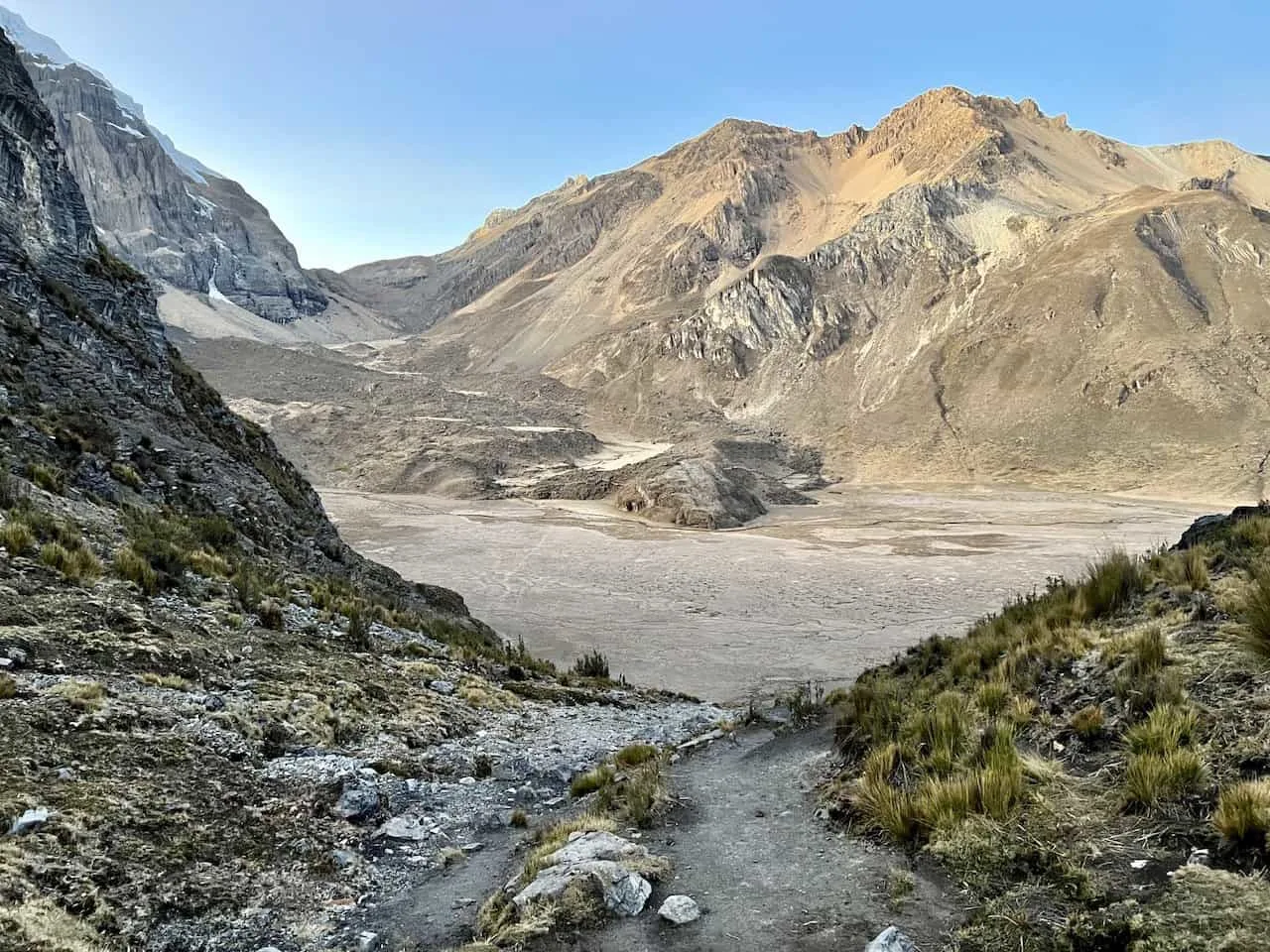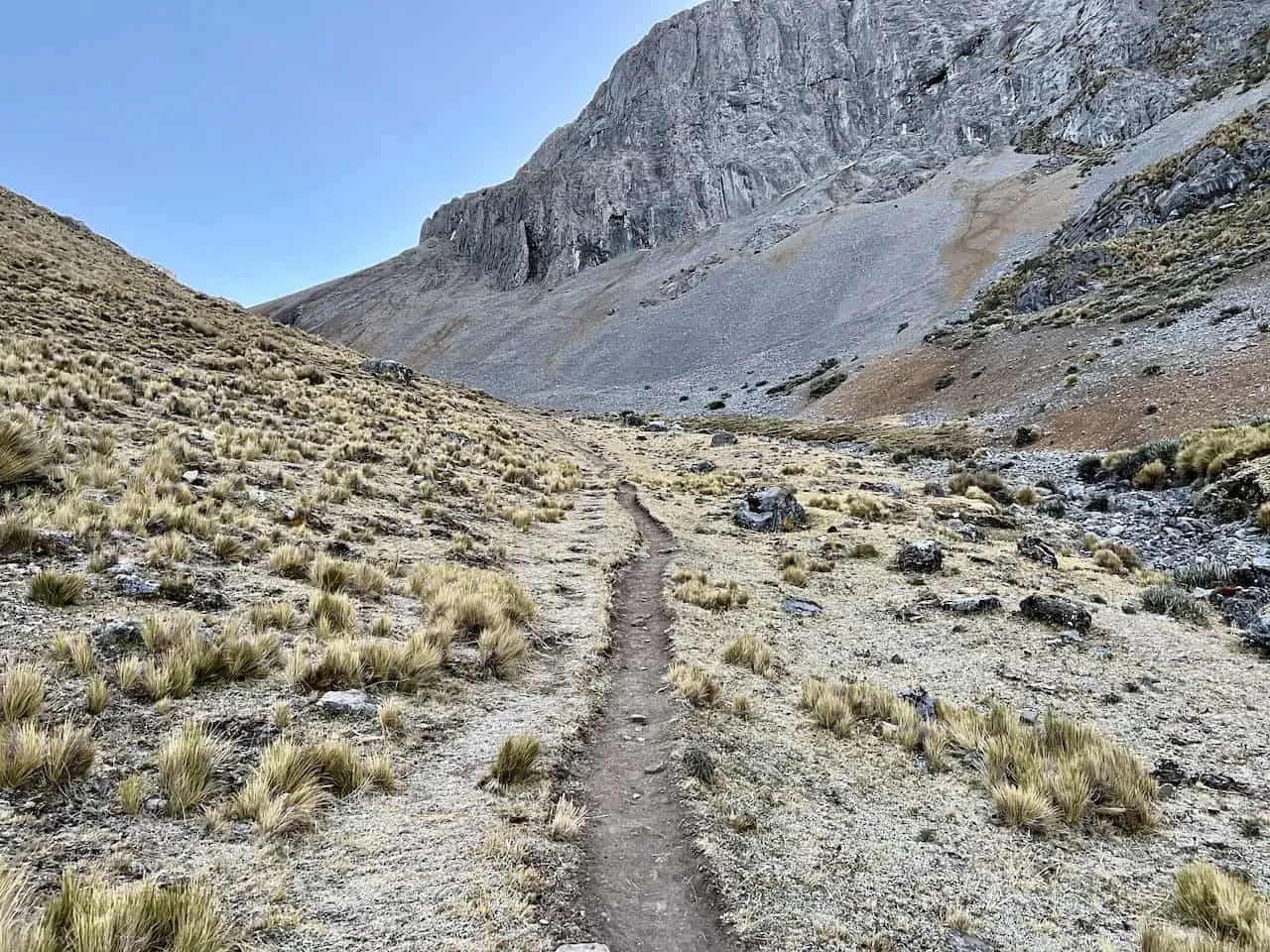 After some more climbing, you will soon see the San Antonio Pass out in front of you. The trail can get more technical up top but shouldn't be too difficult at the end of the day.
Slowly but surely you will soon reach the top of the pass, where you will be welcomed to extraordinary views out in front of you.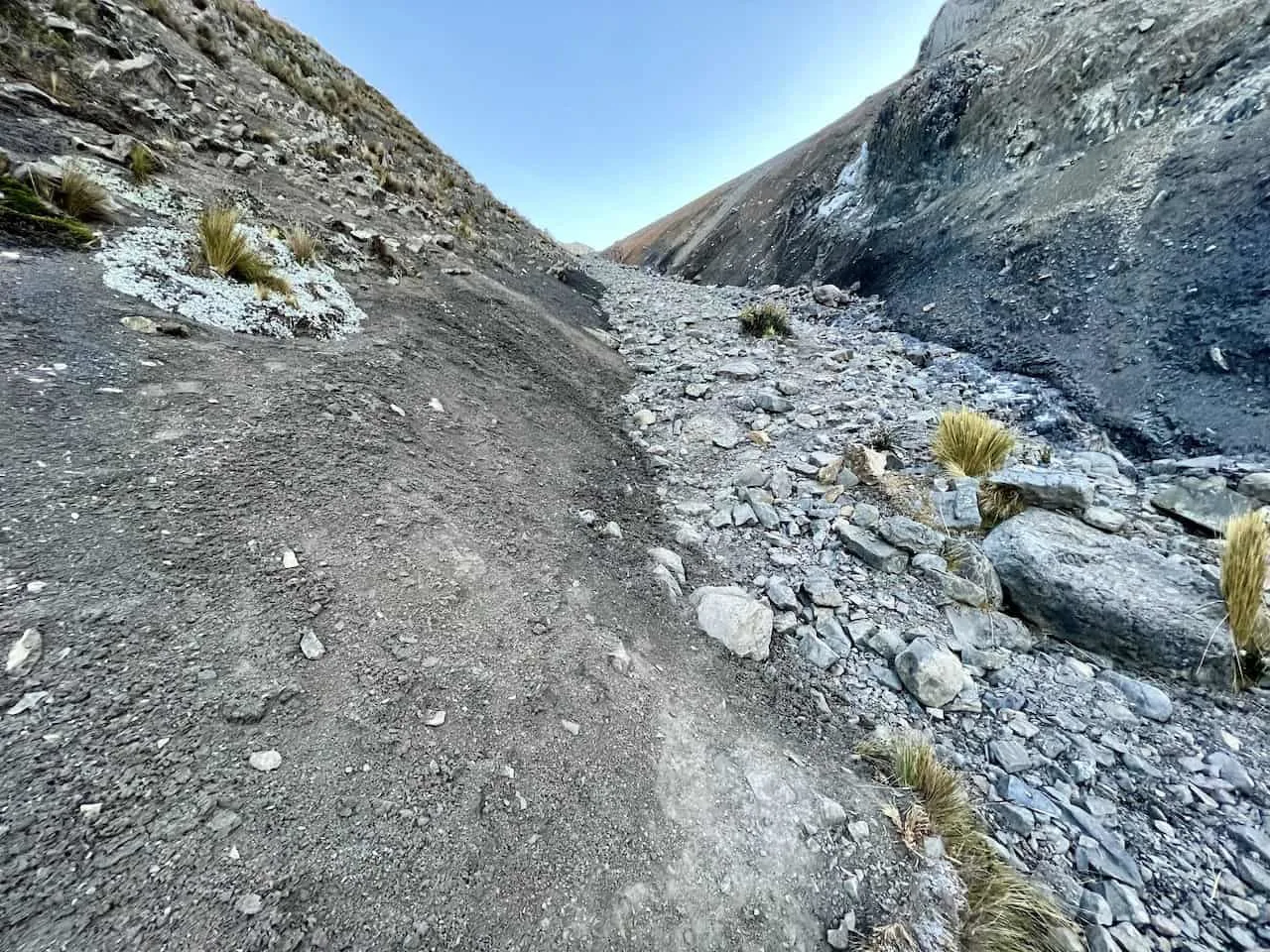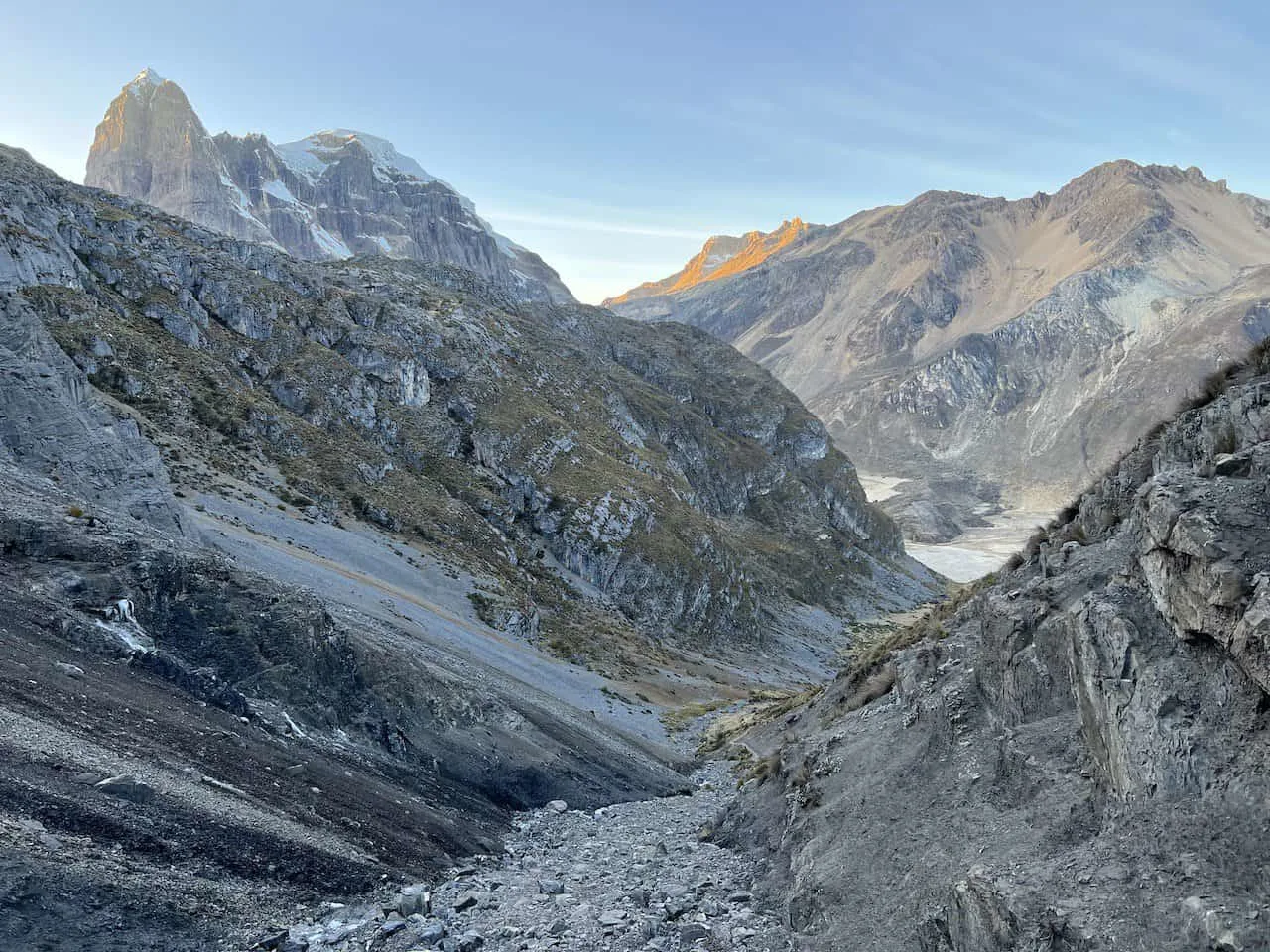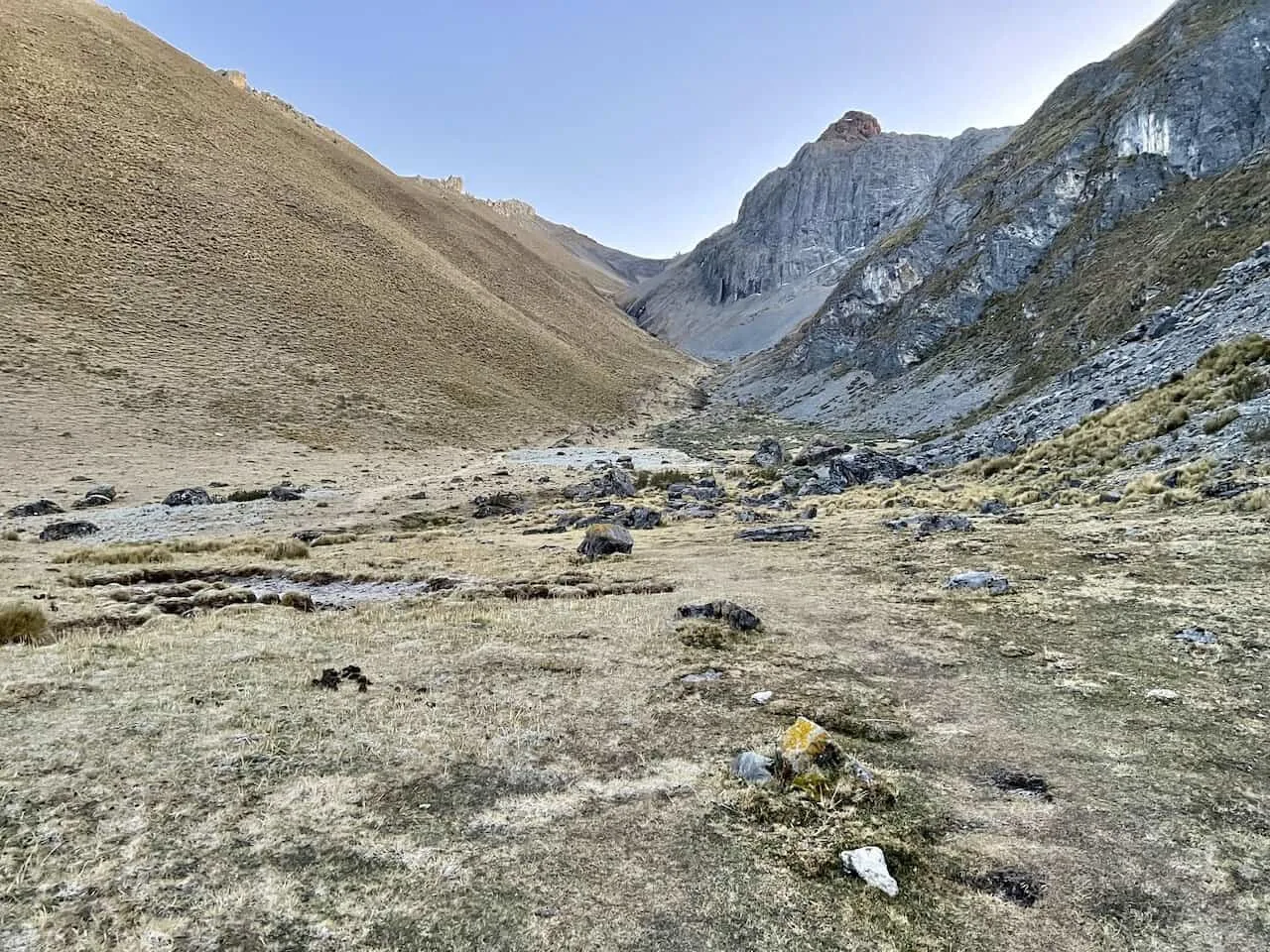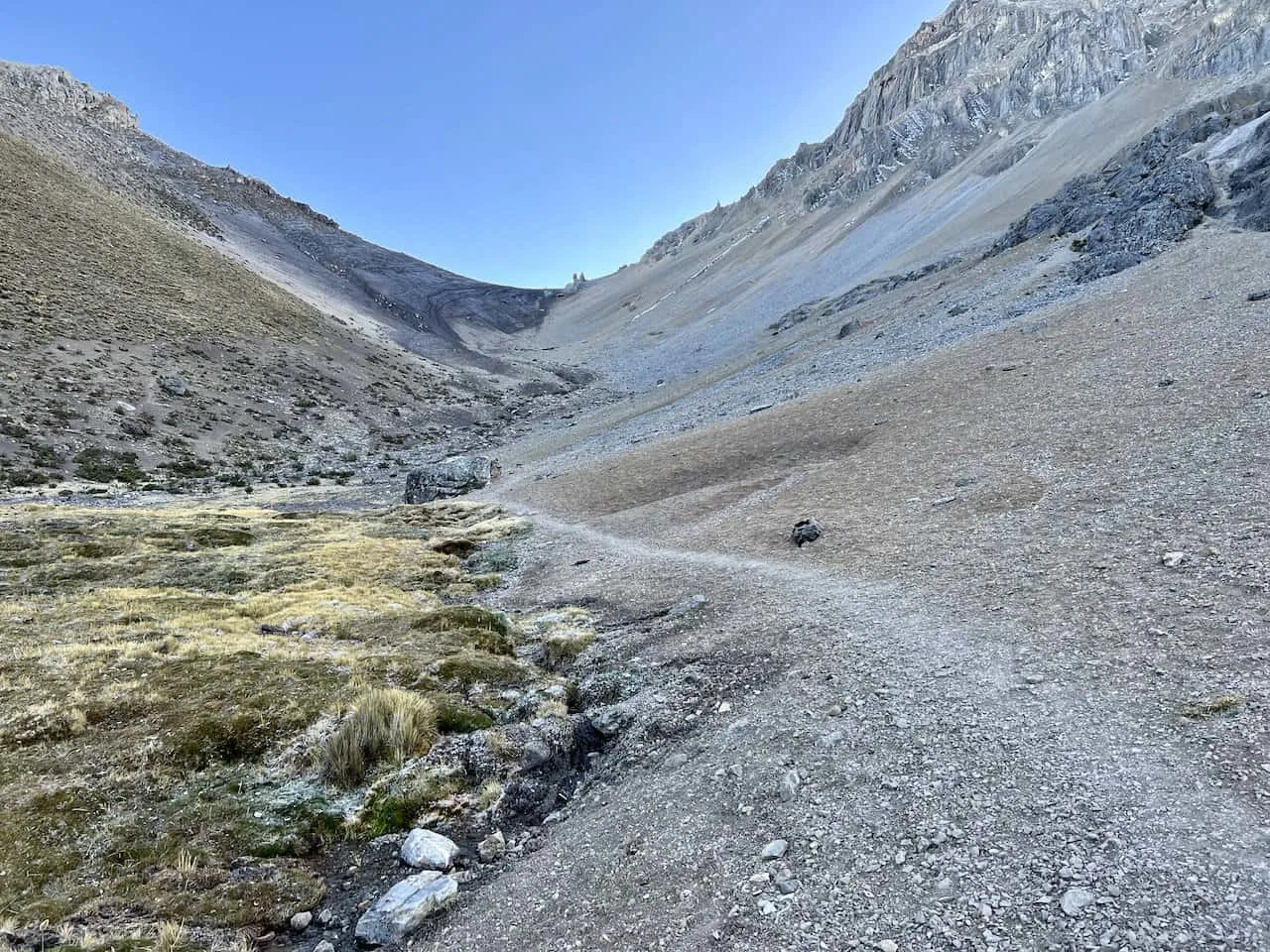 San Antonio Pass
Some of the largest and most beautiful mountains will be in view including Rasac, Yerupaja, Sarapo, Siula Grande, among others.
Take your time to explore the top of the pass, take in the views, and just enjoy this one of kind Huayhuash vantage point. For some even more views, you can take a stroll up to the left hand side of the pass. Here you will gain a bit more elevation and have a higher overall perspective of the surrounding region.
Below are several photos from the top of the San Antonio Pass, more so towards that left hand side.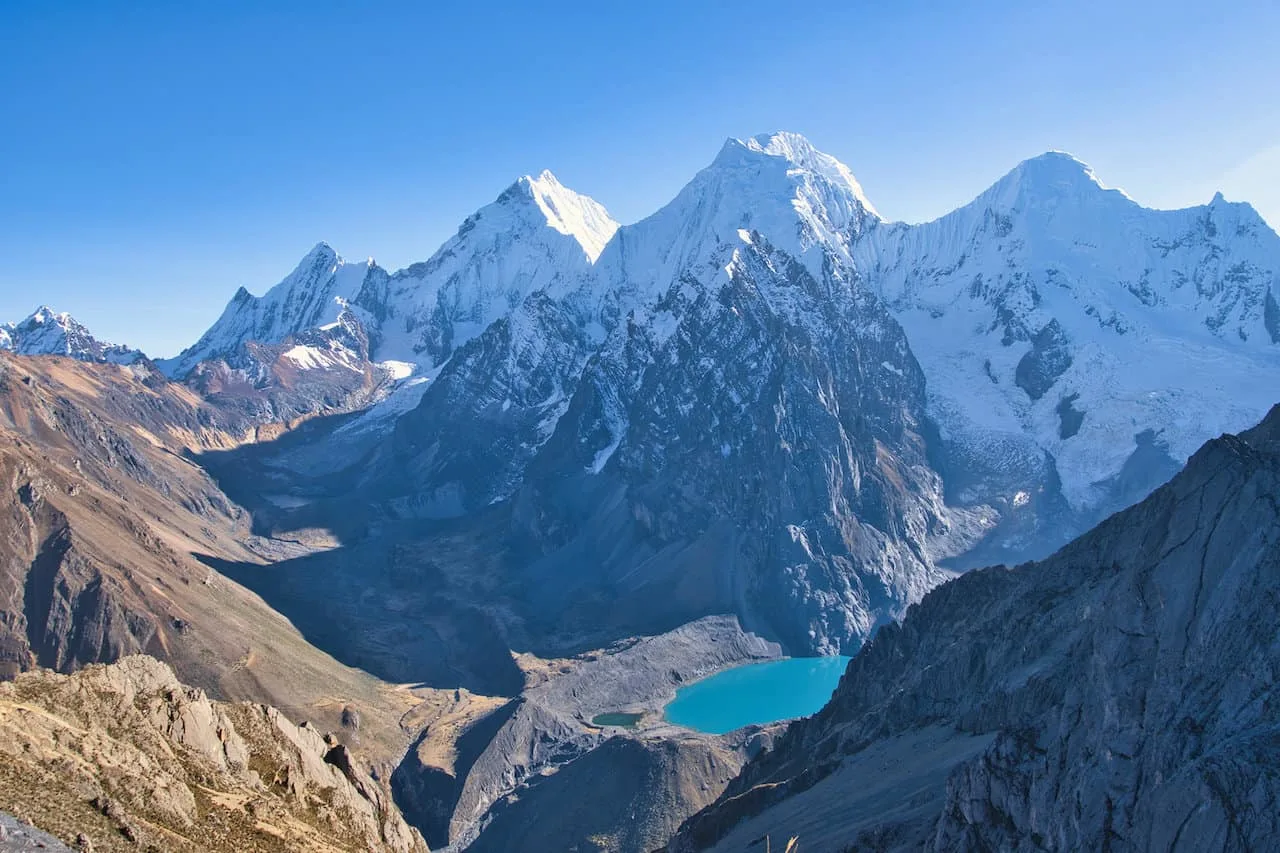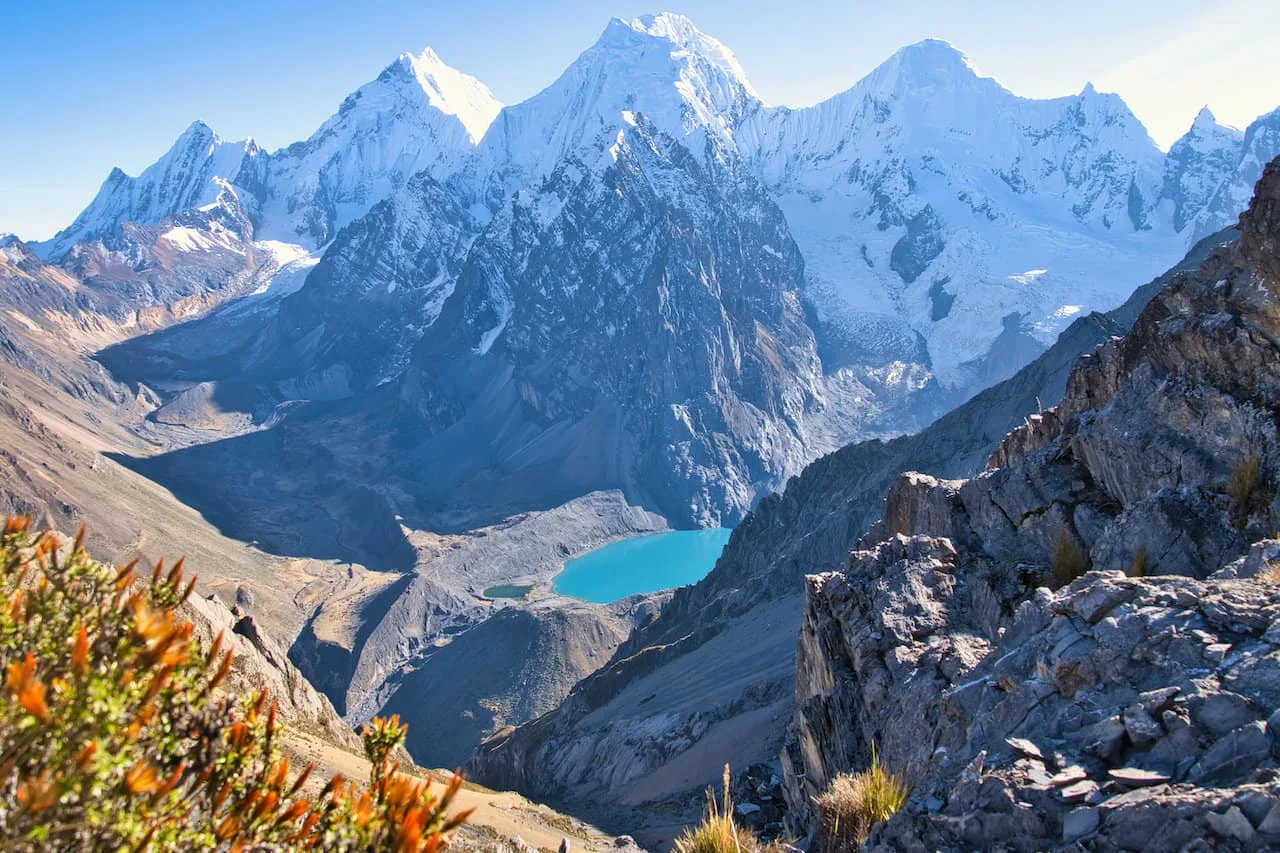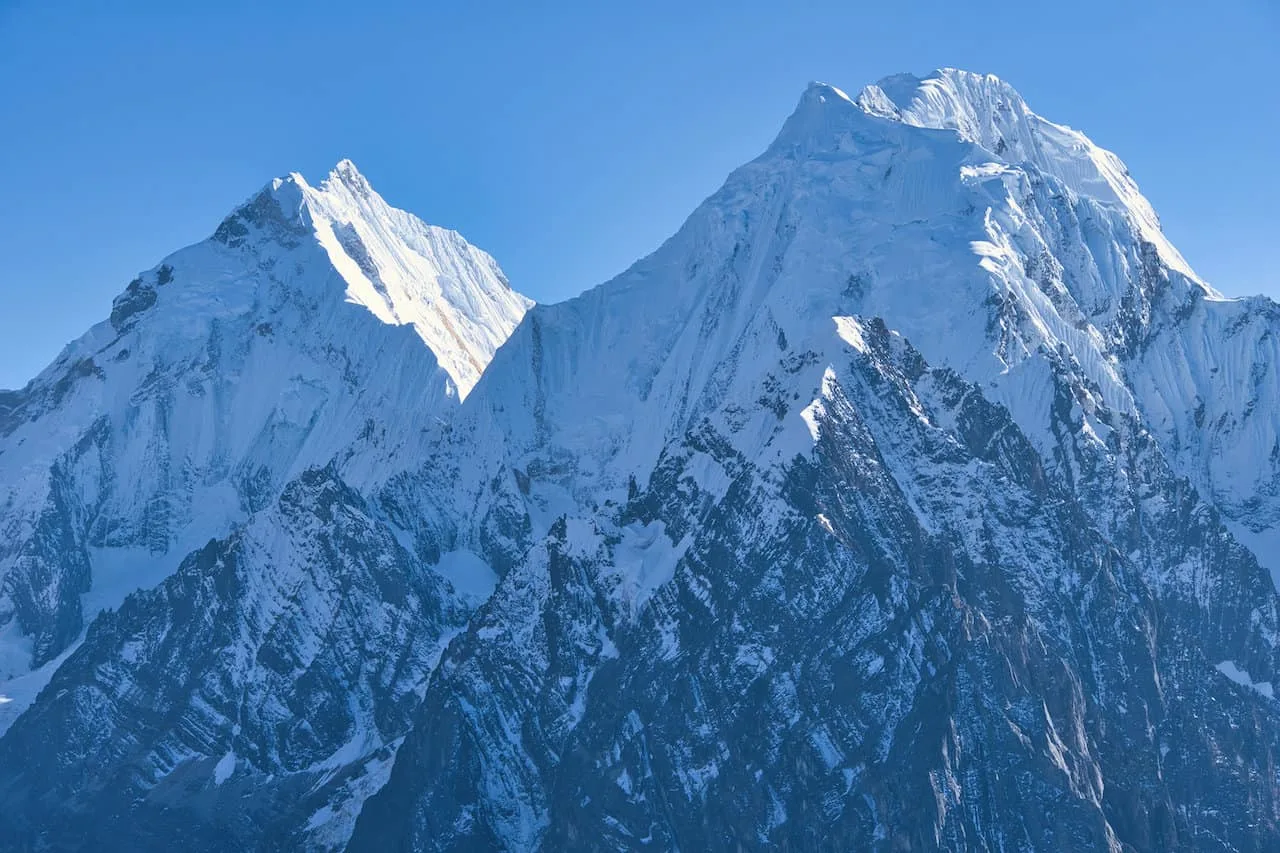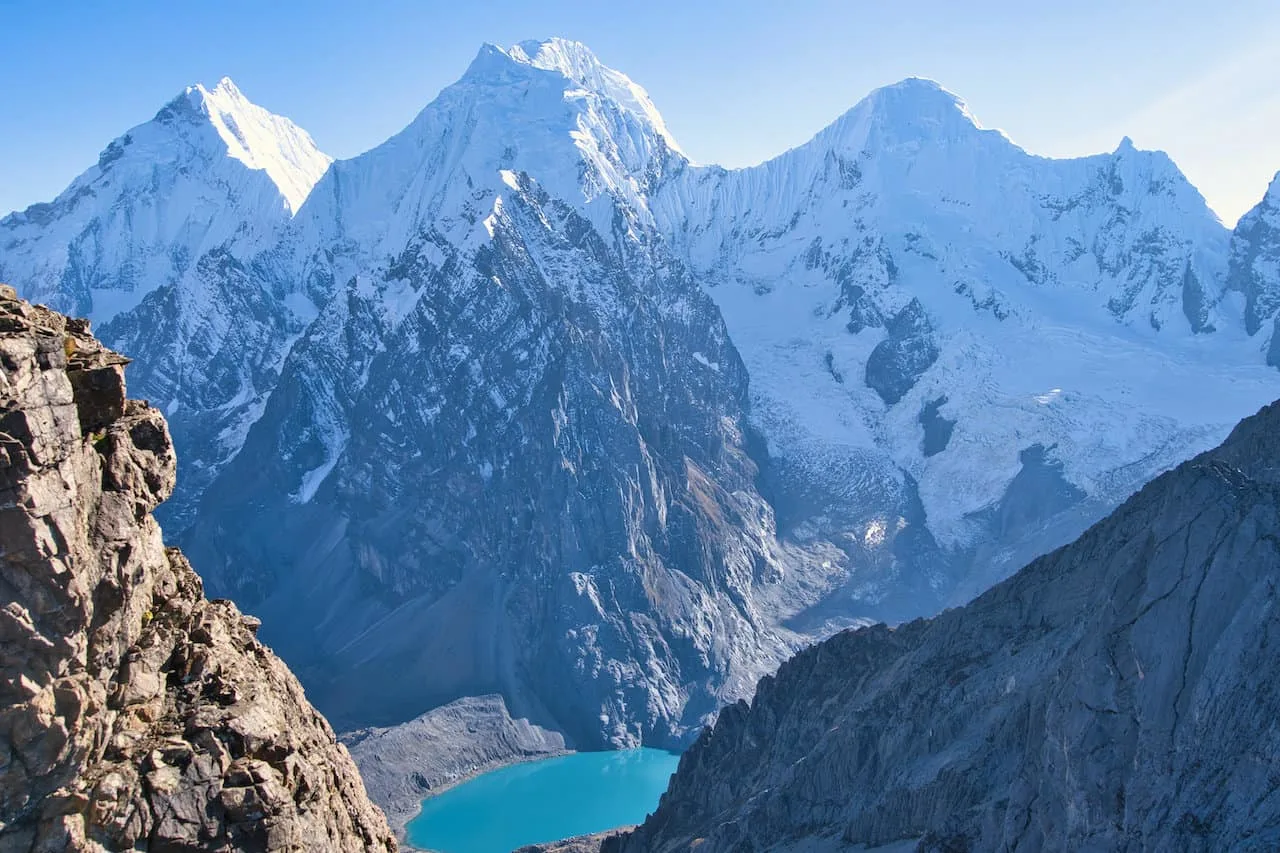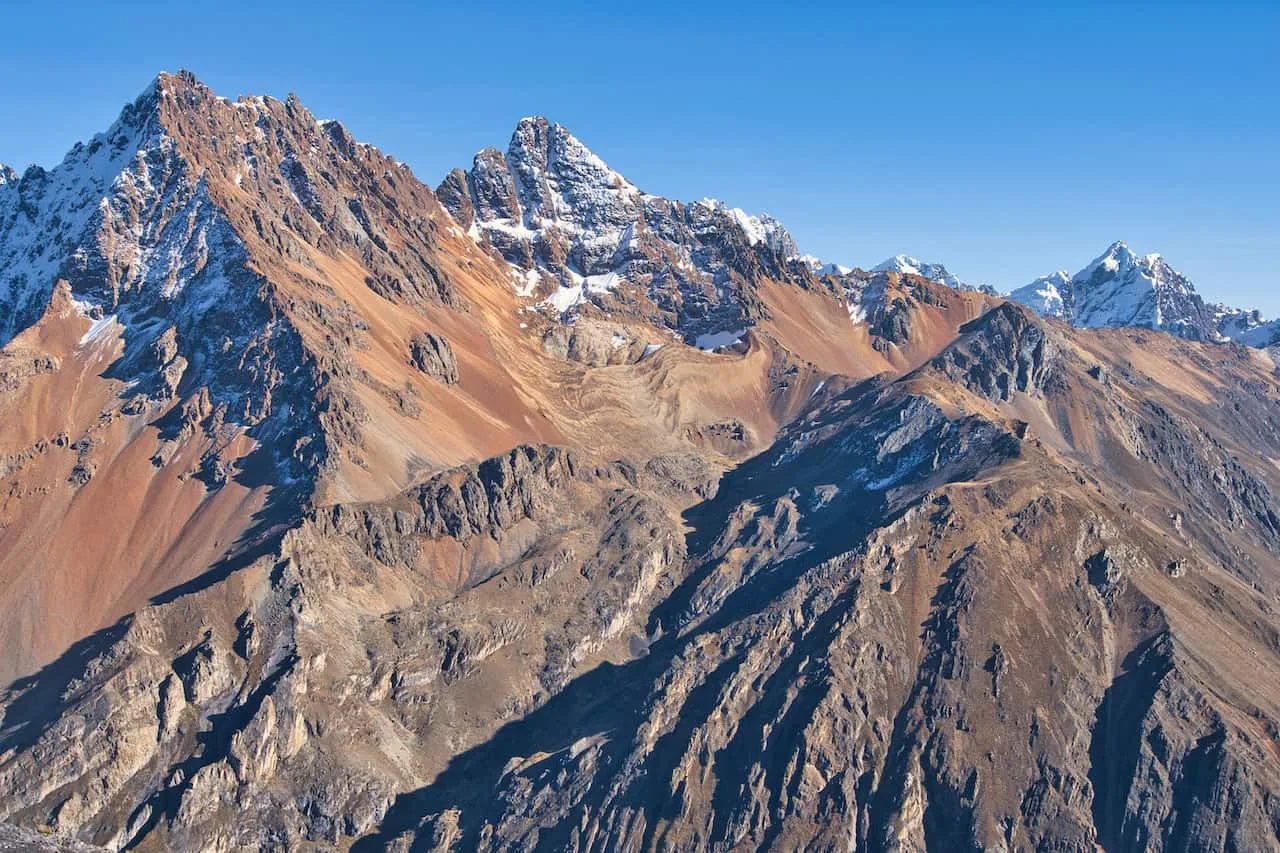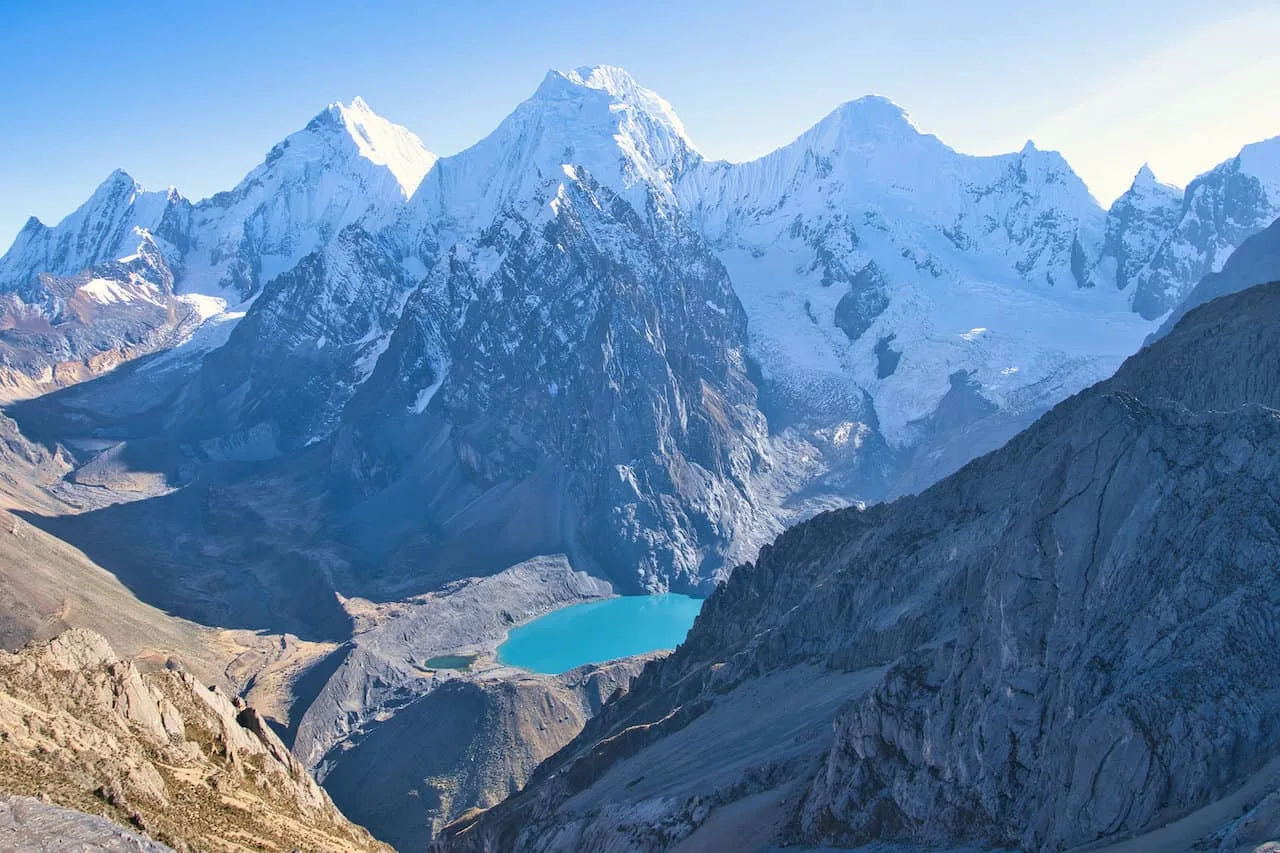 San Antonio Pass Descent
Now comes the most difficult part of the day, and perhaps the most difficult part of the entire circuit. You will need to make your way down the mountainside all the way to the Cutatambo campsite. It is going to be a long grueling descent so just be prepared.
The first portion of the route down is easy enough to follow, however, it is on a very slippery, steep, and less defined surface.
This can result in a bit more slipping and sliding as you slowly maneuver your way down. Your hiking poles are going to be of immense help here as you make the descent.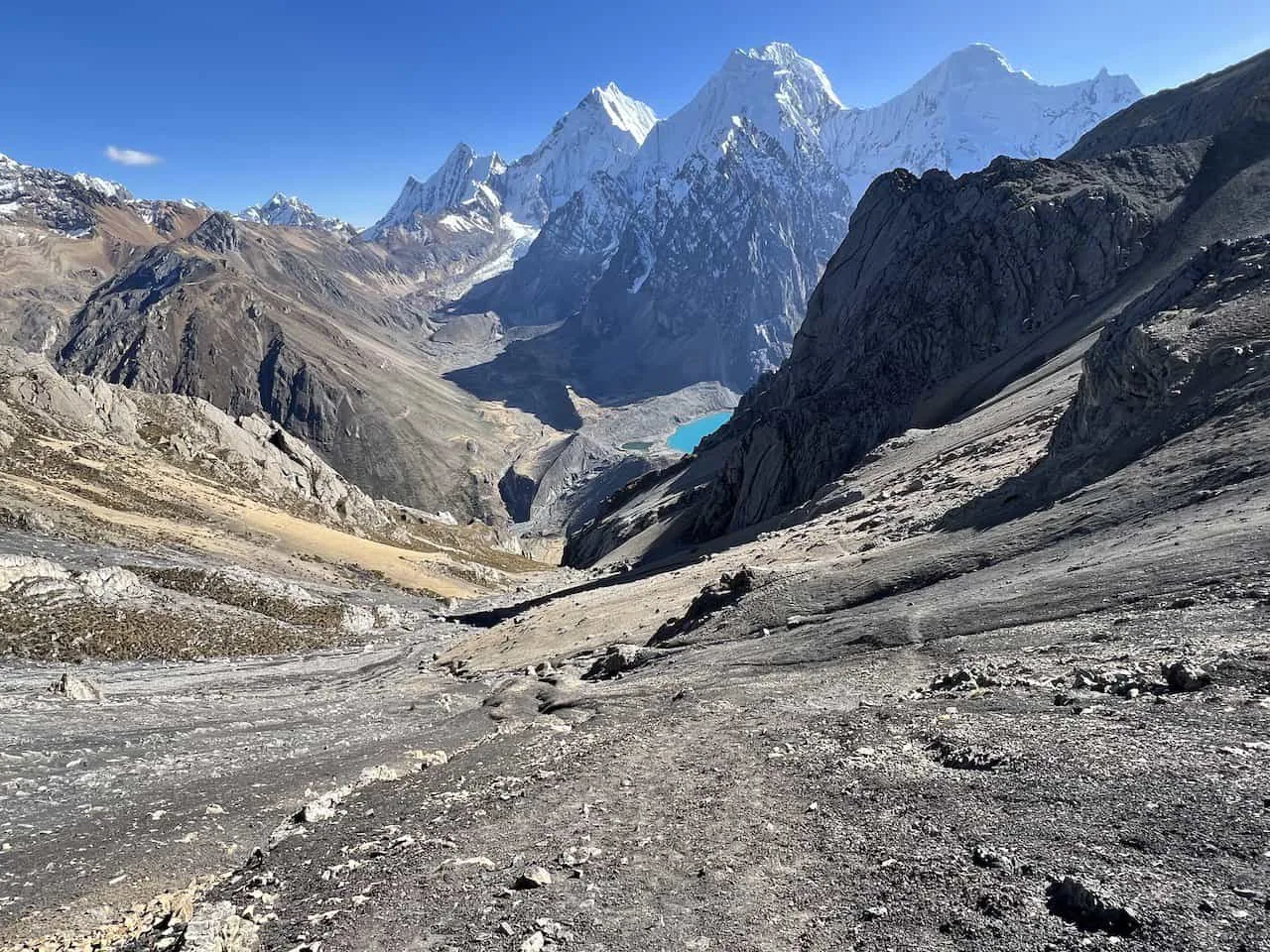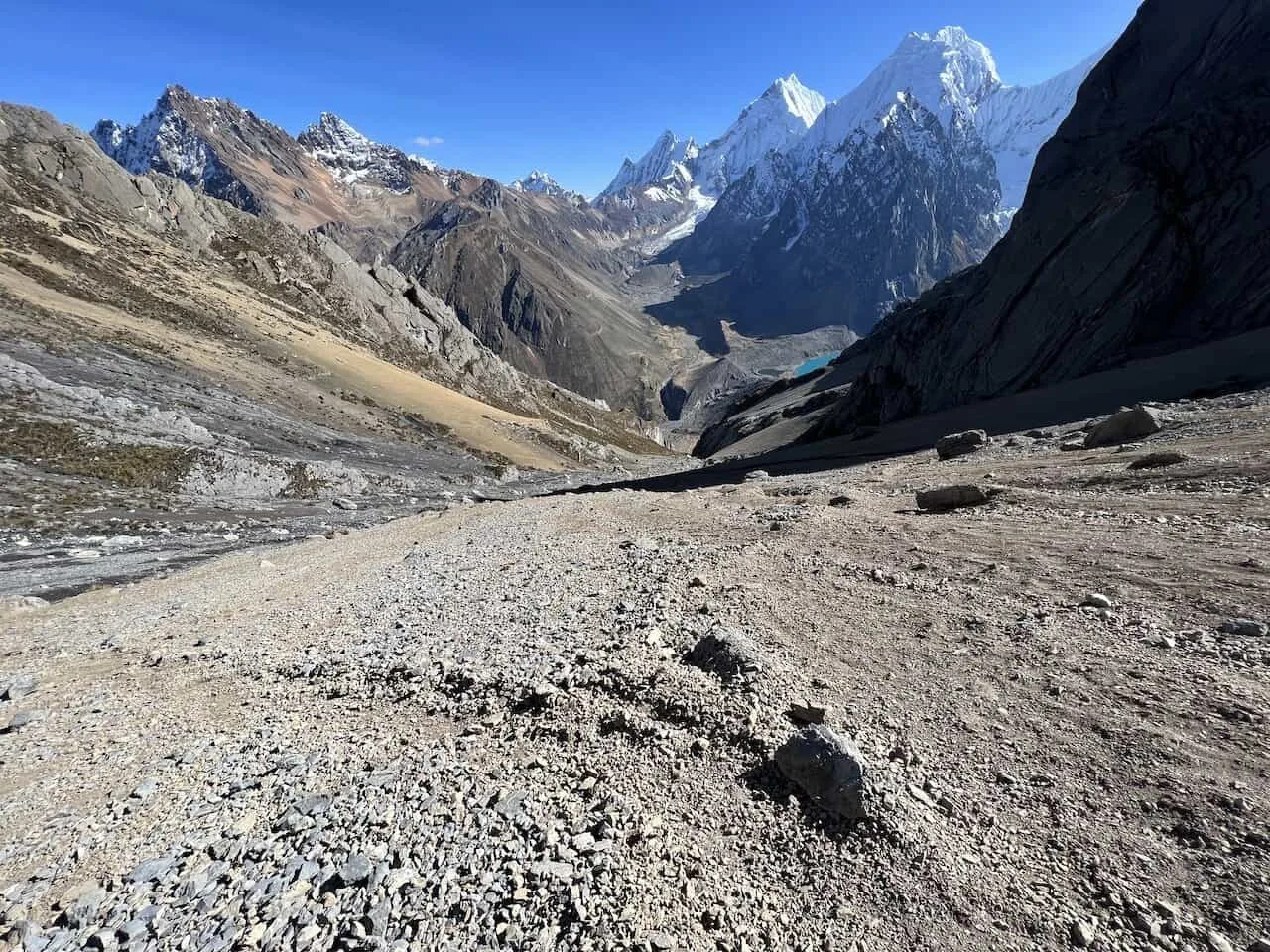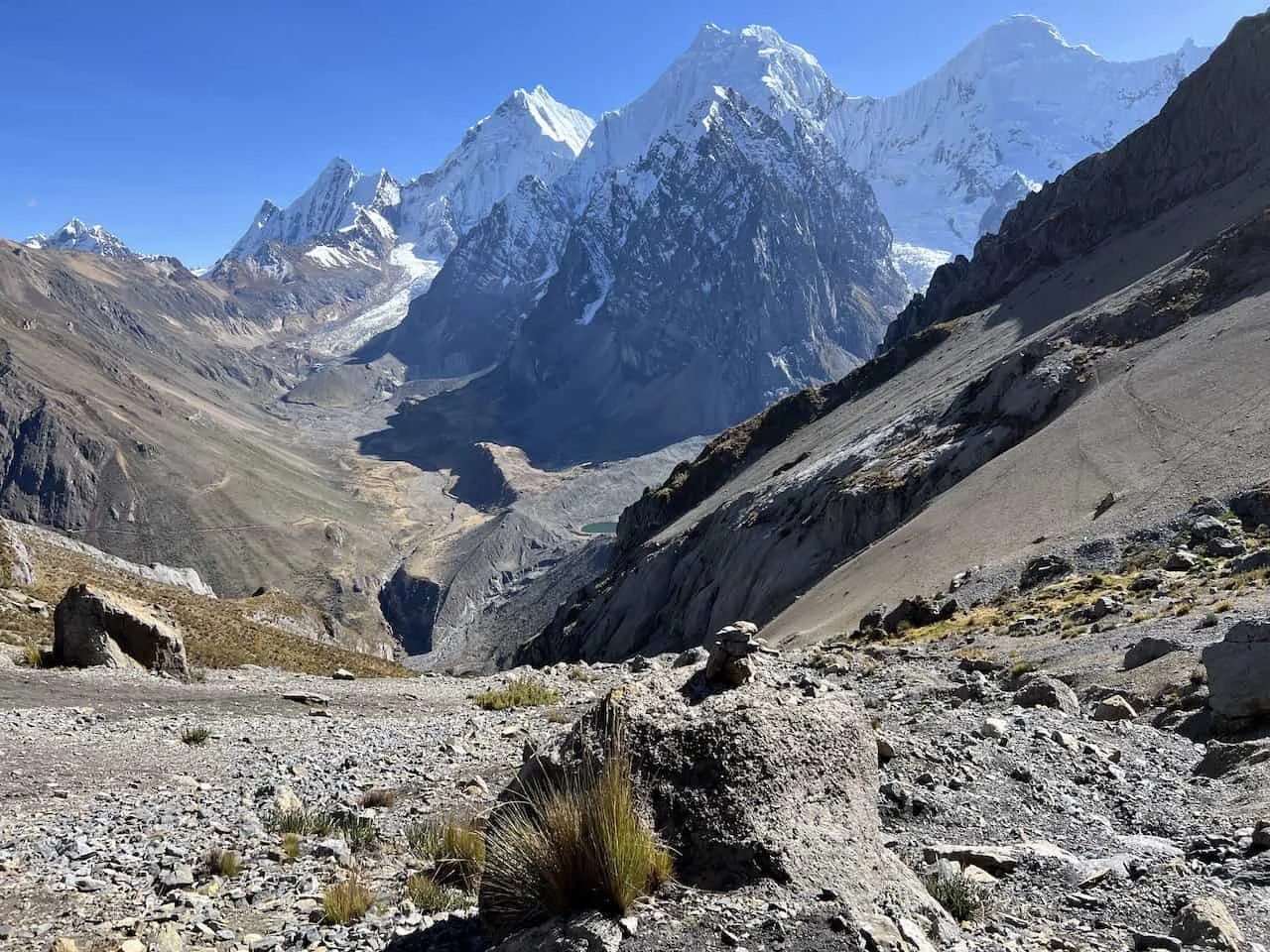 I need to make this extremely clear – please look at your navigation app during the descent.
While it may not seem obvious at first, the trail actually veers left around 1/3 of the way through the descent. This can easily be missed by many people (including myself), as there also seems to be a path that heads straight down. The issue is that many people head straight, which has created somewhat of a secondary path. But be very aware, while this may be a secondary path, this is not the route you should take.
Be sure to keep to the left according to your navigation, and take the more official route down to the Cutatambo campsite. The less official route does have rock cairns at some points, but it is essentially going straight down a gully and requires some technical down climbing.
After 1-2 hours of descending, you will slowly but surely approach the Cutatambo campsite. Continue following the route into camp, where you can set up your tent for the night. You will also find a toilet block here right along a river.
If you are up for it, you can also visit the nearby Laguna Jurau in the afternoon before calling it a night.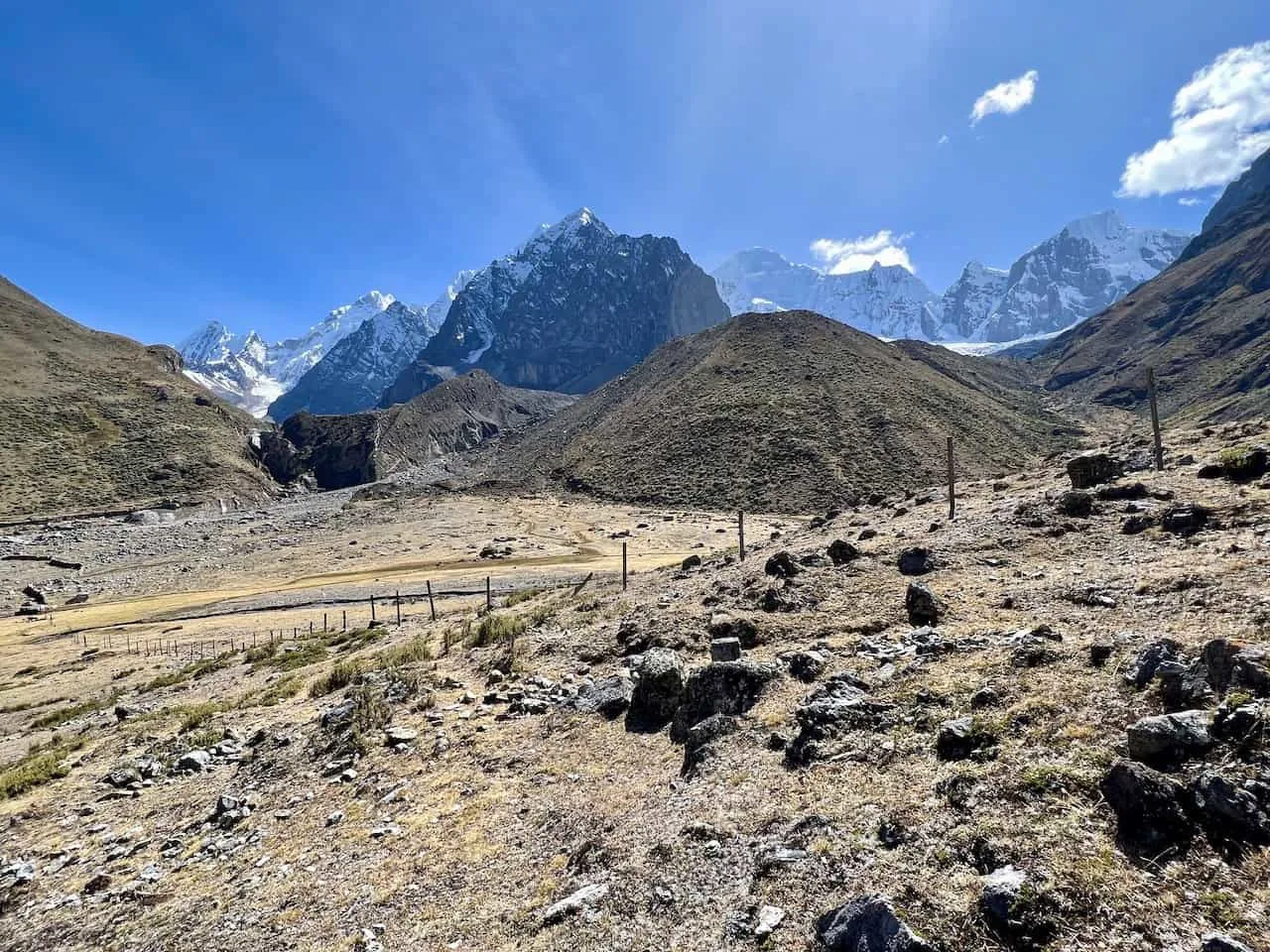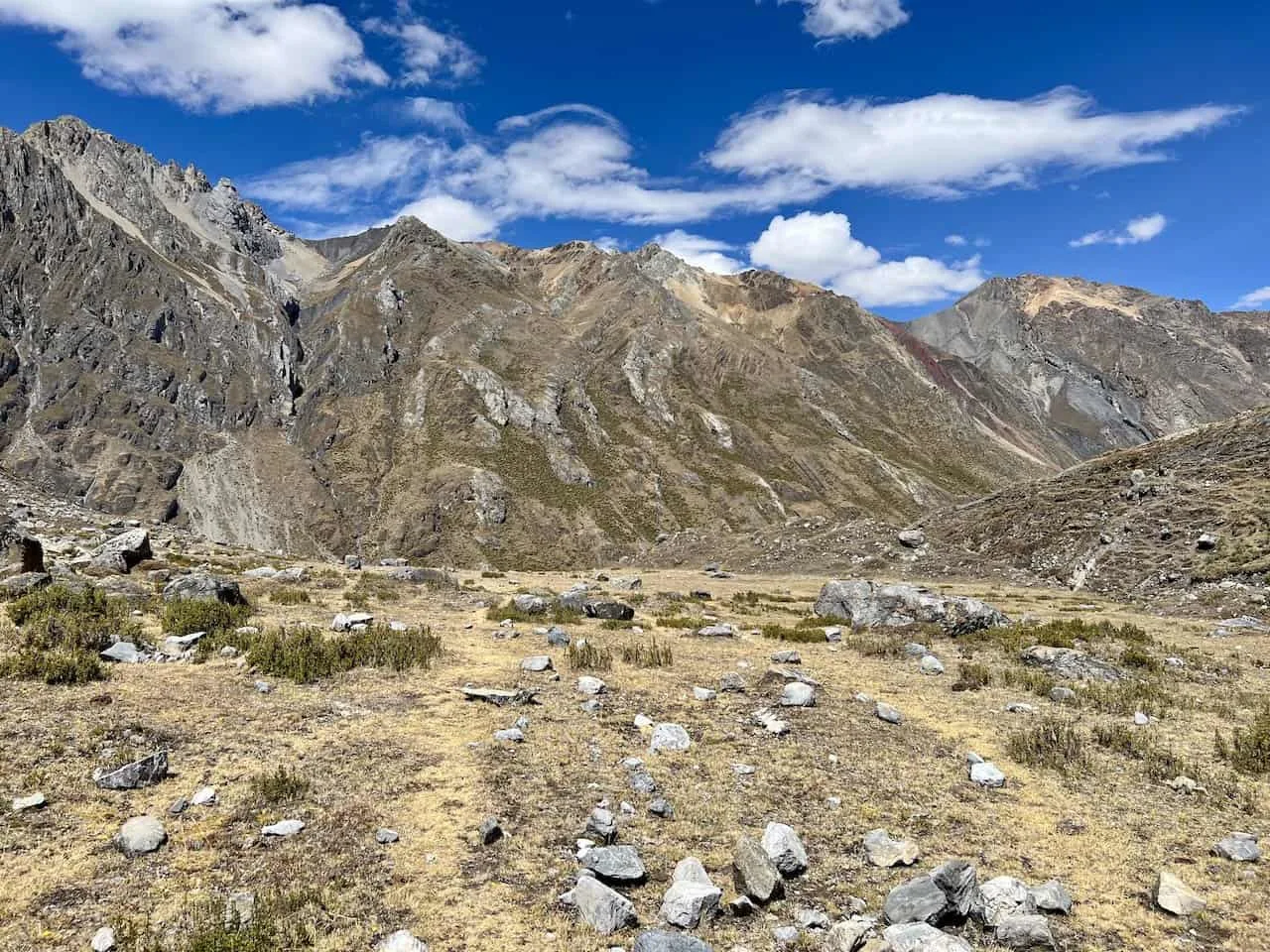 If you have any questions or comments about day 6 of the Huayhuash Circuit, feel free to add them in below. Have fun out there and safe travels!