After arriving in Cutatambo, the Huayhuash Circuit offers an optional add on day exploring the Quebrada Sarapococha & Cerro Gran Vista View. Along the way you will get to enjoy some beautiful viewpoints, valleys and lakes, before returning back to camp.
Read on to learn more about the Quebrada Sarapococha and what to expect out on the trail.
* Affiliate Disclosure: This post may contain affiliate links, which means I may receive a commission if you make a purchase through the links provided, at no additional cost to you. Thanks for supporting the work I put into TripTins!
1) Hiking Overview: Quebrada Sarapococha
After arriving in Cutatambo on day 6 of the Huayhuash Circuit, you will have the option to explore the Quebrada Sarapococha valley before heading off to Huayllapa the following day.
This optional day can entail a variety of options depending on what you are most interested in. Below are a couple of the main options to choose from:
1) Hike from Cutatambo to Laguna Sarapococha and/or Laguna Rurigallay (Santa Rosa)
2) Hike from Cutatambo up to Cerro Gran Vista
The first option will be a more simpler, easier day out on the trail as you explore the Quebrada Sarapococha valley and its lakes. Here is also where you can visit the Siula Grande base camp, made famous by Joe Simpson's Touching the Void.
The second option will take you up to what would be the highest point of the circuit at Cerro Gran Vista (5,152 meters / 16,903 feet), where you will get some elevated views of the mountains & lakes. It is also possible to combine both options into one depending on your route up.
Below are some helpful round trip trail stats from Cutatambo, to gain a better understanding of what each route will entail:
Laguna Sarapococha
Length: 5.5 miles / 8.9 km
Elevation Gain: 800 feet / 240 meters
Duration: 4 hours
Cerro Gran Vista
Length: 8.0 miles / 12.9 km
Elevation Gain: 3,000 feet / 915 meters
Duration: 6-8 hours
As you can see, these two options are quite different types of hikes. If you are looking for a more relaxing time out on the trail, opt for just the valley & the lakes. If you are looking for yet another beautiful viewpoint and don't mind the elevation gain, head up to Cerro Gran Vista.
While this article will simply talk through this optional add on day, you can learn much more of the overall experience in the Huayhuash Circuit overview up on the site.
Route Note: this daily trekking guide (as well as the other daily guides on the site) go over a standard 10 day Huayhuash Route. Trekking routes can be greater or fewer days depending on your preferences (learn more about these in the previously mentioned overview above!).
Learn More: Be sure to check out the Huayhuash Circuit resource page that includes many helpful travel guides to get you prepared for the trek.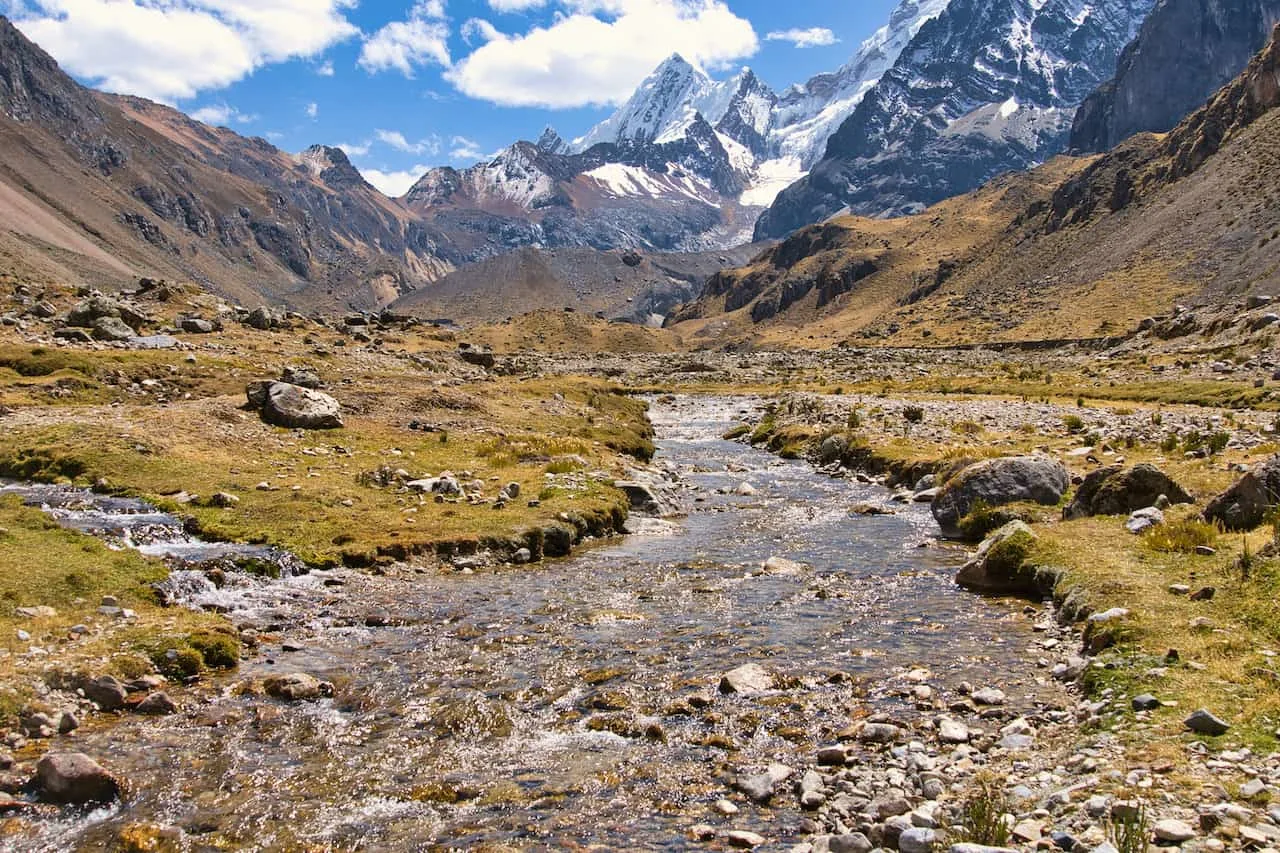 2) Huayhuash Circuit: Quebrada Sarapococha Map
To better visualize the hiking routes, below you can find a trail map for this optional add on day of the circuit.
The light blue line represents the trail to the lake, and the dark blue line shows the route up to the viewpoint.
If you would like to see the full route, be sure to check out the guides I put together for the complete Huayhuash Circuit Map and Huayhuash GPX file (for navigation purposes).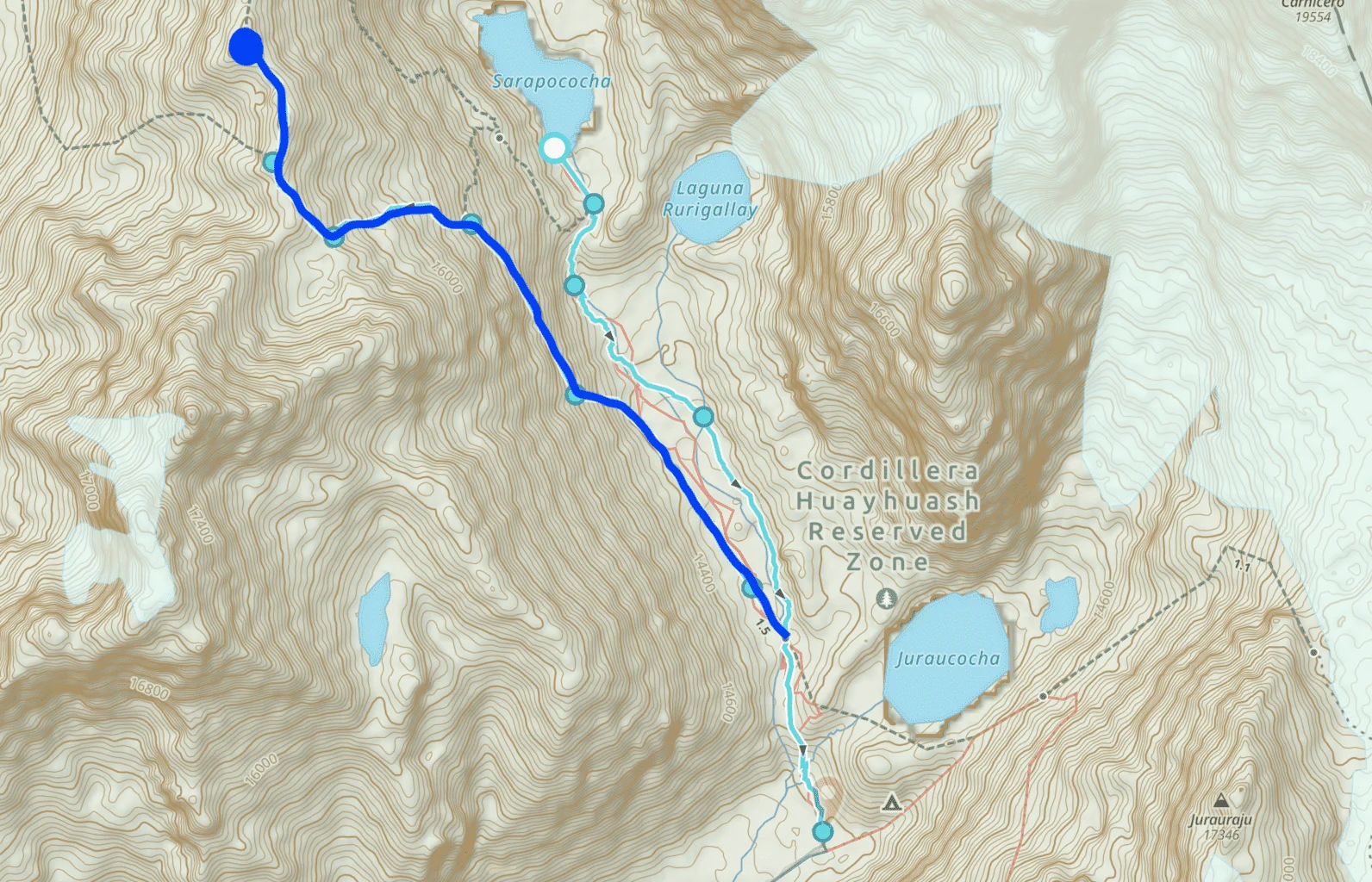 3) Huayhuash Circuit Packing List
A complete Huayhuash Circuit packing list will be essential for your time out on the trail (especially if hiking without a guided tour). Be sure to check out the comprehensive Huayhuash packing list I put together for more detail.
Below you can find just some of the most important camping items to consider for your trek:
• Hiking Backpack | Hyperlite Southwest 3400
• 3-Season Tent | Big Agnes Copper Spur HV UL
• 0 F Degree Sleeping Bag | Thermarest Questar 0
• Sleeping Bag Liner | Sea to Summit Liner
• Sleeping Pad | Thermarest NeoAir Xlite
• Camping Pillow | Thermarest Camping Pillow
• Trekking Poles | Black Diamond Distance Carbon FLZ Trekking Poles
• Water Bottle | Katadyn BeFree 1 Liter
• Headlamp | Petzl Actik Core
• Emergency Satellite Locater | Garmin inReach 2 Mini
• Solar Charger | GoalZero Nomad 10
• Portable Charger | Anker Portable Charger
• Cooking Stove | Jetboil Micromo
• Hiking Shoes | Keen (Targhee Series)
• Hiking Socks | Darn Tough Socks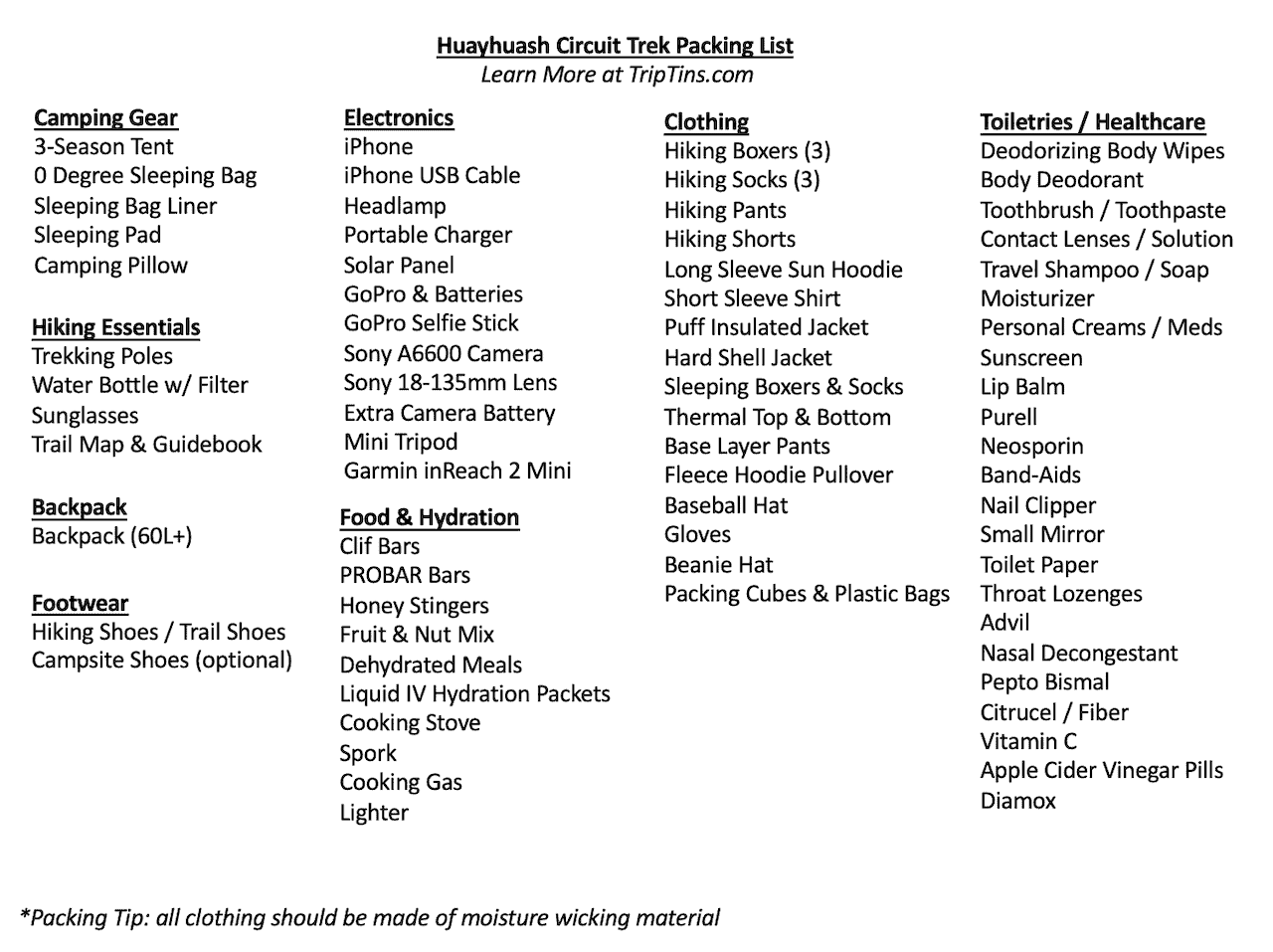 Considering travel insurance for the Huayhuash Circuit?

World Nomads offers coverage for more than 150 adventure activities as well as emergency medical, lost luggage, trip cancellation and more.

For years, World Nomads has been protecting, connecting & inspiring independent travelers, offering travel insurance & safety advice to help you travel confidently. Their mission is to support and encourage travelers to explore their boundaries.

World Nomads has simple and flexible travel insurance that has been designed by travelers for travelers. Even if you leave home without travel insurance or your policy runs out, you can buy or extend out on the road.

Get a quote for a World Nomads travel insurance policy today!
4) Huayhuash Circuit: Quebrada Sarapococha
During my time out on the circuit, I just opted for the route to Laguna Sarapococha. As much as I would have loved to head up to Cerro Gran Vista, my body was just a bit too tired after the previous day coming down the San Antonio Pass.
For those that are up for the challenge though, I would highly recommend taking on Cerro Gran Vista if you have it in you. The viewpoint will be the high point of the circuit, and you will be able to enjoy some of the most unobstructed views of the Huayhuash mountains out in front of you.
While the view from the San Antonio Pass is surreal on its own, the view from Cerro Gran Vista will be much closer to the mountains themelves.
Now, for those that want to just enjoy an easier day out on the trail, a visit to Laguna Sarapococha and Siula Grande base camp is still going to be a great one.
From the Cutatambo campsite, you will want to follow the path towards the waterfall, as you hop over some streams and make your way along the trail. The route heads up on the right hand side of the waterfall, where you will be welcomed to the Quebrada Sarapococha out in front of you.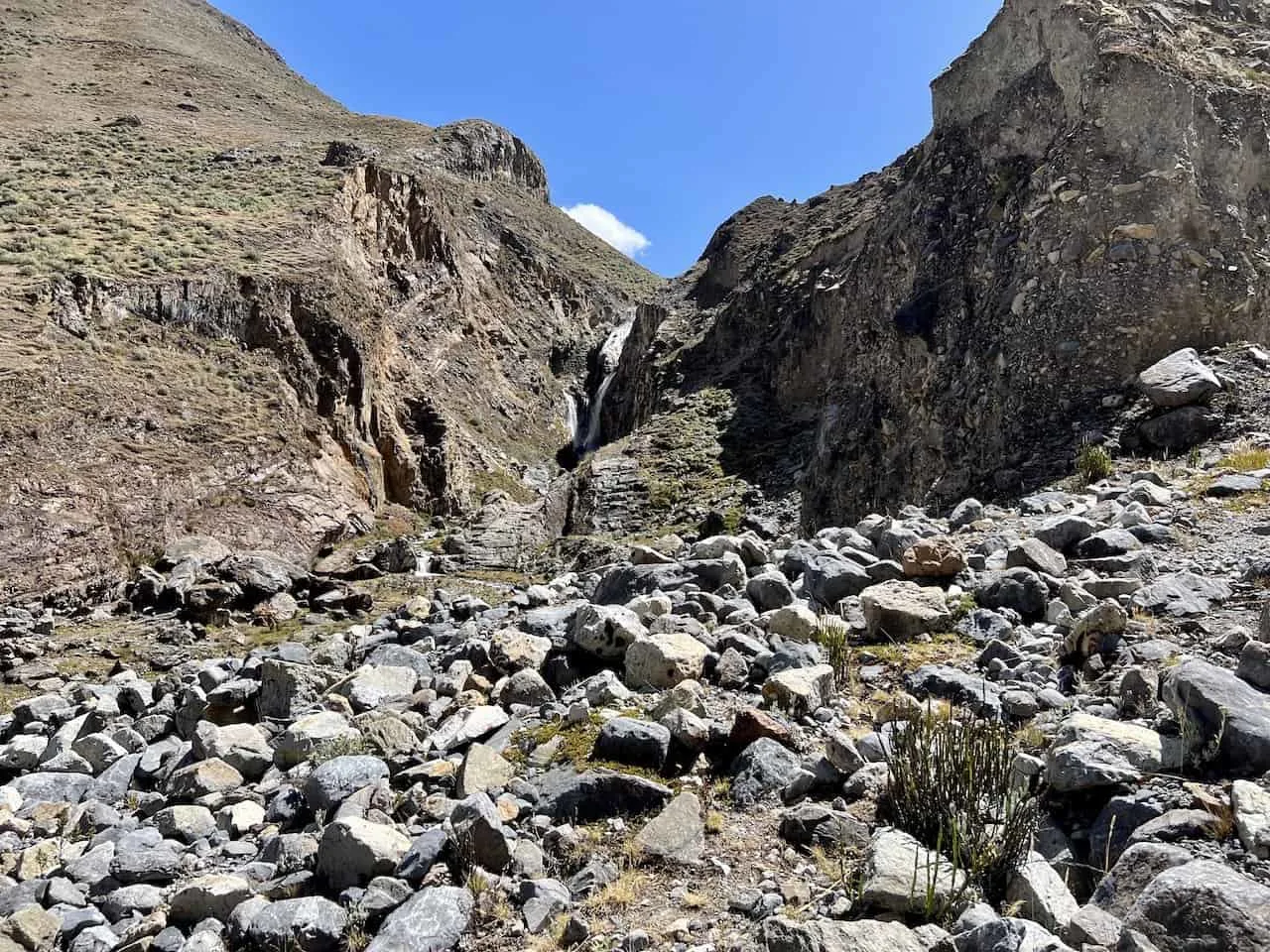 The first portion of trail is easy to follow as you head through the valley and along the river. At some point, you will need to find a safe spot to hop over the river. Be careful here, as you may need to carefully maneuver your way over some slippery rocks.
In the third photo below you can see where I crossed over the river. I saw some rocks cairns on the other side, and figured it was a good place to cross.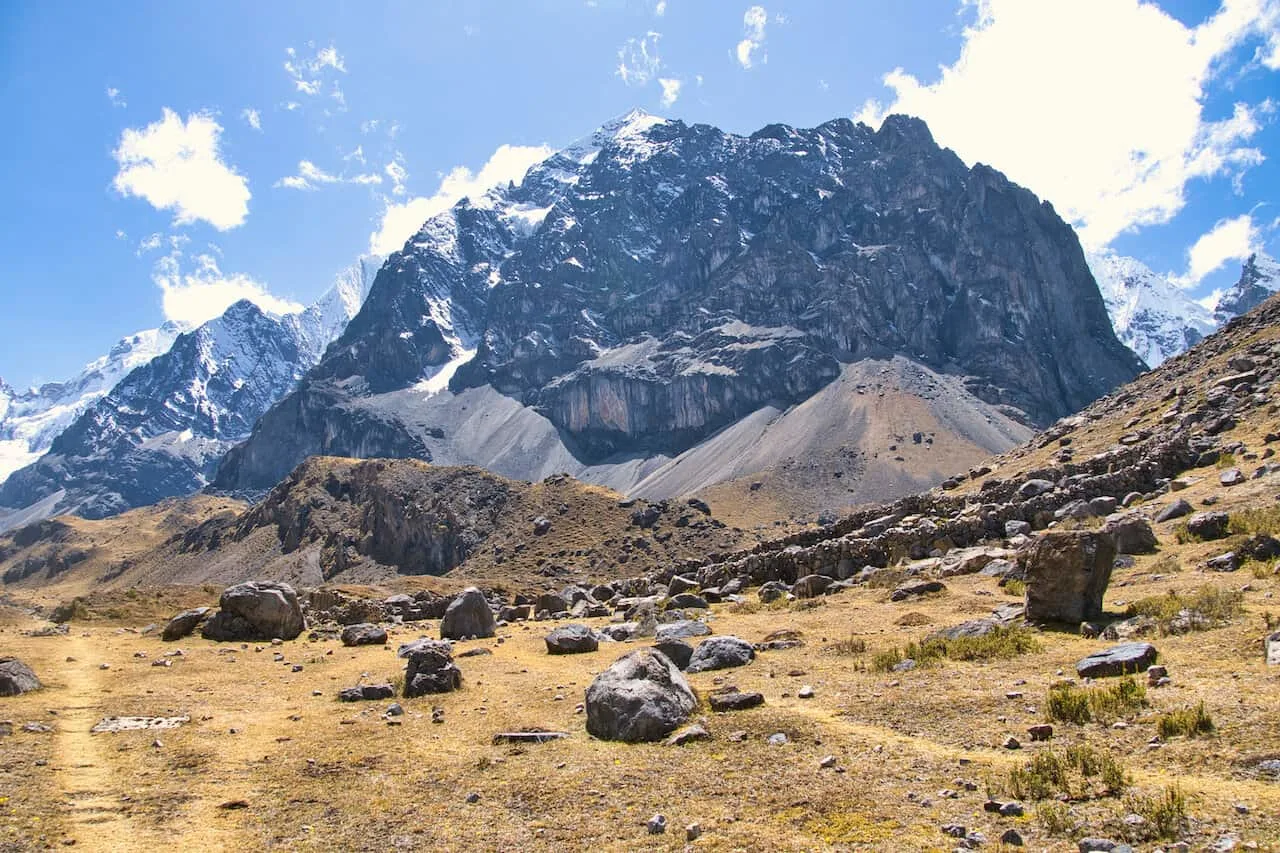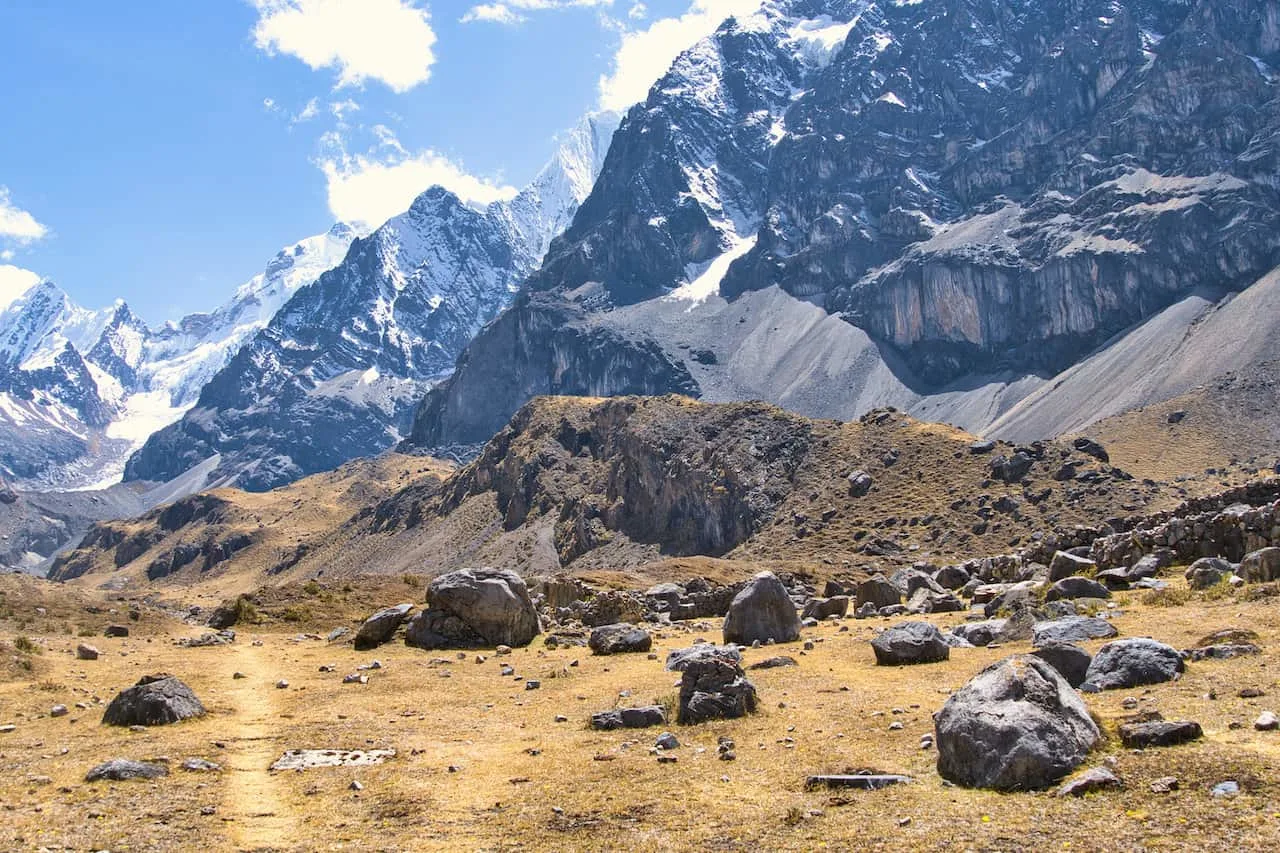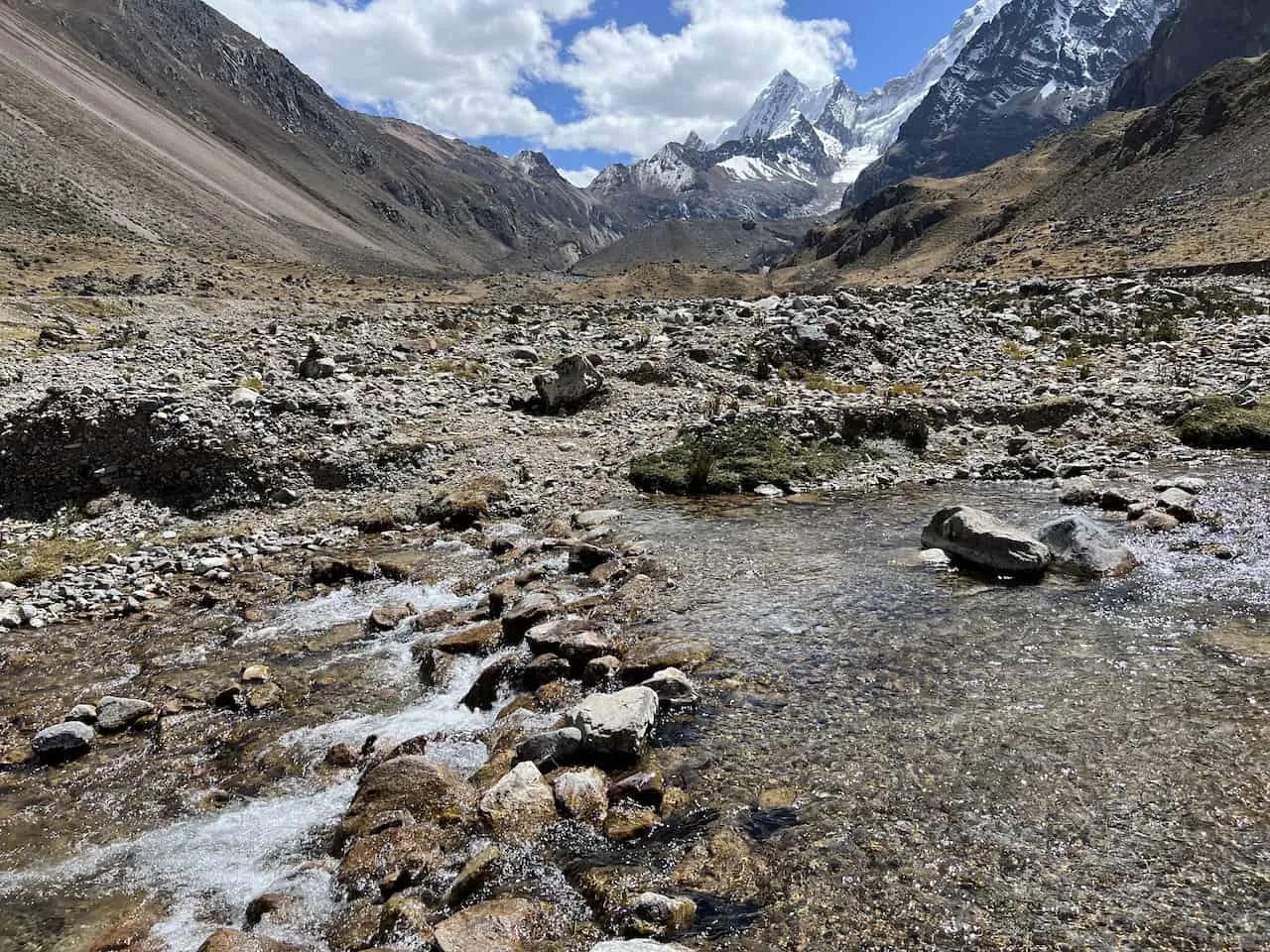 Once on the other side, you will continue to follow the trail alongside the river as you enjoy some valley and mountain views in all directions.
However, the trail will soon turn very rocky and more technical. Instead of a nice easy trail to follow, you will essentially be welcomed to a large field of rocks. This is where you will want to start to follow the rock cairns towards the lake.
To me it seemed like there were multiple trails to follow here, as there were many rocks cairns all throughout this area. As long as you continue to pay attention to the cairns, you should be able to follow along on a correct route.
As you get closer to Laguna Sarapococha, you will continue to follow the river through to the mouth of the lake. The terrain can certainly feel a bit difficult to maneuver here so just be careful.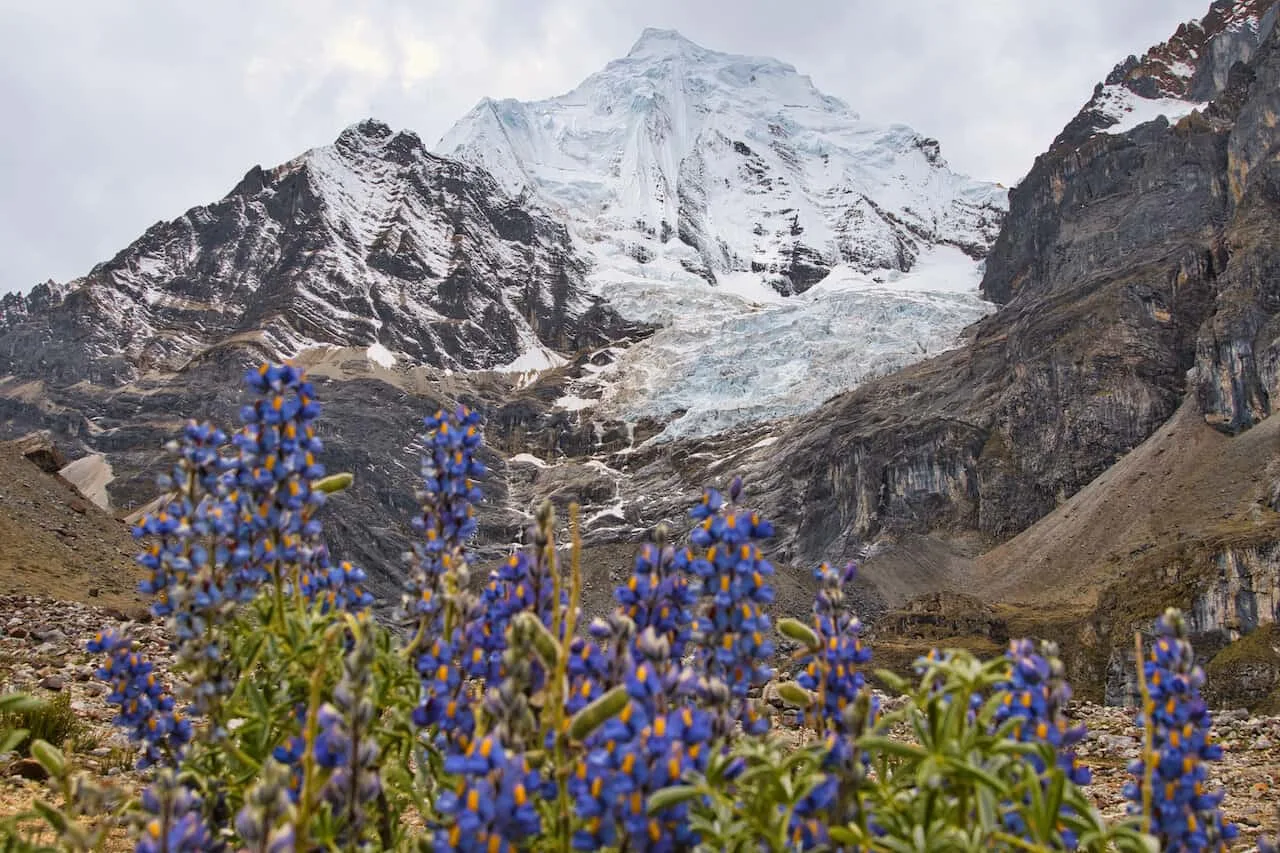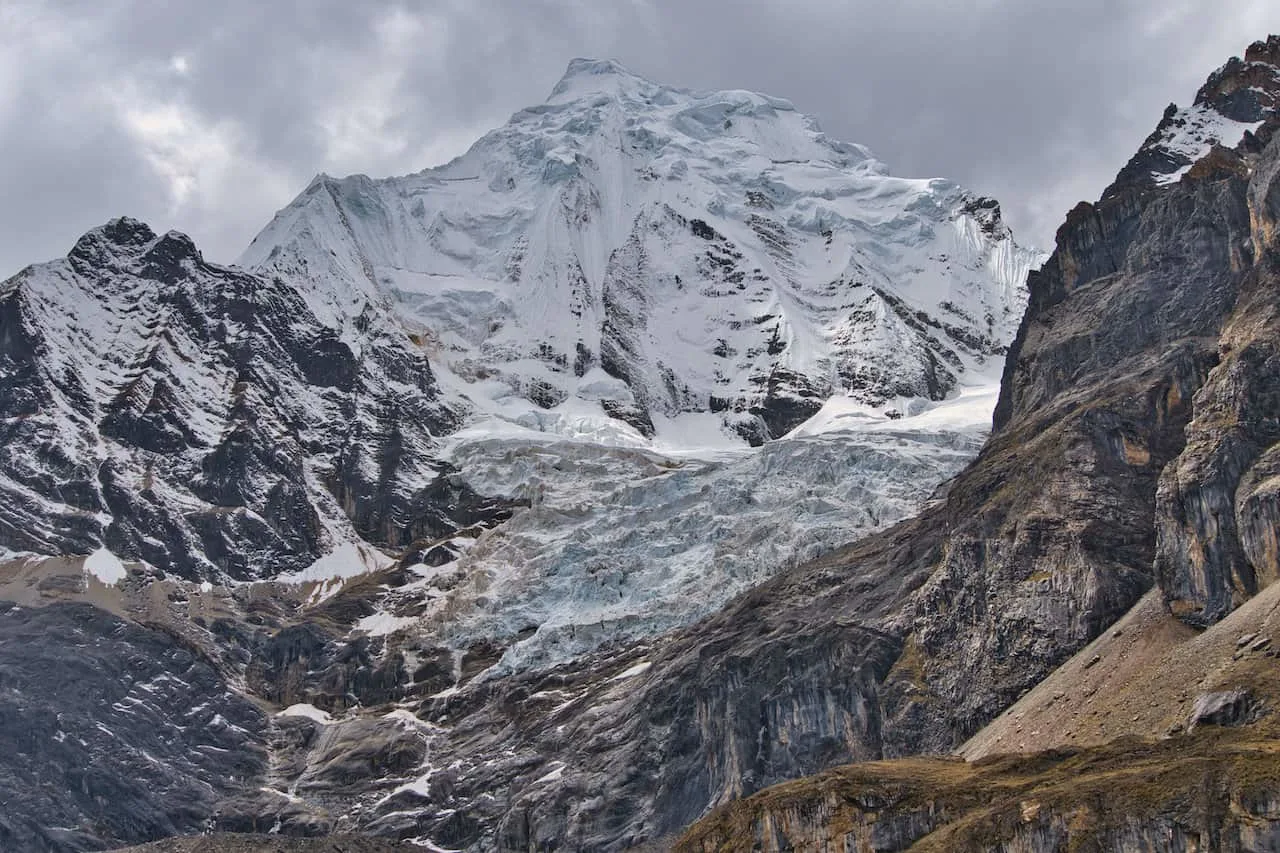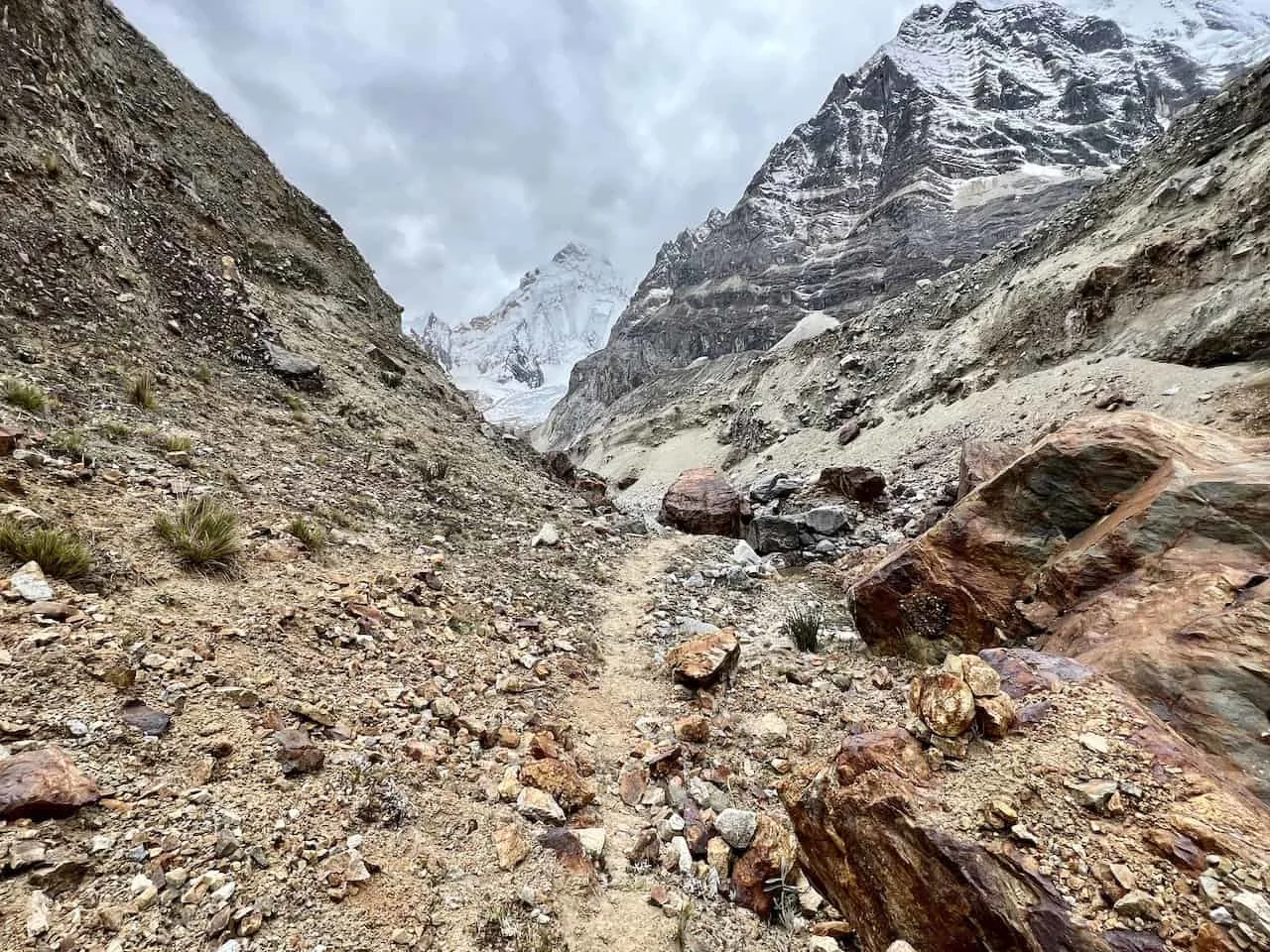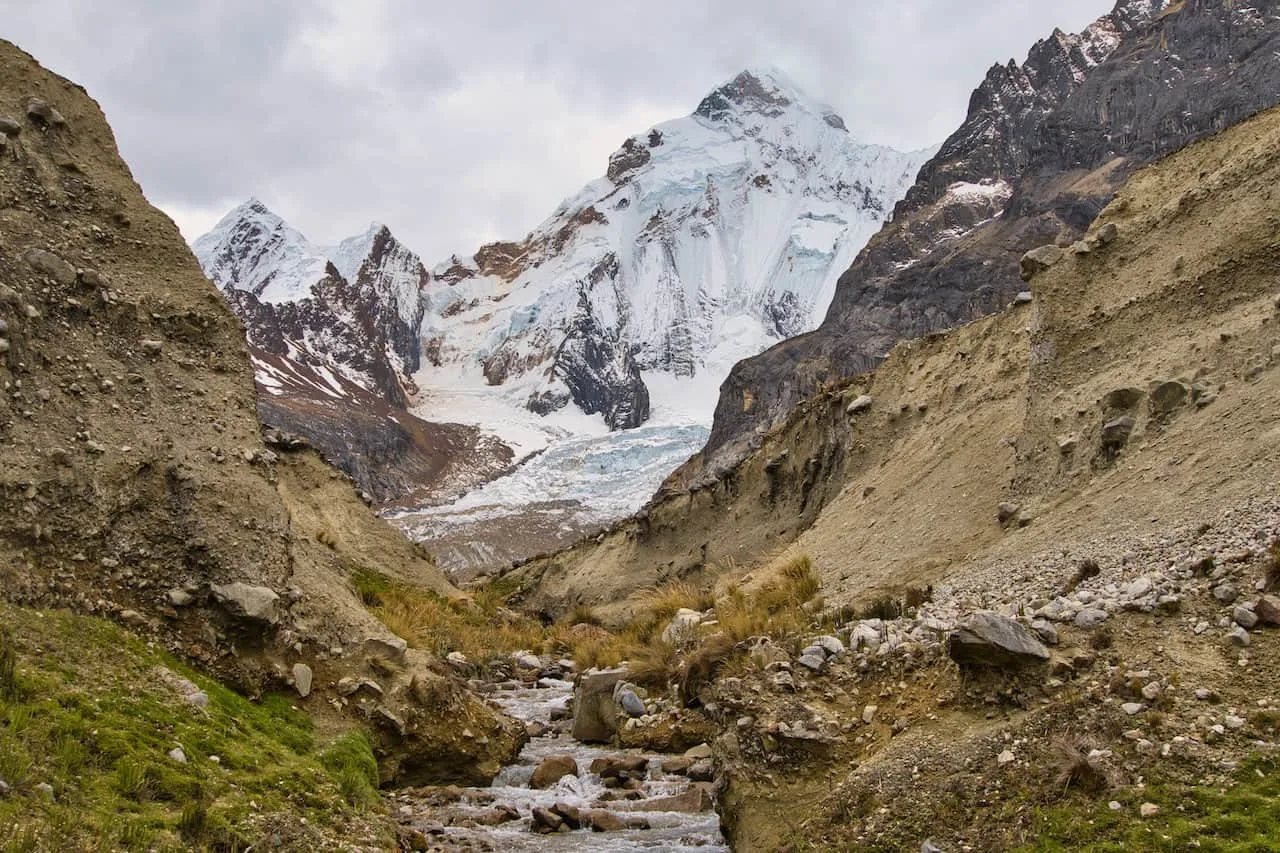 Soon enough, the rocks will end and the lake will come into view out in front of you. Feel free to make a walk around, enjoying the views of the lake and mountains.
While I didn't do so, you can also make your way up the hillside on the left hand side of the lake for more elevated views (the very top of this hillside is where Cerro Gran Vista is located).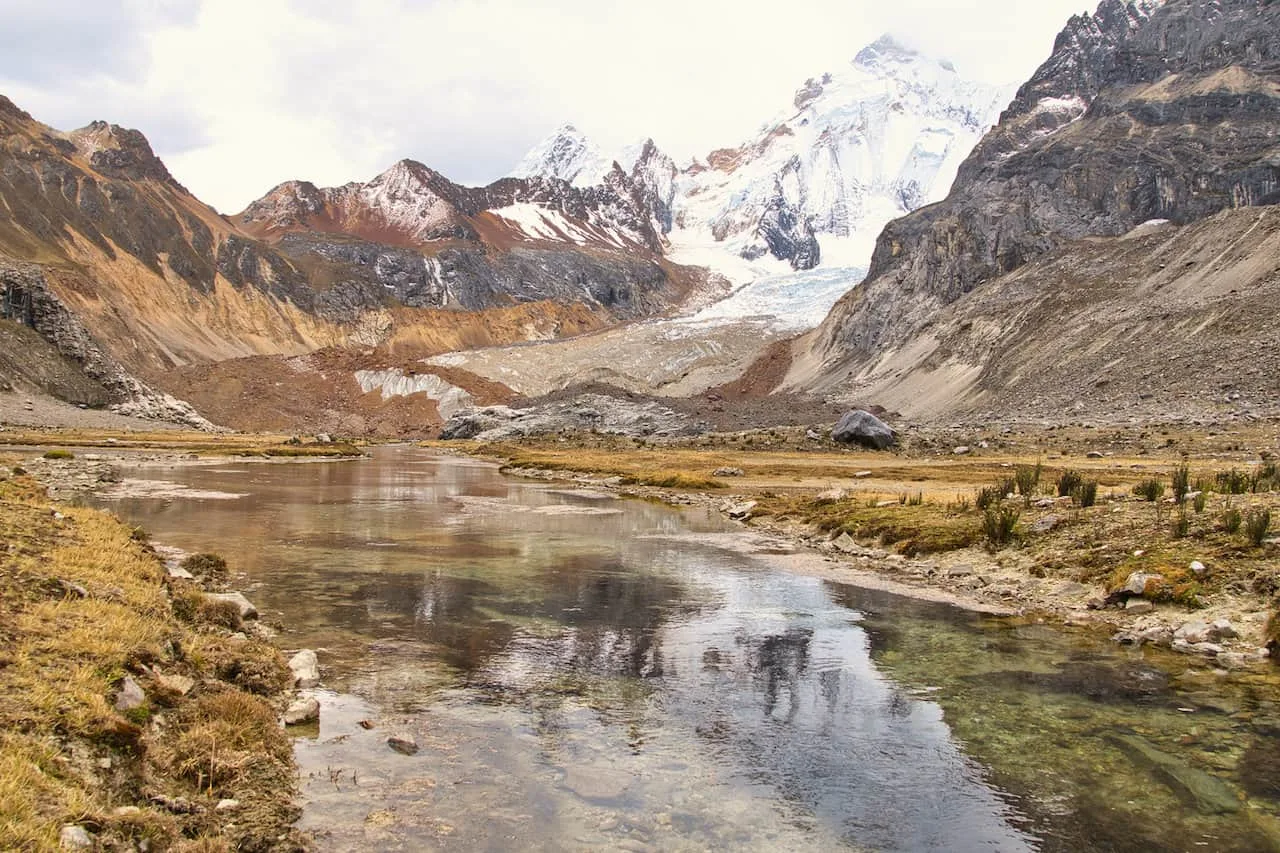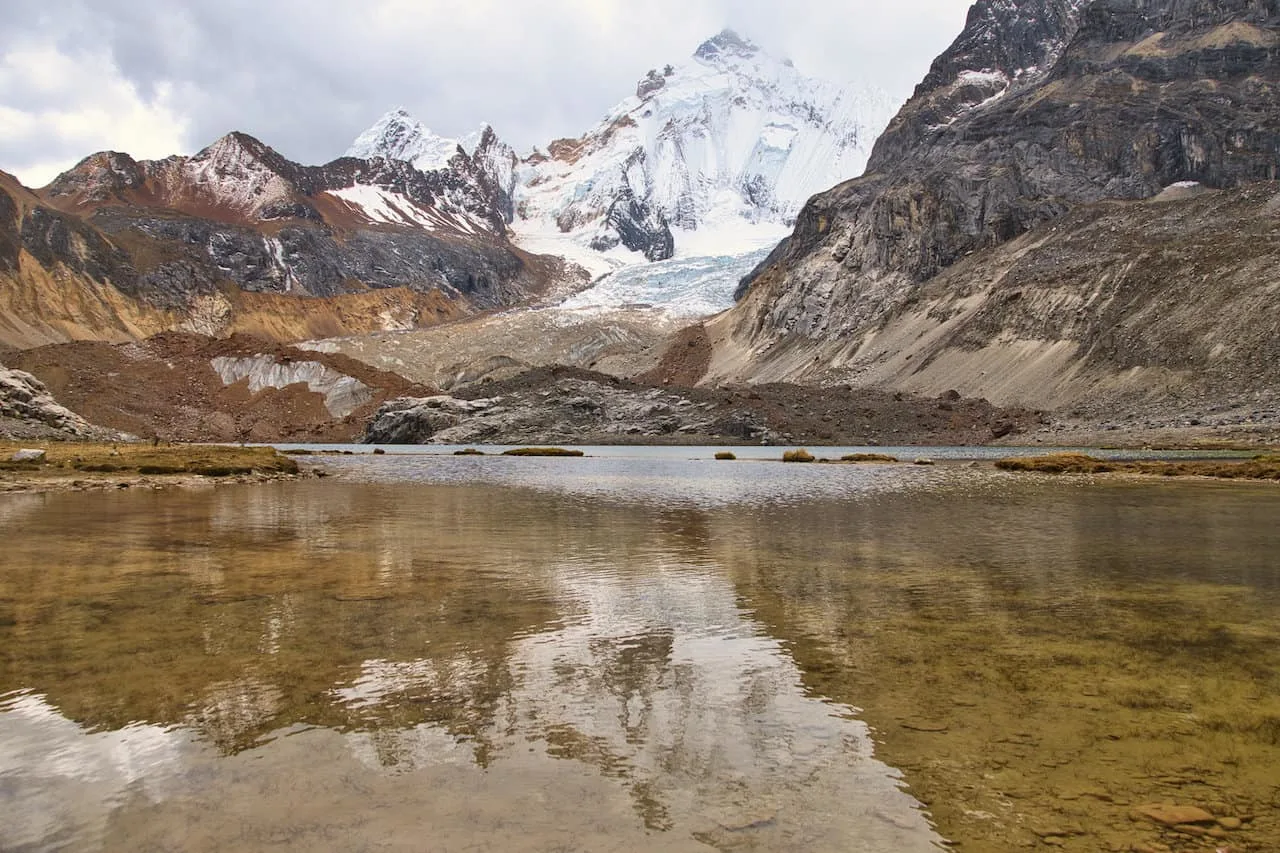 After spending some time by Laguna Sarapococha, it is then time to head back to Cutatambo. I found the route back to be much quicker and easier than the route up to the lake. As long as you follow those cairns and get back on the main path, you should be good to go.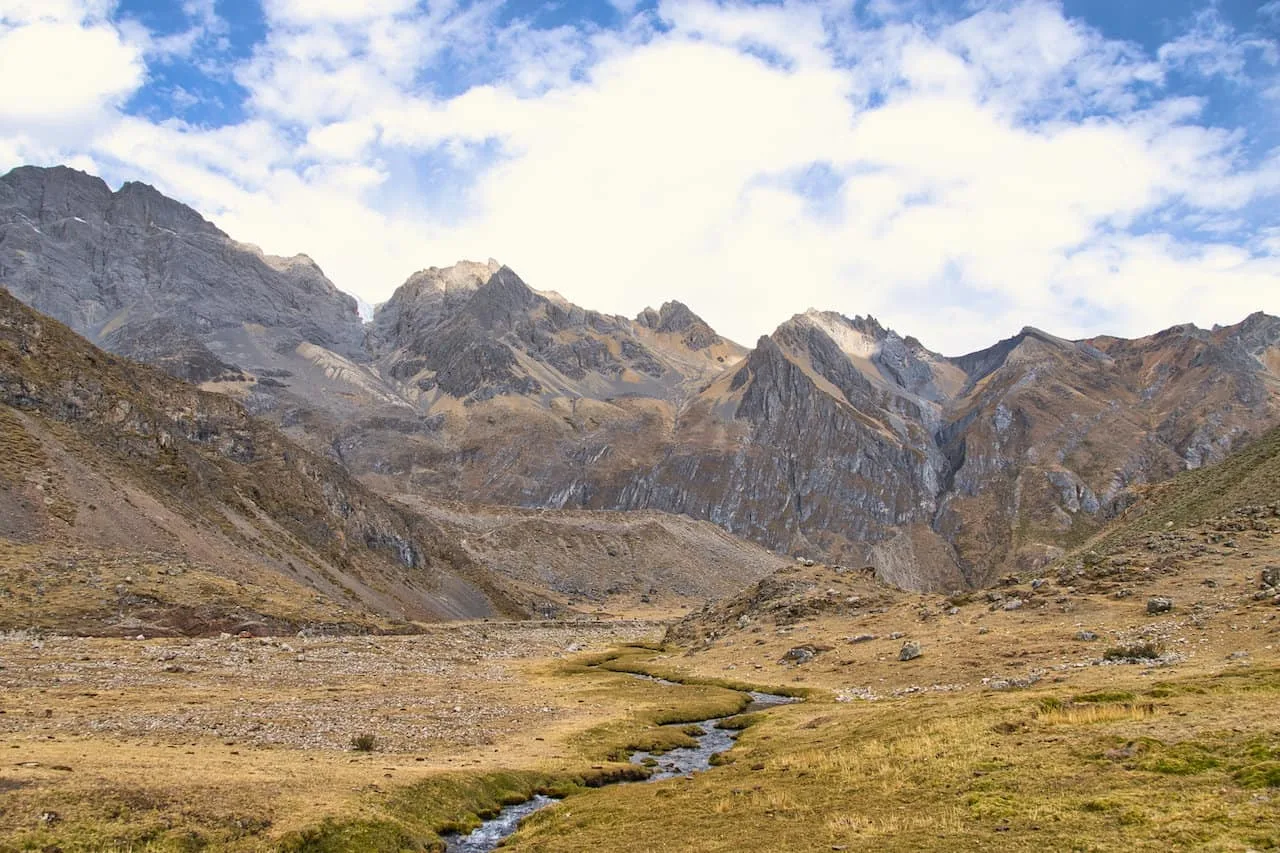 On the way back you can also visit the smaller Laguna Rurigallay (Santa Rosa) if you can figure out the route. I opted to head up the hillside closer to camp to view Laguna Juraucocha from above.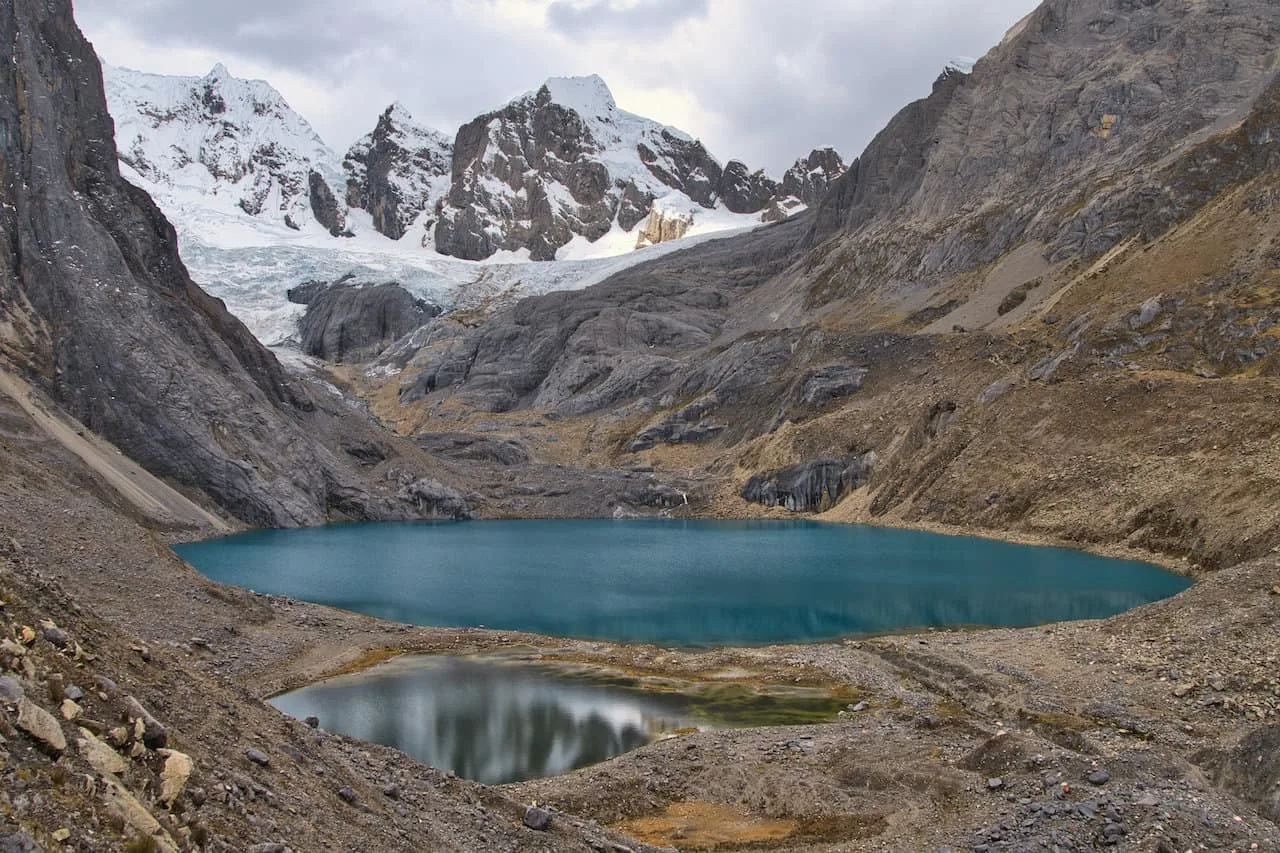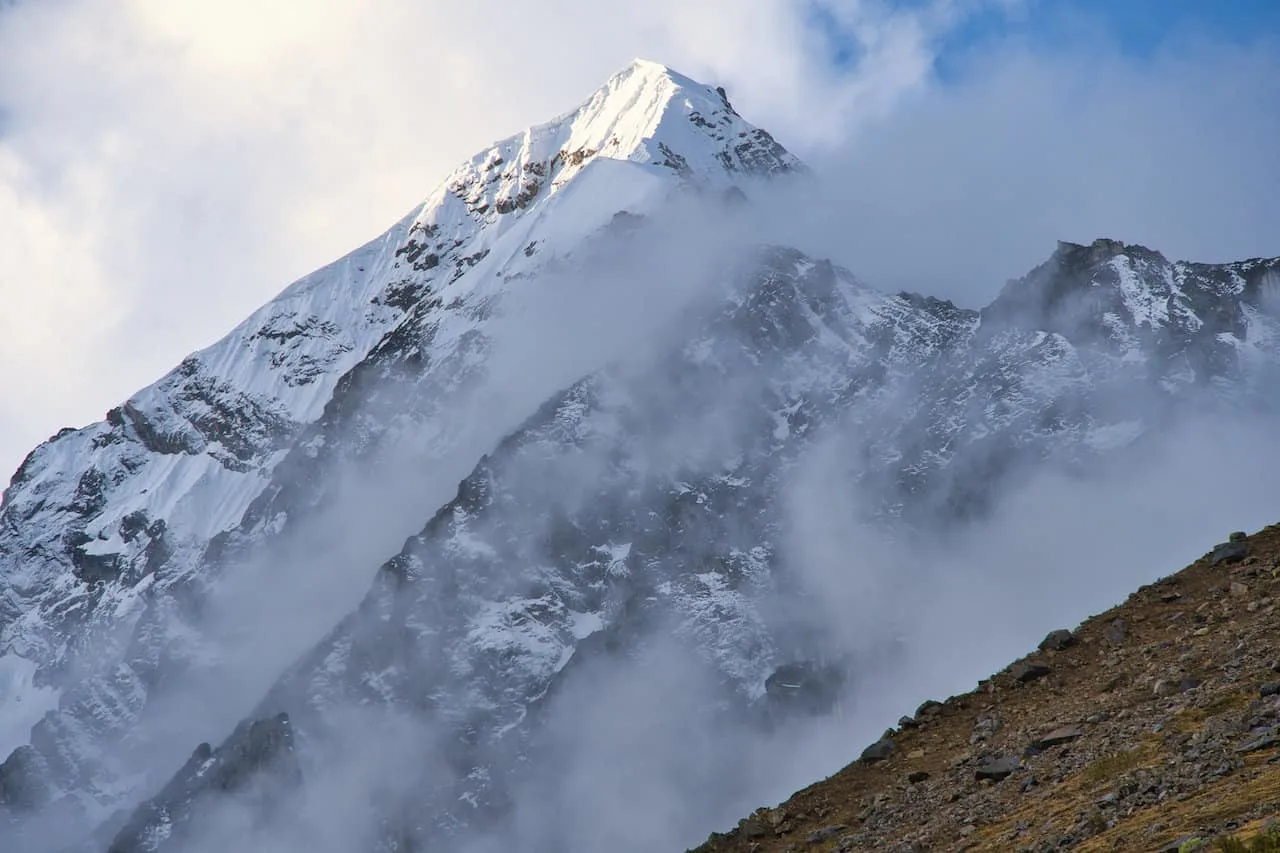 It is then back to camp, for the night before heading out to Huayllapa the following day.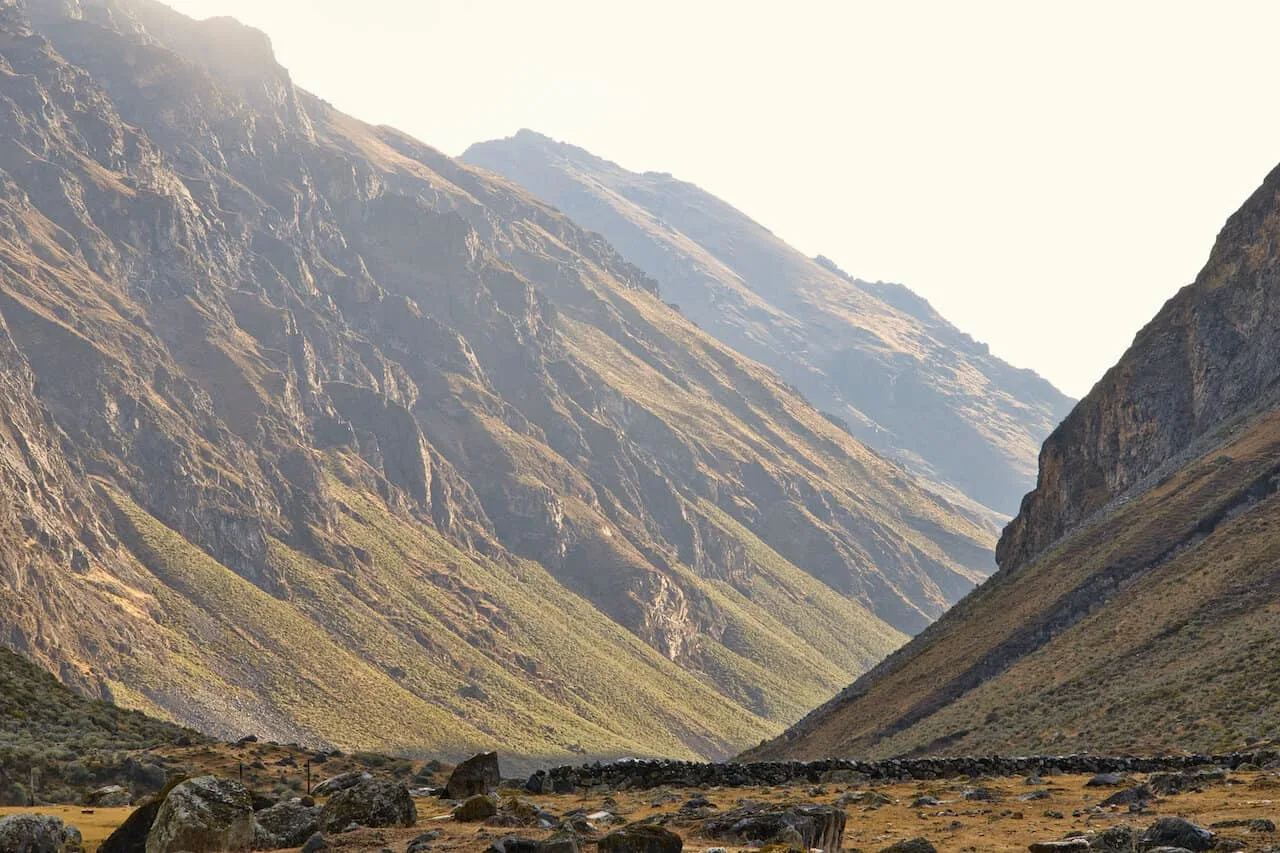 If you have any questions about the day out on the trail or the Huayhuash Circuit in general, be sure to add them in below.
Have fun out there and safe travels!