If you are looking for the highest bungee jump in all of Latin America, look no further than the 470 foot Bungee Extremo in Monteverde, Costa Rica. This thrilling experience will take you up above the majestic jungle, where you will take that leap of faith into the air down below.
This guide will go through all the things you need to know in order to take part of this bungee jump. From booking and pricing to logistics and the jump itself, this guide will go over it all.
Hope you enjoy what is sure to be one of the most electrifying parts of your trip to Costa Rica!
* Affiliate Disclosure: This post may contain affiliate links, which means I may receive a commission if you make a purchase through the links provided, at no additional cost to you. Thanks for supporting the work I put into TripTins!
1) Costa Rica Bungee Jumping Background
When doing research on bungee jumping in Costa Rica, you will find that there is really only one option to choose from. And that option just happens to be the highest bungee jump in all of Latin America.
This 470 foot bungee jump is located in Monteverde, Costa Rica at a place called Extremo Park.
At the park, they not only have the bungee jump, but they also have a vast ziplining course, superman ziplining, a rappel, Tarzan swings, among other adrenaline inducing activities.
When booking your bungee jump, you can decide to also add on these other options to make it a bit more of an experience overall.
You will come across A LOT of different sites offering what is essentially the same exact bungee experience.
These are mostly third-party companies who take your booking, and sign you up with Extremo Park. I will go into the actual booking experience later in the guide.
The remainder of the guide will go through helpful things to know about the experience and at the very end you will find a first hand video of the jump!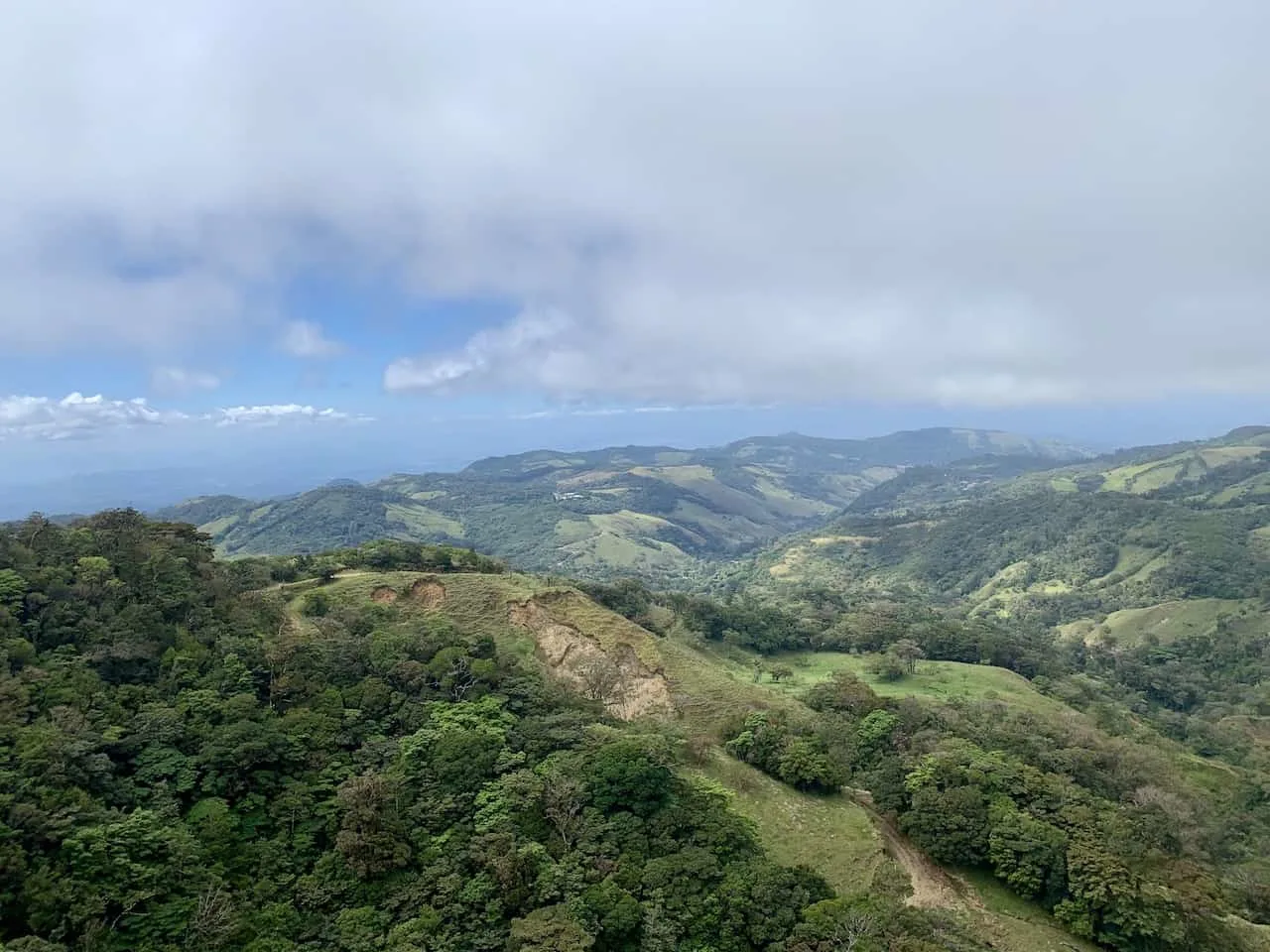 2) What is the Costa Rica Bungee Jump Monteverde Height?
The height of the bungee platform is 470 feet (143 meters) above the ground, however the actual jump will be at least 260 feet (80 meters) depending on your weight.
This is because the bungee rope is not going to send you all the way to the ground obviously. Instead you will leap more than half of the total height from the platform towards the ground.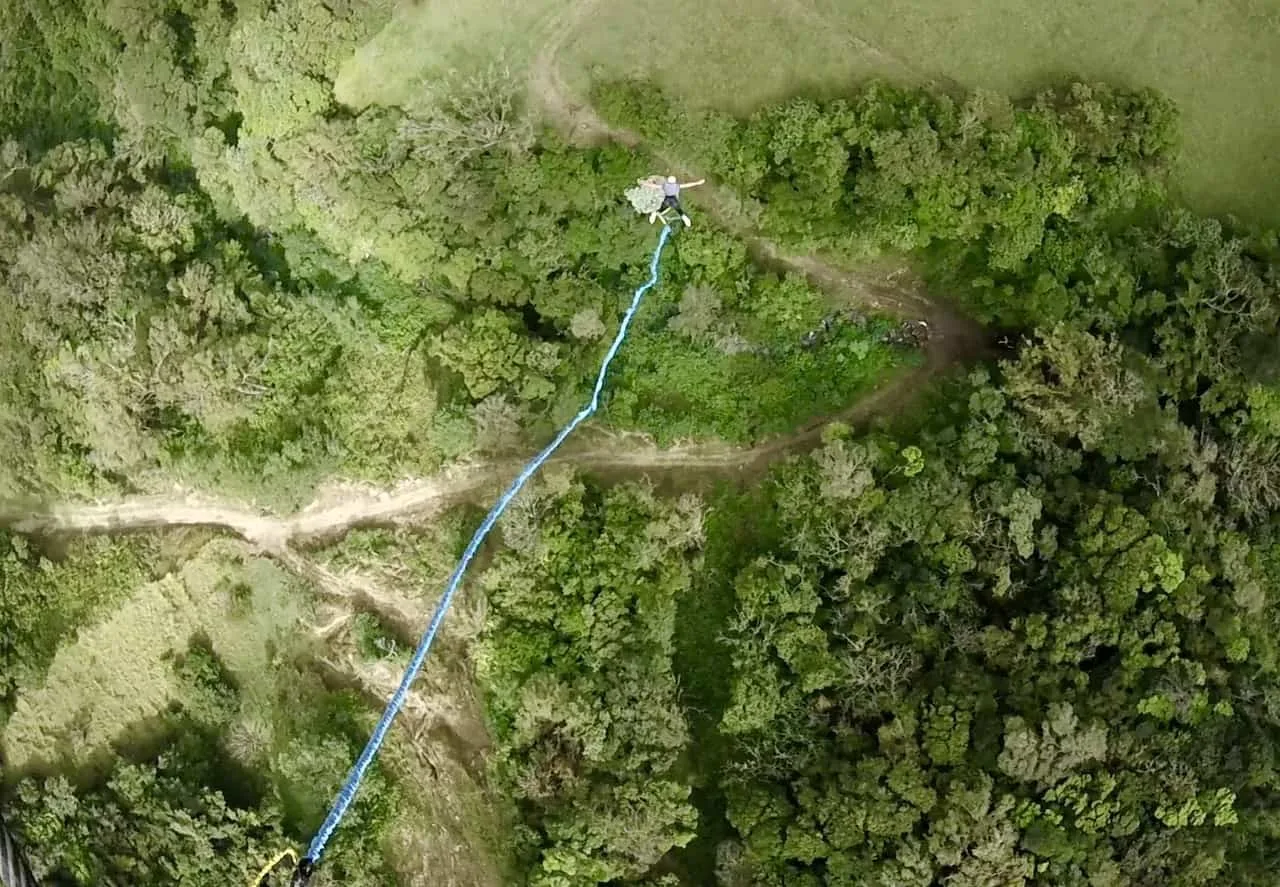 3) Bungee Jumping Costa Rica Price
If you book directly with Bungee Extremo, the price will be $83.20. If booking with a third party you may see a price a bit more or less expensive.
Note that this price ONLY includes the bungee jumping experience. If you would like to add on additional experiences at Extremo Park those will cost extra.
The full ziplining experience has 14 ziplines including a superman zipline, tunnel cable, a rappel, and a smaller Tarzan swing. This option costs $52.
Another add on is the Extreme Tarzan Swing. While a bungee jump requires you to actually jump off the edge, a Tarzan swings automatically drops you down.
While there is a Tarzan swing part of the ziplining tour, this one is about 3 times as high (and is located on the bungee jump platform). This option costs around $45.
During my time there I opted for all three, which ended up with a slight discount at $164. You can contact Extremo to get the latest pricing on a combo package.
» Visit Monteverde as part of a Costa Rica Itinerary that takes you around the country
Considering travel insurance for Costa Rica?

World Nomads offers coverage for more than 150 adventure activities (like Monteverde bungee jumping!) as well as emergency medical, lost luggage, trip cancellation and more.

For years, World Nomads has been protecting, connecting & inspiring independent travelers, offering travel insurance & safety advice to help you travel confidently. Their mission is to support and encourage travelers to explore their boundaries.

World Nomads has simple and flexible travel insurance that has been designed by travelers for travelers. Even if you leave home without travel insurance or your policy runs out, you can buy or extend out on the road.

Get a quote for a World Nomads travel insurance policy today!
4) Costa Rica Bungee Helpful FAQs
Below are some helpful answers to some frequently asked questions about bungee jumping in Monteverde to better prepare you for a visit.
There are three times of a day to book the bungee jumping experience -> 8:00AM, 11:00AM, and 2:00PM. You can expect pickup to be around 30 minutes prior to each start time.
Going off of that, pickup and drop-off are included in the price of the bungee jumping experience. The company will ask for your hotel name and give you an estimated pick up time for the day.
You should expect the experience to take around 3 hours altogether. This will of course be longer if you also choose to do ziplining and/or the Tarzan swing.
The minimum weight requirement is 110 lbs / 50 kg, and the maximum weight allowed is 250 lbs / 113 kg.
It is mentioned that the age allowed is between 18-50 but those older than 50 can take part with appropriate medical sign off (I can't say for certain if they actually check this)
For an additional $20 (cash only), you can get a video of the bungee jumping experience. This includes GoPro footage on your helmet and from the bungee platform. You cannot tape it yourself with your own GoPro.
There is a viewing platform farther away where people can take a video of your jump if you came with friends/family. Note that visitors are allowed even if they aren't jumping.
5) Extremo Park Bungee Jumping
Now that you have some background on the experience, let's get into some details about the day itself.
As mentioned, pickup is already taken care of for you by Extremo Park. They will give you an exact pickup time a few days prior, but you should plan on being ready about 30-45 minutes prior to your start time.
The drive from the center of Monteverde to the park is around 20 minutes or so but note that you may need to detour to pick up others along the way too.
Once you arrive at the park, you will need to check in and sign some forms at the front desk. If you are taking part of the zipline, that will come first (most likely) followed by the bungee jump after.
» Learn more about the canopy tour in the Monteverde Zip Lining guide up on the site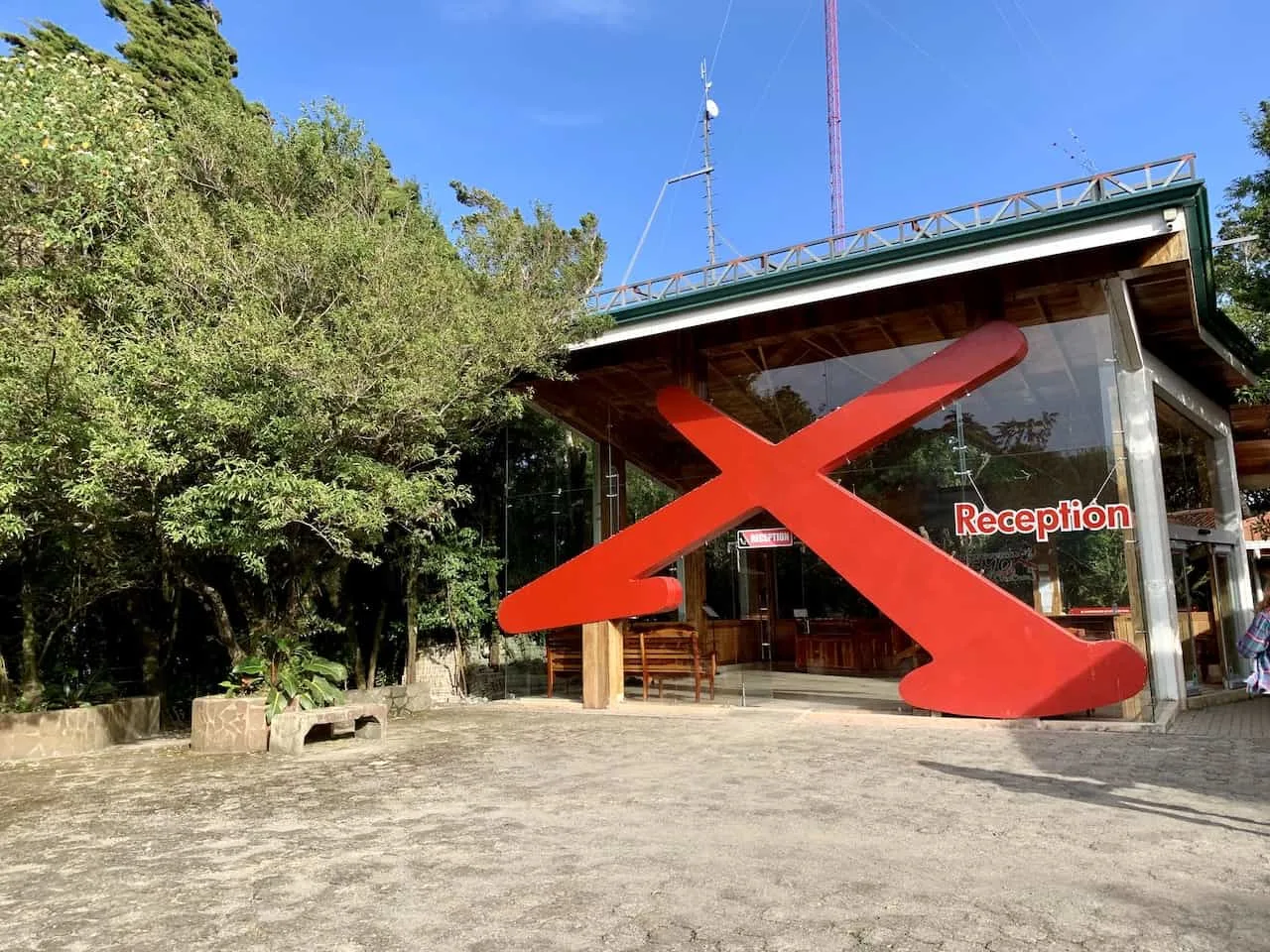 The walk from the front desk area to the bungee jump platform is a quick one as you head to the mini red tram.
This tram starts on land, but then is pulled to the middle of the rainforest high above the ground below.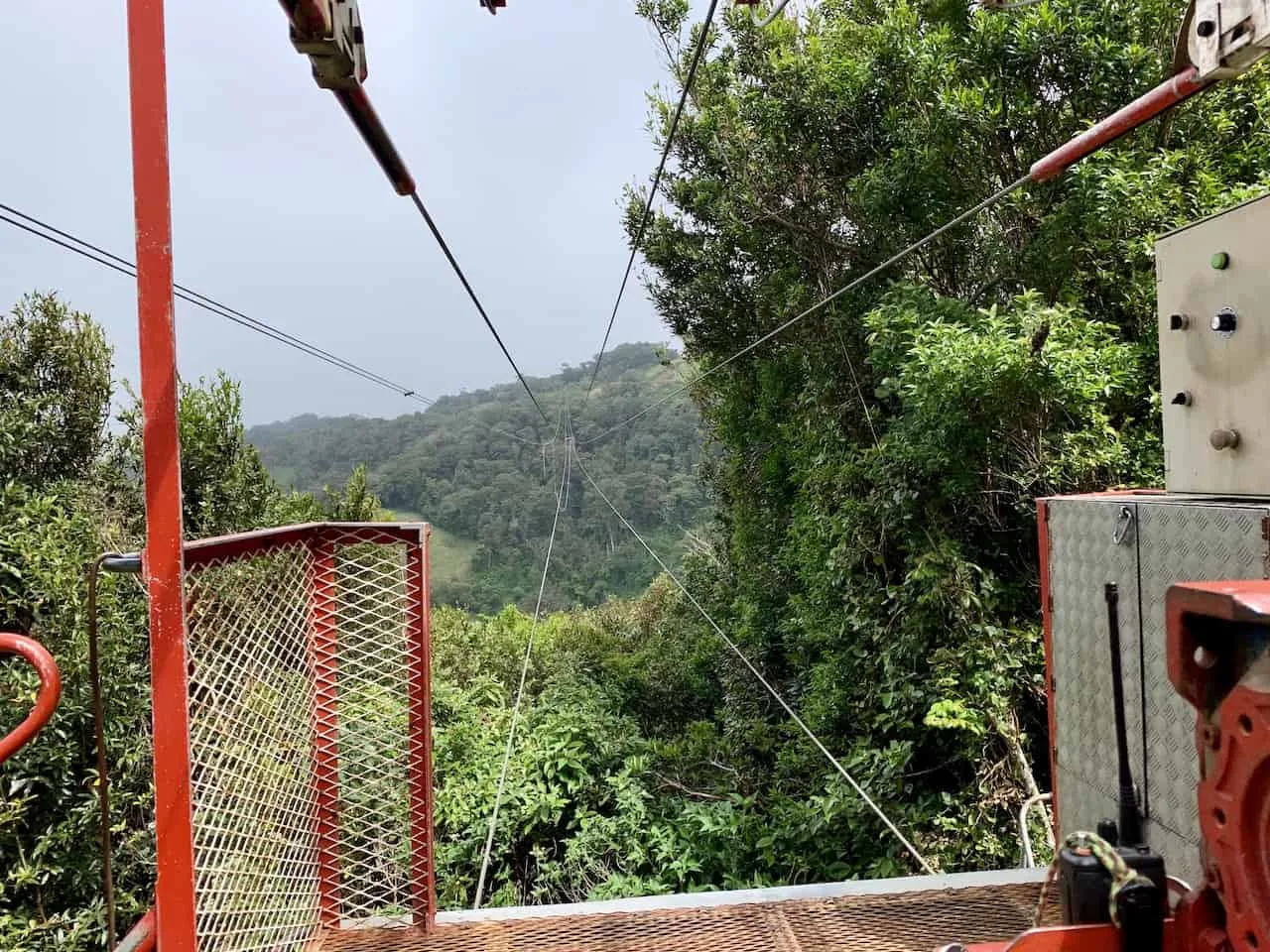 Prior to the tram though, you will first be fitted with a harness, helmet and special boots to wear for the jump. Once all suited up, across the tramway you go.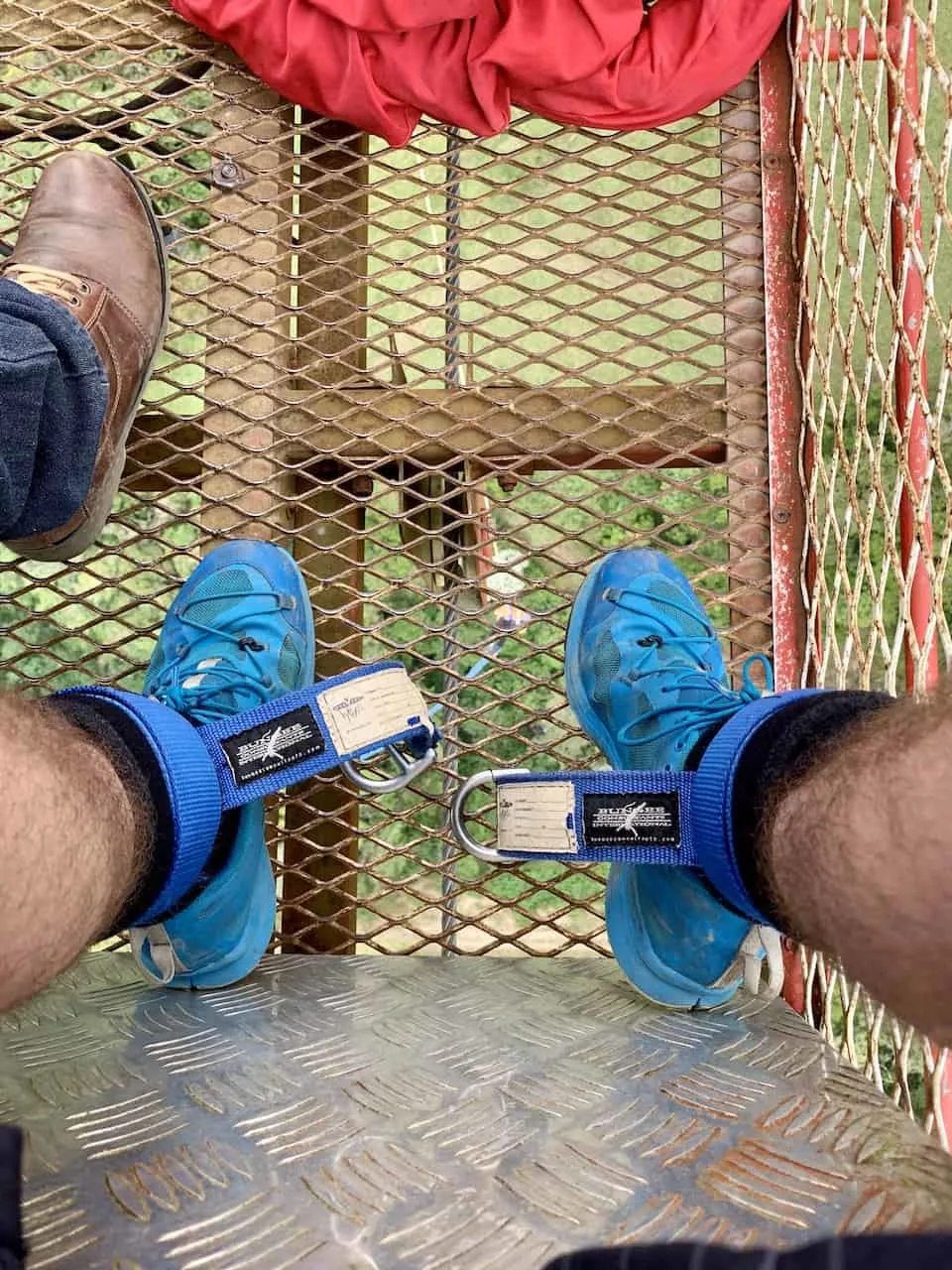 Once the tram reaches the middle of the valley, it is time to get ready for your jump. Odds are you may have some additional people with you for your jump as well.
They only take 3-4 people at a time on the tram, so if there are more, you will then be split into multiple groups.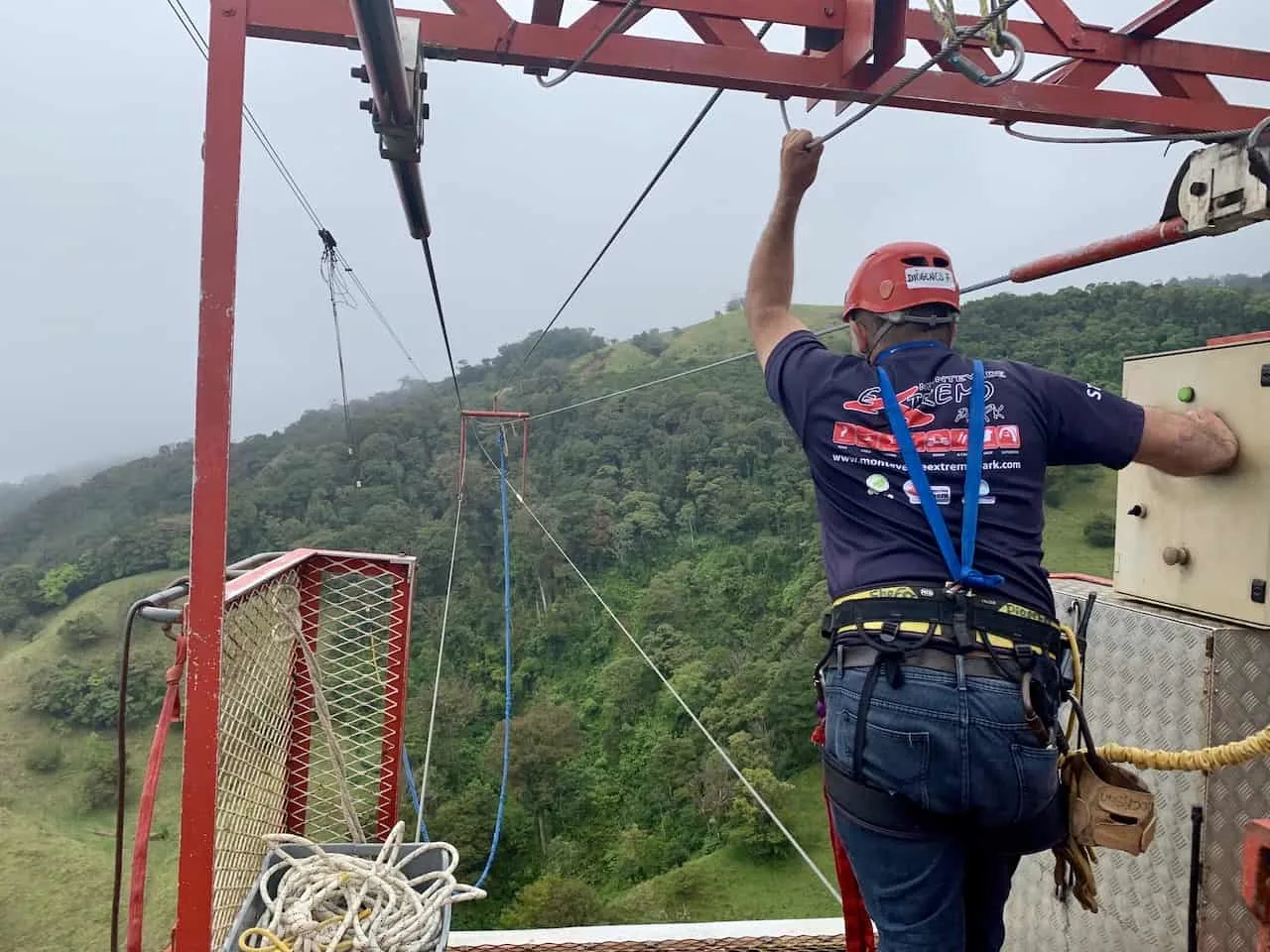 The guides will begin to prep the bungee and one by one you will take turns jumping off of this 470 foot platform.
The bungee cord is essentially tied down to your harness and feet (using those specially made shoes) and you will receive a countdown from everyone around you to make the leap.
When jumping off, don't just walk off the platform though. Be sure to jump head first, spread those arms and legs, and enjoy the experience!
You will be flying through the air until the bungee runs out of slack. At that point you will be sprung back up and down a few times until you are no longer moving too much.
At that point, the guides will begin to raise you back up to the platform, unleash you, and get the next person all prepped up.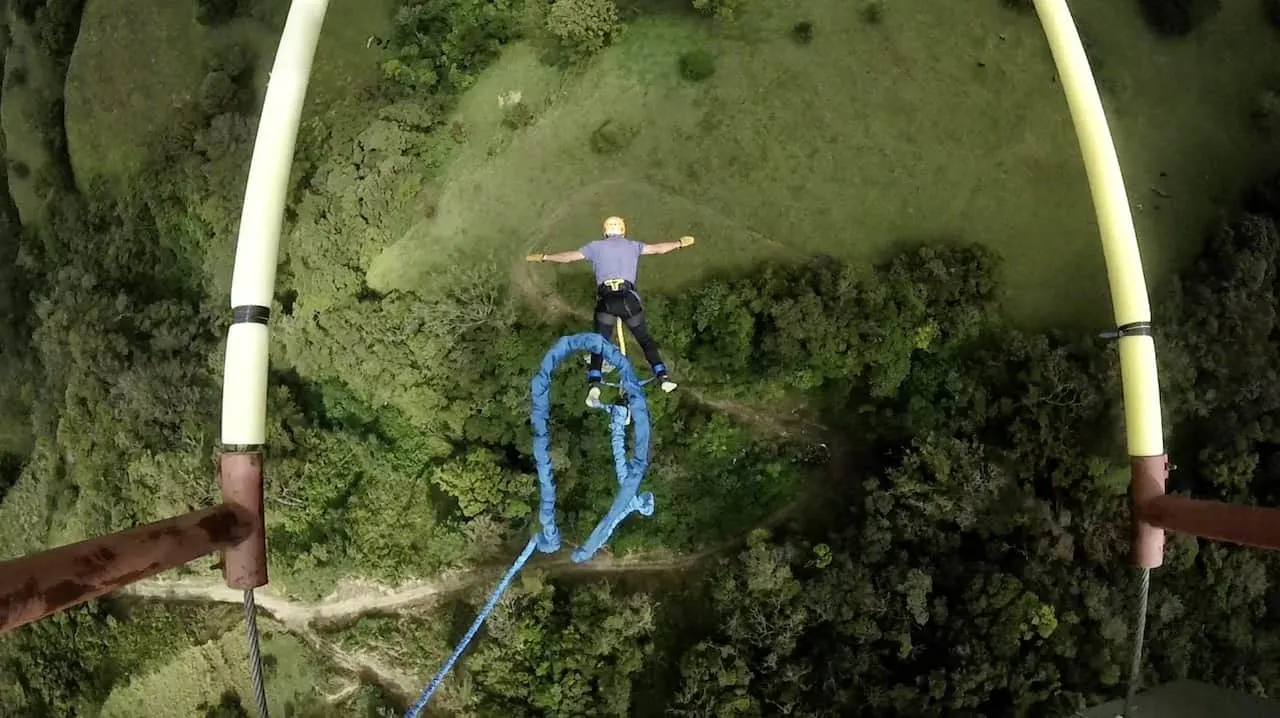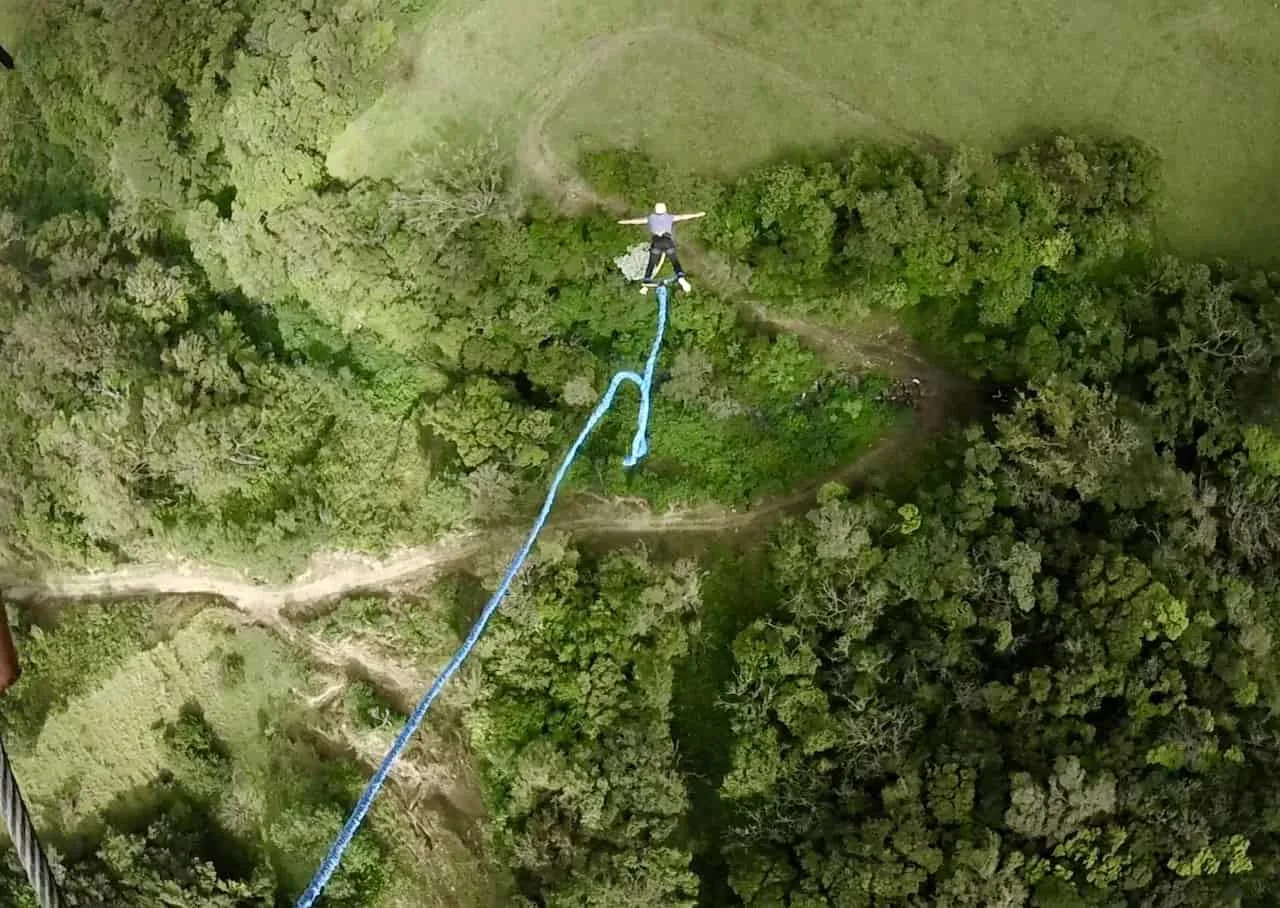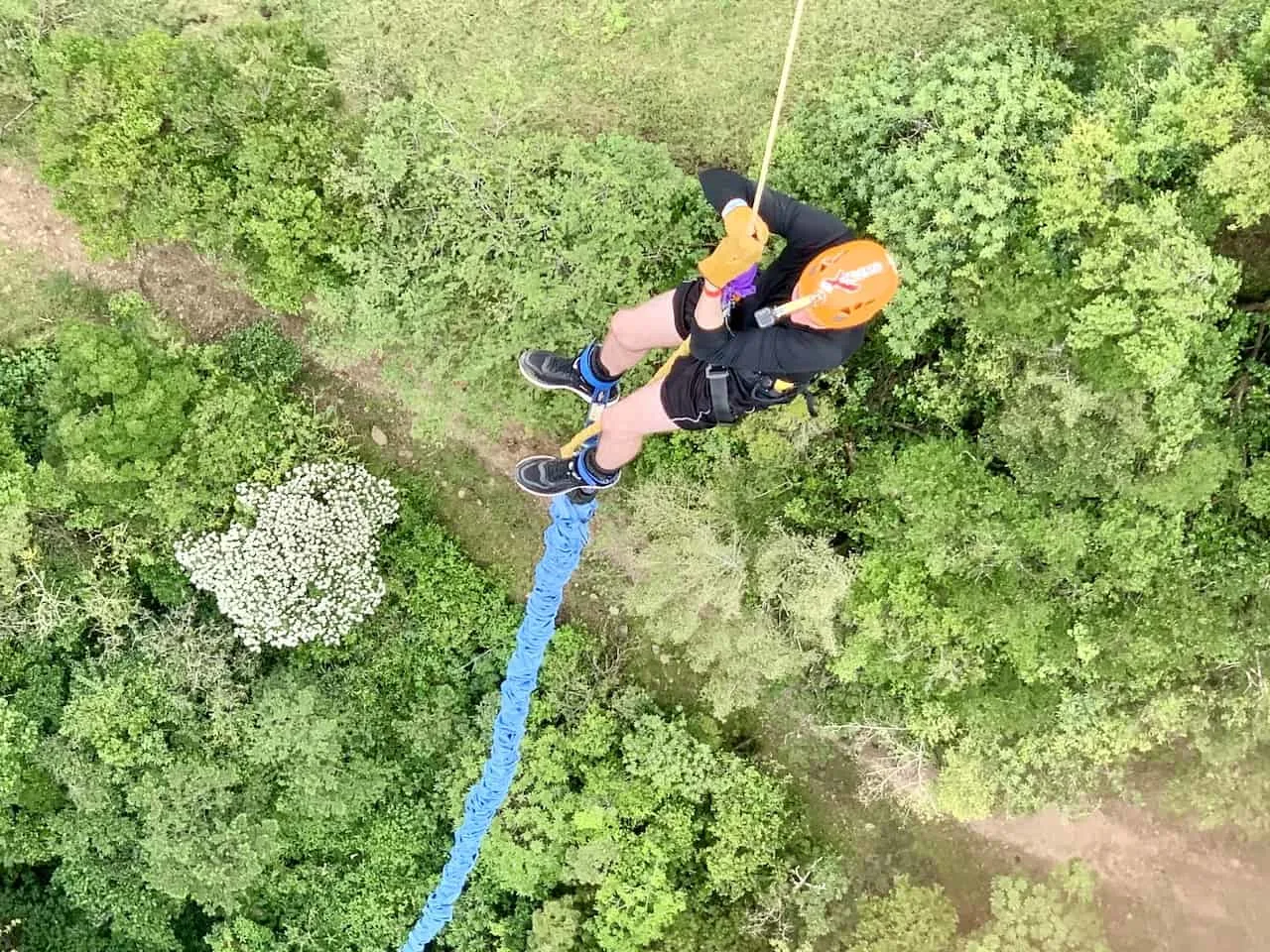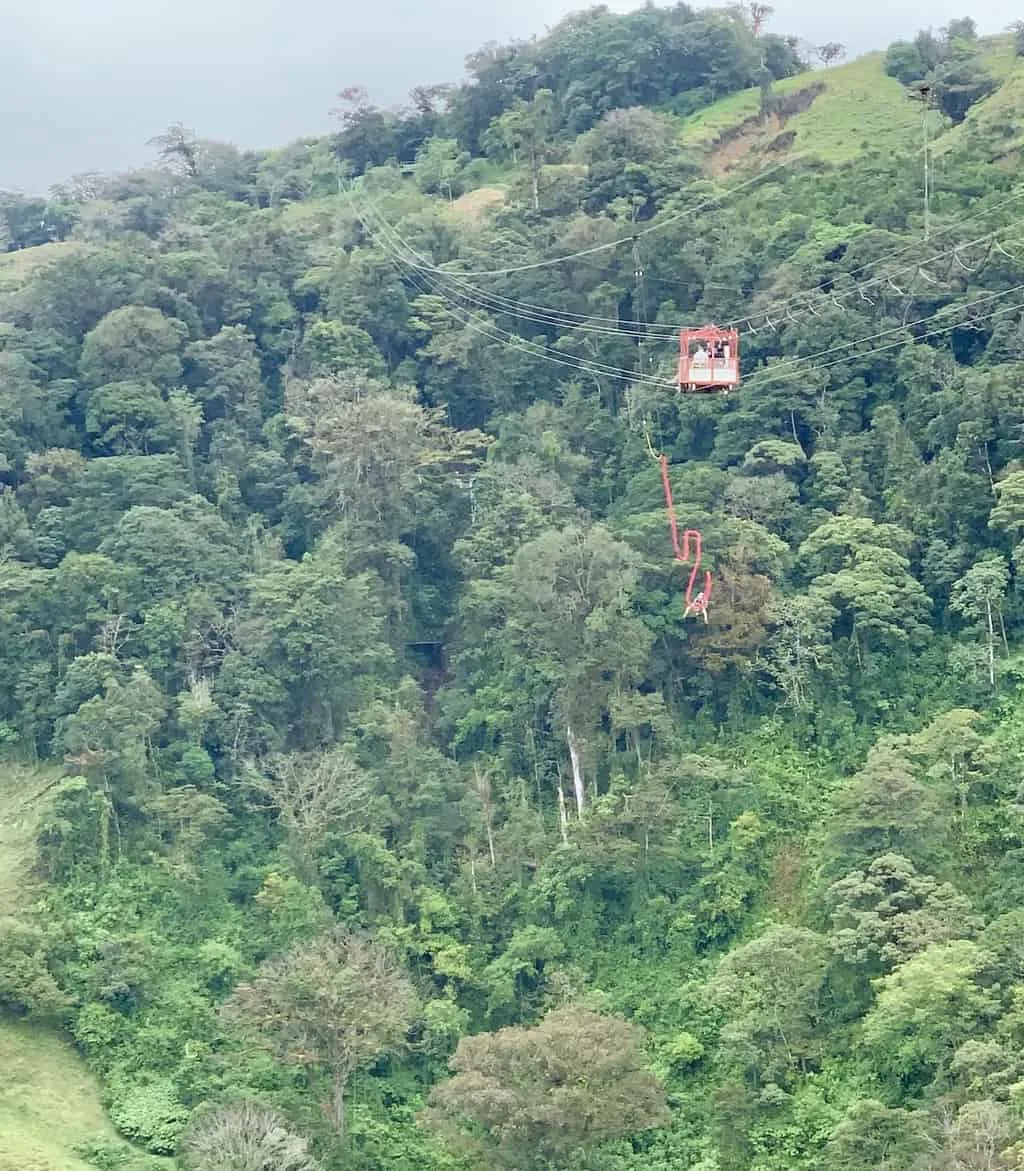 After everyone on the tram has taken their turn, the tram will make it's way back to safety, where you can return the gear and take some moments to relax.
If other groups are heading out too, I would recommend making your way to the nearby viewing platform to take a look from afar.
Once the whole experience is over with, you will be directed back to the transport van and onwards to your hotel to end your day.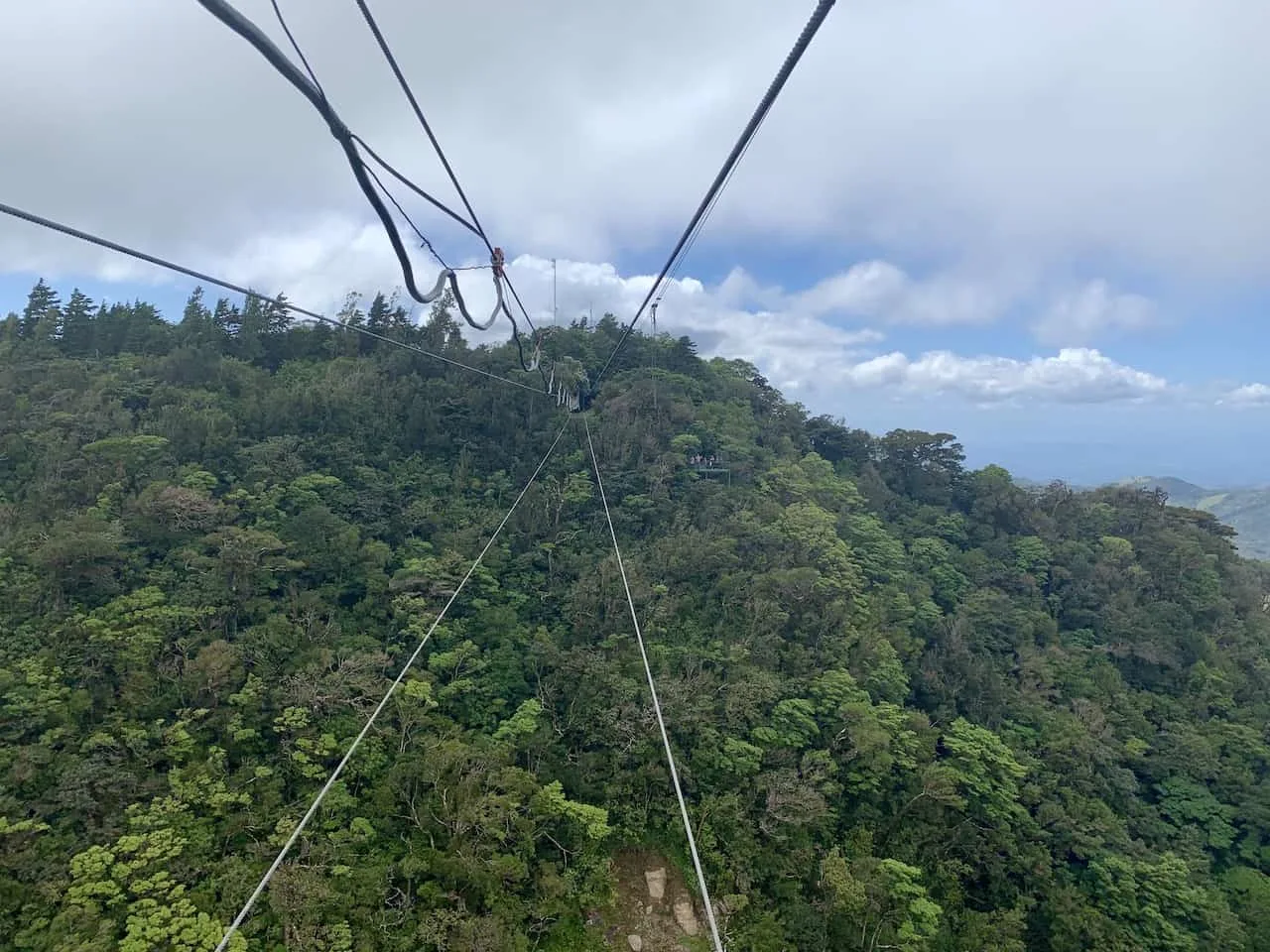 6) Where to Stay in Monteverde
While the area of Monteverde is not too big, the hotels in the area can be a bit more spread out.
Many resorts have acres and acres of property to enjoy, so there is a feeling of more seclusion and privacy at some spots.
Below are three great options to choose from depending on price and availability.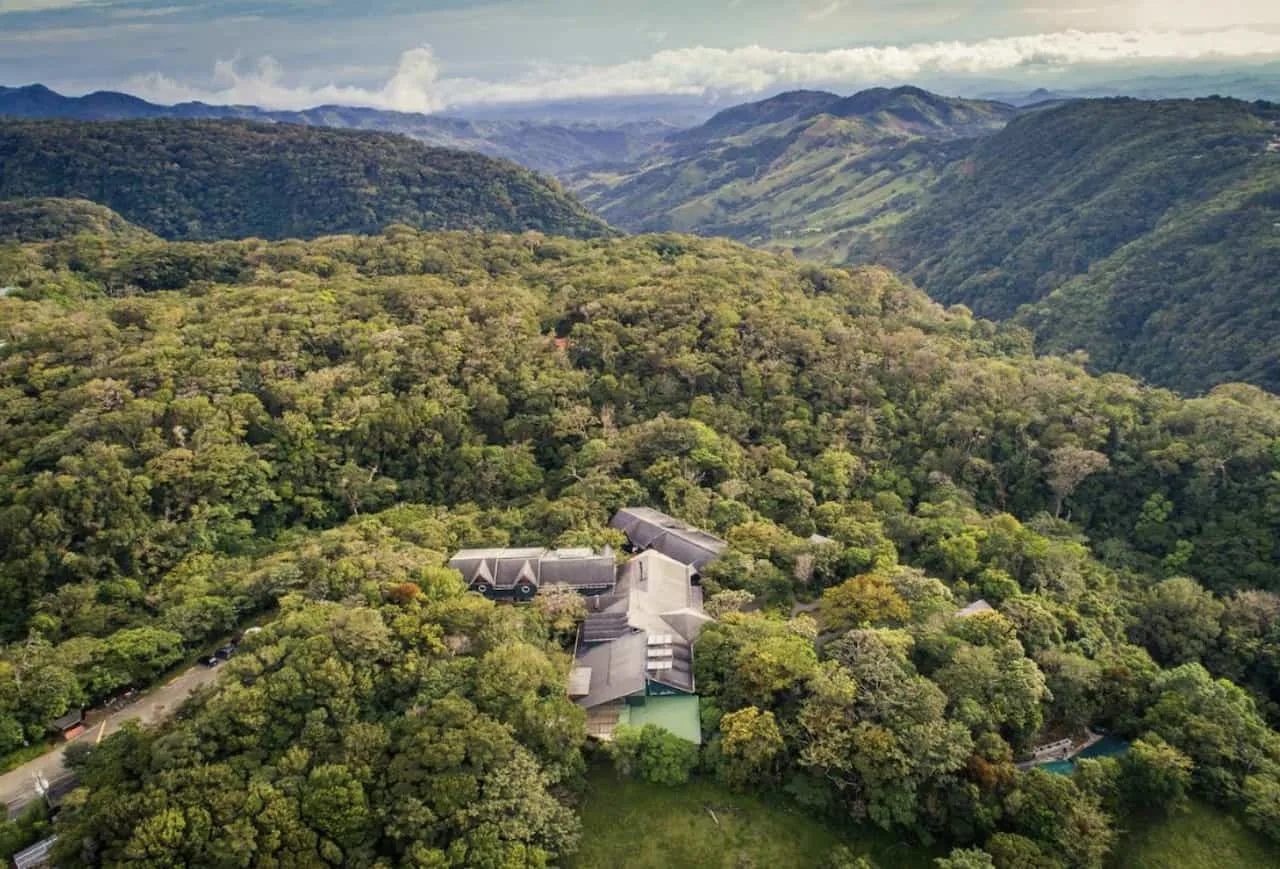 7) Booking the Bungee Jump
As mentioned earlier on, there are two main ways about booking the bungee jumping experience. You can book directly with Extremo Park or you can opt to use a third party platform.
There are a few reasons to use a third party platform vs booking directly but end of the day, you can't really go wrong.
I have seen instances where the third party platforms do offer cheaper pricing vs. Extremo Park themselves. So, you can do some price checking to take a look if that's the case.
Another reason to use a third party is to have all of your tours and activities booked through one platform.
So, if you are booking other activities during your time in Costa Rica, it is nice and easy to just be dealing with one platform to see all your bookings together.
In these situations I would recommend using Viator, which has the Extreme Bungee Jumping in Monteverde available to book right of the site.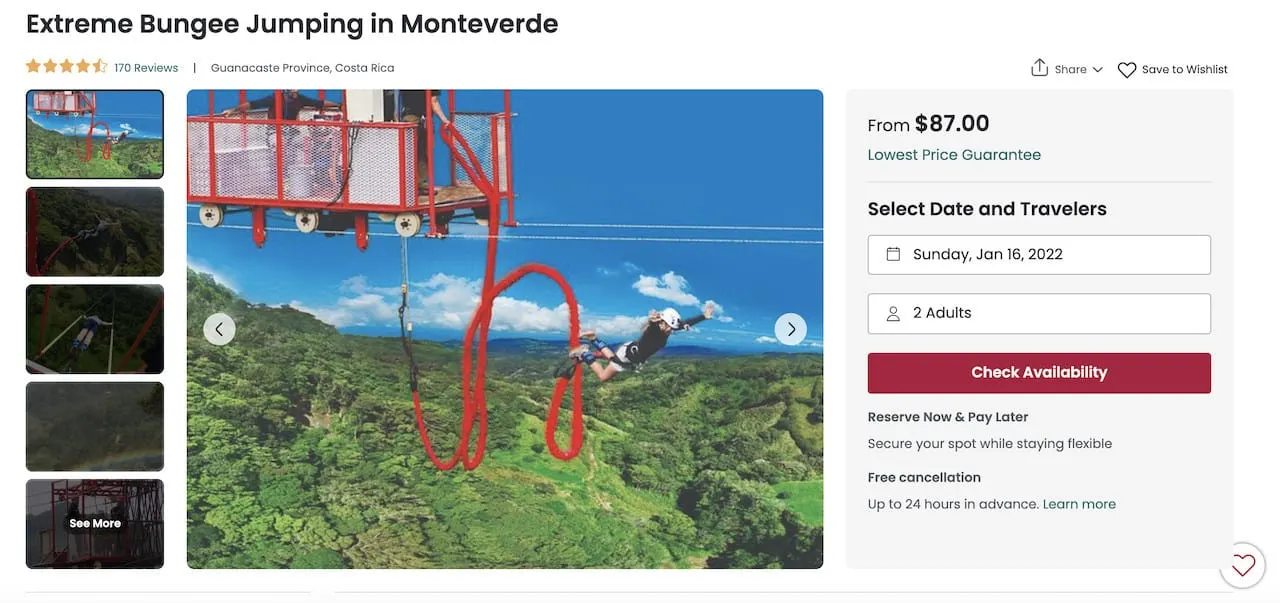 8) Monteverde Costa Rica Bungee Jumping Video
Now that you have read all about Monteverde bungee jumping, it is only fitting to end this guide with a video of the bungee jumping experience.
I have grouped together a few different videos of the jump so you can get a better sense of what it is all about.
I hope you enjoyed reading about this one of a kind experience. If you have any questions or comments, feel free to add them in below.
Also be sure to check out the other Costa Rica itineraries and guides up on the site.
Have fun out there and safe travels!