Are you looking for a country that offers beaches, rainforests, wildlife, adrenaline activities, volcanoes, hikes and more?
Well, Costa Rica is the perfect choice if you are interested in having a diverse and exciting vacation that has it all.
Throughout this guide I will go through what a 10-day Costa Rica itinerary can look like. Not only will I walk through a detailed day by day breakdown of the trip, but I will also point out several important and helpful things to know when planning out a trip.
At the end of the reading through this itinerary, you should have a great sense of how to go about 10 days in Costa Rica.
* Affiliate Disclosure: This post may contain affiliate links, which means I may receive a commission if you make a purchase through the links provided, at no additional cost to you. Thanks for supporting the work I put into TripTins!
1) Costa Rica Itinerary
Here is a high-level view of what this 10-day Costa Rica itinerary will look like. In all, it will focus in on 3 main areas of the country giving you enough time to truly enjoy each place you visit.
Day 1 – Poas Volcano & La Paz Waterfall Gardens
Day 2 – La Fortuna / Arenal
Day 3 – La Fortuna / Arenal
Day 4 – Rio Celeste Day Trip
Day 5 – Travel from Arenal to Monteverde
Day 6 – Monteverde
Day 7 – Monteverde
Day 8 – Travel from Monteverde to Manuel Antonio
Day 9 – Manuel Antonio
Day 10 – Manuel Antonio
I would consider this a good mix of adventure, wildlife, and relaxing, as you get to experience a little bit of everything that Costa Rica offers.
2) Things to Know Before You Go
Before jumping into the day by day itinerary, I did want to mention some important things to know about this trip in general.
10 Full Days: As you can see from the above overview, this is truly 10 full days in the country. This means arriving on Day 0 and leaving later on day 10 or sometime on day 11. If you need the itinerary to be 10 days including travel, there are ways to cut back on the above.
Flights: For this itinerary in particular, it is easiest to fly into and out of San Jose airport (SJO). Day 1 will essentially start in San Jose and on your journey back from Manuel Antonio, it should be about a 3 hour drive to the airport.
Car Rental: Speaking of driving, I would highly recommend renting a car during your time in the country. Having a car is a very convenient way to get around and take the trip at your own pace. The alternatives to renting a car would be public transport or private drivers.
Renting a Car: Feel free to take a look at Rentalcars.com for a variety of car options to choose from for your time in Costa Rica. You will be able to filter by price, car type, rental company, & more to find the best car rental for your trip.
Time of Year: Costa Rica is known for its wet and dry season. The wet or rainy season runs from May to November, while the dry season runs from December to April. If you want the best chance of clear weather with less chance of rainfall then opt for the dry season for the trip.
Travel Guides: Throughout this Costa Rica itinerary I have linked to other travel guides on the site that dive into more details about certain sites, hikes, and experiences. Be sure to check those out to learn more!
Considering travel insurance for Costa Rica?

World Nomads offers coverage for more than 150 adventure activities as well as emergency medical, lost luggage, trip cancellation and more.

For years, World Nomads has been protecting, connecting & inspiring independent travelers, offering travel insurance & safety advice to help you travel confidently. Their mission is to support and encourage travelers to explore their boundaries.

World Nomads has simple and flexible travel insurance that has been designed by travelers for travelers. Even if you leave home without travel insurance or your policy runs out, you can buy or extend out on the road.

Get a quote for a World Nomads travel insurance policy today!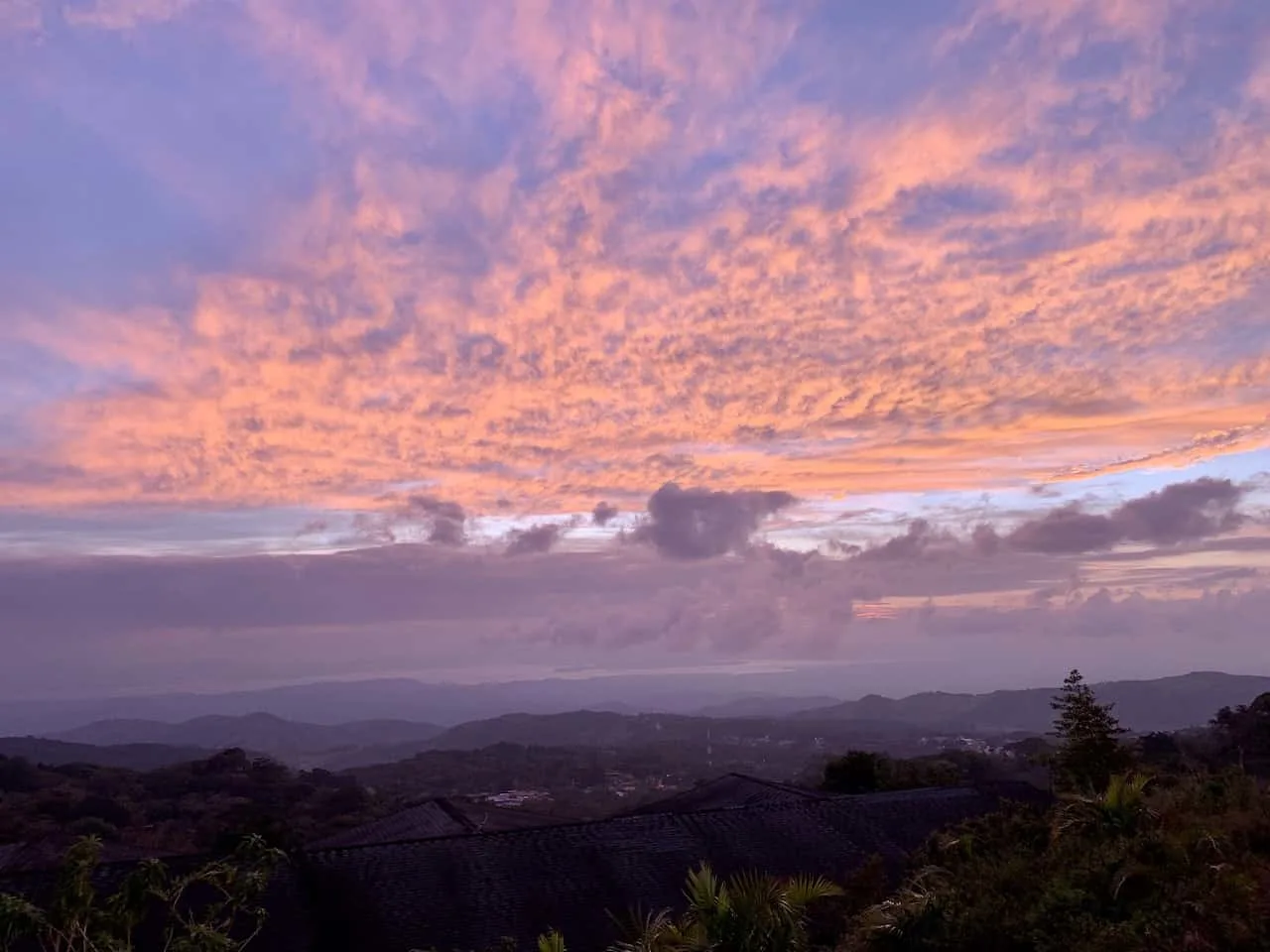 3) Costa Rica 10 Day Itinerary Map View
The map below shows the complete 10-day route starting and ending in San Jose, while making its way through La Fortuna, Monteverde, and Manuel Antonio.
Also pinpointed on the map are the various sights and attractions that you will have the chance to visit during your time in each one of these towns.
4) Where to Stay in Costa Rica
I thought it may be easier to lay out in one section some of the top recommended places to stay throughout a visit to Costa Rica.
Altogether there will be 4 hotels to book for this itinerary. The nightly breakdown will look something like this:
San Jose (arriving on day 0): 1 Night
La Fortuna: 4 Nights
Monteverde: 3 Nights
Manuel Antonio: 2 Nights*
*If leaving on day 11, it will end up being 3 nights in Manuel Antonio instead of 2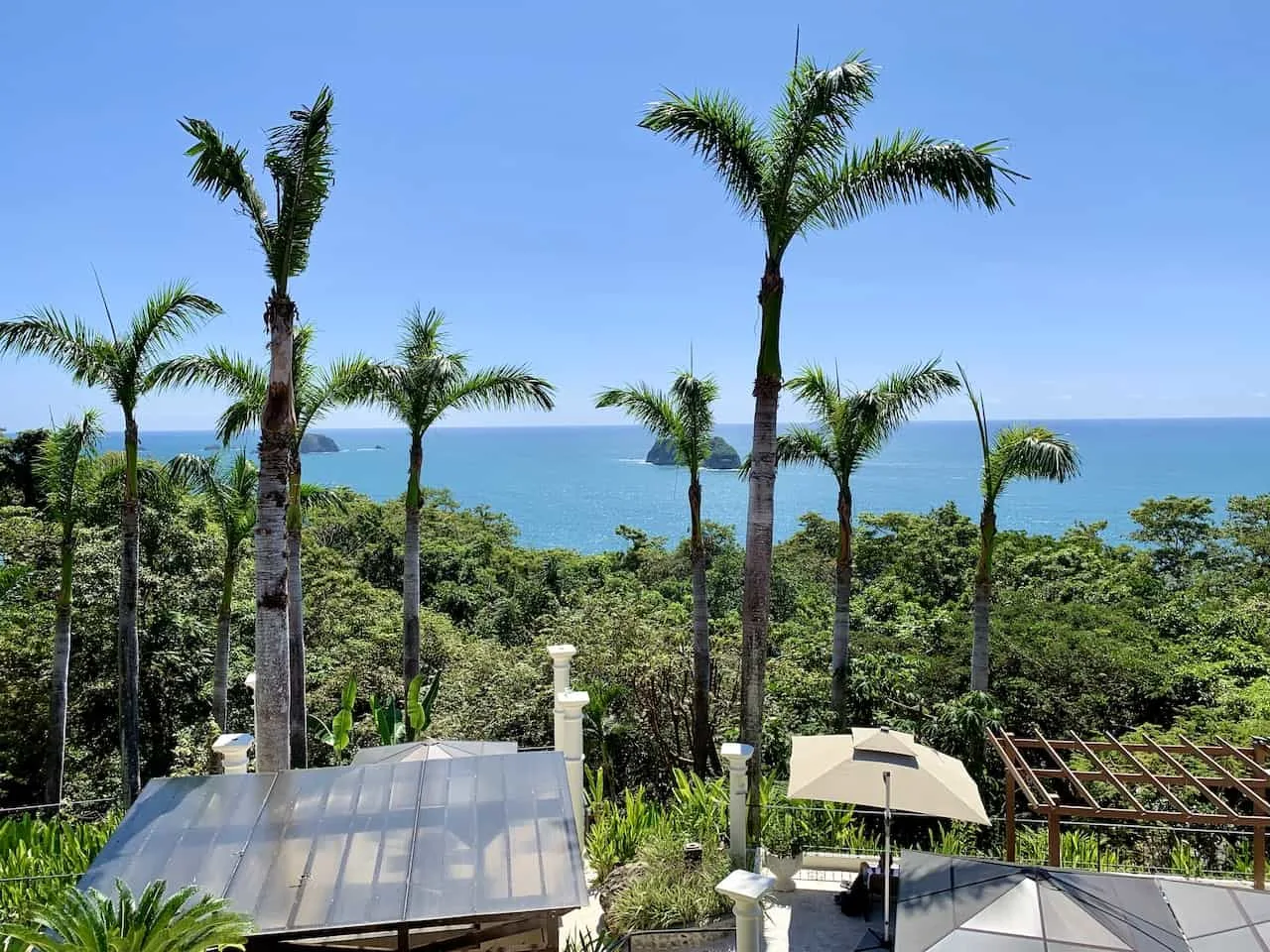 5) 10 Days in Costa Rica Breakdown
To better visualize the itinerary, here is a day by day breakdown of what 10 days in Costa Rica can look like.
You can see the various activities, driving portions, and overnights that make up the itinerary as a whole.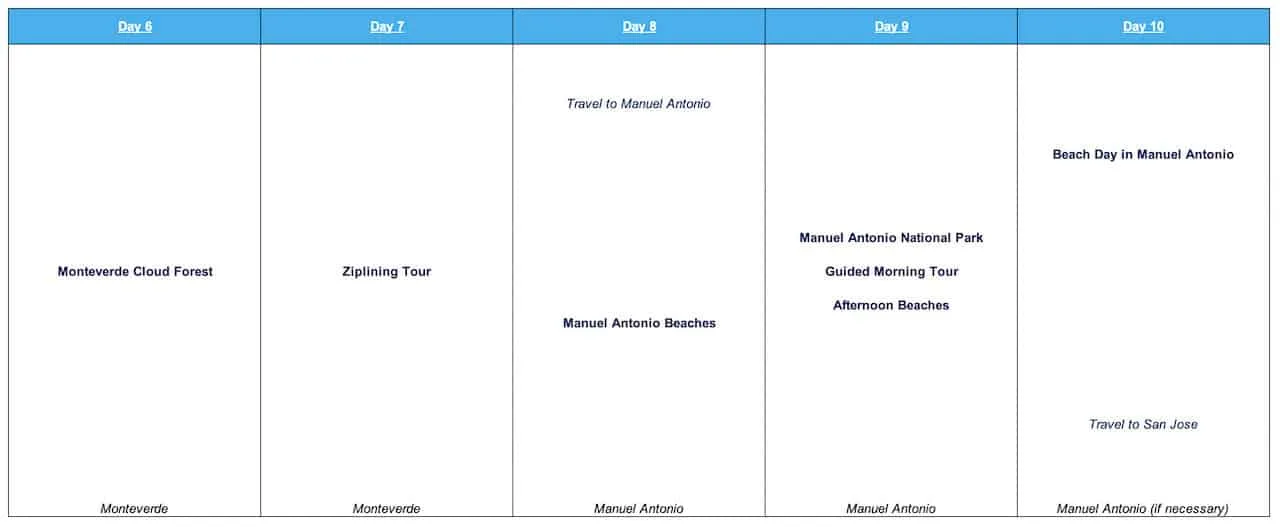 6) Costa Rica Itinerary 10 Days
Let's now get a bit more detailed and walk through what a day by day itinerary entails.
After arriving in San Jose on day 0, picking up your rental car and heading over to your hotel, it is time to relax for a night in San Jose.
Day 1 – Poas Volcano & La Paz Waterfall Gardens
It is now time to begin the journey exploring Costa Rica for the next 10 days. The first day entails two fantastic sites (Poas Volcano & La Paz Waterfall Gardens) as you make the drive from San Jose to La Fortuna.
Poas Volcano
The Poas Volcano is an active volcano located just 1.5 hours away from the San Jose city center.
It is known to be one of the largest craters in the world and you will get the chance to see the crater from up top.
In order to visit Poas Volcano, you must make a reservation in advance through the SINAC website for a certain day and time.
The first reservation is at 8:00AM and from then there are time slots every 20 minutes. I would recommend one of the earlier time slots in the day to account for the rest of the day's itinerary.
After you arrive at the Poas parking lot, you will be directed to an auditorium, where you will go through a short informational and safety session. From there, you will grab a helmet and make the 10 minute walk down the pathway and towards the lookout.
On a clear day you should get a vast view of the crater down below and the surrounding landscape. Note that seeing the crater is not guaranteed as clouds can roll through at any time!
You will only be able to hang around the crater area for around 30 minutes or so before being directed back to the entrance. This is due to the safety reasons and the sulfurous gases that are emitted from the crater.
→ It is understandable if you do not want to visit Poas due to the weather being unpredictable at times and a crater sighting not guaranteed.
Another option here is to visit the Catarata Del Toro Waterfall – one of the tallest waterfalls in the country and a true highlight of Costa Rica. You can visit the waterfall after the La Paz Waterfall Gardens mentioned next.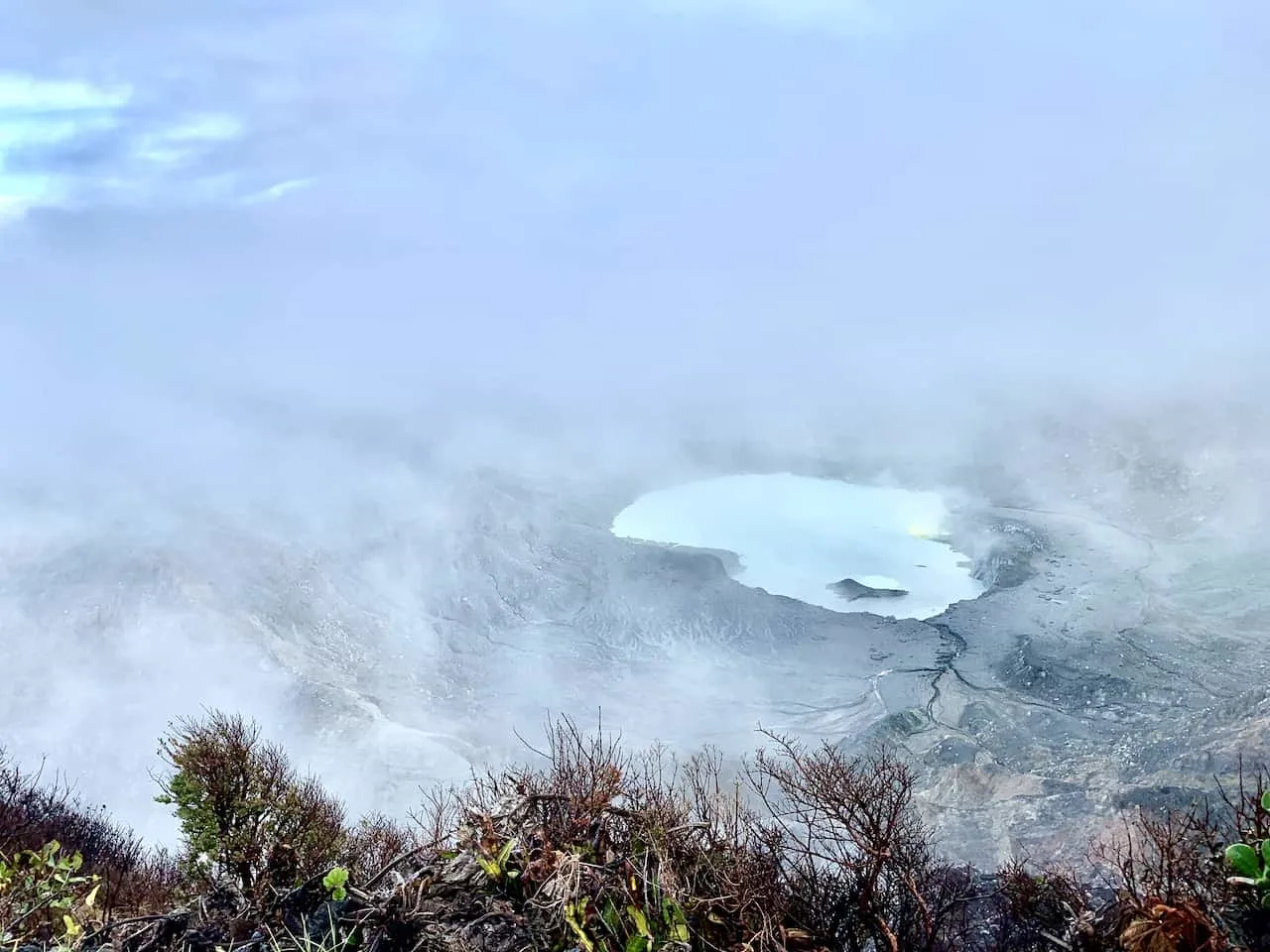 La Paz Waterfall Gardens
From the Poas Volcano it is a quick 30 minute drive to the La Paz Waterfall Gardens. Here you will find one of the most elaborate private nature reserves in the country.
There is an extensive amount of wildlife sanctuaries to visit here, with animals such as toucans, jungle cats, monkeys, hummingbirds, butterflies, and much more.
In addition to all the wildlife you will get to see, there are also hiking trails that will take you to several different beautiful waterfalls.
It is a perfect place to enjoy for a few hours as you explore the ins and outs of the Waterfall Gardens and Nature Park. If you are feeling hungry, there are also a few different restaurant options to choose from within the park itself.
After visiting the Poas Volcano and La Paz Waterfall Gardens, it is then about a 2 hour drive to La Fortuna, where you will be basing yourself for the next few nights.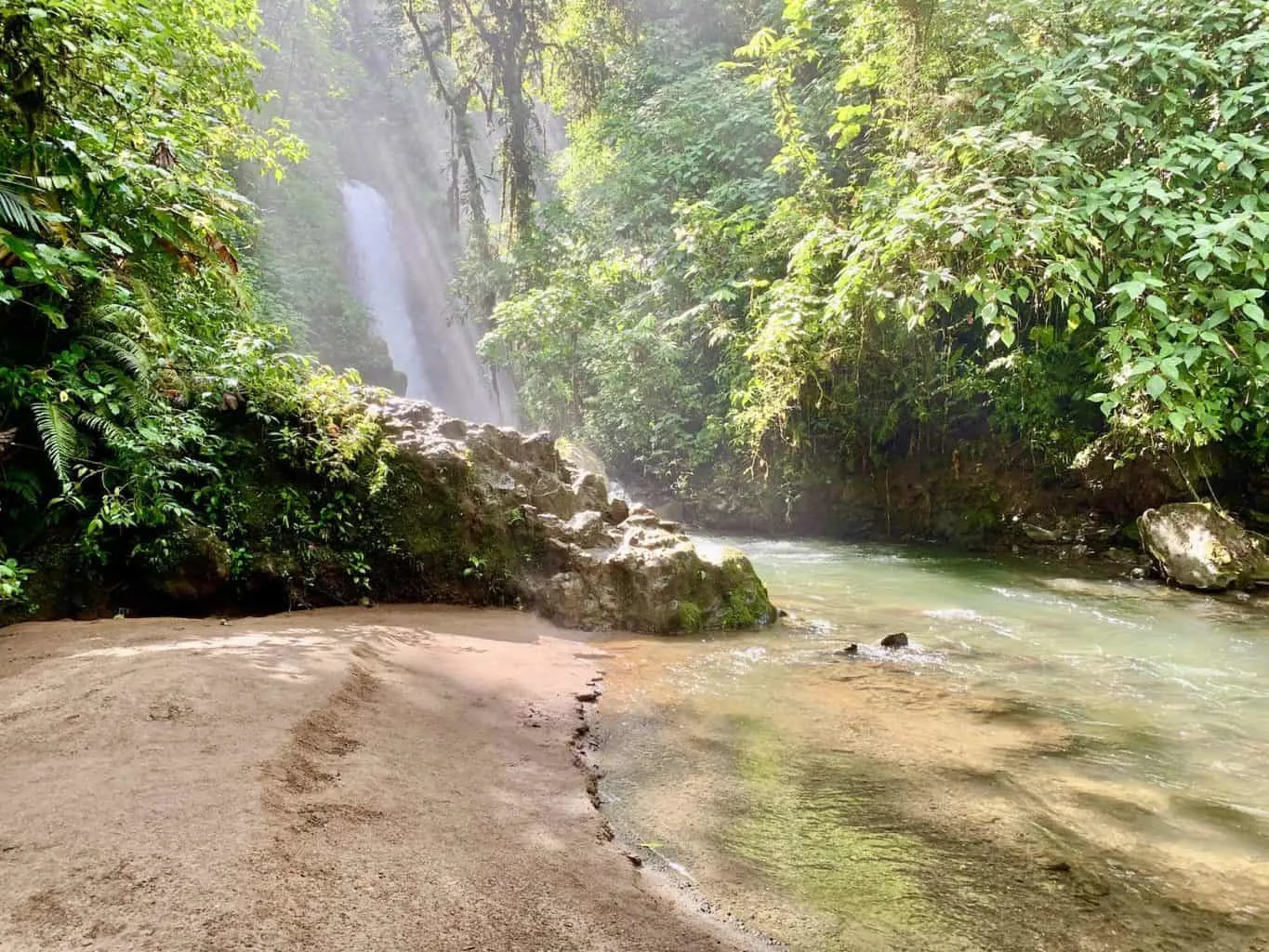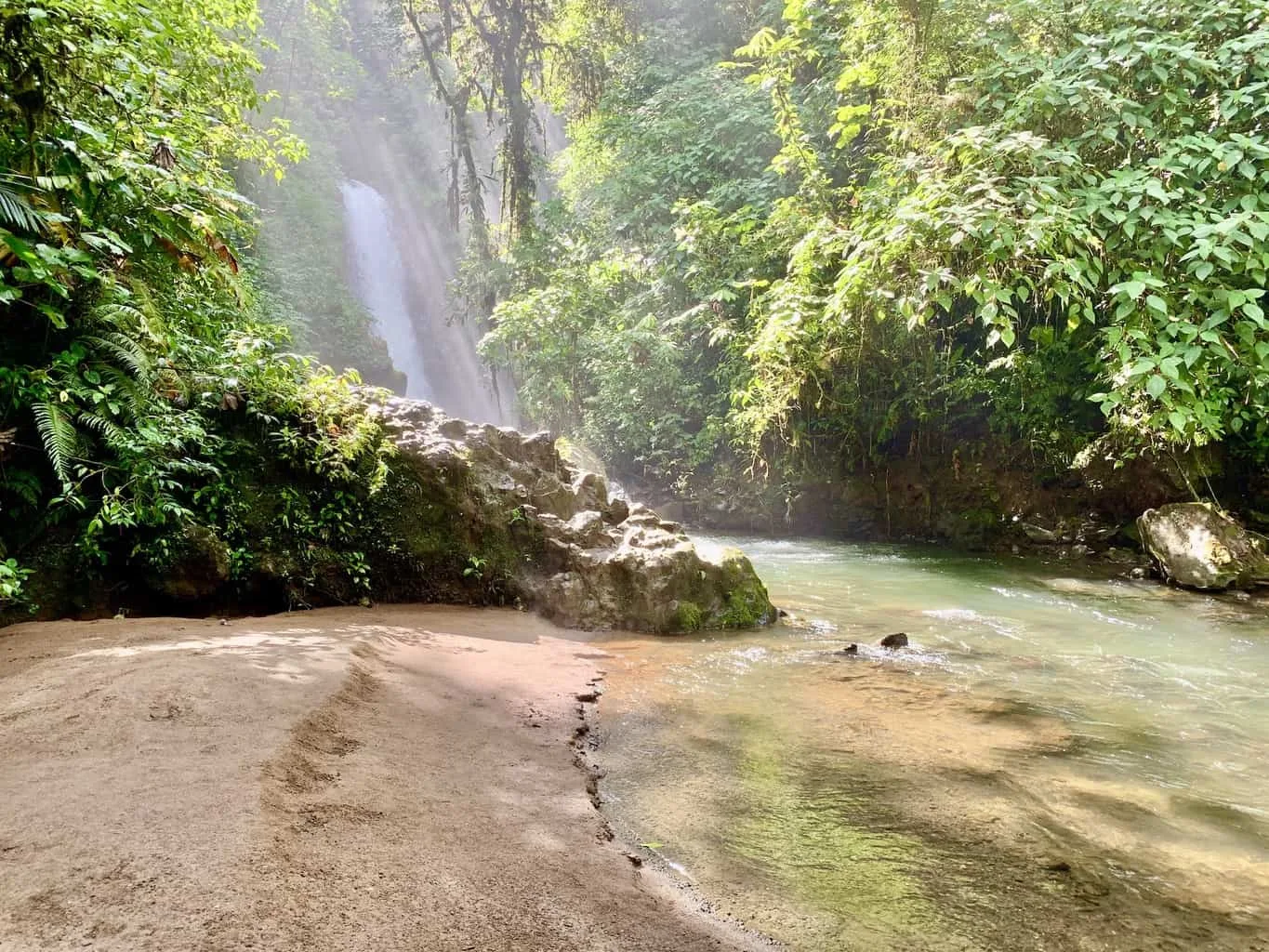 Day 2 – Arenal Volcano National Park
The first day in La Fortuna will be spent exploring the ins and outs of Arenal Volcano National Park. The National Park is one of the maintained and protected regions of the area, and it is full of various hiking trails, viewpoints, and wildlife.
Arenal Volcano National Park is split up into two main sectors – Sector Volcan and Sector Peninsula. With one ticket, you will have access to both sectors within a day.
I would recommend starting off the day visiting the Sector Volcan, where you enjoy a few different hiking trails – most notably the Las Coladas and El Ceibo loop.
Here you will walk through the rainforest, up along a lava trail, and enjoy a couple different viewpoints of the Arenal Volcano out in the distance.
Also, within the sector is another viewpoint that you can walk or drive to that offers one of the closest views to the volcano itself.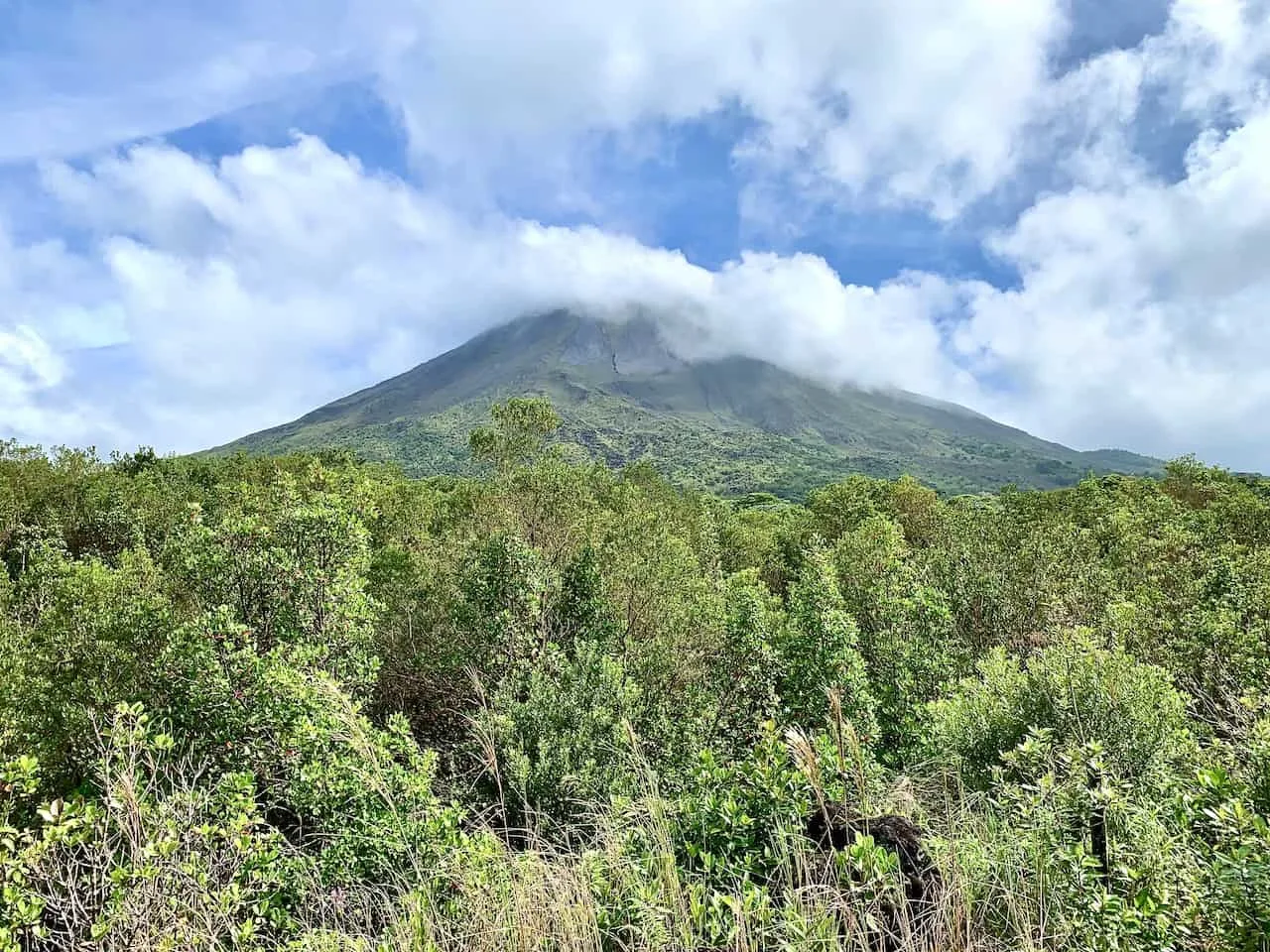 After a morning of exploring the Sector Volcan, you can spend the afternoon taking in the Sector Peninsula. This sector is located a short drive away from Sector Volcan and has another couple of hiking trails to enjoy.
The trails head off onto a peninsula and towards Lake Arenal. From there you will get some great views of the volcano with the lake in the foreground.
In addition, there is a lookout tower that gives you some great views from above.
Note that there are other places within the area to do hikes such as Arenal 1968 if you rather take a look at that instead (check out the guide to learn more)!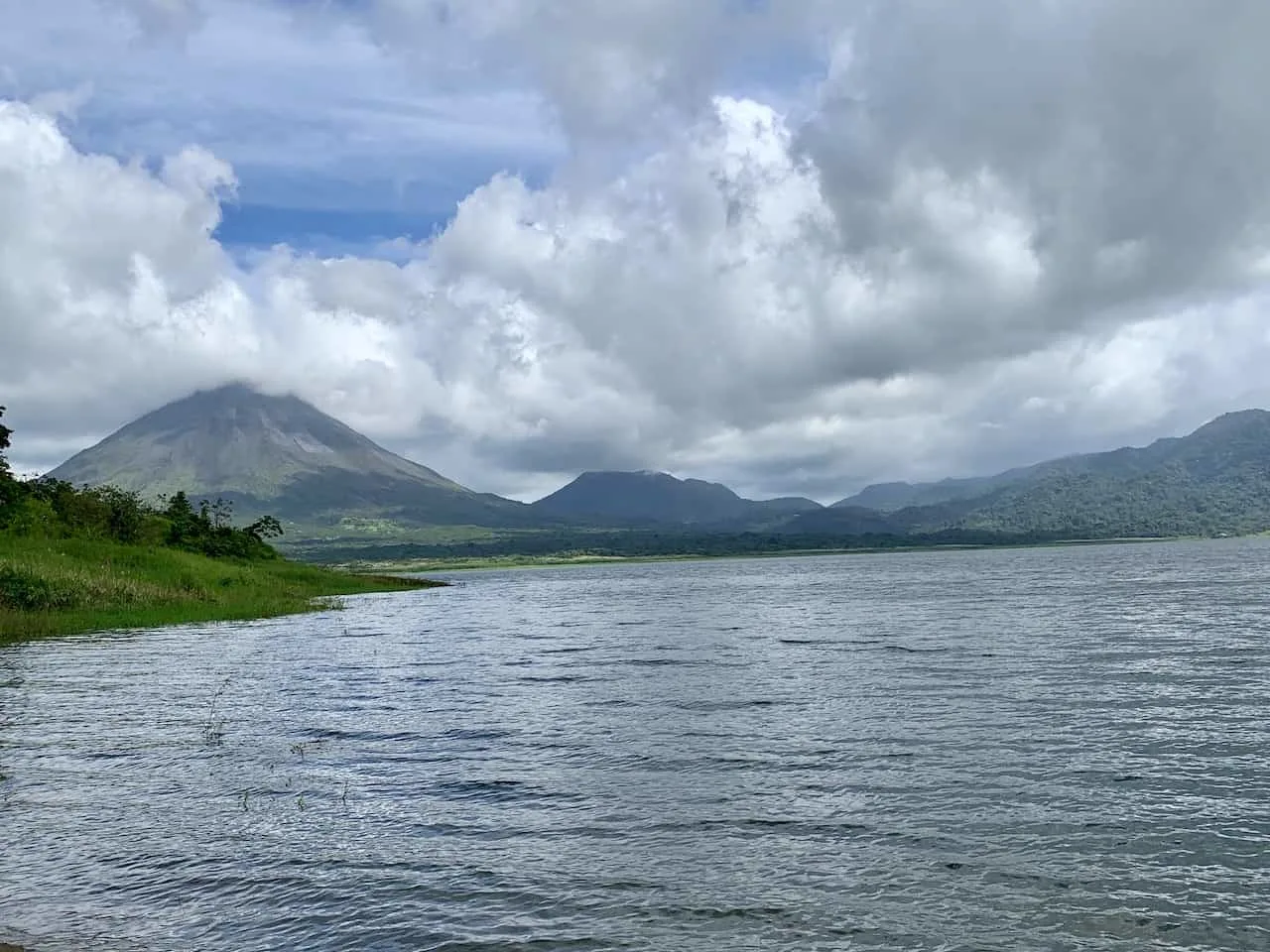 Day 3 – La Fortuna Waterfall / Mistico Hanging Bridges
On your second day in La Fortuna it is time to enjoy a waterfall and some hanging bridges.
La Fortuna Waterfall
Start off the day heading off to the La Fortuna Waterfall. I would recommend getting there as early as possible to avoid the crowds.
The waterfall is located just outside of town, and offers quite the experience to take part of. Instead of just arriving directly at the waterfall, you must first make your way down around 500 steps to reach the waterfall itself.
Once down at the bottom, you can decide to jump in the water (close to the shore) and take in the vastness of the waterfall coming down from above. In addition, there is a calmer section of water off to the side to enjoy as well.
After finishing up at the waterfall, retrace your steps back up to the entrance, as you walk up the 500 steps to end your time at the La Fortuna Waterfall.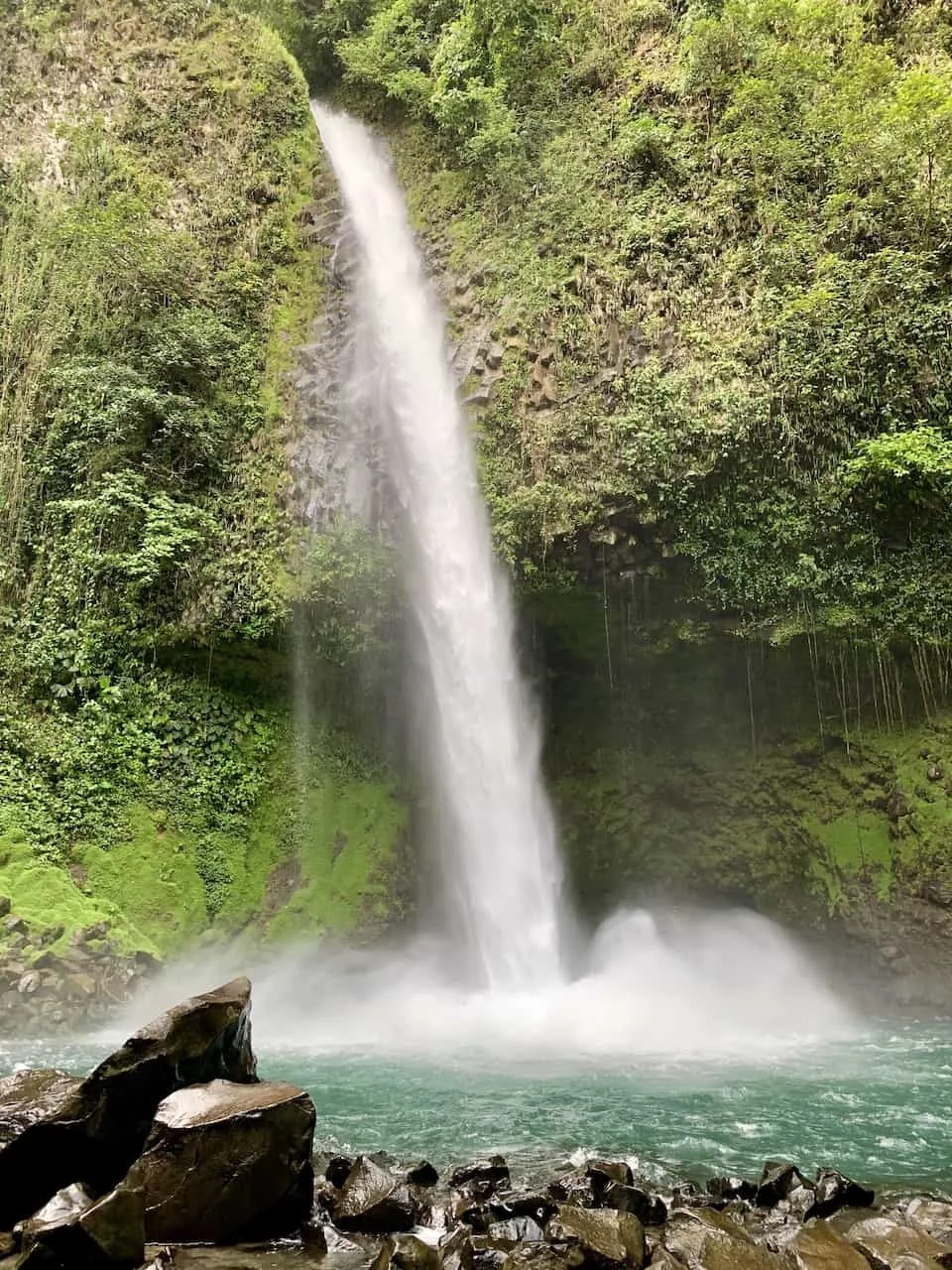 Mistico Hanging Bridges
During the afternoon, you can head to the Mistico Hanging Bridges. At Mistico, there are hiking trails to walk along as you make your way across suspension bridges connecting the trails.
It offers the perfect chance to see some great views of the Arenal Volcano from a far and take in some wildlife and rainforest along the way.
Below is a map to give you an idea of the Mistico layout. It is essentially a circular trail to follow all the way through with small and large bridges, viewpoints, and even a waterfall to visit.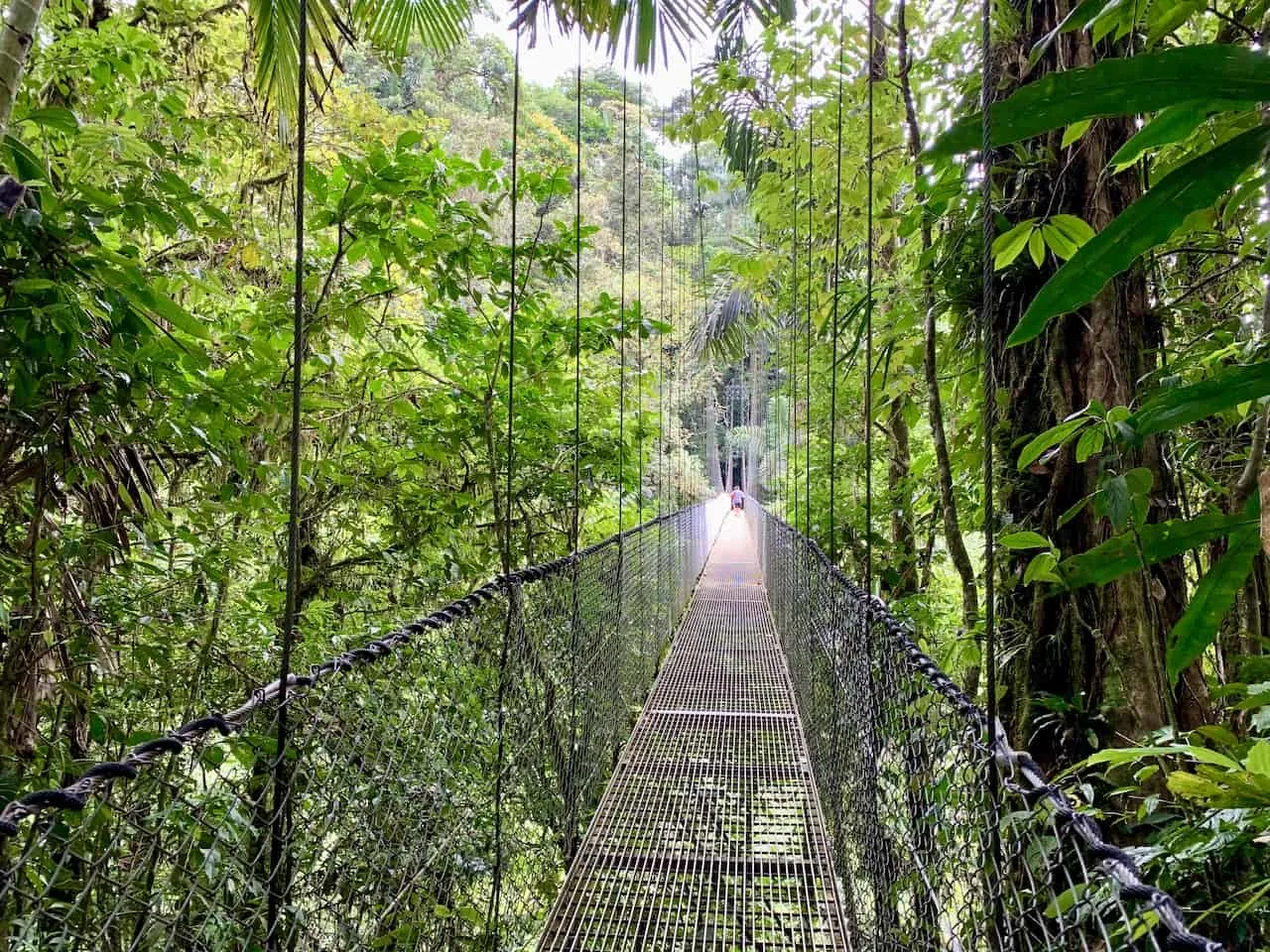 Day 4 – Rio Celeste Day Trip
One of my favorite sites of Costa Rica is the Rio Celeste Waterfall. At Rio Celeste you will be welcomed to the most turquoise water you will ever come across.
But it is not just the waterfall that you can enjoy here. In addition to the main attraction Rio Celeste Waterfall, there is a hiking trail that follows the river upstream.
Along the trail, there are several highlights to stop at including the Laguna Azul, Borbollones, and even the point where the river turns into this turquoise color (Tenideros).
The drive from La Fortuna to Rio Celeste takes around 1.5 hours so do plan on some driving during the day. You can also swap this day with day 2 or 3 if you would like to switch things up a bit.
In the evening, why not enjoy one of the La Fortuna hot springs. If you are not staying at a hotel with hot springs, then take a look at Tabacon Resort & Spa, one of the top spots in the area (and mentioned in the accommodation options above).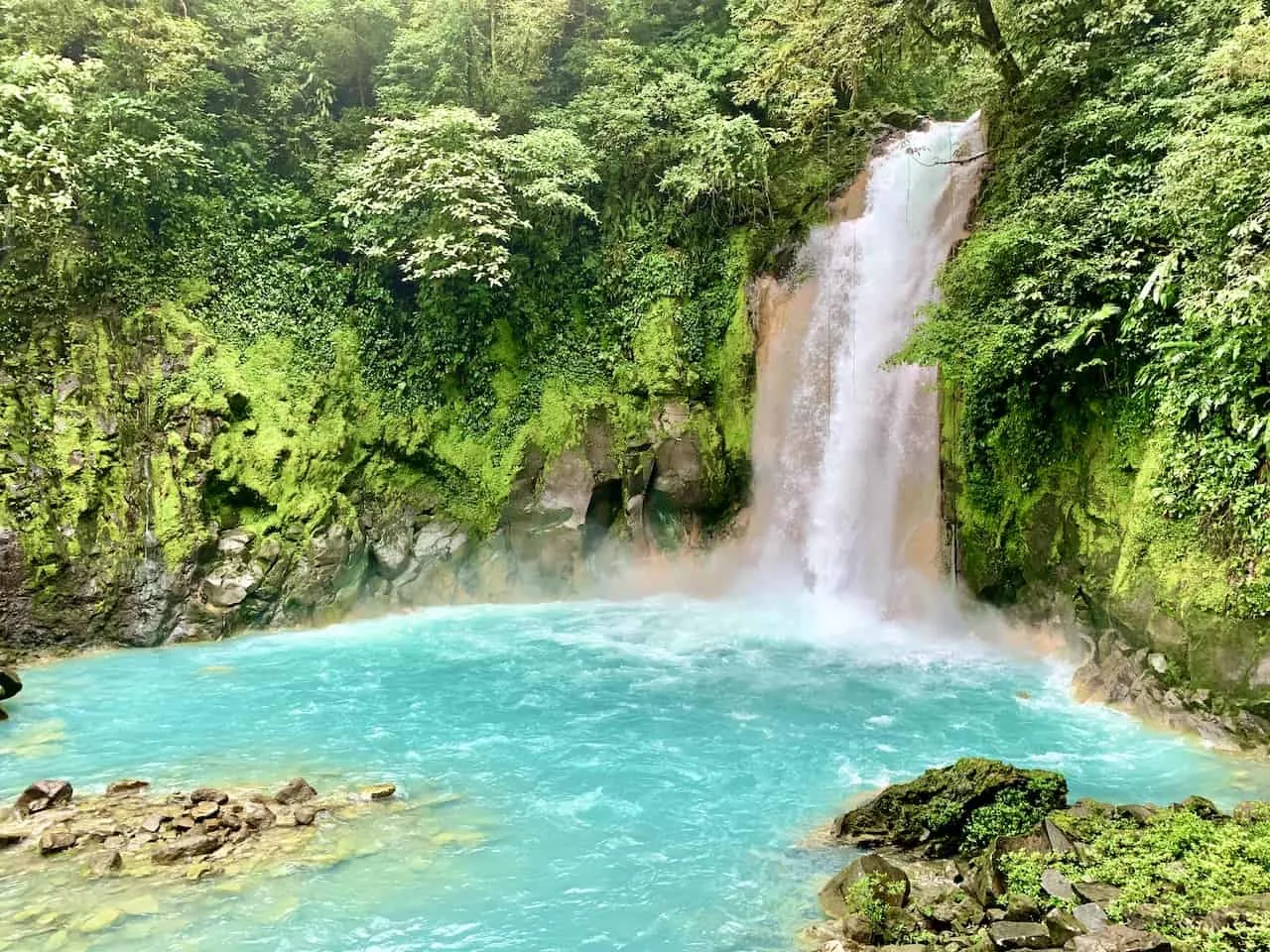 Day 5 – Arenal Observatory Lodge & Travel to Monteverde
Before heading off to Monteverde, spend the morning exploring the Arenal Observatory Lodge. If you remember from earlier on in the guide, I also recommended this as one of the top spots to stay in La Fortuna.
So, whether or not you are actually staying there, you are allowed to visit the lodge as a visitor. The lodge offers one of the best views of the Arenal Volcano, as it has a 92 foot observatory tower to climb up.
In addition to the tower, there are many hiking trails around the property including one that takes you to a waterfall.
After enjoying the morning at the lodge and having lunch at the restaurant there, it is time to make the 3 hour drive around Lake Arenal and to Monteverde.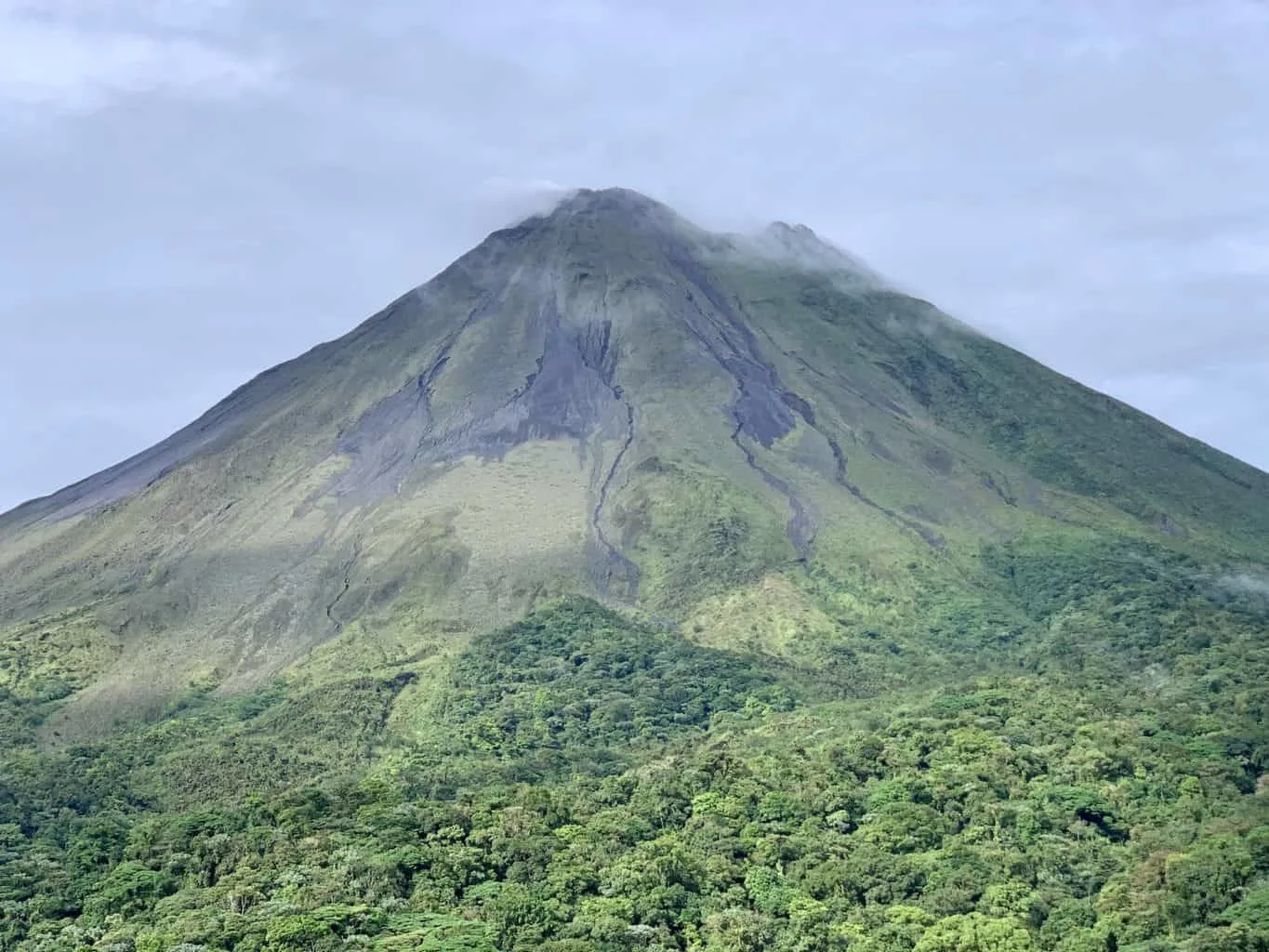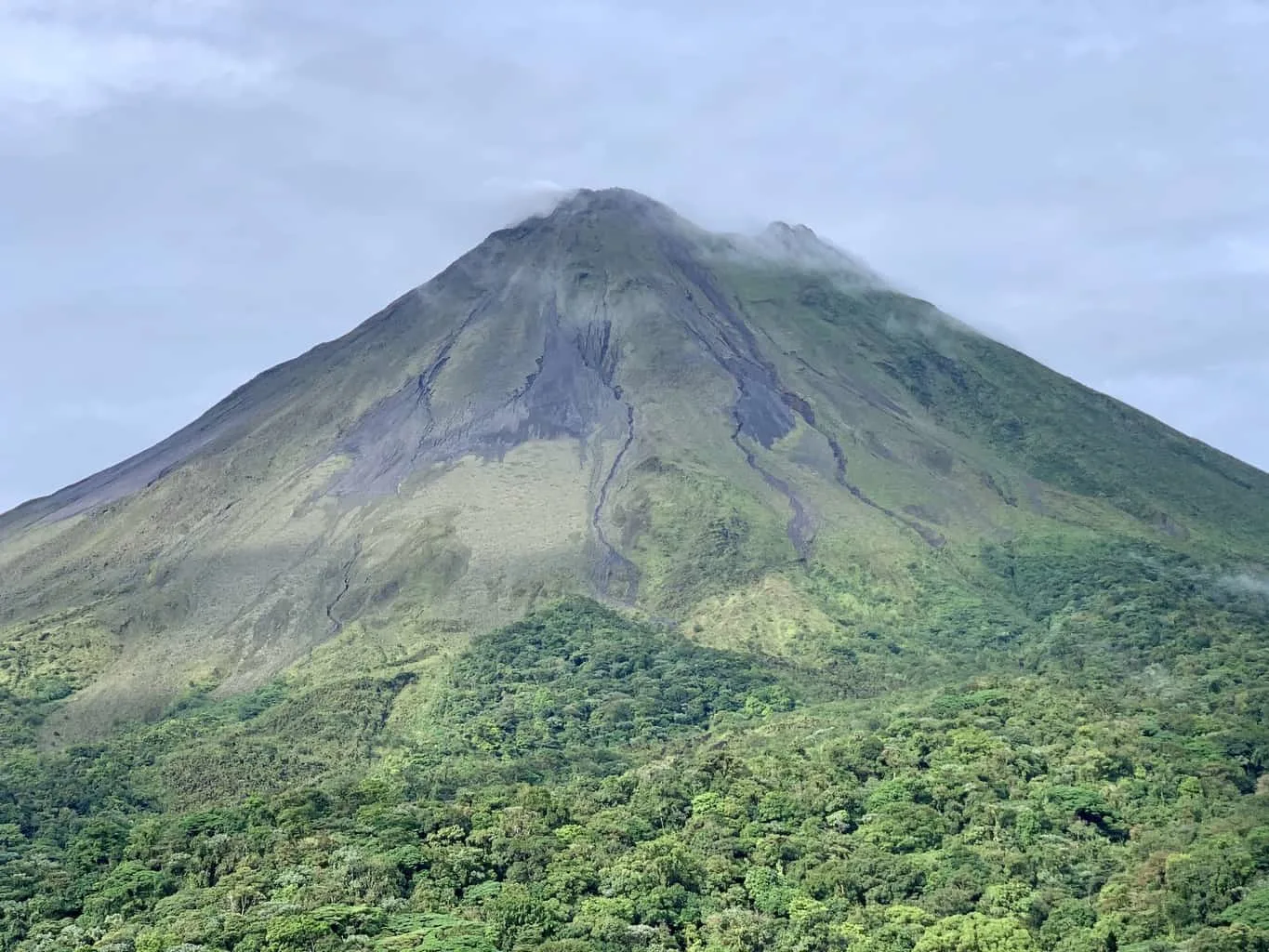 Day 6 – Monteverde Cloud Forest
There are a few different highlights of Monteverde, but one of the top activities is to visit the cloud forest.
Since Monteverde is one of the higher points in the country at over 4,500 feet above sea level, you can sometimes feel like you are in the clouds as the fog rushes over the forest.
There are a few different cloud forest areas that offer hiking trails: Monteverde Cloud Forest, Santa Elena Cloud Forest, and the Children's Eternal Rainforest.
You can't go wrong with either one but the Monteverde Cloud Forest does seem to be the most popular of choices.
There are many different hiking trails available here with viewpoints, hanging bridges, and waterfalls to visit along the way.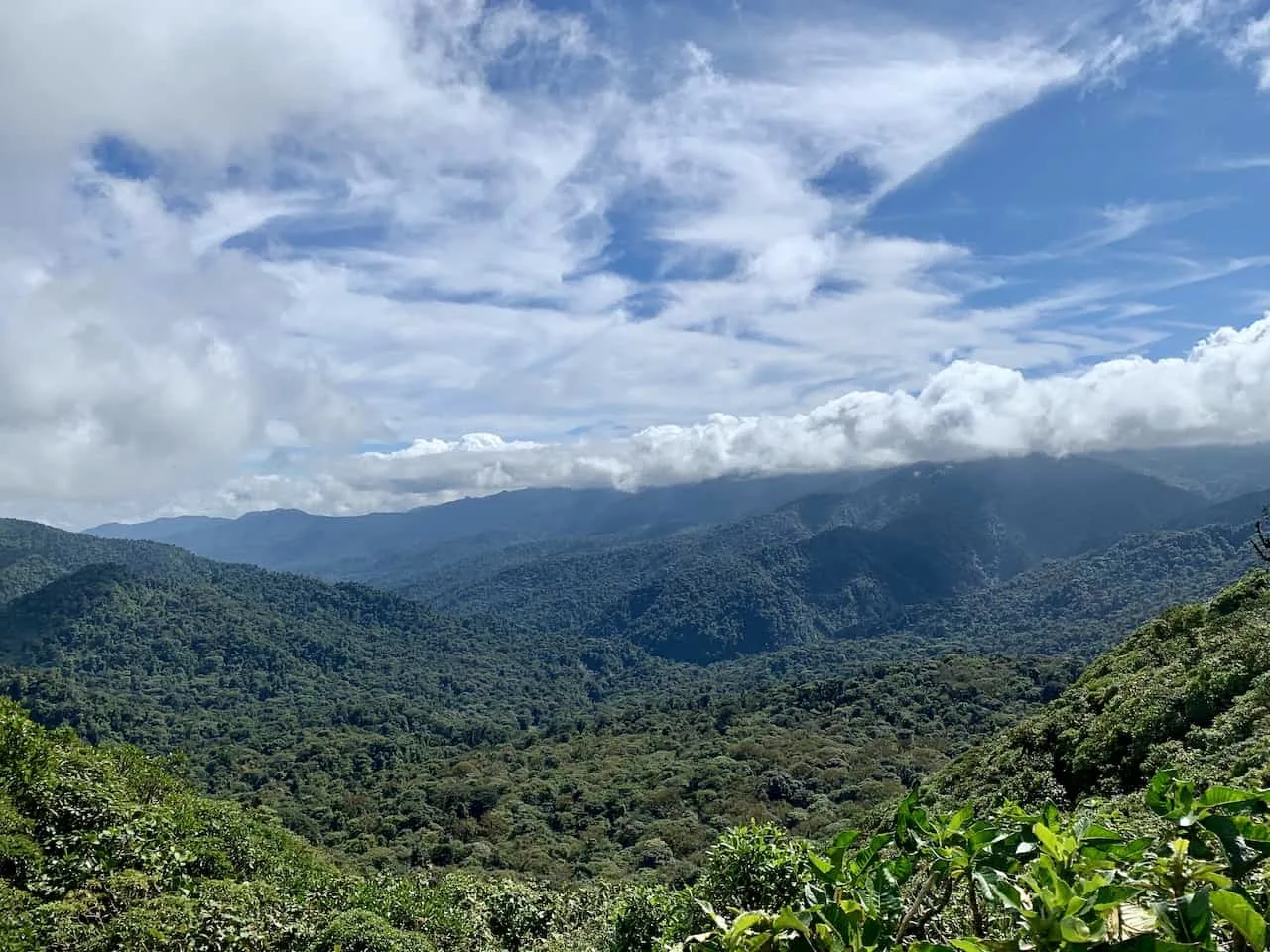 Below is a hiking map with the route pointed out that I took along the reserve.
I ended up taking the advice of the workers there and did the loop including: Sendero Wilford Guindon, Sendero Camino, Sendero La Ventana, and Sendero Bosque Nuboso.
Once back at the entrance, I also headed up to the waterfall trail to end an exciting day in the cloud forest.
Also, even though it is called the Cloud Forest, doesn't mean its always cloudy. I had a perfectly clear day enjoying the forest and the views along the way.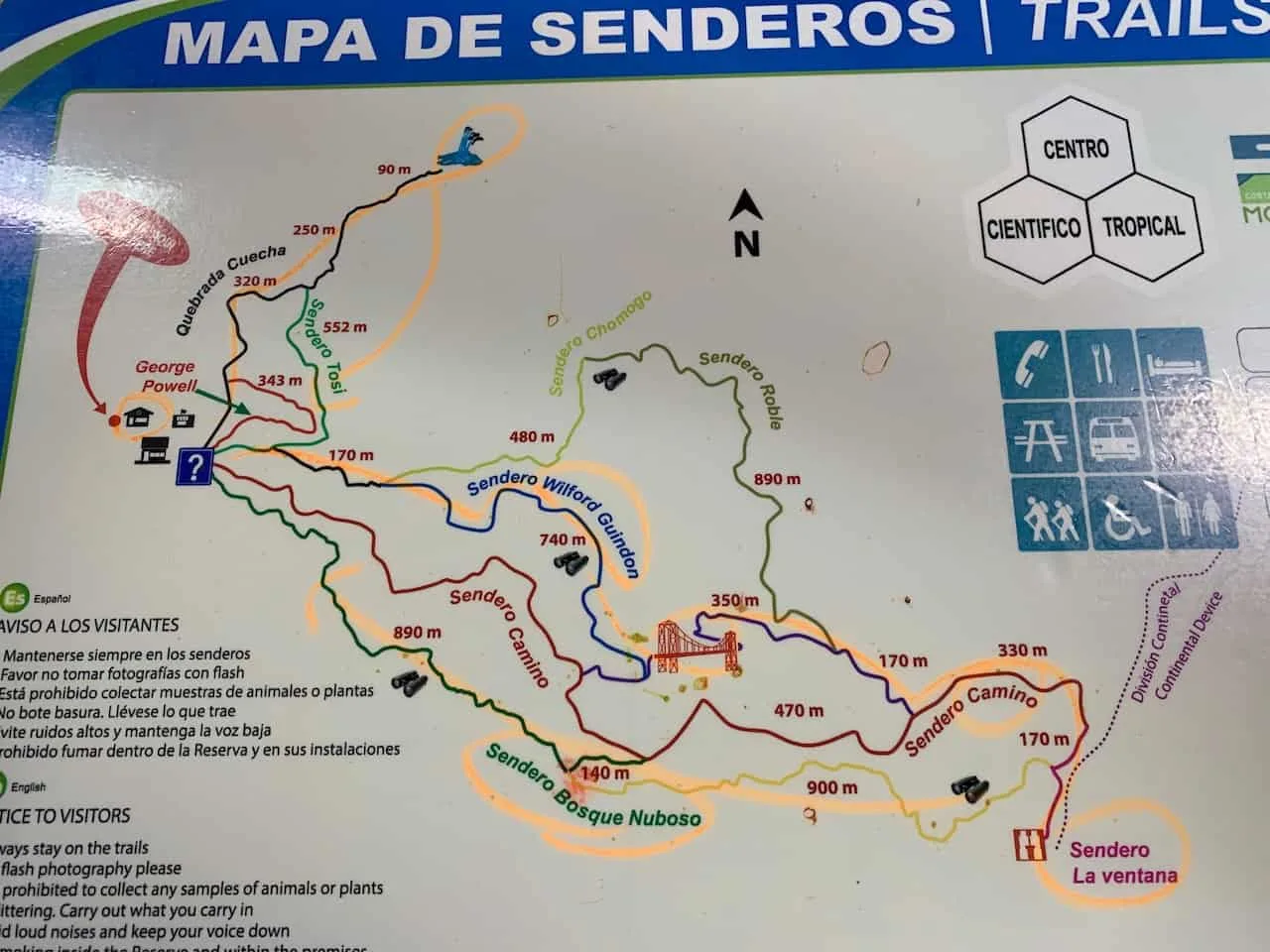 Day 7 – Ziplining Tour
A visit to Costa Rica is not complete without taking part of some adrenaline activities.
All around the country there are ziplining opportunities to sign up for. But there is no better place to do it than above the cloud forest.
In the vicinity of Monteverde there are several tour companies that offer similar experiences. These include ziplining canopy tours, Tarzan swings, rappelling, and even bungee jumping.
Depending on your comfort level, you can decide to take part of some or all of these types of activities.
I would recommend taking a look at the Monteverde Ziplining and Monteverde Bungee Jumping guides that go into more detail about these experiences.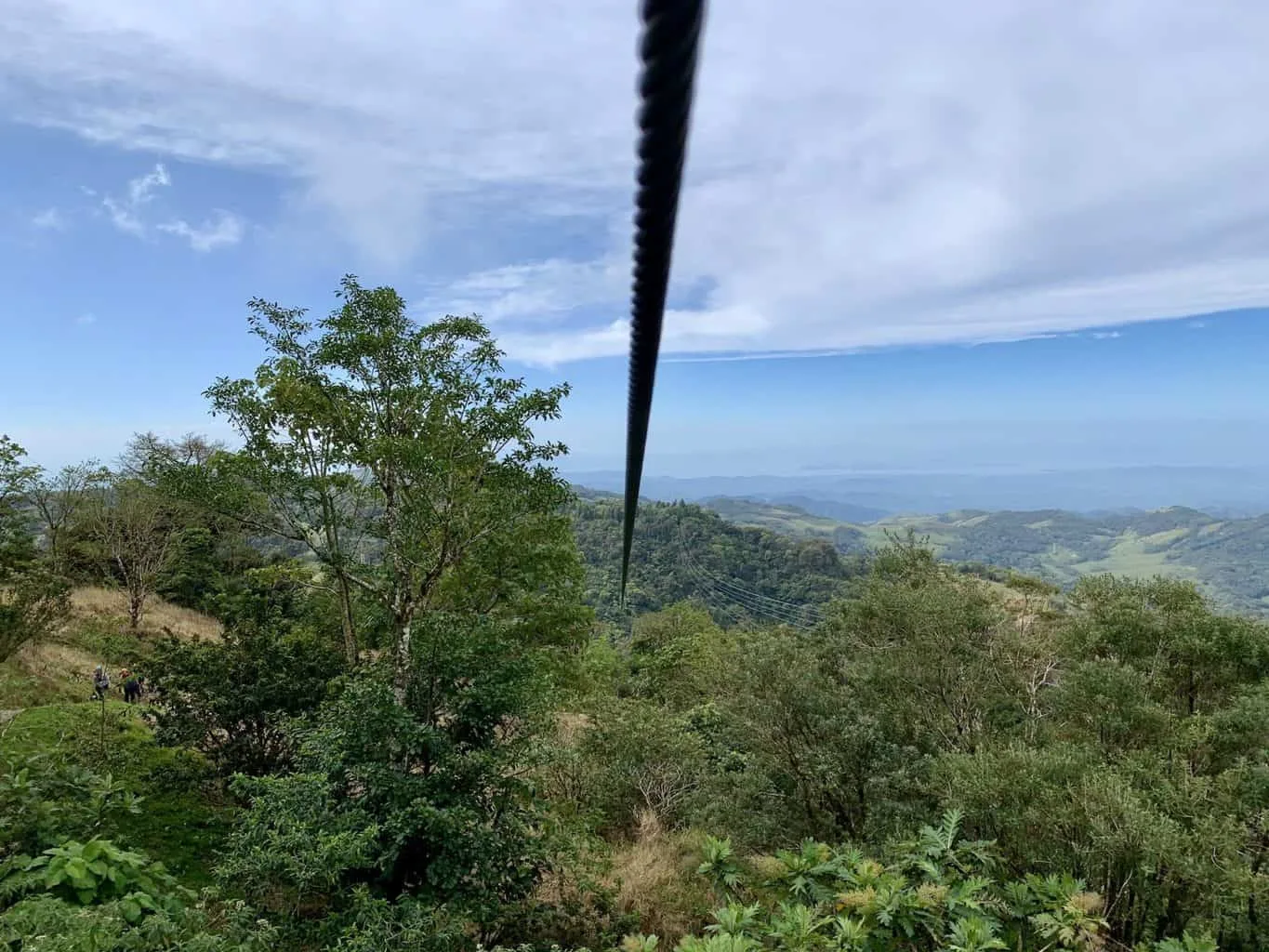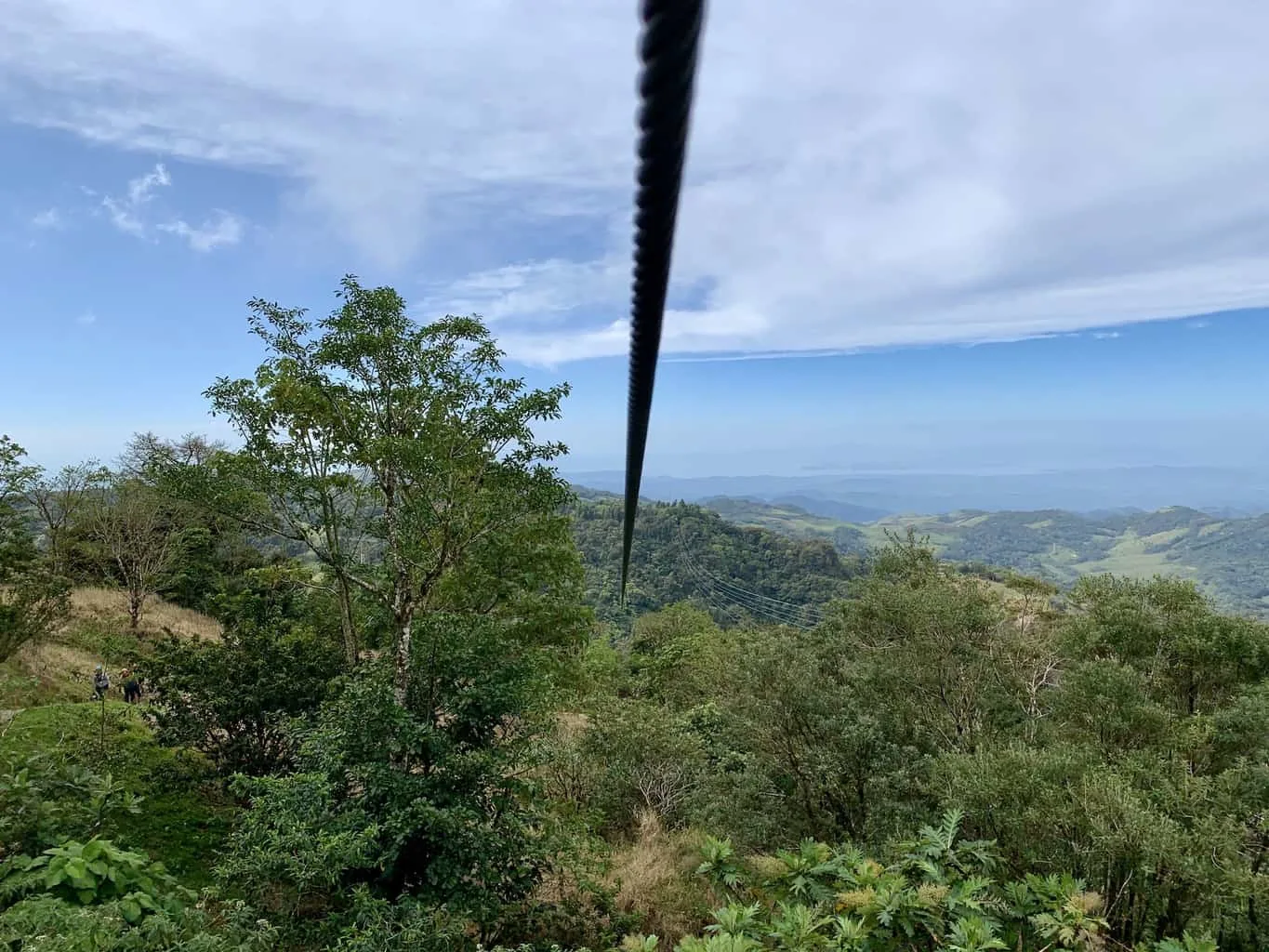 Day 8 – Travel from Monteverde to Manuel Antonio
It is time for a bit of a drive as you head down from Monteverde and towards Manuel Antonio. The drive should take a bit less than 4 hours to complete as you head further south.
While the morning may be filled with some driving, once you arrive at your hotel, it is time to spend the afternoon relaxing.
I would recommend to just spend this afternoon at either the main Playa Espadilla Beach or the more secluded Playa Biesanz Beach.
Learn More: You can read more in the guide about the Beaches in Manuel Antonio
Take in a nice sunset and get ready for a full day of exploring Manuel Antonio National Park the following day.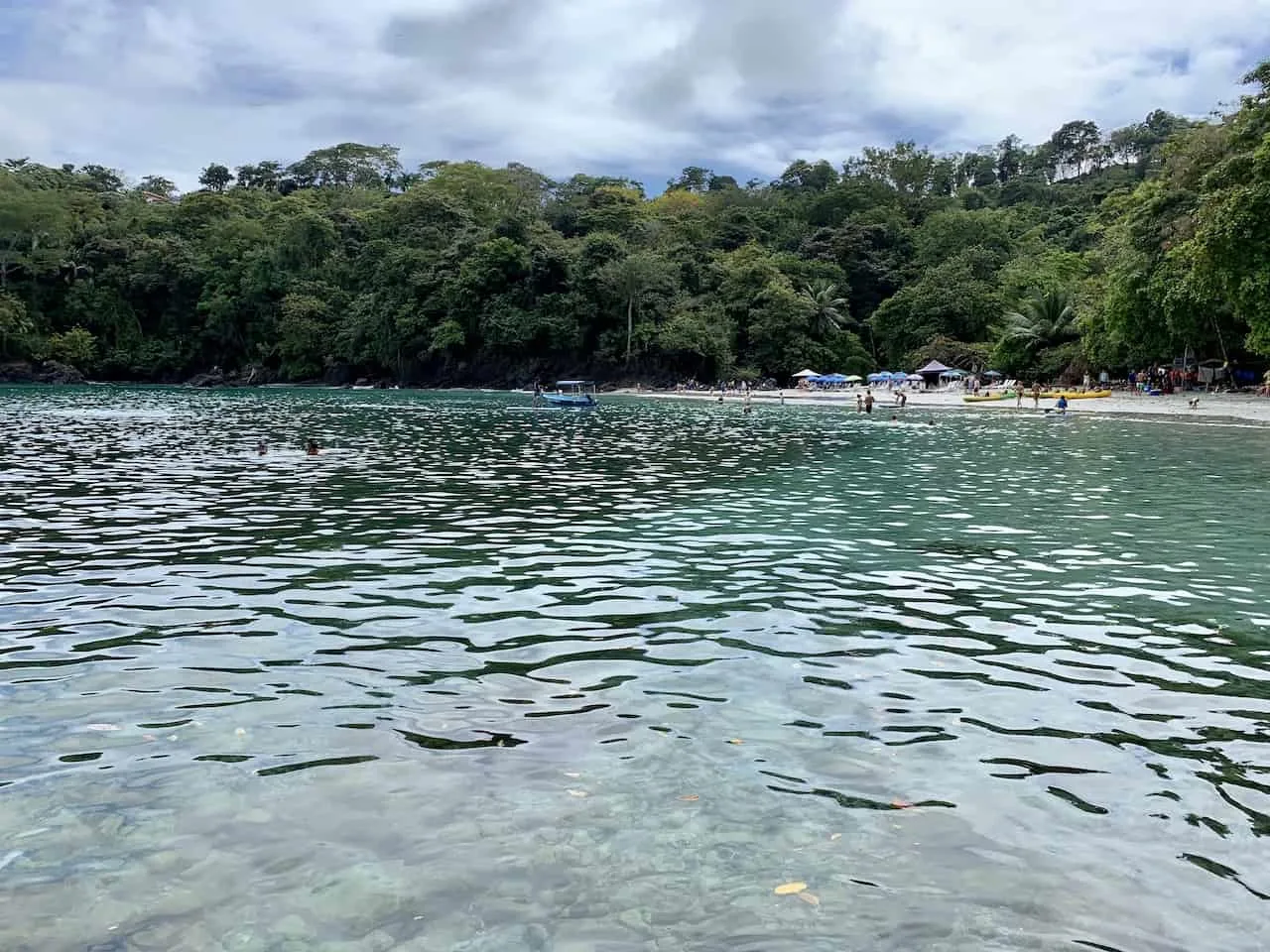 Day 9 – Manuel Antonio National Park
Just on the outskirts of Manuel Antonio you will find Manuel Antonio National Park. The park itself is a protected area with certain rules and regulations to keep the wildlife thriving.
Within the park you will find 10+ hiking trails, a few pristine beaches, and plenty of wildlife to enjoy. In order to take advantage of your time in the park, I would recommend hiring a guide for a morning tour to take you all along the trails.
This way you will have a greater chance of encountering the various wildlife and learn more about it all during your time there.
After completing a morning with a guide, you can then spend time on one of the beaches within the park.
These beaches will be a bit different than the ones outside of the park as you can't bring chairs, umbrellas, food, sports balls, etc. This is as pristine as it gets with just the golden sand and turquoise waters to enjoy.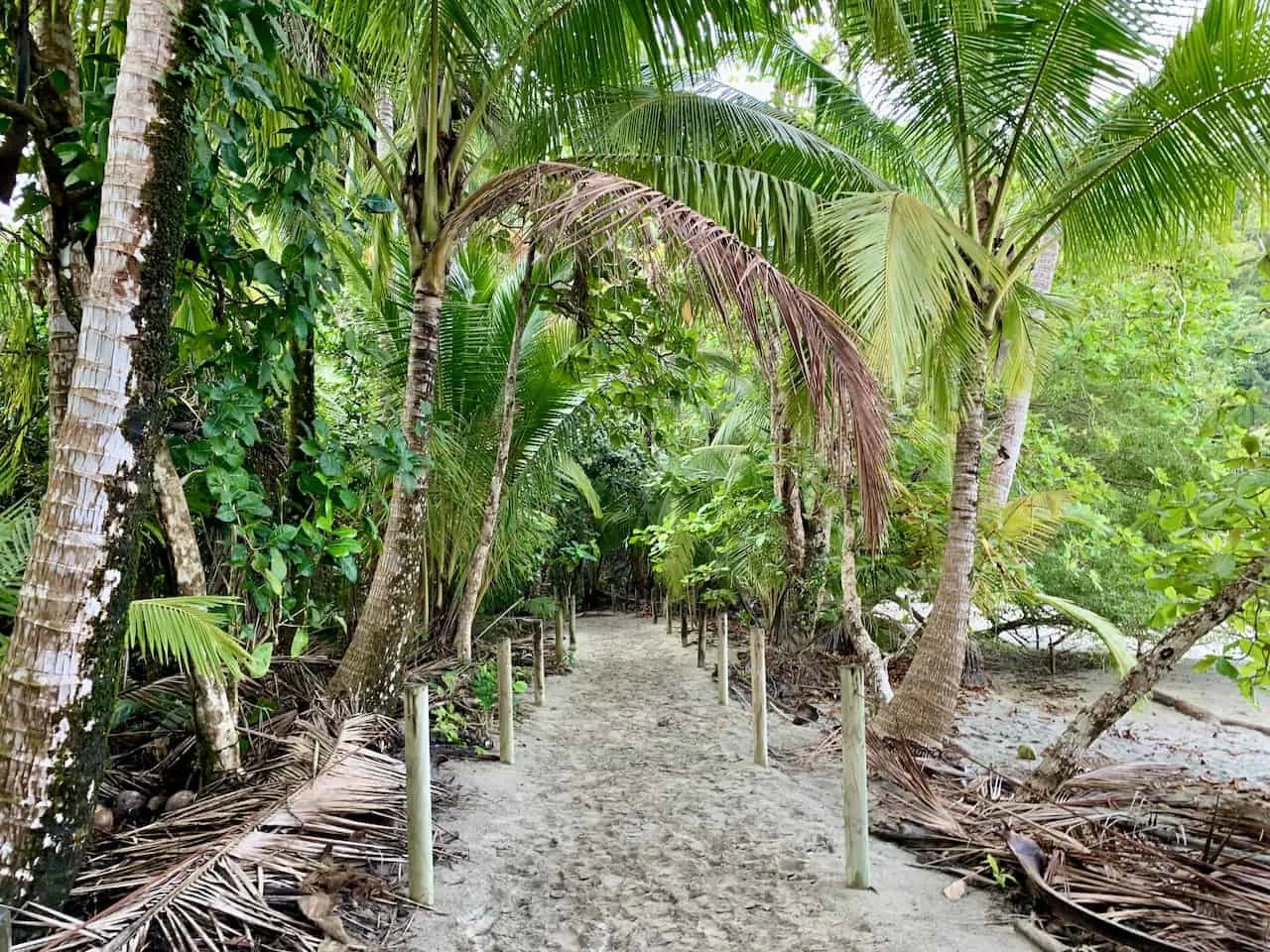 Day 10 – Manuel Antonio Beach Day
What better way to end your time in Costa Rica than to enjoy a day out in the sand and water relaxing.
After 9 full days of exploring the ins and outs of the country, spend your last day at one of the beaches inside or outside of the National Park.
If your flight is on day 10, then it may just be a morning of beach time before making the drive to the airport (3.5 hours). If your flight is on day 11, spend one last night in Manuel Antonio before heading out the next day.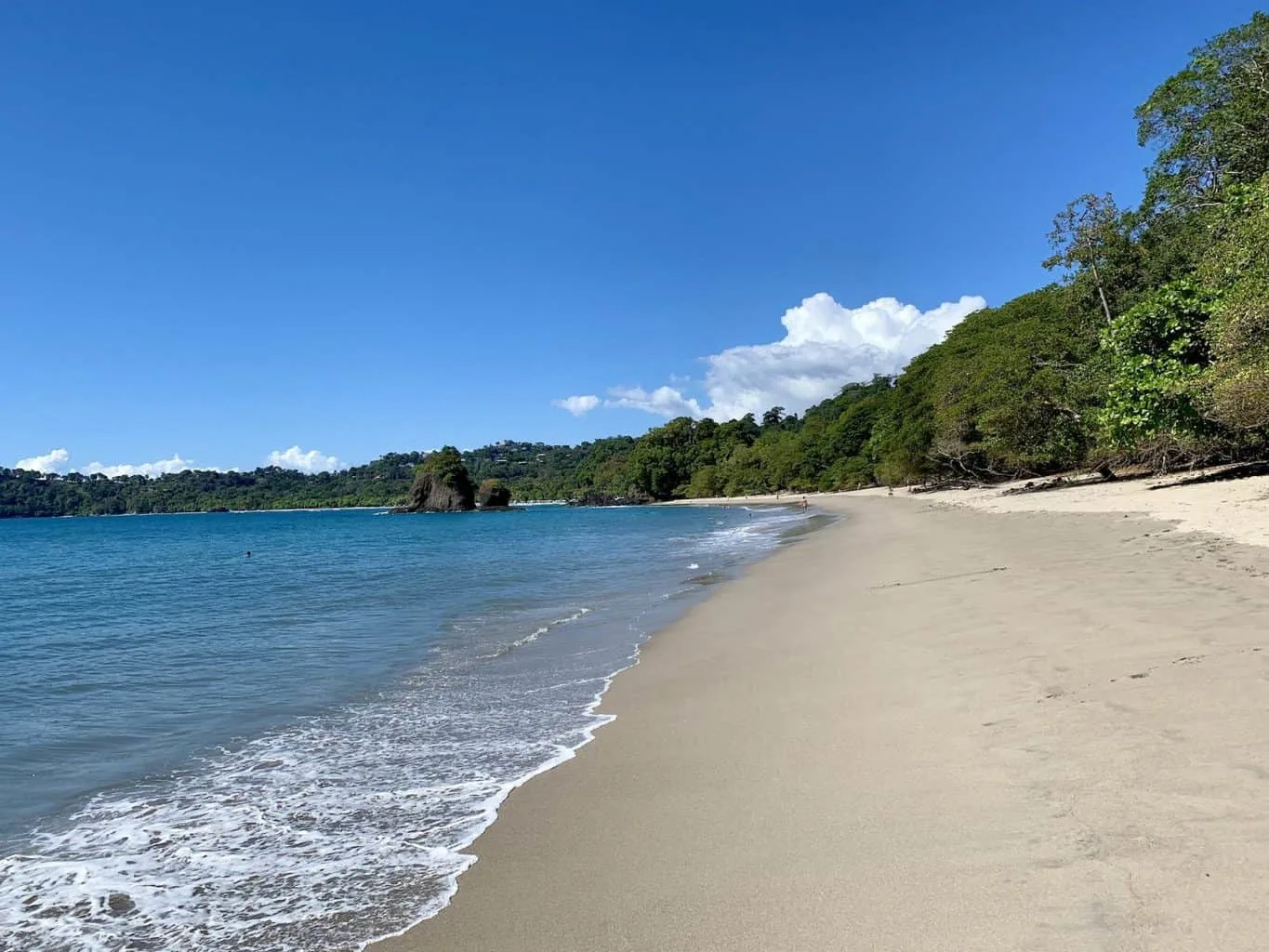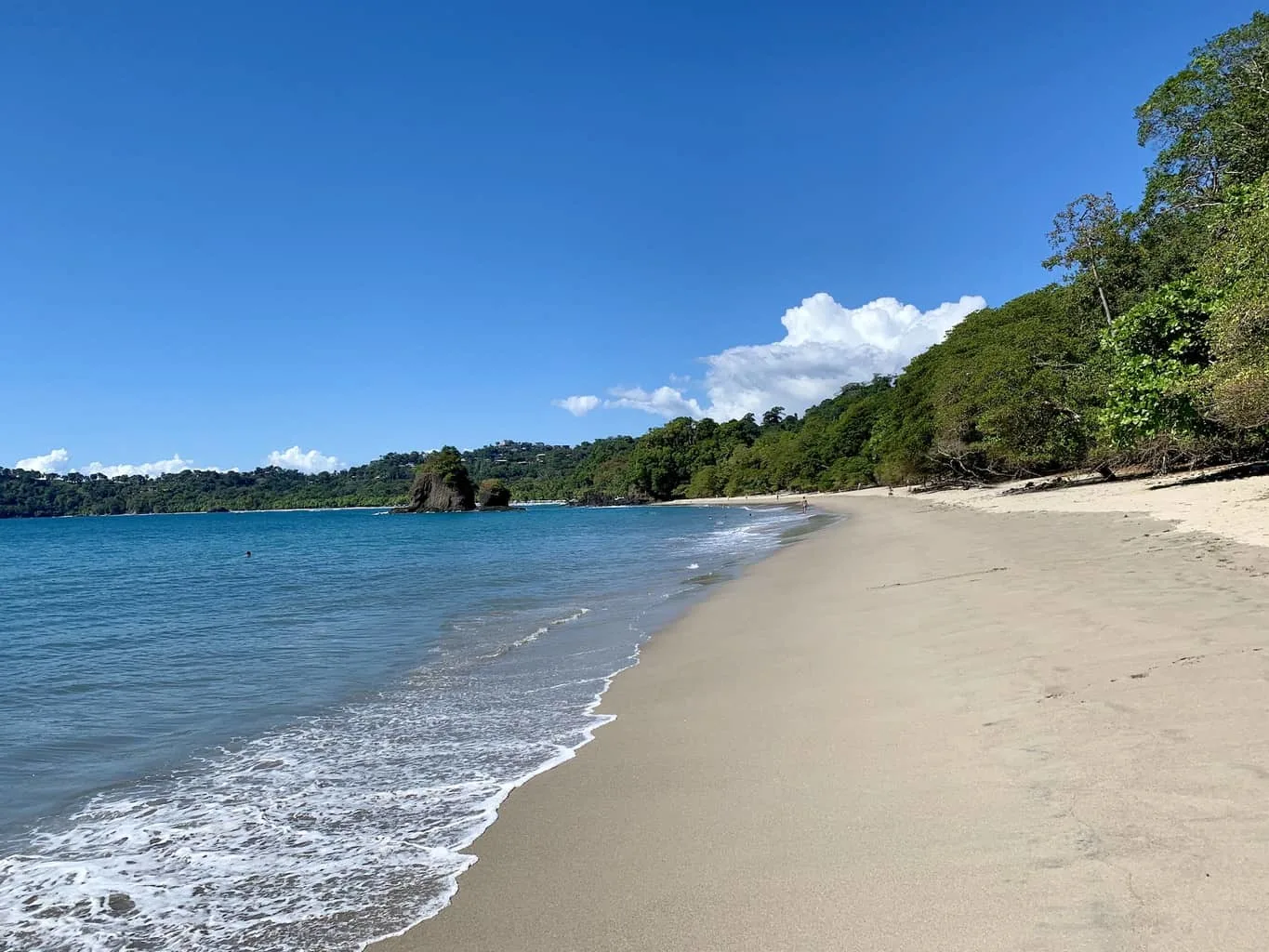 That about wraps up a fun filled and action packed 10 day Costa Rica itinerary. If you have any questions or comments about the trip, feel free to add them in below.
Also, don't forget to check out the remaining Costa Rica itineraries and guides up on the site.
Have fun out there and safe travels!