The La Paz Waterfall Gardens Nature Park in Costa Rica is full of hiking trails, wildlife, waterfalls, and plenty of nature all around. Situated within the rainforest, this eco park offers a little bit of everything for its visitors.
Whether you want to trek the 2+ miles of hiking trails, see a variety of wildlife, or explore the 5 different waterfalls, La Paz offers all of that and more during a day in the park.
This guide will give you a complete background and overview of the La Paz Waterfall Gardens to better help you plan your visit to one of Costa Rica's best attractions.
* Affiliate Disclosure: This post may contain affiliate links, which means I may receive a commission if you make a purchase through the links provided, at no additional cost to you. Thanks for supporting the work I put into TripTins!
1) About the Nature Park
To start off, below is a quick background about the nature park and what it entails:
La Paz Waterfall Gardens Background
Opening: The La Paz Waterfall Gardens Nature Park is privately owned and was opened in 2000. Throughout the years, there have been numerous additions and upgrades to the park
Mission: The mission statement of the park is "to preserve and protect the natural environment of the area for the education, entertainment, and enjoyment of all ages".
Size: The park is 70 acres (28 hectares) is size and is protected under the Private Wildlife Refuge Status
Trails: There are 2.2 miles / 3.5 kilometers of hiking trails throughout the park. Interestingly, these were all designed and constructed without cutting down one tree or vine system.
Peace Lodge: Also on the property is the Peace Lodge, which opened in 2003. You have the opportunity to stay at this stunning hotel overlooking the rainforest.
Community: The park employs 95%+ of its workers from the surrounding towns of the area to help support the local community.
Purchase Your La Paz Waterfall Ticket Today!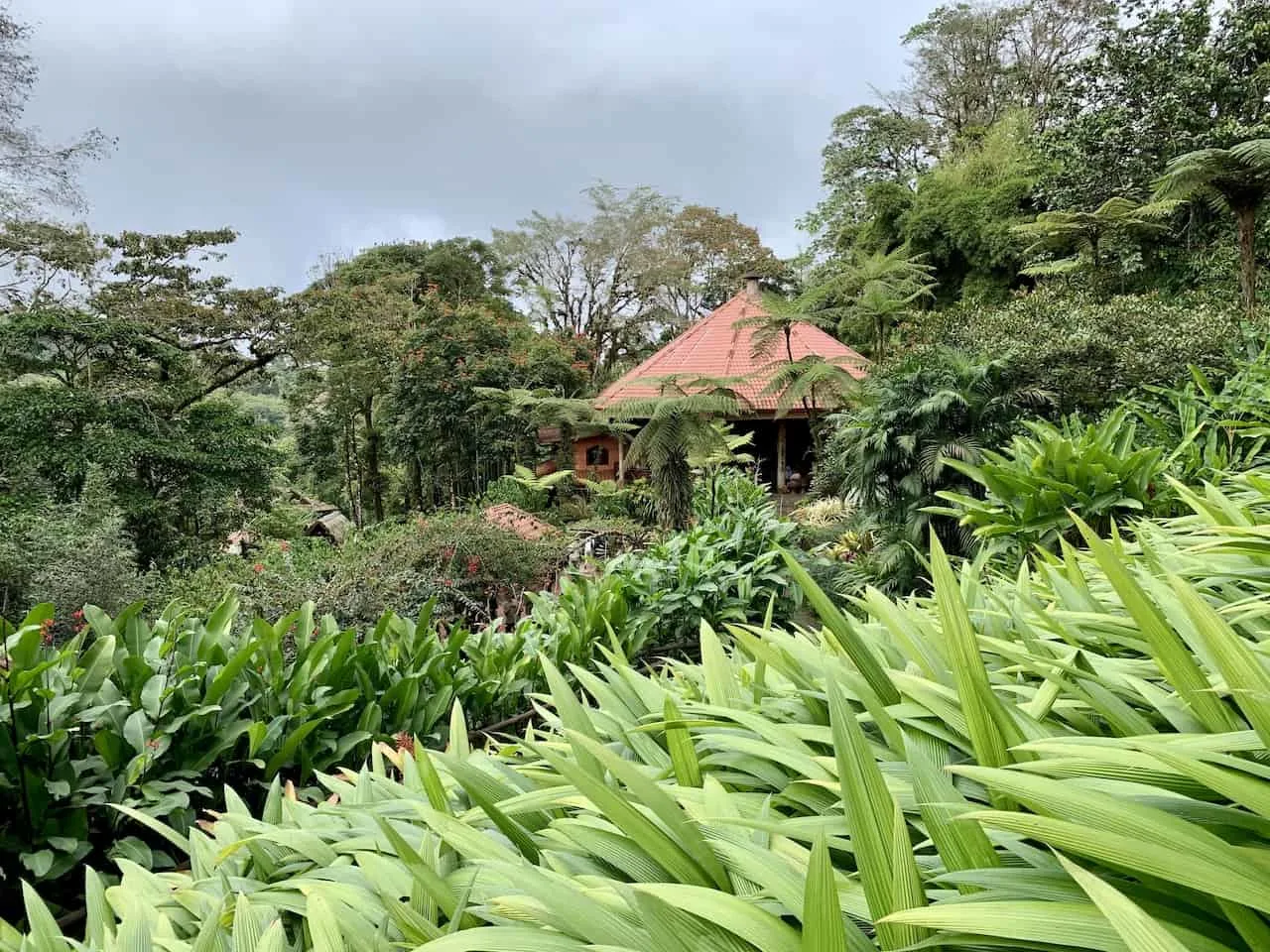 La Paz Waterfall Gardens Facts
Here are just a few helpful facts about La Paz and what to expect in the park:
Hour of Operation: 8:00AM – 5:00PM (year-round)
Last Shuttle Bus to Entrance: 5:00PM (more on that later)
Ticket Prices: $50 USD Adults / $34 USD Child (3-12 years old)
Lunch Option: $14 USD Adults / $8 USD Child (3-12 years old)
Restrooms: located throughout the park
Recommended Time: ~3 Hours
Year Opened: 2000
Property Size: 70 acres / 28 hectares
Length of Trails: 2.5 miles / 4 km
Number of Paver Stones on Trails: 16,000
River Frontage: 0.65 miles / 1 km
Road Frontage: 1.5 miles / 2.4 km
Altitude: 5,225 ft to 4,200 ft / 1,592 m to 1,280 meters
Number of Waterfalls: 5
Type of Forest: Cloud and Rain Forest
Geology: cooled magma from 2 million years ago
Origin of the La Paz River: Rainfall on the Poas Volcano flows to the Caribbean Sea via the La Paz River
Costa Rica Itinerary: Visit La Paz Waterfall Gardens as part of a longer 10 Days in Costa Rica that takes you around the country
2) Weather & Best Time to Visit
Costa Rica is known to have a dry season and rainy season. Depending on where you are in the country, there may be more or less rain during those seasons.
The area around La Paz does experience quite a good amount of rain (nearly 15 feet per year!). While the rainy season sees more rain, that doesn't mean the dry season sees none at all.
You should always be prepared for some showers no matter what time of year you are visiting.
Here are some quick rain and weather facts about La Paz:
Rainfall
Average Rainfall per Year: 14.5 feet / 4,420 mm
Rainiest Months: January, May, June, July, August, November, December
Less Rainy Months: February, March, April, September, October
Average Temperatures
Daytime: Low to Mid 70's / 24 Celsius
Nighttime: Low 60's to High 50's / 15.5 Celsius
Coldest Temperature: Upper 40's / 9 Celsius
River Water Temperature: Low 60's / 16 Celsius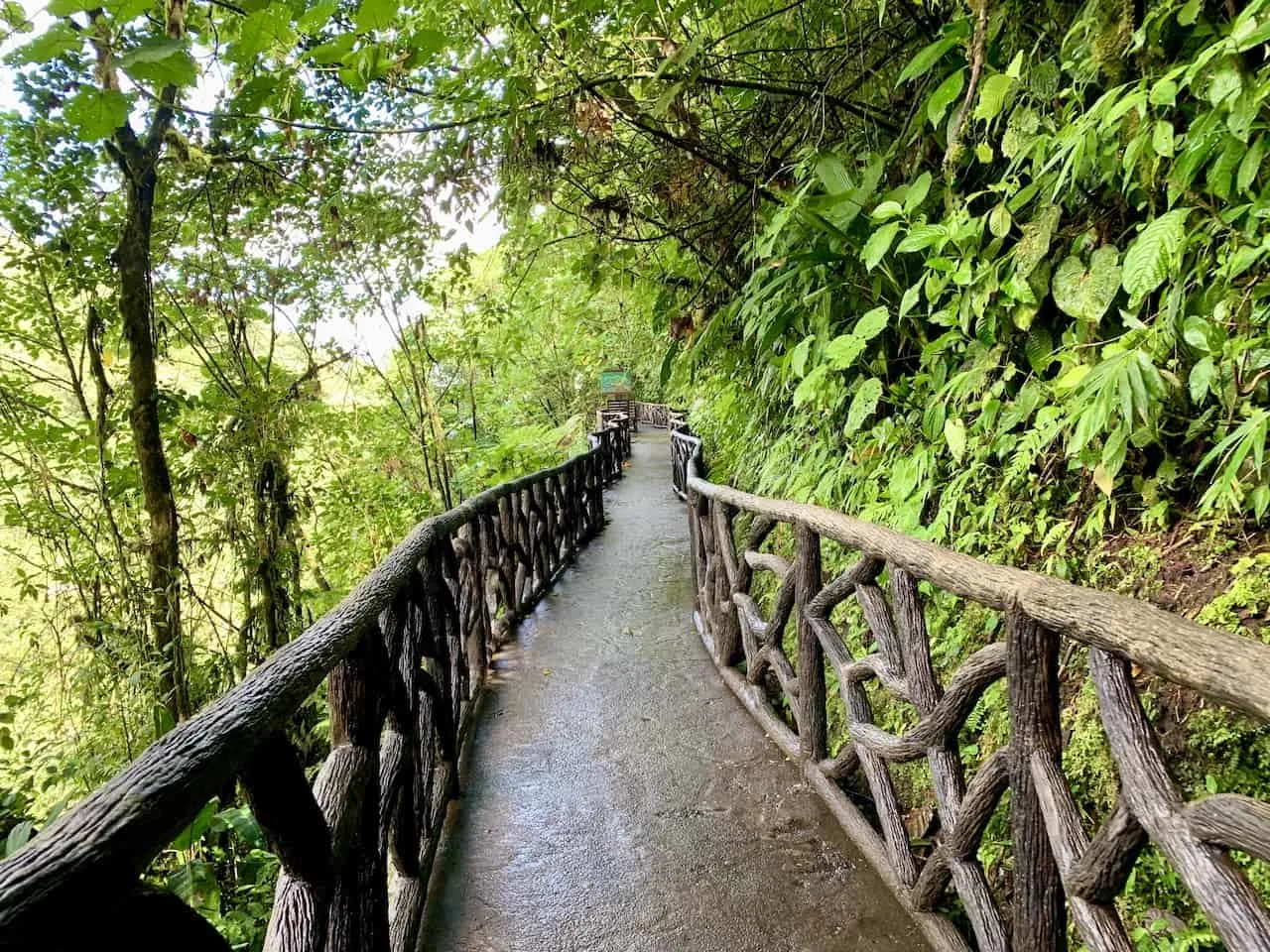 Considering travel insurance for Costa Rica?

World Nomads offers coverage for more than 150 adventure activities as well as emergency medical, lost luggage, trip cancellation and more.

For years, World Nomads has been protecting, connecting & inspiring independent travelers, offering travel insurance & safety advice to help you travel confidently. Their mission is to support and encourage travelers to explore their boundaries.

World Nomads has simple and flexible travel insurance that has been designed by travelers for travelers. Even if you leave home without travel insurance or your policy runs out, you can buy or extend out on the road.

Get a quote for a World Nomads travel insurance policy today!
3) La Paz Waterfall Gardens Location
The La Paz Waterfall Gardens is located in the Alajuela Province of Sarapiqui, Costa Rica. It is situated at the bottom of the eastern flank of the Poas Volcano.
La Paz is located just 1.5 hours away from San Jose, and 1.75 hours away from La Fortuna.
You can visit La Paz either as a day trip from either one of these cities, or you can visit La Paz as a pit stop between the two cities.
Below is a map showing the La Paz Waterfall Gardens location as well as the routes from San Jose and La Fortuna.
Getting There
To get to La Paz Waterfall Gardens, there are a few different ways to go about it depending on your preference.
Rental Car: the easiest way is to have your own rental car and be able to set your schedule and go at your own pace. This way you do not need to worry about public transport and other difficulties. Simply just type in "La Paz Waterfall Gardens" into you GPS and be on your way.
Renting a Car: Feel free to take a look at Rentalcars.com for a variety of car options to choose from for your time in Costa Rica. You will be able to filter by price, car type, rental company, & more to find the best car rental for your trip.
Tour: you can also visit La Paz as part of a group or private tour from San Jose There are several different companies to choose from that offer these types of tours.
I would recommend checking out La Paz, Poas, and Coffee Tour for one of the most highly recommended options.
You can also purchase a Skip the Line Pass ahead of time if you just want to head to La Paz without a tour.
4) Map of La Paz Waterfall Gardens
Below is a helpful map of the La Paz Waterfall Gardens that outlines everything you can expect to see during a visit. I will go into detail about each one of these spots later on in the guide.
Starting at the entrance you will have the ticket office, gift shop, restaurant and the nearby Peace Lodge. From there, the journey into the park begins.
Hiking Trails
Main Trail (orange): the "main" hiking trail is highlighted in orange here. You can see it starts at the main entrance, heads down to the several wildlife points of interest, and then finally down towards the 5 waterfalls.
The trail ends near the bottom of the final waterfall (La Paz), where you can find the La Terraza gift shop and shuttle bus station. Here you can decide to take the shuttle bus back to the entrance, or retrace your steps.
Rio La Paz and Fern Trails (yellow and red): there are two less frequented trails that head further into the rainforest and along the river. If you are looking to get away from the main trail and have a less crowded experience, then I would recommend a walk here as well.
Habitats
There are many different animal habitats in La Paz. It is very important to note that none of these animals were taken from their natural habitat.
Rather they were given to the park by the Costa Rican Wildlife Ministry, who helped save these animals from various circumstances.
In the park you can find birds, insects, butterflies, monkeys, hummingbirds, snakes, jungle cats, orchids, frogs, and the trout lake.
Waterfalls
Lastly, you can find five different waterfalls making their way down the river. Follow the main trail up and down the river to see them all.
These include Templo, Magia Blanca, Encantada, Escondida, and La Paz.
5) The Peace Lodge & Hotels Near La Paz Waterfall Gardens
If you not trying to do the day trip from San Jose / La Fortuna, or don't want to just make La Paz a quick pit stop along the way, you have the chance to stay right near the gardens.
Your main option here is to stay at the Peace Lodge, which is located on the property of the La Paz Waterfall Gardens. Y
ou get to wake up and go to sleep with the sounds of the rainforest surrounding you and will get to experience the park like no other.
If you would like to book a stay at the Peace Lodge, head over to the Peace Lodge booking page to reserve your spot today. This is a popular place and will sell out during peak season.
On the other hand, there are also options to stay near the gardens at hotels that are just a short drive away.
I would recommend taking a look at Hortensias Chalets Vara Blanca and Villa Calas, both fantastic highly rated places to choose from.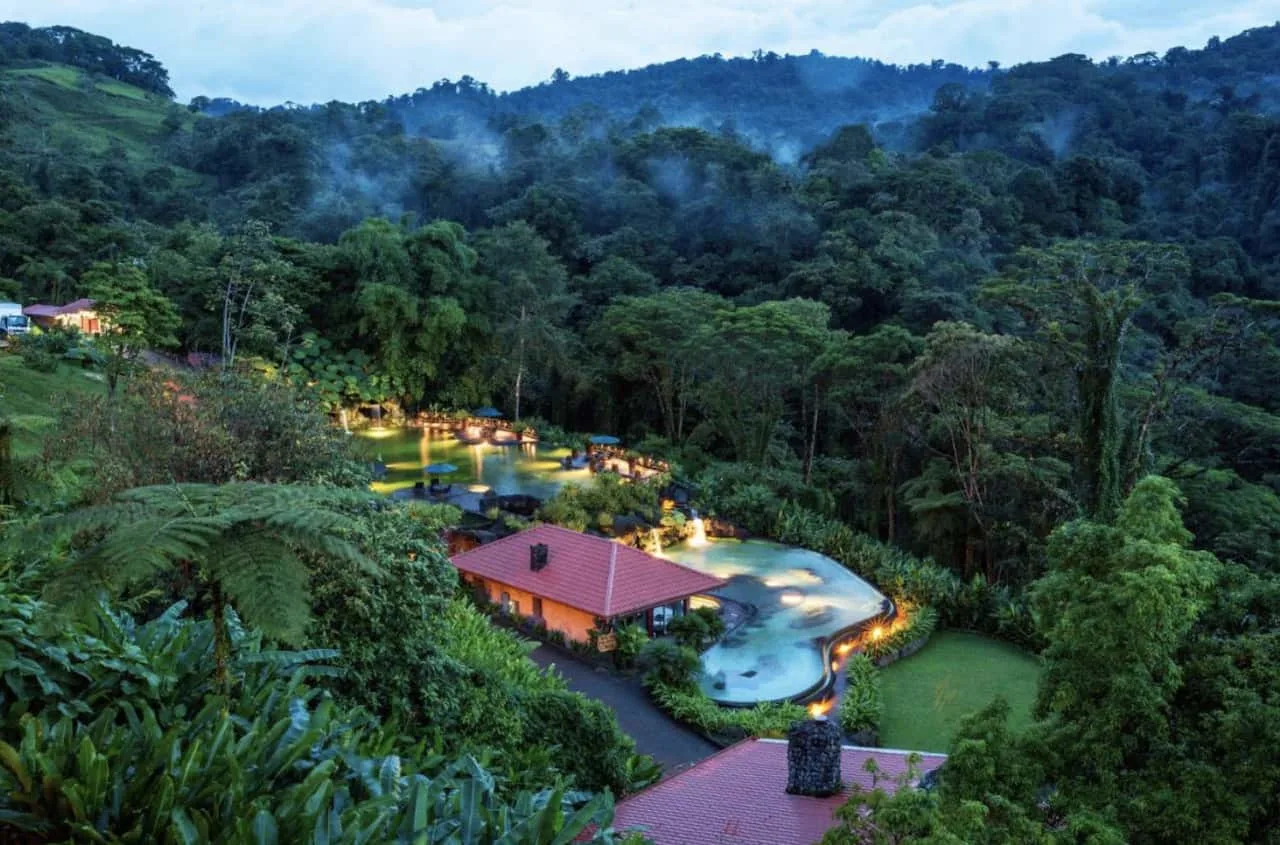 6) A Complete Overview of La Paz Waterfall Gardens
I will now walk you through what a day at La Paz Waterfall Gardens nature Park could look like. The below will take you all along the main trail from the entrance, visiting all the habitats, and then down to the waterfalls.
Note that walk to the habitats and then further to the waterfalls is mostly downhill and does require heading down stairs as well.
Animal Habitats
After leaving the main reception area, you will follow the pathway down towards the habitat area. Right away as you begin the walk, you will be welcomed to the beauty of the surrounding rainforest.
Aviary / Birds
The first stop is the aviary, which is full of 30+ different types of birds. Just some of these birds include Scarlet Macaw, Keep Bill Toucan, Vermiculated Screech Owl, Gray Hawk, Blue Gray Tanager, along with plenty of others.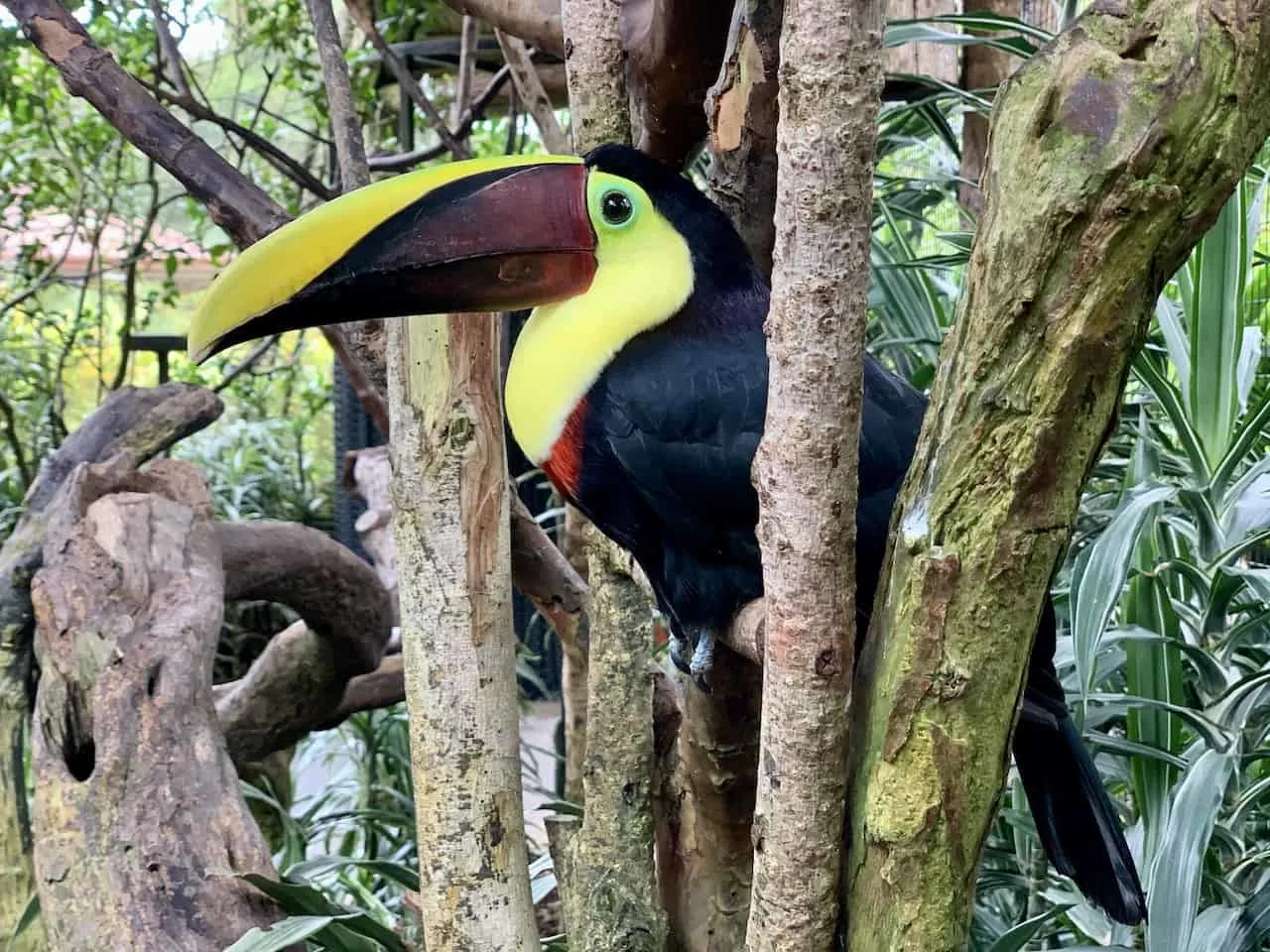 Insects
Connecting the aviary and the butterfly garden is a small section full of various insects (both live and dry).
Butterfly Observatory
Next up is the Butterfly Observatory, where you can find over 25 different species of butterflies and over 4,000 actual butterflies.
Here you will also get to see the life cycle of a butterfly and learn in more detail about how butterflies become to be.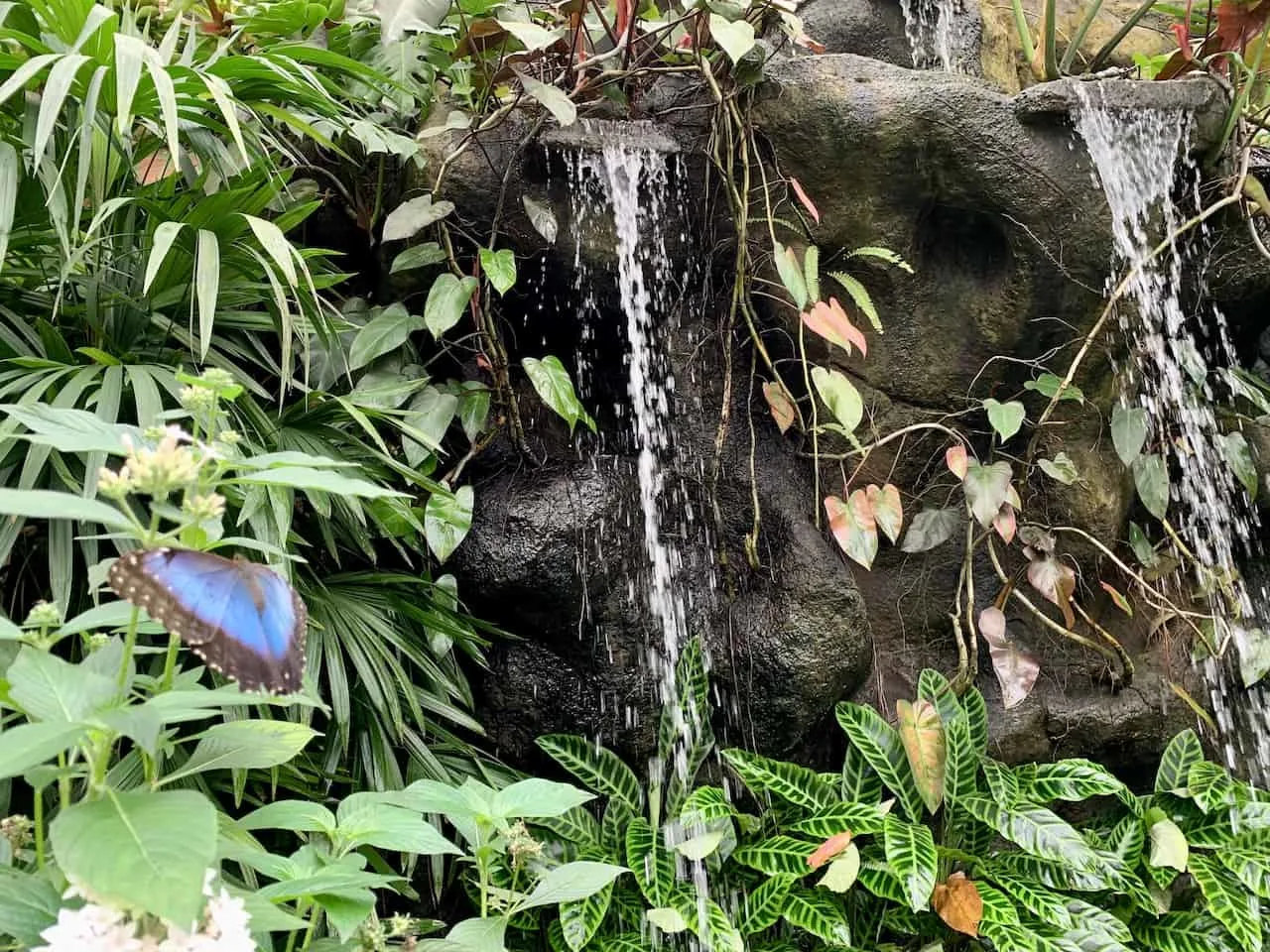 Monkeys
After the butterflies, you will continue on to the monkey enclosure. Here you will find Spider and White faced monkeys (two of the four Costa Rican monkeys), making their way all around the habitat.
If you want to see all four types of monkeys out in the wild, there is no better place than Corcovado National Park.
Hummingbirds
Once you are all done with the monkeys, the trail leads to the Hummingbird section of the park. Here you can find 26 different species of hummingbirds (out of the 57 in Costa Rica). This makes the La Paz hummingbird garden the most diverse place in Costa Rica to see these types of birds.
You can get right up and close to these hummingbirds as they quickly fly around the garden and find spots to get their nectar.
Snakes
The trail continues outside towards the snake enclosure near the Colibries Restaurant.
There are over 30 different snakes here including some quite dangerous ones. These can include Vipers, Bushmasters, Boas, and more.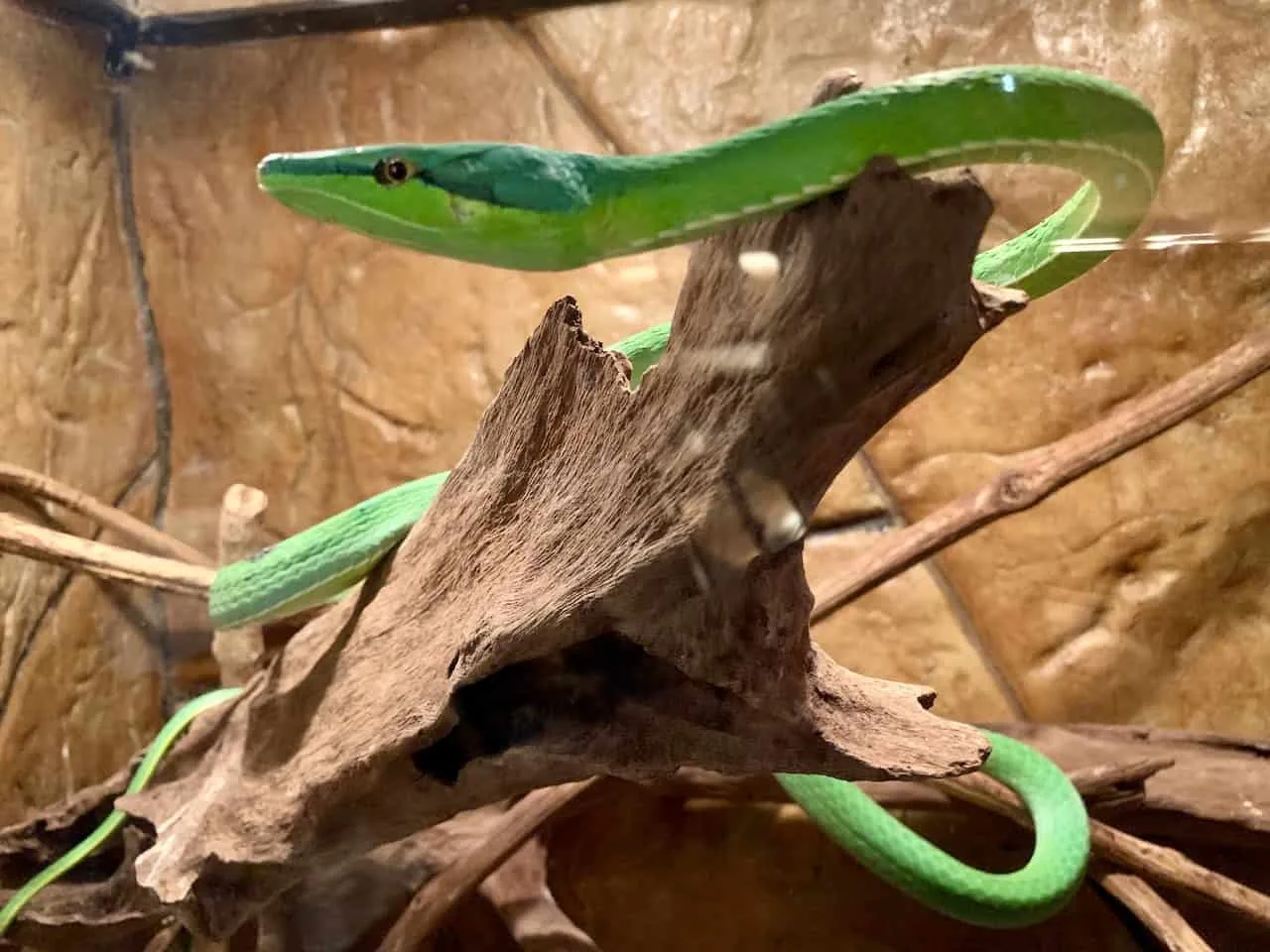 Jungle Cats
Next up are the jungle cats, the largest of the animals out in La Paz. Here you will find several different habitats that house some big cats. These include a Margay, Jaguar, Ocelot, and Puma.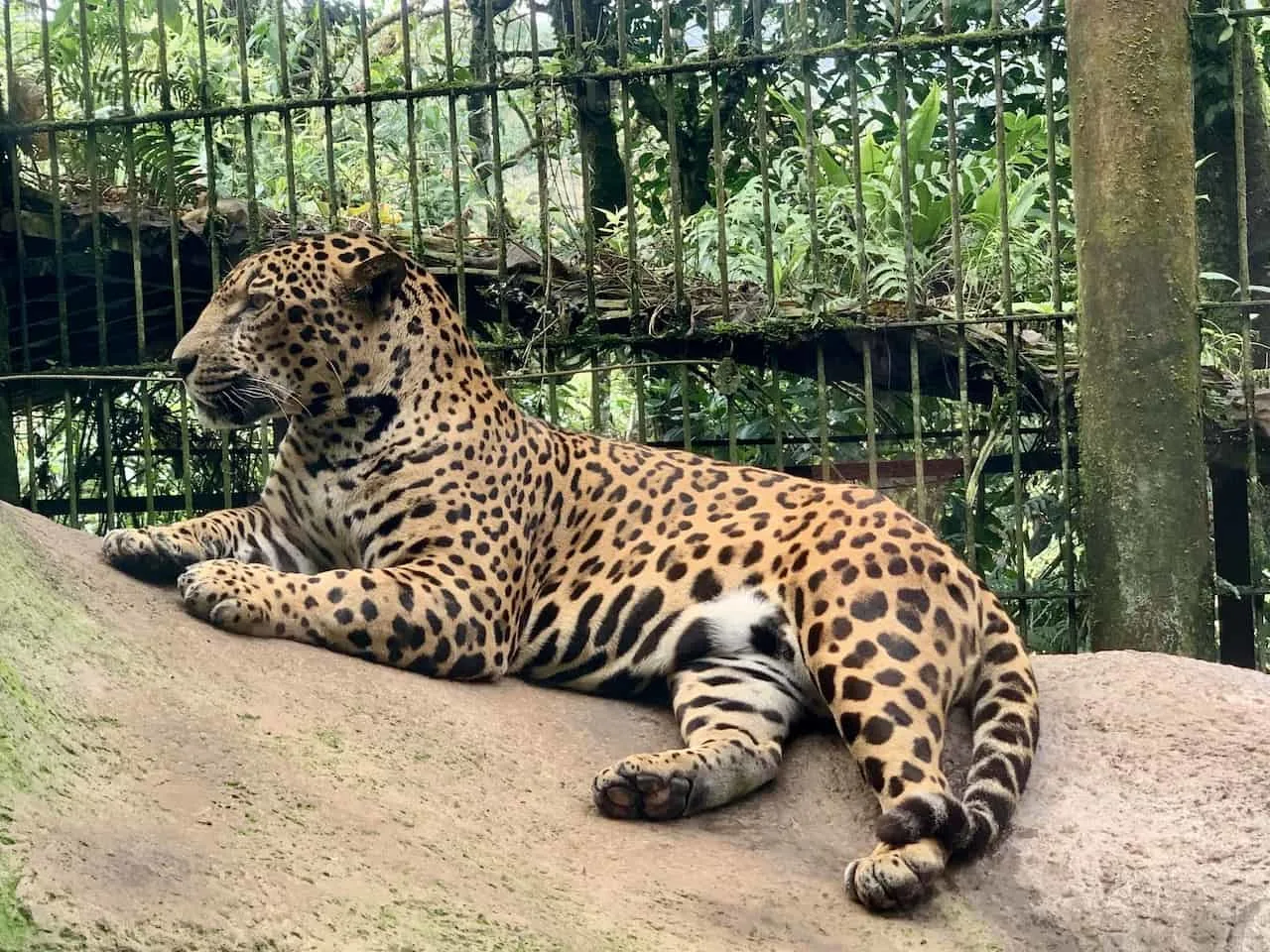 Orchids
The trail continues downwards as you reach the last section of habitats before you make your way to the waterfalls.
You will first reach the Orchid Garden, where you can take a few minutes to enjoy these beautiful flowers.
Frogs
The last of the habitats to visit for now is the frog ranarium. Here you will find many species of frogs roaming freely through the enclosure.
It is a nice change of pace here as you wont need to look at them through glass. Keep your eyes open as you make your way through!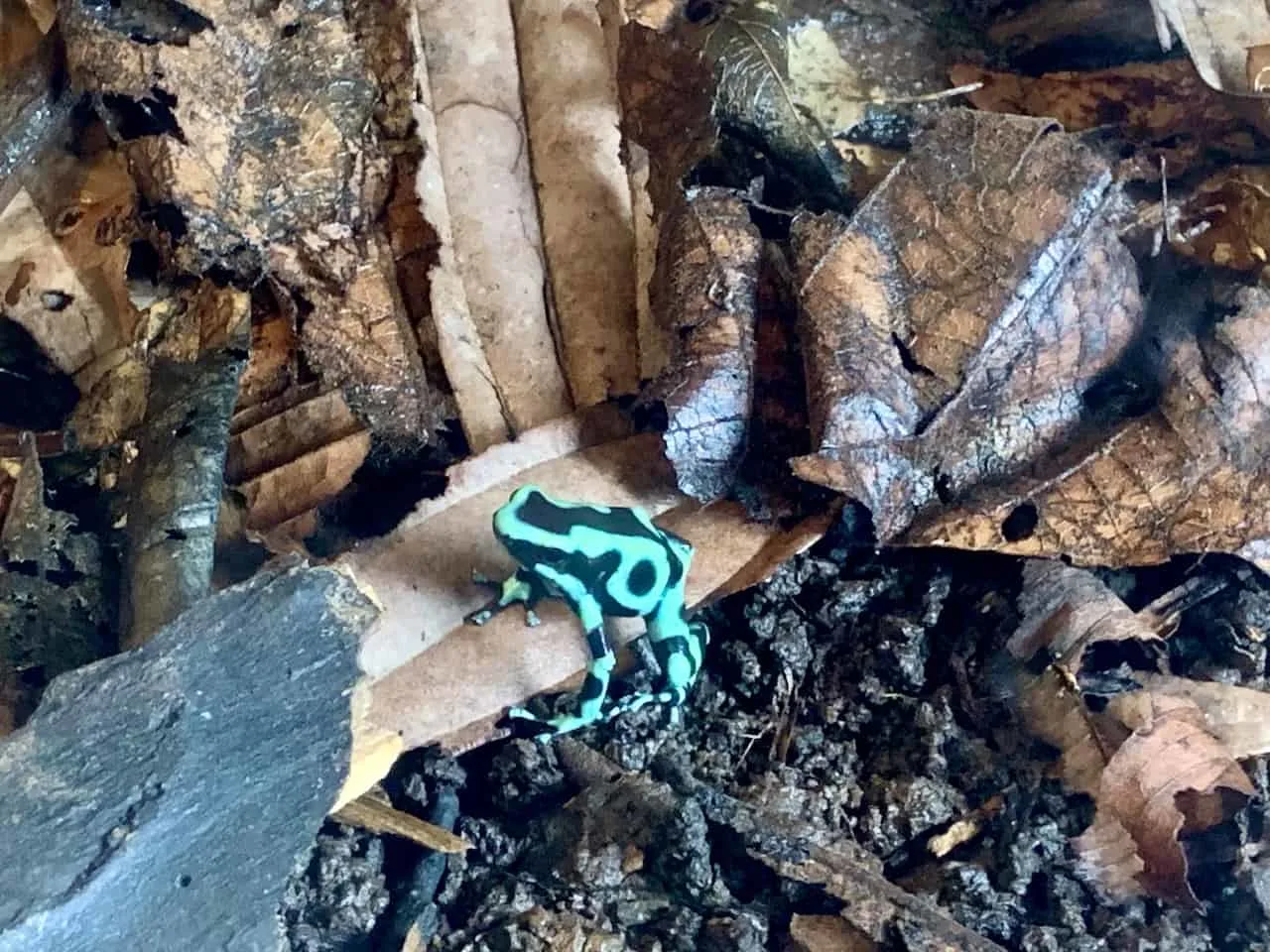 Waterfalls / Cataratas
After exiting the ranarium, and walking by the casita, you will be welcomed to the entrance of the waterfall section of the trail.
Like the rest of the park, everything is very well marked here, so you should have no trouble getting an idea of where to go on the trail.
The path heads further down into the rainforest as you are surrounded by plenty of trees, plants and greenery all around.
It is now time to explore the five waterfalls of La Paz Waterfall Gardens Nature Park.
Templo (85 feet)
The first waterfall up on the list is called Templo. You will continue down on the trail until you reach an intersection.
To your left will be the Upper Templo Lookout point, straight ahead will be a lookout point to see Templo from further away, and to your right will be the rest of the waterfalls.
I would recommend first heading to the Upper Templo lookout point so you can get right up close and personal to this majestic waterfall.
Be careful as it can get wet and slippery on the viewpoint platform as the waterfall is directly next to it.
You can then turn back around and head back to the intersection, where you can get some great views of the waterfall from further away including a small secluded beach.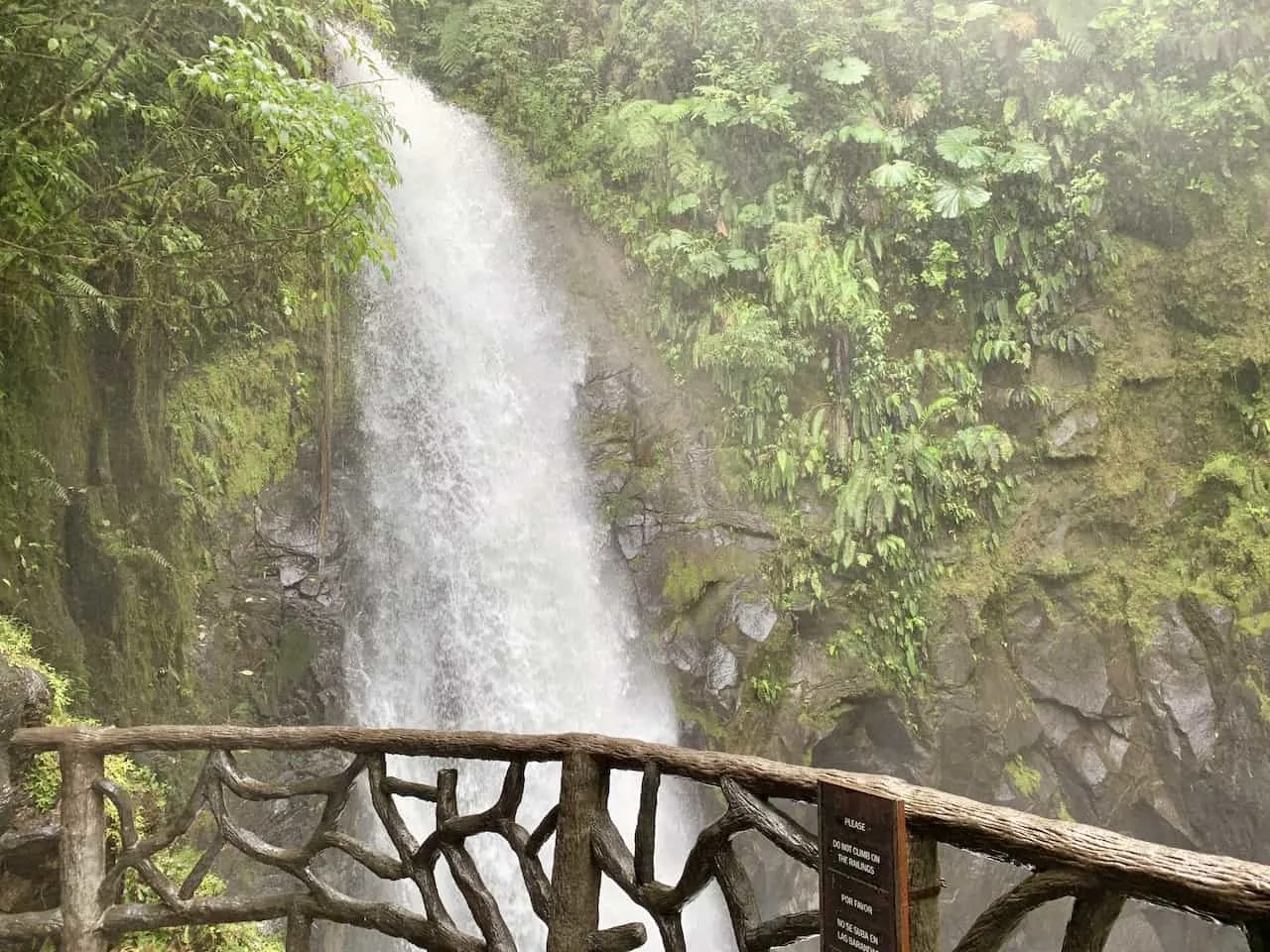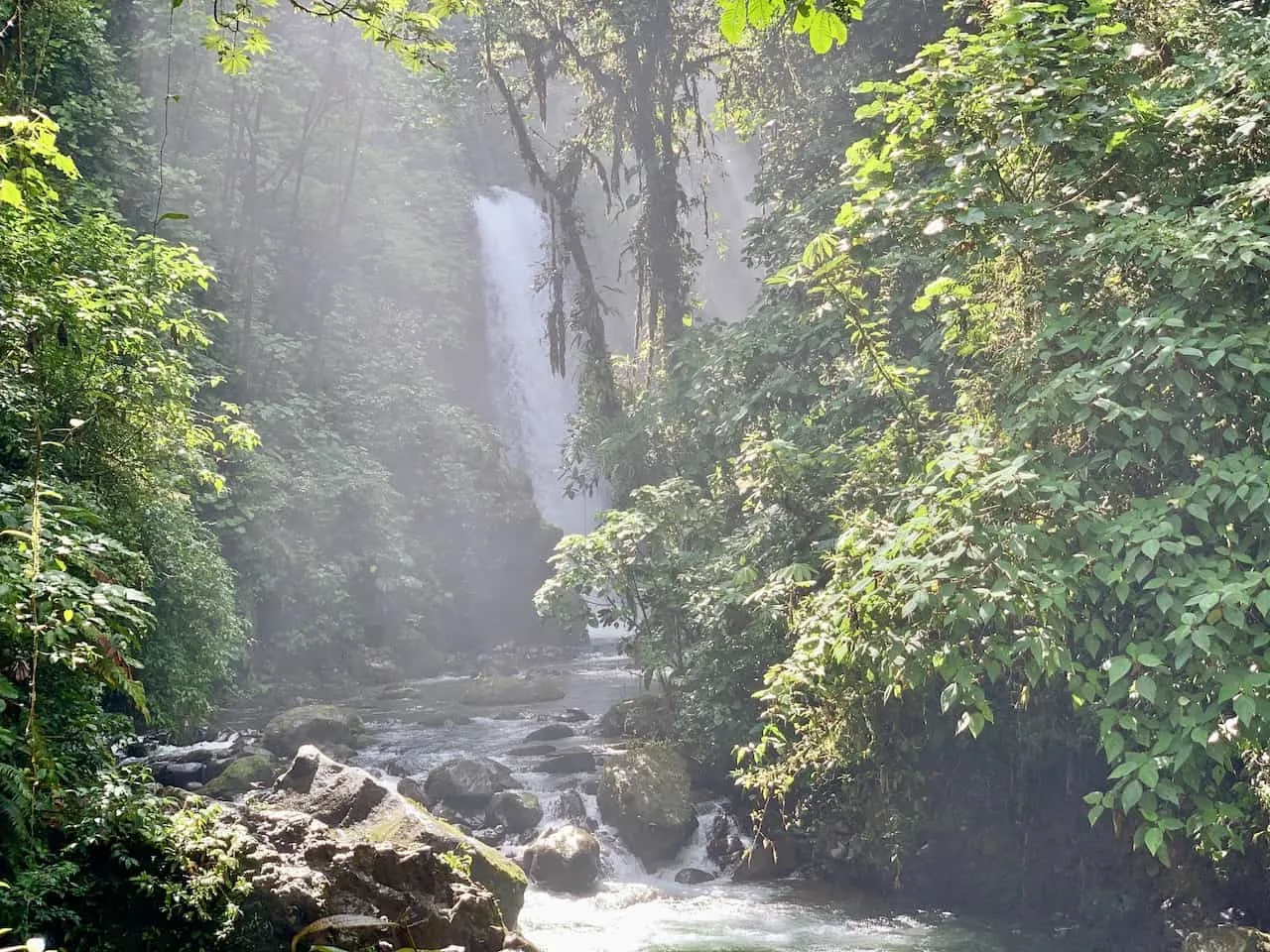 Magia Blanca (120 feet)
You can then continue along to the next waterfall up on the trail – Magia Blanca. Head down the staircase, where you will soon be eye to eye with the waterfall.
Once again, the platform here can get quite slippery so just be careful. The viewing platform is on quite an angle here as you can really get the view from behind the waterfall itself too.
After checking out the view from up close, continue a few more minutes down the trail, where you can then view the waterfall from a bit farther away. It can give you a bit more perspective of the waterfall and the surrounding landscape.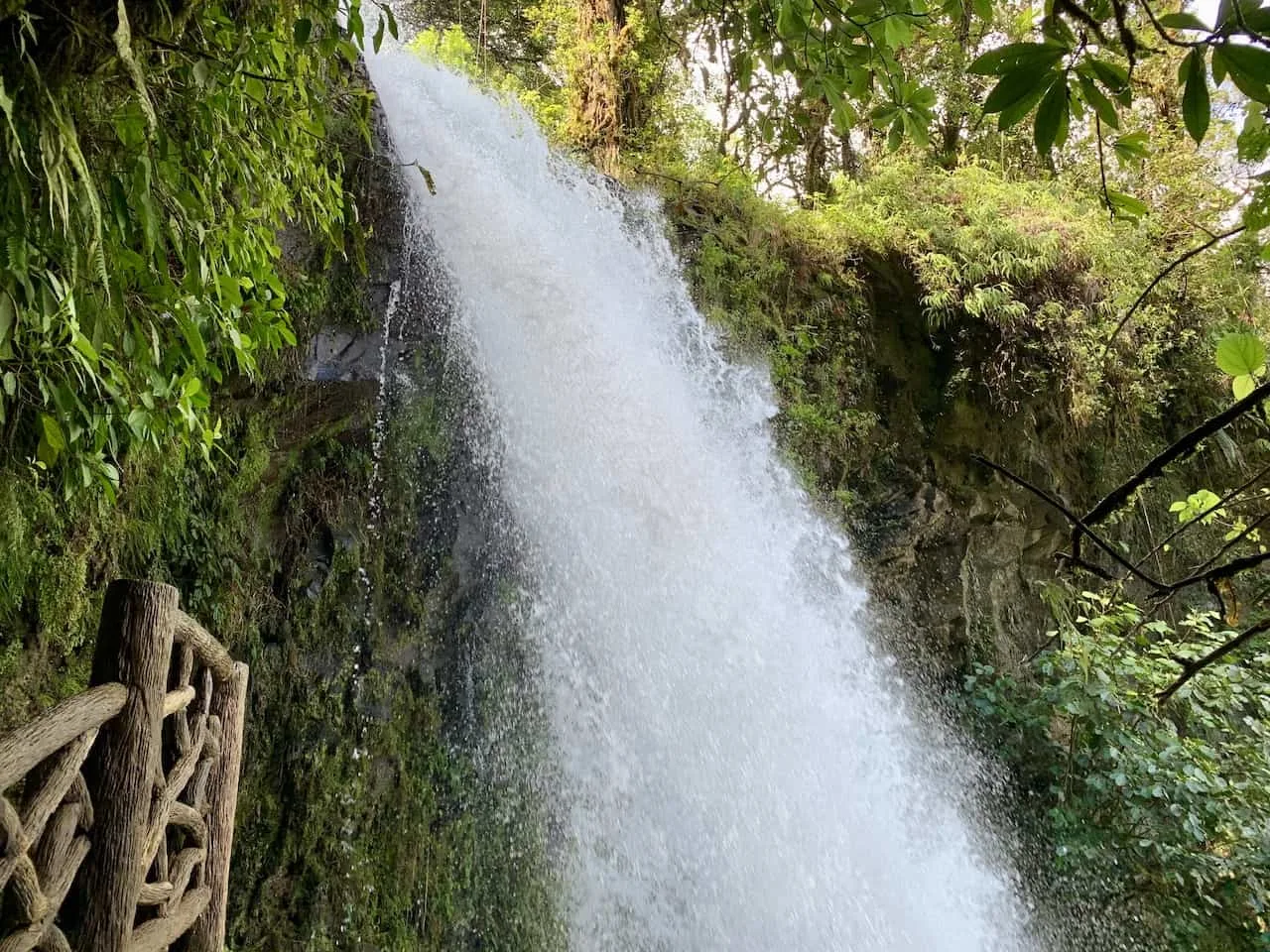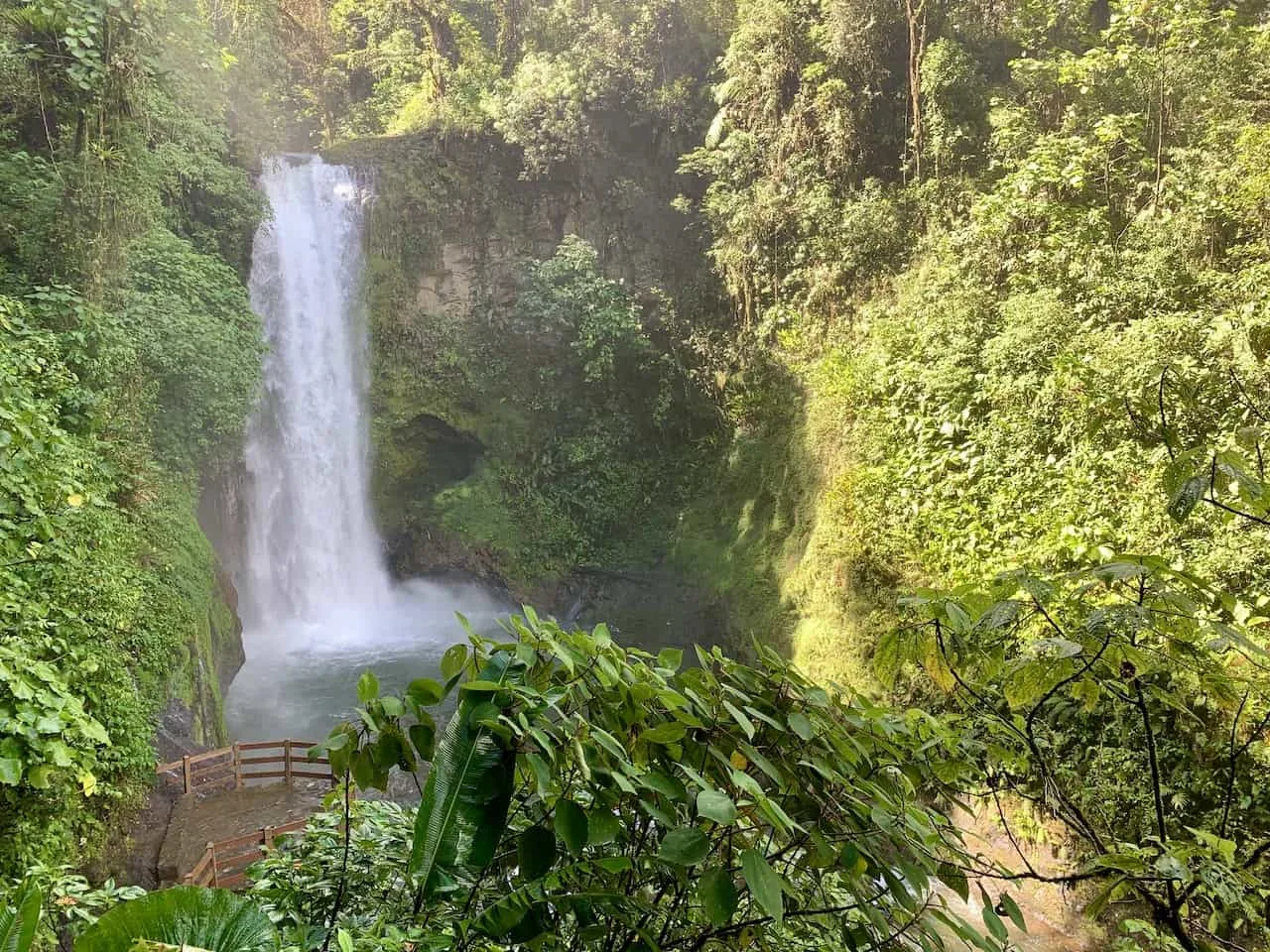 Encantada (65 feet) & Escondida (15 feet)
Next up is the double waterfall of Encantada and Escondida.
As you follow along on the trail, you first will have a beautiful viewpoint, where you can see both of these waterfalls as well as Magia Blanca further out back.
But then as you walk down towards the viewing platform, you will just have Encantada and Escondida in view.
Encantada is more of the spectacle here as it is the larger, more powerful one. Hidden in the background you will also see the smaller Escondida between the greenery and rocks.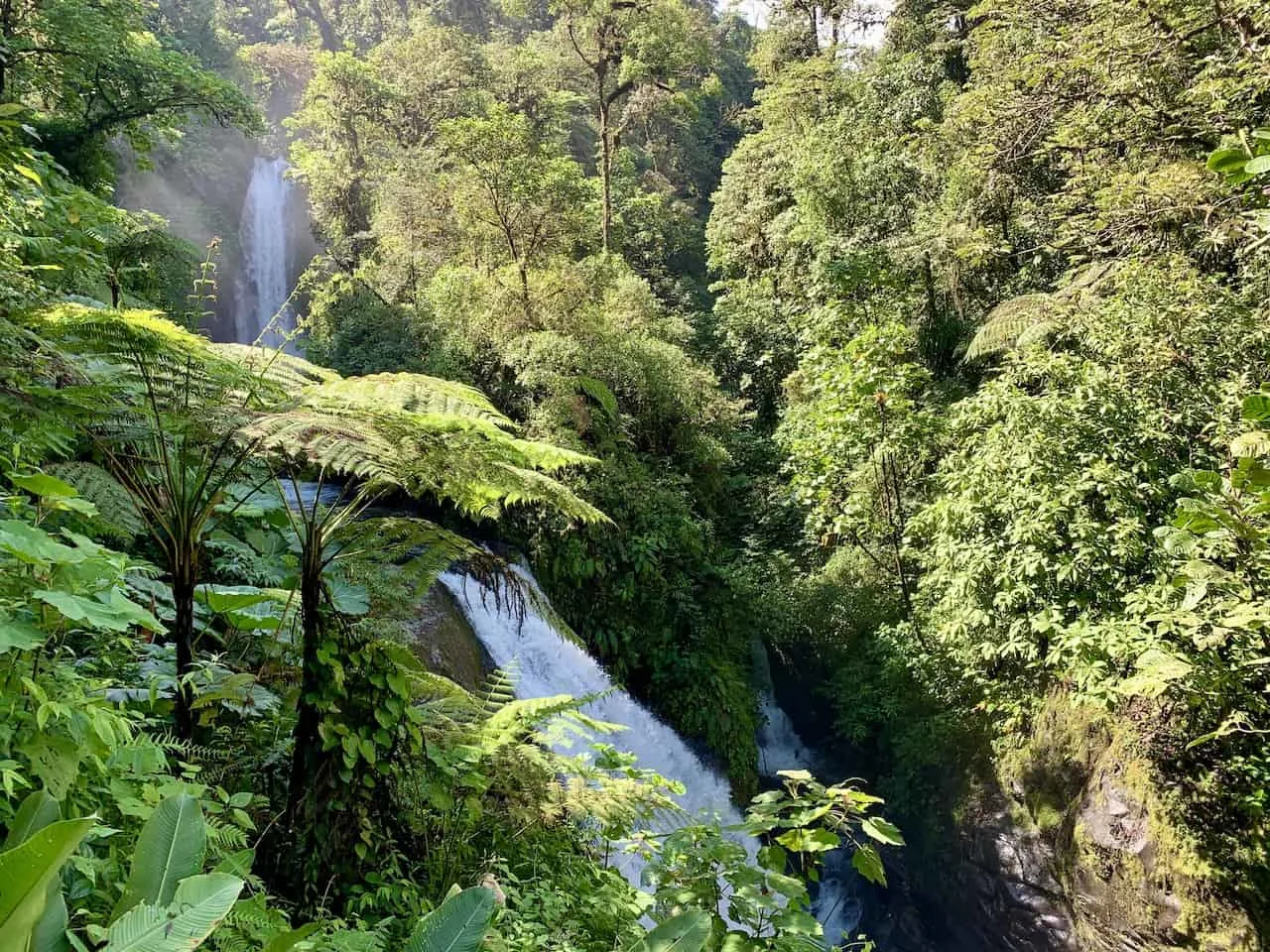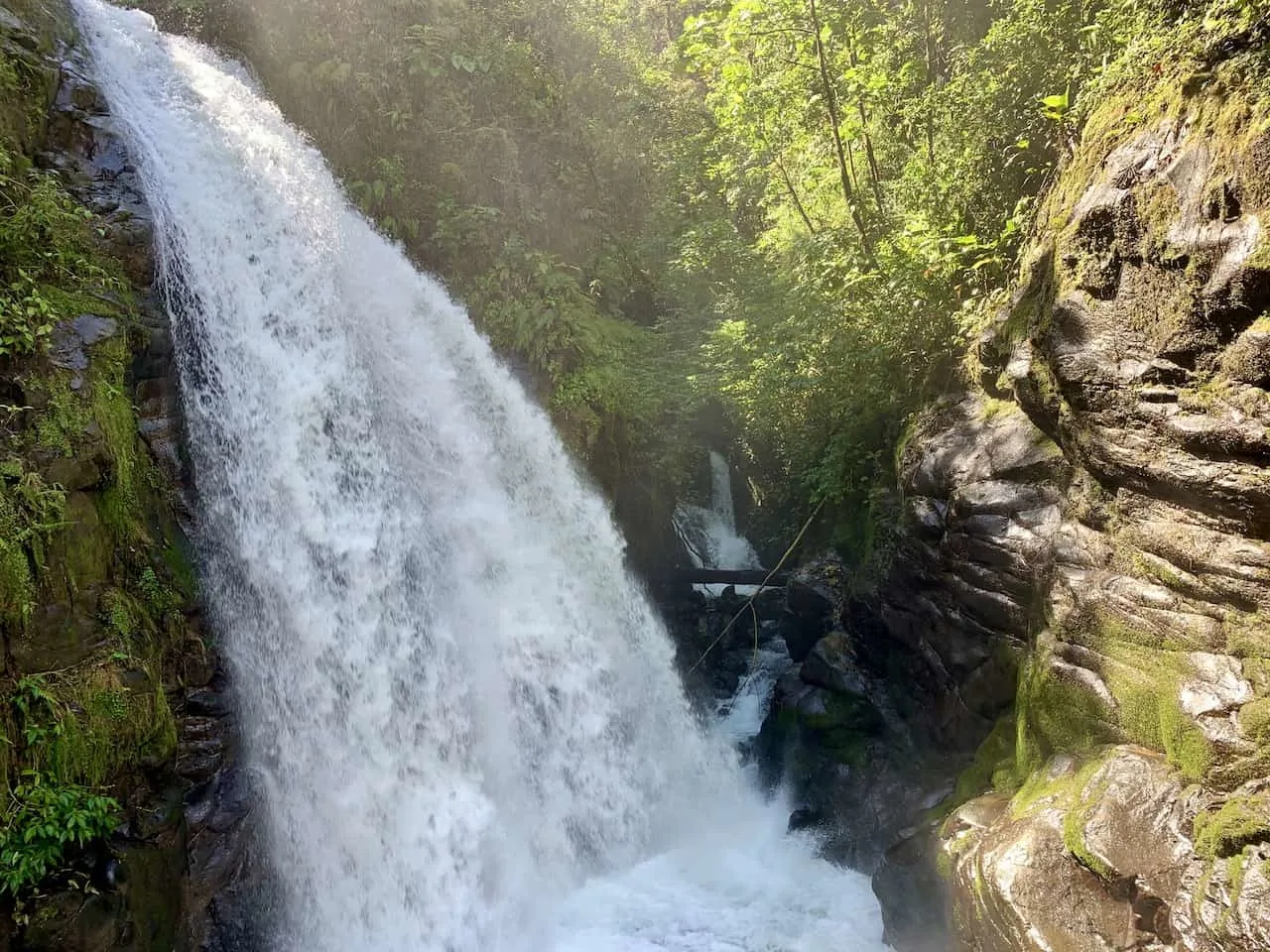 La Paz (110 feet)
Directly below from the Encantada and Escondida viewing platform is the La Paz waterfall. You will be able to take in the view from above of the water falling off this 110 foot cliff down into the pool below.
However, you cannot actually see La Paz waterfall from the nature park's pathways. The better way to see it, is from the road across the way (seen in the photo below).
After I left the park, I ended up driving along the road, parking the car, and was able to get some great photos from different angles before continuing along with my day.
Once you are all wrapped up visiting the waterfalls (within the park), the trail continues down to a gift shop and shuttle bus area.
If you do not want to walk back the same way you came, you can opt for the shuttle bus that runs back and forth to the entrance of the park.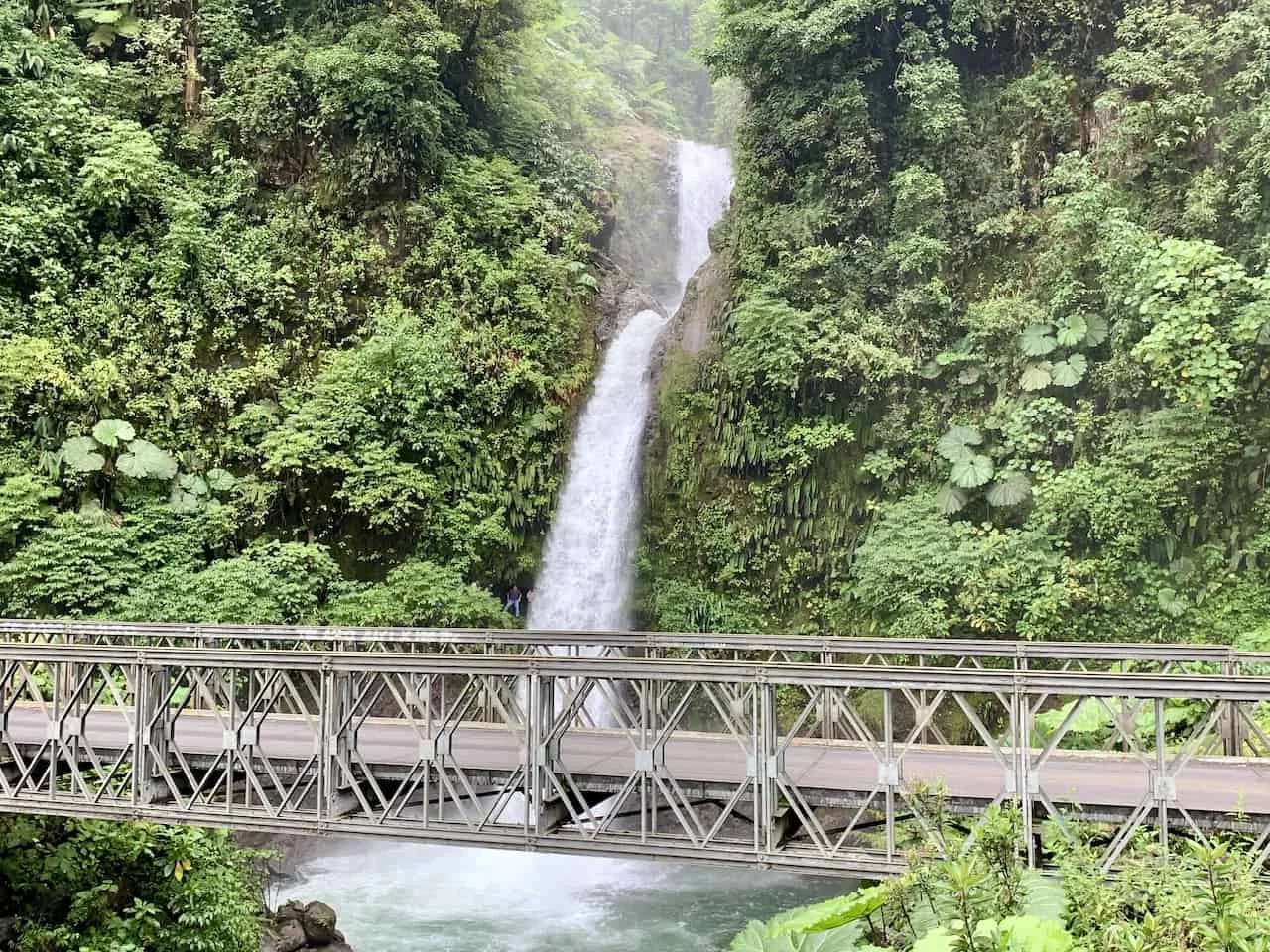 Rio La Paz and Fern Trail
A less frequented part of the park includes the Rio La Paz and Fern trails ,which run right alongside the river in a more secluded part of the area.
You can decide to head on the trail before or after the waterfalls if you want to enjoy this section of La Paz.
The walk along this trail definitely feels a bit more authentic as you walk along this serene river surrounded by rainforest in all directions.
It is also nice to get away from the crowds as not many people venture to this side of the park. Check out some of the pictures below to get a sense of what I mean.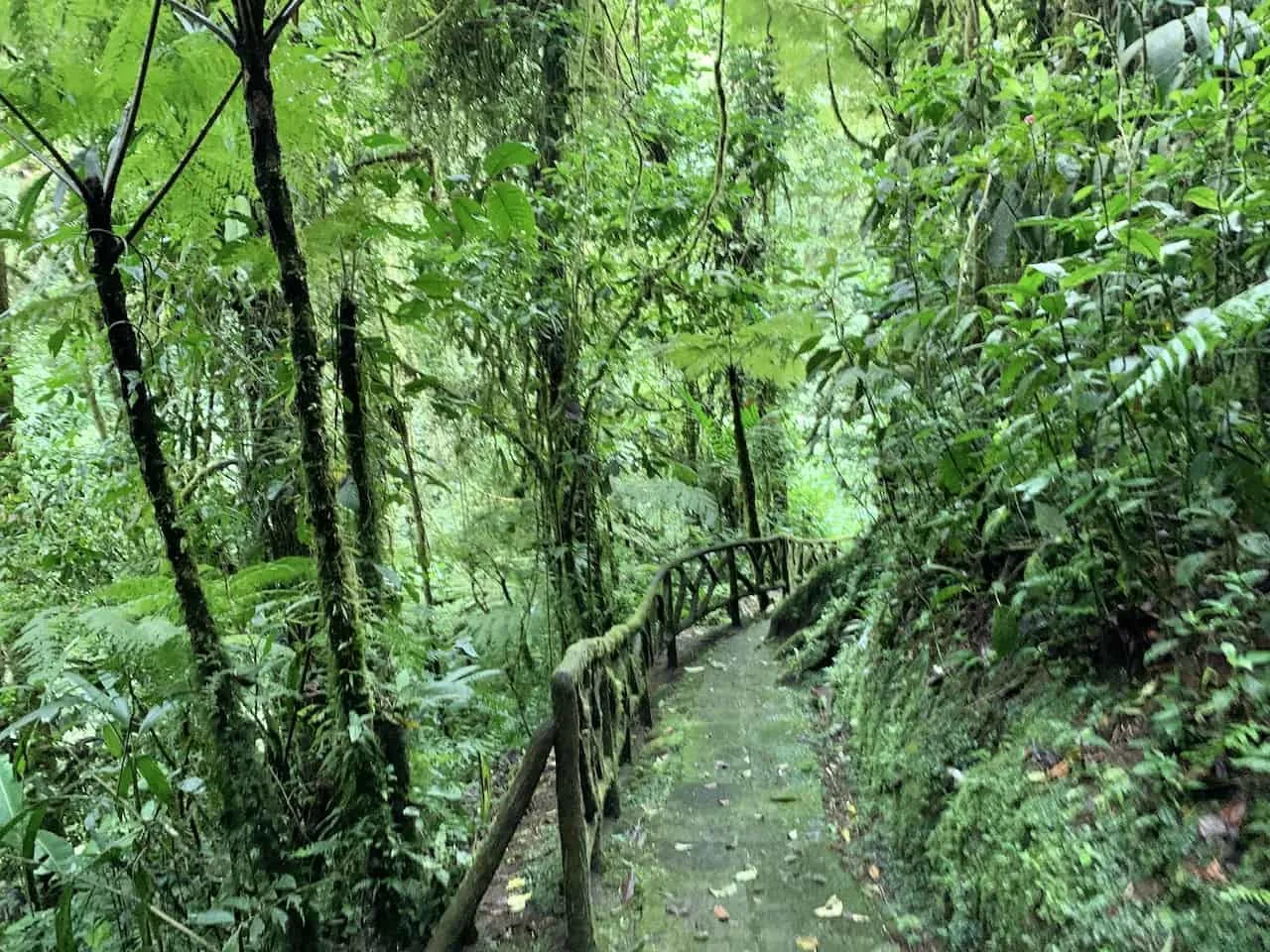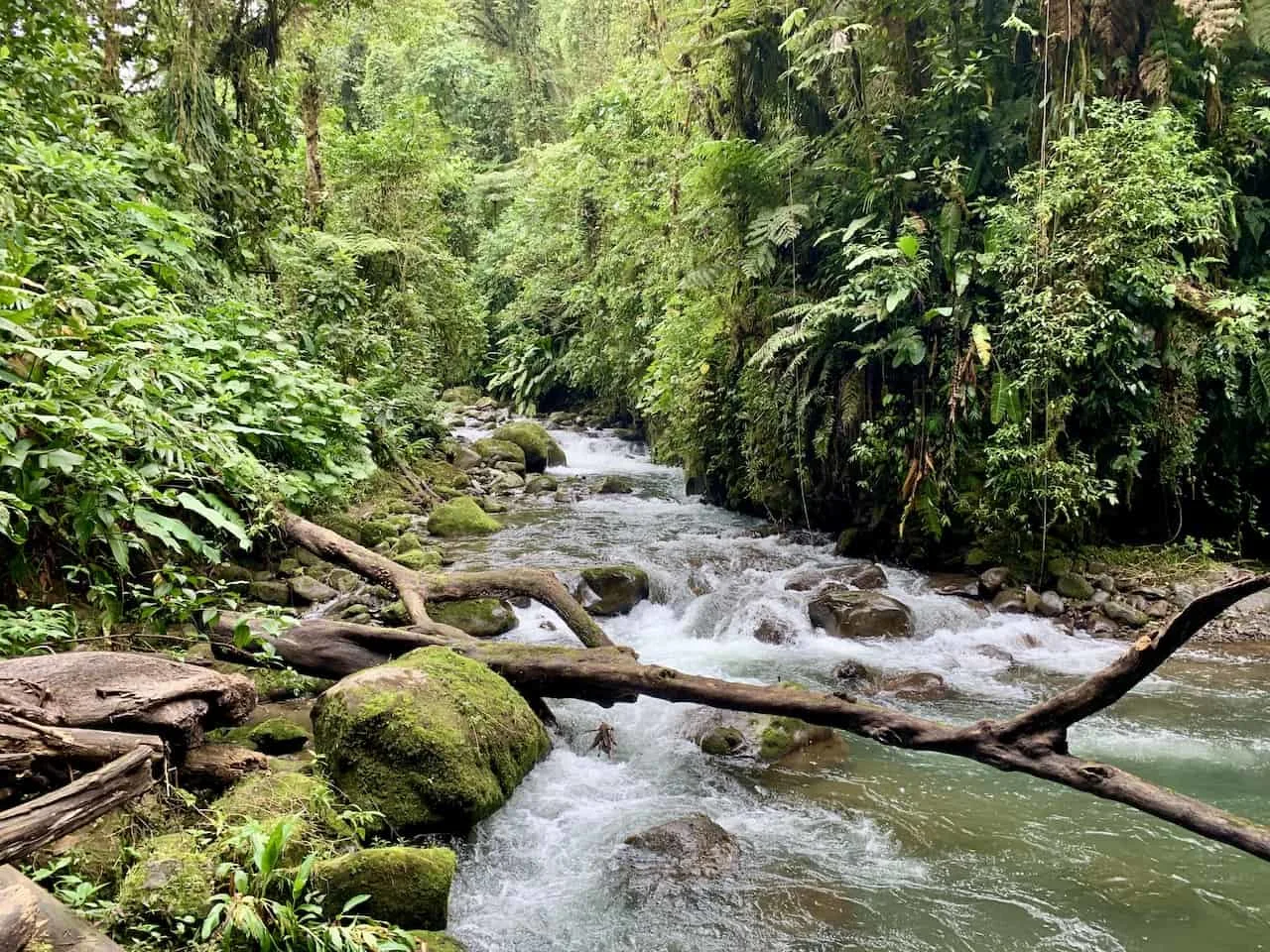 Trout Lake
You have the chance to exit the trails right near the Trout Lake. The spring fed lake is mostly meant for Peace Lodge visitors, who can fish in the lake and even catch their own dinner!
There is a bar overlooking the lake, as well as two hot tubs for those that want to relax, sit back, and enjoy the view.
7) La Paz Waterfall Gardens Questions
Here are some of the most frequently asked questions about the La Paz Waterfall Gardens along with some helpful answers.
Is La Paz Waterfall Worth It?
While the cost for the La Paz Waterfall Gardens is on the high end, I believe that La Paz Waterfall is worth the visit. You get a little bit of everything during a visit to La Paz.
Whether it is hiking trails, waterfalls, Costa Rica wildlife, or being surrounded by nature, La Paz has it all for you. There aren't many other places in the country that can offer what this park can.
Can You Swim in La Paz Waterfall Gardens?
No, you cannot swim in La Paz Waterfall Gardens. However, if you are a guest of the Peace Lodge, there is the opportunity to jump into the Trout Lake and nearby hot tubs!
What Can You Do at La Paz Waterfall Gardens?
There is plenty to see and do at La Paz Waterfall Gardens. You have 2+ miles of unique hiking trails to walk on and explore.
There are several animal habitats with so many different species to enjoy. And finally you have the five beautiful waterfalls to view from all different angles.
What Should I Wear to La Paz Waterfall?
La Paz is located right in the middle of the rainforest, and because of that you should always be prepared for the rain.
I would recommend very comfortable walking shoes and a rain jacket just in case. You may also want to consider an additional layer as it can get chilly on a cloudy day.
Can You See La Paz Waterfall From the Road?
You actually can only see La Paz Waterfall from the road. While the other four waterfalls can only be seen from inside the park itself, to see La Paz Waterfall, you must head to the main road to take in the view.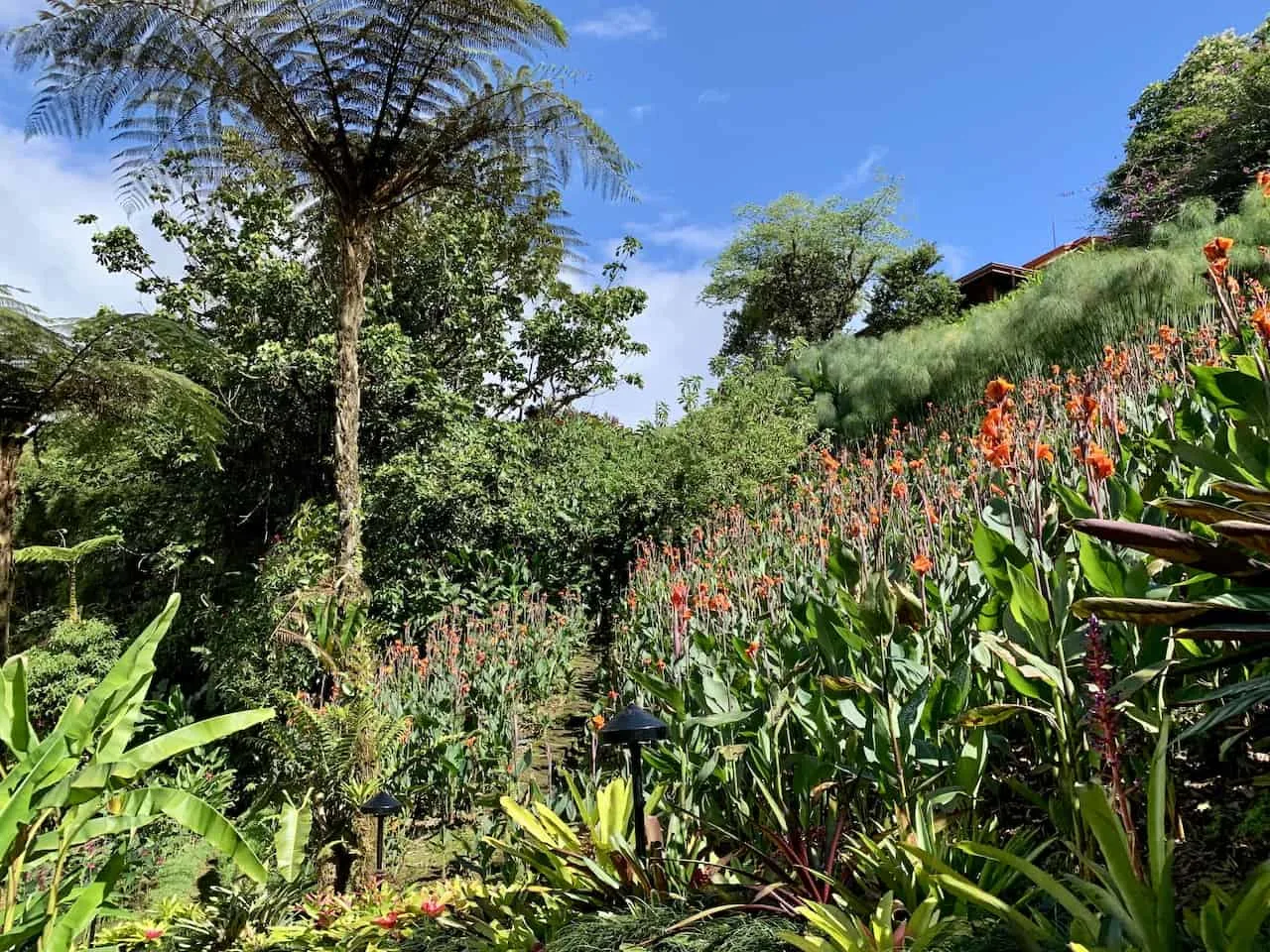 That about does it for a complete guide to the La Paz Waterfall Gardens Nature Park of Costa Rica. If you have any questions or comments about the place, feel free to add them in below.
Also, don't forget to check out the remaining Costa Rica itineraries and guides up on the site. Have fun out there and safe travels!