When it comes to beaches in Costa Rica, you won't have trouble finding some beautiful sandy spots to enjoy all along both coasts. One of the most pristine and interesting beaches you will find in the country is Uvita Beach.
Located in the larger Marino Ballena National Park, Uvita Beach makes up a couple miles of sand surrounded by lush rainforest. In addition to the beach itself, you will also find a sand and rock crossing that is the shape of a whale's tail.
Learn more about visiting Uvita Beach for yourself and how to enjoy some time around this picturesque natural landscape.
* Affiliate Disclosure: This post may contain affiliate links, which means I may receive a commission if you make a purchase through the links provided, at no additional cost to you. Thanks for supporting the work I put into TripTins!
1) Location & Directions
Uvita Beach is right beside the coastal town of Uvita, which is located on the Pacific coast side of Costa Rica.
While Uvita may not be one of the most visited places in the country, it still offers visitors one of the most relaxing and scenic place to stay while exploring the coast.
Adding Uvita to a Costa Rica itinerary can easily be done if you are heading along the southern Pacific coast of the country.
It is located 1:15 hours south from Manuel Antonio and 2:30 hours north of Puerto Jimenez (and Corcovado National Park).
It is also the perfect place to base yourself before or after a hike up the tallest peak of the country – Cerro Chirripo. The town of San Gerardo de Rivas is just under 2 hours away from Uvita, and where you would base yourself for a climb up the mountain.
If you are wondering how to get yourself to Uvita in general, I would highly recommend renting a car during your time in Costa Rica.
While taking a bus is another option, having your own car rental will give you the ability to see the country at your own pace and have no trouble getting from one spot to the next.
→ Feel free to take a look at Rentalcars.com for a variety of car options to choose from for your next trip.
On the map below, you can see I pinpointed a few locations including the main entrance, the beach itself, and Punta Uvita (the whale's tail location).
2) Marino Ballena National Park
As mentioned, Uvita Beach is part of the larger Marino Ballena National Park. The park was created is 1989 and today makes up 5,375 marine hectares and 115 land hectares.
Throughout the National Park you will find mangrove forests, estuaries, sandy beaches, and an abundance of underwater life. Since this is a protected area, no fishing is allowed in its waters.
You can find several varieties of whales, turtles, dolphins, and birds around the area.
In addition, there are 18 varieties of coral with plenty of fish species to observe. Snorkeling, scuba diving, and whale watching are all popular activities to take part of in the water to enjoy it all.
Uvita Beach Swimming
Although there are rules in Marino Ballena National Park to protect the environment, swimming is allowed in the water. Just be aware of leaving your valuables out on the sand as there are many warning signs about this.
Weather
The best time to visit the National Park and Uvita Beach is during the region's dry season.
From December to April you will have the lowest chance of rain and the highest chance of sunny days.
With that said though, the beach is not protected by shade, so be sure to wear a hat, sunglasses and put on plenty of sunscreen if you are planning a visit.
Another main reason to visit during this time of year is because Humpback whales migrate to the area to enjoy the warmer waters. Not only is there a whale's tail beach to enjoy but you can also enjoy actual whales too.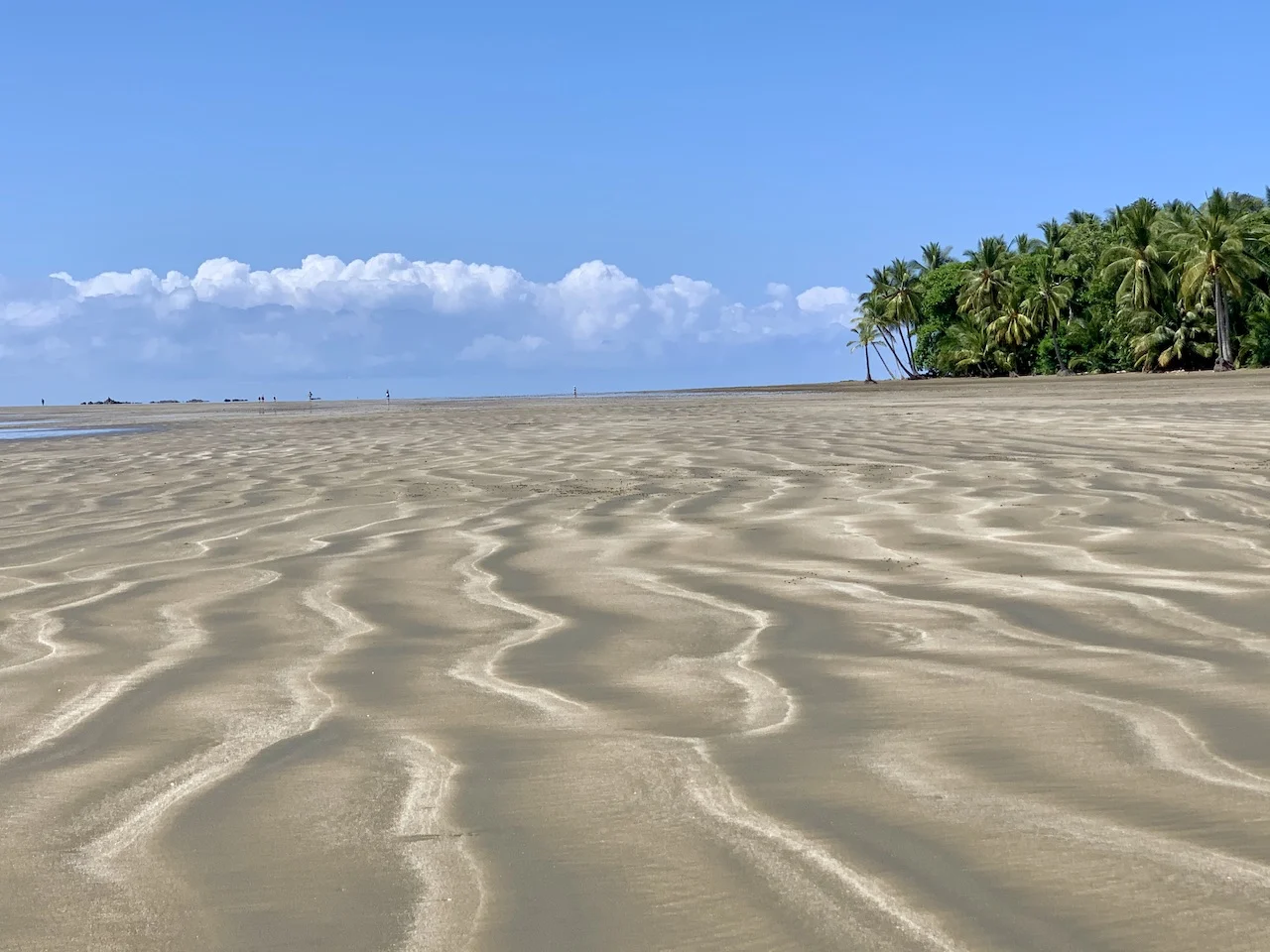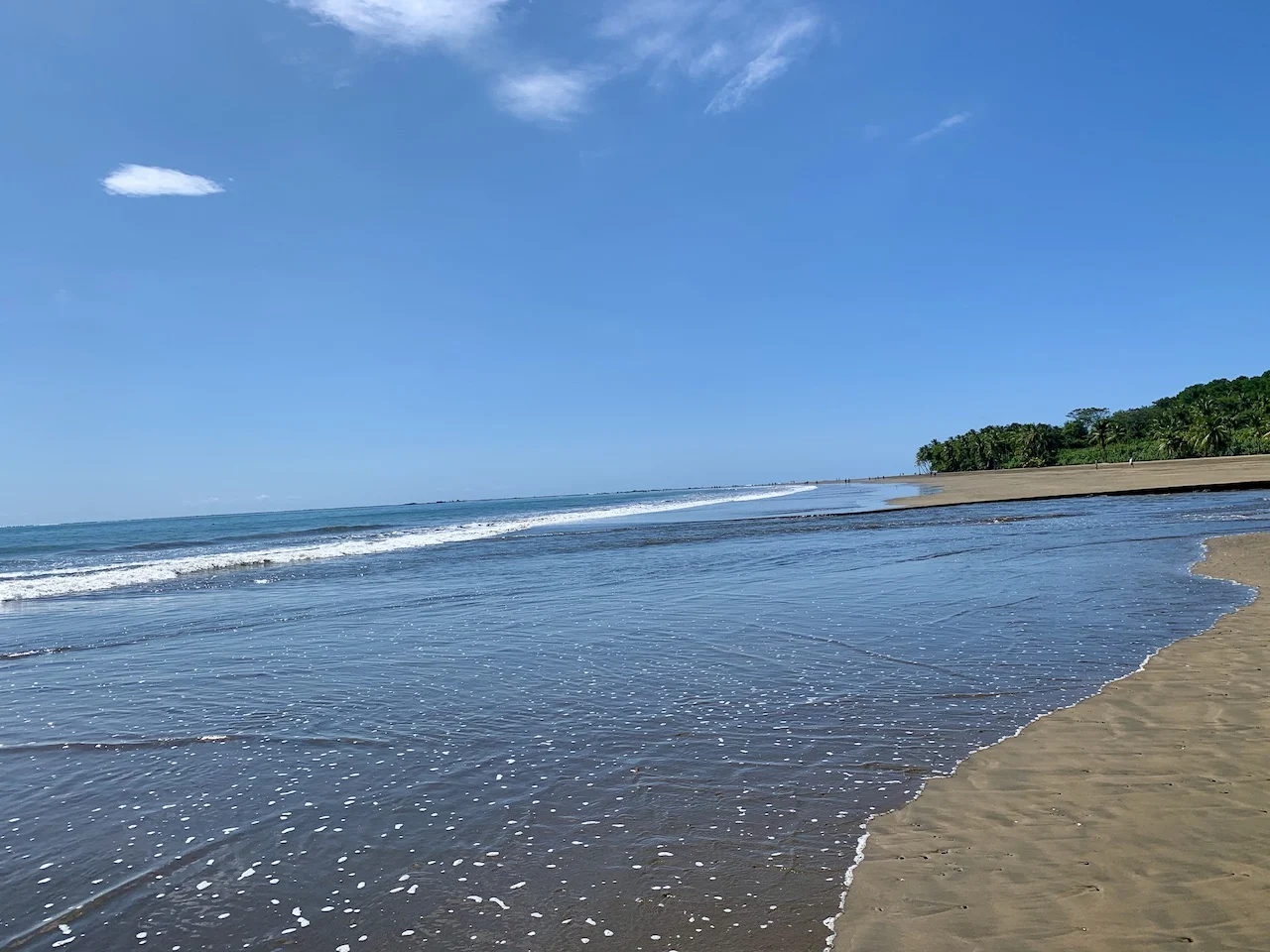 3) Uvita Beach Hours & Entrance Fee
Since Uvita Beach is part of the protected Marino Ballena National Park, you will find there is an entrance fee to visit with certain opening hours.
Opening Hours: 7:00AM – 4:00PM
Entrance Fee: $6 USD
There is a main entrance to the National Park, which I marked down on the map above. Once you reach the entrance, you can simply purchase a ticket from the booth and head onto the beach itself.
Note that there are additional entrances along the coastline too if you are trying to visit a different part of the wider beach.
Parking: if driving to the beach, you will find a parking lot just nearby the entrance charging ~$4 to park. In addition, you will also come across other local parking lots along the street leading up to the main entrance. These should all be in that $4-$8 range depending on where you end up.
Considering travel insurance for Costa Rica?

World Nomads offers coverage for more than 150 adventure activities as well as emergency medical, lost luggage, trip cancellation and more.

For years, World Nomads has been protecting, connecting & inspiring independent travelers, offering travel insurance & safety advice to help you travel confidently. Their mission is to support and encourage travelers to explore their boundaries.

World Nomads has simple and flexible travel insurance that has been designed by travelers for travelers. Even if you leave home without travel insurance or your policy runs out, you can buy or extend out on the road.

Get a quote for a World Nomads travel insurance policy today!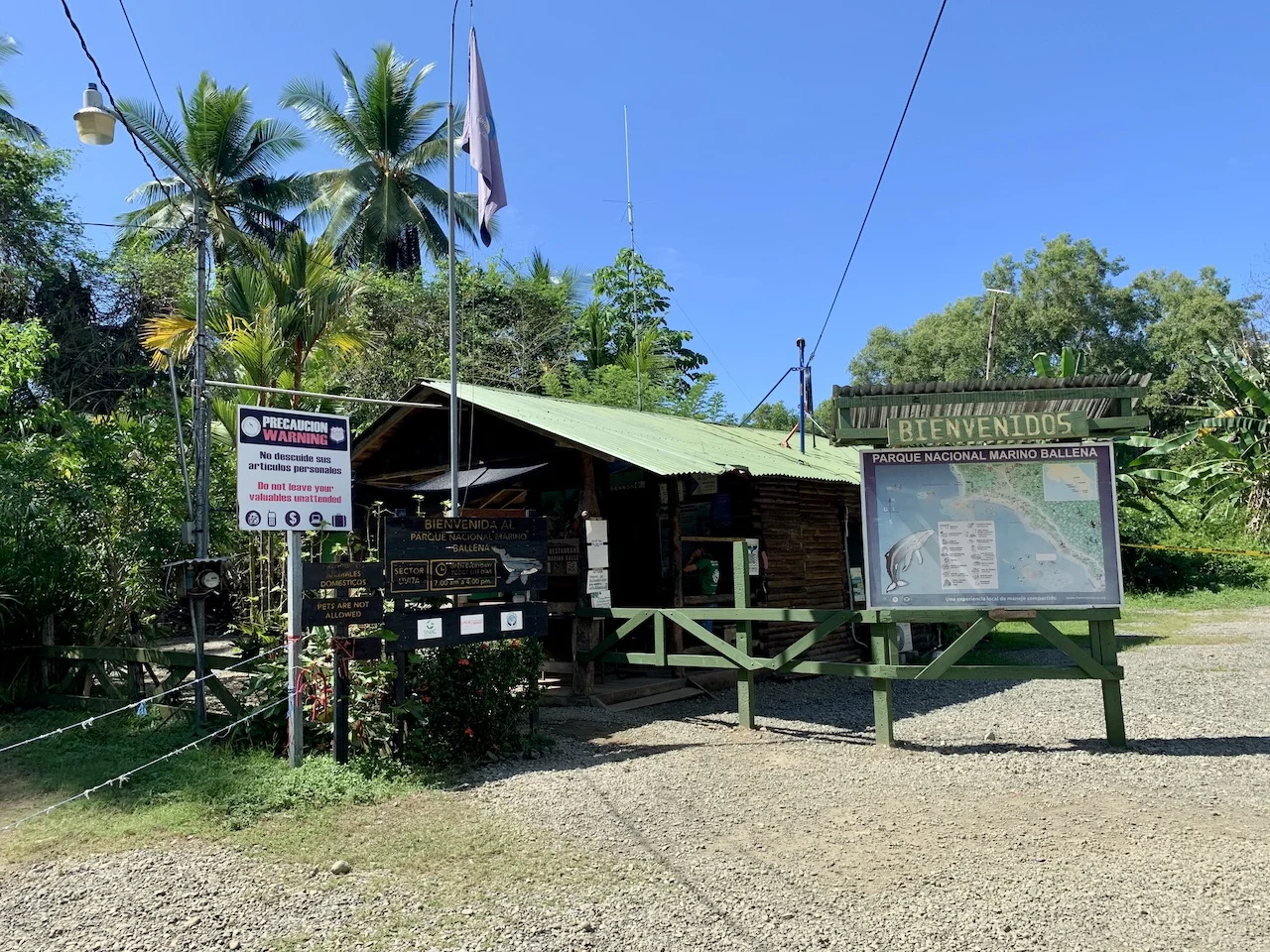 4) Uvita Beach Access
Immediately after making your way through the entrance of the National Park you will be welcomed to the large unobstructed Uvita Beach.
As you walk along the beach, you will find estuaries that pour into and out of the nearby mangrove areas.
Depending on the tide (more on that soon), you may just be able to walk right across or you may need to wade across if the tide is higher.
But all along the area here you should find places to lay out and relax if you are trying to just enjoy some time on the sand.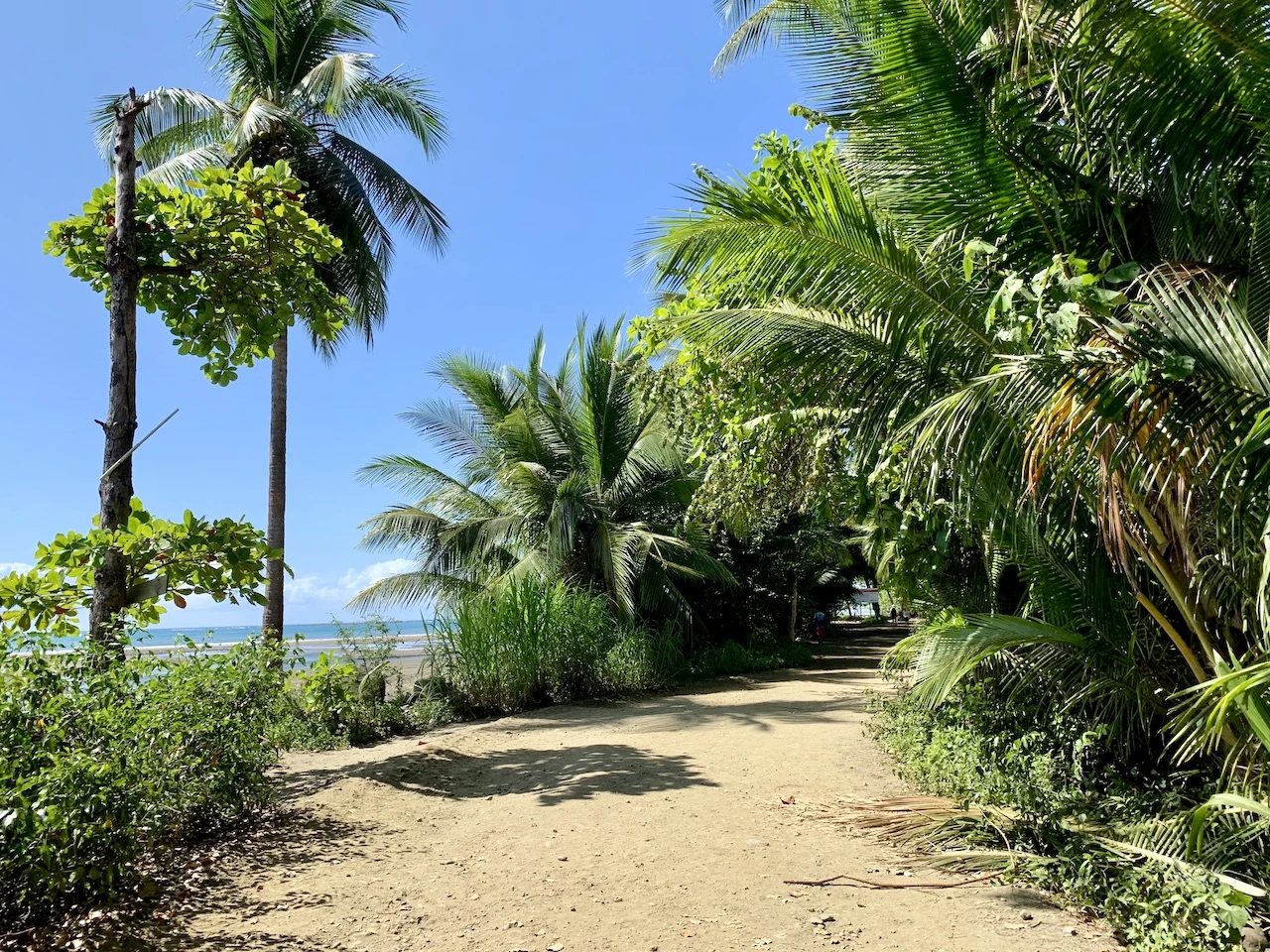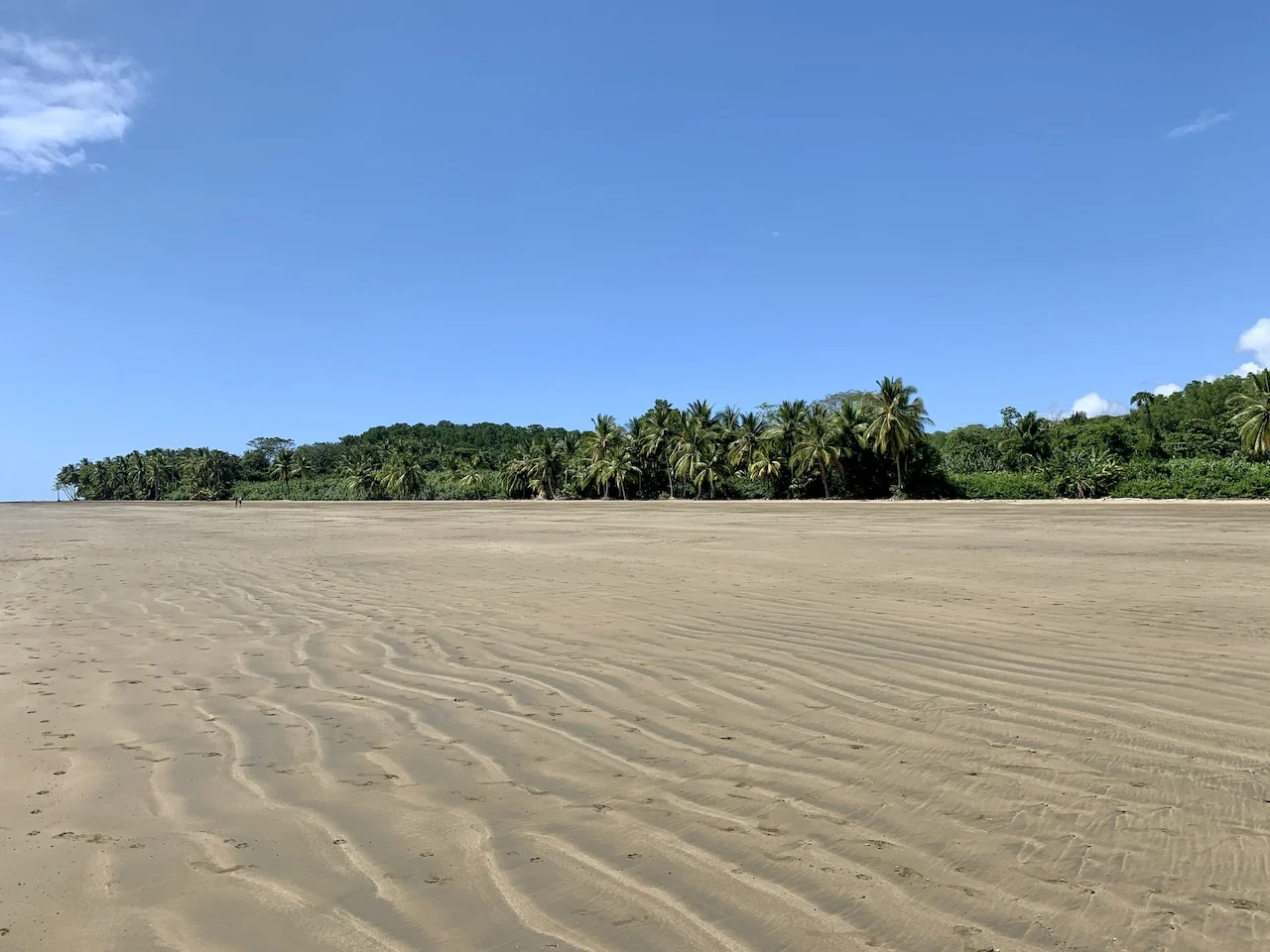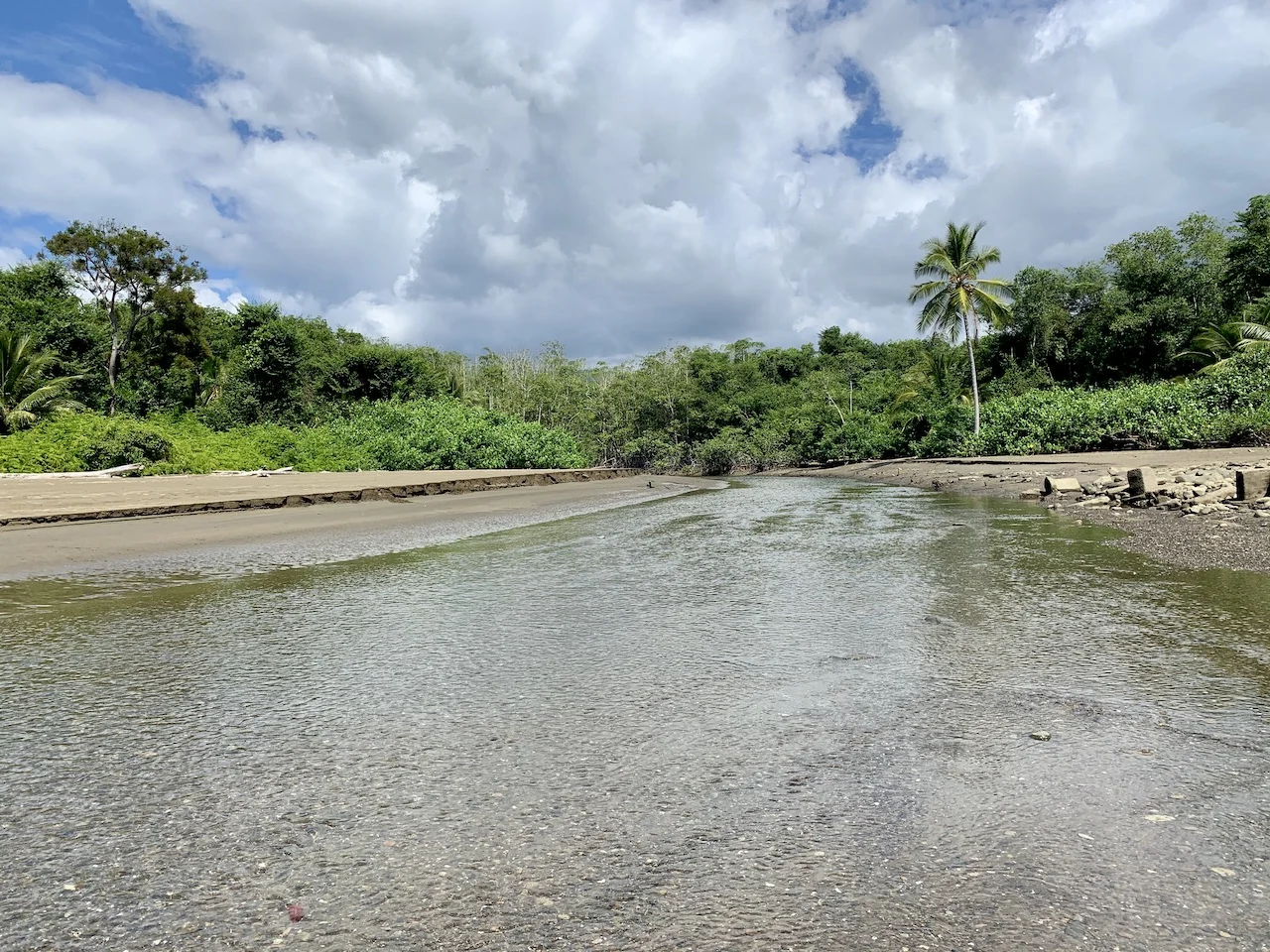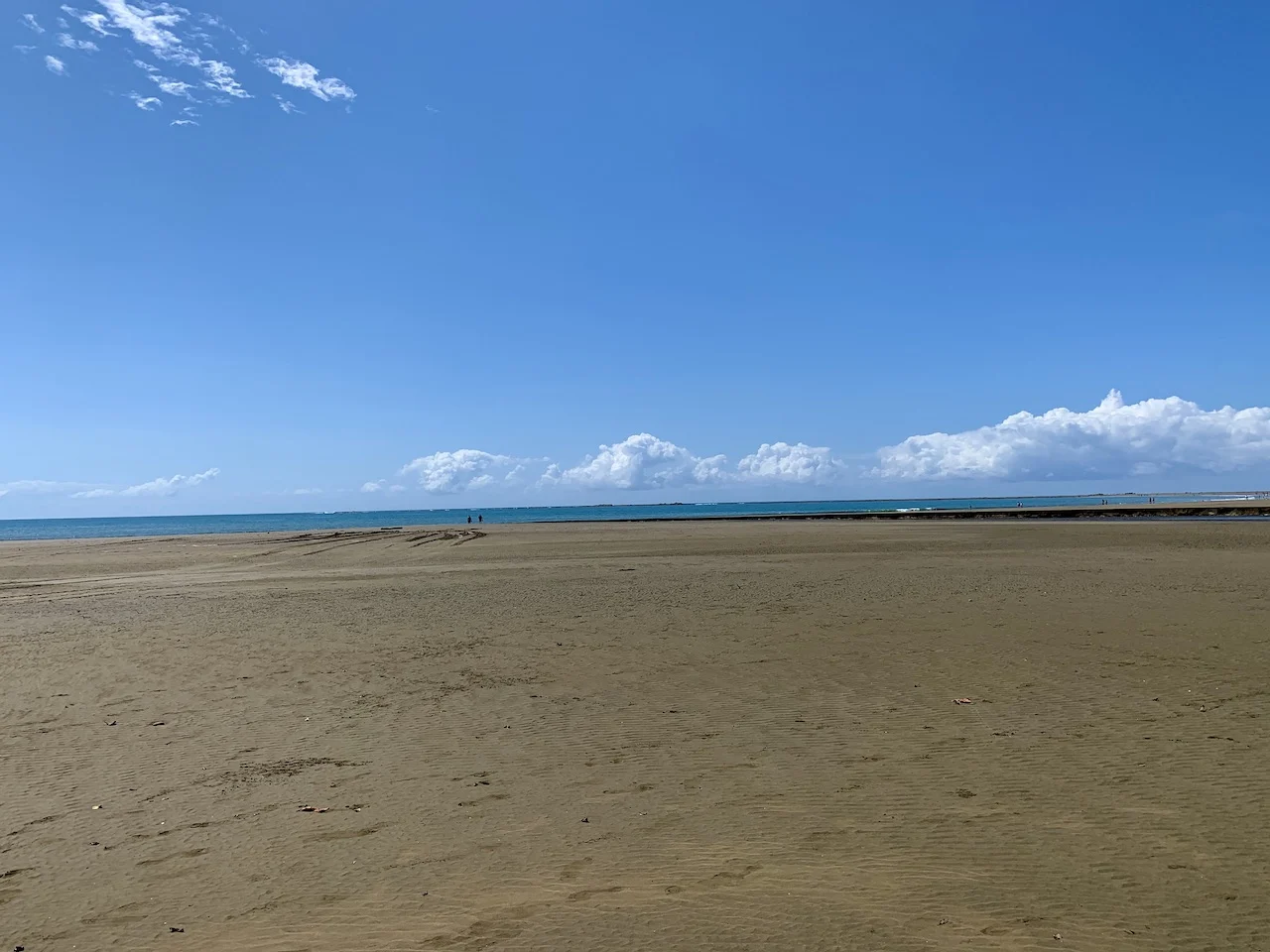 In addition to the main Uvita Beach, you will find additional beaches all nearby. These include Playa Pinuela, Playa Ballena, Playa de Arco, Playa Colonia, and Playa Hermosa (other side of the sandbar).
While all of these beaches are technically along the same long piece of sand, you may find it easier to head to another entrance of the National Park to visit them.
See the photo below for the various beaches and where some of the lesser visited entrance areas are located.
5) Whale's Tail Punta Uvita
While the beach itself is certainly a top reason to visit, so is the famous whale's tail.
This natural sand and rock formation comes to be during low tide, when the water gets low enough for the sand & rock whale's tail shape to be seen.
Although the aerial view of the whale's tail is quite a unique landscape to take in, you unfortunately won't really be able to see the shape at ground level. Unless you have a drone, you will simply see a rock and sandbar jutting out into the ocean.
Nonetheless though, this is a great place to explore during your time on Uvita Beach. The first part of the tail is going to be sandy, however as you walk further along, the formation becomes rockier.
From the main entrance of the National Park, simply follow the path to the right hand side, walk the sand, and cross over the estuaries until you reach the base of the tail. It should take 20-30 minutes to reach the tail from the beach entrance.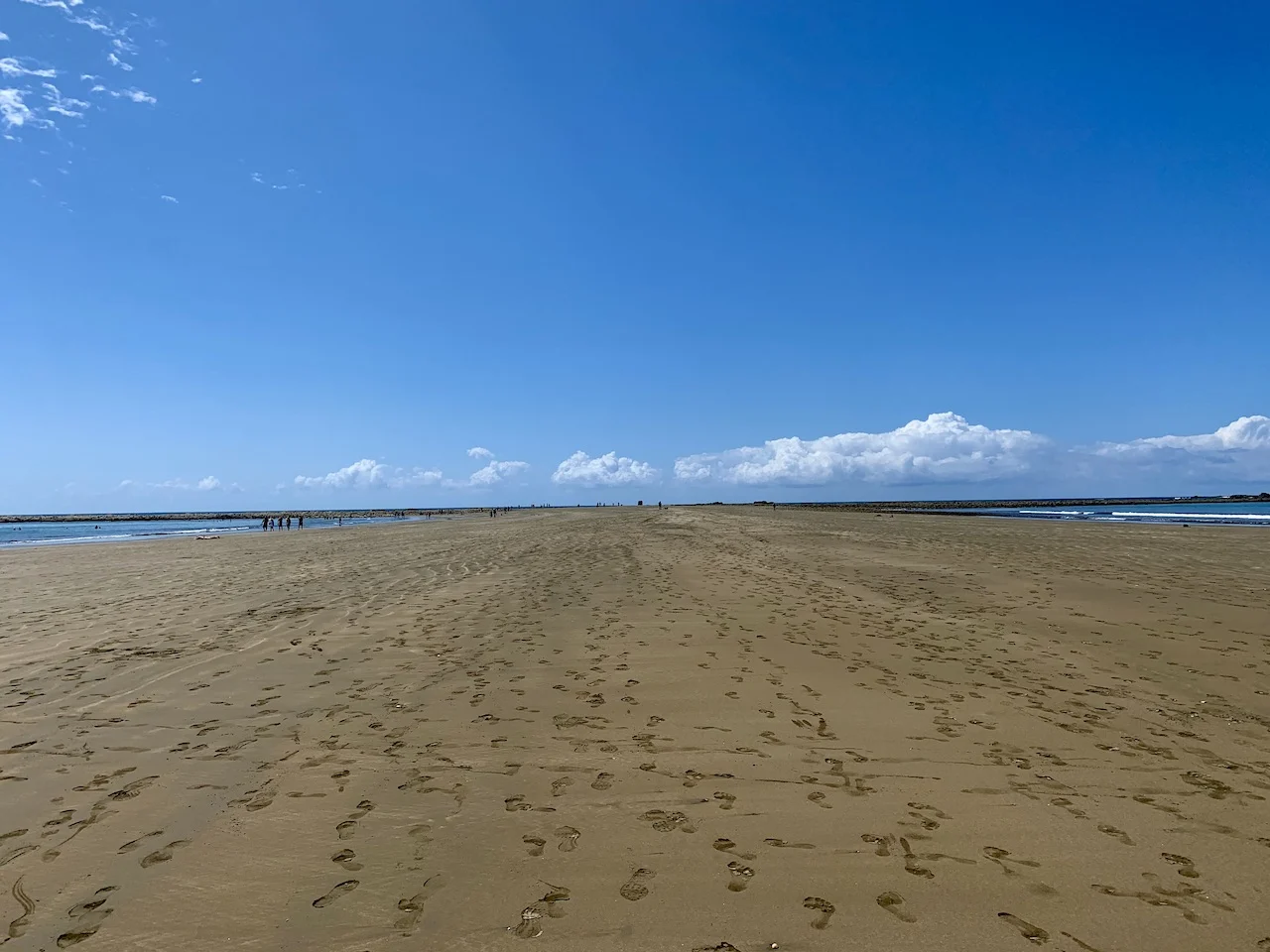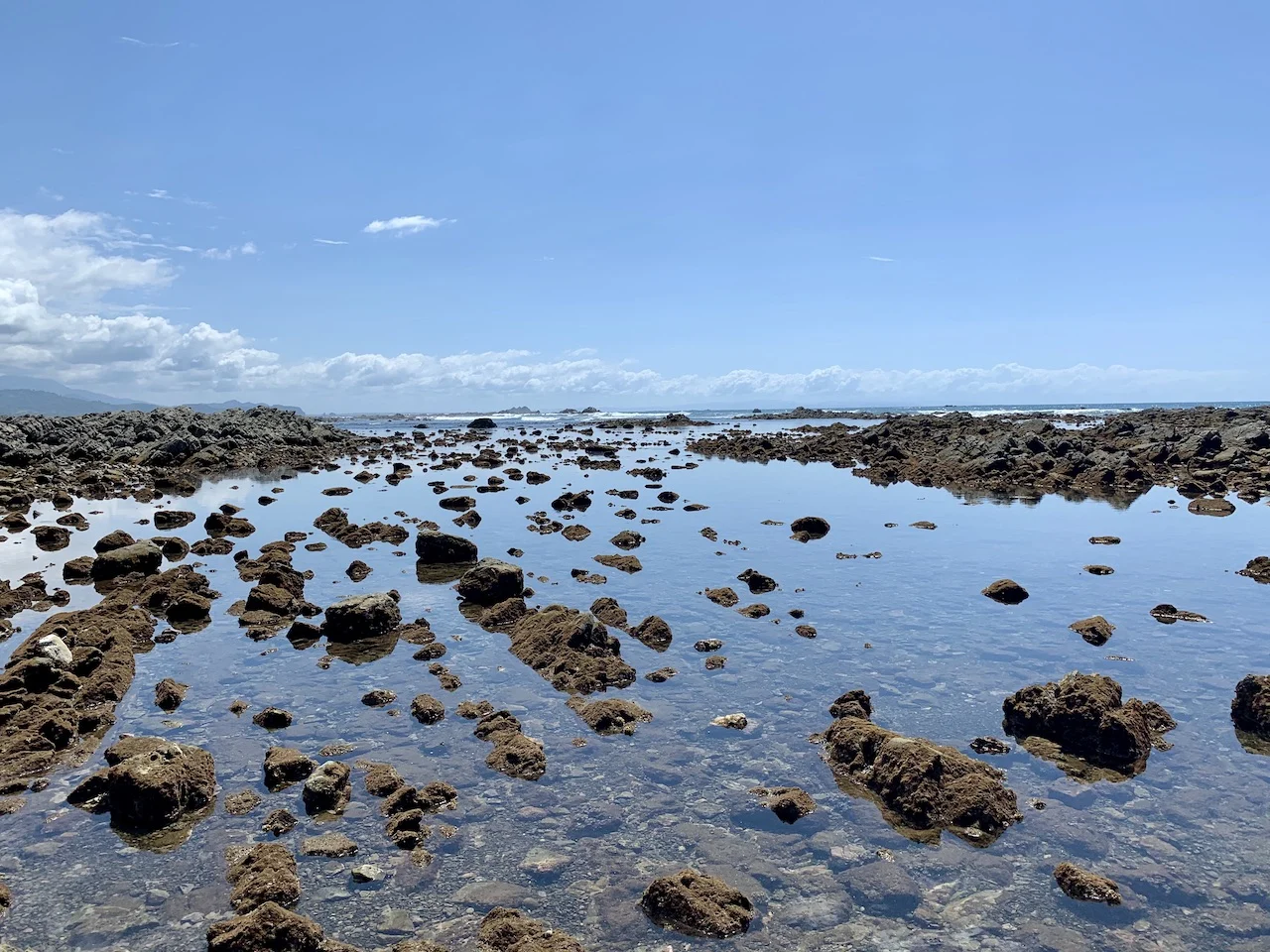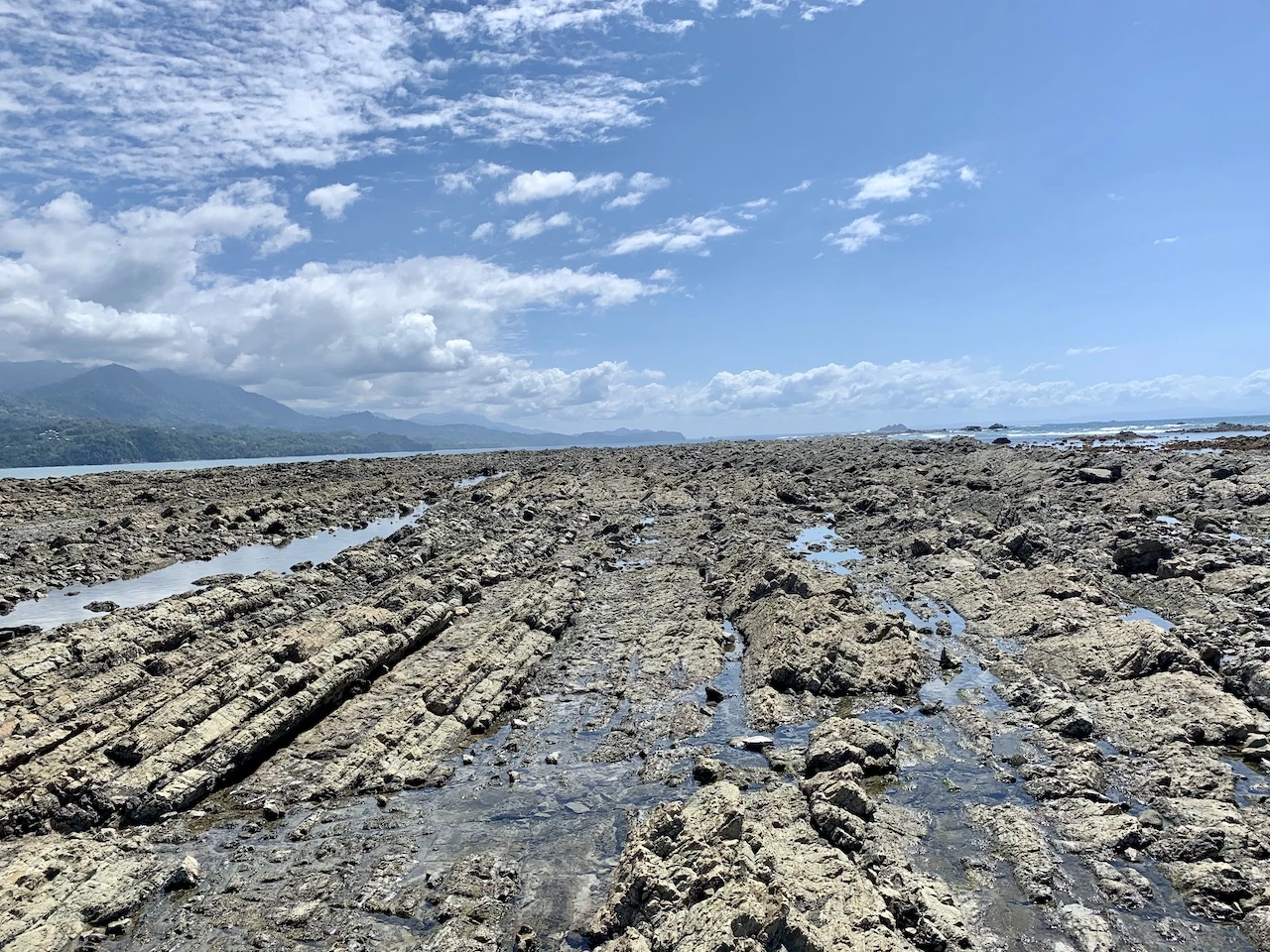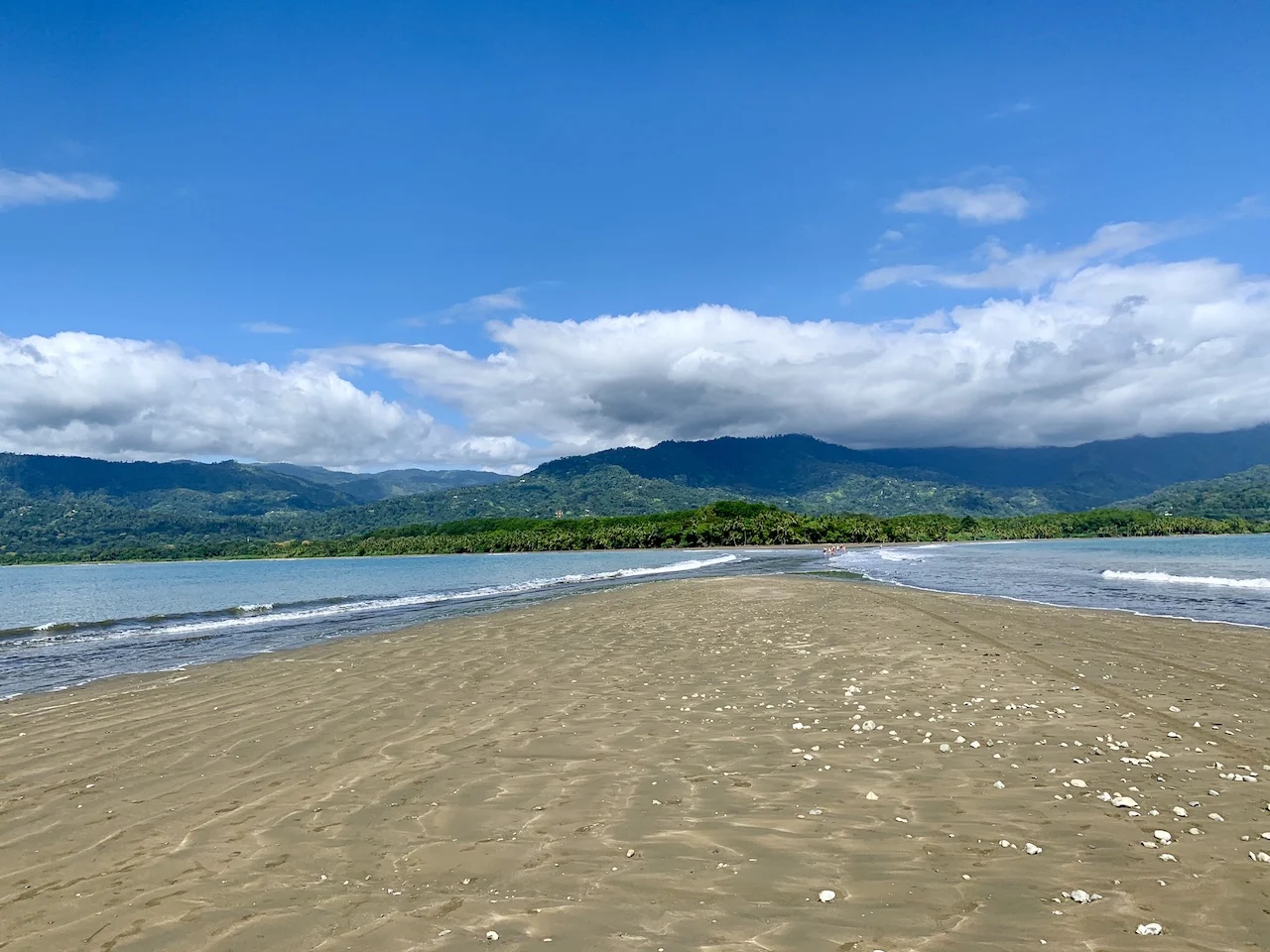 6) Uvita Beach Tides
The only way to visit the whale's tail portion of Uvita Beach is if you visit during low tide. If you visit during mid or high tide, you will find that some or all of the sand/rock bar to be covered with water.
However, if you visit during low tide (+/- ~1 hours), you should be good to go in regards to actually walking along the tail.
Tide schedules vary by day and time of year, so feel free to take a look at the Uvita tide tables to better plan your trip.
A quick warning here in general. Be careful if you are visiting after low tide. While you may have little trouble walking out to the tail, you may run into some trouble if spending too much time out there.
As it gets further away from low tide, you will see the water covering more and more of the ground. This can be dangerous with all of the rocks around the area.
Be sure to turn around and get back to the beach prior to the water rising too high.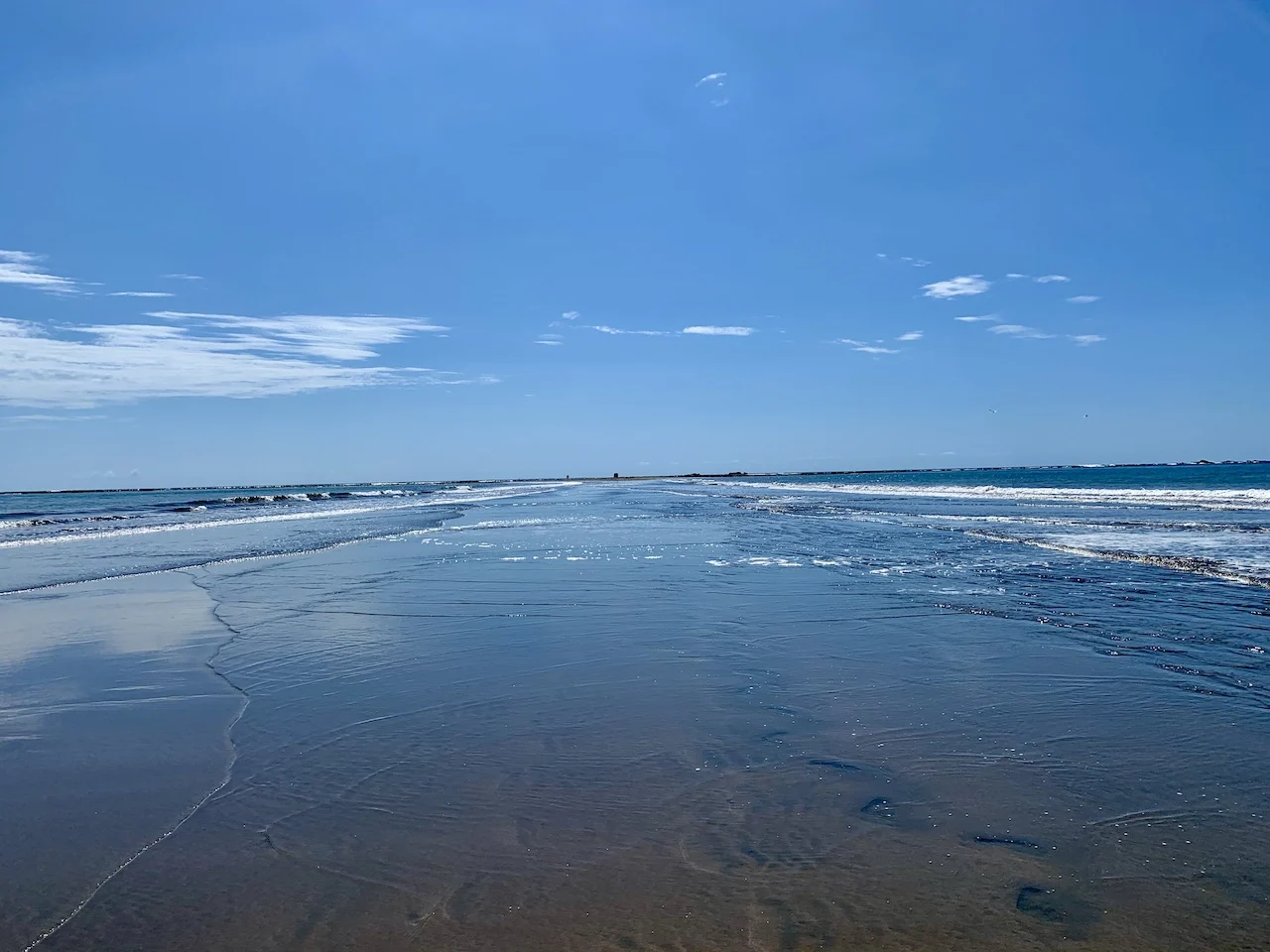 7) Other Things to Do
In addition to just enjoying the beach and the whale's tail, there are other activities to do around the Marino Ballena National Park area. Some of the highlights include:
Whale Watching
When it comes to whale watching in Costa Rica, it doesn't get much better than Marino Ballena National Park.
There are two main seasons to see whales in the area – from December to April (when the northern humpback whales migrate south) and from July to November (when the southern humpback whales migrate north).
In addition to spotting whales along the waters, you may also come across other wildlife such as dolphins and turtles. While nothing is ever guaranteed when it comes to spotting these animals, it is still one of the best places to get the chance to see them.
If you are interested, feel free to book this highly recommend Uvita Whale Watching tour that will get you out on the ocean.
Scuba Diving & Snorkeling
While seeing the marine life from a boat is one way to go about a trip into the National Park, you also can enjoy the underwater life too.
Scuba diving and snorkeling tours offer the chance to actually get into the water.
These types of experiences will be more geared towards exploring the coral reefs and the variety of fish that can be found in the National Park's waters.
There are several companies that offer these types of experiences if it is of interest to you. Most just offer tours in the dry season as the water visibility is much clearer during that time.
Uvita Waterfall
Costa Rica is full of waterfalls throughout the country. One of my favorite ones to visit is the Uvita Waterfall, located just outside of the town center.
The waterfall requires a short hike to get to, but once you arrive you will be greeted to a waterfall pool to swim in surrounded by lush greenery.
What makes this experience even more unique is that you can actually slide down the waterfall itself.
There is a natural waterfall slide that you are able to take part of if you are up for an exhilarating experience.
→ Learn more about it in the Uvita Waterfall overview up on the site.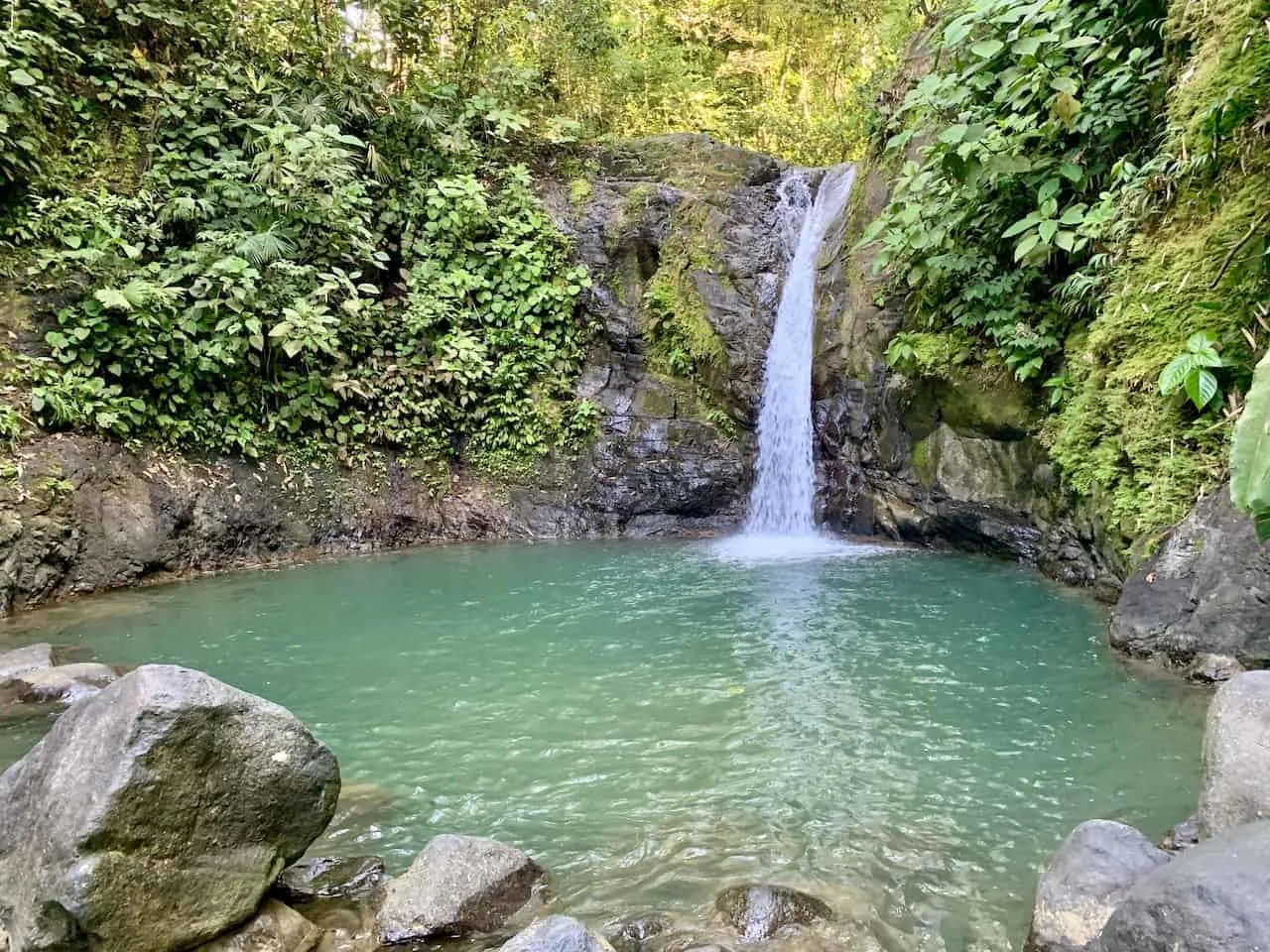 8) Where to Stay in Uvita
Uvita is a great spot to base yourself for a few days to enjoy some beach time and the Marino Ballena National Park.
It is a bit of a quieter place to stay as you take some time to relax and explore the Uvita Beach along the way.
Below are three highly recommend options when it comes to accommodation options in Uvita:
→ Cristal Ballena Boutique Hotel & Spa
Note that these hotels are not directly within downtown Uvita, but are all within a quick drive to both the beach, and the town center.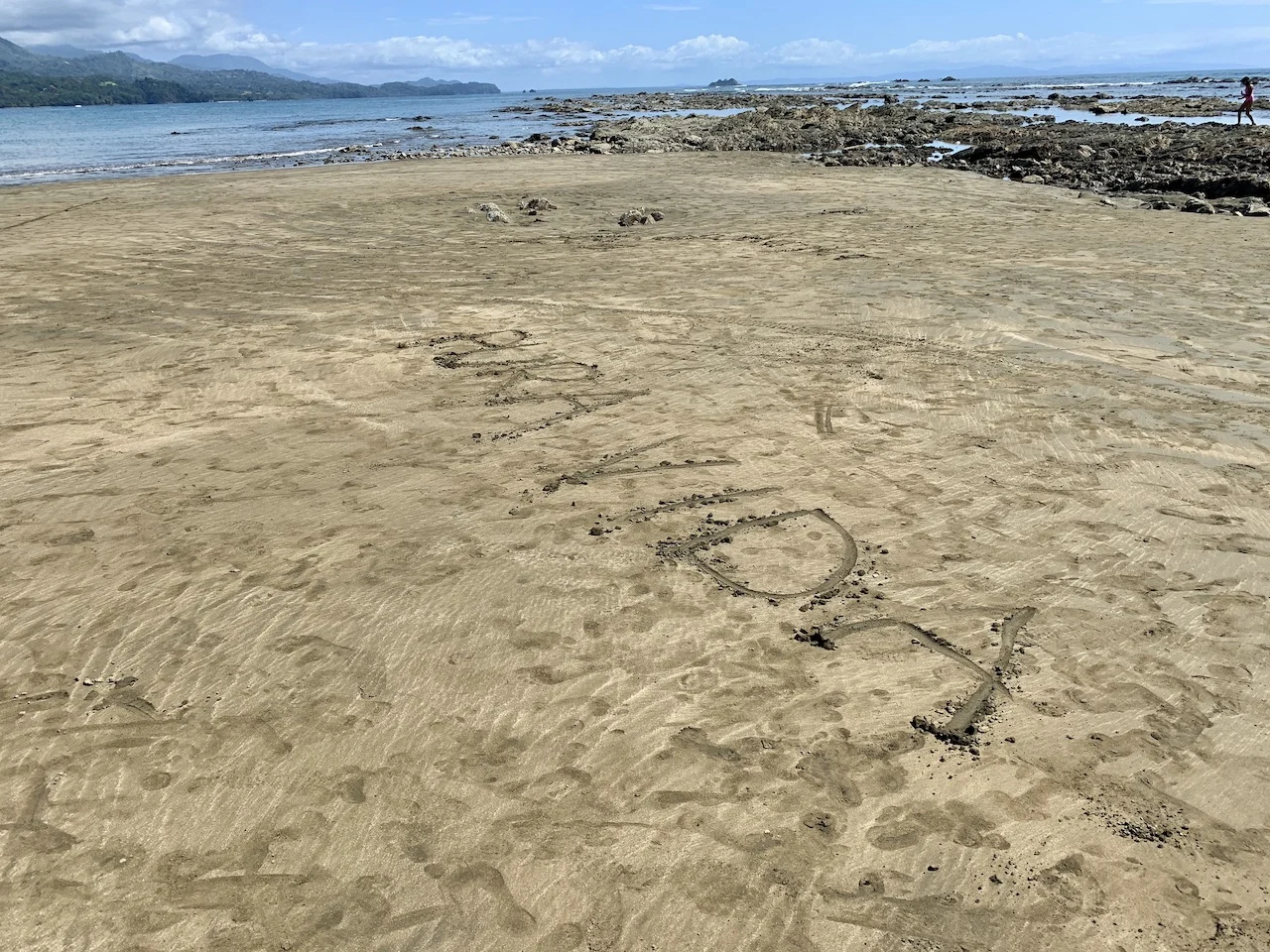 I hope you enjoy your time visiting Uvita Beach and the larger Marino Ballena National Park during your visit to Costa Rica.
If you have any questions or comments, feel free to add them in below. Also, don't forget to check out the other Costa Rica itineraries and guides up on the site.
Have fun out there and safe travels!