If you are heading to Costa Rica and are looking to enjoy some waterfalls, a visit to the Catarata del Toro waterfall is a must. This 270-foot waterfall is one of the tallest in the country as well as one of the most scenic.
Not only do you get to enjoy several viewpoints from above, but you also have the chance to hike down to the bottom of the falls. When it comes to unique Costa Rican experiences, Catarata del Toro checks off all the boxes.
This guide will go through all you need to know about the Catarata del Toro waterfall and help answer your questions along the way.
* Affiliate Disclosure: This post may contain affiliate links, which means I may receive a commission if you make a purchase through the links provided, at no additional cost to you. Thanks for supporting the work I put into TripTins!
1) How to Get to Bajos Del Toro
The Catarata del Toro waterfall is located in the Alajuela Province just outside of the town of Bajos del Toro.
Due to its relatively remote location, there is no public transportation to get you to Bajos del Toro. The only way to get yourself to the town and waterfall is by rental car or private transport (or even Uber).
→ Feel free to take a look at Rentalcars.com for a variety of car options to choose from for your trip to Costa Rica. You will be able to filter by price, car type, rental company, & more to find the best car rental for your trip.
Depending on your overall itinerary, there can be a few different places and ways that you may going about your trip:
→ My recommendation would be to do a day trip to the waterfall if staying near places like the Poas Volcano or La Paz Waterfall Gardens (1-1.5 hour drive).
→ Alternatively, you could also add in the waterfall during a travel day from the Poas/La Paz area towards La Fortuna as an example.
That way, instead of just driving straight from Poas/La Paz to La Fortuna, you can split up the day with a nice visit to Catarata del Toro.
Below you can see a screenshot of the route towards Catarata del Toro.
While the route is paved throughout, it can get a bit twisty and curvy along the drive. You will also find in certain spots, the road isn't as maintained as you will find pot holes and bumps along the way.
While the drive from La Paz to Catarata del Toro is just 25 miles (40 km), the drive itself will take a bit more than an hour.
Catarata del Toro Parking GPS Coordinates: 10.254321, -84.271354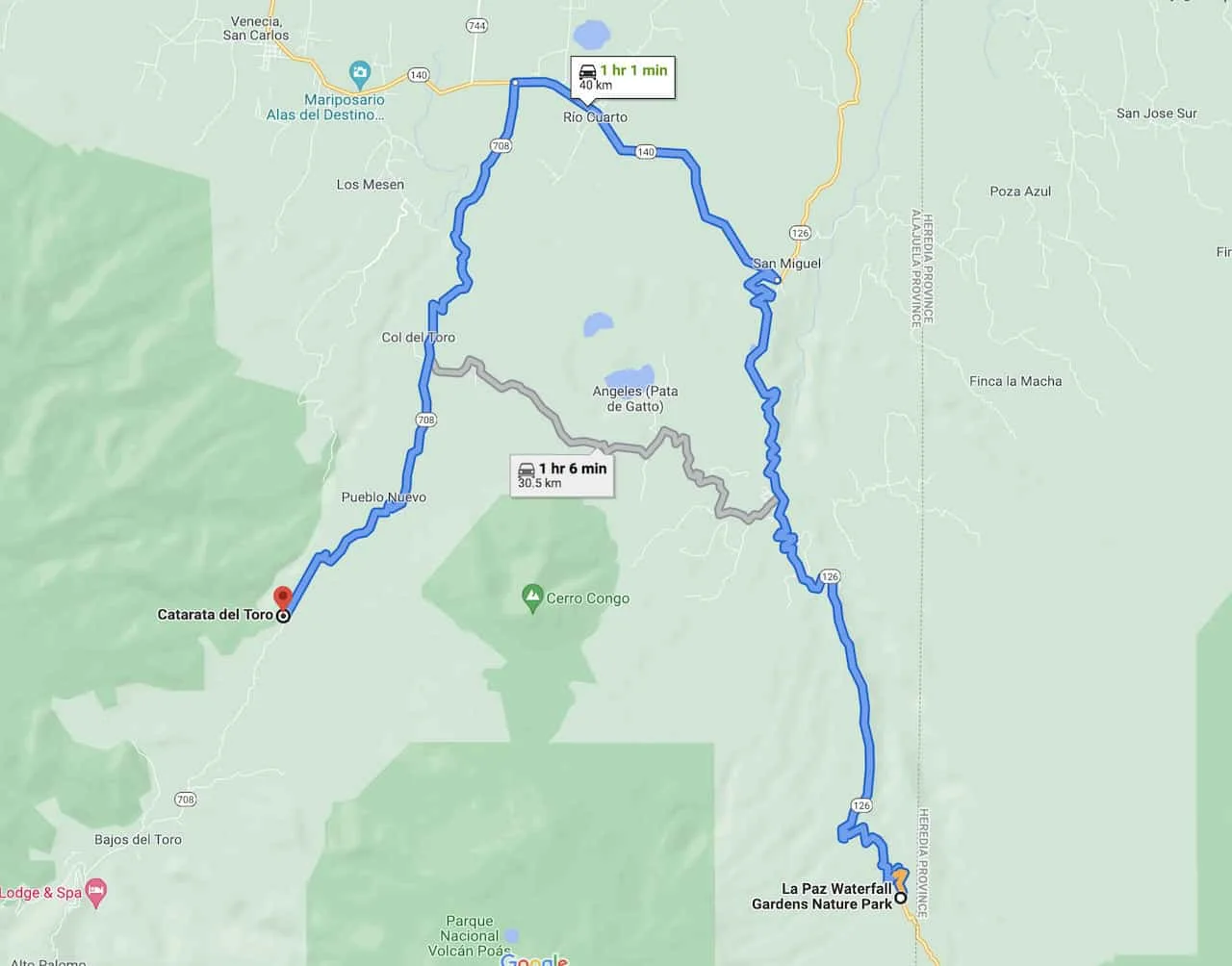 2) Bajos Del Toro Hotels
Instead of day tripping to the waterfall, another option here is to stay a night or two in Bajos Del Toro. This small town is home to several lodges that are surrounded by greenery and nature.
Getting to spend some time off the main tourist path and within a town like this is sure to be a highlight of your overall Costa Rica experience.
If you do decide to stay in Bajos Del Toro, I would highly recommend the El Silencio Lodge & Spa. The lodge is located just 15 minutes away in the lush Costa Rican rainforest. A little background of the lodge itself:
» Set in Costa Rica's Central Volcanic Valley, El Silencio Lodge & Spa features 500 acres of private tropical forest reserve.
» It offers a spa and stylish Suites with stunning mountain views. Set on a mountainside, the accommodations offer views of the mountains, the river and the forest. There is a seating area and a private bathroom with a hot tub.
» Los Ventanales Restaurant serves local dishes with fresh ingredients. The property has a private vegetable garden which supplies most of the organic herbs and vegetables.
» The Esencia spa offers relaxing massages, facials and body wraps. There is also a spacious yoga deck. The area is ideal for hiking, yoga and meditation. This eco-luxury hotel is close to Juan Castro Blanco National Park and the Poas Volcano National Park.
Book your stay at El Silencio today since rooms can get booked up here!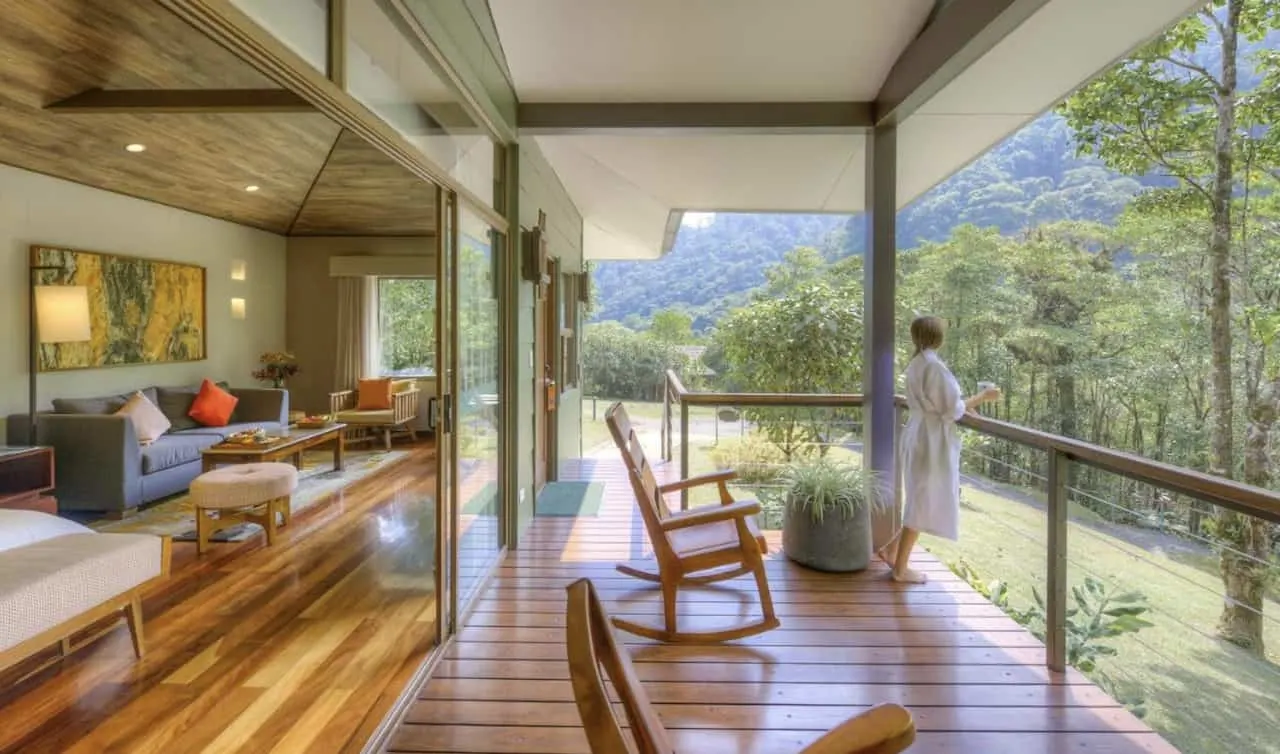 Alternatively, if you would like to stay closer to the Poas Volcano or La Paz Waterfall Gardens, I would recommend the Poas Volcano Lodge or the stunning Peace Lodge hotel.
3) Catarata del Toro Hours & Prices
Since the land surrounding Catarata del Toro is privately owned, there are certain hours and days that the waterfall is open to the public. On top of that, there is a fee to enter the property.
The Catarata del Toro hours are 7AM – 5PM from Monday to Saturday. The waterfall is closed on Sundays.
It costs $14 USD for adults, $7 USD for kids 4-12, and $7 USD for seniors 65 and above.
Other add ons include:
Blue Falls: $15 USD adults / $7.50 USD for kids and seniors (light program); $50 USD (full program – adults only)
Combo Catarata del Toro & Blue Falls Light: $25 USD adults / $12.50 USD for kids and seniors
Lunch: $12 USD
There are also 2 private rooms on the property that fit 2 adults each. The price for one night is $65 USD, which includes entrance to Catarata del Toro and breakfast.
» If you enjoy your experience here, you should also check out the famous La Fortuna Waterfall near the Arenal Volcano.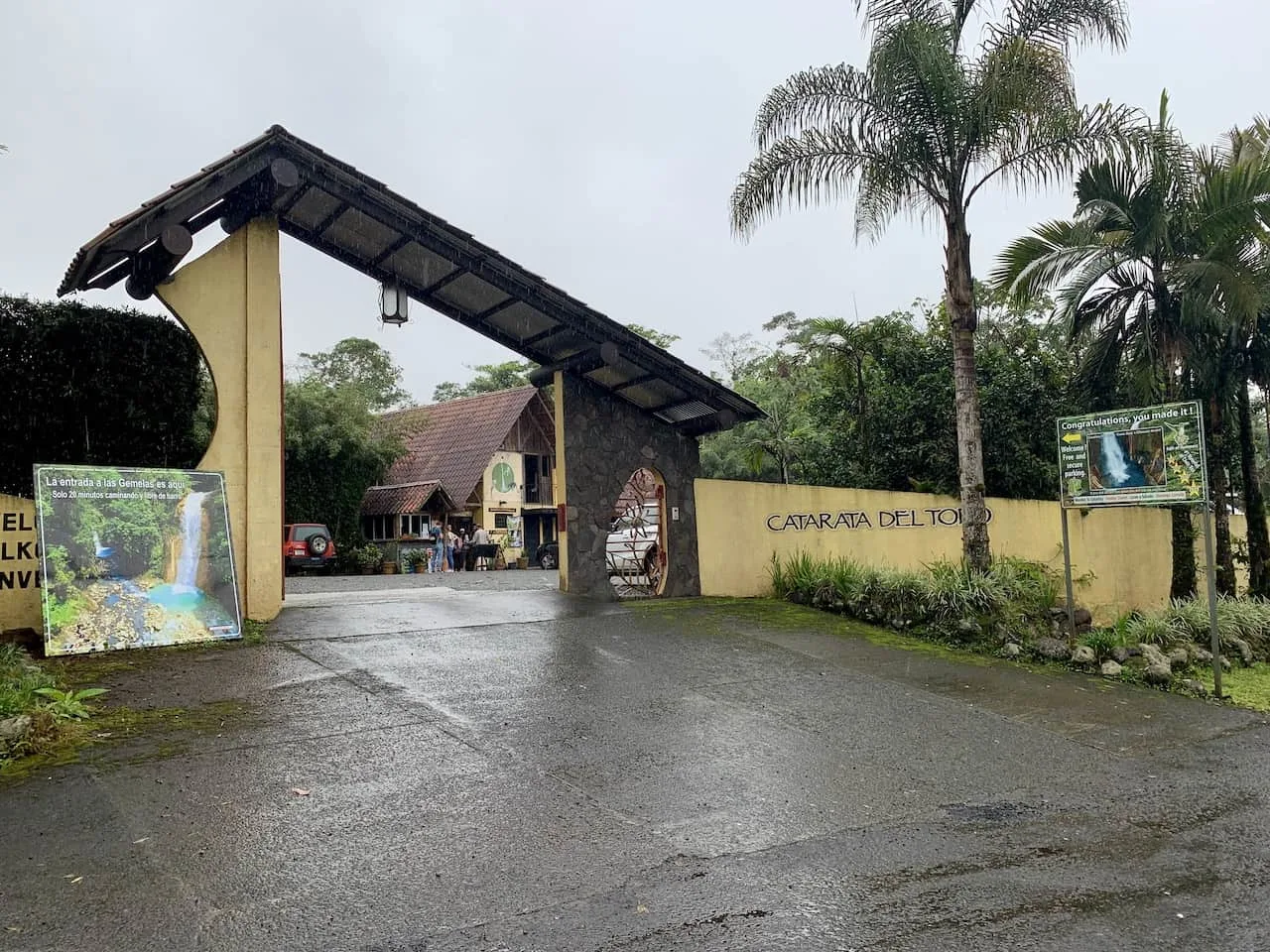 4) What to Bring
The below is helpful not only for a visit to Catarata del Toro but also for a trip to Costa Rica in general.
Since it can rain on and off throughout the country, you should always come prepared with the right gear. Some of the must bring items include:
1) Dry Bag: since you may be getting wet during this experience I would highly recommend a dry bag to keep all your valuables safe. Take a look at this Earth Park Dry Bag to hold your belongings.
2) Hiking Shoes or Closed Toe Sandals: you will want to watch your step as you go down the path into the valley. Having hiking shoes or closed toe sandals will be your best bet here. I would not recommend going down with flip flops. Take a look at the Keen Targhee III that I have been wearing recently or these Keen Newport H2 Sandals.
3) GoPro: if you want to get up and close to Catarata Del Toro you can get wet. With that said, your camera equipment may get wet as well. Having a GoPro will solve some of those camera issues when dealing with water. Check out the GoPro Hero for your travels.
4) Quick Dry Towel: after getting all wet down in the bottom of the valley, it is nice to have a towel to dry off. This Rainleaf microfiber quick dry towel has been my go to when it comes to traveling.
-> Feel free to also take a look at my usual hiking packing list for even more great items to bring along with you!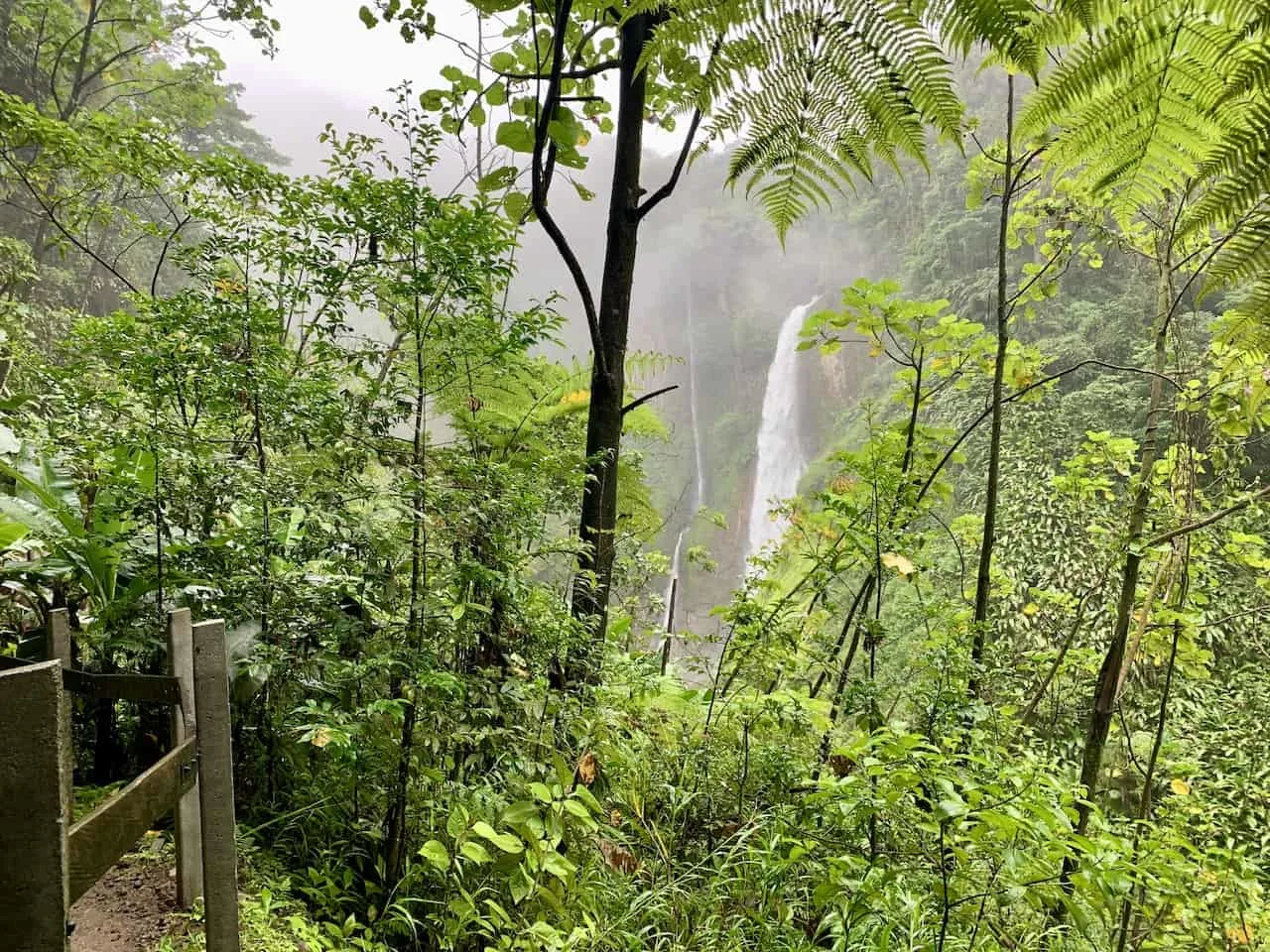 5) Costa Rica Travel Insurance
Considering travel insurance for Costa Rica?

World Nomads offers coverage for more than 150 adventure activities as well as emergency medical, lost luggage, trip cancellation and more.

For years, World Nomads has been protecting, connecting & inspiring independent travelers, offering travel insurance & safety advice to help you travel confidently. Their mission is to support and encourage travelers to explore their boundaries.

World Nomads has simple and flexible travel insurance that has been designed by travelers for travelers. Even if you leave home without travel insurance or your policy runs out, you can buy or extend out on the road.

Get a quote for a World Nomads travel insurance policy today!
6) Catarata del Toro Hike Details
When going about your day at Catarata del Toro, you can choose to take part of a hiking trail that will take you to three waterfall viewpoints, the nearby garden, and down to the waterfall itself.
Depending on your preference you can choose to do all three or just what you are most interested in.
Since the trail down to the waterfall does involve many steps (to go down and back up), it can be tough for some folks who are not suited for that sort of fitness.
Below are some helpful details for those who choose to take part of all of the offerings:
Distance: 2.2 miles / 3.5 km (round trip)
Duration: 90 minutes (+ additional time to enjoy at the viewpoints, garden, & waterfall)
Number of Waterfall Viewpoints: 3 (El Toro, El Palomar, La Vistada)
Number of Stairs to Waterfall: ~350 stairs
How Tall is Catarata del Toro: 270 feet / 82 meters
» There are 2 trails that you will see signs for during the Catarata del Toro hike – Ruta Catarata (waterfall route) and Ruta Jardin (garden route). Both of these routes start in the same place and share the same trail for the initial part of the hike.
Just before the steps down to the waterfall begin, is where the two trails split apart. To the right will be the gardens and to the left, down to the waterfall.
If you would like to go down to the waterfall and see the gardens, it does not matter which one you end up doing first.
» Visit the waterfall as part of a 10 Day Costa Rica Itinerary that I put together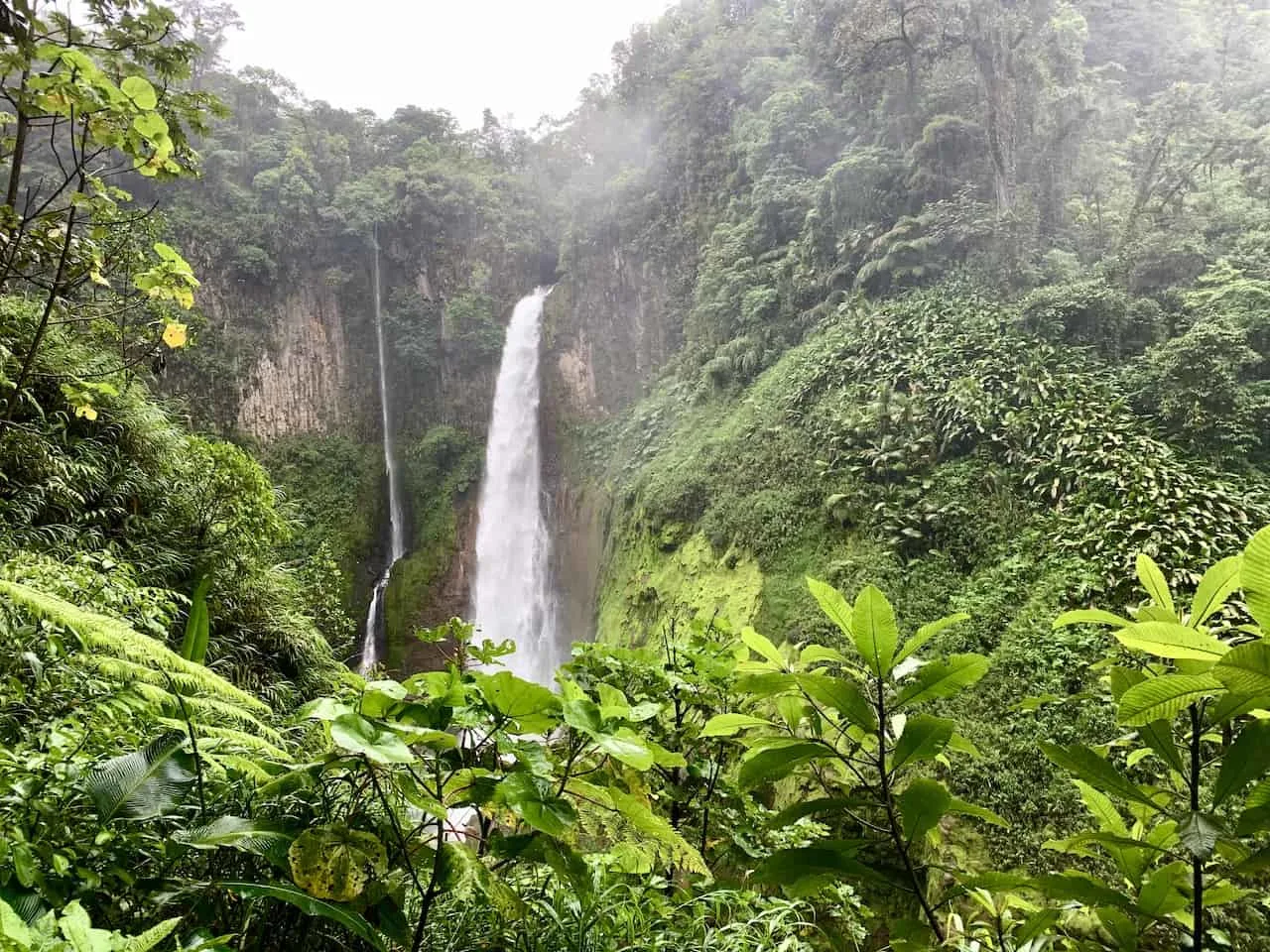 7) Catarata del Toro Overview
After getting yourself to the Catarata del Toro entrance, parking your car, and buying your tickets, it is time to head out on the trail.
If you want to have a bit of support going down and up those stairs, they do offer walking sticks to borrow for your time on the property.
The trail is well marked and easy to follow throughout so you should have no trouble making your way around the area.
The first part of the trail is nice and flat, and takes you along a path overlooking the waterfall down below.
Not only will you get to enjoy these nice viewpoints of the waterfall from above, but you also will be surrounded by the lush greenery landscape all around you.
Just after getting on the trail you will already come across the first viewpoint area as you get to see the waterfall dropping into the crater down below.
It will give you the first taste of what this beautiful natural attraction is all about.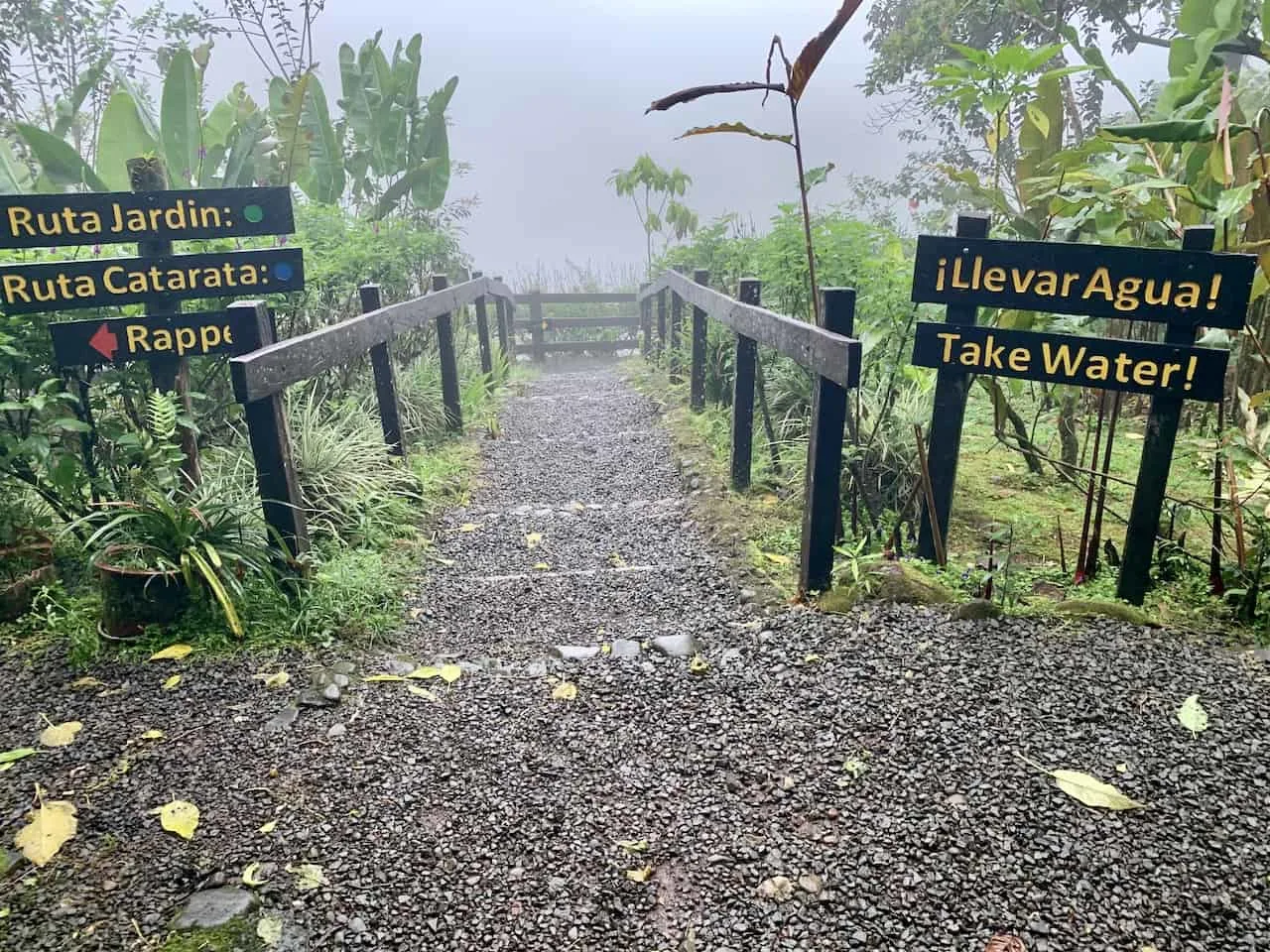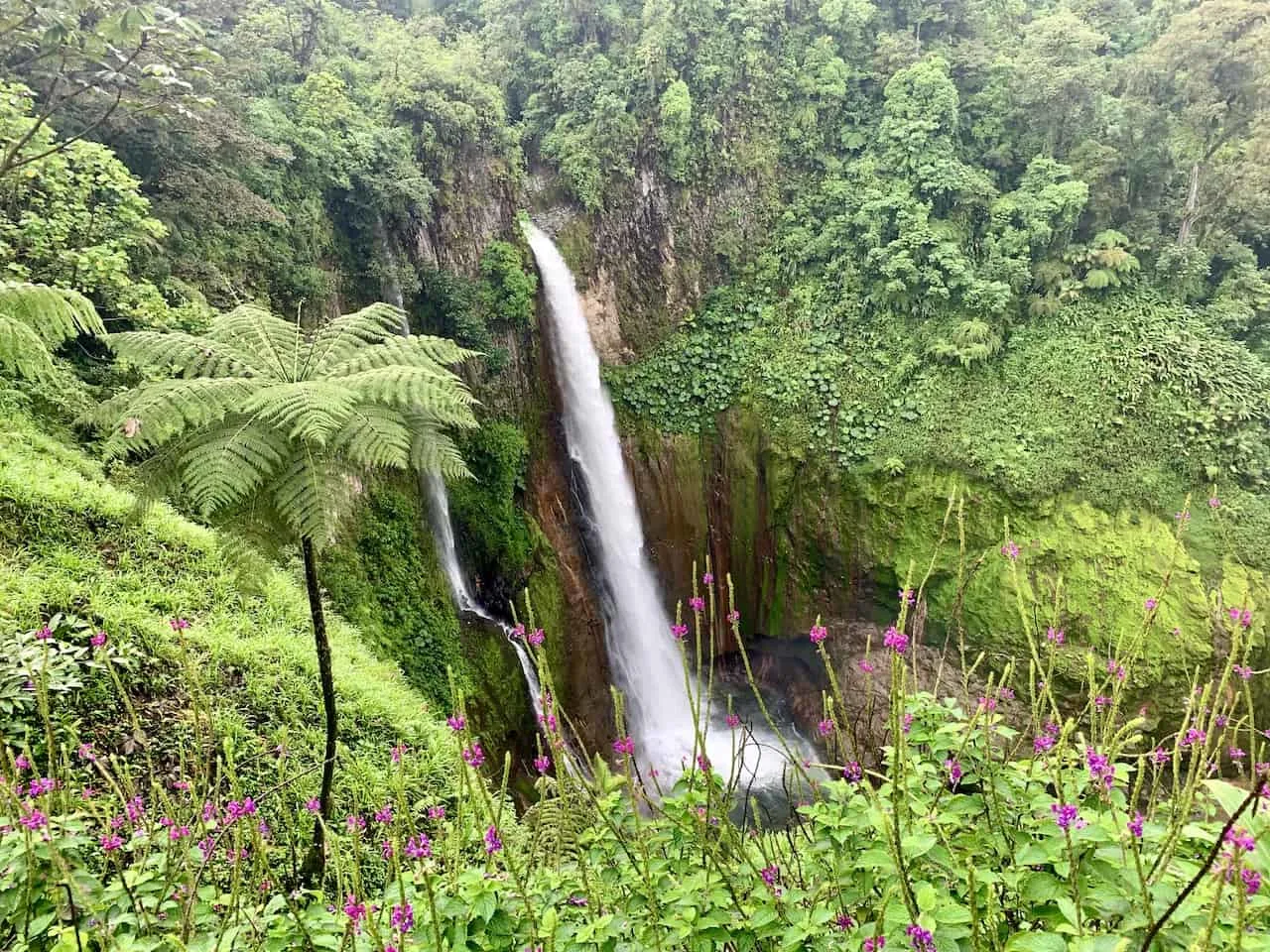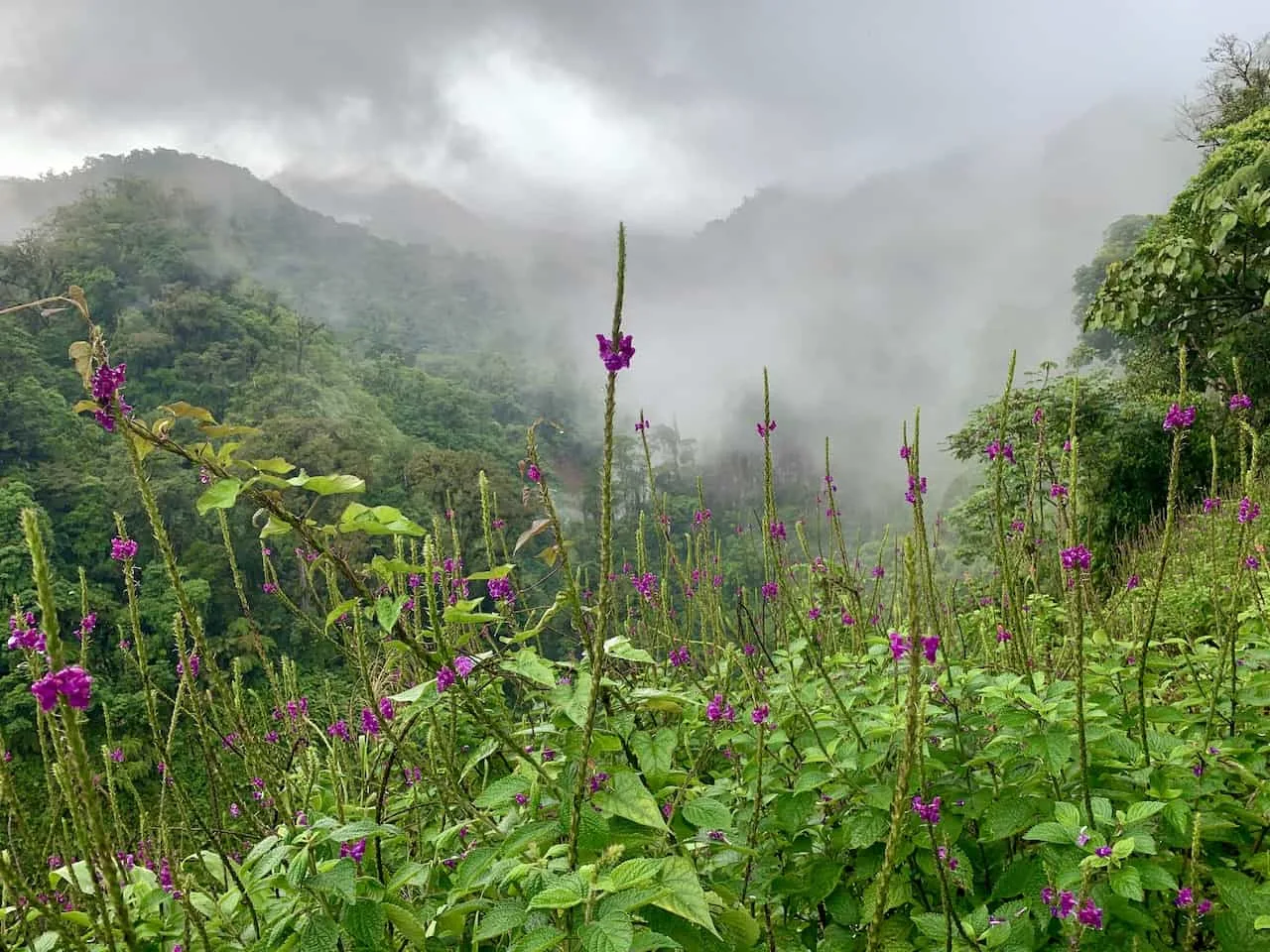 It is then continuing along the dirt trail until you reach the second viewpoint area, which will give you a direct line of site to the waterfall straight ahead.
During my visit to the waterfall, the low fog made the whole area have a more mystical feel to it.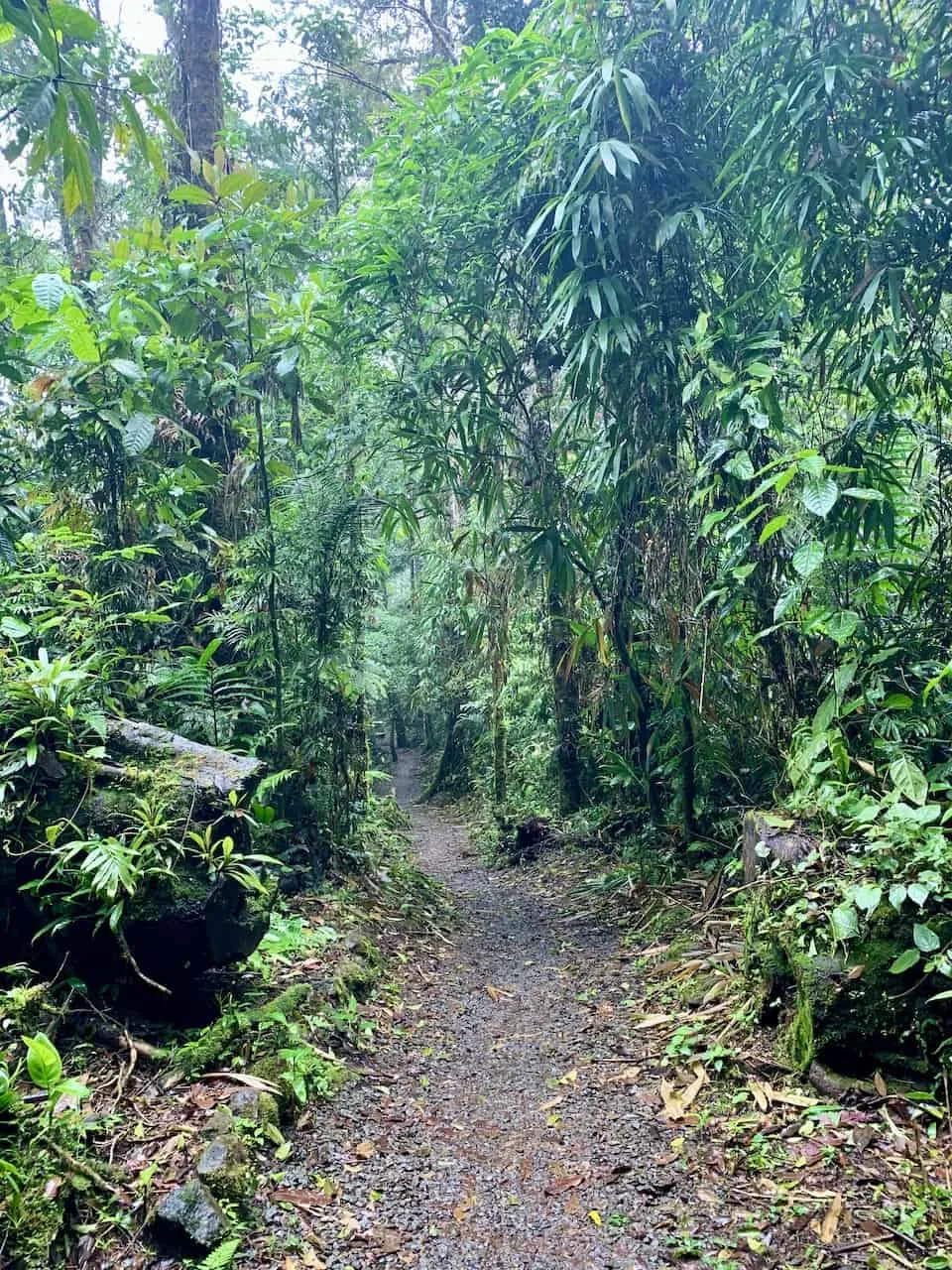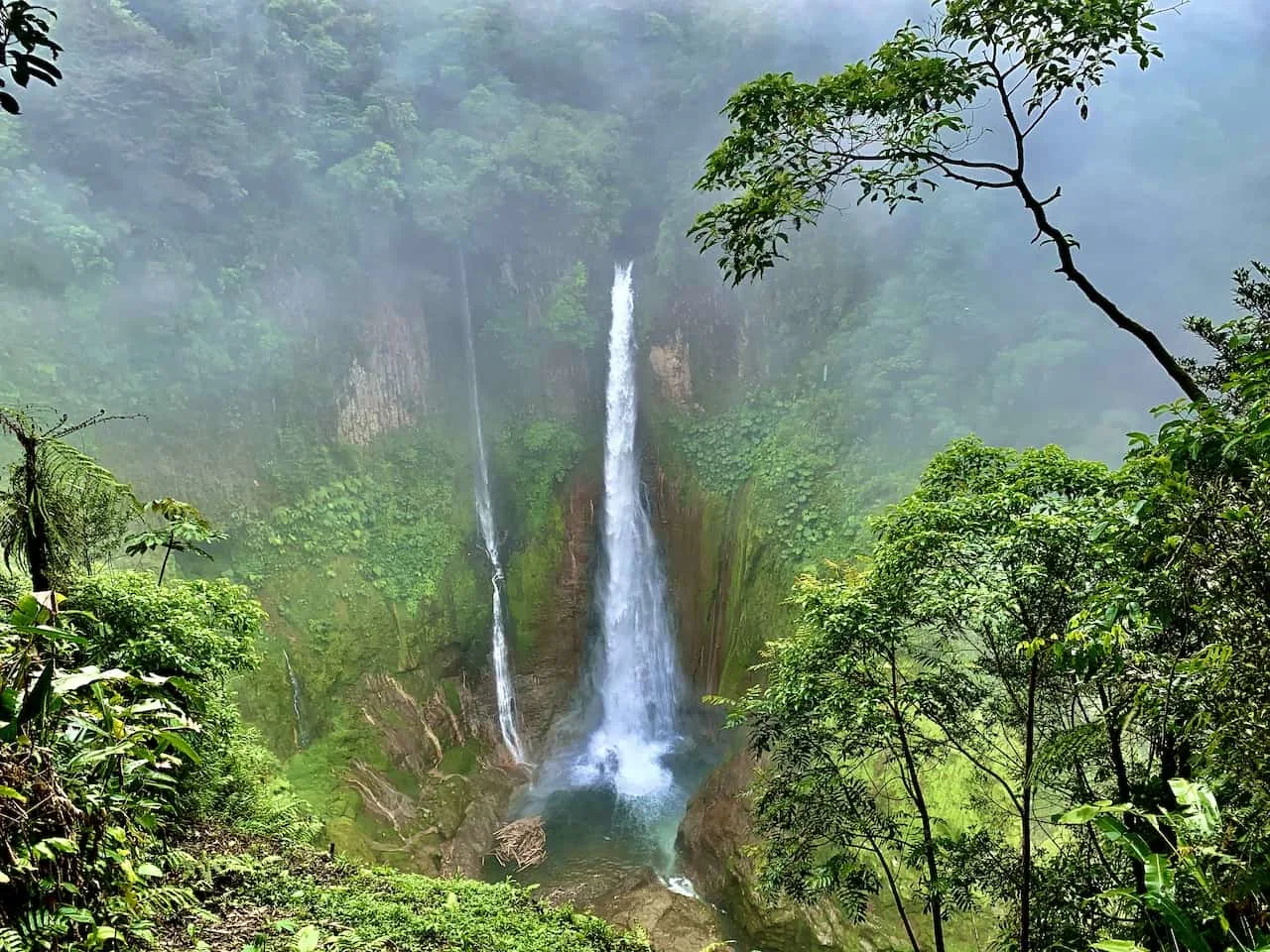 The trail continues through the forest with the towering trees on either side of you as you are pointed towards the third viewpoint area, La Vistada, which will give you one more look of the waterfall from above.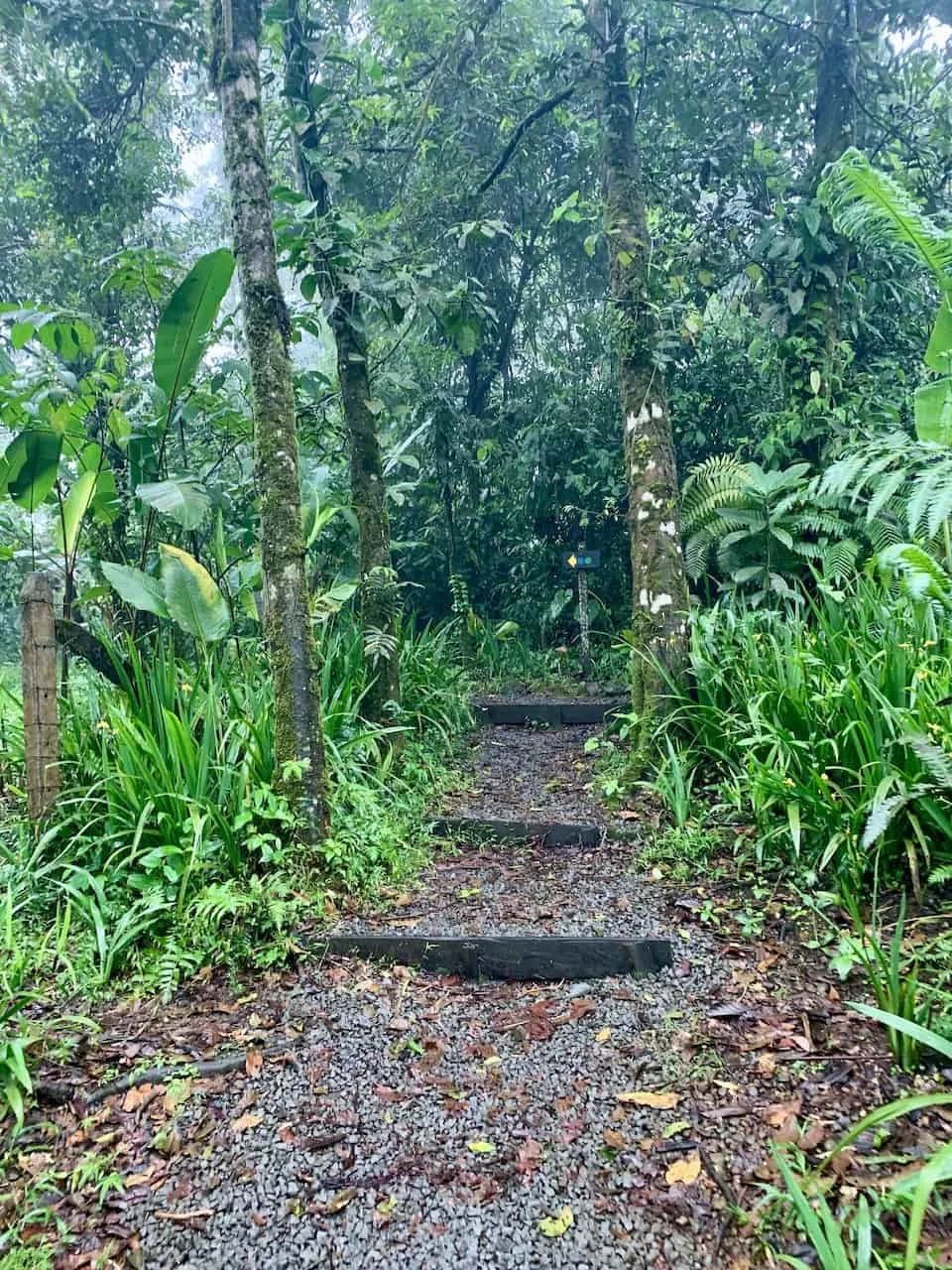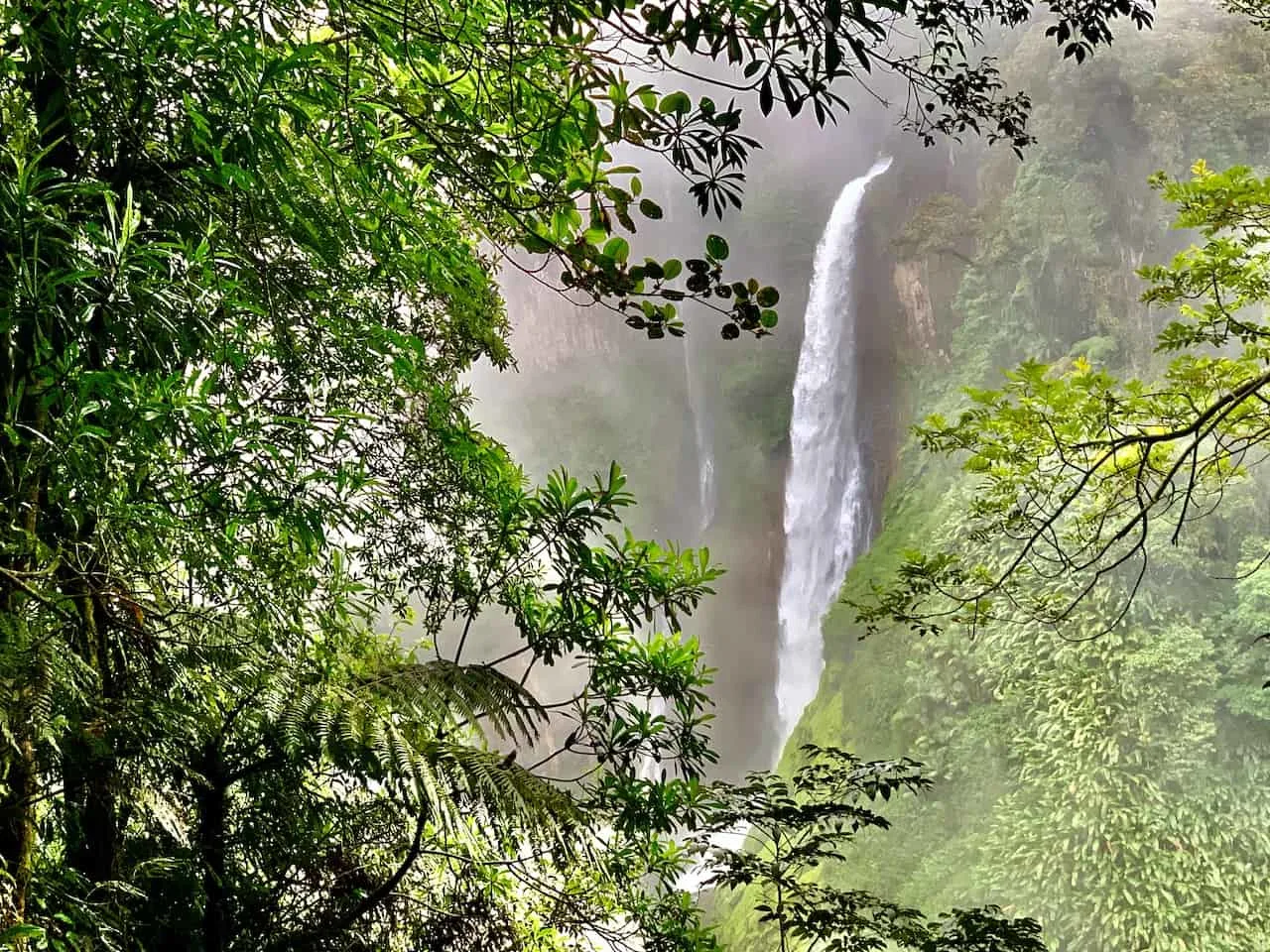 From there you will reach the waterfall vs. garden trail intersection. I first made my way down to the waterfall, and then on the way back headed to the garden area.
As you head down to the waterfall, you will soon be greeted by the 350+ step staircase. Thankfully, the stairs are made of concrete for the most part but they can get slippery if it is raining / recently rained.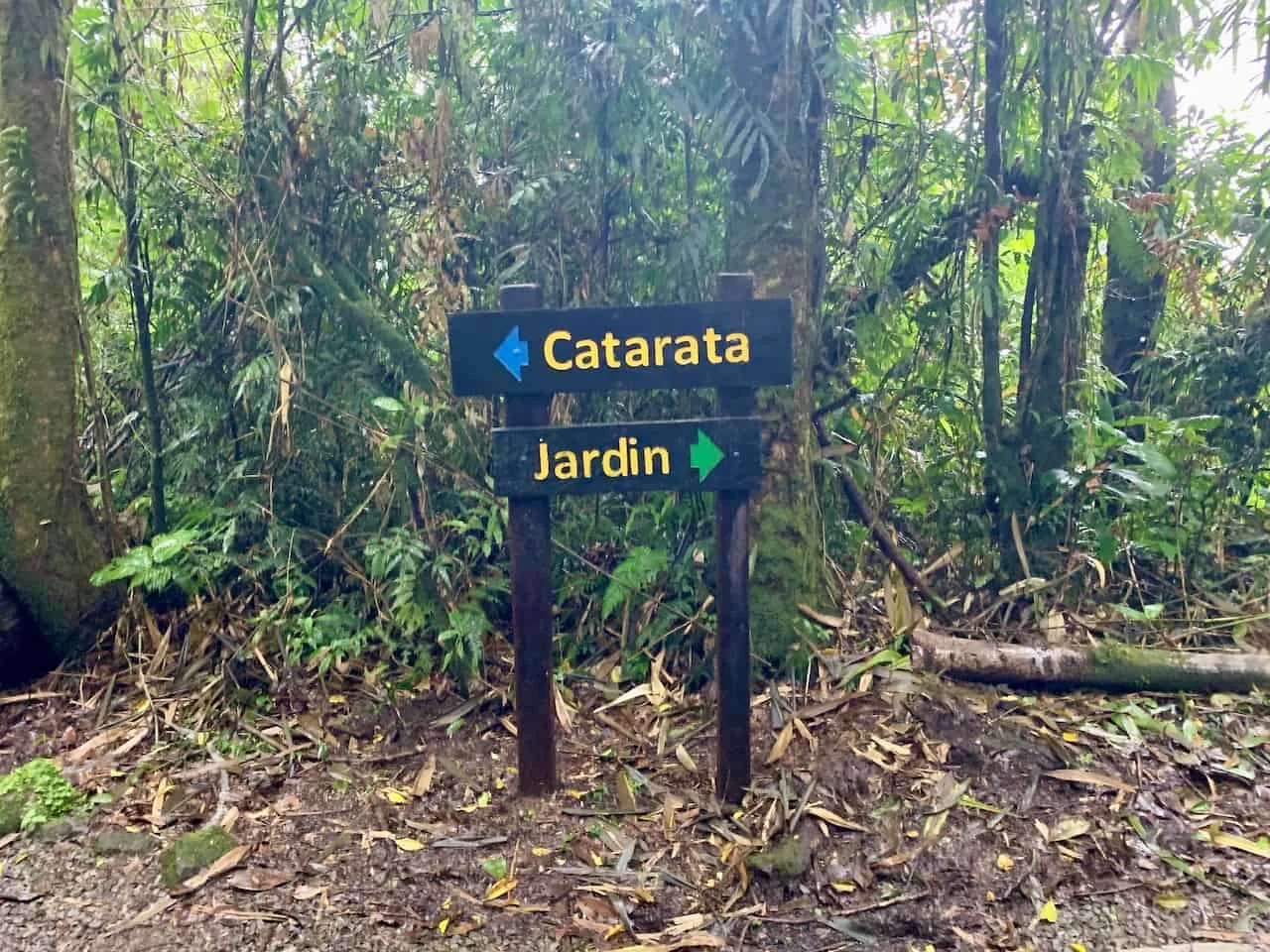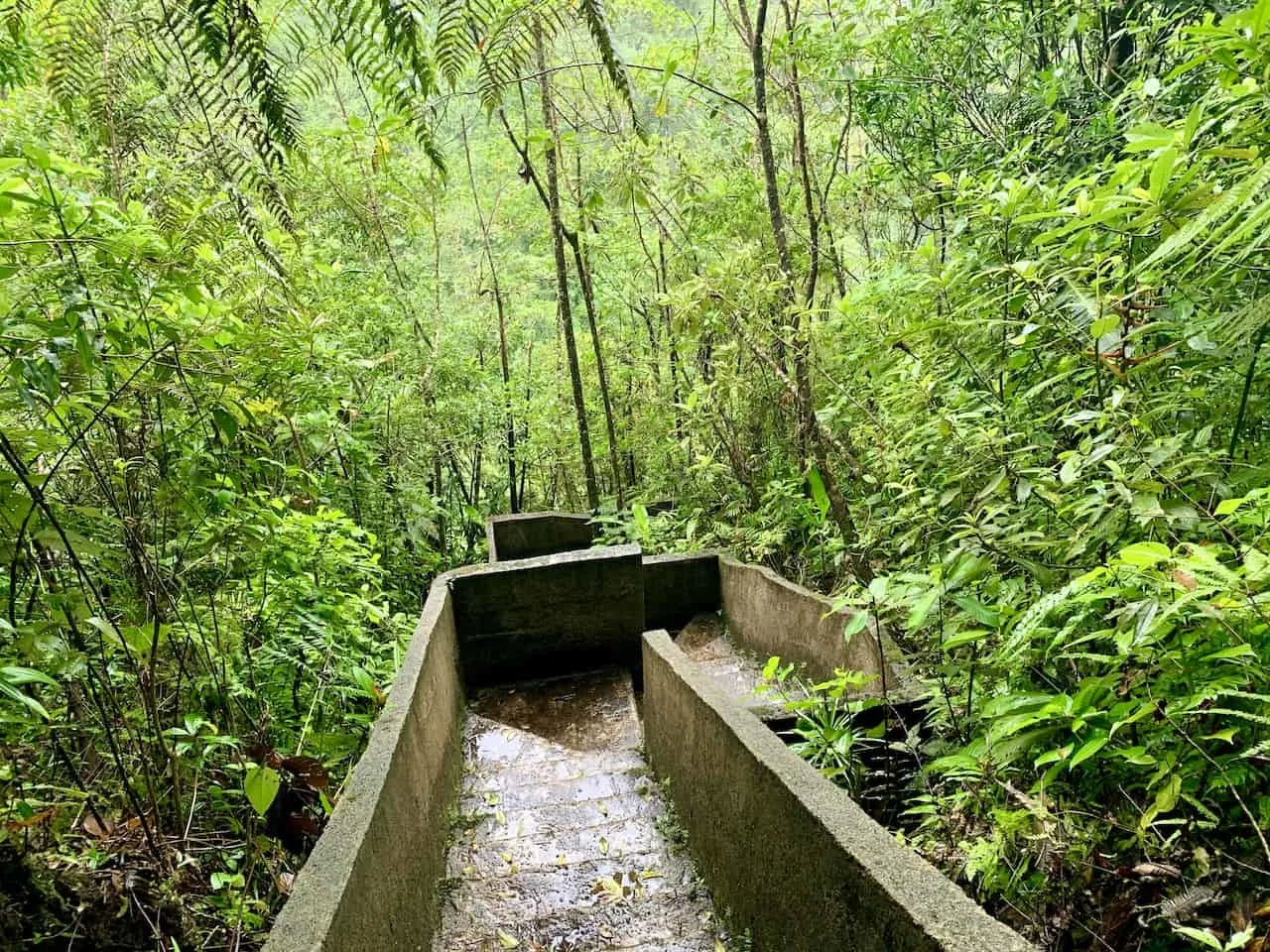 During the descent, you will come across Catarata del Toro out in the distance from time to time.
As you get closer to the base of the falls, there will be some great views to enjoy with the waterfall directly in front of you.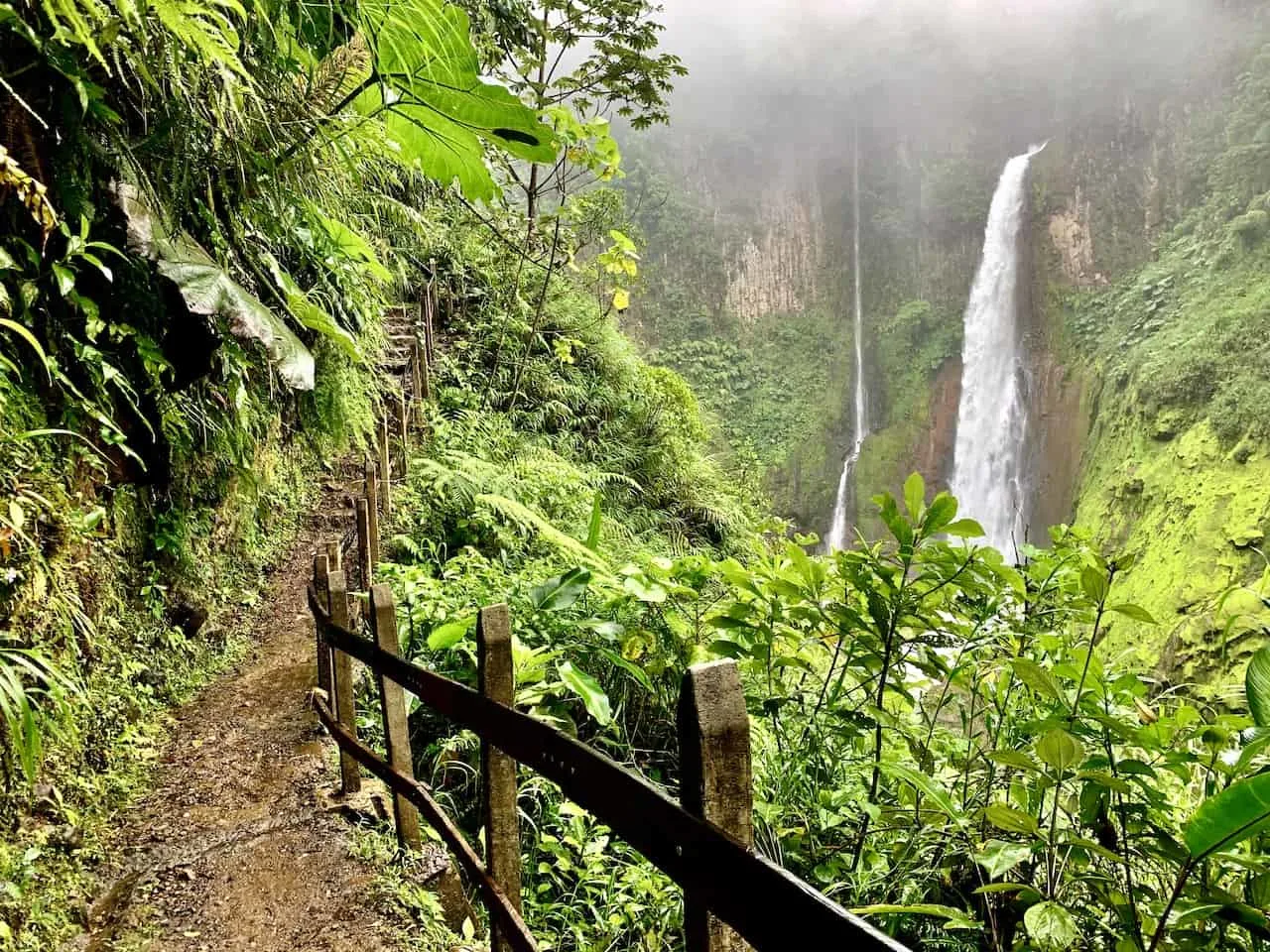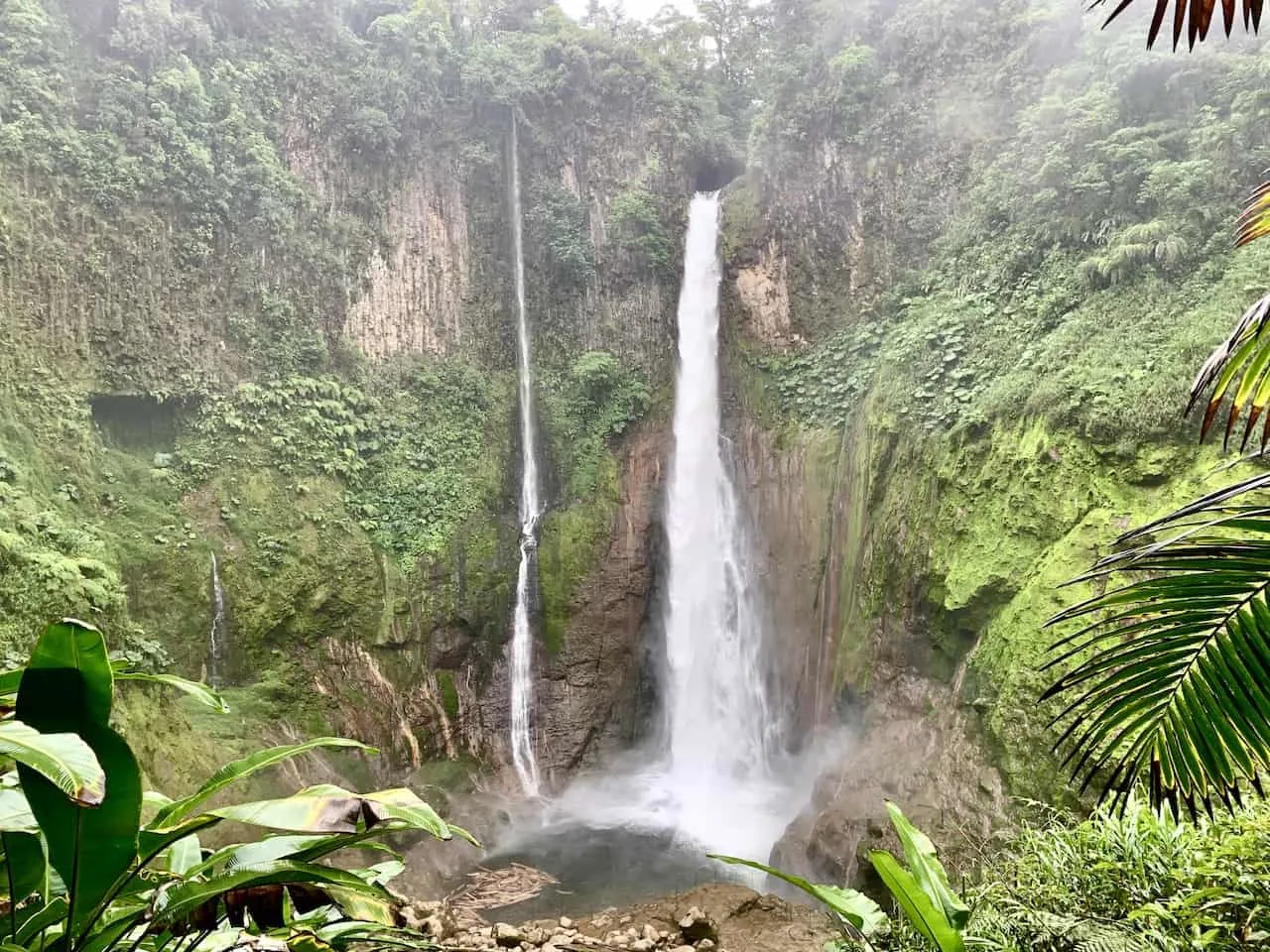 Soon enough you will reach the bottom of the staircase and be welcomed to an area at the base of the waterfall.
Note that you are not allowed to swim in the pool at the base of the falls due to safety concerns. You will find fencing that blocks off getting too close to the waterfall itself.
Be aware that you can get very wet down here and the rocks and mud can get very slippery.
Please be as cautious as the rocks are wet, and watch your step as you take some photos from down below.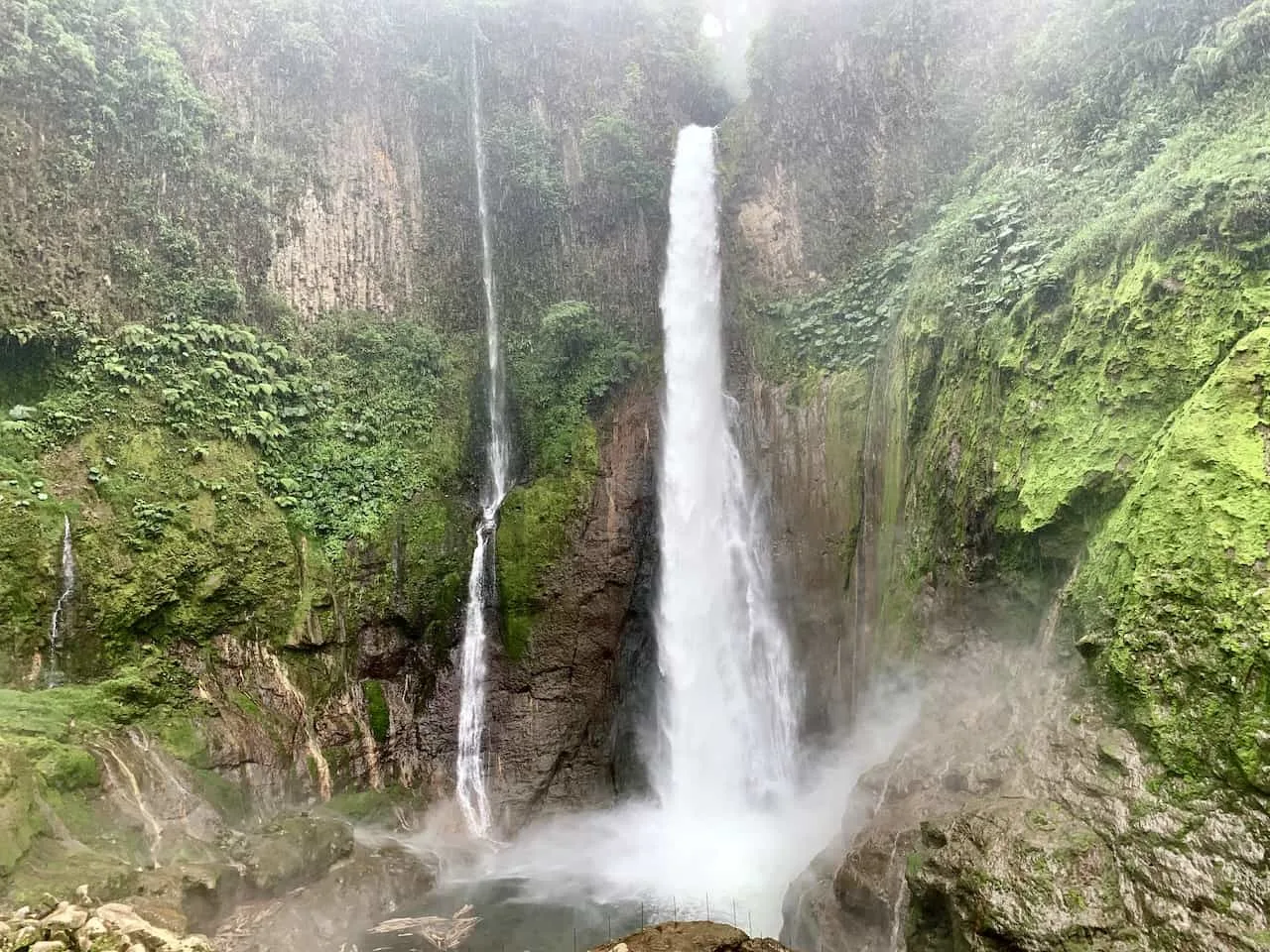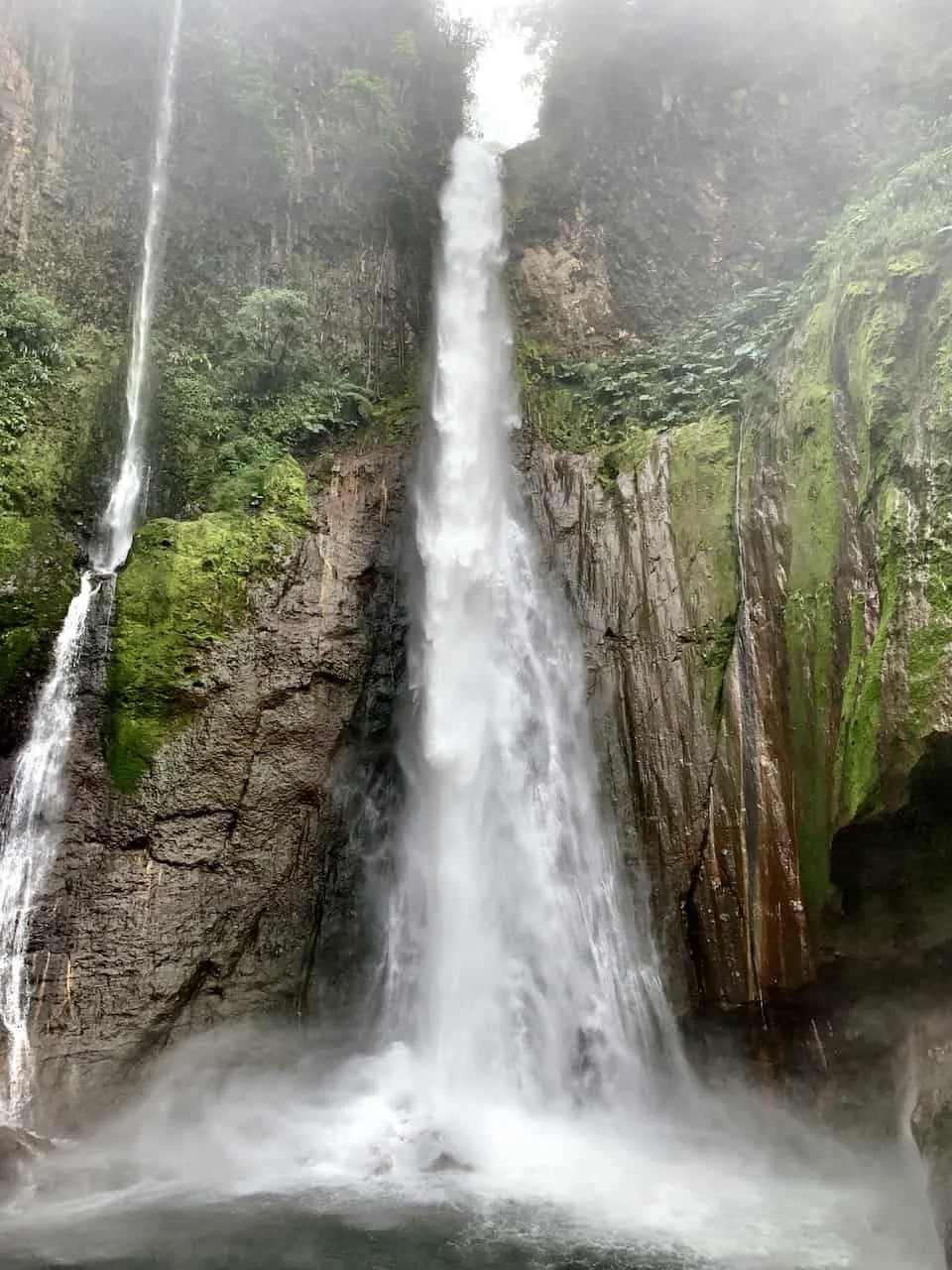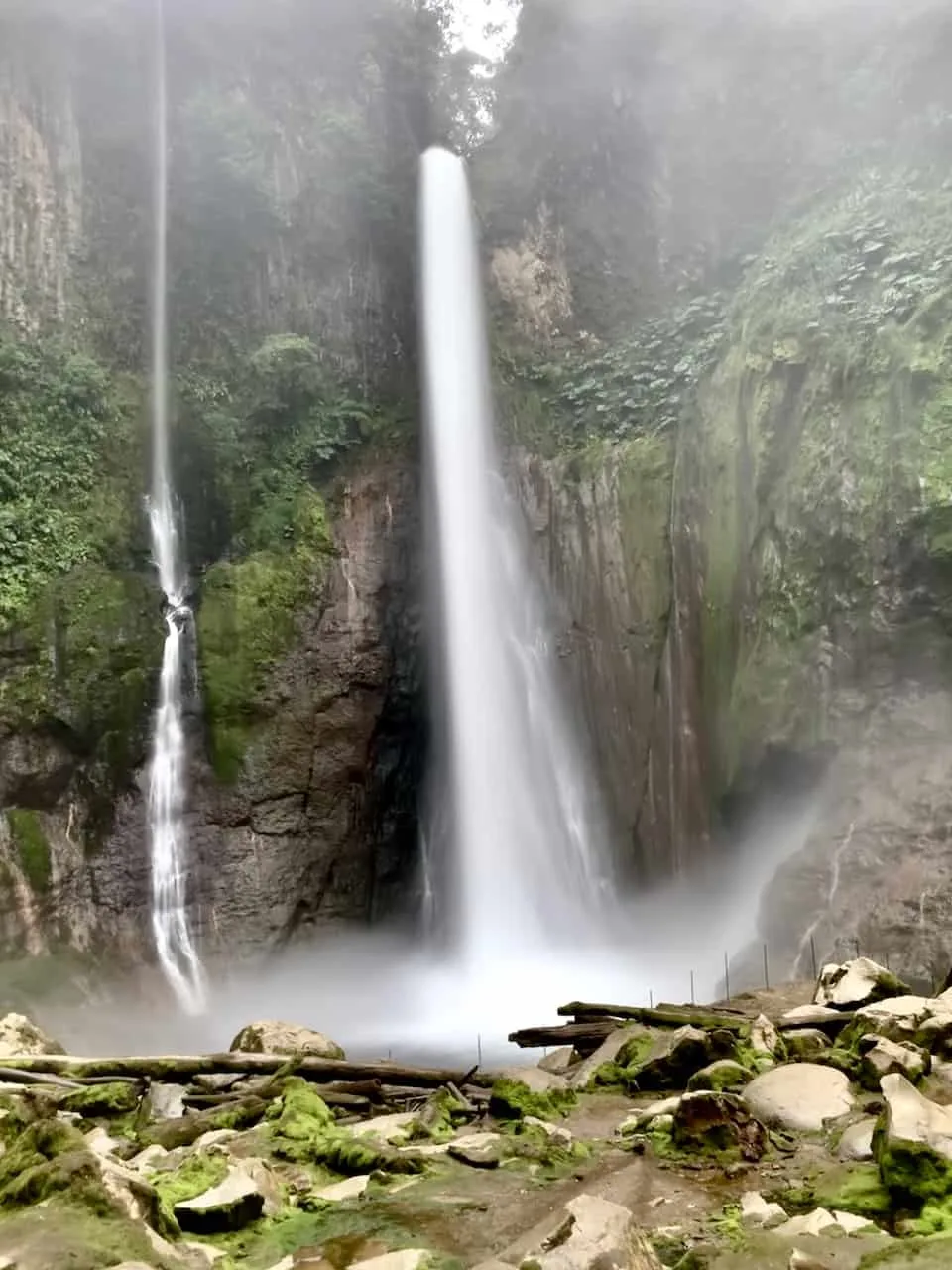 After enjoying enough time near the base of the waterfall, you now need to retrace all those steps back up to the main trail up top.
Feel free to take your time here and enjoy some views of the waterfall and surrounding forest along the way.
Once back up to the main trail, you can then head towards the garden area if you would like. The garden is simply a walking path with various flowers and flora surrounded by the Costa Rican forest.
It is then back on the path towards the entrance as you pass by the viewpoint areas and arrive right back where you started from.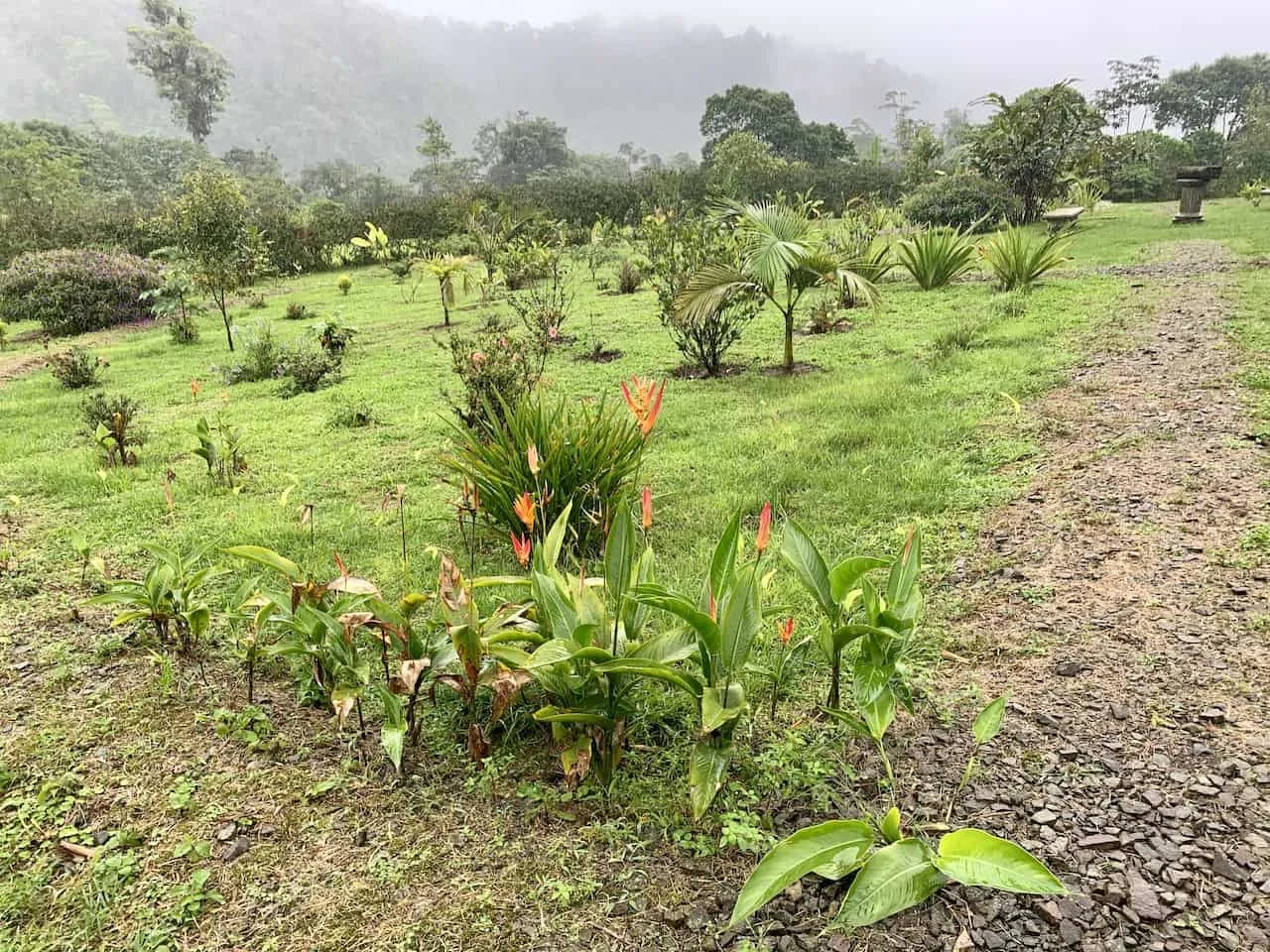 Overall the Catarata del Toro waterfall was one of my favorite highlights of my time in Costa Rica. Not only is the waterfall magnificent to take in, but it is also an attraction off the beaten path.
So while other less attractive waterfalls and sights may bring in hundreds of people, this one feels like you have the place to yourself.
I hope you found this guide useful for your trip! If you have any questions or comments feel free to add them in below. Also don't forget to check out the other Costa Rica itineraries and guides up on the site.
Have fun out there and safe travels!