Costa Rica has its fair share of stunning waterfalls sprawled throughout the country. But when it comes to sheer beauty, Rio Celeste could be on top of the list.
We are talking about some of the bluest and majestic water that you can find anywhere in the world. And this is not only found at the waterfall itself. There are several other points of interest along the trail that make the trip here even more worth it.
So, when visiting Rio Celeste, don't think of it as just a waterfall. It is much more than that and this guide will go through all you need to know for a visit here.
* Affiliate Disclosure: This post may contain affiliate links, which means I may receive a commission if you make a purchase through the links provided, at no additional cost to you. Thanks for supporting the work I put into TripTins!
1) Why is the Water So Blue at Rio Celeste
Before jumping into this guide, I wanted to point out a little bit of background about the blue color origin of the waterfall and river.
Odds are Rio Celeste came up as something you wanted to do in Costa Rica because of its beautiful blue color.
But where does that color come from? It has been a topic of discussion for many years, but scientists have recently came up with a new conclusion.
From an ancient history perspective, Rio Celeste (meaning light blue river) was thought to get its color from God's paintbrush.

It was believed that when God was painting the sky blue, he then use the river to wash the paintbrush. The river then turned this beautiful sky blue color because of that.

Now, from a more scientific perspective, for many years it was thought the blue color came from a chemical reaction.

The mixture of copper, calcium carbonate and sulfur caused a reaction that turned the water this blue color. However, it was later found out that there is no copper in the river to turn the river this shade of blue.

So, finally a group of researchers at Universidad de Costa Rica and the Universidad Nacional decided it was time to figure out exactly what was causing this sky blue color.
Below is an excerpt from the information board along the Rio Celeste trail that explains the research:
"The particular color of Rio Celeste appears at the point known as Tenidero. The coloration is formed by the mixing of two not colored effluents: Rio Buenavista and Quebrada Agria.
The PH change (acidity) in the mixing point (tenidero) increase the particle size of a mineral present in Rio Buenavista. The minerals known as aluminosilicates (formed by aluminum, silicon, and oxygen) increases its size from 184 nanometers to 570 nanometers.
A fraction of this mineral reaches the bottom of the river and it can be seen as a white sediment, whereas the majority of the mineral remains suspended along the river.
The mineral that remains in suspension explains the sky-blue color of the river. Suspended mineral particles scatter sunlight similarly as when the raindrops form a rainbow. In the rainbow, water drops act as prisms decomposing white light into the different colors.
In Rio Celeste, the specific size of aluminosilicates particles causes that only the bluish tones of white light are dispersed. Therefore, we observe the characteristic color of the river. In other words, in Rio Celeste occurs an optical phenomenon called Mie scattering in the field of physics."
So, at the end of the day it is not a chemical reaction but rather an optical illusion.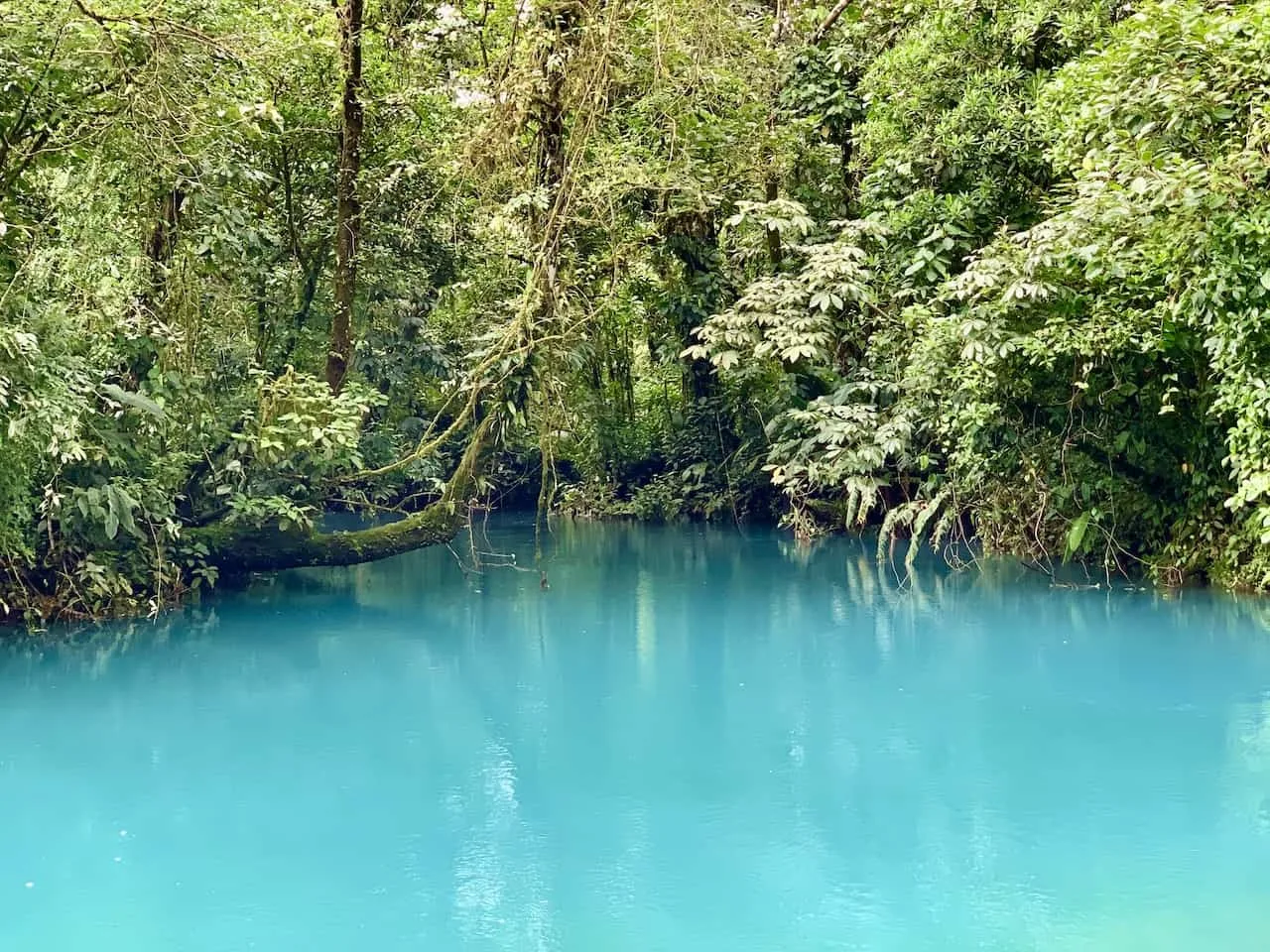 2) Waterfall & Hike Details
Now that you have a bit better understanding of why the water of Rio Celeste is so blue, lets now get into the experience itself. Here is a bit of an overview of visiting Rio Celeste.
The remainder of the guide will go into more detail about it all.
Remember, visiting Rio Celeste is not just about the waterfall. You can also take part of a longer hiking trail visiting more beautiful spots along the way.
Location: Tenorio Volcano National Park
GPS Parking & Entrance Coordinates: 10°42'57.5″N 84°59'14.3″W | Station El Pilon, Tenorio Volcano National Park
Rio Celeste Entrance Fee: $12 USD Adult | $5 USD Child (2-12 years old)
Parking Fee: $2 USD
Rio Celeste Hours: 8:00AM – 2:00PM
Rio Celeste Hike Length: 3.7 miles | 6 kilometers (full circuit round trip)
Elevation Gain: 500 feet / 150 meters
Duration: 3 Hours (full circuit round trip)
» Visit Rio Celeste as part of a 10 Day Costa Rica Itinerary that takes you around the country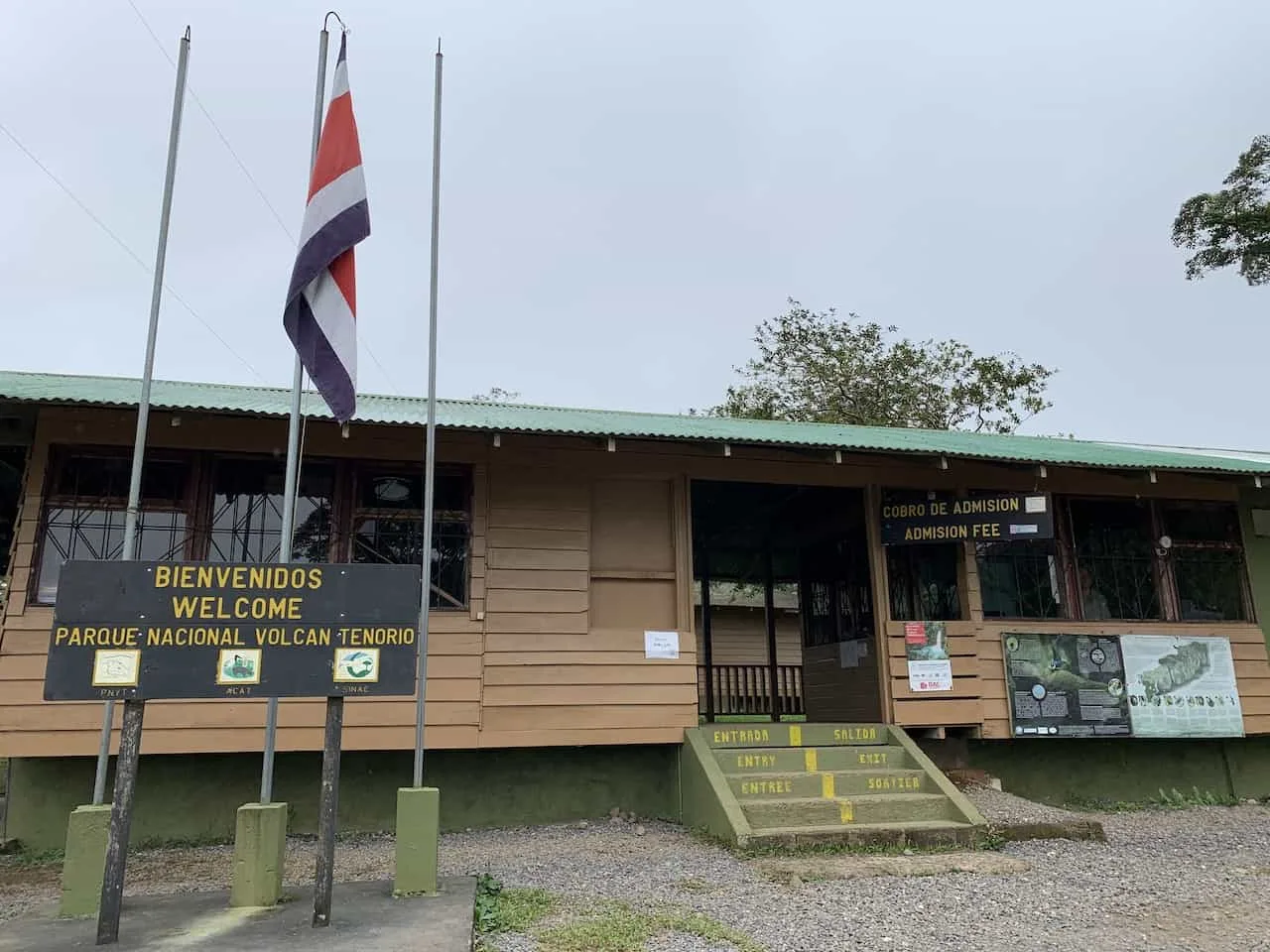 Rio Celeste Highlights: There are 5 main highlights to visit once you are past the entranceway. The waterfall (aka Catarata) is the first attraction on the trail.
However, there are 4 additional highlights further along the way listed below.
Catarata
Mirador
Laguna Azul
Borbollones
Tenideros
You can decide to just visit the waterfall itself or if you are up for a longer excursion (nearly 4 miles round trip), you can opt for the whole trail.
If you have it in you, I would highly recommend taking part of the entirety of the trail during a visit.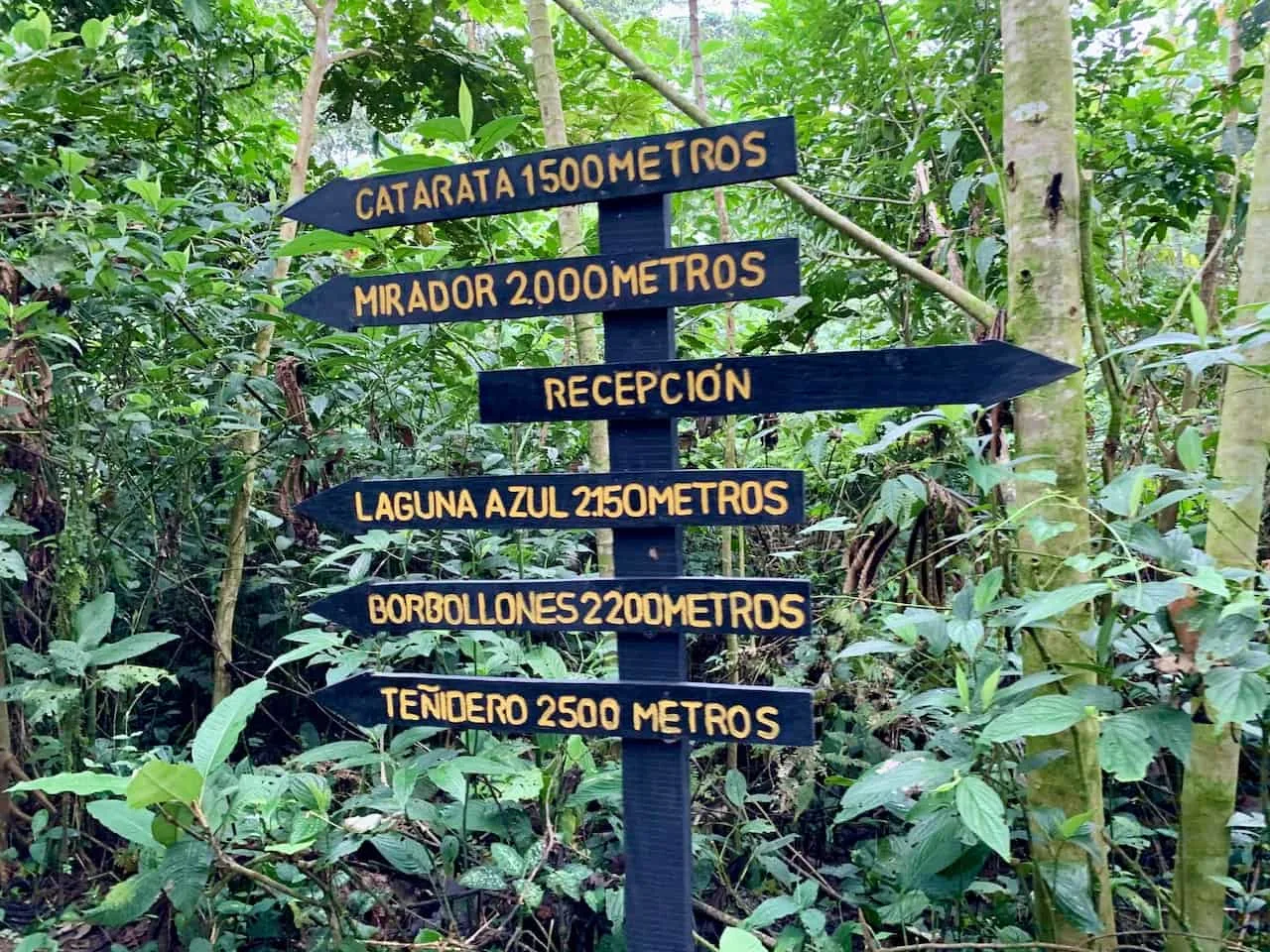 3) Costa Rica Travel Insurance
Considering travel insurance for Costa Rica?

World Nomads offers coverage for more than 150 adventure activities as well as emergency medical, lost luggage, trip cancellation and more.

For years, World Nomads has been protecting, connecting & inspiring independent travelers, offering travel insurance & safety advice to help you travel confidently. Their mission is to support and encourage travelers to explore their boundaries.

World Nomads has simple and flexible travel insurance that has been designed by travelers for travelers. Even if you leave home without travel insurance or your policy runs out, you can buy or extend out on the road.

Get a quote for a World Nomads travel insurance policy today!
4) Rio Celeste Waterfall Location
One reason why Rio Celeste does not always show up on a standard Costa Rica itinerary is due to its location. The waterfall and hiking trail are not necessarily directly near a main tourist hub.
However, if you are up for a little bit of driving or you want to stay off the tourist path then visiting Rio Celeste should be no problem for you.
The closest major tourist city would be La Fortuna, located around 1 hour 30 minutes from Rio Celeste.
The drive itself is pretty simple as you are on a couple main roads for the duration of the drive. This would of course depend on you having your own rental car.
As there are no public busses that go to the waterfall, you will need a car if visiting from La Fortuna.
If you want to stay close to the waterfall itself, then the town of Bijagua is your best option here.
The town is located just 15 minutes away from the waterfall parking lot. This can be a great option either if you have a rental car or if you are using Costa Rica's bus network.
If you do not have a car, once in Bijagua you can taxi (or even take a long walk) to the entrance.
When inputting the destination into Google Maps, you are better off just typing out the exact GPS coordinates that will take you directly to the main parking lot.
The coordinates are 10°42'57.5″N 84°59'14.3″W. You may also put in "Station El Pilon, Tenorio Volcano National Park" which should take you to the same location.
Note that when you start approaching the destination you will see several parking lots trying to get you to park there.
Many of these are just overflow lots where locals try to get you to park. However, those GPS coordinates should take you to the main official parking lot for Rio Celeste.
→ Feel free to take a look at Rentalcars.com for a variety of car options to choose from for your time in Costa Rica. You will be able to filter by price, car type, rental company, & more to find the best car rental for your trip.
Below are the driving routes from La Fortuna and Bijagua. You of course can come from various other cities further away.
5) Rio Celeste Hotel
Deciding which hotel to stay at when visiting the waterfall will depend on your decision on where to base yourself.
I will list out a few options for La Fortuna if making the day trip, and Bijagua if you want to stay in a town closer.
Arenal -> Arenal Observatory Lodge & Spa -> Book Today
The Arenal Observatory Lodge is located as close as it gets to Arenal Volcano.
The property itself has over 860 private acres of land full of walking trails, wildlife, and volcano viewpoints. If you are lucky enough to grab a room here, you will get to enjoy all of that and more during a visit.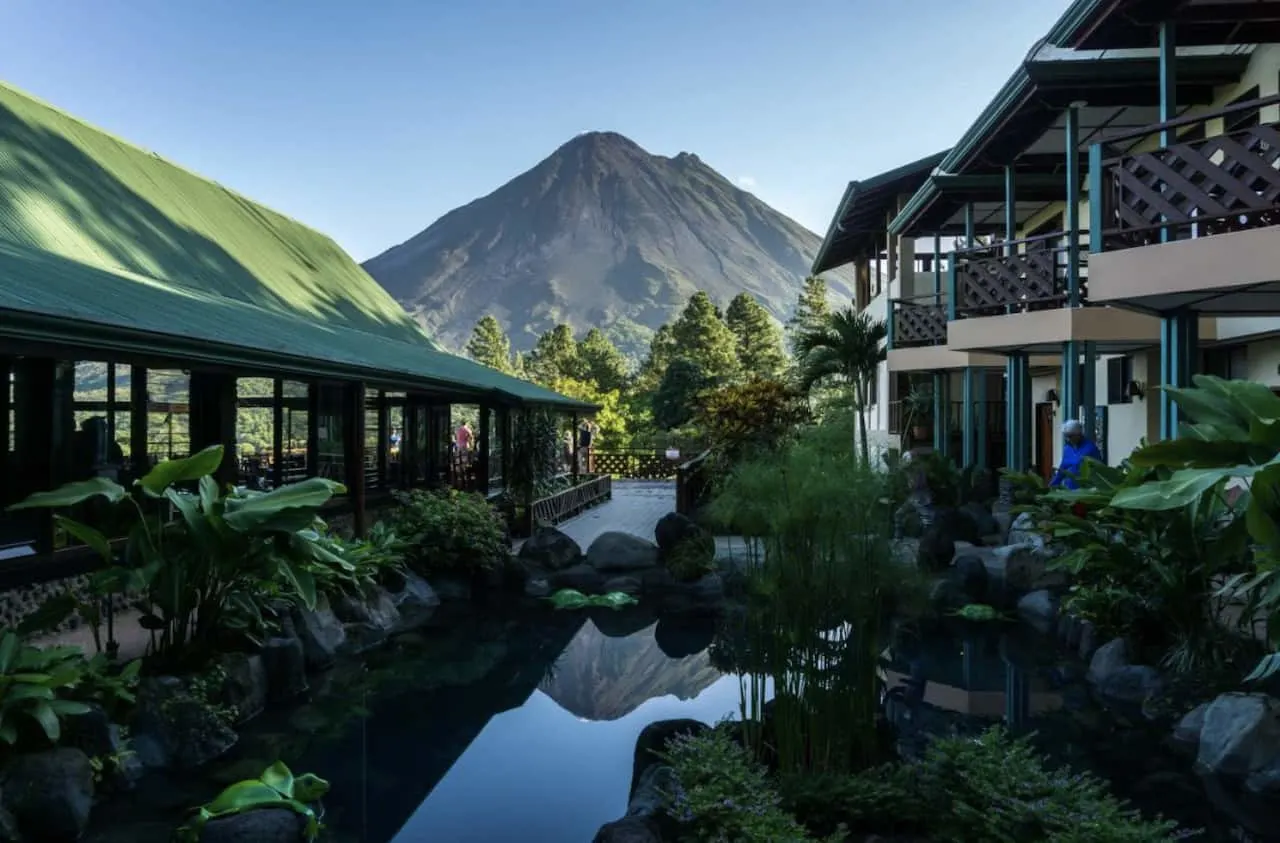 Bijagua -> Sueño Río Celeste B&B – Book Today!
A great option just outside town of Bijagua is the Suena Rio Celeste B&B.
This birdwatching lodge is surrounded by greenery and nature but at the same time is located just within the town itself. It is one of the highest rated options out there for those that want to stay near the town.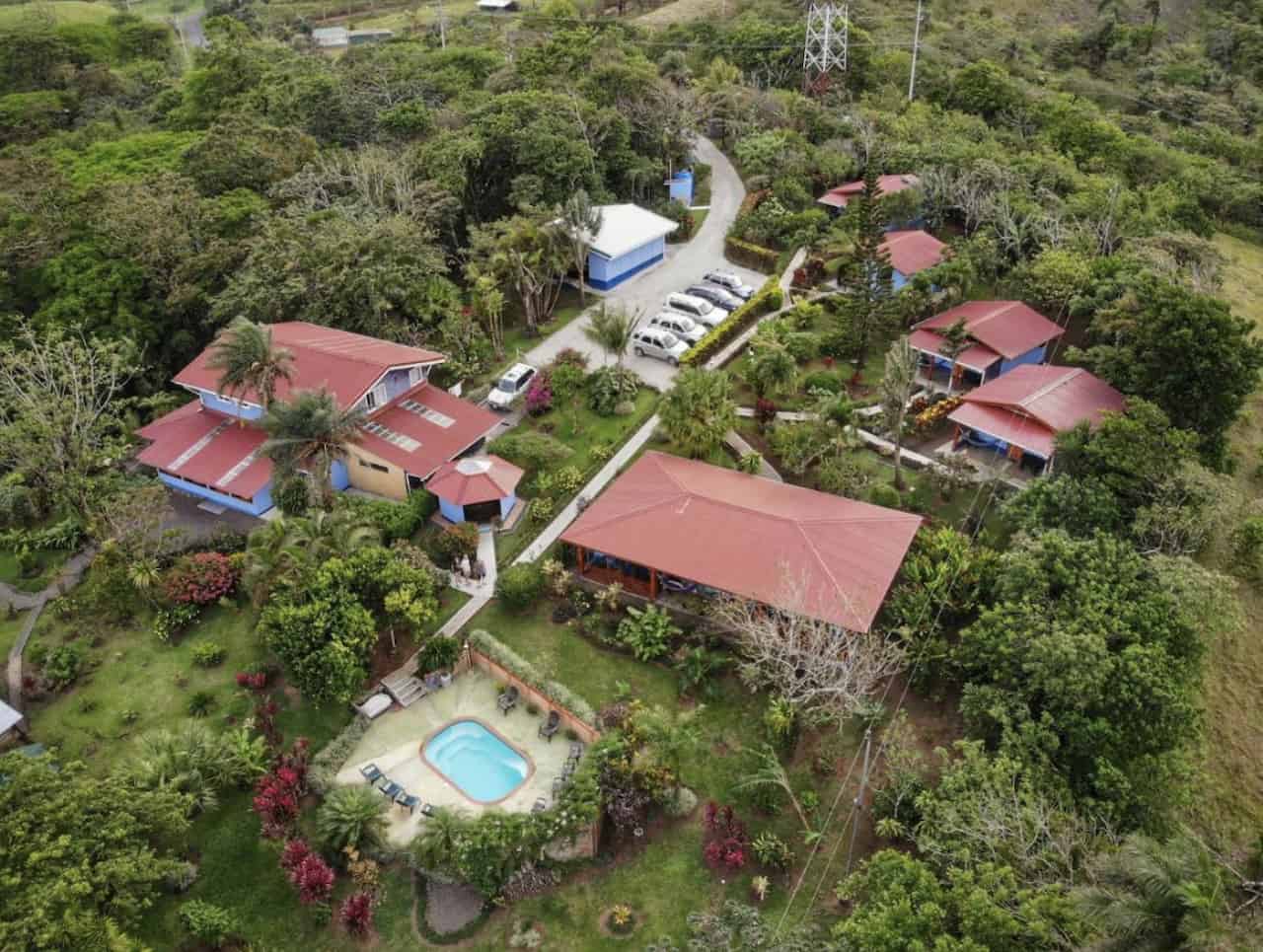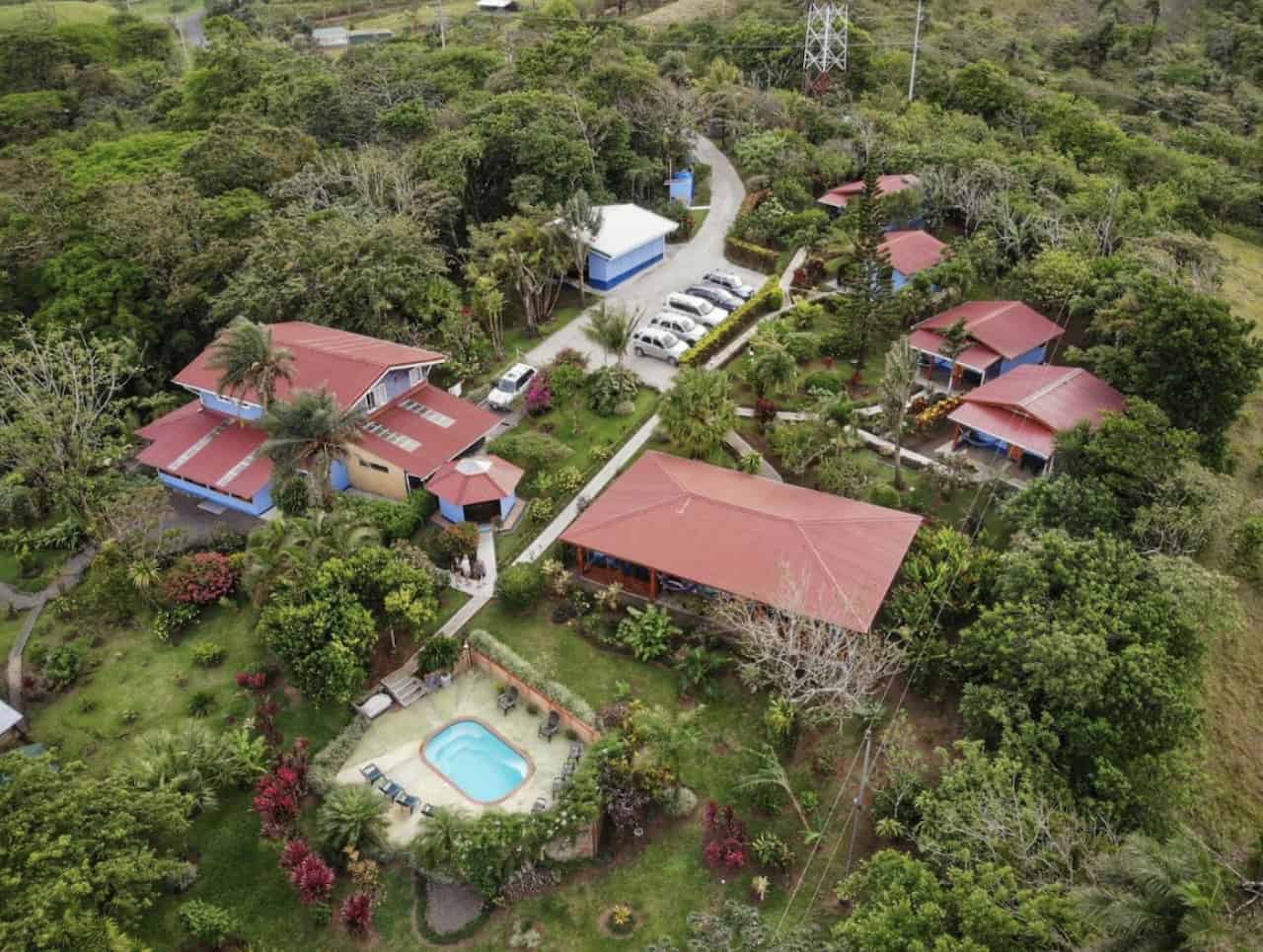 Rio Celeste Hideaway Hotel – Book Today!
If you are looking to be walking distance to entrance of the waterfall, then why not stay at the Rio Celeste Hideaway Hotel.
These luxurious bungalows offer everything you would need for a trip into the jungle. Their onsite restaurant will also cover anything from a food perspective.
This could be my favorite option if you want to stay right near the waterfall.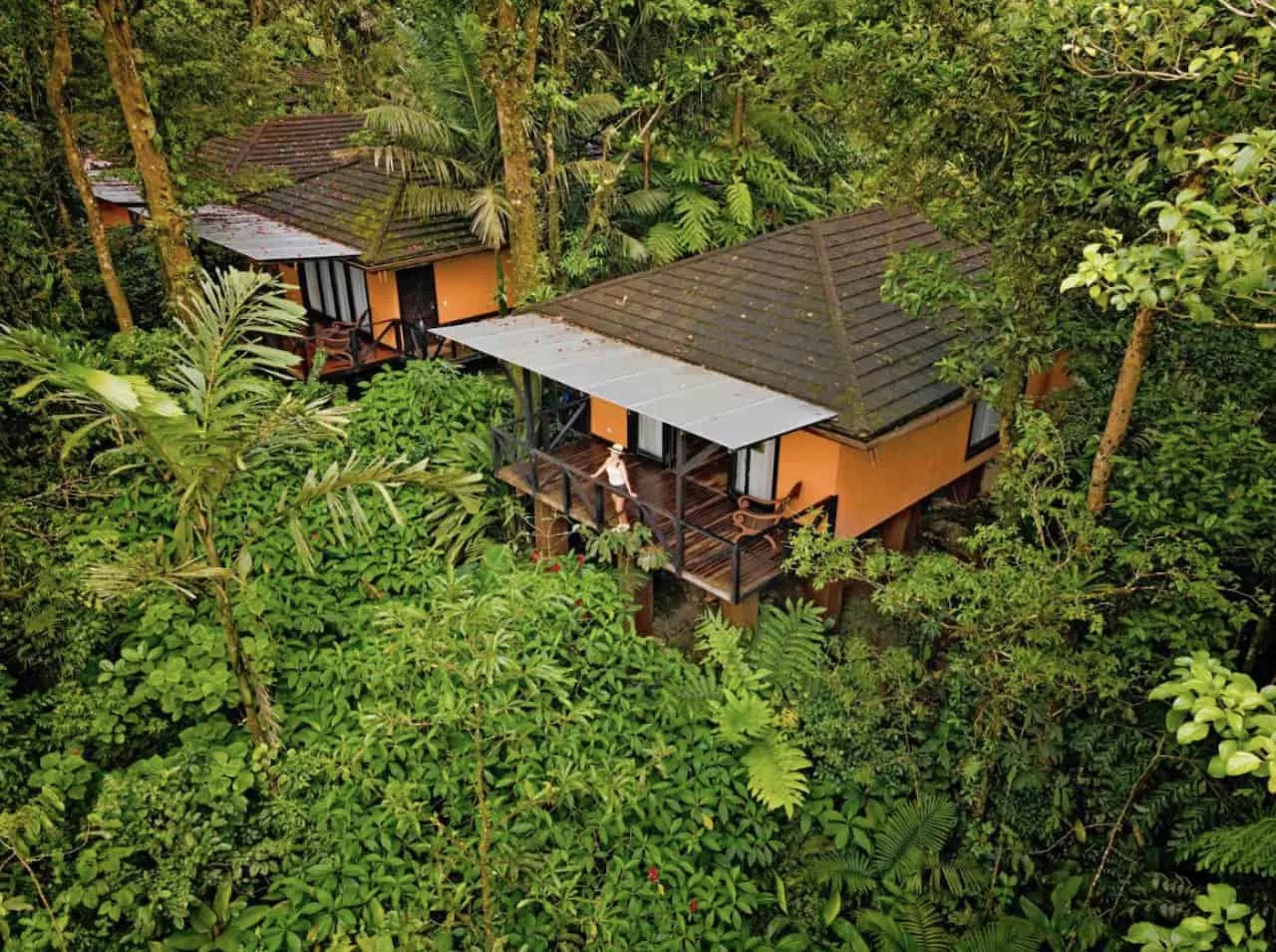 6) When to Visit
Deciding when to visit the waterfall can be a more important decision than you may think. This goes for both time of year and time of day.
The reason why Rio Celeste is so popular is due to its sky blue color – both of the waterfall and of the river that you follow during the trail.
After rainfall, the river and waterfall can actually lose that color to an extent due to the muddier conditions that form. It can take a day or two after rainfall for the color to come back to life.
So, from a time of year perspective you will have better luck during the dry season of the region, which runs from December to April. Just because you visit during "dry" season though, doesn't mean it will always be dry.
Due to the location of Tenorio Volcano National Park, you can expect rainfall during the dry season as well. It may not be as frequent as wet season, but rain can still come at any time.
If you do have the flexibility in your schedule, I would pay close attention to the weather of the area.
You can then decide to visit the waterfall when you know it hasn't received recent rainfall. This way you can better guarantee your one of a kind experience.
Helpful tip! Check out the Tenorio Volcano National Park Facebook page, which gives picture updates of how the water color looks on a daily basis
The last thing I wanted to mention here is that there is a limit of how many people can enter the trail at once.
The latest number I have come across is 400 people at one time. After reaching capacity, you must wait for people to exit before entering.
This is going to be more so an issue during high season and during weekends/holidays. But if you want to guarantee your spot, I would recommend just getting there right around opening time.
7) What to Bring
While visiting a waterfall may seem pretty standard, there are some things to know about trail and what to bring along with you.
The first part of the trail to the waterfall is mostly paved with some dirt/gravel sections throughout. Once past the first section though, things certainly get a bit trickier and muddier.
Due to this, I would highly recommend a solid pair of hiking shoes for a visit (see below for my recommendation).
If you do not have a pair, near the entrance you will find a boot rental spot. If you just head on the trail with just regular shoes, odds are you will get them ruined. Below are some items I would recommend either way:
1) Dry Bag: since Costa Rica can always bring the rain I would highly recommend a dry bag to keep all your valuables safe. Take a look at this Earth Park Dry Bag to hold your belongings.
2) Hiking Shoes or Closed Toe Sandals: you will want to watch your step as you make your way along. Having hiking shoes or closed toe sandals will be your best bet here. I would not recommend going with flip flops. Take a look at the Keen Targhee III that I have been wearing recently or these Keen Newport H2 Sandals.
3) GoPro: having a GoPro will solve some of those camera issues when dealing with water. Check out the GoPro Hero for your travels.
4) Quick Dry Towel: a quick dry towel is always helpful to have whether it is for the rain or to clean yourself off. This Rainleaf microfiber quick dry towel has been my go to when it comes to traveling.
-> Feel free to also take a look at my usual hiking packing list for even more great items to bring along with you!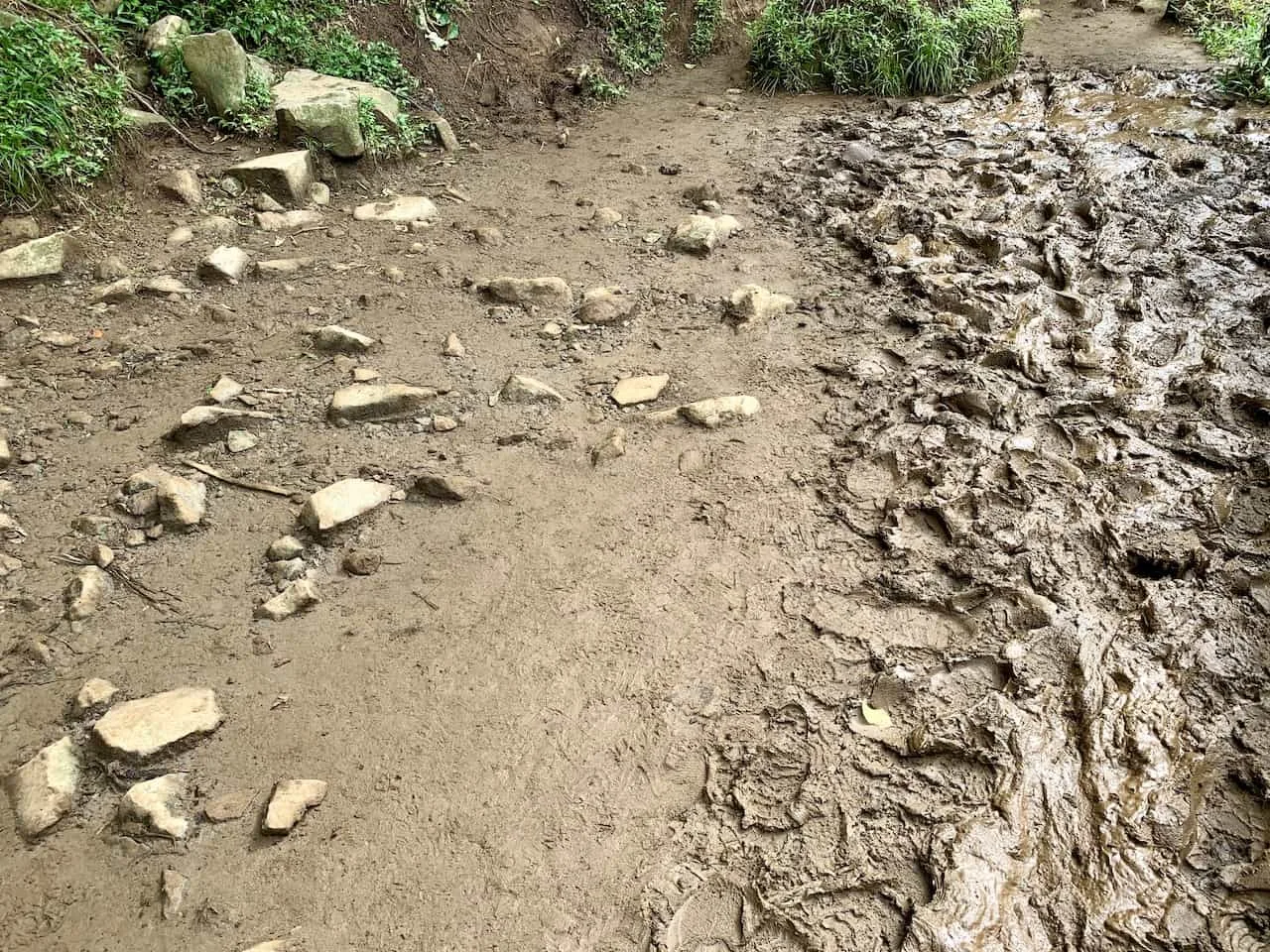 8) Rio Celeste Tour
For those people not looking to make the journey to Rio Celeste on their own and would rather take part of a tour, there are plenty options for you.
Whether it be the driving, the logistics, or you just want to learn more about the area along the way, a guided tour can be a great option.
During a tour, you will be picked up from your hotel early in the morning, head to Rio Celeste (and potentially other spots along the way), and then be dropped off back at your hotel at day's end.
These can be quite long days, especially if coming from farther out places. But end of the day, these are some great tour options to choose from if you are set on visiting the waterfall.
Below are some highly rated tour options to choose from depending on where exactly you may be based:
9) Rio Celeste Map
At the entrance of the trail you can find the below map of the area. The hiking trail is nicely laid out along with the five points of interest to visit along the way.
Here are some distance figures for you to better understand how far each place is away from one another.
Entrance to Catarata (waterfall): 1,500 meters
Catarata to Mirador: 500 meters
Mirador to Laguna Azul: 150 meters
Laguna Azul to Borbollones: 50 meters
Borbollones to Tenidero: 300 meters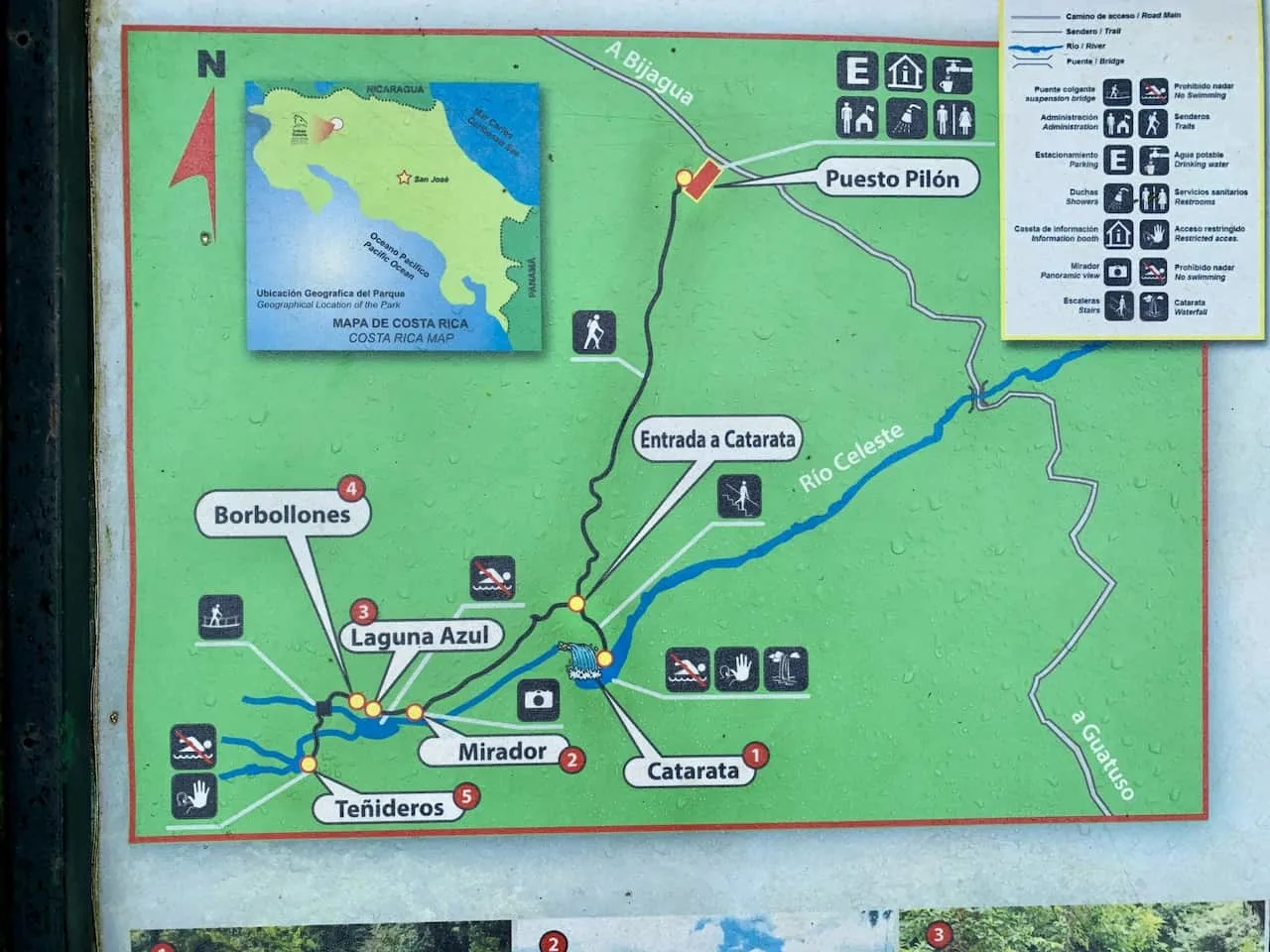 10) Rio Celeste Hike
Now that you have all the background necessary for a visit, let's dive into some pictures and helpful information regarding the hike and waterfall itself.
I will break it down into the 5 different points of interest that you will be able to visit if deciding to take part of the entire trail.
Rio Celeste Waterfall – Catarata
The first section of trail is the longest but most maintained. It stretches 1,500 meters (around 1 mile) until you reach the waterfall staircase.
The trail starts off on a concrete pathway that you will easily follow deeper into the forest. At some points, the path is not always paved but rather more of a dirt path to follow (nothing technical though).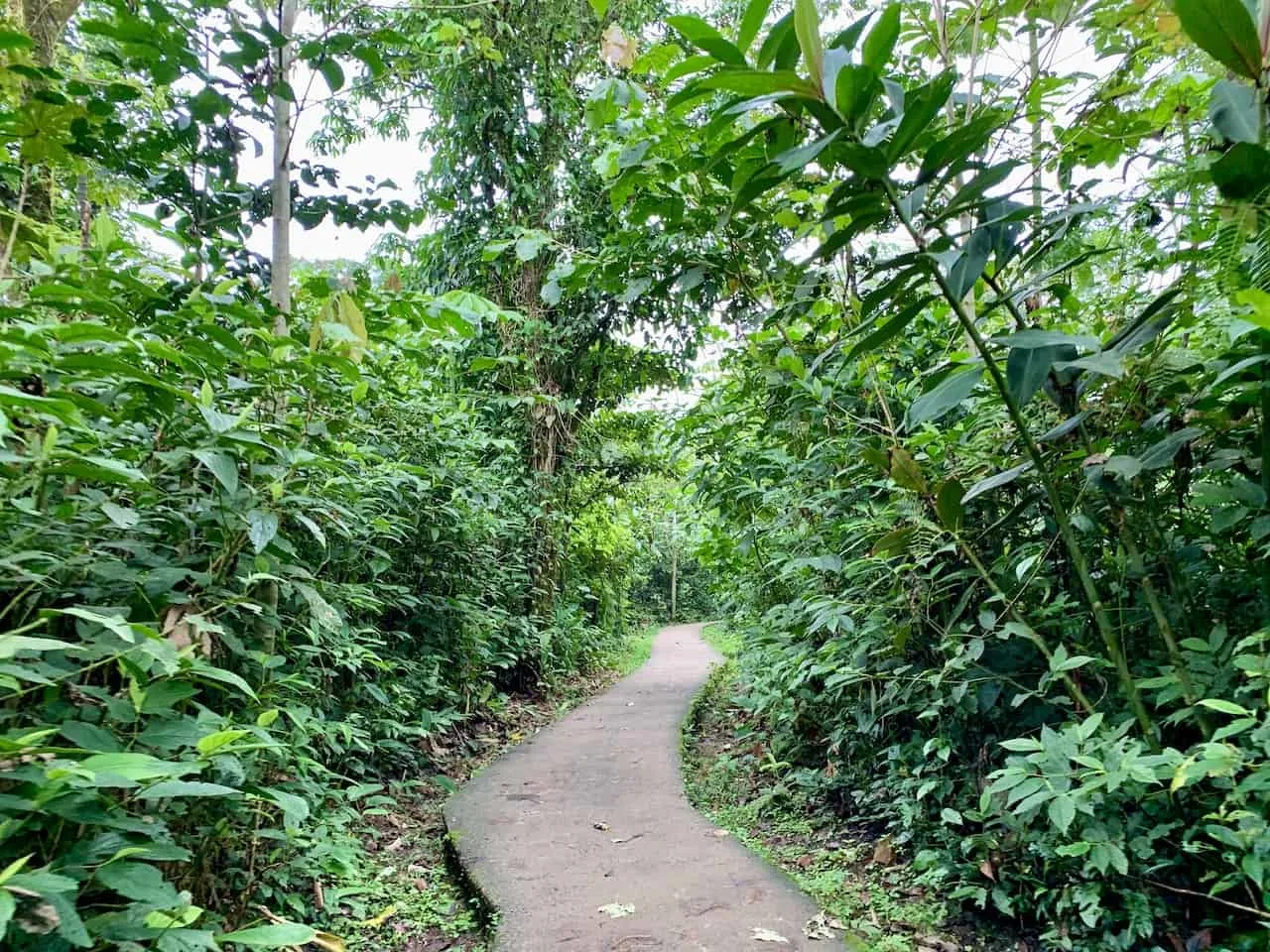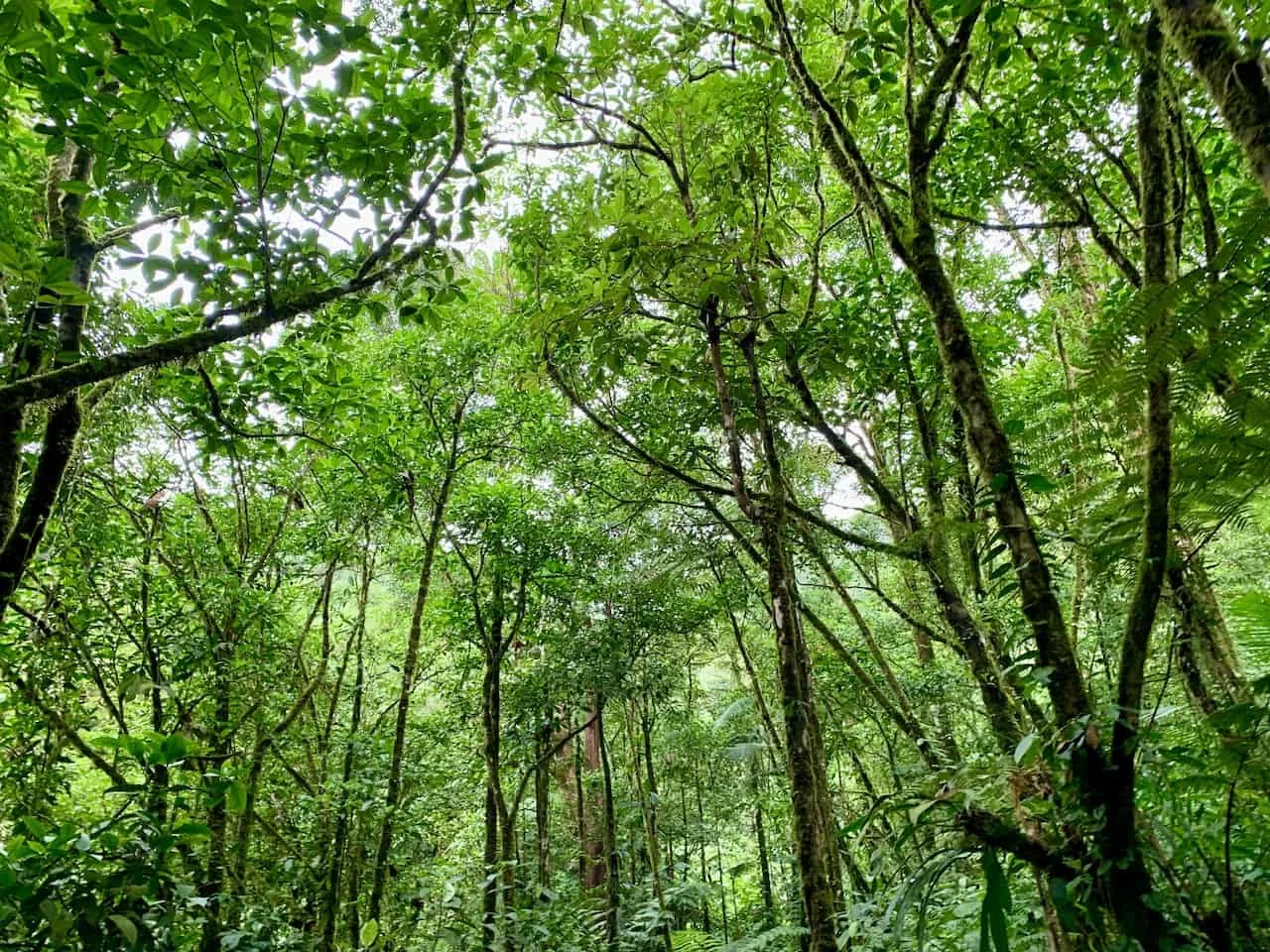 After around 30 minutes of walking through Tenorio Volcano National Park you will reach the staircase that takes you down to the Rio Celeste waterfall.
There are around 200 or so stairs to follow downwards as you get to a platform overlooking the waterfall.
What I really love about this section is that you get to take in some beautiful views of the waterfall as you are making your way down the stairs. You will then get further down the staircase before reaching the final platform.
Below are some of my favorite shots taken throughout the staircase from top to bottom: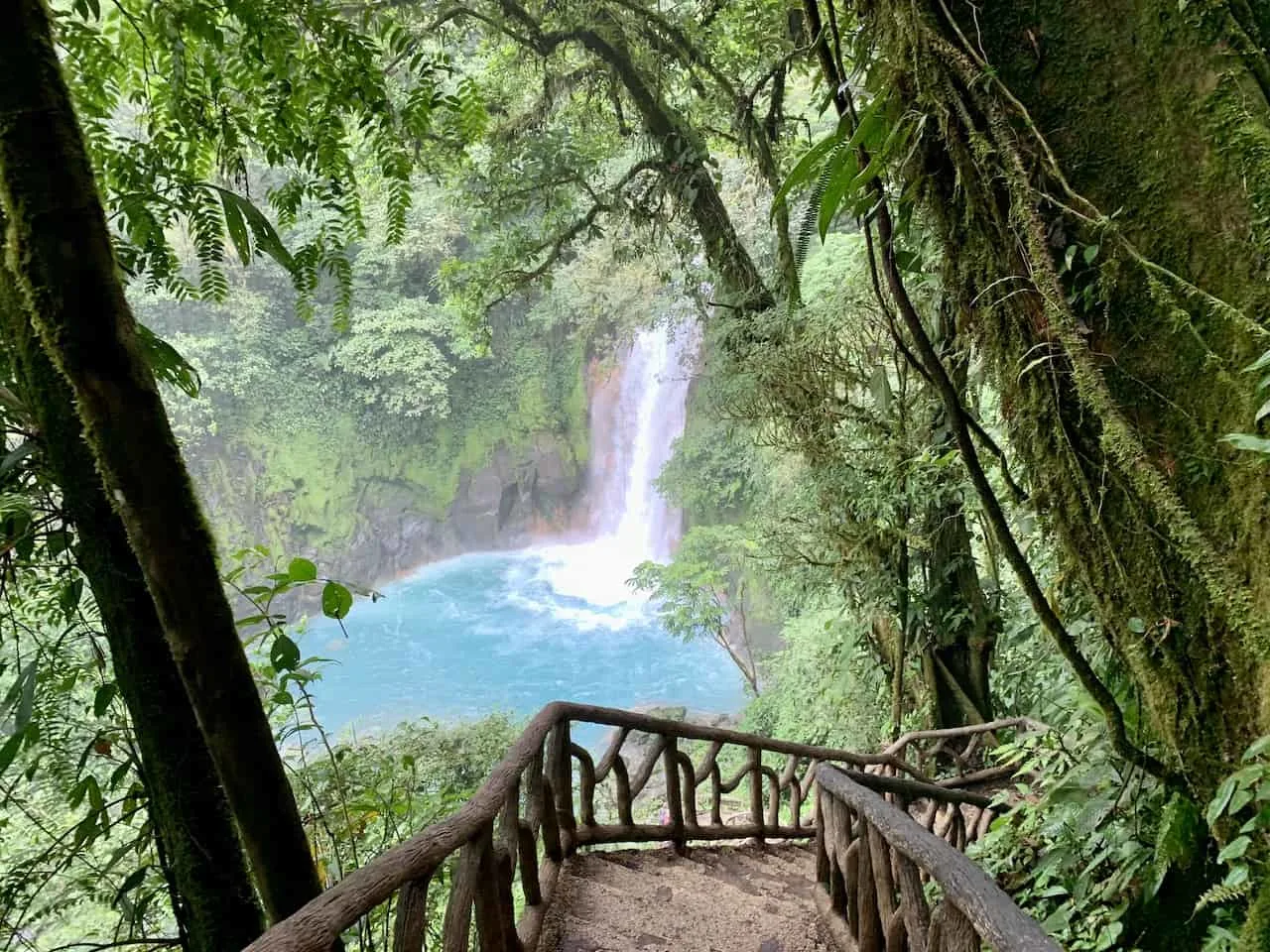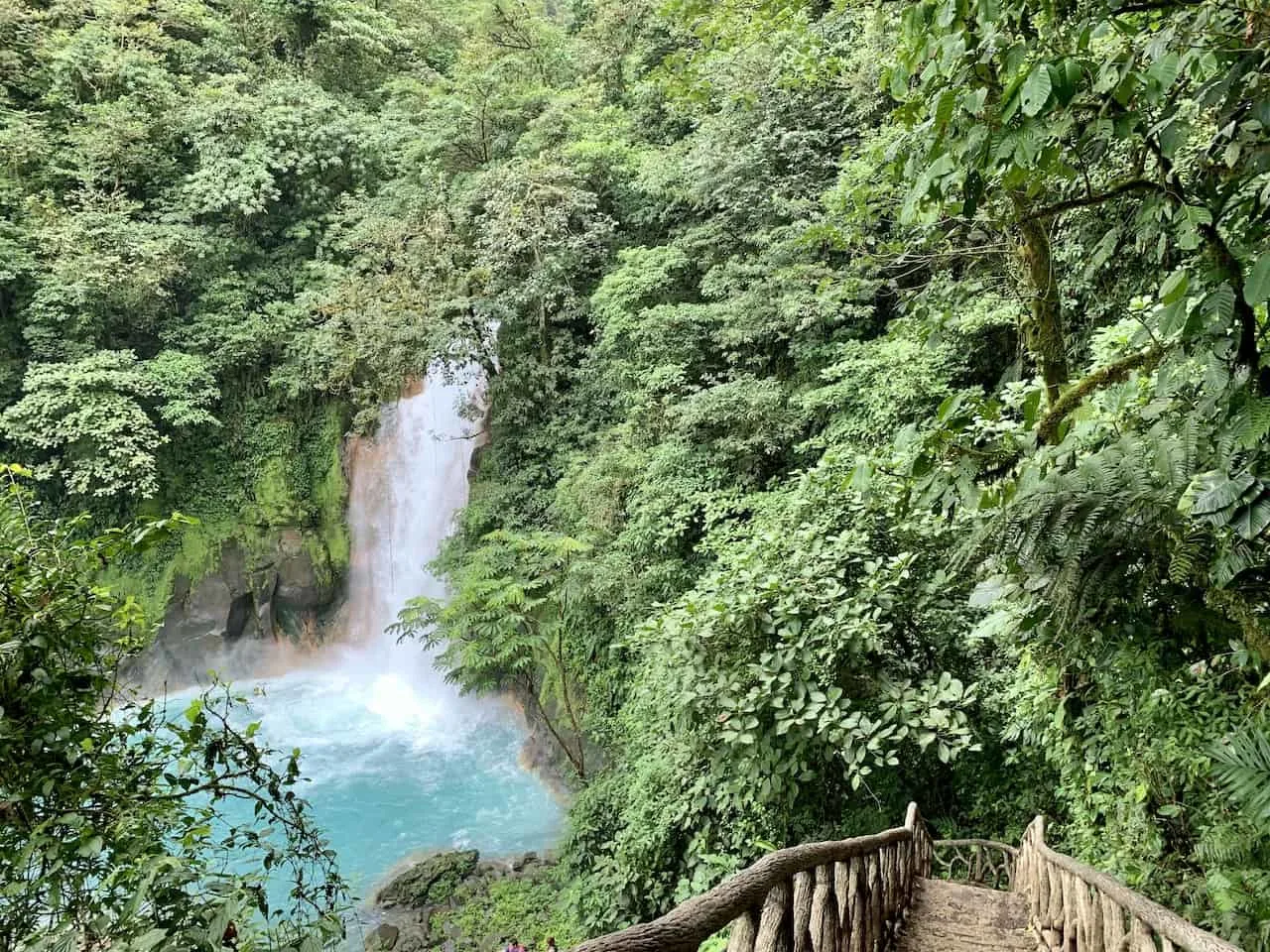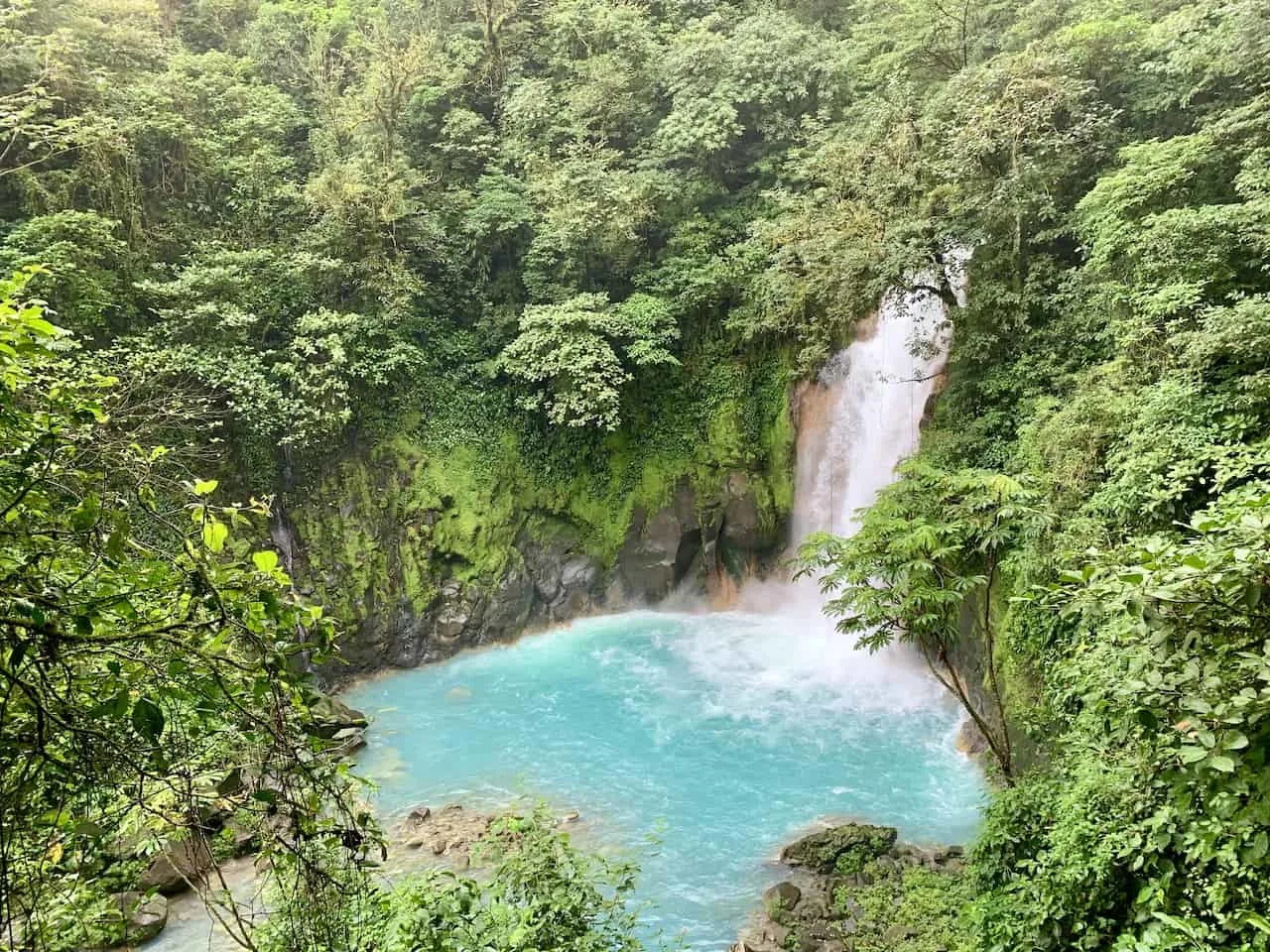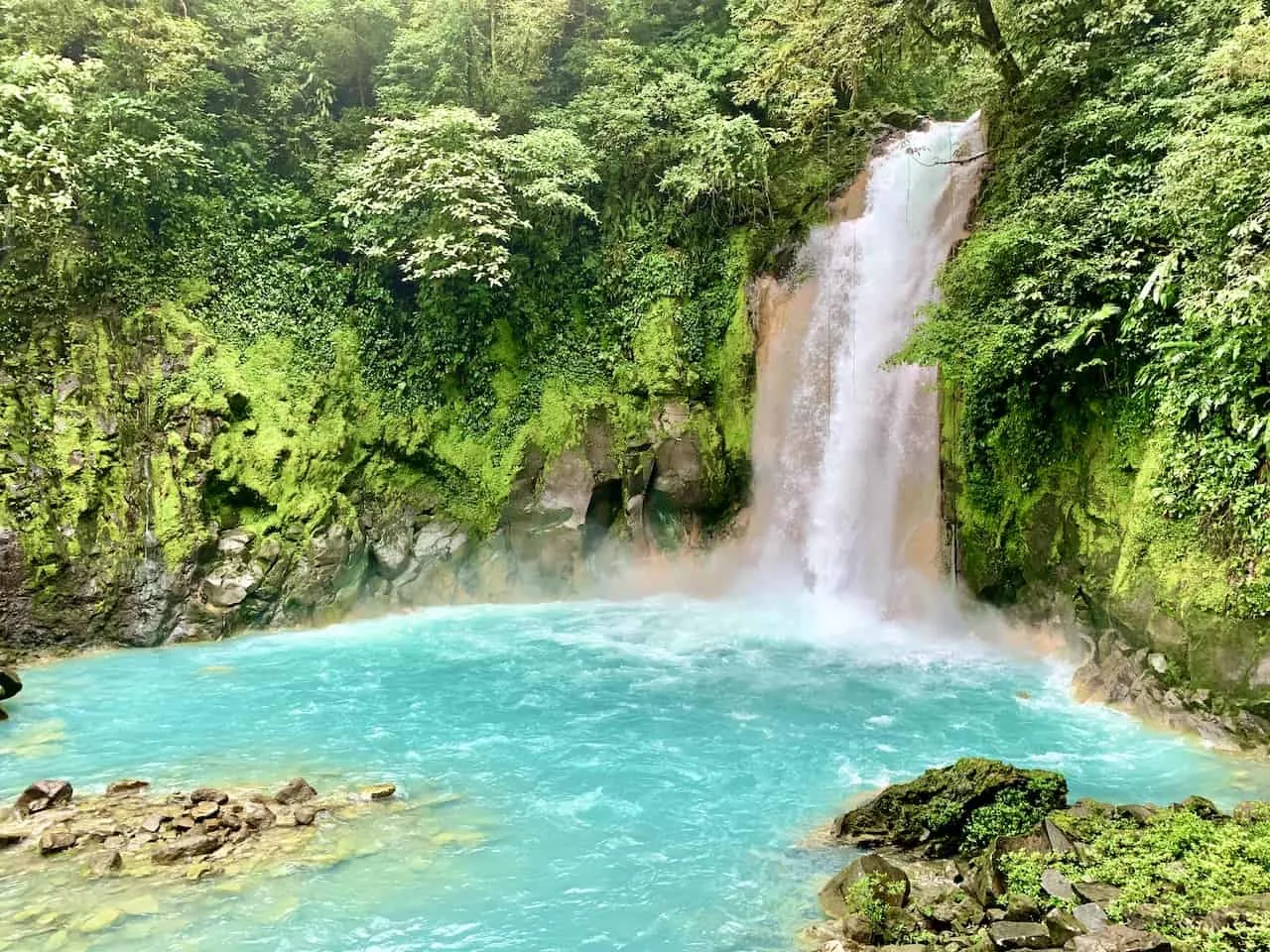 Mirador
Now you have a decision to make. Do you just want to visit the waterfall and head back to the entrance or do you want to head further into the rainforest to visit the other four points of interest?
From here on out the trail is not as maintained and it will get more technical as well as much muddier! Again, I highly would recommend continuing onwards if you have it in you.
From the waterfall just continue following the signs pointing you towards the mirador and other points of interest. There will be rocky staircases and muddy pathways that you are sure to pass through on the way there.
It is 500 meters (0.3 miles) from the waterfall to the mirador (lookout point). Unfortunately during my time there, the lookout point was a bit too covered in clouds. However, check out the photo of the signboard to get an idea of what to expect on a clearer day.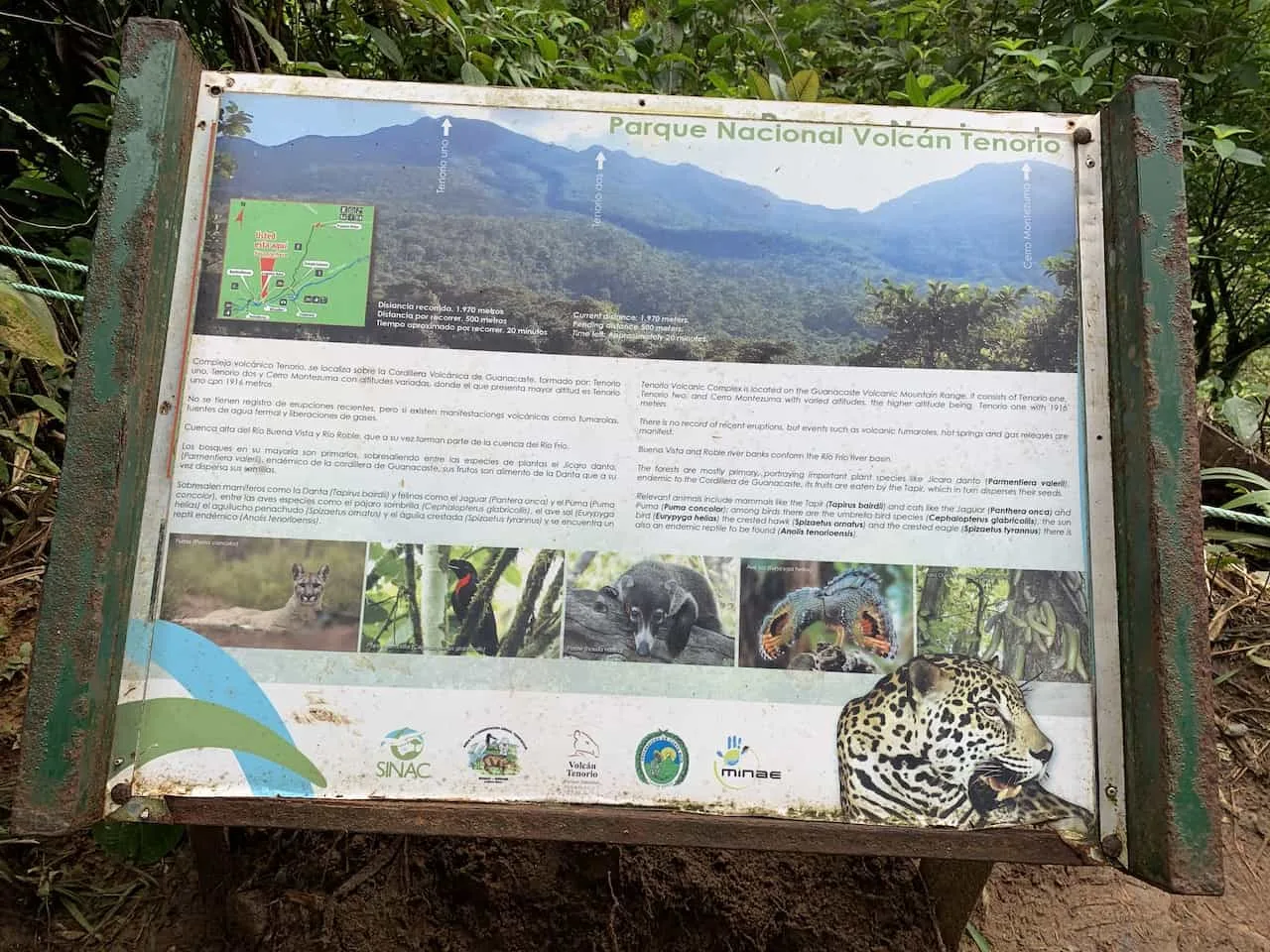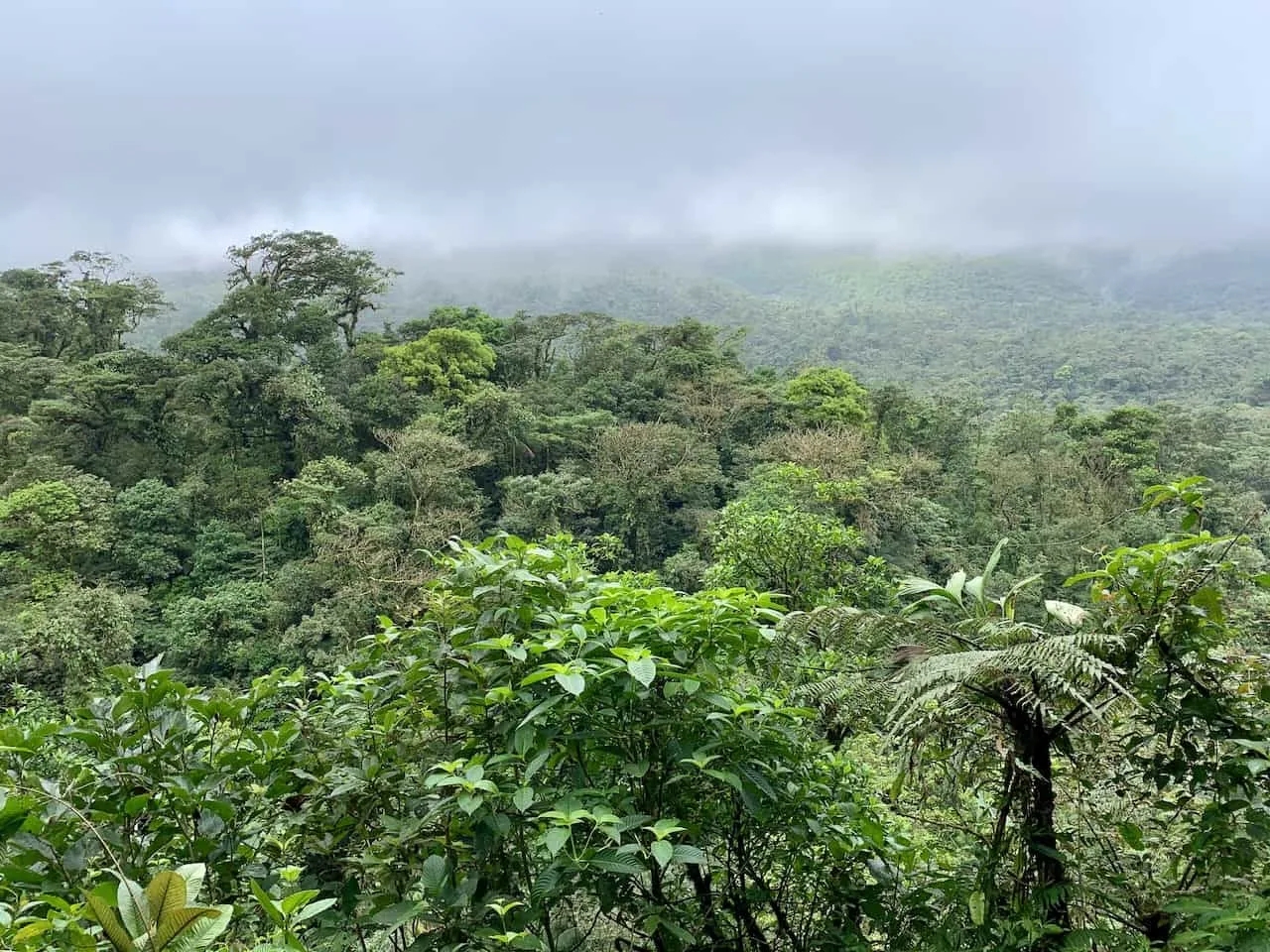 Laguna Azul
It is then just another quick 150 meters until you reach Laguna Azul, which translates to Blue Lagoon.
Once you reach the Laguna Azul you will find out why it is called that. It is a perfectly calm and steady portion of the river, where you get to see this blue river surrounded by the forested greenery all around it.
The contrast here between the water and the forest is just such a beautiful site to take in.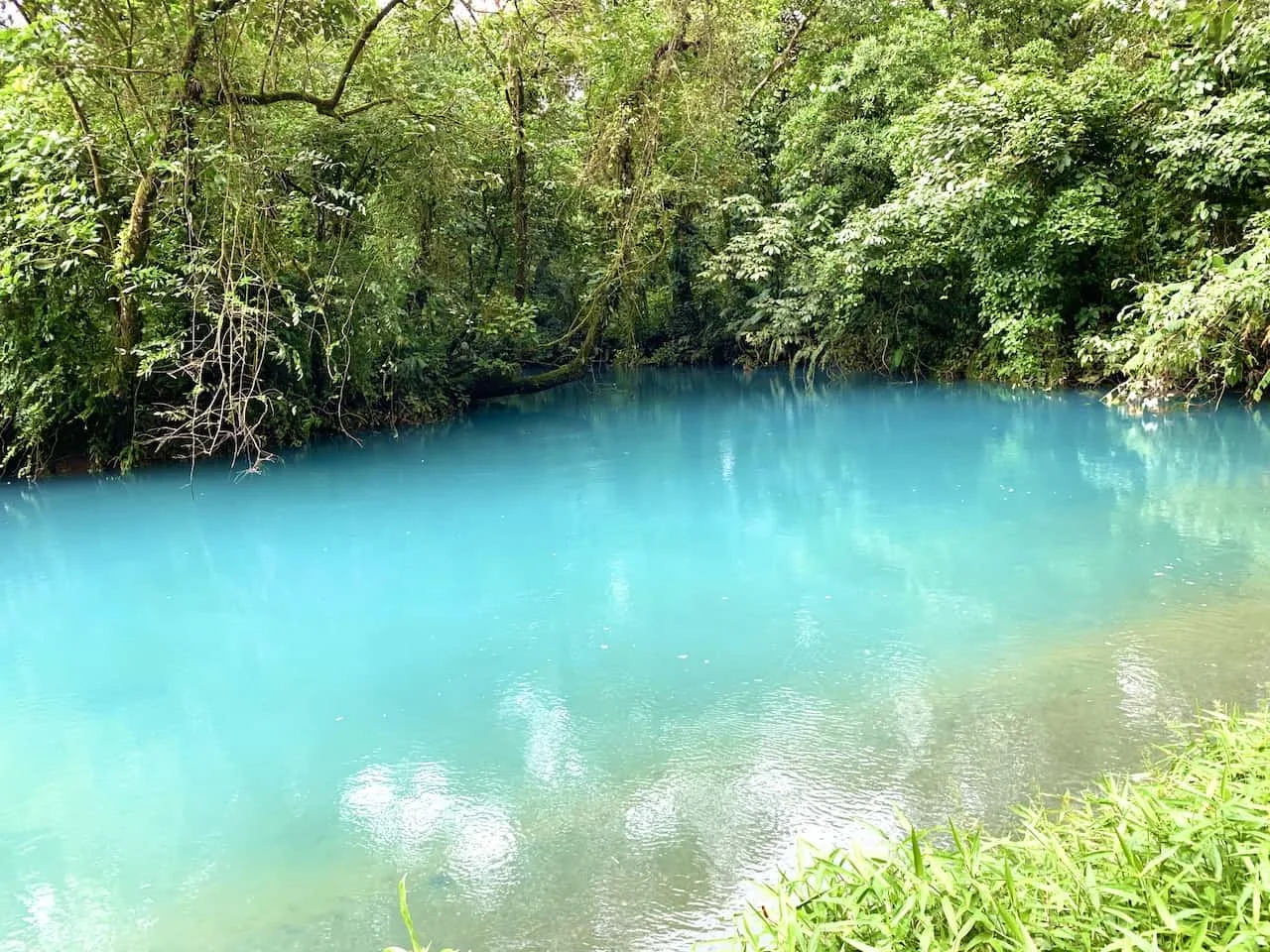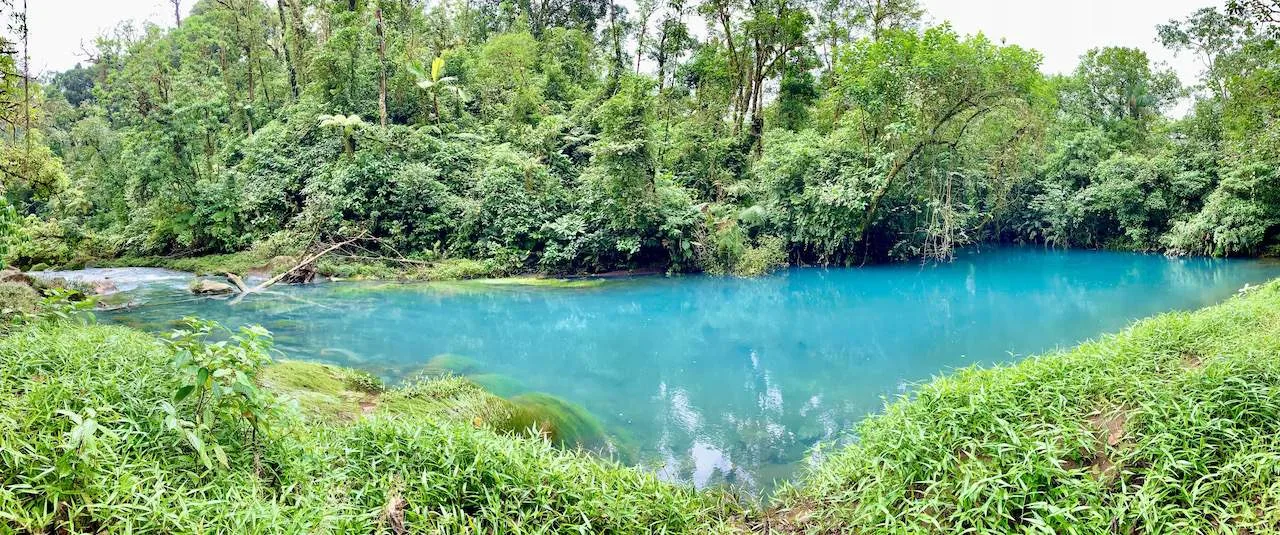 Borbollones
Next up is the Borbollones, another minute up the trail from Laguna Azul. This is one of the most interesting stops along the way as you get to see the river bubbling down below.
Borbollones (translated to bubbles), is where you will get to really take in that sulfur smell coming from underground.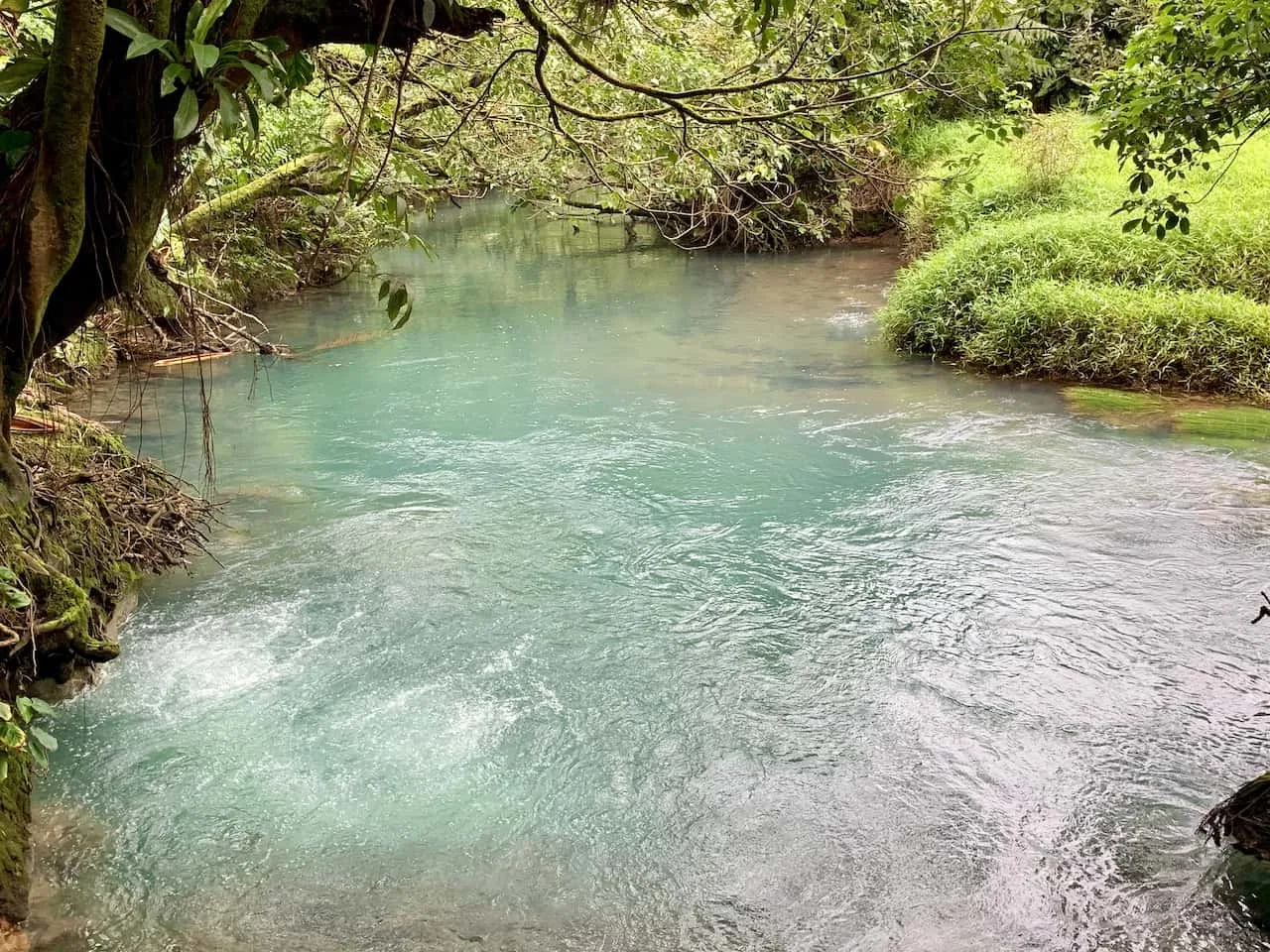 Tenideros
After taking in the Borbollones, it is time to head on the last 300 meters (0.2 miles) of trail as you reach the Tenideros.
Along this last section of trail, the path does have some larger rocks to maneuver your way around as well as a couple suspension bridges over the river itself.
You will get some great views along the way of this picture perfect blue river until you reach the final point.
At the Tenideros is where you get to see that natural phenomenon take shape mentioned at the very beginning of this guide.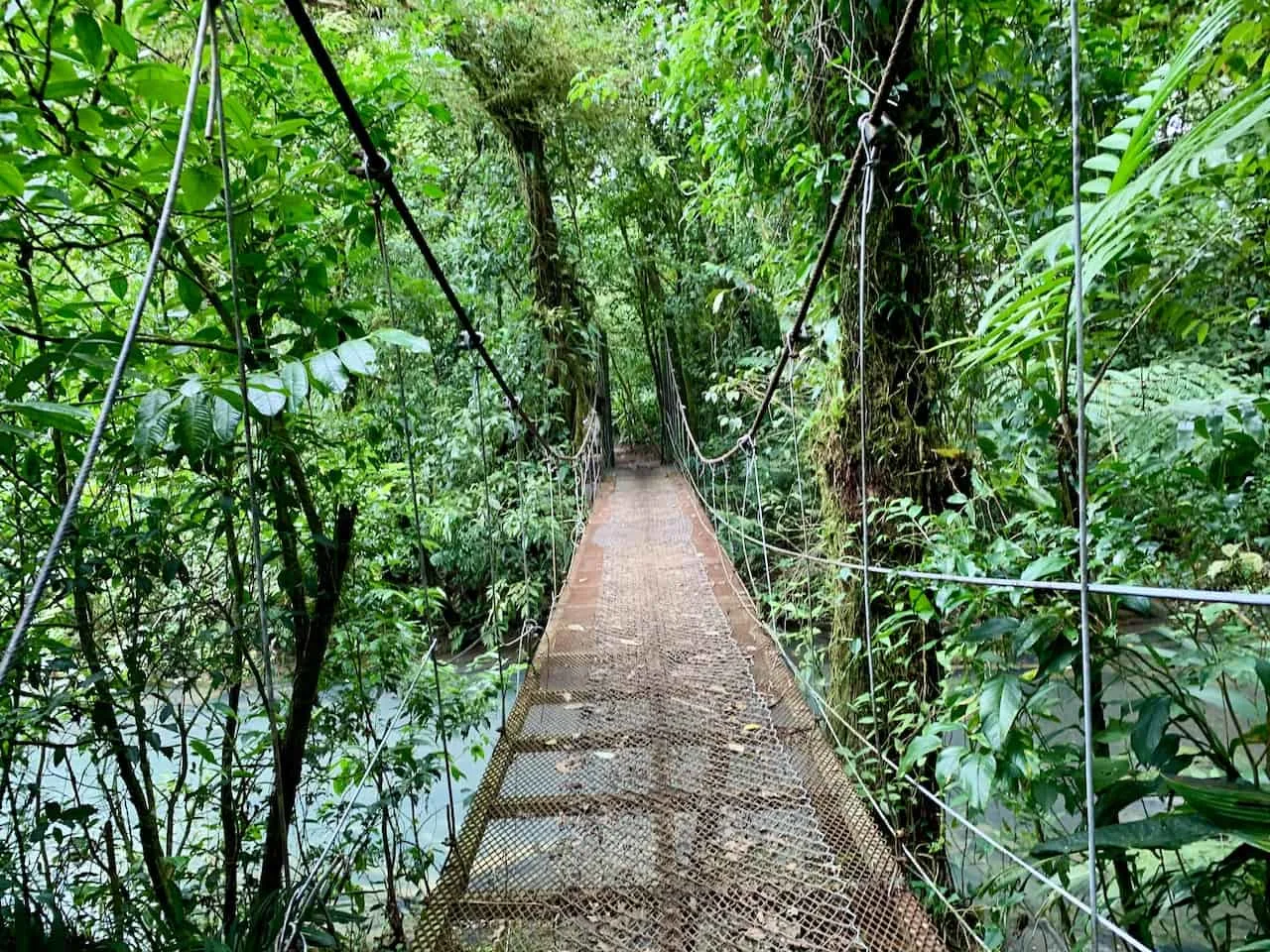 The two rivers meet here, and you get to clearly see the change in color that occurs as these two sources join into one. It really is just a jaw dropping landscape that is just difficult to comprehend.
There are several signboards here explaining the background of the river and this optical illusion if you are looking to learn more.
Once all done here, it is then all the way back to the entrance of the park. You can feel free to stop at any of the points of interest once more as you retrace your steps.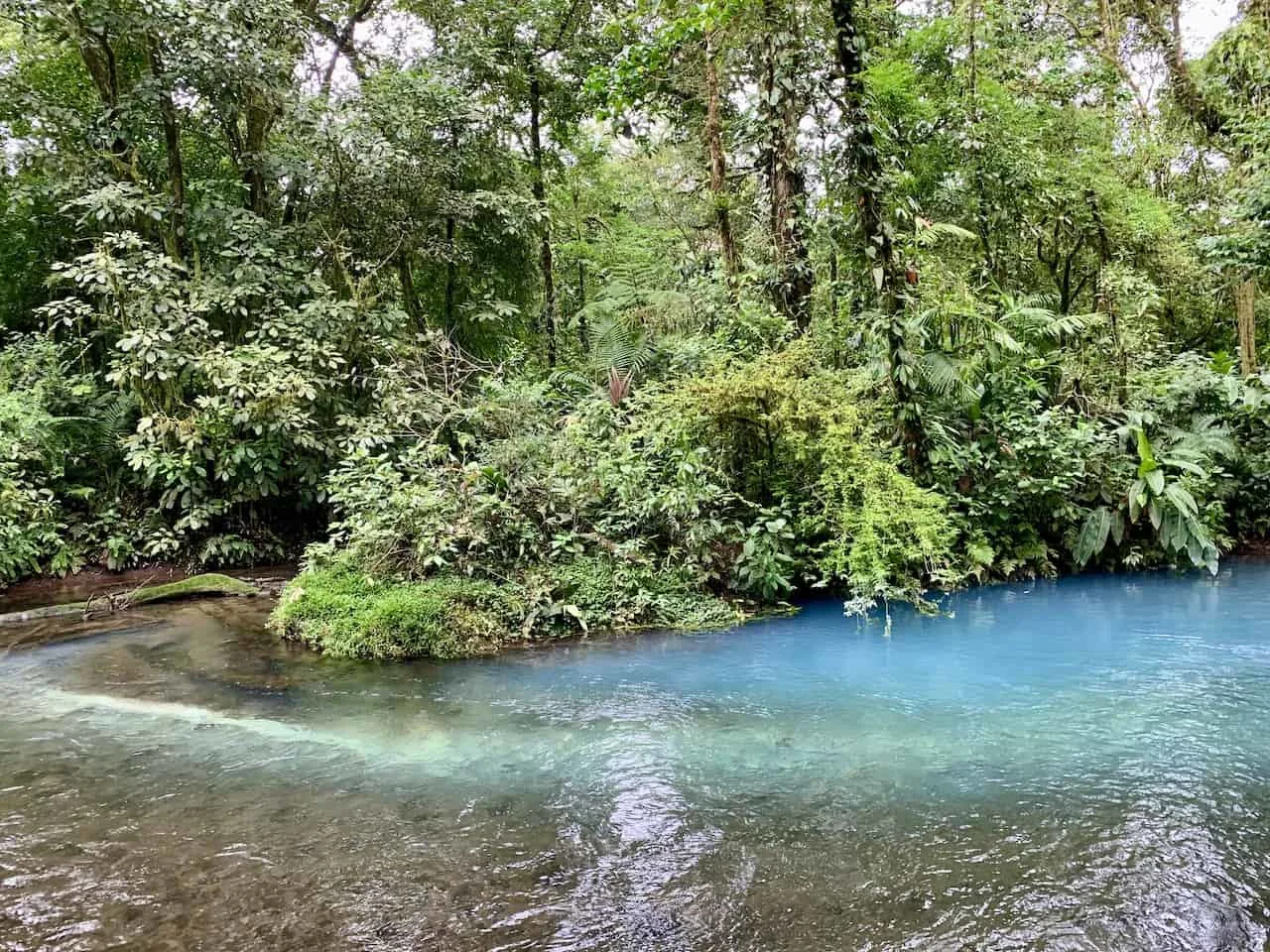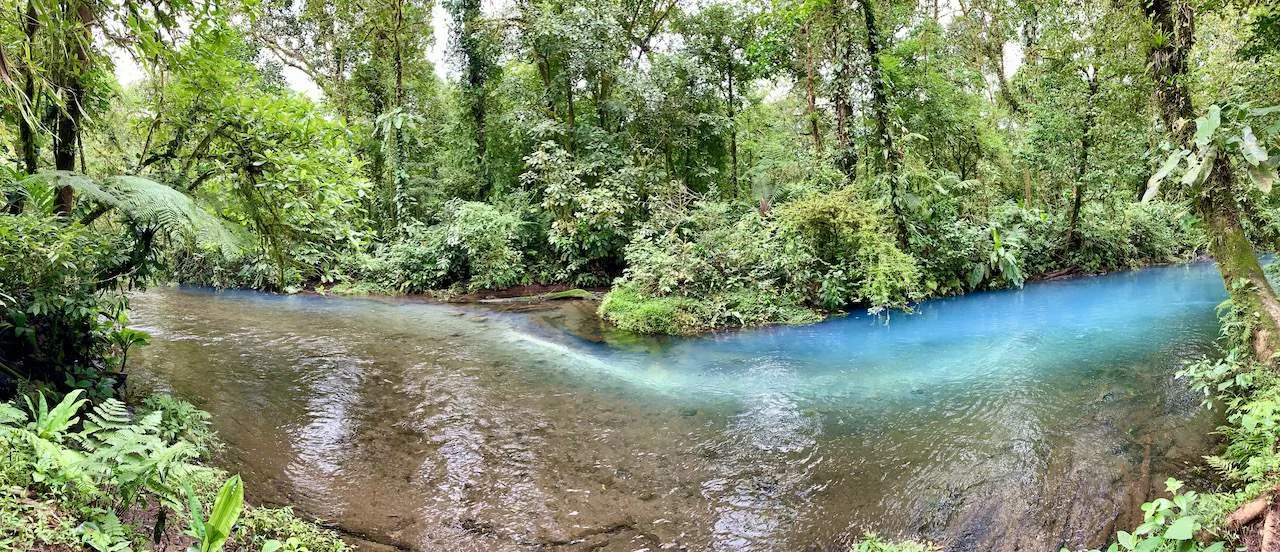 11) Frequently Asked Questions
Below are answers to some of the most frequently asked questions about the waterfall and hike.
How Long is the Hike to Rio Celeste?
The hike from the entrance to the waterfall is about 30 minutes, making the round trip around 1 hour. Considering stops and pictures along the way, expect around 1.5 hours for the waterfall only.
If you have looking to also take part of the rest of the trail, set aside closer to 3 hours for a visit to the area.
Can You Hike Rio Celeste Without a Guide?
You can certainly hike Rio Celeste without a guide. I would say that is what most people do who are not part of a longer day tour.
Everything along the pathways are well marked and it is impossible to get yourself lost.
While going at your own pace is nice, having a guide can be very helpful when it comes to learning more about the waterfall and park in general.
How Tall is Rio Celeste Waterfall?
Rio Celeste waterfall is just 98 feet high (30 meters). While not the tallest, it certainly may be the most beautiful.
If you are looking for a massive waterfall check out the 270 foot Catarata Del Toro.
What is the Rio Celeste Famous For?
If you haven't been able to tell by now, Rio Celeste is most famous for its sky blue color that is hard to come by in other parts of the country and world.
Not only do you get to enjoy this waterfall, but the area also offers the chance to check out a variety of spots along the river including the point where the river actually changes color to this magnificent blue.
It is just such a unique experience overall and one that I would highly recommend adding to your trip to Costa Rica.
I hope this guide has given you all you needed to know about the waterfall. Be sure to check out the other Costa Rica guides and itineraries up on the site. Feel free to write in any comments or questions below.
Have fun out there and safe travels!