A trip to Costa Rica is not complete without some type of ziplining experience. All throughout the country you will find some to take part of, but it is hard to beat a Monteverde ziplining experience.
Some may say that Monteverde has the best Costa Rica zip lines, and it is the place to be if you want to fly over the rainforest.
Not only can you take part of ziplines in Monteverde, but you also can take part of rappelling, superman ziplines, Tarzan swings, bungee jumps and much more!
This guide will give you an overview of what a Monteverde ziplining experience is all about and a detailed view of my time at Extremo Park, one of the top choices in the region.
* Affiliate Disclosure: This post may contain affiliate links, which means I may receive a commission if you make a purchase through the links provided, at no additional cost to you. Thanks for supporting the work I put into TripTins!
1) Costa Rica Zip Line Overview
When it comes to ziplining in Costa Rica, you will come across various zipline tours in nearly every city that you visit. It is one of the most popular activities to take part of in the country and Costa Rica offers great options all around.
Since a large part of Costa Rica is made up of rainforest, ziplines give visitors a unique way of seeing this diverse landscape from above (and getting a bit of an adrenaline rush along the way).
Why Monteverde Ziplining?
Due to the fact that many cities in the country offer ziplining tours, you may be first asking yourself which city should you choose to take part of the experience. That is where Monteverde comes into play.
Many would say that Monteverde is one of, if not the top option to choose for a day of ziplining. This is because Monteverde is situated in the cloud forest and lays at 5,000+ feet of elevation above sea level.
Getting to fly through and above the rainforest with views all around is something that Monteverde does not disappoint on.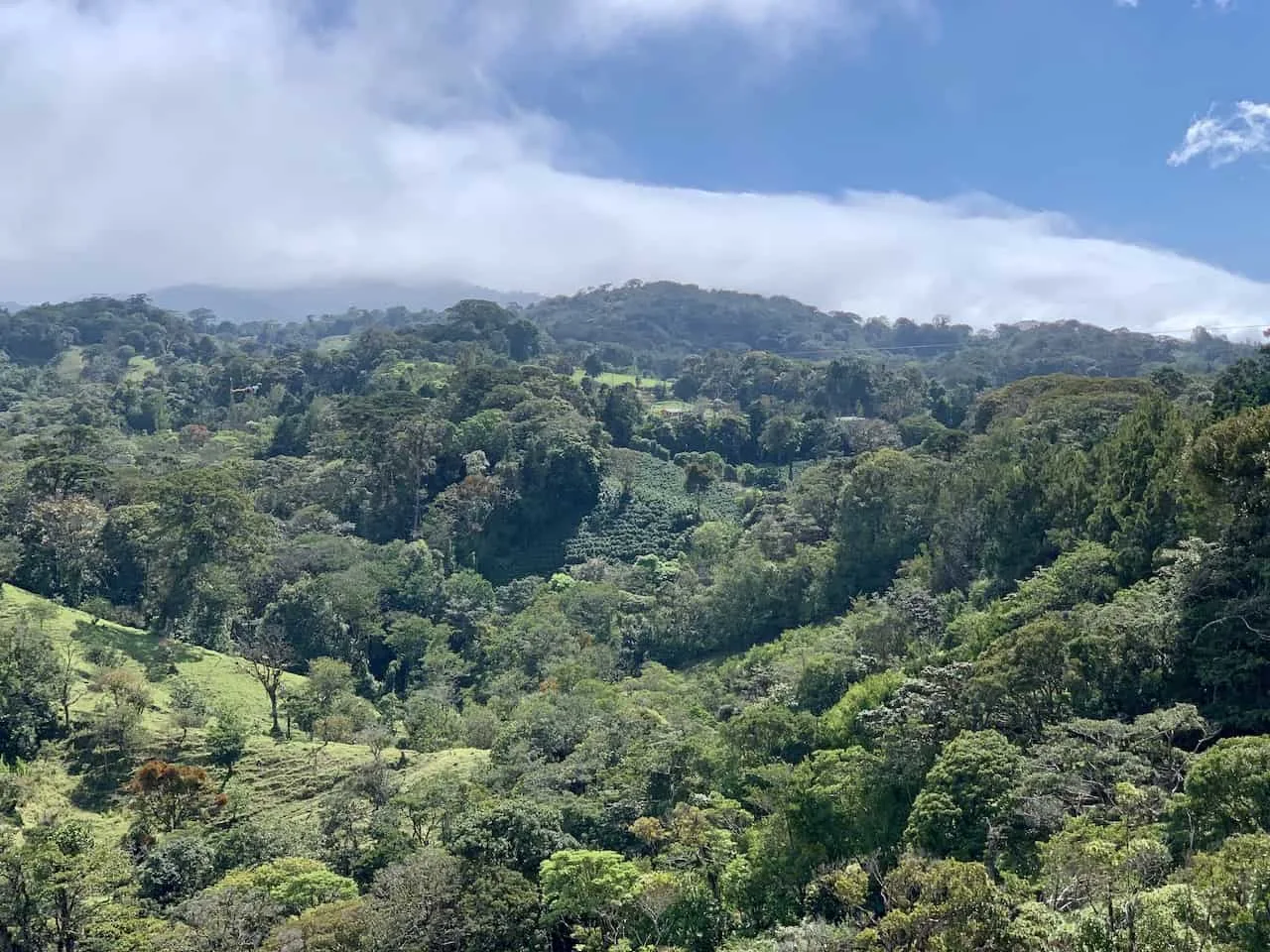 Choosing a Monteverde Zip Line Tour Company
If you choose to enjoy a zip line experience in Monteverde, the next decision will be to decide on which tour company to go with. While there are several to choose from in the area, four of the main ones include (Click the links to book today! -> note some may include additional experiences):
As you can see this is a bit more than just a normal zip line. The ziplining courses are vast with many additional offerings along the way too.
It can be difficult choosing between them all but no matter what you choose, you are sure to have an incredible experience.
I would recommend reading up on some of the reviews on Google or Tripadvisor to get a better sense of what people have to say about them
I will say that if you want to take part of the longest single zipline (nearly a mile!), then 100% Aventura Park is your go to. If you know you also want to do some bungee jumping then only Extremo Park offers it.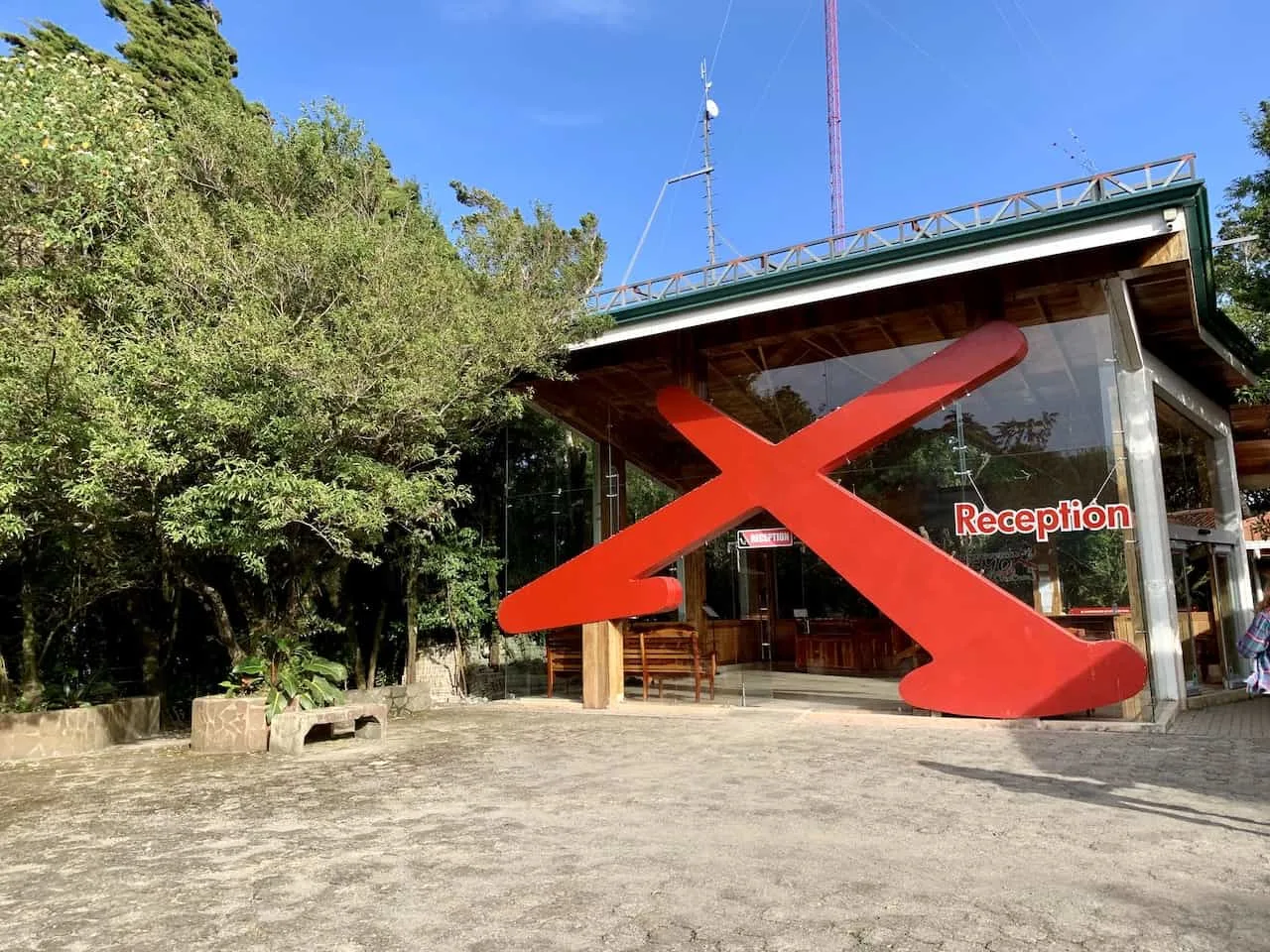 2) Monteverde Zipline Price
As you may imagine, it can get competitive between all the different parks. Due to this you will not see too much difference between the standard ziplining prices.
The reason why Sky Trek is more expensive is due to their automated braking system that they have installed vs. breaking with your hands.
Sky Trek: $84
Selvatura: $57
100% Aventura: $50
Extremo*: $52
*Note: the price for Extremo does not include the Bungee Jump or Mega Tarzan swing
For the remainder of this guide I will talk about my time at Extremo Park, where I took part of the full zipling tour, Tarzan swing, and bungee jump.
Be sure to read on to the end of the article, where you can find a video of the experience.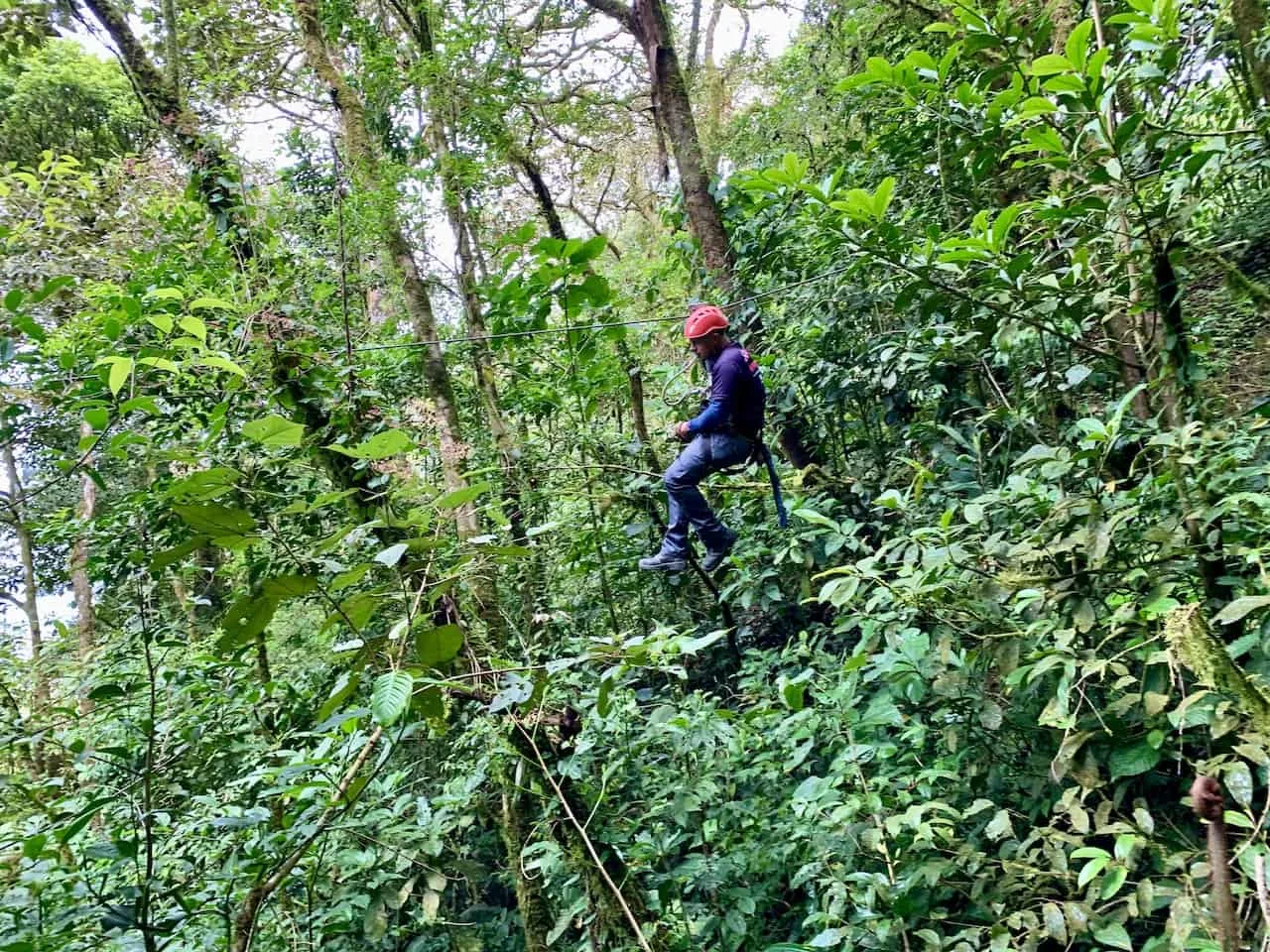 3) Where to Stay in Monteverde
While the area of Monteverde is not too big, the hotels in the area can be a bit more spread out.
Many resorts have acres and acres of property to enjoy, so there is a feeling of more seclusion and privacy at some spots.
Below are three great options to choose from depending on price and availability.
Monteverde Lodge & Gardens -> Book Today
It features an extensive garden with a heated outdoor pool. Guests can also enjoy the indoor butterfly garden. Rooms offer views of the forest and gardens.
Both upstairs and downstairs rooms have solar-heated hot water showers, an in-room safe, coffee maker, alarm clock, ceiling fan, reading lamps, hair dryer and laundry bag.
The lodge's El Jardin Bar & Restaurant offers a bar setting around an open fireplace. The menu offers traditional Costa Rican and international recipes made with local ingredients.
The Monteverde Lodge & Gardens can arrange activities such as tours and hiking, horse riding and bird watching. The property also has experienced on-site guides that can organize day and nighttime excursions into the wilderness.
Camino Verde B&B Monteverde Costa Rica -> Book Today
Camino Verde Bed & Breakfast Monteverde features a terrace with great views of the surrounding cloud forest and mountains. It offers a free breakfast.
Rooms at Camino Verde Bed & Breakfast Monteverde have simple décor. All rooms have a private bathroom with hot water.
Staff can arrange trips to the Monteverde Cloud Forest and provide information on ziplining and travel around Costa Rica. Free maps and luggage storage are available at reception.
El Establo Mountain Hotel -> Book Today
Offering rooms with balconies and views of Monteverde Cloud Forest, El Establo Mountain Hotel has a beautiful setting within attractive grounds.
This family-run hotel features 2 restaurants, a spa and an outdoor swimming pool. El Establo's rooms have attractive decor and carpeted floors. Each room comes with a flat-screen TV and laptop safe box.
The Establo Mountain Hotel can arrange day and evening walks around 3.1 mi of walking roads in the neighboring Monteverde Cloud Forest.
There are also a tennis court within the hotel grounds, and Monteverde provides an ideal setting for hiking.
→ While you are in the area you can check out some of the best restaurants in Monteverde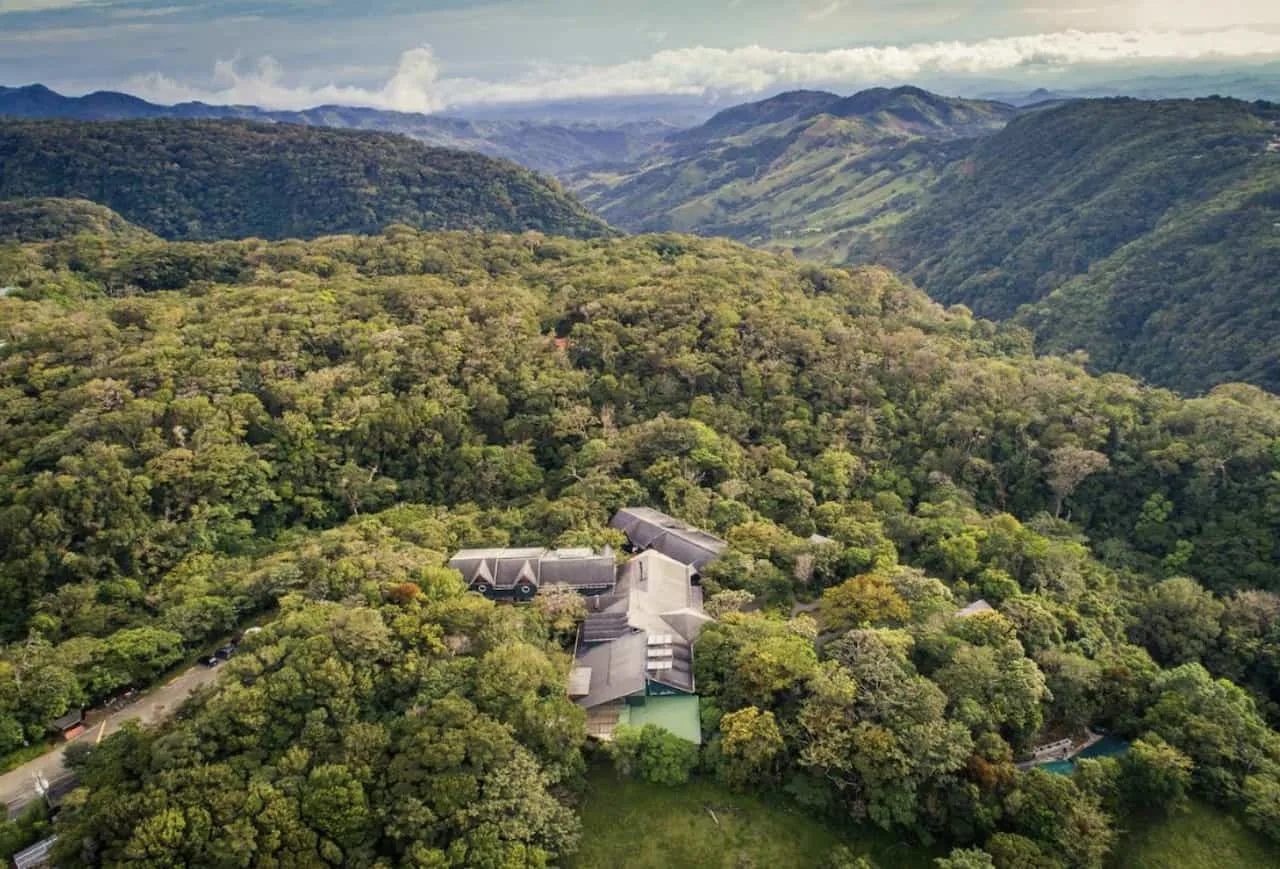 4) Costa Rica Travel Insurance
Considering travel insurance for Costa Rica?
World Nomads offers coverage for more than 150 adventure activities (like Monteverde ziplining!) as well as emergency medical, lost luggage, trip cancellation and more.

For years, World Nomads has been protecting, connecting & inspiring independent travelers, offering travel insurance & safety advice to help you travel confidently. Their mission is to support and encourage travelers to explore their boundaries.

World Nomads has simple and flexible travel insurance that has been designed by travelers for travelers. Even if you leave home without travel insurance or your policy runs out, you can buy or extend out on the road.

Get a quote for a World Nomads travel insurance policy today!
5) Monteverde Ziplining Experience
While you will get similar experiences at the various ziplining tours, each one does offer its own unique experience. What I love about Extremo Park is that you get a little bit of everything.
The standard canopy ziplining tour has 16 different ziplines including superman and subterranean options, a rappel, and Tarzan swing.
In between the ziplines you will also get a little bit of rainforest hiking in as you walk from one platform to the next.
If you are up for even more of an adrenaline rush, that is where the Mega Tarzan swing and bungee jump come into play -> two offerings that none of the other tours offer. Below is a step by step guide on what to expect throughout the day.
» Visit Monteverde as part of a longer 10 Days in Costa Rica that takes you around the country
Pickup and Arrival
Pickup for the tours is usually included in the cost. So, prior to your departure day, the company will send you an email with an estimated pickup time (usually 30-45 minutes prior to your tour start time).
Depending on the route, you may need to pick up others along the way so driving time varies. The drive from the center of Monteverde to Extremo Park is around 20 or so minutes (a bit farther out than some of the others).
Once you arrive, you will head into the main reception area, sign some paperwork and then be directed to the equipment area.
There you will get fitted with a harness, helmet and gloves. You will be given a short tutorial on what to expect out on the course and how to control yourself on the ziplines.
After getting all set with your equipment, you and your group will be directed by several guides to begin the tour.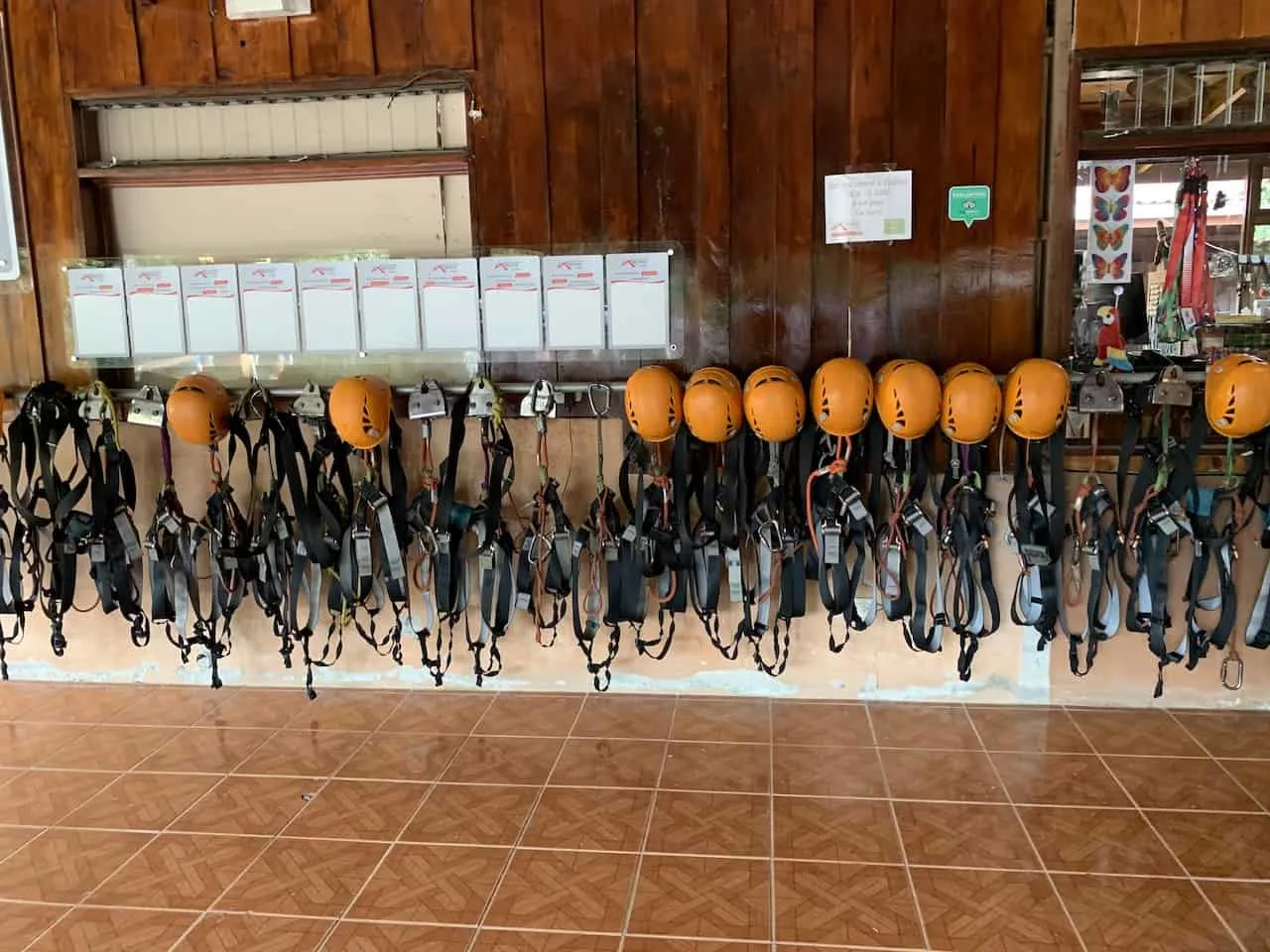 Canopy Ziplining Tour
During the canopy ziplining tour at Extremo Park, there is a bit of hiking involved. Sometimes it can be just a minute or two between zipline platforms, and sometimes it can be closer to a 5-10 walk through the rainforest.
After heading out from the main entrance area, you will have the first of those hikes through the rainforest. You will soon arrive at the first of 16 (yes 16!) ziplines.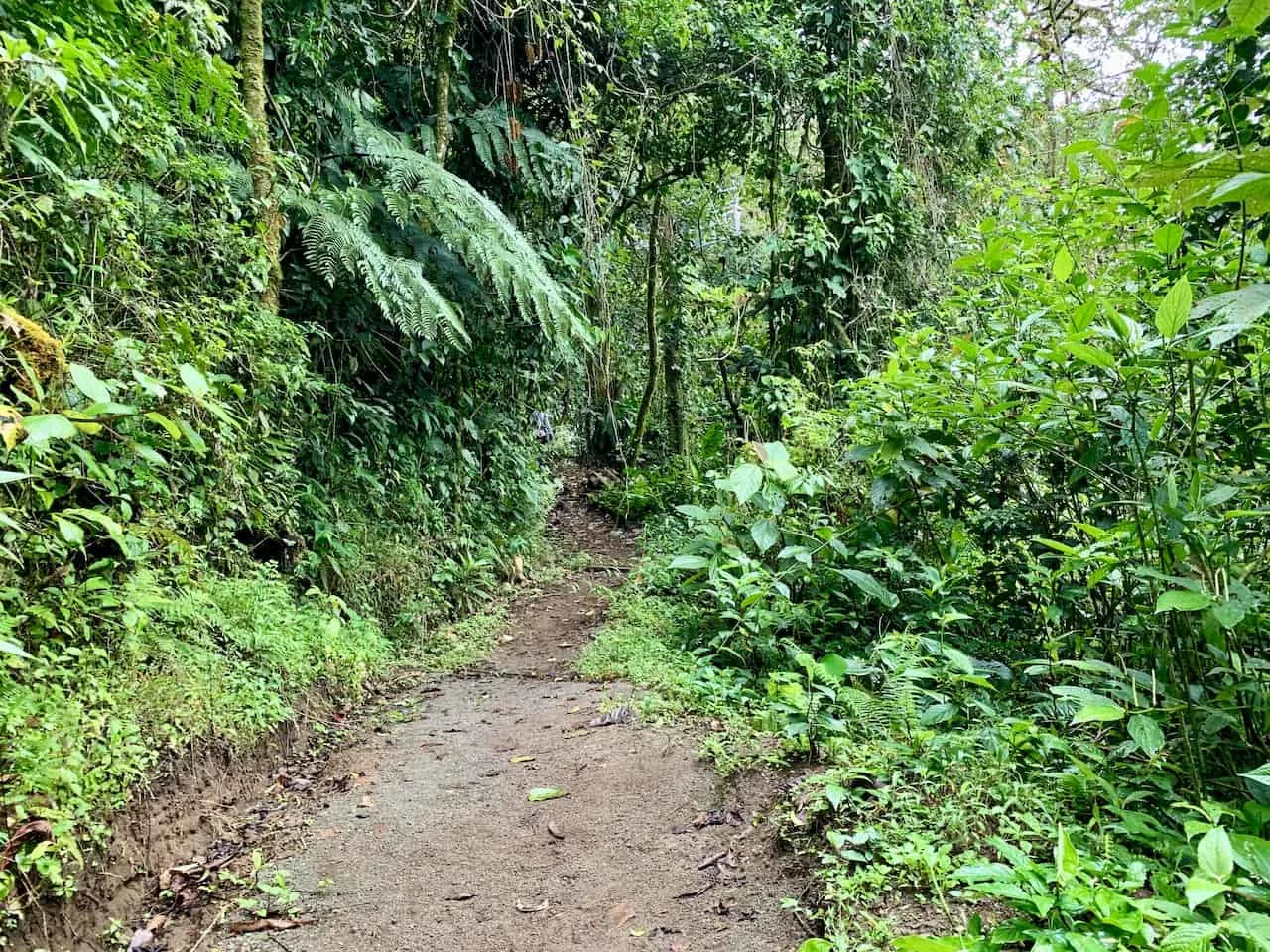 Each zipline starts and ends on a wooden platform. Some of these are as short as just 20 seconds, while others are thousands of feet long.
So, you will get a little bit of everything in between.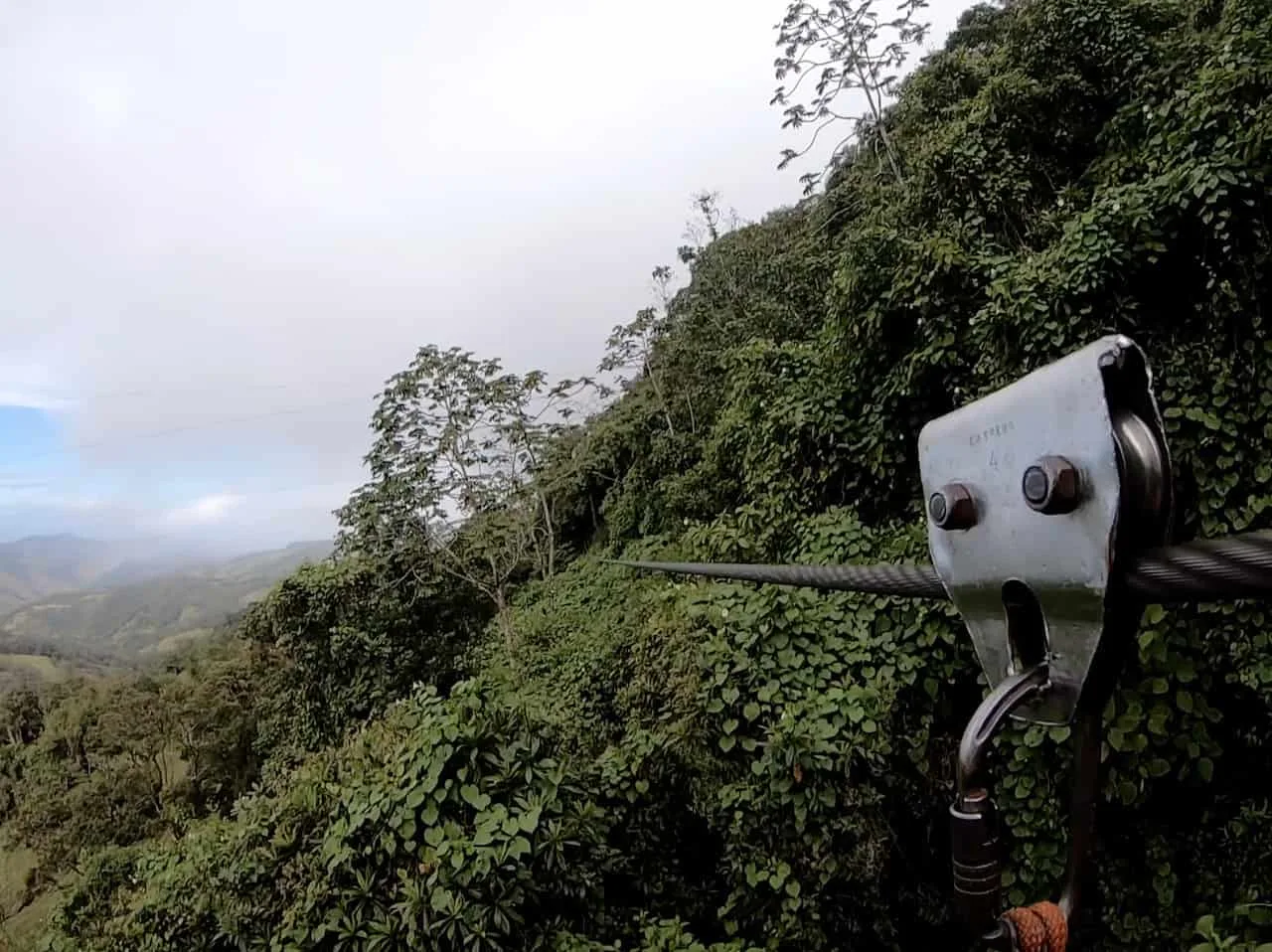 Be sure to bring a GoPro along for the ride too if you have one! You can fit it onto the helmets or you can hold onto it with an accessory pole. You will get some great footage all along the way.
As you are ziplining through, be sure to enjoy the beautiful scenery all around you. Sometimes you will just be fully surrounded by the rainforest and other times you will be flying above the rainforest.
But also, be very keen on paying attention to the zipline itself. You will need to help stop the momentum towards the end of the zipline (don't worry it is not as hard as it sounds).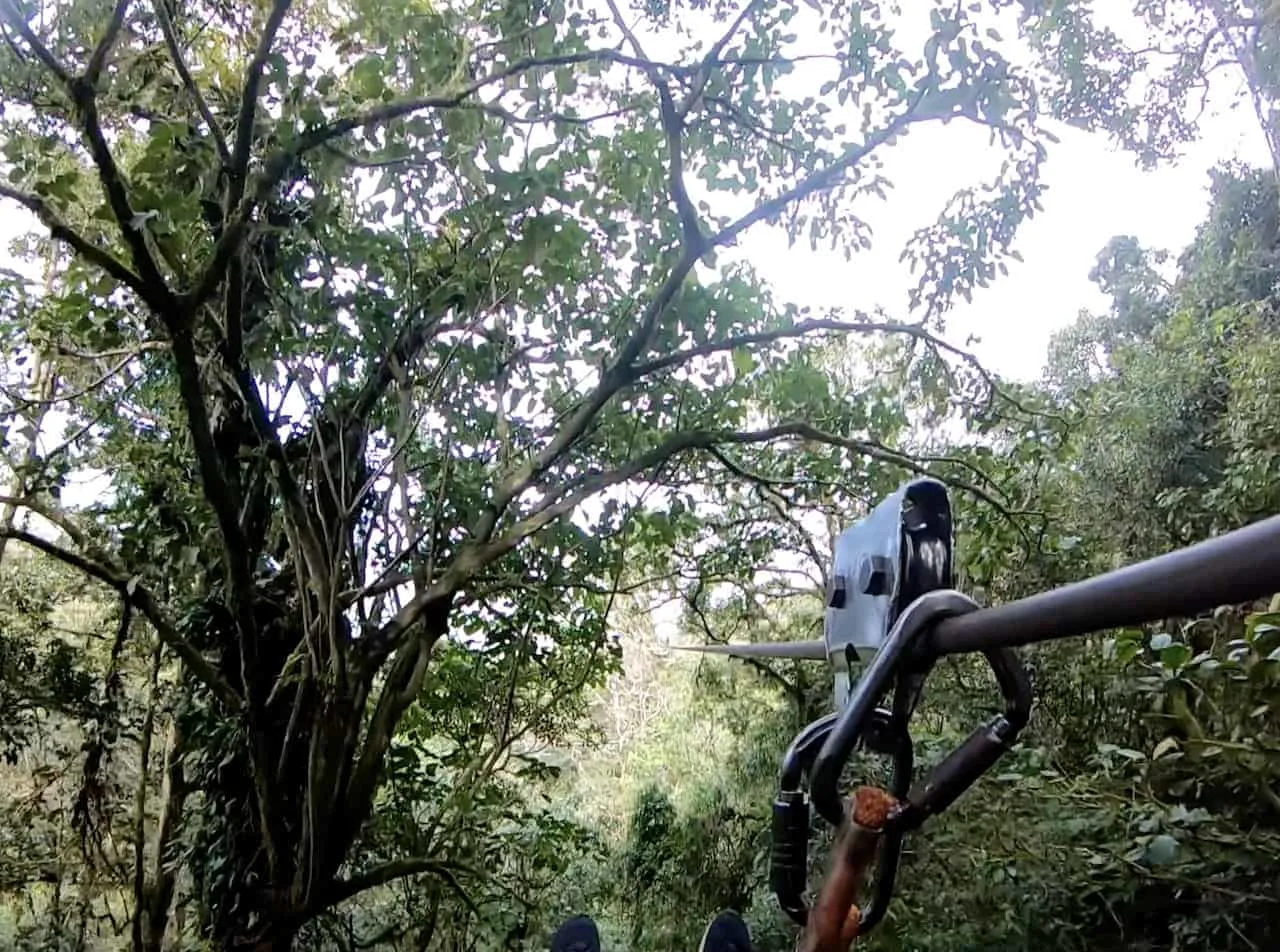 Between ziplines you will also take part of a rappel down nearly 100 feet!
The guides will strap you into the abseil and you will begin to head vertically down to the ground. So definitely a little change of pace from just the ziplines.
Beyond the normal ziplines and the rappelling station, there are other more unique parts of the tour along the way, such as…
Monteverde Zipline Superman
During the normal ziplines, you will essentially be sitting down in your harness and sliding down the rope.
However, at Extremo they also offer two Superman ziplines. So instead of sitting down, you will be hooked in horizontally.
So if you think about that position, it looks like you are going to be Superman flying through the rainforest.
The main Superman zipline at Extremo Park is over a kilometer long. It clocks in at 3,380 feet / 1,030 meters, and you can hit some high speeds up there.
It also offers one of the best views of the entire canopy tour.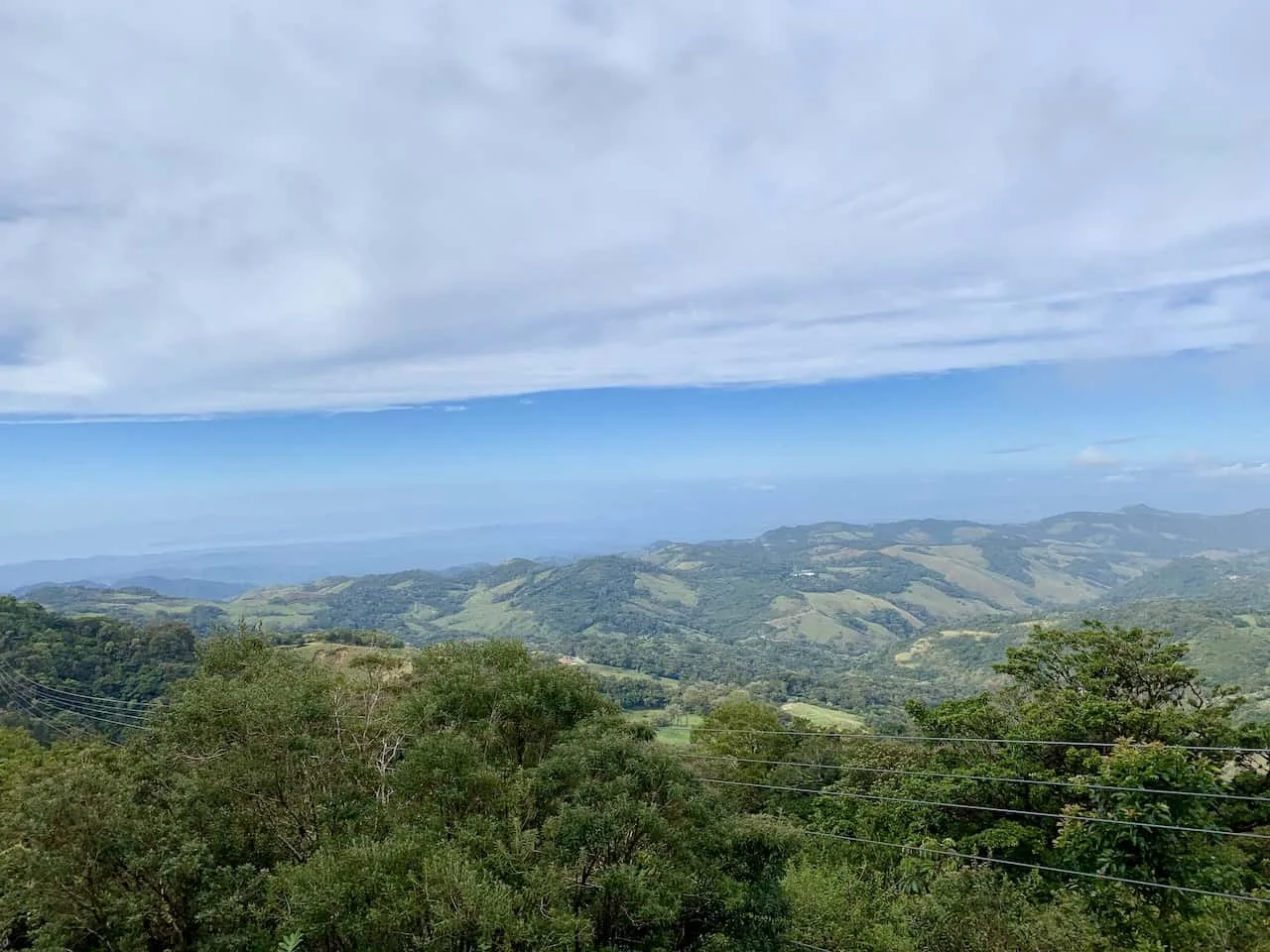 The second Superman zipline is actually a subterranean tunnel of 623 feet / 190 meters.
So instead of flying above the rainforest, you will be flying underneath it. It is an exhilarating ride shooting through the darkness and onto the other side.
These are both offered as a standalone package if you only wanted to do the two Superman ziplines and not the rest of the canopy tour.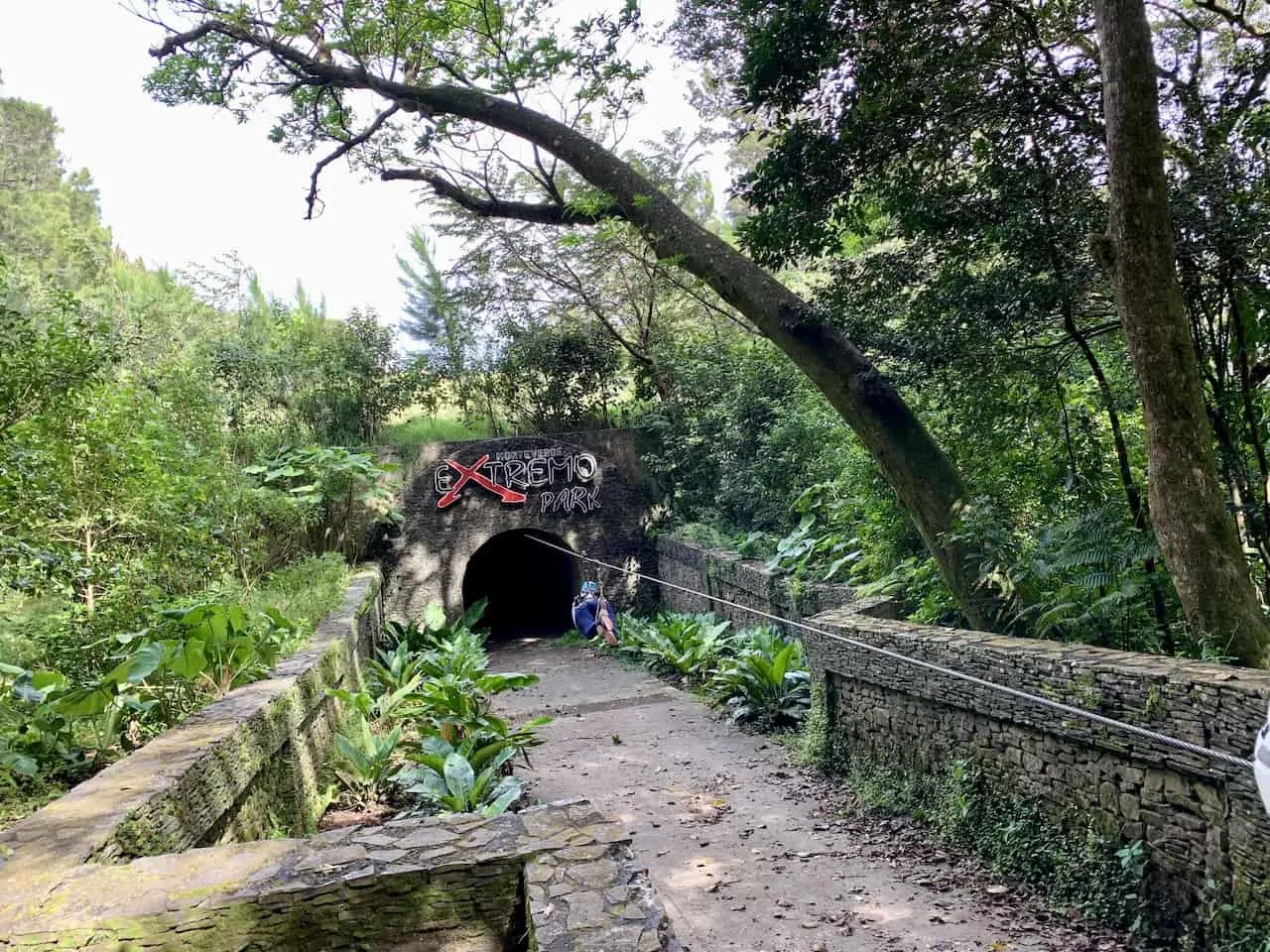 Monteverde Tarzan Swing
To end the tour, you have the option to take part of the famous Tarzan swing (included in the cost). A Tarzan swing is a bit more extreme than the rest of the tour.
Essentially you will head up to the top of this platform over 200 feet from the ground. At the top, they will attach a rope to you, harness you in, and bring you down just below the platform.
The countdown begins and all of a sudden one of the ropes will be removed and you will free fall down to the bottom.
It is different from a bungee jump as this does not require you to make the jump off. You just have to sit back and the guides will drop you down. A bungee jump requires you to actually jump off on your own. If you are confused just watch the video below!
Once the Tarzan swing is complete, you can watch a few of your fellow travelers swing off as well before making the walk back to the main entrance.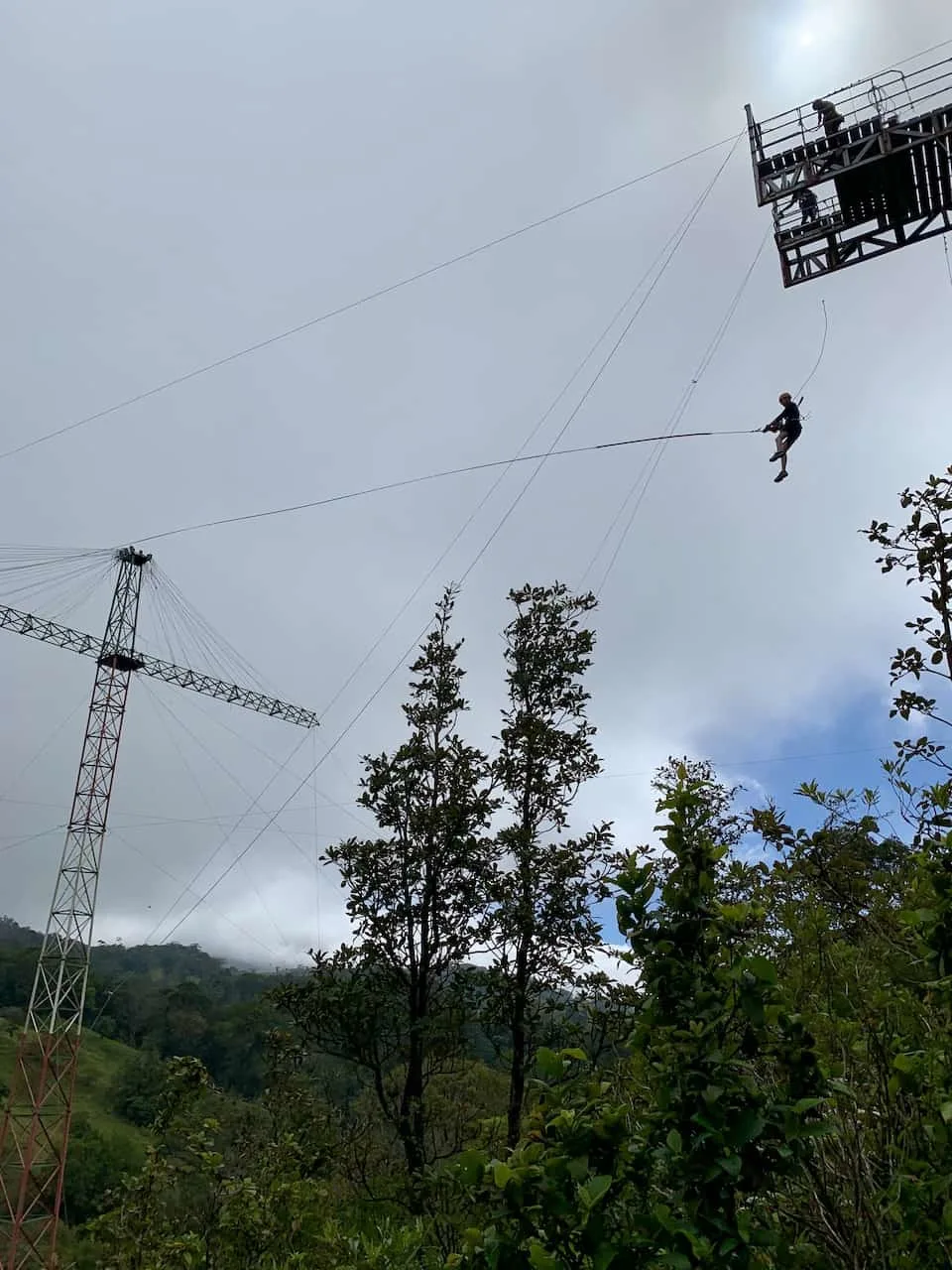 Bungee Jump & Mega Tarzan Swing
It doesn't end there though! If you want to add on another part to your day, you have the chance to take on the bungee jump and mega Tarzan swing.
The bungee jump is the highest bungee jump in Latin America at 490 feet in the air! I would recommend you read up on the guide I put together that talks through a Monteverde Bungee Jump experience.
In addition to that, on the bungee platform they also offer an mega Tarzan swing. This one is about a 300 foot drop right down into the middle of the rainforest. Another crazy activity to take part of if you are up for the challenge.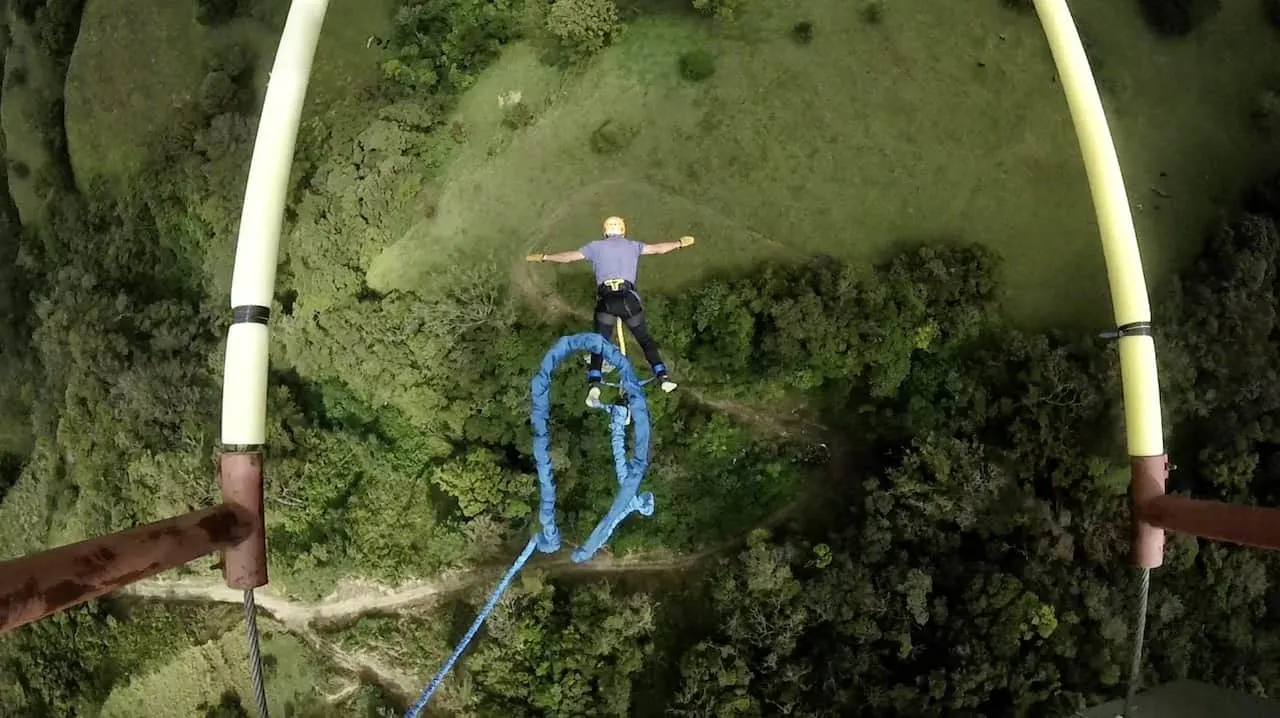 6) Monteverde Ziplining Video
Now that you have some more background on a day of ziplining through Monteverde, Costa Rica, why don't you watch a short video of the experience.
It will include a few of the ziplines, the rappel, Superman ziplines, and Tarzan swing. Hope you enjoy it!
That about wraps up a day of ziplining Monteverde. If you have any questions or comments, feel free to add them in below.
Also don't forget to check out the other Costa Rica itineraries and guides up on the site.
Have fun out there and safe travels!