During my three weeks in Costa Rica, I had the chance to go to all corners of the country. Along the way I got to experience a little bit of everything. From wildlife spotting in national parks, to jumping off the highest bungee in Central America, to hiking to the top of the highest point in Costa Rica.
But the experience that really sticks out the most for me, was the three day / two night adventure I got to take part of in Corcovado National Park located on the Osa Peninsula.
During this multi day experience, I had the chance to hike countless hours through the lush rainforest of Costa Rica, that is home to the most variety of wildlife in the entire country. The amount of animals and flora that I got to witness was never ending for three days straight.
Getting to witness sunrises and sunsets, sleeping in the rainforest, and being surrounded by nature is something that is unique to Corcovado. When it comes to special experiences in Costa Rica, it is tough to beat what Corcovado National Park has to offer.
This guide will give you some background on Corcovado including tour options, hiking trails, lodging, maps, and much more. I will then go into detail about the three day itinerary I had the chance to experience during my time in the rainforest.
* Affiliate Disclosure: This post may contain affiliate links, which means I may receive a commission if you make a purchase through the links provided, at no additional cost to you. Thanks for supporting the work I put into TripTins!
1) Background & Facts
There are several national parks all through the diverse landscape of Costa Rica. But when it comes to Corcovado National Park, there is not much more you can ask for.
» Corcovado National Park is located all the way in the southwest corner of the country on what is called the Osa Peninsula. It makes up 164 square miles of protected rainforest.
» There are 13 different ecosystems thriving within Corcovado, making it one of the most diverse places on the planet for its size.
» When it comes to wildlife, Corcovado does not disappoint. You will find 140+ species of mammals, 400+ birds, 40+ fresh water fish, 70+ reptiles, 40+ amphibians, and 8,000+ insects. Amazingly, the park has 2.5%+ of the world's biodiversity in its boundaries.
» Nat Geo has called it "the most biologically intense place on earth in terms of biodiversity", and you will have the chance to experience a little bit of it all.
» While you have the rainforest, you also have 23+ miles of beaches along the coast. During a multi day experience here, you will be able to walk along some of those trails (as well as get quite a sunset).
» Throughout the park you will find different stations and depending on your itinerary you may be visiting just one or several of these stations. Read on to learn more about it all!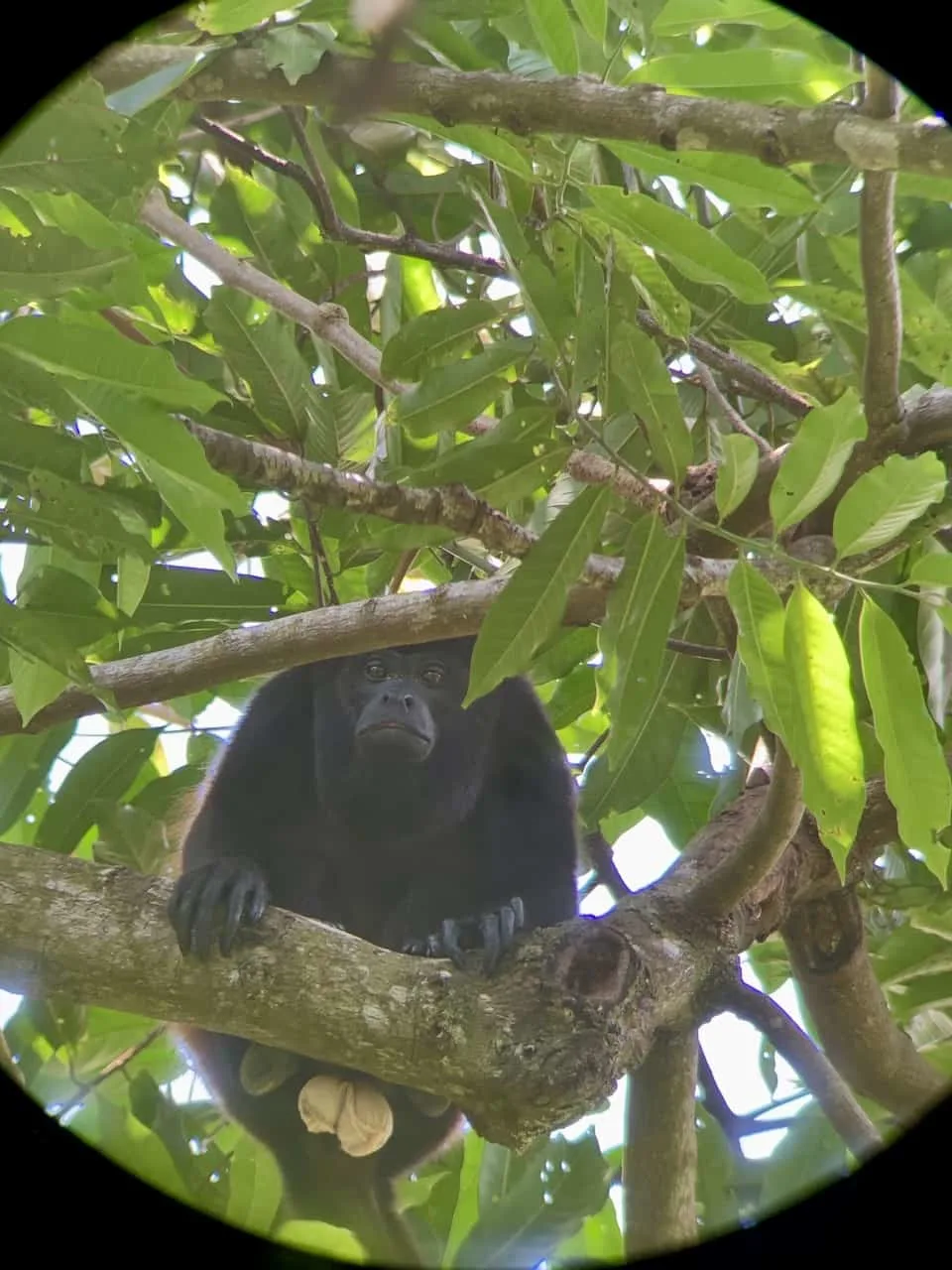 2) Getting to Puerto Jimenez
Before getting yourself to Corcovado National Park, you first need to get yourself to the town of Puerto Jimenez. You can think of Puerto Jimenez as the starting point of your journey into Corcovado.
Most tours, whether they are single day tour or multi day tours, will start in Puerto Jimenez and then continue into Corcovado National Park itself.
This is not the case in every single situation, but it is standard for many tours (some tours can start in the north by Drake Bay).
To get yourself to Puerto Jimenez, you have a few different options – flight, car, or bus.
Flight: since the Osa Peninsula is a bit farther away than most other tourist spots in the country, you can opt for the quick flight down. The flight from San Jose is just 30 minutes long and there are several options a day through airlines such as SANSA and Costa Rica Green Airways.
Rental Car: one of the best ways to see Costa Rica is having your own rental car that can take you from one town to the next. Having a car will give you the chance to go at your own pace and be on your own schedule.
While the drive from San Jose for example is quite long (6+ hours), it is shorter if coming from other places along the coast such as Manuel Antonio (3.5 hours).
→ Feel free to take a look at Rentalcars.com for a variety of car options to choose from for your time in Costa Rica. You will be able to filter by price, car type, rental company, & more to find the best car rental for your trip.
Bus: Lastly, you can opt for a public bus to get you down to Puerto Jimenez as well. Busses leave daily from San Jose and can take around 10 hours altogether.
Feel free to take a look at the bus 699 route that leaves at 6AM and Noon.
→ Some people opt to base themselves (or visit prior/after) in Drake Bay, on the northern end of the park. There are tours that would leave from Drake Bay as well, which I will go into more in a bit.
» Looking for a place to stay in Puerto Jimenez? Check out Cabinas Jimenez for one of the top rated hotels in the area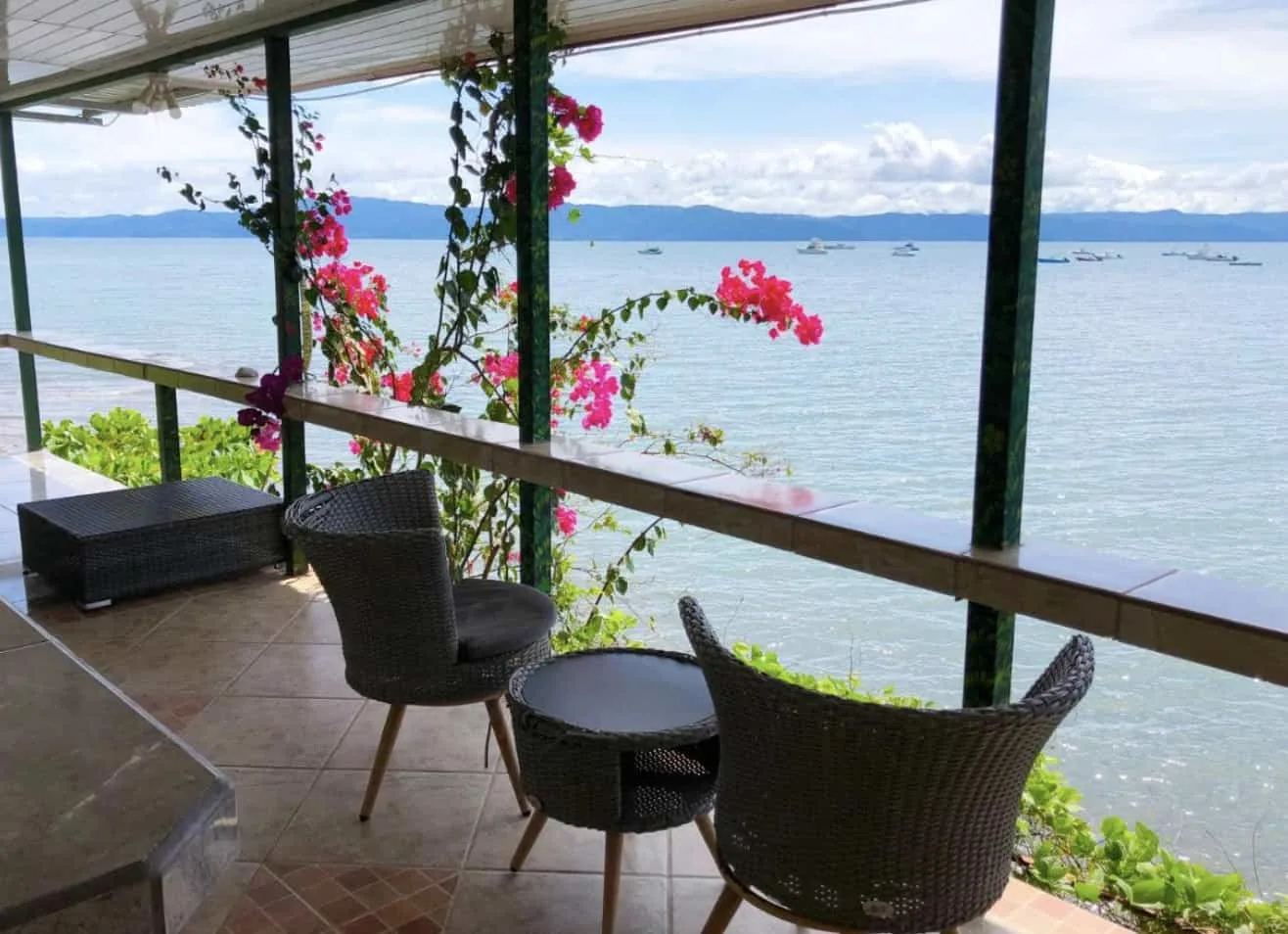 3) When to Visit
There are two seasons to consider when visiting Corcovado National Park. You have the dry season from December to April and the rainy season from May to November (with the most rain in September and October).
Most people who visit the park do so during the dry season for a few reasons.
The main reason here is that there is a lot of hiking involved with most trips into Corcovado. Having to hike in the rain can be a tough and less ideal experience for many people.
Even if it doesn't rain that much during your time hiking, odds are the trails themselves will be quite muddy and more difficult to walk on.
For example, the trail from Sirena to Los Patos (more on that soon), is not open in the rainy season due to dangerous conditions.
You may also find the nearby rivers start to overflow, river crossings potentially become more difficult, and it just becoming a wetter experience altogether. With the wet season though, it can also bring a lot of wildlife activity and intense green rainforest.
During my visit to Costa Rica, I ended up visiting the National Park in early January. The weather was ideal during that time although the portions on the beach can get quite hot (don't forget the sunscreen & hat!).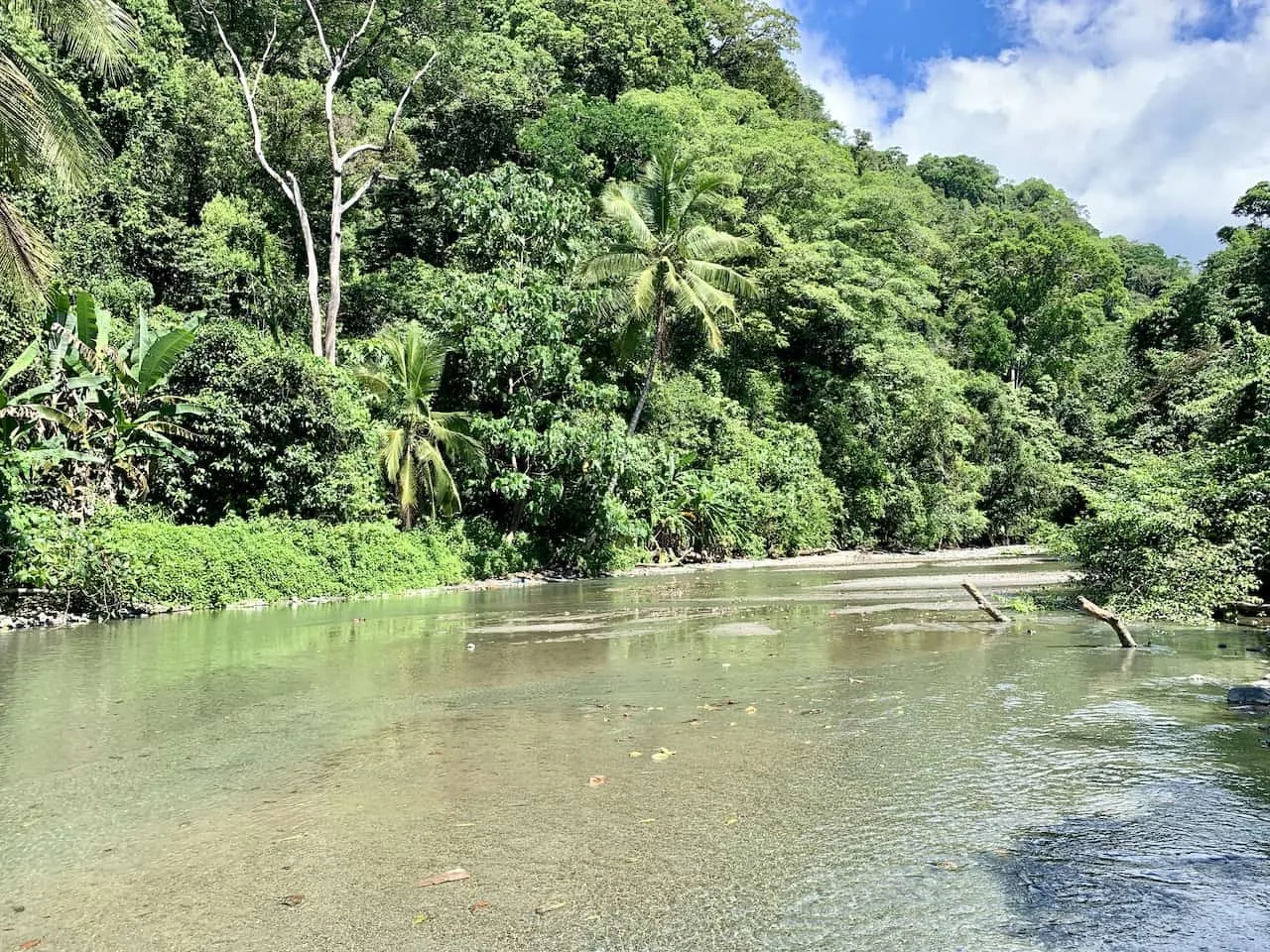 Considering travel insurance for Costa Rica?

World Nomads offers coverage for more than 150 adventure activities as well as emergency medical, lost luggage, trip cancellation and more.

For years, World Nomads has been protecting, connecting & inspiring independent travelers, offering travel insurance & safety advice to help you travel confidently. Their mission is to support and encourage travelers to explore their boundaries.

World Nomads has simple and flexible travel insurance that has been designed by travelers for travelers. Even if you leave home without travel insurance or your policy runs out, you can buy or extend out on the road.

Get a quote for a World Nomads travel insurance policy today!
4) Corcovado National Park Map
Before heading further into this guide, I wanted to layout a map of Corcovado National Park.
There are a few different areas to be aware of here, and referring to the map below can really help you better understand the journey into the park.
Within Corcovado, you will find several different stations marked on the map in red. These include La Leona, Sirena, Los Patos, El Tigre, San Pedrillo, and Los Planes.
You can also see the dotted white lines, which represent the hiking trails in the park between the stations. As you can see, not all of the stations are connected to one another.
Depending on your itinerary that you sign up for, you may head to one or several of these stations during your time in the park.
I will go into various tour options in the next section.
The map is courtesy of Osa Wild, a highly rated tour operator that I will talk in more detail about below.
5) Corcovado National Park Tours & Guide
The only way to see Corcovado National Park is by using a certified guide. This may be part of a group tour or a private tour depending on your preference.
End of the day though, your only option of entering Corcovado is by using a guide company.
While there are several tour companies in the area offering Corcovado tours, two highly rated options I can recommend include Osa Wild and Osa Green Travel.
When it comes to the different tour offered, there are several to consider depending on how much time you want to actually spend inside the park.
Below are some of the main ones that Osa Wild offers (you may find similar and new options with other tour companies):
Three Day Tours
For the most part, the longest of tours in the park will be the three day / two night option spending overnights in Sirena and/or La Tarde.
Three days really gives you the best chance to see the most of the park but it can be a lot of hiking.
Puerto Jimenez – Carate – Sirena – Los Patos – Puerto Jimenez
Day 1: Drive to Carate and hike to Sirena Station
Day 2: Several hikes around Sirena
Day 3: Hike to Los Patos Station & drive to Puerto Jimenez
* Day 3 may change as a hike back to Los Patos depending on season
Puerto Jimenez – La Tarde – Los Patos – Sirena – Carate – Puerto Jimenez
Day 1: Drive to La Tarde & hike around area
Day 2: Hike to Los Patos and then to Sirena
Day 3: Hike to Carate & drive to PJ
Two Day Tours
There are many different two day tours to choose from starting in both Puerto Jimenez or Drake Bay. Some of these options are solely hiking while others may combine a boat trip in there too.
Puerto Jimenez – Carate – Sirena – Drake Bay
Day 1: Drive to Carate and hike to Sirena Station
Day 2: Several hikes around Sirena & boat to Drake Bay
*Starts and ends in different locations
Puerto Jimenez/Drake Bay – Sirena – Puerto Jimenez/Drake Bay
Day 1: Boat from either PJ or Drake Bay to Sirena & hike around Sirena
Day 2: Hike around Sirena & boat back to PJ or Drake Bay
Puerto Jimenez – Carate – Sirena – Carate – Puerto Jimenez
Day 1: Drive to Carate and hike to Sirena Station
Day 2: Hike around Sirena and then back to Carate; drive to PJ
Puerto Jimenez – Sirena – Carate – Puerto Jimenez
Day 1: Boat ride from PJ to Sirena & hike around Sirena
Day 2: Hike from Sirena to Carate & drive to PJ
One Day Tours
If you are short on time, then a one day tour can also work for you. While you can get deeper into the park by using the boat service, some of the alternatives are just day trips to the outskirt sections of the park.
Puerto Jimenez – Carate – La Leona – Carate – Puerto Jimenez
Day 1: Drive to Carate & hike to La Leona – Hike nearby trails before returning to Carate and driving back to PJ
Puerto Jimenez – Sirena – Puerto Jimenez
Day 1: Boat from PJ to Sirena, hike around Sirena, return to PJ by boat
Drake Bay – Sirena – Drake Bay
Day 1: Boat from Drake Bay to Sirena, hike around Sirena, return to Drake Bay by boat
Puerto Jimenez – El Tigre – Puerto Jimenez
Day 1: Hike the El Tigre section of Corcovado National Park
Drake Bay – San Pedrillo – Drake Bay
Day 1: Boat from Drake Bay to San Pedrillo, hike around San Pedrillo, return to Drake Bay by boat
As you can see there certainly are many options to choose from here. You can decide between boat rides, hikes, overnights, and more.
There even are options to start in Puerto Jimenez and end in Drake Bay (or vice versa).
Note: boats do not make the journey each day. Please touch base with the tour companies to understand the operational days to better plan your trip.
Later on in this guide I will go into detail about the first three day tour mentioned above (PJ – Carate – Sirena – Los Patos – PJ).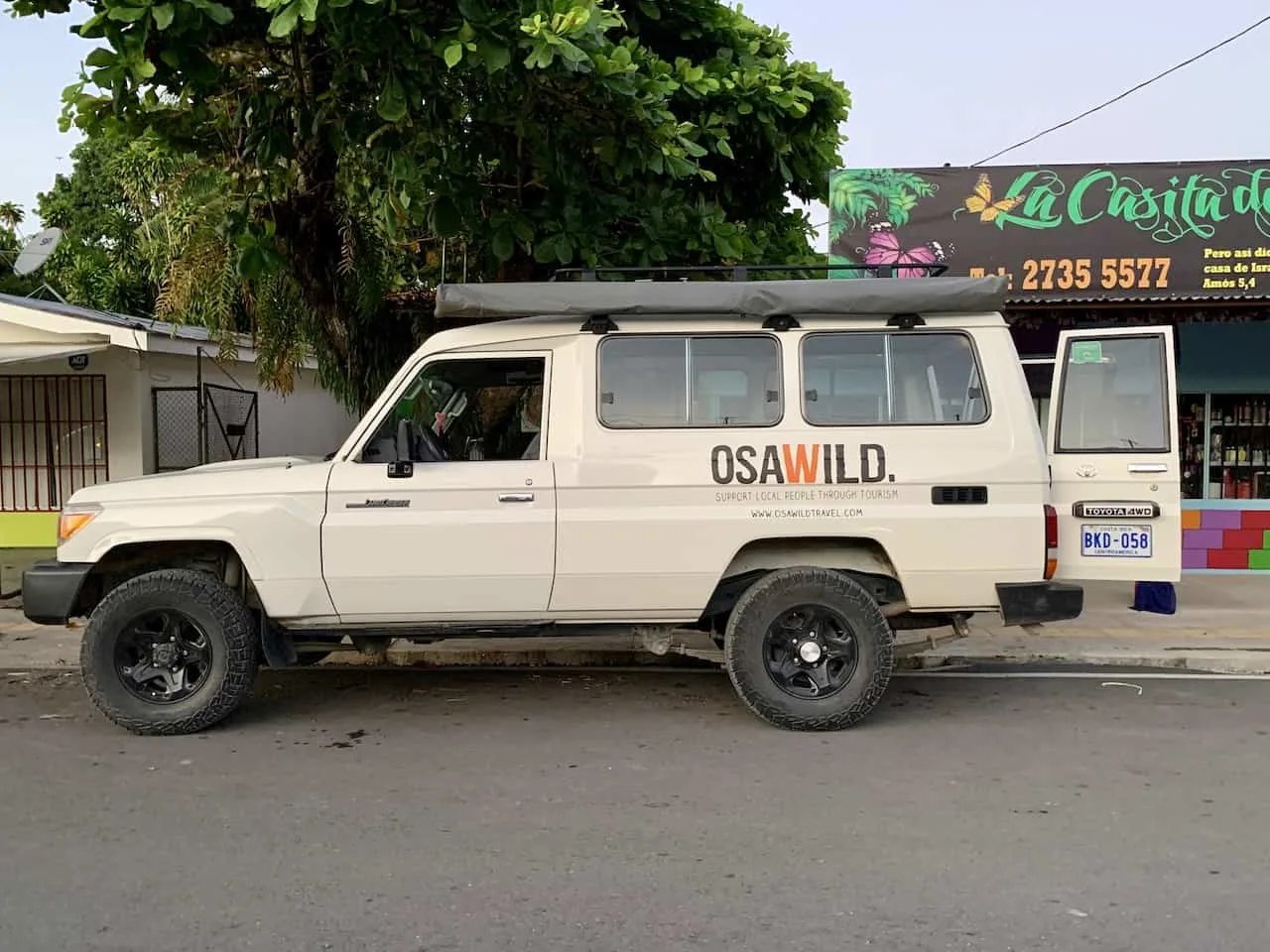 6) How Much Does it Cost to go to Corcovado National Park
As you may imagine, the cost of visiting Corcovado National Park will all depend on what type of tour you opt for.
Prices can range from less than $100 for a day trip to over $400 for a multi day trip.
When I took part of the 3 day / 2 night option in Corcovado, the cost was just around $400. The way it worked for me was I had to make two payments – the first went to the Sirena Station for lodging and food, and the remainder of the cost went to the guide company.
Below were the costs for myself during this 3 day trip:
The payment to Sirena Station can include:
Accommodation (2 nights) – $60 ($30 per night)
Breakfast (day 2 & 3) – $40 ($20 per meal)
Lunch (day 2 & 3) – $37 ($25 full lunch / $12 to go lunch)
Dinner (day 1 & 2) – $50 ($25 per meal)
The payment to the guide company can include:
Park entrance fees – $45 ($15 per day)
Professional Guide
Transport from Puerto Jimenez to Carate
Transport from Los Patos to Puerto Jimenez
Altogether I ended up paying the Sirena Station around $190 and around $210 to the guide company to cover the entrance fees, guide service, and transportation.
» Note that not all companies include transportation in their costs so be sure to check with them first. You may also be able to save some money by not purchasing each meal, however you are only allowed to bring nuts, dried fruit, energy bars, some snacks, hydrating drinks, juice, and water.
» Also note that prices may change over time so please be sure to connect with the guide companies to understand the latest costs.
7) Corcovado National Park Animals
As mentioned earlier on, there is no shortage of animals that you will get to see during a visit to the National Park.
Each person's experience will be different here and some may get luckier than others when it comes to animal spotting.
Sometimes it is luck, sometimes it is the experience of you guide, and sometimes it is just how long you spend in the park. But end of the day, you are bound to see plenty of animals in Corcovado.
Just some of these animals include:
Birds: Scarlet Macaw, Harpy Eagle, Mangrove Black Hawks, Spectacled Owls, Black Throated Trogon, Crested Guan, Tiger Heron
Monkeys (all 4!): Squirrel Monkey, Howler Monkey, White Faced Capuchin Monkey, Spider Monkey
Mammals: Tapir, Northern Tamandua (anteater), Margay, Sloth, Jaguar, Puma, Coati, Agouti, Collared Peccary
Reptiles: Sea Turtle, American Crocodile, Spectacled Caiman, Bushmaster Snake
Amphibians: Red Eyed Tree Frog, Poison Dart Frog, Glass Frog
Those are just a handful of animals that you may come across in the park. Do note though that some animals like Pumas and Jaguars are quite rare.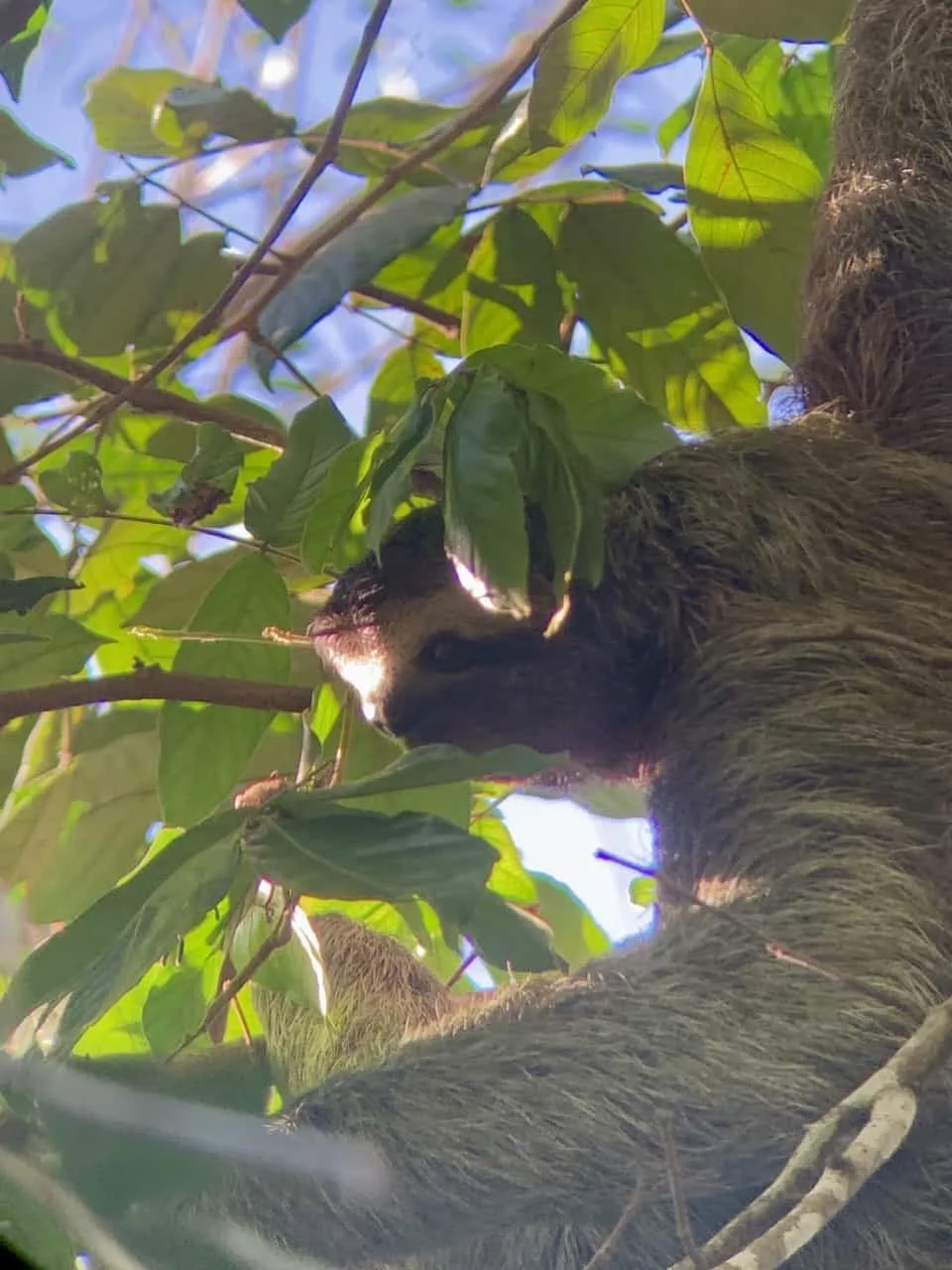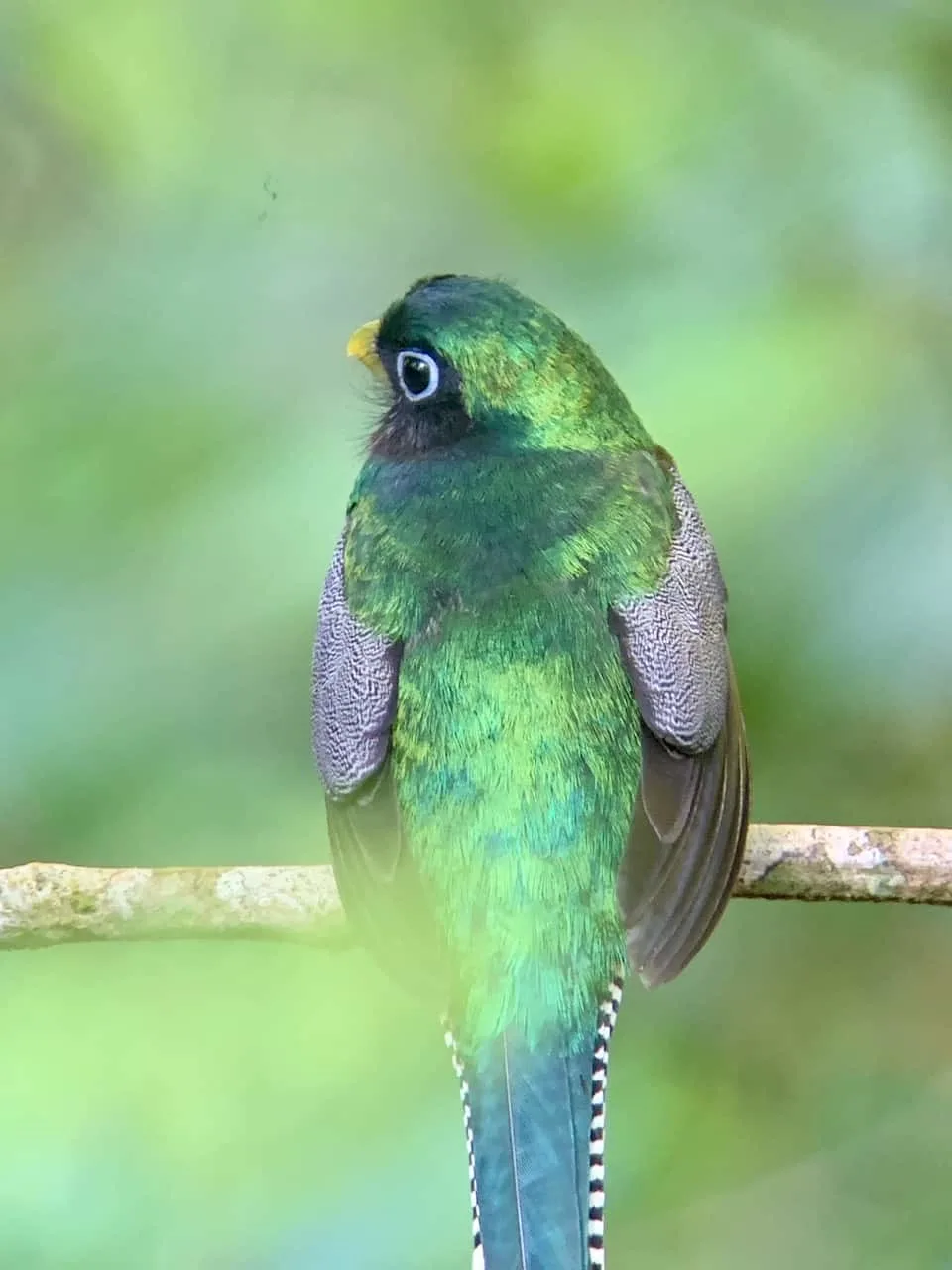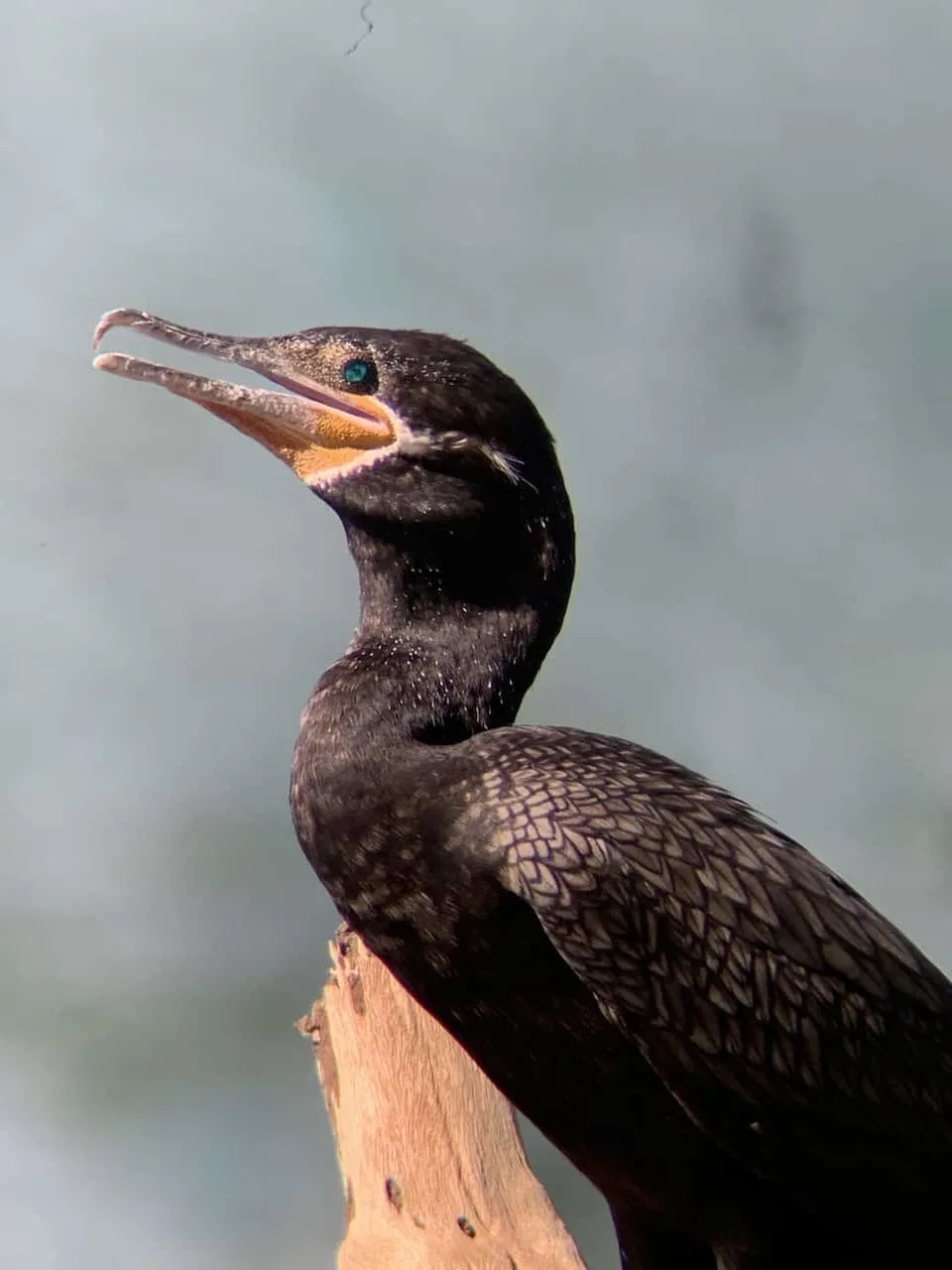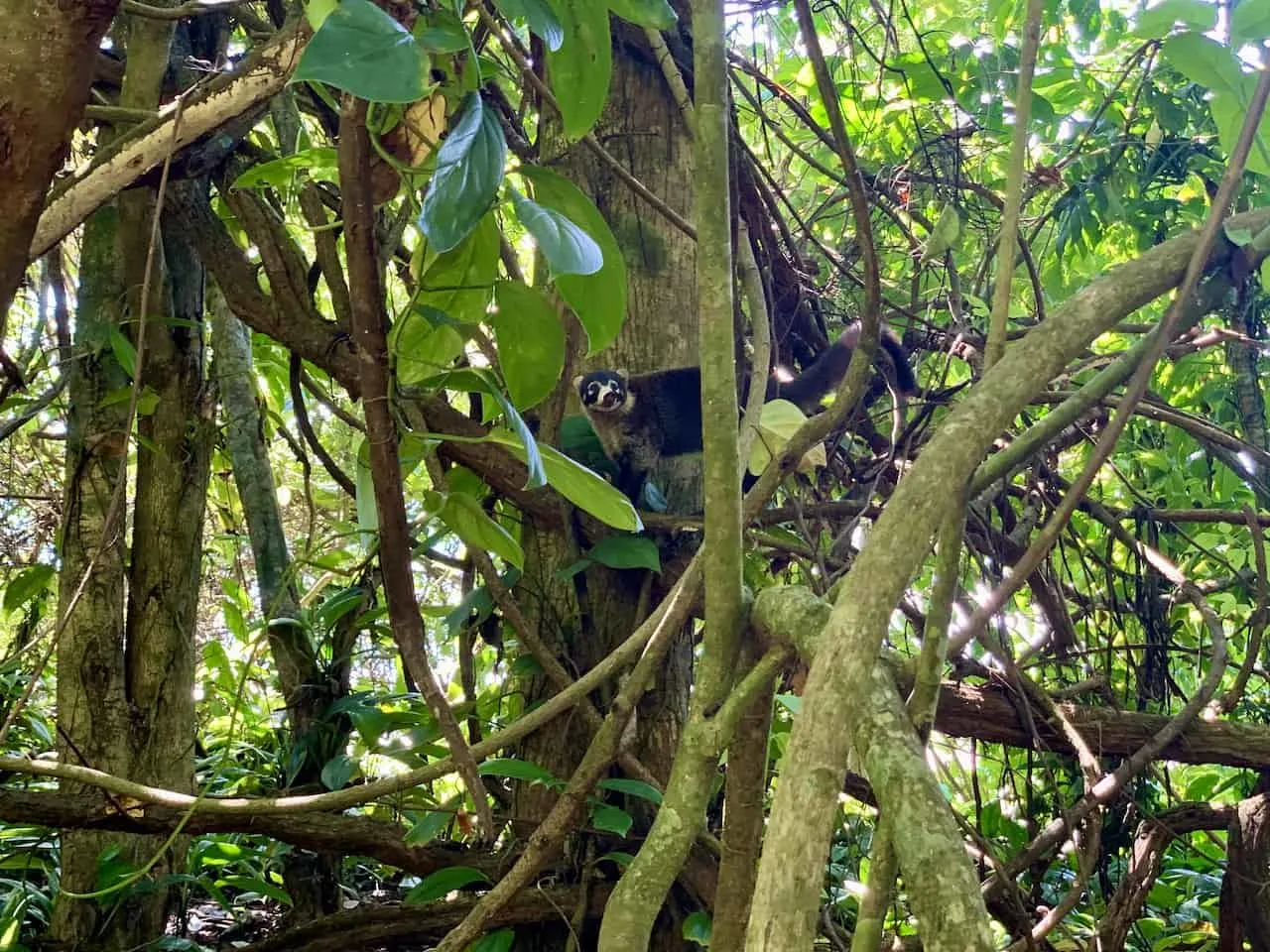 8) Corcovado National Park Lodging
The main place to stay within Corcovado is the Sirena Station lodge. Even though the lodge is located deep in the middle of the National Park, it does have quite the offerings.
Accommodation: there are a couple of structures that are full of bunk beds for overnight guests. These bunk beds come fully prepared with sheets, pillows, and a nice net to keep all the bugs out.
Bathroom & Showers: there is also a large bathroom and shower facility at Sirena. It is a nice feeling to be able to cool down in a shower in the middle of the rainforest after a long day of trekking.
Potable Water: the station also has potable drinking water to have at meals and fill up your water bottles with. There is really no need to bring purification tablets or anything like that.
Electricity: there are lights throughout the station but these do turn off around 8PM. It is recommended to bring a flashlight in case you do need to head to the restroom at night. While you can charge devices, be sure to bring your own portable charger for your phone!
Internet: surprisingly there is WiFi at Sirena, but don't rely on its signal. You may be able to receive an email sporadically but I wouldn't say it is anything more than that.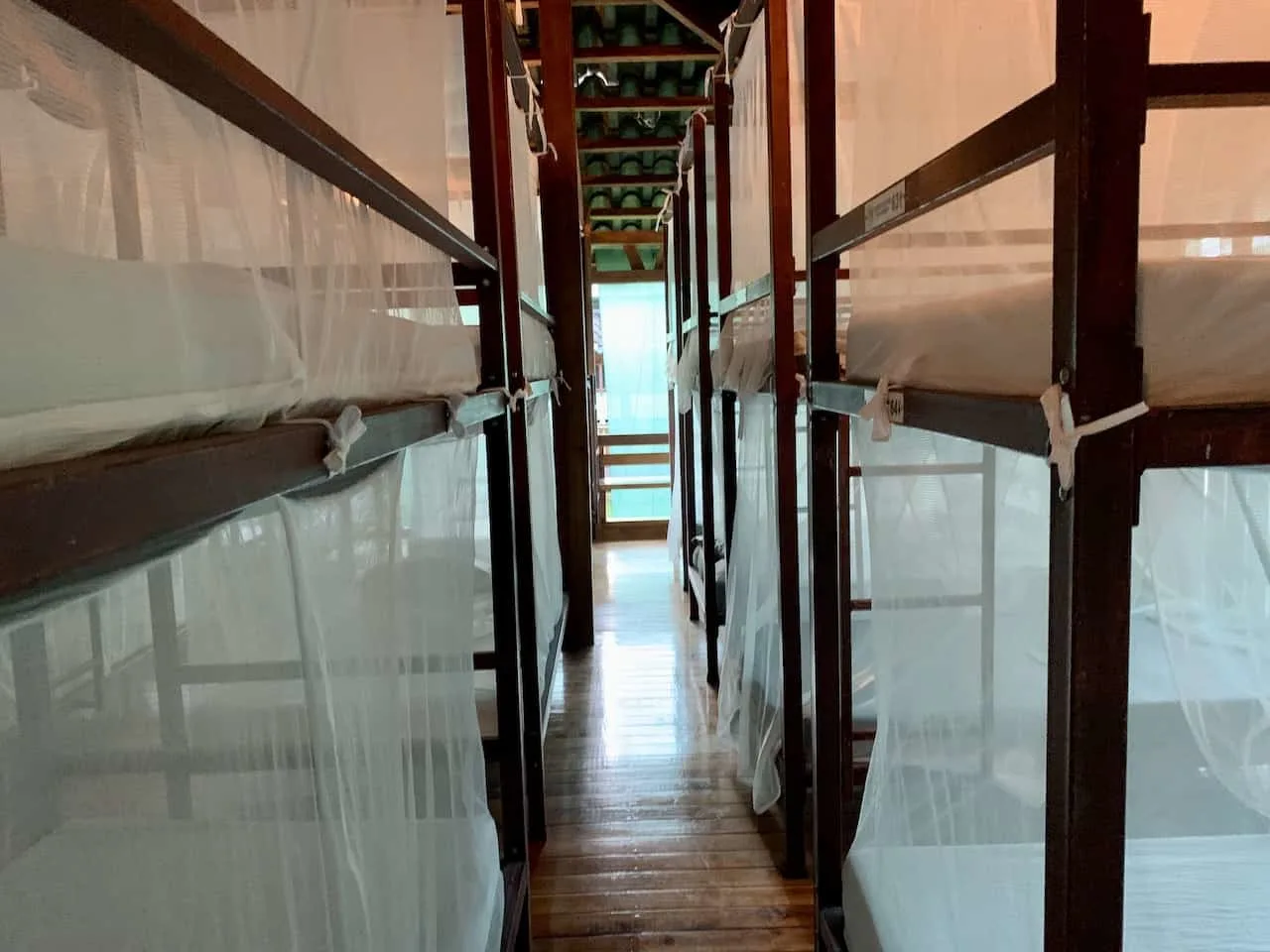 9) Corcovado National Park Experience
I will now dive into a day by day view of the three day / 2 night experience in Corcovado National Park. Note that each person's itinerary may be slightly different depending on season and guide preferences.
Day 1: Puerto Jimenez – Carate – La Leona – Sirena
» Drive from Puerto Jimenez to Carate
» Hike from Carate to Sirena via La Leona
After a very early wake up call, it is time to begin the journey into Corcovado National Park.
The day begins with a 5:30AM pickup in the town center of Puerto Jimenez. From there it is about a 90 minute drive to Carate.
Towards the end of the drive, the road can get quite bumpy and even a bit flooded at times, so be prepared for some ups and downs.
As you approach Carate, you may stop at a roadside café to have a light breakfast and even may see a bit of wildlife nearby.
Once you are at the end point of the road, it is time to begin the hike to the La Leona Station.
This first portion of trail is on the shorter side, just 3.5km / 2.2 miles long. It will be pretty evenly split between hiking on some flat trails in the rainforest and hiking along the beach.
After arriving at the La Leona station, you will need to just need to register yourself into the park and can take a bathroom break before continuing along.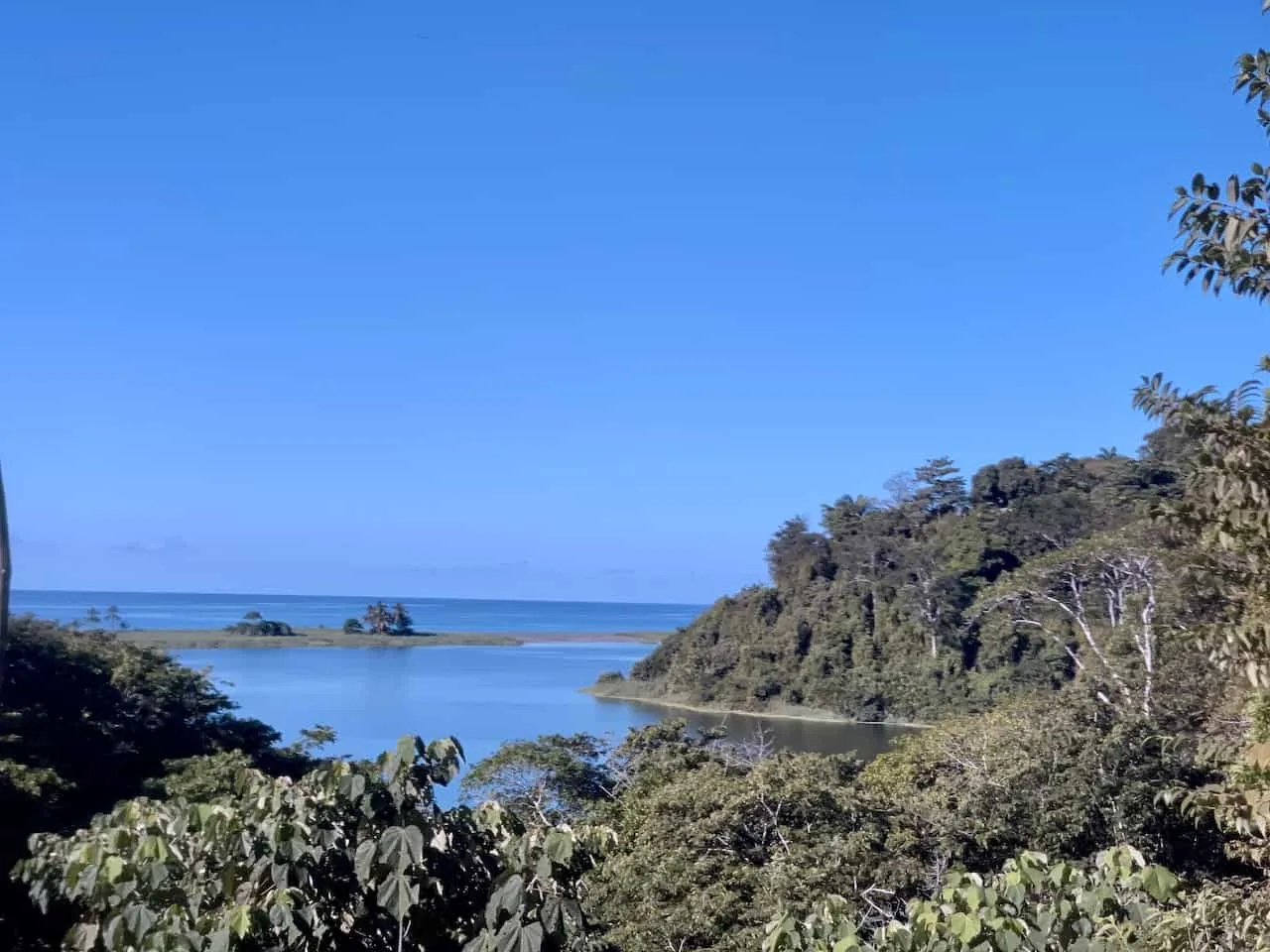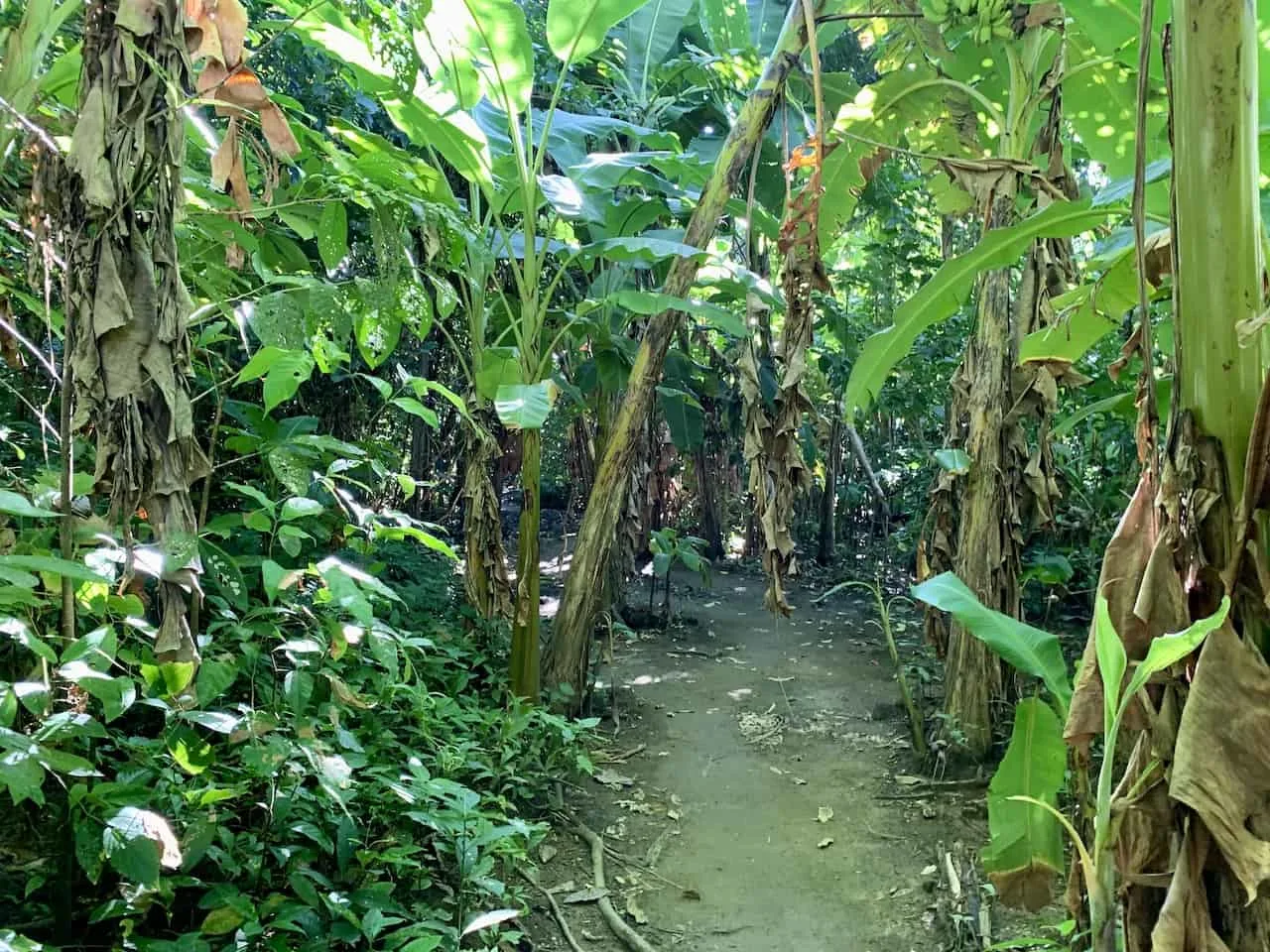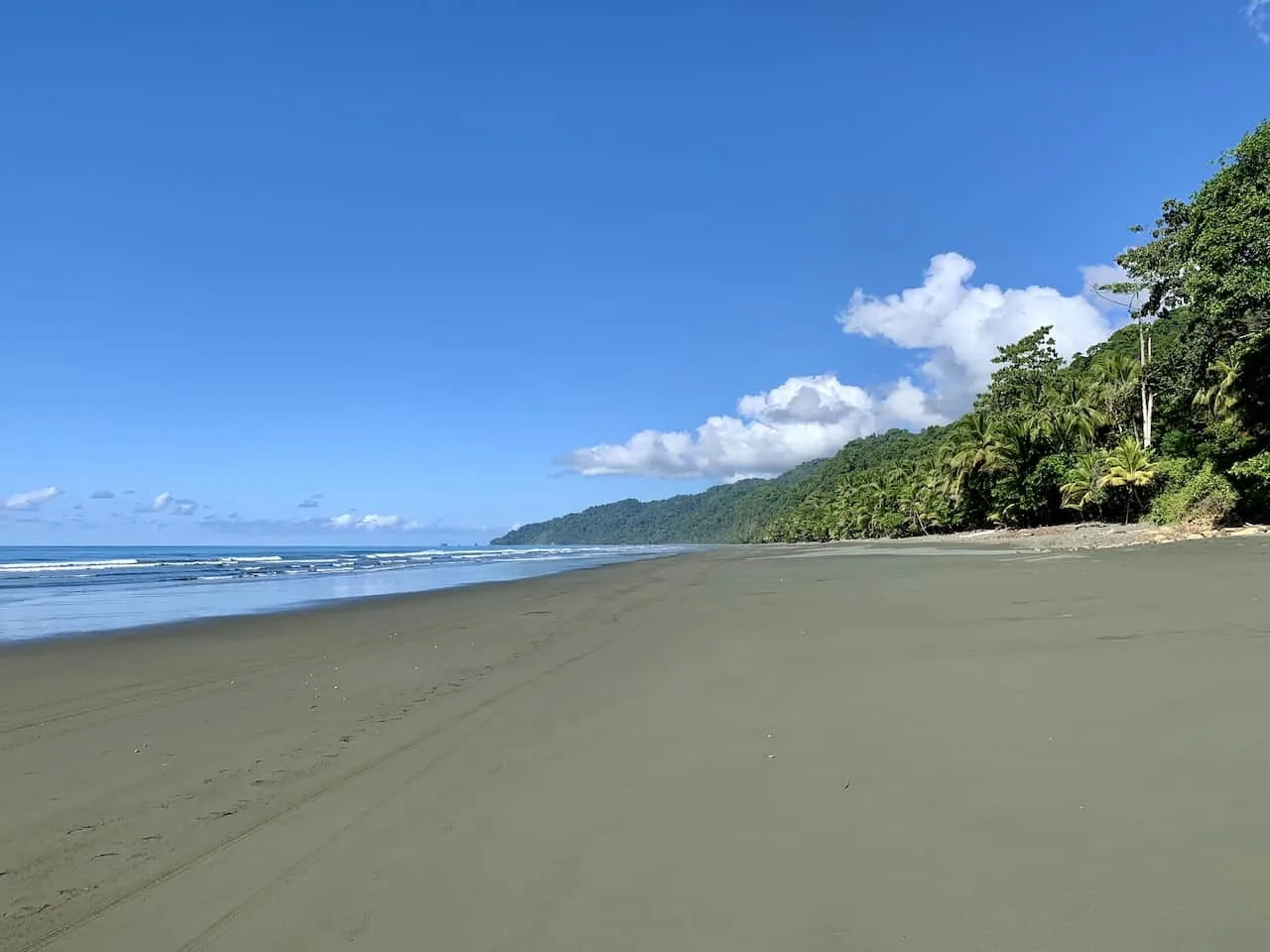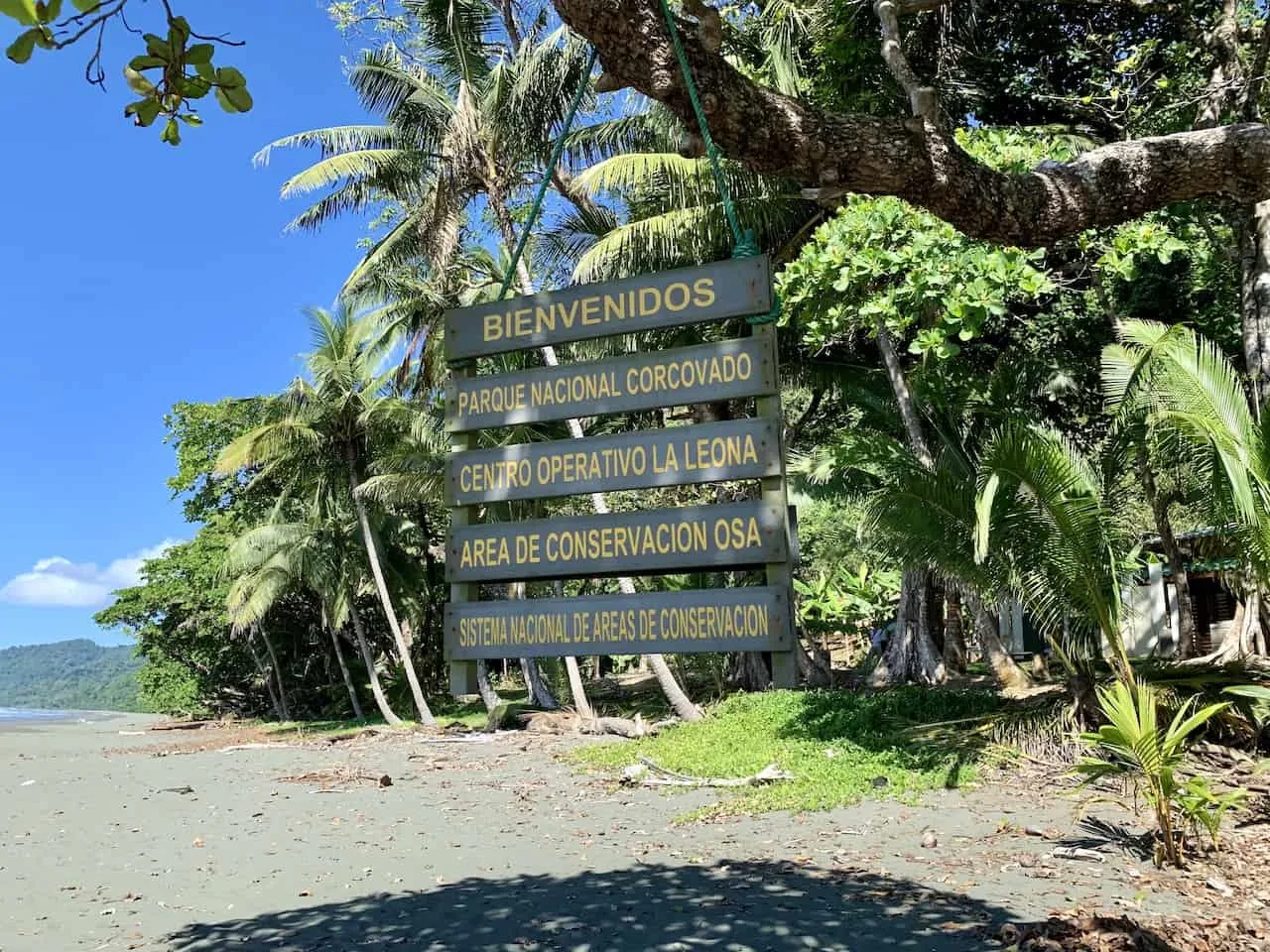 Now begins the long journey to Sirena Station as you hike another 16 km / 10 miles further into Corcovado National Park. The trail is mostly flat and is partially shaded as it follows the Pacific coastline northbound.
At one point you will need to remove your shoes and head across the Madrigal River crossing. The depth of the crossing will depend on the tides but hopefully nothing more than a foot or so deep.
The trail then continues along with some portions in the covered rainforest and other portions right on the beach itself. You will reach a point where you will need to head into the shallow portion of the ocean and maneuver your way around the shoreline.
Once on the other side, you will continue along the beach and then stop for a lunch break, where you will also have the chance to take a dip in some natural pools.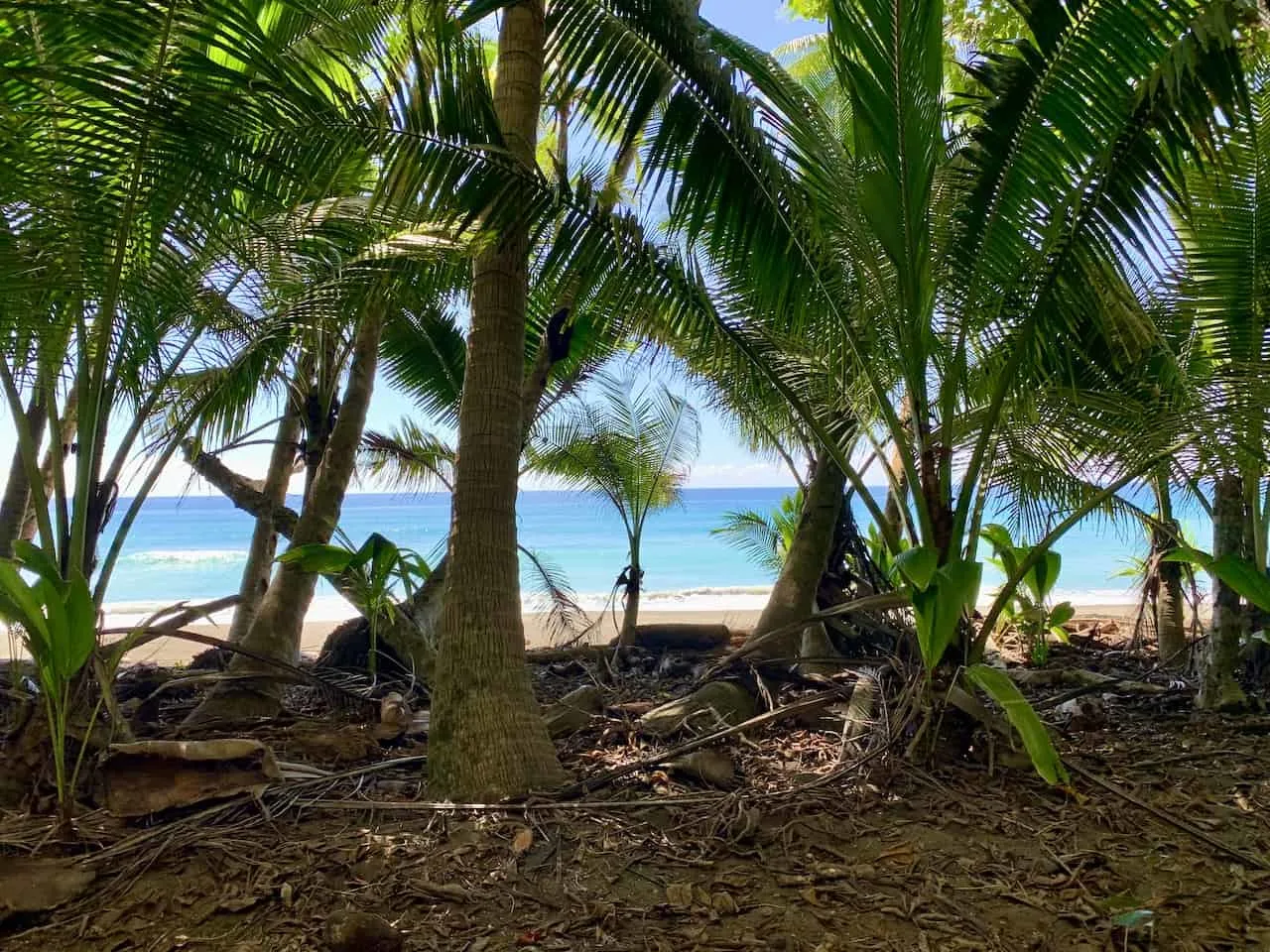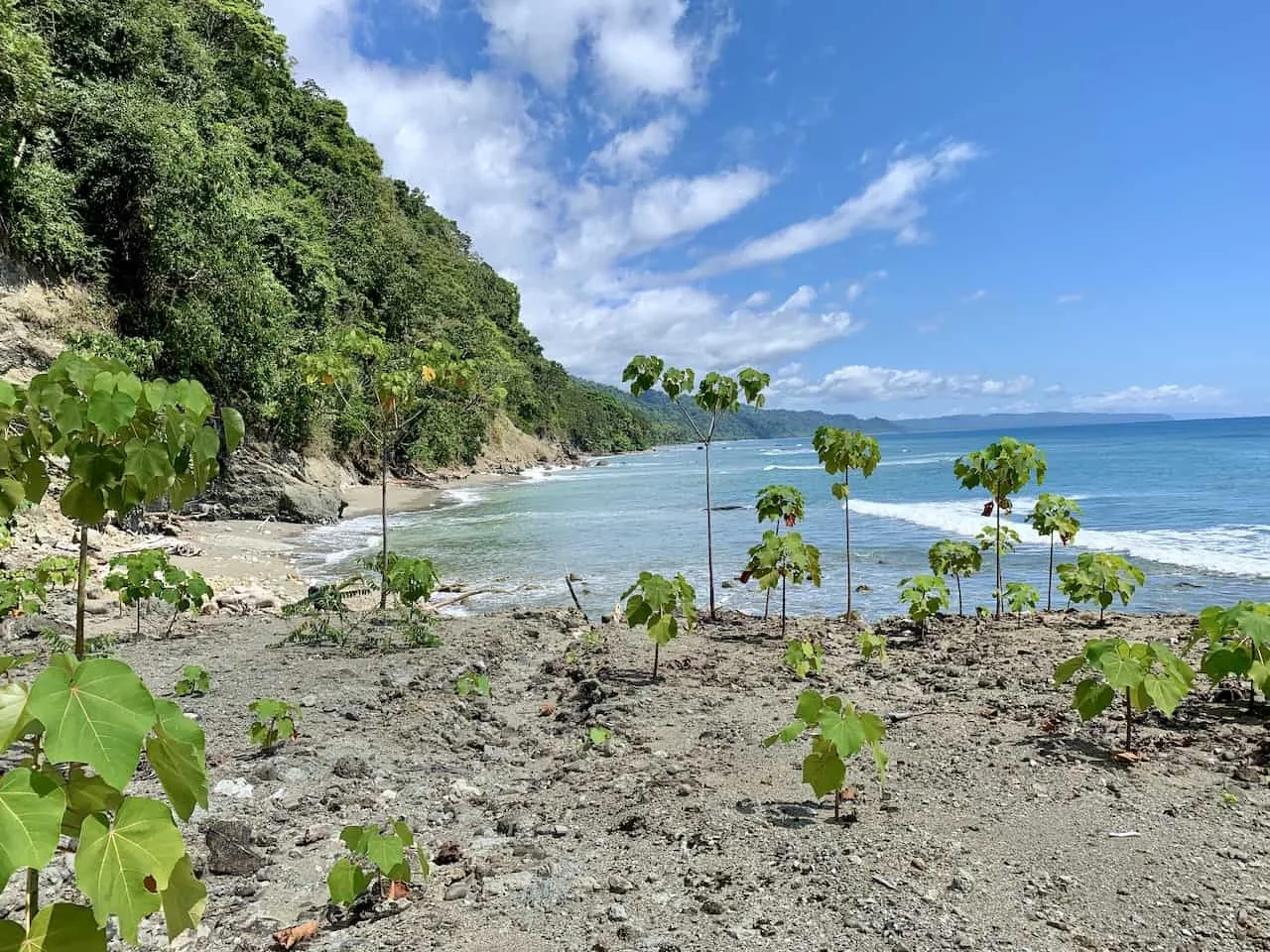 After lunch is all complete, the trail continues along the coast (both on the beach and in the rainforest) for the next 3+ hours.
Towards the end of the hike, you will need to make your way across the Claro River crossing, which will also depend on tide levels. After making it across the river, it is another mile or so until you reach the Sirena Station around 4PM.
Altogether, it is quite a long day of hiking as you get to experience a little bit of everything in Corcovado National Park.
Once you arrive at Sirena Station you will check in, get assigned a bed, and can take a shower before getting ready for dinner.
The meals at Sirena Station are better than what you may expect for a place located in the middle of the rainforest. There are several different dishes to choose from and it has vegetarian options as well.
All of the lights in the station turn off between 8PM-9PM so get ready for a nice early bedtime to get ready for day two.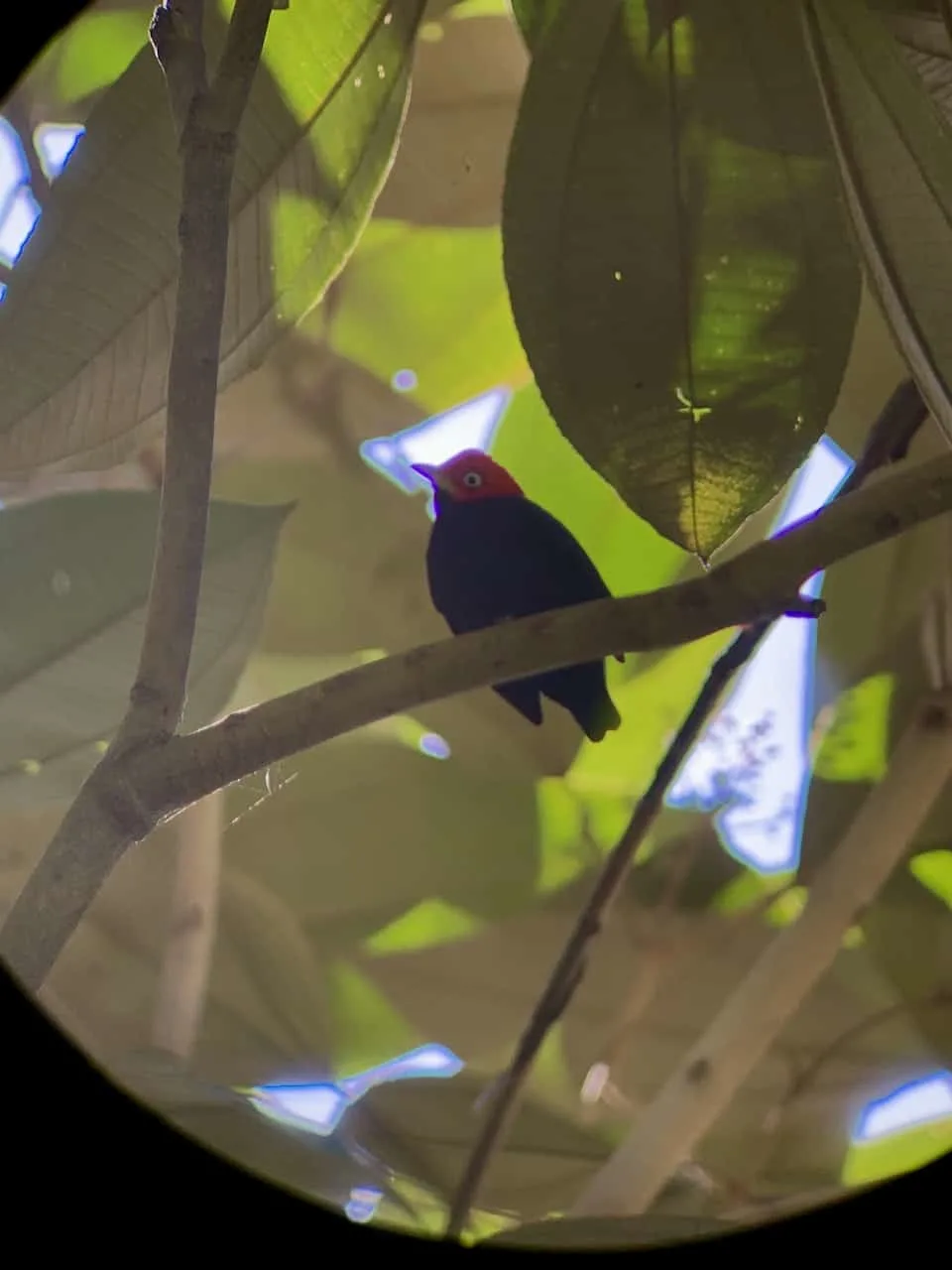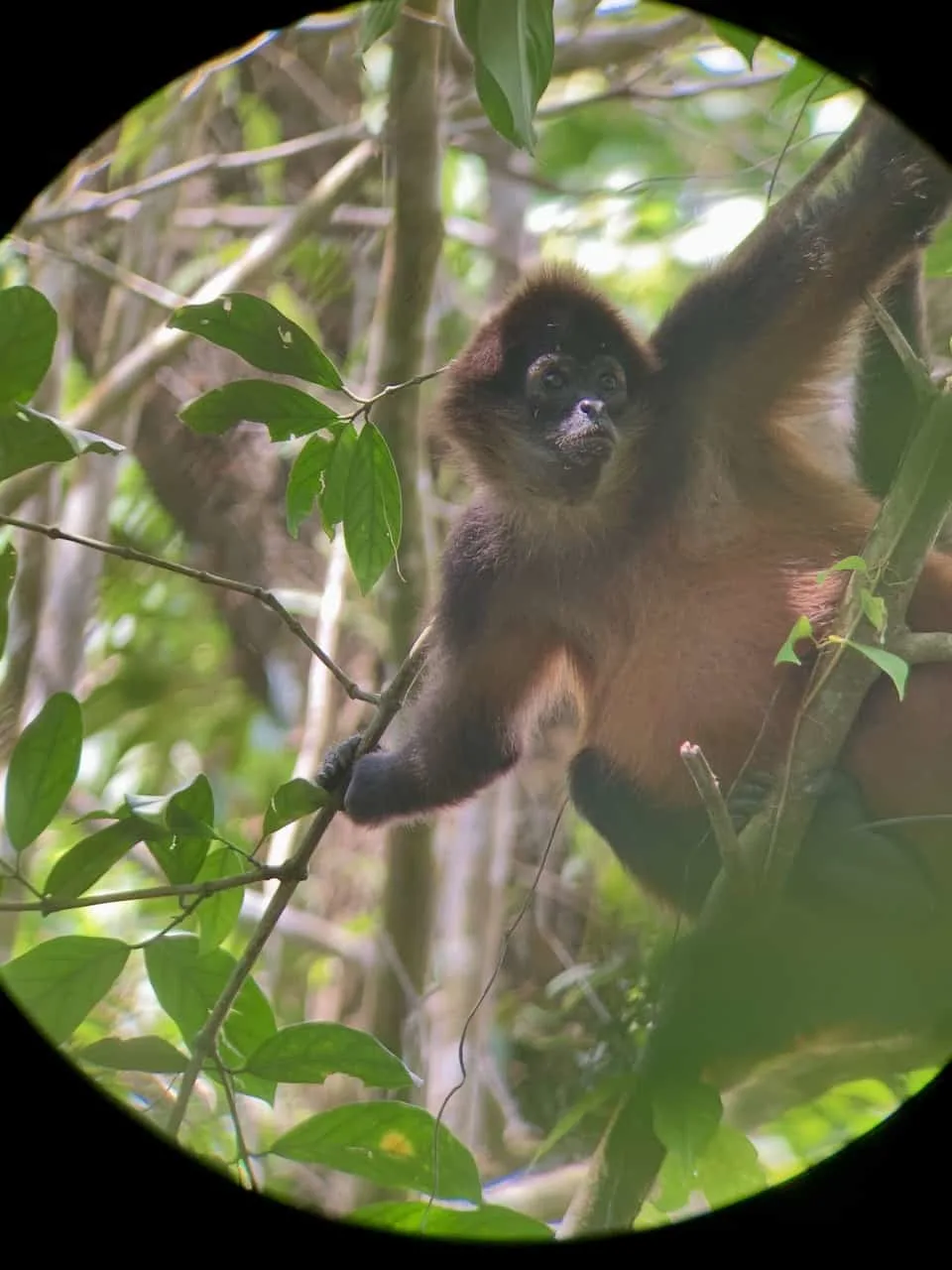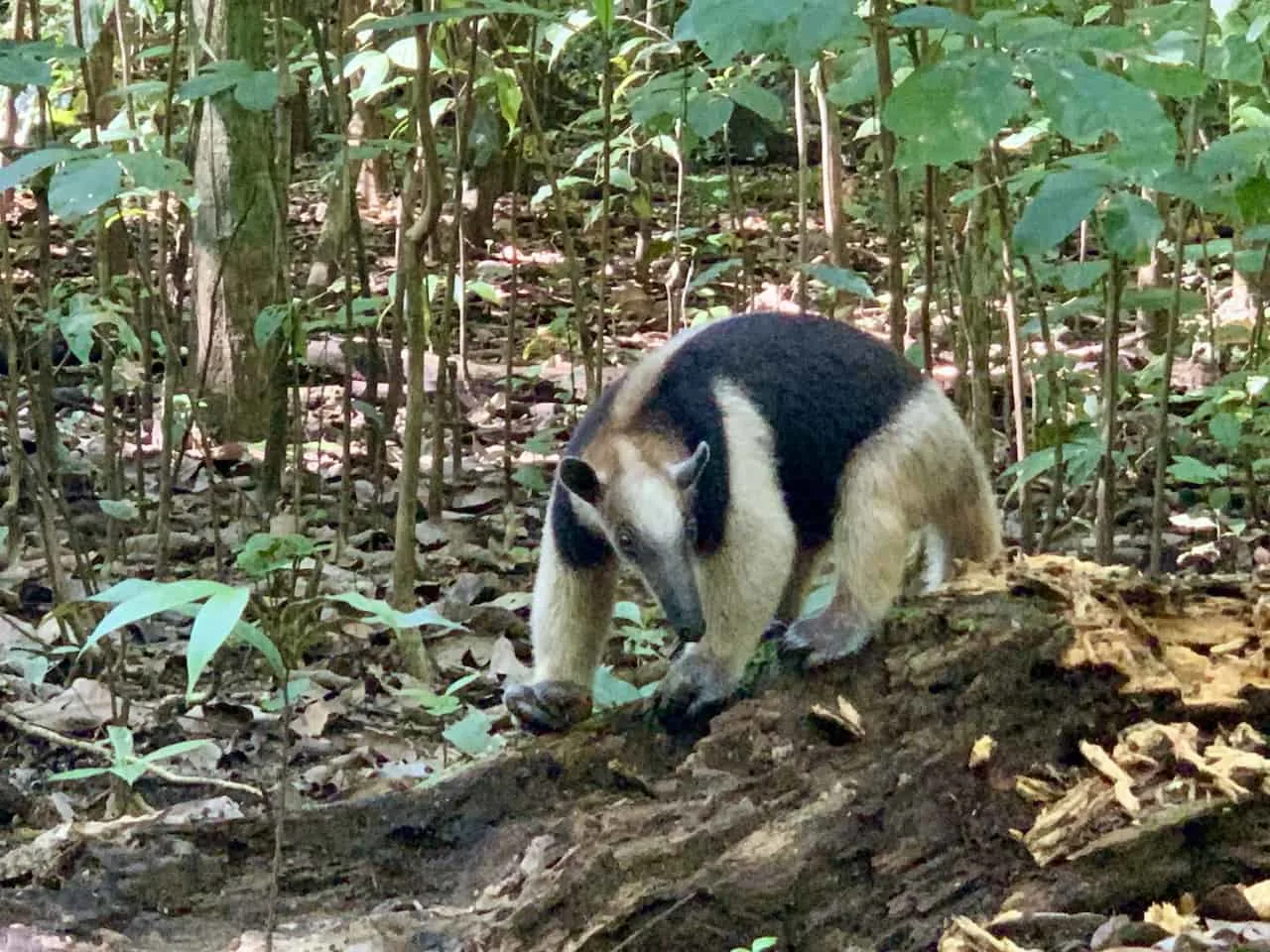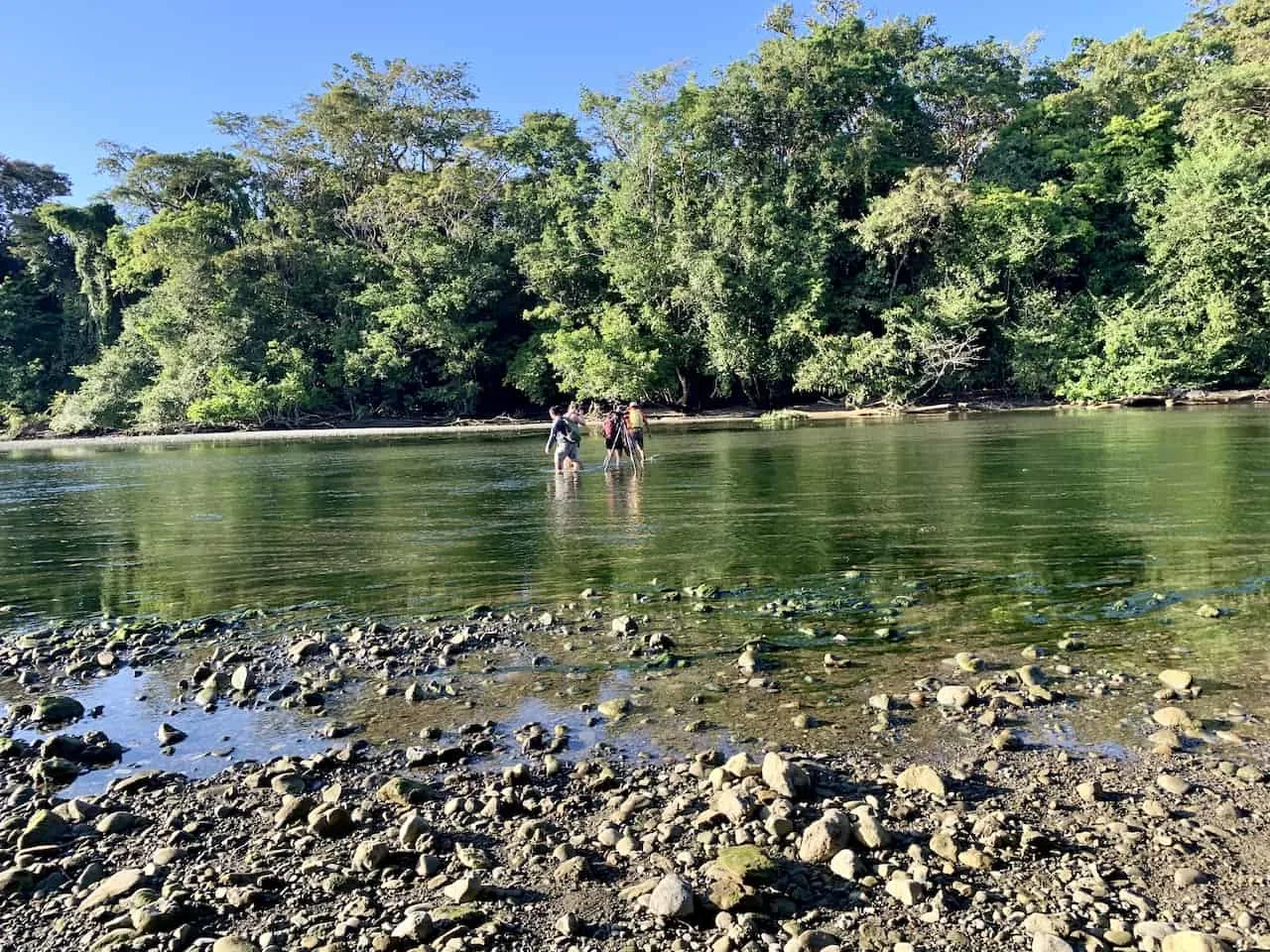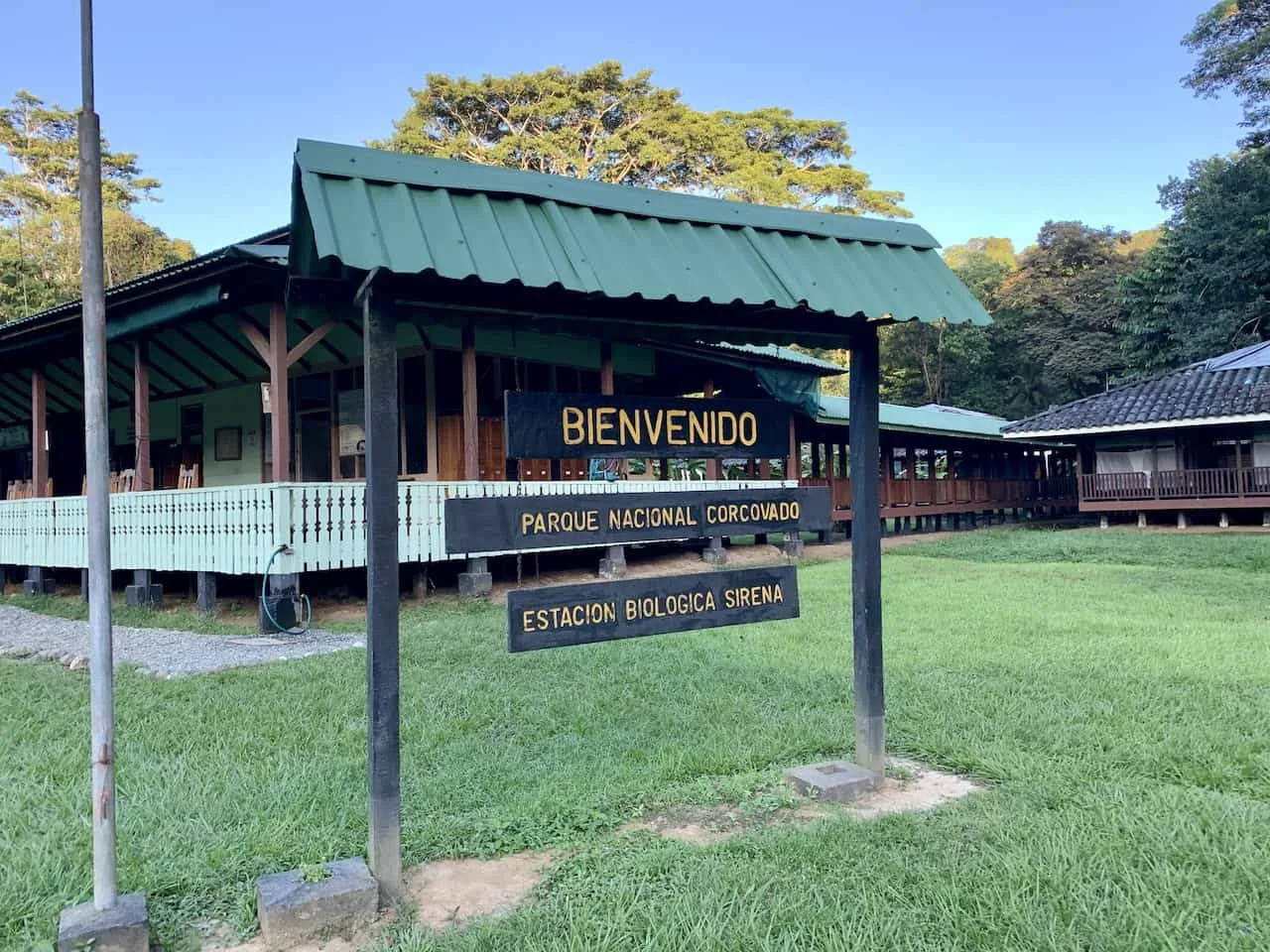 Day 2: Hike Around Sirena
During your second day within Corcovado National Park, you will get to explore the various trails around Sirena Station. There are many to choose from and your guide will decide which ones to head on.
Before hitting the trails though, get ready for a sunrise walk out towards the beach.
Here you will find a vast amount of wildlife (mostly birds) awaking for the day. After a couple hours of walking and wildlife watching, it is back to Sirena Station for breakfast.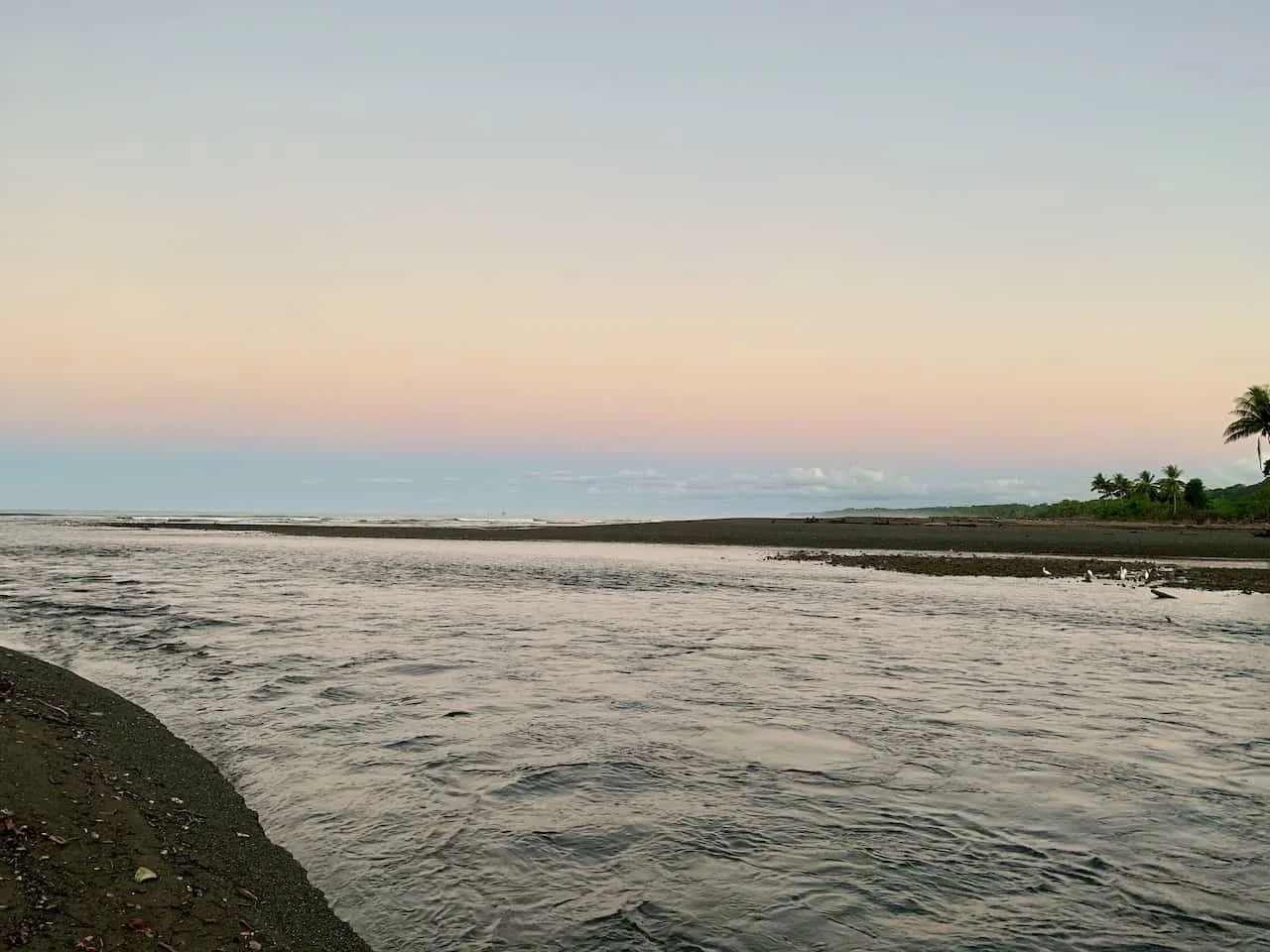 Once breakfast is wrapped up, it is time for the second hiking portion of the day as your guide chooses from a variety of nearby trails. These range from just 1km to 5km so you may do a few different ones.
Plenty more wildlife and rainforest await as you walk around Corcovado National Park.
For lunch, you may head back to the station for a meal or may opt for a boxed lunch instead. And after that is all done, you will head back out on the trails for another couple of hours.
We ended up on a trail that took us to a nearby river, where we were able to jump into the water and cool down after a full day of hiking around the park.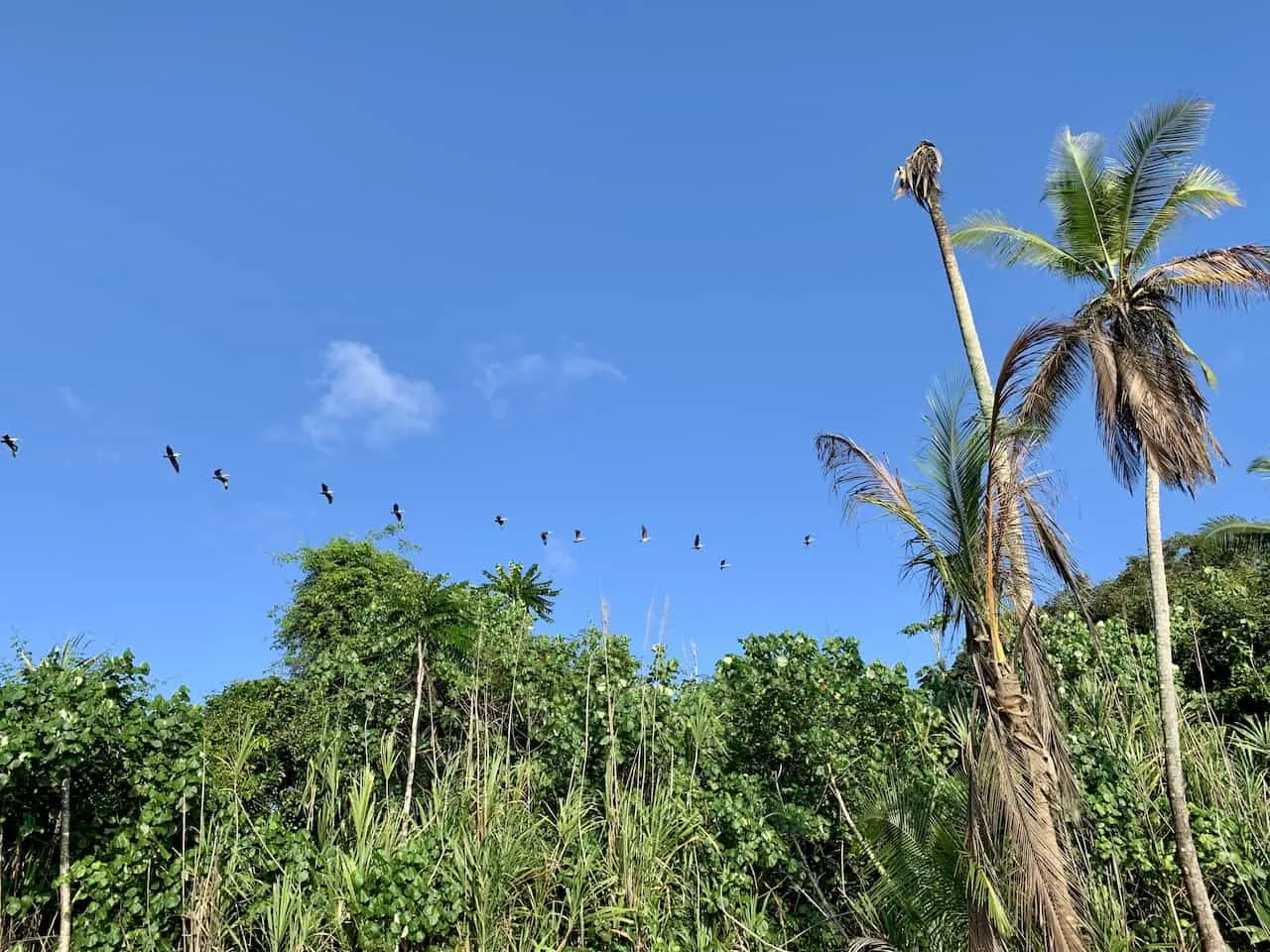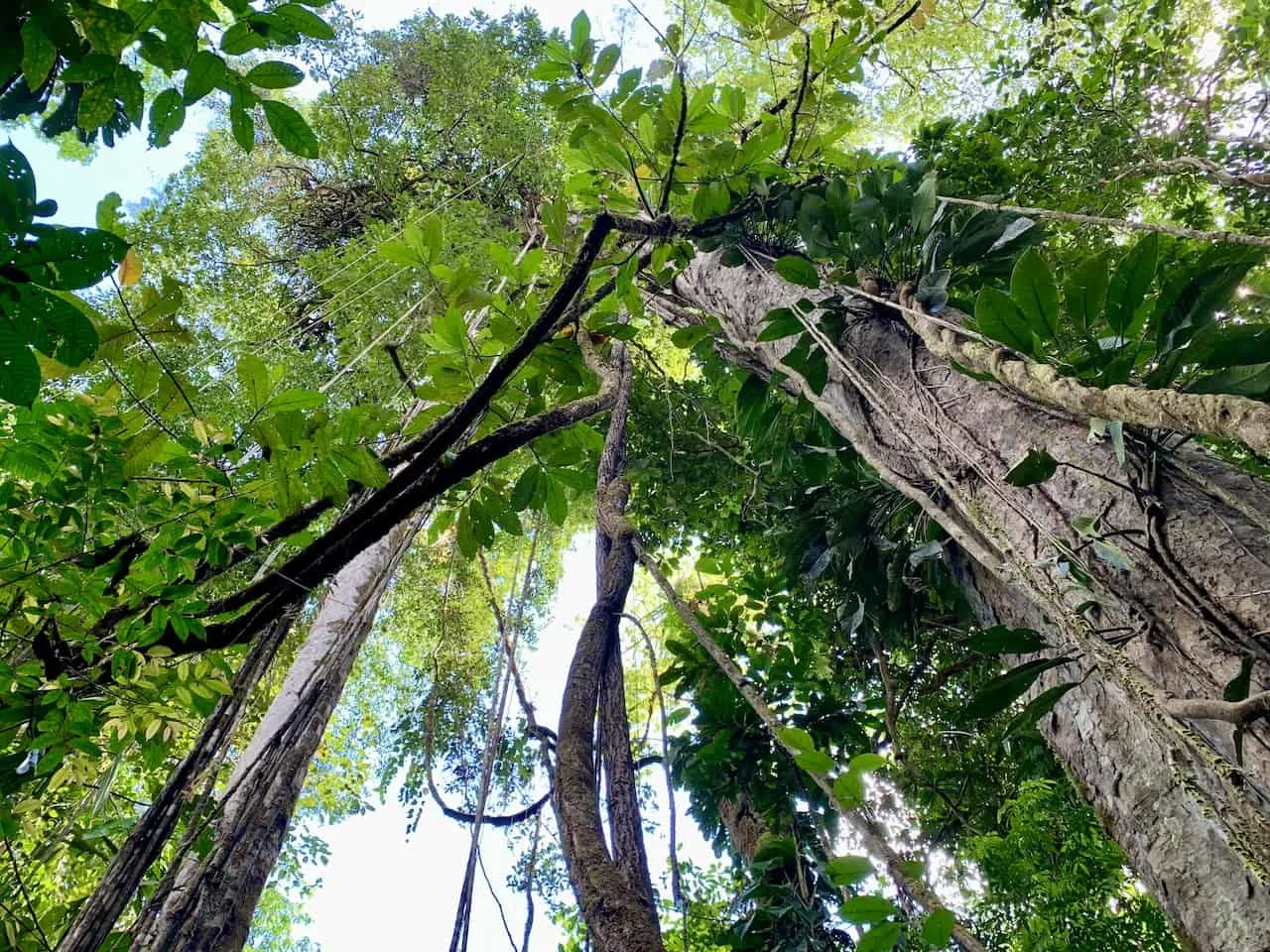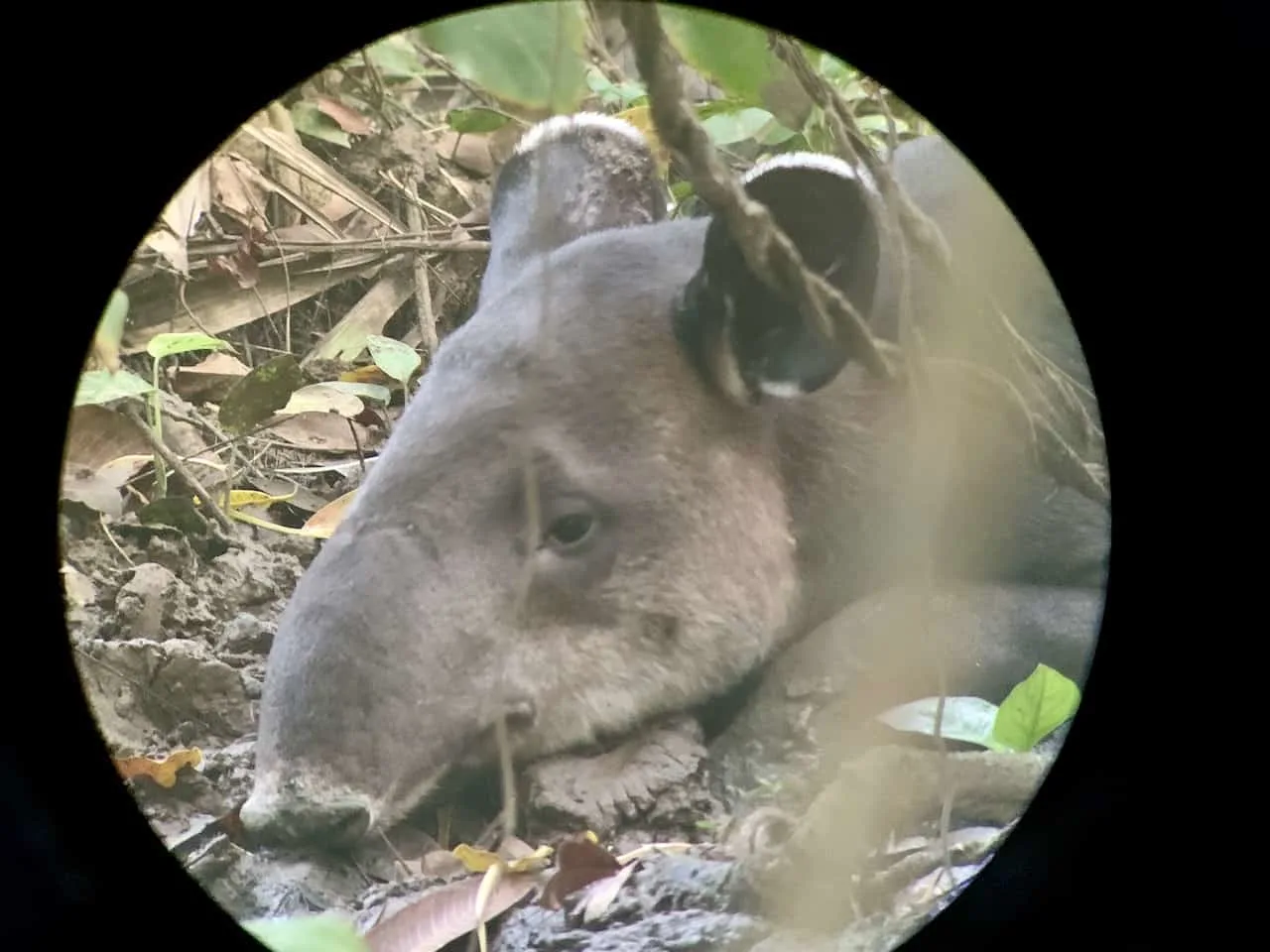 I would recommend ending your day by heading back to the beach, where you can enjoy a beautiful sunset overlooking the Pacific Ocean.
Sunset will be followed by dinner and lights out for the night, as you rest up for your final day in the park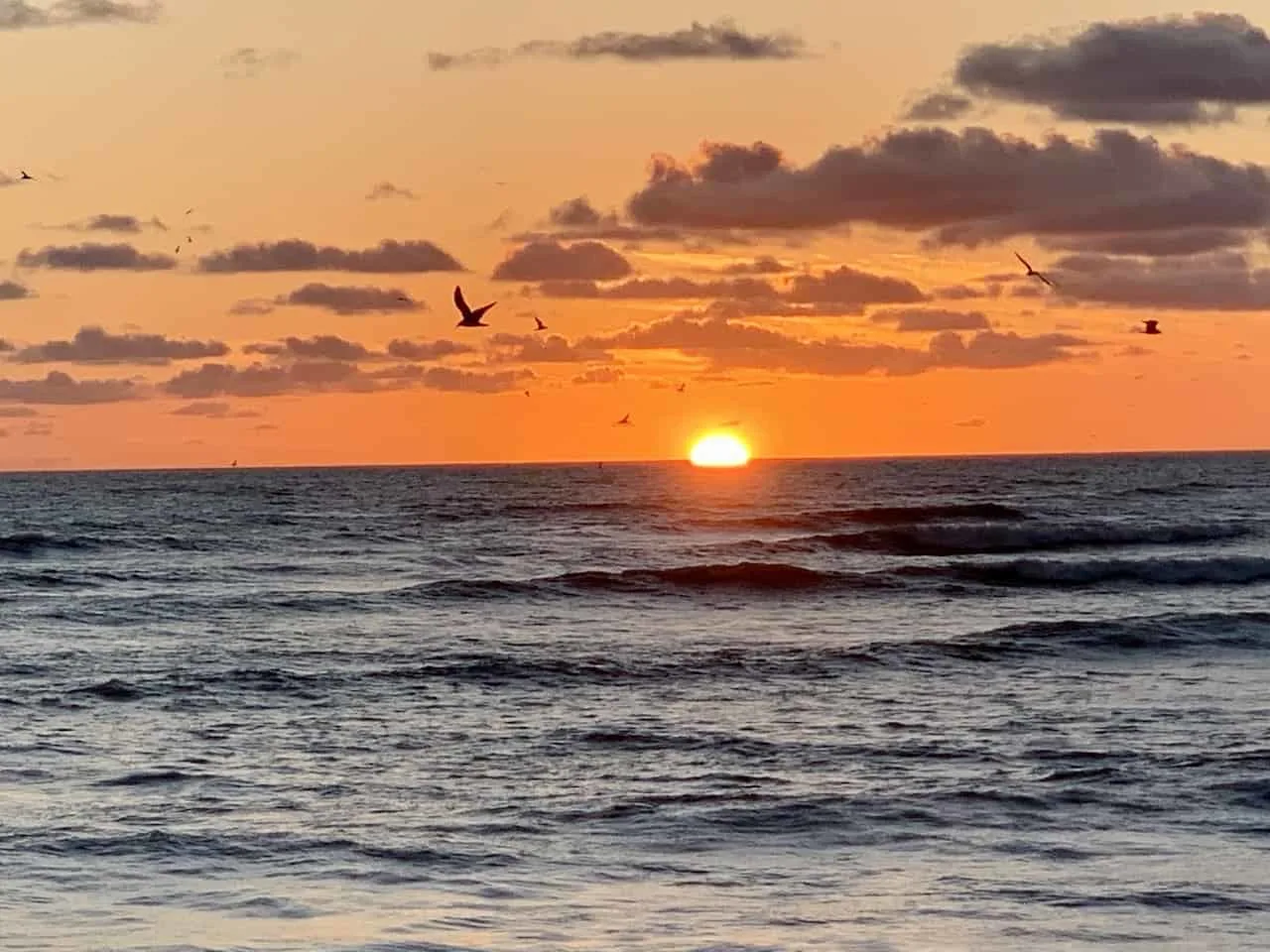 Day 3: Sirena – Los Patos – Puerto Jimenez
» Hike from Sirena to Los Patos
» Drive from Los Patos to Puerto Jimenez
Day 3 is going to take you on a long 23km / 14 mile journey from Sirena Station to Los Patos Station. This will all be done through the rainforest as you head deeper into the National Park.
While this portion of trail doesn't have as much wildlife as the prior two days, you will still get plenty of beautiful rainforest all along the way. And while it may not have as much wildlife, there is still much to be found throughout the hike.
During the trail you will really feel like you are just lost in the middle of the jungle and will be surrounded by these massive trees and plants in every which direction.
At some point you will stop for lunch (boxed lunch from Sirena), and will be able to enjoy it as you sit back and relax by a nearby natural pool.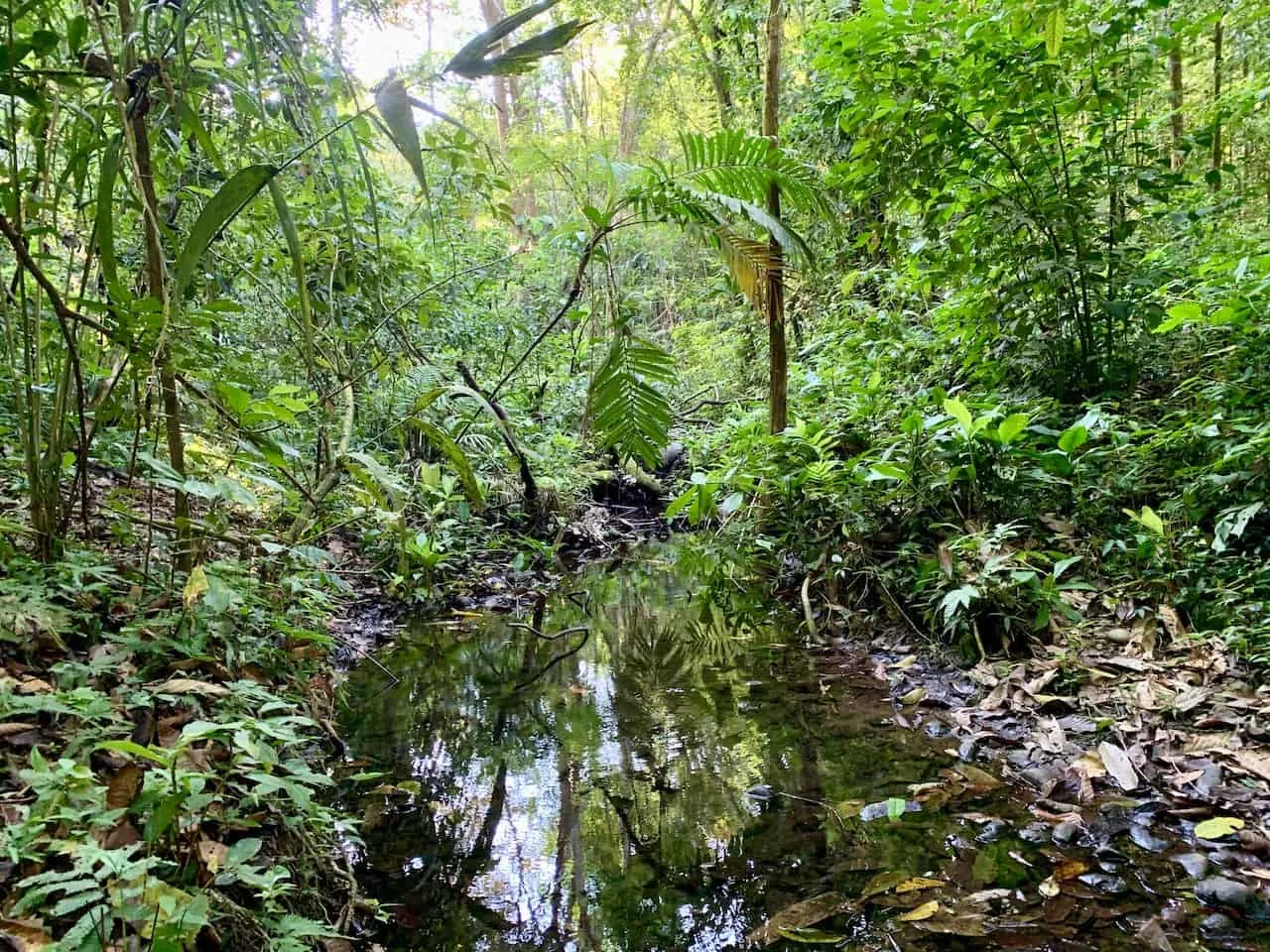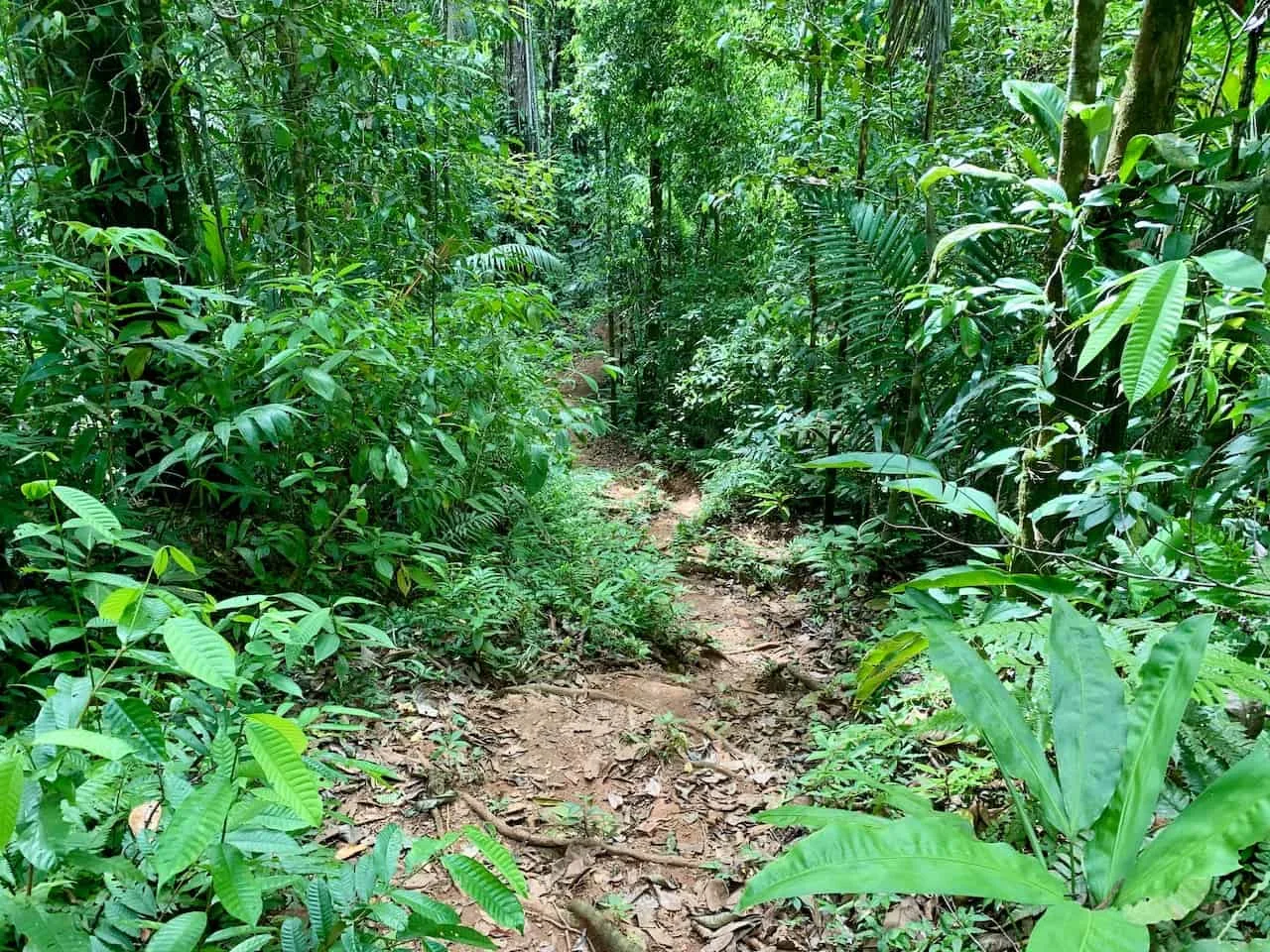 After lunch the trail can begin to get tougher as a good portion of it is on an uphill incline (with some downhills as well).
We were able to have more reptile and amphibian sightings during this portion of trail including frogs, snakes and lizards.
Soon enough you will see the Los Patos Station out in the distance. After a long day of hiking you will get picked up by a 4WD that will drive you back to Puerto Jimenez.
It is a pretty wild ride back during the first portion of the drive as you maneuver your way through and around plenty of water crossings. We were sitting in the back bed of the truck so had quite a fun and bumpy ride all the way through.
Once back in Puerto Jimenez, have a nice meal and a well deserved rest after three days of hiking through Corcovado National Park.
» If you enjoy this experience, you may also be interested in climbing to Costa Rica's highest point. Learn more in the Cerro Chirripo hiking guide up on the site.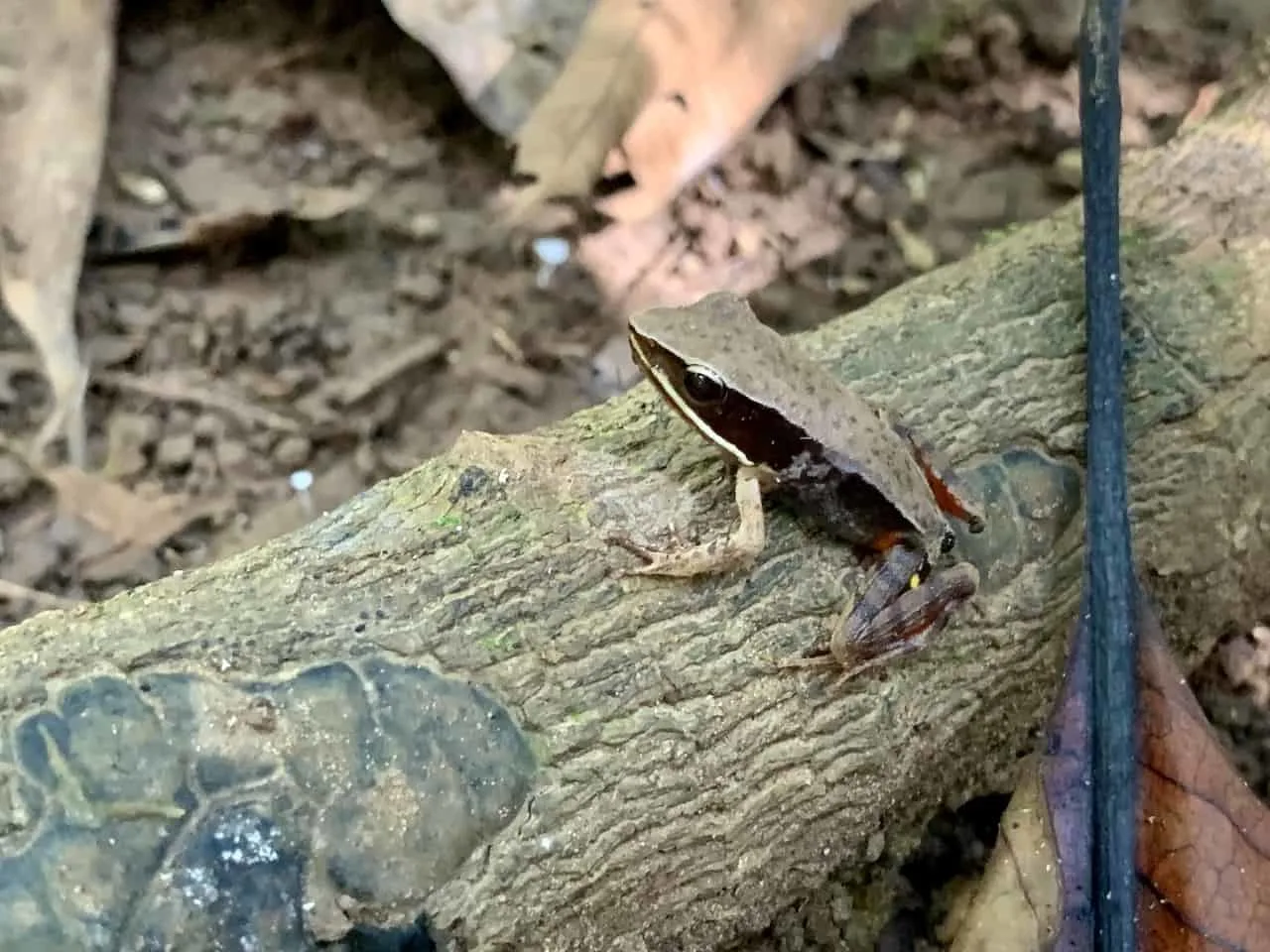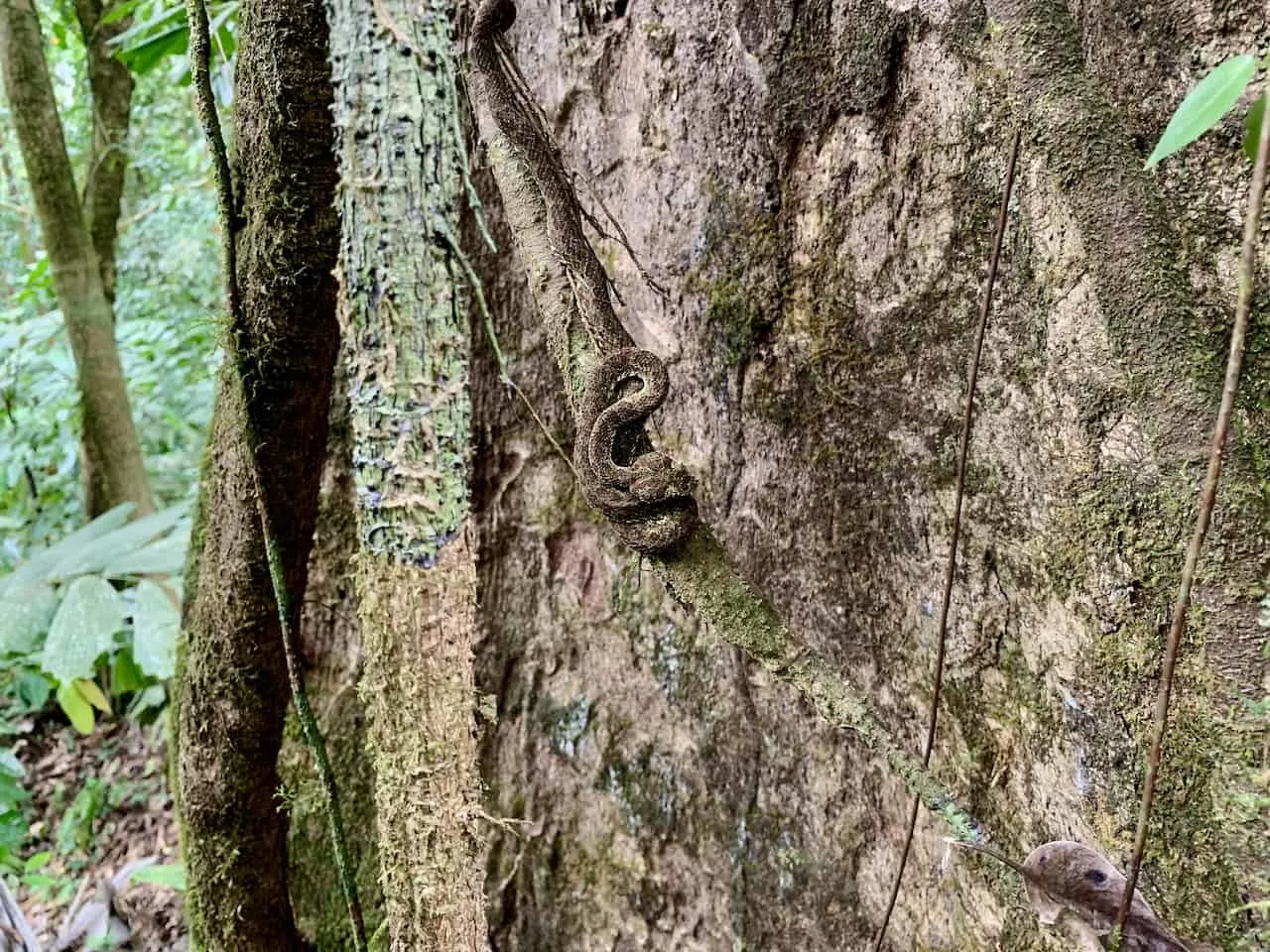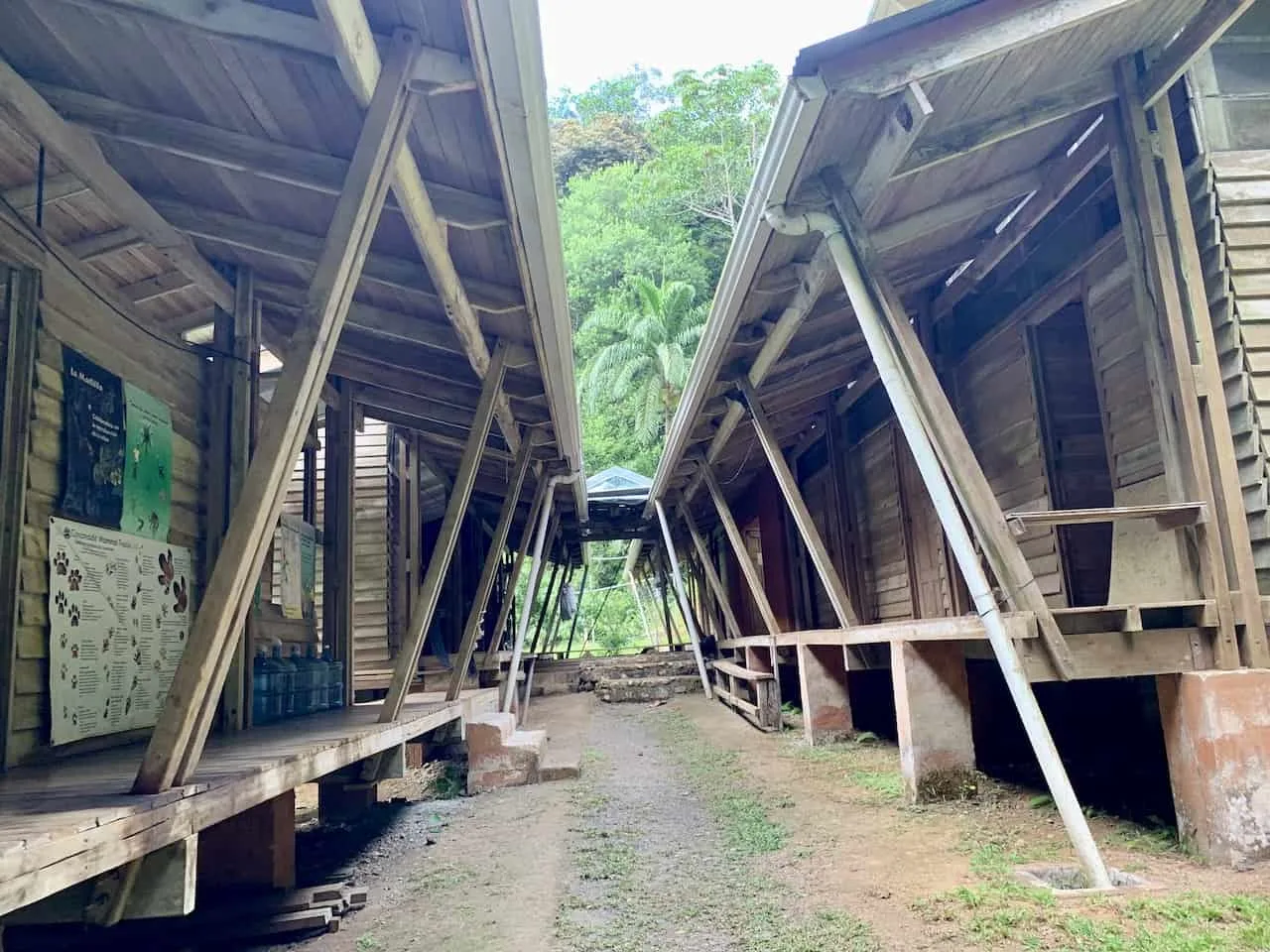 10) Tips & Things to Know for Hiking in Corcovado
» Be prepared for the heat. It can get very hot and humid during your stay in Corcovado.
Each of the stations do offer potable drinking water so you should always have clean water to drink. You will want to bring at least 2 liters to fill up as the journeys between stations can be quite long.
» Due to the heat, you should also be prepared to bring sunscreen, sunglasses, and a hat to protect you from the sun.
This is mostly important on the first day, when you can be exposed to the sun for quite some time walking along the beach.
» If opting for a tour with long days of hiking (Carate to Sirena and/or Sirena to Los Patos), be sure you are in a very good physical condition.
These are long days in the Costa Rican heat and should not be attempted by those that are not comfortable with that type of workout.
» There are no night hikes permitted within Corcovado, so don't expect to head out on the trails after dinner with a guide or by yourself. The only time you can hike in the dark is in the early morning as you head to sunrise.
» A few things to think of bringing along with you beyond your hiking and lodge clothes include: 2 liters worth of water bottles, snacks, bug spray, sunscreen, hiking shoes, flashlight, snacks, quick dry towel, ear plugs, and sandals.
Remember though, you will need to carry everything into and out of the park on your own. Only bring what you need!
11) Is Corcovado National Park Worth Visiting
In my opinion, Corcovado is 100% worth visiting. The hiking experience in Corcovado was truly a top highlight during my time in Costa Rica.
There is literally nowhere else in the country where you will get to see the variety of wildlife as you do within this National Park.
In addition, Corcovado gives you the chance to not only hike within a very active rainforest but it also lets you hike right alongside the beach on the Pacific Ocean.
Another great thing about the park is that you have several different options to choose from when going about a trip there.
You can opt for just a quick but eventful day trip, or you can go for the three day experience, which takes you all throughout Corcovado. There is a choice for everyone here.
And if you do opt for the overnight, having the chance to sleep deep within the National Park itself is another unique offering you won't get in many other places.
Getting to go to sleep and wakeup to the sounds of the rainforest is something you won't forget.
So, while Corcovado National Park is a bit further out of the way on a more standard route in Costa Rica, there really is nowhere else in the country where you will get this type of experience.
If you are thinking of going to Corcovado, I highly recommend adding it to your Costa Rica itinerary.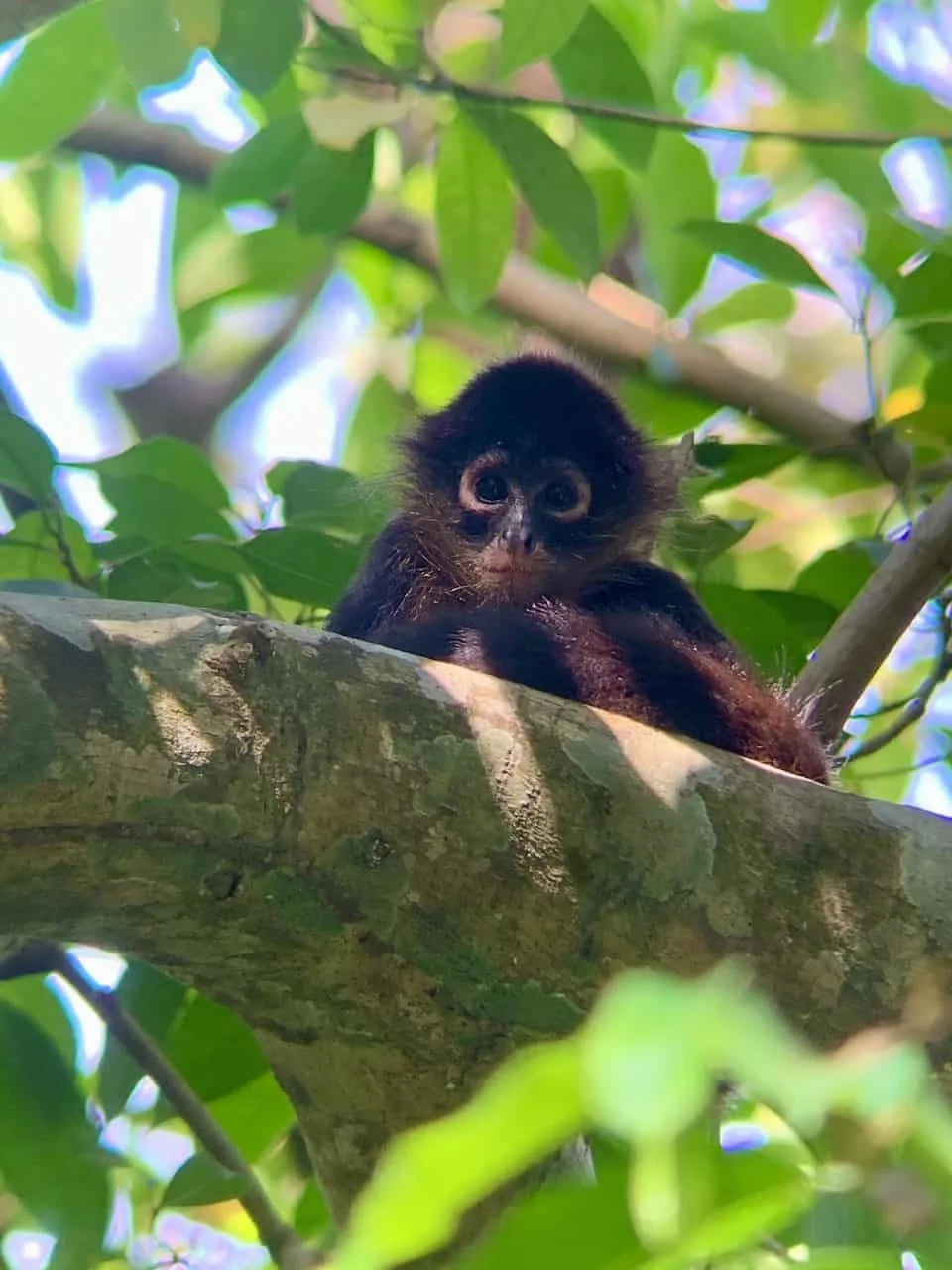 That about wraps up a comprehensive guide on exploring Corcovado National Park. If you have any questions or comments, feel free to add them in below.
Also don't forget to check out the remaining Costa Rica itineraries and guides up on the site.
Have fun out there and safe travels!