At 12,533 feet in elevation, Cerro Chirripo stands as the tallest point in all of Costa Rica. Getting to that peak though is no easy task. For most people it requires a 2-day 23-mile round trip hike, gaining over 8,600 feet of elevation along the way.
To take part of a Cerro Chirripo hike, there are a lot of various points to consider – permits, weather, lodging, gear, and plenty more.
This guide is here to go through each and every one of these topics and help answer all your questions along the way.
By the end of this guide, you should be well on your way to hiking to the tallest point of Costa Rica, Cerro Chirripo.
* Affiliate Disclosure: This post may contain affiliate links, which means I may receive a commission if you make a purchase through the links provided, at no additional cost to you. Thanks for supporting the work I put into TripTins!
1) Cerro Chirripo Hike Facts & Overview
Before jumping into the details, I first wanted to lay out an overview of Chirripo and some of the important things to consider.
For the remainder of the guide, I then will dive a bit deeper into these focus areas.
Mountain Name: Cerro Chirripo (12,533 feet / 3,820 meters) -> the word Chirripo translates to "land of the eternal waters"
Location & Mountain Range: Chirripo National Park / Cordillera de Talmanca -> the mountain is located in the larger Chirripo National Park, and is part of the Cordillera de Talmanca mountain range. The park is home to five different ecosystems, primarily rain and cloud forests. There are also over 400 species of birds and over 260 species of amphibians and reptiles found in the park.
Entry Sector: San Gerardo -> while there are three entry sectors to the national park, San Gerardo is going to be your main go to entry when attempting a climb up Chirripo. San Gerardo de Rivas will also be the town you will want to stay in the day before/after your hike.
Best Time to Visit: January – April -> in order to avoid the most amount of rain and clouds, you will want to visit between January and April. This will give you the best chance of good weather to take in those views!
Accommodations: Crestones Base Camp -> most people opt for an overnight stay at the Crestones Base Camp, located at 11,155 feet. Head up to base camp on day 1, where you will have a nice meal, a cold shower, and sleep overnight.
Permit Required: Yes -> a permit is required for Chirripo National Park as only a certain number of people are allowed up in a day. More info on that later in the guide.
Hike Length: the hike from the trailhead to the summit of Chirripo comes in at around 11.3 miles / 18.1 km, making this a 22.5 miles / 36.2 km round trip hike.
How Long Does It Take to Hike Cerro Chirripo: total hiking time is around 15 hours over two days -> it is about 8-10 hours of ascending and 5-7 hours of descending. The first day you will head up to the Crestones Base Camp, followed by a second day of summiting Chirripo and heading back down to San Gerardo de Rivas.
Elevation Gain: 8,621 feet / 2,628 meters -> this is a major amount of elevation gain for a hike, even if it is split over two days. And remember, everything you go up, you must come down as well.
Chirripo Itinerary Breakdown: below are the distances and elevation gains by day for a 2 day Chirripo itinerary ->
Day 1 – Heading to Base Camp
Starting Point: San Gerardo de Rivas
Ending Point: Crestones Base Camp
Distance: 8.6 miles / 13.9 km
Elevation Gain: 6,531 feet / 1,991 meters
Day 2 – Part 1: Round Trip to Summit
Starting Point: Crestones Base Camp
Mid Point: Chirripo Summit
Ending Point: Crestones Base Camp
Distance: 5.2 miles / 8.4 km
Elevation Gain: 1,635 feet / 498 meters
Elevation Loss: 1,635 feet / 498 meters
→ Note there are alternative routes back down to base camp
Day 2 – Part 2: Heading Back Down
Starting Point: Crestones Base Camp
Ending Point: San Gerardo de Rivas
Distance: 8.6 miles / 13.9 km
Elevation Gain: 495 feet / 151 meters
Elevation Loss: 6,531 feet / 1,991 meters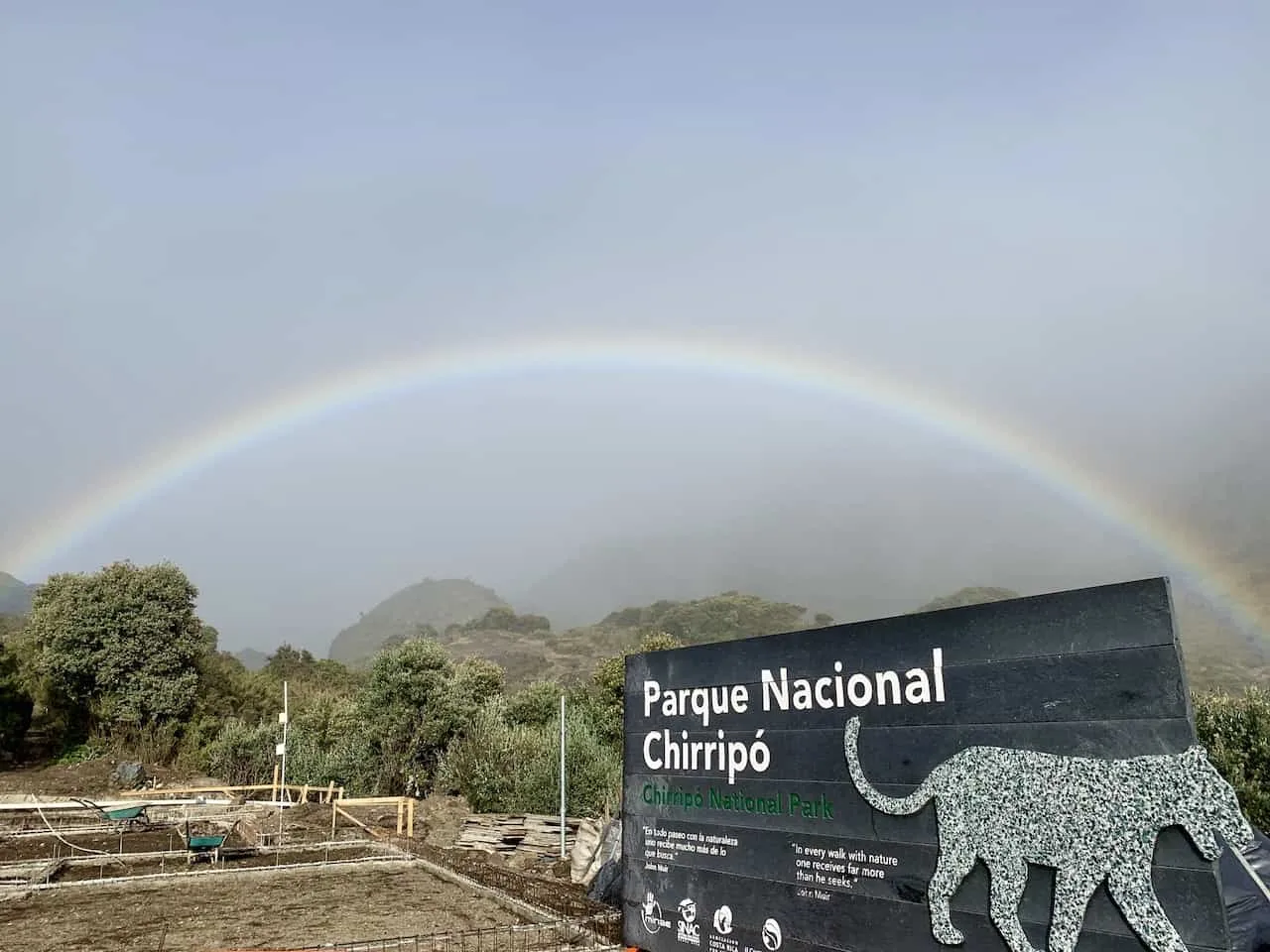 2) How Do You Get to Chirripo
Before hiking to the summit of Chirripo, you first need to reach the start of the hiking trail in San Gerardo de Rivas.
San Gerardo de Rivas is a small town located at the base of Chirripo and offers visitors the perfect place to base themselves before and after a hike up the mountain.
There are two main ways to get yourself to San Gerardo de Rivas – by rental car or by bus.
Rental Car
The easiest way to get yourself around Costa Rica in general is by having your own rental car. This way you can go at your own pace, and be on your own schedule throughout a trip to the country.
Costa Rica Rental Car: Feel free to take a look at Rentalcars.com for a variety of car options to choose from for your time in Costa Rica. You will be able to filter by price, car type, rental company, & more to find the best car rental for your trip.
The drive from San Jose to San Gerardo de Rivas will take around 3.5 hours, from Manuel Antonio around 2 hours, and from Uvita also around 2 hours.
A very important driving tip here so please be aware -> when inputting directions to/from San Gerardo de Rivas, some of the navigation maps do not realize that some roads are not paved.
So, instead on sending you on the normal safe route on main highways/paved roads, the apps may send you on a more dangerous non-paved road for a portion of the drive.
This is more likely to happen to/from San Jose.
To avoid this -> make sure you are always driving through San Isidro de El General first before going to or leaving from San Gerardo de Rivas.
Public Bus
The second way to get yourself to San Gerardo de Rivas is by bus. First you will need to get a bus to San Isidro de El General.
There are busses that leave San Jose to San Isidro de El General constantly throughout the day and will take around 3 hours.
From San Isidro de El General, you then will need to grab a second bus to San Gerardo de Rivas, which are a bit less frequent (just a couple a day).
If you don't want to wait for the second bus, you can also grab a taxi from the bus stop and that should take around 30 minutes.
Once in San Gerardo de Rivas, you will need to get yourself to the starting point of the hike. The exact GPS coordinates are 9.469689, -83.584494.
On Google Maps it is named "Entrada al Sendero Parque Nacional Chirripo". Depending on hotel choice, you may just need to walk a couple minutes to the entrance or even upwards of a mile.
3) Accommodation in San Gerardo de Rivas
In town you should find many places that offer accommodation for hikers looking to summit Chirripo.
You certainly will need to stay there for the night prior to the climb, and depending on your itinerary, you may stay there the night you arrive back from your climb.
Note that San Gerardo de Rivas town center is about 0.6 miles away from the trailhead, however there are hotels directly next to the trailhead too.
Below are a few highly rated options to choose from in the area. Don't expect anything too fancy here. It is just enough to get the job done.
Be sure to book these hotels as soon as you know your dates by using the links below.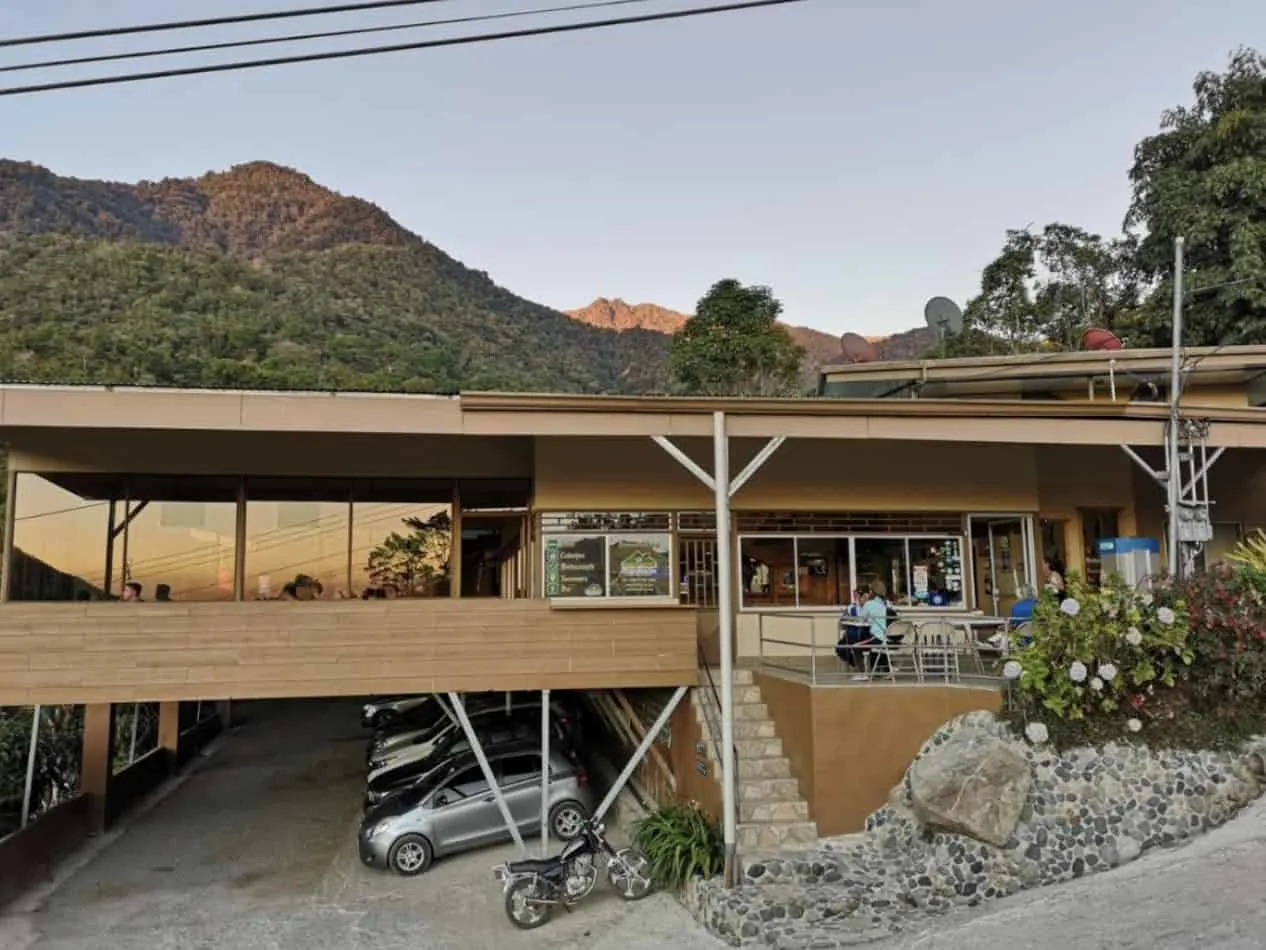 4) Cerro Chirripo Weather & Temperature
One of the top considerations when going about a climb should be the time of year that you attempt it.
Since so much of the experience is to take in those beautiful views along the way (and from the summit of course), you will want to avoid those times of year when rain and clouds can get in the way.
While nothing is ever guaranteed, the best time for a Cerro Chirripo climb would be from the months of January to April (with February and March being the best two months). During this time period is when the region expects the least amount of rainfall.
Just because you head there during dry season, doesn't mean you are going to have a hot and humid day as you may in other parts of the country.
Since you are starting the climb at around 4,900 feet above sea level, and heading all the way up to 12,000+ feet, the temperatures can drop quickly.
At the base of the mountain, temperatures can be quite hot getting to around 70+ degrees F. As you continue up though, the temperatures begin to fall.
At around 6,500 feet in elevation, the temperature will be around 60 degrees, at 10,000 feet it drops to around 50 degrees, and once you reach the summit temperatures can be near the freezing point of 32 degrees.
Of course, every day can be different with the weather. Sun, wind and rain all can vastly affect the real feel temperature. End of the day though, you do need to prepare yourself for all types of weather.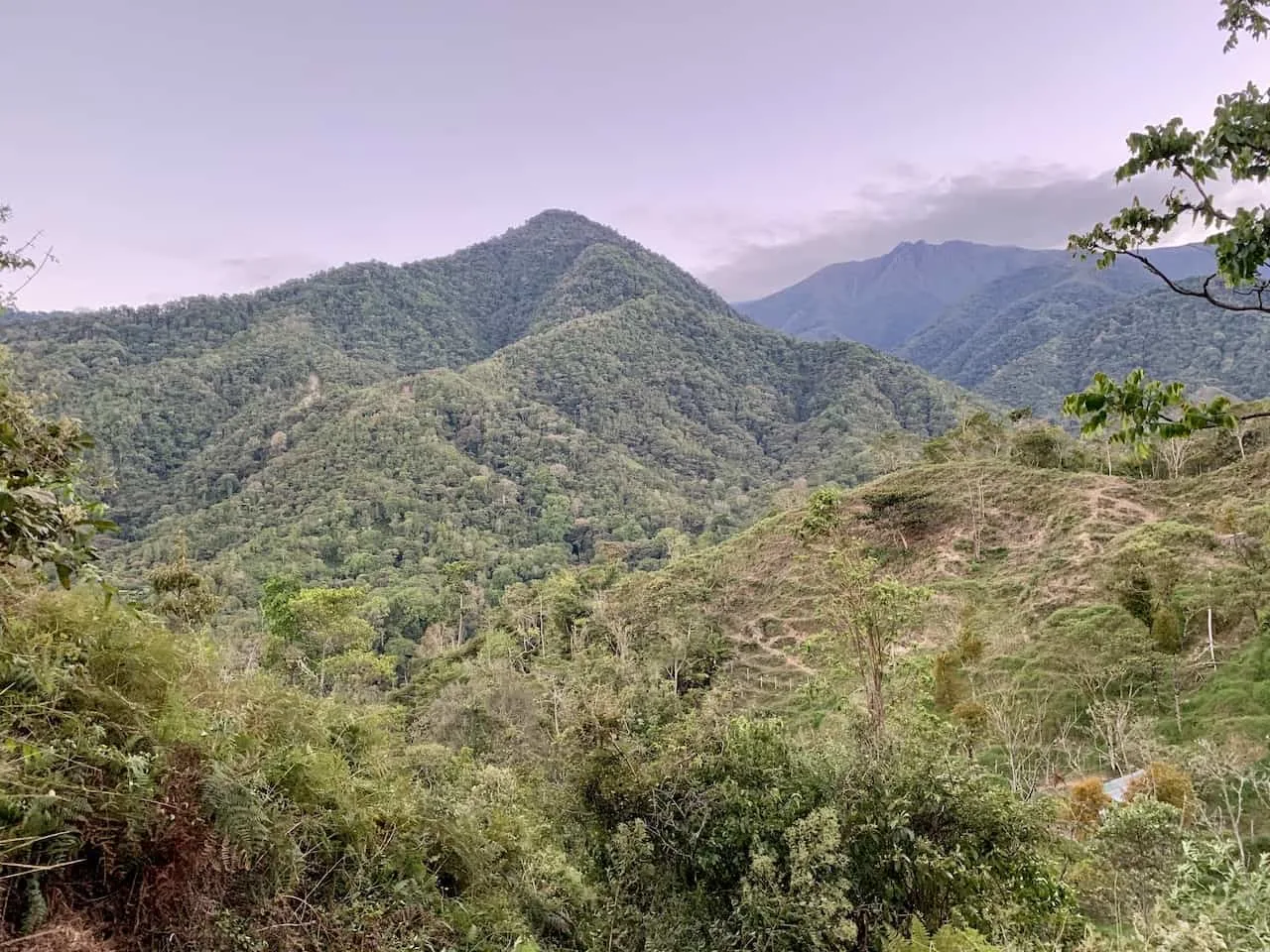 Hiking Resources & Checklist

Before heading out for the trails, be sure to read up on some of the hiking resources up on the site. These are here to better prepare you for all types of outdoor adventure.
5) What to Bring Along
Due to the variety of weather and temperatures, you will need to prepare accordingly. With a climb like this, it will all be about layers!
You can start the hike off with shorts and t-shirt, and by the time you are up top, you may have 3+ layers on keeping you warm.
Since you will also want to consider the weight of your backpack, the packing list for Chirripo should be as efficient as possible.
Below are the items I would recommend (note that all clothing items should be made of moisture wicking material):
Base Layer Underwear
Hiking Socks
Hiking Shorts
Hiking Pants
Short Sleeve T Shirt
Long Sleeve T Shirt
Mid Layer Fleece
Rain/Wind Jacket
Light Gloves
Hat
Headlamp
Sunglasses
Sunscreen
1 Liter Water Bottle (can fill up during the hike)
Towel (if you want to take a cold shower)
Toothbrush/Toothpaste (+other toiletries)
Portable Charger
Lodge Clothes
Hiking Packing List: Feel free to take a look at the Hiking Packing List for some of my top recommendations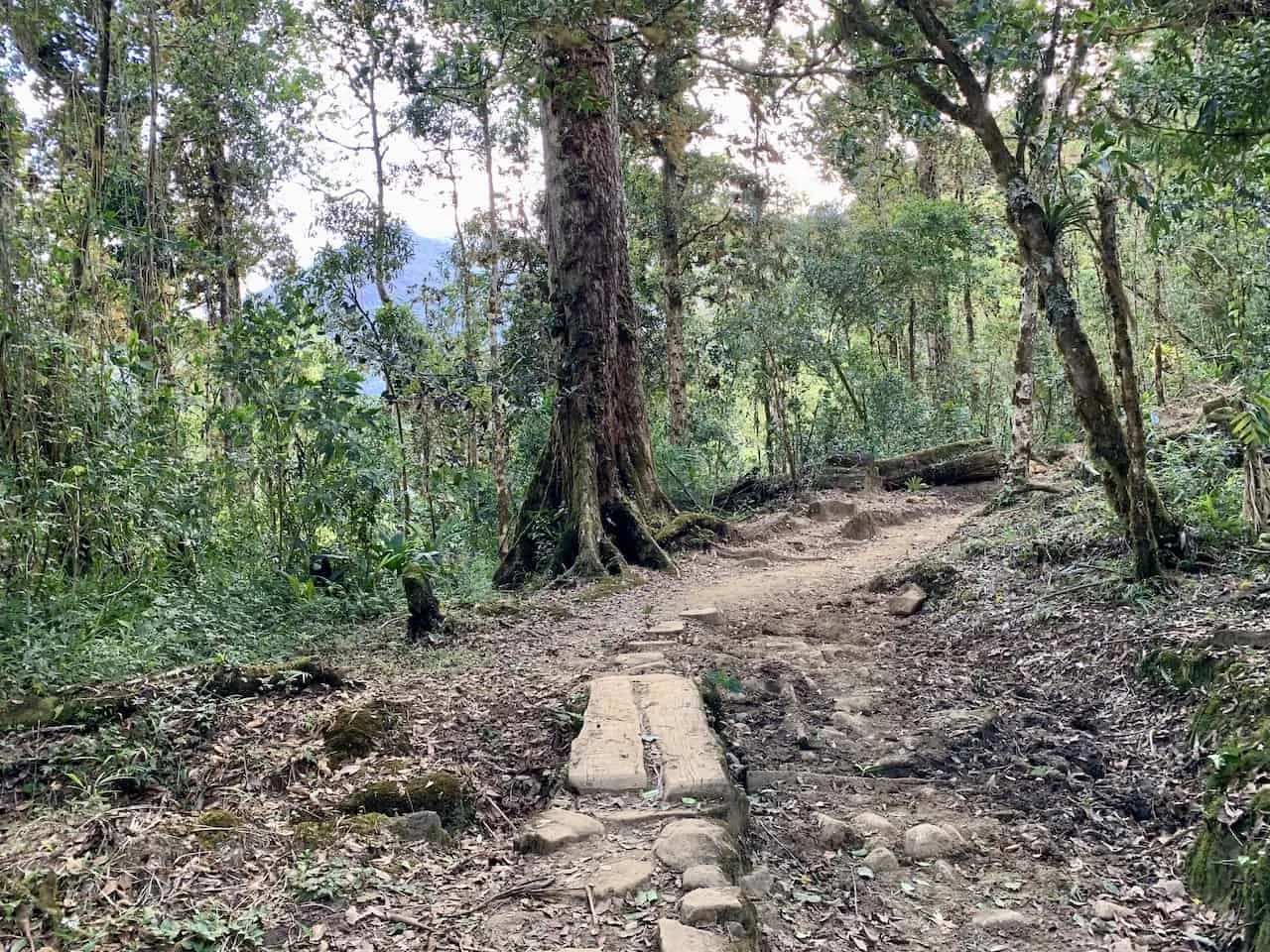 6) Cerro Chirripo Permit
While many people want to climb Chirripo during a trip to Costa Rica, that doesn't mean they actually get to climb.
That is because there is only a limited amount of permits available for the national park for each day.
The number of overnight permits equates to the number of beds available at the Crestones Base Camp.
This means that there are 52 available spots for an overnight trip. In addition, there are 20 spots available for just day hikers in the park.
If there are no overnight spots left and if you think you can summit in one day, then a single day permit could work for you.
Getting a permit can get a bit tricky due to the limited number of spots and how the reservation system works. Below though I will try and walk you through the exact process to get yourself a permit.
Step 1: Creating a SINAC account
SINAC is the organization that overlooks the country's national parks. If you are headed to others in the country, you may be visiting the website to purchase those tickets as well.
The first step though is to create an account on the SINAC website.
Simply head to the webpage, click on "Create an Account", fill out your personal information, and click Register. You are now done with the first step in the process!
Step 2: Getting a Chirripo Permit
Now comes the tougher part. Once you are in the account, you will see a menu on the left-hand side of the screen. Click the "Buy" dropdown and then the "Online Reservation" option.
There will be four pieces of information to choose from on this next page:
Wildlife Area: Parque Nacional Chirripo
Sector / Schedule: Sector San Gerardo
Entry Date: TBD
Departure Date: TBD
Before inserting your dates, you are better off first clicking the blue "Availability" button (in Spanish: "Disponibilidad").
This will show you all dates for the month with the availabilities listed next to them. The first column named "Availability" is for overnight visitors and the second column named "Daily Visit" is just for the single day visitors.
Once you have found dates that have availability, you can then fill out those in the two date dropdowns.
These availabilities begin to show up 4-6 months ahead of time.
At some point as you continue to scroll for open spots, you may see the word "Cerrado" listed. From my understanding, this just means the spots have not opened up yet, and not that the park is closed on those dates (cerrado translates to closed in Spanish).
Hopefully though, you will be able to find the dates that work for you. You then will scroll to the bottom of the page and down to "Foreigners Admission" (if you are not Costa Rican of course).
There will be a "Quantity Days" column and a "Quantity" column. The Quantity days should automatically be filled out for you based on your dates selection from above (most likely "2"). The "Quantity" column you will need to choose how many people you are booking for.
The cost is very reasonable: $18 per day for Adults and $5 per day for Children (plus tax). Since you are most likely going to do the overnight, that will be $36 for adults and $10 for children.
Continue to the bottom of the page, check out the terms and conditions, and click continue. From here you will have a 12-minute timer to put in your information (12 when I checked last, 8 minutes when I booked in the past). This means you should have all your information ready to go!
For each visitor you will need 1) Full Name 2) Passport # 3) Country. Once those are good to go, the bottom section is just putting in your credit card details.
You then just need to click the Continue button on the bottom, confirm your details of the reservation and then finalize.
Congrats you completed the toughest part!
Step 3: Paying for Accommodation & Food
Soon after you hit submit, you will receive an email from SINAC with your reservation details.
Not too long after that (in my case 50 minutes later), you will receive a second email from "Consorcio Aguas Eternas" to reserve your accommodation and food.
If you do not receive this email, please send an email to info@Chirripo.org.
You will be given 2 days to complete this step before losing your reservation. So, don't delay, just follow the instructions and pay for the accommodation and food once you get the email.
During the reservation process you will also be able to select meal choices if you would like. They offer breakfast, lunch and dinner as well as snacks/drinks for purchase.
The cost for one night is ¢21,811.19 / $34 per person. Meals cost around $11 each and you must purchase these ahead of time during your booking process.
You are now all set with your permits, lodging and food!
Step 4: Checking In
The last step applies when you arrive in San Gerardo de Rivas. You will need to make two stops once you get there.
The first is to the Chirripo National Park office to get your permit / wristband.
The office is open Monday to Sunday from 8:00AM – 12:00PM and 1:00PM – 4:00PM. This means you MUST arrive prior to 4:00PM the day before your hike if you are looking to start the hike at a reasonable hour.
The second stop is at the Consorcio Aguas Eternas (directly across the street from the Chirripo National Park office) to pick up your accommodation and food vouchers (open from 8:00AM – 4:00PM).
You will receive small food vouchers and your accommodation ticket for check in when you arrive.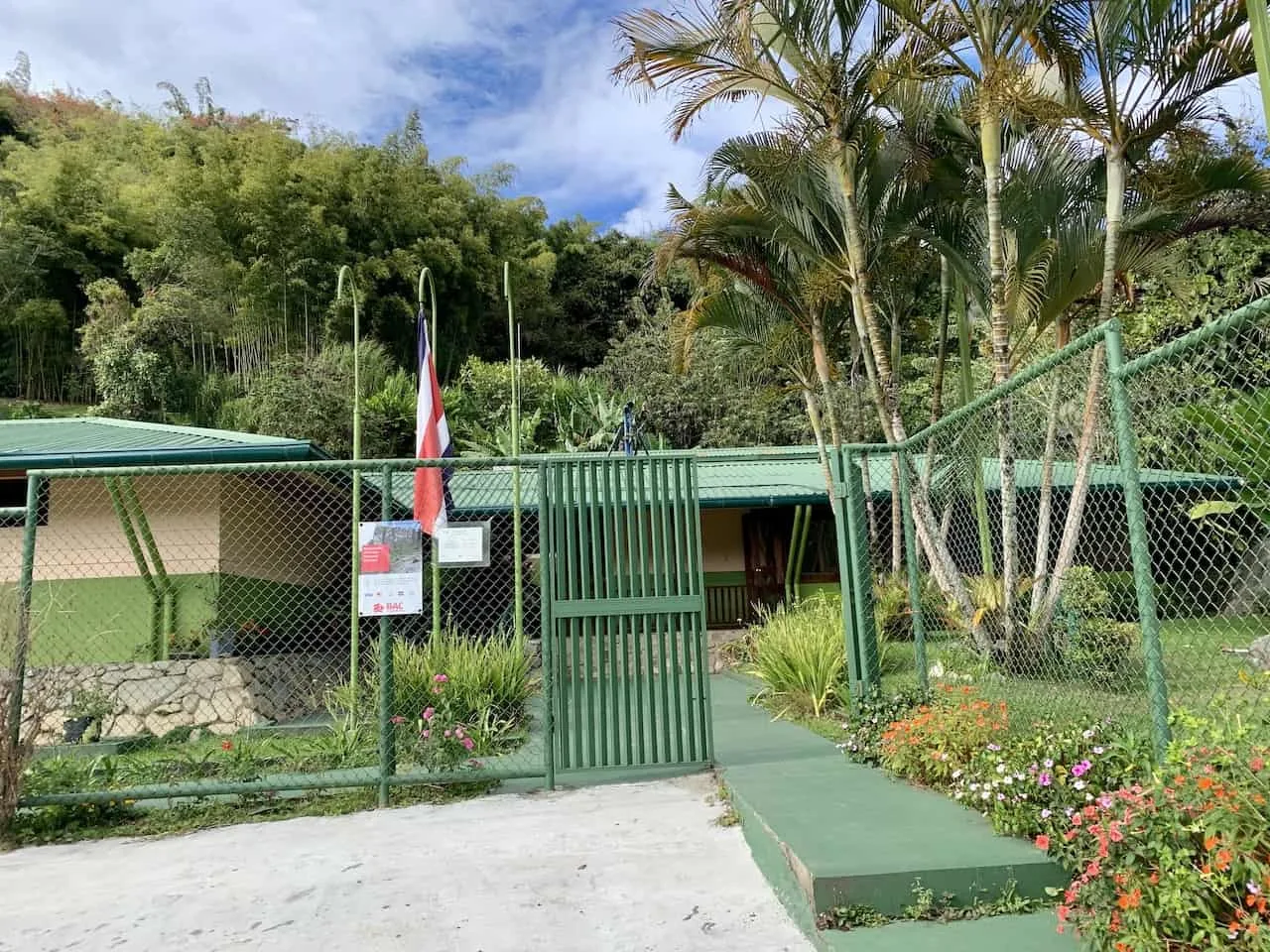 7) Crestones Base Camp – Cerro Chirripo Lodge
For the majority of hikers out there, summiting Chirripo is going to be a two-day event -> hiking to base camp on day 1 and then summiting on day 2 before heading back down the mountain. That means an overnight at 11,155 feet above sea level at Crestones Base Camp.
From the Crestones base camp lodge, it is still another 2.6 miles and +1,500 feet in elevation to the summit. This means the first day of the hike to Crestones is going to be around 9 miles and +6,500 feet of elevation gain.
Once you arrive at Crestones Base Camp on the first day, you will have the chance to unwind, shower, eat, and recover before setting out the following day.
Bunk Bed Rooms: At Crestones you will find a pretty simple but effective setup for hikers. In total there are 52 beds (mostly with rooms of 4 people on bunk beds). For each bed you will be given a locker to store your things as well as sheets, pillows, and blankets.
Bathrooms: In addition, you will find 8 shared bathrooms throughout the lodge. While there are showers, note that the water will be very cold. Be sure to bring a quick dry towel if you want to shower as no towel is provided.
Dining: They offer three meals per day and these need to be purchased in advance when you pay for your accommodation. Breakfast is served from 5:30AM to 8:30AM, Lunch from 12:30PM to 3:00PM, and Dinner from 6:00PM to 7:00PM.
Food Options: Each day of the week has different Costa Rican inspired food options and there are vegetarian options available as well.
Check In Timing: Check in time is at noon and check out time is at 11AM.
Baggage Transfer: Also note that they can organize a baggage transfer up and down the mountain if you do not want to carry your own things. This will cost around $5 for each kilo (2.2 lbs.).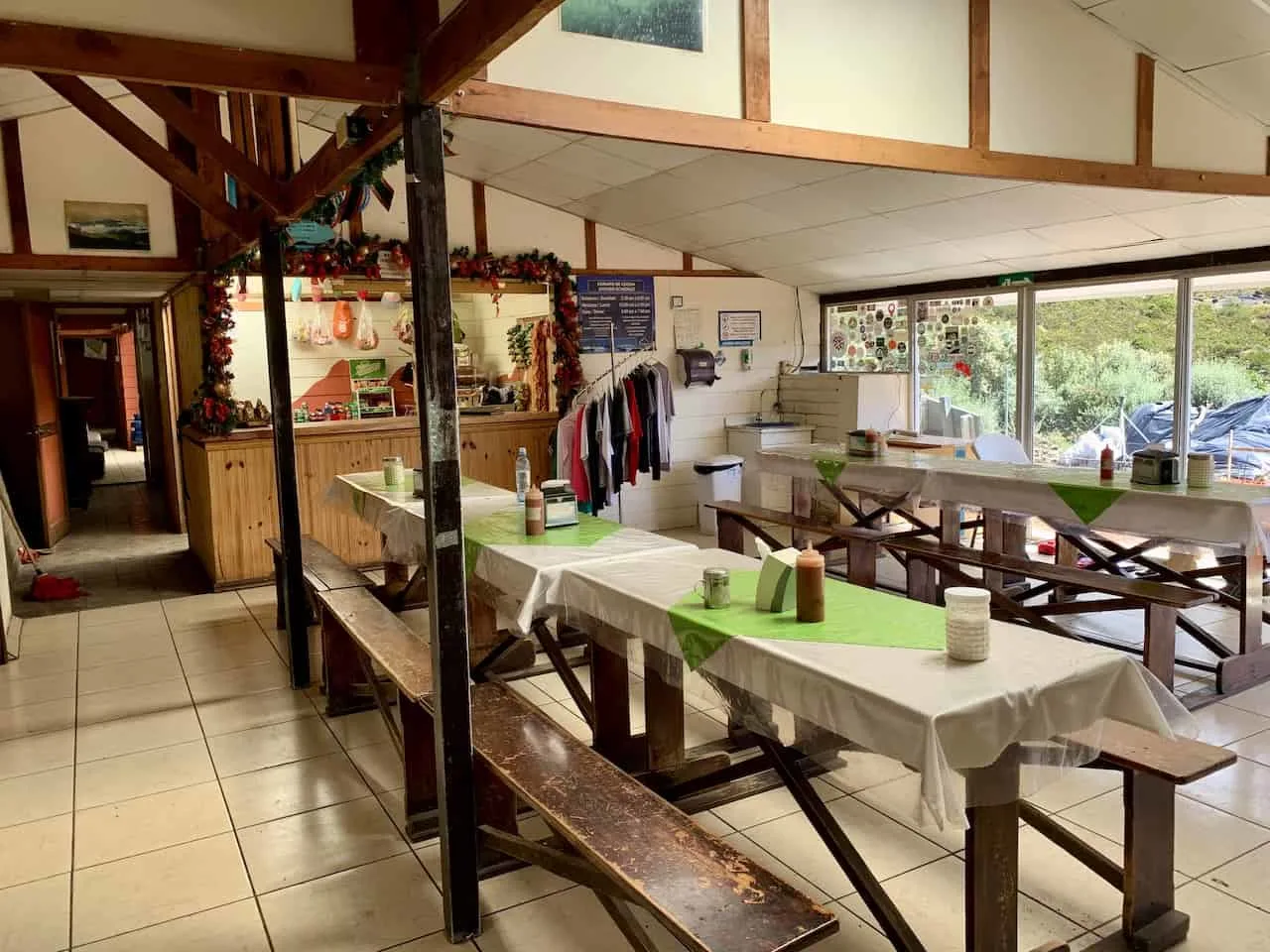 8) Cerro Chirripo Tour & Guided Hike
To be quite honest, the hike up Cerro Chirripo is quite straightforward. The trail is well maintained and you can find signboards posted throughout.
For those though that do not want to worry about permits, and may want to learn a bit more about the area during a hike, then a guided option can be an option for you.
There are tour companies that offer 2-4 day trekking options but they do seem to require exact dates 6+ months in advance. This way they can be sure to book the spots as they open up.
I would recommend taking a look at Chirripo.com or some options through Explore-Share.com. I do not have any experience with either as I did it on my own.
9) Cerro Chirripo Map
Below you can find a map of the Cerro Chirripo hike. The thick light blue line represents the 8.6 mile / 14 km hike from San Gerardo to Crestones Base Camp.
Once at base camp, you can see the various green lines representing different hikes in the area.
This means there are additional hikes here that you can take part of in addition to Cerro Chirripo. There is the option to head to the second highest peak in the country – Cerro Ventisqueros, trek to some lakes, and visit the beautiful viewpoint of Los Crestones.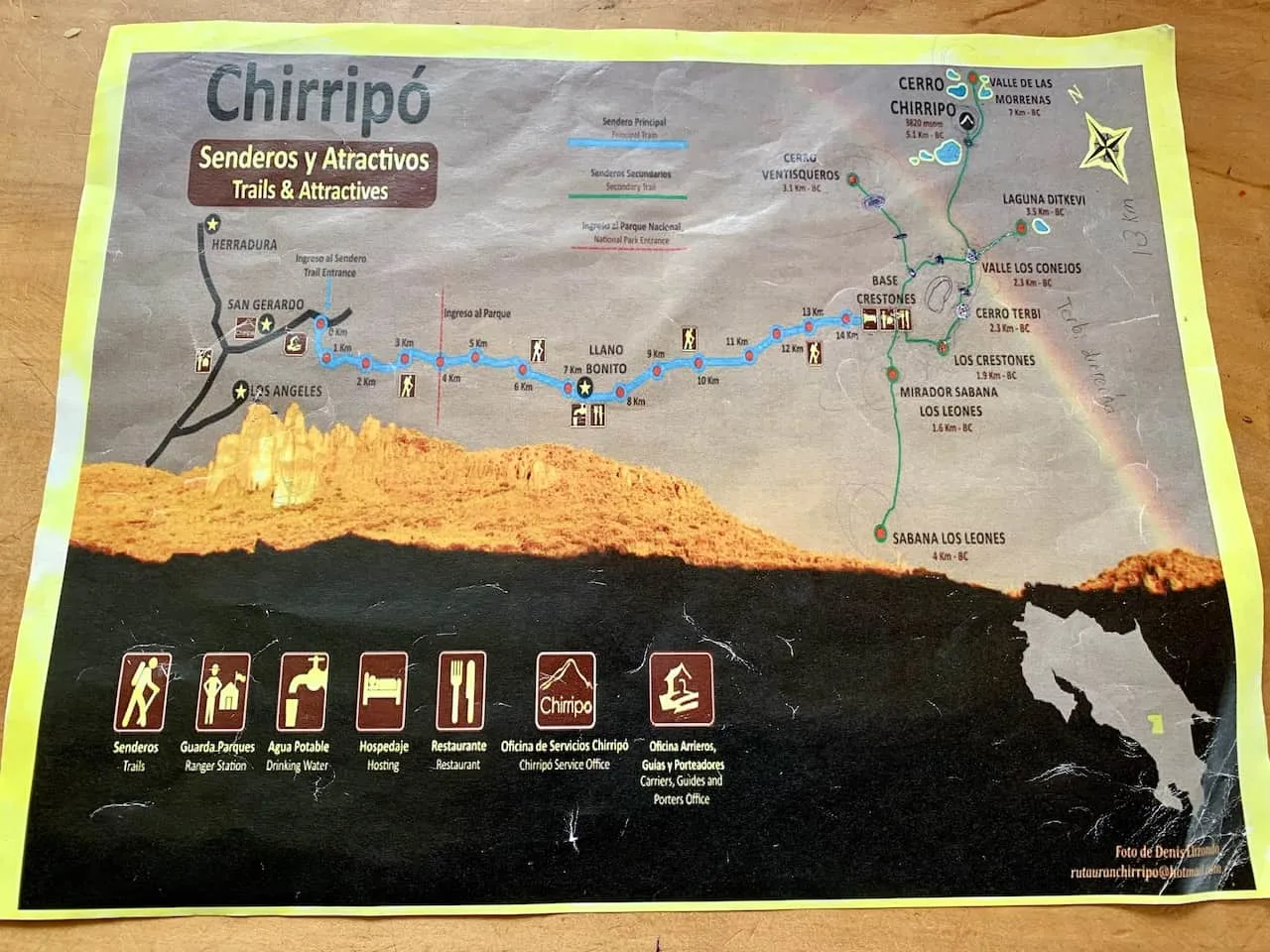 10) Costa Rica Travel Insurance
Considering travel insurance for Costa Rica?

World Nomads offers coverage for more than 150 adventure activities as well as emergency medical, lost luggage, trip cancellation and more.

For years, World Nomads has been protecting, connecting & inspiring independent travelers, offering travel insurance & safety advice to help you travel confidently. Their mission is to support and encourage travelers to explore their boundaries (like hiking up Cerro Chirripo!).

World Nomads has simple and flexible travel insurance that has been designed by travelers for travelers. Even if you leave home without travel insurance or your policy runs out, you can buy or extend out on the road.

Get a quote for a World Nomads travel insurance policy today!
11) Cerro Chirripo Hike
Now that you have all the background information for the hike, let's talk about the hike itself. I am going to go about the two-day option here as that is what most people (including myself) take part of.
The breakdown of the two days will look something like this:
Day 1: San Gerardo de Rivas to Crestones Base Camp
Distance: 8.6 miles / 13.9 km
Elevation Gain: 6,491 feet / 1,978 meters
Day 2: Crestones Base Camp to Cerro Chirripo Summit to San Gerardo de Rivas
Distance: 13.9 miles / 22.3 km
Elevation Gain: 2,130 feet / 649 meters
Total Chirripo Hike
Total Distance: 22.5 miles / 36.2 km
Total Elevation Gain: 8,621 feet / 2,628 meters
Chirripo Hike Day 1
Due to the long mileage and high amount of elevation gain, I would recommend starting the hike up early in the morning sometime between 6:00AM-8:00AM.
Remember, first you will need to get yourself to the entrance of the hiking trail, which may add some additional time as well.
Once at the entrance you will see various hiking signs welcoming you to the start of the trail.
At each kilometer up until Crestones Base Camp, there will also be these grey pillars telling you what kilometer you are on. At the entrance you will come across the first one "Km 0". From there it is 14 km to base camp.
In addition to those kilometer signs, you will also see different names for various sections of the trail along with the elevation. For example, the first section is called "El Termometro" or "The Thermometer".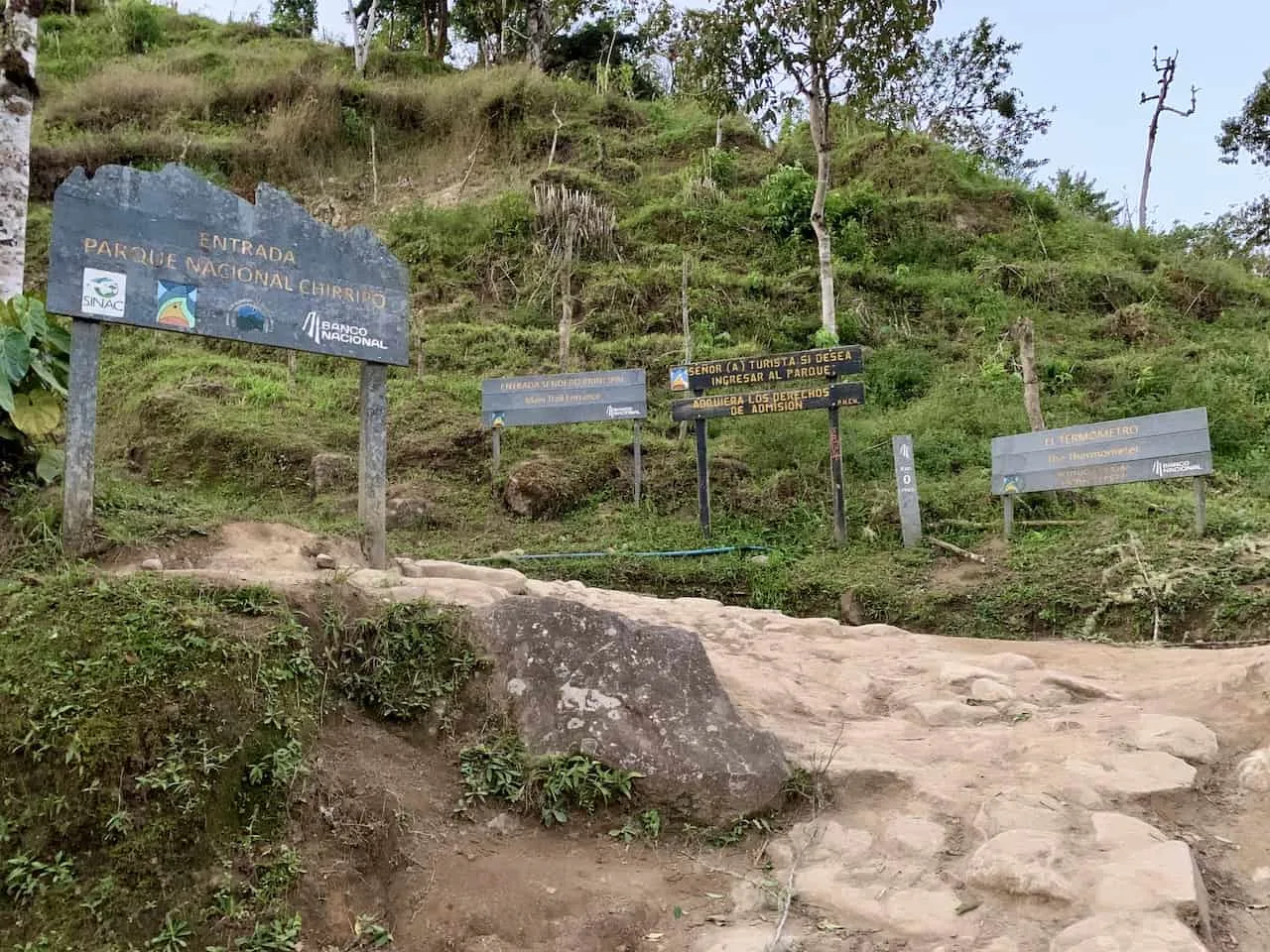 From here, the hike up the rocky & sandy trail begins. While the trail is not paved by any means, it is maintained to an extent.
The hike continues through the forest as you get some views of the surrounding landscape from time to time.
You will soon finish up the first kilometer and see the next section of trail called "The Monkeys". It is more rainforest walking with extensive greenery all around you.
The trail passes by some pastures, where you may catch some cows looking on.
The views can really open up at times as you take in some views further down the valley. After a couple more kilometers and section names, you will reach the "official" entrance to Chirripo National Park at kilometer 4.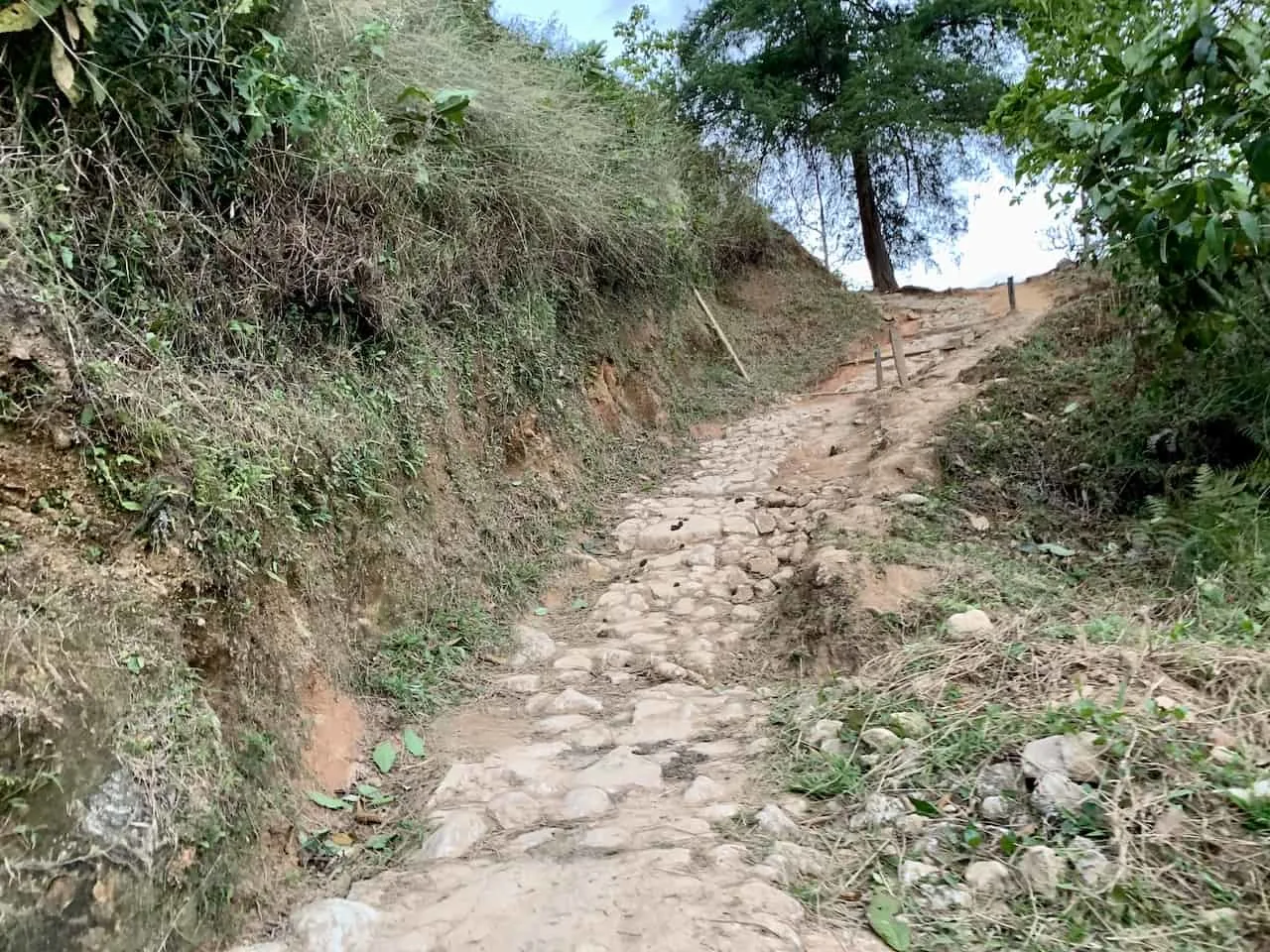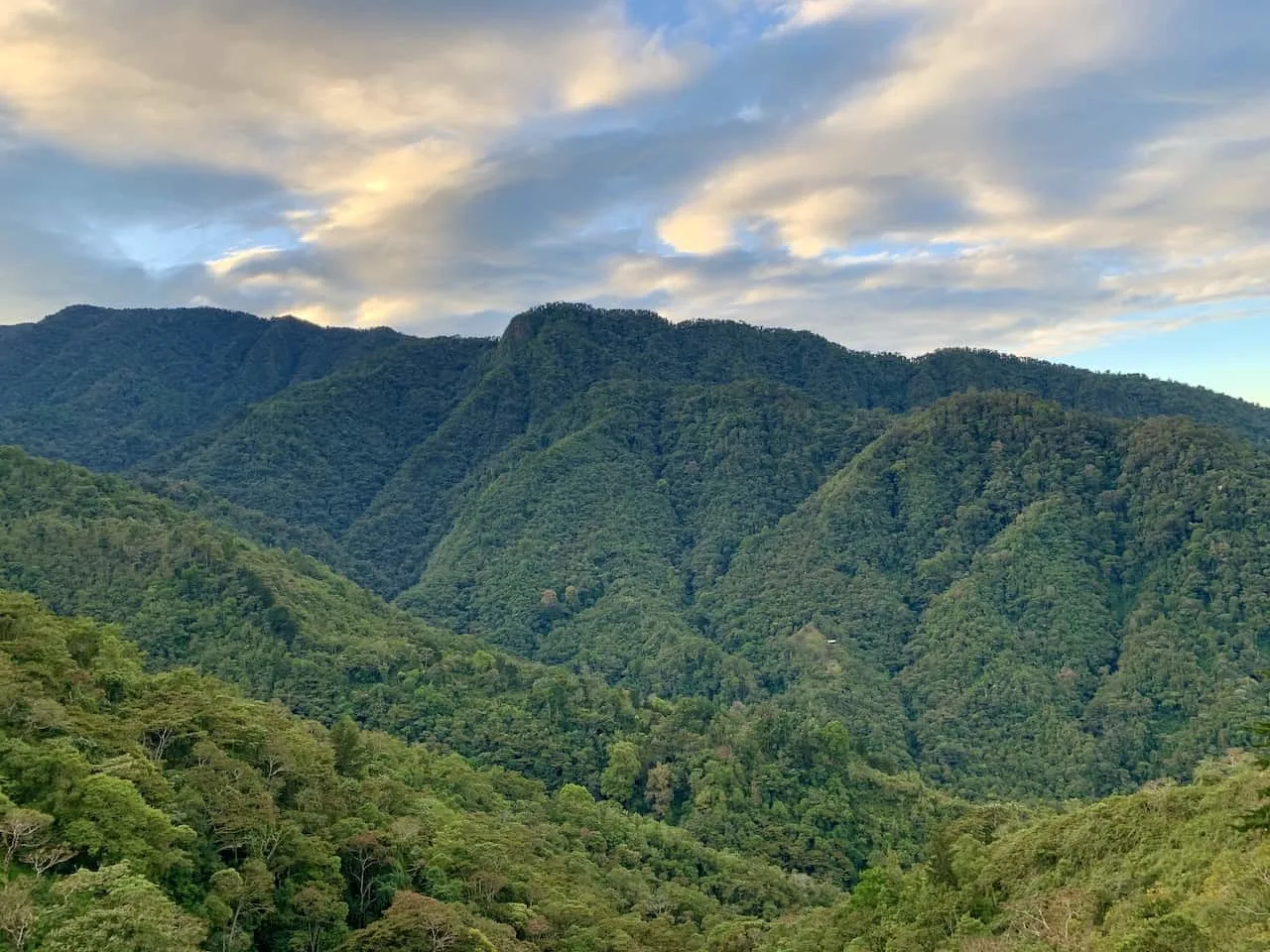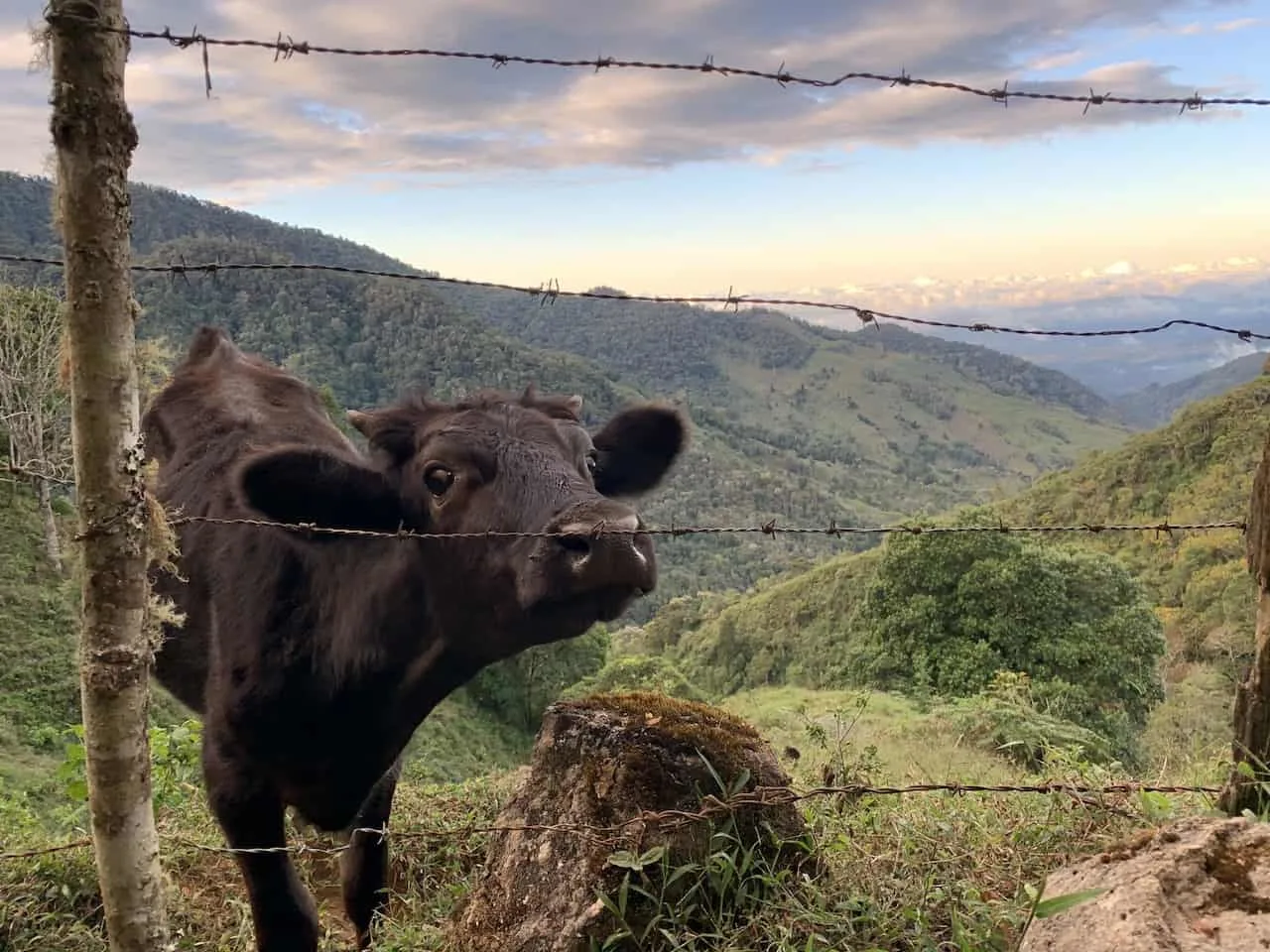 It is a continuous uphill climb for the most part as you hike through the rainforest and get to enjoy the beautiful scenery around you.
Just after 7 kilometers of hiking you will reach the major pitstop point of the day at Llano Bonito.
Here you will find restrooms, potable water, and a snack bar with hot/cold drinks & some various snacks. Feel free to take some time to sit back and relax here as you are just about halfway towards your goal for the day.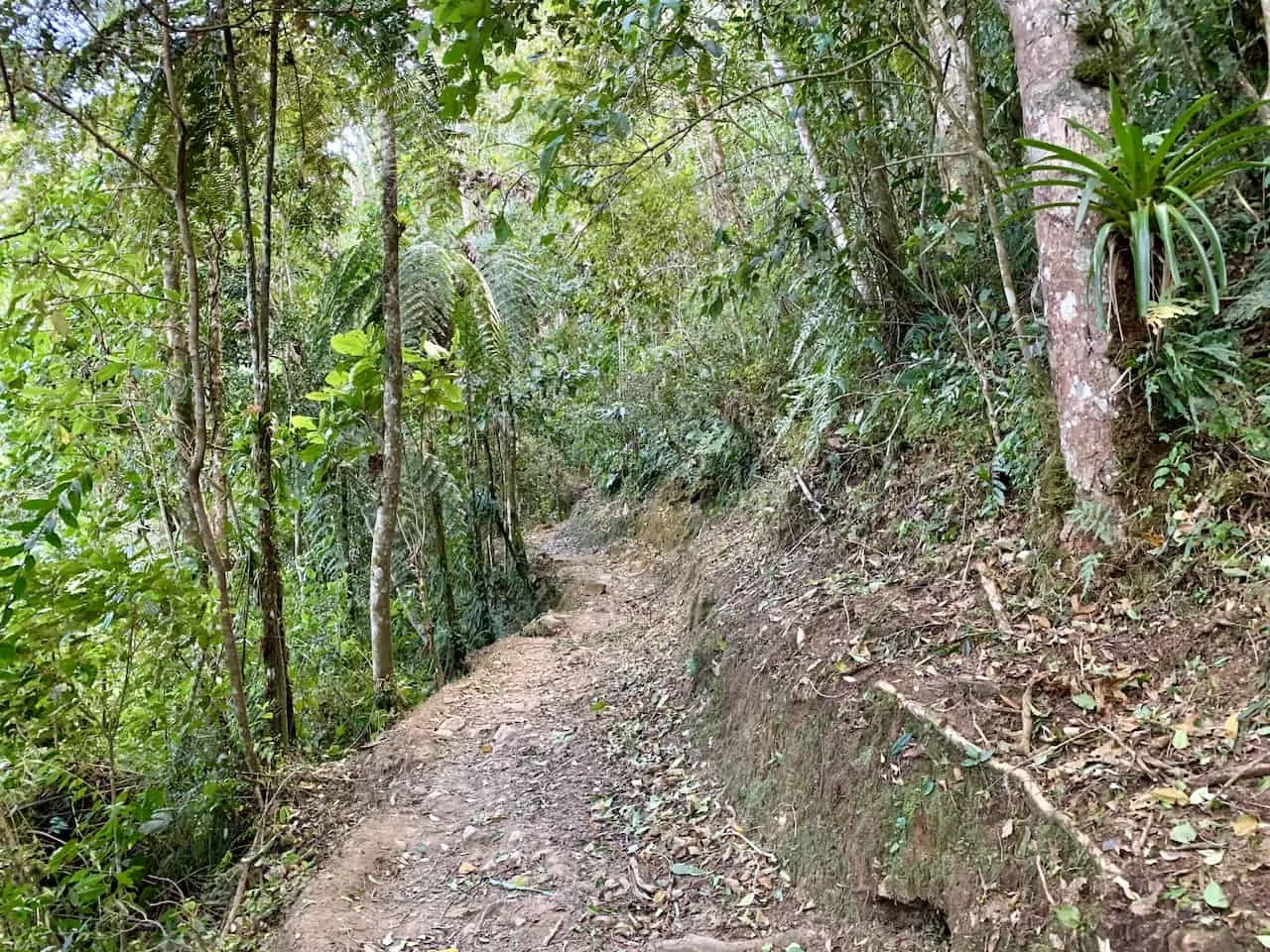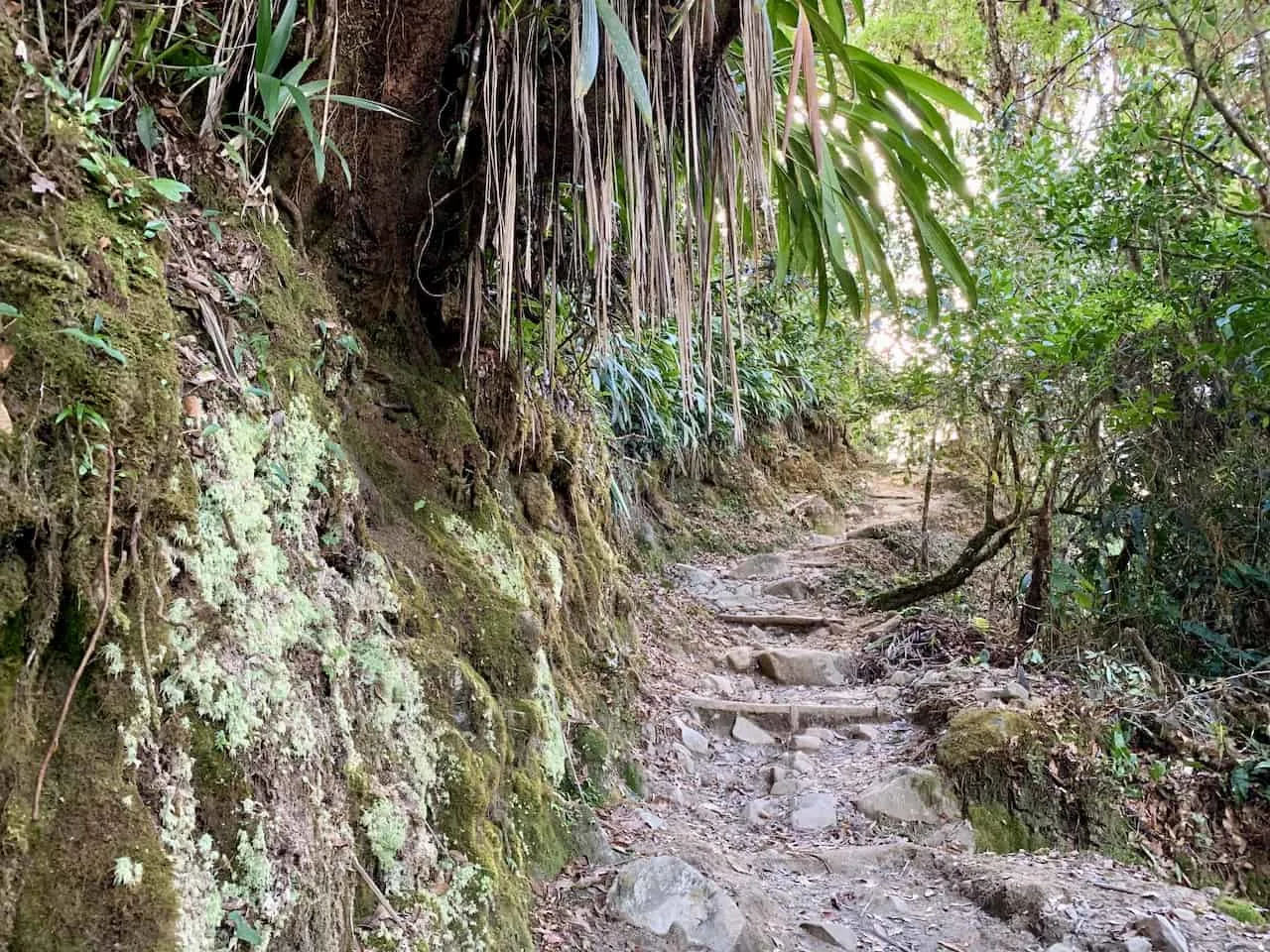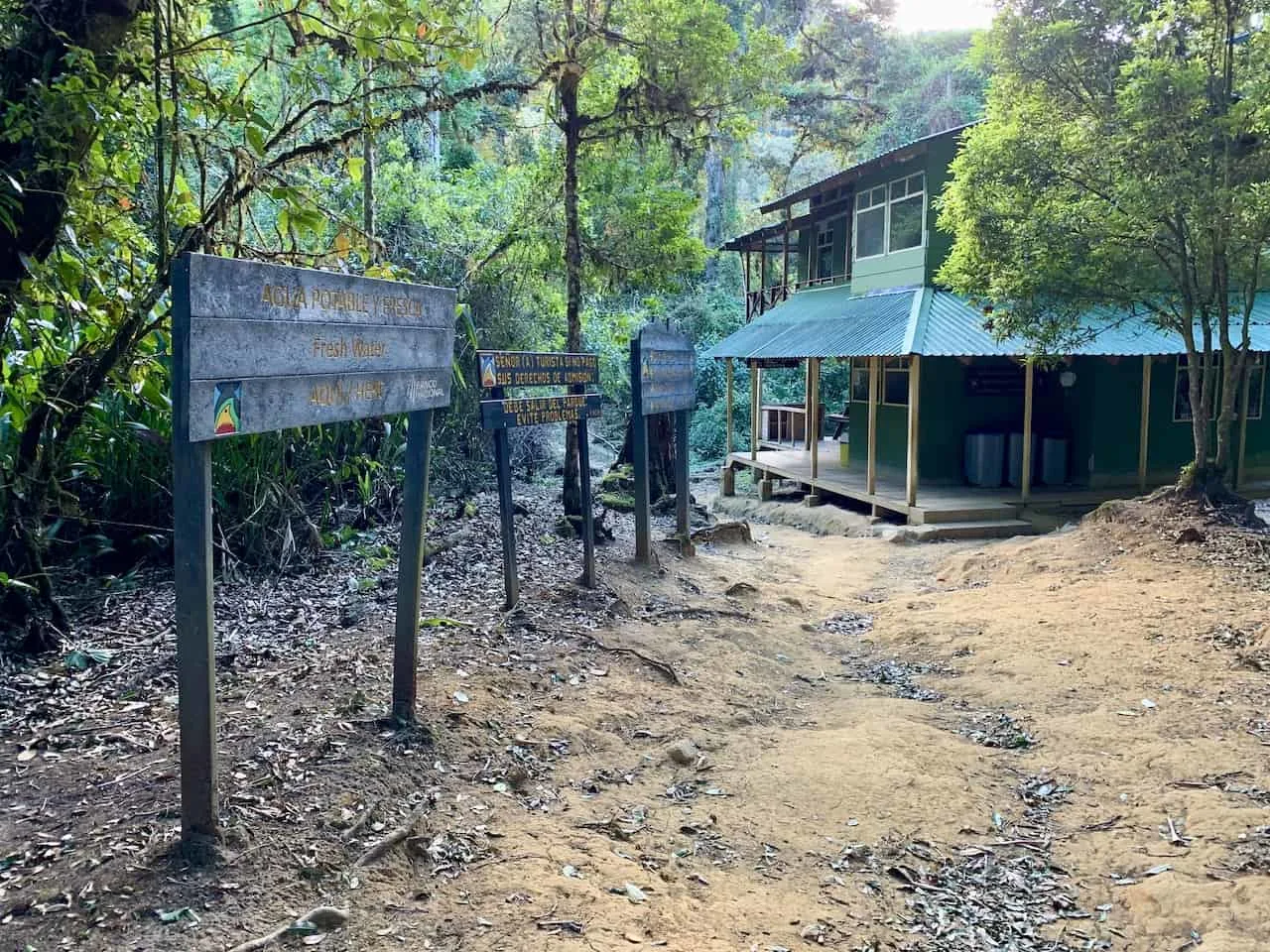 After a little bit of a break at Bonito, it is time to continue the hike up. At kilometer 8 you will be welcomed to the "Cuesta Del Ague" or "The Water's Climb" section.
As you may imagine, there is quite the climb that follows.
You are slowly going to leave the forest behind as you approach kilometer 10. Instead of being surrounded by greenery and trees all around you, the scenery will now be much more open.
If you haven't put on sunscreen, now it the time as you will be exposed for the remainder of the day to the sun.
It will feel like a completely different hike and experience now as you are taking in views of the surrounding mountains all around.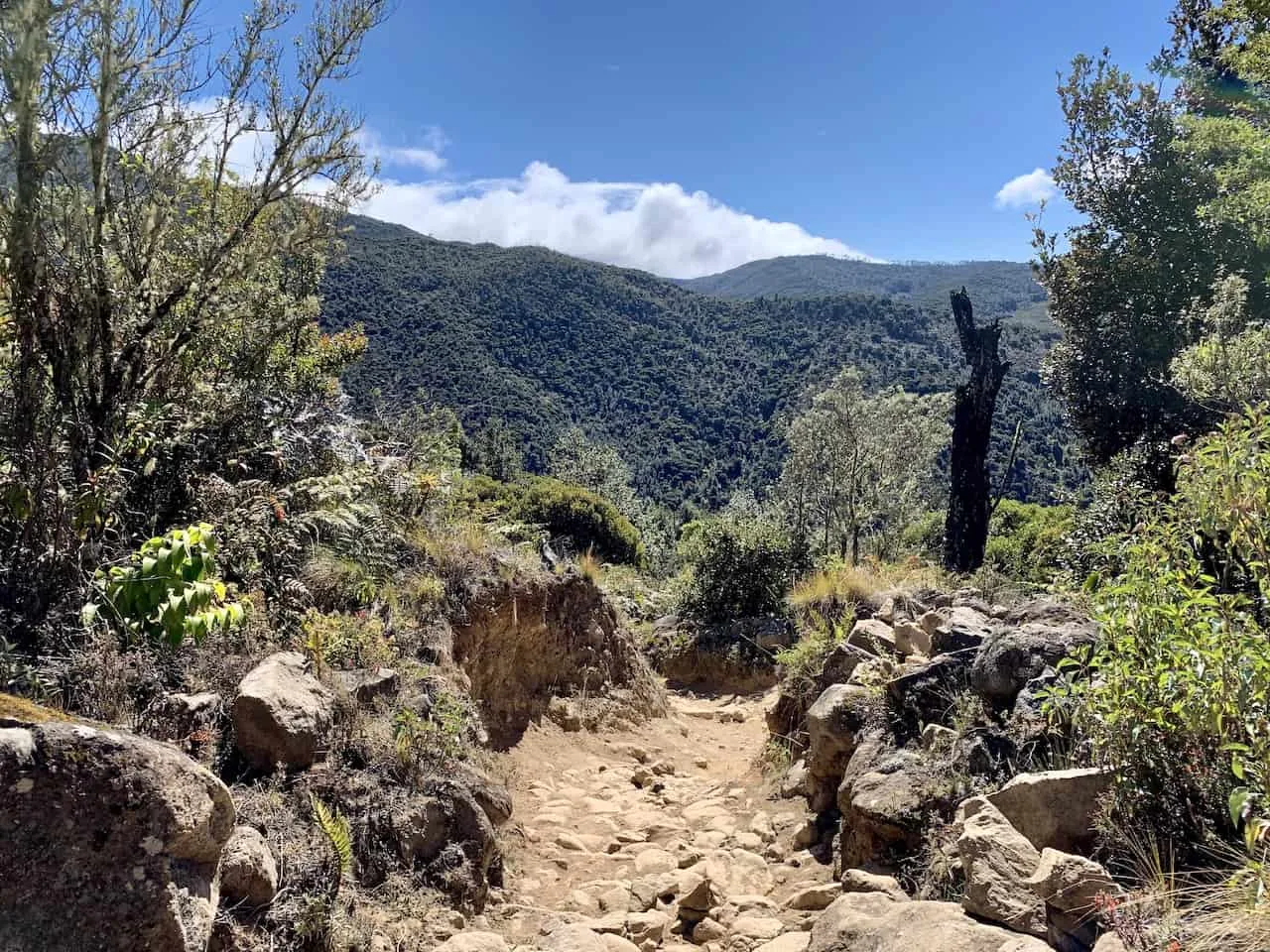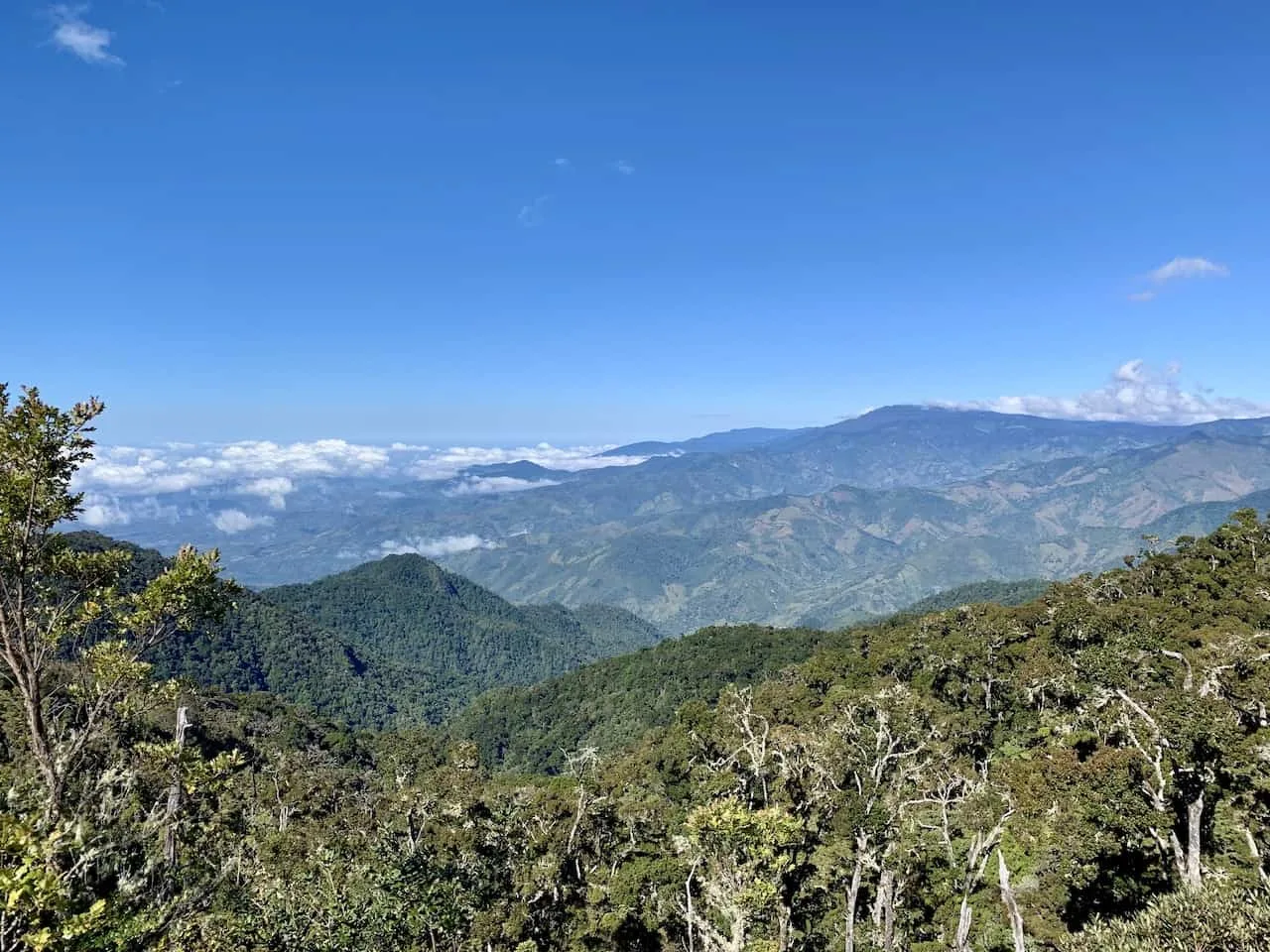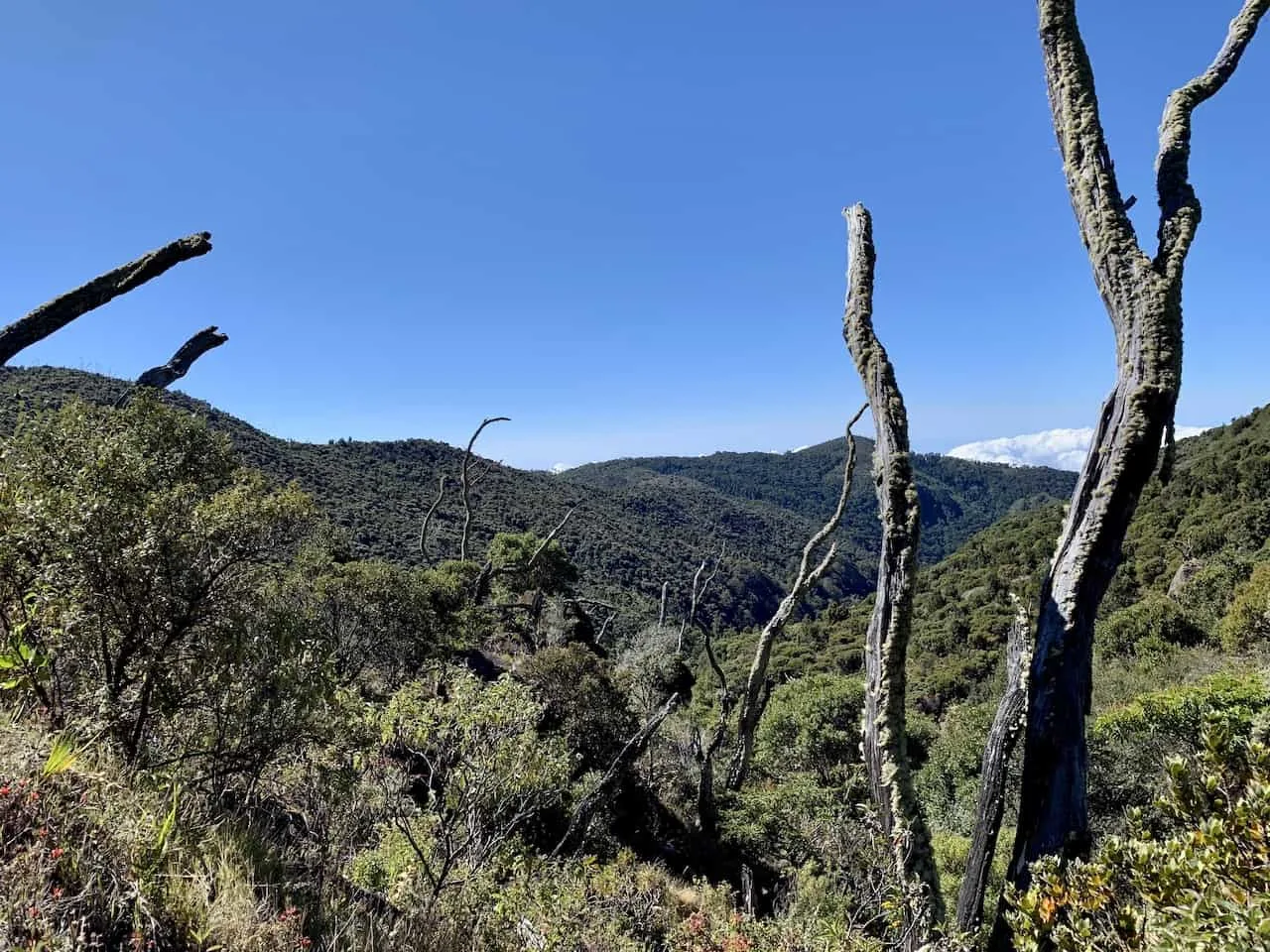 You will soon reach kilometer 13 named "Los Arrepentidos" or "The Repentants". From here it is the last push to base camp. However, it is also one of the steepest portions of trail so be prepared for it!
Continue the climb up and soon enough you will be welcomed to Crestones Base Camp. From here you can check in, shower (if you are up for it), change clothes, and relax in bed or the common dining room.
Enjoy dinner and a nice rejuvenating sleep before getting ready for day 2 on the mountain!
Chirripo Hike Day 2
The most popular way to go about the Chirripo summit is to head up for sunrise before heading back down to base camp and then onwards back down to San Gerardo de Rivas.
This will require a wakeup call around 2:00AM followed by a 2-3 hour hike to the summit. During those peak dry months, sunrise will be between 5:30AM – 6:00AM.
The hike from base camp to the summit gains around 1,500 feet of elevation over the course of 2.5 miles. Be prepared with all your layers and your headlamps as you head out in the darkness.
Be sure to pay attention to the hiking signs along the way as there are a couple intersections / turn off points for other trails.
The main one will be at Valle De Los Conejos, where you will come across a four-way intersection. Turn left here for the last push to the summit.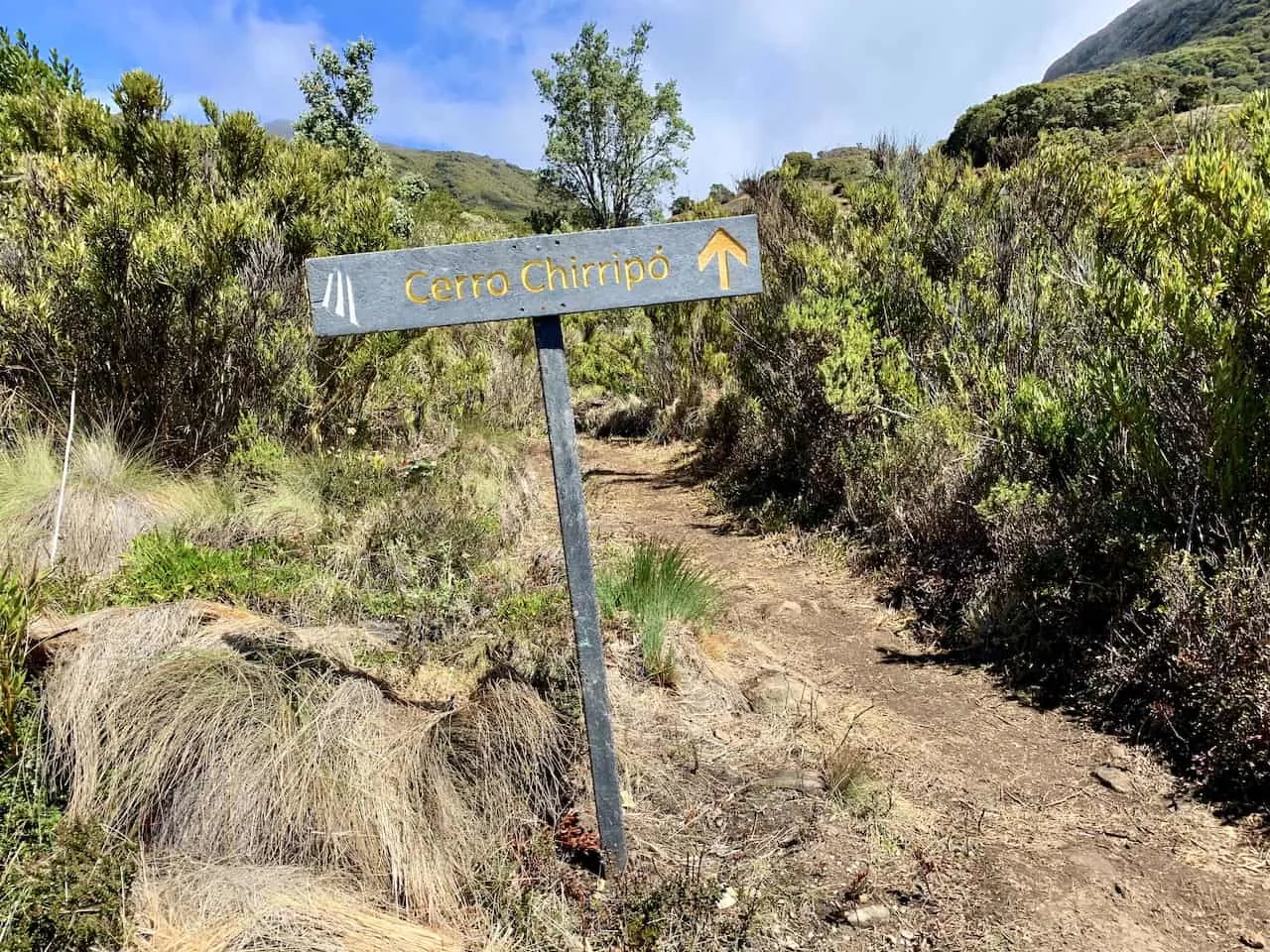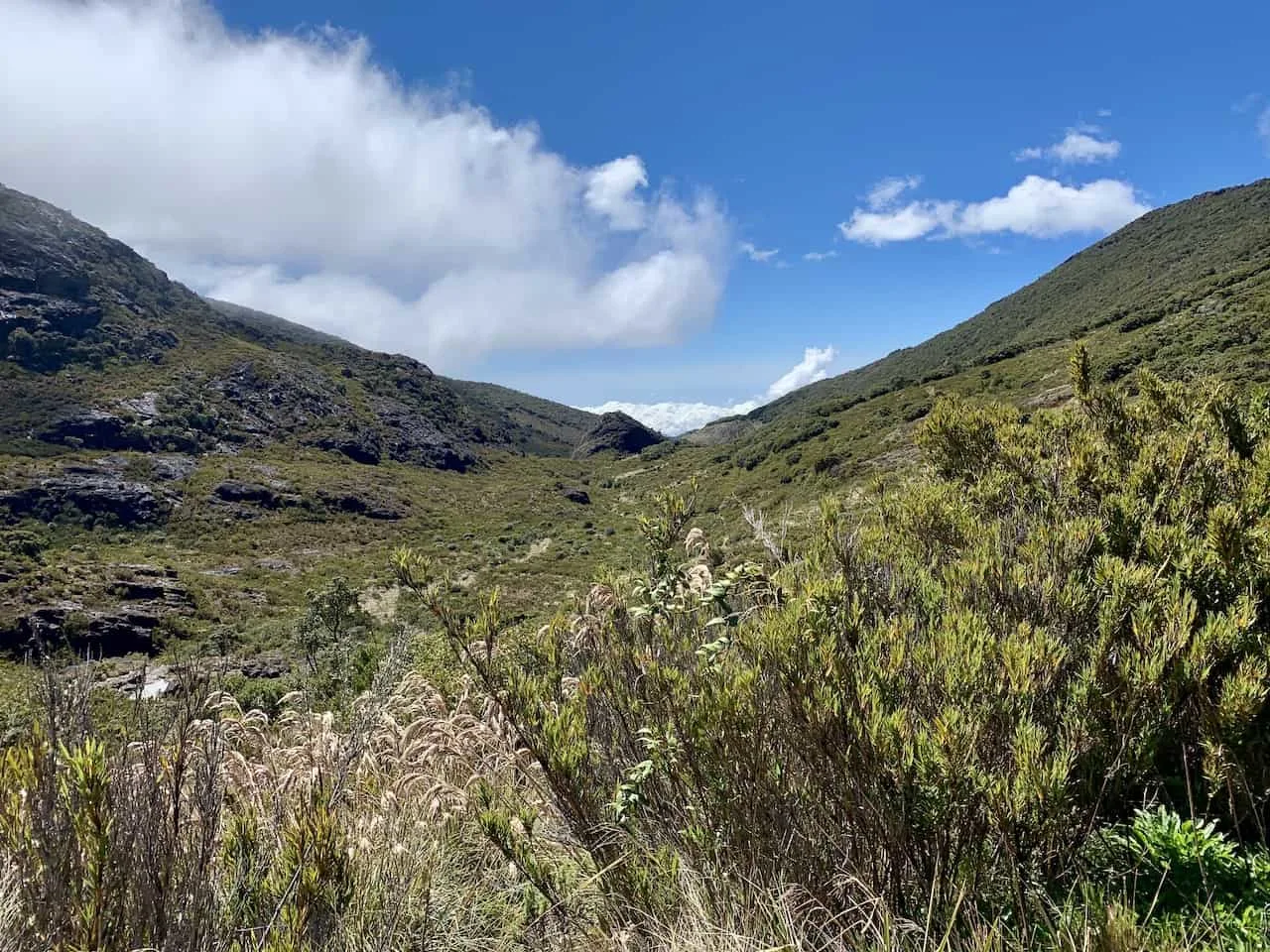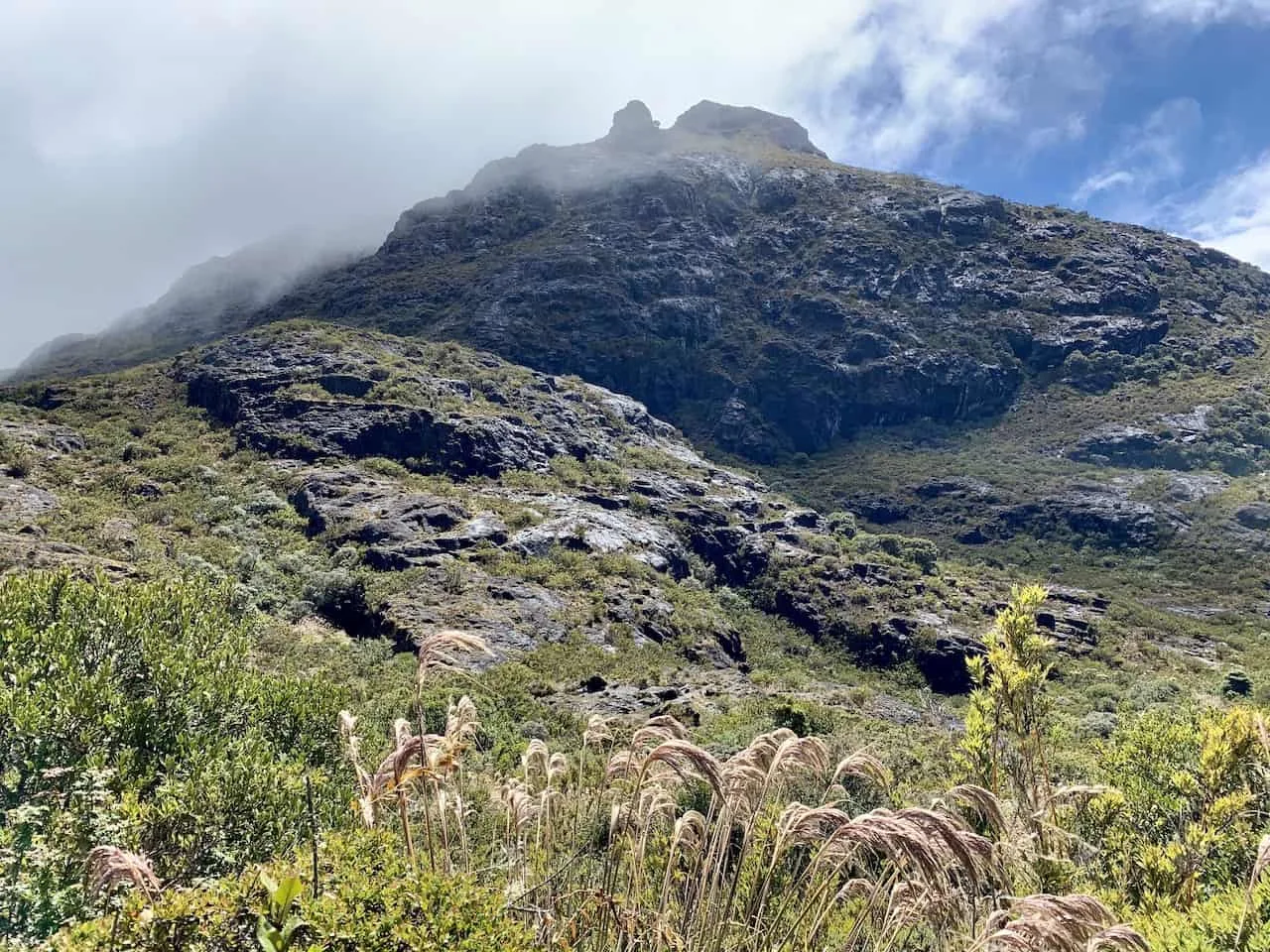 The final portion of trail to the top of Costa Rica is more of a climb than a hike. It is nothing too technical but you will need to take some bigger steps up from one rock to the next.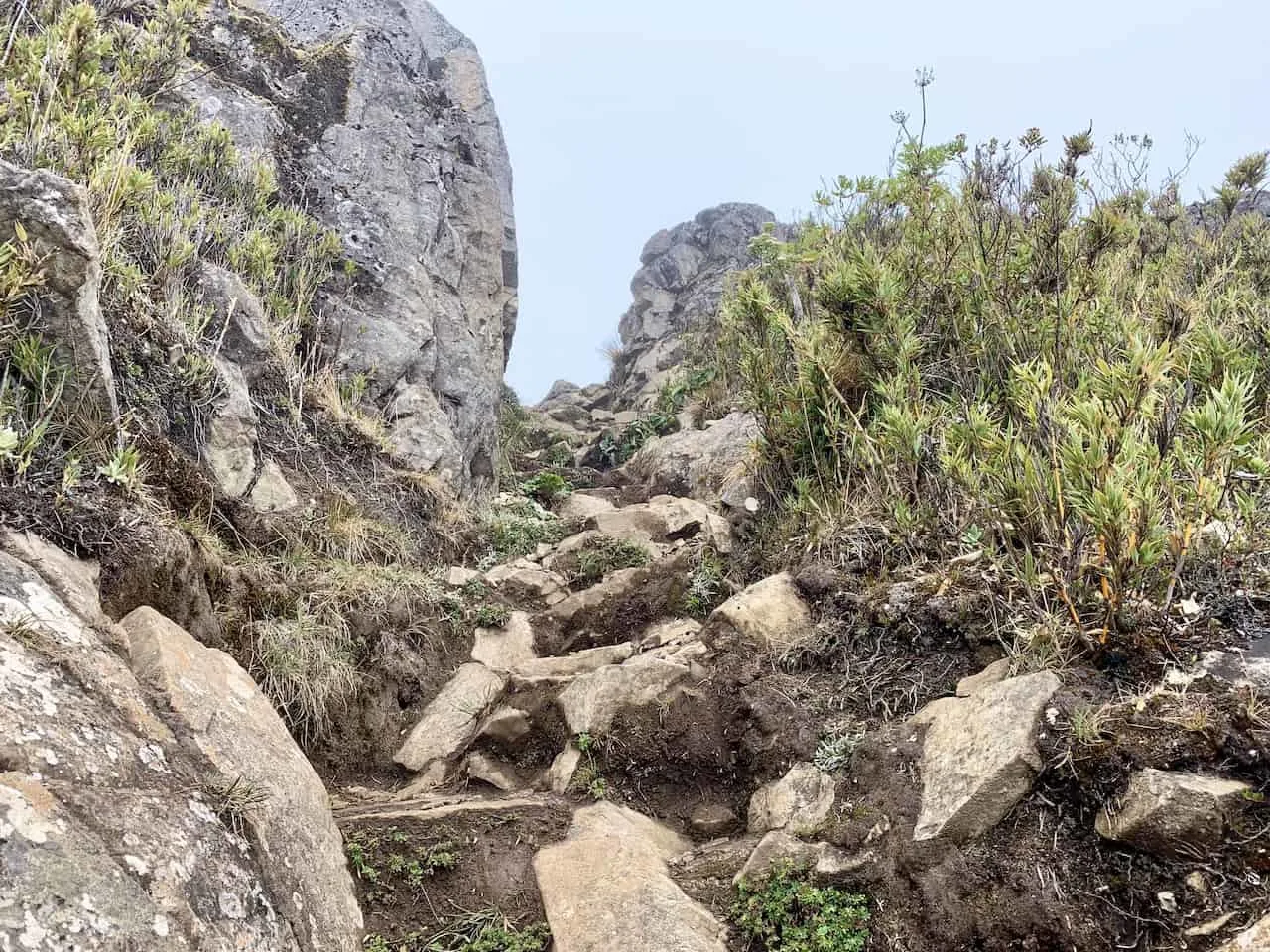 Soon enough though you will reach the summit of Cerro Chirripo!
When I reached the summit, it was very windy so do be prepared for that as well. However, you will probably be distracted by the endless views in every direction.
On a clear day you will be able to see both the Pacific Ocean and Caribbean Sea.
The summit itself has a lot of different areas to walk on so you shouldn't be bunched up with too many people. On either side of the summit you will have lake views and various mountains all around you.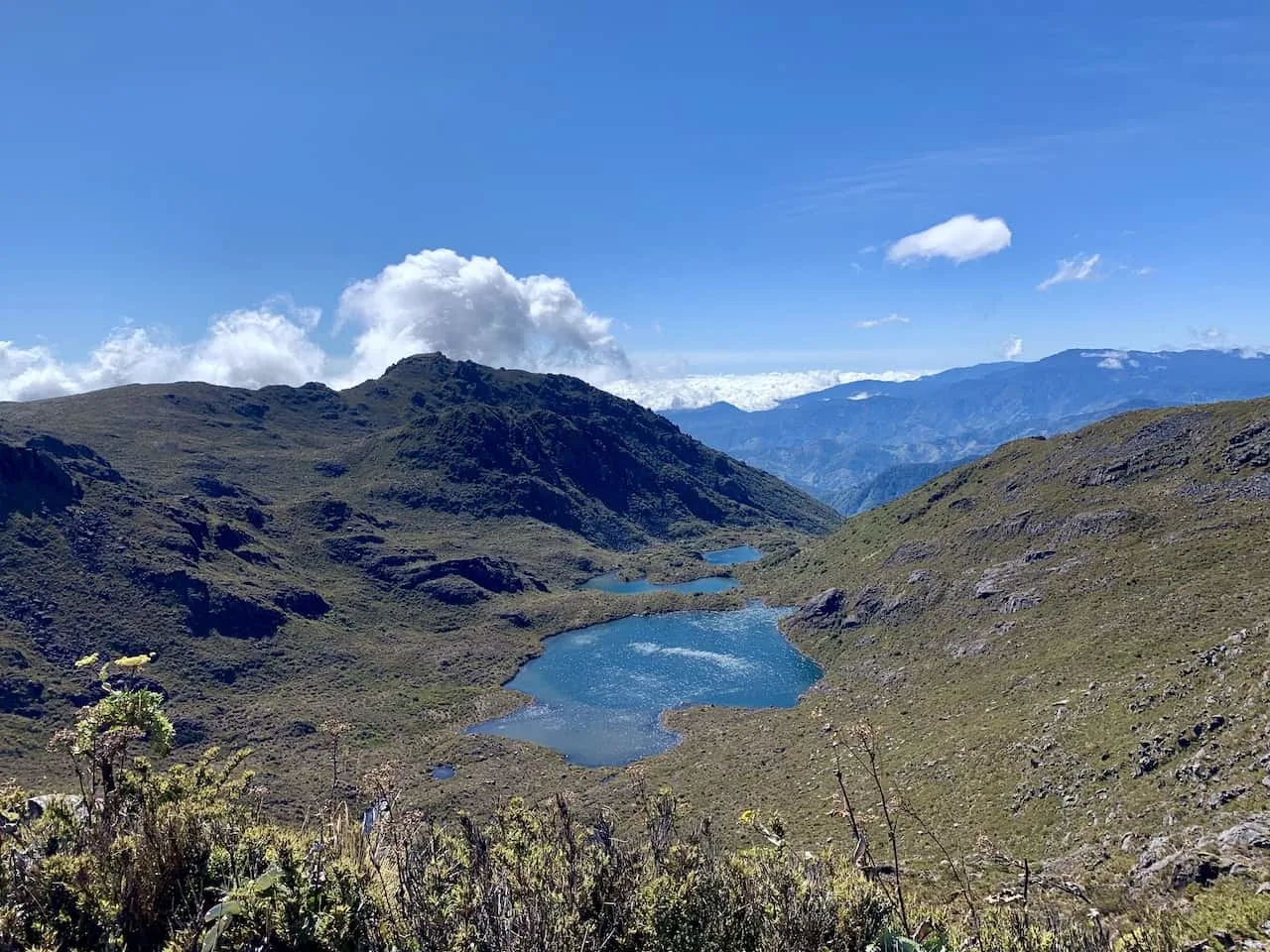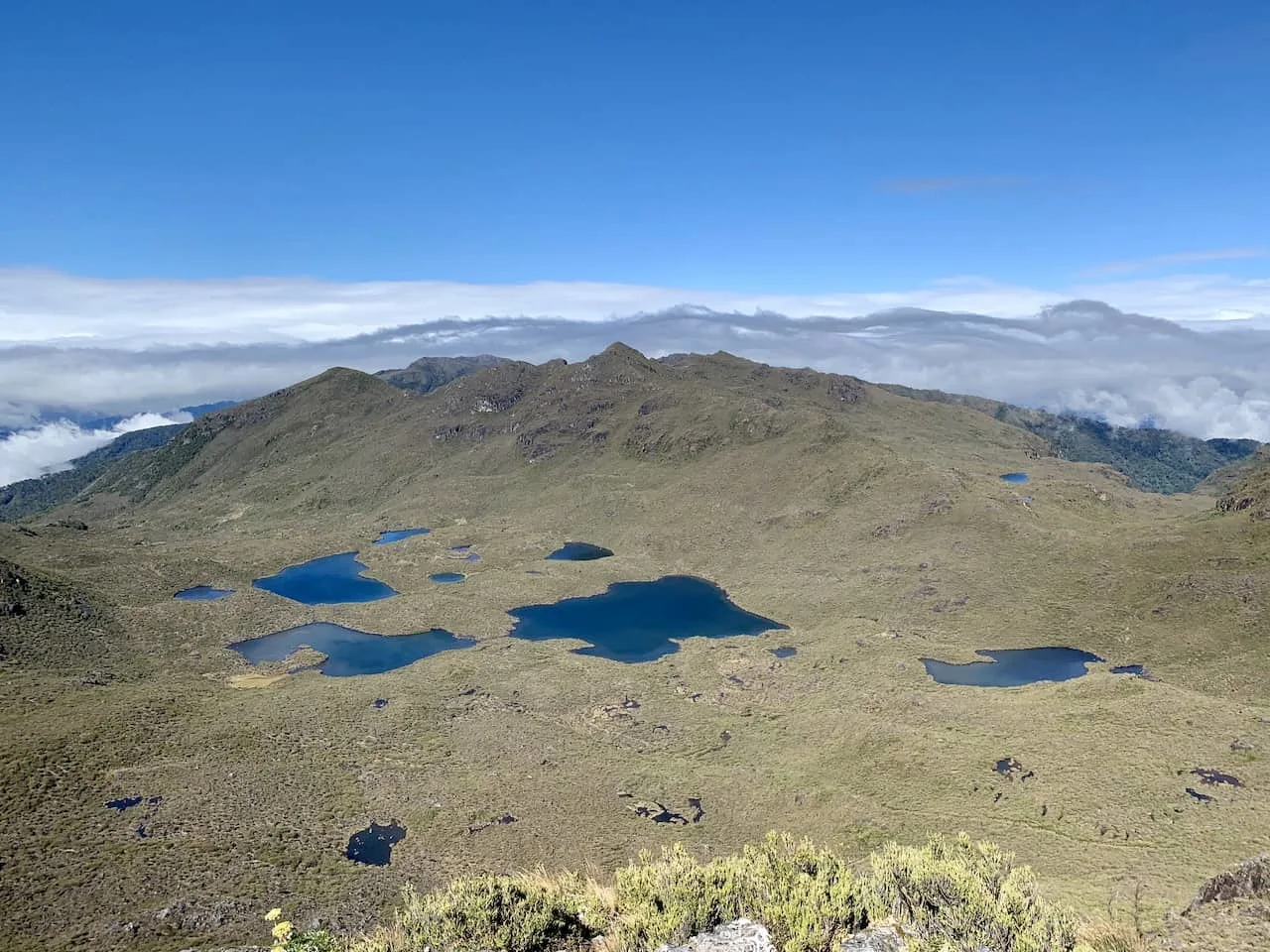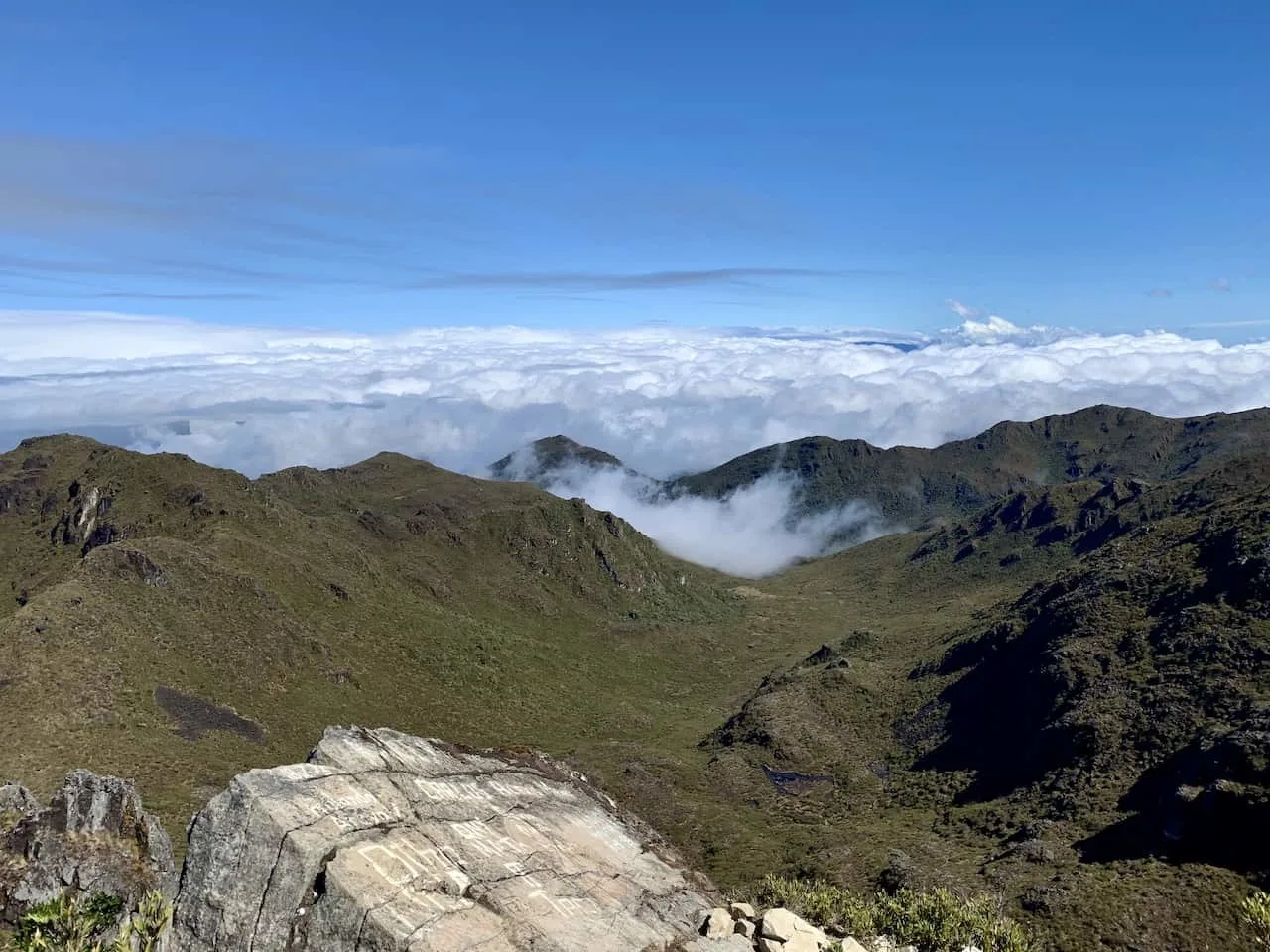 Once you are all set up top, it is time to descend back to base camp. You have the option here to head directly back to base camp or you can add on more of a loop trail that passes by Cerro Terbi and Los Crestones.
Below is a zoomed in view of the map from before that shows the loop trail. Simply follow those hiking signs and you should be good to go here.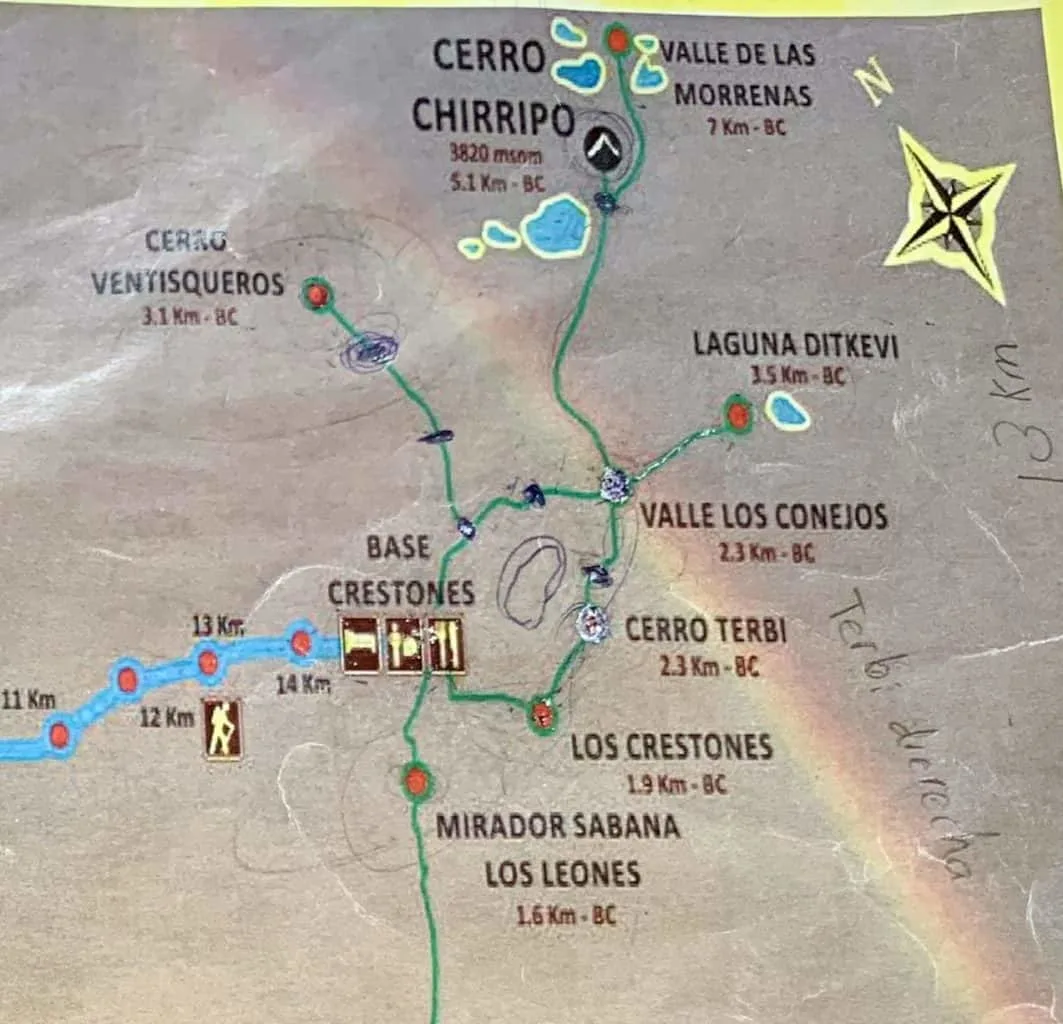 After making it to the top of Chirripo, and heading back down to base camp (either directly or along the loop), it is time to then continue back down to San Gerardo de Rivas.
You can first have lunch at base camp before making the 14 km downhill hike back to civilization.
Once you reach San Gerardo de Rivas, head back to your hotel, take a nice shower and have a meal before heading off to your next destination in Costa Rica.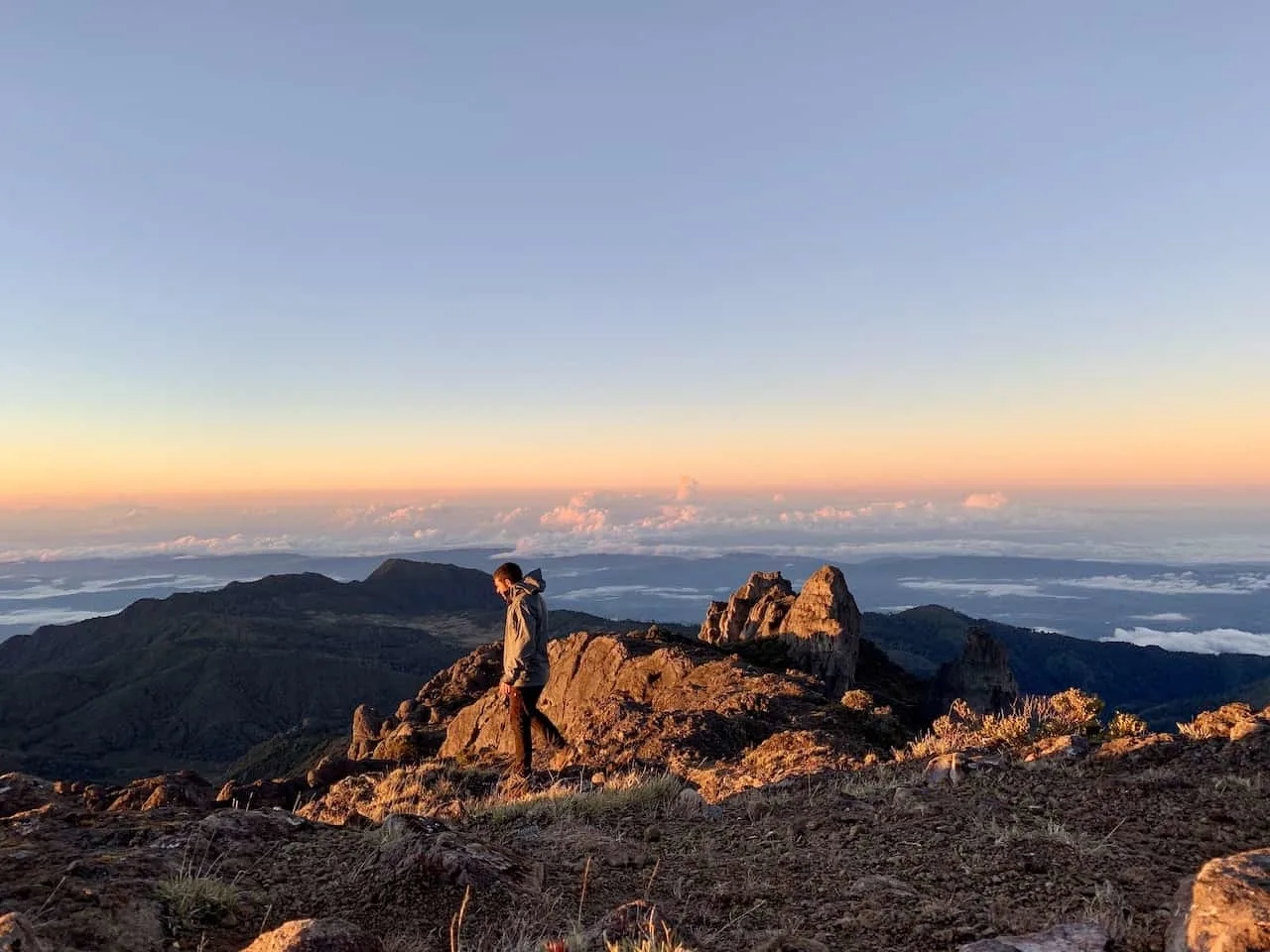 12) Frequently Asked Questions
Before wrapping up this guide, I did want to touch on a few frequently asked questions about Cerro Chirripo.
How Difficult is Cerro Chirripo?
Any way you look at it, Cerro Chirripo is a difficult mountain to summit. We are talking about nearly 23 miles and 9,000 feet of elevation gain (and loss) over the course of 2 days.
If you are interested in taking part of the hike, you need to be confident in your abilities.
A couple ways to lessen the burden however, would be to split the hike into 3 days and/or have the luggage service take your baggage up to base camp for you. All said and done though, this is one of the more difficult hikes to take part of.
Is Cerro Chirripo a Volcano?
Chirripo was actually not formed through volcanic eruption but rather through tectonic deformation and glaciation.
Can you Hike Chirripo in a Day?
The answer is yes, you can hike Chirripo in a day. However, be prepared for a 23-mile round trip hike from San Gerardo to the summit and back. This should only be attempted by those in peak physical condition.
A one-day hike would require one of the day permits given out by SINAC and you would certainly need to start the hike in middle of the night to get it done in a day.
How do I Book Cerro Chirripo?
You must purchase your permits for Cerro Chirripo through SINAC 4+ months ahead of your climb.
Once permits are purchased, you will then need to confirm your accommodation and food with the Crestones Base Camp.
Is Chirripo Worth It?
In my opinion, yes Chirripo is 100% worth it. While it is one of the toughest hikes in Costa Rica to take part of, it is also one of the most rewarding.
Getting to stand at the highest point of the country is something you will not soon forget.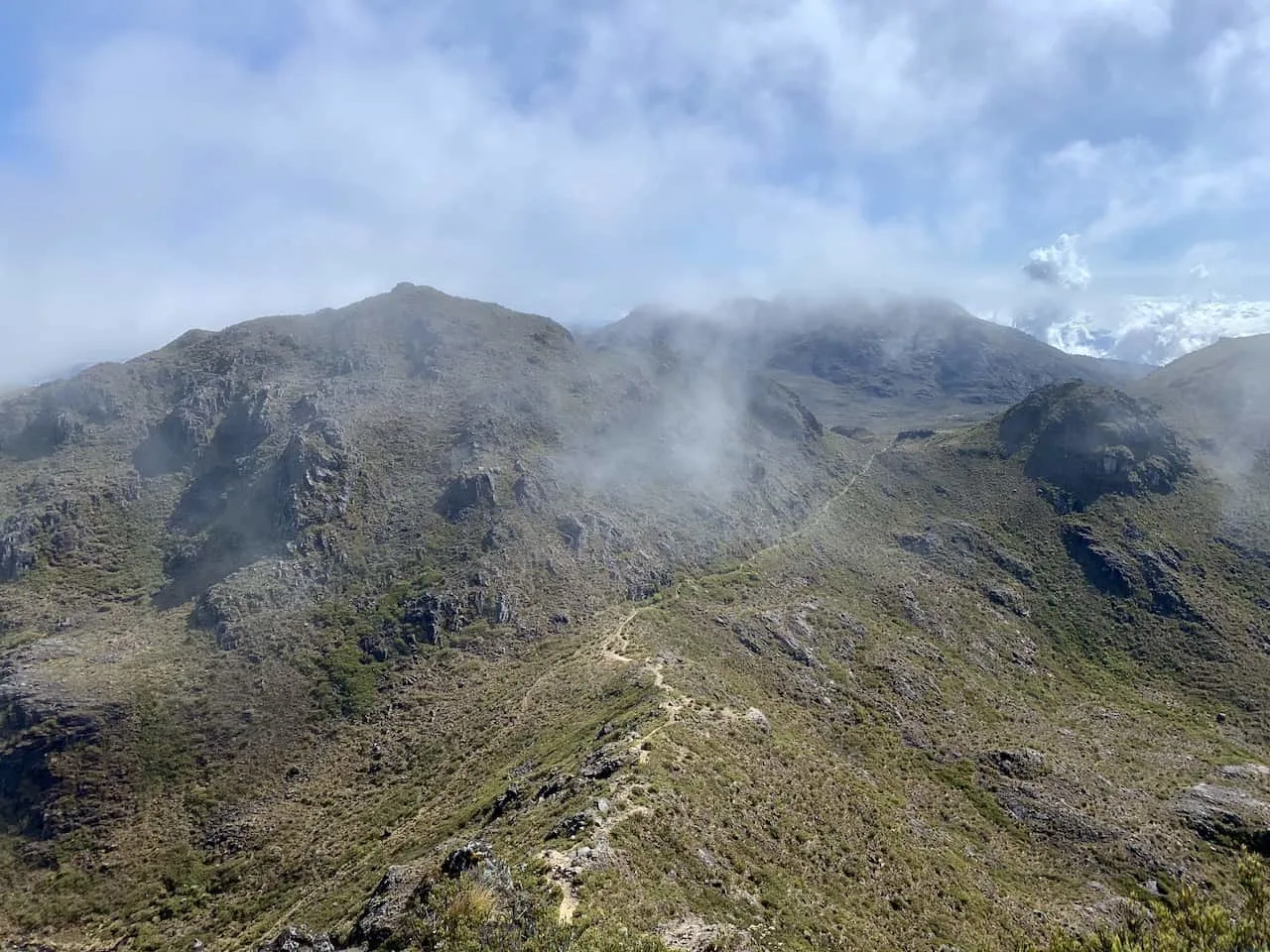 With all of that said, that wraps up a complete guide to hiking Cerro Chirripo in Costa Rica. If you have any additional questions or comments, please be sure to add them in below.
Also, don't forget to check out the other Costa Rica guides and itineraries up on the site.
Have fun out there and safe travels!