The oceanside town of Manuel Antonio, Costa Rica is full of beaches, hikes, viewpoints, wildlife, and more. Not only that, but it is also home to a beautiful national park just outside of town.
There are so many great things to do in Manuel Antonio, and this guide will go through some of the top spots in the area. In addition, I will be sure to talk about topics such as accommodation, transportation, and when to visit.
Manuel Antonio is a perfect spot to add to your Costa Rica itinerary and I hope this guide will help you plan out your trip there.
* Affiliate Disclosure: This post may contain affiliate links, which means I may receive a commission if you make a purchase through the links provided, at no additional cost to you. Thanks for supporting the work I put into TripTins!
1) Getting to Manuel Antonio
The initial few sections of this post will go through the logistics of Manuel Antonio, and that will then be followed by some of the top things to do during a stay.
The first thing we should talk about here is how to get to Manuel Antonio.
There are a few main ways to go about a visit to Costa Rica – you can rent your own car, rely on public transport, or hire private drivers.
Rent a Car
In my opinion, renting a car gives the most flexibility when it comes to getting yourself around Costa Rica. You can be on your own schedule, not need to worry about public transport, and you can go at your own pace.
The driving time from a few of the major destinations include:
San Jose: 3.5 Hours
Monteverde: 4 Hours
Liberia: 4.5 Hours
La Fortuna: 5 Hours
Jaco: 1.5 Hours
Uvita: 1 Hour
Renting a Car: Feel free to take a look at Rentalcars.com for a variety of car options to choose from for your time in Costa Rica. You will be able to filter by price, car type, rental company, & more to find the best car rental for your trip.
Public Transport
If you are on more of a budget, you can also opt to take advantage of the public transportation network in Costa Rica.
Busses travel frequently between major cities and you should always be able to find a route from wherever you may be coming from.
Note that the busses will most likely make their stops in the town of Quepos, which is about a 10 minute drive north of Manuel Antonio.
Private Transport
The more expensive option to get to Manuel Antonio will be by private transport. If you rather not rent a car and drive yourself, then having a local driver take you around can be the next best option.
These rides can be expensive depending on where you are coming from, but it will be the most hassle free of all options.
I would recommend touching base will the hotels that you are staying at to arrange such transport between cities.
Note: there is also an airport in Quepos (XQP). There are quick 30-minute flights from San Jose if you rather not make that drive.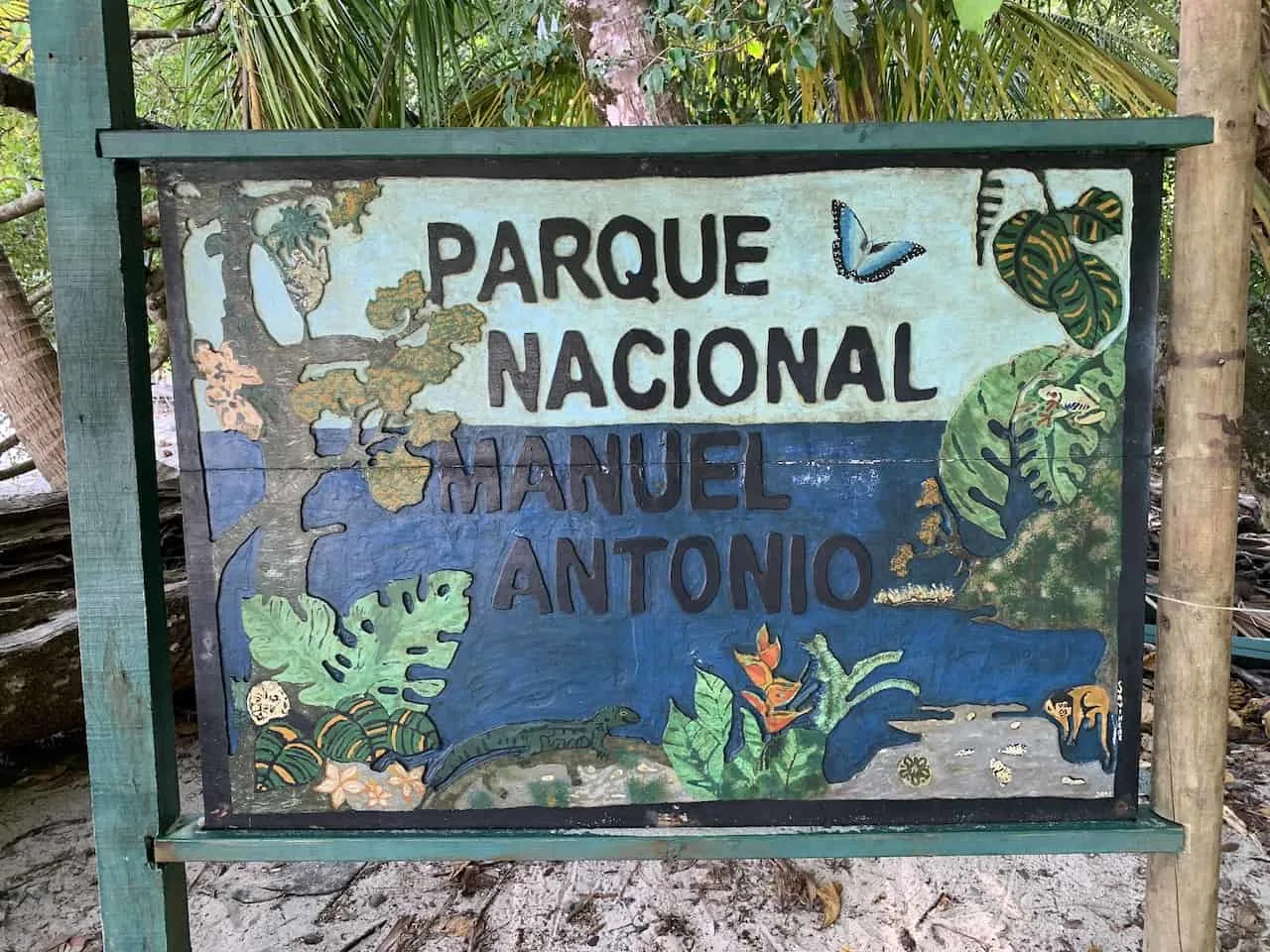 2) Getting Around Town
Getting around Manuel Antonio will all depend if you have a car or not, as well as where you choose to stay.
If you have your own car, then it is easy enough to drive yourself to the beach or National Park. Whether or not you have a car, it is also possible that your hotel offers shuttle services to the main sites.
There is also a public bus that runs from Quepos down to Manuel Antonio National Park from around 6:00AM to 9:00PM and costs less than a dollar for a ride.
Lastly, your hotel can certainly call a taxi to help you out and bring you to wherever you may want to go within the area.
Considering travel insurance for Costa Rica?

World Nomads offers coverage for more than 150 adventure activities as well as emergency medical, lost luggage, trip cancellation and more.

For years, World Nomads has been protecting, connecting & inspiring independent travelers, offering travel insurance & safety advice to help you travel confidently. Their mission is to support and encourage travelers to explore their boundaries.

World Nomads has simple and flexible travel insurance that has been designed by travelers for travelers. Even if you leave home without travel insurance or your policy runs out, you can buy or extend out on the road.

Get a quote for a World Nomads travel insurance policy today!
3) When to Visit
Costa Rica is known for its two main seasons – the dry season that runs from December to April and the wet season that runs from May to November.
During the dry season you should expect ample sunshine with less risk of rain. During the wet season, you will be greeted to more frequent afternoon thundershowers that may last just an hour or two.
The temperature year round hovers between 80-90 degrees Fahrenheit during the day and around 70 degrees at night. You should also expect humid weather with around 80% humidity.
I visited Manuel Antonio in the beginning of January and had great weather all the way through. It did get cloudy here and there but I don't think I saw any rain during the day.
Costa Rica Itinerary: Visit Manuel Antonio as part of a longer 10 Day Costa Rica Itinerary that takes you around the country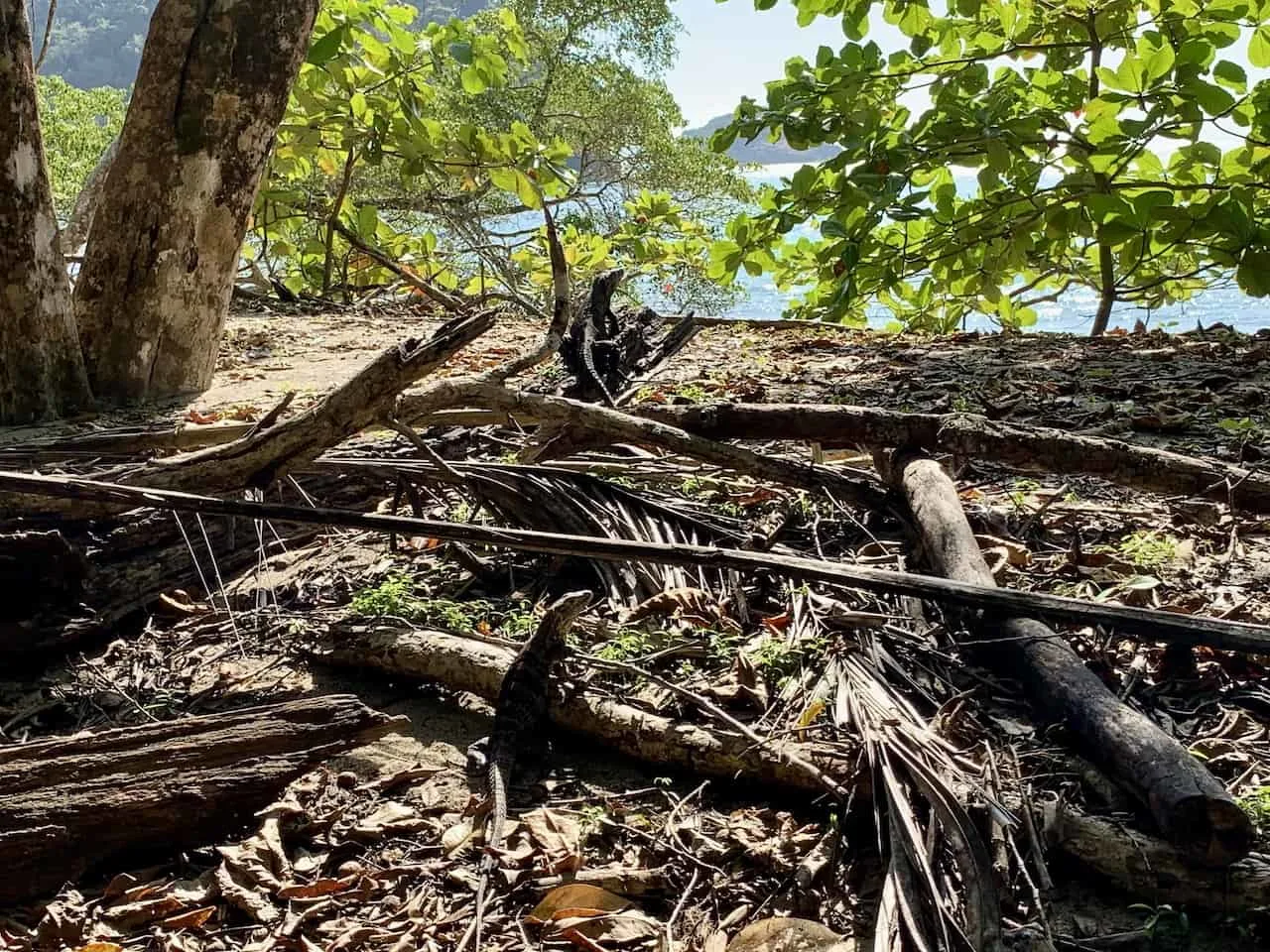 4) Where to Stay
Manuel Antonio can get pretty spread out as there is not one main place to stay. All along the main road, there are great options, with options a bit further out too.
Below are a few highly rated options I would recommend looking into depending on your budget:
Luxury: Makanda by The Sea Hotel
The Makanda by The Sea Hotel is a luxury adults only resort that offers everything you would want in a five star hotel.
With beautiful views, swimming pools, and a top tier restaurant, the hotel is a perfect spot to spend a couple days in Manuel Antonio.
The resort is located right in the rainforest and it is common to see monkeys, toucans and more right outside your rooms.
Mid Range: Parador Resort & Spa
Parador Resort & Spa is another fantastic option to choose from that is located on Quepos Point.
The multiple pool areas, sunset viewpoints, and local wildlife are just a few reasons that make the visit worth it. The resort is pretty large and just walking around the property can be an activity on its own.
Budget: Hotel San Bada Resort & Spa
For a lower cost option we have the highly rated Hotel San Bada Resort & Spa. It is located right across the street from the main beach and is located directly at the entrance of the National Park.
It is a super convenient place to stay during a visit to the area.
Hostel: Selina Manuel Antonio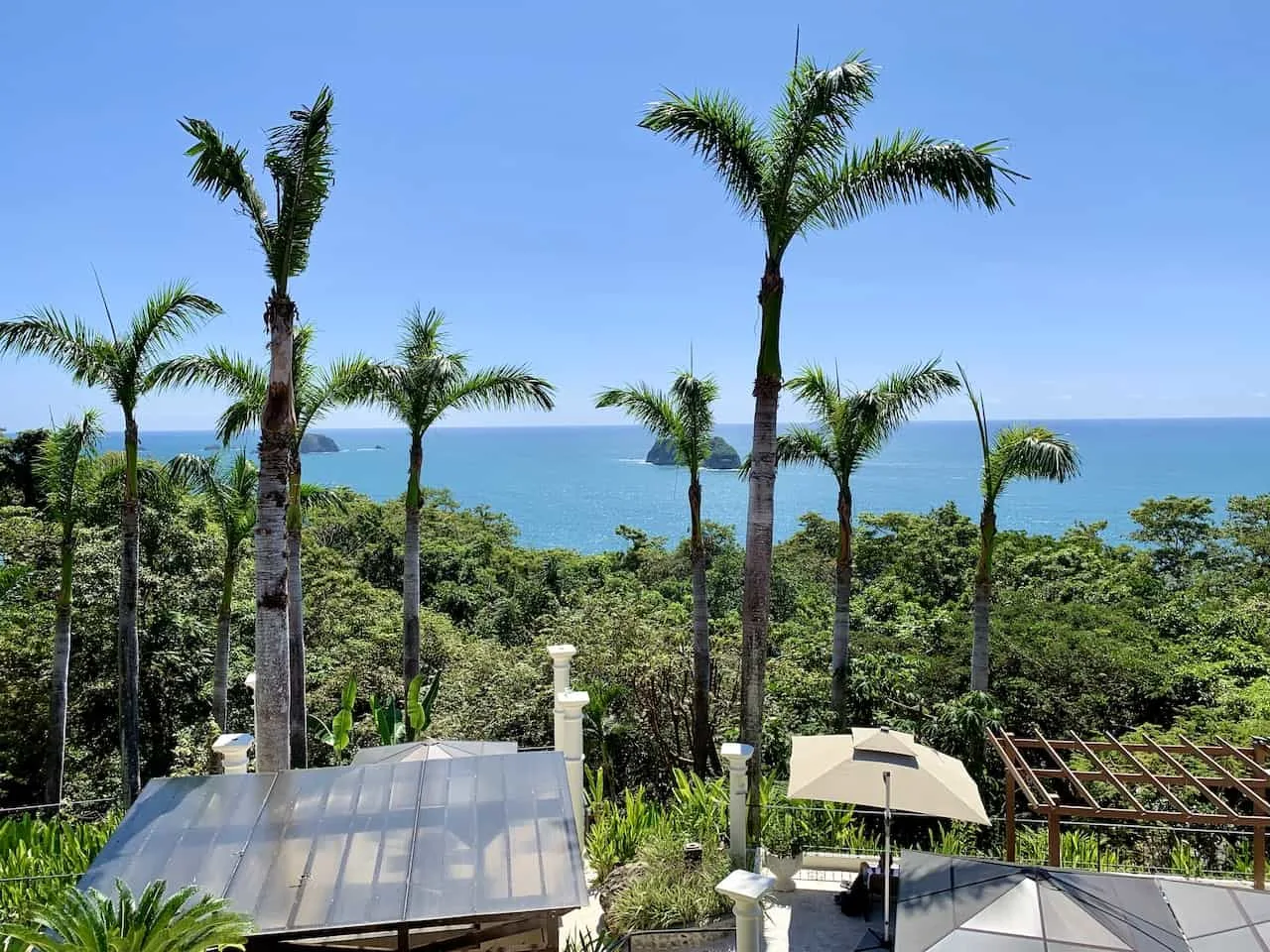 5) Manuel Antonio Map
Here is a map that shows the highlights of Manuel Antonio so you can get a better understanding of where everything is located within the vicinity.
You can also see the main road that connects Quepos with Manuel Antonio National Park (where the local bus runs along).
6) Top Things To Do in Manuel Antonio
Manuel Antonio is the perfect spot to spend 2-3 days exploring the National Park, the beaches, and the town.
Depending on interest and timing, there are also spots to visit outside of the immediate Manuel Antonio area that would make great day trip options. I will go through it all and more throughout the remainder of this guide.
Manuel Antonio National Park
The main thing to do in Manuel Antonio is to visit Manuel Antonio National Park. Within the park there are hiking trails, beaches, and plenty of wildlife to enjoy.
As this is the "main" attraction of Manuel Antonio, I will be speaking about it in length to give you a better sense of everything that you can do in the park itself.
Since the National Park is a protected area, there are rules and regulations for a visit. Below are some of the most important things to note:
Entrance Fee: ~$18 USD
Tickets: Purchase online through SINAC
Parking Fee: ~$6 USD
Hours: 7:00AM – 4:00PM
Days Closed: Tuesday
Restrooms: 3 locations
Food Restrictions: Only non alcoholic beverages are allowed in
Cafeteria: there is a small cafeteria to buy select foods and drinks
Restrictions: No surfboards, beach umbrellas, chairs, coolers, sports balls
Other Availabilities: showers, picnic tables, water refill station, lockers
Below is a list of nearly everything you can do and see within the National Park. I will start off with a great hiking route around the park, followed by some more info about beaches, wildlife and views!
Manuel Antonio National Park Hiking Trails
Within the park, there are many different hiking trails to choose from. Below is a map that shows the routes throughout the park to give you a better idea of where everything is located.
If you are looking for an all-encompassing route of the park, you can follow the blue highlighted route that I will dive into: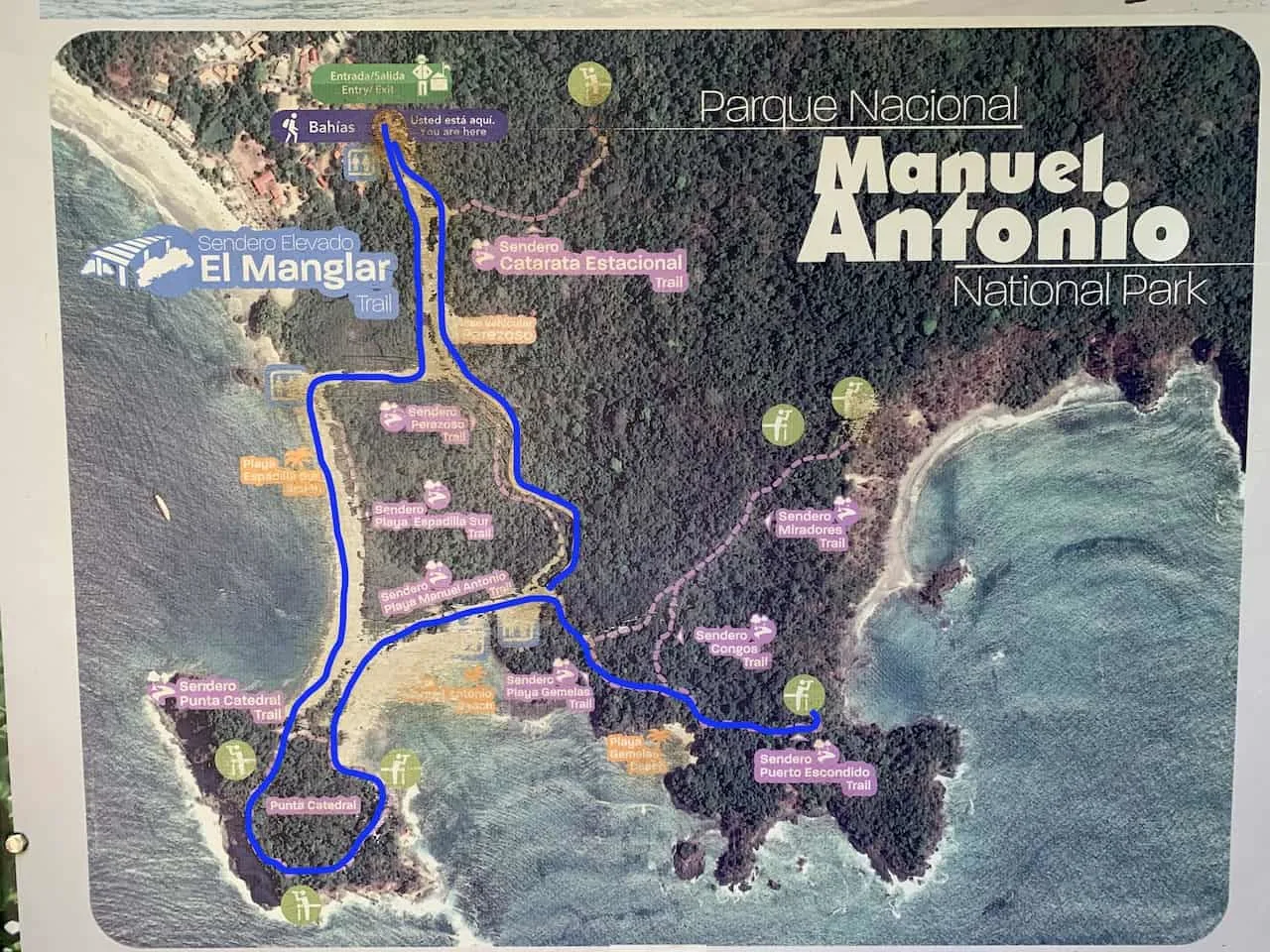 Sendero Elevado El Manglar Trail
The first trail you will come across is the main boardwalk that will take you from the entrance of the park to Playa Espadilla Sur beach.
Be on the lookout for plenty of wildlife hidden in the mangroves and surrounding rainforest. There are a couple intersections here so be sure to follow the path towards the right and onto the beach.
Sendero Playa Espadilla Sur Trail
Once you make it to the first beach here you can decide to walk on the beach or walk on the neighboring trail just inland from the beach.
At the end of the beach, either on the trail or beach itself, you will come across the next trail of the day at Punta Cathedral.
Sendero Punta Cathedral Trail
At the far end of Playa Espadilla Sur beach is Punta Cathedral, and a fantastic trail that takes you all along this small peninsula.
Here you will have several elevated lookout points to enjoy. The trail then meets up with the neighboring Manuel Antonio Beach.
Sendero Playa Manuel Antonio Trail
Similar to Playa Espadilla Sur, instead of walking on the beach itself, there is also an inland trail that makes its way along the beach and towards the far end of the National Park.
Be on the lookout for plenty of monkeys hanging at all around the trail.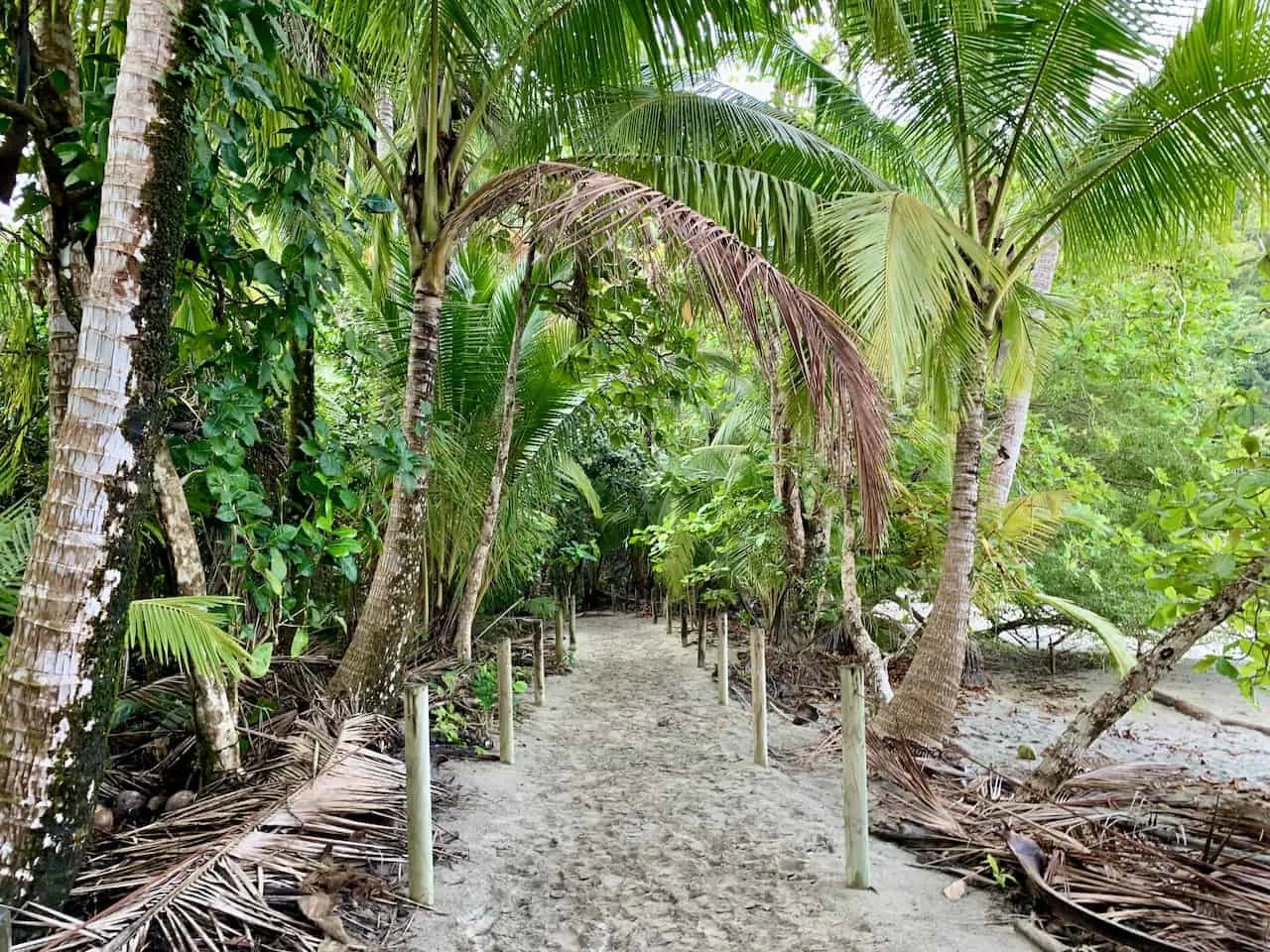 Sendero Playa Gemelas Trail
A smaller more secluded beach is Playa Gemelas, and this short trail from the end of Manuel Antonio beach should take you further into the park and to this beautiful spot.
Sendero Puerto Escondido Trail
After a visit to Playa Gemelas the path continues on the Sendero Puerto Escondido trail towards a great lookout point over the far end of Manuel Antonio National Park.
From the end of the trail, you can then backtrack to Manuel Antonio Beach and continue on from there.
Note there are two other trails around this area – Sendero Congos and Sendero Miradores that end up at a couple viewpoints.
Feel free to check those out as well if you want to spend more time on the trail, but note they do require a bunch of stairs.
Sendero Perezoso Trail
From Manuel Antonio Beach, there is an option to head on the Sendero Perezoso Trail back towards the entrance.
In addition, there is also a parallel service road you can walk along that is known to have some great wildlife sightings.
Just prior to the entrance of the park is the turnoff for the Sendero Catarata Estacional trail, which leads to a seasonal waterfall.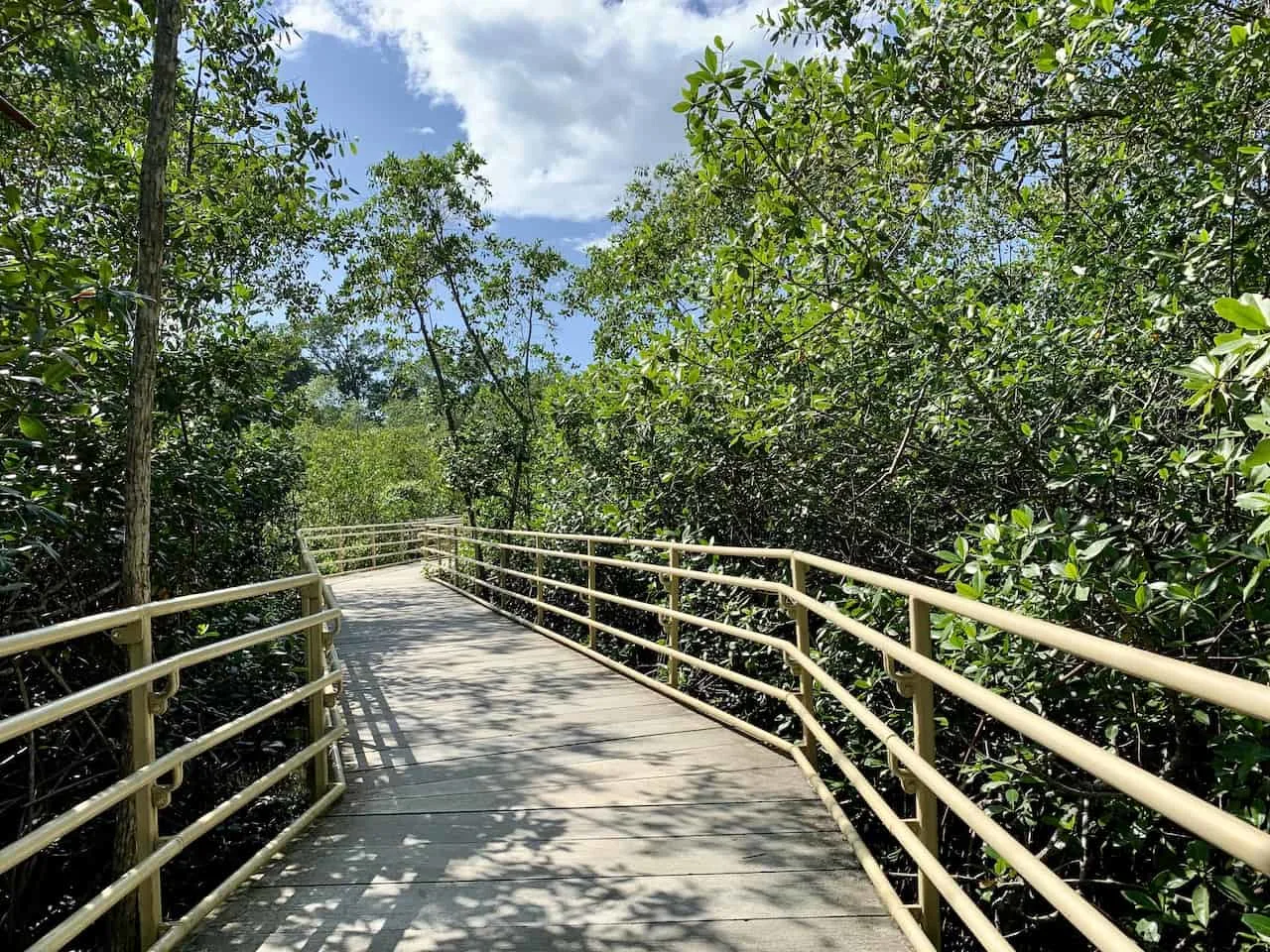 Manuel Antonio Viewpoints
As you walk along the hiking trails of Manuel Antonio, you will come across several different viewpoint areas. Here were some of my favorite ones and where to find them:
Punta Cathedral Viewpoints
All along the Punta Cathderal trail you will find several different lookout spots. There should be four of them to enjoy along the way.
You can make your way up the Sendero Punta Cathedral trail from either Playa Espadilla Sur or Playa Manuel Antonio.
From there it is a circular trail through the rainforest and the surrounding nature. You will be able to take in views of the ocean as the greenery of the park complements the views in all directions.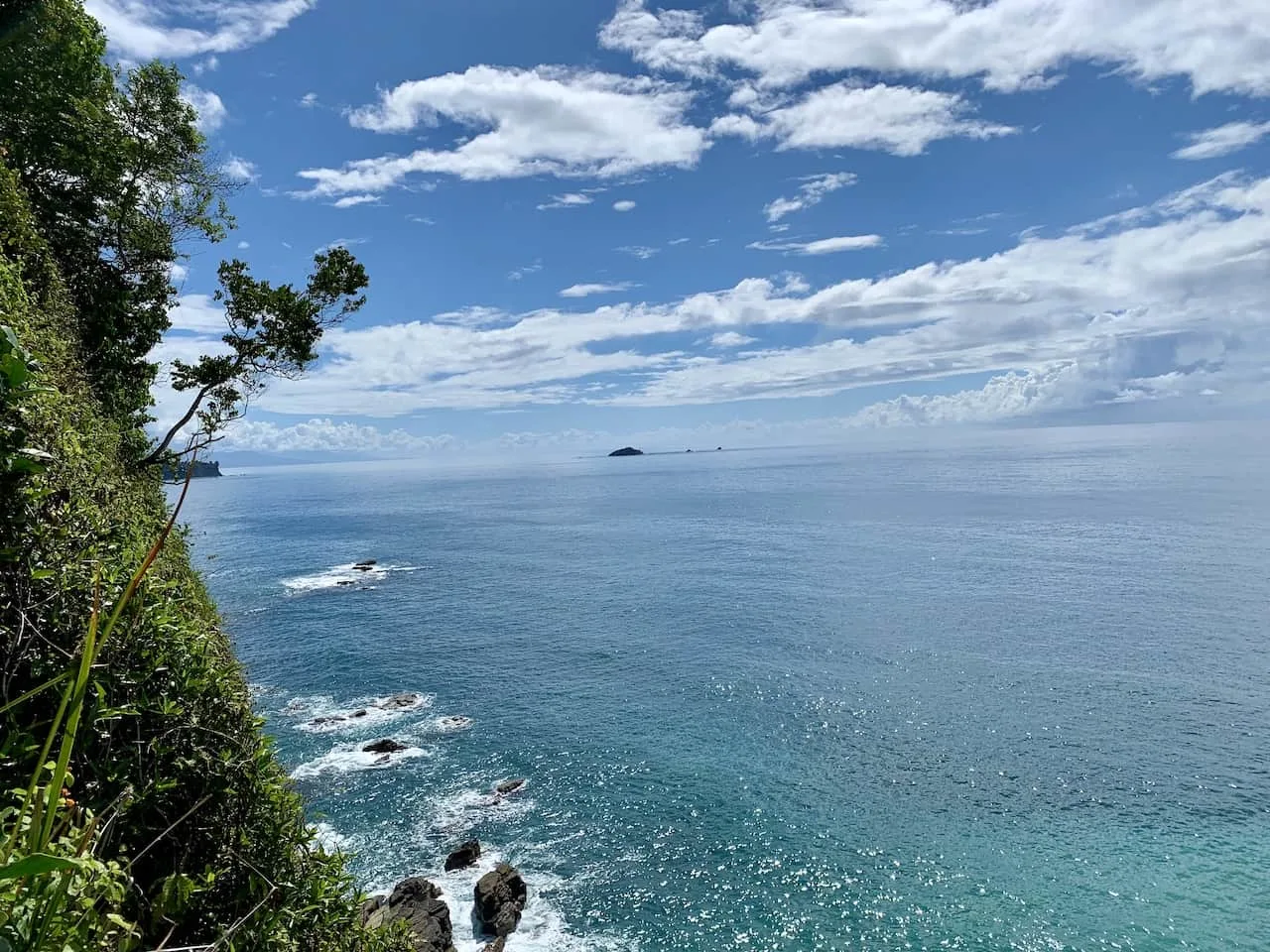 Puerto Escondido Viewpoint
At the very end of the Sendero Puerto Escondido trail you will be greeted to a beautiful lookout over Escondido Beach out in the distance.
This was one of my favorite viewpoints to take in during a visit to the park as you get some great surrounding landscapes here.
Miradores Viewpoints
While I did not speak too much about this trail before, at the end of the Sendero Miradores trail, are a few viewpoint spots.
These aren't as vast as some of the previous views but it is a nice place to check out in the park.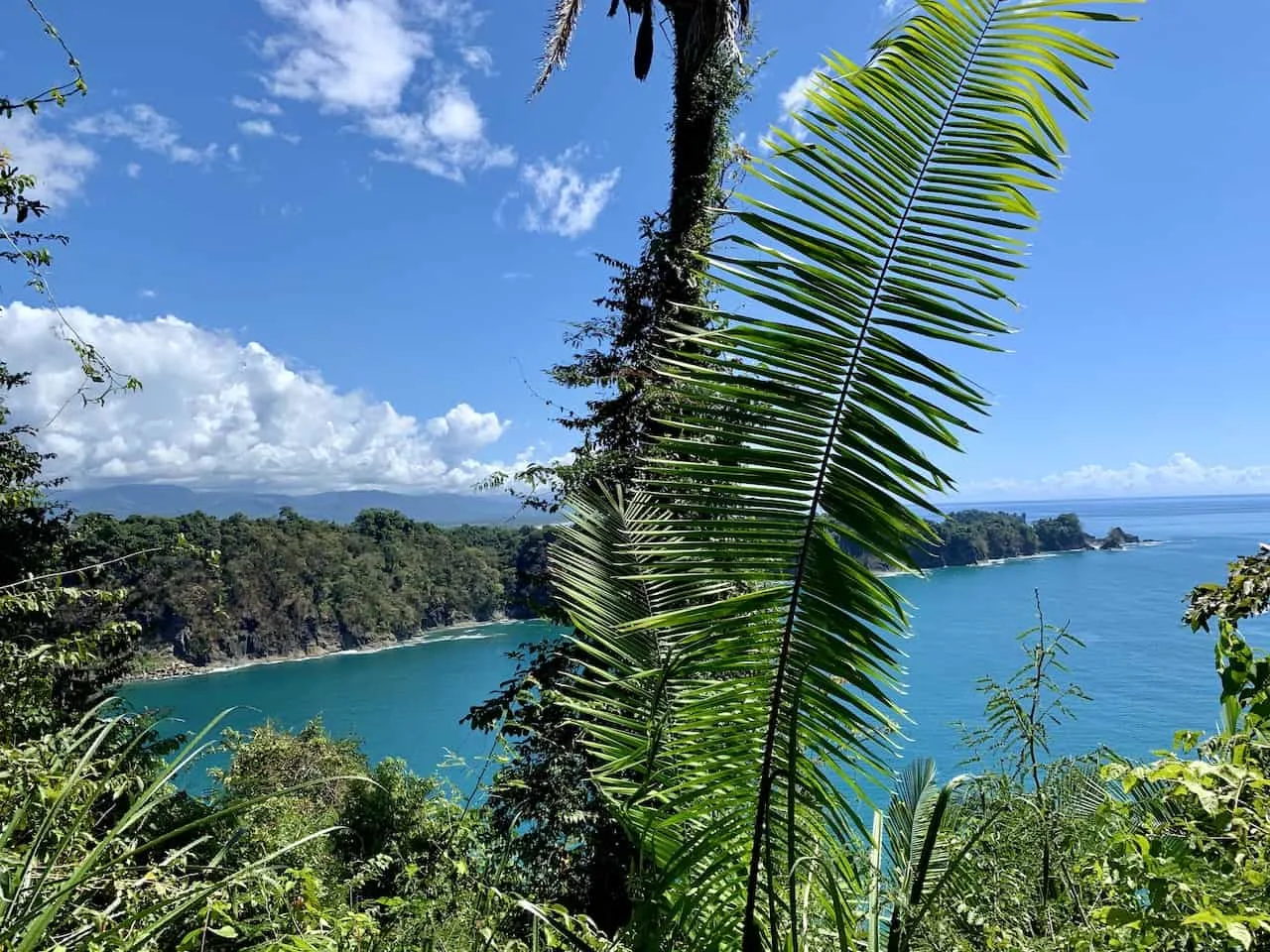 Manuel Antonio National Park Wildlife
You can't visit the park without spotting plenty of wildlife all along the way. Whether it is along the hiking trails or on the beach, odds are you will come across plenty during your time there.
Below are a few photos I took along the way to give you a sense of the different types of animals that you may see during a visit.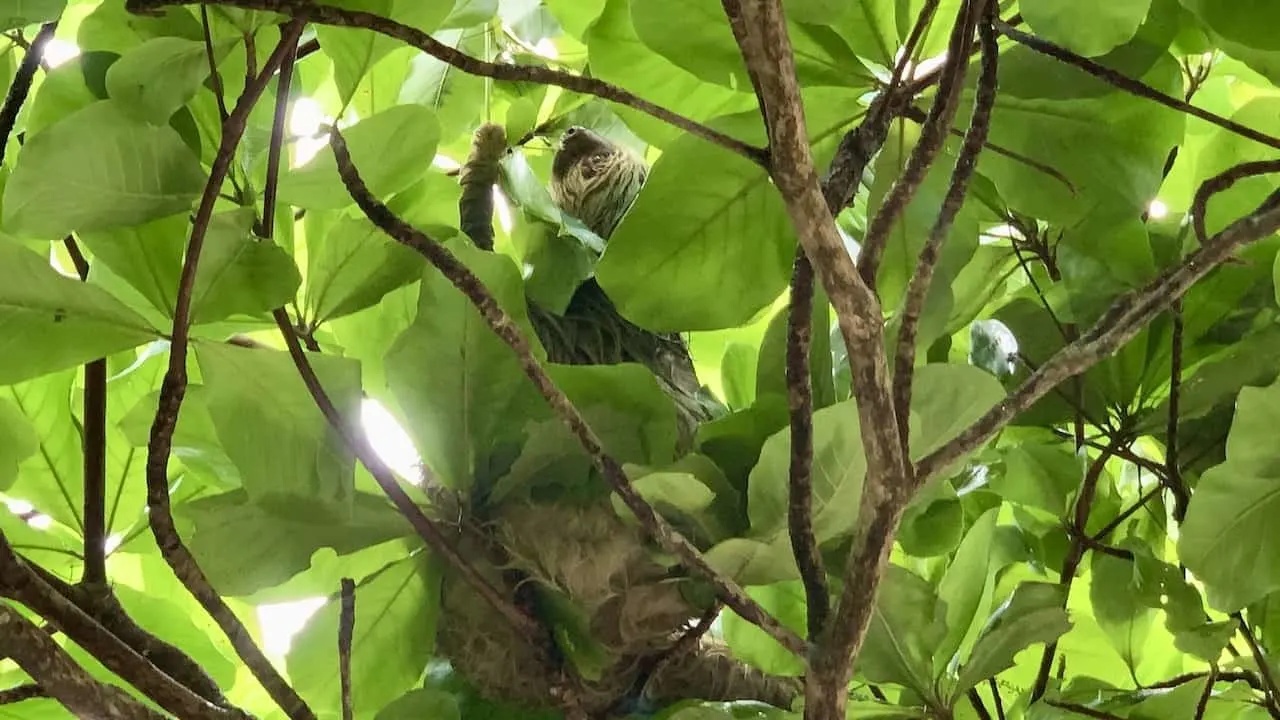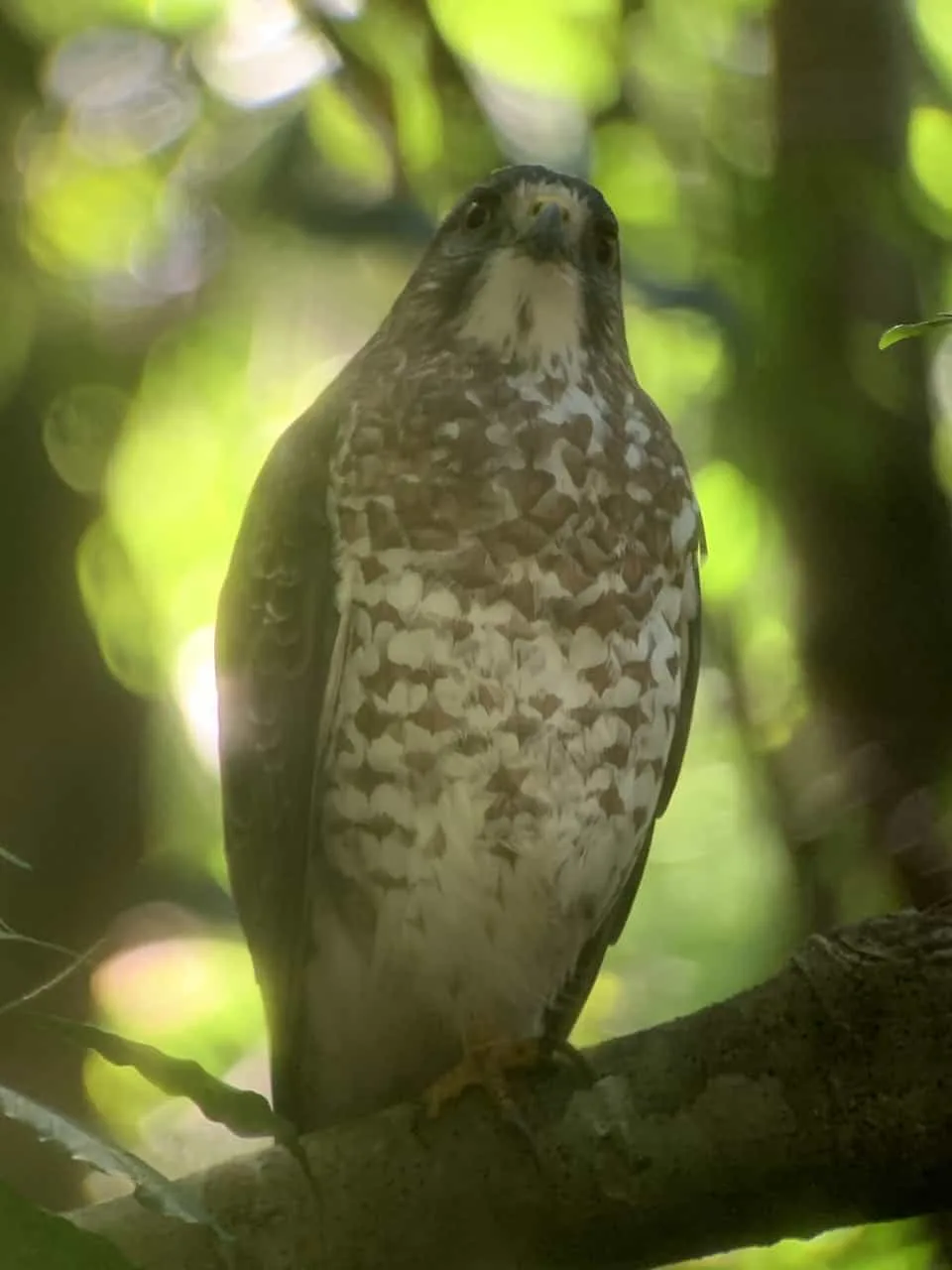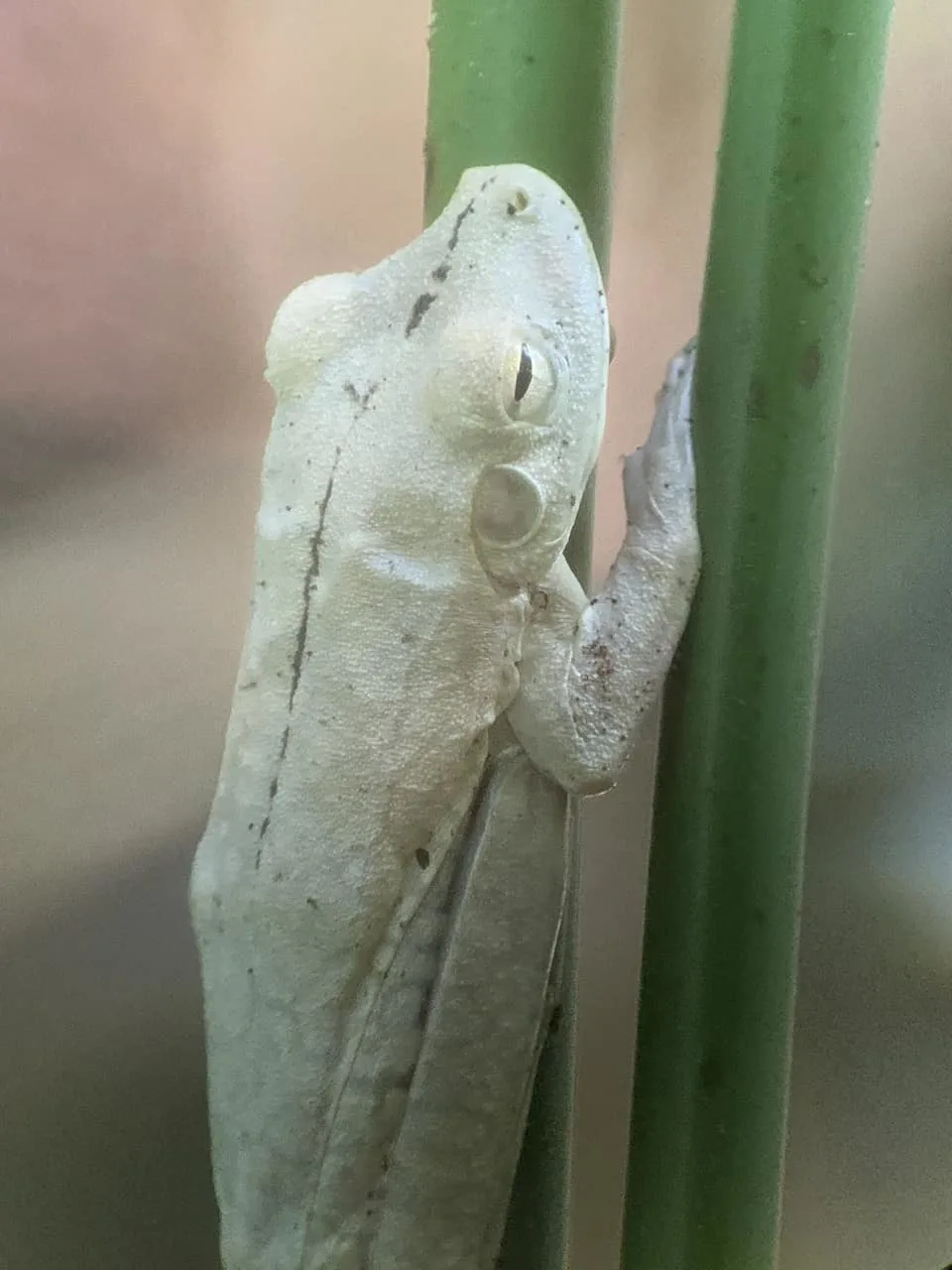 I would HIGHLY recommend a guided tour around the park for a half day. This way you can have a much better chance of spotting wildlife and can learn more during a visit.
Spending the morning in a guided tour and the afternoon just lying on the beach is a perfect way to go about a day in the park.
Guided Tour: Check out this Manuel Antonio Half Day Guided Tour to book your spot!
Manuel Antonio National Park Beaches
While, there are free beaches outside of the park that you can visit (more on that later), there are a few beaches within the park that you can spend some time on as well.
While a visit to these beaches come with an entrance fee and certain opening hours, these are as pristine as beaches that you will come by in Costa Rica.
Playa Espadilla Sur Beach
The first beach you will come across within the park is Playa Espadilla Sur. This is essentially a continuation of the Playa Espadilla (public beach), that is further north outside of the park.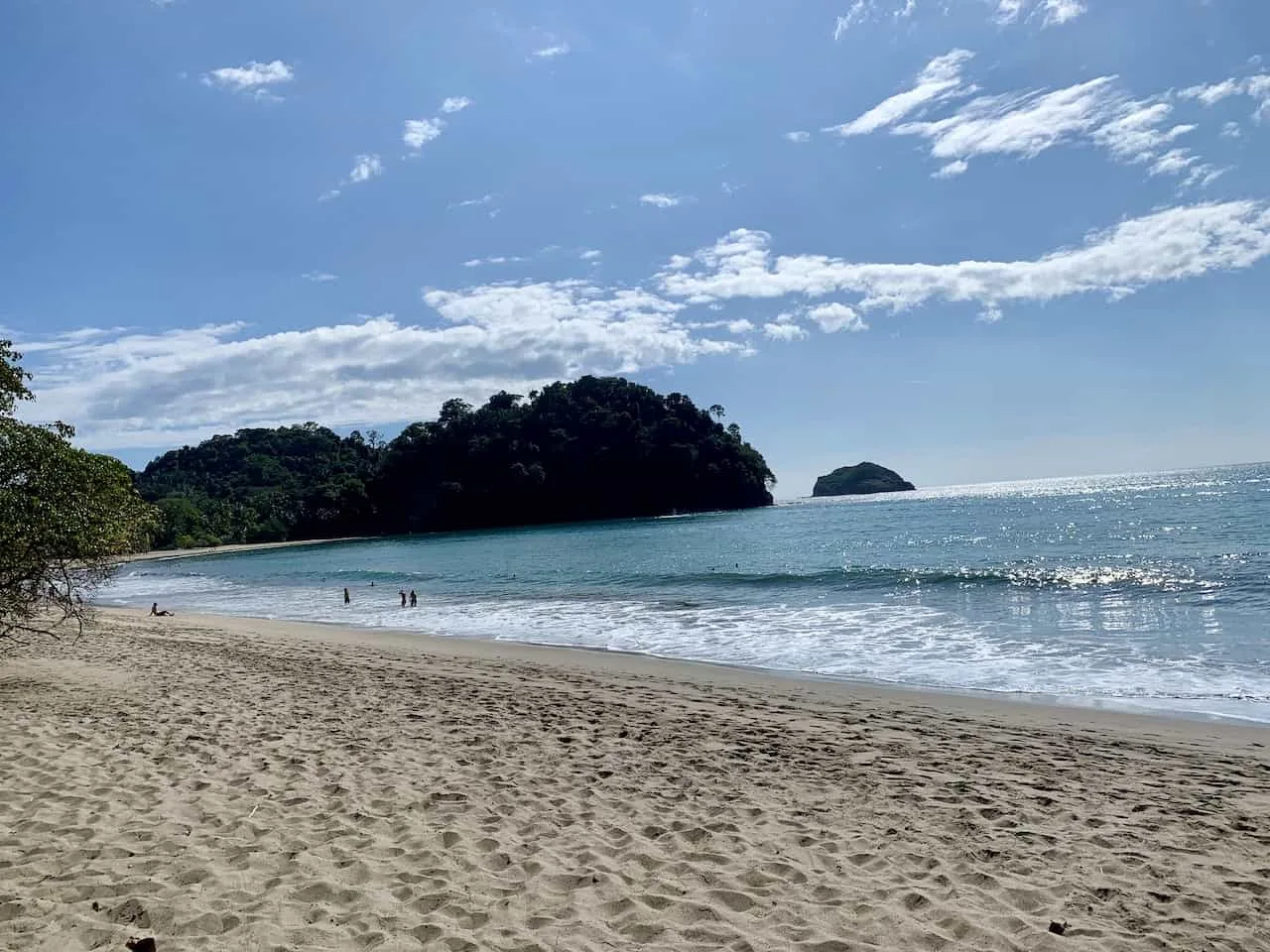 Playa Manuel Antonio Beach
On the other side of Playa Espadilla Sur Beach is Playa Manuel Antonio Beach. While smaller in length, it is just as beautiful to visit with its golden sand, clear waters, and surrounding rainforest.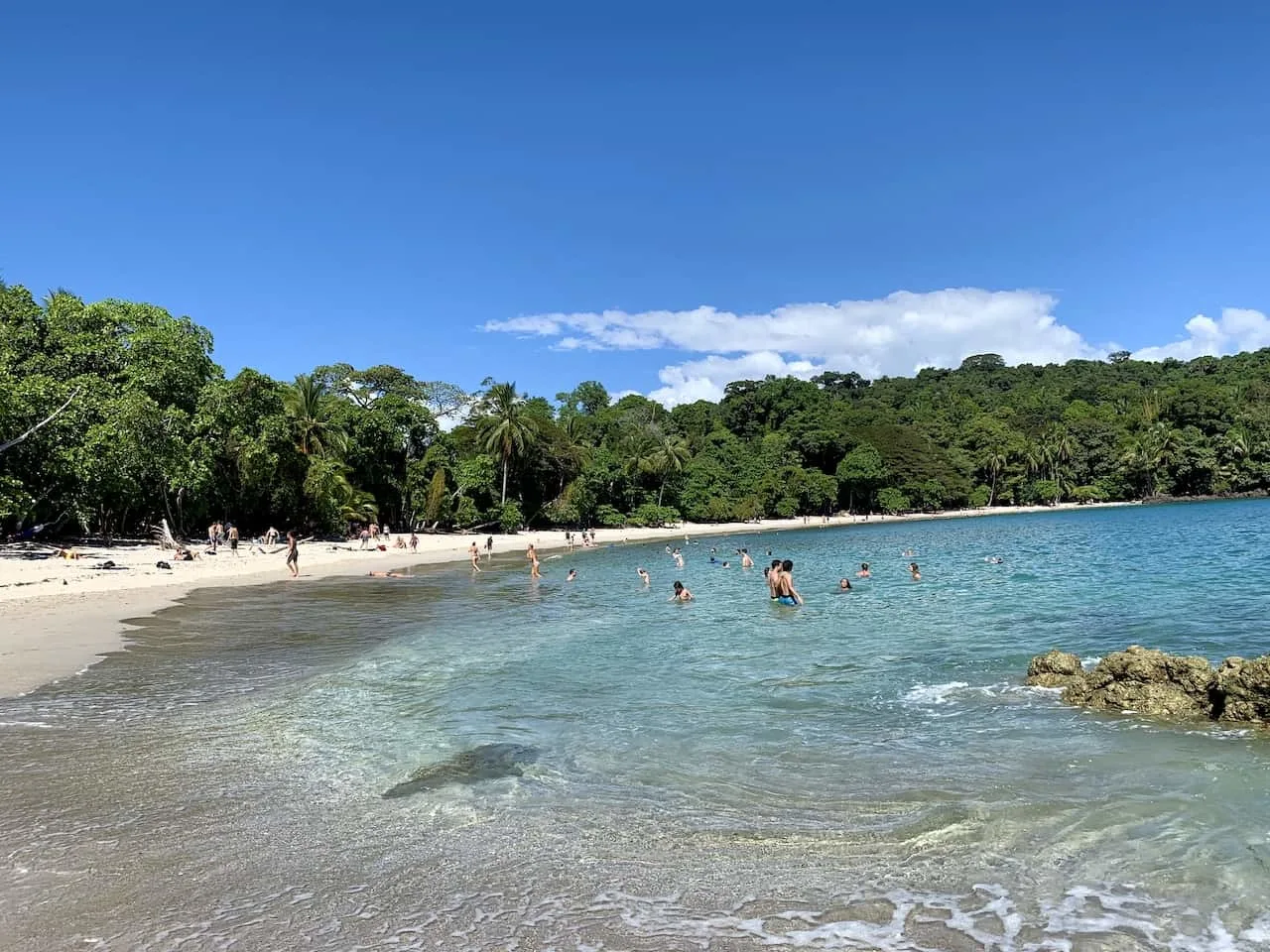 Playa Gemelas Beach
A smaller more secluded beach to visit within the park is called Playa Gemelas. It is just past Manuel Antonio Beach alongside one of the hiking trails.
If you are looking to get off the main beaches here, then this is a great option to choose from.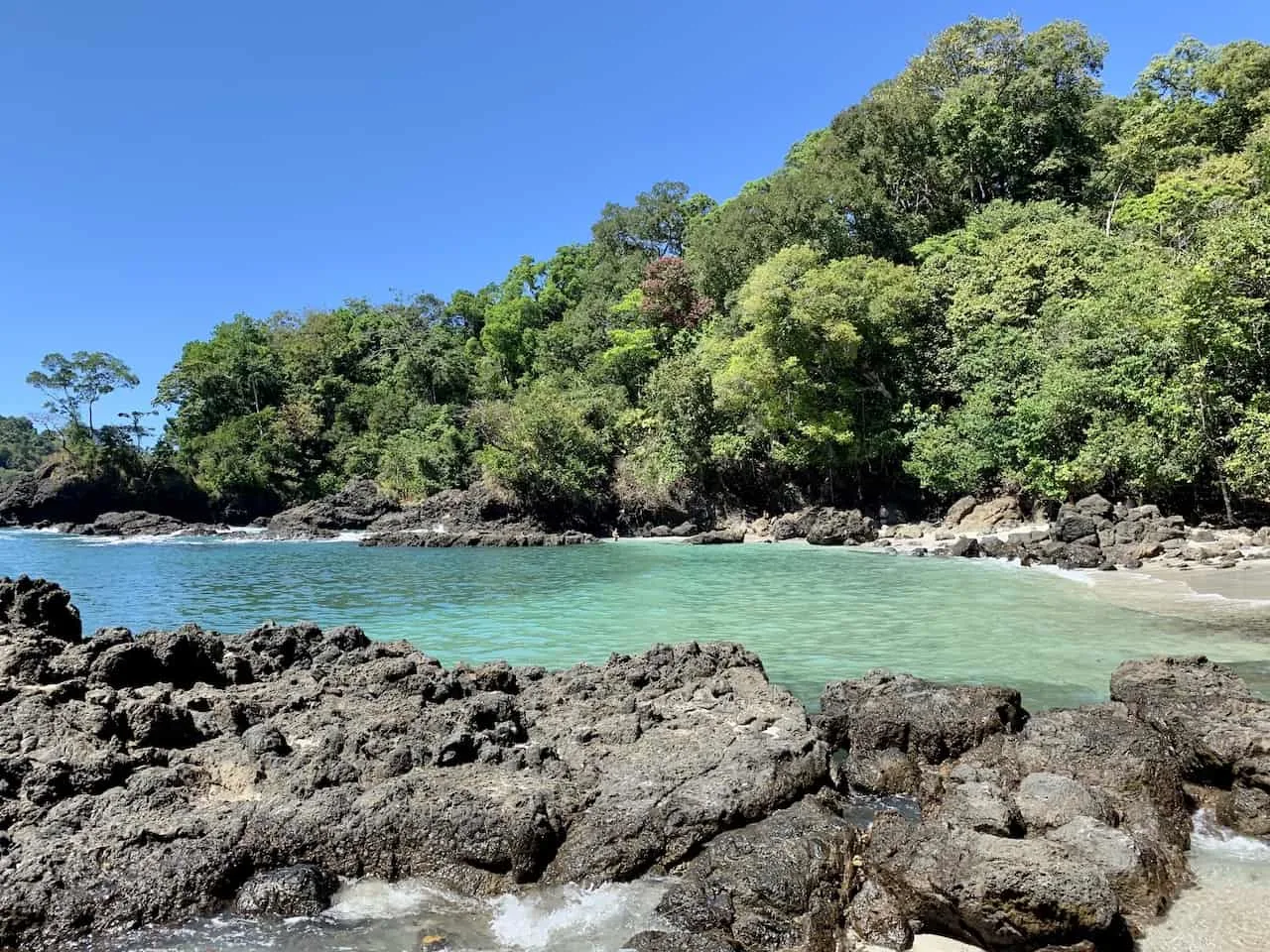 More Beaches! Learn more about all of these beaches in the Manuel Antonio Beaches guide up on the site
More Manuel Antonio Beaches
We will now make our way out of the National Park and into some additional things to do during a visit to Manuel Antonio.
While the above beaches are within the park itself, there are also other beach options outside of the park.
Espadilla Beach → the main public beach of Manuel Antonio with nearly 4KM of sand and water to enjoy
Biesanz Beach → a small beach located on Quepos Point that is a fan favorite of the locals
Playa Tulemar → a private beach that is part of Tulemar Resort
Playa La Vaca and La Maca → two off the beaten path beaches that require hikes to get to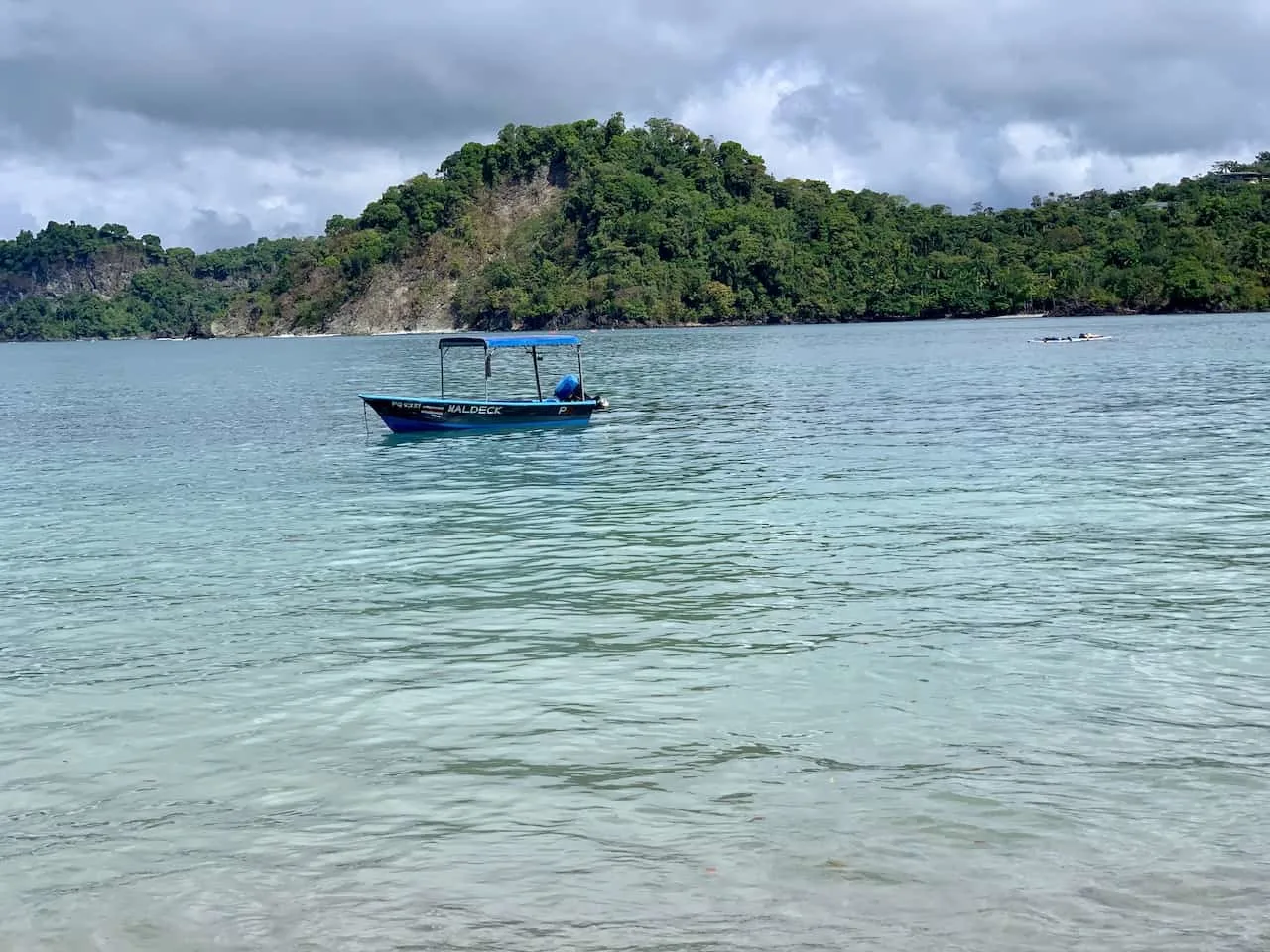 Manuel Antonio Sunset
During my visit to Manuel Antonio, I made it a priority to take in those beautifully colored sunsets each night.
Whether it is from your hotel, the beach, or from a restaurant, the sunset out in the ocean is a perfect way to end the day.
During my time in Manuel Antonio I stayed at the El Parador Resort which is perched high up above the water. This gave a for a great chance to enjoy sunset each night.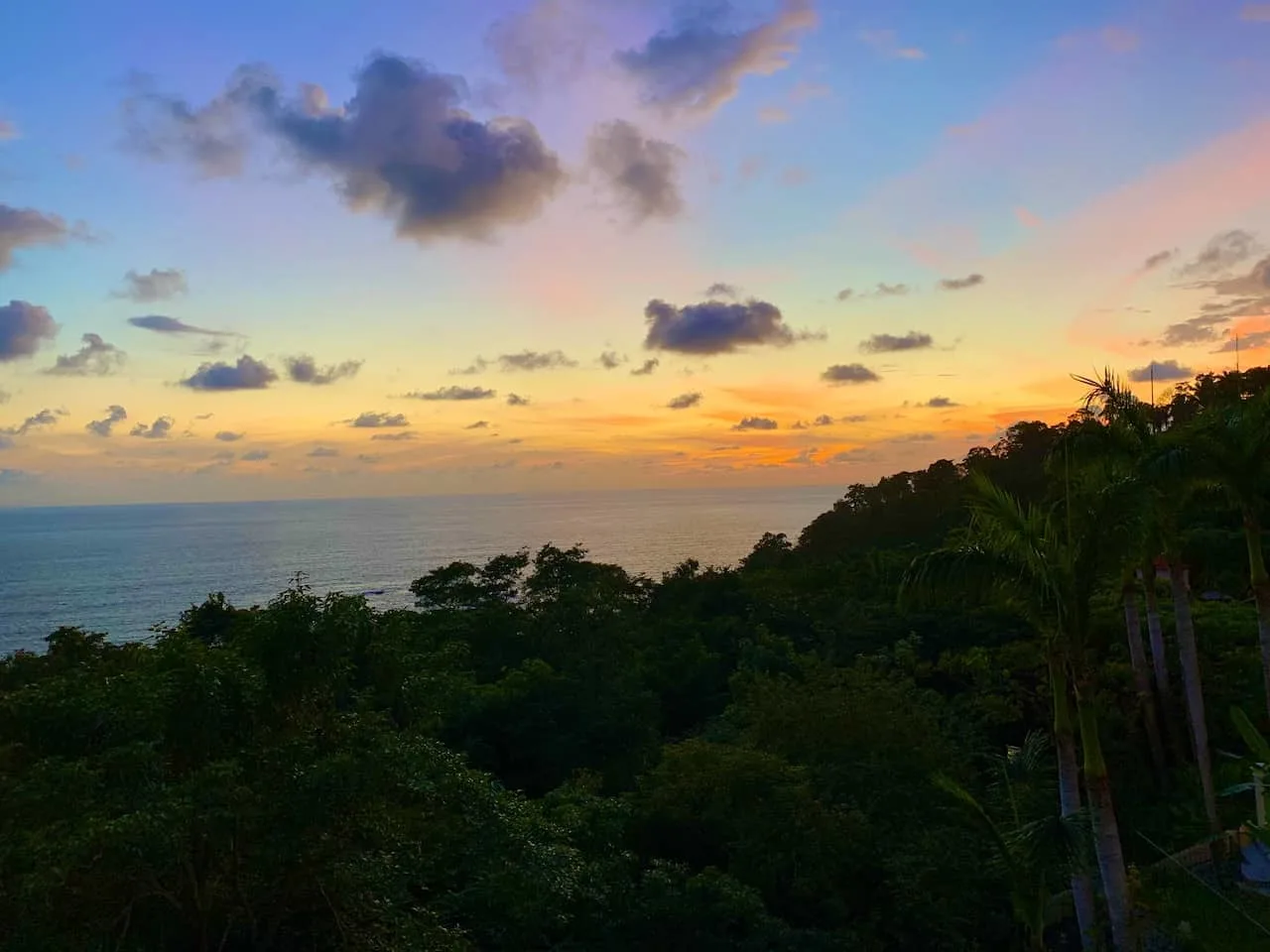 Manuel Antonio Tour Options
In addition to the beaches and the National Park, there are many different half day and full day tours to take part of. Some of these are just within the Manuel Antonio area while others are a couple hours away.
Below are some of the top options to choose from during a visit to Manuel Antonio:
Ziplining, Rappelling & Waterfall Tour
Ziplining is frequent all throughout Costa Rica. You can find opportunities to take part of tours like this all around including ziplining in Monteverde.
However, Manuel Antonio offers some great options here one of which is a ziplining, rappelling, tarzan swing, and waterfall tour. For a full day you will be able to enjoy all of these activities as you get your adrenaline pumping flying through the rainforest.
» Book your Manuel Antonio Zipline Tour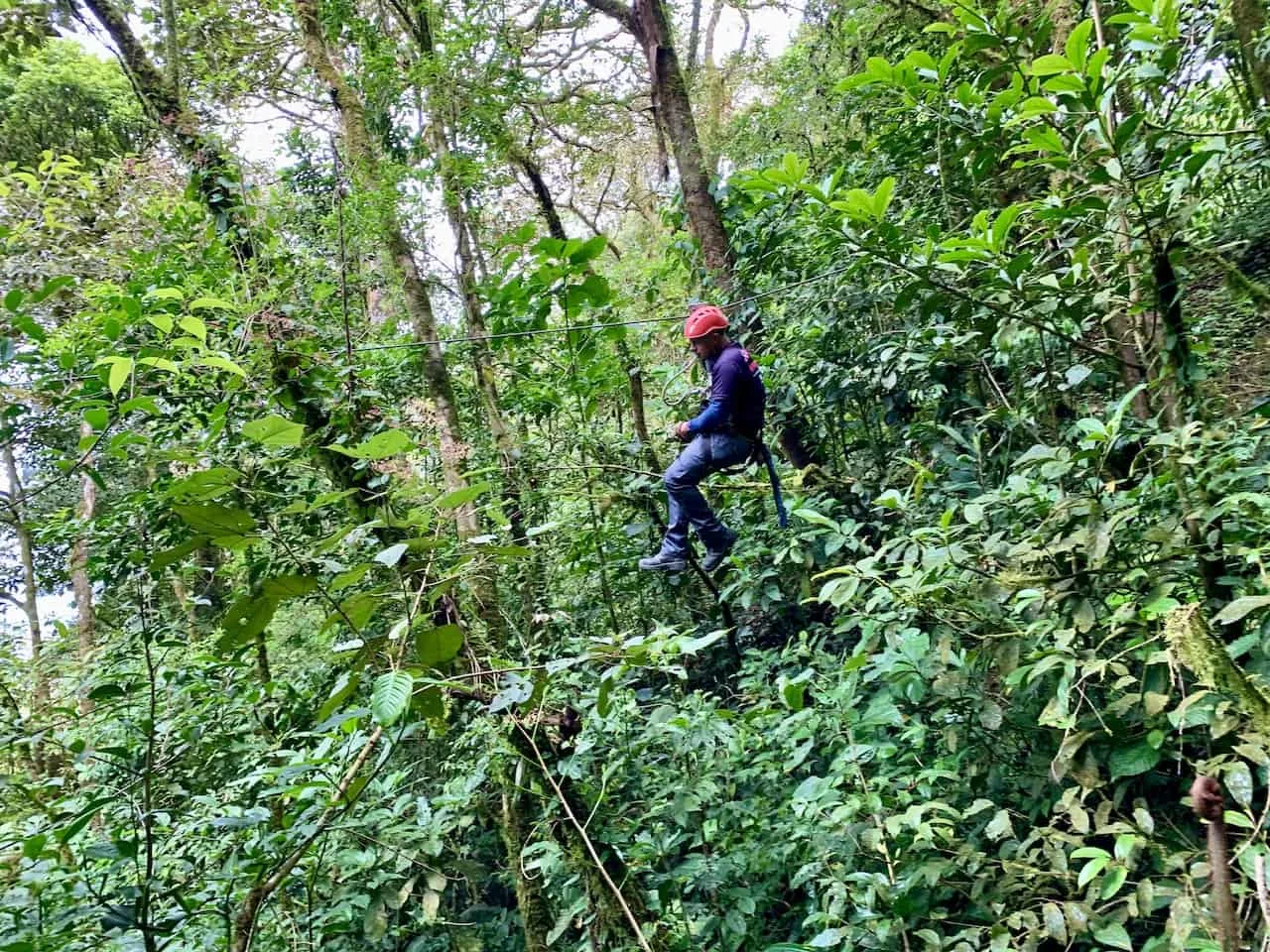 Jungle Night Tour
While seeing wildlife in Manuel Antonio National Park is surely to be a highlight during the day, seeing wildlife at night is a whole other experience.
While the night tours are not within the National Park itself, they do offer them on the outskirts of the park, where you will be able to see some wildlife come to life after dark.
» Book Today: Rainmaker Conservation Park Night Tour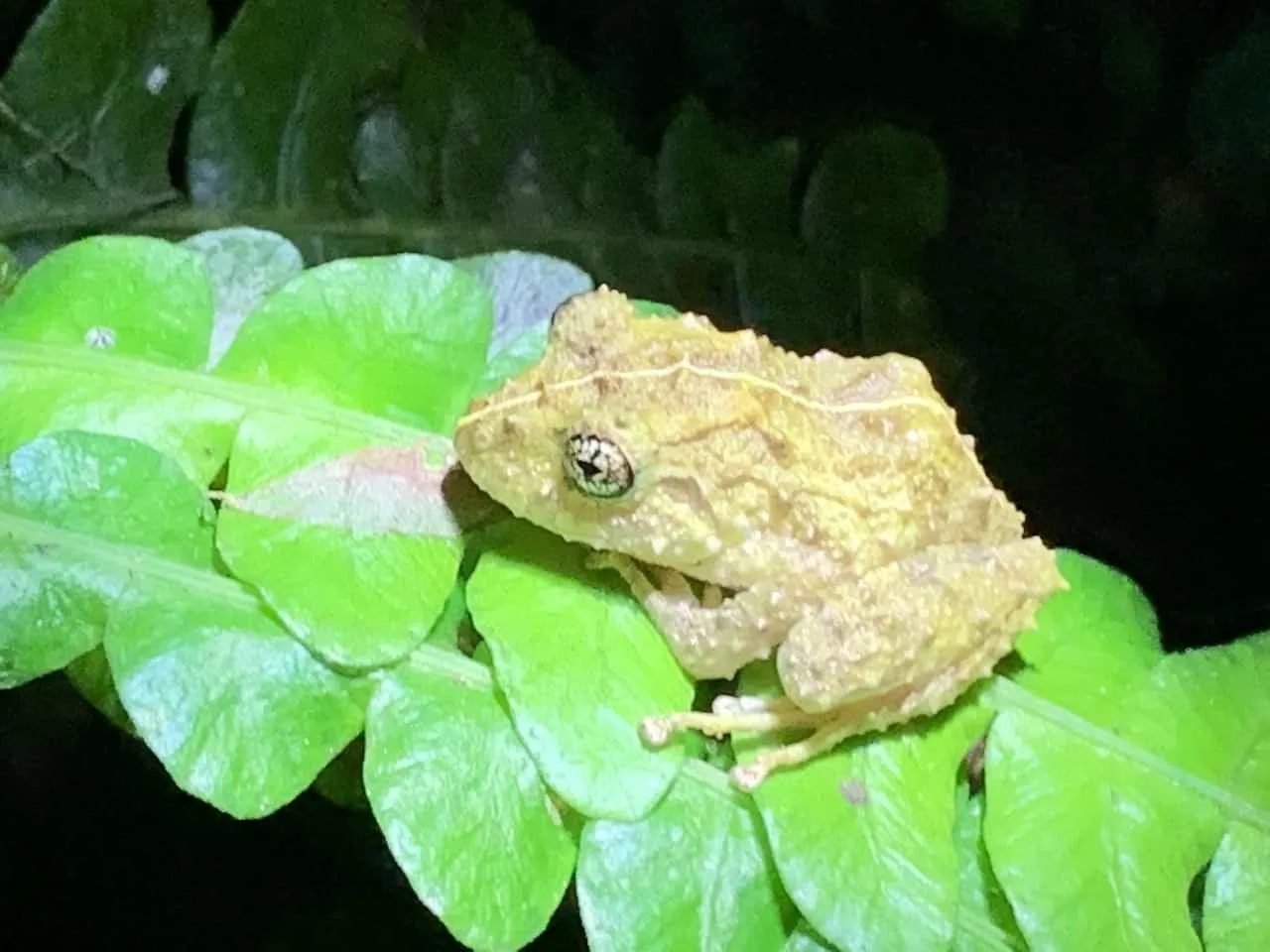 Chocolate & Coffee Tour
What better combination than chocolate and coffee? The jungles of Costa Rica are known for their coffee, chocolate and sugar cane. During a tour you will be able to visit a plantation and learn all there is to know about making these crops.
White Water Rafting
Costa Rica is known for its white water rafting rivers. One of these is the Naranjo River, known for its class 3 & 4 rapids. Over the course of 7 miles, you will be getting quite the white water rafting experience down this exhilarating river.
» Book a Manuel White Water Rafting Tour Here
Nauyaca Waterfalls Tour
If you are looking to visit one of the most beautiful waterfalls in Costa Rica, look no further than the Nauyaca Waterfalls. This waterfall can be done on your own if you have a car or part of tour from Manuel Antonio.
The waterfall is about 90 minutes away from town so it will require some driving to get back and forth from. In addition to the waterfall, do expect some hiking involved too. But at the end of the day you will get to experience one of the best waterfalls there is .
» Book your Nauyaca Waterfalls Tour here
Sailing Tour
Spending some time out in the water is a different way to experience Manuel Antonio. There are several sailing and catamaran tours available that will take you around the beautiful waters.
A great option to think about is to enjoy a sunset sailing tour, where you will be able to enjoy a sunset from the ocean.
» Book your Manuel Antonio Sailing Tour Here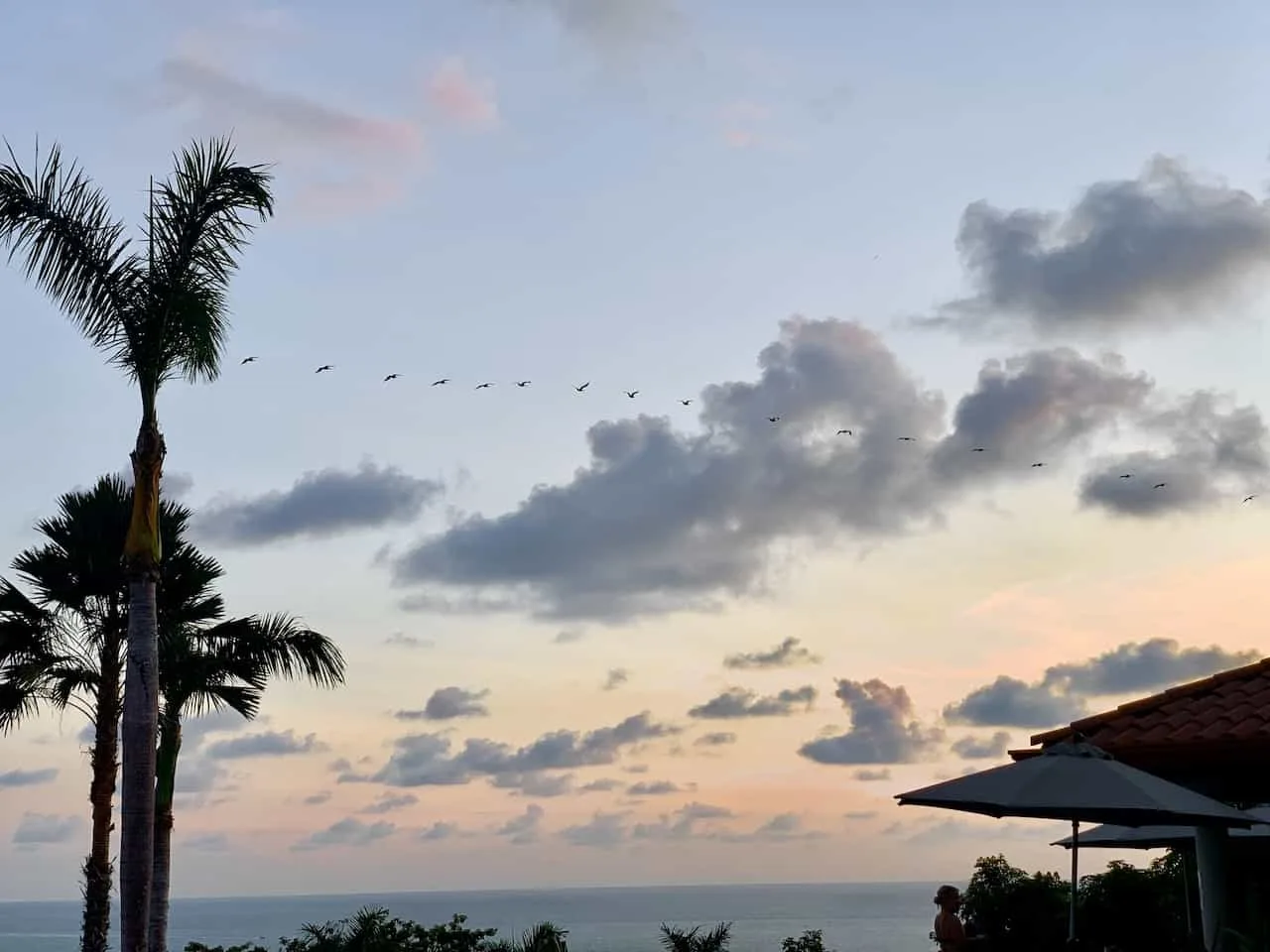 7) Frequently Asked Questions
I think by now you should have a pretty good idea of many of the different things to do in Manuel Antonio. To better help plan your visit, I did want to answer some of the most frequently asked questions about the area.
Is Manuel Antonio Worth Visiting?
Yes, Manuel Antonio is definitely worth visiting. When it comes to the combination of wildlife, landscape, and wildlife, it is hard to beat what Manuel Antonio offers.
Whether you just want to spend time on the beach or if you want to do some hiking and see some wildlife, all of that is available to you during a stay in Manuel Antonio.
It is also a great place to base yourself if you would like to enjoy some day trips from town, including many of the above options such as waterfalls, ziplines, and river rafting.
How Many Days Should I Spend in Manuel Antonio?
My recommendation would be to spend at least 2 days in Manuel Antonio.
On the first day you can spend the morning taking a tour of Manuel Antonio National Park, while in the afternoon you can relax on one of the beaches in the park itself.
On the second day, you can either head back into the park to do the same, or enjoy one of the tours mentioned above, followed by some time on a public beach before taking in a sunset.
How Do I Spend a Day in Manuel Antonio?
If you only have a day in Manuel Antonio, I would recommend spending the entire time within Manuel Antonio National Park.
Head there early in the morning with a guide to hike the trails and spot wildlife along the way.
After the tour is over, lay out and enjoy the sun on either one of the beaches within the National Park. As the day winds down and you need to exit the park for closing, head to the main beach to catch a sunset and some dinner.
Can You Explore Manuel Antonio on Your Own?
When it comes to exploring Manuel Antonio on your own, it is certainly possible.
However, I personally feel you will get more out of the experience if you have a guide for a portion of the day.
Spotting wildlife is not always easy or obvious. Coupled with the fact that you will learn much more about the wildlife itself, having that guide with you will make the experience that much more worth it at the end of the day.
Can You Swim in Manuel Antonio National Park?
Yes, you can certainly swim in Manuel Antonio National Park at any of the three main beaches there.
You will not find a lifeguard on duty but as long as the water is calm during a visit, you should have no trouble spending some time in the water.
Do You Need a Car in Manuel Antonio?
For Manuel Antonio in particular, I don't think you need a car. Taxis, busses, hotel shuttles, and tours can help with the majority of getting around the area.
Whether that be to a beach, restaurant, or to the National Park, you shouldn't have trouble getting around.
However, I will say that having a car in Costa Rica in general is more important. I found it super helpful to have a rental car and be on my own schedule throughout my time there.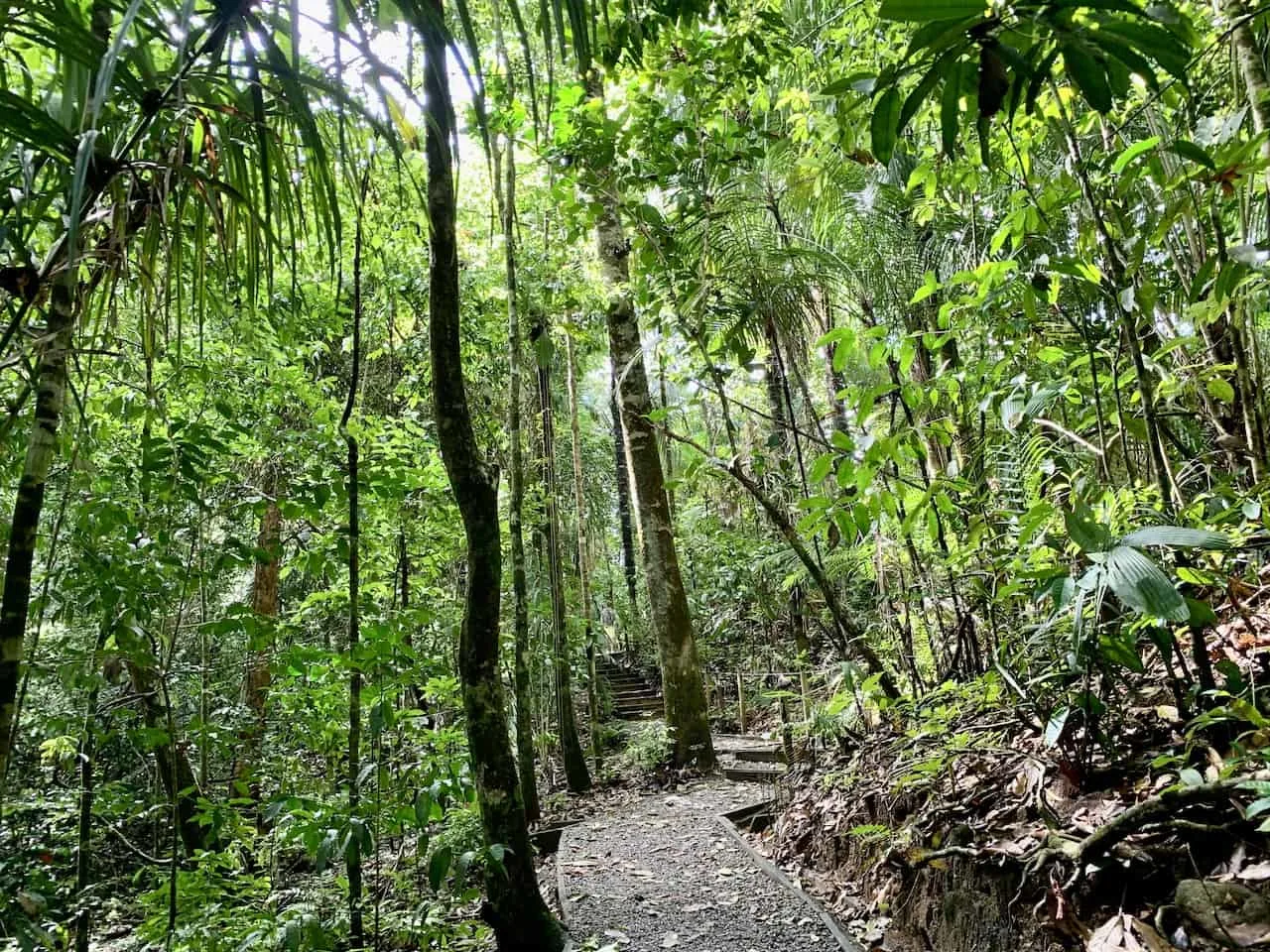 I hope by now you have a much better understanding of some of the top things to do in Manuel Antonio. If you do have any questions or comments, be sure to add them in below.
Also don't forget to check out the other Costa Rica itineraries and guides up on the site like the Cerro Chirripo hike, La Paz Waterfall Gardens, and Corcovado National Park.
Have fun out there and safe travels!