This overview will go over everything you need to know about the famous Actun Tunichil Muknal (ATM) Cave of Belize.
Without a doubt the ATM Cave is one of the top highlights to visit during a trip to the country. The full day tour will take you into the Tapir Mountain Nature Reserve as you hike through the jungle, wade across rivers, and spend 3 hours exploring the ins & outs of this fascinating Mayan site.
The ATM experience is a mixture of exciting physical activity, awe inspiring cave formations, and historical artifacts. There are few other places around the world that give you such an opportunity.
Read on to learn more about the Actun Tunichil Muknal Cave and how to book the experience for your trip!
* Affiliate Disclosure: This post may contain affiliate links, which means I may receive a commission if you make a purchase through the links provided, at no additional cost to you. Thanks for supporting the work I put into TripTins!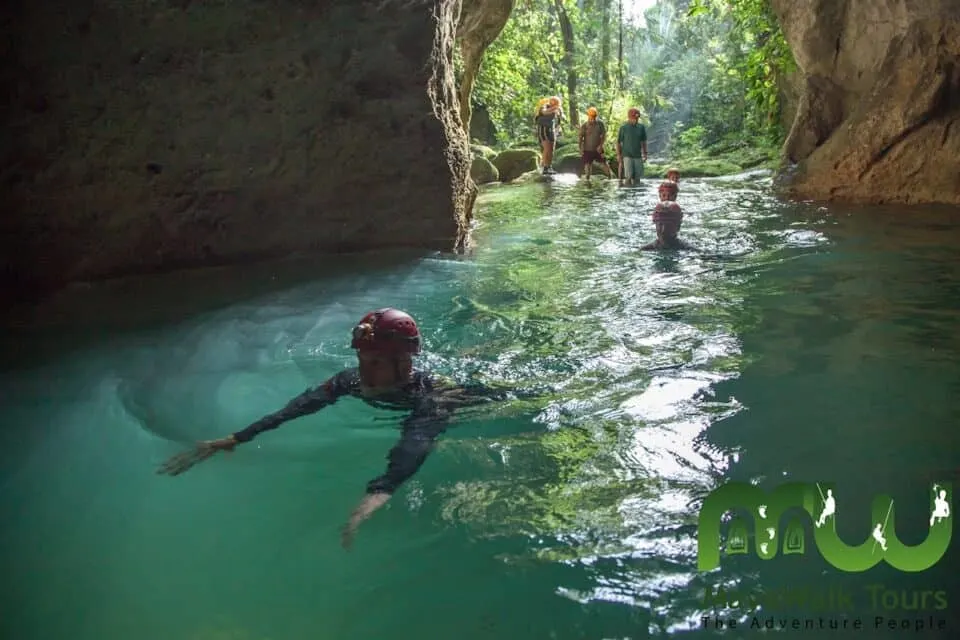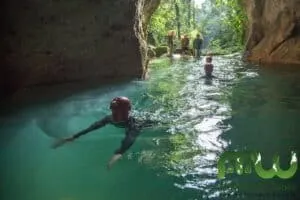 1) Actun Tunichil Muknal Cave Overview
The Actun Tunichil Muknal Cave (translated to "Cave of the Stone Sepulcher") is an ancient Mayan sacrificial site, located deep within the jungles outside of San Ignacio.
It is a place known as Xiblaba (translated to "place of fright"), which is the underworld in Mayan mythology. In order to please the spirits, different types of rituals took place here throughout its years.
While the history of the cave goes back to the 1st century AD, it was only rediscovered in 1989. After around 10 years of studying the cave, it was then opened to visitors in 1998.
Today, visitors have the chance to enter the cave and witness some of the original artifacts that have been kept in place for all of this time. These not only include ceramics, pottery, & stoneware items, but also several skeletal remains (some of which are fully intact).
In all, there were over 1,400 artifacts found in the cave including 14 of these skeletons. Some of the most famous remains include the Crystal Maiden skeleton and decorative Monkey Pot (one of four found in the world).
Along the way, you will swim, wade, and crawl your way around the cave as you get to take in stalactites, stalagmites, passageways, and chambers.
The combination of the historical significance of the cave coupled with the cave itself is why publications such as National Geographic have named it the number one sacred cave destination in the world.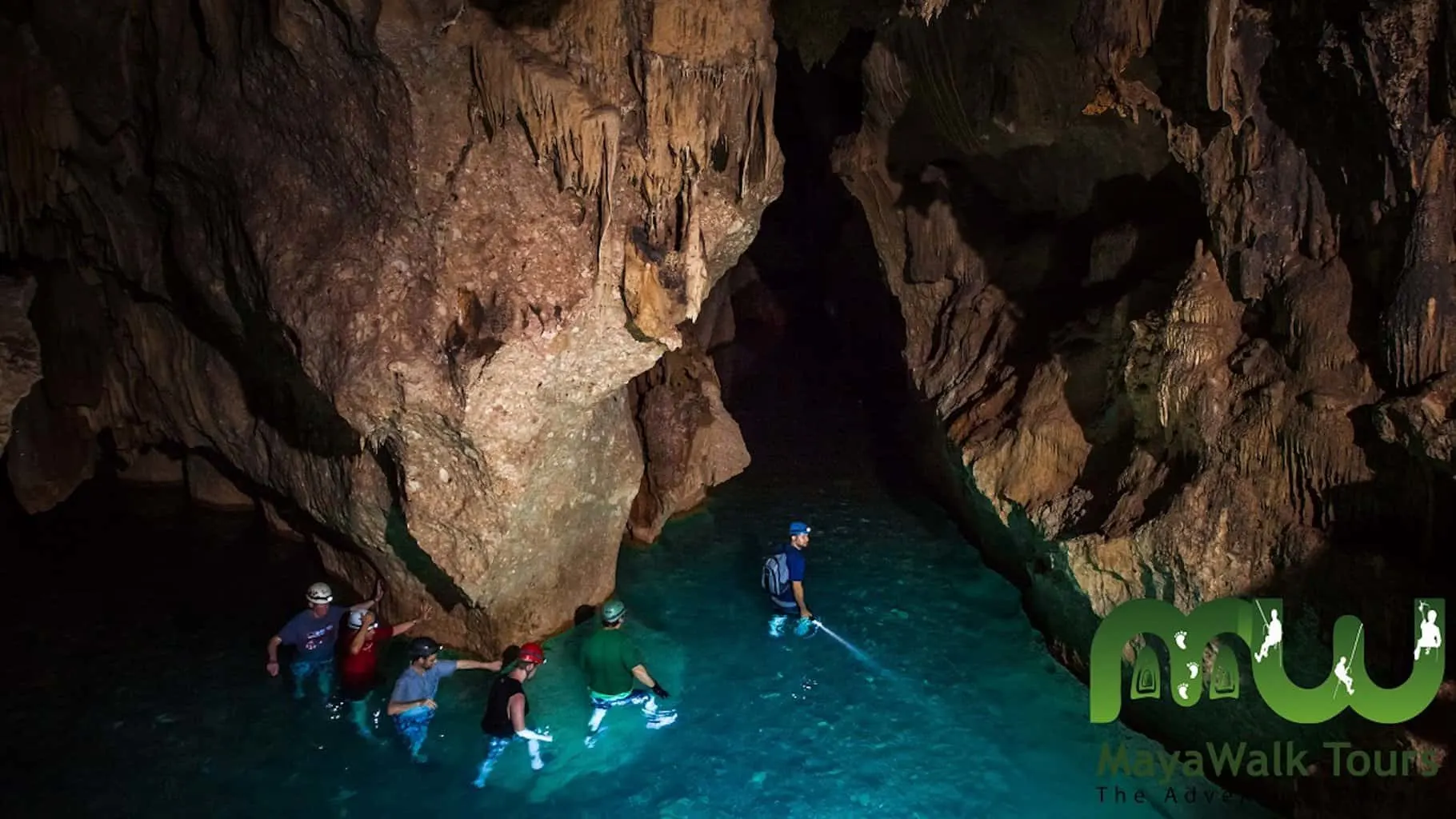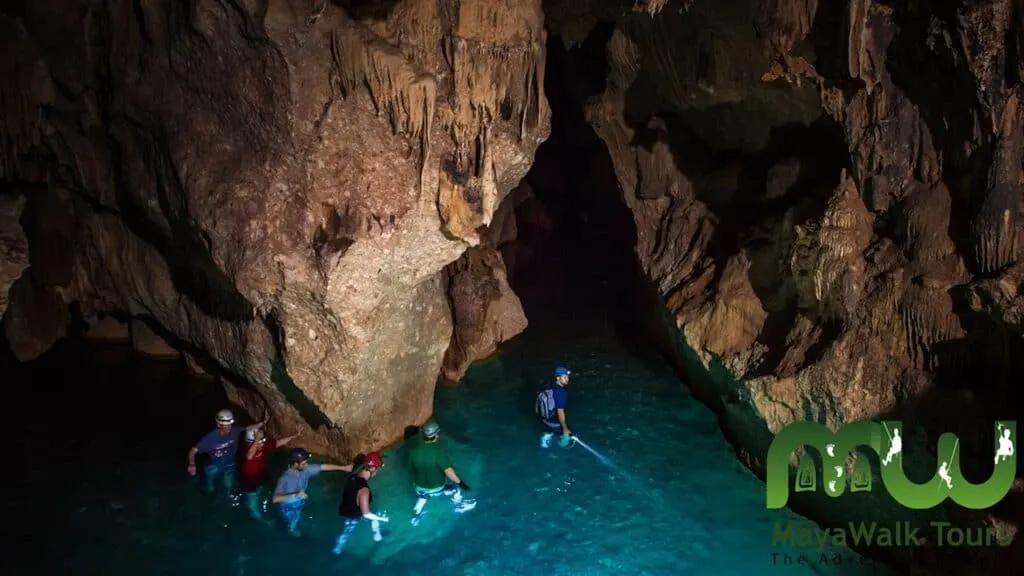 2) Important Things to Know
The Actun Tunichil Muknal Cave tour is going to be a full day activity lasting around 8 hours from beginning to end. This is not a tour for everyone though, so be sure to understand some of these important things to know.
Fitness: this is not going to be one of those tours where you simply walk peacefully through a nice open cave on a flat surface. Instead expect to wade, crawl, and climb your way out & back through the cave over the course of 3 hours. While I would not consider this an overexerting activity, you do need to be comfortable being active for the entirety of the experience. If this is not something you are comfortable with, then I would not recommend it.
Activity Level: going off of the first point, the full day will entail a 45 minute / 1.5-mile hike to & from the cave (90 minutes / 3 miles round trip) in addition to around 3 hours of exploring the cave itself. On top of that, you will need to be at ease with making your way through enclosed spaces and lifting yourself up using your hands / ladders. If you are comfortable with that sort of distance & activity, you should be just fine.
You Will Get Wet: this is an experience where you will 100% get wet. There are multiple river crossings to get to the cave (these can get even deeper than waist high), and short swimming/wading portions within the cave. While you do not need to be an expert swimmer by any means (they do provide life jackets if necessary), you do need to be comfortable getting wet.
Temperature: while other caves around the world can get very cold, the ATM Cave is around 70 F / 21 C. This makes it just fine to enter the cave with a bathing suit, shorts & t-shirt.
Cancellations: unfortunately, this is one tour that can get cancelled due to poor weather. If there has been heavy rainfall, the cave can be unsafe to enter and your tour can be pushed back 1 or more days. Visiting during dry season (January to May) is your best bet to steer clear of this happening.
Restrictions: while people of all ages can sign up for the most part, there are a few restrictions to consider. The minimum height is 40 inches (~100 cm), meaning just very young children are not allowed to join. In addition, those with serious health problems, walking disabilities, heart issues, among other similar conditions are not recommended to take part.
Banned Items: due to the very delicate nature of the historical artifacts within the cave, there are essentially no items that are allowed to come with you into the cave. You will have your clothing, socks, closed toed shoes, helmet, and headlamp (these last two items will be provided). Everything beyond those items are not allowed. That means no cameras or phones!
Daily Limit: for safety precautions, there is a daily limit of 125 people who are allowed inside of the cave (many tours limit 8 people per guide as well). That means you should plan on booking your spot in advance to reserve your spot. There is absolutely no visiting the cave unless part of a guided tour.
Price: most ATM tours from San Ignacio cost around $125 USD for the full day experience. Expect to pay more if coming from further out spots like Belize City or Placencia.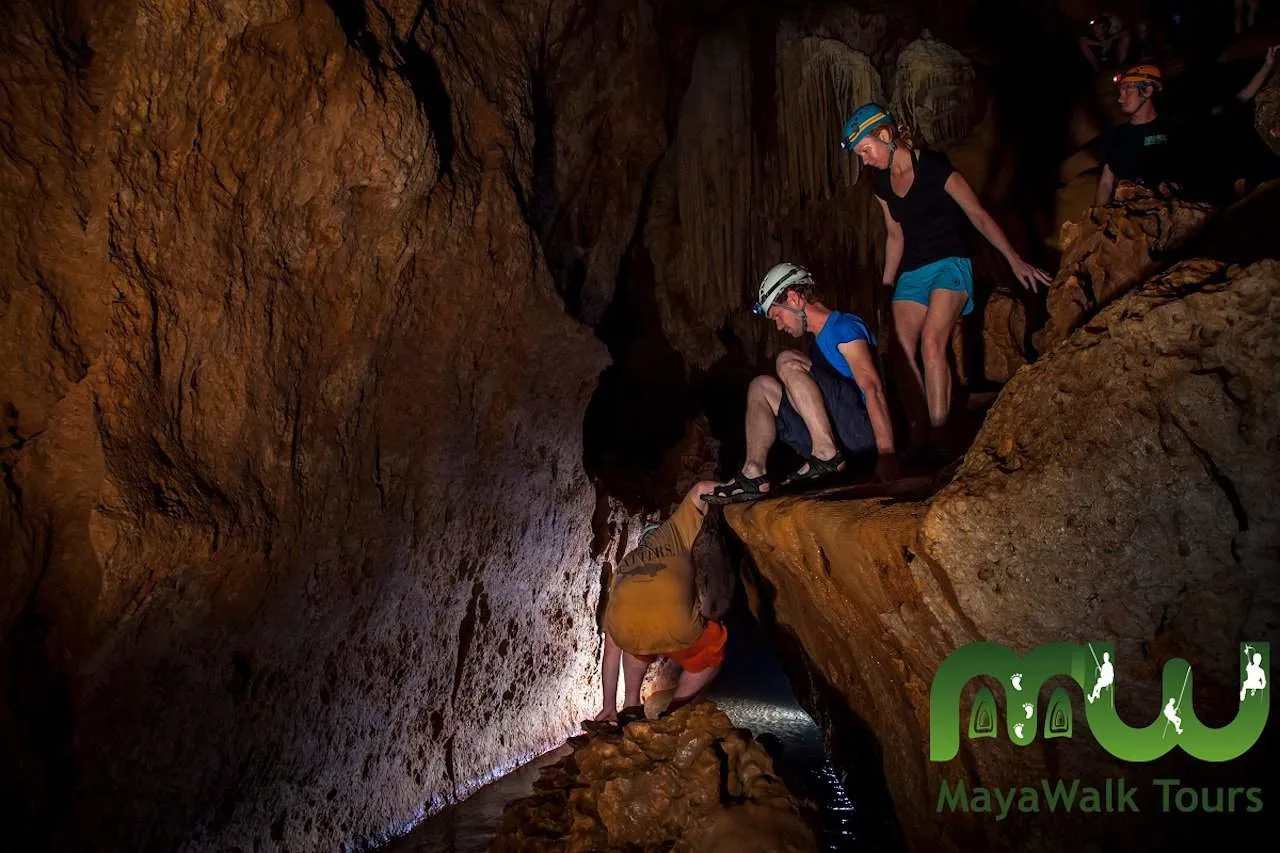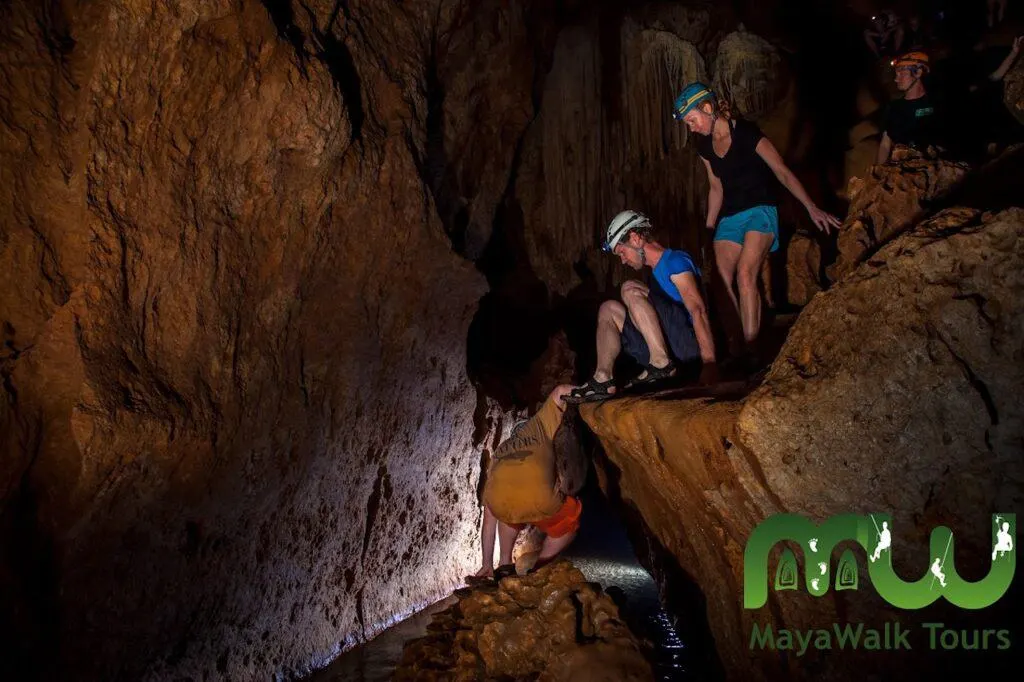 Belize Itinerary: Join an ATM tour as part of a longer Belize Itinerary that takes you around this beautiful country
3) ATM Cave Packing List
To better prepare you for a day out at the ATM cave, it is important to come prepared with an appropriate packing list.
Hiking Shoes or Closed Toe Sandals: this is going to be a long day of being on your feet, so you will want to wear comfortable footwear that will keep your feet protected. Hiking shoes or closed toed sandals are highly recommended (Top Choice: Keen Sandals).
Socks: you MUST wear socks in the cave (even if you are wearing closed toe sandals). This is due to the fact that once you reach the end of the wet chamber of the cave, there is a dry chamber that can only be explored without shoes. Bare feet are not allowed due to the oil/bacteria that can be found on our skin (Top Choice: Darn Tough).
Swimwear: you can wear whatever you are most comfortable in for the tour besides for non-modest clothing (example: no bikinis allowed). Some people wear bathing suits & t-shirts, while others may want to wear leggings & long sleeve shirts. I would recommend non-cotton material though that can dry quicker (moisture wicking).
Change of Clothing: once the tour is done, you can change into a dry set of clothing. This is highly recommended as you do not want to be sitting in damp clothes on the way back. Bringing a pair of flip flops would also be my recommendation for a lightweight and comfortable option.
Quick Dry Towel: there are showers to rinse off at after the hike/cave portion is complete. Bring along a quick dry towel that packs down light and doesn't take up much space (Top Choice: Rainleaf Towel).
Water Bottle: while you cannot bring a water bottle into the cave, you can bring one to the entrance of the cave. Be sure to stay hydrated as you will have plenty of activity to take part of (Top Choice: Camelbak Bottle).
Snacks: feel free to take some small snacks along for the ride in the morning and before you head off for the cave itself.
Small Backpack: you can put all of these extra items into a small daypack that will be left behind before you start the hike (Top Choice: Osprey Daylite).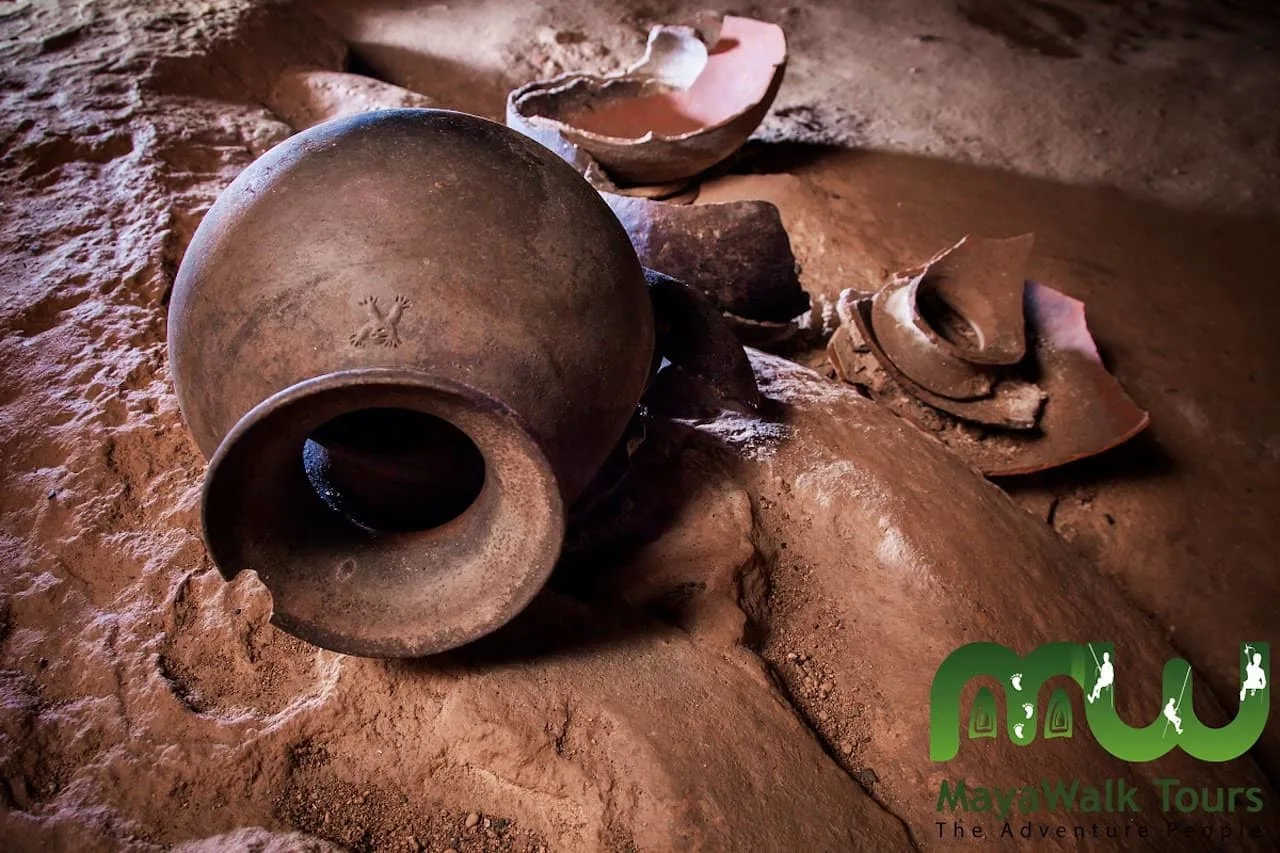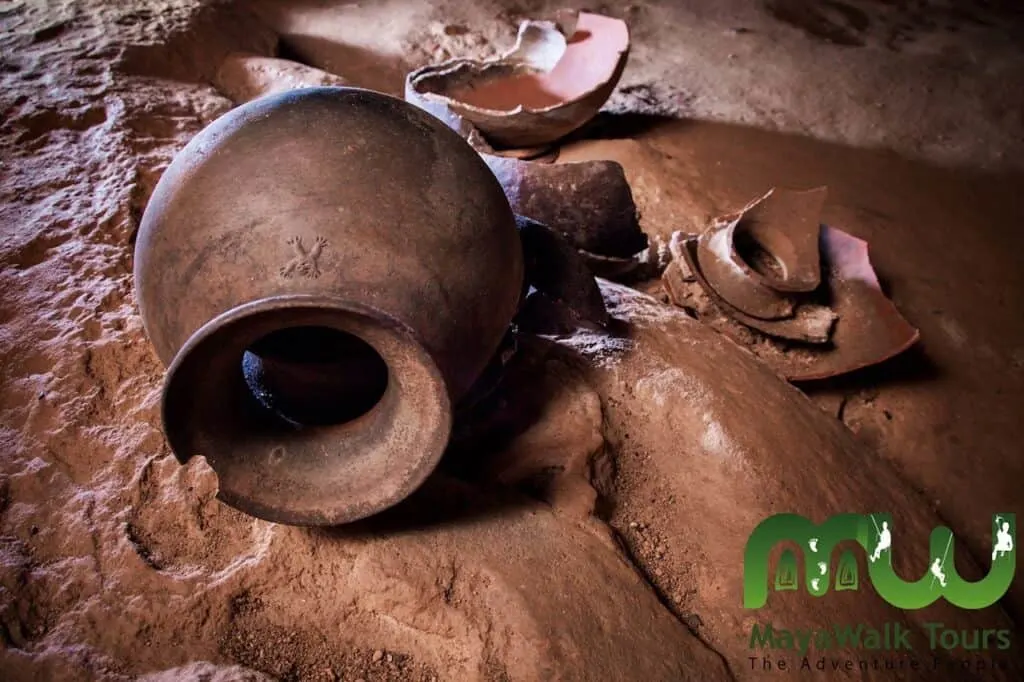 4) ATM Tour Itinerary
Here is an overview for the ATM tour itinerary. While each company may be slightly different, you can still expect a pretty similar day overall.
7:45AM: Meet in San Ignacio & Orientation
8:00AM: Departure to Tapir Mountain Nature Reserve
9:30AM: Arrival at Tapir Mountain Nature Reserve
10:00AM: Hike to ATM Cave
11:00AM: Explore ATM Cave
2:00PM: Hike Back to Starting Point
2:45PM: Lunch
3:30PM: Depart to San Ignacio
4:30PM: Arrive in San Ignacio
Photo Note: since cameras are not allowed within the cave, all hike/cave photos included in this overview are provided by the tour operator.
7:45AM: Meet in San Ignacio & Orientation
After arriving and checking in at the tour company's office, there will be a short orientation laying out what to expect for the day. Hopefully most of it has already been covered in this overview, but there are bound to be some helpful & useful pieces of information about the overall day.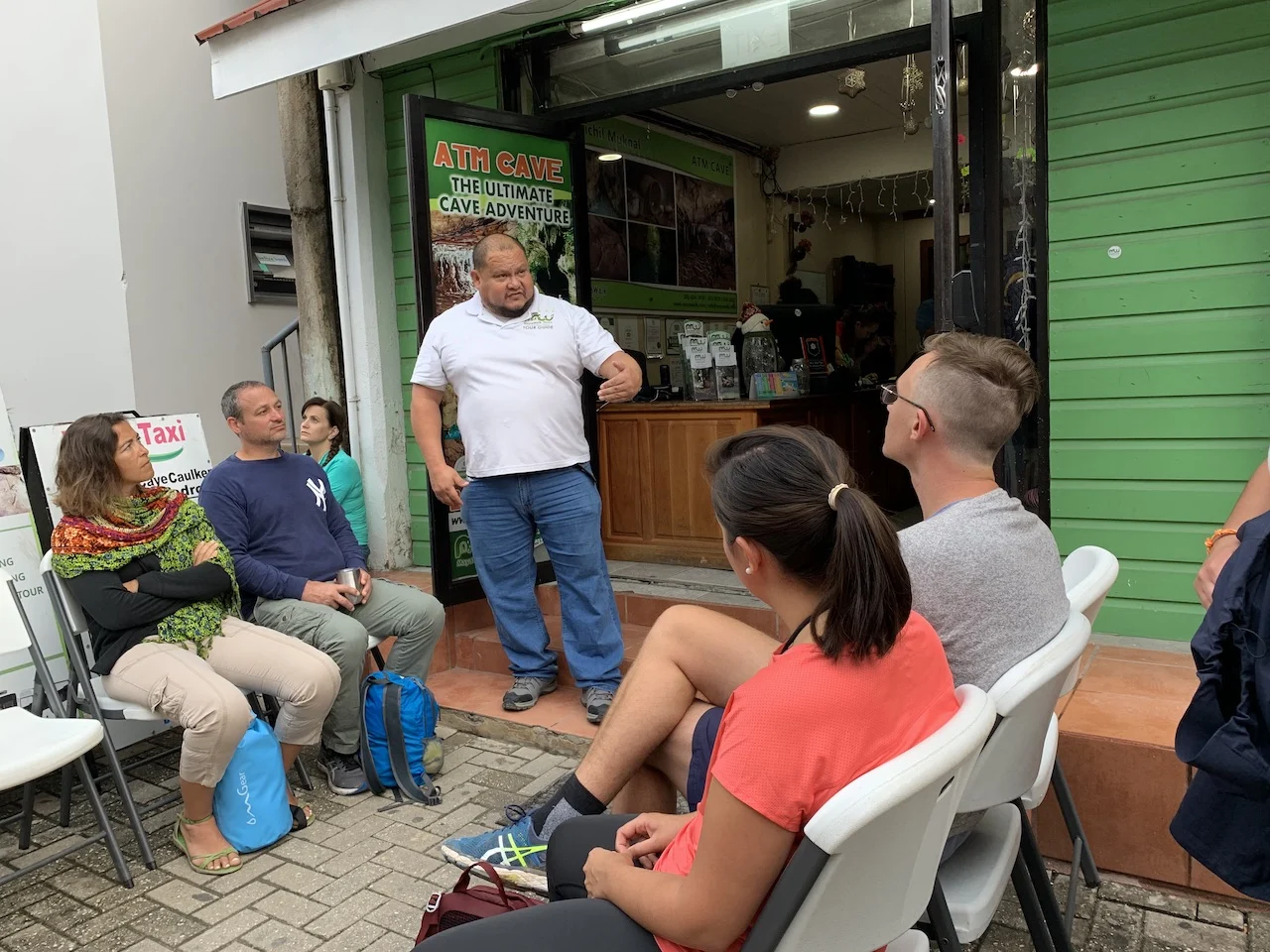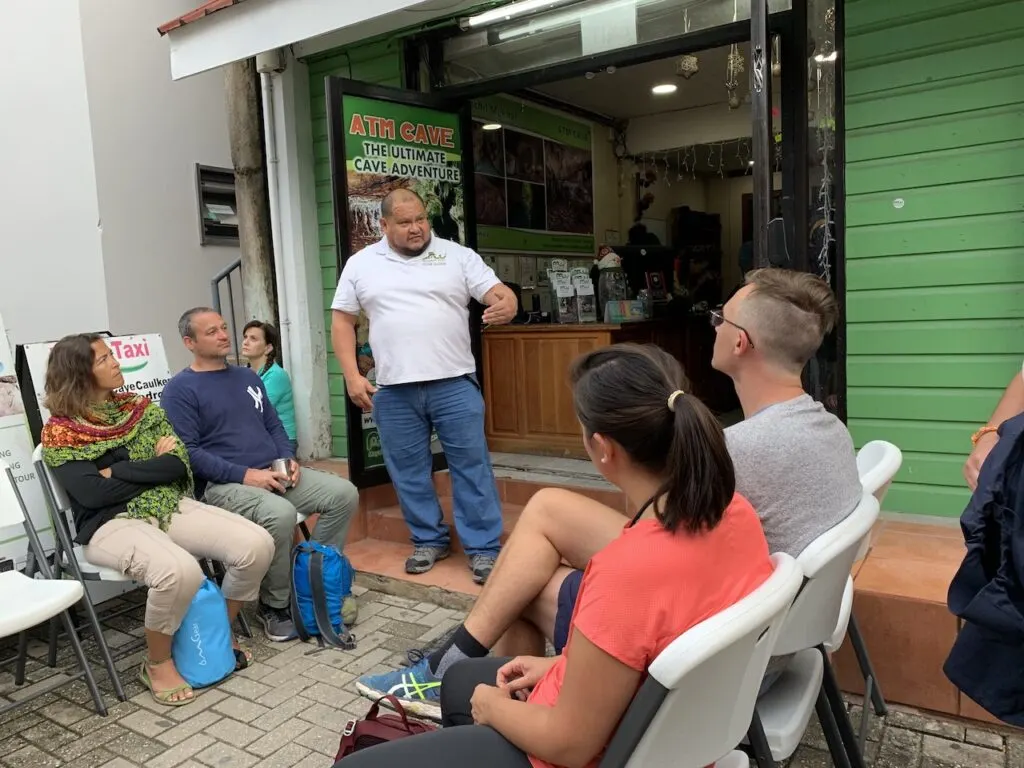 8:00AM: Departure to Tapir Mountain Nature Reserve
Once the orientation is all done, you will hop on a bus or van and start the hour long journey towards the Tapir Mountain Nature Reserve.
It is a peaceful and relaxing ride as you head further out of San Ignacip and into a more rural area.
Just prior to arriving at the reserve, there may be a stop in nearby Teakettle Village to pick up passengers and grab some last-minute supplies.
From there, it is past the ranger post and to the starting point of the hike.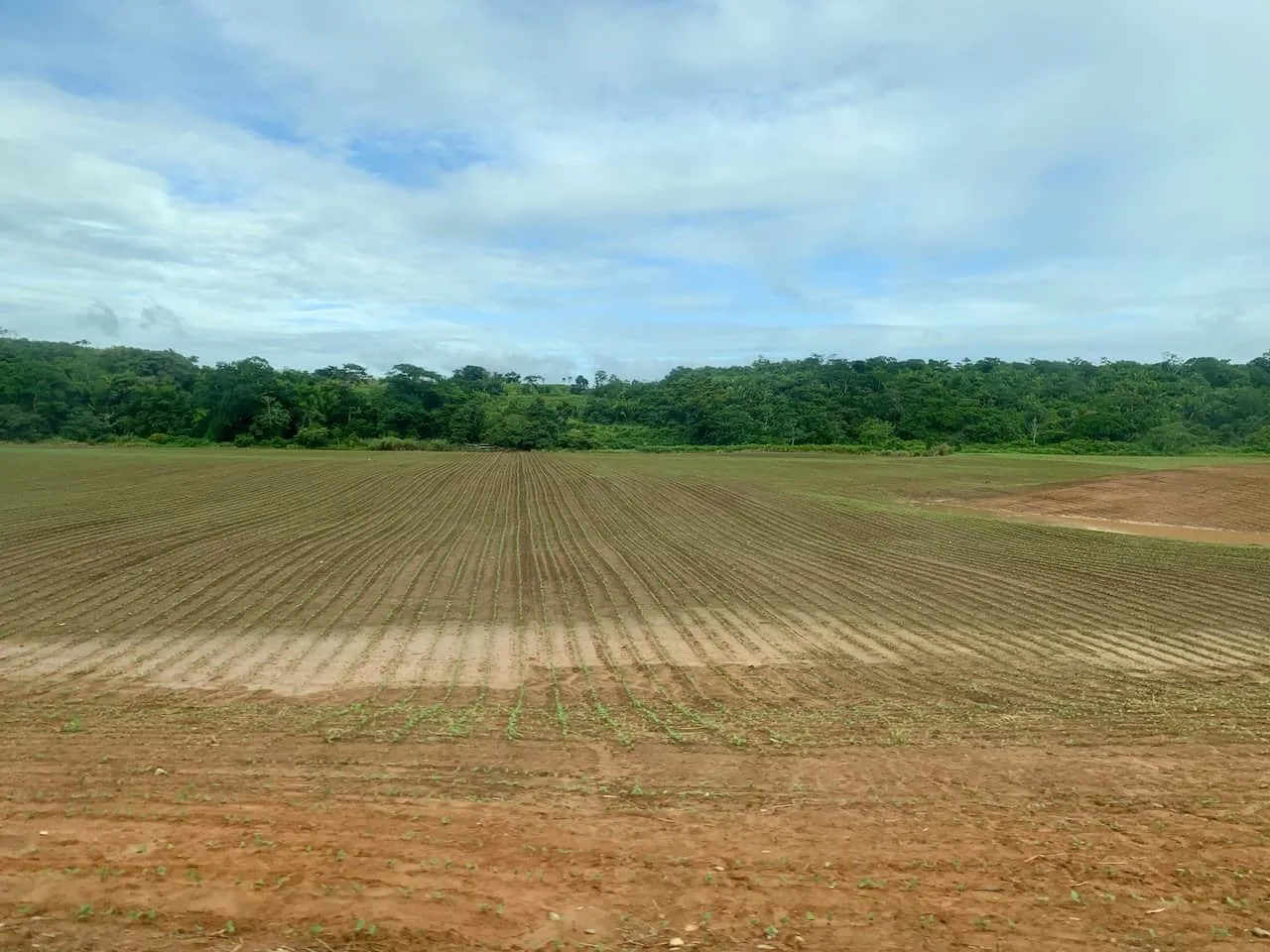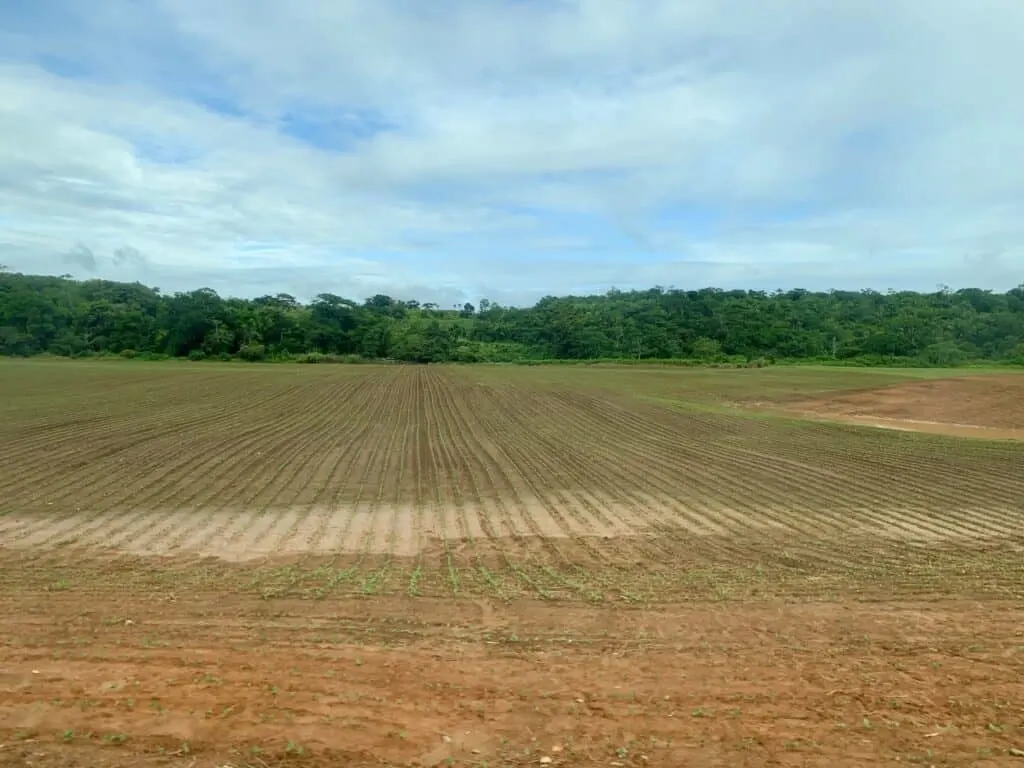 9:30AM: Arrival at Tapir Mountain Nature Reserve
Once you arrive at the parking lot, you will leave behind all your belongings besides a bottle of water (and of course any clothes you have on). If you haven't already, you can put on your socks & hiking footwear and get ready for the trek to the cave.
Before heading out, you will be given a helmet and headlamp that will be used throughout the day.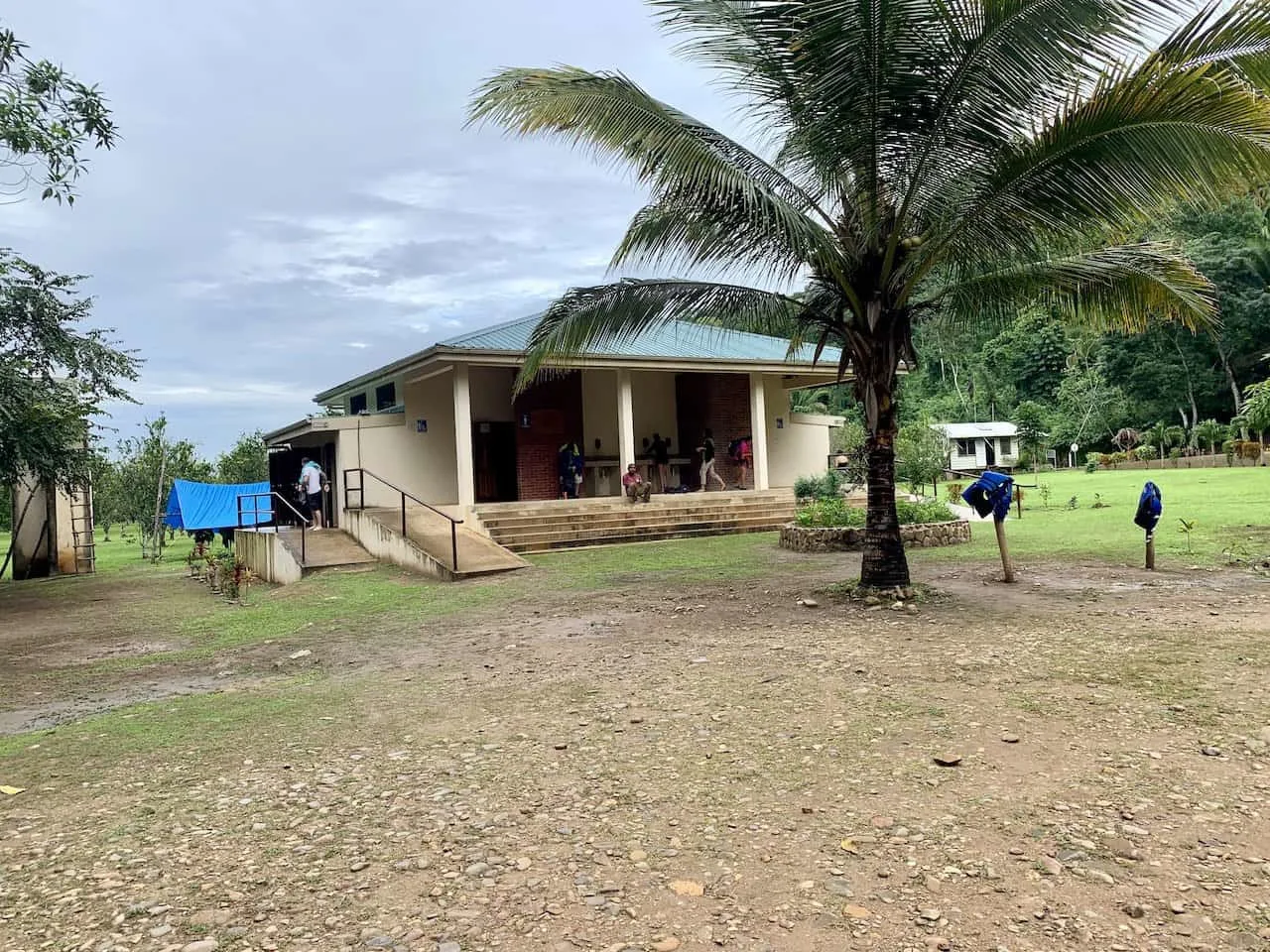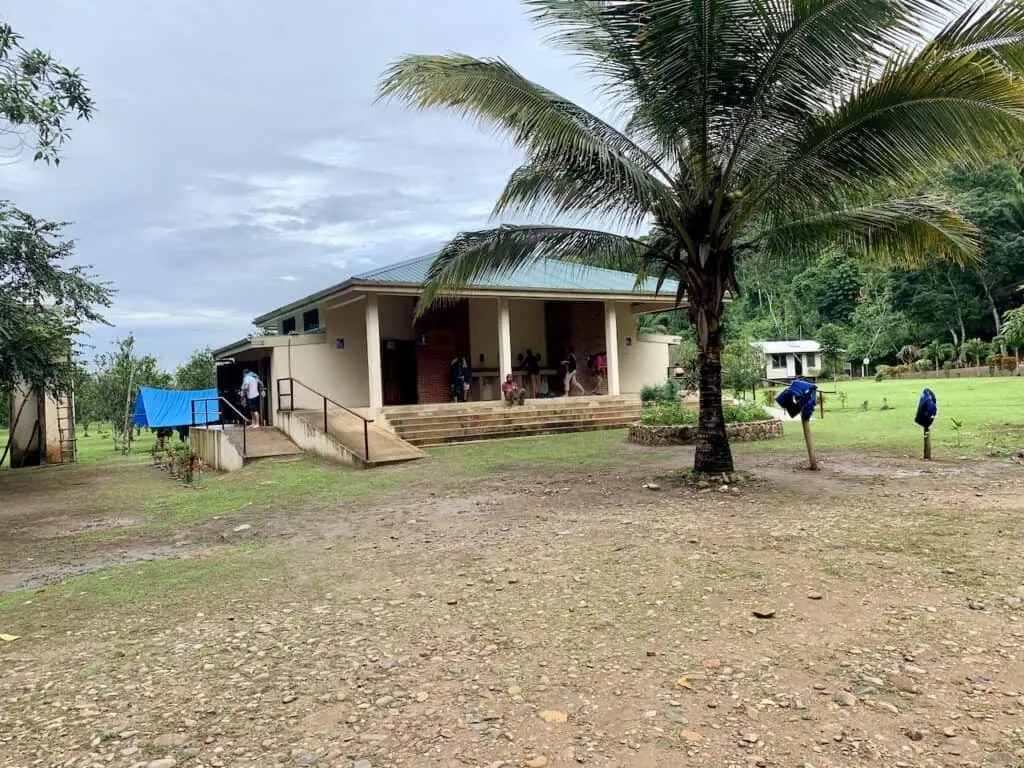 10:00AM: Hike to ATM Cave
Over the next 45 minutes or so, you will embark on a 1.5 mile journey through the jungle and towards the entrance of the ATM Cave. You can expect a relatively flat hike all the way through, as you take in the surrounding natural landscape.
During the hike, your guide will teach you more about the reserve and point out some helpful pieces of information along the way.
While the hike itself may not be too demanding, there are also some river crossings to look out for along the way too.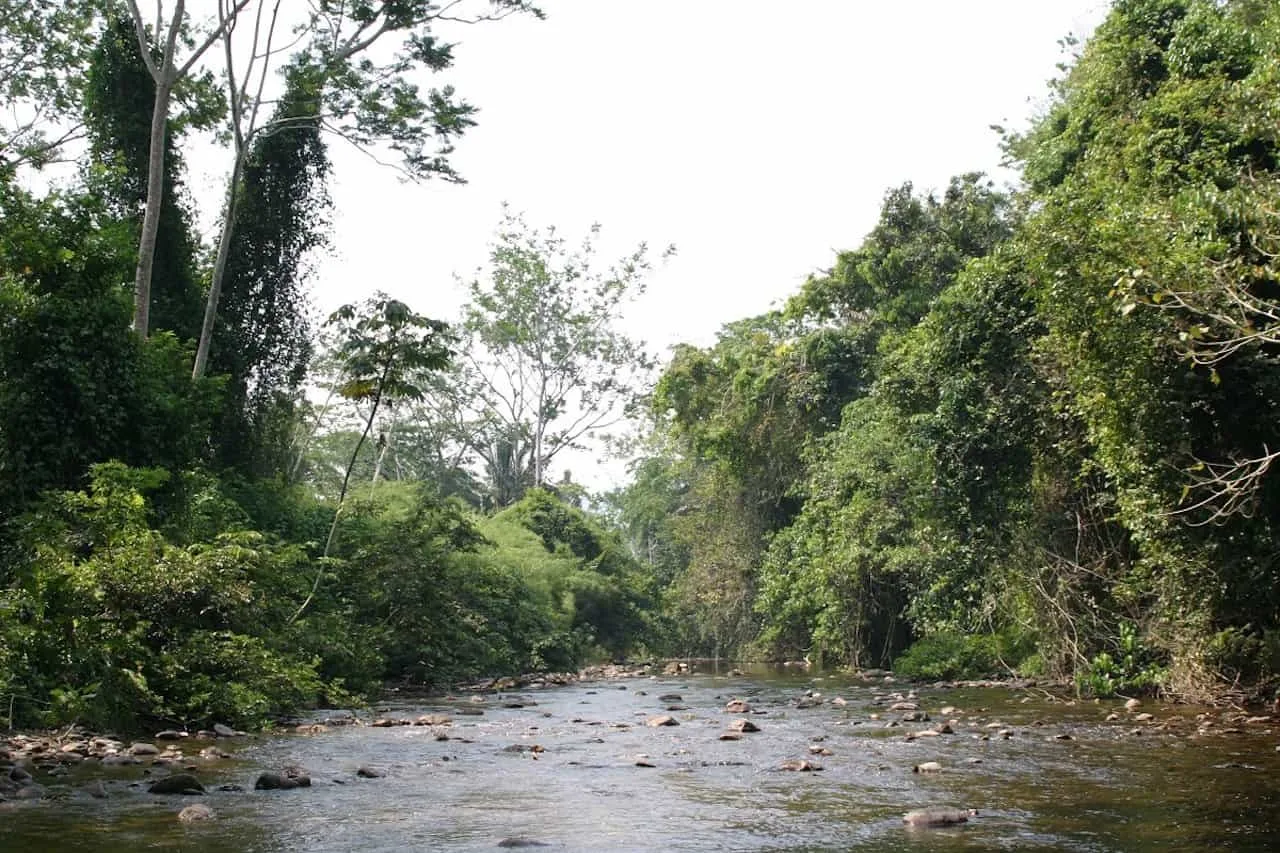 In all there are three river crossings, with the first coming in near waist deep (depending on water levels), and the second two closer to knee level. There will be a rope to hang on to in order to keep your balance, but be ready to get wet pretty much immediately after starting the hike.
Just before entering the cave, you will reach an area where you can leave behind your water bottles before getting ready for the cave itself.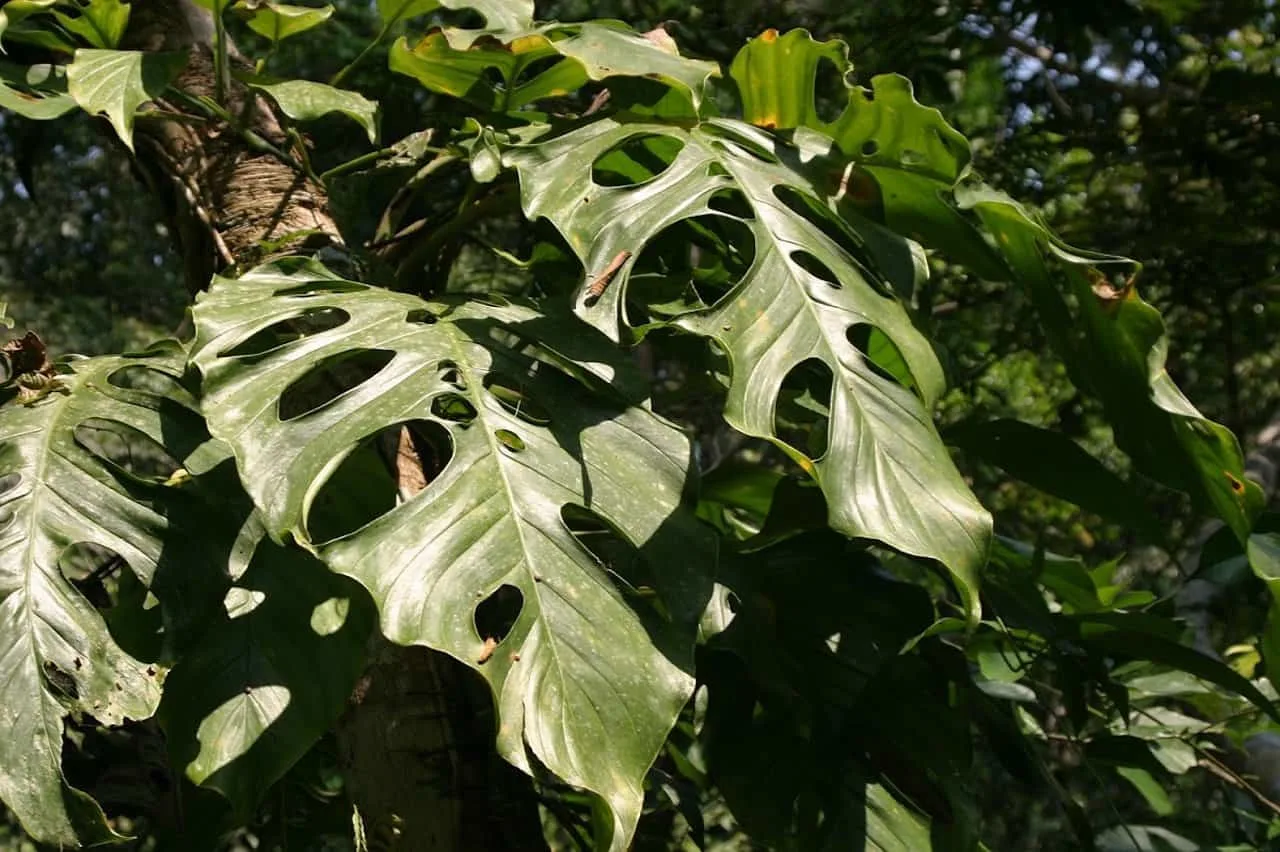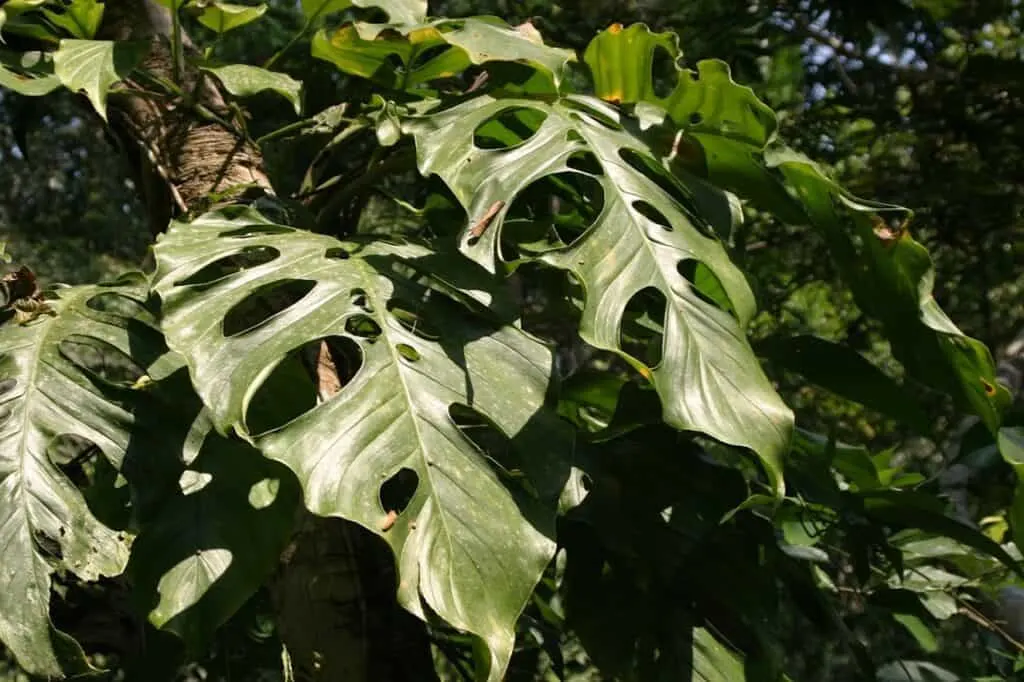 11:00AM: Explore ATM Cave
Once you arrive at the cave, it is time to explore the ins and outs of what makes this such a surreal experience.
In all, you can expect to spend around 3 hours in the cave as you make your way about 2/3 of the way through the cave seeing both the wet and dry chambers. While the cave comes in at around 3 miles / 4.8 km in length, due to safety precautions you will explore around 2 miles / 3.2 km of it.
Exploring the Wet Chamber
The very first portion of the cave is filled with water. This means you will need to swim for around 30 feet (15 seconds), until you reach a shallower area. If you have trouble swimming, your guide will help you across and there will also be lifejackets provided if needed.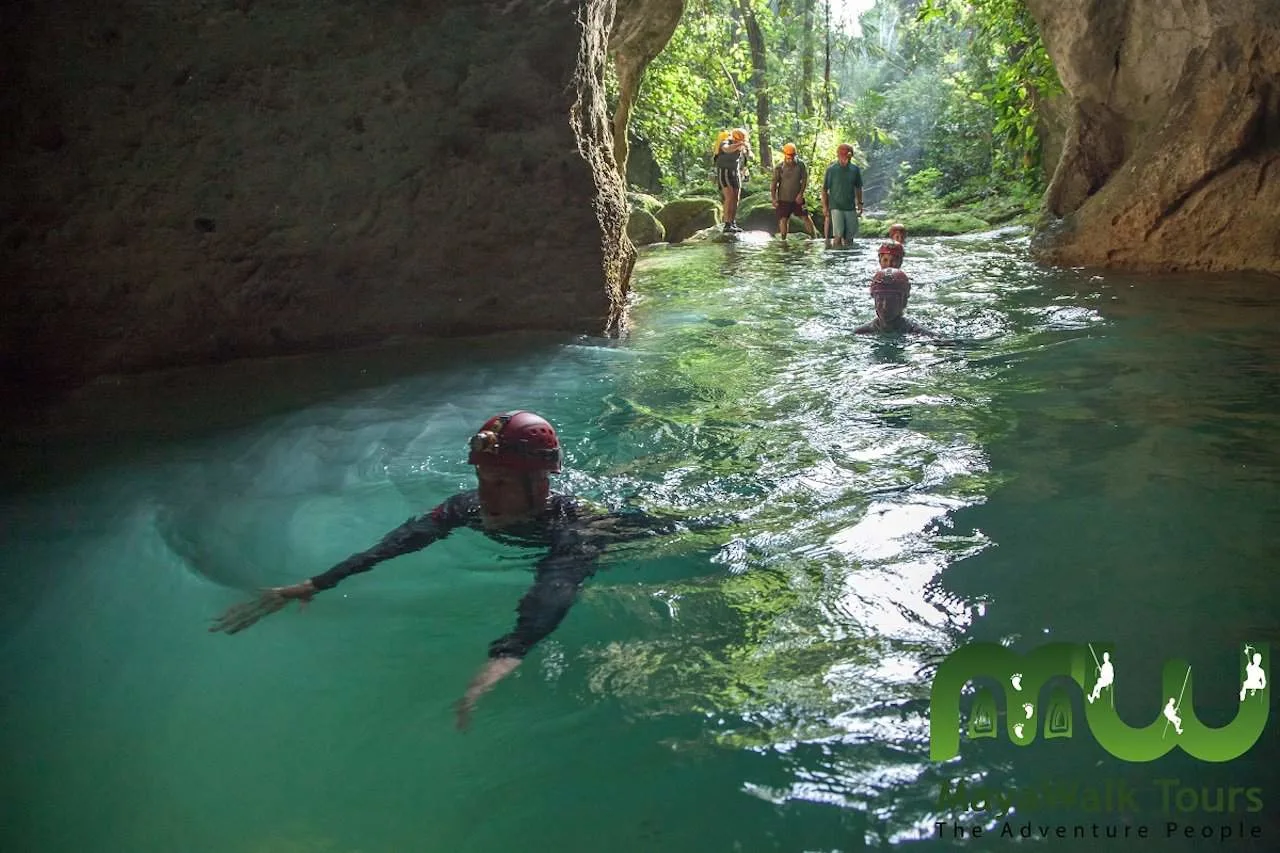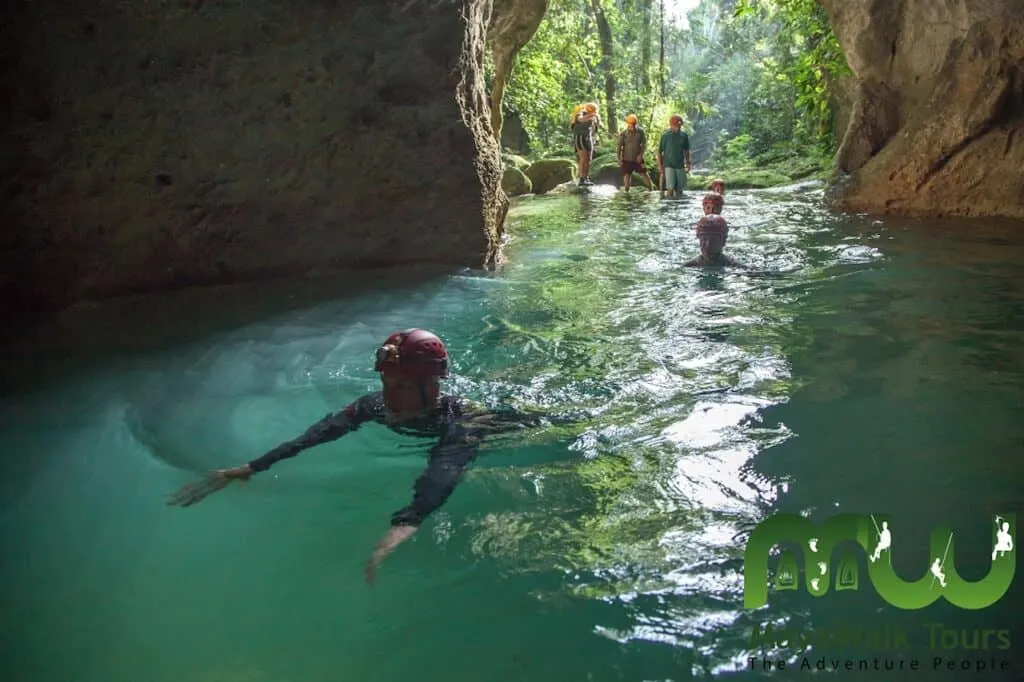 From there, the tour of the cave continues as you will be making your way through a constantly evolving landscape. Sometimes you will be walking upright on dry pathways, while other times you may be walking through waist high water.
Expect a constant shift of small spaces, passageways, and larger open areas. At times you may need to use your hands to make your way up and across certain points, while in other spots you may need to bend down and maneuver through tighter spaces.
All around you will be beautiful stalactites, stalagmites, and other cave formations. From time to time your guide will stop and give you more insight into the cave, these formations, and its history.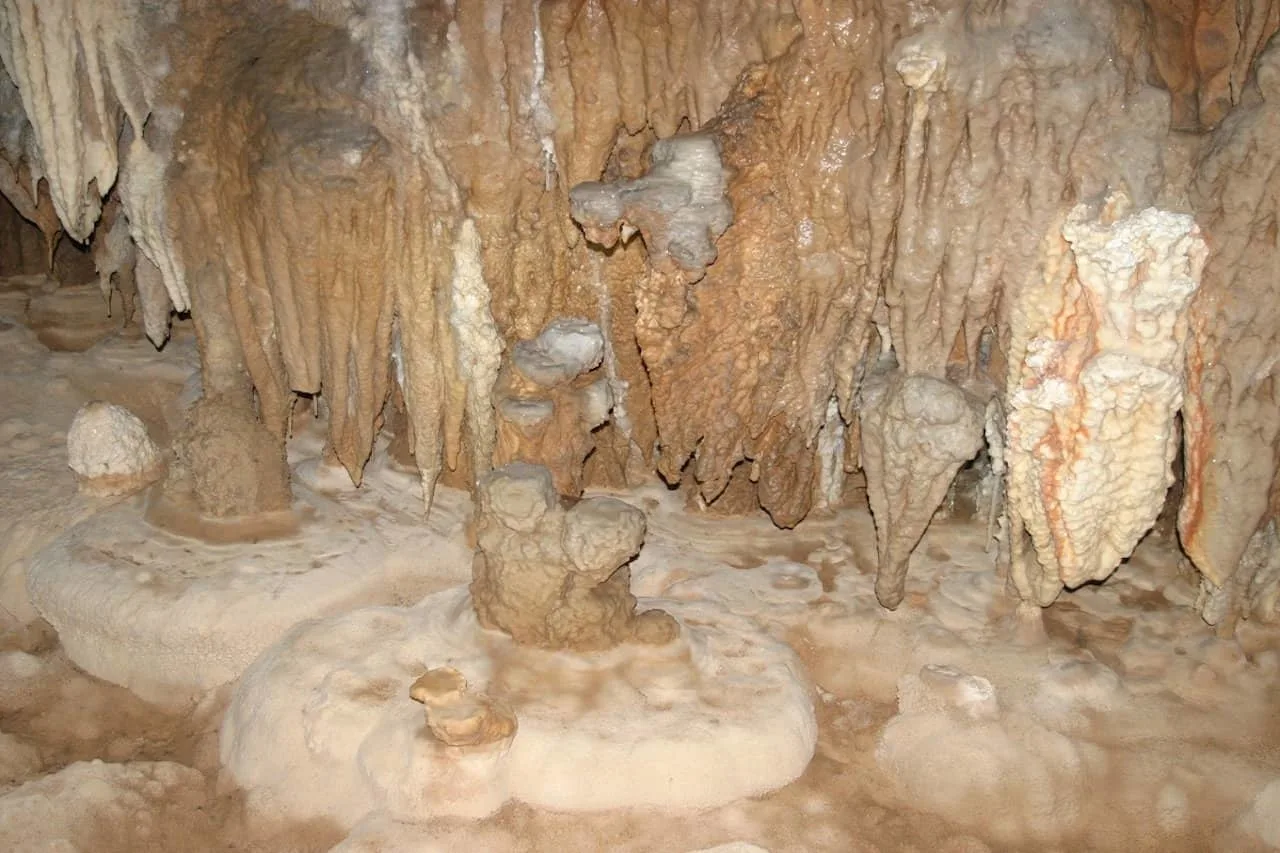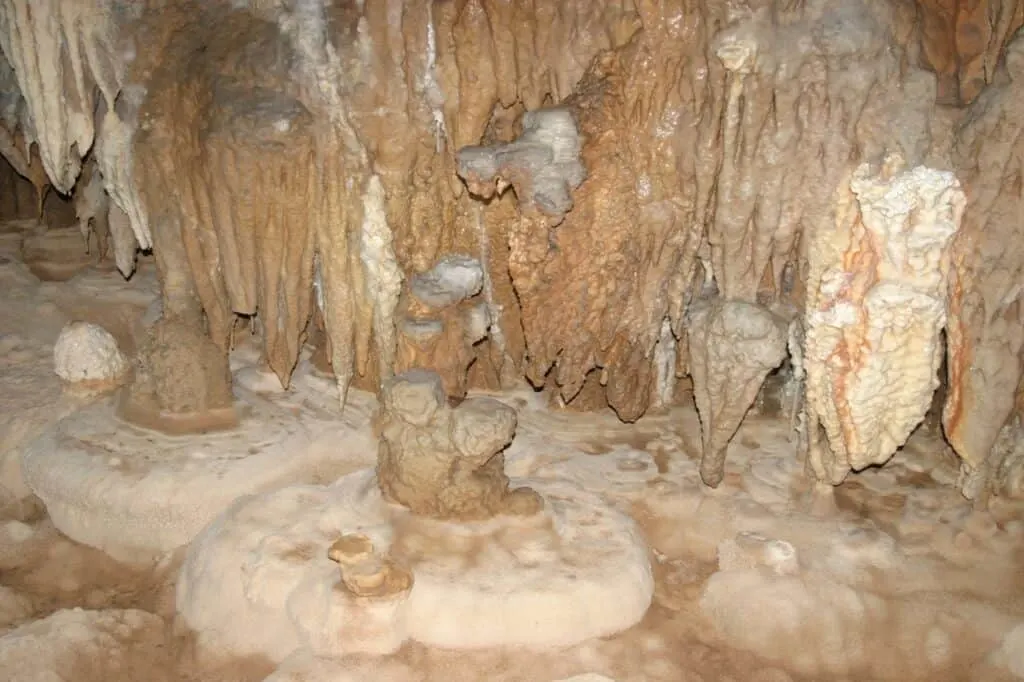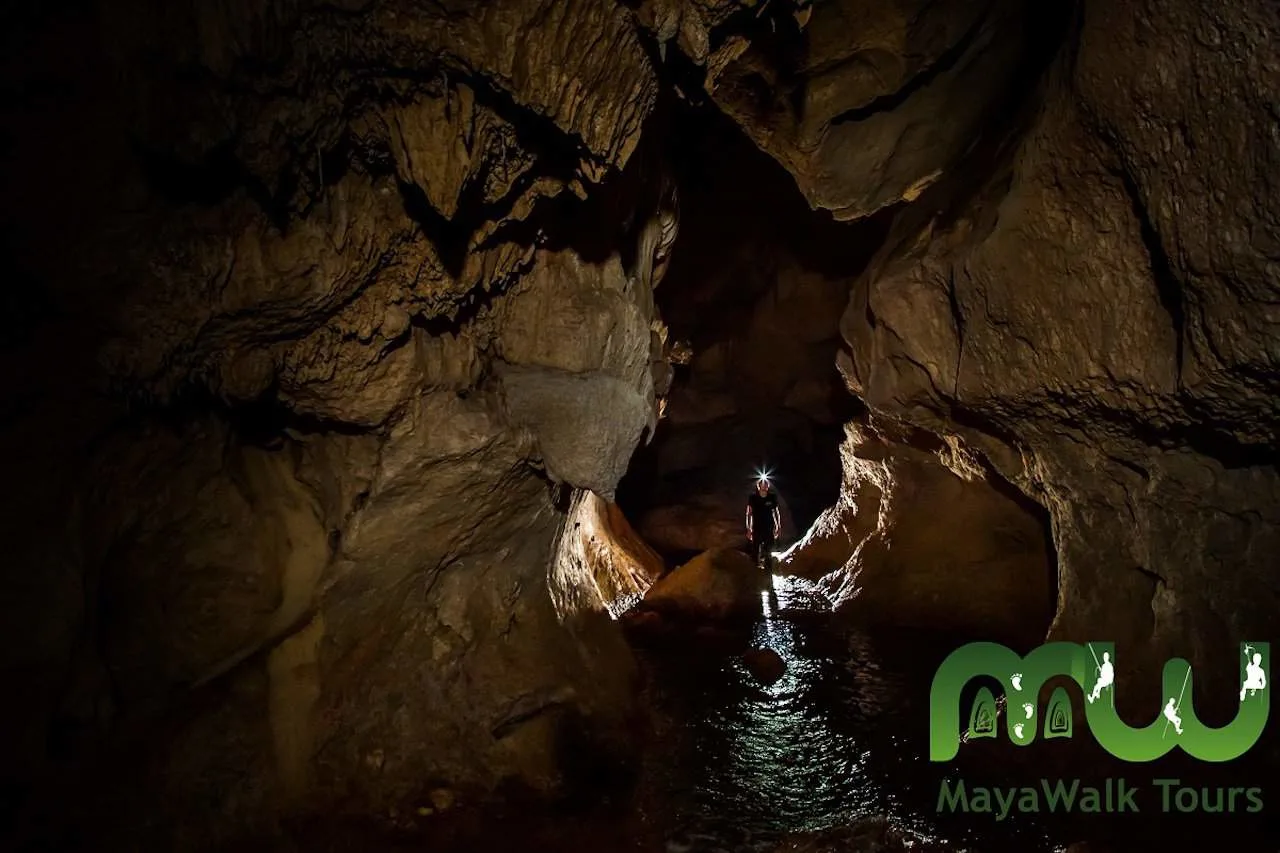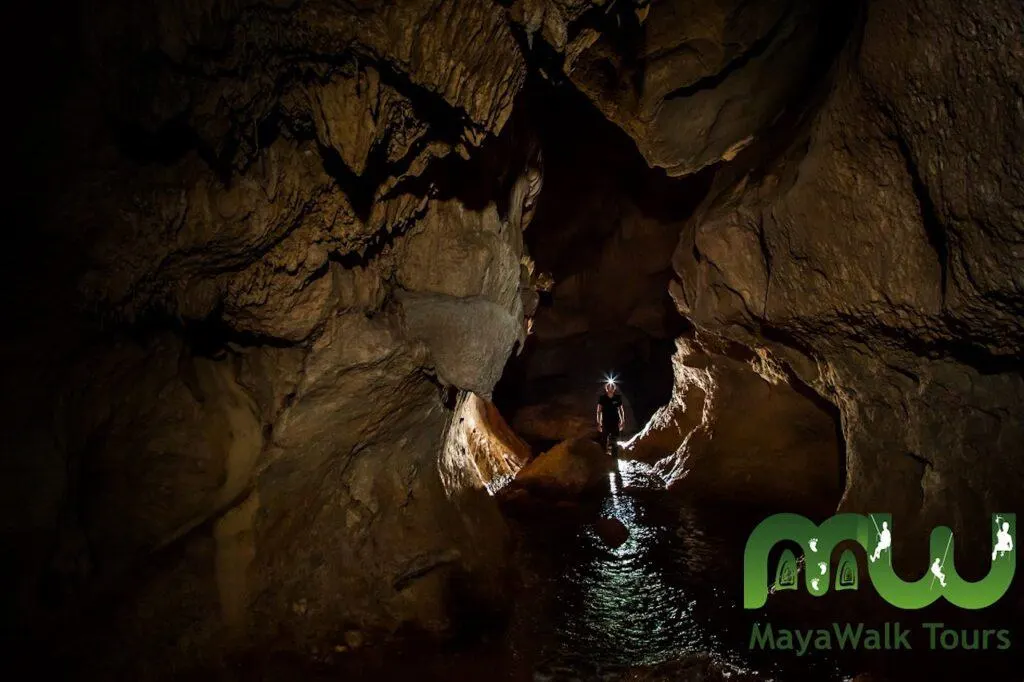 Dry Chamber & Cathedral
After making your way through the wet portion of the cave, there will be a ladder to climb that takes you up to the Cathedral area. Here is where you will need to take off your shoes and only continue on with your socks.
Within the Cathedral, there will be many ancient Mayan artifacts to learn more about in addition to several skeletal remains. The most famous of skeletons is the intact Crystal Maiden.
The Crystal Maiden was initially thought to be a young girl's skeleton, but over the years experts believe it is actually a young boy (and some now call it the Crystal Prince). Since the skeleton has been in place for so many years, it is fully calcified. The skeleton has two crushed vertebrae, which shows how some of the sacrificial components took place.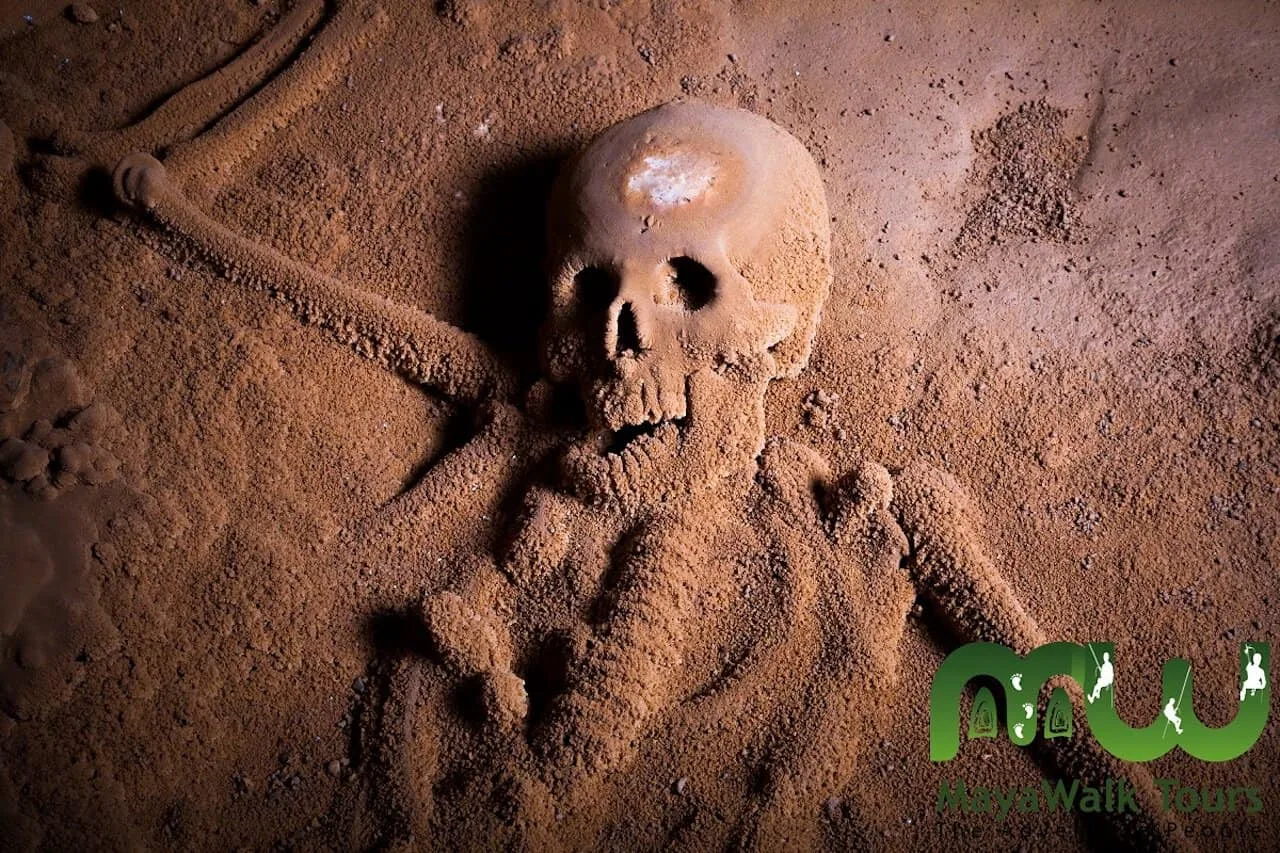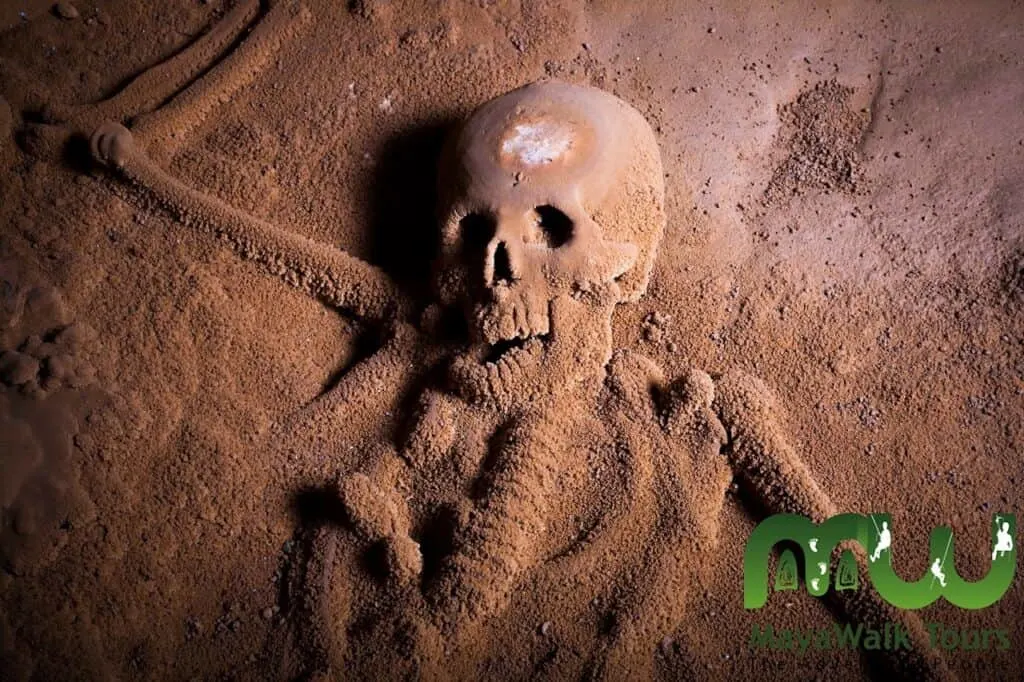 As you continue to walk around, it will be like exploring a "natural museum" as these artifacts and remains have stood in place for 1,000+ years and now you will get to see it all firsthand.
The last stop within the dry area is the Stelae Chamber. Here you will find some taller stone structures where ceremonies are thought to have occurred. Your guide will teach you all about it before turning back around.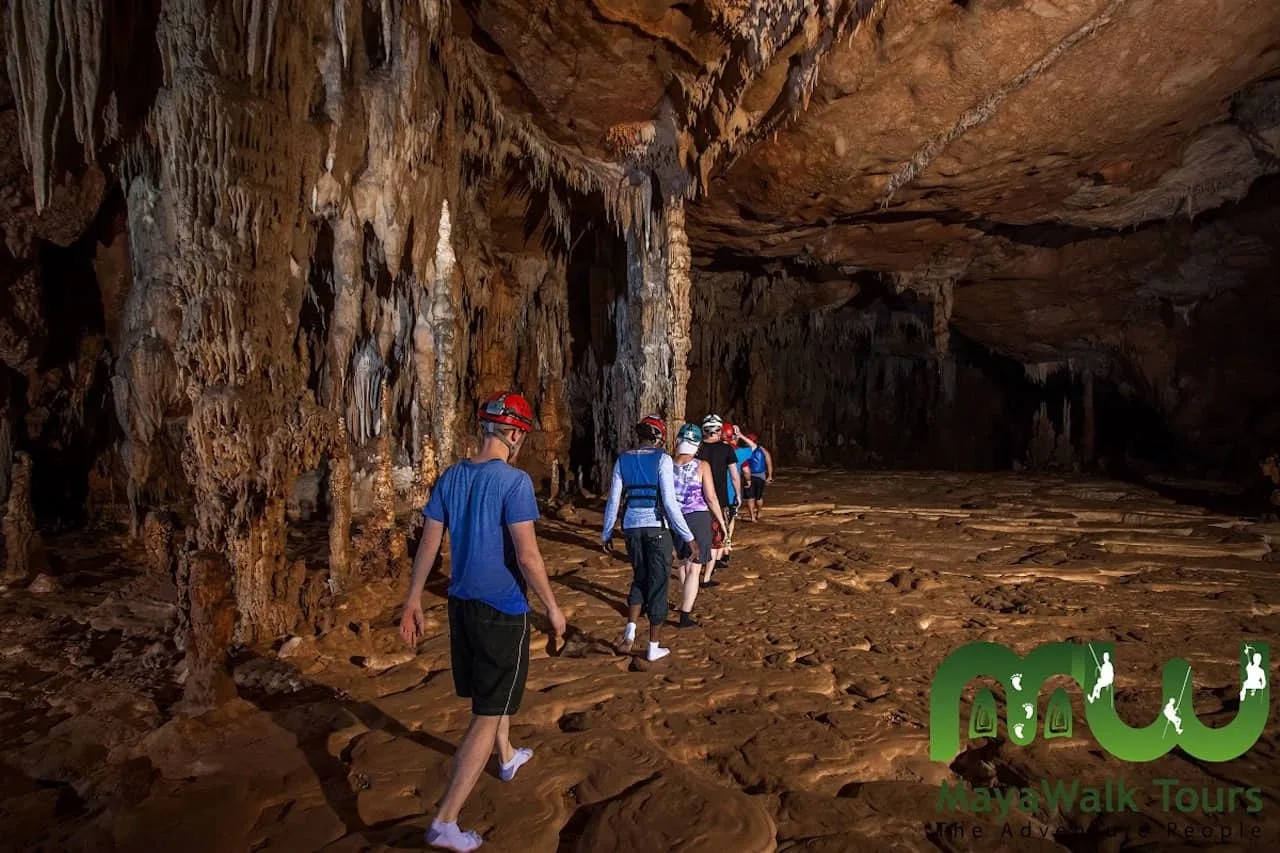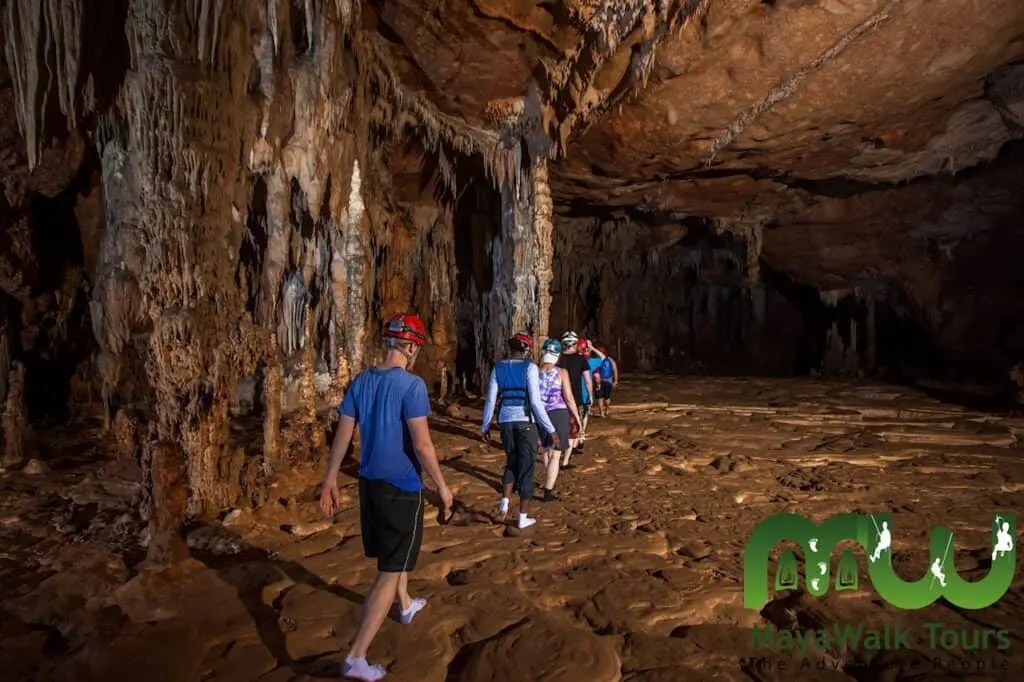 Back to the Cave Entrance
After exploring the ins and outs of the Cathedral area, it is then time to make your way back to the cave entrance. This time around it will be quicker than the way in since you will not be stopping as much to learn about the cave.
2:00PM: Hike Back to Starting Point
After finishing up with the cave portion of the day, it is then hiking back to the starting point as you once again cross the three rivers.
However, if water levels allow, there is the chance to enjoy a more exhilarating way back. Instead of simply hiking, you can float down the river and let the current take you the rest of the way.
This can only be done after rainfalls and if your guide allows. But it definitely is the more "fun" way to go about it and I would definitely recommend going for it, given that is an option.
Hiking back is offered either way for those that want to take the more standard route.
2:45PM: Lunch
It is then time to quickly wash up and change into your dry set of clothing. From there, a well deserved Belizean style lunch awaits. If you have dietary restrictions (vegetarian), simply let them know ahead of time and you will be taken care of.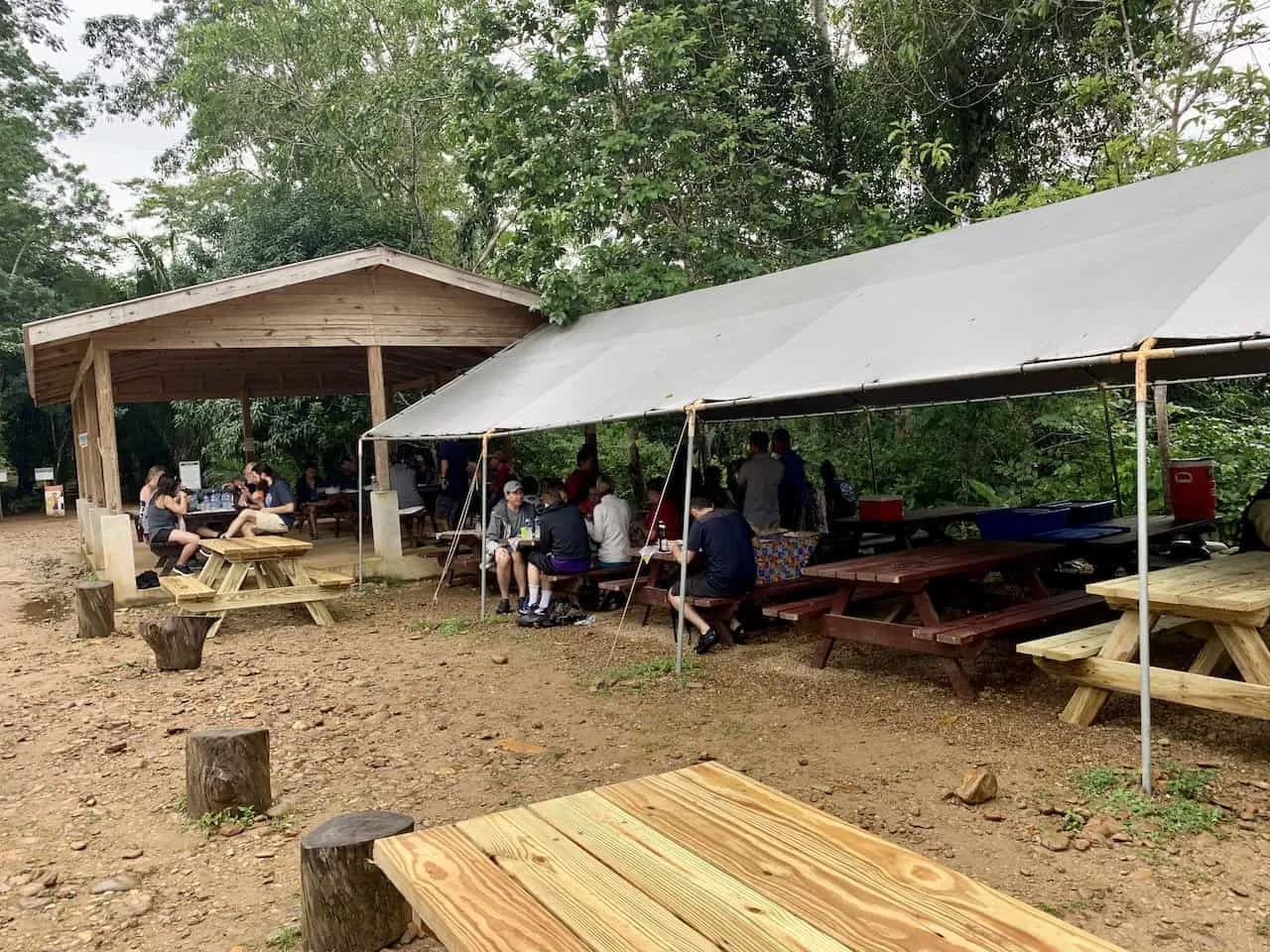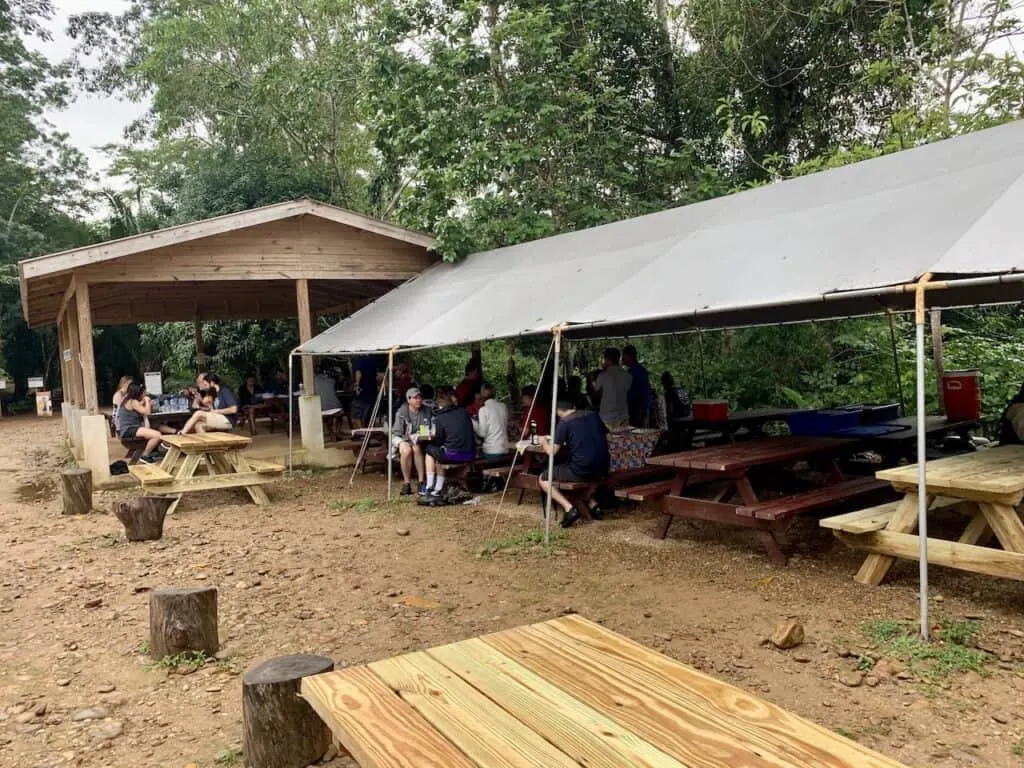 3:30PM: Depart to San Ignacio
It is then an easy and relaxing ride back to San Ignacio for the next hour or so as you end a fun and adventurous day.
4:30PM: Arrive in San Ignacio
Once back, be sure to rest up, have a nice meal, and then spend the rest of your time in the city enjoying its other top highlights.
5) How to Get There?
The only way to take part of the ATM Cave is to join a guided tour.
These tours will take care of you from beginning to end, so there is little to worry about along the way. Transportation, expert guides, helmets/headlamps, lunch, & more are included as part of the overall day trip.
There are a few main places that you can start a tour from including San Ignacio, Belize City, San Pedro, Placencia, and Hopkins. Most people who visit do so from San Ignacio as it is the closest major city to the cave entrance. But if your itinerary doesn't allow, you can easily join from another spot.
From San Ignacio
From Belize City
From San Pedro
From Placencia
From Hopkins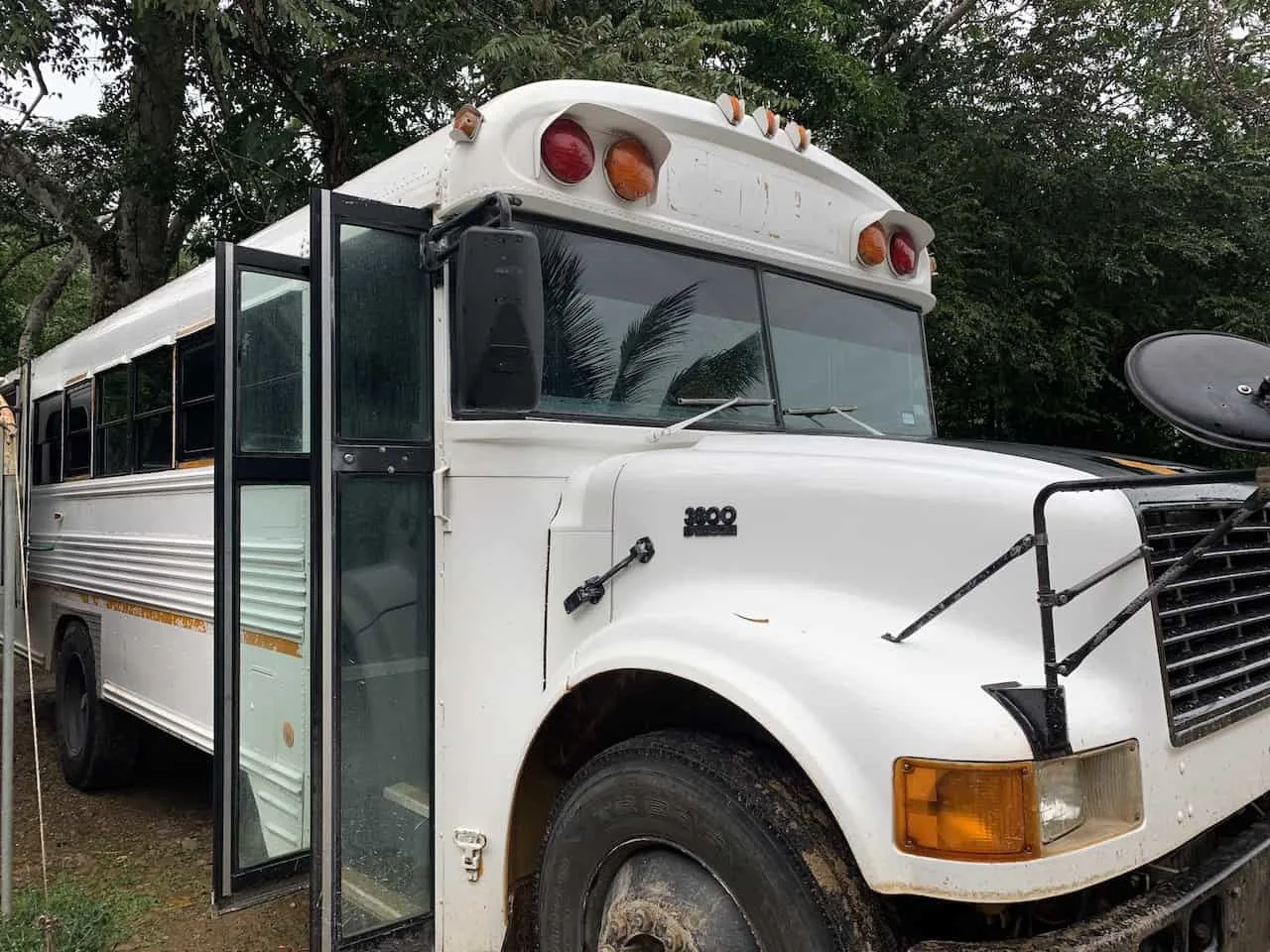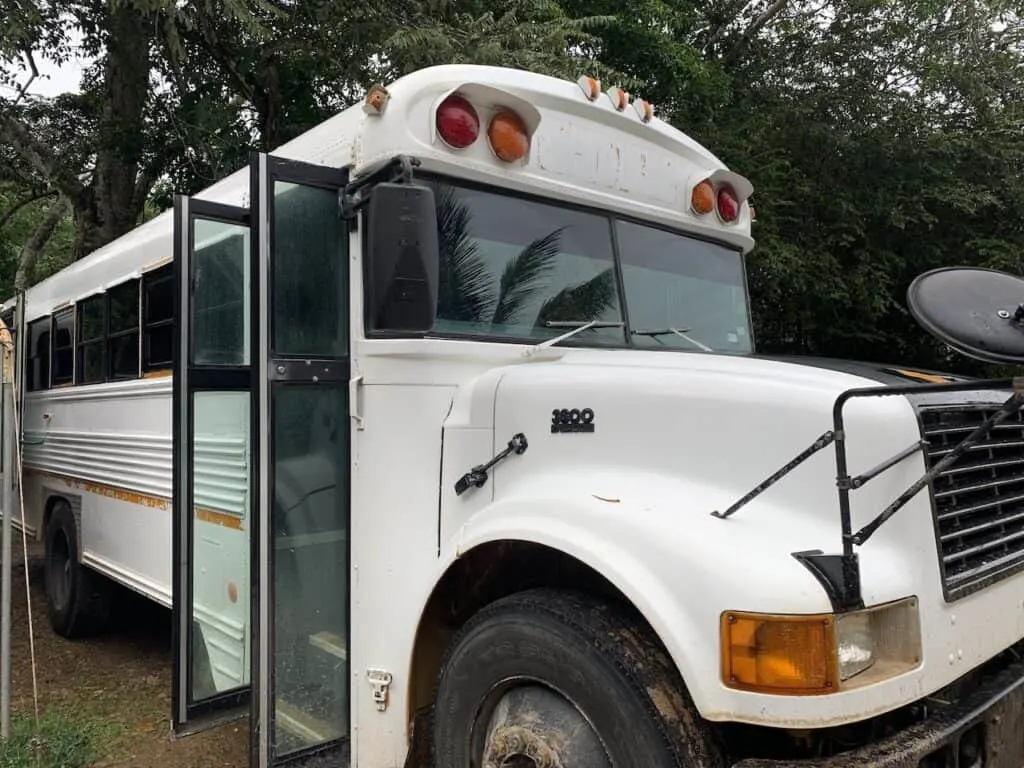 6) Where to Stay?
To better help you decide where to stay, below are some top recommendations for San Ignacio. This is going to be the main starting point for most people who take part of the tour.
All Around Hotel: San Ignacio Resort Hotel
If you want to go with one of the top all around options in town, then the San Ignacio Resort Hotel is the way to go. It is walking distance to the town center, Cahal Pech Ruins, and even has the Green Iguana Conservation Project on site.
Luxury Option: The Lodge at Chaa Creek
From a luxury standpoint, The Lodge at Chaa Creek is one of the highest rated options out there. It is located 15 minutes outside the town center in the middle of the jungle. The property has a beautiful serene pool and is surrounded by lush greenery, walking trails, and wildlife.
Budget Option: Rolson Hotel
For a budget friendly option, the Rolson Hotel is a top choice to consider. While it is located just outside of the town center, it is a larger property with a pool, restaurant, and other amenities onsite for your stay.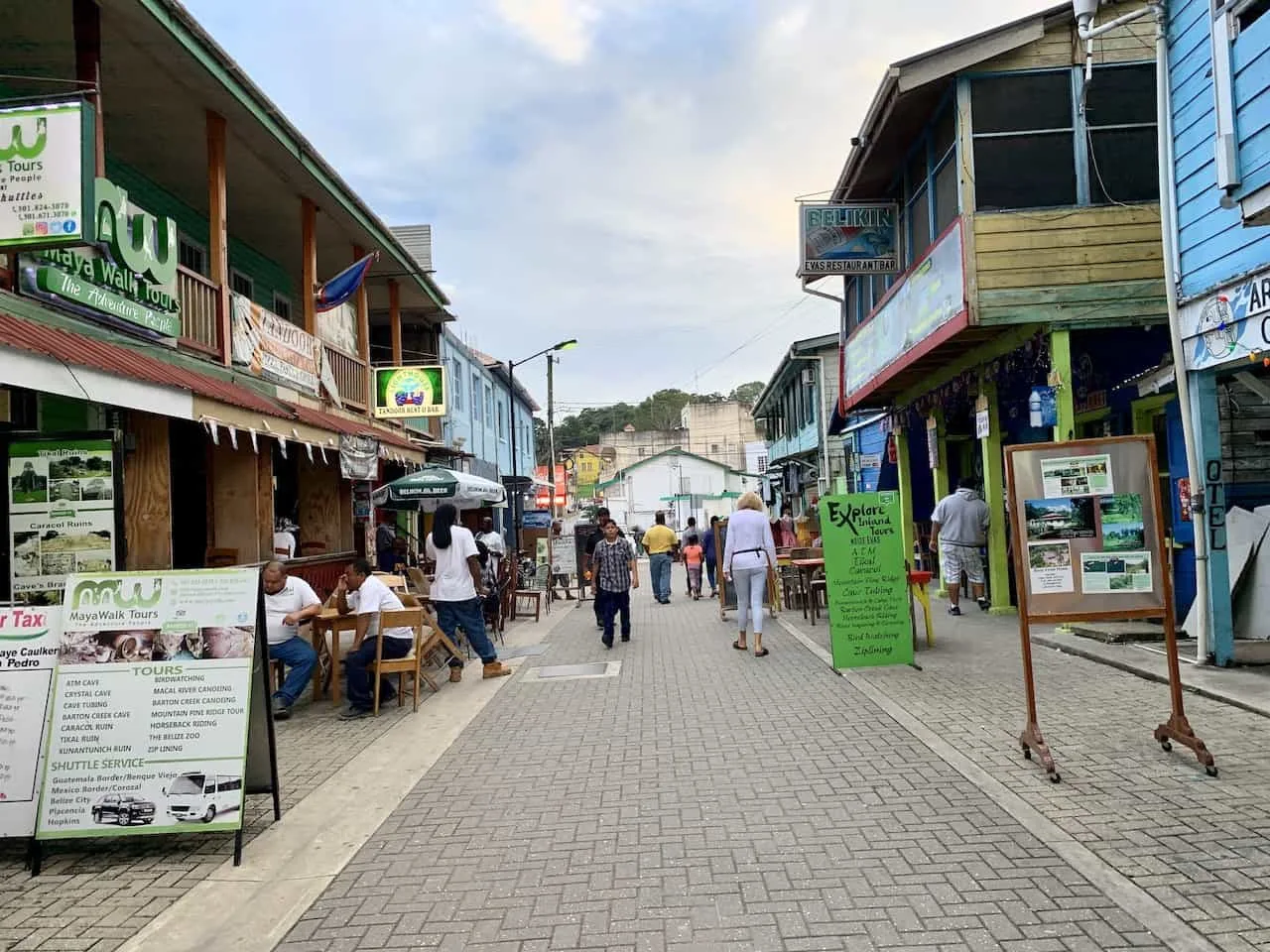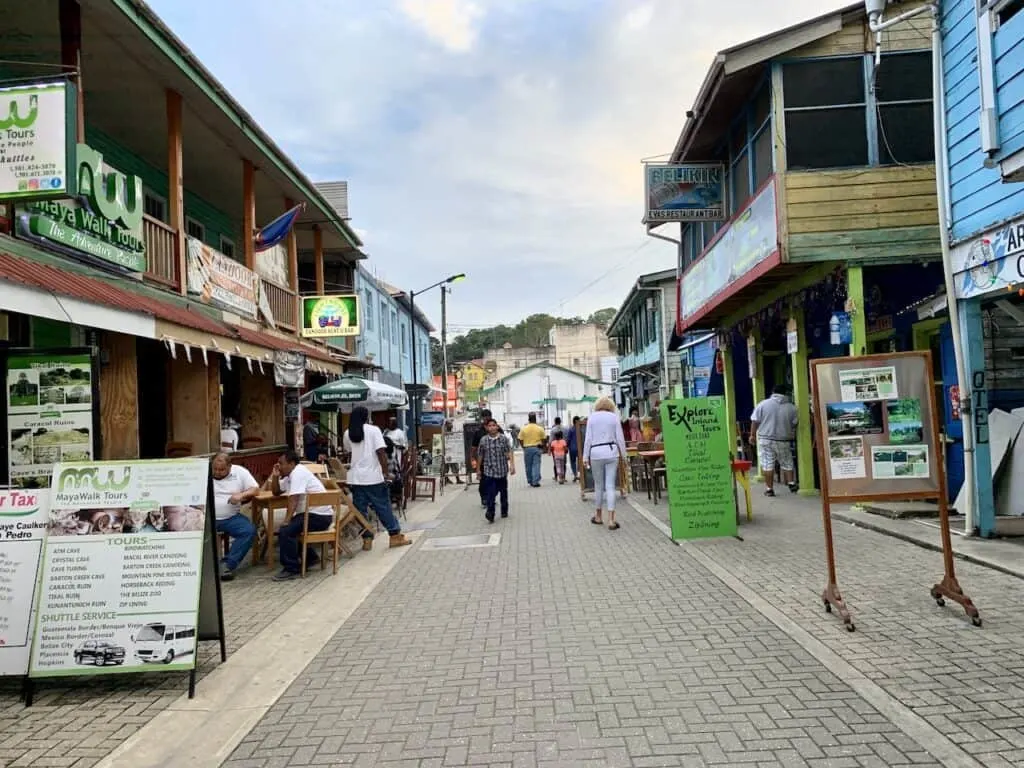 7) Is the ATM Cave Tour Worth It?
There is little doubt in my mind that the ATM Cave Tour is worth it. While I have been to several caves before as well as various Mayan sites, there is nothing like combining the two into one action packed day.
From beginning to end I was captivated by the experience and the history of the area. Getting to learn from the expert guides and navigate through the jungle & cave made this an unforgettable day for me.
If there is one tour to sign up for during your time in Belize, this is the one!
Blue Hole Overview: Check out this overview for the Great Blue Hole, another top natural attraction in Belize.
That wraps up an overview to the Actun Tunichil Muknal of Belize! If you have any questions or comments, be sure to add them in below.
Also, don't forget to check out the other Belize itineraries and guides up on the site.
Have fun out there and safe travels!