When it comes to underwater experiences, scuba diving The Great Blue Hotel in Belize is one of the most talked about dive sites there is.
The Blue Hole comes in at 300 meters / 984 feet across and 125 meters / 410 feet in depth, making it the largest sinkhole of its kind in the world. During a day out scuba diving, you will get to head down into the hole itself and explore the ins & outs of it all.
Read more about what a day out at sea entails and how to take part of a dive for yourself.
* Affiliate Disclosure: This post may contain affiliate links, which means I may receive a commission if you make a purchase through the links provided, at no additional cost to you. Thanks for supporting the work I put into TripTins!
1) Great Blue Hole Things to Know
Around the world, there are several different sites called the Blue Hole. But none are as famous and recognizable as the Great Blue Hole in Belize.
Here are some helpful things to know about the dive site and what it is all about:
Origin: The Blue Hole is thought to be created during the last Ice Age, when a series of limestone caves were flooded by rising water levels. The cave system collapsed resulting in a large vertical sinkhole.
Size: it comes in at just about 300 meters (984 feet) across and 125 meters (410 meters) in depth. It is believed that this is the largest sinkhole of its kind in the world.
Name: while a pretty simple name, the Great Blue Hole was named in 1988 by Ned Middleton, a British diver and author. It was first found in his book Ten Years Underwater.
Location: you can find the Great Blue Hole approximately 100 km (60 miles) off of the coast of Belize in the Caribbean Sea. It is located within the Lighthouse Reef Atoll as part of the Belize Barrier Reef.
Top Dive Site: in 1971, the famous French explorer, Jacques Cousteau visited the hole. He declared it a top 10 dive site in the world, and from there the rest is history.
Departure Points: to scuba dive the Blue Hole, you will need to make your way to one of the main diving towns of Belize. These include San Pedro (Ambergris Caye), Caye Caulker, and Placencia.
Today, experienced divers have the chance to scuba dive into the hole to explore its depths and fascinating cave formations. The remainder of this overview will give you better insight into what it all entails.
Belize Itinerary: Visit the Blue Hole as part of a longer Belize Itinerary around the country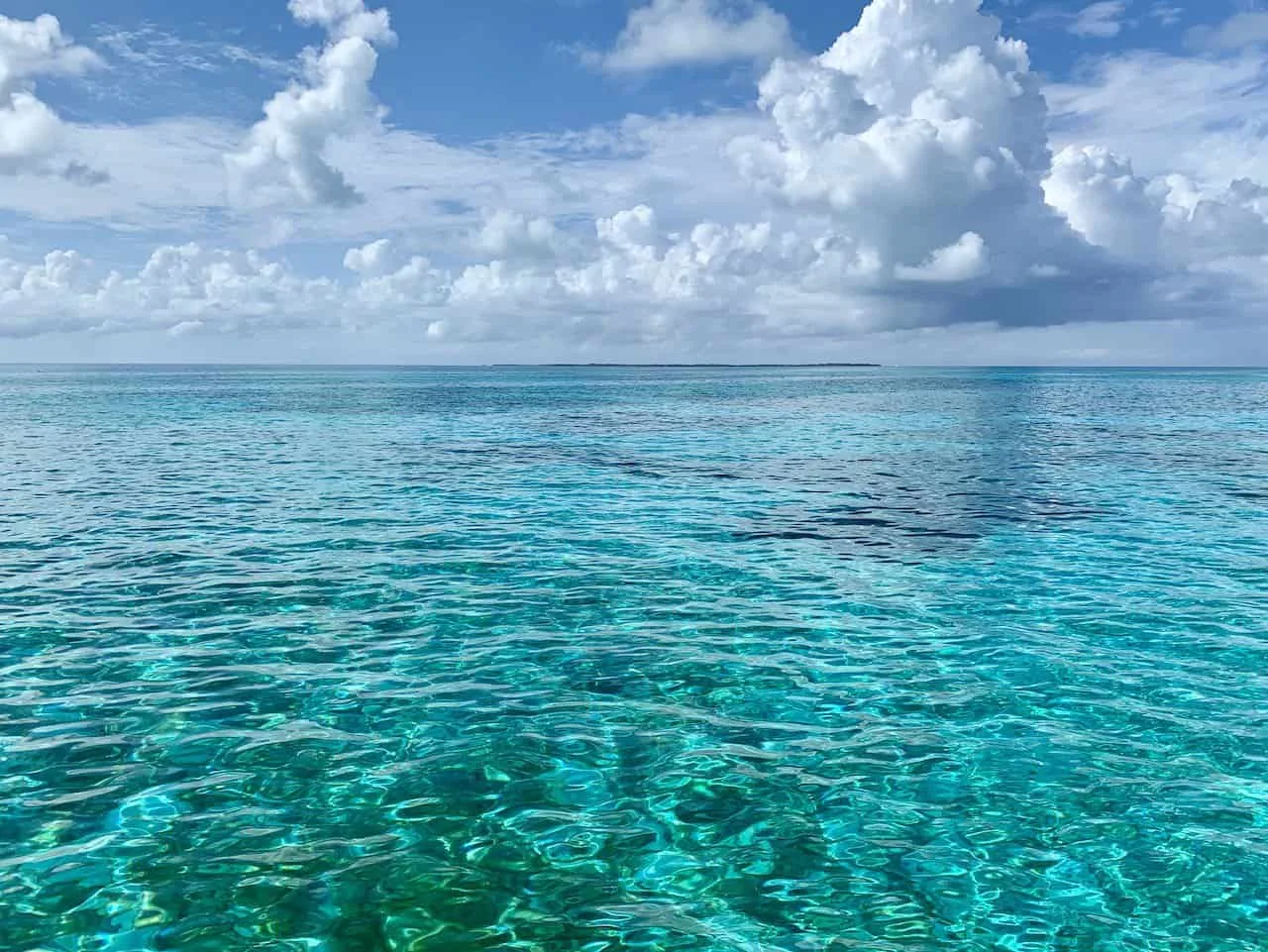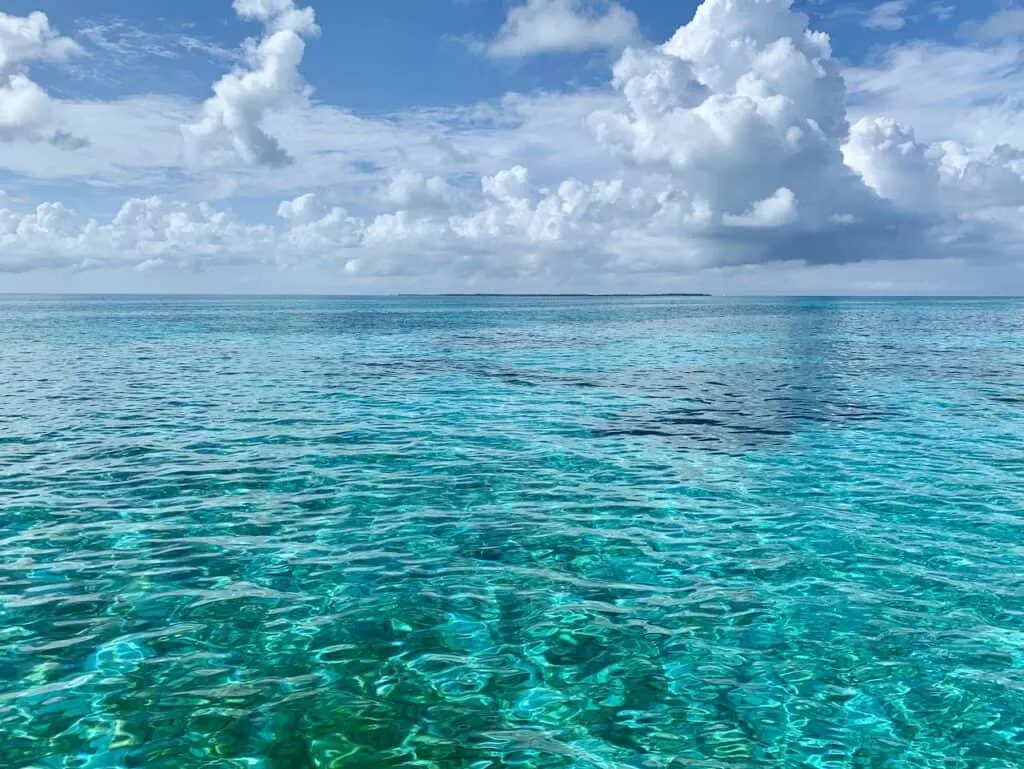 2) Location & Map
To get a better idea of its location, the map below highlights The Great Blue Hole, as well as the main departure points that offer scuba diving excursions.
3) Great Blue Hole Scuba Dive Day Trip Details
Diving the Great Blue Hole is going to be a full day experience. Here is a high-level overview of what the dive (and day is all about).
Duration: the full day trip is going to be around 12 hours in length. It starts around 5:30AM in the morning and then lasts all day.
Boat Ride: be ready for around 5 hours (2.5 hours each way) of time getting between the Blue Hole and the dive shops. This means you must be comfortable with long boat rides and not getting seasick.
Blue Hole Dive: the main Blue Hole dive is just one part of the overall day. The dive will just be around 25 minutes due to the sheer depth (max up to 130 feet / 40 meters).
Two More Dives: in addition to the main dive, there are two more standard dives (40 minutes each) in the Lighthouse Reef Atoll. These are two incredible sites at Half Moon Caye Wall and Long Caye Wall (The Aquariam).
Half Moon Caye Lunch: there will also be a nice lunch stop on Half Moon Caye. Here you will find the orange flowered Ziricote trees and red footed Boobies, which are highlights on their own.
Overall, get ready for a fun filled day with a scuba dive in the Great Blue Hole, two more dives in the Lighthouse Reef, a lunch at Half Moon Caye, and plenty of time cruising through the beautiful waters of the Belize Barrier Reef.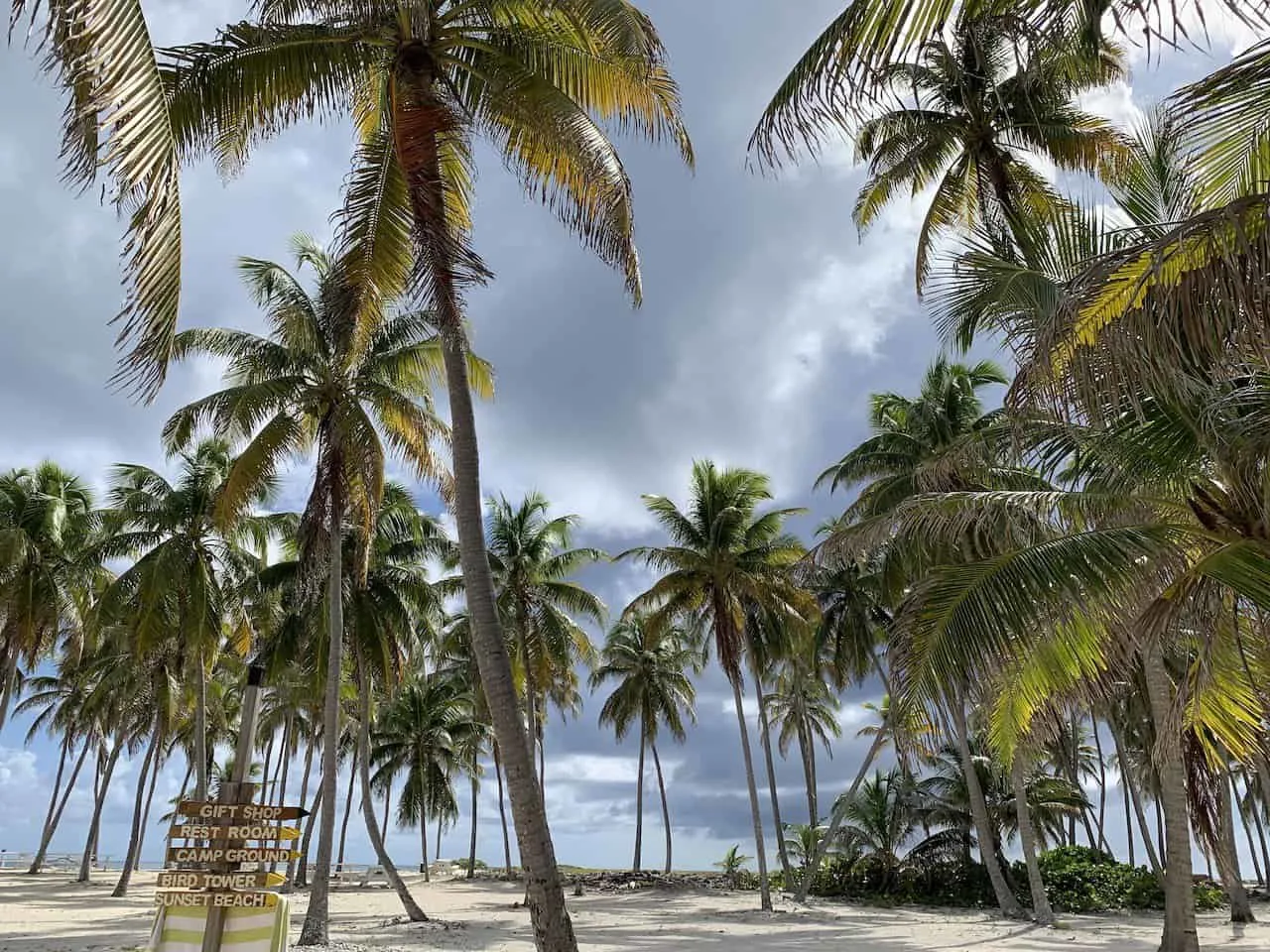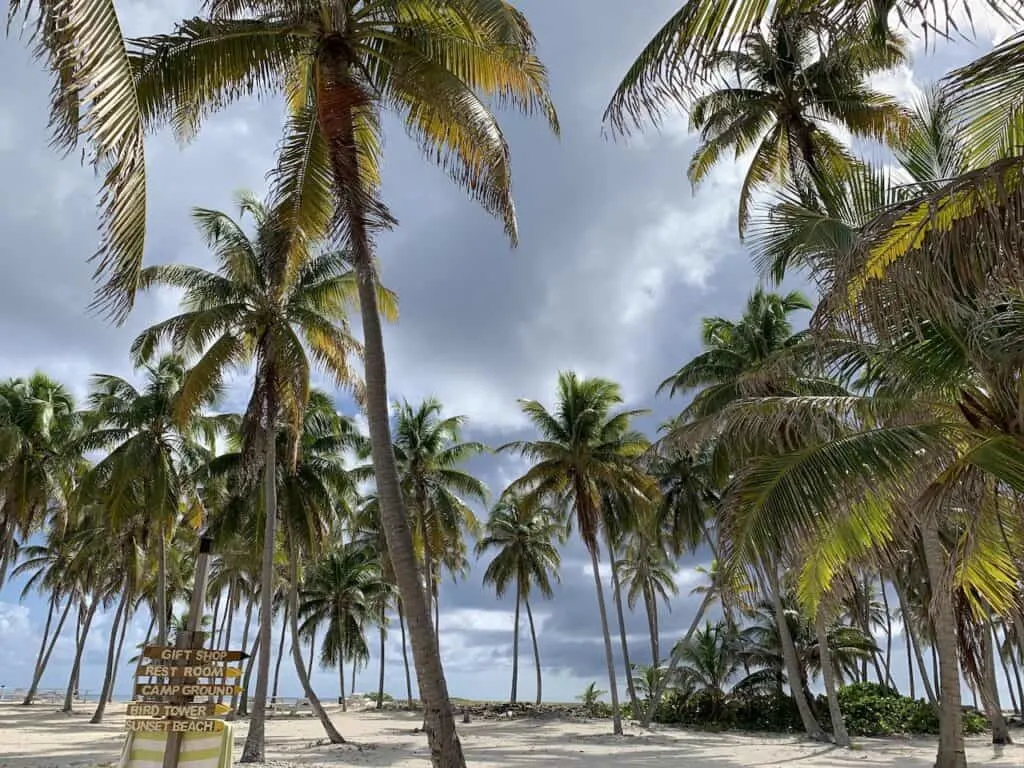 4) Requirements & Who Can Dive
By no means is this dive meant for everyone. It is a deep dive, coming in at 130 feet / 40 meters and only those with the necessary experience and comfort levels should take part.
Now, there is not one set of rules and requirements when it comes to the Blue Hole. Each dive shop has its own standards – some of which are stricter than others.
As a baseline though, everyone must be at least Open Water Certified, completed a dive within the last 6 months, and have taken part of a dive up to 80 feet.
From there, you will find some operators requiring more from its divers. Some of these include:
Advanced Open Water Certification
Minimum of 20-30 Dives
Some shops allow for Open Water divers to still take part but just up to 80-100 feet, while the Advance Open Water divers can go all the way to 130 feet. Again, each dive shop is different so be sure to ask ahead of time.
Snorkeling Option
For those that are not scuba divers (or are just beginners), snorkeling options are also offered. During my trip, there were actually more snorkelers than scuba divers.
The snorkeling option takes people just at the edge of the Blue Hole, where more coral and underwater life can be found.
They will also take part of snorkels at the other two dive sites later on in the day.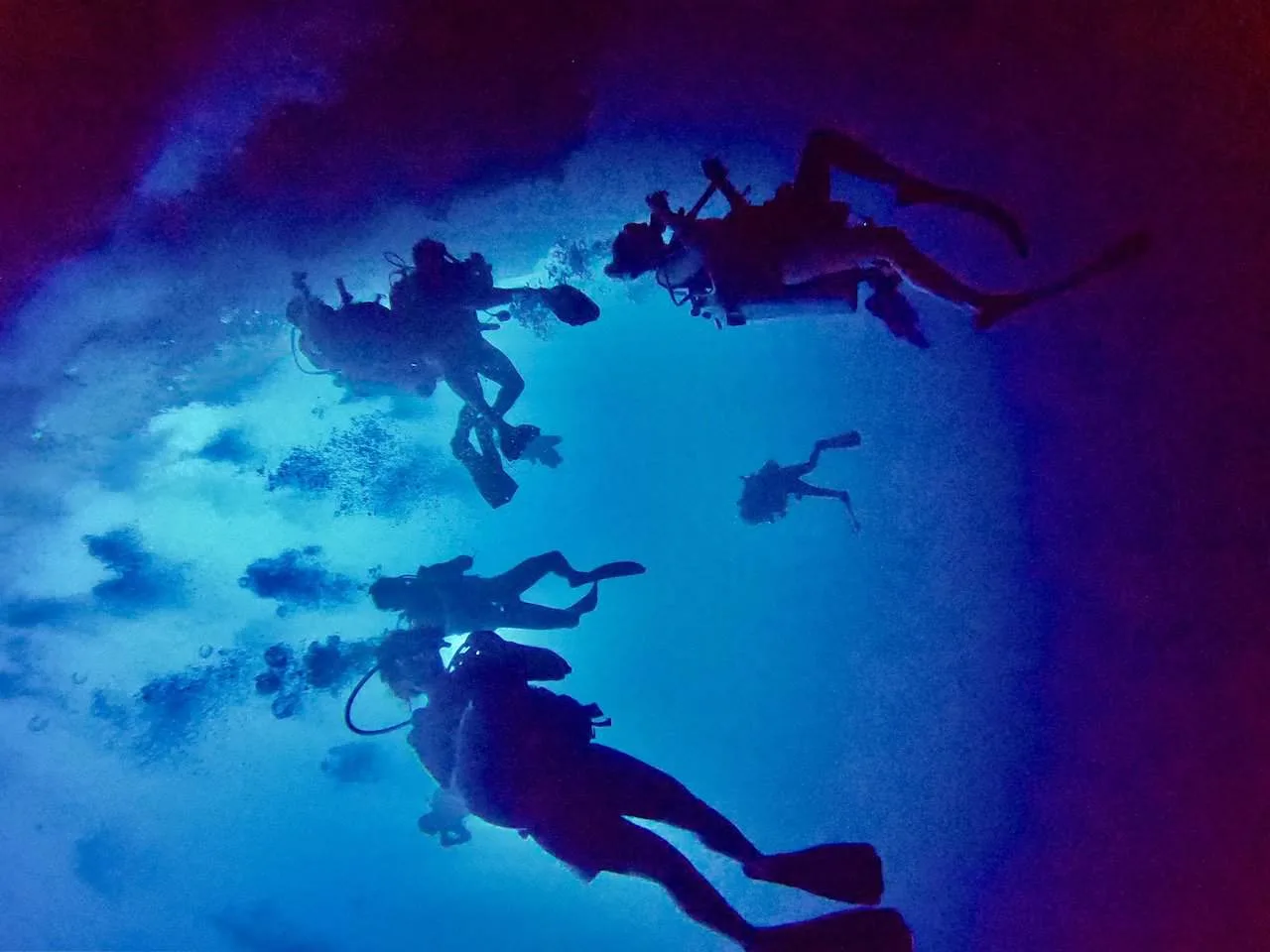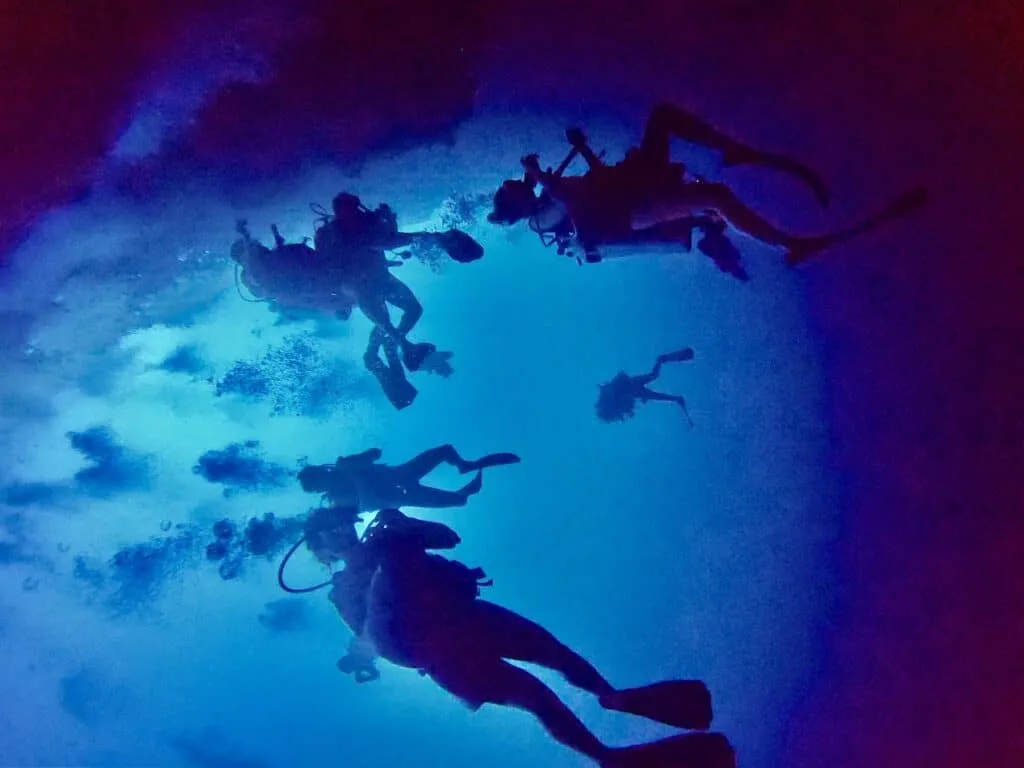 5) Cost & Pricing
When it comes to the total cost of the Blue Hole tour, expect to pay around $350 for the day.
This cost will include the standard tour cost, sales tax, equipment rental, and marine park fees.
These marine park fees will be for the Blue Hole ($30 USD) and Half Moon Caye ($10 USD).
It is important to note that each company may split out their costs differently, but the total cost should come out to the $350 range.
Some companies may advertise a lower rate, while not including equipment, park fees, and tax into their cost. Other operators may just show one all in price that should be close to $350 USD.
At the end of the day though, the total costs will all be in the same general range.
Snorkelers Note: for those that are just snorkeling, expect the all in cost to be around $175 USD.
6) What Is Included
Here is a list of some of the things that are usually included during a day out at sea:
Breakfast
Fruit & Snacks Onboard
Drinking Water
Coffee, Tea, Soft Drinks
Scuba Divemaster Guides
Lunch on Half Moon Caye
Scuba Gear
For those on a tour in San Pedro, pickup from hotels by boat is included given the hotel falls within a certain radius.
As mentioned, some operators may include Scuba gear rental in their price while others may break it out separately. Either way, a BCD, weights, fins, regulators, air tanks, and wetsuits will be available.
Note: each dive shop is different so be sure to check with the tour operator beforehand to get a better idea of the inclusions/exclusions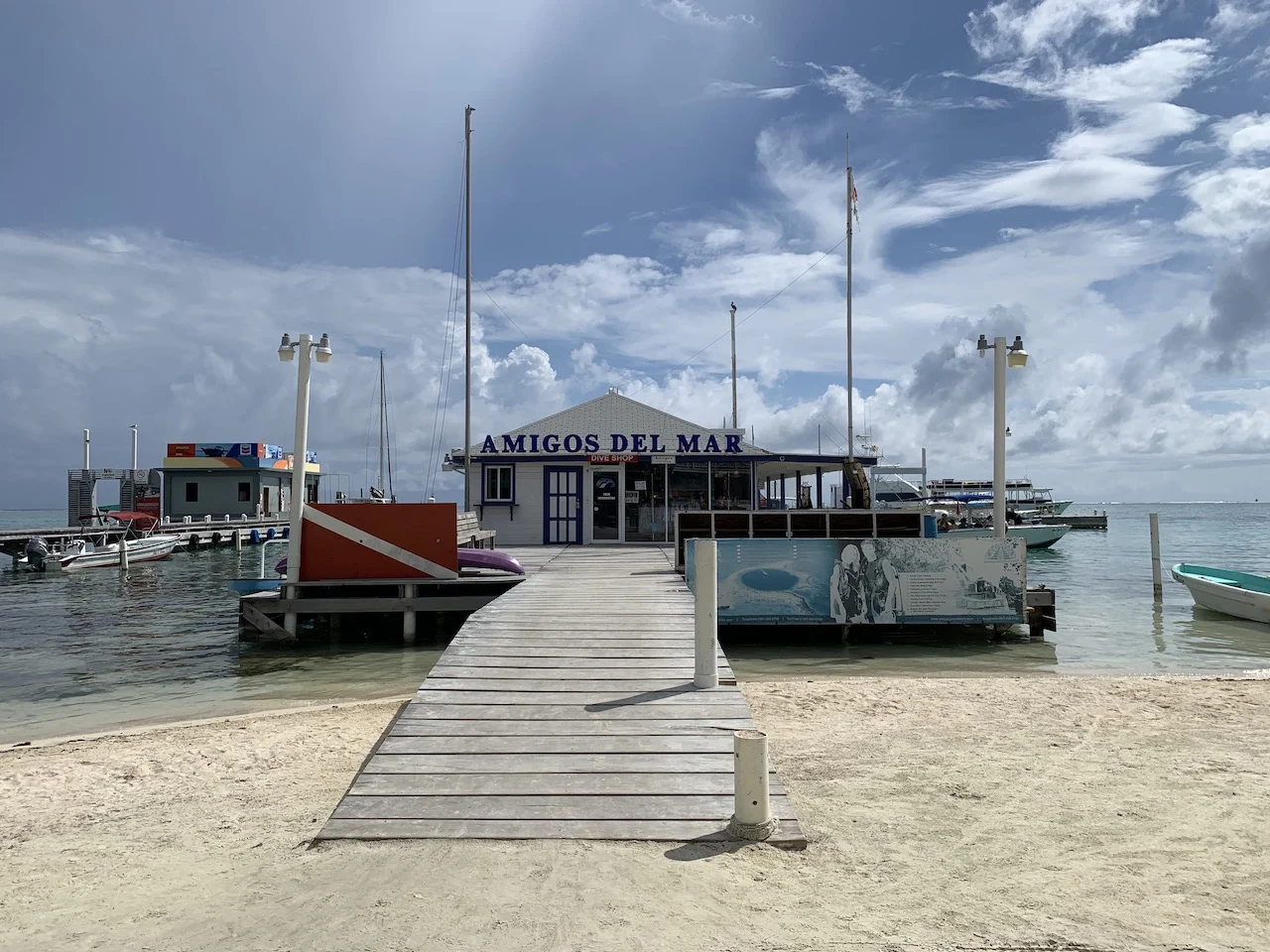 7) Dive Shops
In general, there are three main places to take the tour from – San Pedro, Caye Caulker, and Placencia.
One particular important piece of information that I found out while planning my trip is that not every dive shop offers Great Blue Hole tours.
Since the tours are more niche and involve a good amount of logistics, there are just a select number of shops that run them.
Below are some recommended dive shops for each one:
Here is also one helpful piece of information I wanted to share:
If you plan to do other dives when visiting, it is possible you end up doing so with a different company than those listed above. You should make that decision based on pricing, comfort level, reviews, etc.
I ended up diving with Scuba School Belize, who connected me with Amigos del Mar since they did not offer the Blue Hole excursion themselves.
Looking for a place to stay during your time diving? Here are some of my top recommendations for the three main towns:

San Pedro: Victoria House Resort & Spa
Caye Caulker: Weezie's Oceanfront Hotel
Placencia: Ocean Breeze Beach Resort
8) Best Time of Year
Belize is split into two main seasons – the wet season from June to December and the dry season from January to May.
While those edge months of June, July, November, and December do fall in the rainy season, you can expect shorter bouts of showers instead of intense rains.
In general, traveling to Belize in the dry season (or on the shoulder months) is the way to go in order to fully take advantage of your time in the country. During that time, there is a smaller chance that activities will be cancelled or ruined due to poor weather.
When it comes to diving the Blue Hole, the same idea applies. I would recommend planning a trip during that first half of the year period. Within those months you will find ideal weather and great visibility for diving.
For the Blue Hole dive trip, the boat tours will head 2-3 hours out to sea. If the weather forecasts show poor weather with wind and rains, the trip can get cancelled. So, it is best to plan accordingly if visiting during the low season.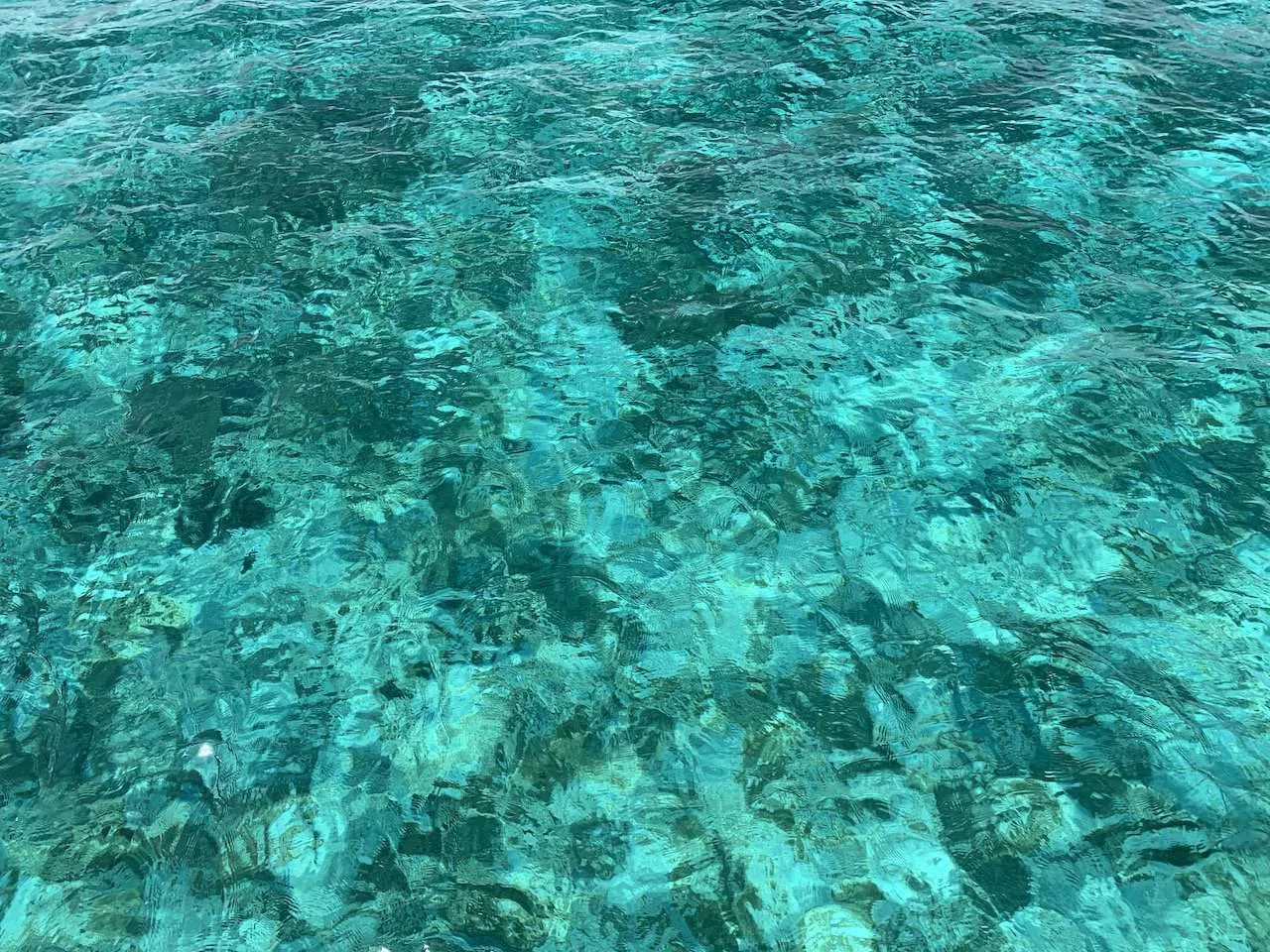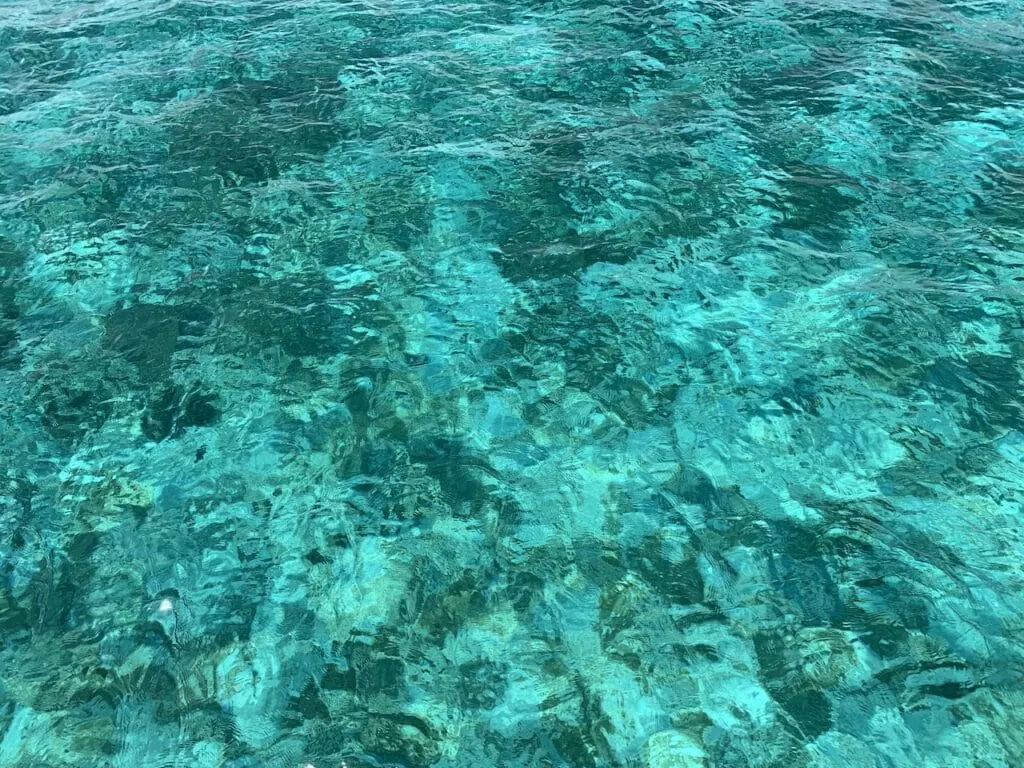 9) Blue Hole Scuba Diving Tour
Now that you have a better idea about logistics, pricing, and requirements, let's talk through what to expect on a day from beginning to end.
Day Trip Itinerary
To start, below is an hourly itinerary of the 12-hour day trip that I took part of from San Pedro. While the timings may be a bit different compared to Caye Caulker and Placencia, you can still get a solid idea of what to expect.
5:30AM: Meet at Dive Shop / Breakfast
6:00AM: Boat Departure to Blue Hole
8:30AM: Arrive at Blue Hole & Dive Prep
9:00AM: Blue Hole Dive
10:00AM: Boat to Half Moon Caye Wall
10:30AM: Half Moon Caye Dive
12:00PM: Lunch at Half Moon Caye Natural Monument
1:00PM: Depart to Long Caye Wall
1:30PM: Long Caye Wall Dive
2:30PM: Boat to San Pedro
5:00PM: Arrive in San Pedro
5:30AM: Meet at Dive Shop / Breakfast
To start the day, you will need to meet at the dive shop nice and early around 5:30AM. If you are within a certain distance from town, it is possible to get picked up by the dive shop as well (this will be outlined for you when you sign up).
Once you arrive there, you will fill out any uncompleted paperwork and then be able to have a nice breakfast before boarding the boat.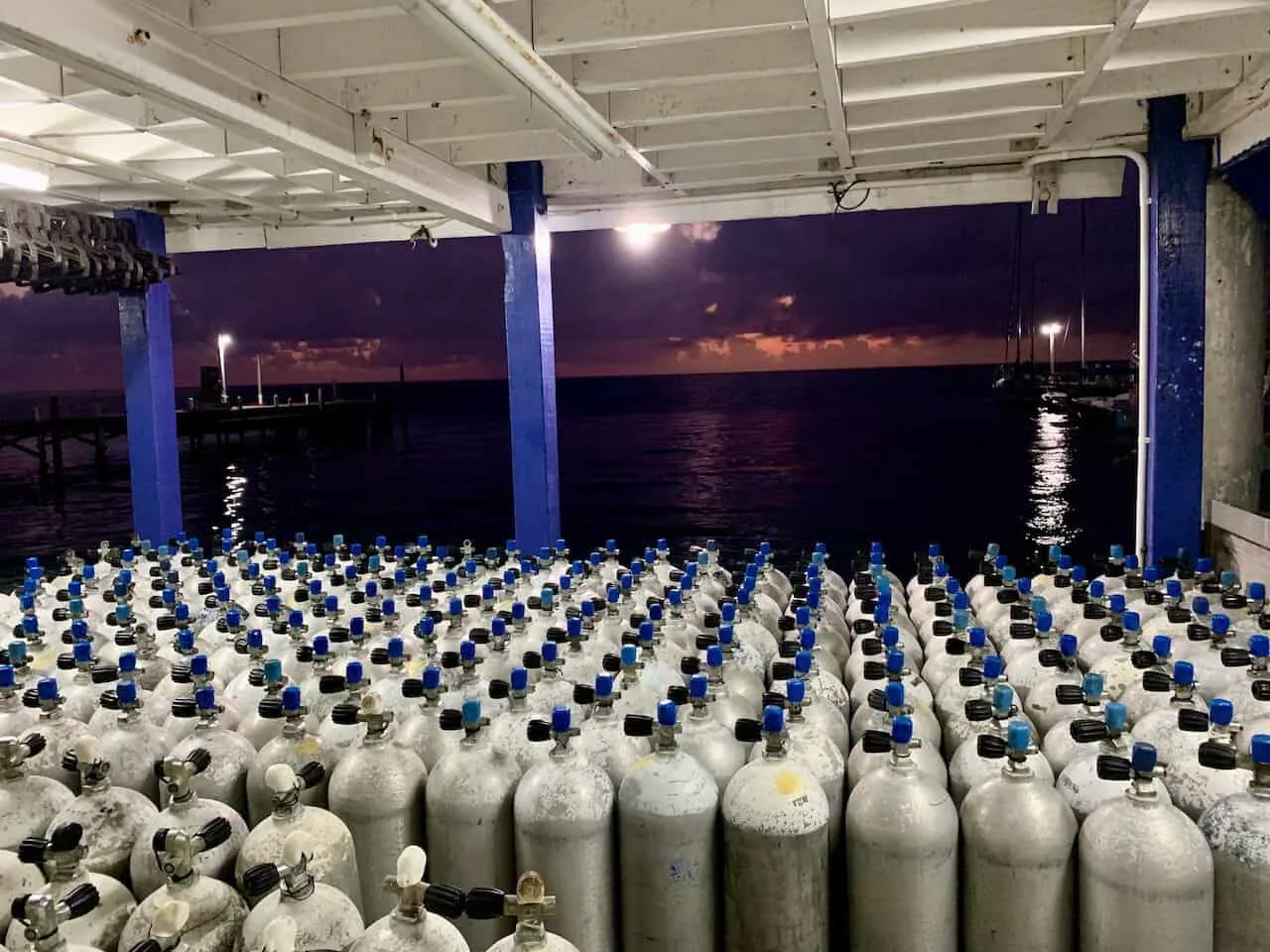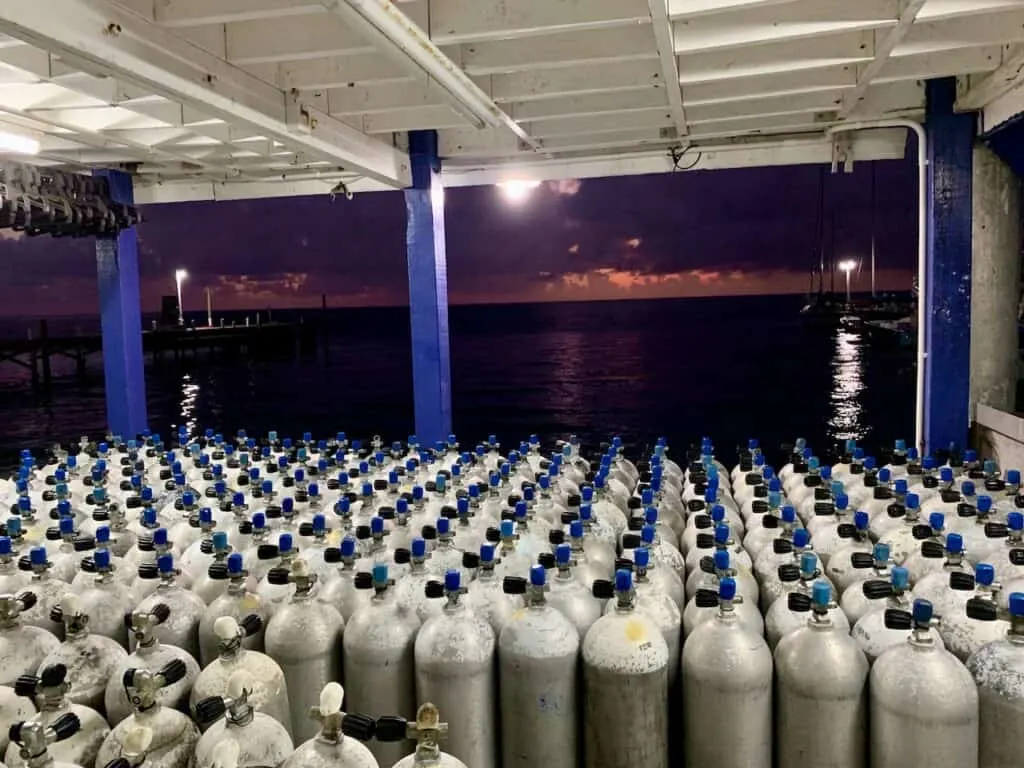 6:00AM: Boat Departure to Blue Hole
For the next 2.5 hours, you will take a long boat ride through the Belize Barrier Reef and onto the Blue Hole dive site.
The boat I was on had both indoor and outdoor areas to hang out on. This gave me the chance to enjoy the ride and the views, and meet some people along the way.
You can also just spend some time resting before it is time to get ready for the dive.
Note: On board, you will find restrooms, water, and a small snack selection.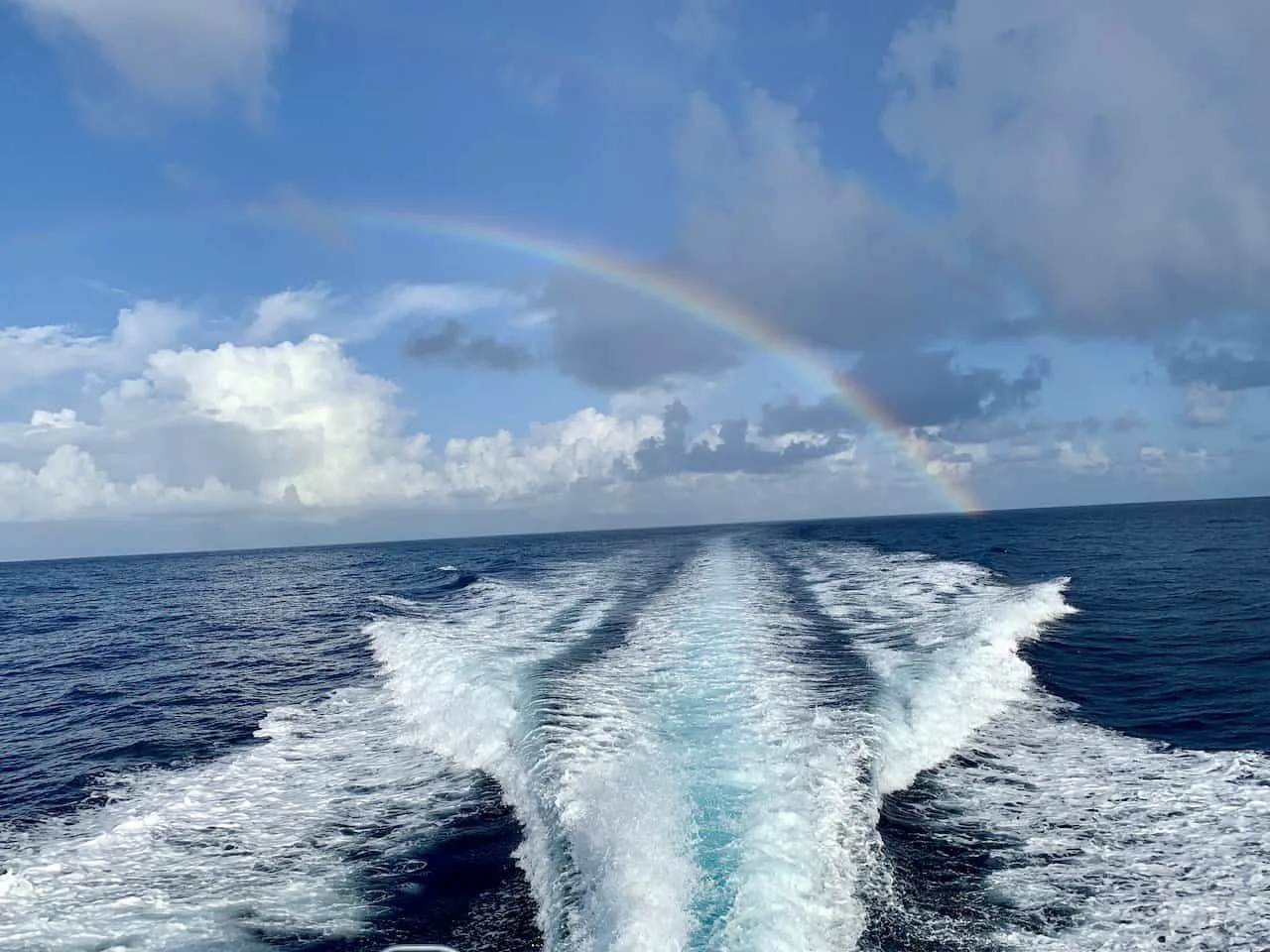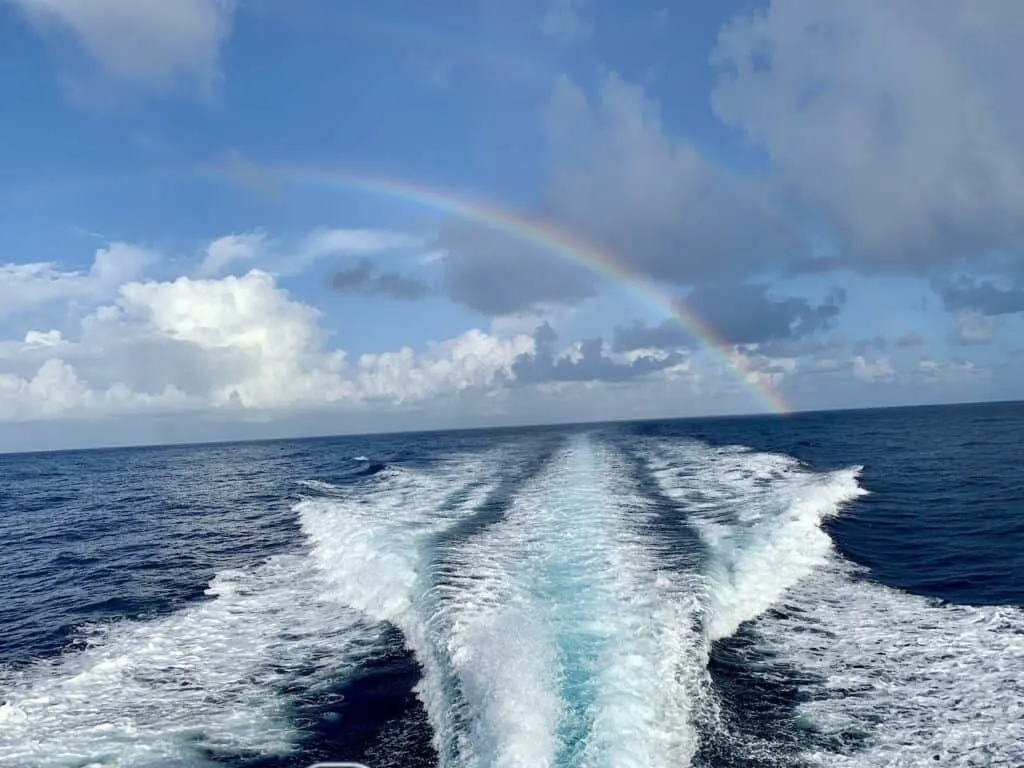 8:30AM: Arrive at Blue Hole & Dive Prep
After a nice long ride, the boat will find itself just on the outer edge of the Blue Hole. From this angle, it can be tough to see the perfectly rounded hole (compared to the photos from above).
But you should still get a good sense of the general shape of it as you see the darker outline all around.
Before getting into the water though, you will go through a full dive prep onboard. Your dive instructor will walk you through what to expect, the timings, safety stops, and more.
It is then time to put on your equipment and begin jumping into the water.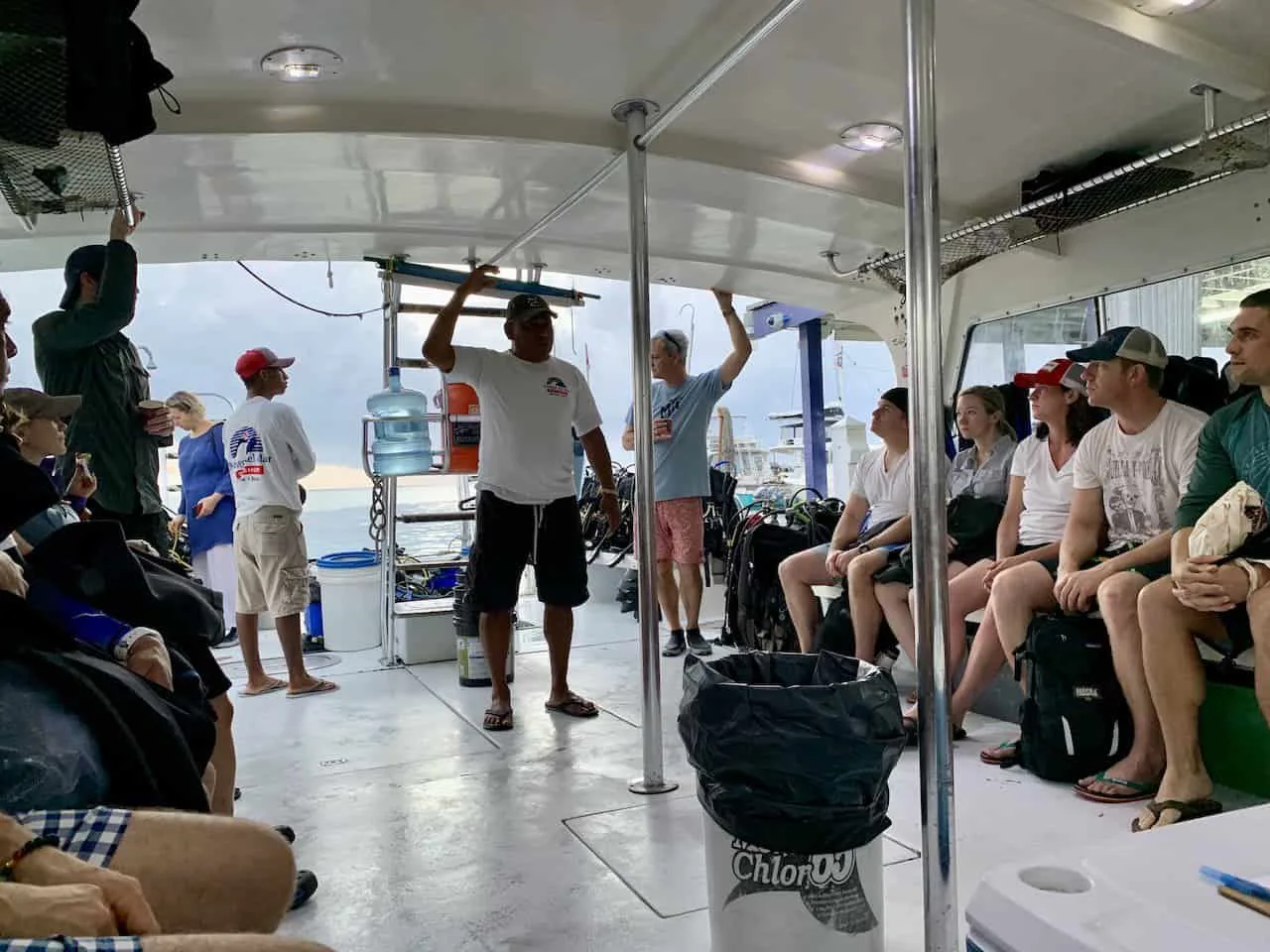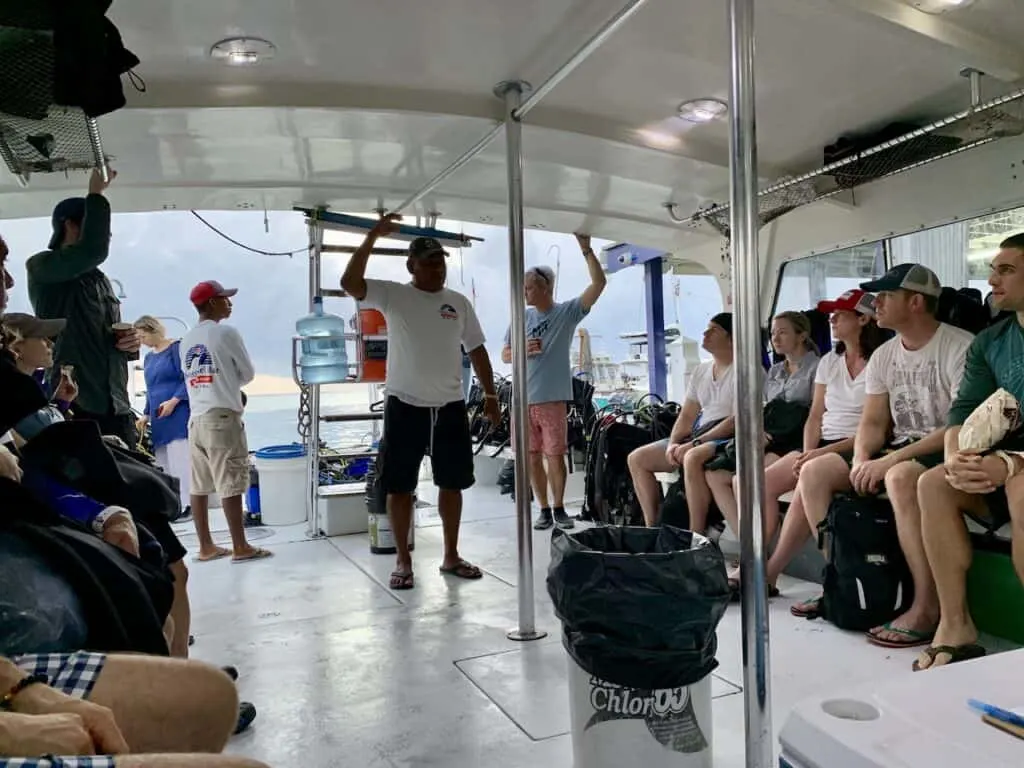 9:00AM: Blue Hole Dive
Unlike other more standard dives, the Blue Hole dive will last just around 25 minutes give or take.
Due to the fact that the dive goes down to 40 meters / 130 feet, your oxygen will be used at a much faster rate compared to shallower dives.
The dive starts at the edge of the hole, as you slowly follow the wall deeper and deeper down. Instead of being surrounded by coral reefs, the wall itself will be the highlight.
As you continue down, you begin to see some unbelievable stalactite and stalagmite formations, some of which are the biggest you will ever come across.
This is going to be the highlight of the dive as you make your way along these formations as you follow the dive instructor.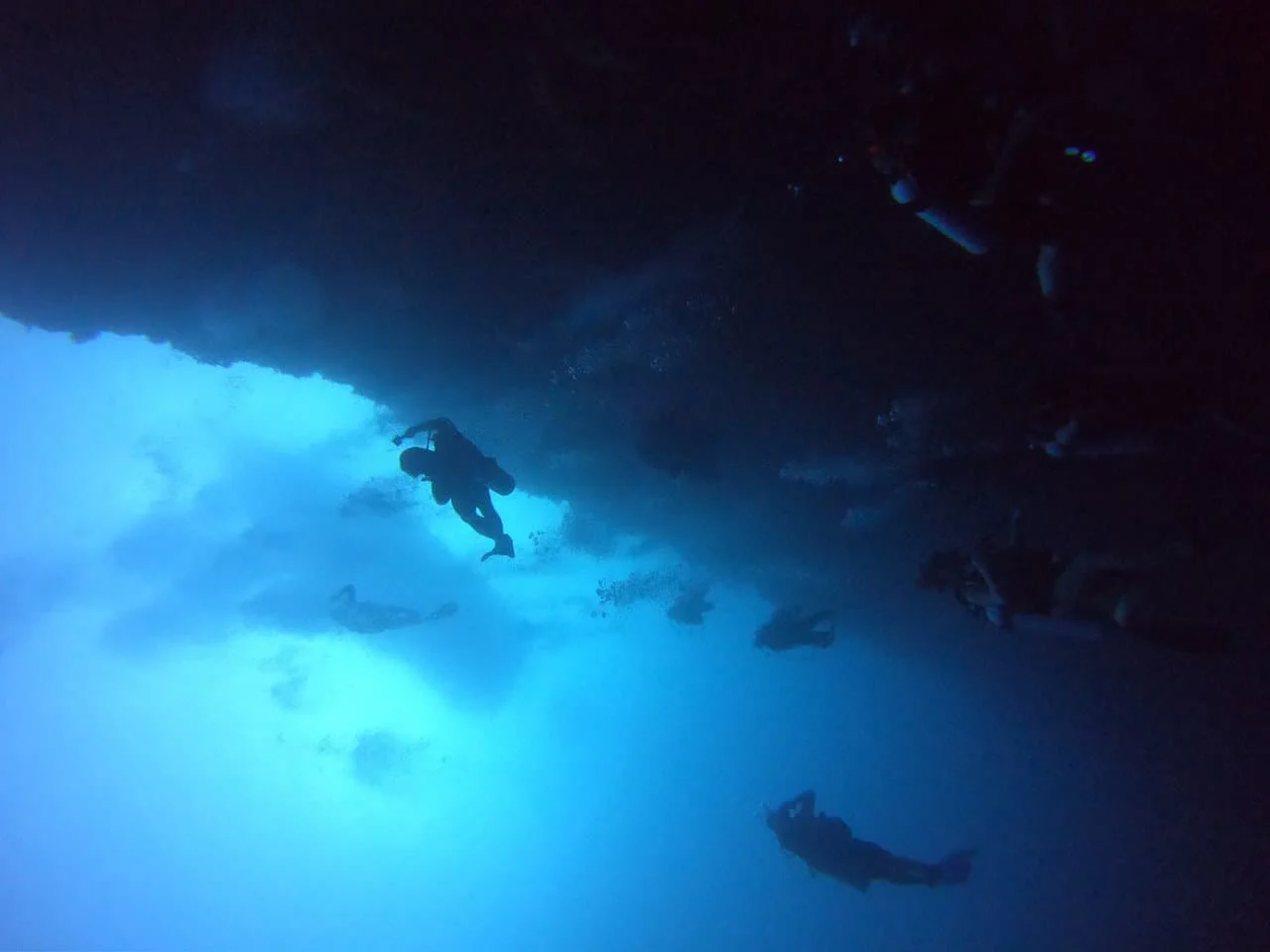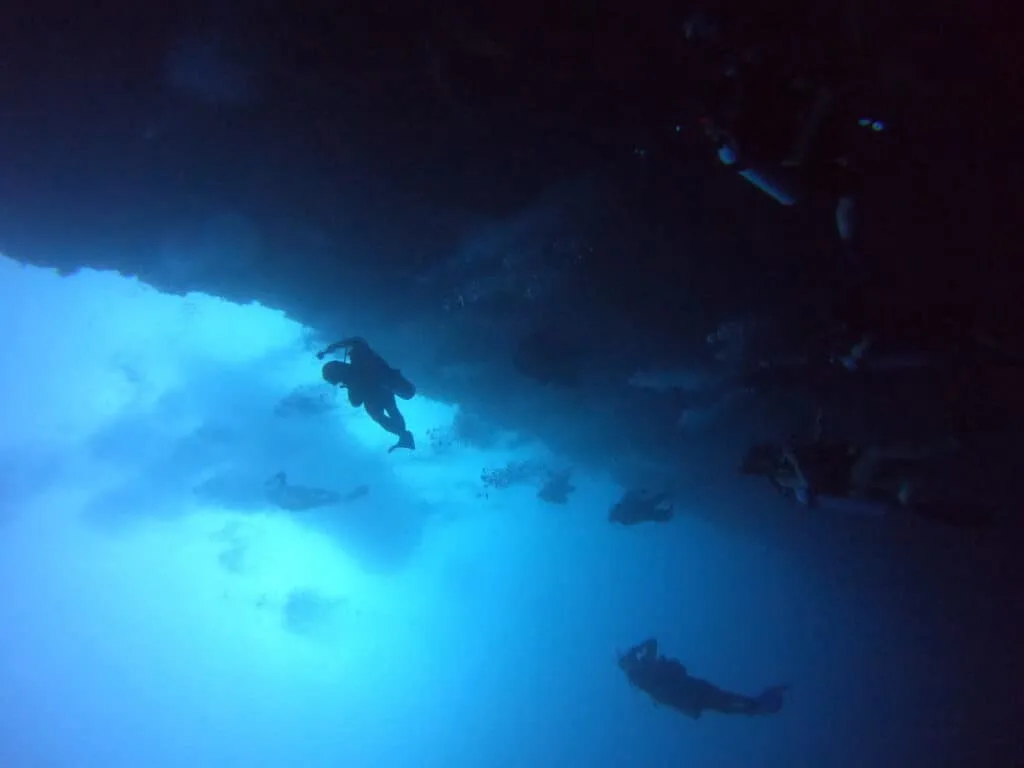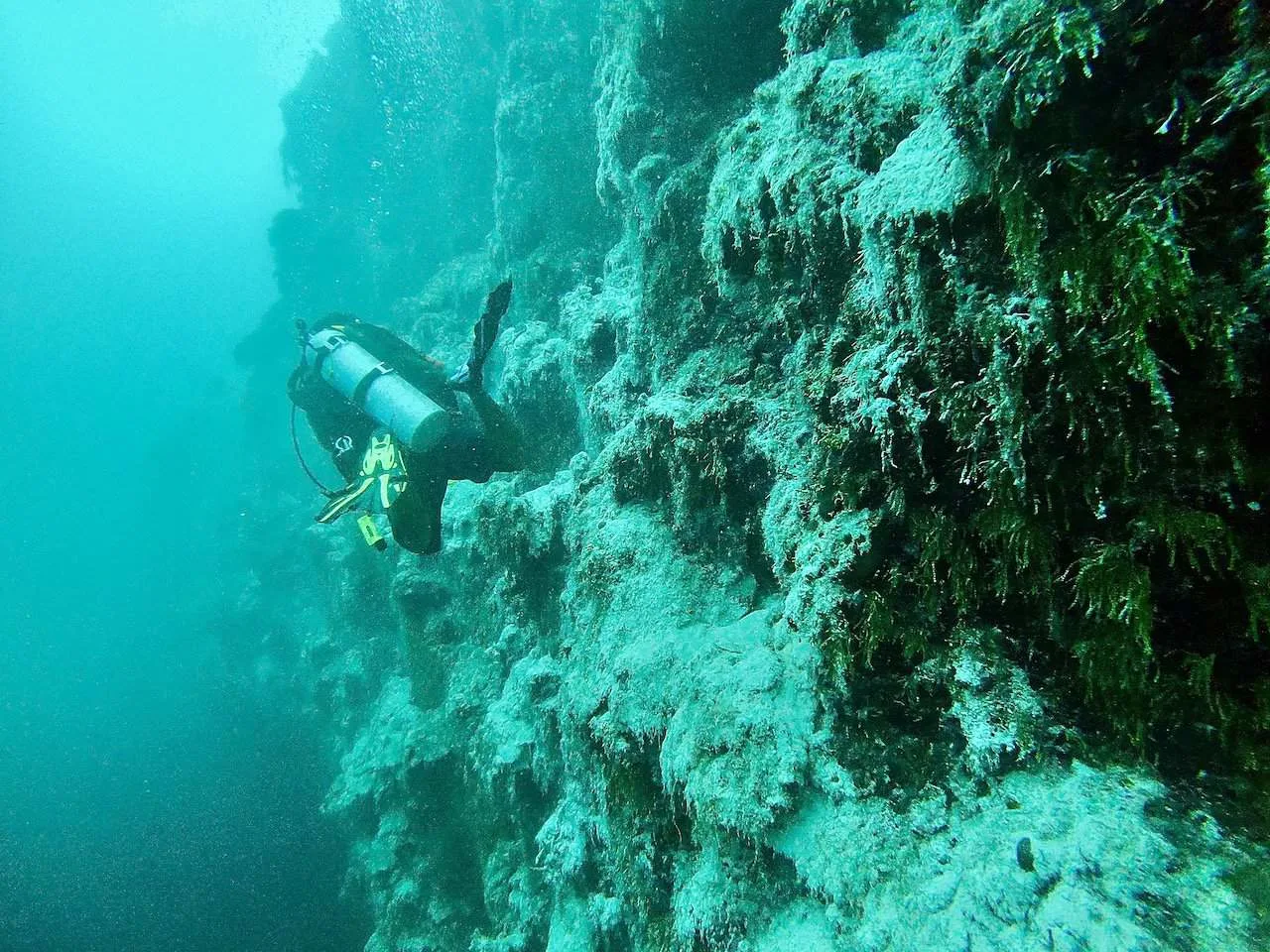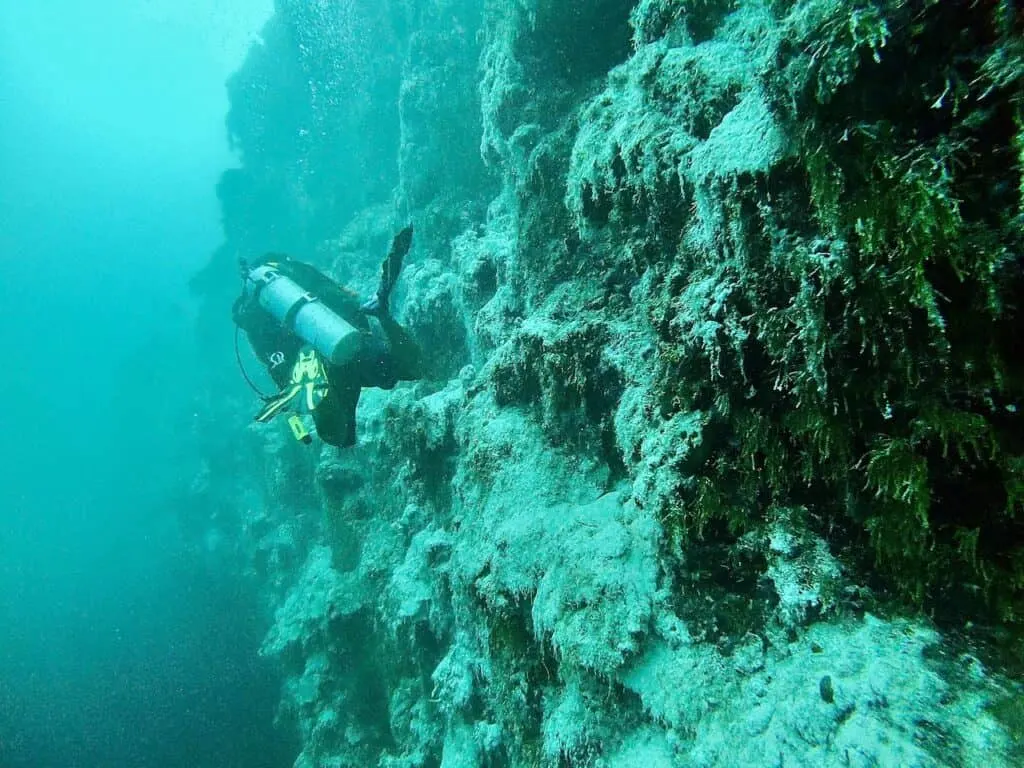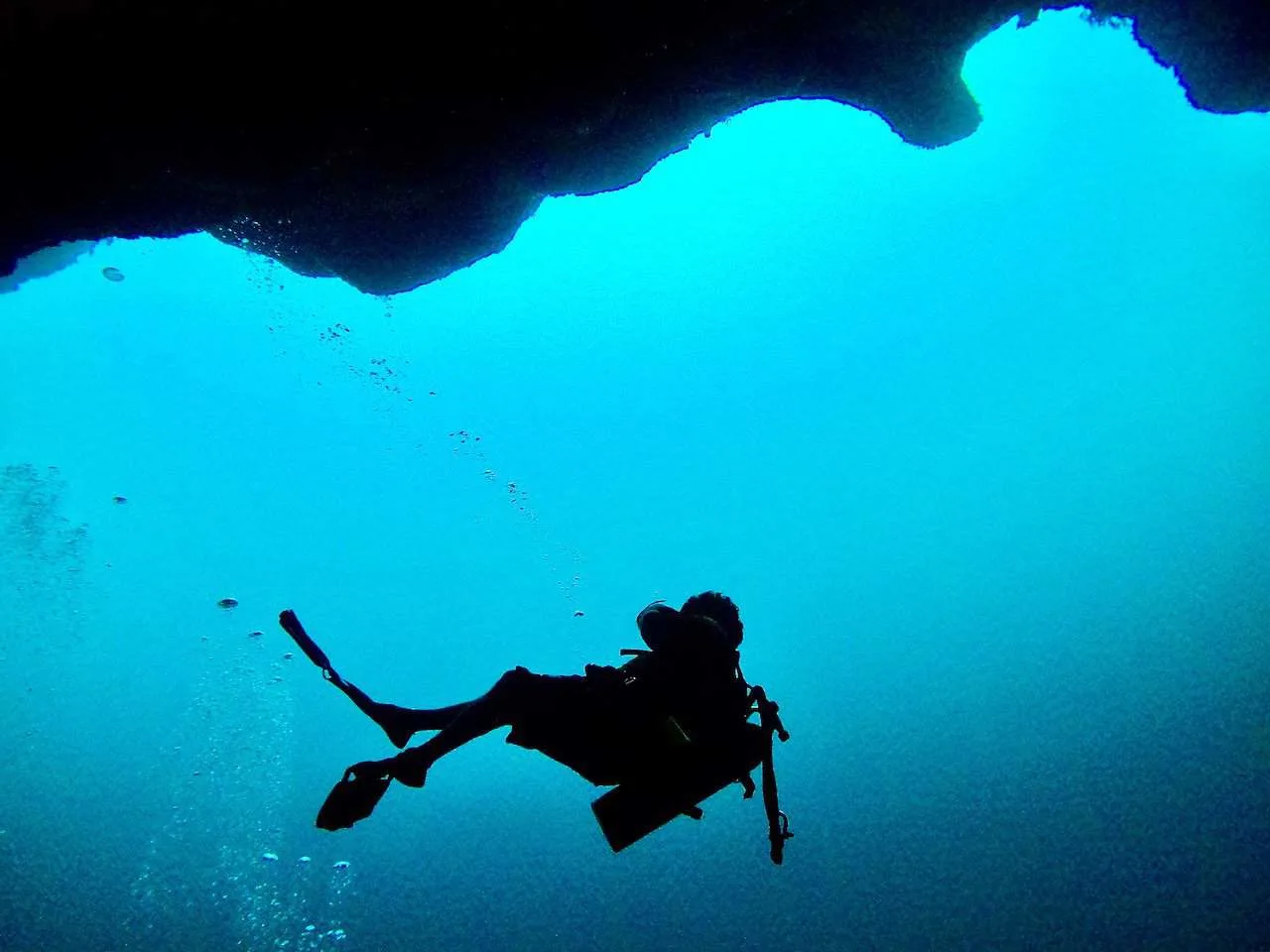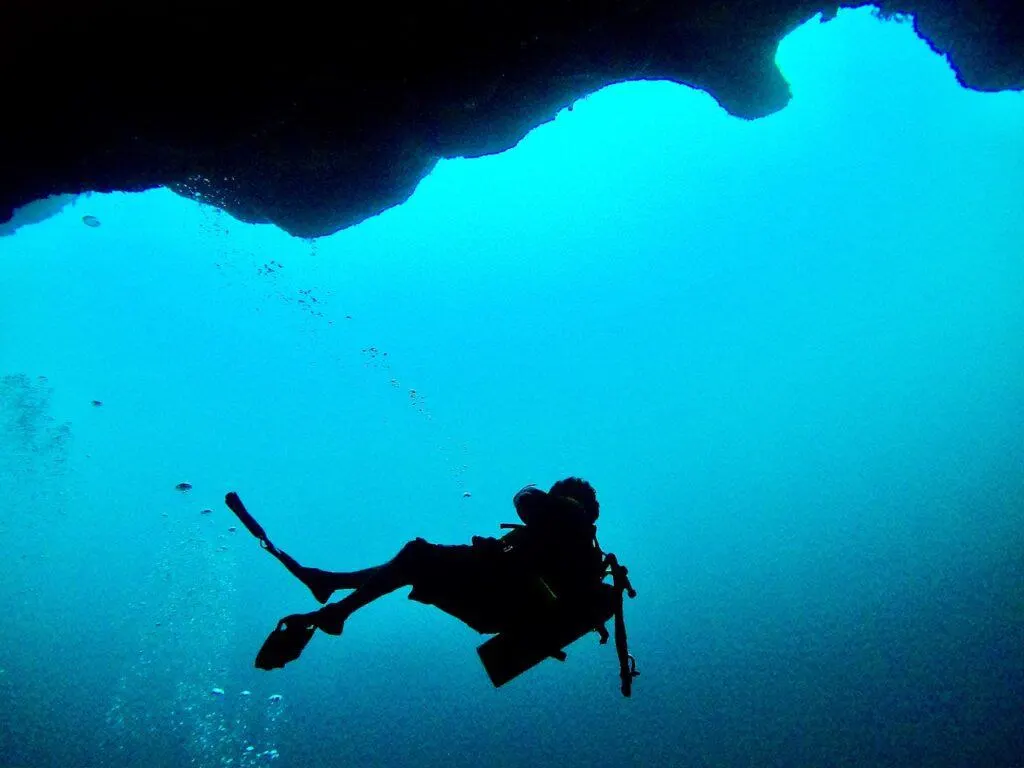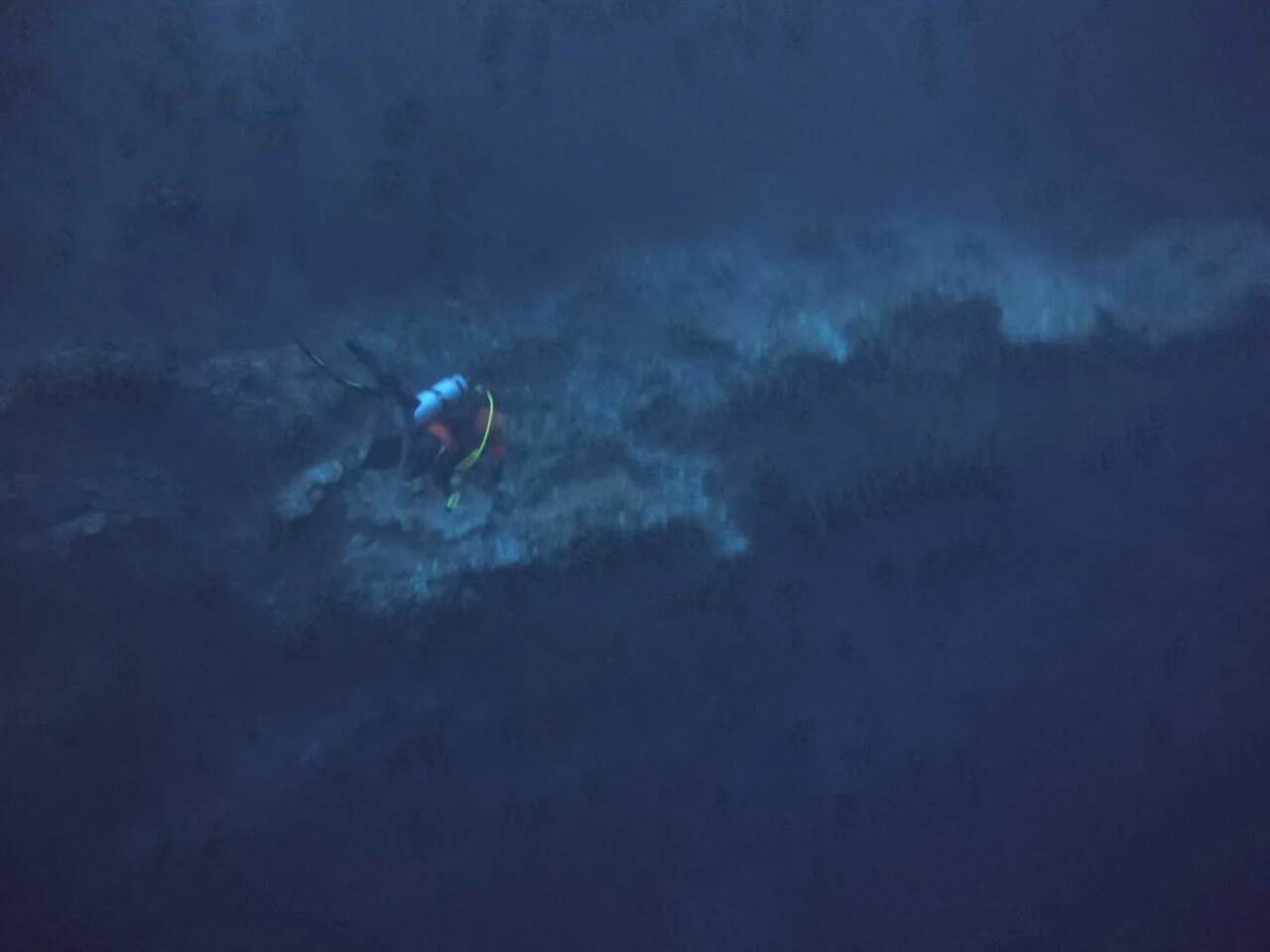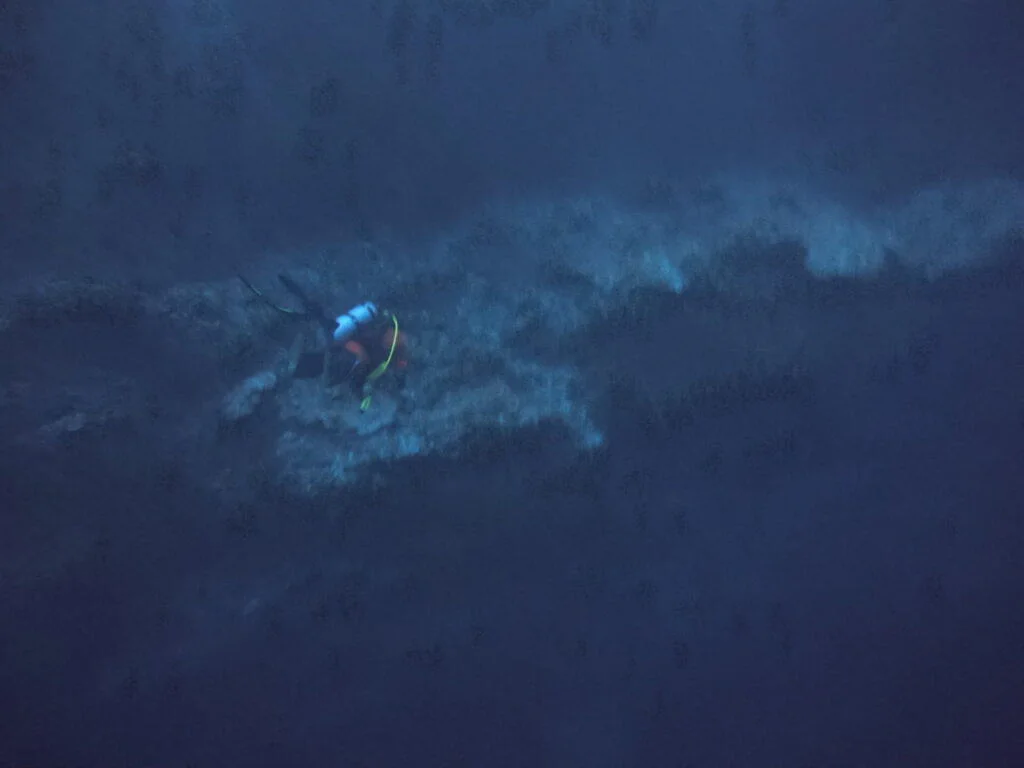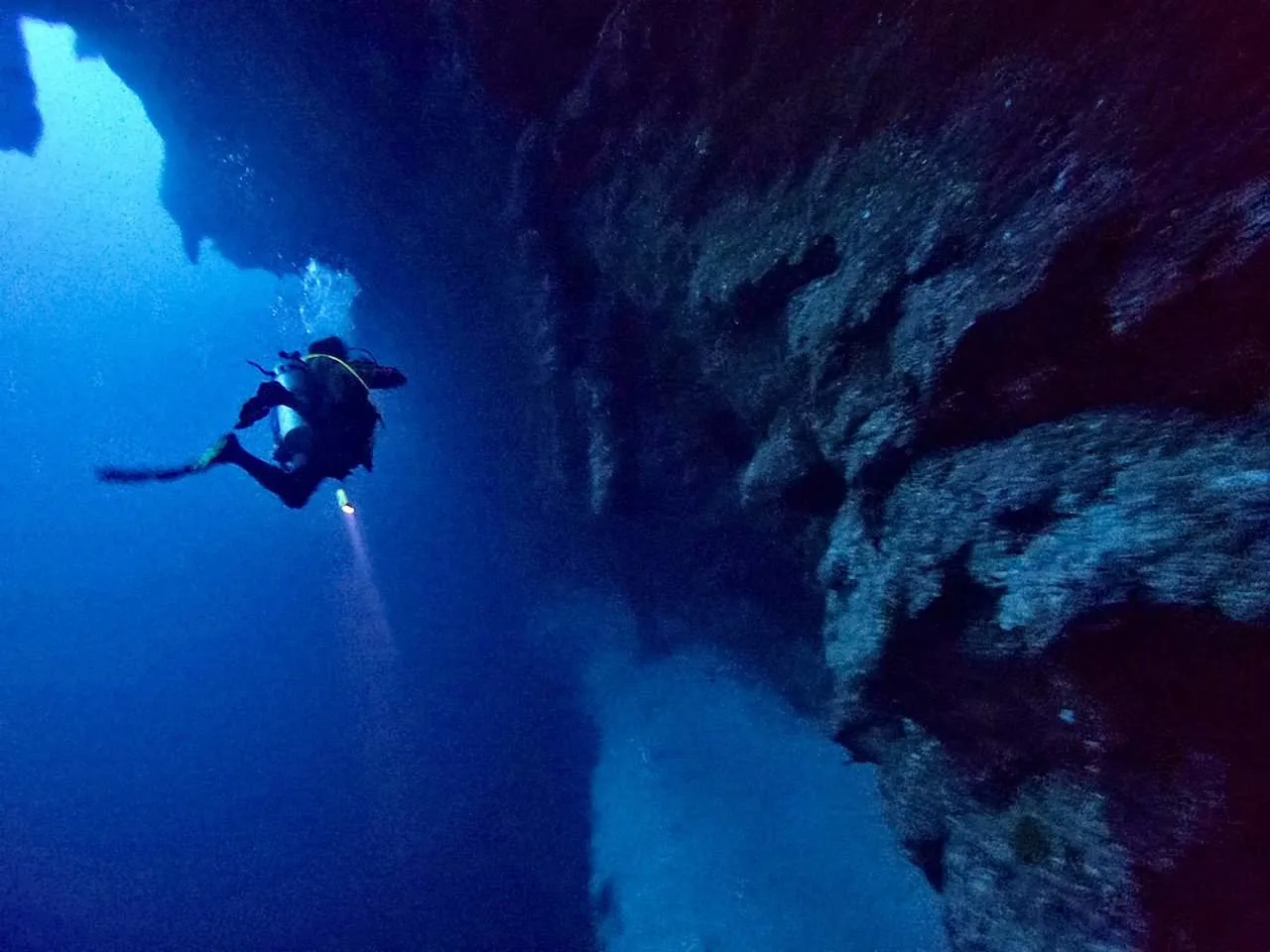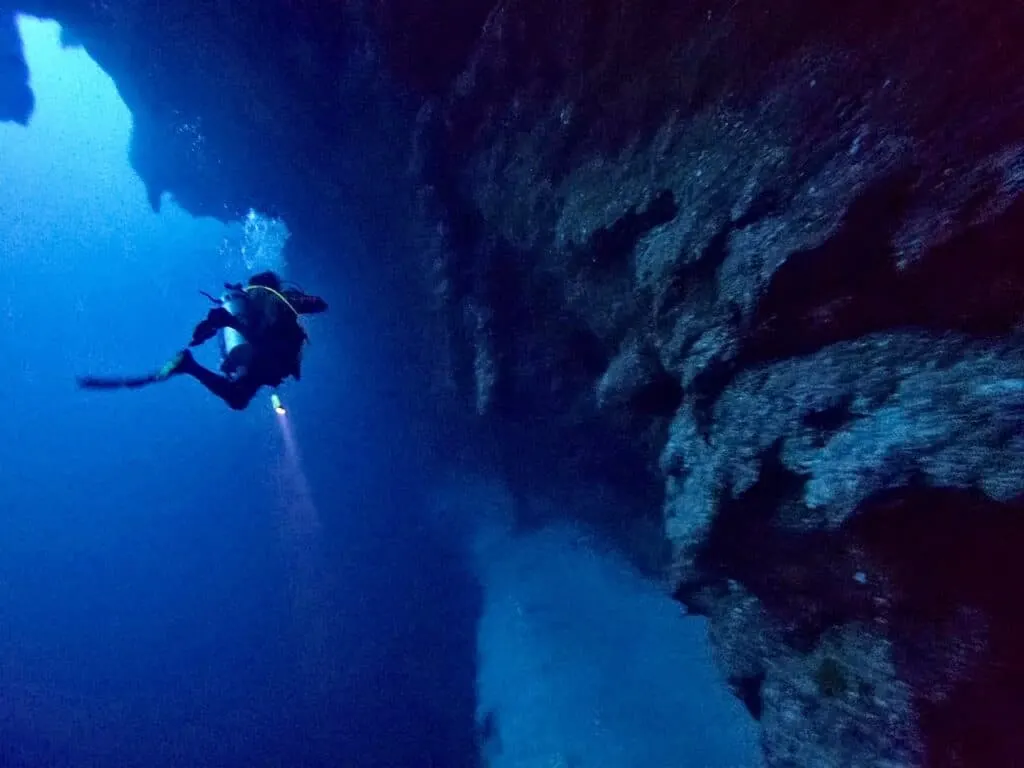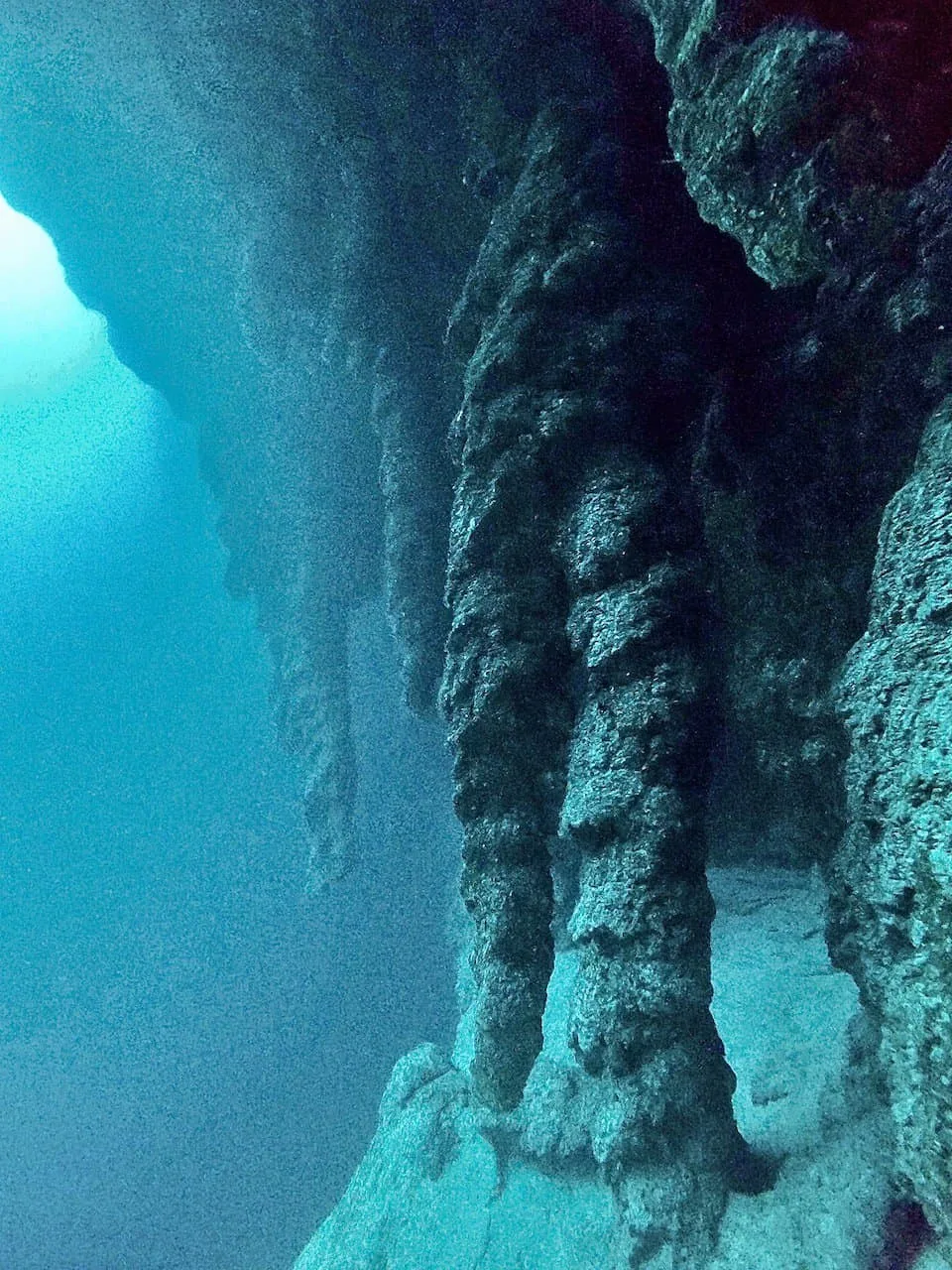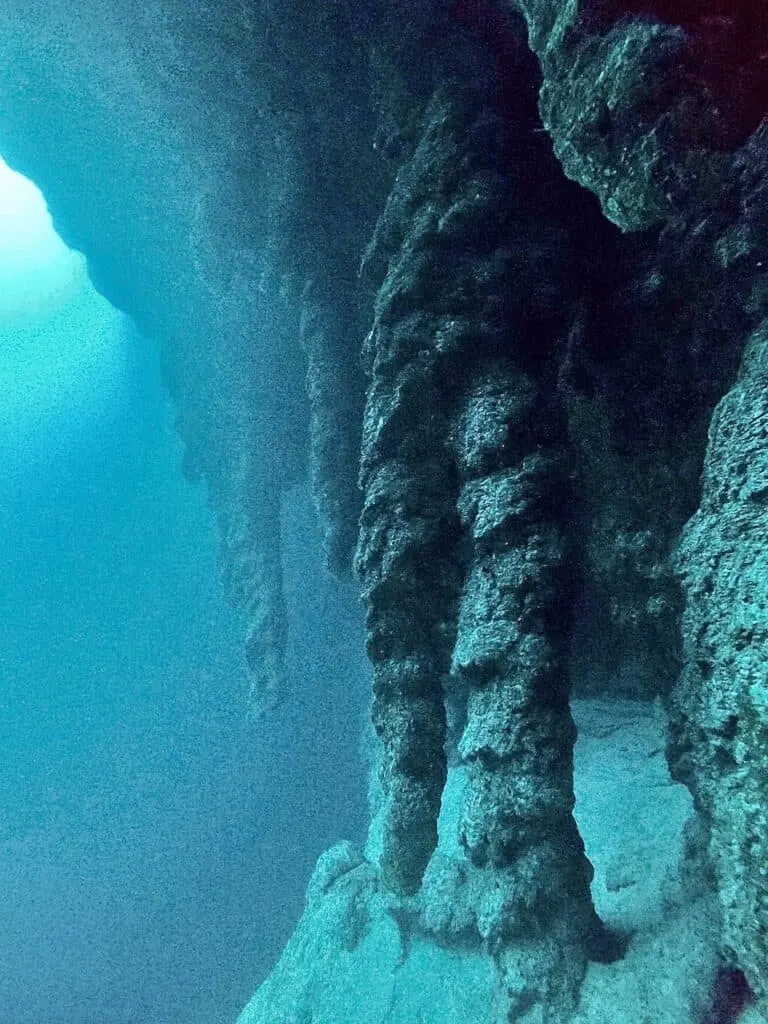 After about 15-20 minutes, the ascent will begin. During my experience, we performed two safety stops to account for the deepness of the dive.
Here is where you should be on the lookout for some underwater life. While the bulk of the dive is focused on the Blue Hole formations, during the safety stops you have a better chance to see turtles, sharks, and more.
It is then back to the surface to regroup and relax for a bit before heading off to the next destination.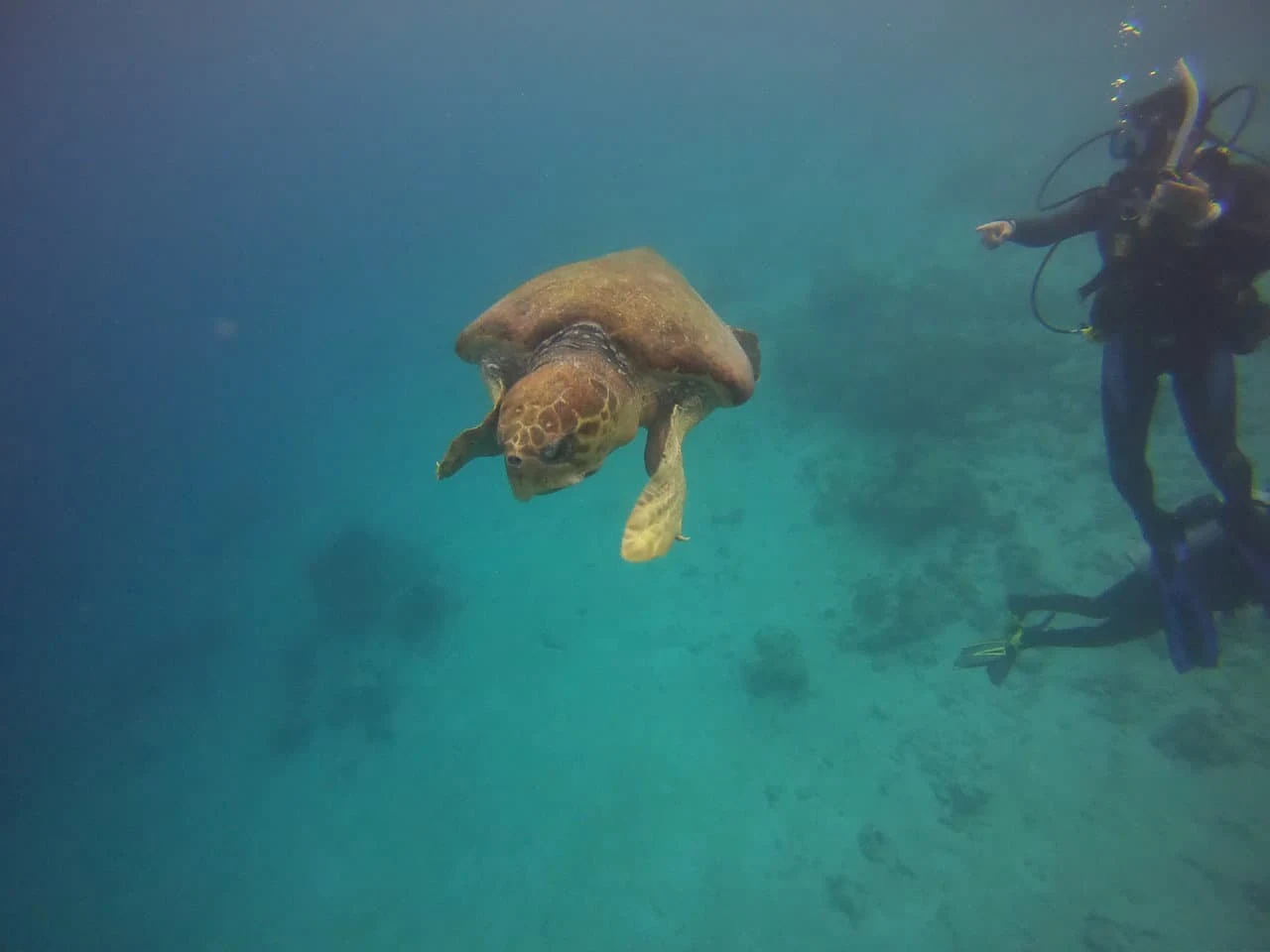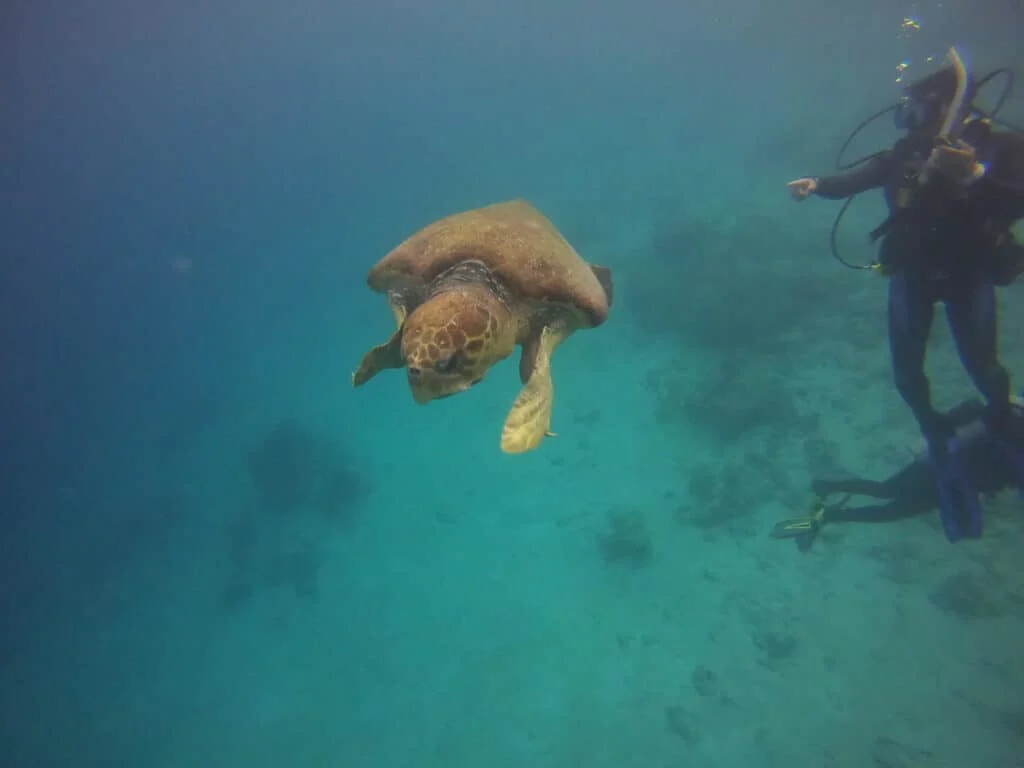 10:00AM: Boat to Half Moon Caye Wall
Next up is the second dive of the day at Half Moon Caye Wall. Make the quick boat ride over, where you will then prep for the dive and jump into the water.
10:30AM: Half Moon Caye Dive
Remember, what makes this day trip so special is not just the Blue Hole. The Half Moon Caye dive site is one of the best there is in the Lighthouse Reef Atoll. The max depth here is around 15 meters / 50 feet as you get to enjoy a 40+ minute dive.
Throughout a dive, expect to be surrounded by colorful coral reefs, sharks, schools of fish, and plenty more.
Looking back at this dive, it really was one of my favorites I took part of and what helped make this day trip so special.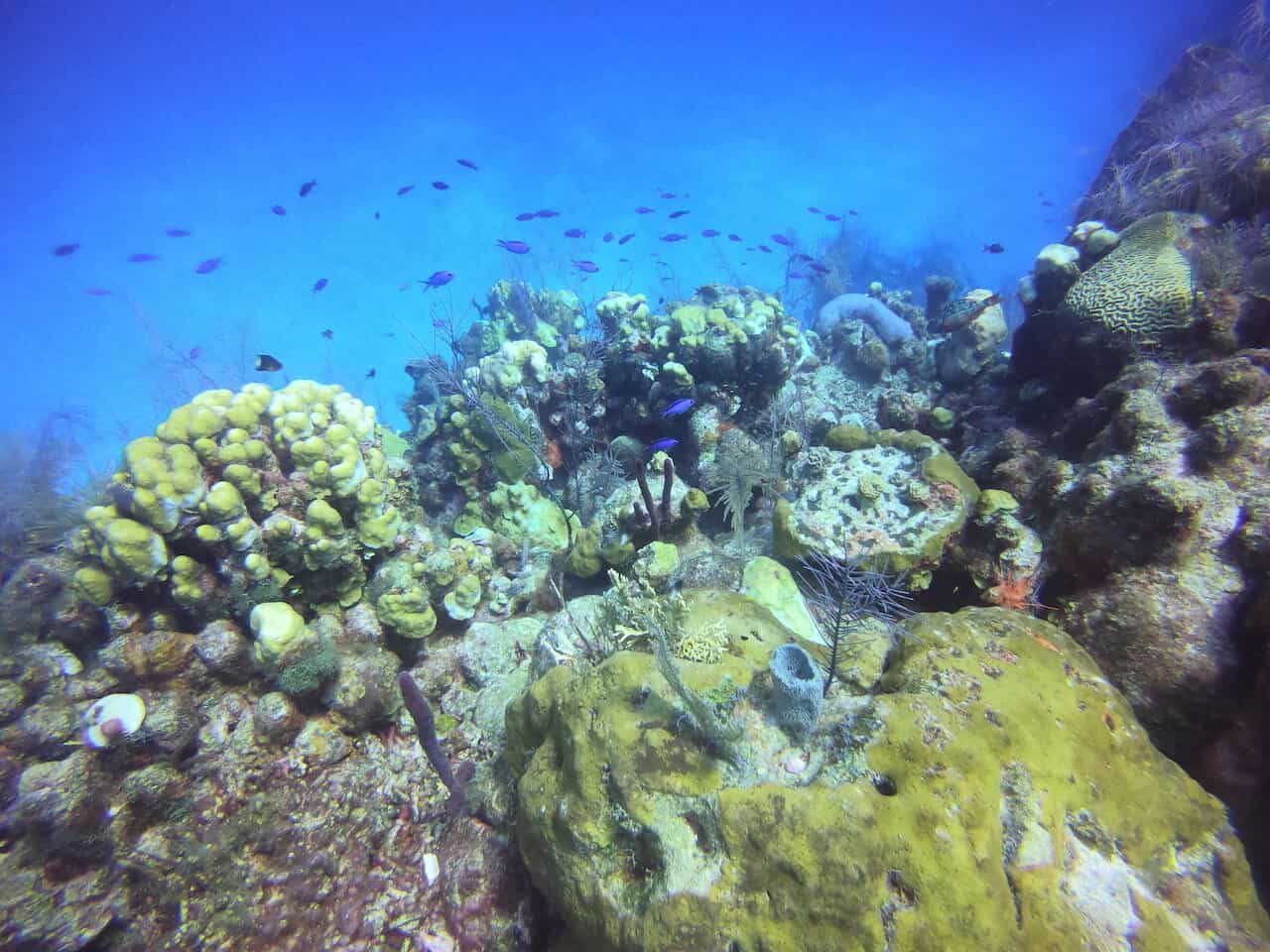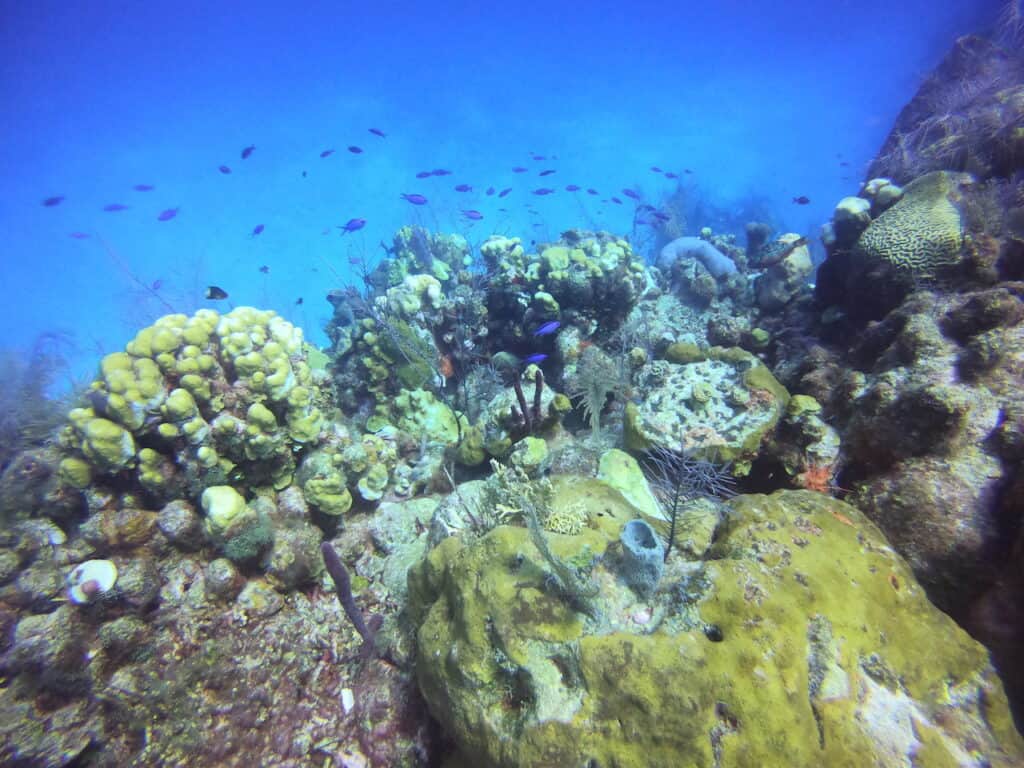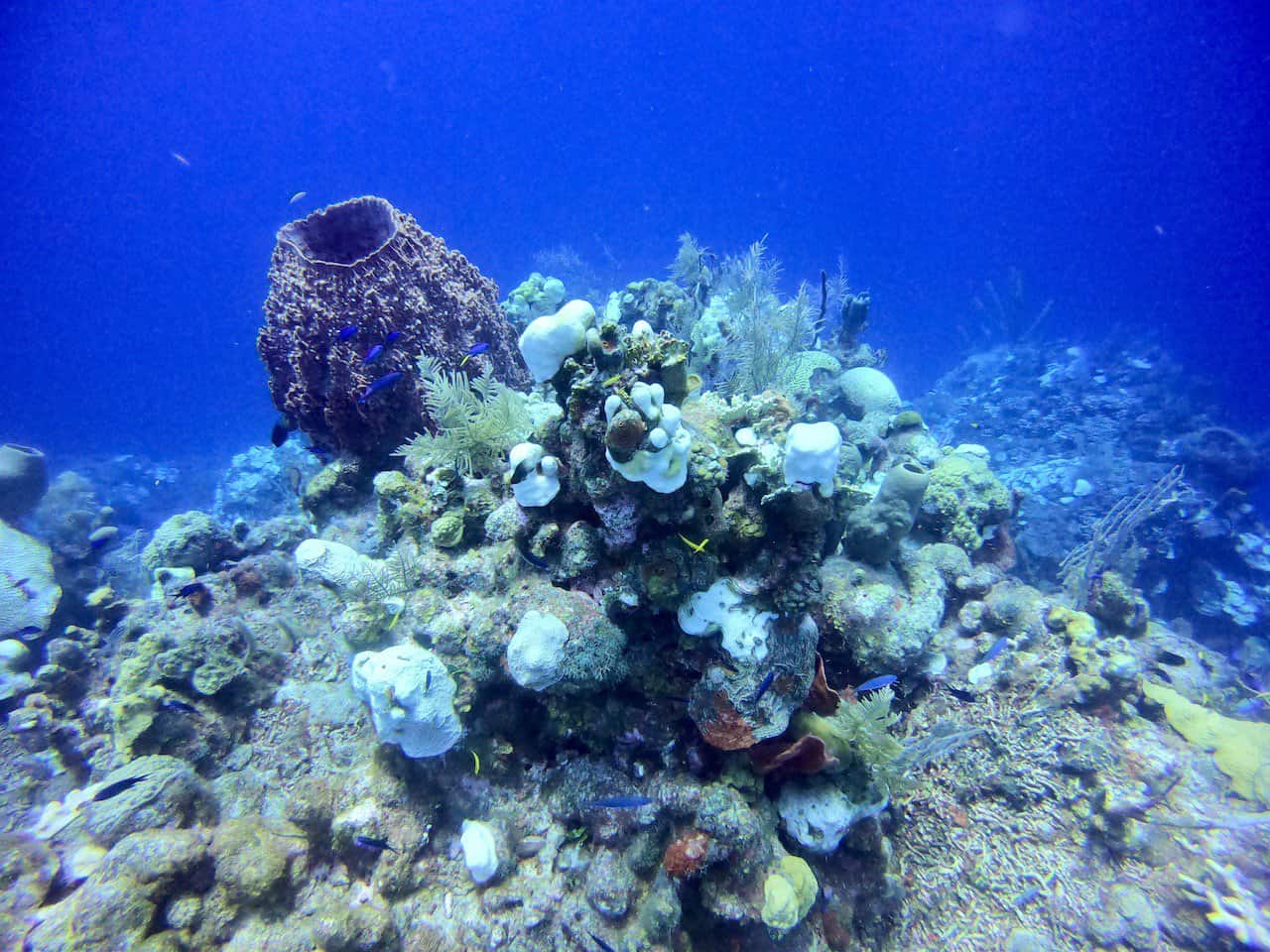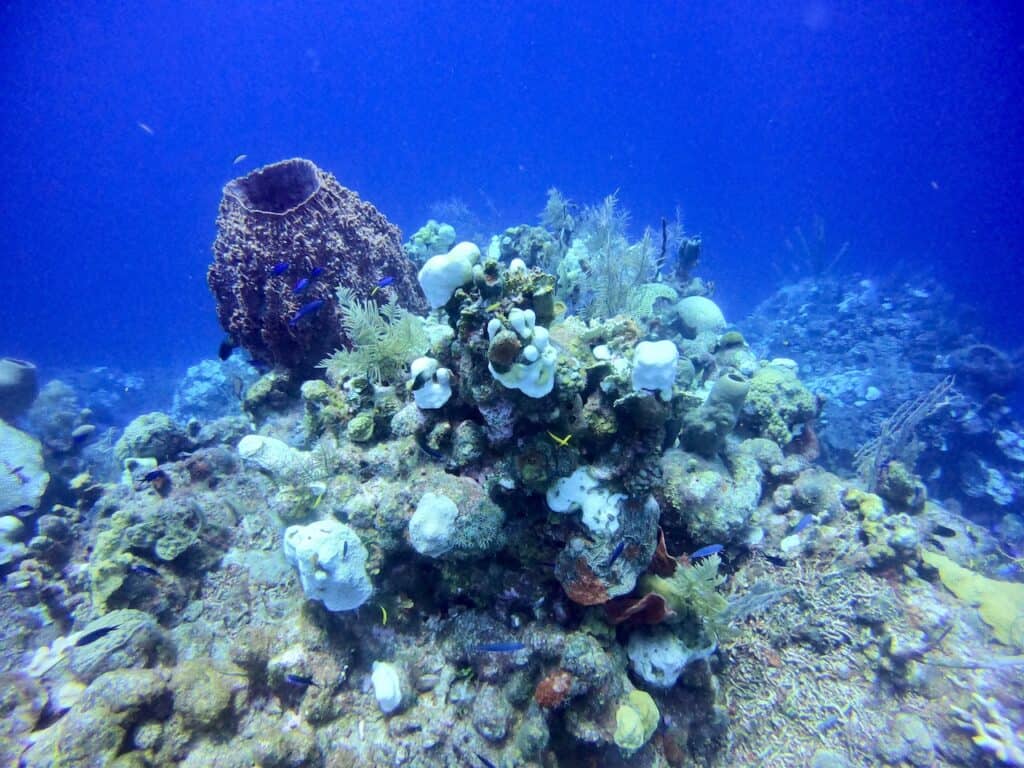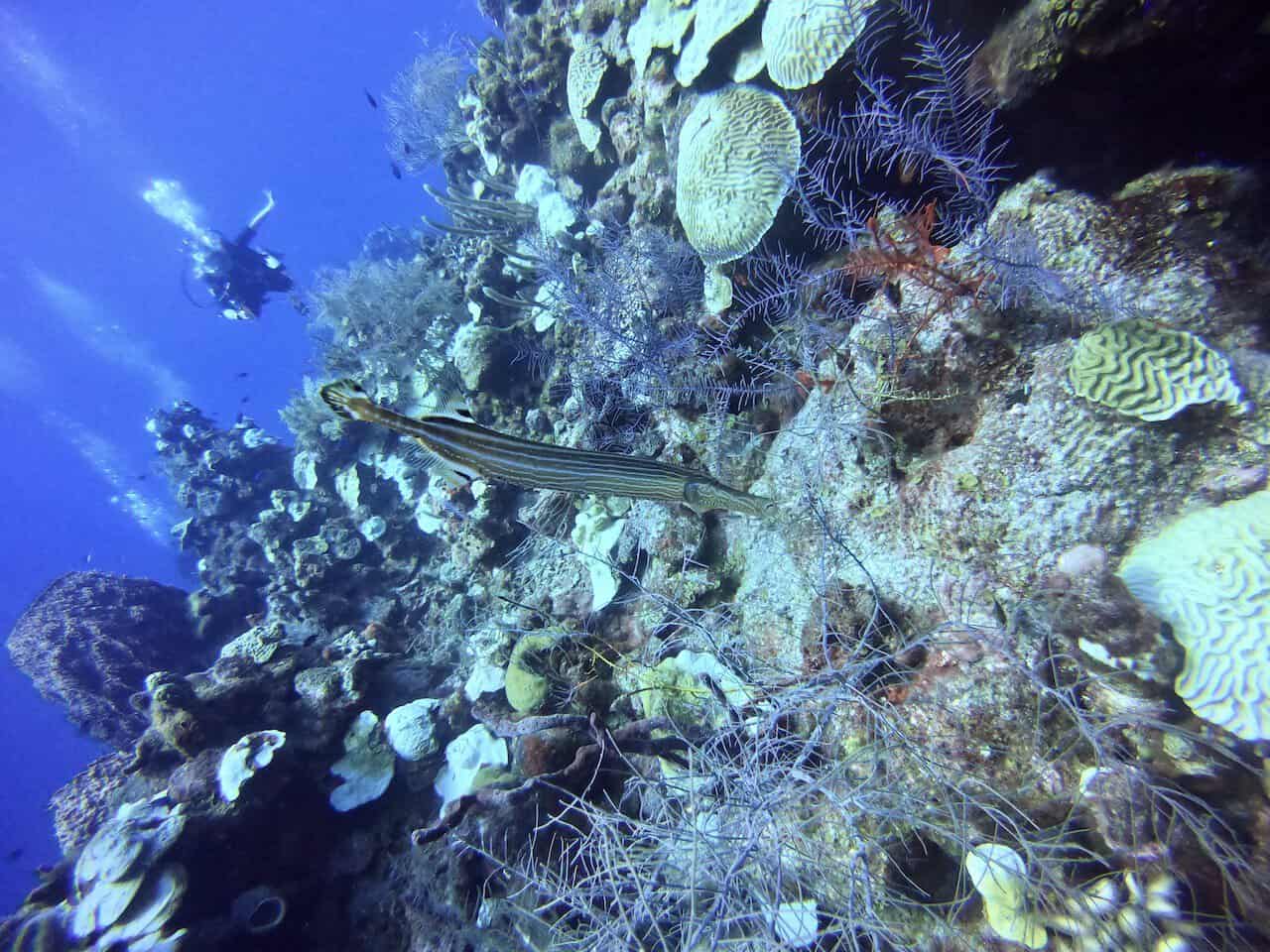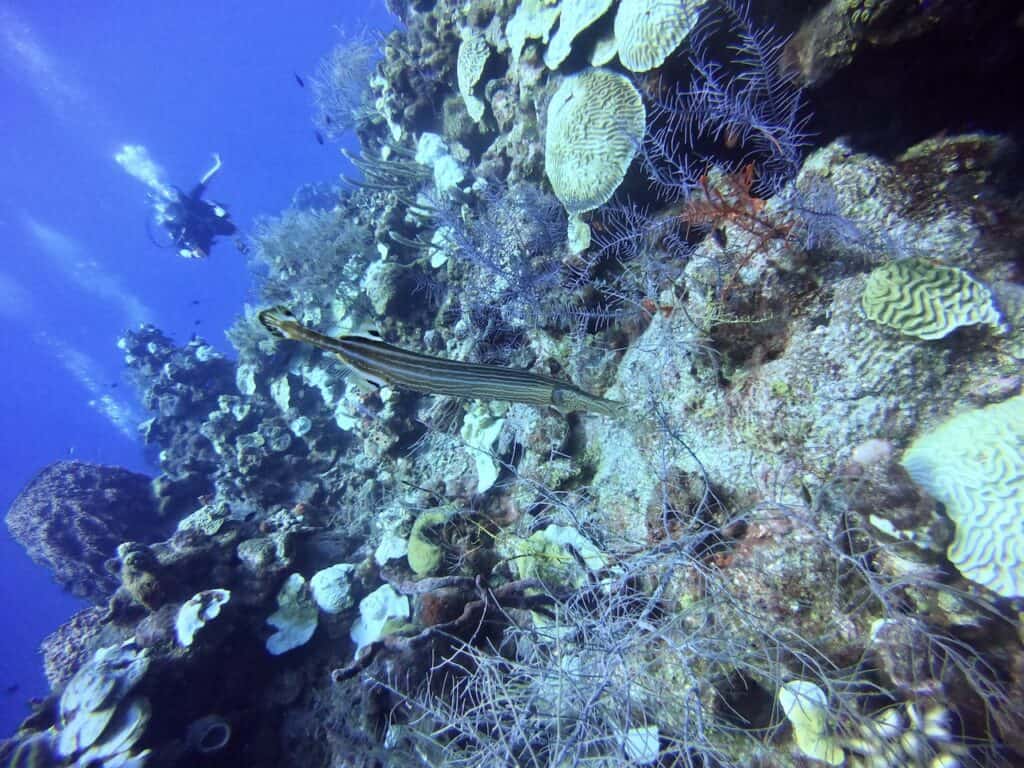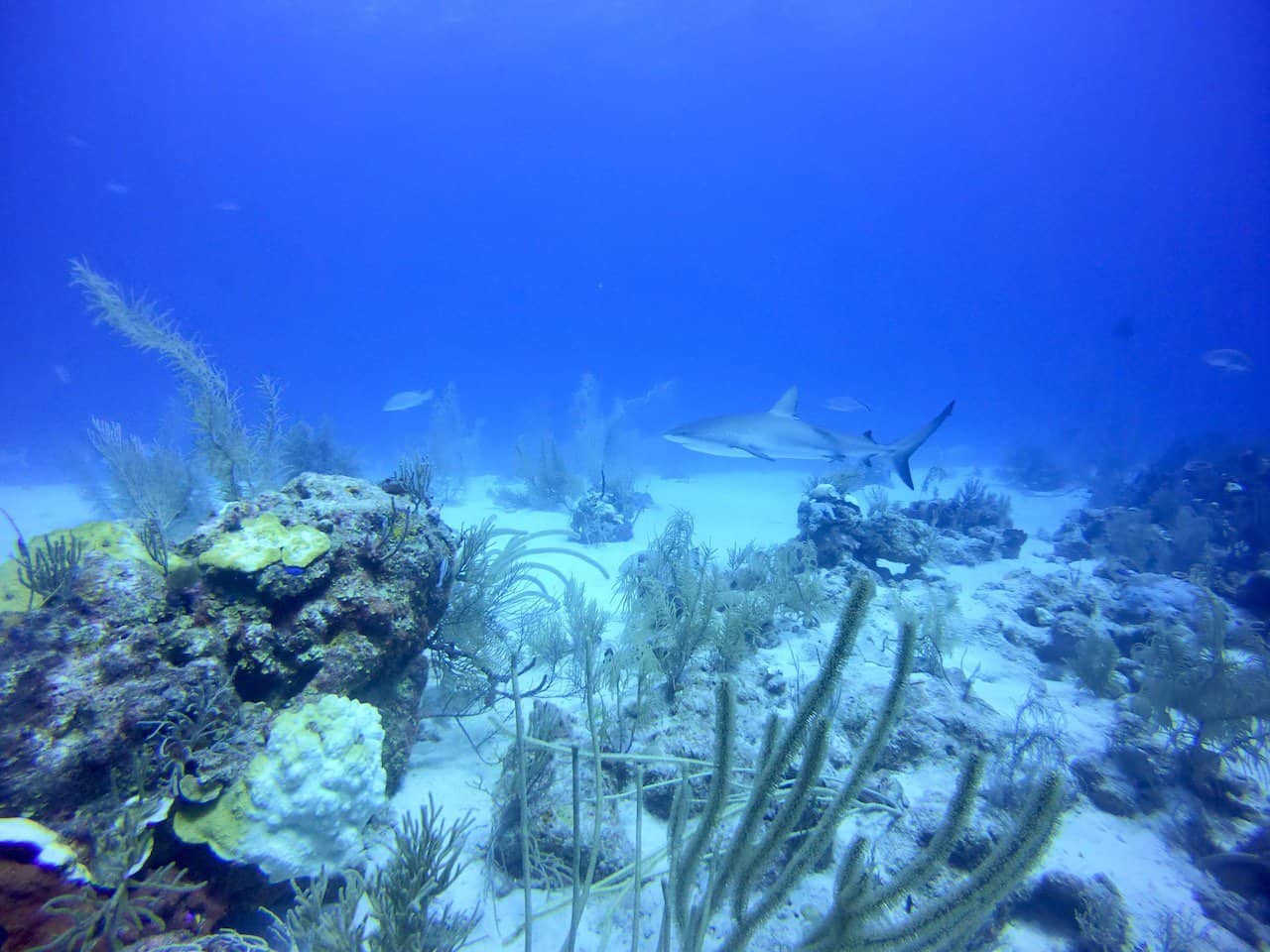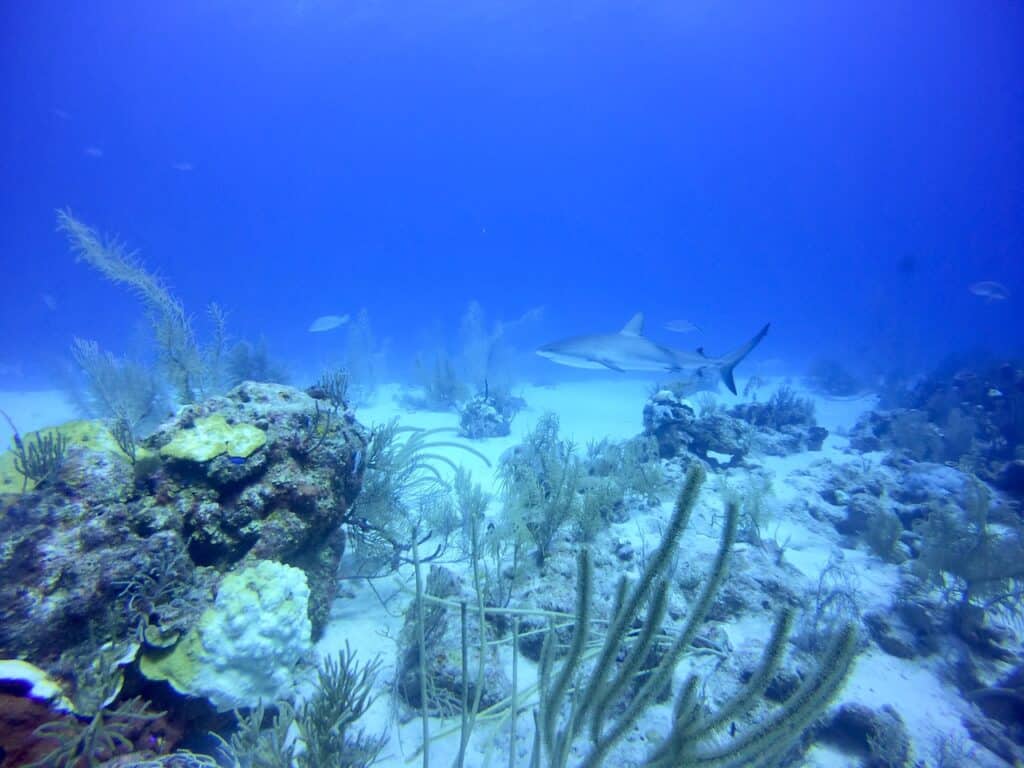 12:00PM: Lunch at Half Moon Caye Natural Monument
After finishing up the second dive of the day, it is off to lunch at the Half Moon Caye Natural Monument.
For the first 30 or so minutes of the pit stop, you can enjoy a large Belizean style lunch. From there, you can begin to explore this island a bit more.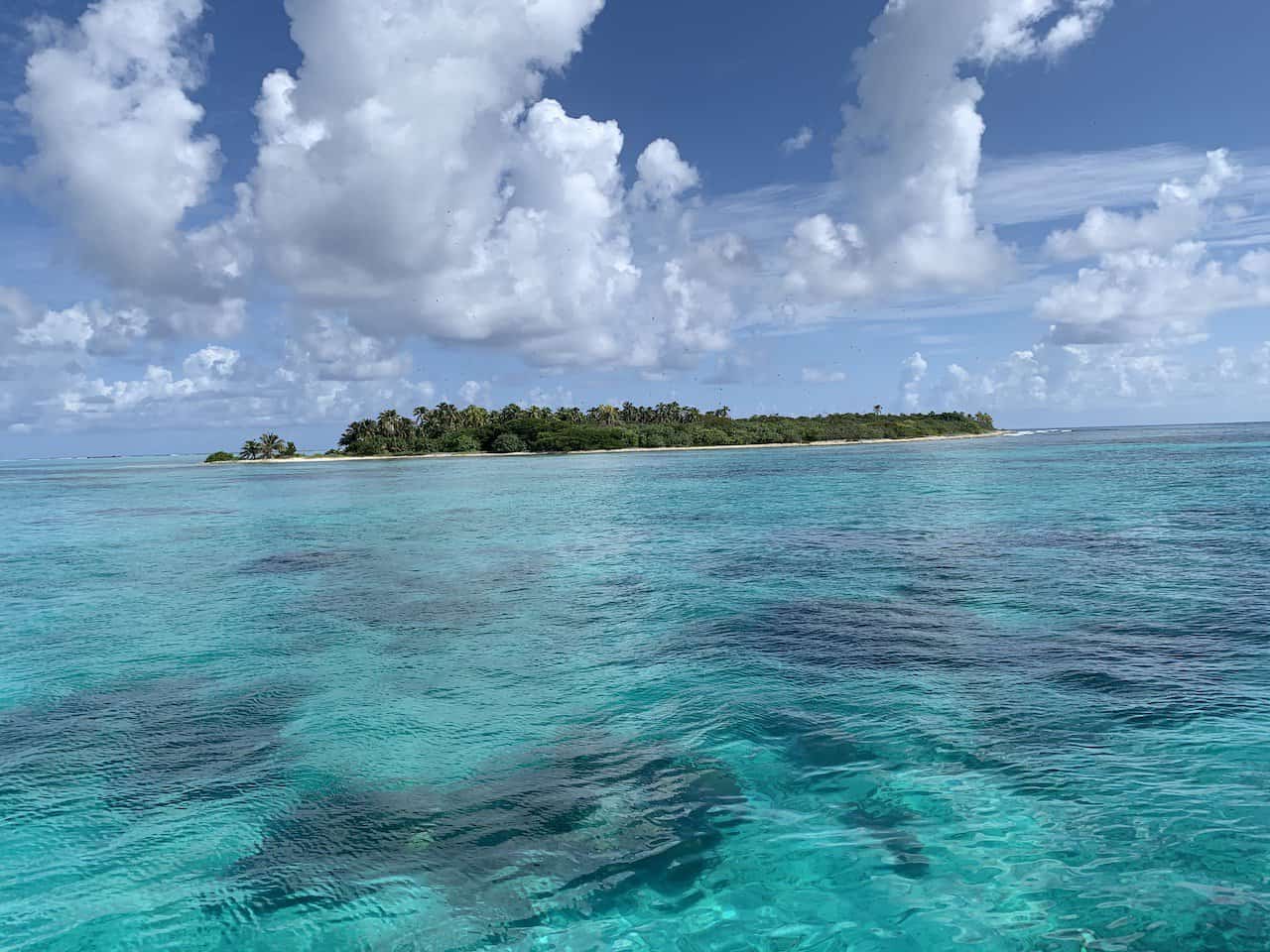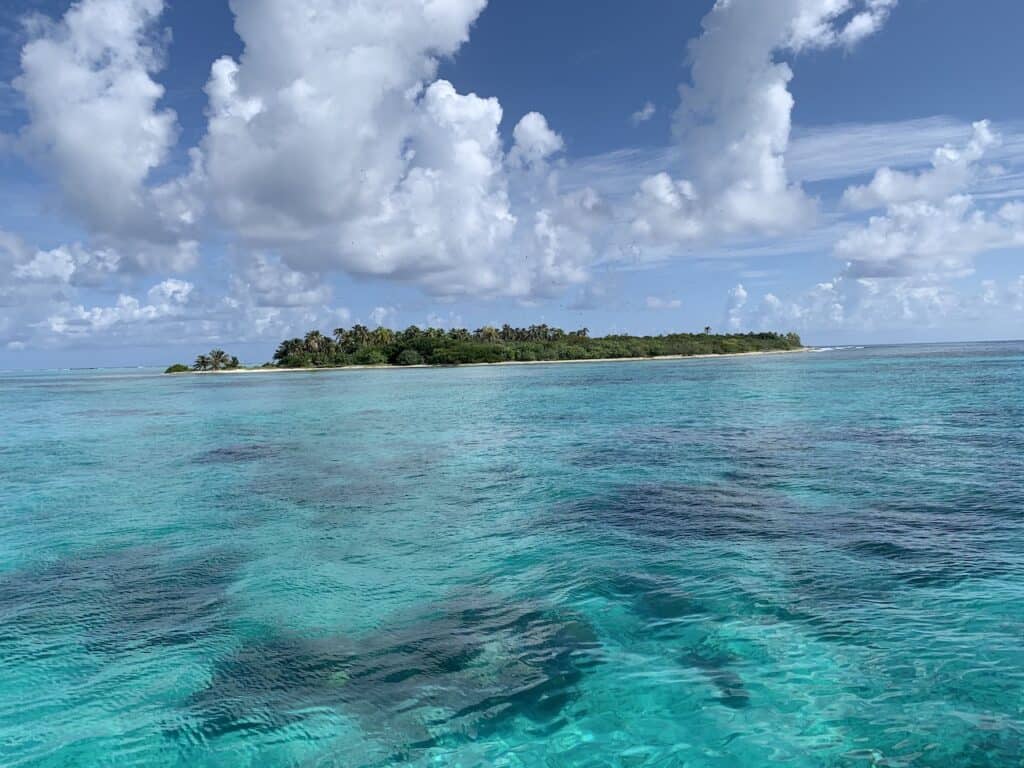 The highlight here are the orange flowered Ziricote trees and red footed Boobies. From an observation deck at the end of a pathway, you will get a great vantage point over these trees and animals.
Along the way too, don't be surprised to come across plenty of iguanas, other birds, and different types of wildlife.
It is then back on the boat for the final dive of the day.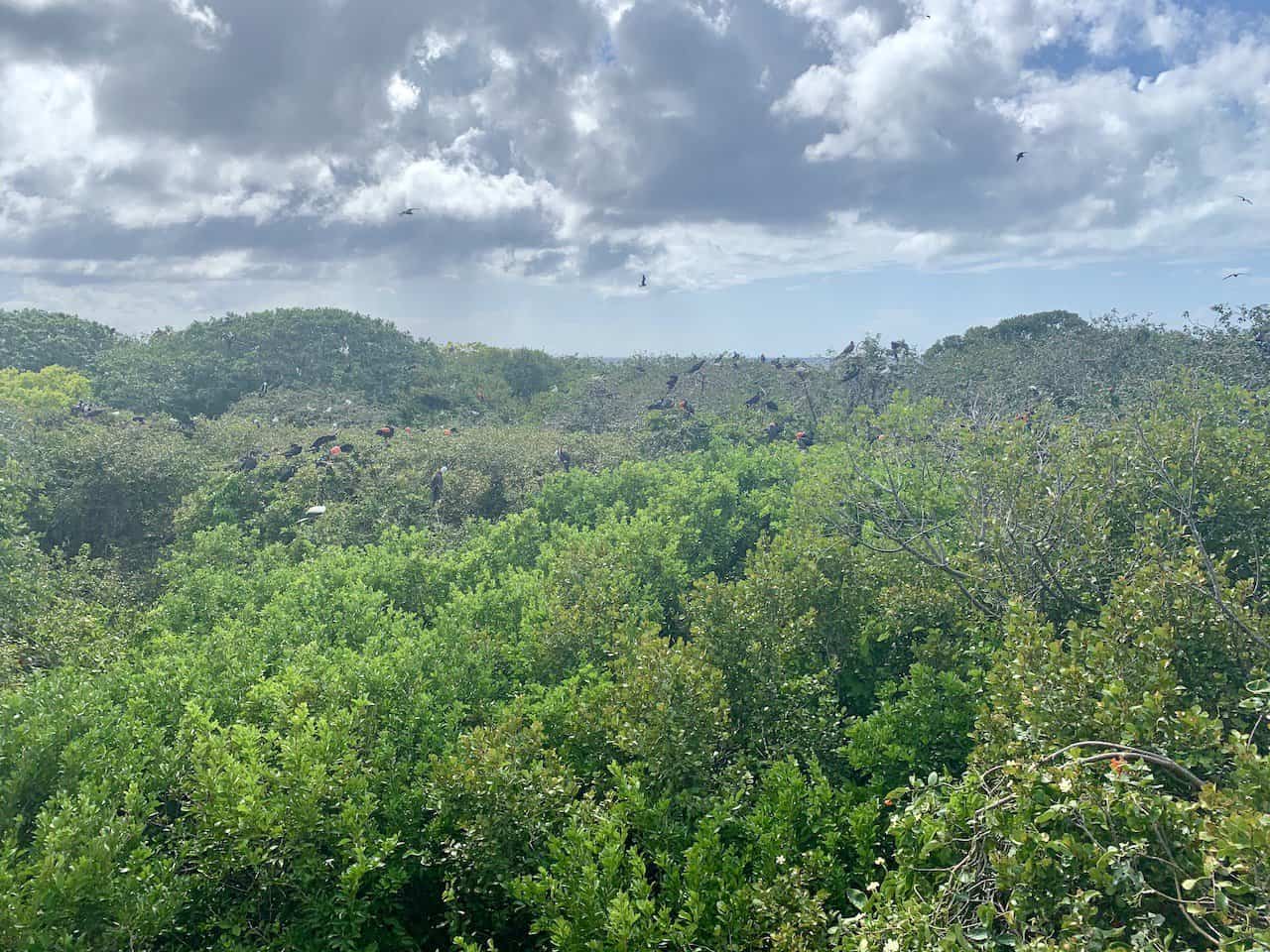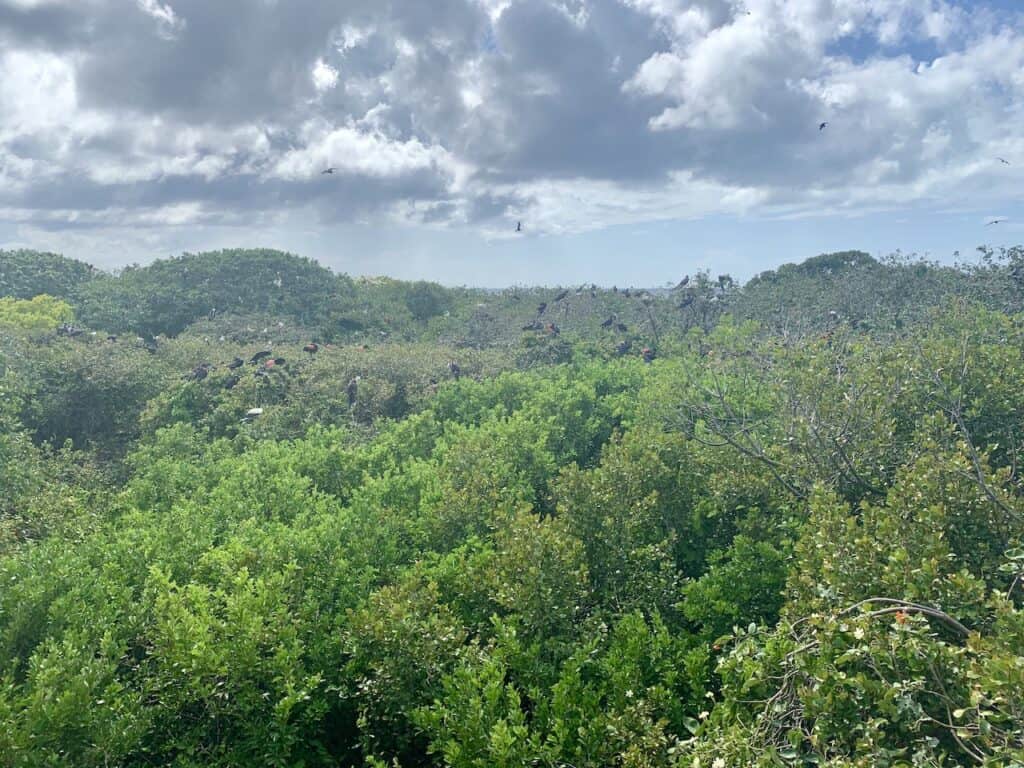 1:00PM: Depart to Long Caye Wall
Next is the Long Caye Wall dive site, which is also known as The Aquarium.
Similar to the previous dive, expect around 15 meters / 50 feet of depth and 40 minutes of dive time.
1:30PM: Long Caye Wall Dive
This was yet another dive that made the day just that much better. While the corals and colors were fantastic, so were the large schools of fish, turtles, and eels.
Now, these eels did not just stay buried up in a hole with their heads sticking out. These eels were actually swimming through the water and would even get right up close to the divers.
We were taught to stick our fins out to scare them away, but this was really something to experience.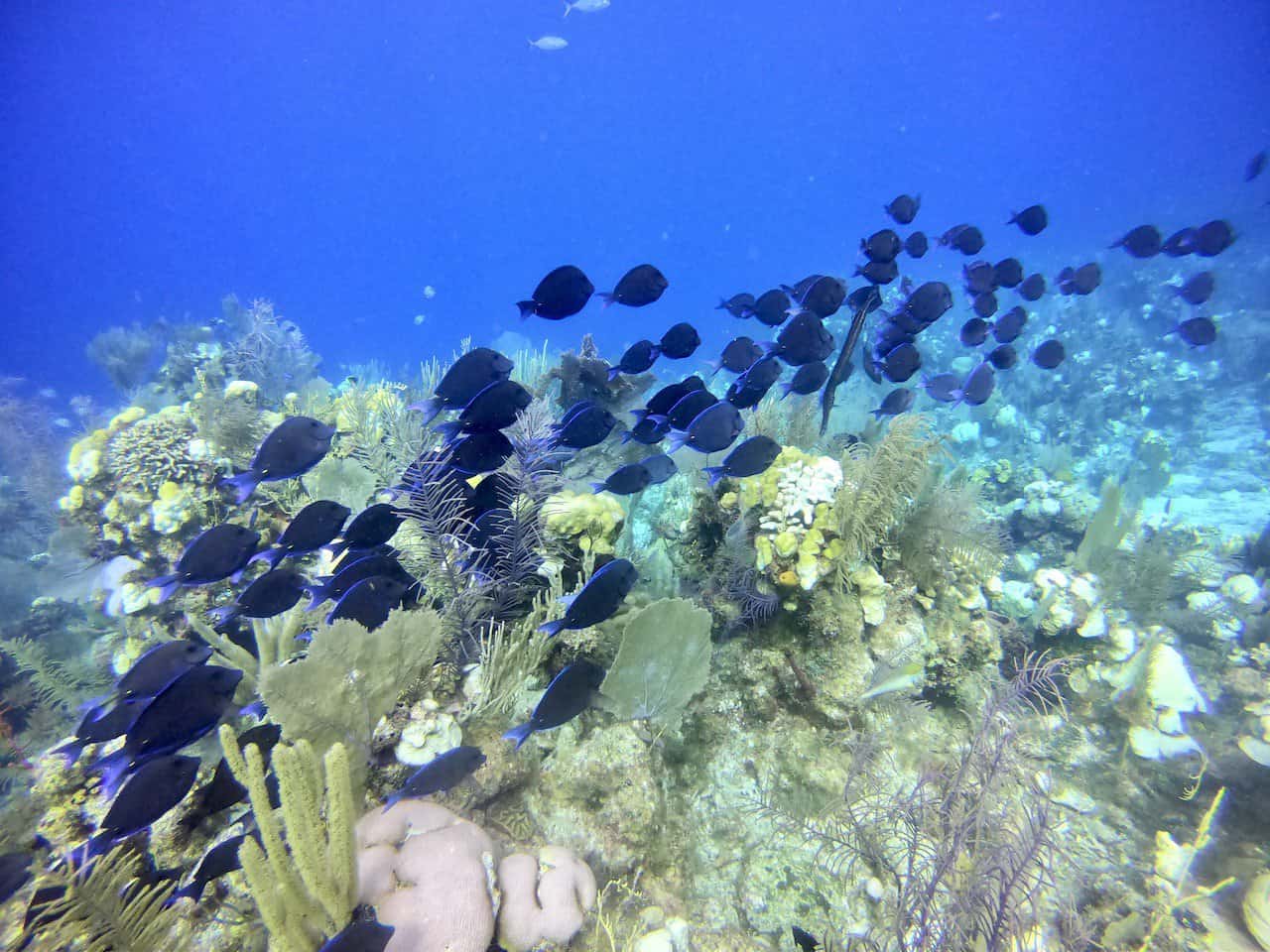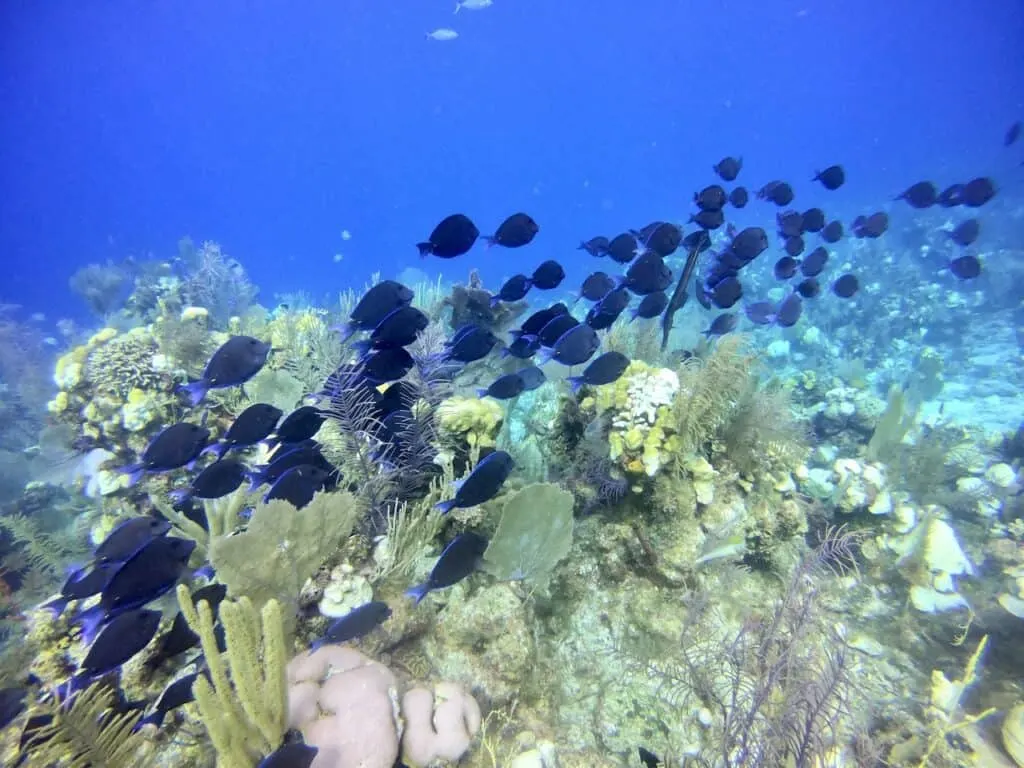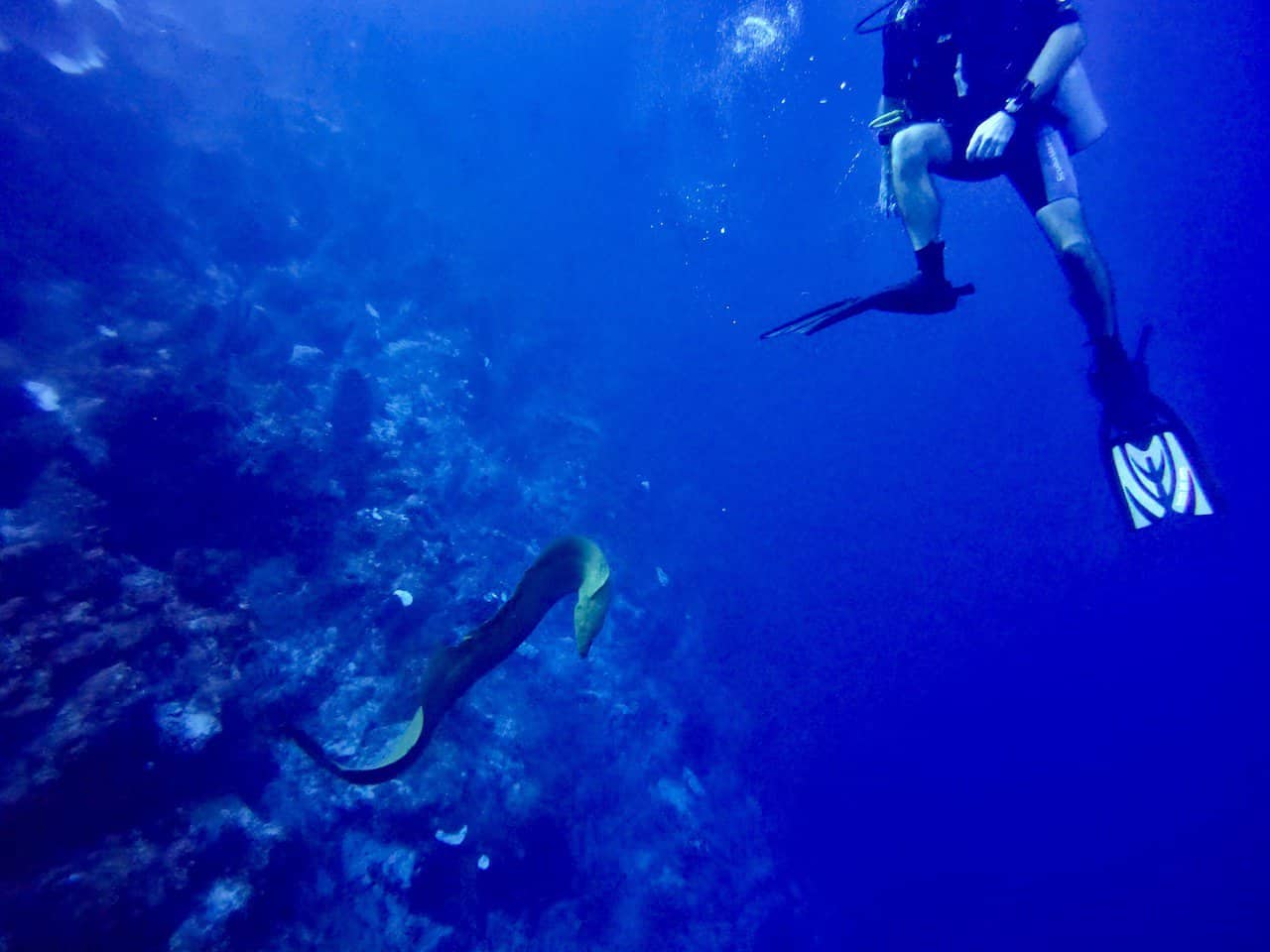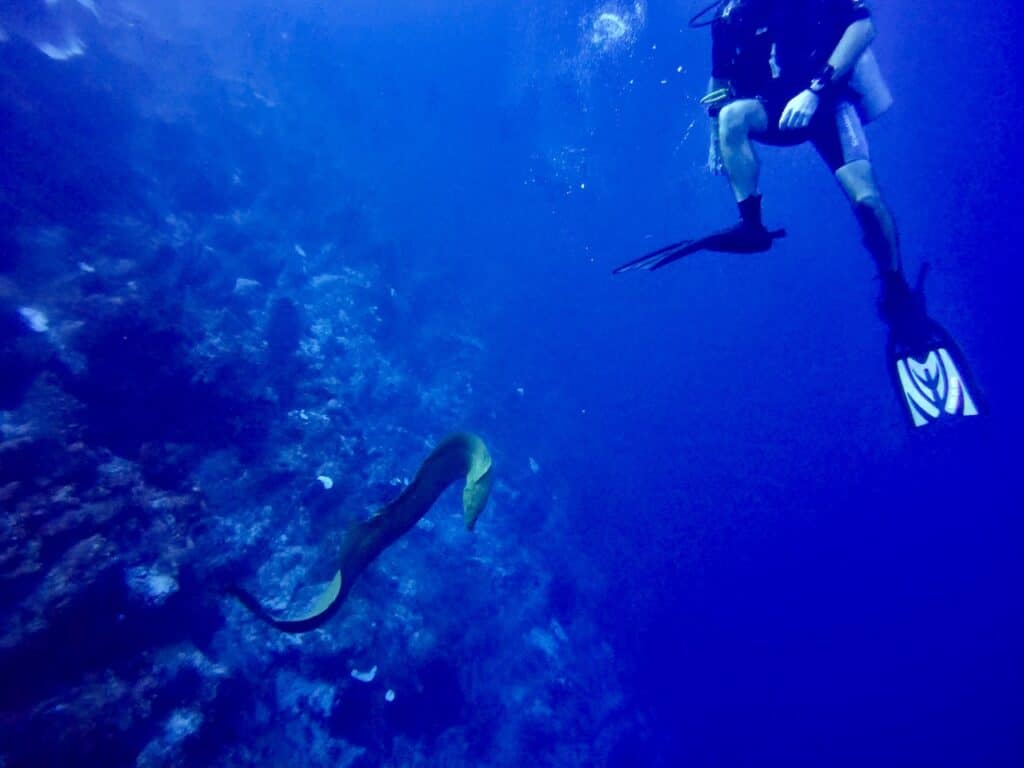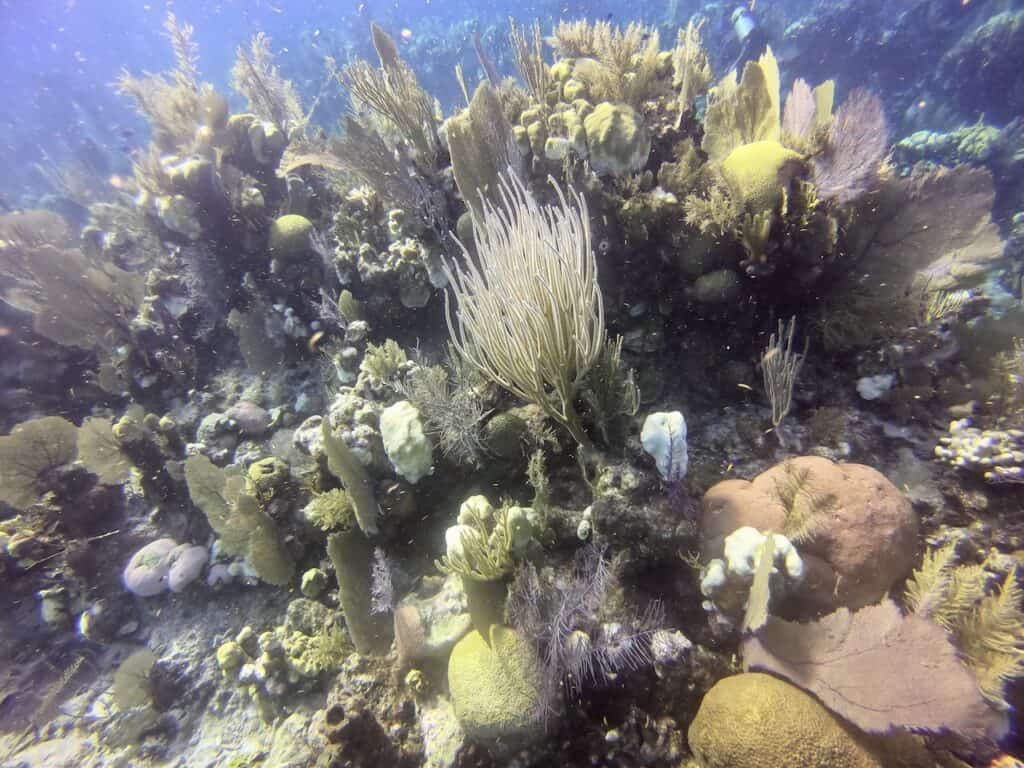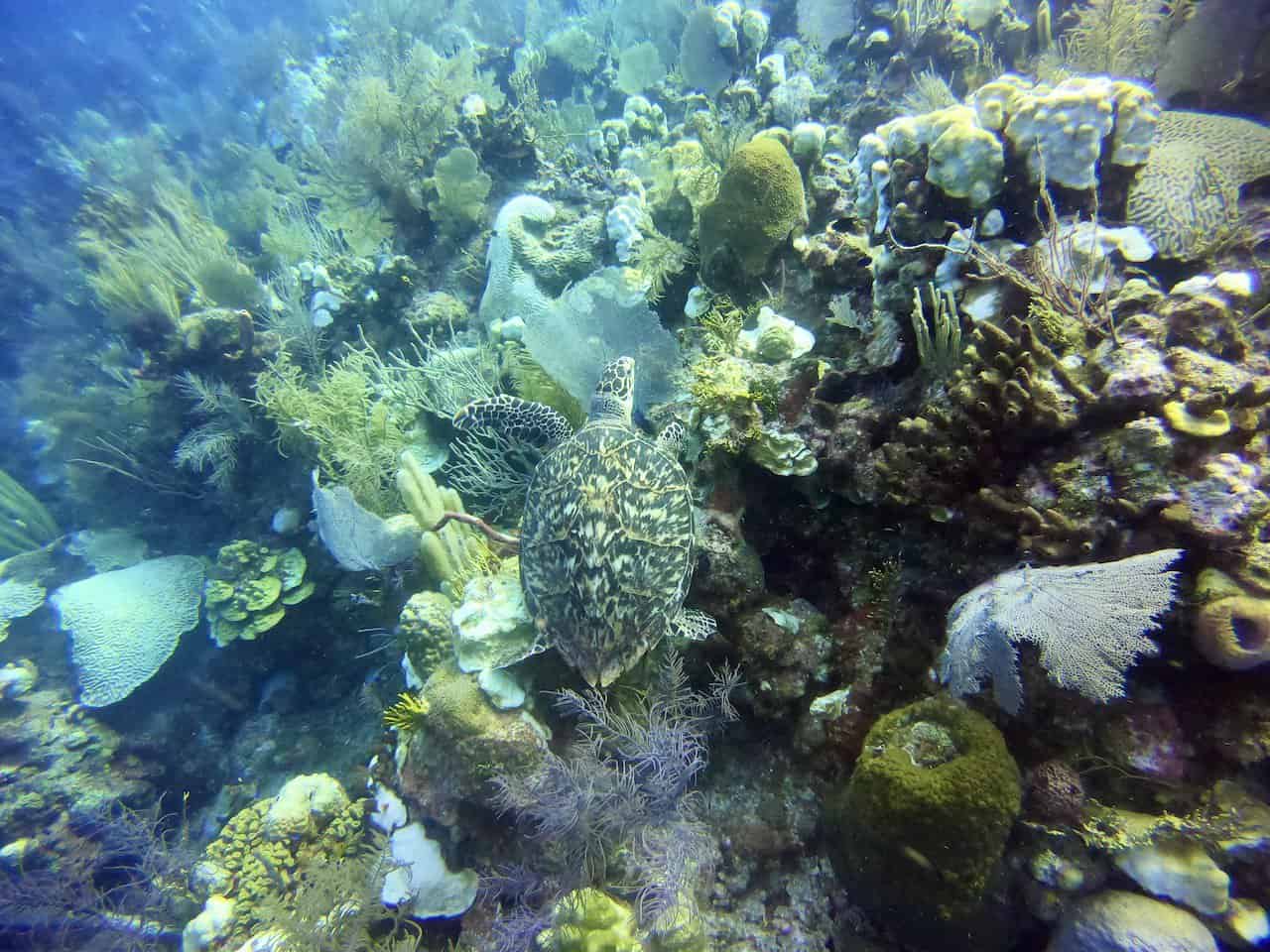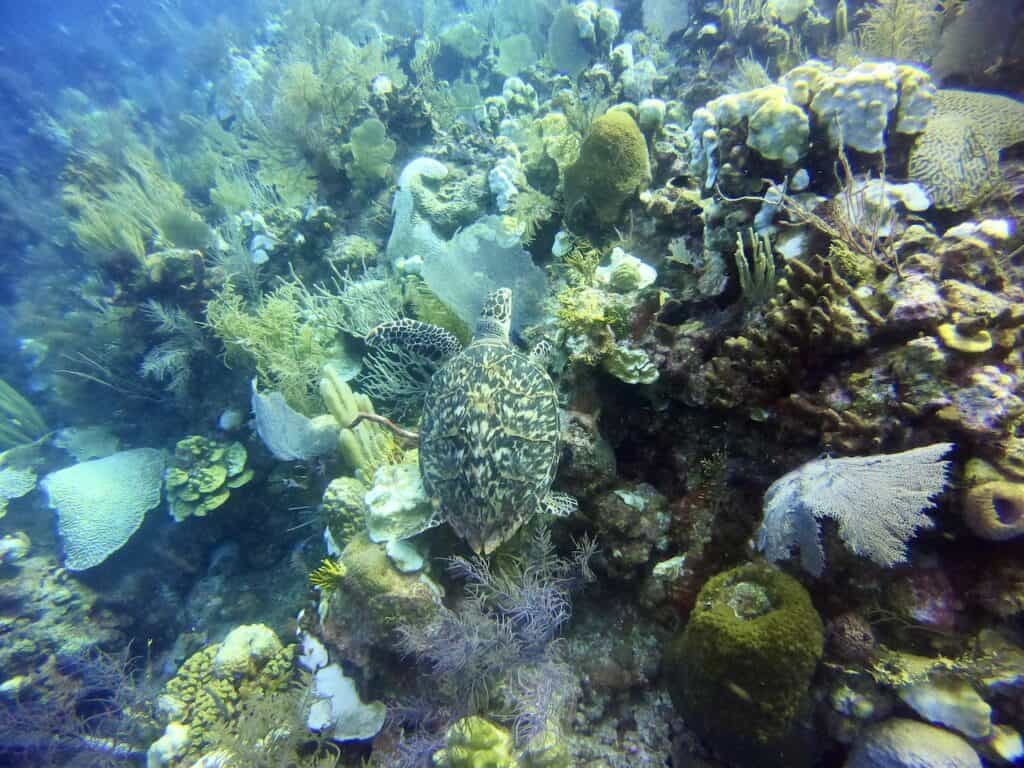 2:30PM: Boat to San Pedro
The boat back to San Pedro (or Caye Caulker / Placencia), will take around 2.5 more hours as you ride through the water.
After a successful time scuba diving the Blue Hole and other dive sites, getting to just hang on the boat will be a relaxing experience.
We spent the majority of the ride outside on the front of the boat, just taking in the surroundings and making new friends.
5:00PM: Arrive in San Pedro
Back in San Pedro, it is time to head back to the hotel, wash up, have a nice meal, and take a well-deserved sleep.
10) Is the Belize Blue Hole Worth It?
The Great Blue Hole dive gets mixed opinions from many people. Some people are enthralled by it, while others are not too thrilled with just looking at a wall & cave formation for 20 minutes.
This dive is not meant for the underwater life of coral reefs, fish, and other animals. Rather it is to experience the ins and outs of one of the largest sinkholes in the world.
For me, I knew what I was getting myself into and it was all about this experience. While the Blue Hole dive itself didn't offer that more standard diving experience with an abundance of underwater life, the next two dives certainly did (and more).
So, wrapping up the tour as a whole, there is without a doubt that the Belize Blue Hole was worth it for me.
But at the end of the day, it is about what you are trying to get out of your dives, and understanding the expectations of the dive site itself.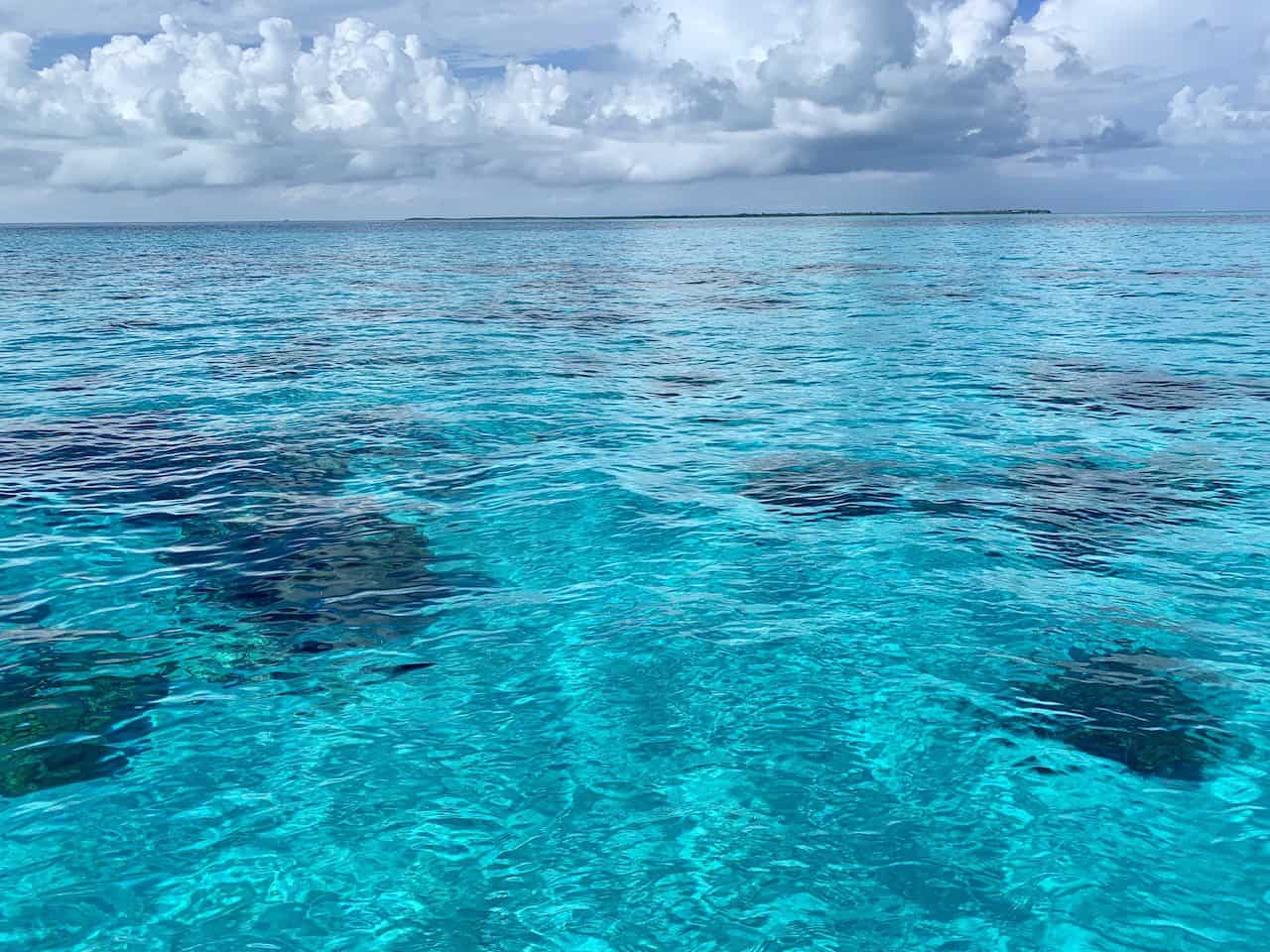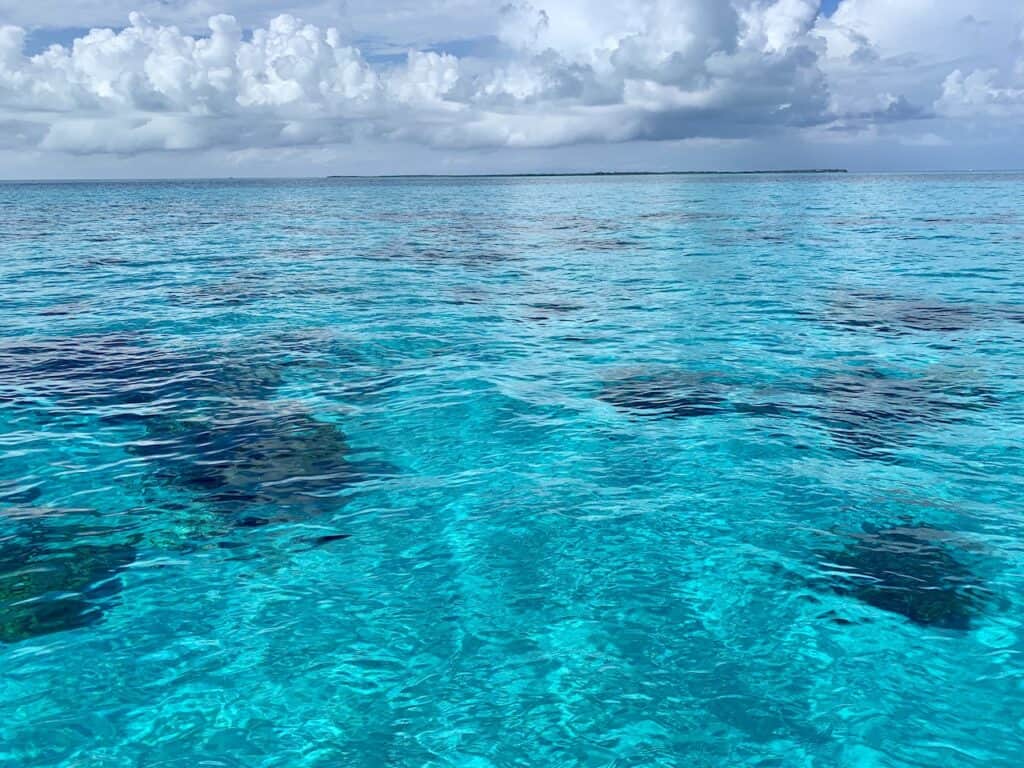 I hope this overview has better helped you understand what the Blue Hole of Belize is all about!
If you have any other questions or comments, be sure to add them in below.
Also, don't forget to check out the other Belize itineraries and guides up on the site.
Have fun out there and safe travels!