When it comes to snorkeling and scuba diving in Belize, it does not get much better than Shark Ray Alley, and the surrounding Hol Chan Marine Reserve.
During a full day or half day adventure, you will get to explore the ins and outs of these crystal-clear waters as you swim among fish, coral, turtles, rays, sharks, and plenty more.
This overview will talk through how to take part of a day tour and what to expect along the way.
* Affiliate Disclosure: This post may contain affiliate links, which means I may receive a commission if you make a purchase through the links provided, at no additional cost to you. Thanks for supporting the work I put into TripTins!
1) What is Hol Chan Marine Reserve & Shark Ray Alley
The Hol Chan Marine Reserve is a protected area of water nearby Ambergris Caye, with Shark Ray Alley a specific zone within the larger reserve.
Below are some helpful things to know about Hol Chan & Shark Ray Alley:
Creation: in 1987 the Hol Chan Marine Reserve was established to help protect the underwater world just outside of Ambergris Caye. It was created as a way to stop overfishing and other harmful activities that were adversely affecting the ecosystem. Shark Ray Alley was then added into the marine reserve in 1999, with further expansion in 2016.
Name: The Mayan name Hol Chan translates to "Little Channel". This is named after a cut in the reef, which is one of the highlights of the reserve. Shark Ray Alley is aptly named after the sheer number of sharks & rays that frequent the waters around its area.
Zones: Hol Chan Marine Reserve's original main area is split into four distinct zones (A, B, C, & D) that covers 3 square miles. Zone D is also better known as Shark Ray Alley. In addition, there are four more zones (E, F, G, H) that were added in 2016, that extend further north along Ambergris Caye. This in turn created a 103,000-acre reserve that has expanded 25x since its inception.
Depth: The main "Little Channel" of the reserve is around 30 feet in depth (similar to the spots where other snorkeling & diving will take place). At Shark Ray Alley, expect to be in just 8 feet of water.
Underwater Life: Without a doubt, the main highlight of visiting this area is to enjoy the vast and diverse underwater life. Over the years there have been over 160 species of fish, 50 coral species, turtles, manatees, dolphins, & more found in the reserve.
Today, visitors have the chance to explore Hol Chan Marine Reserve and its Shark Ray Alley as part of a guided snorkeling/diving trip out in the Belizean waters.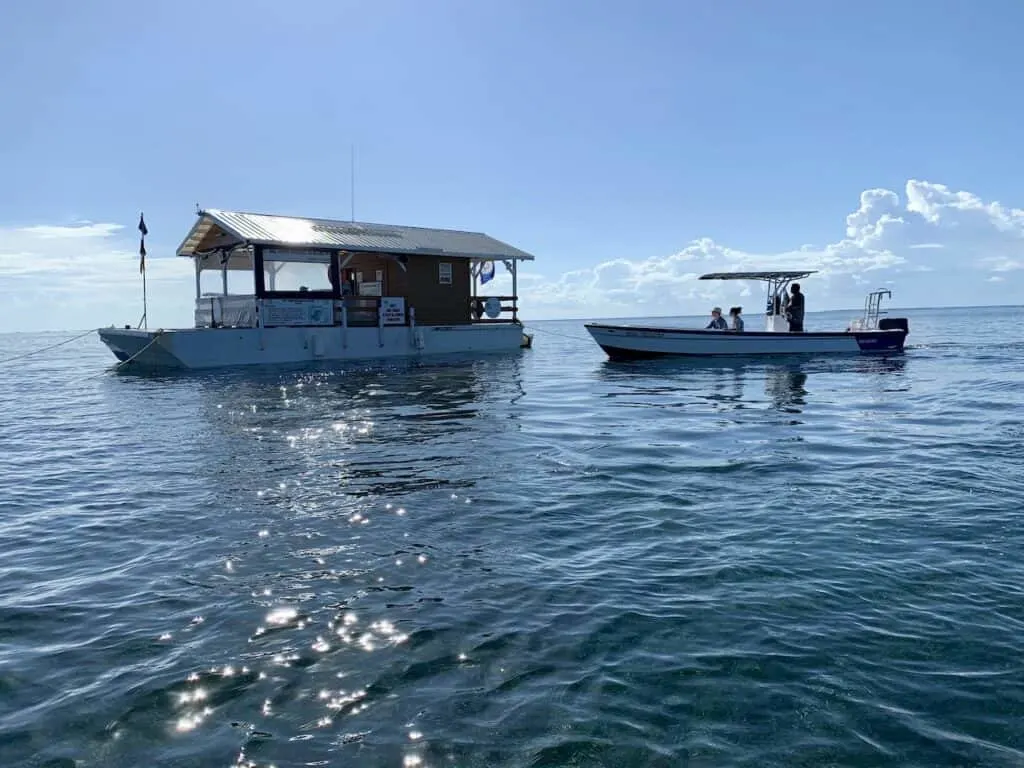 Learn More: Visit Hol Chan & Shark Ray as part of a longer Belize Itinerary around the country
2) Location & Map
To get a better understanding of where Hol Chan & Shark Ray Alley are located, check out a couple maps below.
The first map shows the main original four zones located just south of Ambergris Caye. The second map shows the entirety of the marine reserve along with the additional zones which got added in later on.
For the most part, the majority of tours will focus in on Zone A (The Coral Reef) and Zone D (Shark Ray Alley).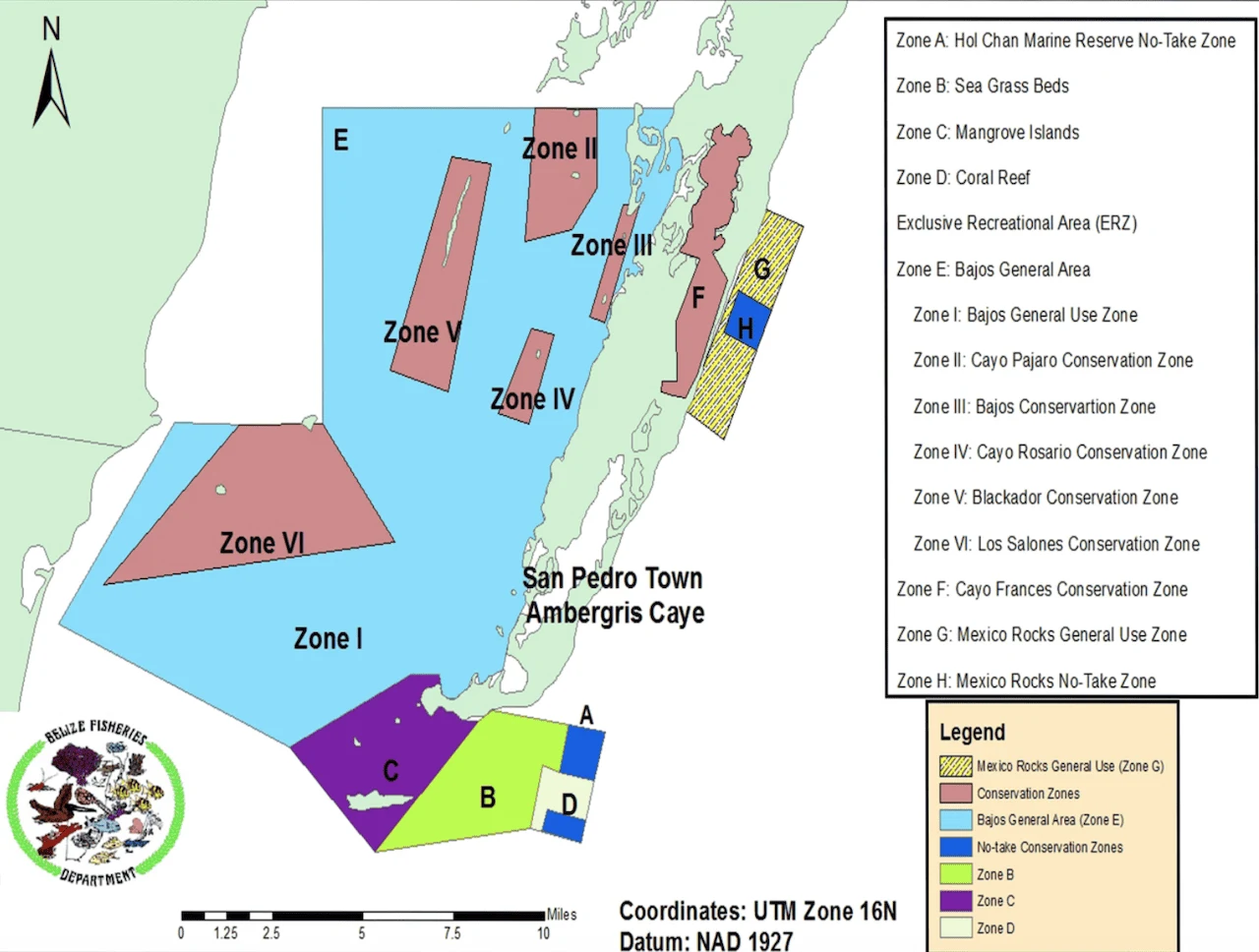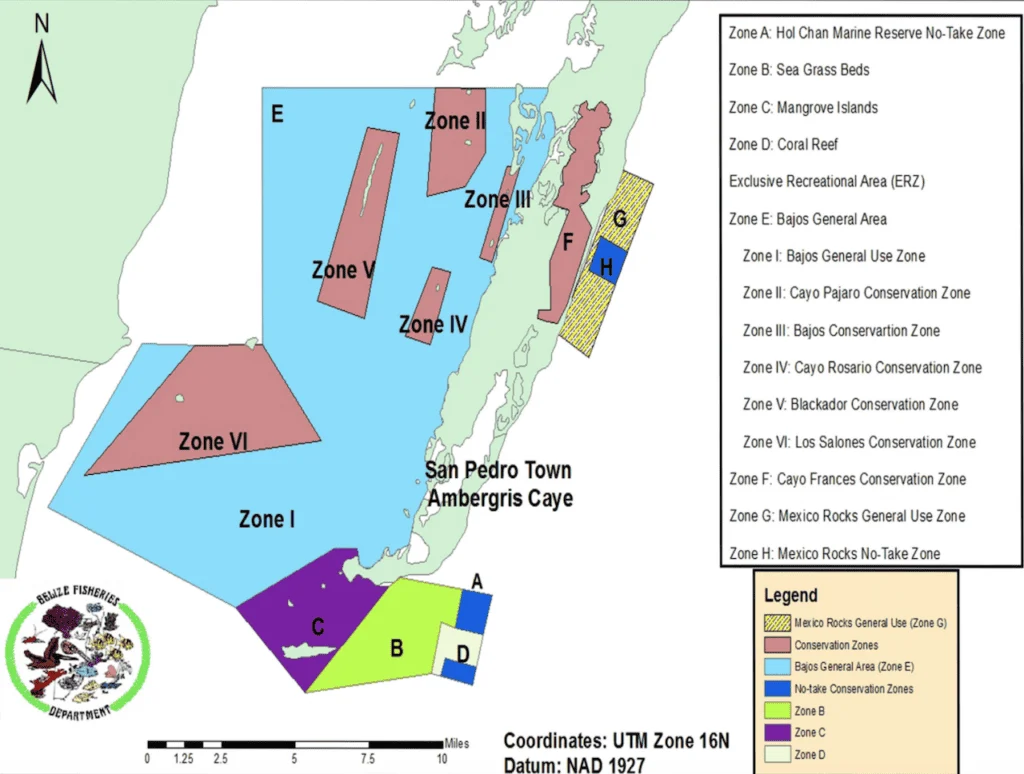 3) How to Visit
Now, since this is a protected zone, you must be part of a guided tour to visit Hol Chan Marine Reserve & Shark Ray Alley. There is even a "floating" checkpoint where boats will pay the appropriate fees before starting the day's activities.
Thankfully there are several highly rated tour operators that are based on Ambergris Caye (San Pedro) and nearby Caye Caulker.
While each tour may be slightly different with its offerings, they should all give ample time to explore the underwater world.
Below are a few recommended options to consider based on where you are staying.
From San Pedro / Ambergris Caye
Hol Chan & Shark Ray Full Day Tour: this full day tour includes 4 snorkels, lunch, time on Caye Caulker, and the opportunity to see plenty of wildlife along the way.
Hol Chan Sailboat Half Day Tour: a perfect option for those that want to set off on a sailboat and spend half a day exploring Hol Chan and Shark Ray Alley.
Private Full Day Tour: for those looking for a private experience, this is your best bet. It includes stops throughout Hol Chan and even Caye Caulker. You will get the best of the best while enjoying your own sailboat.
From Caye Caulker
Hol Chan Full Day Bucket List Tour: this full day tour takes you to a variety of stops throughout the Marine Reserve and Caye Caulker area. Snorkeling, lunch, sightseeing, and more will be included during a full day of adventure.
All Inclusive Snorkeling Tour: for a bit shorter of a tour, but just as adventurous, this day trip takes you out to 6 different snorkel sites throughout Hol Chan.
Scuba Diving Note: the tours mentioned above just offer snorkeling opportunities. If you would like to also scuba dive in the reserve, I would recommend reaching out to Scuba School Belize, which has a dive/snorkel combo trip for Hol Chan and Shark Ray Alley.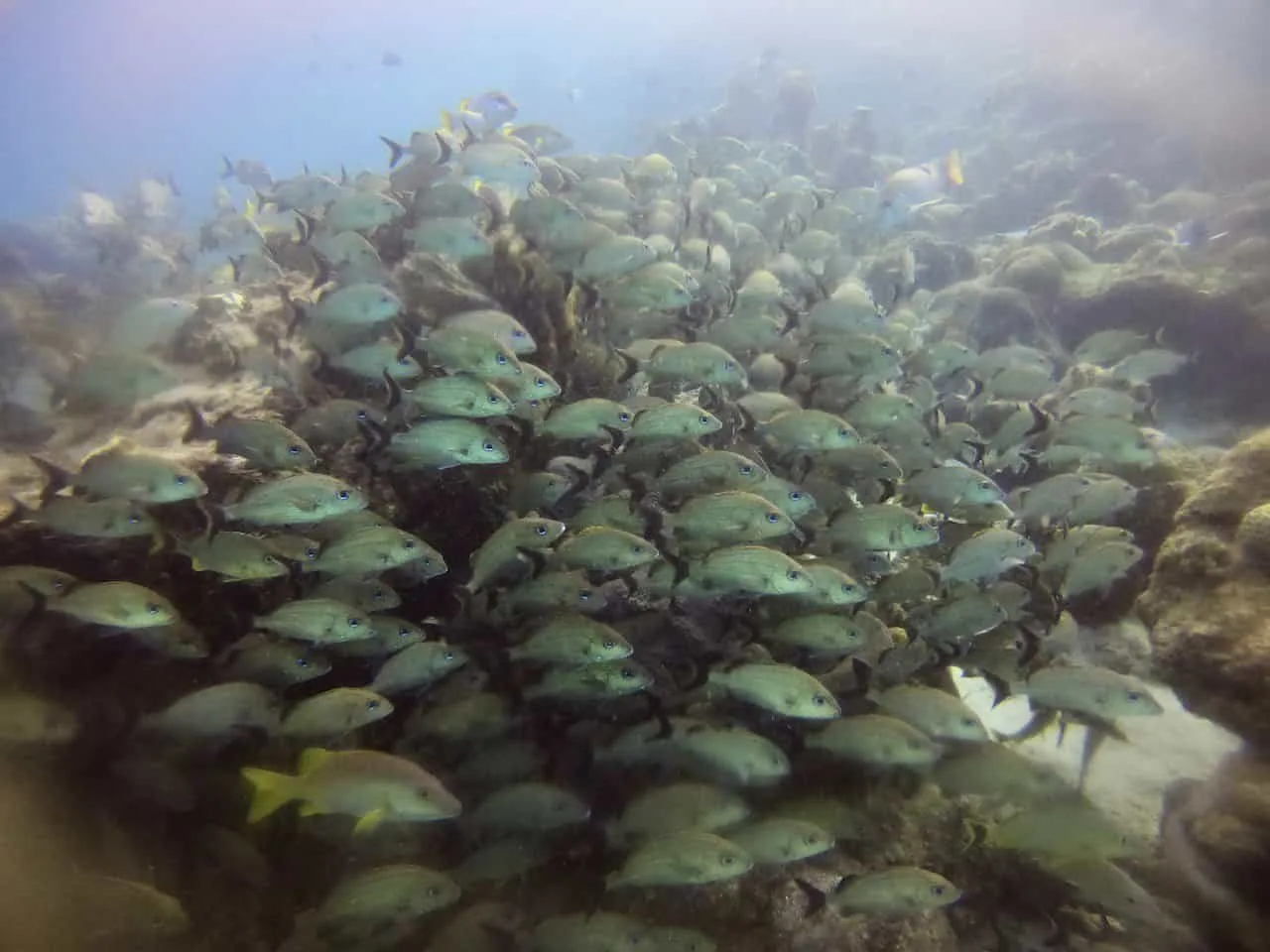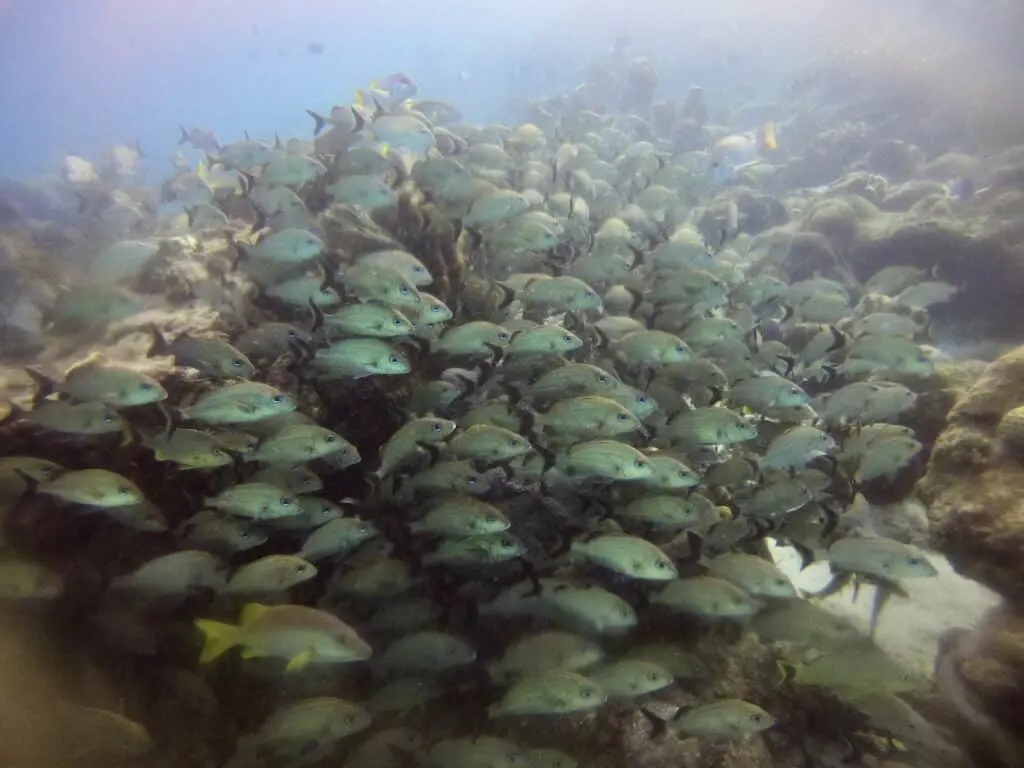 4) Where to Stay
If you are taking part of a tour out to Hol Chan and Shark Ray Alley, you will be doing so from nearby San Pedro or Caye Caulker. Below are a few highly rated options to consider when choosing a hotel for your trip.
San Pedro
Victoria House Resort & Spa: located 10 minutes south of town by golf cart is the Victoria House Resort. As one of the highest rated spots on San Pedro, it makes for the perfect choice when going about your trip. It has a beautiful pool & beach area, and a relaxing spa to enjoy after a long day.
Ramon's Village Resort: for those that want to stay closer to the main town center, Ramon's is a great option to choose. It is a bit of a jungle oasis within the city and makes you feel as if you are far from the hustle & bustle of downtown.
Caye Caulker
Weezie's Oceanfront Hotel & Cottages: Weezie's is located just south of town and offers both an oceanfront property and inland cottages. There are three pools on site, and it has easy access to the beach and town center.
La Isla Resort: a more resort like property that is right in the center of the action is La Isla. Minutes away from the Split, restaurants, shops, & more, it does not get much more convenient than this.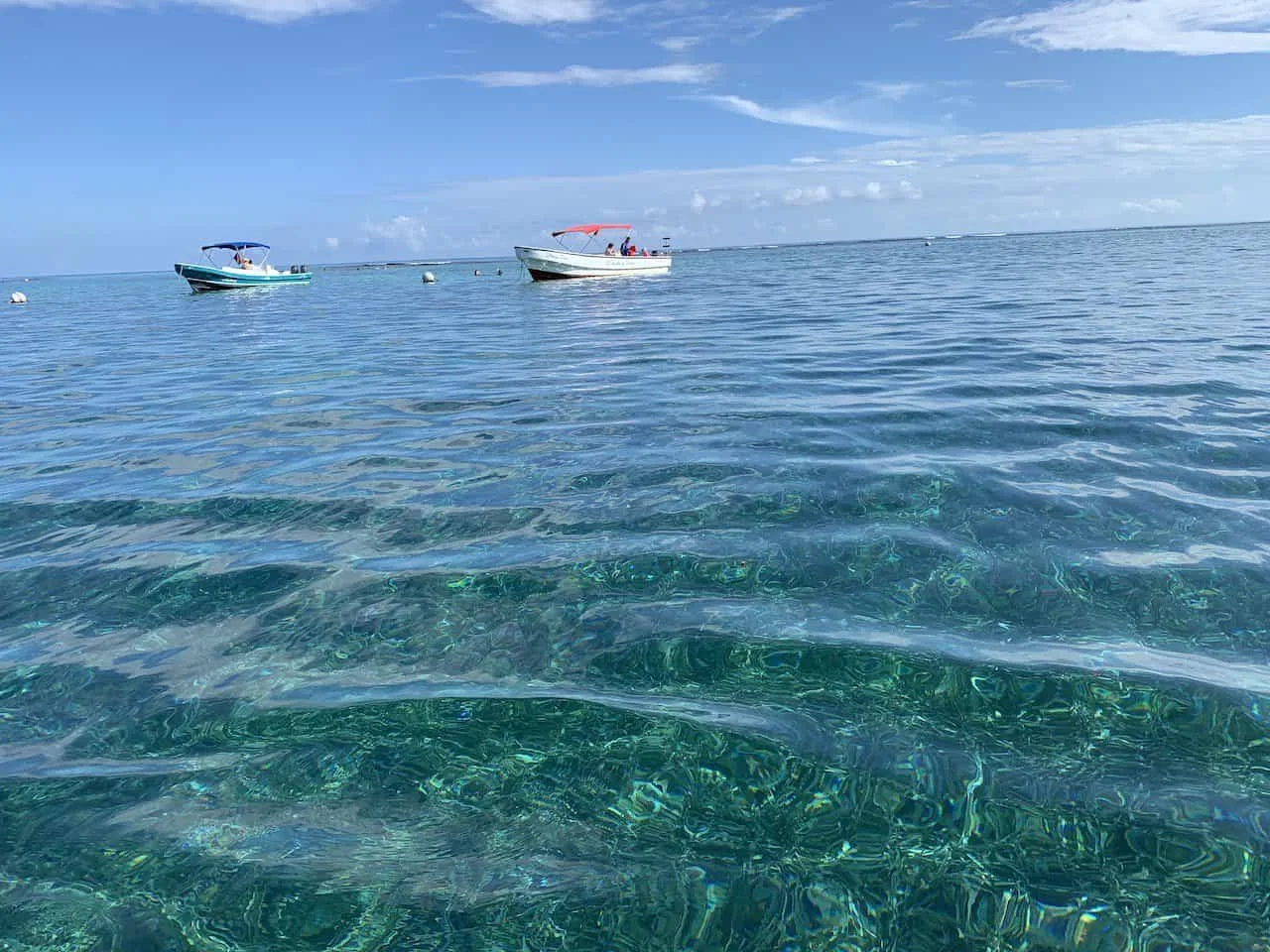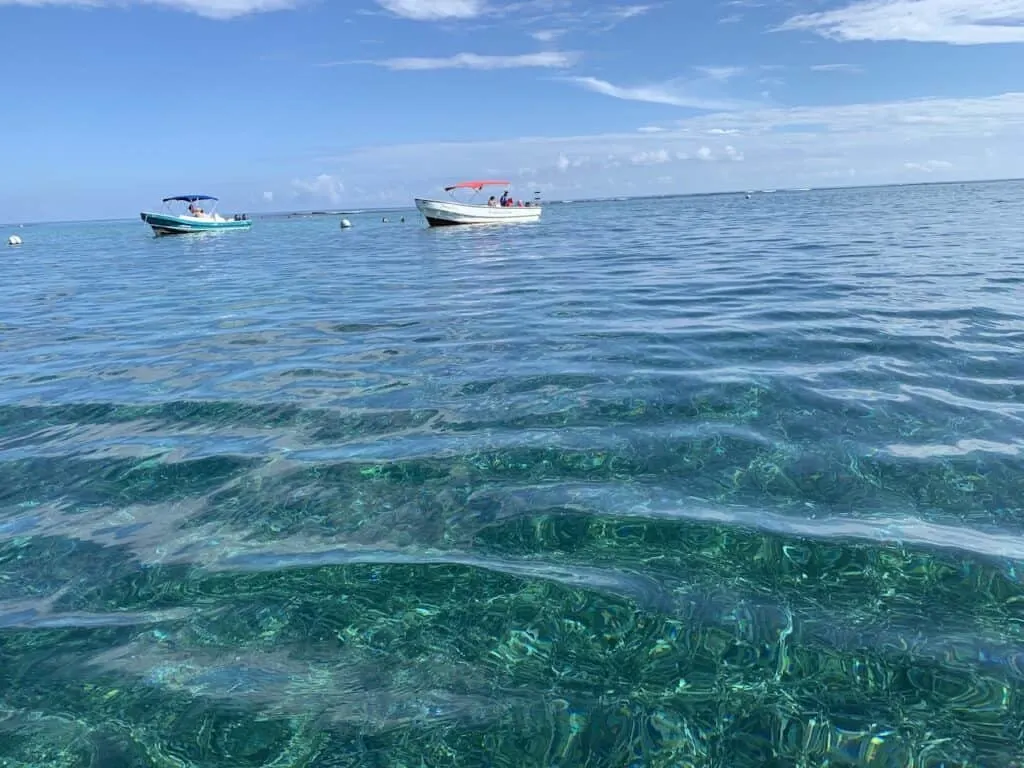 5) Hol Chan Marine Reserve & Shark Ray Alley Tour Overview
By now you should have all the information you need from a logistics standpoint. Let's get into what a tour will entail and what to expect during a day out at sea.
It is important to note that each tour may be slightly different with their itinerary, stops, and overall route for the day. The shorter half day tours are likely to just make 2-3 stops. And the longer tours can make 5+ stops throughout the trip.
The below should still give you a very solid understanding though of what a tour out in the Hol Chan Marine Reserve is all about.
Meeting Point & Departure
Tours will start in either San Pedro or Caye Caulker at the particular company's shop or at a general dock boarding area. There may be a short orientation going over what the day entails and what to expect along the way.
You will then get to hop onboard and venture out to the first of several snorkeling spots. Since the Hol Chan Marine Reserve is located directly next to San Pedro & Caye Caulker, tours should be at the first spot in less than 20 minutes.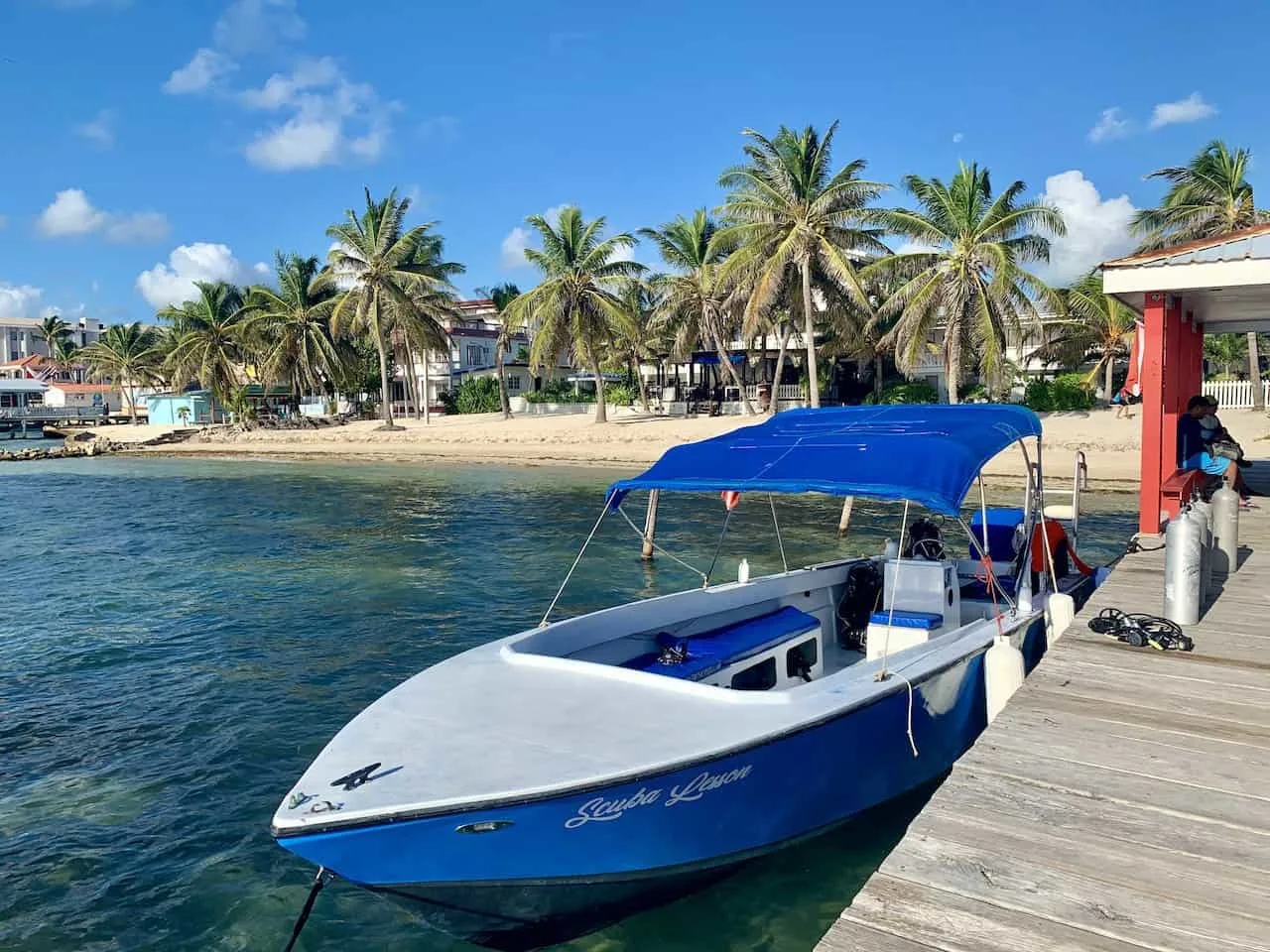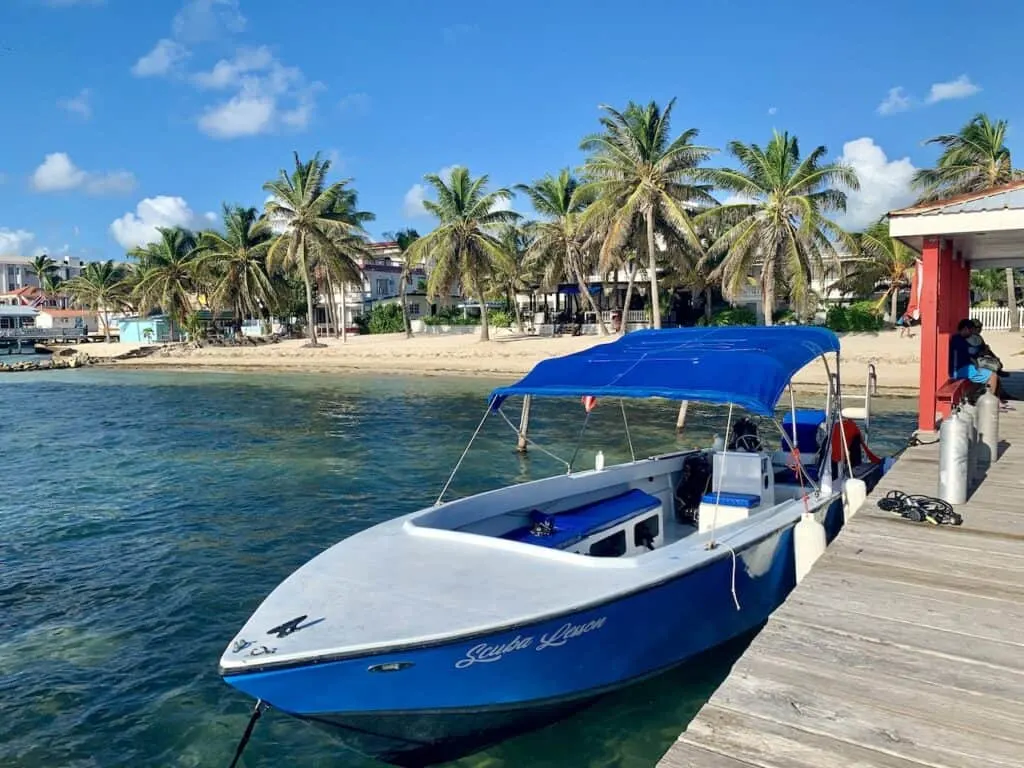 Hol Chan Marine Reserve
One of the highlights of Hol Chan is the "Hol Chan Cut" itself. As mentioned earlier, the name derives from the "cut" in the reef. This is a fan favorite spot with plenty of coral, fish, and even potential manatee sightings.
On either side of the channel you will find a never-ending array of coral as you are surrounded by hundreds of different types of fish.
The depth of the area is around 30 feet / 10 meters, making this a great spot for both snorkelers and divers alike.
Be aware that the current can be felt here as the water rushes through the channel. But it is a fantastic experience nonetheless as you get to experience a 30-45 minute snorkel to start off the day.
You can find some photos below of what types of underwater life can be found in Hol Chan & nearby sites during a snorkeling or diving session.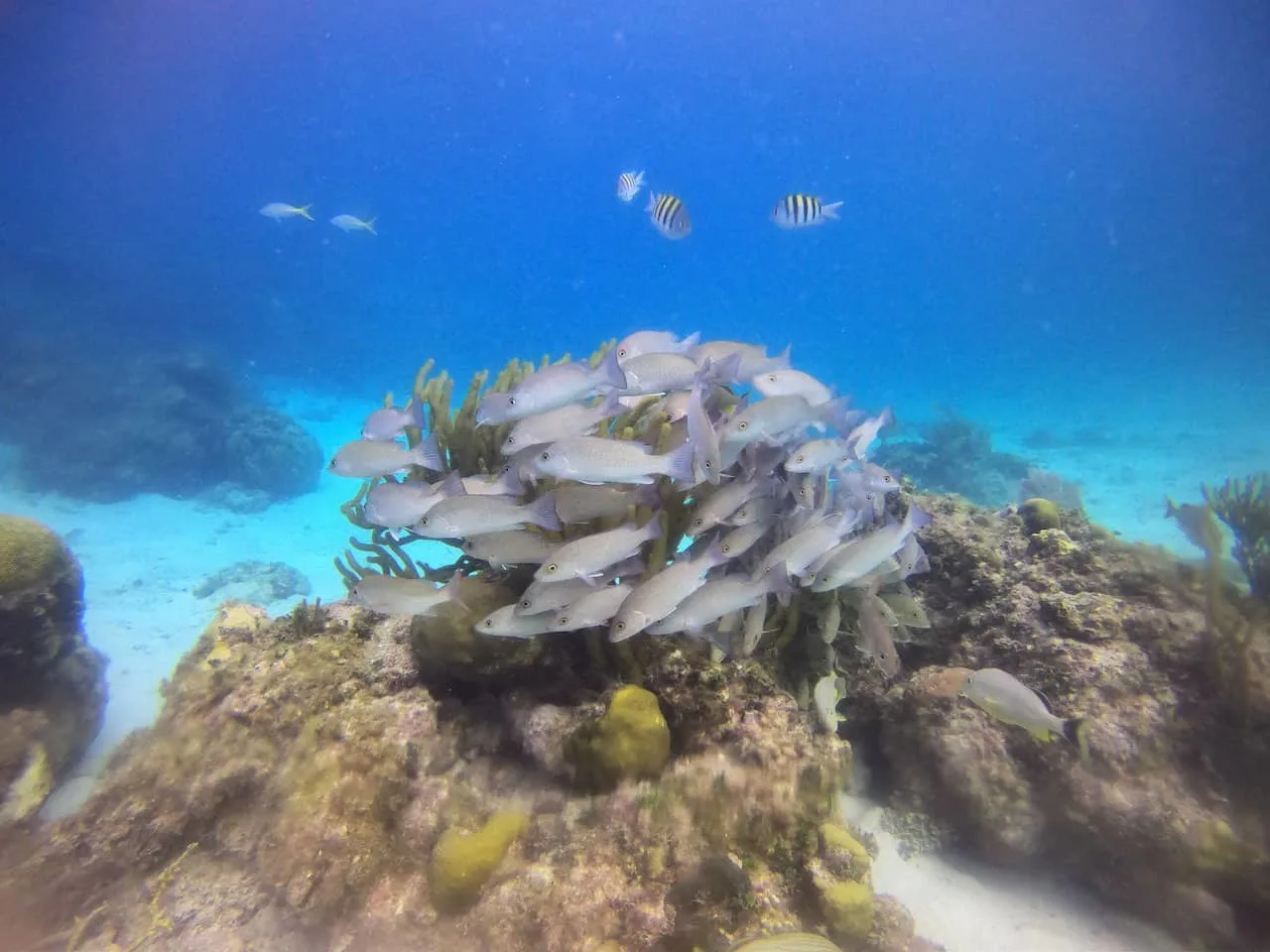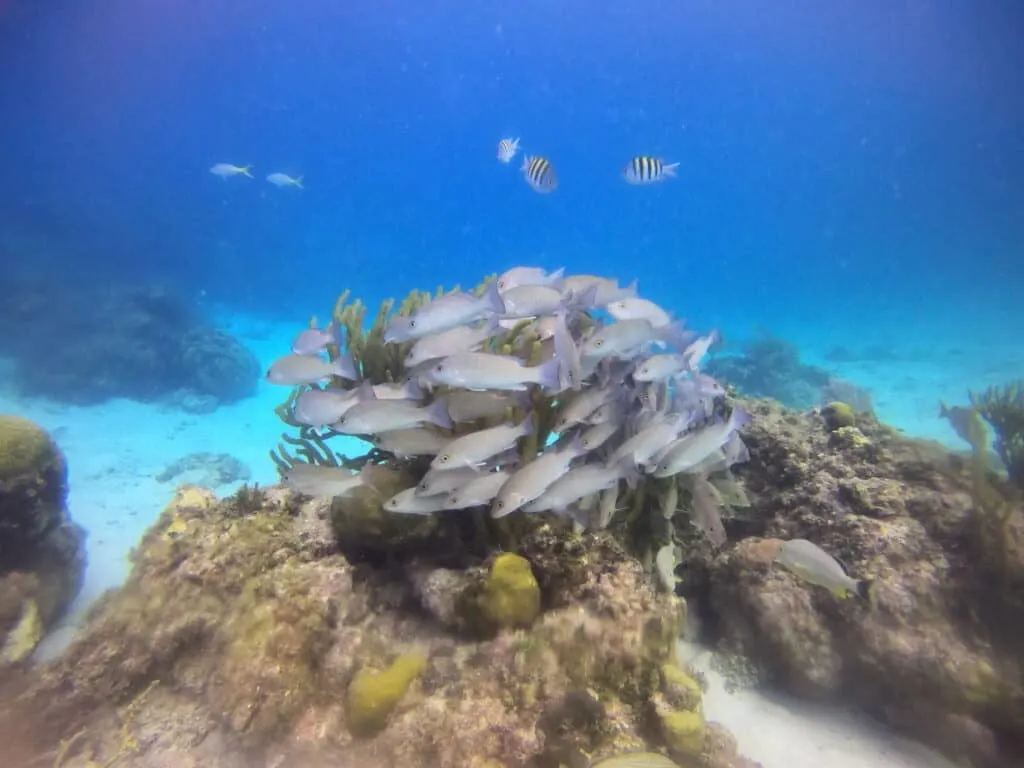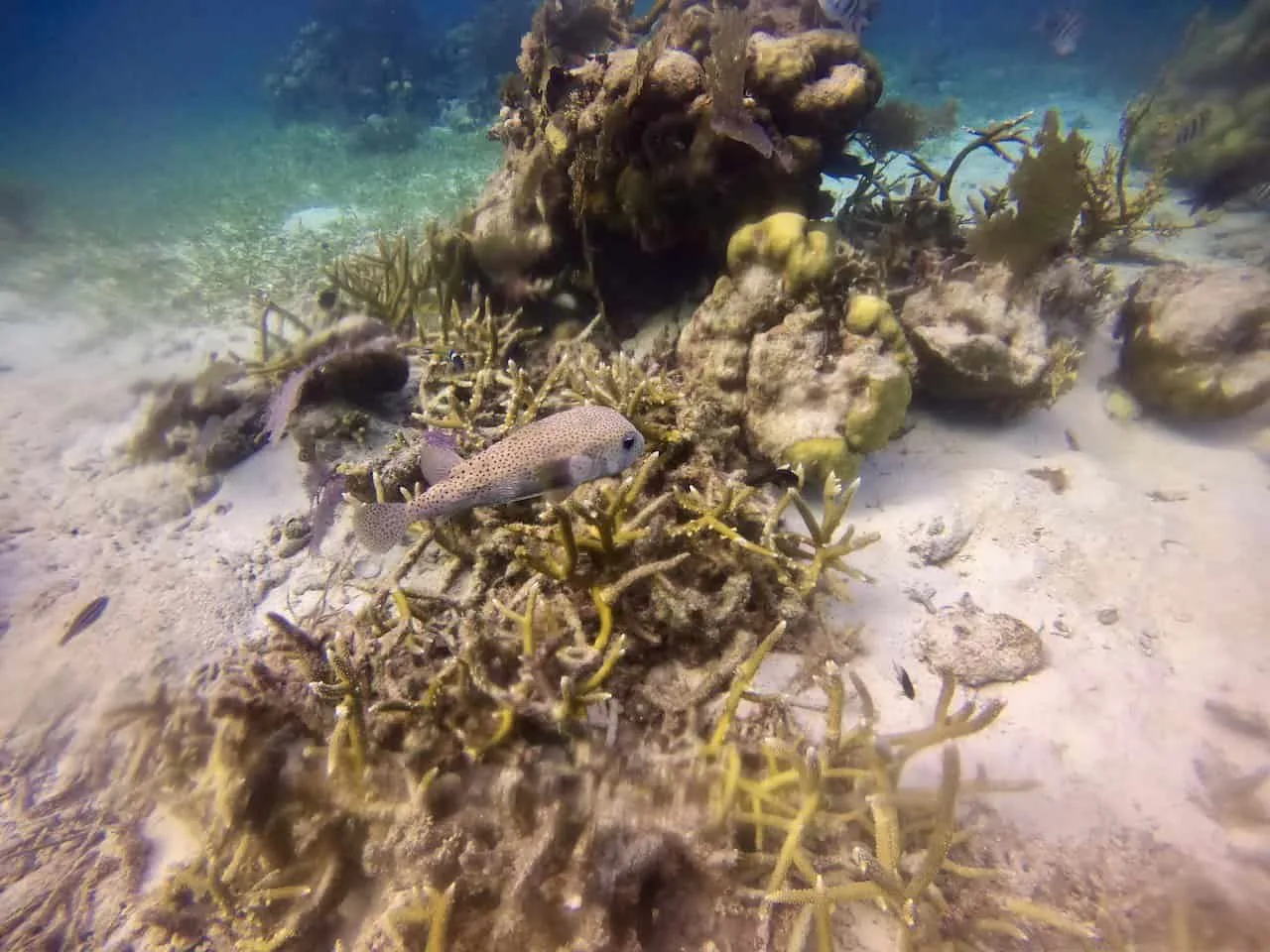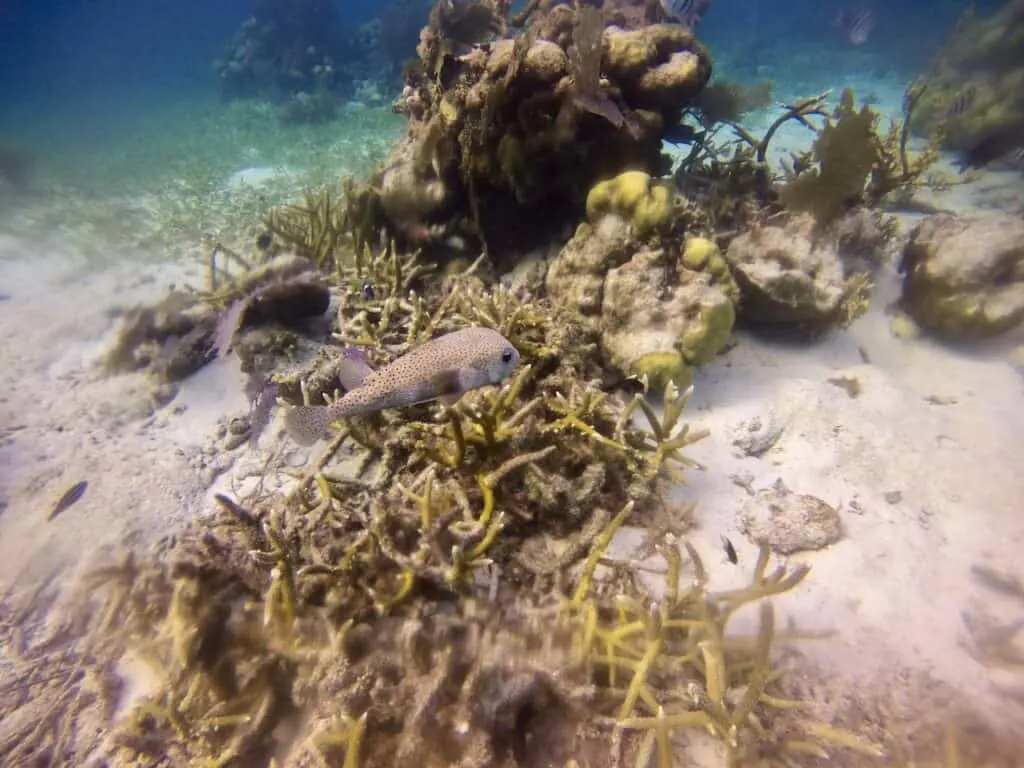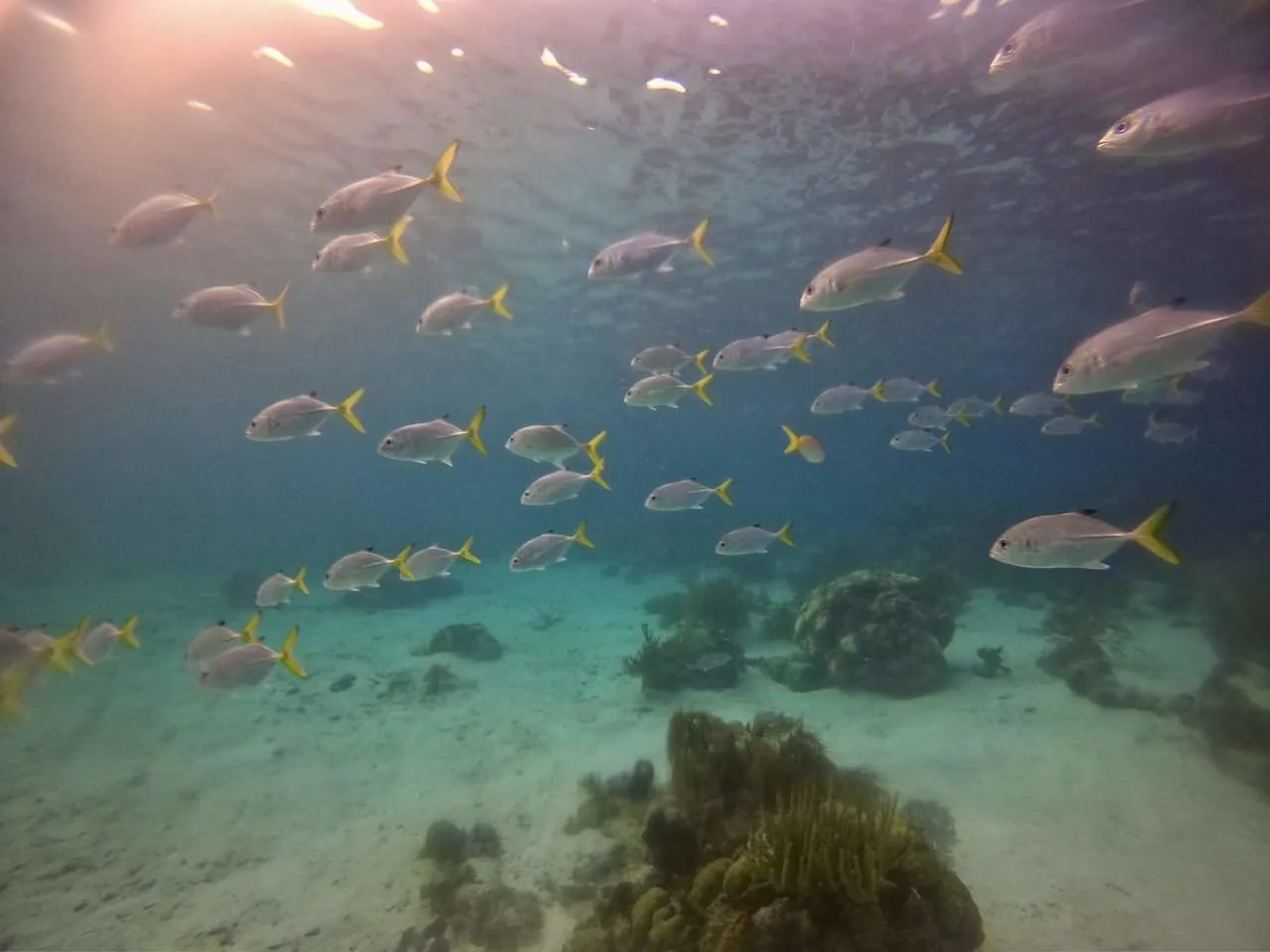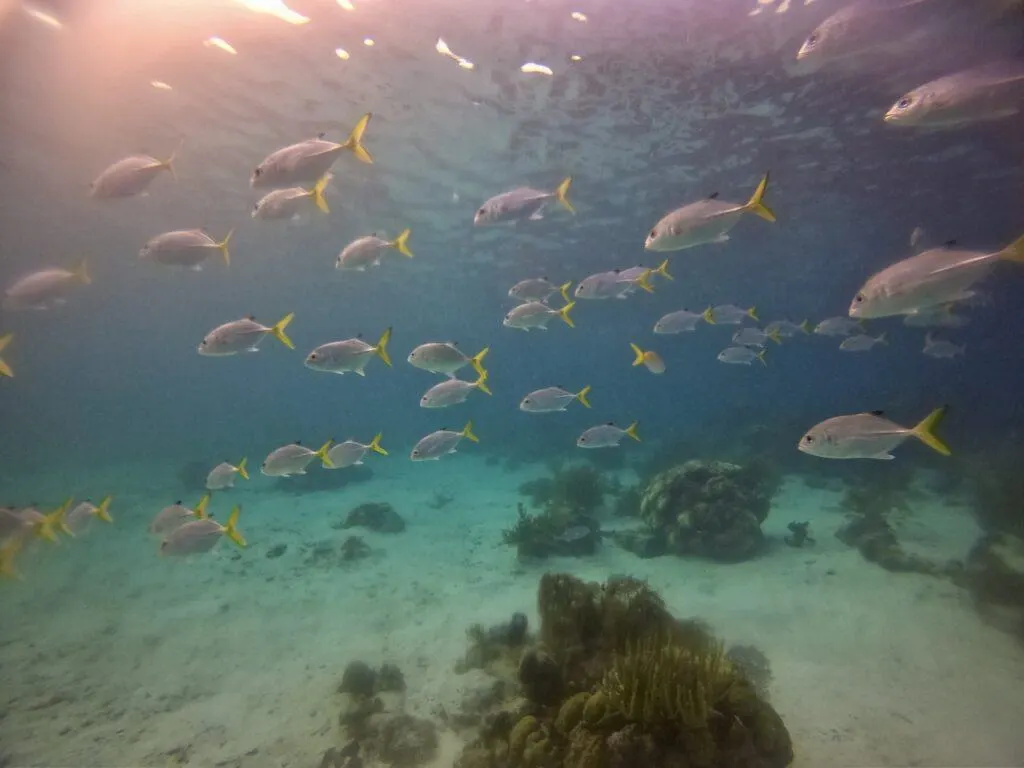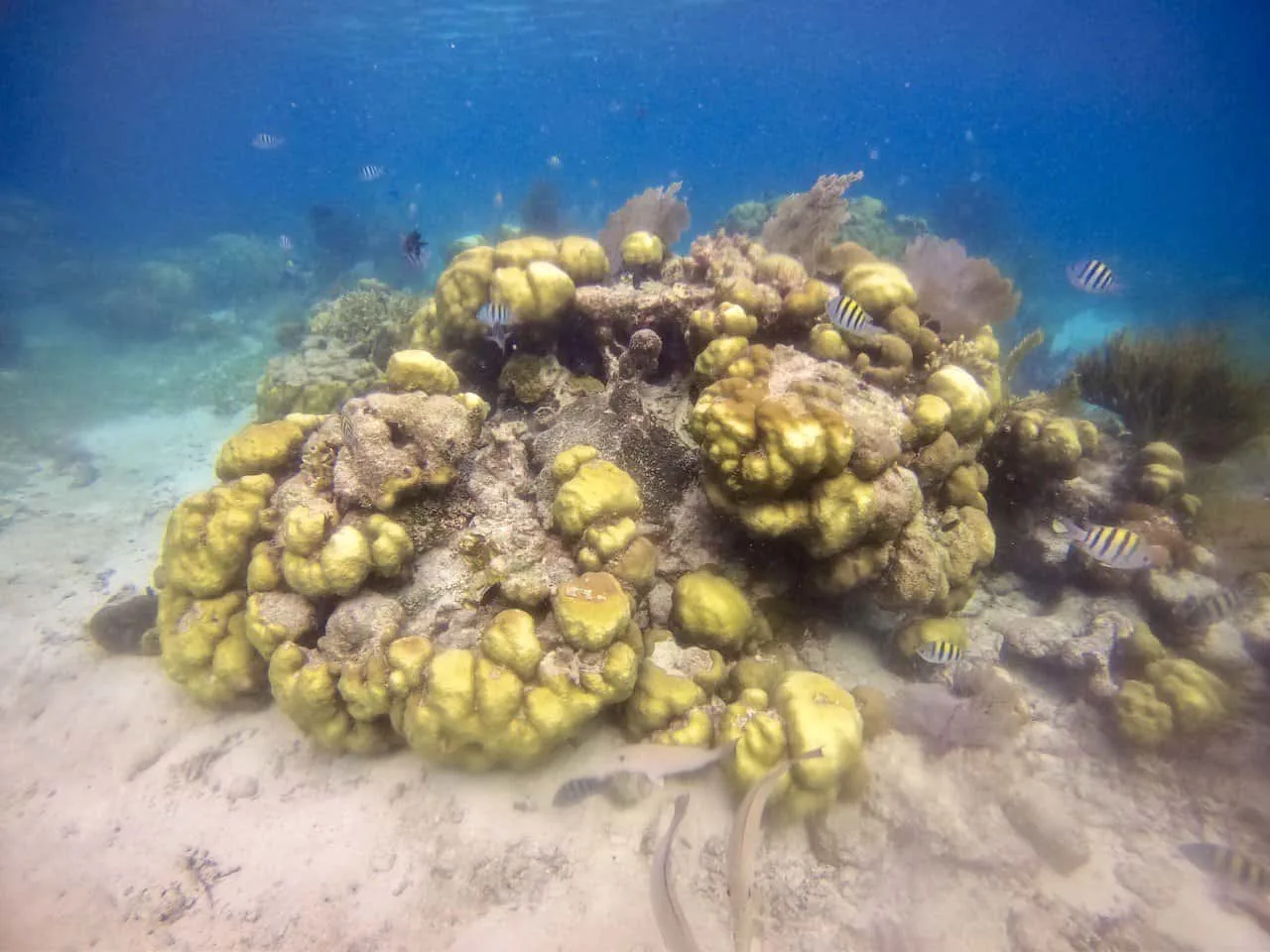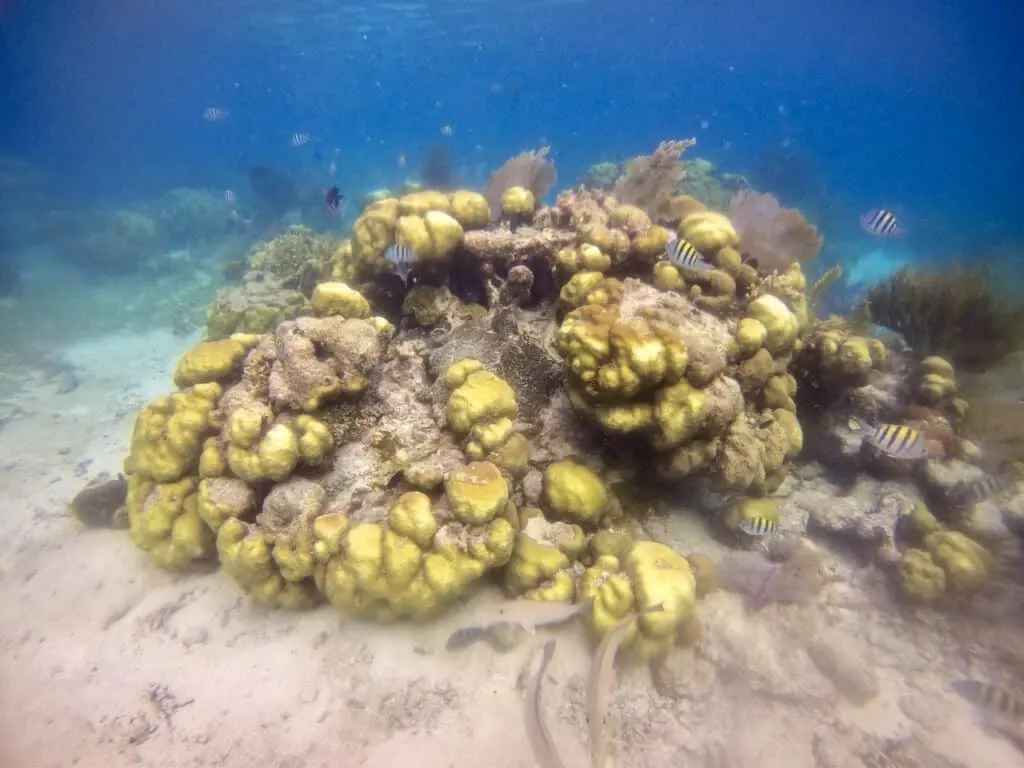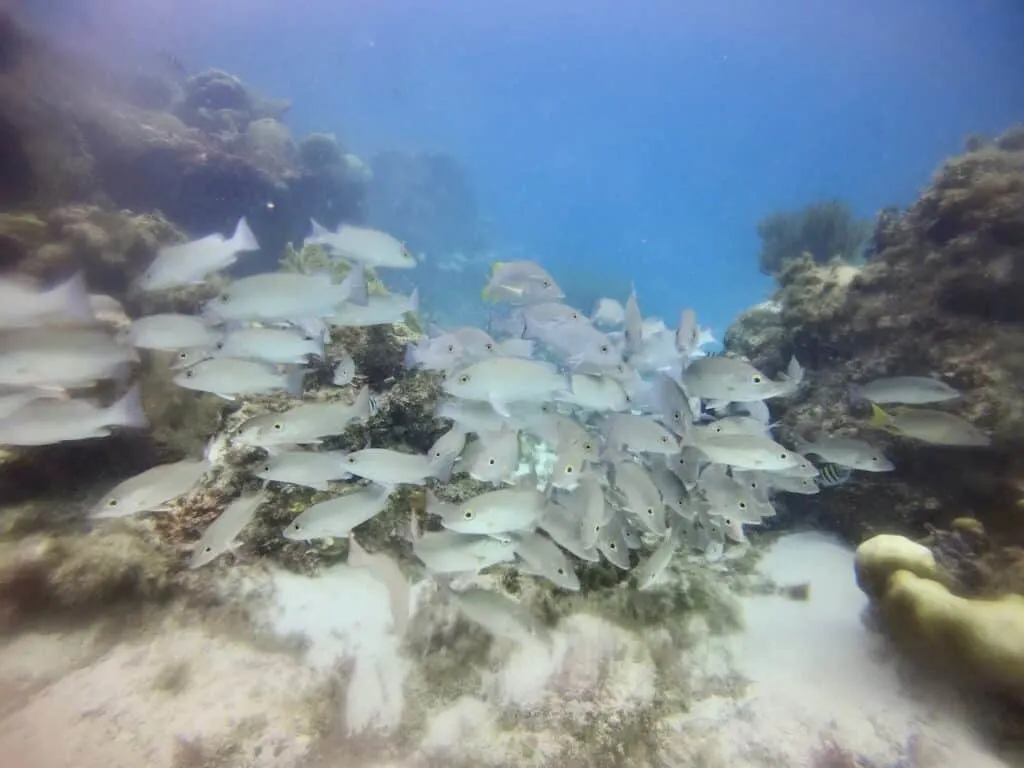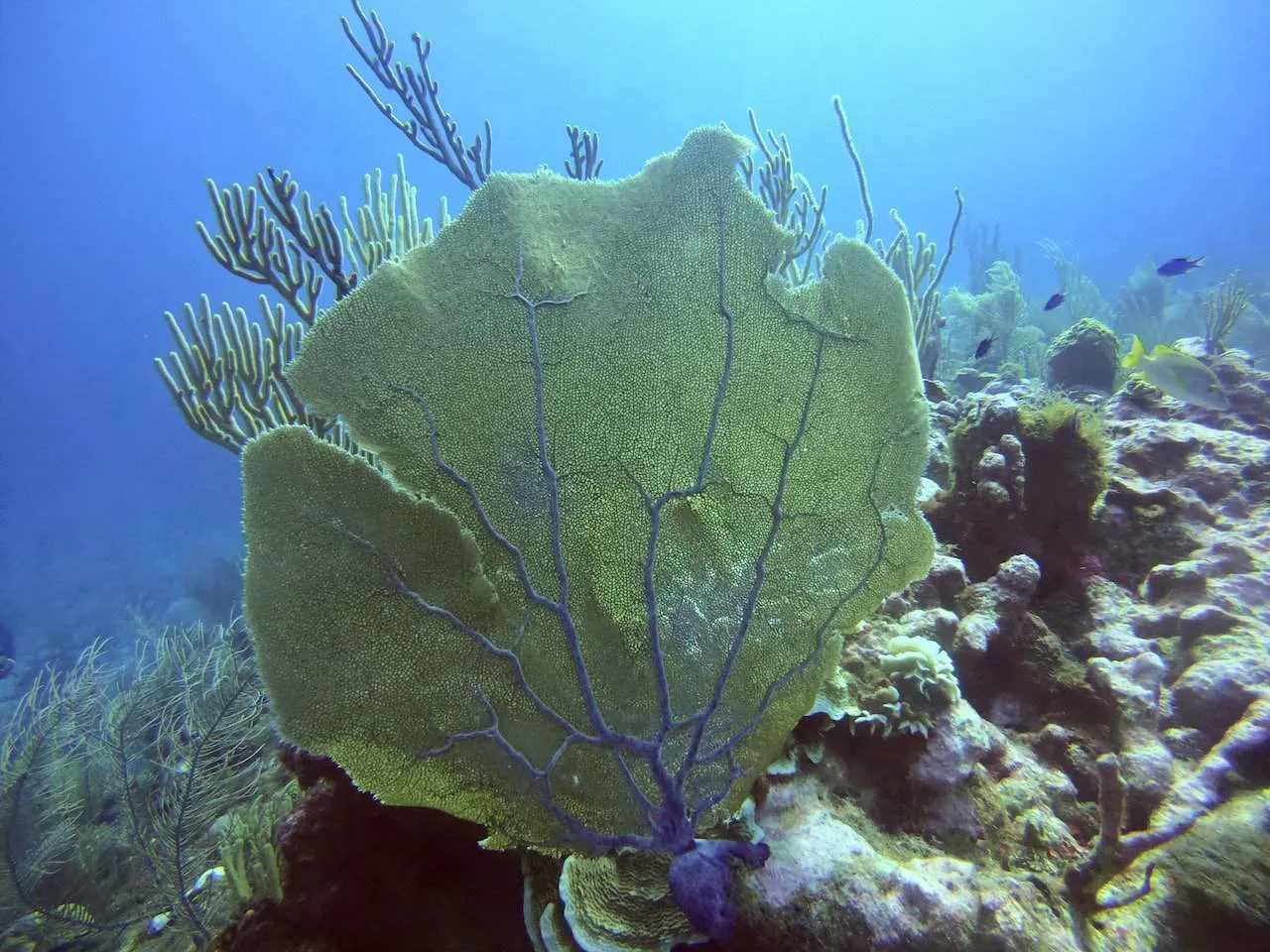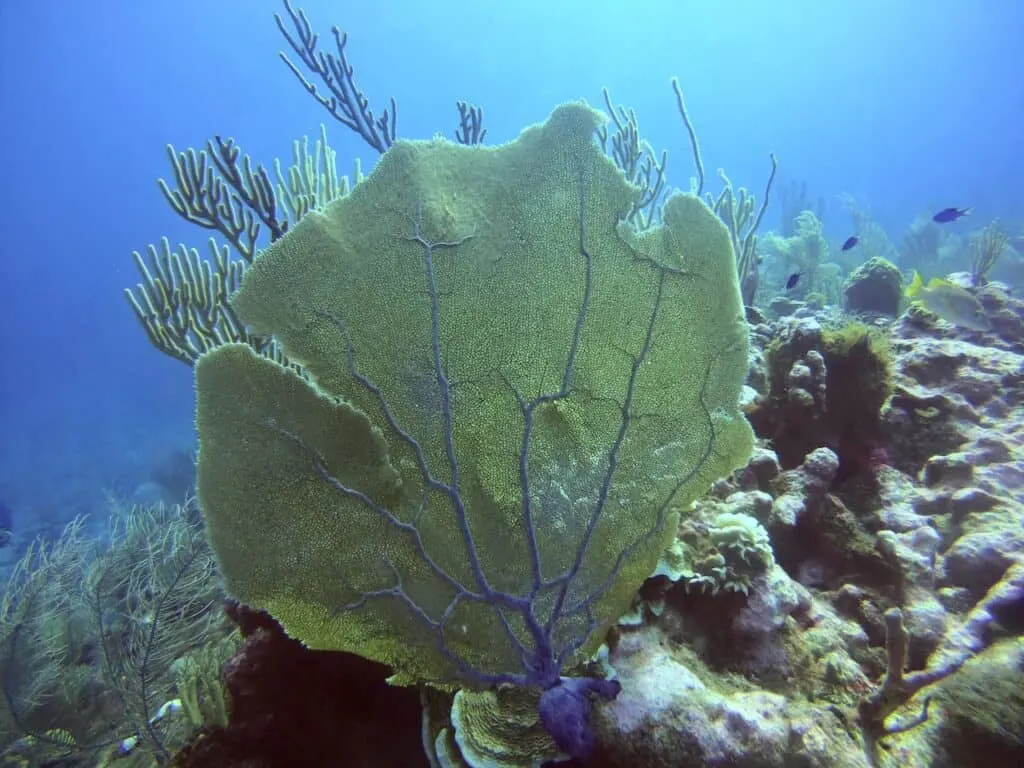 Shark Ray Alley
Located just south of the cut is the famous Shark Ray Alley. As the name implies, plenty of sharks & rays frequent this area, making it a lively spot to do some snorkeling.
As a quick background, the reason why there are so many sharks & rays around this spot is due to fisherman cleaning their catch here in times past. They would then throw their leftovers into the water, which in turn led to Nurse Sharks and Southern Stingrays following the scent.
These days, as boats approach the area, the sharks & rays are inclined to see if they will be fed. You will see some tours throwing some food in the water to attract the marine life, while other tours don't allow for it.
Either way though, the sharks, rays, turtles, and other fish will still approach the boats (even if not getting fed) giving you the chance to jump in the water and snorkel around.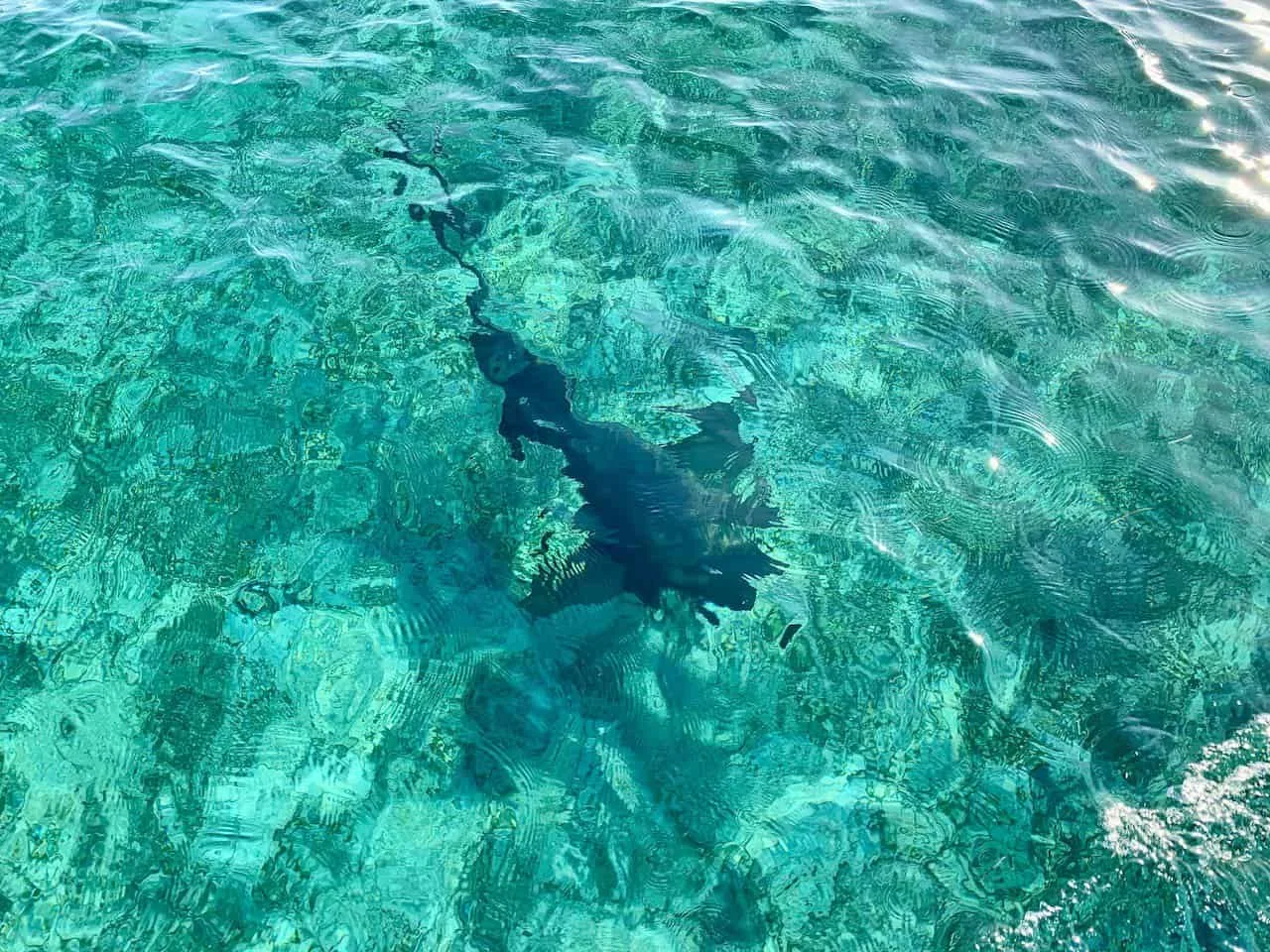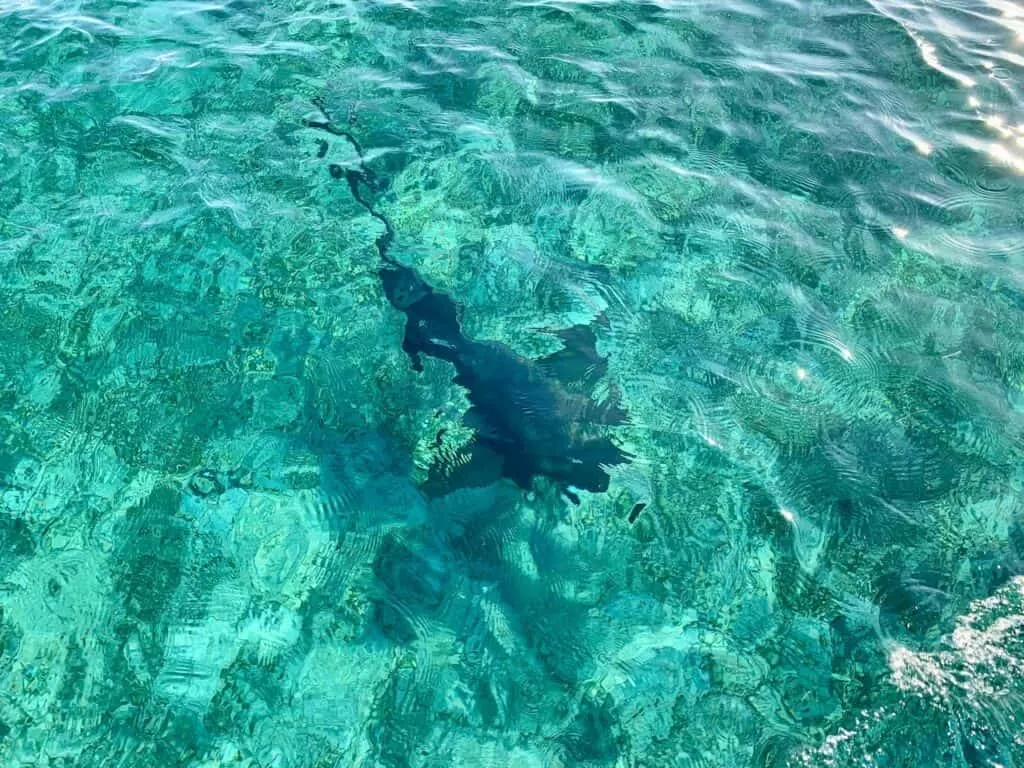 This was by far the most "hectic" snorkel of my life as I was just completely surrounded by sharks, rays, and more. It is a shallow snorkel site at just 8 feet, so the visibility should be as good as it gets.
Note: even if you sign up for a scuba diving tour, at Shark Ray Alley only snorkeling is allowed due to the depth.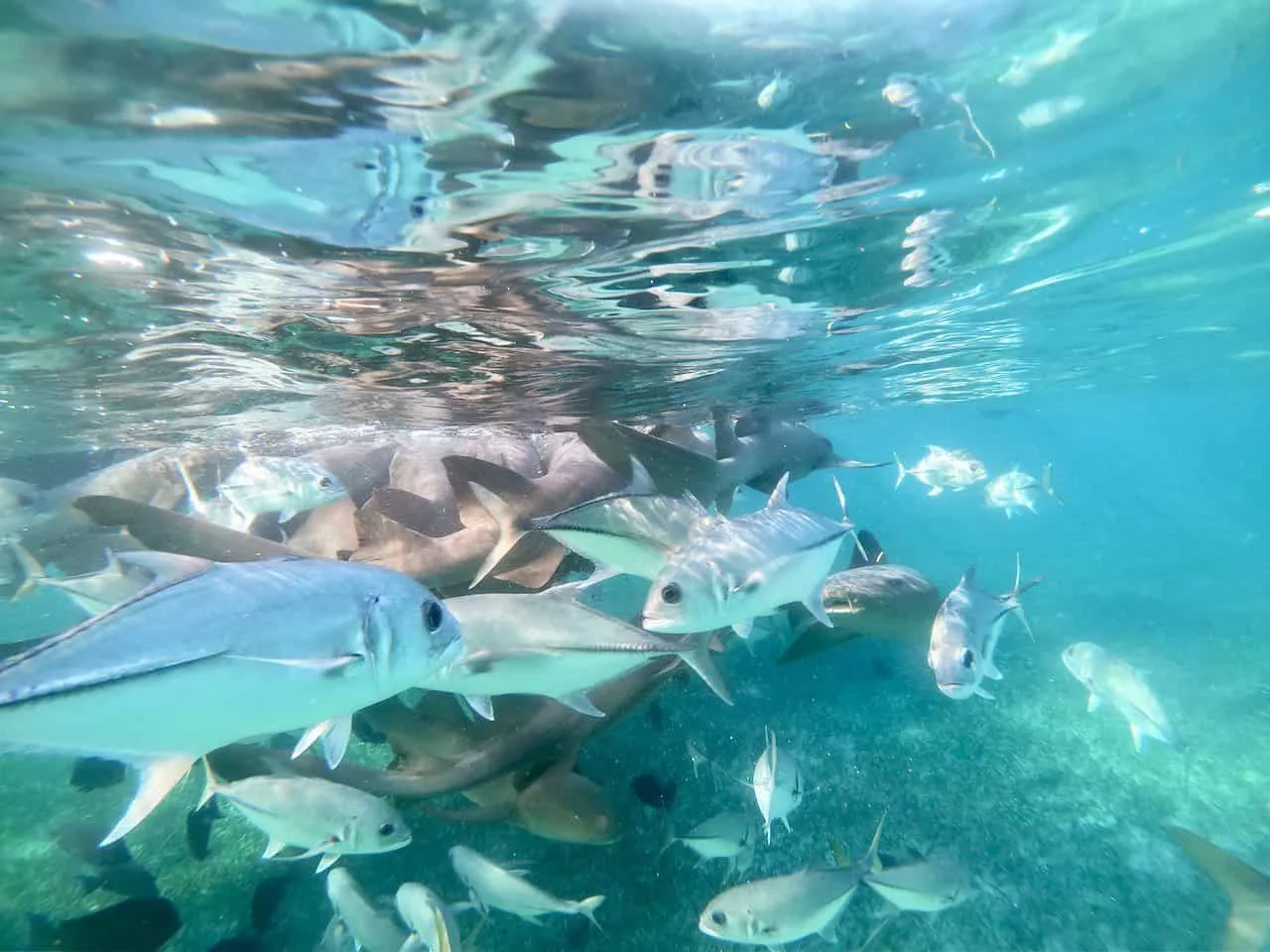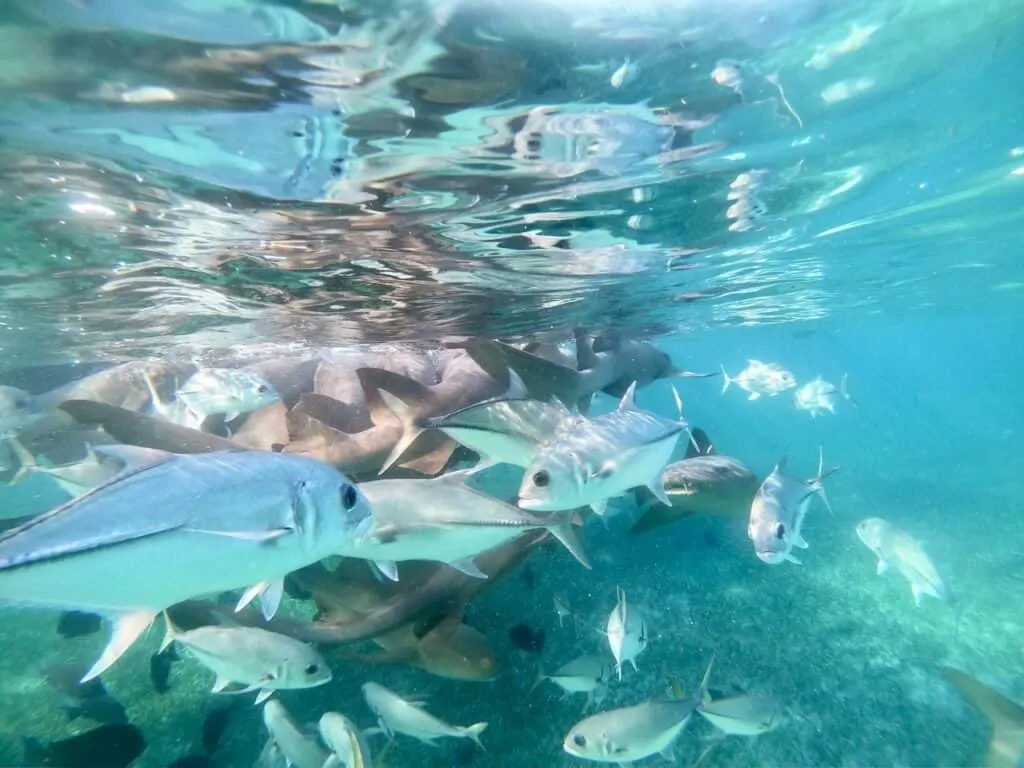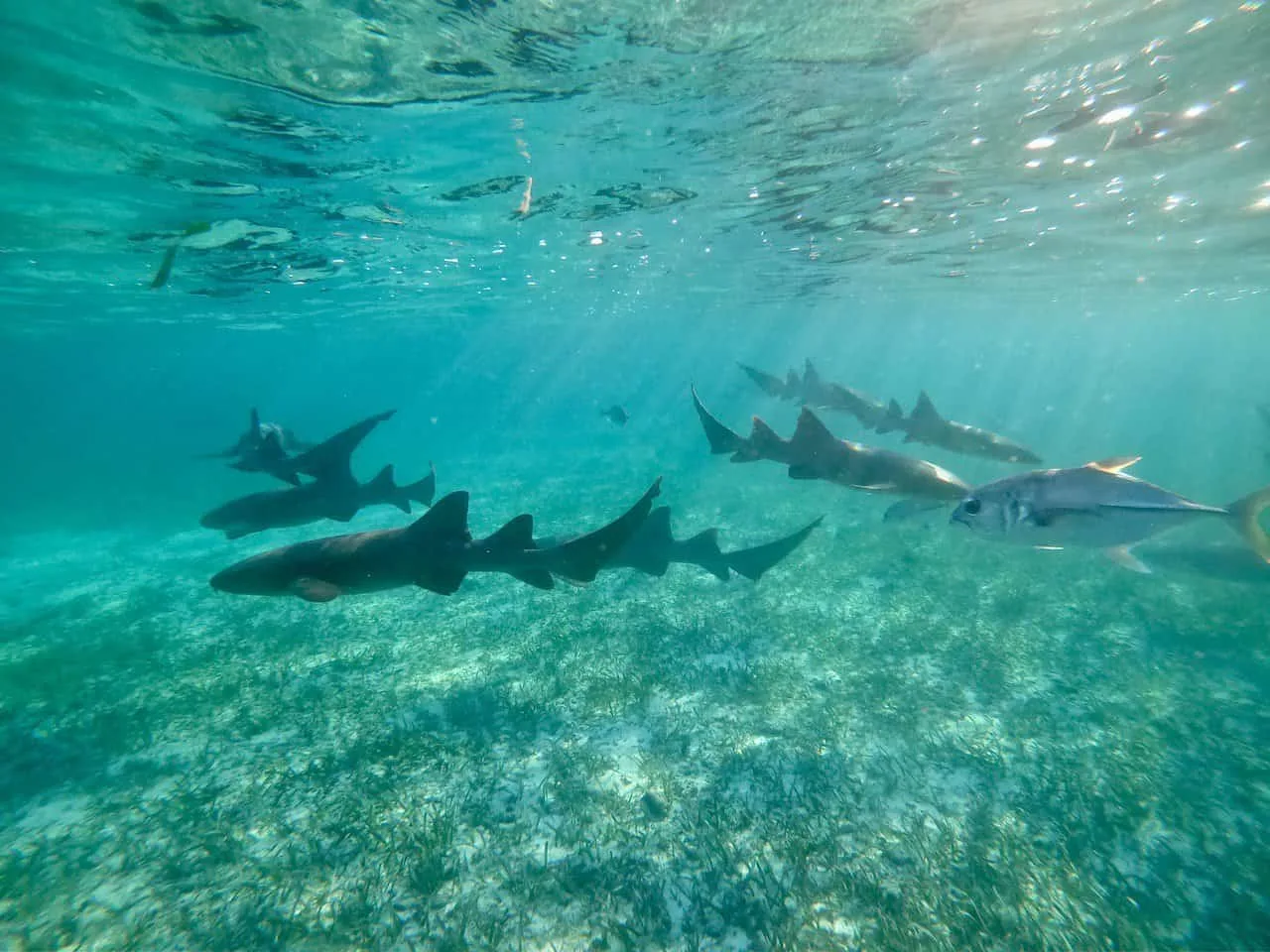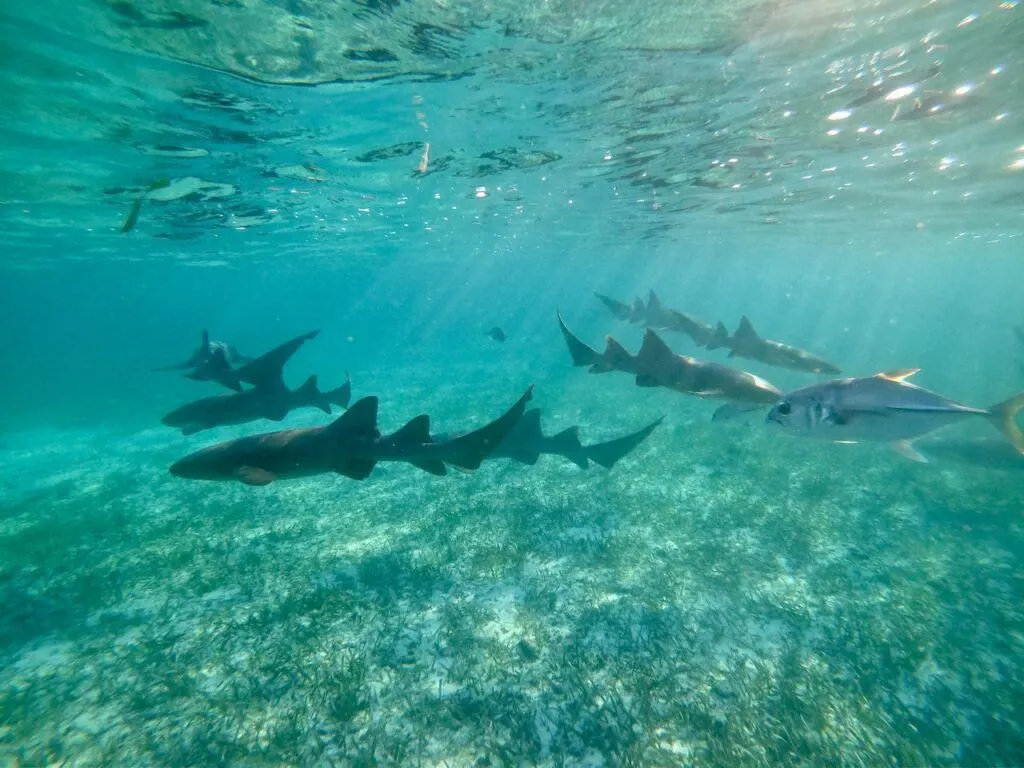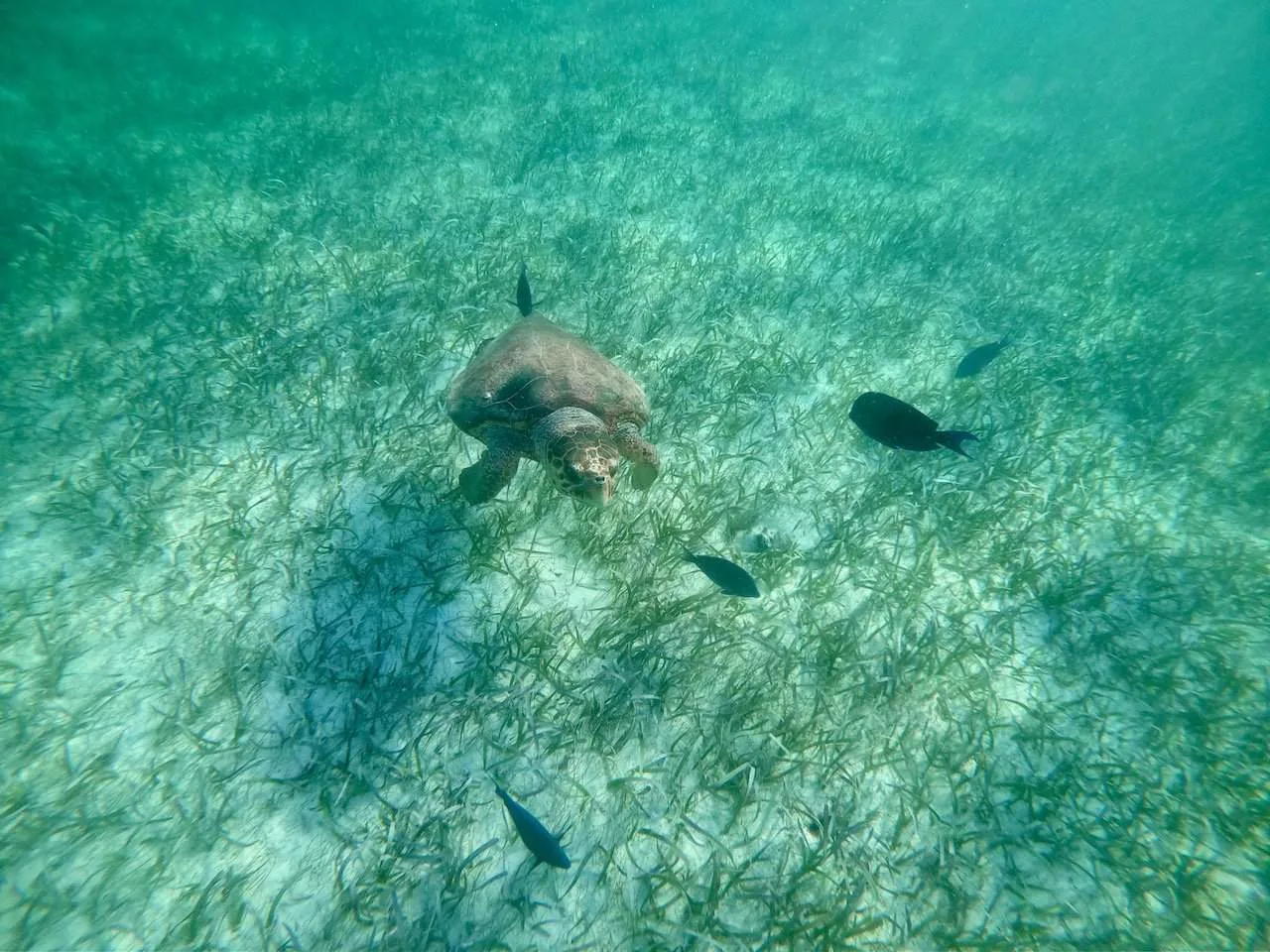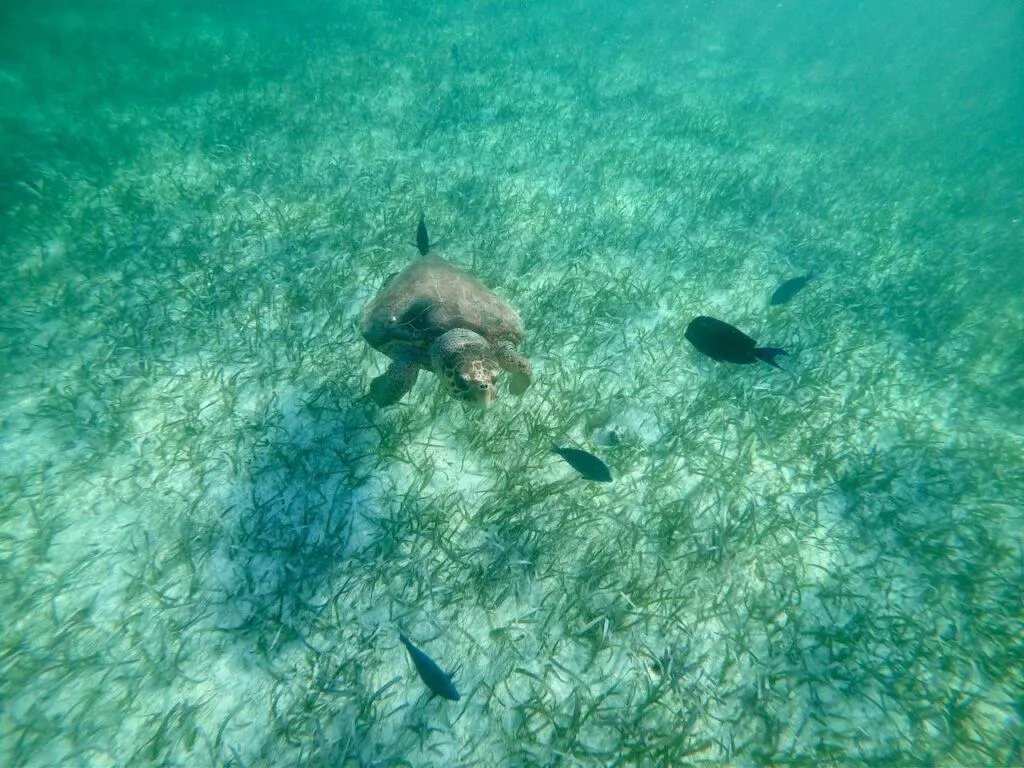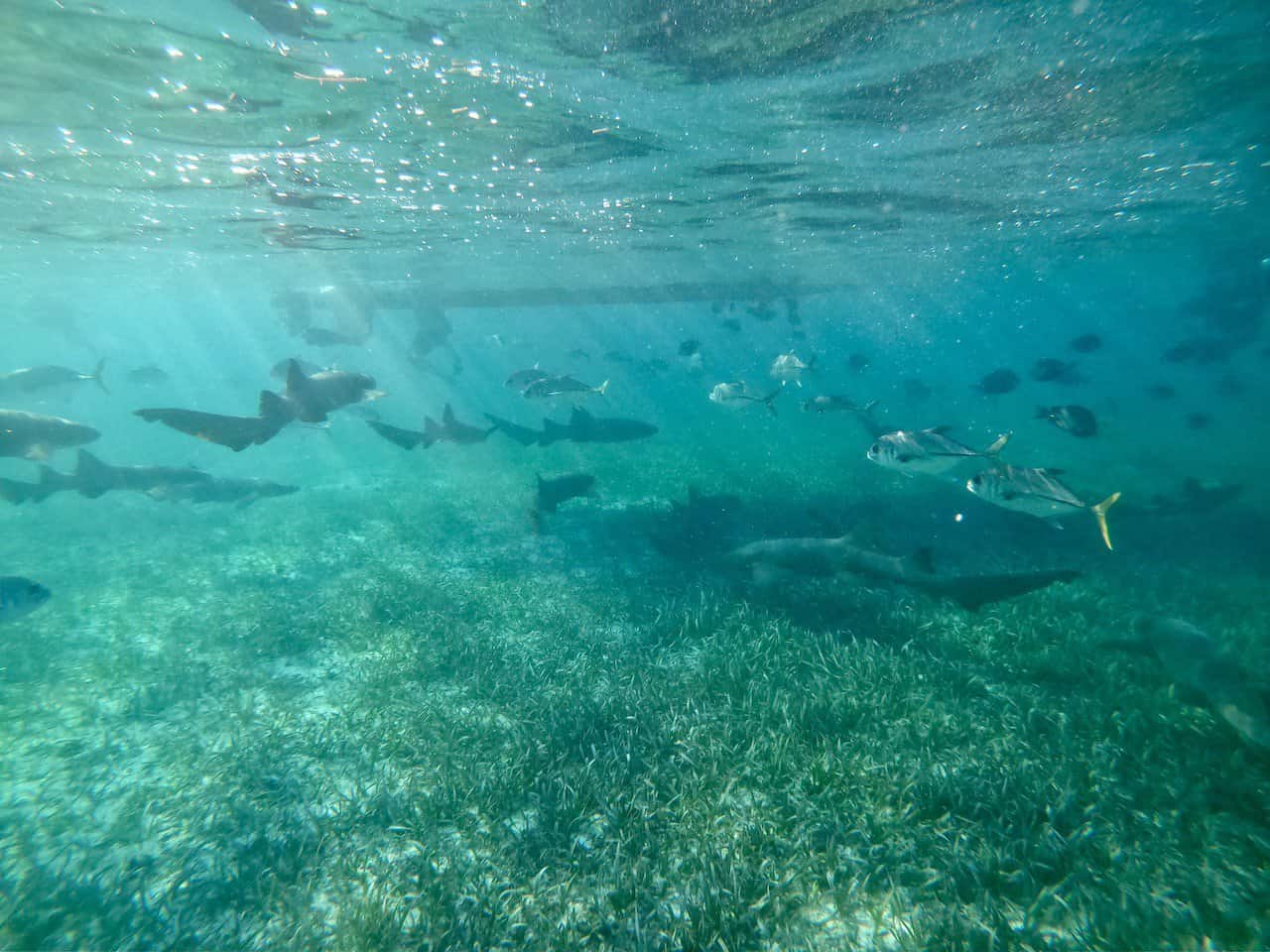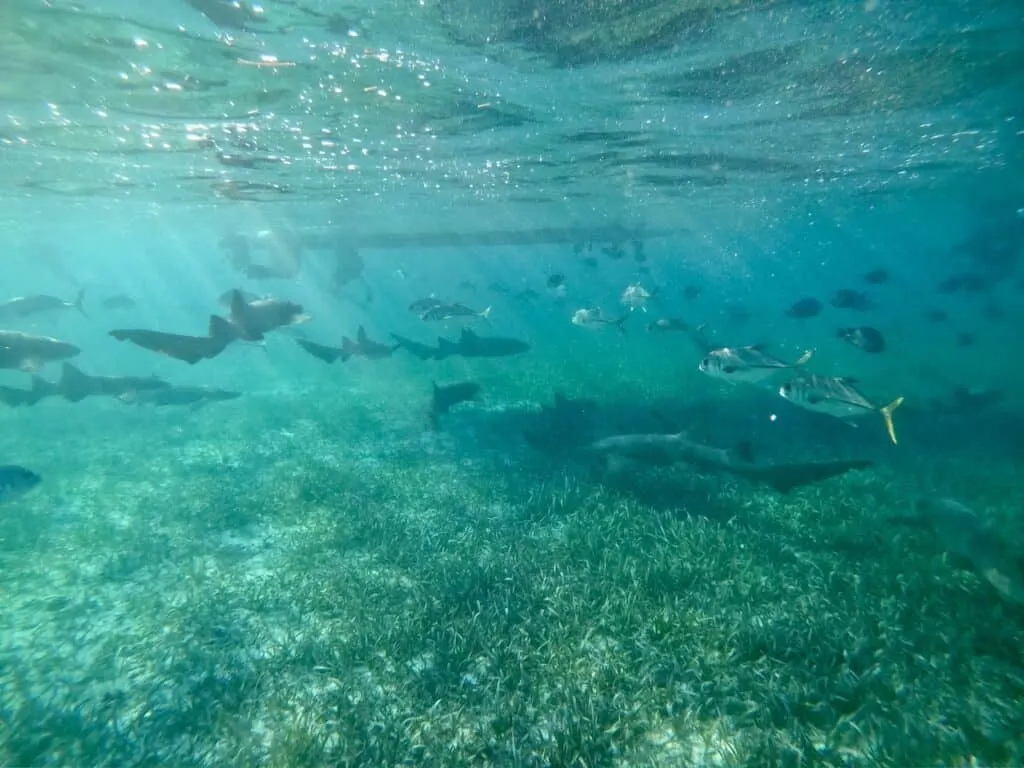 More Snorkel Spots!
If you are joining a shorter half day tour (~4 hours), expect just 2 or maybe 3 snorkel spots in total. But if you are joining a longer tour, these usually make closer to 5 snorkel stops throughout the day.
Some other potential snorkel stops include Coral Gardens, North Channel, Conch Shell Graveyard, shipwrecks, manatees, among plenty of others.
Most of these snorkels will last between 30-40 minutes in length as you get to explore the ins and outs of the Hol Chan Marine Reserve and some sites closer to Caye Caulker.
Lunch Note: for those tours lasting more than half a day, expect to have a nice Belizean lunch at one point or another.
After exploring the ins and outs of the Hol Chan Marine Reserve & Shark Ray Alley, your boat will return to either San Pedro or Caye Caulker to end the day.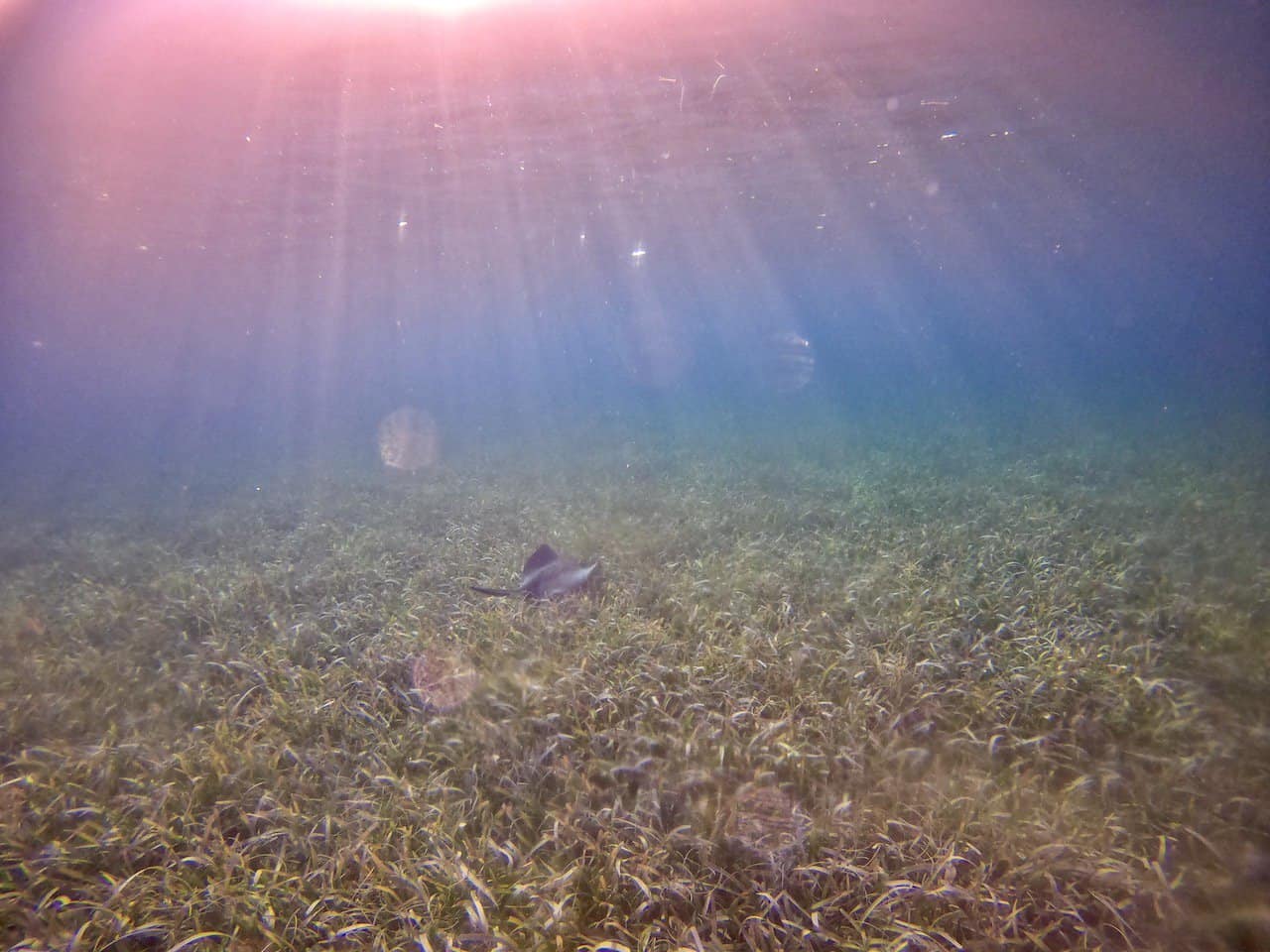 Scuba Diving Tour Note
If you are joining a scuba diving tour, expect a half day experience with one dive in the Hol Chan Marine Reserve, followed by a snorkeling experience in Shark Ray Alley.
These tours are usually offered twice per day (once in the morning and once in the afternoon) and last around 4 hours altogether.
6) Best Time to Visit
In general, Belize is split between a dry season from January to May and a wet season from June to December (with some overlap on either end).
By visiting in dry season, you give yourself a better overall chance of having clearer skies and better weather. Although much of wet season doesn't necessarily mean consistent rain, the dry season still offers a higher probability that rain won't ruin a trip.
When it comes to boats out in the water, you will need to be on the lookout for windy conditions no matter what time of year you visit. If the waters are too rough, there is a chance for cancellations. Giving yourself just a bit more flexibility during a trip can go a long way.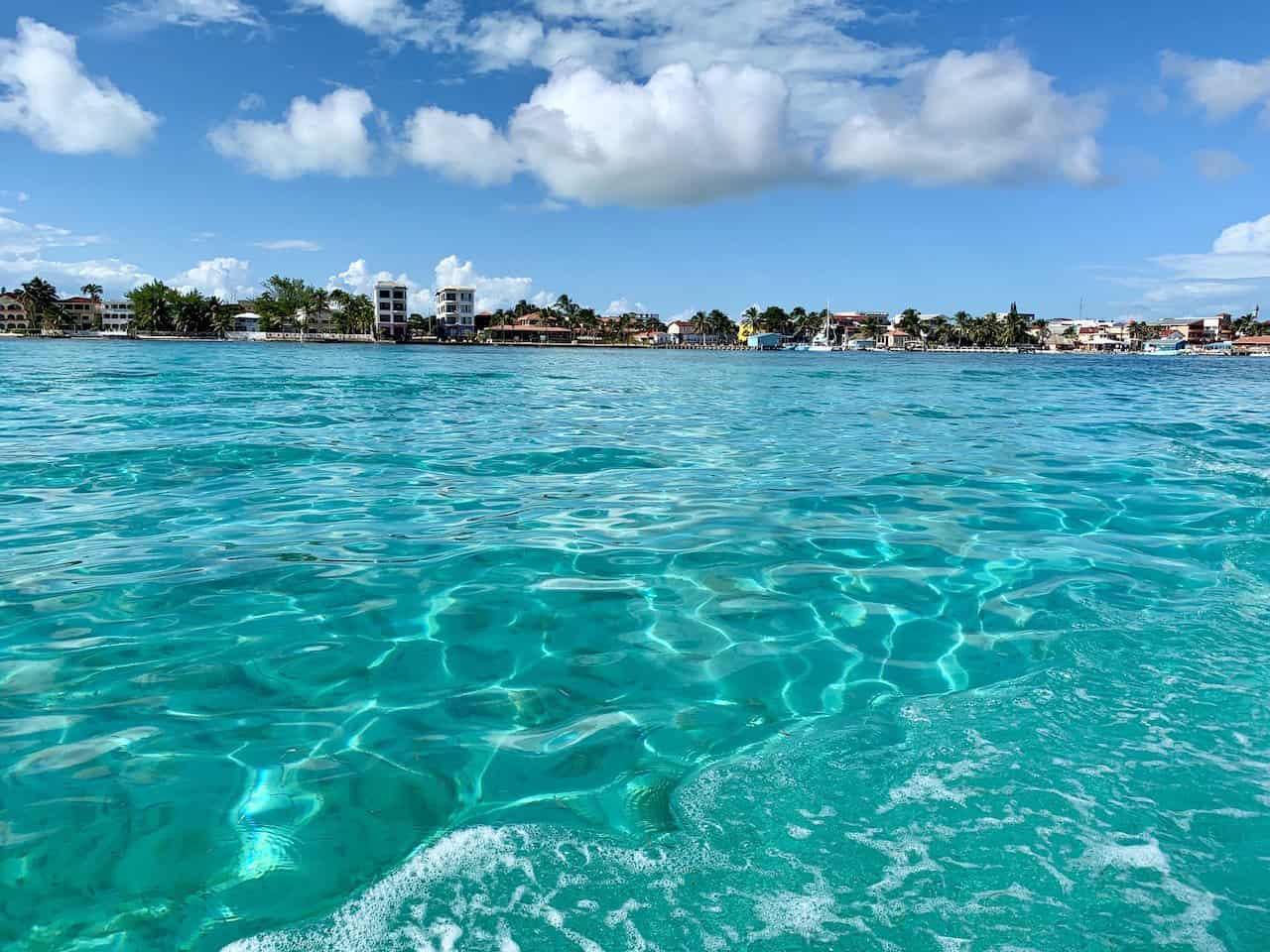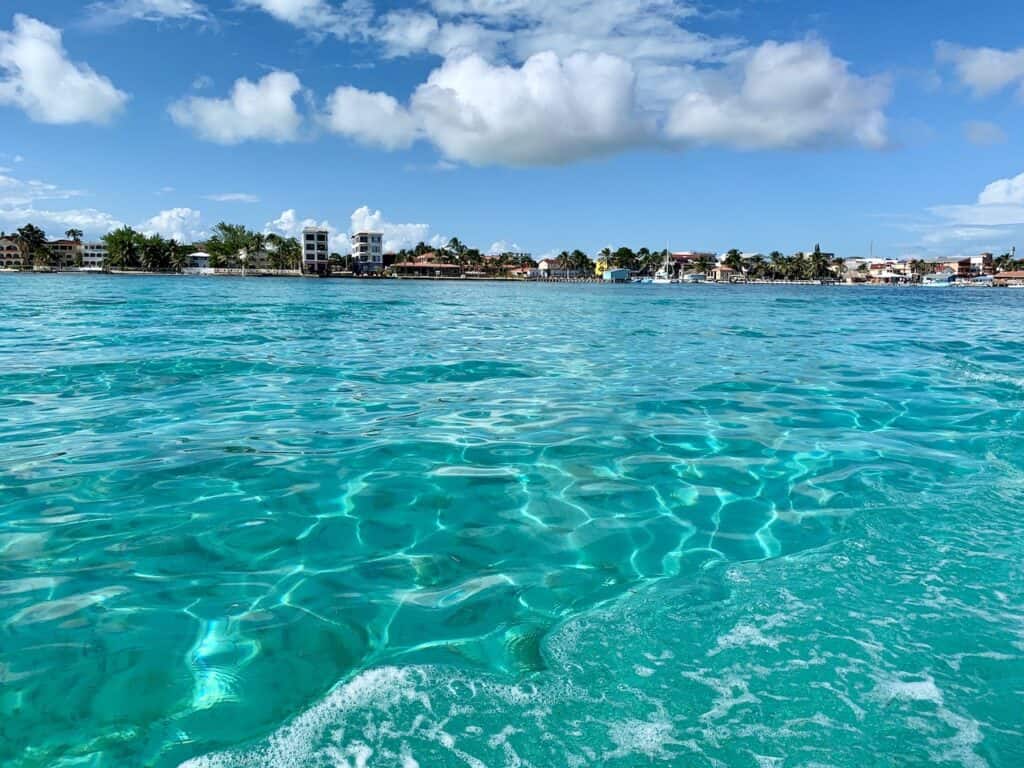 7) Frequently Asked Questions
See below for some answers to the most frequently asked questions about Hol Chan and Shark Ray Alley.
What Sharks Are in Shark Ray Alley?
Nurse sharks are the main shark that can be found in Shark Ray Alley. And don't worry, these are some of the safest types of sharks to swim around. Just don't touch or annoy them and they shouldn't approach you.
Is Shark Ray Alley Safe?
While there is always going to be the chance for something to go wrong in nature, Shark Ray Alley is considered a safe spot for snorkelers. As long as you steer clear of the sharks themselves and don't get mixed up within any food be given to them, there shouldn't be much to worry about.
How Deep is Shark Ray Alley?
The main area where the sharks & rays congregate is just around 8 feet in depth (2.5 meters). This makes it a very shallow snorkeling site all said and done.
When looking at the Hol Chan Marine Reserve as a whole, you can expect to find depths closer to 30 feet / 10 meters.
How Far is Shark Ray Alley from Caye Caulker and San Pedro?
Luckily, Shark Ray Alley is very close to both Caye Caulker and San Pedro by boat. You can expect the ride from Caye Caulker to be around 5-10 minutes and from San Pedro to be 10-15 minutes.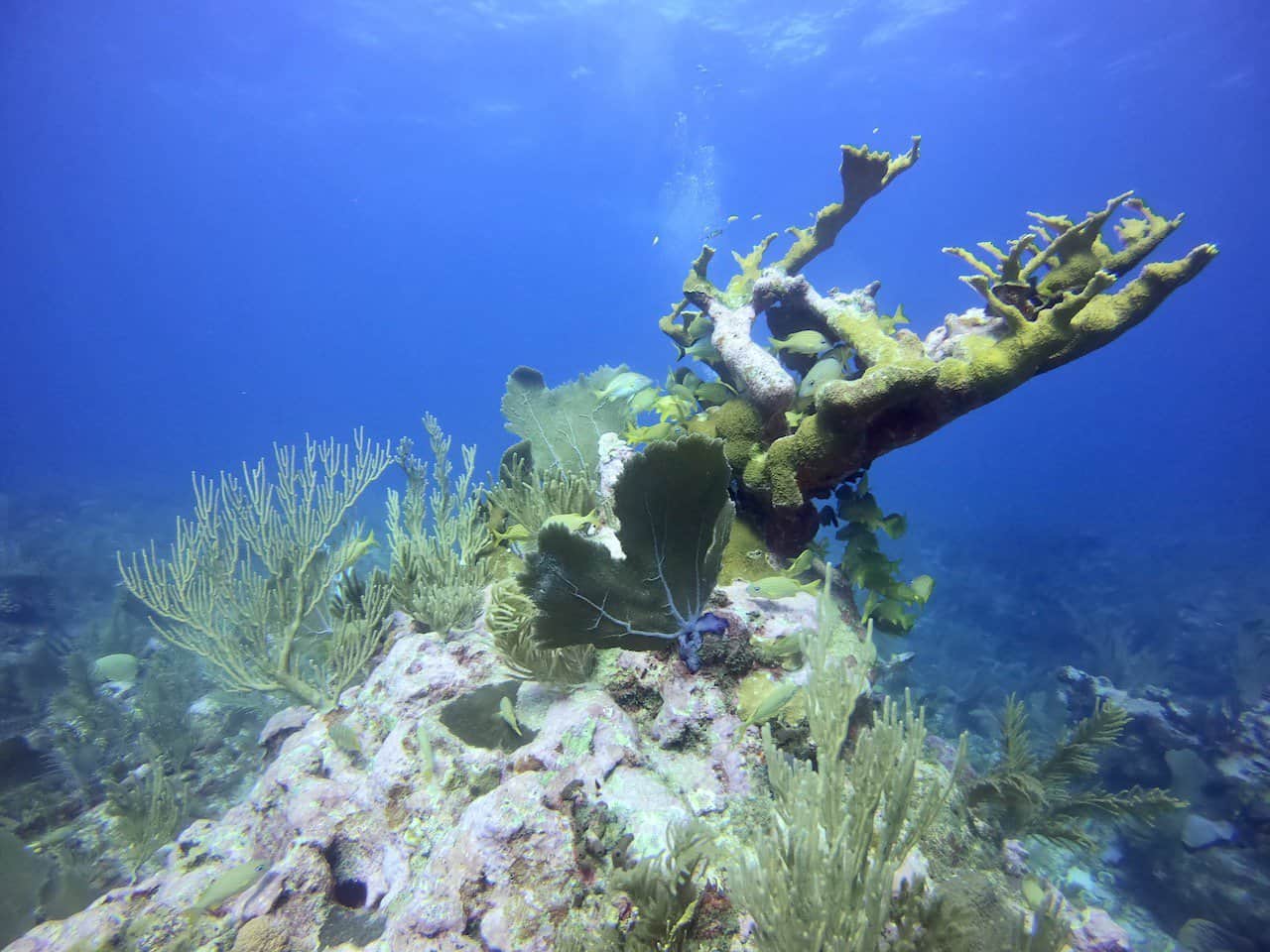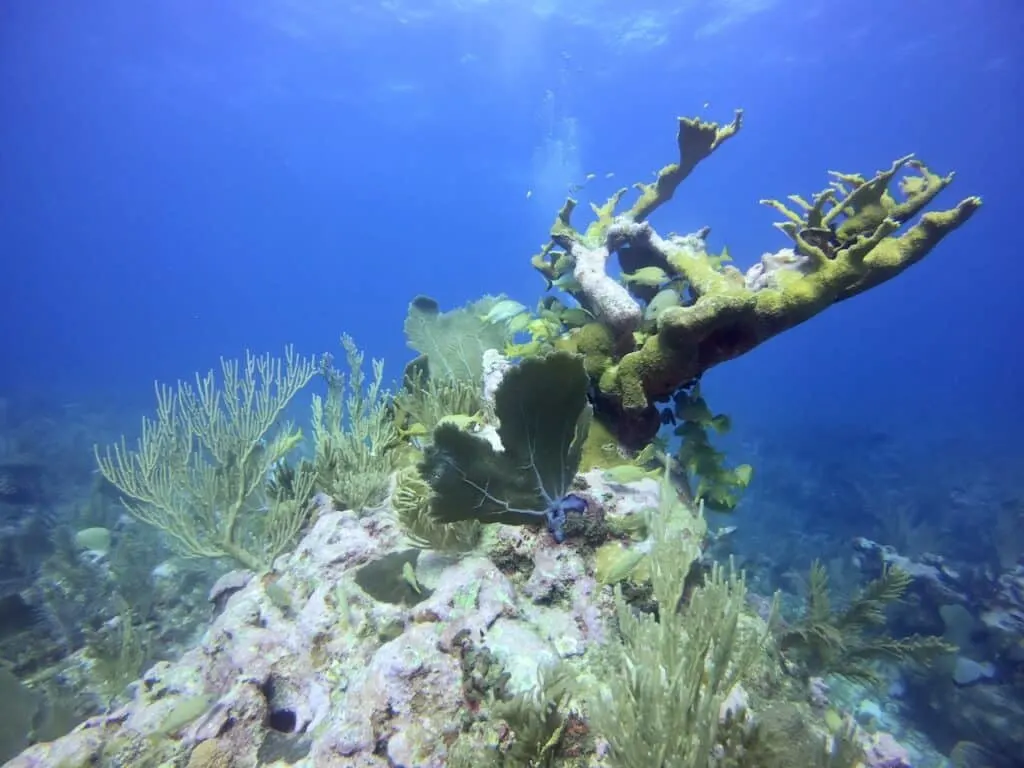 I hope that better helps you understand what a day trip out to the Hol Chan Marine Reserve is all about. If you have any questions or comments, be sure to add them in below.
If you enjoyed this, you may also enjoy a day out exploring the Belize Blue Hole.
Also, don't forget to check out the other Belize itineraries and guides up on the site.
Have fun out there and safe travels!