Are you looking for a list of the best hikes in Belize to take part of during your next trip? Well, this overview is here to better help you hit the trails throughout the country.
While Belize may be better known for its ancient ruins and underwater life, there are also plenty of hiking destinations to choose from. Whether you are looking for jungle trails, scenic overlooks, waterfalls, or caves, there is a little bit of everything out there.
Read on to learn more about the top trails in the country and what Belize hiking is all about.
* Affiliate Disclosure: This post may contain affiliate links, which means I may receive a commission if you make a purchase through the links provided, at no additional cost to you. Thanks for supporting the work I put into TripTins!
1) Hiking Destinations in Belize
To start, let's talk about some of the top hiking destinations in Belize. For the most part, these will be wildlife sanctuaries, nature reserves and national parks (many of which are run by the Belize Audubon Society).
Depending on your itinerary, you should be able to add one or more of these onto your overall route.
Cockscomb Basin Wildlife Sanctuary
Mayflower Bocawina National Park
St Herman's Blue Hole National Park
Guanacaste National Park
Mountain Pine Ridge Forest Reserve
All said and done, these hiking destinations offer some of the best natural beauty in the country.
Some of these spots are massive, covering thousands of acres, while others can be quite small at less than 50 acres. Within each one of these places though you will come across a variety of trails, views, waterfalls, and wildlife.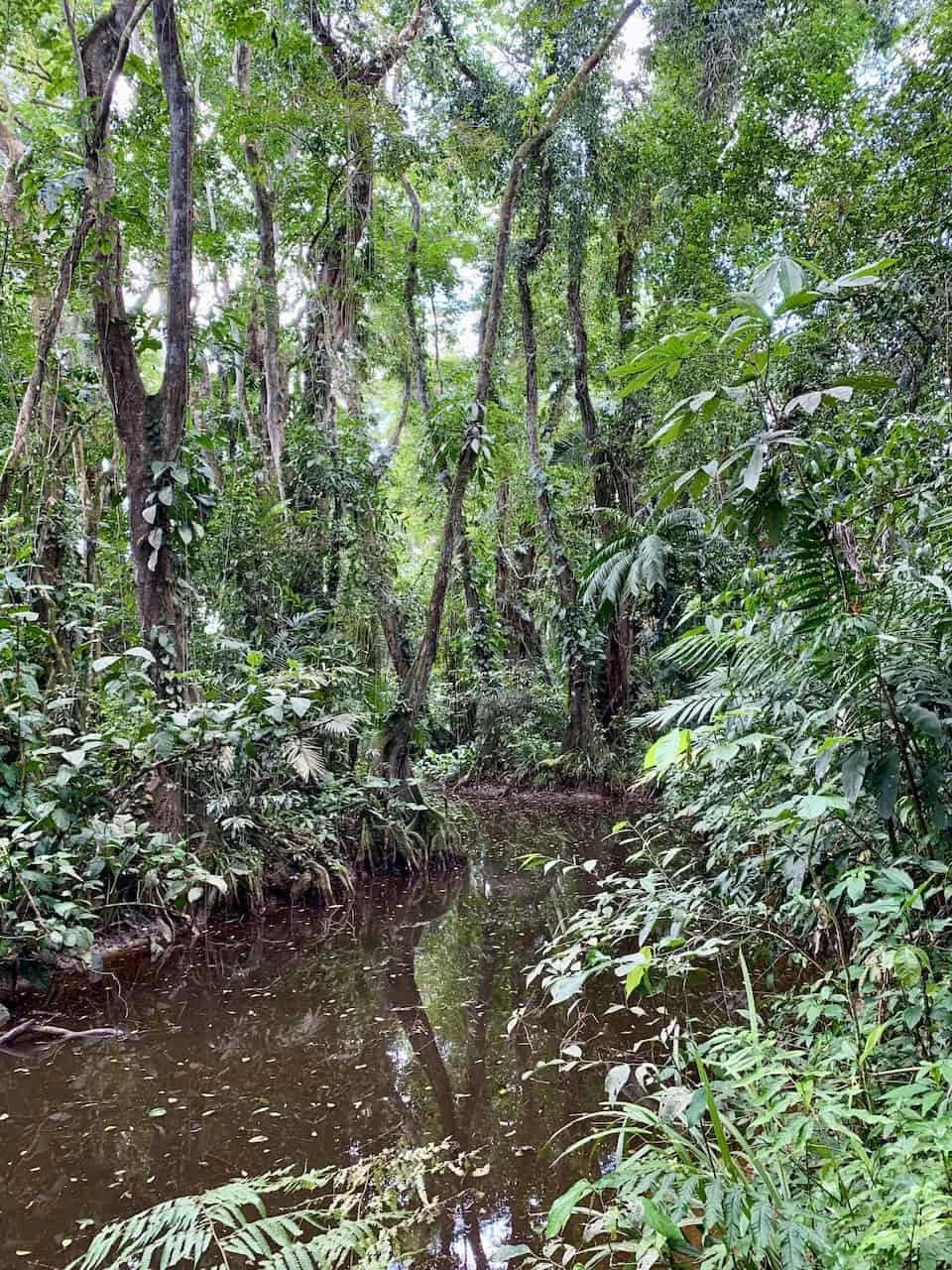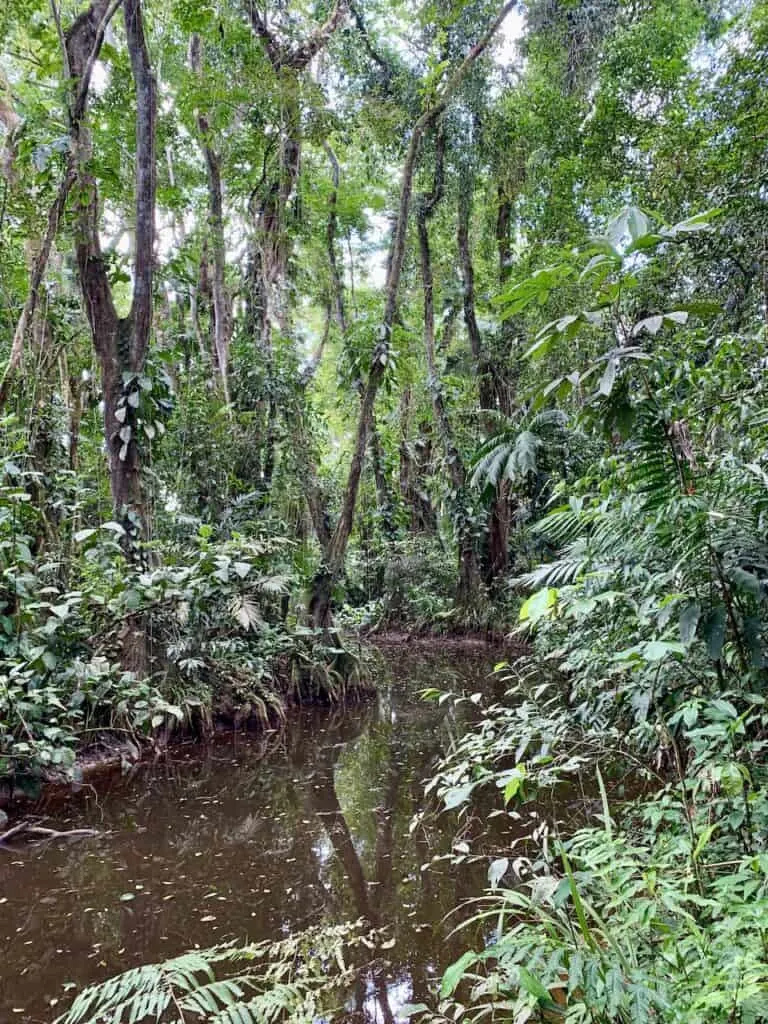 2) Belize Hiking Map
To get a better understanding of where each one of these destinations is located, I have included a map that pinpoints their location.
Also included are some of the cities that you may be visiting along the way. The main ones I have added include Belize City, Ambergris Caye, Caye Caulker, San Ignacio, and Placencia.
As you build up your overall itinerary, this should give you a good idea on how to include some hiking spots along the way.
Learn More: Feel free to add on some hikes as you take part of a longer Belize Itinerary
3) Hiking Tips
Throughout the rest of this overview, I will go into more detail about the top hikes in Belize. Before I jump into that, I did want to point out some helpful hiking tips.
Offline Maps: Be prepared with offline maps of the trails so you can stay on track. Many hikes can be found on AllTrails and other hiking apps, so be sure to download the routes beforehand.
Guides: Some hikes can only be completed as part of a guided tour or with a private guide. This holds true for cave specific hikes, or those that have been known to be more dangerous overall. With that said, there are plenty of self-guided hikes as well.
Water: Bring plenty of water along for the day. Staying hydrated is super important, especially when the heat and humidity come into play.
Dry Season: Hiking during dry season (January – May) will offer overall clearer conditions. Not only that, but you also have a smaller chance of having muddy and slippery terrain.
Be Camera Ready: Always have your camera handy! You never know when some wildlife will pop up at a moment's notice. Sometimes you may only have a few seconds to get the shot.
Stay Protected: Be sure to bring sunscreen and bug spray along. It can get hot and buggy out in these areas, so keeping yourself protected can go a long way.
Hiking Resources & Checklist

Before heading out for the trails, be sure to read up on some of the hiking resources up on the site. These are here to better prepare you for all types of outdoor adventure.
Now that you have some good background, let's get into the hikes and all that they entail.
4) Cockscomb Basin Wildlife Sanctuary
As the world's first jaguar preserve, the Cockscomb Basin Wildlife Sanctuary is the top hiking destination in Belize. While seeing jaguars is a long shot, there is still plenty of wildlife spread around the 122,650 acres of the sanctuary.
Throughout Cockscomb you can find 5 endangered cat species, howler monkeys, reptiles, and over 300 species of birds. In addition, there are nearly 20 hiking trails that take you to various corners of the sanctuary.
Cockscomb is located within the Stann Creek District in southern Belize, between the Caribbean Sea towns of Dangriga and Placencia. It can be visited as a day trip from either one (or even from further out places), or you can opt for an overnight too.
When it comes to hikes, there are many great ones to choose from. I spent two long days hiking these trails and enjoying the immense amount of flora and fauna found throughout.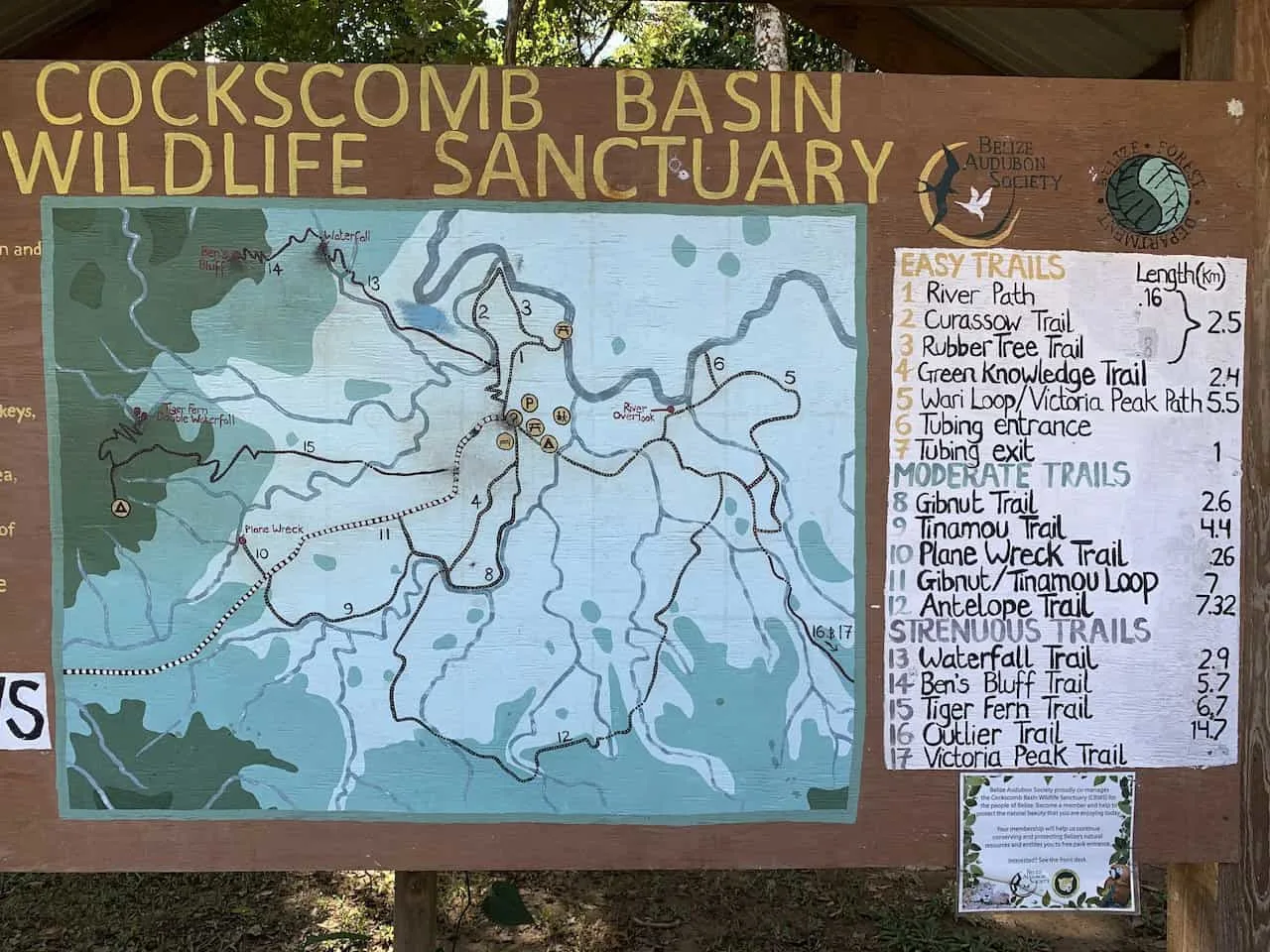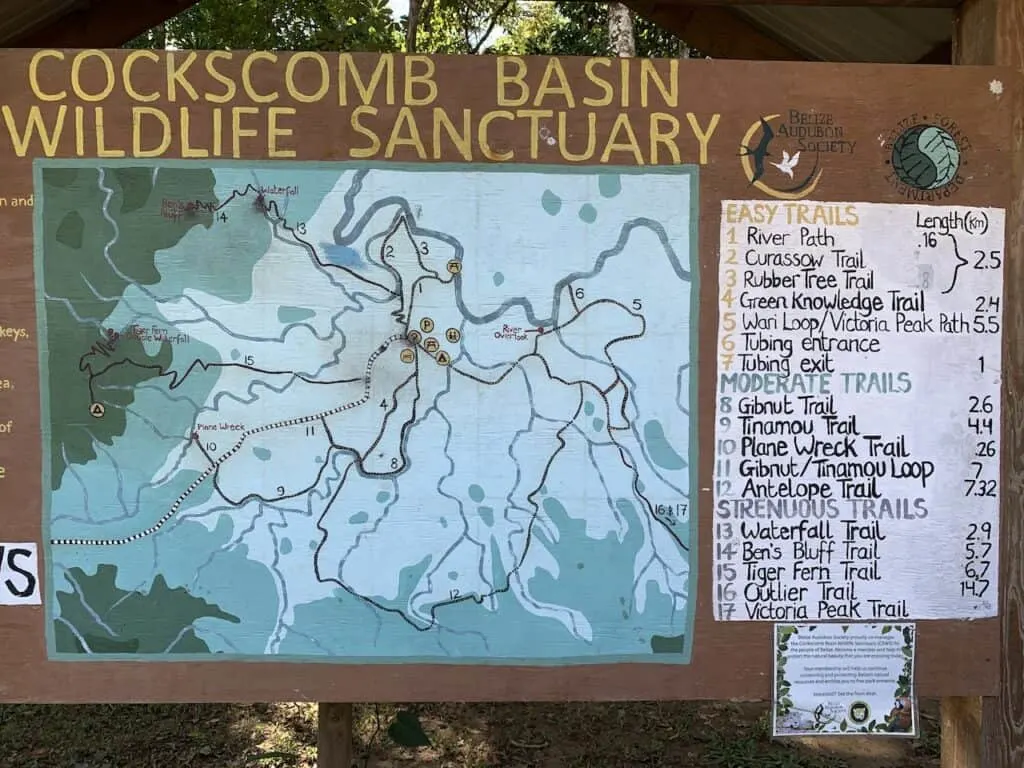 River Path / Curassow Trail / Rubber Tree Trail Loop
This 1.6 mile trail combines three hikes into one. It is considered the easiest of hikes in the park and follows a flat path from the visitors center to the river and back around.
Wari Loop
At 3.4 miles long, the Wari Loop is one of the more popular hikes in Cockscomb. The circular loop heads in the opposite direction of the visitors center and takes you to some river overlooks, as well as the tubing entrance (another great activity to take part of).
From there, the hike wraps around and makes its way back to the visitors center. It can also be extended to include the Antelope Trail or the much longer Outlier & Victoria Peak trails.
Antelope Trail
For a long, moderate hike, the Antelope Trail is a top option to choose. It comes in at 4.5 miles long and takes you deeper into the natural landscape of the park. Since it is a longer trail, you will find much fewer people hiking in this area.
Plane Wreck Trail
One of the more interesting trails in Cockscomb is the Plane Wreck Trail. This short hike takes you from the roadside into the forest to an old plane wreck. The small plane crashed in the early 1980's during a research mission for jaguars.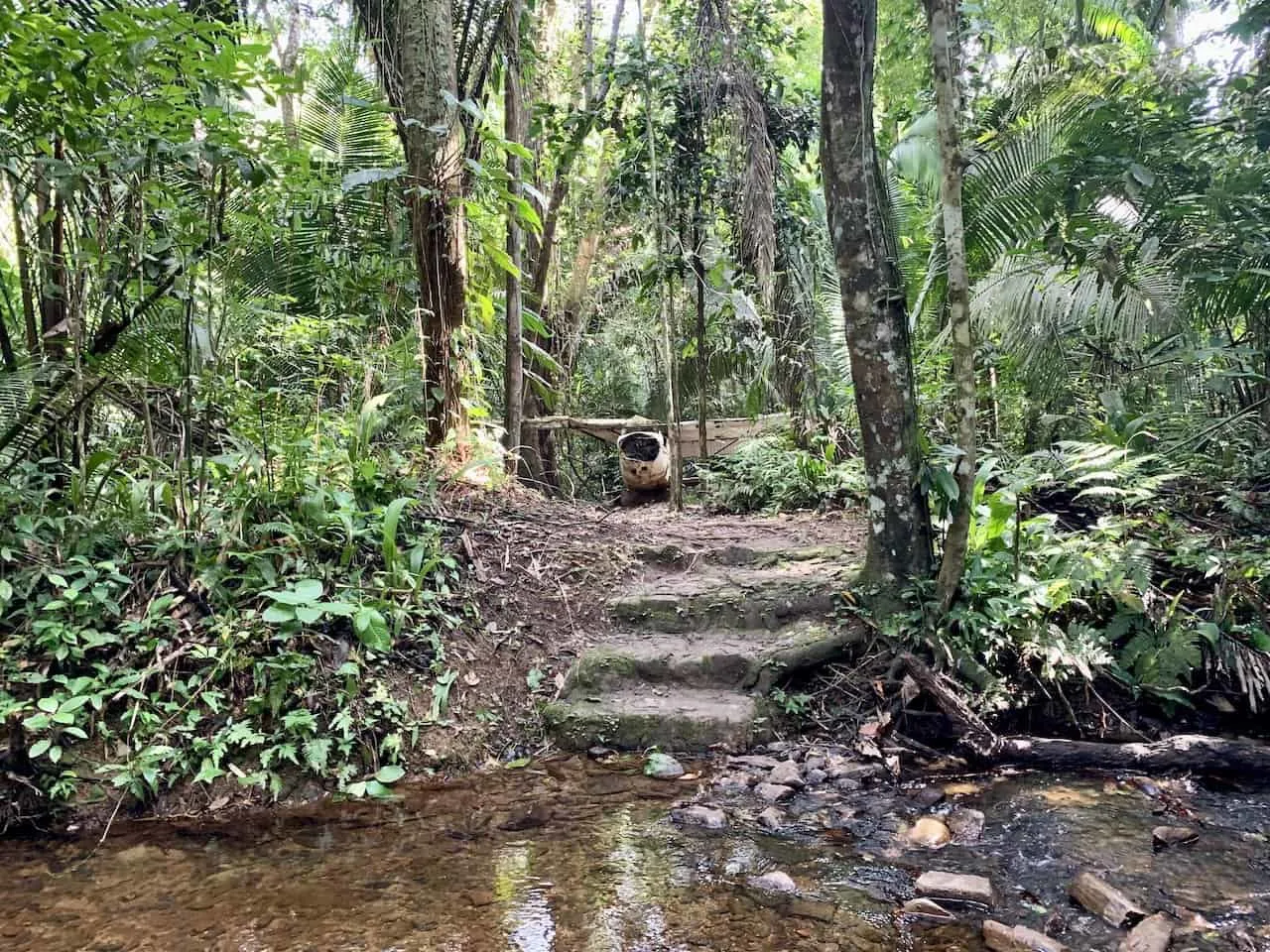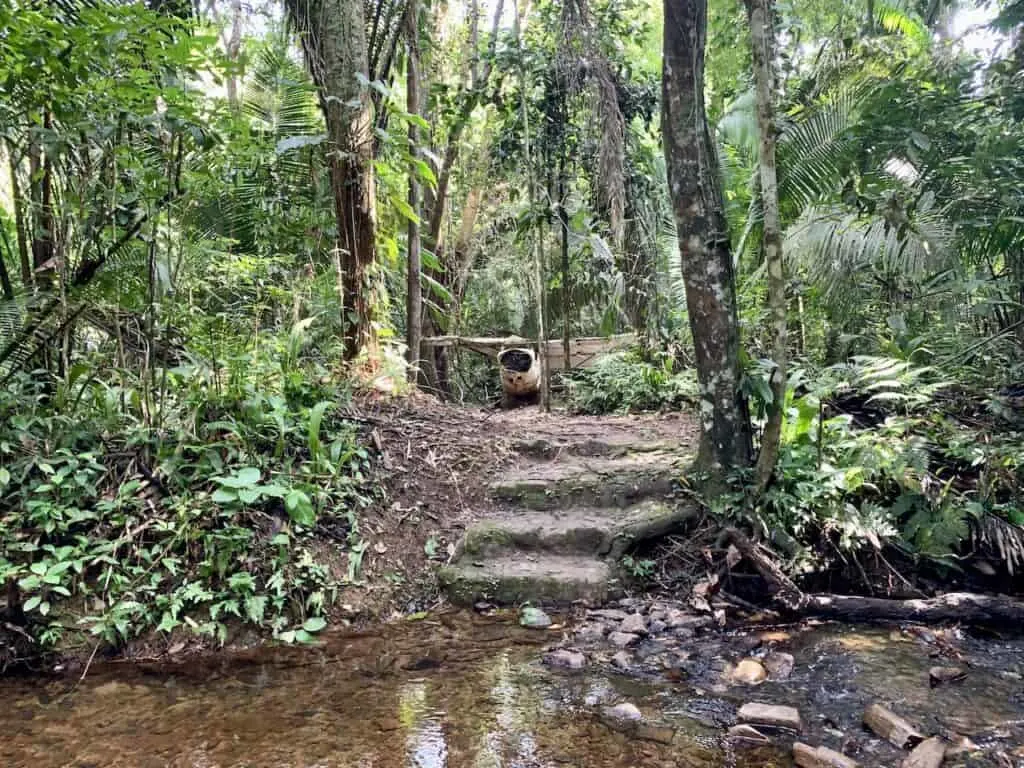 Ben's Bluff & Waterfall Trail
Moving into the more difficult hikes in Cockscomb is the Ben's Bluff trail, which is usually combined with the nearby waterfall. Expect around 4 miles of hiking as you reach one of the most beautiful waterfalls & lookouts in the area.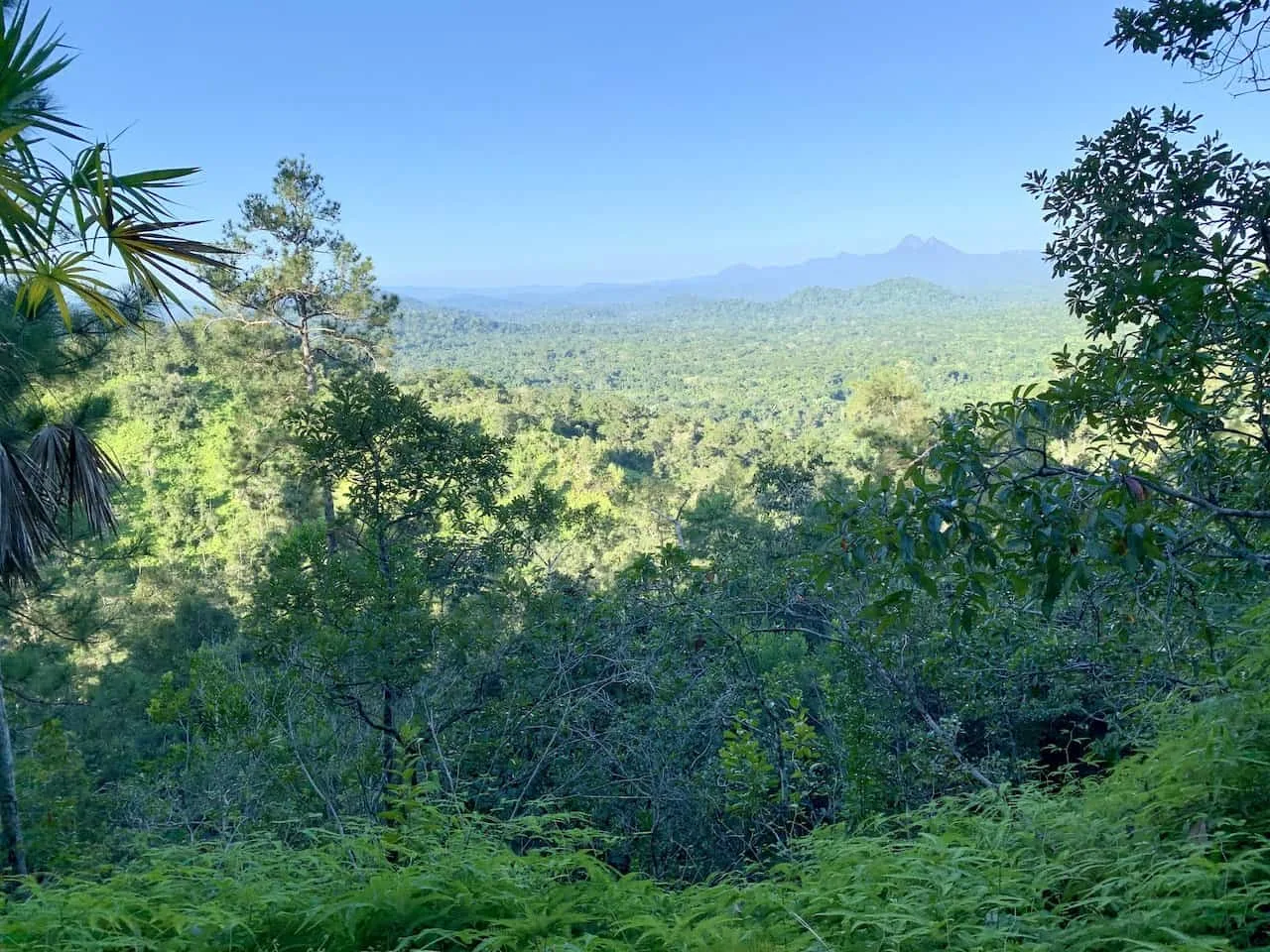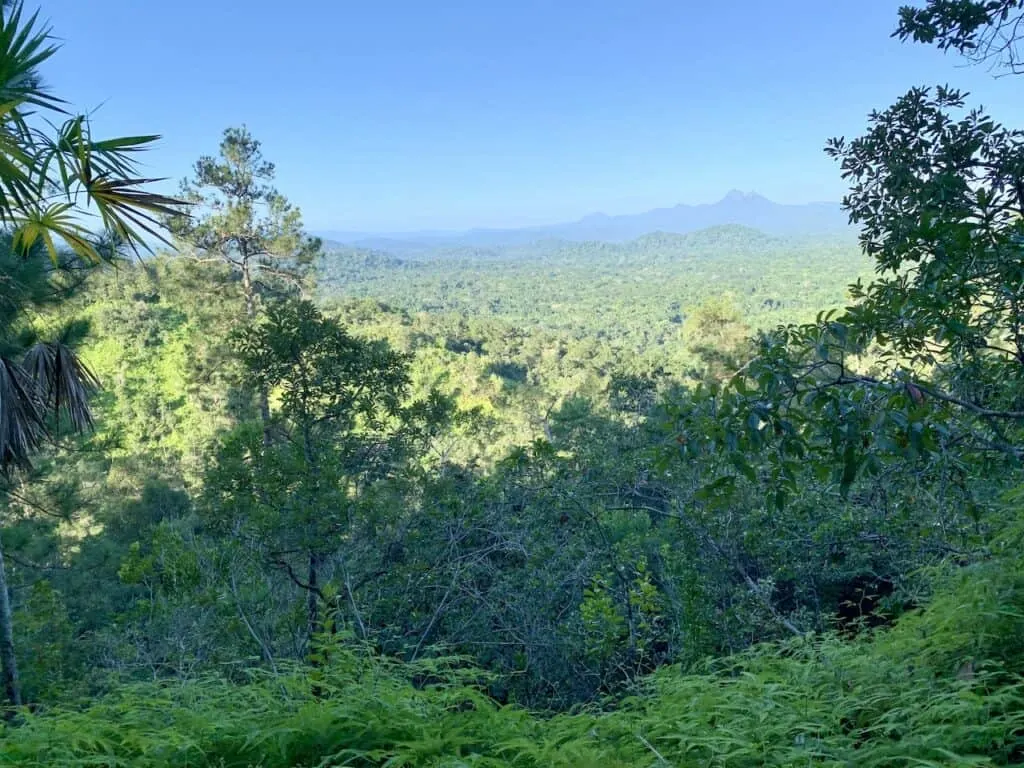 Tiger Fern Trail
In my opinion, the most beautiful hike to do in Cockscomb is the Tiger Fern Trail. The hike comes in at 4.2 miles in length and is an uphill hike to a large open viewing area.
During the hike up, you will also get to visit a couple beautiful waterfalls in the middle of the dense jungle.
Now, while it is certainly a beautiful hike, it can be a bit dangerous too. For the time being, a guide is needed to take part. If this changes, feel free to comment down below!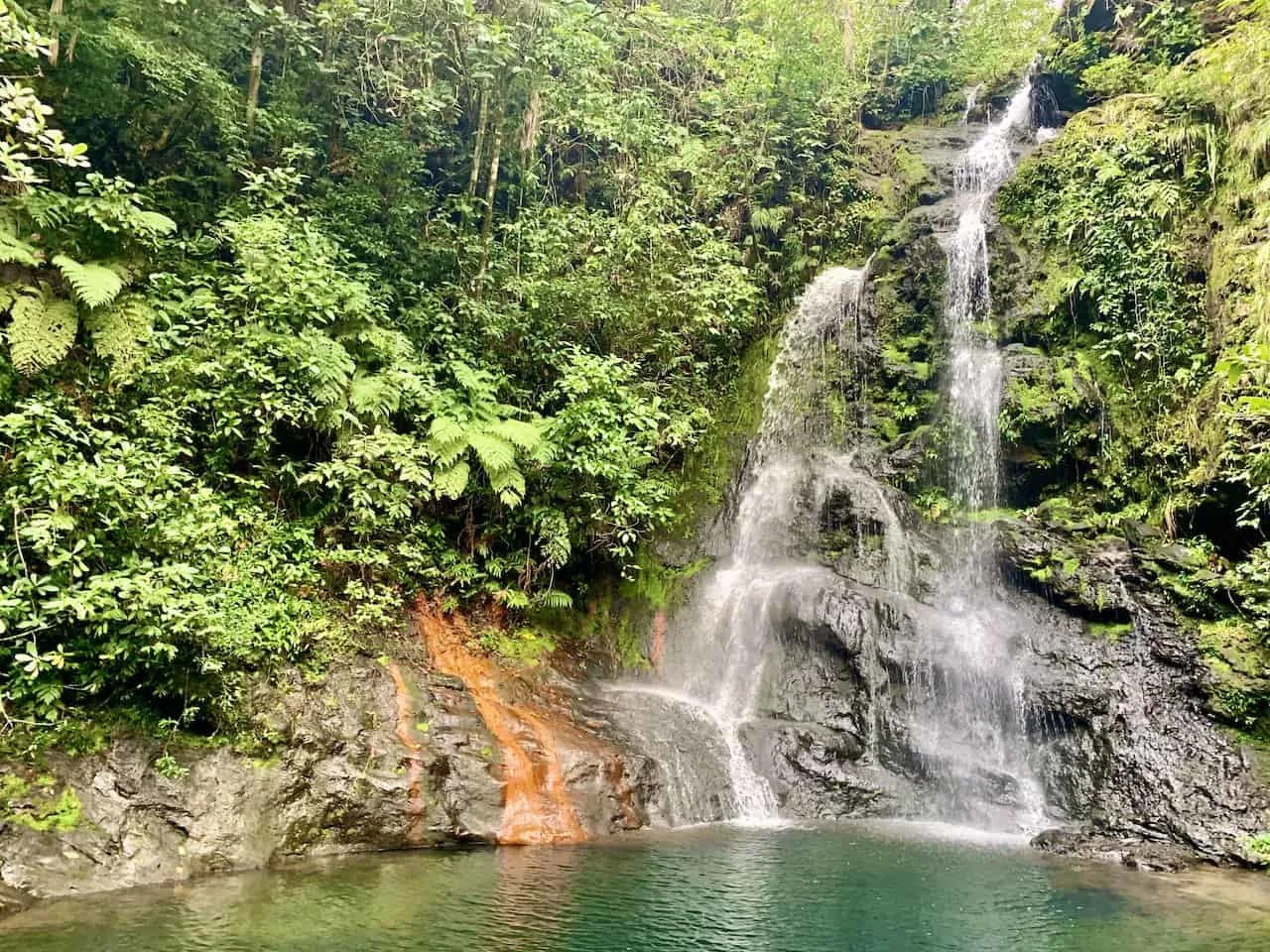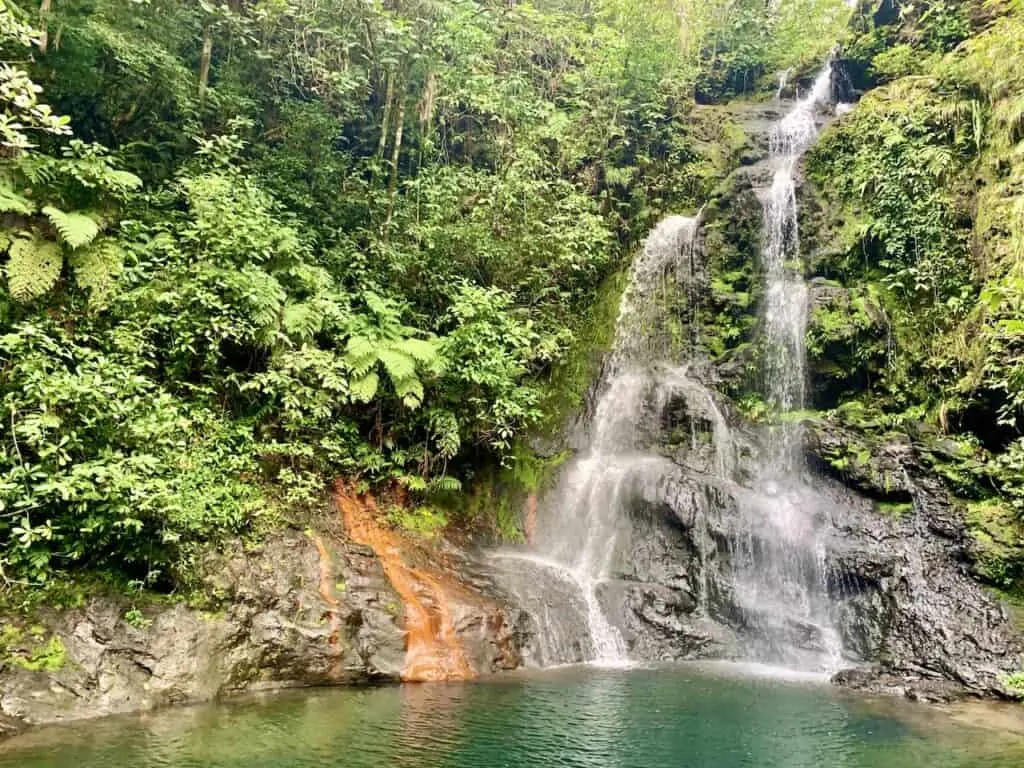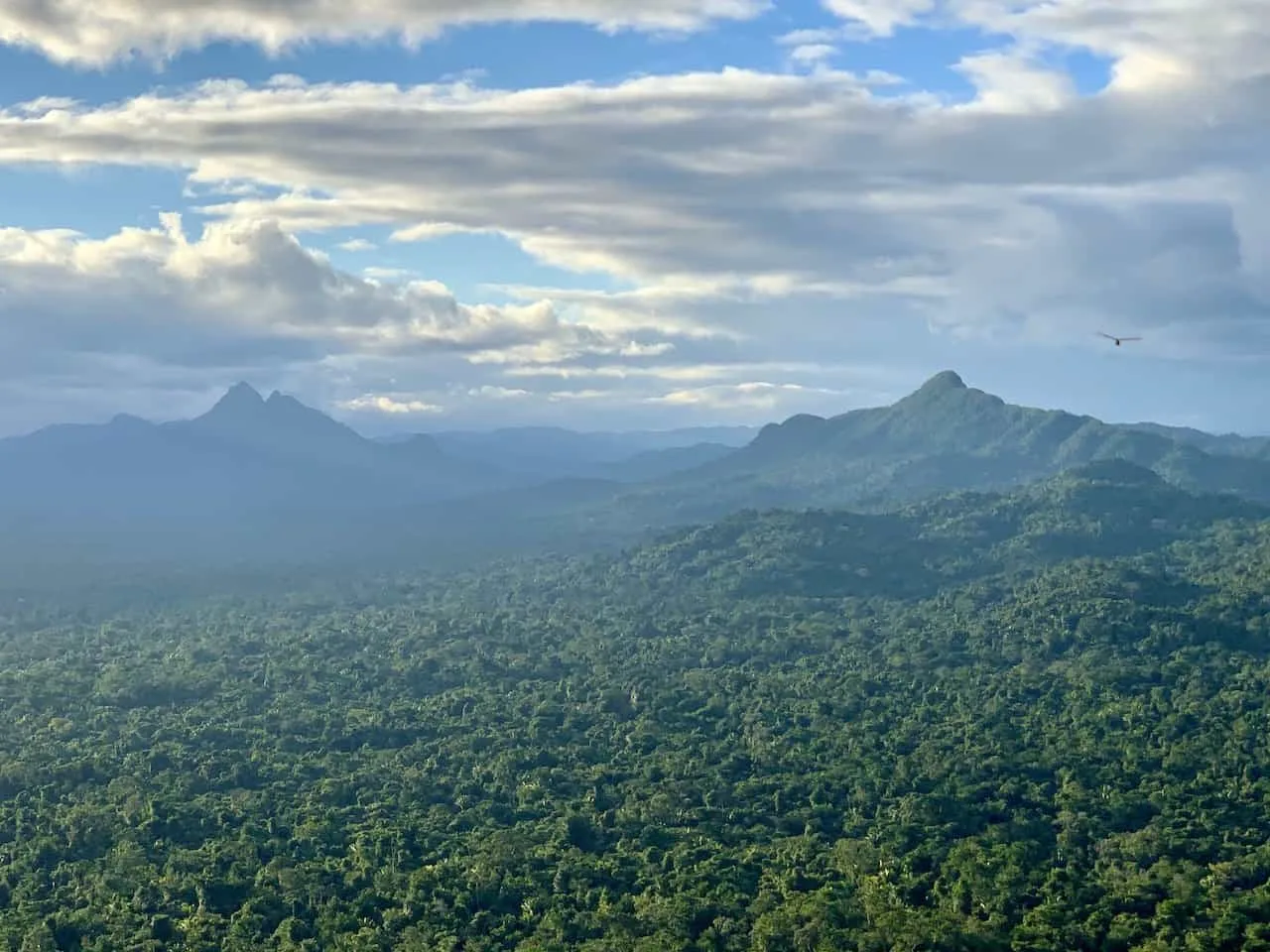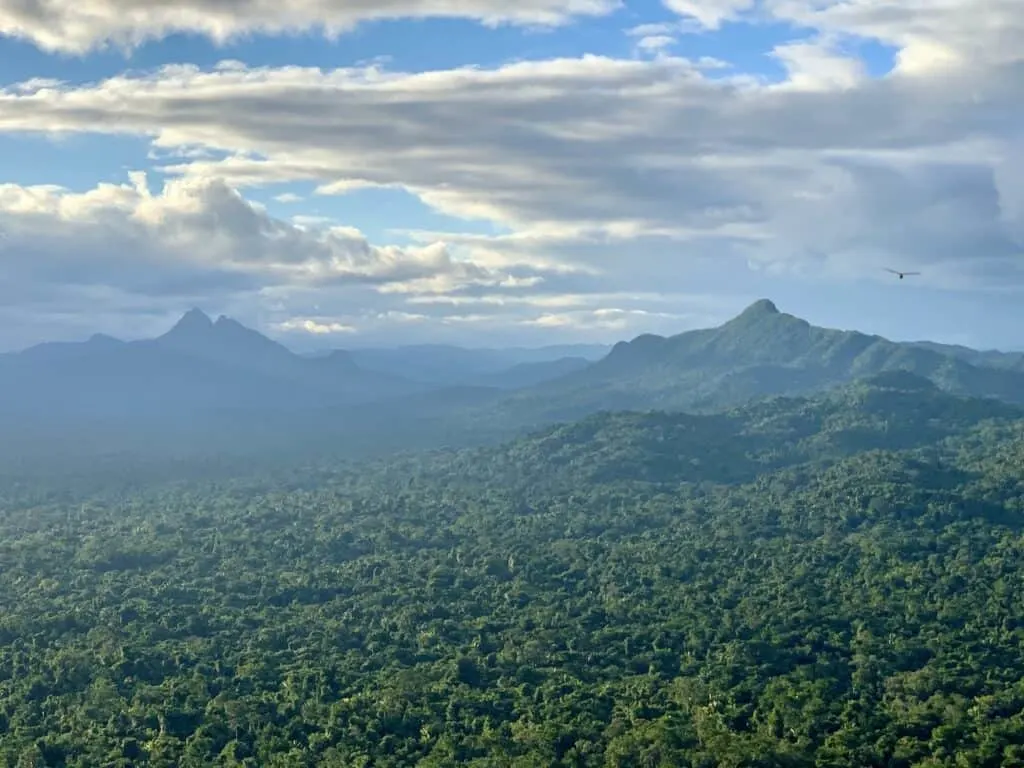 Catena Transcet / Outlier Trail
You may come across a trail named Catena Transcet during your Belize hiking research. From my understanding, this is the Outlier Trail located within Cockscomb.
As a 9 mile trail, the Outlier takes you way further out into the sanctuary and up to a beautiful viewpoint area. However, due to its difficulty levels, this can only be done with a guide.
Victoria Peak
For a multi day adventure, the hike up to Victoria Peak is the top choice. Victoria Peak comes in at 1,120 meters / 3,675 feet and is the second highest peak in Belize.
As part of the Maya Mountains, Victoria Peak requires a 3-4 day trek through the dense greenery as you hike through tough terrain to the summit.
Since it is a more difficult hike, a guide is required and it can only be done during the dry season.
Other hikes to consider in the preserve include the Green Knowledge, Gibut, and Tinamou trails.
5) Mayflower Bocawina National Park
Just north of Cockscomb in the Stann Creek District is the Mayflower Bocawina National Park. This is another top hiking destination in Belize and can easily be added to an itinerary.
The National Park makes up over 7,000 acres of land and also includes three Mayan ceremonial sites. Within Mayflower Bocawina, you are also bound to come across several waterfalls, plenty of bird life and various mammal species.
Some of the top hikes to consider during a visit to the National Park include:
Antelope Falls: this is the most popular hike in the area and offers a scenic forest walk, a beautiful waterfall, and even some views. If you are up for a swim, a natural pool awaits too! Expect just about 2 miles of hiking round trip.
New Waterfall: if you are up for it, you can also add on the New Waterfall to the Antelope Falls hike. It can also be done as a standalone hike if you are looking for a more moderate trail.
Bocawina Falls: a longer 3.5 mile hike in the area takes you to three waterfalls including Lower Bocawina Falls, Upper Bocawina Falls and Tears of the Jaguar Falls.
Big Drop Falls: one of the longer of hikes to take part of is the 6 miler to Big Drop Falls (in addition to adding on Pecks Falls). Not only is it long, but also expect around 1,800 feet of elevation gain too. It is definitely not an easy one but the reward will be one of the best waterfalls in Belize.
The Mayflower Bocawina Loop: for a full loop around the park, you can visit Lower Bocawina, Upper Bocawina, Tears of the Jaguar, Pecks, and Big Drop all in one long 9 mile hike.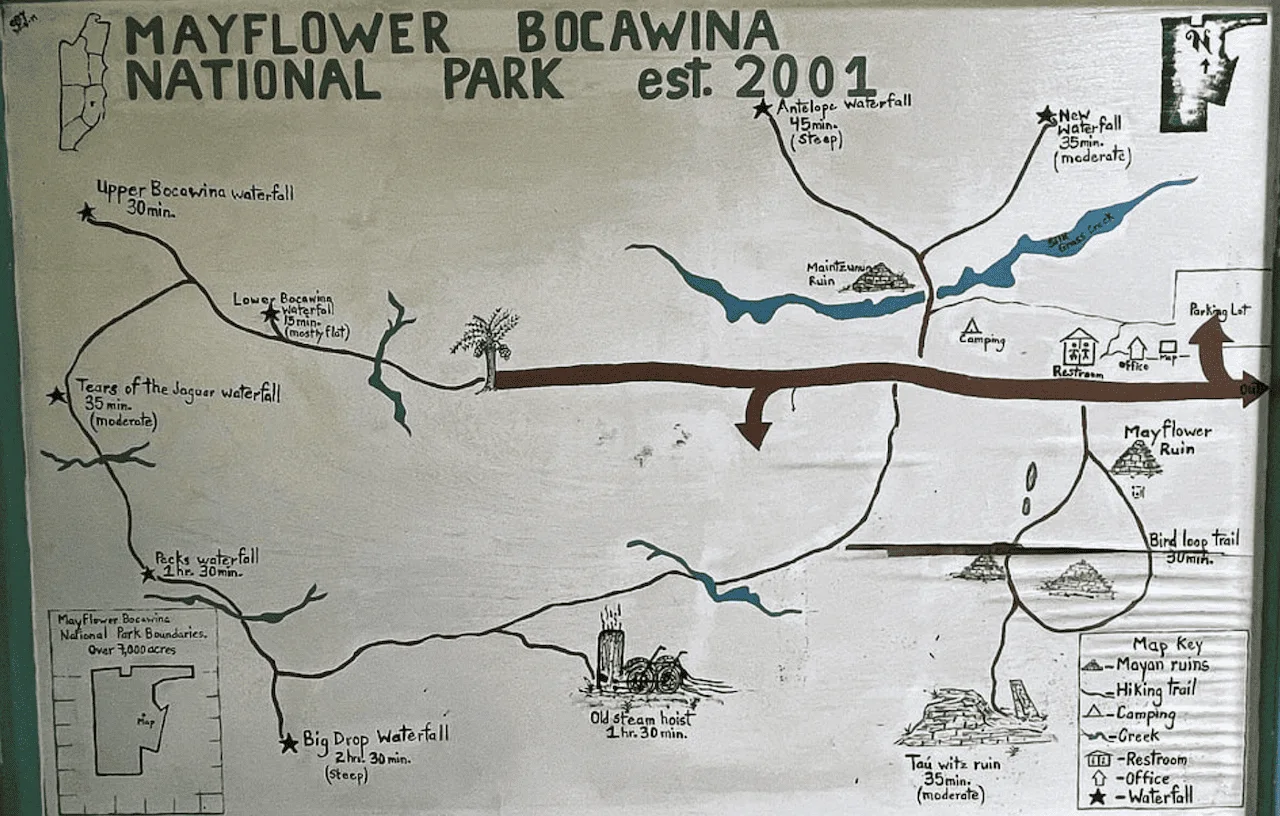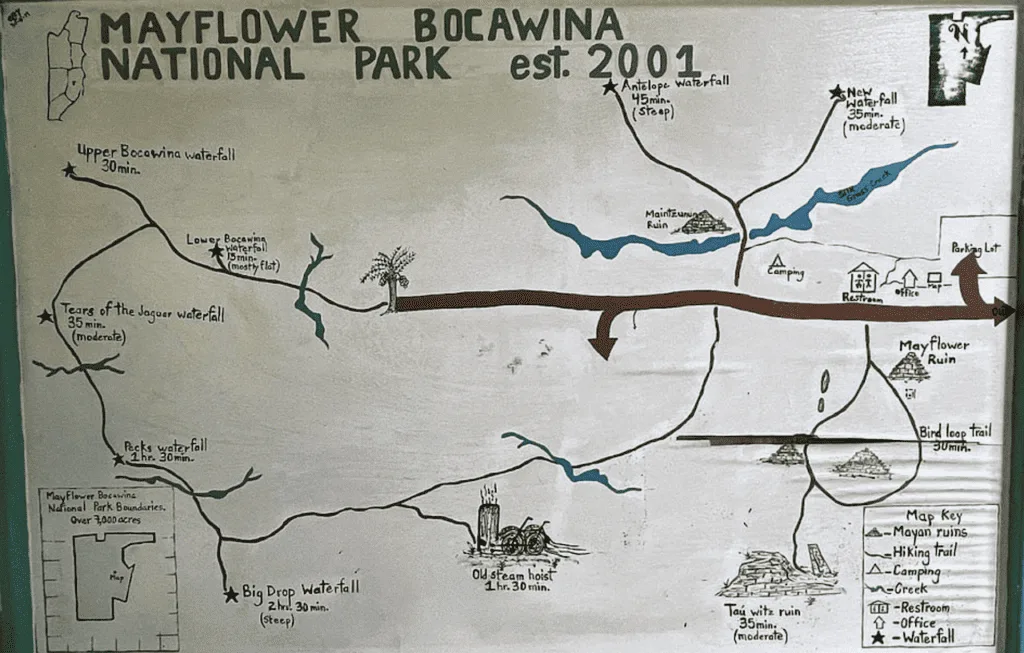 6) St Herman's Blue Hole National Park
Just outside the main town of Belmopan are a few more hiking destinations in Belize. One of these is the St Herman's Blue Hole National Park.
The park covers around 500 acres and is full of lush greenery and exciting wildlife. However, there are three main highlights to visit during a stop – St Herman's Cave, Blue Hole, and Crystal Cave.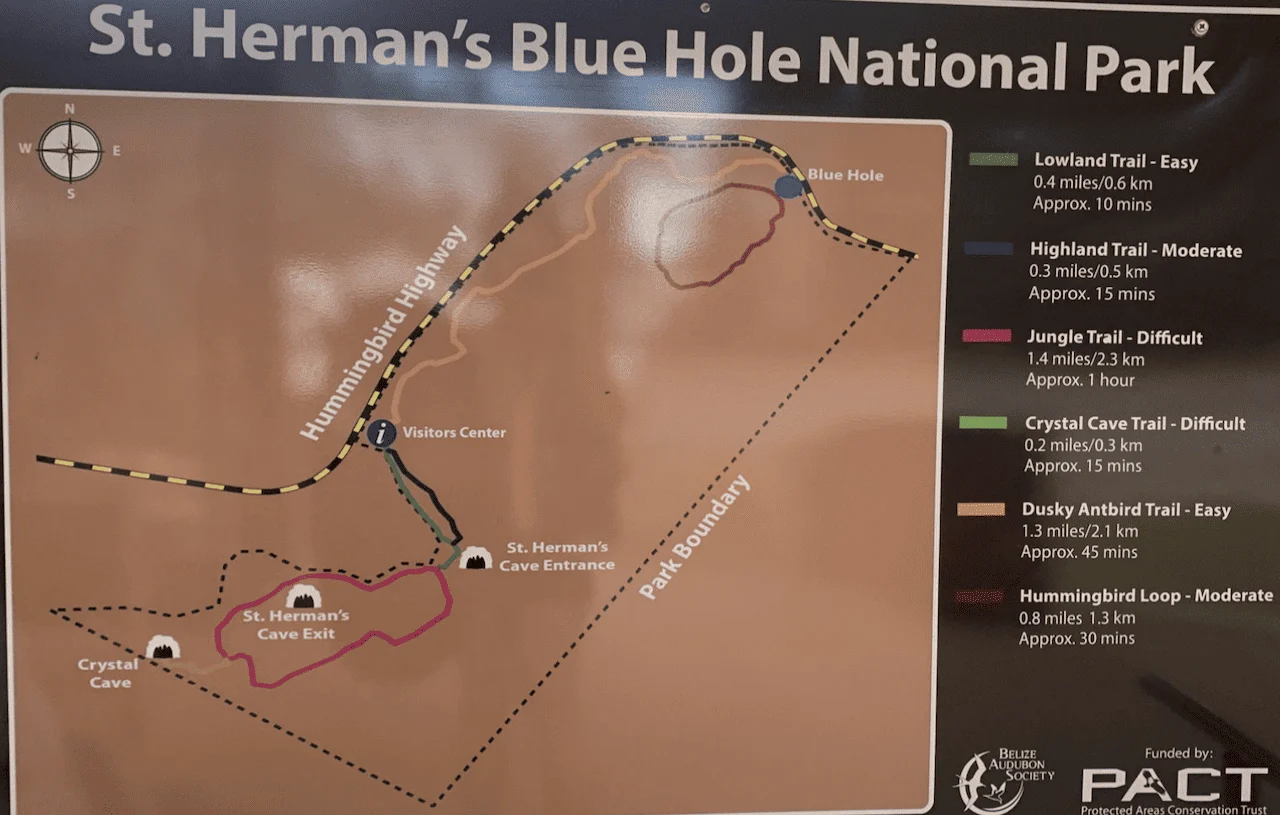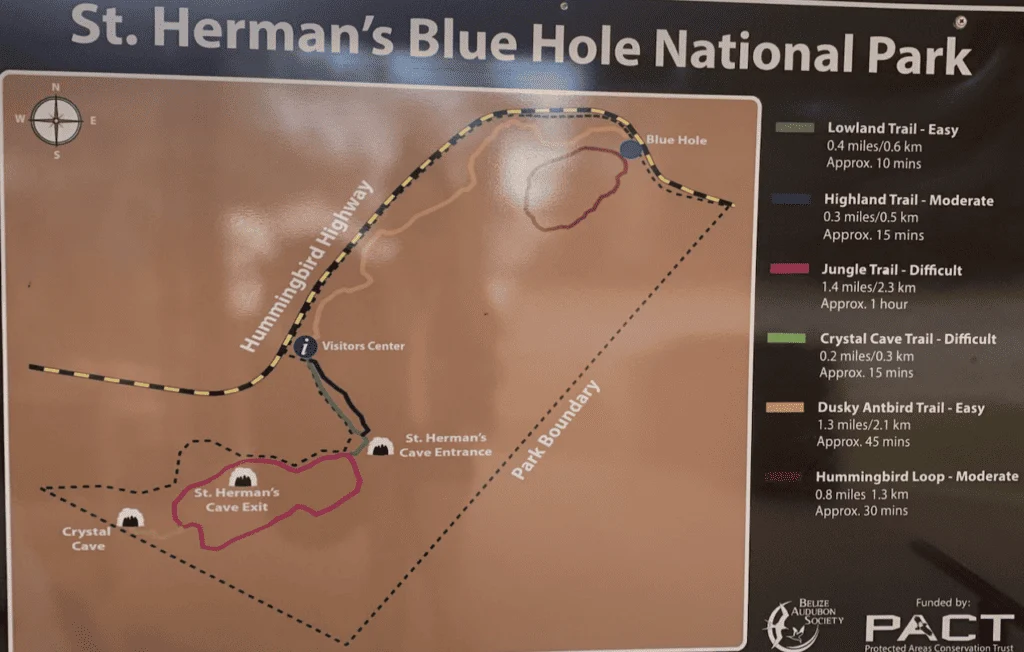 St Herman's Cave
While most caves in Belize need a guide to explore them, St Herman's Cave can be partially visited without a guide. You will follow the 10 minute Lowland Trail that takes you right to the cave entrance.
From there, you can slowly make your way into the cave, where you will come across stalagmites, stalactites, and plenty of unique formations throughout.
If you do hire a guide, then you will be able to explore even deeper in the cave. However, just getting a 10-15 minute walk through the cave will be a highlight.
Blue Hole
In the Belize Barrier Reef, is the Blue Hole that the country is known for. However, this Blue Hole is a bit more accessible.
This can be done by either hiking the 45 minute Dusky Antbird Trail from the visitors center, or alternatively simply driving to the Blue Hole entrance.
Once you arrive at the Blue Hole, you will be welcomed to a large sinkhole with turquoise waters to swim and relax in.
Crystal Cave
The Crystal Cave is another cave that can be visited in St Herman's Blue Hole National Park. However, this one can only be visited with a guide as you hike deeper into the jungle and into a more advanced caving section.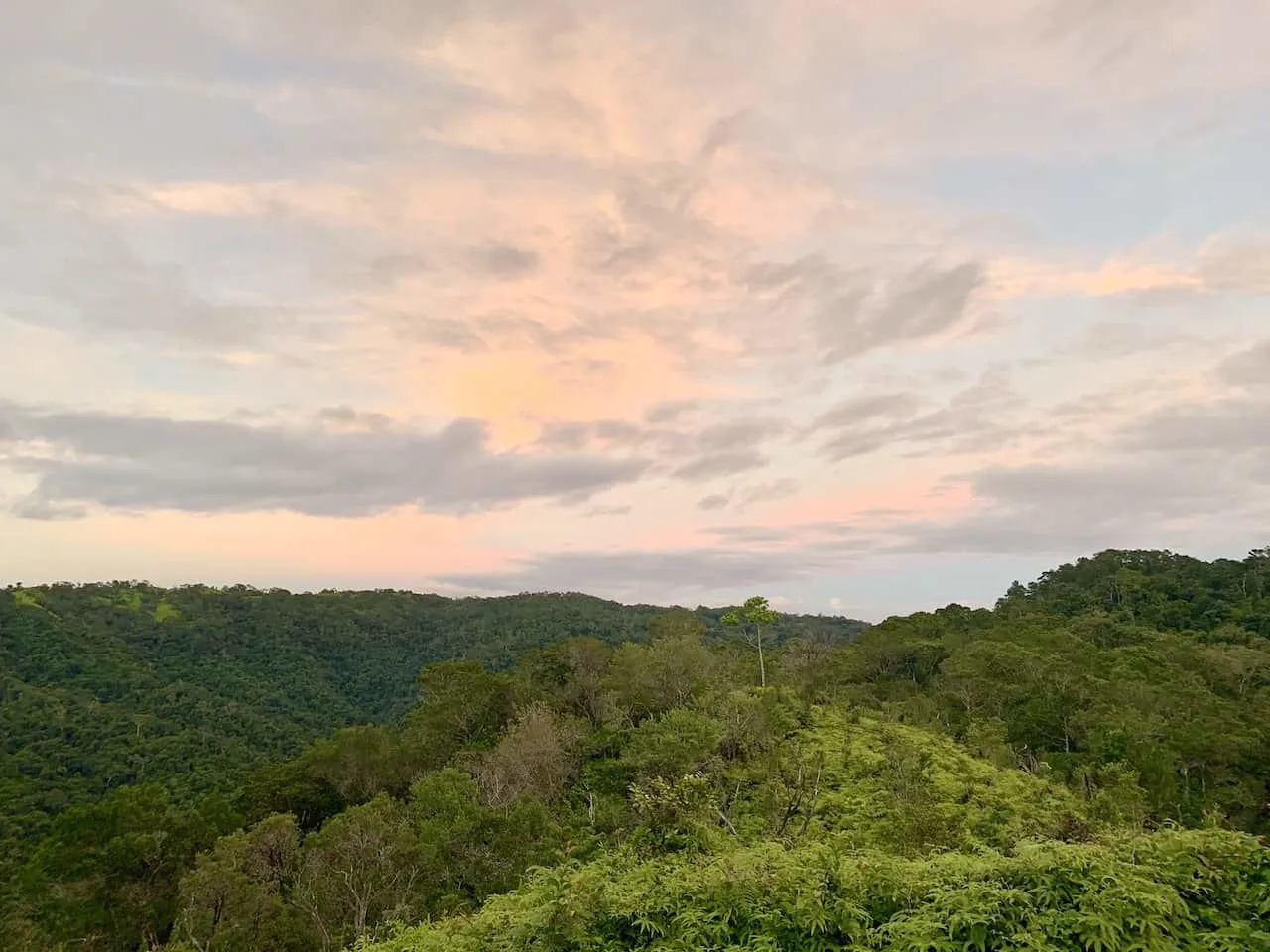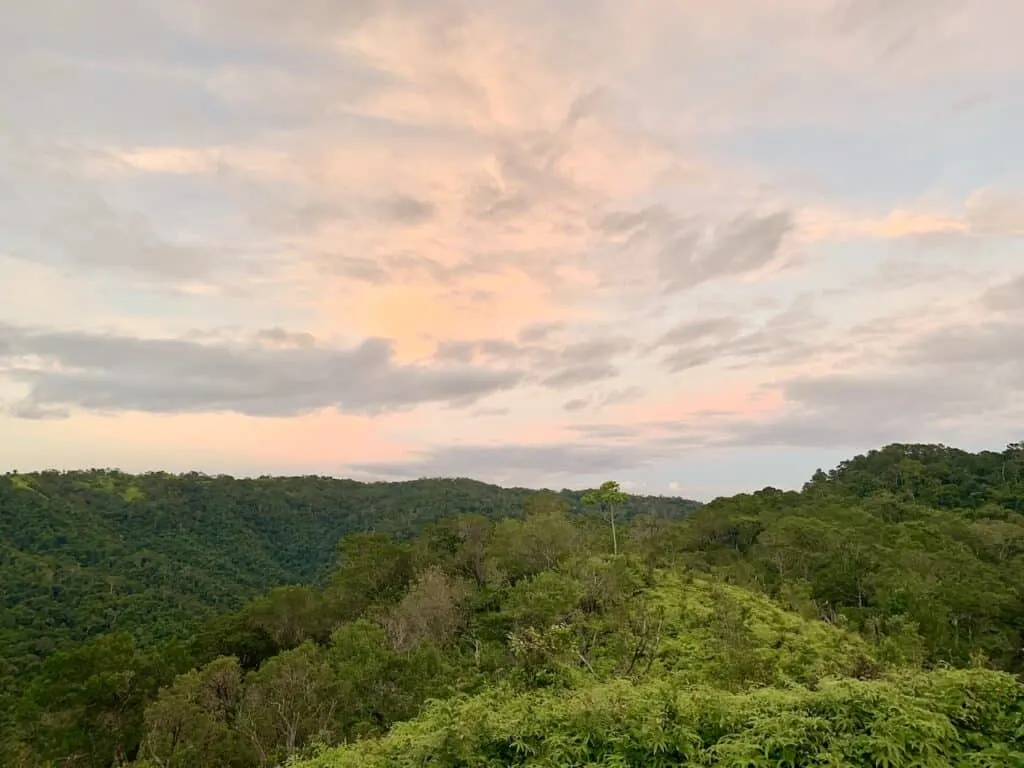 7) Guanacaste National Park
Located within Belmopan of the Cayo District is Guanacaste National Park. Now this is certainly a smaller National Park to visit at just 50 acres in size.
Although small in size, it is one of the most accessible hiking spots in the country. You can find it right at the intersection of the main George Price Highway and Hummingbird Highway.
Within the park you will come across 2 miles of hiking trails that can all be combined into one. The hike takes you through the forest and along the Belize River. Along the way you will come across plenty of bird wildlife and flora.
In addition, the trails will take you to an observation deck overlooking the river and a relaxing swimming spot if you are looking to take a dip.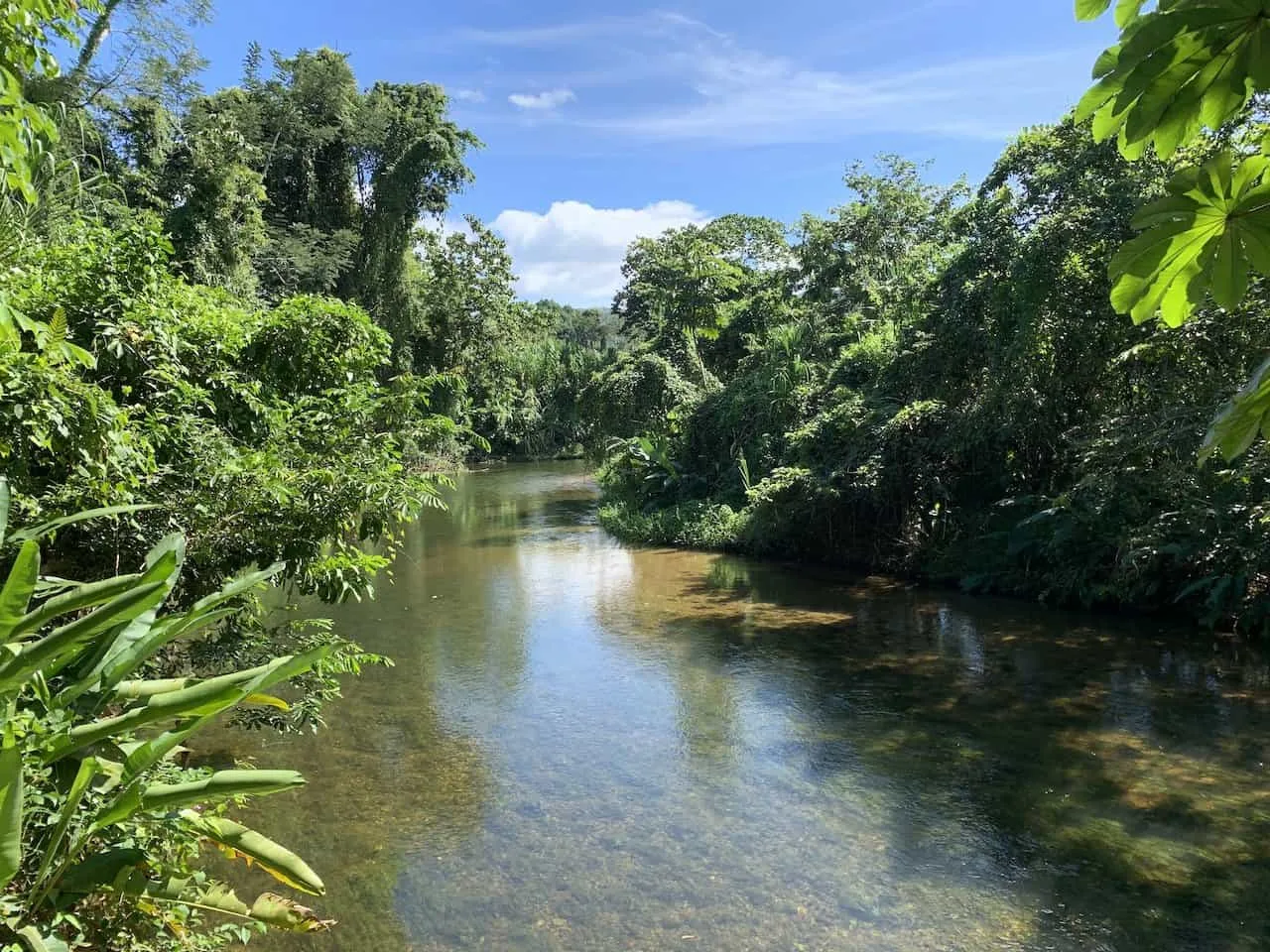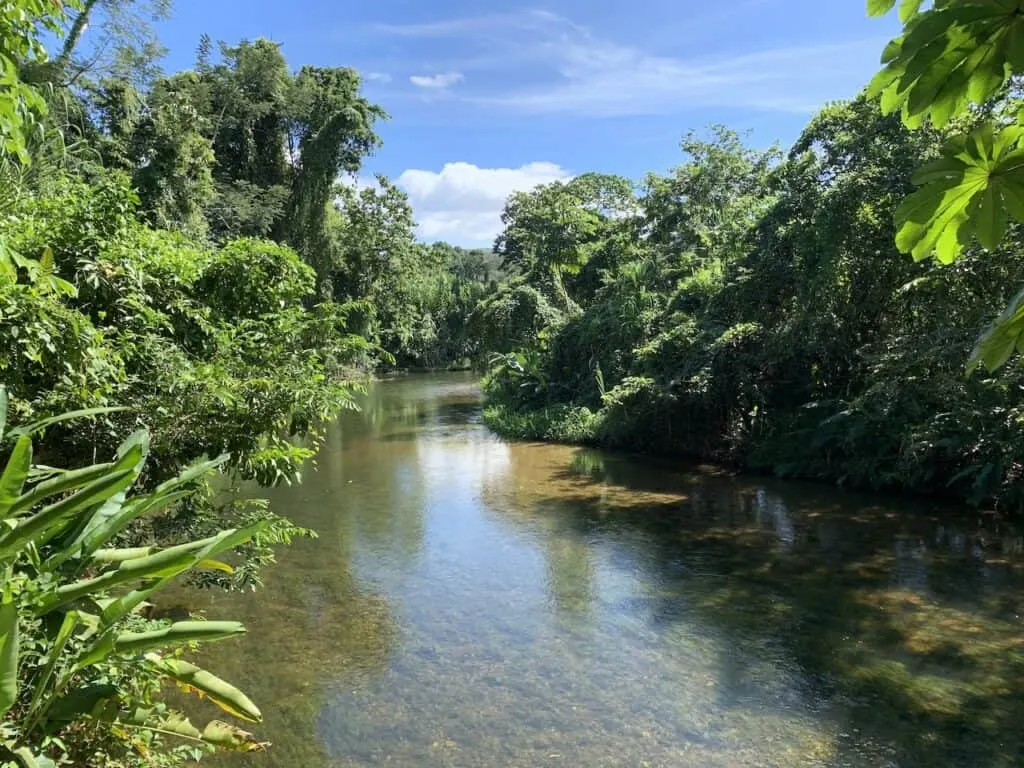 8) Mountain Pine Ridge Forest Reserve
Wrapping up the hiking destinations in Belize is the Mountain Paine Ridge Forest Reserve. The reserve is located just south of San Ignacio, which is a top spot to add to your overall Belize itinerary.
Making up over 100,000 acres of land in the Cayo District, Mountain Pine Ridge is one of the largest reserves in Belize.
Now, most people who visit the area do so as a day trip tour from San Ignacio. This will usually include one or more of exciting activities that will have you experiencing a little bit of everything.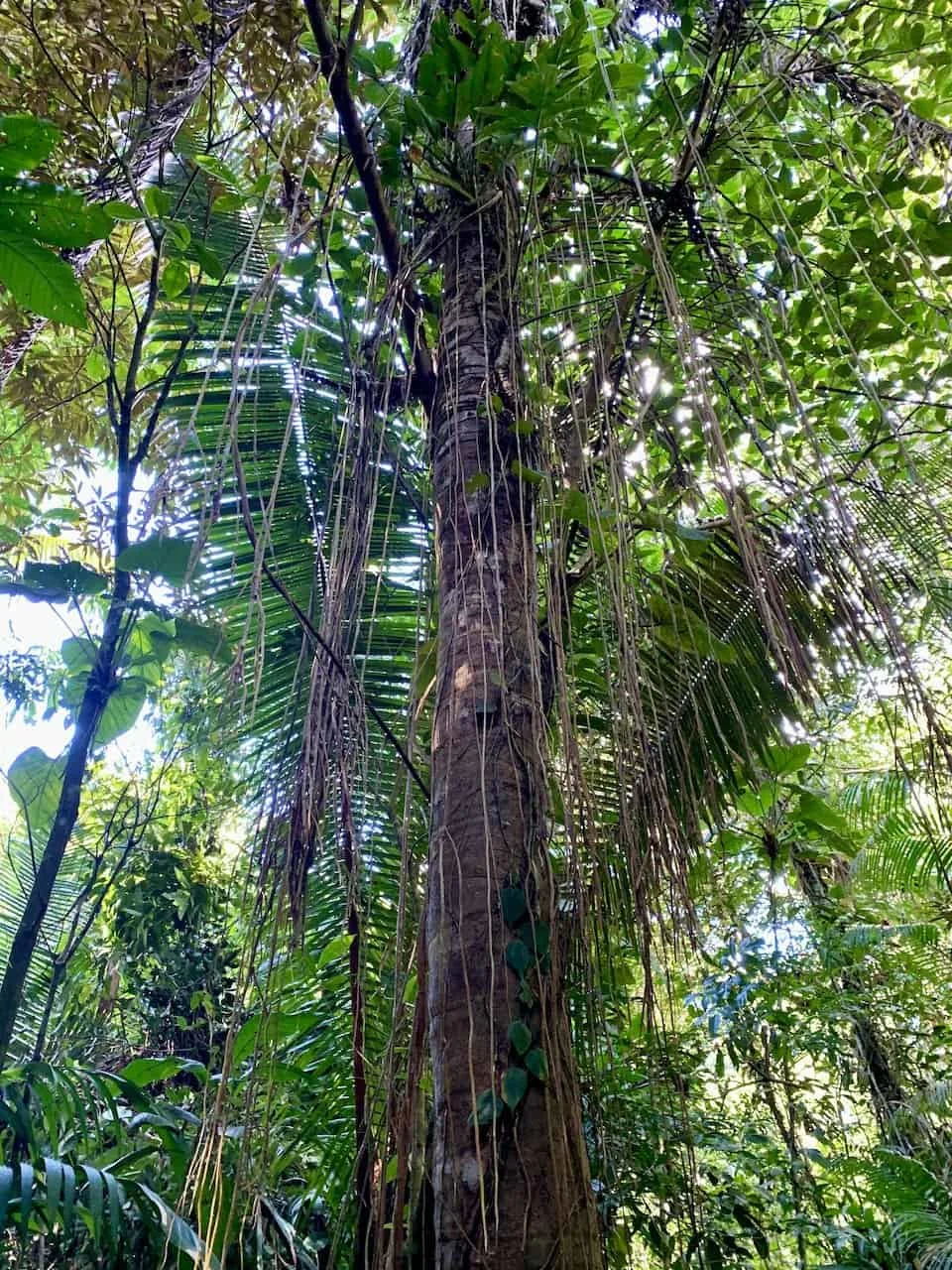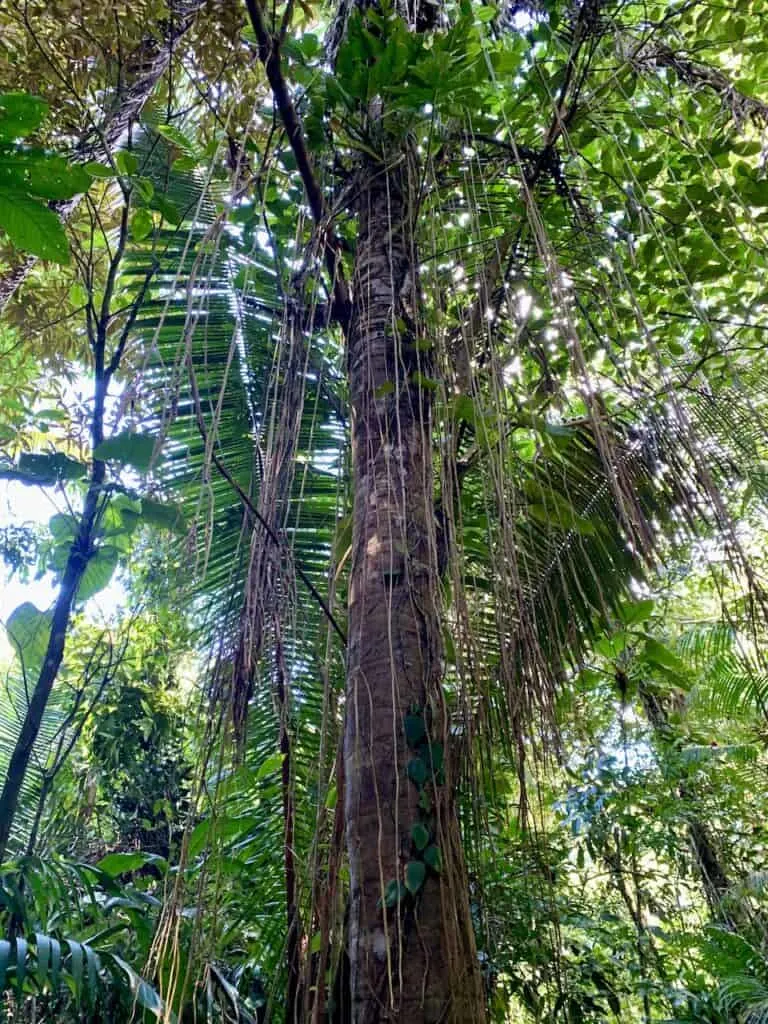 No matter what activity you choose, you are bound to do some hiking as part of the overall day. Some highlights in Pine Ridge include:
Rio On Pools: there are a wide variety of natural pools that have different depths and shapes. Small waterfalls and the flowing waters, make this the perfect place to just sit back & relax. A guided tour day trip usually includes the Rio On Pools, Caracol and the Rio Frio Cave.
Rio Frio Cave: Rio Frio has the largest cave entrance in Belize, and was once used as a Mayan sacrificial site.
Caracol: this was known to be the largest Mayan cities in Belize, with over 180,000 people living there at the time. Throughout the complex, there will be just so much to explore and enjoy along the way as you see where these people once lived.
Barton Creek Cave: while most canoe trips you may be familiar with head out on rivers or lakes, this one will head into the Barton Creek Cave. The cave is located about an hour away from San Ignacio, and can only be explored as part of a guided canoe tour.
Thousand Foot Falls: this is the highest waterfall in Central America at 1,600 feet in height! Most people simply view the waterfall from up top. However, for those adventurers, hiring a guide to head to the bottom is an option too.
Big Rock Falls: a 30 minute hike takes you down to one of the more picturequese waterfalls in Pine Ridge. For those looking for a longer hike, feel free to start at the Blancaneux Lodge and make the 4 mile round trip hike from there.
Five Sisters Falls: lastly is the Five Sisters Falls, which is just a bit further from Big Rock. You can head to the Gaia Lodge to visit this unique waterfall in the nature reserve.
Hotel: the Hidden Valley Wilderness Lodge is a great remote spot to stay at if you want to explore the ins and outs of the area.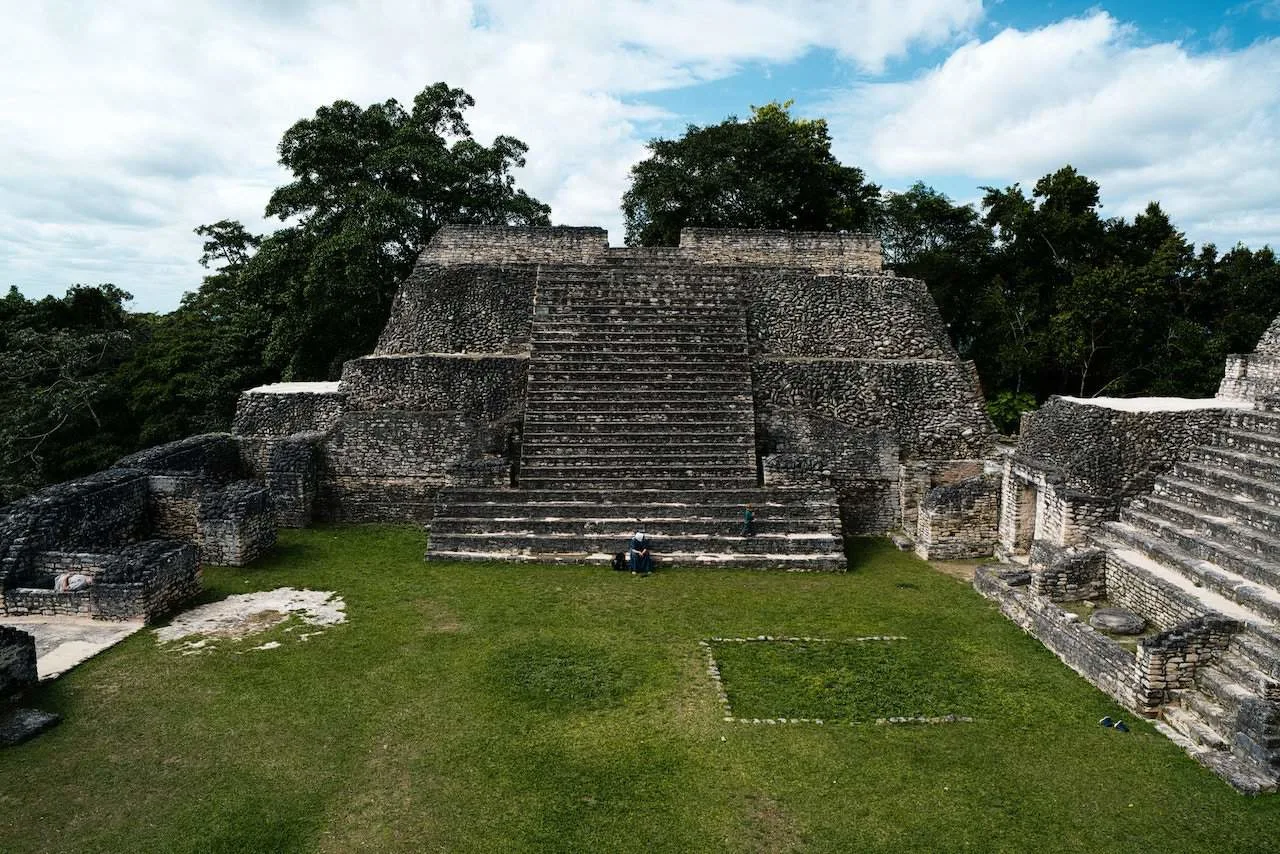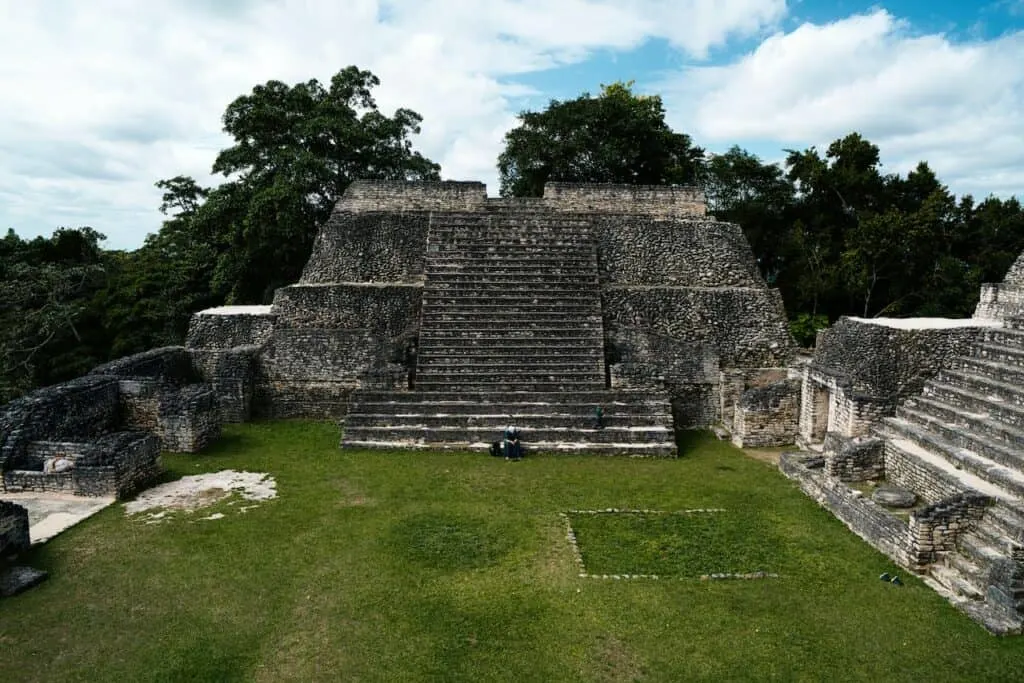 9) Actun Tunichil Muknal
I can't write an article about the best hikes in Belize without including the Actun Tunichil Muknal Cave. When it comes to experiences in Belize, the ATM cave tour is towards the very top of the list.
This is a hike that can only be done with a guided tour as you make your way into the Tapir Mountain Nature Reserve.
From there, you will then head on a 45 minute hike though the lush jungles and cross some rivers along the way. Once at the cave, you will swim through some water and then explore the ins and outs of this ancient Mayan site.
While the cave itself is a highlight, so is the immense number of historical artifacts that you will see along the way. This includes a visit to the dry chamber as you get to walk among skeletons and learn about the history of it all along the way.
Once wrapped up, it is back out of the cave, across the jungle, and back out of the nature reserve.
As this is one of the more sought after sites in the region, be sure to sign up in advance for the ATM tour to reserve your spot.
Cave Note: there is another cave – Actun Loch Tunich (The Mother of all Caves), known for its Black Hole Drop. During this more advanced experience, you will rappel down into the 300 foot opening before climbing back up to the top.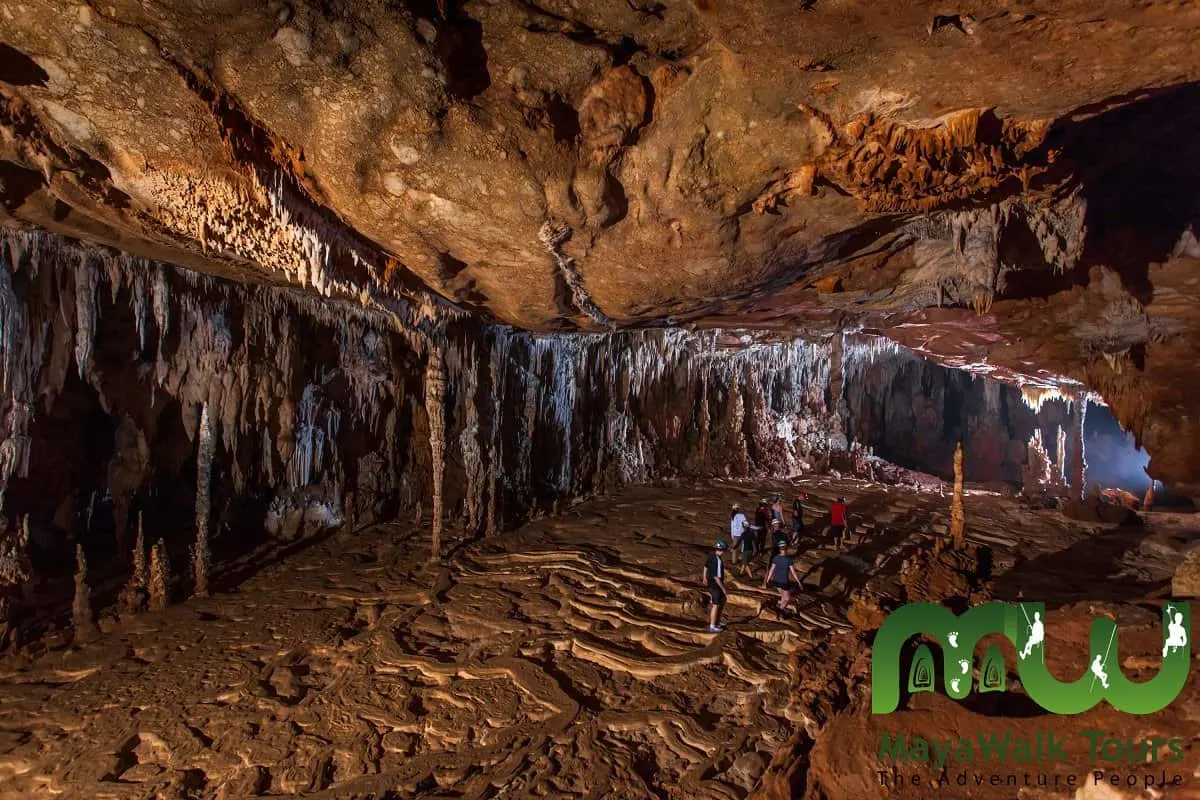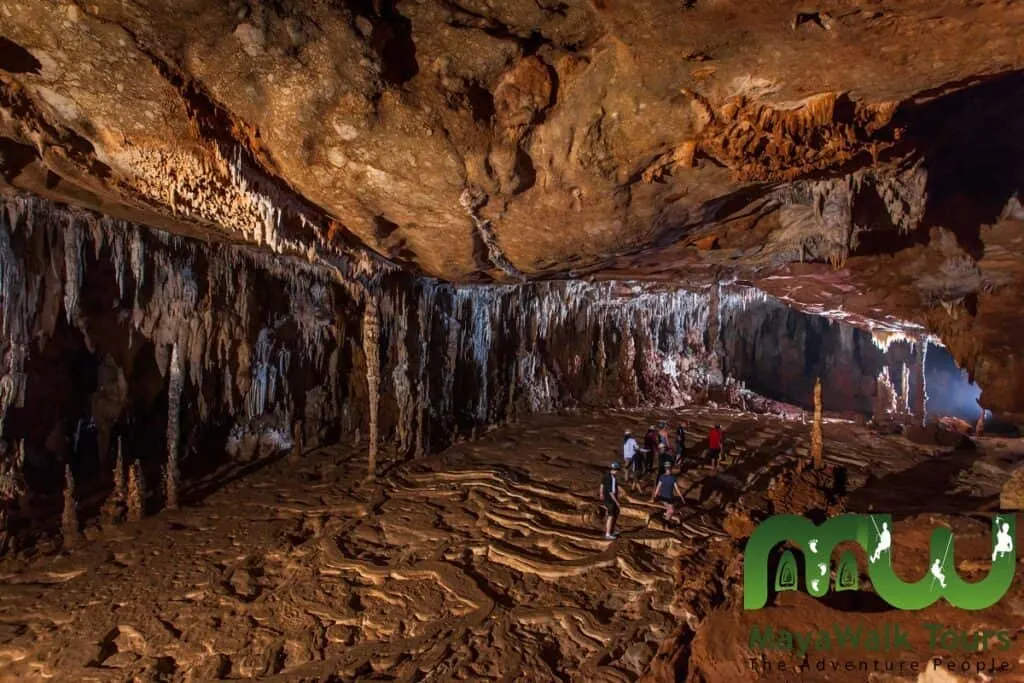 10) Best Time to Visit
One of the main considerations at play when visiting Belize is the time of year for a visit.
The country is mainly split up between a wet and dry season. The wet season runs from June to December, while the dry season is from January to May.
Ideally, you are able to visit during the dry season to fully enjoy those sunny days and not be hindered by less than optimal weather. The last thing you want is to go on vacation and not take part of your planned activities.
January to March: these months are the peak dry season and the most optimal (and busiest) time to visit.
April to May: this is still a great time to visit as the weather is still relatively dry but the temperatures (and humidity) may increase.
June to July: the rainy season begins during these months, but it may be more so some afternoon storms rather than heavy consistent rainfall.
August to October: this is considered the low season as rain and risk of storms is at its highest.
November to December: as we get further into the year, the rainfall begins to decrease and visitors begin to flock back to the country for the holidays.
Just note that as you get further away from dry season, you are at higher risk of muddier trails and less optimal hiking conditions.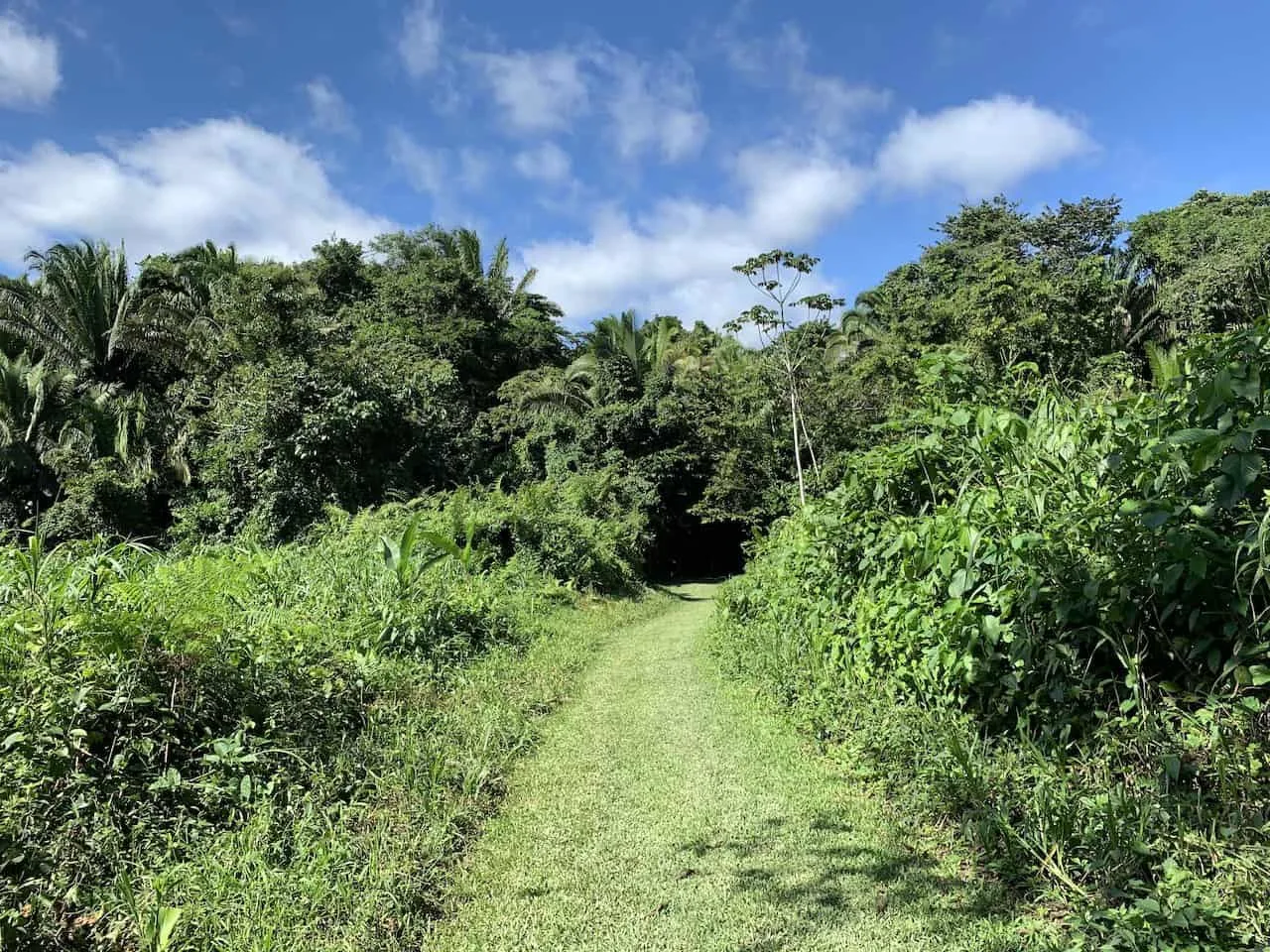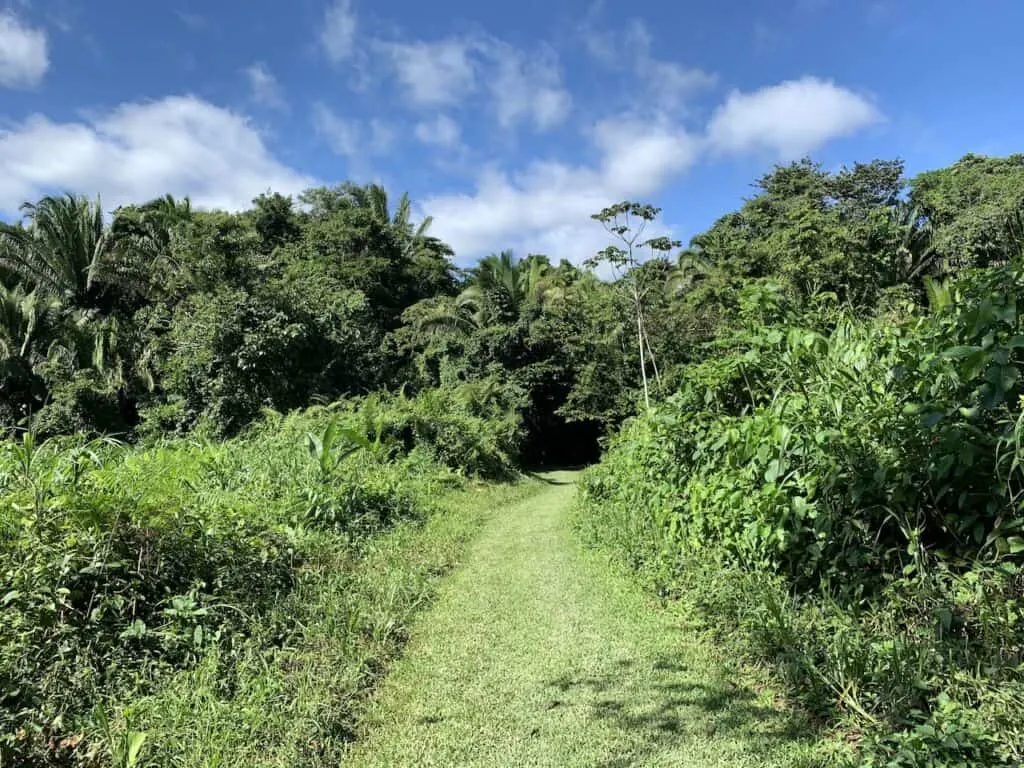 11) How to Get to Trailheads
From a logistical perspective, there are a few different ways to visit these hiking destinations in Belize. Odds are you won't have a rental car (although you certainly can get one if you find it much easier). Instead, private transport, public busses, and guided tours can help out.
Private Transport
The easiest way to get around Belize is by hiring a private driver to get you from point A to point B. If you want to visit any one of these areas, your hotel should be able to set up transport to take you to a National Park, wait for you as you hike around, and then take you back at day's end.
Public Transport
It is also possible to reach some of these destinations by public transport. During my time in Belize I did leverage the bus network to drop me off at the entrance of the Cockscomb Basin Wildlife Sanctuary.
From there, I took a quick taxi down the road, where I then hiked all around the park for the next couple of days.
Depending on where you are going and if you are up for a more local experience, public transport can work out.
Guided Tours
Lastly, you will find that many of these hikes and experiences require guided tours. That usually means signing up in advance and having a guide by your side all the way through.
I included some highly rated options above to better help you book those hikes where guides are required.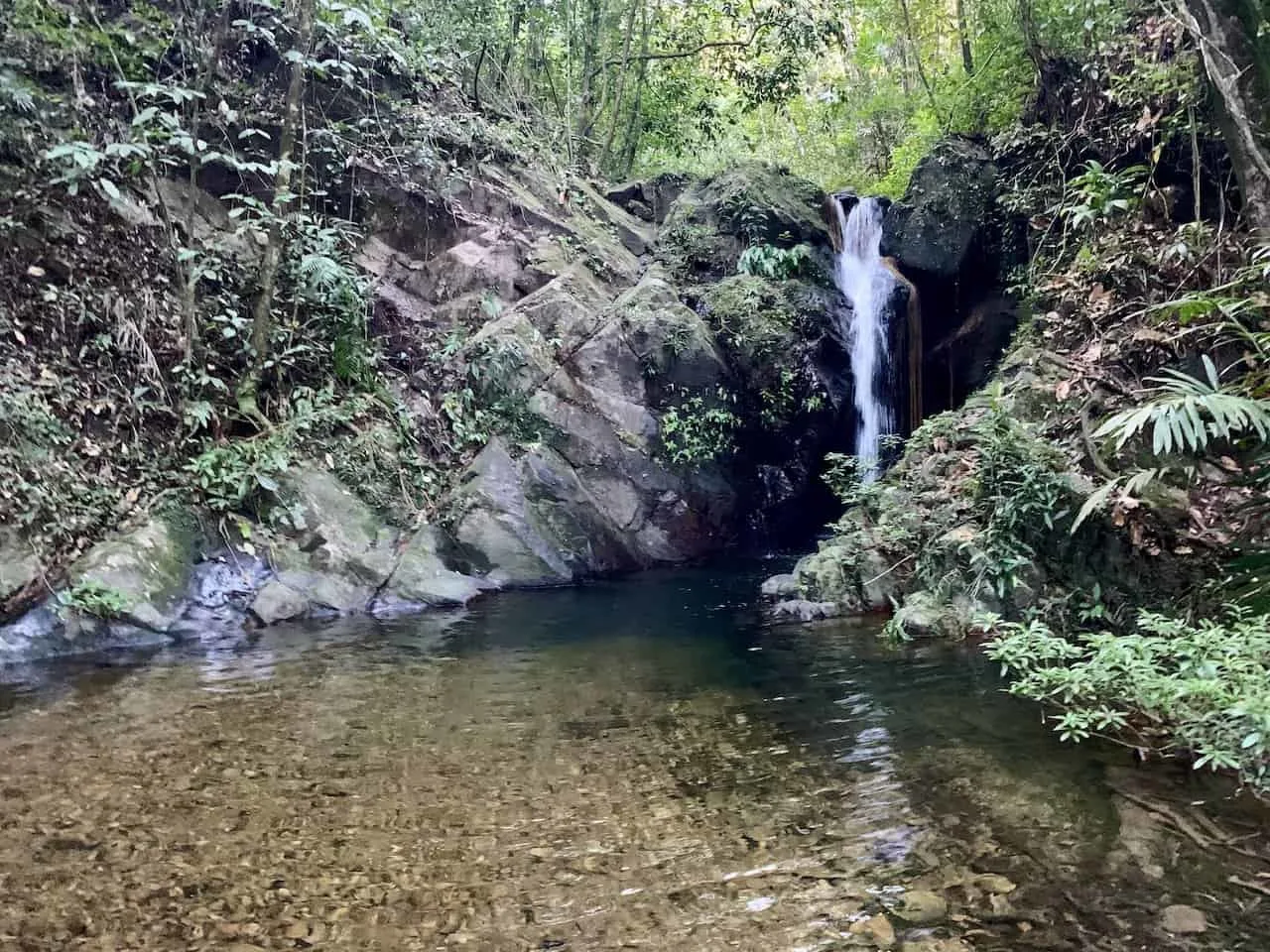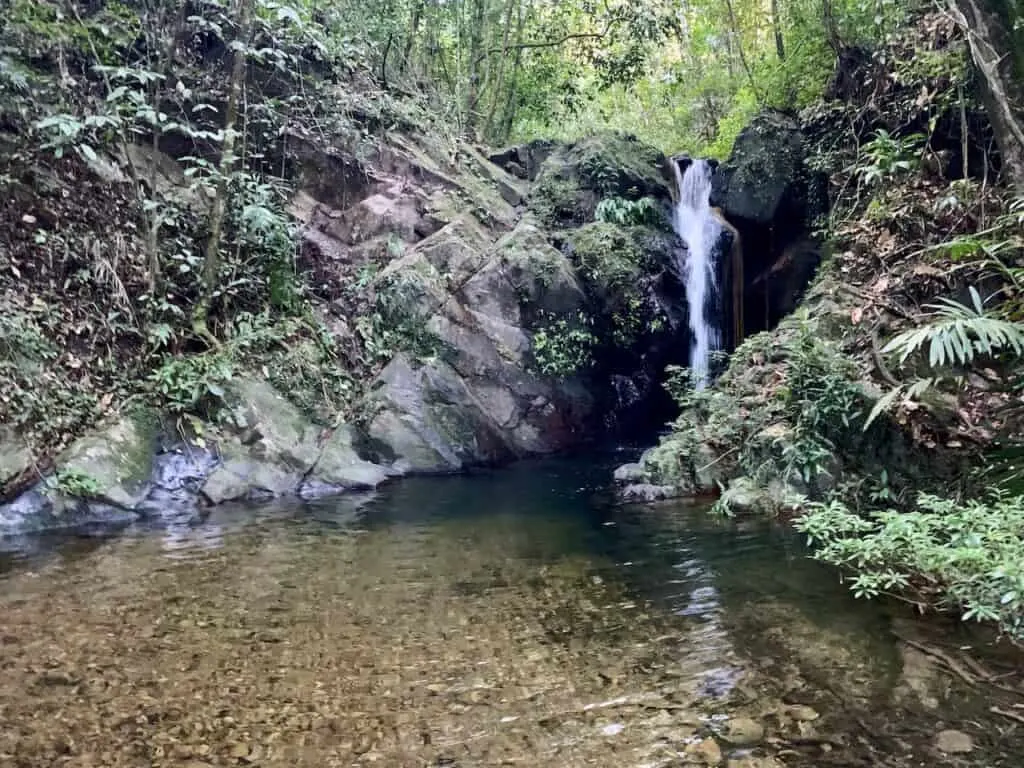 12) Does Belize Have Good Hiking?
With all of that said, you may still be asking yourself if Belize has good hiking.
As someone who has traveled and hiked in all corners of the world, I can say that the hiking in Belize is certainly different. While the country is not known for its hiking, the hikes out there are special.
Getting to have the combination of waterfalls, views, wildlife, and nature is something to look forward to when hiking. While I did not take part of long, strenuous trails that require a guide, the hikes I did take part of were well worth the effort.
At the end of the day, I would not say to just go to Belize for its hiking. But if you did want to add some in during a trip, there are many options out there to choose from.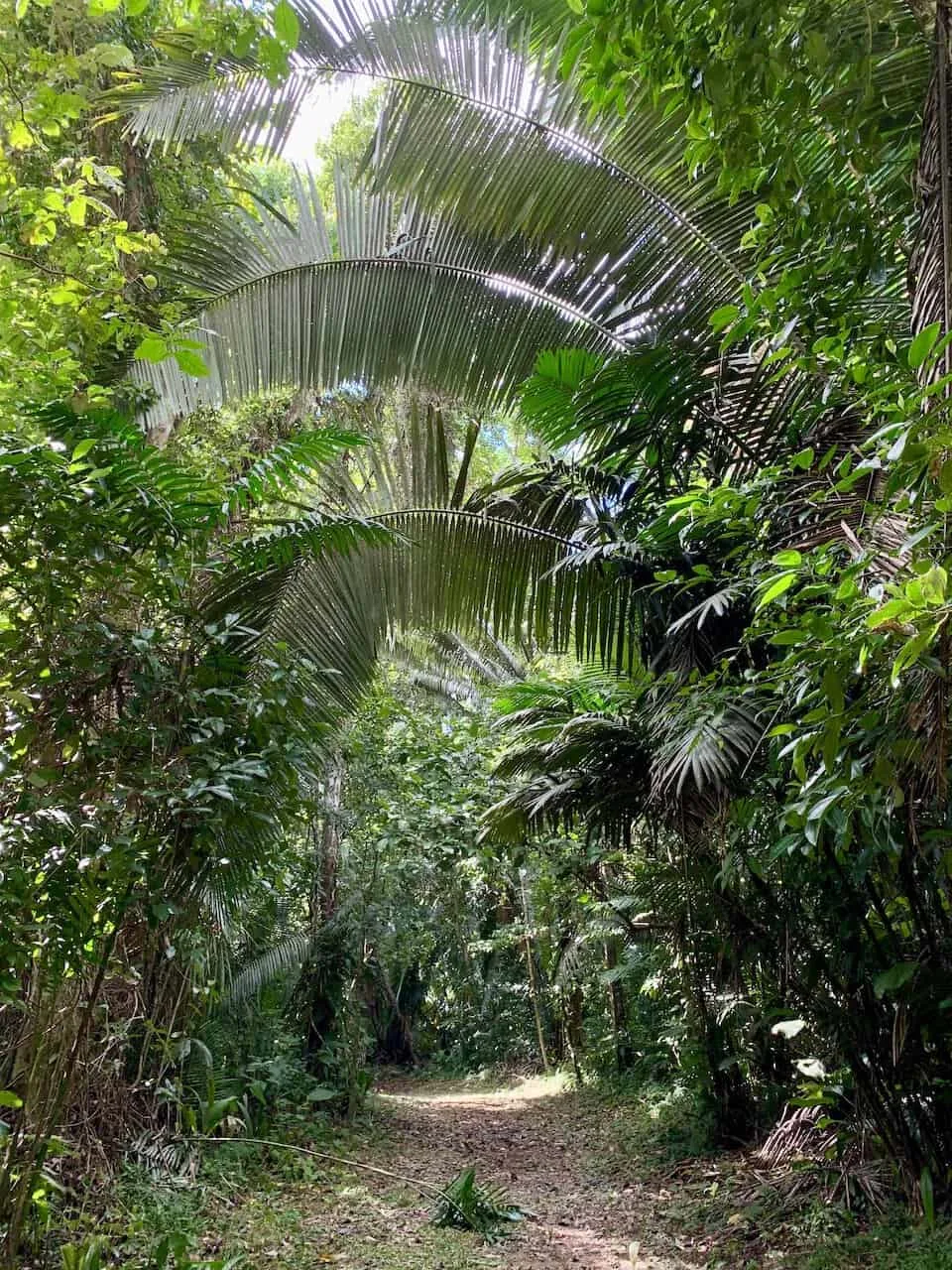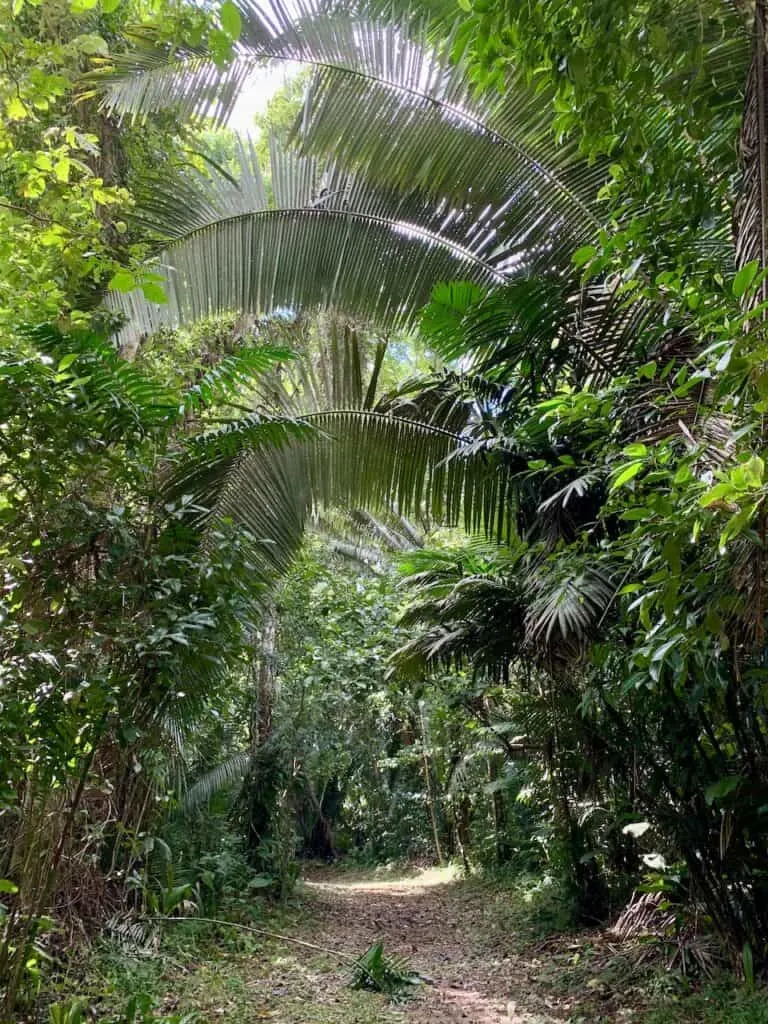 I hope you have a better sense of some of the best hikes in Belize! If you have any questions or comments, be sure to add them in below.
Also don't forget to check out the other Belize itineraries and guides up on the site.
Have fun out there and safe travels!