Are you wondering what weather in the Azores is like year round and when is the best time to visit these islands taking into account temperature, rain, and sun?
Well this Azores islands weather guide will go over all of that and more. Hopefully by the end of this you will have a good sense on what to expect and when to expect it, along with some helpful tips about weather in the Azores.
Enjoy the guide and have fun planning what is sure to be a trip of a lifetime.
* Affiliate Disclosure: This post may contain affiliate links, which means I may receive a commission if you make a purchase through the links provided, at no additional cost to you. Thanks for supporting the work I put into TripTins!
1) Weather in the Azores Introduction
The way weather and climate works in the Azores Islands is much different than any other place I have been to. The 9 island archipelago located in the middle of the Atlantic Ocean (about 900 miles off the coast of Portugal), is right in the middle of the warm watered Gulf Stream.
Due to this, the islands of the Azores never get too cold or too hot, which makes it a great destination to visit at most times of the year.
During the winter months the average temperatures can hover around mid 50s F (14 C) while in the summer months in the 70s F (22 C).
With all that said, there are some other major factors that can impact your time in the islands. The weather can be very unpredictable on a daily and hourly basis. They say that you can see all four seasons in just one day.
The amount of rain, gusty winds and cloud coverage can all change in an instant. Depending on time of year, these factors can come into play even more so.
I will try my best to go over some of the most important info when taking climate and weather in the Azores under consideration.
2) Azores Islands Weather Averages
Below I have taken both the average temperature charts alongside the precipitation charts from holiday-weather.com for Ponta Delgada, located on Sao Miguel island.
Note that not all the islands will see this exact weather – the next section will go into a bit more detail on that.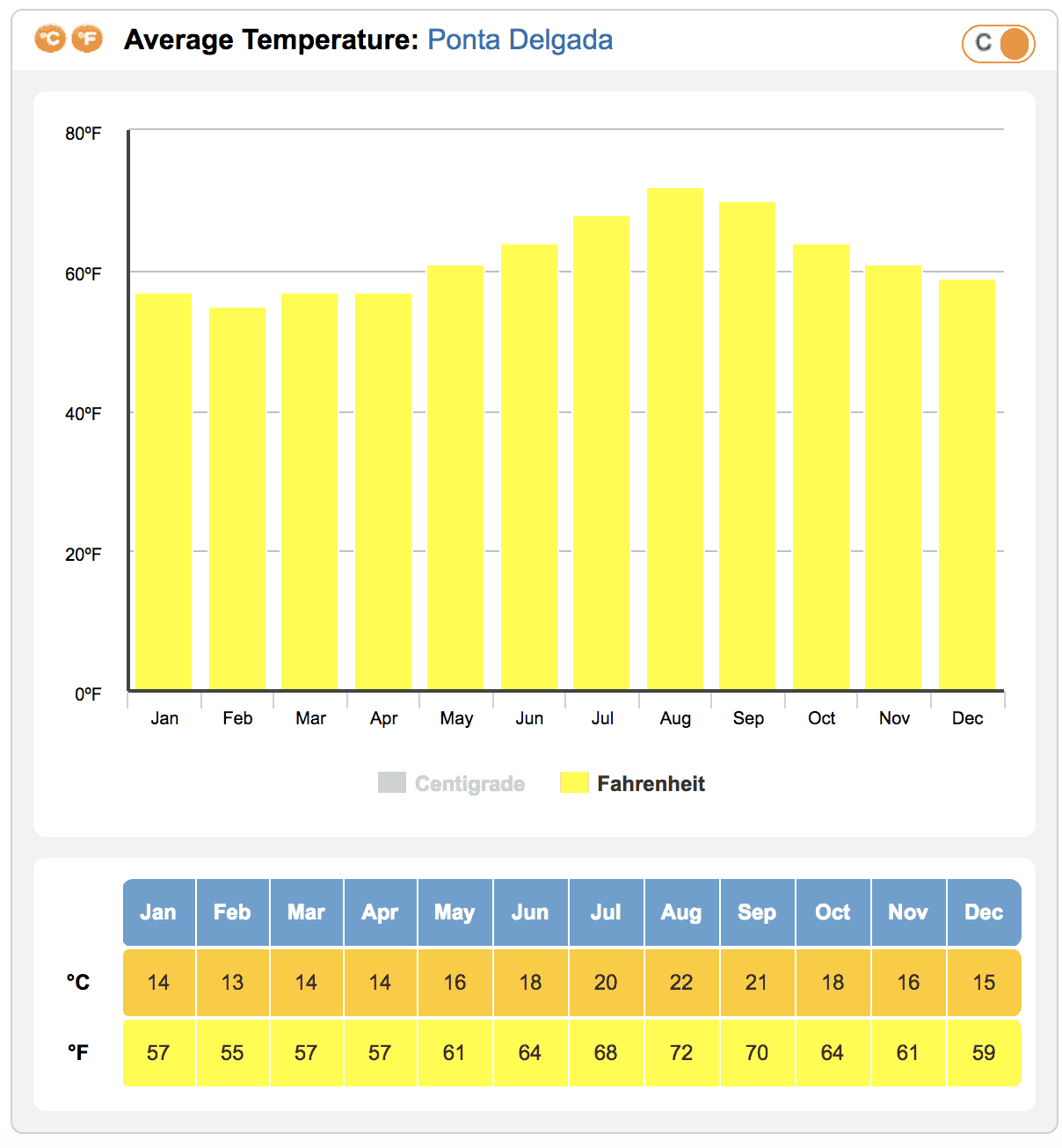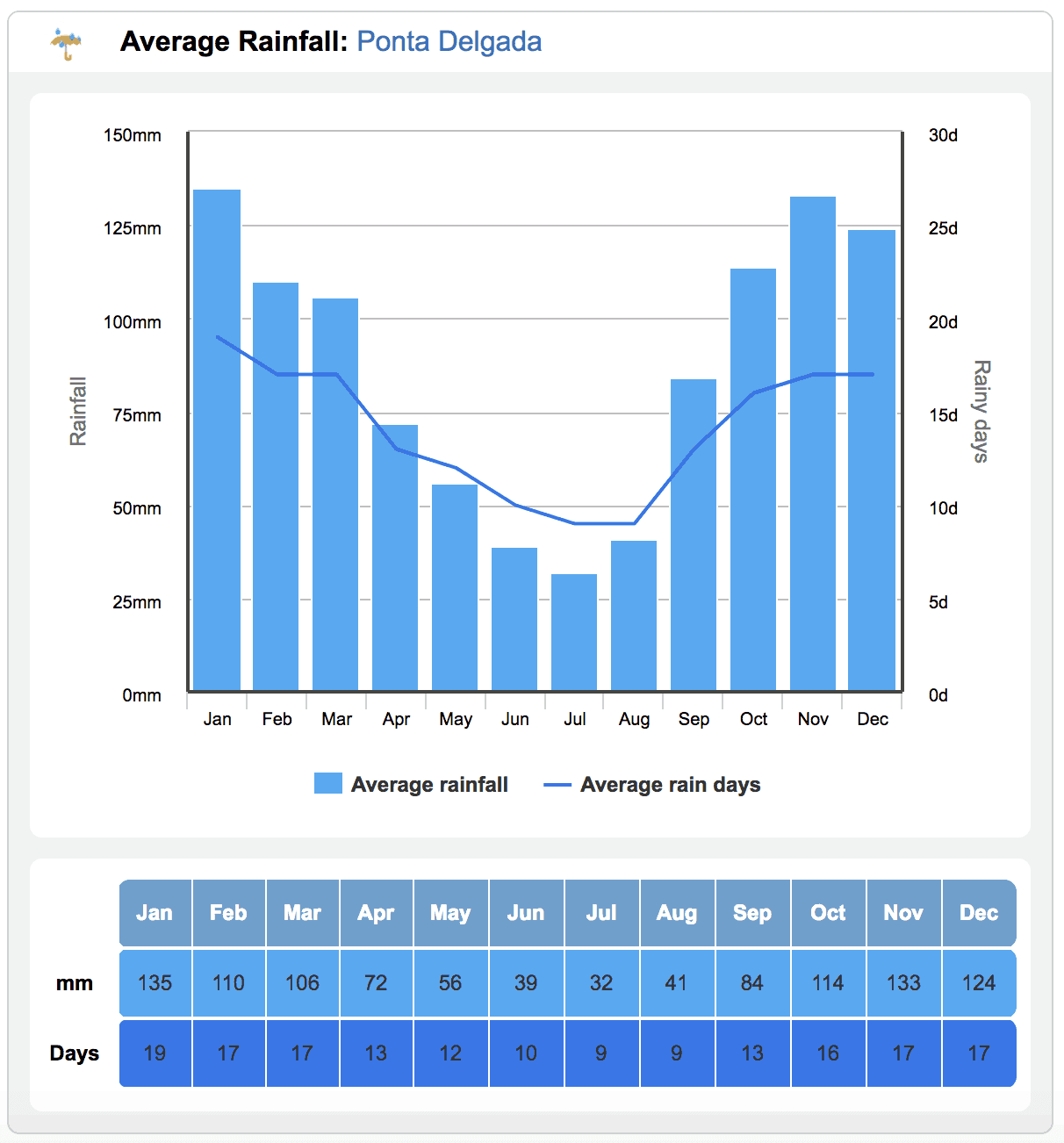 Averages Year Round
Temperature: 62F / 17C
Rainfall: 87MM
# of Rainy Days: 14 per month
Sea Temperature: 68F / 20C
Hours of Sun: 7 Hours
3) Azores Islands Weather by Location
Although these islands are relatively not too far away from each other, you will see slightly different climates around different islands depending on time of year.
The 9 islands are split into three main groups – the eastern, central and western islands.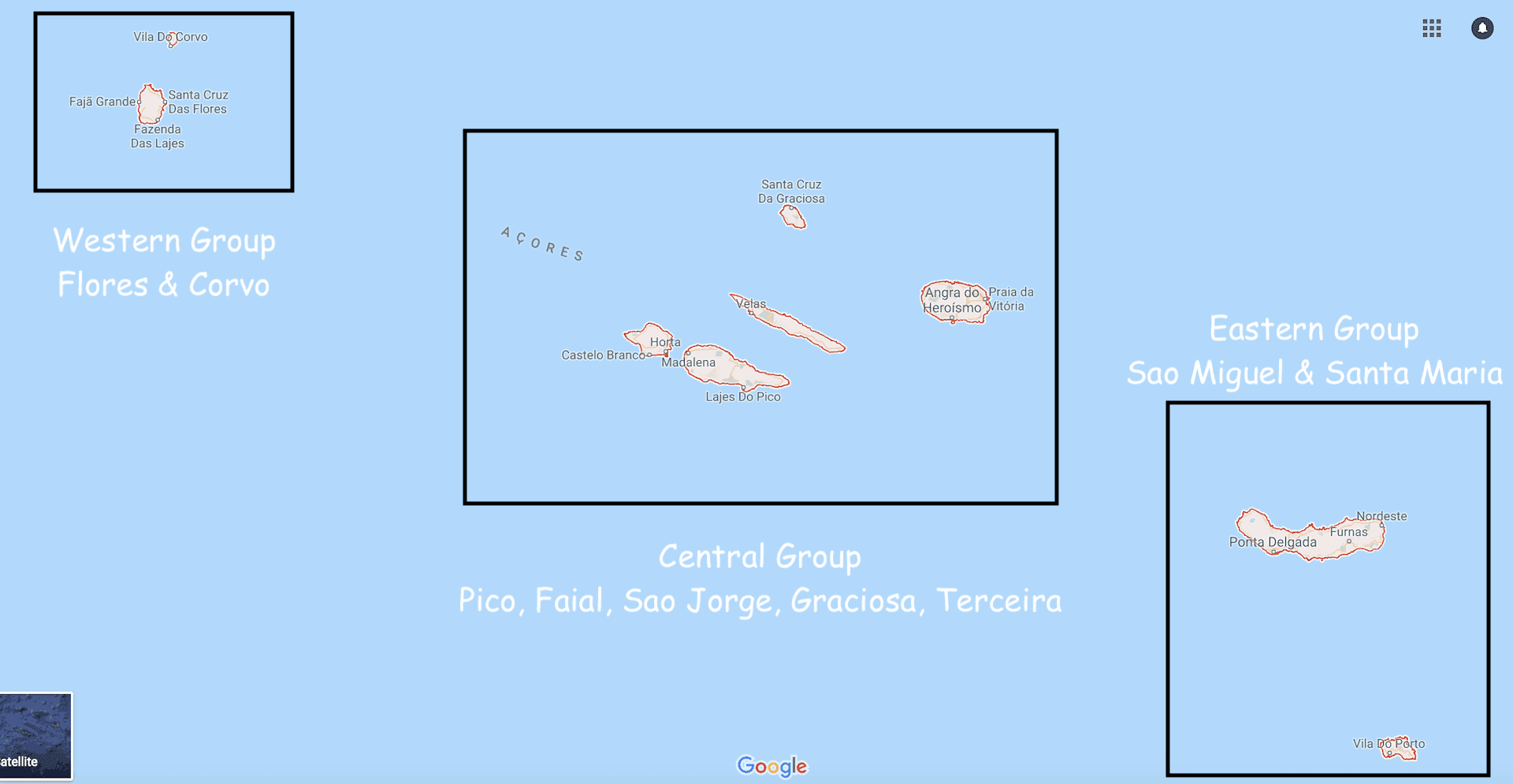 A) The Eastern Islands
Sao Miguel & Santa Maria
As you can see in the charts above for Ponta Delgada (Sao Miguel), the weather is pretty comfortable year round as previously mentioned with both mild summers and winters.
The big difference that comes into play though would be precipitation.
During the summer time period rain is at a low (when I was there in August it didn't rain at all), however in the winter months rainfall and rainy days both increase drastically.
The problem with rain is that not only can it get wet and uncomfortable to do certain activities, but rain also brings in more clouds. The more clouds, the higher chance that views can be ruined from site to site.
It should be noted that if you make your way to Santa Maria, you will not have as much unpredictability on a day to day basis. In and around the summer time you will find sunny days with little to no chance of rain.
B) The Central Islands
Pico, Sao Jorge, Faial, Terceira, Graciosa
If headed to any of the central islands the weather can be a bit different from the main island of Sao Miguel.
In Pico you will see average temperatures being warmer than Sao Miguel by about 5-10 degrees (at least that was the case in the summer).
The sun in Pico and the surrounding islands did feel much stronger but still within a very comfortable setting.
It seemed kind of crazy that after a 45 minute flight it can feel that much hotter but that's what the Azores can do.
C) The Western Islands
Flores & Corvo
Although I did not visit the western islands of Flores and Corvo, the main thing to note is that the rain and unpredictability of weather is even greater around these islands.
It can rain on and off quite often (and even more so during those winter months) so that should be one thing you might want to think about if visiting these two western islands.
D) Azores Weather Recap
Altogether though, if you are looking for the warmest temperatures and lowest chance of rainfall, you should aim for the summer months of July and August with the neighboring months of June and September being your next best bet.
Although the crowds will be at their highest in the summer, do not expect to be overwhelmed by tourists (besides for some of the more popular locations).
For now the Azores still seem a bit hidden from the world, but time shall tell if it will stay that way.
The months to avoid based on weather alone would be from November to February as temperatures are lower and rain can become an issue.
If that is the only time you can come then definitely go for it! Bad weather rarely happens 100% of the time every day of the week – rather it comes and goes, and you will just need to work around it a bit more.
4) Cloud Coverage and Webcams
One important thing to note about weather in the Azores is the amount of clouds that constantly come and go around the islands.
Below is a little recap of cloud coverage around the area and how to leverage webcams to best avoid certain situations where clouds can take away your views.
A) Cloud Coverage
Even with sunny days on the forecast, you never know when the clouds will start to roll in.
It seems that the clouds just love to surround the natural beauty of the Azores and because of that, these clouds can obscure and totally eliminate views.
The morning that I visited Sete Cidades, I arrived at the first lookout point to complete fog (even after checking webcams – more on that below).
After waiting it out for no more than 15 minutes, the clouds began to lift and the beautiful lakes started to come into view. This can happen at any time! The clouds come and the clouds go.
Do not be put down if you arrive somewhere and you cant see a thing – with a little bit of patience those views should hopefully be there at one point or another.
With that said though, it is also possible that those clouds are there to stick around for the long run and you might need to consider going back to a certain viewpoint on a different day.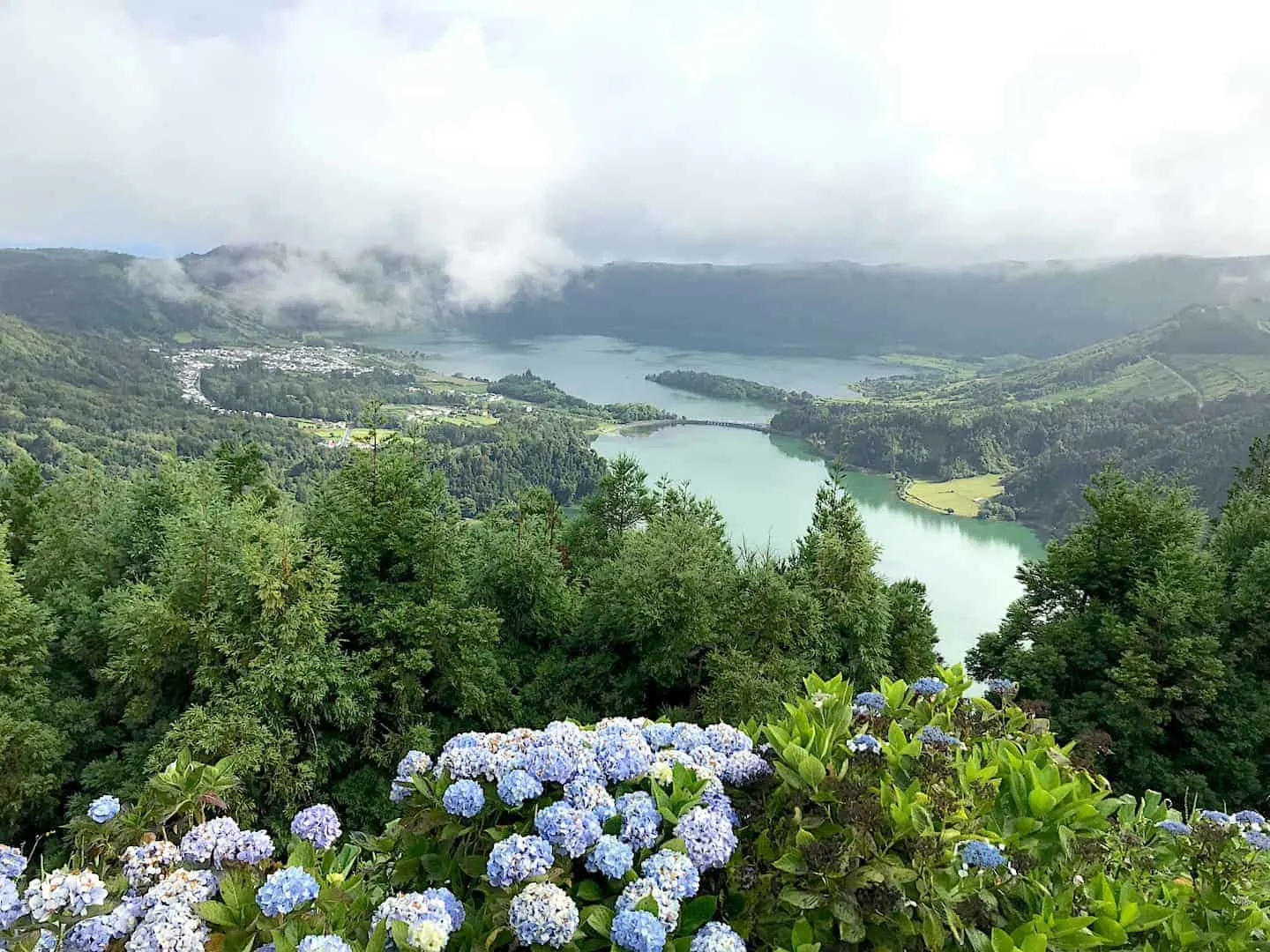 B) Webcams
The best way to see whether cloud coverage will affect your day (to an extent) is by checking out the webcams beforehand.
The Azores website has webcams set up on every island that can be accessed at any time. You can also take a look at the SpotAzores mobile app.
The tough part here though (going off what I just mentioned above) is that the clouds can move rapidly at any moment.
So just because the webcams are showing one thing when you leave for the attraction, does not necessarily mean it will stay that way.
If you are consistently checking the webcams every 30 minutes and continuously see clear or foggy weather, that could give you a better indication of how the remainder of the day might play out.
I would say though that the two major spots where webcams come into play most would be Sete Cidades and Lagoa do Fogo.
Both of these spots require for clouds/fog to be lifted in order to see the view since these are lakes within craters.
The rest of the webcams for the most part are just to show you how the weather is looking like, and clouds wont necessarily ruin any type of view but just might be blocking the sun.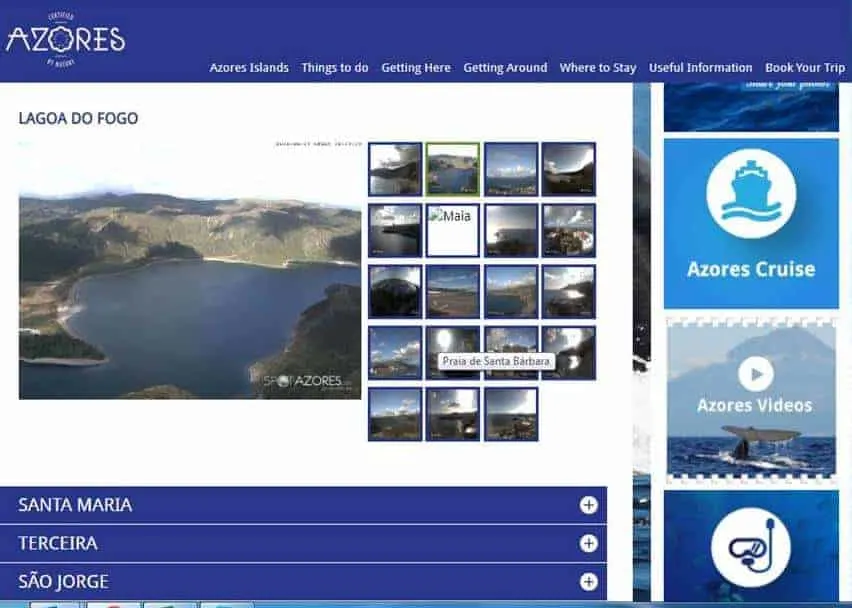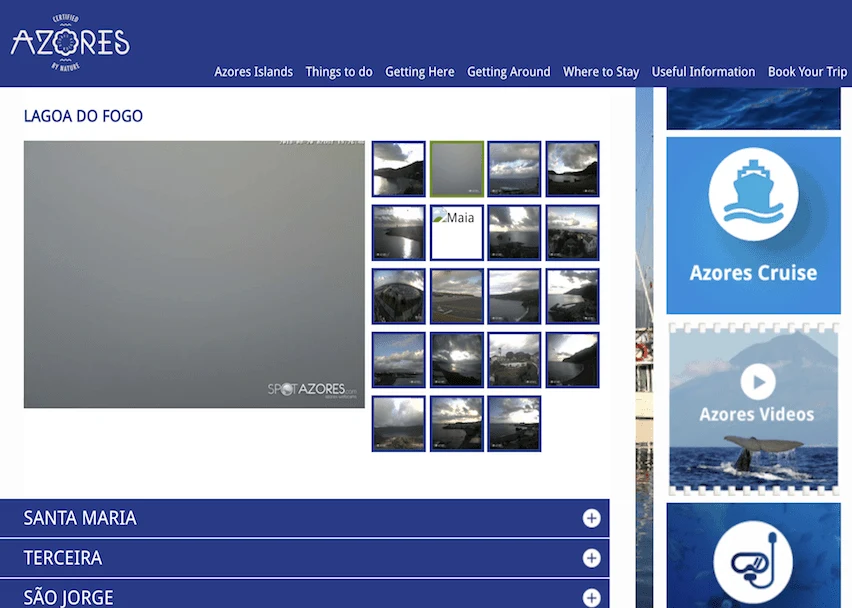 Helpful Tip: if you see a clear webcam at Lagoa do Fogo, go for it! This lagoon is one of the highest points on Sao Miguel and clouds are usually hovering all around it. When I was checking webcams prior to my trip, I probably saw a clear view 10% of the time. On my first day in the Azores, the view was clear and I made the drive up there to take in the view before any clouds started to roll in.
5) Have Alternative Options
With all that said about Azores Islands weather, one of the most important takeaways should be to always have alternatives and to be flexible with your plans.
Instead of saying day 1 you must do A, B, C and on day 2 do X, Y, Z, you should be open to changing things around.
If the weather is very bad one day and you were planning on taking in views and hiking, you instead can hold that off and head to the hot springs or do a hike covered in the forest.
This way you can have the best of both worlds and hopefully have another day that is clearer to take in those views.
One of the most important things I have learned while traveling is that you cannot control the weather but you can prepare for it! By being flexible and having alternative options, you are sure to have a great vacation.
6) Quick Azores Weather Tips
1) Bring sunscreen – the sun is strong even though it might not be that hot outside
2) Be careful driving in the fog – higher up on the islands fog can become an issue so drive with caution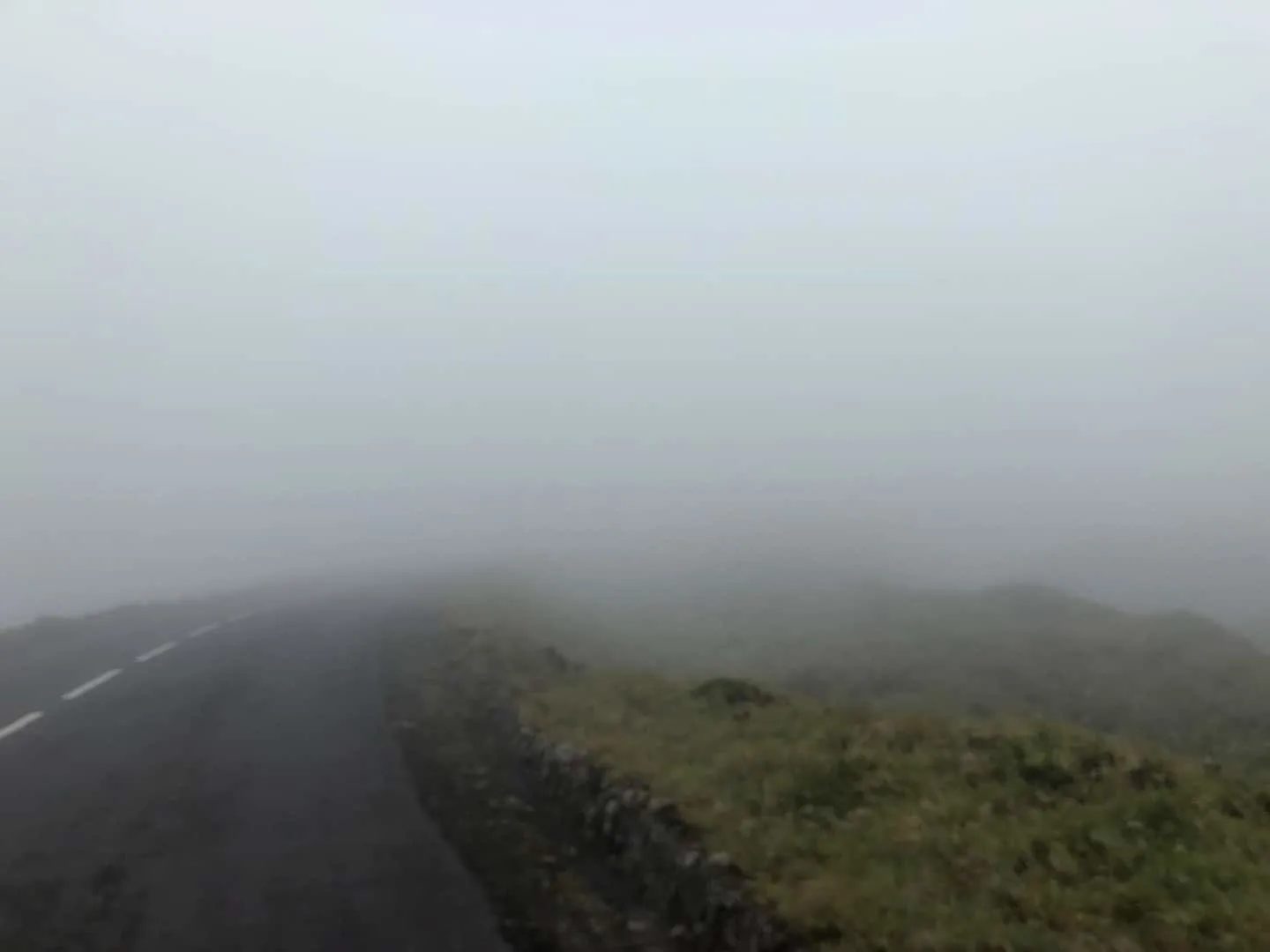 3) Bring a raincoat – during the summer months it might be a little less necessary but still advised to bring one as weather can change quickly
4) Have waterproof hiking and/or water shoes – from hikes to rain to rocky beaches, having waterproof shoes can help make sure you are always staying dry and keeping your feet protected
5) Don't be down if the weather forecast calls for rain – I experienced firsthand the forecast saying rain the next day when in reality it was all sun and blue skies. No one knows what will happen next in the Azores!
7) Where to Stay in the Azores
Need some help on where to stay?
There are two main ways to go here – either browse through Booking.com to find the best hotel that fits your budget and style or check out Airbnb which might have more options.
Sao Miguel
There are a few main towns around the island but if you are looking for the most happening spot that would be in Ponta Delgada.
There are way more accommodation and restaurant options here than any other location on the island.
If you want to get a little further away you can also check out the town of Furnas, which is home to several natural hot springs. Here are some hotel recommendations for each:
Ponta Delgada
Furnas
Pico
I would recommend staying right around Madalena (especially if you do not have a car), or Sao Roque on the northern end of the island.
Sao Jorge
Velas is the main town in Sao Jorge but I did not have enough time to stay on the island. Here are a couple highly rated spots though:
Faial
Staying in Horta is sure to be a good time. It has a great marina area surrounding by shops and restaurants throughout.
Other Islands
For the remainder of the islands, below would be some top rated options to choose from: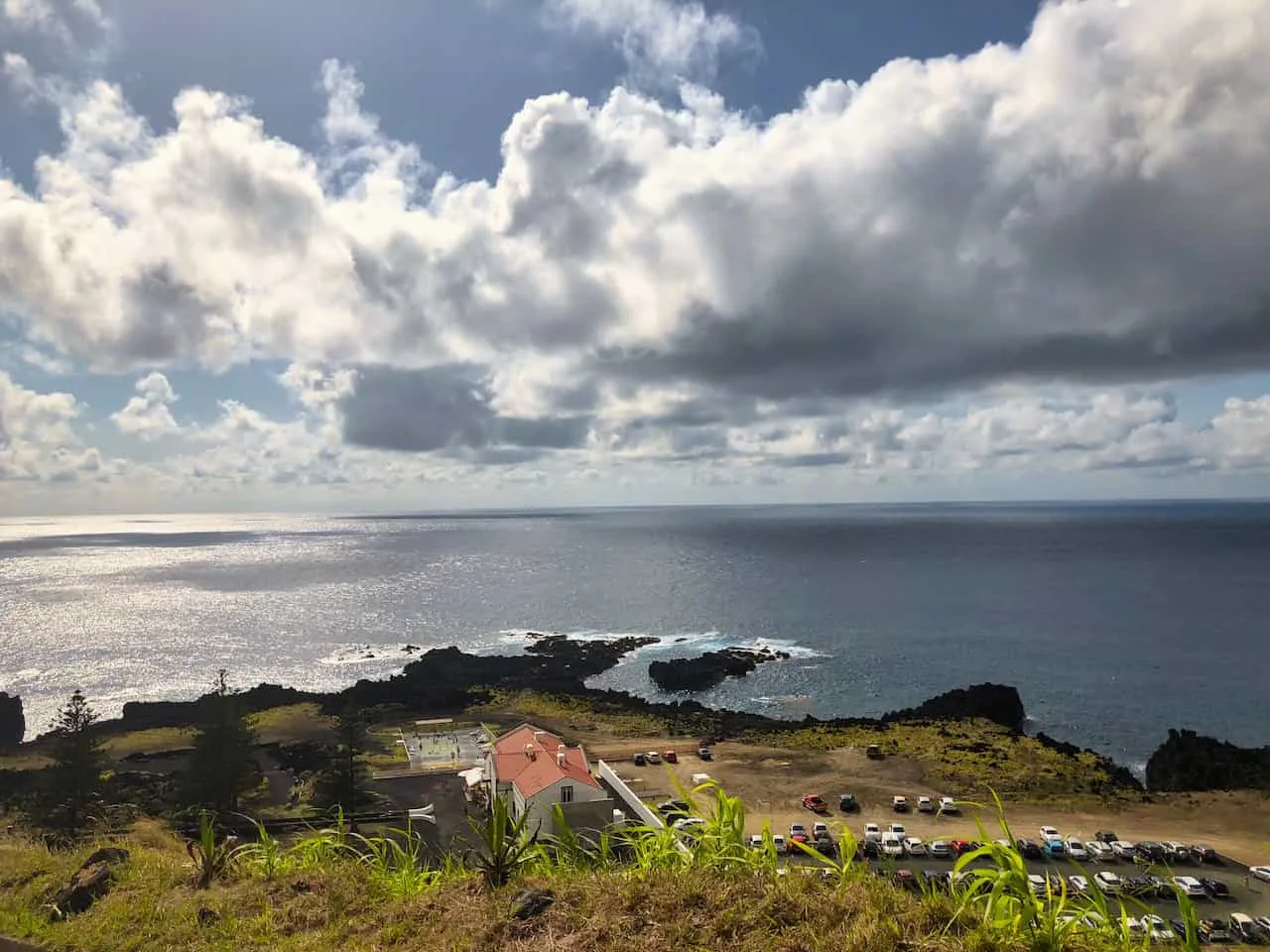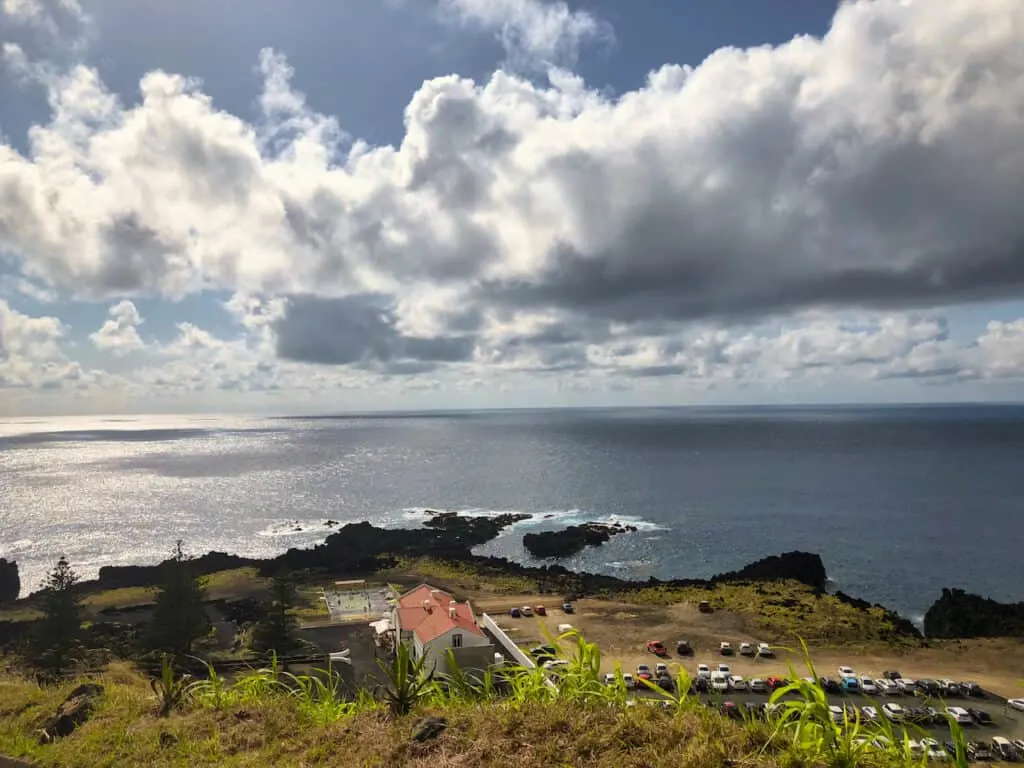 That about covers everything you need to know about weather in the Azores. For more helpful info about these island check out the Azores itineraries and guides up on the site. Have fun out there and feel free to ask any questions below!