The Azores is made up of 9 distinct islands off the coast of Portugal in the middle of the Atlantic Ocean.
When it comes to The Azores Islands, there is so much to see & do throughout this archipelago.
During a trip to the islands, you will have a chance to explore volcanos, hot springs, beaches, viewpoints, hiking opportunities, and plenty of serene nature all along the way.
This Azores islands overview will talk through everything you will need to know about the area, and how to plan the best trip for yourself.
* Affiliate Disclosure: This post may contain affiliate links, which means I may receive a commission if you make a purchase through the links provided, at no additional cost to you. Thanks for supporting the work I put into TripTins!
1) Azores Islands History
Before getting started, below are some interesting facts about the origins of the Azores and how they came to be.
1) The 9 islands of the Azores were formed millions of years ago as a result of volcanic activity and tectonic plates. During a visit to the islands you will get to witness this volcanic like landscape.
2) Over the 14th century, the Azores began to appear on explorers' maps. However, it wasn't until the year 1427 that they were "officially" discovered. This time by a Portuguese explorer named Diogo de Silves.
3) During the next handful of years, the islands slowly began to be settled by those coming from the mainland. First was the island of Santa Maria, then the main island of Sao Miguel, and slowly followed by the rest of the islands.
4) Although this has always thought to be the case, there is debate that Vikings or other early settlers were on the island in the 1st century.
5) Throughout the years since, the islands have been used as a vital location for other countries as well. Whether that be for British ships to refuel during WWII or having US air bases built on the islands.
6) Today, The Azores stand as an "Autonomous Region of Portugal". So, while they are part of Portugal, they do have their own freedom and uniqueness.
Visitors from all over the world can now explore these 9 beautiful islands and get to experience what is known to be the "Hawaii of Europe".
Be sure to check out this Azores itinerary that can guide you through what a trip to several of these islands can look like.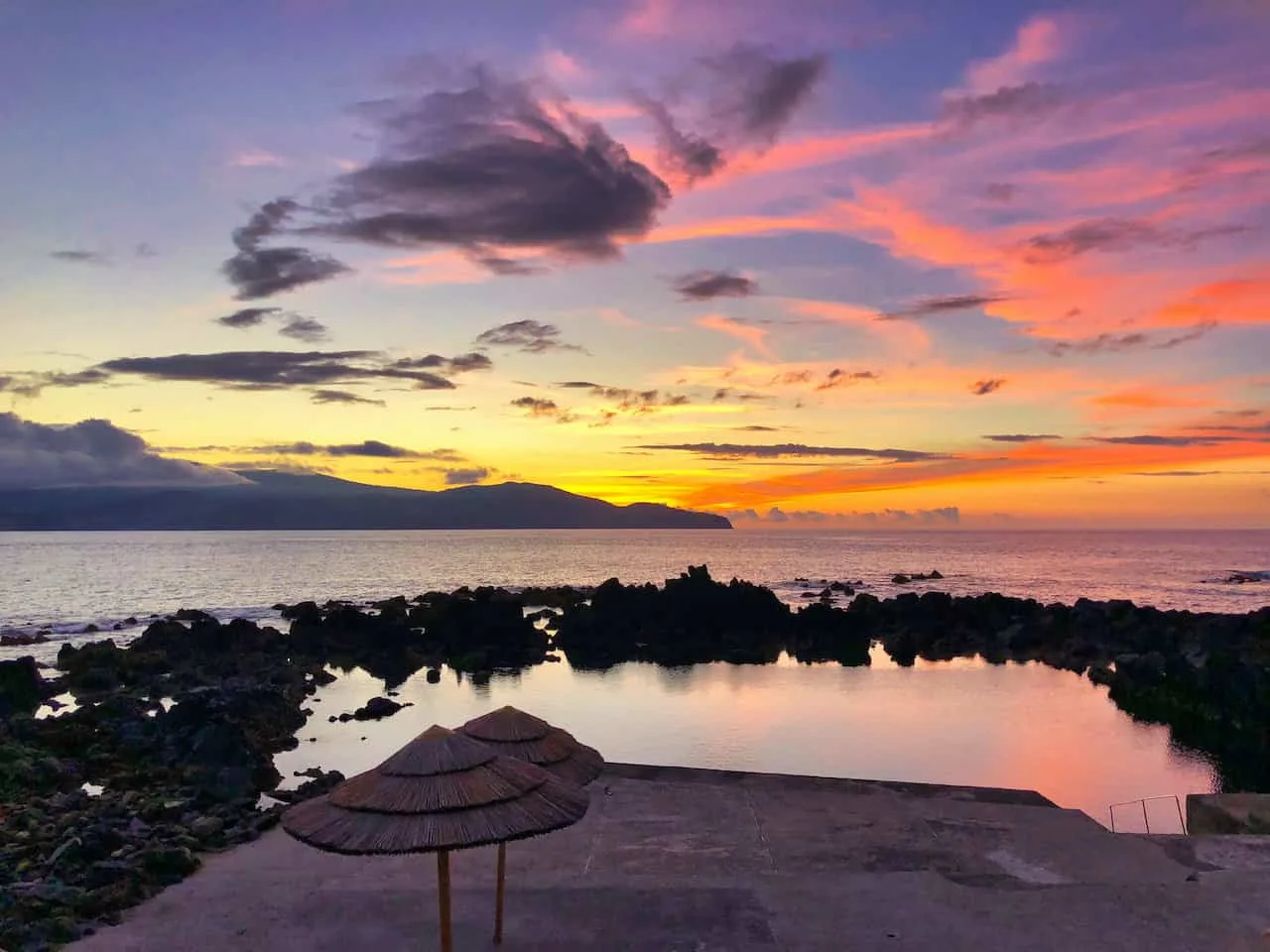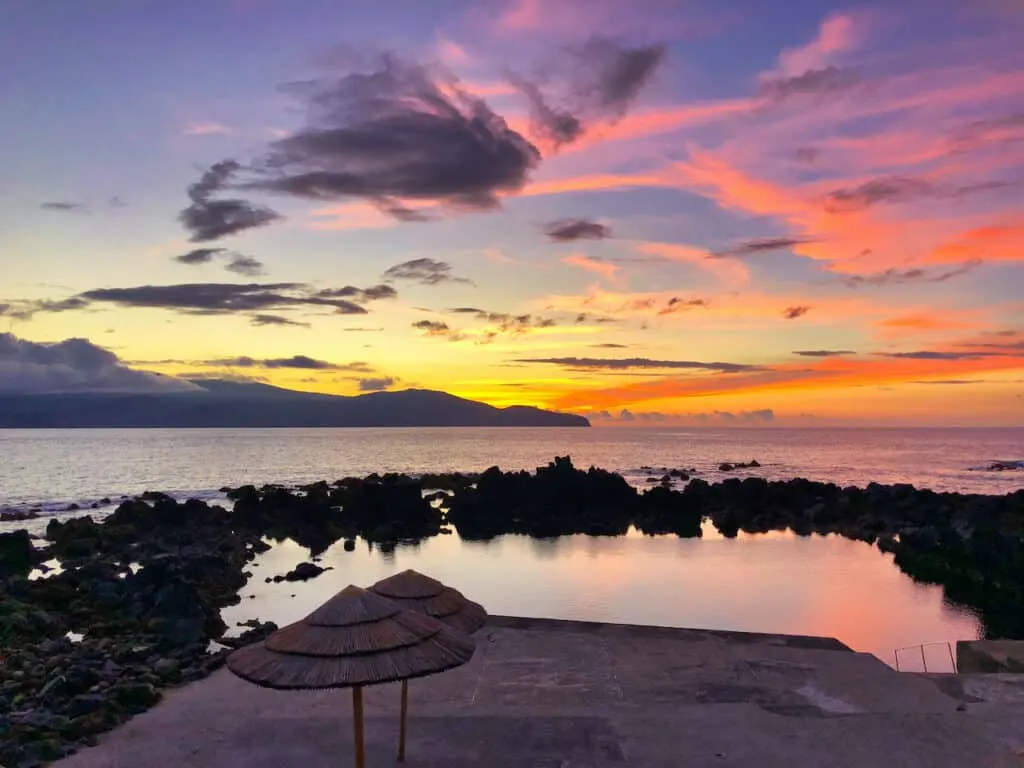 2) What Are The Azores Islands
In total, there are 9 islands that make up the Azores as a whole.
These islands can be broken up into three main groupings – eastern, central, and western.
Eastern Group
Central Group
Pico
Faial
Sao Jorge
Graciosa
Terceira
Western Group
During a trip to the Azores islands, you can decide to visit one or more of these groups depending on how much time you have to explore.
Be sure to check out some of the top things to do in the Azores during your trip!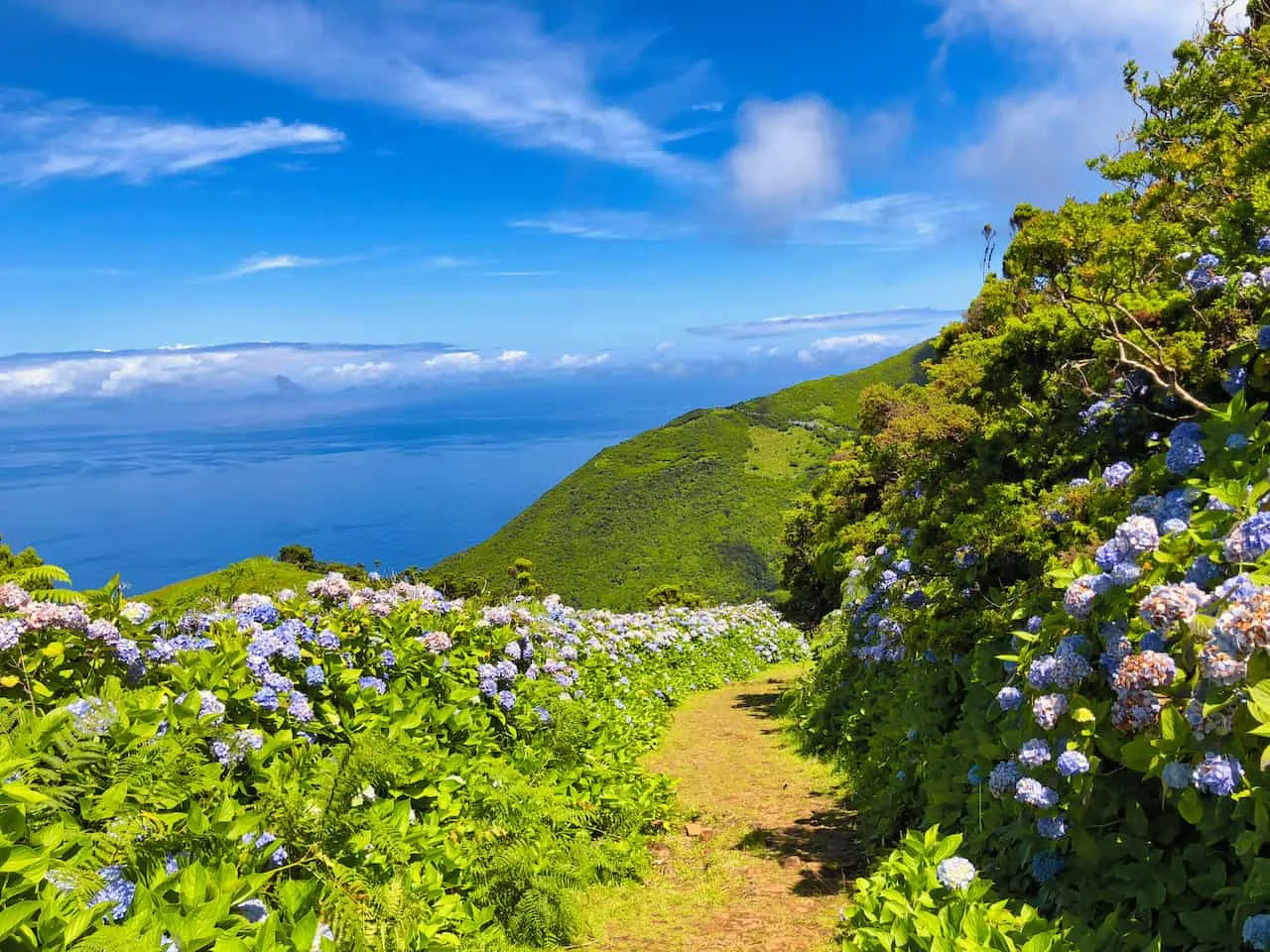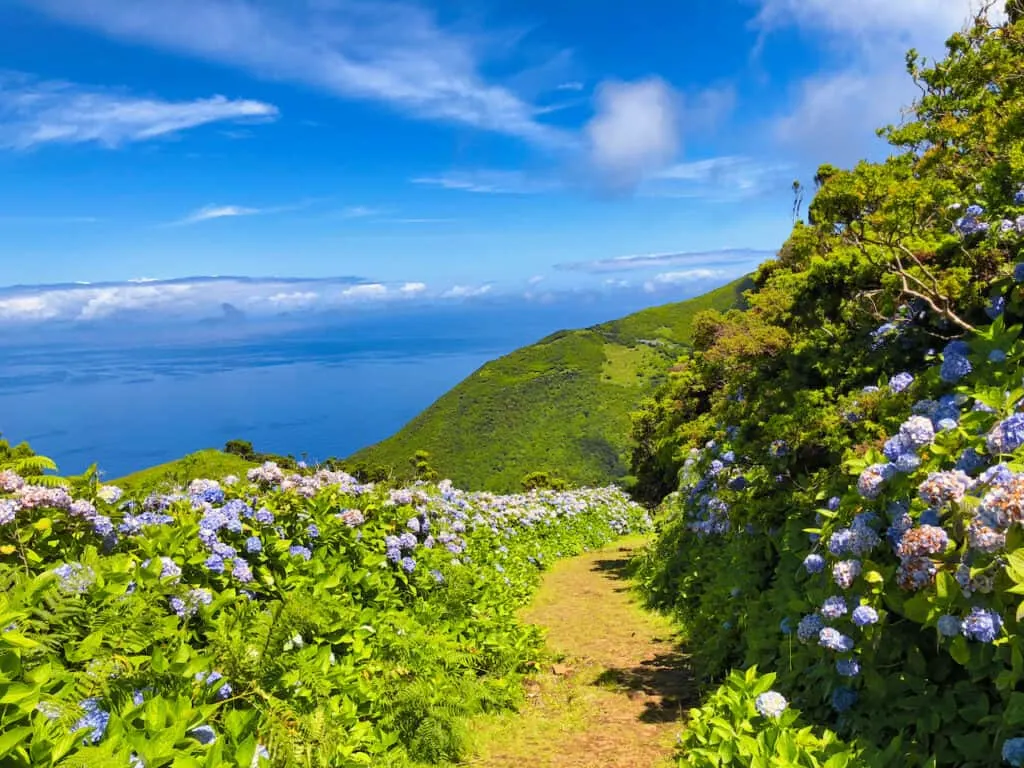 3) Azores Map
To give you a better idea where each one of these islands are located, below is an Azores map that lays it all out.
You can more clearly see the distances between these island groups, and how it all comes together.
Eastern islands (red), Central islands (blue), Western islands (green).
4) How to Get to The Azores
In general, there are three logistical aspects to consider when going about a trip to the Azores.
First you need to figure out how to get there in the first place, then you will need to decide how to get around an island, and finally (if relevant for your trip) how to get from island to island.
To start though, let's go over how to get yourself to the Azores.
For most people, flying into the main island of Sao Miguel is going to be the main option.
You will find direct flights from cities such as New York, Boston, London, Lisbon, Frankfurt, Zurich, Barcelona, among several others.
These flights make their way into Ponta Delgada PDL (the main town of Sao Miguel).
While that will be the main option, you may also find direct flights to Terceira too depending on city and time of year.
Lastly, if coming in from Portugal you will find direct flights to many of the other islands from some Portuguese cities such as Lisbon.
Be sure to check Azores Airlines and flight search engines to get a better idea of all the options out there.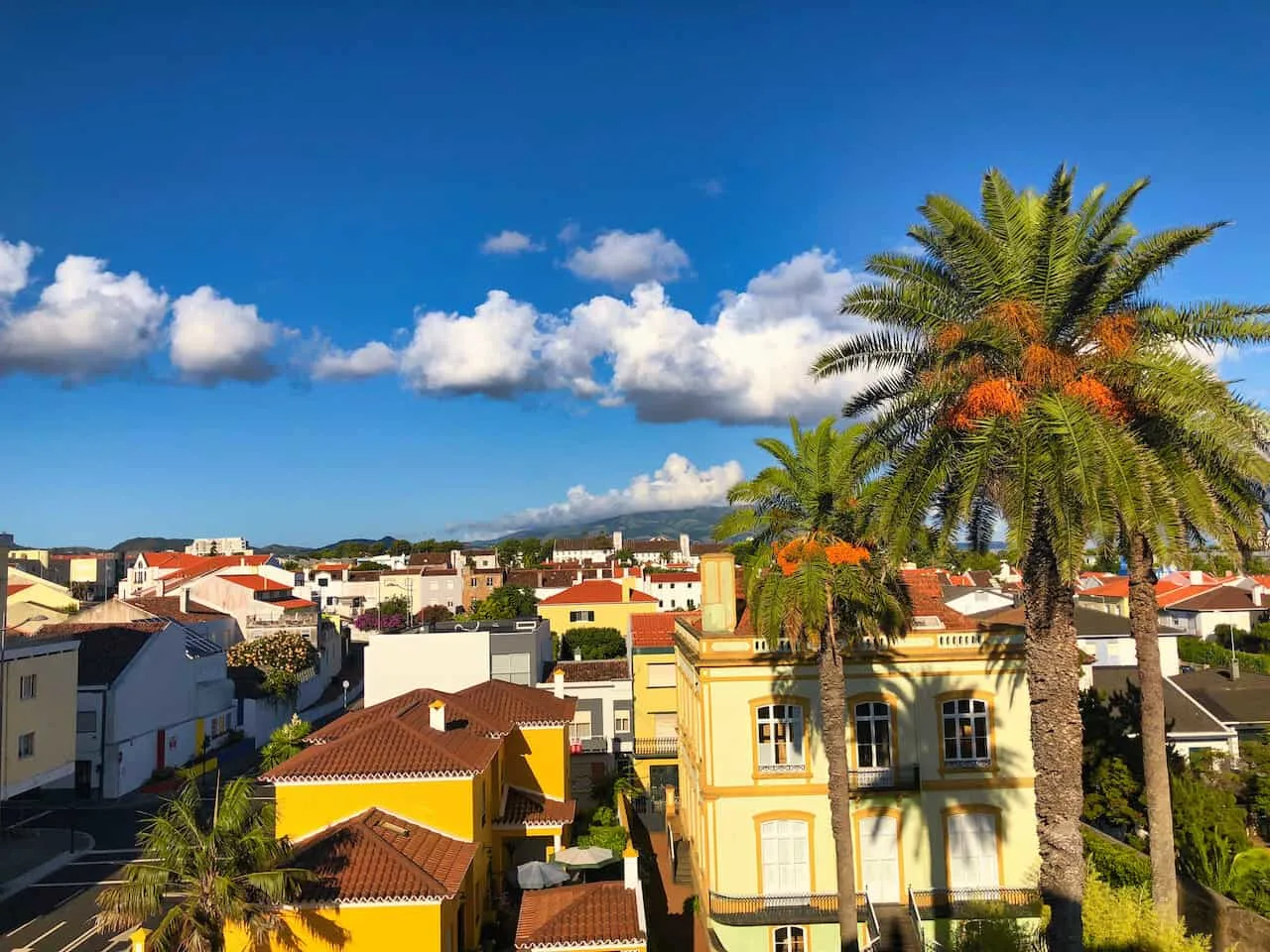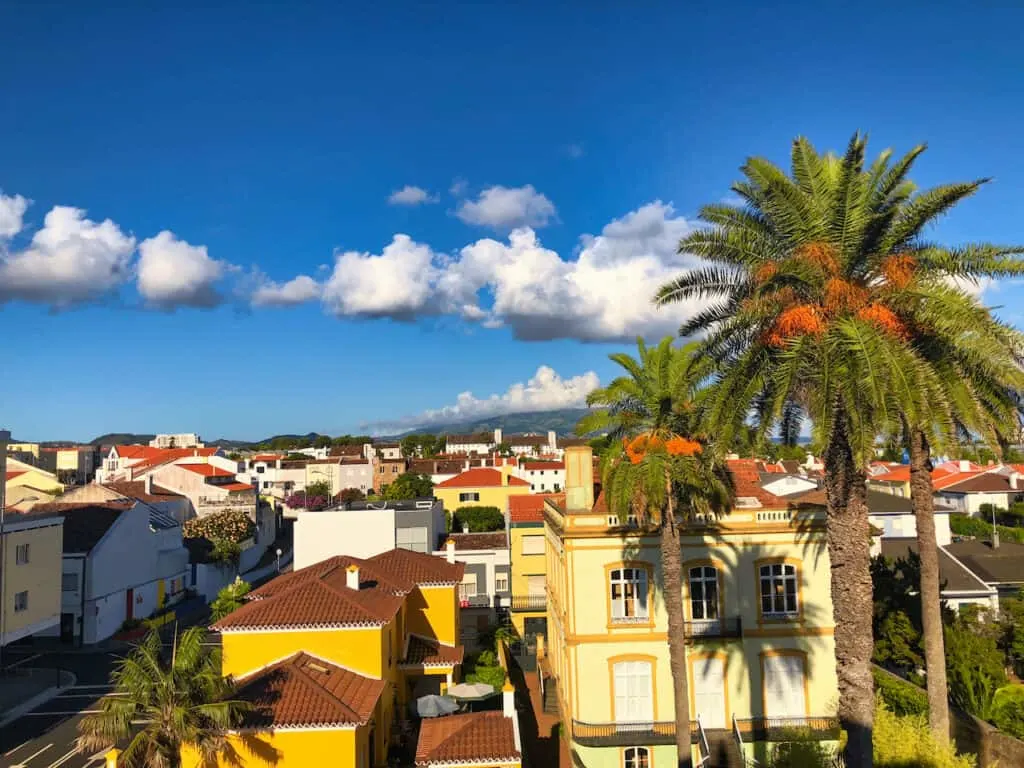 5) How to Get Between Islands
If you are just heading to Sao Miguel, you can ignore this section. However, if you plan to visit more than one island during your time in the Azores, you will need to figure out how to get between islands.
There are two ways to go about this – either by flying or by taking a ferry.
For the most part, you can assume that if you are traveling between island groups (i.e. Sao Miguel to Pico), then you will be flying.
On the other hand, if you are traveling within an island group (i.e. Faial to Sao Jorge), you will be taking a ferry.
Flying in the Azores
When flying between islands in the Azores, there is one airline that you will need to use – SATA Airlines.
This airline runs flights to and from all of the islands throughout the year.
Depending on season though, flights may be running on different schedules (with more flights in the peak summer season).
Be aware that some of these planes are on the smaller side, so flights do fill up. Once you know what flights you want, I would recommend booking sooner rather than later.
Learn More | Flying in the Azores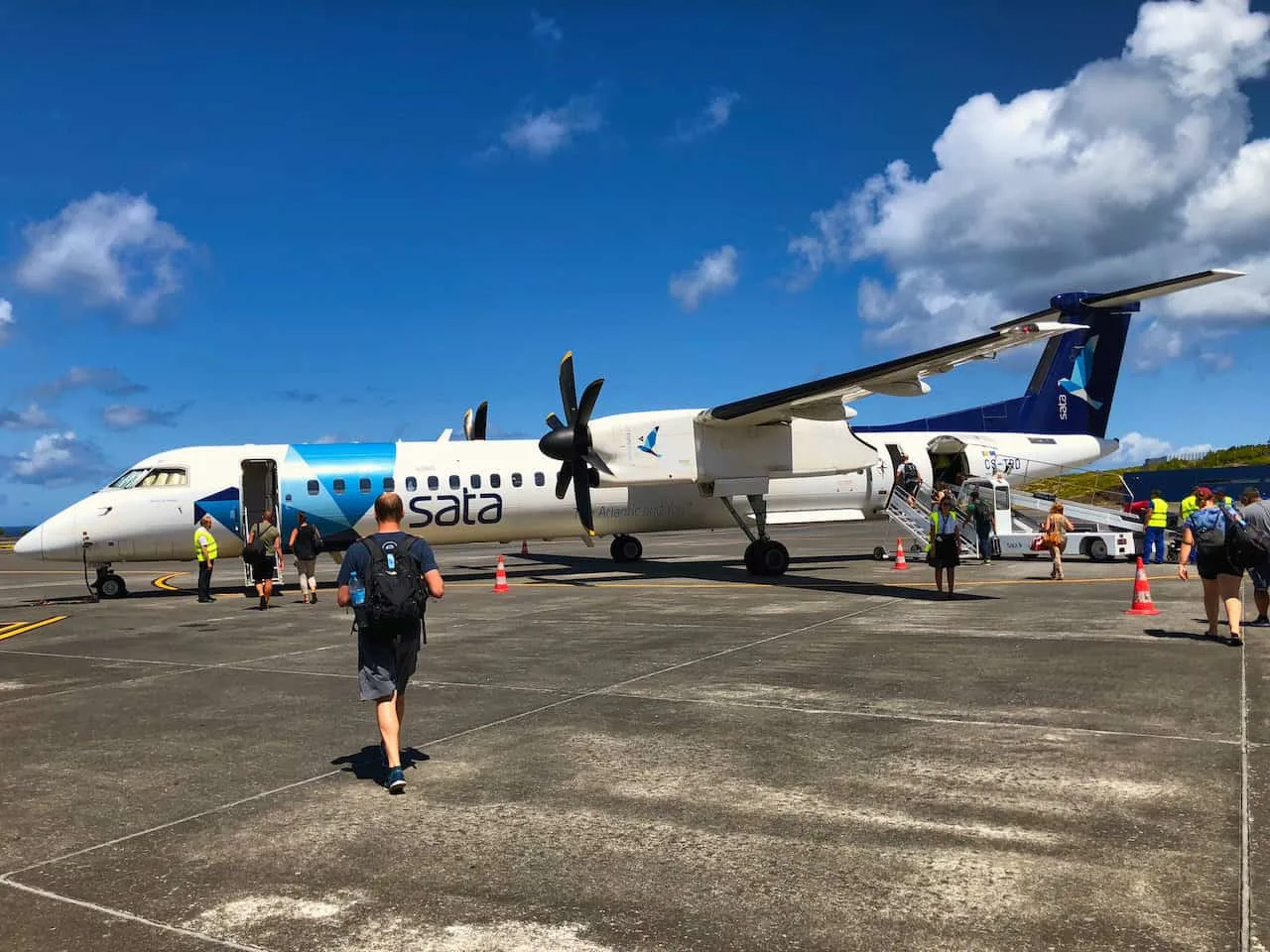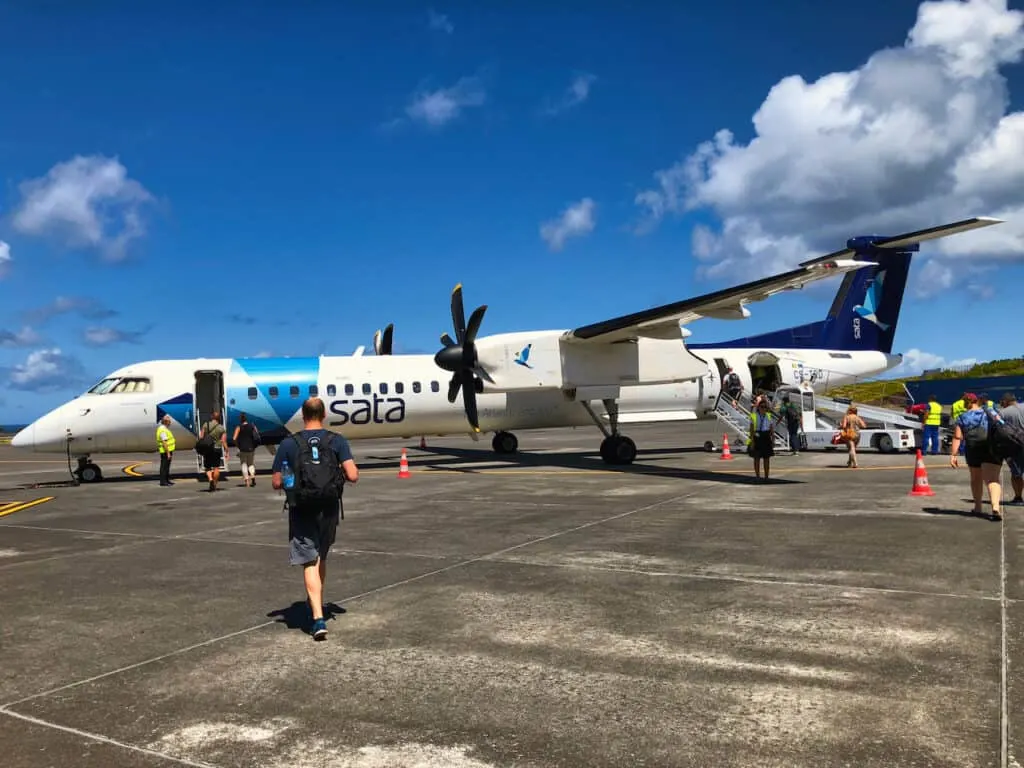 Ferries in the Azores
Similarly, to flying, there is also just one ferry company that operates in the Azores – Atlanticoline.
These ferries are mostly used for traveling within a particular island group.
You will find different colored ferry lines that operate particular routes between the islands.
These schedules do change throughout the year, so always be sure to look at your particular dates when figuring out logistics.
The Atlanticoline website can be used to search for schedules and book tickets.
One callout to mention is that certain islands have more than one ferry terminal. Be sure to look out for that when going about booking ferries.
Learn More | Ferries in the Azores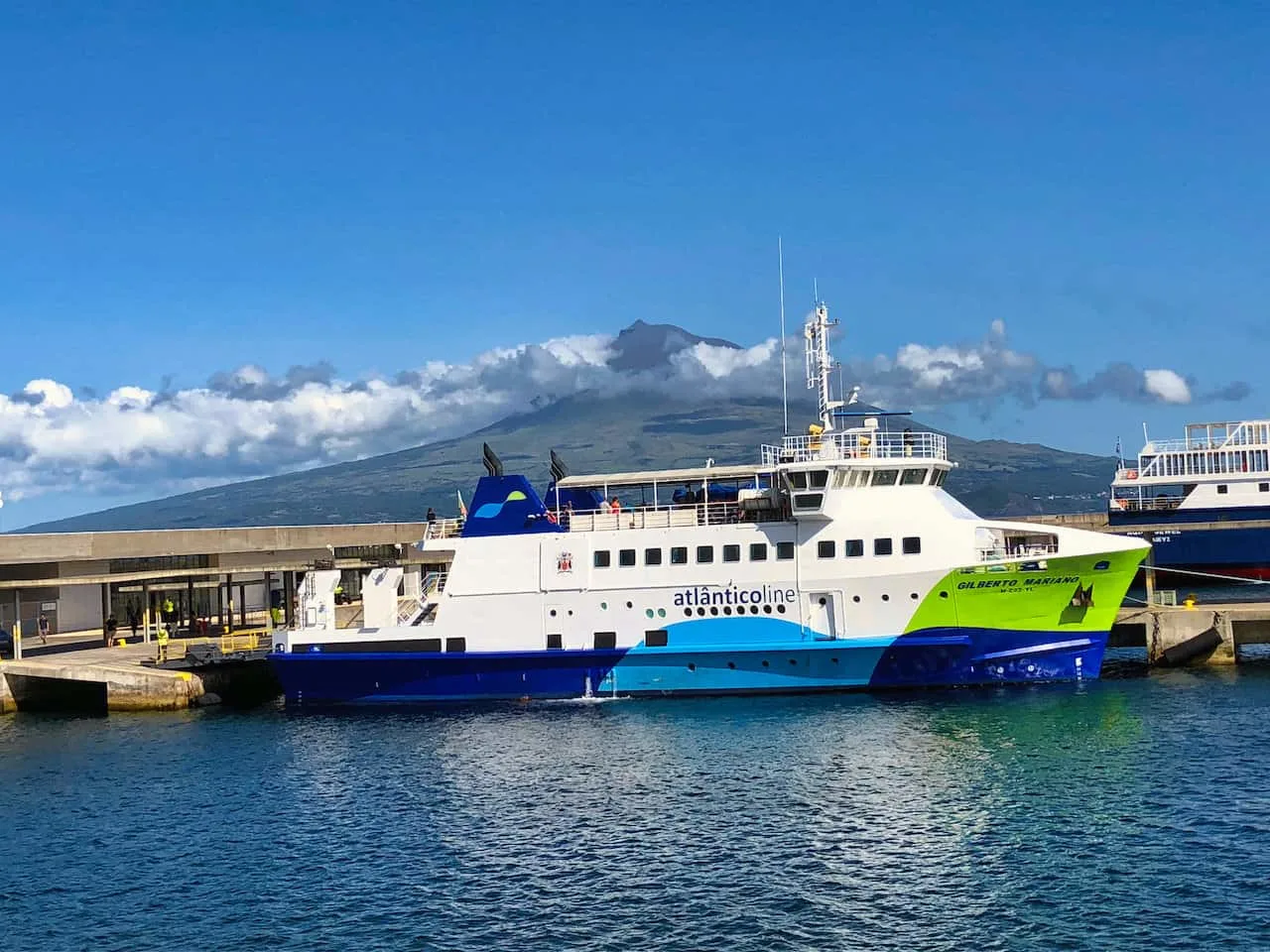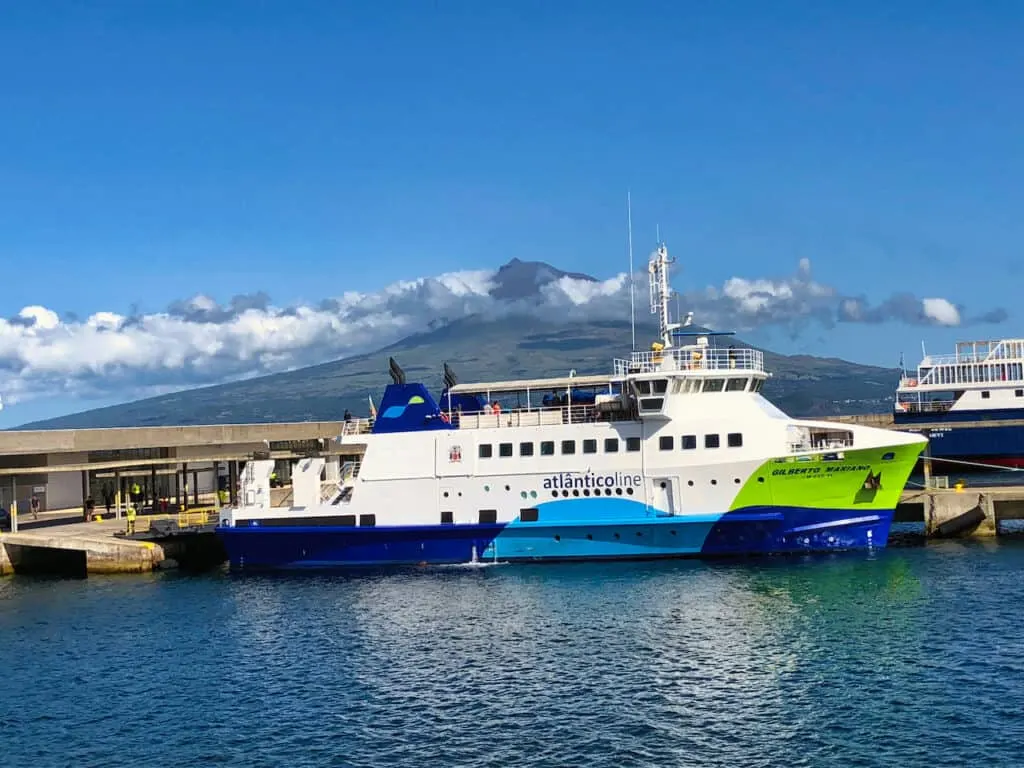 6) How to Get Around the Azores Islands
Now, once you are actually on an island, I am sure you will want to explore as much as possible.
Depending on which island you are on (and for how long you are on it), will dictate what type of transportation you use.
The main options to consider would be:
Renting a Car
If you are visiting and exploring some of the larger islands for multiple days, then having a rental car will be your best bet.
This will give you a chance to explore what you want, when you want, all at your own pace.
The nice thing about driving in the Azores, is that everything on an island is within a short drive away (usually less than an hour at most).
You should have no trouble getting yourself from one spot to the next during your time around the islands.
Now, you won't need to rent a car for every island, especially if you are spending a short amount of time there.
You can easily leverage taxis, tours, and even some public transport in those cases.
Feel free to check out the Driving in the Azores overview that will go through the process of renting a car.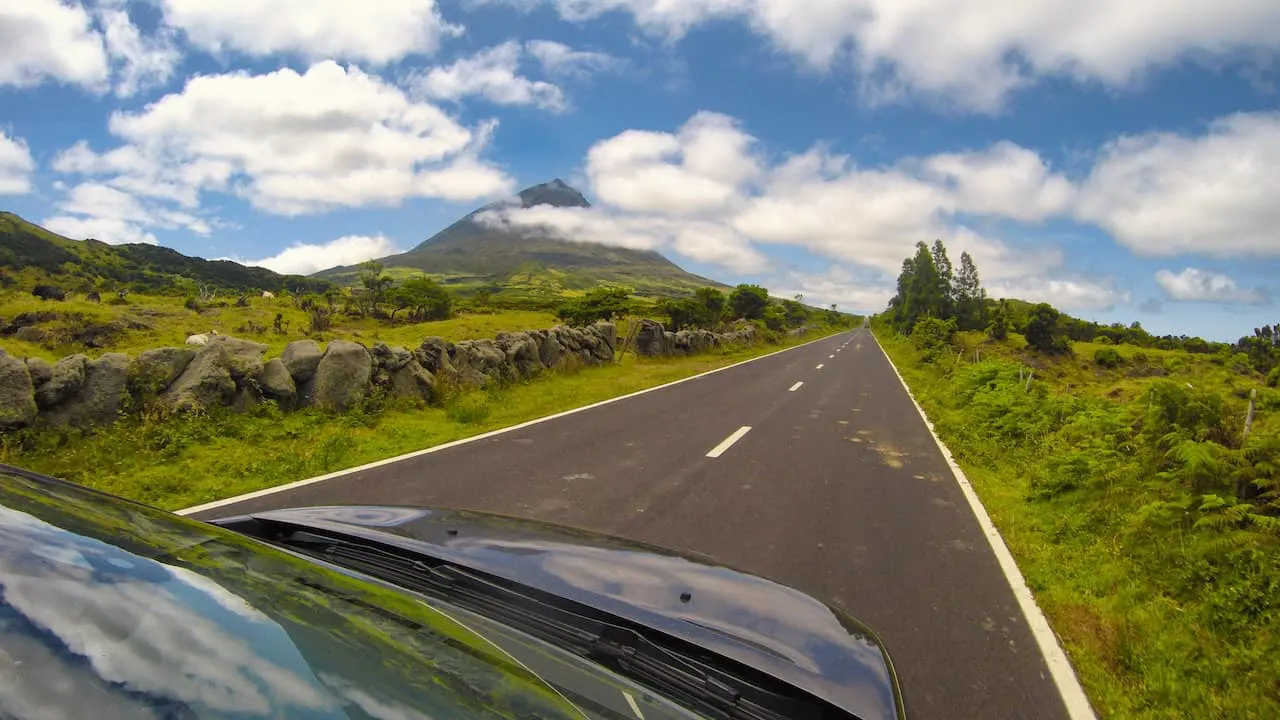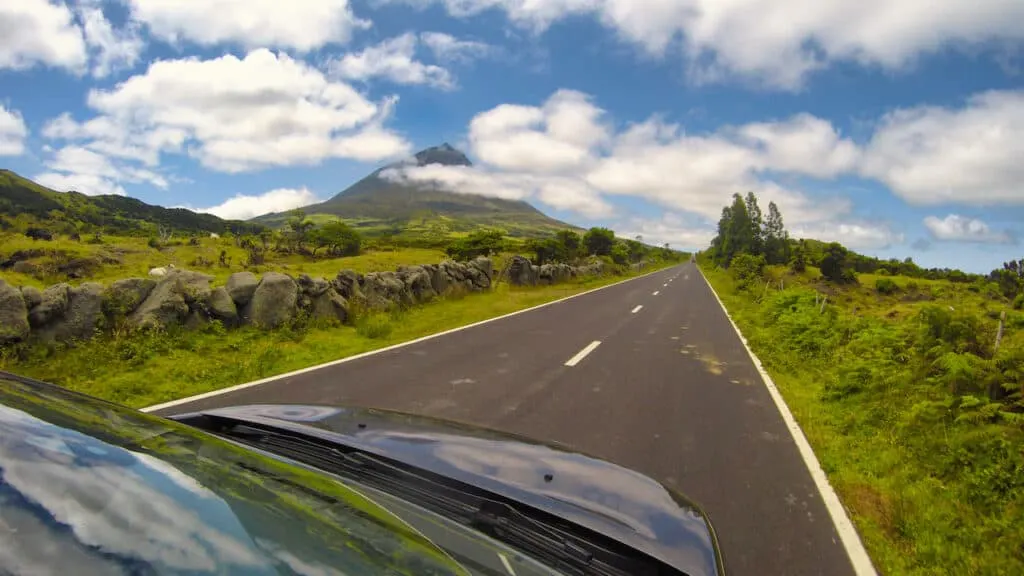 Joining A Tour
While tours aren't for everyone, they are great options for those that want to have a stress free time on their trip.
Instead of worrying about logistics and figuring out what to do, just leave it to a tour company to take care of it for you.
These may include simple day tours, or longer multi day tours.
This is also perfect for those that may be taking day trips to other islands. For example, if staying on Pico but visiting Faial for the day, you can just take a guided tour.
Hiring a Taxi
Hiring a taxi to get around islands will also be an option. You can find a list of taxis on the Azores website.
You can think of taxis as private drivers as they take you from one site to the next.
This will come on the more expensive side, but it does remove the logistical aspect of the day for you.
Taxis can also be used in such cases where you need to just get dropped off somewhere, such as the 20 minute drive from Madalena to Mount Pico.
Public Transport
During my time in the Azores, I did not leverage the public transport network. However, you will find busses that run throughout some islands (most notably Sao Miguel).
When it comes to budget options, this will be your best bet. Just note that you will need to base your schedule off of the public bus schedule, and this will give you less flexibility.
In addition, don't expect the busses to go to every tourist attraction. Rather, they head along the main roads connecting the towns.
Depending on various factors, such as how long you will be on an island for and how much you want to see, will better help get you to a final decision.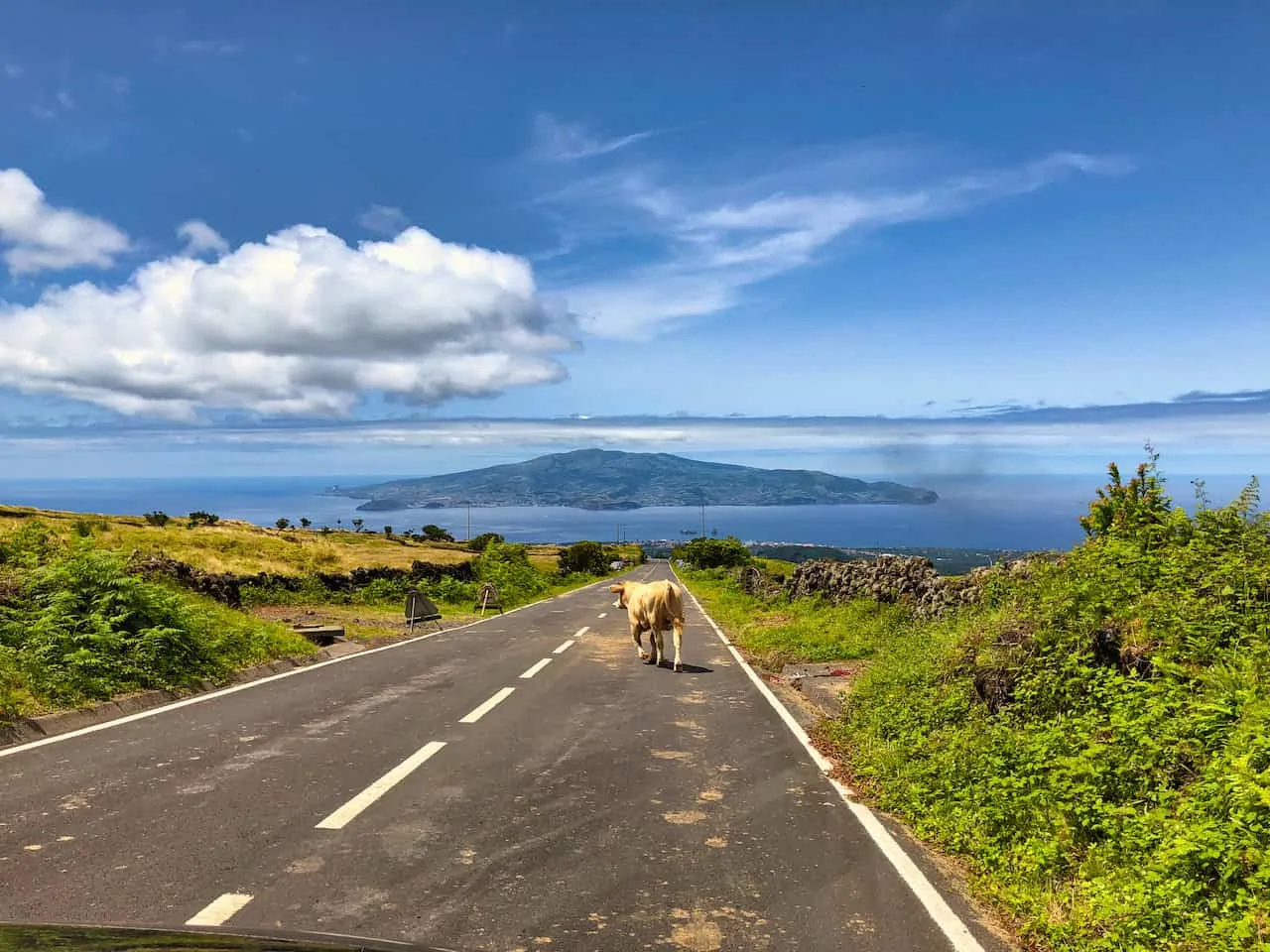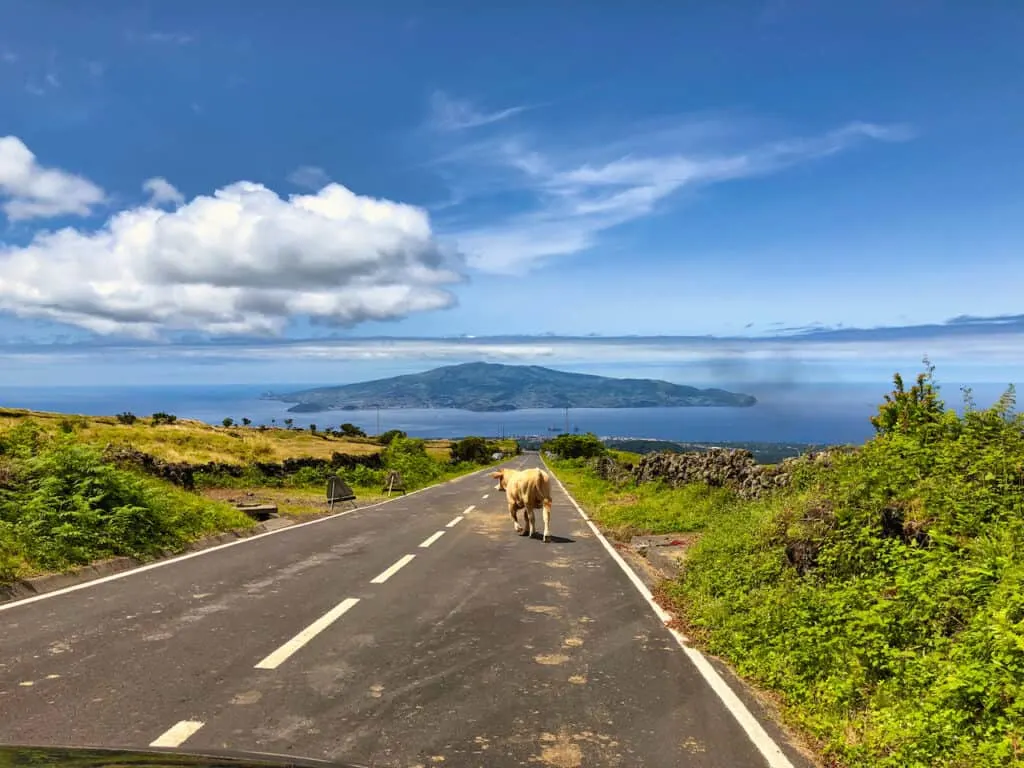 7) Azores Islands Weather
As you are planning your trip to the Azores islands, you will need to decide when to actually visit.
Since the Azores sit in the middle of the Atlantic Ocean, further away from the mainland, you can expect some unpredictable weather to come and go, no matter what time of the year.
Whether that be rain, wind, sun, or low-lying clouds, the weather is something that can be very uncertain at times.
As you are going about your day, you very well may experience multiple weather patterns occurring throughout your time outside.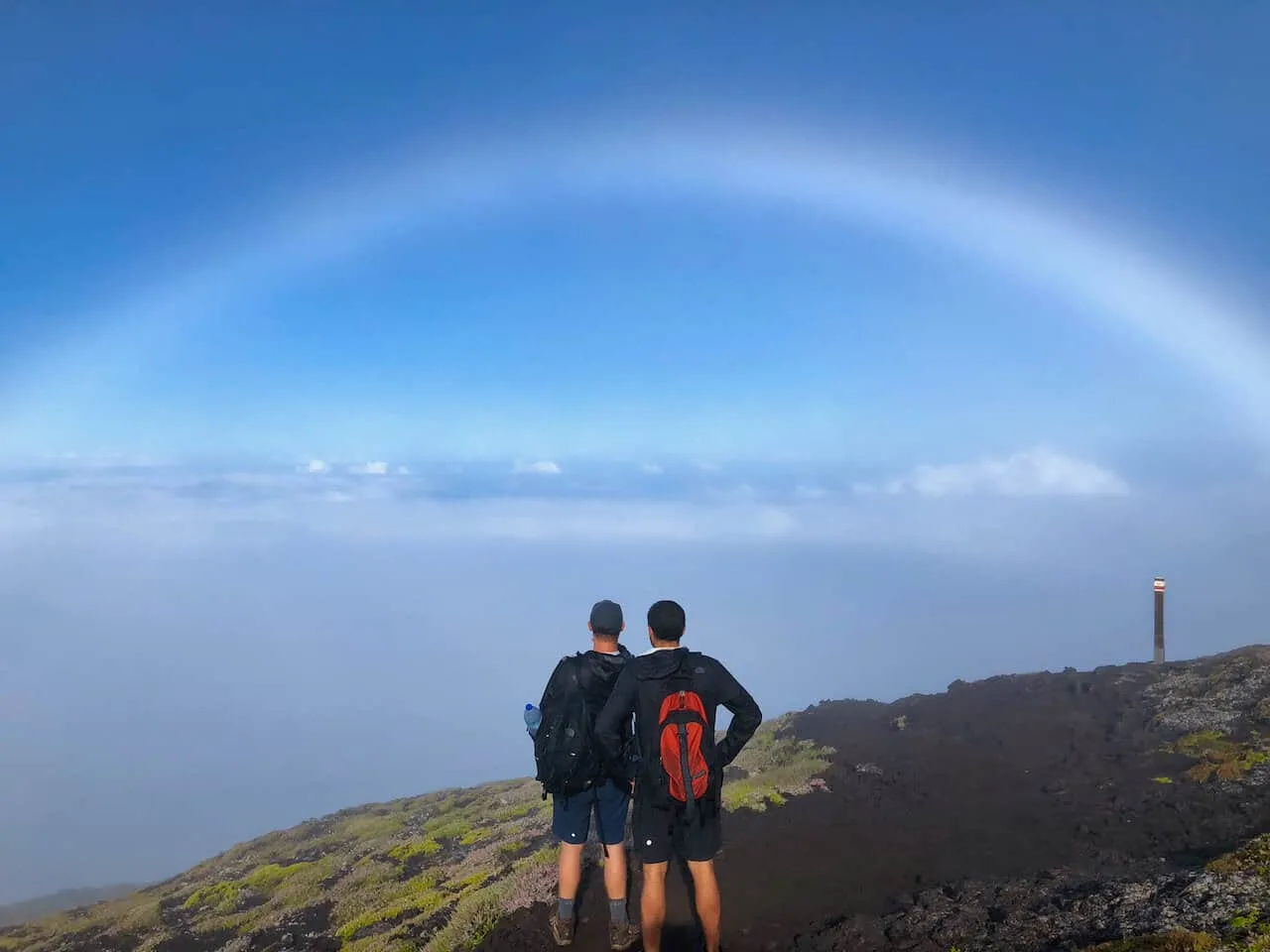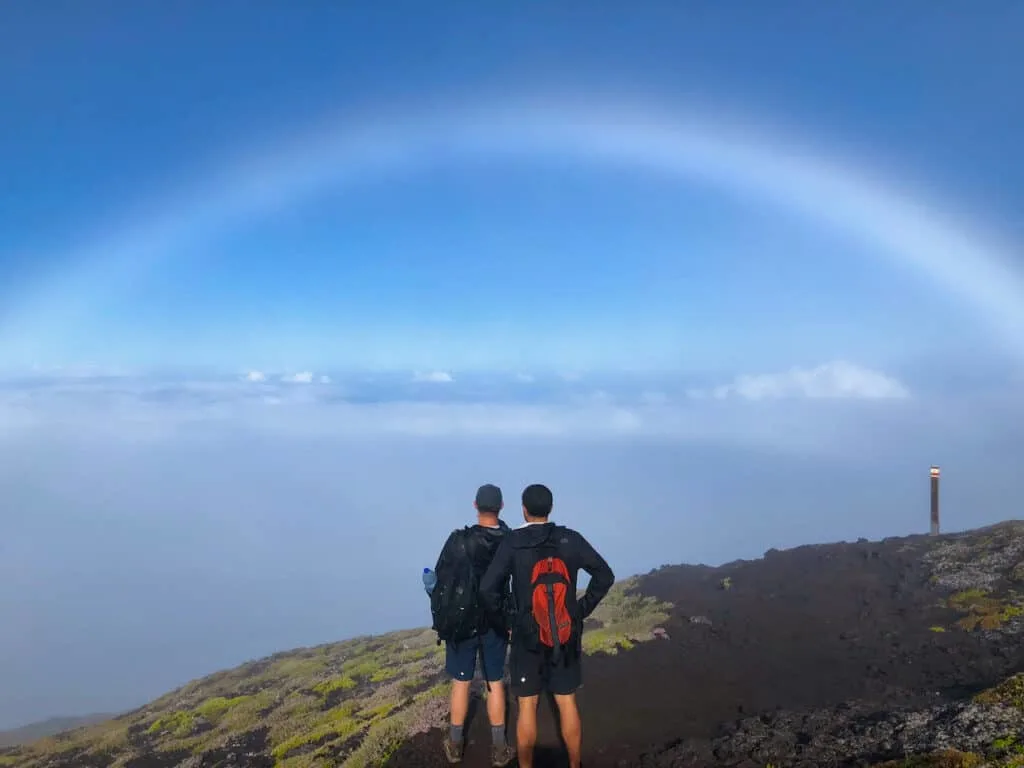 Now, if you are trying to visit during a more stable weather time period, you will want to aim for the summer season.
July and August are known to have the best weather in general, however the shoulder months of May, June, and September could work out well for a trip.
Below are some weather averages for Sao Miguel (courtesy of holiday-weather):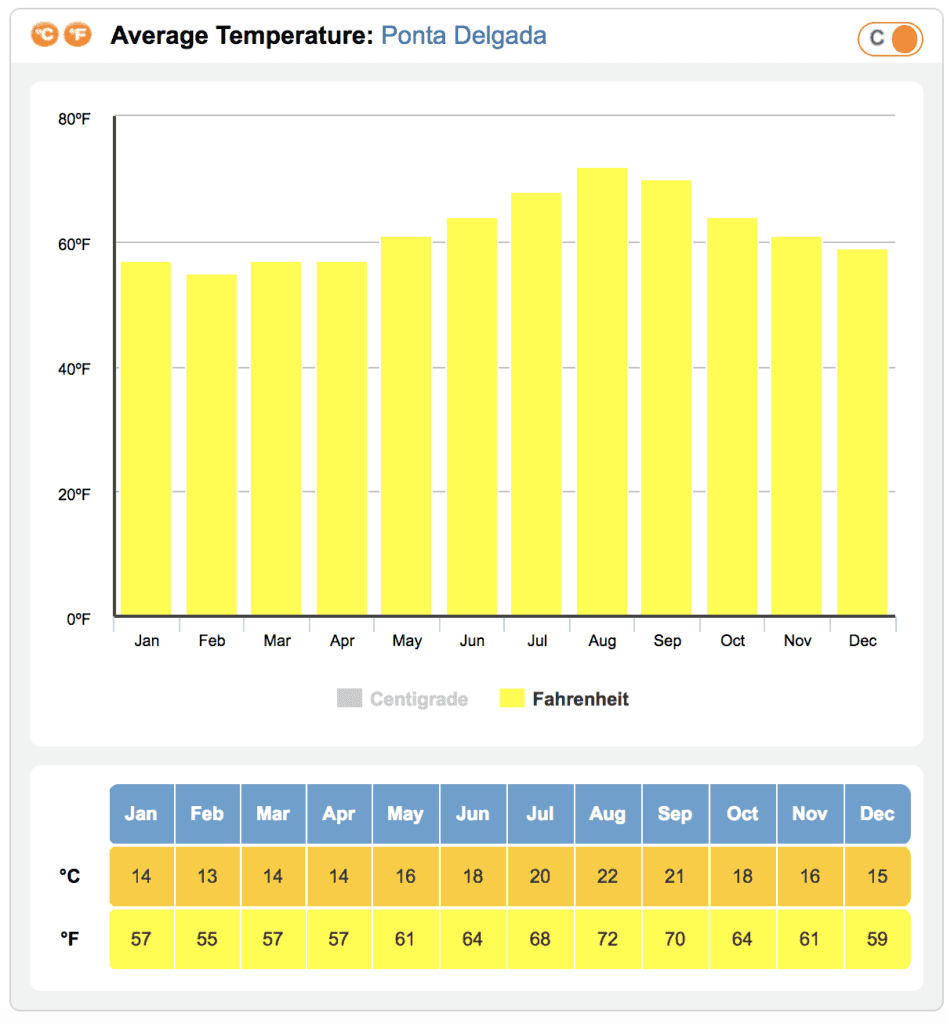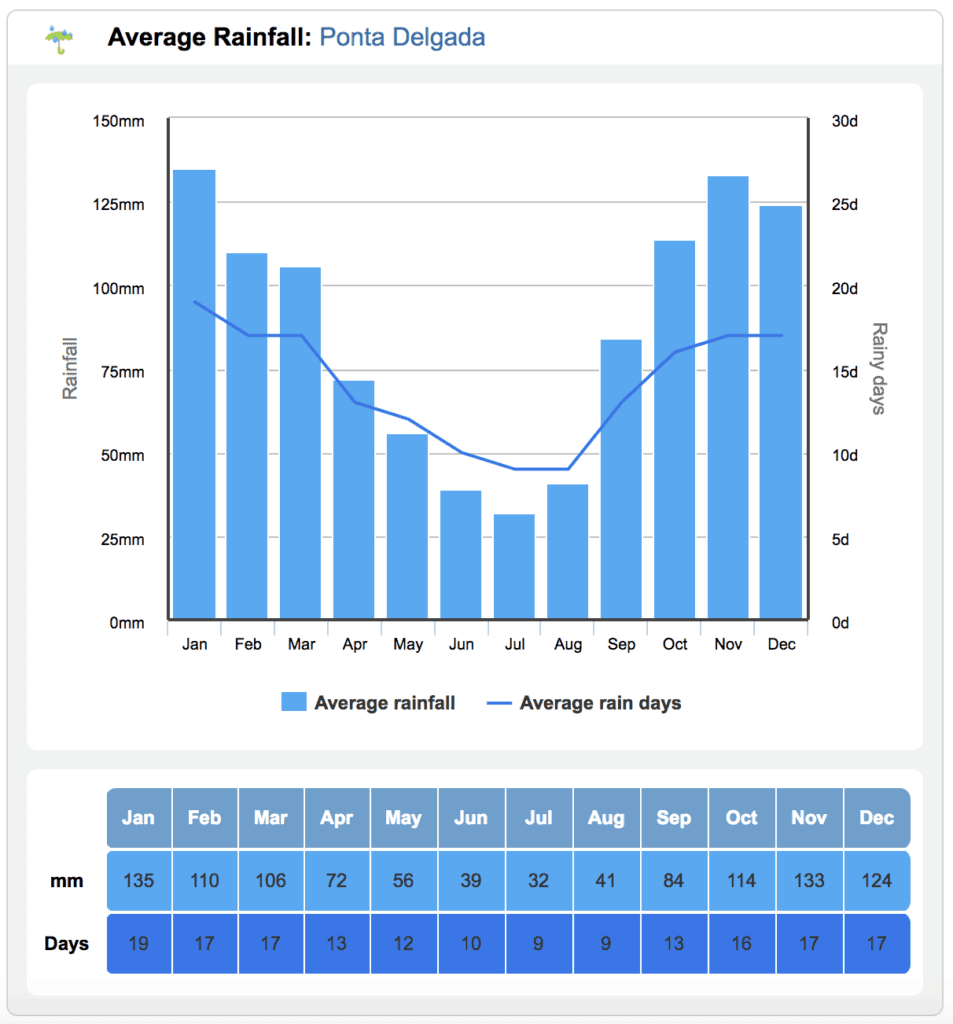 At the end of the day, it is difficult to predict weather, especially when it comes to islands in the middle of the ocean.
When I visited the Azores in August, the weather was very cooperative.
However, there were some instances where low lying clouds would come through. That meant sometimes ruining a view or driving in complete fog.
When it comes to weather forecasts, you can take a look at sites like Meteoblue.
If you want to get a better sense of the live weather, check out the Azores webcams, which are located throughout the island's top spots.
Learn More | Weather in the Azores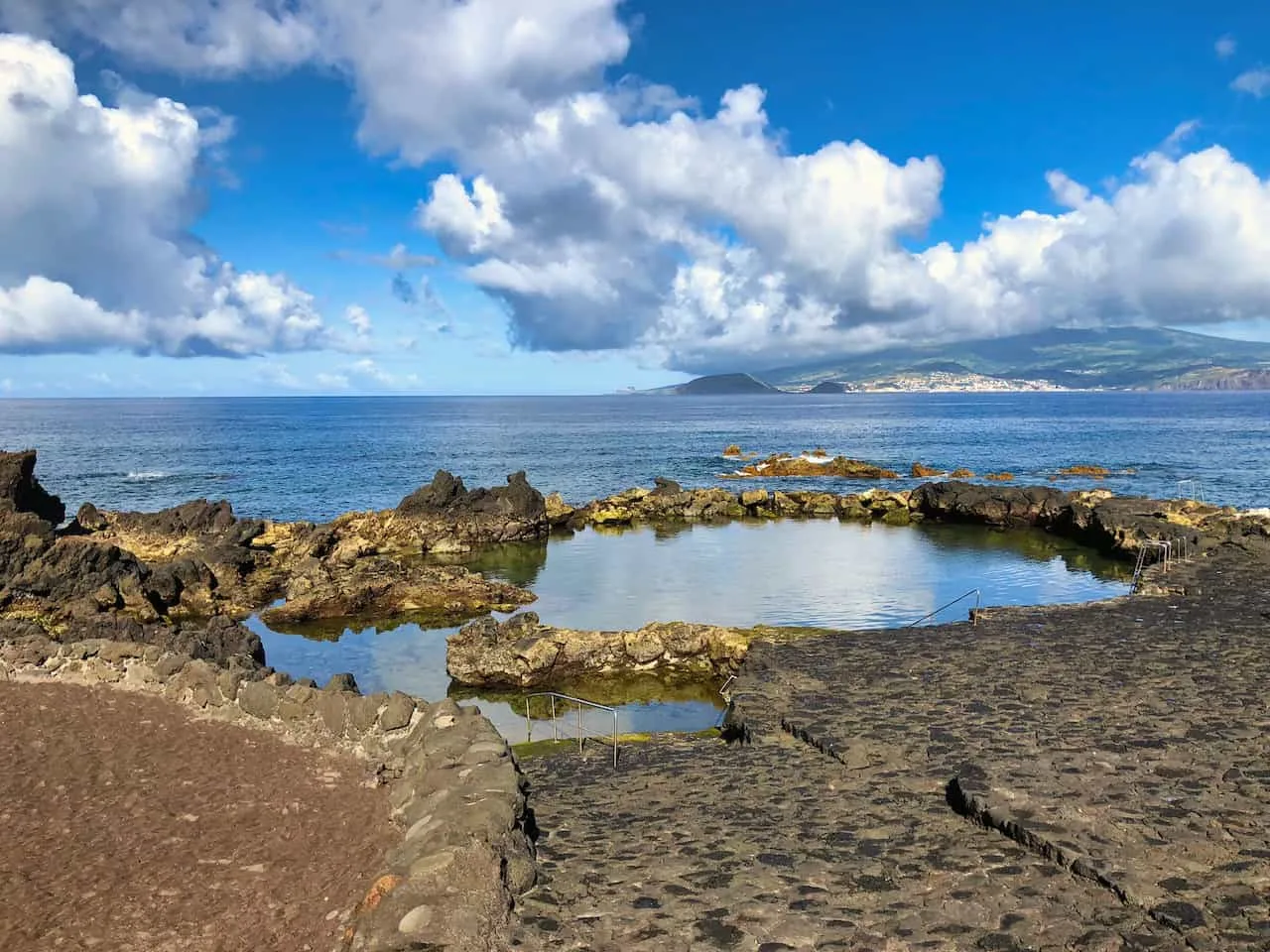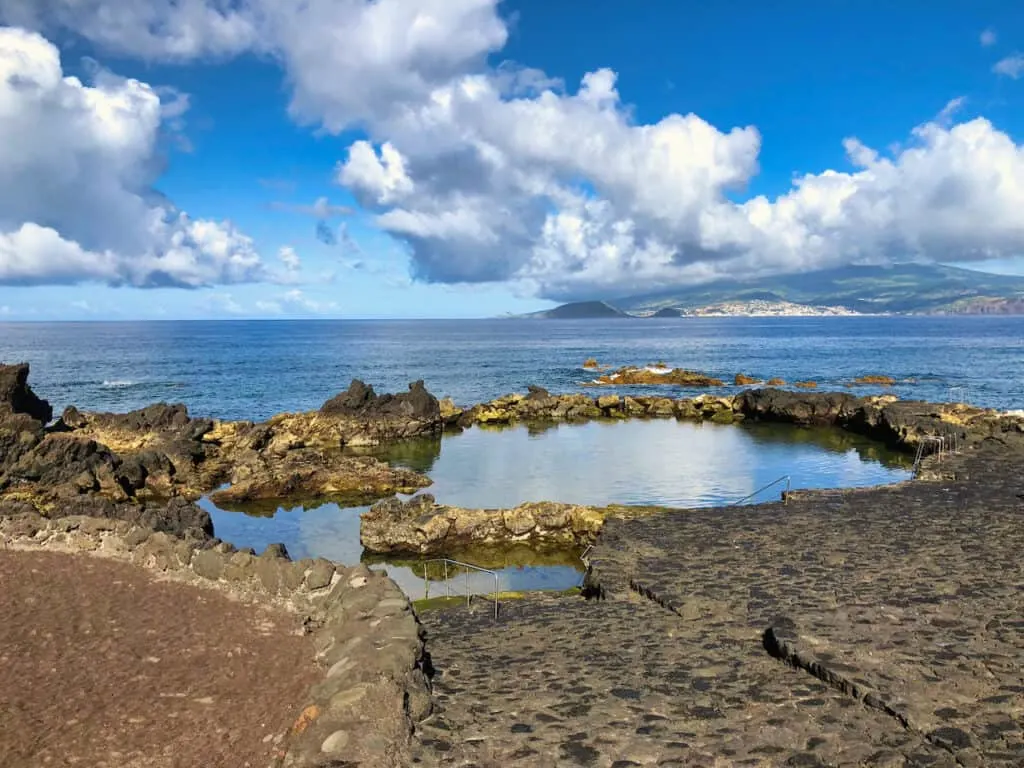 8) Azores Islands Tips
Feel free to check out this list of Azores helpful tips to better prepare you for your trip. Some of these include:
Be prepared for unpreditable weather
Rent a car to explore at your own pace
Be on the lookout for miradouros (viewpoints)
Make reservations at more popular restaurants ahead of time
Always be ready to jump into a natural swimming pool
Look up if there is a festival happening during your visit
Expect more nature than beaches
Be aware of one way hiking trails
Bring along a dark colored bathing suit for hot springs
Download offline maps for driving and hiking trails
Take a look at the webcams before taking off for the day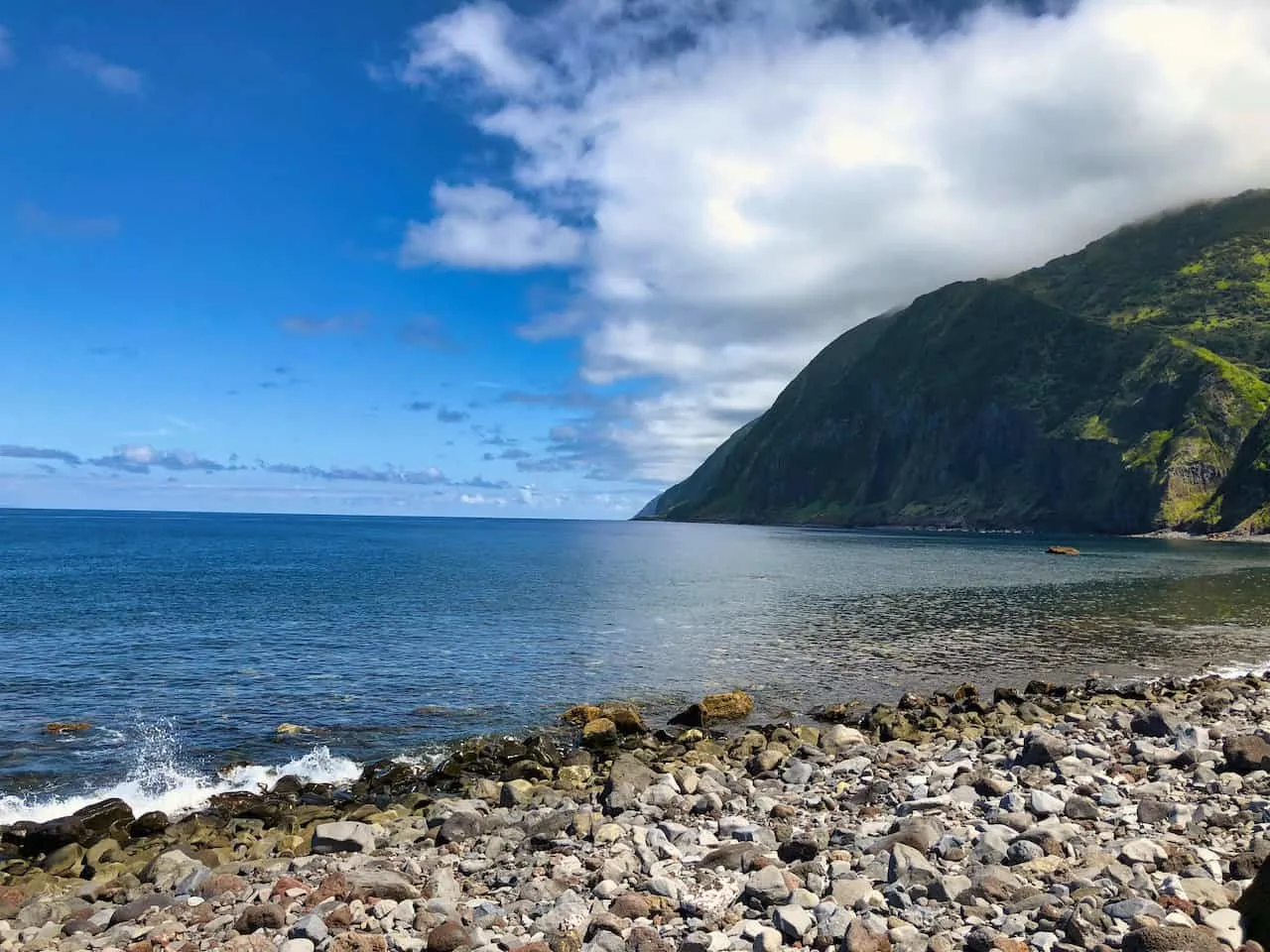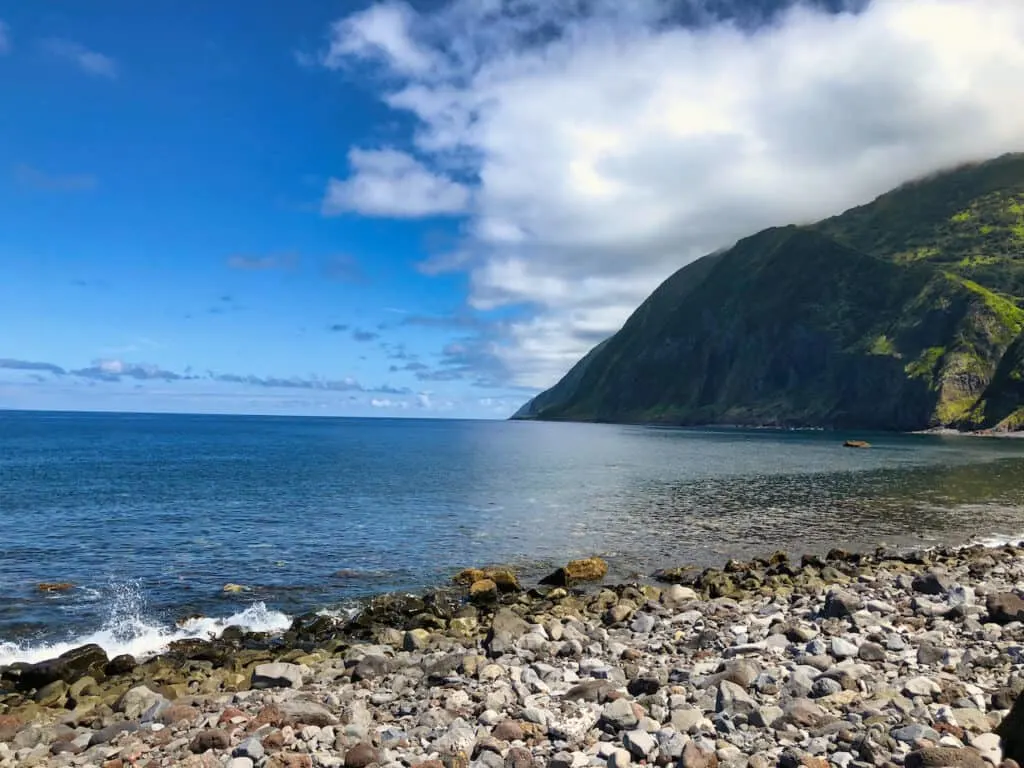 9) Azores Islands Hotels
For the most part, each island has a few "main" areas to base oneself when visiting.
While there certainly will be other options (especially on Sao Miguel), you will find these main base areas to be the most convenient.
Here are some of the top accommodation options to consider for each island.
I have included just a few highly rated and reviewed options to better help you make an informed decision.
Azores Hotels: If you need help choosing hotels, check out this overview about where to stay in the Azores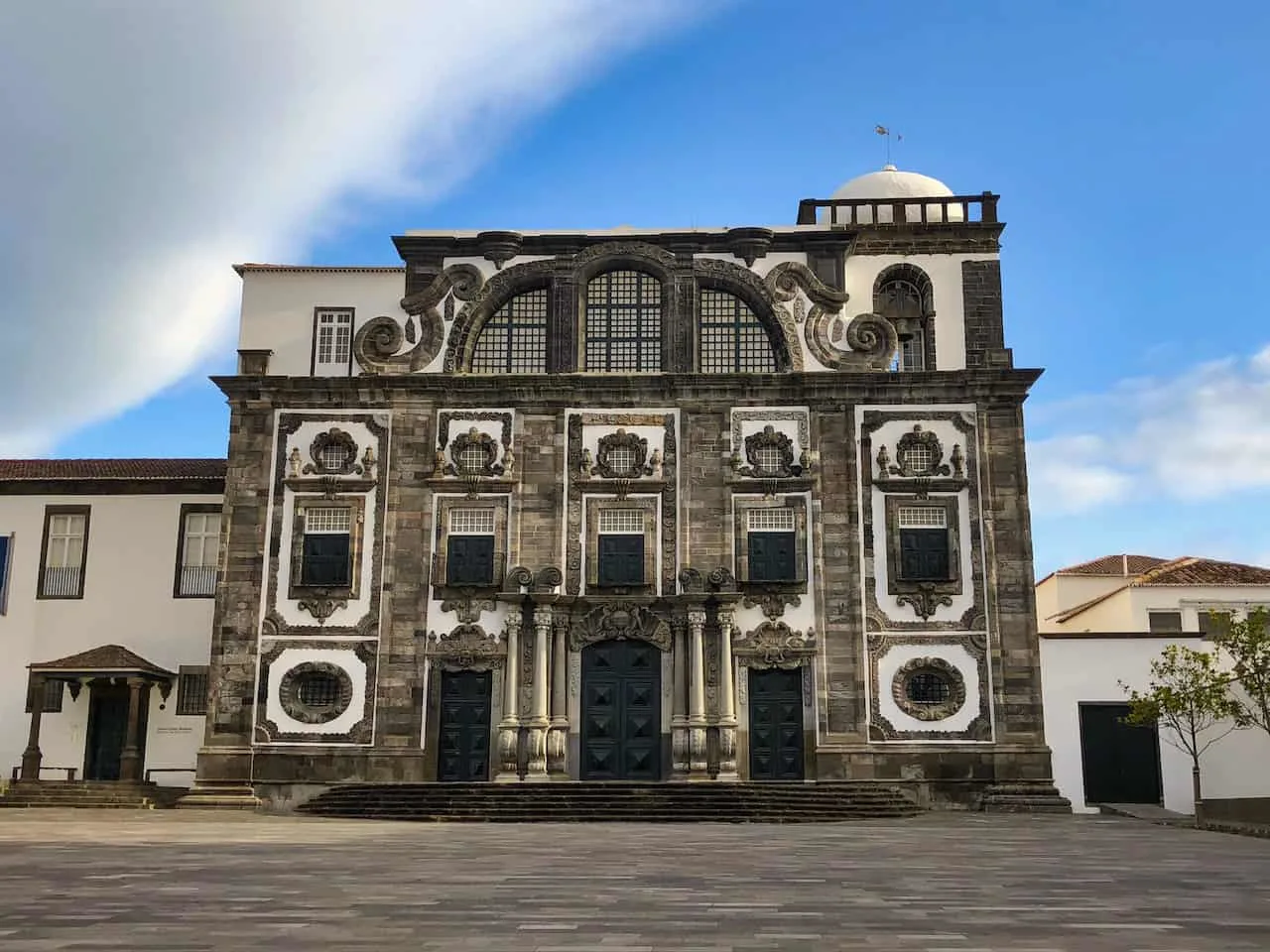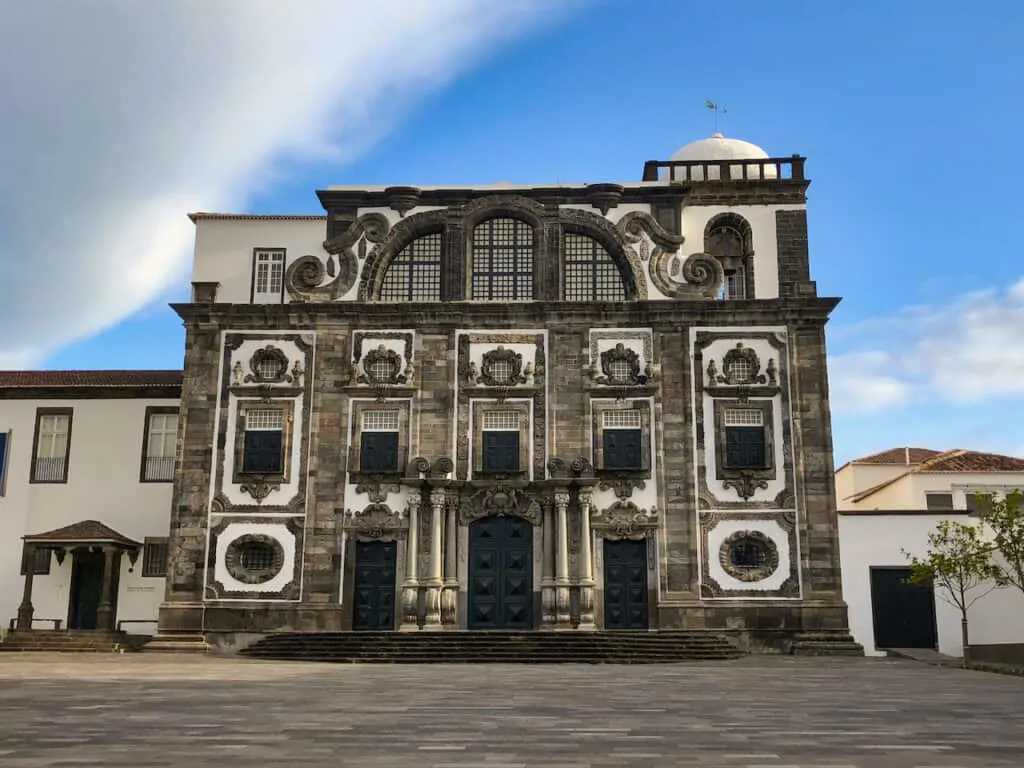 10) What to Pack
When packing for a trip to the Azores islands, you will want to be sure to come well prepared.
The weather around the islands can change quickly, so bringing along the appropriate gear will be essential.
For your standard packing list, I would recommend the following items be added to your list:
Comfortable Walking Shoes
Hiking Shoes
Hiking Socks
T-shirts (Short/Long Sleeve)
Hoodie/Fleece Jacket
Sweatshirts
Rain Jacket
Hiking Pants
Shorts
Underwear & Socks
Night time clothes for dinners & town
Dark Colored Bathing Suit (for hot springs)
Quick Dry Towel
Hat & Sunglasses
Dayback Backpack
Water Bottle
At the end of the day, you just really want to be prepared for a variety of conditions. So, layering will be of upmost importance.
What could start out as a nice and sunny day can turn into a windy and rainy afternoon.
Always be prepared with options to keep you covered in all situations.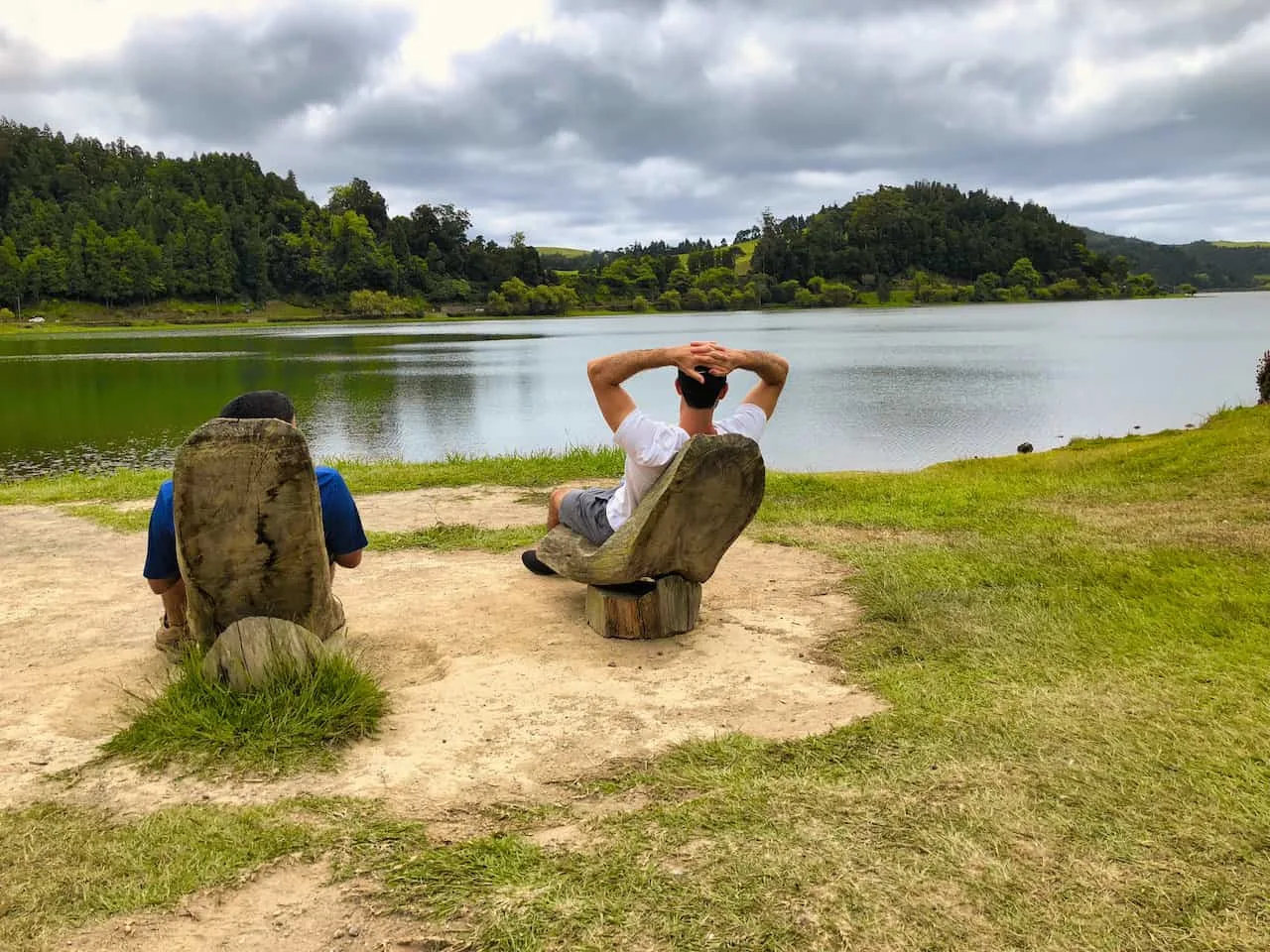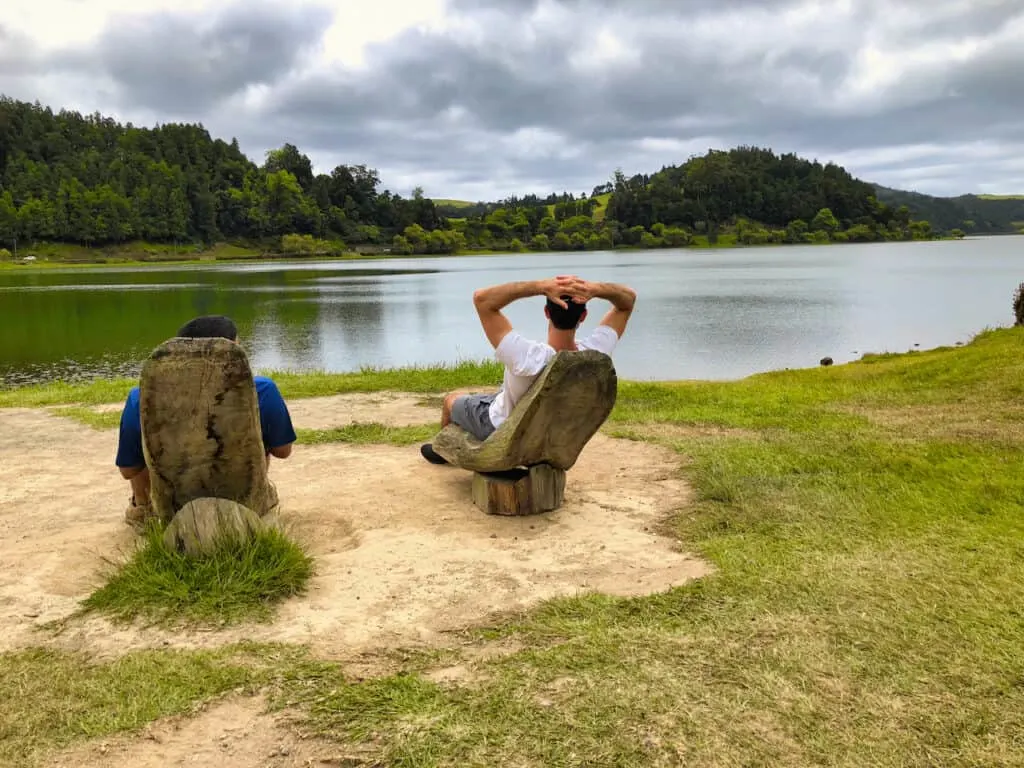 11) Azores Travel Insurance
Considering travel insurance for The Azores?

World Nomads offers coverage for more than 150 adventure activities as well as emergency medical, lost luggage, trip cancellation and more.

For years, World Nomads has been protecting, connecting & inspiring independent travelers, offering travel insurance & safety advice to help you travel confidently. Their mission is to support and encourage travelers to explore their boundaries.

World Nomads has simple and flexible travel insurance that has been designed by travelers for travelers. Even if you leave home without travel insurance or your policy runs out, you can buy or extend out on the road.

Get a quote for a World Nomads travel insurance policy today!
12) The Azores Islands
Now that you have plenty of background about the Azores islands, it is time to learn more about what each island is all about.
I will give a short overview of each island, along with some of the top things to do and see while exploring.
Sao Miguel
Without a doubt, the most visited island of the Azores is Sao Miguel.
For the majority of people, the main town of Ponta Delgada is used as the home base. This is where the airport is located and where you will find the most accommodation & restaurant options.
There are other towns to consider too such as Ribeira Grande, Furnas or Nordeste if you are looking to switch thing up a bit.
As the largest of the islands, you will find plenty of thing to do and see from coast to coast on Sao Miguel.
This is one of the islands, where I would highly recommend a car rental if exploring for multiple days.
You will find yourself going to places on all corners of the island – whether that be hikes, viewpoints, hot springs, or local towns.
I put together a 5-day Sao Miguel itinerary that can walk you through it all. The itinerary includes much of the following:
Miradouro da Vista do Rei
Viewpoints (or miradouros) are everywhere around the Azores, so don't be surprised to see many listed out as top places to see.
One of the more famous ones is Miradouro da Vista do Rei, which overlooks the twin lagoons of Sete Cidades.
Miradouro da Boca do Inferno
Perhaps the most famous of viewpoints though is Miradouro da Boca do Inferno.
This viewpoint also looks over the lakes and crater of Sete Cidades, in addition to having a one of a kind trail along the hillside.
This is the money shot type of photo that I am sure you will come across when researching the Azores.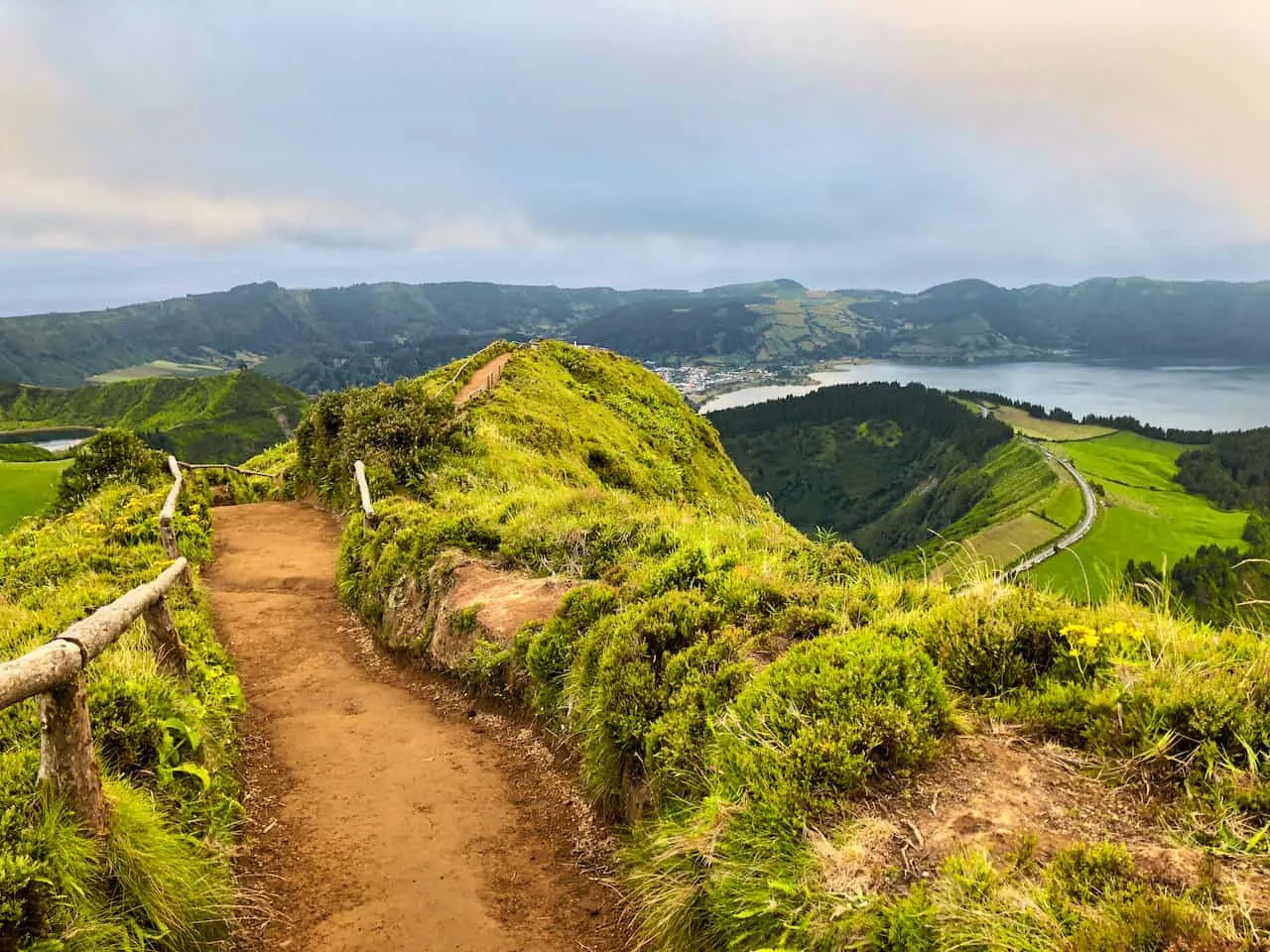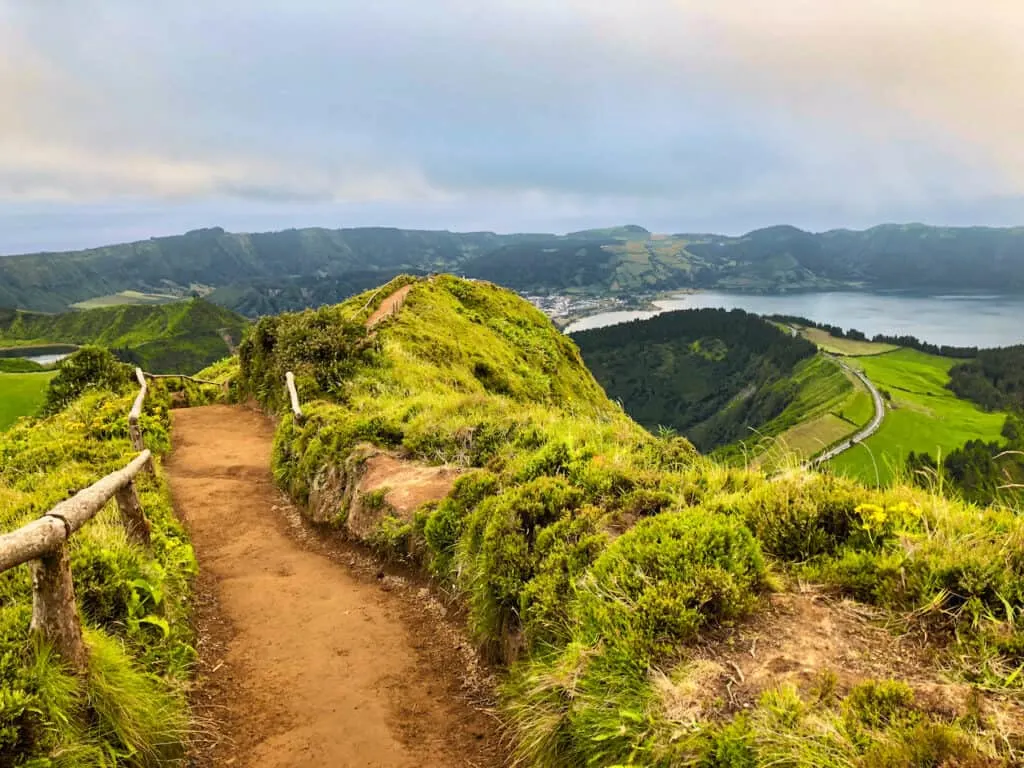 Miradouro do Pico do Ferro
If you are heading to the area around Furnas, be sure to head out to Miradouro do Pico do Ferro.
This viewpoint gives you a great perspective over Furnas Lake, the surrounding town, and geothermal activity.
Miradouro da Lagoa do Fogo
Lagoa do Fogo was one of my favorite spots on the island. It is notorious for its low-lying clouds, so be sure to visit if you see some clear weather on the webcam.
As you make your way to the lake, you will pass by two viewpoint spots – Miradouro do Pico da Barrosa and Miradouro da Lagoa do Fogo.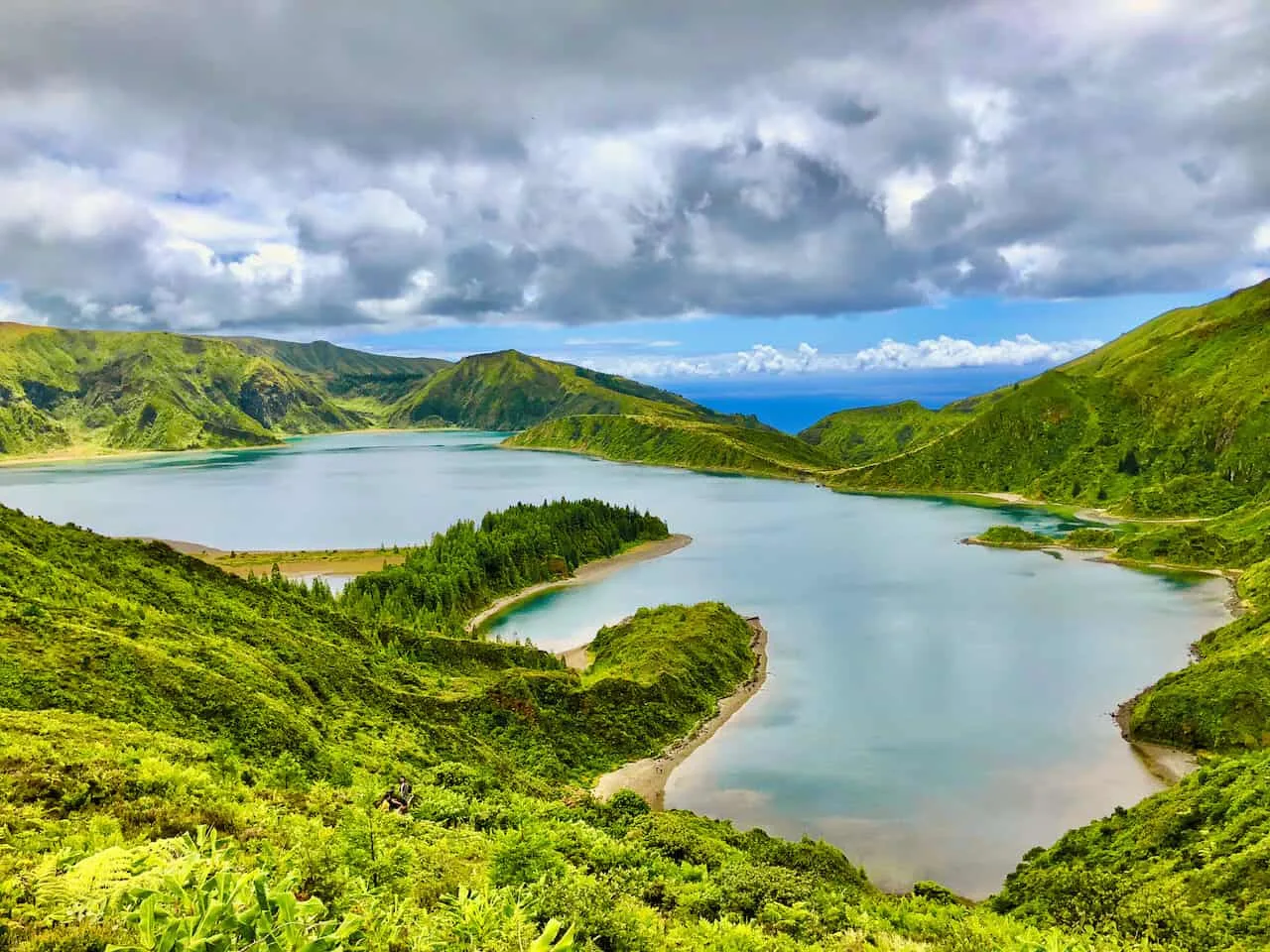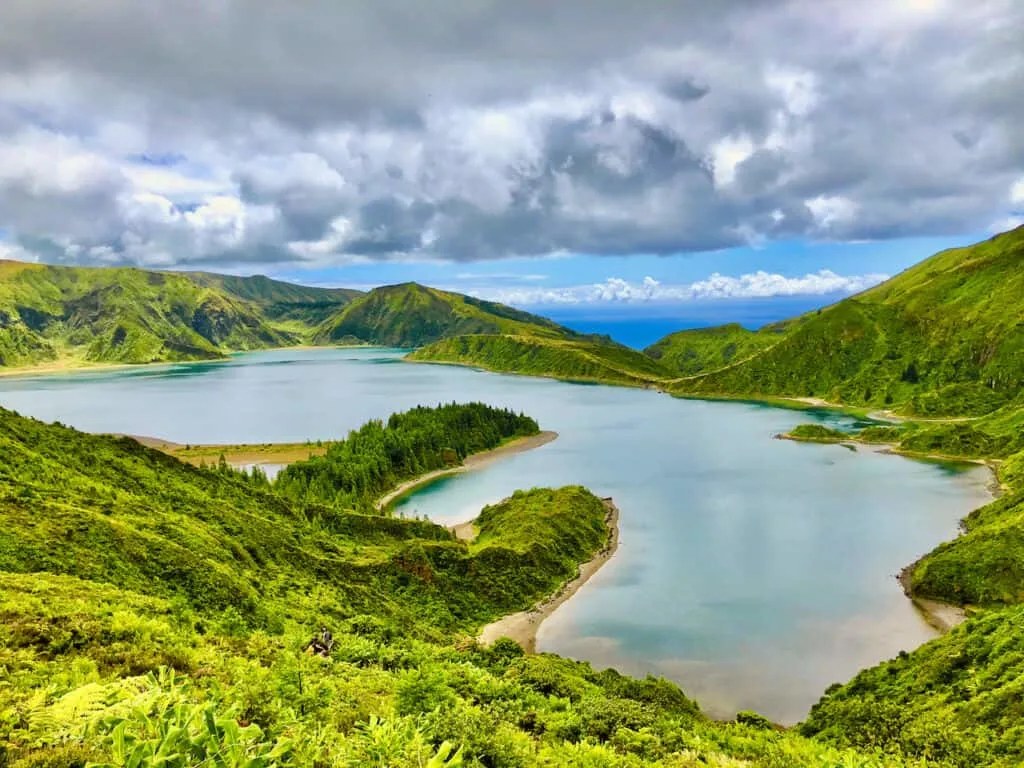 Nordeste Viewpoints
All along the northeastern side of Sao Miguel in Nordeste, you will find many viewpoint spots.
These include Miradouro Despe-te Que Suas, Miradouro da Vista dos Barcos, Miradouro da Ponta do Sossego, and Miradouro da Ponta da Madrugada.
Stopping at one or more of these viewpoints during your day trip along the coast is surely going to be worth it.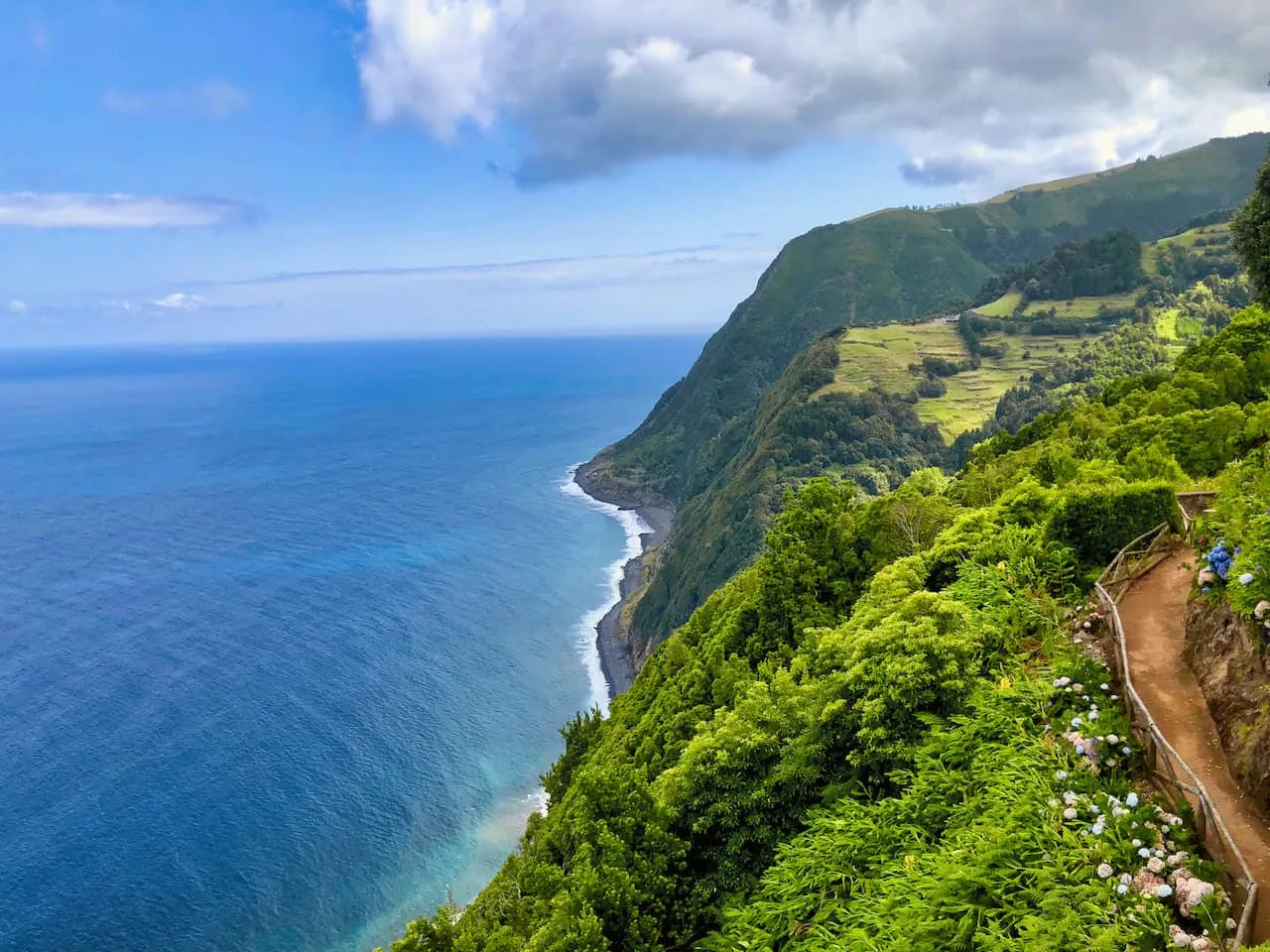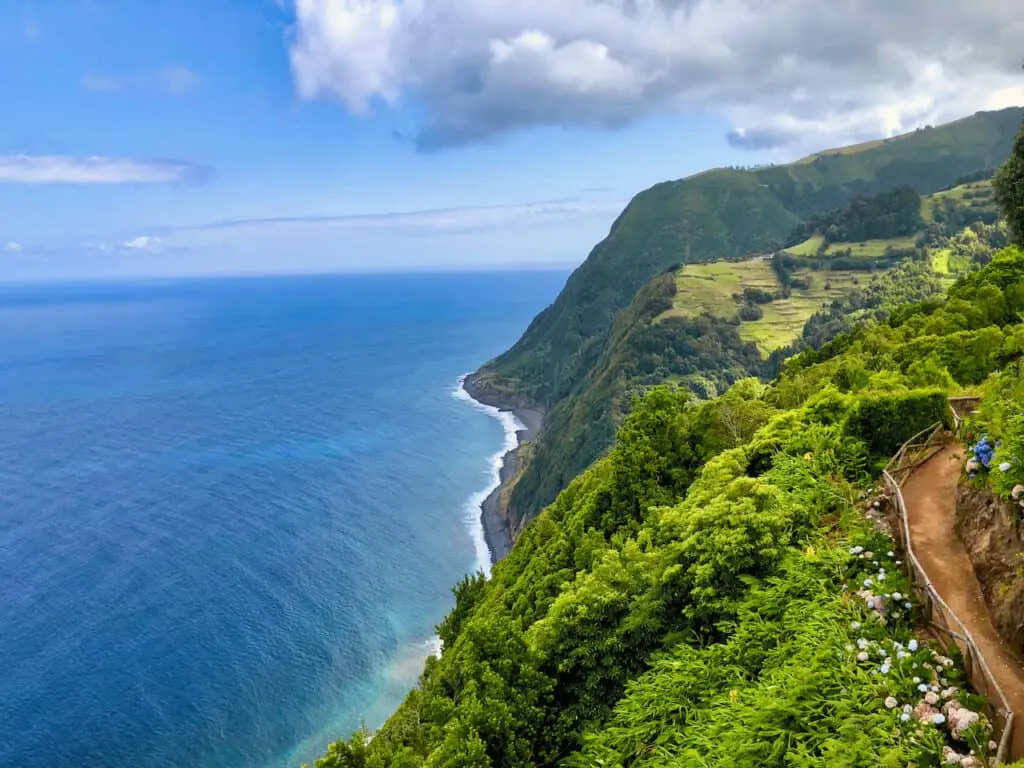 Sete Cidades
While there are many views to enjoy of the Sete Cidades area from above, you should also make your way down into the town itself.
Here you pass by the neighboring lakes of Lagoa Verde and Lagoa Azul, as you walk around town, grab some local cuisine, and hang out by the lakeside.
Lagoa do Fogo
While visiting the viewpoints of Lagoa do Fogo is one way to experience the lake, you can also take a trail down to the lakeside from the parking lot.
You will have the chance to walk along its shores and enjoy this beautiful lake from up close.
Lagoa do Canario
While not as large as the Sete Cidades lakes or Lagoa do Fogo, the Lagoa do Canario is worth the quick stop.
It is right along the same route as you head to Miradouro da Boca do Inferno, so it will be an easy addition to the day.
The lake is just surrounded by greenery, making it a relaxing and enjoyable place to hang out for a bit.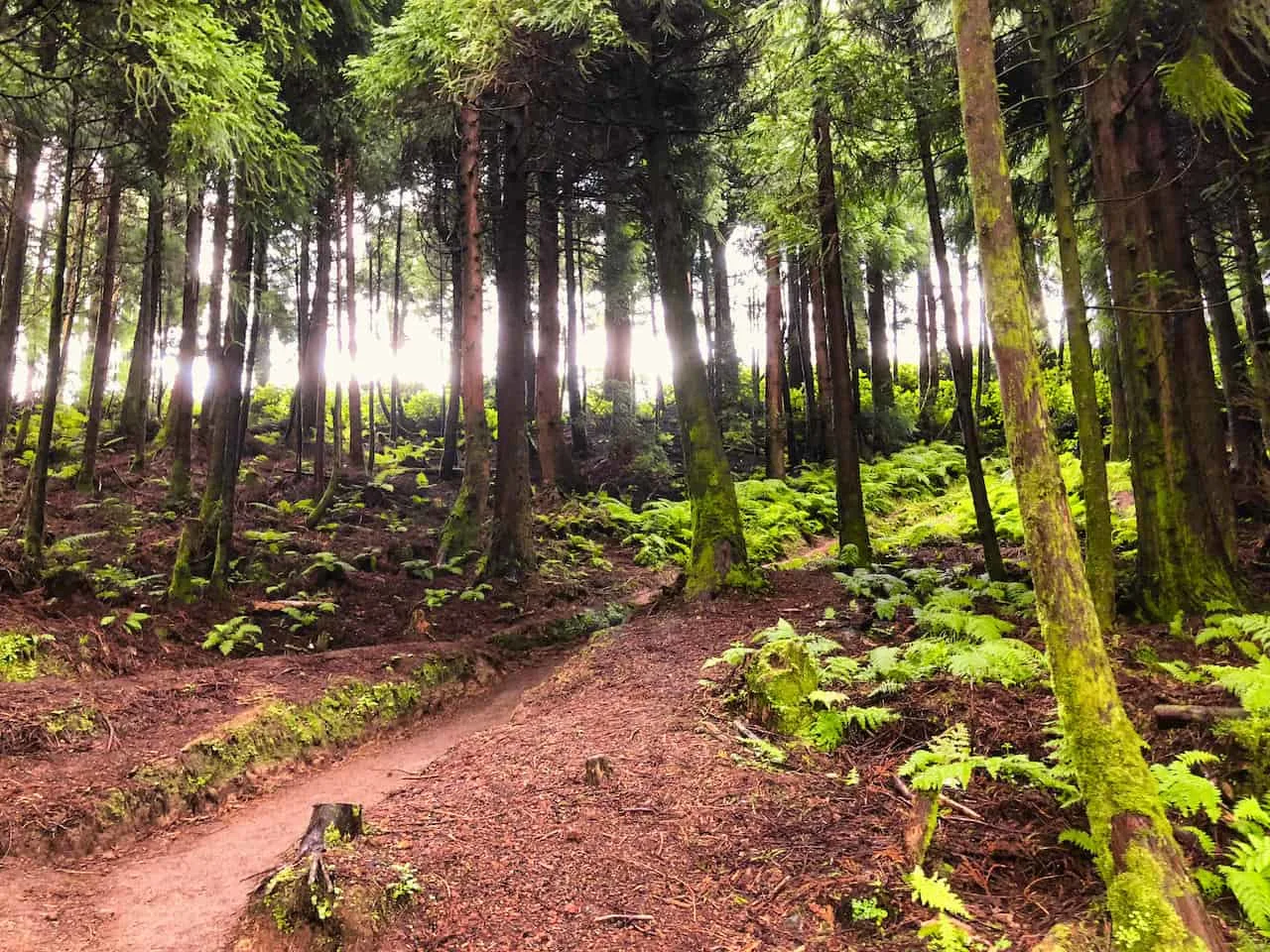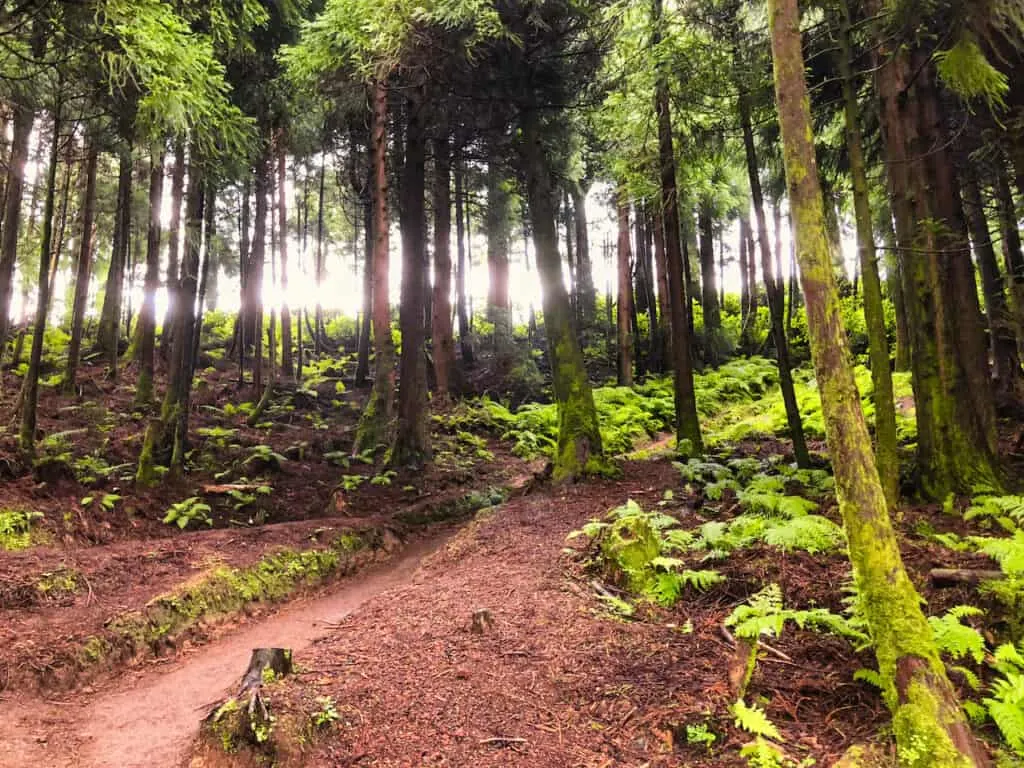 Cha Gorreana Tea Plantation
Known to be the only tea plantation in Europe, Cha Gorreana is the perfect addition to your time on Sao Miguel.
During a visit you can see the factory, have a tea tasting, visit the tea fields, or even take part of a longer hike around the area.
Parque Natural da Ribeira dos Caldeiroes
Whether you are looking for greenery, walking trails, waterfalls, views, or local wildlife, Parque Natural da Ribeira dos Caldeiroes has it all.
This is located right in between Cha Gorreana in the Nordeste region, so it makes for a convenient stop along the way.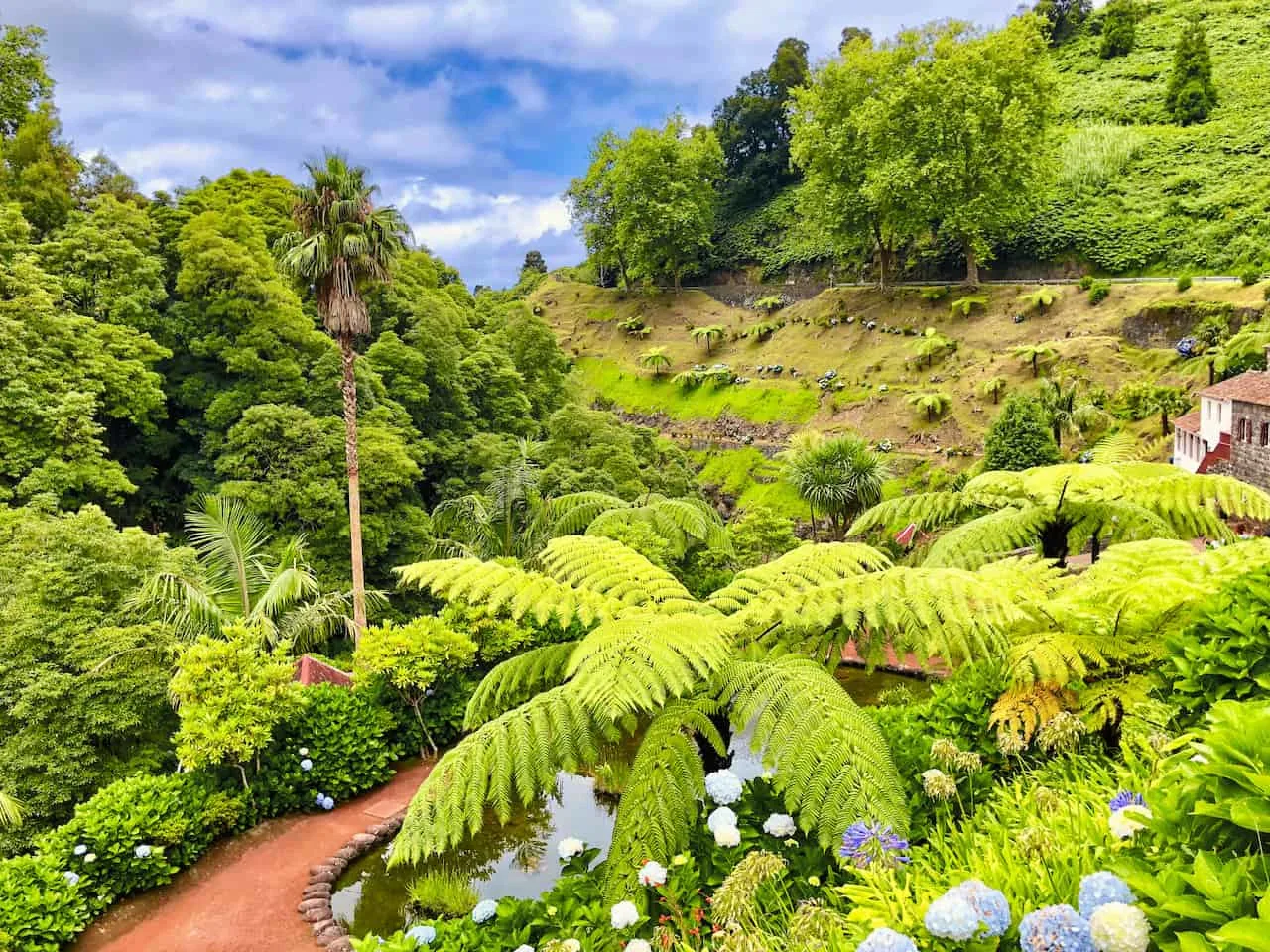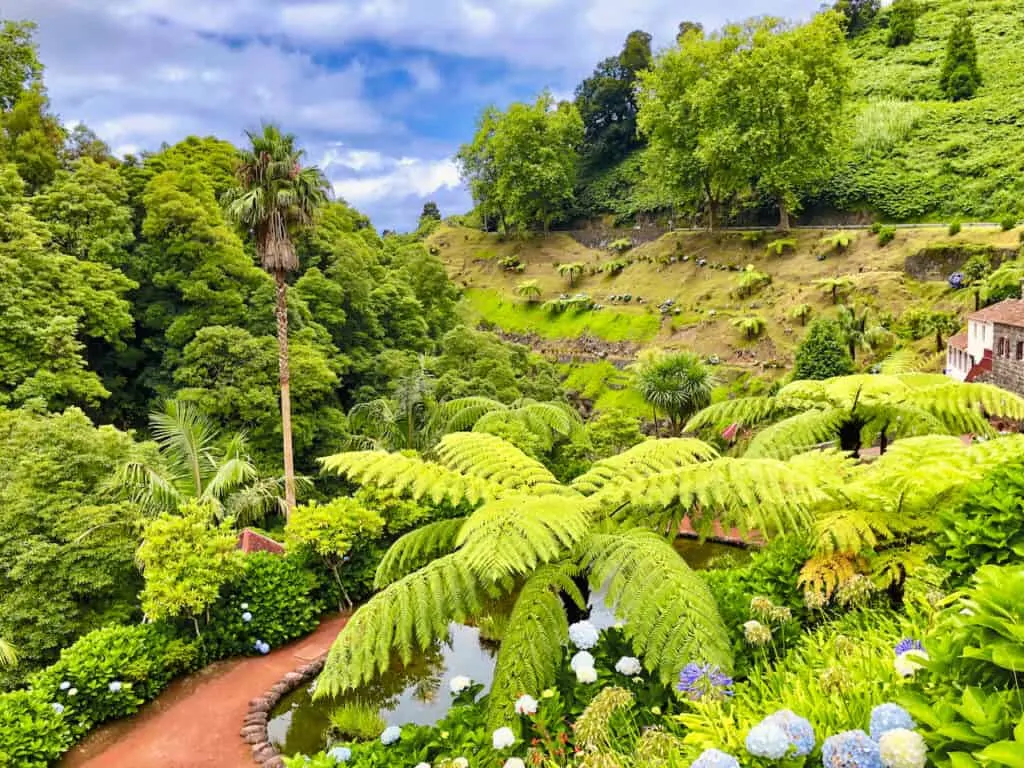 Fumarolas Lagoa das Furnas
Geothermal activity can be found all around the Azores, much of which is on Sao Miguel.
Just around the Furnas Lake you will come across a geothermal area full of boardwalks. You will be able to see some of this geothermal activity up close, and then have the chance to enjoy a seat by the lake.
Around this area you will also see locals cooking cozido. The geothermal heat is used as an underground oven, where the local cozido dish is cooked.
Be sure to head into town to try cozido on your own!
Parque Terra Nostra
Speaking of geothermal activity, Sao Miguel is also full of hot springs.
These natural heated outdoor areas are perfect to visit after a day out and about around the island.
Parque Terra Nostra in Furnas, is a massive orange colored pool situated in a larger park area.
Be sure to walk around the nature complex, before heading into the pool itself.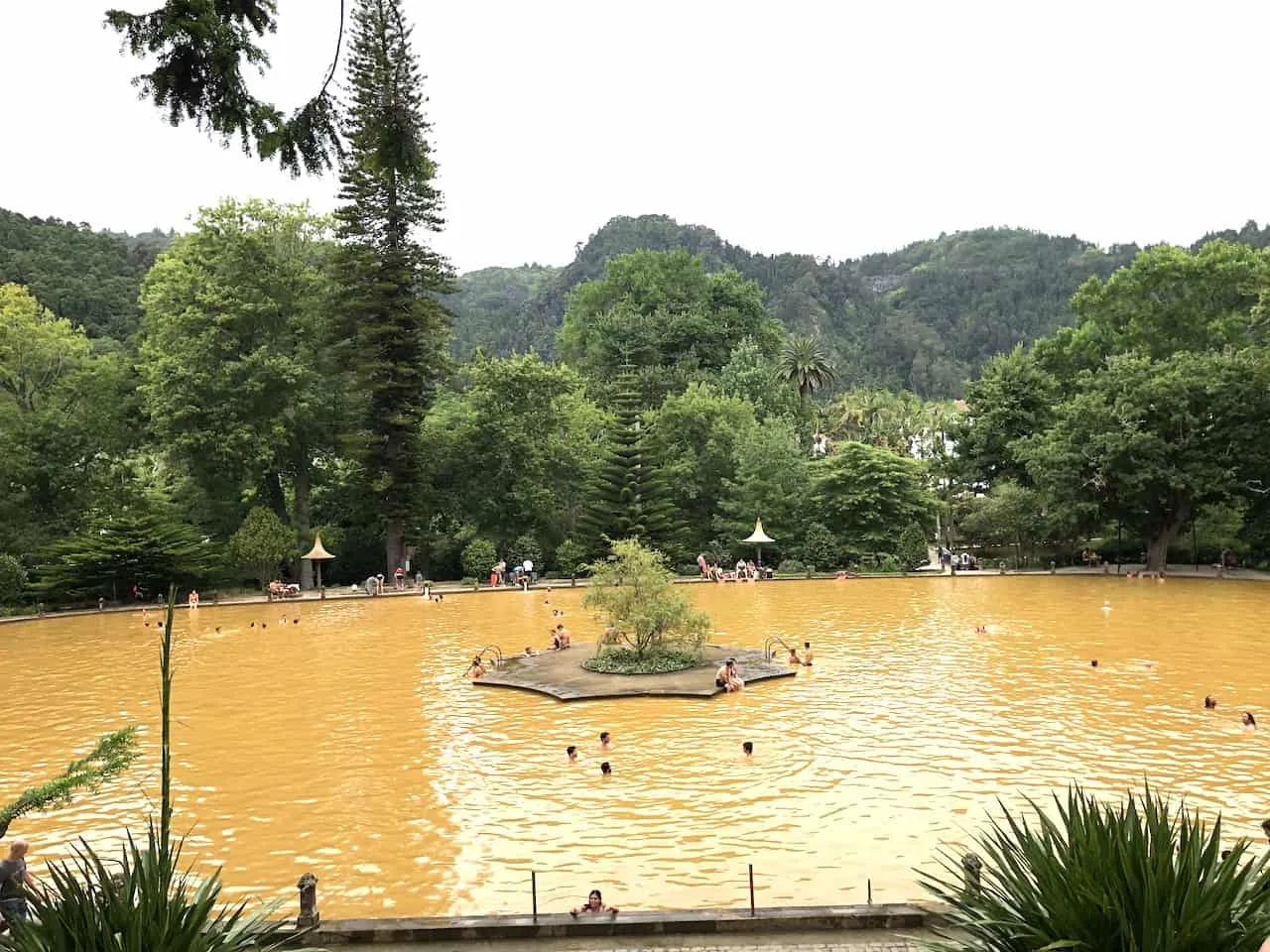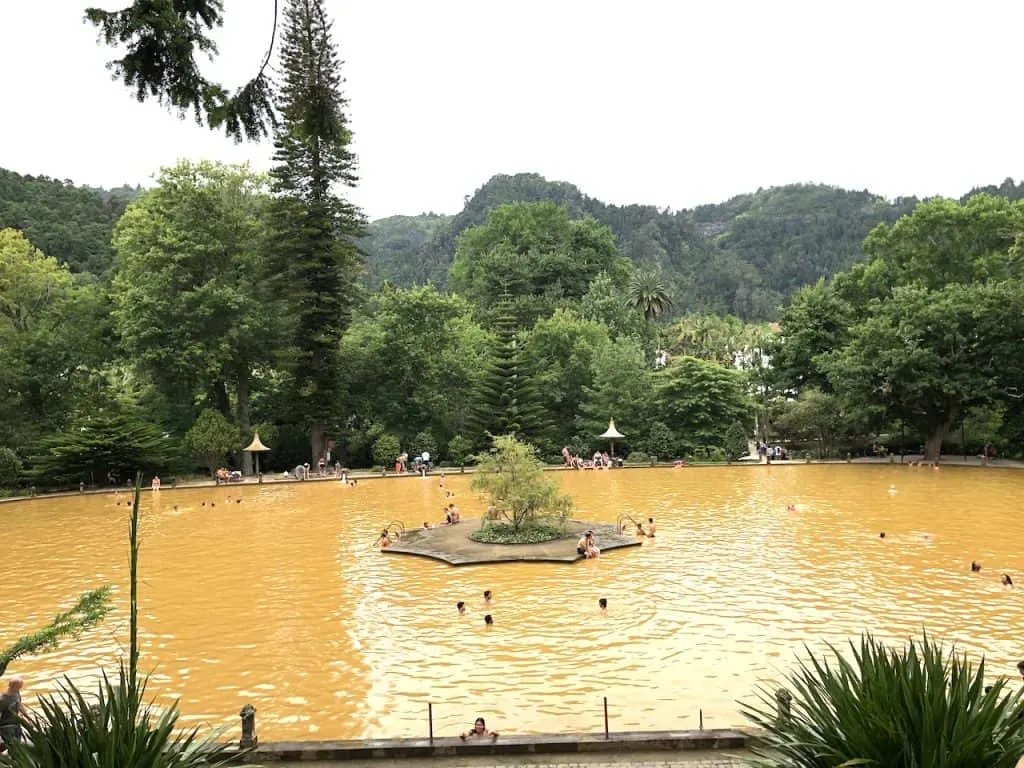 Poca Da Dona Beija
Another thermal bath to visit in Furnas is Poca Da Dona Beija.
Instead of one large pool, you will find several smaller hot tub like pools along a river.
Each pool is a different size with a different temperature, so you can find one or more that work for you.
Caldeira Velha
Perhaps the most nature-like hot springs is Caldeira Velha, located not too far away from Lagoa do Fogo.
Here you will also find several smaller pools located in an area surrounded by trees and nature.
Be sure to also check out the heated waterfall area, where you can take a dip in a slightly less hot pool.
Ferraria
While all of the above offer hot spring experiences from the geothermal activity, the pools themselves are man made.
When it comes to Ferraria though, you will be able to enjoy some hot water in the actual ocean.
Located on the western side of Sao Miguel is an area that is heated by the underwater geothermal activity.
During low tide, the water becomes like a hot tub before the heat slowly disappears closer to high tide.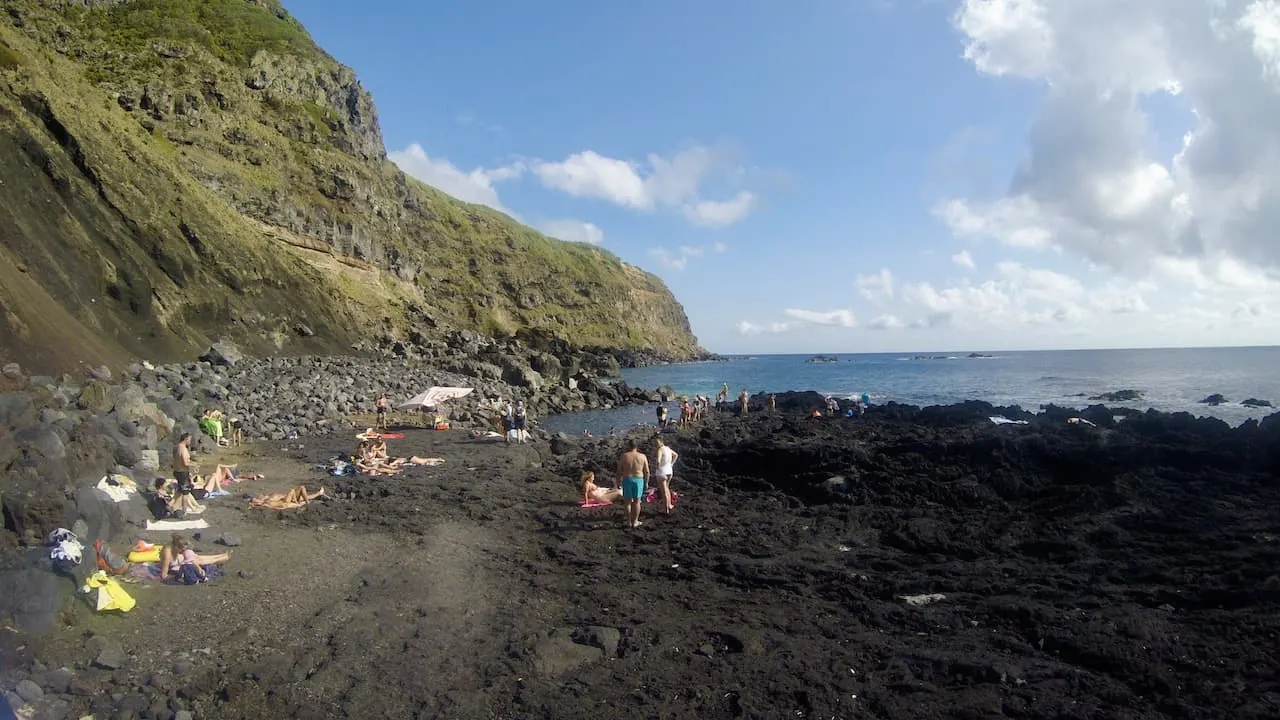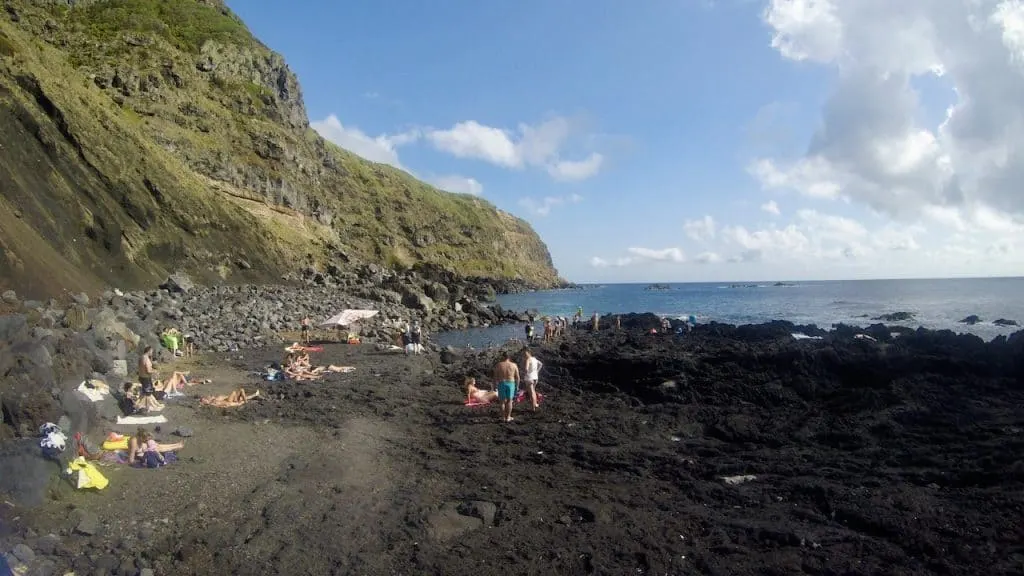 Vila Franca do Campo Islet
Just off of the southern coast of Sao Miguel, you will find an islet that was formed by an ancient volcano.
In the middle of the islet is a circle shaped lagoon that is perfect for swimming and snorkeling.
You will find a limited spots available per day to visit as it is a protected nature reserve.
Whale Watching
If you want to spend some time out on the water, be sure to sign up for a whale watching tour.
Around its waters, you can find up to 20 different types of whale and dolphin species. Some of these whales call the Azores home year-round, while others make their way through during specific times of year.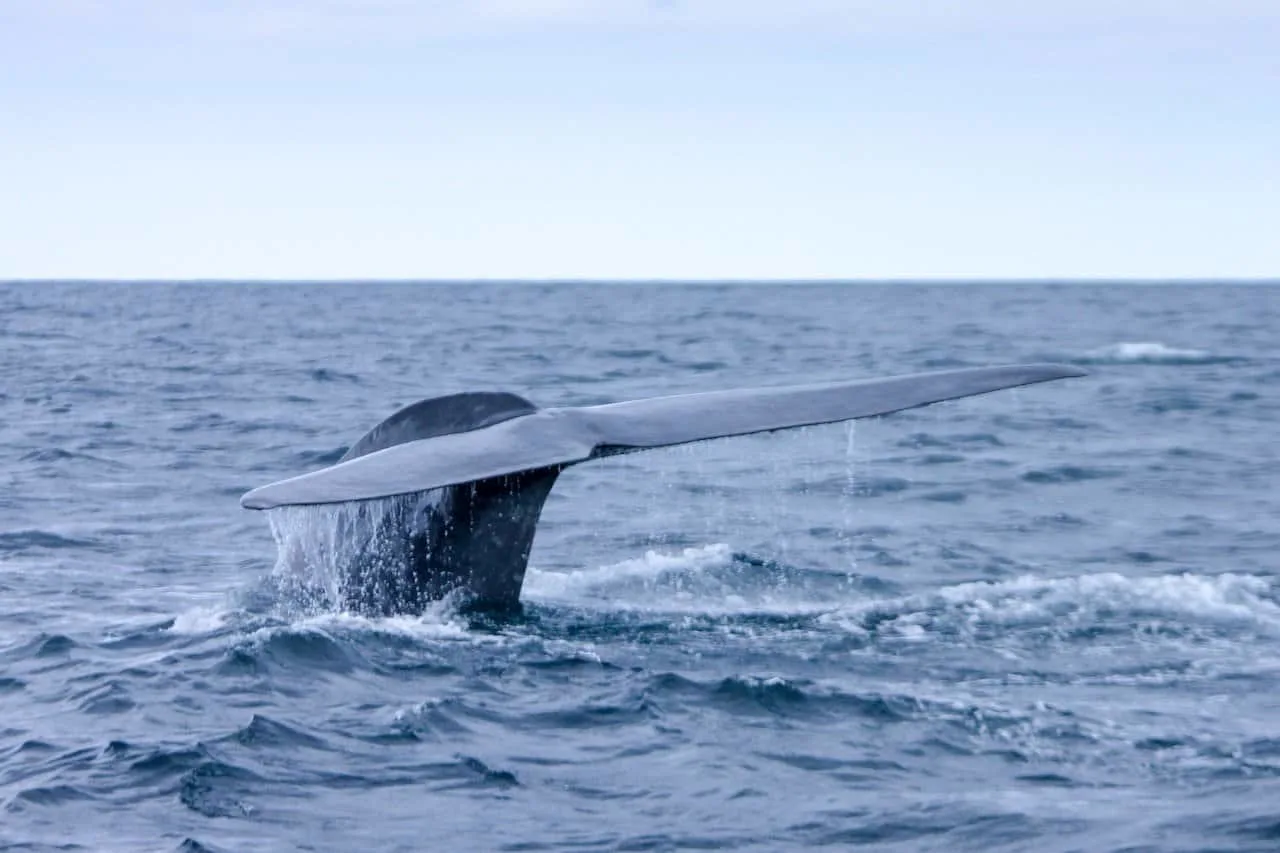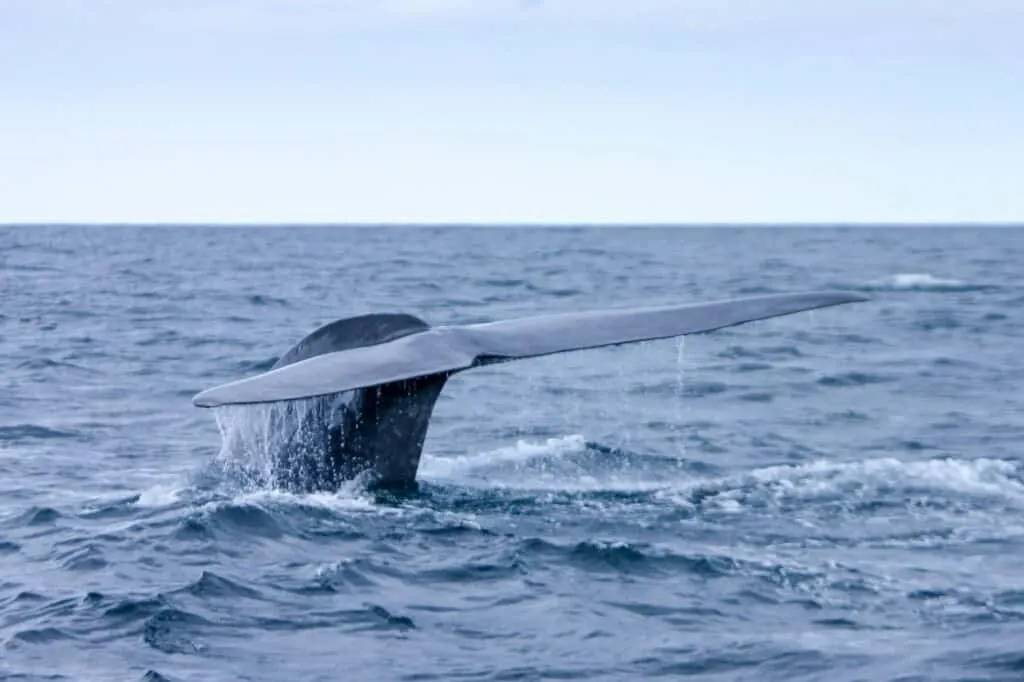 Sao Miguel Hiking
The final topic I will cover when it comes to Sao Miguel is hiking.
All around the island you will find official hiking trails that will take you to viewpoints, waterfalls, lakes and more.
Be sure to check out the Azores hiking guide up on the site that goes over all the important facts to know for your time out on the trails.
Some of my favorite hikes on Sao Miguel include:
Sete Cidades
Around the Sete Cidades area, there are three main hiking opportunities to take part of:
1) Mata do Canario – Sete Cidades
2) Vista do Rei – Sete Cidades
3) Serra Devassa
The first two trails head around the crater lakes, where you will consistently get beautiful views from up above.
The third trail takes you along volcanic cones and small lakes, near the Sete Cidades area.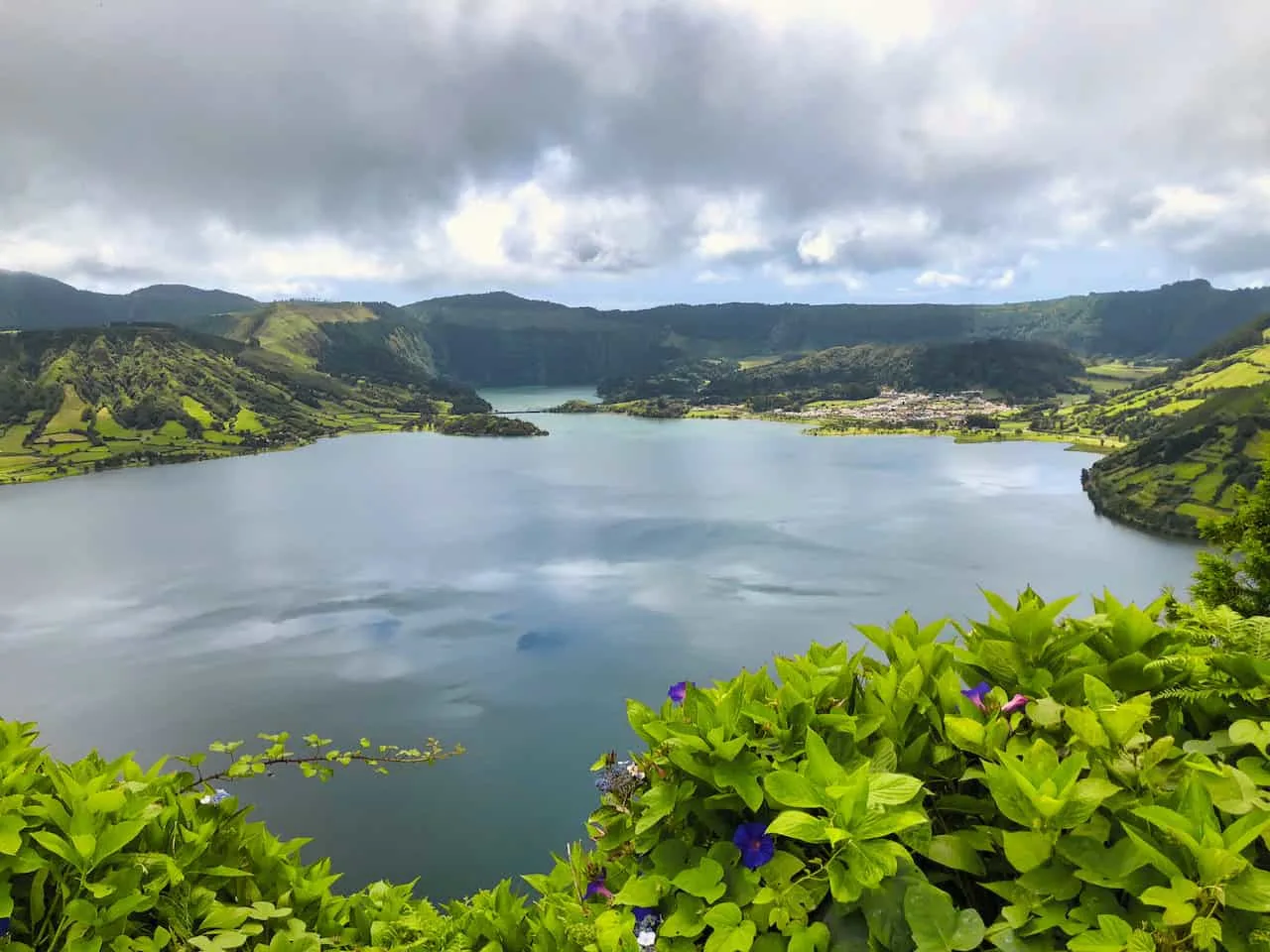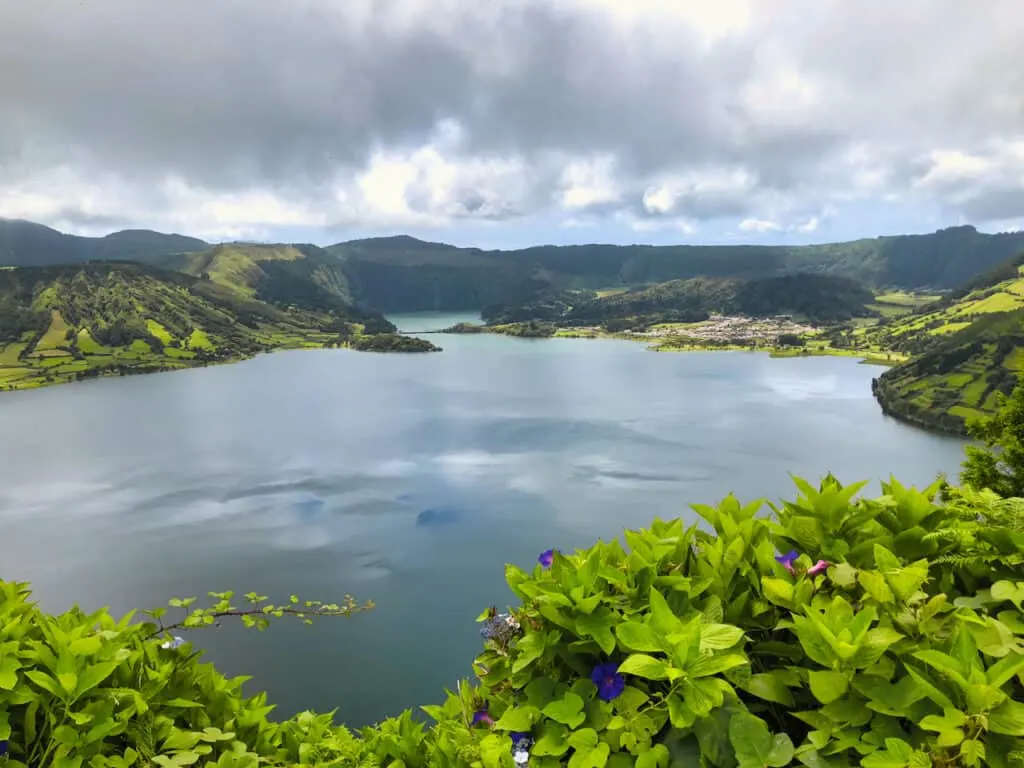 Lagoa do Fogo
While you can simply hike down from the viewpoint area to the lake itself, there is a longer trail to take part of too.
The Praia – Lagoa do Fogo hike takes you through a forest, into the lush greenery landscape, and finally arrives at the opposite lake front.
It is perfect hike to add to a day around Lagoa do Fogo.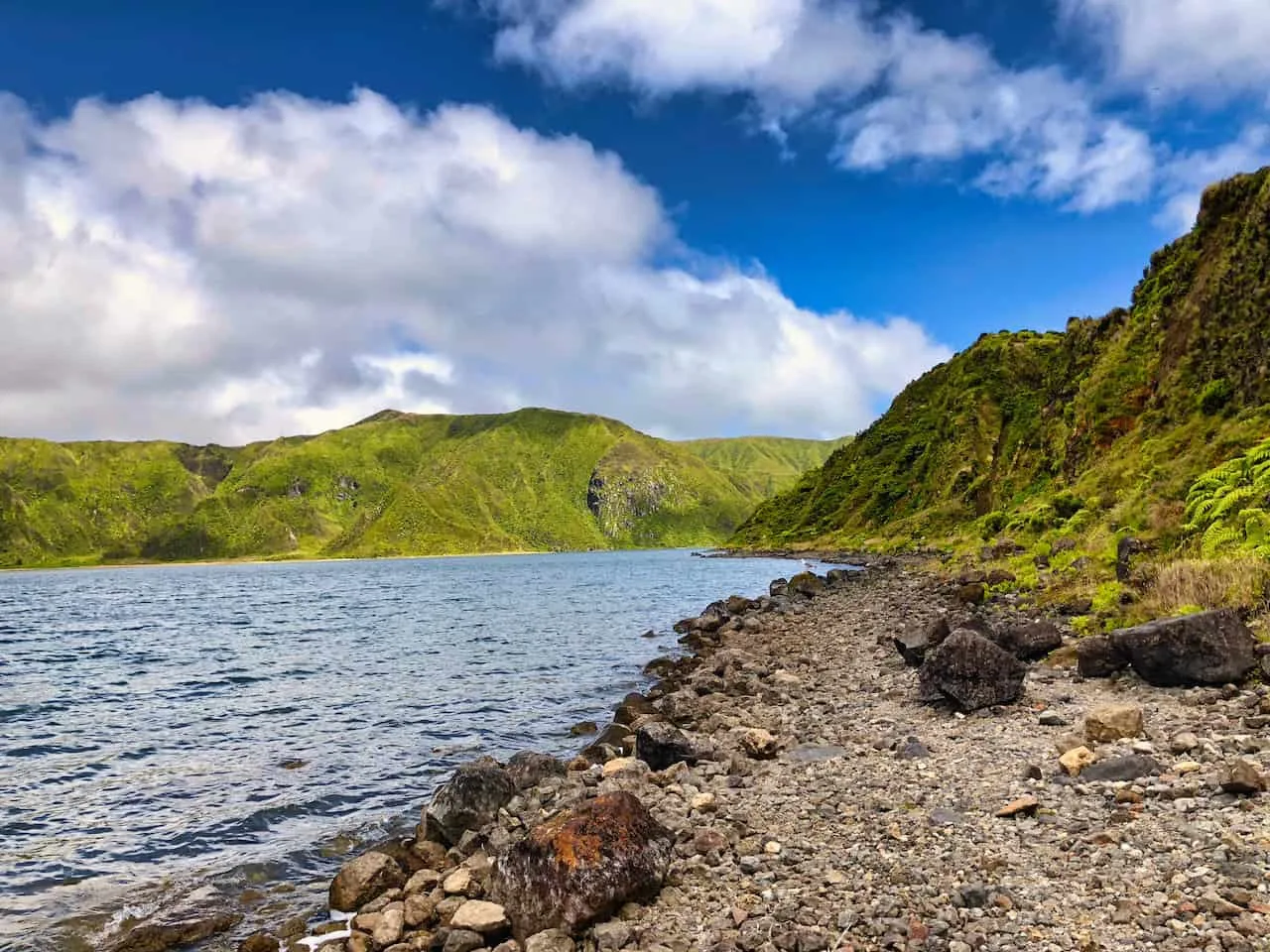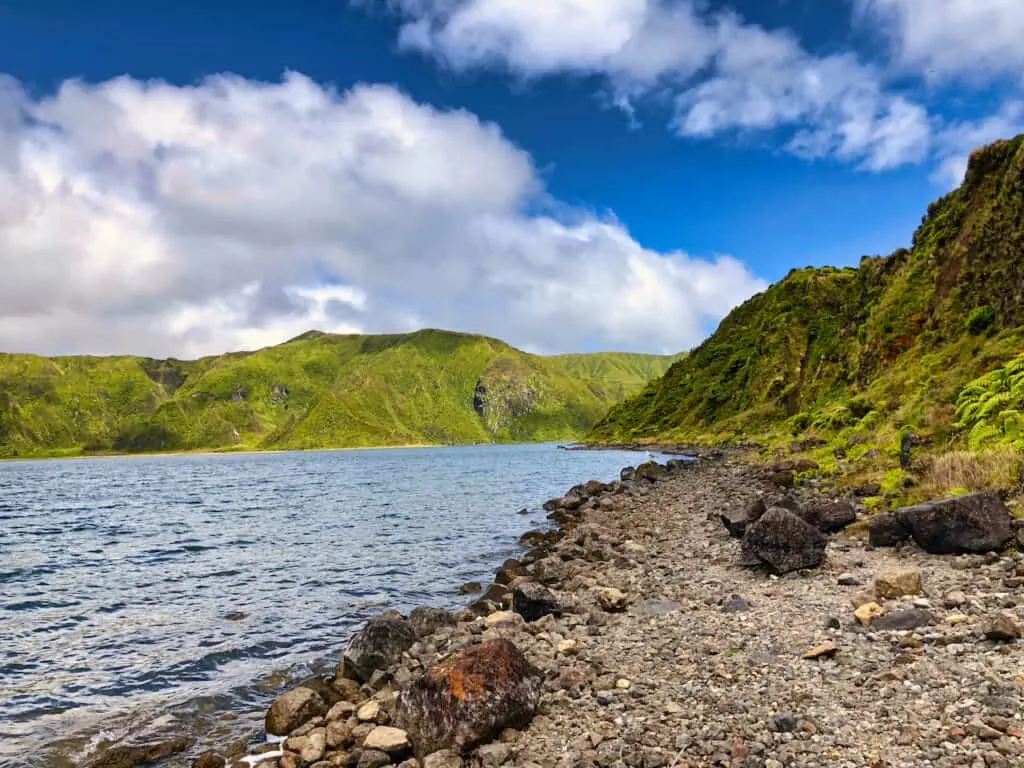 Cha Gorreana
I touched upon this before, but when visiting Cha Gorreana, you can take part of a longer hiking trail that takes you through the tea fields.
The trail will take you to vantage points further up, where you will have views of the fields, factory and even the Atlantic Ocean in view.
There are just some of the hiking opportunities but you will find plenty more around the island.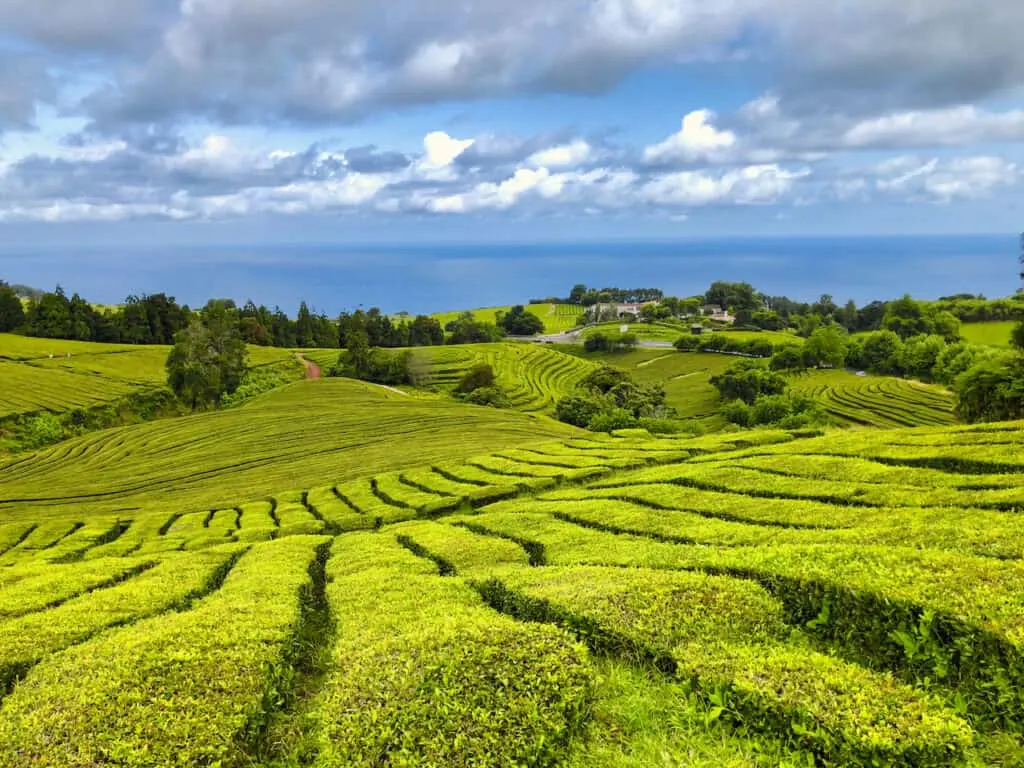 Santa Maria
Located directly south of Sao Miguel, you will find the island of Santa Maria.
It was the first island to be settled by the Portuguese and is a great way to get a bit more off the beaten path of a standard trip.
Praia Formosa
Perhaps the most unique aspect of Santa Maria is that it has some white sand beaches such as Praia Formosa.
Much of the Azores are filled with pebble or rocky beaches, which can be a whole other type of experience.
If you are looking for some time in the sand, then Santa Maria will be your best bet.
Vila do Porto
Much like the other islands, you will find a main town on Santa Maria.
Vila do Porto offers beautiful streets to walk along as you take in some historical aspects such as The Church of Nossa Senhora da Assuncao and the Fort of Sao Bras.
Pico Alto
If you are looking for some hiking and views, you can head to the highest point of Santa Maria at Pico Alto.
This point lays at 590 meters above sea level, where you can take in the views of the island from above.
Miradouro de Sao Lourenco
Speaking of views, you will also want to check out Miradouro de Sao Lourenco.
From this coastal viewpoint, you will get views of the terraced vineyards, small houses dotting the hillside, immense greenery, and the beautiful waters.
Ribeira de Maloas
One of the more unique geological formations on Santa Maria is the Ribeira de Maloas.
Here you will find a giant array of columns that make up the cliffside. Depending on time of year, you may also find a 20 meter waterfall coming off the side of the columns.
Barreiro da Faneca
One place that just cannot be found anywhere else in the Azores is Barreiro da Faneca.
This is actually a partial desert with red clay soil all around. Known as the "red desert", it truly sticks out among the surrounding greenery landscape.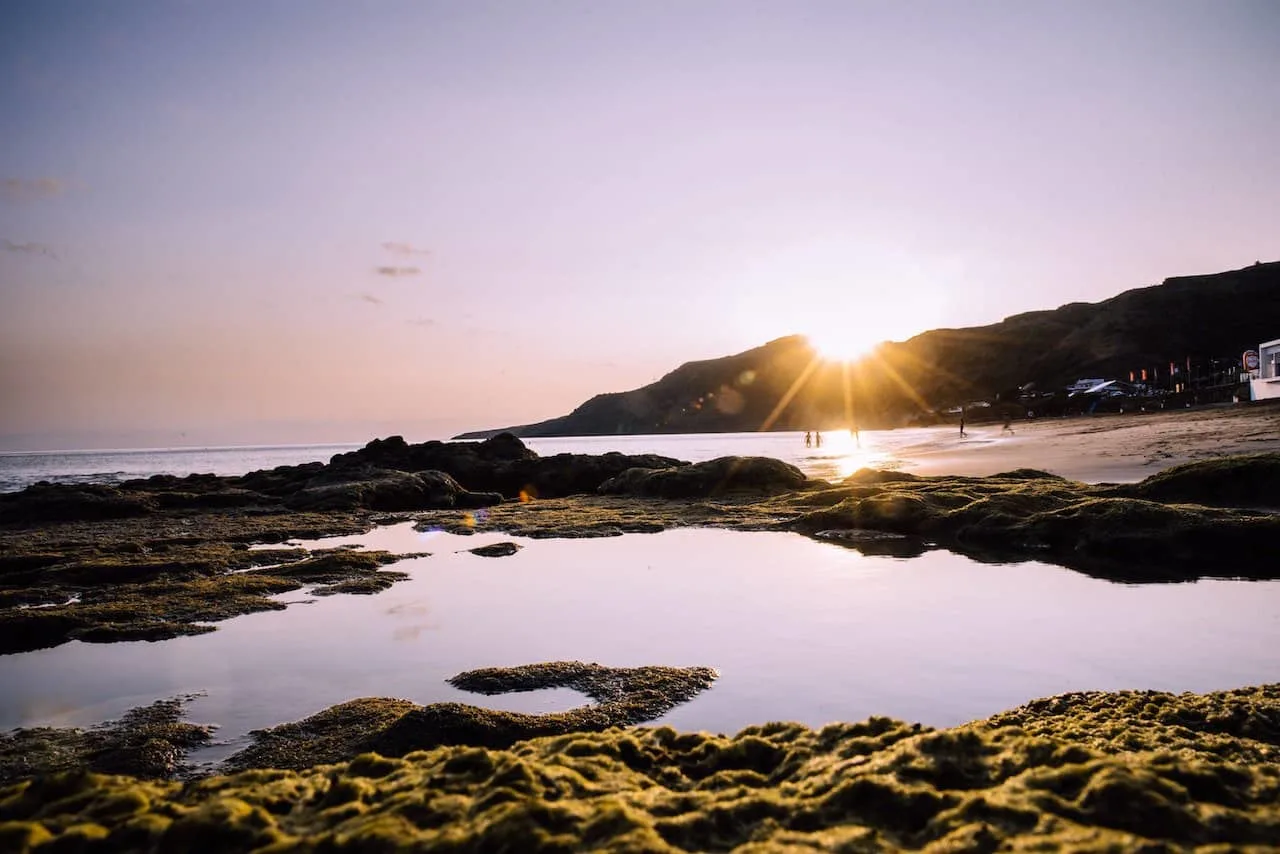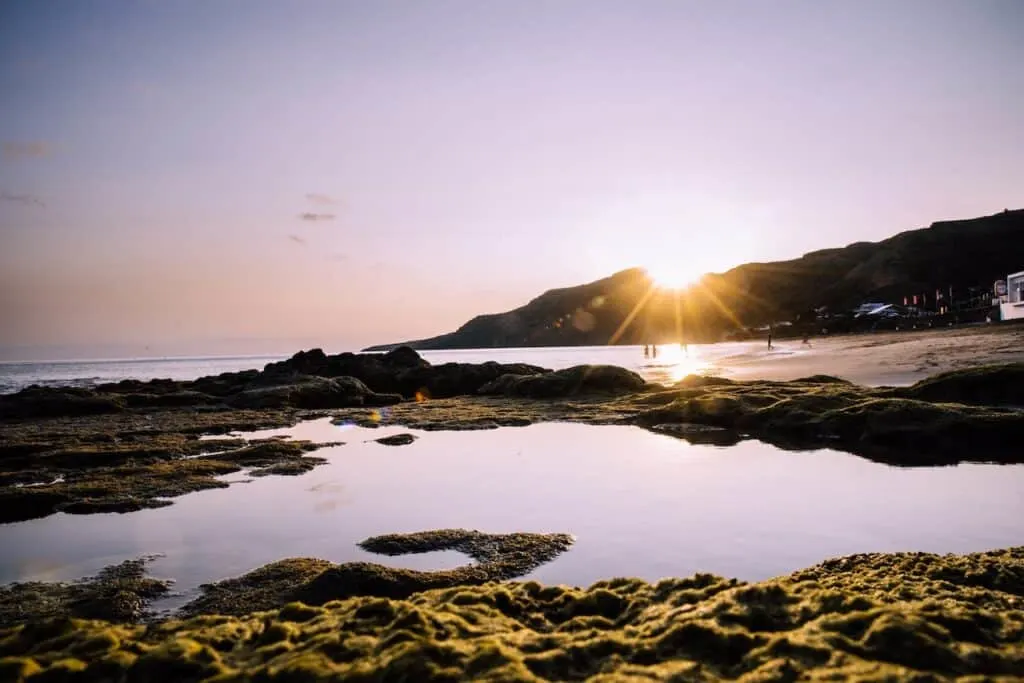 Pico
Moving onto the Central island group, you will have the chance to visit up to 5 additional islands.
The first one we will cover is Pico island. This can be a great base for those that want to explore Pico alongside Faial and Sao Jorge.
During my time on Pico, I ended up renting a car for one day, while then taking day trips to the other islands & hiking Mt Pico.
Immediately as you arrive in Pico, you will see what makes this island different from the rest.
Standing tall in the center of the island is Mt Pico, at 2,351 meters / 7,713 feet in height. This makes Mt Pico the highest point in all of Portugal.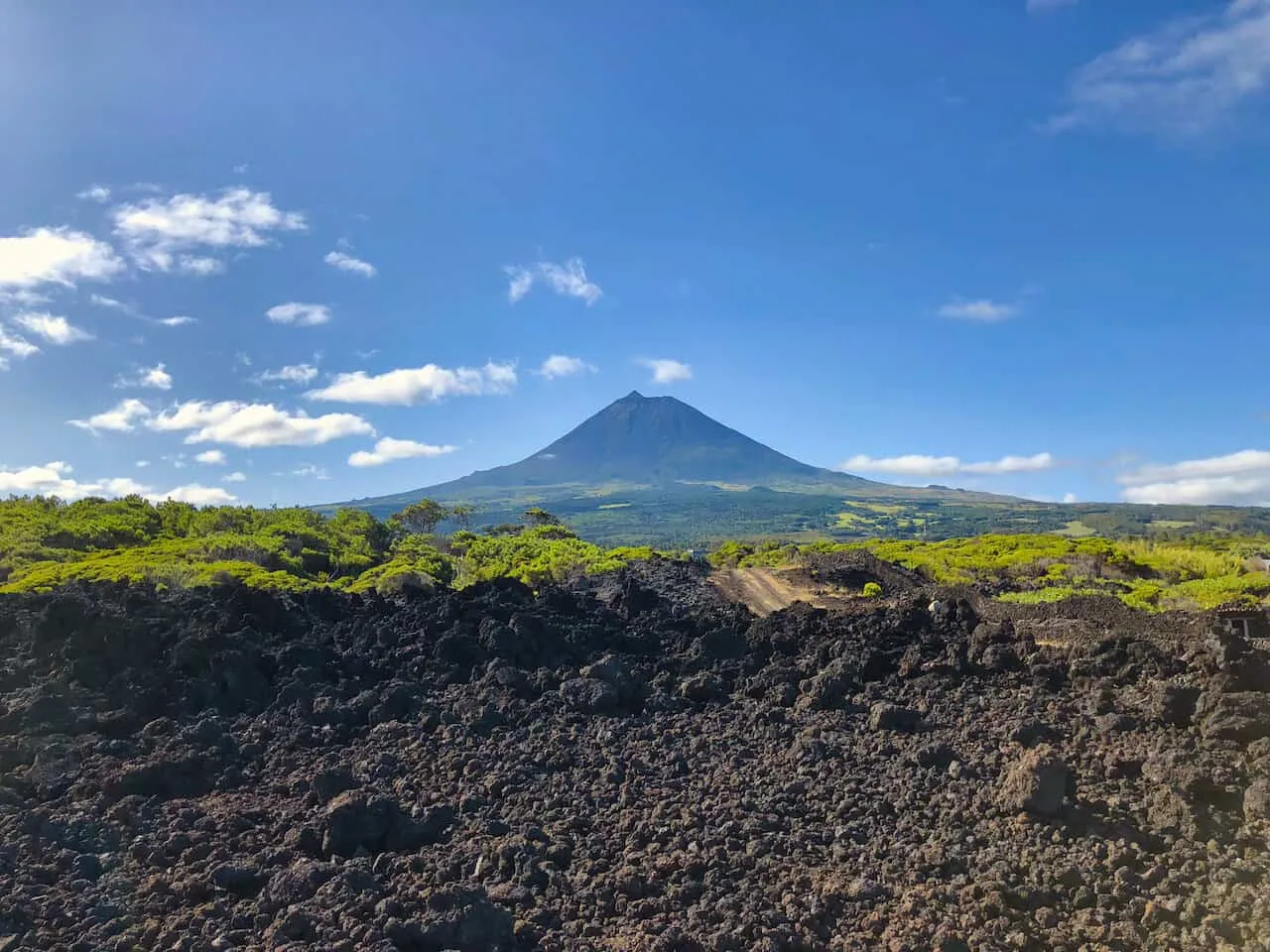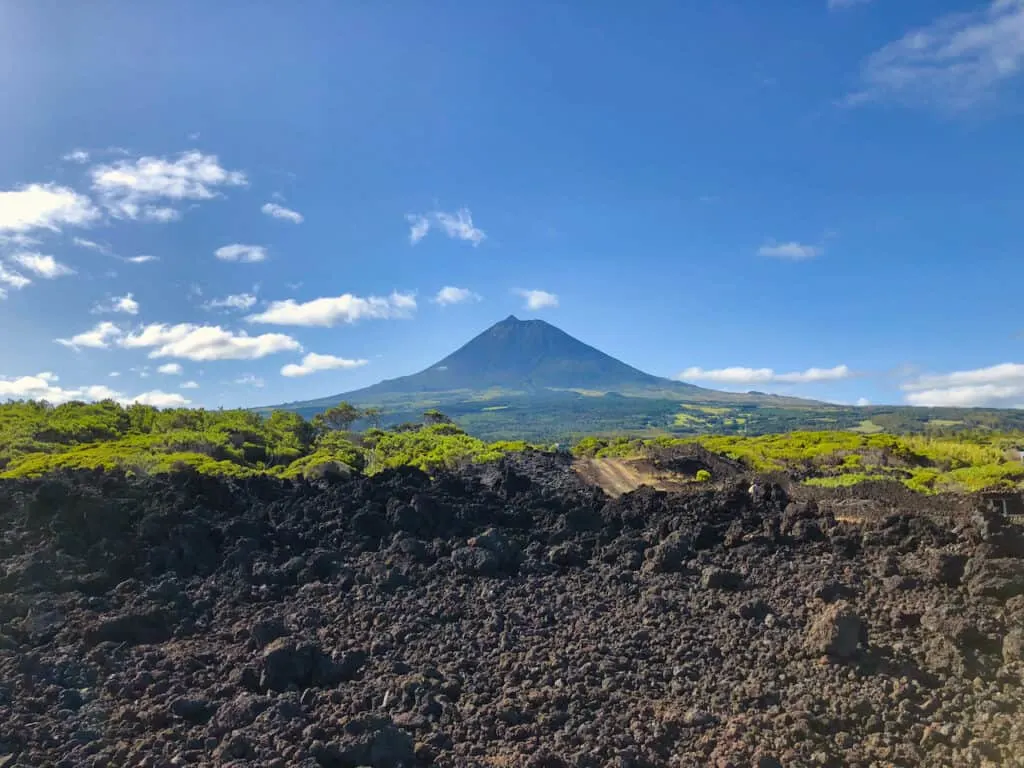 Due to the island's volcanic history, you will find much of the activities and attractions focused on that.
Some of the top things to do and see on the island include:
Mount Pico Hike
We may as well start with the volcano itself.
During a trip to Pico, you can decide to hike to the top of this volcano on your own. Expect the hike to take around 6-8 hours round trip as you slowly make your way up the mountain side.
Spots are limited on the volcano, so be sure to sign up ahead of time to reserve your day.
The hike begins at the Pico Mountain's House, where you will sign in, pay the fee, and be given a GPS tracker.
From there you will be following 47 poles that will direct you up the volcano. During the hike expect there to be all sorts of weather. Clouds, rain, and windy conditions can all show up.
As you approach the top of the volcano, you first will be welcomed to the crater summit (here is where people camp for the night if that is something you are interested in).
It is then just a bit further up Piquinho as you reach the true summit of the volcano. All around will be views of Pico, surrounding islands, and the Atlantic Ocean.
Learn More | Mount Pico Hike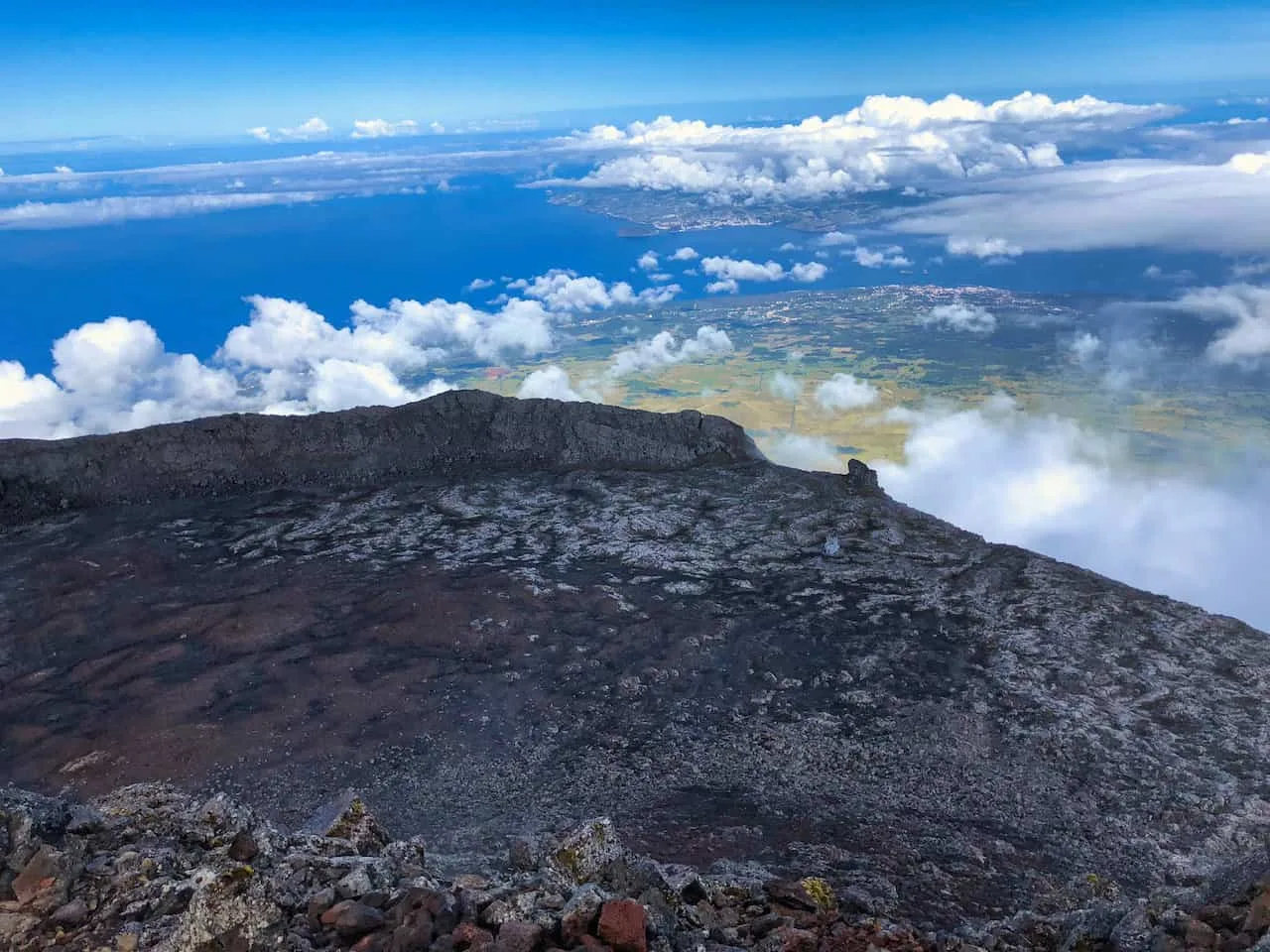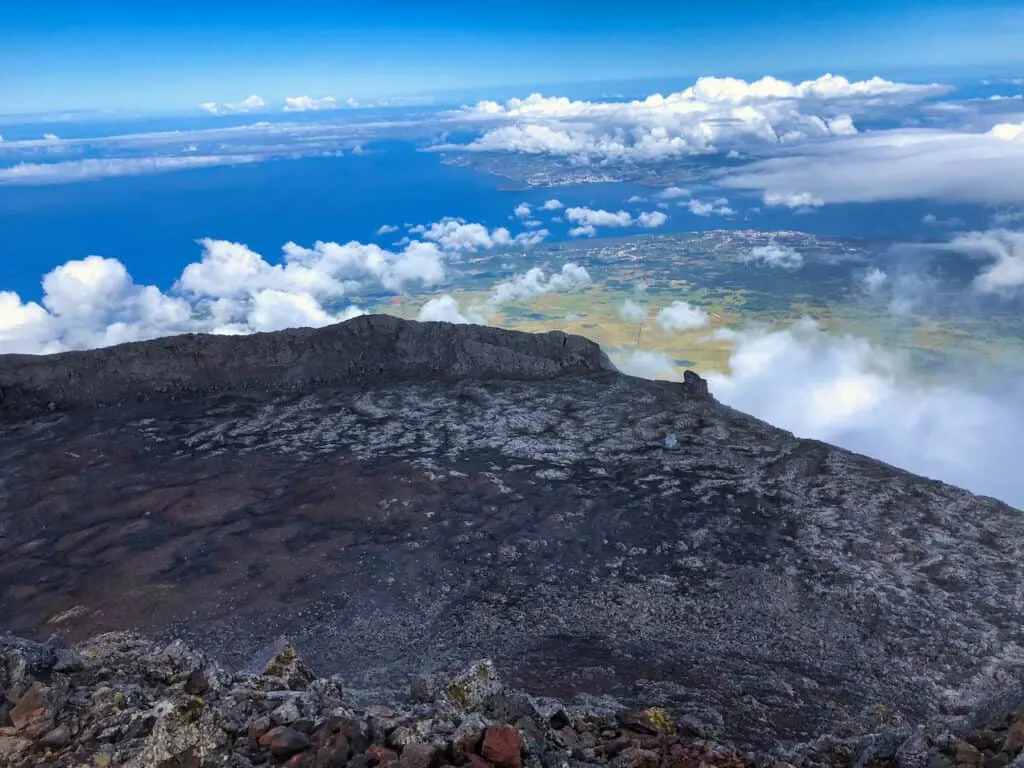 Vinhas da Criacao Velha Hike
A more relaxing hike around Pico is the Vinhas da Criacao Velha hike.
This is an interesting one, in that it takes you through the vineyards of Pico. Yes, you heard that right! There are vineyards on Pico island as well.
These vineyards are built within the volcanic rock and can be found all throughout the island.
This is a one way hike through the vineyards as you have Mount Pico in one direction and the island of Faial in the other.
You will find the hike ends back in the main town of Madalena, where you can then enjoy some rest and relaxation time.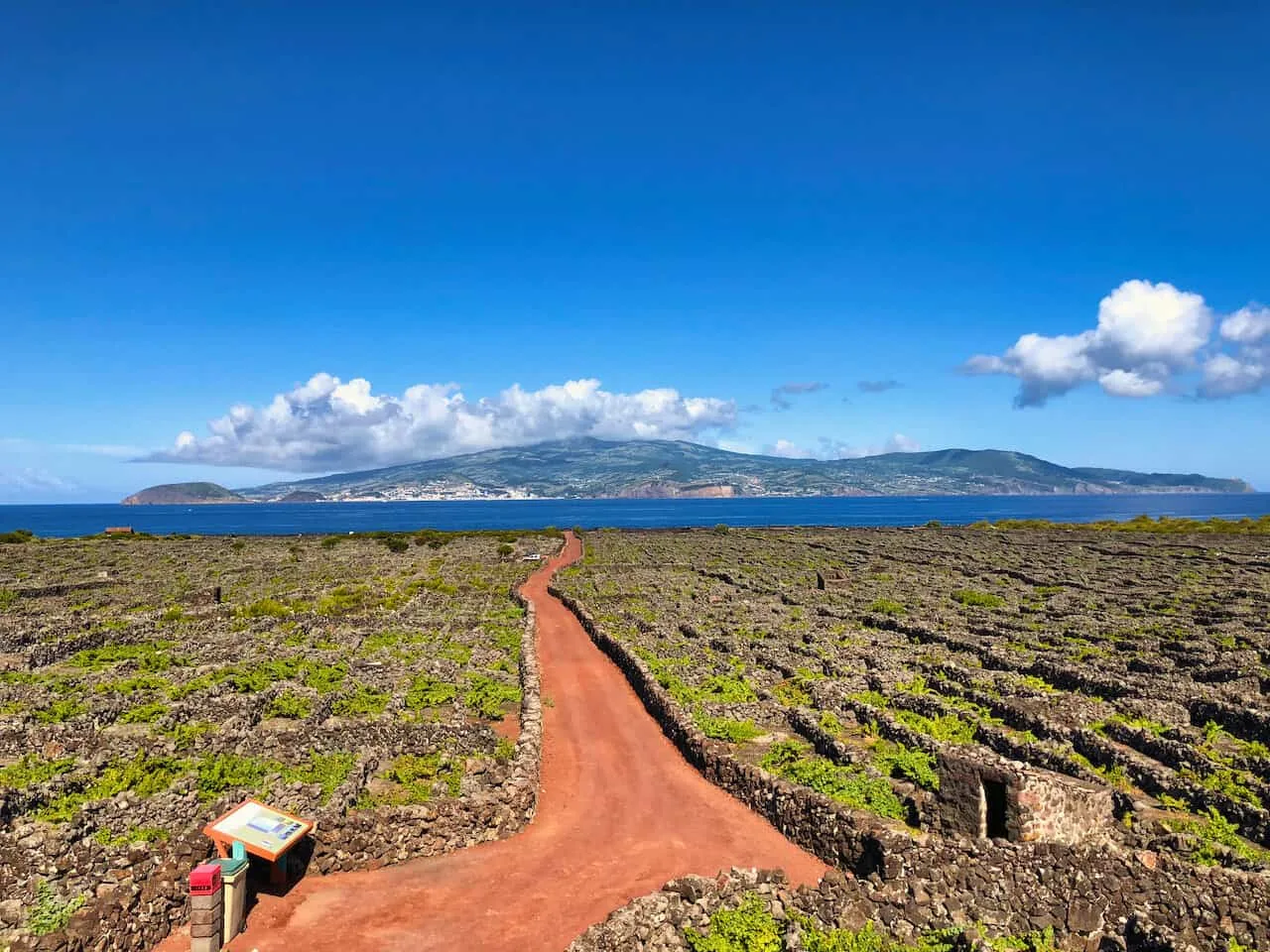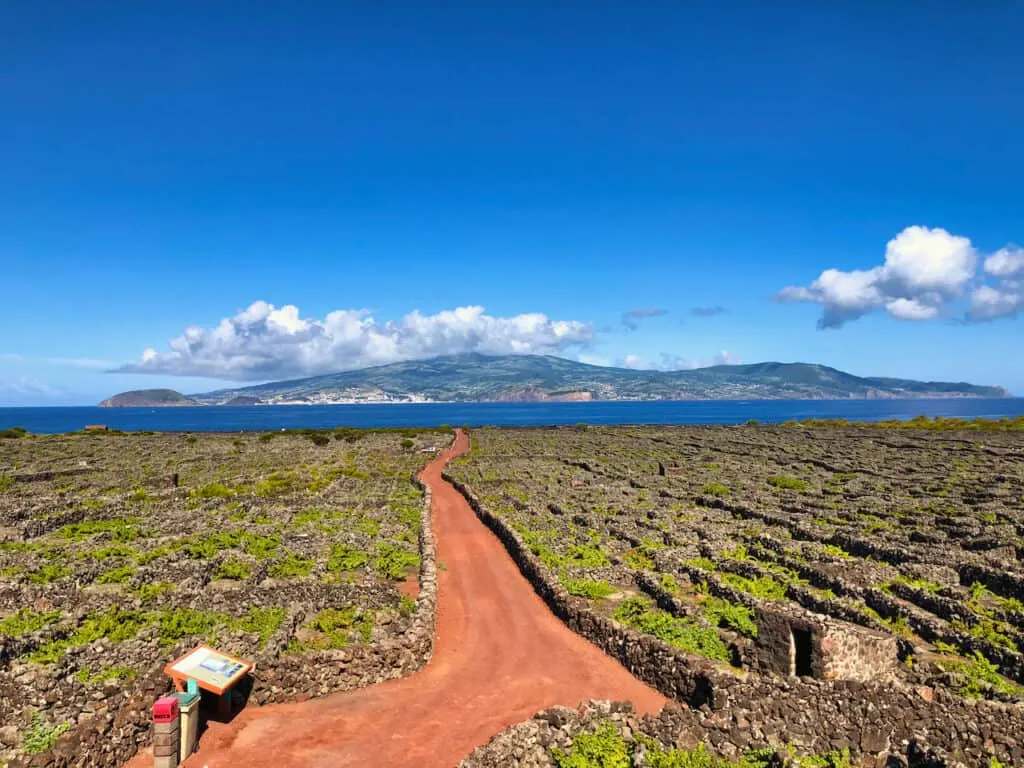 Cachorro
Near the northern end of the island is a whole array of volcanic rock formations by the ocean. You can take some time to stroll around the walkways with Mt Pico hovering out in the distance.
Lajido
Nearby Cachorro you will find the small town of Lajido. With stone houses lining the streets, it makes for a picturequese town to explore.
In town is the Centro de Interpretação da Paisagem da Cultura da Vinha da Ilha do Pico, where you can learn all about the history of wine in the region.
Sao Roque
One of the other main areas outside of Madalena is the town of Sao Roque.
Here you will find a marina area, whalers museum, along with some delicious restaurants to check out.
Lagoa do Capitao
Sao Miguel isn't the only island with beautiful lakes! Sitting at the base of Mt Pico, is the Lagoa do Capitao.
You can simply just visit the lakeside, or take part of a walking trail along the area.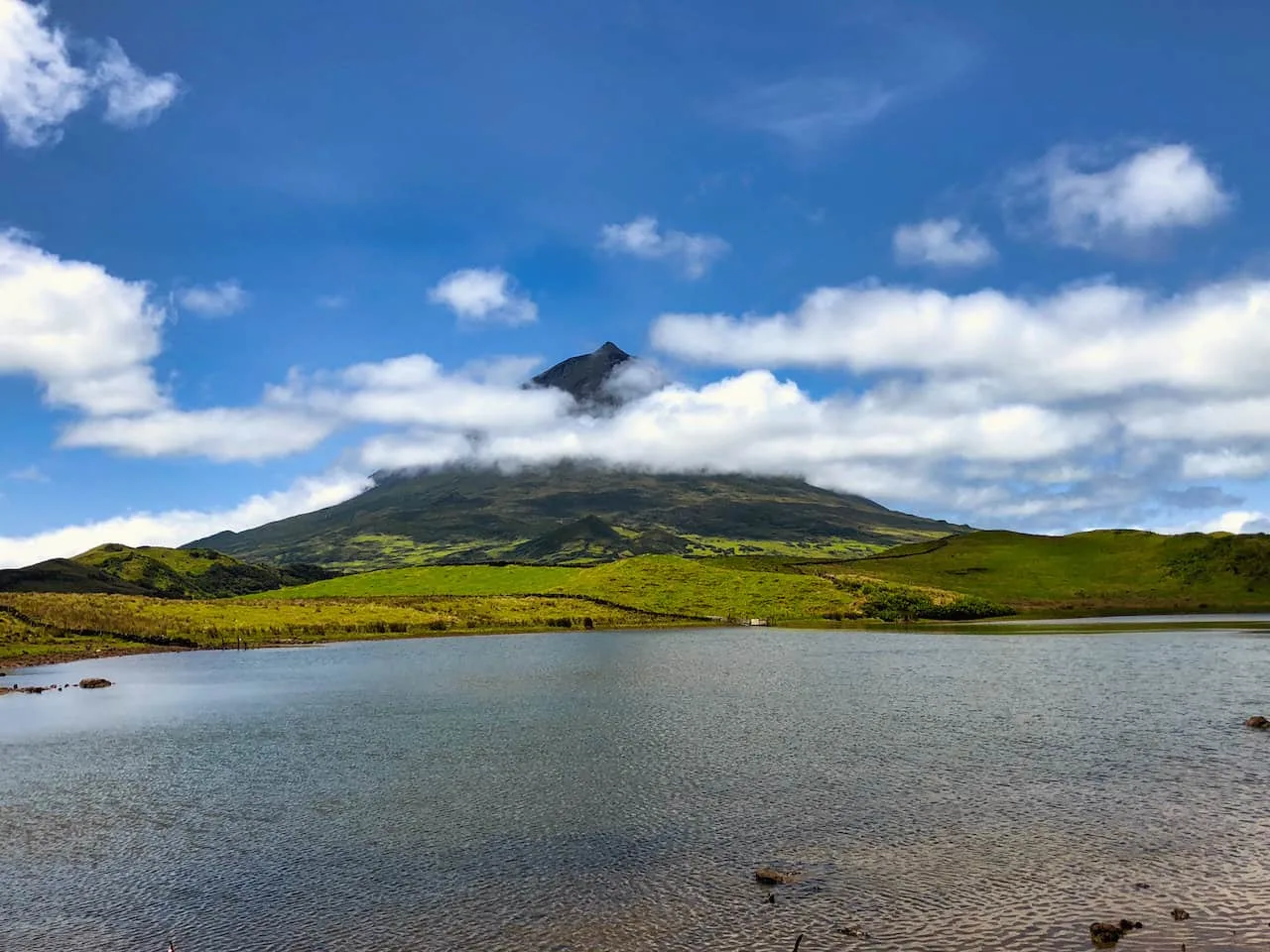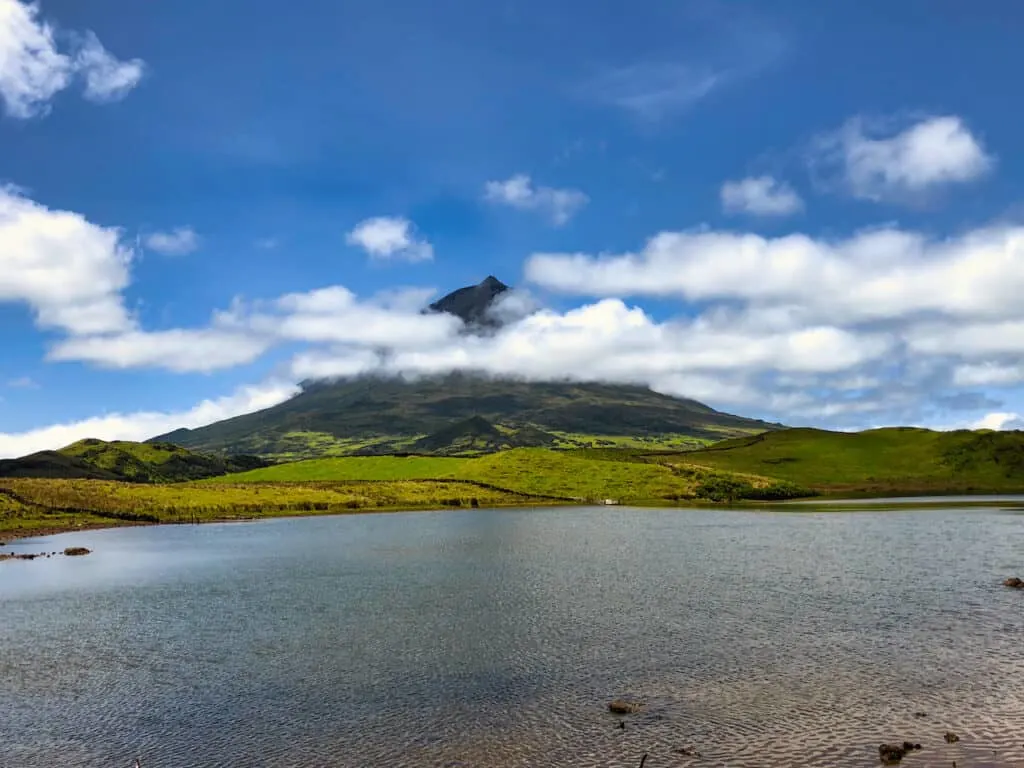 Cooperativa Vitivinicola Da Ilha Do Pico
Within the town of Madalena, you can visit the wine cooperative of the island.
You can learn all about the wine making process and take part of some wine tastings if you are up for it.
Whale Watching
Similarly to Sao Miguel, you will also find whale watching opportunities on Pico.
If you didn't have the chance to take part already, then Pico is another great spot to enjoy some time out on the water.
Gruta das Torres Caves
If you are interested in heading underground and checking out some caves in Pico, then head to Gruta das Torres.
As part of a guided tour, you can head further into the caves and learn about the history of the volcanic origin of Pico.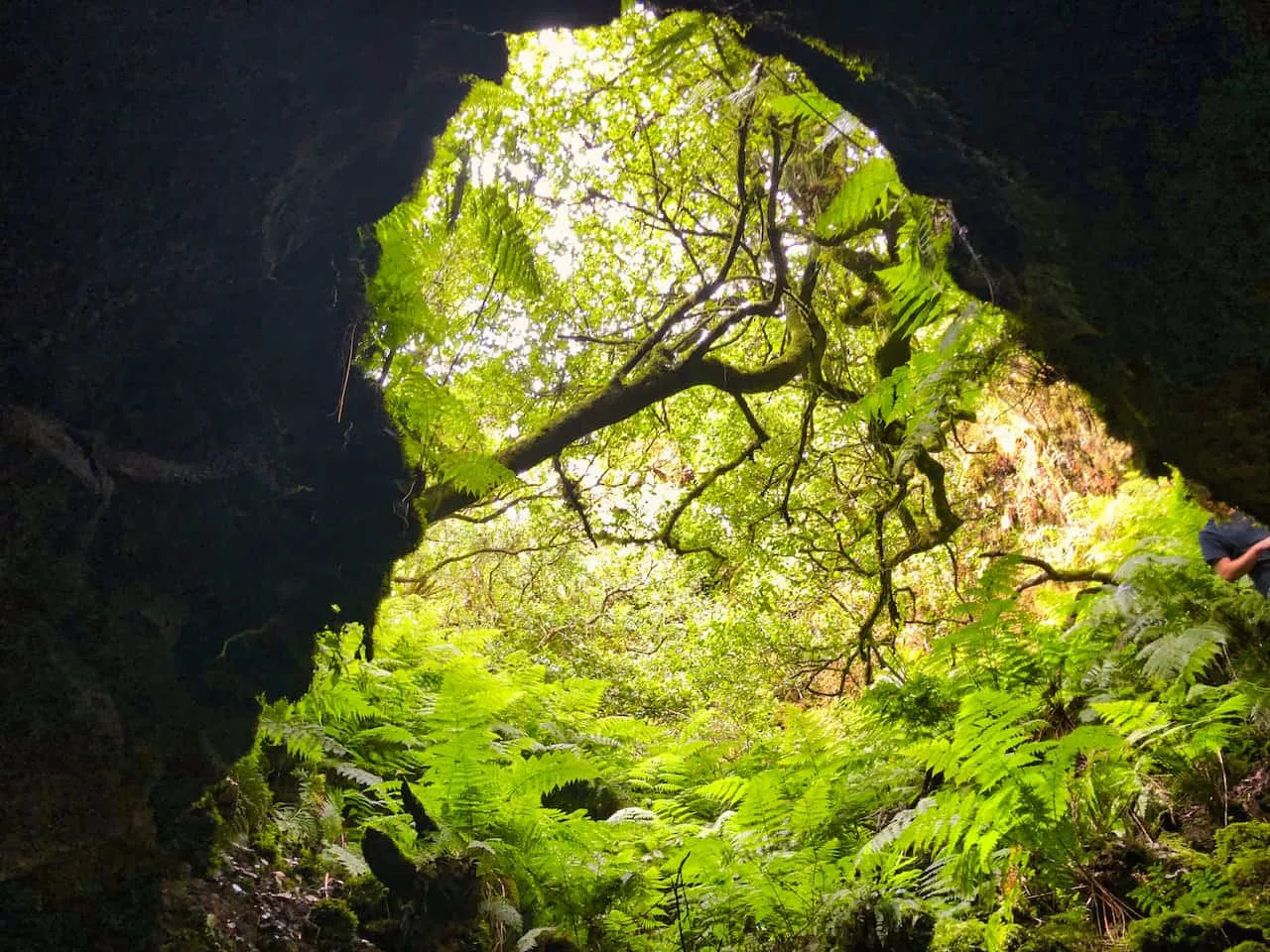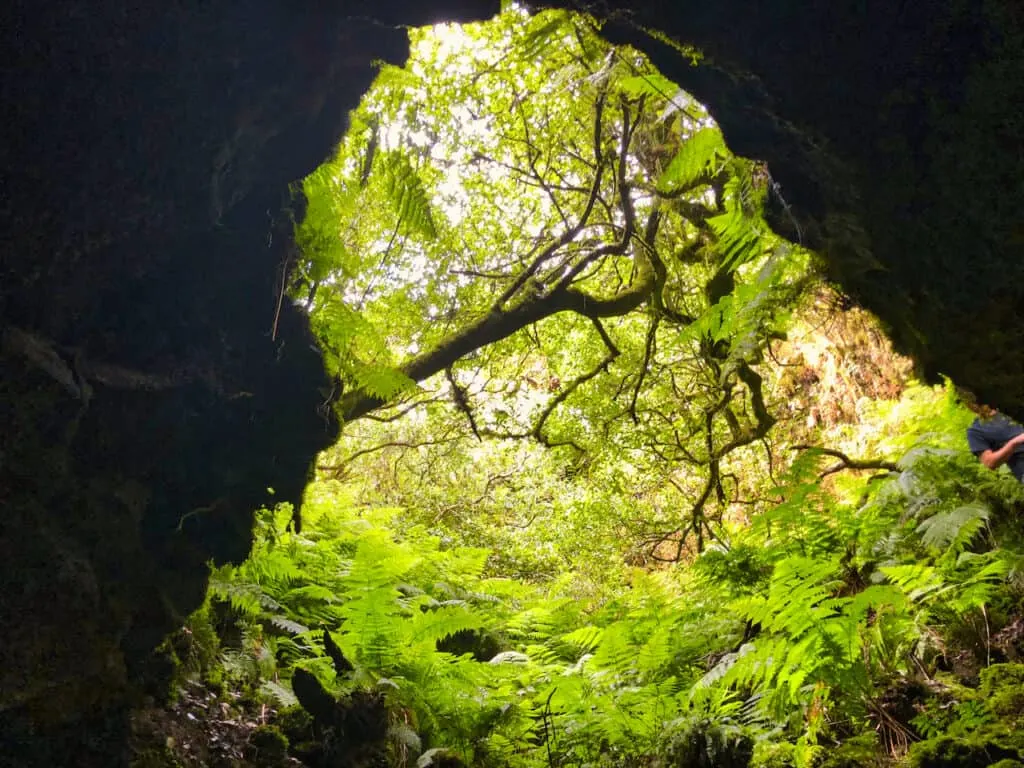 Faial
A quick 30-minute ferry ride from Pico, is the island of Faial.
If you are not staying on the island, you can easily do a day trip from Pico. This would entail taking an early ferry over, exploring the ins and outs of the island, and then heading back at day's end.
During my time on the island, my friend and I rented scooters to take us around. If that doesn't work for you though, you could opt for a day tour, taxi driver, or a one day car rental.
The island itself is not that big, so you really can get a lot out of just a day on Faial.
Some of the highlight to consider when visiting the island include:
Faial Caldeira
The main highlight of Faial is the massive Caldeira that sits in the middle of the island.
It is the crater location of the volcano that created the island itself.
The caldeira measures 400 meters deep and 2 km across. From the viewpoint area, you will be able to see just a vast amount of greenery in all directions.
For those up for the challenge, you can walk around the circumference of the crater and view it from all different angles. This hike takes around 2.5 hours and comes in at 8km.
It is also possible to head down into the caldeira. But that is only allowed with a guide.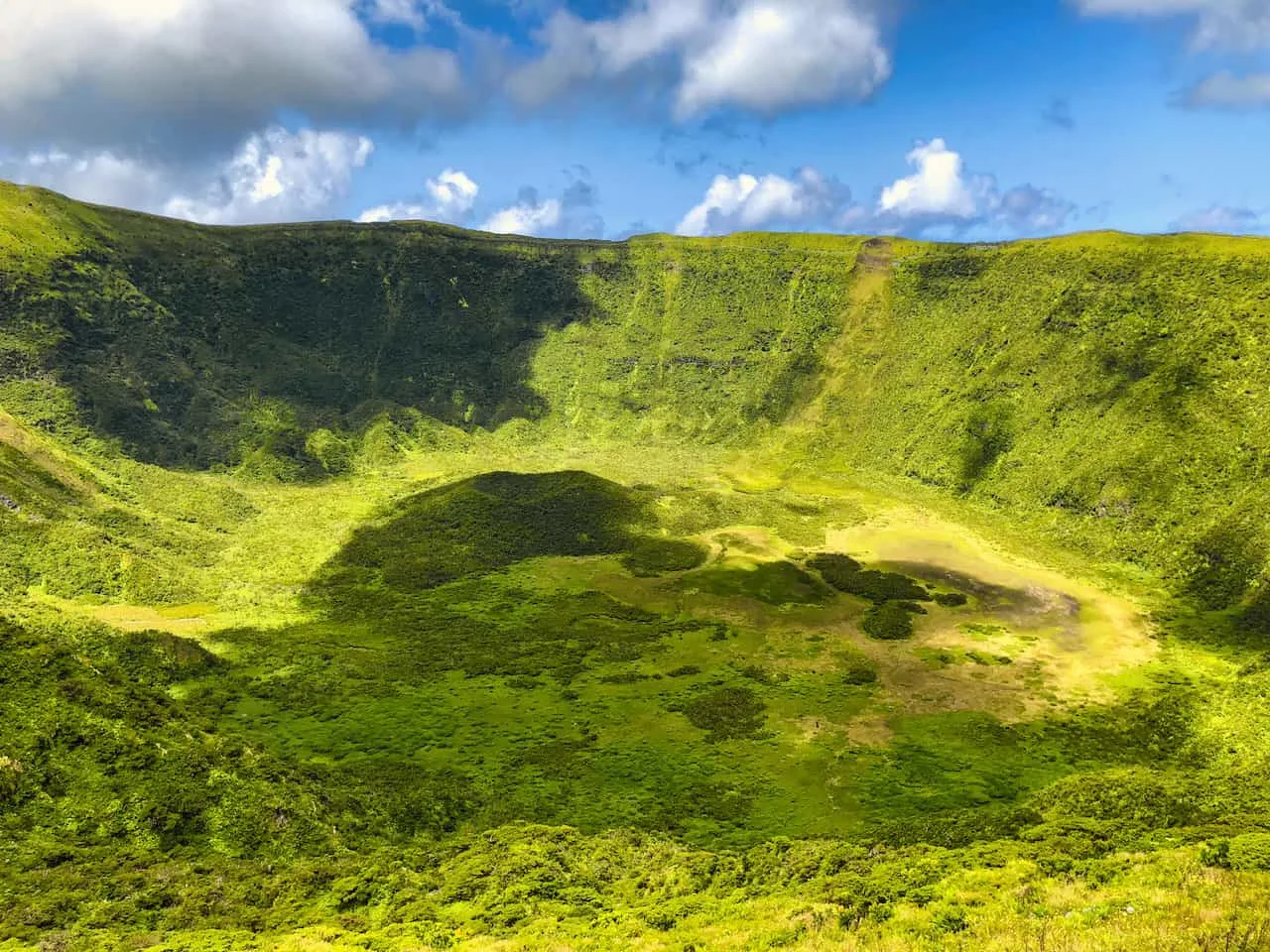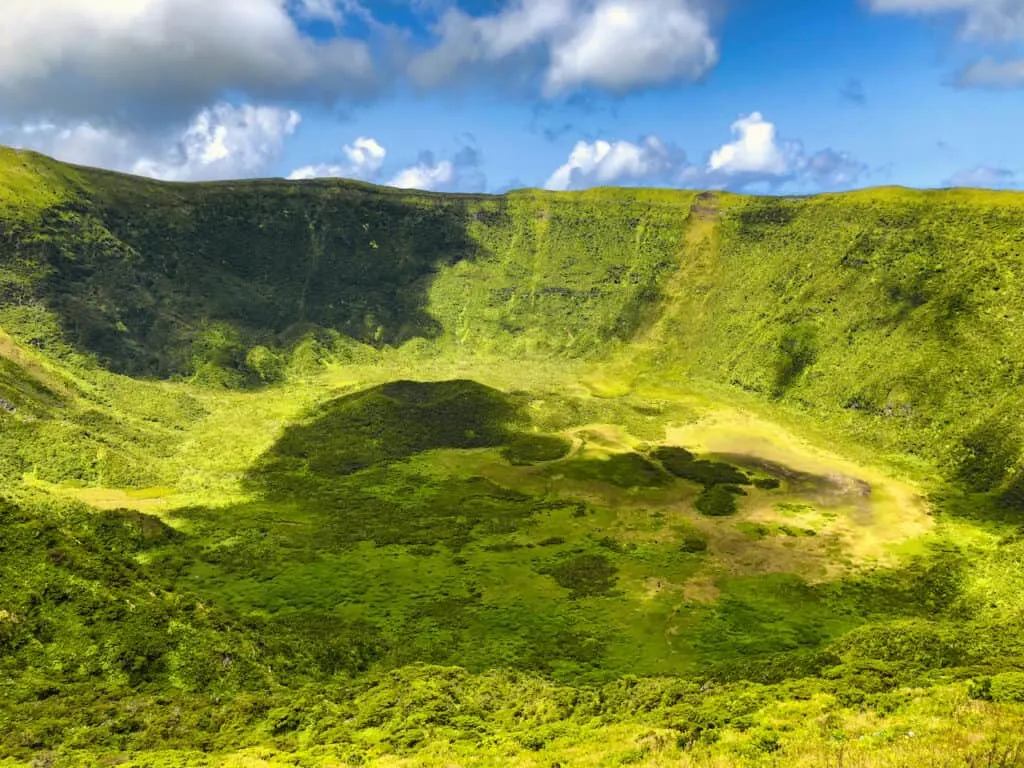 Capelinhos
In the corner of Faial, you will find a very unqiue looking natural landscape called the Capelinhos.
This landmass used to be an underwater volcano that erupted into a new piece of land on Faial.
You will be able to walk around the area, enjoying the sites of the Capelinhos, and visit the nearby museum that goes through its history.
Be sure to also walk up the stairs of the lighthouse, where you can see the area from above.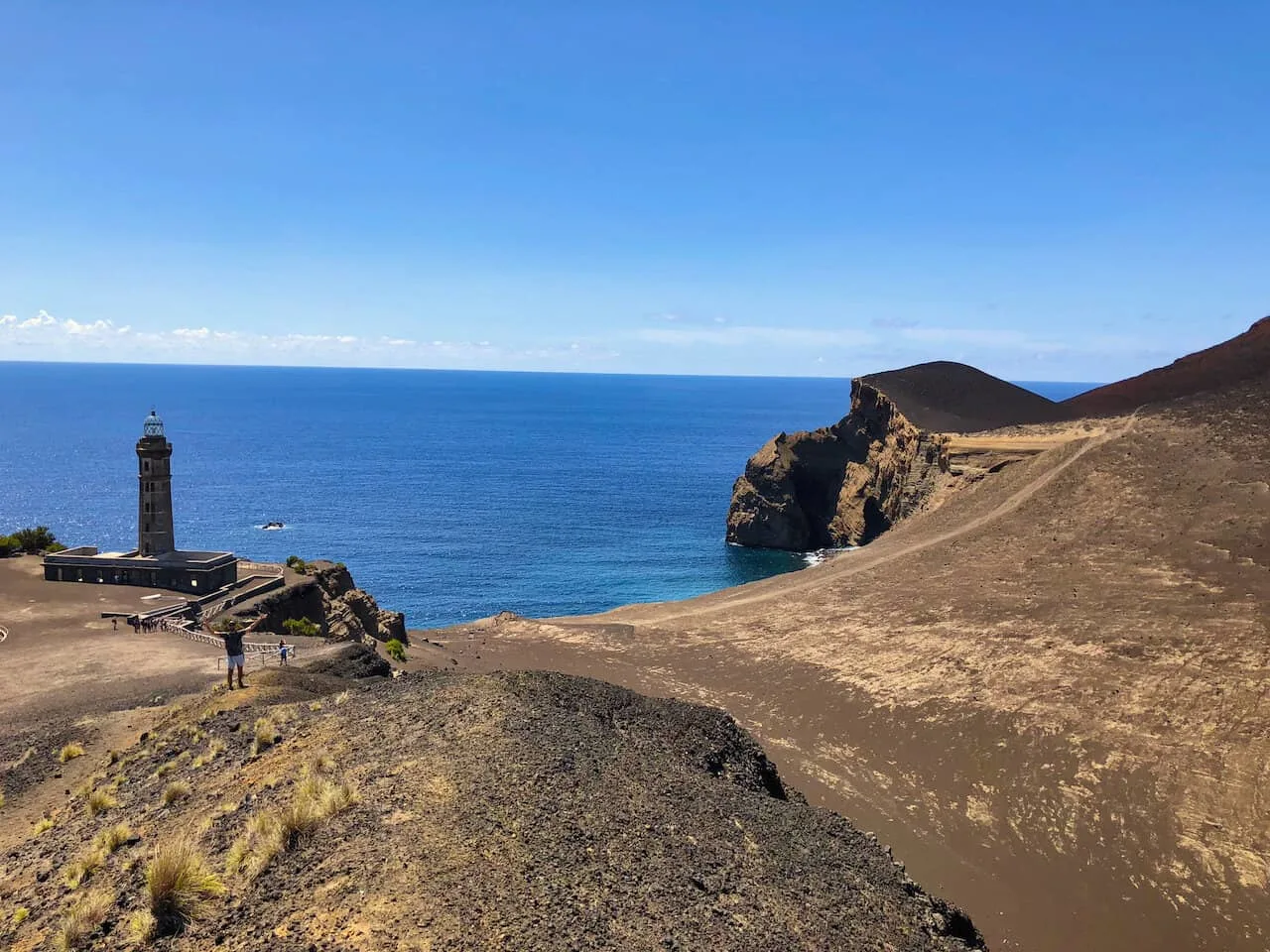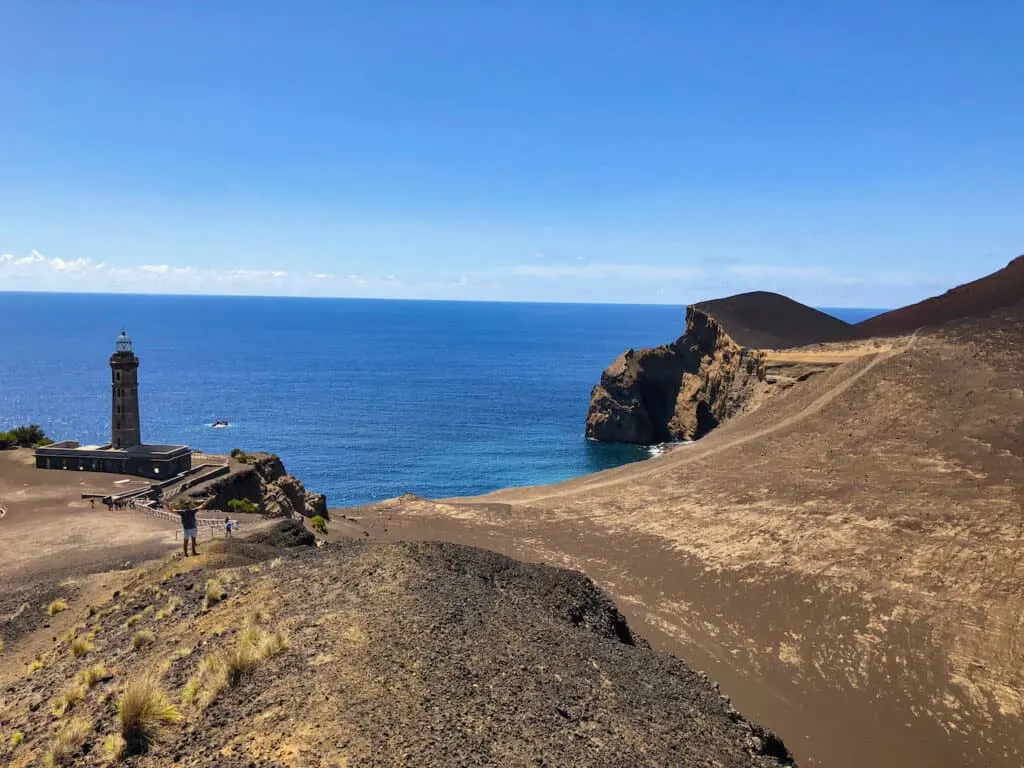 Porto Do Comprido
Natural swimming pools can be found throughout the Azores islands.
On Faial, you can visit Porto Do Comprido, which is located right next to the Capelinhos.
If the weather permits, feel free to jump in the water and relax in the water during your day of exploration.
Monte da Guia
Just outside the main town center of Horta is the Monte da Guia viewpoint.
At the viewpoint you will get some beautiful views of the rest of the island and out into the Atlantic Ocean.
Horta
Be sure to also just walk around the main harbor area of Horta. There you will find bars, restaurants, and plenty of area to sit back and take in the view.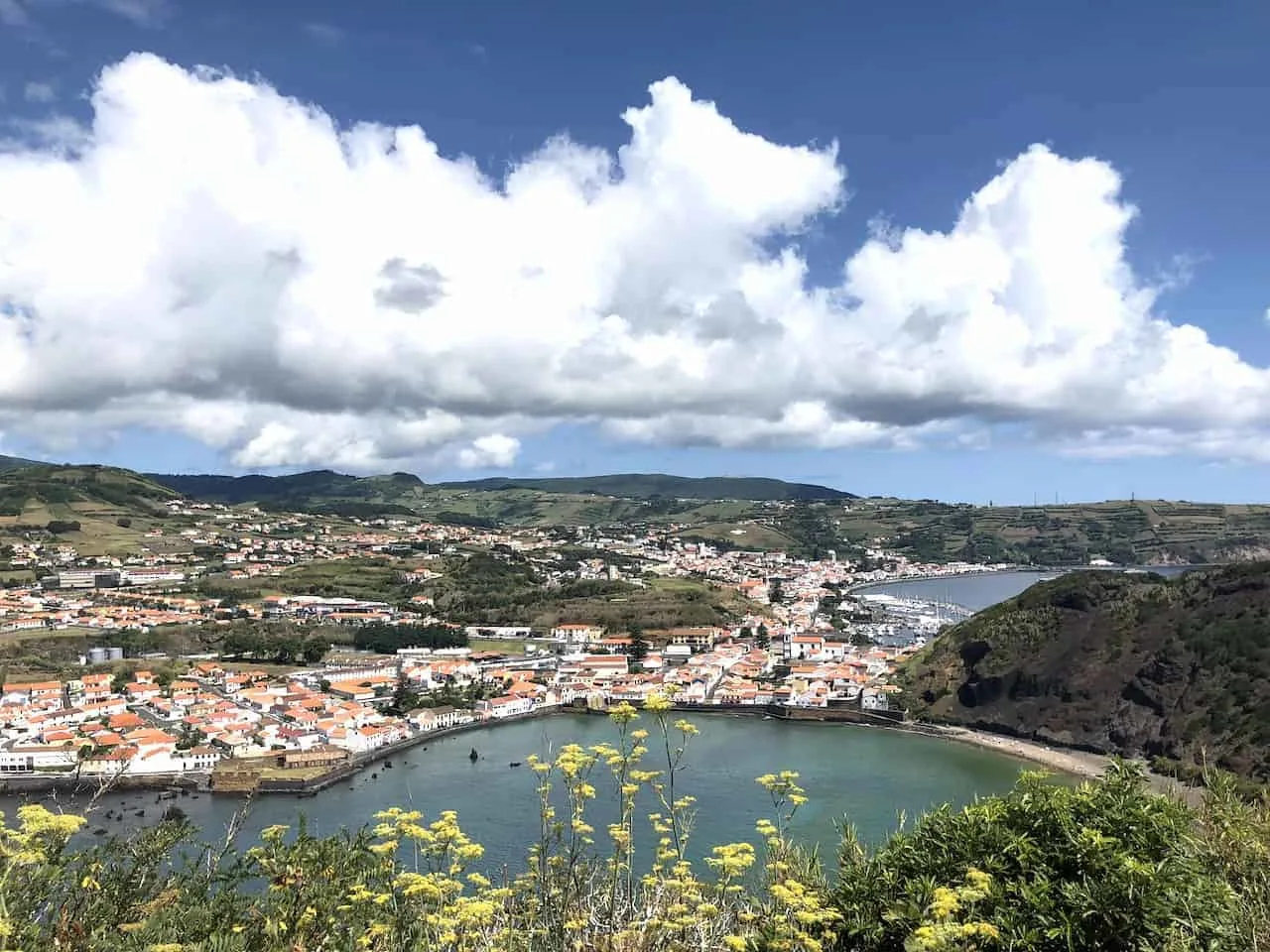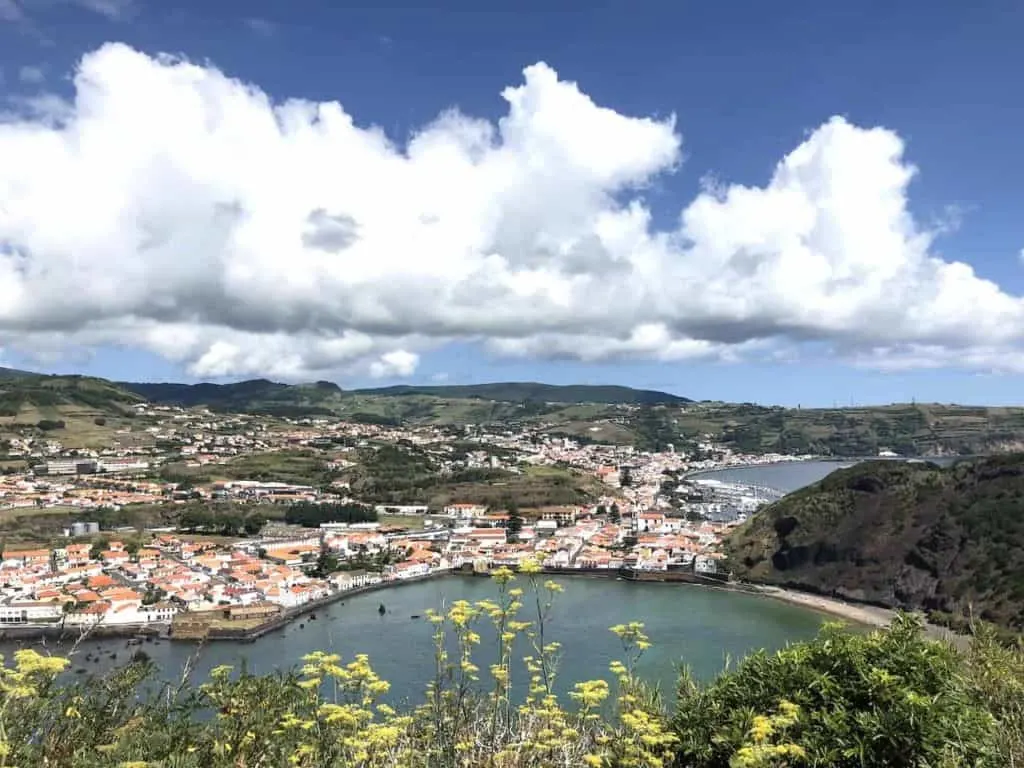 Sao Jorge
Located in the middle of the Central island group of the Azores is Sao Jorge.
This long, but narrow island is home to some of the best natural landscapes you can ask for in the archipelago.
Fajã da Caldeira do Santo Cristo
Perhaps my most favorite hike in the Azores is the one that makes its way down to Fajã da Caldeira do Santo Cristo.
The hike starts out on the top o the island, before continuing downwards towards the oceanside.
You will come across some surreal landscape all around as you head down to Fajã da Caldeira do Santo Cristo.
Once in this small town (which is only reached by foot or ATV), you can spend some time wading in the faja and enjoying a comfortable lunch.
It is then onwards to Fajã dos Cubres, where you will end the hike.
Since this is a one way hike, you will need to get transport to and/or from the trailhead/ending point.
Feel free to read more in the Sao Jorge hiking guide up on the site.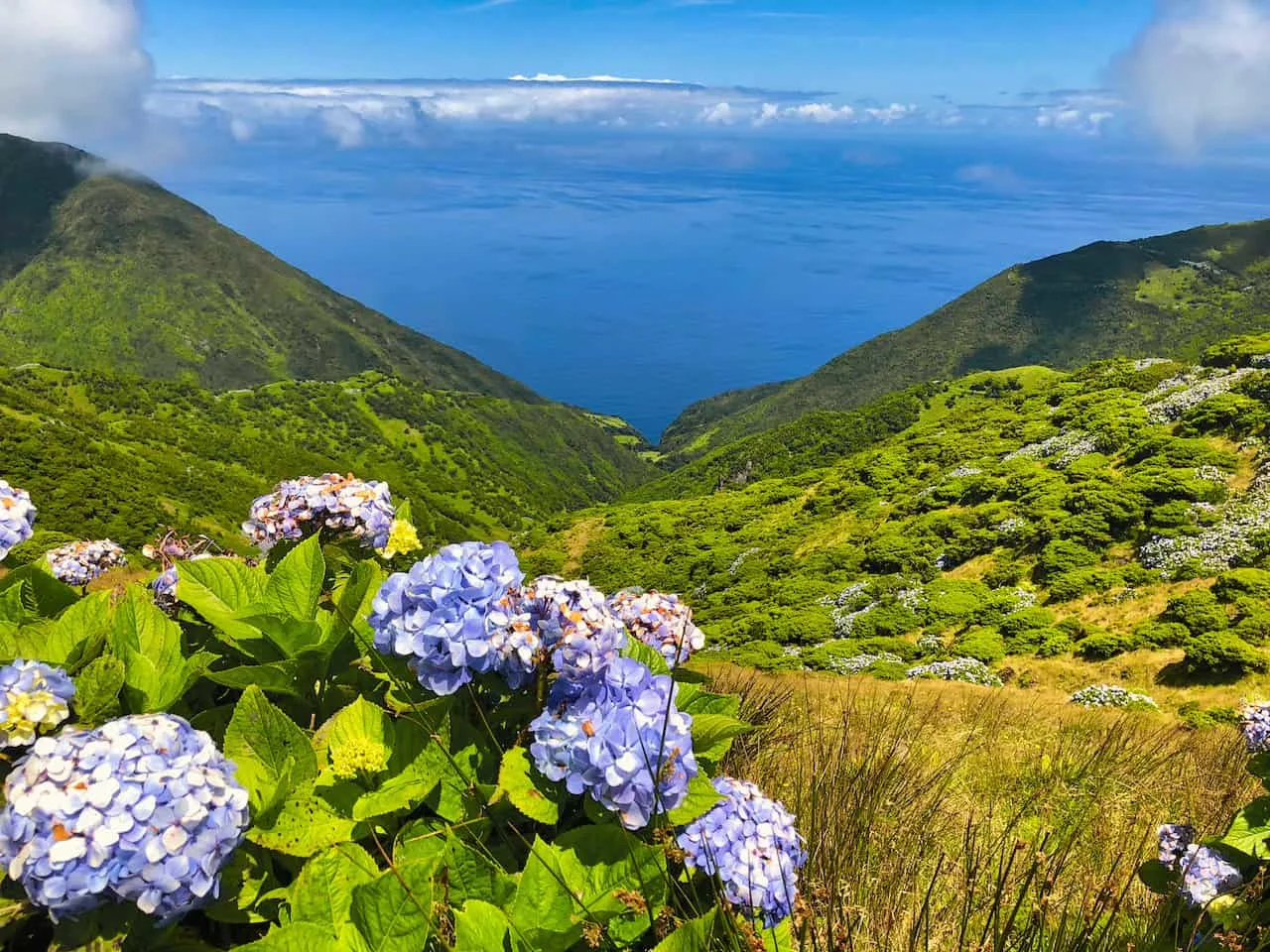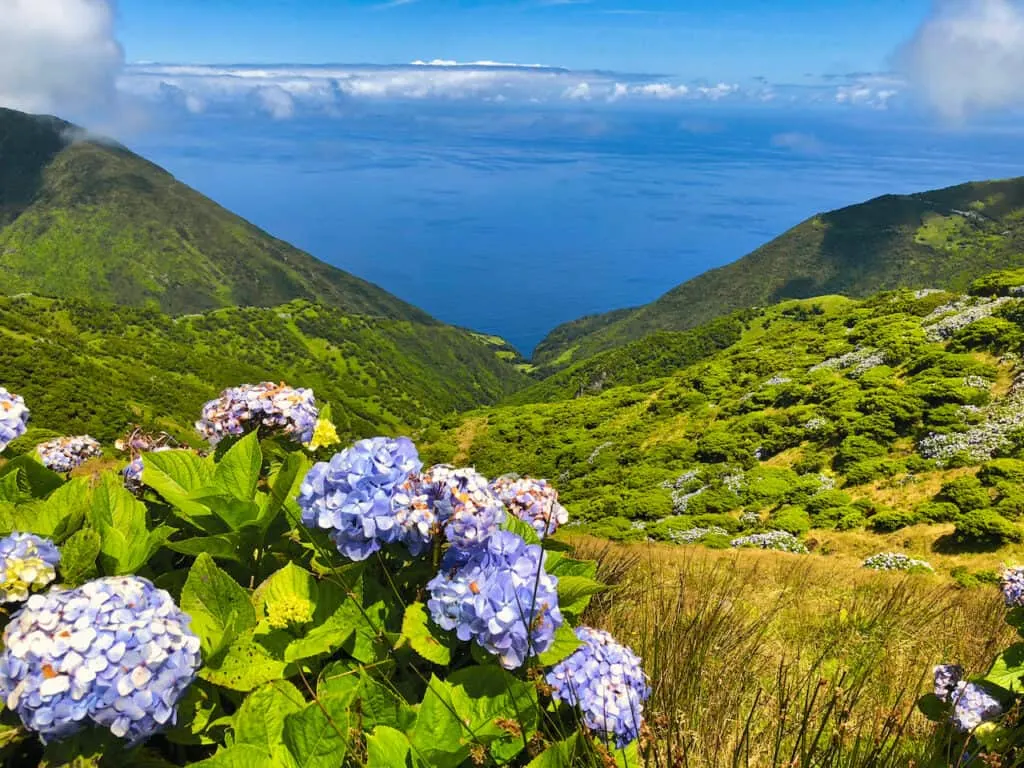 Surfing
When it comes to surfing in the Azore, Sao Jorge is also on the top of the list. There is actually a surf camp right in Fajã da Caldeira do Santo Cristo for those that want to spend some time out in the waves.
Velas
The main town of Sao Jorge is Velas, and it makes for a scenic spot to just walk around and enjoy.
You will find many iconic spots such as the harbor area, churches, and viewpoints overlooking the town.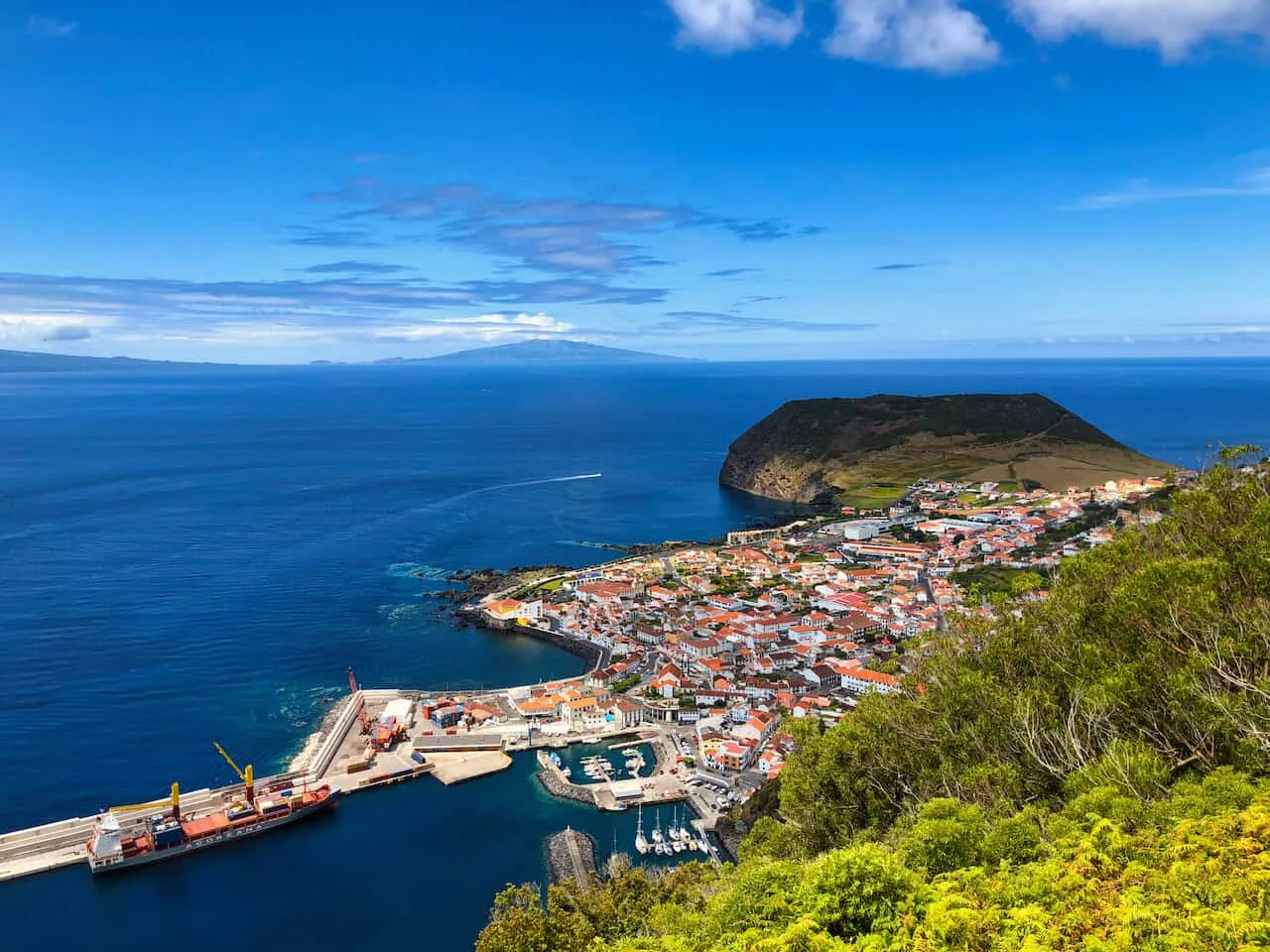 Fajas
While I mentioned some fajas you can visit during a hike around Sao Jorge, there are plenty more to visit as well.
A faja, by the way, is a small piece of land at the base of cliffsides that was create by landslides or lava.
So while there are some dramatic steep coastlines around the island, you will find these naturally formed landscapes at the bottom of them.
Some top ones to consider on the island are Fajã do Ouvidor, Fajã da Ribeira da Areia, Fajã de São João, Fajã dos Vimes , and Fajã da Ribeira da Areia.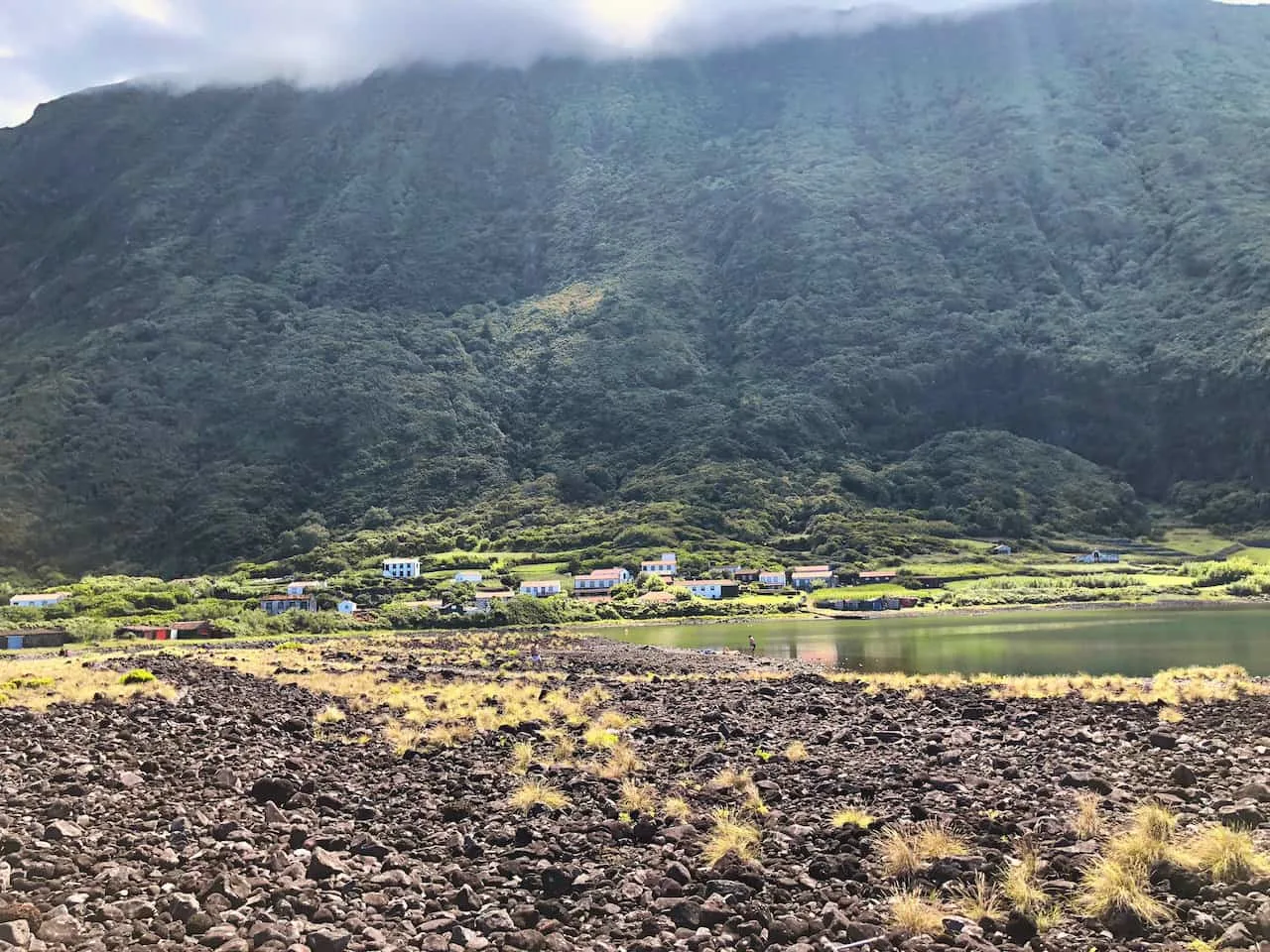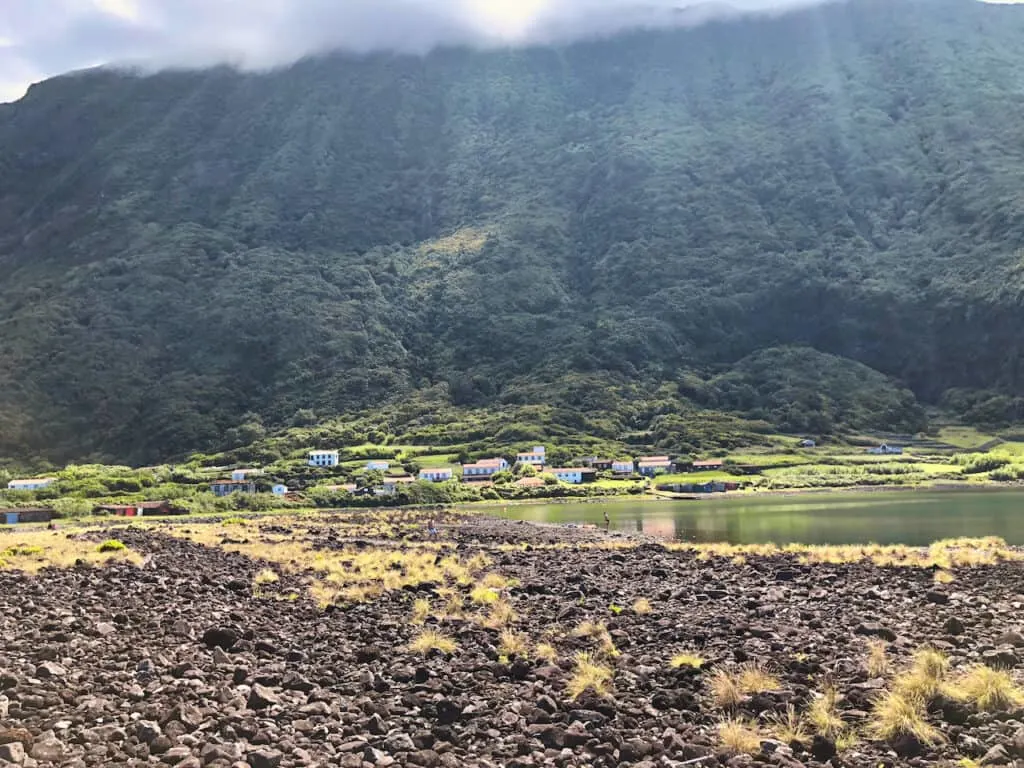 Graciosa
Moving more to the north in the Central island group you will find the island of Graciosa and Terceira.
Graciosa is the smaller of the two and is also one of the least visited Azores islands.
Praia do Barro Vermelho
While most beaches in the Azores are just rocky or pebble filled areas, Praia do Barro Vermelho actually has some red sand along the rocks.
This makes for a more comfortable beach to hang out and relax at, as you enjoy some downtime in Graciosa.
Praia de Sao Mateus
Another beach to cinsider is the white sandy beach of Praia de Sao Mateus.
While visiting the beach, you should also be sure to head to Sao Mateus town as well.
Farol da Ponta da Barca
Lighthouses are pretty common in the Azores, and Graciosa is no exception.
Here you will find the highest lighthouse in the Azores at Farol da Ponta da Barca.
You can enjoy some views from afar or head right up close for a more personal experience.
Serra Branca
If you are looking for the most vast views of Graciosa, be sure to check out Serra Branca.
From up top, you will get to have an elevated view of the greenery filled landscape and the surrounding ocean.
Termas do Carapacho
While hot springs were plenty on Sao Miguel, you can also find one on Graciosa called Termas do Carapacho.
It is directly by the ocean, and you will be able to relax is some hot, soothing water after a day of activities.
Hike the Island
While there are just a few official hiking trails on the island, one of them gives you the chance to hike from one side to the other.
The one way route is around 9km in length and takes you from Serra Branca to Porto da Praia.
Terceira
While Sao Miguel is the main island of the Azores, Terceira is not too far behind.
You will find that Terceira has so much to do and see all throughout this circular shaped island.
It is also an island that does have direct flights from the US/Europe during certain times of the year.
Spending a few days exploring the ins and outs of the island is a perfect addition to any Azore itinerary.
Angra do Heroismo
The main center of Terceira can be found at Angra do Heroismo.
There is plenty to take in as you just stroll the streets and spend some time wandering around.
Some highlights include: Se Cathderal (one of the main churches of the Azores), Capitaes-Generais Palac (a historical palace), the Garden Duque da Terceira (a beautiful garden in the middle of the city), and Alto da Memoria Viewpoint (a viewpoint overlooking the city center).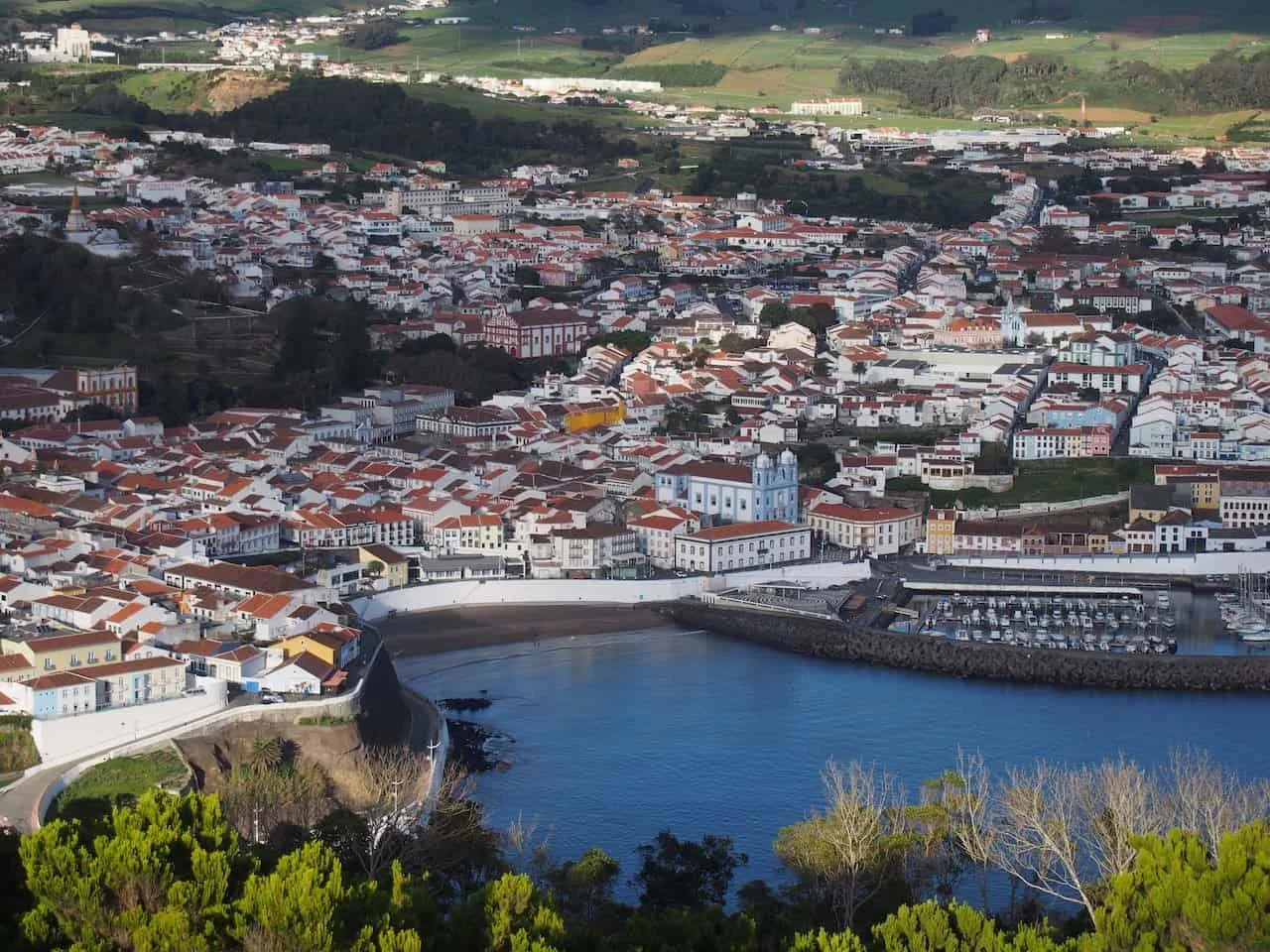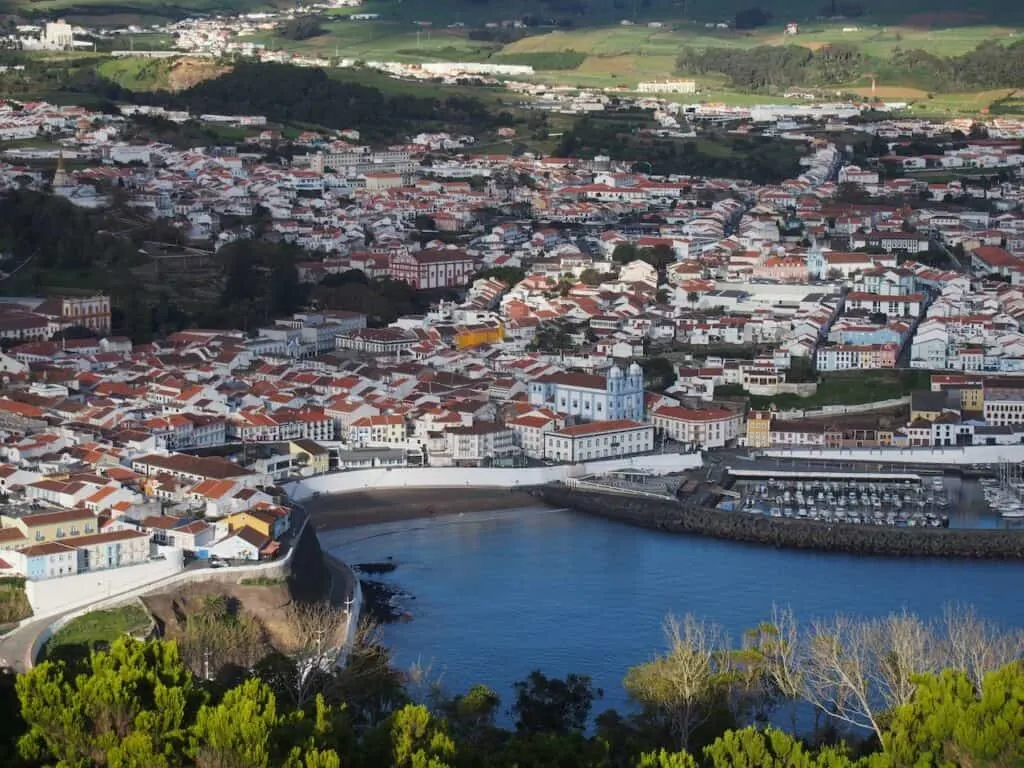 Biscoitos Natural Swimming Pools
If you are looking for a swimming experience, then check out the Biscoitos natural pools. Getting to go for a swim in these pools off of the coast is quite an experience to have.
Serra do Cume
On the eastern side of the island you will find Serra do Cume. This viewpoint is one of the most beautiful on the island, where you will get views of the greenery filled plains.
Algar do Carvao
If you want to head down into a volcano, be sure to check out Algar do Carvao. This lava tube has some stairs and walking paths that allow you to explore deeper underground.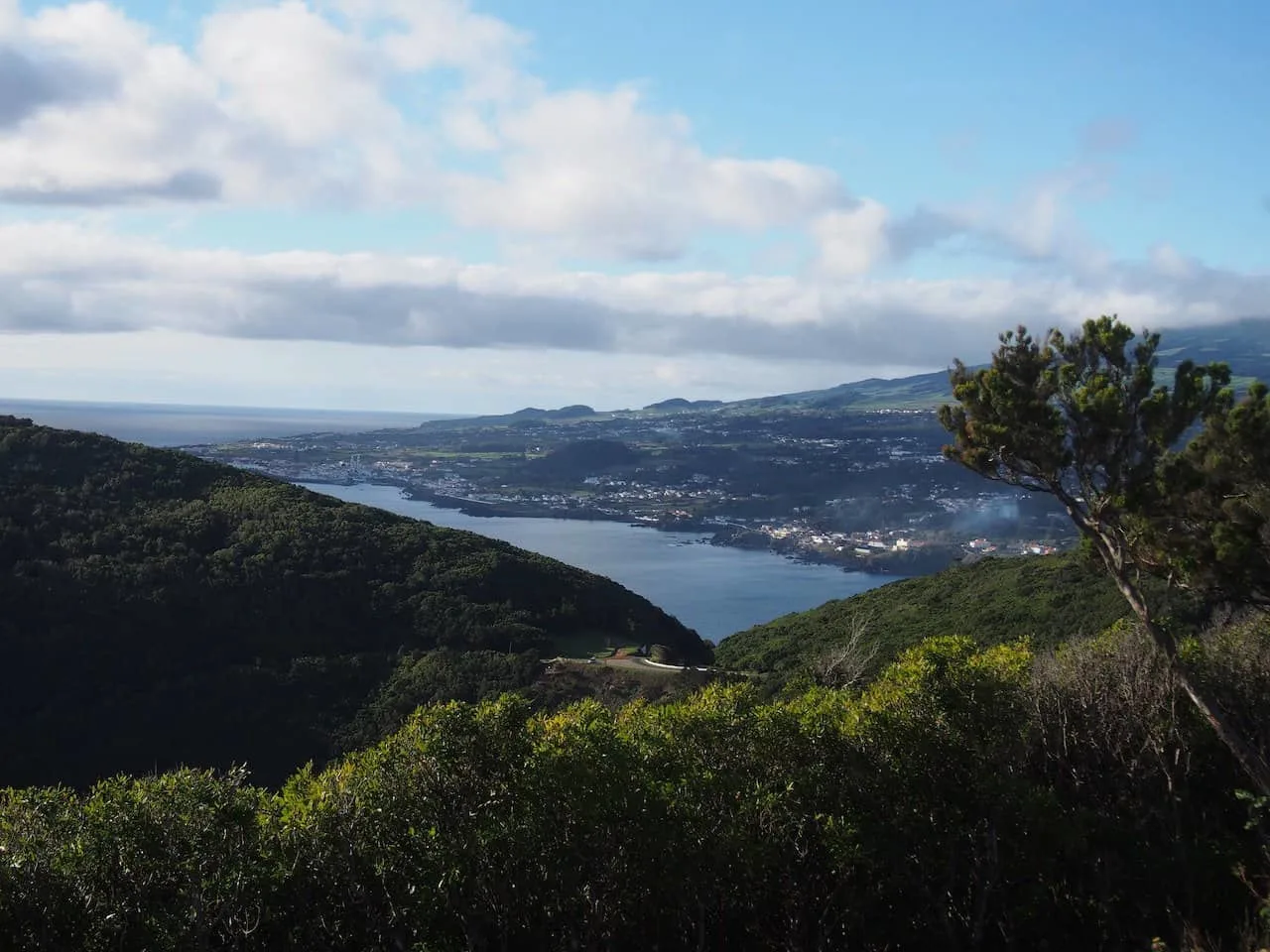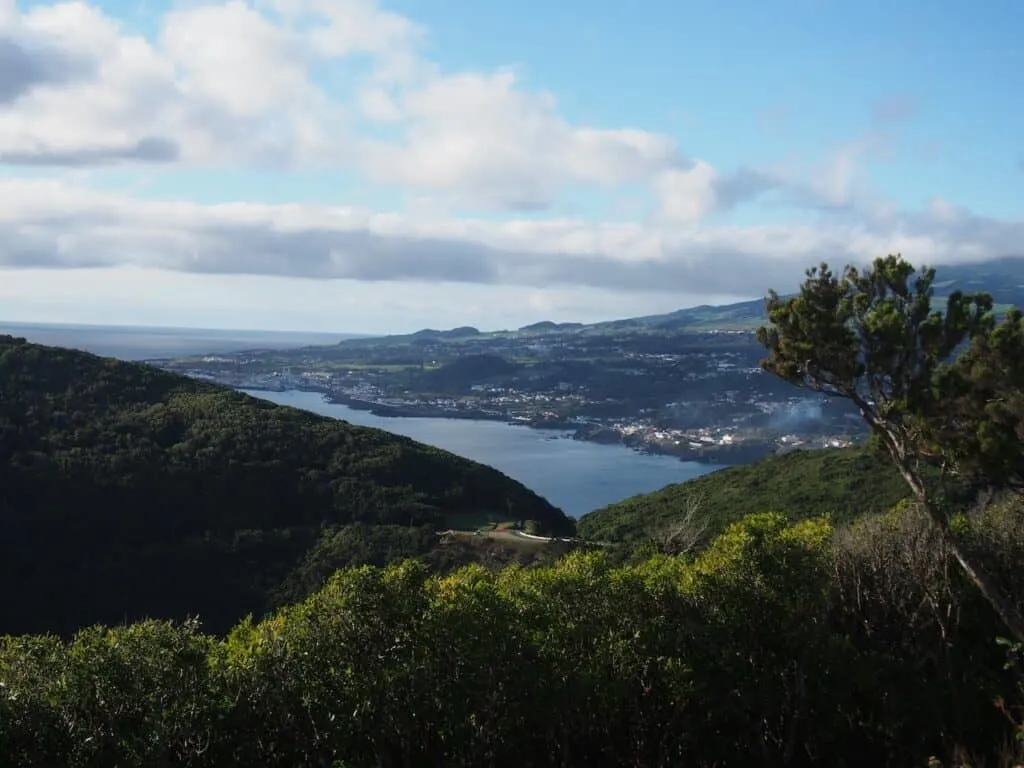 Flores
Moving onto the Western island group you will have Flores and Corvo.
While a bit more out of the way, these two islands are still well worth the visit.
Flores is the larger of the two and unsurprisingly has some absolutely surreal landscapes to witness.
Poca da Ribeira do Ferreiro
If you have been searching around photographs of the Azores islands, I wouldn't be surprised if Poca da Ribeira do Ferreiro continuously pops up.
Here you will find a lake at the base of several waterfalls that stream down the cliffsides up above.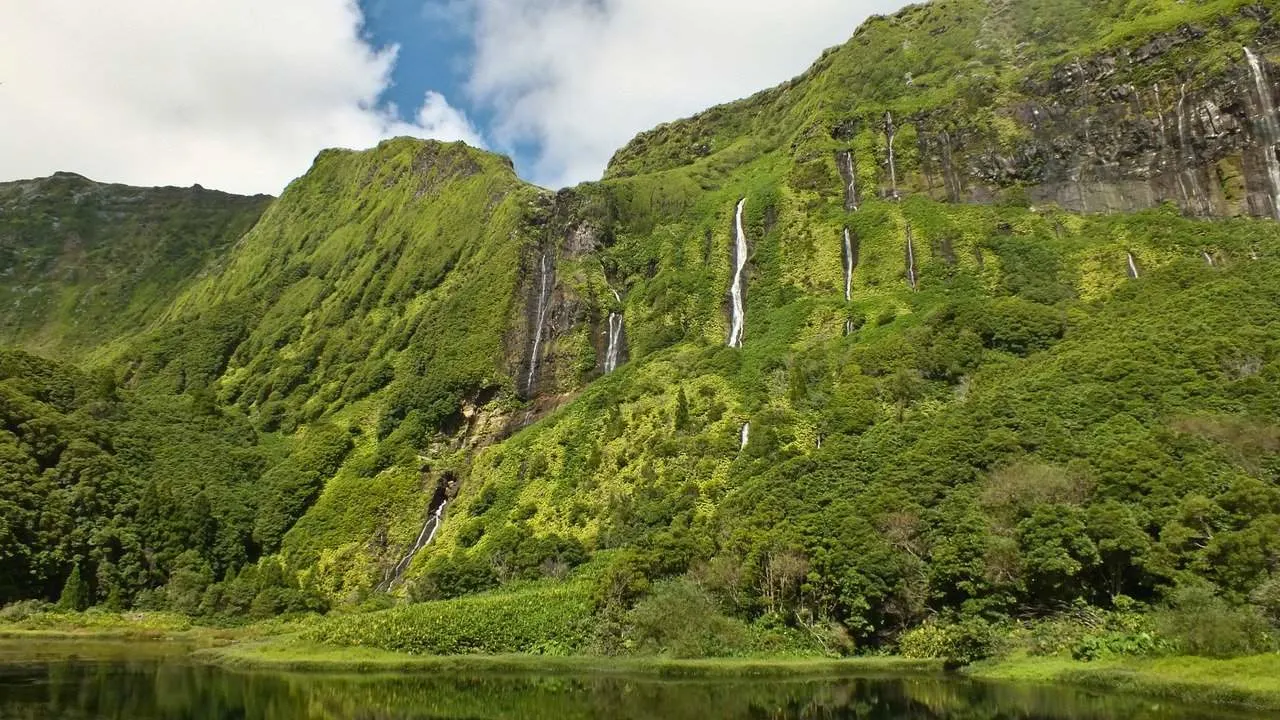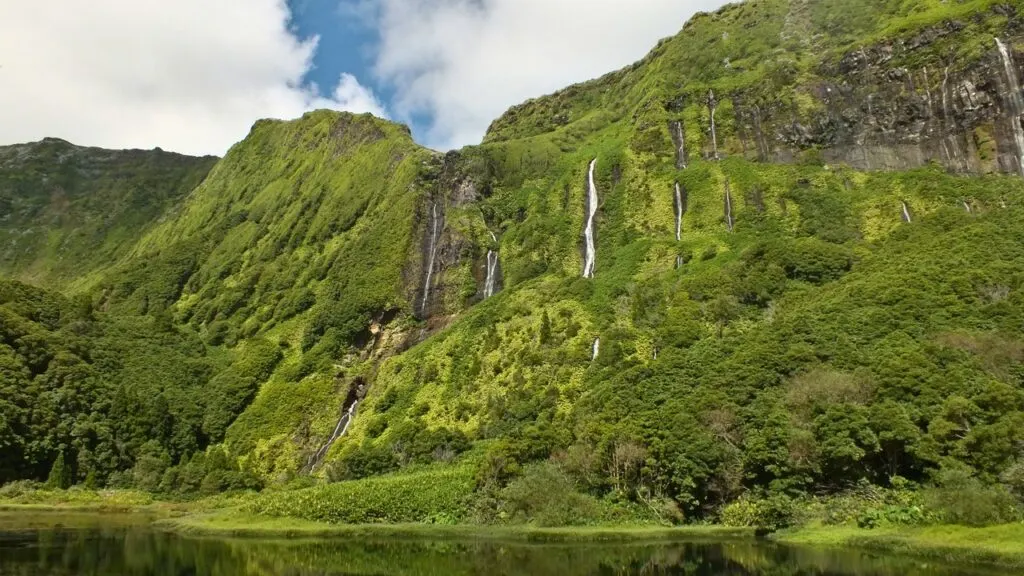 Flores Lakes
You will also come across a fair share of crater lakes around Flores. Some of these include Lagoa Comprida, Lagoa Negra, Lagoa Funda and Lagoa Rasa.
Taking in the lakes from viewpoints or hiking some trails, are both great ways to go about a visit.
Rocha dos Bordoes
When it comes to rock formations on Flores, Rocha dos Bordoes is going to be one of the top ones to add to the list.
The volcanic basalt columns soar high above the hillside, surrounded by the island's greenery.
Santa Cruz Pools
Another Azorean island, another natural swimming pool in the ocean. Be sure to go for a swim at the Santa Cruz natural pools after a day of navigating the island.
Poco do Bacalhau
If you are looking for an impressive waterfall to visit, then head on over to Poco do Bacalhau.
This is a 90 meter waterfall that runs right into a beautiful lagoon at the base of it.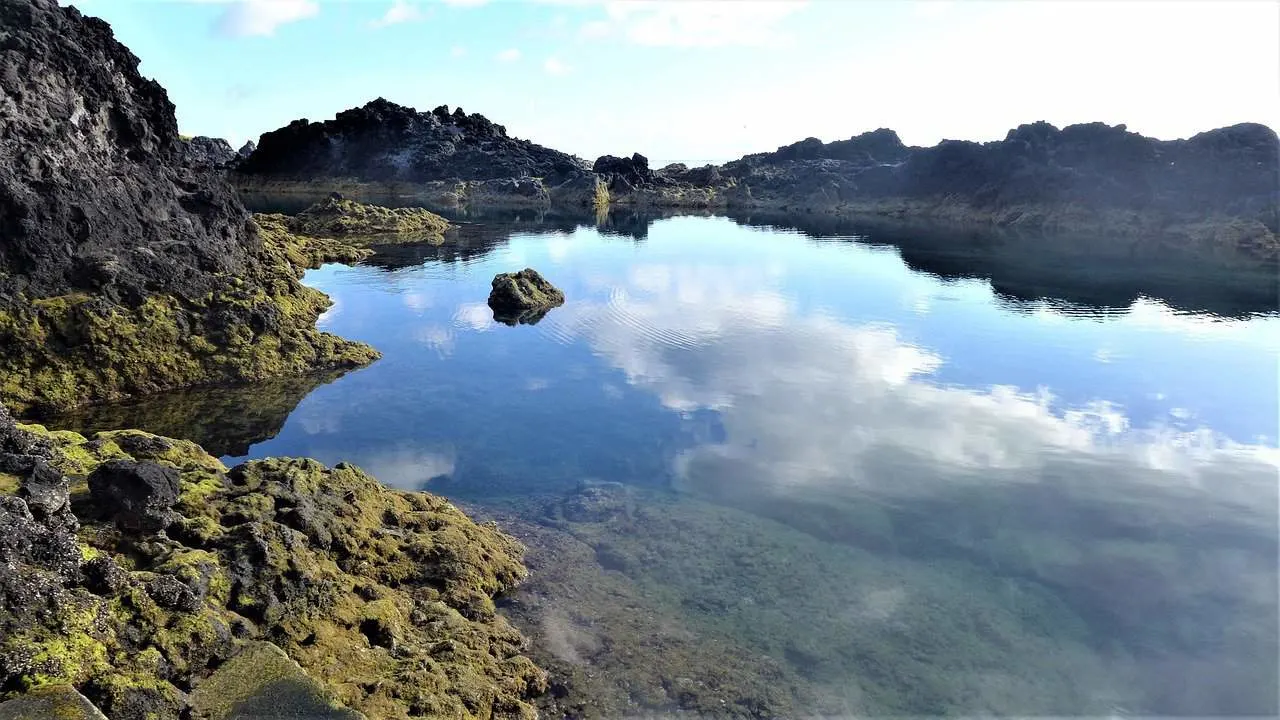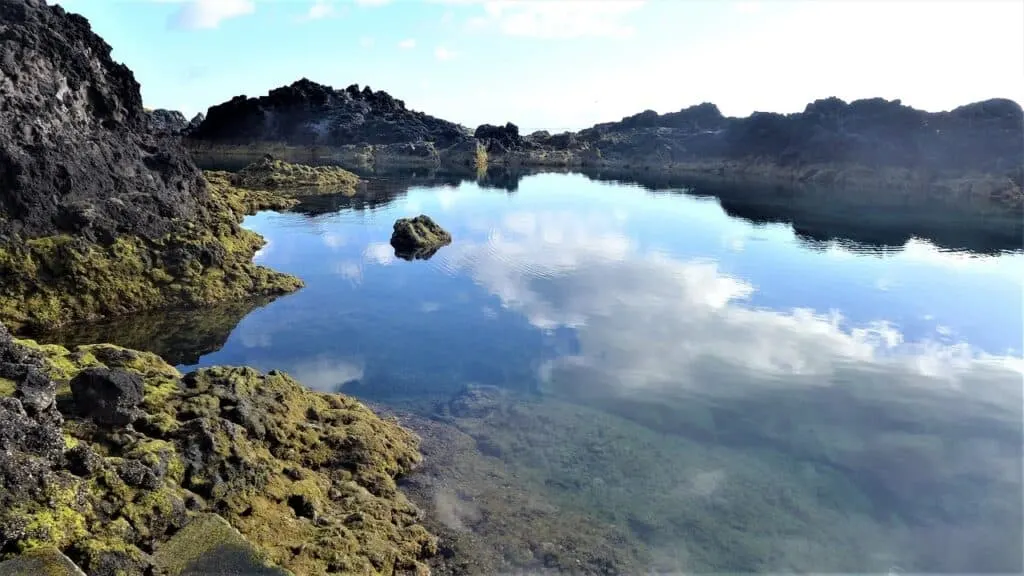 Corvo
The smallest of the Azores islands is Corvo, just a boat ride away from Flores.
You will find just a few main roads to get yourself to the best of the attractions on the island. Heading over on a day trip or for a quick overnight are the most popular options when it comes to visiting.
Caldeirao do Corvo
The highlight is certainly the Caldeirao do Corvo. This massive caldeira is located on the northern part of the island.
You can just take in the view from above or head on a trail that encircles the caldeira as you experience the views from all different angles.
Vila do Corvo
The main (basically only) town on the island is Vila do Corvo. You can spend some time walking around the town, and enjoying this one of a kind settlement.
Praia da Areia
You can end the day on the western shores, where you will find a sandy beach called Praia da Areia. It is perfect spot to hang out at after a morning of exploring the caldeira and town.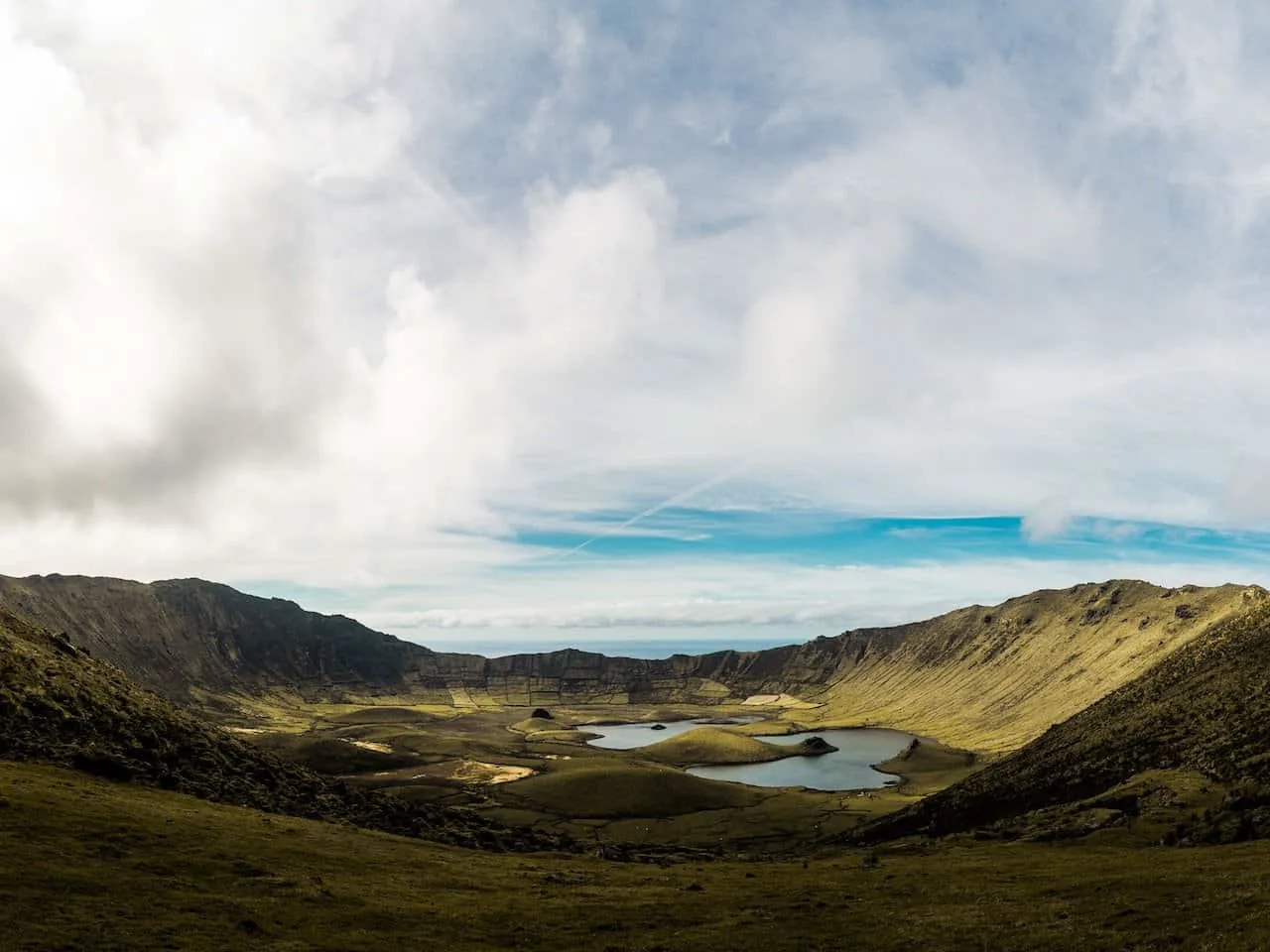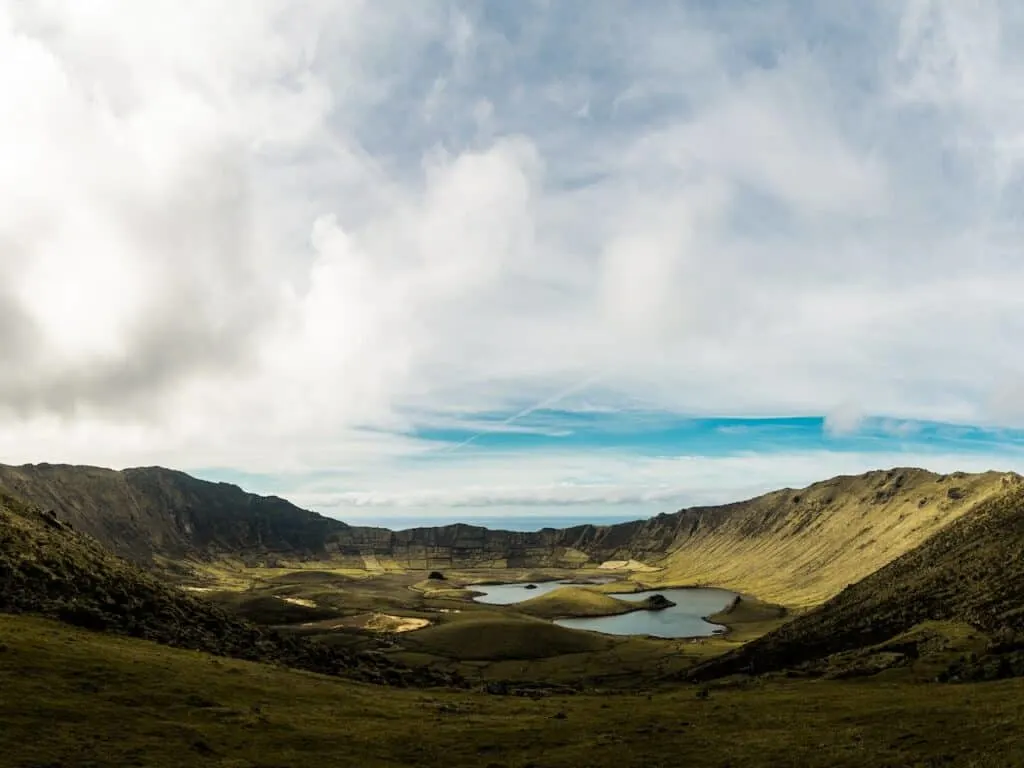 13) Azores Islands FAQs
What is the Best Month to Visit The Azores?
The best months to visit the Azores will be July and August. While it is the touristy season, you will have a better chance to experience the most favorable weather conditions.

During this time is when the least amount of rainfall hits the islands, so it gives you a better chance to fully experience what the Azores have to offer.

And don't worry – although it is high season, the islands wont be overrun by tourists. I found my time to be quite enjoyable altogether, even during the peak summer months.
Do They Speak English in the Azores?
While the official language of the Azores is Portguese, you will find English speakers as well on the islands.

This will be more geared towards the tourism industry – whether that is a hotel, restaurant, or attraction.

Be sure to always have something like Google Translate ready, just in case you find yourself in a situation where English isn't spoken.
How Many Days Are Enough for The Azores?
This will all depend on how many islands you plan to visit during your visit to the Azores.

In general, I would say 3-4 days for Sao Miguel, and 2-3 days for most of the other islands will give you enough time to see the top highlights of the islands.

Since you probably wont be going to all islands during a trip, I like to think that a 10 day trip is the perfect way to see Sao Miguel and a couple more islands in the Central (or Western) island groups.
Is the Azores Affordable?
In general, I did find the Azores to be quite affordable. This is especially the case for a group of islands sitting out in the middle of the Atlantic Ocean.

Although mainland Portugal is sure to be less expensive than the Azores, don't expect to break the bank while visiting.

Another great part of the islands, is that so many attractions are free of charge. These include hikes, viewpoints, beaches, and more.

Even the attractions that have an entrance fee, such as some hot springs, will cost less than $10 a person.
Do You Need a Car in The Azores?
If you plan to spend multiple days exploring one island, then a car is highly recommended when visiting the Azores.

Having the chance to do what you want, when you want, will go a long way in having the most memorable experience possible.

On the other hand, if just visiting an island for the day on a day trip, then you could opt for taxis or tours to get you around too.
Will My Cell Phone Work in The Azores?
Yes, your cell phone should work in the Azores. I found the cellular connection to work quite well throughout (although there will always be spots with no connection).

I will recommend to download offline maps though for the times when cellular connection gives out.
Can You Drink Tap Water in The Azores?
Most people say that drinking tap water is perfectly safe in the Azores. If you don't want to take a chance, then mineral water can easily be purchased.
Can You Swim in the Ocean in The Azores?
Yes! You can swim in the ocean in the Azores. However, you will only want to do so at suitable locations and when the weather is appropriate.

Beaches can be found throughout the islands, and offer some relaxing swimming opportunities.

You will also find natural rock pools, which can also be used for swimming. However, you will only want to do so when the ocean is calm and offers a safe experience.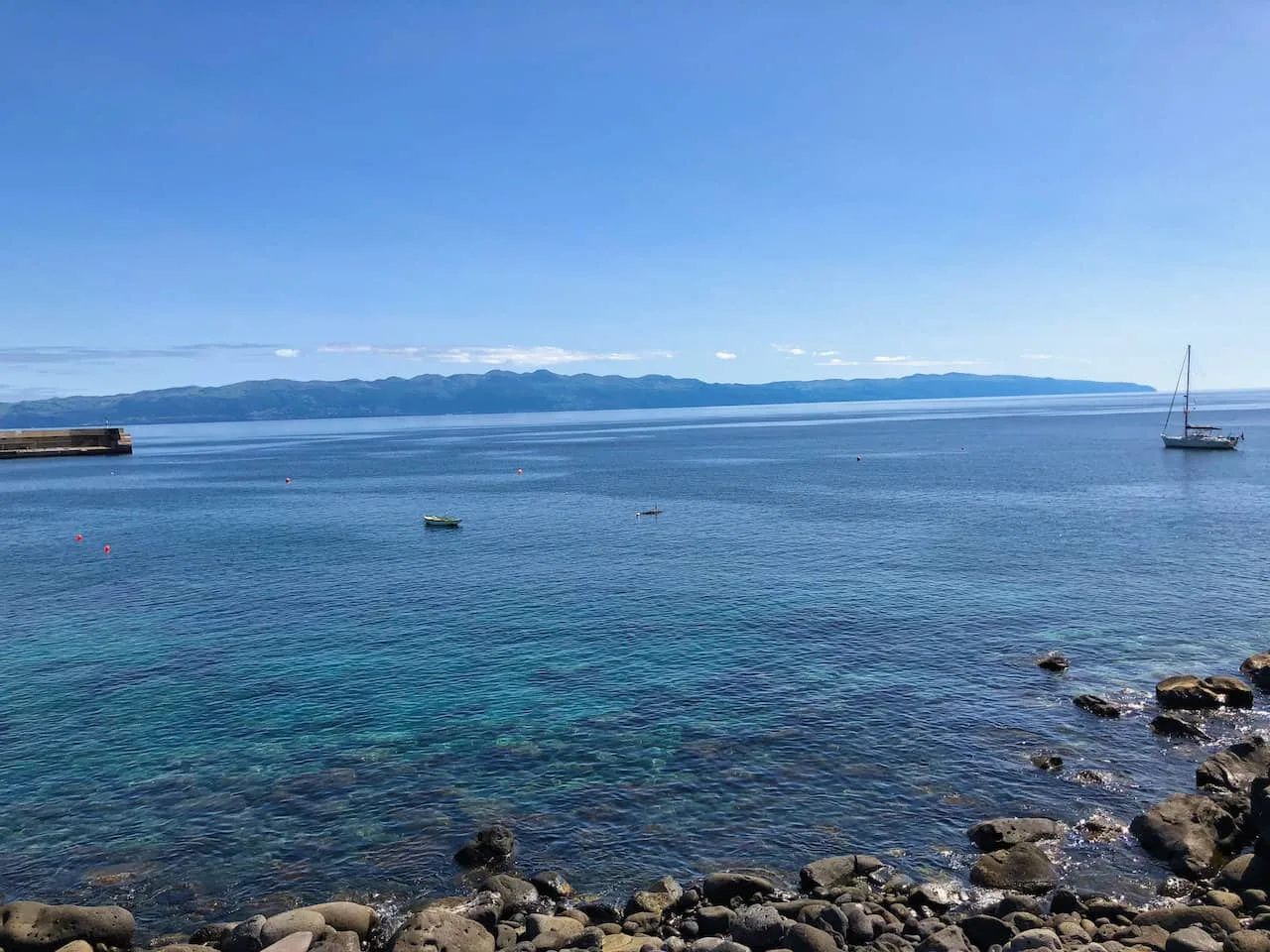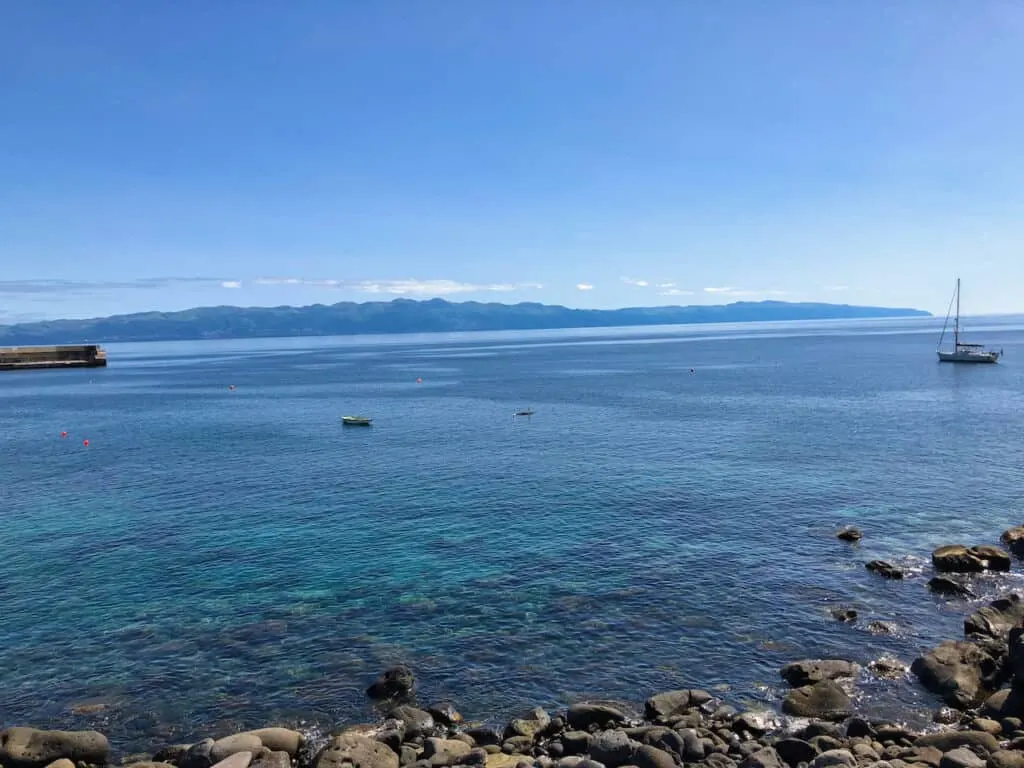 The Azores islands are truly a spectacular place to visit. If you are one who appreciates those natural landscapes, then you are sure to enjoy all that these islands have to offer.
Feel free to ask any questions below, and don't forget to check out the other Azores itineraries and guides up on the site.
Have fun out there and safe travels!