One of the most frequent questions I hear about the Azores is how to explore the island/s and what is the most efficient way to do so.
This guide will focus on driving in the Azores, car rental logistics, and other transportation options you will have to choose from.
Hopefully by the end of reading this you will have a good sense of what Azores transportation is like and what you need to look out for along the way.
* Affiliate Disclosure: This post may contain affiliate links, which means I may receive a commission if you make a purchase through the links provided, at no additional cost to you. Thanks for supporting the work I put into TripTins!
1) Introduction to Driving in the Azores
The thing about the Azores Islands is that not every one of the 9 islands is the same. Some islands are very small while others are larger with much more to explore, meaning that each island should be thought of differently when it comes to driving and car rentals in general.
This guide should give you a general overview of driving in the Azores with a focus on Sao Miguel island, which happens to be the most popular and largest of the islands.
The guide will also focus on renting a car and will also touch on some other related driving topics along the way.
What I took away from my experience in the Azores, is if you are staying on one island such as Sao Miguel for several days, then renting a car is the way to go.
If you want to be on your own schedule, see the sites that you want to see, and not worry about logistics getting in your way, then renting a car is the right move.
The following section will go more in depth about driving in the Azores and what to expect.
With that said, renting a car is not 100% necessary either as there are options such as busses, taxis, scooters, etc. that can get you from place to place. I will also cover some of these options later on in the guide.
2) Renting a Car
If you do opt to rent a car, the first thing you need to do is actually book a car rental for your trip. Car rentals do get booked up in the Azores, especially during the summer months.
Due to this you should try and book a car earlier rather than later! Do not leave it to the last minute as you might be stuck with fewer options.
A) Where to Rent a Car From
There are a few options to how you can go about this. The first is taking a look at Rentalcars.com which is a car rental booking site to compare prices across a variety of companies.
You can check off all different criteria – everything from size to insurance coverage – to figure out which car is best for you.
If you do not want to book directly with rentalcars.com you can also head over to the specific companies' websites.
These can include: Ilha Verde (the most popular option), Europcar, Autatlantis, Hertz, and Micauto.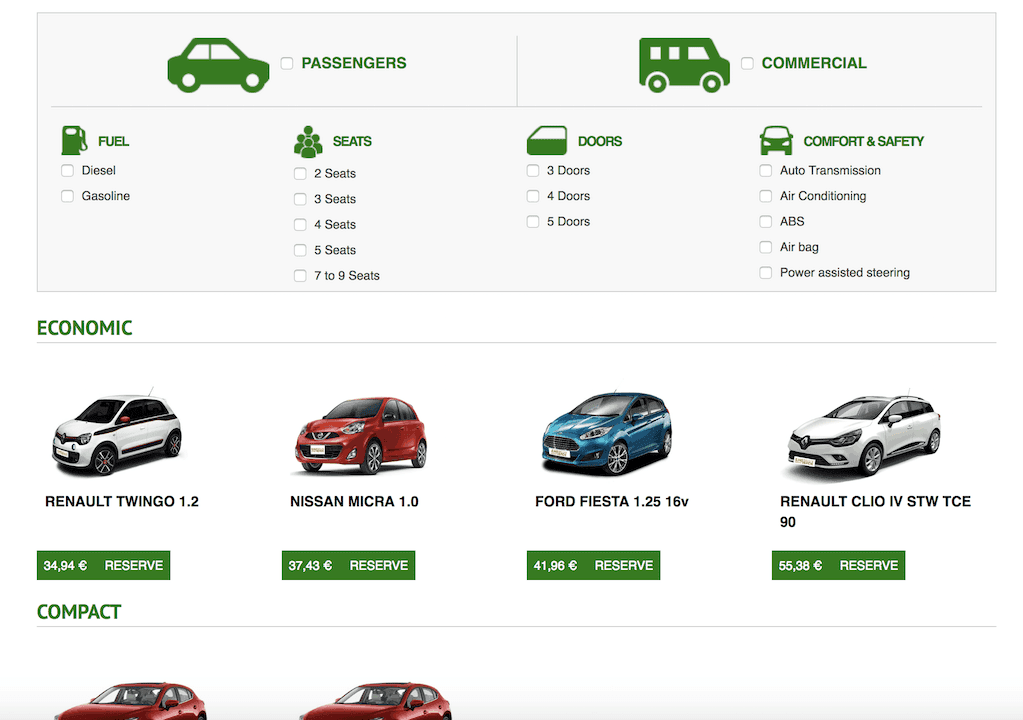 The second thing I would do if you aren't having much look with those website, is take a look at the Azores website (also full of very useful information), and browse through the car rental companies they have listed on there.
You will find that some of them will be found on rentalcars.com while others will be smaller companies that may or may not have website to book through.
Sometimes these local companies will have lower prices and available cars, but just not as seamless as a process to find and book the car you are looking for.
B) Automatic vs Manual Transmission
A VERY important note to point out is that most of the cars available on the islands are going to be manual transmission.
If you are not comfortable driving manual I would not recommend renting a manual car in the Azores. The roads can be windy and bumpy, and can be tough even for a seasoned driver.
With that said, when renting a car in the Azores be sure to check the box with whichever car type you feel more comfortable driving.
As mentioned before, cars can get booked up in advance but this is even more so for automatic cars. If you definitely want to avoid the stick shift, then please book ahead of time.
Note here: I found that on some of the smaller islands, I was not having much luck when looking for automatic transmission – everything I was checking said nothing was available even though it was a few months out. When this was the case, I found going through the list of companies on the Azores website to be very helpful.
Average cost of car rental per day:
Manual Transmission: Starting at $35-$50
Automatic Transmission: Starting at $75-$100
Recommended Sao Miguel Hotel | Hotel Azor – Book Today!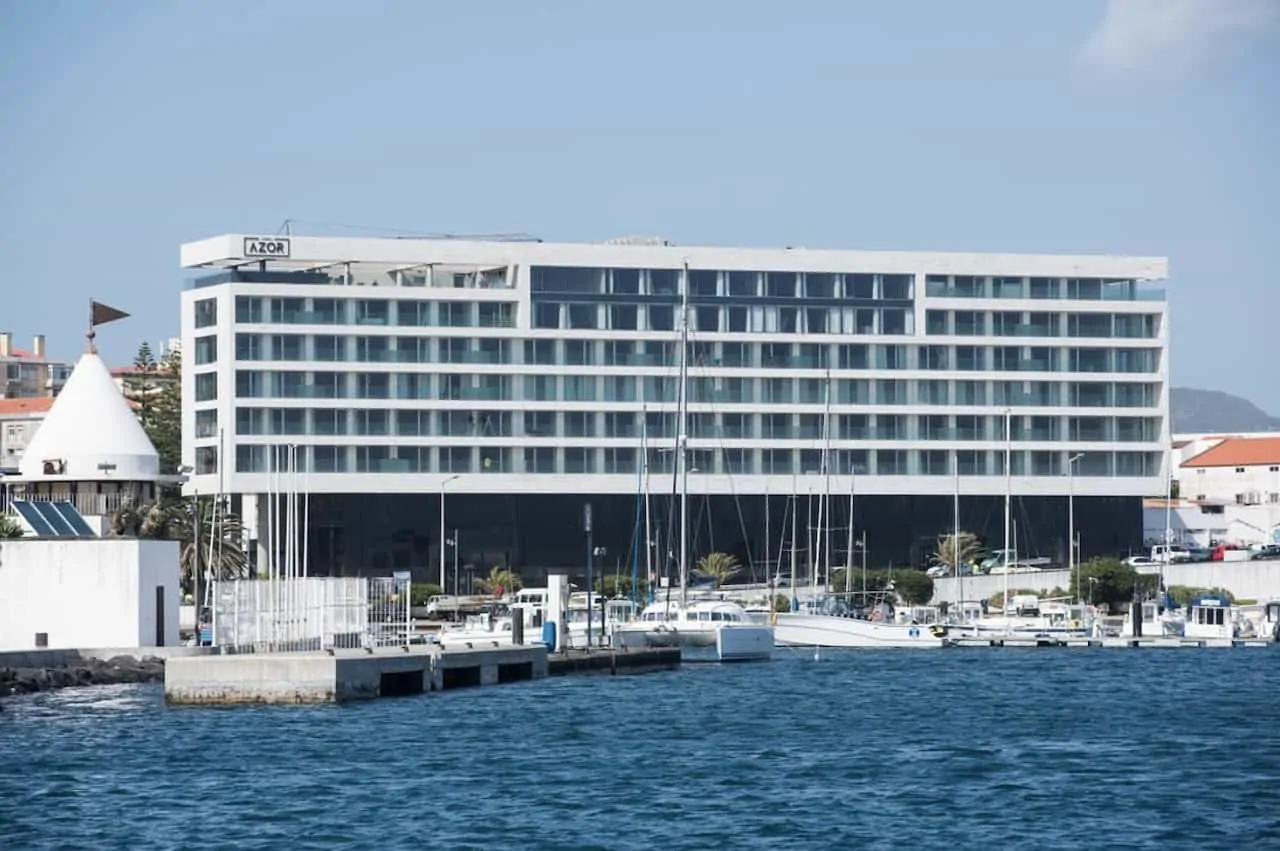 C) Picking Up / Dropping Off Cars
Now that you have figured out which car you want to drive around the island, you need to pick up the car once you land. Thankfully this was a very easy and efficient process to go through.
In Ponta Delgada (Sao Miguel), after collecting my bags, there were several car rental booths set up. I simply waited in line at the booth of the company I rented from, filled out the paperwork, and was handed keys for the car.
Directly outside the terminal to the right is a large parking lot where all the rental cars are located. Simply hand over your paperwork to the attendant and they will take you to your car. From there you will be on your way.
Dropping the car back off at the Ponta Delgada airport was just as easy. Just park in the same lot where you picked up the car from and someone will come inspect it for any damages.
Once that process is complete, all you have to do is head inside to the car rental booth and finish up any paperwork.
The whole process of dropping the car off and finishing up at the booth took no more than 10-15 minutes. Of course if there are more people waiting in line, this can be longer but the overall process is pretty straightforward.
This also might not be the same process on every island but given the airports are pretty small in size, it should be somewhat of a similar process.
D) Driving & Parking in Ponta Delgada
A quick note for just Ponta Delgada as it is the most popular place to stay in the Azores – the driving and parking situation can be a bit tricky.
Some of the roads are very narrow with barely enough room for cars to get through, especially with parked cars and pedestrians walking around.
When you are driving in the city center itself, just be aware of this as you will not have the wide roads that you may be used to.
Going along with that would be parking in Ponta Delgada. Unless you are staying at a hotel or Airbnb with parking spots, you will have to find a spot on the street.
Due to how narrow some streets are don't be surprised to need to have two wheels on the curb in order to leave enough room for cars to actually drive through.
Always keep your mirrors in when leaving your car parked too!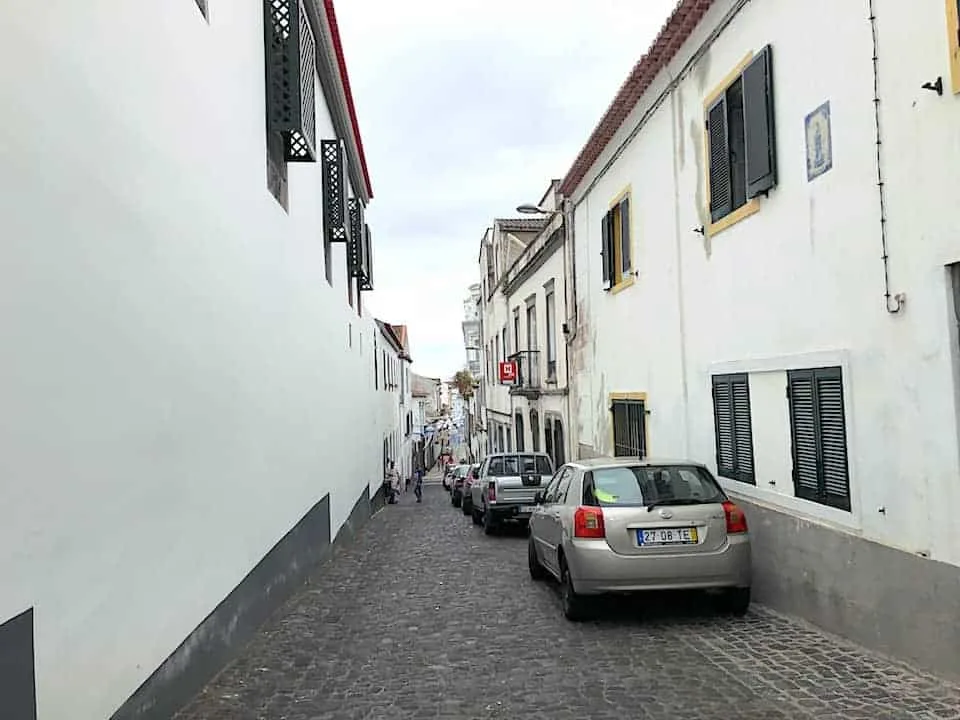 3) Scooters Are Also an Option
If you are only one or two people, and car rentals are just too expensive or not for you, look into renting a scooter instead.
You will find some shops inside the towns/near the marinas that rent out scooters for very affordable prices (closer to around 25 Euro per day).
Now again, if you are not comfortable/have never ridden a scooter before then I would not recommend you doing so.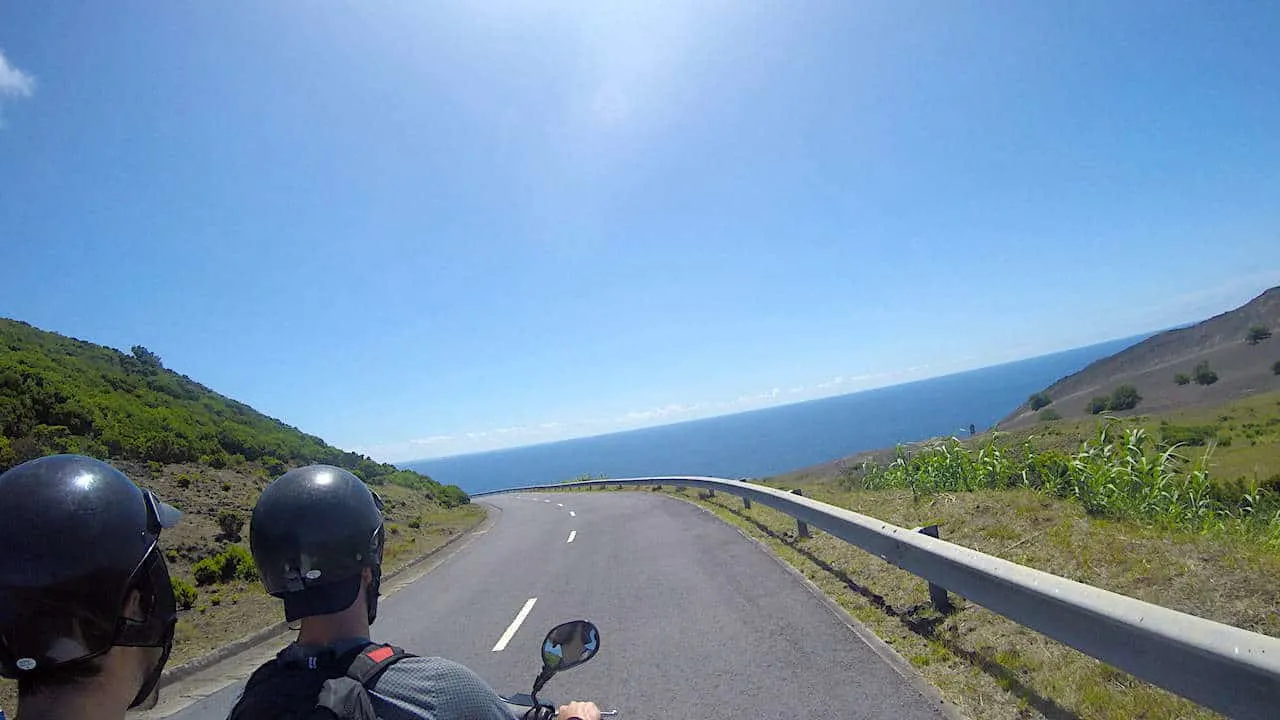 4) Gas prices
When it comes to the Azores, most things are comparably cheap but that is not the case when it comes to fueling up your car. Gas prices as of August 2018 are ~ 5.50 Euro per gallon / 1.50 Euro per liter.
Most rental companies expect you to fill up the tank before you drop it back off at the end of your trip.
5) Do You Need to Rent a Car on Every Island
Another question that comes up is whether or not you actually need to rent a car on every island you visit. No question having a car will make your trip much easier and give you the freedom to explore at your pace.
For example as mentioned, I would recommend renting a car if you are spending a few days in Sao Miguel. It is the largest of the islands and it has the most to see and do all around.
Although the island does have a bus system, you will constantly need to be on that schedule to do the activities that you are interested in.
Now if you are a budget traveler, then 100% go with the busses, but if you have it in your budget then a car rental is probably the best option for you.
I will also say that you probably can get away with not renting a car in Sao Miguel if you are only on the island for a day or two as a quick stopover.
Taxis or private tour guides could work and take you around to the top spots on the island (more on that soon).
Beyond Sao Miguel there are 8 other islands to visit. Do you need to have a car rental on those as well? For example, I spent 4 days on Pico, which is part of the central island group.
My four days were split between 1) exploring the western and central part of the island, 2) hiking Mt. Pico, 3) a day trip to Faial, and 4) a day trip to Sao Jorge.
Since this was my plan, I ended up renting a car only on my first day there (through a small local company) to do some exploring.
The next three days did not require transportation on Pico at all (beyond a couple taxis to/from Mt. Pico).
On the day trips, I had a taxi bring me around Sao Jorge, and on Faial I rented a scooter for the day (a taxi could have worked here as well).
So, to summarize, if you plan on spending a good amount of time exploring one island, then a car rental is probably the way to go. But you can definitely make your way around the islands if different ways. If it is taxis, walking, busses, or scooter.
6) Taxis in the Azores
Going off of my last point, taxis can also be a great alternative to renting a car for the day. Ponta Delgada will have plenty of options and you can take a look at prices for different tours around the island with a taxi driver.
This is a great alternative to car rentals if you are only there for a couple days and do not want to go through the car booking process, or if you are just not comfortable driving a car in the first place.
If you are staying on Pico for example and plan to island hop to Sao Jorge or Faial, it might not make sense to rent a car on Pico.
There are plenty of drivers with pretty flat rates for tours around the island (based on 4 people around 70-120 euros depending on number of hours).
As mentioned when I was in Pico I ended up just renting a car for a day instead of my whole time there, but could have also chosen to take a taxi tour around the island as well.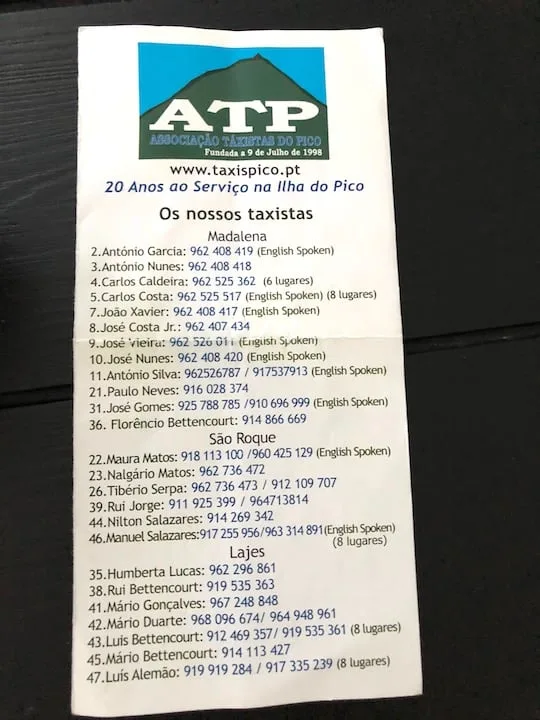 When day tripping to the other islands you might not want to worry about the effort to rent a car just for a few hours and pick it up / drop it off in one day. The easy alternative here is to just have a taxi take you around.
In Sao Jorge for example, there were some cab drivers lined up outside the ferry terminal and for 60 Euro, we drove about 45 minutes to the start of a one way hike and were picked up at the end of the trail before driving back into town (another 30 minutes).
I am sure throughout the other islands you can do the same. If you want to plan a driver ahead of time you check out the Azores website for a list of drivers.
7) Helpful Tips for Driving in the Azores
A) The Curvy Roads
Beyond the main highways, some of the local roads can get quite windy with plenty of twists and turns.
If you are driving these roads just be careful be to stay in your lane as it is hard to see around the corners.
Also do not pass a car in front of you unless you are allowed to on a straightaway! Below is a sped up video of driving the eastern part of Sao Miguel. Soooo many turns!
B) The Foggy Roads
The weather is the Azores can be pretty inconsistent at times with fog and clouds coming in and out of view during the day. You will find this more often at higher points of the islands.
This is where you have to be super careful as at some points you will literally not be able to see just a few feet in front of you. So drive slowly, have your lights on, and stay safe.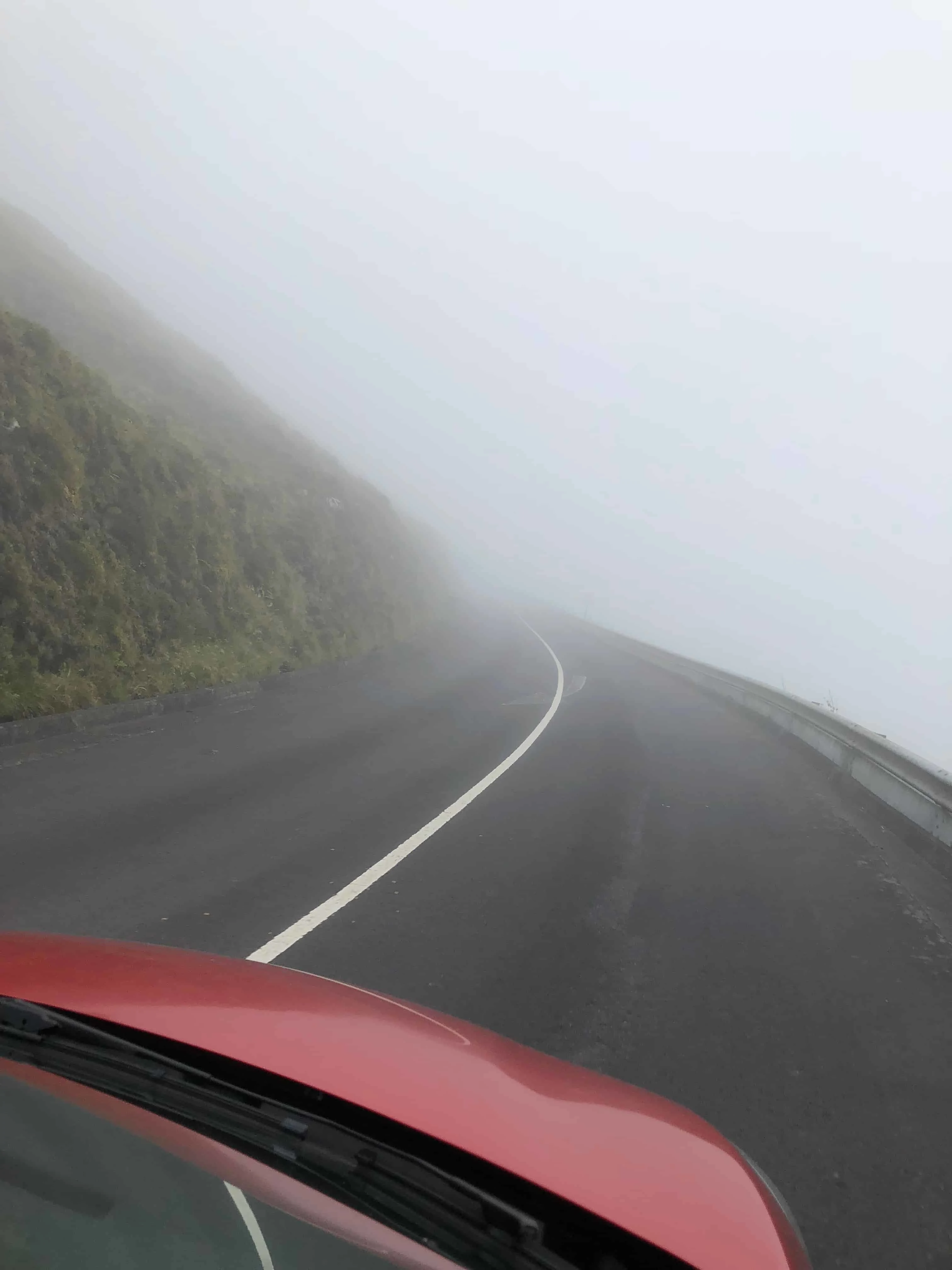 C) Animals on the Road
The last thing to look out for when driving the roads are the amount of animals that just wander the streets.
This happened on every island I visited with mostly cows and goats blocking the roadways at times. It makes for a fun story and picture but just always be on the lookout for any animal crossings
8) Miradouro / Viewpoints
Throughout driving the Azores you will always see signs for "Miradouro" at some point or another.
These signs will give you a heads up to when to expect a viewpoint, and where you can pull over to take in a view.
They are all over the islands so always be on the lookout if you want a quick break from driving to take in some amazing views.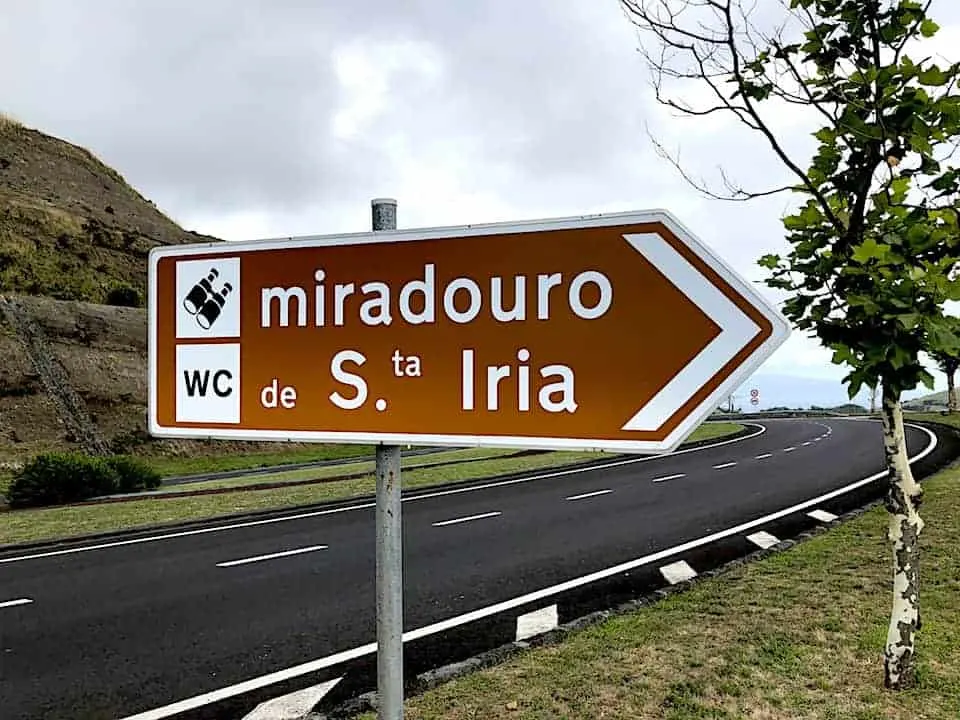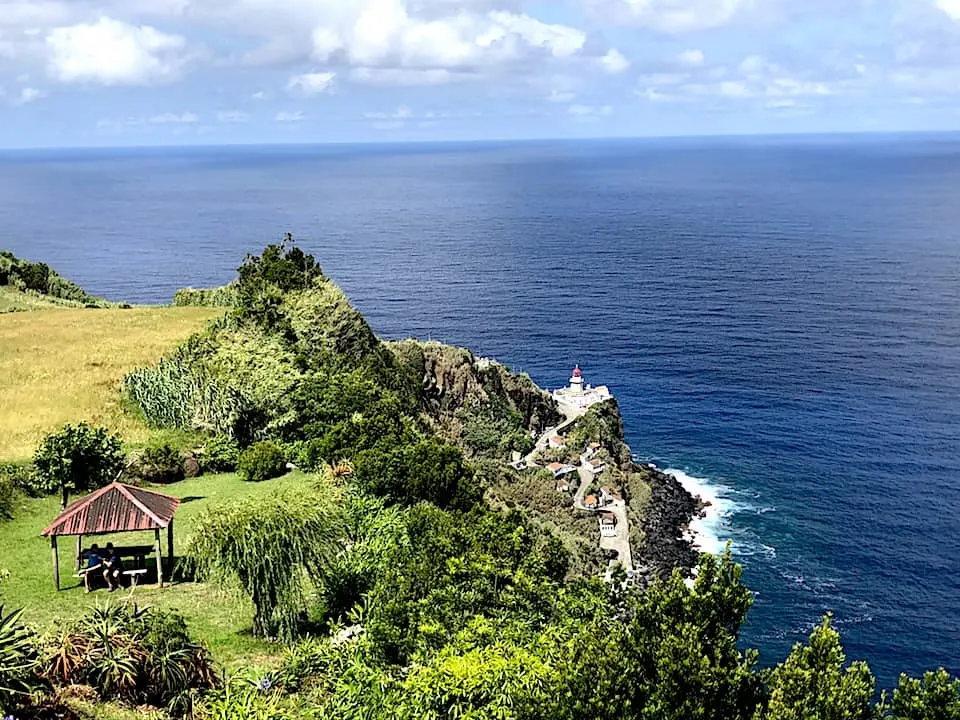 9) Google Maps Can Be Wrong
Last but certainly not least, Google Maps can be wrong at certain points.
There were at least 5 or so times during my trip where Google Maps would say to turn in a certain direction where either 1) there was no road to turn onto 2) it was illegal to make that turn 3) it was trying to go down a one way street in the wrong direction.
Be very aware of these situations as you do not want to get a ticket or go head on with another vehicle. Maybe as the Azores continue to grow so will their Google Maps updates.
10) Where to Stay in the Azores
Need some help on where to stay?
There are two main ways to go here – either browse through Booking.com to find the best hotel that fits your budget and style or check out Airbnb which might have more options.
Sao Miguel
There are a few main towns around the island but if you are looking for the most happening spot that would be in Ponta Delgada.
There are way more accommodation and restaurant options here than any other location on the island.
If you want to get a little further away you can also check out the town of Furnas, which is home to several natural hot springs. Here are some hotel recommendations for each:
Ponta Delgada
Furnas
Pico
I would recommend staying right around Madalena (especially if you do not have a car), or Sao Roque on the northern end of the island.
Sao Jorge
Velas is the main town in Sao Jorge but I did not have enough time to stay on the island. Here are a couple highly rated spots though:
Faial
Staying in Horta is sure to be a good time. It has a great marina area surrounding by shops and restaurants throughout.
Other Islands
For the remainder of the islands, below would be some top rated options to choose from: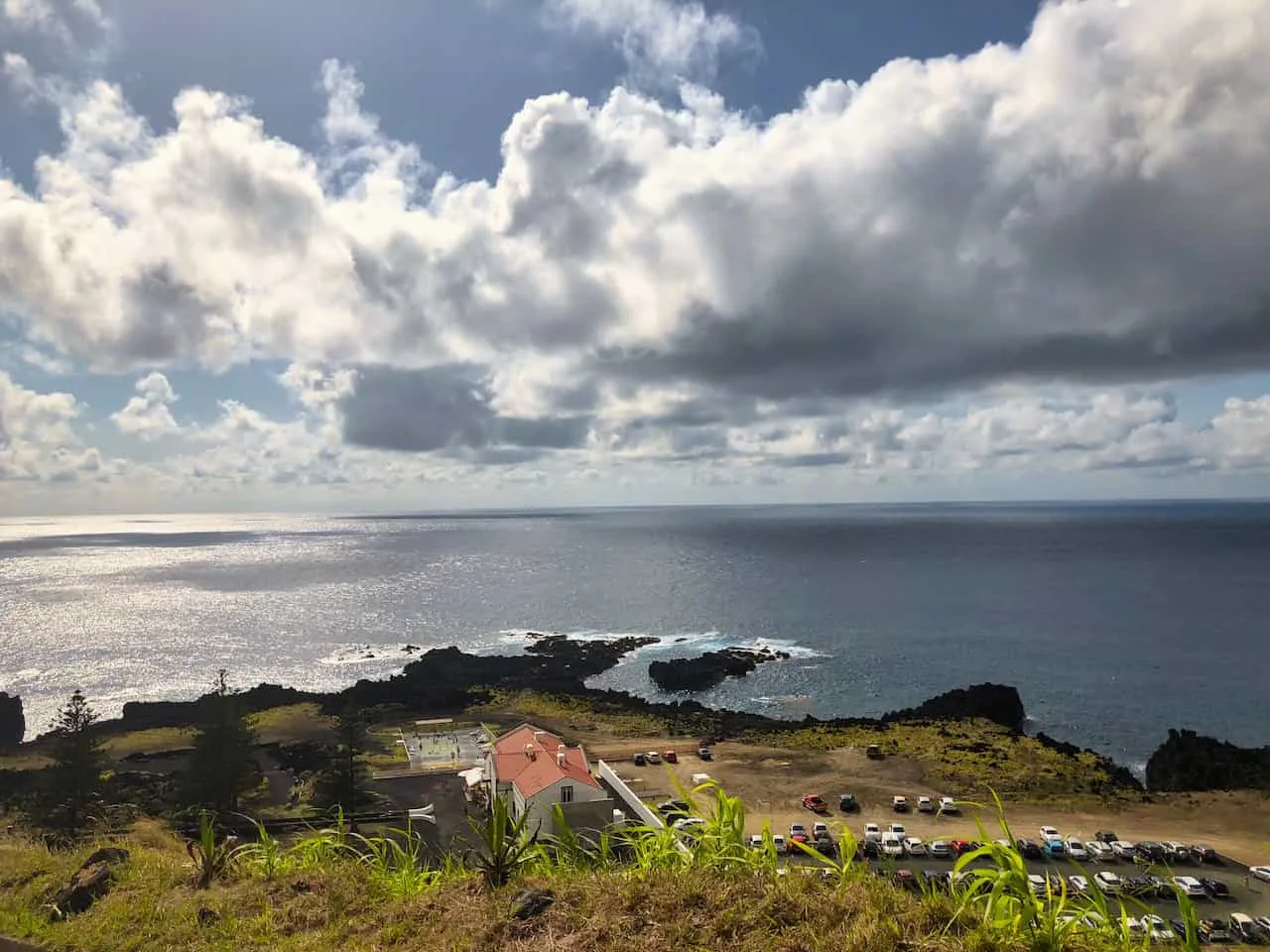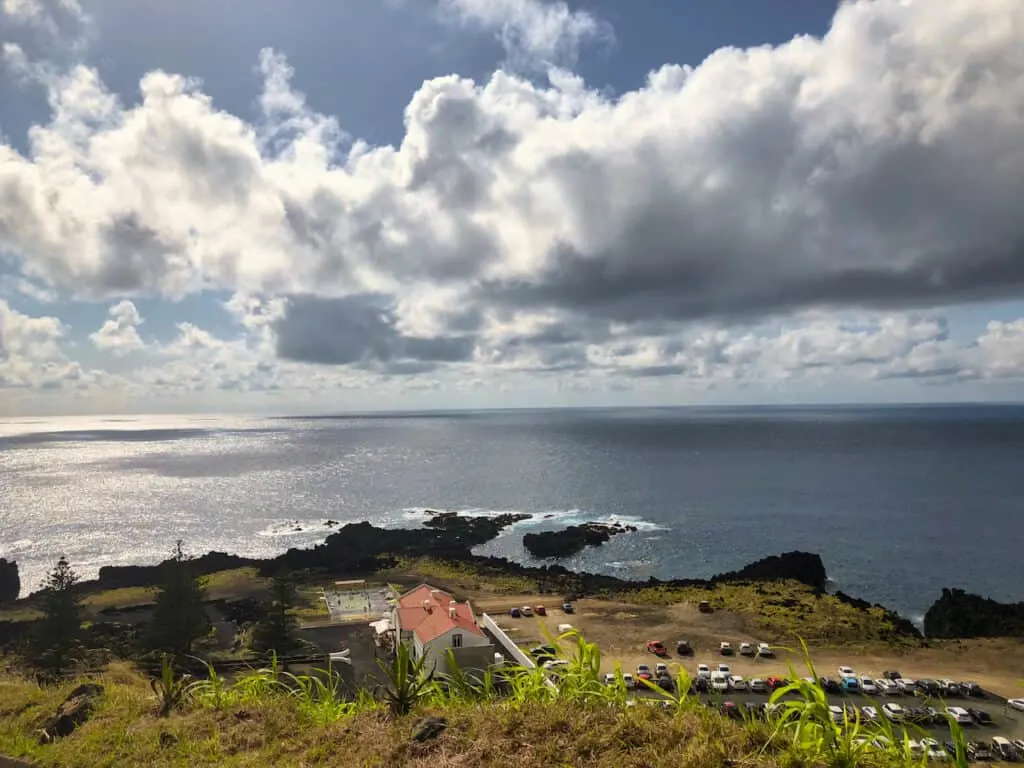 If you have any questions or comments write them in below! Feel free to check out some other Azores itineraries and guides up on the site.