One word – BREATHTAKING. Truly, truly breathtaking. The hike on Sao Jorge, Azores, from Serra do Topo to Faja dos Cubres with a stop at Caldeira do Santo Cristo, was one of the most memorable hikes during my trip.
I feel like I say this a lot about the trails in the Azores but the amount of scenery, views, wildlife, and greenery is second to none.
Not only will you find all of that on this hike, you will also be able to swim in a natural swimming pool and enjoy the authentic local town of Santo Cristo along the way.
This guide will walk you through everything you need to know when taking part of this trail.
* Affiliate Disclosure: This post may contain affiliate links, which means I may receive a commission if you make a purchase through the links provided, at no additional cost to you. Thanks for supporting the work I put into TripTins!
1) Serra do Topo – Caldeira do Santo Cristo – Fajã dos Cubres Overview
Be sure to check out some of the other top things to do in the Azores during your trip!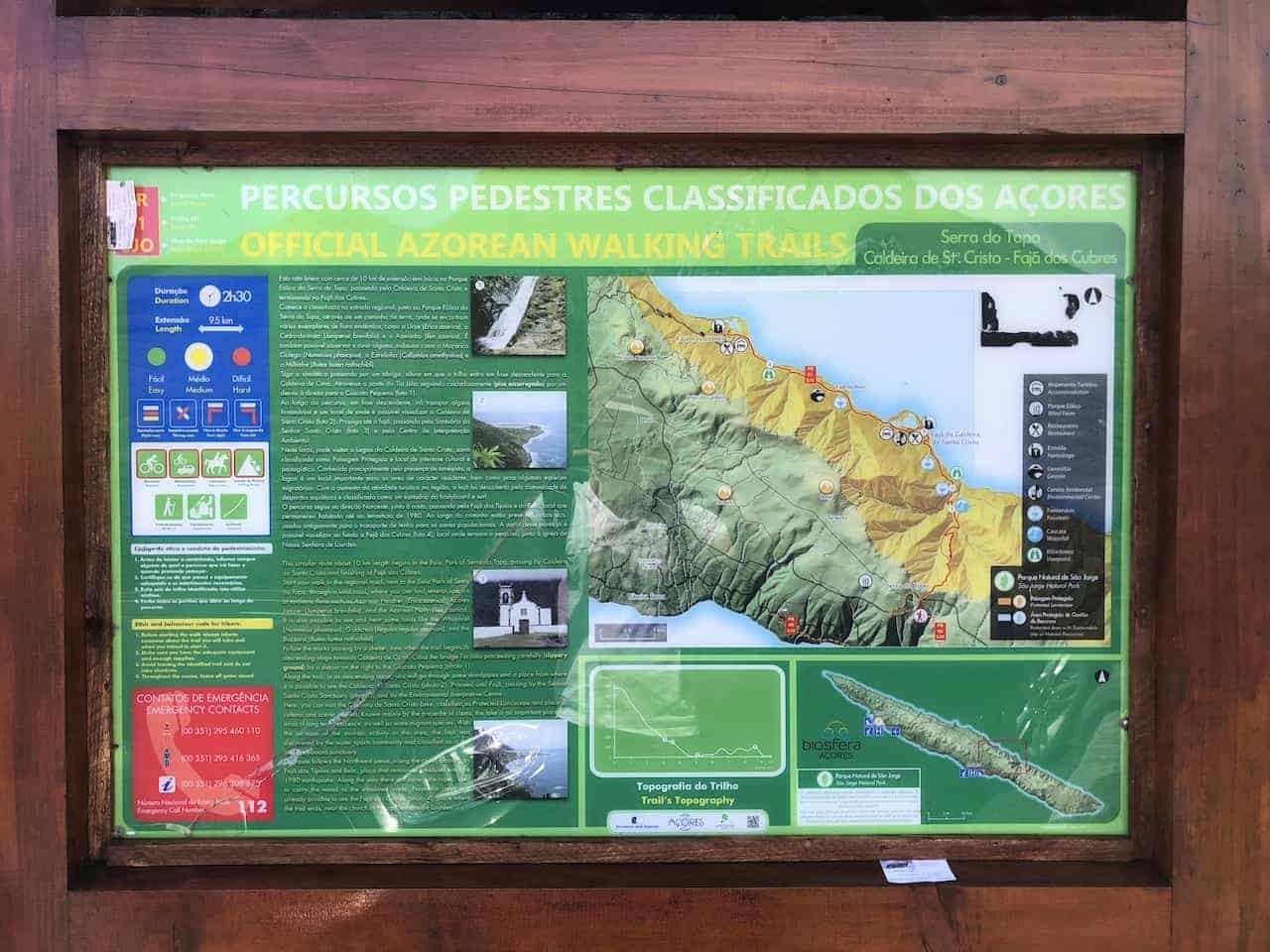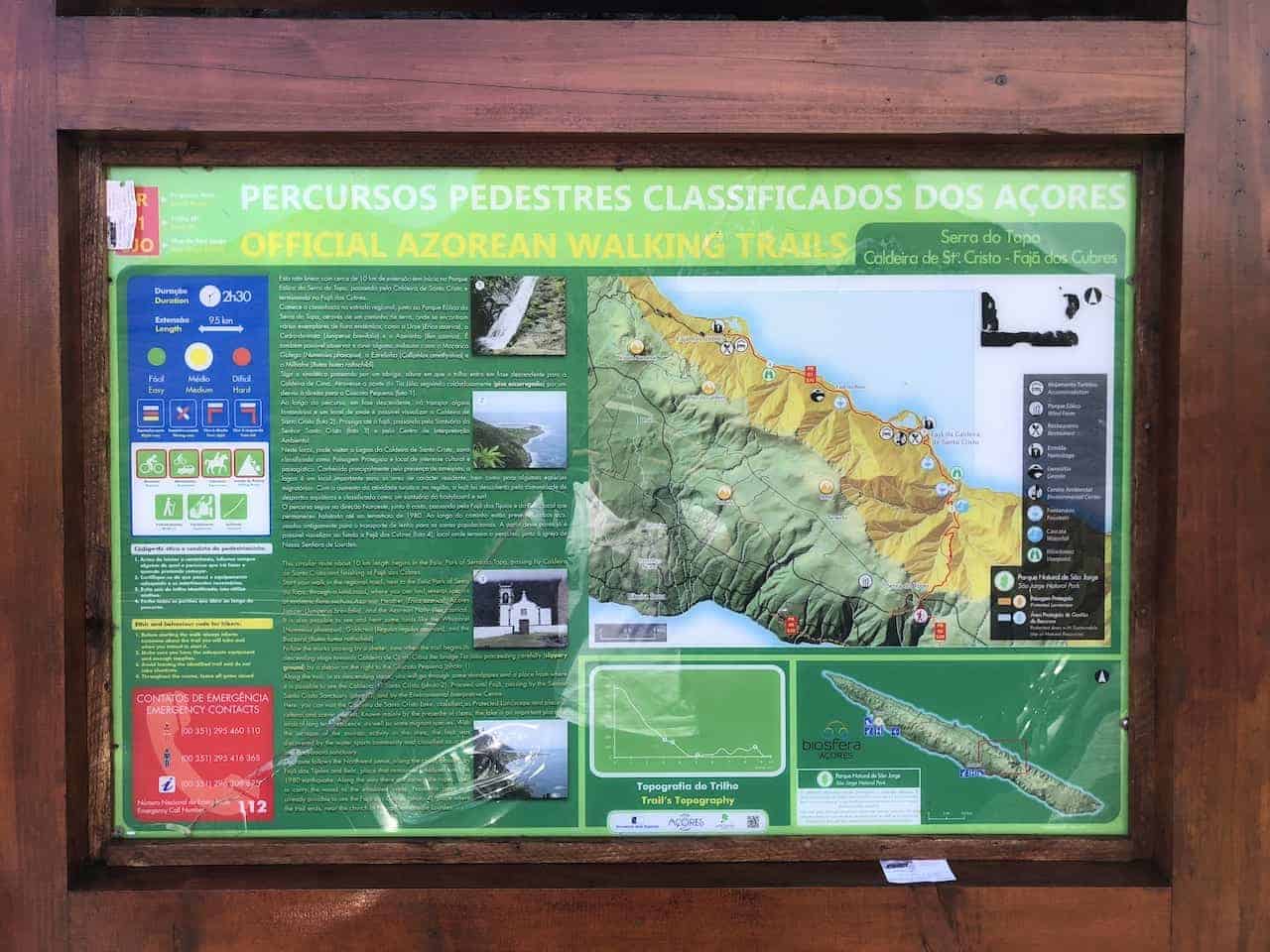 2) How to get to Sao Jorge Azores
To take part of this hike, you obviously need to get to the island of Sao Jorge first.
During your time in the Azores you can choose to stay on Sao Jorge or you can easily take a day trip there from the nearby islands of Pico or Faial.
A) Staying on Sao Jorge
If you decide to stay on Sao Jorge, you will have more freedom to decide when to go on the hike, as well as have the opportunity to explore more of what the island has to offer.
To get to Sao Jorge, you will most likely be 1) flying into the airport on the island (SJZ), which has direct from the main island of Sao Miguel, or 2) ferrying from the nearby islands of Pico or Faial if exploring those first.
Sao Jorge
Velas is the main town in Sao Jorge. Here are a couple highly rated spots:
Cantinho das Buganvilias Resort (a bit outside of town)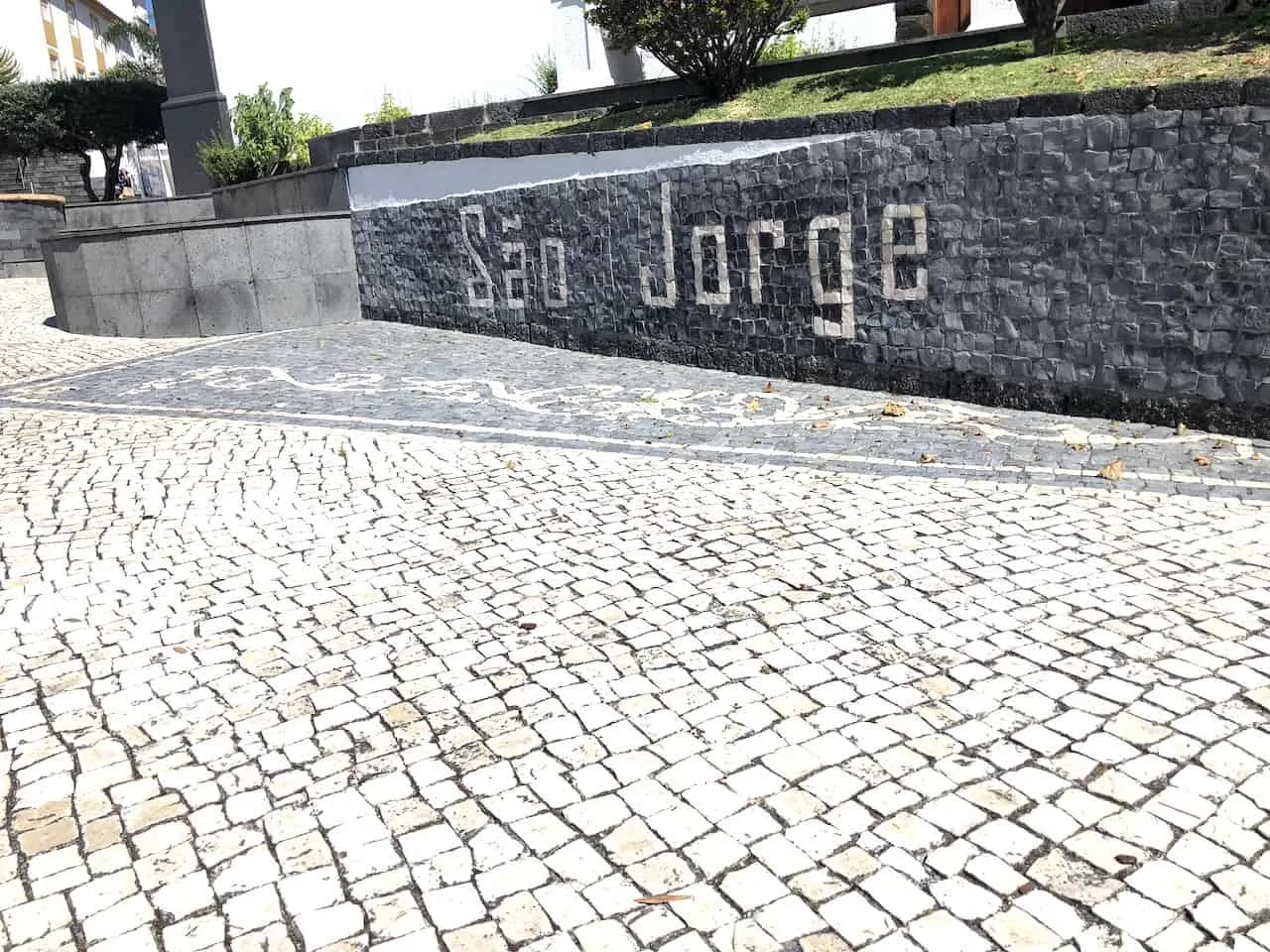 B) Staying on Pico or Faial
If you are not staying on Sao Jorge itself no worries! You can still take part of this hike as a day trip if coming from nearby islands of Pico or Faial.
All you need to do is hop on an inter-island ferry in the AM to Velas, Sao Jorge and you can make your way to the starting point of the hike from there.
Note that the ferry schedule is different depending on time of year and does not run every single day. You can check out the Atlanticoline ferry schedules to take a look at the latest.
Usually during the high season May-September, there is a ferry in the AM to Velas (~9:00AM-10:00AM) and one trip back at the end of the day to Pico/Faial (~9:00PM).
This would give you about 9 or so hours to take part of the hike, have dinner in town, and then head back to the port area.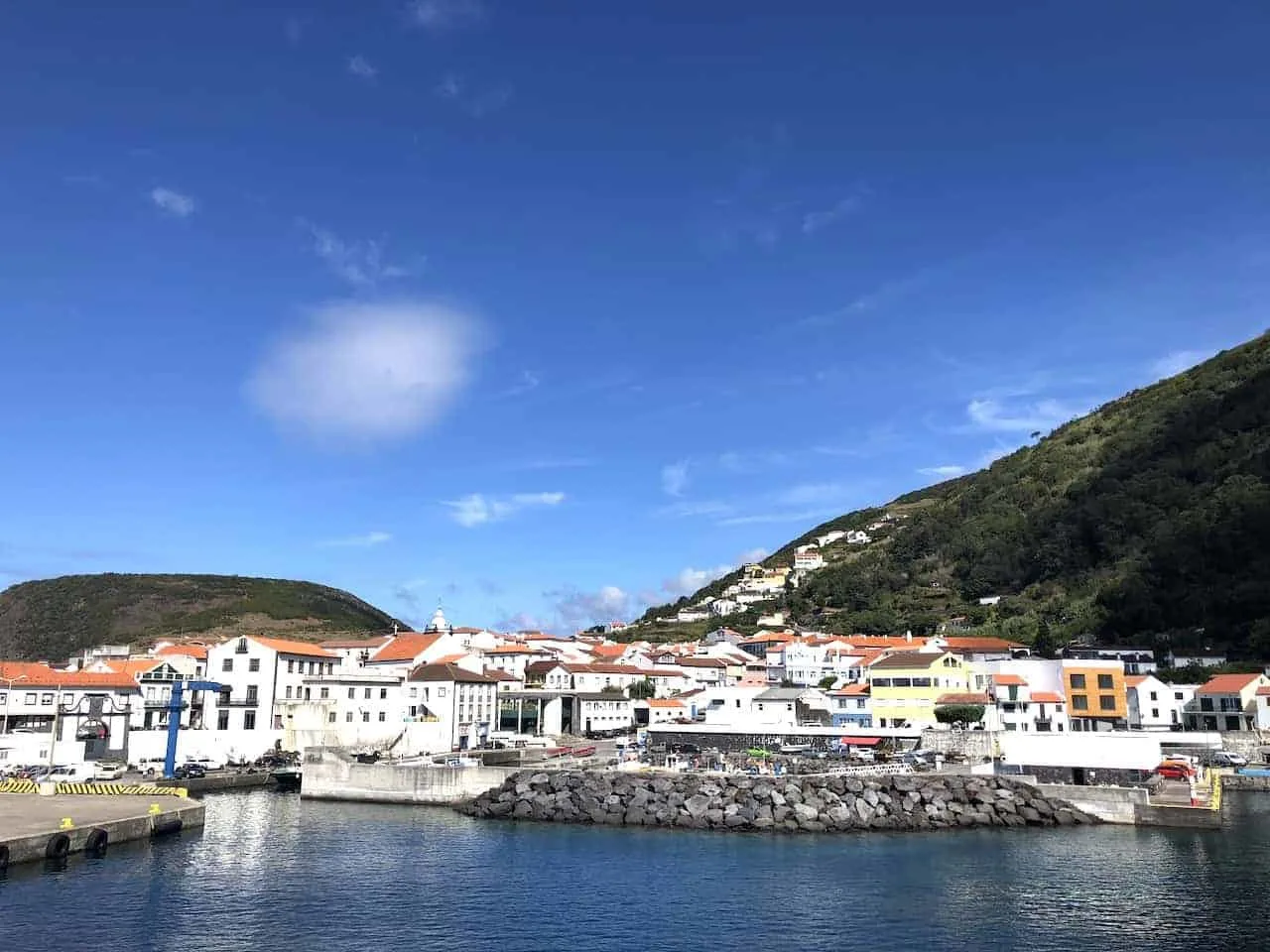 If you want to learn more about the different transportation options, check out the guides to flying in the Azores or ferries in the Azores to prep you for your trip.
3) How to get to the Starting Point (Serra do Topo)
Once you get off the ferry (if coming from another island), or from your hotel, you will need to make it to the starting point of the hike at Serra do Topo.
The easiest and most convenient option here is to grab a taxi from the port/town area and have the driver drop you off at the starting point, and then agree to pick you up at the end of the hike in Fajã dos Cubres.
The last thing you want is to be stuck without a ride back to town and potentially miss your boat if not staying on the island.
A second option here if you have a car on the island is to drive yourself to the starting point (map below), and then have a taxi pick you up at the end of the hike to bring you back to your car.
Note that in either option, there are not taxis just waiting in Fajã dos Cubres. The ones that may be there are most likely waiting for passengers who they took to the starting point earlier on in the day.
You can also take a look at the Azores taxi website for a list of drivers if you want to plan ahead of time.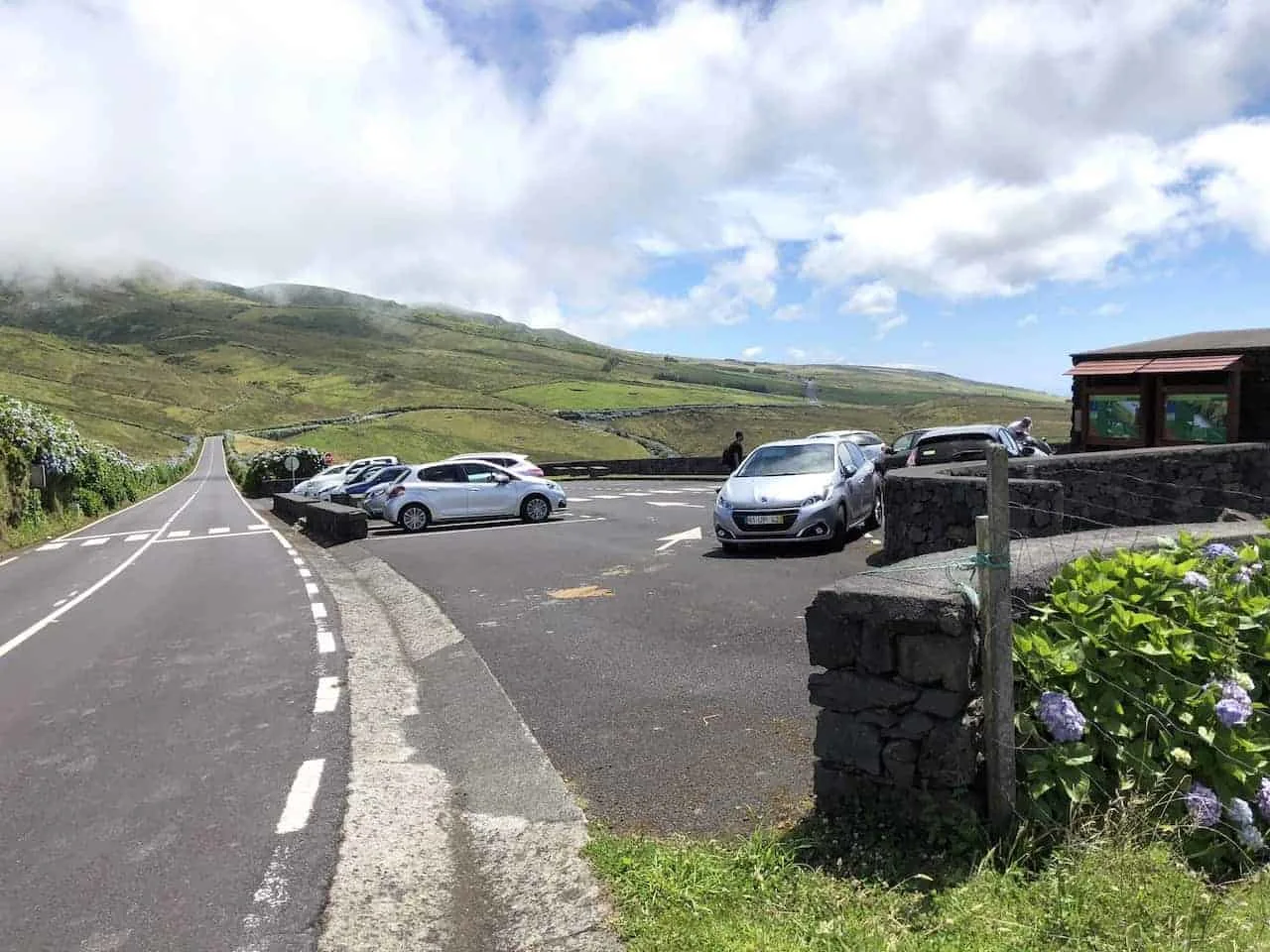 Below is a map which shows how to get to the starting point of the hike from Velas (approximately 40 minutes).
Once you approach the starting point, you will see a parking lot on the right hand side of the road where your driver can pull over or you can park in.
The GPS coordinates are 38.59731, -27.9267 if you want to simply put those into Google Maps. The light blue line shows the hiking trail for your reference.
---
Whenever heading off on longer day hikes, I always recommend being adequately prepared when it comes to the type of gear to bring along.
Check out the below packing list to get you ready for this hike and other hikes in The Azores.
Hiking Packing List

In general when it comes to hiking, there are a few main aspects to consider. These includes clothing layers, hiking shoes, hydration & fuel, electronics, and other essentials.

Below in a breakdown of some of the top items, but be sure to check out the Hiking Packing List for a more comprehensive view.

Clothing Layers

Layering is going to be a top consideration when hiking. You will want to be prepared for all sorts of weather so you can be comfortable in different situations. Some items may include:

→ Hiking Shorts
→ Hiking Pants
→ Short Sleeve Shirt
→ Long Sleeve Shirt / Sun Hoodie
→ Mid Layer Fleece
→ Puff Jacket (not always needed)
→ Packable Rain Jacket (Columbia Watertight II)

Note that your layers should be made of moisture wicking material as they are breathable and quick drying.

Footwear

Having appropriate footwear will also be very important. You will want to have shoes with the necessary grip and support to keep you safe on the trail.

→ Hiking Shoes (Keen Targhee)
→ Hiking Socks (Darn Tough)

Other Essentials

Whether it is hiking gear, electronics, or just some miscellaneous items, here are some other essentials to bring along on hikes.

→ Hiking Backpack (Osprey Talon 22) & Rain Cover (Joy Walker Cover)
→ Hiking Poles (Black Diamond Trekking Poles)
→ Water Bottle (CamelBak Chute or Katadyn Filter Bottle)
→ Portable Charger (Anker PowerCore 5000mAh)
→ Action Camera (GoPro Hero)
→ Energy Bars & Snacks
→ Hat & Sunglasses
→ Sunscreen & Bug Spray
---
4) The Hike
Now that you have arrived at the starting point, it is time to dive into the hike itself. After getting out of the car, you will cross the road and start following the markers down the northern side of Sao Jorge.
The hike is broken up into a couple main sections.
First is the walk downhill form Serra do Topo to Caldeira do Santo Cristo, followed by relaxing in the water and in town, and then a shorter trail taking you to the end of the hike in Faja dos Cubres.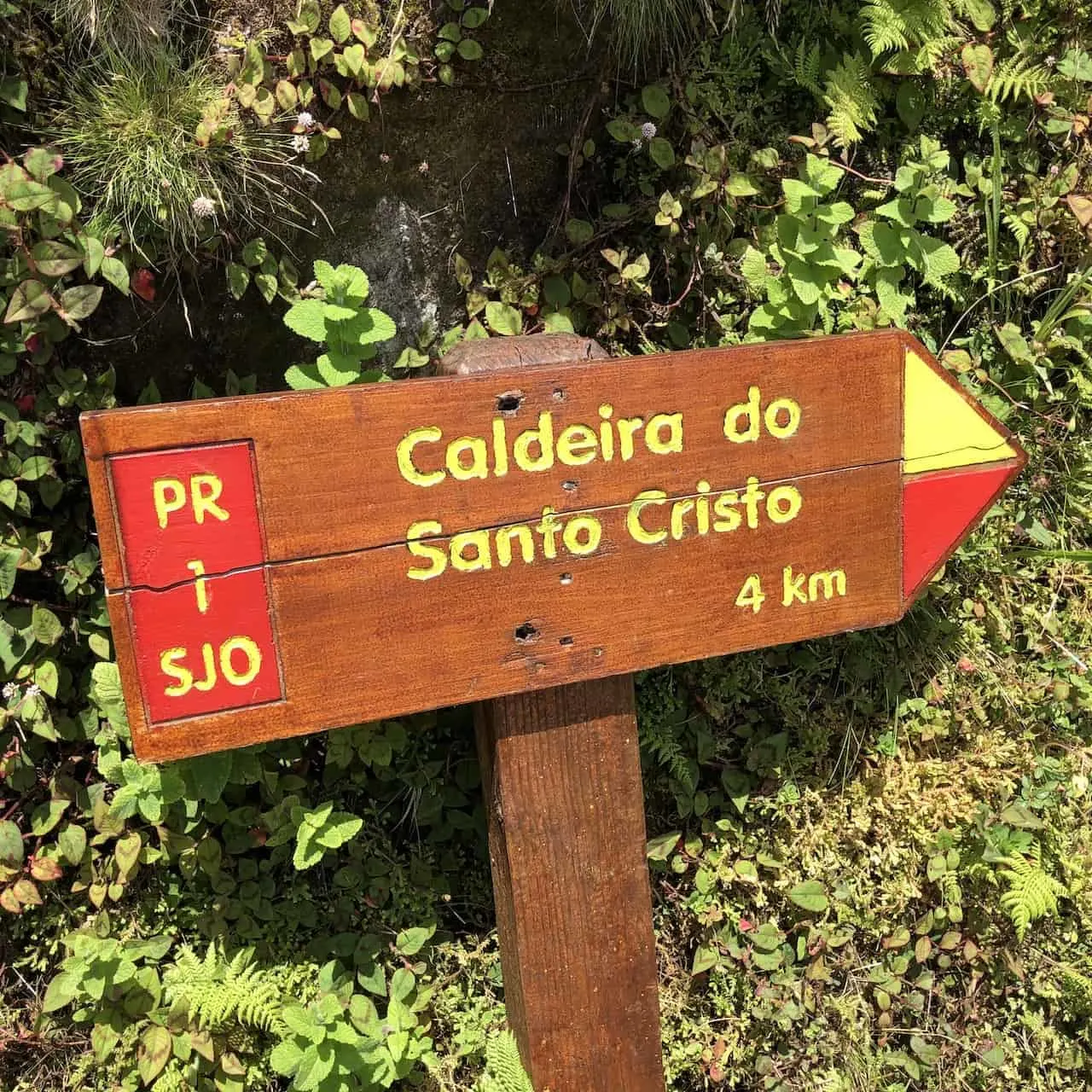 A) Serra do Topo – Caldeira do Santo Cristo
For the next 1.5 – 2 hours you will continue down the path towards the ocean.
While tough on the knees, you will be constantly be distracted by the continuous greenery and the Atlantic Ocean out in the distance.
Just be sure to watch your step as you make your way down as some parts can get a little bit technical.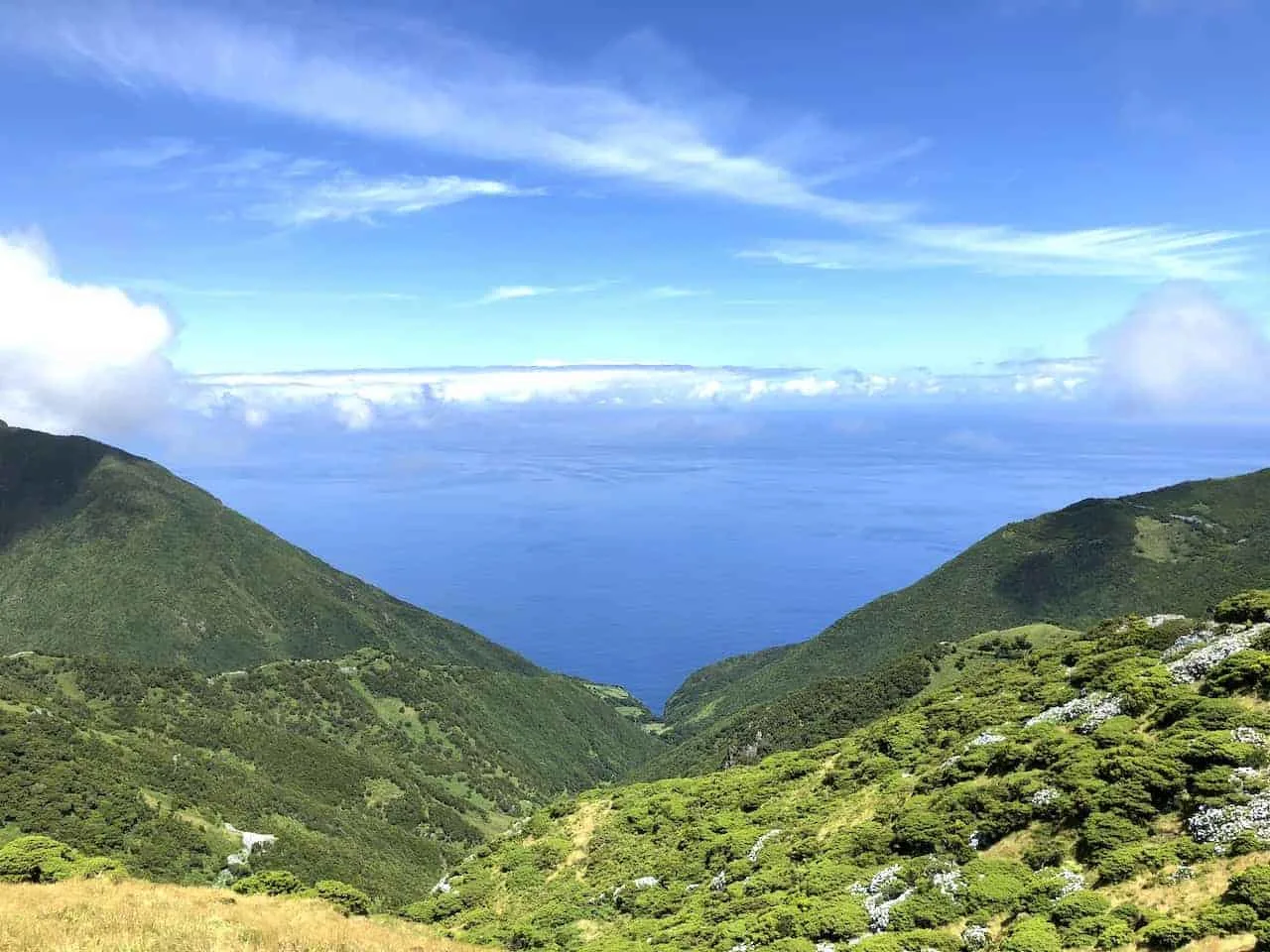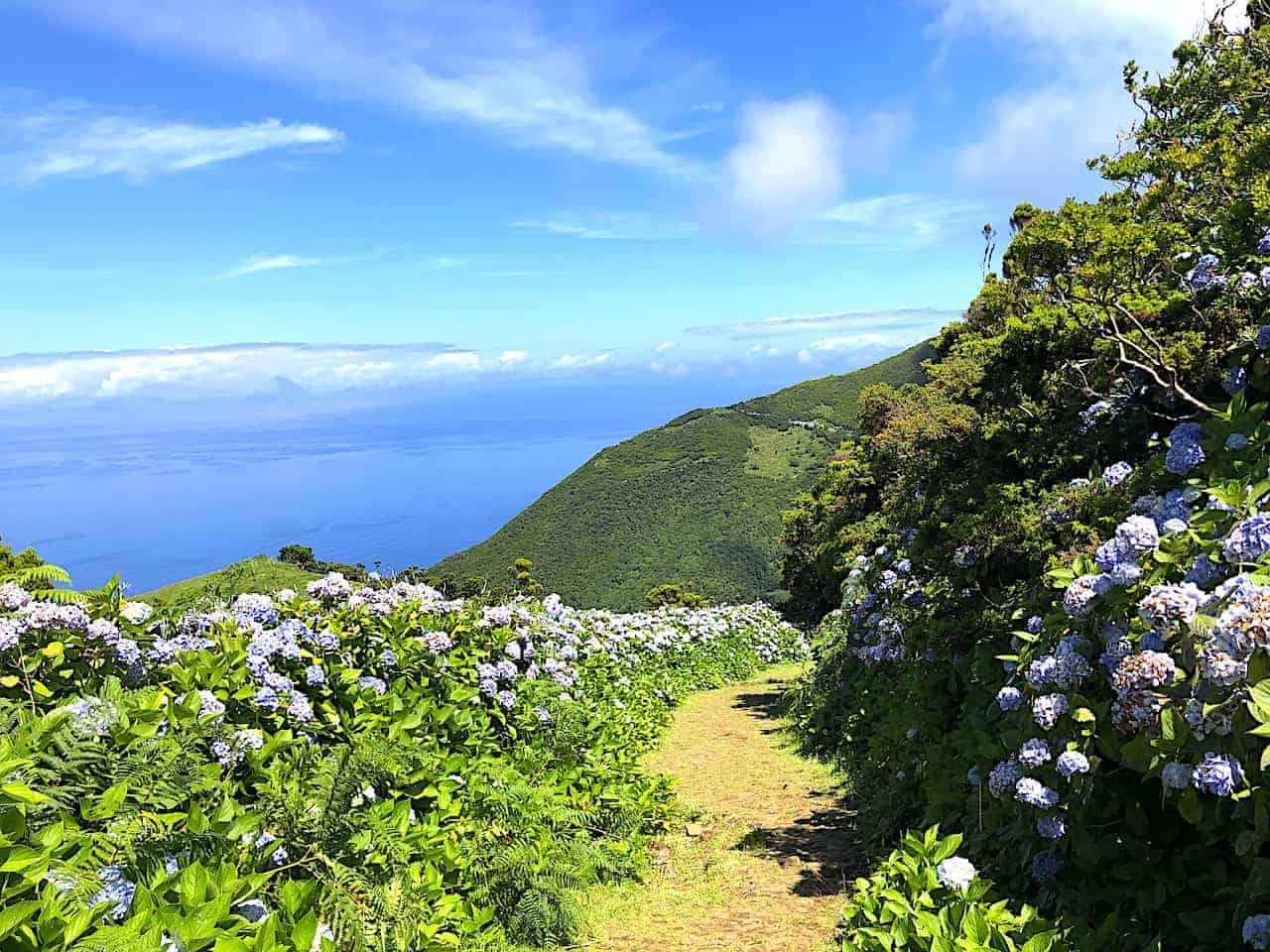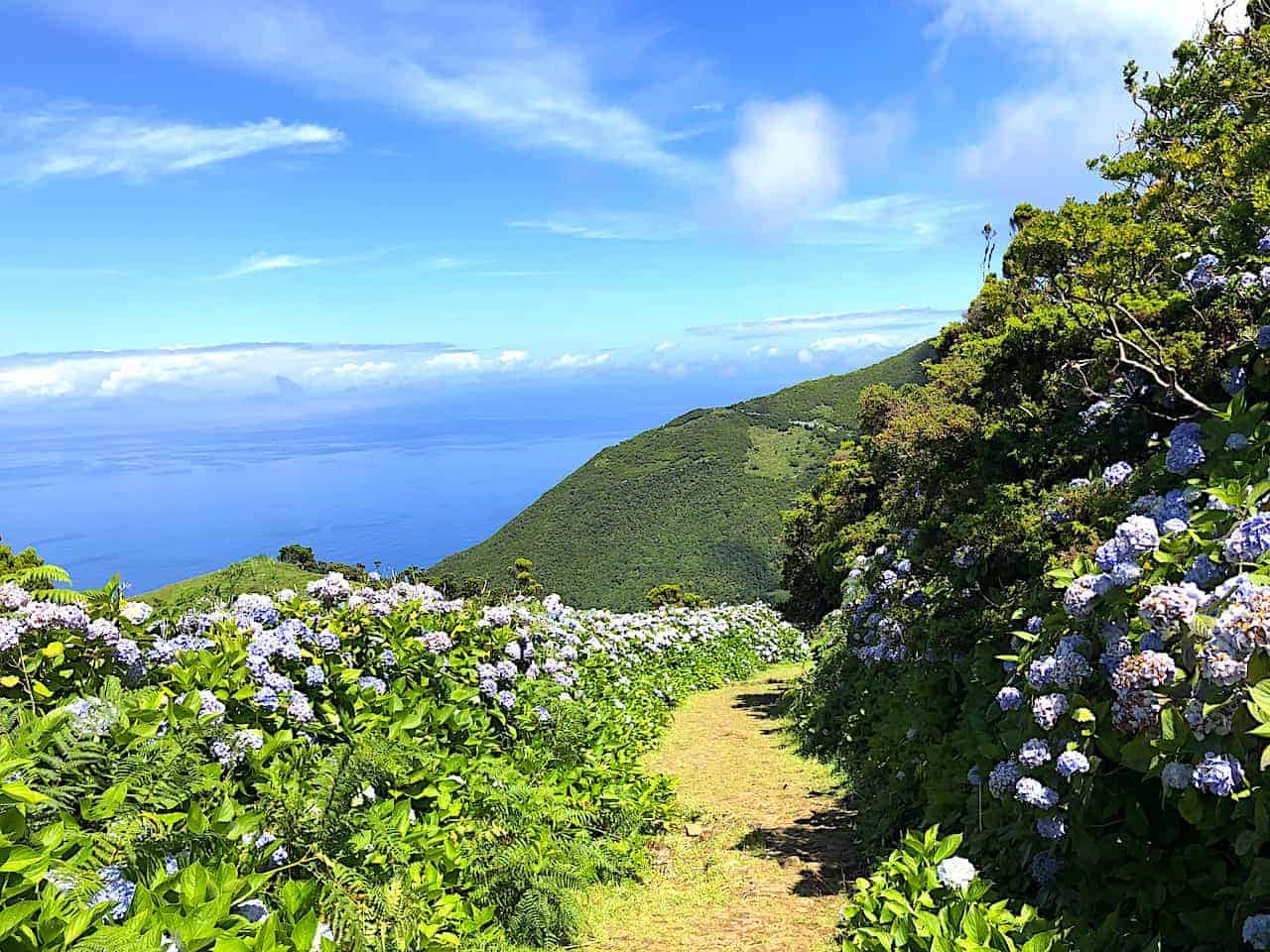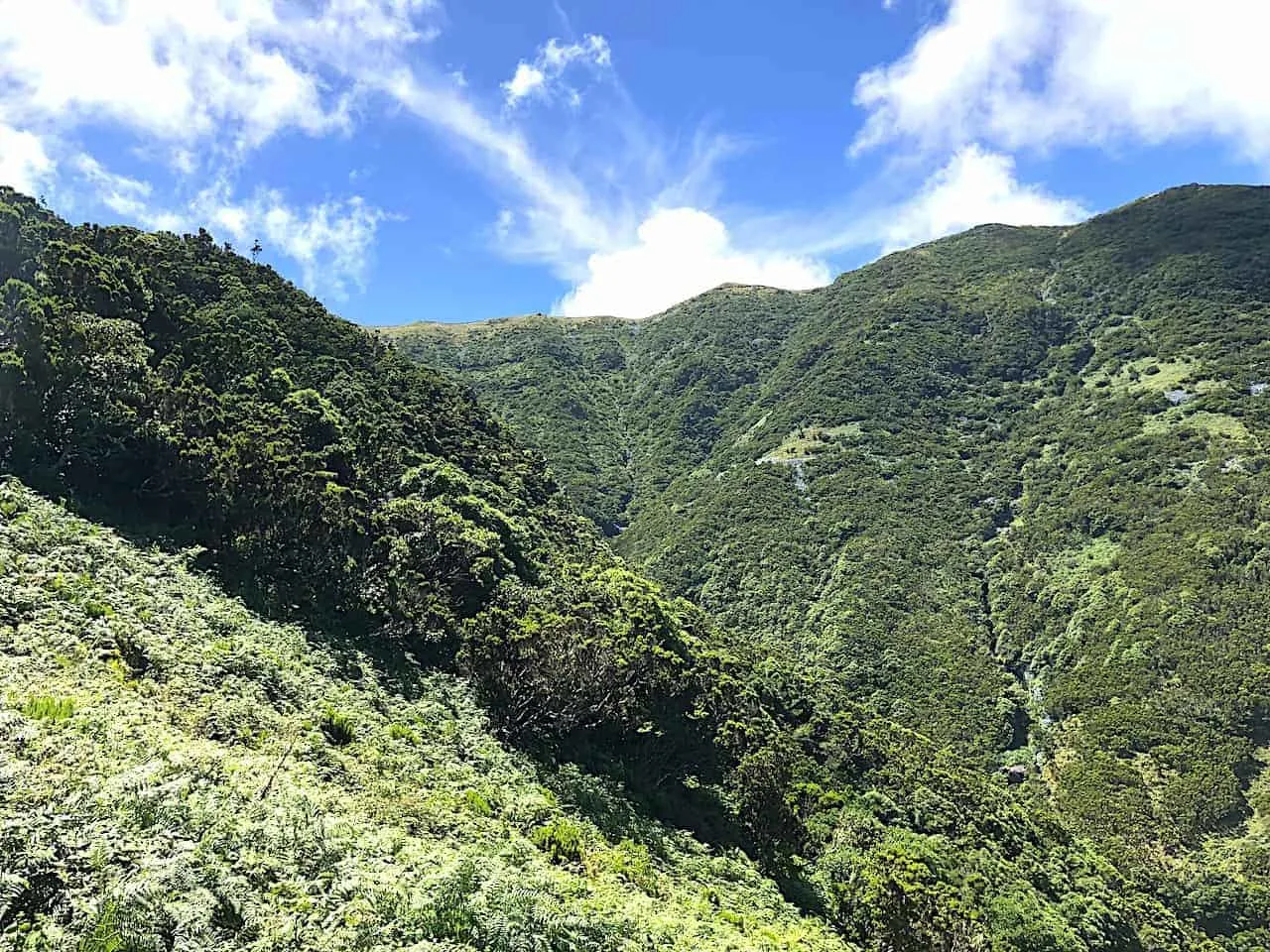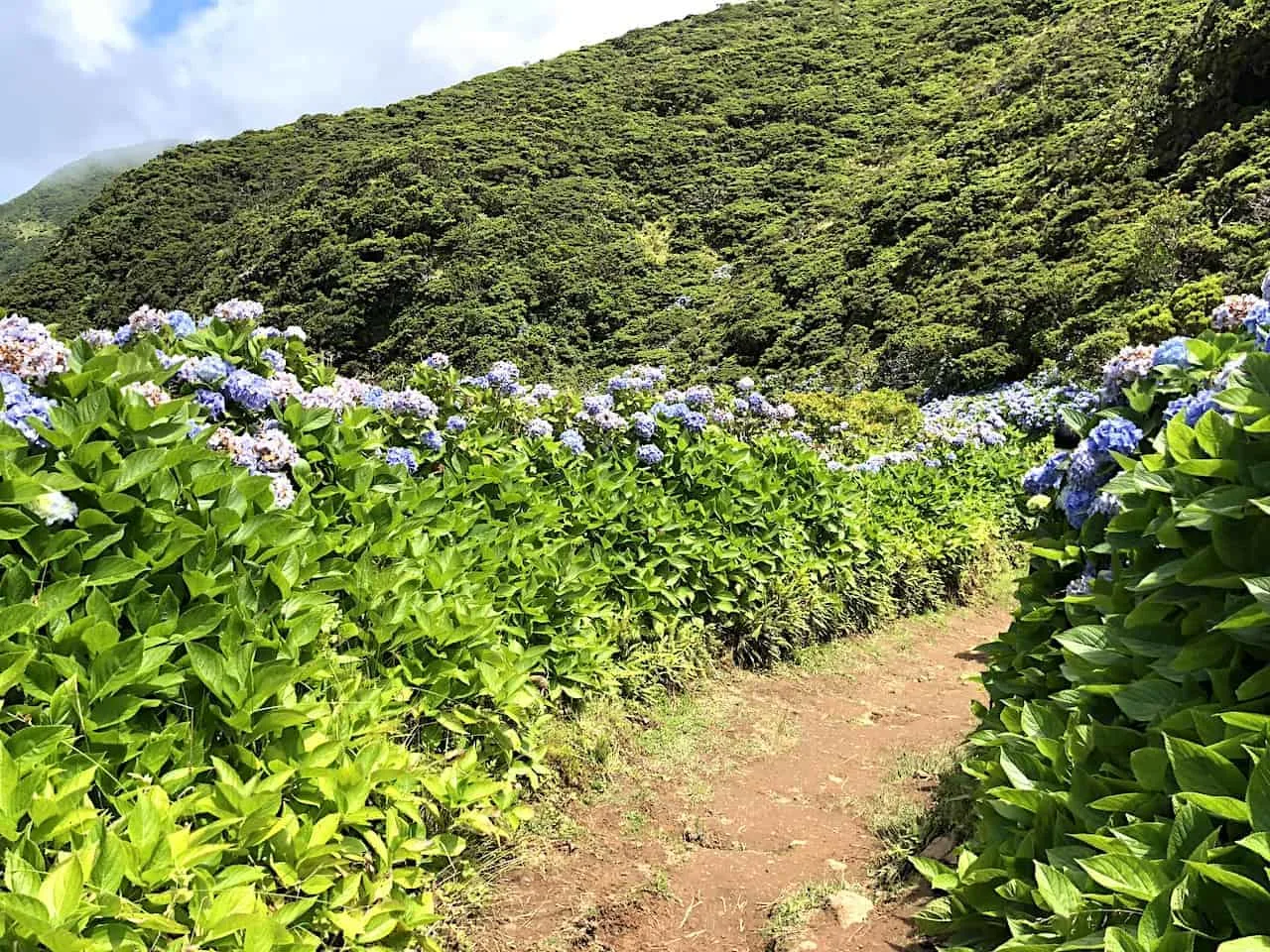 Another great aspect of this part of the hike is the wildlife that you see and hear on the way down. The amount of different birds that can be heard chirping and singing just did not seem real.
But believe me it is and you will have one incredible experience as you walk this trail. You will soon see the famous Caldeira do Santo Cristo out in the distance as you walk the last section of the first part of this trail.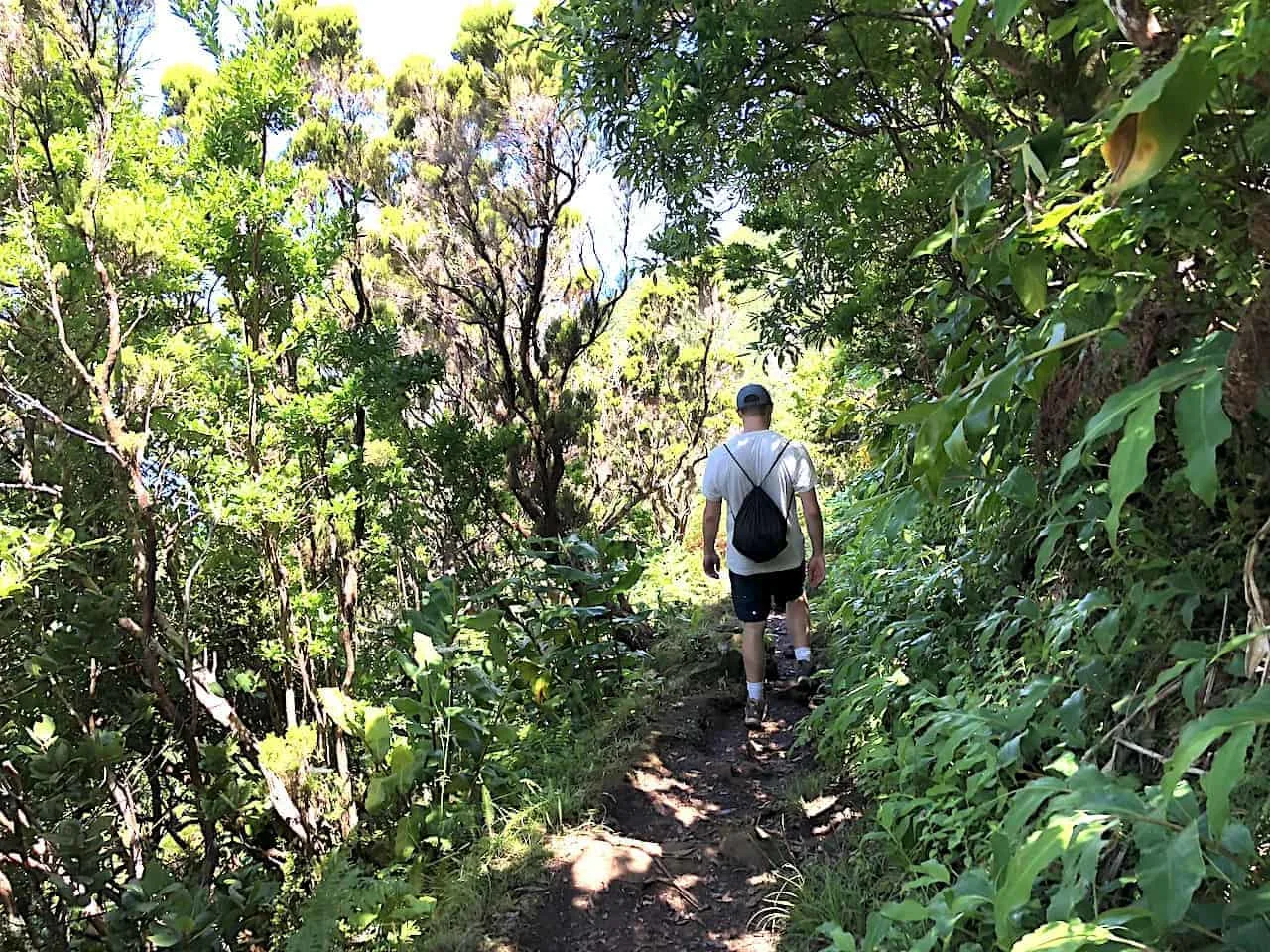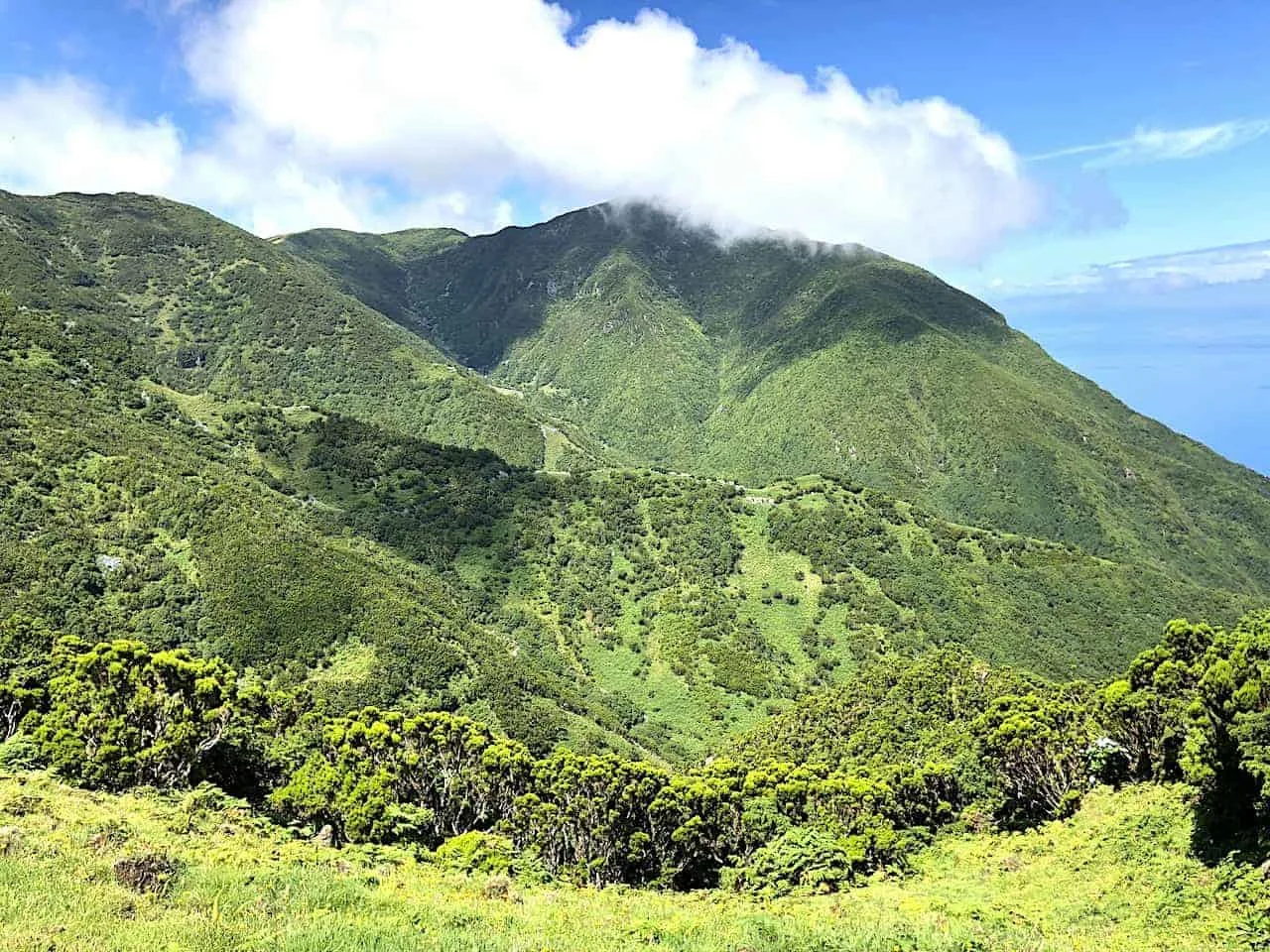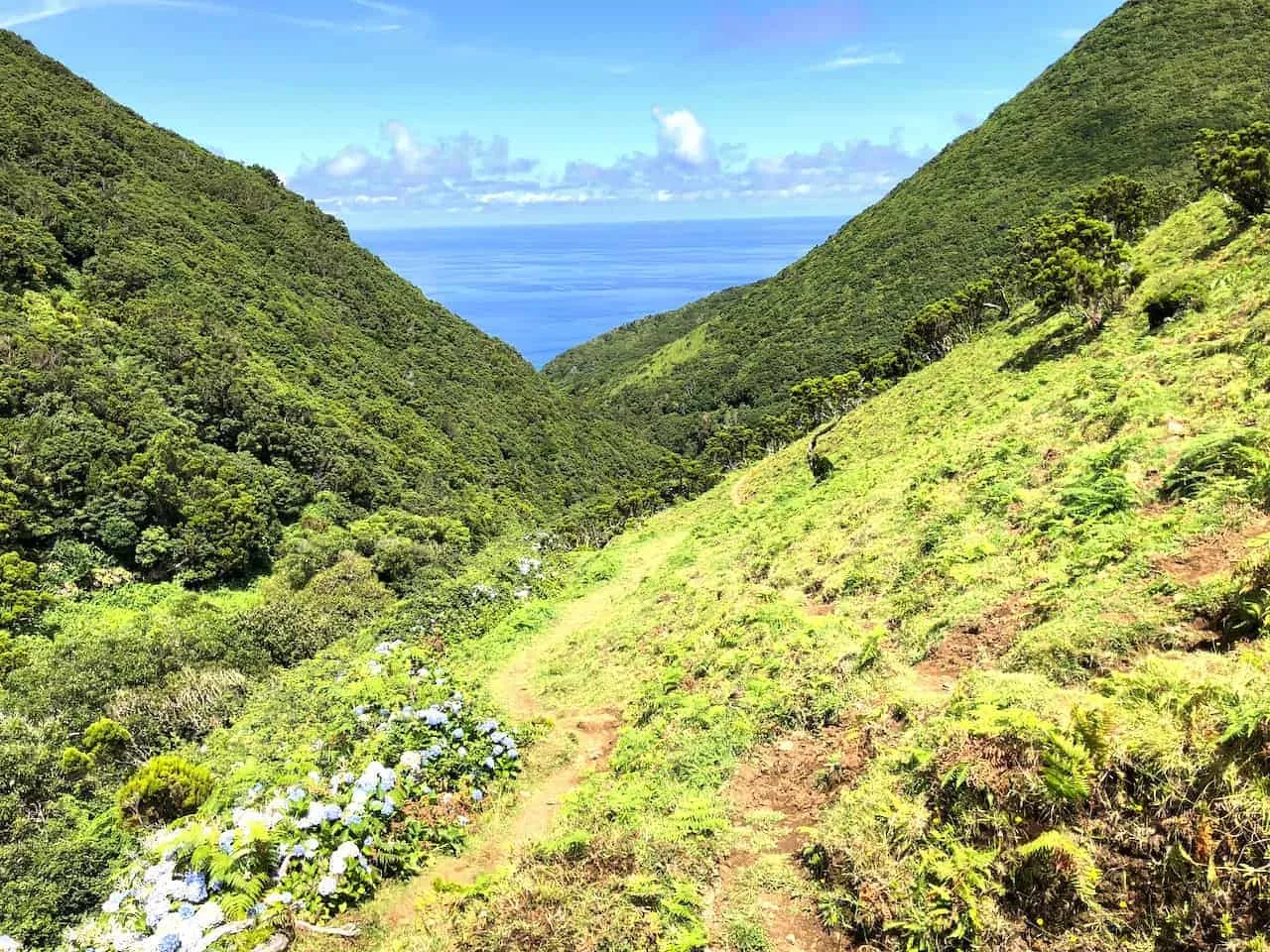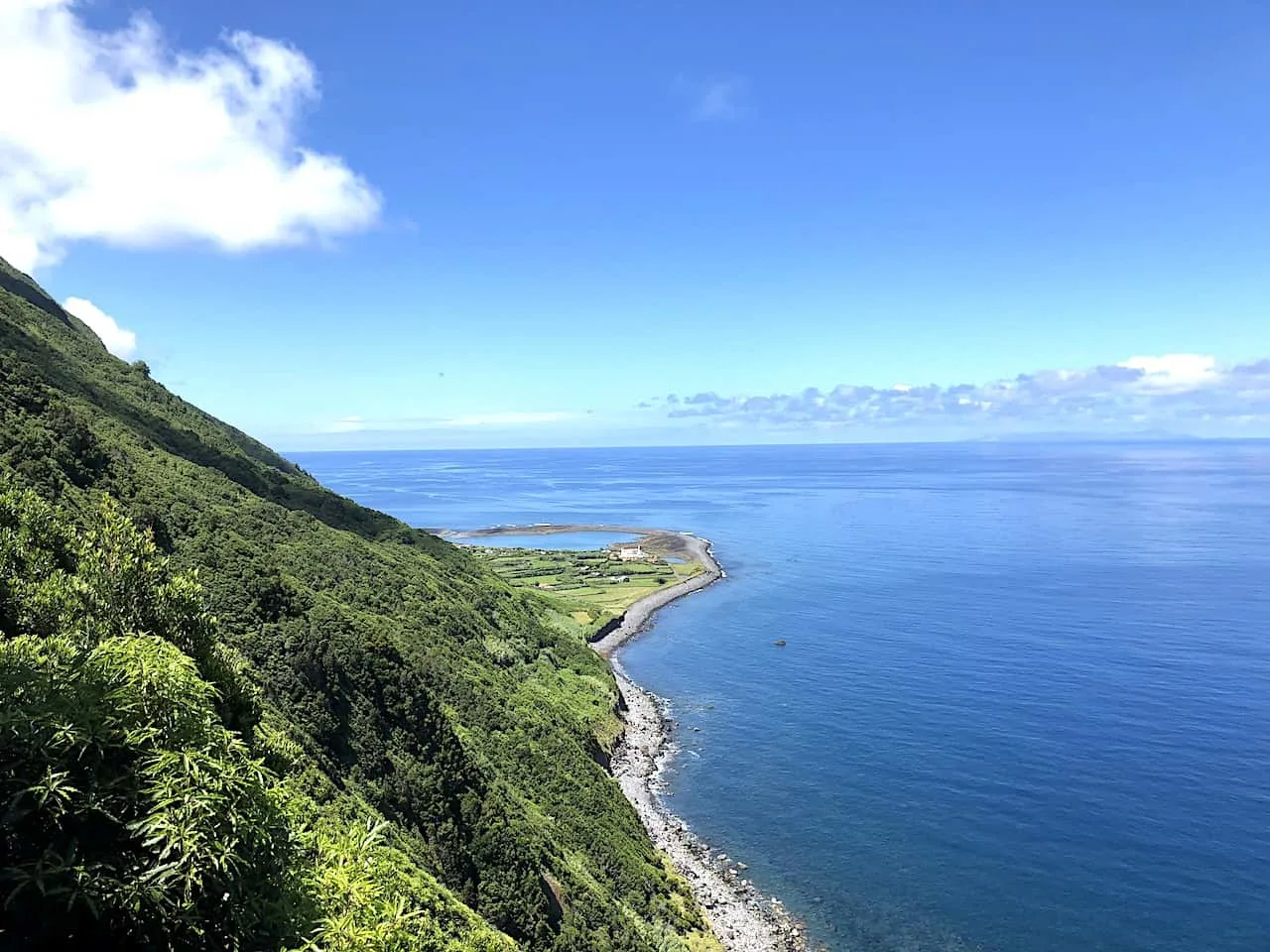 B) Caldeira do Santo Cristo
After the hike down to the bottom, you will soon arrive in the small town of Santo Cristo. This is not your ordinary town though – the only way to make it here is either by foot or by ATV. There are no roads and no cars throughout Santo Cristo.
One of the highlights of the town is the natural swimming pool in the ocean that you can swim in to relax and cool down.
When I took part of the hike with some friends we spent nearly an hour just hanging out by the pool and taking in the sun.
Once you are finished up with the swim, you can head to one of the small bars/restaurants in town for a drink or snack – it doesn't get more genuine than this.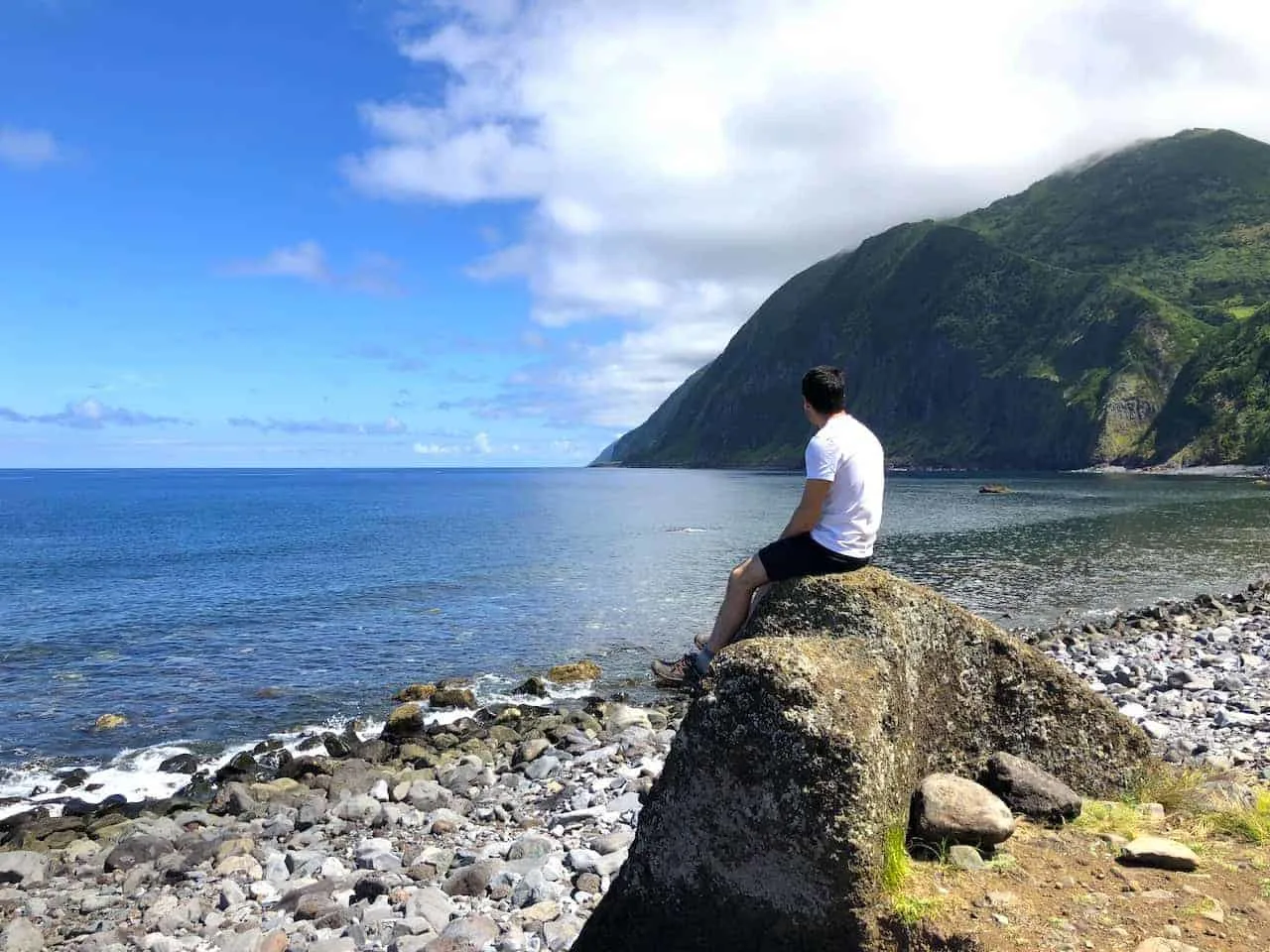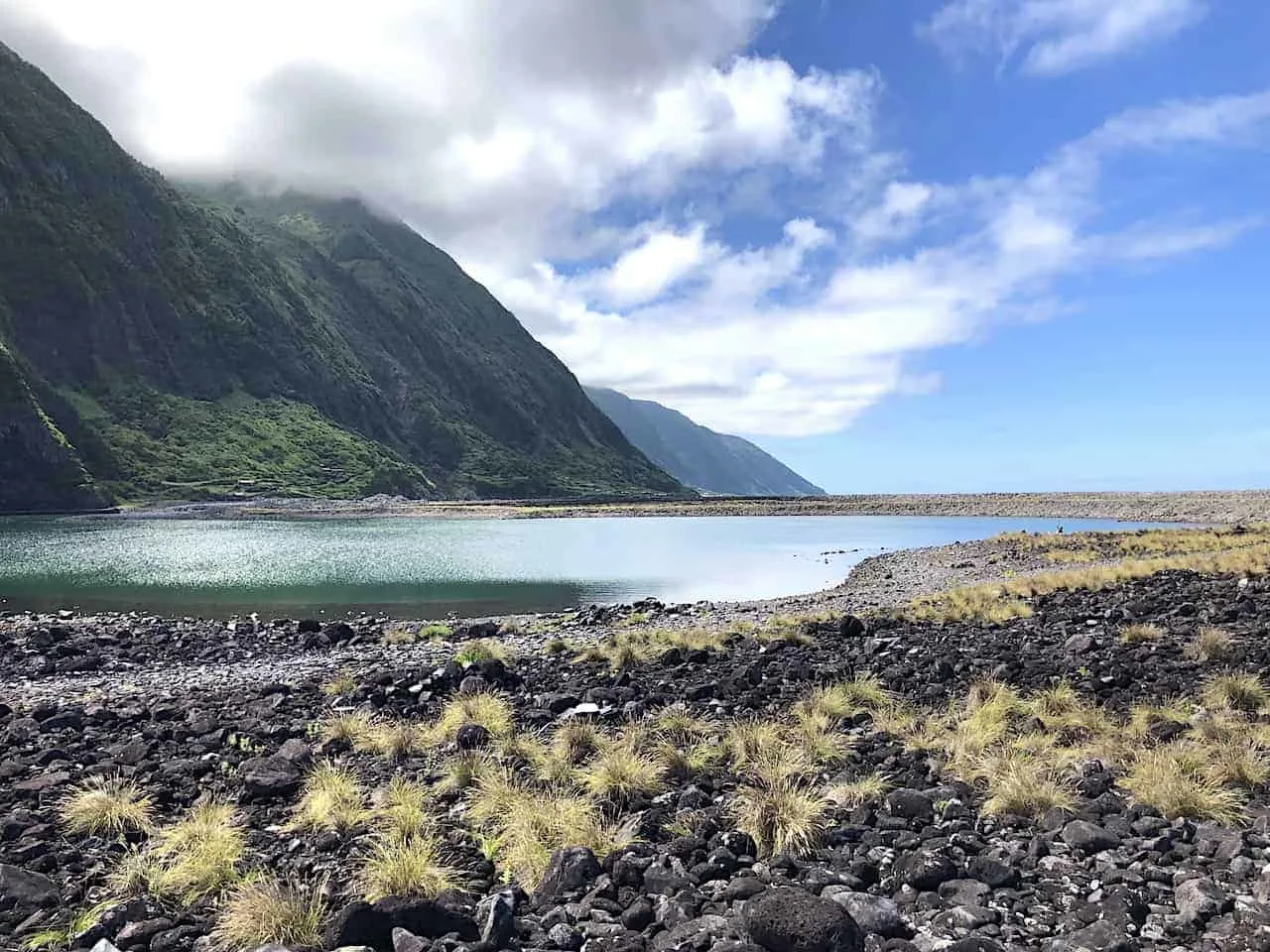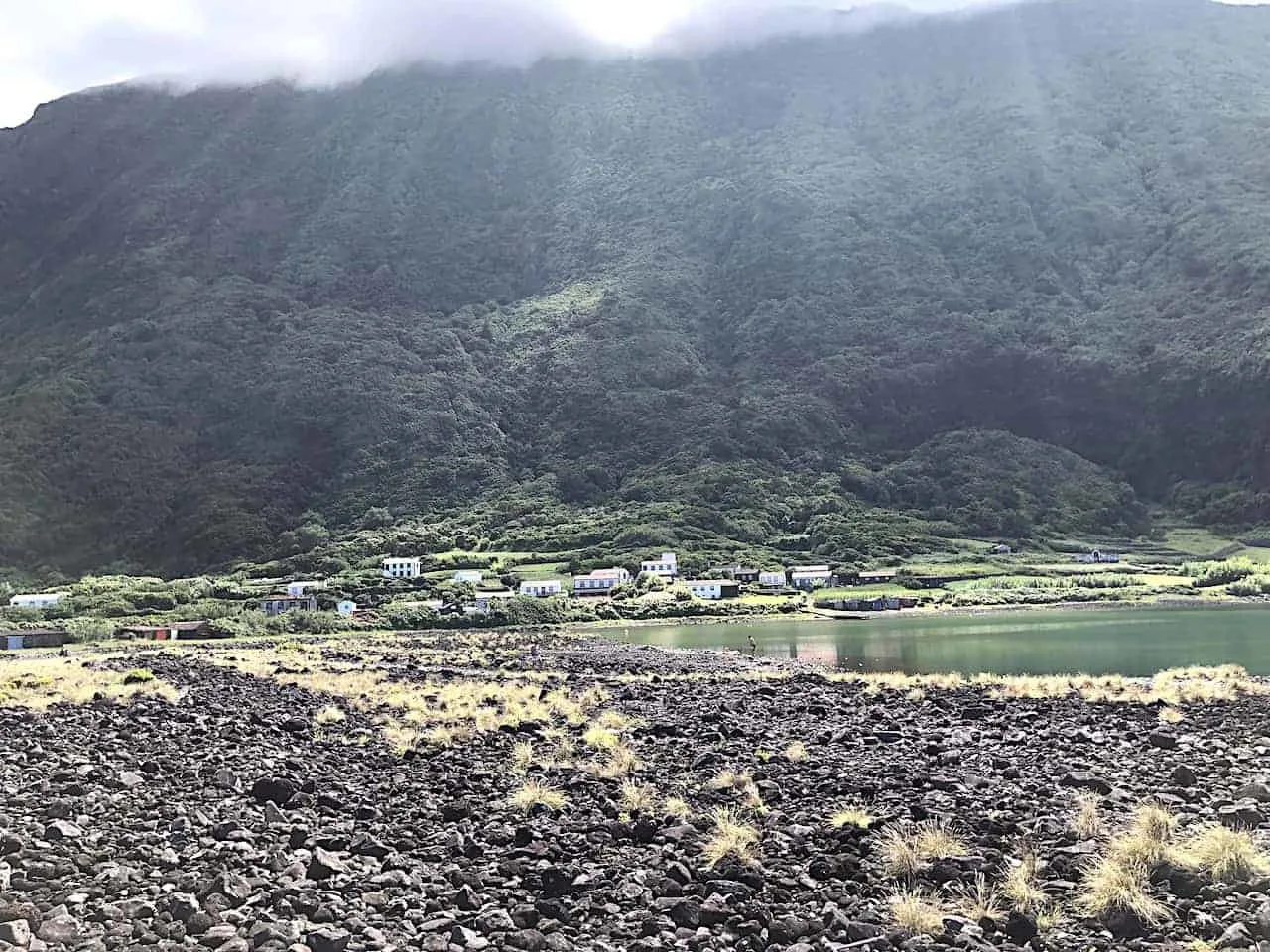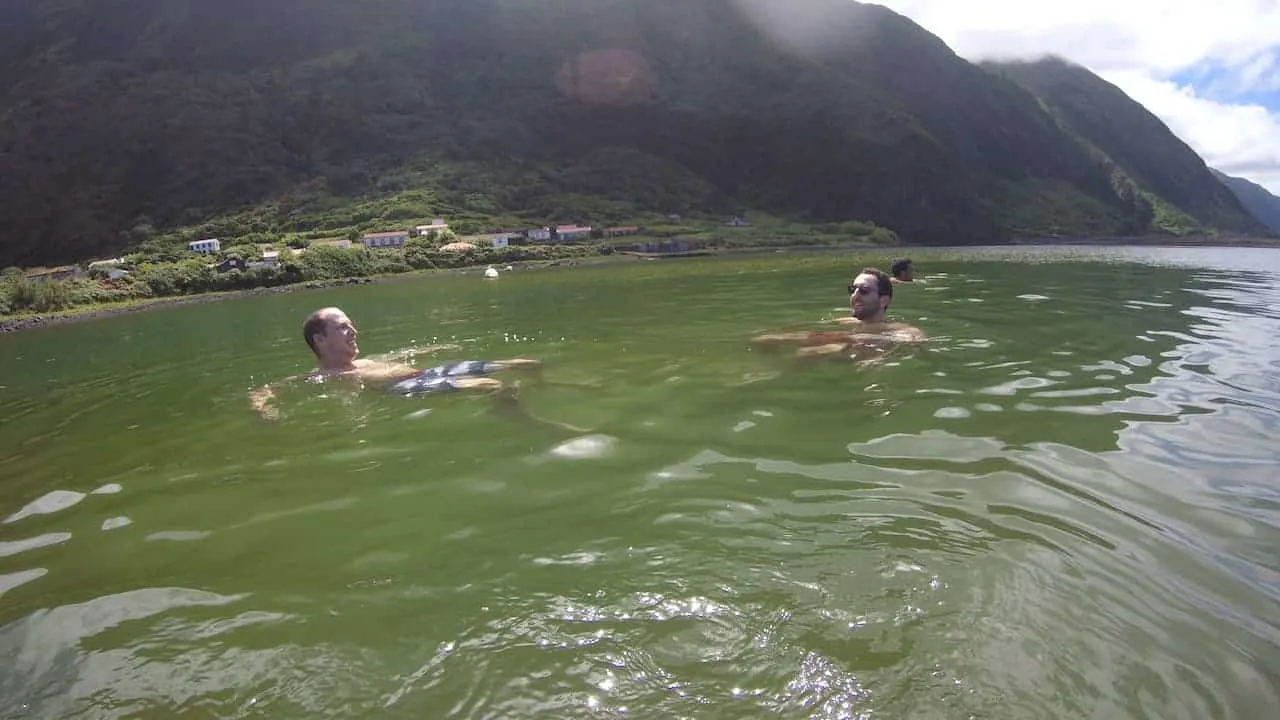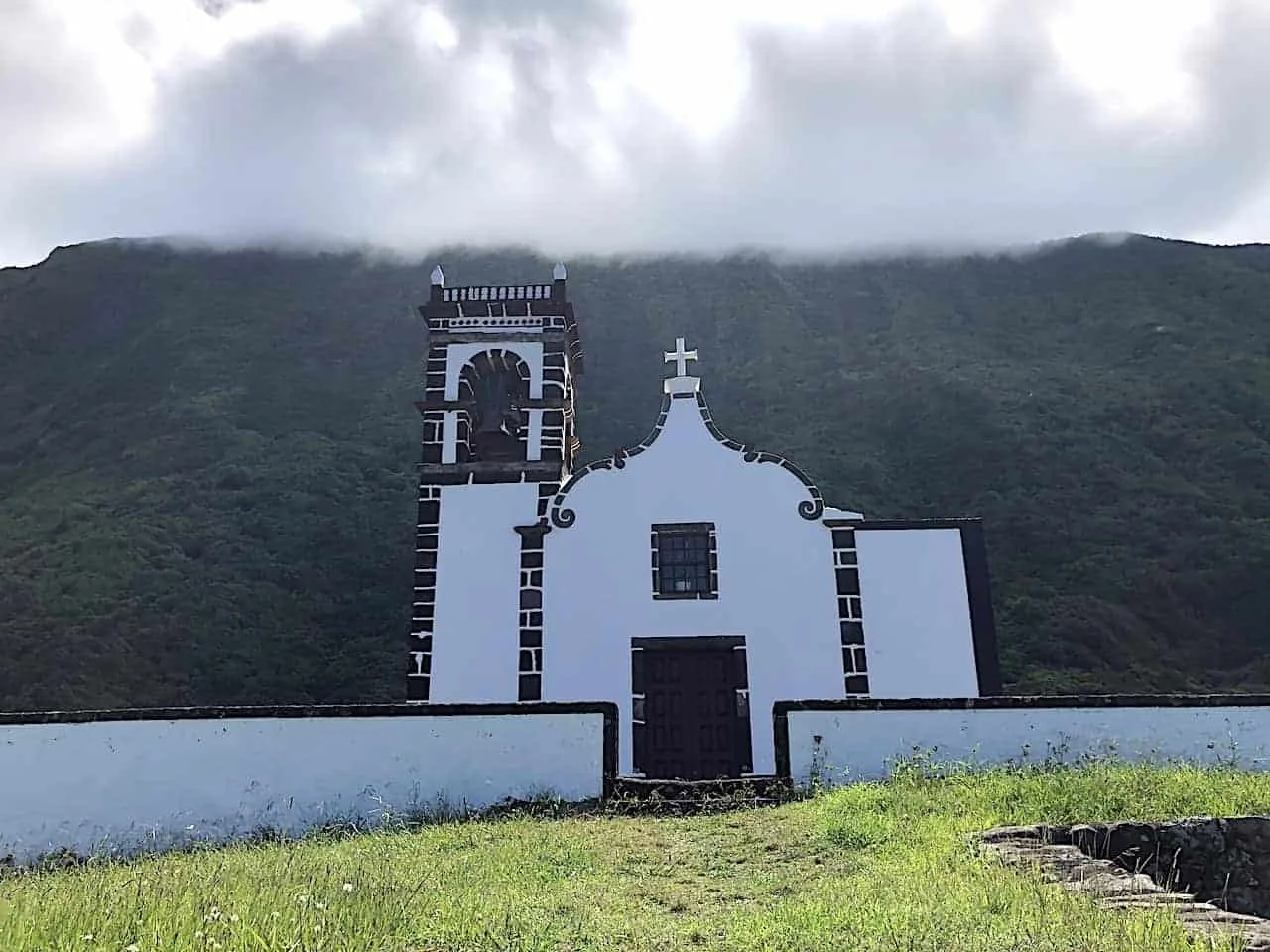 C) Caldeira do Santo Cristo – Fajã dos Cubres
Now that you have relaxed and explored town, continue the trail towards Faja dos Cubres, another small town where you can get picked up by your driver.
The walk should take around 45 minutes or so and you will end up in town near the church/bar area, where you can wait for your taxi.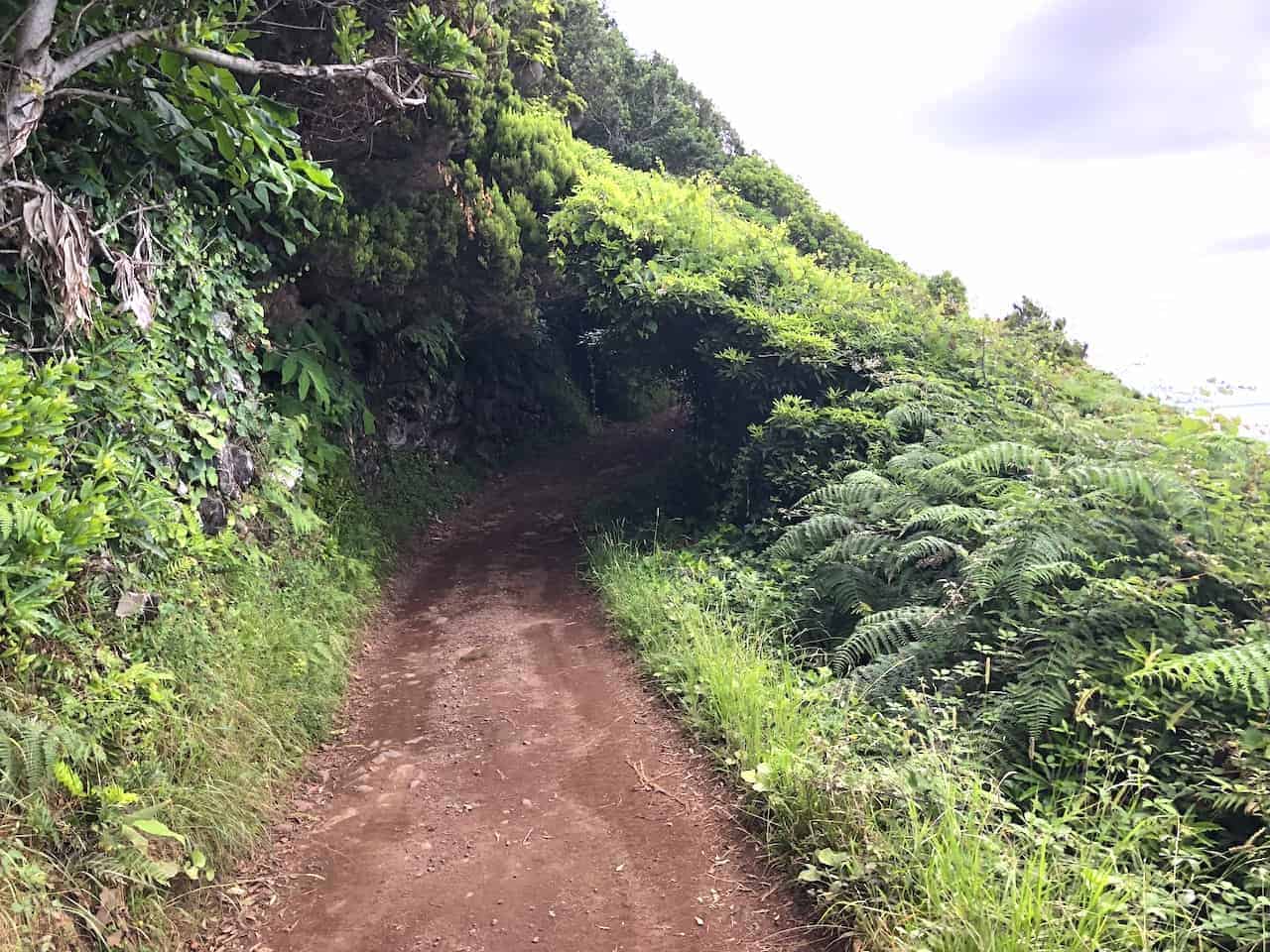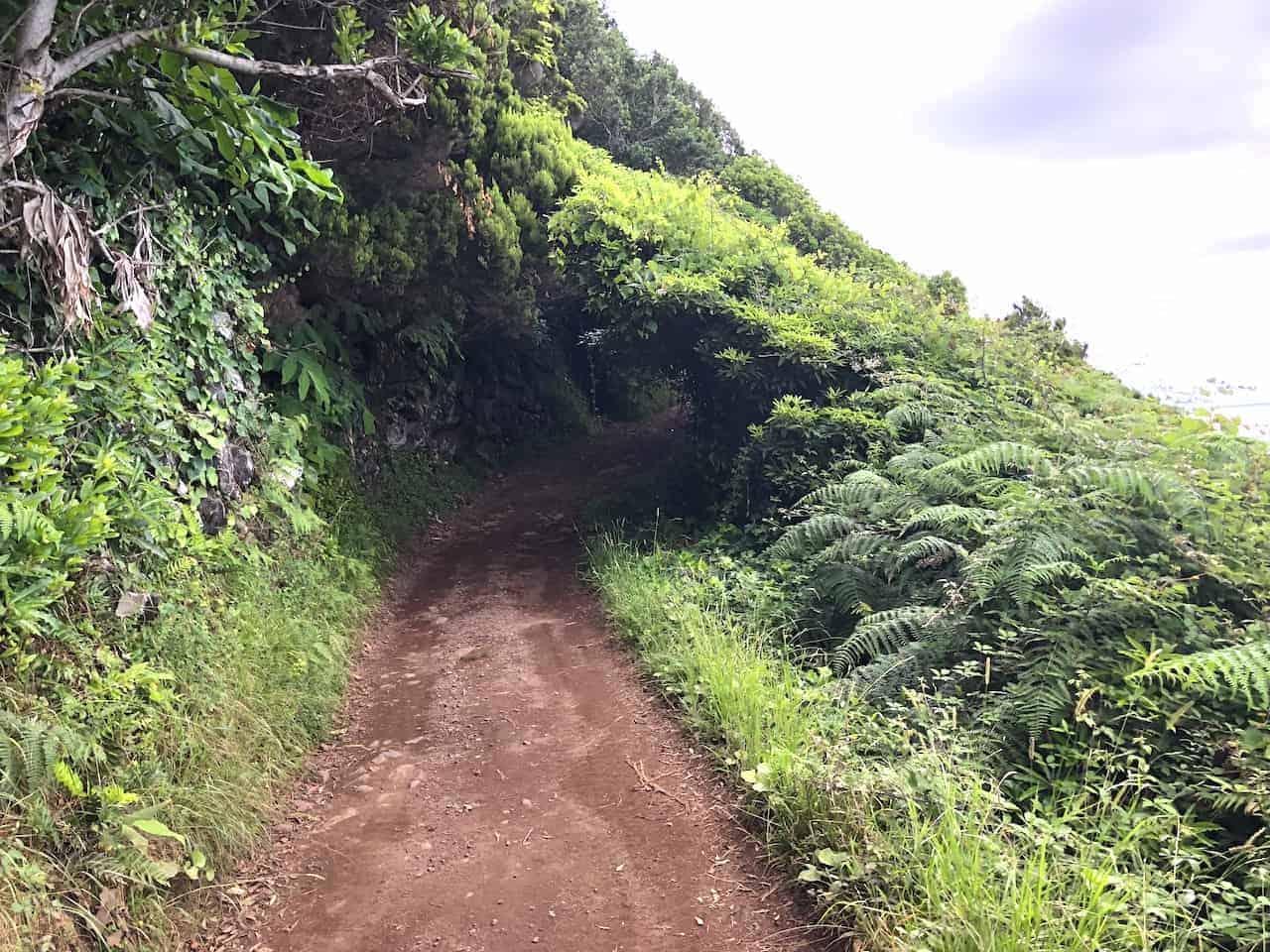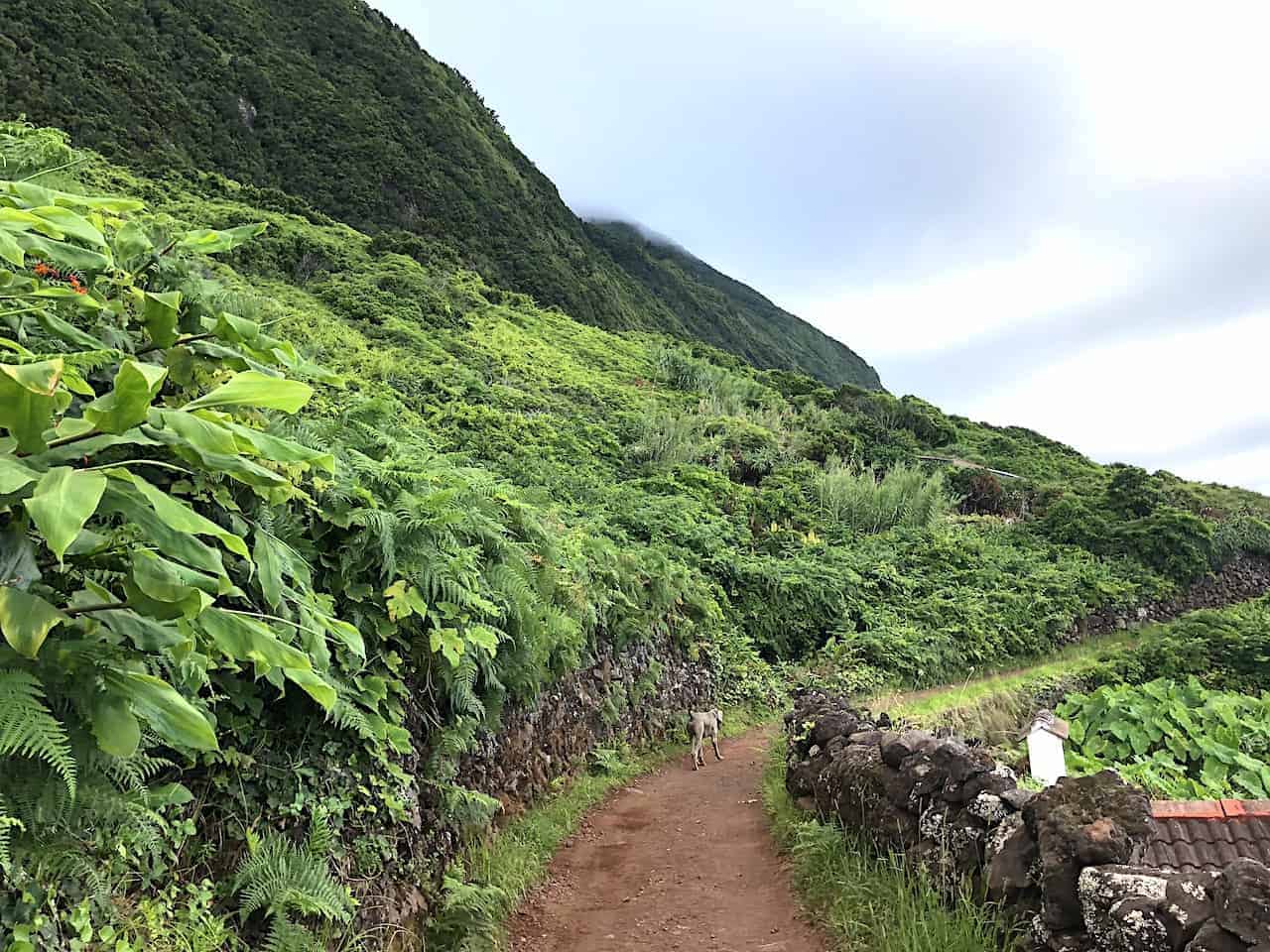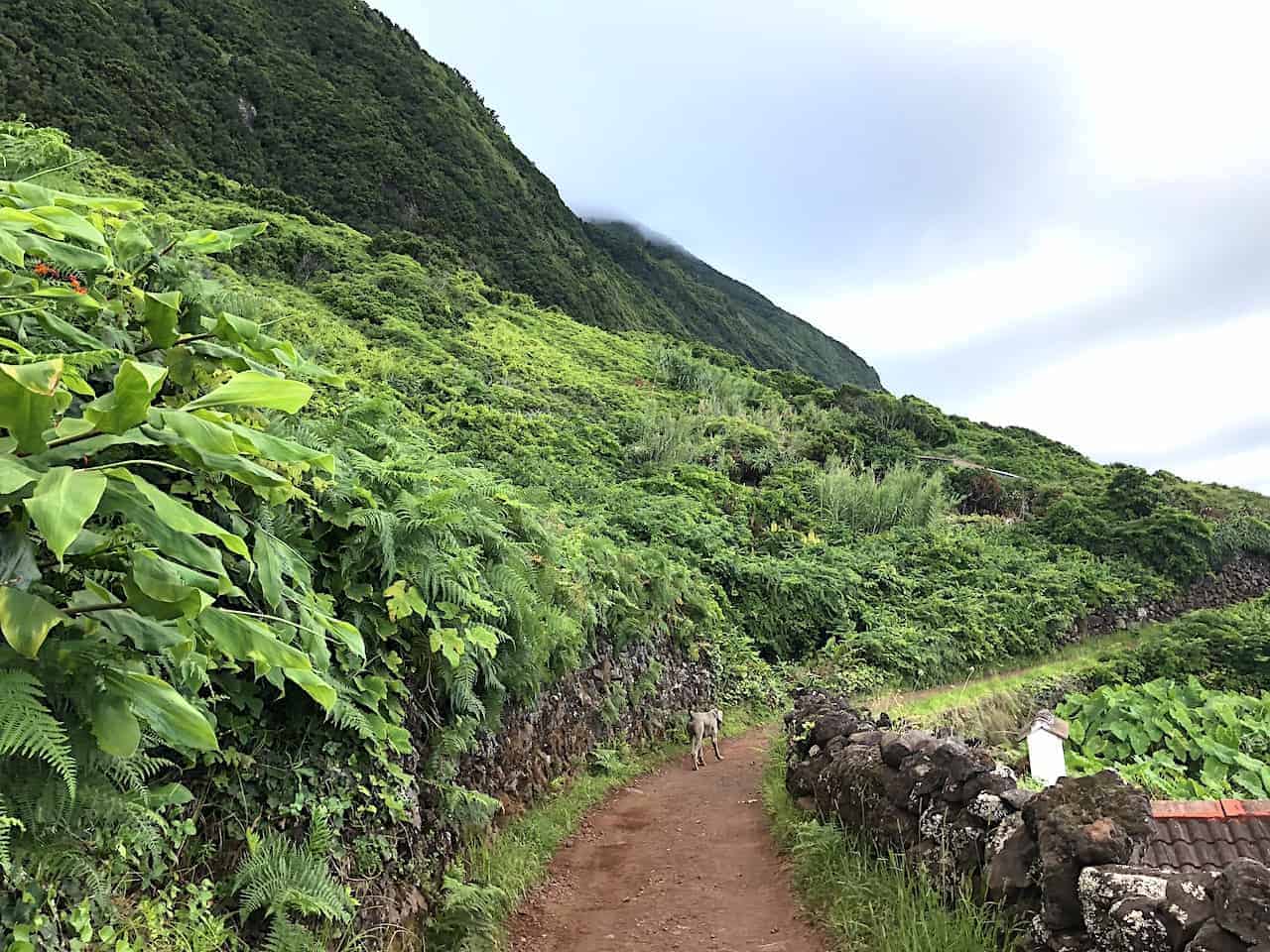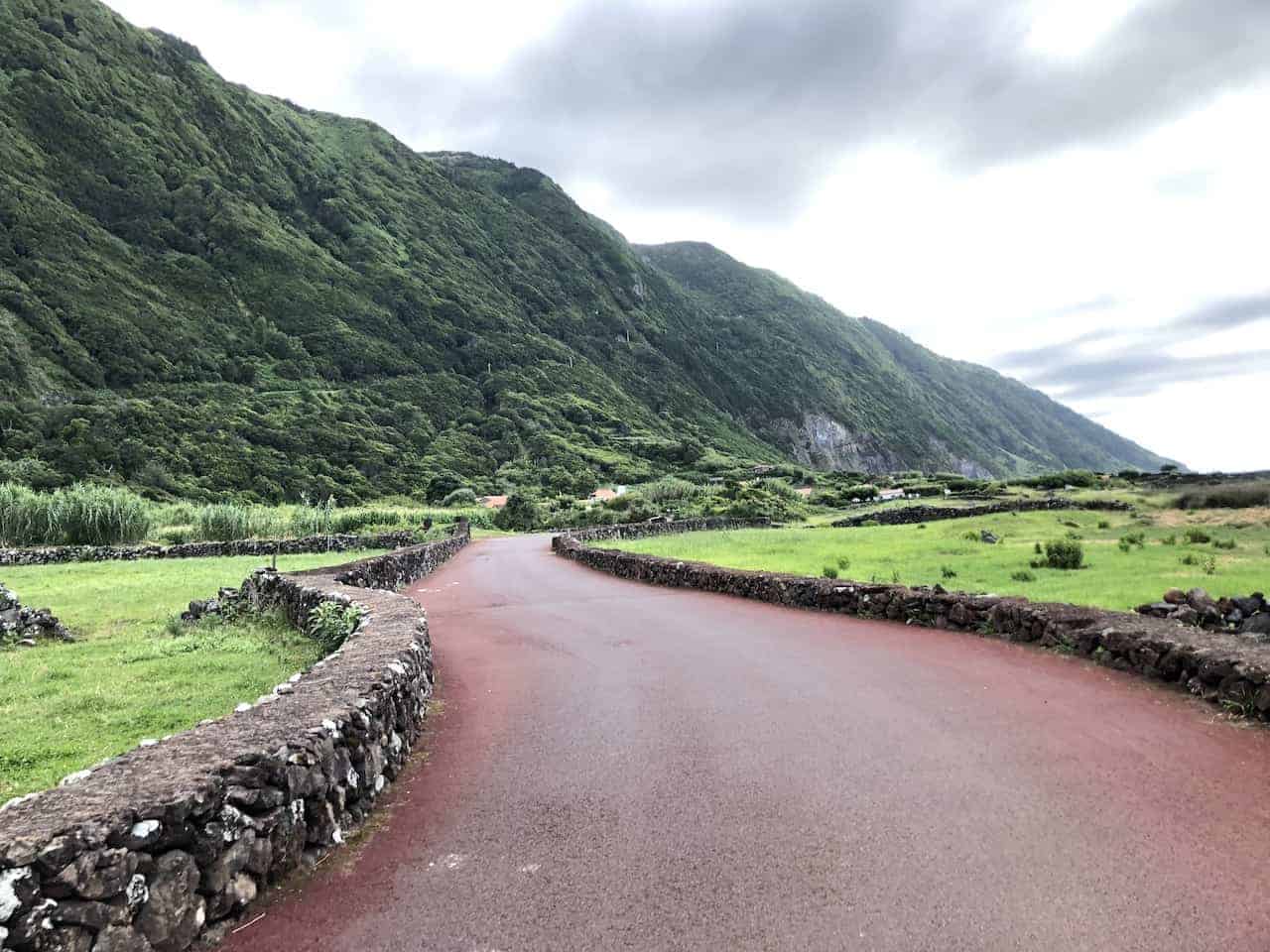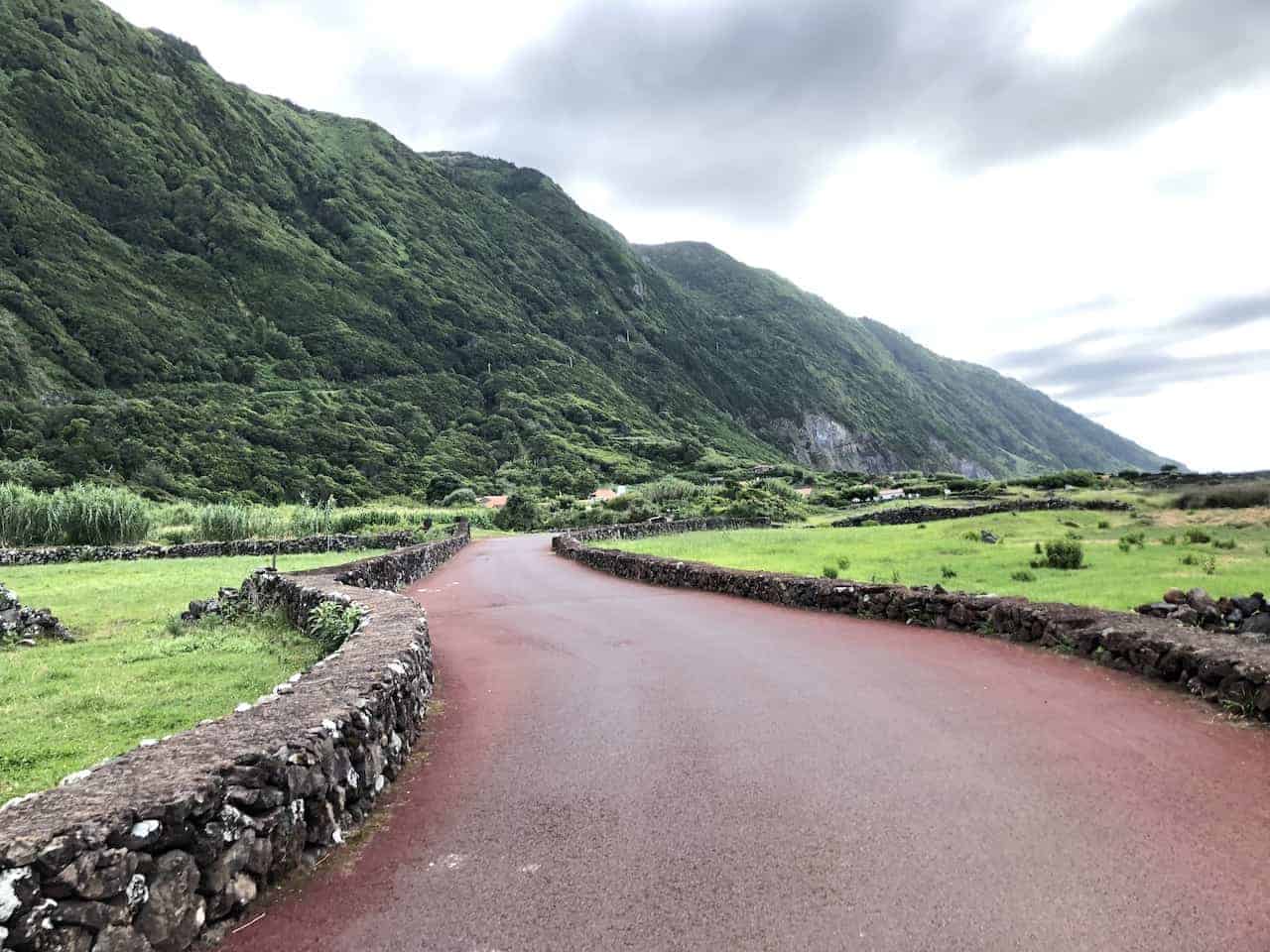 Once you get picked up, you will make the 30 minute drive back to Velas, where you can have some dinner before heading to the port area to catch your ferry back to Faial/Pico or back to your hotel on Sao Jorge.
5) Where to Stay in the Azores
Need some help on where to stay?
There are two main ways to go here – either browse through Booking.com to find the best hotel that fits your budget and style or check out Airbnb which might have more options.
Sao Miguel
There are a few main towns around the island but if you are looking for the most happening spot that would be in Ponta Delgada.
There are way more accommodation and restaurant options here than any other location on the island.
If you want to get a little further away you can also check out the town of Furnas, which is home to several natural hot springs. Here are some hotel recommendations for each:
Ponta Delgada
Furnas
Pico
I would recommend staying right around Madalena (especially if you do not have a car), or Sao Roque on the northern end of the island.
Sao Jorge
Velas is the main town in Sao Jorge but I did not have enough time to stay on the island. Here are a couple highly rated spots though:
Faial
Staying in Horta is sure to be a good time. It has a great marina area surrounding by shops and restaurants throughout.
Other Islands
For the remainder of the islands, below would be some top rated options to choose from:
Santa Maria: Charming Blue | Casa dos Valentes
Graciosa: Moniz House | INATEL Graciosa
Terceira: Central Praia Beach | ALLuar Lodge
Flores: Casas da Quinta | Aldeia da Cuada
Corvo: Joe & Vera's Vintage | Hotel Comodoro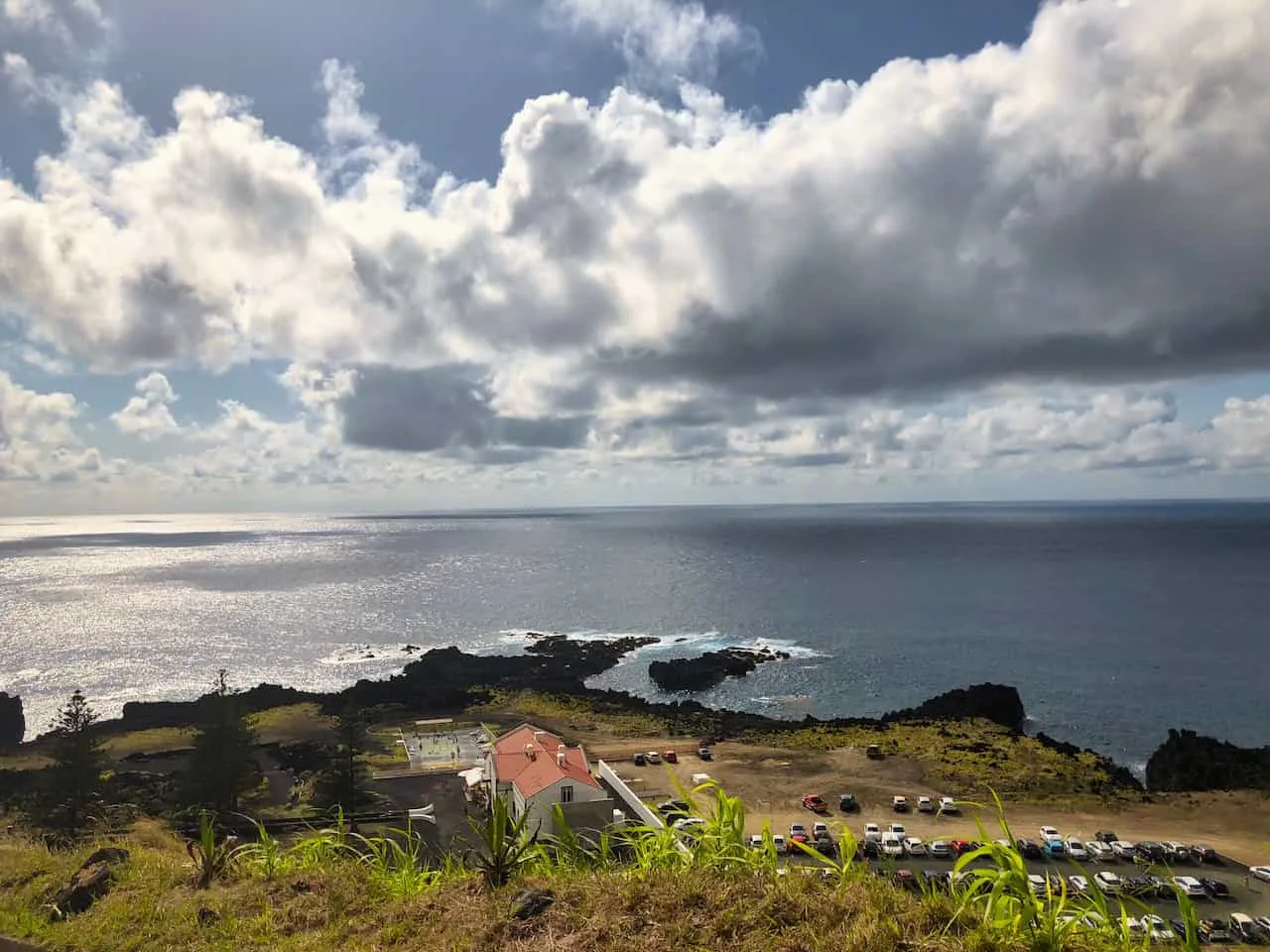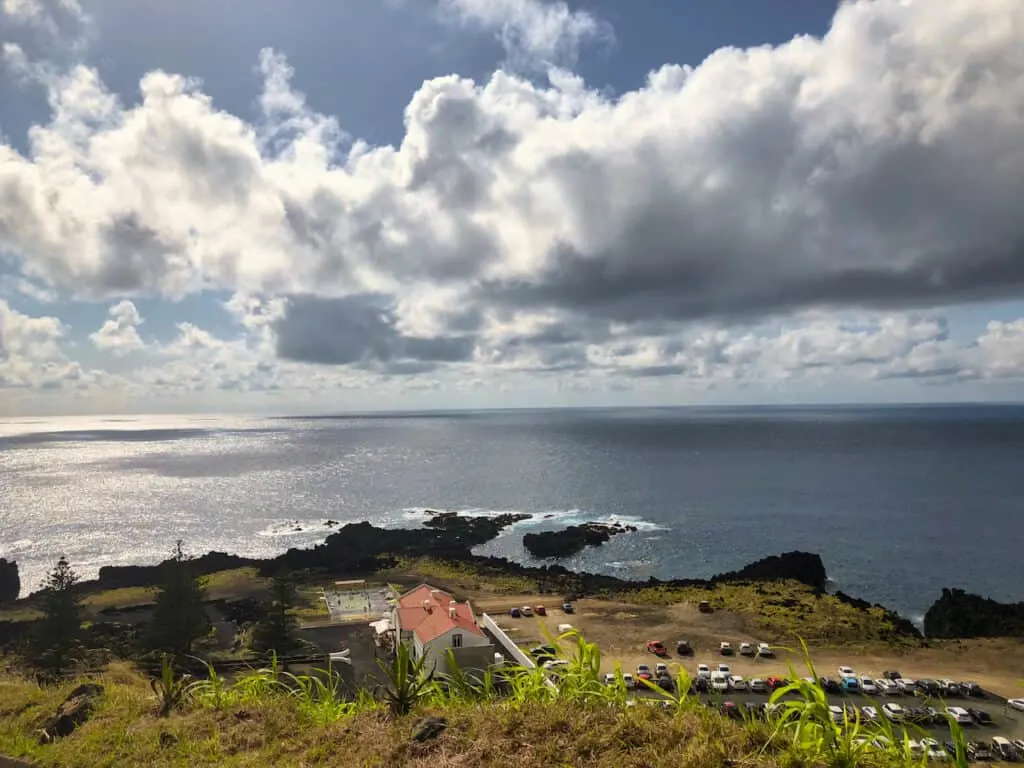 That about wraps up your guide to the Serra do Topo – Caldeira do Santo Cristo – Fajã dos Cubres hike on Sao Jorge, Azores. It was truly one of the best overall experiences of my trip to the Azores.
Not only was it a beautiful trail but it also had the natural swimming pool and small authentic town of Santo Cristo to enjoy.
It is much more than a hike, and if you are lucky enough to make your way there, you are sure to have a great time taking part of it all.
Take a look at the rest of the Azores itineraries and guides up on the site and feel free to comment below with any questions!
Interested in some other Azores hikes? Check out hiking guides to Sete Cidades, Cha Gorreana, Lagoa do Fogo, and Mount Pico!