Headed to the Azores anytime soon and want to do some island hopping? If so you probably will be taking some inter island flights to get around from one place to the next.
While booking flights is not that complicated of a process, I wrote up this post to help you out with some tips and tricks I learned along the way when planning my trip to the Azores.
This guide will go over everything you need to know about flying in the Azores from the booking process to getting up in the air, and everything in between.
* Affiliate Disclosure: This post may contain affiliate links, which means I may receive a commission if you make a purchase through the links provided, at no additional cost to you. Thanks for supporting the work I put into TripTins!
1) Introduction to Flying in the Azores
If you are in the planning stages of your trip to the Azores I am sure you will come across the fact that The Azores are actually made up of 9 different islands spread throughout the Atlantic Ocean.
These islands are made up of three groups – eastern, central and western, and to get from one group to the next (and even within the groups themselves), you will have to hop on a plane or boat depending on how far you are trying to go.
This guide will focus on flying between islands while answering any questions you may have, and giving you a sense of what to expect along way.
» I would also recommend taking a look at the 10 Day Azores Itinerary up on the site that visits several different islands with inter island flights used throughout.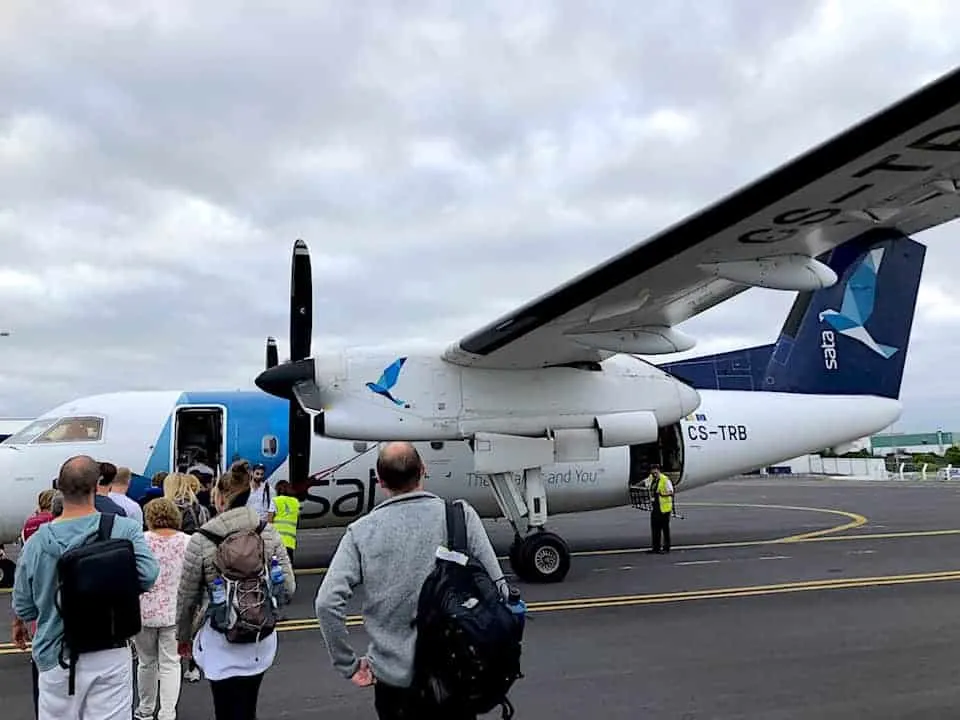 2) Flying to the Azores
Before jumping into the inter-island flights, I just wanted to quickly go over how to get to the Azores in the first place.
Most direct international flights will be flying into the largest island of Sao Miguel (Ponta Delgada – PDL).
There are also some flights that will be direct to the island of Terceira (TER) and then just a few that fly into the island of Faial (Horta – HOR) and Pico (PIX) – these later two are mostly from mainland Portugal.
When it comes to airline companies, the main ones from the United States (New York, Boston and Providence) would be Azores Airlines and Delta.
If coming from Europe you can also check out TAP, Primera Air, TUI fly, Ryanair, Germania, and AirEuropa depending on what country/city you are flying from.
» For a more detailed view of locations and airlines that fly into the Azores check out the Azores website.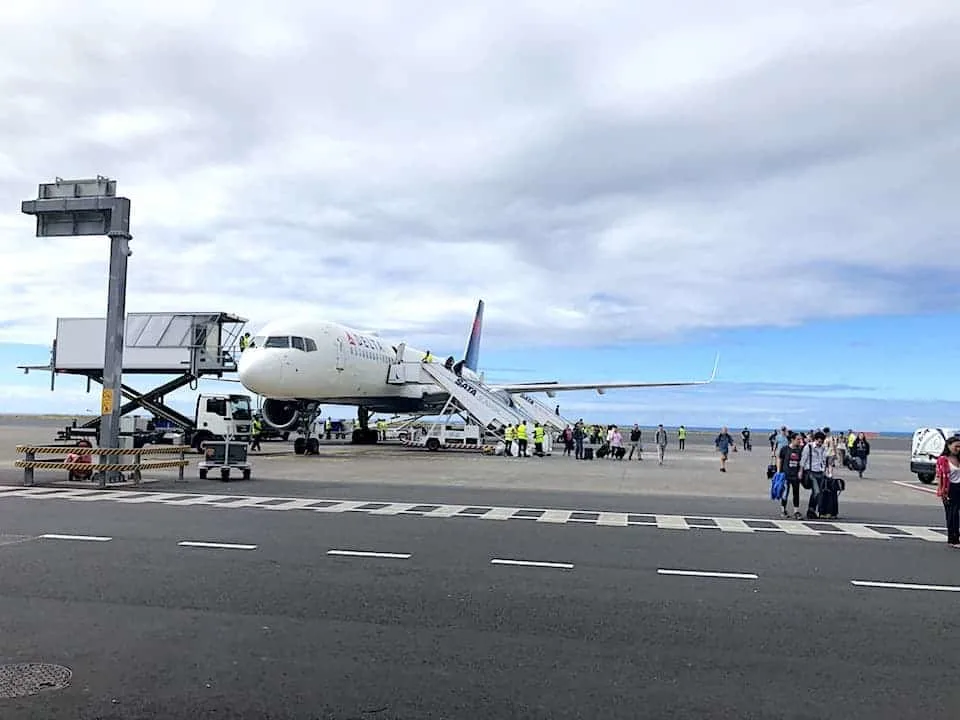 3) Inter Island Flights in the Azores
Now that you have made it to the Azores, it is time to explore the islands a bit more.
There is only one airline that actually flies between the Azorean islands – SATA which is part of Azores Airlines.
When looking for flights I would recommend going directly to the Azores Airlines website and start your search from there. I found that when looking at a search engine such as Kayak or Google Flights, their systems were not up to date with actual availability.
Here is a map courtesy of Visit Azores that shows the different direct routes from one island to the next throughout the area.
As you can see there aren't direct flights between every island, however you will be able to travel from one to the next with a layover in between (more on that in the next section).
For those shorter routes between islands, a ferry ride will be your better transportation option. Take a look at the Azores Ferry Guide I put together that goes over that side of logistics.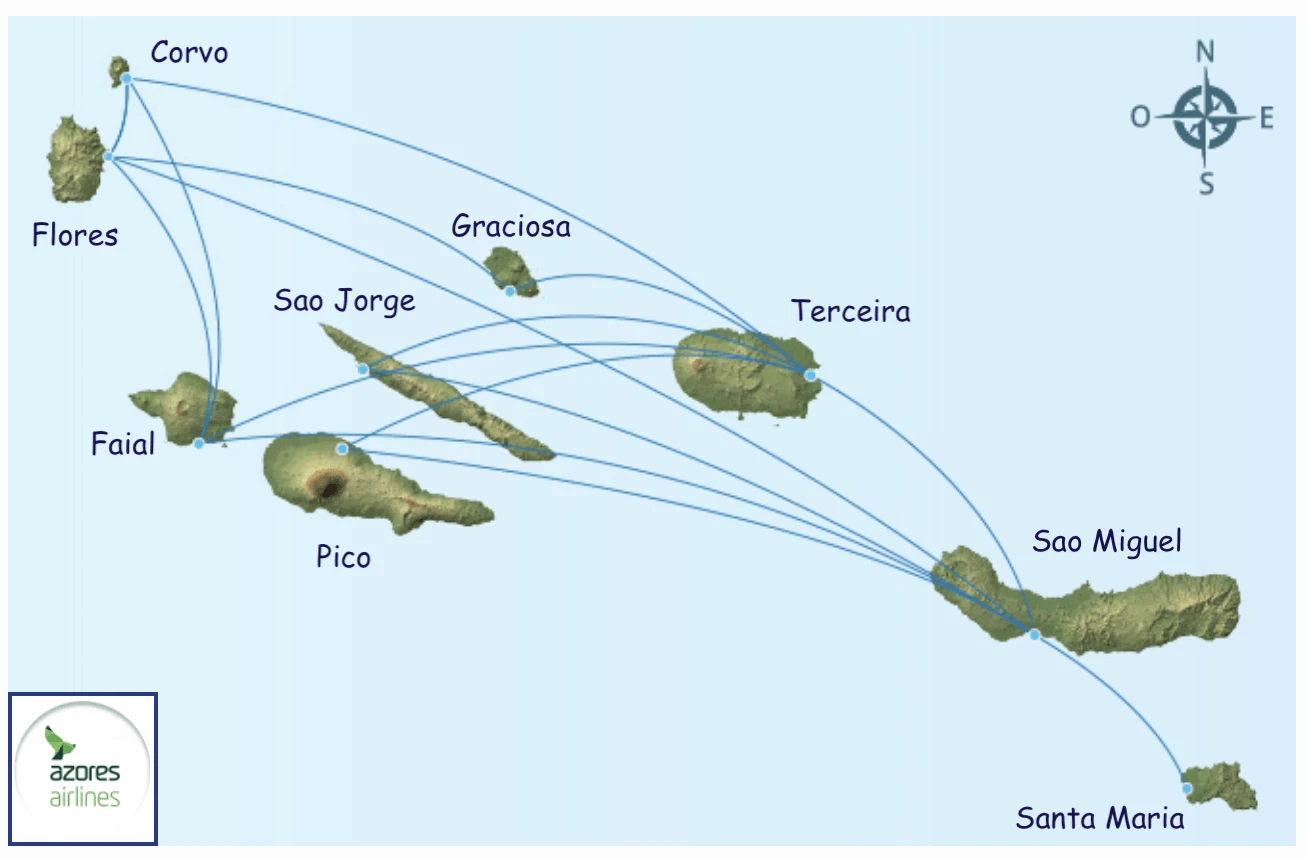 4) Searching for Flights on SATA / Azores Airlines
Searching for flights on the Azores Airlines website is pretty simple to do. All you need to do is pick your dates and islands and go ahead with the search from there.
Helpful note here – when you click inside the search box, you will have the option to see "All Airports", which brings up the screenshot below.
One thing to note here is that not every day will have the same exact flight schedule – on a day to day basis the schedules between islands will change.
Do not just assume if you see a 9AM flight on Monday, the same flight will be available on Tuesday.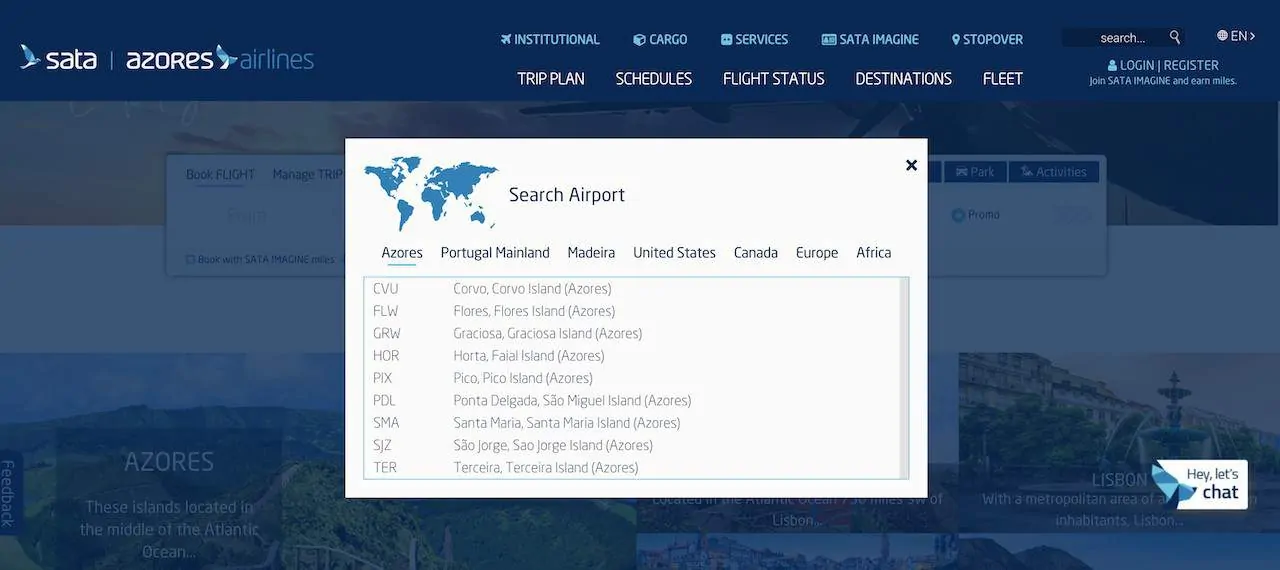 On top of that there are a few things to note when looking at the results page. Depending on the day and islands chosen, you will not always see direct flights available.
This could be due to them being sold out or because there are just no direct flights between the two islands. You will however most likely see some flight options with 1 stop.
As you can see on the following two screenshots, some of these flights will have a stop where a change of plane is not required while other flights will require a change of plane.
It should clearly state what type of flight it is when you expand the flight information.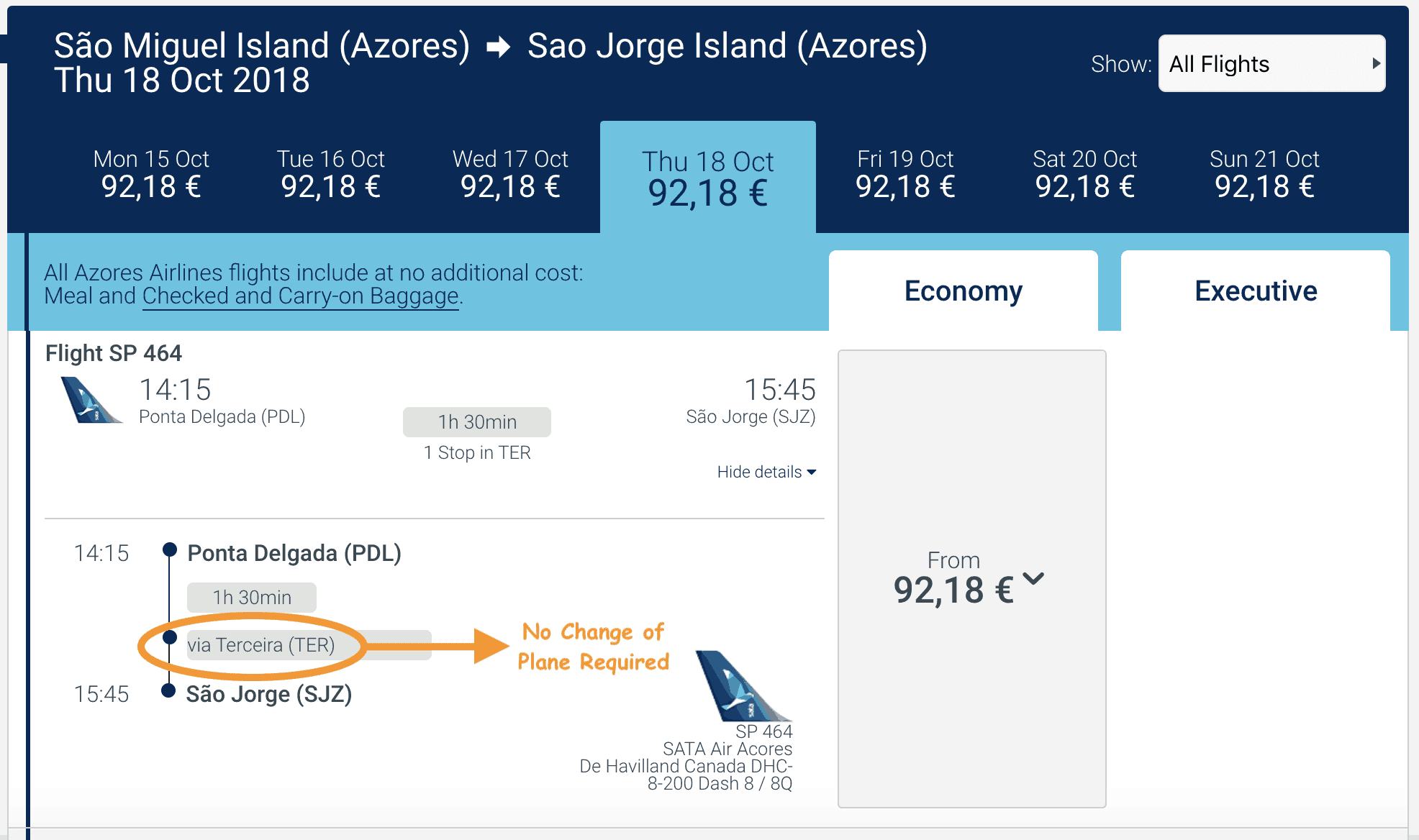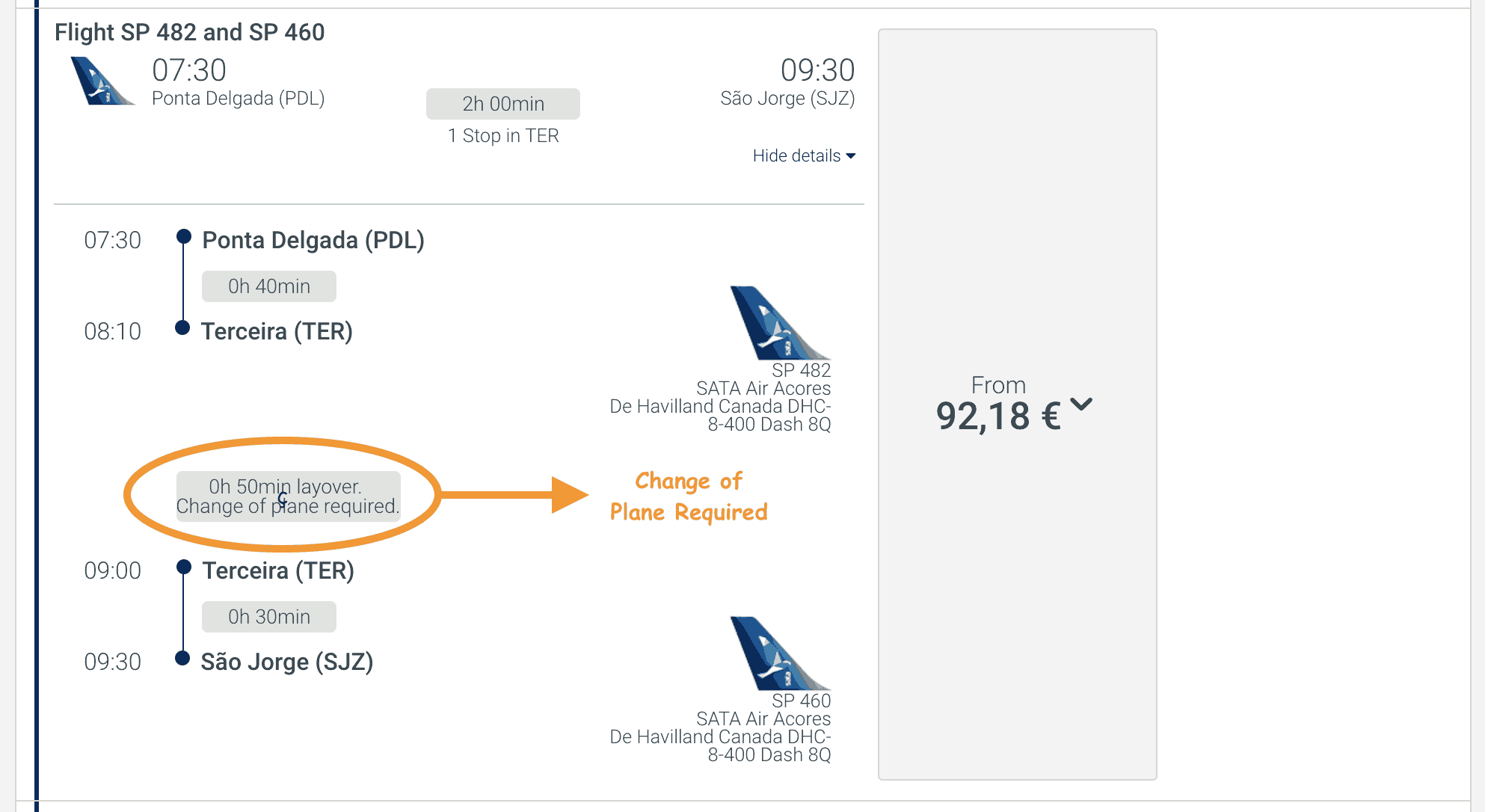 Quick Notes:
» For the most part you will see that one way flights hover around the 90 Euro / $105 USD range. These prices include a checked bag up to 23KG / 50 LB.
» SATA / Azores Airlines has smaller planes to fly between islands– one that can hold 37 passengers and another that can hold 80 passengers. Due to the small size of the planes, some flights are open seating and you will not be able to choose a seat beforehand.
5) One/Two/Three Seat Left Rule
When searching for flights or hotels, time to time you will see something along the lines of "Only 1 seat left". Usually when seeing this I don't take it too seriously thinking it just might mean one seat left at that price.
I can say confidently though that when the search tool says "1 seat left" (or 2 or 3) as in the screenshot below, it actually means that there is only 1 seat left, in which case you should act quickly.
I believe this is the true because when I was looking for flights I saw this pop up for the flight I actually wanted to take. I called up the representative who confirmed that there was only 1 seat left on the plane.
After I went ahead and made the purchase, the flight came up as unavailable.
Now who knows if this is 100% true or not in every situation, but due to the size of the planes and the increase of tourism to the Azores, I would book your flights sooner rather than later.
6) Cancelling or Changing Flights
If booking an inter island flight as a non resident, you will be able to change your flight free of charge unless the new fare is higher than what you already paid in which case you will just pay the difference.
You can also cancel your flight and receive a full refund besides for the ticket service fee.
On your booking confirmation you will see on the top right hand corner, a number to call depending on where you are located (for example: USA +1-800-762-9995/+1-508-677-0555).
It did not seem as of my trip that you were able to change or cancel your flight on the Azores Airlines website itself.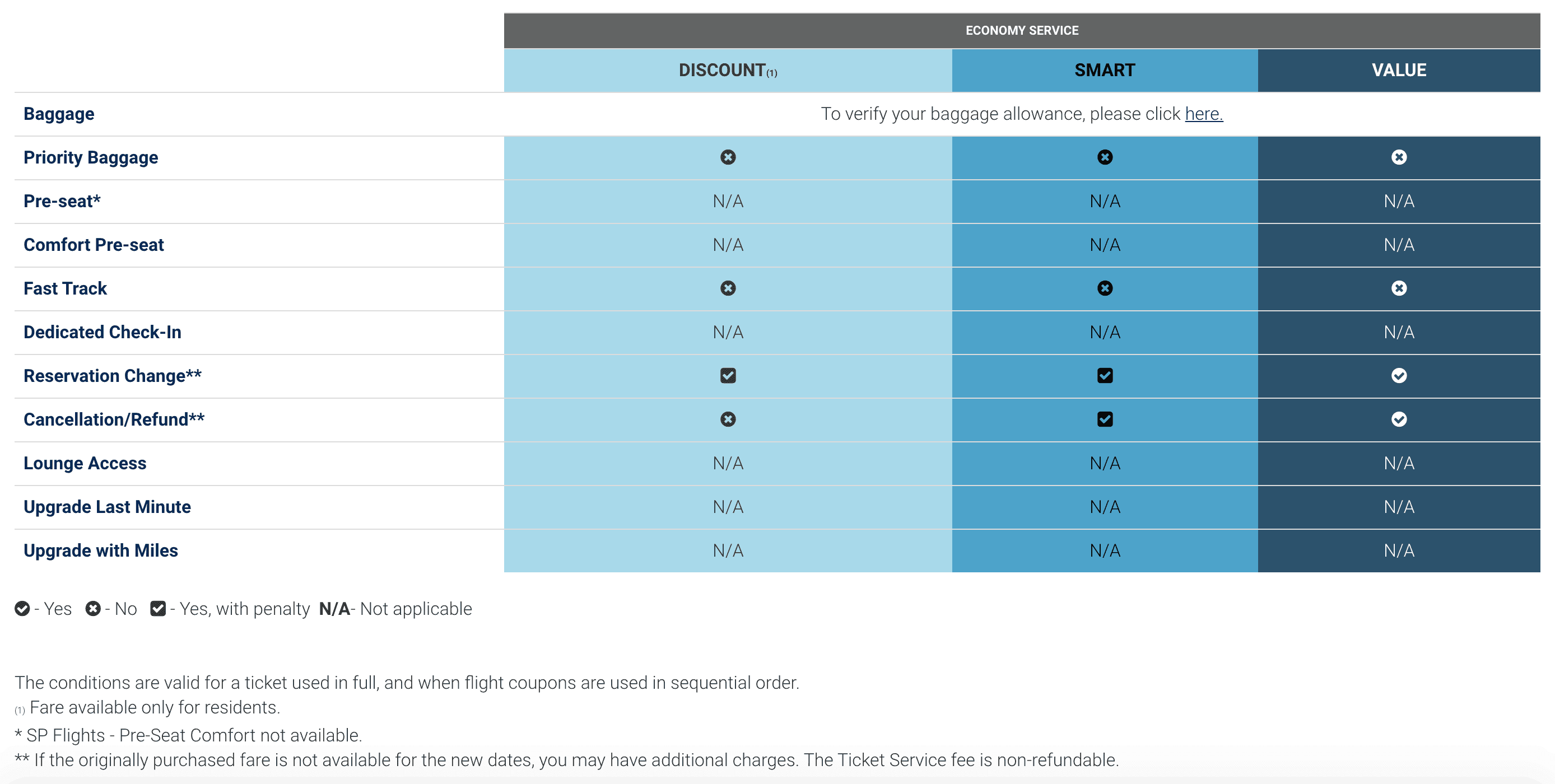 One additional note is that flight schedules can change after you book your flight. This can happen in a couple of ways:
1) After I had already booked my inter island flights, one of the flights changed by several hours so I ended up calling in and changing my flight with no problem whatsoever.
At the time I also did not get a notification that the flight changed and just happened to check the flights. So, my advice would be to check the status of your flights from time to time.
2) Just because you do not see a flight on the schedule several months beforehand does not mean it will not be added later on.
I have come across flights that have been added onto the schedule just a couple months before the actual flight.
7) When to Arrive at the Airport
The last thing I will touch on is how long before your flight should you get to the airport.
For inter island flights with checked baggage it is recommended to arrive 90 minutes before and without checked baggage just 40 minutes before.
I would say it also depends on how many flights are flying out of the airport around the same time.
In Pico I was taking a flight back to Ponta Delgada and it was the only flight going out for several hours. In that case I did not think it was necessary to arrive 90 minutes before but better safe than sorry.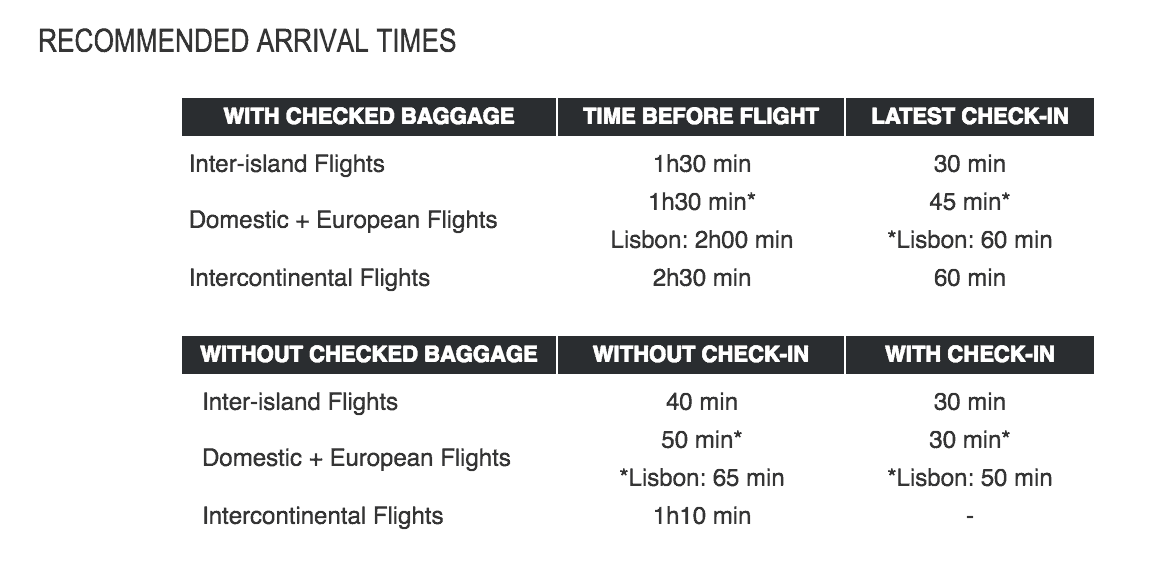 8) Where to Stay in the Azores
Need some help on where to stay?
There are two main ways to go here – either browse through Booking.com to find the best hotel that fits your budget and style or check out Airbnb which might have more options.
Sao Miguel
There are a few main towns around the island but if you are looking for the most happening spot that would be in Ponta Delgada.
There are way more accommodation and restaurant options here than any other location on the island.
If you want to get a little further away you can also check out the town of Furnas, which is home to several natural hot springs. Here are some hotel recommendations for each:
Ponta Delgada
Furnas
Pico
I would recommend staying right around Madalena (especially if you do not have a car), or Sao Roque on the northern end of the island.
Sao Jorge
Velas is the main town in Sao Jorge but I did not have enough time to stay on the island. Here are a couple highly rated spots though:
Faial
Staying in Horta is sure to be a good time. It has a great marina area surrounding by shops and restaurants throughout.
Other Islands
For the remainder of the islands, below would be some top rated options to choose from: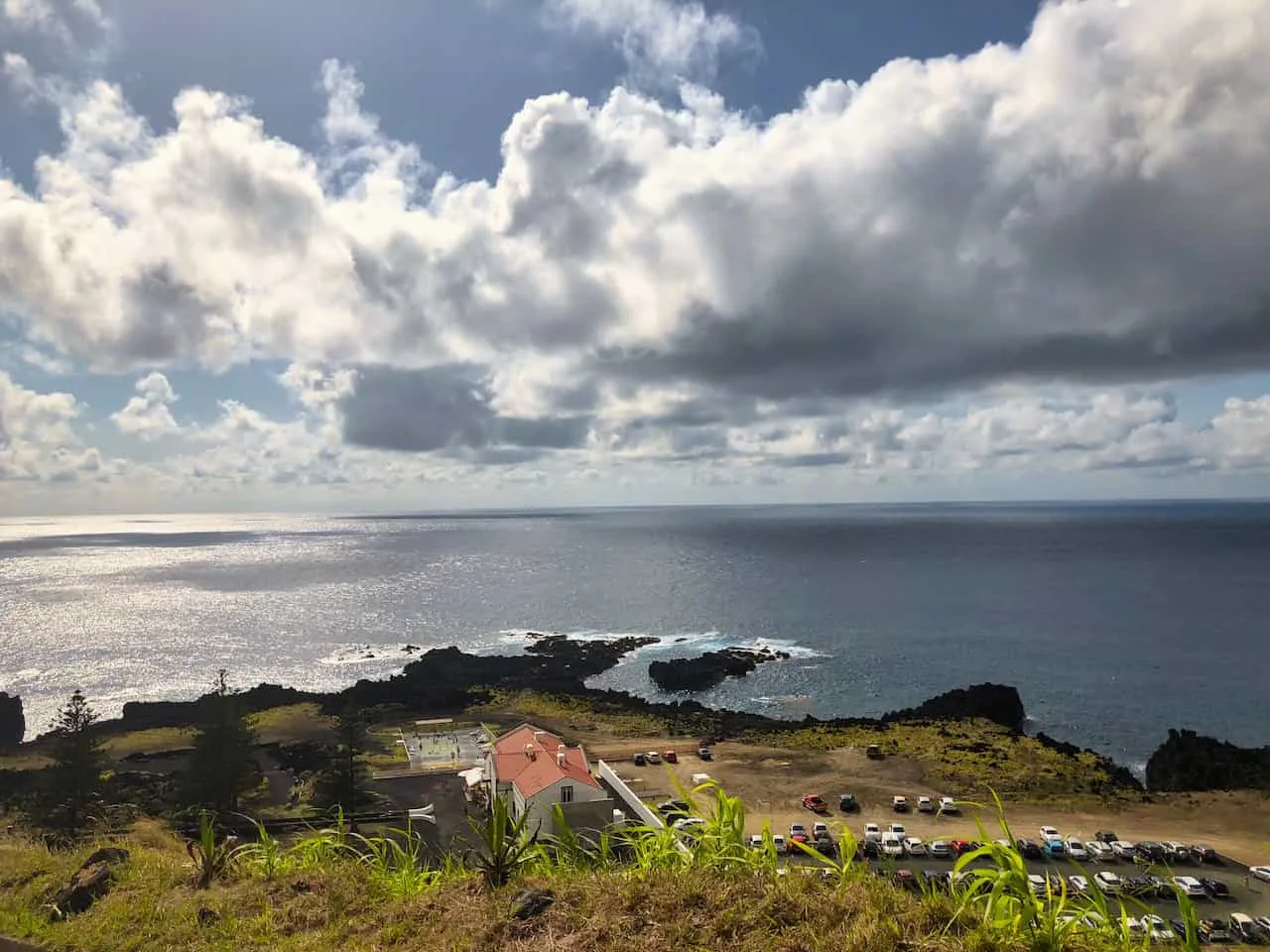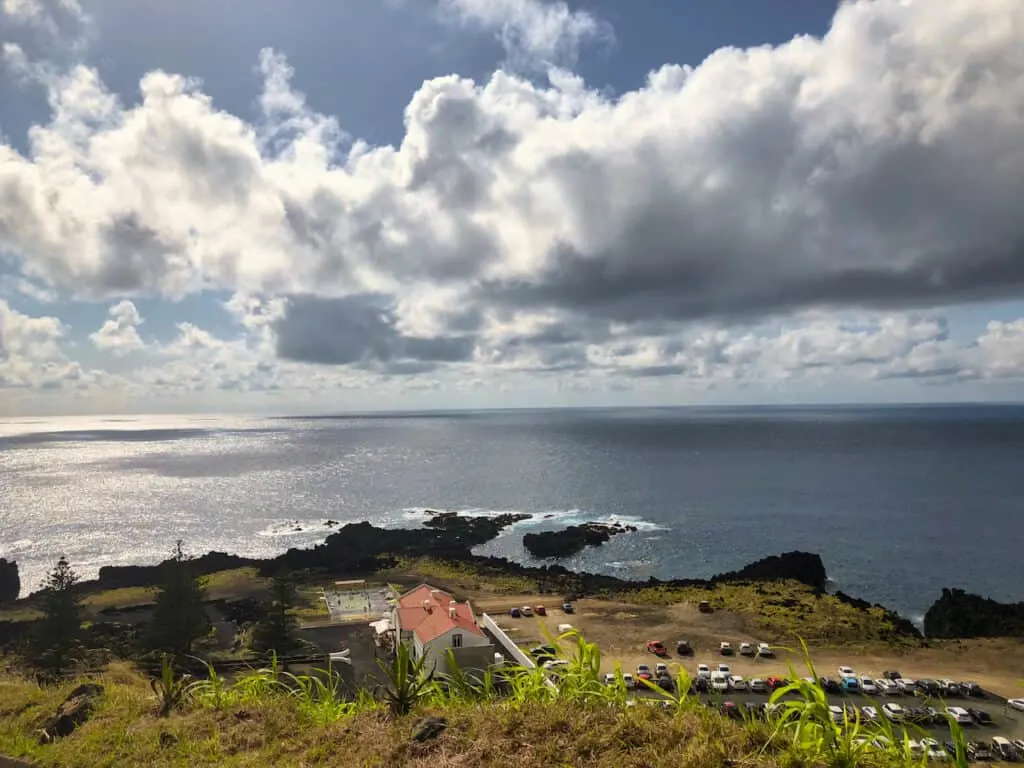 After reading this guide I hope that any questions you may have had about flying in the Azores has been answered.
If you do have any questions or comments write them in below! Feel free to also check out some other Azores itineraries and guides up on the site.