This overview is here to lay out the best things to do in the Azores during your trip.
It will go through the top activities, attractions, and things to do throughout all nine of the Azores Islands. So, no matter where in the archipelago you are traveling to, this list has you covered.
The Azores truly offer some of the most beautiful natural landscapes you can ask for. During a trip you will get to experience it all and more.
* Affiliate Disclosure: This post may contain affiliate links, which means I may receive a commission if you make a purchase through the links provided, at no additional cost to you. Thanks for supporting the work I put into TripTins!
1) Things To Do in the Azores Overview
When it comes to the Azores, it is not just one island to visit. Rather there are nine distinct islands throughout three island groups (eastern, central & western). These islands include:
Sao Miguel
Santa Maria
Pico
Faial
Sao Jorge
Graciosa
Terceira
Flores
Corvo
Now, during one single trip I doubt you will have the chance to visit them all (unless you are planning a very extended trip). However, even just a 10 day Azores trip can have you seeing 3-4 different islands.
As you plan your Azores itinerary you will just need to decide which islands are of most interest to you and what makes sense logistically.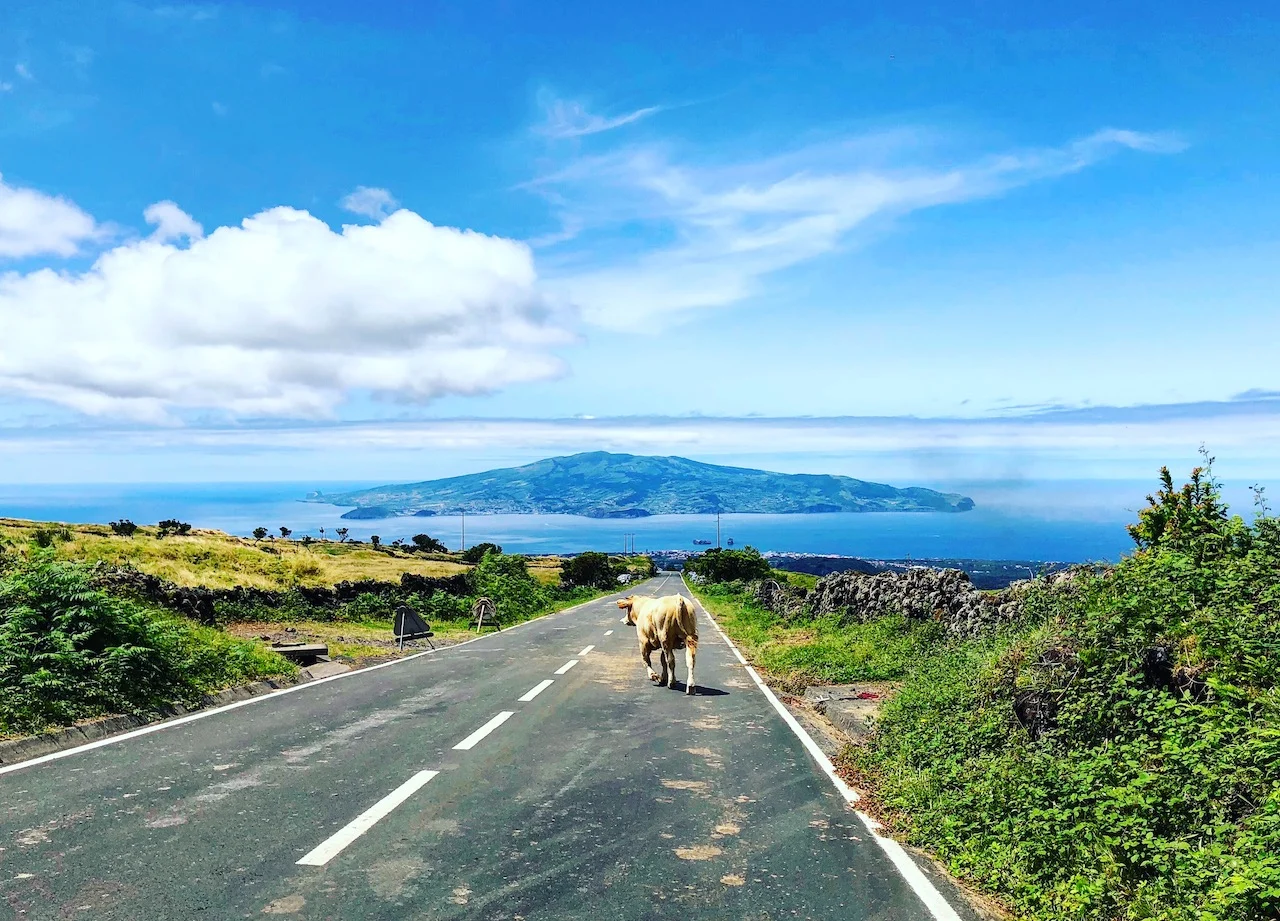 In general, you can expect a lot of diversity on these islands. While I will dive into exact attractions & things to do, here are some of the main highlights that you expect throughout the islands.
Viewpoints: all around the Azores you will come across viewpoints (in Portuguese they are called miradouros). These viewpoints can be of lakes, cliffsides, the ocean, caldeiras, and plenty more of the surrounding natural landscape.
Hiking Trails: when it comes to hiking opportunities, there will be plenty to choose from on every one of the islands. You can check out the Azores hiking website to learn more about the official trails.
Hot Springs: due to the fact that the Azores are volcanic in origin, you can expect plenty of geothermal activity. Due to this geothermal heat, hot springs have been put in place. This is the perfect activity after a day of exploring (or even to save for a rainy day).
Beaches: while the Azores are islands, it is not necessarily the beach life that it is known for. You will still find black sand beaches (and a few white sand beaches) around the islands though. So, if you want to spend a day relaxing in the sand, that will certainly be possible.
Rock Pools: even more common than beaches are the natural volcanic rock pools that have been formed near the shore. When the ocean is calm and it is closer to low tide, these natural rock pools make for the perfect swimming spots.
Town Centers: although the natural beauty of the Azores is the top highlight, the towns on these islands are well worth the visit too. For the most part there will be 1-2 major town centers, however smaller towns are sprawled throughout. Just walking around all of these towns will be a highlight on its own.
Lakes & Waterfalls: while the Azores is surrounding by water, there are also some water highlights within the islands. Lakes & waterfalls are two of the main types of features you will come by. Some of these you will get to take in from viewpoints, while others you may hike to.
Everything Else: you can expect to find so much other variety throughout the Azores. Whether it be a tea plantation, volcanic vineyards, whale watching, or other unique highlights, there will be plenty to keep you busy no matter what.
Now that you have a little bit of background, read on to learn about the best things to do in the Azores, broken out island by island.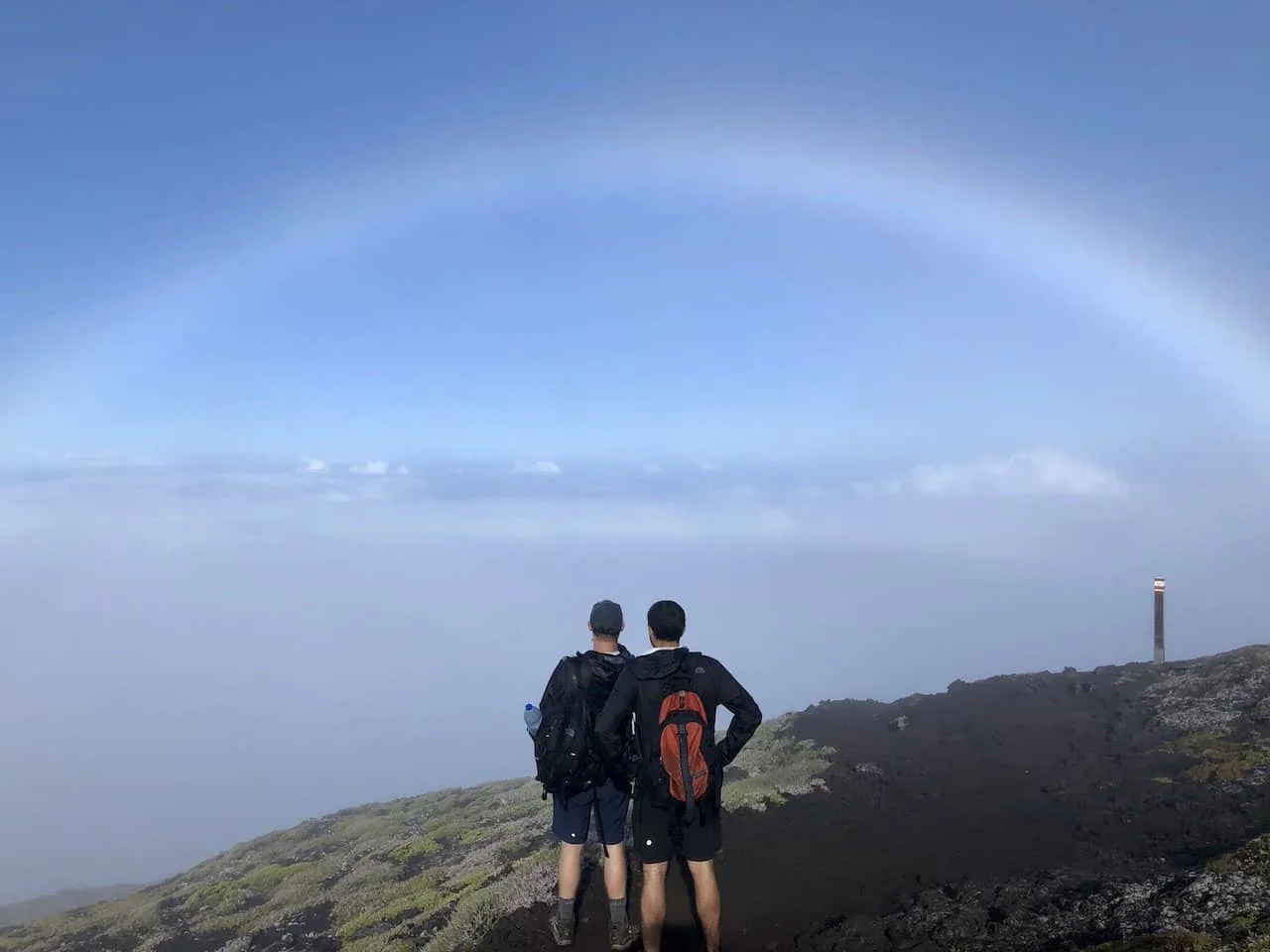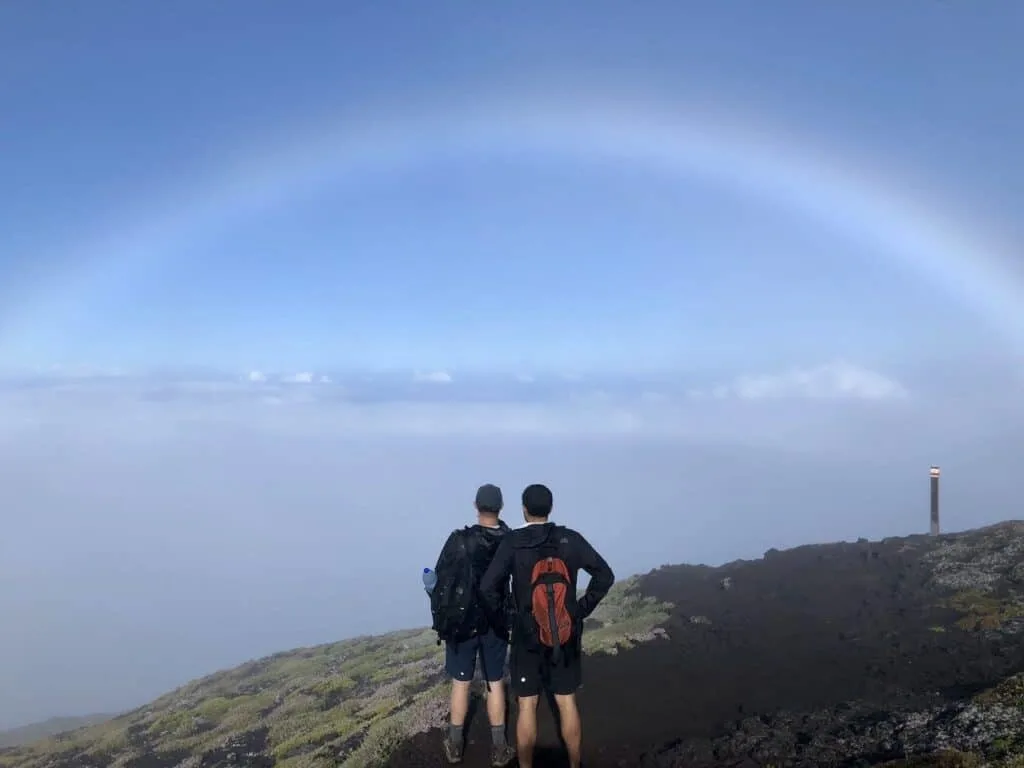 2) Sao Miguel Things to Do
Sao Miguel is the main and largest island of the Azores. In turn, it also offers the most things to do. Unless this isn't your first time in the Azores, odds are you will be spending at least a few days checking out some of the top spots.
Explore Sete Cidades
When it comes to landscapes around Sao Miguel, few can compete with what Sete Cidades has to offer.
Sete Cidades is a town / area on the west side of Sao Miguel that is filled with lakes, viewpoints, caldeiras, and plenty more. You can easily spend a day just exploring it all.
When it comes to top highlights around Sete Cidades, there is plenty to choose from.
Miradouro da Vista do Rei
Let's start out with a couple of viewpoints, where you can take in Sete Cidades from above. At Miradouro da Vista do Rei, you will get a perfect view of the two lakes down below.
One of these is green in color while the other is blue in color. During a sunny day, you can really see that color difference between the two.
Feel free to walk around the viewpoint area, enjoy the view, and snap some photos before moving onto the next viewpoint.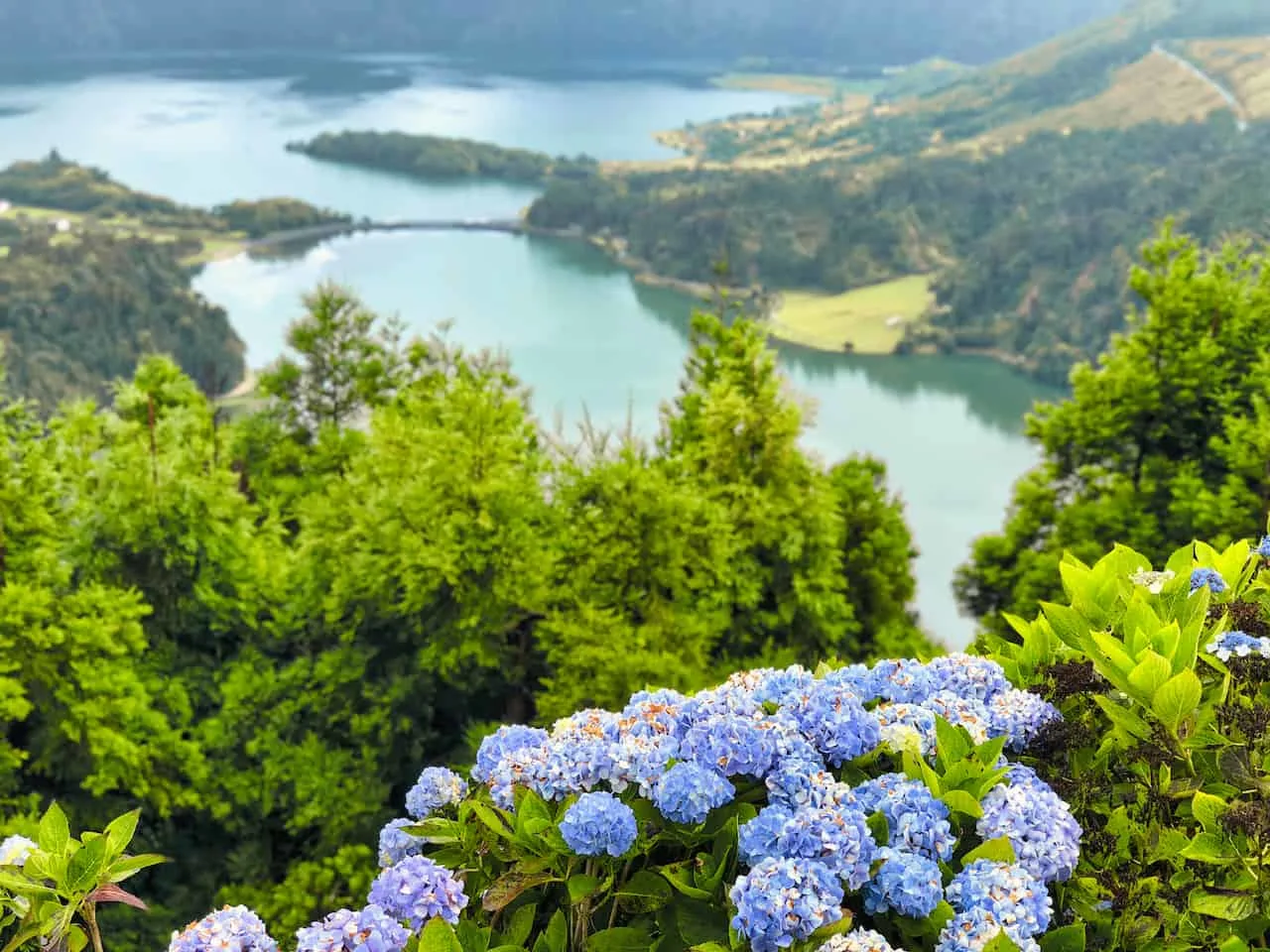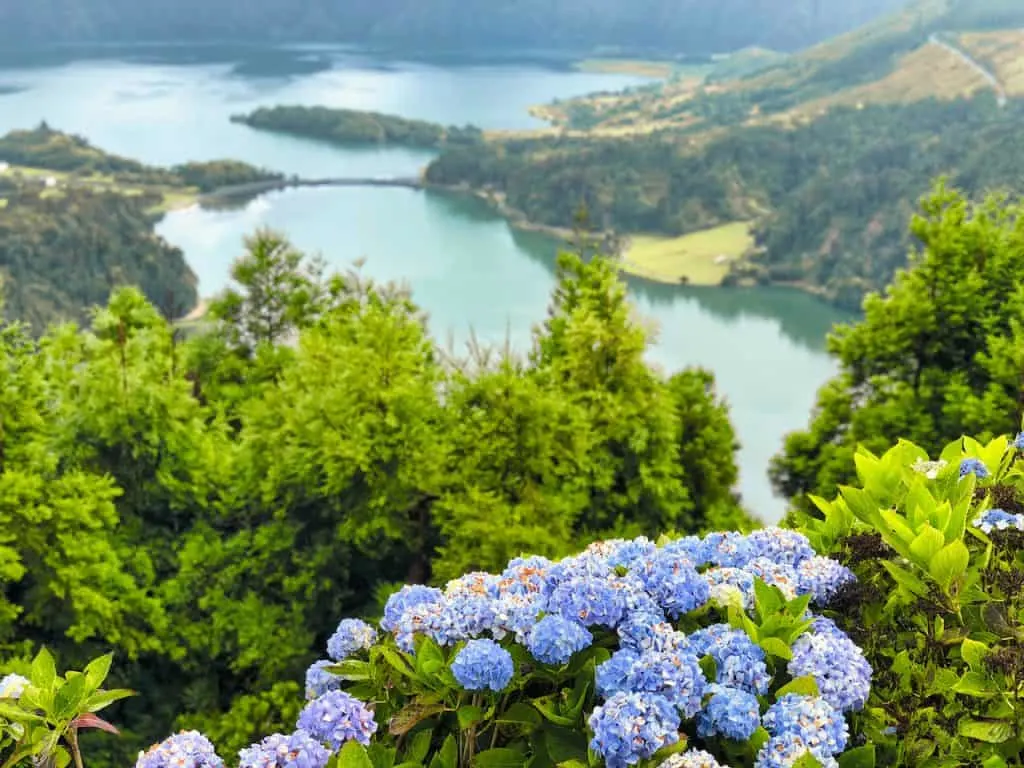 Miradouro da Boca do Inferno
When it comes to views in the Azores, Miradouro da Boca do Inferno is on the top of the list.
Odds are when you are researching best photo spots or just general Azores terms, this viewpoint is going to come up.
After driving down a short dirt road, you can park your car and head on up the staircase. Soon you will be welcomed to a trail along a ridgeline that seems like it is from another planet.
Out in front of you will be views of the lakes, caldeiras, ocean, and surrounding landscape.
This is one spot that can get busy given its popularity and small confines. I would recommend heading here very early or later on in the day once the hordes of people have subsided.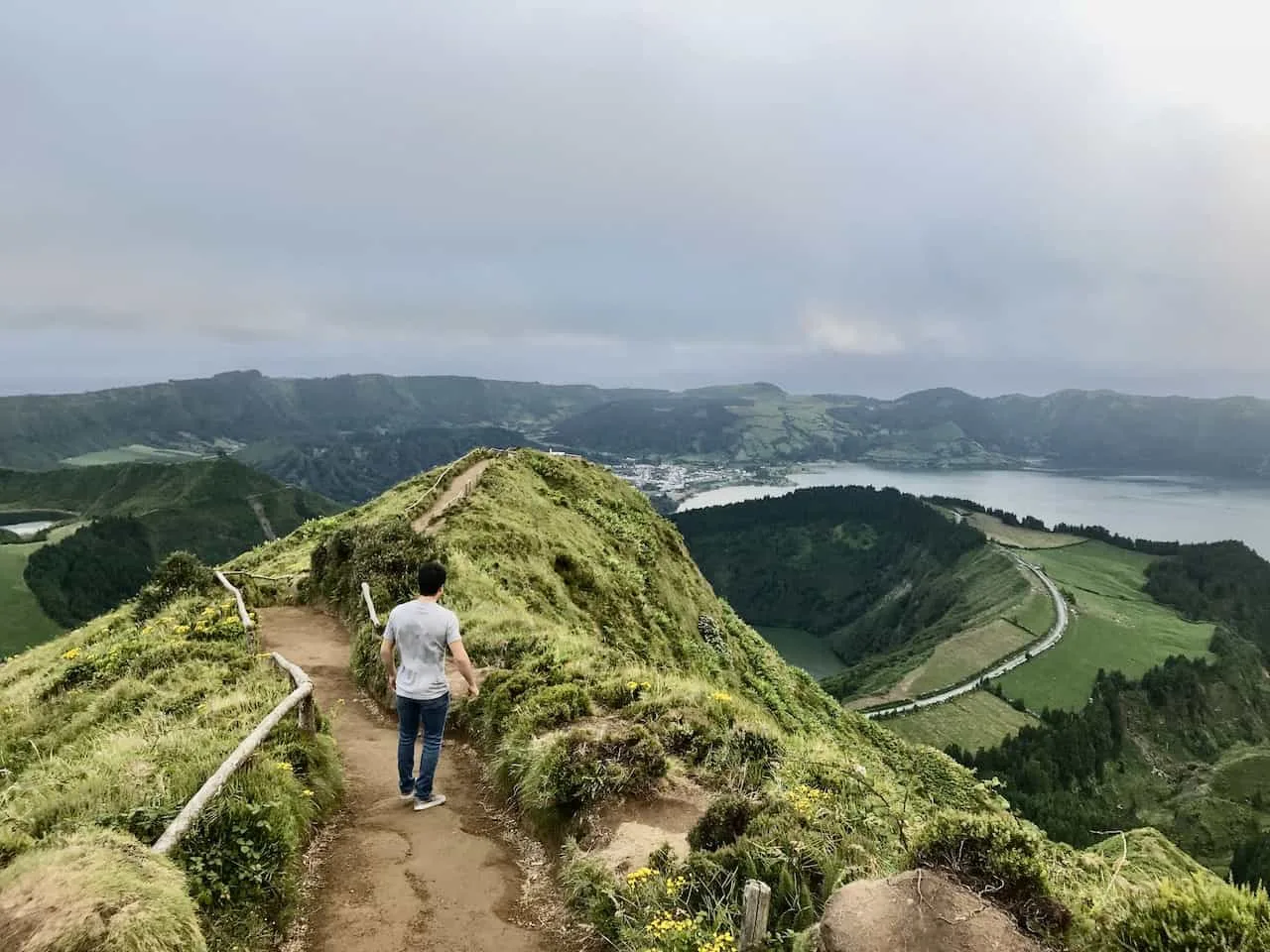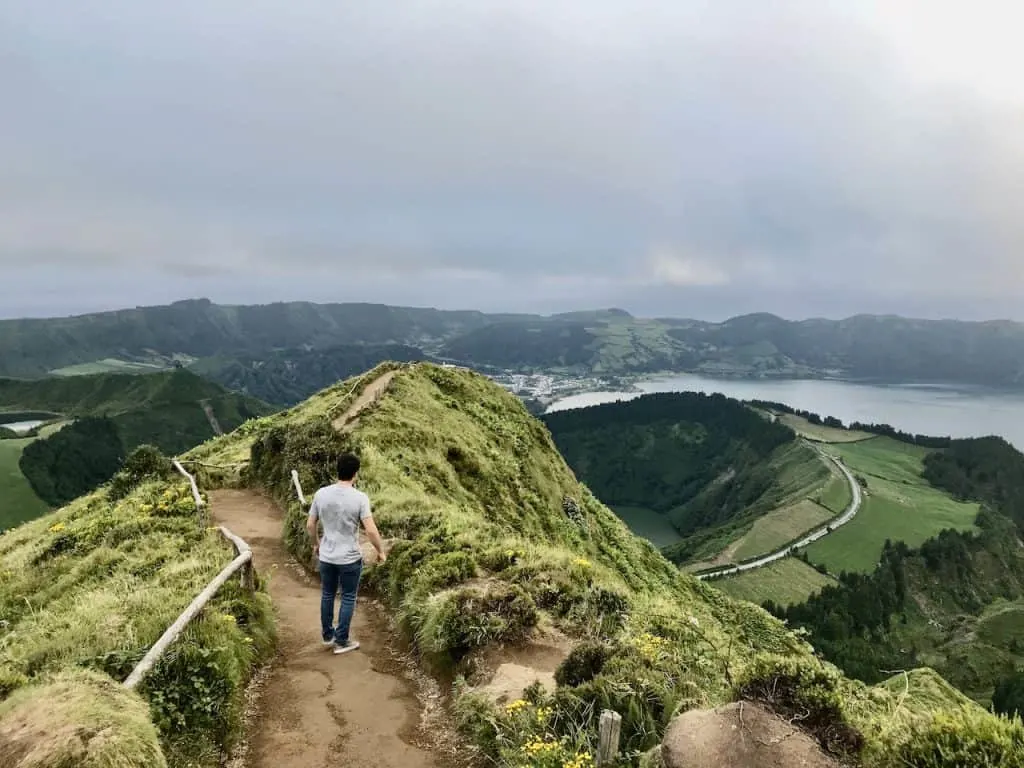 Lagoa do Canario
On the way to the viewpoint you will actually pass by a short trail that takes you down to a lake.
After heading through the forest, Lagoa do Canario will appear right out in front of you.
Surrounded by immense greenery in every which direction, you are sure to enjoy the volcanic lake and all that it has to offer.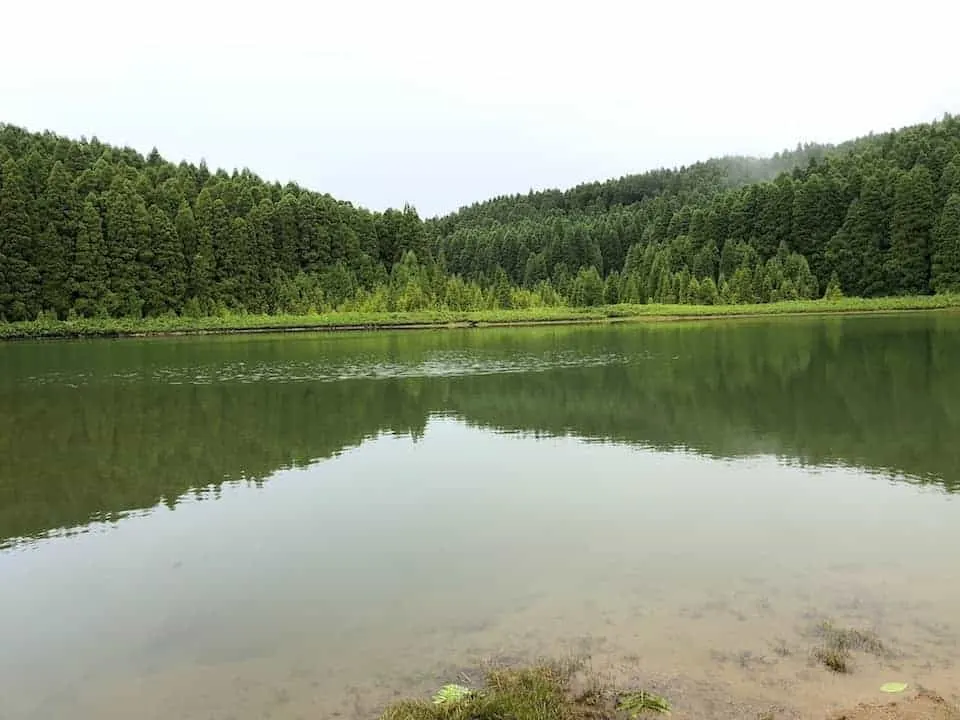 Town Center & Lakeside
Once you have had enough time up top taking in the views and visiting the lake, be sure to also drive down to the town center of Sete Cidades. The small town is situated right by the lakeside and is a peaceful place to walk around & grab some lunch.
You can also head right by the lakeside to enjoy the water from up close. Water activities are available such as kayaking and stand up paddle boarding.
Note: I will touch upon this later on in the hiking section but there are multiple trail opportunities to take part of around Sete Cidades. If you are up for a hike, I couldn't more highly recommend those in the area.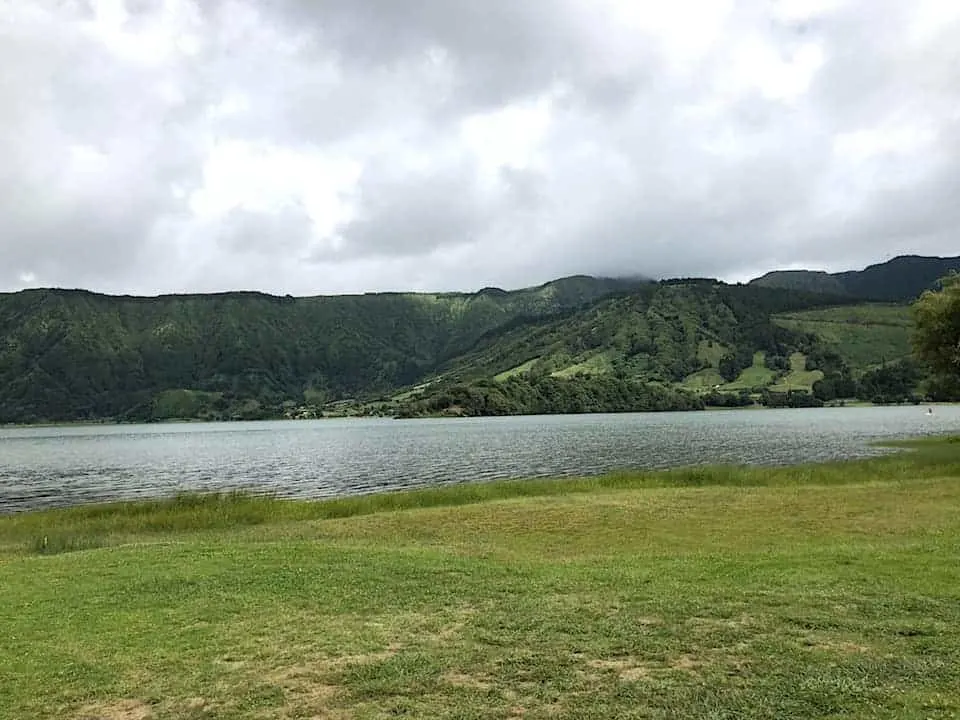 Visit the Elusive Lagoa do Fogo
When it comes to viewpoints in Sao Miguel, it is not uncommon for low clouds to get in the way of the views. That happens frequently at Lagoa do Fogo, and can disrupt a visit to this beautiful viewpoint.
My recommendation would be to check out the Azores webcams before heading out there to get a better understanding of what the live weather looks like.
If you are lucky enough to have some clear weather on the island, then I would recommend prioritizing a visit to the lake. During my time there, I was able to visit on my first morning after checking the webcams. The rest of my time on the island, the area was covered in clouds.
There are two viewpoint areas to check out the lake from above – Miradouro da Lagoa do Fogo and Miradouro do Pico do Ferro.
From the first viewpoint area, you can hike down a short trail to get right by the lakefront. However, if you are up for a longer hiking trail, I would recommend checking out the Praia to Lagoa do Fogo trail.
This trail starts on the southern end of the lake, heads through the forest and greenery filled landscape, before opening up at the lake itself.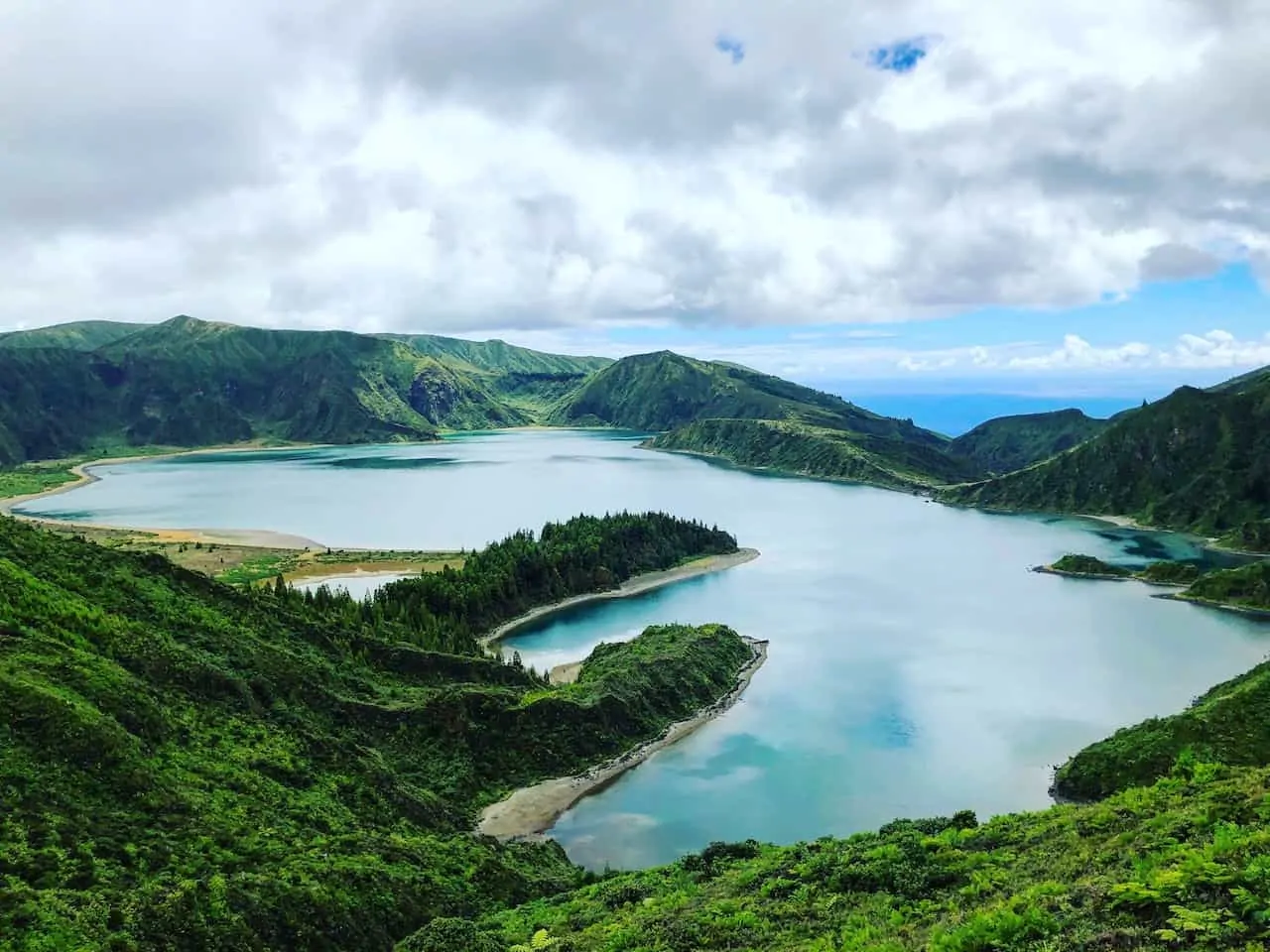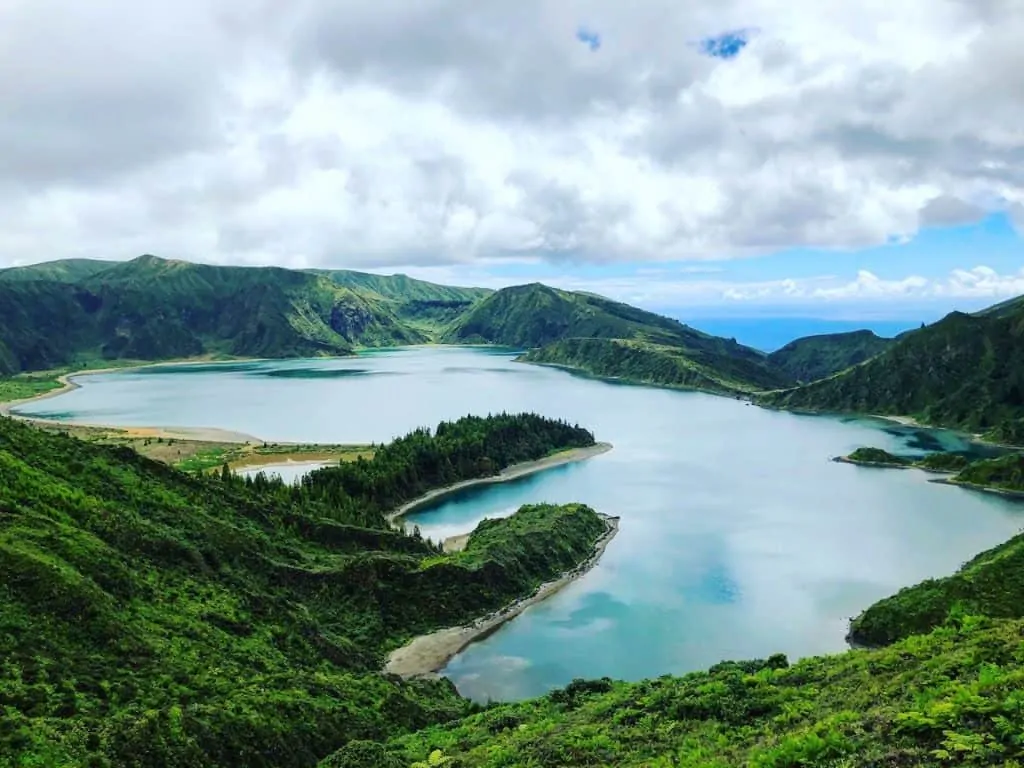 Take a Dip in a Hot Spring
One must do activity while in Sao Miguel is to spend some time relaxing in a hot spring. There are several hot springs all around the island, each of which is unique in its own way.
Caldeira Velha
One of the more popular hot springs to visit on Sao Miguel is Caldeira Velha. Located in the center of the island, the hot springs are hidden in the lush greenery surroundings.
Within the area, you will come across 3 hot spring pools of varying temperatures in addition to a natural waterfall pool. The combination of the hot spring & natural scenery makes this one of the best there is.
I would recommend heading to Caldeira Velha earlier in the day before it gets too crowded. While it is certainly a relaxing place to be, that is not so much the case when there are too many other people around.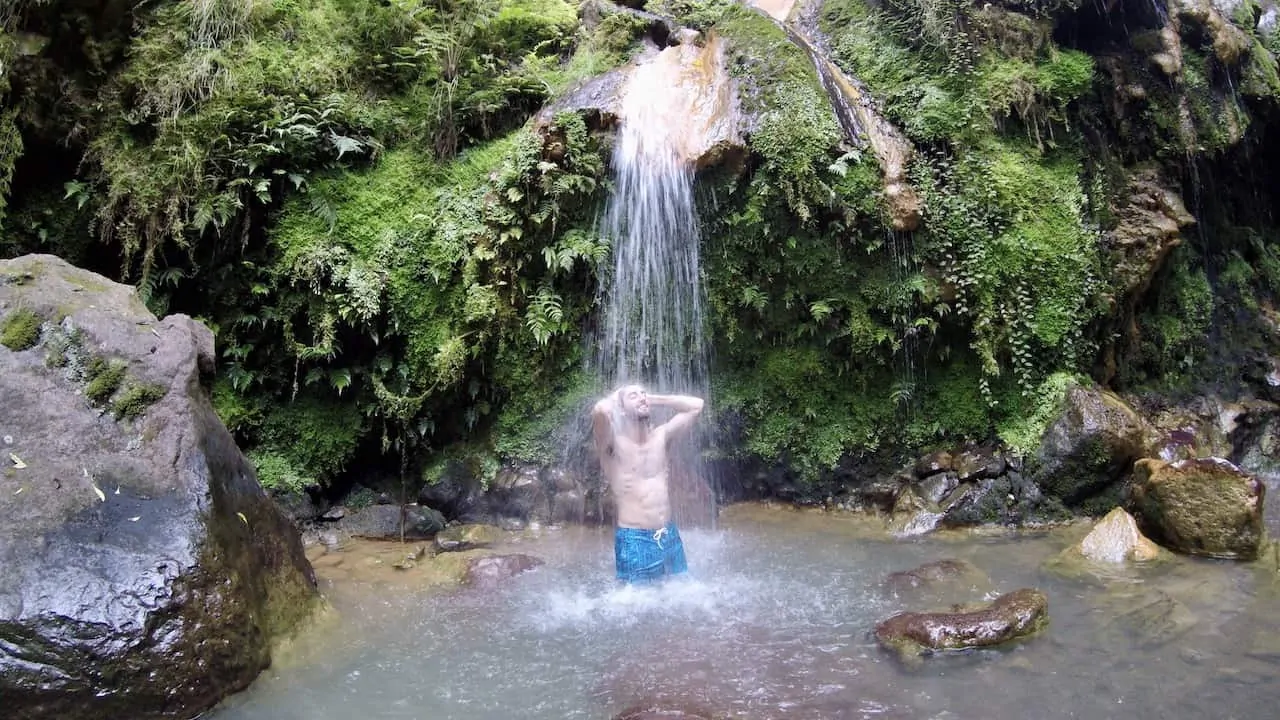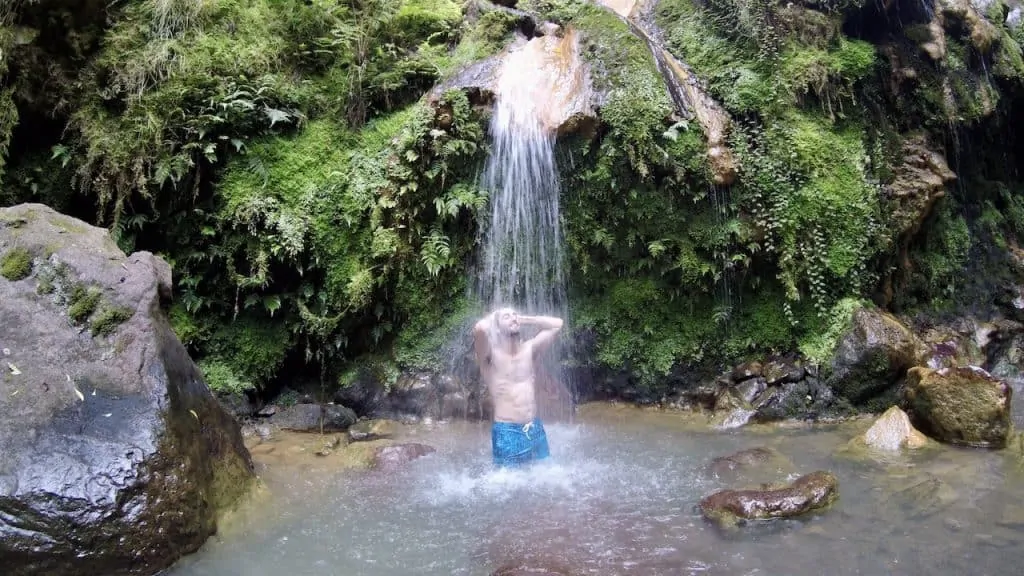 Ponta da Ferraria
Perhaps the most unique hot springs in the Azores is the one located on the western coast of Sao Miguel – Ponta da Ferraria.
Instead of a hot springs on land, this one is located within the ocean itself. In the area there is a natural heated section of water that feels like you are in a hot tub in the ocean.
The closer you are to low tide, the better the experience, as that is when you really get to feel the heat coming out from underground. Be sure to check those tide schedules prior to your visit.
Later on, I will also be touching upon Poca Da Dona Beija and Parque Terra Nostra, which are located in Furnas.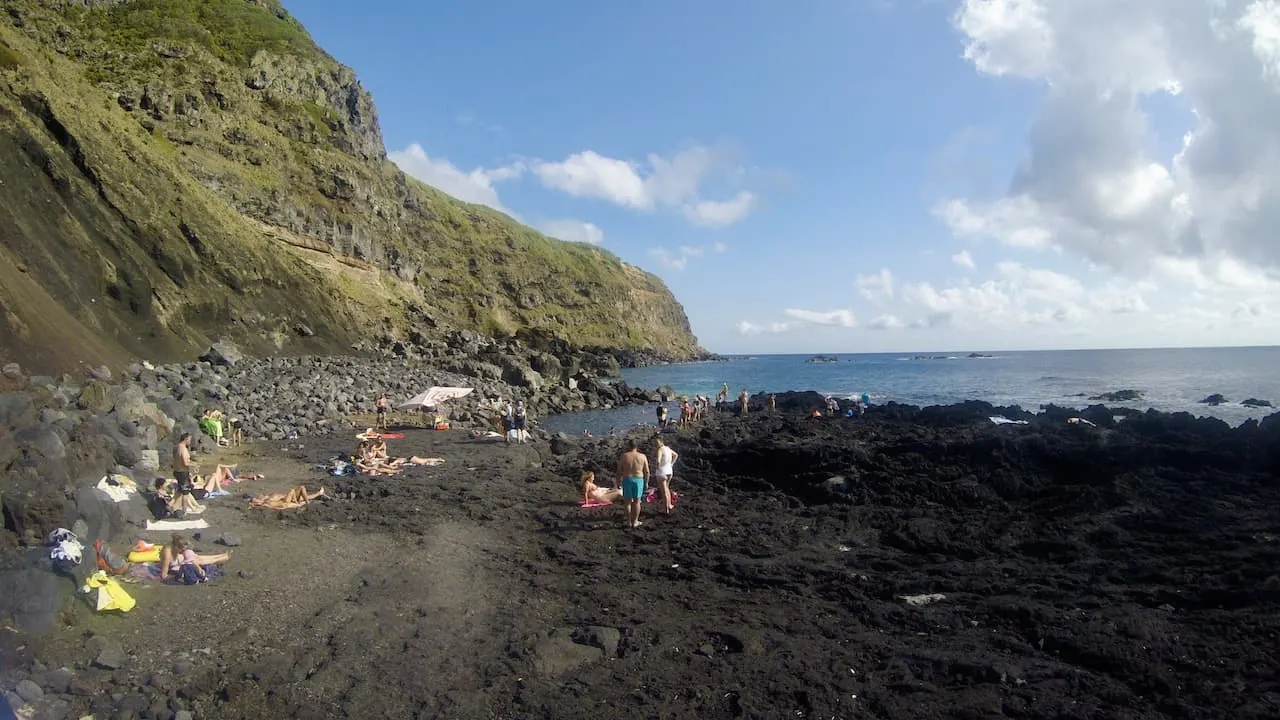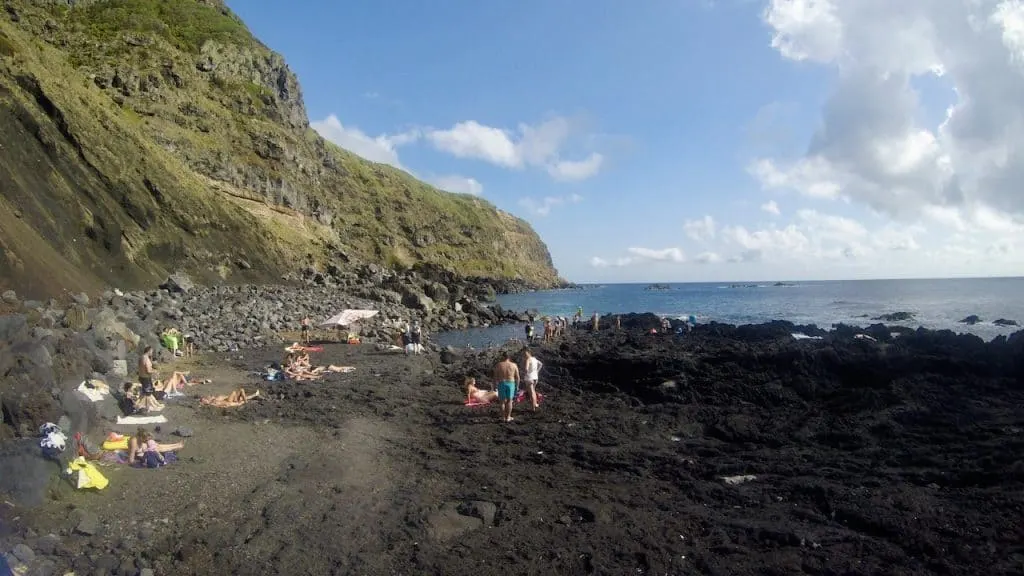 Cha Gorreana Tea Plantation
If you are looking to visit Europe's only tea plantation, look no further than Cha Gorreana.
At Cha Gorreana, you can check out the tea making process & equipment, go for a tea tasting, and even stroll through the tea fields.
It is a perfect experience that combines some natural beauty with some Azores history as you get to learn all about the plantation and how it operates today.
For those hikers out there, Cha Gorreana also offers a hiking trail that heads further up into the tea fields, where some scenic views can be found.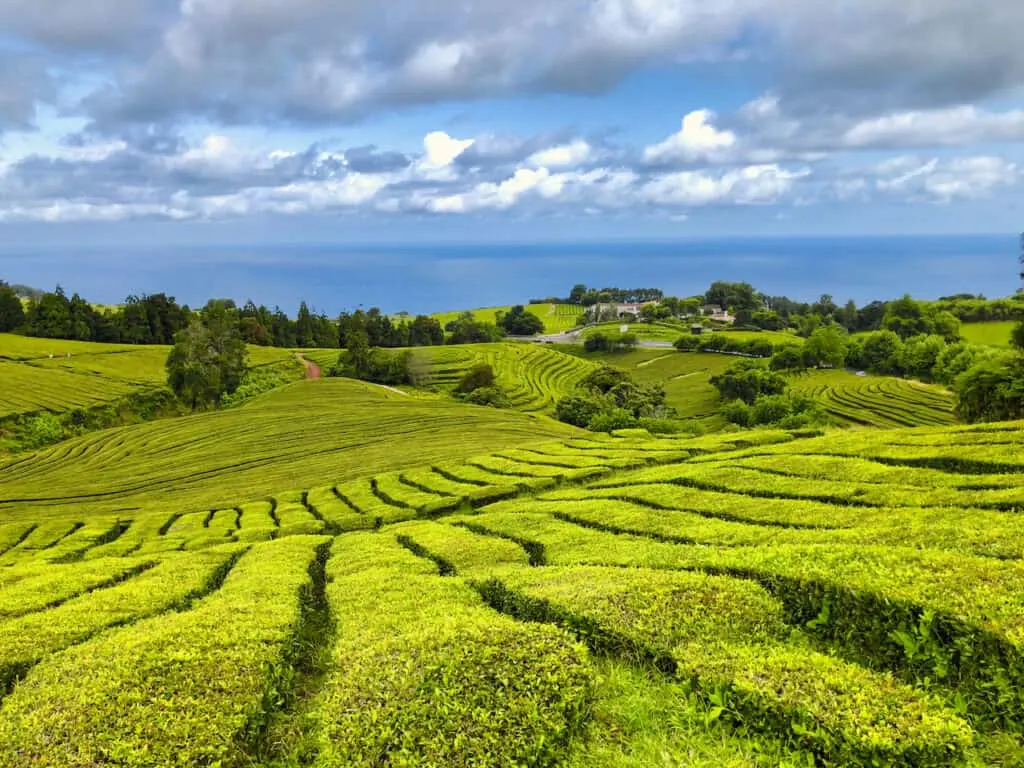 Drive the Nordeste Coast
While the western side of Sao Miguel is all about Sete Cidades, the eastern side is all about Nordeste. All along the coastline you will find small municipalities and some winding roads.
But along the way are also plenty of viewpoint spots. While you don't need to stop at each one, I would highly recommend stopping at a few of them.
These Nordeste viewpoints include Miradouro Despe-te Que Suas, Miradouro da Vista dos Barcos, Miradouro da Ponta do Sossego, and Miradouro da Ponta da Madrugada.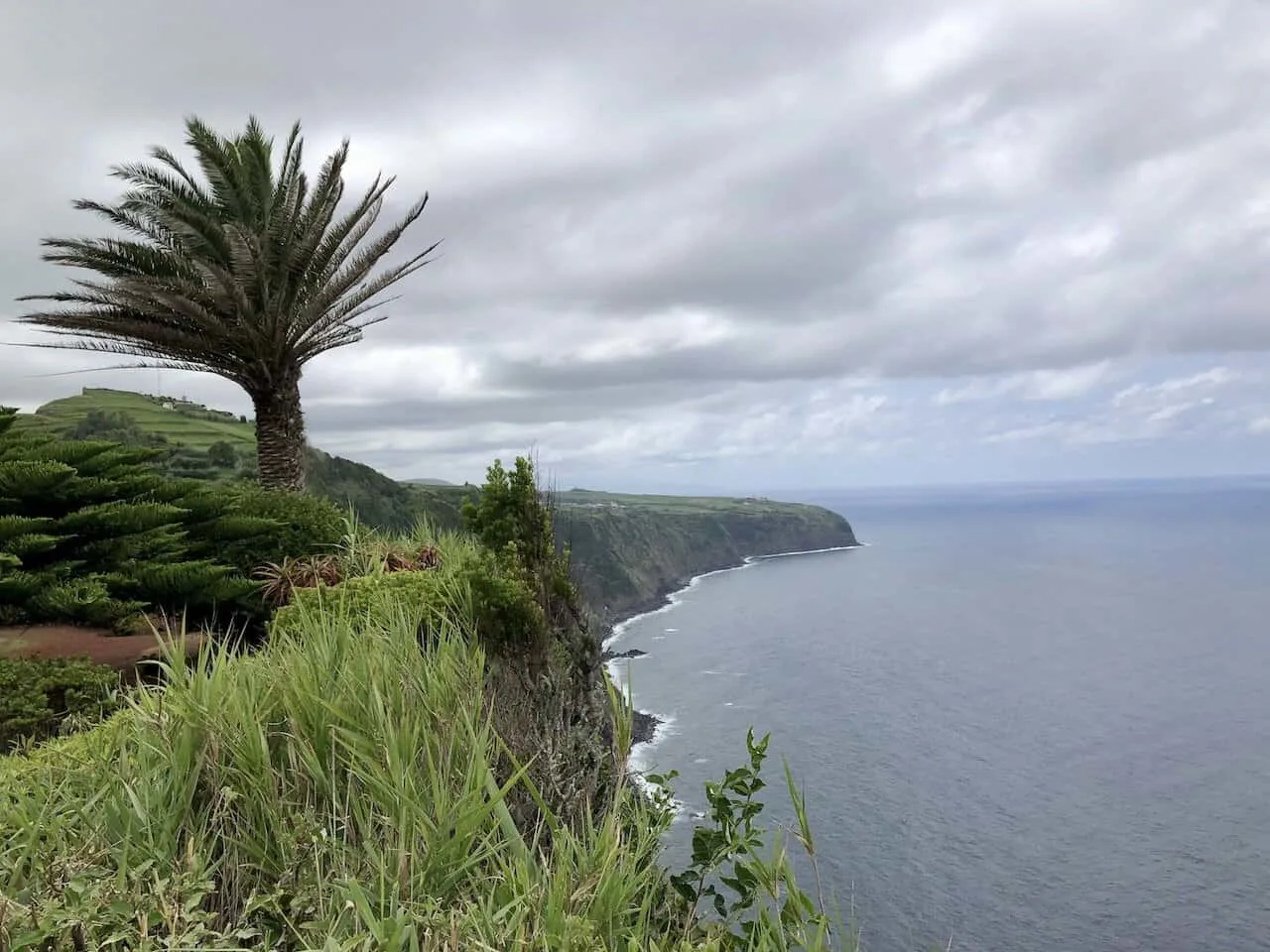 Take In the Furnas Geothermal Activity
Sao Miguel is perhaps the most geothermal active island of the Azores. And the area around Furnas is one of the top spots to enjoy it all.
Many of the best attractions are related to the geothermal activity in one way or another. Here are some of the top things to do in Furnas during a day exploring:
Pico do Ferro Viewpoint
Start out by heading on up to the Pico do Ferro Viewpoint. From here you can get a great perspective of Furnas Lake, the town center, and much of the surrounding geothermal activity.
Out in the distance you can take in some views of the steam rising up from below ground.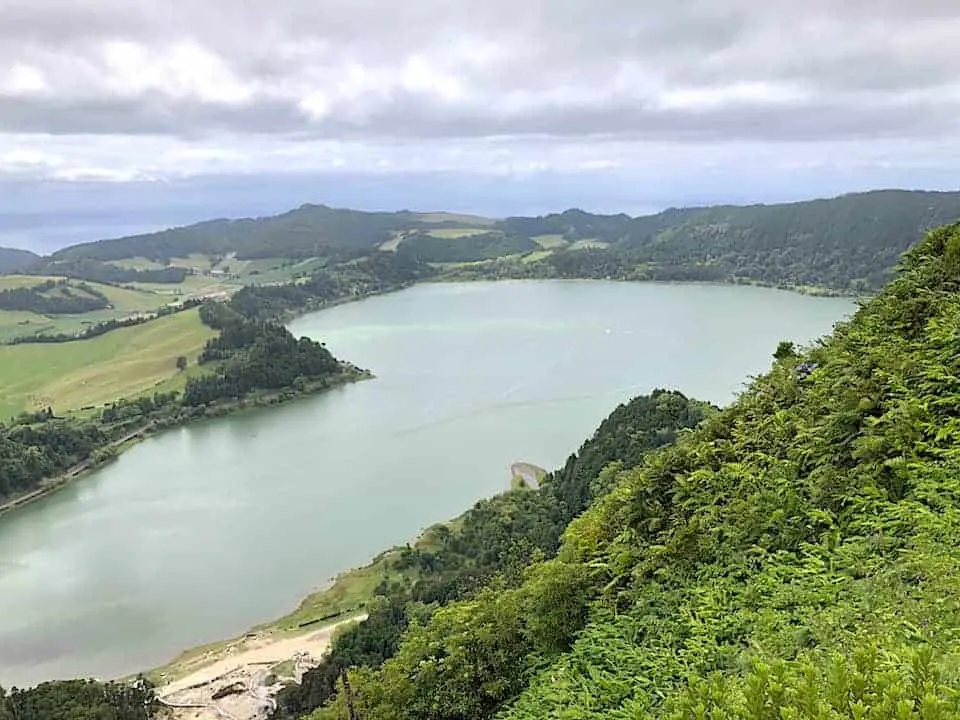 Fumarolas Lagoa das Furnas
While you can hike down to the lakeside from the viewpoint, I would recommend just driving on down to not worry about car logistics.
Once at the lakeside, you will be welcomed to a series of boardwalks that weave their way through the geothermal activity. As you continue around, you may even see some locals preparing meals underground.
It is a common occurrence that local restaurants take a stew called cozido, and cook it using the natural underground heat.
Be sure to head into town, where you can try some cozido for yourself!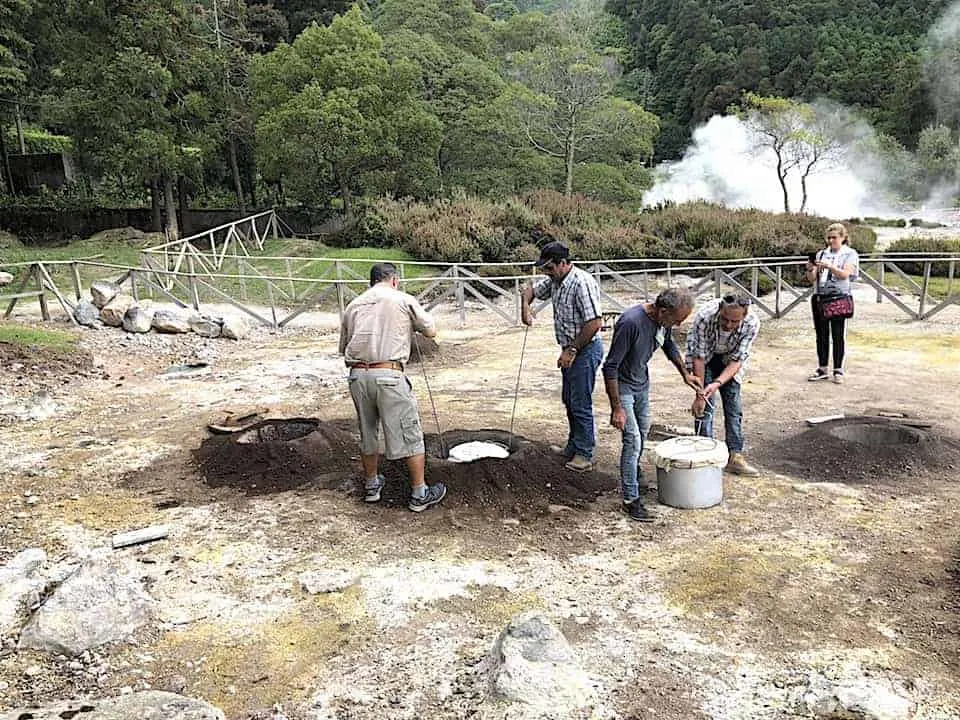 Parque Terra Nostra
Also in town are a couple of the more highly rated hot springs on Sao Miguel. One of these is the large orange colored pool of Parque Terra Nostra.
At Parque Terra Nostra you will find a large garden filled area will various flora, water features, and walking paths. Centered in the middle is a large heated pool that offers the perfect relaxation experience.
On the property you will also find the Terra Nostra Garden hotel, a great option to stay if you want to base yourself for some time in Furnas. This top Azores hotel has a restaurant as well that offers some of the best cozido you can ask for.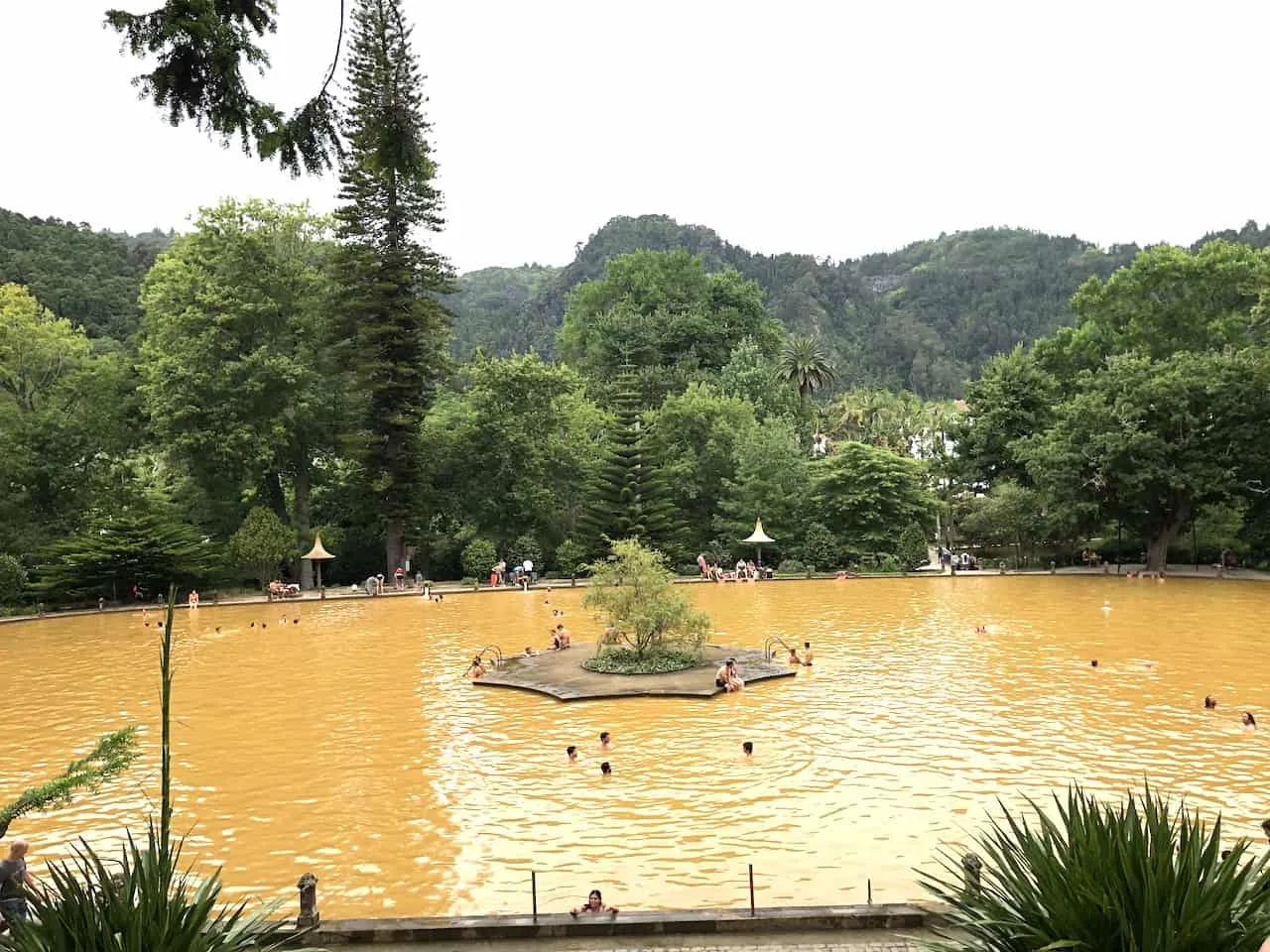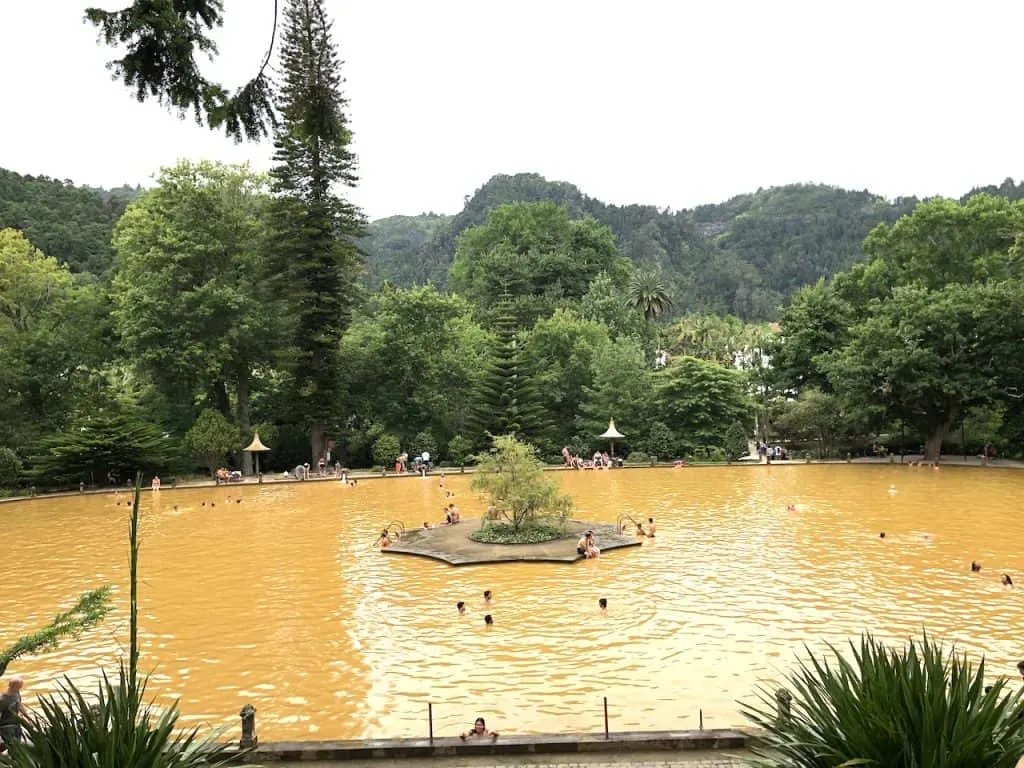 Poca Da Dona Beija
Just a few minutes away from the town center is Poca Da Dona Beija. Instead of one large natural hot springs pool, you will find 5 different smaller pools alongside a flowing river.
This will feel more like a hot tub experience, albeit with actual naturally hot water.
In addition to the main pools, there is also a small stream that you can jump into. Just be warned that it isn't as hot as the others!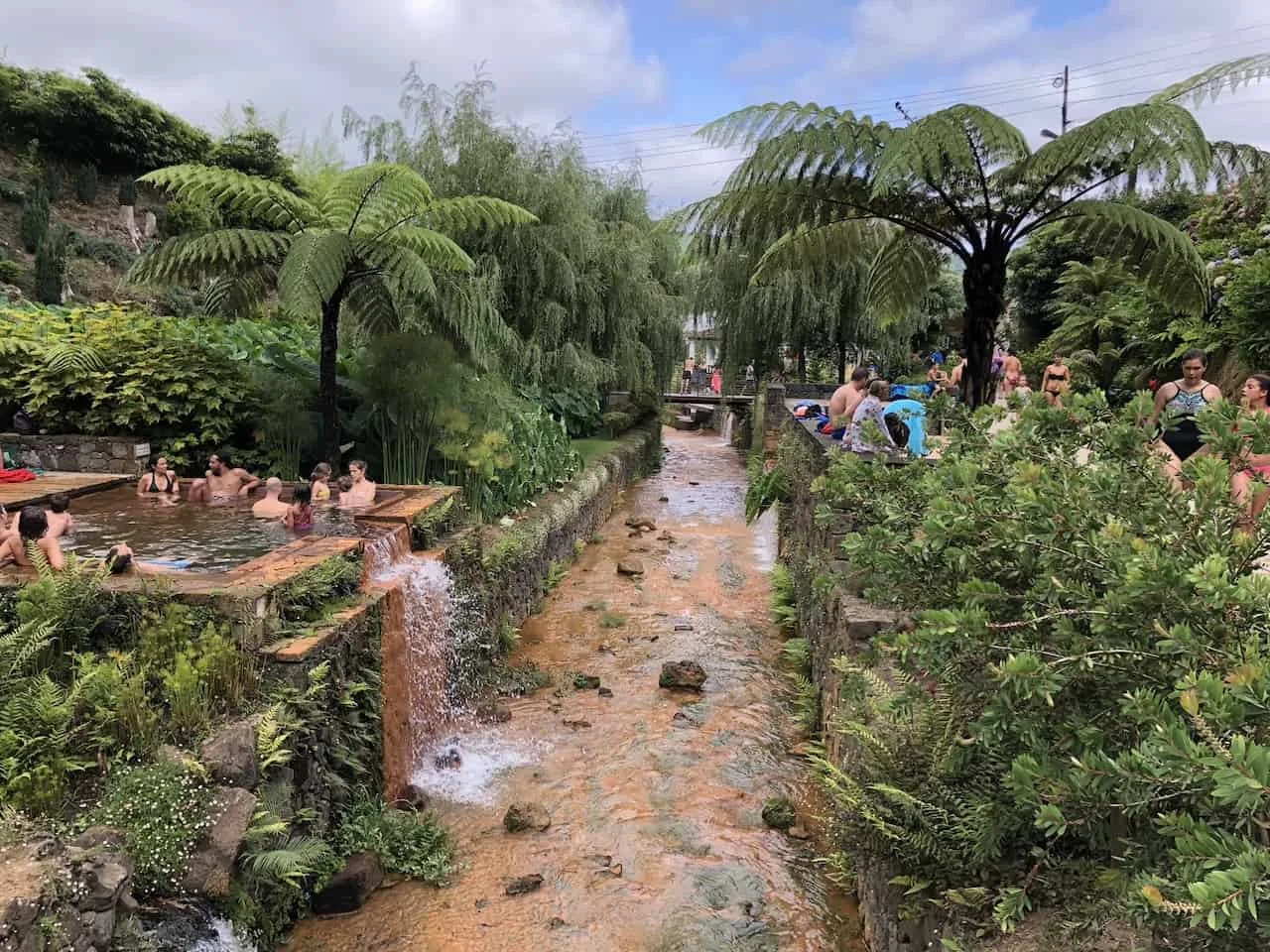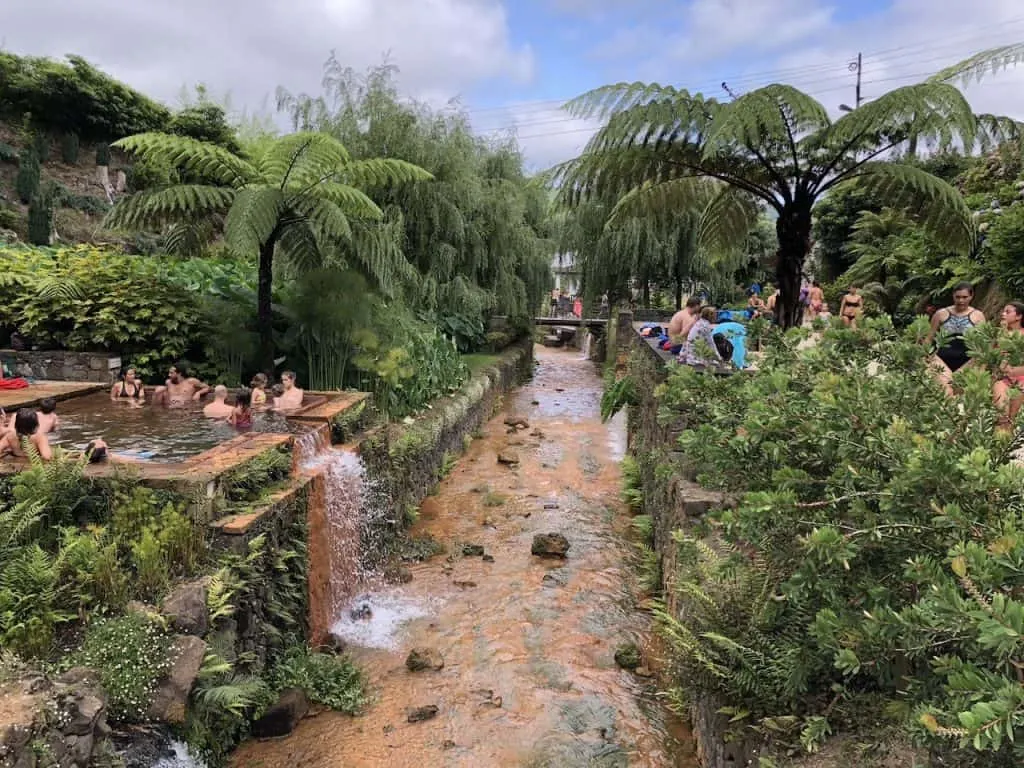 Parque Natural da Ribeira dos Caldeiroes
If you are looking for a nature escape, then Parque Natural da Ribeira dos Caldeiroes is the place to be.
At this natural park, you will be able to walk through an area full of viewpoints, plants, trees, waterfalls, and much more.
It is a relaxing spot to add to your itinerary as you get to take in some scenic walking paths that make their way all around the area.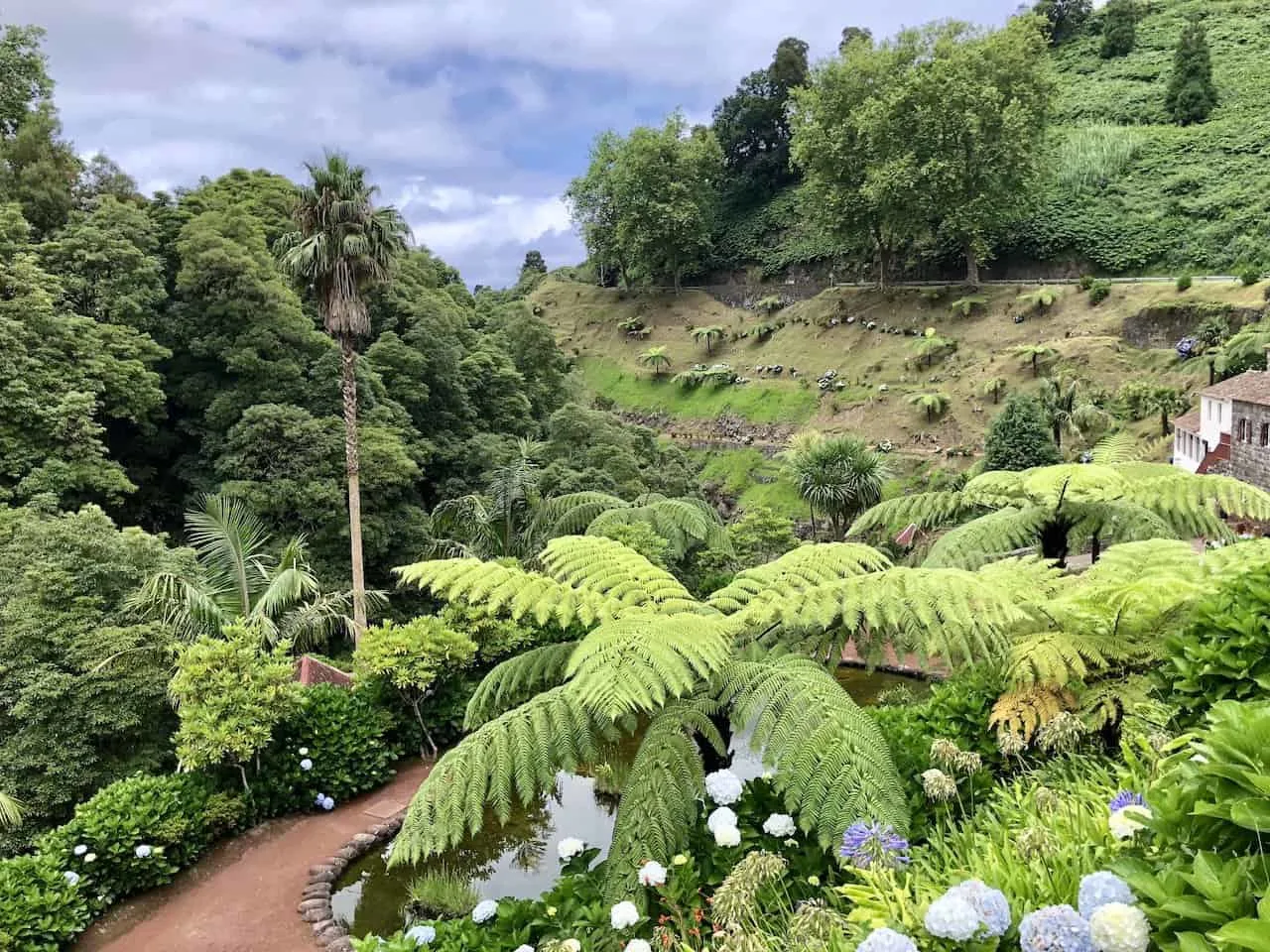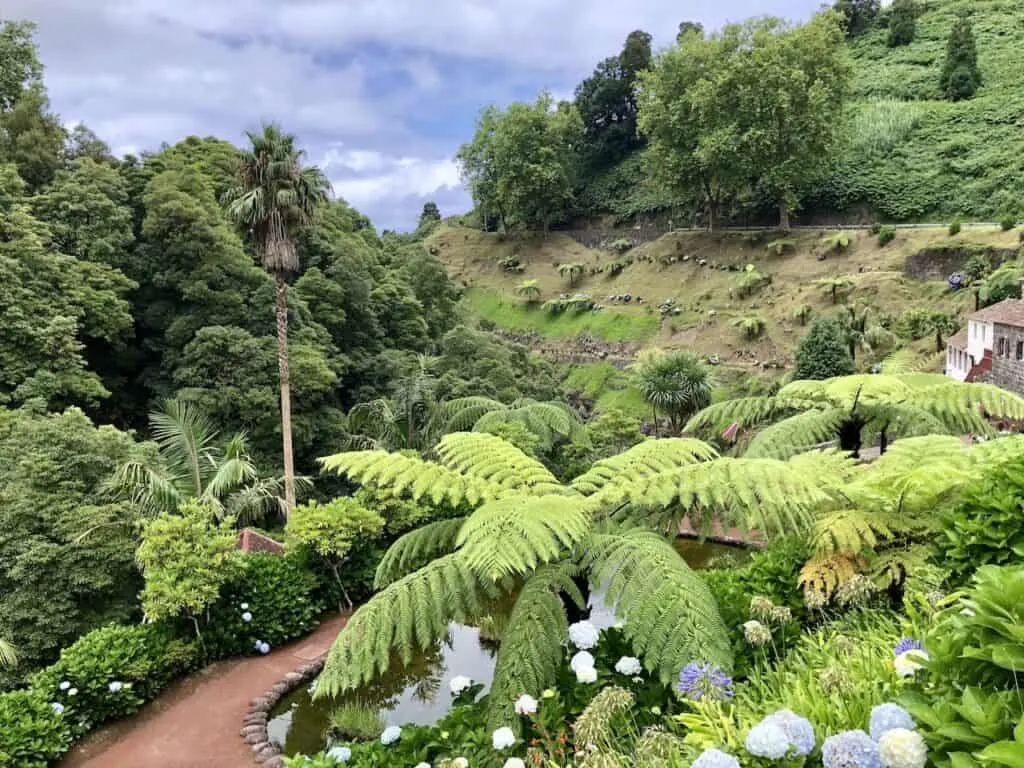 Boat Out to Vila Franca do Campo Islet
While the island of Sao Miguel has plenty to offer, there is also a small piece of land just offshore. This islet is called Vila Franca do Campo and offers a different way to experience the Azores.
At the islet, you can hop into the water, lay on the shores, or take a stroll around. The best part is that only a limited number of people are allowed here a day. This means that it does not get vastly overwhelmed by tourists.
Instead you can purchase a ticket beforehand (limited number available), or show up early enough at the harbor, where the majority of tickets are sold the day of.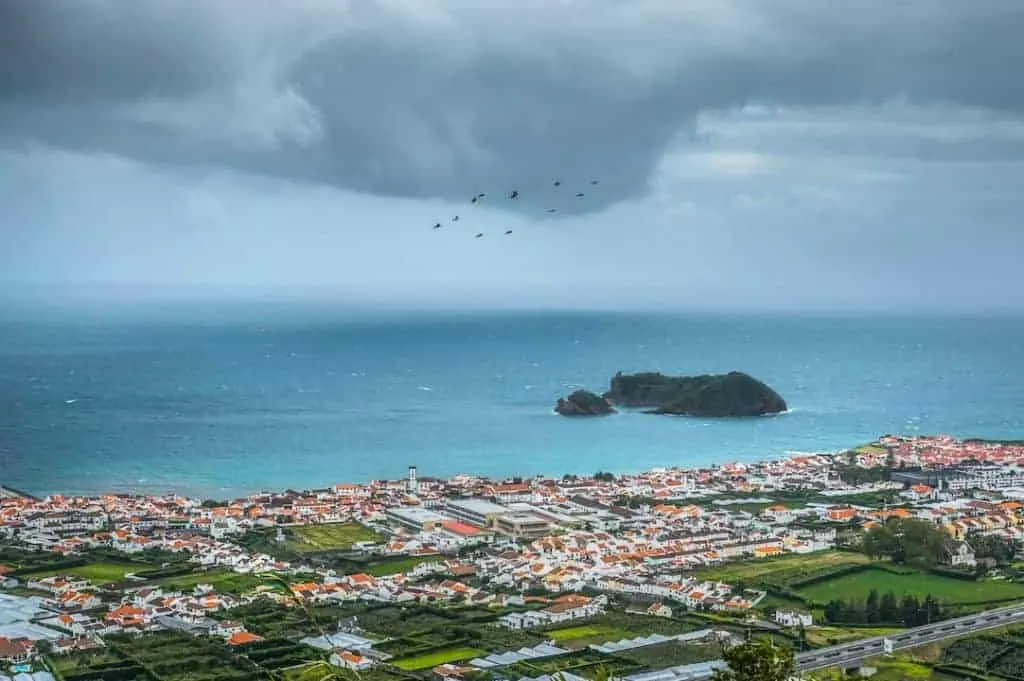 Whale Watching
Another way to spend some time out in the water is to take a whale watching tour.
Around the waters, you can find up to 20 different types of whale and dolphin species. Some of these whales call the Azores home year-round, while others make their way through during specific times of year.
These types of tours are mostly offered on Sao Miguel and Pico, if you happen to be heading out there as well.
If you want to spend some time in the water, then there are scuba diving opportunities available too.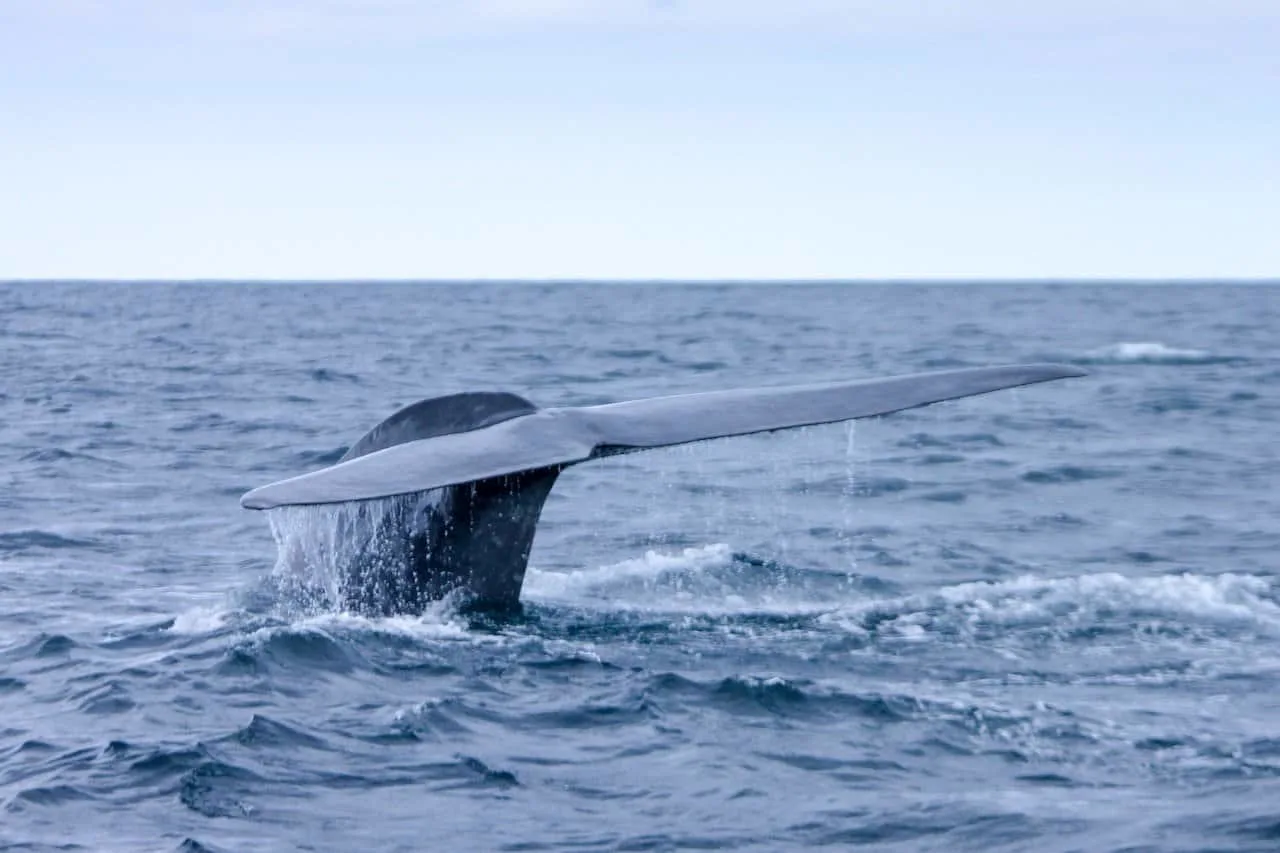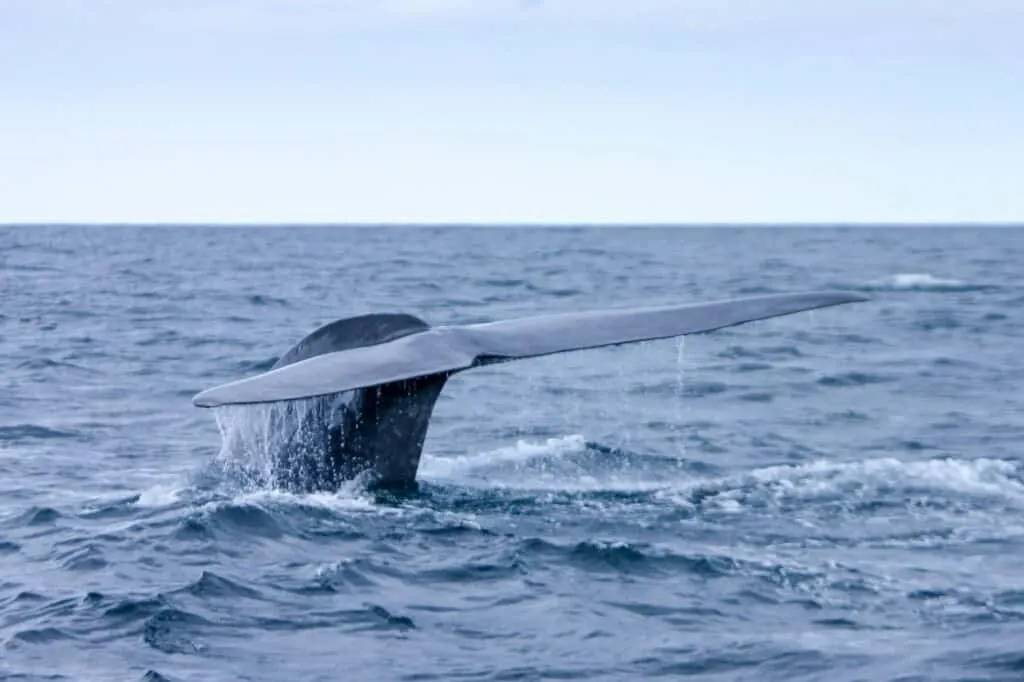 Stroll Through Ponta Delgada
You can't visit Sao Miguel without making your way through Ponta Delgada. This is the main town of the island, and it is where most people decide to stay during a visit.
The town is full of hotels, restaurants, shops, and more along its cobblestone streets. Just taking an afternoon to walk around, enjoy the architecture, and visit some highlights will be a perfect addition to an itinerary.
Note: be careful when driving within the town center itself as streets can be quite narrow at times. The driving in the Azores guide dives into some helpful tips & things to do know about driving around the island.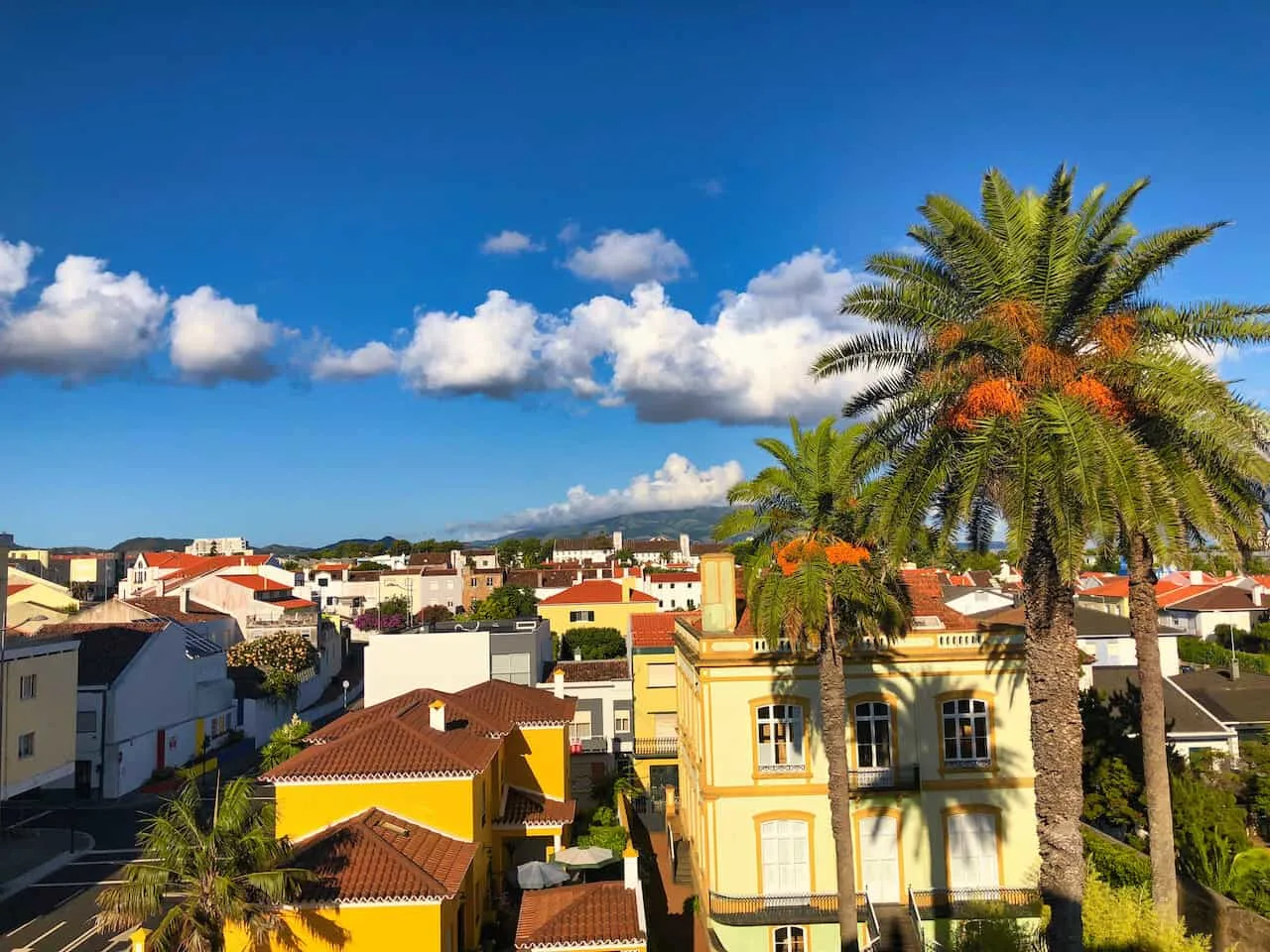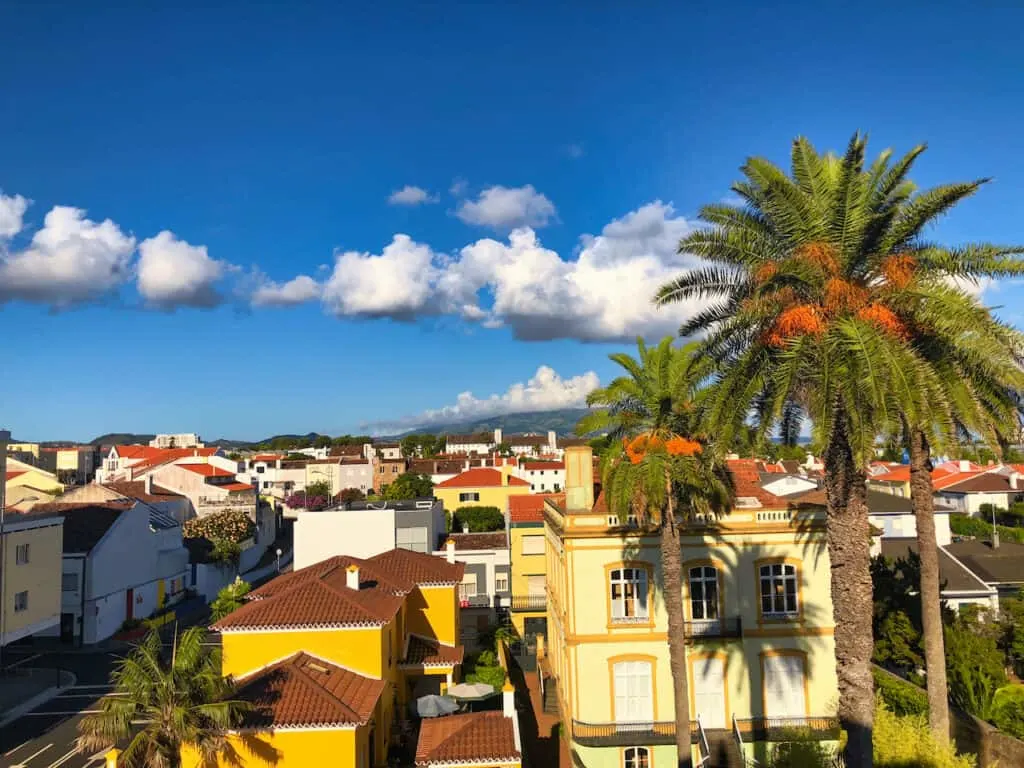 Sao Miguel Hiking
Last but not least, I just have to talk about hiking on Sao Miguel. This is by far one of the best things to do in the Azores.
Throughout the island you will find upwards of 20 hiking trails. These trails can take you towards all sorts of different places. Whether you want some elevated viewpoints, waterfalls, lakes, forest, or coastline, the trails offer it all and more.
I would recommend looking into adding at least a couple of hiking trails during your time on the island. Some of my favorites include:
Vista do Rei to Sete Cidades
Cha Gorreana
Praia to Lagoa do Fogo
Salto do Cabrito
Serra Devassa
Learn more in the Azores hiking overview up on the site!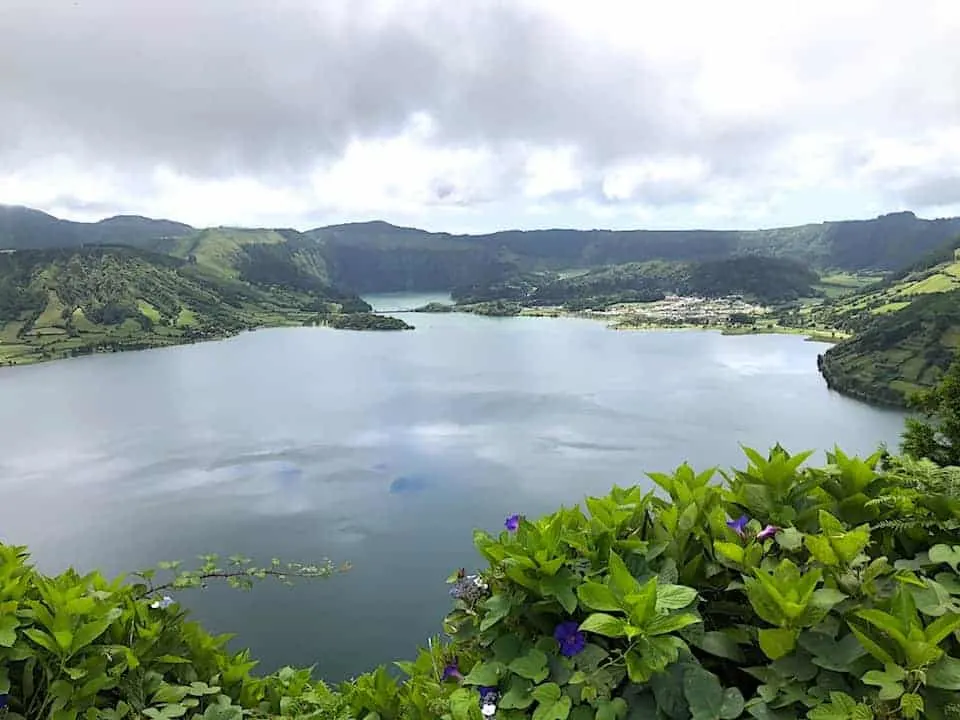 3) Santa Maria Things To Do
The other lesser known island in the eastern island group is Santa Maria. While it is one of the less visited islands, it still offers much to do all around.
Praia Formosa
When it comes to beaches around the Azores, many of them are black sand beaches due to its historical volcanic activity.
However, Praia Formosa is one best white sand beaches that the Azores has to offer. If you are looking for some time in the sand, you may want to consider Praia Formosa.
Pico Alto
Getting to the highest point of any of the islands and you are sure to take in some beautiful views. That is exactly what Pico Alto offers on Santa Maria. At 590 meters in height, Pico Alto is one of the best spots on the island to truly appreciate that natural landscape.
Ribeira de Maloas
At Ribeira de Maloas you will find a large amount of columnar rocks on the cliffside. Depending on time of year, you may also come across a waterfall coming off of this unique rock formation.
Barreiro da Faneca
Lastly for Santa Maria is Barreiro da Faneca. In this area you will experience a desert like landscape with red clay soil. This is also known as the red desert and is something that only can be found on Santa Maria.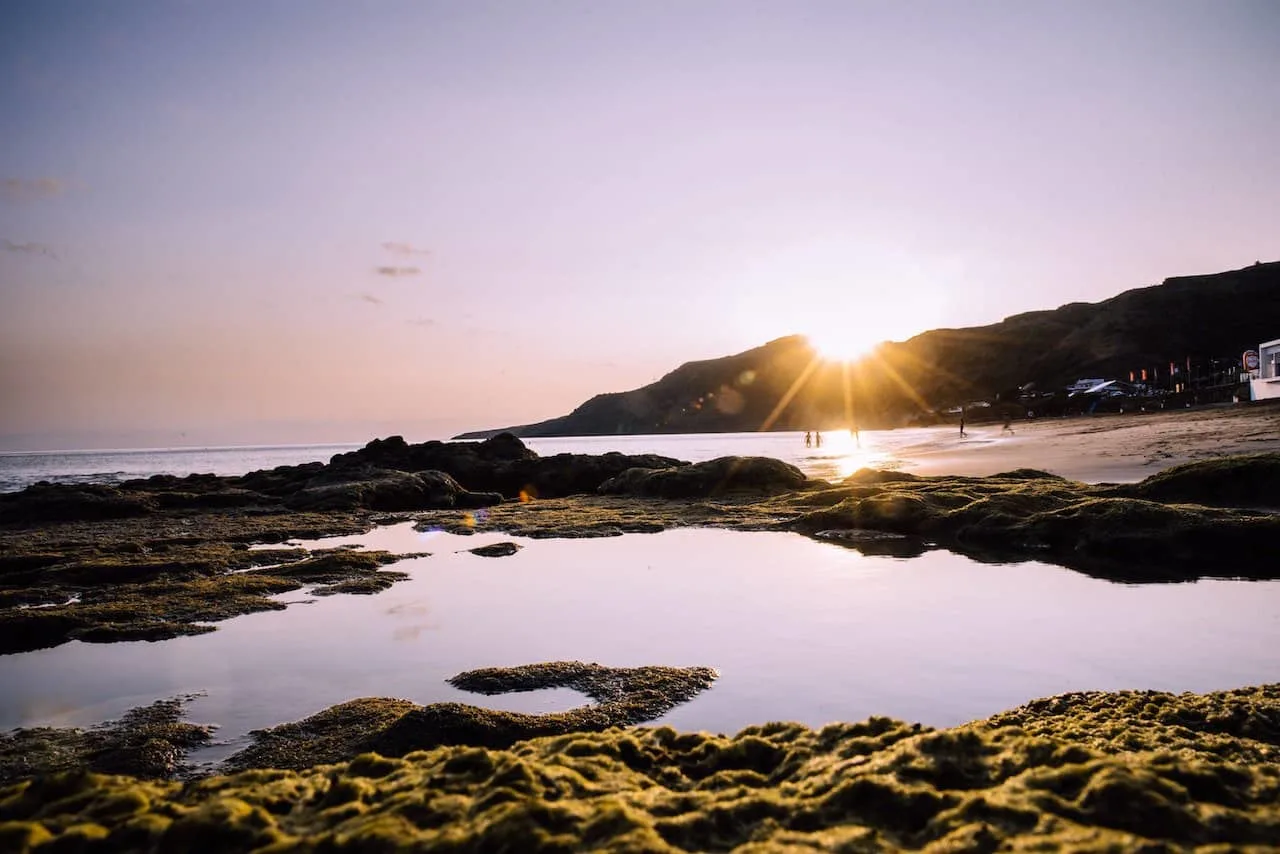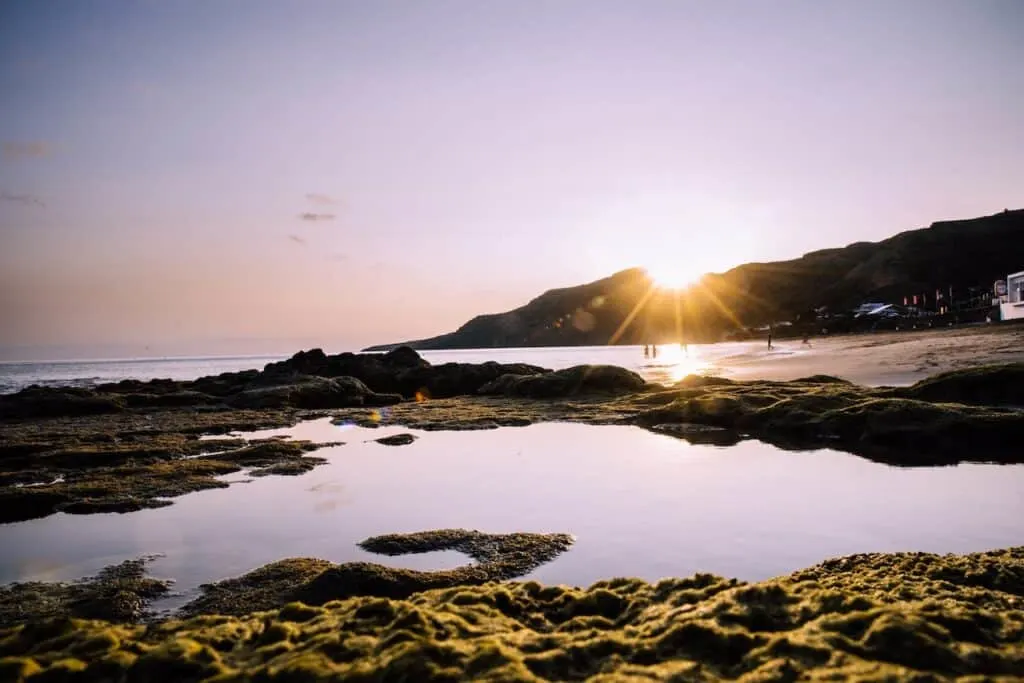 4) Pico Things To Do
Moving on to the central island group, there are 5 more islands to explore. First up though is Pico, which is home to the tallest point of not only the Azores, but all of Portugal – Mount Pico.
Hike the Highest Point – Mount Pico
We may as well start out with Mount Pico itself. Standing at 2,351 meters / 7,713 feet in height, Mount Pico requires a 6-8 hour round trip hike to reach the summit.
The climb is no easy task as you are actually climbing a volcano and the terrain can be quite difficult to manage.
But if you have the fitness, I would highly recommend setting aside one day for the climb. This is one of those special moments you wont forget as you are standing atop the volcano.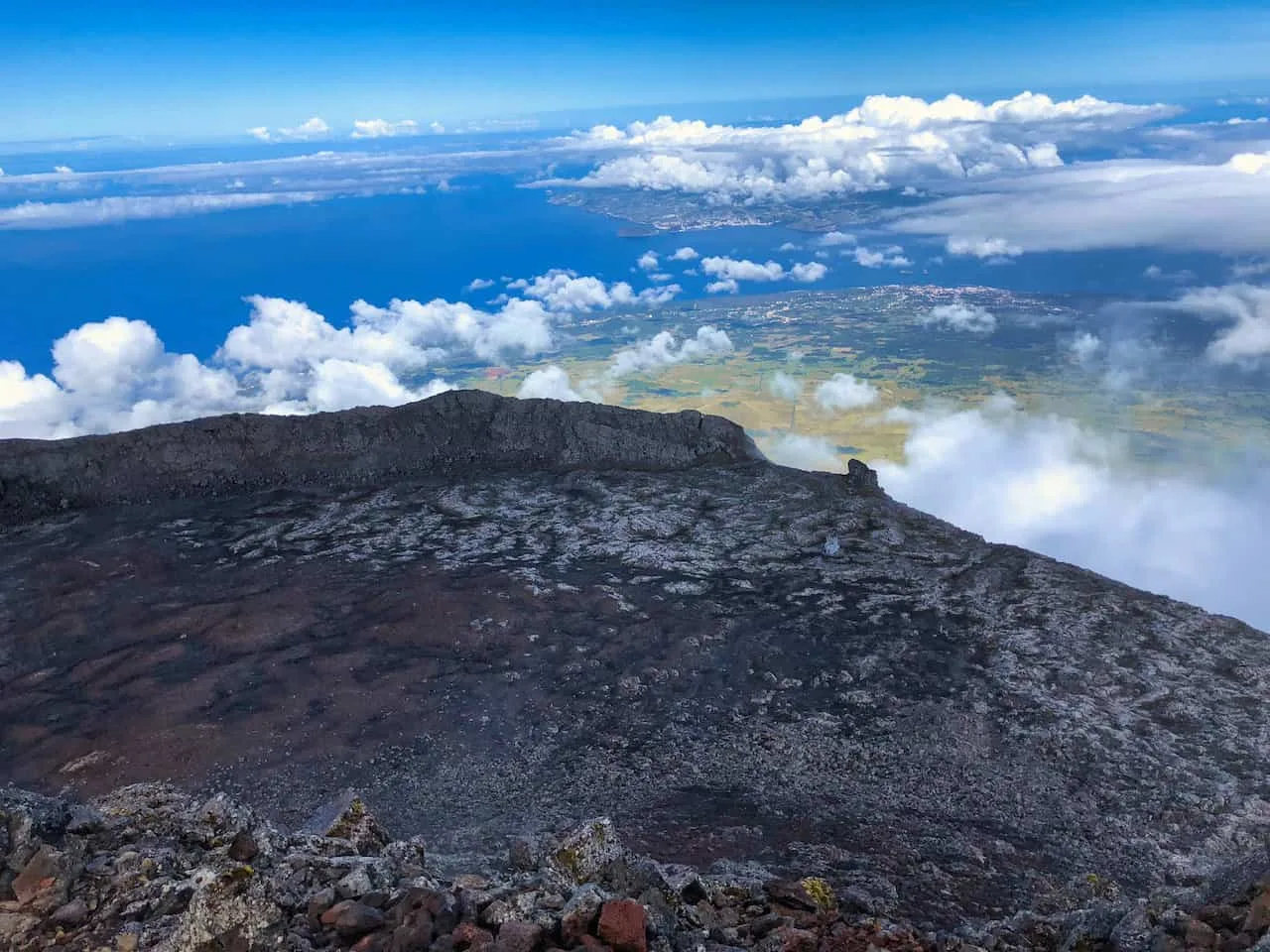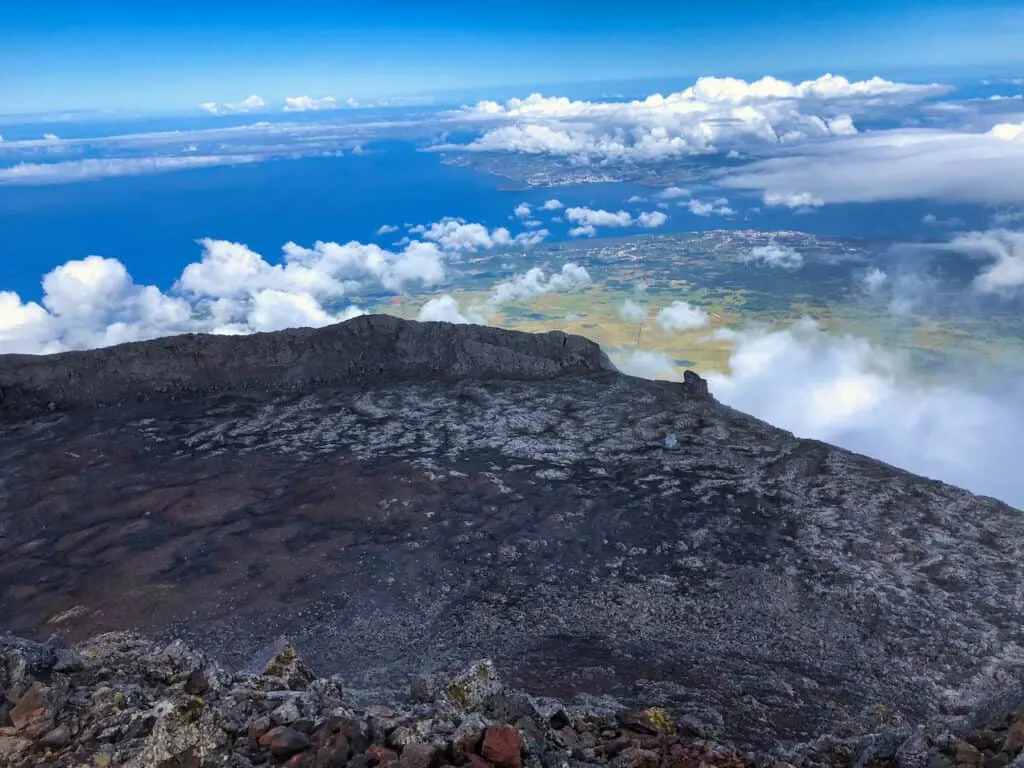 Walk the Pico Vineyards
While the landscape of Pico is very much volcanic based, that has not held it back from producing some of the best wine in Europe. The volcanic soil has shown to be a vibrant base to grow grapes, and you can find vines all throughout the island.
One of the best ways to explore the vineyards is to take part of the Vinhas da Criacao Velha hiking trail. Throughout the hike you will get to enjoy some natural rock pools, views of Mount Pico and Faial Island, and of course the vineyards themselves.
Be sure to also visit places like the Cooperativa Vitivinicola Da Ilha Do Pico, which is the wine cooperative of Pico. In addition, you can head to the small town of Lajido for some more wine tastings and learnings.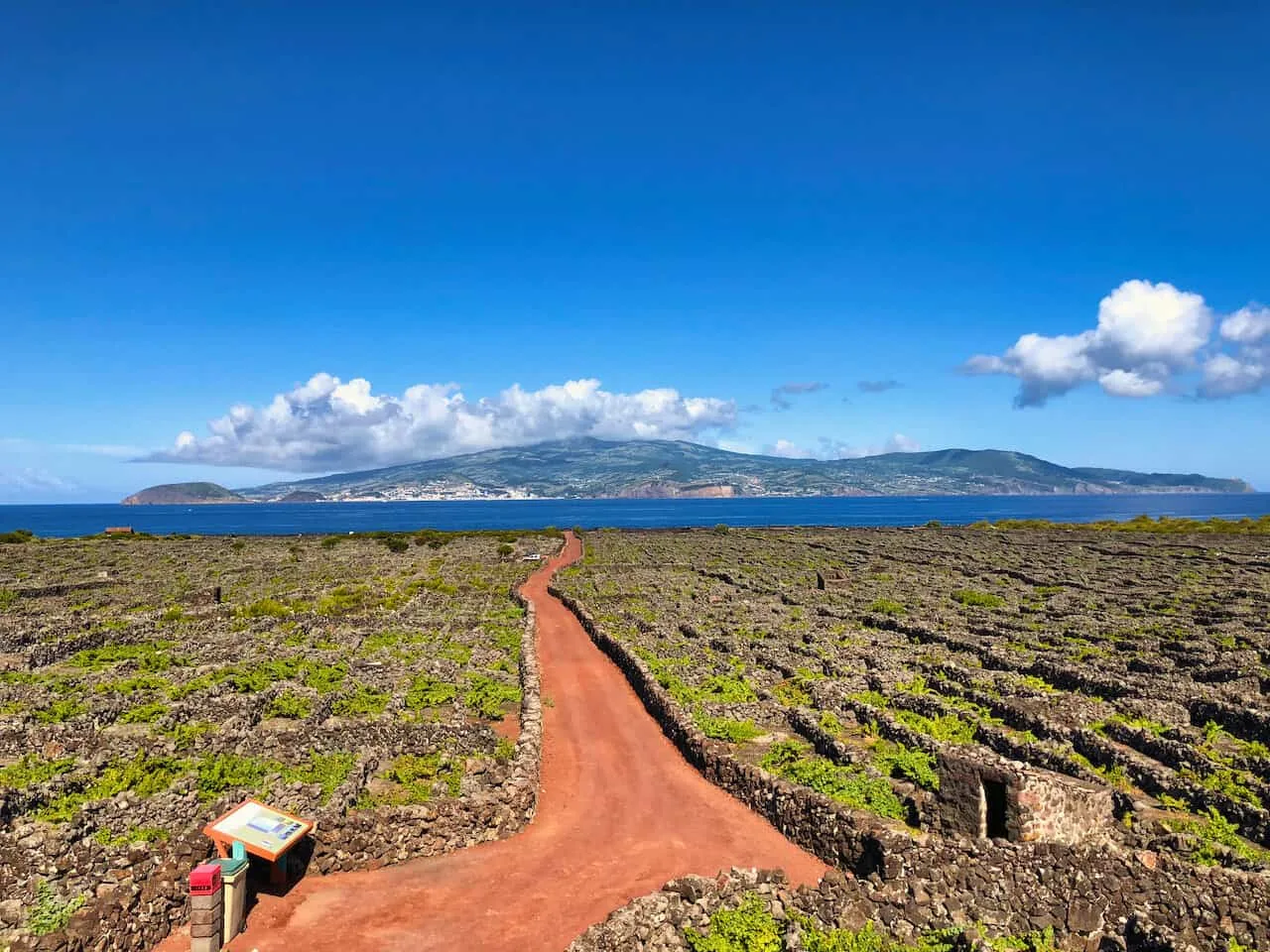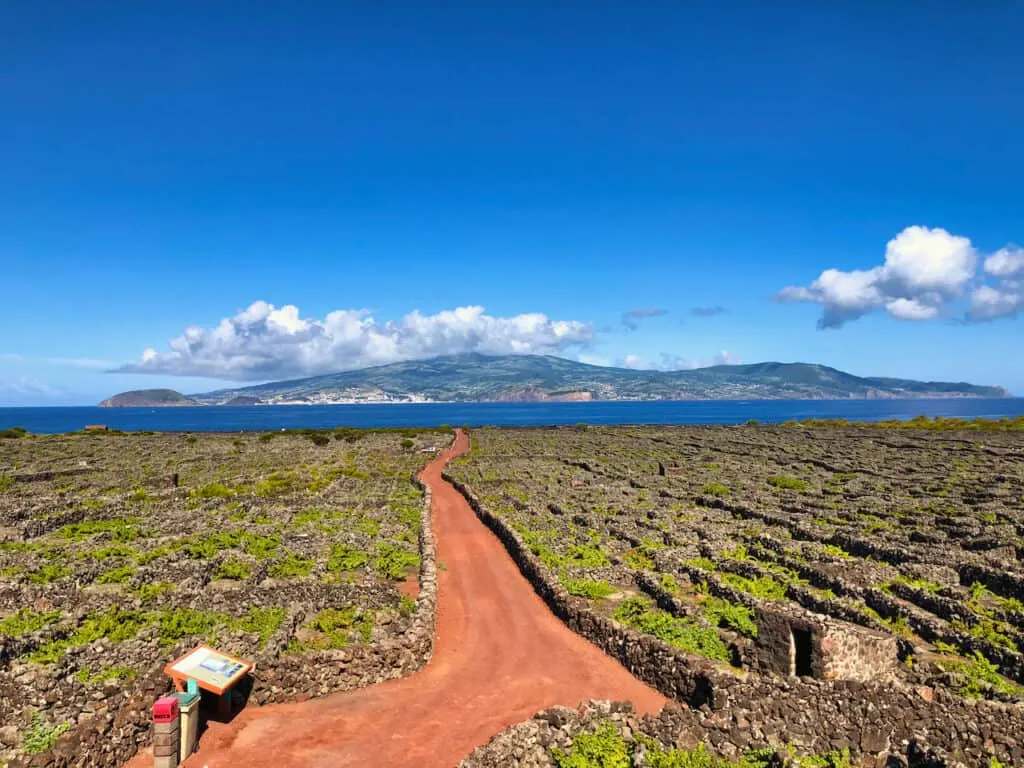 Walk Around Lagoa do Capitao
While Sao Miguel may be the top spot for lakes, Pico has a special one as well. During a visit to Pico you can make your way to Lagoa do Capitao.
There, you can take part of a short walking trail around the lake as you have Mount Pico situated perfectly above out in the distance.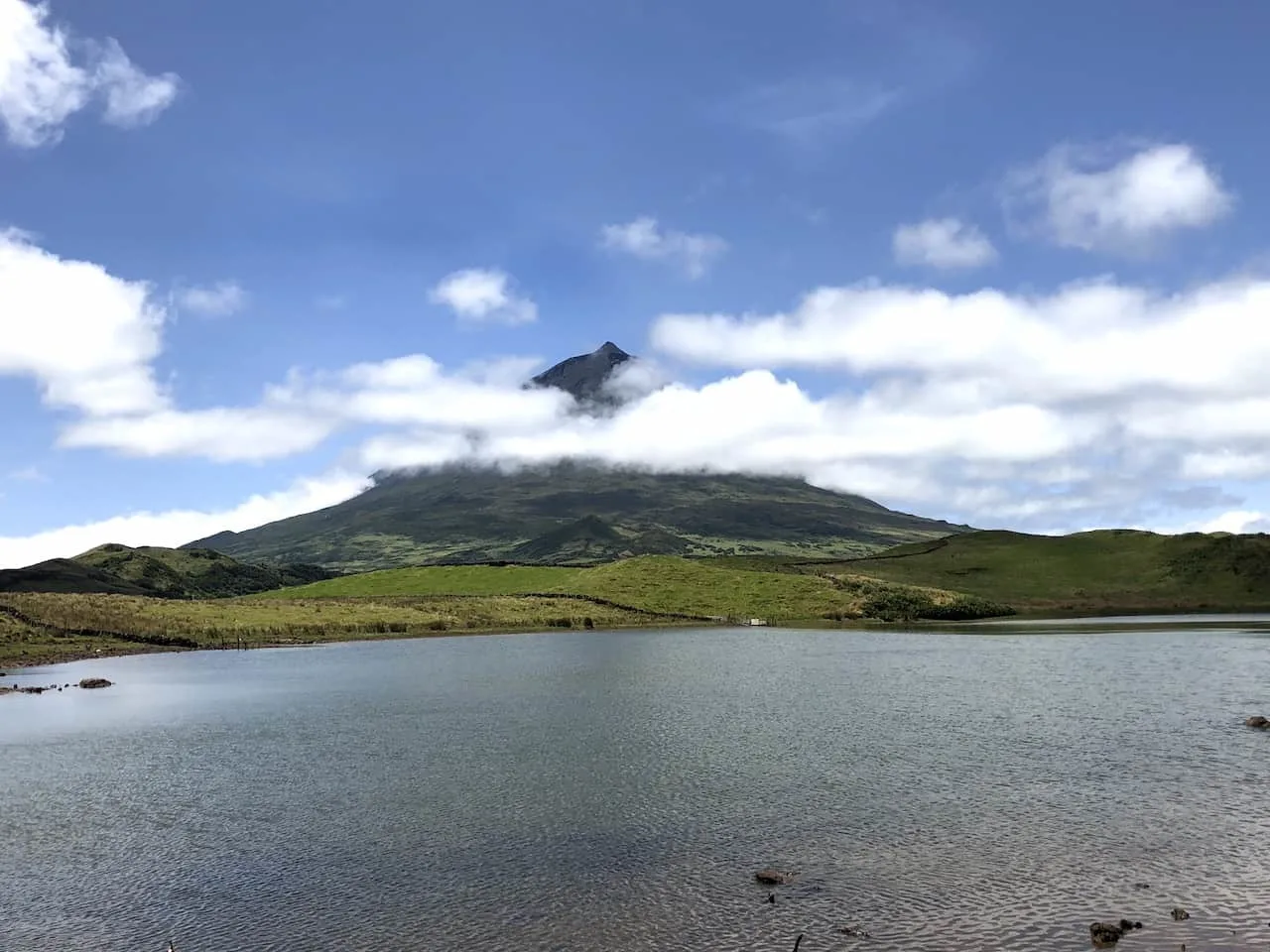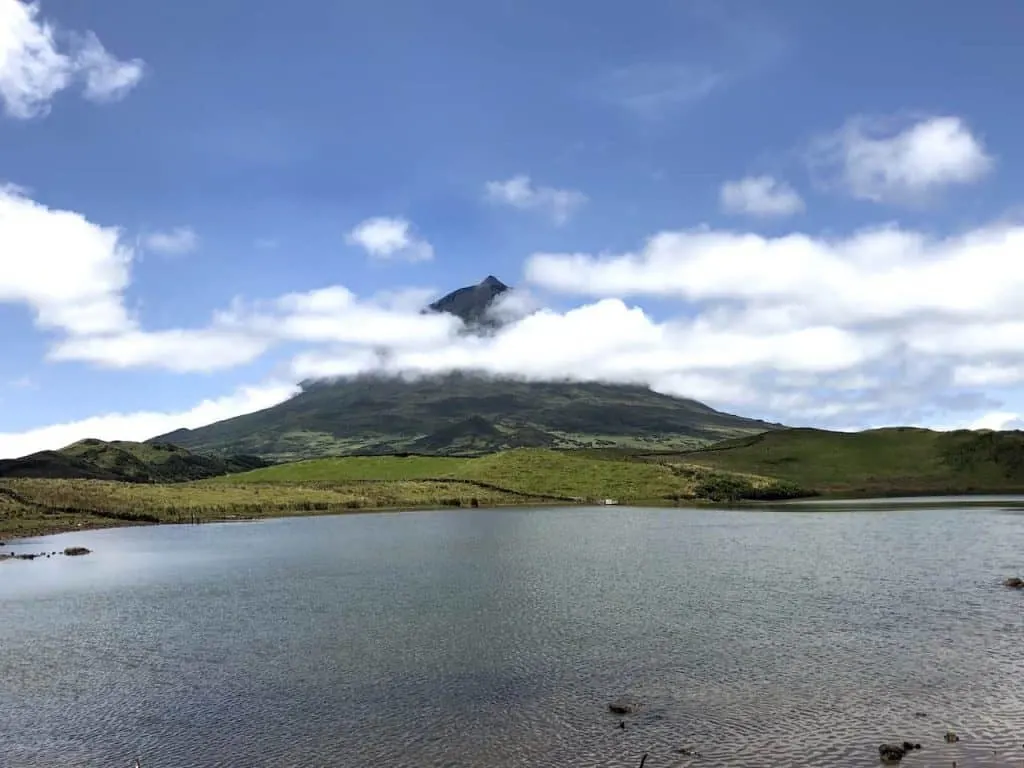 Head Underground to Gruta das Torres Caves
Due to the volcanic activity of the island, there have been caves formed over time. Some of these caves can be explored today as part of a guided tour.
Gruta das Torres Caves is the most popular and accessible of options, where you can join a tour and learn more about the volcanic origins of the island.
5) Faial Things to Do
Just a 30 minute boat ride across the way from Pico is Faial island. You can visit Faial on its own, but it is also possible to simply day trip there from Pico.
Faial has a few of the top things to do in the Azores, so be sure to head there on a visit.
Circle Around the Faial Caldeira
While there are many caldeiras around the Azores Islands, few can complete with the size and landscape of the caldeira on Faial.
Located in the center of the island, the caldeira comes in at 400 meters in depth and 2 km in diameter. For those that want to enjoy more than just the viewpoint, you can hike along the perimeter of the caldeira over the course of 2.5-3 hours.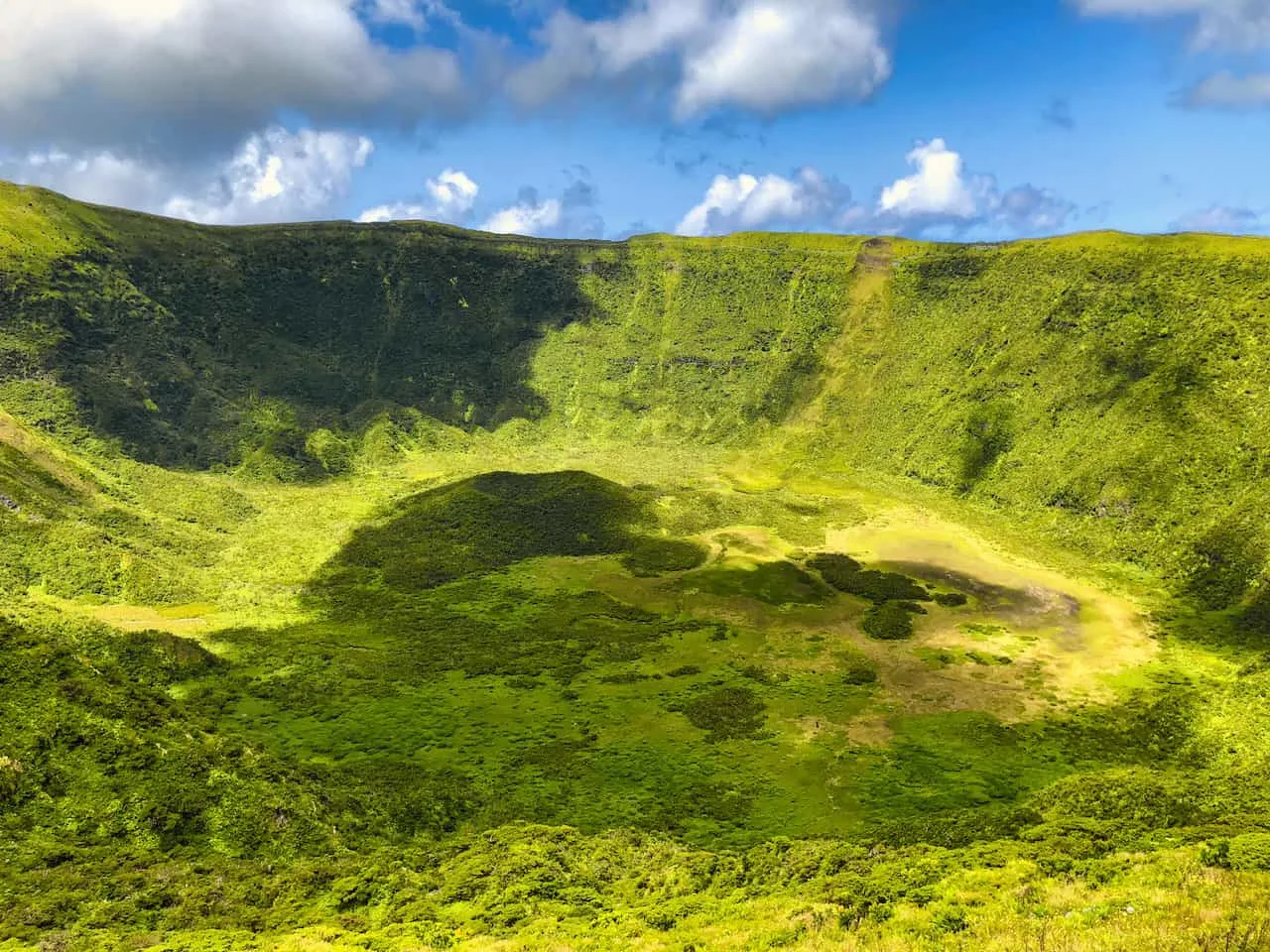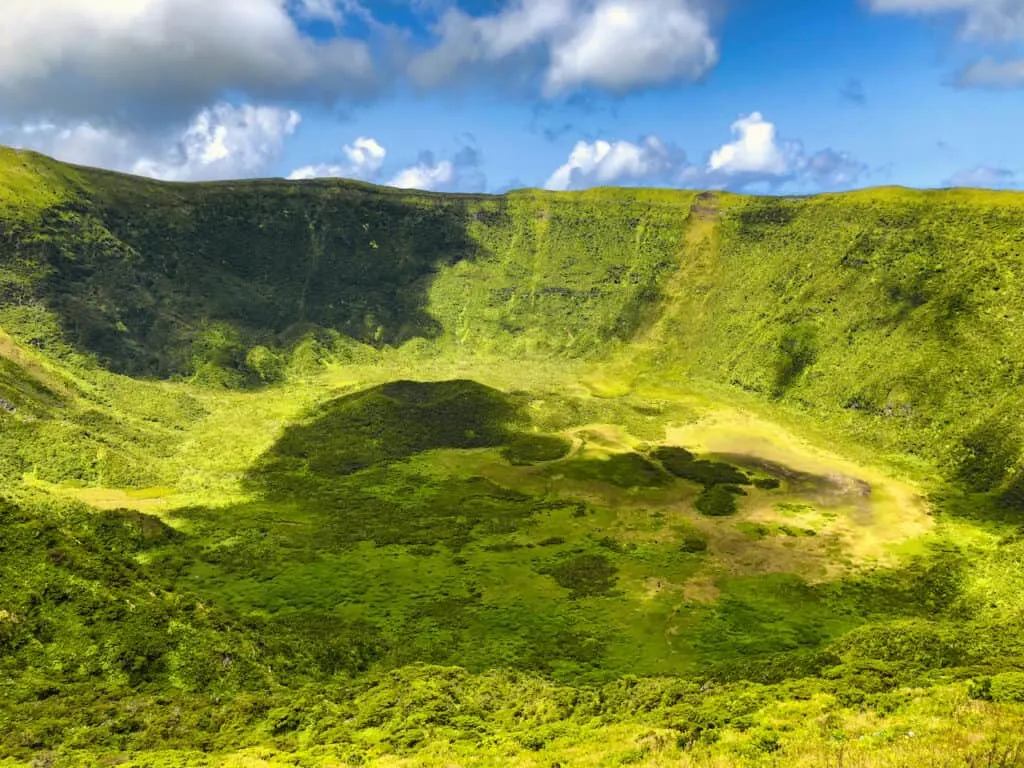 Explore the Capelinhos
On the northwest corner of Faial is one of the most interesting natural landscapes I have come across in my travels. The Capelinhos were formed by an underwater volcano that eventually created a new plot of land on Faial.
There are a some trails to walk around, where you can get a good vantage point of the Capelinhos and the surrounding ocean.
Be sure to head up the lighthouse and into the museum for some more views and to learn about the area.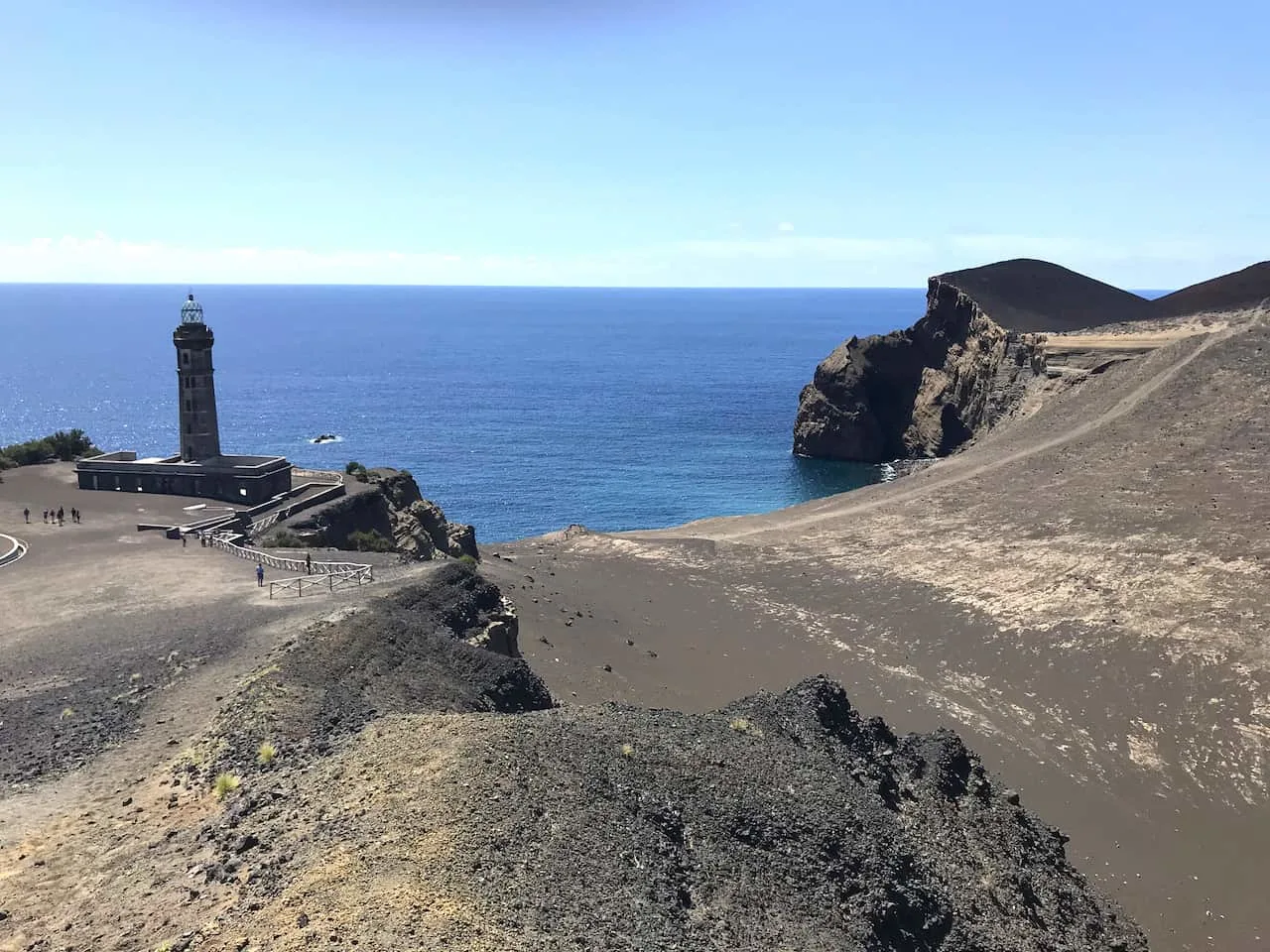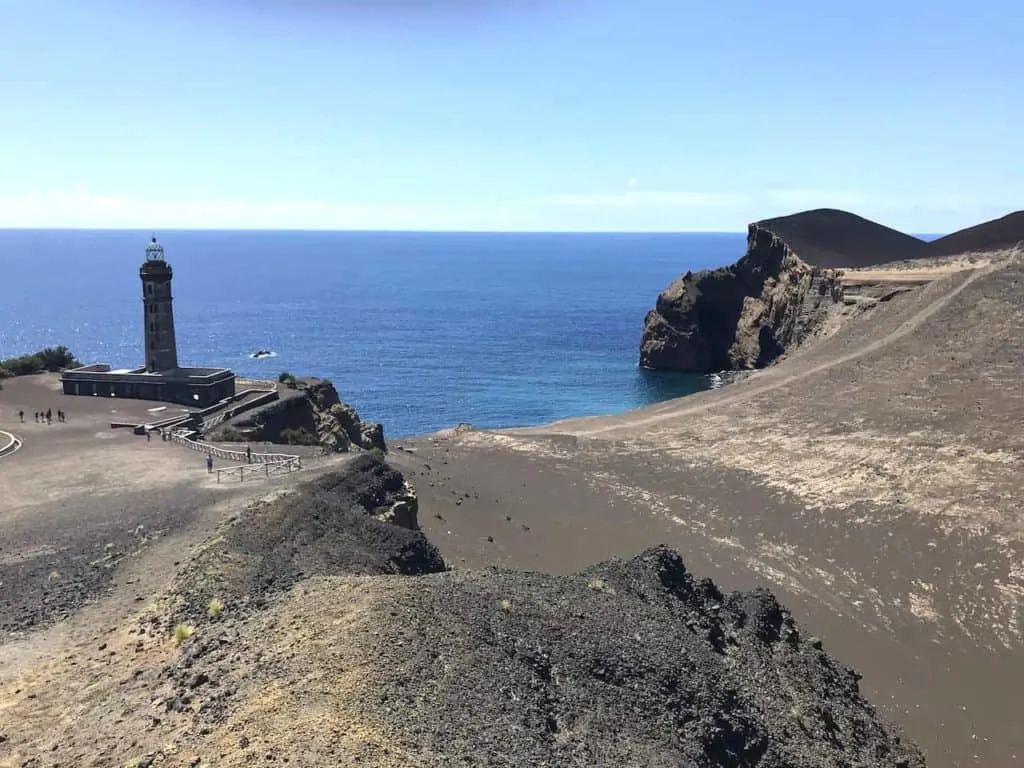 Take in the Views from Monte da Guia
If you want to get the perfect vantage point of Faial from above, then be sure to check out the Monte da Guia. From the viewpoint area, you will get to enjoy some views of the town center of Horta, the rolling landscape of the island, and the surrounding ocean.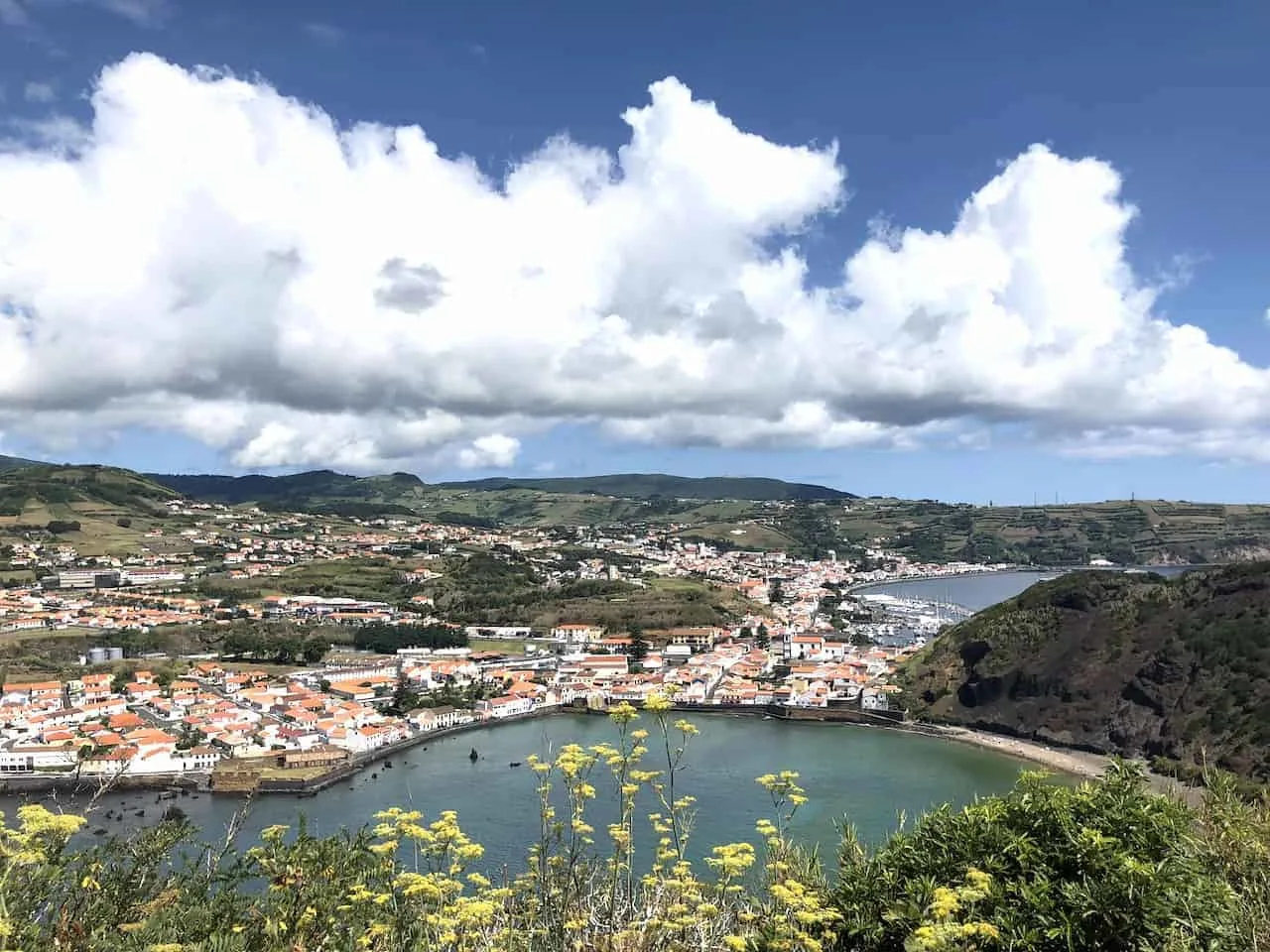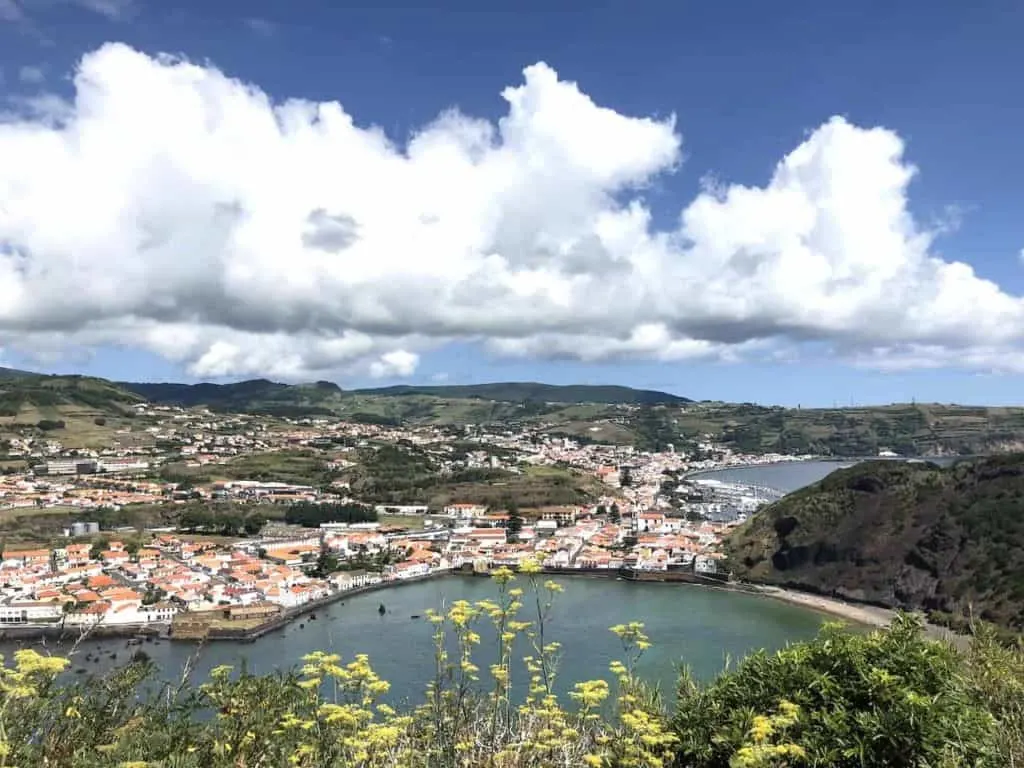 6) Sao Jorge Things To Do
The island of Sao Jorge is just north of Pico and Faial, and offers some of the best hikes & natural swimming spots in the Azores.
Hike the Fajas
All along the Sao Jorge coastline you will find fajas. These are small pieces of land at the base of the cliffsides, that were formed by lava landslides thousands of years ago.
Today, you can find fajas with small communities built along them, in addition to natural swimming areas.
If you are visiting Sao Jorge then you must hike the Fajã da Caldeira do Santo Cristo and Faja dos Cubres trail. The hiking trail starts up top in the middle of the island, but it soon drops down the hillside as you walk through Santo Cristo and onwards to Cubres.
Along the way, you can enjoy the views, hop in the water, and have some lunch at one of the local restaurants.
A hike like this must be planned out ahead of time (most likely with a taxi driver) as it is a one way trail.
During your time on the island, you can visit some other fajas for swimming & relaxing opportunities. These include Fajã do Ouvidor, Fajã da Ribeira da Areia, Fajã de São João, Fajã dos Vimes, and Fajã da Ribeira da Areia.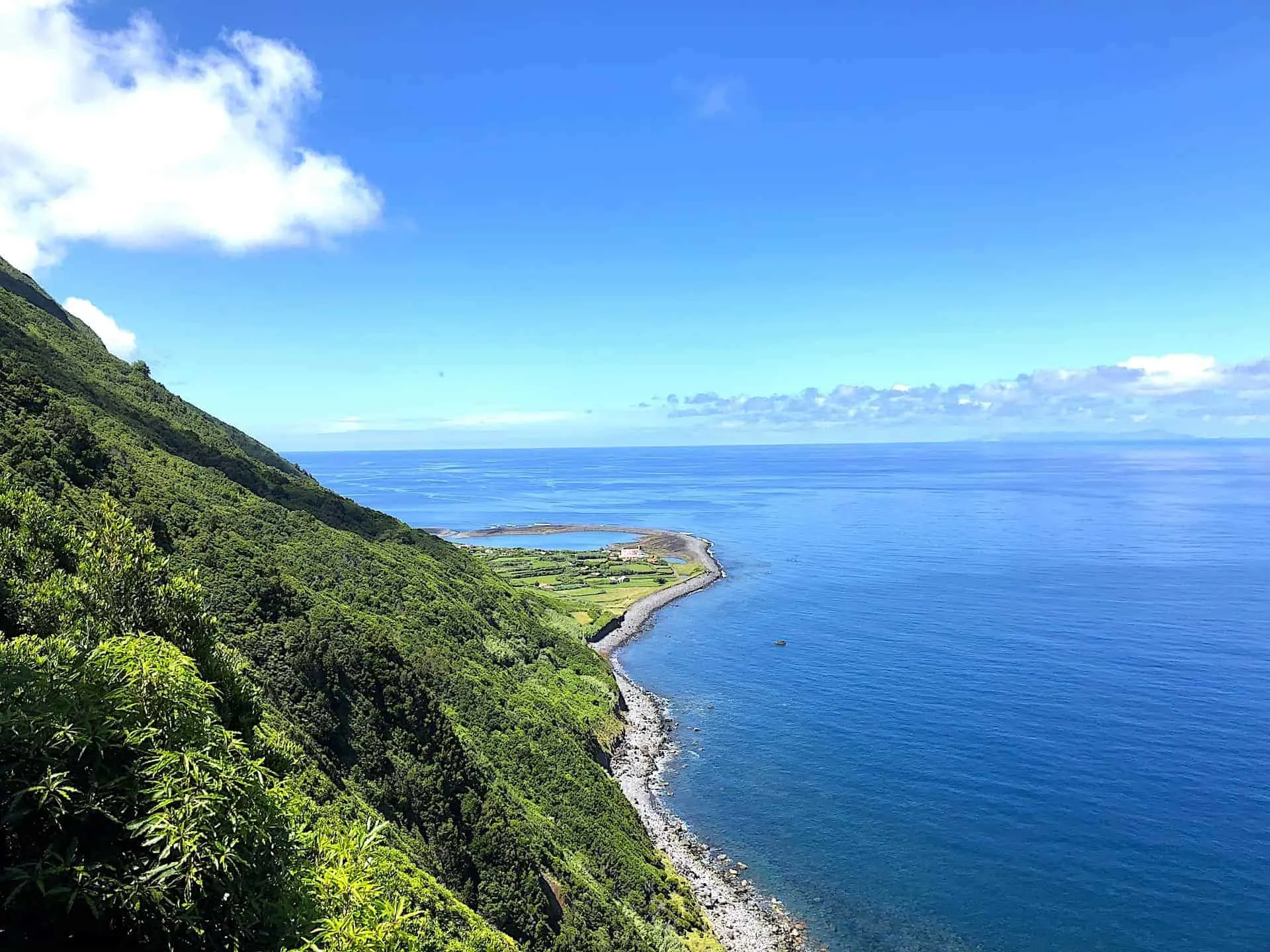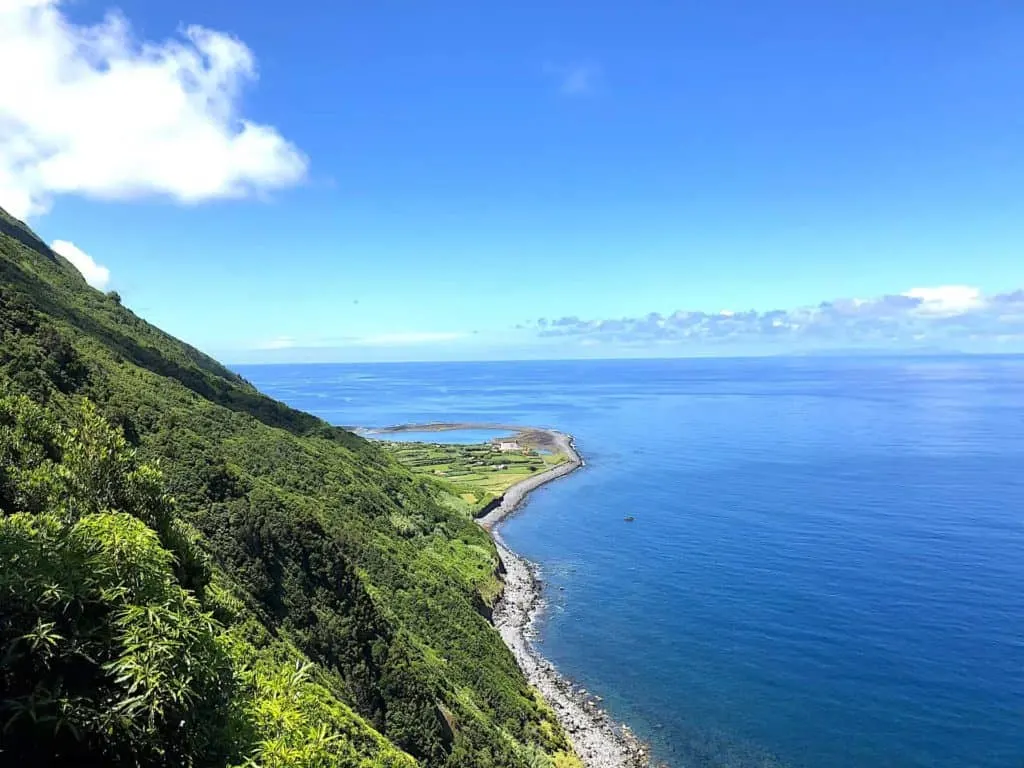 Head Out for a Surf
When it comes to surfing in the Azores, Sao Jorge is the place to be. You can actually find a surf camp at Fajã da Caldeira do Santo Cristo.
The town is only accessible by foot or ATV, so you can expect a very low key and laid back vibe. If you are looking to surf and be away from the crowds, there is no better place to choose from.
7) Graciosa Things To Do
Another one of the lesser visited islands in the Azores, Graciosa offers its own unique charm. If you want to spend some time away from the standard Azores route, then this can be a great option to add to your itinerary.
Relax on the Sand
Graciosa is home to a few of the best beaches in the Azores. As mentioned earlier, most of the beaches are made up of black sand or may just be some rocks by the oceanside.
However, on Graciosa you will come across Praia do Barro Vermelho and Praia de Sao Mateus – both of which offer perfect opportunities to just relax on the sand.
Farol da Ponta da Barca
The highest lighthouse on the Azores can be found in Graciosa. During a visit you can make your way to Farol da Ponta da Barca. Enjoy the views from up close & further away to take in one of the top lighthouses in the island chain.
More Hot Springs @ Termas do Carapacho
While Sao Miguel is home to most of the hot springs experiences, Graciosa has one to offer as well. At Termas do Carapacho, you will be right alongside the oceanfront and you can spend some time enjoying the soothing heated water after a day of exploring.
Walk the Entire Island
That is right! During your time on Graciosa, you can actually hike from one side to the other. This hiking trail comes in at 9 km and stretches from Serra Branca (one of the best viewpoints on the island) to Porto da Praia.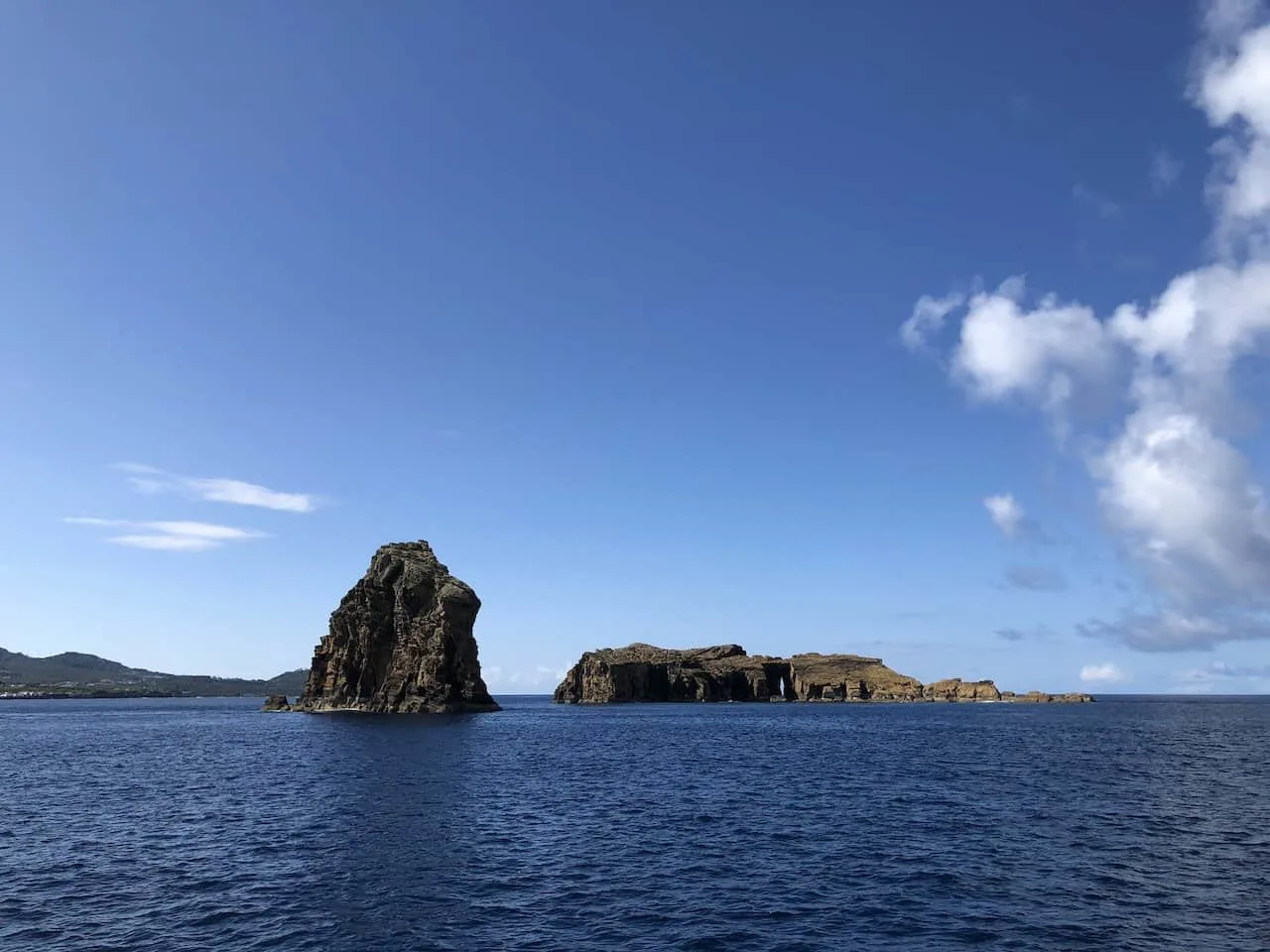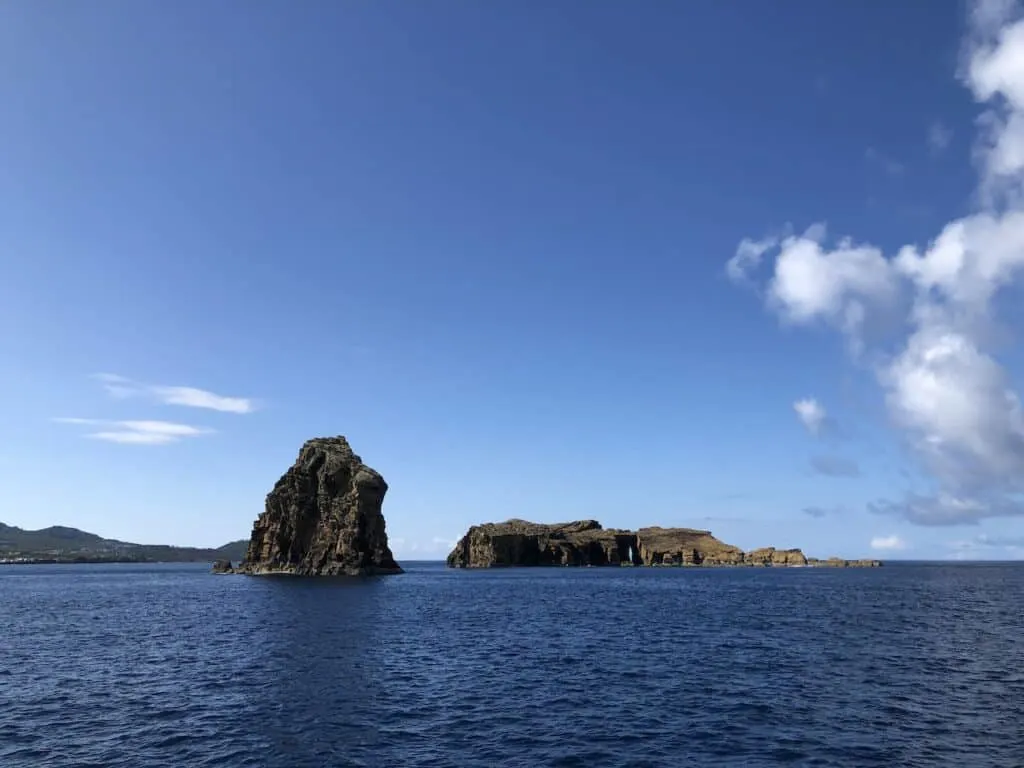 8) Terceira Things To Do
Last but not least in the Central Island group is Terceira. This island is actually one of the more popular islands to visit as there are direct flights from some international spots.
Angra do Heroismo
Every island has a main town center to walk around and explore. That is what you can find at Angra do Heroismo. Spending time walking the streets, visiting the churches, stopping for some local food, and interacting with the locals is a must do on Terceira.
Swim in a Natural Pool
While natural pools can be found all throughout the Azores, Terceira offers a great one at the Biscoitos Natural Swimming Pools.
When the water is calm and it is closer to low tide, you will find the natural swimming pools the perfect spot to spend a morning or afternoon.
At this spot you can find a few different spots to climb down into the water in addition to a walking path that heads further into the pool area.
Algar do Carvao
While Pico island has some cave exploring, it is Algar do Carvao on Terceira that may be the place to beat.
This 90 meter deep volcanic chimney was formed a few thousand years ago and today you have the chance to head down into it.
It is not just this immense greenery filled opening that you can enjoy though. Instead you can head further into the lava tubes and take in the beauty of the cave itself.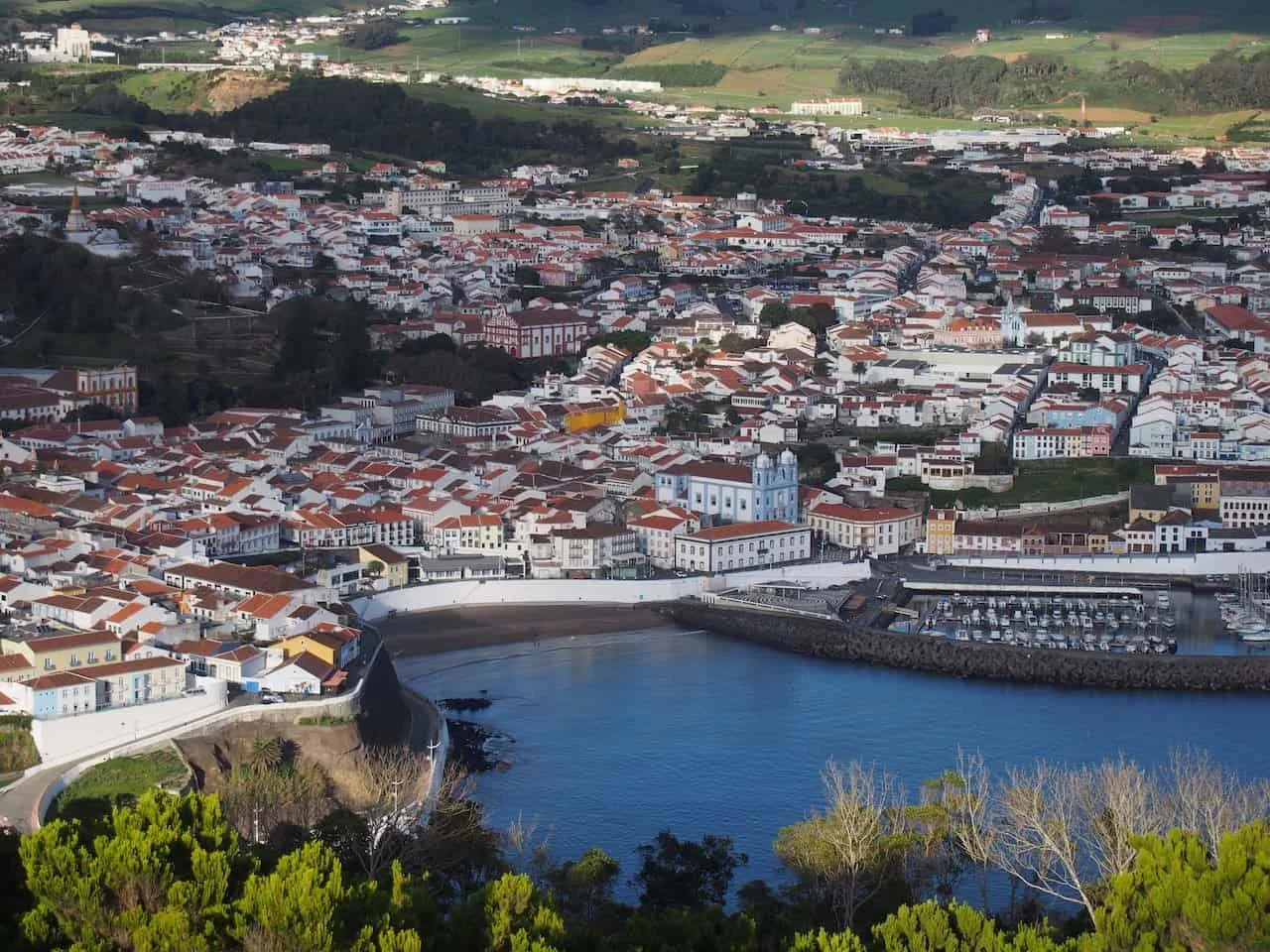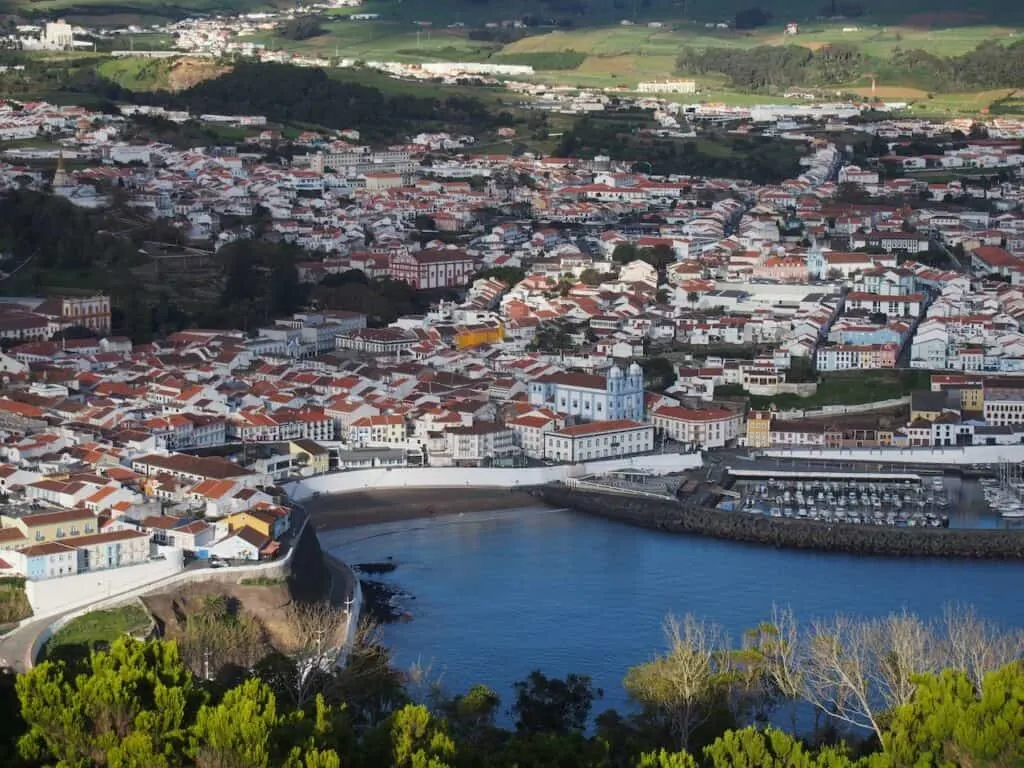 9) Flores Things To Do
Moving on to the Western Island group of the Azores you will find Flores and Corvo. While they are the furthest away from the main islands, Flores & Corvo do offer some of the top natural landscapes in the Azores.
Poca da Ribeira do Ferreiro
Usually when searching for the top photo spots in the Azores, many of the top highlights on Sao Miguel will show up. However, you are also sure to see some images of Poca da Ribeira do Ferreiro.
Poca da Ribeira do Ferreiro seems to belong in Jurassic Park or at least some place in Hawaii. The lust mountainside is full of greenery. And between all that greenery are several waterfalls spilling into the lake down below.
You can spend hours just sitting back and enjoying this one of kind view.
Visit a Flores Lake
Beyond the lake at the base of Poca da Ribeira do Ferreiro, there are many other lakes all around Flores that are worth a visit. Whether that means just taking in the view or spending some time walking around the lakesides.
Some of these lakes include Lagoa Comprida, Lagoa Negra, Lagoa Funda and Lagoa Rasa.
Beyond enjoying the lakes, there are several other unique rock formations, natural pools, viewpoints and waterfalls that can be found on Flores.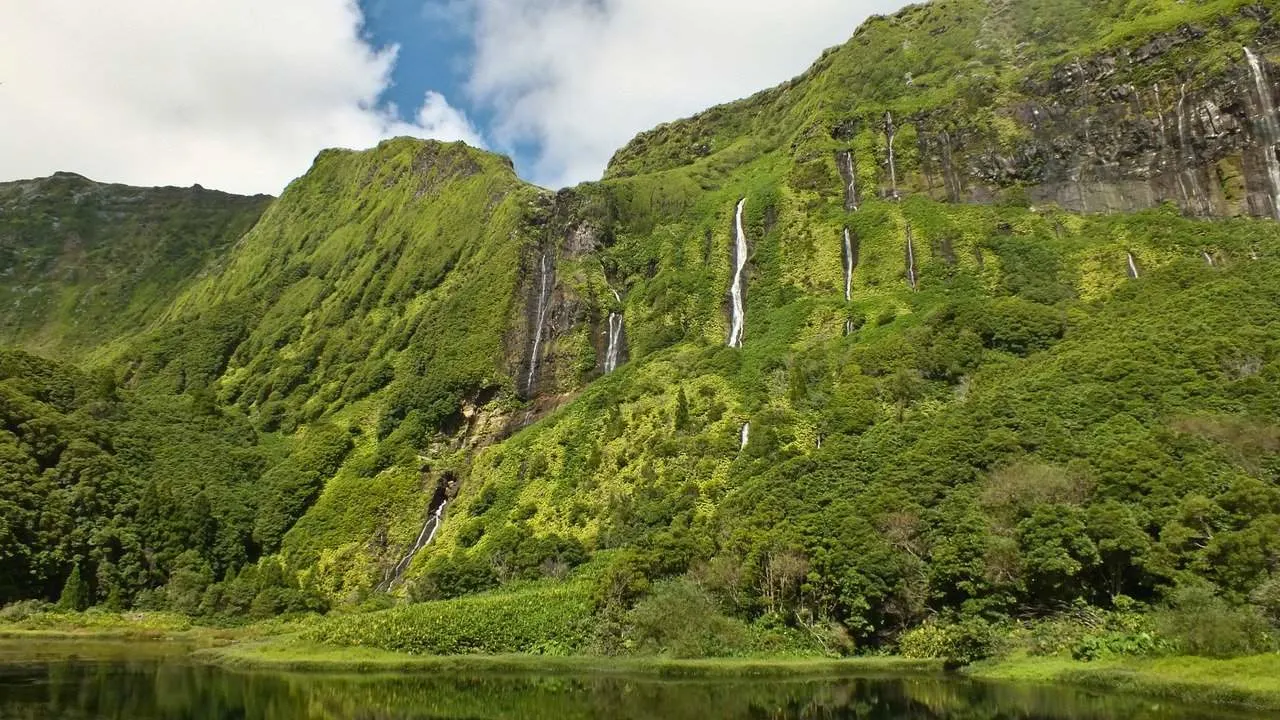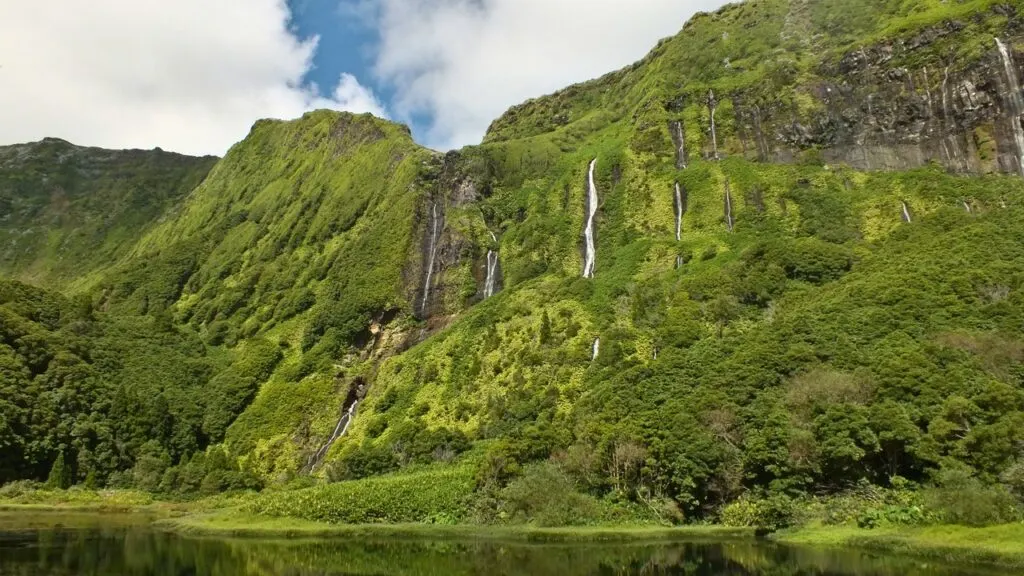 10) Corvo Things To Do
Last but not least, is the small island of Corvo. While small in size, it does offer perhaps the best caldeira out of them all (but the Faial Caldeira may have something to say about that).
The Caldeirao do Corvo makes up the northern part of Corvo, and it is surely the main highlight of the island.
Whether you just take in the view or walk around the whole thing, I have a hard time believing you won't be impressed by the sheer size & beauty of it.
Many people simply take a day trip from Flores, visit the caldeira, check out some views, and walk around town before heading back to Flores. But you can also spend the night and have more time to enjoy the caldeira and the rest of the island.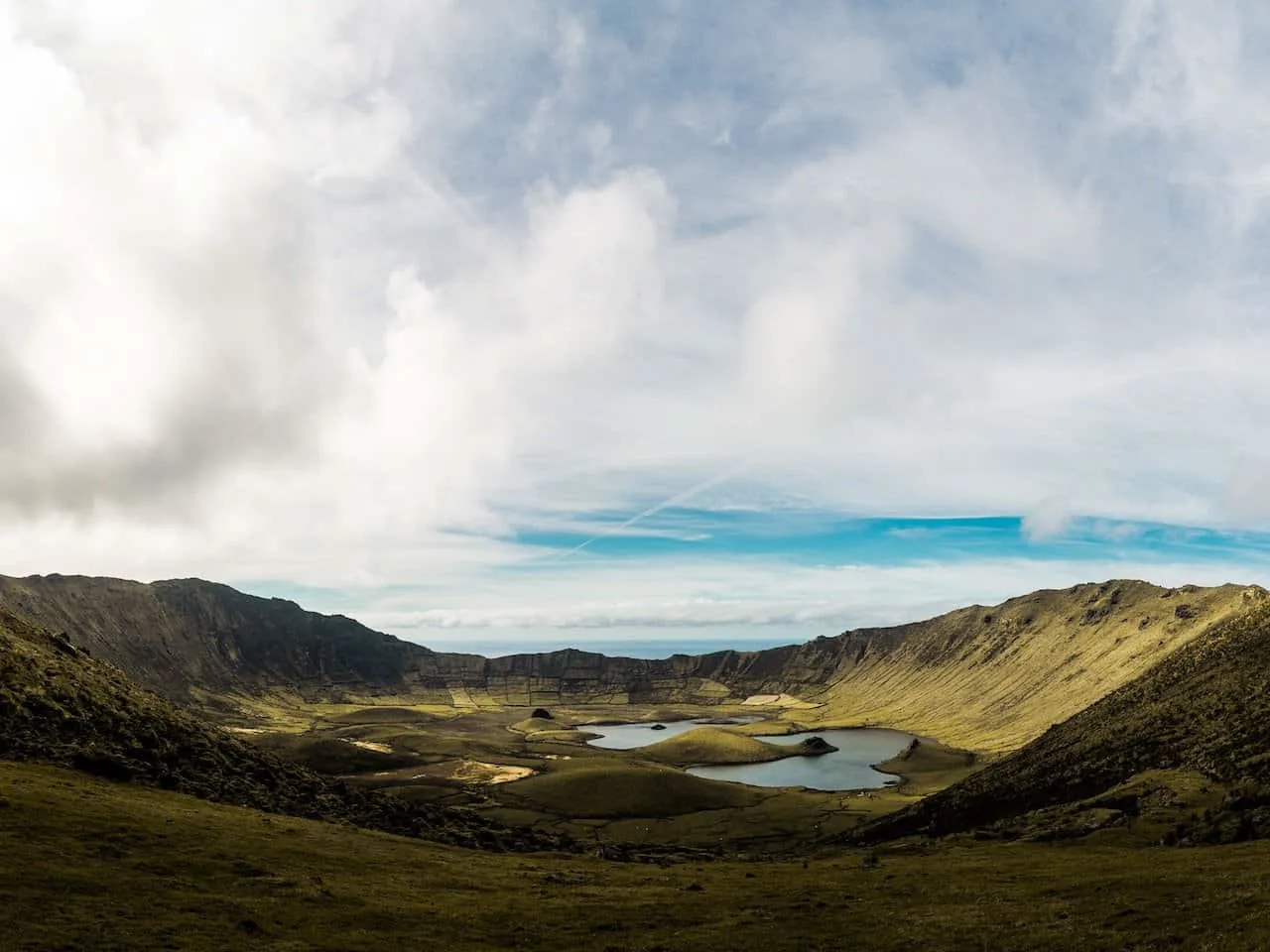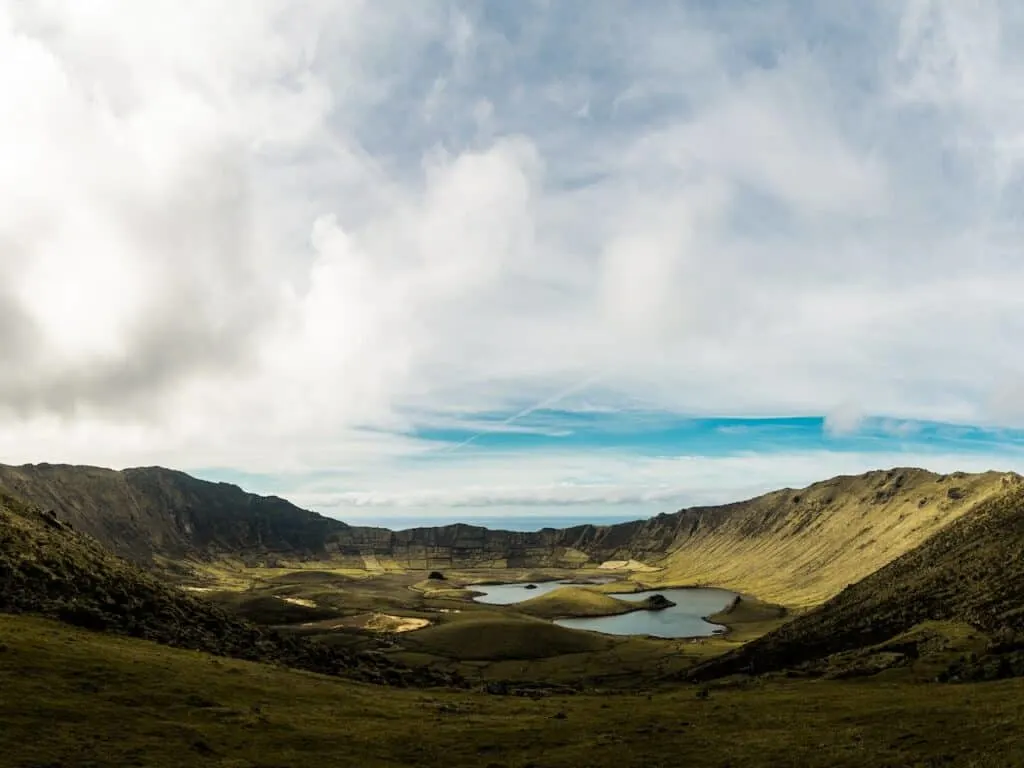 11) Azores Frequently Asked Questions
To wrap up, I wanted to lay out some of the most frequently asked questions when it comes to things to do in the Azores. I am hoping these can help you plan your trip and put together the best itinerary for yourself.
How Many Days Do You Need in the Azores?
When deciding on how many days you need in the Azores, you also need to ask yourself how many different islands would you like to visit.
As a general overview, I would recommend at least 3-4 days on Sao Miguel alone. There is really that much to see and take part of just on that one island. When it comes to the remainder of the islands, you will probably want to spend around 2 days on each one (maybe besides for Corvo where one is enough).
So, the way I would think about it is how many islands would you like to visit and then add on 2 days for each, in addition to the 3-4 days on Sao Miguel.
Remember, you also need to consider travel time, whether that be by an Azores ferry or by plane.
Another way to go about it (as I did in this 10 day itinerary), is to do 4-5 days in Sao Miguel and the other 4-5 on Pico. From Pico, you can then do day trips to both Faial and Sao Jorge.
What is the Best Month to Visit the Azores?
When it comes to the best time of year to visit the Azores, the summer months of June – August are going to be your best bet. During this time of year, the weather is at its calmest and you have the best opportunity for some clear skies.
Just remember though that the weather in the Azores can always be unpredictable and you may never know what type of weather you will run into.
I would be prepared either way with layers, and rain jackets to get you ready for whatever the weather throws at you.
Which of the Azores is Most Beautiful?
This is a tough question as there really is so much natural beauty across all 9 of the islands. But in general, if you want to have the most variety of beauty, then Sao Miguel is the way to go.
As the largest of the islands, it offers the most things to do in the Azores out of them all.
Whether that is viewpoints, hikes, lakes, hot springs, nightlife, food, and more, Sao Miguel really has it all.
That is not to say that the other islands are not worth the visit. That is just saying, you will be able to see and do much more on Sao Miguel compared to other islands in the Azores.
Are the Azores Worth Seeing?
So, to wrap up, you may be asking yourself are the Azores worth seeing? If you can tell by this overview, YES, the Azores are certainly worth seeing.
I have traveled a lot through the years, and I am still amazed by the immense natural landscape that is offered throughout its islands.
There really are so many unique things to do in the Azores, and I have a hard time believing anyone wouldn't enjoy their trip.
If you are second guessing yourself about visiting the Azores, I can tell you that I would go back there in a heartbeat to explore even more of what the islands have to offer.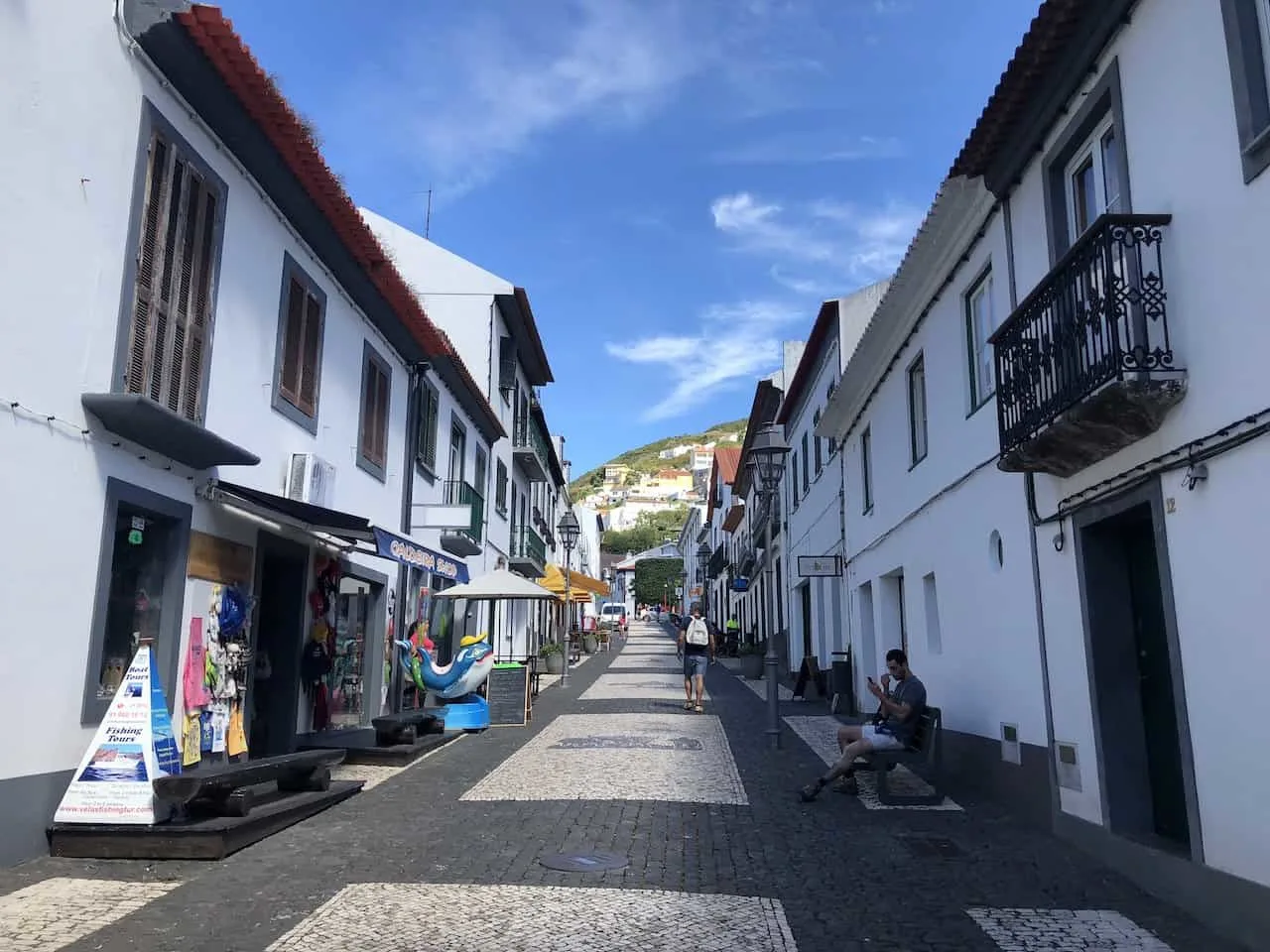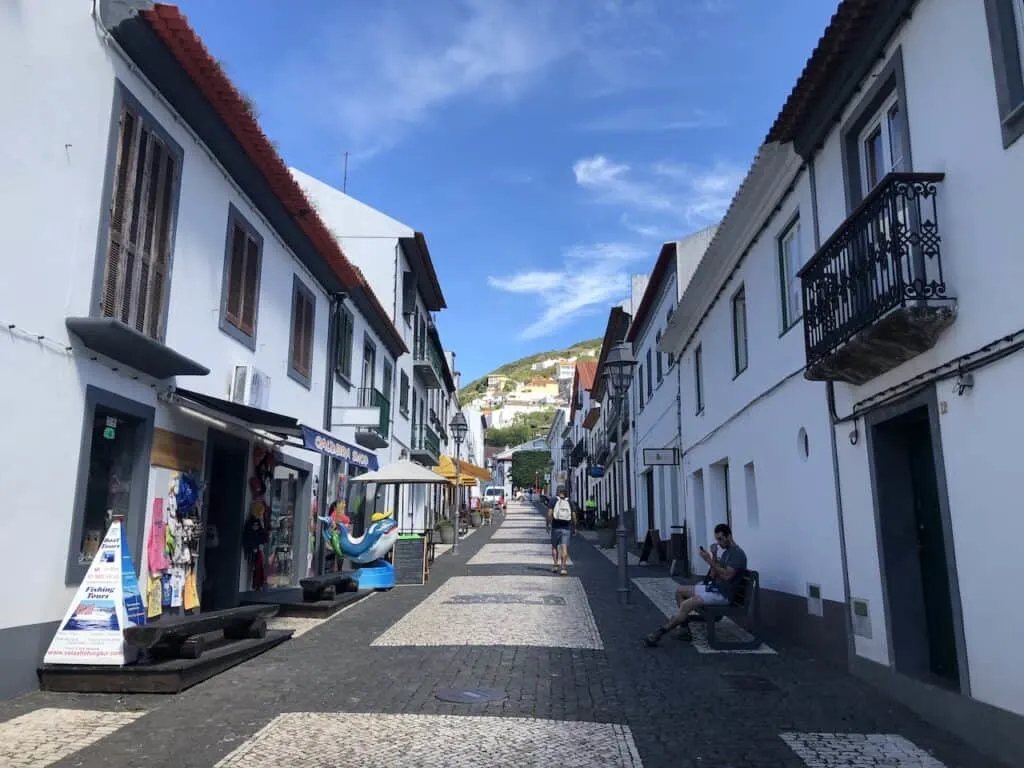 I hope you now have a better idea of the best things to do in the Azores. If you have any questions or comments, be sure to add them in below.
Also, don't forget to check out the other Azores itineraries and guides up on the site.
Have fun out there and safe travels!