Sete Cidades is not only home to some of the best viewpoints that the Azores have to offer, but it is also the home to some of the best hikes in the Azores.
The Mata do Canario – Sete Cidades hike begins not too far away from the famous Boca do Inferno viewpoint and makes its way counter clockwise all the way around the massive Sete Cidades crater, before finally finishing up in the town of Sete Cidades itself.
Throughout the hike you are sure to take in some incredible views of the two lakes down below – Lagoa Verde and Lagoa Azul, while experiencing beautiful scenery in all directions.
* Affiliate Disclosure: This post may contain affiliate links, which means I may receive a commission if you make a purchase through the links provided, at no additional cost to you. Thanks for supporting the work I put into TripTins!
1) Introduction to the Mata do Canario – Sete Cidades Hike
While many people just visit the Sete Cidades area to take in some of the viewpoints and drive down to relax at the lakeside area, it should be noted that there are some amazing hiking opportunities to take part of as well.
One of these hikes is the trail from Mata do Canario to the town of Sete Cidades.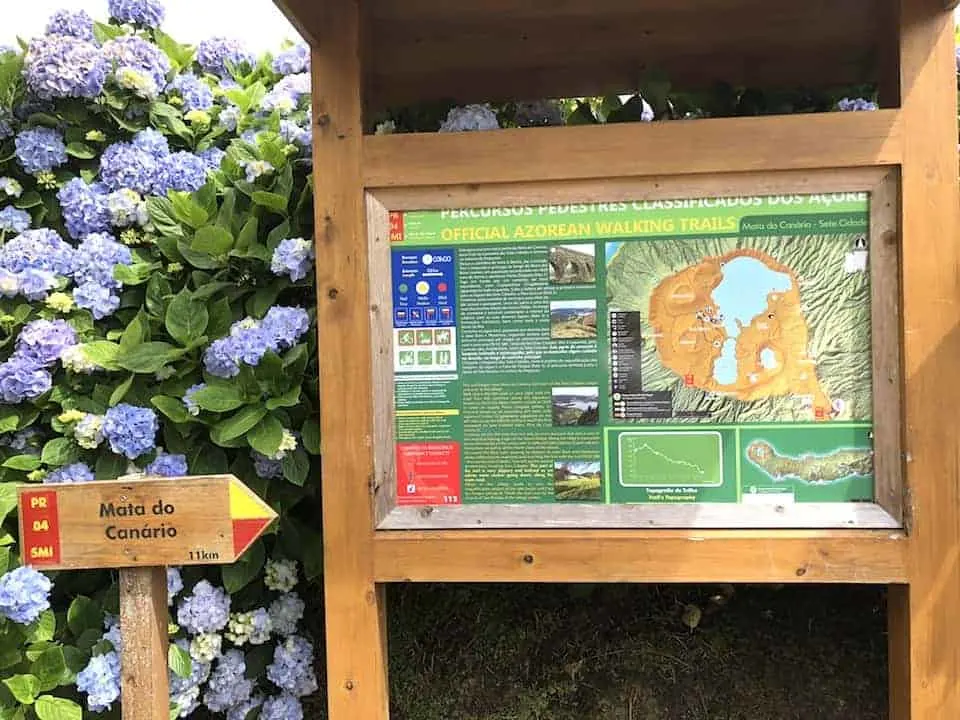 Here are some quick facts about the hike to get you familiar with what to expect:
Starting Point: Parking Lot near Lagoa do Canario – about 750 meters down the road – exact location pinned on map below
Ending Point: Town of Sete Cidades
Total Length: 11.8KM / 7.3 Miles
Duration: 3 Hours (+ any time you spend taking pictures & breaks)
Difficulty: Medium (according to the Azores official trail leaflet – link below) – at the beginning and end you will have some steeper elevation change
Route: One way hike – more on that later
2) What to Bring on the Hike
Whenever heading off on longer day hikes, I always recommend being adequately prepared when it comes to the type of gear to bring along.
Check out the below packing list to get you ready for this hike and other hikes in The Azores.
» Also dont forget some cash (to get back to the starting point and for lunch).
Hiking Packing List

In general when it comes to hiking, there are a few main aspects to consider. These includes clothing layers, hiking shoes, hydration & fuel, electronics, and other essentials.

Below in a breakdown of some of the top items, but be sure to check out the Hiking Packing List for a more comprehensive view.

Clothing Layers

Layering is going to be a top consideration when hiking. You will want to be prepared for all sorts of weather so you can be comfortable in different situations. Some items may include:

→ Hiking Shorts
→ Hiking Pants
→ Short Sleeve Shirt
→ Long Sleeve Shirt / Sun Hoodie
→ Mid Layer Fleece
→ Puff Jacket (not always needed)
→ Packable Rain Jacket (Columbia Watertight II)

Note that your layers should be made of moisture wicking material as they are breathable and quick drying.

Footwear

Having appropriate footwear will also be very important. You will want to have shoes with the necessary grip and support to keep you safe on the trail.

→ Hiking Shoes (Keen Targhee)
→ Hiking Socks (Darn Tough)

Other Essentials

Whether it is hiking gear, electronics, or just some miscellaneous items, here are some other essentials to bring along on hikes.

→ Hiking Backpack (Osprey Talon 22) & Rain Cover (Joy Walker Cover)
→ Hiking Poles (Black Diamond Trekking Poles)
→ Water Bottle (CamelBak Chute or Katadyn Filter Bottle)
→ Portable Charger (Anker PowerCore 5000mAh)
→ Action Camera (GoPro Hero)
→ Energy Bars & Snacks
→ Hat & Sunglasses
→ Sunscreen & Bug Spray
3) When To Go
You can break this into two different questions – when to visit the Azores in general and deciding what day to go during your trip.
Since the Mata do Canario to Sete Cidades hike is full of viewpoints of the lagoons down below, it only makes sense to hike the trail if the clouds are not hovering too low and ruining the view. So taking that into consideration here are some answers to those questions:
If trying to figure out the best time to go to the Azores in general you can take a look at the weather in the Azores guide I put together.
Ultimately, to have the chance for the best weather would be in the summer months of July and August with the neighboring months of June and September the next best bet.
As you get further away from the summer months you will have a higher chance of rainy and cooler weather.
Now if you already have your trip planned and are figuring out when to go on the hike, I would recommend doing so on a clear day if possible.
Now it is always tough to tell in the Azores how weather will be on a day to day basis, and even on an hour to hour basis.
By looking at the forecast a day or two out, coupled with checking the Sete Cidades webcam the day of can give you a better idea of how the weather will be around the area.
Just note that if the webcams do not look good, that does not mean the weather will stay that way – the clouds are constantly moving in and out throughout the day.
4) This is a One Way Hike
As mentioned previously this is a one way hike, which means your starting point and ending point will not be the same. Odds are you will have a car that you can park in the parking lot at the beginning of the hike.
Once you circle the lakes and end up in the town of Sete Cidades, you will need to make your way back to your car by taxi.
At the time when I took part of the hike and ended down in Sete Cidades, I was told there was a taxi stand near the church. When I arrived at the taxi stand there were about 10 other people there waiting for one single taxi van going back and forth to the start of the hike.
A few folks mentioned that they were waiting for well over an hour as the taxi at one point had to go all the way back to Ponta Delgada to drop someone off.
Now I do not know if that will always be the case – whether it be one van or one regular taxi or multiple taxis, but just note that you may need to wait a bit if there are a bunch of people in front of you.
The drive up to the parking lot takes 15 minutes, so round trip 30 minutes for the taxi to get back to Sete Cidades.
One idea that could work is to have a taxi number handy and let them know at a certain time to meet you in Sete Cidades and take you back to the parking lot.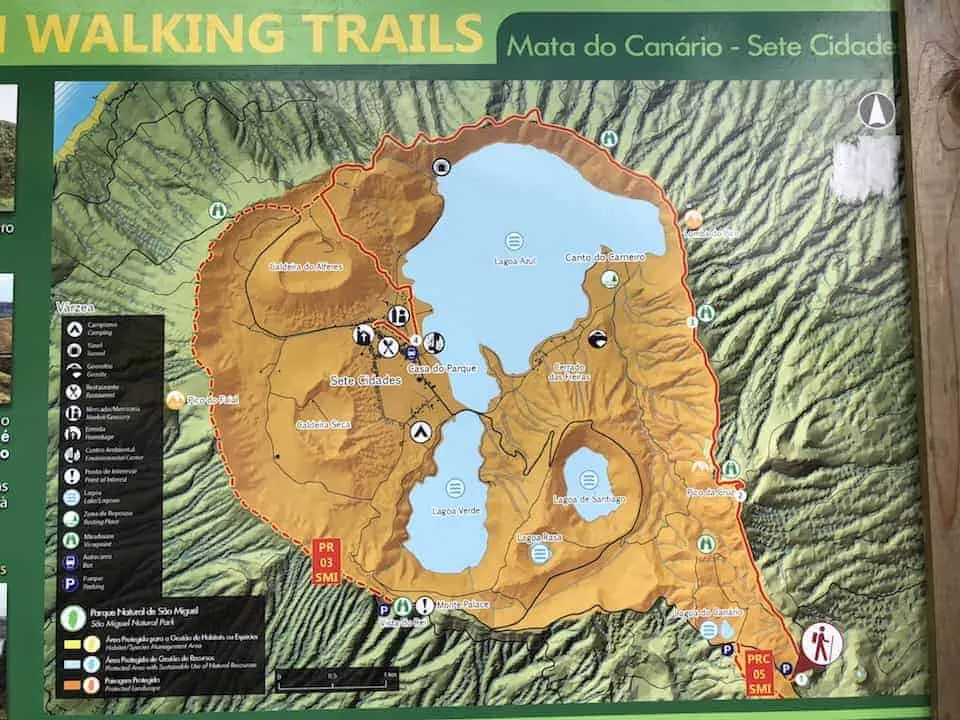 5) The Starting Point
The starting point of the hike is located in a small parking lot just down the road from the entrance to Lagoa do Canario and the Miradouro da Boca do Inferno.
If you have not checked these out during your trip, I am sure you will want to visit these prior (or even after) your hike.
Starred down in the map below is the parking lot that you will need to get to (just named Parking Lot in Google Maps).
The GPS coordinates are 37.831800, -25.752692. From the starting point simply follow the trailhead and you will be on your way.
→ Feel free to browse through Rentalcars.com for plenty of car rental options. You can filter by car type, price, & more to find the perfect rental car for your trip to the Azores
6) Mata do Canario – Sete Cidades Hike
All right, with all that said let's get onto the actual hike itself. After following the path from the parking lot you will soon come across an old aqueduct to your right and followed soon after by a steep initial ascent up to the outer ridge of the crater (don't worry, it gets much easier after this).
From there you should pass by an initial viewpoint, where the main lakes and some smaller lagoons come into view.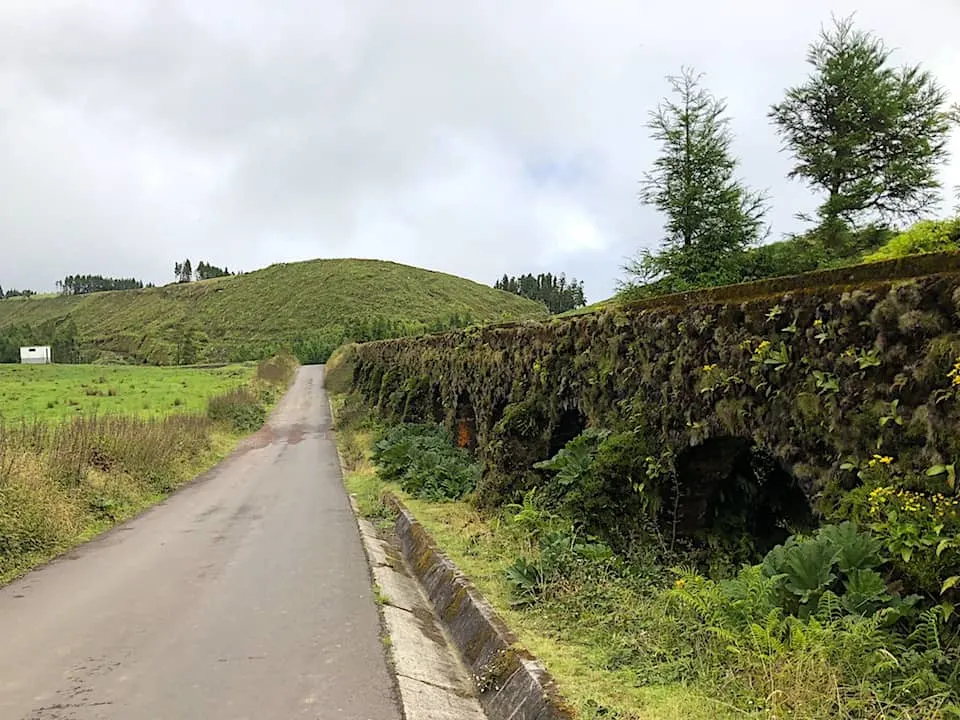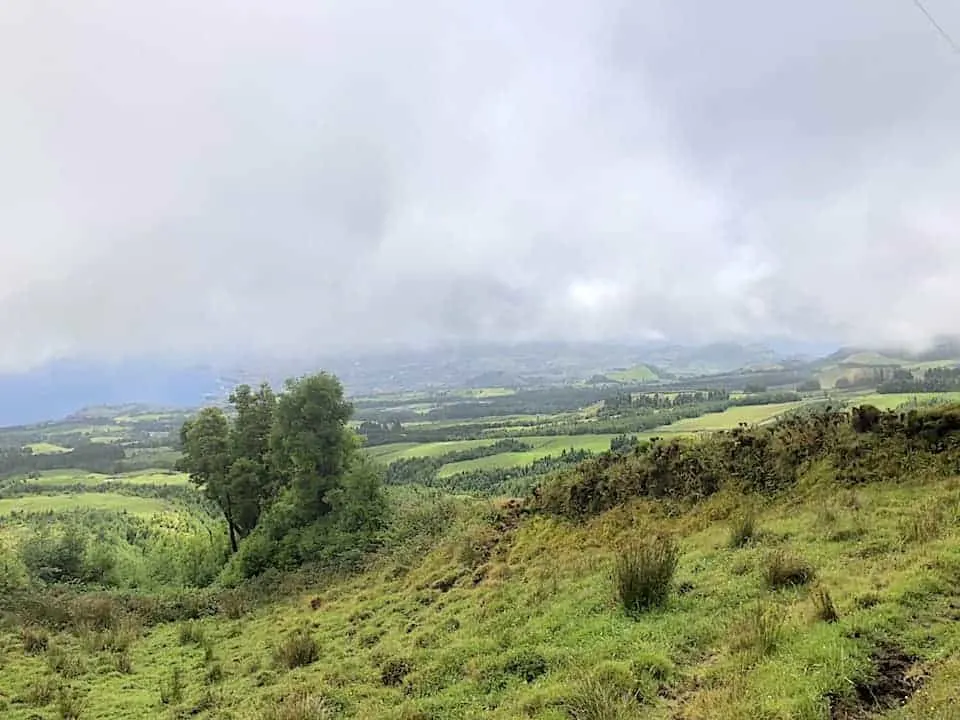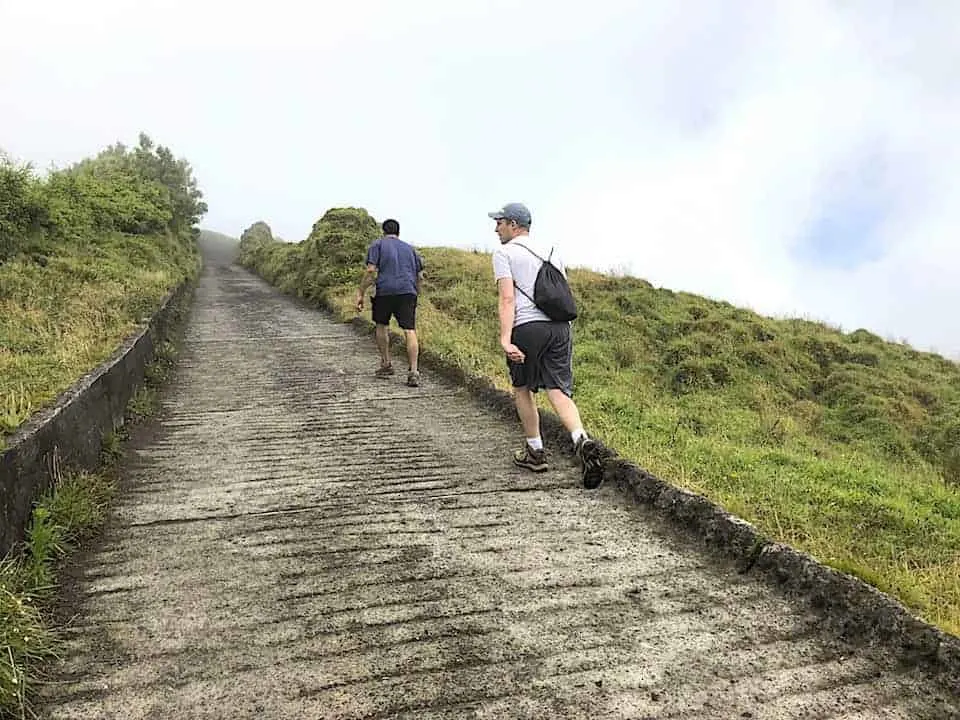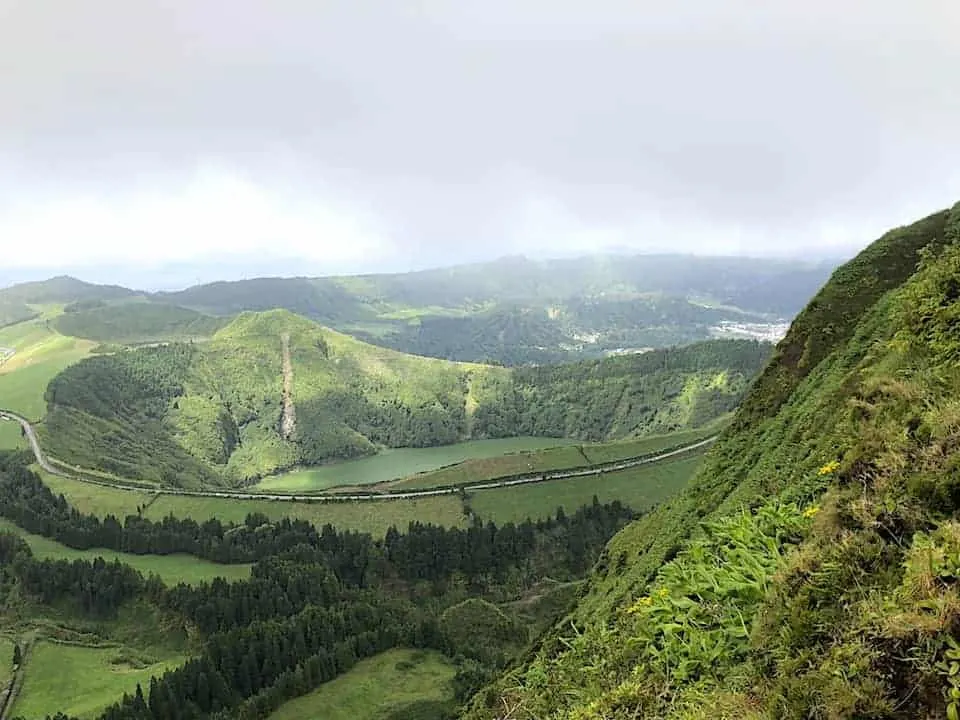 After taking in the viewpoint you will now begin the counter clockwise circle around the crater. The hike from here on out is pretty flat, with a slow descent as you make your way around.
There will be plenty and I mean plenty of viewpoints of the two colored lakes that will come in and out of view throughout the duration of the hike.
You will also be able to see your final destination of Sete Cidades across the way. Be sure to look out for the number of cows hanging out all around the path as you take in the intense greenery of your surroundings.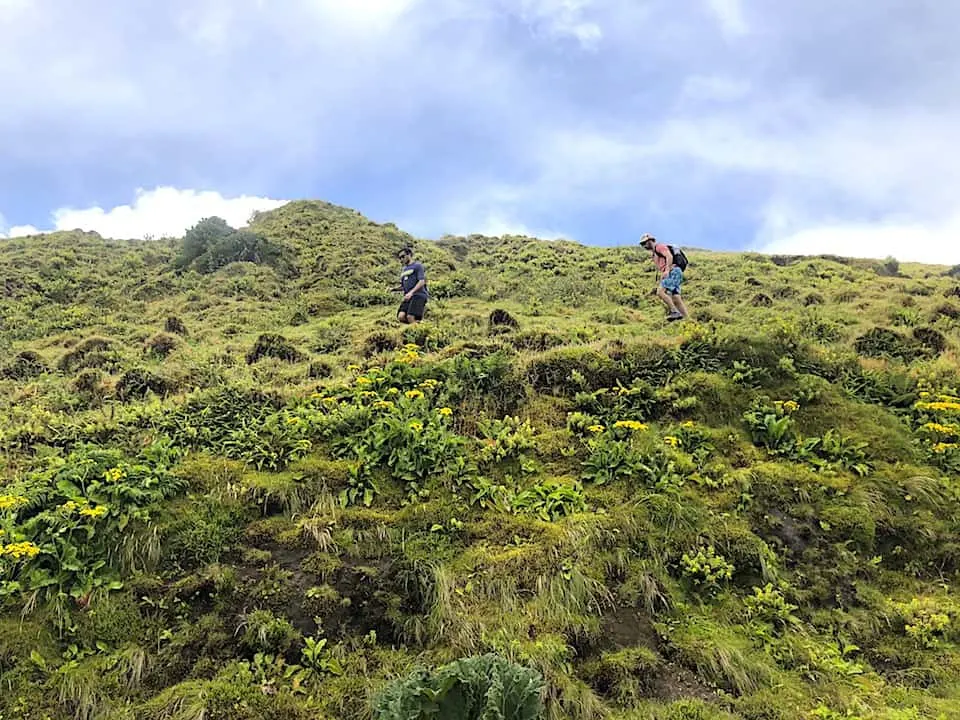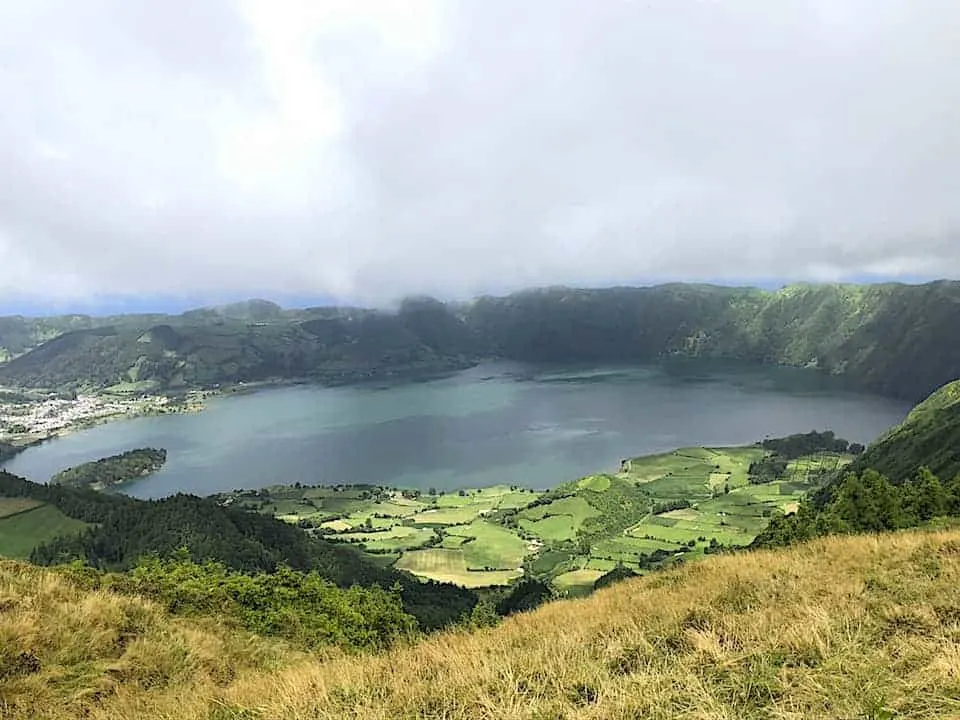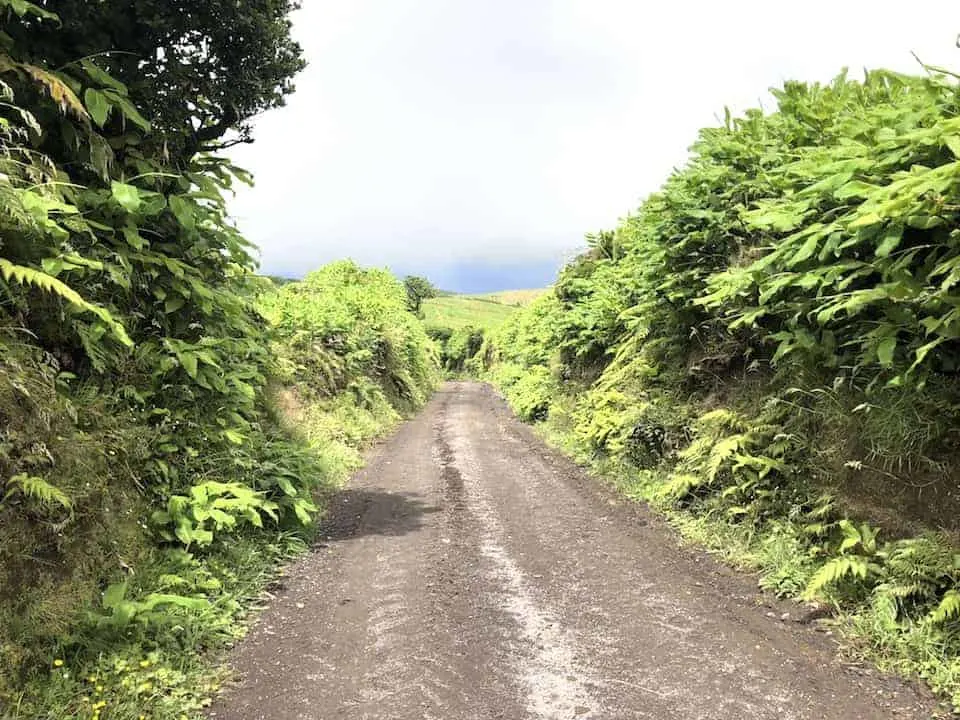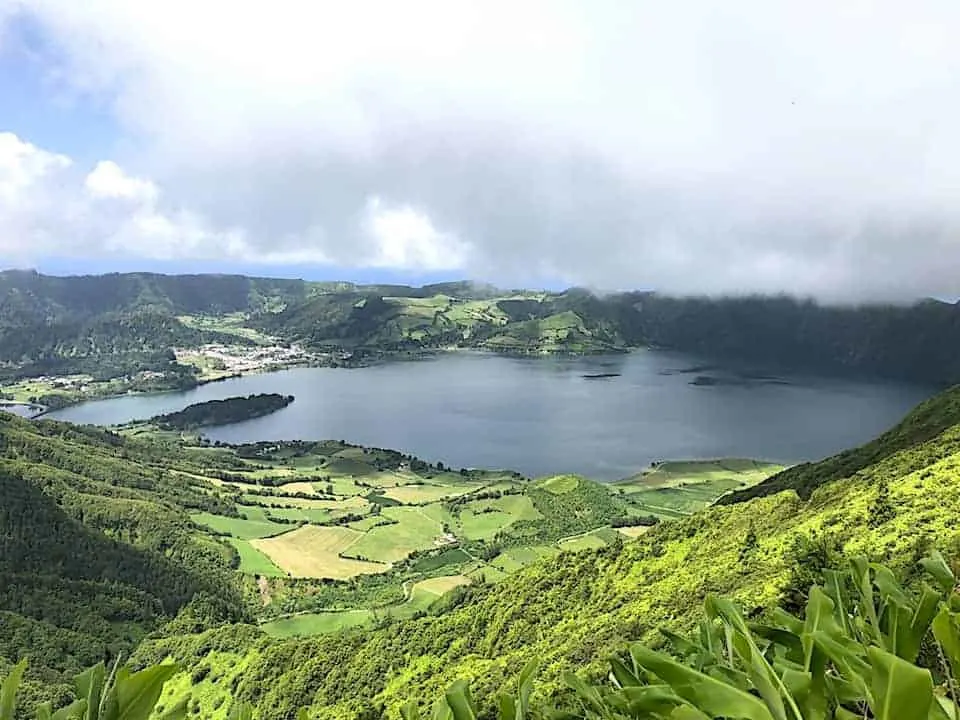 After completing the semi circle of the crater, the path will soon make its descent down and around to the town of Sete Cidades.
Just note at one point you will have to make a left turn towards the town. This will be clearly be marked with a sign pointing you in the correct direction.
If you miss this turn you will then be continuing the hike all the way up the ridge and back on a separate hike towards Vista do Rei.
At the end of the descent towards Sete Cidades, it does get a bit steep so just be careful as you finish up the hike. Once in town, you can head to the lakefront to take in the serenity of the lakes and even hop in if you would like.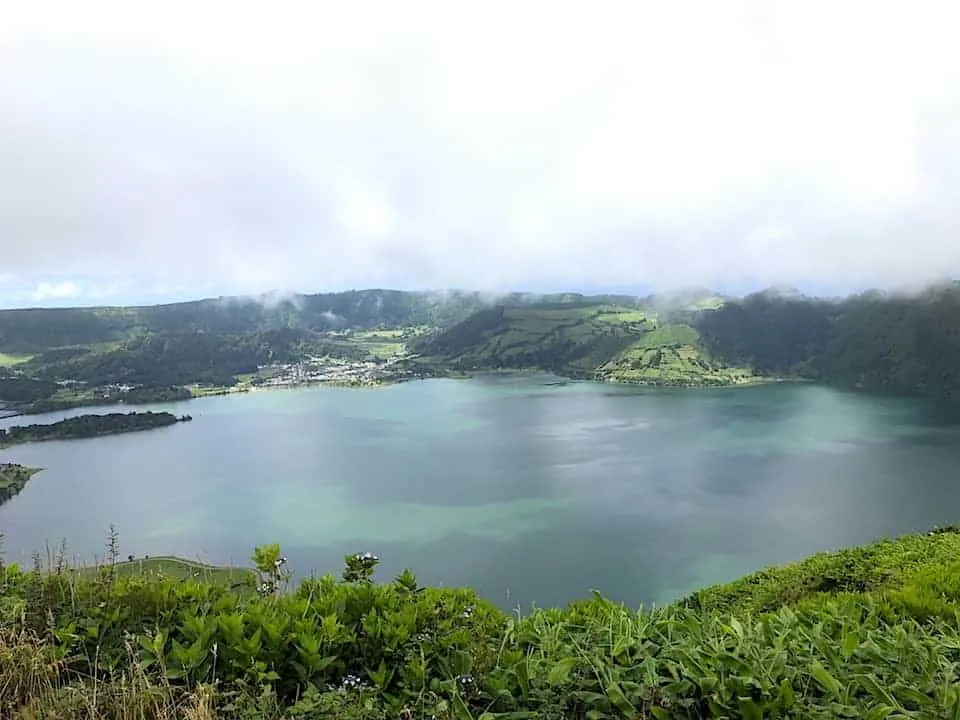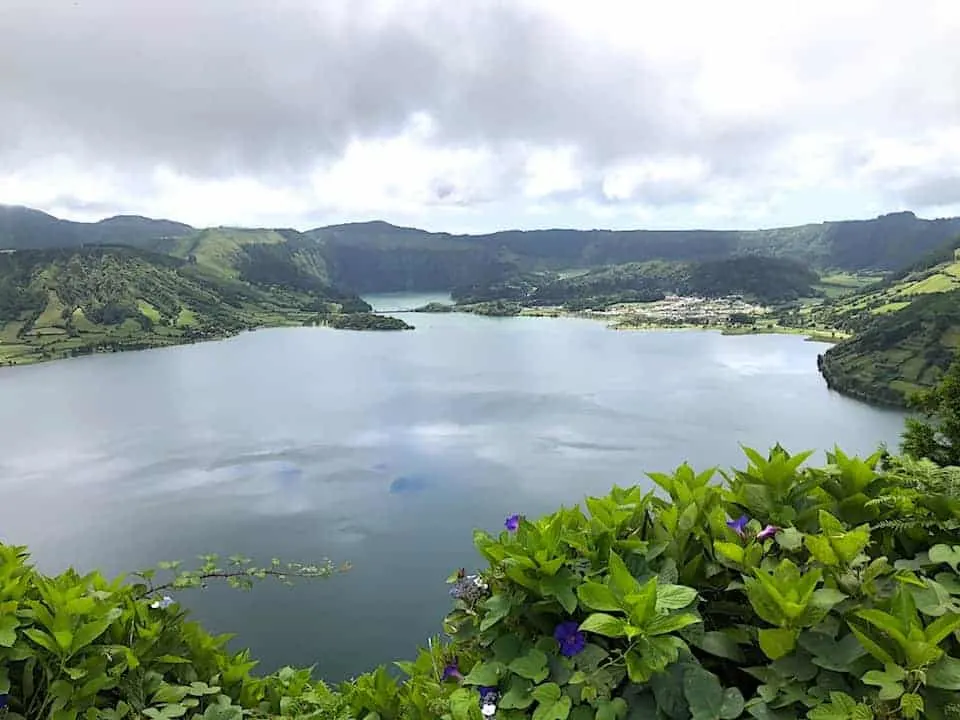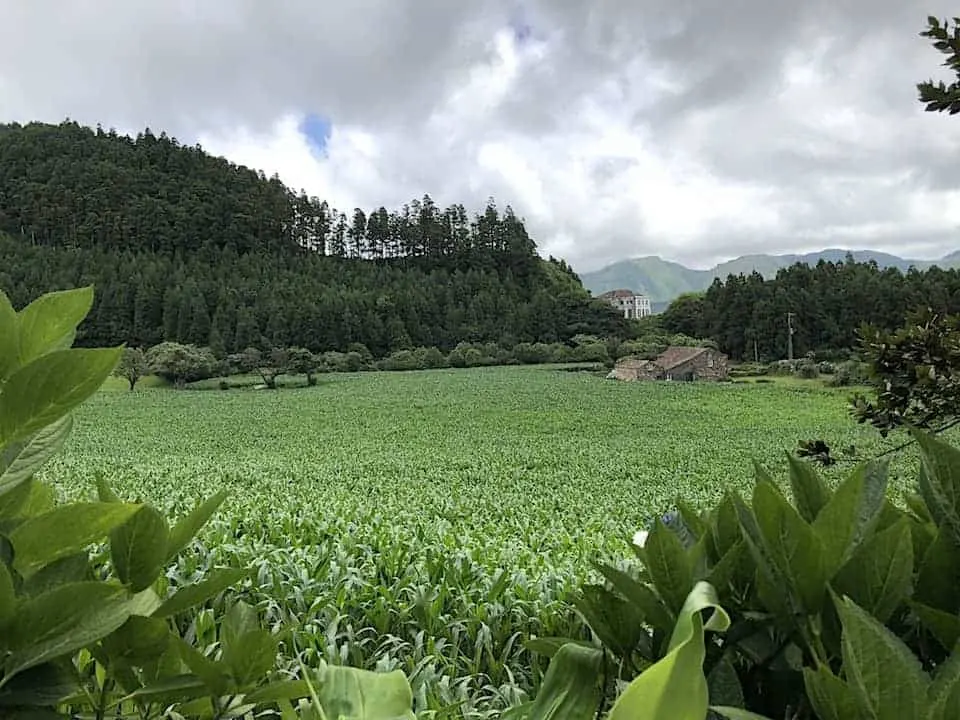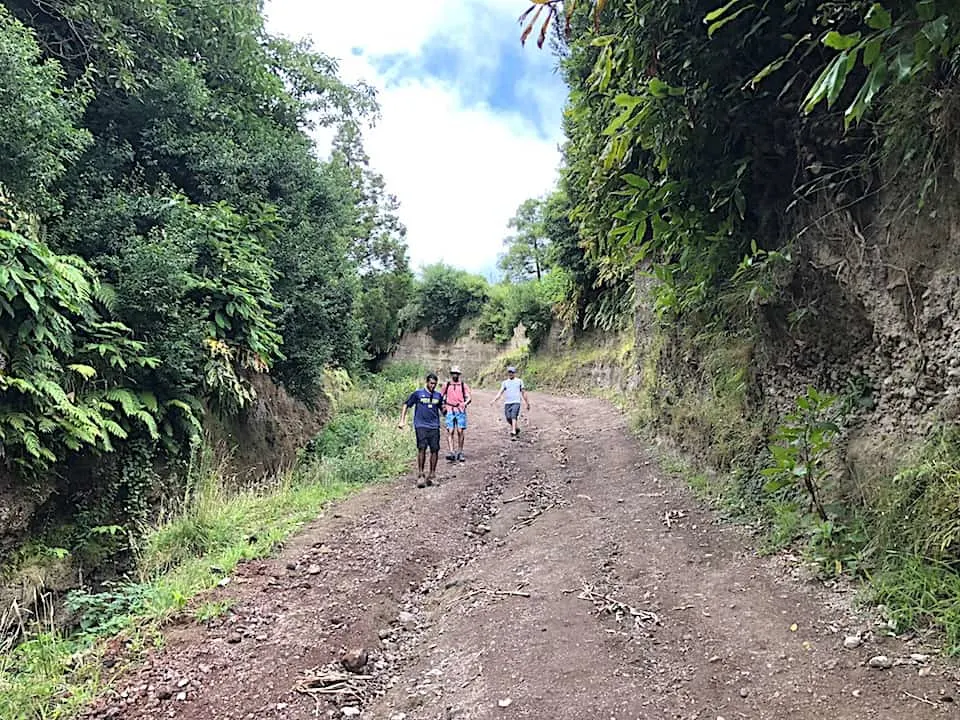 If you have not eaten yet there are a few lunch spots you can try out – all of which were shown on the sign in town (picture below).
After hanging out by the lakes and/or grabbing some food it is time to head to the taxi stand by the church to drive back up to the parking lot.
Also note that there is a bus stop here (across the street from the taxi stand), that goes back to Ponta Delgada.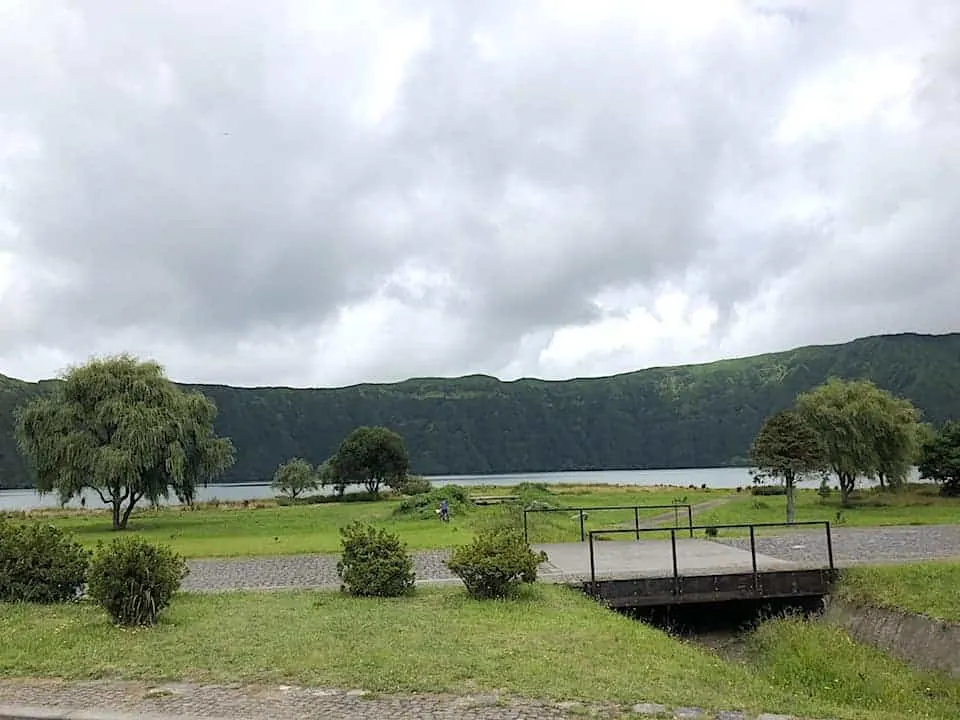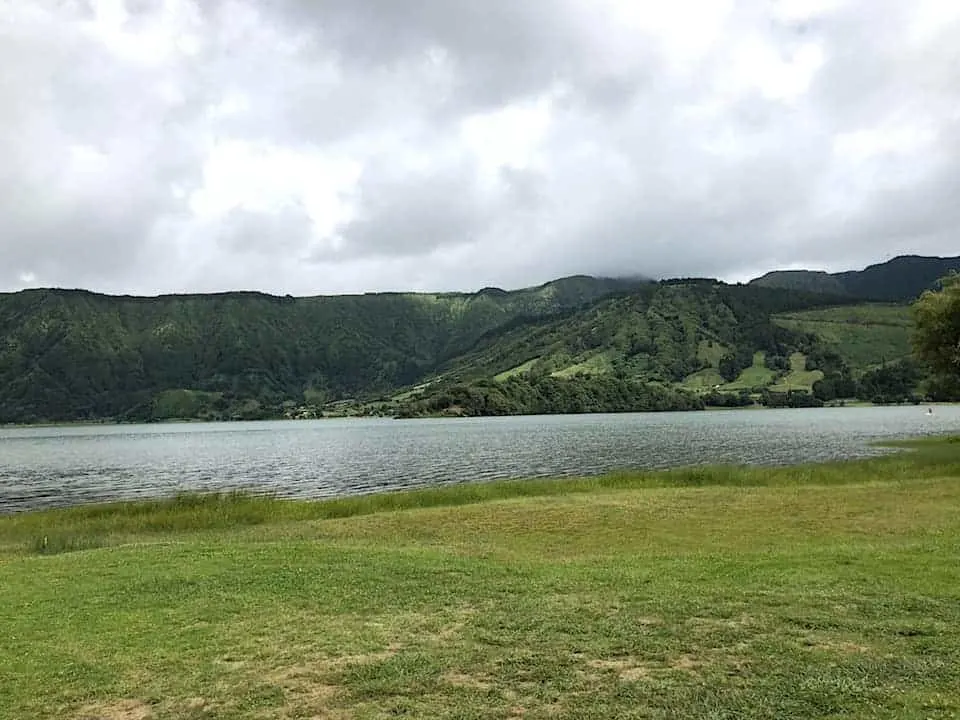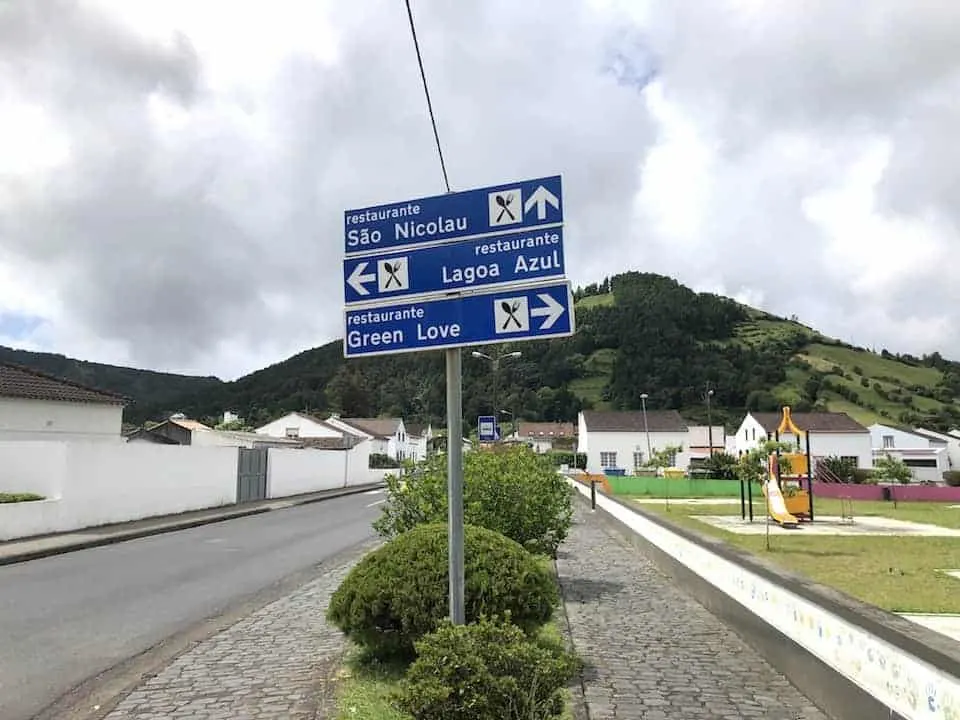 The Mata do Canario to Sete Cidades hike was definitely one of the highlights of my time in the Azores and I highly recommend it for those who enjoy beautiful scenic hikes.
You can easily add it to other activities around the area like the viewpoint of Boca do Inferno, Lagoa do Canario and the viewpoint at Vista do Rei.
It is sure to be a fun filled (and long) day that will give you a good idea of what the Azores are all about.
7) Other Sete Cidades Hikes
If you do not think this hike is for you or if you want to take in some additional hikes around the area, there are two pretty highly rated alternates to take part of.
The first one would start at Vista de Rei and make the half circle clockwise route to Sete Cidades. Also full of great views all around, but not as close to the lakes themselves.
The second option is called Serra Devassa and this one starts right across the street from Lagoa do Canario.
However it does not head to Sete Cidades, rather it is a circular track, where you can enjoy the picturesque landscapes and some other lakes along the way.
8) Where to Stay on Sao Miguel
There are two main ways to go here – either browse through Booking.com to find the best hotel that fits your budget and style or check out Airbnb which might have more options.
There are a few main towns around the island but if you are looking for the most happening spot that would be in Ponta Delgada.
There are way more accommodation and restaurant options here than any other location on the island.
If you want to get a little further away you can also check out the town of Furnas, which is home to several natural hot springs.
Here are some hotel recommendations for each:
Ponta Delgada
Furnas
I hope that you now have a good sense of what the Mata do Canario – Sete Cidades hike of Sao Miguel, Azores has to offer and you will have no trouble getting ready to take part of the trail.
If you do have any questions or comments feel free to input them below. Check out the Azores page for more itineraries and guides for what else these islands have to offer.