The island of Faial located in the central island group of the Azores is full of beautiful scenery, unique attractions, fantastic hikes and a lively city center.
Whether you are visiting Faial island as a quick day trip or staying there for a few days, there is plenty to be seen and to explore.
This guide will go over what to do in Faial, Azores and give you an idea of what to expect when visiting this beautiful island.
* Affiliate Disclosure: This post may contain affiliate links, which means I may receive a commission if you make a purchase through the links provided, at no additional cost to you. Thanks for supporting the work I put into TripTins!
1) How to Get to Faial Island
When arriving into Faial, either by ferry or plane, you will be arriving into the main city of Horta, located on the southern end of the island.
The airport is located just outside of town and is a quick 10 minute drive to the city center, while the ferry terminal is a nice 15 minute walk along the waterfront.
Depending on which island you are leaving from and what fits your schedule best, you will either have the chance to take a ferry or hop on a plane. Below I will go over those options a bit more.
If you are coming from nearby islands such as Pico or Sao Jorge, the easiest way to get to Faial would be by ferry.
There will be plenty of ferries going back and forth from Pico as it is just a quick 30-minute ride across the way.
As for Sao Jorge, the schedule is more limited and will depend on that particular day. Check the Atlanticoline site for the latest schedules and note that the ferry schedules change throughout the year.
You could also ferry from other islands within the central island group or those islands even further away. These would require long ferry rides and potentially some overnight options as well.
It could be a great option for those that are looking to save some money instead of flying or for those who are not crunched for time during their trip.
» To learn more about Azores ferries check out the Ferries in the Azores Guide I have up on the site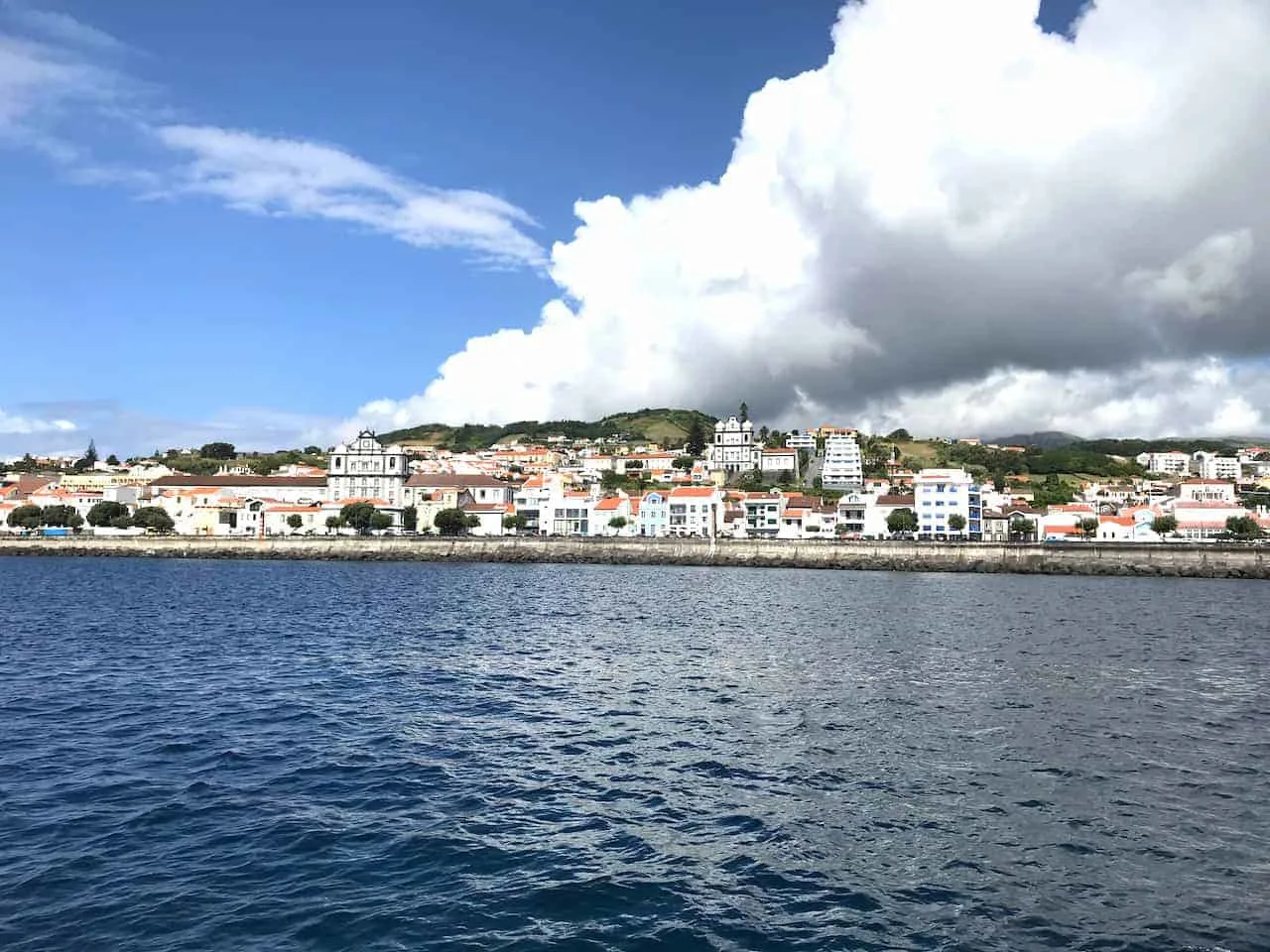 If you are not coming from nearby islands, the next best bet is to fly into Faial (HOR) from another Azores island, most likely Sao Miguel (PDL).
There are also flights to Faial from some of the other islands so be sure to check out the SATA Azores Airlines site for the latest schedules.
» The Flying in the Azores Guide will have more helpful info about getting around the islands
Pico Day Trip Option: If you are planning a day trip from Pico, that is certainly possible to complete. When I was visiting the Azores, I based myself in Pico and did the day trip myself.
Since there are a bunch of ferries going back and forth each day, it should be no problem at all hopping on one at the Madalena port in the morning and then heading back at day's end.
Just be sure to check the schedules as you do not want to end up missing the last ferry back!
During a day trip (depending on what time you plan to start and end the day) you should be able to complete most if not all of the below attractions.
2) How to Get Around
There are a few main options to choose from when deciding on how to explore Faial. You can rent a car, a scooter, or hire a taxi/guide for the day.
If you plan on staying for several days on the island then I would say car rental is the way to go. That way you can see the island at your pace and pick and choose which places you would like to visit during your time on Faial.
If you are just there for a day or so you could also just hire a taxi and they can bring you around to all the different attractions on the island.
While it might be a more expensive option, you will not need to worry about renting a car and all that goes with it.
You can also opt for a scooter rental although there are not too many options in the main town of Horta (they can be rented for just 20 Euro per day).
Another potential option here is to sign up for a tour of the island that can include many of the below attractions. Check out some highly rated options to choose from: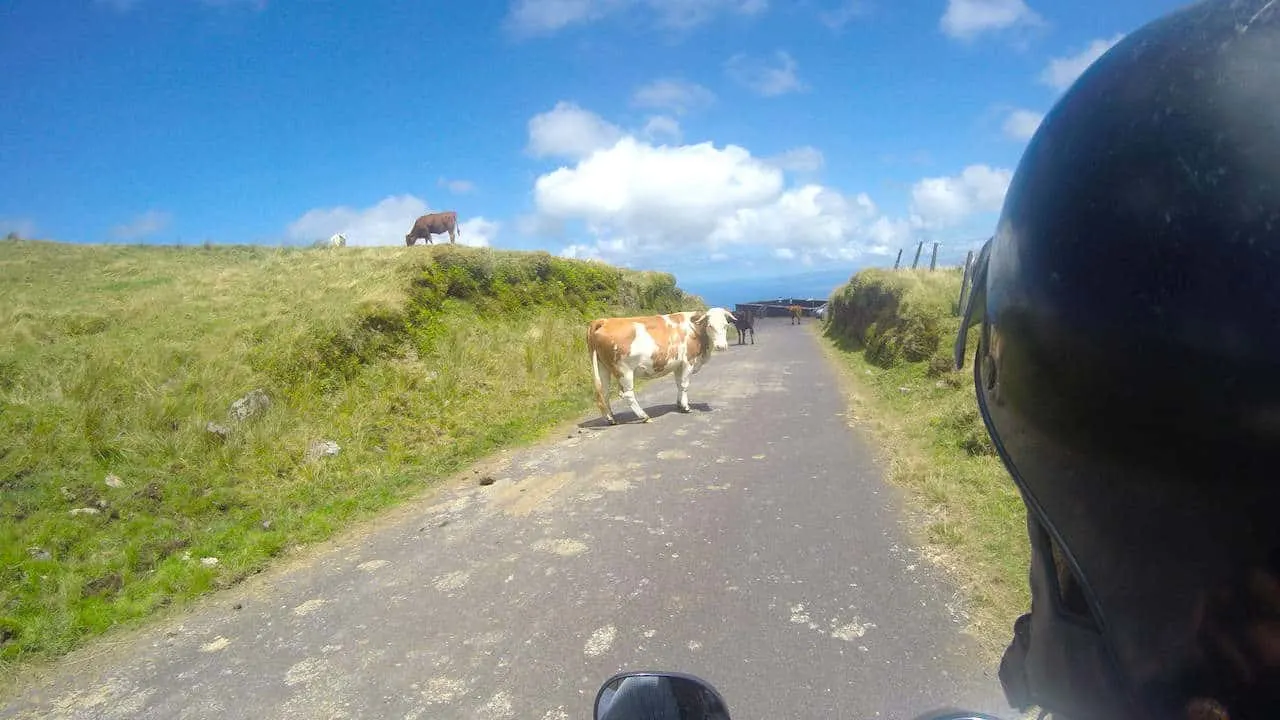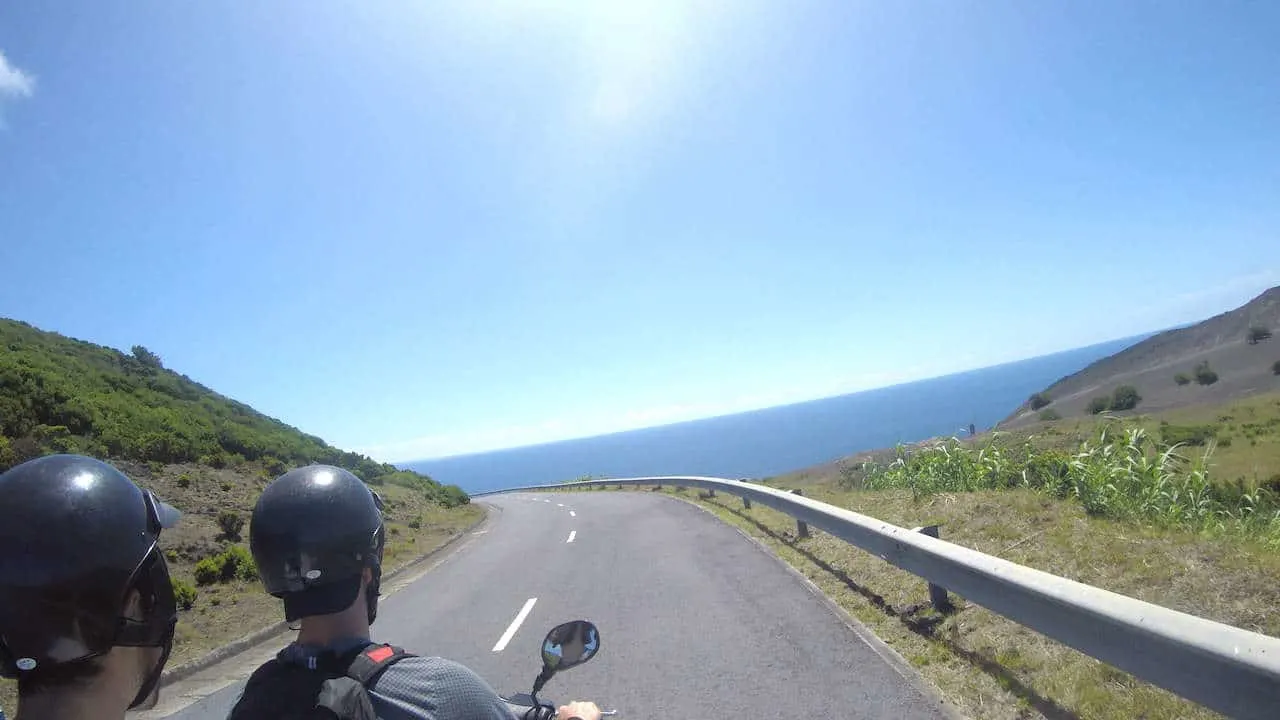 3) Faial Hotel Options
If you opt for an overnight on the island, I would recommend staying in the main town of Horta. There are plenty of accommodation and restaurant options, and it is one of the livelier towns in the Azores.
Feel free to browse through Booking.com for some highly rated accommodations. Here are a few recommended options to take a look at when deciding where to stay:
Azores Hotels: If you need help choosing where to stay, check out this overview about the top hotels in the Azores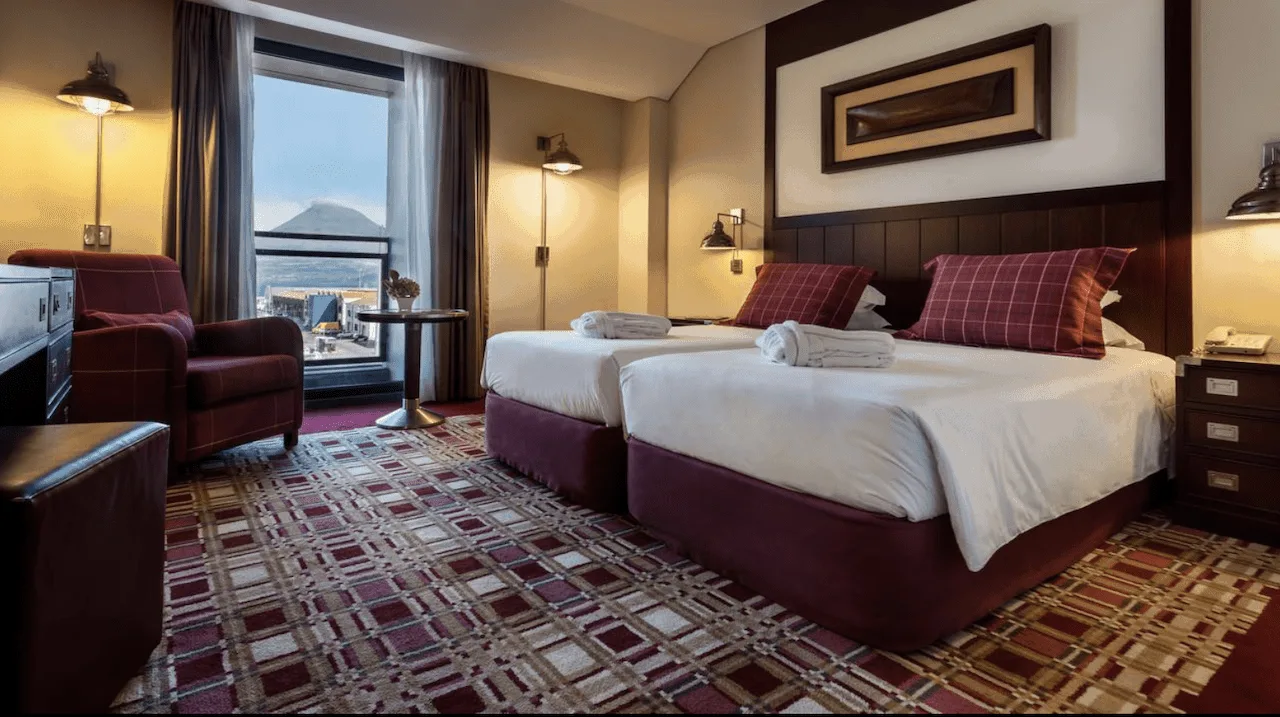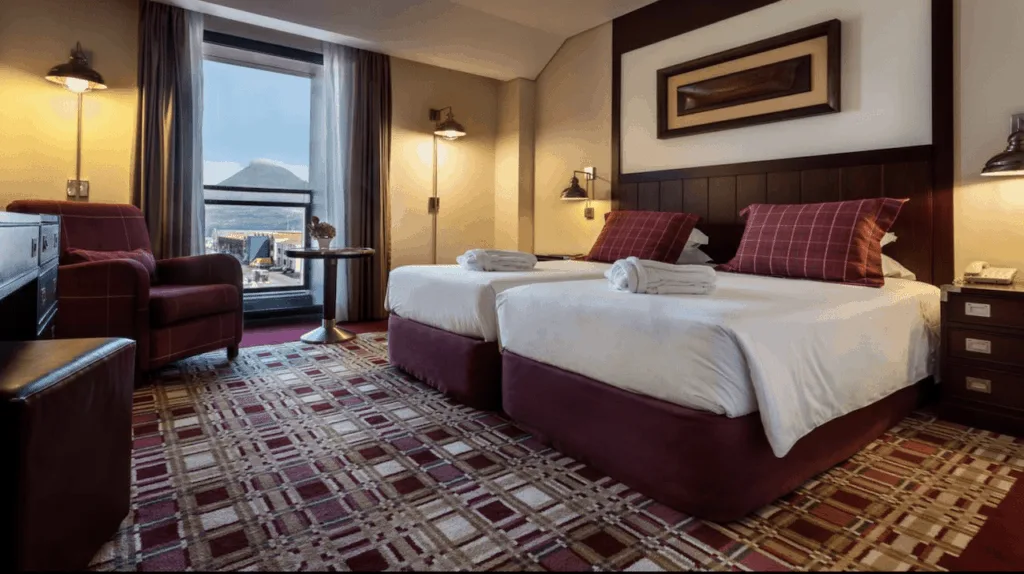 4) Faial Azores Attractions
Faial is not that big of an island and you should easily be able to visit the below attractions in a full day.
While you may not have enough time to do the longer hikes or additional activities, you still will be able to enjoy each place.
Depending on how long you have there, you can also opt to spread them across multiple days. Here is a map and list of 6 places to check out while in Faial, Azores.
Be sure to check out some of the other best things to do in the Azores during your trip
A) The Faial Caldeira
The most famous of all attractions on Faial is the MASSIVE Caldeira right in the middle of the island.
This Caldeira is the crater site of the volcano that created the island of Faial. At 400 meters deep and 2KM in diameter, it really is a site to be seen.
After driving up the windy road up to the top of Faial, you will be welcomed to immense greenery in every which direction.
Within the crater itself you will also see a smaller crater as well as some lakes too. Unfortunately you are not allowed to head down into the Caldeira on your own but you can with an official guide.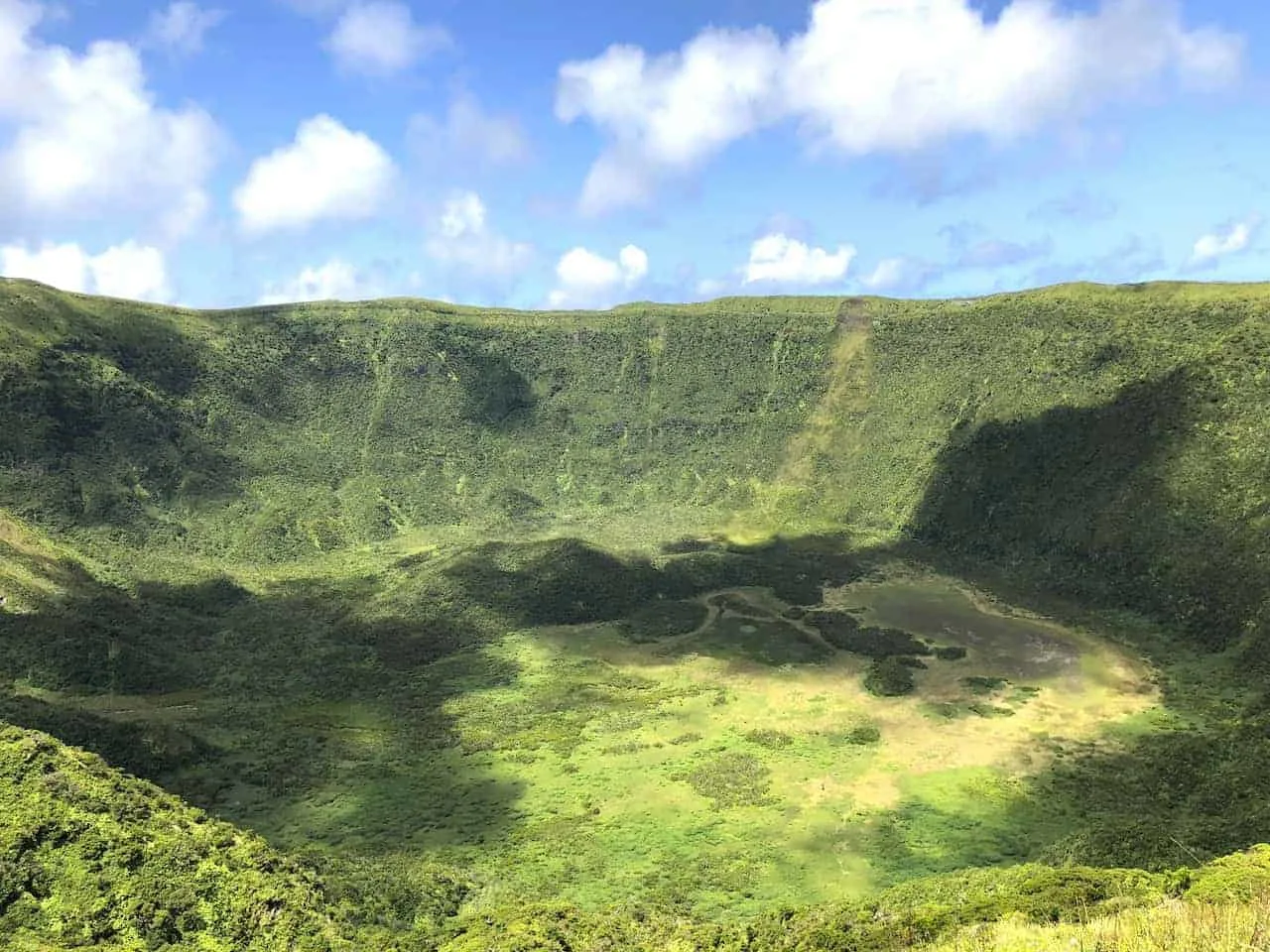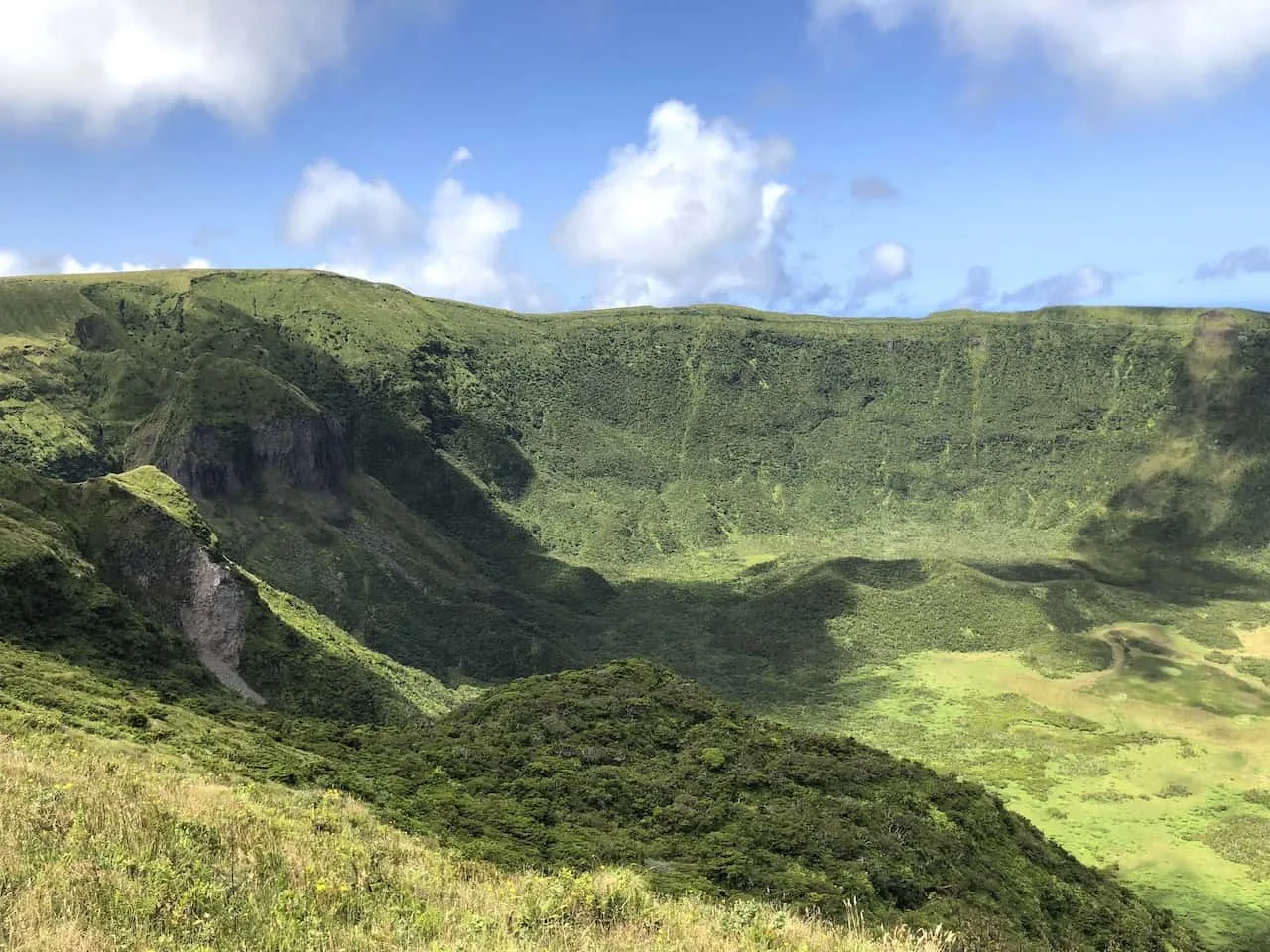 Don't worry though about hiking into the crater as you will have the opportunity to hike around the rim of the Caldeira on your own.
During this 2.5 hour hike you will be able to see the crater from all different angles as you enjoy this incredible natural attraction.
If you don't want to take part of the hike, no worries at all. You can just spend some time taking in the view near the entrance for as long as you may like.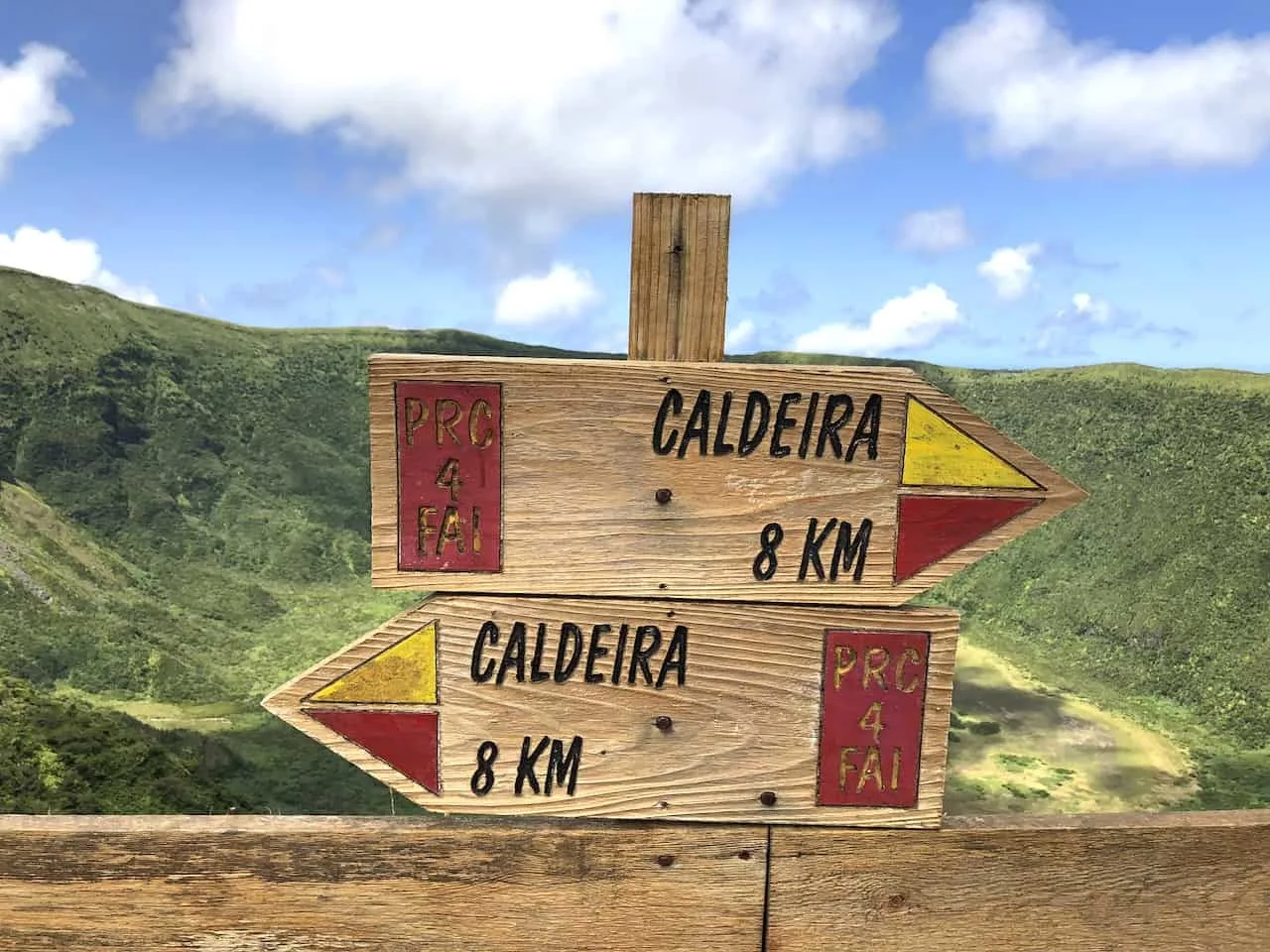 Important note: the Caldeira is known to attract its fair share of low cloud coverage from time to time. If this is the case, unfortunately you will not be able to see much.
At the time of writing this guide, there is also no webcam to give you a live feed of what to expect. If you are on the island and see that the clouds are very low and hovering around the top, then maybe try and save it for another day.
B) The Capelinhos
After visiting the Caldeira, either by just taking in the view or doing the hike around the perimeter, it is time to head to the second attraction of the day – the Capelinhos.
Going off of the volcano theme, here you will find another volcano that erupted back in 1957. What started as an underwater volcanic eruption soon turned into a small secondary island connected by a small piece of land.
At the Capelinhos you not only can take in the beautiful scenery as you walk all around the area, but you also have the opportunity to head into a very informative underground museum.
The museum goes over how the Capelinhos were formed and other interesting facts about the volcanic activity of the area. To learn more about tickets, hours, and additional info, check out their official site.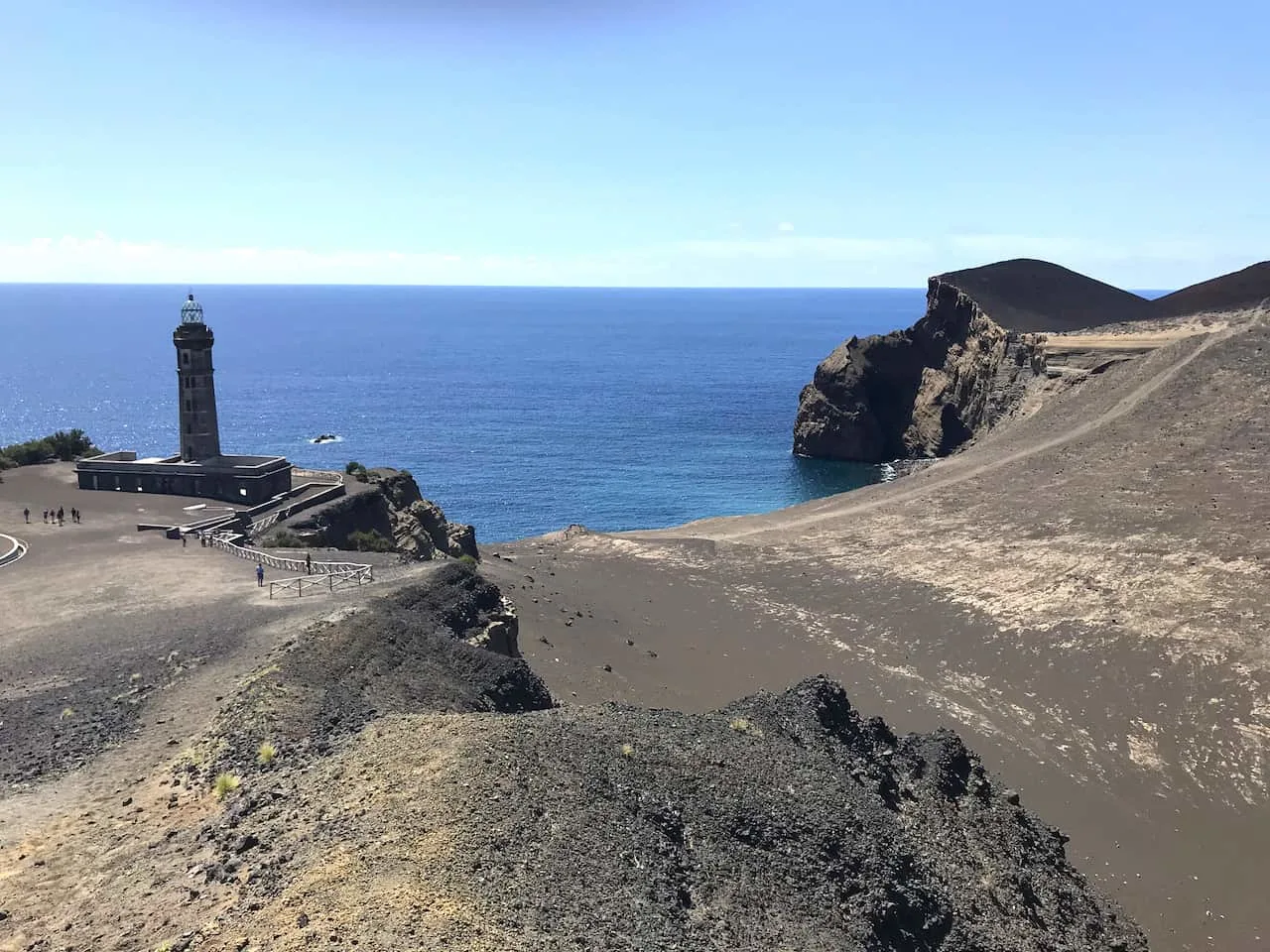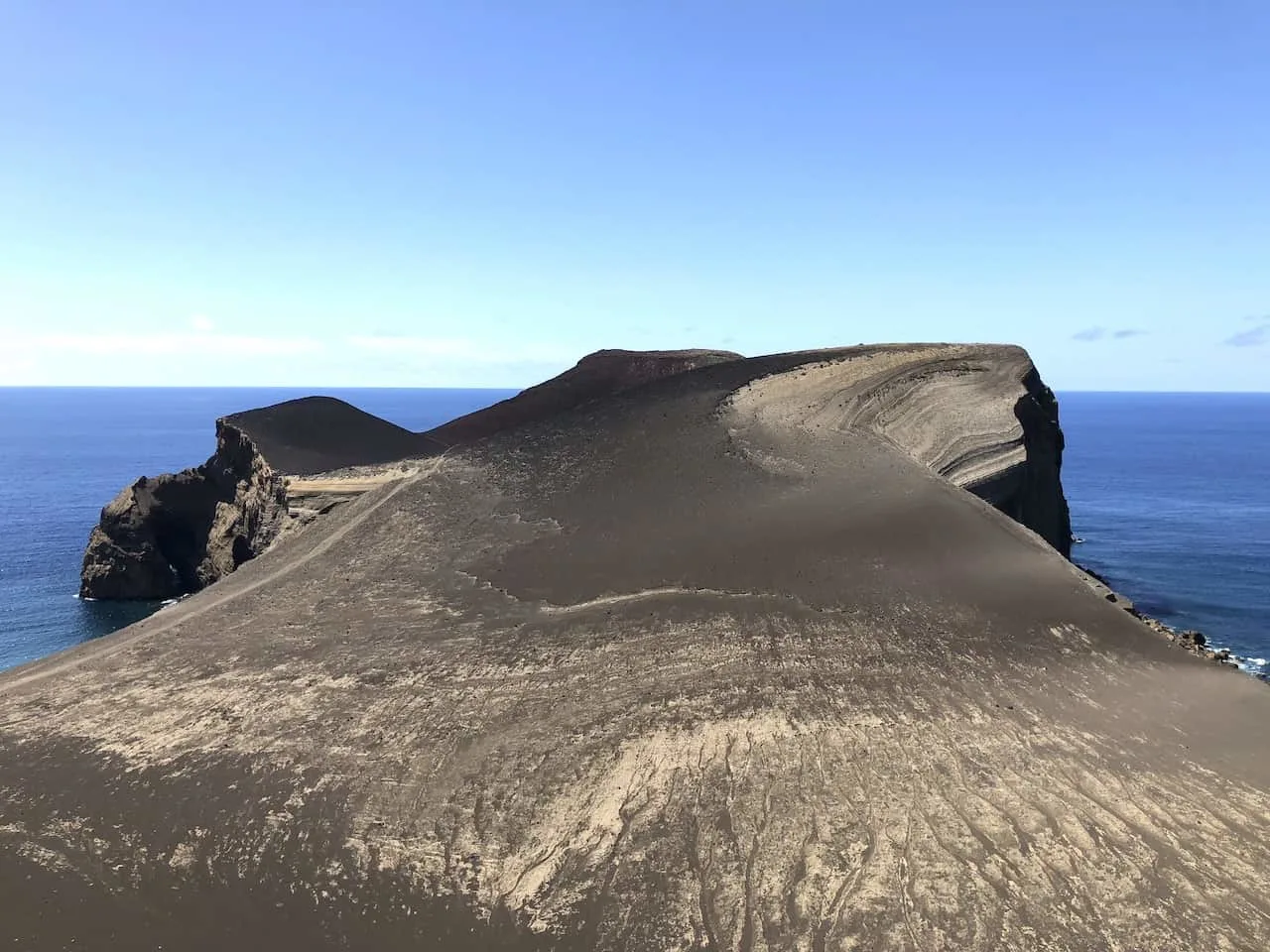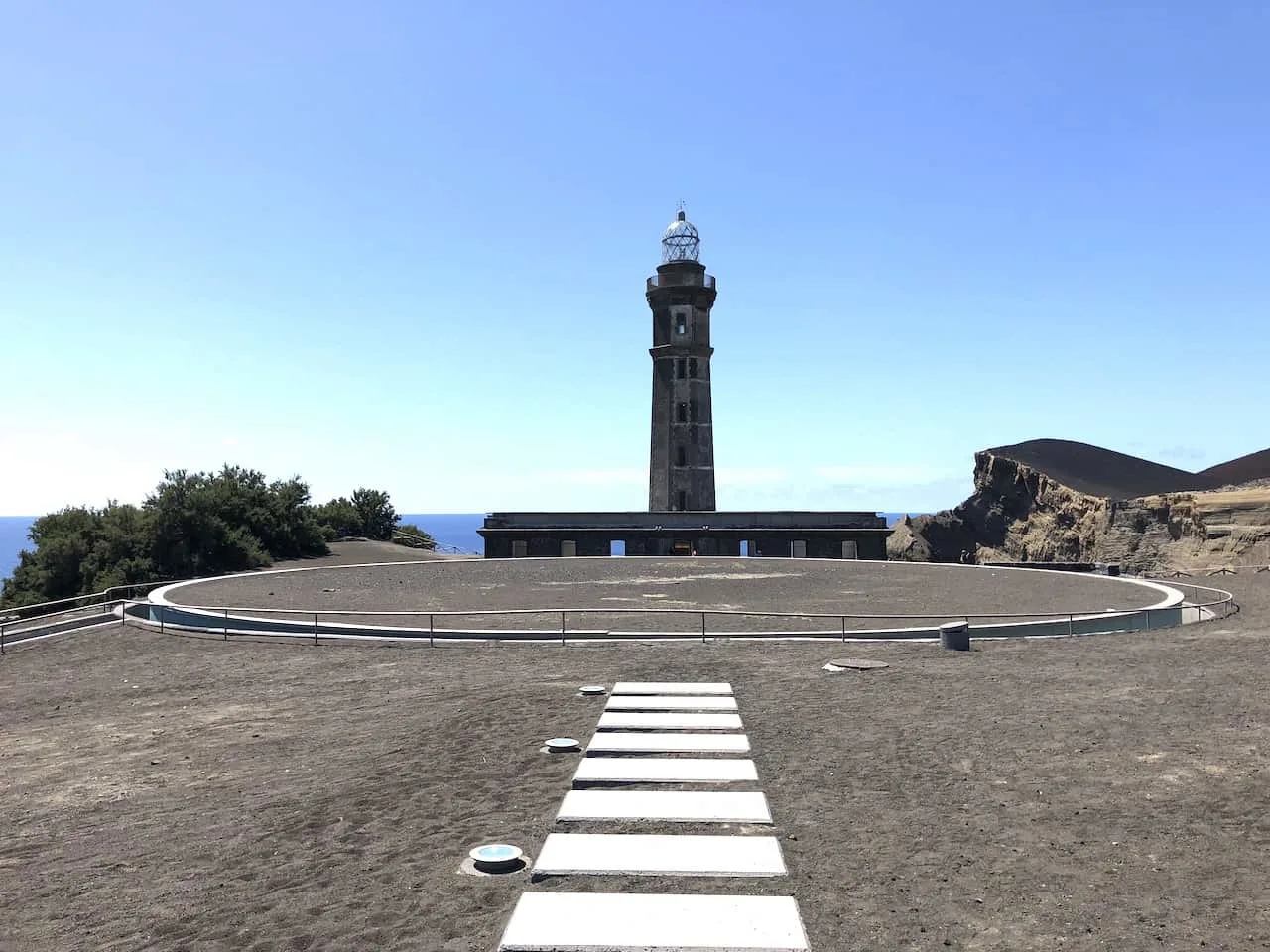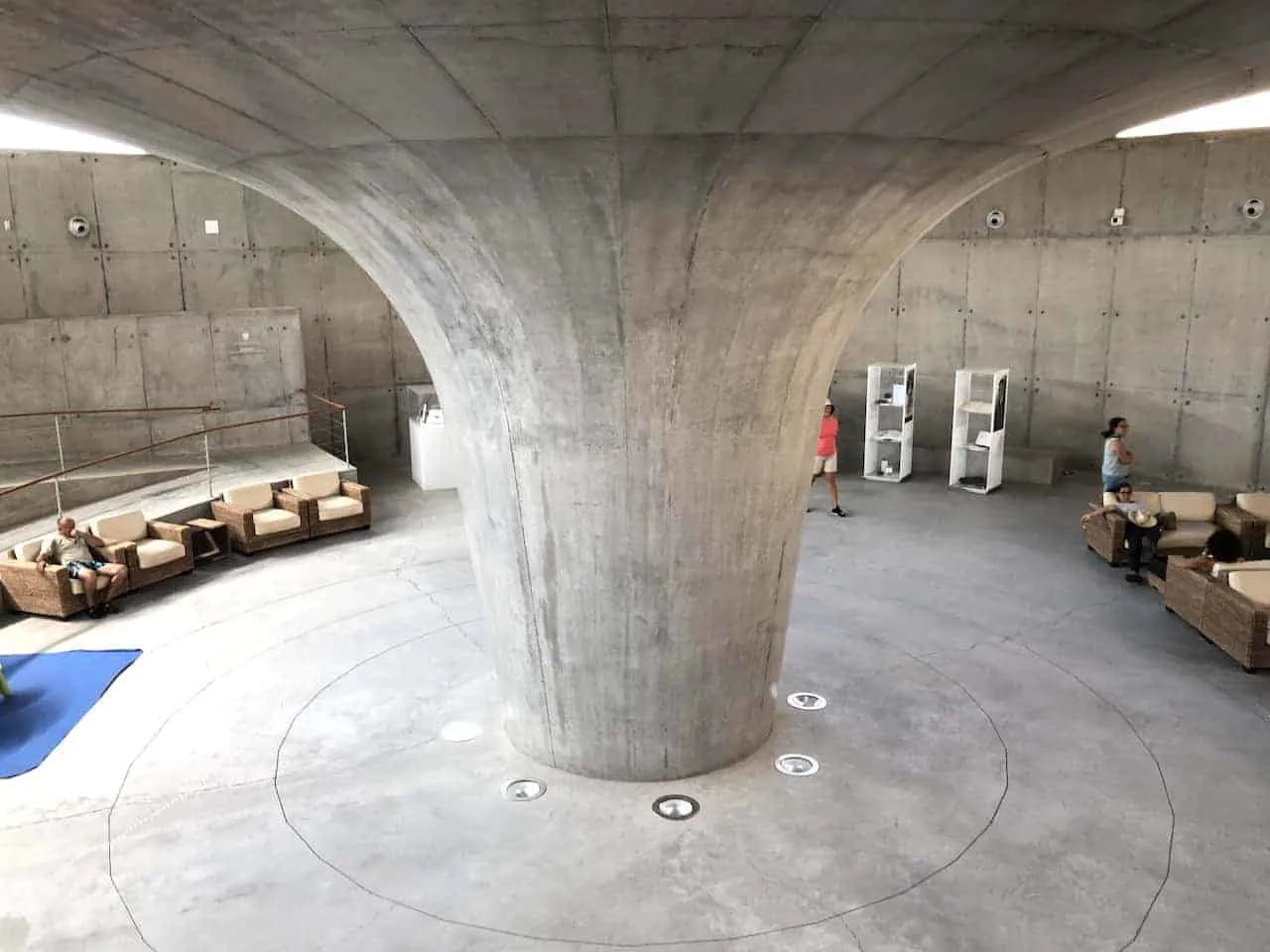 Depending on how much time you have you can:
1) Take part of some walking trails up the ridge and get some unique views from different angles. Be prepared with good shoes as the trails can get sandy and tough to walk on.
2) Head into the museum to learn more about its history
3) Walk up the stairs of the lighthouse to see the Capelinhos from above
C) Porto Do Comprido
After visiting the Capelinhos, you can opt for a nice, relaxing swim in a natural swimming pool in the ocean.
Right down the road from the Capelinhos parking lot you can find Porto Do Comprido. Take some time to relax and unwind in the ocean if weather permits.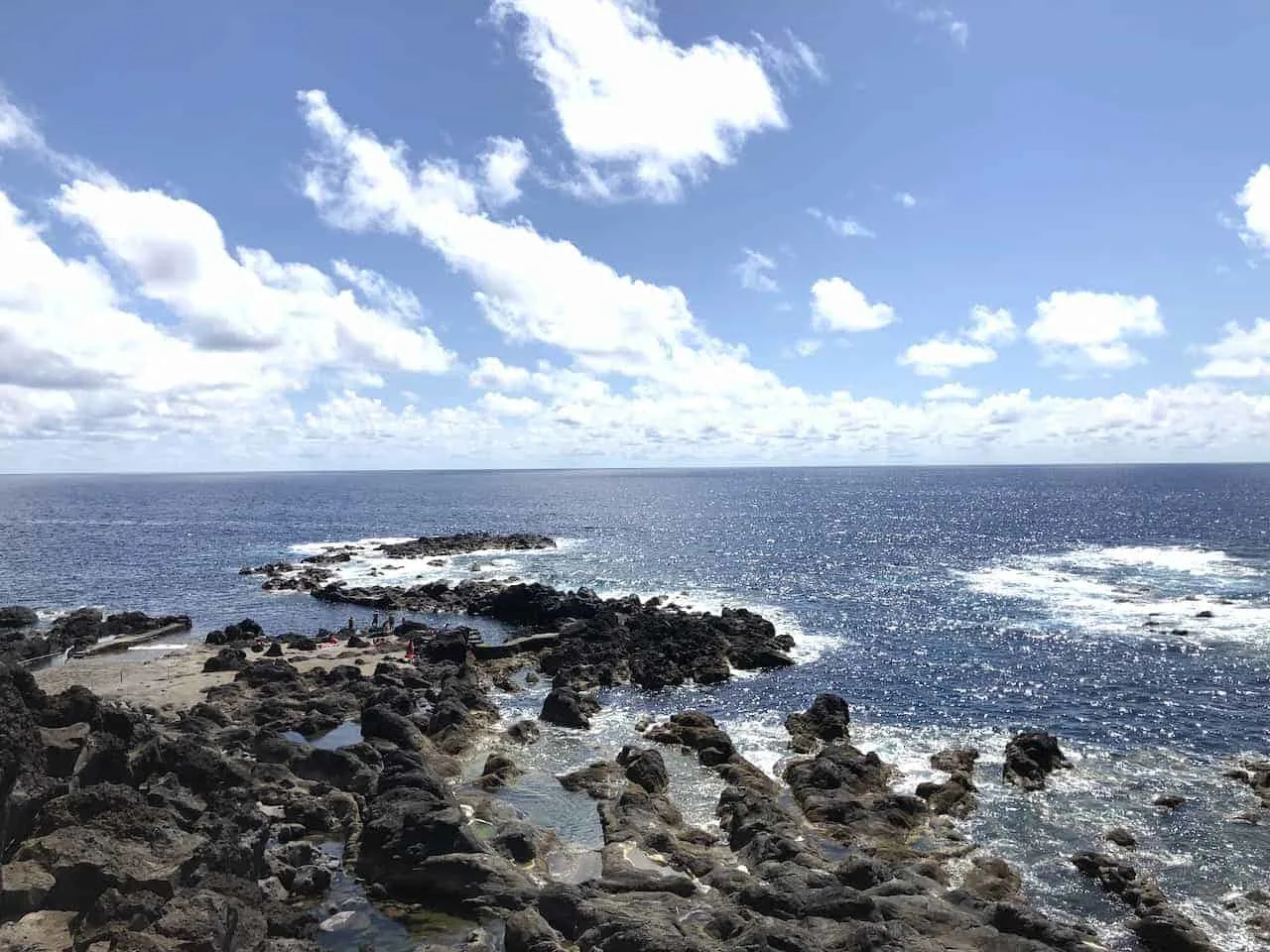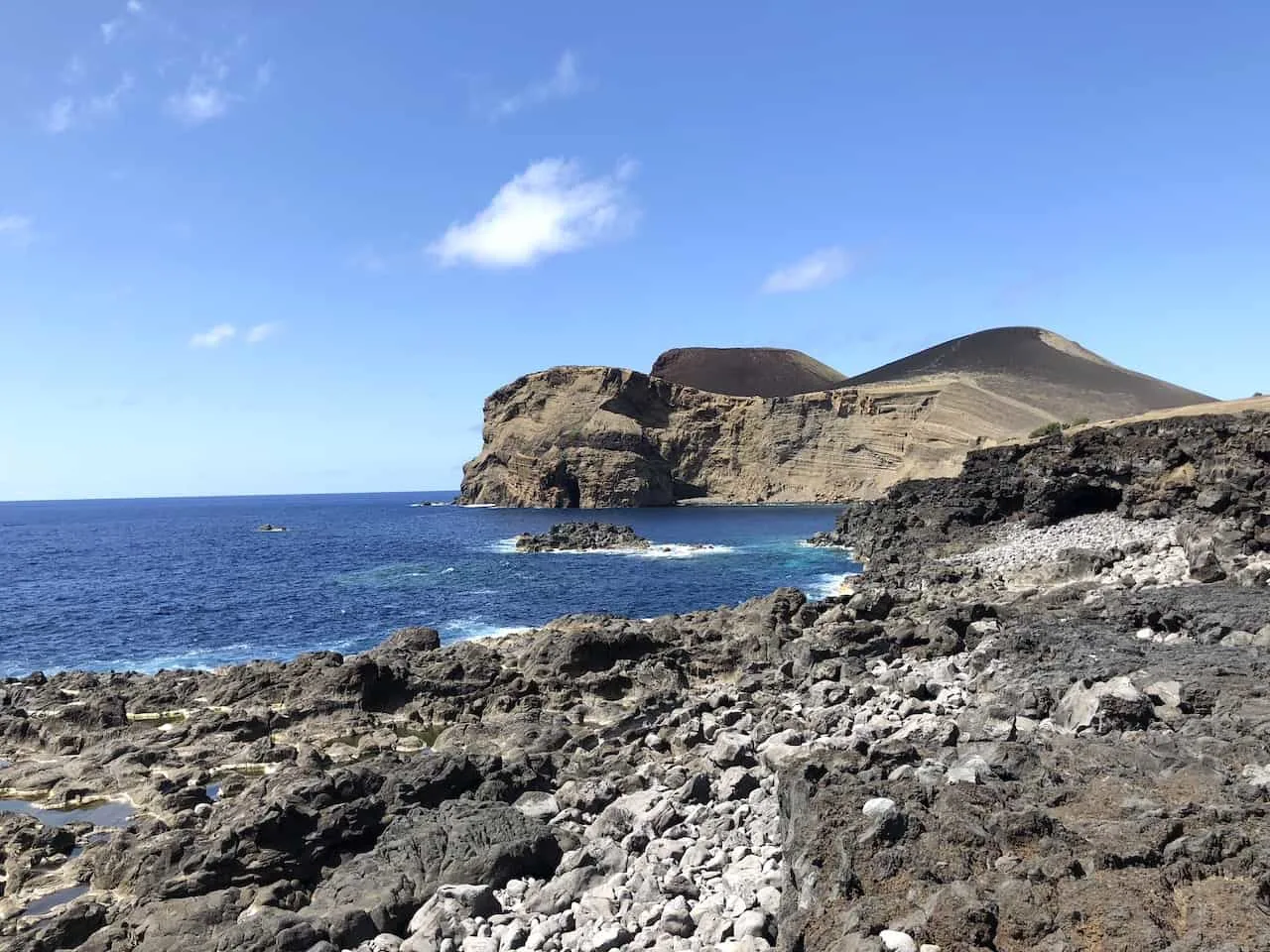 D) Monte da Guia
As you head back to the main town of Horta, you can stop at a great view point overlooking the city down below – Monte da Guia.
From up top you will be able to have some incredible views of the Atlantic Ocean and the rest of Faial.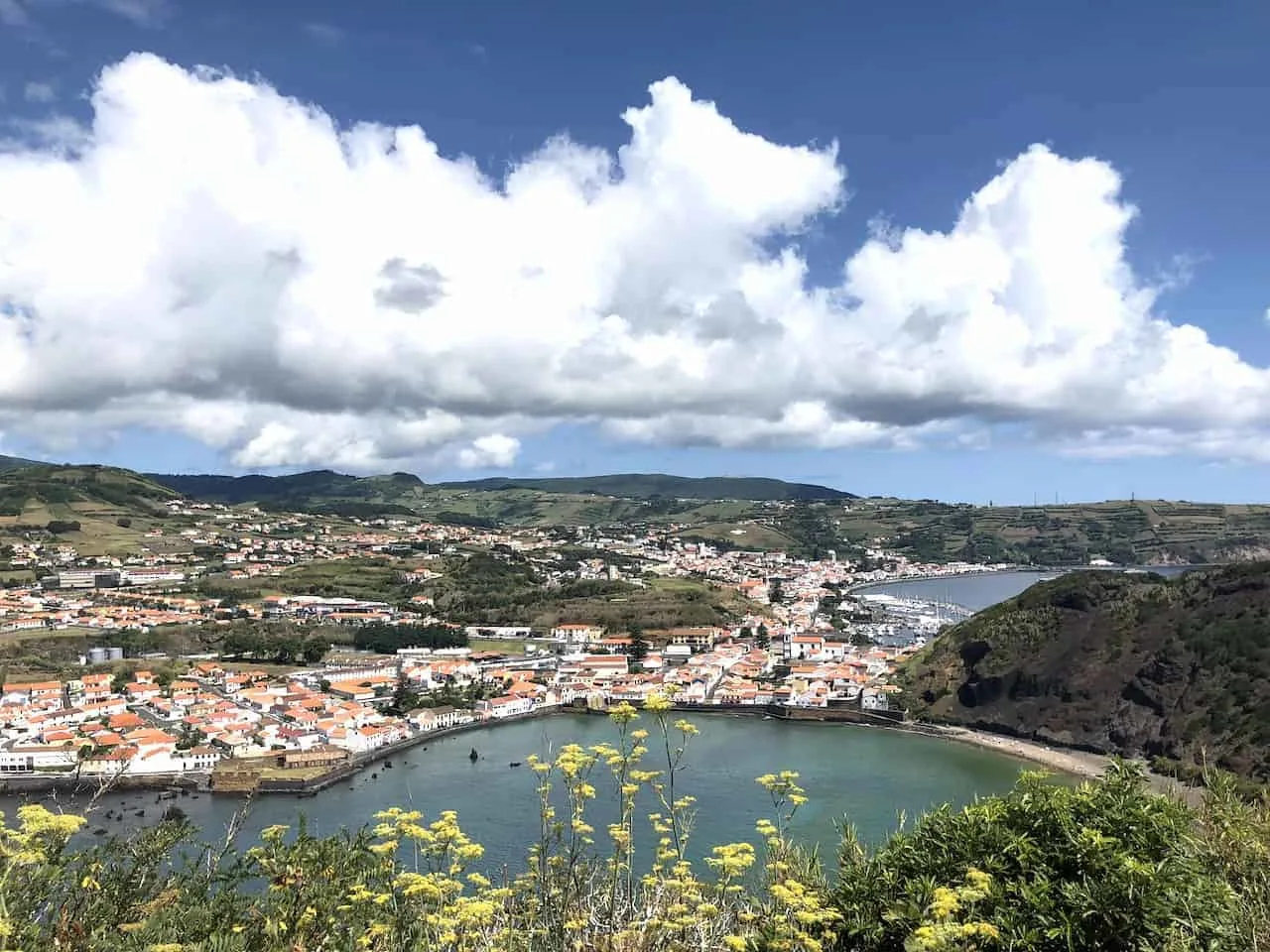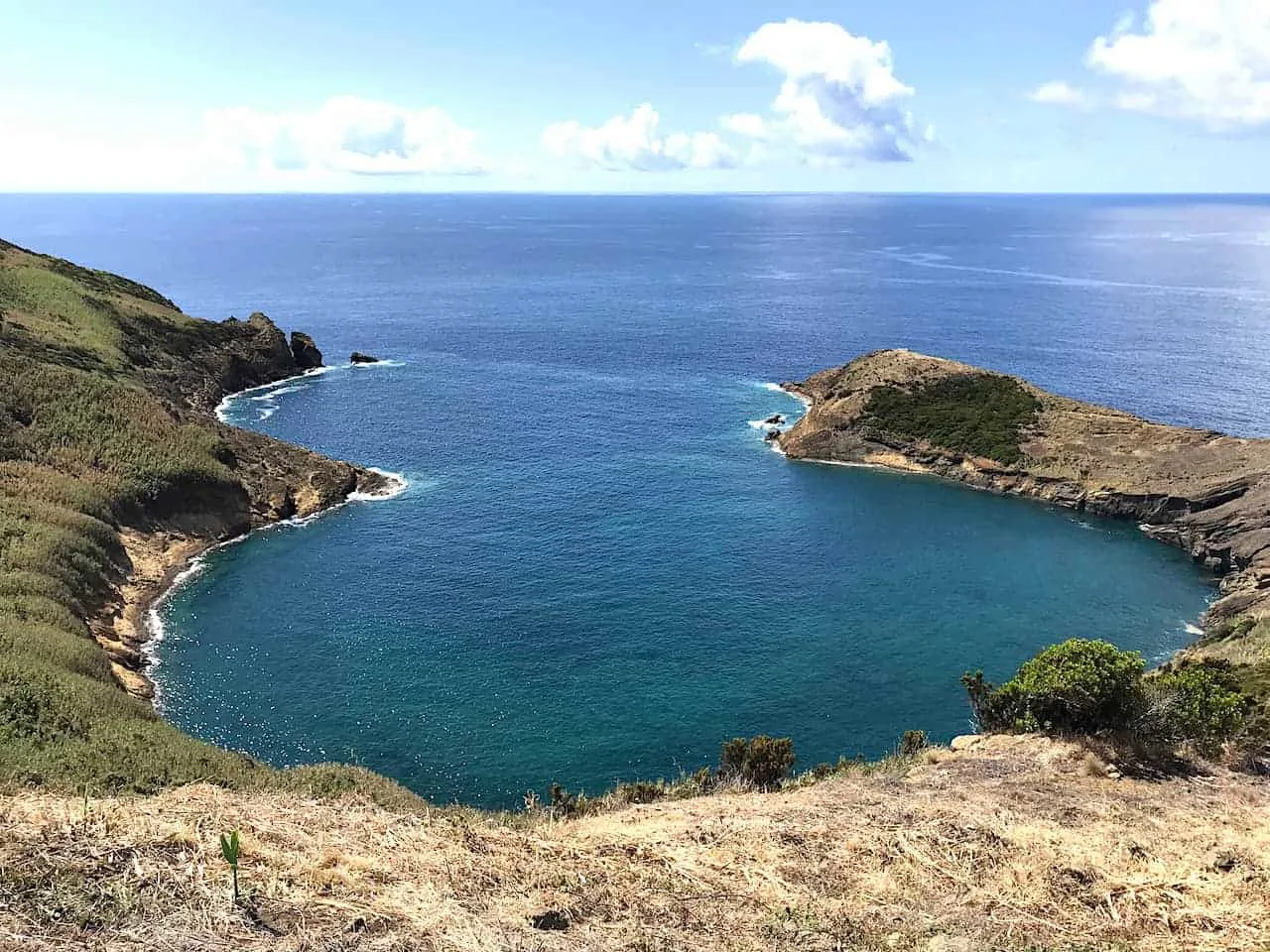 E) Walk Around Horta
The town center of Horta is one of the best on the Azorean islands. The marina area is full of shops, restaurants, bars, and more as you walk the oceanfront.
If you are lucky there are festivals from time to time with plenty of music and entertainment all around.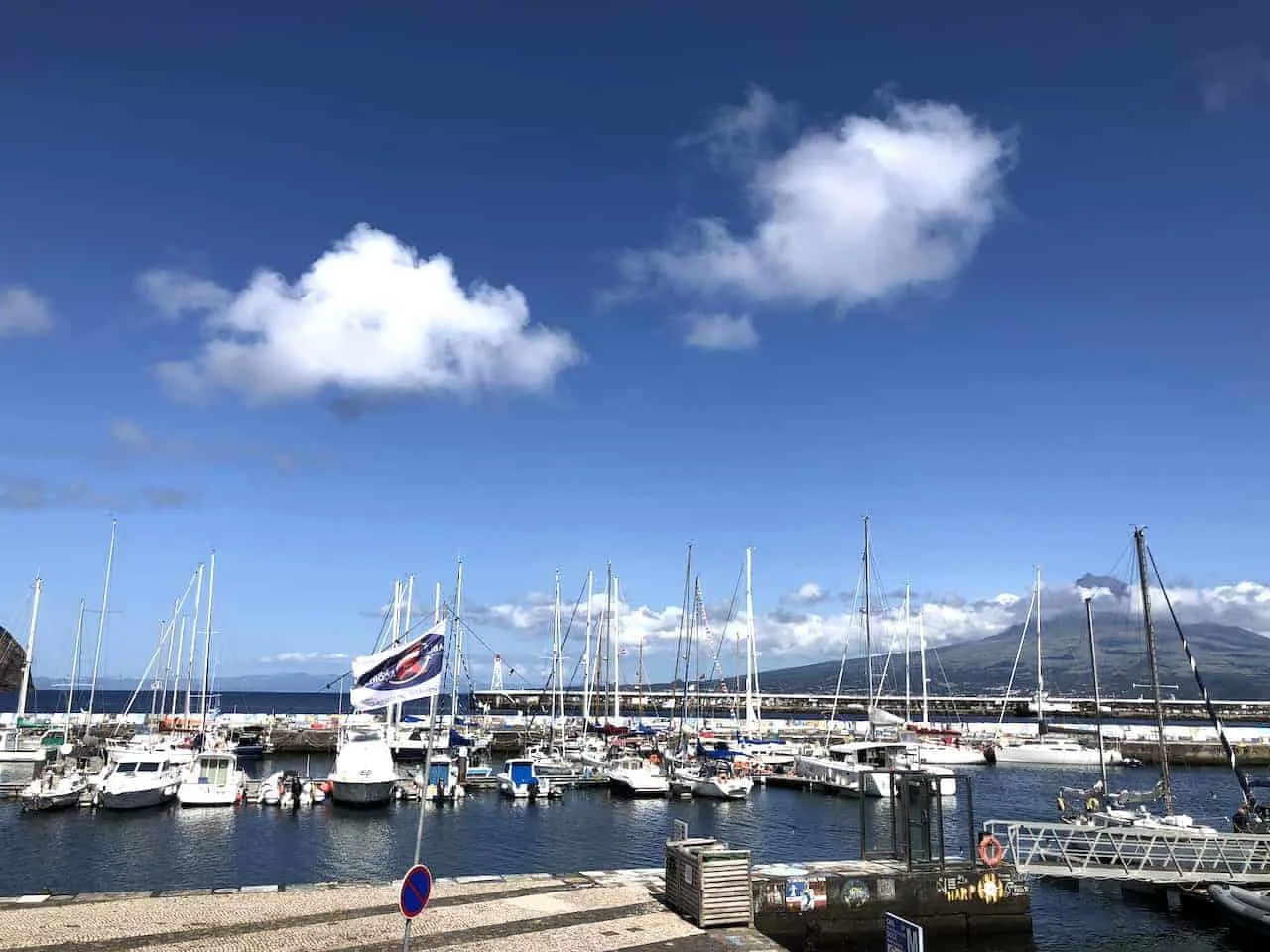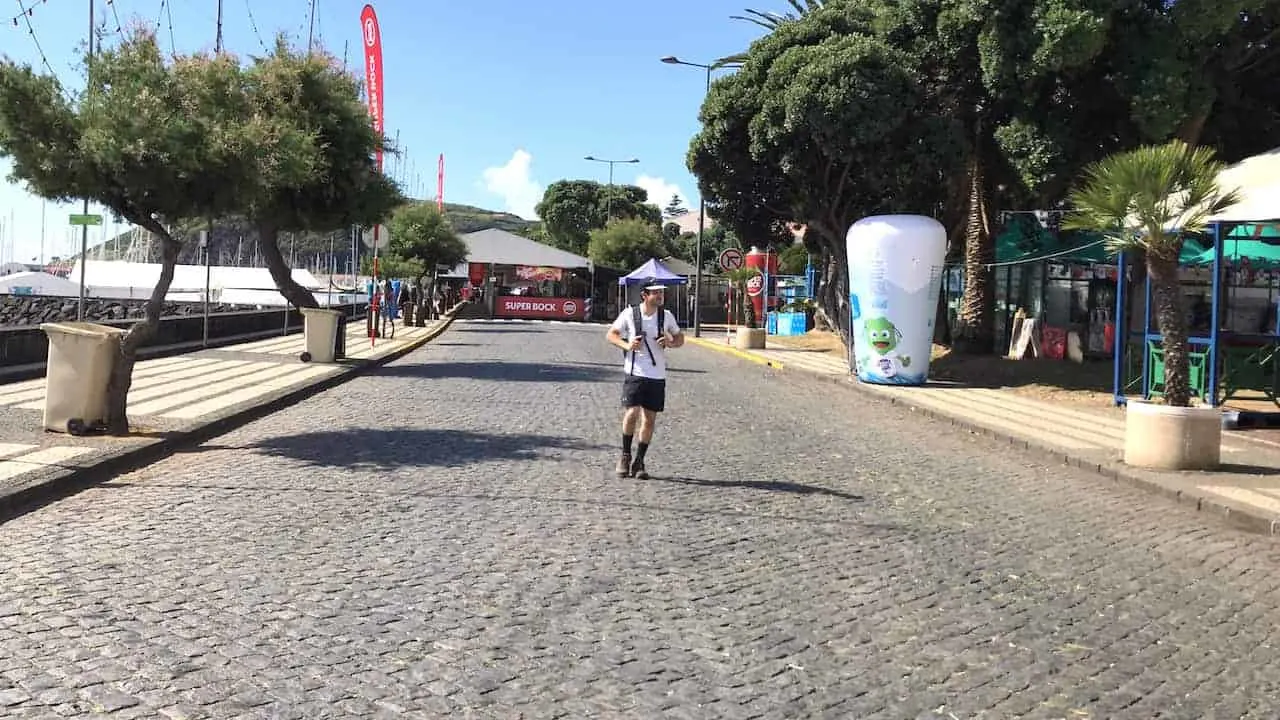 F) Peter Cafe Sport
Do you want to end the day with a relaxing drink? Well you can head to the island's most famous bar – Peter Cafe Sport.
A well-known drinking establishment that is suited towards sailors as they make their way across the Atlantic. Even if not going for a drink, it is worth it to just take a look.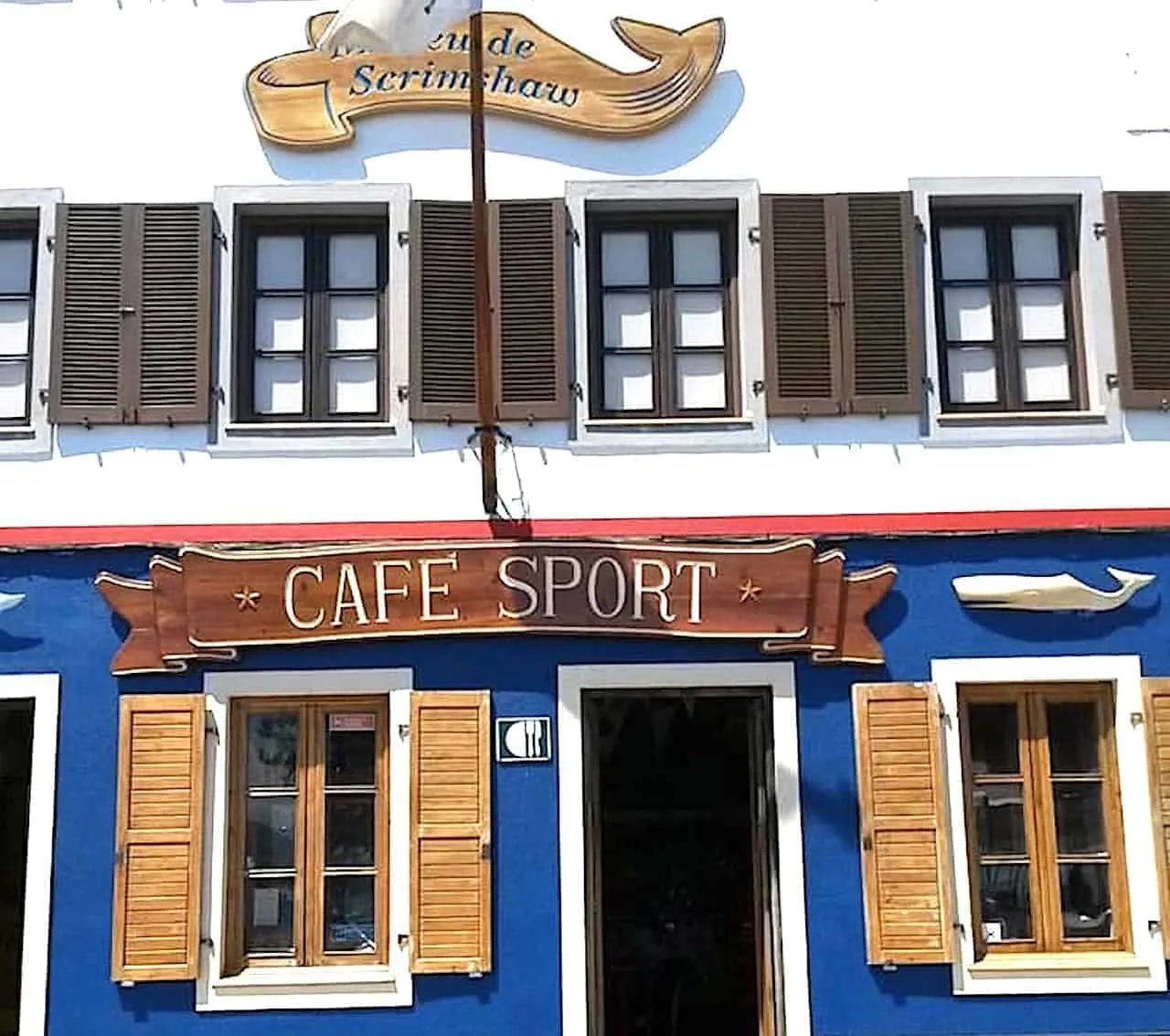 That should give you a pretty good sense of what you can do on Faial island within a day or two. It all depends on how you like to go about your day and how much time you would want to spend at each place.
Of course, there are more things to do on the island, but those attractions mentioned above are some of the top highlights to make sure to visit during your trip.
If you are staying longer on the island, you should also feel free to check out Sao Jorge and Pico which can be visited on a day trip.
You can learn more about the Azores by looking at some of the other Azores itineraries and guides up on the site. Safe travels and feel free to ask any questions below!