Headed to the Azores and want to see more than just the main island of Sao Miguel?
Well, spending a few days exploring all that Pico Island has to offer (and maybe some nearby islands as well) will make your trip to the Azores that much more memorable. From vineyards to volcanoes, Pico has all of that and much more!
This all-encompassing guide will give you all the information you need to know when planning a trip to Pico, Azores.
* Affiliate Disclosure: This post may contain affiliate links, which means I may receive a commission if you make a purchase through the links provided, at no additional cost to you. Thanks for supporting the work I put into TripTins!
1) Where is Pico Island
Pico Island is located in the central island group of the Azores. Below is a map to get you a bit more oriented with the layout of the Azores and where to find all 9 islands of the Azorean archipelago.
The island is less than 30 miles in length and can be completely circled in about 3 hours (without stops that is).
It is a great island to base yourself in, as you will have plenty to do on the island itself along with easy access to the two nearby islands of Sao Jorge and Faial.
You really cannot go wrong with choosing Pico when deciding where to visit in the Azores.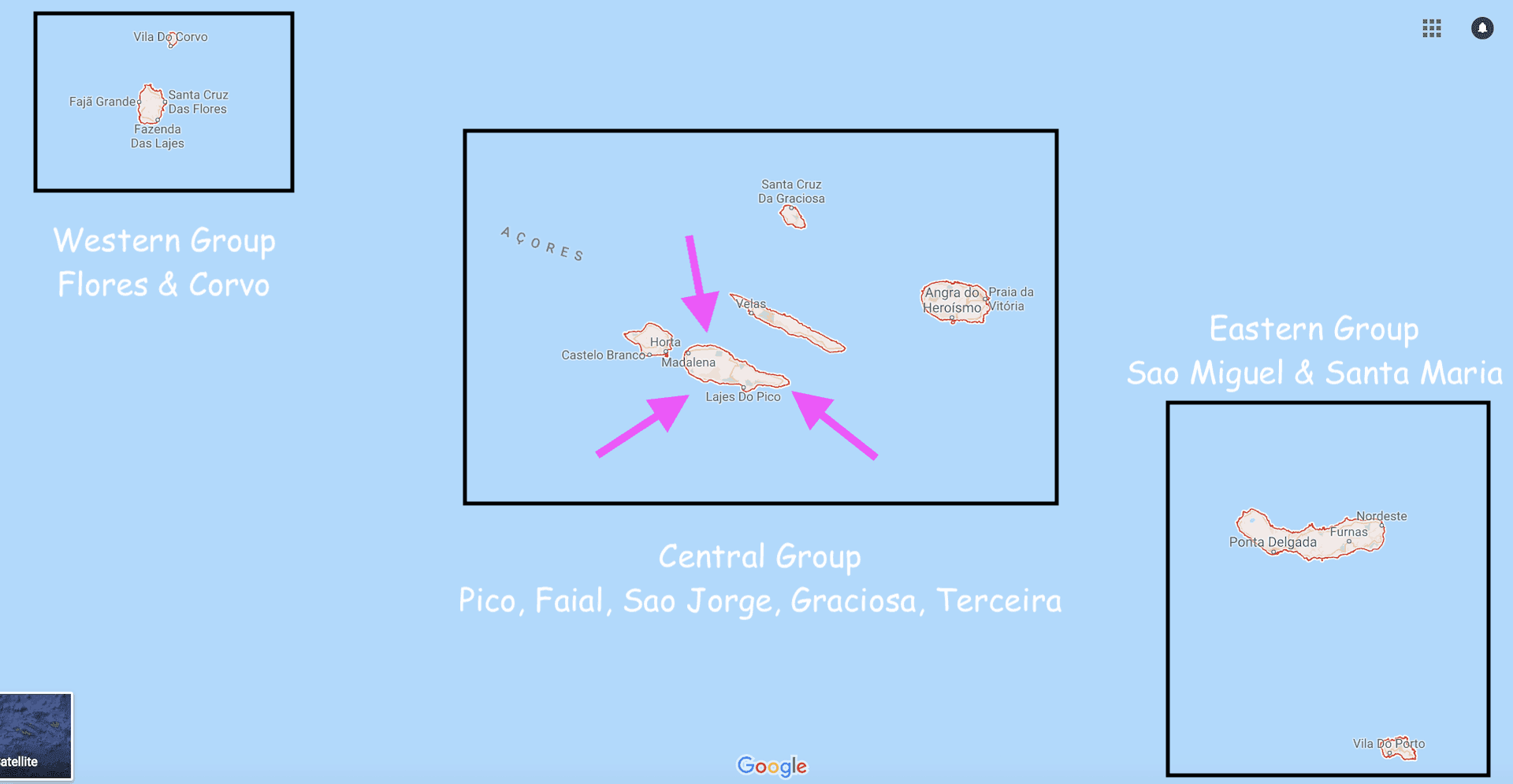 2) Weather in Pico Azores
If you did not know just yet, weather in the Azores can bring a little bit of everything. Sun, clouds, wind, rain – you name it and the Azores has it.
When deciding what time of year to visit Pico, you will want to take into account when the weather will be best to do any and all activities.
It is no fun going on a trip and not being able to take part of what you set out to do. With that said I would recommend a trip to Pico (as well as the other islands of the Azores) from the May to September timeframe.
During this time period you have the best chance of good weather as well as the ability to enjoy the ocean too.
Now, you can still visit outside of these months and have a great trip! Weather comes and goes so just be prepared for all types of conditions.
Pico also seems to be quite a bit warmer than Sao Miguel (if you are visiting there beforehand). Right as you get off the plane (especially in the summer time) you will be able to feel that extra heat.
If the sun is out, enjoying a swim in one of Pico's natural swimming pools is a great way to cool off.
Take a look at the Weather in the Azores Guide for more helpful info!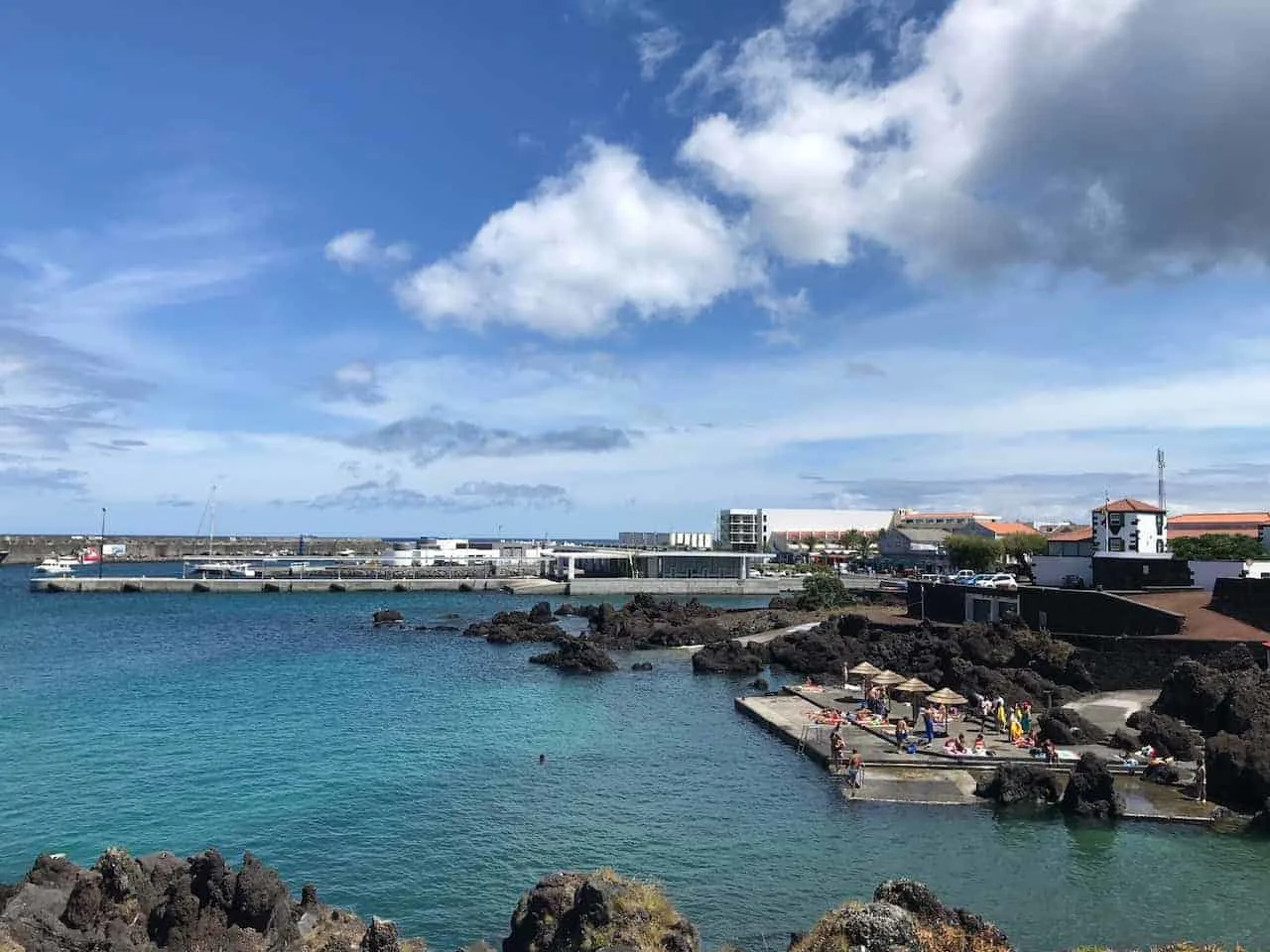 From a tourism standpoint the summer months will also bring the most crowds, however even as I visited in August, Pico seemed pretty low key and not overrun with visitors.
It should be noted though that the Azores are slowly becoming more and more popular so this could change over the years.
3) How to Get There
Getting to and from Pico is a pretty easy process all around. You will either be arriving by plane or by ferry depending on where you are coming from.
By Air: If coming by plane you are probably coming from Sao Miguel, or another nearby island such as Terceira. Currently there is one airline that flies between the islands – Azores Airlines.
You can check out their website for schedules and note that each day will have different flight schedules (so make sure to do some research when planning your trip).
Learn more about Azores Airlines in the Flying in the Azores Guide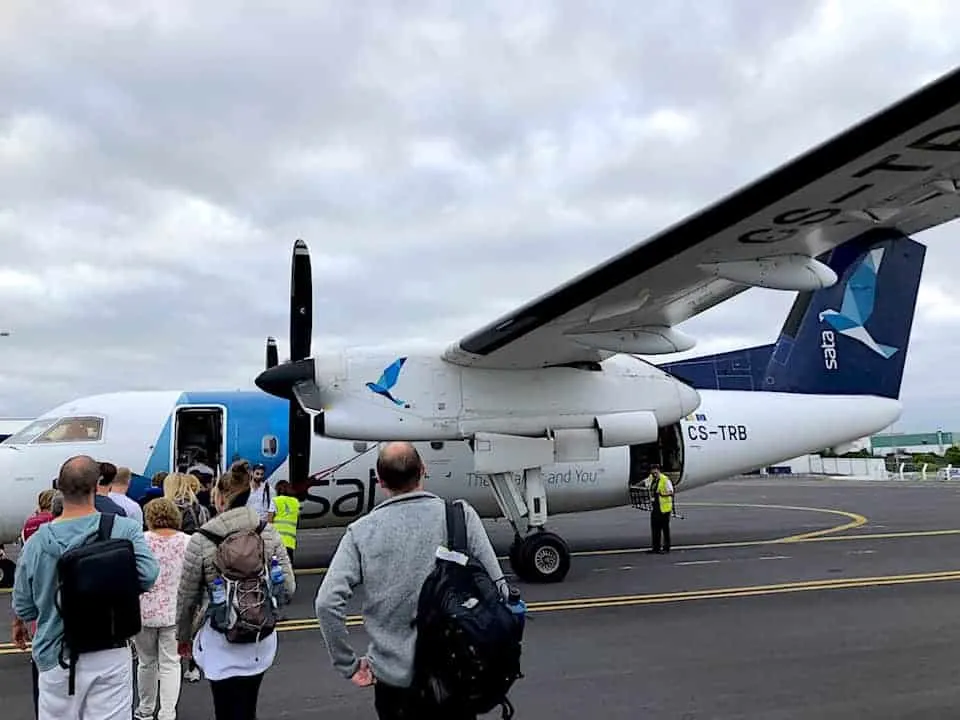 By Ferry: If you are coming from Faial or Sao Jorge, you will be arriving in Pico by ferry (you could also ferry from Terceira, Graciosa or even farther out islands depending on time of year).
The ferry schedules can be found on the Atlanticoline website – the only ferry service of the Azores. Ferries from Faial should be running pretty consistently throughout the day.
Sao Jorge on the other hand might only have one or two options per day and at some points of the year the ferries might only be running a few times per week. Again be sure to check that schedule when planning your trip!
For more helpful info about Atlanticoline check out the Ferries in the Azores Guide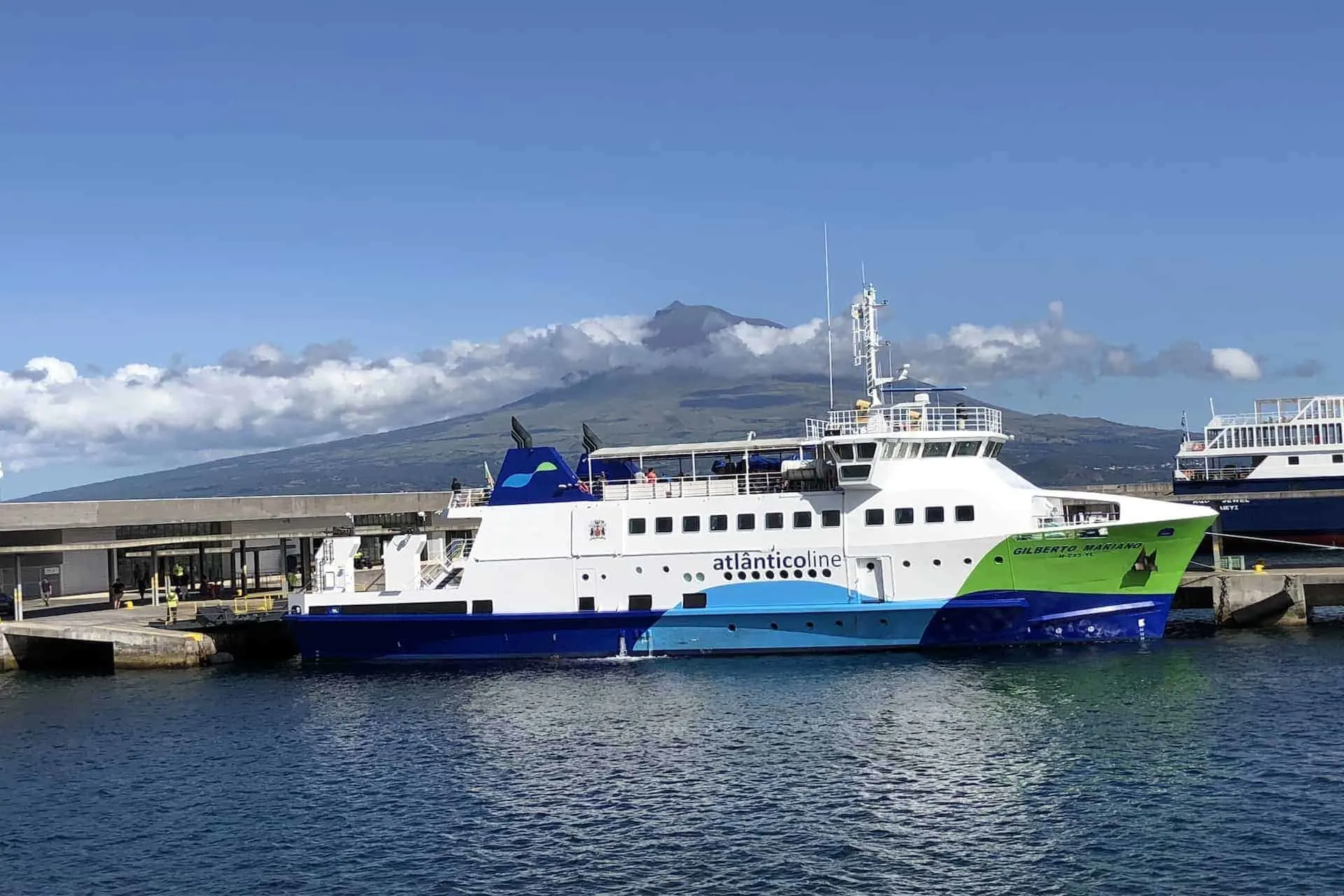 4) How to Get Around
Now that you are on Pico Island you will need to decide how to get around. Your options here would be by renting a car/scooter or by taxi.
Your decision will also be based on what exactly you want to do on Pico and how long you have to explore the area. I will go into more details about everything to do on the island later on in the guide so you have a better idea of what you may need a car for.
For example, if you are on the island for three days but want to hike Mount Pico one of those days and take a trip to nearby Faial the other, then you will not need to have a three day car rental.
Maybe just have a one day car rental or have a taxi take you around to explore the island.
→ Feel free to browse through Rentalcars.com for plenty of car rental options. You can filter by car type, price, & more to find the perfect rental car for your trip to the Azores
5) Pico Azores Map
The map below pinpoints each place mentioned in the rest of the guide. Attractions, activities, hotels, restaurants and more!
6) Pico Azores Hotels
For your time in Pico I recommend staying right around Madalena (especially if you do not have a car), or Sao Roque on the northern end of the island.
In these two towns you will find the most options along with a good variety of restaurants to choose from.
Feel free browse through Booking.com for some highly rated accommodations or take a look at Airbnb.
Here are some highly rated and valued accommodation recommendations for Madalena and Sao Roque:
Madalena
Sao Roque
7) Where to Eat on Pico
While there are not as many restaurant options compared to a city like Ponta Delgada, there is still a fair share to choose from.
Here is a list of 5 restaurants that I ate at during my time in Pico. For dinner, I would recommend making reservations to ensure your spot is held down for you.
Ancoradouro – Situated right on the water, Ancoradouro offers not only fantastic fresh food but also incredible views. From daily fish choices to skewers of seafood and meat, you will have plenty of choices to choose from.
Cella Bar – if going for a drink or for dinner, Cella bar is another beautiful spot right on the water. You can opt for indoor or outdoor seating, and get a glimpse of some perfect sunsets overlooking Faial.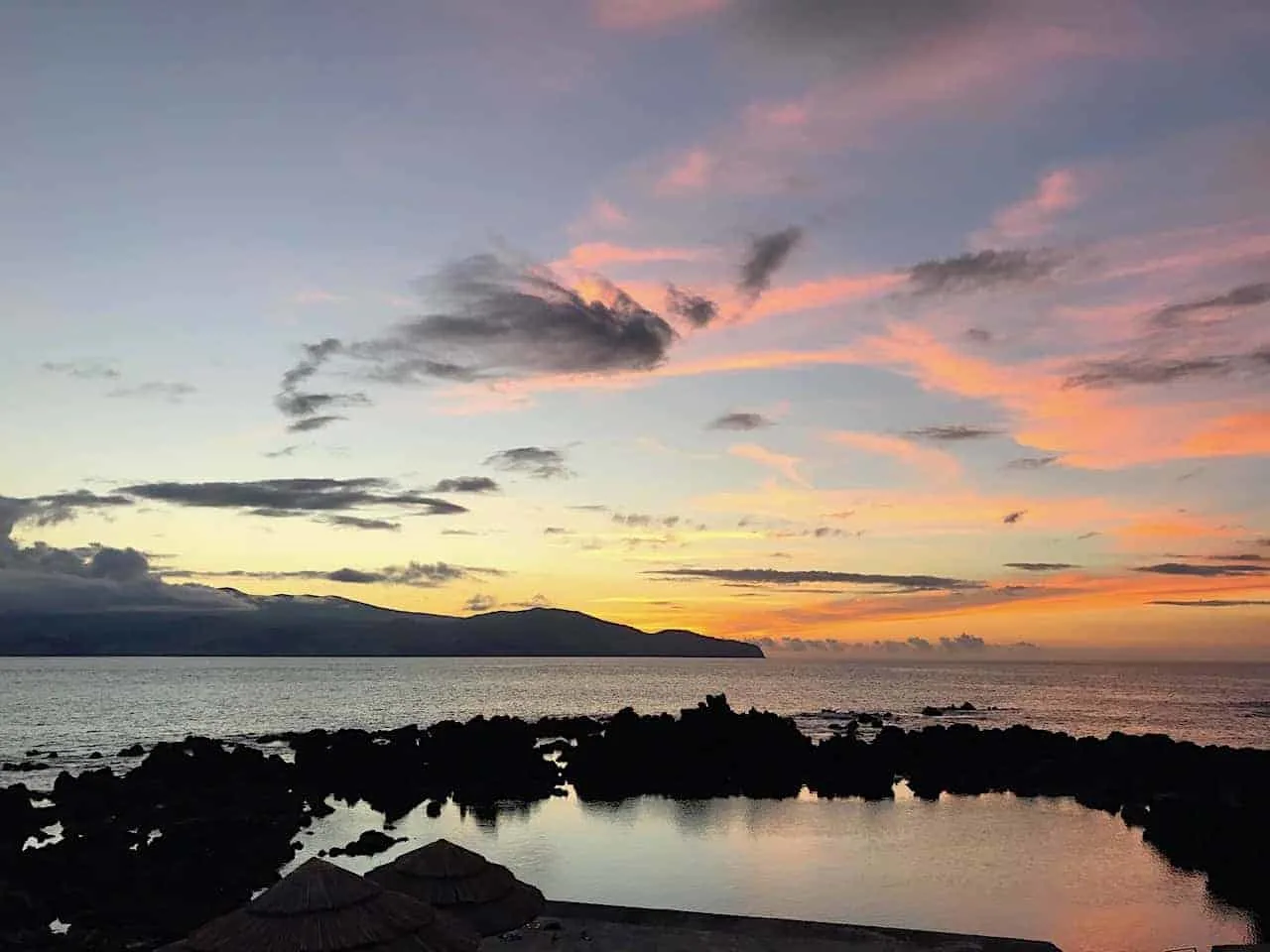 A Tasca O Petisca – you really cannot go wrong with anything you order from A Tasca. From the quality of food to impeccable service, A Tasca ranks as one of the best on the island.
Caffe 5 – located closer in town, Caffe 5 was a spot I grabbed lunch at one day but can definitely be a good dinner choice too. Their menu was a bit different with selections such as kebabs, custom salads, and francesinha.
Casa Ancora (Sao Roque) – if you have a car, staying in Sao Roque, or don't mind taking a taxi, Casa Ancora is the top restaurant choice of that part of the island. As I was exploring the northern coast, I stopped here for lunch but would also be a great dinner destination.
8) Three Days on Pico
You may be going to Pico for a day or for a week. No matter what though you will have plenty of activities to take part of and sites to see.
Below I put together a potential three day itinerary for Pico Island.
These three days will focus solely on what to do on Pico itself. Right after I will go into day trip options to Faial and Sao Jorge.
So while the below is a three day itinerary, you can easily add another 1-2 days to include day trips as well.
Be sure to check out some of the other best things to do in the Azores during your trip
A) Day 1 – Driving the Island
This first day will focus on exploring the island by car as you make your way to some top spots around Pico.
As mentioned earlier you can opt for a car rental or you could simply get in contact with a local taxi driver who can bring you around the island.
It would costs about 70 – 120 Euros depending on how long you want to drive around for and how many people are in your group. Here are some of the stops you can make on your journey:
Cachorro
First stop of the day is right nearby the airport at Cachorro. Here you will find volcanic rock formations around the ocean area with a bunch of walkways to explore.
You will find these volcanic formations in all shapes and sizes, one of which is a dog, hence the name Cachorro (dog in Portuguese).
On a clear day Mount Pico will be out in the distance and it makes for a picture perfect introduction to Pico Island.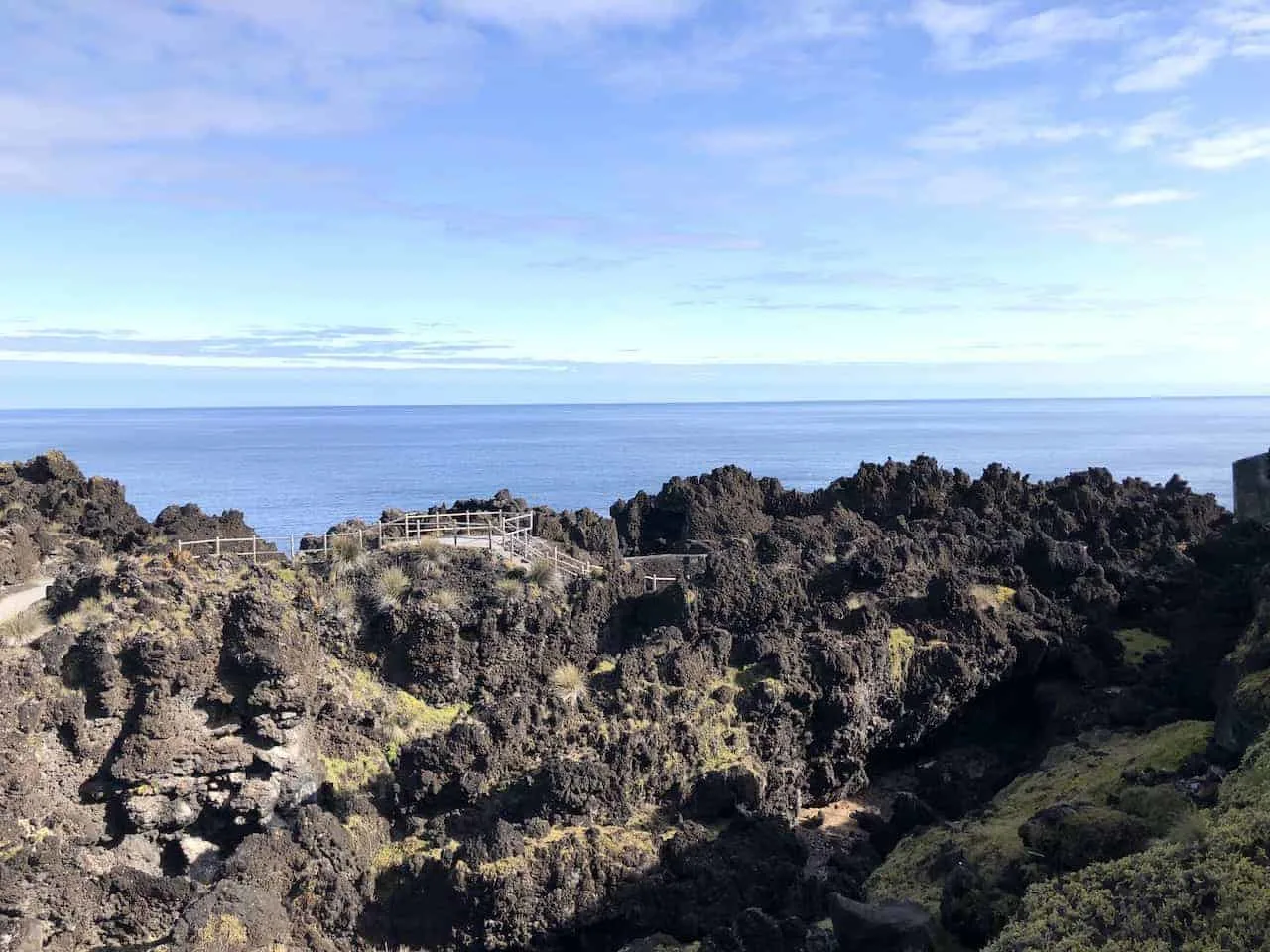 Lajido
Just a bit down the road lays the small town of Lajido. If you ever wanted to get off the grid, this is a place for you. Stone houses with beautiful designs and architecture align the streets of the town.
Be sure to stop at the Centro de Interpretação da Paisagem da Cultura da Vinha da Ilha do Pico where you can learn all about the wine history of Pico island and take part of a wine tasting.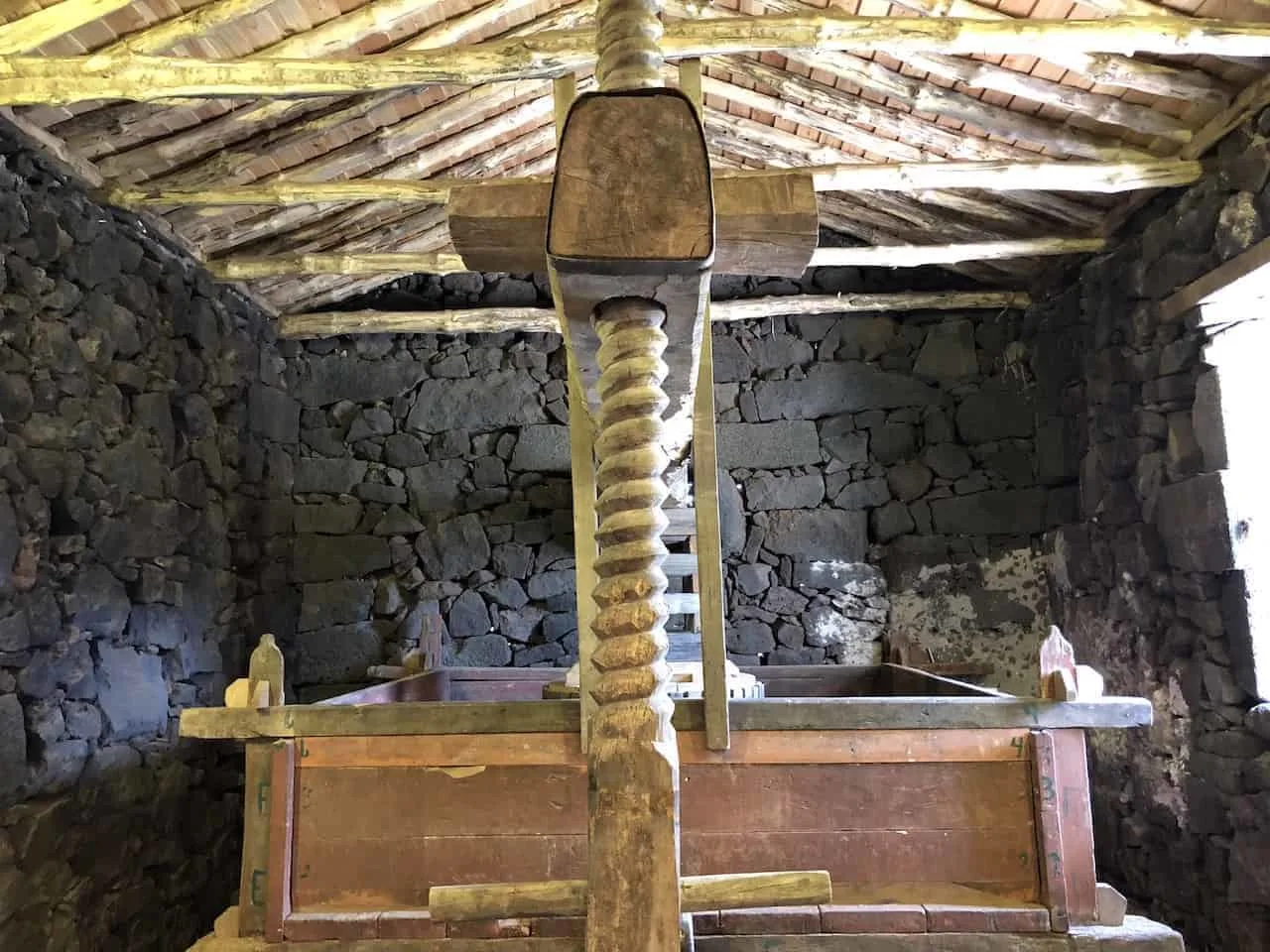 Sao Roque
If you are not staying in Sao Roque, you should definitely make the stop as you drive the island.
In Sao Roque you will find a great marina area, the whalers museum, and it could be a potential lunch stop for you.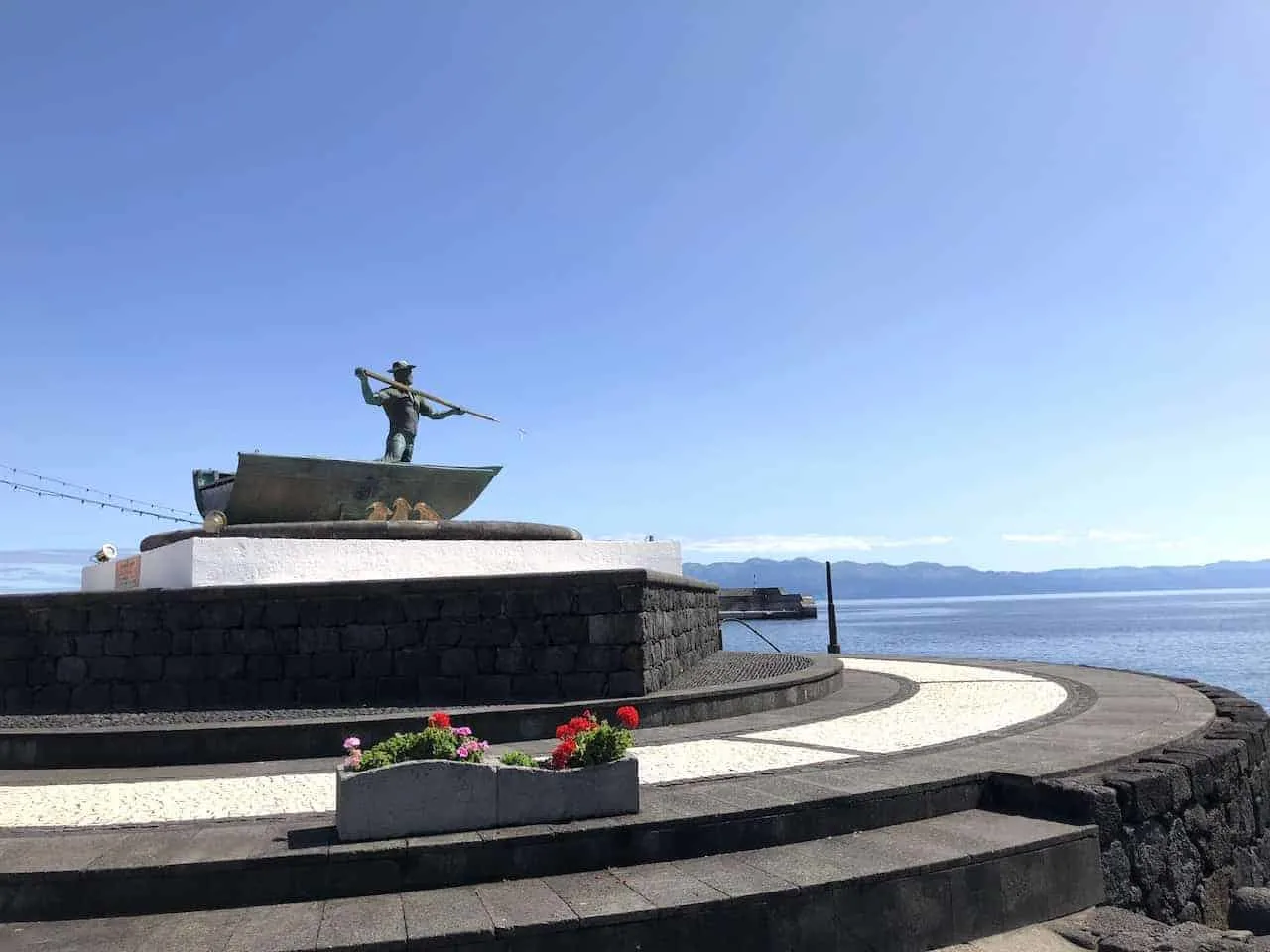 Lagoa do Capitao
The most famous lagoon on the island has to be Lagoa do Capitao.
Not as vast as some of the lagoons you will find on Sao Miguel, but it is still a site to be seen with Mount Pico reflecting right nearby. Spend some time walking the area and getting in some good shots.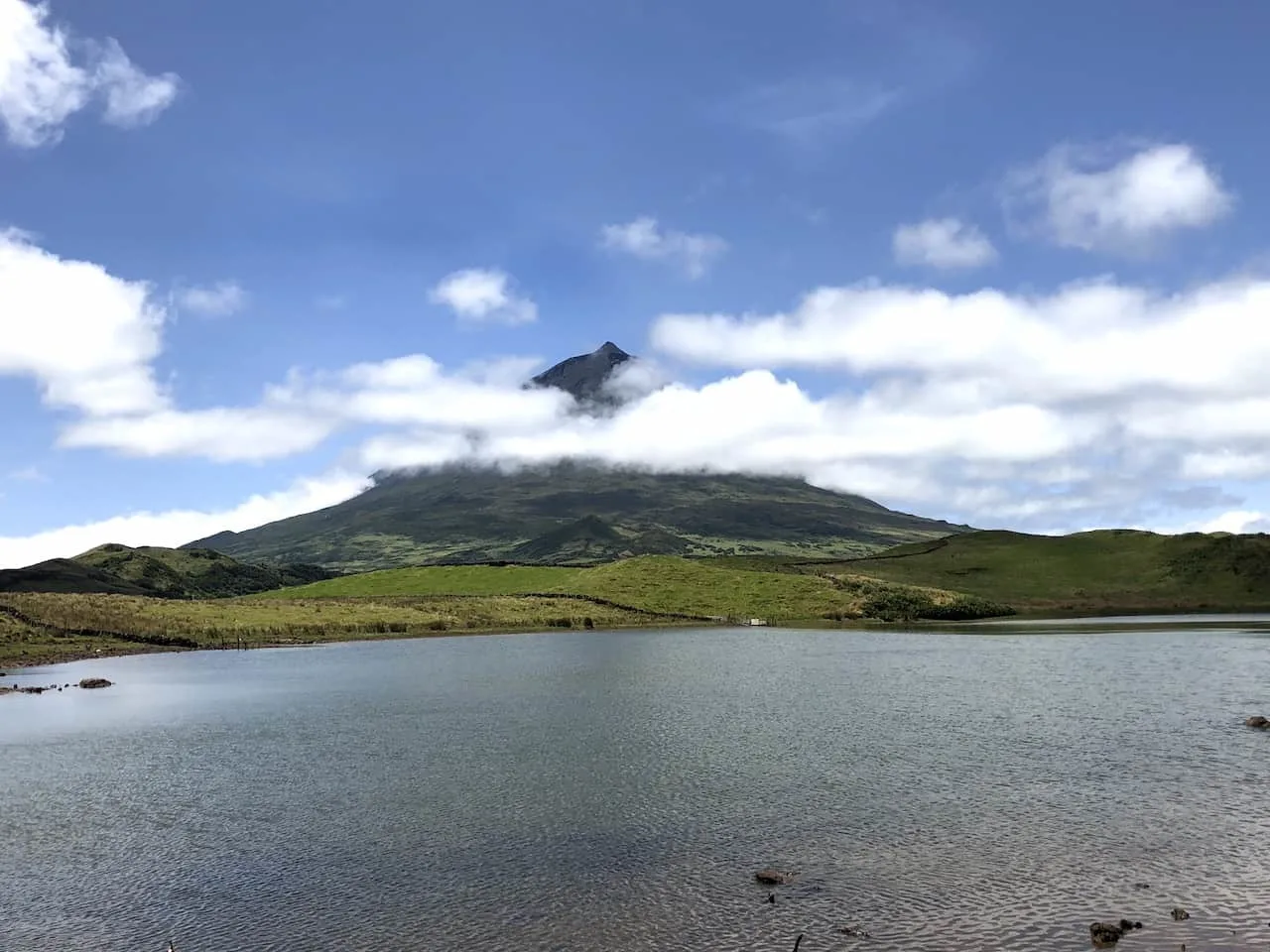 Wine Cooperative
In the town of Madalena you are sure to come across the wine cooperative – Cooperativa Vitivinicola Da Ilha Do Pico.
If you want to learn more about the wine making process, and see the machines and barrels used to create wine, then this stop is for you. Another wine tasting is also available here if you are up for it!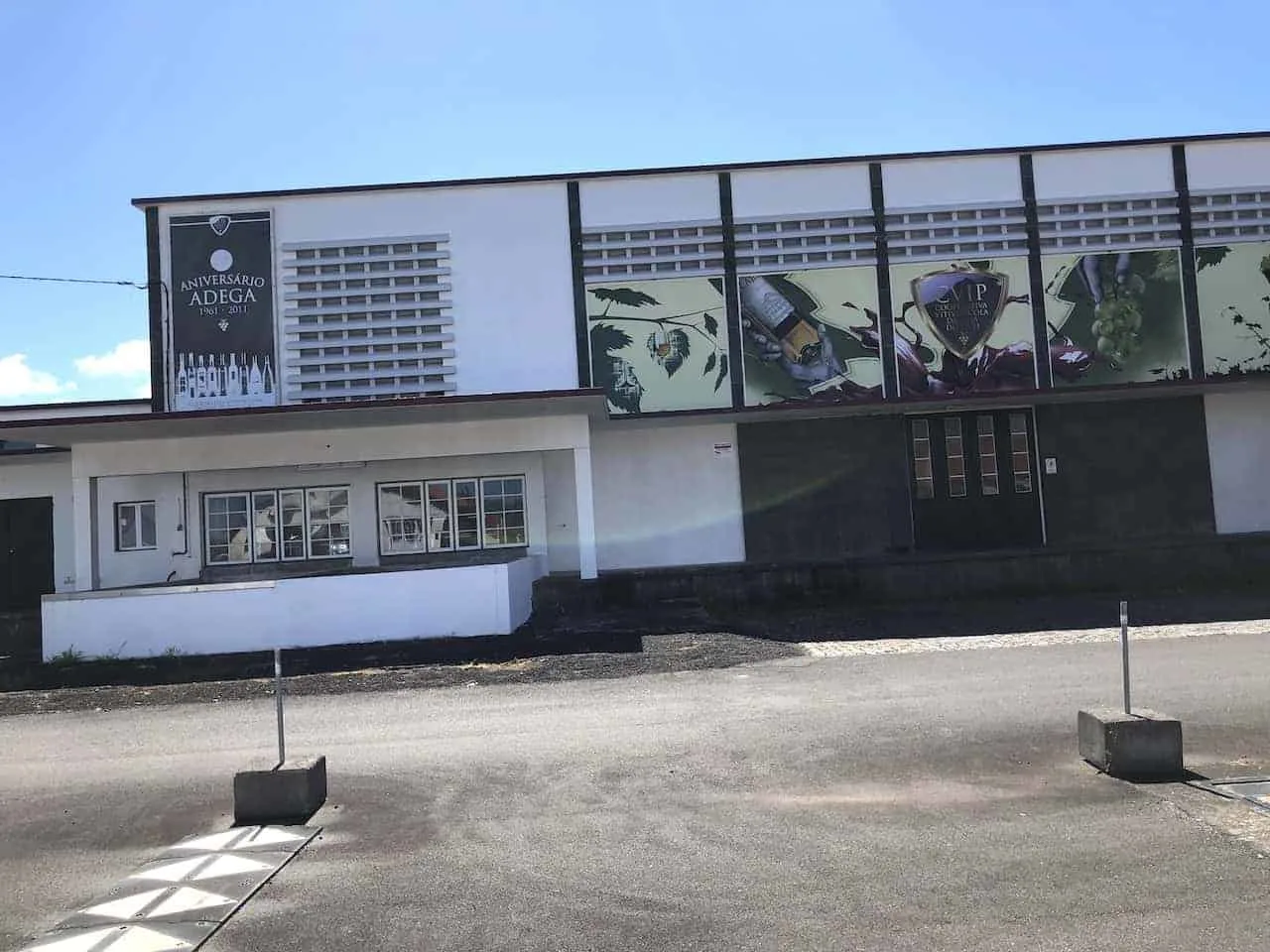 B) Day 2 – Mount Pico
A trip to Pico is not complete without a trek to the top of Portugal's highest point – Mount Pico.
At 2,351 meters, Mount Pico is a full day 7+ hour climb up and down this dormant volcano.
You will need to be reasonably fit to complete the climb and be sure to come prepared. If you want a once in a lifetime memory, you can also choose to sleep overnight on top of the volcano – on a clear night, the stars and planets are bright as can be.
Note if the weather is very poor, you can also switch around the days to complete the climb in the best weather.
To learn more about the Mount Pico climb take a look at the Hiking Mount Pico Guide I put together. It will go in depth about all you need to know about this epic adventure.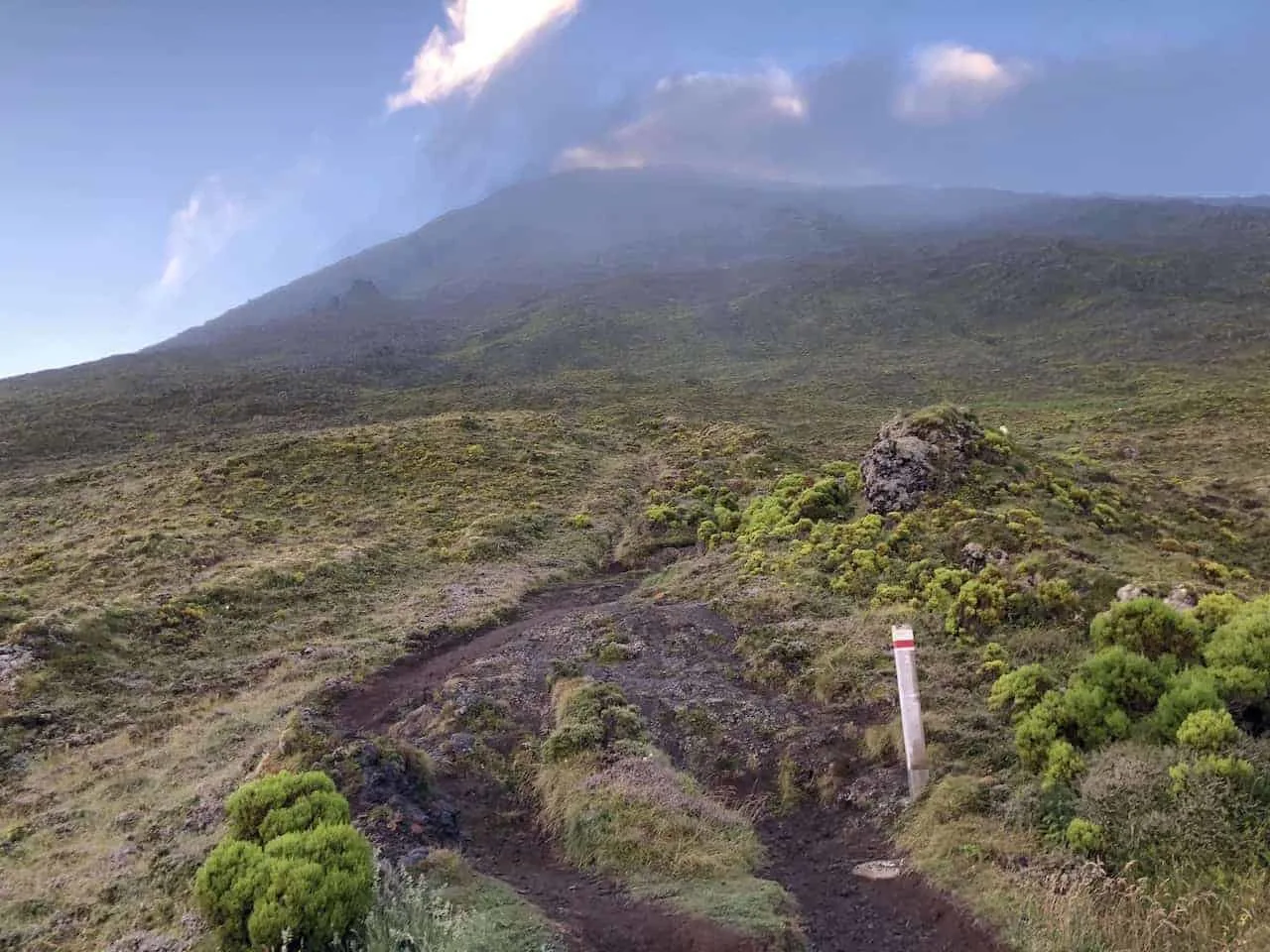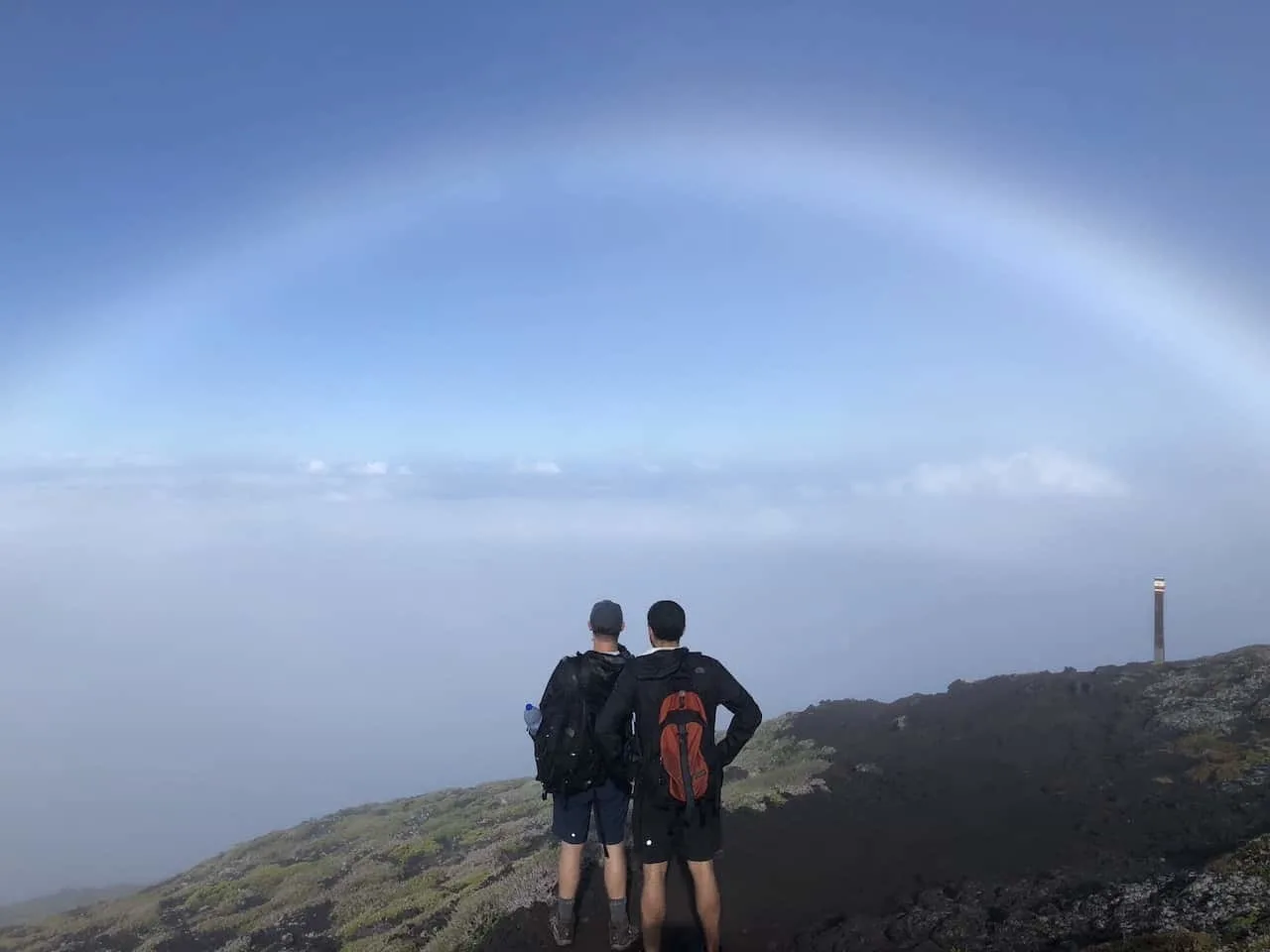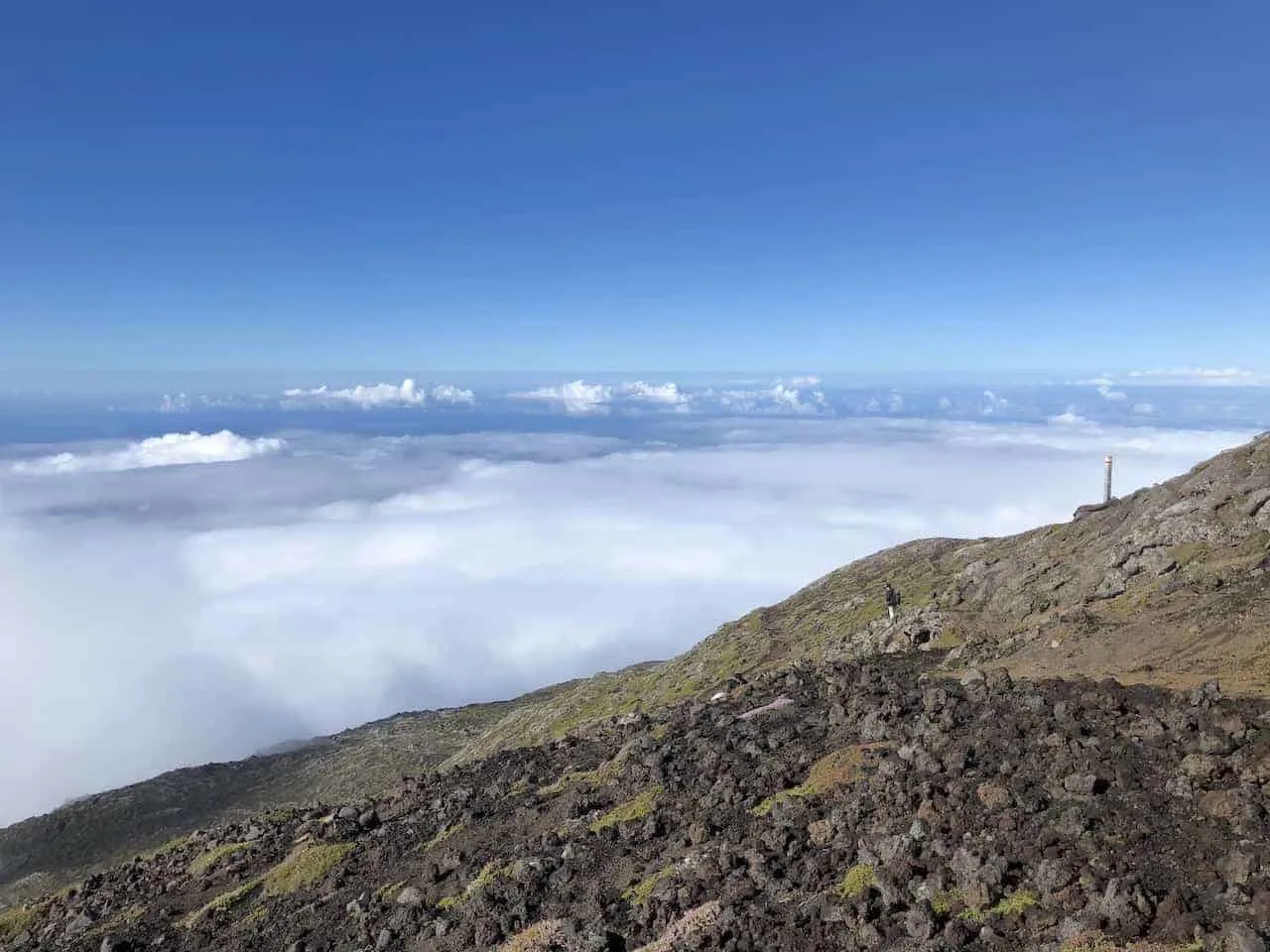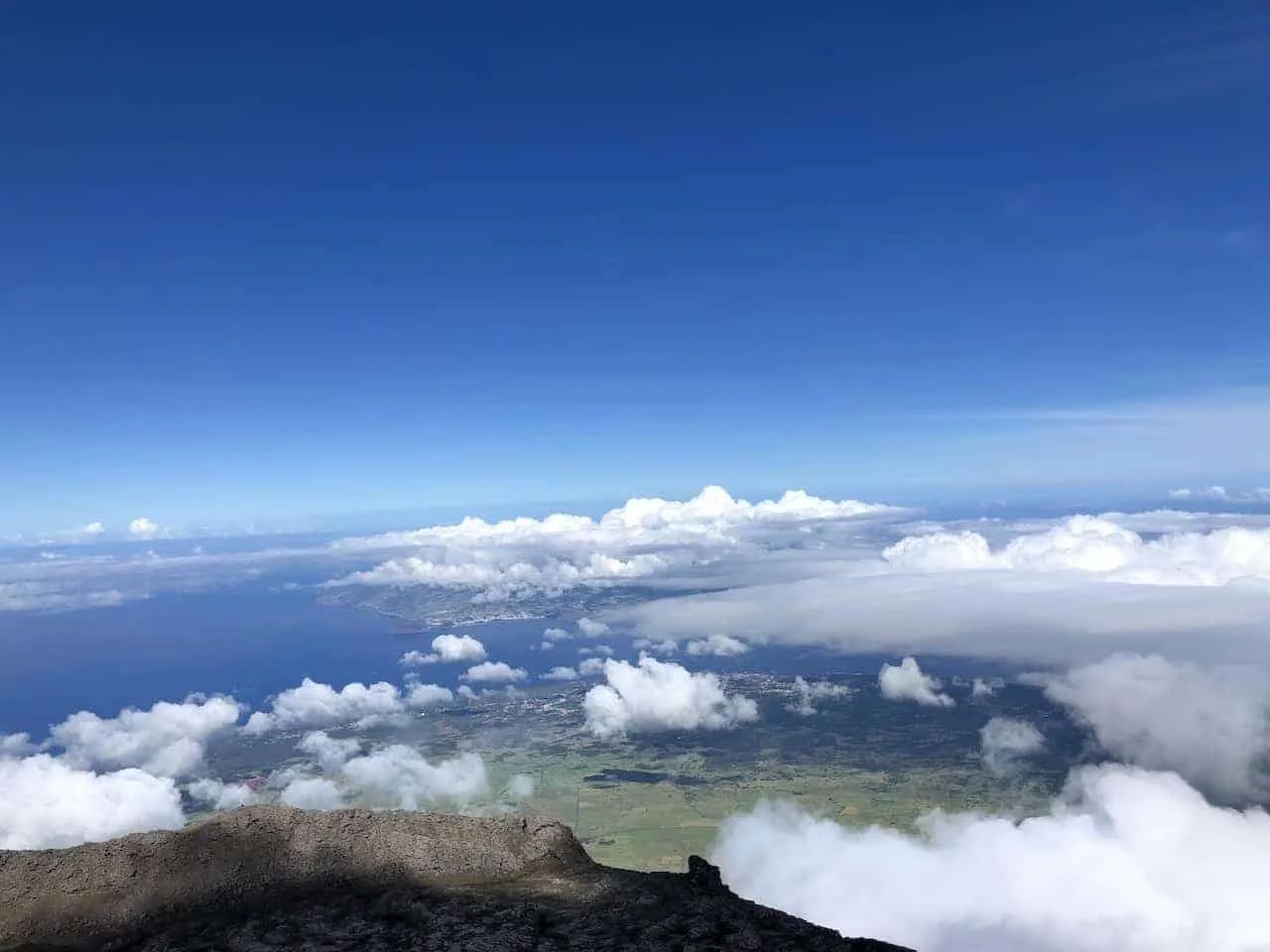 C) Day 3 Options – Hike / Caves / Whales
There are a few unique activities to take part of on day 3 in Pico. Depending on your travel style you probably can fit in two of them in one day.
If anything, it gives you some more ideas of what can be done on the island.
Hiking
The first choice is to take part of an incredible short hiking opportunity through the volcanic rock vineyards of Pico.
The Vinhas da Criação Velha hike starting point, is about a 10 minute drive from Madalena and will take you about two hours to complete it.
Throughout the mostly flat trail, you will be weaving your way in and out of the Pico vineyards with Mount Pico out in the distance.
» Learn more in the Vinhas da Criacao Velha Hiking Guide!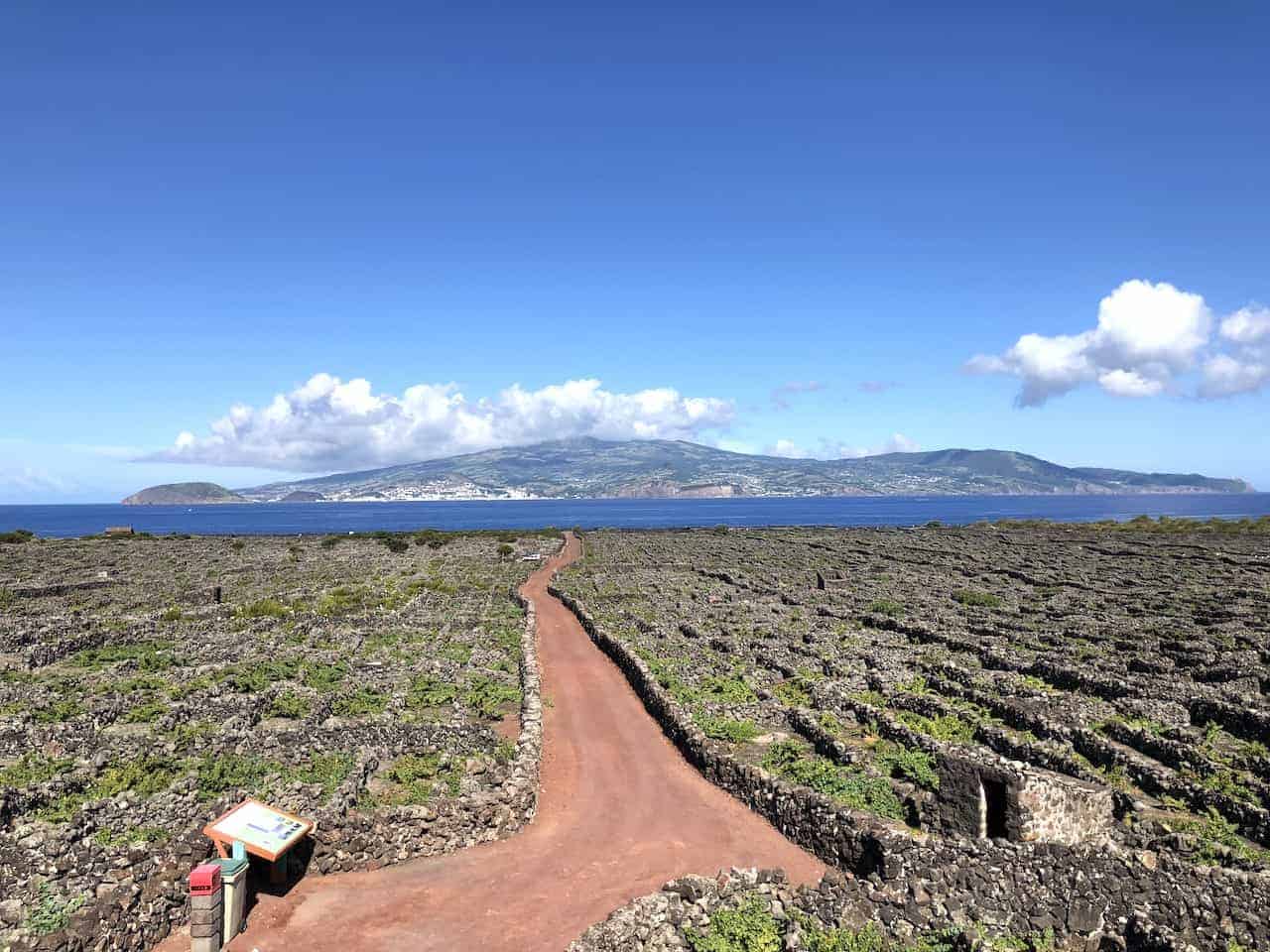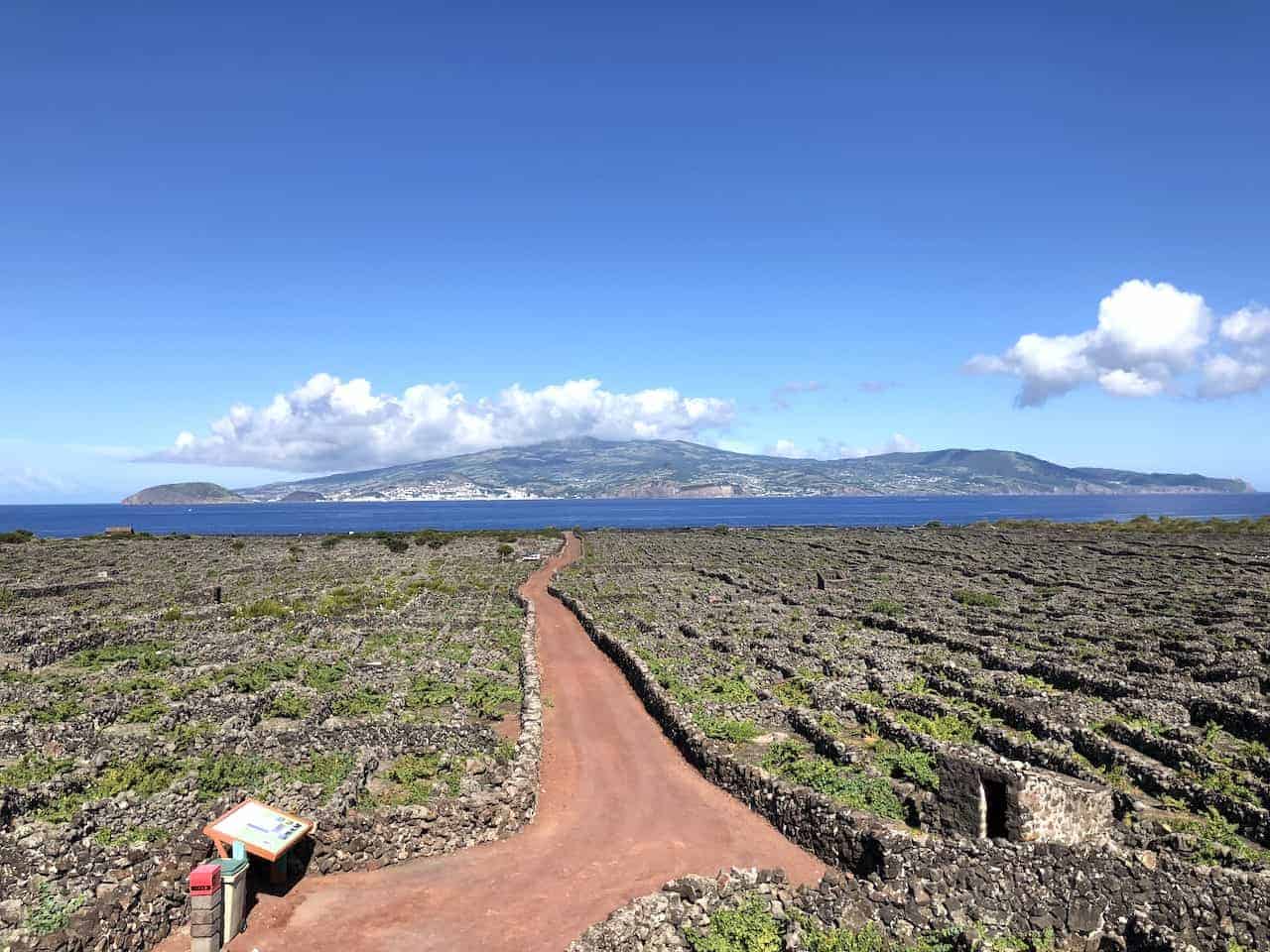 If you do opt for the trail note that it is a one way hike ending back up in Madalena. You would need to get a taxi driver to get you to the starting point (around 10 Euro).
Caving
Another unique offering that Pico has is caving. There is the famous Gruta das Torres caves – also a quick drive from Madalena, where you can go with a guide and explore the inside of a Pico cave system.
Note though that you must book this in advance as spaces are limited for each guided tour.
Whale Watching
A third option here is to go whale watching out on the water. The area around Pico is known for its vast amount of whales that make it through the waters year round.
Taking part of a tour (either from Madalena or Lajes Do Pico) is sure to be an experience.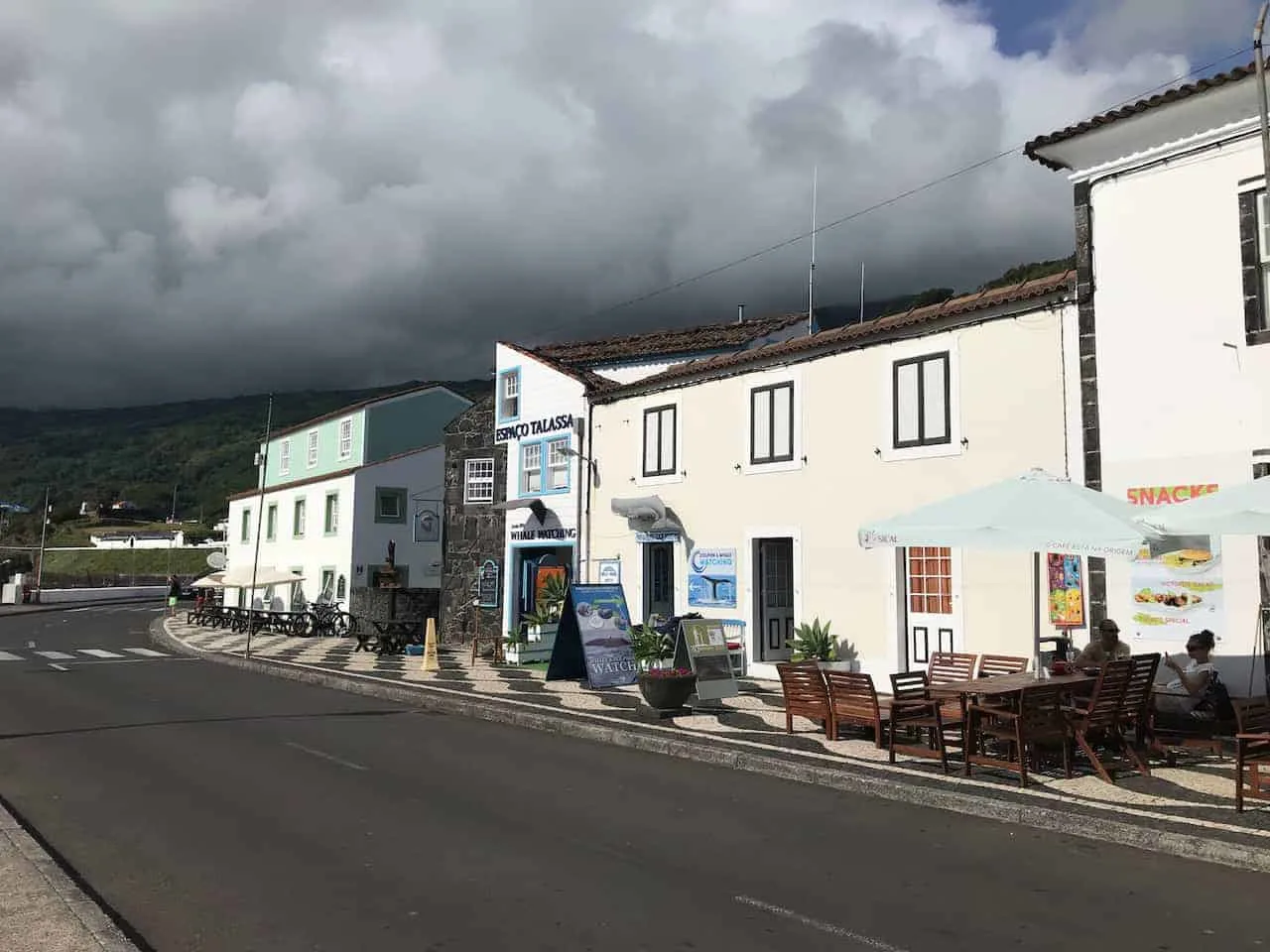 9) Day Trips
Just because you are on Pico does not mean you need to only explore Pico!
If you have more than 3 days or would like to swap a day or two out from the above, you can make the day trip to the nearby islands of Sao Jorge or Faial.
A) Sao Jorge
Located approximately 11 miles north of Pico lays the island of Sao Jorge.
It is home to the beautiful port town of Velas, plenty of natural swimming pools, and one of my favorite hikes in the Azores: Serra do Topo – Caldeira do Santo Cristo – Fajã dos Cubres.
To learn more about the Serra do Topo hike check out the Sao Jorge Hiking Guide
Getting to Sao Jorge is no problem at all. Hop on a ferry from either Sao Roque or Madalena to Velas and you will arrive in about 60-90 minutes.
You should note however that the ferries to Sao Jorge change each day and outside of summer season get more and more infrequent.
If you are heading to Sao Jorge in the summer there should be at least one ferry per day going back and forth (9-10AM outbound / 8-9PM inbound).
Once you arrive there, hop in a taxi and head out to the hike if you are interested in doing so, or have the driver take you to other highlights of the island such as Faja do Ouvidor.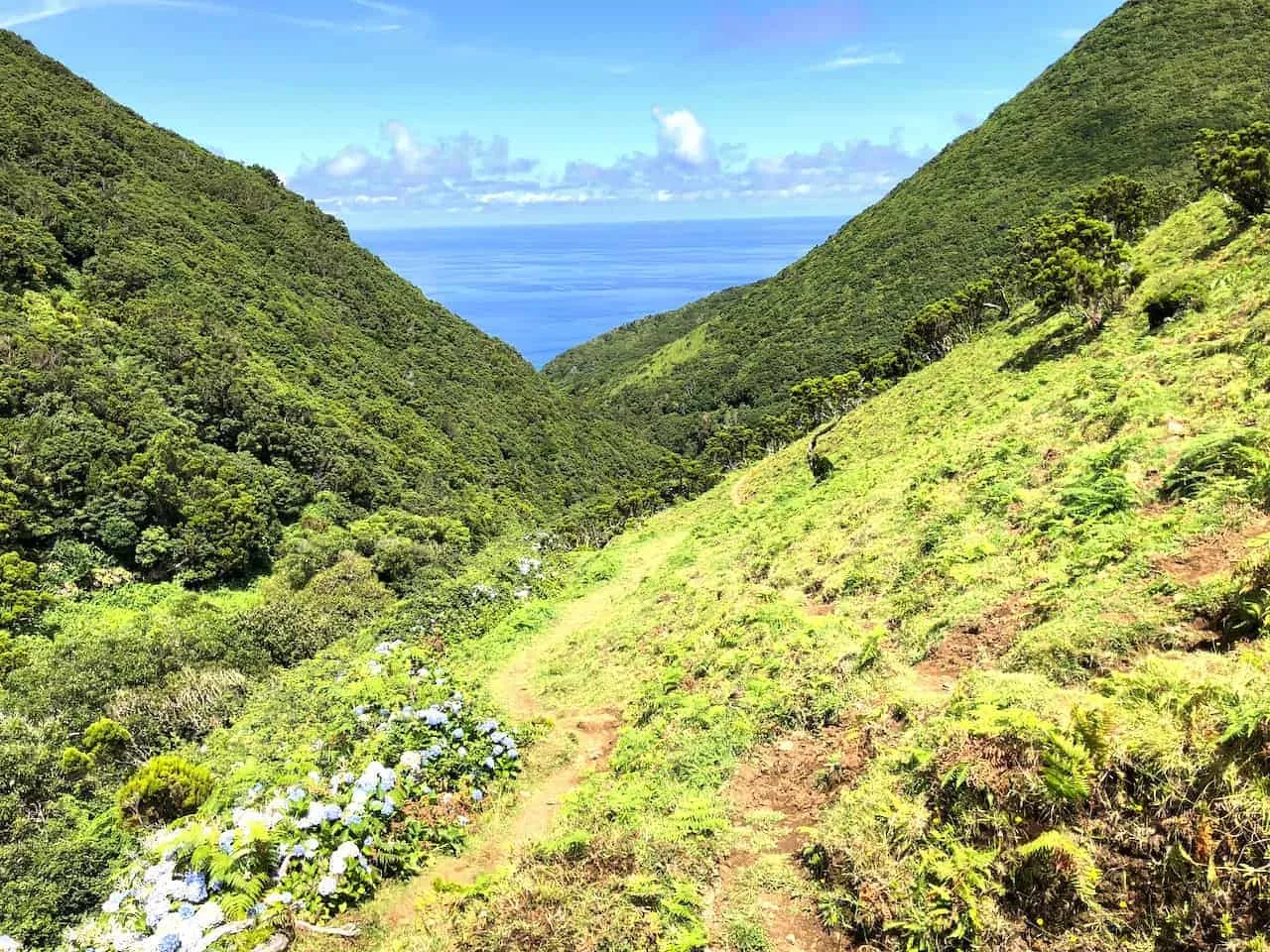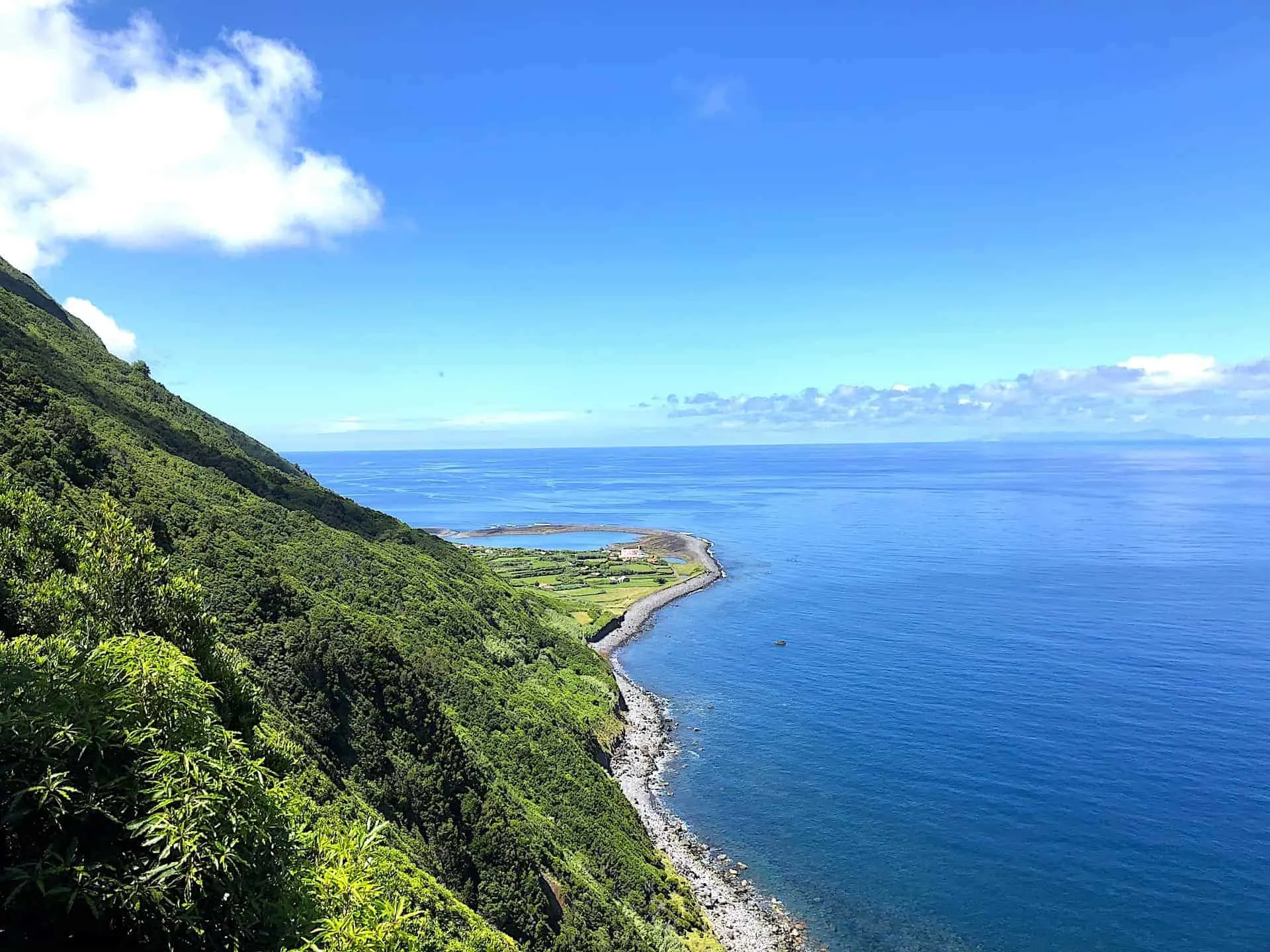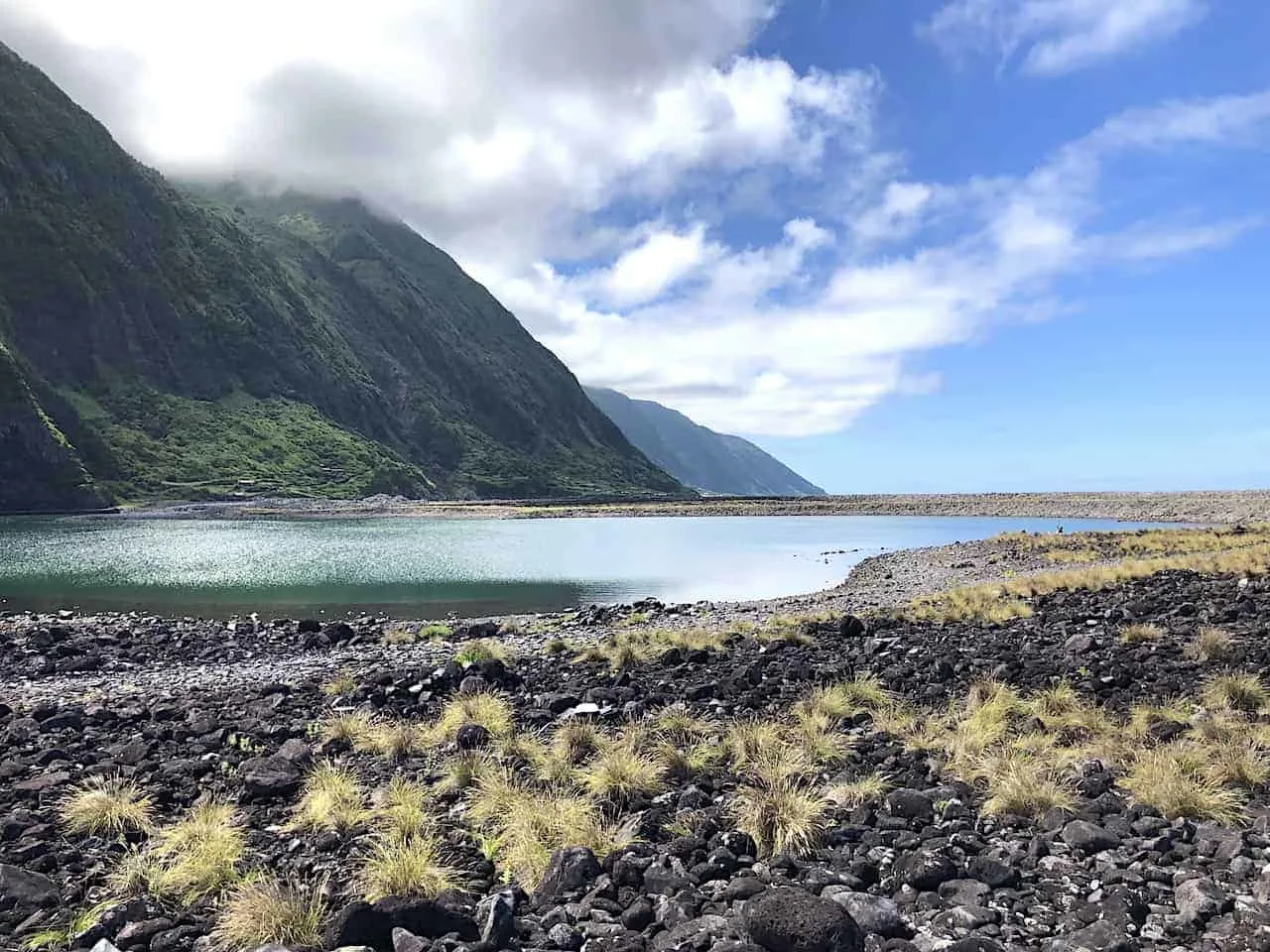 B) Faial
Your second day trip option is to the island of Faial.
Located less than 30 minutes across the way from Madalena, Faial is a great place to visit if you have the time.
You can explore the island by taxi or rent some scooters for the day. Some highlights will include the massive Caldeira in the center of the island, the Capelinhos volcano formation, natural swimming pools, and the lively town of Horta.
Since Faial is a much quicker ride, there are many more ferry options going back and forth throughout the day. You can spend just a few hours there or spend the entire day – its up to you!
I put together a Guide to Faial Island that goes into more detail about what can be done on the island.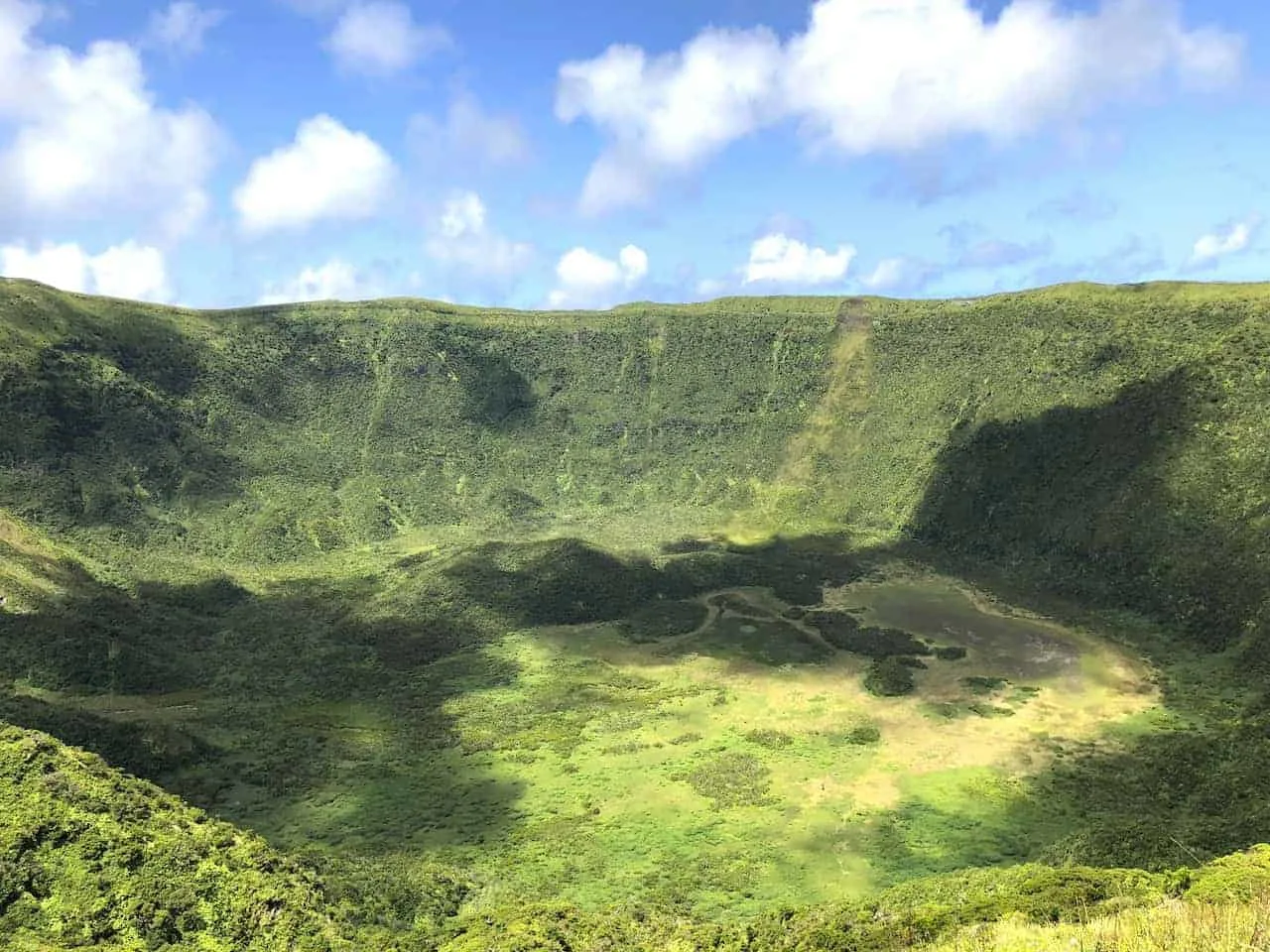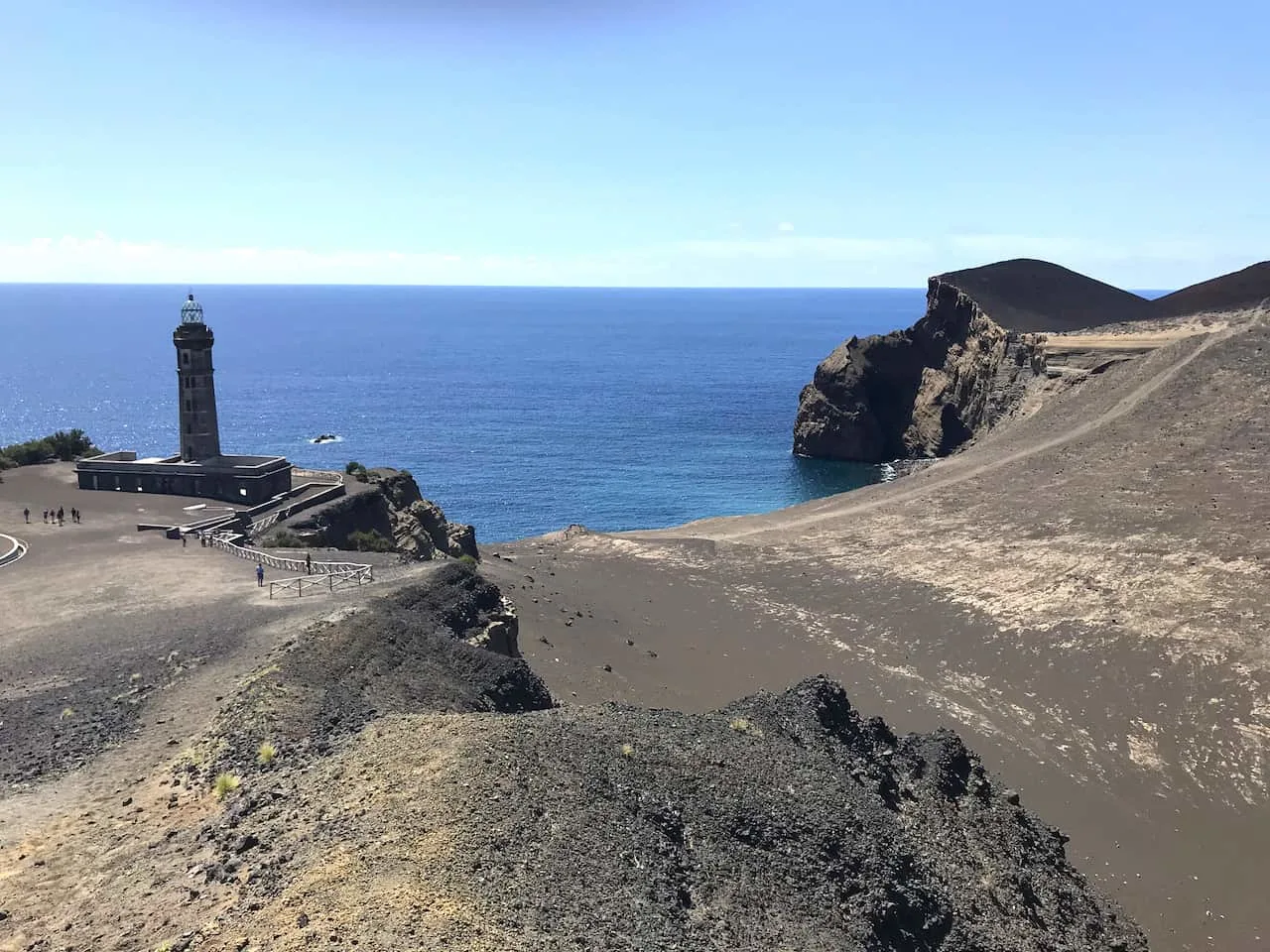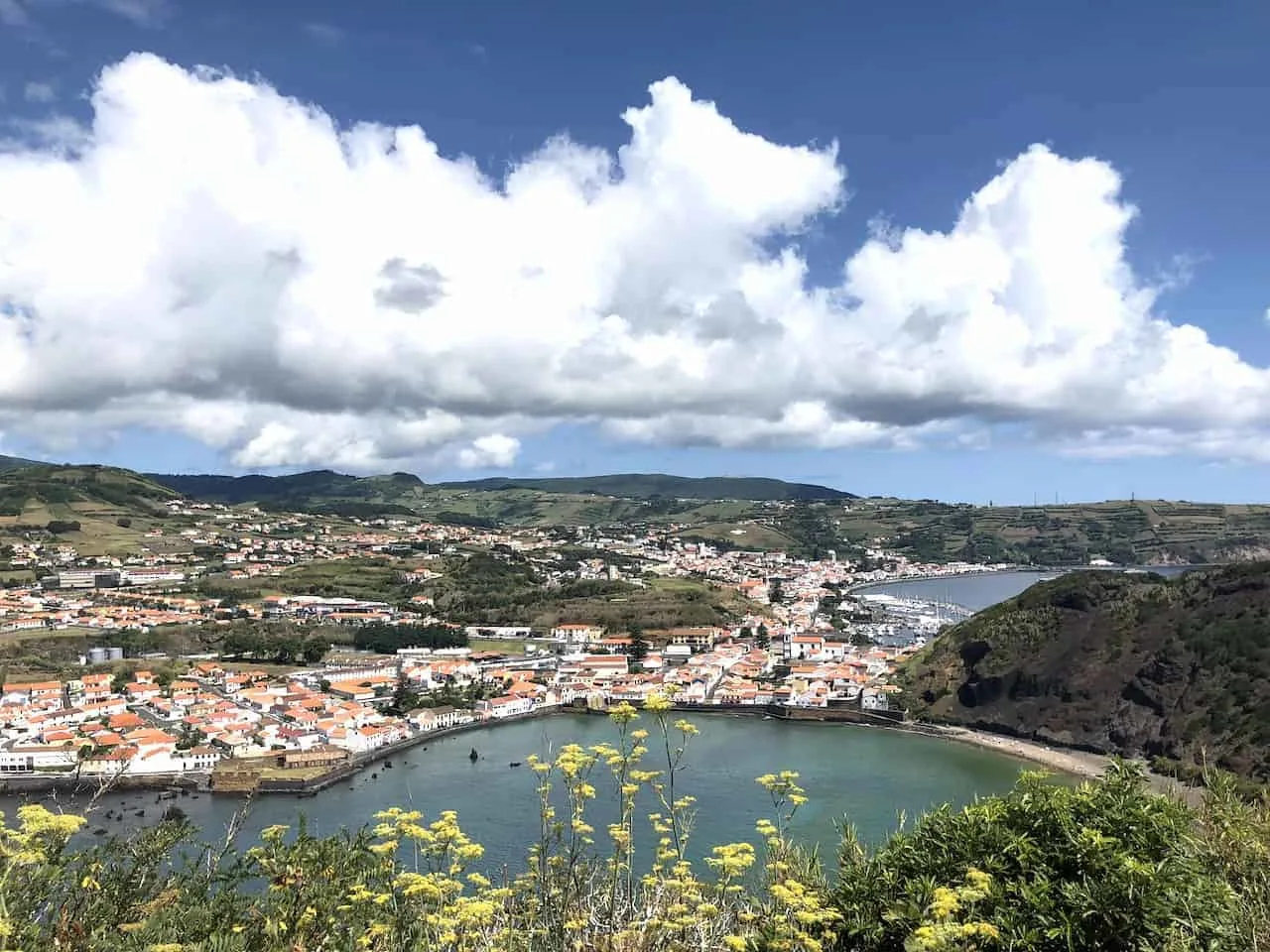 Pico Azores is an incredible place to visit and no matter how long you have there, you are sure to enjoy the beautiful scenery all around the island.
I hope this travel guide has helped you out and answered any questions you may have had along the way.
If you want to learn more about the Azores check out the Azores itineraries and guides I have up on the site. Feel free write in any questions or comments below. Safe travels!