Looking to get in some Mount Pico views while hiking through the volcanic stone walled vineyards of Pico Island in the Azores?
Well, there is one hike that is sure to offer everything you are looking for – the Vinhas da Criacao Velha Trail.
This guide will go over how to take part of the hike on your own and what to expect along the way.
* Affiliate Disclosure: This post may contain affiliate links, which means I may receive a commission if you make a purchase through the links provided, at no additional cost to you. Thanks for supporting the work I put into TripTins!
1) Vinhas da Criacao Velha Background
Below are some important facts to know about the Vinhas da Criacao Velha trail so you have a better overview of the layout of the hike itself:
Trail Name: Vinhas da Criacao Velha
Trail #: PR5PIC
Starting Point: Porto do Calhau / GPS: 38° 29′ 12.14″ N 28° 32′ 19.00″ W
Ending Point: Madalena
Distance: 6.9 KM / 4.3 Miles
Duration: 2 Hours
Trail Type: One Way Hike
Trail Terrain: Pavement / Packed Dirt
Elevation Gain: ~ 100 Meters / 328 Feet
Difficulty: Easy
It is important to note that this is a one way hike.
You will start right near Porto do Calhau in the village of Candelaria and then make the zig zagging route through the vineyards and finally ending at the outskirts of Madalena town.
The trail is pretty flat all throughout, making it a perfect option for all to take part of.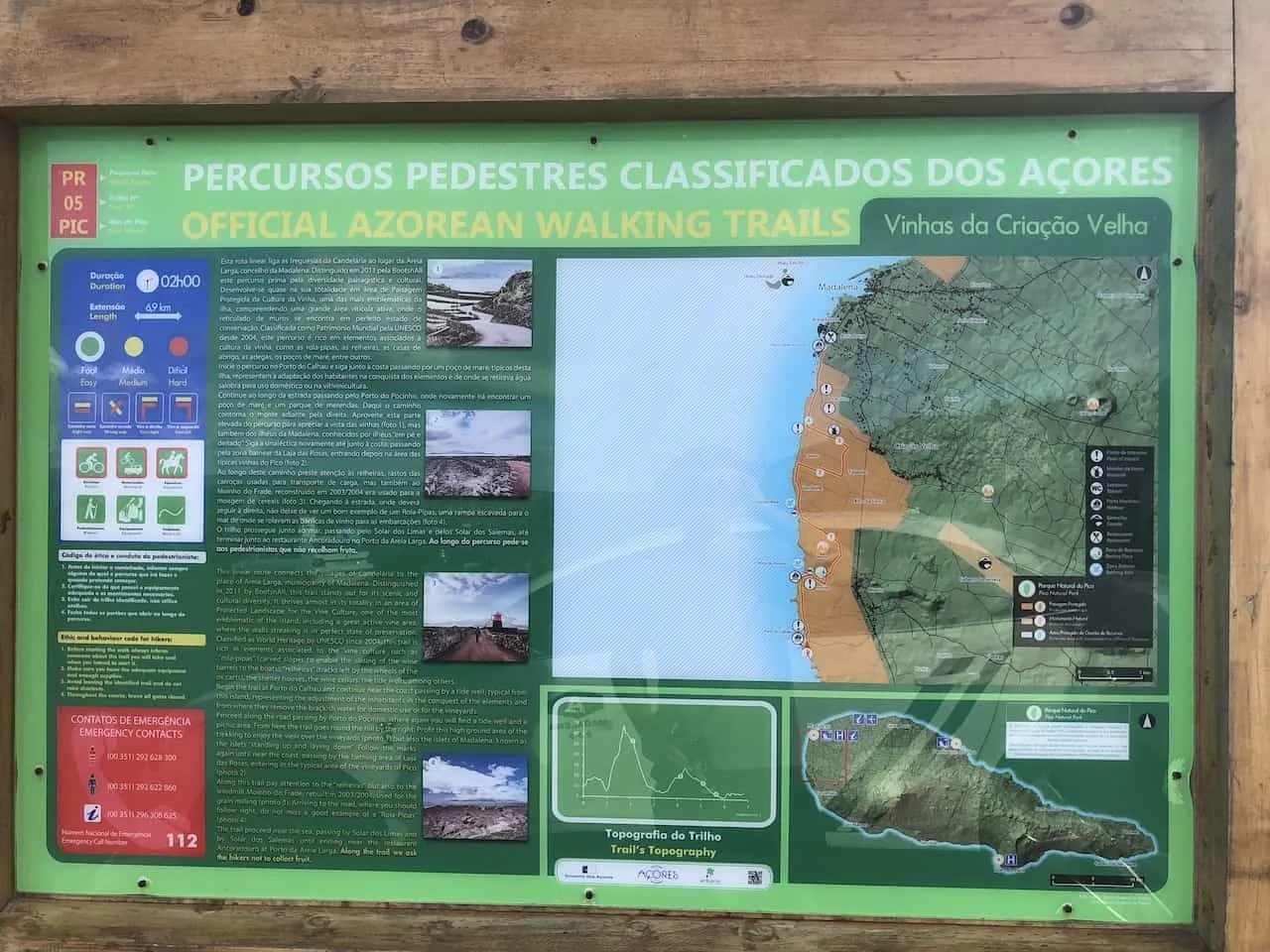 2) Vinhas da Criacao Velha Map
Below you can see the official map of the Vinhas da Criacao Velha hike courtesy of Visit Azores. As you can see, you will start the hike on the bottom and work your way up towards Madalena.
Throughout the hike you will make a few turns, which will all be marked by the red and yellow arrows. As long as you follow those markers, you should have no problem getting yourself to Madalena.
3) Getting to the Starting Point
Since this is a one way hike, you will be starting in one place and ending in another. My advice here would be to take a taxi to Porto do Calhau (your taxi driver should know the starting point since it is a known hike) and then begin the walk back to Madalena from there.
A taxi should cost around $10-$15 USD from Madalena and will only take 10 minutes. To find a taxi driver though, I would advise to call one of the several official Pico drivers ahead of time.
You can find a whole list of them on the Pico Taxi Website. If one doesn't answer, simply move on down the list. If staying at a hotel, you can also have them set this up for you.
If you have your own car, you could technically drive to the starting point, leave your car there, and then cab back to the start once back in Madalena. I just think it would be easier altogether if you opt for the first option though.
» Alternatively, you could also take the local bus from Madalena heading south. You can get off at the Monte stop, which is about a 20 minute walk to the starting point of the hike. The bus costs less than a Euro, so is a great option for those on a budget.
Below is a Google Maps view of the drive from Madalena to Porto do Calhau.
If your driver is unfamiliar with where to go, simply type in the GPS coordinates 38° 29′ 12.14″ N 28° 32′ 19.00″ W and you should be on your way in no time.
4) Vinhas da Criacao Velha Trail
Once you have arrived at the starting point, you should see the official Azores Trail board and you will start off northbound from there.
The hike will begin on a regular paved road as you walk along the coast with Faial out in the distance.
Soon enough you will enter some of the vineyard area as you will be surrounded by volcanic stone walls that house the various grape vines.
It is a pretty unique site to see this labyrinth of lava stones with grapes being grown all throughout.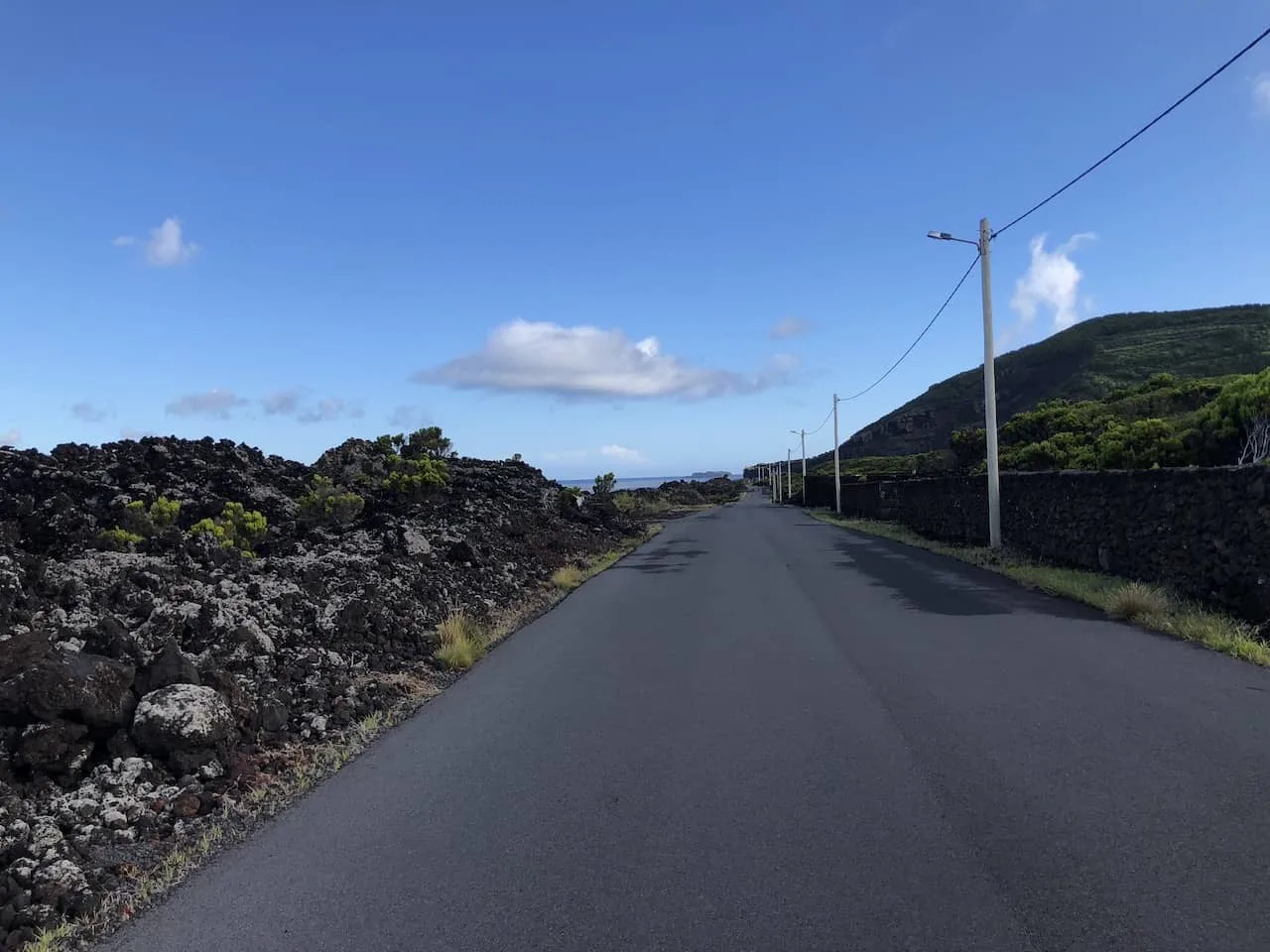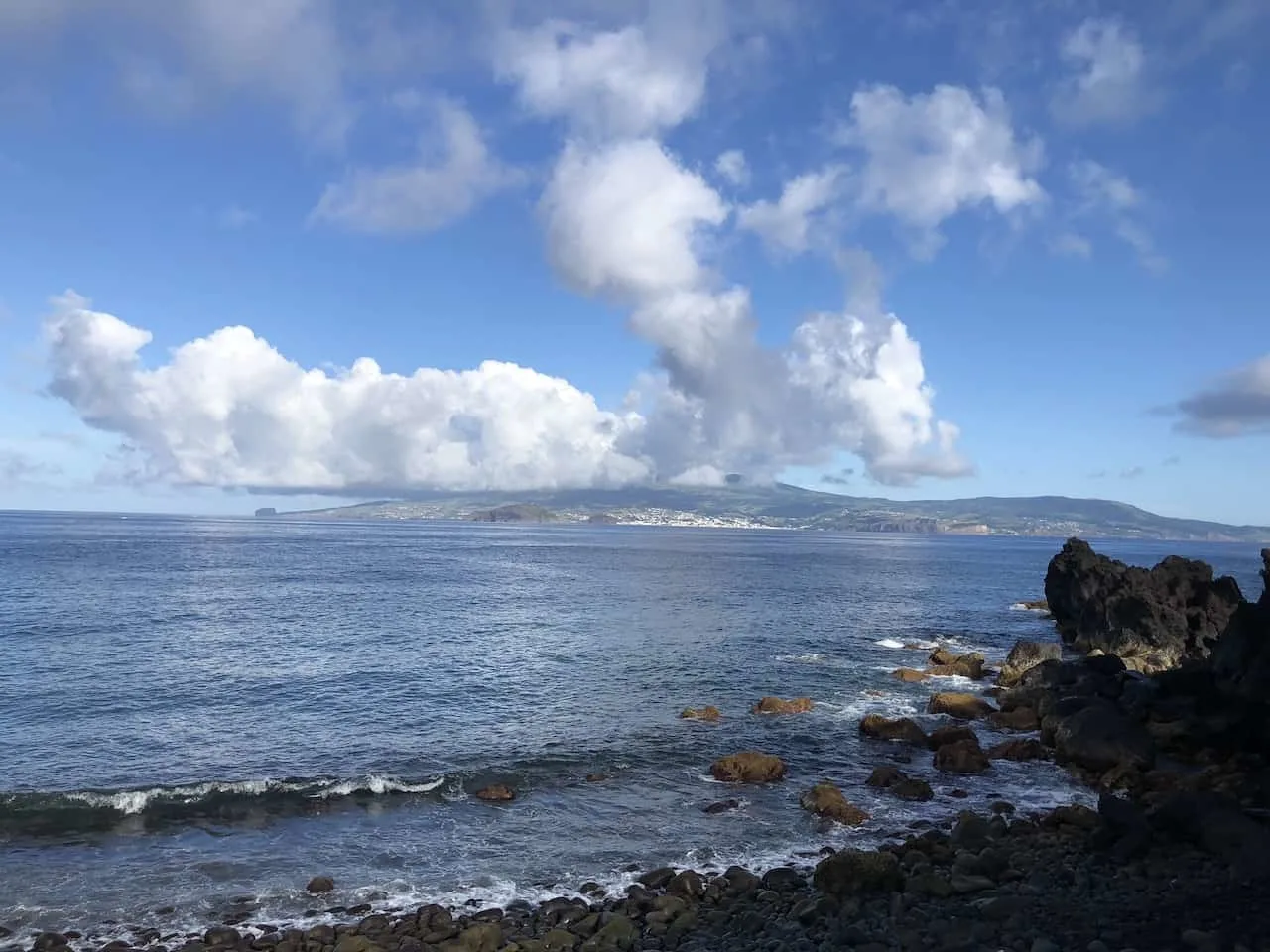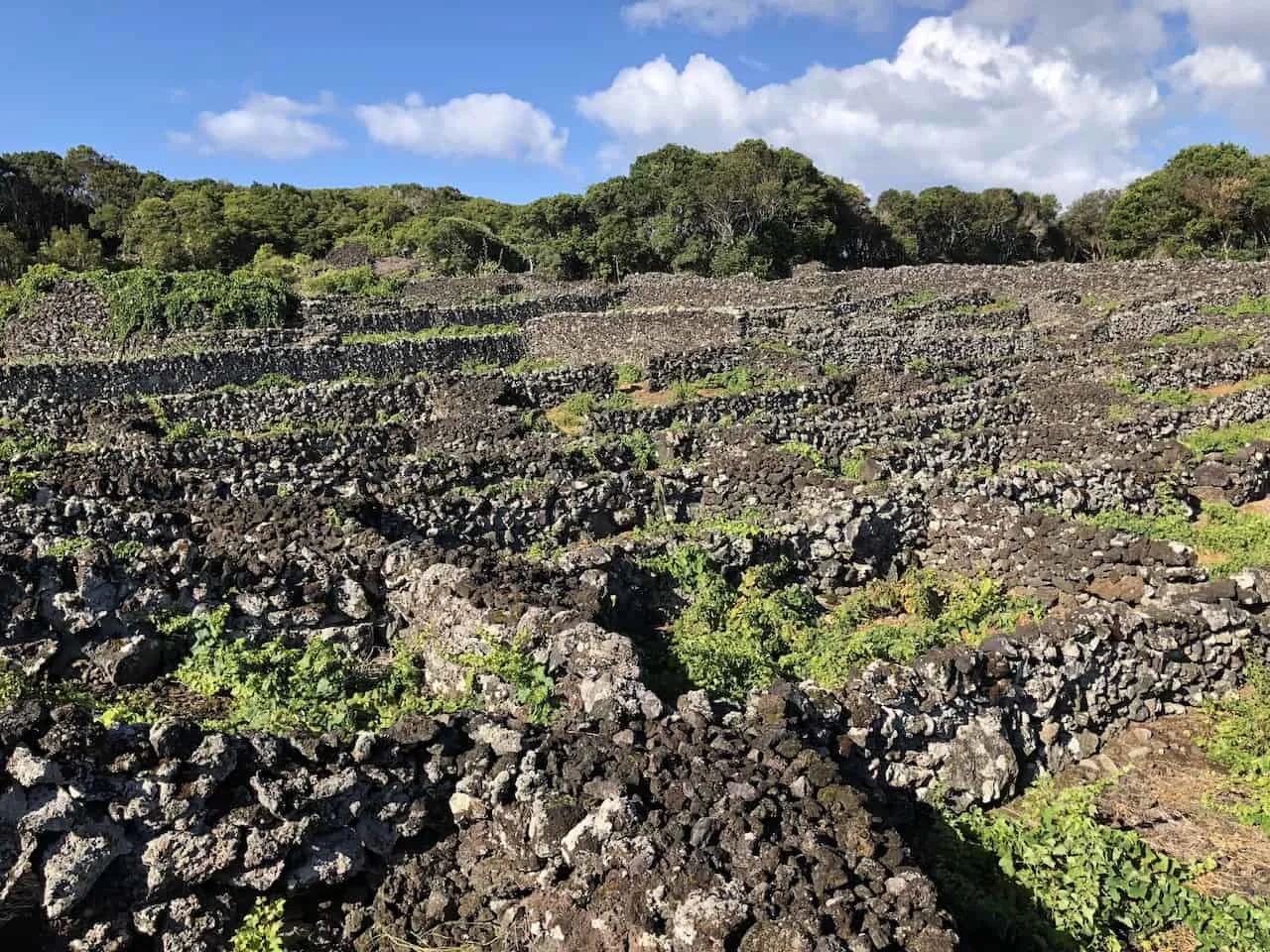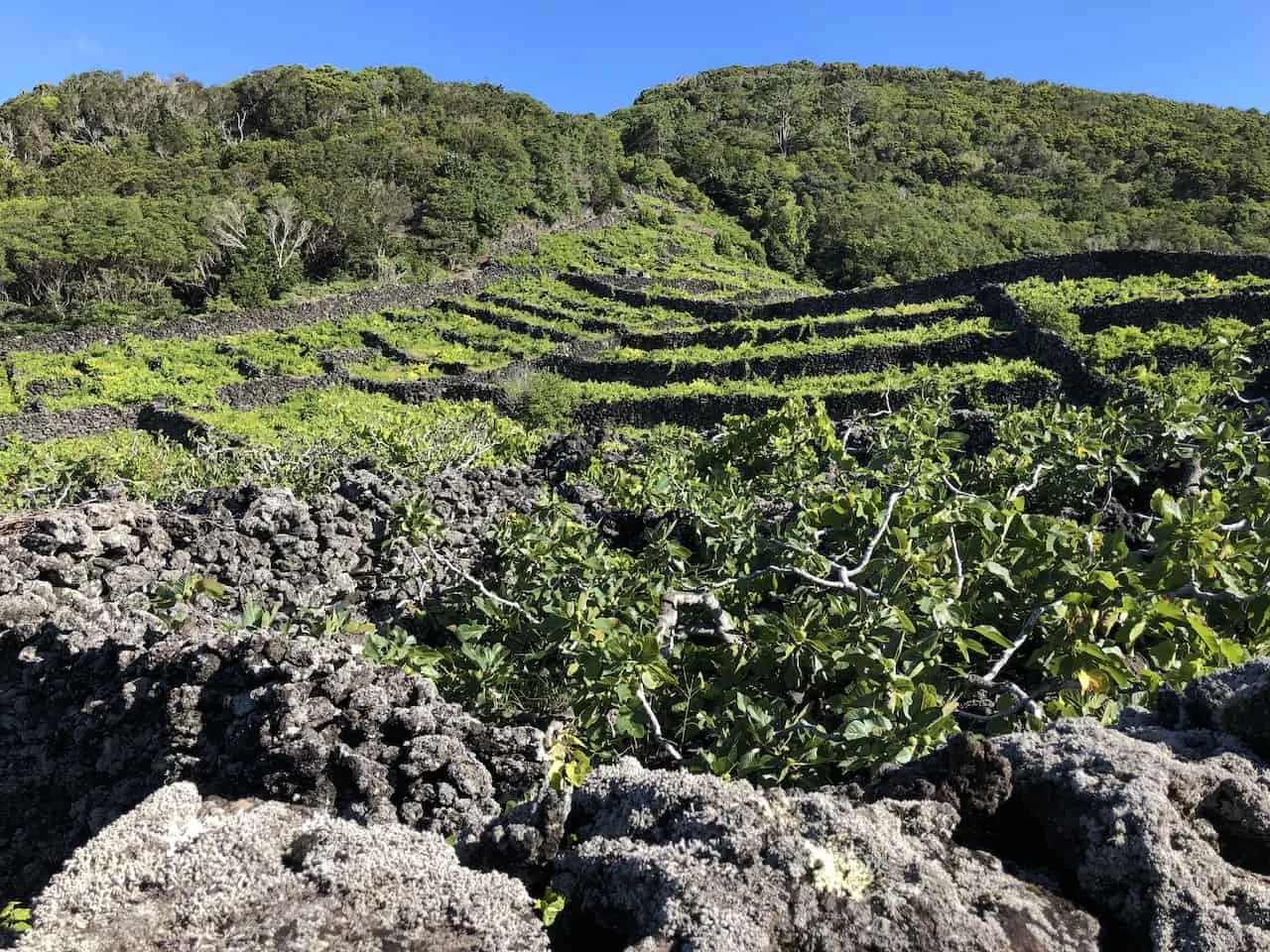 When you get closer to the water at some points, also be on the lookout for some natural swimming pools. You can take some time off hiking and can jump in and cool off for a bit.
Soon after one of these natural pools though, you will need to make a right hand turn off the main road into the vineyards themselves. Be careful not to miss the turn off point!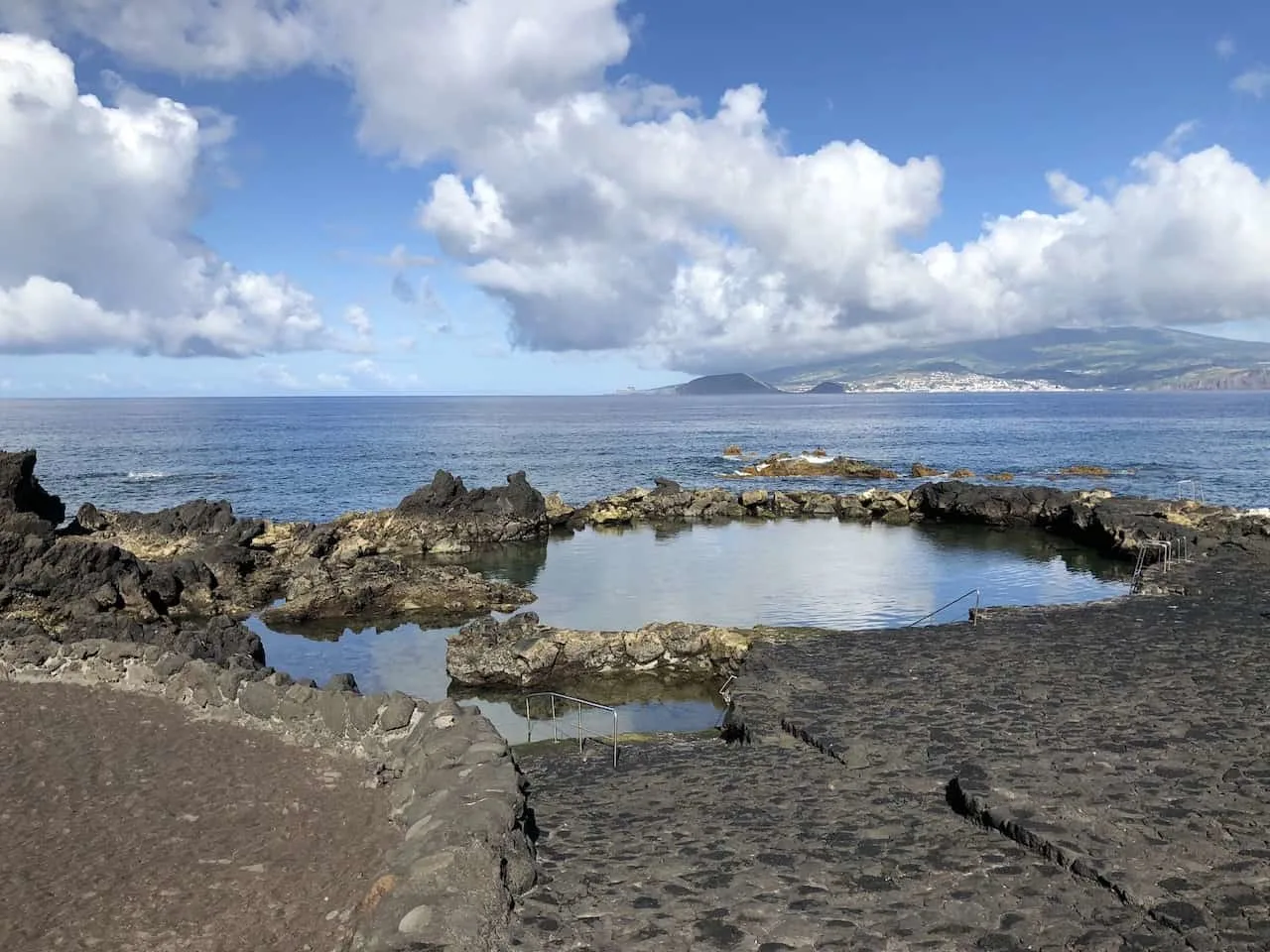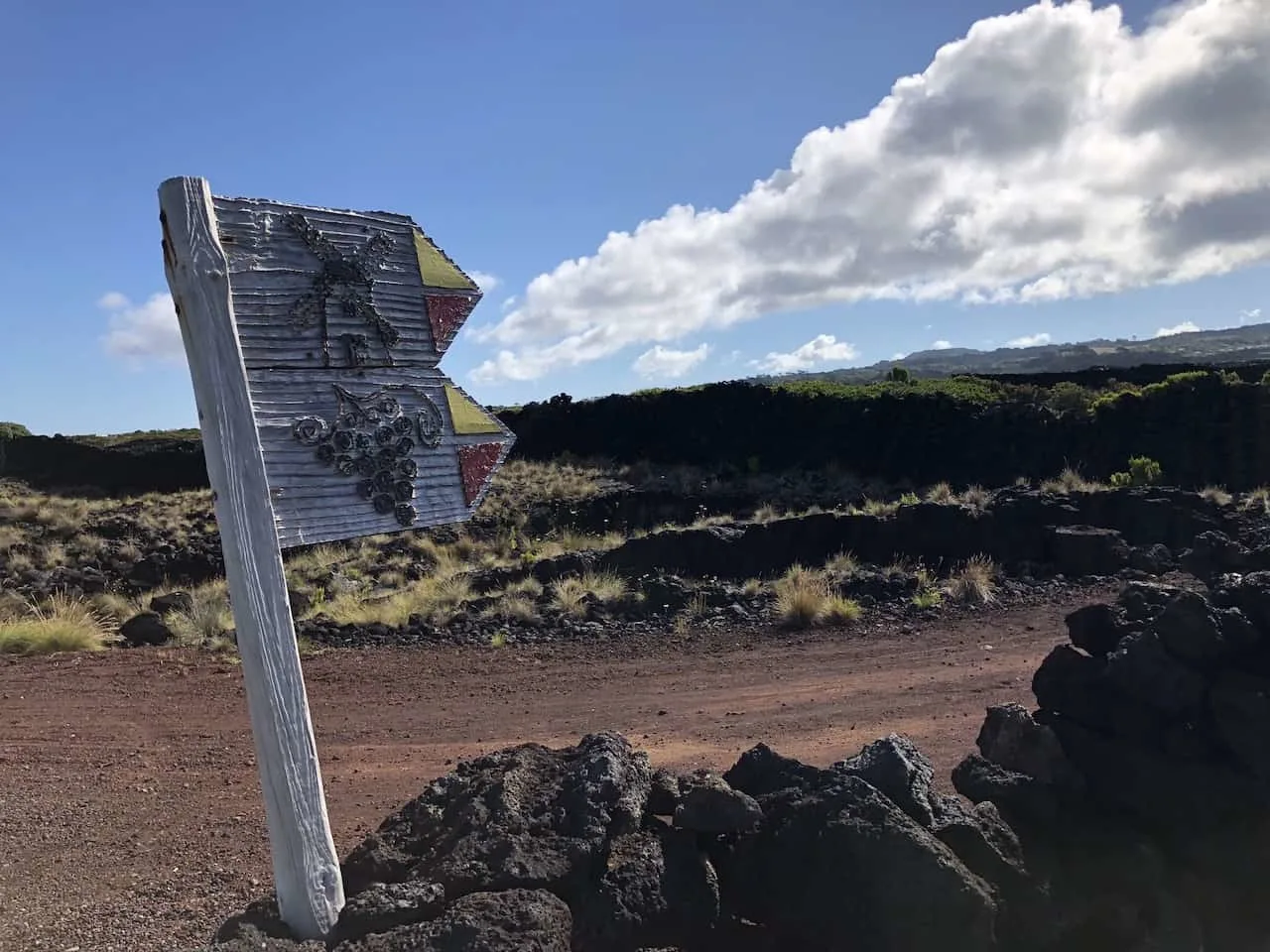 From here it is a beautiful walk through the volcanic vineyards with Mount Pico in one direction and the island of Faial out in the distance in the other.
Take some time to truly enjoy this portion of the hike and be sure to follow those red and yellow markers when making those turns.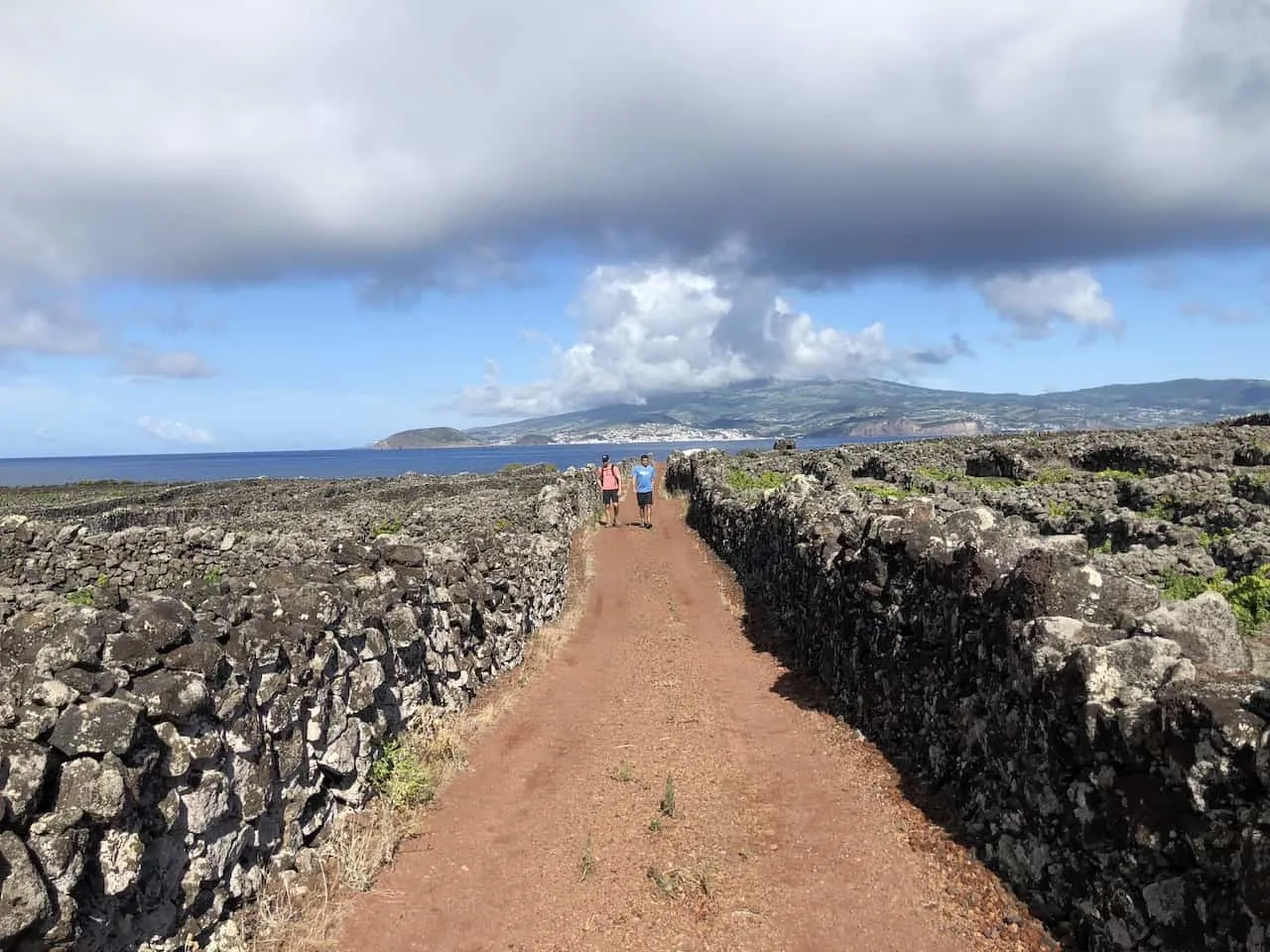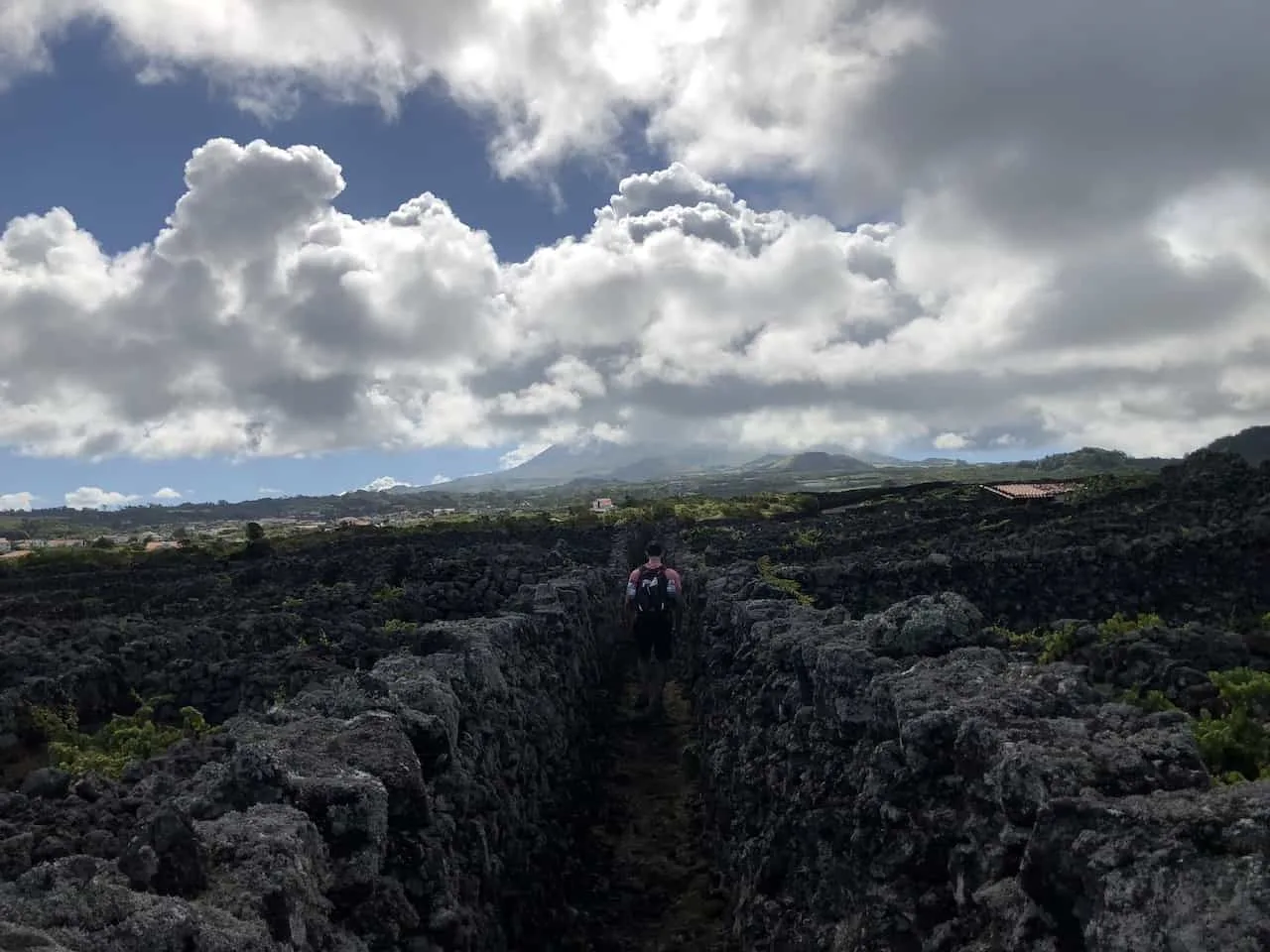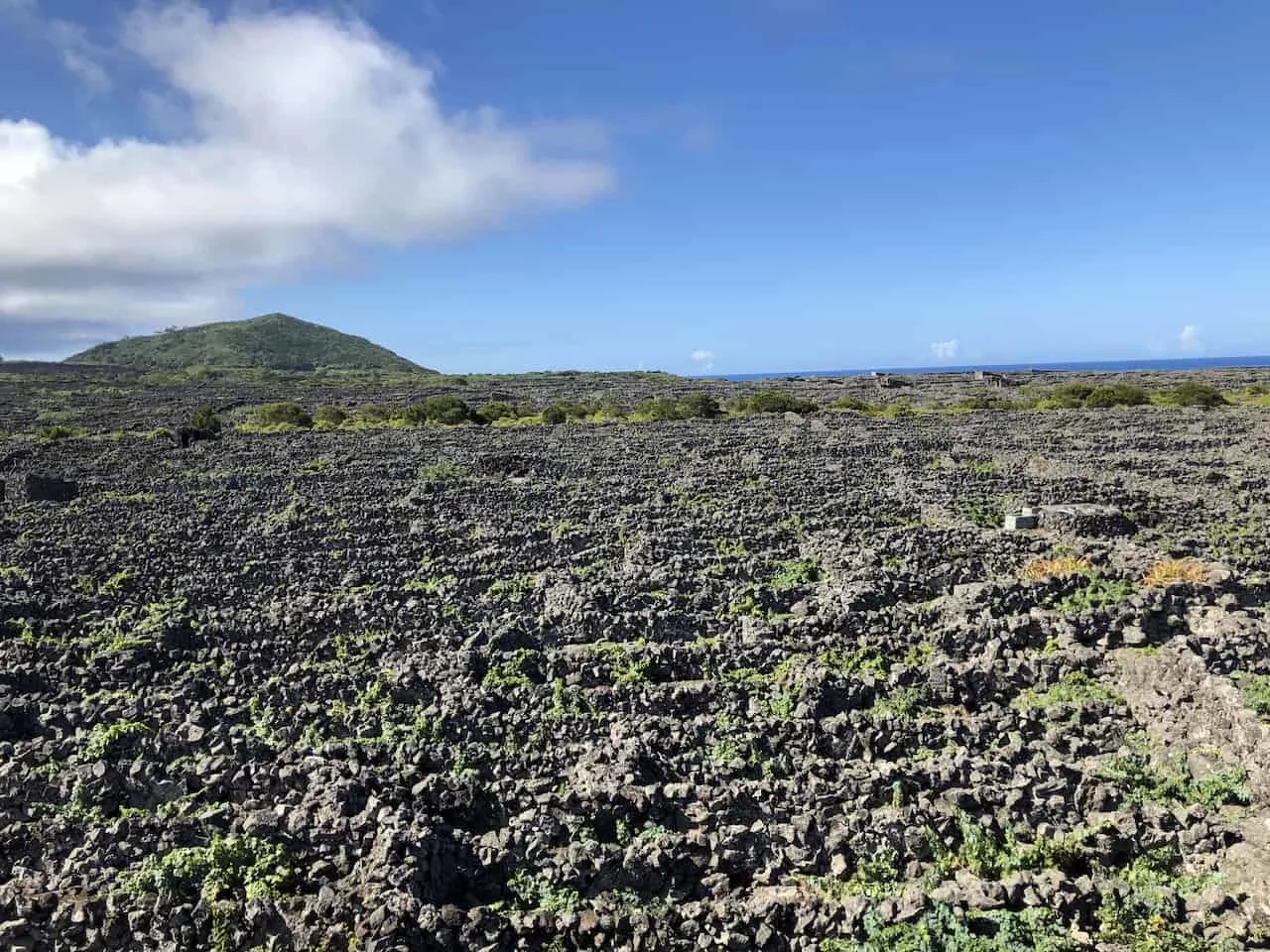 Eventually you will begin to approach the famous red and white windmill. You can actually climb on up into the windmill, where there is a small shop to buy some local products and try some of the grapes.
With that said, do not just take grapes off the vines throughout the hike. These are part of someone's property. Instead wait for the windmill, where you can buy some grapes for a few Euro.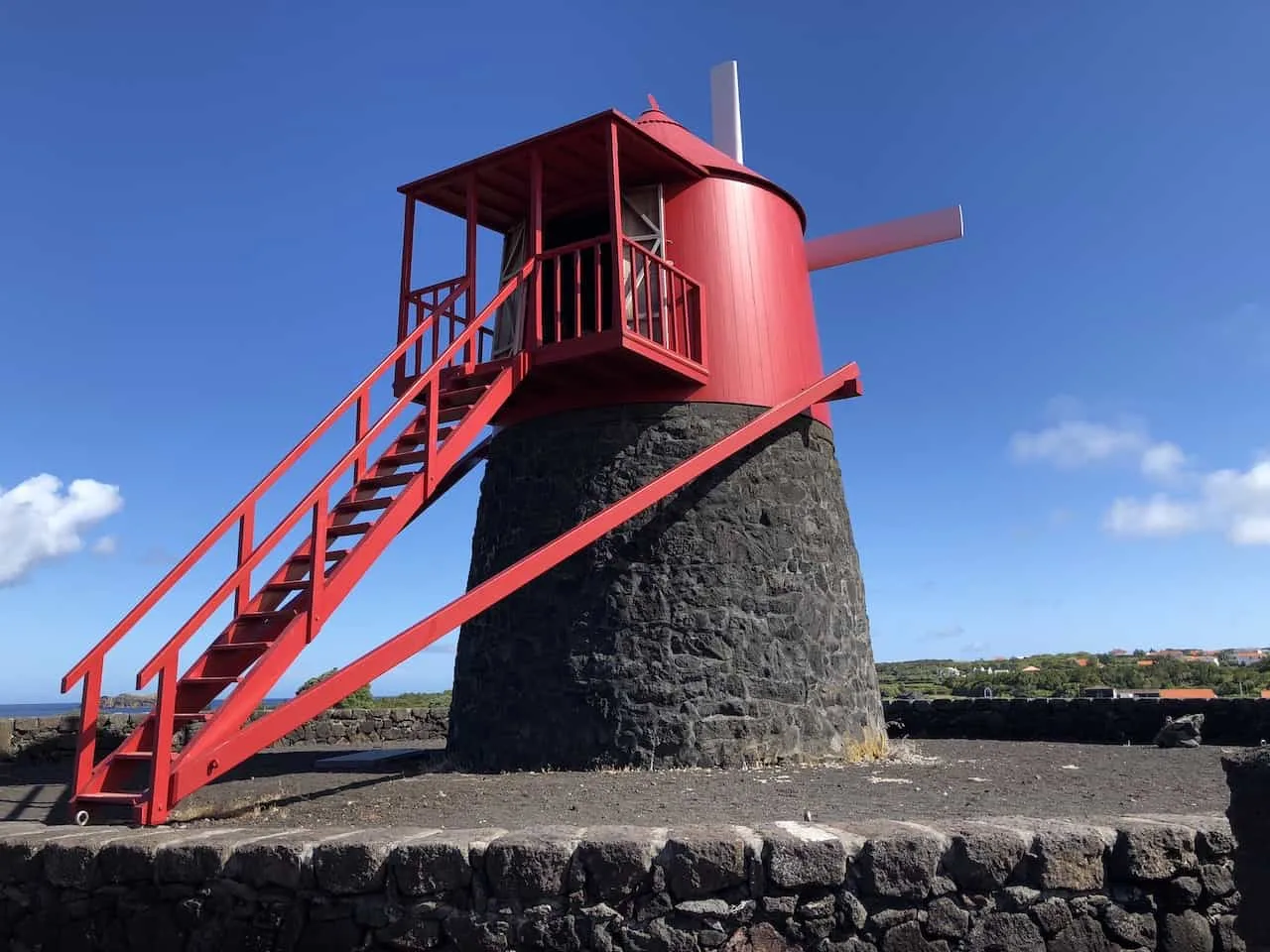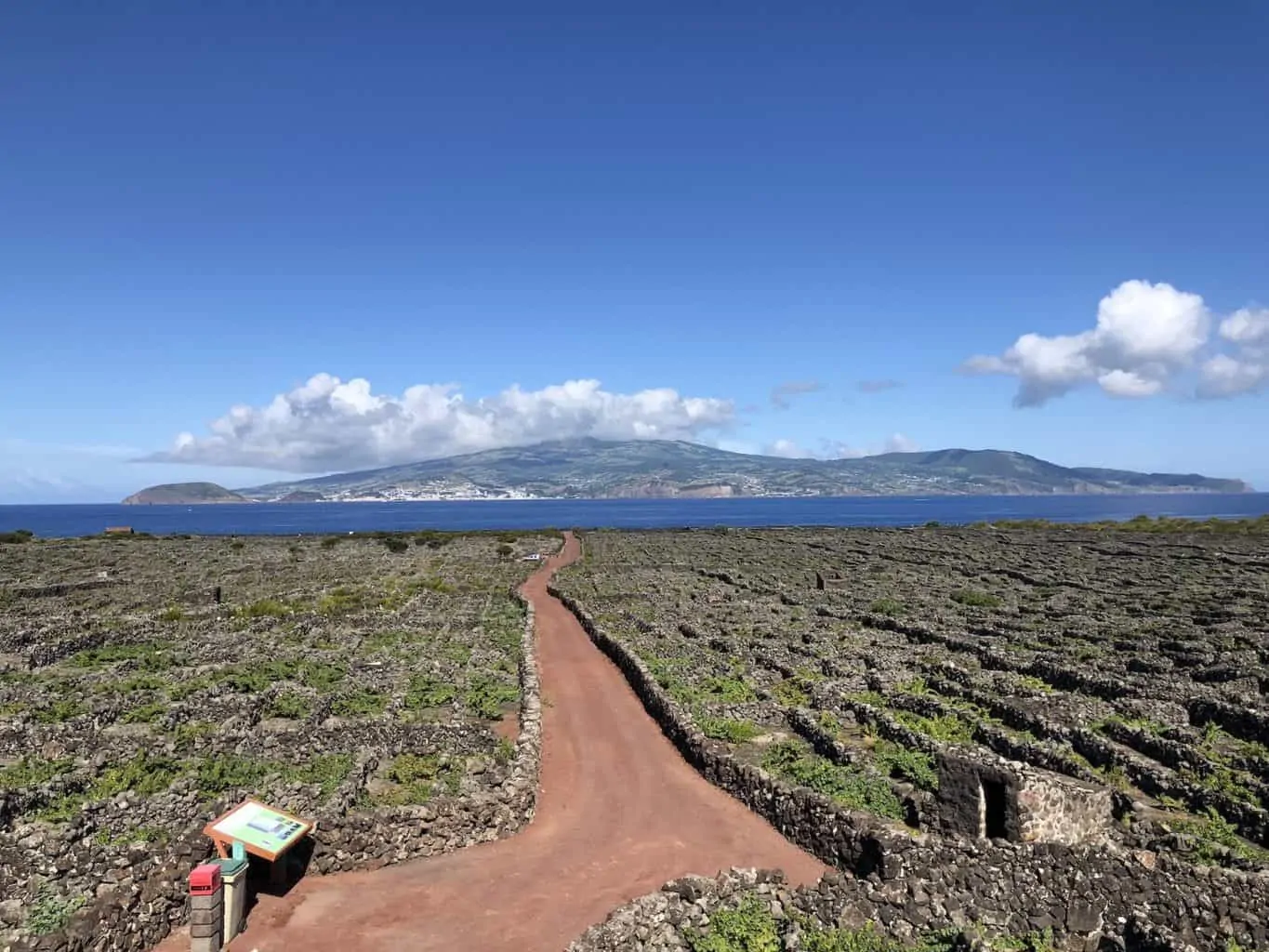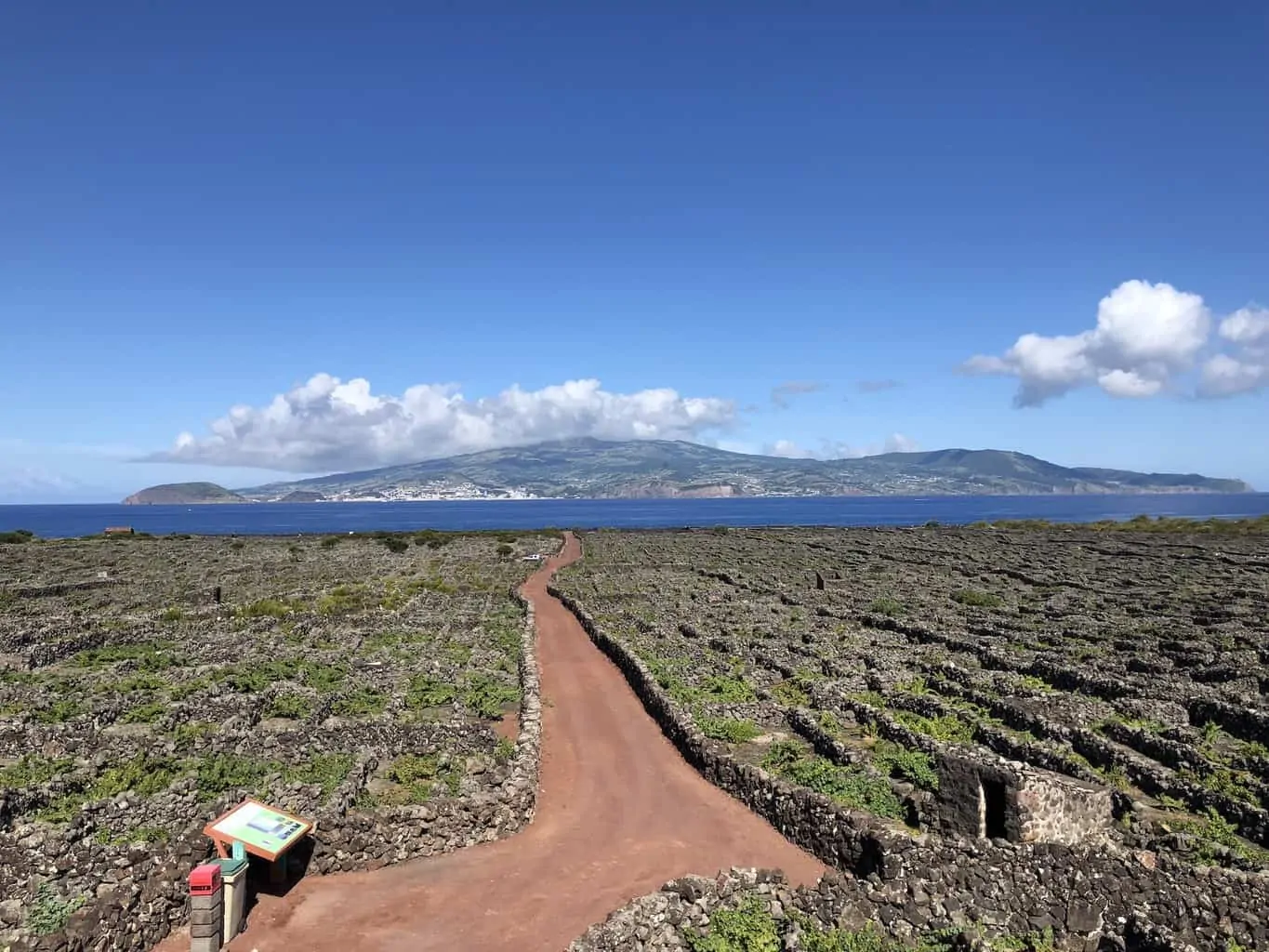 After finishing up with the windmill, continue along the path closer to the water and then make your last turn towards Madalena to end your time on the Vinhas da Criacao Velha trail.
» If you are visiting mainland Portugal and are interested in some vineyards, be sure to check out the Douro Valley!
5) Ancoradouro and Wine Cooperative
Now that you have hiked through the vineyards, it is time to enjoy some local wine and food. On the way back into town you will pass by two places worthy of a stop.
The first is Ancoradouro, a high rated local restaurant that has some of the best food on the island.
The second is the Pico Wine Cooperative that many of the vineyards are part of. Head on in for a tour of the facility as you learn a bit more about the wine making process and enjoy a wine tasting.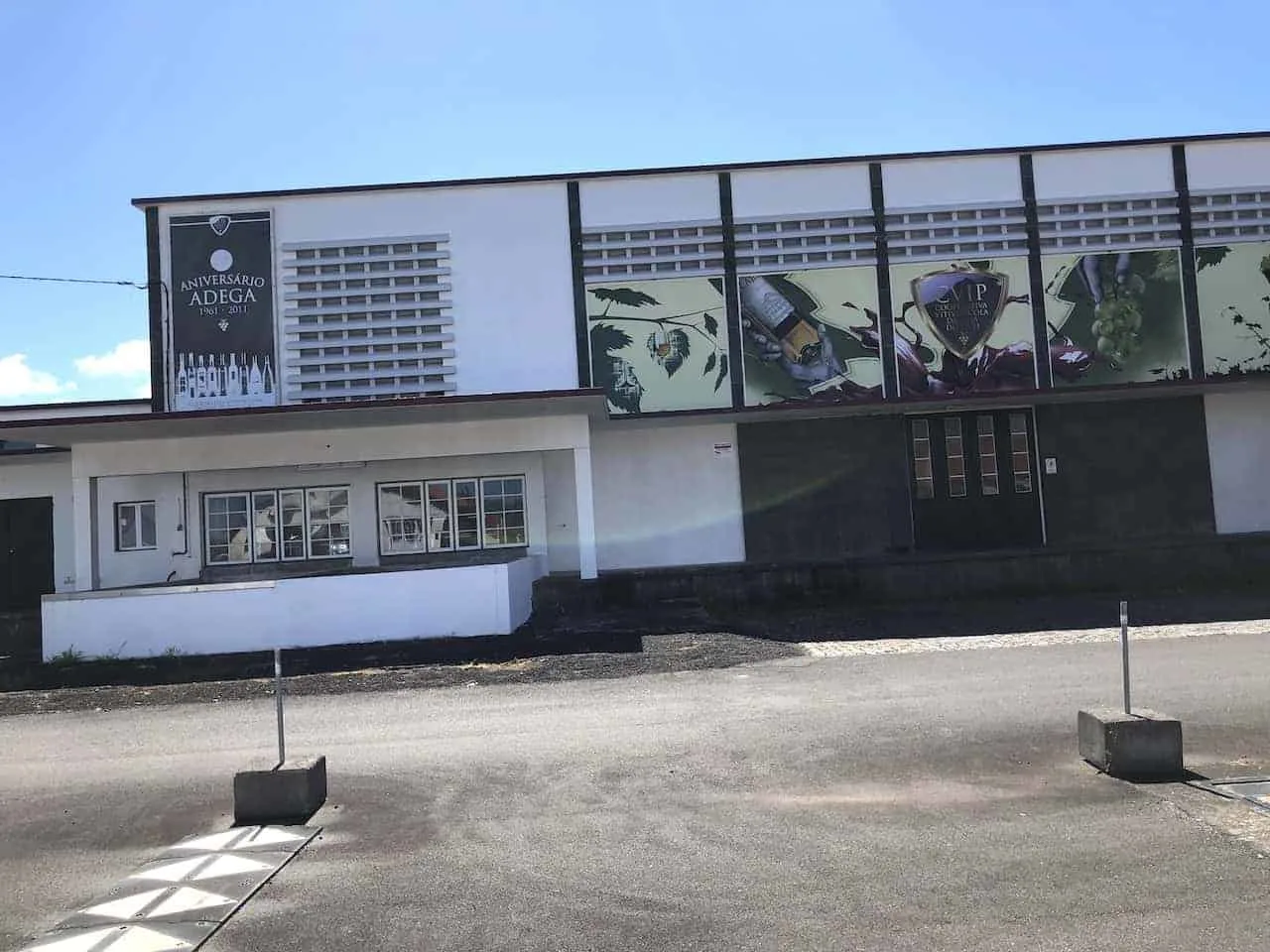 6) Where to Stay in Pico
For your time in Pico I recommend staying right around Madalena (especially if you do not have a car), or Sao Roque on the northern end of the island.
In these two towns you will find the most options along with a good variety of restaurants to choose from.
Feel free browse through Booking.com for some highly rated accommodations or take a look at Airbnb.
Here are some highly rated and valued accommodation recommendations for Madalena and Sao Roque:
Madalena: Calma do Mar | Jeiroes do Mar
Sao Roque: Pico Dreams | Aldeia das Adegas
Well then, I think that about wraps up a guide to the famous Vinhas da Criacao Velha trail on Pico Island in the the Azores. I hope you are now better prepared to hit the trail yourself!
» If you are looking to take on the highest climb of not only Pico or all of The Azores, but also the highest of Portugal, then take a look at the Hiking Mount Pico Guide up on the site.
» You also may be interested in A Guide to Pico Island and Hiking in the Azores.
Also feel free to check out the other helpful Azores itineraries and guides, and feel free to ask any questions below. Have fun out there and safe travels