The Azores Islands of Portugal are some of the most unique and diverse set of islands in the world. Due to its geothermal activity below ground, you will find several Azores hot springs throughout the area.
These Azores hot springs & thermal baths give visitors the opportunity to enjoy a natural outdoor hot tub experience. While there are hot springs on various islands, the core set of them can be found of Sao Miguel island.
This guide will go through the top 4 hot springs on Sao Miguel that you can enjoy during a visit to the Azores. Read on to learn more about these relaxing spots on the island.
* Affiliate Disclosure: This post may contain affiliate links, which means I may receive a commission if you make a purchase through the links provided, at no additional cost to you. Thanks for supporting the work I put into TripTins!
1) Azores Hot Springs Background
The Azores Islands are a group of 9 islands in the middle of the Atlantic Ocean off the coast of Portugal. The islands have a volcanic origin with the earliest forming over 8 million years ago (Santa Maria), and the newest forming around 300,000 years ago (Pico).
The island of Sao Miguel is the largest out of the 9 islands and has had the most volcanic activity over time. Throughout the island you will find calderas, crater lakes, and plenty of geothermal activity to go around.
Enjoying time in an Azores hot springs is more than just a normal hot tub experience.
Since the water of the hot springs is coming from below the earth's surface, there are benefits to dipping yourself into the mineral rich water.
The water is known to help from a medicinal standpoint, as it cleanses and clears skin conditions, and can be used as a treatment for arthritis and eczema. Not only can it help from a skin standpoint, but the water can also relieve stress and pain.
Overall, spending some time in the thermal waters of the Azores is a win-win situation.
You get to spend some time relaxing in the warm waters and at the same time benefit your physical and mental health.
As an added bonus, many of these hot springs are engrained in nature, with the island's greenery surrounding them.
Note: this guide will just be going over several of the hot springs that you can actually go into. There are other hot springs in the Azores that are not thermal baths. Rather they are just areas to view the geothermal activity and not actually go into the water.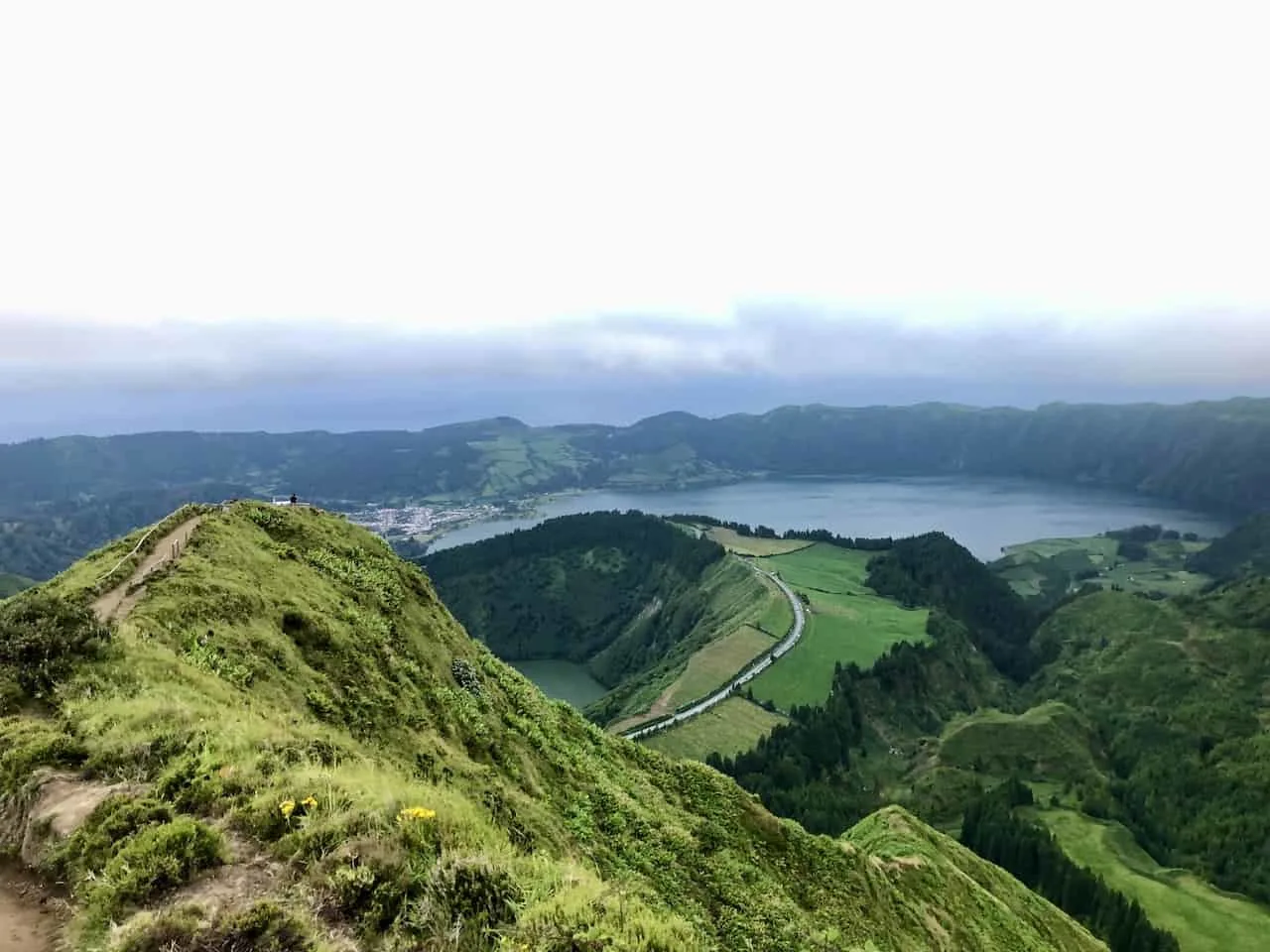 2) Tips for Hot Springs
Since the water of the hot springs are rich of minerals, there are some important tips and things to know when taking part. Below are a few helpful tips when it comes to thermal baths in the Azores:
→ Be sure to bring an old / dark colored bathing suit and towel. The water can stain clothing, and it is best to just play it safe to bring swimwear you don't mind getting ruined.
→ To best avoid any discoloration of your swimwear and towel, try and wash yourself immediately after going into the water. It is more difficult to get any stains out once your swimwear is already dry. If you wash off your bathing suit once it is already wet, you have a better chance of keeping it clean.
→ Just like clothing, jewelry can also get stained by the water. Be sure to remove all your jewelry before getting into these hot spring thermal baths.
→ The water can also affect recently polished nails and dyed hair. Try to avoid coloring your nails or hair prior to your trip to the Azores.
→ While you can enjoy the hot springs on any day of your trip, I would recommend saving them for a poorer weather day / time of day.
The weather of the Azores can change drastically from day to day. Low cloud coverage and rain can put a damper of some of the top highlights.
If you have good weather, opt for the activities that need good weather first. You can then save the hot springs for other times of the trip to fill in the gaps.
→ Another recommendation is to visit hot springs at the end of the day after exploring the island and taking part of any Azores hiking. It is the perfect spot to rest and recover after being on your feet all day.
Be sure to check out some of the other top things to do in the Azores during your trip!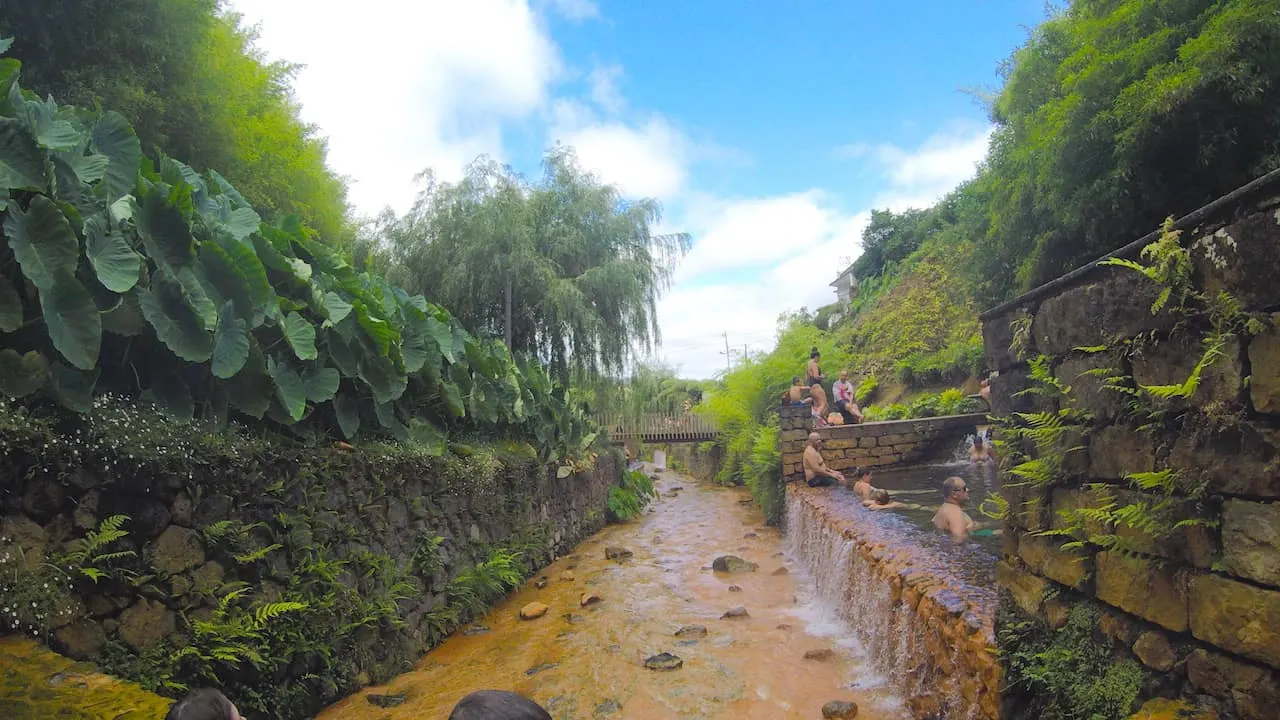 3) Azores Hot Springs Map
Below you can find a map of Sao Miguel island with the 4 hot spring thermal baths pinpointed down.
1) Ponta da Ferarria – near Sete Cidades
2) Caldeira Velha – near Lagoa do Fogo
3) Parque Terra Nostra – Furnas
4) Poca da Dona Beija – Furnas
→ Feel free to browse through Rentalcars.com for plenty of car rental options. You can filter by car type, price, & more to find the perfect rental car for your trip to the Azores.
4) Ponta da Ferraria
Starting on the western coast of Sao Miguel you will find the most unique hot springs in the Azores. At Ponta da Ferraria you will find a natural hot spring located in the ocean itself.
Once you reach the parking lot, you simply need to make the 5-10 minute walk along the pathway to reach the hot spring. There is a ladder to help get you into the water, alongside some ropes to help keep you afloat.
Here is the important thing to note though – it is really only during low-mid tide when you will actually get to experience the hot springs.
As the water rises, the cold water from the ocean mixes more with the hot water from the springs. While you may still feel a bit of warmth, it won't be the same type of experience.
By arriving in the 2 hour timeframe pre or post low tide though, you will be able to truly enjoy what this natural ocean hot spring has to offer.
Whether you are taking a swim in the natural pool, or finding a safe spot to sit down and relax on, you can do either at Ponta da Ferraria.
Before or after visiting Ponta da Ferraria, you can spend time enjoying the nearby Sete Cidades area.
Enjoy viewpoints such as Miradouro da Vista do Rei, Miradouro da Boca do Inferno, and hiking along the Mata do Canario trail.
Opening Hours: 24/7
Adult Ticket Cost: $0
Hot Spring Temperature: 82 F / 28 C (low tide)
Amenities: Bathroom/Changing Room
» Learn more: Ponta da Ferraria Hot Springs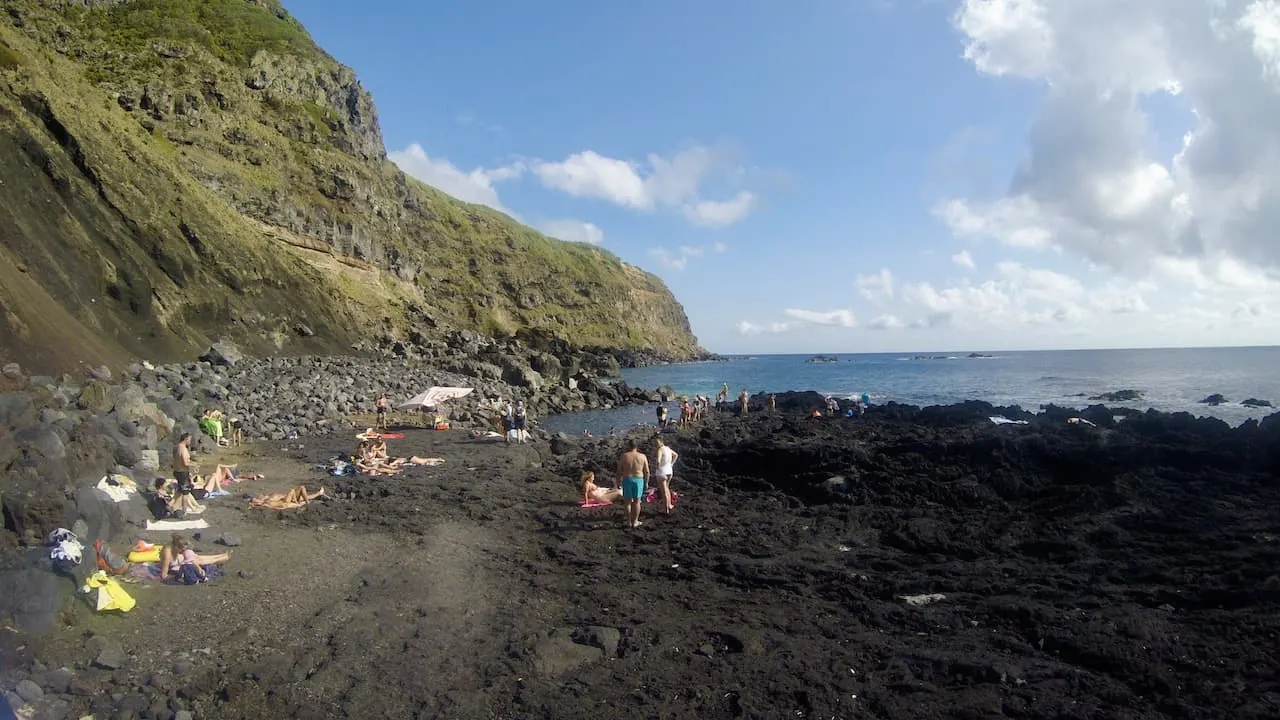 5) Caldeira Velha
In the middle of Sao Miguel island you will find the Lagoa do Fogo area. Here lays one of the most beautiful lakes on the island.
The views from above are great to take in, and you can even hike to the bottom (or along the longer Praia – Lagoa do Fogo trail).
Just nearby the area you will find the Caldeira Velha hot springs (also known as the Caldeira Velha Environmental Intepretation Centre).
Within the complex you will find an information center, short hiking trail, 3 thermal baths, and 1 natural waterfall pool.
The three thermal pools are just around 100 F / 38 C. While these pools are manmade, the water flowing to them is natural. You can decide to head into just one, or visit all three during a visit to Caldeira Velha.
A bit further along the trail you will find the fourth hot spring area. Here you will find a warm waterfall filling the natural pool beneath it. The temperature is a bit cooler though at 75 F / 24 C.
Opening Hours: 9:00AM – 9:00PM (high season)
Adult Ticket Cost: 8 Euro / 5 Euro (info center + pools / pools)
Hot Spring Temperature: 100 F / 38 C
Amenities: Bathroom/Changing Room/Locker Rental/Showers
» Learn more: Caldeira Velha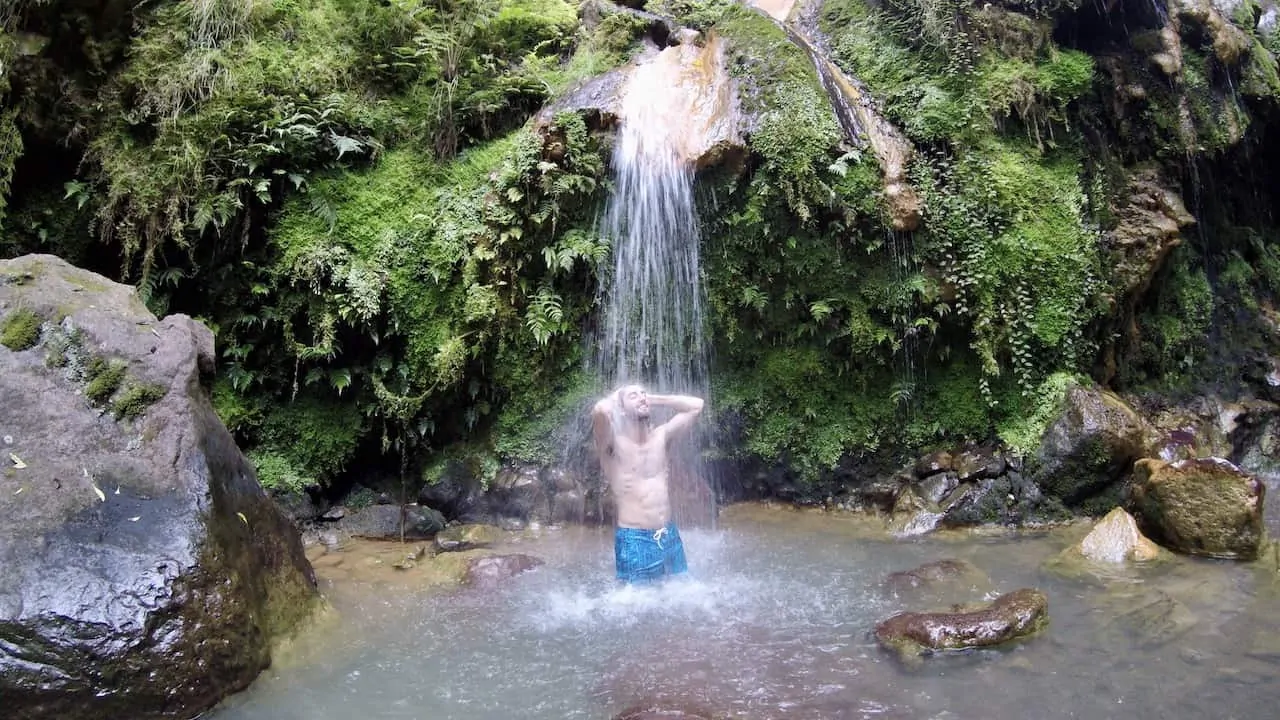 6) Parque Terra Nostra
Moving to the eastern side of the island, you will find the town of Furnas. Here you will find the second most popular place to stay outside of Ponta Delgada.
It is a great place to base yourself to enjoy the geothermal activity of the region, and some of the highlights of the western coast.
Furnas is well known for its geothermal activity and all around you can find some interesting places to visit.
These include Miradouro do Pico do Ferro, Caldeiras Vulcânicas, and Caldeiras da Lagoa das Furnas, that are right nearby the town center.
In addition to these, there are also hot springs in Furnas to visit. The Parque Terra Nostra is probably the most iconic of thermal baths in Sao Miguel.
The massive orange colored iron rich pool sits in the center of the property.
The pool itself ranges between 95-104 F / 35-40 C and you can spend time inside and outside of the water, enjoying the hot spring. In addition to the pool itself, you will also find an elaborate garden surrounding it.
Before or after enjoying the hot spring, you can take some time to walk around the paths enjoying the property and its beautiful nature.
While visitors can just head to the pool and garden area, Parque Terra Nostra is also part of a hotel with a local restaurant. If you want to stay in the hotel or at least eat at the restaurant, that is an option too.
Opening Hours: 10:30AM – 4:30PM
Adult Ticket Cost: 8 Euro
Hot Spring Temperature: 95-104 F / 35-40 C
Amenities: Bathroom/Changing Room/Showers
» Learn more: Parque Terra Nostra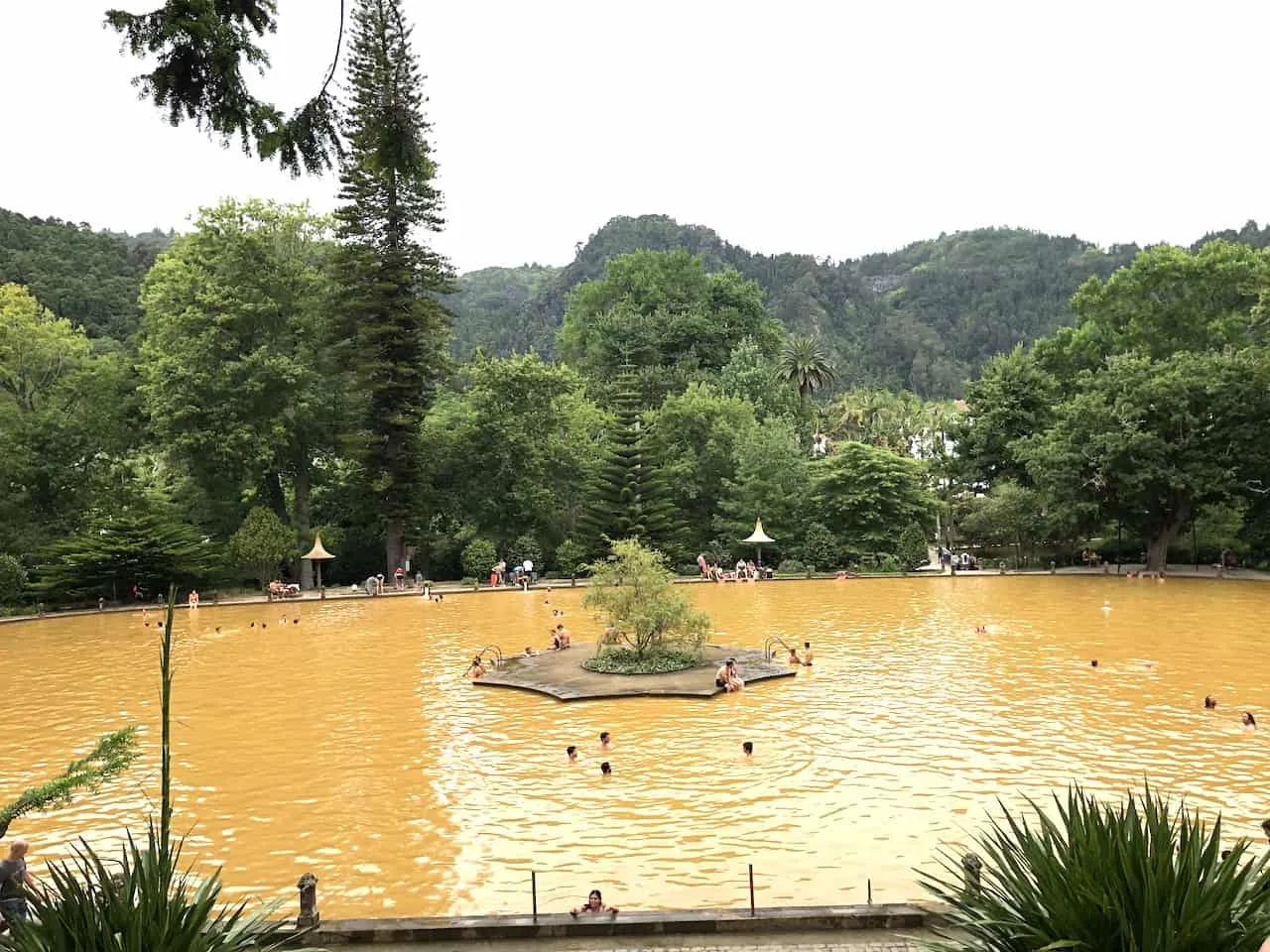 7) Poca da Dona Beija
Another hot spring in Furnas is Poca da Dona Beija. Here you will find 5 thermal baths ranging from 82 F / 28 C to 102 F / 39 C.
These manmade baths are built into either side of the iron rich water stream running through the property.
Each one of the baths is a different temperature, depth, and size making them all a bit unique. At the far end of the complex you will find the more natural stream that is the coldest out of all the pools at Poca da Dona Beija.
During a visit to the hot springs you can take your time walking the pathway from the beginning to the end, and dipping yourself into these various baths along the way.
If you are looking to go to a hot spring late at night, this can be a great choice as it does close at 11:00PM.
After a long day of exploring, finishing up at Poca da Dona Beija can be a great ending to your time in Furnas.
Opening Hours: 10:00AM – 11:00PM
Adult Ticket Cost: 8 Euro
Hot Spring Temperature: 82 F / 28 C to 102 F / 39 C.
Amenities: Bathroom/Changing Room/Locker Rental/Showers/Basket
» Learn more: Poca da Dona Beija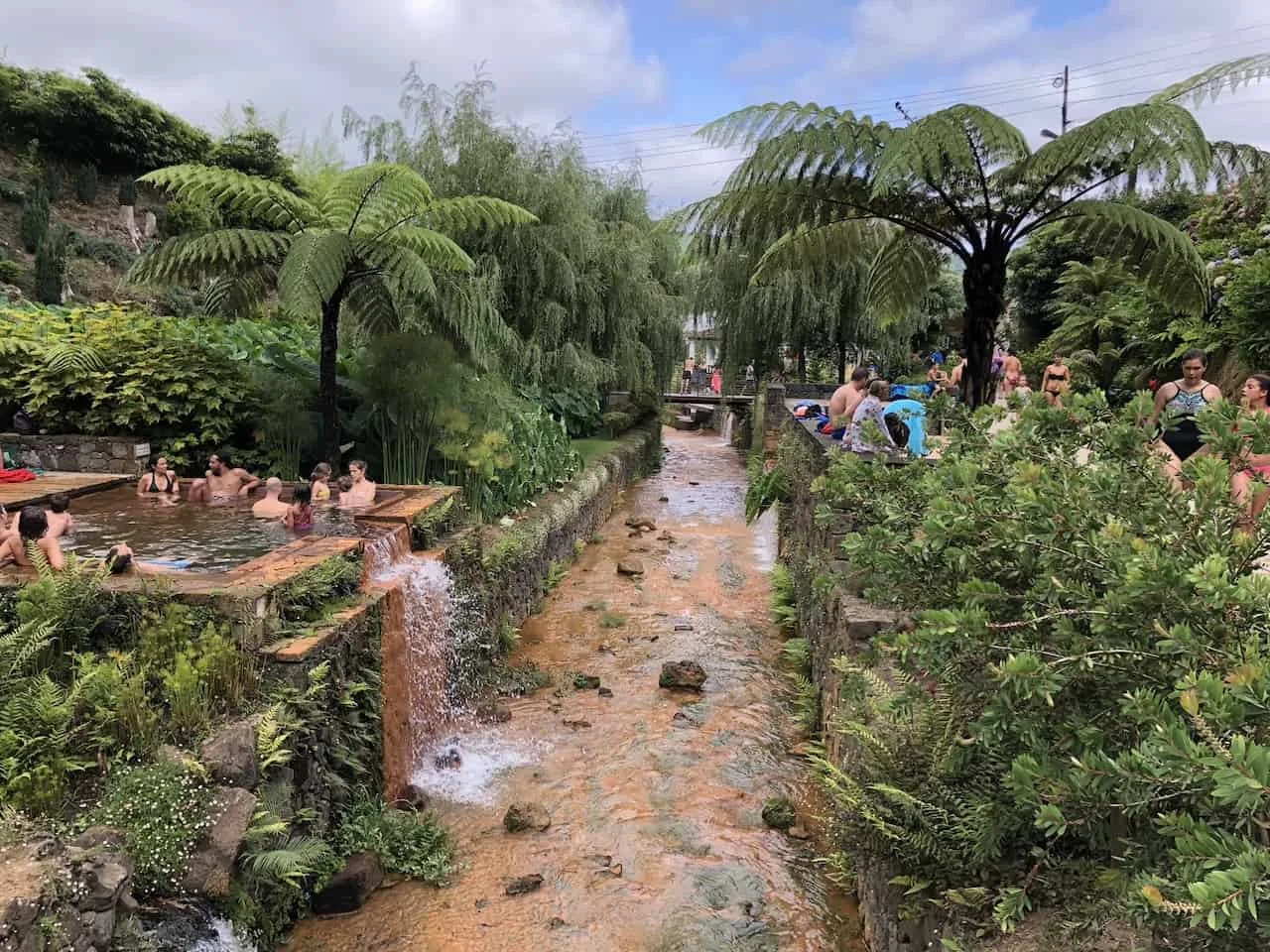 8) Where to Stay in Sao Miguel
There are a few main towns around the island but the most popular spot would be Ponta Delgada. There are way more accommodation and restaurant options here than any other location on the island.
If you want to get a little further away you can also check out the town of Furnas, which has two of the hot springs mentioned above. Here are some hotel recommendations for each:
Ponta Delgada
Furnas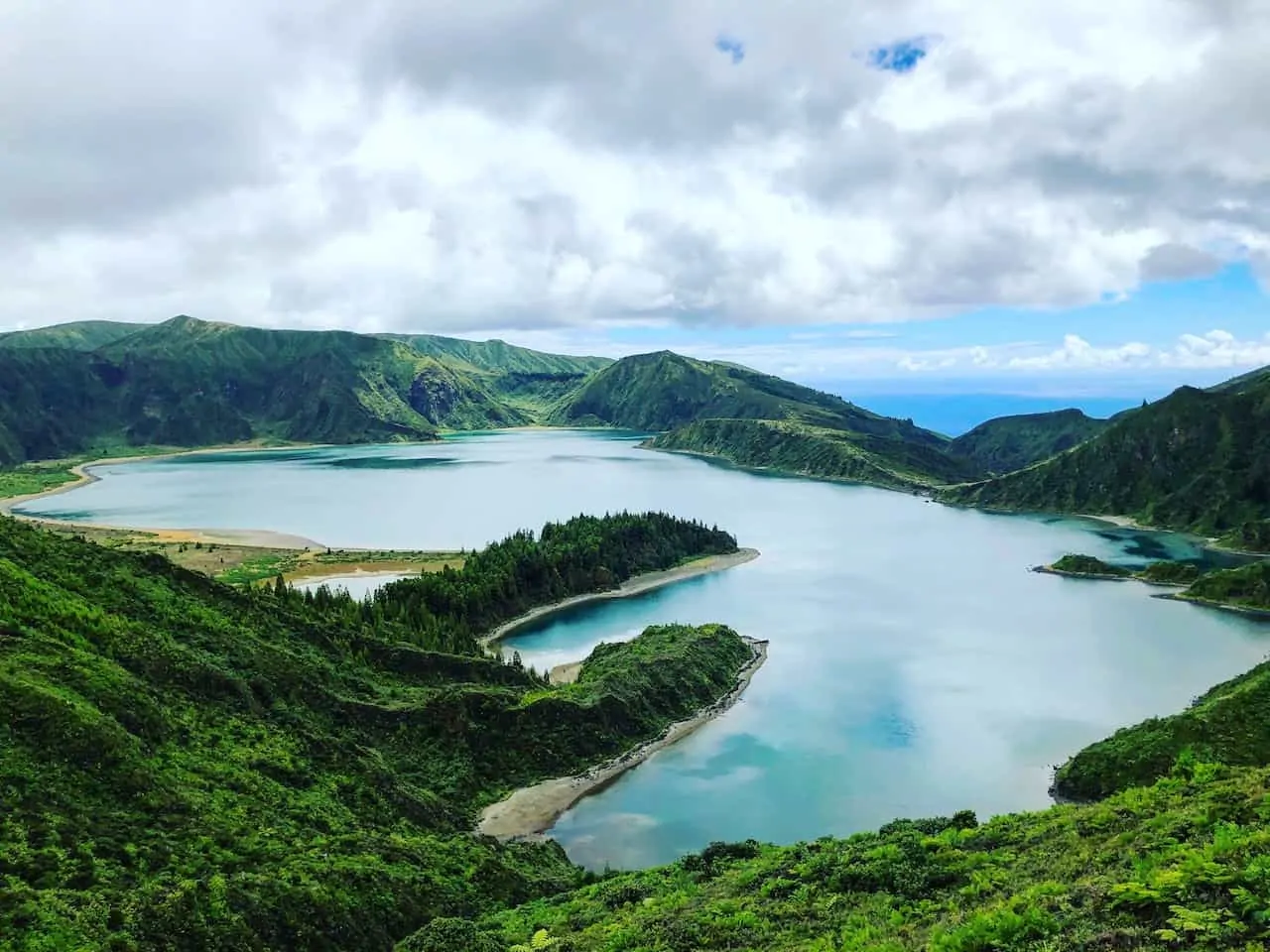 Whether you visit just one of these Azores hot spring thermal baths or all four, you are sure to enjoy your time relaxing in these natural pools.
If you have any questions or comments about any of the hot springs, be sure to write them in below.
Also don't forget to check out some other Azores itineraries and guides up on the site, like this Sao Miguel Itinerary and this longer Azores Itinerary.
Have fun out there and safe travels!