One of the top things to do during a trip to the Azores is to visit a natural thermal bath. Throughout the island of Sao Miguel there are several opportunities to relax in these types of hot springs.
Poca Da Dona Beija located in the town of Furnas is one of the top spots to choose from. Here you will find five different thermal pools that are heated by an iron rich water spring.
This guide will go through all you need to know for a visit to Poca Da Dona Beija and what to expect at the thermal baths.
* Affiliate Disclosure: This post may contain affiliate links, which means I may receive a commission if you make a purchase through the links provided, at no additional cost to you. Thanks for supporting the work I put into TripTins!
1) Poca Da Dona Beija Overview
At Poca Da Dona Beija you will find 5 thermal baths ranging from 28 degrees Celcius to 39 degrees Celsius (82 F to 102 F).
→ These thermal baths are full of heated water from an iron rich water spring. This water is known to have therapeutic properties that can revitalize and restore oneself both physically and mentally.
→ The high iron content also combats things like anemia, allergies, acne, and parasitic disease.
→ At the complex you will also have changing rooms, lockers (extra fee), and cold showers available.
→ You will also find a gift shop inspired by Azorean nature and history. They sell several different items including postcards, handmade jewelry, accessories, toys, and clothing.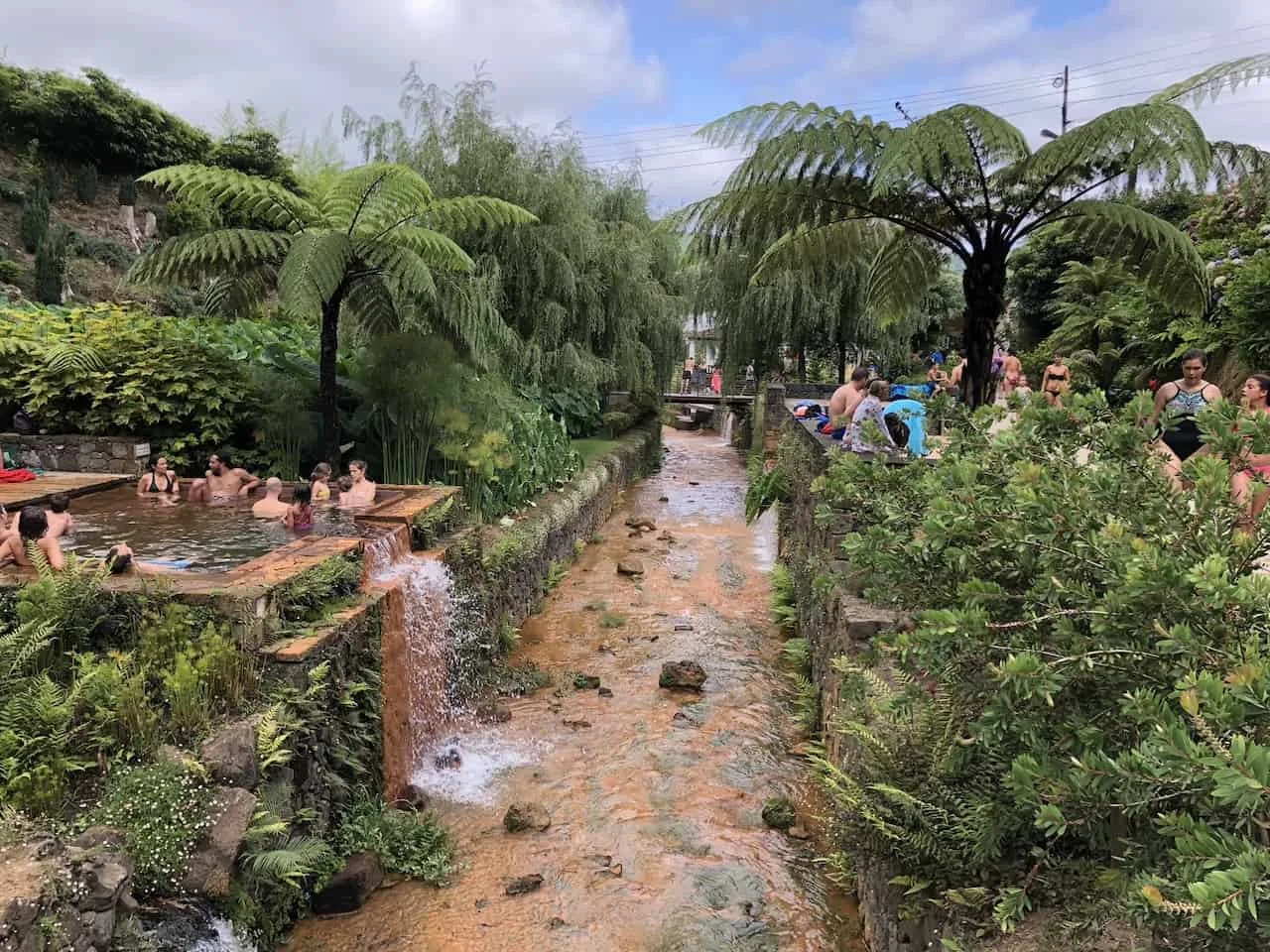 2) How to Get There
The easiest way to get around Sao Miguel in general is to have your own rental car. This way you can go at your own pace and be on your own schedule.
While there are some busses around the island, it is difficult to plan a trip with them.
Read more: Check out the Azores rental car guide to learn more about having a car on the island
→ Feel free to browse through Rentalcars.com for plenty of car rental options. You can filter by car type, price, & more to find the perfect rental car for your trip to the Azores.
Poca Da Dona Beija is located just inside the town of Furnas, which is on the eastern end of Sao Miguel.
You can go about a trip there in a couple of ways. Either you take a day trip from the main hub city of Ponta Delgada (45 minute drive) or you stay overnight in the town of Furnas.
If you decide to take a trip out from Ponta Delgada, there are several other places in Furnas you can visit to make it a more all encompassing trip.
This can include stops at Miradouro do Pico do Ferro, Caldeiras Vulcanicas, Caldeiras da Lagoa das Furnas, Parque Terra Nostra (check out the end of the guide for more info!).
If you decide to stay in Furnas, it will give you the chance to really enjoy and explore the town without needing to worry about getting back to Ponta Delgada.
→ Read More: Add a visit to the hot springs as part of a longer Sao Miguel itinerary or Azores itinerary
3) Poca Da Dona Beija Parking
At the entrance of Poca Da Dona Beija you will find a free parking lot that can fit around 20 cars. If the lot is full during your visit, you should be able to find street parking nearby.
On the other hand, if you are staying in Furnas or if you are visiting other parts of town, it is also possible to just make the walk over to Poca Da Dona Beija if you parked elsewhere already.
This way you don't necessarily need to worry about parking at the thermal baths altogether.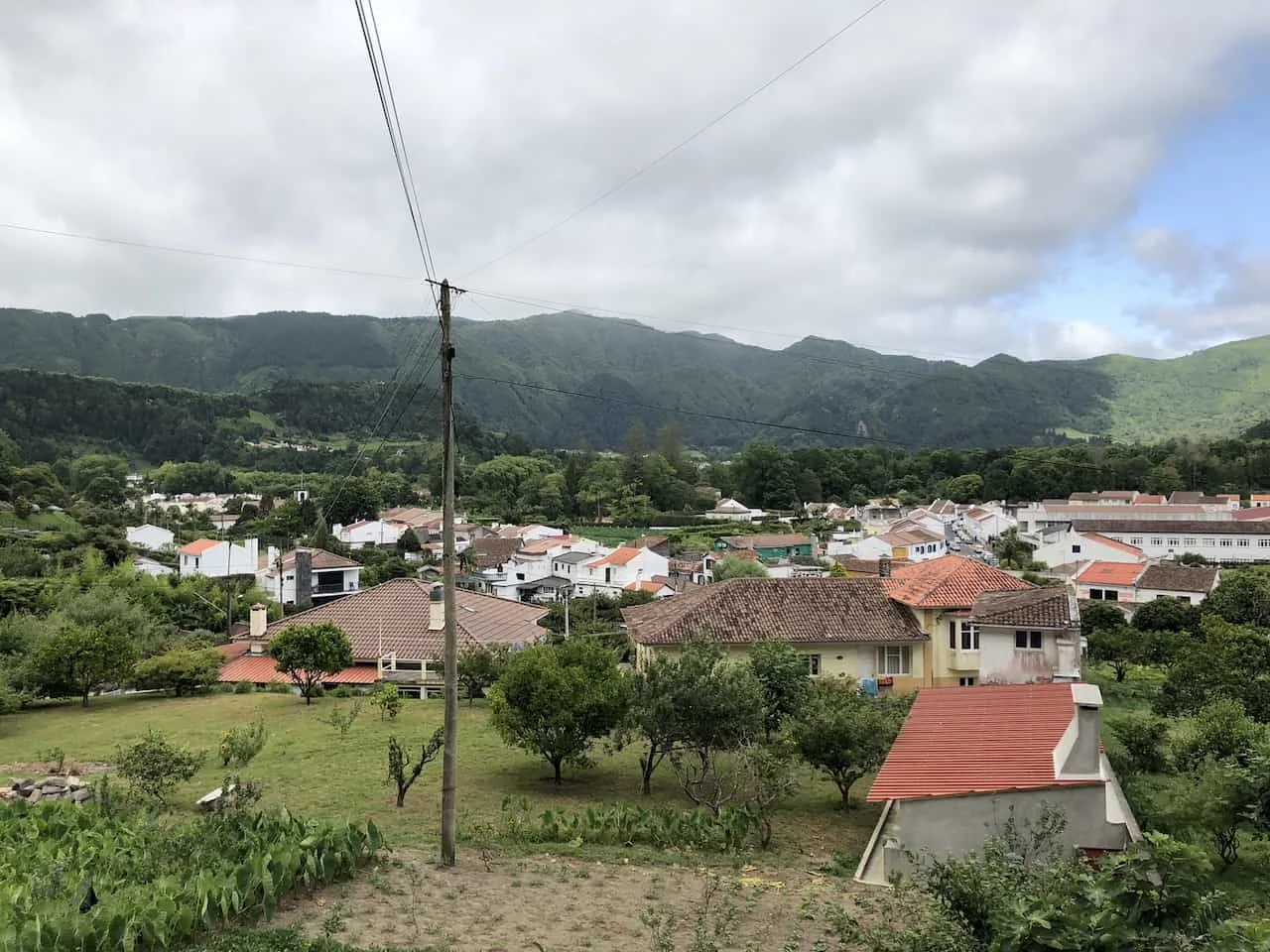 4) Tickets & Hours
Tickets for Poca Da Dona Beija must be purchased at the entrance and are only valid for 1.5 hours.
Ticket Cost
Adult: 8 Euro
Child (up to 6 years old): 6 Euro
Included in the price is a basket that is given to you, where you can put your belongings in as you relax in the water. Also included are changing rooms and cold showers.
For an extra 2 Euro, you can opt for a locker rental, so you don't need to worry about keeping an eye on your basket. In addition to the 2 Euro, you will need to pay a 20 Euro refundable security deposit.
Hours of Operation
The thermal baths are opened from 10:00AM – 11:00PM every day of the week.
The last admission is at 10:15PM, and everyone must leave the bath area by 10:45PM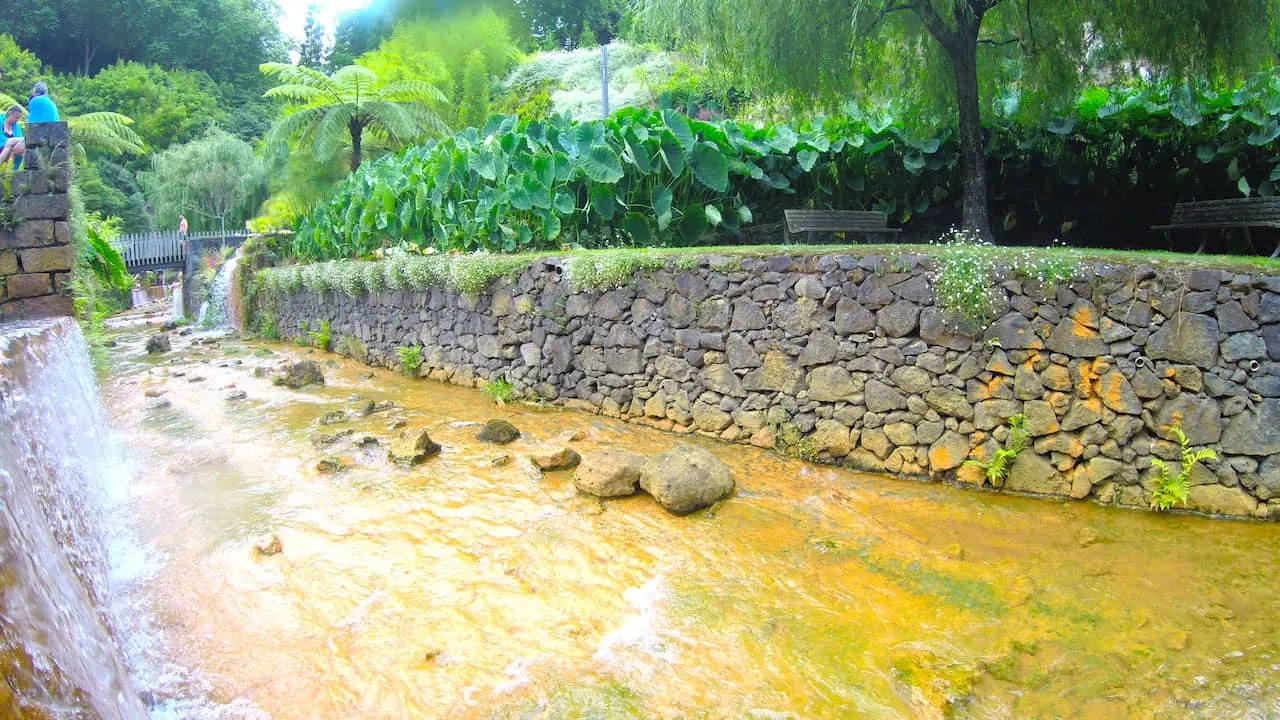 5) Helpful Hot Springs Tips
» The thermal water is rich of iron, meaning it can stain clothing. I would recommend bringing a bathing suit and towel that you don't mind getting a bit dirty.
» To avoid discoloration of your bathing suit, head to the showers and start washing it off right when you get out of the water. It is harder to wash the clothes after they dry.
» Don't wear any jewelry when you enter the pools. You can either leave it in a safe spot in your car or keep it in the lockers there.
» To avoid the crowds, be sure to visit the thermal baths as early as possible in the day. Visiting right at opening time can be a great way to get away from the influx of visitors.
Below are just a handful of the things that are not allowed during a visit to Poca Da Dona Beija.
→ You cannot bring any glass containers onto the property
→ Loud noises are not allowed here. This is really a place for relaxing oneself and not a party spot.
→ In addition, no games or balls are allowed in the pool areas
→ There is no alcohol or smoking allowed either on the property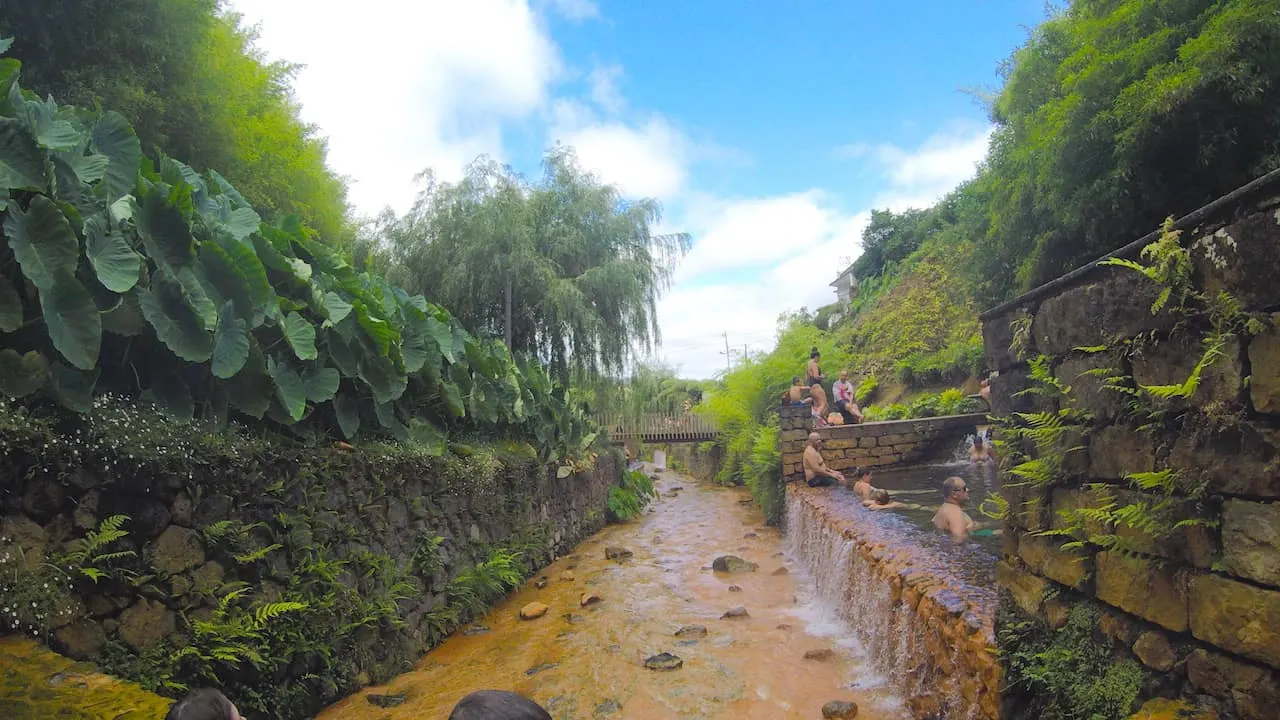 6) Poca Da Dona Beija Thermal Baths
After parking your car in the lot (or nearby), or walking in from town, you can head to the ticket office to purchase tickets. Depending on how busy it is, you may need to wait until capacity frees up.
You will be given a basket to put your belongings in and you can decide to rent a locker if you are interested.
Head on over to the changing rooms if needed and then onto the thermal bath hot springs of Poca Da Dona Beija.
It is a beautiful property to just walk around as you have a boardwalk connecting both sides of the thermal river with the thermal baths on either side.
In addition to the thermal baths and iron rich river, there is plenty of greenery and gardens surrounding the complex.
Below is a list of the 5 thermal pool that line the boardwalk. The first four are all 39 degrees Celsius (102 F), while the final one is 28 C (82 F). Each pool also has varying depths, which I have included below: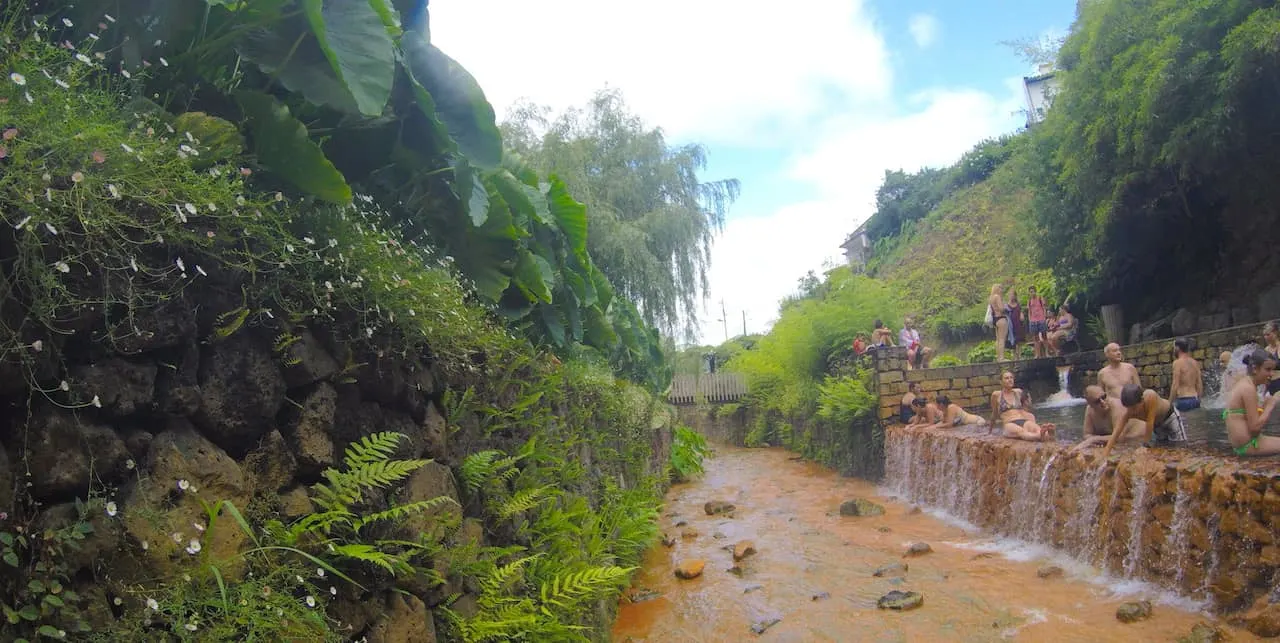 Meditation (Meditacao) 39 C / 130 cm
The first thermal bath you will come across is the meditation pool. This is the deepest pool that is part of the complex and you will find two waterfalls coming down from the walls of the bath.
Thermae Socializing (Convivio Termae) 39 C / 30-60 cm
At the second thermal bath you will find a pool that has varying depths (30 cm or 60 cm). It is a wider pool than the others and gives visitors a great viewpoint over the rest of Poca Da Dona Beija.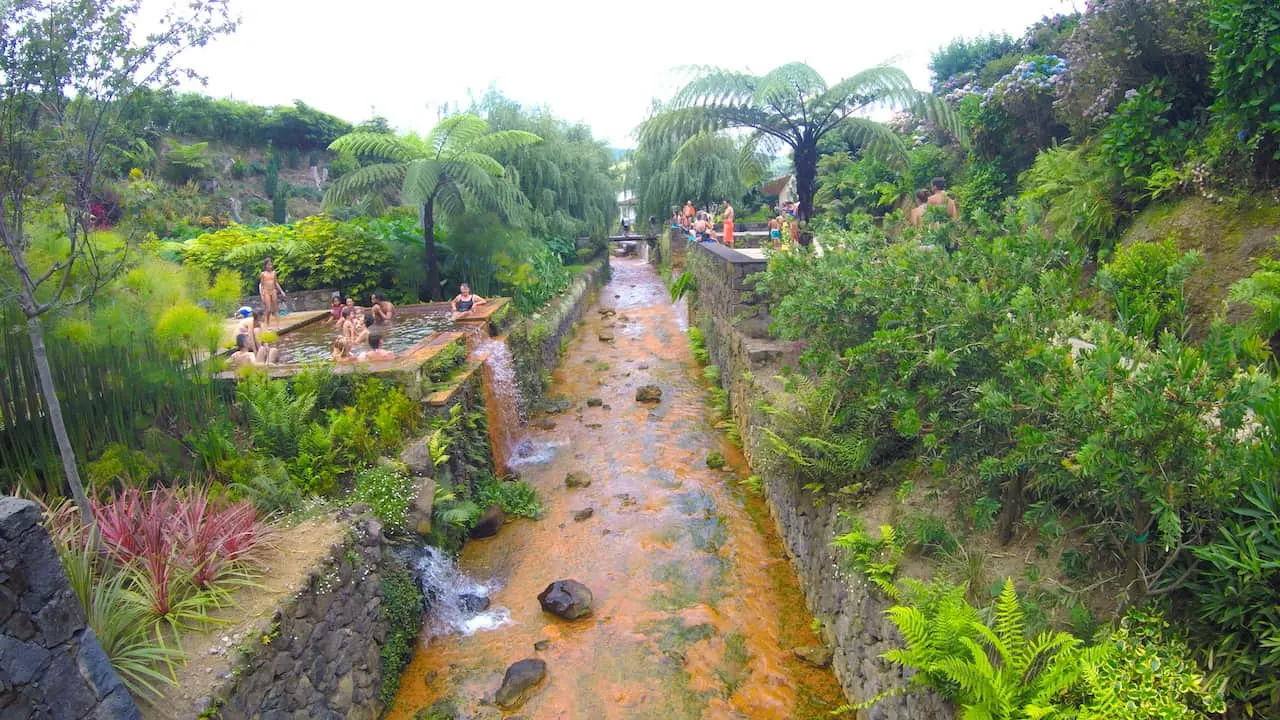 Mysticism (Mistica) 39 C / 90 cm
Here you will find a curtain waterfall that covers the length of the natural bath. You can have the chance to sit back and have the waterfall fall right on top of you for a relaxing experience.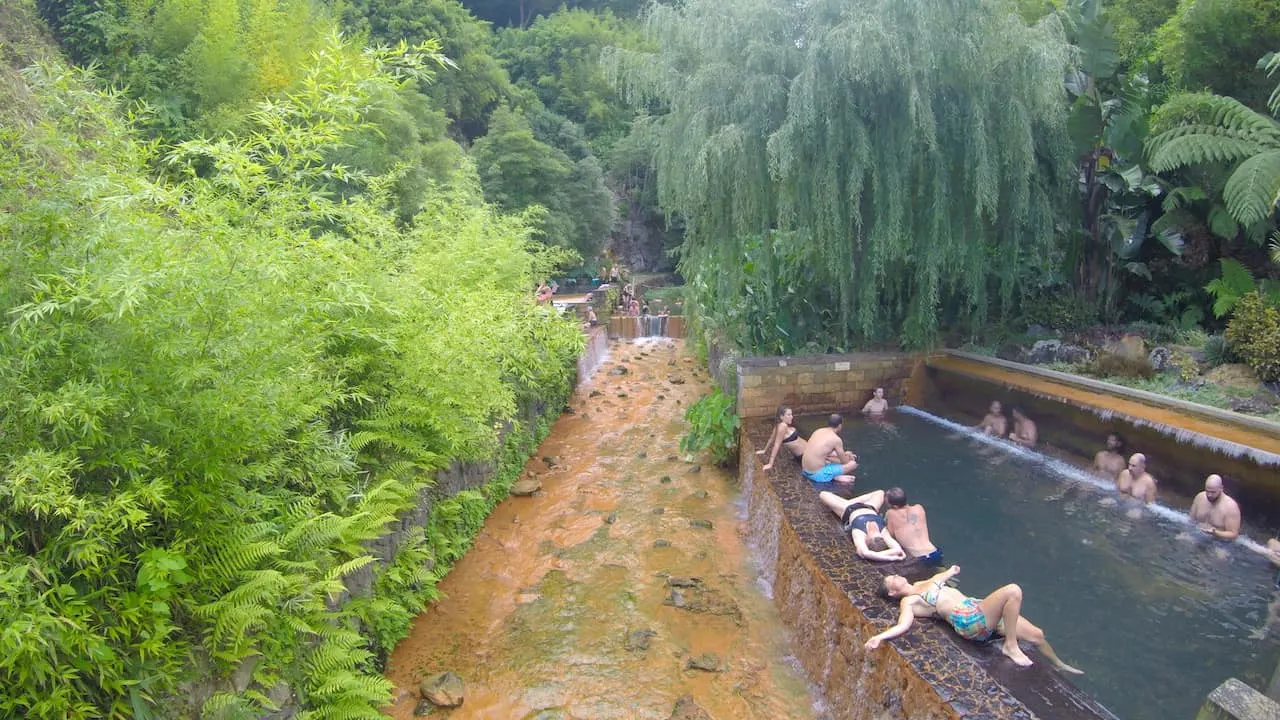 Serenity (Serena) 39 C / 80 cm
The last of the hotter pools is towards the end of boardwalk. Here you will find an 80 cm deep pool with two small waterfalls coming out of the stone walls.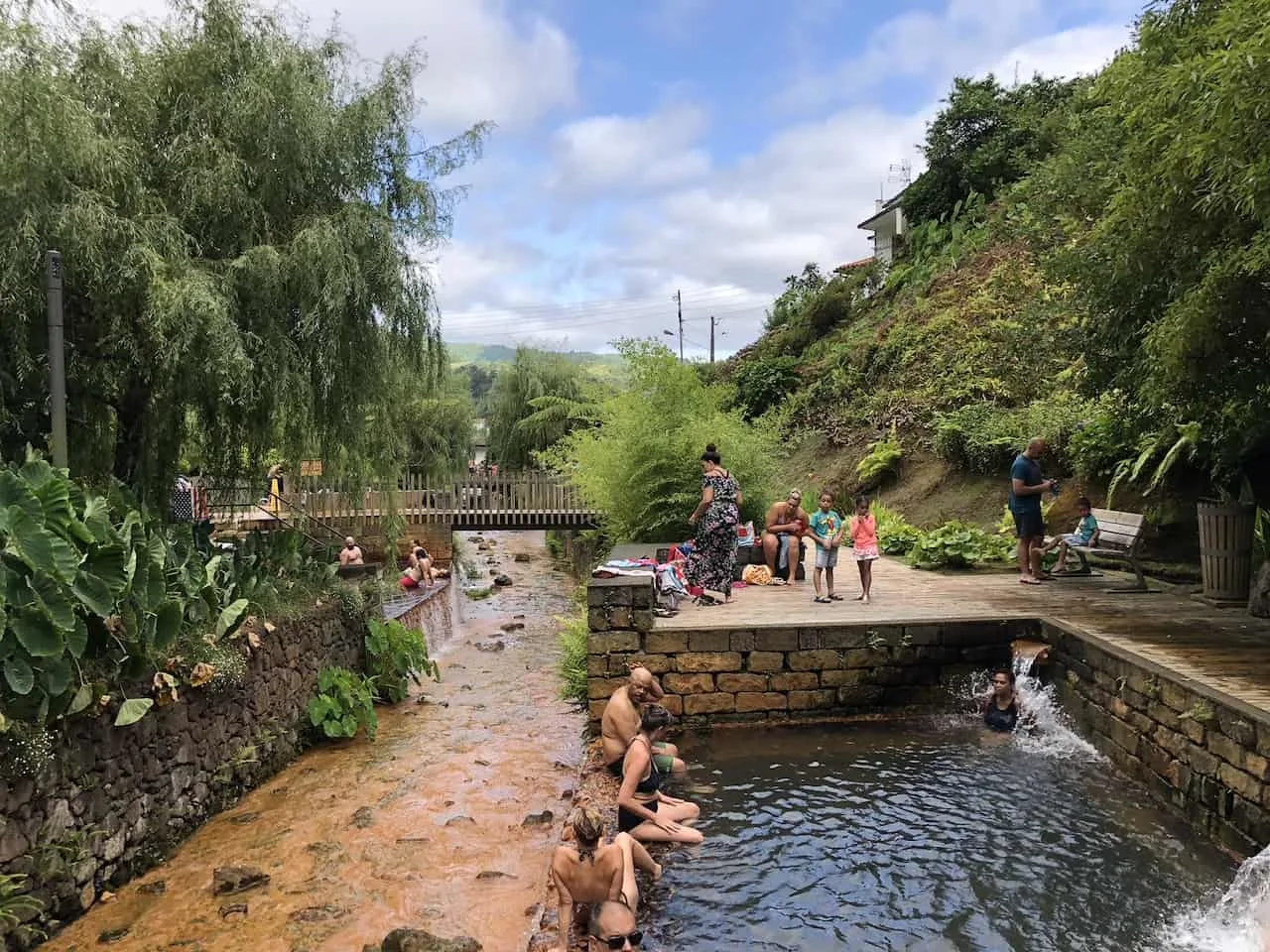 Stream (Ribeira) 28 C / 95 cm
The last part of Poca Da Dona Beija is a heated stream that comes in at 28 C, a bit cooler than all of the other options in the complex.
Here you will find a meter-deep pool that is a mixture of the river water with the hot geothermal water.
Hot Spring
Also, near the stream you will find the hot spring and cave of Lomba das Barracas. This is the source of the iron rich water that provides the heat for the pools you will be relaxing in.
After spending 90 minutes testing out different pools and maybe even heading into the stream, it is time to then head back towards the entrance area.
As mentioned before, it is best to wash off your bathing suits right away to avoid any permanent discoloration. Once all done washing up and changing into some clean clothes, it is off to the next attraction around Furnas.
7) Nearby Furnas Attractions
Speaking of other attractions around Furnas, here is a list of several places to visit that can make a fun filled day around the area:
Miradouro do Pico do Ferro
Here you will get to take in the view of Lagoa das Furnas as well as the whole city of Furnas down below.
You will be able to spot out a couple of the geothermal areas in the distance with their sulfuric gasses rising up from the ground.
Caldeiras Vulcânicas
After taking in the view from up top it is time to head to one of those geothermal areas – Caldeiras Vulcânicas.
You will be able to see (and smell!) up close some of the geothermal activity. There are several pockets of gas all around the area.
Caldeiras da Lagoa das Furnas
You can then make your way to the second geothermal area down by Lagoa das Furnas. You will find a short pathway that takes you around the sulfuric activity as you can get right up close to some of these gas pockets.
Parque Terra Nostra
Parque Terra Nostra is filled with different walking paths throughout, alongside flowers, greenery, ponds, and more. Front and center of it all is the large orange geothermal pool that you can relax in.
Read More: Check out this Parque Terra Nostra guide to learn more about the other popular thermal bath in Furnas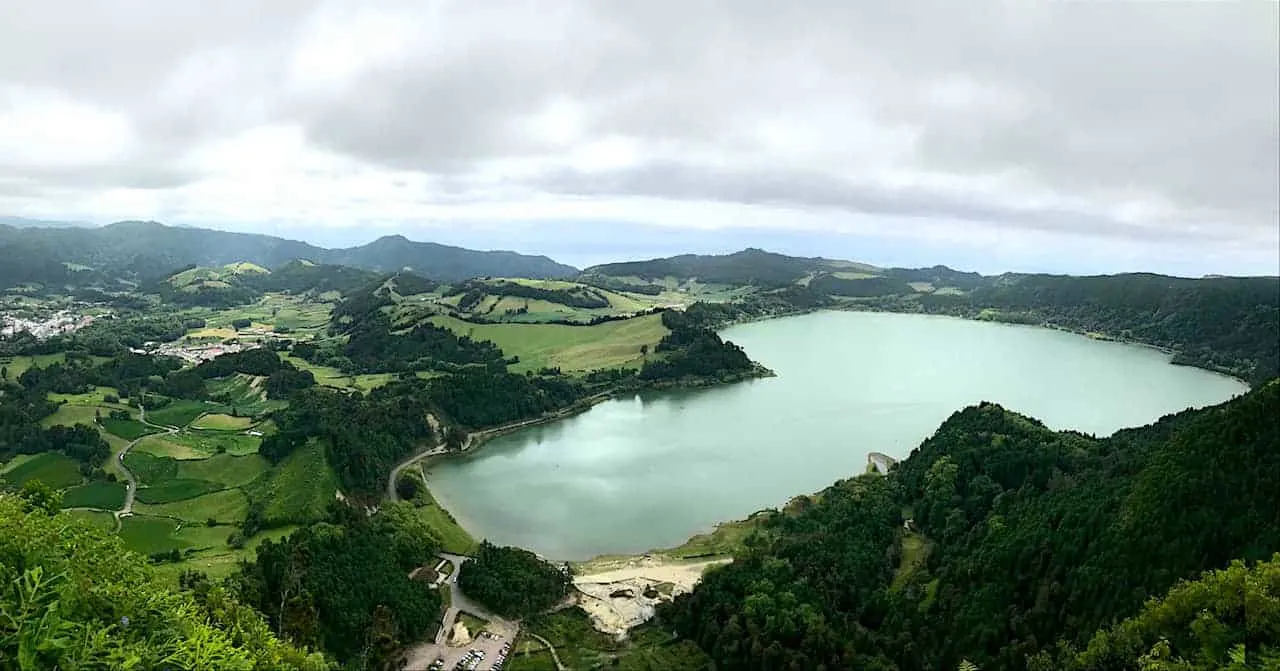 8) Where to Stay in Sao Miguel
When visiting Sao Miguel, most people choose between Ponta Delgada and Furnas (or have a mixture between the two). Below are some top places to stay in each of them:
Ponta Delgada
Furnas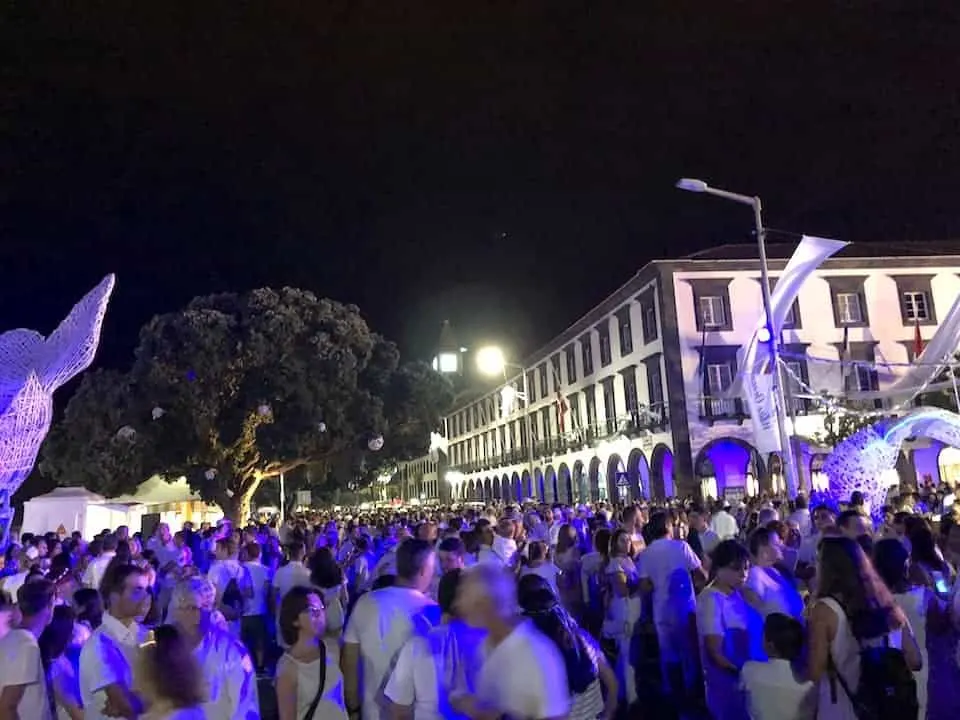 That about does it for a guide to the Poca Da Dona Beija hot springs thermal baths of Furnas. If you have any questions or comments about the experience, be sure to add them in below.
Also don't forget to check out the other Azores itineraries and guides up on the site like the other Azores Thermal Baths. Have fun out there and safe travels!