Sete Cidades Azores – A Complete Guide
Before I even knew too much about the Azores, the one photo that kept coming up in blogs, articles, magazines, and on social media was the one overlooking the lagoons, craters and town of Sete Cidades. When I started to plan my own trip there, I knew this place had to be one of the must dos on my itinerary. Since the Sete Cidades area has so much more to offer besides for the one spectacular viewpoint, I wanted to put together a post to walk you through all you need to know about the region. Believe me, a day around Sete Cidades Azores is surely not to disappoint.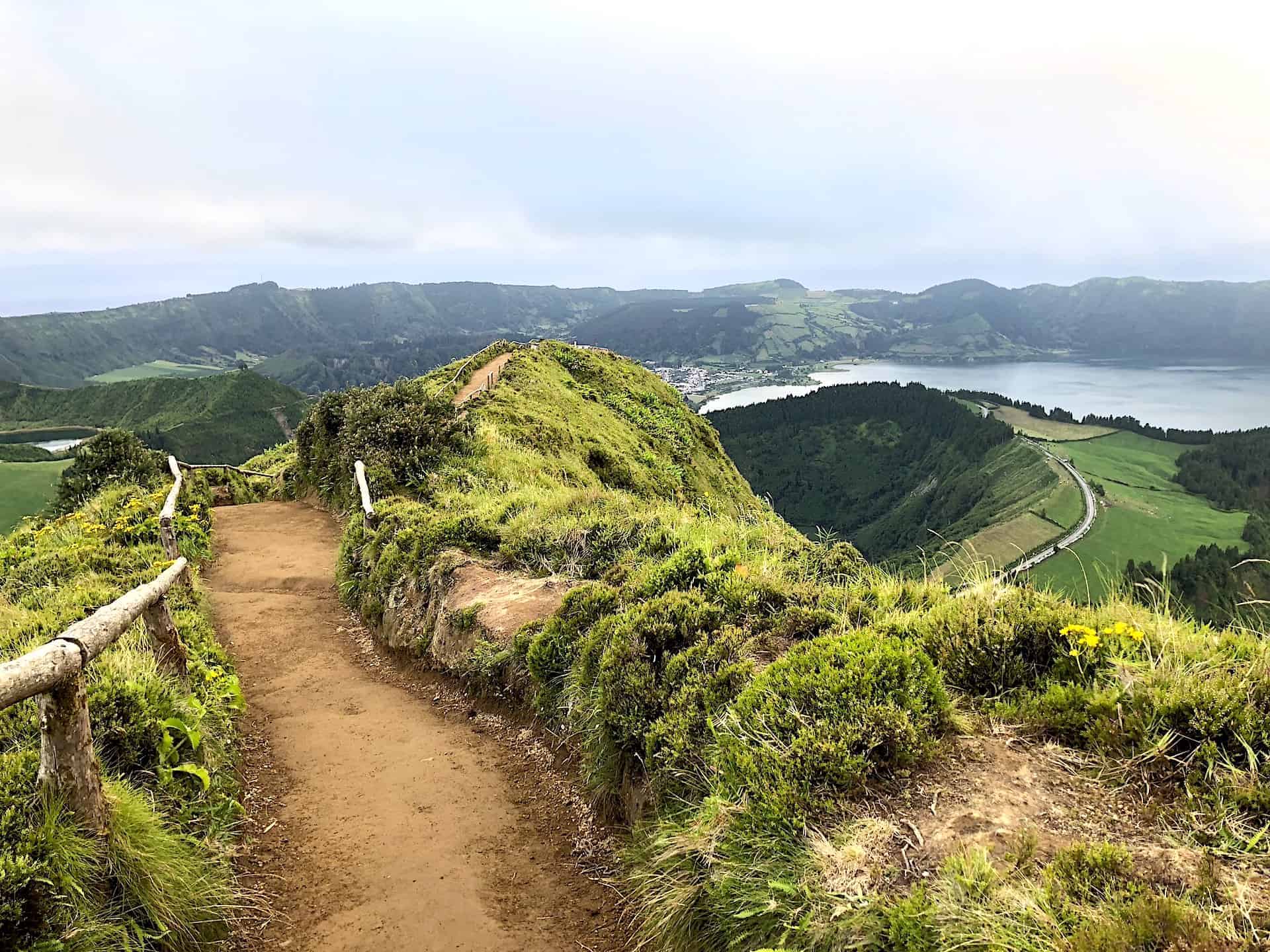 *Affiliate Disclosure

:
This post may contain affiliate links, which means I may receive a commission if you make a purchase through the links provided, at no additional cost to you. Thanks for supporting the work I put into TripTins!
1. What is Sete Cidades Azores
Sete Cidades (translated to "Seven Cities") is a small town on the western end of Sao Miguel Island in the Azores. The town sits on the base of the Lagoa Azul and Lagoa Verde and has a population of less than 1,000 people. While the town itself is a great place to visit, there is so much to do and see near the area. The land around the town is filled with many lagoons and craters that were created by volcanic activity thousands of years ago. The scenery that this volcanic activity created makes for some of the best in all the Azores, and during a day in the area, you will get to experience all of it and more! From viewpoints to hikes to lakes, the area around Sete Cidades is not to be missed.
Note: Sete Cidades can be referred to as many things – the town itself, the viewpoints, the lakes, etc. So when you hear "Sete Cidades" just note it is more than just one thing to do or see.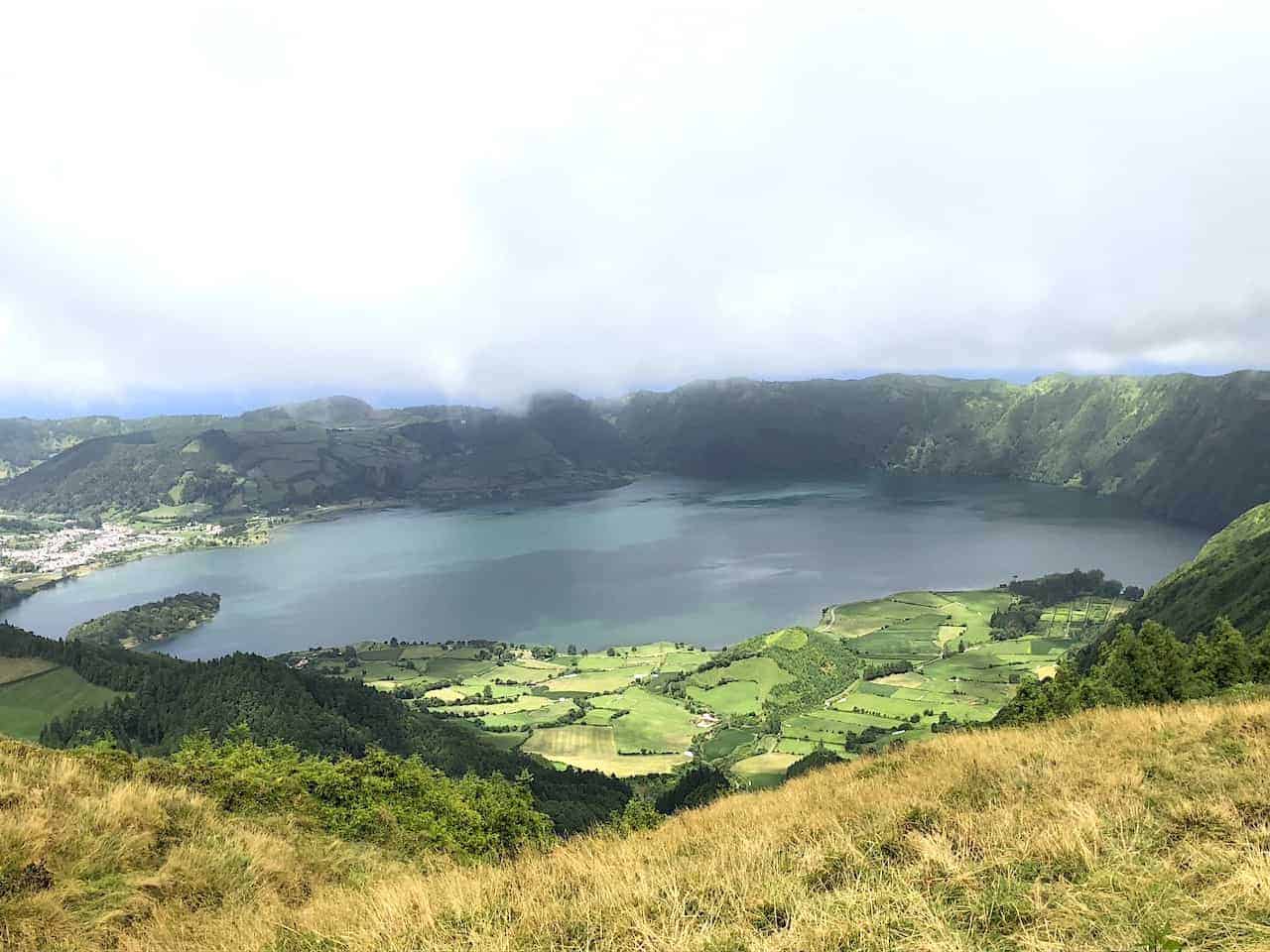 2. How to Get to Sete Cidades
Before jumping into everything to do around the area, you will first need to make your way there. The easiest and most convenient option is to have your own car to take you around to the different attractions. You will be on your own schedule, can pick and choose what you want to do, and will not need to worry too much about how to get from place to place.
Read up in the Driving in the Azores Guide for more!
If you do not have a car, the second best choice is going to be by having a taxi or guide take you there. This way you still do not need to worry about public transportation and you will be able to do everything you set out to do. While it might come at a premium, it could be worth the flexibility and ease of mind. Lastly, you could also opt for public transportation as there are some busses on the island. However, I would not recommend doing so if you would like to take part of the various activities during the day, as the bus routes will not take you to the various viewpoints and hikes (mainly they will just go to the town of Sete Cidades).
Important Note: as I will mention in a bit, if you take part of one of the linear hikes, you will need to get back to the starting point. In this case there is a taxi stand in Sete Cidades that can help out with that.
Take a look at some Azores guide books to better prep you for your trip:
3. Attractions of Sete Cidades
The area surrounding Sete Cidades offers a lot to its visitors. From incredible viewpoints and colorful lagoons to picturesque hikes and a local town, there is no shortage of things to do while visiting. I will write out the guide as a one day Sete Cidades itinerary, where you can follow it from one attraction/activity to the next. Simply type in each place into Google Maps, and you should have no trouble getting from one place to another. The below map lays out the exact location for viewpoints, hike starting points, restaurant options and accommodations in the area.
TIP: Many of the viewpoints and hikes have some spectacular views. The weather in the Azores though can bring in clouds and rain at any time. Head to Sete Cidades on a day when the weather outlook is best and be sure to check the Azores webcams before you head out.
A) Miradouro da Vista do Rei
The first stop of your day will be the Miradouro da Vista do Rei (Miradouro = Viewpoint). It is a 30 or so minute drive from Ponta Delgada as you weave your way higher up on the island. Once you arrive here, you will see a bunch of different parking spots leading up to the viewpoint area on the left hand side of the road. There also is a bit larger of a parking area right next to the viewpoint as well. As it is one of the more popular spots on the island you will also find some souvenir stands and restrooms nearby.
At the viewpoint you will see the two multi colored lakes of Lagoa Verde and Lagoa Azul (one green and one blue in color). Depending on cloud coverage and how much sun is out will dictate how clear that color differential is. It is an incredible site to take in and enjoy for your first glimpse of the Sete Cidades area.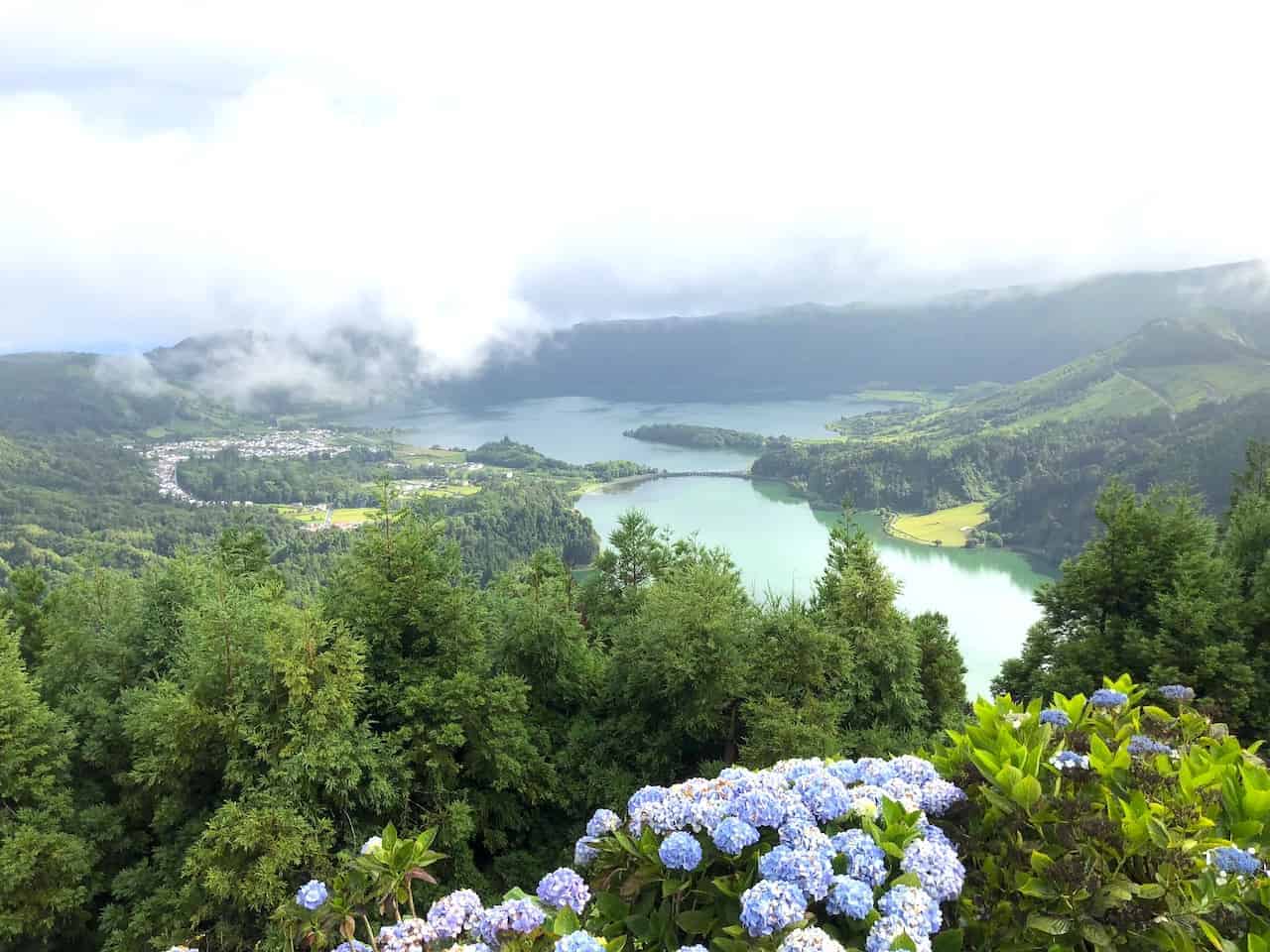 B) Monte Palace Abandoned Hotel
Right across the street from the viewpoint, you will see the abandoned hotel of Monte Palace. It is quite the eerie place to explore and should be done at your own risk. Unfortunately (or fortunately?) a development company has purchased the property and will be renovating it to its former self. This means that you may not be able to go inside anymore if construction has begun. If not feel free to explore this abandoned place.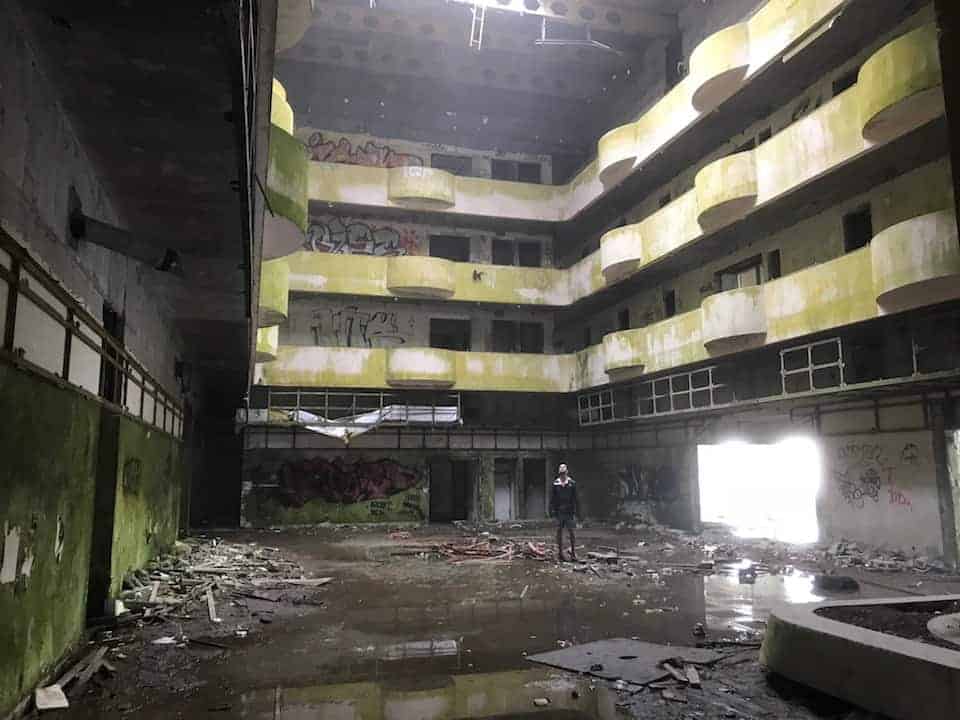 C) Lagoa do Canario
It is now time to hop back in the car and onto the next part of your day. If you continue the same way down the road for about 5 minutes you will get to the Lagoa do Canario. Simply park your car on the side of the road or in the lot nearby, and then walk down the dirt road for a few minutes until you see signs pointing you to the lagoon. It is a quick 5 minute walk from the main road to the lagoon, where you can relax and take in the serene greenery.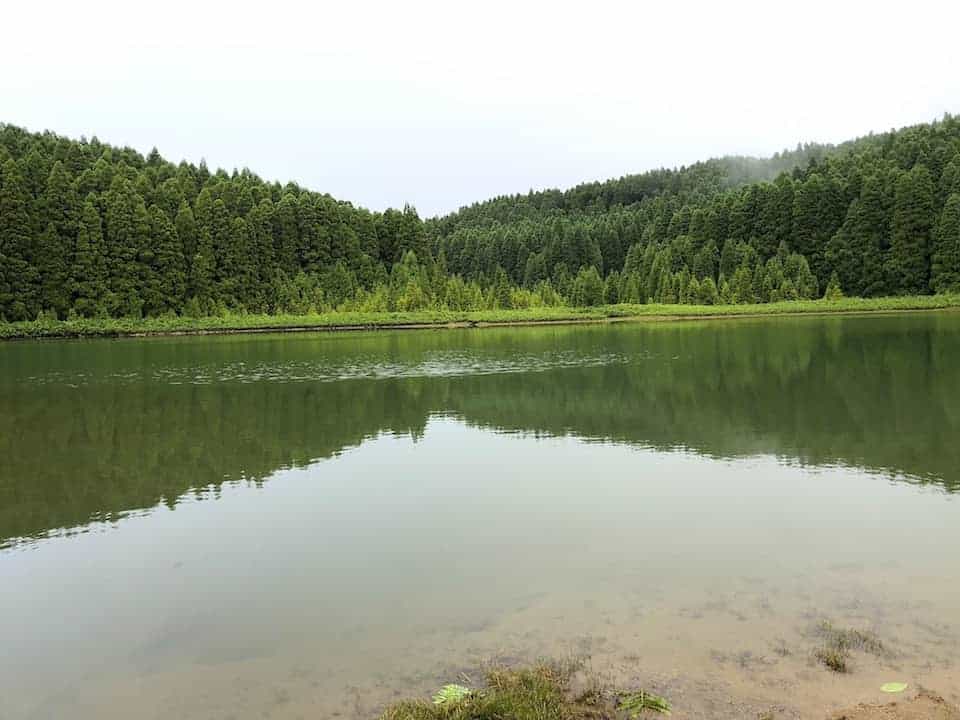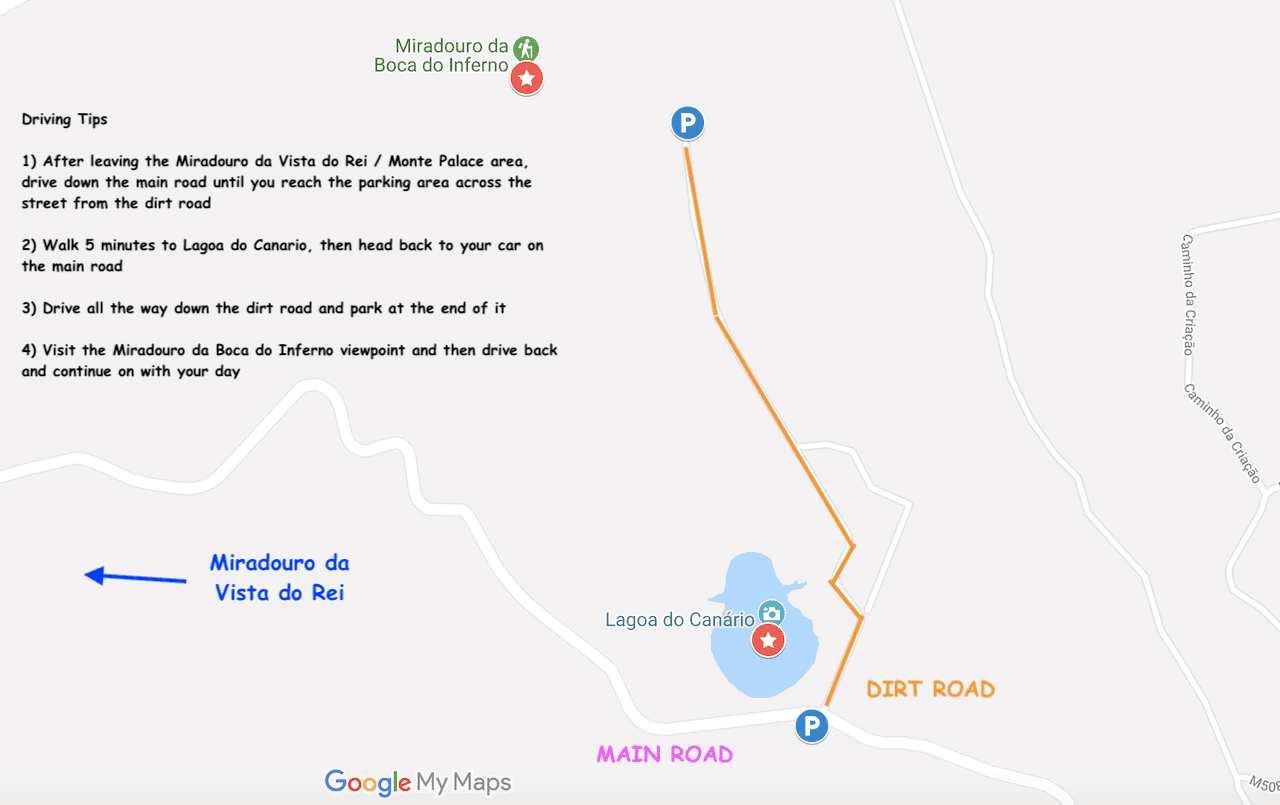 D) Miradouro da Boca do Inferno
It is now time for the view you have all been waiting for – the one and only Miradouro da Boca do Inferno. To get to the viewpoint you have two options: one is to walk from Lagoa do Canario further along the dirt road for about 15 minutes. Or your second option is to head back to your car, and then drive down the dirt road all the way to the end where there are parking spots available (I would recommend the second option as it does cut down on about 30 additional minutes of round trip walking).
Once you arrive at the end of the dirt road you will see signs pointing you to the left up to the miradouro. You will soon come across the famous viewpoint and be able to take it all in for yourself. As you walk along the trail to the end of the viewpoint, you will see Lagoa Azul out in the distance alongside some additional craters and lakes of Sete Cidades. These include Lagoa de Santiago (the crater directly in front of you) and Lagoa Rasa (the smaller crater to the left). Take as much time as you would like taking in the view and enjoying one of the best spots of the island.
» Learn more about the viewpoint in the Miradouro da Boca do Inferno Guide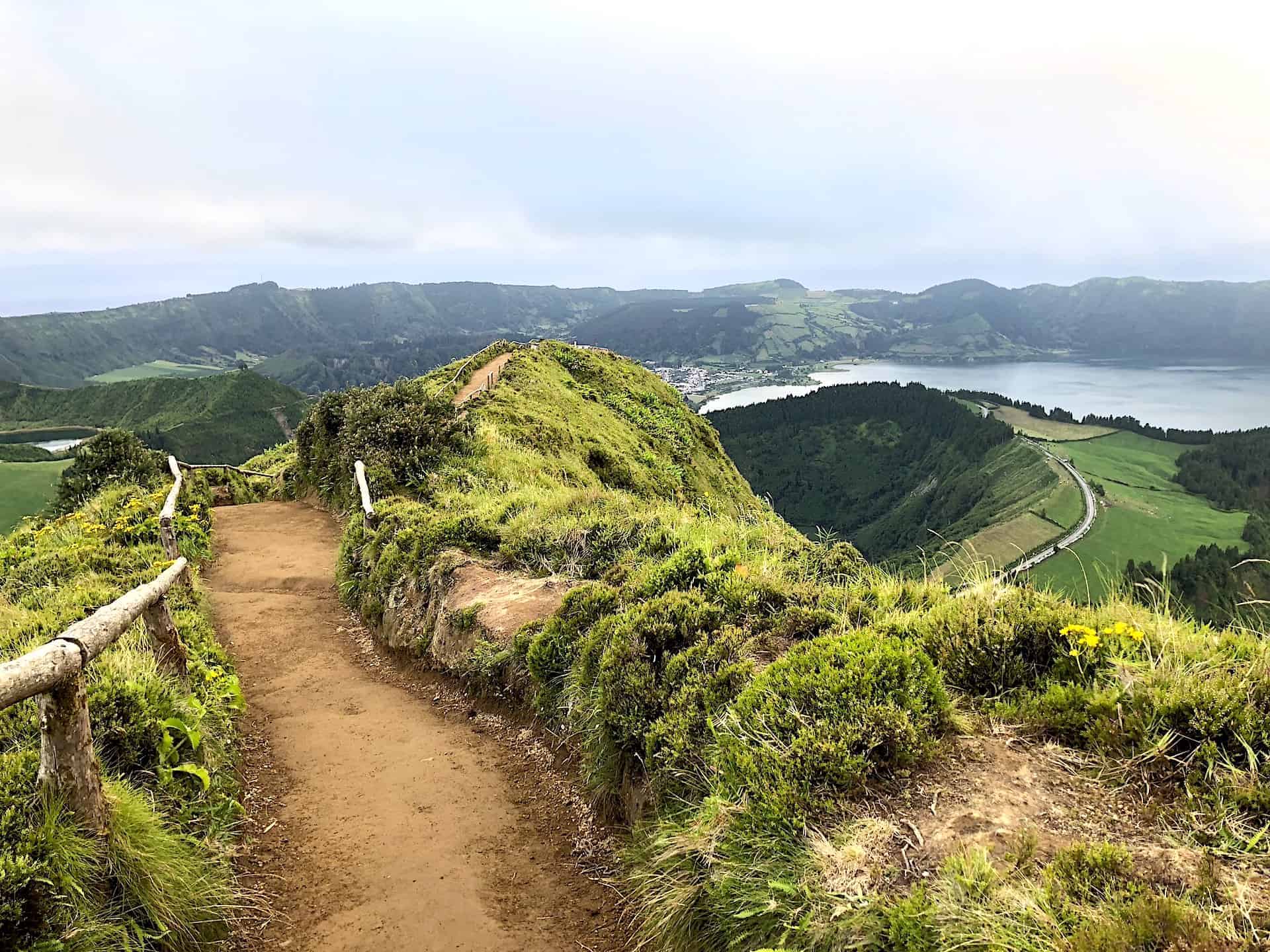 After you finish up at Boca do Inferno, you have a decision to make – either head off for a hike or drive down to the town of Sete Cidades. Below I will go over three hiking options to choose from that are all nearby.
INSIDER TIP

: I enjoyed my time up there so much, I knew I wanted to head back a second time during the trip. If you want to have the entire place to yourself, go for sunset too! When I got there for sunset, my friends and I were the only people there and had the entire place to ourselves (check out the video below!). The only downside to this is that there is gate at the start of the dirt road that closes ~7:00PM so we had to walk the 15 minutes each way instead of driving
.
4. Sete Cidades Hiking Options
The area around Sete Cidades has some great options for those that want to hit the hiking trails. There are three options to choose from, all 2-4 hours in length. Take a look at the Azores hiking guide I have up to learn more about the trails of the area.
A) Mata da Canario – Sete Cidades
The option I would recommend is the Mata do Canario to Sete Cidades hike. The starting point is a 5 minute drive from the Miradouro da Boca do Inferno parking lot, and it offers some spectacular views throughout. The hike takes you all along the craters edge of Lagoa Azul as you circle the lagoon counter clockwise and end up in the town of Sete Cidades. Not only will you be passing by lake views, but you will also see the countryside area and views out over the Atlantic. It is a one of a kind hike to take part of as you take in Sete Cidades from all different angles.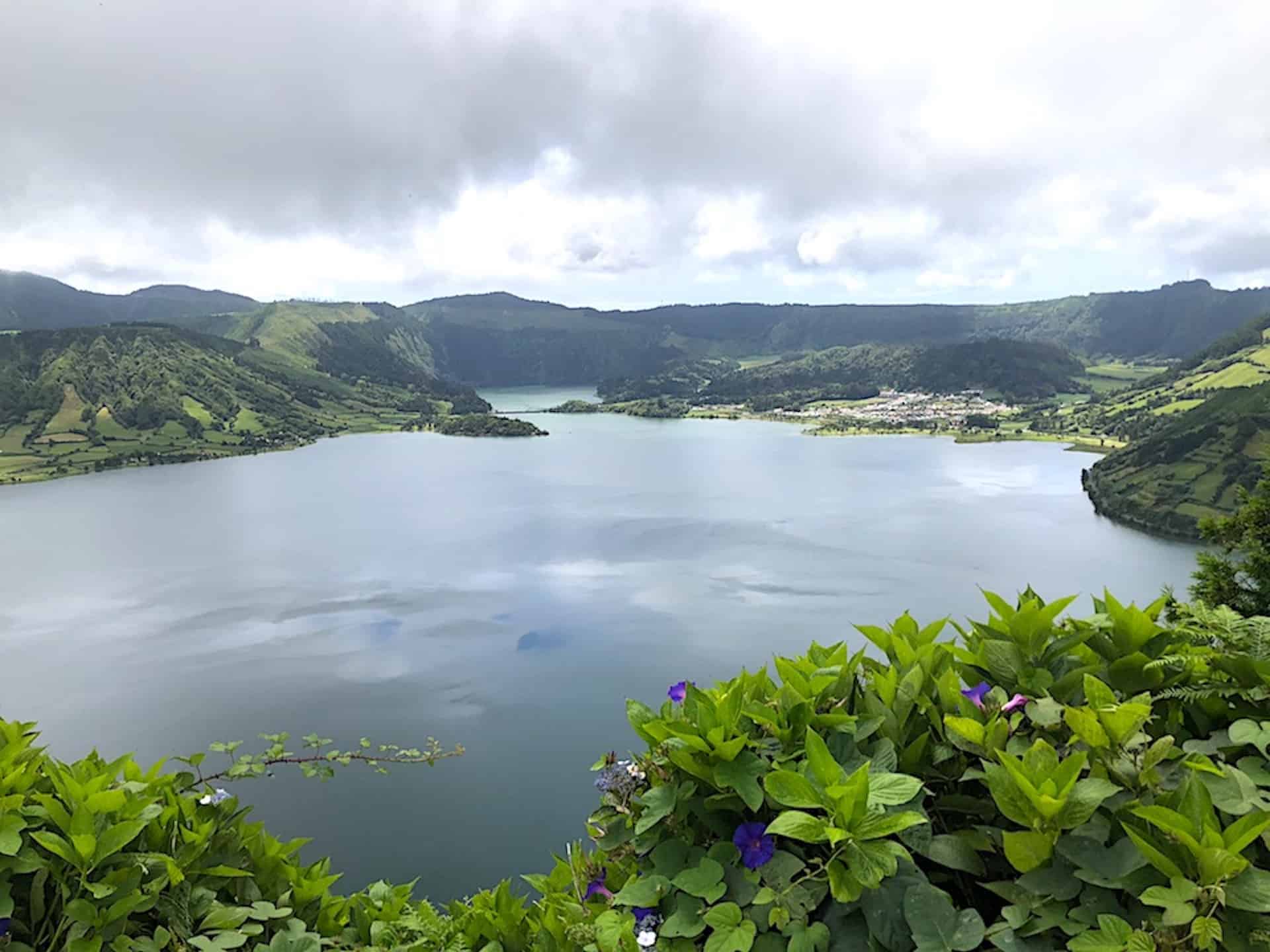 B) Vista do Rei – Sete Cidades
The second option here is another one way hike starting at the Vista do Rei viewpoint. So if you decide to take part, you will need to backtrack your drive to the initial Vista do Rei parking lot and begin the hike from there. Similar to the first option, this is also a one way hike. Instead of going counter clockwise around the lagoons, you will be going clockwise until you reach Sete Cidades. One difference here is that you will be hiking a trail further out from the crater's edge and not getting as many close up views in.
Note: option 1 & 2 both require a taxi back up to the starting points of the hike. In the town of Sete Cidades there is a taxi stand right across the street from the church. At the time I took part of the hike, there was one larger taxi van going back and forth from town back up to the parking lot.
C) Serra Devassa
The last hiking option is that of Serra Devassa. Whereas the first two options are trails that go along the crater's circumference, this hike actually takes you further away from Sete Cidades. Starting in the same parking lot of Lagoa do Canario, this circular hike takes you through the fields surrounding the area. You are sure to pass by some lush greenery alongside some more craters and lakes along the way. The upside of this, is you will be able to take in some new scenery and also not need to worry about getting back to the starting point.
5. Town of Sete Cidades
If you did not take part of one of the first two hikes (since those are one way hikes that end up in Sete Cidades town), you can hop back into your car and make your way down to the town itself. There is not a ton to do around the town but it is great to just enjoy the lakeside area, where you can take a dip or take a kayak out on the water. You can also just walk through the streets and explore the ins and outs of a traditional Azorean town.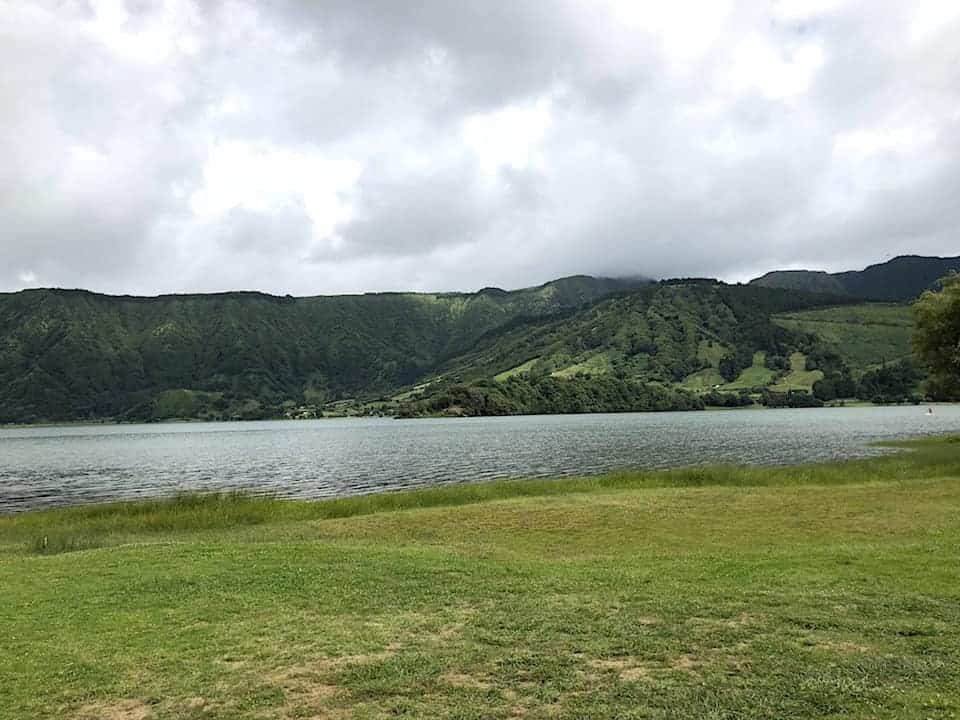 Take a look at some Azores guide books to better prep you for your trip:
6. Where to Eat
Sete Cidades is a pretty small place. It is small enough that there are street signs pointing you in the direction of the restaurants in the town. A few options to choose from include: Sao Nicolau, Lagoa Azul and Green Love. I ended up at Lagoa Azul, which has a buffet of meat, fish and salads to choose from for an all inclusive price.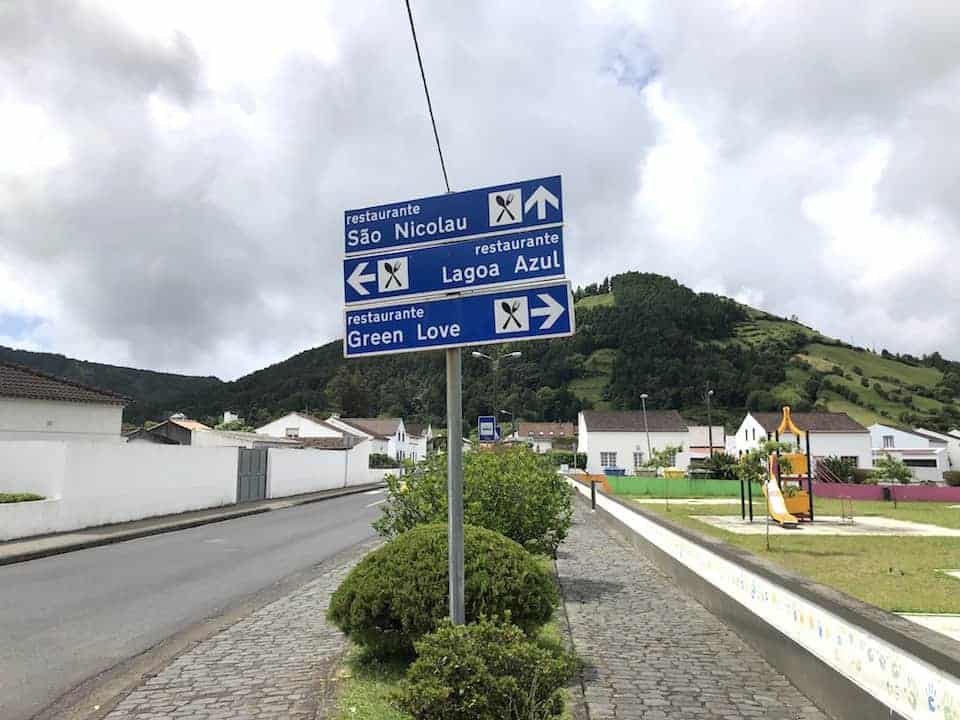 Note: if you take part of the hikes, you might not make it into town until later on in the afternoon for lunch. You may want to think about bringing your own lunch with you if you do not want to wait that long for food.
7. Where to Stay
If you are really looking for the relaxation of Sete Cidades, there are a few accommodation options to choose from. Most likely though you are not going to stay in Sete Cidades itself, rather in a town like Ponta Delgada or Furnas. Below are some top options to choose from in all of these areas:
Sete Cidades Options
5. Casa do Vale
Sao Miguel
There are a few main towns around the island but if you are looking for the most happening spot that would be in Ponta Delgada. There are way more accommodation and restaurant options here than any other location on the island. If you want to get a little further away you can also check out the town of Furnas, which is home to several natural hot springs. Here are some hotel recommendations for each:
Ponta Delgada
Furnas
That about does it for an all inclusive guide to the area of Sete Cidades on Sao Miguel Island. As you can tell it is much more than just one viewpoint, so be sure to plan accordingly for your trip to the Azores. Feel free to also check out all the itineraries and guides I have up on the site for the Azores. If you have any questions add them in below! Have fun out there and safe travels!