When visiting the island of Sao Miguel in the Azores, one of the must do activities is a visit to a local thermal pool.
One of the top options to choose from is the Caldeira Velha hot springs located in the central of the island.
This guide will go over everything you need to know about Caldeira Velha and how to go about a trip there.
* Affiliate Disclosure: This post may contain affiliate links, which means I may receive a commission if you make a purchase through the links provided, at no additional cost to you. Thanks for supporting the work I put into TripTins!
1) What is Caldeira Velha
Caldeira Velha, also known as the Caldeira Velha Environmental Intepretation Centre, is a Natural Monument consisting of hot springs, a short interpretive trail and information center, located on the perimeter of the Fogo volcano.
Due to the iron water flowing from above, Caldeira Velha is able to offer 3 warm man-made thermal pools and 1 more natural waterfall pool.
The Interpretation Centre offers visitors the chance to learn more about the volcanic origins of the Azores as well as give some background about the great biodiversity that the area has to offer.
During a visit, you can decide to just visit the Environmental Interpretation Centre and short walking trail throughout Caldeira Velha or you can decide to also take a dip in one or more of the hot spring thermal pools.
2) How to Reach Caldeira Velha
When visiting Sao Miguel, the easiest way to go about your time on the island is to rent your own car to get from place to place.
Since there is so much to do on the island and many of the places can be pretty spread out, a car rental would be my recommendation here.
» To learn more about car rentals, read more in the Driving in the Azores Guide up on the site
→ Feel free to browse through Rentalcars.com for plenty of car rental options. You can filter by car type, price, & more to find the perfect rental car for your trip to the Azores.
If you don't have a car, your next best bet would be to join a private or group tour for the day. This Sao Miguel Day Tour offers the chance to stop by Caldeira Velha after a day of exploring.
Caldeira Velha is located 25 minutes away from the main town of Ponta Delgada and can be a perfect add on to many other attractions around the area.
It is located right off of the EN5-2A highway, the same road where you will find Salto do Cabrito and Lagoa do Fogo.
Recently there has been a new parking lot built so you shouldn't have trouble finding a spot. In the past, most cars were parking on the side of the road but that doesn't seem to be much of an issue any longer.
3) Caldeira Velha Price
There are three options when purchasing tickets to Caldeira Velha depending on what you are interested in – full ticket including the interpretation center and thermal pools, interpretation center only, or thermal pools only:
Full Ticket Prices (Environmental Interpretation Center + Thermal Pools)
Adult (15 – 64 years old): 8 Euro
Senior (65+ years old): 4 Euro
Junior (7 – 14 years old): 4 Euro
Child (0- 6 years old): Free
Family (2 Adults + children under 14): 16 Euro
Environmental Interpretation Center Only
Adult (15 – 64 years old): 3 Euro
Senior (65+ years old): 1.50 Euro
Junior (7 – 14 years old): 1.50 Euro
Child (0- 6 years old): Free
Family (2 Adults + children under 14): 6 Euro
Hot Spring Thermal Pools Only
Adult (15 – 64 years old): 5 Euro
Senior (65+ years old): 2.50 Euro
Junior (7 – 14 years old): 2.50 Euro
Child (0- 6 years old): Free
Family (2 Adults + children under 14): 10 Euro
» If you are looking to rent lockers to keep your belongings safe during the time you are enjoying the hot springs, you can put down a 5 Euro deposit.
» There is also a short guided 20 minute walk available 4-5 times a day that takes you to a higher portion of Caldeira Velha. You can book in advance or when you arrive there if space is still available.
4) Caldeira Velha Hot Springs Opening Hours
The hours of Caldeira Velha are different based on time of year and can be found below. Note that the maximum stay is 2 hours and the last entry is 30 minutes before closing time.
November 1 – March 31: 9:30AM – 5:30PM (closed December 24)
April 1 – April 30: 9:00AM – 8:00PM
May 1 – September 30: 9:00AM – 9:00PM
October 1 – October 31: 9:00AM – 8:00PM
If you are looking to enjoy the thermal pools, my advice here would be to arrive first thing in the morning to avoid the crowds.
Since there is limited space in these pools, during peak hours it can feel way overcrowded and to an extent not that enjoyable.
By arriving early in the day, you won't need to worry as much being crammed in the pools with so many people. Instead you can enjoy your time in the peacefulness of the hot springs and surrounding nature.
This may not apply as much during the off season, since there will be fewer tourists visiting the Azores during that time. Either way though, your best bet is to get there on the earlier side to avoid the crowds.
5) Caldeira Velha Hot Springs & Waterfall
Once you have parked your car and purchased tickets, it is time to make the 10 minute walk down the dirt path towards the interpretative center and hot spring thermal pools.
It is a nice flat stroll through the forest until you reach the main area.
Once there you can check out the center, use the changing booths and restrooms, and then continue on the trail towards the hot springs.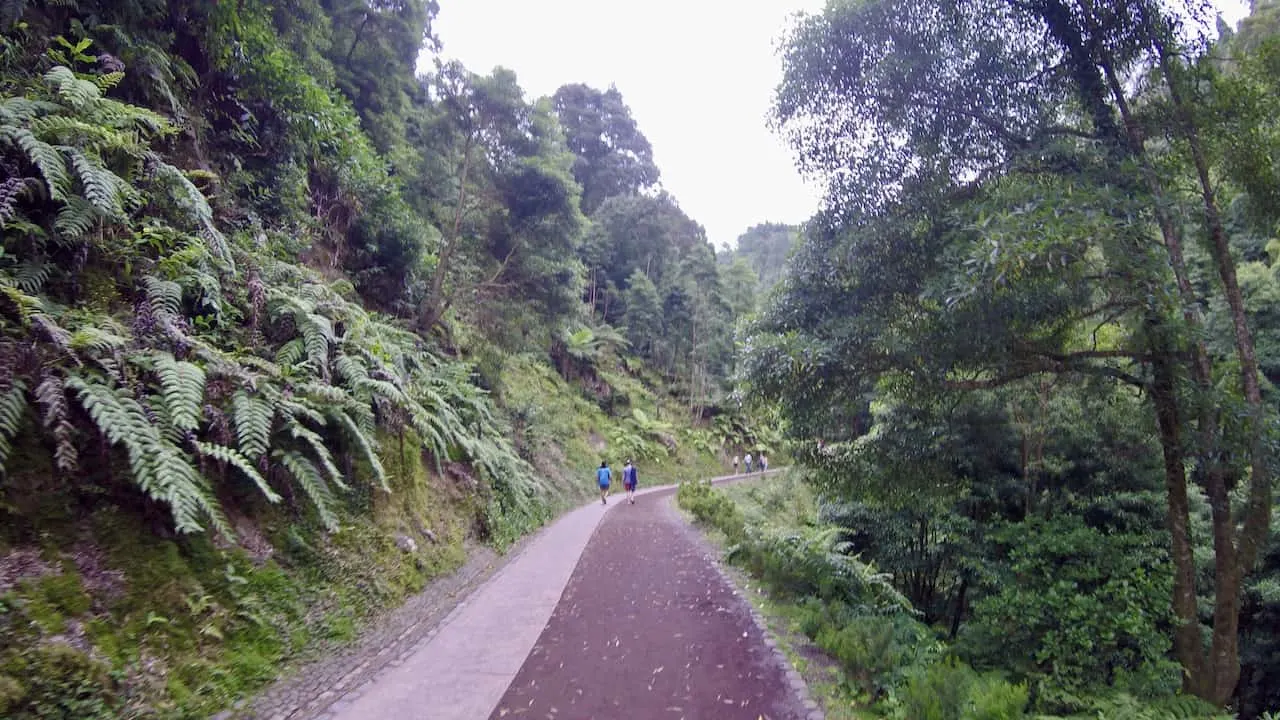 In the area you will find 3 man made hot spring pools that are flowing with the thermal water from above. These 3 pools are around 100 F / 38 C, with some variation depending on which one you go in.
Helpful Note: if you are looking to enter the hot springs, be sure to bring a bathing suit that you are willing to get a bit dirty.
The iron water can really make your bathing suit smell so bringing your best attire isn't recommended.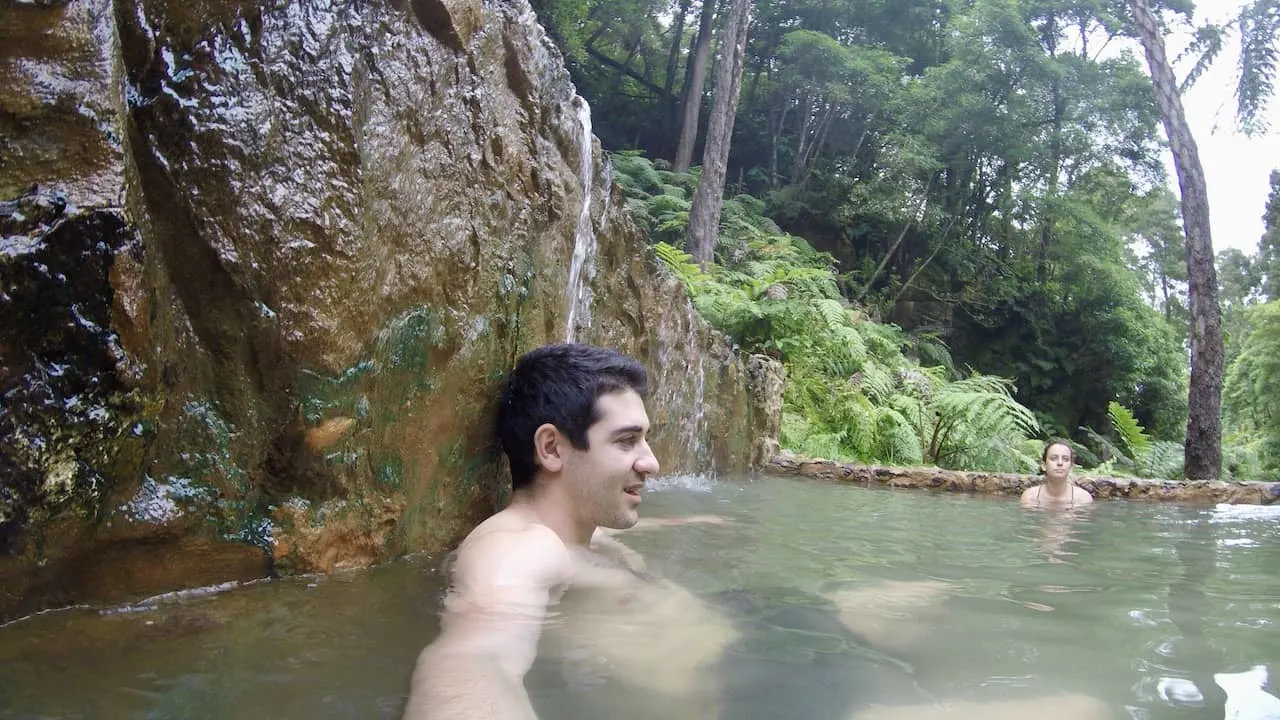 As you are making the walk around you are also sure to see roped off areas that have extremely hot water and thermal activity that is unsafe to approach.
Viewing the area from the pathway is as far as you should go here.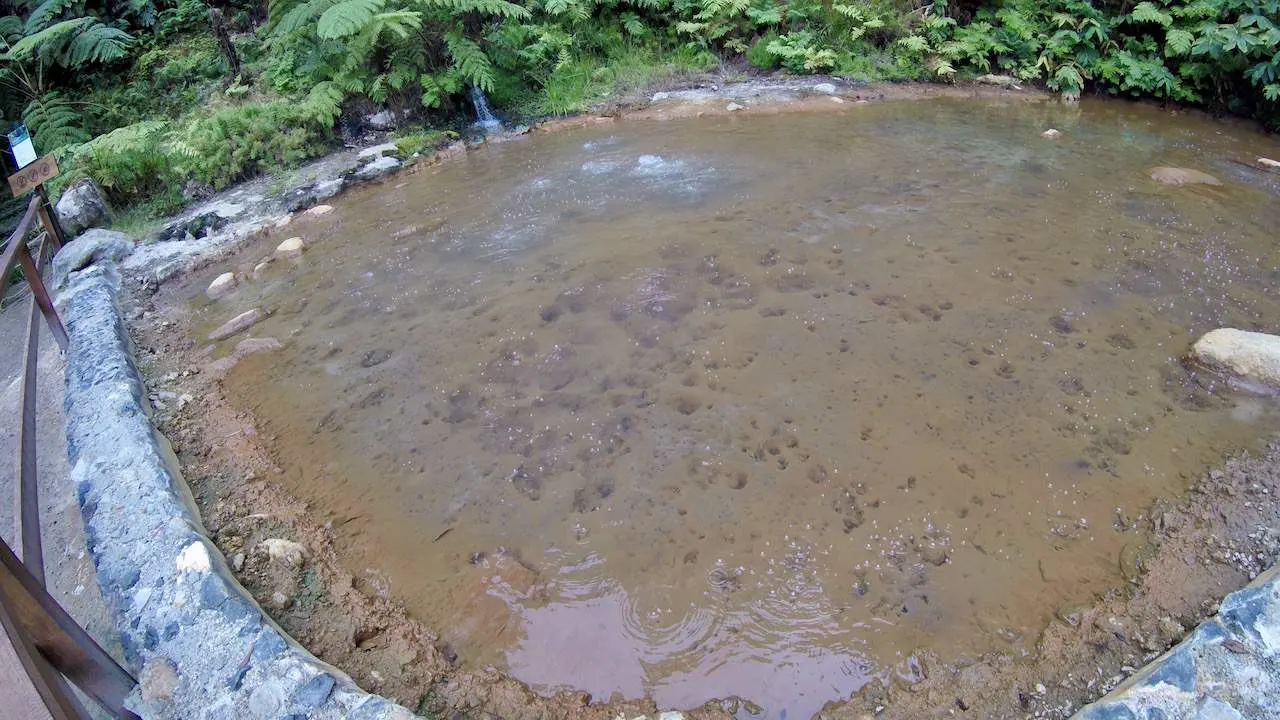 If you continue further along the path, you will approach the 4th hot spring area. This hot spring is different from the previous three.
Instead of a more man made approach, you will find a natural pool being filled with warm water from the waterfall. It is also cooler than the other pools at 75 F / 24 C.
Once you have had enough time walking the pathways and enjoying some time in the water, you can head back to the main area, where you can wash off in the showers and change into some dry clothes.
It is then back down the pathway to the main entrance, where you can head off to your next attraction of the day.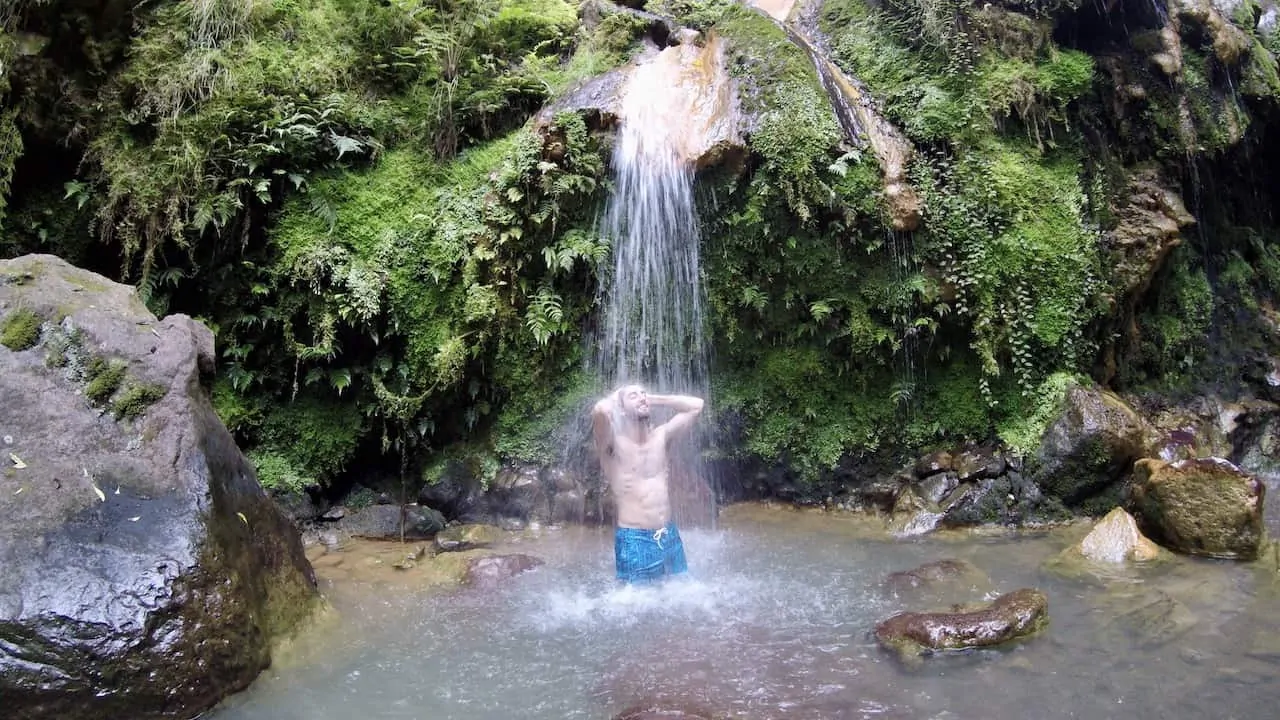 6) Where to Stay in Sao Miguel
There are a few main towns around the island but if you are looking for the most happening spot that would be Ponta Delgada. There are way more accommodation and restaurant options here than any other location on the island.
If you want to get a little further away you can also check out the town of Furnas, which is home to several natural hot springs. Here are some hotel recommendations for each:
Ponta Delgada: Hotel Marina Atlantico | VIP Executive Azores Hotel | Hotel Azor
Furnas: Terra Nostra Garden Hotel | Furnas Boutique Hotel | Quinta de Santana
I hope you found this guide helpful for your trip to Caldeira Velha on Sao Miguel. If you have any questions or comments feel free to add them in below.
Be sure to also check out the other Azores itineraries and guides up on the site like the rest of the Azores Hot Springs. Have fun out there and safe travels.