Inter Island Azores Ferry | Ferries in the Azores
When planning my trip to the Azores I knew I wanted to do some exploring between some of the islands. As you would imagine one of the main modes of transportation between the islands of the Azores is by ferry. While flying is your go to option for longer routes, ferries are the way to go when going in between nearby islands. This guide will go over a bunch of different information you will need to know when it comes to Azores ferries and help answer any questions you may have along the way.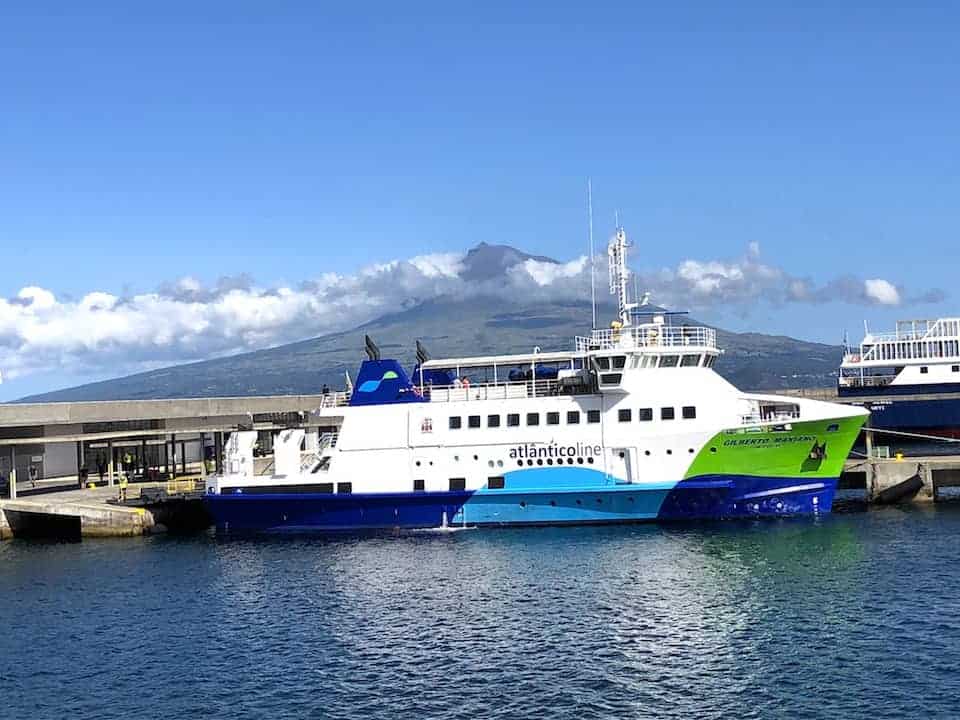 *Affiliate Disclosure

:
This post may contain affiliate links, which means I may receive a commission if you make a purchase through the links provided, at no additional cost to you. Thanks for supporting the work I put into TripTins!
NOTE: UPDATED FOR 2020!
1) Introduction to Ferries in the Azores
Ferries will be your go to transportation option when island hopping in the Azores. There is one ferry company that runs throughout the entire archipelago called Atlanticoline, and it will become your best bet as you make your way from one island to the next.
Overall, ferries in the Azores are not too hard to figure out, however I wanted to put together this guide as an overview of what to know beforehand to better prepare you for your trip.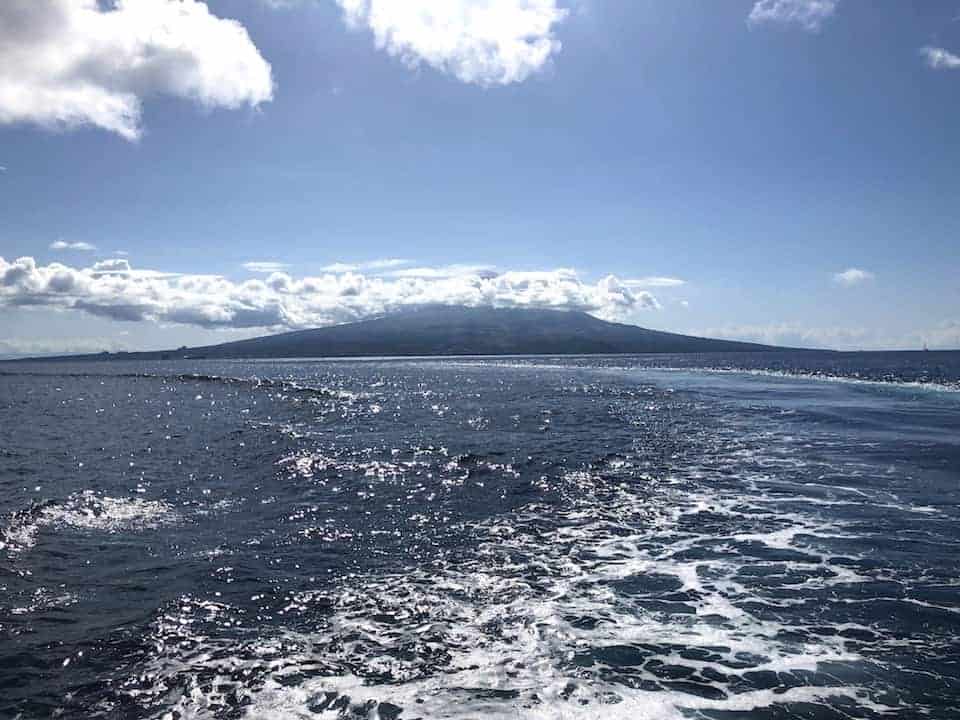 If you did not know already, the Azores are actually made of 9 different islands located in three main island groups – the eastern, central and western islands. For the most part, I assume you will be more so interested in ferries within island groups themselves (i.e. Pico to Faial or Flores to Corvo).
However, it should be noted that you could go from one island group to the next, although those ferries would be very long and less frequent. This guide will go over it all just in case you had questions about either.
2) Atlanticoline Lines
As the only ferry company is the Azores, Atlanticoline will provide all the boat transportation needed while on your trip. As a starting point here is the Atlanticoline website which I will reference to throughout the article.
Below is a map from with the four different lines that the ferry company operates on.
Line A / Blue
The Blue line operates just between the islands of Faial (Horta) and Pico (Madalena). It is a quick 30-minute ride and you will find multiple routes in either direction per day.
Line B / Green
The Green line also operates between Faial and Pico but also adds in a second port in Pico (Sao Roque) and the island of Sao Jorge (Velas).
Line C / Pink
Similar to the Blue line, the Pink line only goes between two islands – Flores and Corvo (Vila do Corvo). On Flores there are two different port options, Santa Cruz and Lajes.
Line E / Yellow
The yellow line is different from the previous three as it only has seasonal operation May – September (exact dates are different by year). With this line you will be able to take advantage of the routes from one island group to the next. If you are not visiting during the May to September time period your only option will be to fly between island groups.
Looking to Plan Your Itinerary to the Azores? Check Out Some Top Guides:
And Plenty More Azores Guides!
3) Azores Ferry Atlanticoline Schedule
Before jumping into the schedule I wanted to point out a very important note. Depending on where you are going and coming from, the ferry schedule is not the same on a day to day basis. Some days, there are routes that do not run at all. This is even more so the case during the offseason / winter months where ferries become more and more infrequent.
So, if you are planning a trip, before determining what day you will be making your way to the next island, you will have to make sure there will be a ferry to take you there. Do not make the mistake to just assume there will be a ferry every day.
With that said, here is the link for the four different line schedules that I had mentioned above – the blue, green, pink and yellow lines. The below screenshots do not represent what you will see year round so be sure to check the latest schedules! Please use the link to see the full year 2020 ferry schedules for each of the 4 lines.
A) Blue Line
Lets start with the blue line. As mentioned it simply is just a 30 minute ride between Madalena (Pico) and Horta (Faial). In the summer time for instance, this ferry has ~6 rides in each direction starting in the morning and ending in the evening time. Below is the schedule from June to September. For the other times of year click on that link above!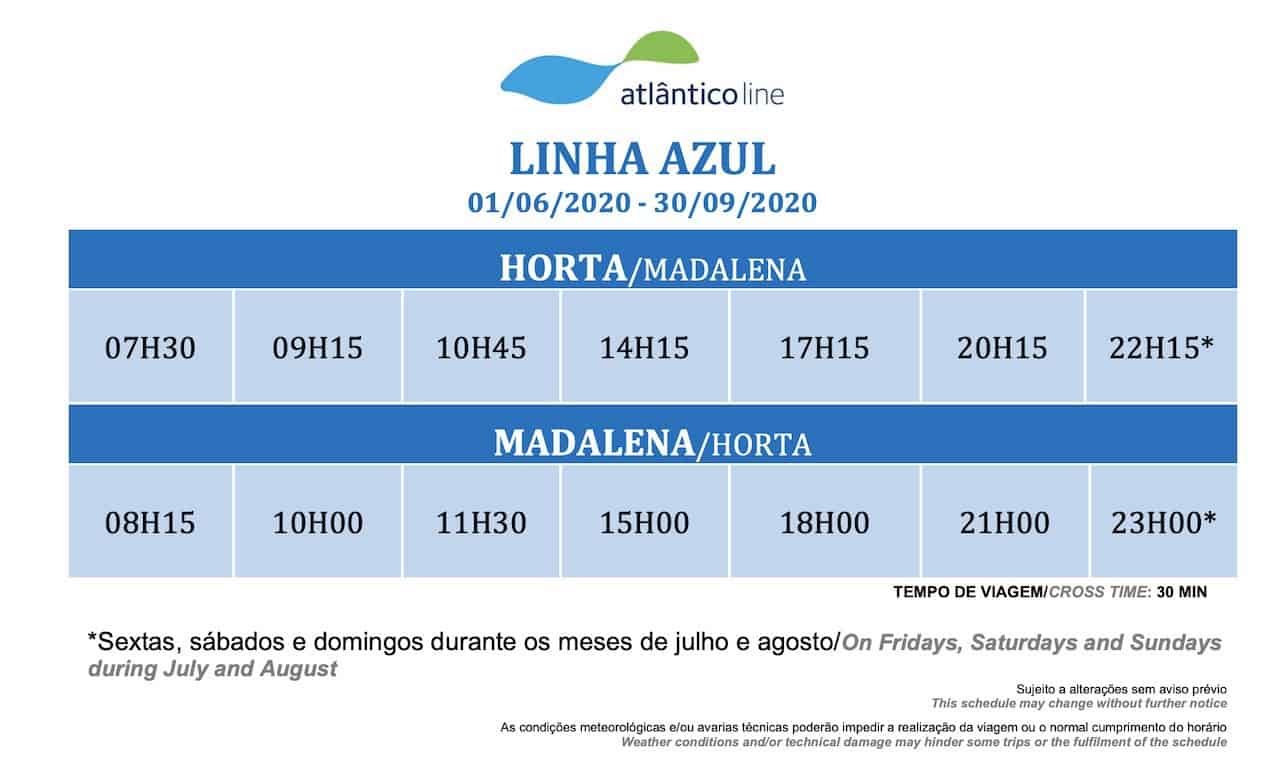 B) Green Line
The green line gets a bit more complicated as it adds in Velas (Sao Jorge) as well as a second port on Pico – Sao Roque, on the northern end of the island. As you can see on the schedule below (screenshot part of the May schedule), each day is listed separately and has different routes depending on the day (not all the same like the blue line).
⇔ For example, let's look at the first line on May 13. At 7:00AM a ferry will leave Horta (Faial) and arrive at Madalena (Pico) at 7:25AM. It will then depart at 7:45AM to Velas (Sao Jorge) and arrive there at 9:05AM. The boat will then turn around and head back to Madalena at 9:25AM, arriving at 10:45AM. And finally, it will be leaving Madalena at 11:05AM and arriving in Horta at 11:30AM.
⇔ If you are looking to take a day trip from Horta (Faial) to Velas (Sao Jorge) for the day on May 13, you will need to catch the 7:00AM ferry out (with a quick stop in Madalena), and you can then return with the 20:25 or 22:00 later at night. But remember – EVERY DAY CAN BE DIFFERENT.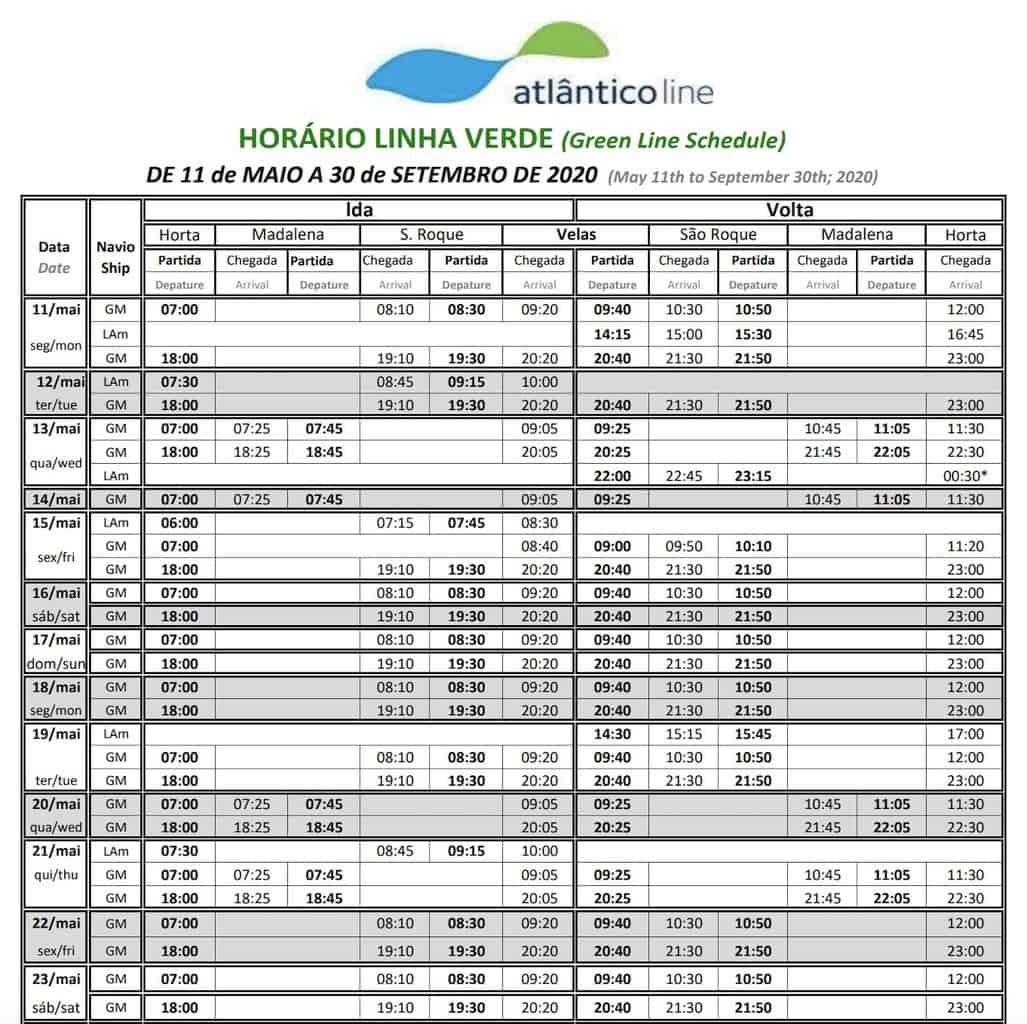 C) Pink Line
Moving onto the pink line you can simply see the yearly calendar between Santa Cruz / Lajes (both on Flores) and Corvo. Simply find the month and day that you would like to travel and match it up with the first column on either side of the schedule.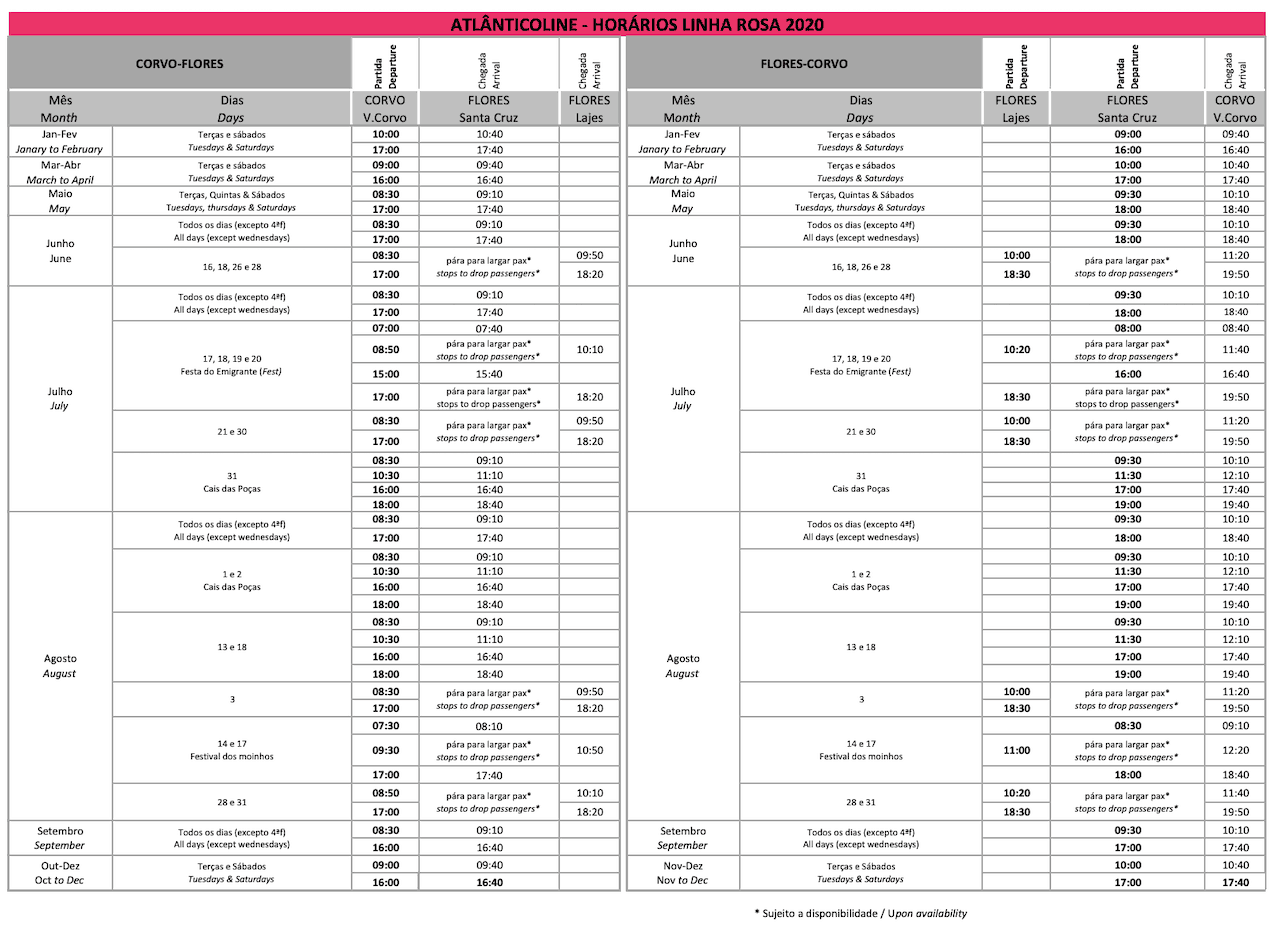 D) Yellow Line
Lastly is the seasonal yellow line that's runs from May to September. Here is where the option comes into play to travel between island groups if that is something you are interested in. You will find under the Yellow Line the Sao Miguel – Santa Maria ferry, as well as incorporating Terceira and Graciosa into the mix.
This schedule runs similarly to the green line as each day will have its unique schedule mentioned. Simply go to your date/s and you will see what routes are being run that particular day along with the time of departure and arrival (make sure to look at both sides of the schedule to see all available routes).
One additional thing to note here is that some routes do overlap with the Green line. If you are looking to go from Sao Roque (Pico) to Velas (Sao Jorge), you could catch a ferry either on the Green or Yellow lines depending on what day you are traveling.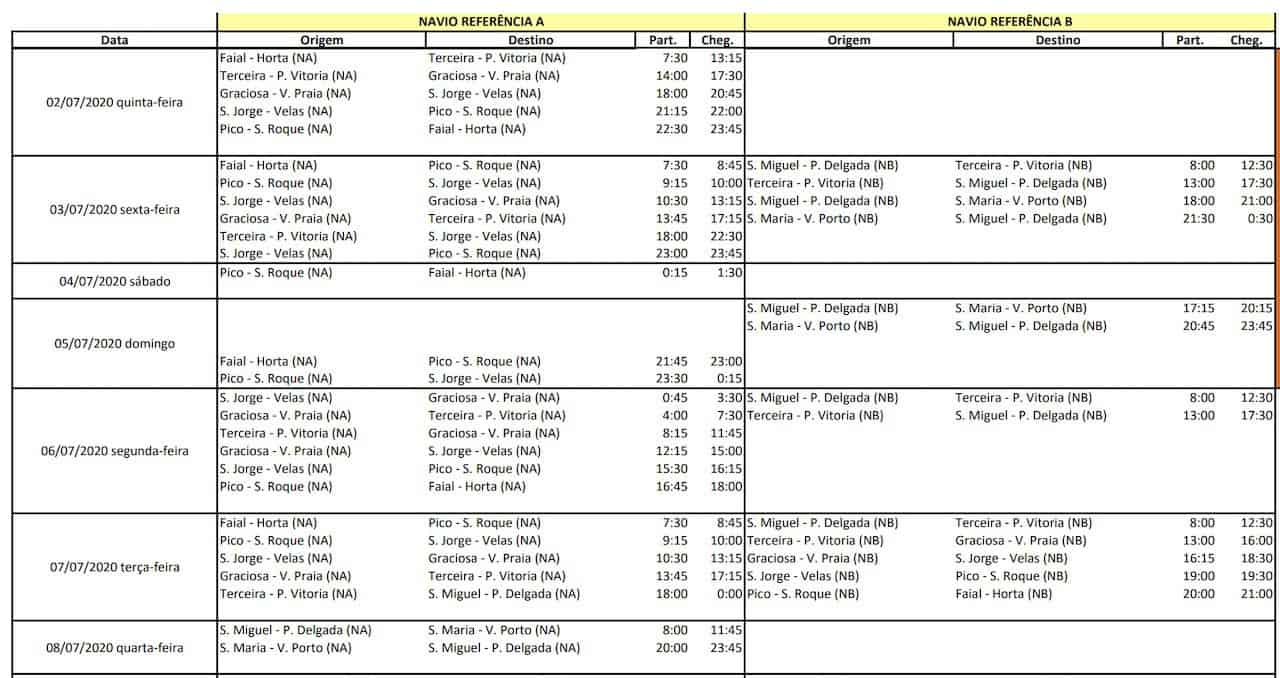 Take a look at some Azores guide books to better prep you for your trip:
4) Buying Azores Ferry Tickets
Purchasing ferry tickets can be done in a couple different ways. Your first option is to make your way to the ferry terminal beforehand (either day of or prior to your departure day) and buy tickets directly from the ticket counter. If you do buy tickets day of I would recommend arriving there a bit earlier in case there is a longer line.
If taking a day trip, I would also recommend to purchase your return tickets at the same time (if you know which ferry you want to take back) as it is one less thing to worry about at the end of the day.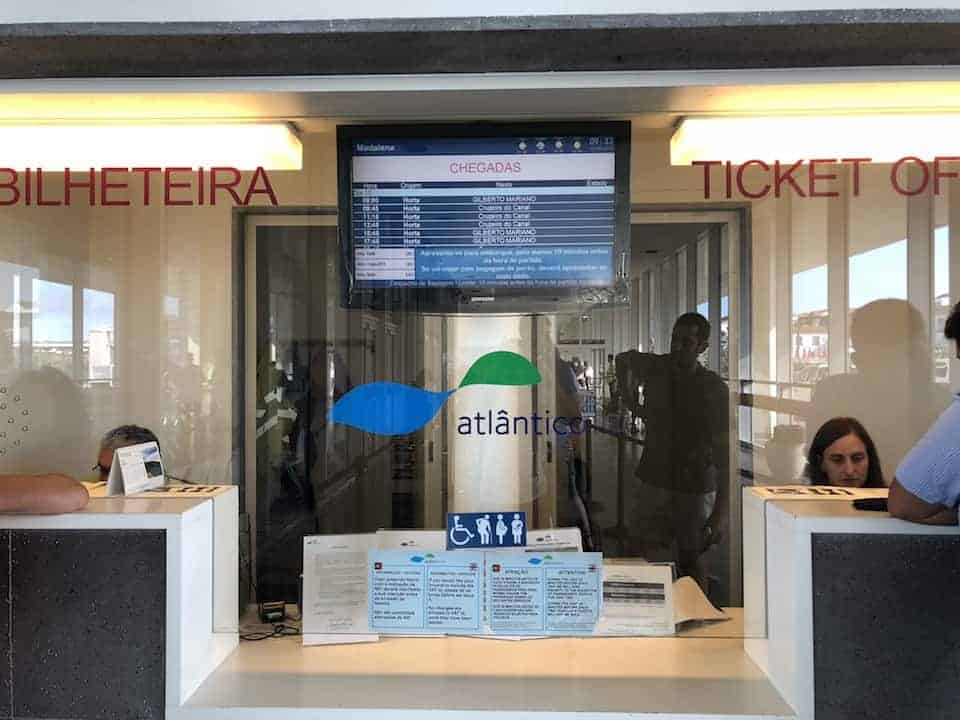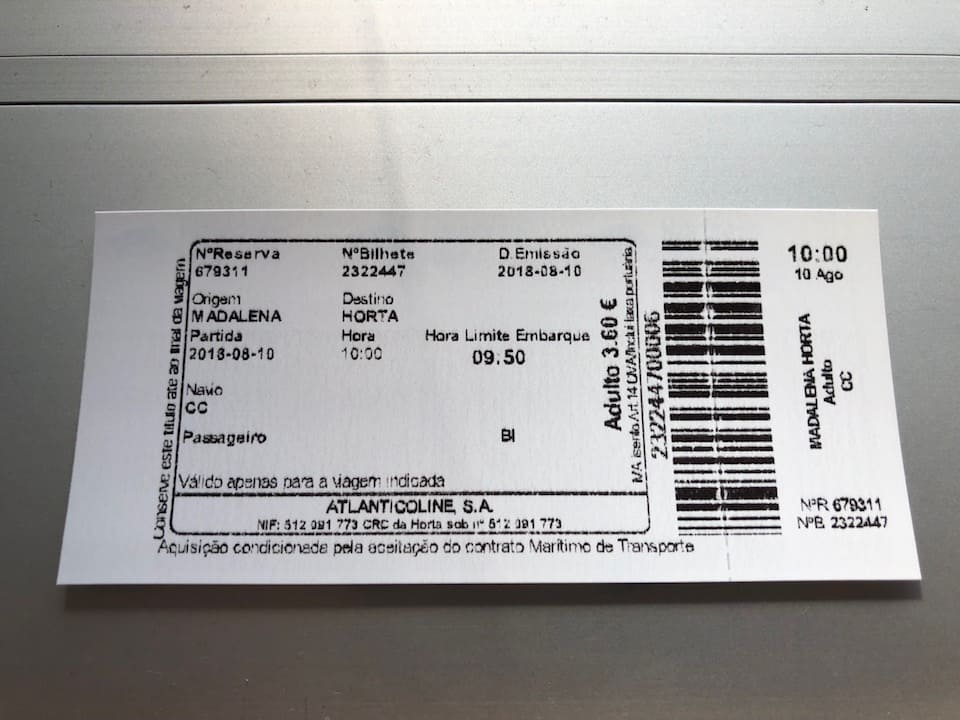 The second way to purchase tickets is through the Atlanticoline website. On the top of the homepage there is an option to put in your trip details and you will be shown which trip options are available for the day selected. When you search for the particular date, you will also be shown the 4 day window of routes. So if a route is not available on a certain day, this is a good visual to show you what your other options are close to your dates.
Simply follow the on screen prompts to buy the tickets and make sure to print them out beforehand. If you do not want to leave anything to last minute then you should go with this option.
5) Azores Ferry Prices
Here is a price list of all the different Azores ferry routes available. You can see both the one way and round trip prices indicated by the arrows. Note the prices are in Euro for Adult tickets.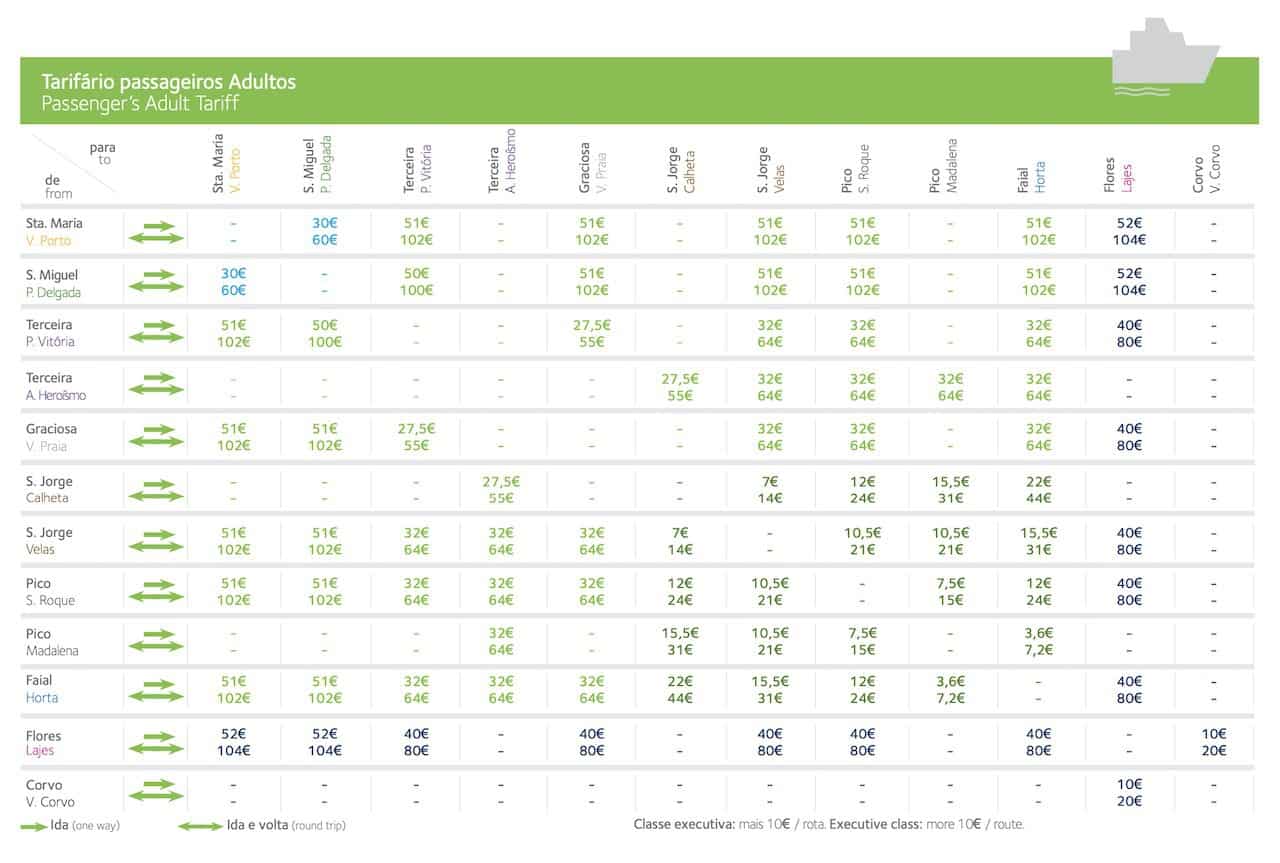 6) Bringing Cars on Ferries
This part of the guide is not not something I had firsthand experience with and is just based on my research. It is possible on some (but not all) ferries to bring your car on board. I counted about 8 or so spots available when I was taking ferries with vehicles on them on the Green and Blue lines.
If you do want to take your car onto the ferry you should book that ticket ahead of time due to the small amount of availability per boat. Using the same booking process as above, you will have the option to add a car to your ticket for an additional charge.
When looking at the schedule just note that not each ferry will be able to take cars. From my understanding if looking at the Blue and Green lines, if it is a Gilberto Mariano (GM) boat, you will be able to bring a car on board (CC/CI boats do not allow vehicle transport). You should see the ship name next to the route on the different schedules.
For the yellow lines I believe they all allow cars and there should be more spots available – to double check though and try to book online to make sure before assuming anything. As for the Pink line, cars are not allowed on the ferries.
If you have rented a car on one island and want to bring it to another by ferry, I have been told you must contact your car rental company beforehand and ask them if that is allowed. I am not sure if there is an additional fee or just approval required, but do ask your car rental company instead of just assuming you can bring it to another island.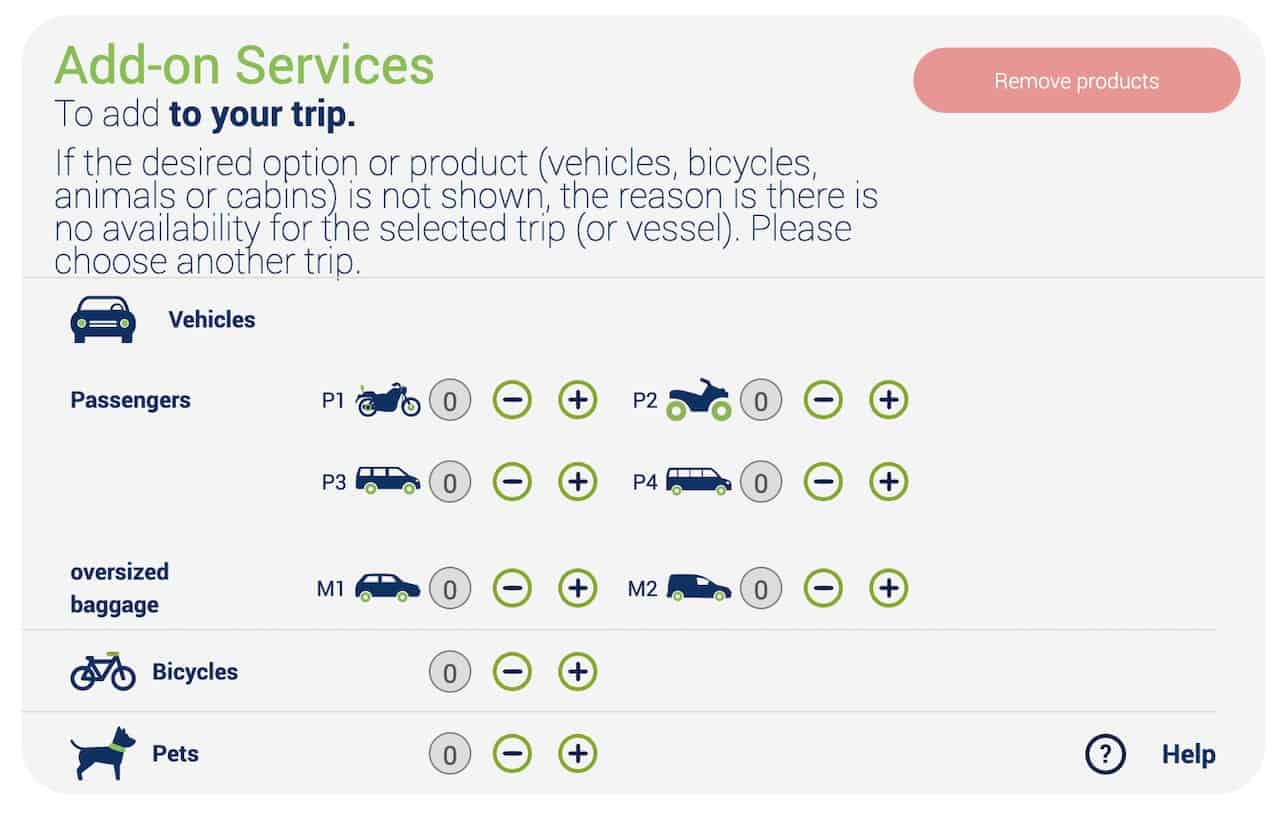 7) Atlanticoline Ferries
Lastly, I want to quickly go over the boats that you will be riding between the islands. There were four different types of ferries that I rode/saw during my time there.
The first which was most common had three stories with both indoor and outdoor sections. The ground level had the car parking and luggage storage as well as what looked like an indoor section. The second level had some outdoor and indoor seating along with bathrooms and a small food/beverage bar. The third level was outdoors but was covered in some sections as well.
The second type of ferry just had two levels without car space and was one of the boats for the shorter route between Pico and Faial.
The third ferry, which I did not ride is seen in the third picture below. I believe these are the boats that go the longer distances on the yellow line. The fourth ferry would just be the one between Flores and Corvo – more so a small boat than a ferry, which holds about 12 passengers.
One thing I did not realize beforehand is that the ferry terminal actually has a baggage check for larger pieces of luggage. So instead of lugging it with you onto the ferry and finding room for it, simply drop it off at the check in counter and it will be waiting for you on the conveyor belt inside of the arrival terminal.
For the most part everything ran on time give or take 10 minutes. The ferries were pretty comfortable and also had free WIFI onboard which was very convenient. Once the ferry docked at the arriving terminal, first the cars are let out followed by the passengers. Everything is a smooth process from beginning to end.
8) Where to Stay in the Azores
Since the Azores are made of of 9 different islands and I did not visit / stay at a hotel in each one, I will just give some insight on what I do know and some recommendations for accommodation.
There are two main ways to go here – either browse through Booking.com to find the best hotel that fits your budget and style or check out Airbnb which might have more options.
Sao Miguel
There are a few main towns around the island but if you are looking for the most happening spot that would be in Ponta Delgada. There are way more accommodation and restaurant options here than any other location on the island. If you want to get a little further away you can also check out the town of Furnas, which is home to several natural hot springs. Here are some hotel recommendations for each:
Ponta Delgada
Furnas
Pico
I would recommend staying right around Madalena (especially if you do not have a car), or Sao Roque on the northern end of the island.
Sao Jorge
Velas is the main town in Sao Jorge but I did not have enough time to stay on the island. Here are a couple highly rated spots though:
Cantinho das Buganvilias Resort (a bit outside of town)
Faial
Staying in Horta is sure to be a good time. It has a great marina area surrounding by shops and restaurants throughout.
Azoris Faial Garden Resort Hotel
I cannot speak for the other islands as much since I did not go to them but Booking.com should have plenty to choose from. Usually these islands only have a few main areas to stay in and sleeping by the marina area is always a safe bet.
Although ferries in the Azores are pretty simple to figure out, I hope this guide has given you some more insight into the process and what to expect as you take your trip to the Azores. If you do have any questions or comments write them in below. Feel free to also check out some other Azores itineraries and guides up on the site!