Welcome to Bangkok, Thailand – one of the most visited cities on earth, and for good reason! There is just so much to do in the capital city – from extravagant temples to top notch street food to some of the best nightlife that Southeast Asia has to offer.
You will not be bored on your visit to Bangkok as there is always something to do at any time of day. This guide however will go over some of the best things to do as part of a quick Bangkok itinerary if you only have a short amount of time to spare. So read on to learn more about this incredible city!
* Affiliate Disclosure: This post may contain affiliate links, which means I may receive a commission if you make a purchase through the links provided, at no additional cost to you. Thanks for supporting the work I put into TripTins!
1) Getting Around Bangkok
Bangkok is a very large city with numerous neighborhoods sprawled throughout. Depending on where you are staying during your visit you will probably need to use a combination of taxis, tuk tuks, skytrain, and subway to get around.
Taxis and Tuk Tuks
Probably the most convenient option will be hopping in a taxi or tuk tuk to get from one place to the next. They are everywhere and anywhere so you should have no problem finding one.
It should be of note though that traffic can get overwhelming, especially during the rush hour portions of the day. If this is the case maybe try to stick with skytrain or subway if possible.
No matter what the case though, with taxis and tuk tuks always be sure to agree on a price beforehand. You do not want to be stuck with an unreasonable fare at the end of your trip.
Also be aware of the quick scams these drivers try to pull. To learn a bit more about them check out the Thailand helpful tips section.
BTS Skytrain and MRT Subway
Bangkok also has a wide array of public transportation options throughout the city in the form of the overground BTS Skytrain and the underground MRT Subway.
Now these lines do not go everywhere but can save you some time by taking the skytrain or subway for a certain duration before walking or taxi/tuk tuk to your final destination.
Check out the maps of these two public transportation systems to get a better idea of where they may take you.
2) Bangkok Attractions
While there is just so much to do as part of a Bangkok itinerary, I wanted to create this guide for those with a short amount of time to explore the city.
I have highlighted three different temples which you can visit during one full day there, and then listed out several nightlife options you can choose from. If you have more time to explore I mention a few other options later on in this guide.
Temples
1) Grand Palace & Wat Phra Kraew
2) Wat Pho (Temple of the Reclining Buddha)
3) Wat Arun (Temple of Dawn)
Nightlife
1) Khao San Road
2) Soi Cowboy
3) Patpong
4) Sky Bar
3) Map of Bangkok
Below is a map of Bangkok with the attractions pinned down (temples in blue, nightlife in yellow, and boat to Wat Arun in red). As you can see the three temples are all pretty close to each other.
On the nightlife side you will probably have to choose one or two that look the most appealing to you. Don't worry there is plenty to choose from to enjoy.
Tour Option: If you want to be guided around the city by an expert, feel free to browse some private or group guided tour options that can take you all around Bangkok
4) Temples of Bangkok
A) Grand Palace & Wat Phra Kaew
Entrance Fee: 500THB
Visiting Hours: 8:30AM – 3:30PM
​Your first stop of the day with be the Grand Palace & Wat Phra Kaew (housed within the same complex), which you can get to by taxi/tuk tuk or by foot depending on where you are staying within the city.
As mentioned above, traffic in Bangkok can get pretty brutal at some points so just be sure to factor that into your timing.
​Near the entrance you will have the option of getting an audio guide of the complex. This way instead of just walking around you will also be able to understand some of the history and meaning behind it. ​
Note the strict dress code as well – long pants/no sleeveless shirts/must have socks/skirt below the knee. If you don't abide by the dress code you can buy the required clothing just outside the main entrance.
​The Grand Palace complex is full of very detailed, ornate architecture. You will come across plenty of gold coated statues, pagodas and shrines throughout. The multi colored murals and artwork will show why it is the number one most visited attraction in Bangkok.
Even though very crowded, take your time to walk around and enjoy the different areas of the complex. At every corner you turn you are sure to see another building that catches your eye.
As you make your way around the Grand Palace you will then be directed towards Wat Phra Kaew also known as the Temple of the Emerald Buddha – housing one of the most sacred images of Buddha in all of Thailand.
Plan on spending at least 1-2 hours here exploring the ins and outs of what this complex has to offer.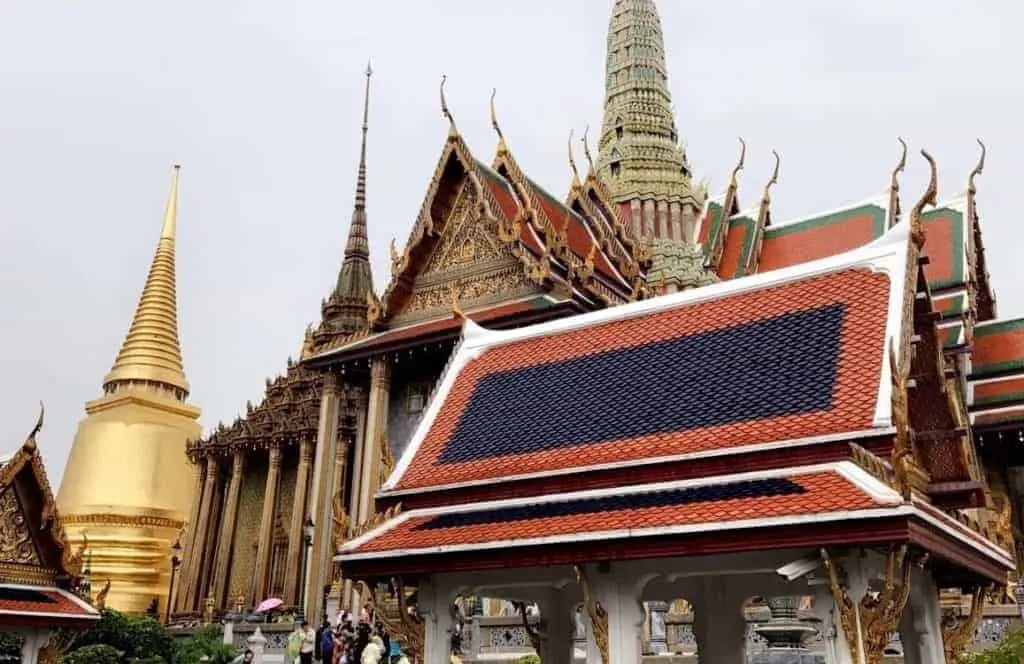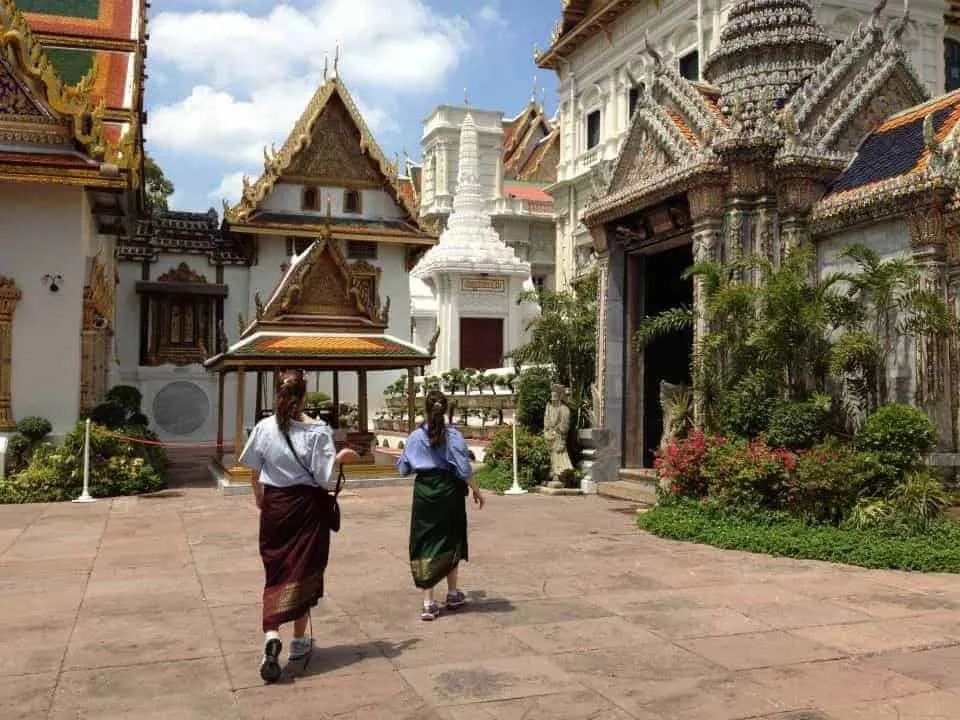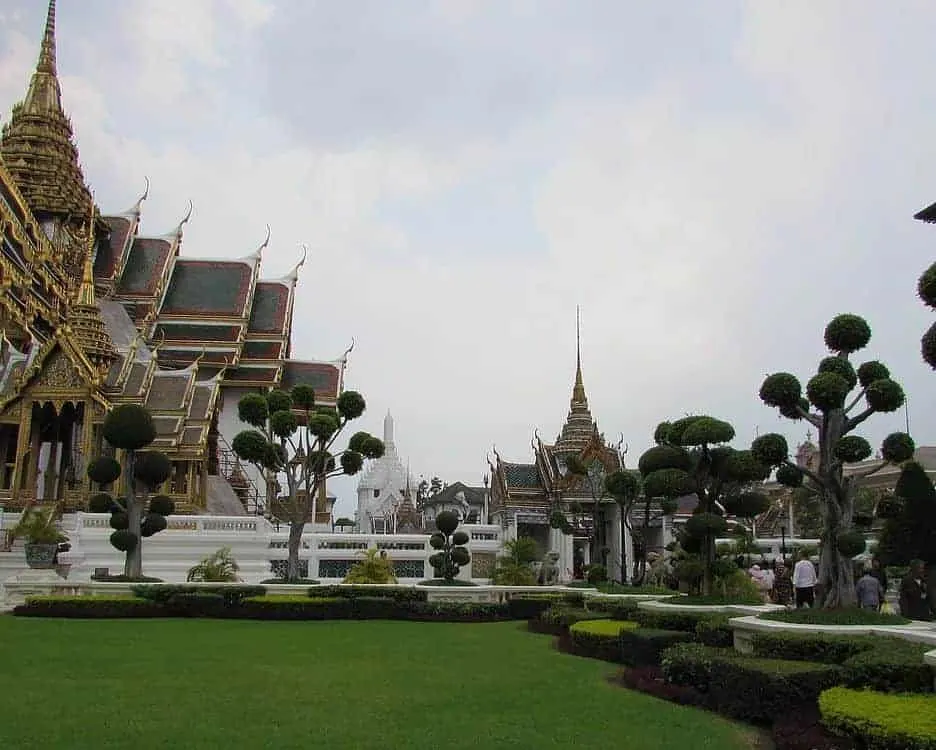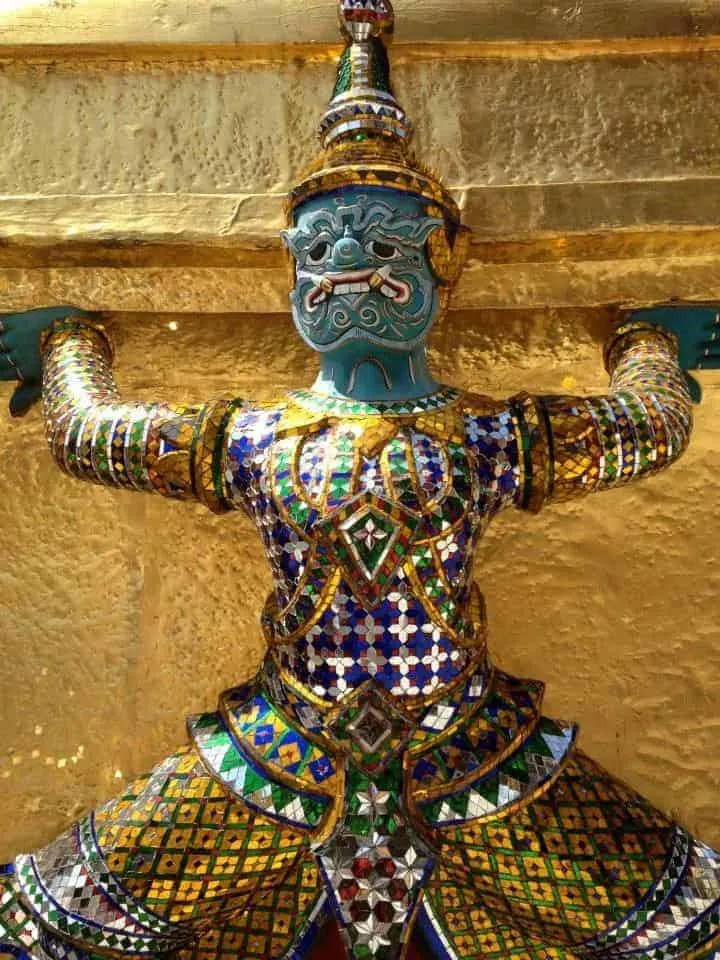 B) Wat Pho
Entrance Fee: 100THB
Visiting Hours: 8:00AM – 5:00PM
​After wandering around the Grand Palace, take the short walk to Wat Pho – Temple of the Reclining Buddha. Here you will come across one of the largest buddhas there is in the world.
This one is laying on its side and is 150 feet long! As you walk alongside the Buddha you can purchase a bucket of coins which can be put in the 108 small tins that are laid out across from the room.
These 108 tins represent the "108 positive actions and symbols that helped lead Buddha to perfection".
But do not just visit for the Buddha! Make sure to take some time to walk around the complex, which houses hundreds of more Buddhas and ornate pieces of architecture.
The complex is much less crowded than the Grand Palace but just as beautiful so take some time to enjoy this incredible site as you stroll around.
​If you would like there is also a massage school located on the grounds, where you can relax and get either a foot or Thai massage before heading out.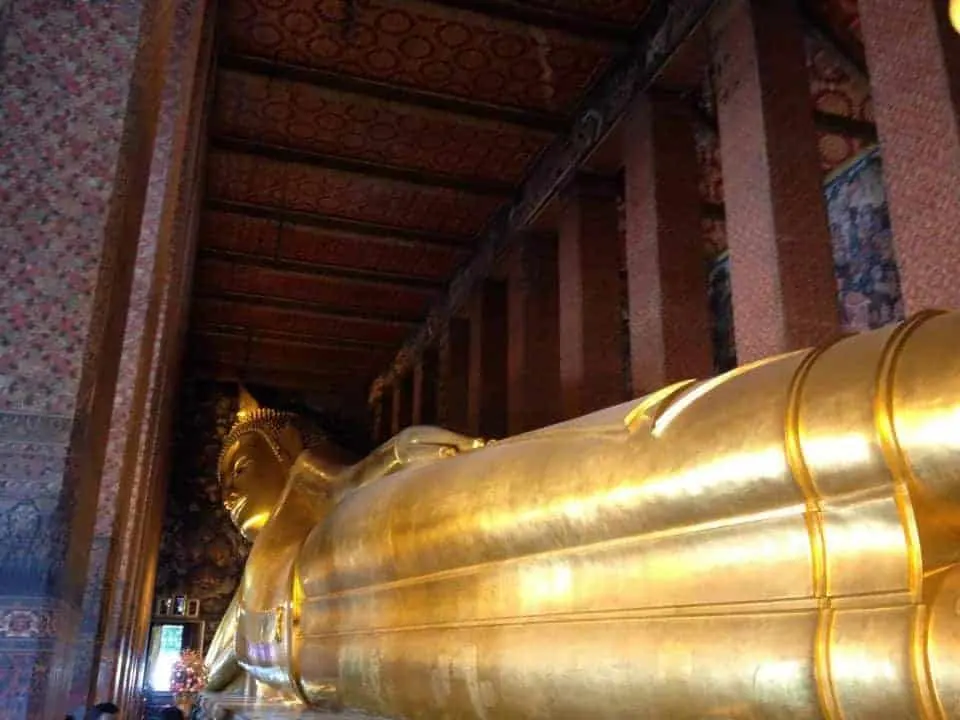 C) Wat Arun
Entrance Fee: 100THB
Visiting Hours: 8:30AM – 5:30PM
​The last temple part of Bangkok's temple tour for the day is Wat Arun – The Temple of Dawn. It recently went through a multiyear renovation but has re-opened so you will be able to visit and get the most out of this iconic structure.
You can get there by crossing the river by boat. But before you do so you can walk around the river area passing by small shops and fruit stalls. There are some great small restaurants on the river overlooking Wat Arun if you want to grab a snack or beer.
Once ready to cross the river just hop on a quick ferry that will take you right up next to this temple. When you reach the temple you will be able to climb up to the top to enjoy the view.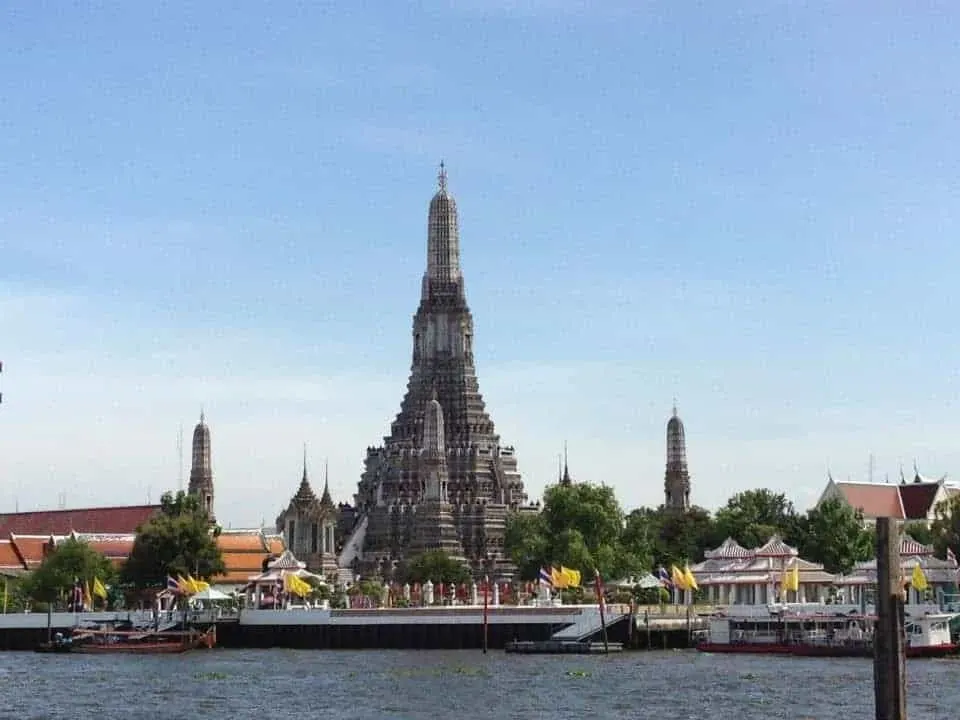 5) Bangkok Nightlife Options
​There is no shortage of nightlife options in Bangkok. From bars and clubs to streets filled with music and people, the Bangkok nightlife is one of the best things to do in Thailand. Whatever you are looking for Bangkok has it. Here are just a few of the main options to choose from when thinking about how you would like to spend your night out.
A) Khao San Road
​The center of nightlife for Bangkok and a hub for backpackers. Khao San is one long road with bars on either side, music blasting at every corner, and plenty of street food to choose from.
Most of the bars are open to the street and gives a great indoor/outdoor feel. Once you have a few beers at one place continue down the road to check out another. There will be no shortage of options.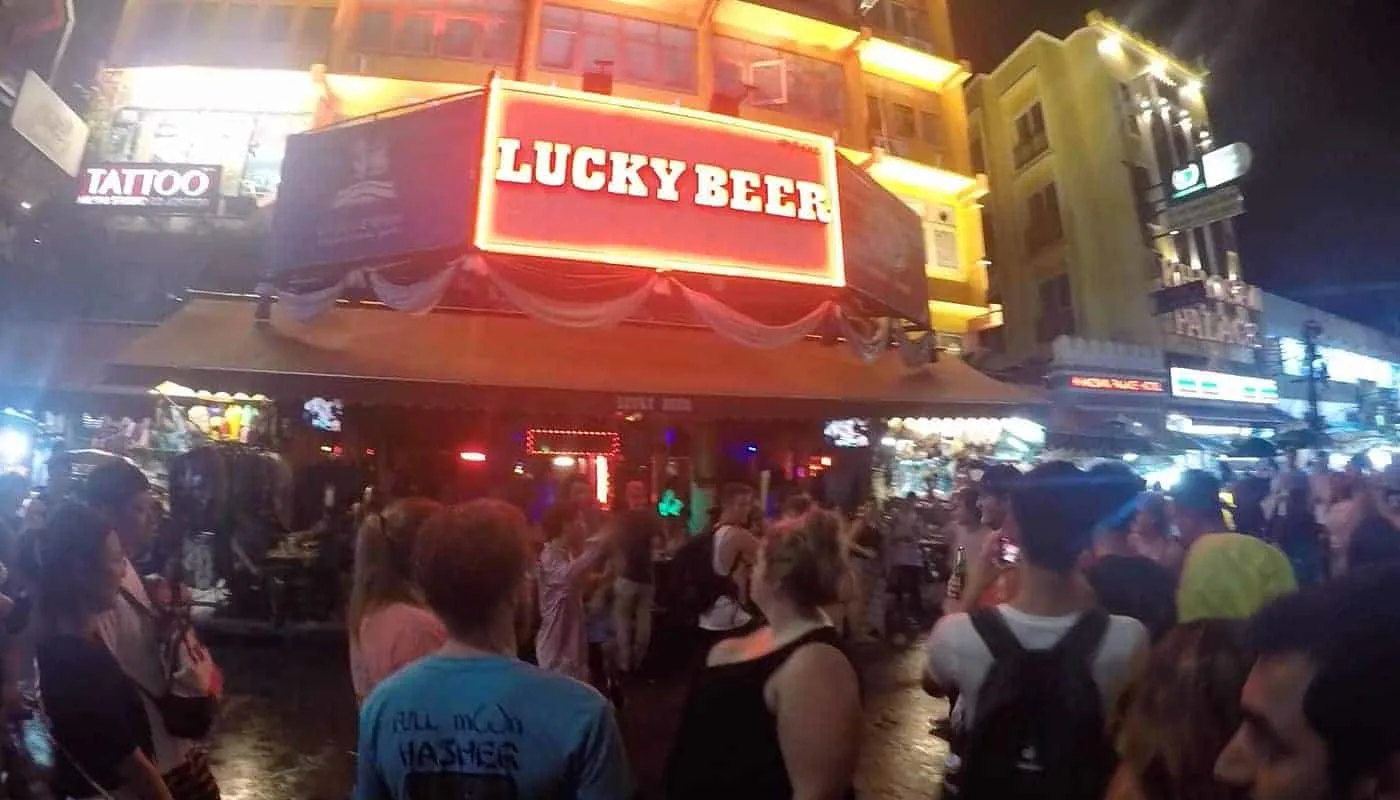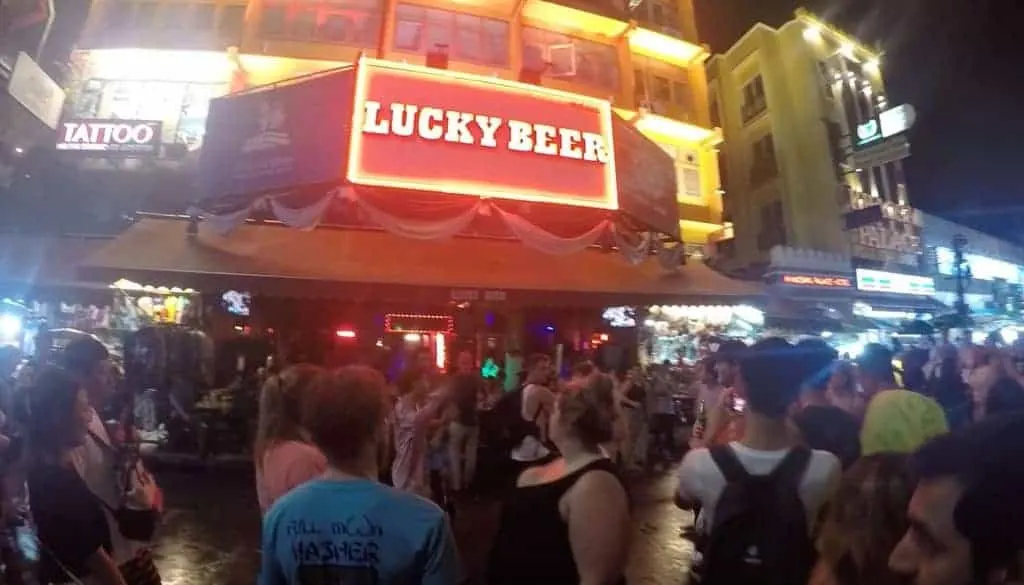 B) Soi Cowboy
​Much like Khao San, Soi Cowboy is also a long street with plenty of music, bars and alcohol all throughout. The one main difference here is that these bars will be flanked by hundreds of women on either side – also know as Go-go bars if that is more your scene.
As you walk down the street some of them will even try and pull you into their establishment. Quite the experience to just walk through even if you do not want to enter one of the bars.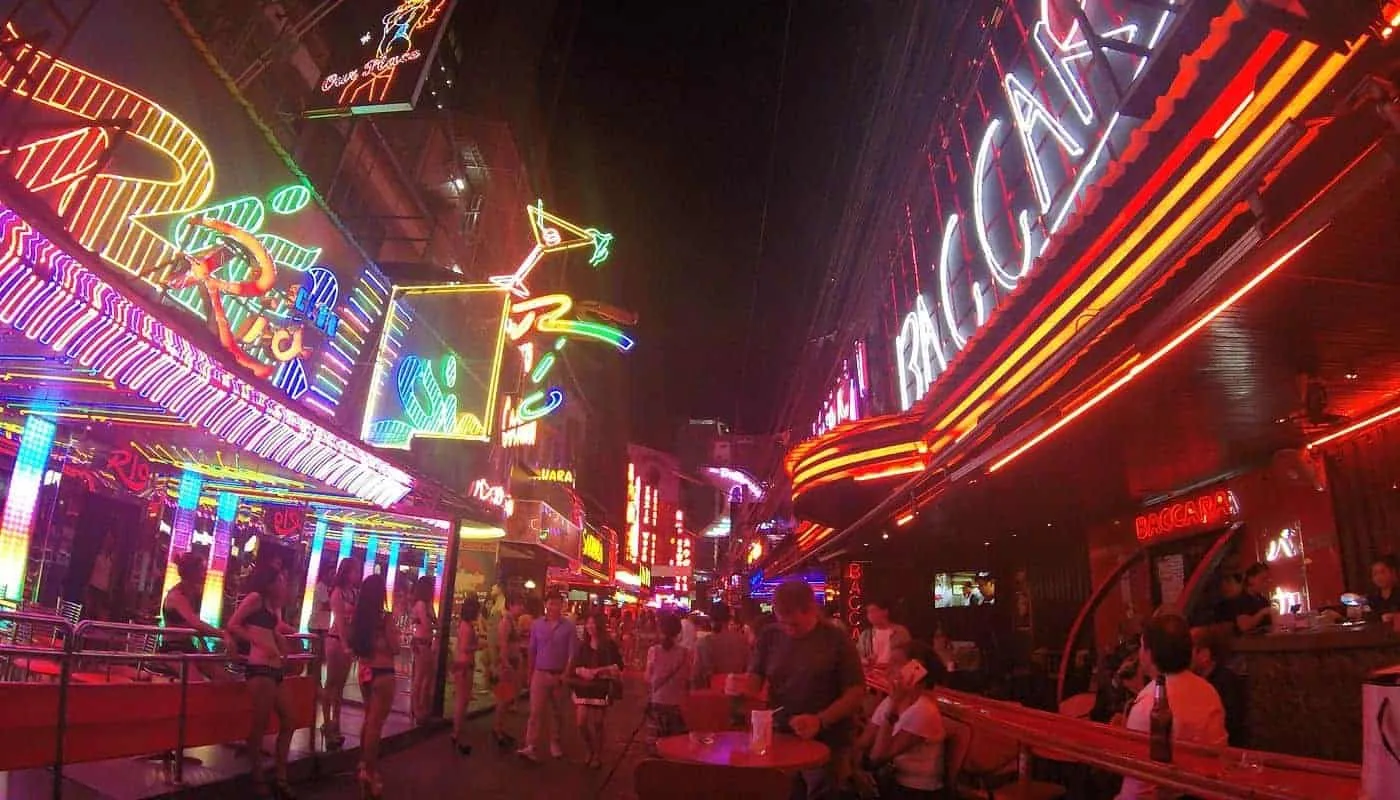 C) Patpong
​Patpong is a bit different from the previous nightlife scenes as it is actually a great night market to walk through. There are hundreds of different stalls with everything you could think of to purchase.
Similar to Soi Cowboy there are also plenty of go-go bars around the market area but you can steer clear of them if just walking through.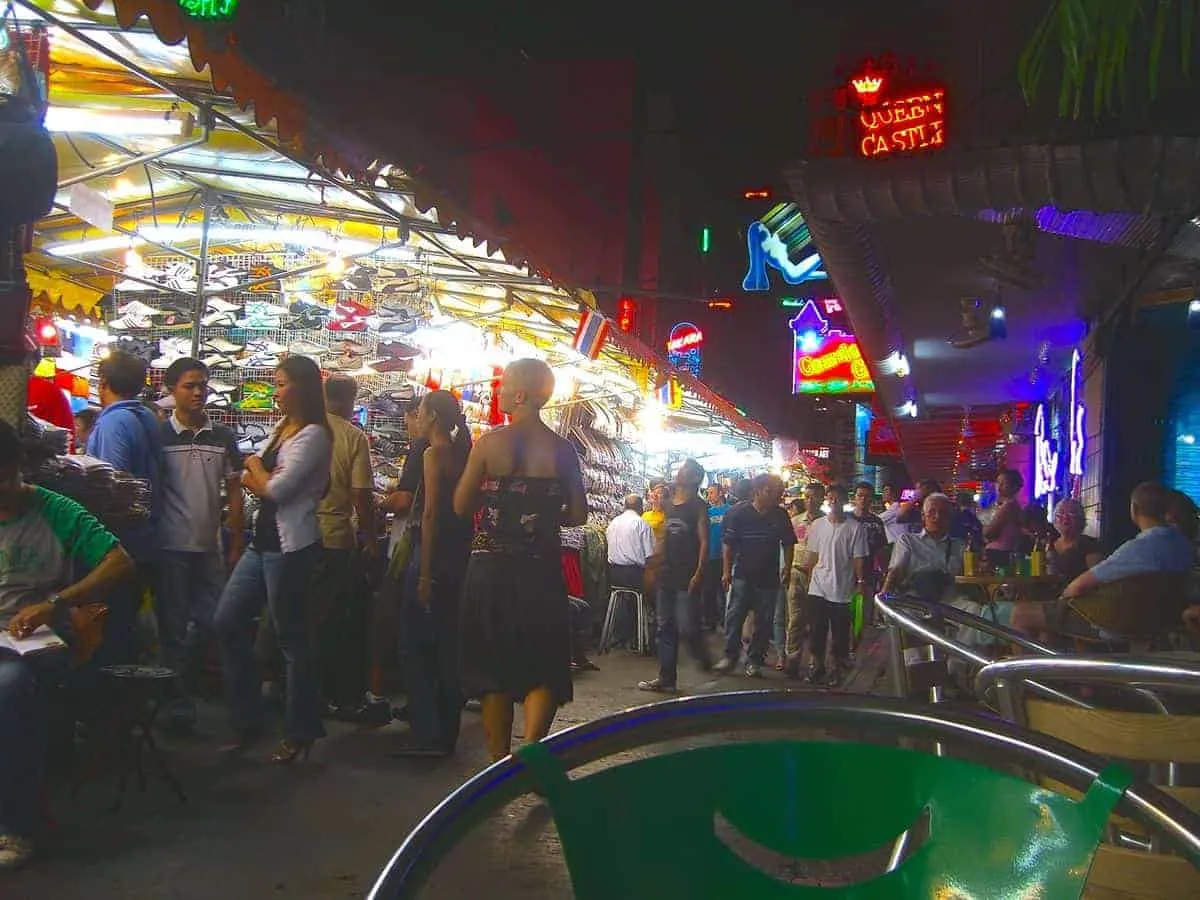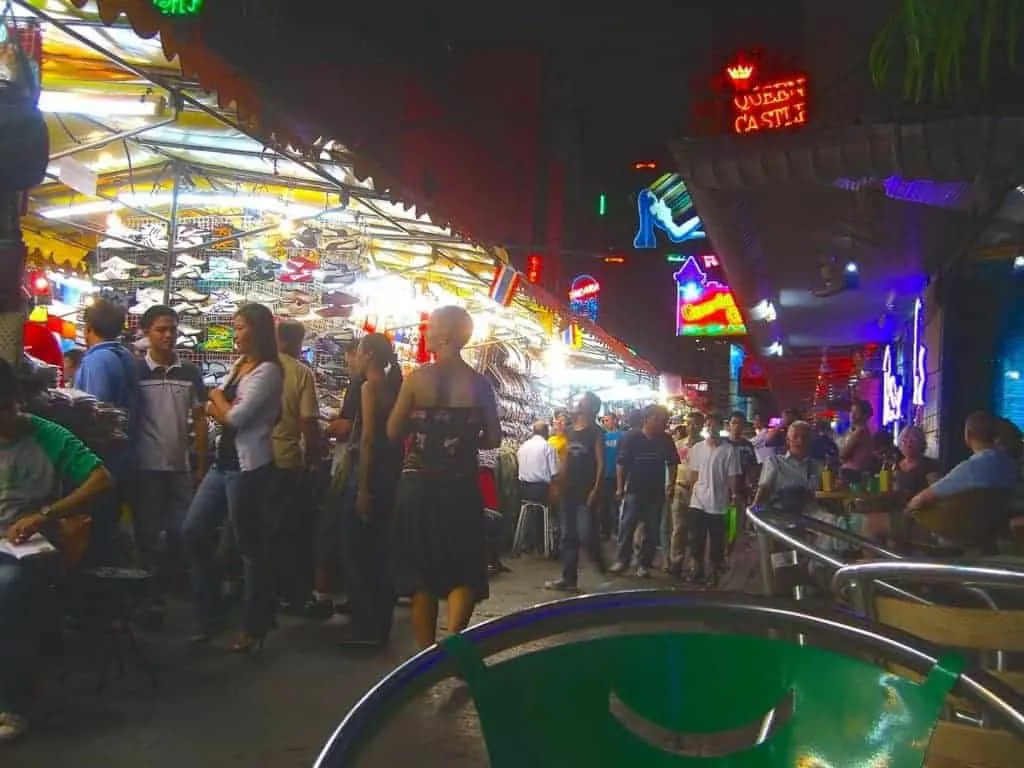 D) Sky Bar
​Last but not least is Sky Bar. If you would like to experience Bangkok from above then this option is for you. It is known to be the highest open air bar in the world at 63 floors up with spectacular views and was even featured in the movie Hangover II.
The bar is located in the Lebua State Tower in the Silom neighborhood. Expect to pay premium prices here because it is a premium experience.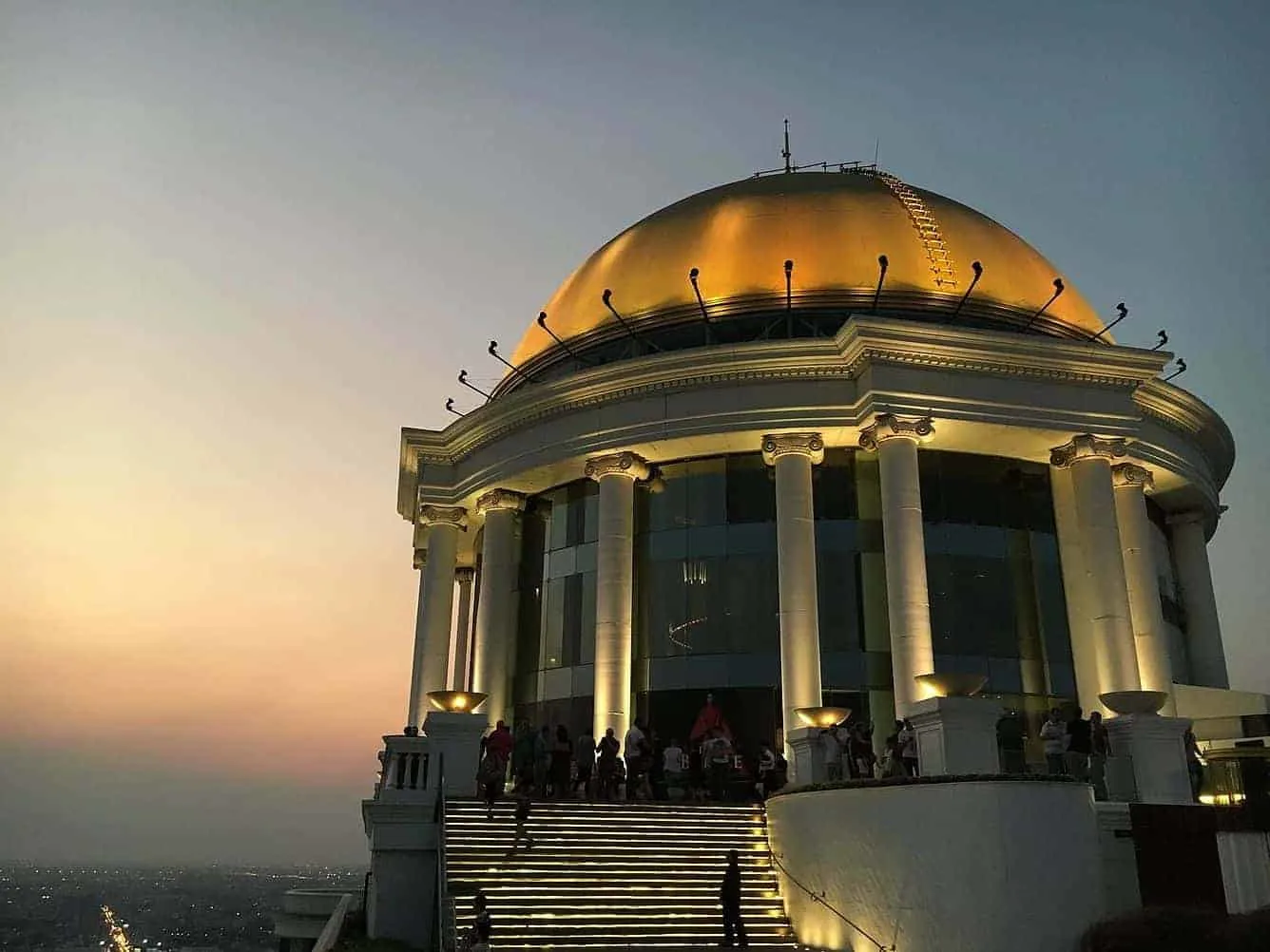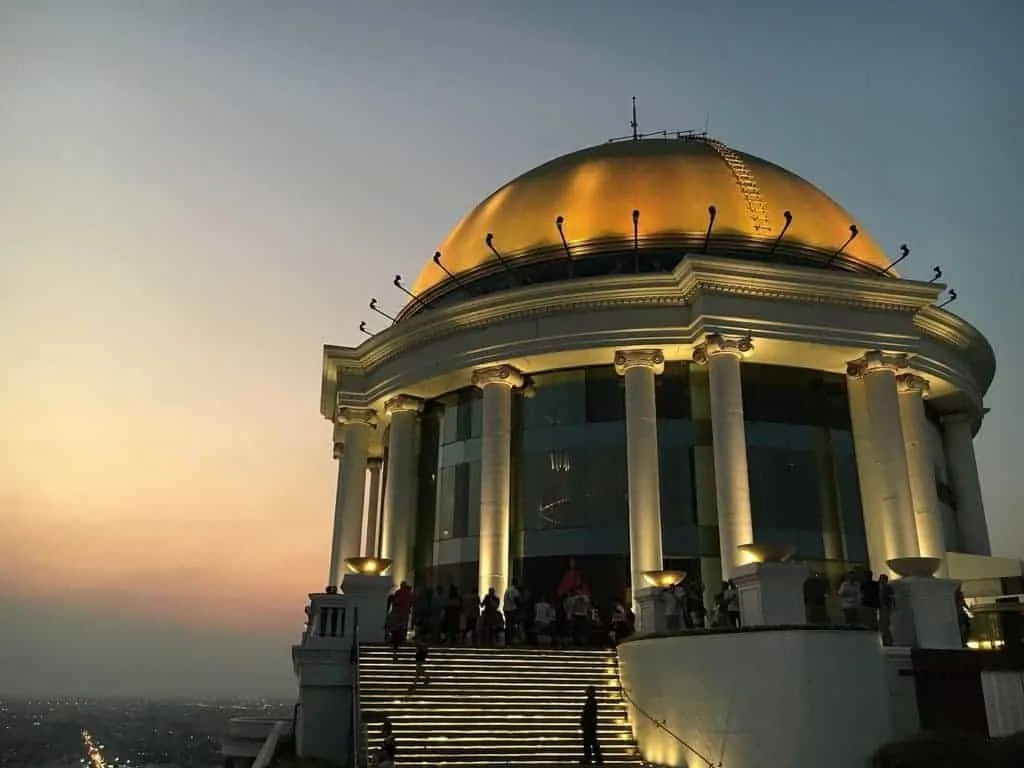 6) Additional Bangkok Activities
If you have additional time you can also look into the few additional sites during your stay in Bangkok:
A) Chatuchak Weekend Market
Only open on weekends, this massive market has literally everything you can think of. There are 27 different section to explore and you are sure to get lost as you make your way from one section to the next.
B) Chinatown
If you like food then Chinatown is for you. Yaowarat Road is filled with various food stalls throughout this one kilometer street. There is plenty to take in and enjoy as you experience a different side of Bangkok.
C) Lumpini Park
While Bangkok can seem super busy and hectic, there is an opportunity to take in some greenery and relax within this bustling city. Take a walk around Lumpini Park to enjoy a more serene setting and get away from the city itself.
7) Where to Stay in Bangkok
There are so many different areas and hotels to choose from when deciding where to stay in the city. Here is a list of some top rated ones. To check out more feel free to browse through Booking.com for the best deals.
That about wraps up the best things to do in Bangkok. Take a look at our other Thailand itineraries and guides to help out with any other trip planning. If you have any questions about the trip please feel free to comment below!