One of my favorite day trips I have taken part of was the one from Bangkok to Ayutthaya - from the current capital to the previous capital city. Ayutthaya is filled with hundreds of original temples, buildings, palaces and buddhas that can be explored in a day and it is sure to be a top highlight of your trip to Thailand. This guide will go over all you need to know to take part of this Ayutthaya day trip from Bangkok and it will get you on your way to this ancient capital city.
* Affiliate Disclosure: This post may contain affiliate links, which means I may receive a commission if you make a purchase through the links provided, at no additional cost to you. Thanks for supporting the work I put into TripTins!
1) Background to Ayutthaya
I won't deep dive into too much detail but just wanted to point out some key facts to the background of Ayutthaya. Although Bangkok it is the capital of Thailand today, that was not always the case.
Starting in the year 1350, the capital of Thailand was moved from Sukhothai to Ayutthaya, and vast construction began all around. Due to its easy access point with a river flowing through it, Ayutthaya soon became a well established trading port for foreigners.
Up until the year 1767, Ayutthaya was one of the most prolific capitals in the world. That is until the neighboring Burmese attacked the capital, burning down much of the site and ultimately forcing the move to Bangkok.
Visitors now have the opportunity to explore this archeological site, and see what this city was once like.
2) Bangkok to Ayutthaya Day Trip Options
Since Ayutthaya is relative close to Bangkok (80KM / 50 Miles), it is quite easy to make the day trip there and spend your time seeing the sites that the ancient capital city has to offer. There are a few ways though to go about your day trip:
1) Taxi – the easiest option (if not looking for a tour guide) is to simply take a taxi to Ayutthaya, make your way around to the different temples (either in the taxi or by bike), and then have the taxi bring you back to Bangkok.
Be prepared though as it might be difficult to communicate, convince and then settle on a price with a Bangkok taxi driver. When I took part of the day trip I instead got in contact with a local taxi service called Thai Happy Taxi, who sent a driver to our hotel the morning of. The cost for this was $90 and is a pretty good price considering it is 8+ hours of time.
2) Guided Tour – I guess technically this might be even an easier option than a taxi but understandably tours are not for everyone. You can sign up for a tour starting in Bangkok with an English speaking guide (either group or private) and have them take care of everything for you as they give you some insight about each place along the way.
3) Minibus – one of the cheapest way of getting to Ayutthaya would be by minibus. These busses leave from the Mo Chit station, costs around $2, and take approximately 90 minutes to get there.
4) Train – another cheap option is to train to Ayutthaya from the Hua Lamphong Station. The train takes a bit longer – 2 hours or so and costs $10 for a first class ticket or only $0.50 for a third class ticket.
3) How to Get Around
Once you arrive, you will have a few different options on how to actually get around the city to explore all the Ayutthaya temples. The sites are not too far away from each other so it should be no problem getting from one place to the next.
1) Taxi / Tour – If you opted for option 1 or 2 above, then you will probably just be making your way around the city the same way you arrived there. Making your way around in an air conditioned vehicle will be quite refreshing as you spend time outside exploring.
2) Tuk Tuk – the most popular way for those who arrive by train or bus would be hiring a tuk tuk for the day to take you all around. For around 200 THB per hour ($6 USD) you will be driven all around the complex and you can even let your driver know which additional temples you are interested in if they are not already taking you there.
3) Bike – the last option here would to bike around from temple to temple. You can choose to do so either from the train/bus or even if you decided to take a taxi (even though my friends and I had a taxi driver for the day, we decided it would be more fun to bike around the complex). For only $2 or so, you can rent bikes and explore on your own.
4) Ayutthaya Temples Route
There are a lot of temples around Ayutthaya and you wont have time to get to each one. Here is a perfectly doable list of temples to visit in a day with a map of the route to get from one to the next. If you see more temples that you want to add onto the list, feel free to check them out as well.
» Wat Yai Chai Mongkhon
» Wat Mahathat
» Wat Ratchaburana
» Wat Phra Si Sanphet
» Wat Lokayasutharam
5) List of Ayutthaya Temples
Now that you know how to get to Ayutthaya and how to get around, here are some pictures of the different temples and what to expect to see as you spend your day there.
Note that each temples will require a small entrance fee to enter. If you were wondering, there will be a bunch of different lunch spots to choose from when you decide to take a break from all the temple hopping.
A) Wat Yai Chai Mongkhon
Your first stop of the day will be at Wat Yai Chai Mongkon. This complex is a bit more outside the main area but it is still very much worth the visit. It is filled with plenty of different buddhas throughout with a large chedi in the middle of the complex.
Note: if you decide to rent bikes, I would recommend doing so at the next temple on the list after you visit Wat Yai Chai Mongkhon, as it is a bit farther out than the rest of the temples.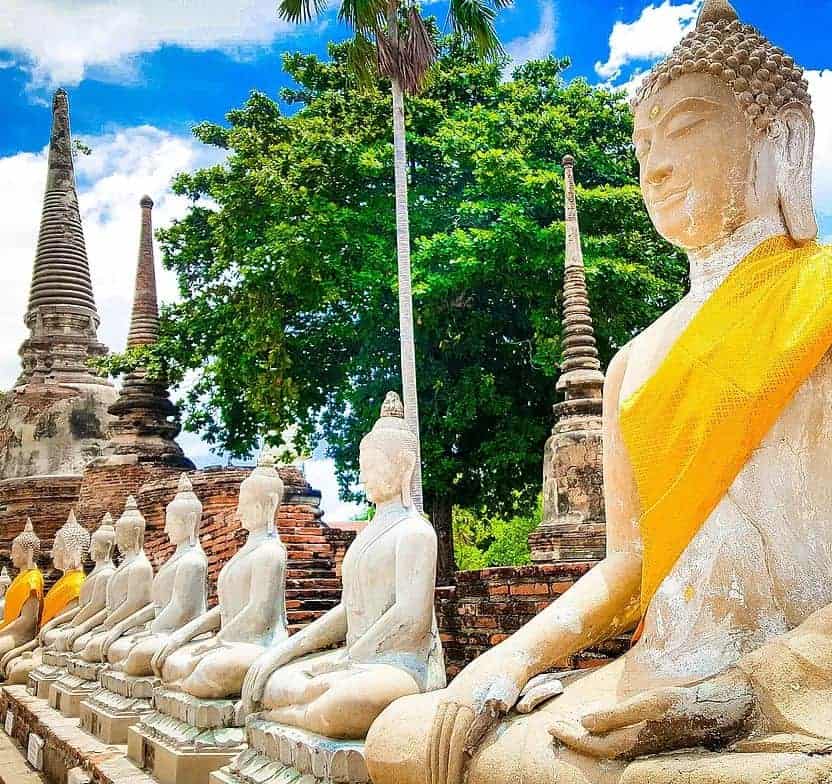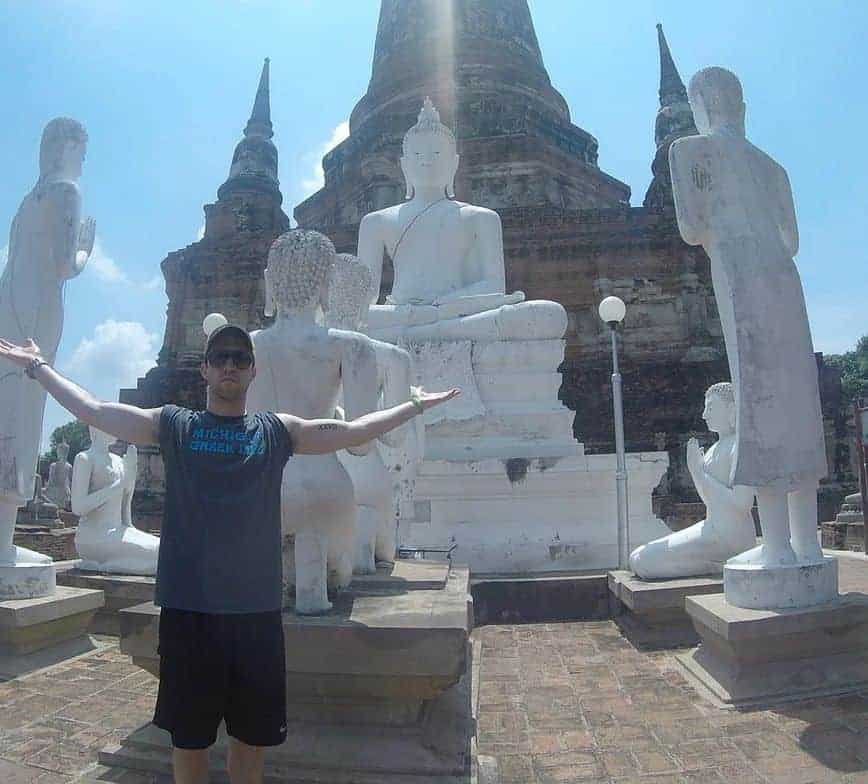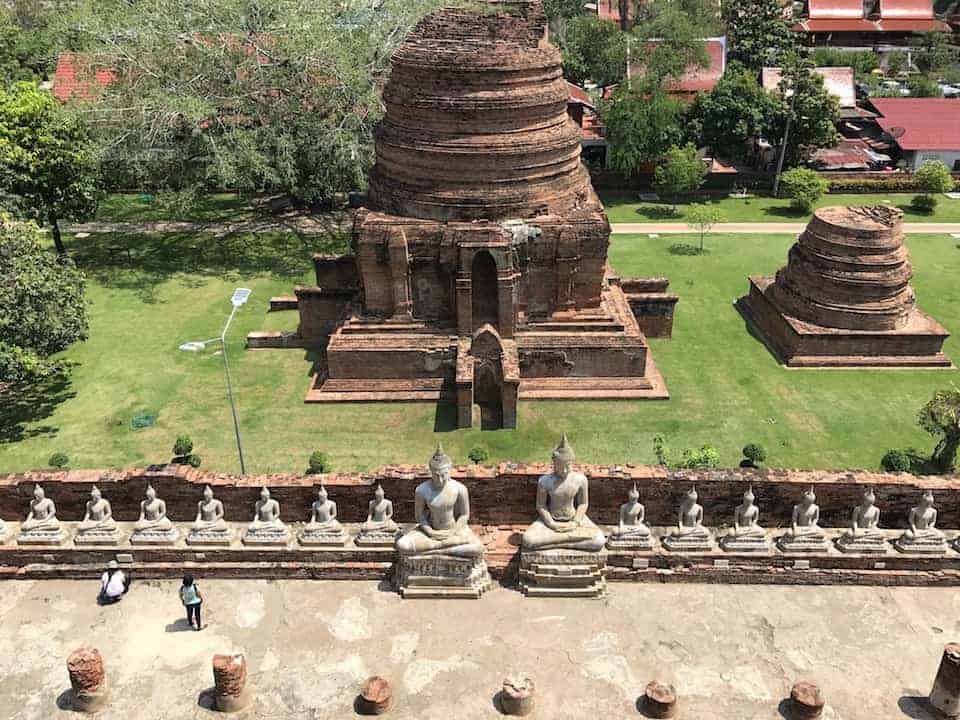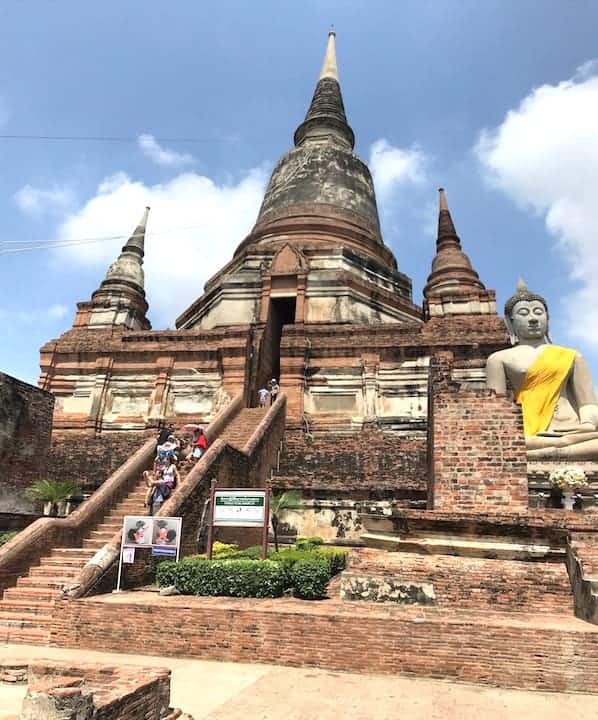 B) Wat Mahathat
Next up is Wat Mahathat, a huge complex with plenty to explore. Spend some time circling around the different areas and ending at the famous buddha head tangled in the roots of a tree.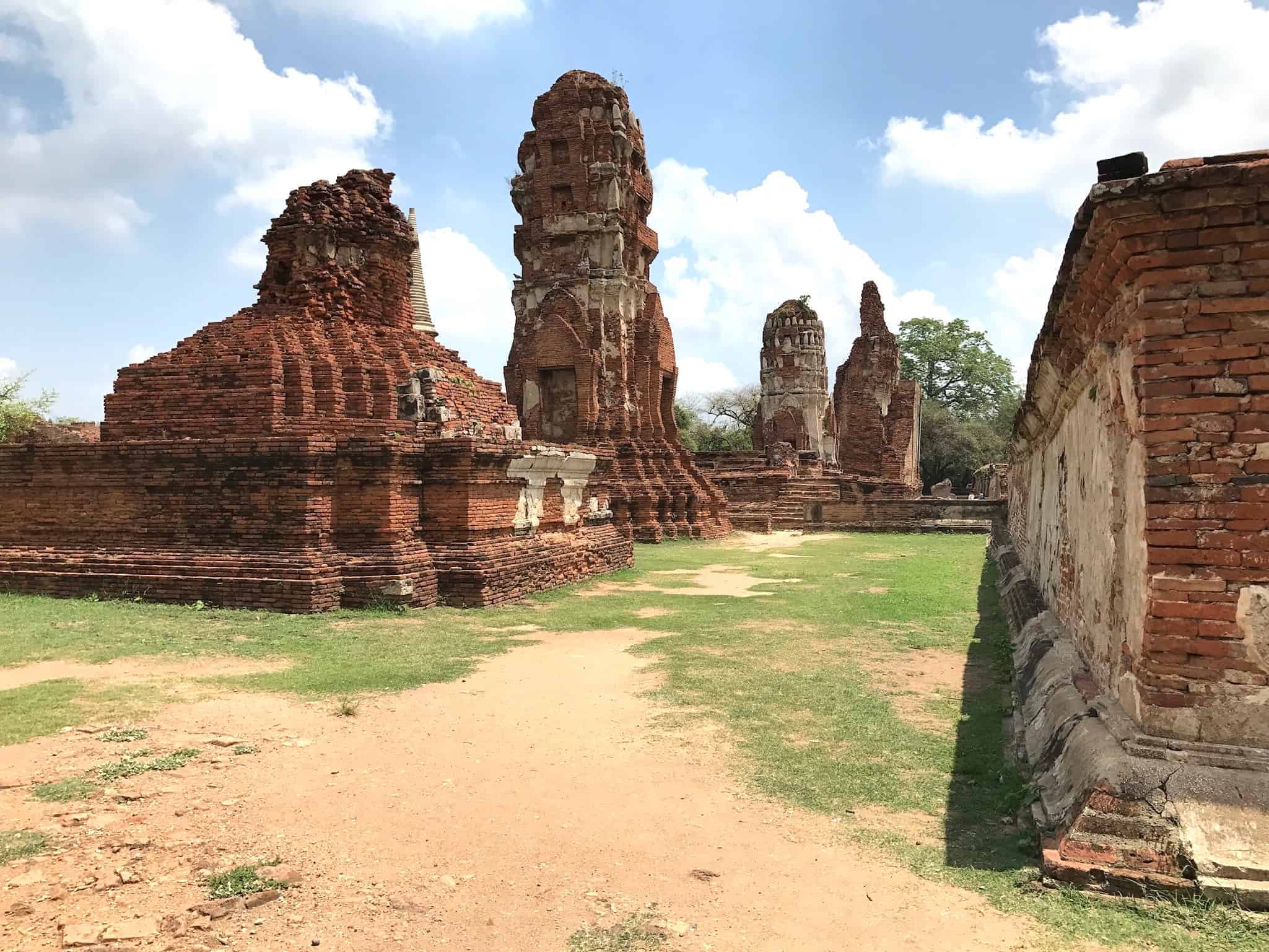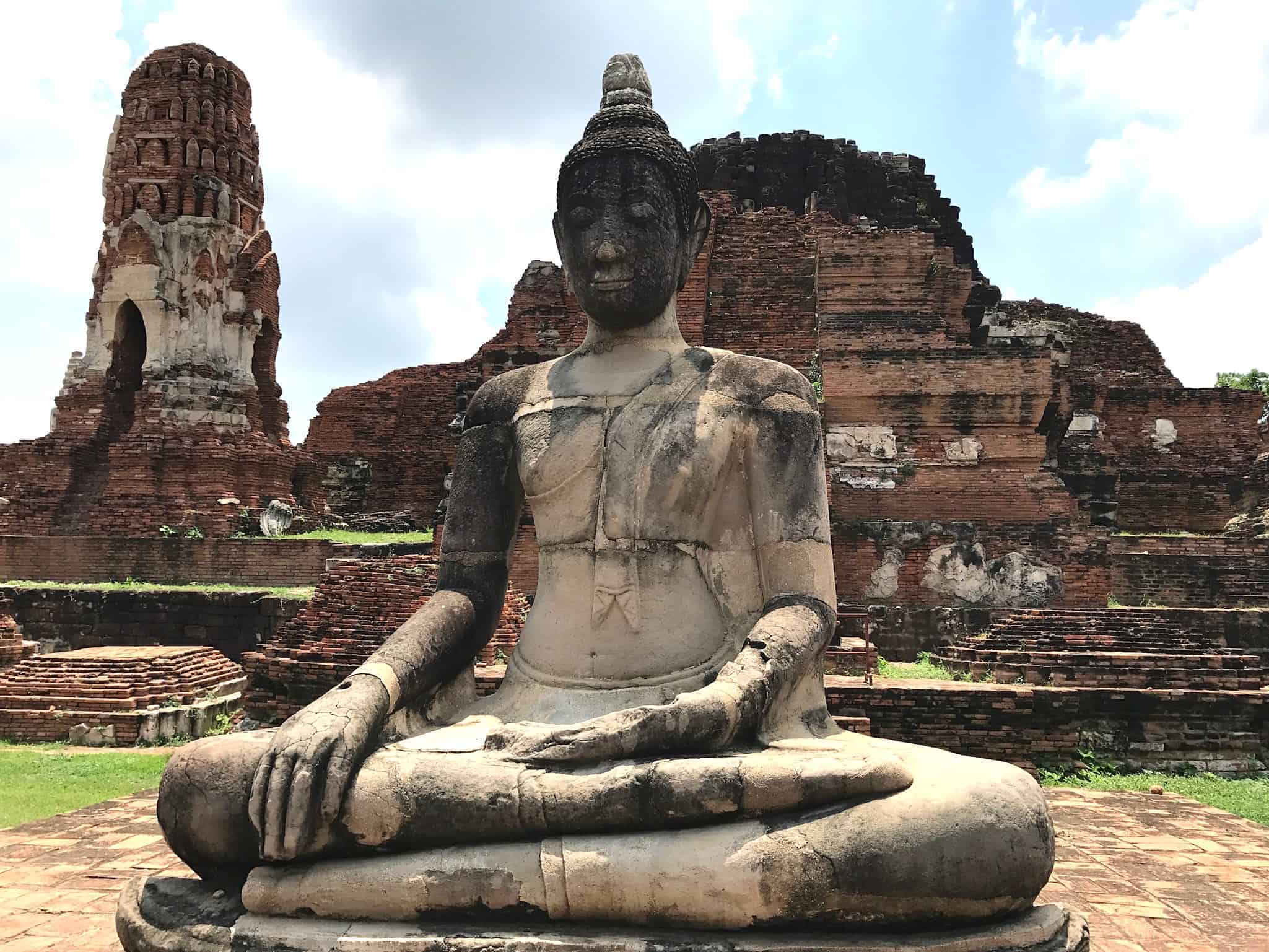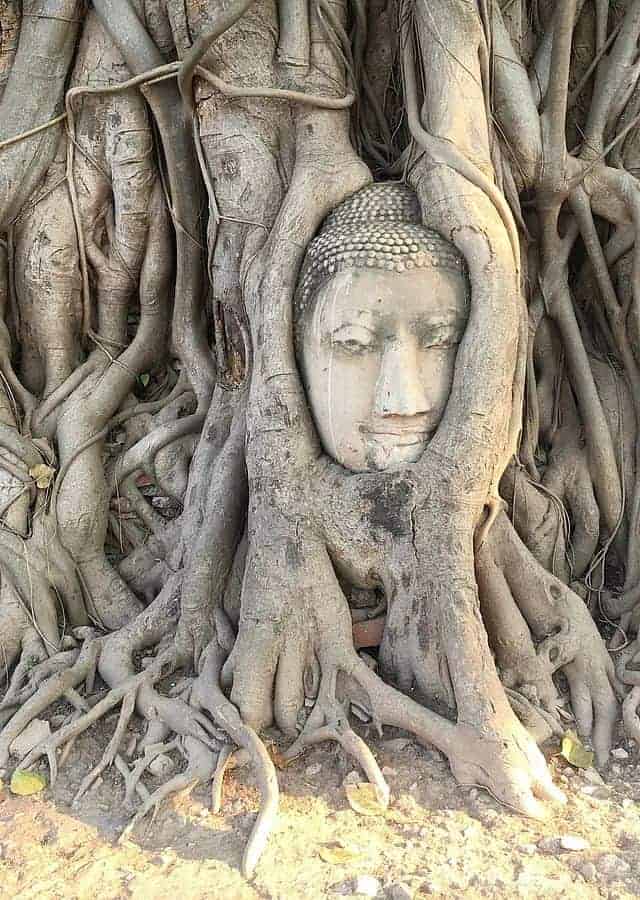 C) Wat Ratchaburana
The third stop is right across the street at Wat Ratchaburana. In the middle of the site you will find an one of kind "Prang" that you can climb up and also take some great pics from down below.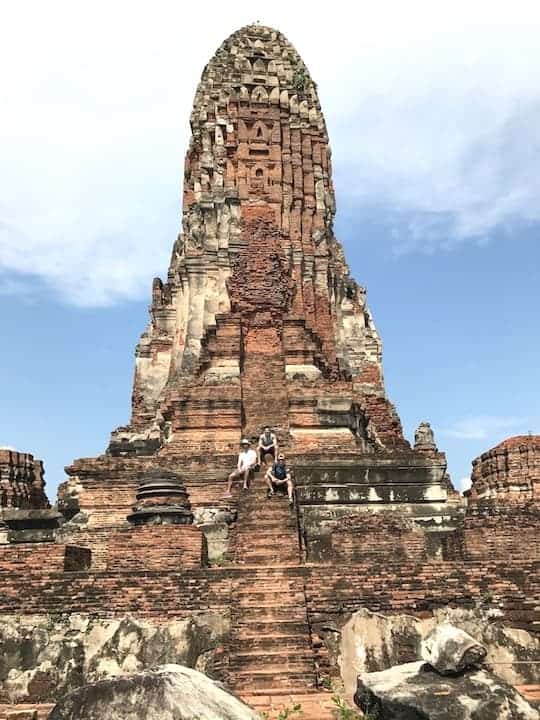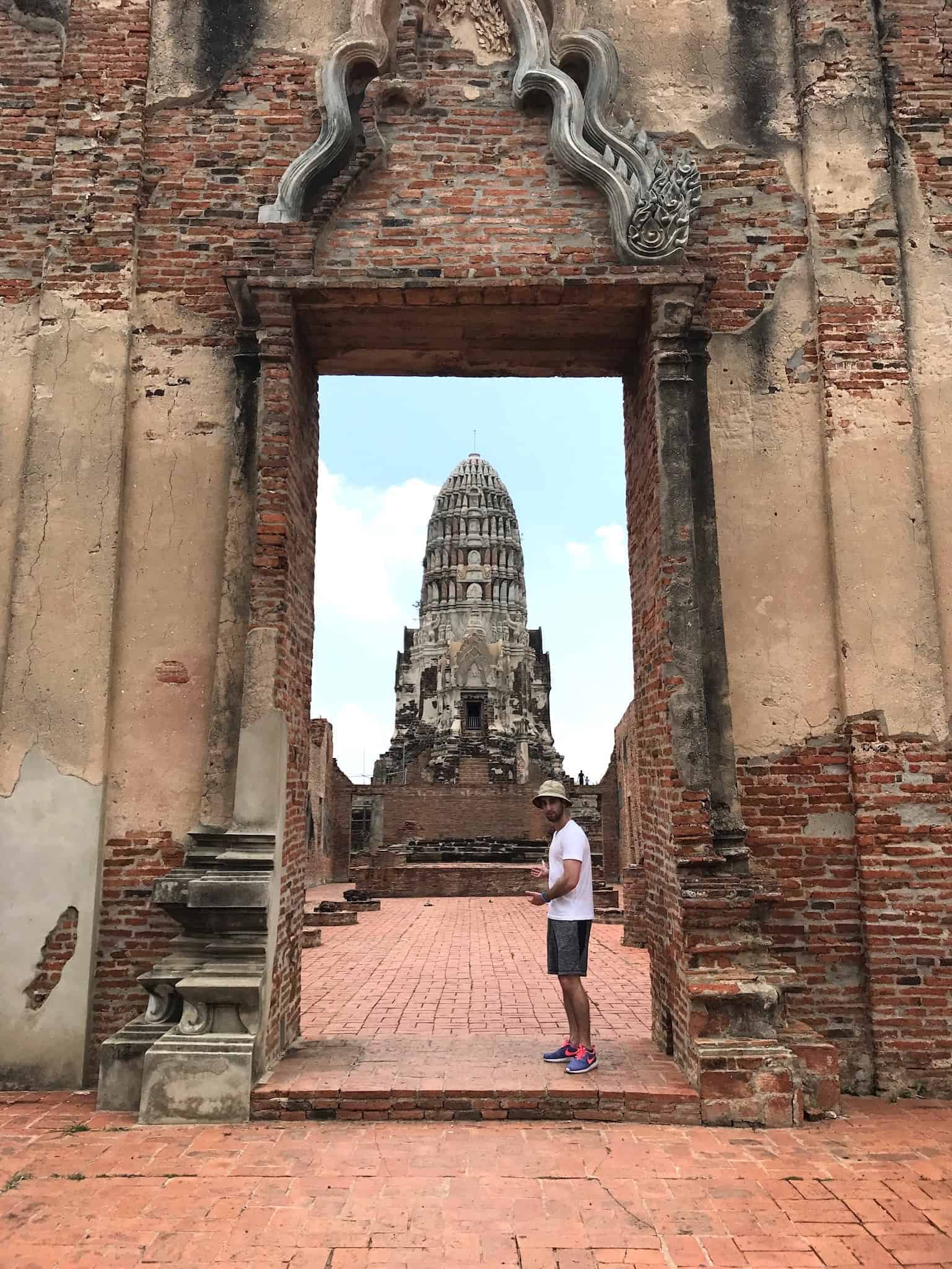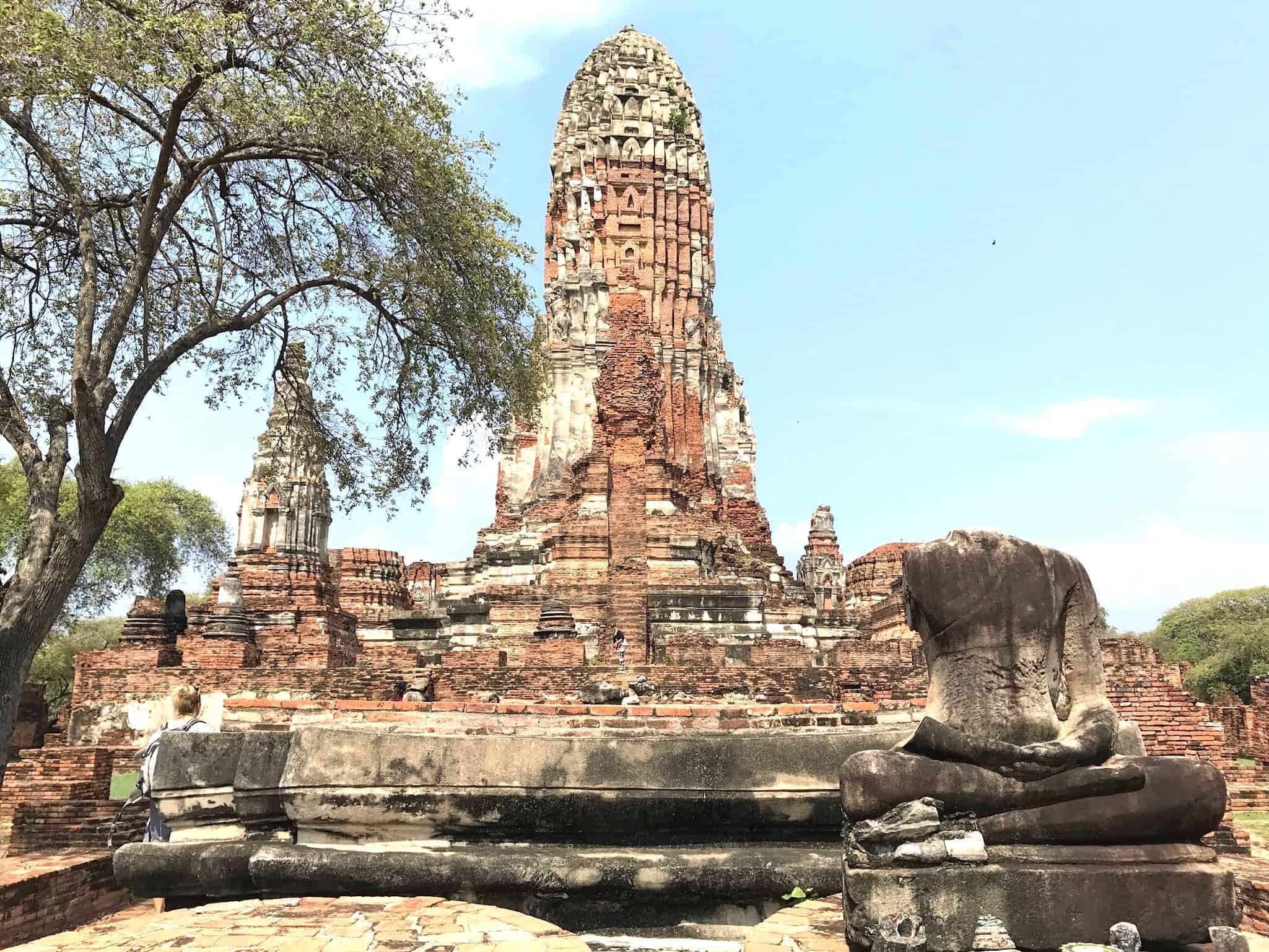 D) Wat Phra Si Sanphet
You can then continue towards Wat Phra Si Sanphet which houses the three Chedis as well as some other great architecture to take in.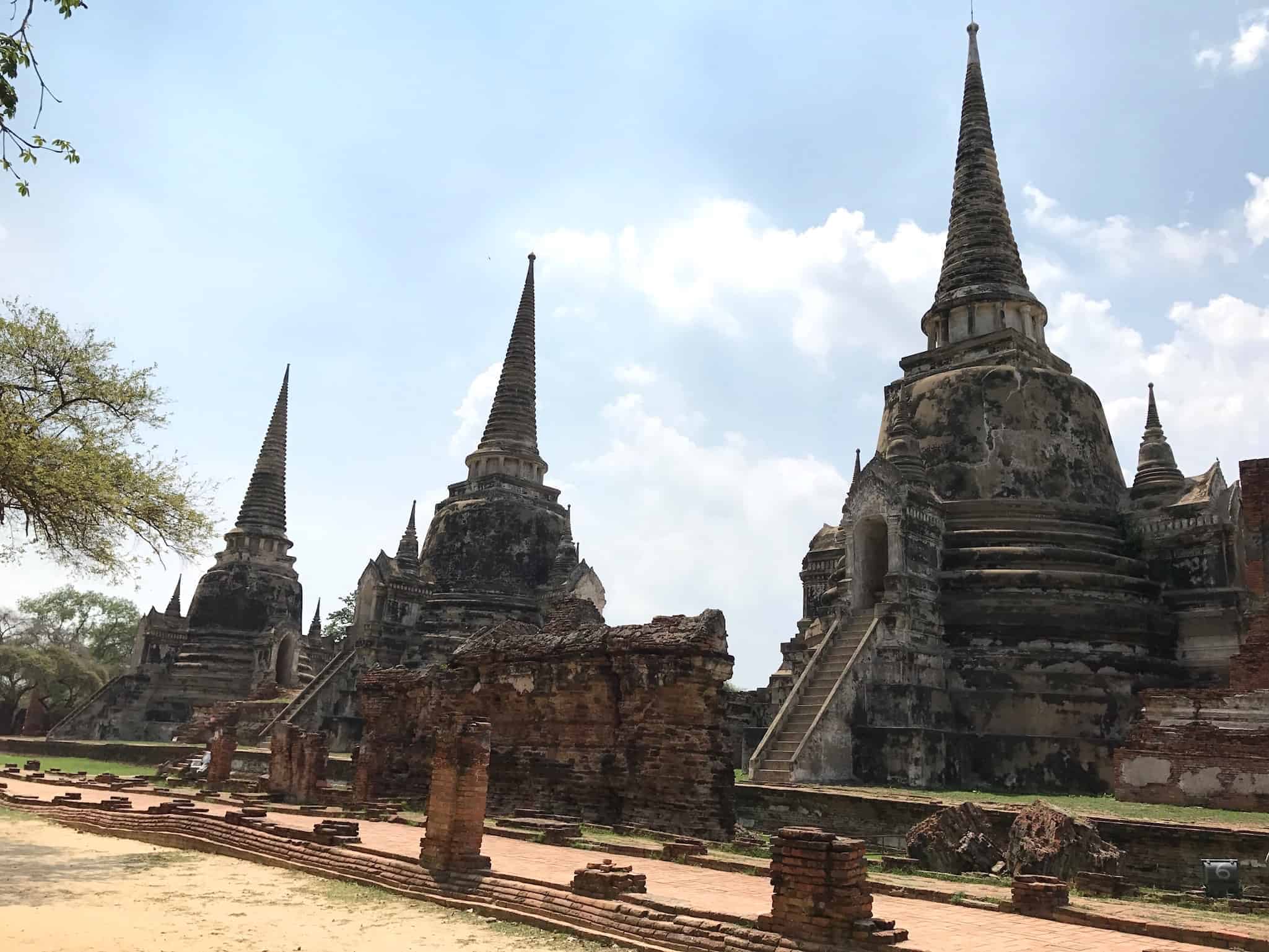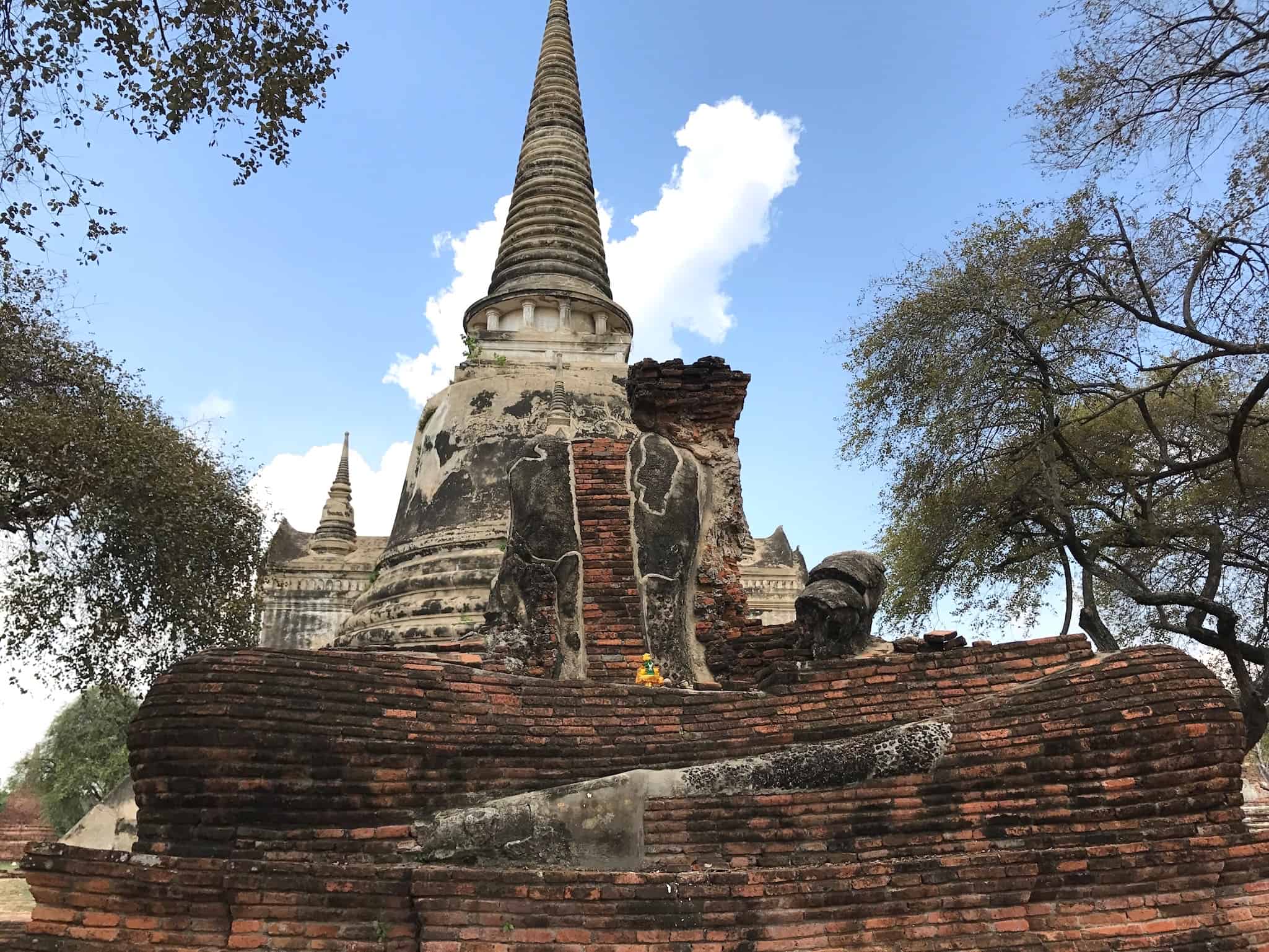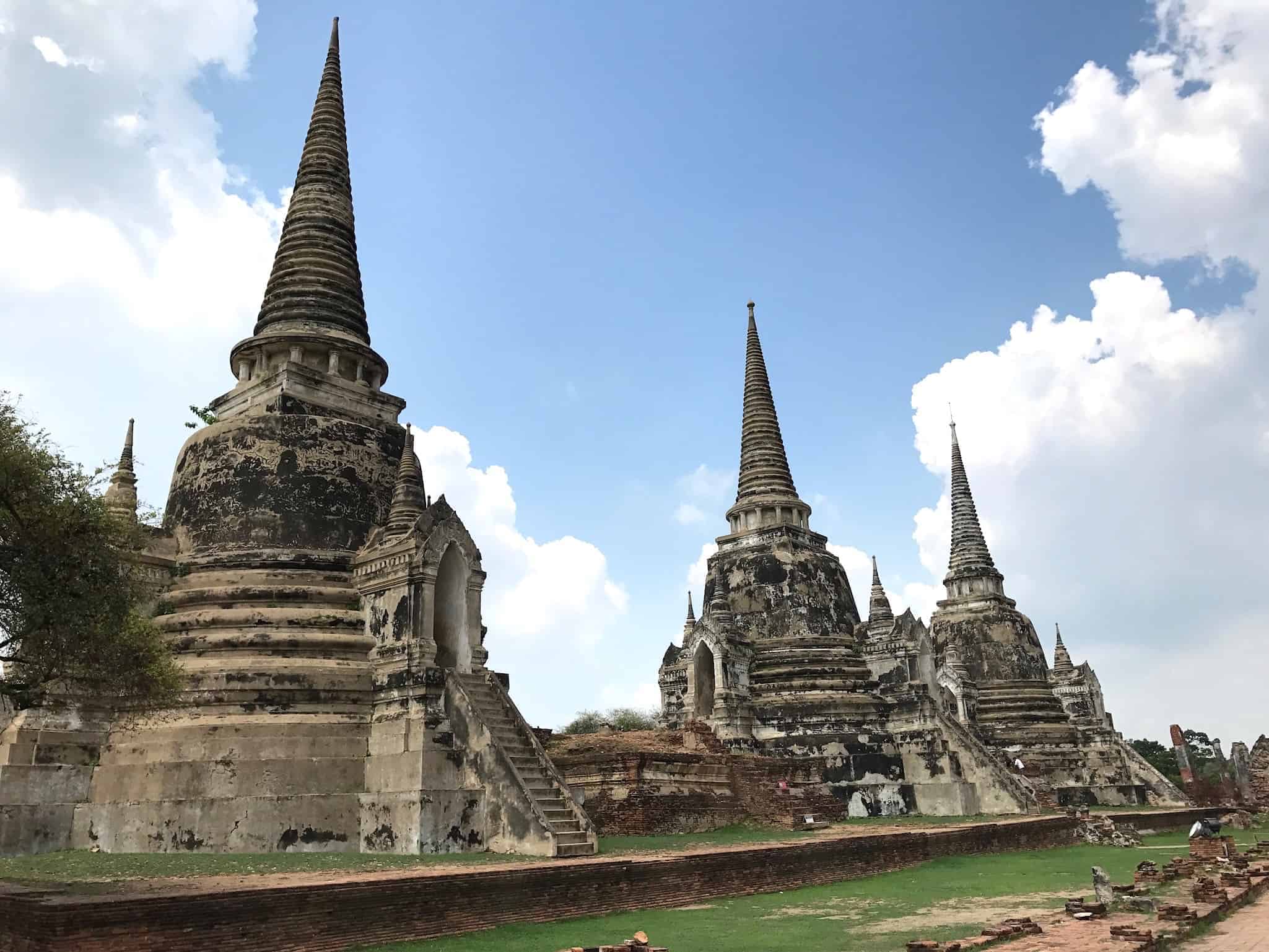 E) Wat Lokayasutharam
Lastly on your tour of the Ayutthaya temples you will find probably the biggest Buddha around the area at Wat Lokayasutharam. Laying on its side with its large gold cloth makes for one incredible sight to see.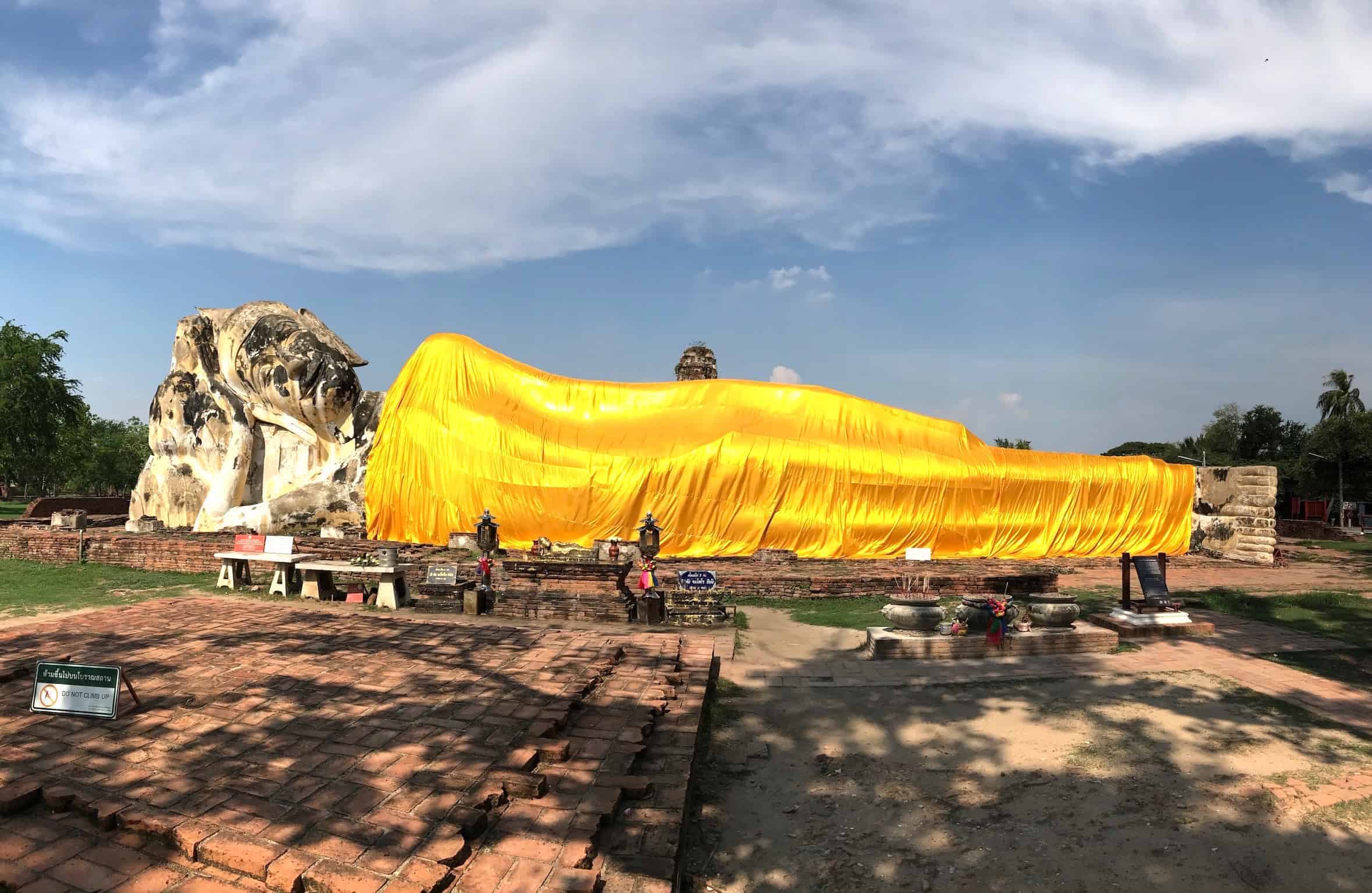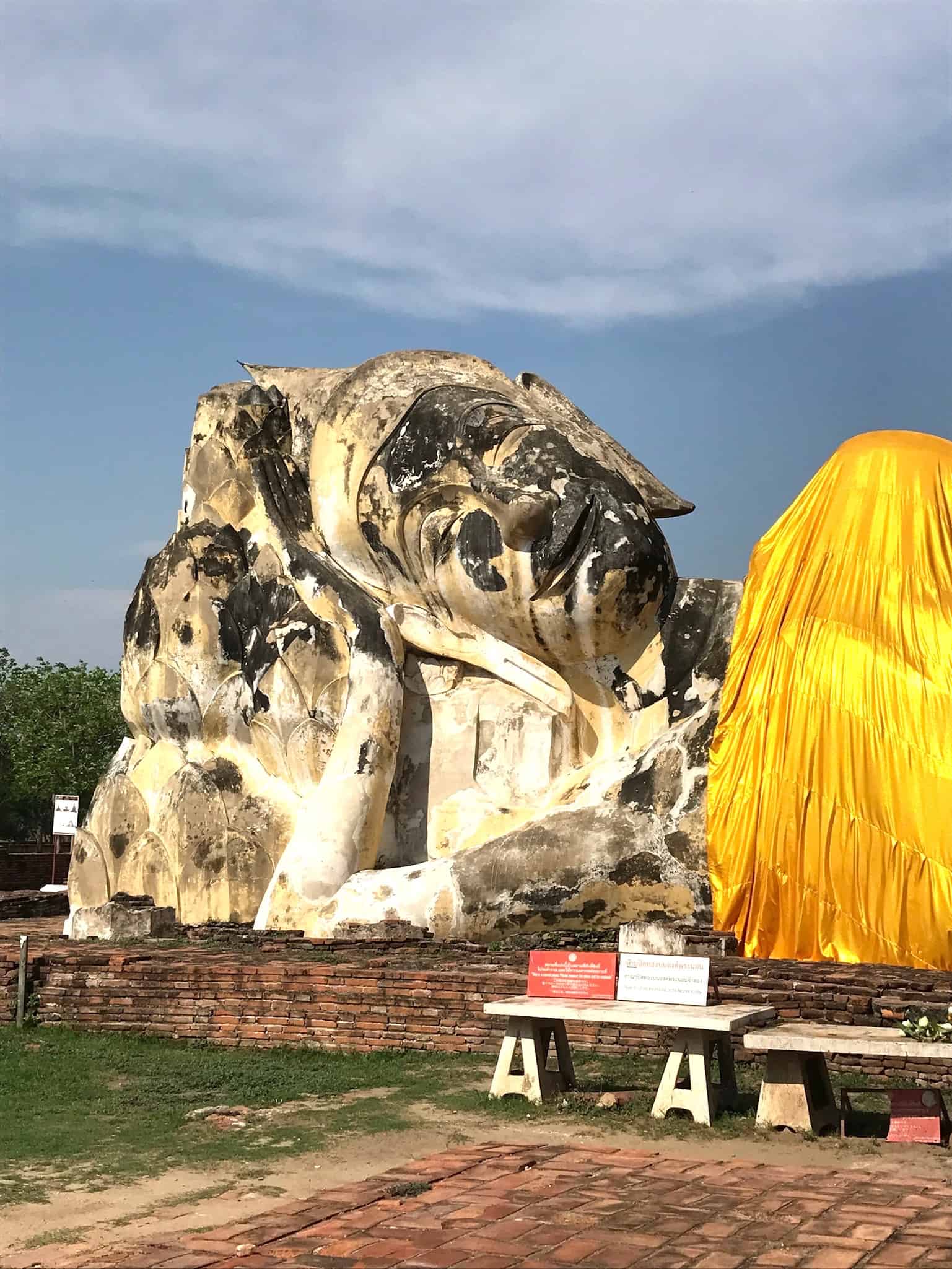 Once your day of temple hopping is complete, you can make your way back to your taxi, the bus or train station and end your successful Ayutthaya day trip from Bangkok.
6) Where to Stay in Bangkok
There are so many different areas and hotels to choose from when deciding where to stay in the city. Here is a list of some top rated ones. To check out more feel free to browse through Booking.com for the best deals.
5) Royal Orchid Sheraton Hotel & Towers
If you have any questions about the day or want to learn more feel free to write them in the comments below. Have fun in Thailand and safe travels! Check out the remainder of the Thailand itineraries and guides up on the site to help out with any other trip planning.