One of my favorite day trips I have taken part of was the one from Bangkok to Ayutthaya – from the modern capital city to the ancient capital city.
Ayutthaya is filled with hundreds of original temples, buildings, palaces and buddhas that can be explored in a day, and it is sure to be a top highlight of your trip to Thailand.
This guide will go over all you need to know to take part of this Ayutthaya from Bangkok day trip, and help you get you on your way to this historical place.
* Affiliate Disclosure: This post may contain affiliate links, which means I may receive a commission if you make a purchase through the links provided, at no additional cost to you. Thanks for supporting the work I put into TripTins!
1) Background to Ayutthaya
When you think about the capital of Thailand, most people will point to Bangkok. However, that was not always the case.
Over the years, the capital has moved around. The first capital of Siam was located in Sukhotai. It was then moved to Ayutthaya in the year 1350.
The city thrived for the next 400+ years as it became one of the most important trading hubs in the region. Due to its well placed river, Ayutthaya was known as a well established trading port for foreigners.
Up until the year 1767, Ayutthaya was one of the most prolific capitals in the world. That is until the neighboring Burmese attacked the capital, burning down much of the site.
This ultimately forced the capital to move to Thonburi for a short time period of time, before Bangkok became the capital in 1782.
Visitors now have the opportunity to explore this archeological site, and see what this city was once like.
→ You can visit Ayutthaya during a longer 10 Day Thailand Itinerary or 2 Week Thailand Itinerary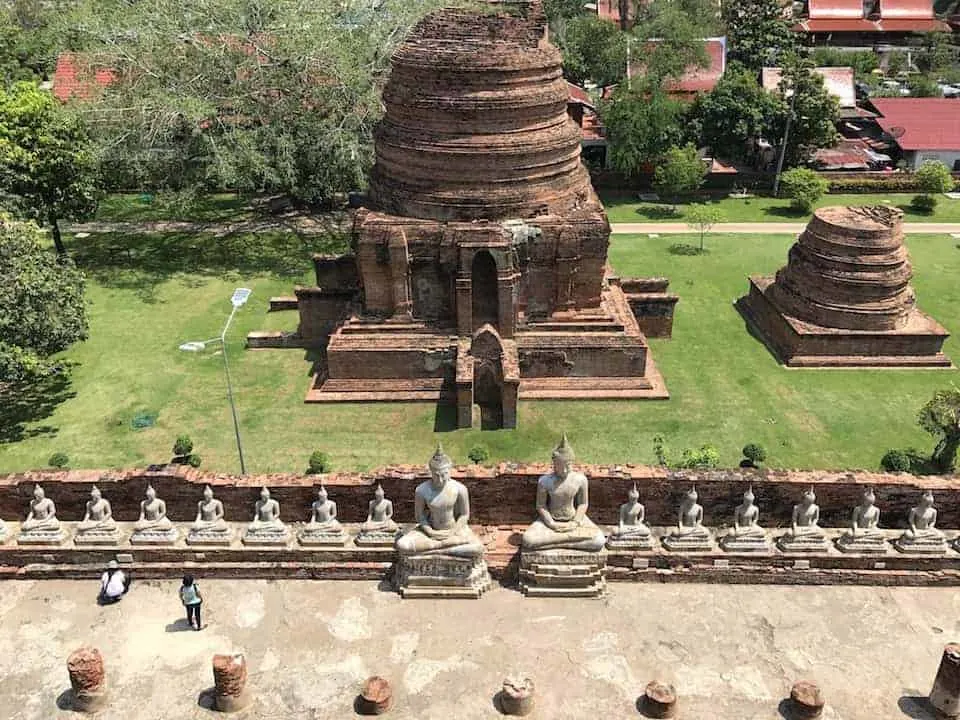 2) Bangkok to Ayutthaya Day Trip Options
While Bangkok is a great city to explore, making the day trip to Ayutthaya is the perfect way to see the history of Thailand during a trip.
Ayutthaya is located just 80 km / 50 miles away from Bangkok, so you will find that it is quite easy to make the day trip there.
When it comes to options to get to Ayutthaya from Bangkok, there are several ways to go about it depending on your preferences.
These can range from cheap public transportation options to more expensive private tours.
Bus to Ayutthaya from Bangkok
One of the cheapest way of getting to Ayutthaya from Bangkok will be by minibus. These busses leave from the Mo Chit Station in Bangkok and take approximately 90 minutes to get there.
Expect to pay around $2-$3 for a one way bus ticket.
Ayutthaya Train
If you do not want to sit in a minibus, then you can opt for an easy train ride instead. You will find Bangkok to Ayutthaya trains that leave from Hua Lamphong Station.
You can expect the train to take a bit longer – closer to 2 hours or so. Ticket prices can range from $0.50 for a third class ticket to $10 for a first class ticket.
Private Taxi Transfer
Now, while the bus and train are quite affordable, they are not as convenient. If your budget can stretch a bit, I would recommend a private taxi transfer to Ayutthaya from Bangkok.
Depending on how many people you have, this can still be a pretty budget friendly option.
The driver will be able to pick you up from your hotel in Bangkok, drive you the hour up to Ayutthaya, bring you around to the various temples, and then take you back to Bangkok at day's end.
I would recommend booking a taxi transfer ahead of time to avoid any hassle on the day of. You can take a look at this Ayutthaya transfer service that offers the day trip.
Group or Private Tour from Bangkok to Ayutthaya
The last main option to consider for an Ayutthaya from Bangkok day trip would be a group or private tour.
While the taxi transfer will just be your driver for the day, a guided tour will have an English speaking guide right alongside you.
This option is great for those that really want to learn the history of Ayutthaya and all of its ruins. You will have the chance to ask questions, be brought to the top spots, and have your full day taken care of for you.
If this is something that interests you, feel free to check out this Ayutthaya Group Tour or Ayutthaya Private Tour as two great options.
3) How to Get Around
Once you arrive, you will have a few different options on how to actually get around the city to explore all the Ayutthaya temples. The sites are not too far away from each other so it should be no problem getting from one place to the next.
If you are taking part of a guided tour, they will take care of all of your logistics for the day.
However, if you are heading there on your own – whether that be by bus, train, or taxi, there are a couple options to consider.
Ayutthaya Bicycle Rental
One of the most fun ways to visit the various Ayutthaya temples will be by renting a bicycle. While you will need to take care of your own logistics and directions, it is a great way to go about your day.
Bicycles are quite cheap to rent and you should see rental spots all around the area. Expect to pay between $2 – $5 depending on bicycle choice.
Even if you opt for a taxi to get you to Ayutthaya in the first place, you may want to consider renting a bike if that sounds of interest to you.
Tuk Tuk
Now, if you do not want to worry about getting yourself around the temple complex on your own, you can consider hiring a Tuk Tuk driver for the day.
These will also be lined up around Ayutthaya and its bus/train stations, so you shouldn't have much issue finding them.
Expect to pay around $8 per hour for a tuk tuk, which can take you from temple to temple & wait for you as you explore.
Taxi
The most convenient and comfortable of options will be to take a taxi around from site to site.
If you opted for the private taxi transfer from Bangkok to begin with, then this could work for you.
But as I mentioned, even if you did take a taxi from Bangkok, you can still opt for a bicycle (or even tuk tuk) to get around Ayutthaya itself.
4) Ayutthaya Entrance Fees & Tickets
Instead of there being one single entrance fee to visit the various temples & sites throughout Ayutthaya, you will simply be charged for each one.
In general, these are going to range from 20 THB – 50 THB (~$0.50 – $1.50).
You may also be able to purchase a ticket that covers several of the main temple areas (220 THB for the first 6 listed on the chart).
Below is a price list (may be a little outdated) that shows the price per temple, in addition to the opening hours.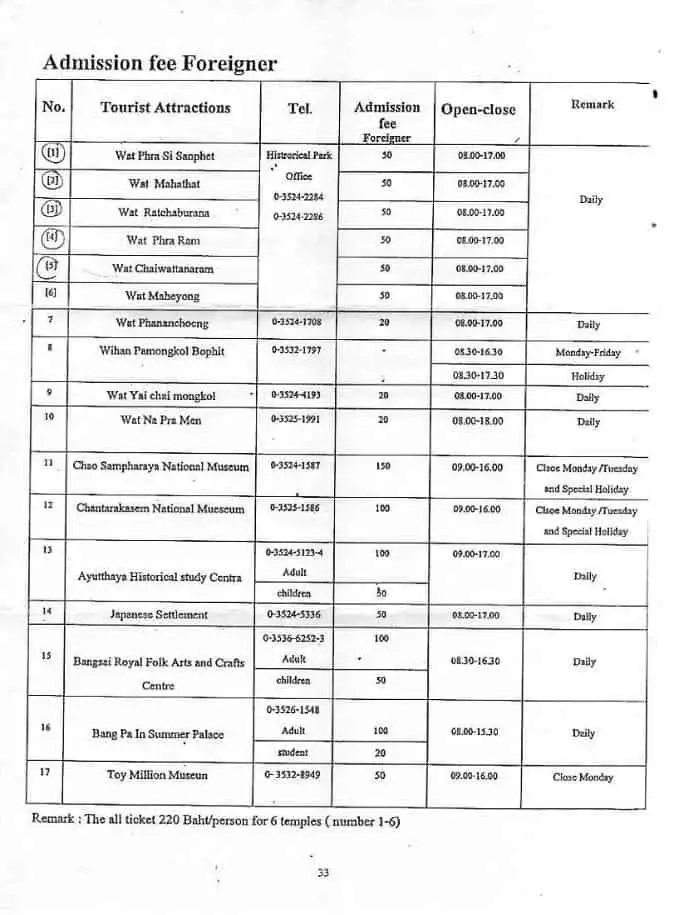 5) Ayutthaya Temples Route
There are a lot of temples around Ayutthaya and you won't have time to get to each one.
Here is a perfectly doable list of temples to visit in a day with a map of the route to get from one to the next. If you see more temples that you want to add onto the list, feel free to check them out as well.
» Wat Yai Chai Mongkhon
» Wat Mahathat
» Wat Ratchaburana
» Wat Phra Si Sanphet
» Wat Lokayasutharam
Other temples to consider include:
• Wat Phra Mongkhon Bophit
• Wat Phu Khao Thong
• Wat Phra Ram
• Wat Chaiwattanaram
• Wat Maheyong
6) List of Ayutthaya Temples
Now that you know how to get to Ayutthaya and how to get around, here are some pictures of the different temples and what to expect to see as you spend your day there.
I also wanted to point out a few helpful tips to consider as you go about this day trip around Ayutthaya:
→ Be sure to bring comfortable walking shoes, as you will be walking frequently around the area
→ Expect the weather to be quite hot. Always have water with you to hydrate. And be sure to wear sunscreen, along with a hat & sunglasses
→ There will be a bunch of different lunch spots to choose from around the temple areas when you decide to take a break to eat.
Wat Yai Chai Mongkhon
Your first stop of the day will be at Wat Yai Chai Mongkon. This complex is a bit more outside the main area but it is still very much worth the visit. It is filled with plenty of different buddhas throughout with a large chedi in the middle of the complex.
Note: if you decide to rent bikes, I would recommend doing so at the next temple on the list after you visit Wat Yai Chai Mongkhon, as it is a bit farther out than the rest of the temples.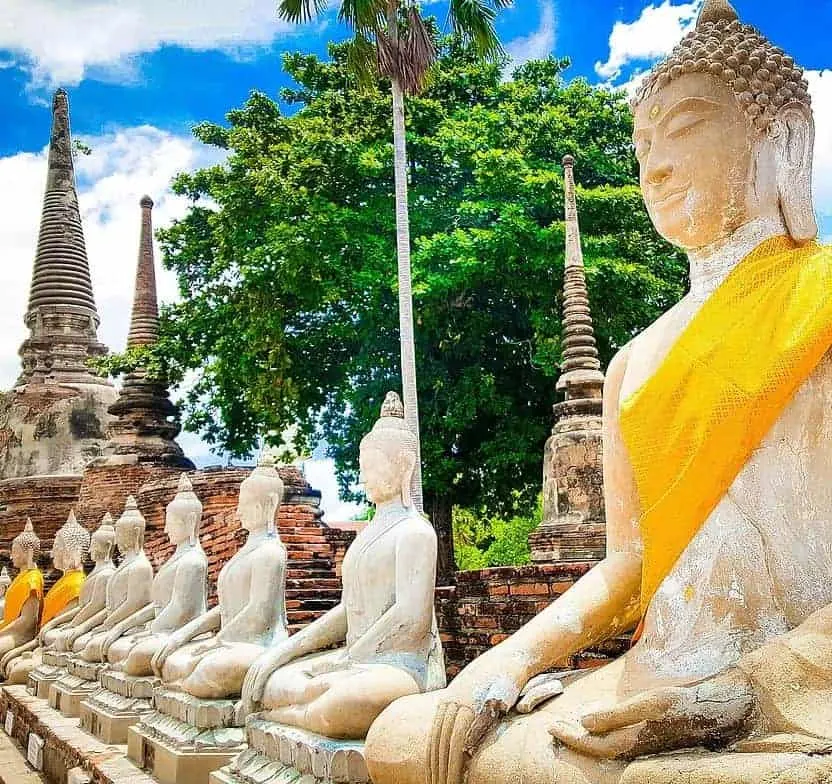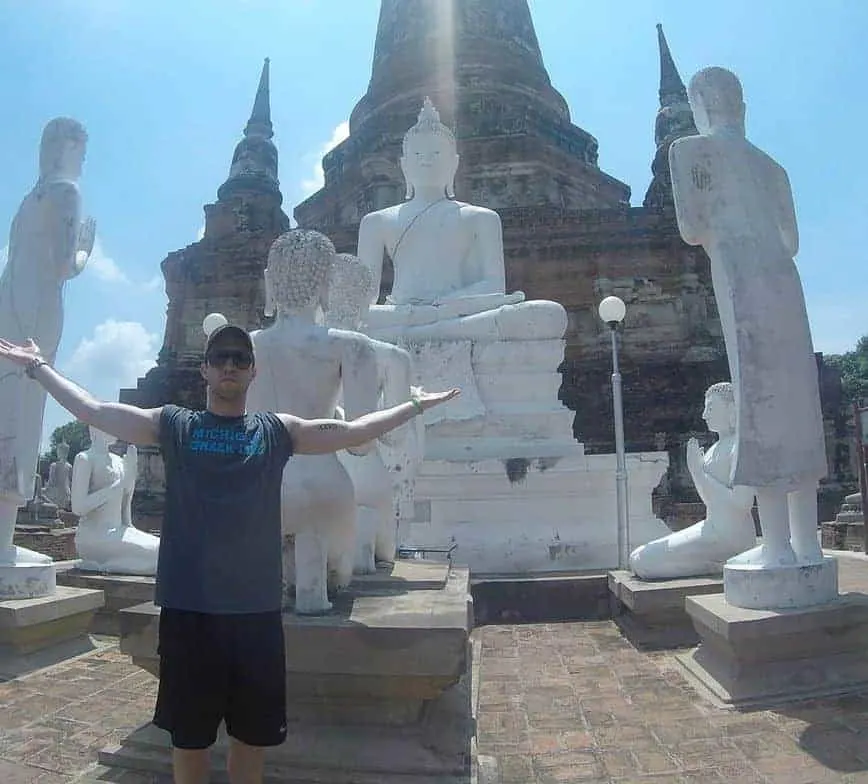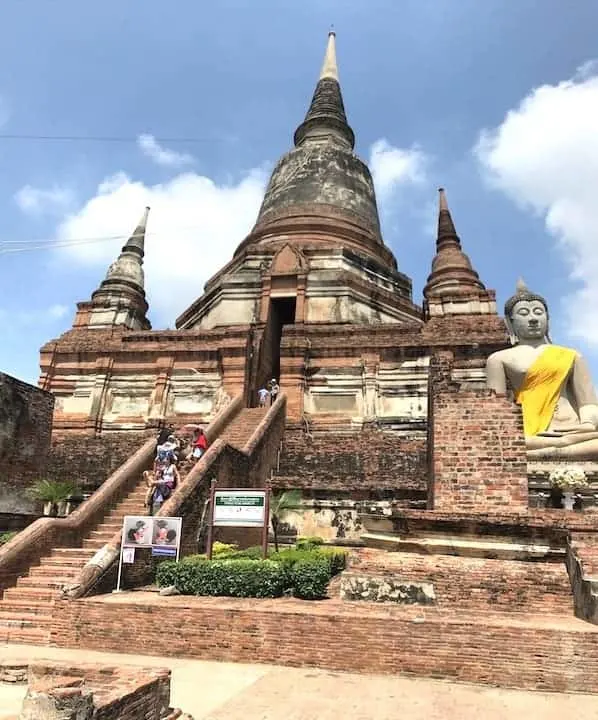 Wat Mahathat
Next up is Wat Mahathat, a huge complex with plenty to explore. Spend some time circling around the different areas and ending at the famous buddha head tangled in the roots of a tree.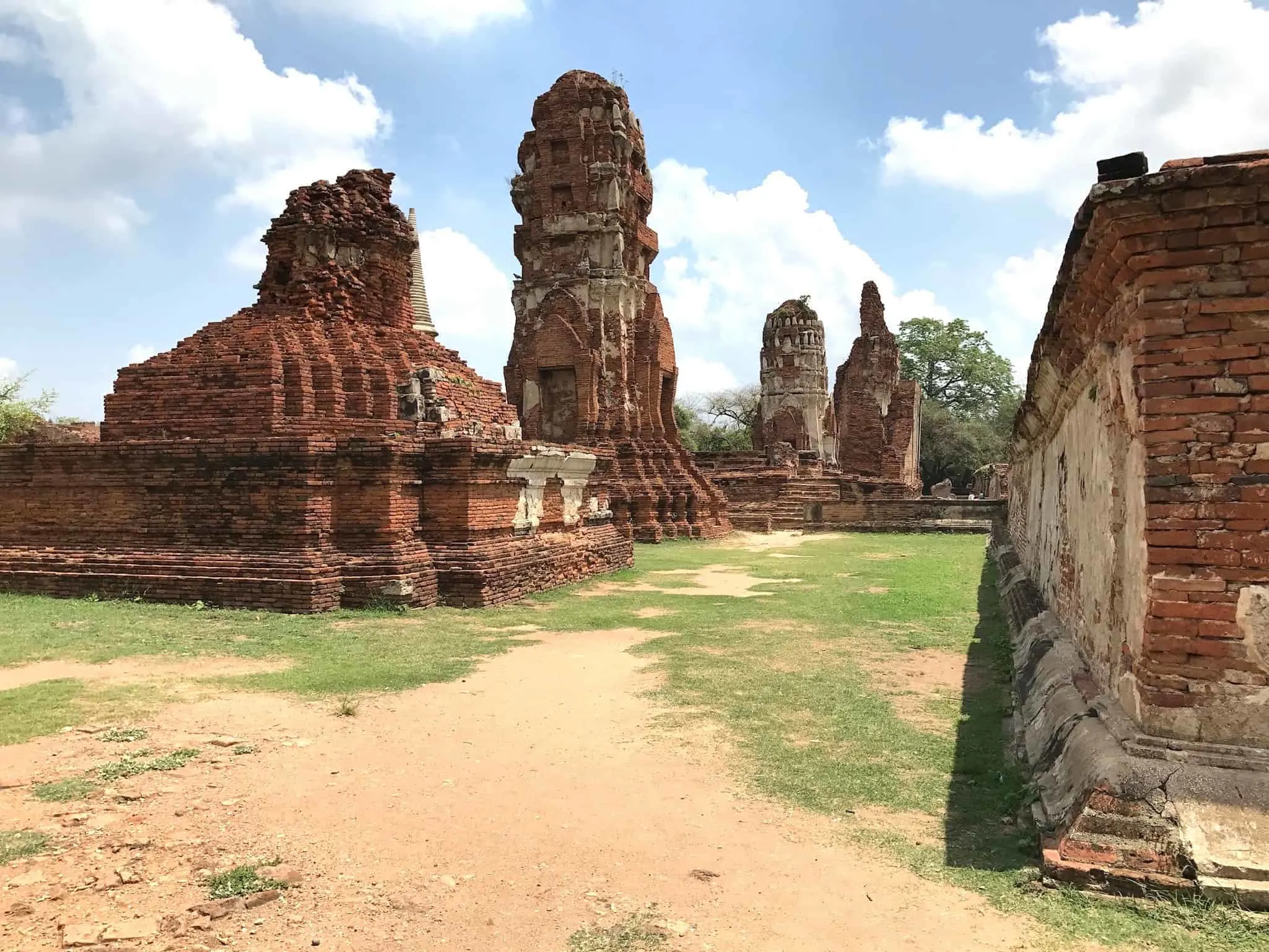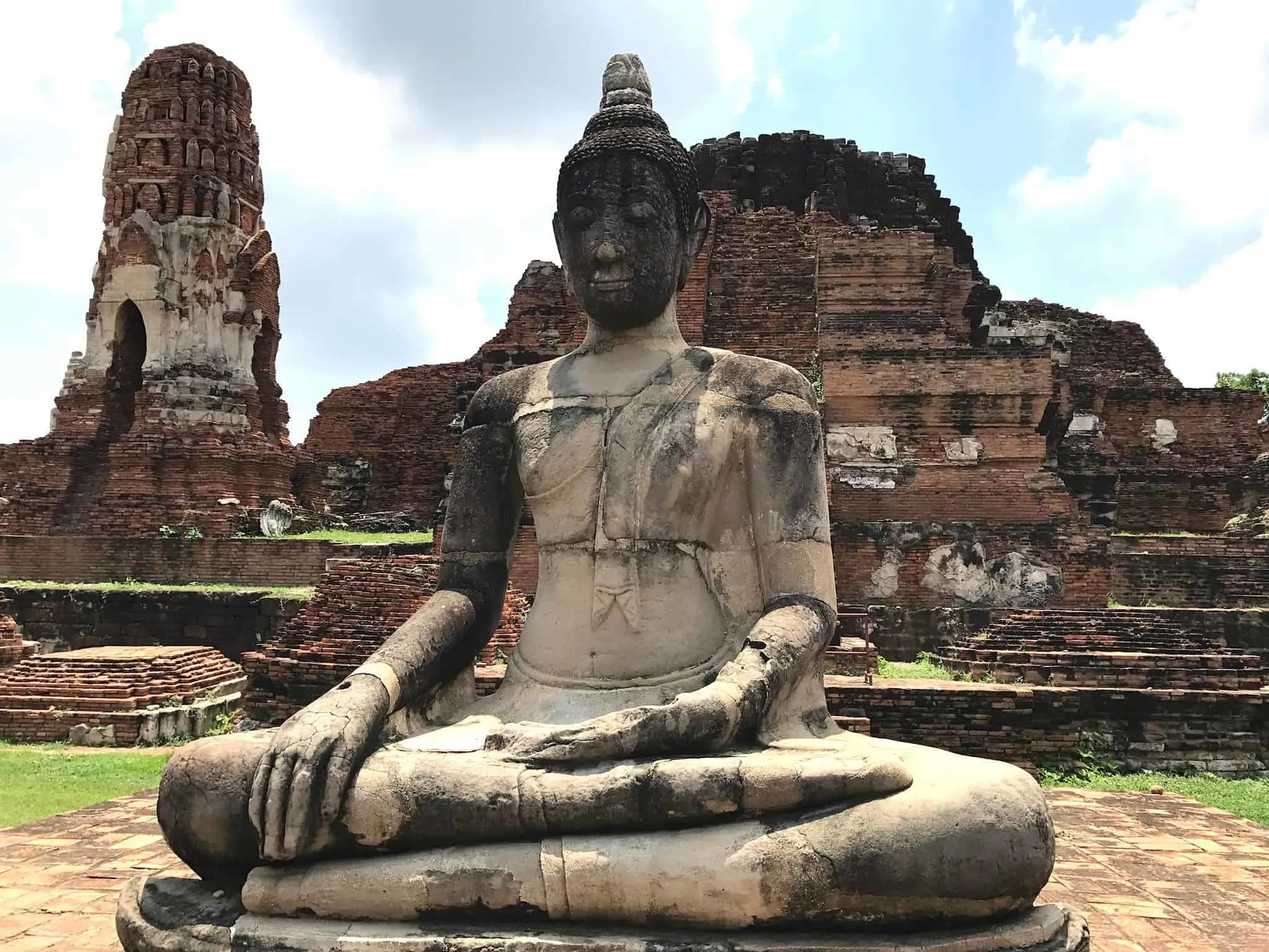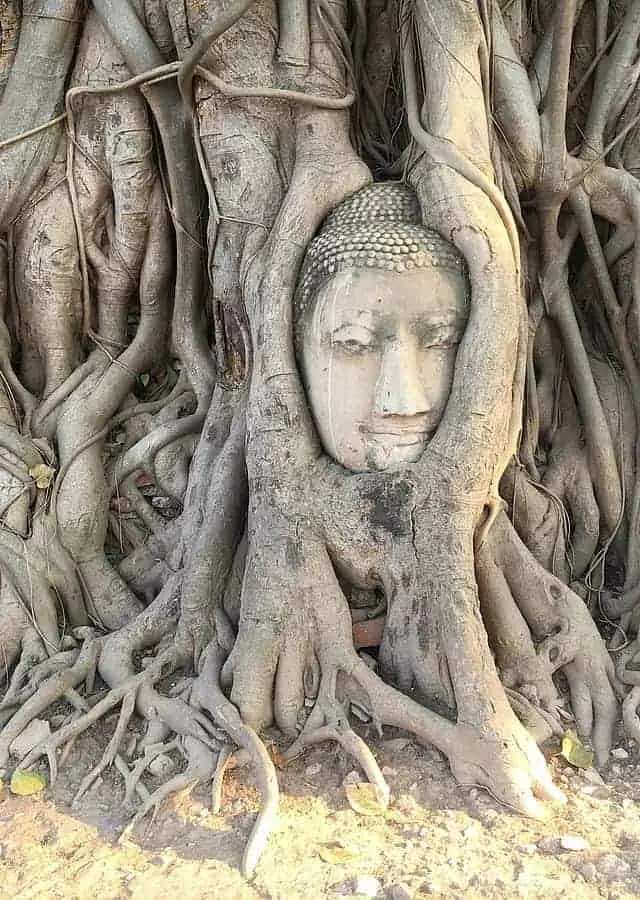 Wat Ratchaburana
The third stop is right across the street at Wat Ratchaburana. In the middle of the site you will find a one of kind "Prang" that you can climb up. You should be able to take some great pictures from down below and from up top.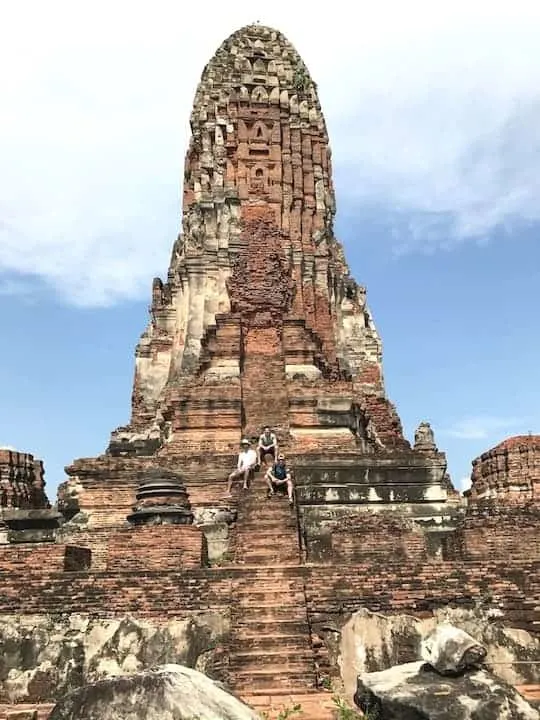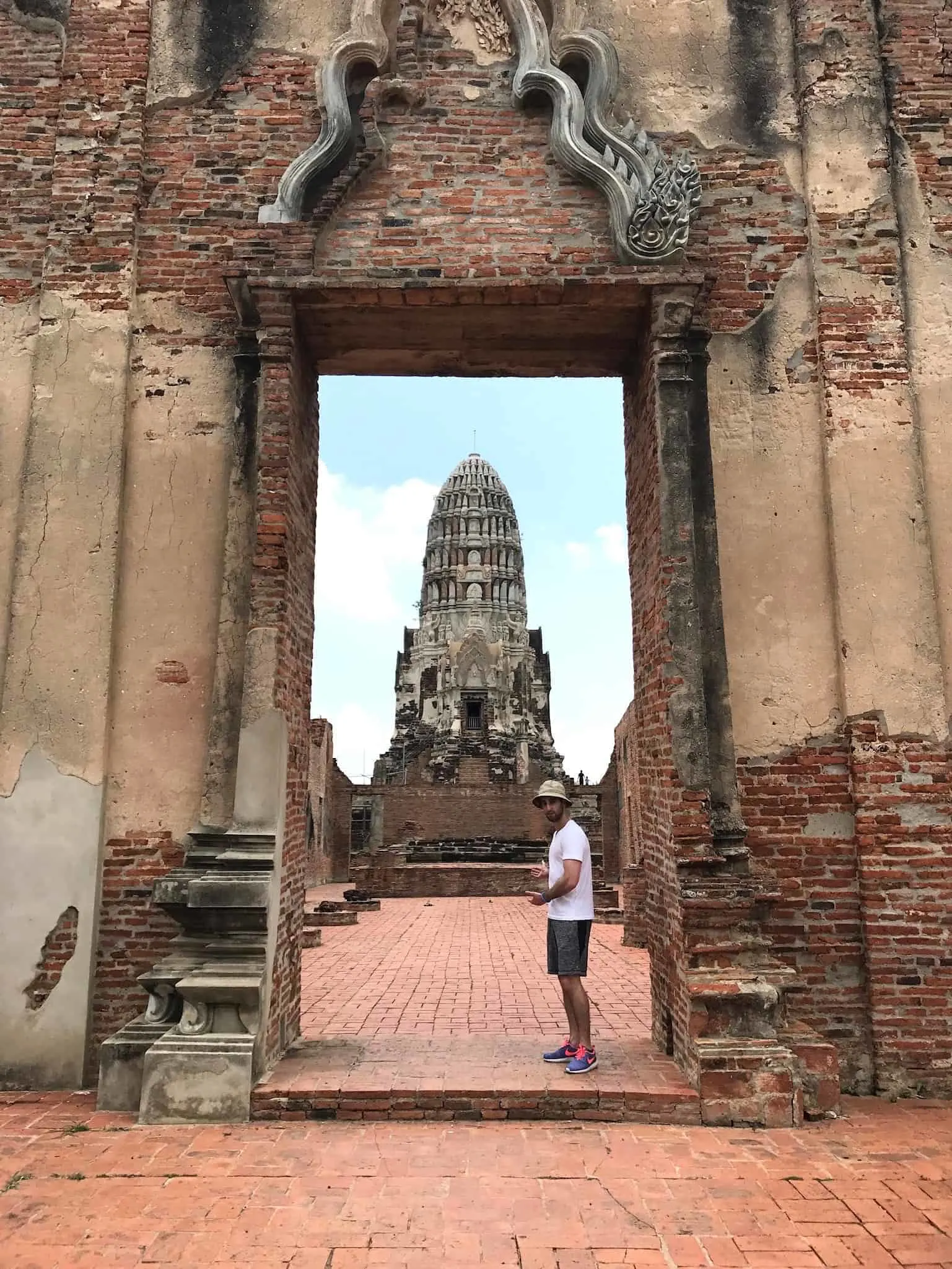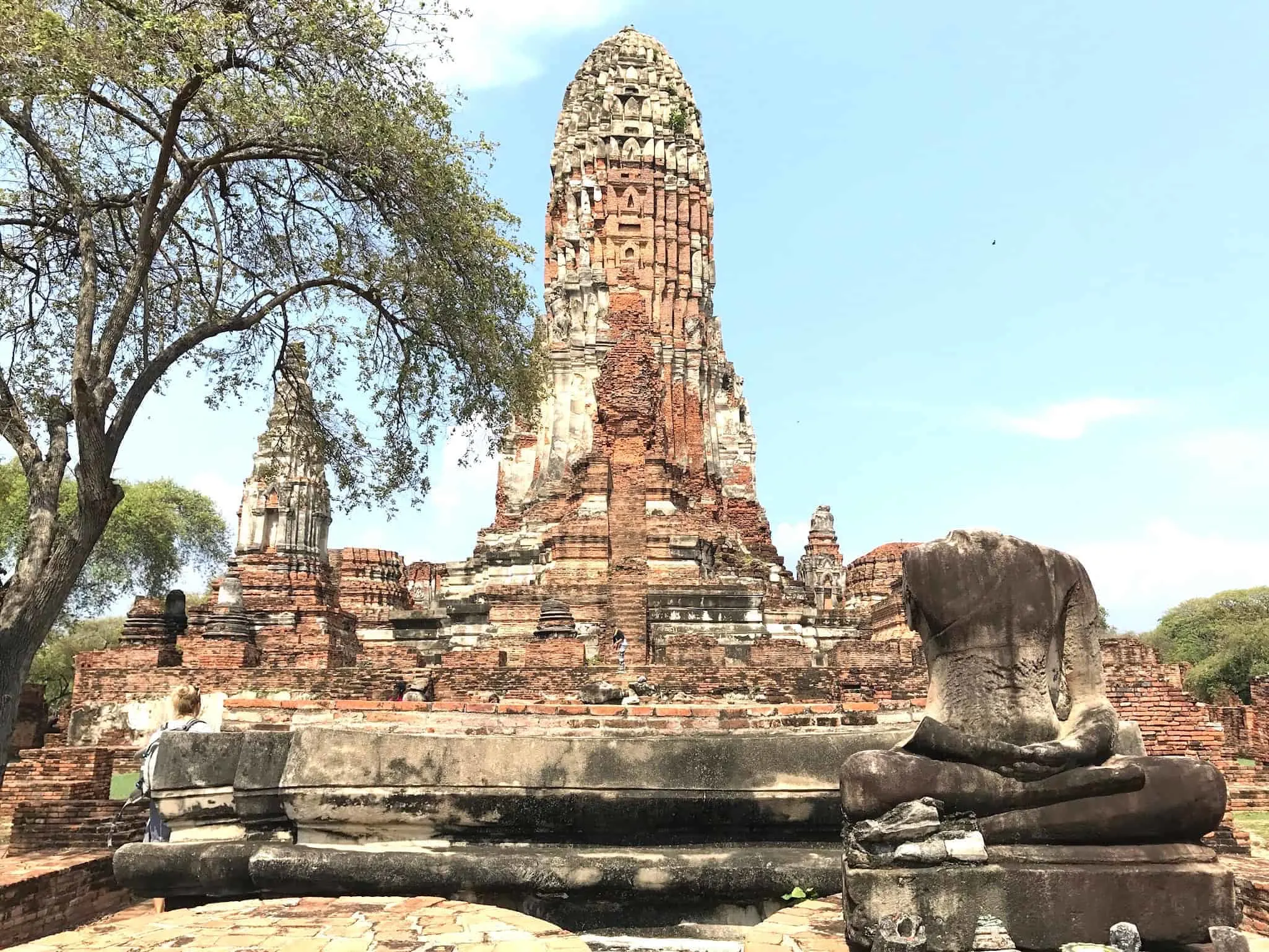 Wat Phra Si Sanphet
You can then continue towards Wat Phra Si Sanphet which houses the three Chedis as well as some other great architecture to take in.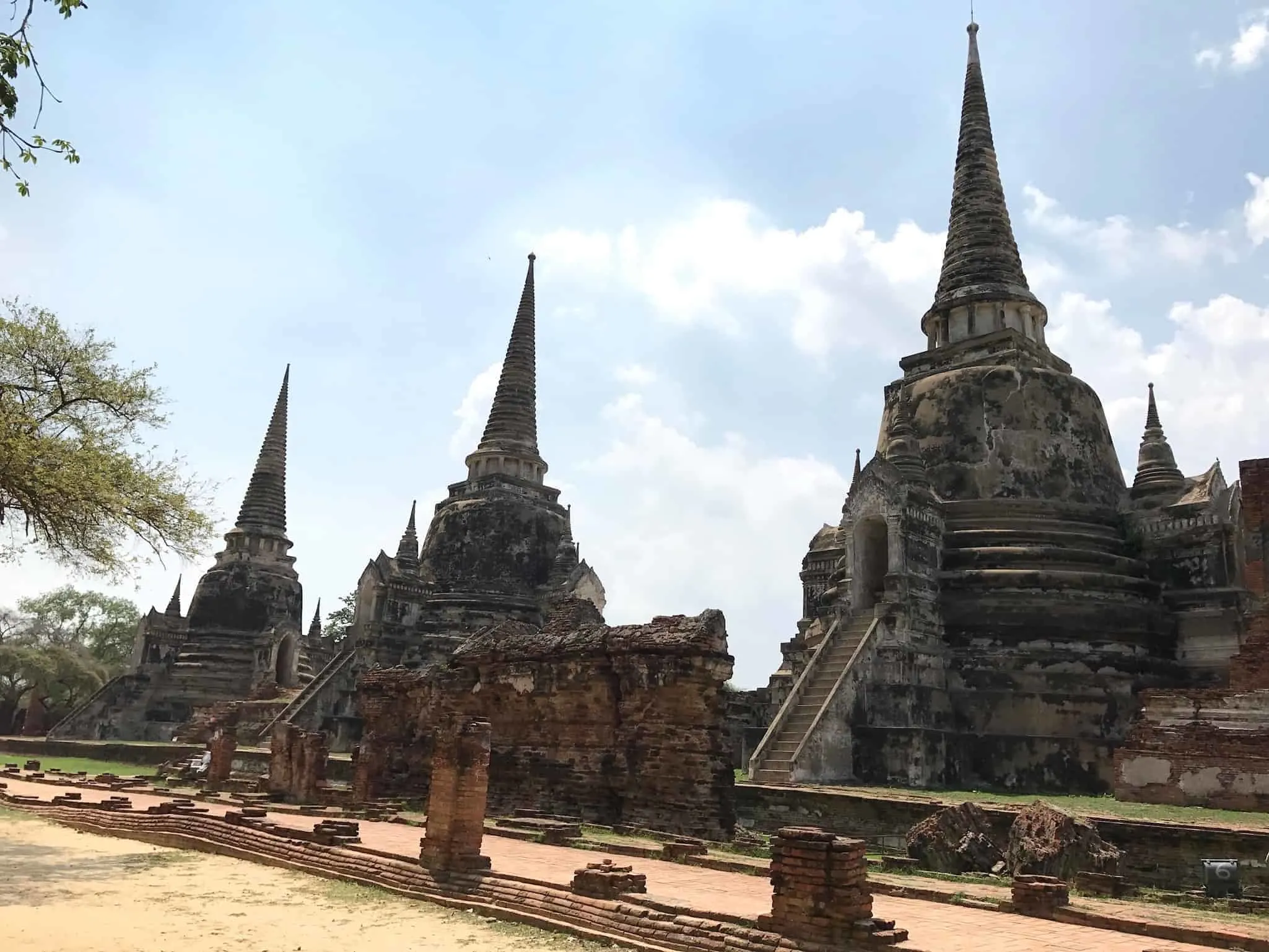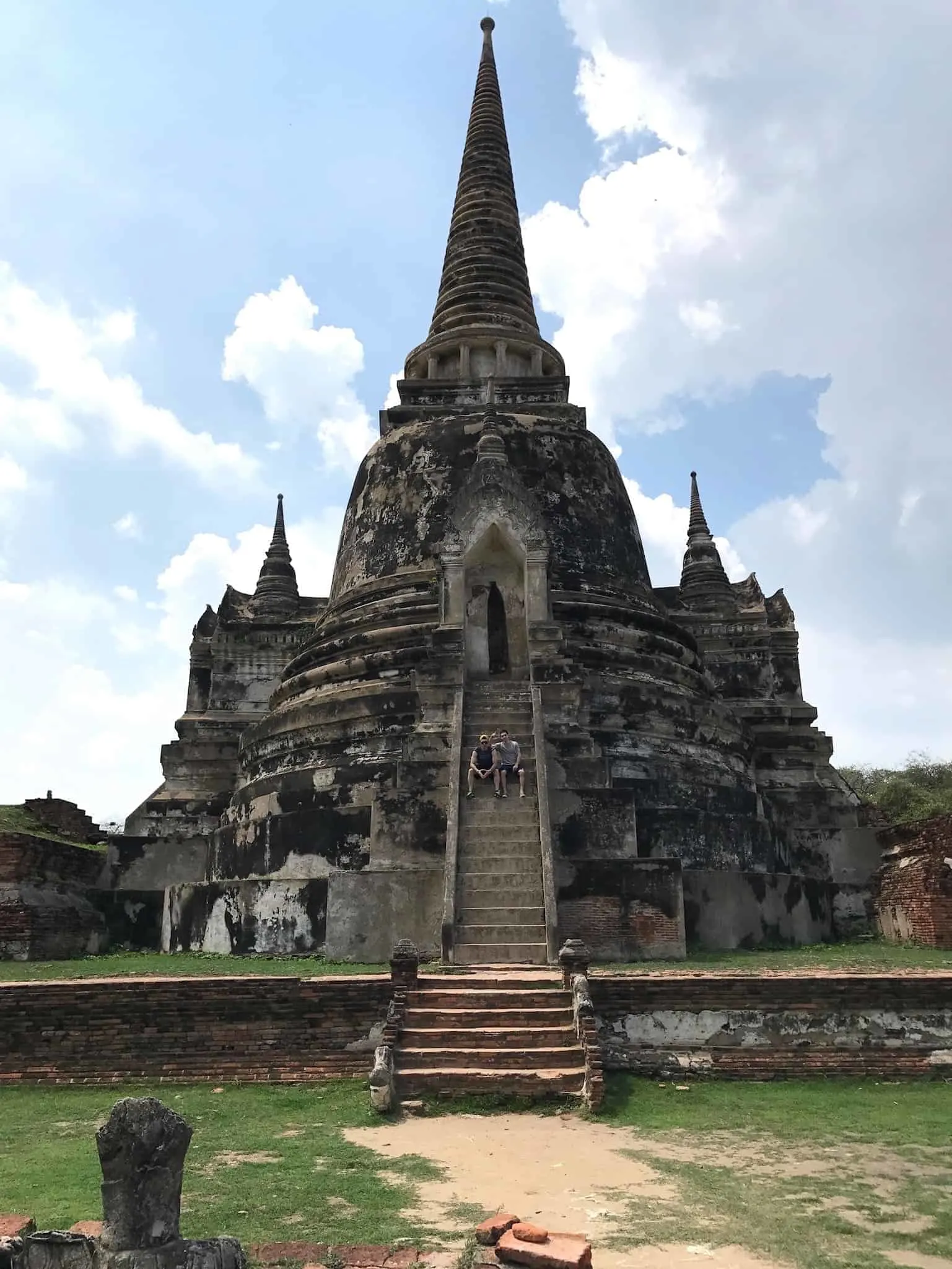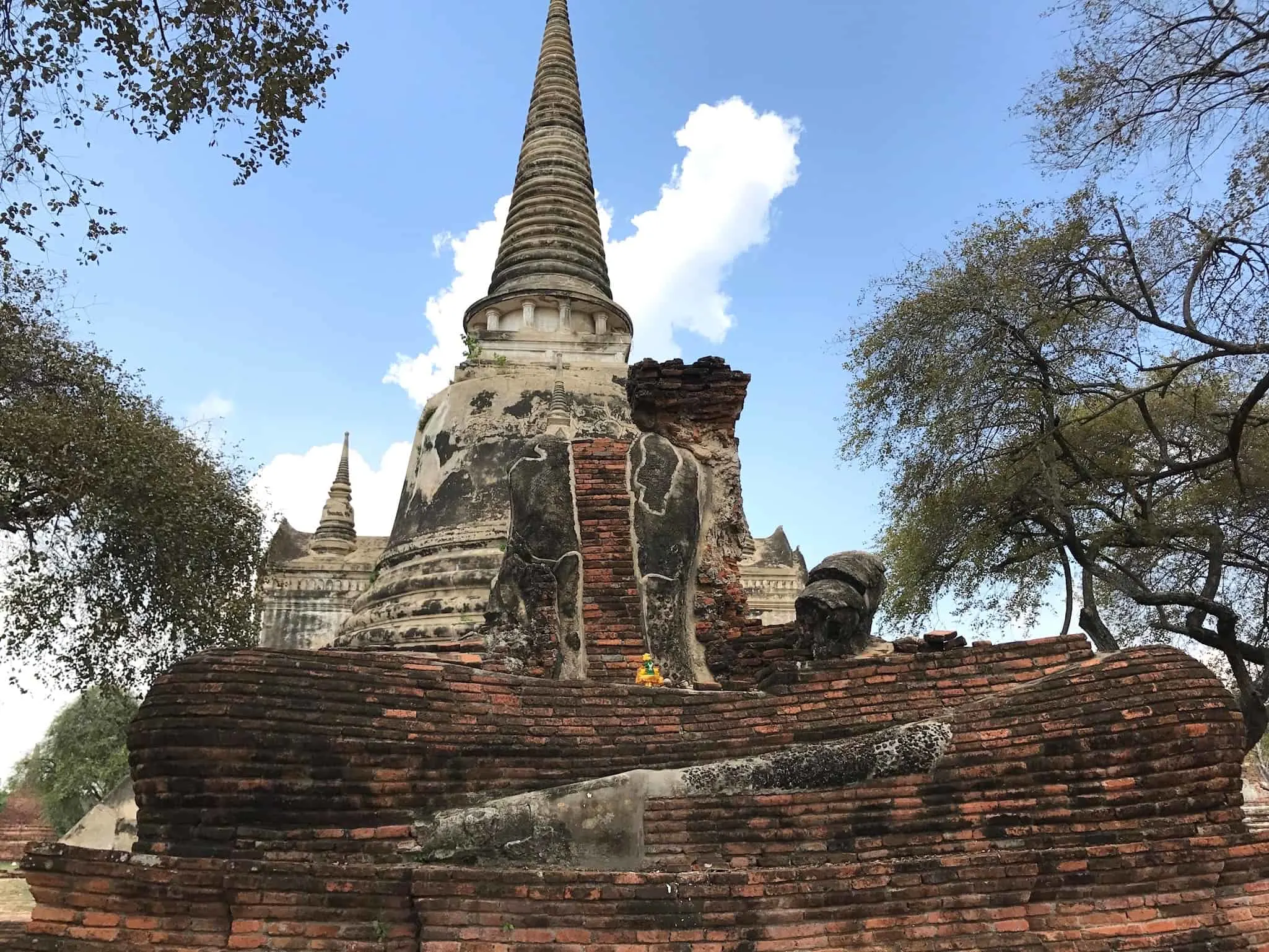 Wat Lokayasutharam
Lastly on your day trip, you will find probably the biggest Buddha around the area at Wat Lokayasutharam. Laying on its side with its large gold cloth makes for one incredible sight to see.
Once your day of temple hopping is complete, you can make your way back to your taxi, the bus or train station and end your successful Ayutthaya day trip from Bangkok.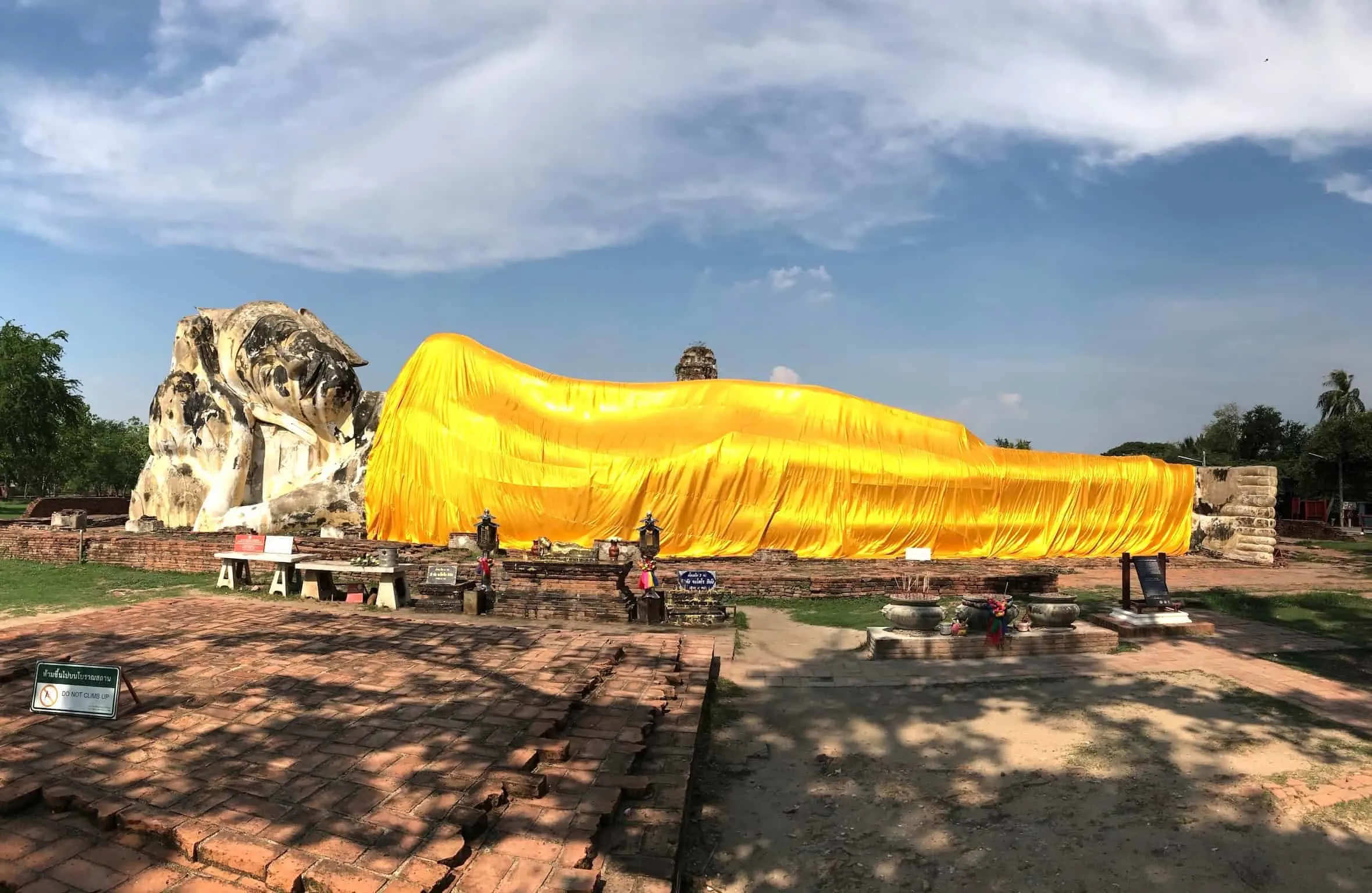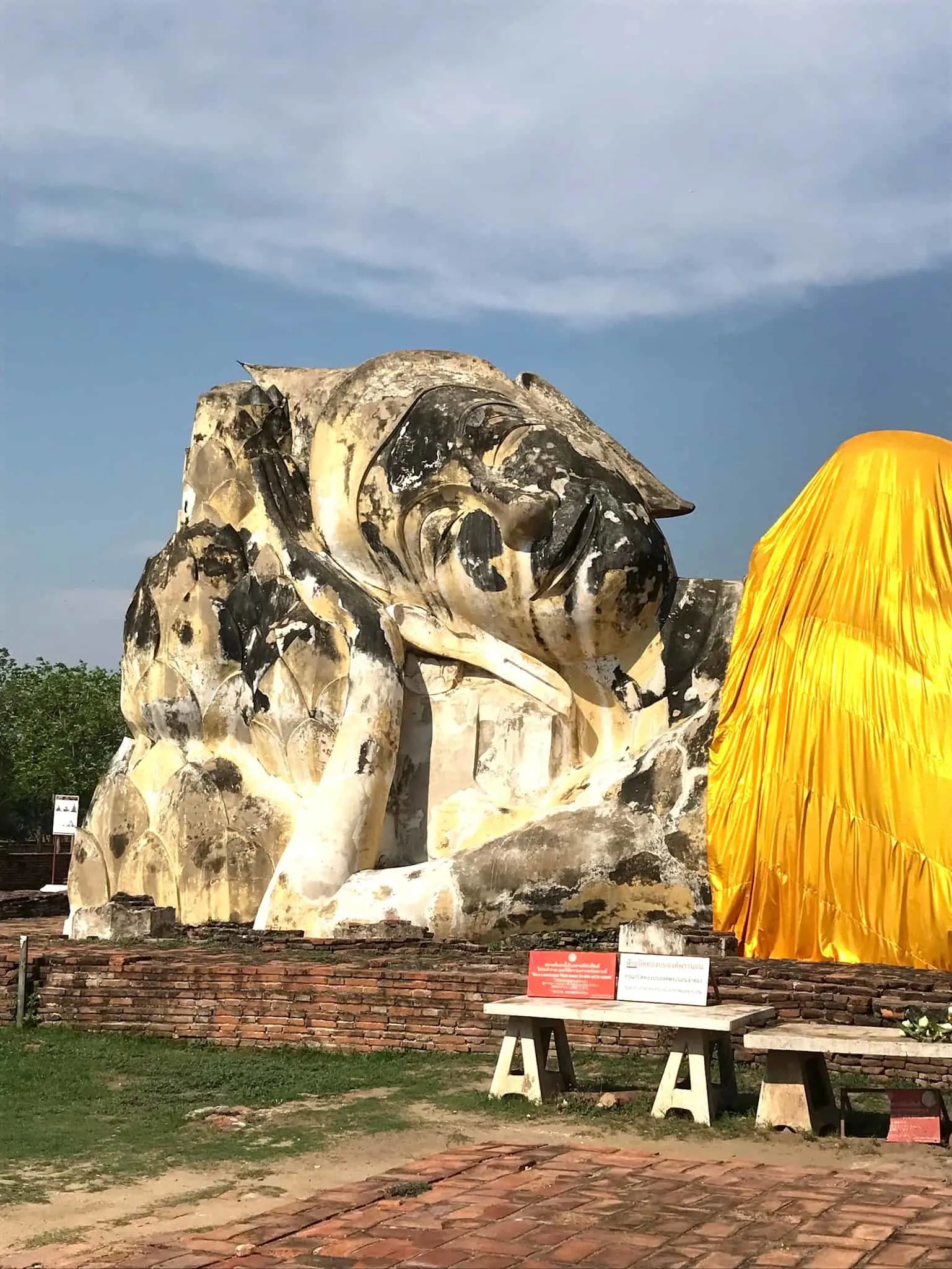 7) Ayutthaya Frequently Asked Questions
To wrap up this Bangkok from Ayutthaya day trip guide, below are some answers to the most frequently asked questions.
Is It Worth Visiting Ayutthaya?
In my opinion, it is definitely worth visiting Ayutthaya during your trip to Thailand.
The whole area is filled with some of the most ornate and interesting temples & structures that can be found throughout the country.
Having so much to visit in such a small area makes Ayutthaya the perfect place to add on to an itinerary.
Coupled with the fact that it is close to Bangkok, it really does make for a convenient day trip to take part of.
How Do I Spend a Day in Ayutthaya?
Quite simply, most of a day in Ayutthaya will be spent temple hopping. I would recommend choosing 5-6 temples that you are most interested in, and complete a route around the area.
If you decide to rent a bicycle around the ancient capital, that will also give you the opportunity to see the area in a new perspective.
Ideally, you are able to get an early start from Bangkok, make the drive/bus/train to Ayutthaya, spend several hours exploring the temples, and then make your way to Bangkok at day's end.
How Long Do I Need in Ayutthaya?
For most people, one single day is enough time to explore Ayutthaya. That is why a day trip from Bangkok is such a popular option.
Now, some people may want to have more time to tour around at a slower pace. If that is the case, you may want to consider spending an overnight in Ayutthaya.
This will give you the opportunity to spend a full day exploring the sites starting at opening time, without the need to rush through anything.
Is There a Dress Code for Ayutthaya?
Unlike many other temple areas around Thailand, there is not a strict dress code enforced at Ayutthaya.
In general, it is appropriate to cover your knees and shoulders, and not wear flip flops (sandals with a back strap are fine).
Always be sure to follow any rules, and respect the local culture.
Should You Stay in Ayutthaya?
While I do not think it is necessary to stay in Ayutthaya, it could be a great idea for those that want to enjoy the area early and later on in the day.
Since most tourists visit during the middle of the day, some spots can get a bit more crowded.
Having the chance to wake up and visit right at opening, is something that may be of interest to some travelers.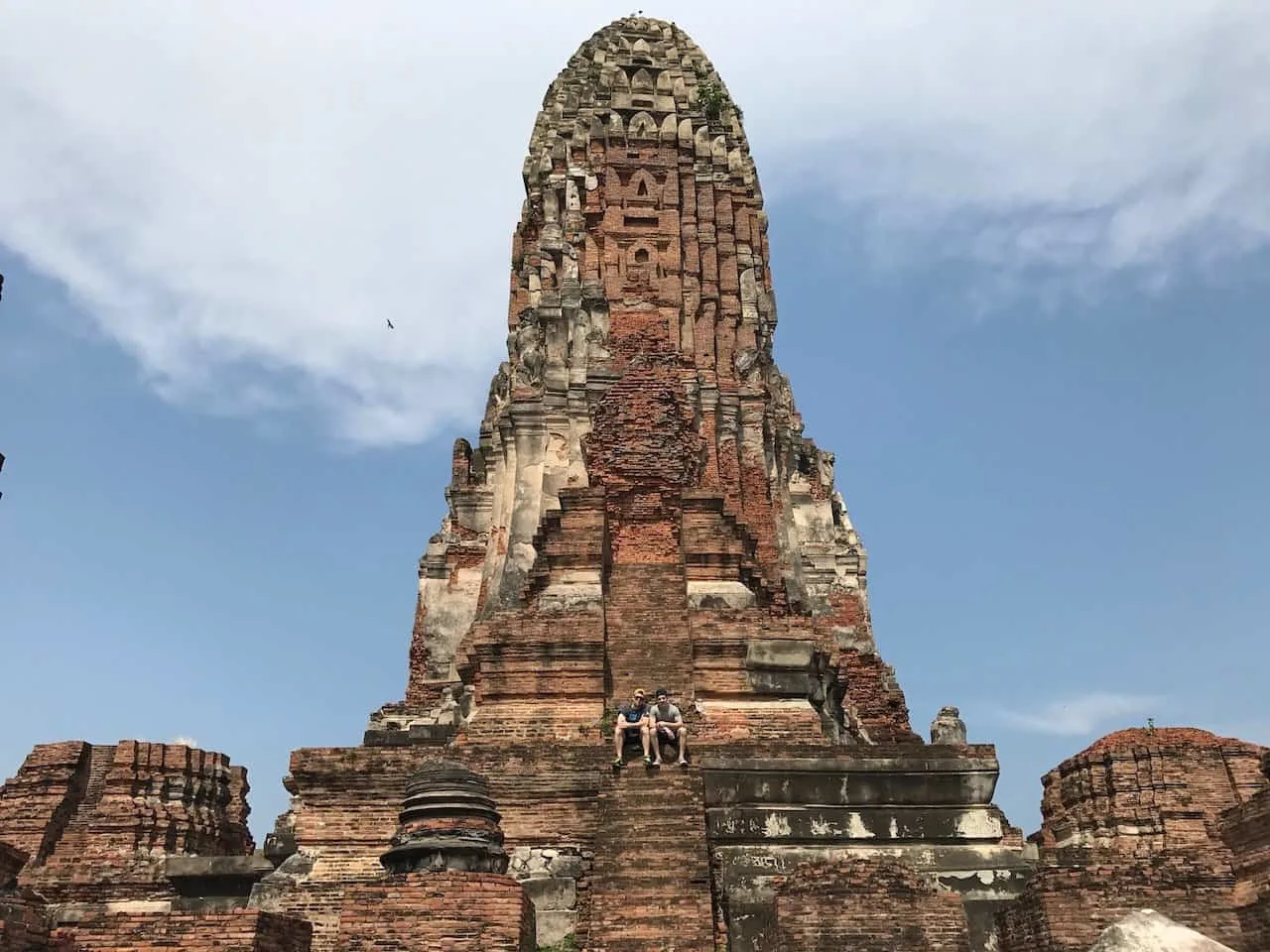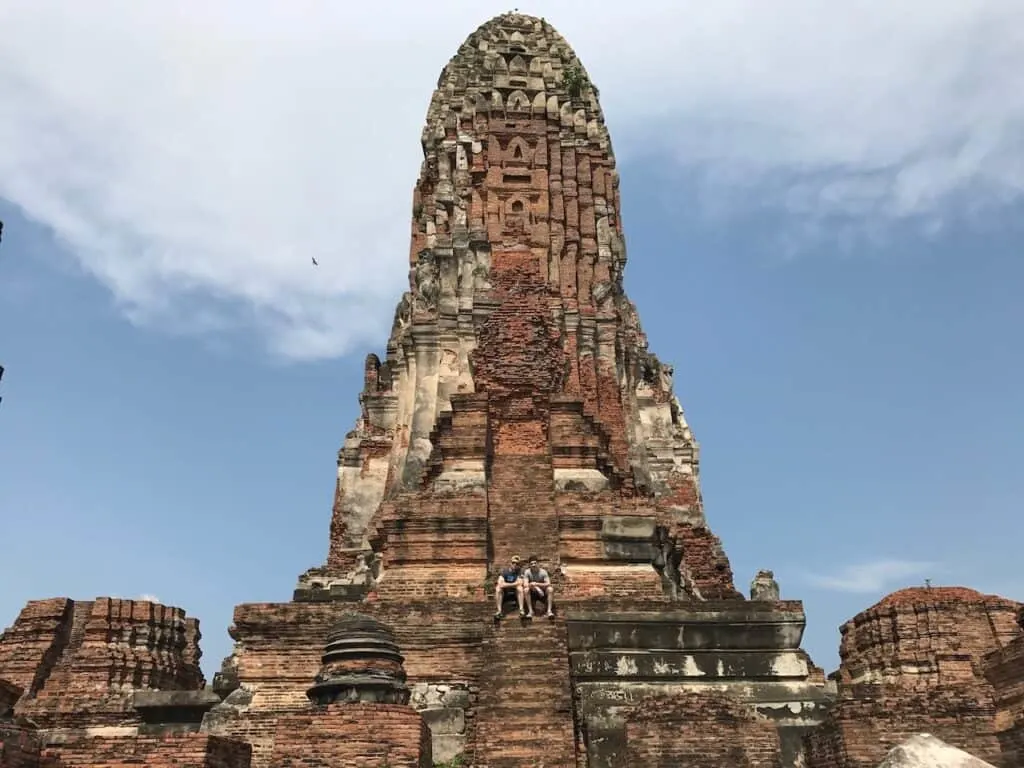 8) Where to Stay in Bangkok
There are so many different areas and hotels to choose from when deciding where to stay in the city. Here is a list of some top rated ones.
To check out more feel free to browse through Booking.com for the best deals.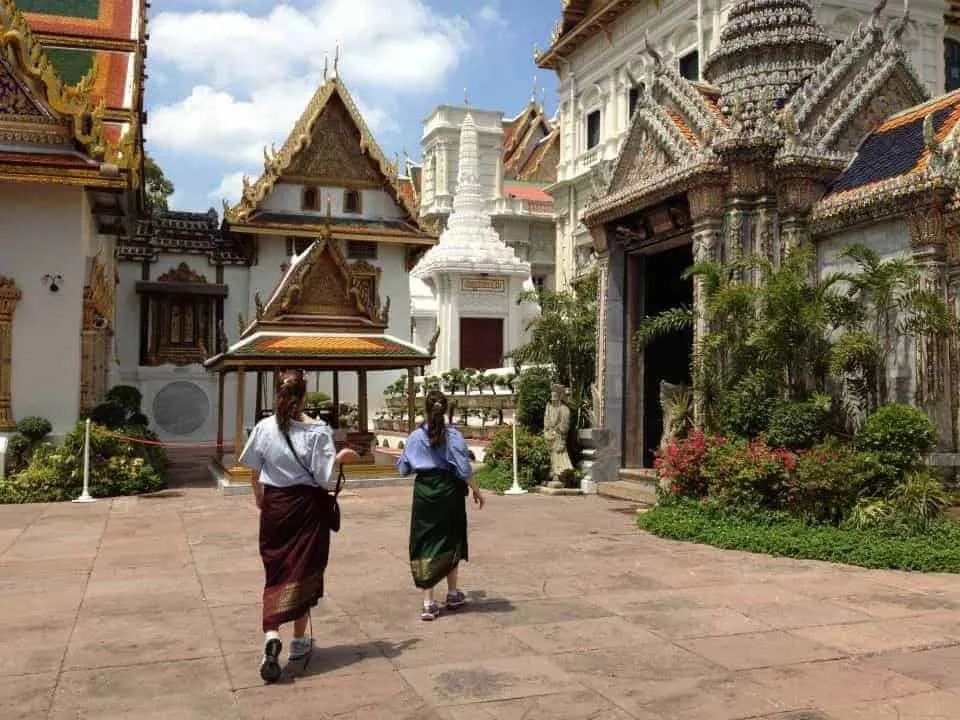 If you have any questions about the day or want to learn more feel free to write them in the comments below. Have fun in Thailand and safe travels!
Check out the remainder of the Thailand itineraries and guides up on the site to help out with any other trip planning.