Thailand is one of Southeast Asia's most diverse countries to visit. You can find everything from jungles and temples to big cities and pristine beaches. Spending 10 days in Thailand will give you the chance to scratch the surface with all that the country has to offer.
* Affiliate Disclosure: This post may contain affiliate links, which means I may receive a commission if you make a purchase through the links provided, at no additional cost to you. Thanks for supporting the work I put into TripTins!
Welcome to the 10 Day Thailand Itinerary
This 10 day Thailand itinerary will be broken out into 3 main cities:
Bangkok – 2 Days
Koh Samui – 4 Days
Chiang Mai – 3 Days
Bangkok – 1 Day
↔ The capital of Bangkok will give you the chance to see what the largest city in Thailand is all about. There are plenty of temples, markets, and nightlife options to enjoy during your time there.
↔ Koh Samui is an island in the southeast of Thailand. There you will have the chance to enjoy some beautiful white sand beaches and get a feel of island life. If you are interested and plan your trip accordingly, you can also take part of the famous Full Moon Party on the nearby island of Koh Phangan.
↔ Lastly, you can enjoy time time in northern Thailand in the city of Chiang Mai. Here you will be able to go temple hopping, visit an elephant sanctuary and take part of a cooking class, among several other activities.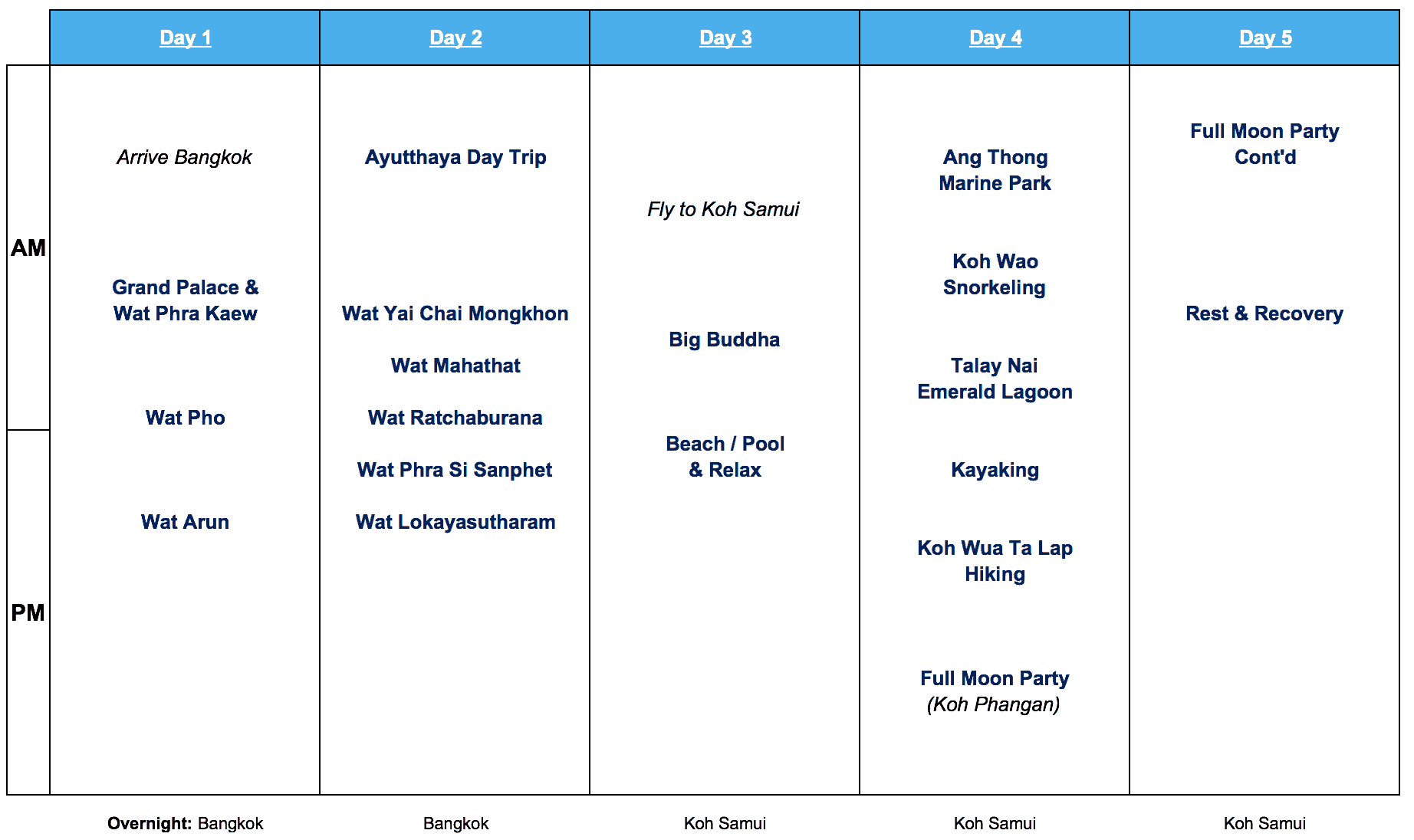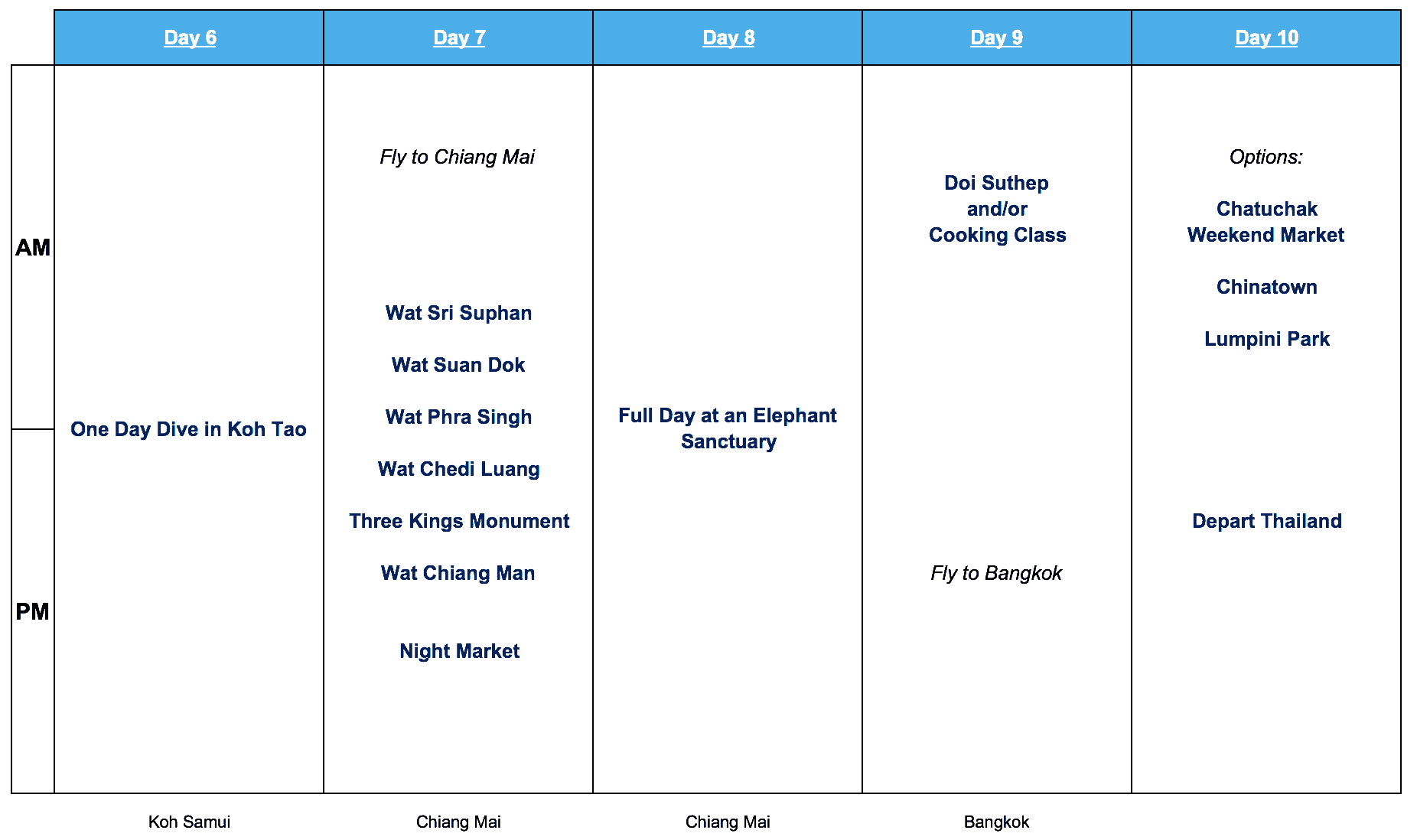 Below are a few helpful notes to think about when planning out your 10 day Thailand itinerary:
→ The itinerary is set up for 10 full days in Thailand. That means arriving early on day 1 or the previous night and leaving on day 10 or sometime on day 11.
→ I added an additional day in Bangkok at the end since most people will need to get back there to depart the country. Feel free to change that up a bit if your plans are different or if you have better flight options available
→ In order to get between all the cities, you will need to book 3 flights. There should be plenty of direct flights between Bangkok and Koh Samui as well as between Chiang Mai and Bangkok. The flight from Koh Samui to Chiang Mai will have fewer options.
→ If you do want to take part of Full Moon Party, I added it to night 4 of the itinerary while in Koh Samui. Feel free to move the itinerary around a bit if that does not work for you.
→ ​Before diving into the itinerary be sure to check out the Thailand Helpful Tips section to get you prepared for your trip. The article includes several important topics such as weather, logistics, and scams.
→ ​Do you have more time to spare? Check out the 2 Week Thailand Itinerary up on the site.
Thailand Itinerary 10 Days Map View
Take a look at the map below which shows you where each city that is part of this itinerary is located throughout the country.
You will start the journey in the center of the country in Bangkok before heading to the islands down south, flying up north to Chiang Mai and finishing back in Bangkok.
I have also starred the city of Ayutthaya, which can be visited from Bangkok on day 2 as well as Koh Phangan, if you are looking to go to the Full Moon Party.
Detailed 10 Day Thailand Itinerary
​Now lets get on to the actual trip! The following is a detailed breakout of the daily attractions and activities on this 10 day Thailand itinerary. Feel free to scroll through and click on any more in depth posts along the way.
Day 1 – Bangkok
After a long day of traveling you will arrive in Bangkok – the capital city of Thailand. It will definitely be a different type of city experience then the remainder of the trip but it does have some amazing sites to see and enjoy. ​
On top of the attractions, you can also take advantage of some of the great nightlife options that Bangkok has to offer such as Khao San Road and Sky Bar, among others.​
You can head on off to some of the top attractions in the city including:
» The Grand Palace and Wat Phra Kaew
» Wat Pho
» Wat Arun
» For an in depth overview to the city check out the Best Things To Do in Bangkok Guide
Check out some top rated Bangkok hotels for nights 1 & 2 (and 9) of your trip
5) Royal Orchid Sheraton Hotel & Towers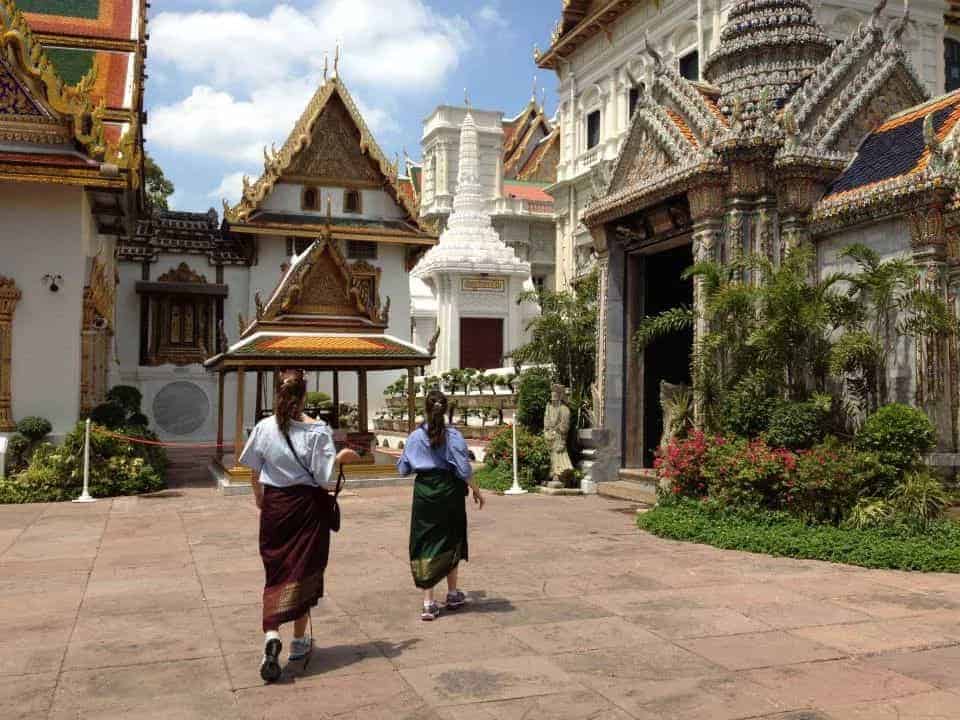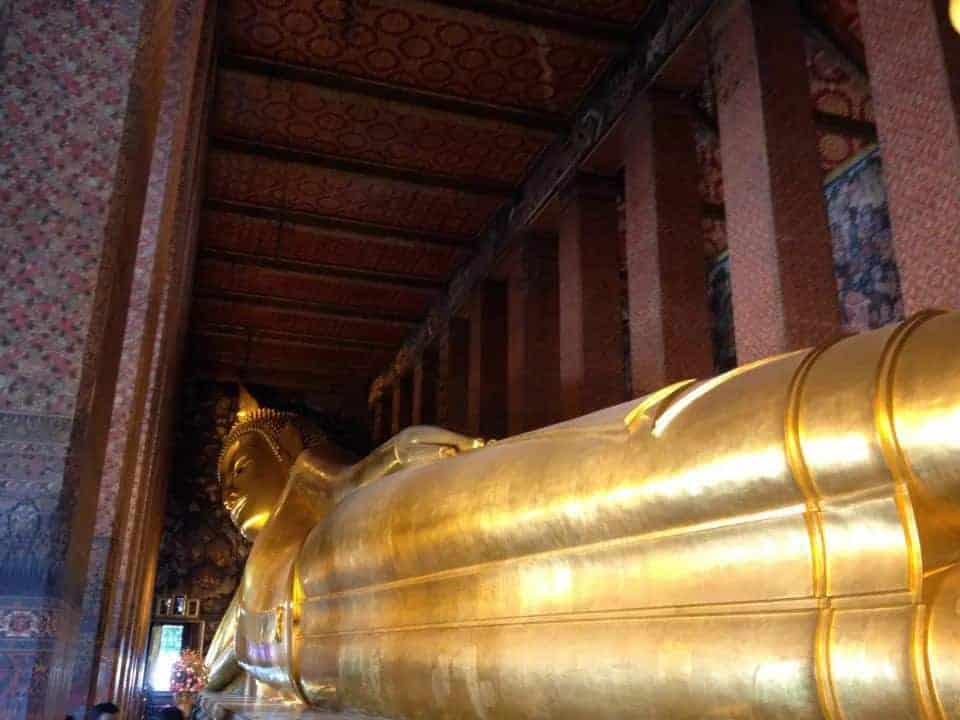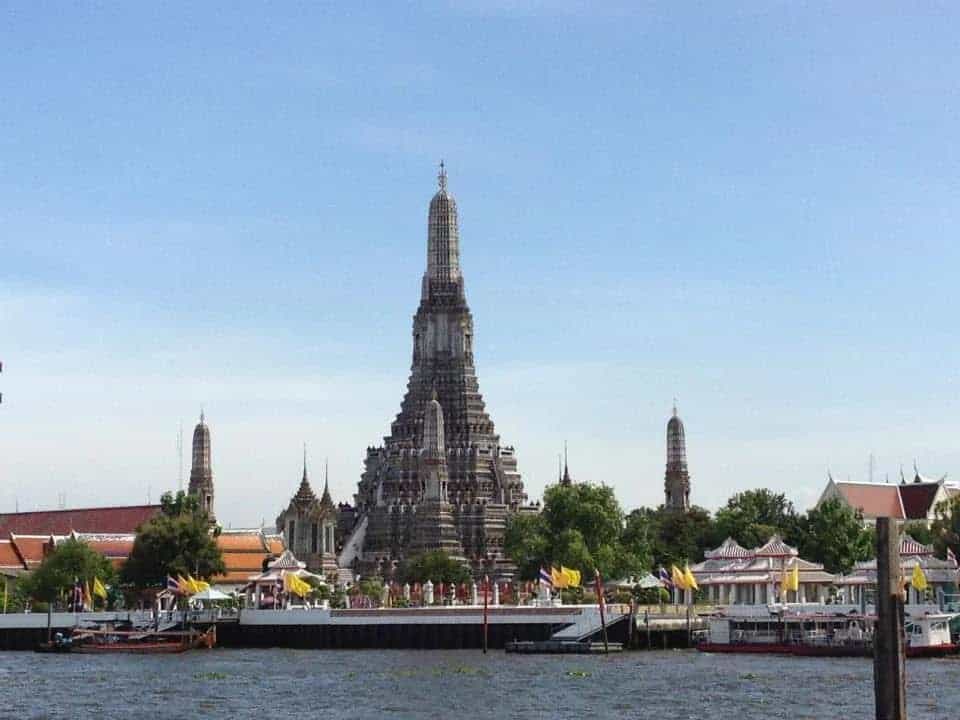 Day 2 – Ayutthaya
On your second day in Bangkok, it is time to head outside the city and to ancient capital city of Thailand – Ayutthaya.
Here you will find some of the most incredible temples and architecture in Thailand. It makes for a perfect day trip and is a great way to explore another part of the country during your time there.
You can get to and from Ayutthaya either by hiring a driver for the day or taking public transport. If you are looking for a private tour for the day, you can take a look at some highly rated Ayutthaya day trip options.
I ended up taking a driver along with some friends and then rented bikes once we got there. Cycling around to all the different sites was a great way to get around and see the ancient city.
» Feel free to check out the Ayutthaya Day Trip Guide that will walk you through the entire day for beginning to end
Some of the top highlights will include:
1) Wat Yai Chai Mongkhon
2) Wat Mahathat
3) Wat Ratchaburana
​4) Wat Phra Si Sanphet
5) Wat Lokayasutharam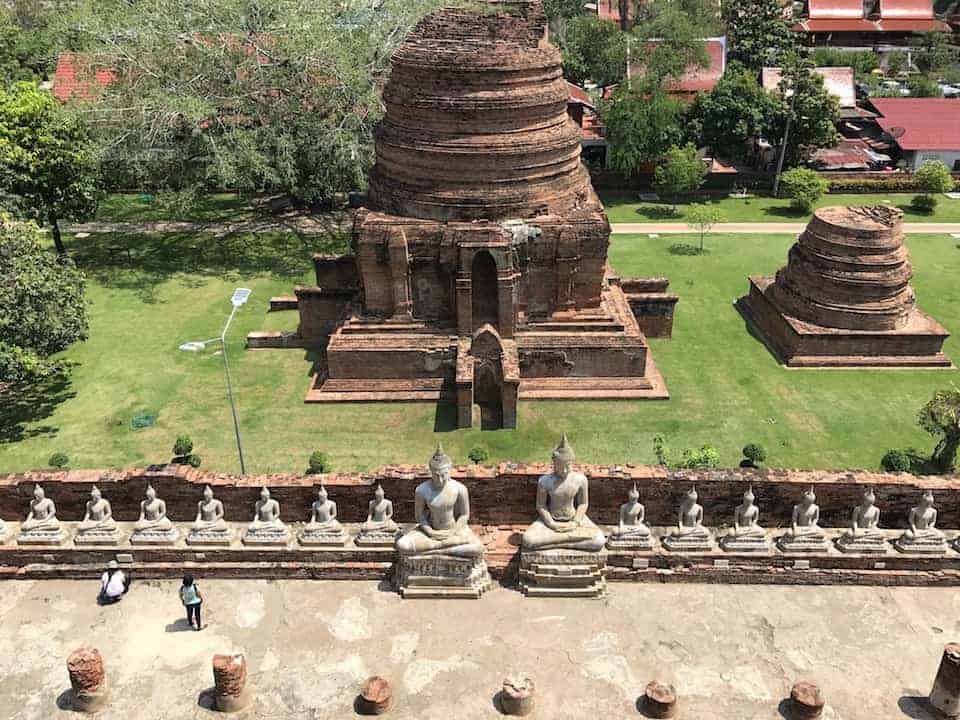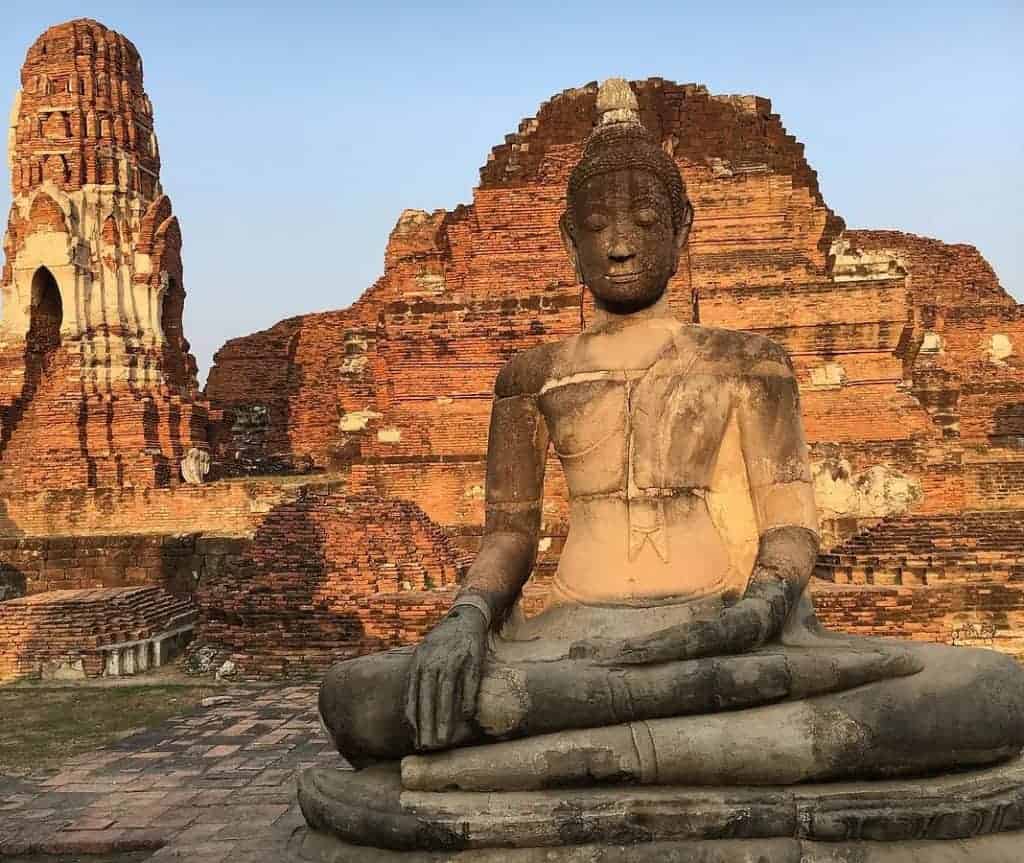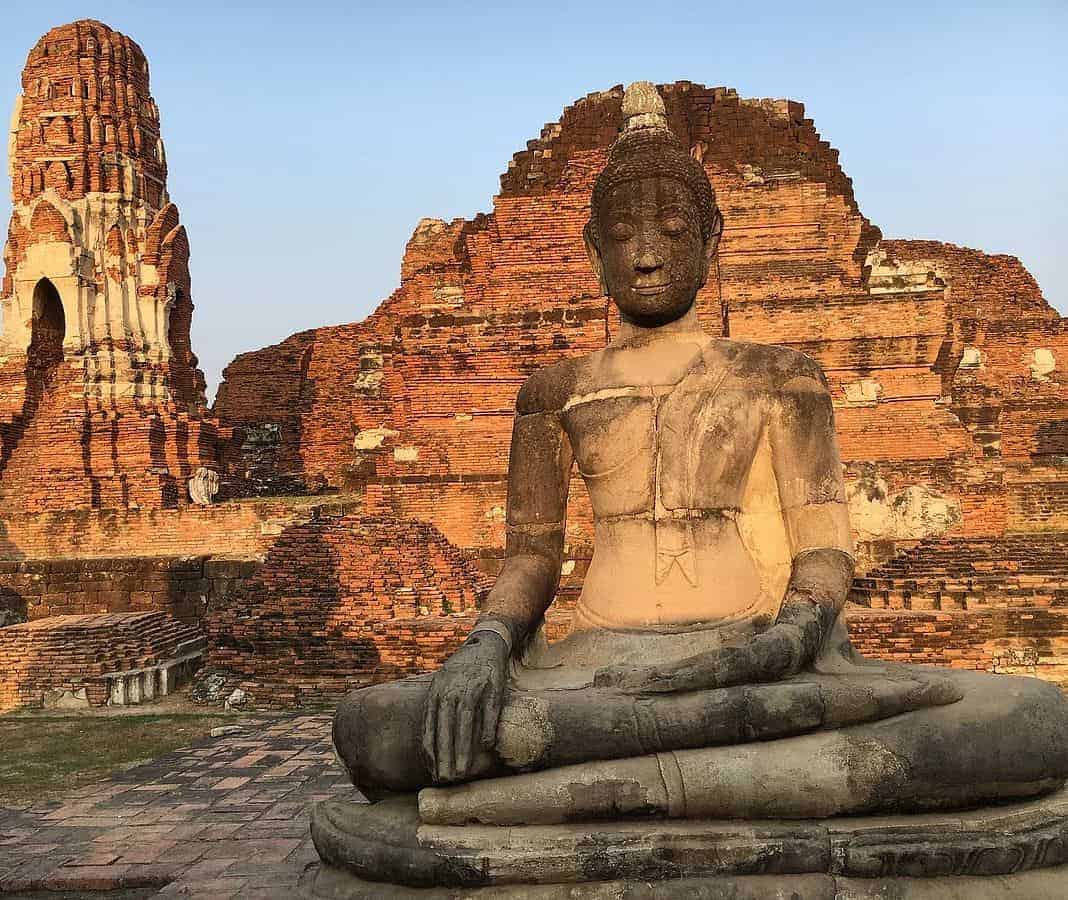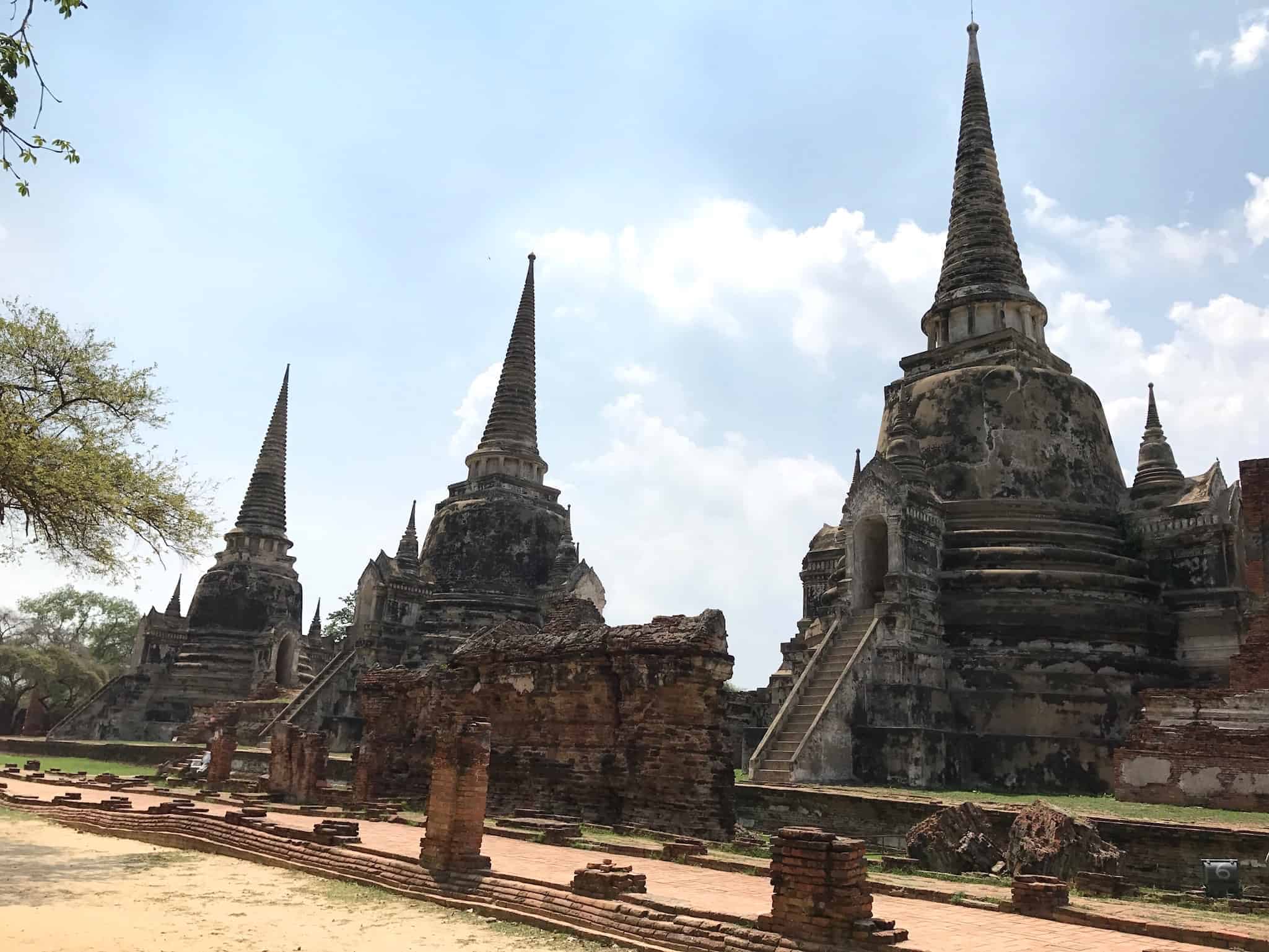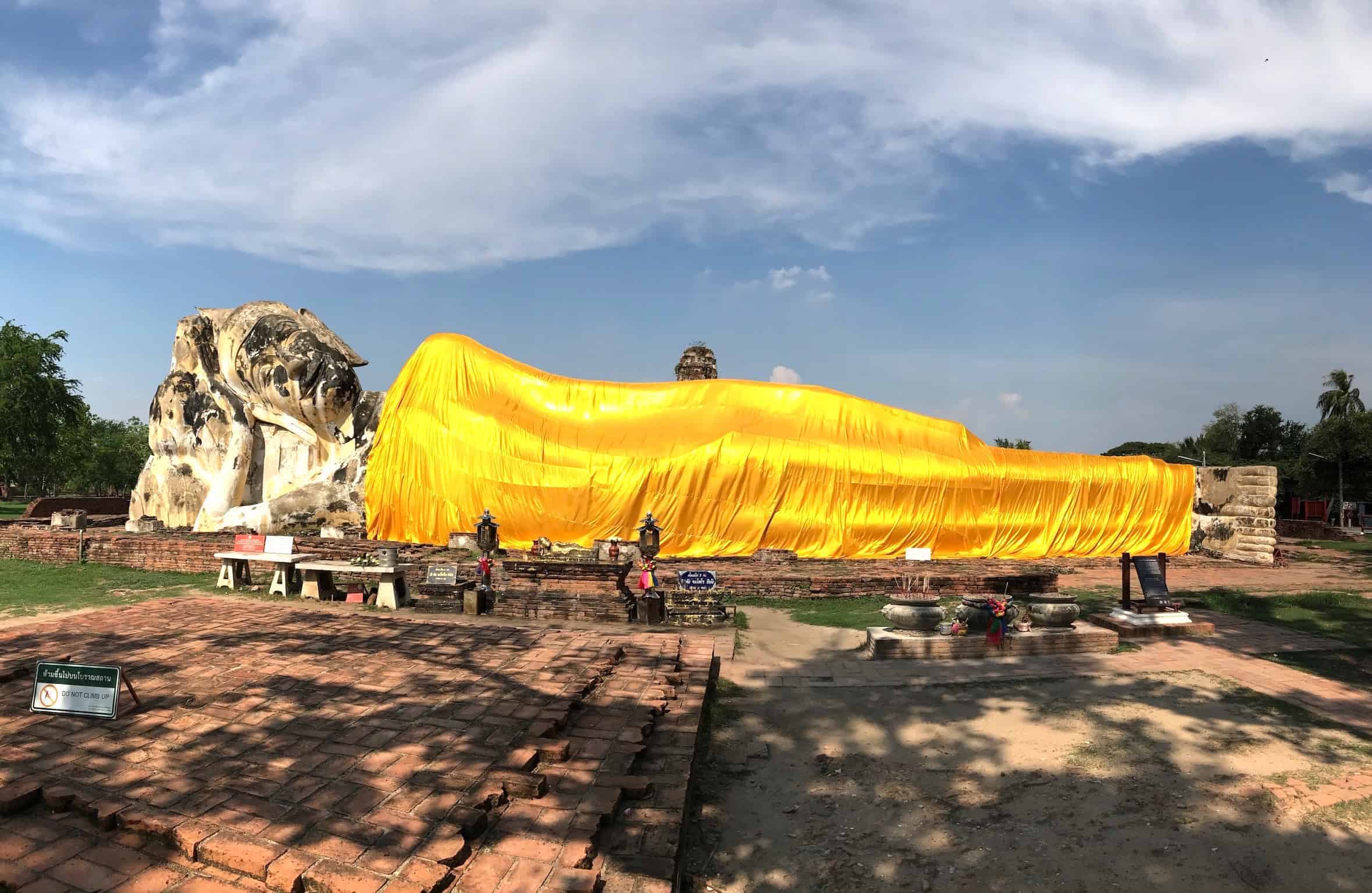 Day 3 – Travel to Koh Samui
It is now time to make your way to the islands of Thailand, where you will get to relax, hit some beaches, do some hiking and enjoy the one and only Full Moon Party.
Getting to Koh Samui is pretty simple. There will be a few flights in the morning from Bangkok to Samui that should work out well here.
Once you arrive in Samui there should be plenty of taxis that can take you to your hotel.
You can then spend the rest of your afternoon relaxing by the pool and beach, enjoying the Thai island life. If you would like you could also stop by the giant gold Big Buddha before heading to your hotel.
Take a look at some Koh Samui hotel options for nights 3, 4, 5 & 6 of the itinerary
4) Peace Resort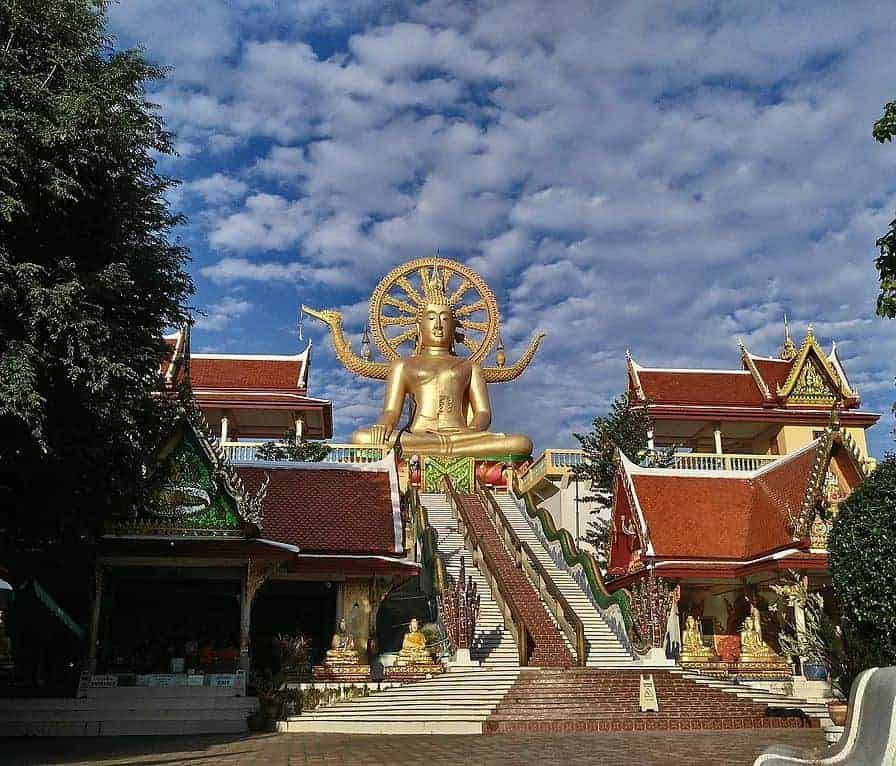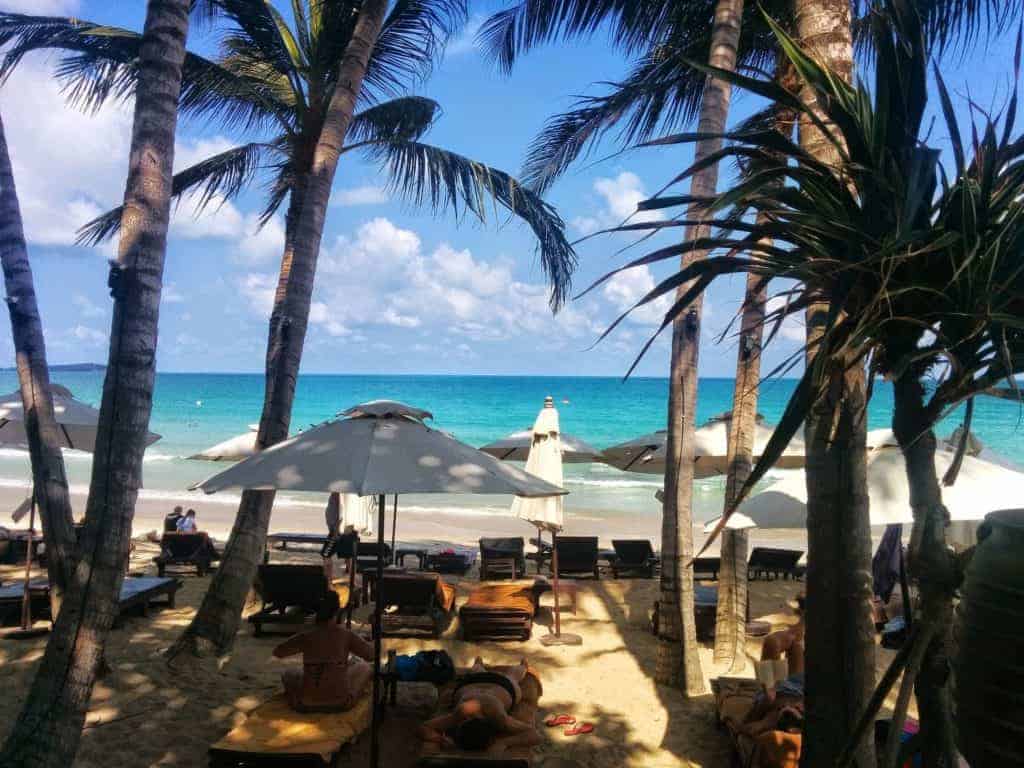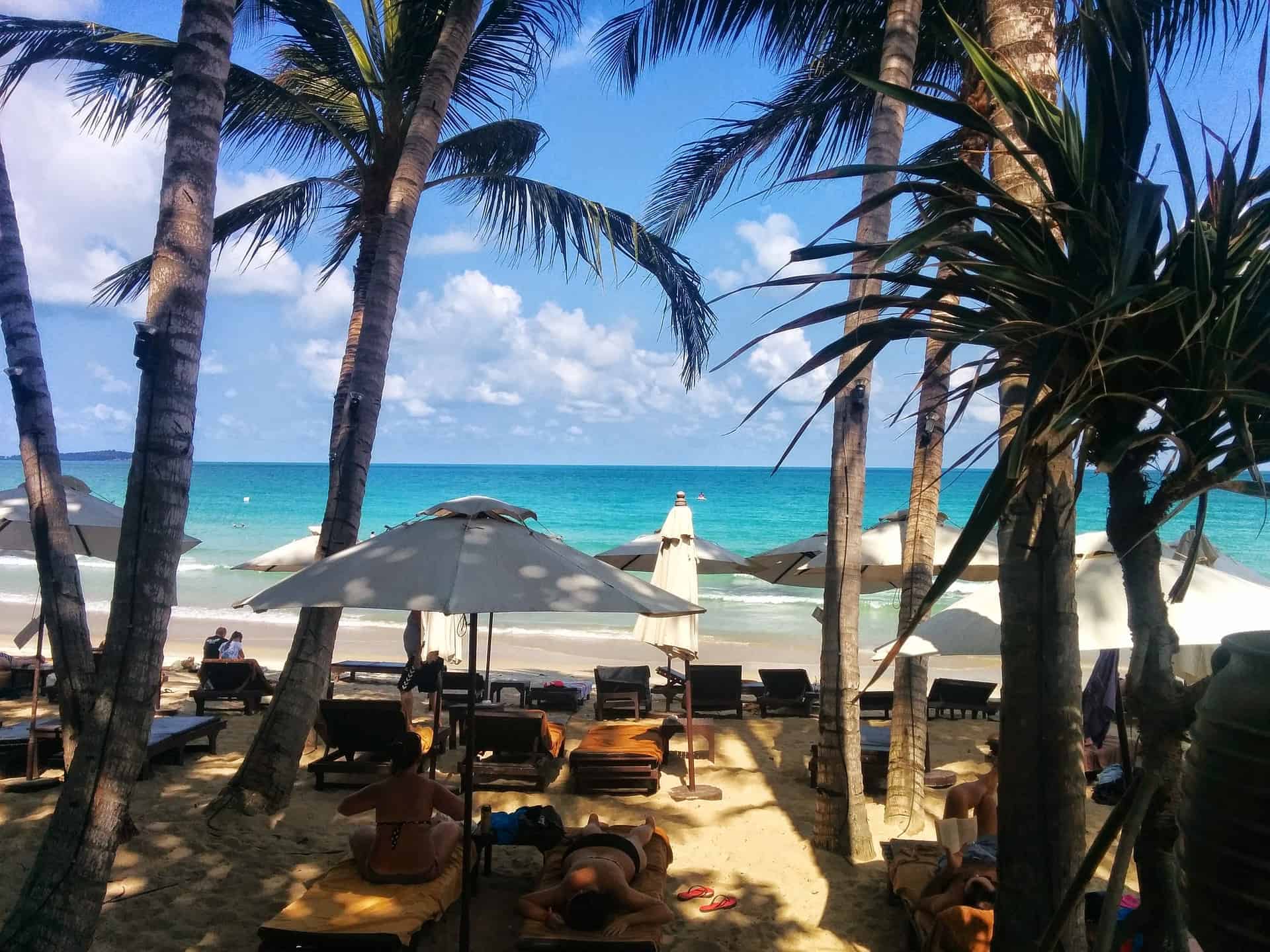 Day 4 – Ang Thong Marine Park & Full Moon Party
Today you will take a day trip out to the picturesque Ang Thong Marine Park.
Every hotel should be able to help you book a tour through a local company or you can plan ahead of time and book a highly rated Ang Thing Marine Park tour before you go. Here is how a typical tour would play out:
The day starts early on getting picked up to your hotel before being transferred to your speedboat for the day (note that not all tours use speedboats).
Your first stop about an hour away is Koh Wao, where you can swim and snorkel the crystal clear blue waters around you. There will be plenty of colorful fish to see as you make your way through the area.
After some swimming and snorkeling you will make your way to a short hiking trail that takes you above the Talay Nai emerald lagoon. From here you will also be able to see most of the 42 islands that make up the marine park.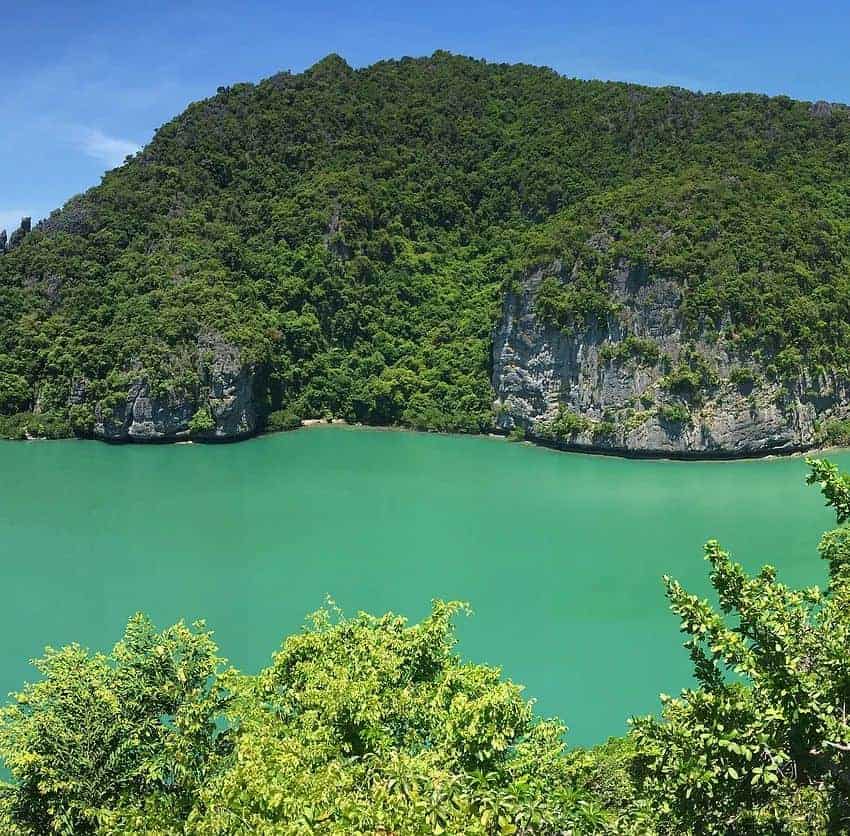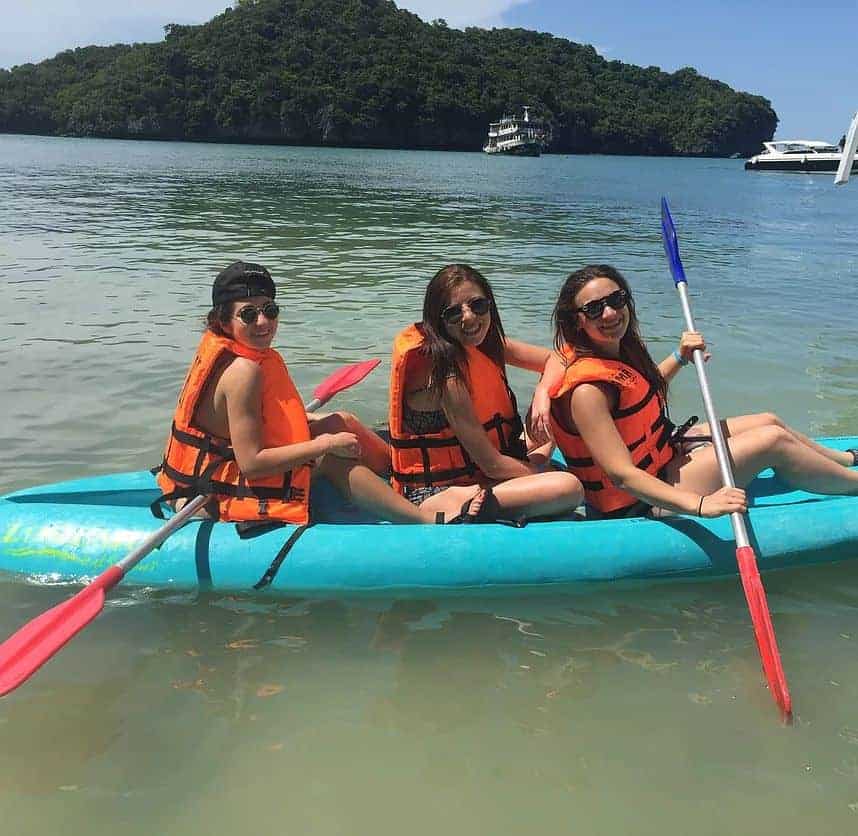 Once the lagoon is complete it is time to hit the kayaks. Your boat will take you nearby, where you will hop into a kayak for around an hour and get to explore the marine park on your own. As you kayak around you are sure to pass small caves and numerous islands surrounding you.
It will now be time for some lunch and your speedboat will take you to one of the main island in Ang Thong – Koh Wua Ta Lap. Here you will also be given some time to explore the island by foot or relax by the beach for a bit.
There is a great hiking trail that takes you up to the top of the island, hitting viewpoints along the way. It can get quite technical closer to the top but the views are worth it.
At day's end you will then head back by speedboat to Koh Samui, where you can rest up after a day of exploring.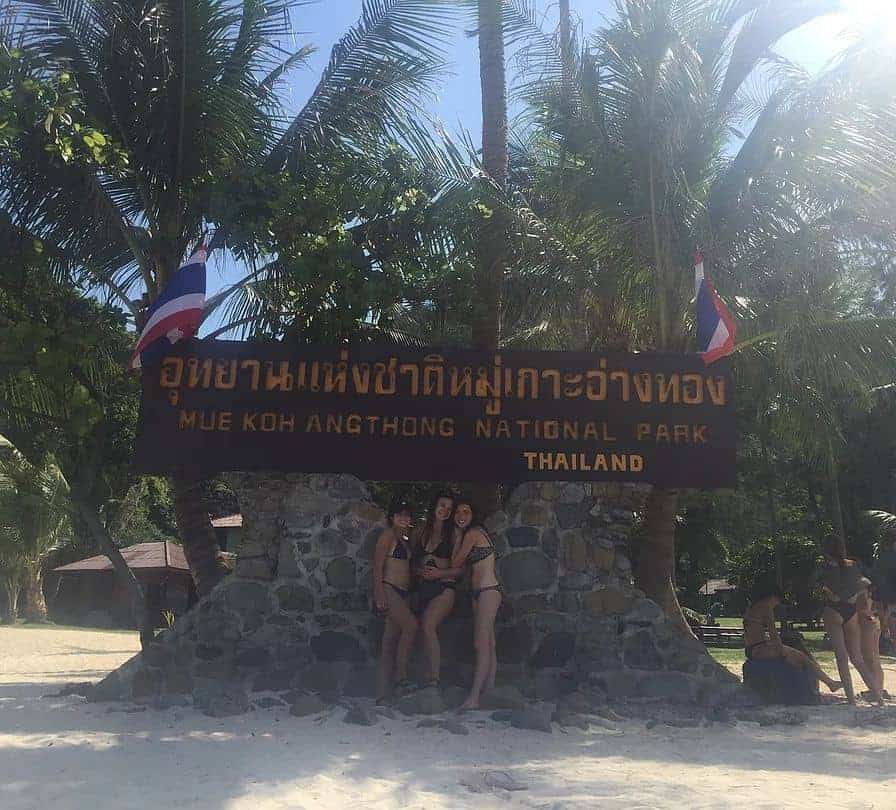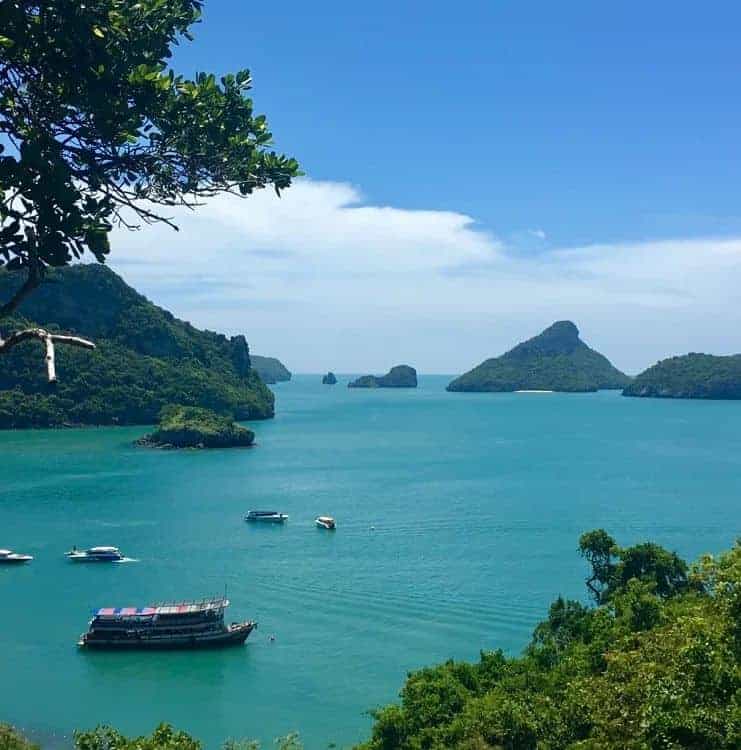 As mentioned earlier, if you would like to enjoy the Full Moon Party, you can take part of it during one of your nights in Koh Samui.
All you would need to do is hop on a speedboat to Koh Phangan, head on over to Haad Rin beach, and then back to Koh Samui at the end of the night.
» Check out the Ultimate Guide to the Full Party for everything you need to know about this night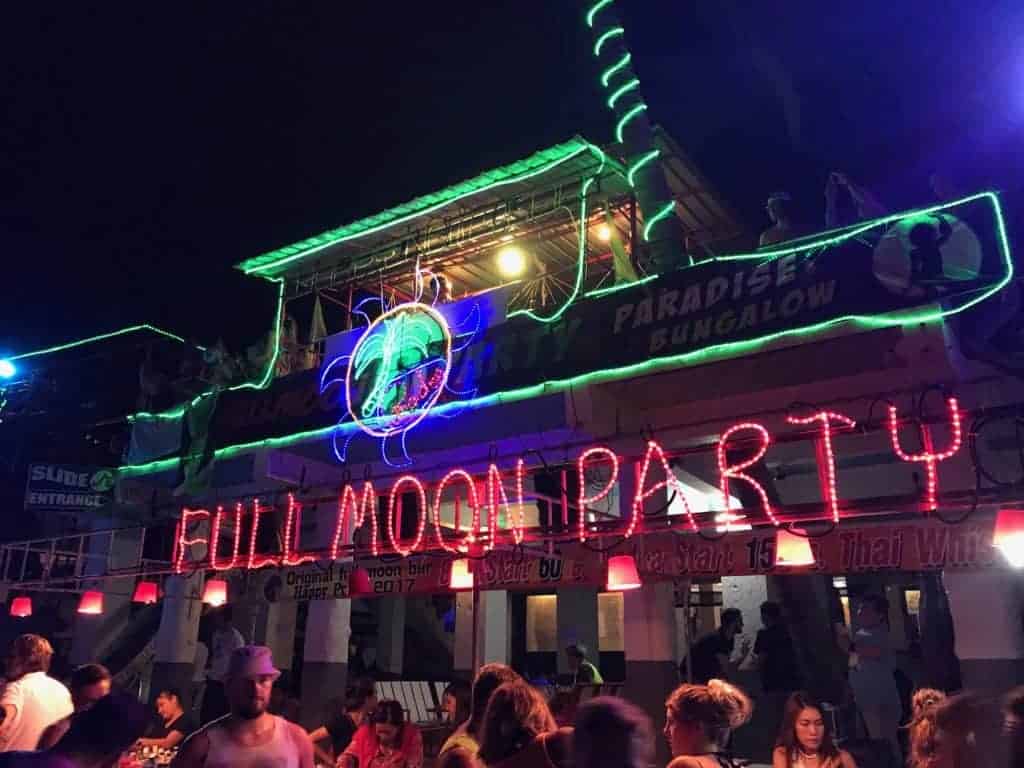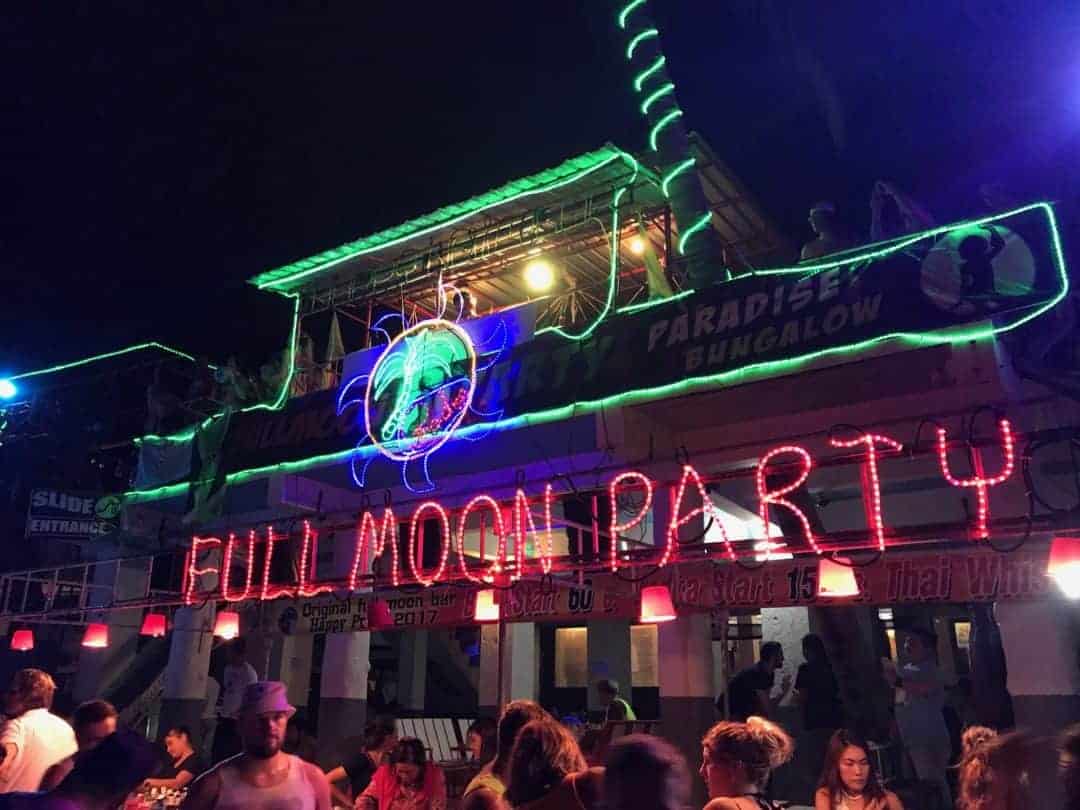 Day 5 – Koh Samui Relaxation
Whether you took part of the full moon party or not, day 5 is going to be a full on rest and relaxation day as you enjoy the beach life of Koh Samui.
After waking, grab some lunch and relax by the beach for the next couple of hours and maybe get a nice massage. You can explore Koh Samui a bit, head into town, visit some markets, and just enjoy the island life.
If you want to experience the nightlife of Koh Samui there is plenty to take part of. You can check out the Bophut Fisherman's Market, check out a Muay Thai fight and/or hit some of the bars around Chaweng Beach.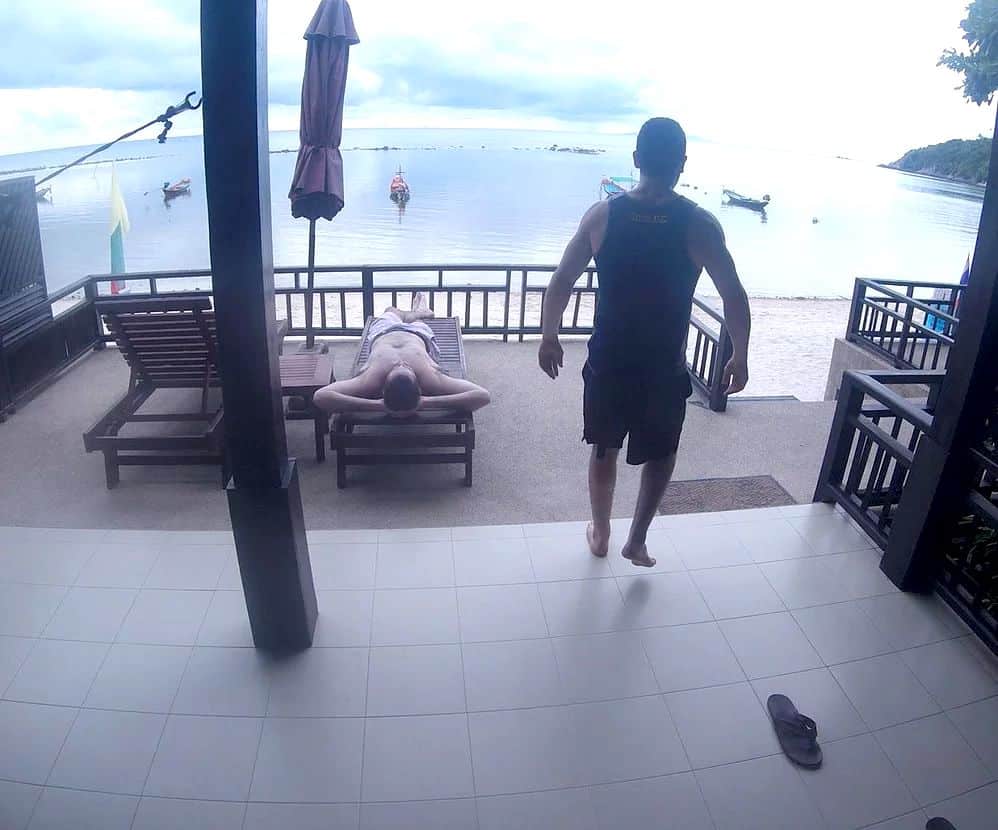 Day 6 – Scuba Diving
On day 6 enjoy a day of scuba diving! Many diving shops offer diving opportunities from Koh Samui to Koh Tao. The best thing is you do not even need to be scuba certified to take part of the day. Many shops offer what is known as a Try Dive, which basically is for beginners or those not certified just yet.
» Check out the One Day Try Dive Experience for a detailed guide to the day
The guide linked above goes over the dive if you are based in Koh Tao, so the main difference here is that you will be doing a lot of the learnings on the boat ride over instead of on the island itself to save some time. Once you arrive in Koh Tao, you will get to take part of a couple of dives before heading back to Koh Samui.
You can also check out some of the top rated scuba diving companies in Koh Samui.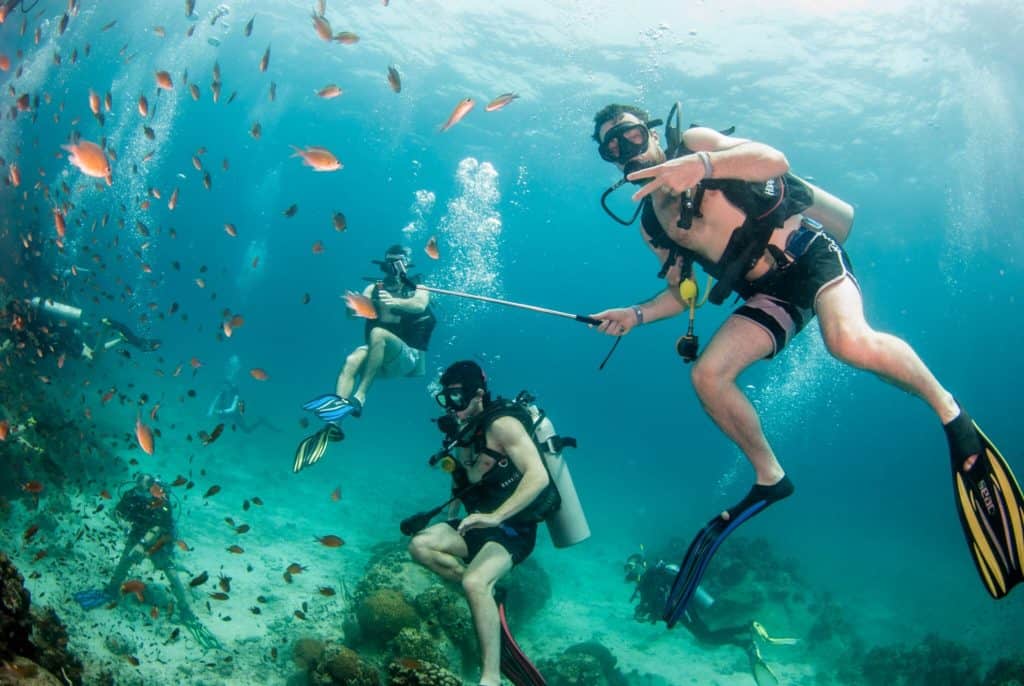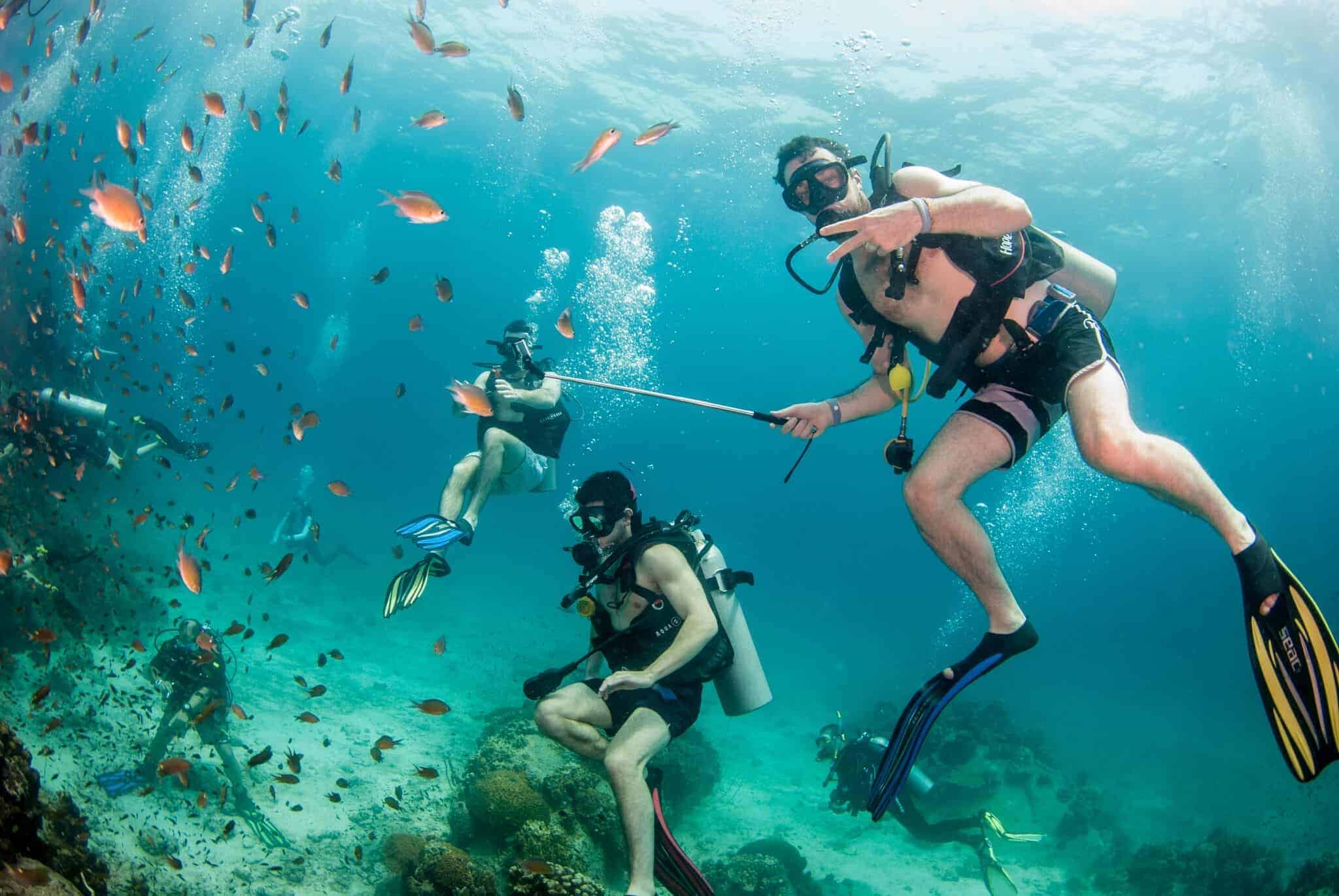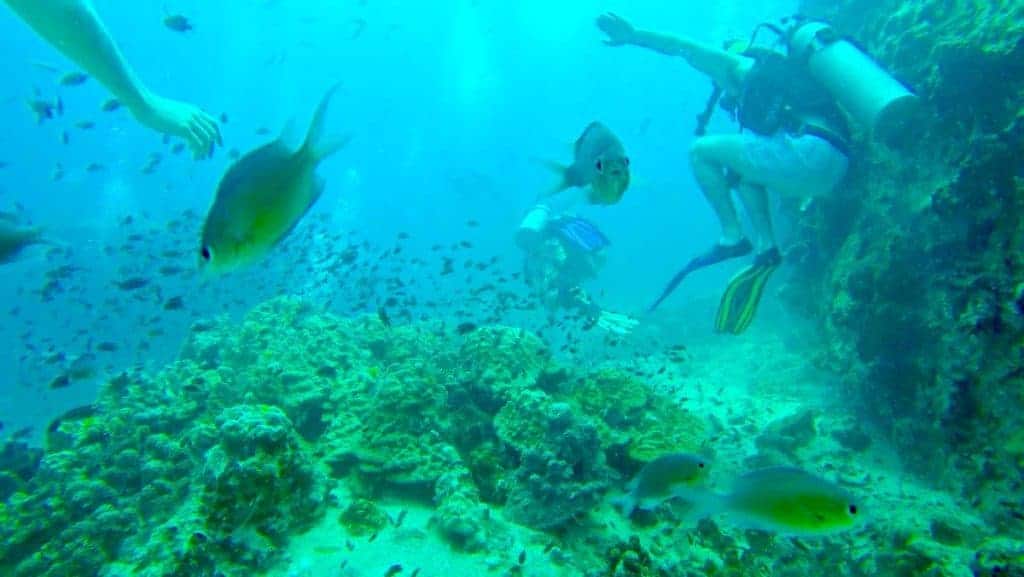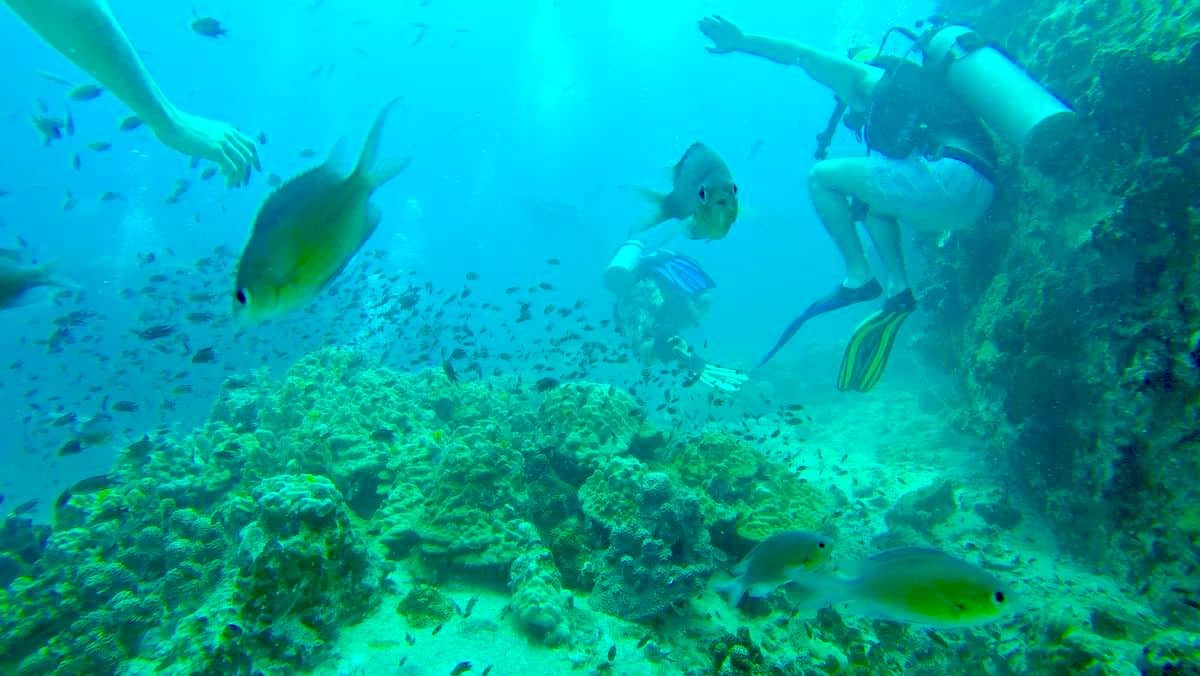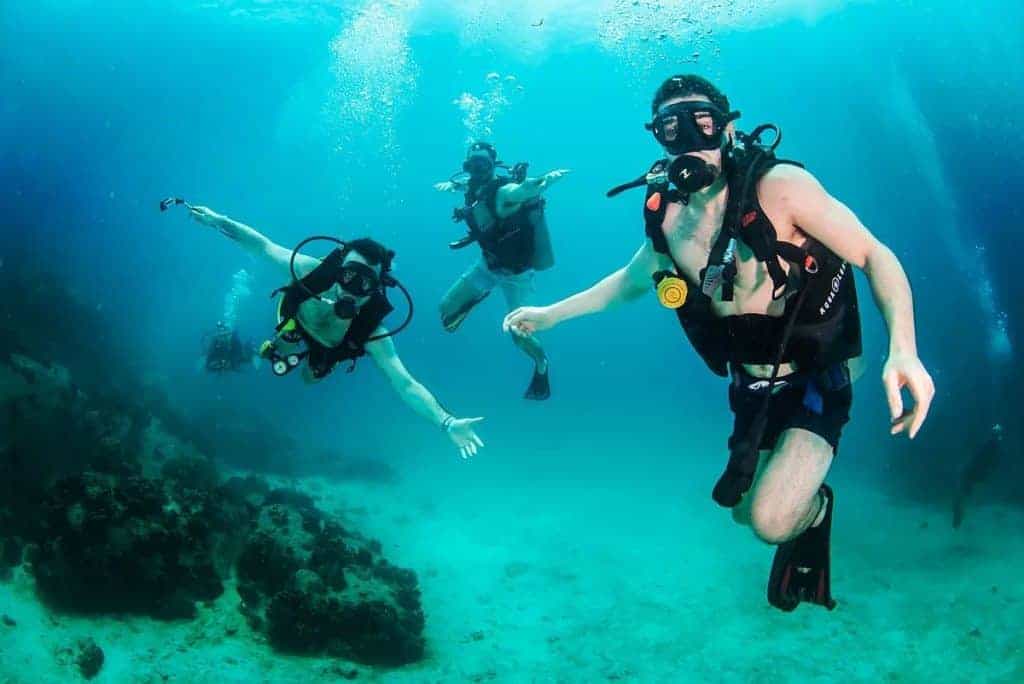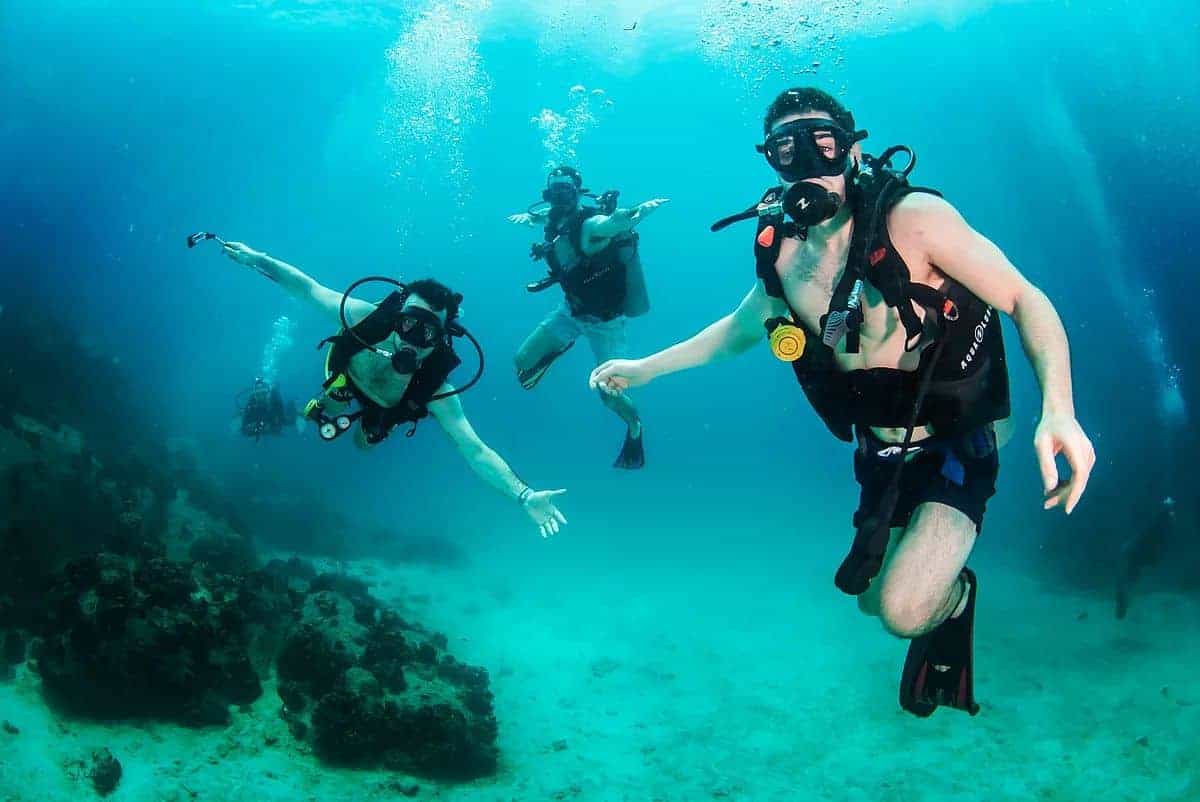 Note: if you do decide to dive on day 6, there are recommendations to wait anywhere from 18-24 hours before going on an airplane.
If you do not feel comfortable taking a flight on day 7, feel free to explore Koh Samui a bit on day 6 instead of going out for a dive. You can also decide to dive on day 5 instead if you did not take part of the full moon party.
Day 7 – Travel to Chiang Mai
After plenty of time seeing what the islands of Thailand have to offer it is time to head to the northern part of the country to Chiang Mai.
As of this writing there is only one direct flight from Koh Samui to Chiang Mai each day through Bangkok Airways at 10AM. If you get on this flight you should arrive at your hotel early afternoon and grab some food before exploring the city and some temples.
In and around the city there are more than 300 temples! To make things simple though I put together a Chiang Mai Temples Tour Guide that will take you to some of the more well known ones to visit this afternoon.
The guide goes over 7 temples to visit (although Doi Suthep which is a further journey can be visited on day 9):
1) Wat Chiang Man
2) Three King's Monument
3) Wat Chedi Luang
4) Wat Phra Singh
5) Wat Sri Suphan
6) Wat Suan Dok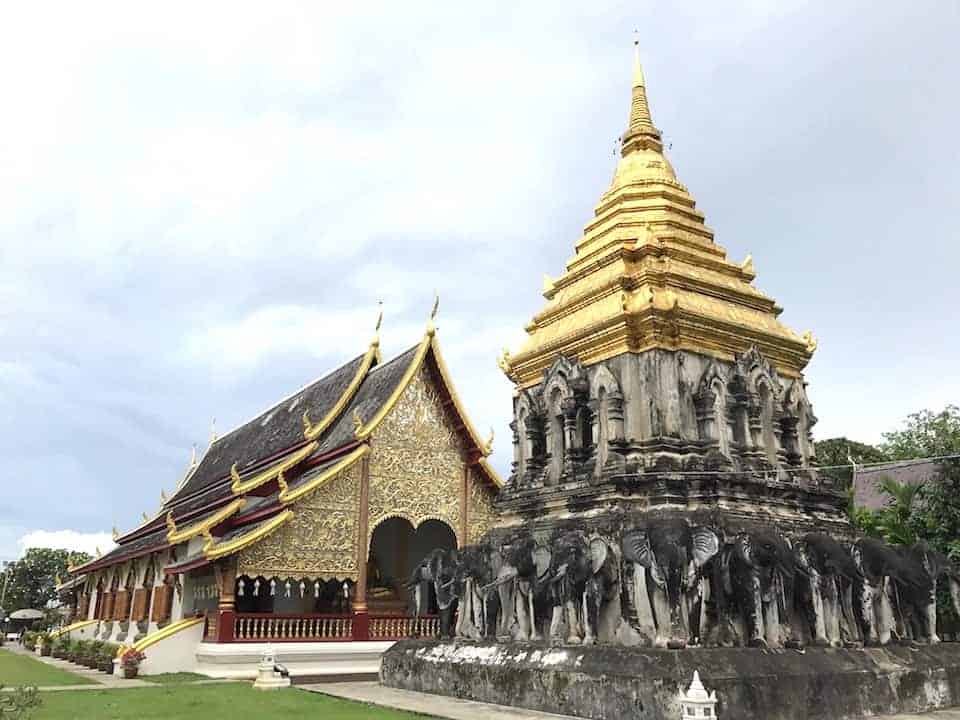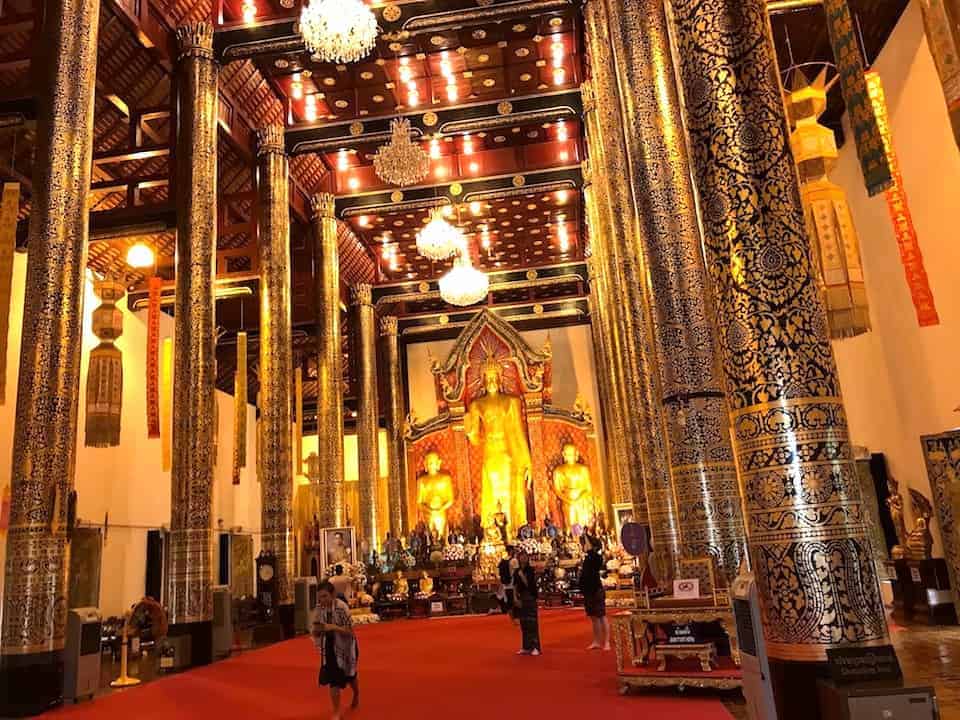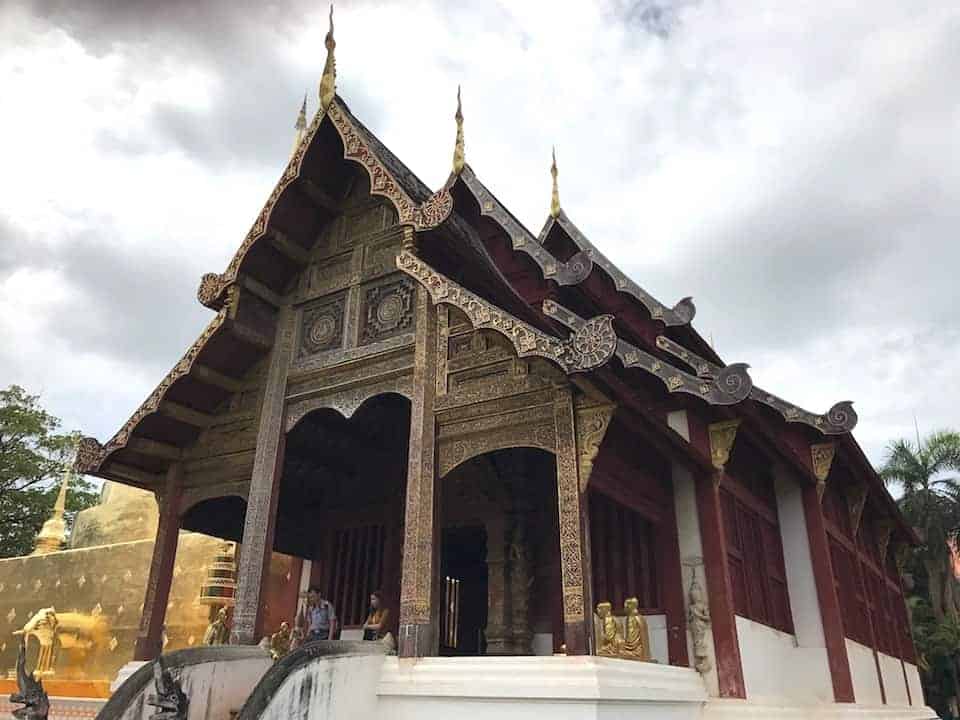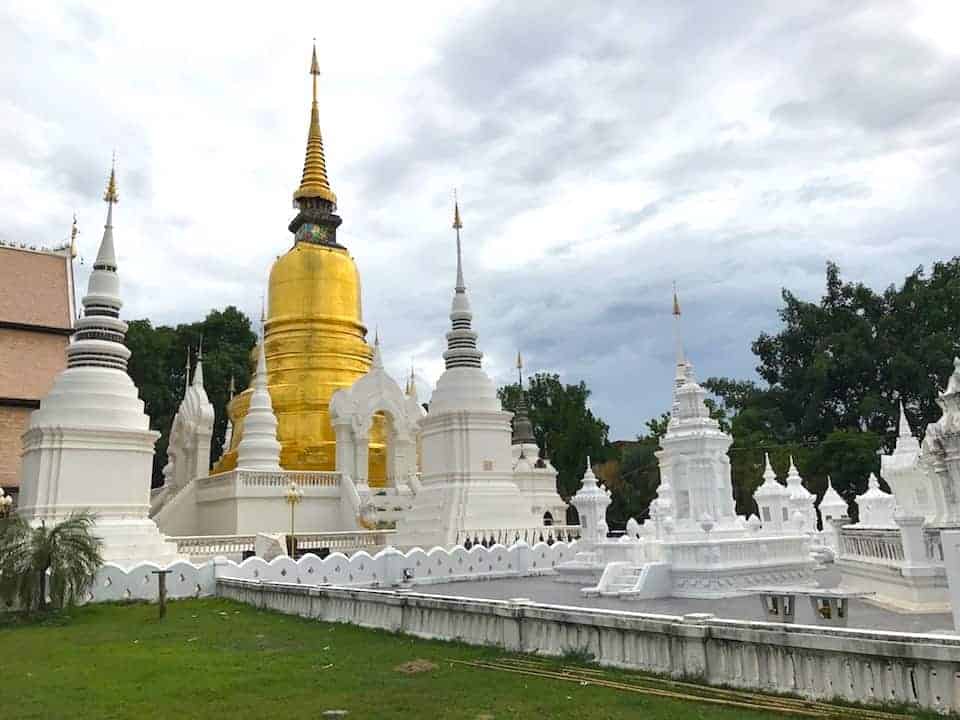 There are plenty of top rated hotel options in Chiang Mai for nights 7 and 8 including:
4) Rachamankha
Day 8 – Elephant Sanctuary
On your second day in Chiang Mai it is time to head off to an Elephant Sanctuary to feed, bathe, and interact with these amazing animals.
​Two of the top main elephant sanctuaries that are known for rescuing elephants from poor conditions and treating them well are Patara Elephant Farm and Elephant Nature Park. Both of these places book up well in advance so be sure to check for availability
The main difference between the two programs is that Patara is a 1 on 1 experience with an elephant for the day (~$180) while ENP is more of a group experience (~$70).
» Read the In Depth Guide to Patara Elephant Farm to get a better understanding of the experience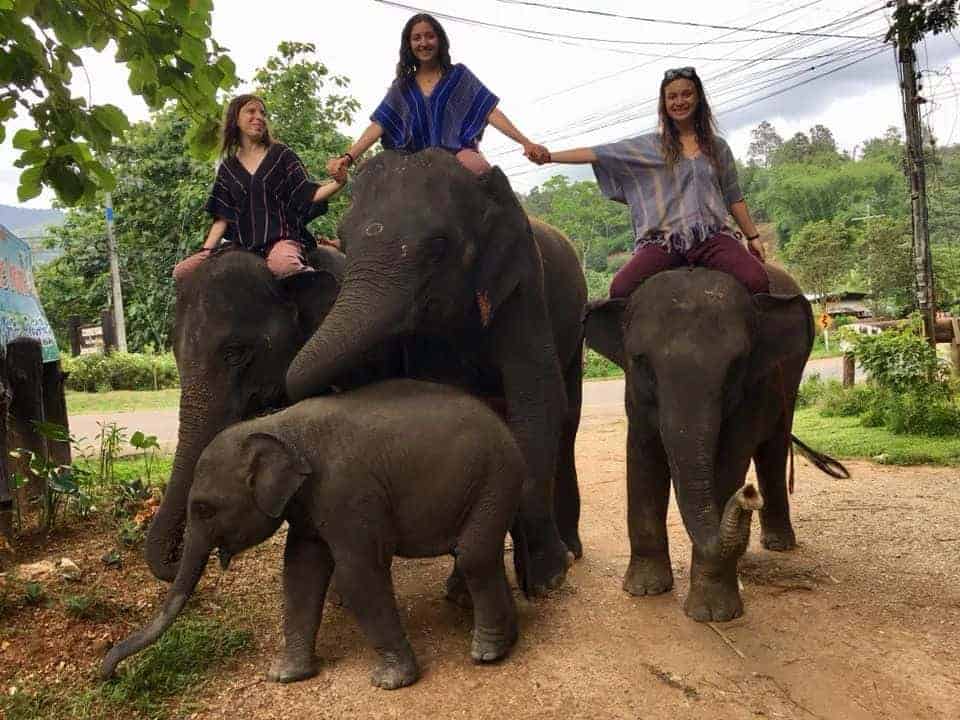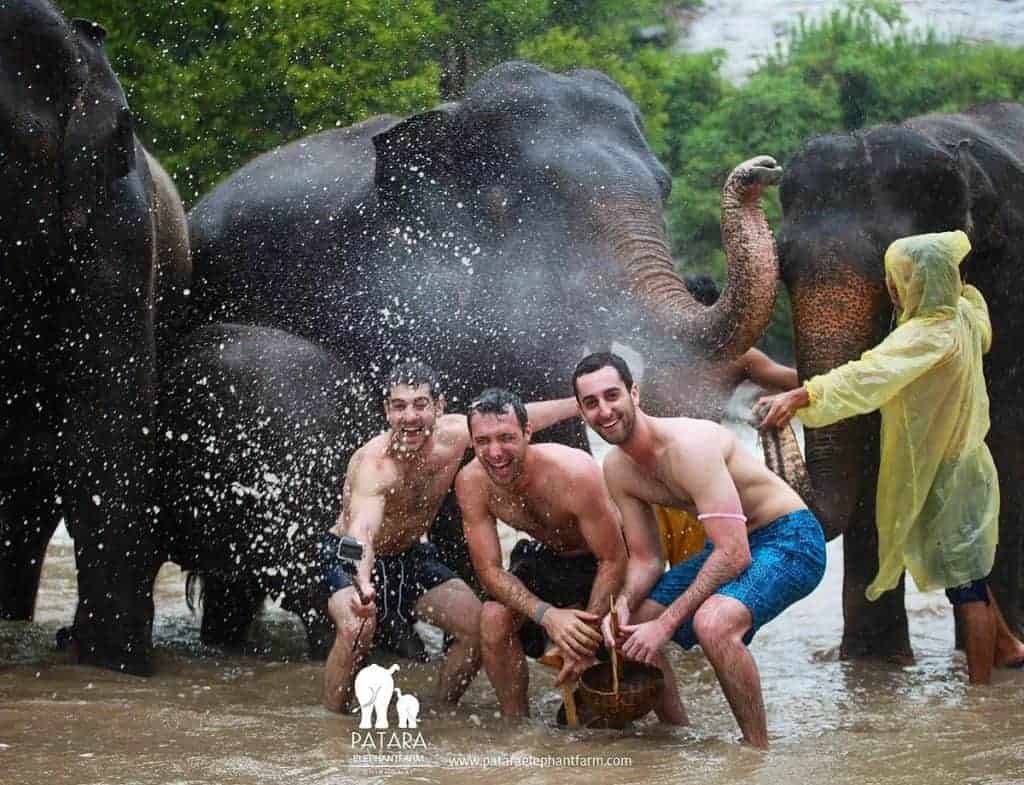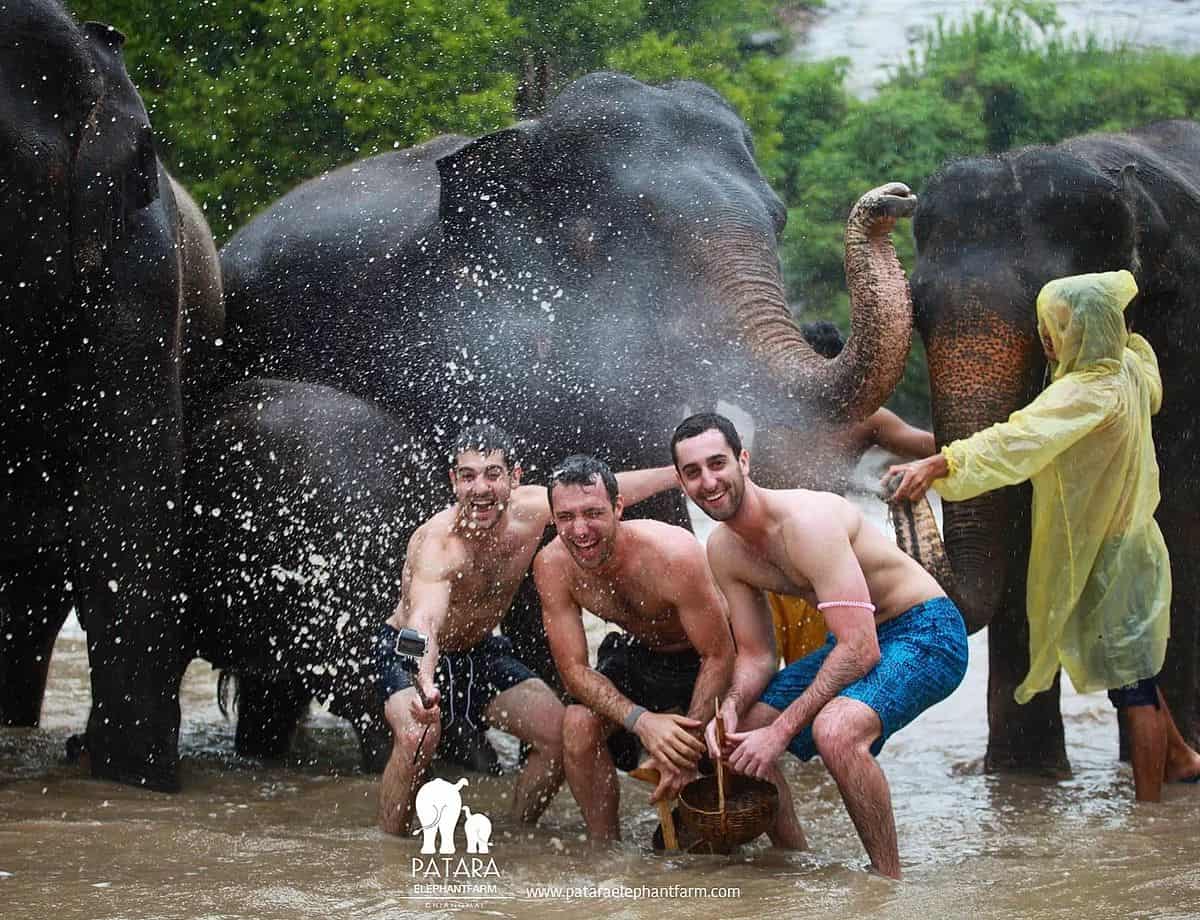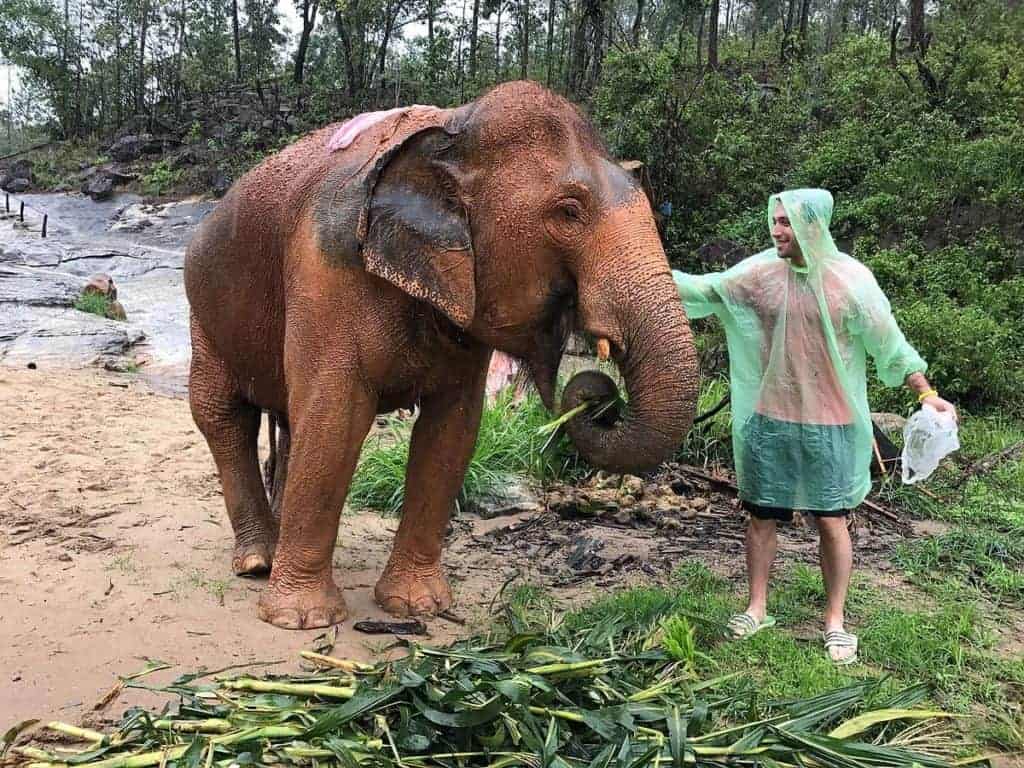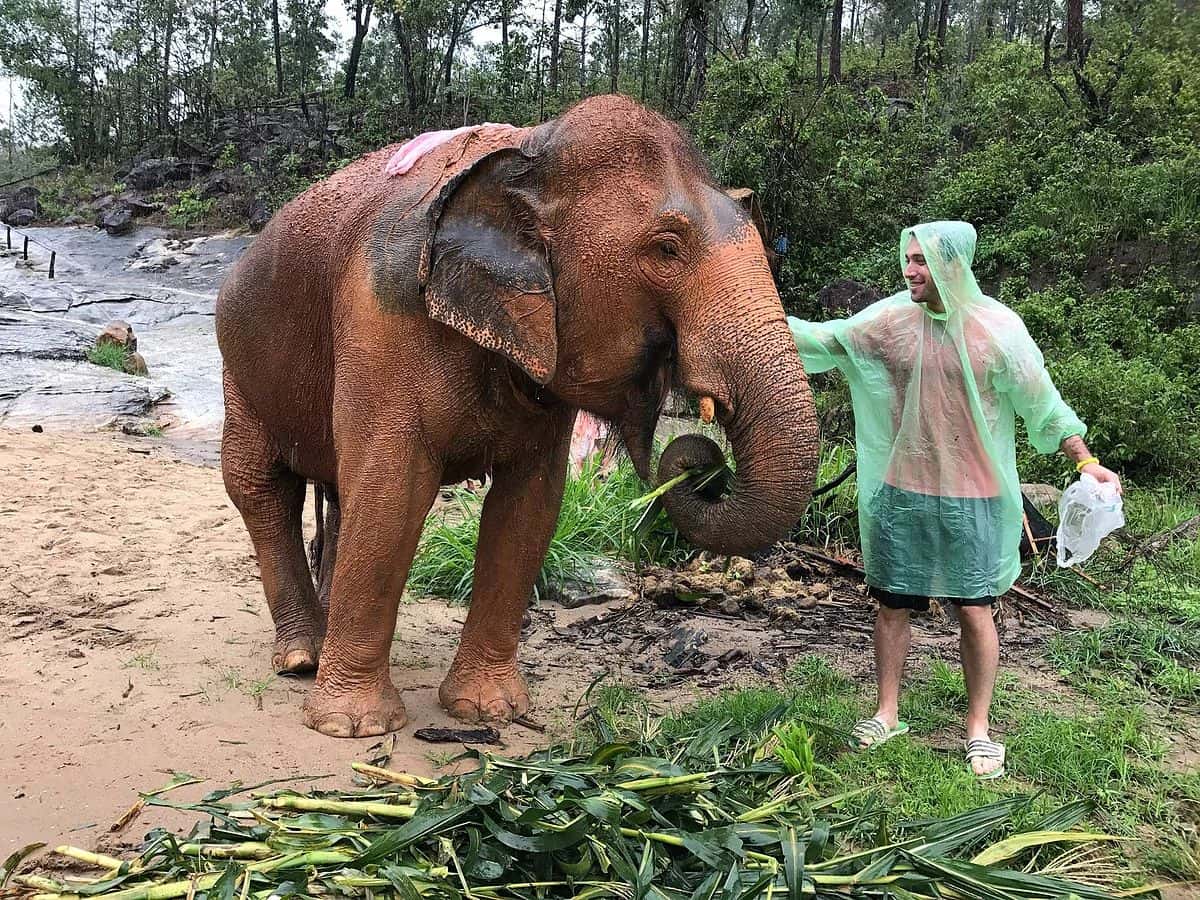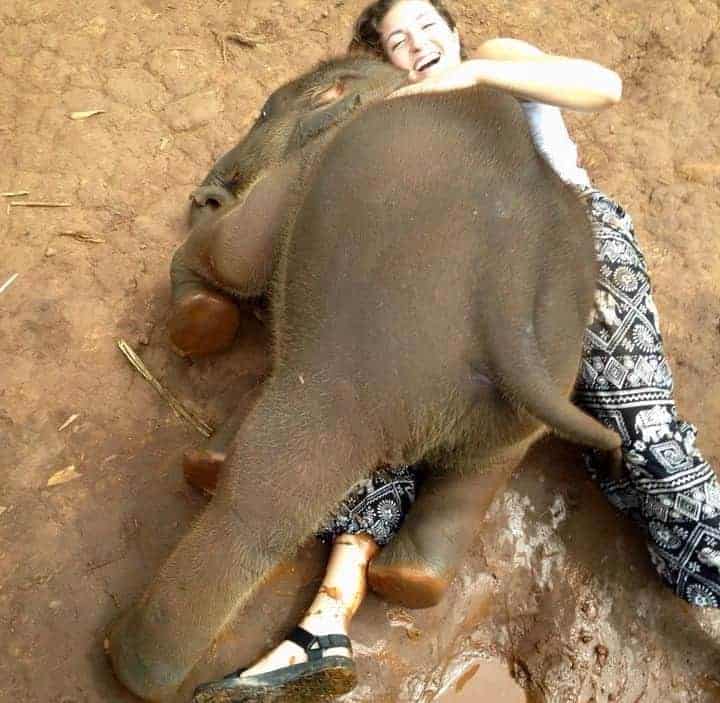 Day 9 – Doi Suthep / Cooking Class & Travel to Bangkok
On your last day in Chiang Mai it is time to see the city from above and/or take a local cooking class before heading back to Bangkok. During the course of your stay you have probably seen the large mountain that overlooks the city.
Towards the top of the mountain is a temple called Doi Suthep that has amazing views of the city below. You can grab a taxi for a fixed rate that will take you there, wait for you and then take you back down.
The road to Doi Suthep is filled with twists and turns as you make your way up climbing the hill. Eventually though you will reach the base of Doi Suthep, where a long staircase awaits to the temple. Once inside you can walk around the main area and the large golden chedi.
You can then make your way to the viewpoint that overlooks the city. Due to Chiang Mai weather being hit or miss, it could be a perfectly clear day out or you could literally be in a cloud with no visibility at all.
But dont worry, if there really isnt any visibility be sure to ask your cab driver to stop at one of the viewpoints on the way down the twisting roads, where you are sure to get a good view at some point.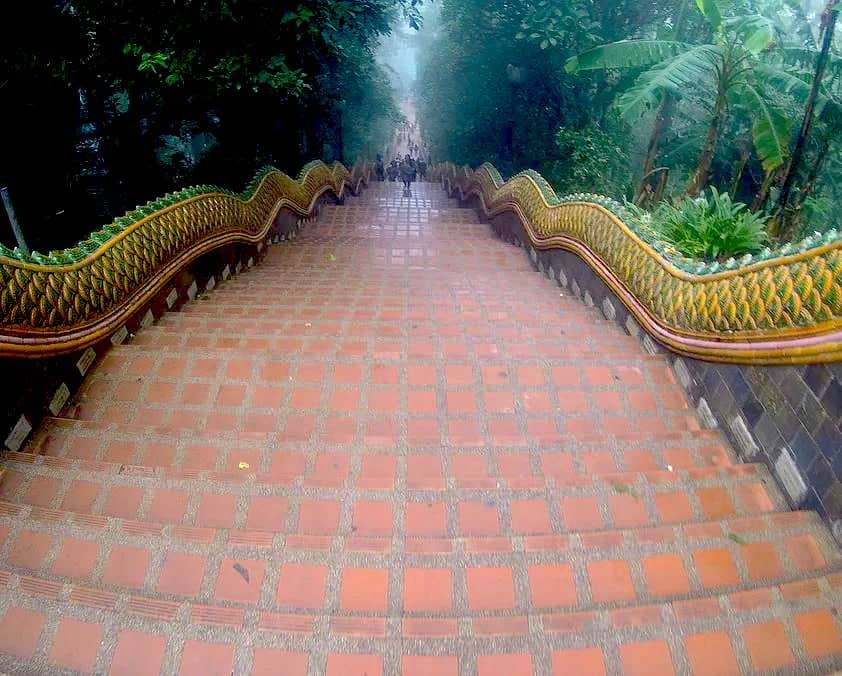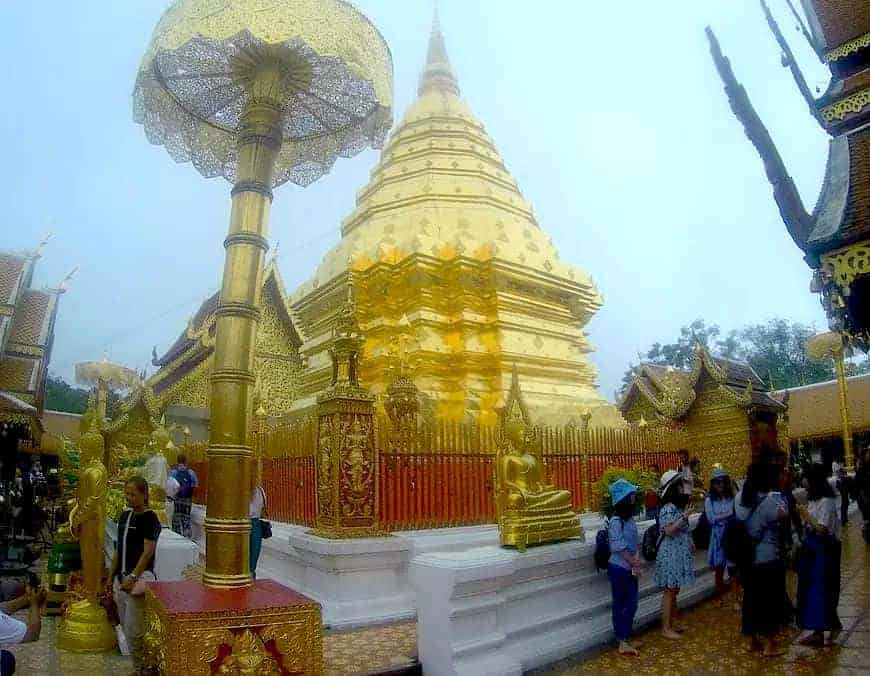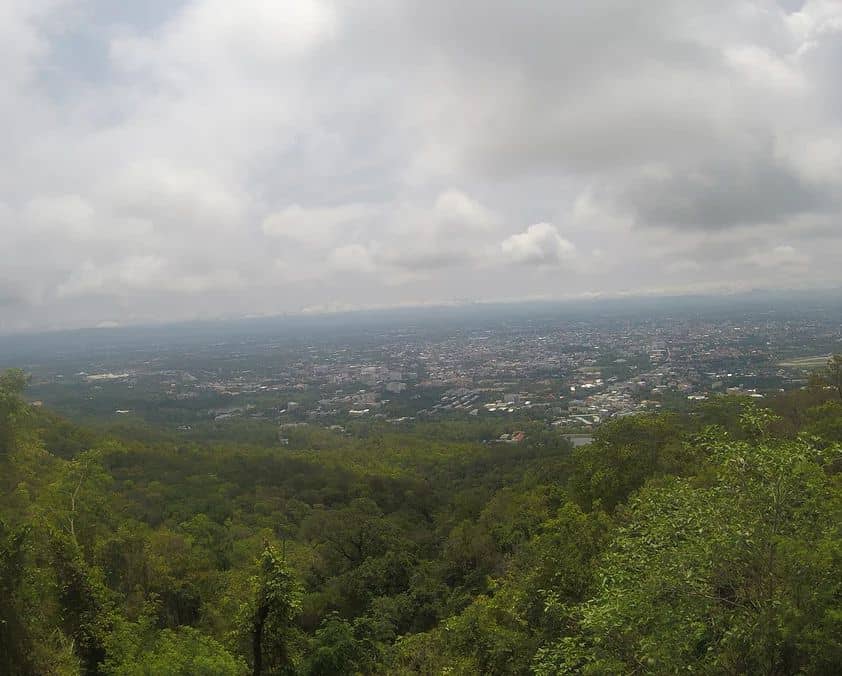 Another option to take part of is a local Chiang Mai cooking class. Many of the cooking classes have morning sessions which start around 9AM with pickup being just shortly before then.
After you get picked up along with your fellow guests you will make your way to a local food market. Once there your cooking instructor will teach you all about the local ingredients and what is used for different dishes.
You will then get to pick 4-5 different course options for what you will be making and eating during the rest of the morning. Your instructor will then purchase all the necessities before hopping back in the van to take you to the kitchen.
Many places have open air kitchens and dining rooms which is also a very unique experience instead of being indoors. A sample menu will include spring rolls, soup, pad thai, curry, and mango sticky rice.
Your instructor will then take you through making and eating each dish (usually you cook two dishes, eat them and then go on to the next two). Overall a great experience cooking, eating, and meeting new people. The class should end around 2PM.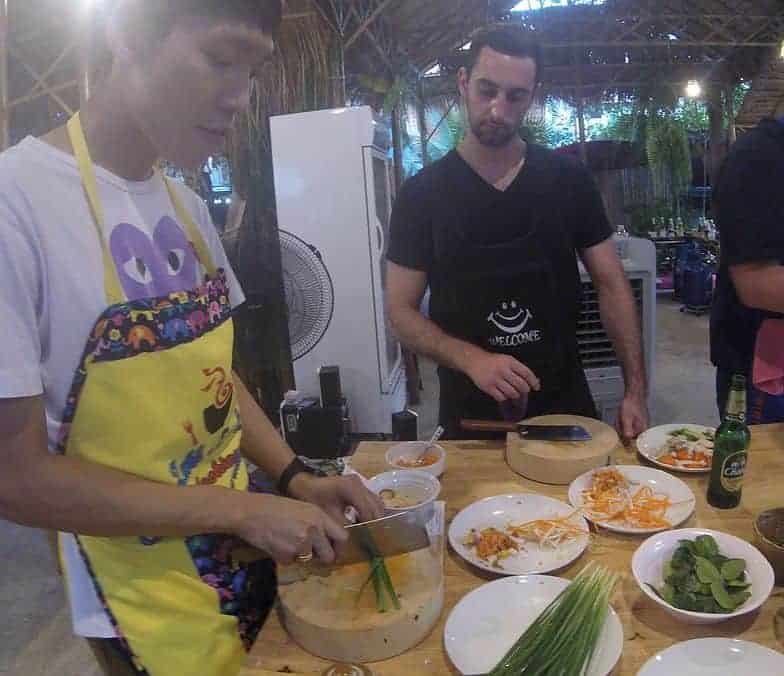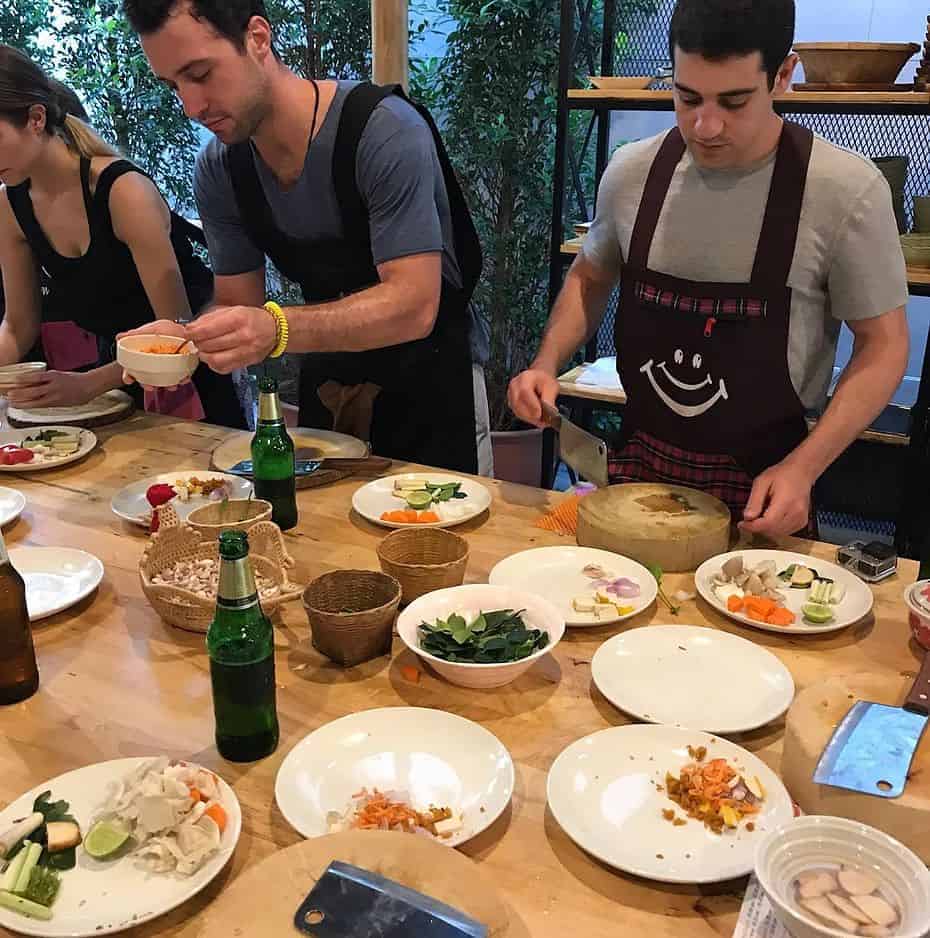 If you have a late flight out from Chiang Mai to Bangkok you might be able to do a cooking class in the morning, followed by Doi Suthep. If you do not have time for both, just choose which experience you think you will enjoy best.
Once finished up with Doi Suthep and/or cooking class catch your flight to Bangkok. Once back in the capital city check into your hotel, grab some dinner and maybe head out to a place like Khao San Road for your last night out in Thailand.
Day 10 – Depart Bangkok
Your 10 days in Thailand is now coming to an end. Depending on what time your flight is you might have some time to enjoy some more attractions around the city:
» Chatuchak Weekend Market – definitely the largest market you will come across in Thailand however it is only open on weekends
» Chinatown – great place to walk around and have plenty of street food options
» Lumpini Park – a huge park sitting in the middle of the bustling city where you can just relax and walk around the area
You will then hop into a cab and head to the airport to begin the long journey back home. Hope you enjoy Thailand and all that it offers! Head over to our Thailand itineraries and guides page to check out some more helpful posts, and feel free to comment below with any questions!