Once a month on the island of Koh Phangan, thousands upon thousands of backpackers and tourists from around the globe descend onto one beach for the most epic and memorable party experience.
This of course is the Full Moon Party on Haad Rin. You have heard the stories, you have seen the pictures, and you have read blogs like this, but nothing compares to being there in person as the sun sets and the party awakens on this island off the eastern coast of Thailand.
If there is one bucket list party to be part of, it is the one filled with drinking the famous Koh Phangan buckets on Haad Rin.
* Affiliate Disclosure: This post may contain affiliate links, which means I may receive a commission if you make a purchase through the links provided, at no additional cost to you. Thanks for supporting the work I put into TripTins!
1) When Is the Full Moon Party
The Full Moon Party on Haad Rin occurs once a month, on the night of the full moon of course. There are a few websites that you will come across that have the latest Full Moon Party schedules.
Here is a link to Phangan.info and here is one from fullmoonparty-thailand.
If at some points the dates do not align perfectly between the sites (or other sites out there), it may be best to get in contact with hotels or tour agencies to double check which exact date is correct.
Once you know the date of the party, you will better know when to fit Koh Phangan into your itinerary and you can then plan the rest of your trip around those dates.
If you are not able to make it for the Full Moon Party there is also the Half Moon Party as well. While not on the beach of Haad Rin, it does take place within the rainforest and still makes for one fun night out.
And if you are in Thailand around New Year's, there is also a massive party that takes place, which might as well just be another Full Moon Party.
2) Full Moon Party Location
​The Full Moon Party is located on Haad Rin beach on Koh Phangan.
The entire row of beachside bars from one end to the next will be blasting music and supplying the drinks for this marathon of an event. Below is a map showing the location of the Full Moon Party.
Haad Rin is where you will find most accommodation options too (more on that later) so if you decide to stay there, then it will be no problem getting back to your hotel or hostel at night's end.
3) Getting To Koh Phangan
To take part of the Full Moon Party, you of course need to get yourself to Koh Phangan. You will have a decision to make here though – do you want to:
A) Stay on Koh Phangan OR
B) Stay on Koh Samui (you could also stay on Koh Tao – a bit further of a ride away)
No matter which option you choose though the easiest, fastest and most convenient way to get to the Koh Samui / Koh Phangan area is to fly directly into Koh Samui – there are flights from all around Thailand and abroad that get you directly there. Once in Koh Samui you can either stay on the island or make your way to Koh Phangan and sleep there.
» If you stay on Koh Phangan, once you arrive at the Koh Samui airport you can then taxi over to the port area and take a 30 minute ferry to Koh Phangan. Here is a link to the ferry schedule for the area.
» If you are staying on Koh Samui there will be speedboats throughout the night going back and forth to Koh Phangan. You will not necessarily find these on the ferry schedule linked above.
Rather, just for Full Moon Party dates there will be consistent boats between the two islands. You can easily head over to the port area and ferry over to Koh Phangan just for the Full Moon Party and then take a ferry back right after the party.
Quick note: If you are not coming from a city that flies into Koh Samui airport, it is also possible that you would fly/drive/train into Surat Thani on the mainland of Thailand. Once there you can taxi to the Surat Thani port and then ferry over from there to Koh Samui or Koh Phangan.
4) Full Moon Party Video Recap
For just a glimpse of what the Full Moon Party is all about, check out this short video of my time there in May 2017. You will need to click "Watch on Youtube" after you press the play button.
5) What To Expect at The Full Moon Party
​Once the sun begins to set on the island, the full moon party festivities are just beginning. The streets around the Haad Rin will be packed with bars, restaurants, shops, and tattoo artists. Spend some time wandering the streets grabbing some food and drinks to start of the night.
You will come across various neon tattoo boards run by the locals, who will paint anything you would like for a few dollars. You can also attempt a DIY job if you choose do so.
​One thing you will soon find out is that alcohol is not served by the glass, it is served by the bucket! You remember those small sand buckets you used to make sand castles with when you were a kid?
Well they are actually dual purpose, as the streets and beach are lined with this stalls that sell a Koh Phangan buckets with a pint of alcohol along with a mixer. Throw a bunch of straws in there and enjoy. It probably won't be your last one of the night.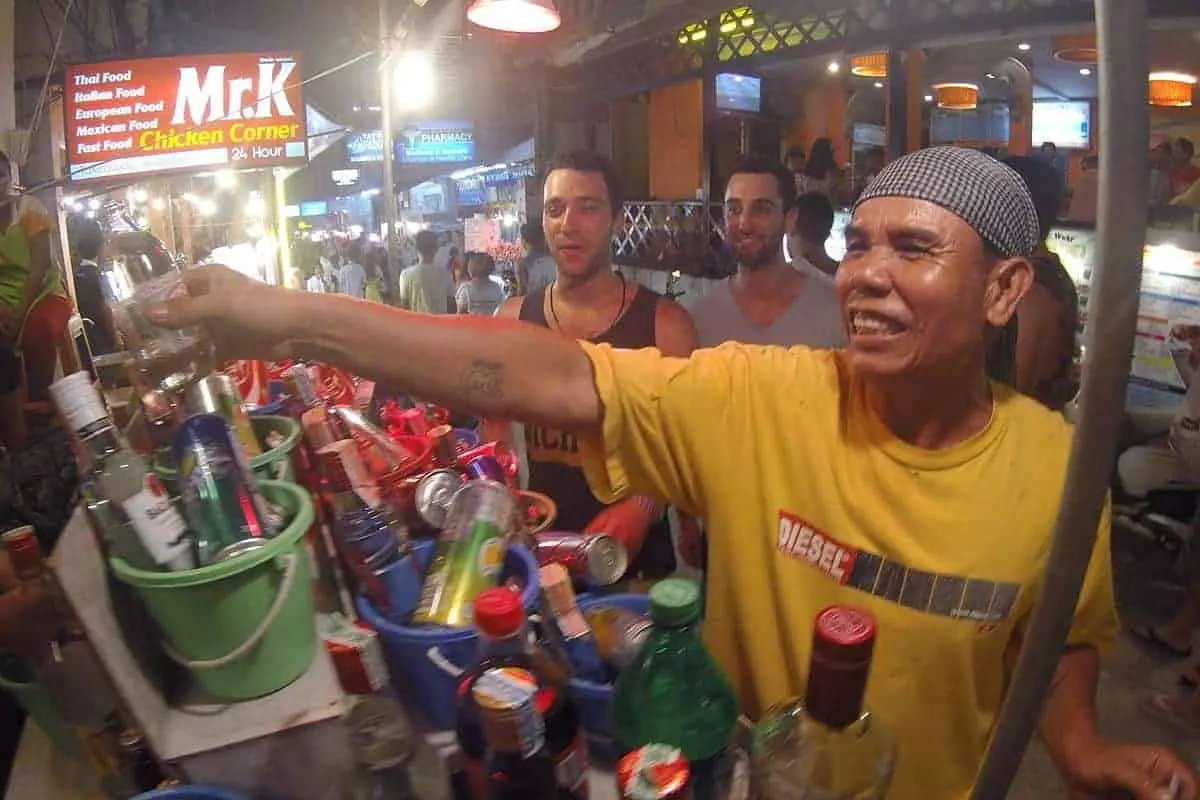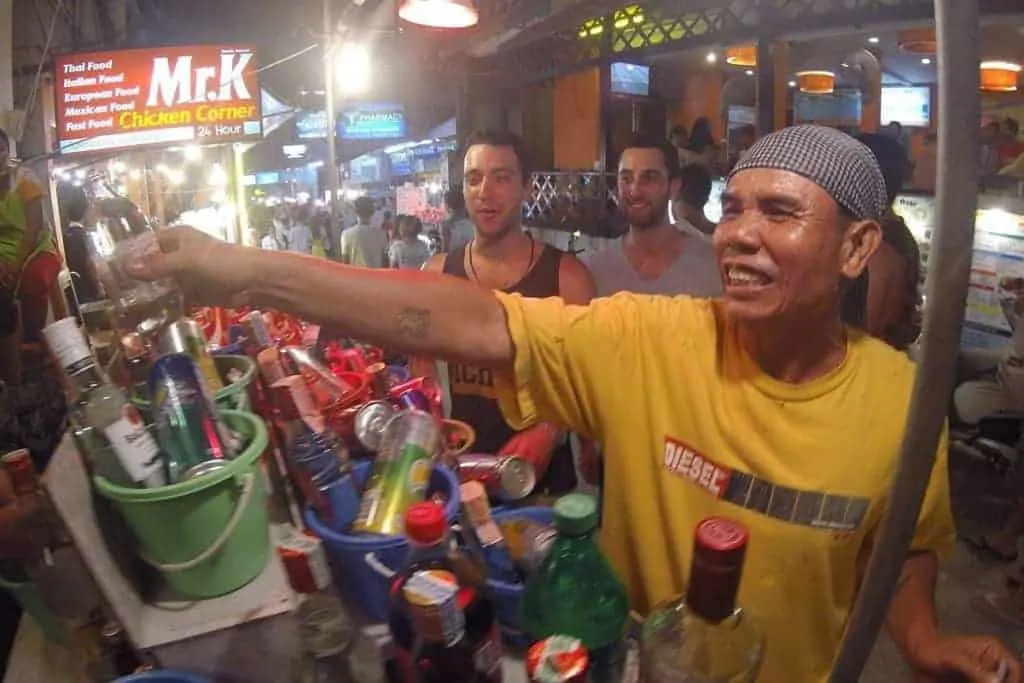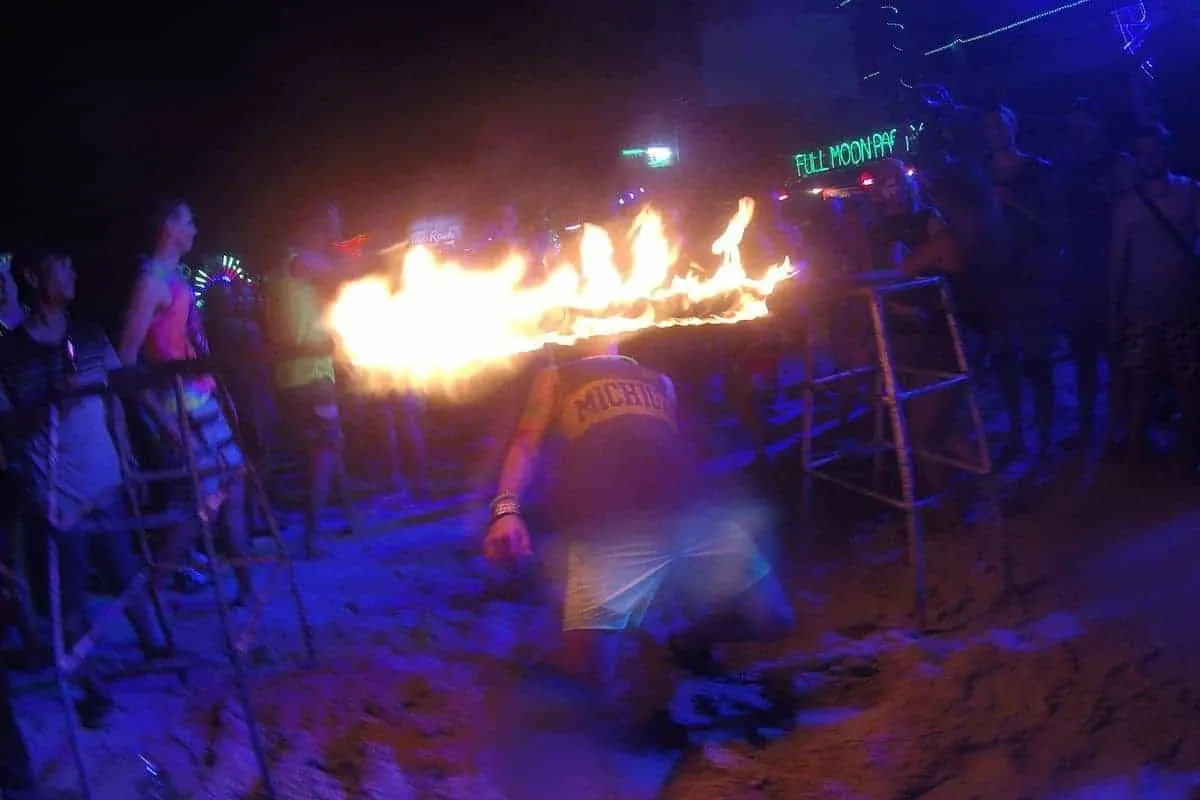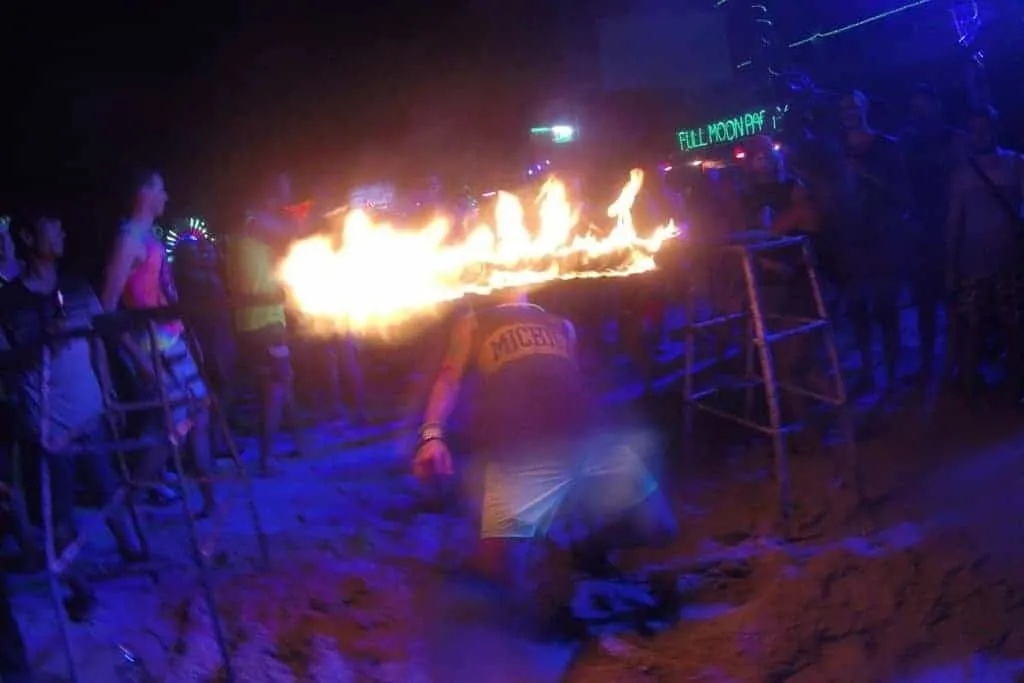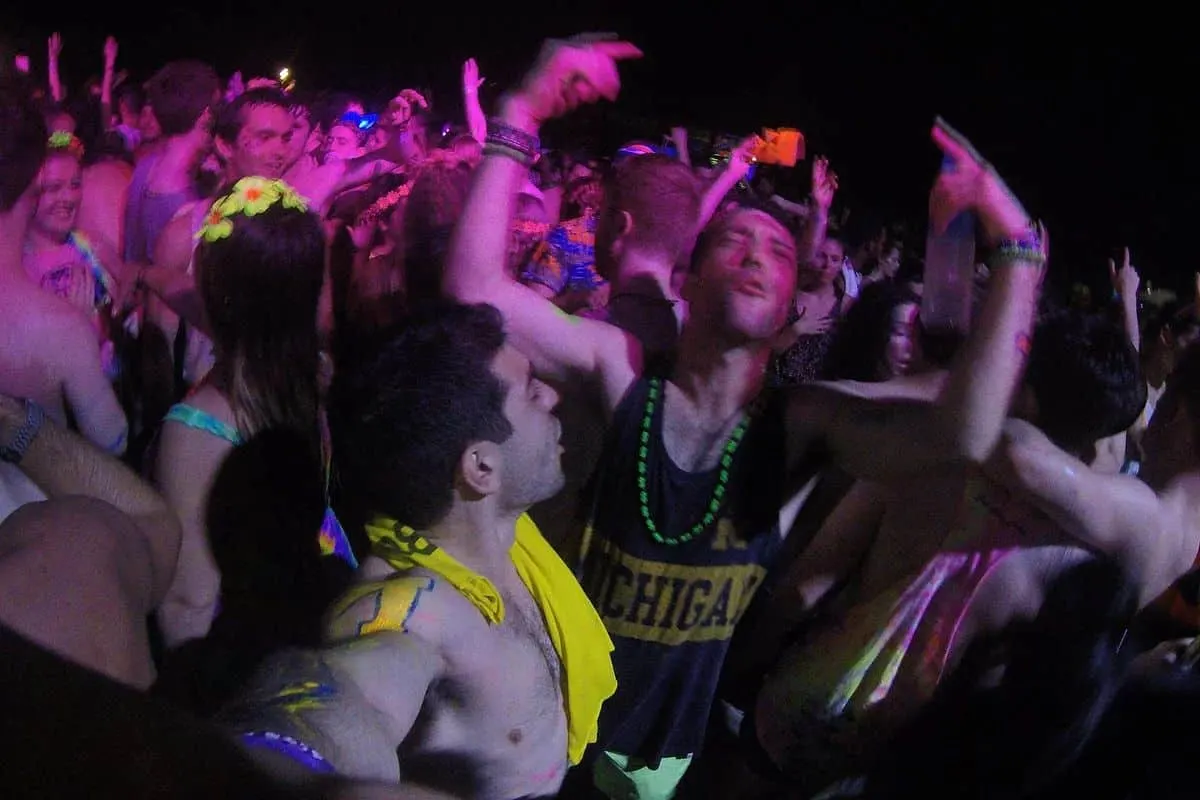 ​It is now time to hit the beach. The scene at Haad Rin during full moon party is one you will not forget. Thousands of people packing the bars and beach all along the waterfront. As far as you can see there will be people, music and plenty of fire.
Some "activities" to take part of throughout the night include fire limbo, the fire pull up bar, and of course the infamous and dangerous fire jump rope. Want to cool down? Don't worry you can slide down the beachfront waterslide at one point or another.
At some point you might get a bit tired and need a nap. Well good thing there is a designated nap area nearby where you can catch some sleep before continuing to party.
There will be plenty of elevated surfaces to dance on as you wander down the beach from one bar to the next. If you have it in you try and make it to sunrise as the party will still be going on.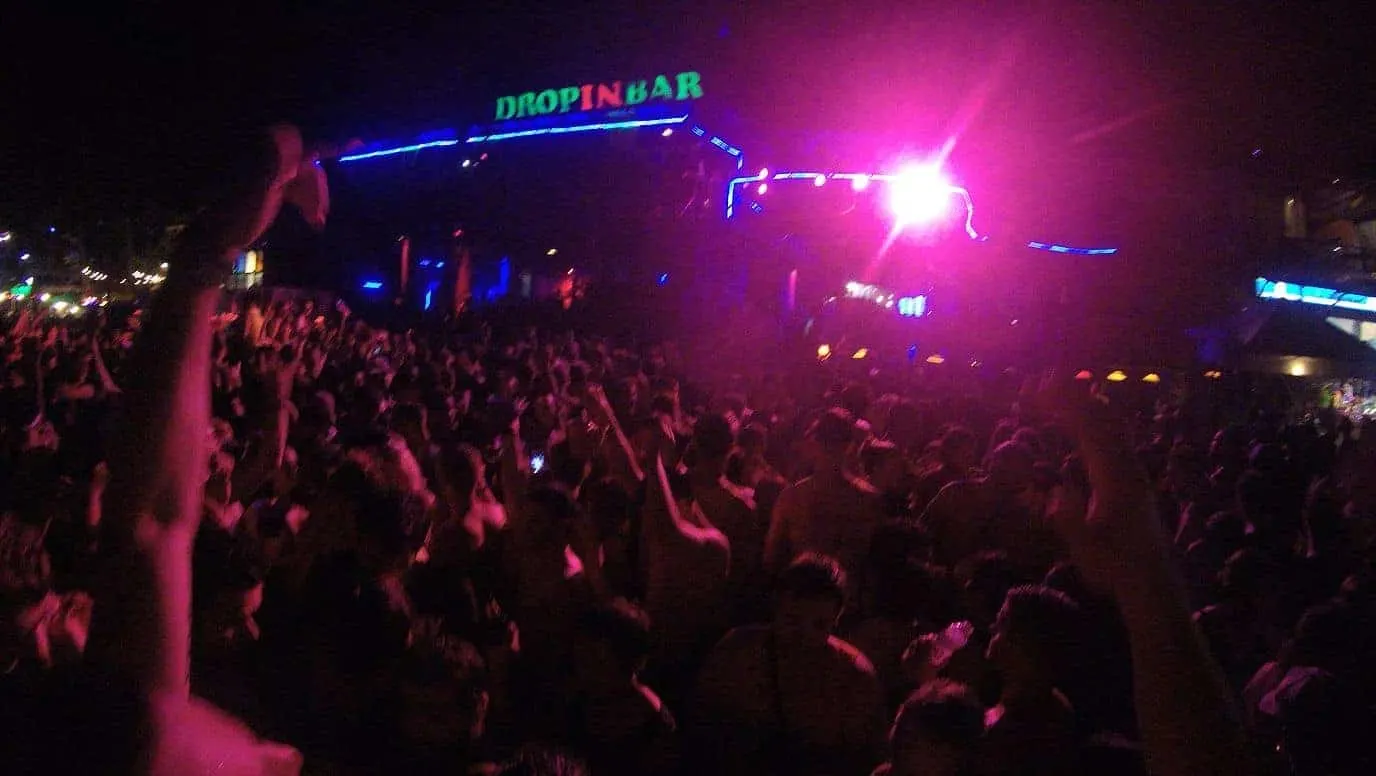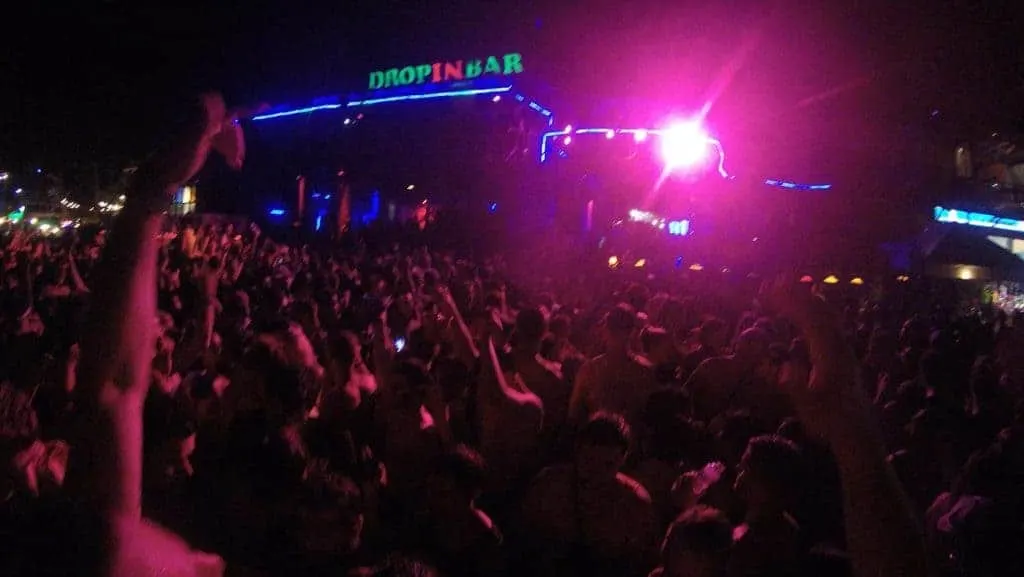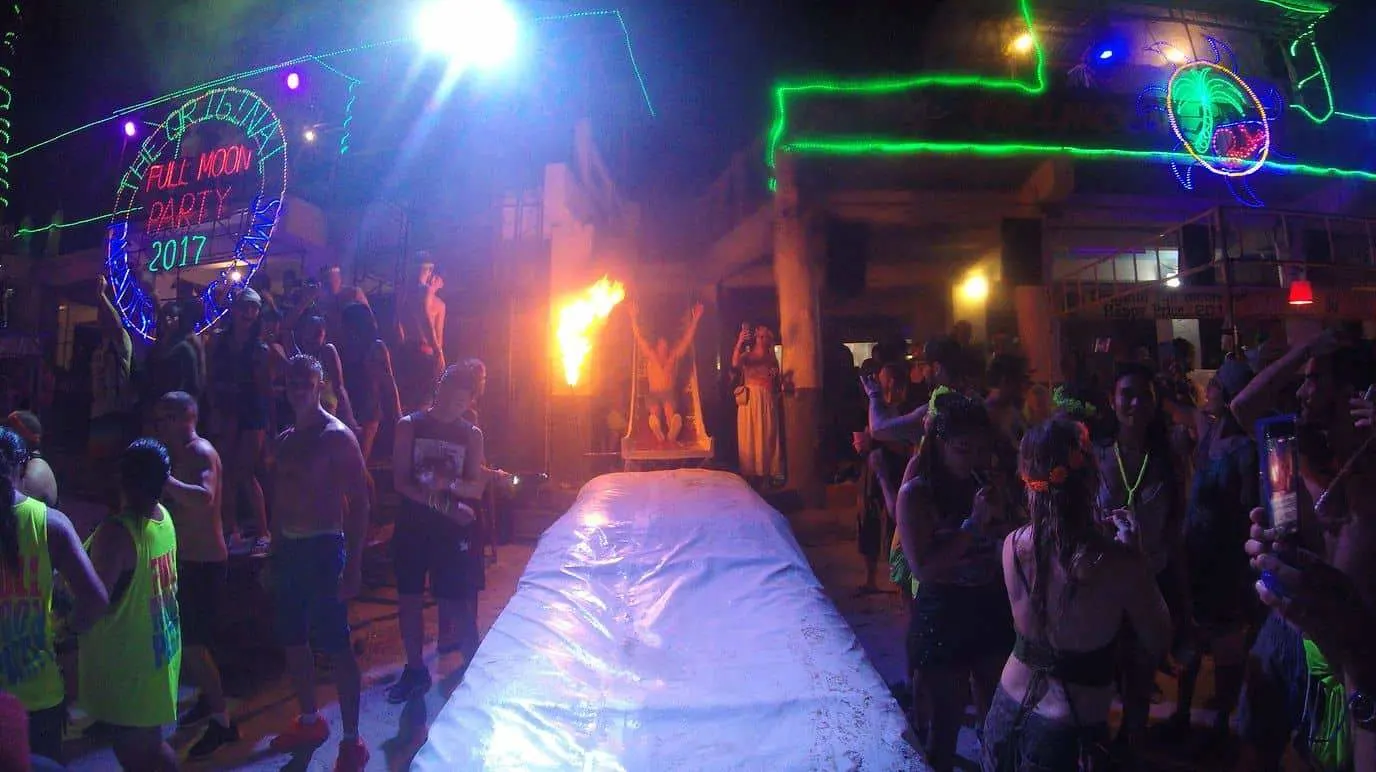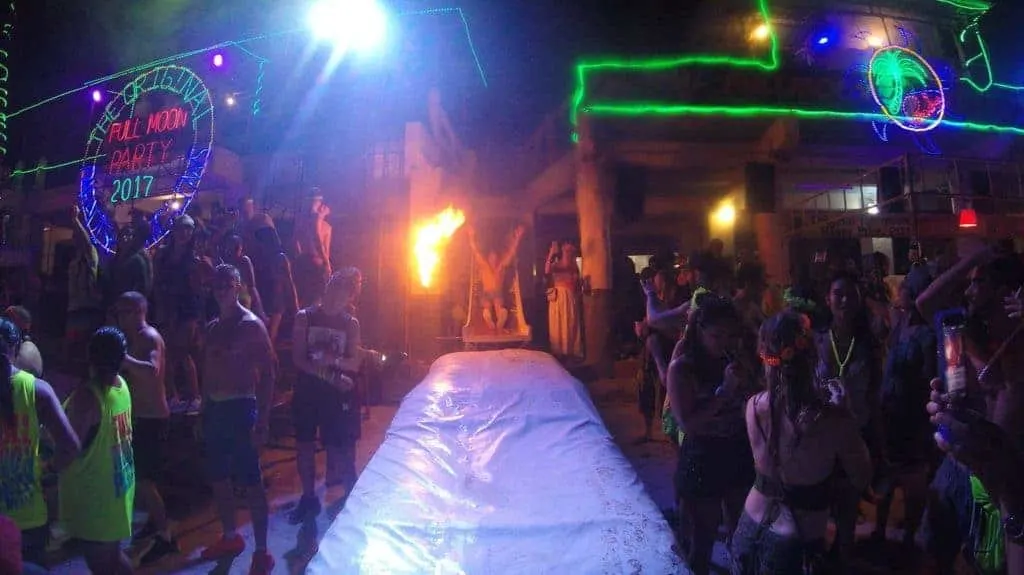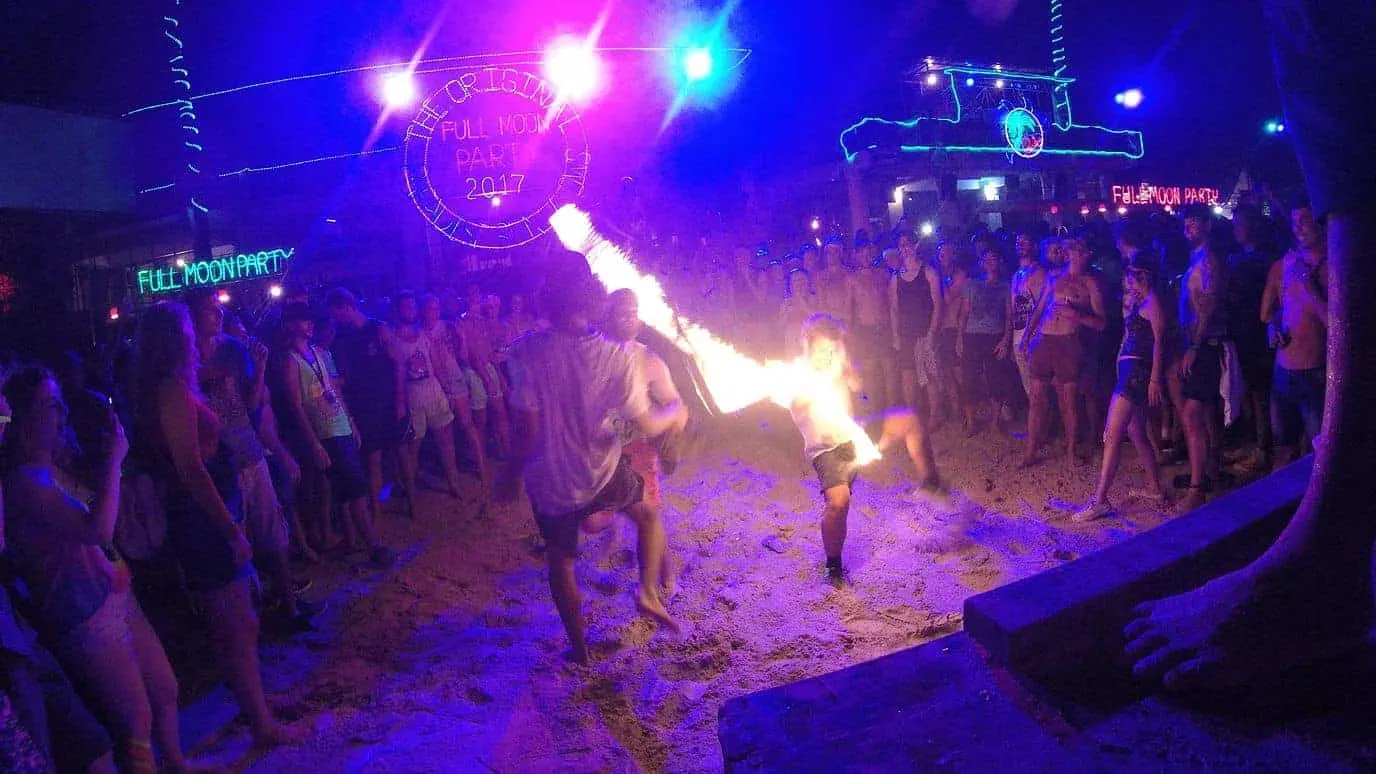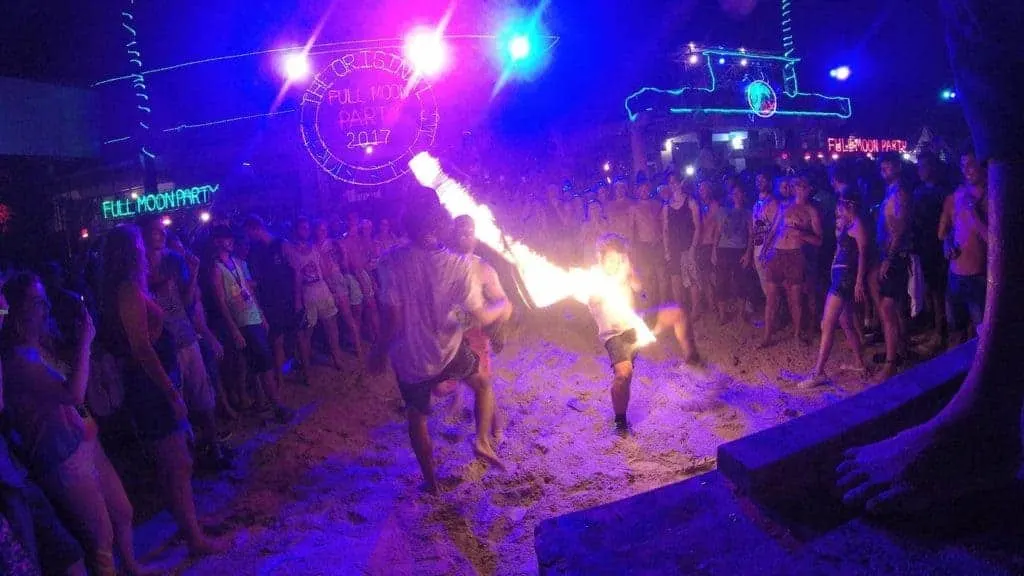 Once you are completely wiped out head back to your hotel on the island or the port to catch your boat back to Koh Samui. Enjoy that sleep because you will need it after a crazy night out at the Full Moon Party on Haad Rin, Koh Phangan.
6) Where to Stay on Koh Phangan
If staying on Koh Phangan, you can choose from a variety of accommodation options. Some are right near the party while others are farther out to get away from the craziness.
» I also have an article up on the site about Haad Salad Beach on the northwest side of the island. It is a further drive to get to the Full Moon Party, but if you are looking for some seclusion, it can be a great option for you.
Close by Haad Rin:
2) The Coast Resort – Koh Phangan
Farther Away from Haad Rin:
2) Santhiya Koh Phangan Resort & Spa
2) Kupu Kupu Phangan Beach Villas and Spa by l'Occitane
That about wraps up the guide to the Full Moon Party. Take a look at our other Thailand itineraries and guides to help out with any other trip planning. If you have any questions about the trip please feel free to comment below!
» You can add the Full Moon Party as part of your 10 Day Thailand Itinerary or 14 Day Thailand Itinerary.
» Up for some more activities around the area? Check out the Hike up Khao Ra and the Guide to Hiking Koh Tao.