When thinking of Koh Phangan, Thailand the first thing that comes to many people's mind is the infamous Full Moon Party. A monthly full night event on the beach Haad Rin that lasts from sunset to sunrise.
Koh Phangan though is much more than just a party – there are plenty of beautiful beaches and jungles to explore too. One of the most active activities that you can take part of on the island is hiking to the highest point of Koh Phangan – Khao Ra.
This guide will take you through all you need to know to take part of this hiking opportunity and help you see the island of Koh Phangan from above.
* Affiliate Disclosure: This post may contain affiliate links, which means I may receive a commission if you make a purchase through the links provided, at no additional cost to you. Thanks for supporting the work I put into TripTins!
1) Khao Ra Hike Summary
Below are some key facts of the Khao Ra hike:
Starting & Ending Point: Khao Ra Terrace (more on the starting point next)
Mid Point: Khao Ra Peak
Elevation: 627 meters
Time: 3 hours
Trail Type: Dirt / Jungle
Difficulty: Medium
2) Getting to the Starting Point
This was probably the trickiest part of taking part of the hike. I was reading a lot of different information about where to go and what to put into Google Maps. I am hoping this can clear some things up though so you can easily make your way there:
To get to the starting point, type into Google Maps "Khao Ra Terrace". You will find this location after turning onto a dirt road from the main road.
Below is a Google Maps view of where the exact starting point is. I have pinned down the Khao Ra Terrace in red as well as the turn you will make onto the dirt road where the hike begins – the GPS coordinates are: 9.749175, 100.008028.
If coming from the Haad Rin area you will be turning right and if coming from Chaloklum Bay in the north, you will be turning left.
Once you make that turn and head down the dirt road, you will then see signs to guide you up the trail and to the top of Khao Ra.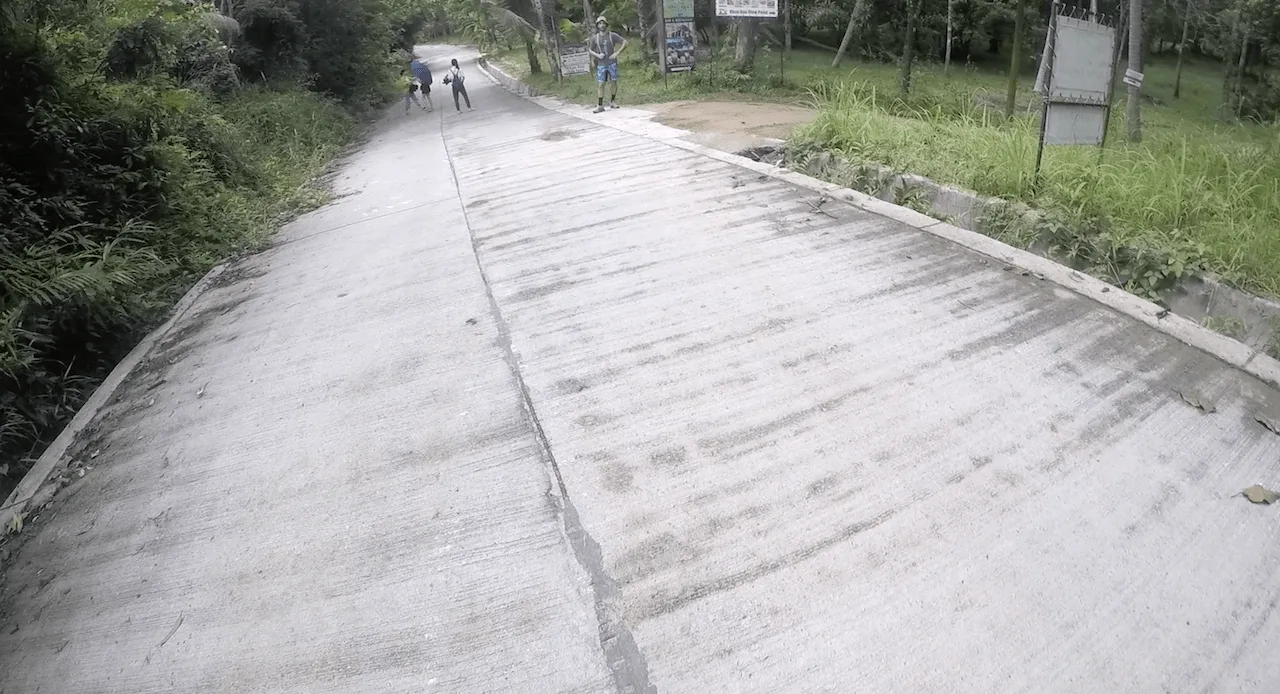 3) What to Bring
Before you head out for the day, I would make sure to bring a few things with you as it can get VERY hot and humid along the way.
» At Least One Liter of Water – as mentioned it can get very hot inside the jungle portion of the hike. Make sure to bring enough water and stay hydrated.
» Bug Spray / Repellant – since you will be in and out of the jungle there could be a lot of bugs and insects. To be safe, make sure to put on bug spray before you start.
» Food / Snacks – it is always a good idea to bring some food along the way as well. The hike should take around 3 hours and you will want to have enough energy to complete it.
» Sunscreen – although a lot of the hike is inside the jungle, there are portions at the lower portions of the trail, where you will be exposed to the sun (as well as up on top of Khao Ra).
» Walking Shoes (no sandals) – the trail is not easy and can get technical at times. You will want to have appropriate walking/hiking shoes to get up the mountain.
---
Whenever heading off on longer day hikes, I always recommend being adequately prepared when it comes to the type of gear to bring along.
Check out the below packing list to get you ready for this hike and other hikes in Thailand (note that some layers may not be necessary).
Hiking Packing List

In general when it comes to hiking, there are a few main aspects to consider. These includes clothing layers, hiking shoes, hydration & fuel, electronics, and other essentials.

Below in a breakdown of some of the top items, but be sure to check out the Hiking Packing List for a more comprehensive view.

Clothing Layers

Layering is going to be a top consideration when hiking. You will want to be prepared for all sorts of weather so you can be comfortable in different situations. Some items may include:

→ Hiking Shorts
→ Hiking Pants
→ Short Sleeve Shirt
→ Long Sleeve Shirt / Sun Hoodie
→ Mid Layer Fleece
→ Puff Jacket (not always needed)
→ Packable Rain Jacket (Columbia Watertight II)

Note that your layers should be made of moisture wicking material as they are breathable and quick drying.

Footwear

Having appropriate footwear will also be very important. You will want to have shoes with the necessary grip and support to keep you safe on the trail.

→ Hiking Shoes (Keen Targhee)
→ Hiking Socks (Darn Tough)

Other Essentials

Whether it is hiking gear, electronics, or just some miscellaneous items, here are some other essentials to bring along on hikes.

→ Hiking Backpack (Osprey Talon 22) & Rain Cover (Joy Walker Cover)
→ Hiking Poles (Black Diamond Trekking Poles)
→ Water Bottle (CamelBak Chute or Katadyn Filter Bottle)
→ Portable Charger (Anker PowerCore 5000mAh)
→ Action Camera (GoPro Hero)
→ Energy Bars & Snacks
→ Hat & Sunglasses
→ Sunscreen & Bug Spray
---
4) Quick Tips
♠ If it is a very overcast day and/or the clouds have low coverage, I would not recommend heading up to the top. One of the highlights of the trail is getting to see the island from its highest points.
If the views are obstructed by clouds, that can take away from the experience. With that said though, it is possible that the clouds come and go as the day goes on so just use your best judgement when deciding.
♠ If you do not have your own scooters to get to the starting point, feel free to hire a driver to take you there. But do not forget – take down the driver's phone number / agree on a time for them to pick you up at the end of the hike.
The hike is a bit out of the way from everything else on the island, so you will not want to end up stuck with no way back. Having a plan in place with a driver is your best bet.
5) The Khao Ra Hike
The trail itself is a mix between a dirt and jungle path. I honestly was not expecting the hike to be too strenuous but when you take into account the heat, humidity and steepness in the jungle, it can get quite tough.
Take a look at a quick 90 second recap video of the hike from the the bottom to top:
Once you start the path from the Khao Ra Terrace / Bungalows, it is a pretty simple ascent to follow as you go up the mountain.
Towards the beginning of the hike you will come across a dam, and at the time I took part of the hike there were actually two paths to take up once you reached the dam.
You can either cross the dam and turn right or head straight. They both take you to the top of Khao Ra but just with a slightly different type of trail. Here is a link to a map to show you the two paths visually.
My friends and I decided to head straight on the path, which soon after brings you to a local's house, where you can find a great view of Koh Phangan down below. You then will be directed by a big "Khao Ra" sign up the mountain and into the jungle, where you will begin the second stage of the hike.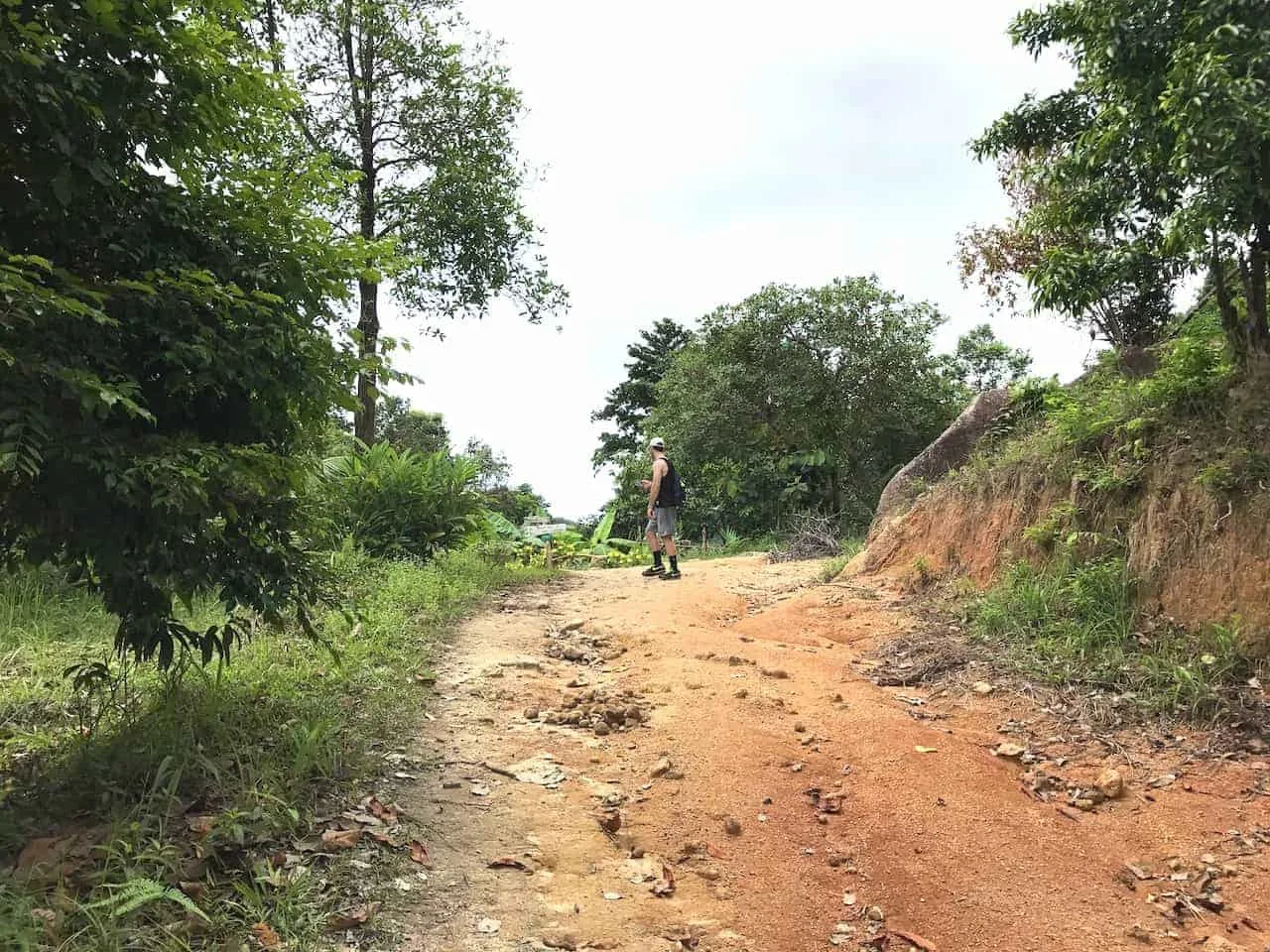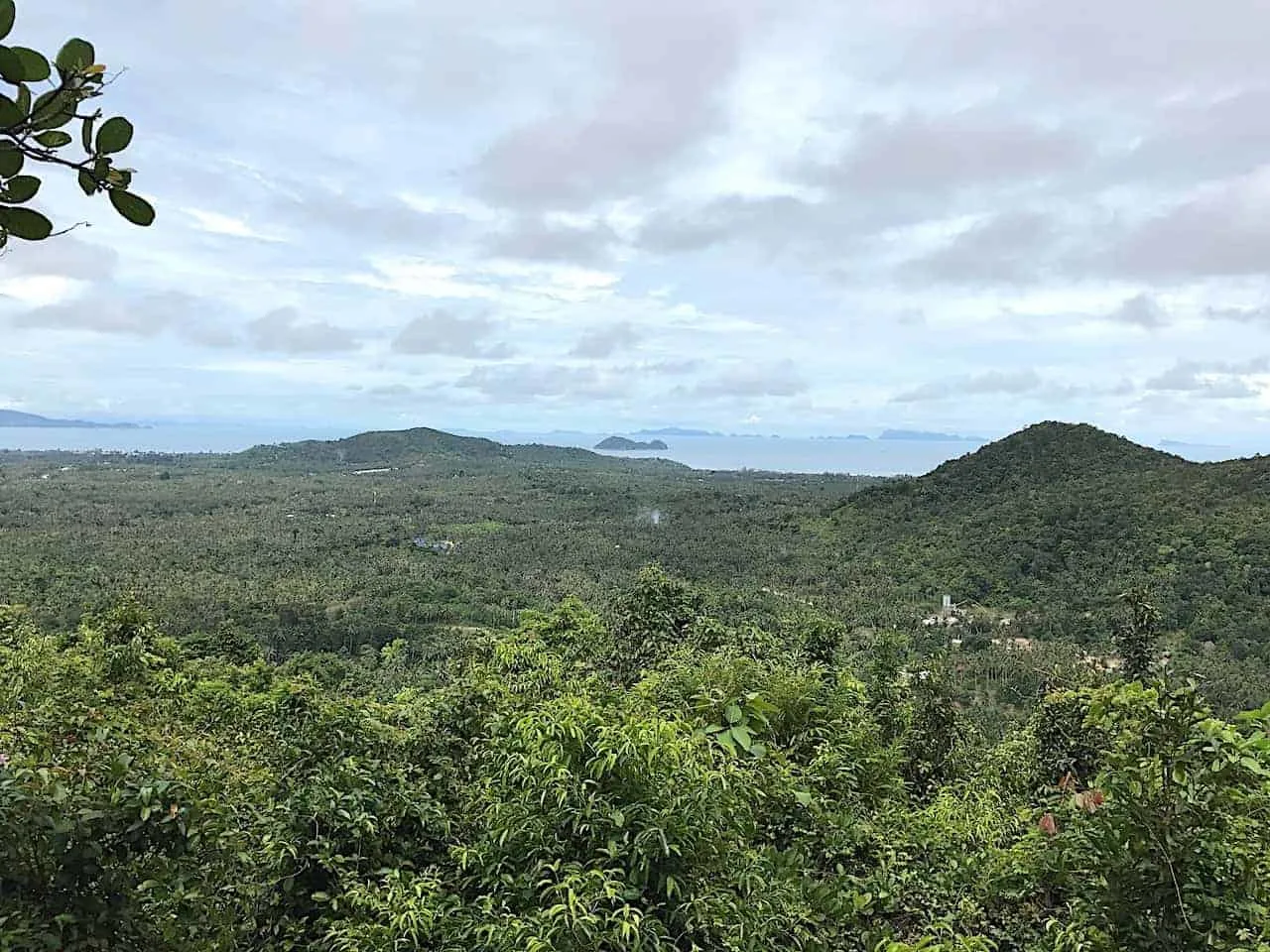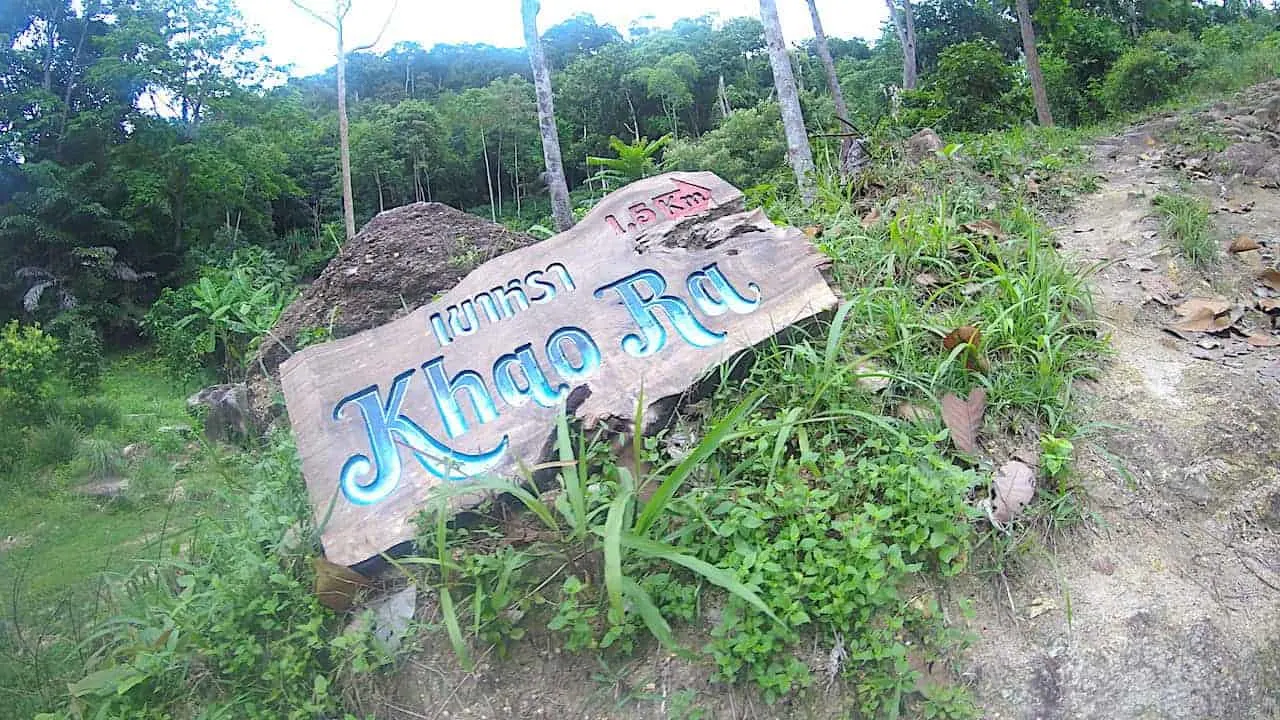 As you make your way up into the jungle, the trail does start to get a bit steeper at points and will also become very narrow as well. Simply watch your steps and grab on to any branches/trees to help get yourself up the mountain.
Soon enough you will be on your way to the top of Khao Ra, where you will be able to see expansive views of Koh Phangan. There are a couple different look out points at top – one looking north and another south, and on a clear day you should be able to see the entirety of the island.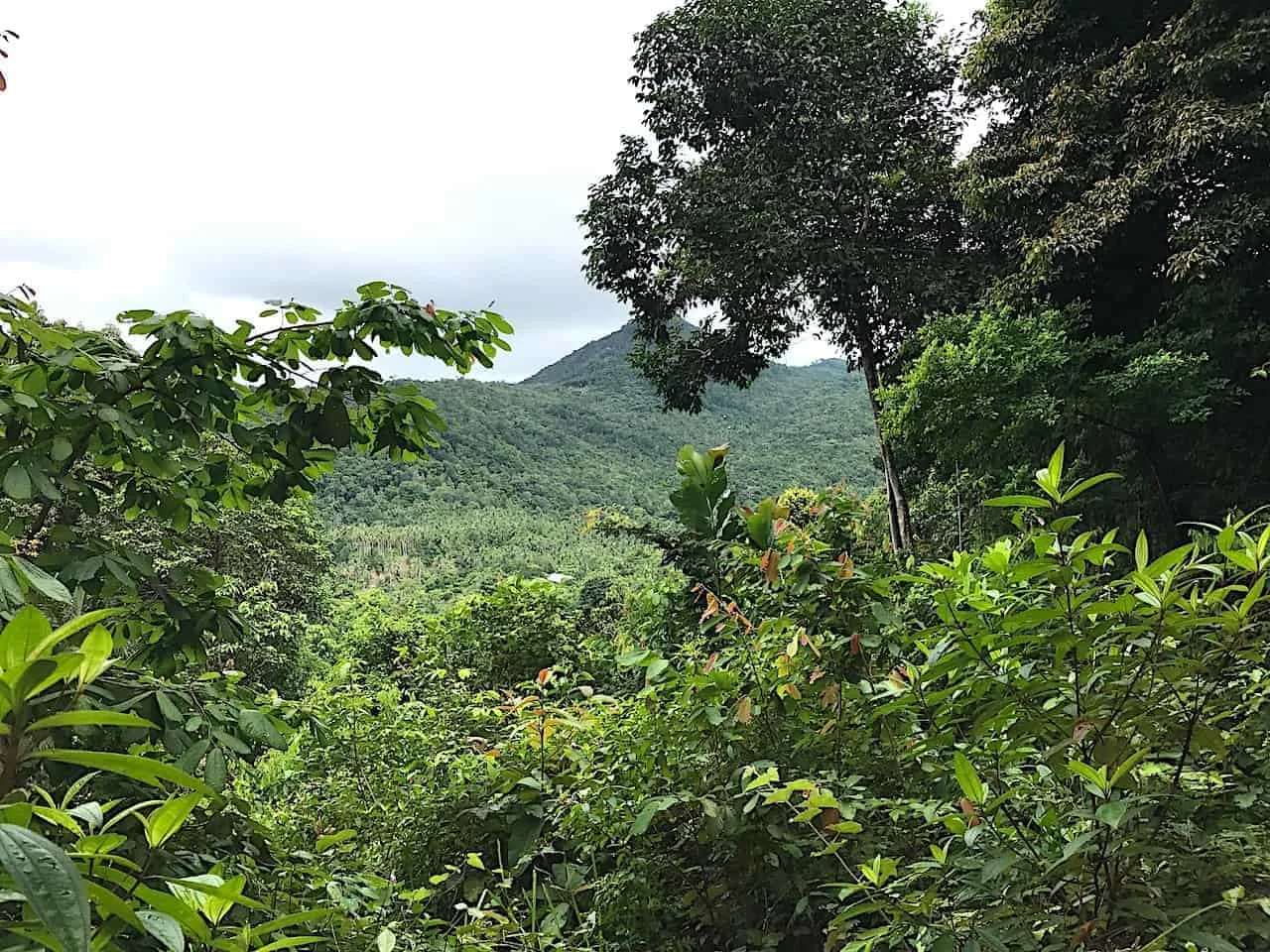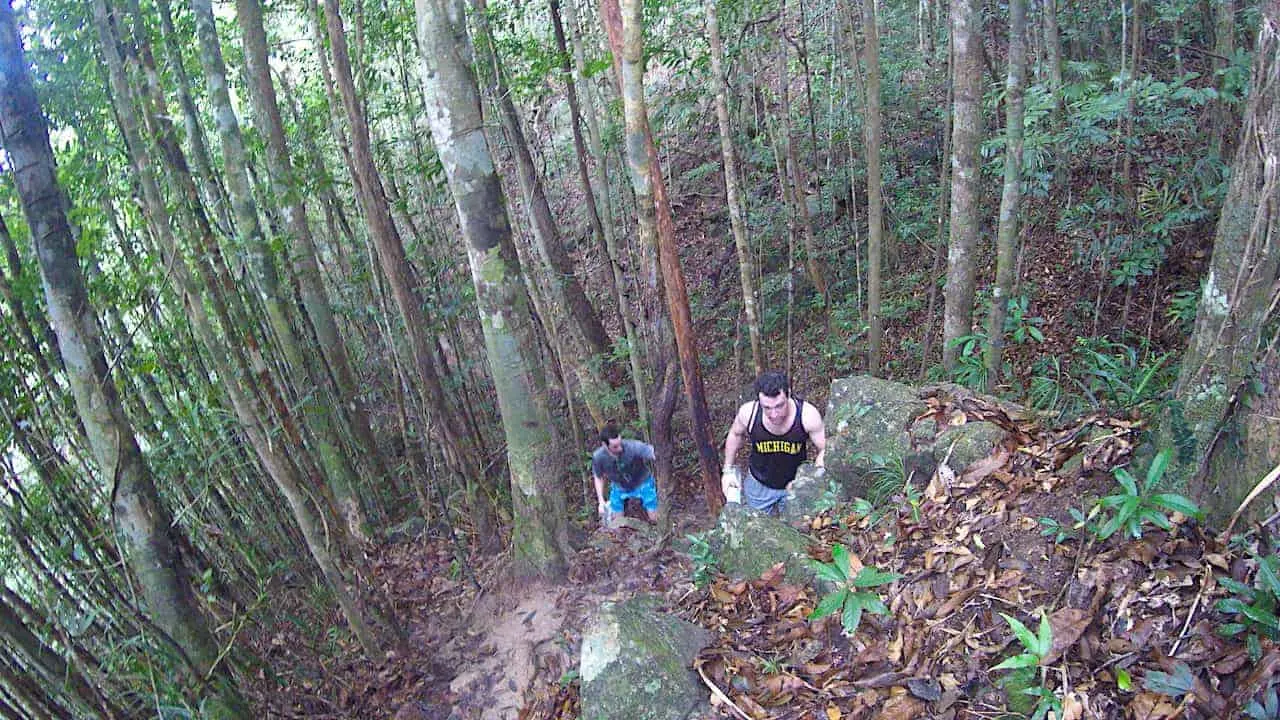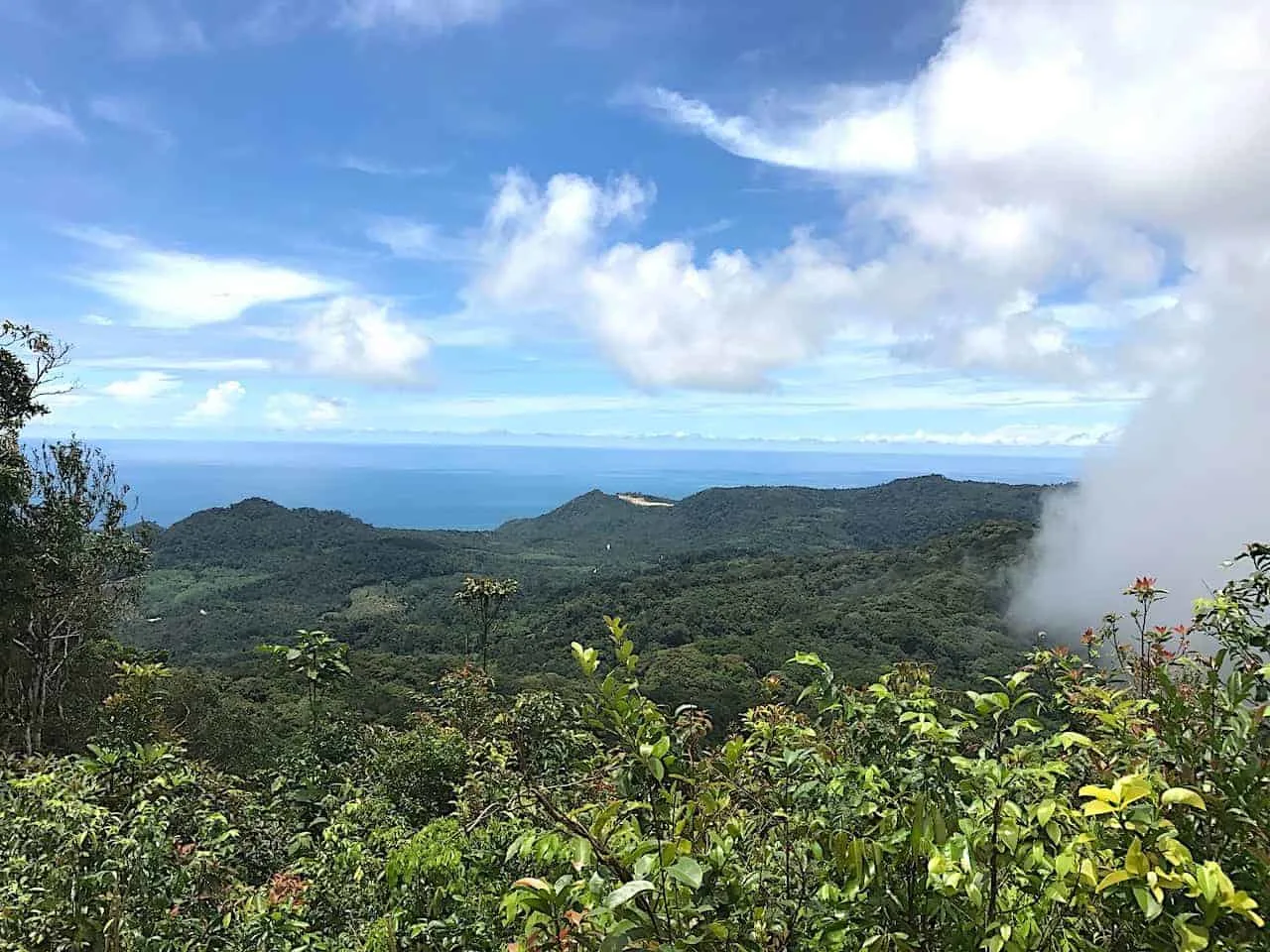 Once you had some relaxing time up top and had time to take in the view and snap some pictures, it is time to head back down the mountain.
Be careful on the way down as the path can get slippery and technical. Use the trees as your guides by grabbing on to them to help you down through the jungle, and back to the starting point of the trail.
6) Where to Stay in Koh Phangan
Koh Phangan offers a variety of accommodation options. Some are right near the main town and beach of Haad Rin while others are farther out where it may be a bit more relaxing.
Close by Haad Rin:
2) The Coast Resort – Koh Phangan
Farther Away from Haad Rin:
2) Santhiya Koh Phangan Resort & Spa
2) Kupu Kupu Phangan Beach Villas and Spa by l'Occitane
While Koh Phangan is more known for its beaches and parties, Khao Ra adds another option for those who want to get a bit more adventurous. I hope this guide helps you as you prepare for your trip to Thailand.
Check out the other itineraries and guides up on the site and feel free to ask any questions down below. Have fun out there and safe travels!