Chiang Mai is packed with beautiful, ornate temples throughout the city. To be more exact there are over 300 of them! Since you most likely will not have the time to hit them all, I wanted to put together a guide to highlight some of the best temples in Chiang Mai to visit during your time in the city.
This self-guided tour will take you to 7 temples and can be completed in a day or less depending on how much time you spend around each one.
* Affiliate Disclosure: This post may contain affiliate links, which means I may receive a commission if you make a purchase through the links provided, at no additional cost to you. Thanks for supporting the work I put into TripTins!
1) Map of Chiang Mai Temples
Below are the 7 temples that this guide will walk you through and a map showing you the route that you can take to get from one to the next.
Of course you can change this around depending on where you are staying and what makes most sense for you.
1. Wat Chiang Man
2. Three King's Monument
3. Wat Chedi Luang
4. Wat Phra Singh
5. Wat Sri Suphan
6. Wat Suan Dok
7. Doi Suthep
Take a look at some other Thailand itineraries & guides to better prepare you for your trip
Thailand Itineraries: 2 Week Thailand Itinerary | 10 Day Thailand Itinerary
Thailand Guides: One Day in Bangkok | An Ayutthaya Day Trip | The Full Moon Party | The Khao Ra Hike
2) How to Get Around
Now that you have a good idea of the route to take around the city, I wanted to touch on how to get from one temple to the next. For transportation you will use a combination of tuk tuk, songthaew, taxi, and walking.
For those who do not know what a tuk tuk or songthaew is…a tuk tuk is basically a small three wheeled open air motorized rickshaw that can fit just about 3 (maybe 4) people inside.
A songthaew on the other hand is a pickup truck with covered benches in the back, and is more so a shared transportation option. This means that the driver will pick up and drop off people along the way. Both options are relatively cheap and can be found all throughout the city, especially by the main temple areas.
Between the first 6 temples closer to the city center I would stick with tuk tuk, songthaews and walking when possible – I will mention below how long the walk would be between any two temples and leave it up to you to decide.
When heading to the last temple – Doi Suthep, which is about a 30 minute drive up the into the mountain, the easiest option is to grab a taxi. This way you can have them wait for you as you explore the temple area, and then taxi back to your hotel to end the day.
» Have some more time in the city? Check out this Chiang Mai itinerary to get you going in the right direction.
3) The 7 Best Temples in Chiang Mai
Below will give you a quick description and show some pictures of the best temples in Chiang Mai as part of this self guided tour.
Note that the entrance fees might vary slightly as time goes on but they cost little to nothing to enter ($0 – $2). Also feel free to add any more that you might want to visit along the way!
A) Wat Chiang Man
The first stop of the temple tour will be Wat Chiang Man. This is actually Chiang Mai's oldest temple, built all the way back in 1296! Another interesting note is that within one of the halls lays Chiang Mai's oldest Buddha image.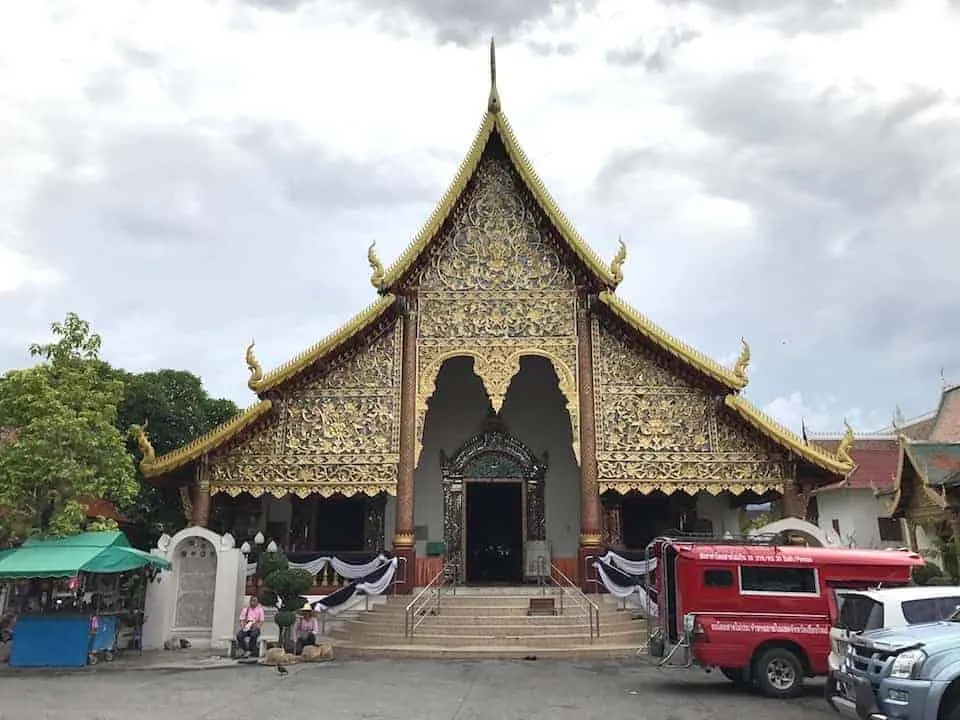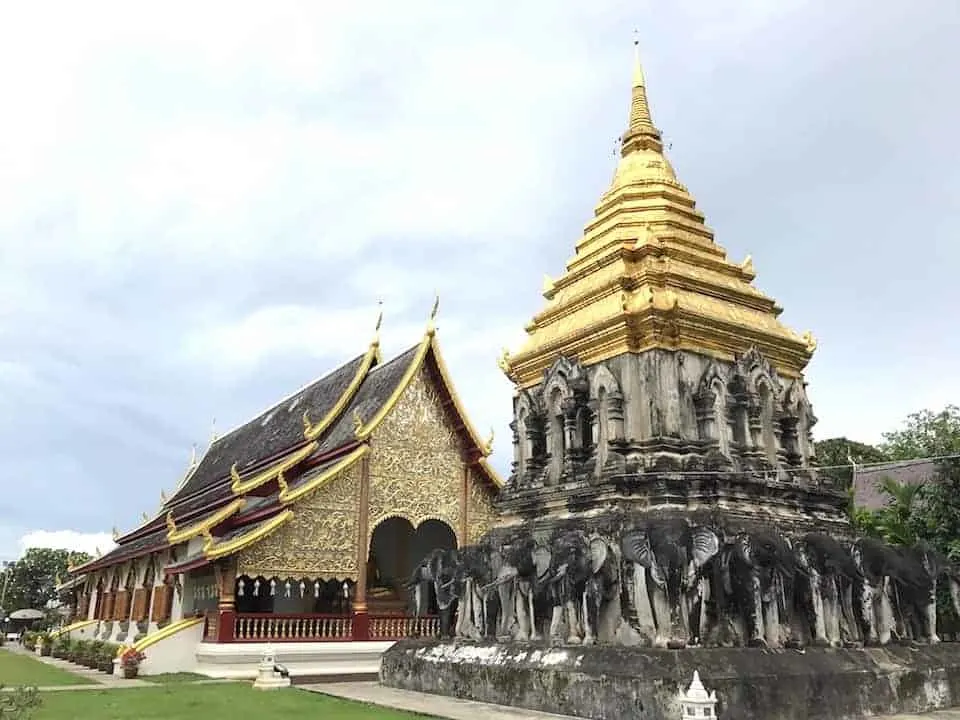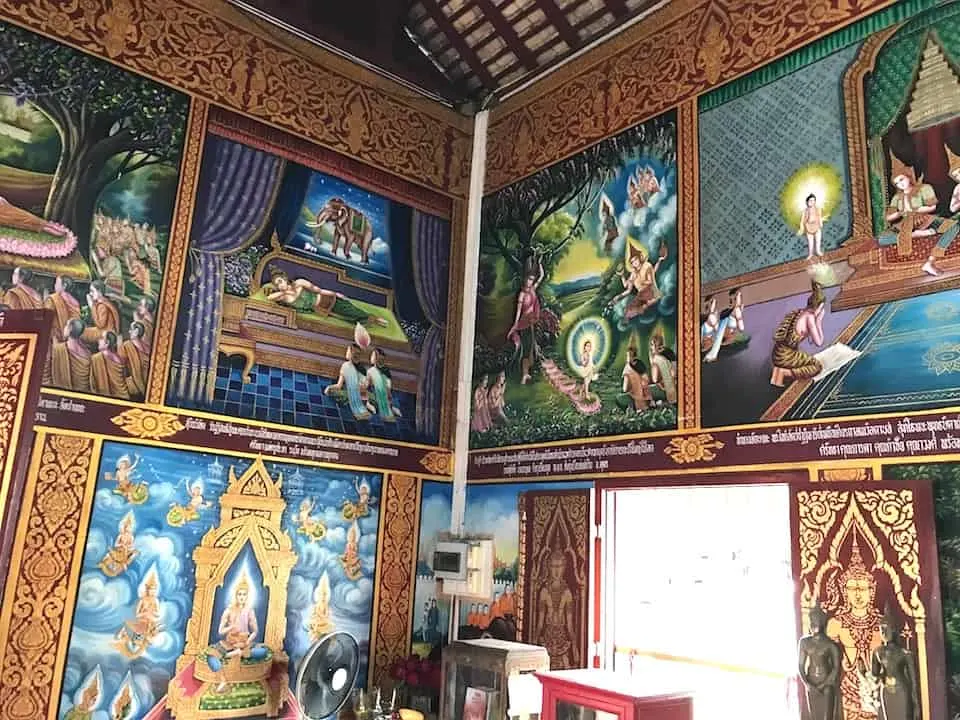 B) Three King's Monument
Now the Three King's Monument is not actually a temple, but it is a pretty interesting stop to add along the way. Less than a 10 minute walk from Wat Chiang Man is a statue with the three men who are attributed with building the layout of the city of Chiang Mai.
The three men are King Mengrai, who was the original founder of Chiang Mai along with his friends, King Ramkamhaeng of Sukothai and King Ngam Muang of Payao. You can find the monument in front of the Chiang Mai City Arts and Cultural Center.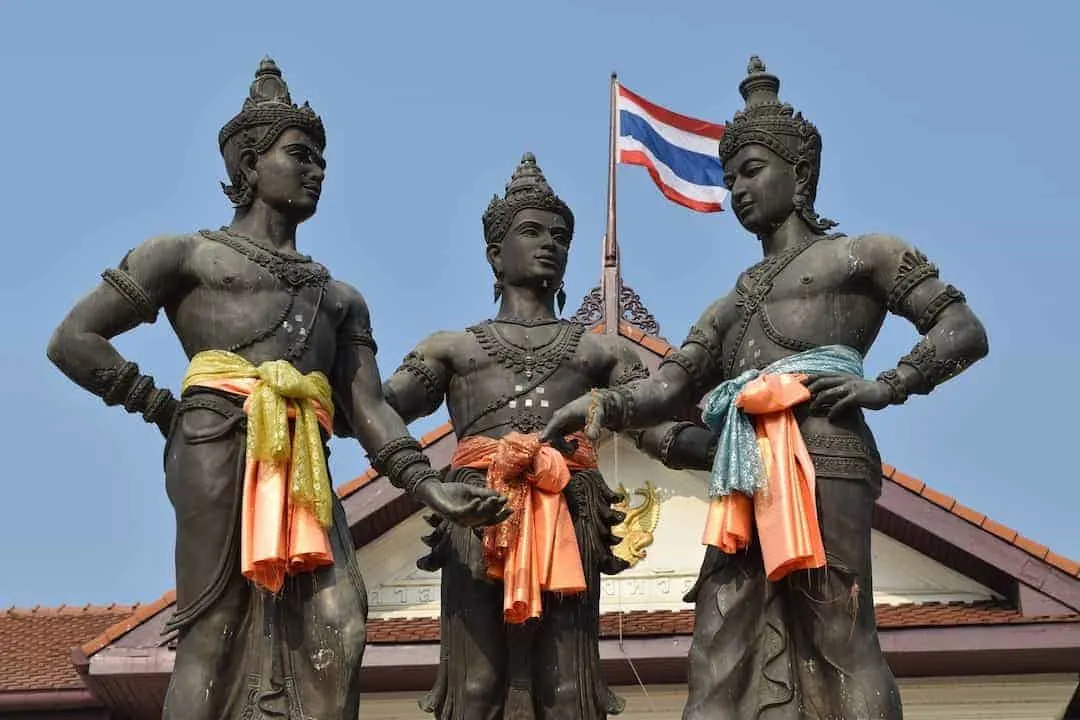 C) Wat Chedi Luang
Just another 10 minute walk from the Three King's Monument is Wat Chedi Luang. Now this might seem a bit different than some of the other Chiang Mai temples you will come across. Not only will you find an extravagant hall but you will also find what will seem like historical ruins.
The reason behind this is thought to be due to an earthquake that occurred in the 1500's, which destroyed much of the famous large chedi.
The famous emerald buddha was also once stored in this temple but has since been moved to Wat Phra Kaew in Bangkok.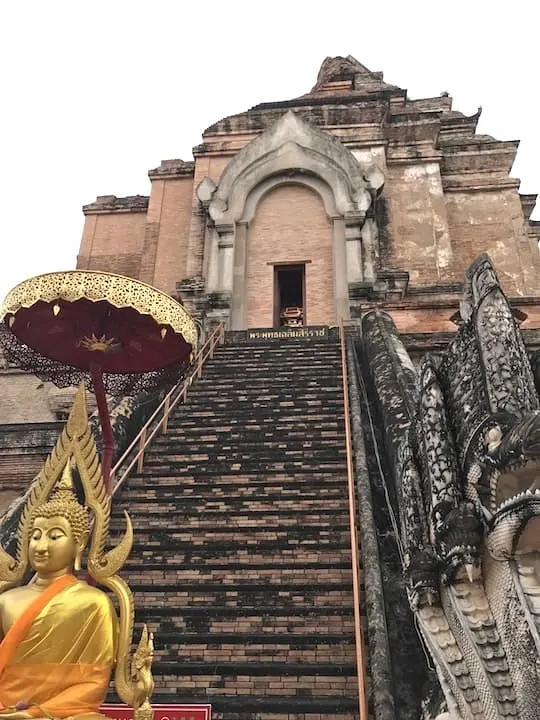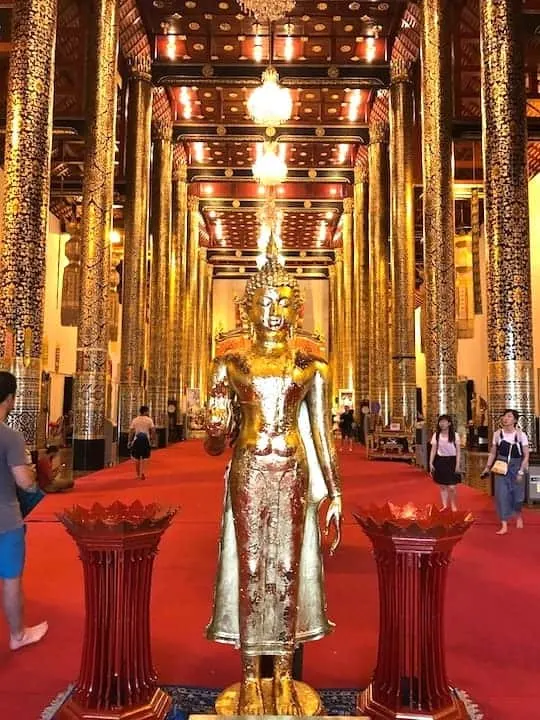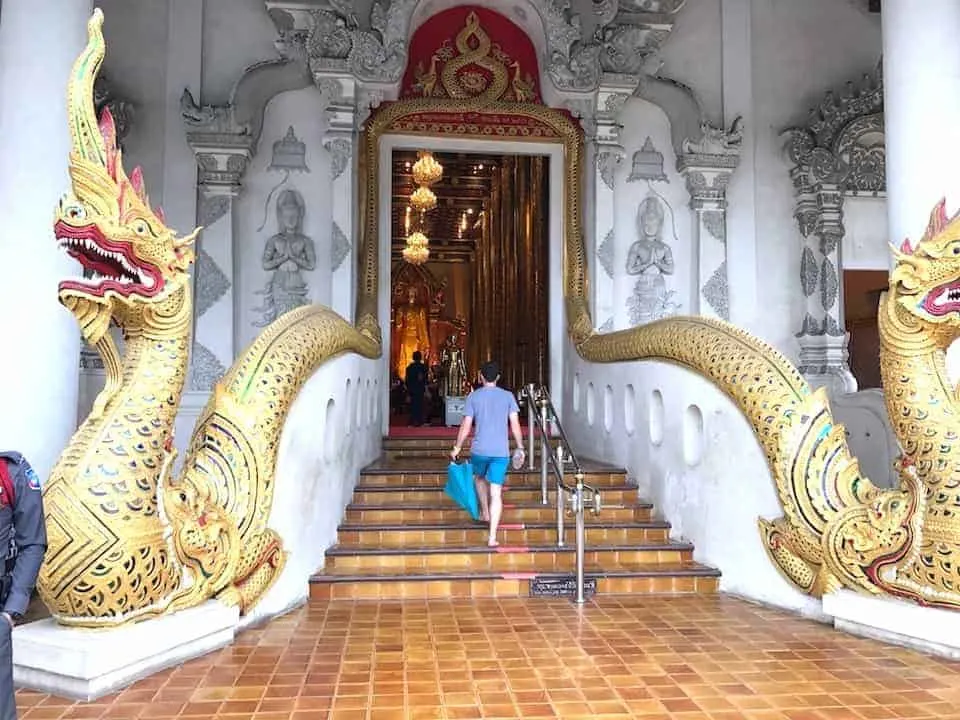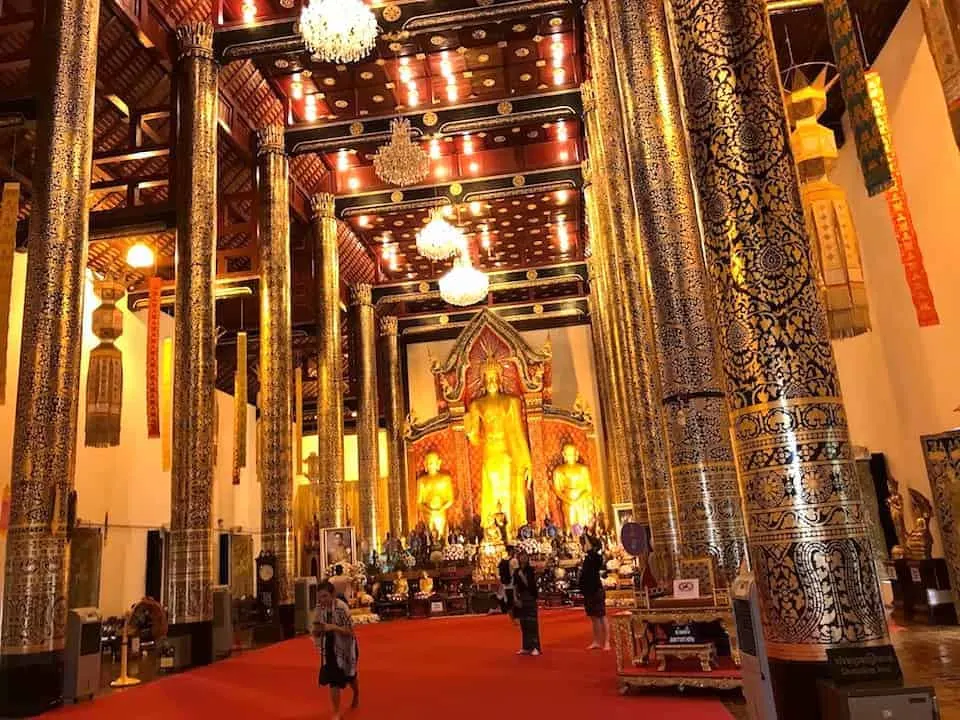 D) Wat Phra Singh
Yet another 10 minute walk away is Wat Phra Singh, also known as the Temple of the Lion Buddha. It is actually one of the most active temples in Chiang Mai and you will find many monks wandering the grounds.
There are several different beautiful halls to visit and explore both inside and out.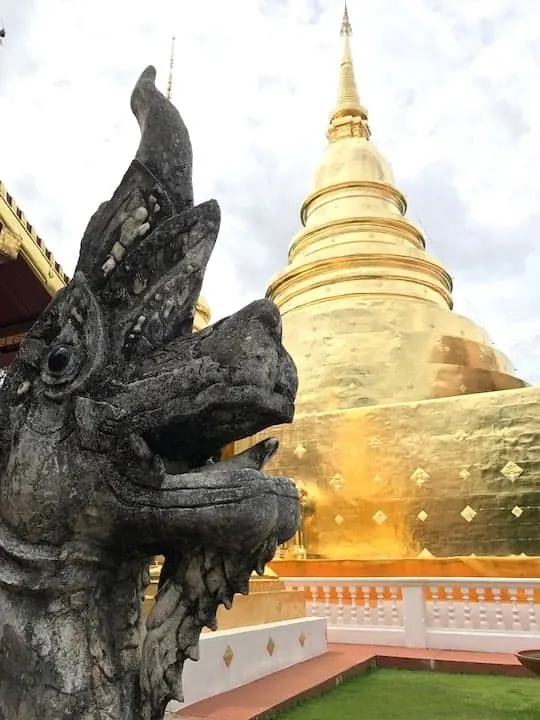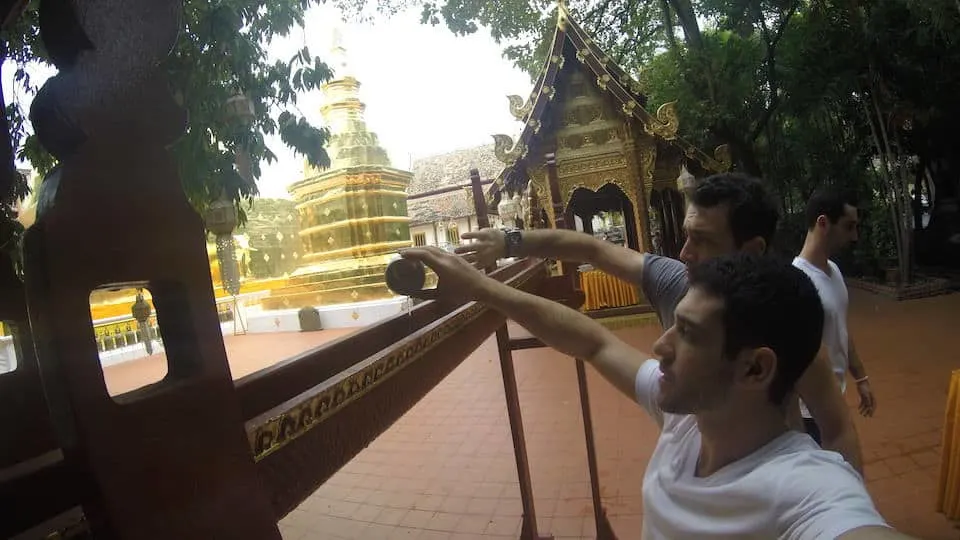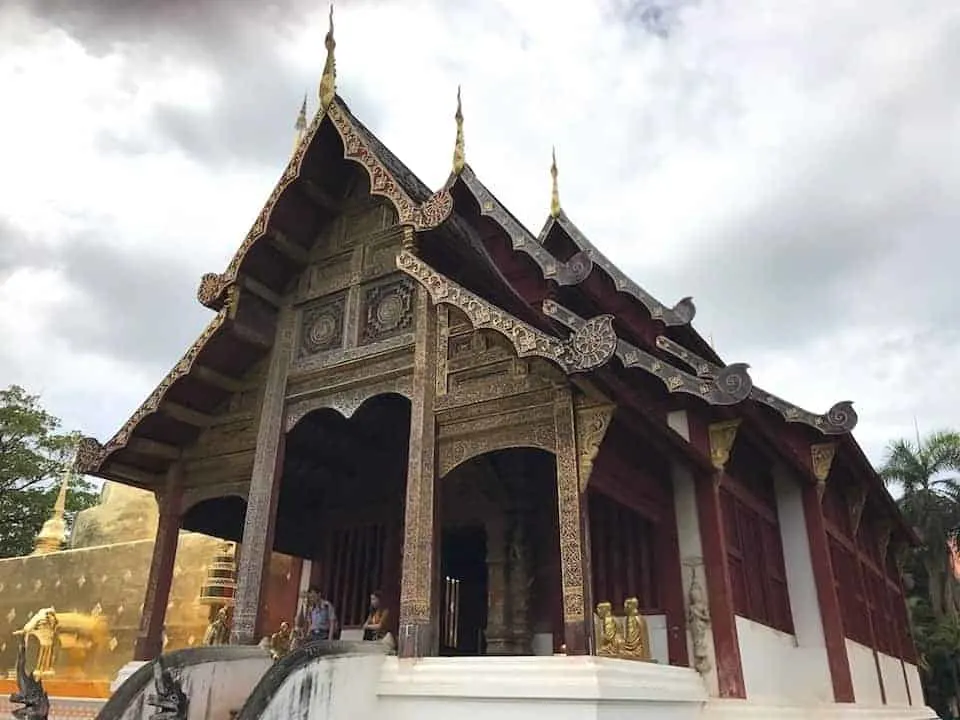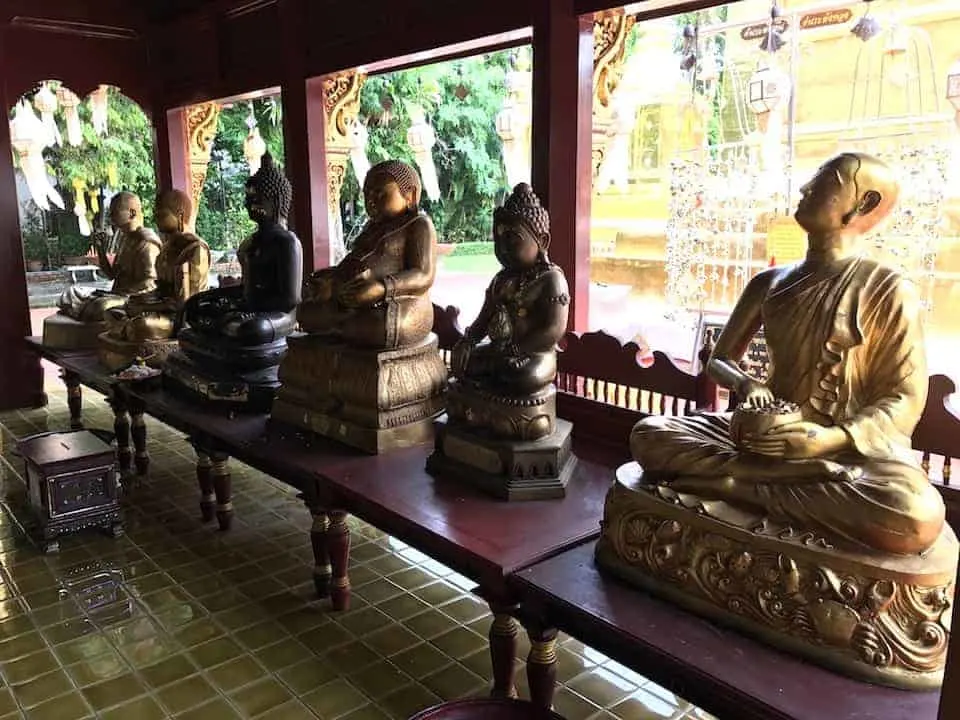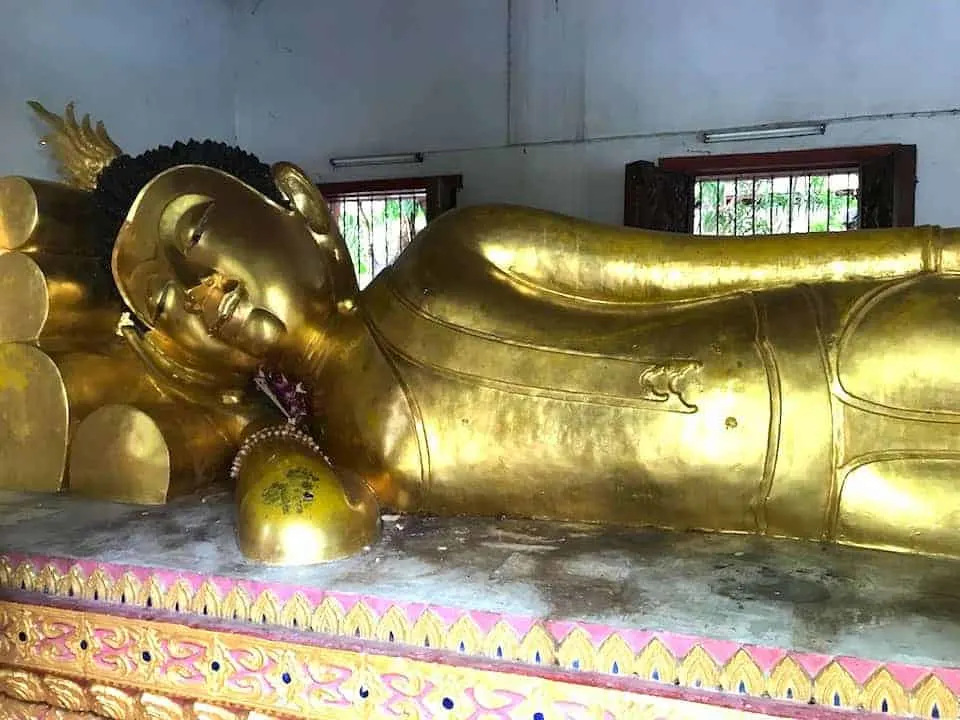 E) Wat Sri Suphan
The last four Chiang Mai temples were within the old city. Now its time to make your way outside of the moat to the other side. You can walk the 15 minutes or hop in a quick tuk tuk or songthaew to get to Wat Sri Suphan, located just south of the old city.
This was definitely one of the most unique temples to come by as literally the entire place was covered in silver.
Inside and out, you will find detailed, ornate artwork to take in and enjoy. Not only can you walk around the temple area itself and find all the silver craftsmanship, but if you head right outside the temple area you are sure to find small shops of the local craftsmen at work.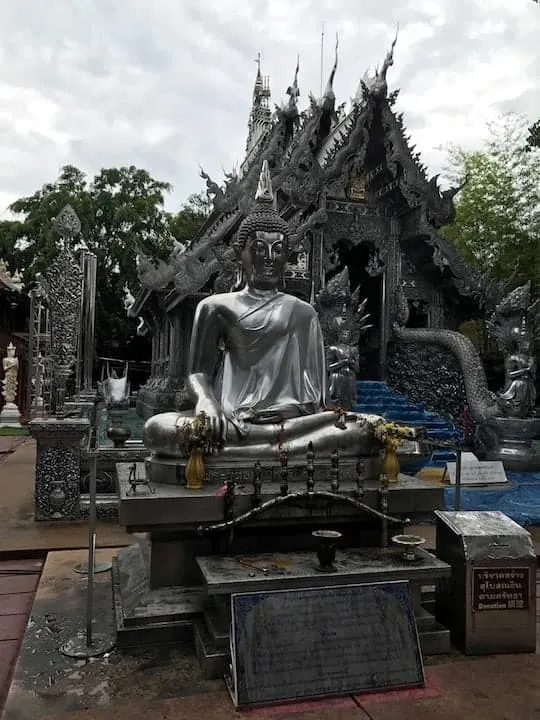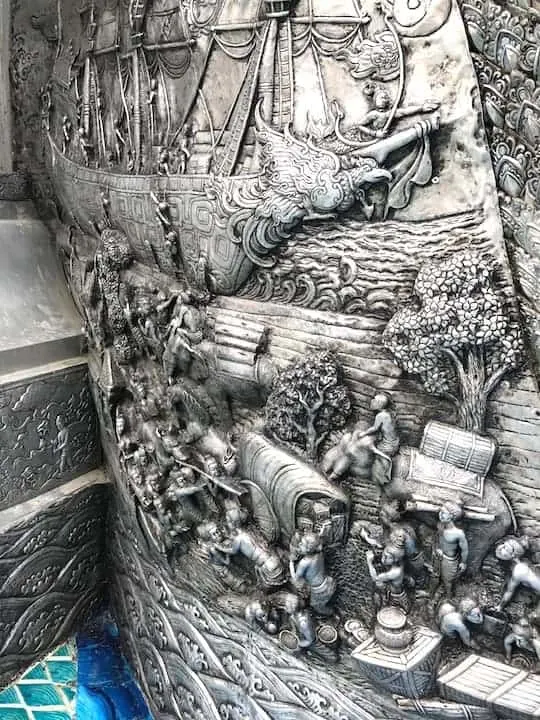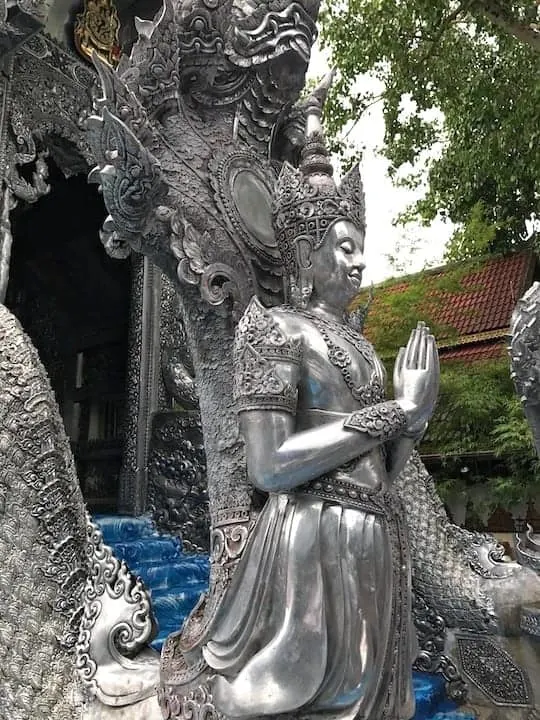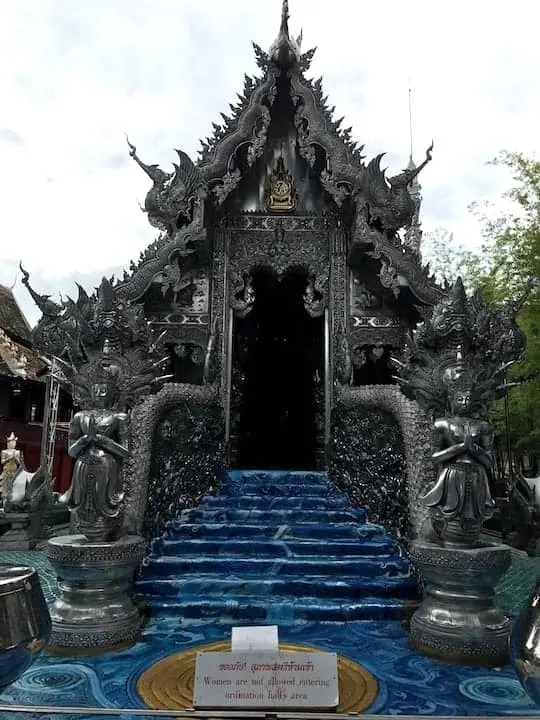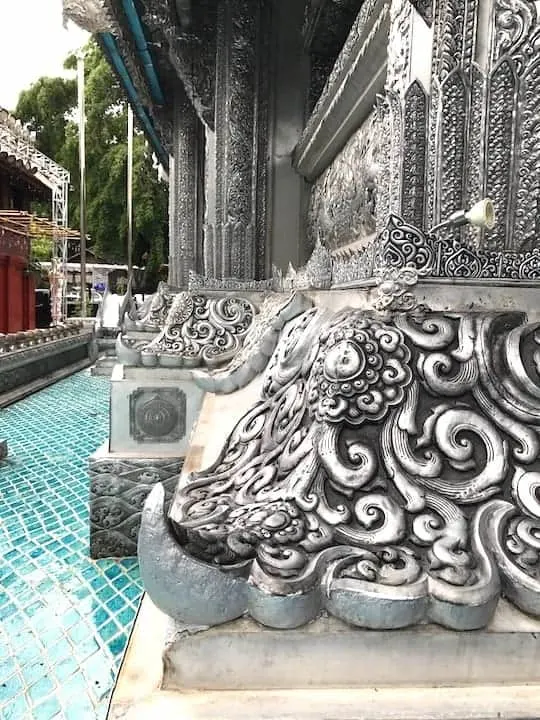 F) Wat Suan Dok
It is now time to hop back into a tuk tuk or songthaew for the 10 minute ride to Wat Suan Dok, located on the western side of the city.
Throughout this temple complex you will pass by a whole bunch of white chedis, which contain the ashes of the Chiang Mai royal family. Rising up from all the rest you will see the large golden chedi, which houses a Buddha relic.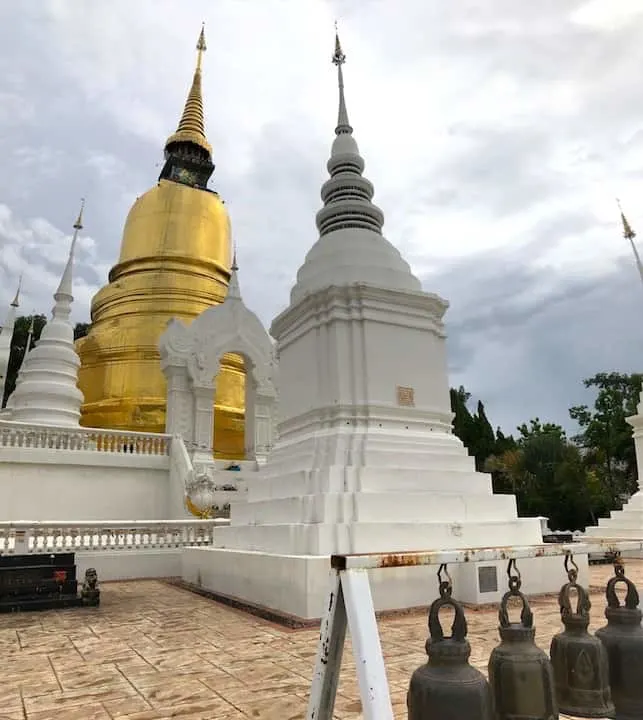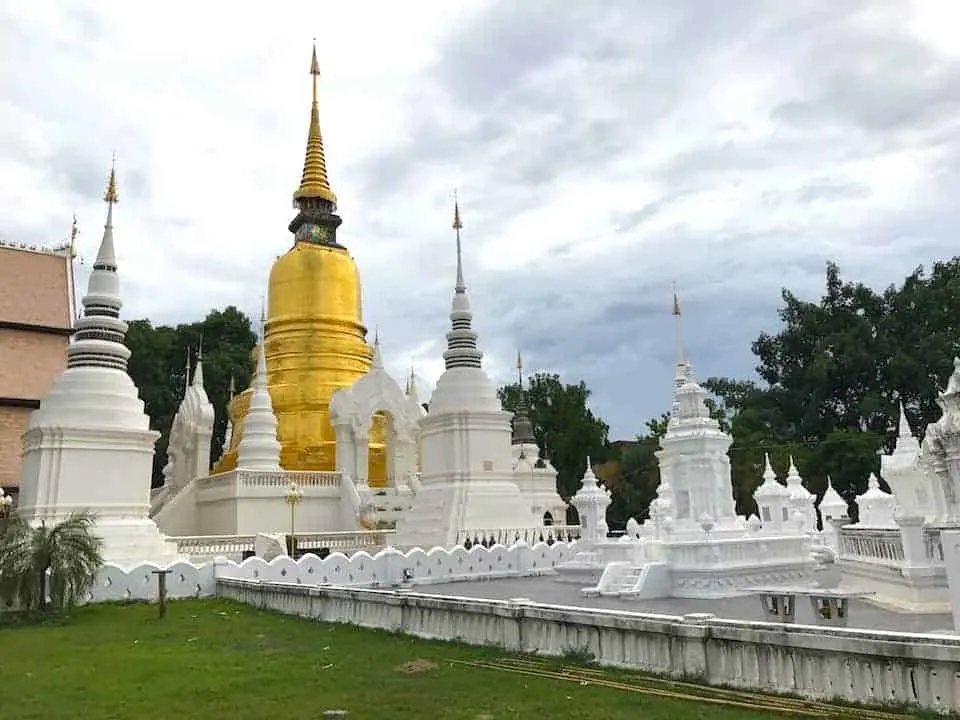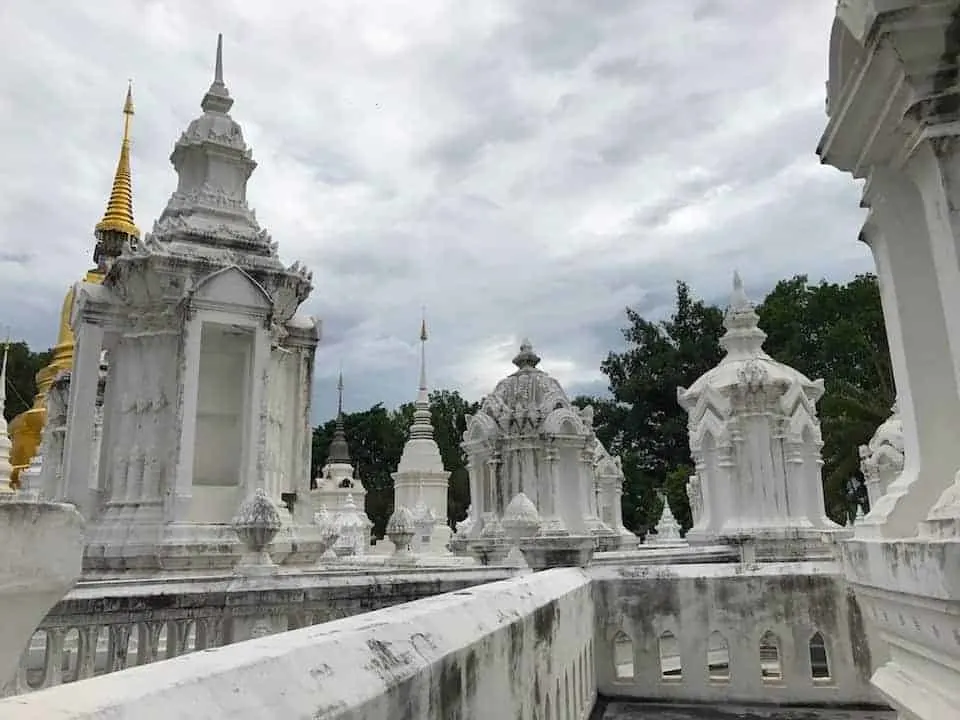 G) Doi Suthep
Last but not least is the most famous of the Chiang Mai temples – Doi Suthep. Located on top of a mountain overlooking Chiang Mai, lays this temple which is a must do on any visit to the city.
From Wat Suan Dok, it is a 30 minute ride up the mountain and to the base of the temple. Here is where I would recommend getting a taxi driver if possible. They can take you up the mountain, wait for you and then take you back to your hotel to end the day.
Although a bit more expensive compared to the other options, I think it is worth it. Once you arrive at Wat Phra That Doi Suthep, it is just 300+ steps to climb up to the top. Once up top you can spend some time exploring the main temple area along with the rest of the site.
There are also some viewing platforms where on a clear day you can see the city of Chiang Mai out in the distance. After spending some time around Doi Suthep, it is time to hop back in a taxi and head back down the twists and turns to the city down below.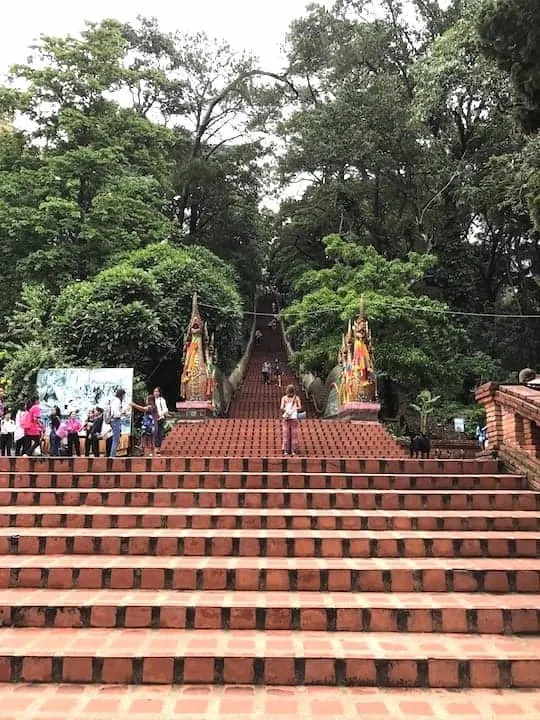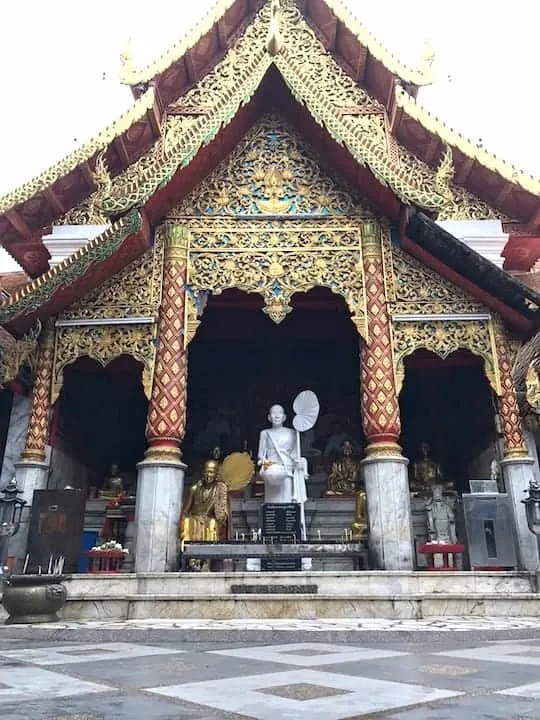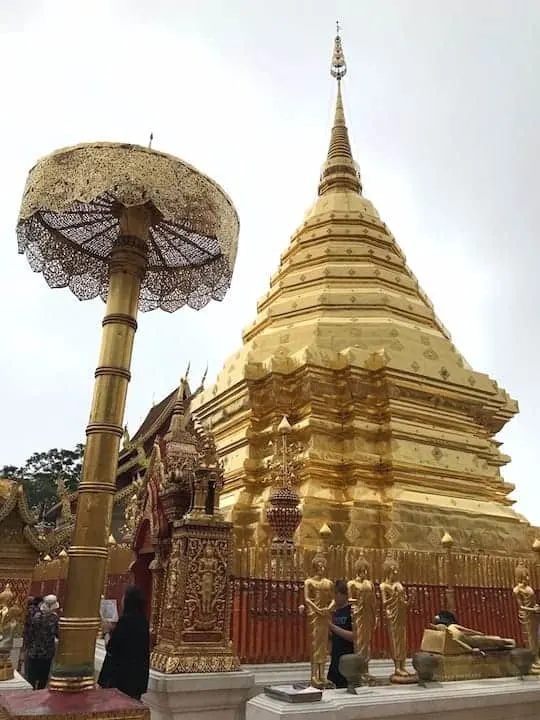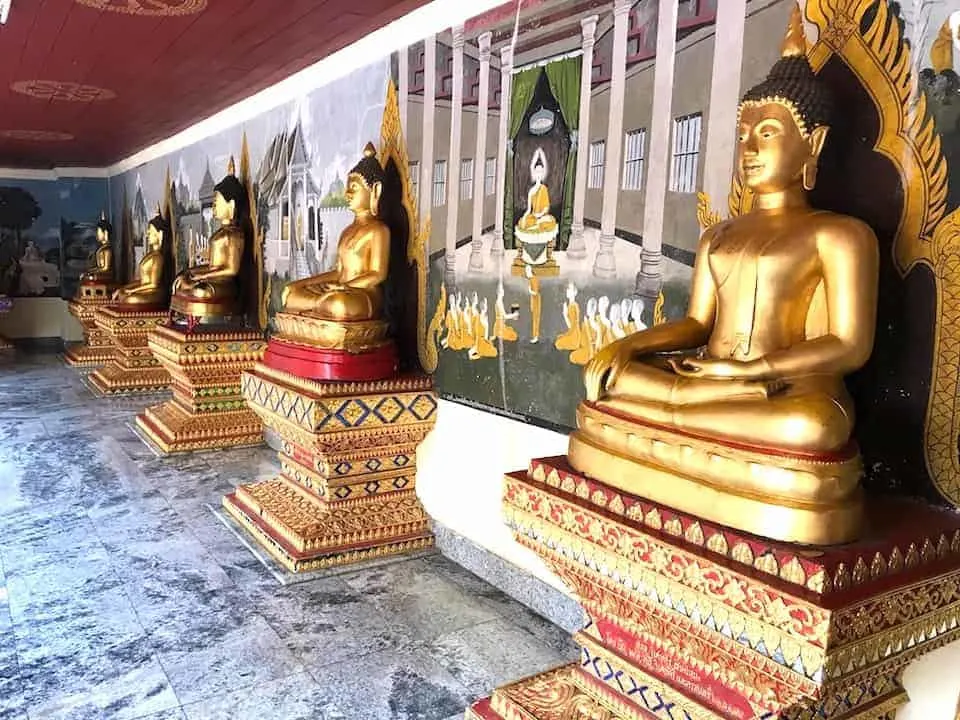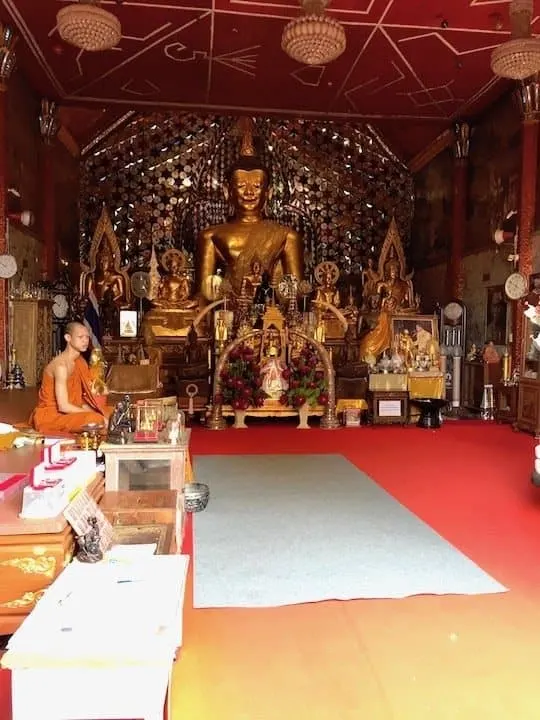 Note that if you do not have time in one day to complete all the temples, you can also save Doi Suthep for another day as it is the farthest out and you will probably be spending the most time there. Another thing to think about is the weather when visiting Doi Suthep.
It can get cloudy up on the top of the mountain, so if you look up from the city and see it is a clear day up top, then go for it. If not maybe wait for another time/day. Even if its cloudy up top, that doesn't take away from the temple itself.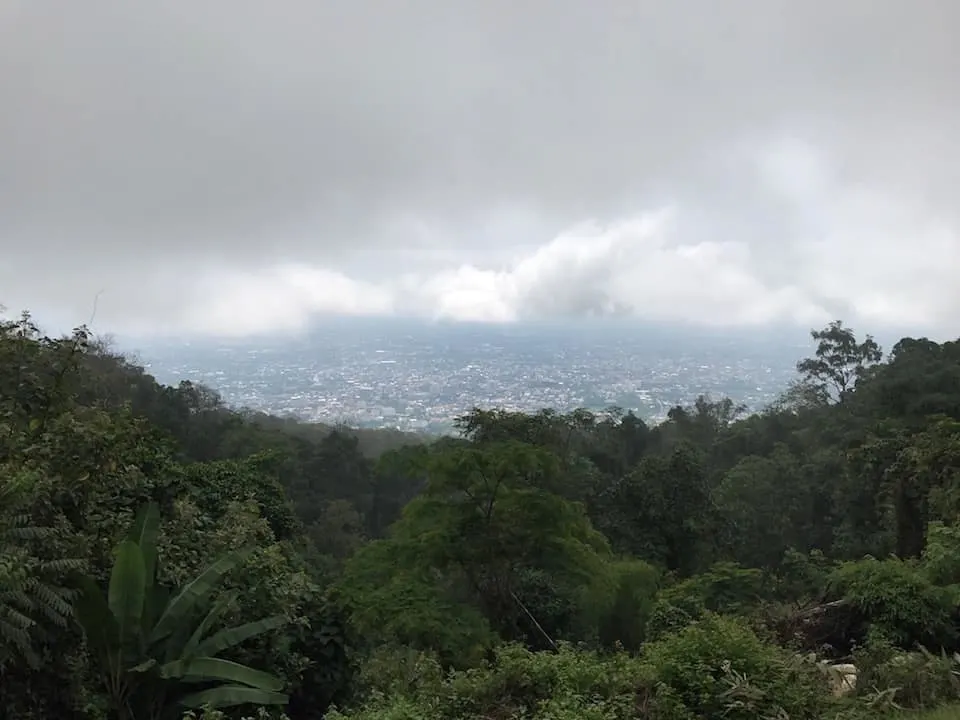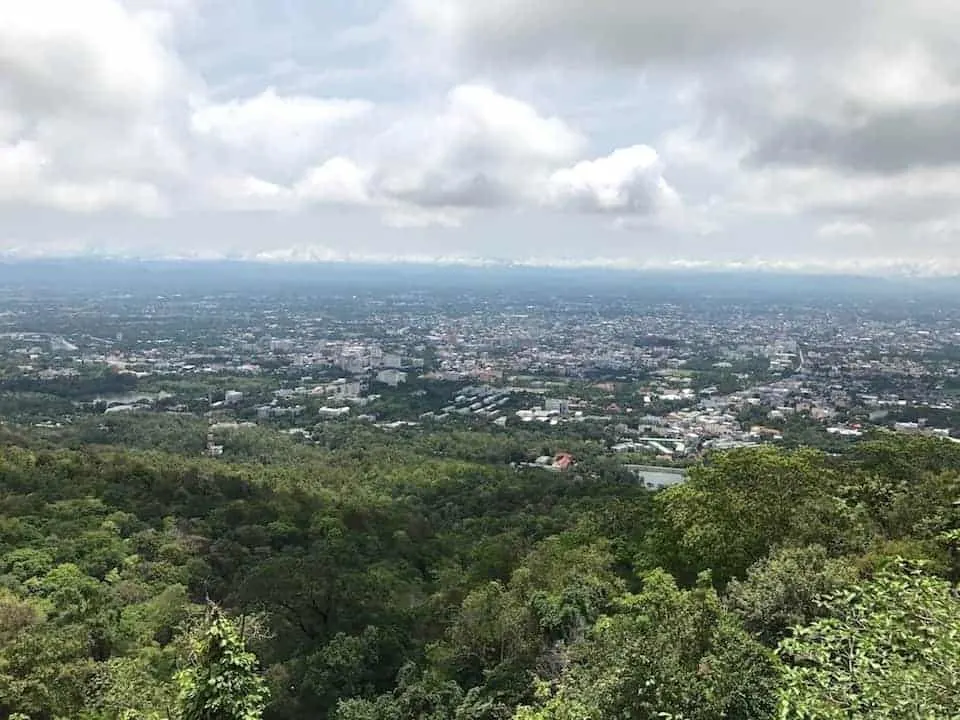 4) Where to Stay in Chiang Mai
Feel free to browse through some accommodation options in Chiang Mai or choose from some highly rated ones below:
4) Rachamankha
That about does it for a Chiang Mai temples tour around (and above) the city. It is sure to be a day full of beautiful architecture and unique experiences.
Head on over to the rest of the Thailand itineraries and guides to help out with any other trip planning and feel free to add in any questions or comments below!