When researching some of the top things to do in Cartagena you are bound to come across the Mud Volcano of Colombia also known as El Totumo.
You will see some people call it a tourist trap, a waste of time, or it is just not worth it. I came across those same opinions when deciding if I should include it in my Colombia itinerary.
But as I thought more about it, I just could not let these reviews get in my way of entering into a volcano and having a massage while floating in mud. I thought of it as a unique experience that I did not want to pass up.
I wrote this guide to give you an idea of what to expect during a trip to El Totumo and help answer any questions or concerns you may have.
* Affiliate Disclosure: This post may contain affiliate links, which means I may receive a commission if you make a purchase through the links provided, at no additional cost to you. Thanks for supporting the work I put into TripTins!
1) What is the Mud Volcano of Colombia?
Now this isn't your massive rock formation spewing lava, so don't expect to see anything like that. It's more so just a 50 foot (15 meter) hill with an opening in the middle.
In that opening though you will find this dense mud that will keep you afloat as you wade around it.
Depending on the "activity" of the volcano, the mud might be close to the top or be lower down (where a ladder can help get you to the mud itself). When looking at pictures you might see the difference between the two.
This mud is thought to have healing properties so feel free to rub it all over your face and body to get the full experience!
As mentioned though, the El Totumo Mud Volcano can be seen as a tourist trap for visitors of Cartagena. Due to this it can sway people to not waste their time going to a spot where there will just be hoards of tourists all trying to get into a small area.
I can say from experience though, that this is not always the case. As I will go over in this overview, you instead could arrive and be the only ones there to have this unique and fun and experience!
Below are some quick facts about the El Totumo Mud Volcano and what it is all about:
Name: El Totumo (translates to "Mud Volcano')
Location: Santa Catalina, Colombia
Distance from Cartagena: 1 hour / 34 miles (55 km)
Height & Depth: 50 feet (15 meters) high, but rumored to be 7,500 feet (2,300 meters) deep!
Benefits: Nutrient rich & therapeutic mud that can result in softer skin, improved skin conditions, and overall relaxation (note there are differing opinions on this!)
Best Time: 7:00AM – 8:00AM (Open from 7:00AM – 5:00PM)
Capacity: 10-15 people
Fun Fact: El Totumo is the smallest volcano in Colombia
How to Visit: Group Tour, Private Tour, DIY (Taxi)
Check Latest Availability
Group Tour: El Totumo Half Day Group Tour
Private Tour: El Totumo Private Tour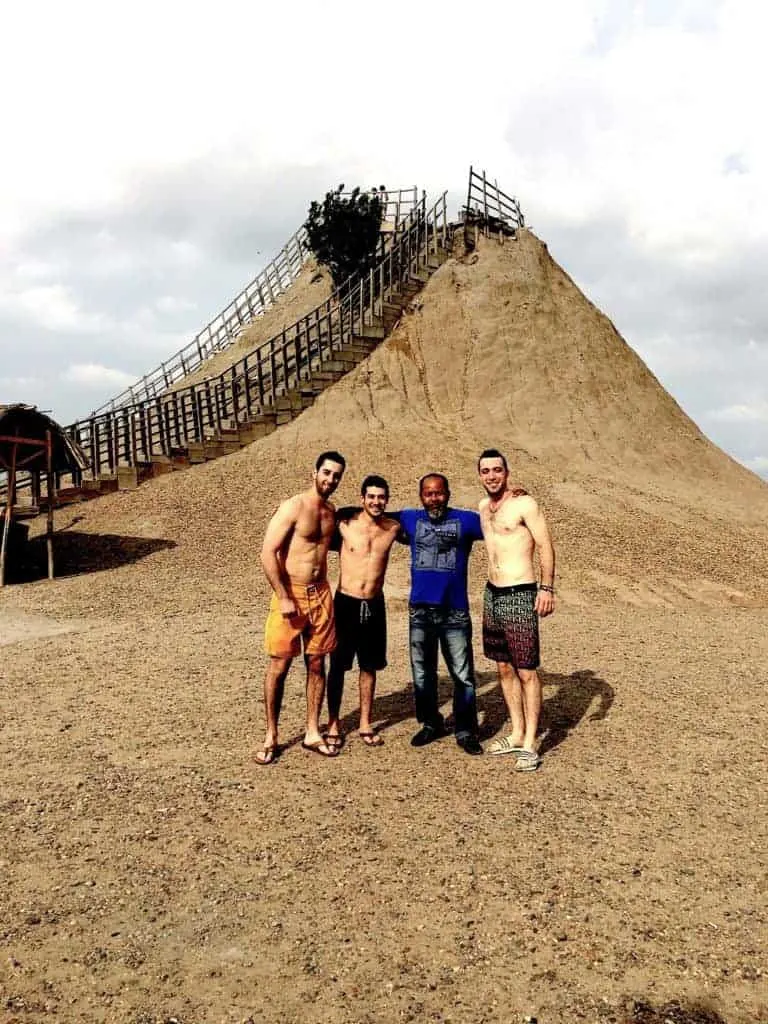 2) Entrance Fee & Pricing
The total all in cost for the day will heavily depend on what type of experience you take part of – group tour, private tour, or do it yourself option.
Below is a high level overview of the various cost considerations at play to get a better idea of what to expect from a price perspective.
Group Tour: $65 USD per person
Private Tour: $95 USD per person (minimum ~2+ people)
Do It Yourself Taxi Round Trip Cost: $70 USD (split among your group)
Entrance Fee: $5 USD (20,000 COP) – included with tour options
Massage Fee: $2.50 USD (10,000 COP)
Photo Fee: $2.50 USD (10,000 COP)
Cleaning Fee: $2.50 USD (5,000 COP)
Pricing Note: these additional fees can vary around ~$2 or so, and can alter slightly over time. I would recommend bringing a bunch of small change for tips throughout the day.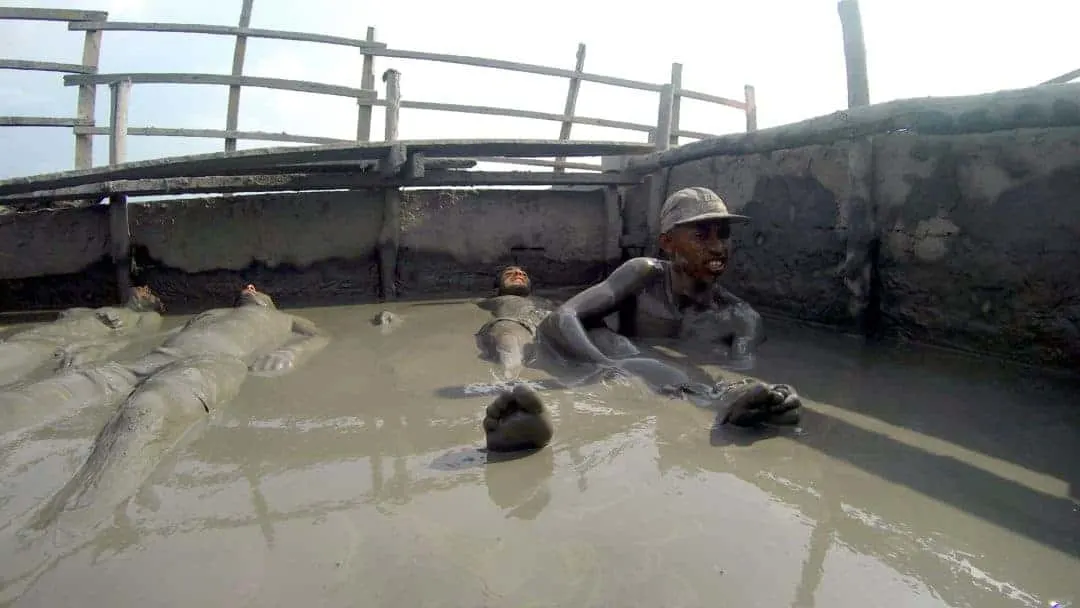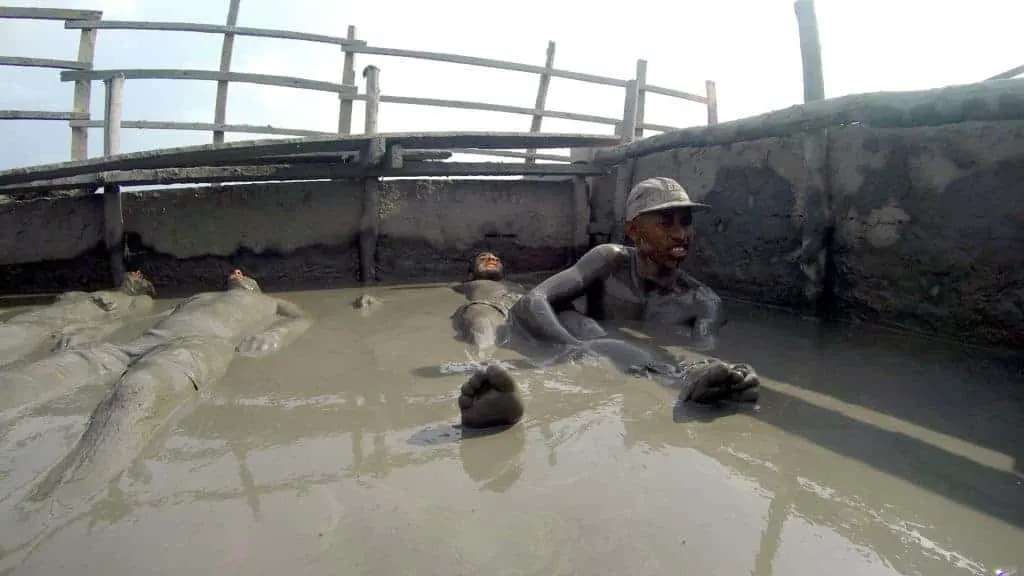 3) Location of El Totumo Mud Volcano
El Totumo is not located in Cartagena itself, rather it is about an hour or so north of the city in the municipality of Santa Catalina.
The map below shows the route that you will take as you make your way up the coast and towards the Mud Volcano of Colombia.
4) How to Visit El Totumo
I can see why some people did not enjoy their time at the mud volcano, especially when seeing pictures of it packed inside. The main reason for these crowds is the group tour aspect of it.
Below I will go over what a group tour would entail followed by a do it yourself option or private tour that I would highly recommend to avoid the crowds.
Option 1: Group Tour
The most popular option for visiting the Mud Volcano is joining a group tour that will take care of all logistics for you from beginning to end. There are usually two departure times per day around 7:30AM and 1:00PM.
You can expect the total price for a group tour to be around $60 – $70. Costs for these tours will include transportation, a local guide, and entrance fees. Tipping the locals (massages, photos, cleaning, etc.) will be an extra cost.
The downside of the group tours is that although the departure may be set for 7:30AM / 1:00PM, it can take up to an hour or more picking up other people along the route in Cartagena.
Once you are all set though, you will make the hour ride to the volcano. You will be packed in the volcano with the rest of your tour group and have some time to enjoy the mud before the next group of people can get in.
After getting cleaned up you will then make the hour drive back and drop off others along the way.
So what could take less than 3 hours if you opt for the do it yourself (or private tour) option, will take closer to 5+ hours as part of the tour group.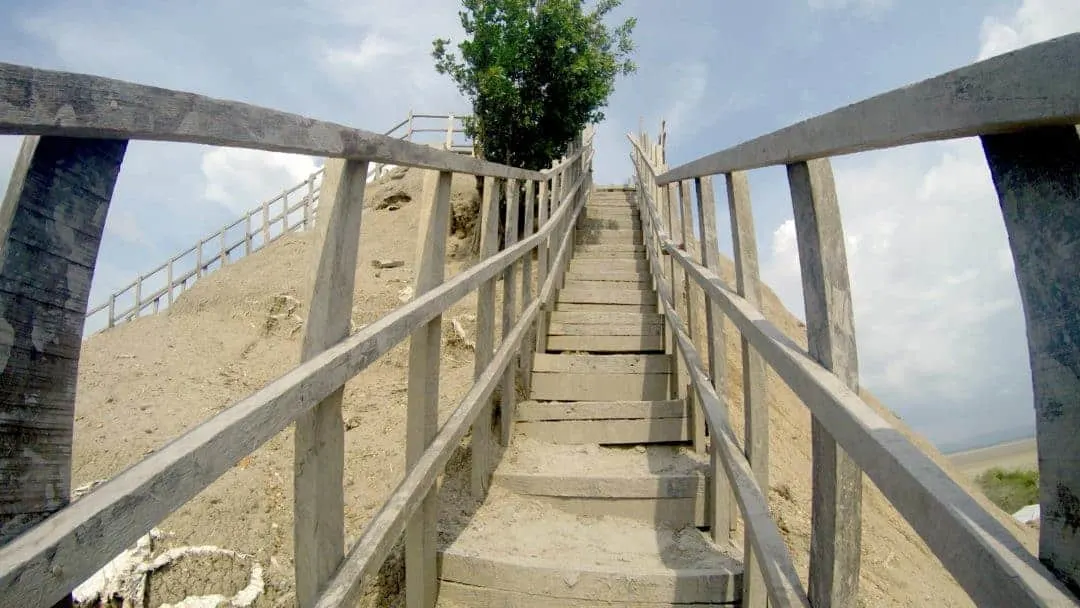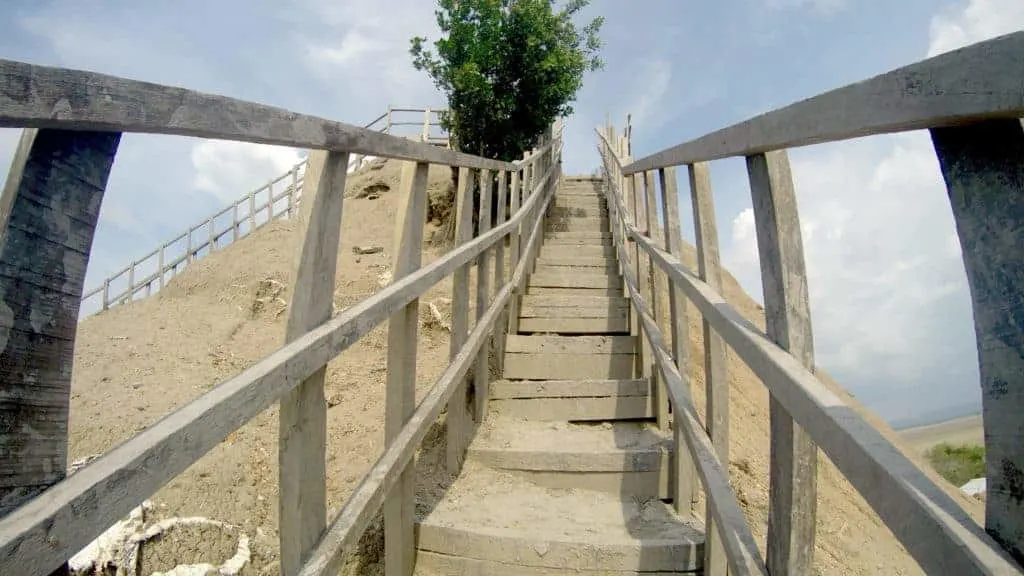 Option 2: Private Tour
Now, for those that want to have that tour experience but without a shared group, you will want to consider a private tour to El Totumo.
Similarly, all logistics will be taken care of for you from beginning to end with a helpful guide by your side. However, instead of having others along with you, it will just be your own personal group.
That means you can better dictate when to depart for the volcano. Private tours like this one are available starting as early as 6:30AM pickup and as late as 3:30PM. By opting for these earlier/later times, you have a better chance of avoiding the crowds and having the mud all to yourself.
Now, these will be more expensive (starting around $95 USD per person), but it can be well worth it to have that more personal experience and not have to waste much time throughout the day.
Option 3: Do it Yourself
The third main option to consider is doing the day tour on your own without signing up for a shared or private tour.
You will have the chance to avoid the crowds, the long ride, higher costs, and be on your schedule throughout the day. However, you will be responsible for the logistics and not have a helpful tour guide by your side.
Here is a recap of my day at El Totumo with the do it yourself option:
My friends and I knew we wanted to avoid the tour groups and were aware that most left Cartagena around 8:00AM and 1:00PM. We decided to head out right before 1:00PM after exploring the Old City in the morning and grabbing lunch.
The hard part was flagging down cabs, explaining to them in broken Spanish what we wanted to do and agreeing on a price.
After a few tries we found our guy Luis who agreed to take us there, wait for us, and then take us back into the city for around $70 USD – clearly a better deal than a tour even if you are only two people.
After the hour drive we arrived at El Totumo and due to our timing around 2:00PM there was not one other person there (probably got a bit lucky on this one as people did eventually show up later on).
When we got to the volcano we switched into our bathing suits and made our way up the steps to the top (note there are changing rooms and lockers at the site).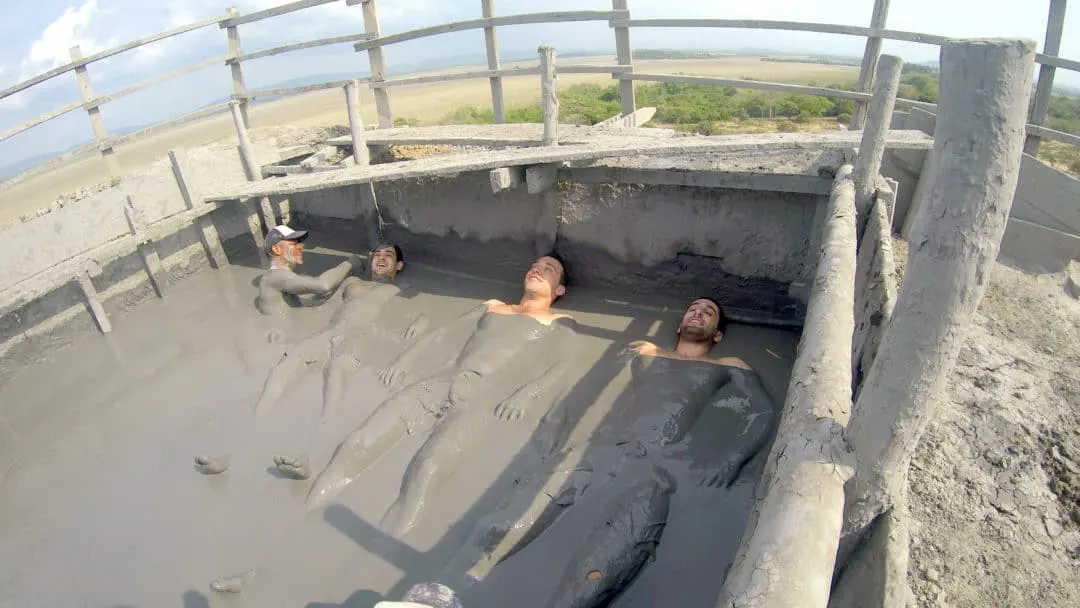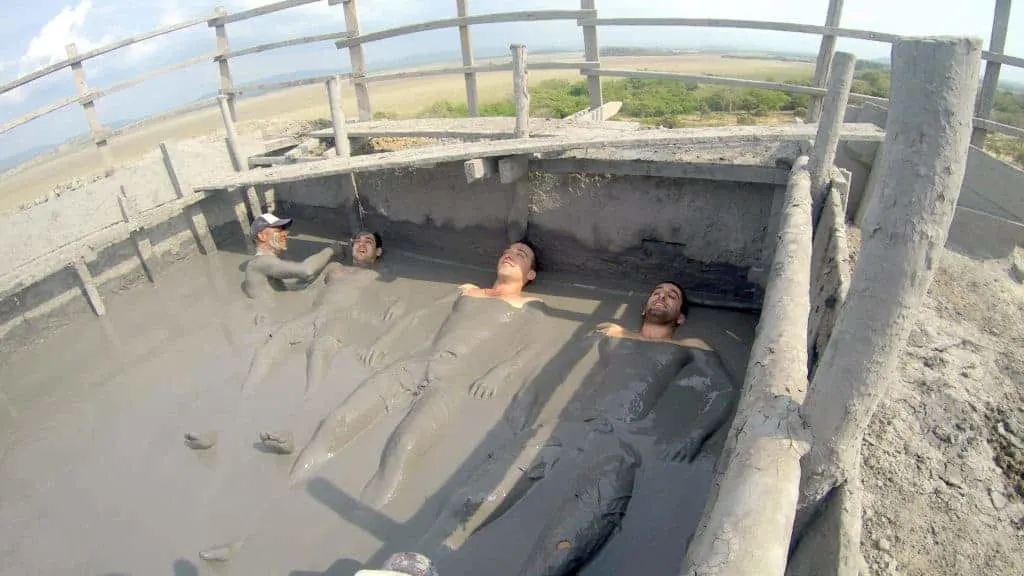 The locals that work there have this down to a science – one guys takes your shoes and another will grab your phone or camera to take pictures.
Once you are in the volcano you can opt in for a quick massage – in our case, since we were the only ones there, they massaged us for about 10 minutes. If you are there with a large group it might only be a couple of minutes long.
After getting massaged we spent another 15 minutes or so just hanging out floating in the mud. Once our time in the mud was complete, it was time to get washed down.
Awaiting you at the bottom of the volcano will be these nice ladies who will wash you off to the side or in the nearby lake. And these ladies know what they are doing as they scrub you down furiously to get every last piece of mud off your body.
After getting all cleaned up it is time to tip all the people who gave you a hand today – the guy who took your shoes, the guy taking pictures, your masseuse, and the ladies that just cleaned you.
Around 5,000 – 10,000 COP each ($1.50 – $2.50) will do the trick and then you are on your way back to Cartagena with your driver.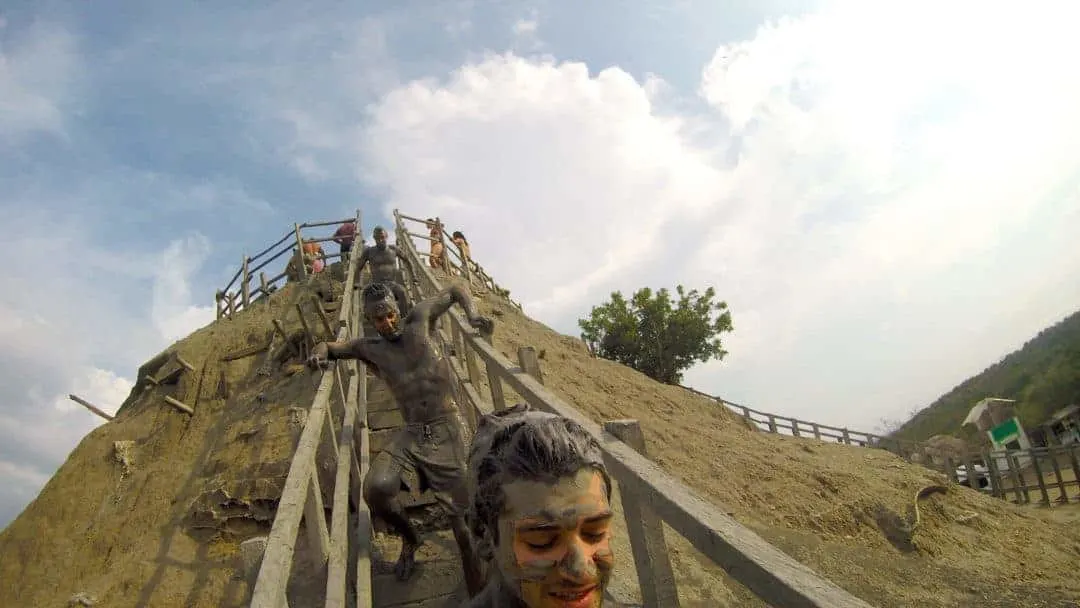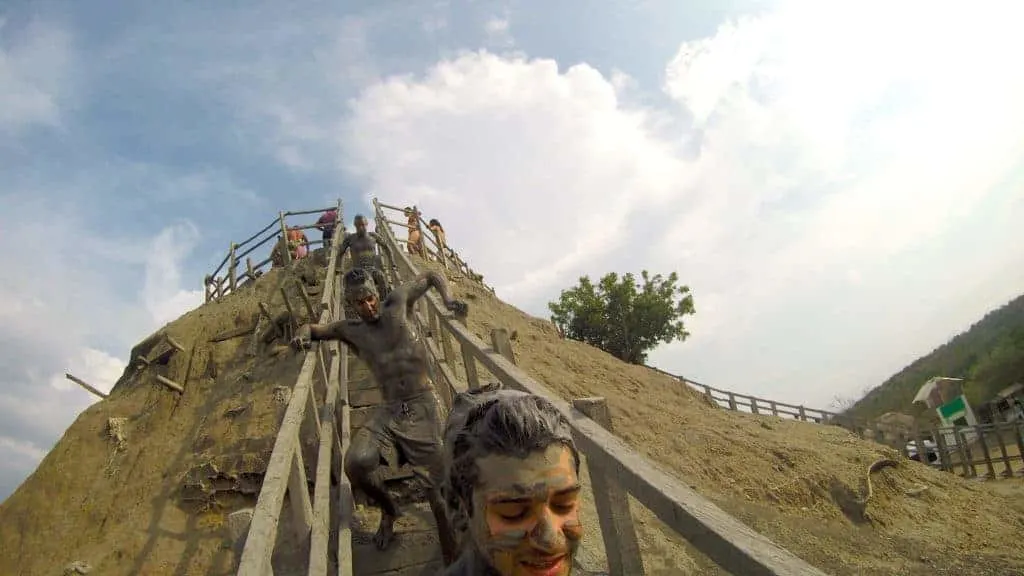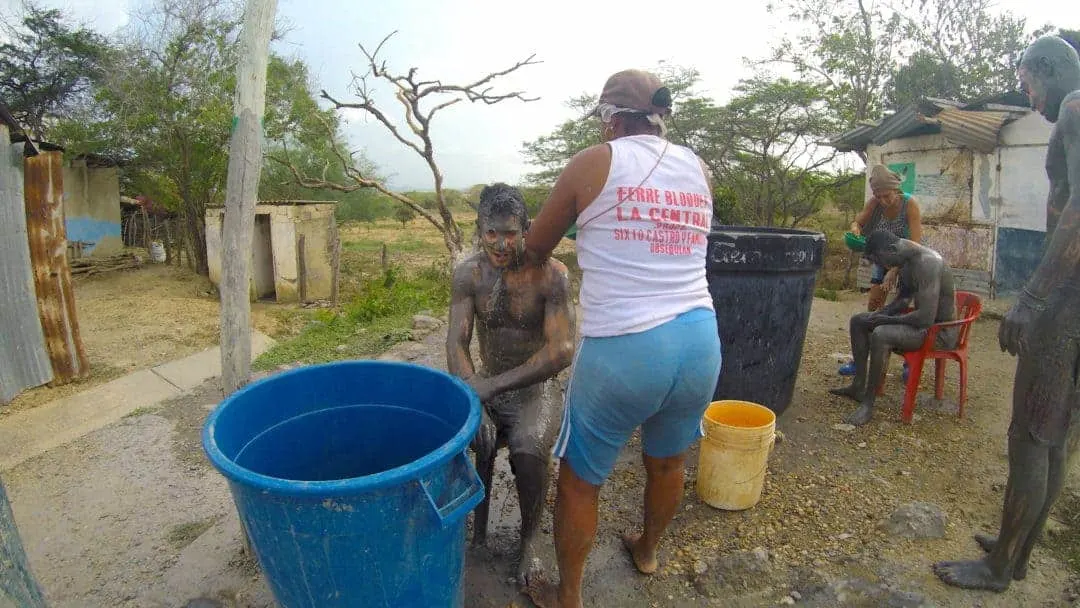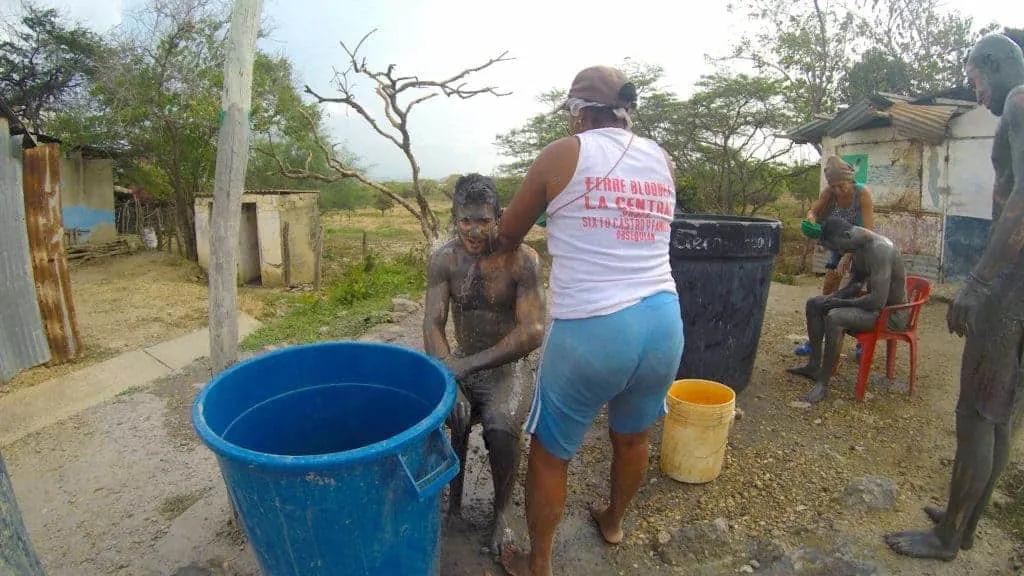 5) What to Bring
Since this is going to be a more unique (and muddy) experience, you will want to come prepared with the appropriate gear list. Below are some of my recommended items to take along for El Totumo:
Bathing Suit: this should be swimwear that you don't mind getting dirty. While the mud does come out, it may stain your bathing suit one way or another.
Quick Dry Towel: after getting washed off, a small lightweight towel can help get you dry (Top Choice: Rainleaf Towel).
Change of Clothes: bring along a change of clothes for after the experience. It is another 1+ hour drive back to Cartagena, and you won't want to be in your wet/dirty bathing suit.
Small Change: since there will be several locals helping you out along the way (massages, photos, cleaning, etc.), you will need to tip each one. Bring some small change to make things easier.
Flip Flops: the area all around the volcano can be muddy, so having some easy to clean flip flops would be my recommendation when it comes to footwear.
Water & Snacks: it can get hot in Cartagena! Always be sure to stay hydrated & fueled, so bring along some water/snacks to keep you healthy.
Learn More: Visit El Totumo as part of a longer 10 Day Colombia Itinerary or One Week Colombia Itinerary
6) Where to Stay in Cartagena
Cartagena has several different areas to stay in, however my recommendation would be to stay within the walled city.
The reason for this is that you will be in walking distance to all the great restaurants and nightlife as well as the city itself.
Walking outside your hotel and being in the heart of Cartagena is what it is all about. Here are a few top rated hotel options to choose from when looking into where to stay.
Feel free to check out Booking.com for more options as well.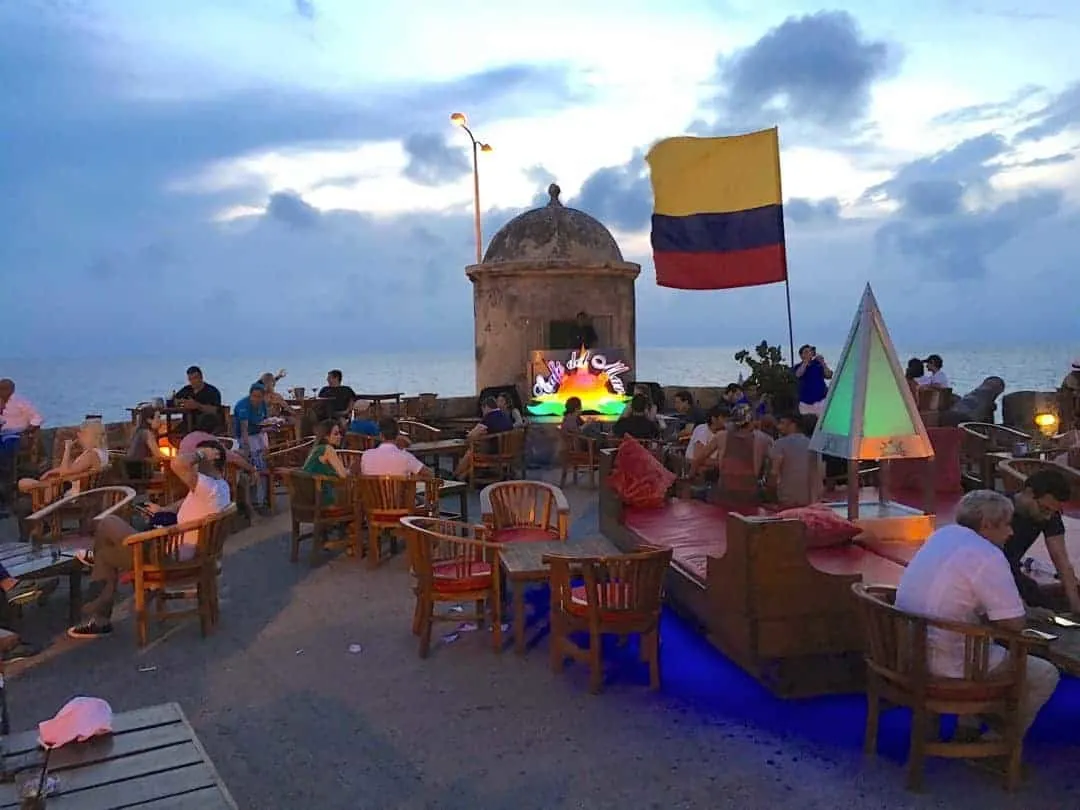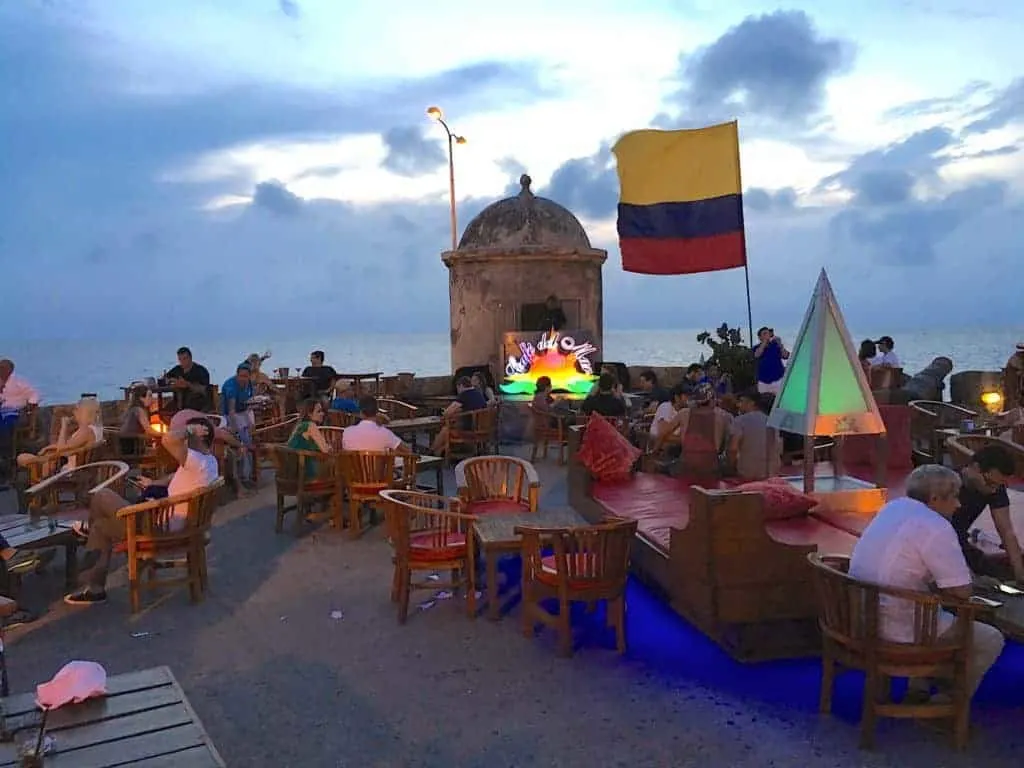 7) Is the Mud Volcano in Cartagena Worth It?
This answer is really going to depend on your expectations and experience. For me, the Mud Volcano was definitely worth it. I was able to enjoy an extended period of time in the mud without anyone else around besides my group of friends (and the locals who were helping us).
However, if you end up arriving at the volcano with a ton of other people and getting rushed through the mud, the experience will not feel as special.
At the end of the day, there are few other activities that offer what El Totumo does. I love the uniqueness of it and the fact that you can't really take part of this type of experience in other places.
So, if you are up for a fun filled adventure and want to hop in the mud, then El Totumo is certainly worth the visit.
I hope this article gives you some guidance on what to expect. Whatever you decide though, enjoy your time in Colombia and if you have any questions about the El Totumo experience feel free to comment below!
Be sure to also take a look at the other Colombia itineraries and guides to help out with any other trip planning (such as a Cartagena Boat Rental overview)!