One of the top highlights of my trip to Colombia was the day out on the Caribbean Sea.
My friends and I decided against the group tours or Playa Blanca day trip and instead opted to rent a boat in Cartagena that took us all over the area. Understandably this will not be for every traveler given what your trip budget may be.
But if you are interested in renting a boat, then this Cartagena boat rental guide will go over everything you need to know about the process.
* Affiliate Disclosure: This post may contain affiliate links, which means I may receive a commission if you make a purchase through the links provided, at no additional cost to you. Thanks for supporting the work I put into TripTins!
1) Introduction to a Cartagena Boat Rental
One of the main draws to Cartagena is its beautiful beaches and islands around the area. Spending one or even two days exploring the Caribbean Sea to relax, snorkel, and swim will be something you will soon not forget.
There are a lot of options to choose from when deciding what exactly will be the best plan for you. You can either take a group tour to explore the area, just head to Playa Blanca, or hire a private boat to take you around the waters.
A boat rental is the perfect choice for those traveling with a group of people that want to visit many of the main highlights nearby Cartagena.
A usual day will start out early in the morning as you meet your captain at the dock, where you will then hop on board and continue out to the Rosario Islands.
Once there you will have the chance to swim and snorkel in the beautiful waters before heading off to Cholon for some lunch and drinks.
After lunch, the last stop will be the famous Playa Blanca, where you can relax on the beautiful beach and enjoy some more time in the water. It is then back to Cartagena as you end a successful day out on the sea.
There are some different offerings out there that may be different from the above itinerary, but either way you should expect a few stops out at sea as you experience some of the best that Cartagena has to offer.
2) How to Rent a Boat in Cartagena
There are plenty of boat rental companies to choose from and each company will have a wide range of available boats to rent. From smaller 10 person options to full on yachts that can hold as many people as you choose.
For our trip we went through a place called Cartagena Connections, which ended up being an easy and hassle free experience.
Another highly rated company that I have heard good things about is Boats4U if you want to take a look at what they have to offer as well.
Expect to pay between $500 and $800 altogether for the smaller, more basic boat options. These prices can go all the way up $1,600+ range depending on how large and fancy of a boat is selected.
The more people you have in your group the better as you will be able to split up the cost and lower the price per person.
Another quick thing to note is that the prices will change a bit depending on time of year – high season vs low season. In the winter time (~December to February) you might see prices increase a bit from their normal costs.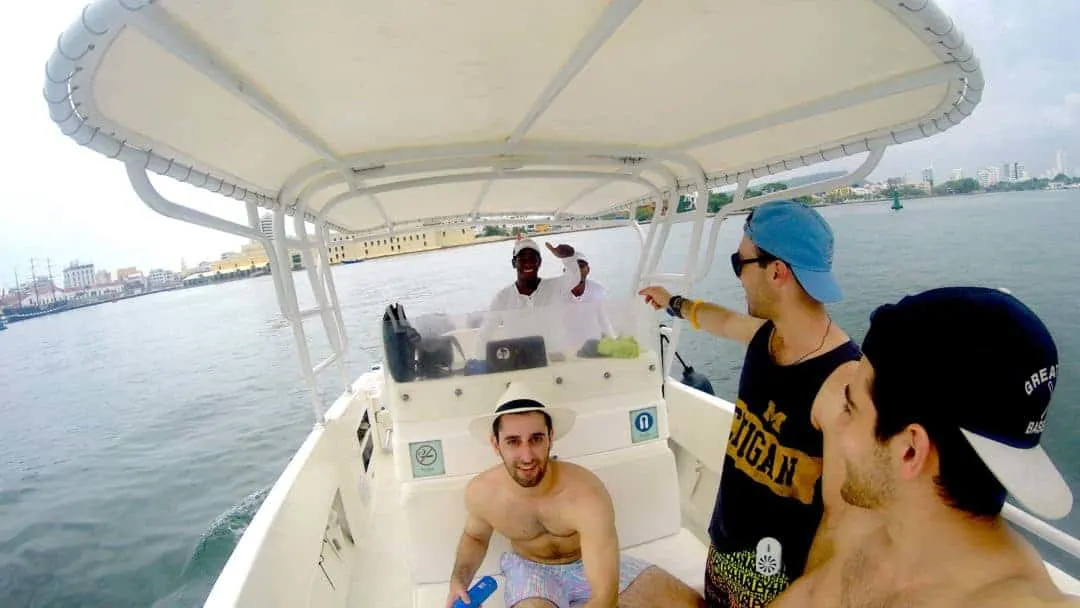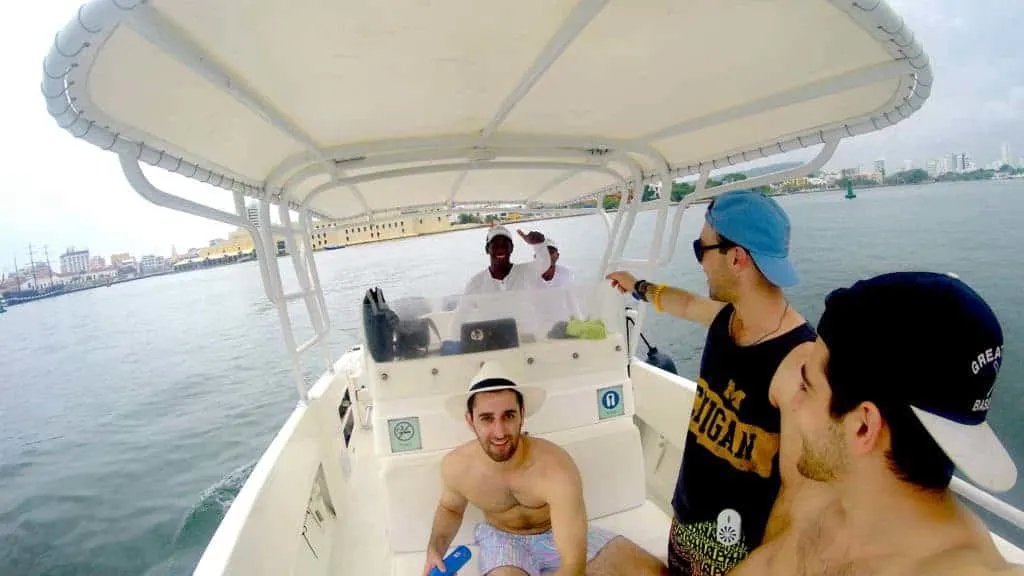 3) What Is / Is Not Included in the Boat Rental
When renting a boat, you should expect that some necessities will be included with the rental, however there are also several items that you should be sure to bring along as well.
Below is short breakdown of what is and what is not included with a boat rental:
A) What Is Included
I can't speak for every boat but it seems like many options come with:
Captain
Sailor
Speakers for music
Cooler / fridge for drinks
Some boats also include snorkel equipment and bottled water free of charge while others you might have to pay a bit extra.
When booking your boat it should give you some additional info into what exactly is included in the price. If you have any questions about it just reach out to the boat rental company.
B) What To Bring Along
You should be prepared to bring some things along for the ride as it will be a full day activity:
1. ​Bottled water (if not included)
2. Beer / Alcohol
3. Snacks / Food
4. Bathing suit / Towel
5. Change of clothes
6. Plenty of sunscreen
7. Cash! – do not forget to bring cash. You will need it for lunch, potential massages & souvenirs, and tipping your captain and sailor at day's end.
Recommended Cartagena Hotel | Tcherassi Hotel & Spa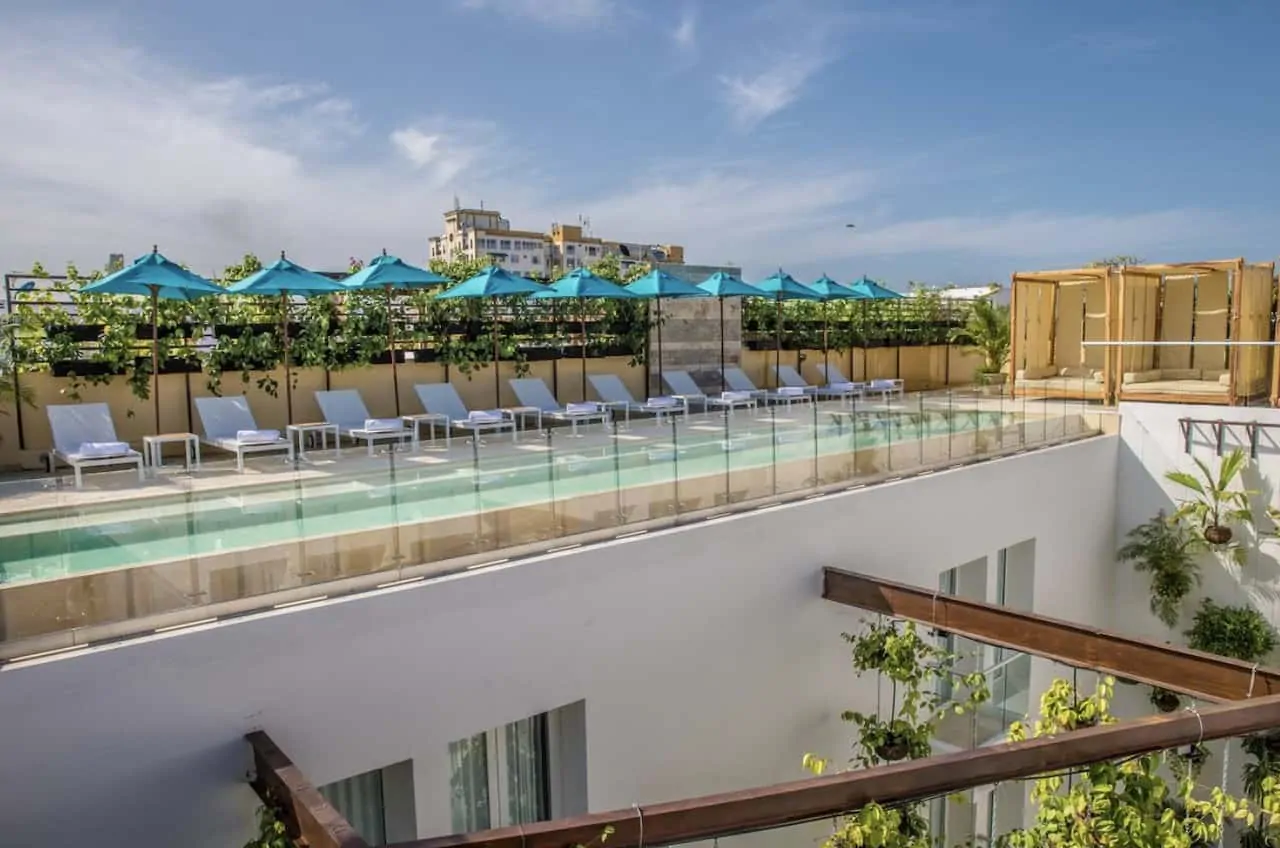 4) Map of Area
Most boat rentals will have a similar route for the day. Of course if you know of something you do / do not want to do you can also let them know ahead of time.
The main places that will be visited along the route will include the following three places:
(1) The Rosario Islands
(2) Cholon
(3) Playa Blanca
5) A Day Out at Sea
Below is a bit more detailed overview of what a day out on the Caribbean Sea will be like when renting a boat in Cartagena and what to expect along the way.
A) Rosario Islands
The day starts early around 9AM where you meet at the dock and will be greeted by the crew. You will first make your way down the coast headed towards the Rosario Islands.
These are made up of several islands where you can find smaller resorts and private properties.
Once you hit these islands your captain will find a place to anchor so you can snorkel around the crystal clear waters and enjoy some time off the boat.
Another very unique part of the experience were the locals who would try to sell food, coconuts, and jewelry from their canoes.
It was kind of like a floating market of sorts with one after another trying to get you to buy the goods.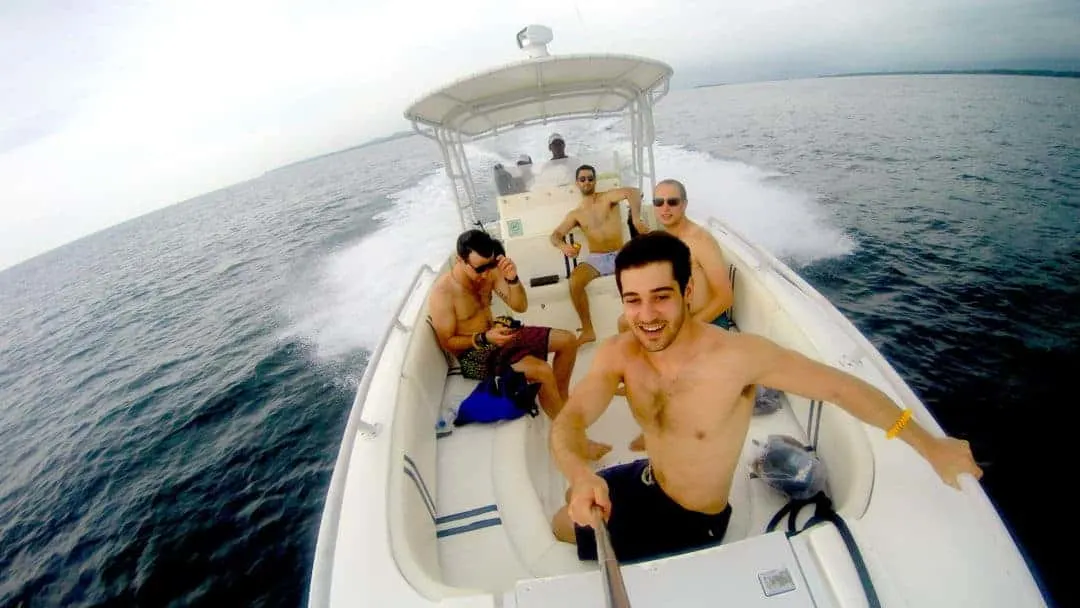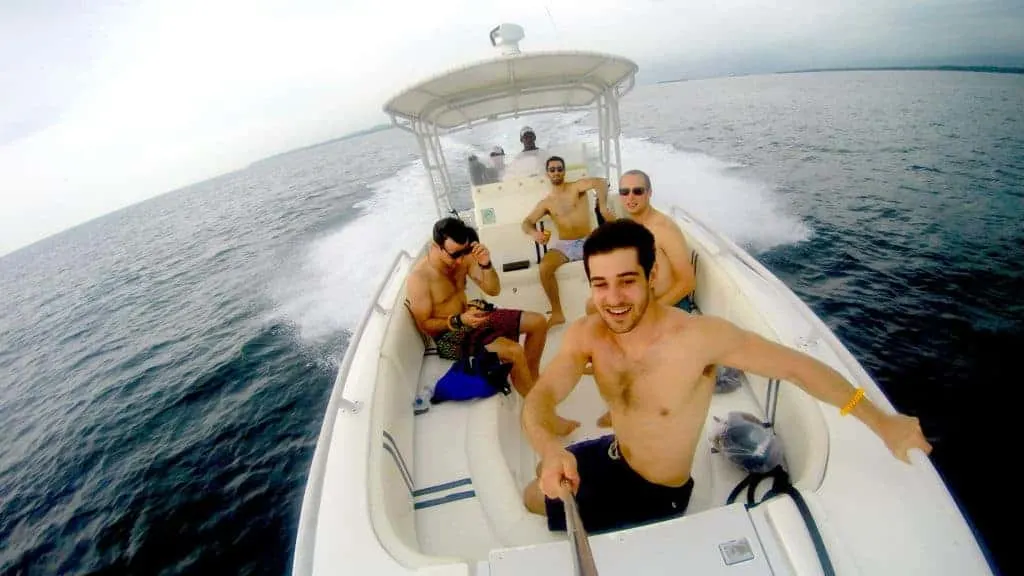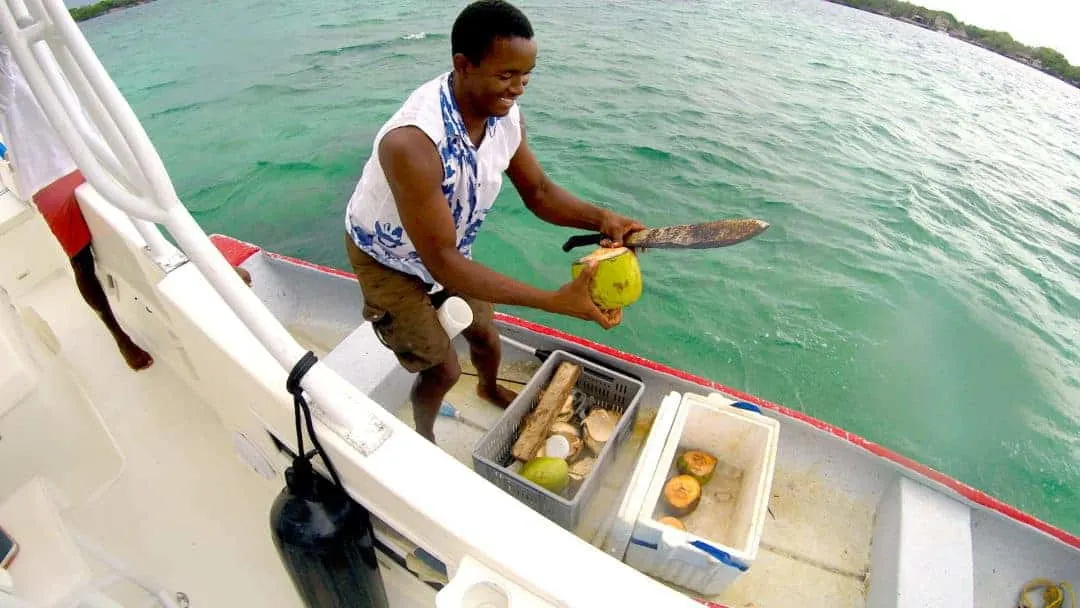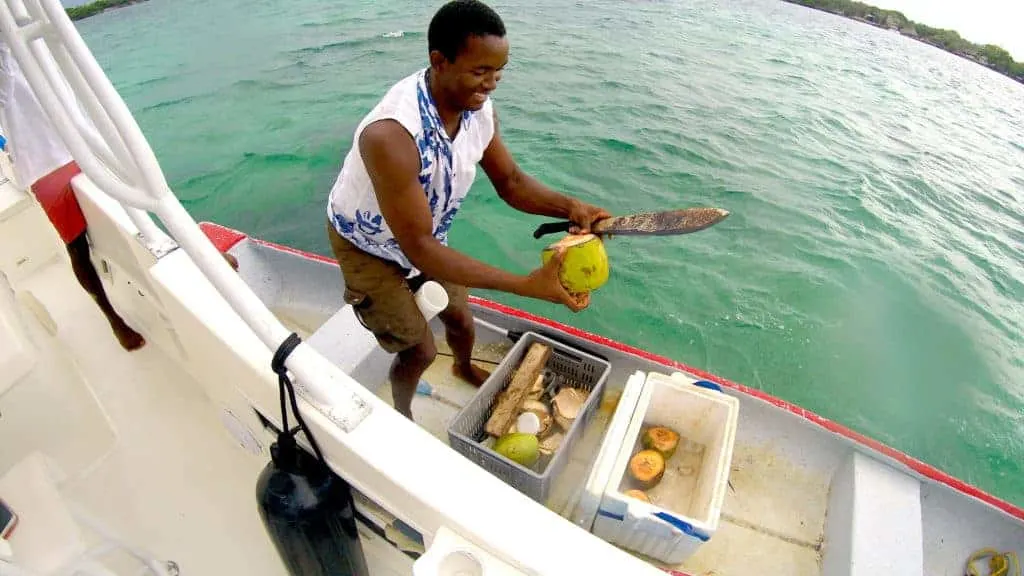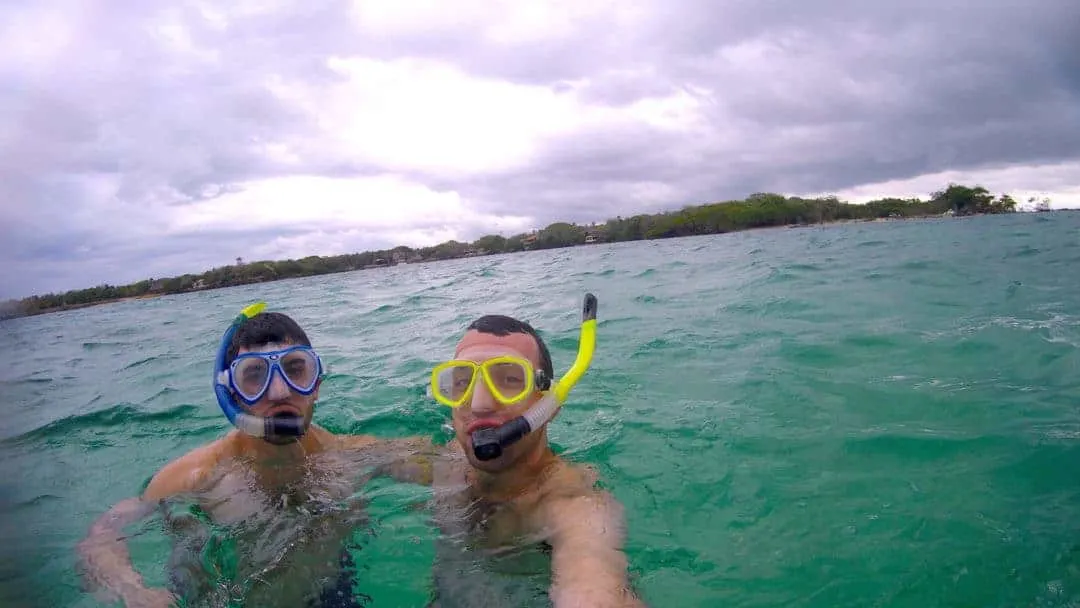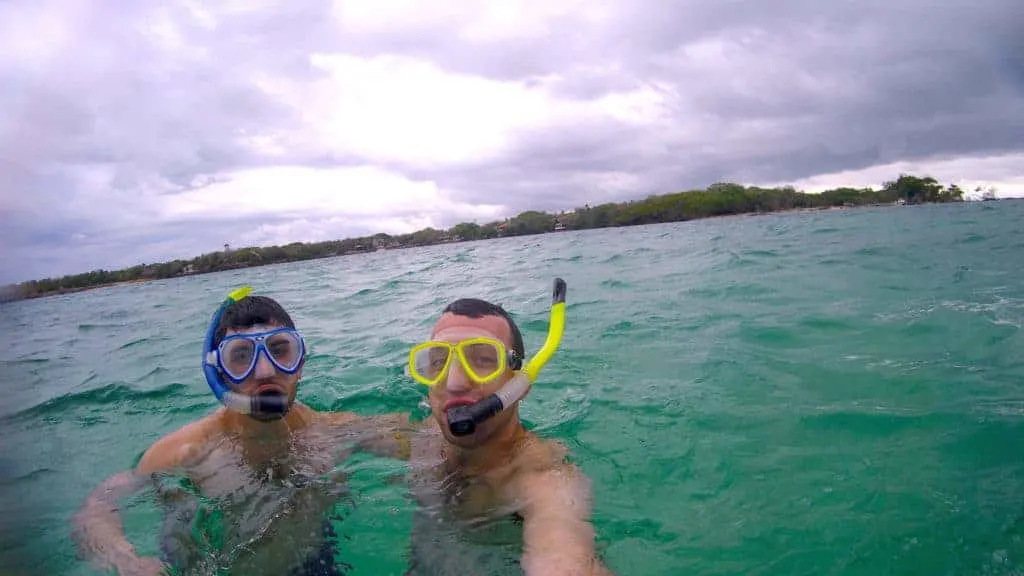 B) Cholon
After snorkeling for a while you take off for your second location of the day – the beach of Cholon. The great thing about Cholon is that only the private boats go there.
So you will be around the beach with other people who rented boats, playing music and hanging out in the water.
Cholon is also where you will most likely be having lunch for the day.
Odds are your boat crew will take you to some of the locals they know on the island, and you will be greeted to a full on Colombian meal with different types of fresh seafood and local drinks.
After lunch do not be surprised to have more locals approach you to try to sell some souvenirs and give you some table side massages.
I should note that everything on Cholon is going to be a bit more expensive. Expect to pay around $25 for a meal and $10 for massages. So just as a reminder do not forget to bring enough cash with you!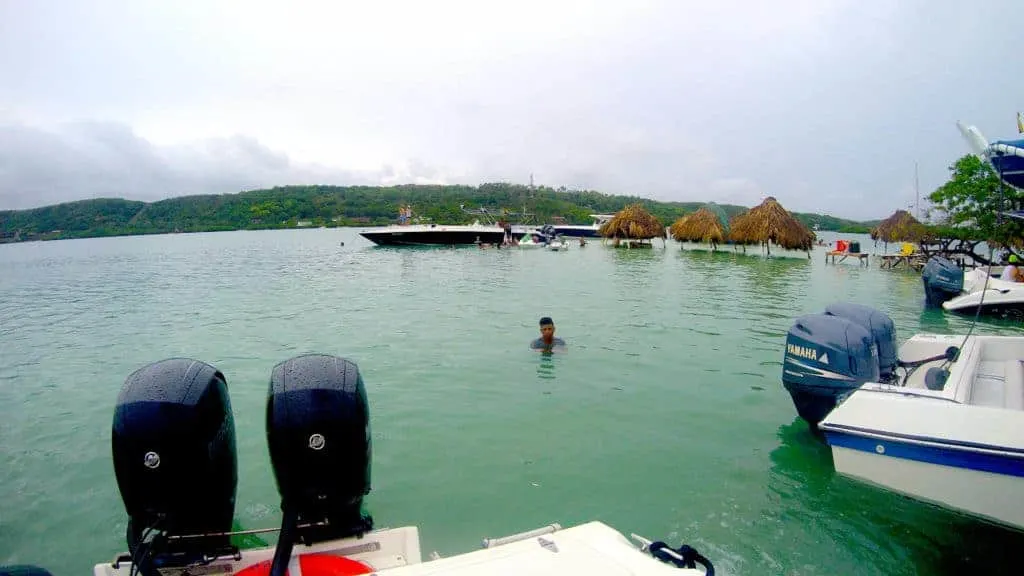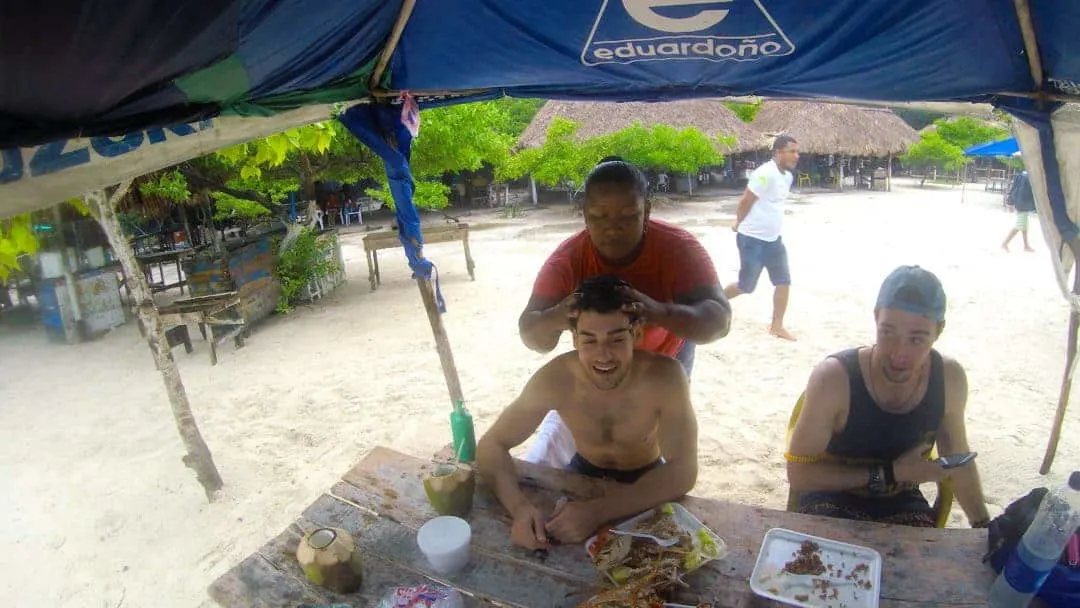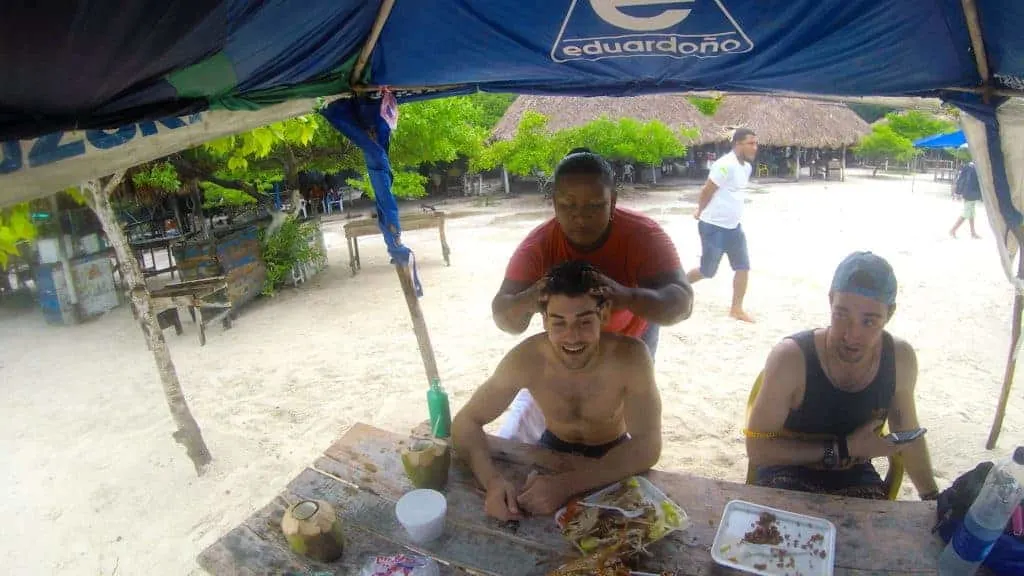 C) Playa Blanca
After relaxing and eating in Cholon for a bit, head off for your third location of the day – Playa Blanca.
Many of the tourist boats head to Playa Blanca for the day so you might see more people than previous stops. But at the same time it is still an amazing place to be and enjoy.
You can do some snorkeling here, relax on your boat and in the water, and enjoy the rest of the afternoon. After a couple hours at Playa Blanca you will take off back to Cartagena.
It will be a great day to explore outside the city and get a sense of the beautiful islands and beaches that Colombia has to offer.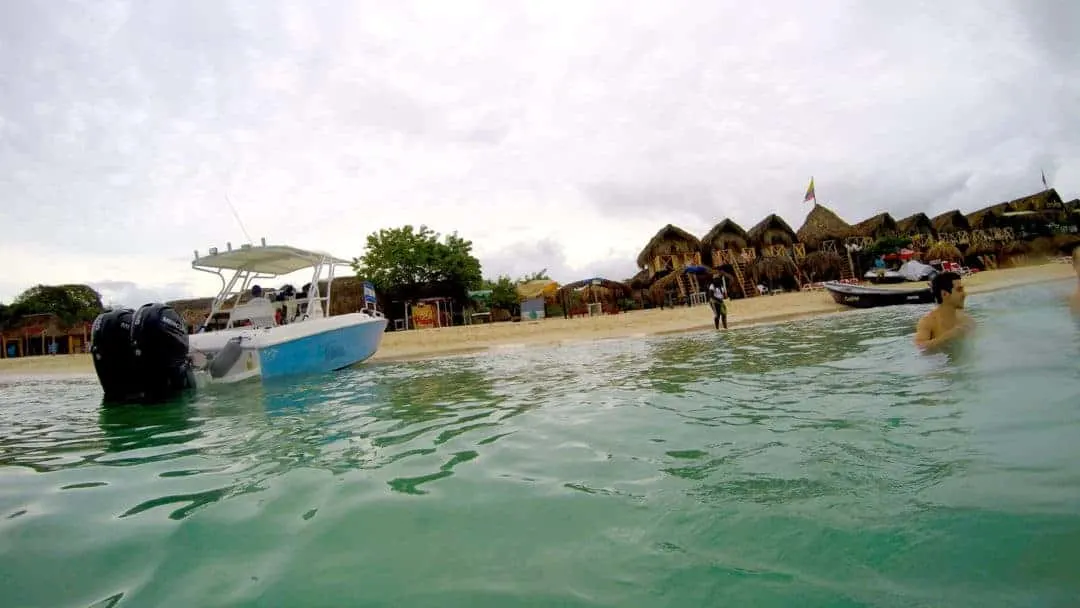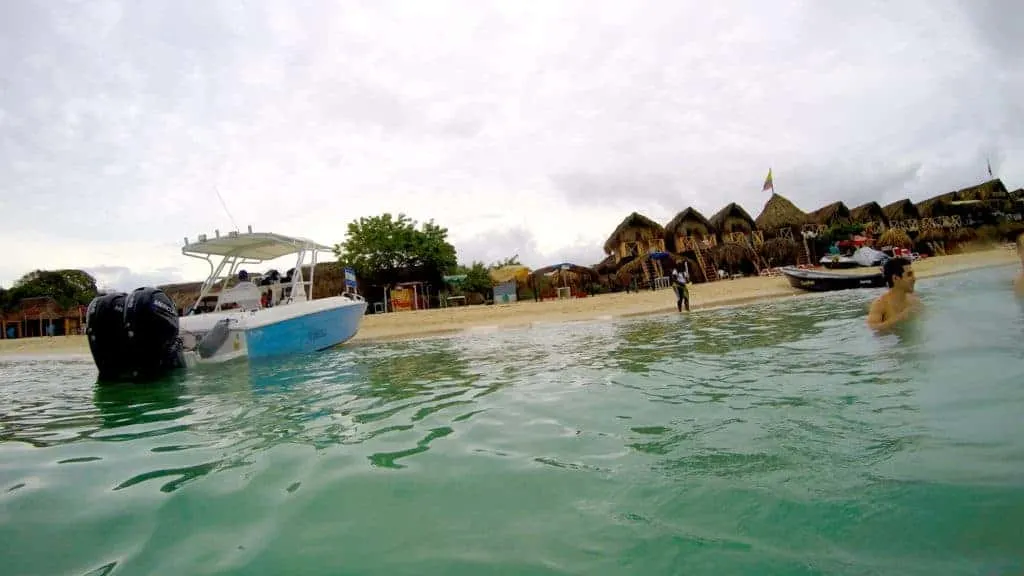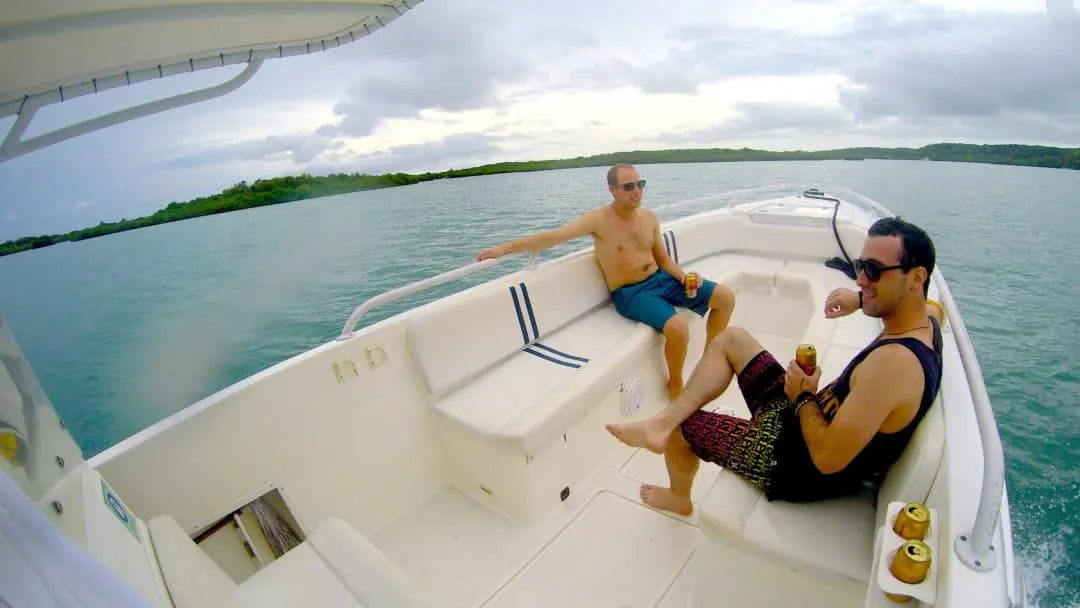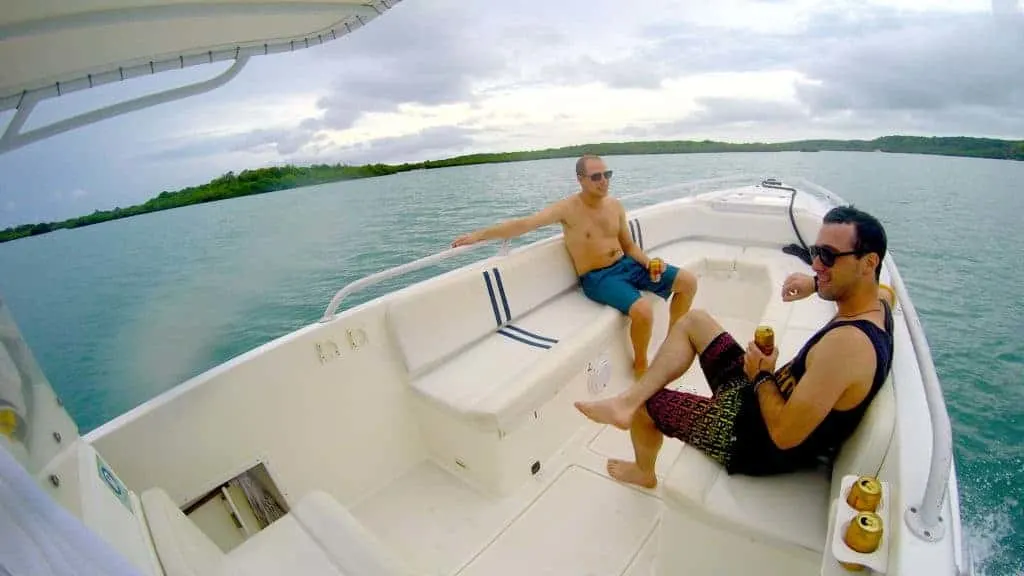 6) Alternative Options to Renting a Boat
As mentioned earlier, renting a boat in Cartagena is not your only option if you want to have a day out on the water.
A couple more popular group tour options would be doing a Rosario Islands and Playa Blanca day trip or simply just heading over to Playa Blanca for the day.
If you are simply just looking for a group tour the prices will be anywhere around $30 to $100 per person, a much cheaper alternative to renting a boat in Cartagena.
Learn More: Check out this highly rated Rosario Island Day Trip for your time out on the water
7) Where to Stay in Cartagena
Cartagena has several different areas to stay in however my recommendation would be to stay within the walled city.
The reason for this is that you will be in walking distance to all the great restaurants and nightlife as well as the city itself.
Walking outside your hotel and being in the heart of Cartagena is what it is all about. Here are a few top rated hotel options to choose from when looking into where to stay:
4. Casa Canabal Hotel Boutique
5. Casa La Fe
That about wraps up your Cartagena boat rental guide. Take a look at our other Colombia itineraries and guides to help out with any other trip planning.
You may also want to check out the El Totumo Mud Volcano, which is located an hour away from the city. Also feel free to add Cartagena to your longer One Week in Colombia Itinerary or 10 Day Colombia Itinerary.
Hope you enjoy your time in Colombia. If you have any questions about renting a boat feel free to comment below!